With the exception of James Deane and the Worthouse Drift Team, no one wants to see a repeat of his dominance this season.
It's not that I didn't enjoy last season, far from it, but a repeat performance wouldn't have the same impact in 2018. From a fan's perspective, you want uncertainty going into each event, or at the very least hard-fought victories.
With Fredric Aasbø's victory in Long Beach, it did feel like 2018 picked up where 2017 left off. Since Long Beach of last year, only one driver (Odi Bakchis) has stood on the top step of the podium instead of Aasbø or one of the Worthouse drivers. Every event in this timeframe has been won by a European driver. Something had to give for the Florida round, and it did.
Of all the events on the Formula Drift circuit, round two of the championship at Orlando Speed World is my least favourite. It's an uninspiring venue that doesn't seem quite fit the narrative of a rising professional motorsport series. Its faults, however, are its character. The abrupt transition from the bank to the infield, the bumpy infield itself, and the coarse surface which decimates tyres all play a role in adding an air of uncertainty to each event held here. Not to mention the warnings in the paddock to keep your eyes open for snakes and alligators.
As with any course that features an outside concrete wall, there was no shortage of victims over the weekend. Most notably was Chelsea Denofa, who despite being able to complete a qualifying run after a heavy impact in practice, was forced to retire from the event with terminal mechanical issues. Kristaps Blušs was another that had a disagreement with the wall, but during his first qualifying run. He did make it out for his second run and subsequently qualified only to be eliminated by Ryan Tuerck in the Top 16.
It was from the Top 16 point of the competition that this event really started to shine. Across both sides of the brackets were matchups that were anything but decided in advance. Perhaps the one that we were most excited about beforehand was the battle we've all been waiting for between Deane and Forrest Wang. In many ways, it was a bit of an anti-climax: Deane laid down a pinpoint-perfect lead with Wang struggling to keep up. With roles reversed, Wang hit the wall hard before shutting down on the infield and handing the victory to the Irishman. I'm not sure if Wang had car trouble, but he definitely didn't look his best in Florida.
I'm sure Dean Kearney will be happy to takeaway a Top 16 exit to Justin Pawlak, especially after missing the first round in Long Beach. His new '002' Viper looks a whole different beast on-track when compared to his old car, and I wouldn't be surprised to see him put in another strong performance in Atlanta in less two weeks' time. Another battle of note in the Top 16 was between the Falken 'Frenemies' Matt Field and Bakchis. It was a battle that required a OMT to decide, but featured some no bullshit and good ol' flat-out driving. More of this kind of thing, please.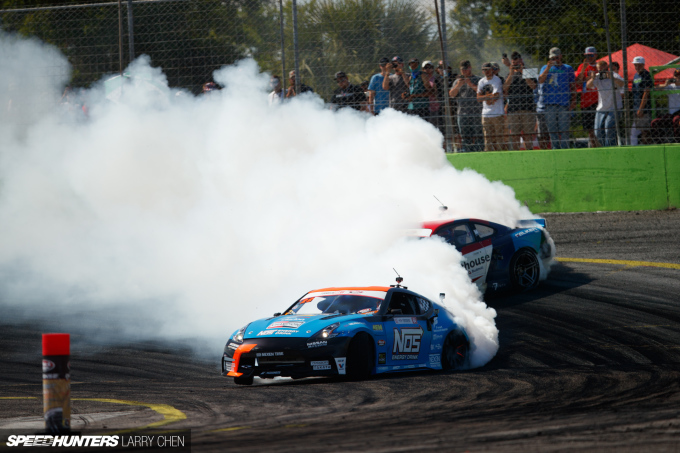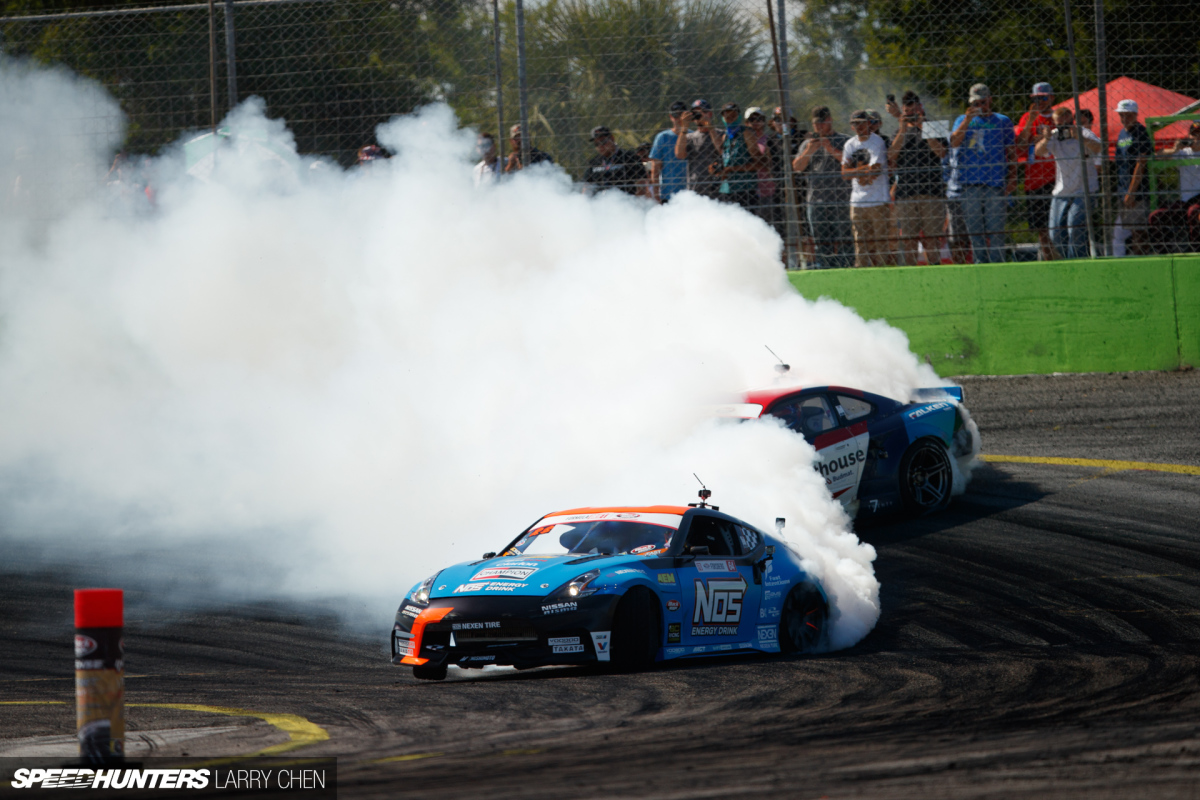 If I had have chosen the most difficult route to the final in Orlando, it would no doubt have been Chris Forsberg's. On my travels last season, I never really felt that I saw Forsberg at his best, and his new car was a constant sick-note since its introduction. They've obviously remedied it because from the Top 16 onwards, he looked to be the one to beat. Having got past his Drift Alliance brother Vaughn Gittin Jr. at the Top 32, Forsberg would then sweep aside Jhonnattan Castro at the Top 16, Piotr Więcek at the Top 8, and Aasbø at the Top 4 before meeting James Deane in the final.
It was this final that would see two drivers who had adopted contrasting tactics throughout the day to make it this far. Deane, who lead first during all of his battles, would put out a storming lead run time and time again, laying waste to his chaser. When chasing, he would perfectly mirror his opponent on the bank and through the infield, but often let them run away through Outer Zone 2 as his tyres finally gave up.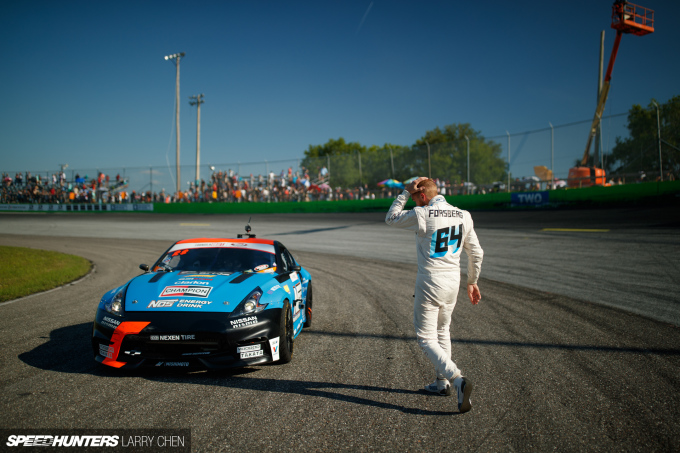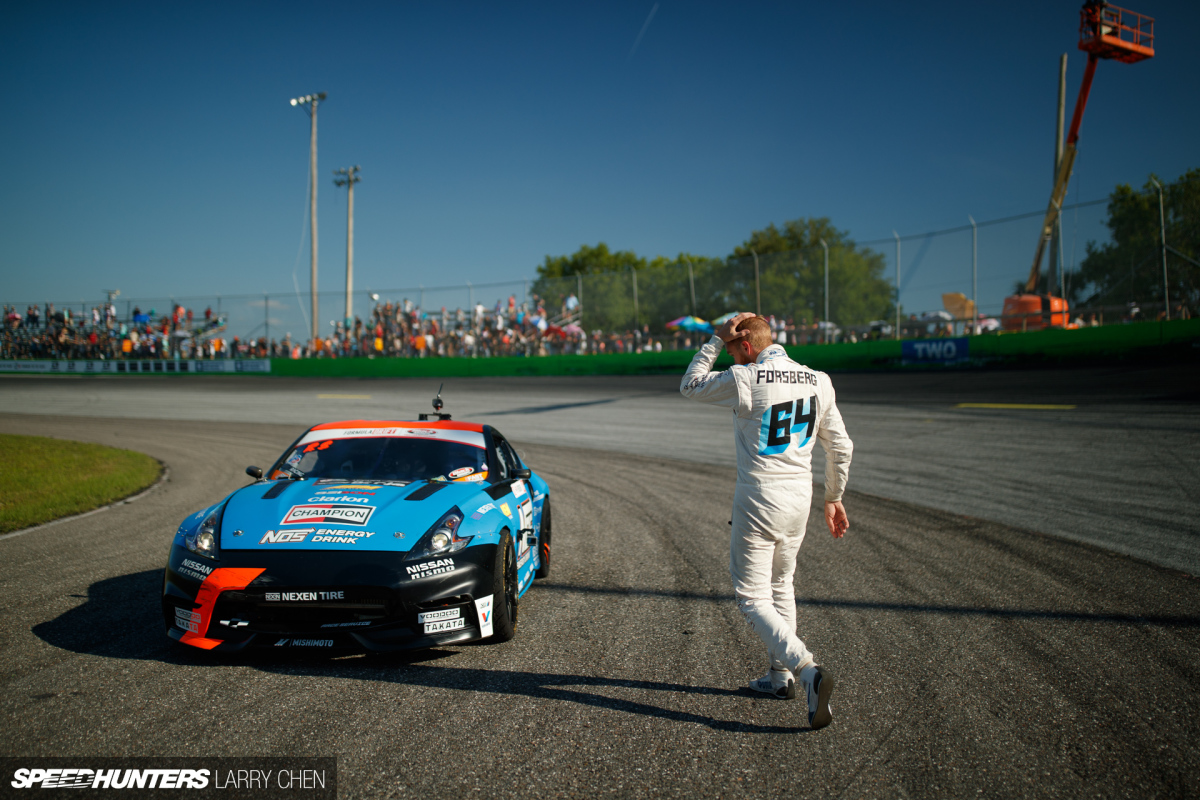 Forsberg's tactics were different in that his focus was on tyre conservation, which became apparent particularly from the Top 8 onwards. From this point of the competition onwards, he would always chase first using slightly less angle to maintain proximity and continuously reel in his opponent before sitting on their door through OZ2 and across the finish line. With fresher tyres, he would again start fast but almost timidly on the bank before vanishing away from his opponent across the infield and around OZ2 utilising the grip advantage.
I've never seen an event where tyre conservation tactics were so apparent. Even from the outside, you could nearly pinpoint where each driver's tyres had finally given up, which was nearly always on the infield on the second run. Both Deane and Forsberg had adapted to this issue in their own way, but we would never get to see who's tactic was the best. Chasing Forsberg into the first Outer Zone, Deane's power steering pump failed and he speared into the wall, gifting Forsberg the victory.
Going by the emotion in Forsberg's voice in the post-event interview, it was clear how much this victory meant to him. Despite being one of the most successful drivers in Formula Drift's history, it's endearing that it does still mean so much to him. His victory also adds a new dimension to the championship race for 2018. While it's still early days, we're fast approaching round three at Road Atlanta which often sees the true contenders start to pull away from the rest of the pack.
The question now is, who will battle it out for the title this year? Aasbø, Deane, Forsberg, Więcek? Wang? Tuerck?
Bring on Road Atlanta..
Paddy McGrath
Instagram: pmcgphotos
Twitter: pmcgphotos
paddy@speedhunters.com
Photographed by Larry Chen
Instagram: larry_chen_foto
larry@speedhunters.com
The following gallery is best viewed, as always, on desktop…