Fresh Out The Oven
With the 2018 Formula Drift season now in full swing, it's about time we took a good look at Matt Field's all-new C6 Corvette.
My first proper look at the finished build was at the opening round in Long Beach, California. While the completed Chevy went through a few test days in March, nothing quite puts a car through its paces like competition. You can, of course, learn a tremendous amount with some skidpad seat time, but there's something about the looming barricades on the Long Beach street course that seem find the imperfections in your setup.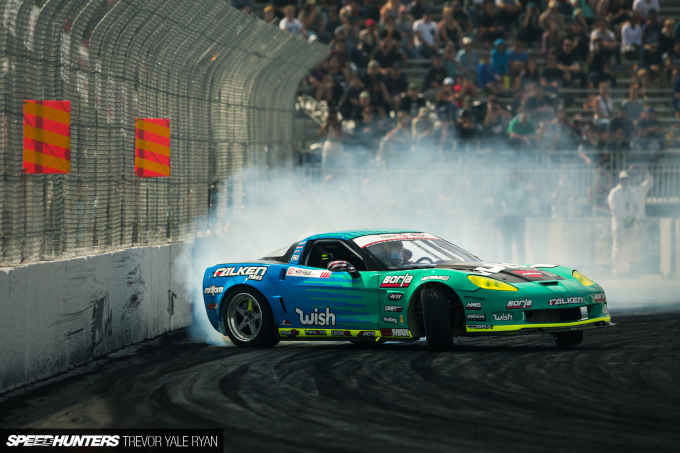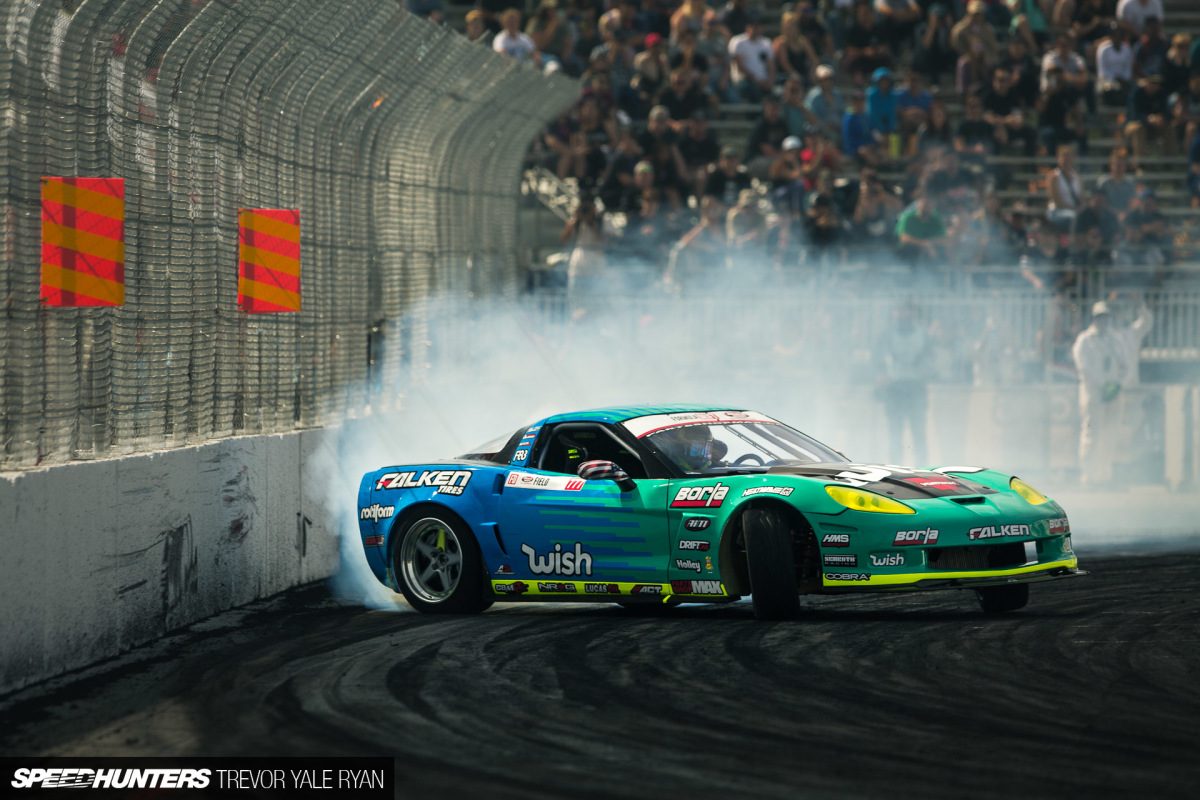 As this is a ground-up build on a completely different chassis than Matt had been used to driving in competition, the first round was always going to be a different experience for the team. As I pointed out when I stopped by the team's workshop, Drift Cave, I really wasn't so sure about Matt's plans to move on from the S-chassis car. But Mr. Field assured me that he and the crew knew exactly what they were doing.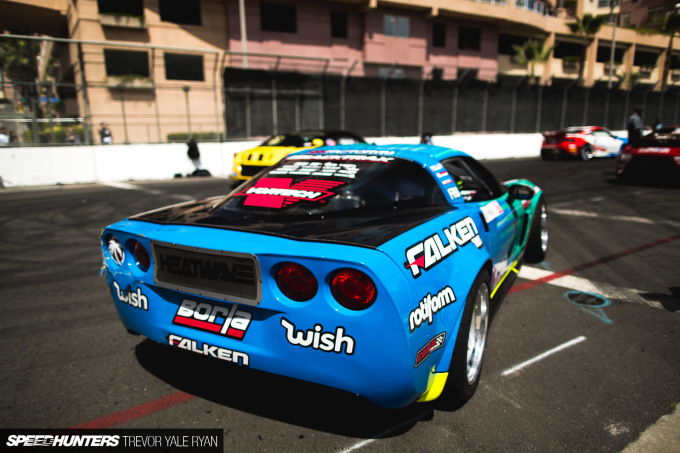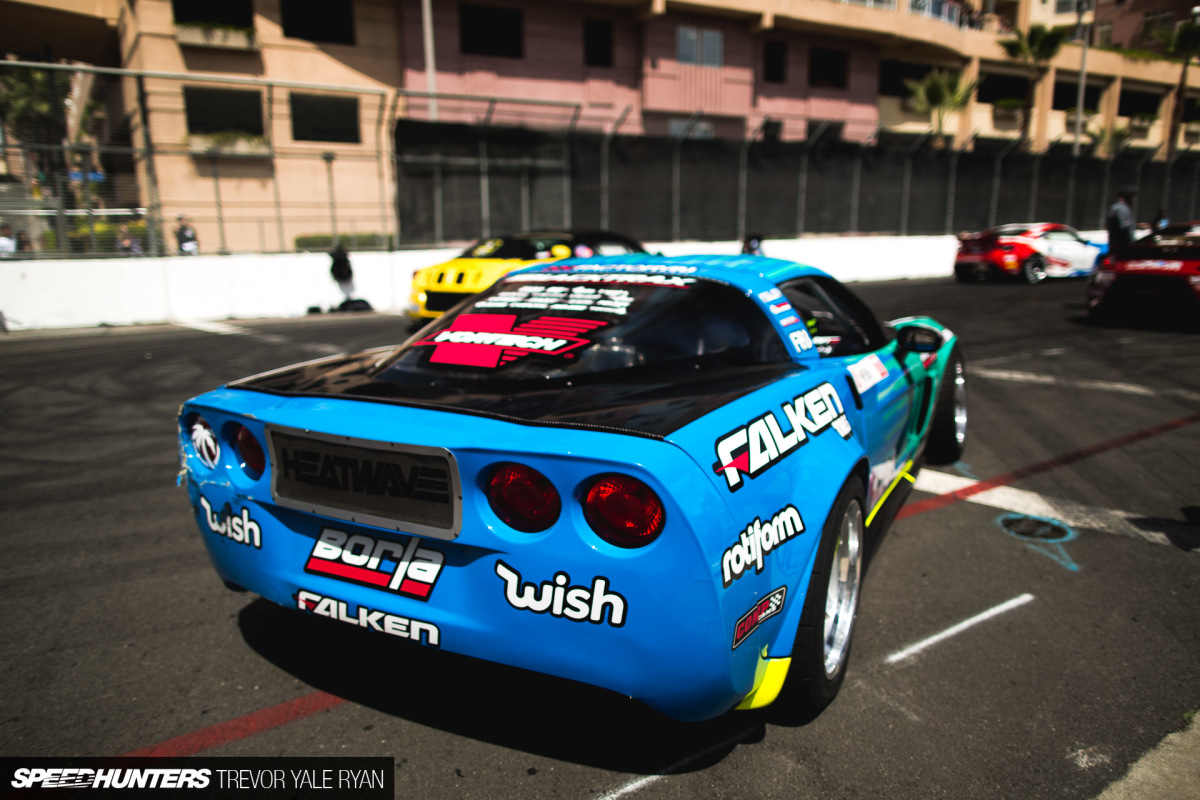 After my trip to the shop and subsequently seeing the car come together on YouTube over the off-season, I started to realize my foolishness for questioning their choice to jump ship. The C6 Corvette is a chassis that has so much unrealized potential straight out of the box.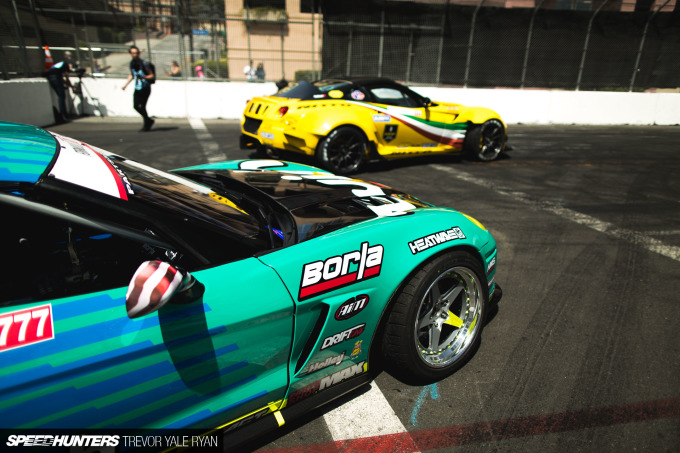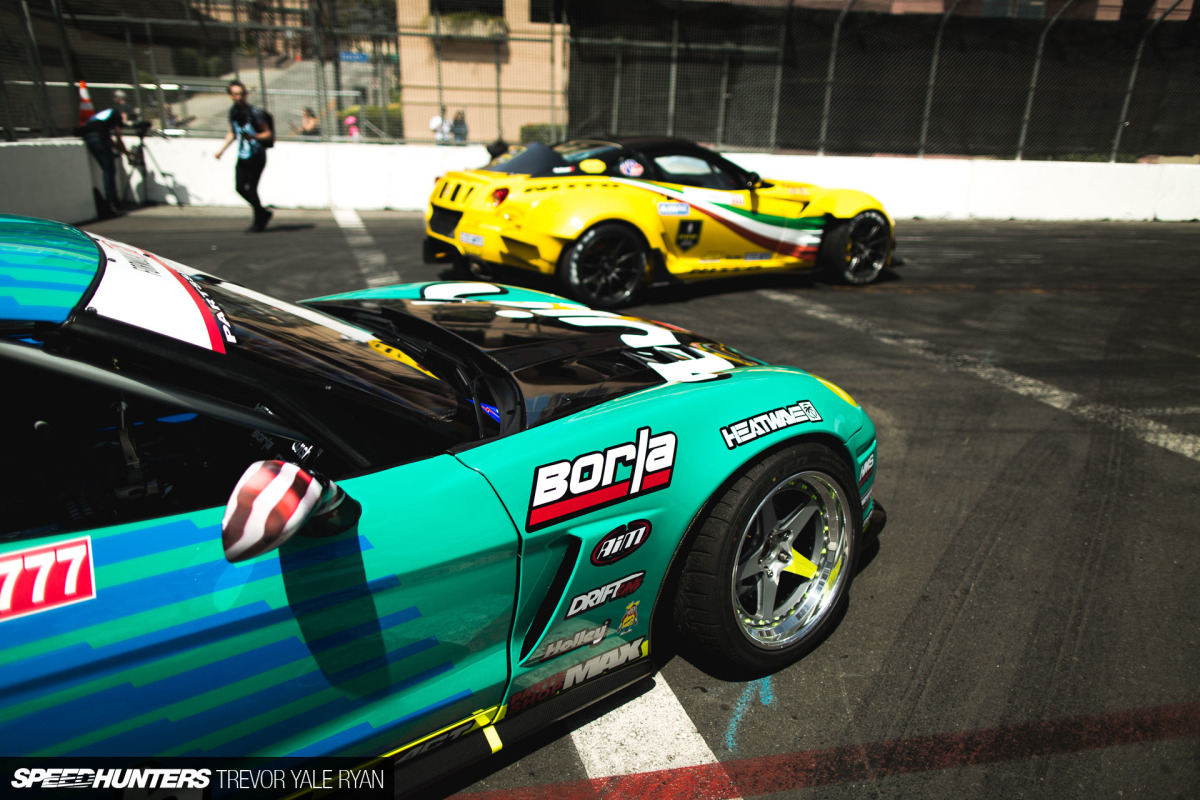 Not to mention, the final product just looks phenomenal; it's an absolutely spot-on balance of insanity and subtlety.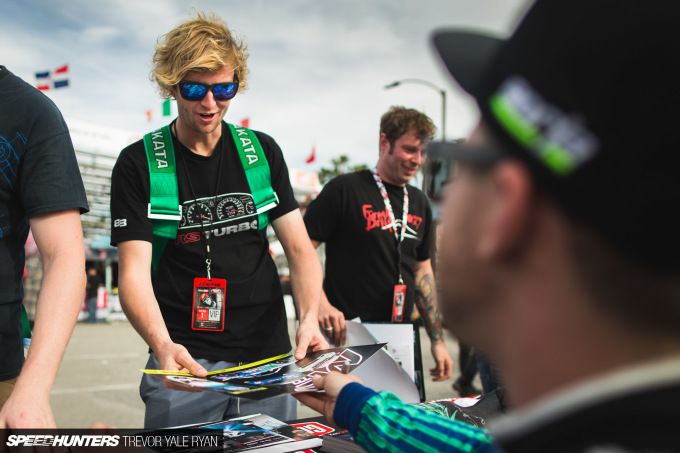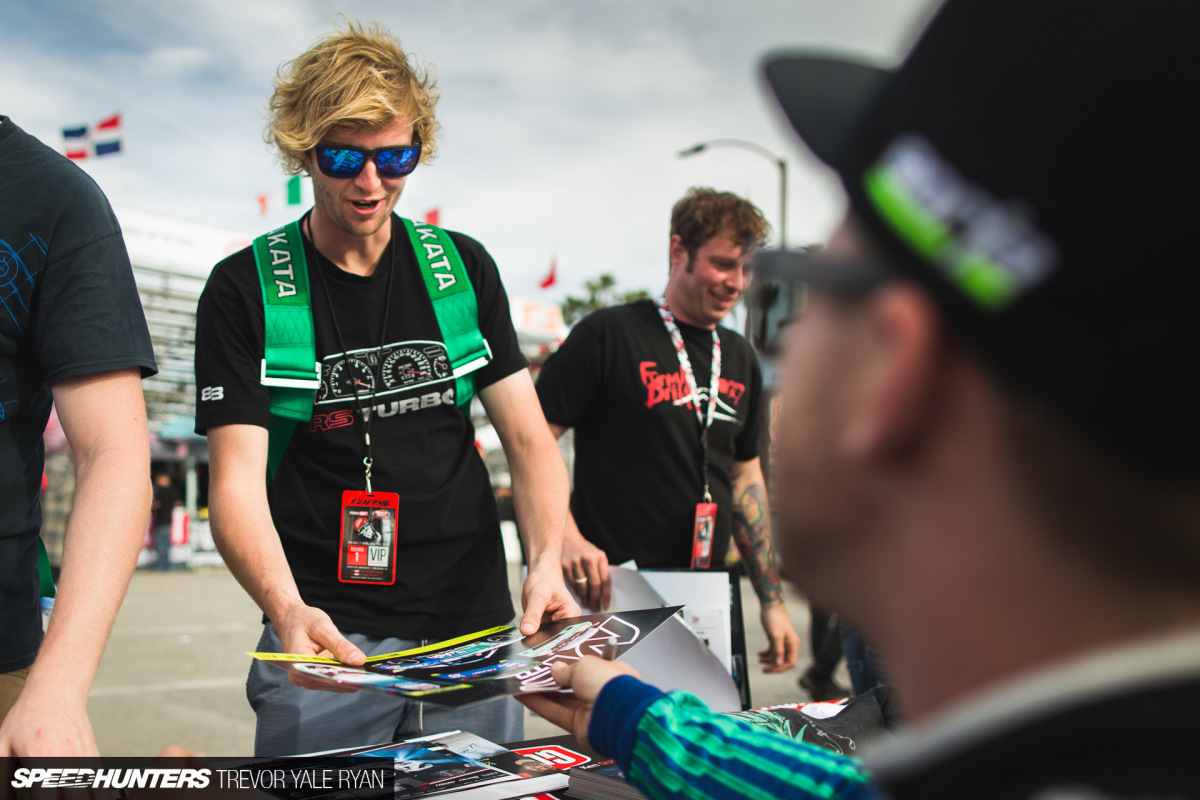 But there's more to a car than how it looks, and even how it performs. More important than what might seem like the final product are all the people involved making incremental changes during each weekend and through the entire season.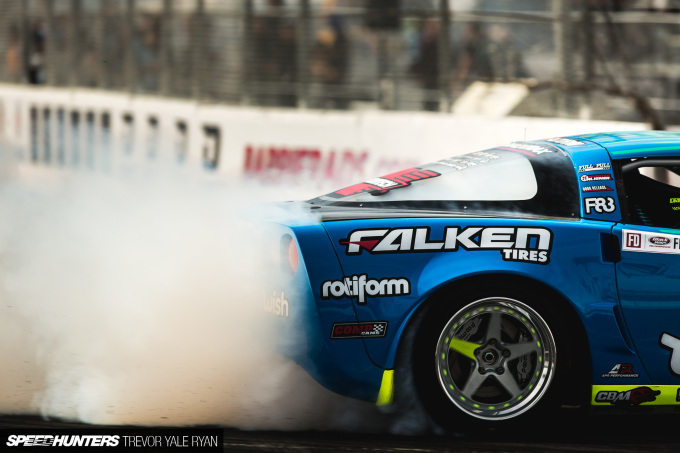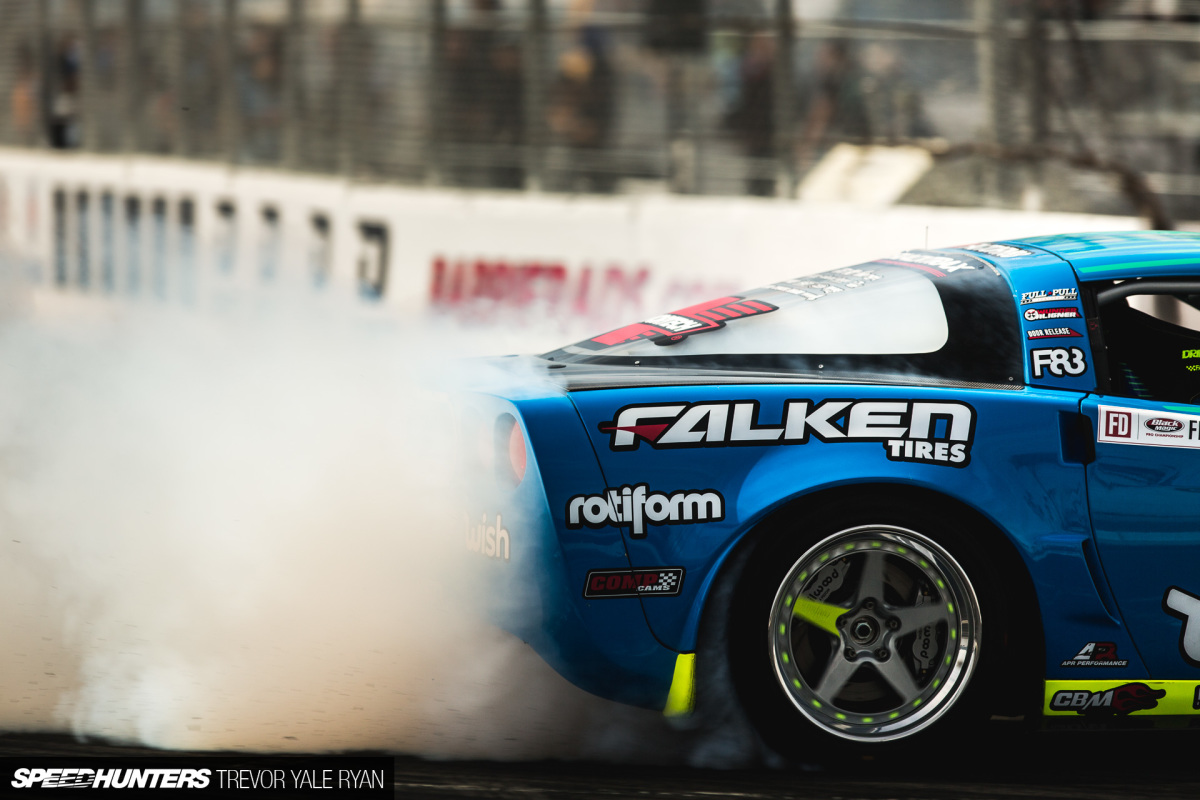 Each event is more than a chance to get some points — it's also an opportunity to make the finished car even better.
Team Spirit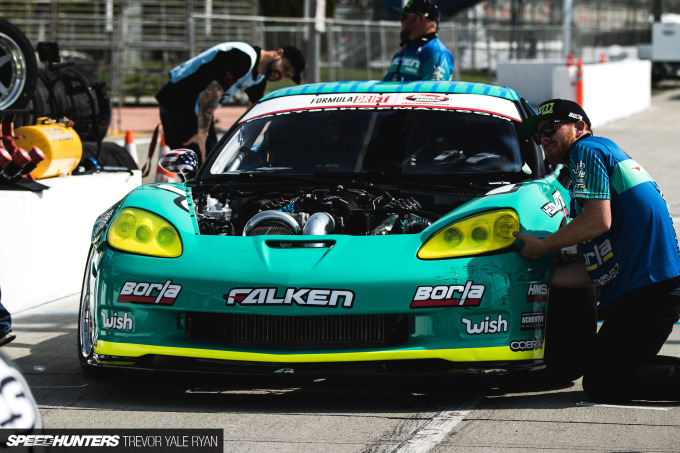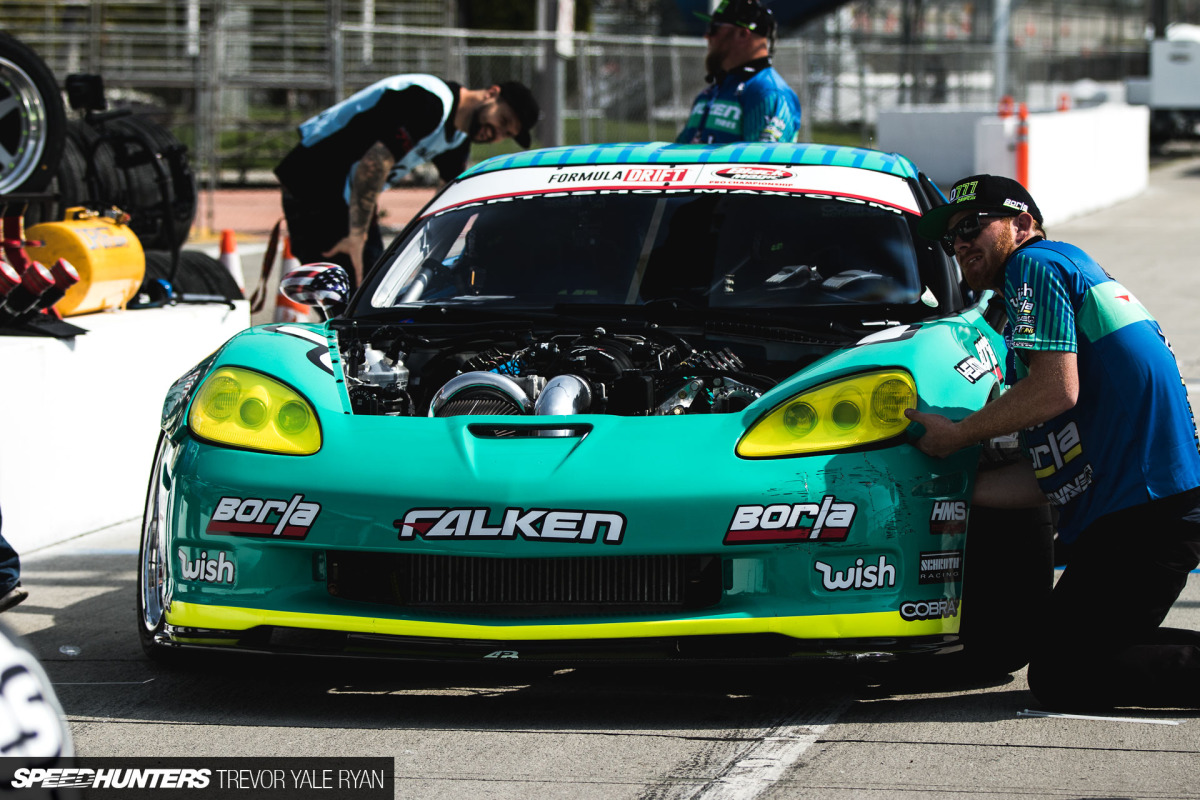 Anyone involved in any sort of motorsport already knows that getting through a race weekend is far from a one-man job. Every successful driver needs a quick-thinking and hard-working team supporting them behind the scenes.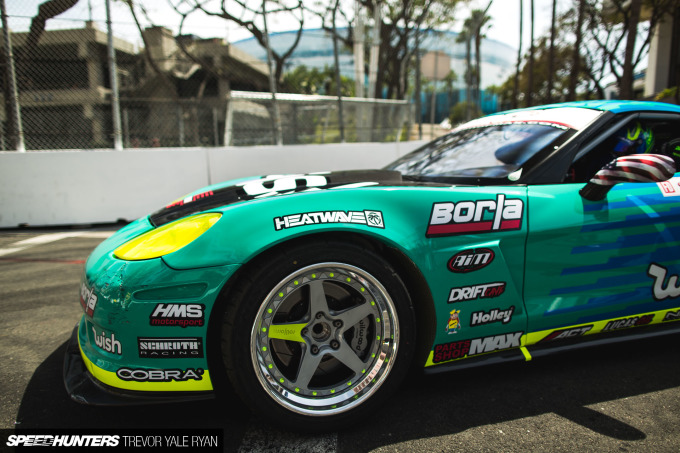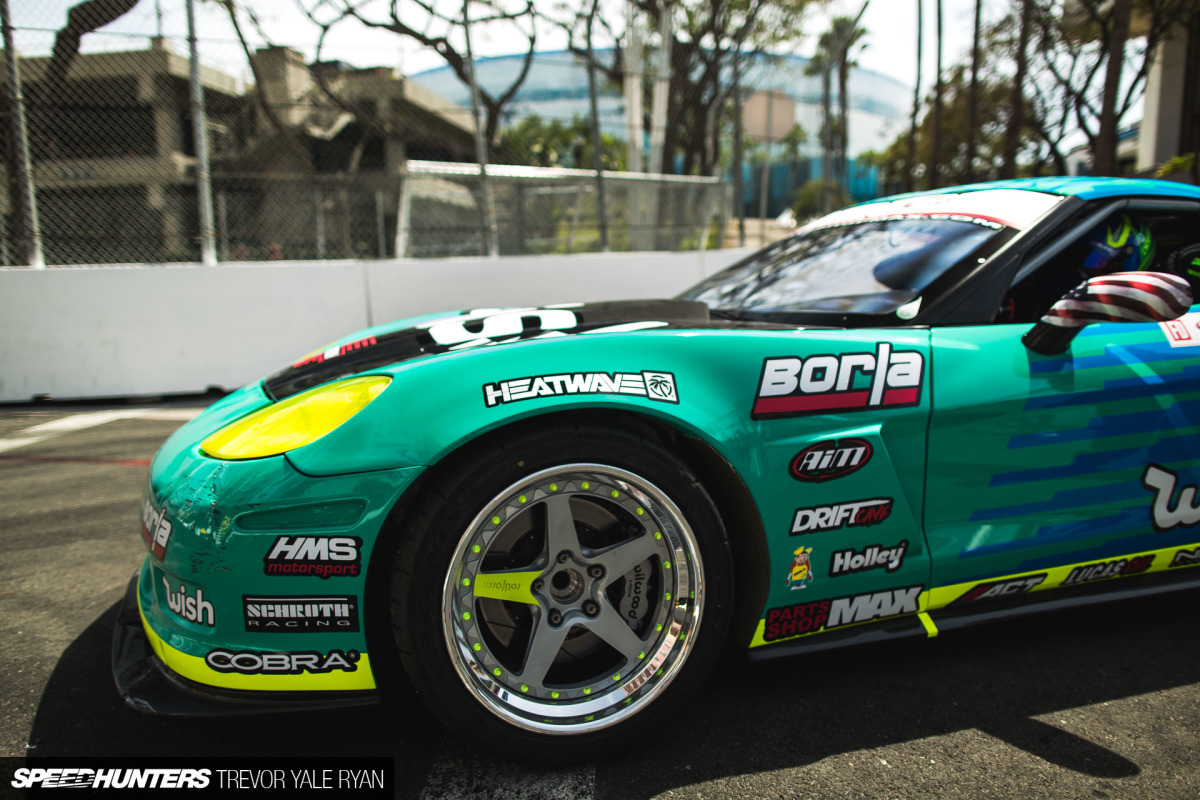 Early on during Friday practice at Long Beach Matt understeered the brand new car into a tire wall, earning the C6 some of its first real-life battle scars.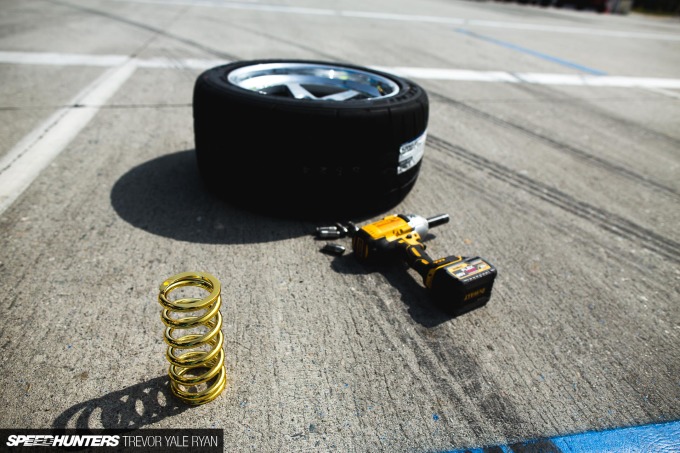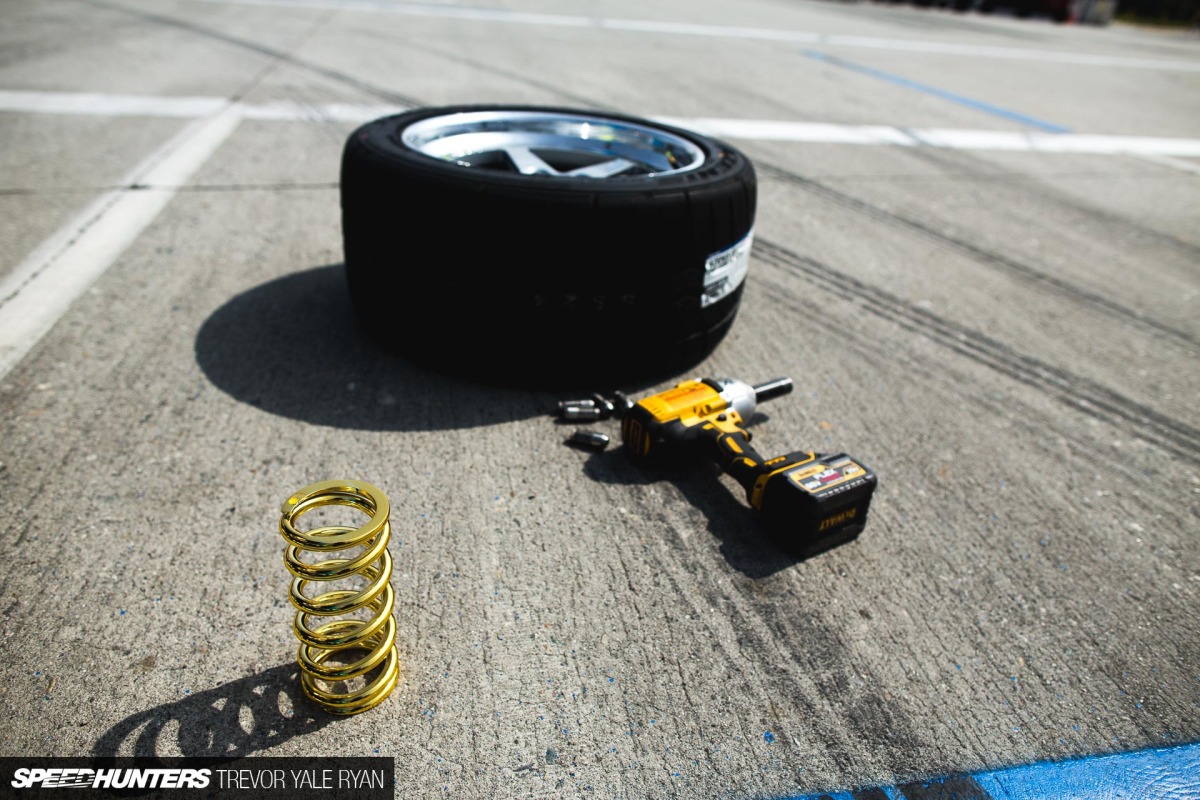 Rather than being intimidated by what may have simply been unfamiliarity in his new office, Matt leaned on more than his driving instinct to ensure it wouldn't happen again. A quick trip into the paddock produced a new set of springs for the rear. While Matt may have made a miscalculation in his driving, expecting more grip on the fresh course, there was more to it than that. Recognizing the minor shortcomings of your car and knowing how to fix them separates hobbyists from professionals and competitors from champions.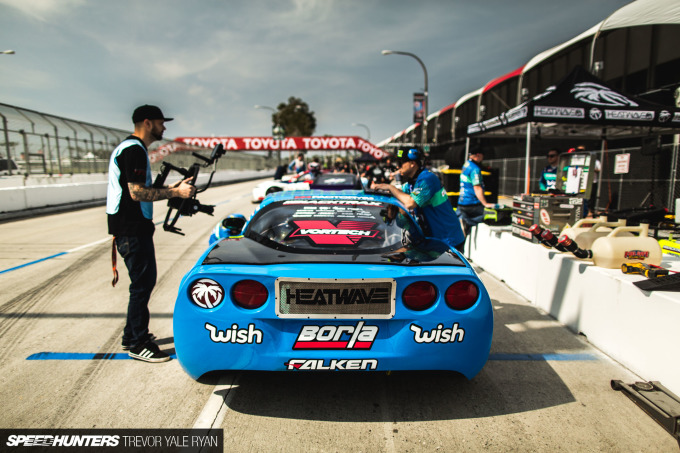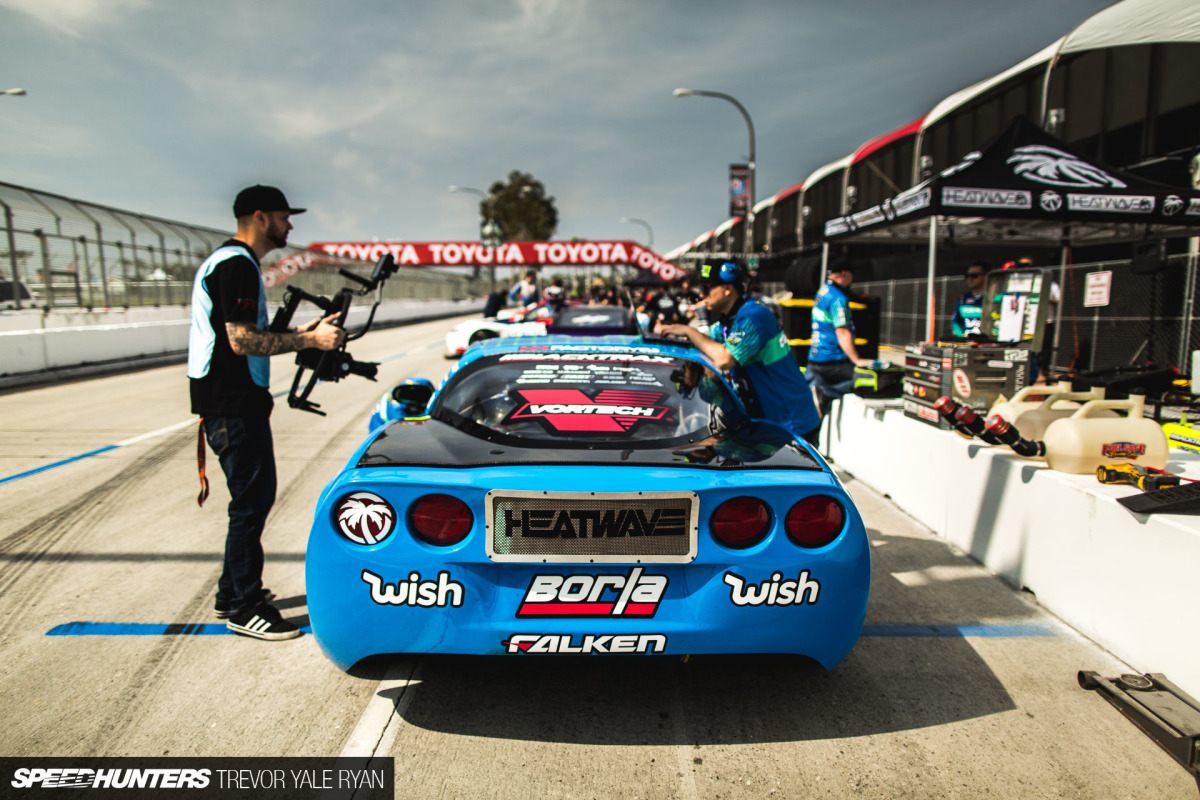 This skill becomes even more important when these changes need to be made on the fly. And, of course, having a crew that can reliably make these changes and get the car back on the ground quickly is an absolute necessity. The faster the better, but there's no room for error here.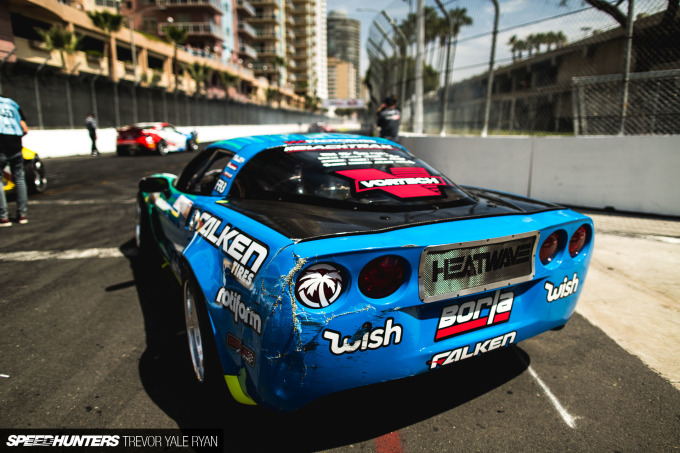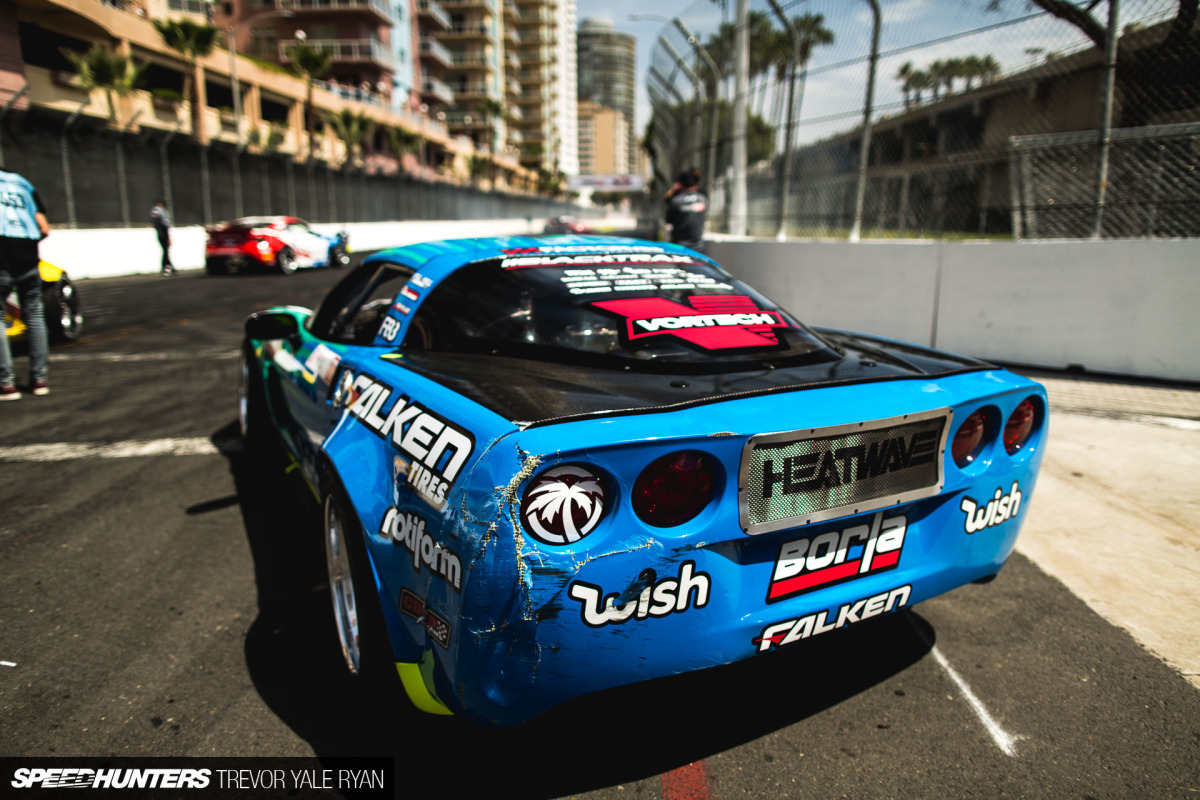 With the car a bit more dialed in, Matt was unfazed by his brushes with the walls on Ocean Boulevard and ready to push even harder. For the rest of the day, he did just that.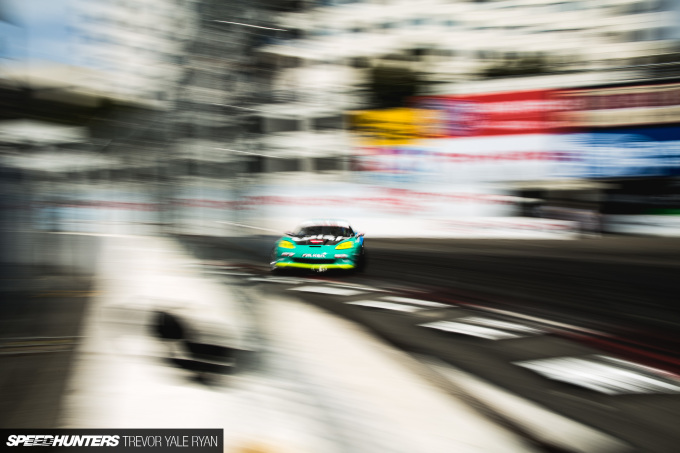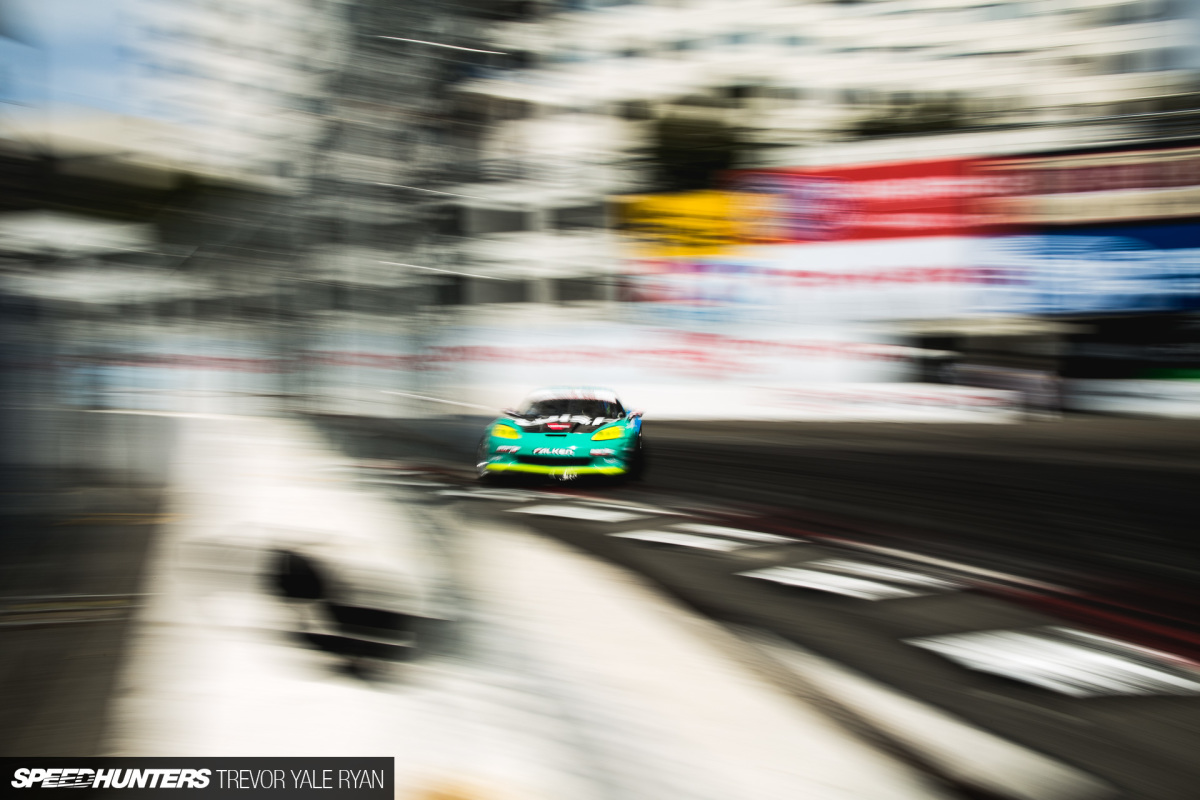 While he spun on his first qualifying run, Matt had complete confidence in the setup and went right back out for run two with no changes to the car. As we already know, he didn't hold back, ending up with a score of 91 which was good for the 7th seed in the Top 32. It's good to see Matt's already improved on this performance, pulling off a 92 in qualifying of Round 2 in Orlando, and I'm sure he'll continue this upward trend as the season continues.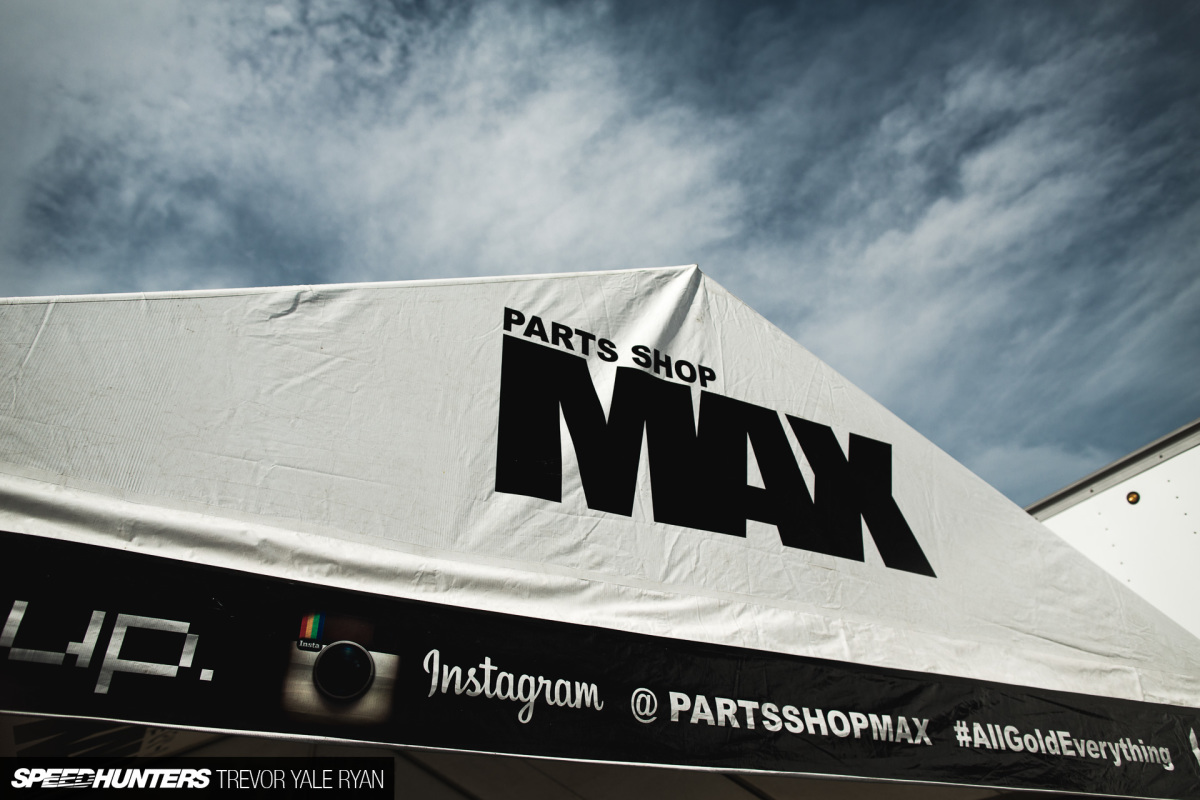 Getting through qualifying itself is always a full day's work on the track and in the pits. But after the dust settles the work is far from over back in the paddock.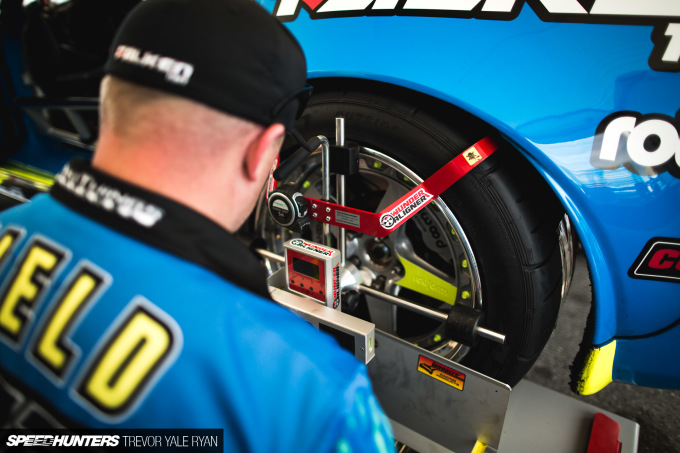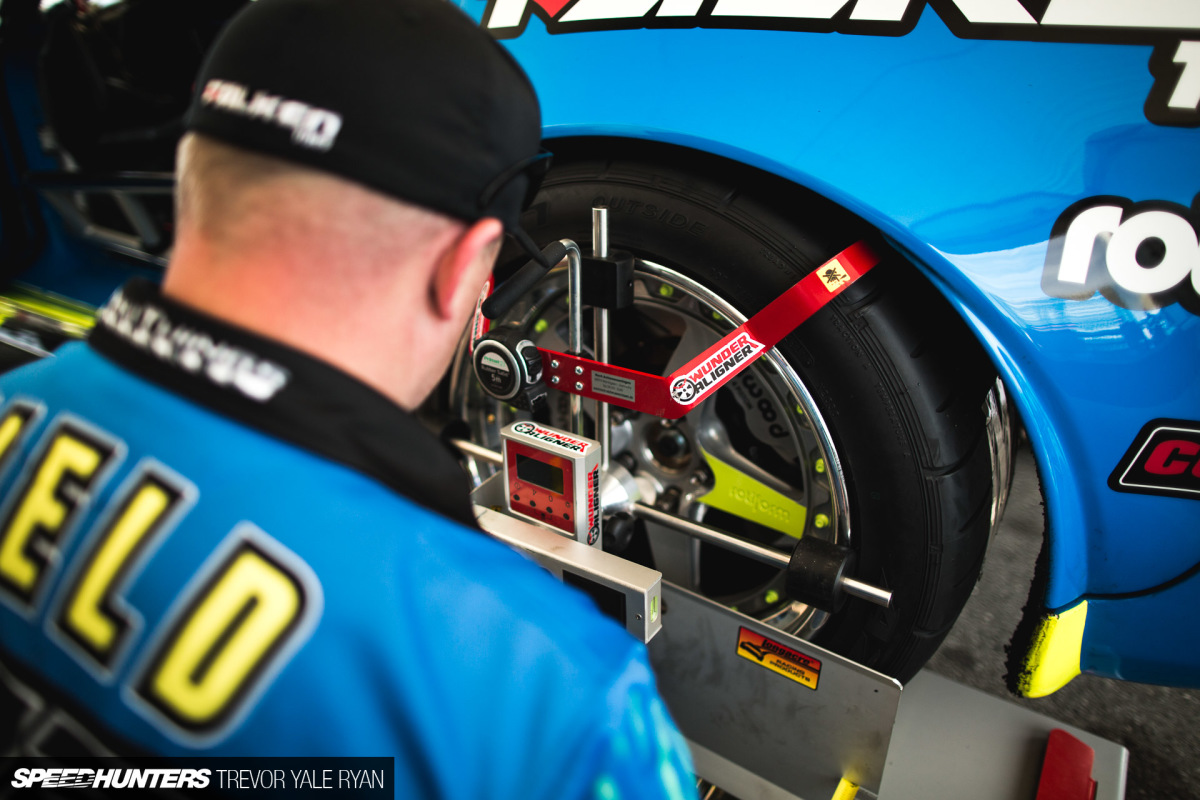 At the end of the first day of competition in Long Beach I found crew chief Graham Downey going over the car with a fine-tooth comb, looking for anything that might eke out a bit more from the C6.
Having proper tools to really ensure that every spec is exactly as it should be makes a huge difference in this regard. Everything from the portable Wunder Aligner to extensive in-car telemetry all help the team do their jobs as best they can.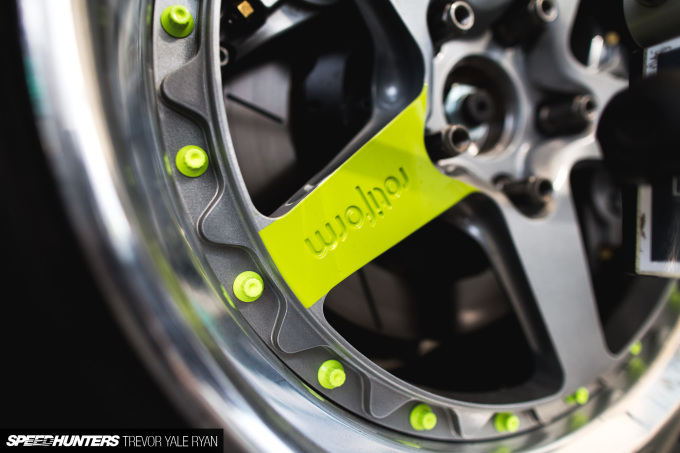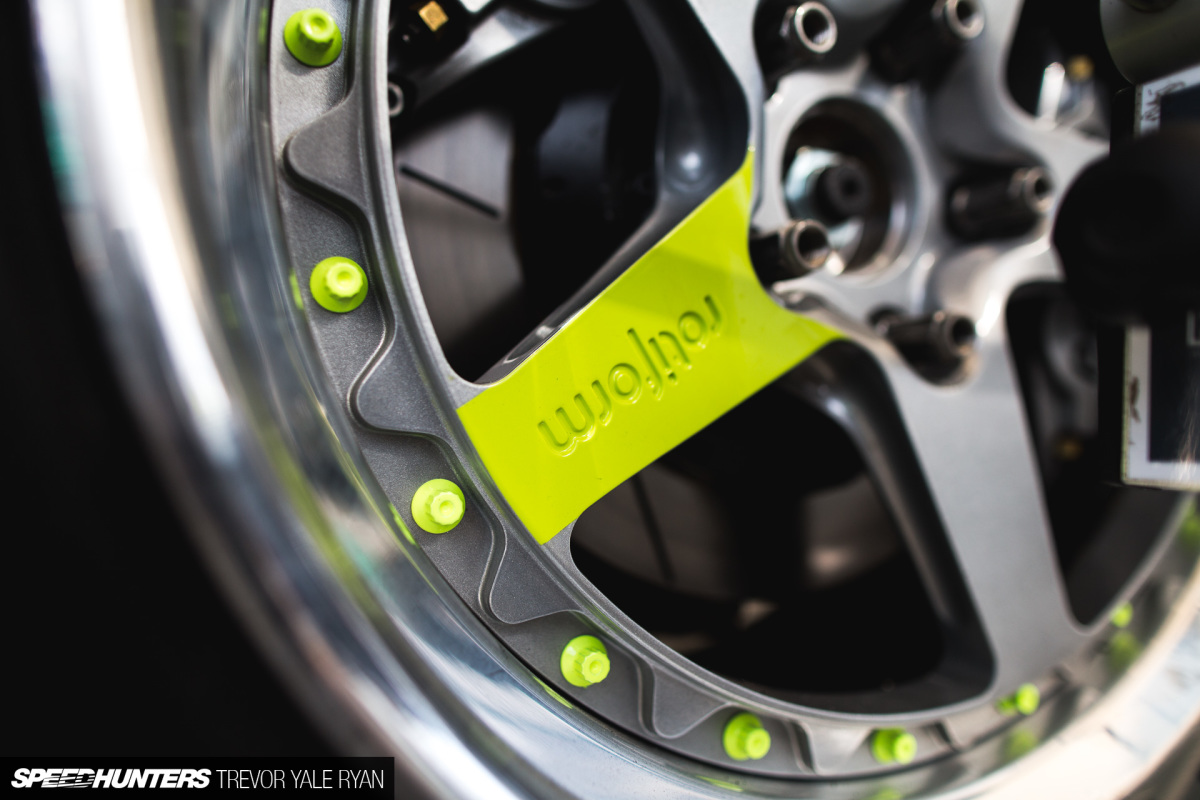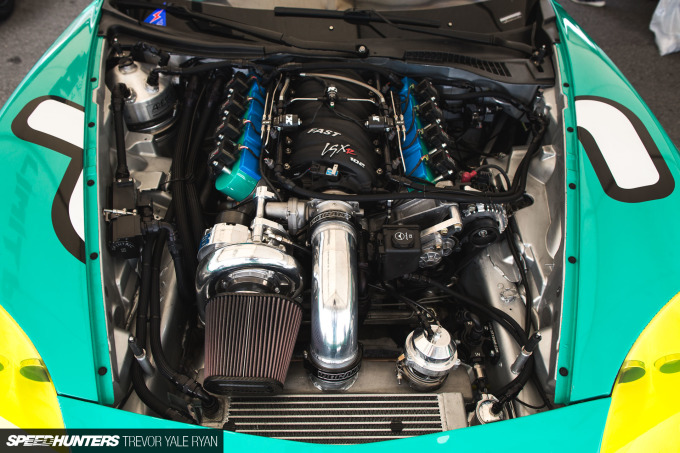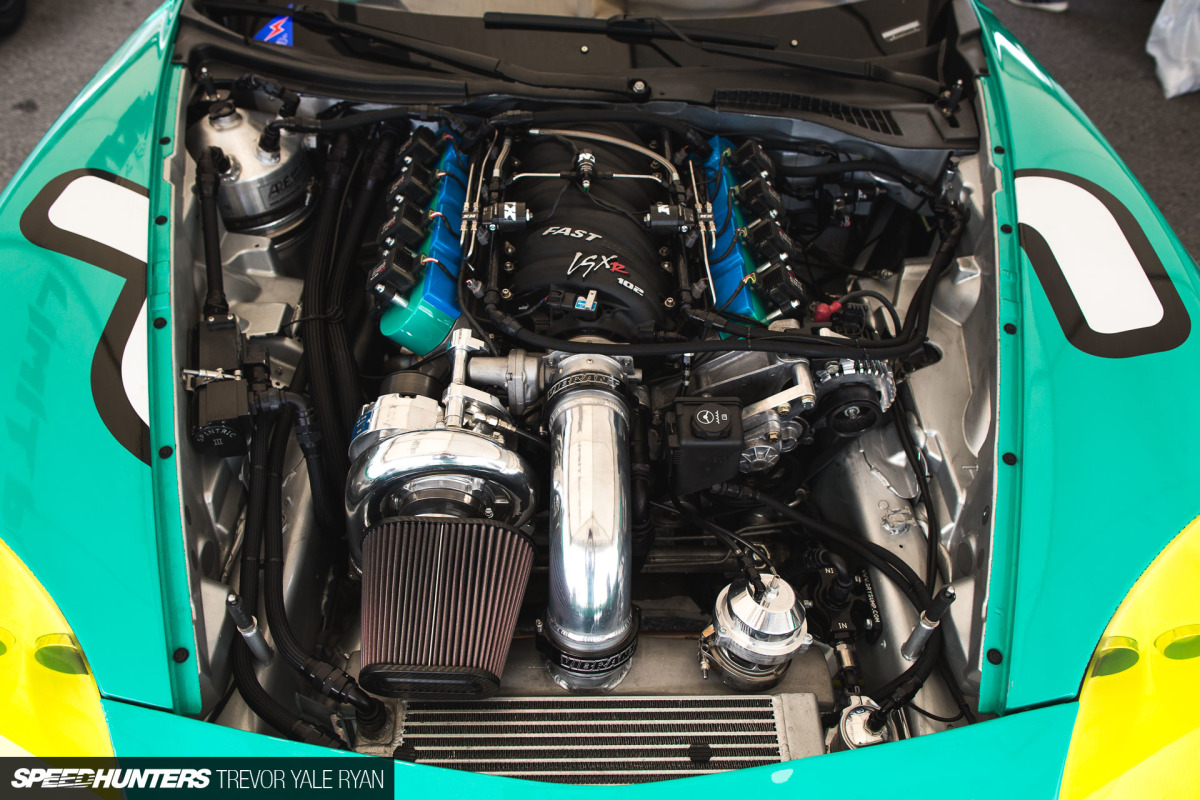 It's these tangible details that incrementally increase your chances of winning and overlooking any tool you can afford is a huge mistake.
While I was in the paddock as the team was tearing the car down and cleaning things up for competition the next day, I took the opportunity to have a nice long look at the forged Rotiform WGR wheels and the glorious 427 aluminum block LS in the engine bay. Yes, 427 cubic inches is 7.0-liters of American madness.
With help from a Vortech supercharger (and nitrous oxide) the big motor makes a healthy 1,050hp after a slight de-tune. In fact, the guys told me that what they really need to do now, if anything, is find exactly where in the fuel map they need to further de-tune the motor for smoother and more reliable delivery. It's certainly not a bad problem to be faced with.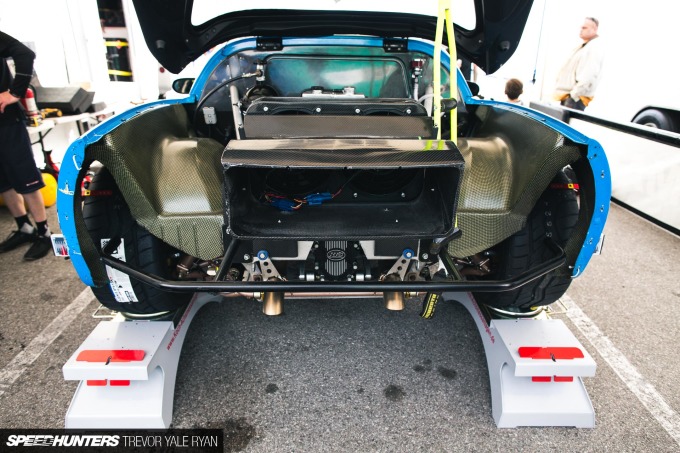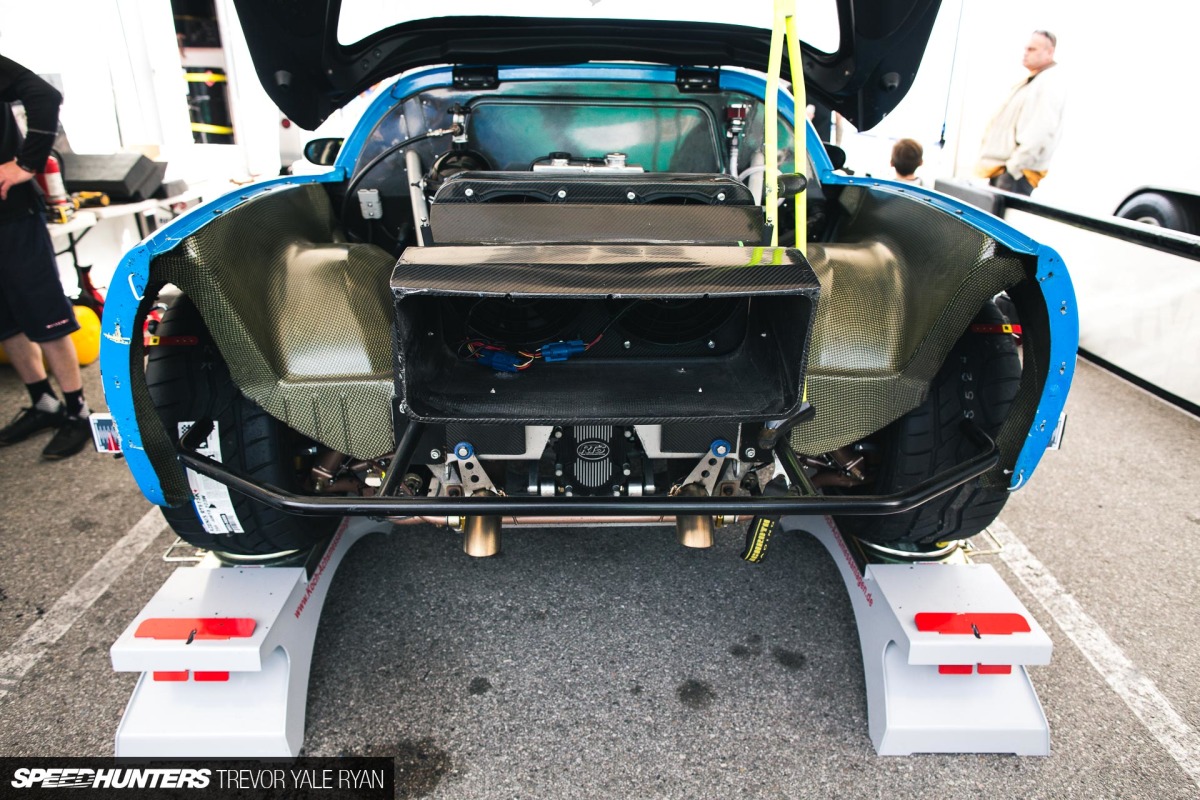 On the opposite end of the car, beneath all of that carbon fiber from HGK Motorsport, resides the rear-mounted transaxle, greatly helping the weight distribution in the pleasantly refined American sports car. It's an awesome engineering accomplishment that really sets the Corvette apart from its domestic competitors, both on the street and the race track.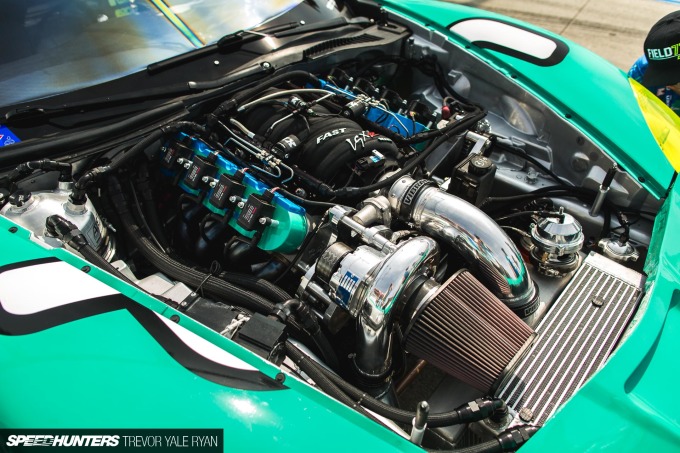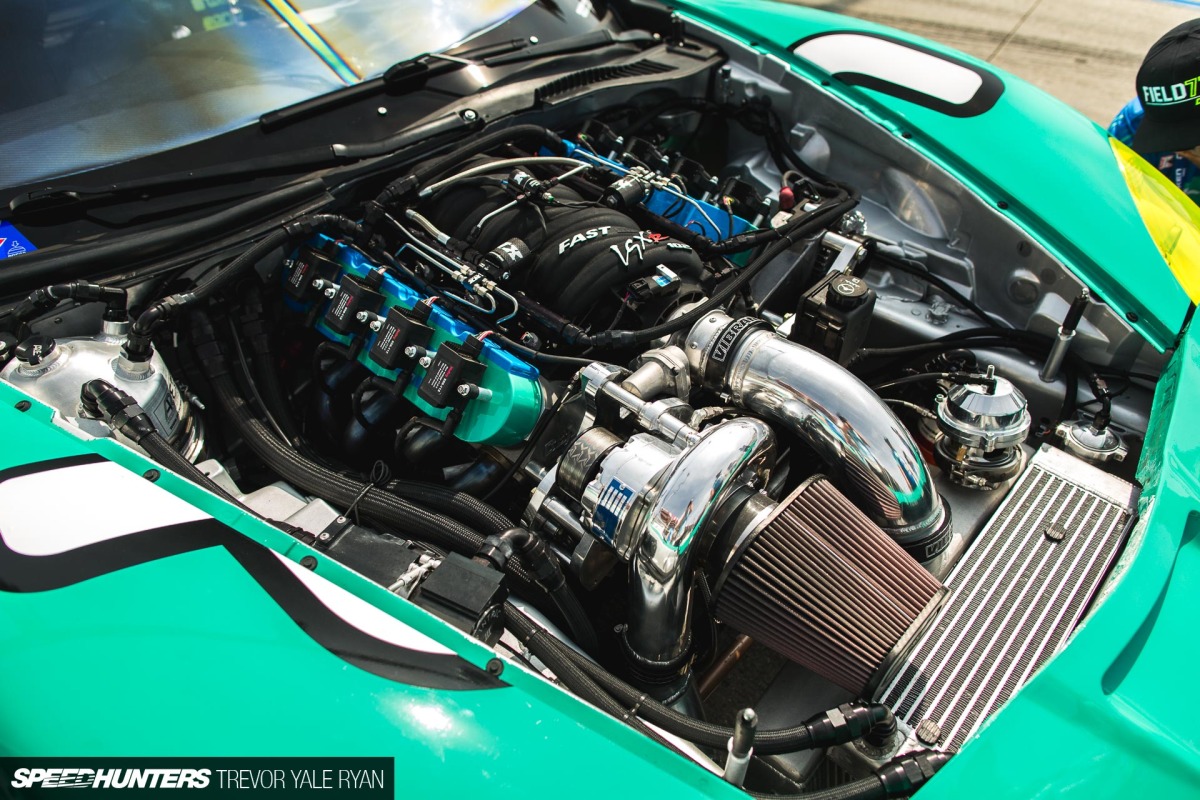 It's also awesome to me that the valve covers themselves carry over those classic Falken Tire scallops.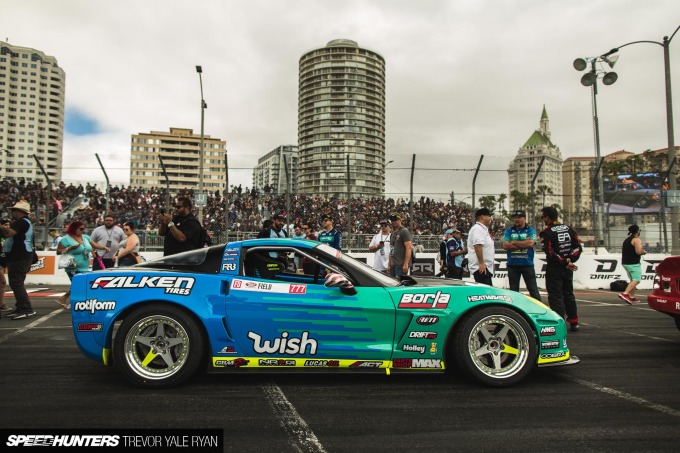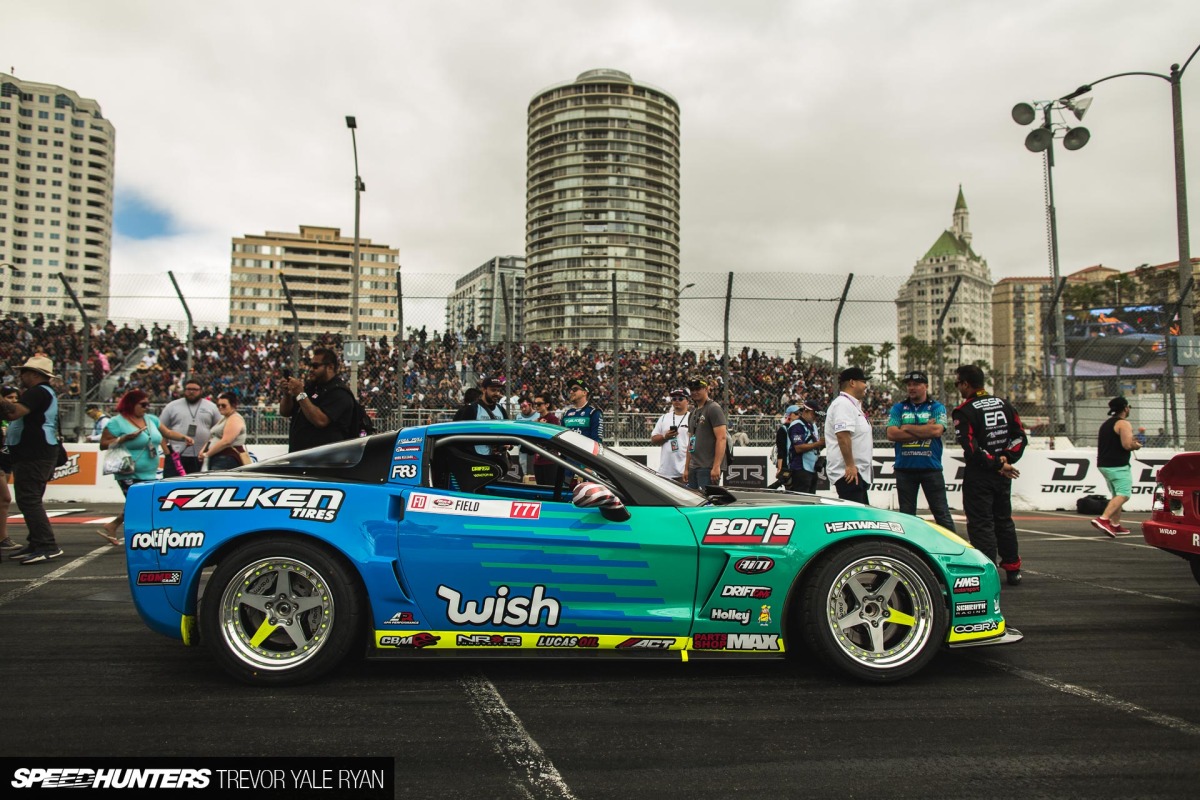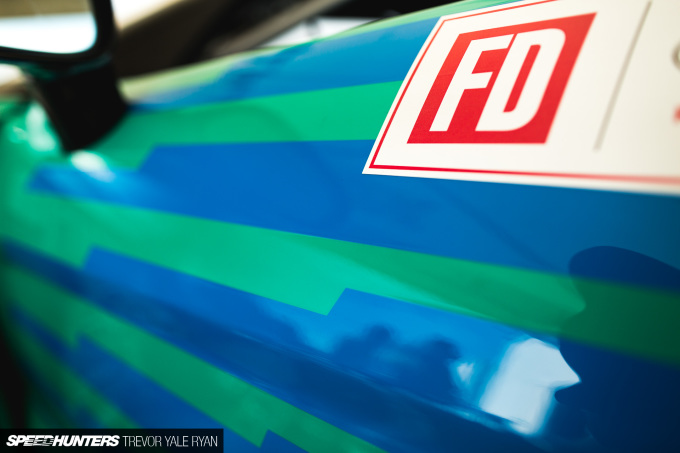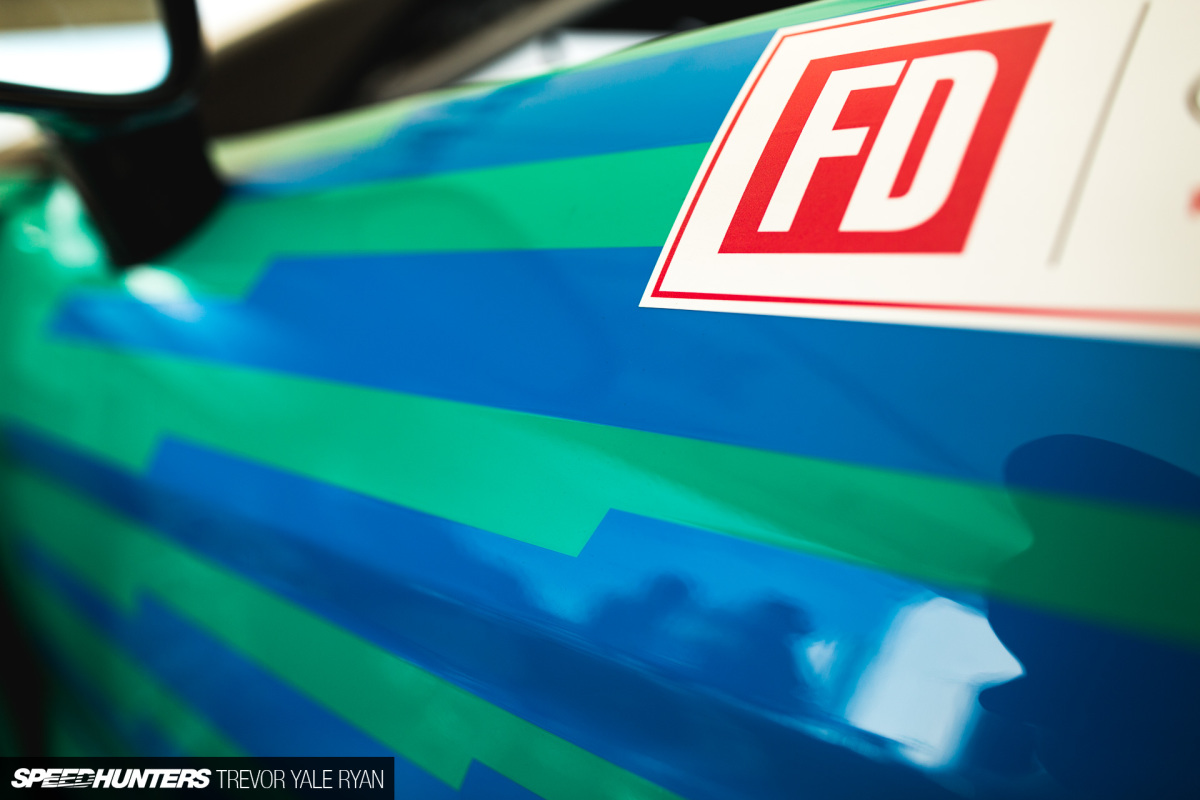 It's a livery that Matt is proud to have the opportunity to display, especially on an American car. Making it even better, it's not a wrap; every panel is sprayed the good old-fashioned way.
It's this attention to detail along with the other functional and aesthetic choices that have been made which create this great balance I was talking about before. It's a proper looking car that just wants to go fast.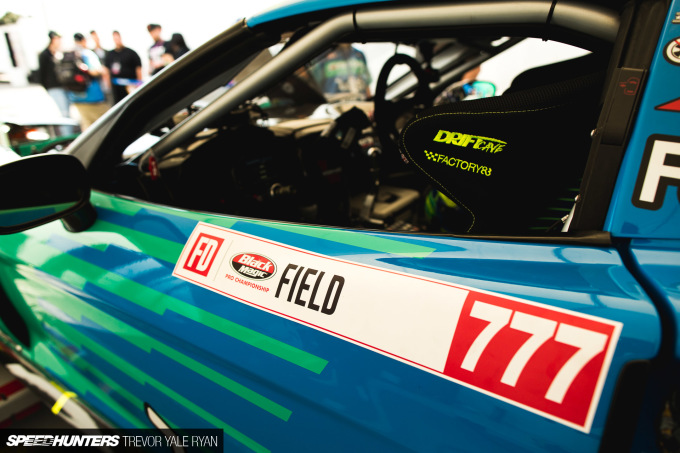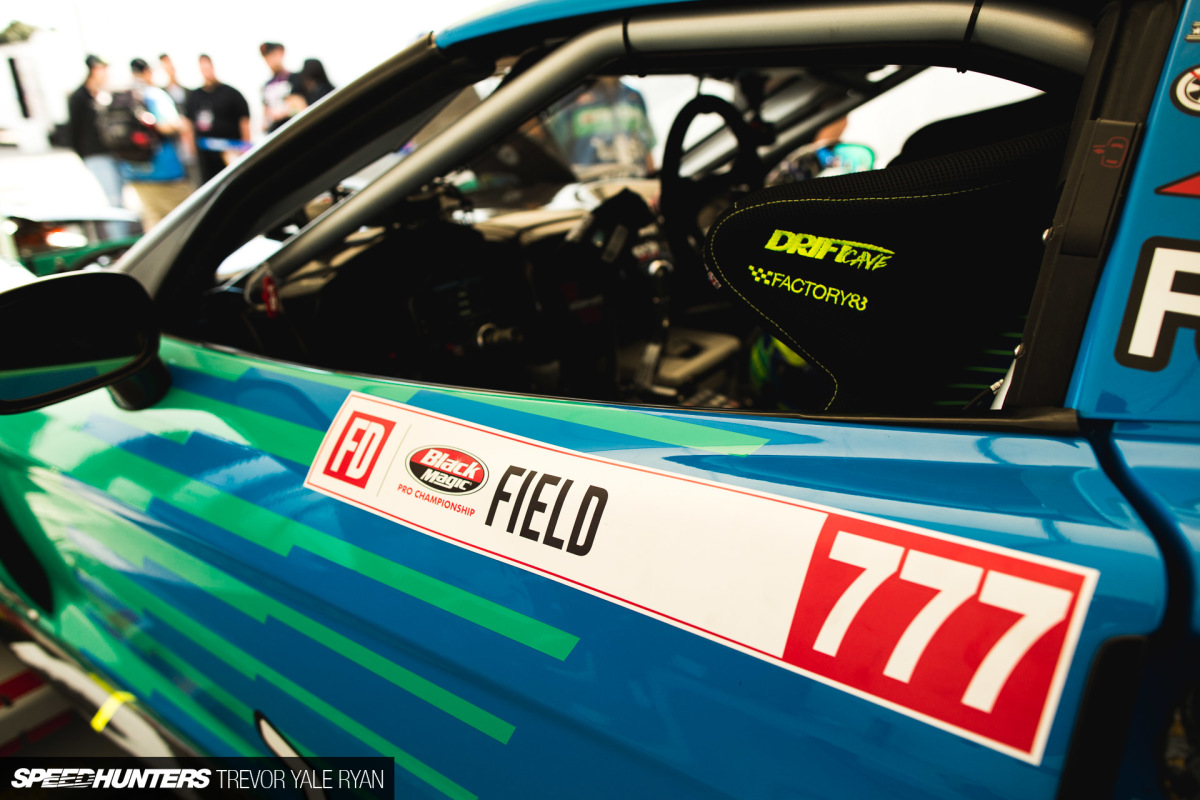 Inside the cockpit, it's no different.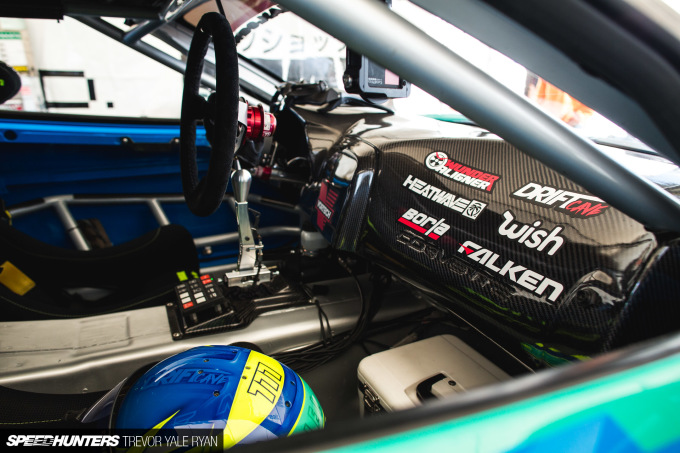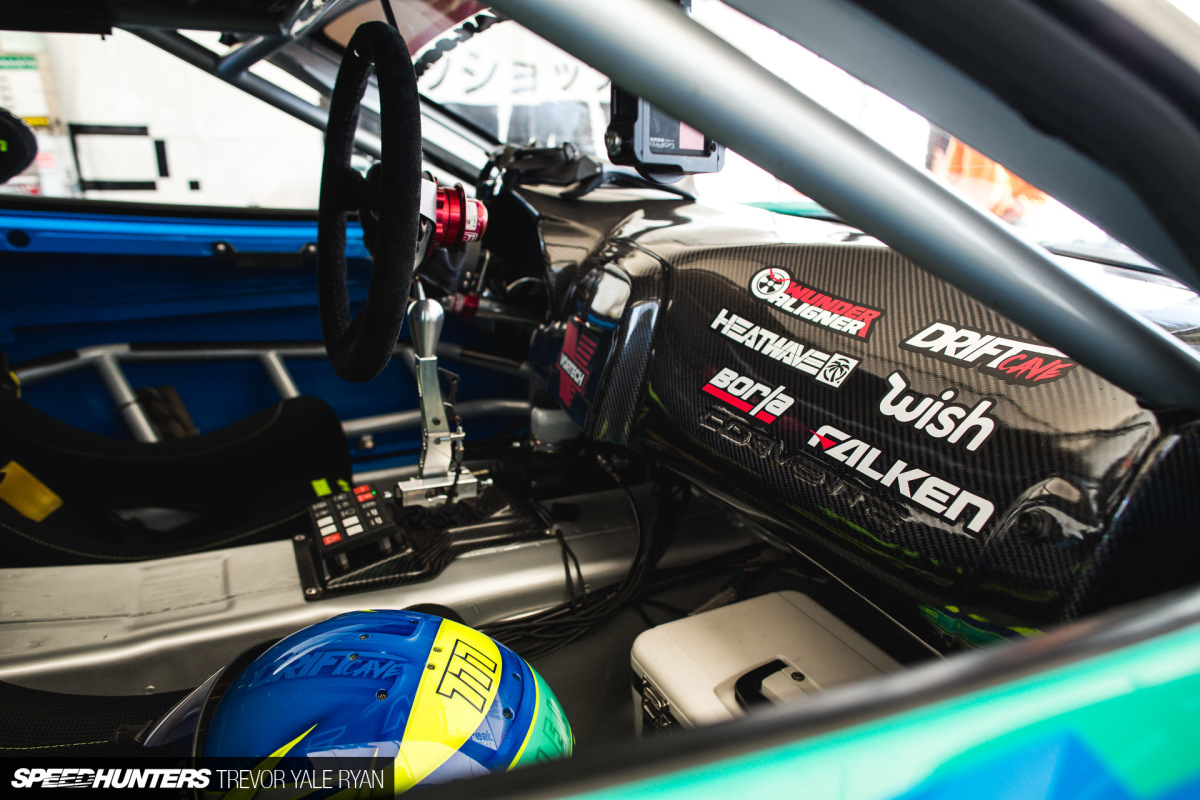 More carbon fiber and more neon yellow, all surrounded by a proper cage and everything Matt needs to succeed.
Competition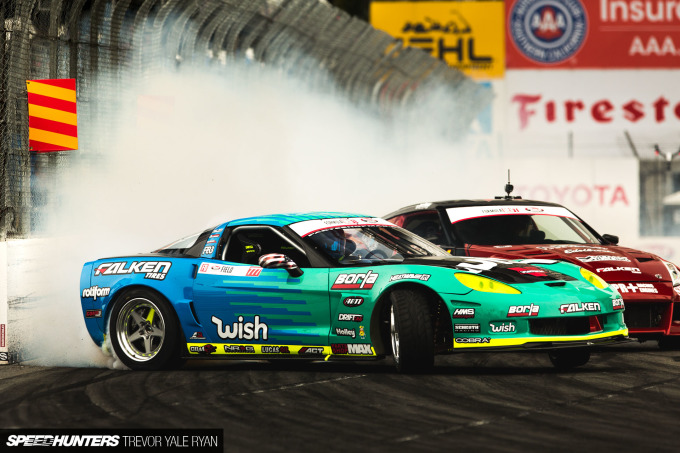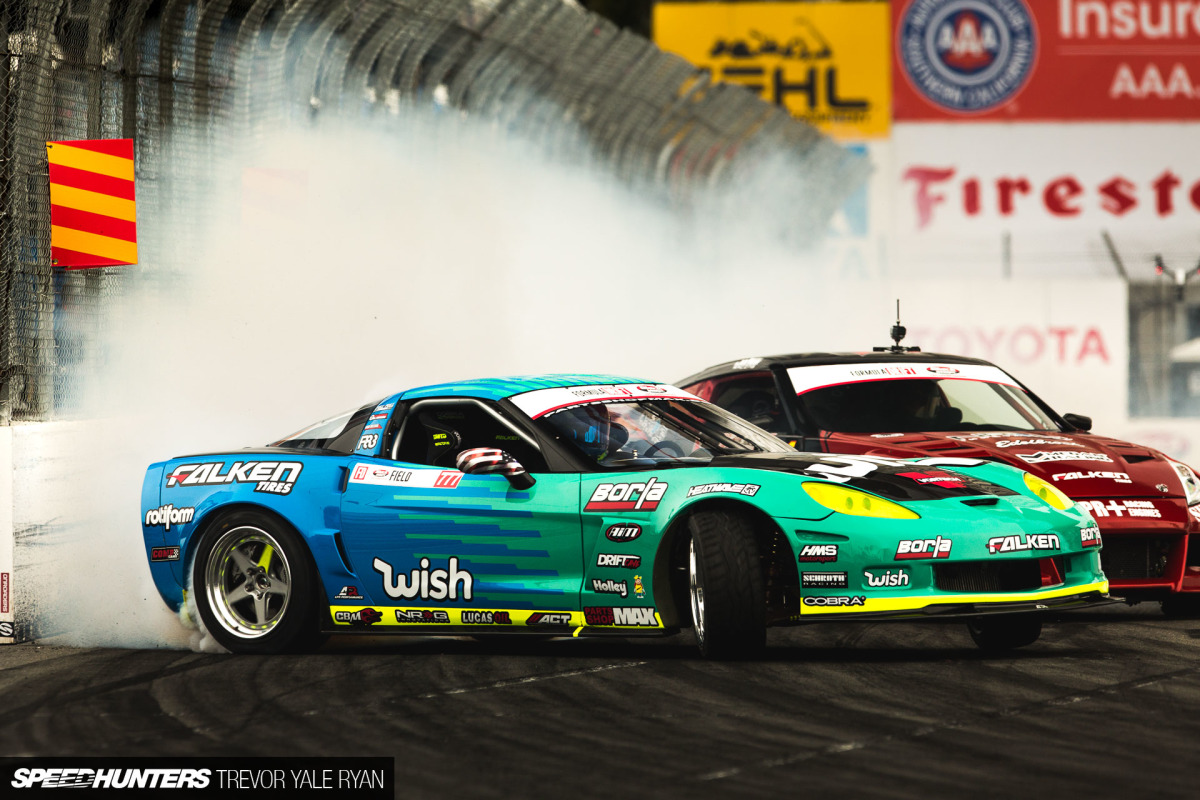 Of course, the whole point of all this is, ultimately, to be better than everyone else. That seems straightforward enough, but of course in reality it isn't at all.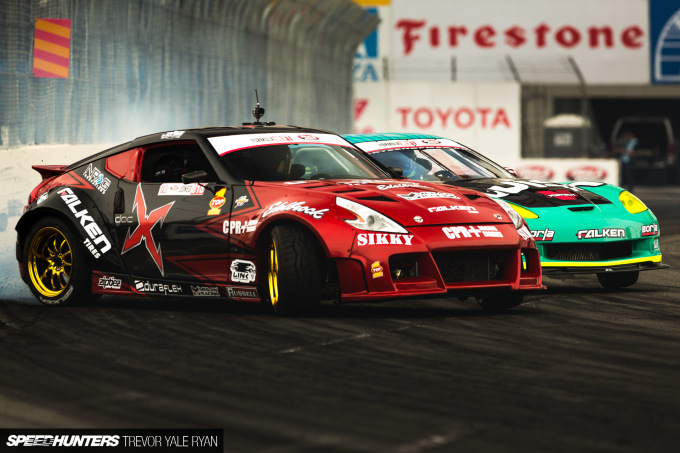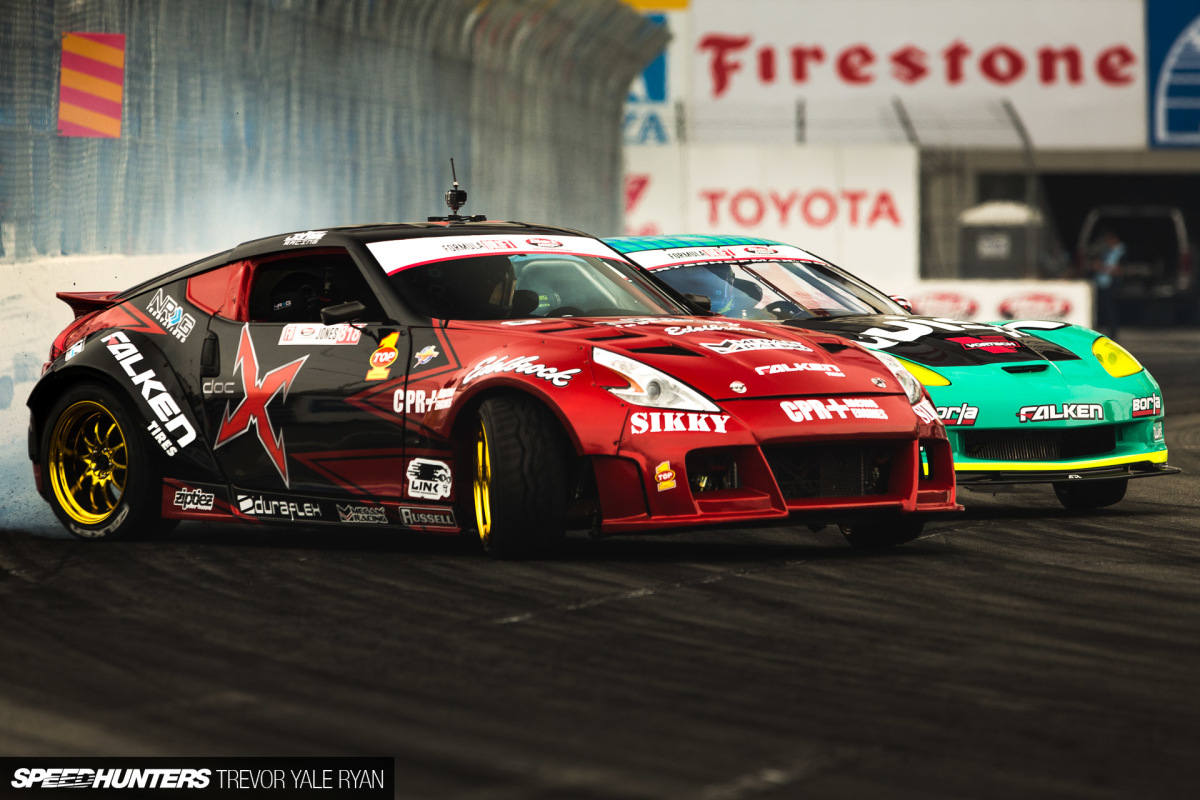 After what the team described as two good test days and one bad one before the season even started, Matt was stoked to end qualifying at Round 1 on a good note. He's a guy who very much feeds on his own energy and handily took down Jeff Jones in the first round of side-to-side competition the next day.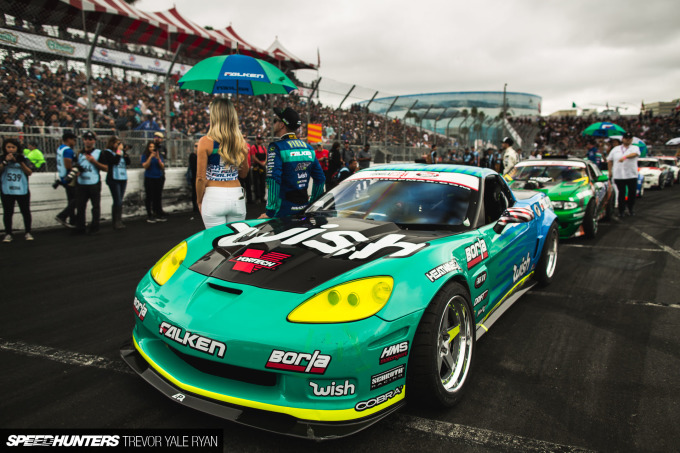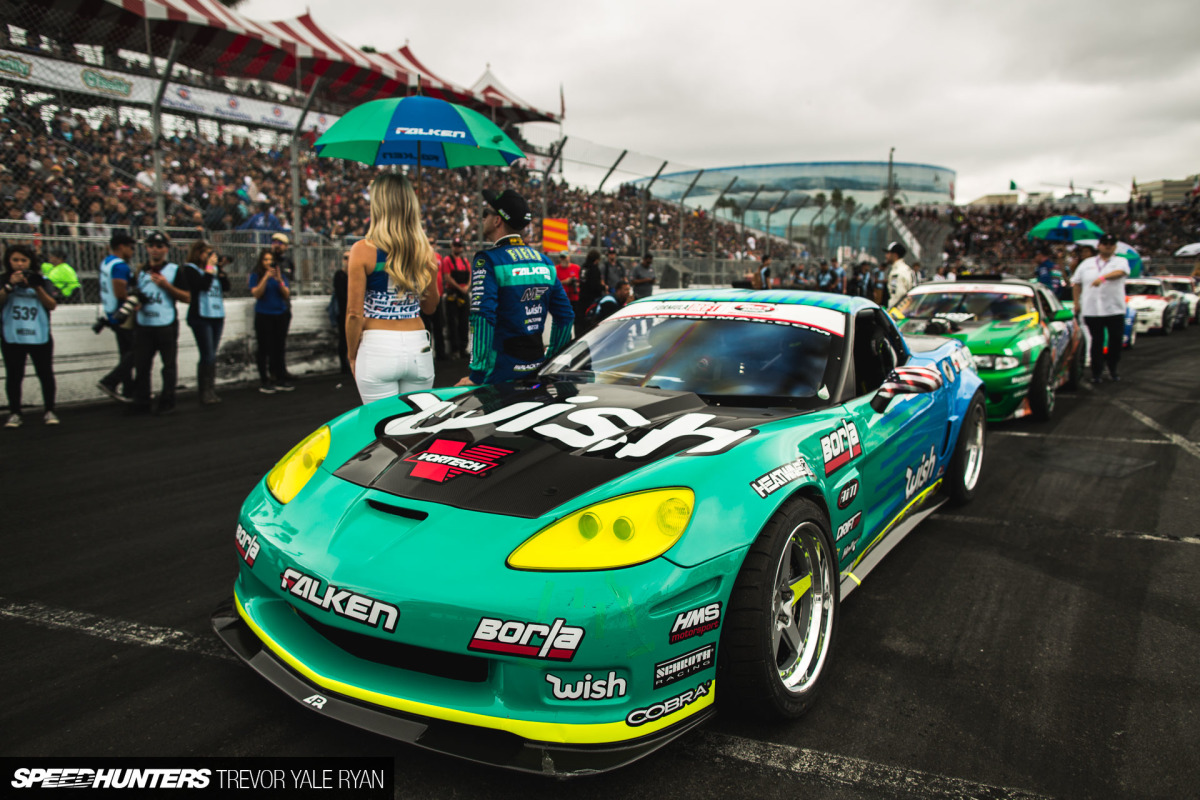 Following that, I had another good look at the car during driver introductions. I don't think I've ever quite liked a Corvette so much.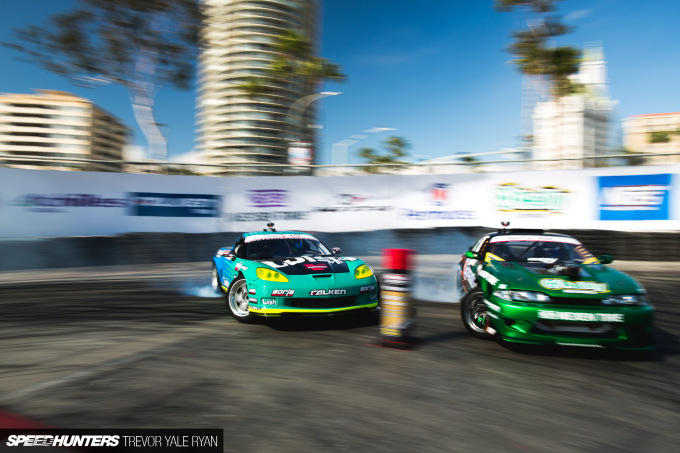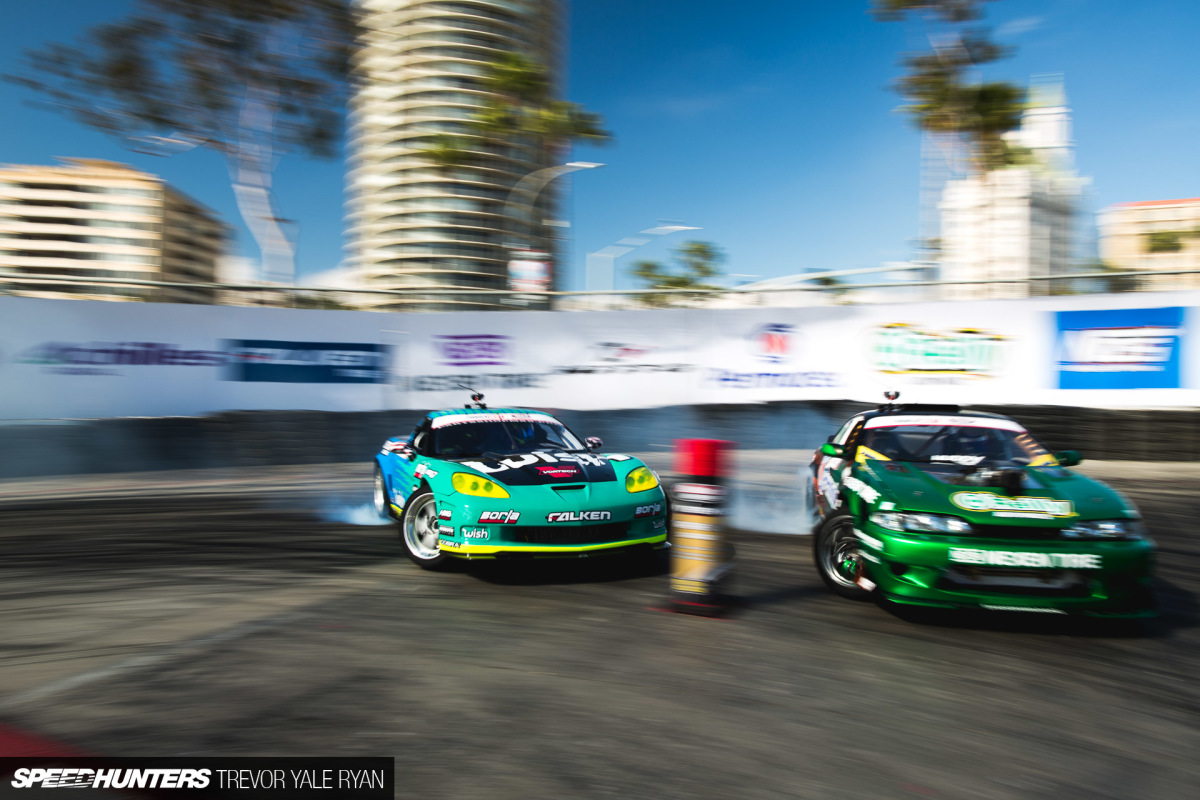 Matt went on that weekend to get knocked out by stellar back-to-back runs from Matt Hohnadell who, obviously, is piloting the same chassis as last year. It's interesting to wonder if Matt would have had this battle if he was also in last year's car, but there's no sense looking back now.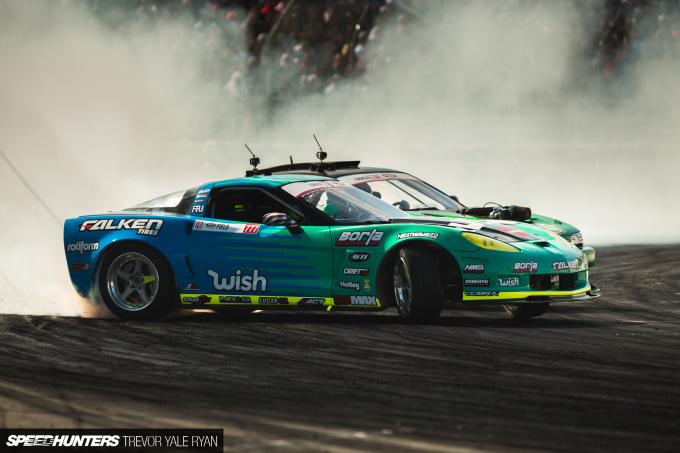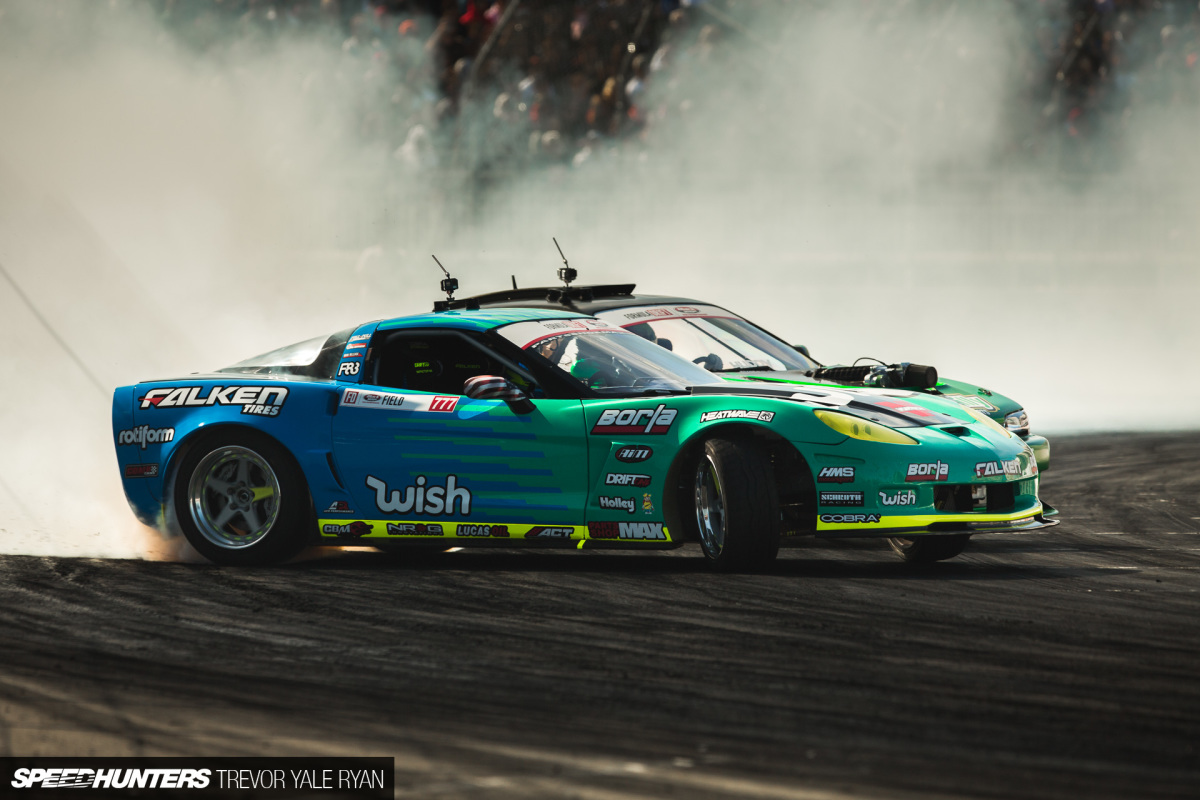 While the team finished the first round on a good note, feeling "pretty good" with the car, far more important is what will happen throughout the rest of the season.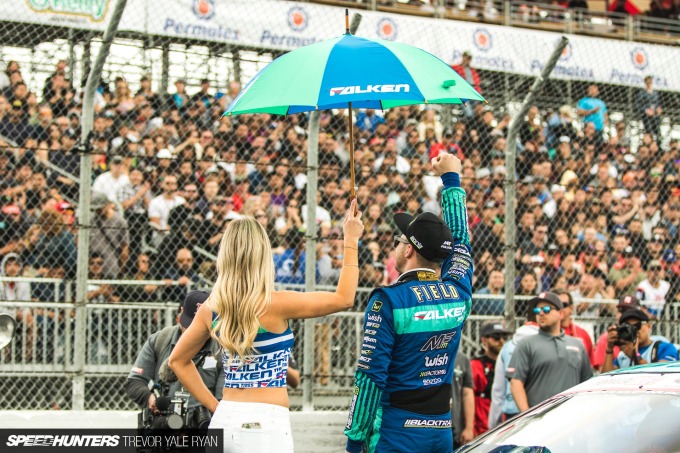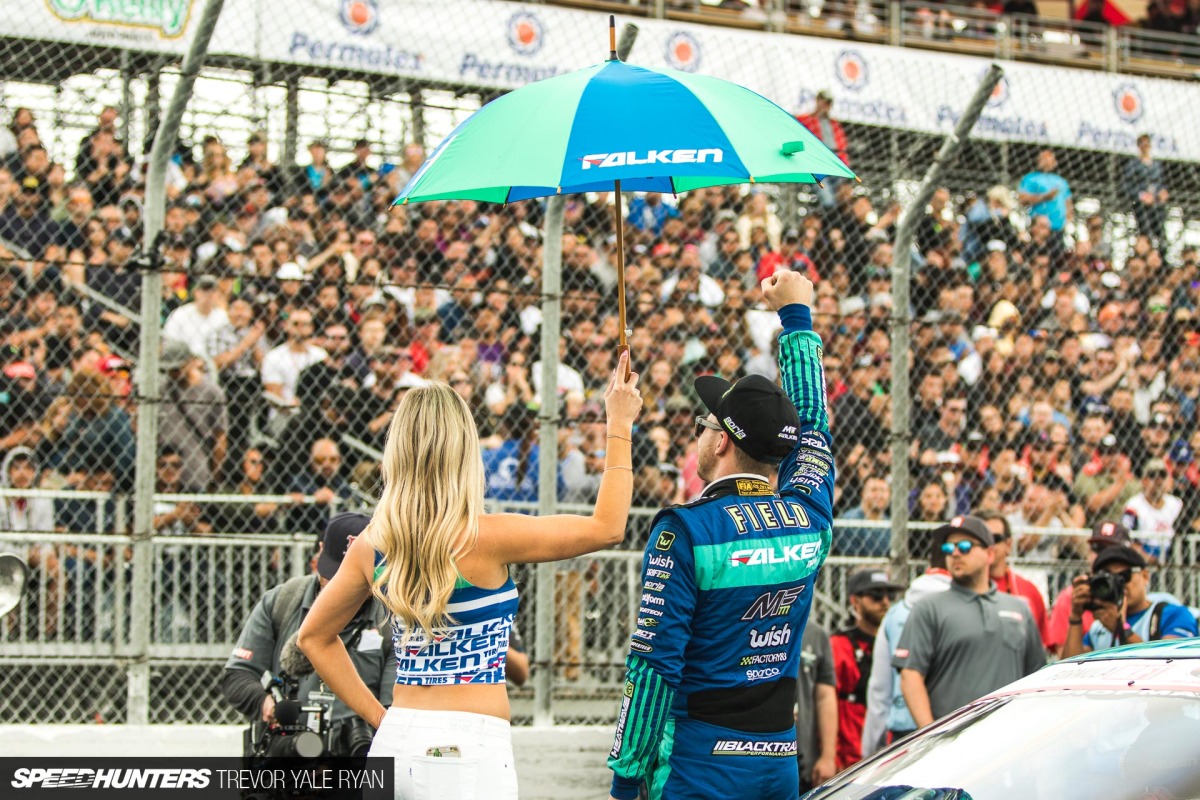 It's no small task to take a car from factory stock to competitive drift car in a matter of months, but from here on out I think Matt just needs more seat time in the new chassis before he finds his way onto the podium. What do you think will unfold this year as Matt's confidence in the Corvette grows?
Trevor Yale Ryan
Instagram: tyrphoto
TYRphoto.com
Cutting Room Floor