Shop Space
With the 2017 Formula D season said and done, teams are going all out to get their cars ready for 2018. Matt Field's Drift Cave shop is no different, but it's located in California's Bay Area where there isn't really an off-season when it comes to drifting.
The evening I made my way to the shop it was full of Matt's friends getting cars ready for Winter Jam, a massive annual event at Sonoma Raceway. It's one of the largest gatherings of drifters in the US, and a quality opportunity for drivers of all skill levels to come and get some seat time on a variety of layouts over the entire circuit.
But all the track time does no good if you don't have a properly built car that passes tech in the morning. And for that, you need a proper space to get work done.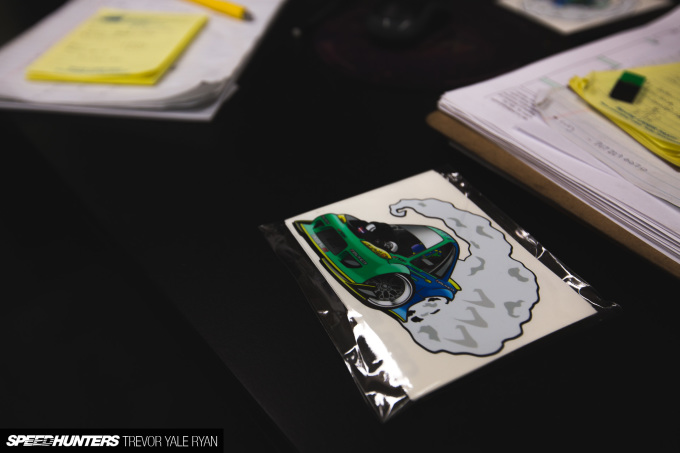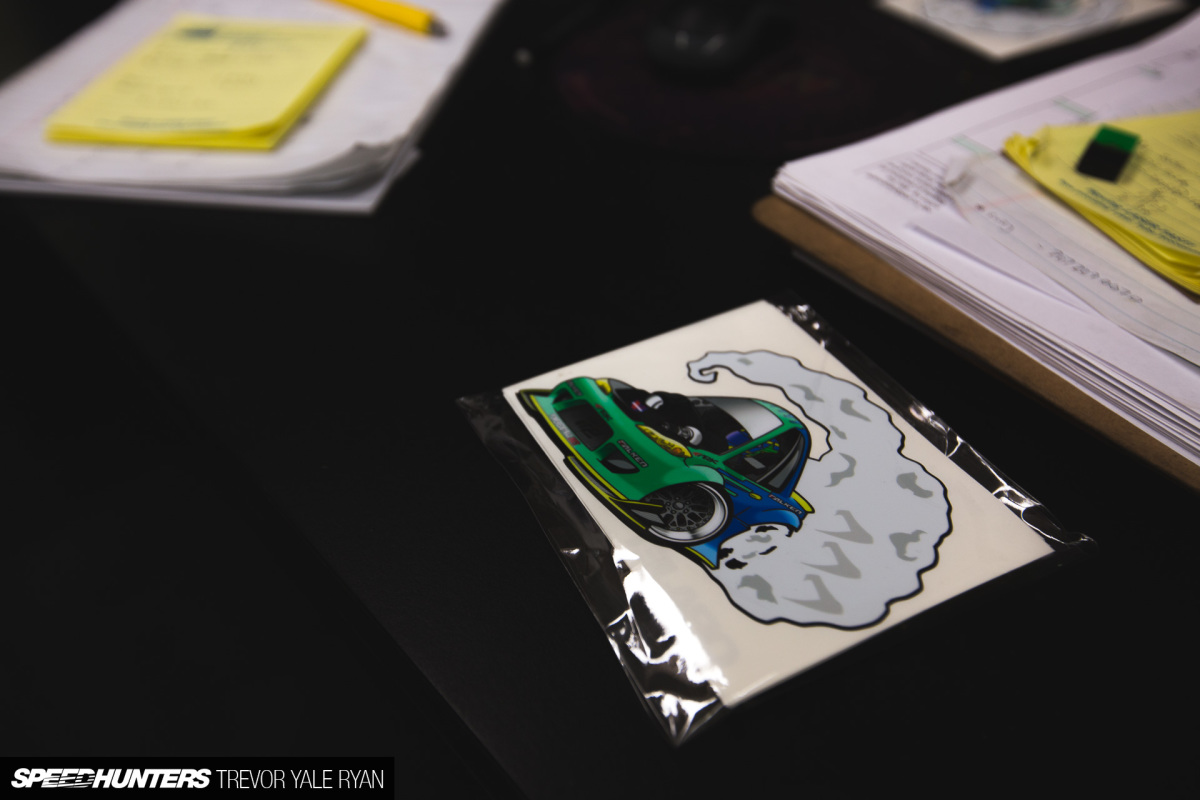 Inside and out, the Matt's workshop is probably more or less what you'd expect from a driver who's been putting a dent in the top level of the sport stateside since 2011.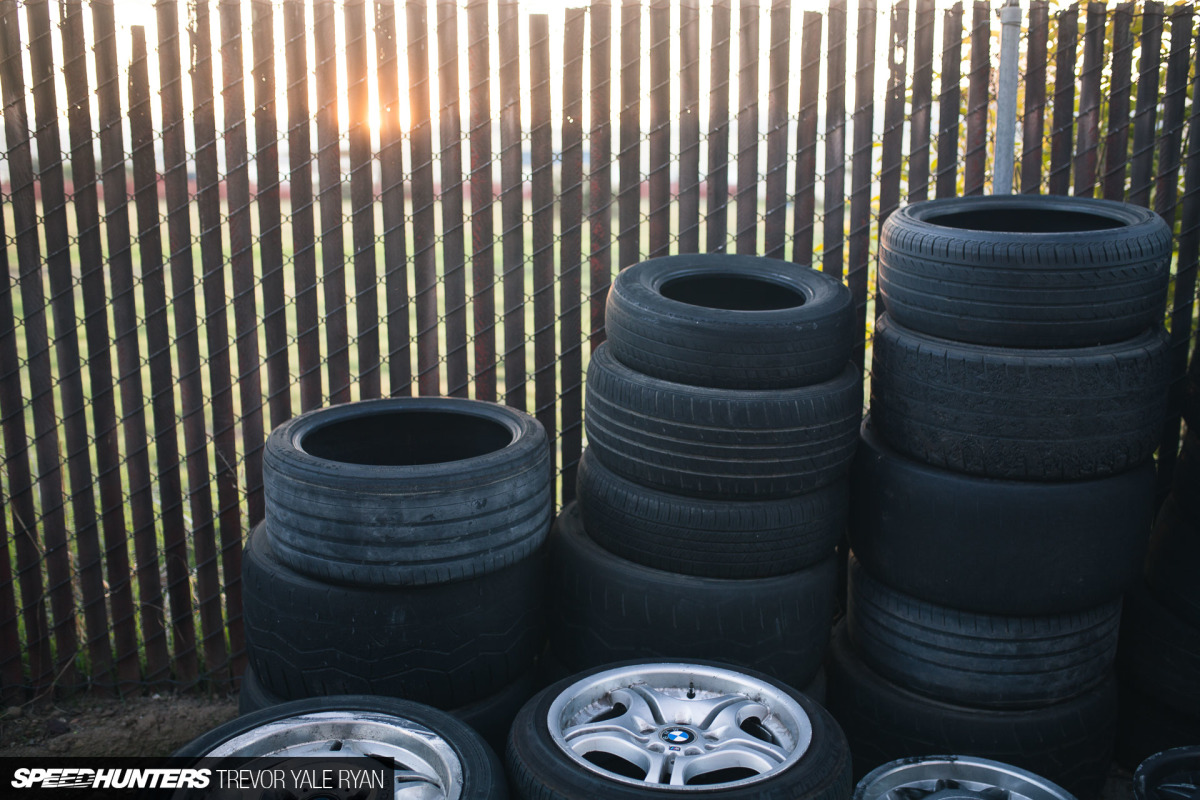 Old chassis, friends cars, and customer projects are strewn about the lot, as is a fat stack of used rubber.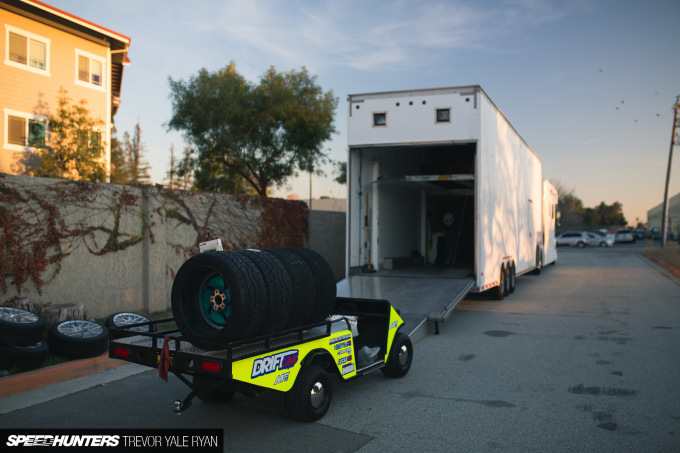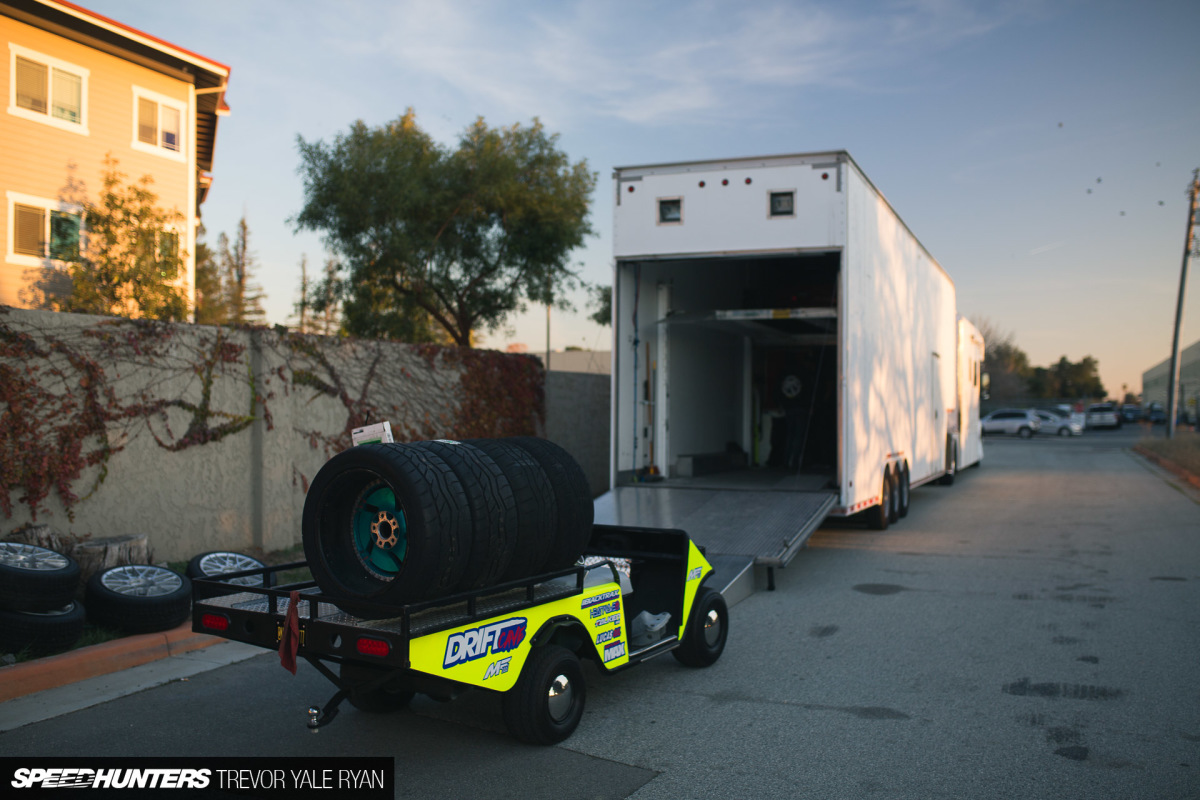 Complete with a timid pup (the neighbor's), who warmed up to me after sharing some peanut butter pretzel snacks, it's definitely got the right vibe. When I showed up the crew was loading Matt's hauler with cars, spare parts, and sponsor bits for the Winter Jam event that weekend.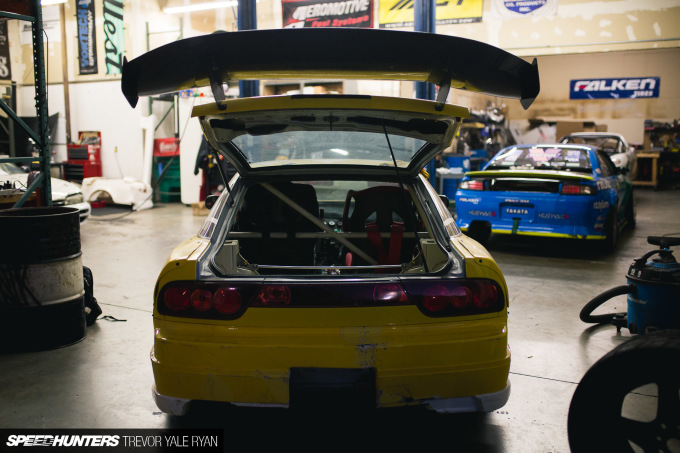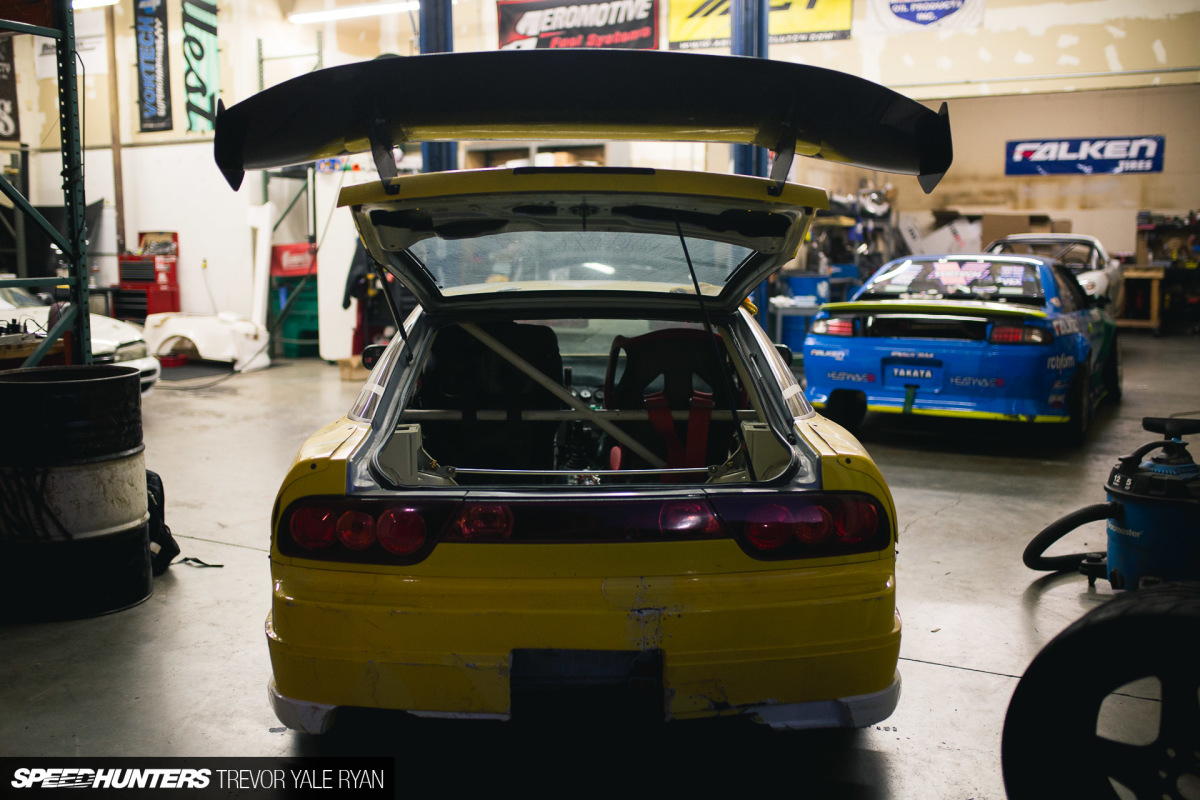 Upon entering the shop, my expectations were again met. The first thing I saw was an older Nissan chassis getting a few odds and ends tidied up by Daniel Chow. And yes, this is the 'Yellow Ranger' car from the Cosmic Drift video.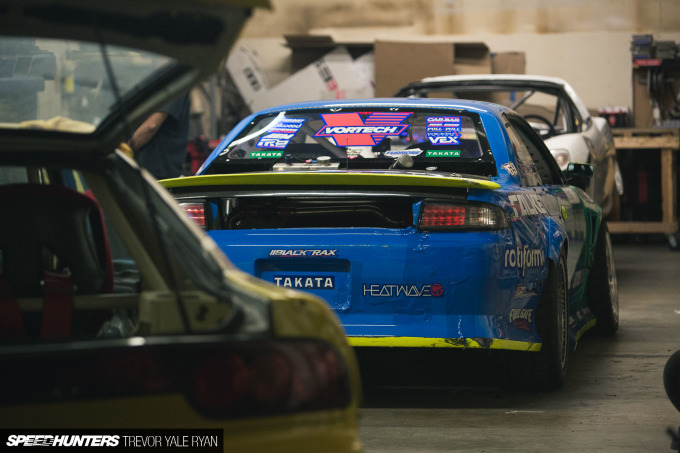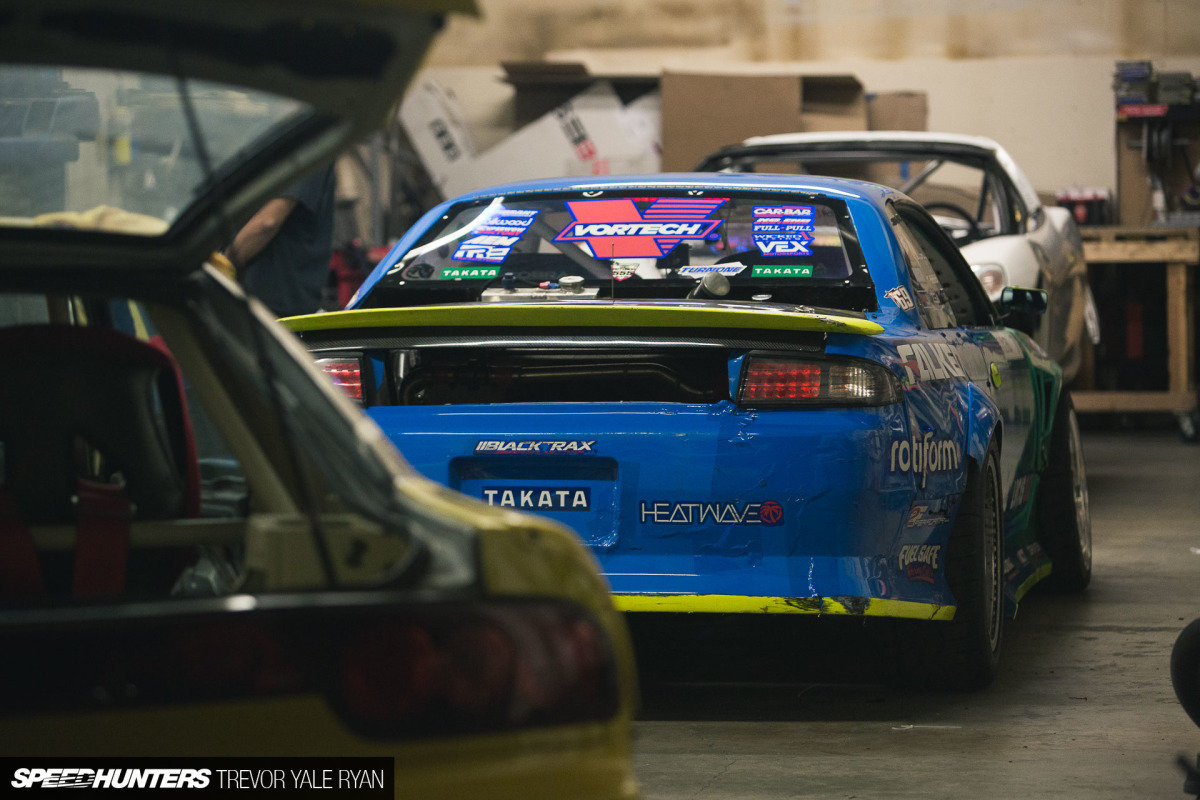 In a bit farther is last year's chassis, along with this coming season's in-progress build.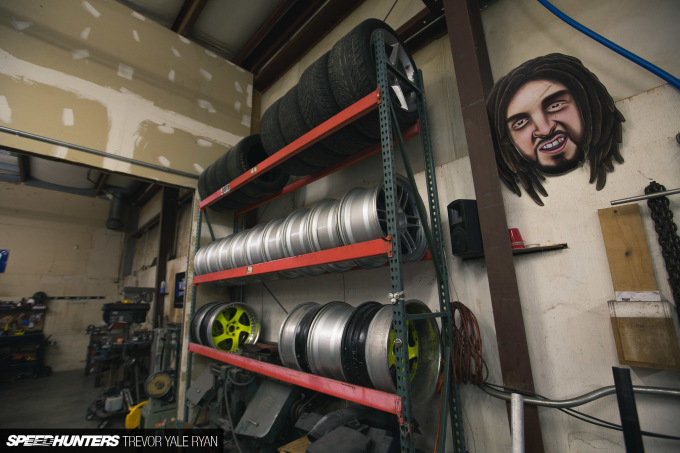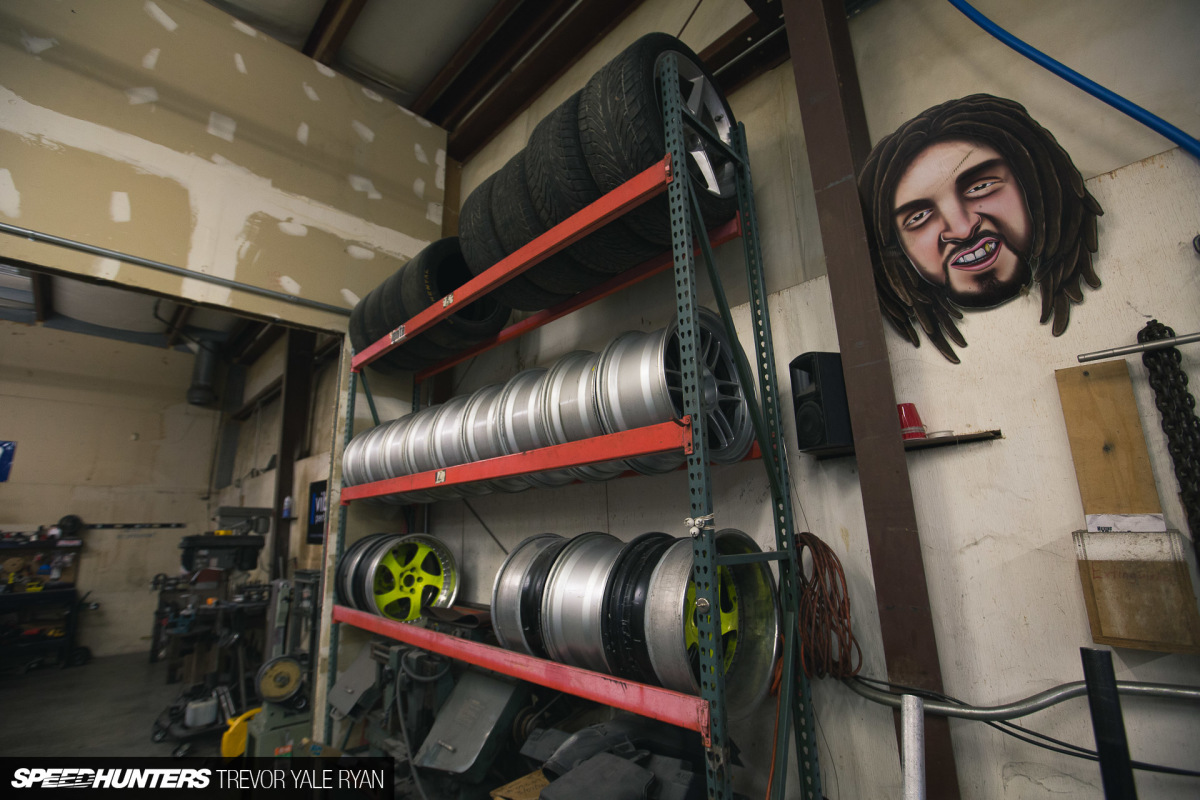 But first, a proper stroll around the space. Tons of spare wheels ready to roll, lined up next to a cutout of Tony Frangieh's face — a local drifter who competes in Pro-Am and has a penchant for getting rowdy in the Bay.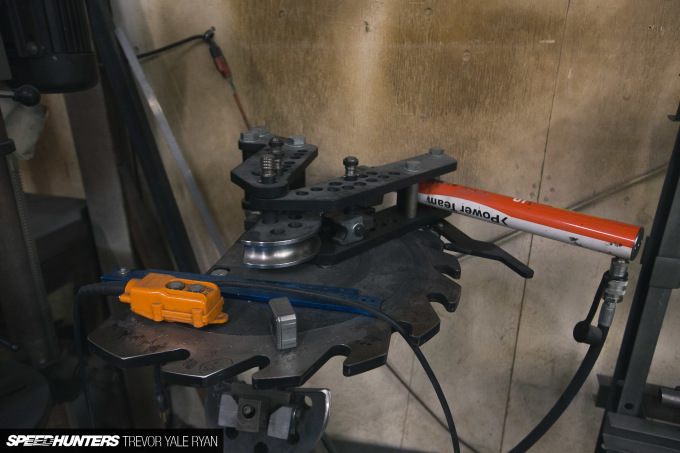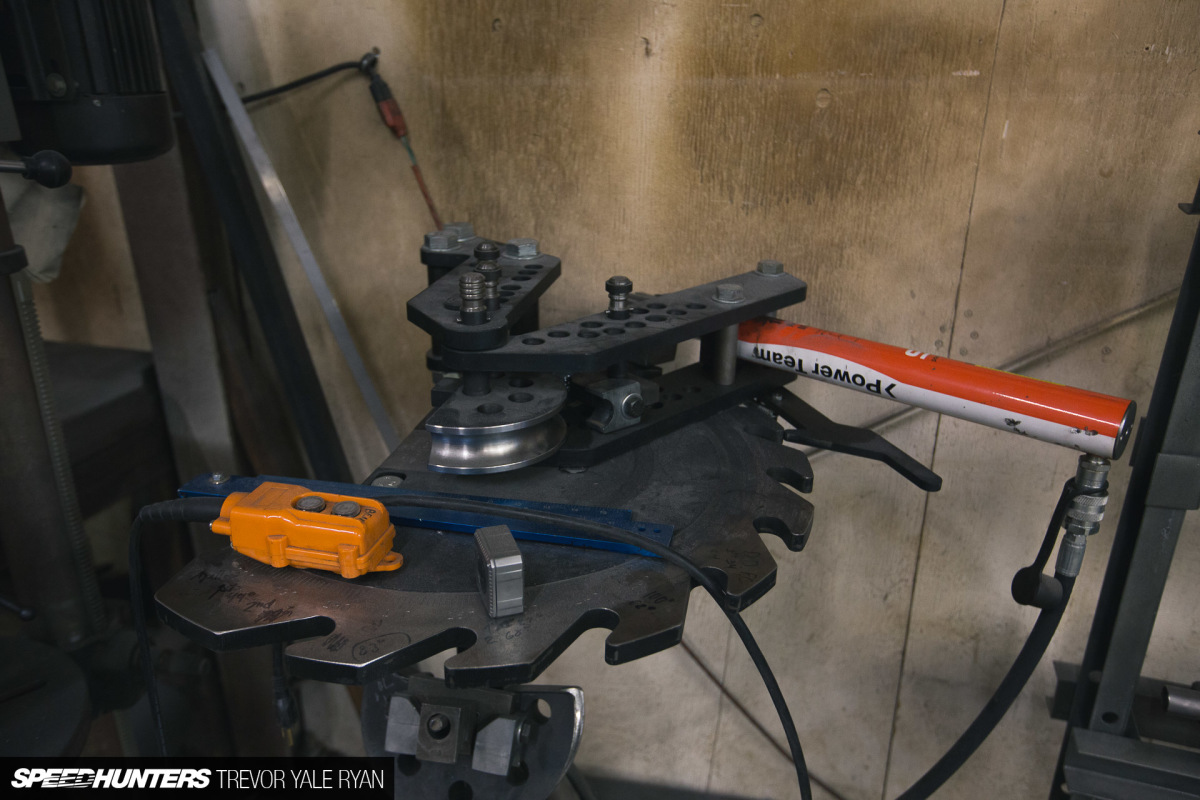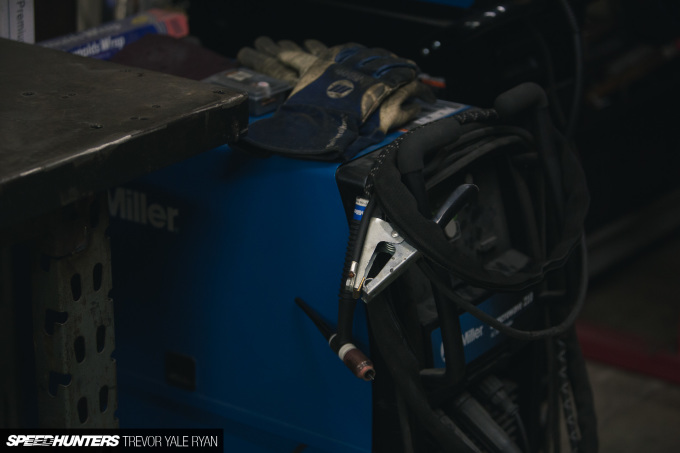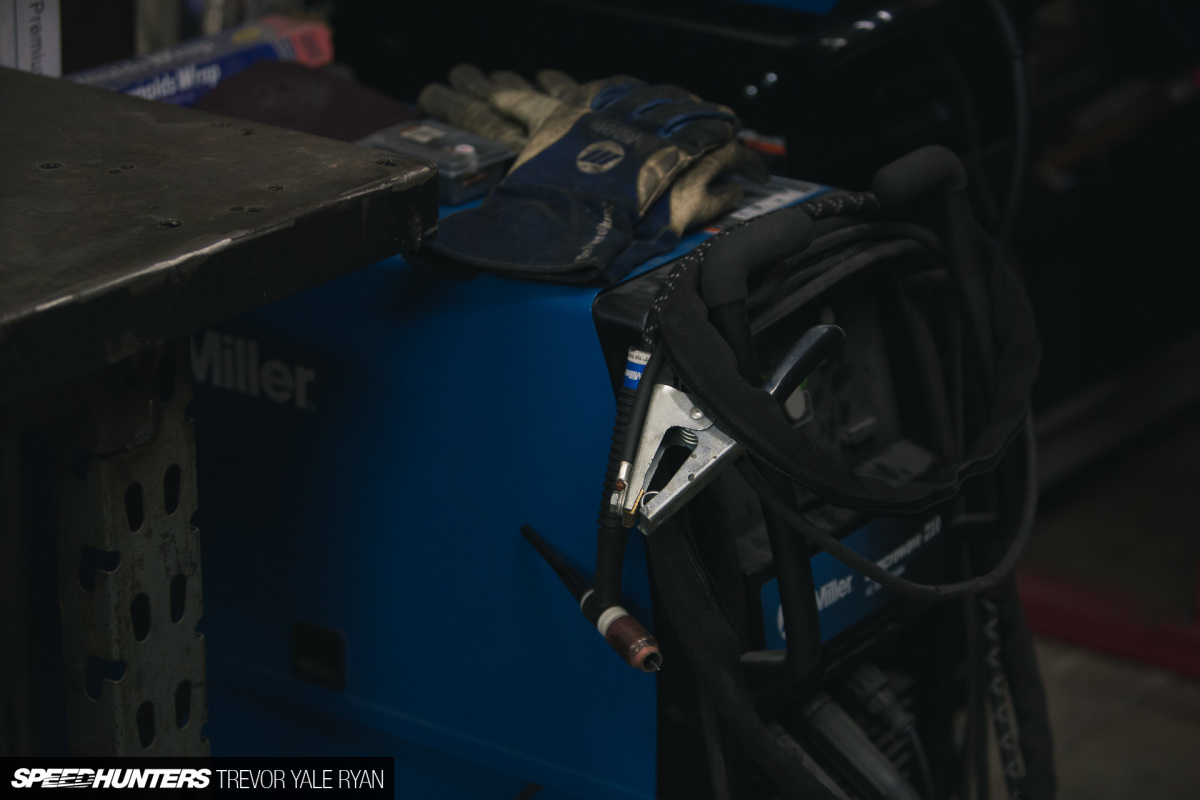 There aren't a lot of bells and whistles or needless fancy stuff, but all the necessities are present. After all, you don't really need a lot of crazy equipment to build a cage, or even a car for that matter; mostly it comes down to experience and talent behind the welder and tube bender.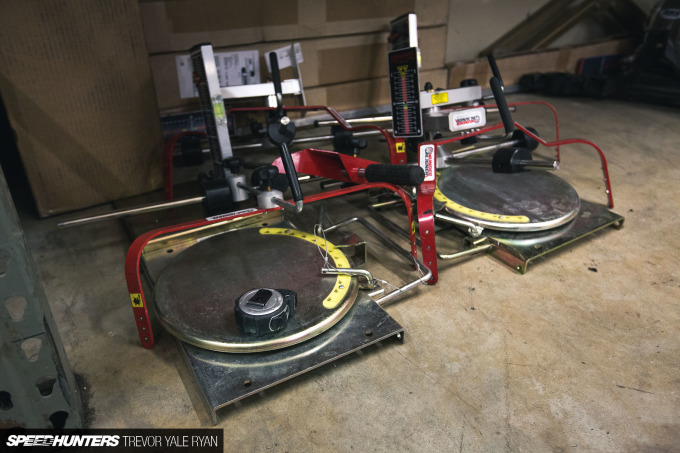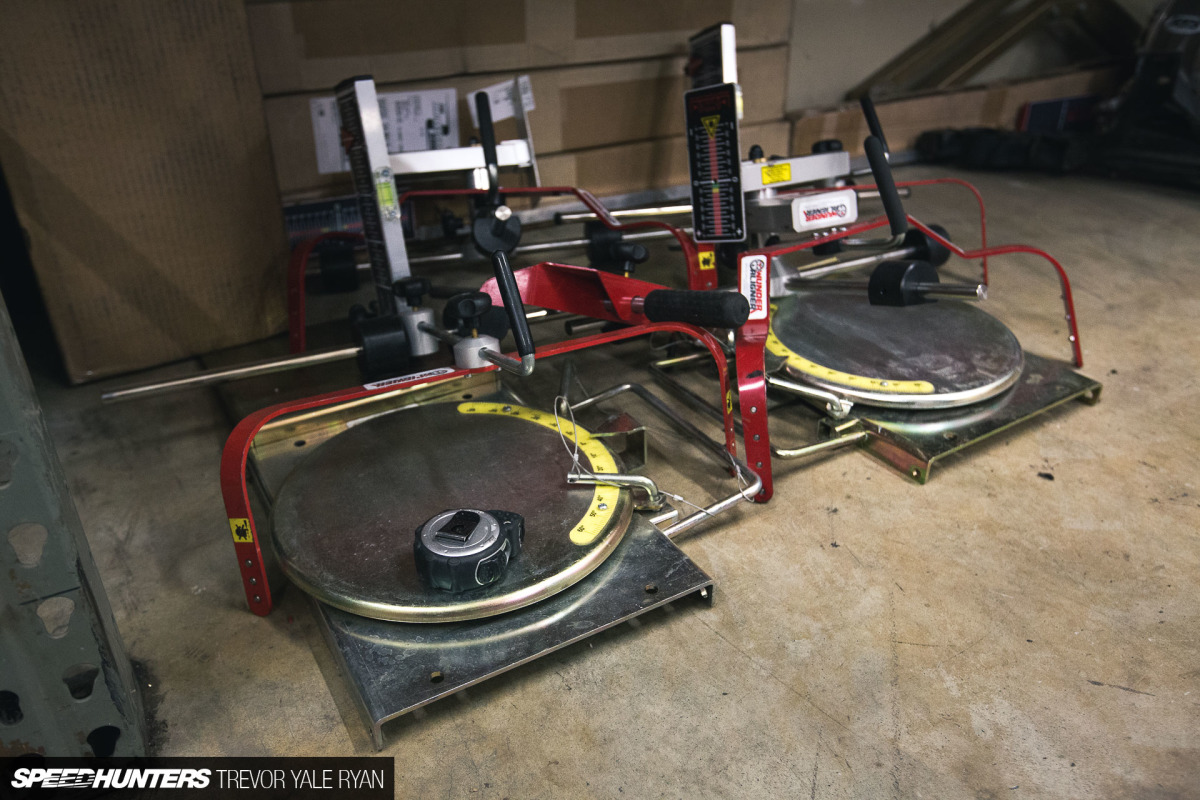 Matt's got everything he needs here to succeed, including a handful of convenient tools for the road like this portable WunderAligner setup.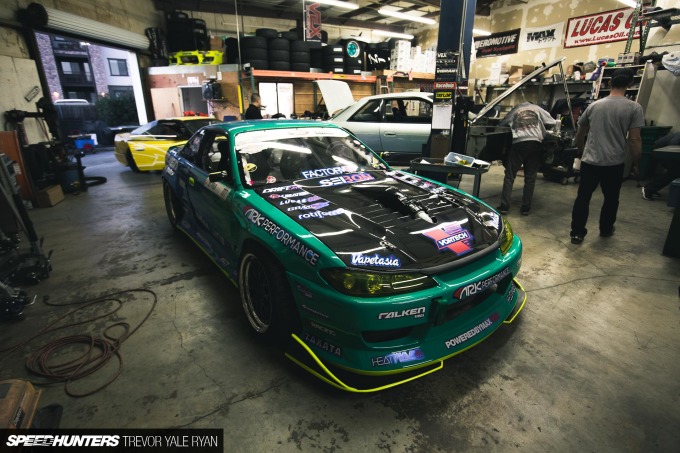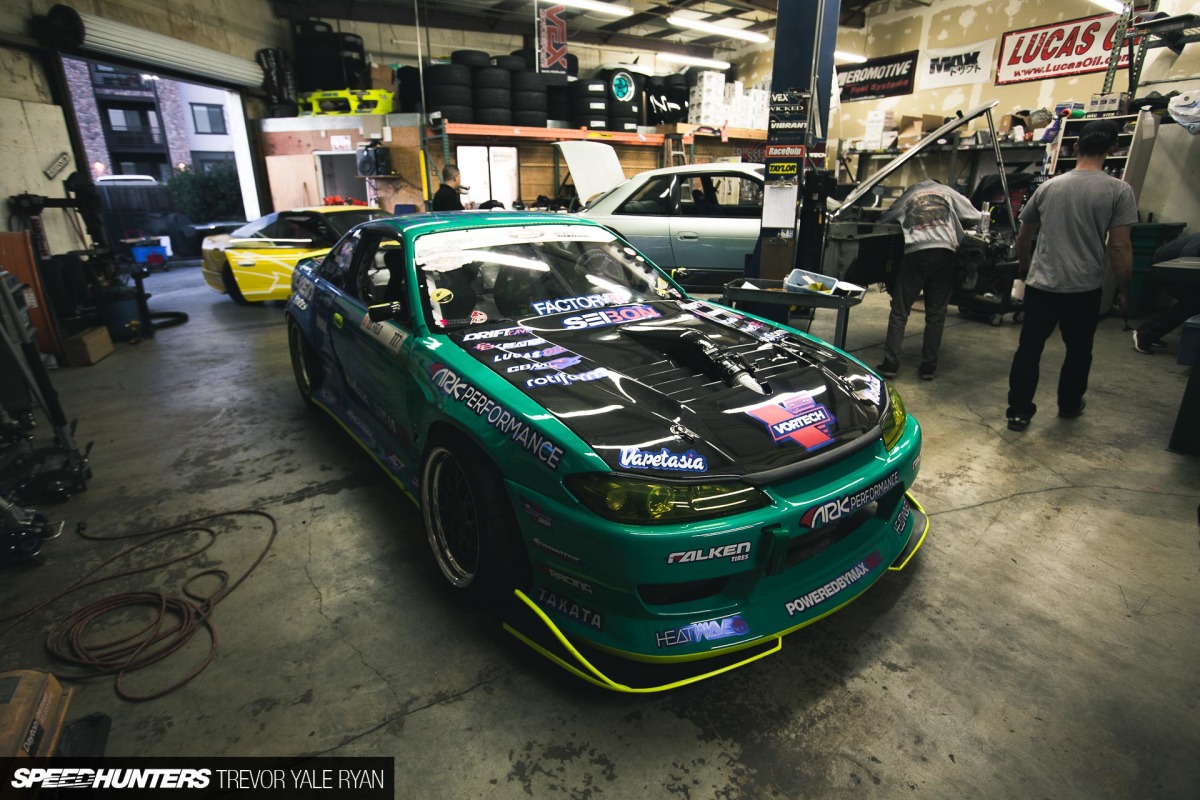 It's not a huge space, but there's plenty of room for more cars than you could reasonably work on at once. As I said, a few friends and crew members were moseying about working on a couple things when I stopped by.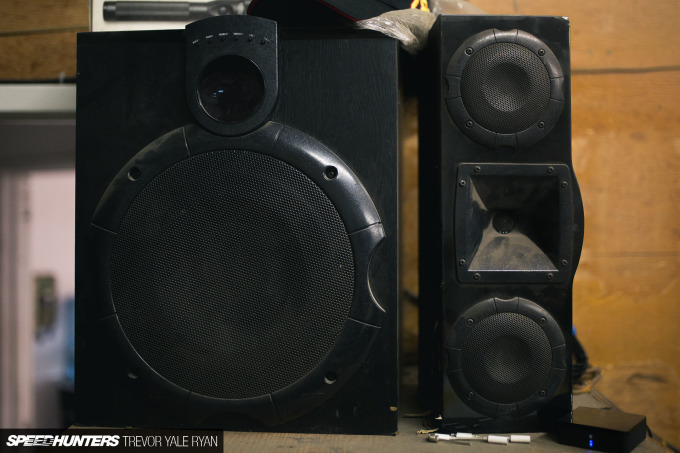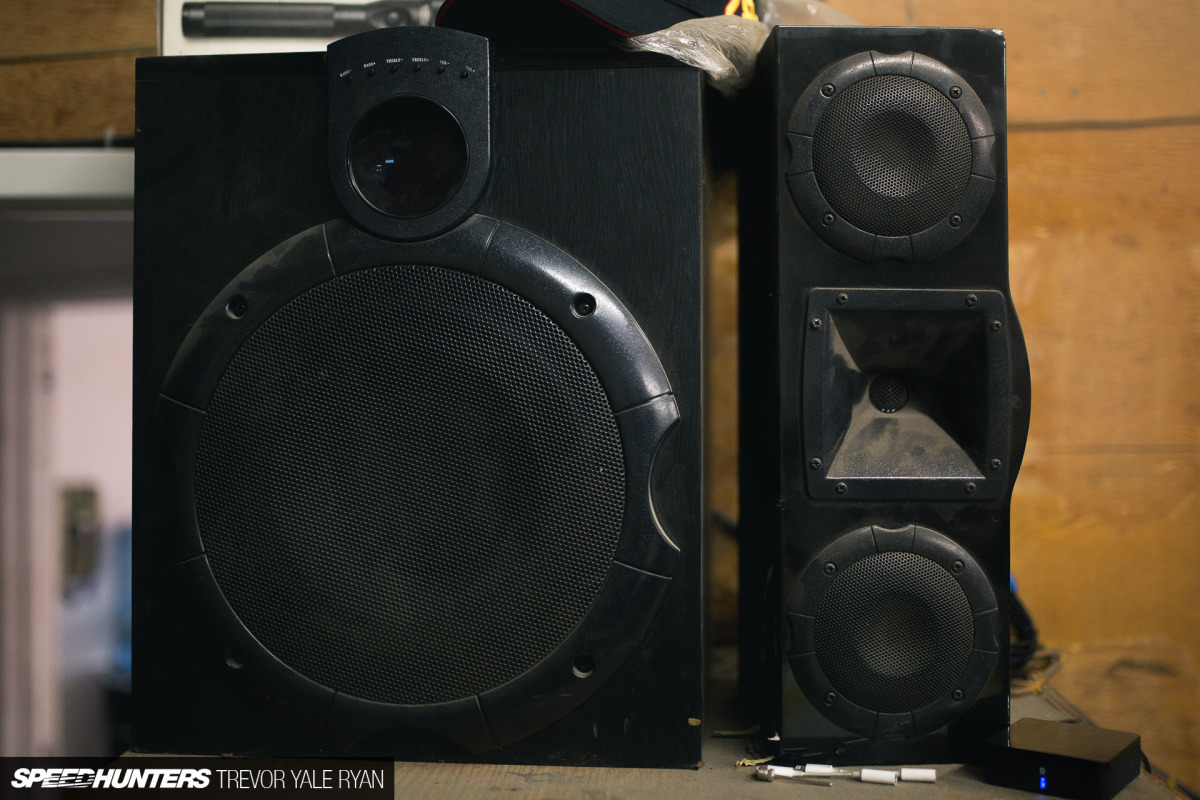 It's a comfortable environment where you can either kick back with friends and listen to music, or get to it and bust out some work.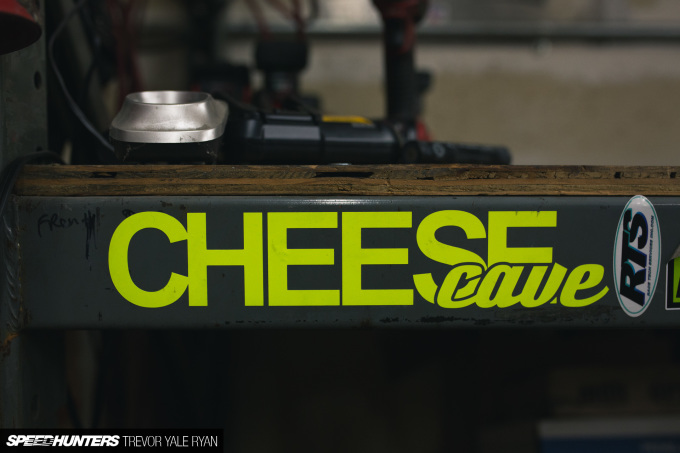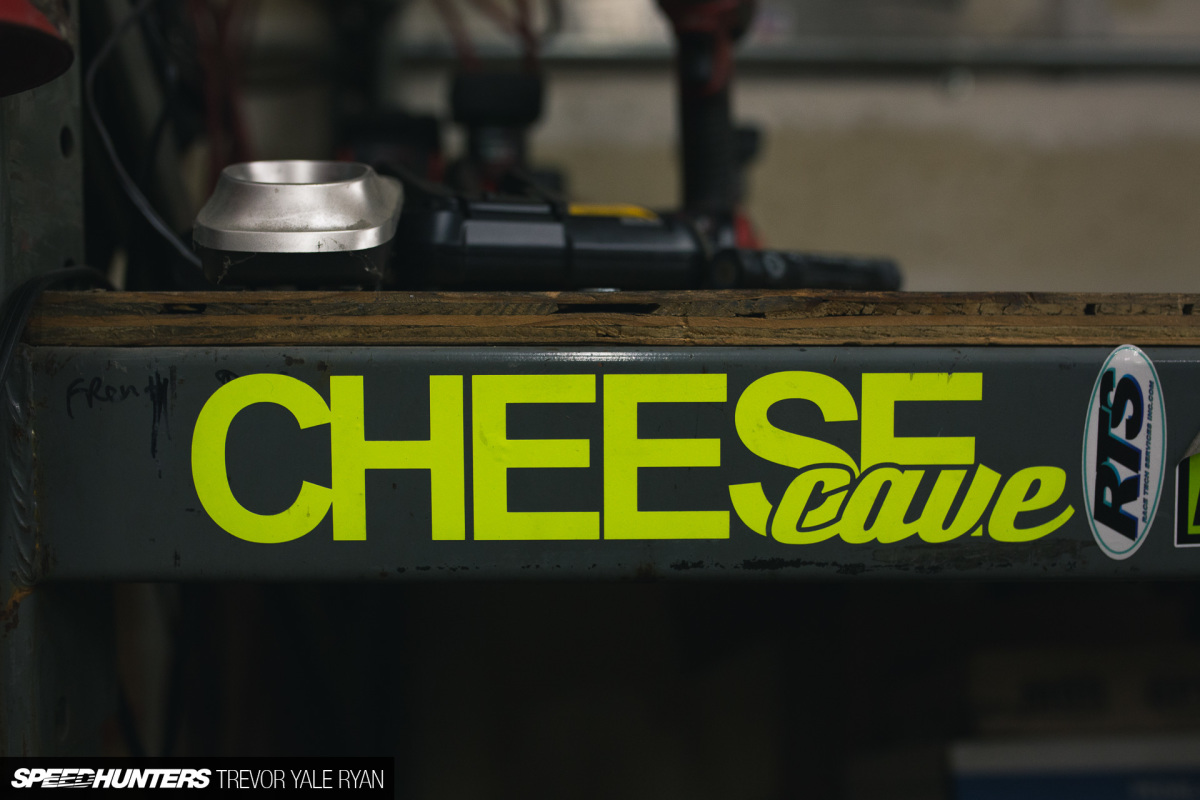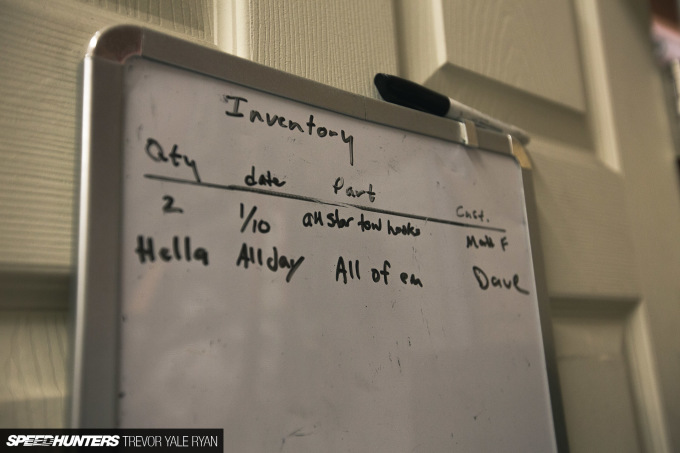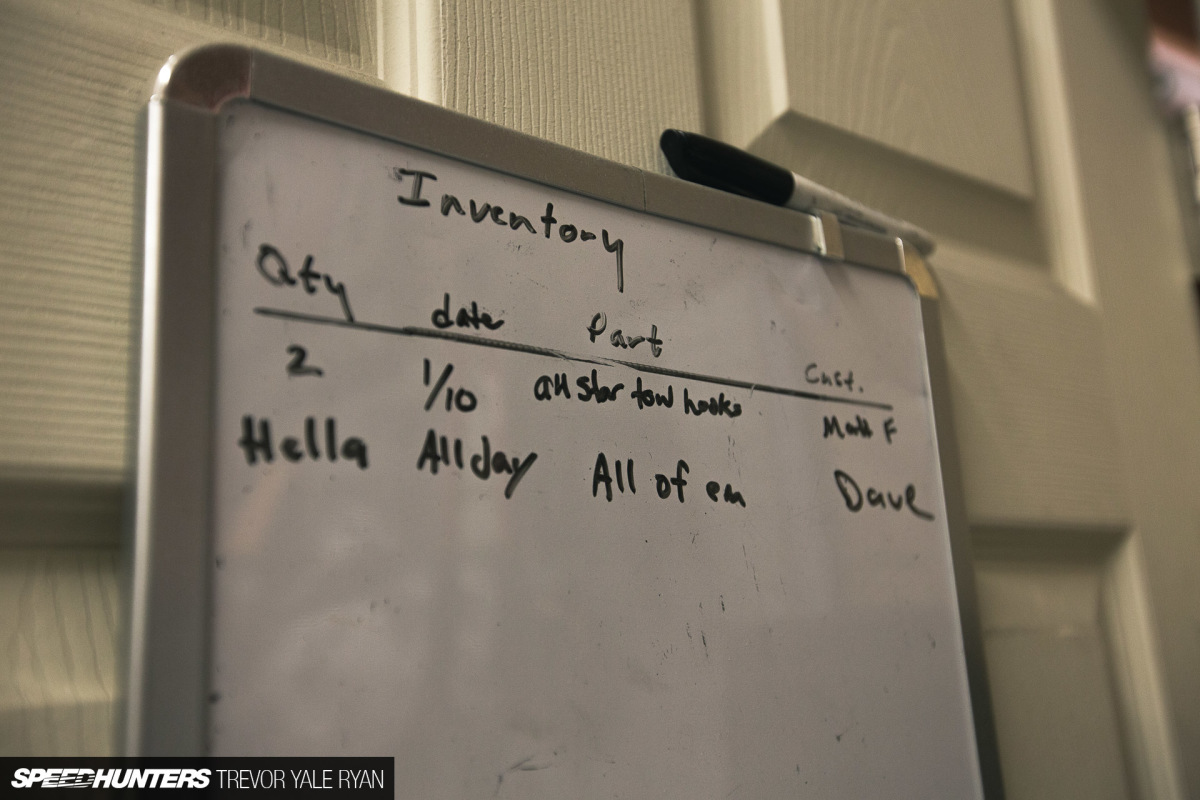 There's also a plethora of quality stickers (Cheese Cave!) and (hella) parts laying about.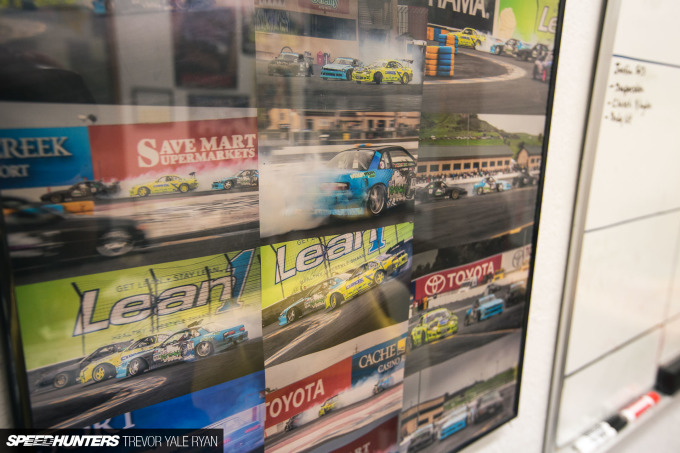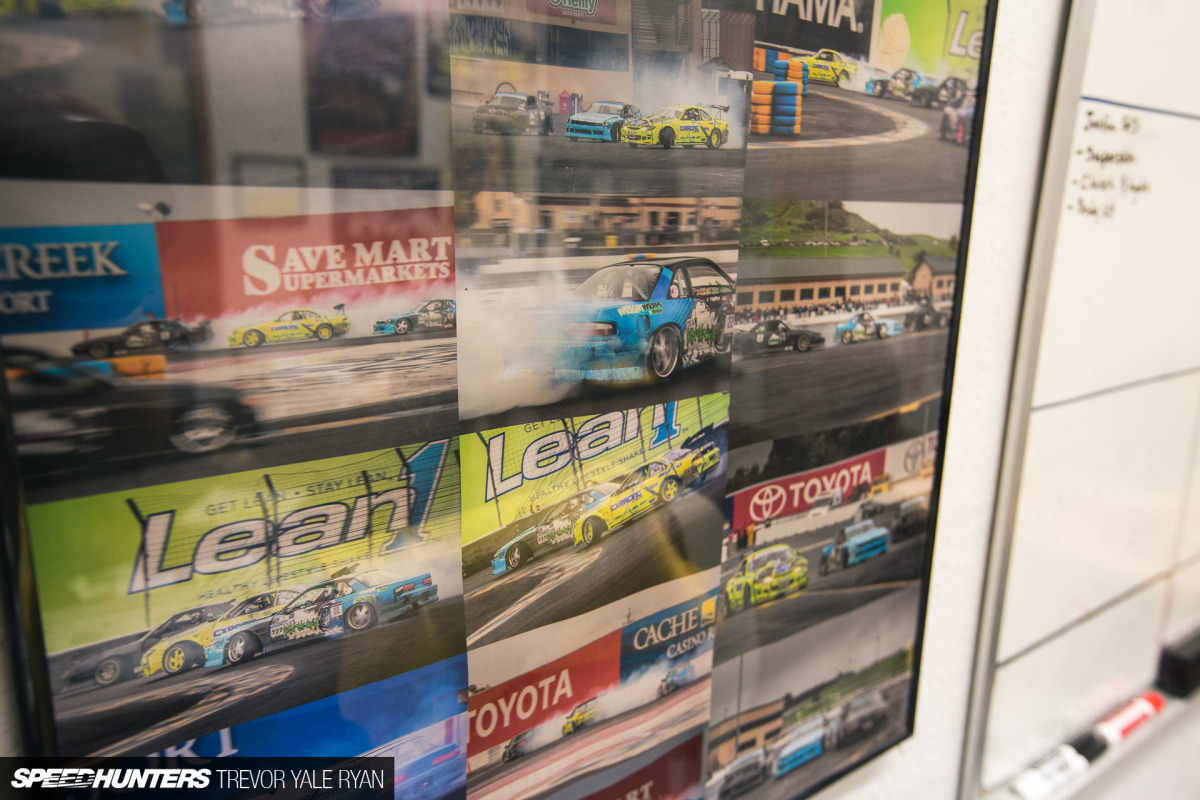 If you know anything about the Northern California Drift scene, you know exactly where Matt's coming from. It's just awesome to see one of the local boys getting sideways on the big stage.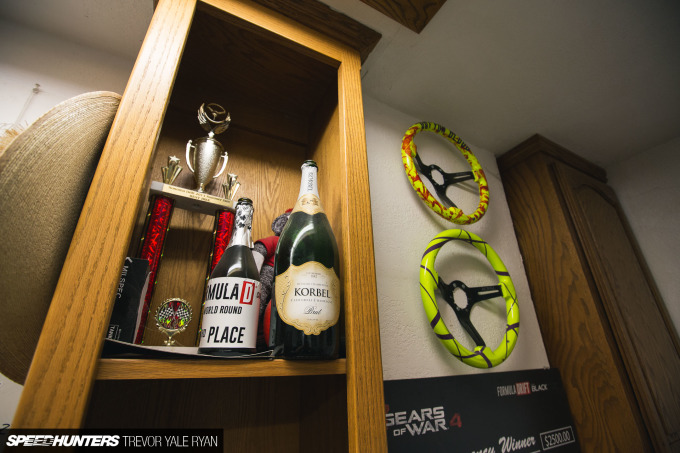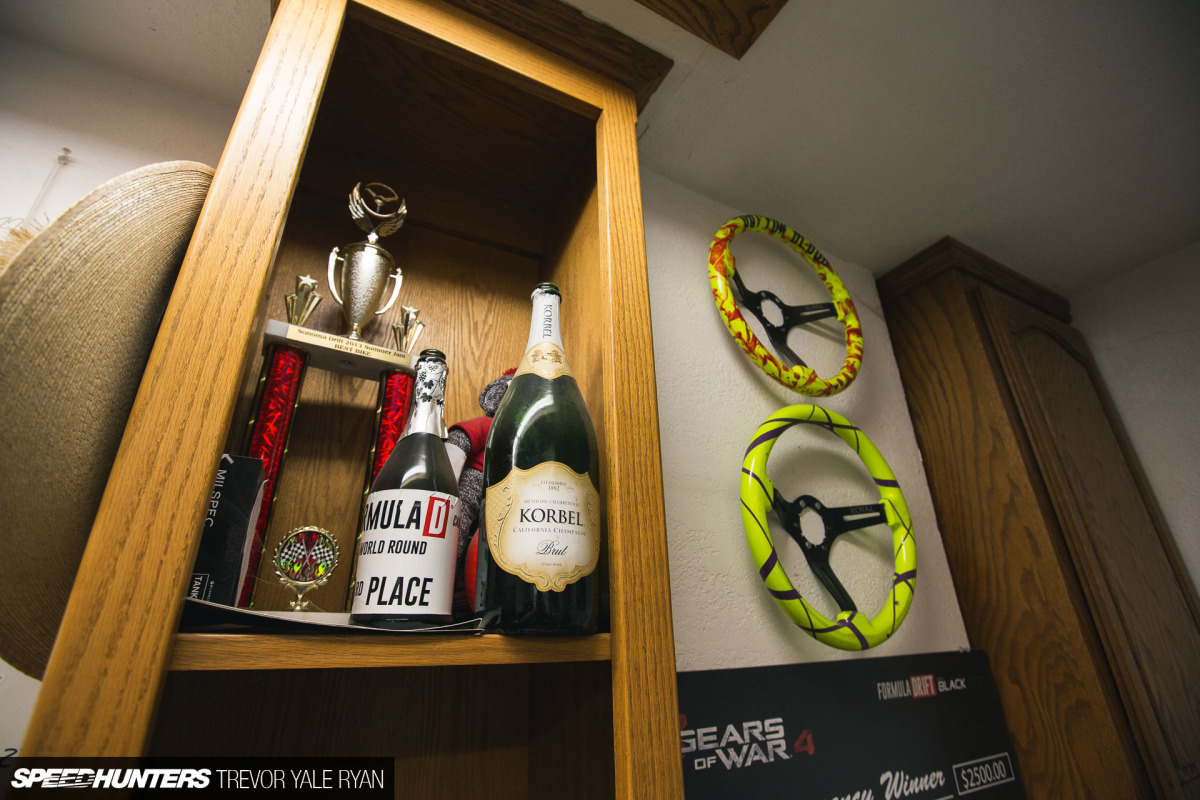 With a handful of round wins and podiums already, Matt is ready to continue his ascent in the sport. He's not limiting himself just to events in the US either; right before I came to the shop Matt was busy in China, and earlier in 2017 he made it out to Japan.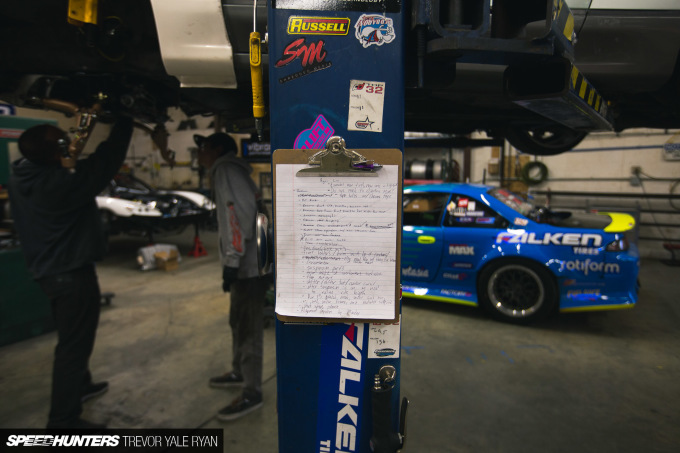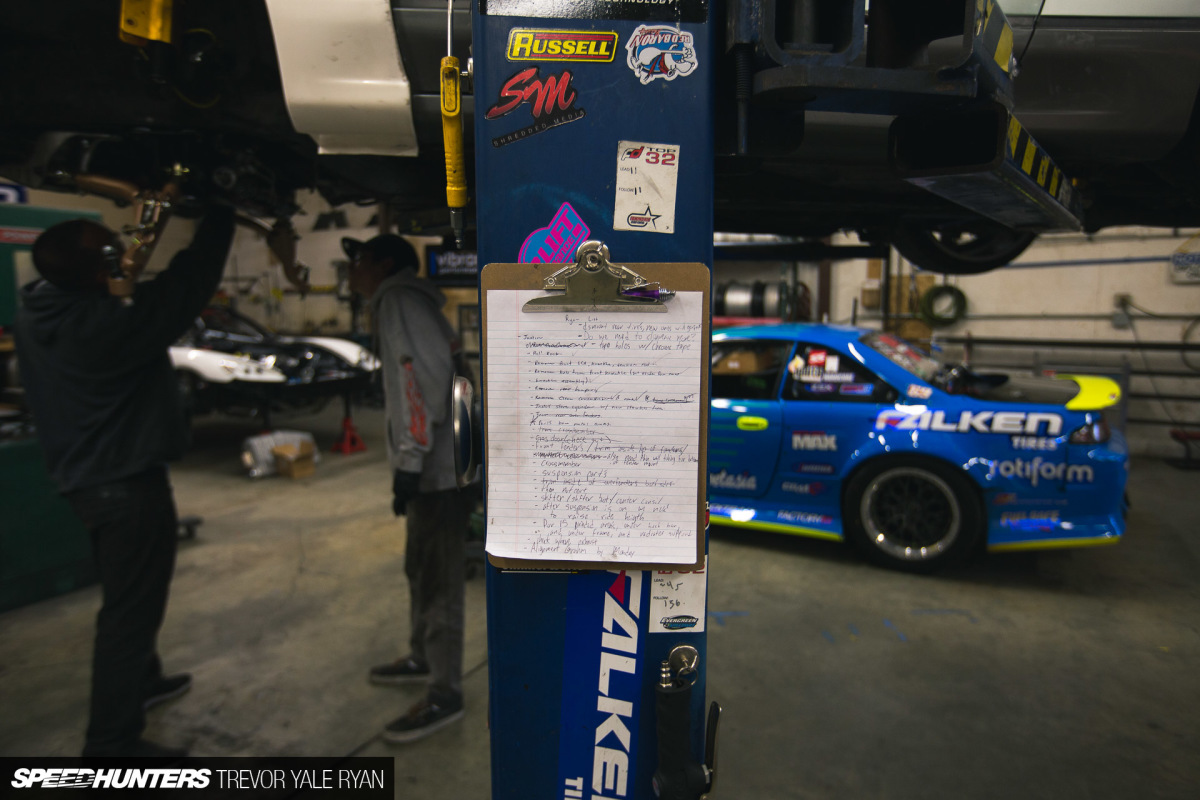 In order to do so, he's built a quality headquarters and assembled a good team to back him up. Matt's been at this spot for two years, and Drift Cave itself is approaching its eighth year of operation.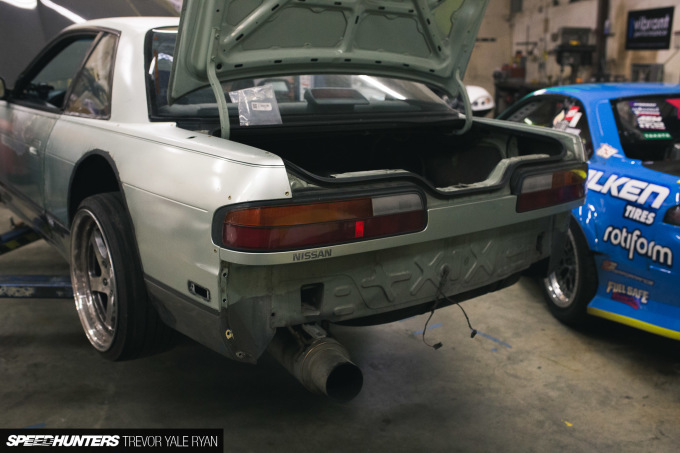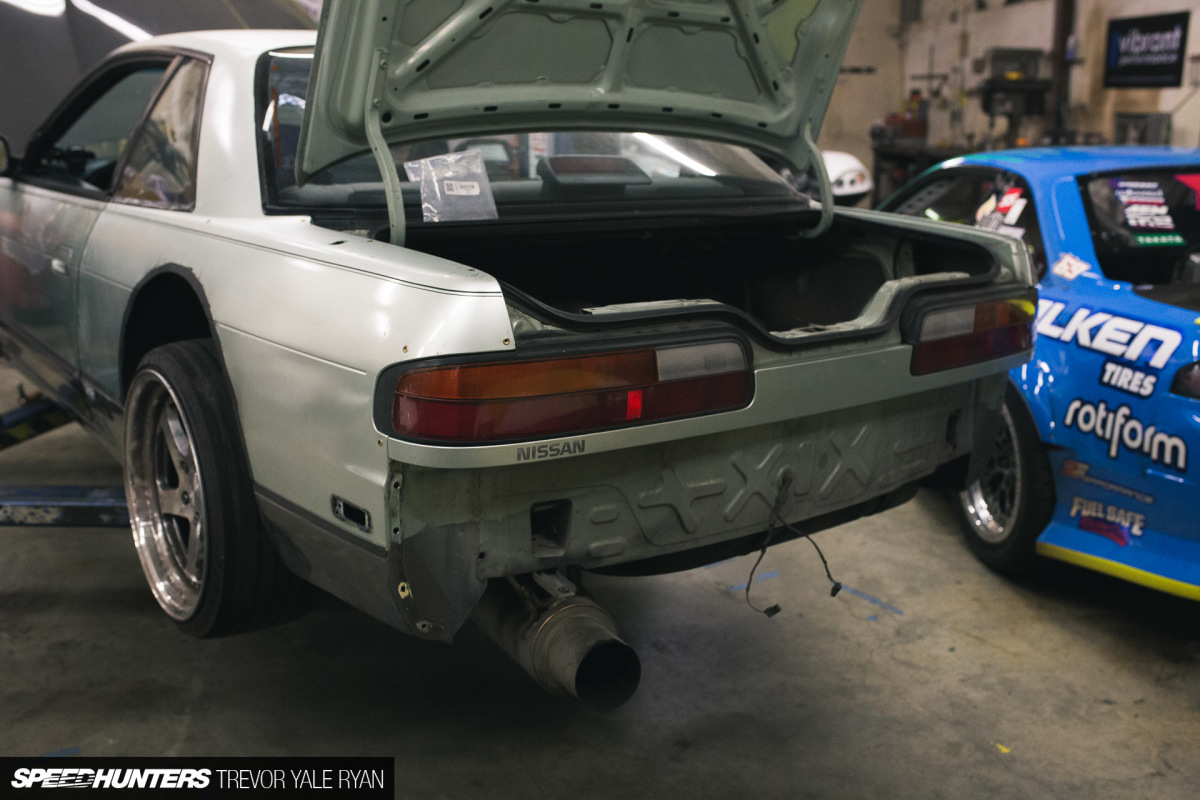 The guys have been staying busy, too. Even in the short time I was there a good six or seven people came through, cars were swapped out, and Winter Jam prep continued.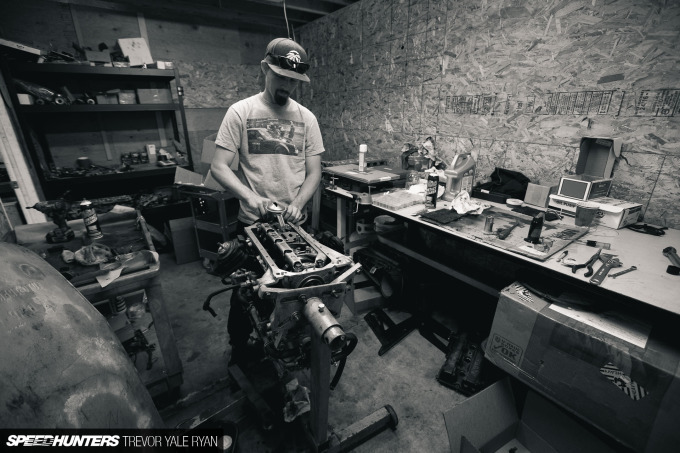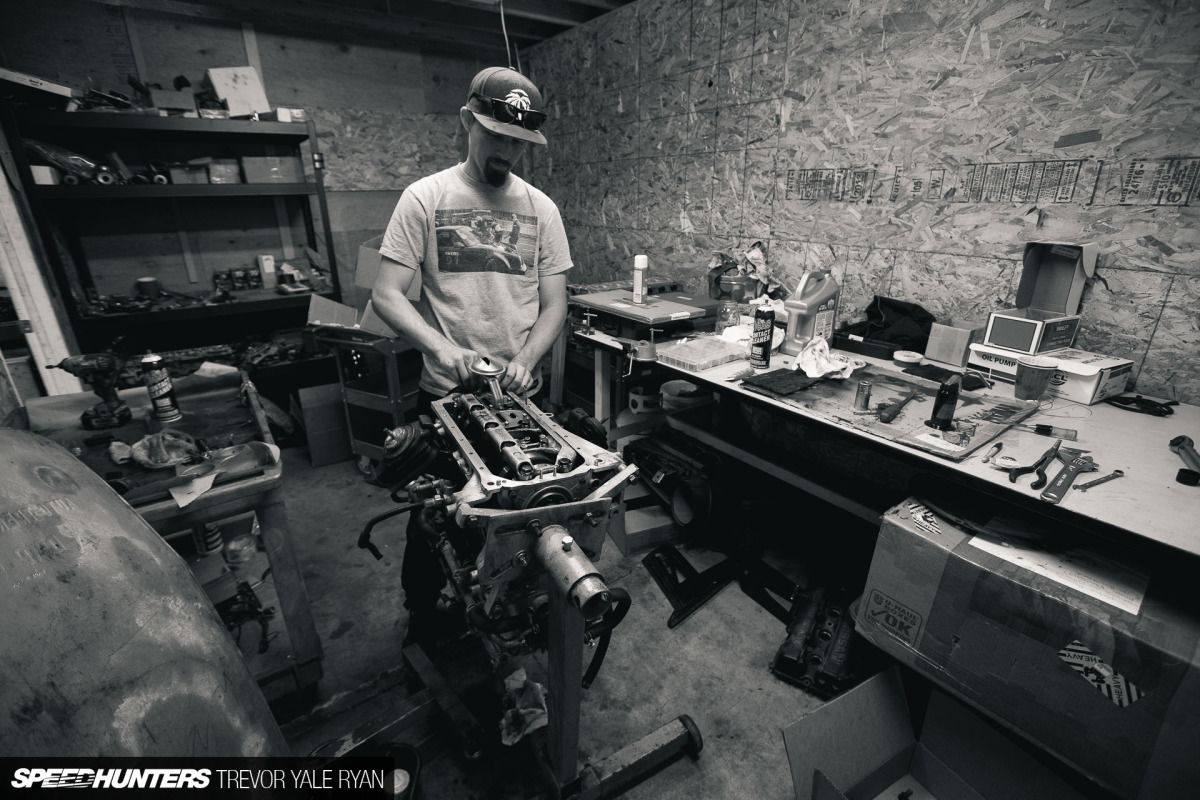 Matt's crew chief, Ty, was in a side room tearing down a motor for another project, and I was keen to ask a few questions about why they were moving to the new chassis.
Clapped Out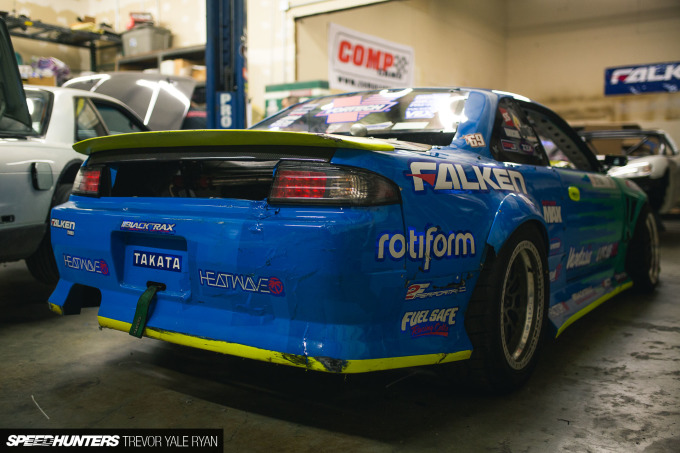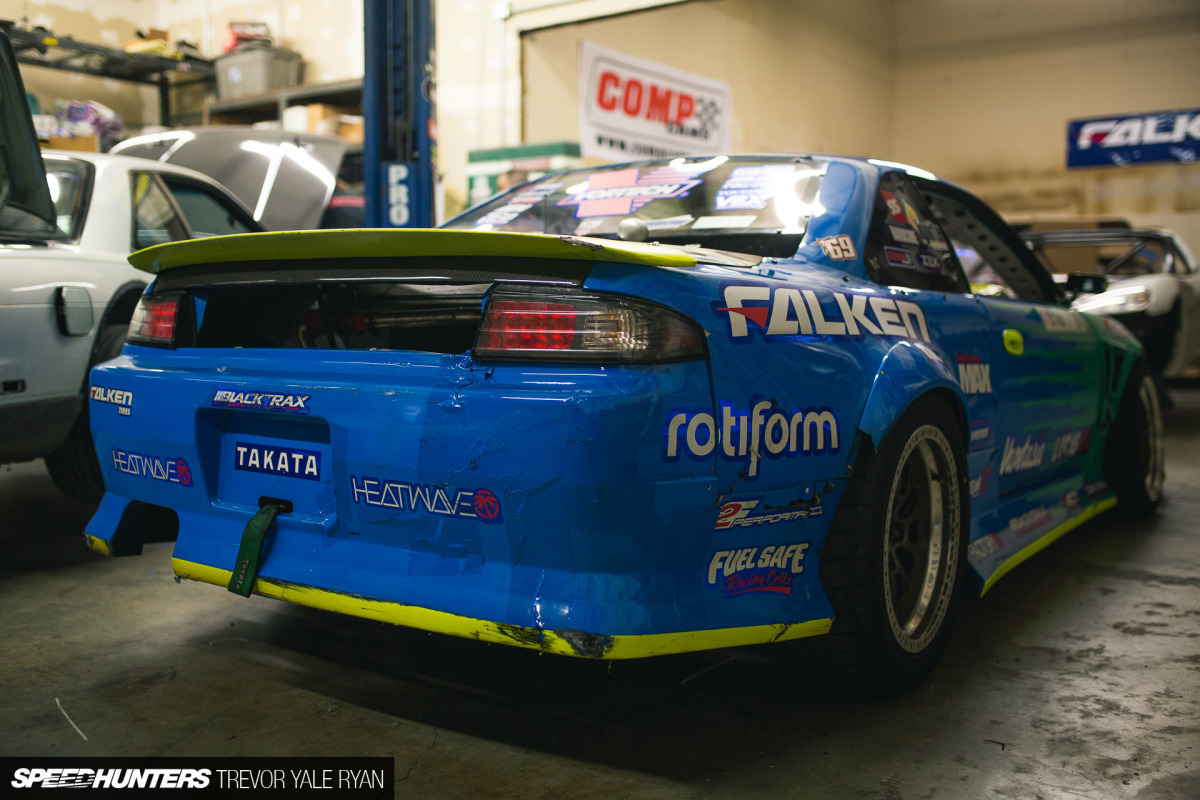 His answer, in short, was that the S14 they've been piloting was "just a bit clapped out." After all, this was a car that Matt originally built years ago in his parents' backyard.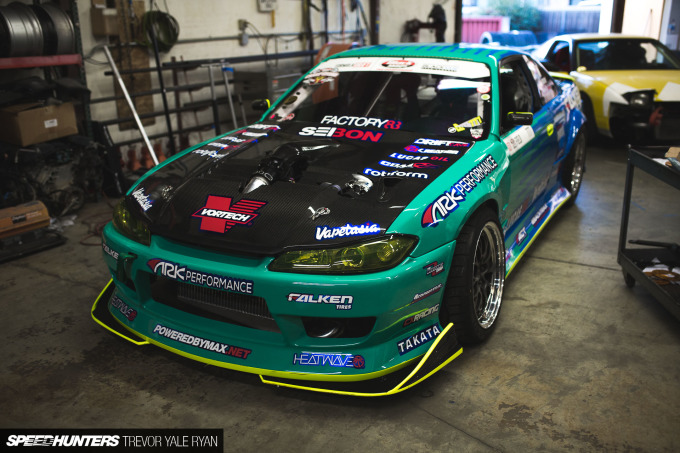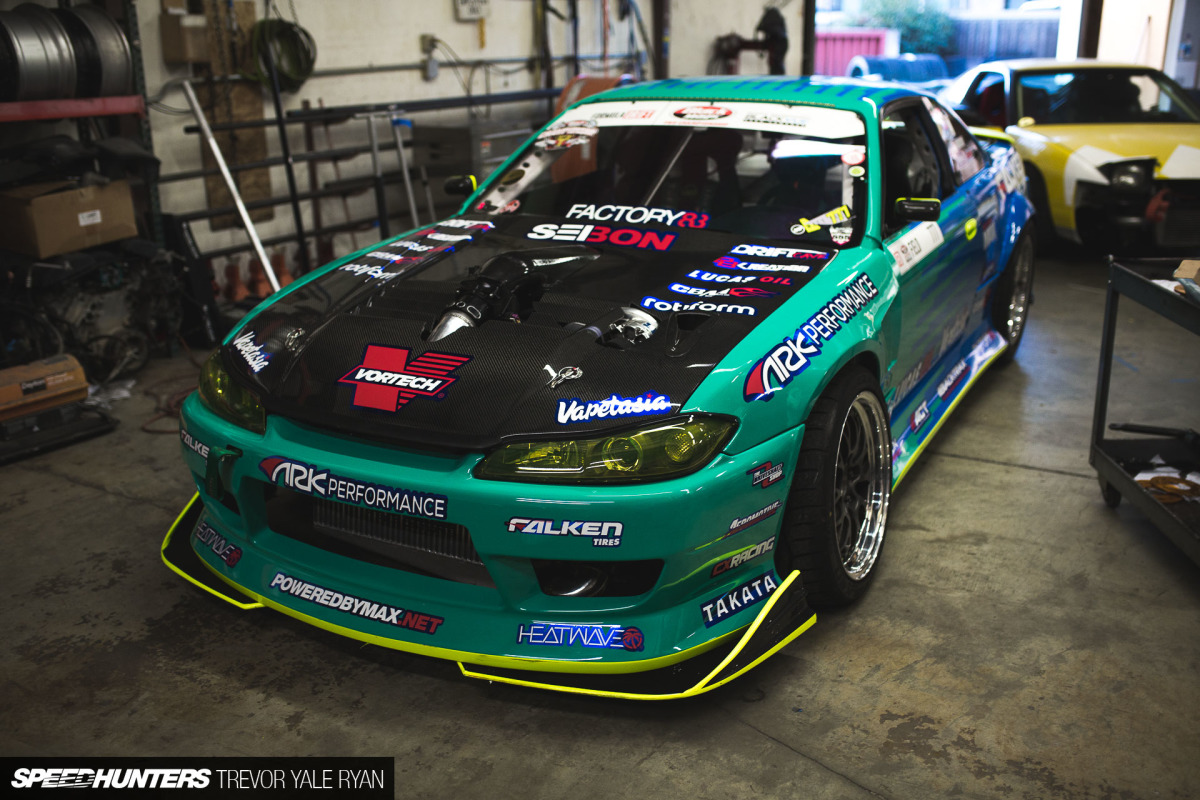 While I always thought the Falken Tire S14.5 was aging quite well, the chassis has been through a lot. A few rough bumps during the 2017 season accelerated Matt's plans to start anew.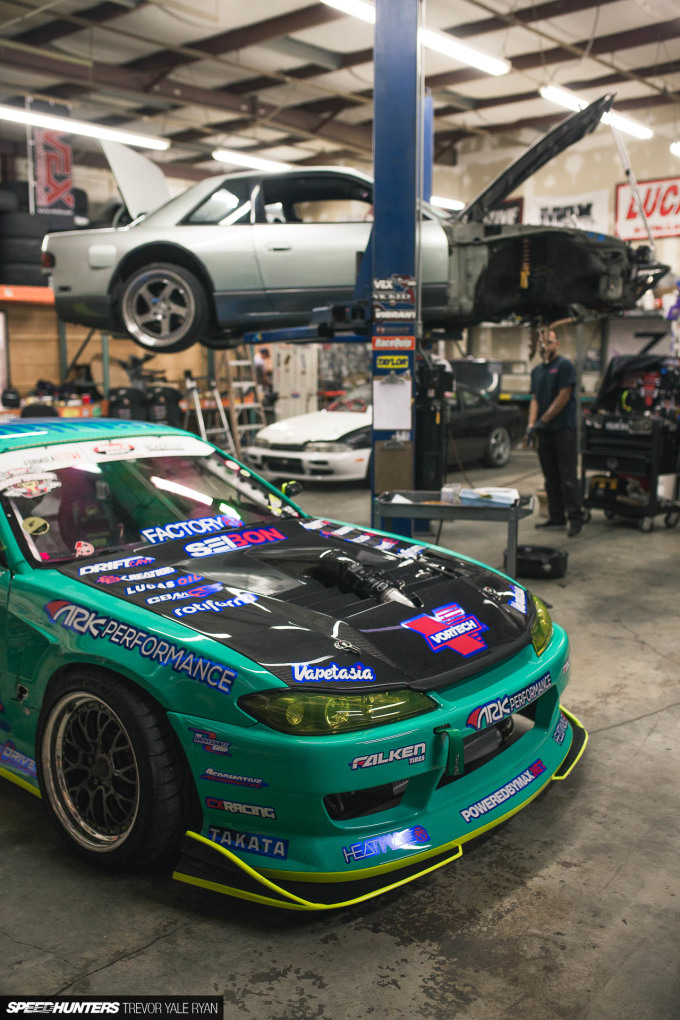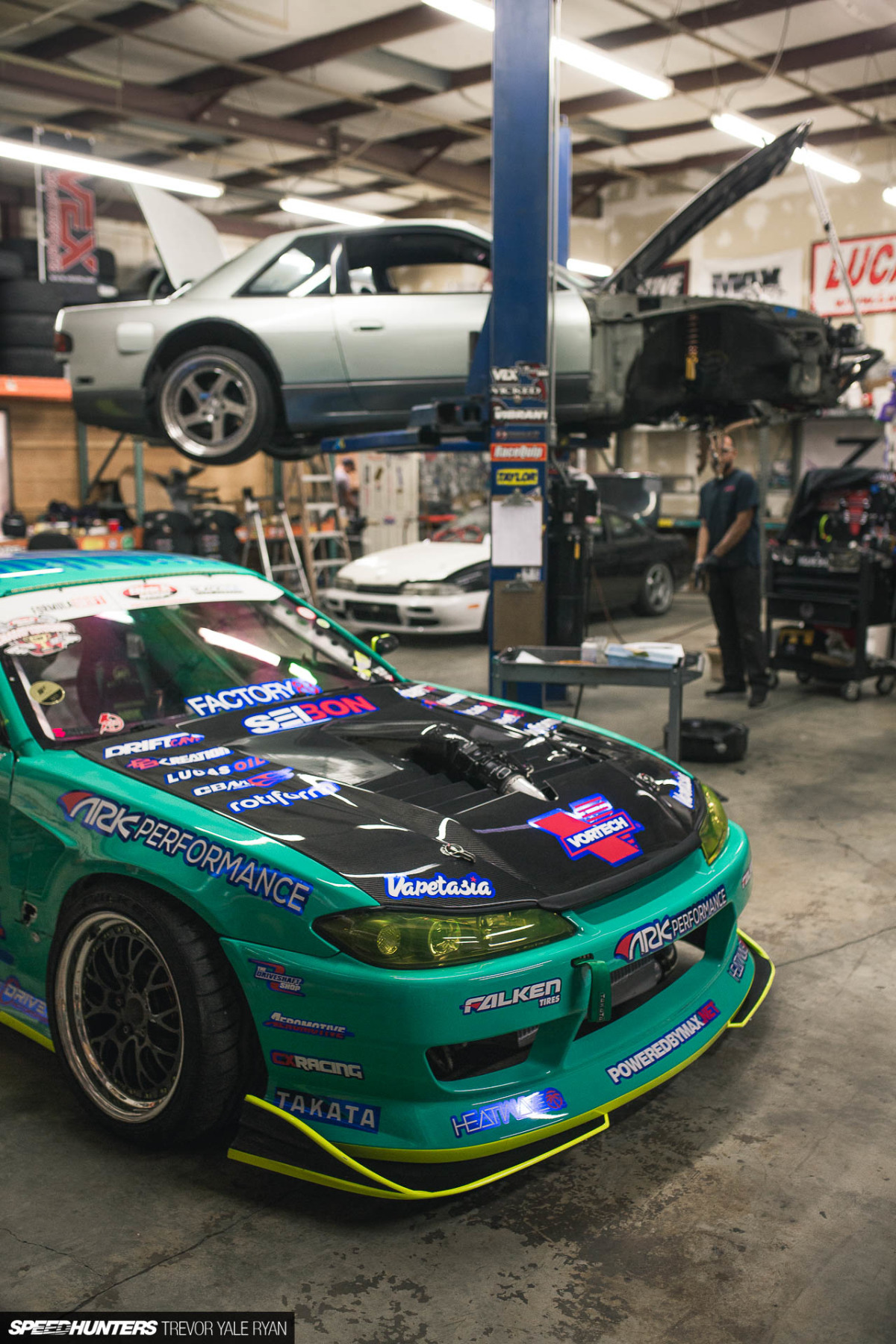 After a very brief stint in a Z32, his first drift car, Matt's been in an S-chassis ever since, moving from an S13 into the S14 and pushing it to the absolute maximum. While he's done well to keep the S14 looking fresh, it was just time to move forward.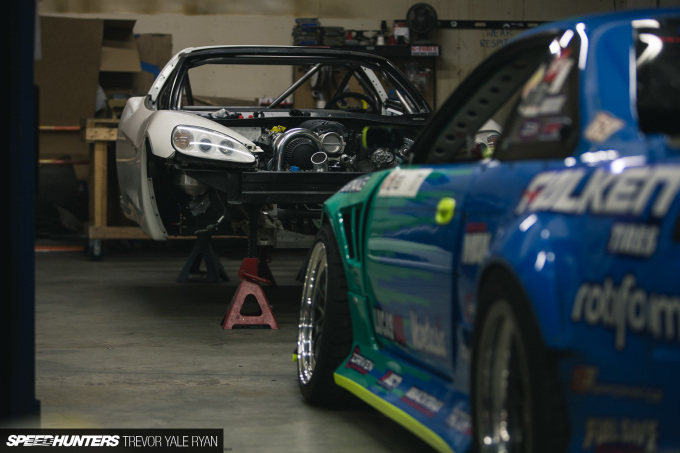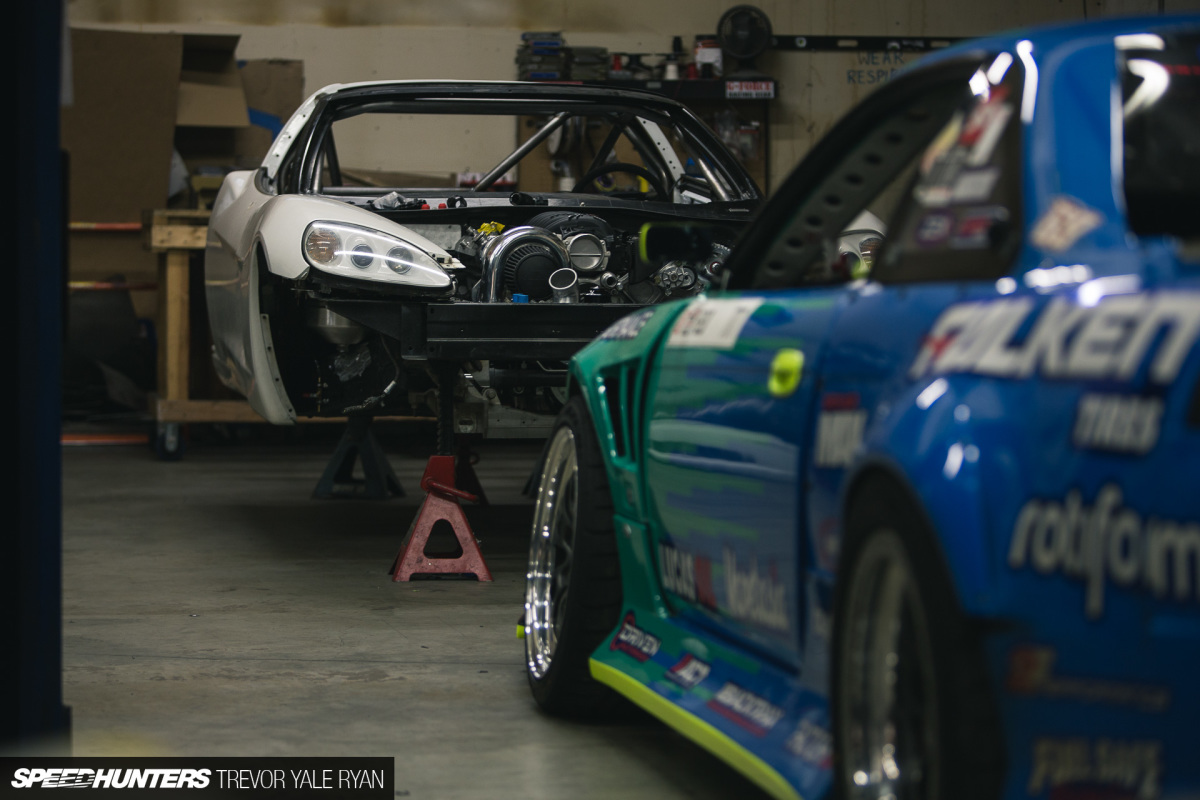 Matt's never been one to dwell on the past, and while the old car feels like home, he's certainly excited to shake things up and get behind the wheel of a fresh build. He's been drifting since he was 16, and now with over a decade of experience I'm sure he'll adapt quickly.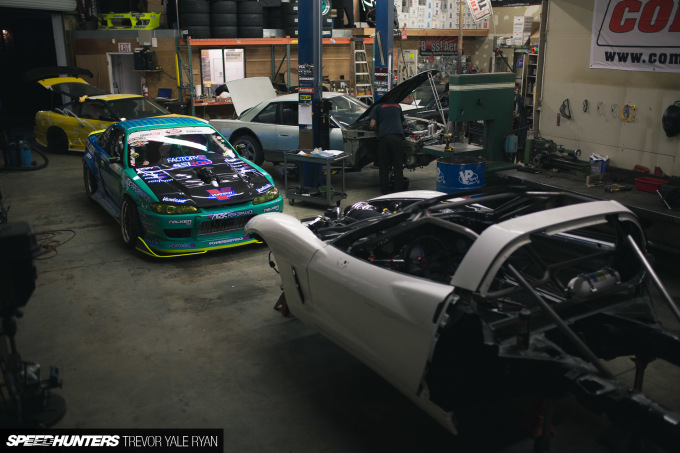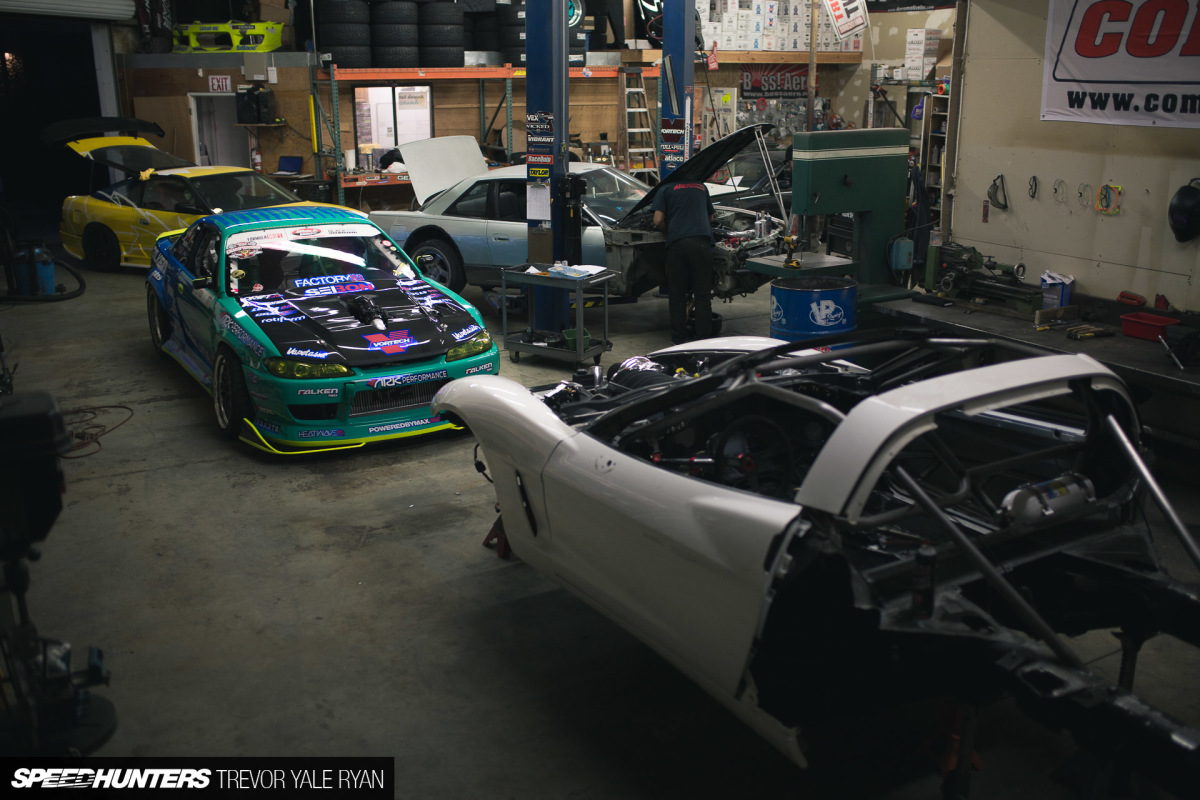 Matt's already put a lot of work into the Corvette, and at this point it's pretty much a blank canvas. As a builder and a driver, he is doubly excited to make the most of this.
While at first I was surprised by the move to this chassis, it actually makes a lot of sense. After all, Drift Cave and Formula Drift are both based in the United States, and the Corvette is very much an American machine. Tons of aftermarket support already exists for the car, something that greatly simplifies things for the team when you look at the long-term costs season after season.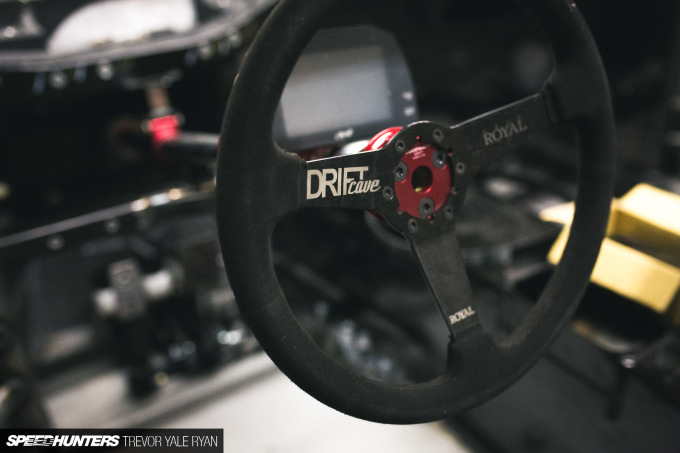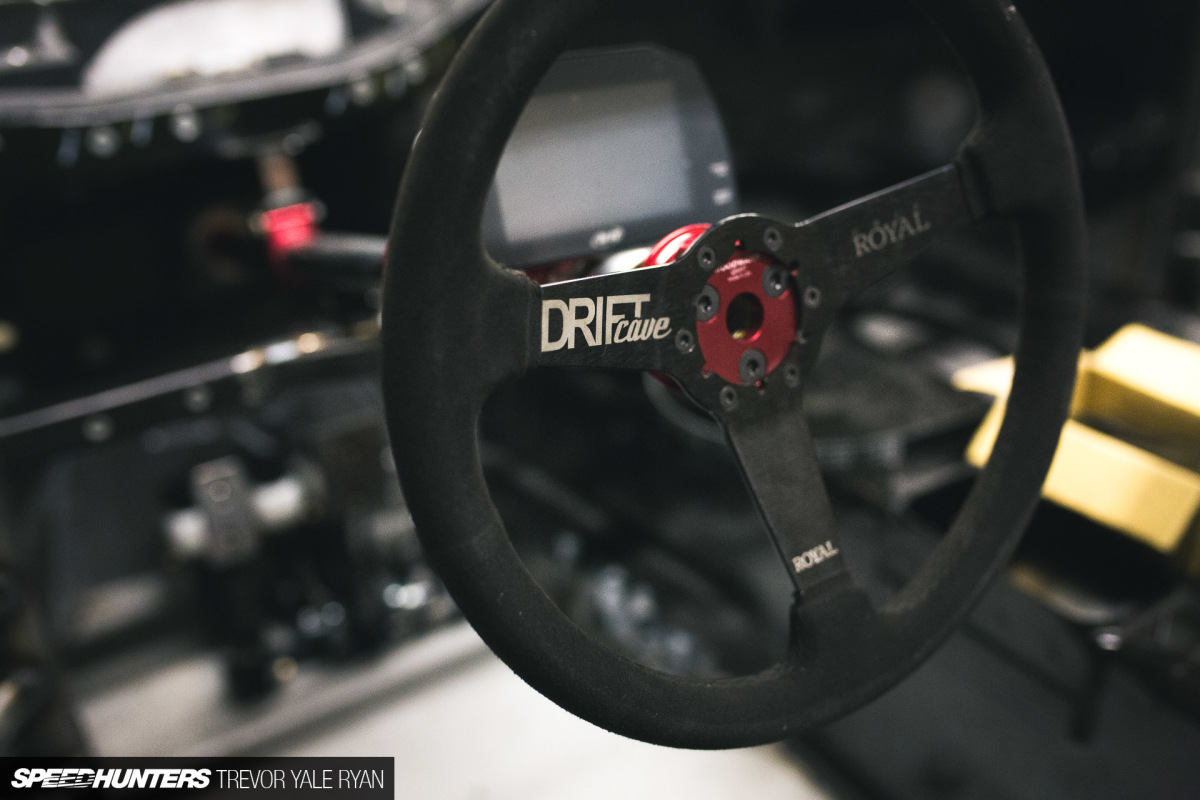 On that note, the cost of a decent S-chassis is steadily rising while clean examples become harder to find. At the same time, the market here is flooded with older Corvettes that have been very well maintained.
Furthermore, the Corvette is a car that was engineered for a large displacement V8 and proper suspension in the first place; it's also got the transmission in the back which is a nice added bonus. As these cars become more and more affordable, we will inevitably see more of them in motorsport — Matt just wants to stay ahead of the curve.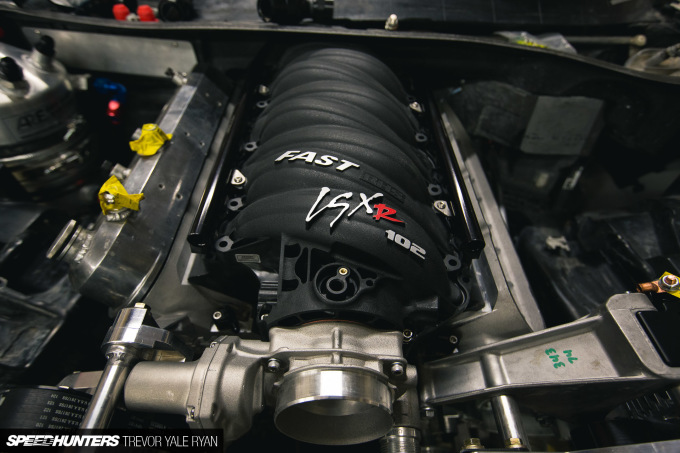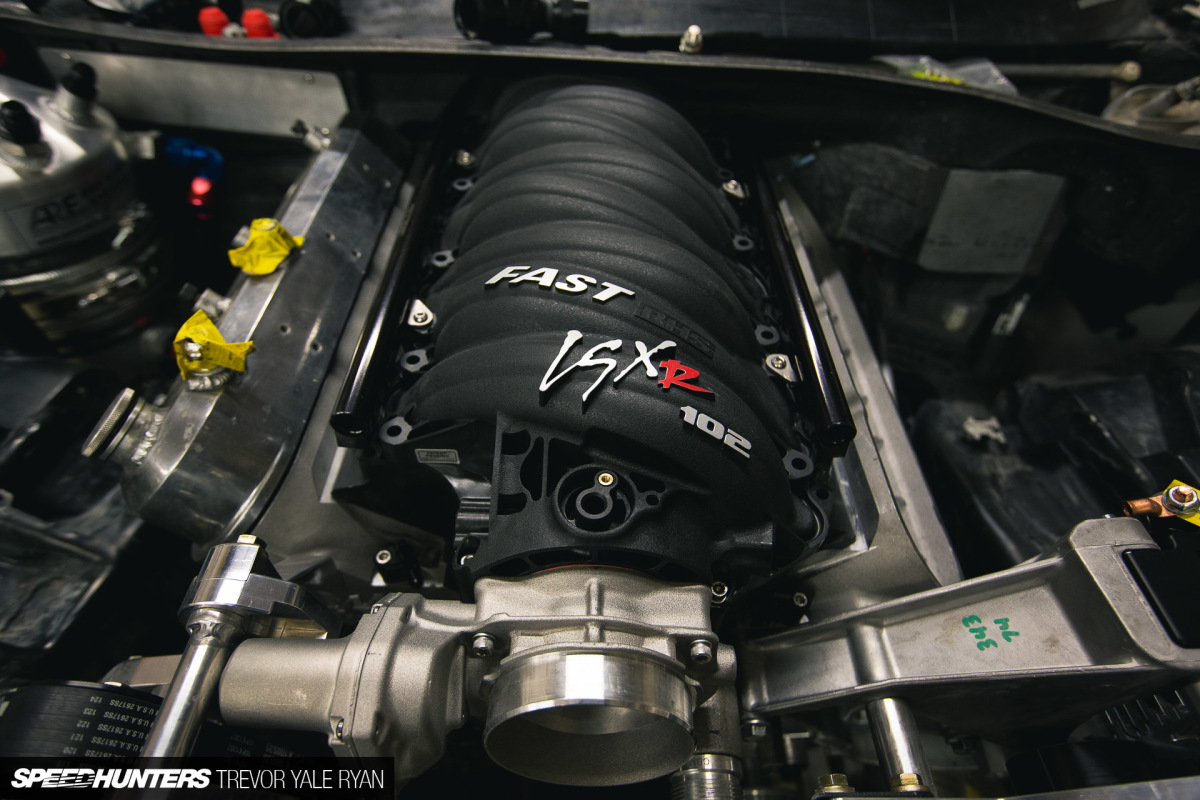 In proper Drift Cave fashion, an extremely high-horsepower V8 that's made up entirely of aftermarket parts is already suspended in place.
Using the same platform as they previously ran, the team is able to not waste legwork they've already done to find reliable parts. An RHS aluminum 427 LS block is the base for the build, and I'm told the only GM parts that remain are the sensors.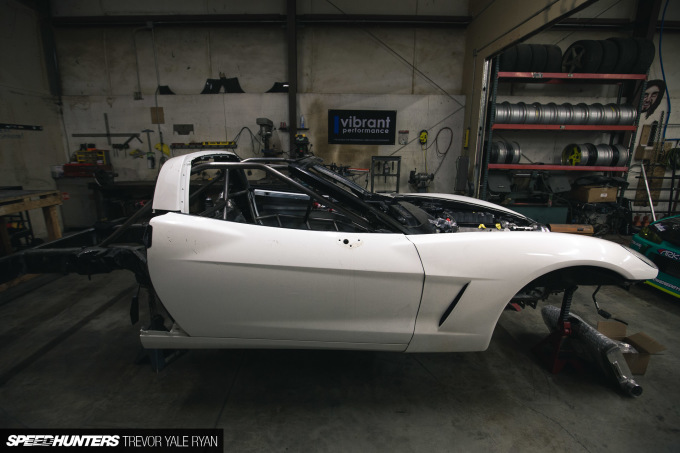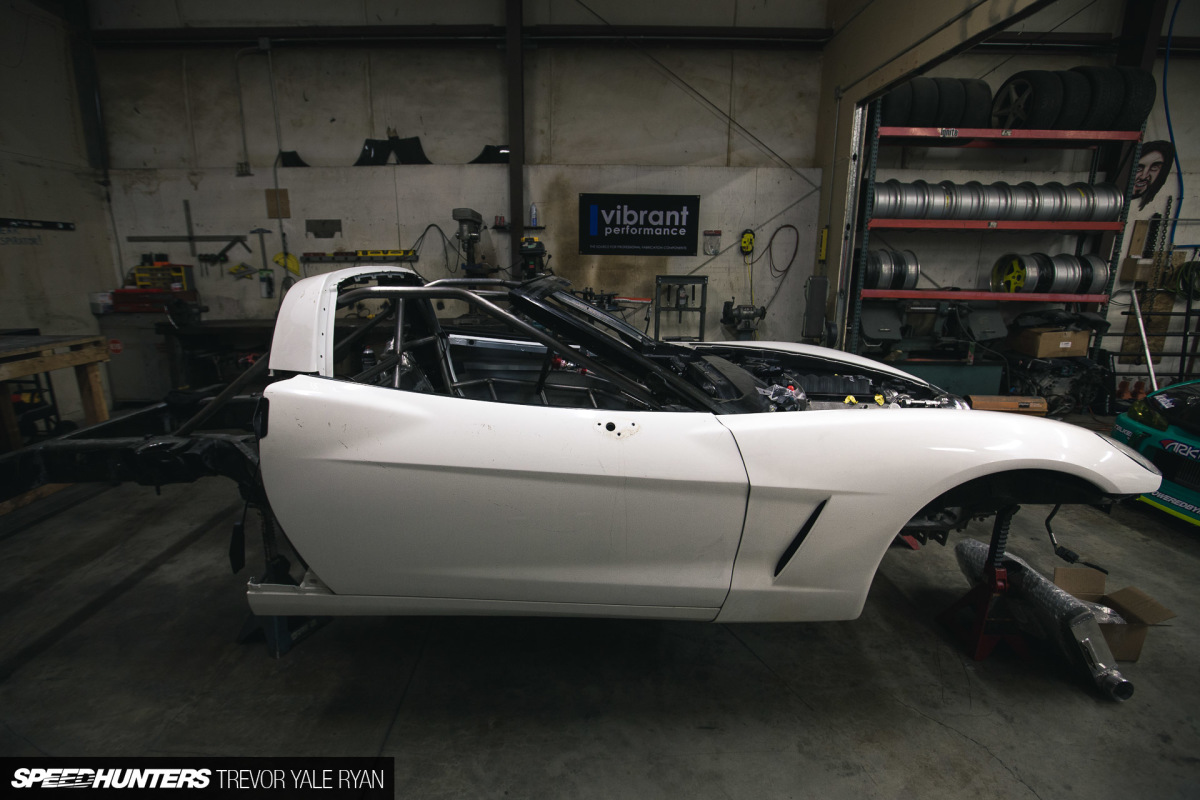 I noticed that Matt opted for the base model with a steel frame rather than the C6 Z06 which was built on an aluminum frame. This was a deliberate choice as the chassis will be stronger in the long run and repairs will be more simple.
Matt also pointed out to me that with the body panels he has shipping from HGK Motorsport in Latvia, the heavier chassis will keep all the weight in the right place while helping to meet the 3,000lb minimum weight requirement that goes with the 295-series Falken Tires he runs.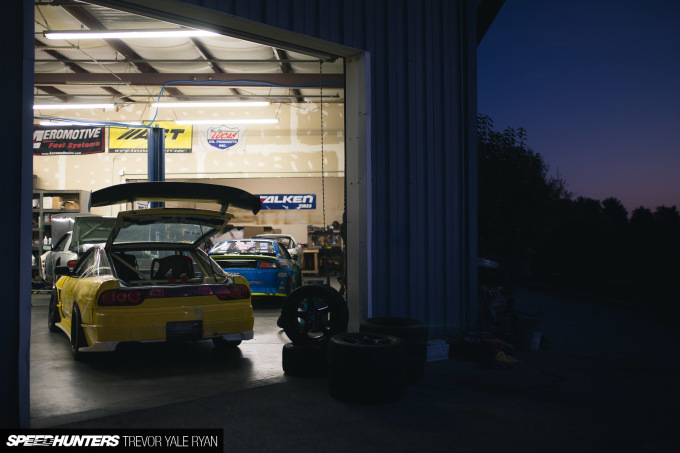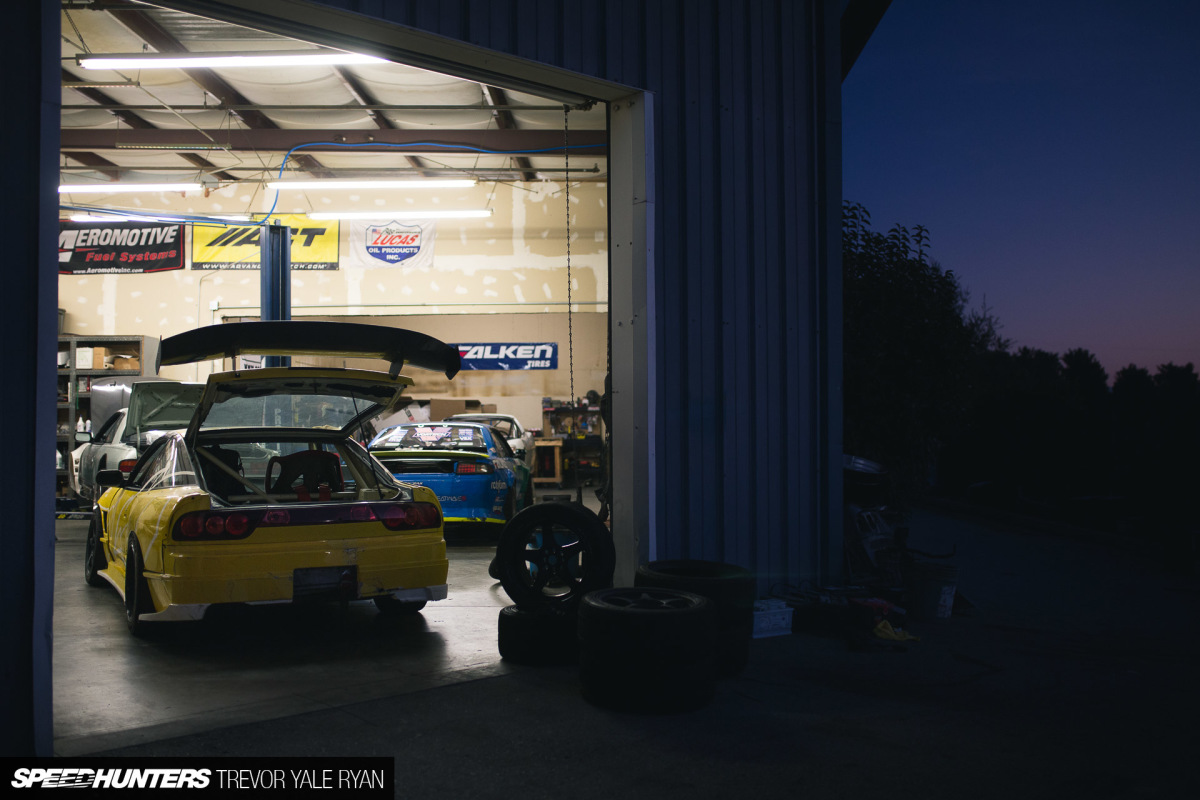 It will definitely be an exciting build and I'll be back at Drift Cave soon to see what's in store for the Corvette. In the meantime, Matt and the crew will be hard at work; you can follow along on YouTube as they move forward.
I don't see any signs of these guys letting up any time soon, and their competition won't be either. 2018 will surely be a good one.
Trevor Yale Ryan
Instagram: tyrphoto
TYRphoto.com
Cutting Room Floor