The Overfender Generation
Welcome to the nation of works. Overfenders, as they're now commonly known, have been referred to as 'works style' flares by the Japanese for a long time. It's a term that harks back to the early days of domestic motorsports when factory teams used to widen the track of their race cars by cutting away sheet metal above the wheel arch lines and bolting widened extensions over top.
It's a rudimentary yet brutally functional way to fit wider wheels and tires, and thus a method that has never really changed much. Sure, it's evolved into fenders with integrated flares or blisters being designed for off-the-shelf hot versions of cars, but in amateur racing circles and more modern style-oriented movements the good old 'slap some flares on her' process is not only still alive, but enjoying immense popularity.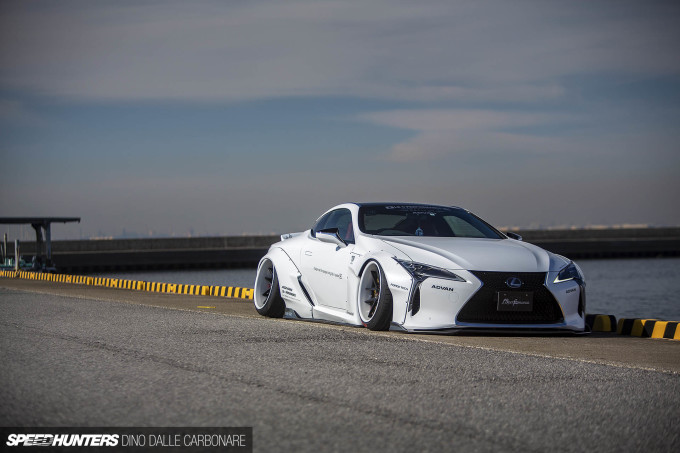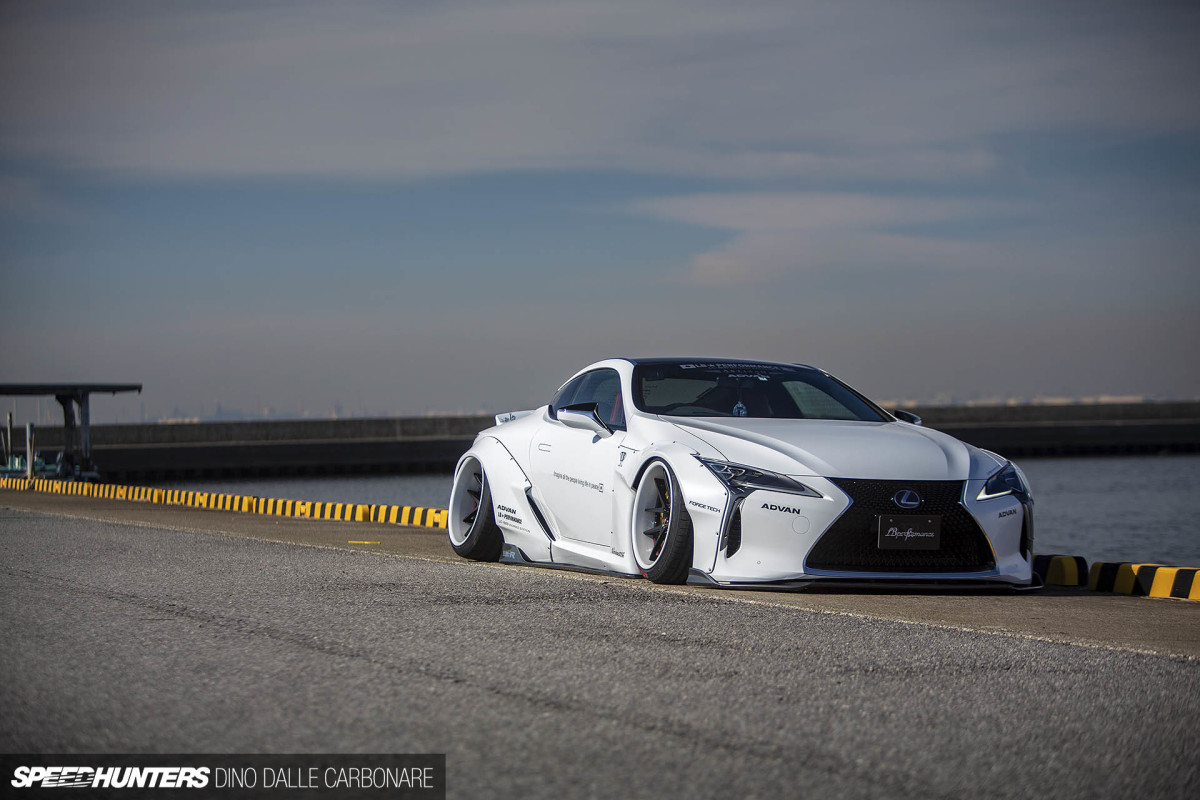 It's funny that for the last few years we've been asking ourselves when will it all die down, or what the next big thing will be. I ask myself this question all the time, but if you think about it, there may not really be a next big thing. I mean, how could anything better the resulting look of widened fenders?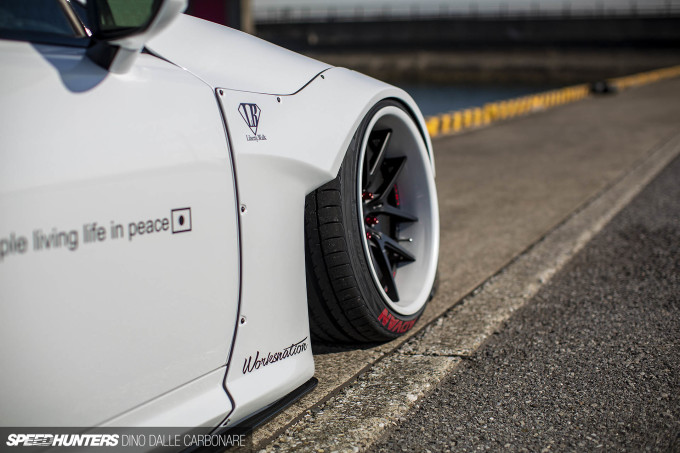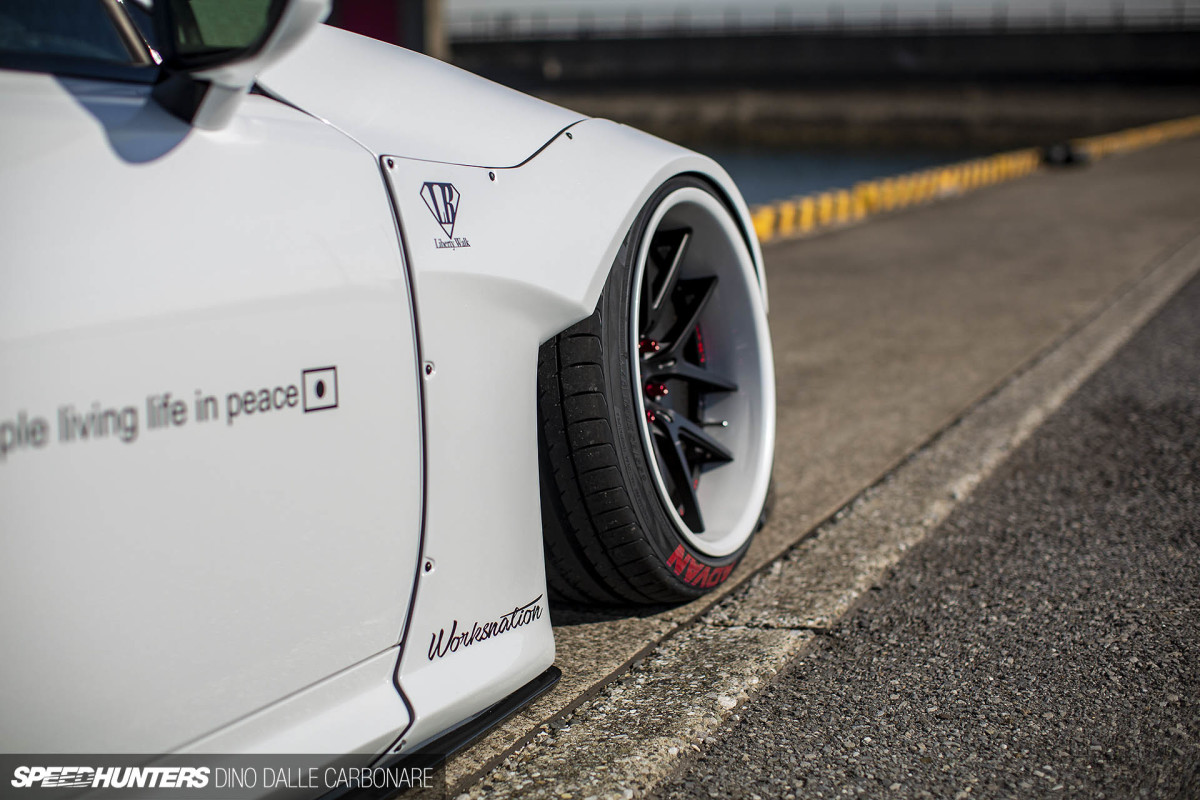 Sure, you can try different takes on it, but at the end of the day you are still just pumping a car's girth. Unless basic car design drastically changes and wheels disappear, this is what we've got to work with.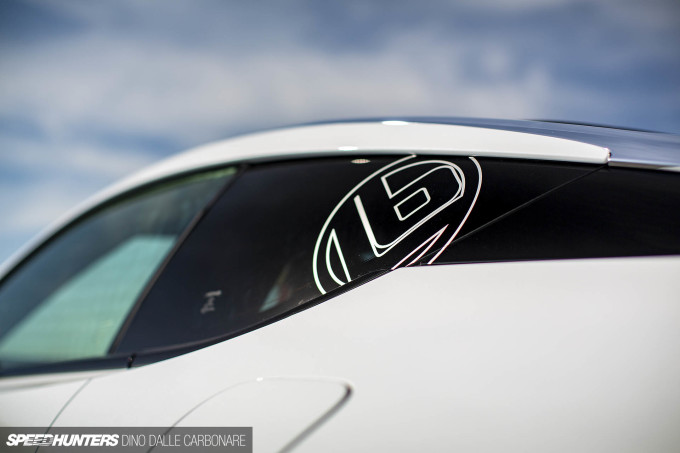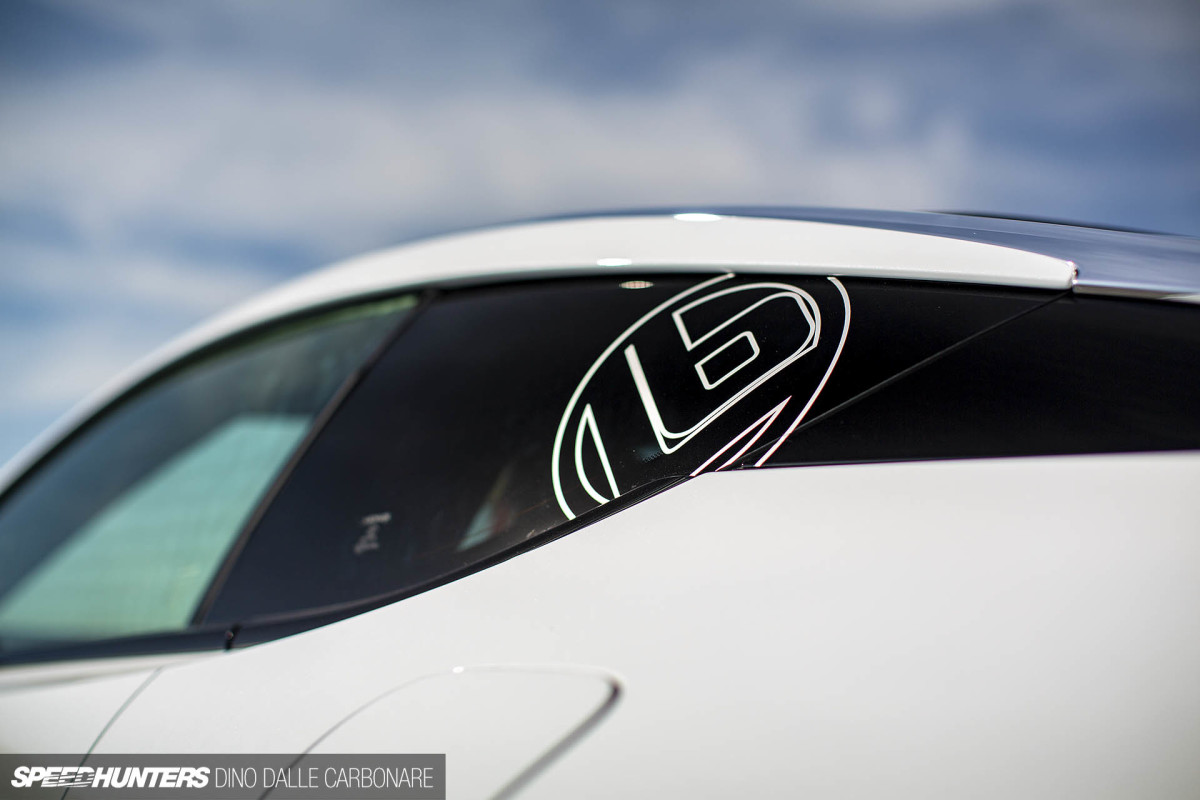 Which brings us to Liberty Walk.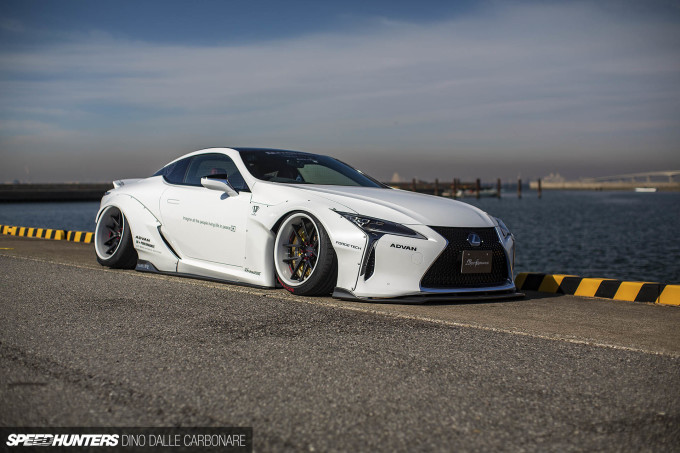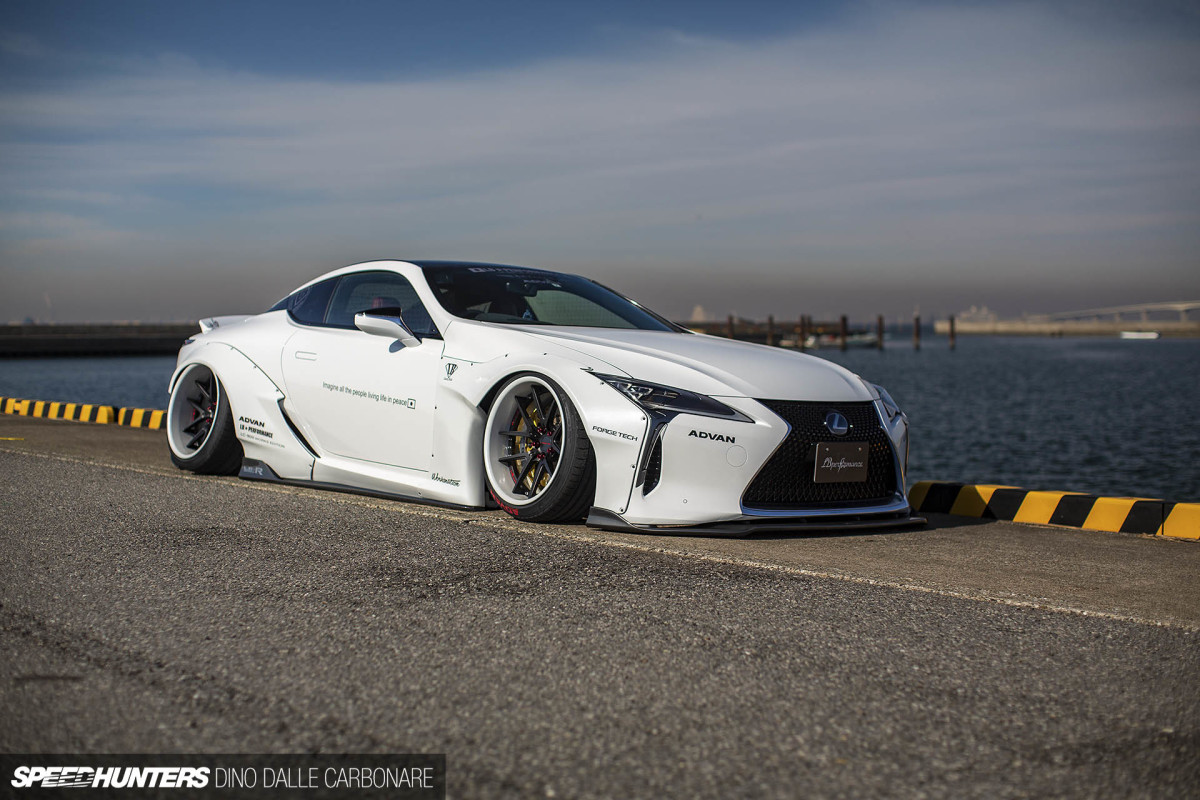 This is a brand that has capitalized on the overfender movement in its own unique way, sticking to more premium vehicles and creating a very recognizable style. And every year more cars are added to the list, either under the LB Works or LB Performance banner. Combined, they've created something that Kato-san has begun referring to as "Works Nation".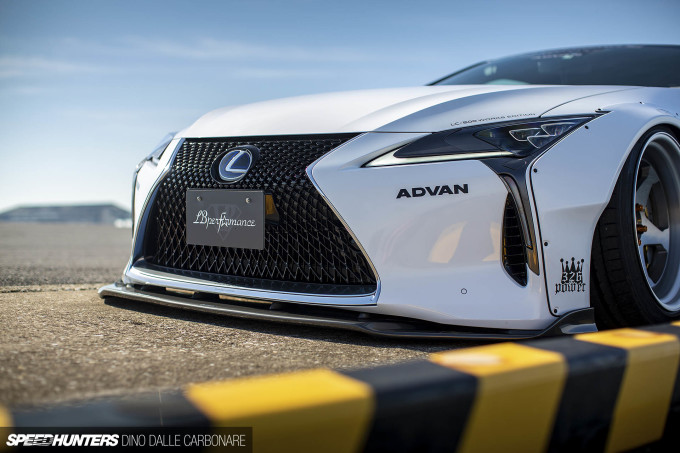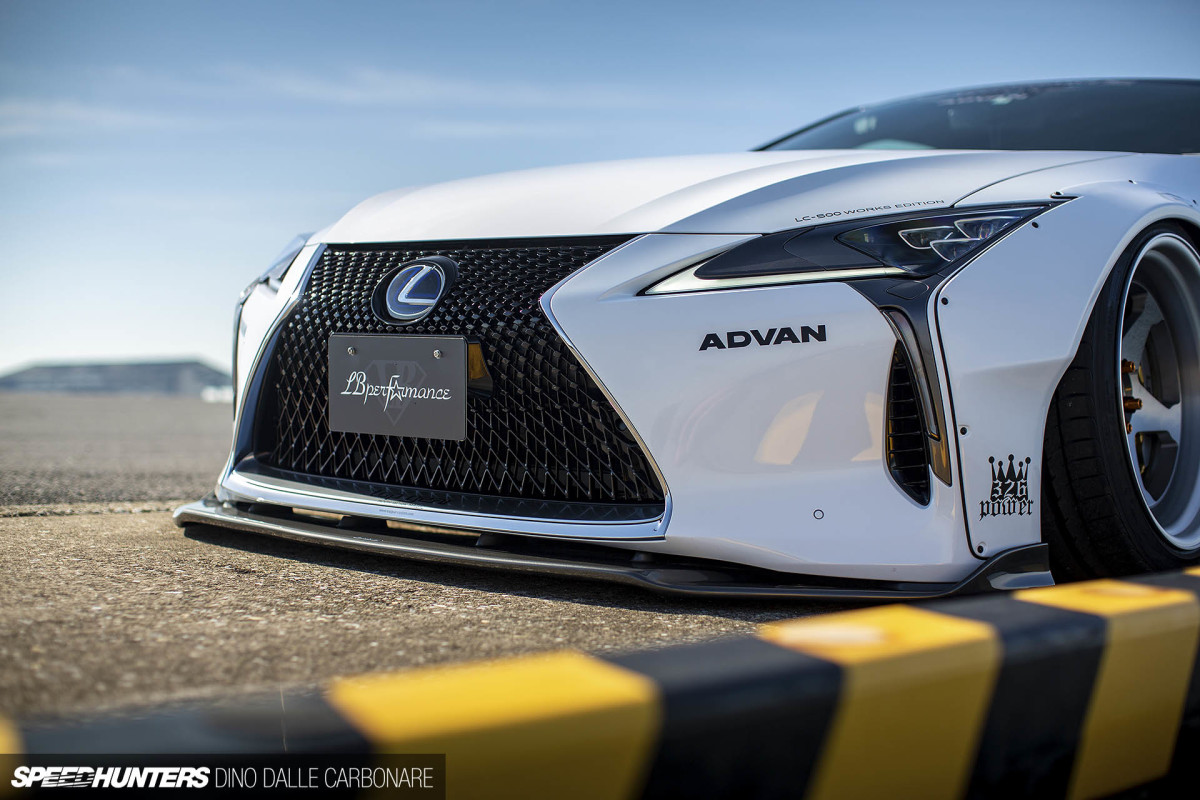 I'm sure you can figure out the inspiration for the term, however this one not only represents stance, but also those cars that are fitted with overfenders.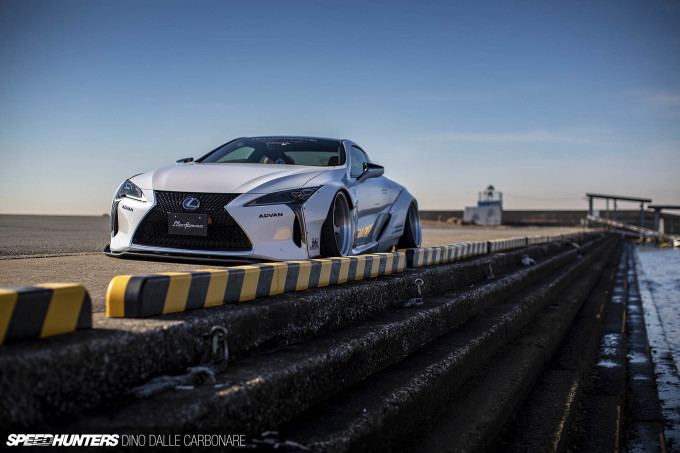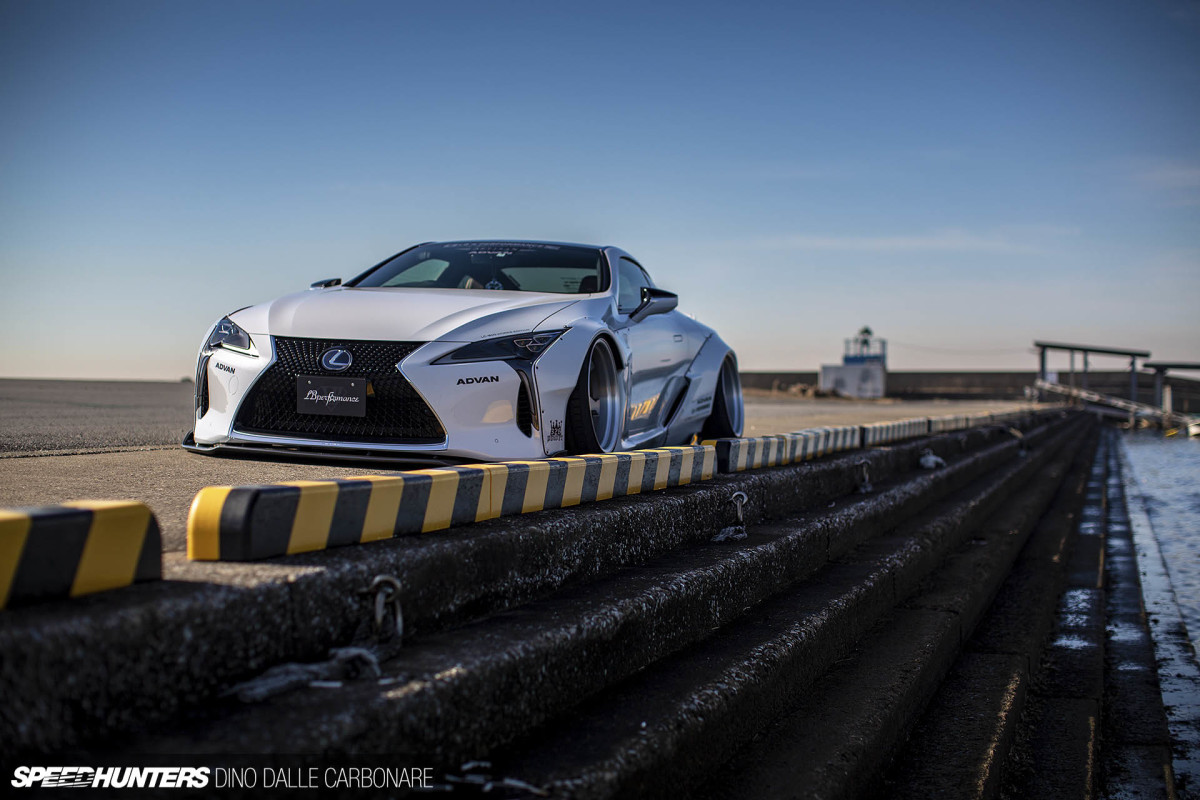 Kato believes it's a true movement and one he's a key player in. Who knows, maybe we'll even see overfender-specific events pop up, just like there are ones for lowriders.
Here at Speedhunters we continue to look on as it all evolves, and with every passing year new ideas are thrown into the mix.
Wider Is Better. Case Closed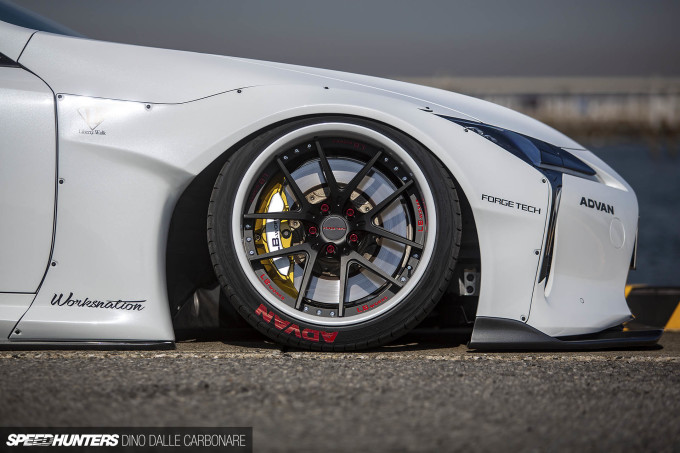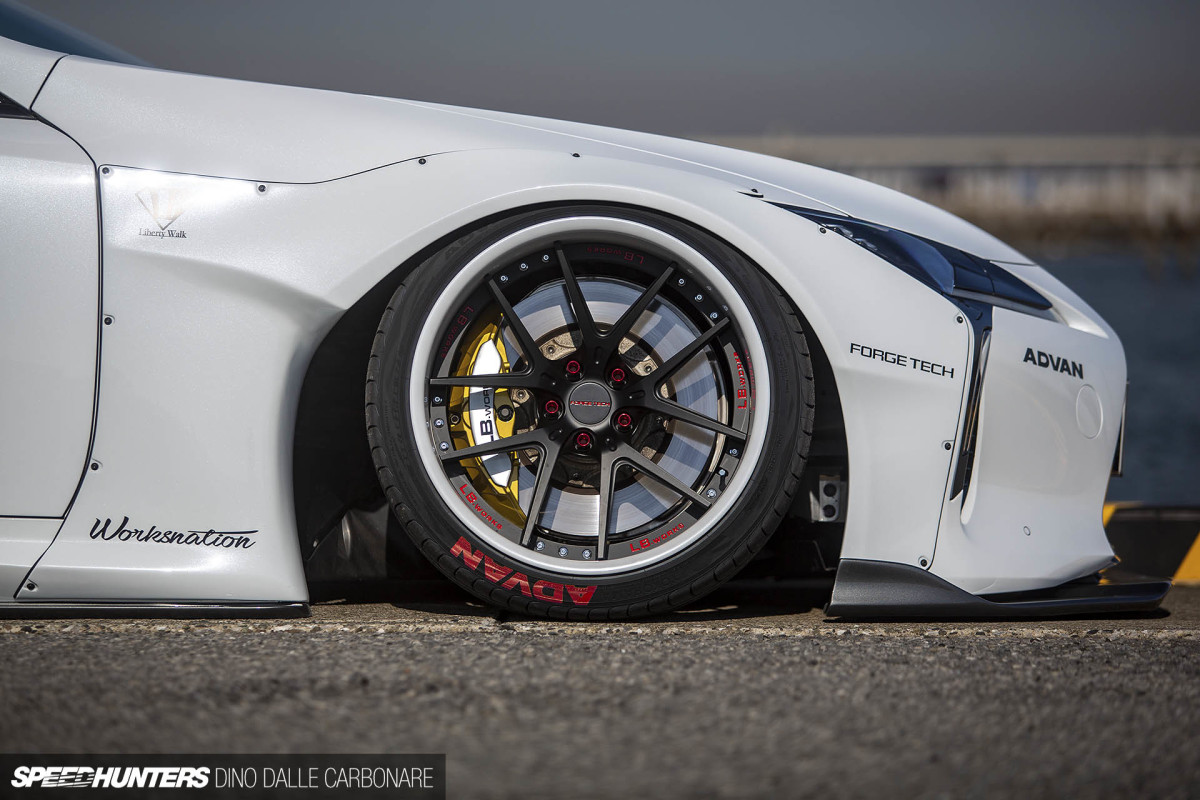 In case you haven't already figured it out, the Liberty Walk creation we're looking at today is a Lexus LC 500h. The base machine is the pinnacle of Lexus design and hybrid performance, so it was inevitable that it would fall pray to Kato's ways. And with the help of one Mr. Kei Miura, the LB kit has come to life in spectacular fashion.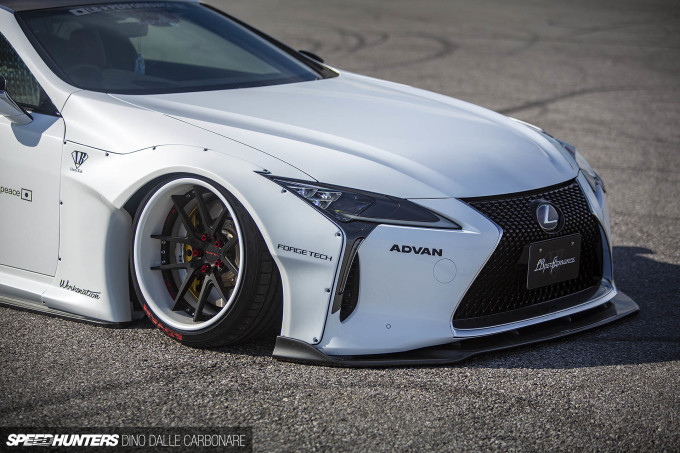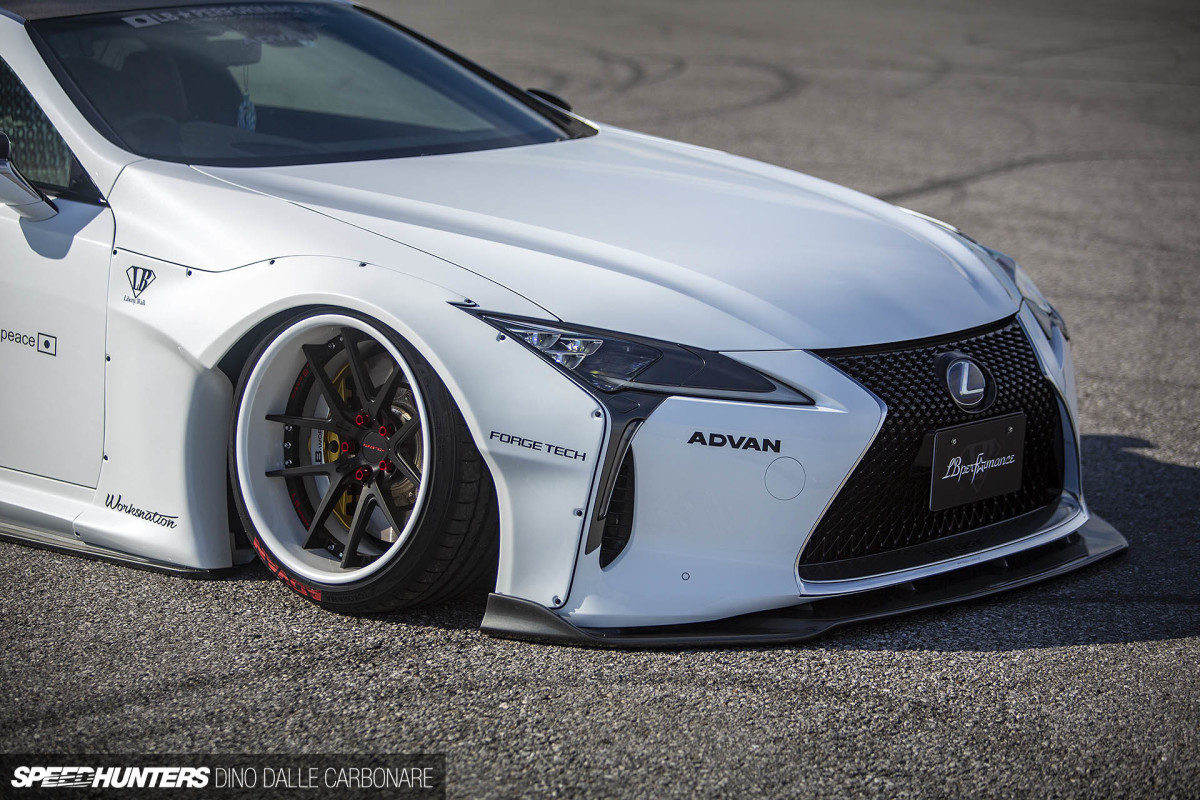 You could actually call the front overfenders 'extenders', as they closely follow the edges along the headlights and down along the doors to then reach halfway up the top fender lines. Curiously, the bumper join line has been covered to give a cleaner look. Artisan Spirits was called in to supply its front lip extension which is then mimicked along the under-skirts.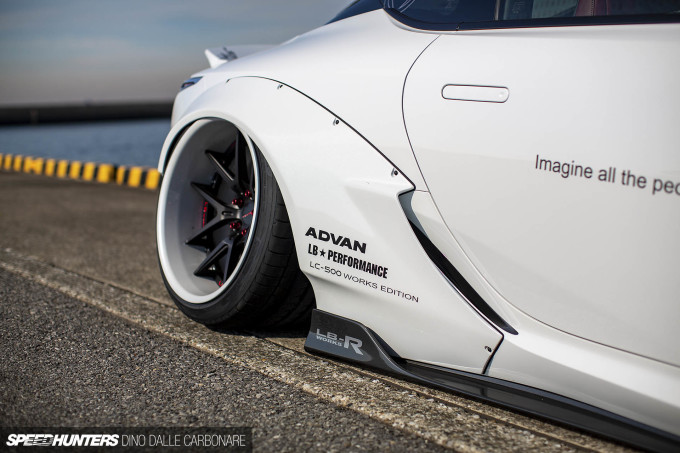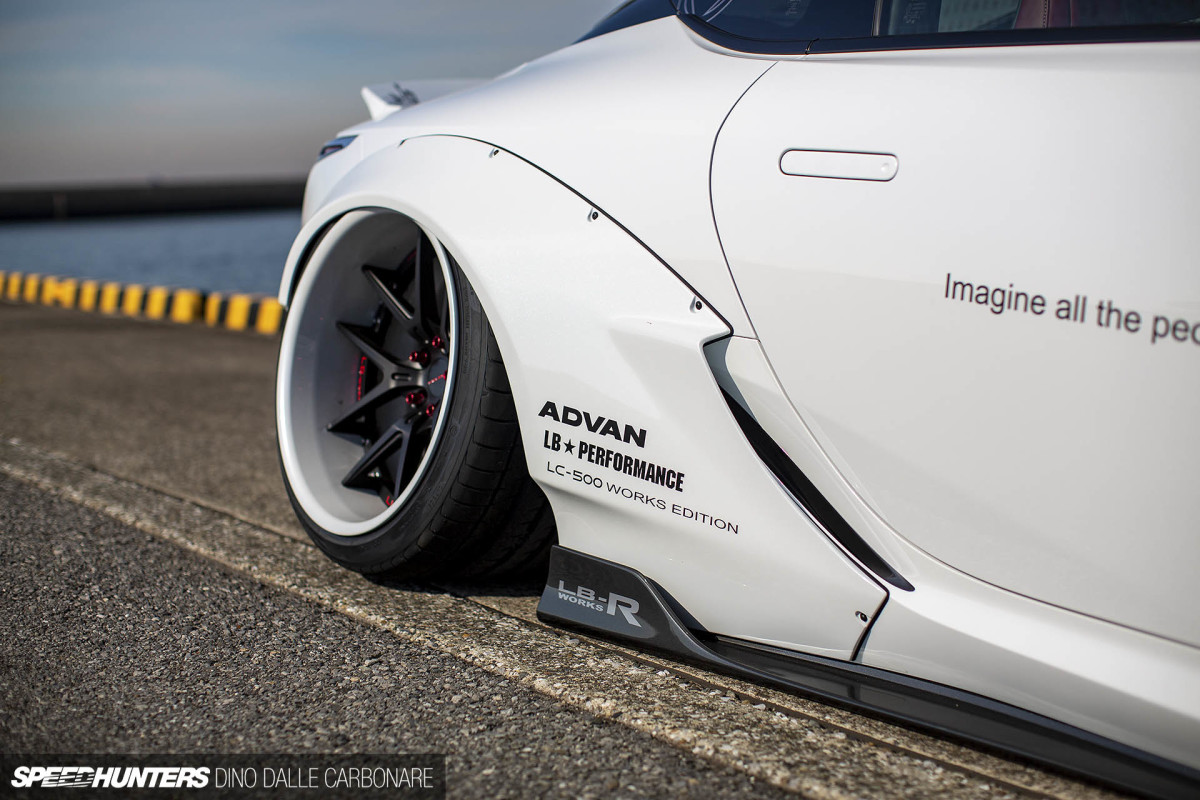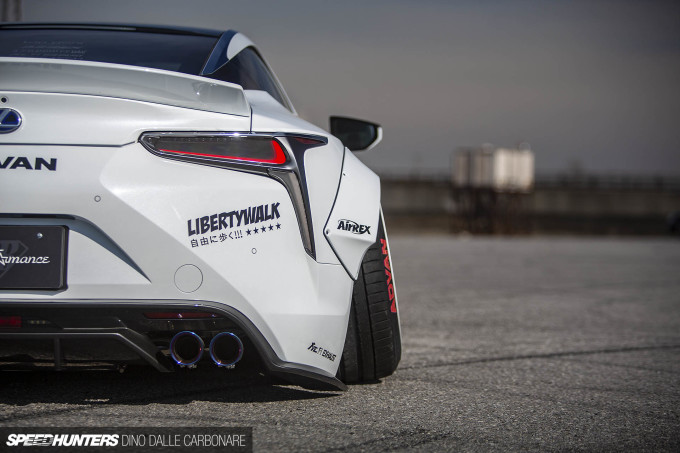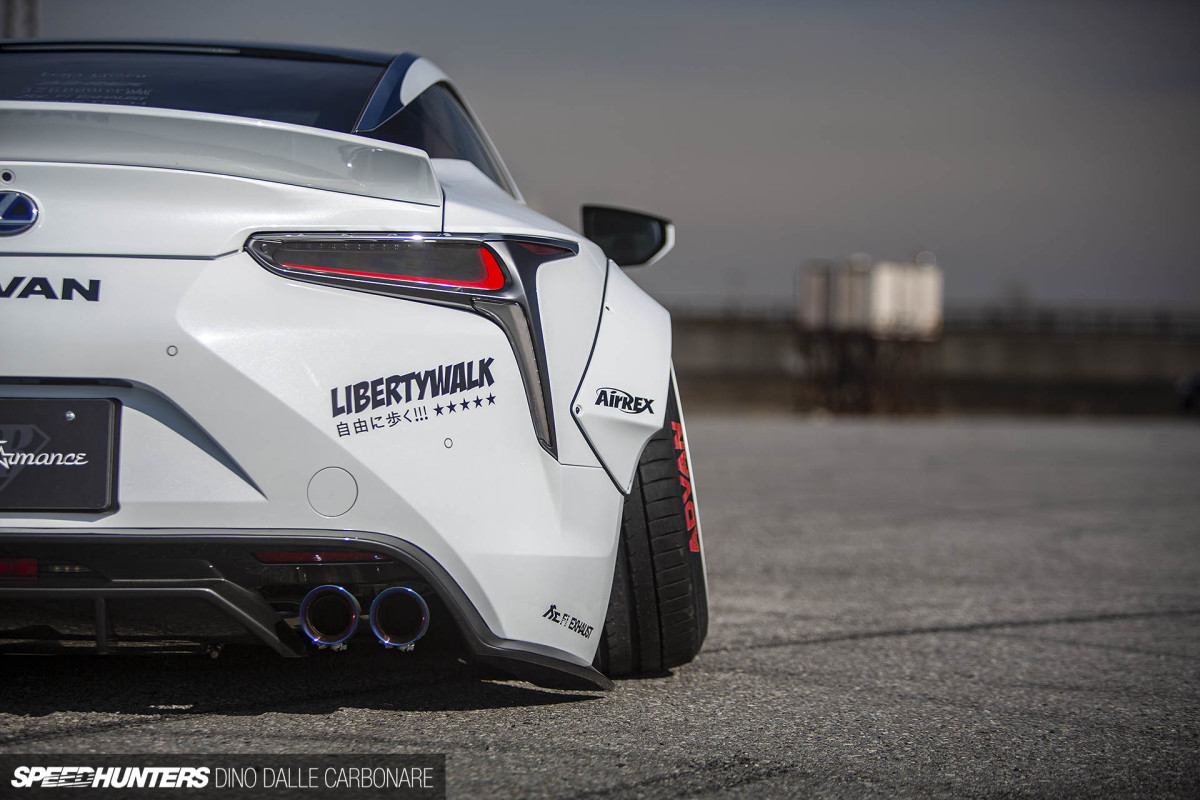 Then there's the rear, a large single piece that sweeps up and over the cut wheel arches, kissing the fuel filler's panel gap and then meeting the bumper with a little taper for added effect. It does all sorts of wonderful things for the LC's profile, enhancing the flowing and aggressively styled design language of the base car.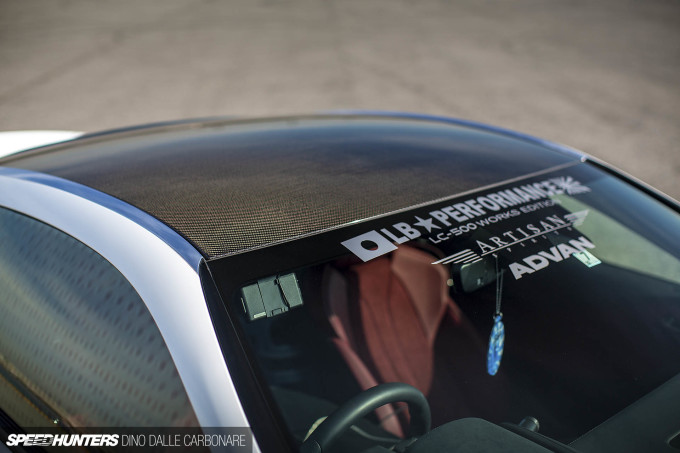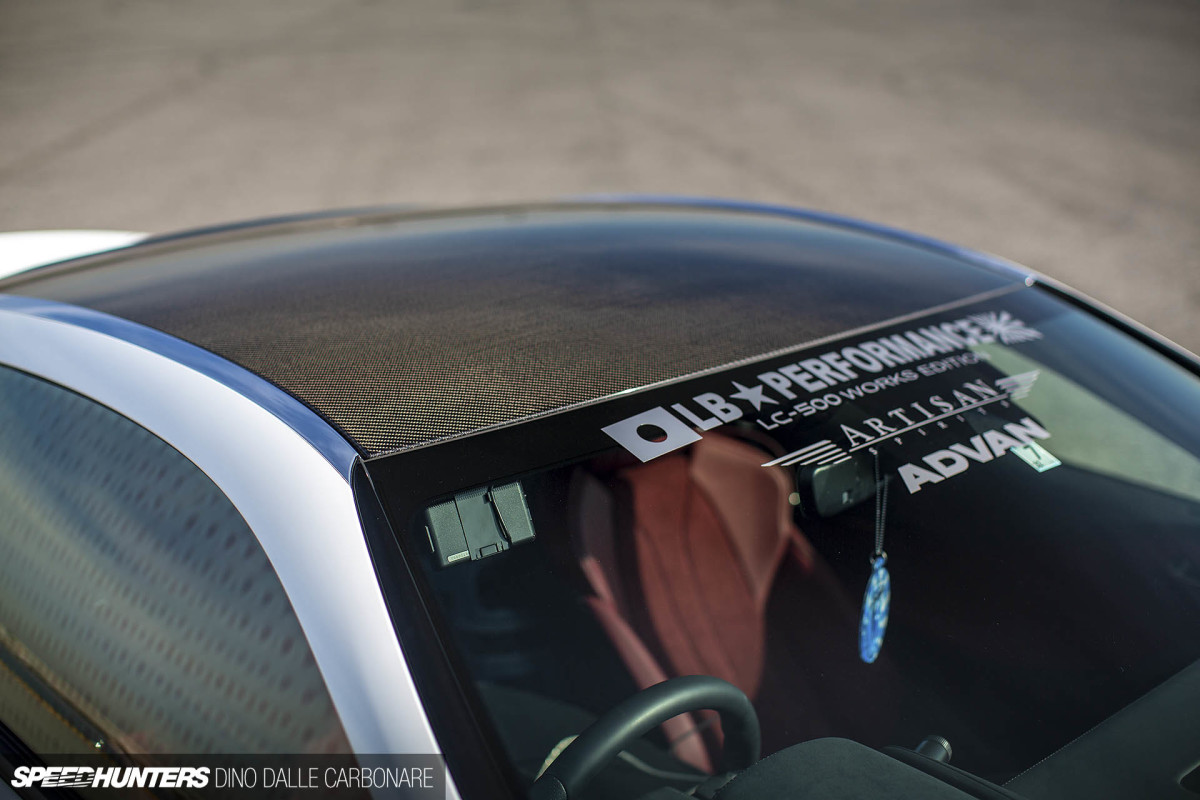 The LB Performance demo machine also comes with a carbon roof to help shed as much weight as possible off the very top of the car to improve handling.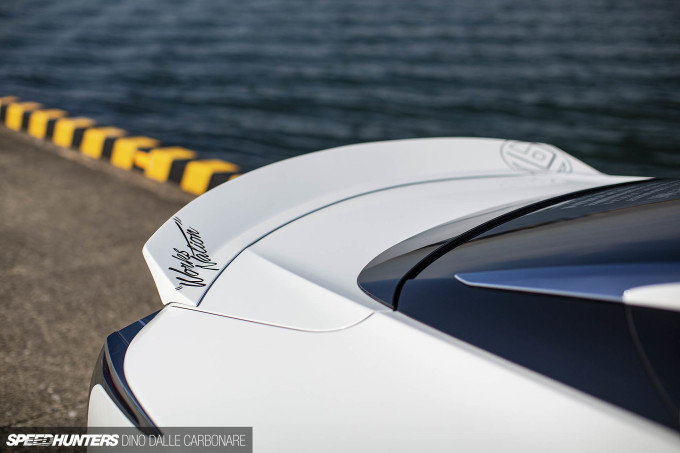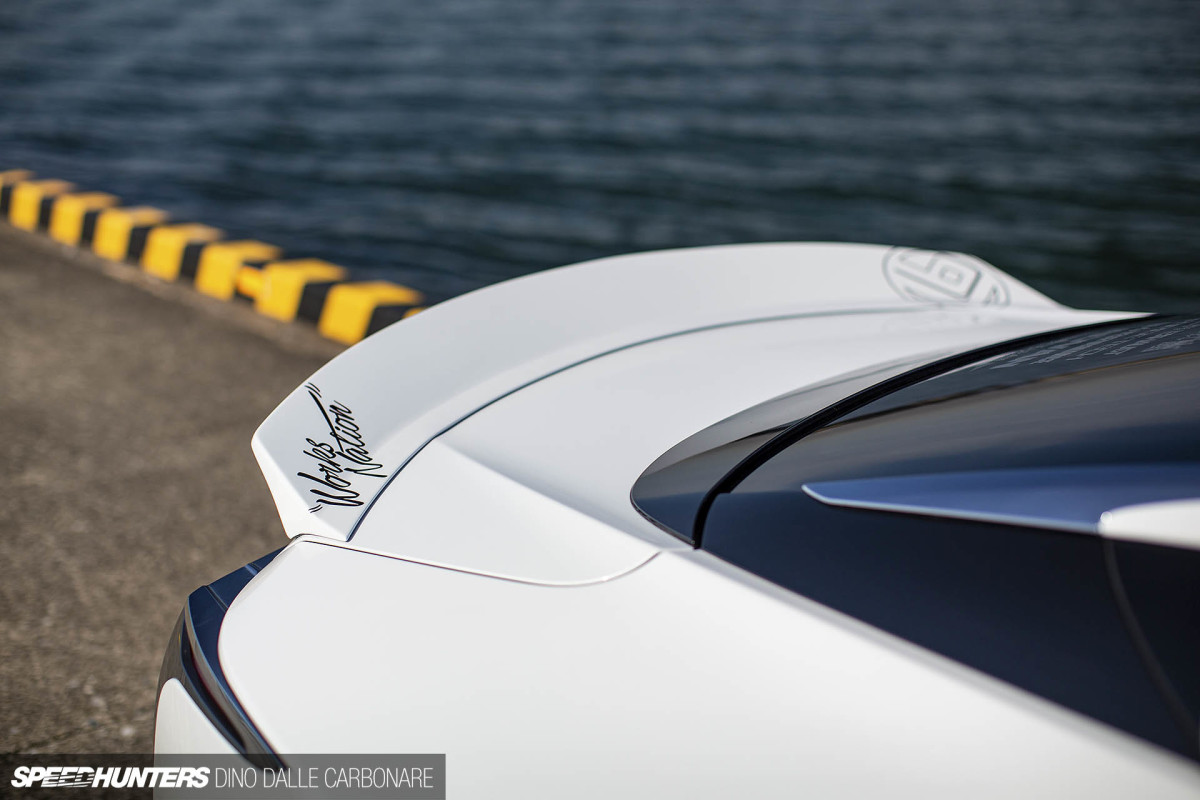 Out the back, a raked trunk spoiler helps give a less serious feel to the car. I'm not sure about you, but I think this part brings an 86-like look to it all.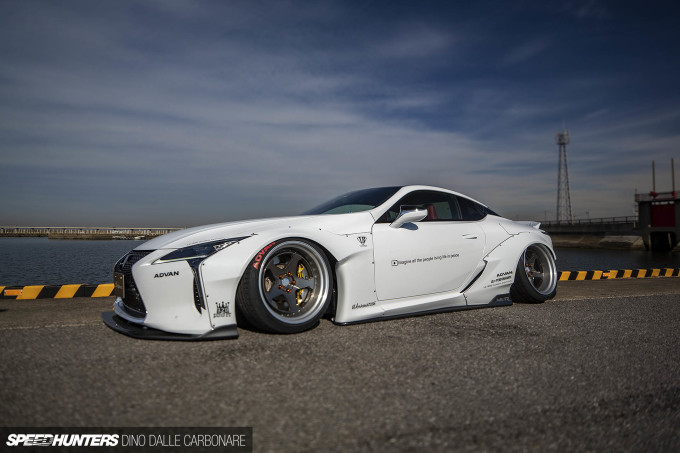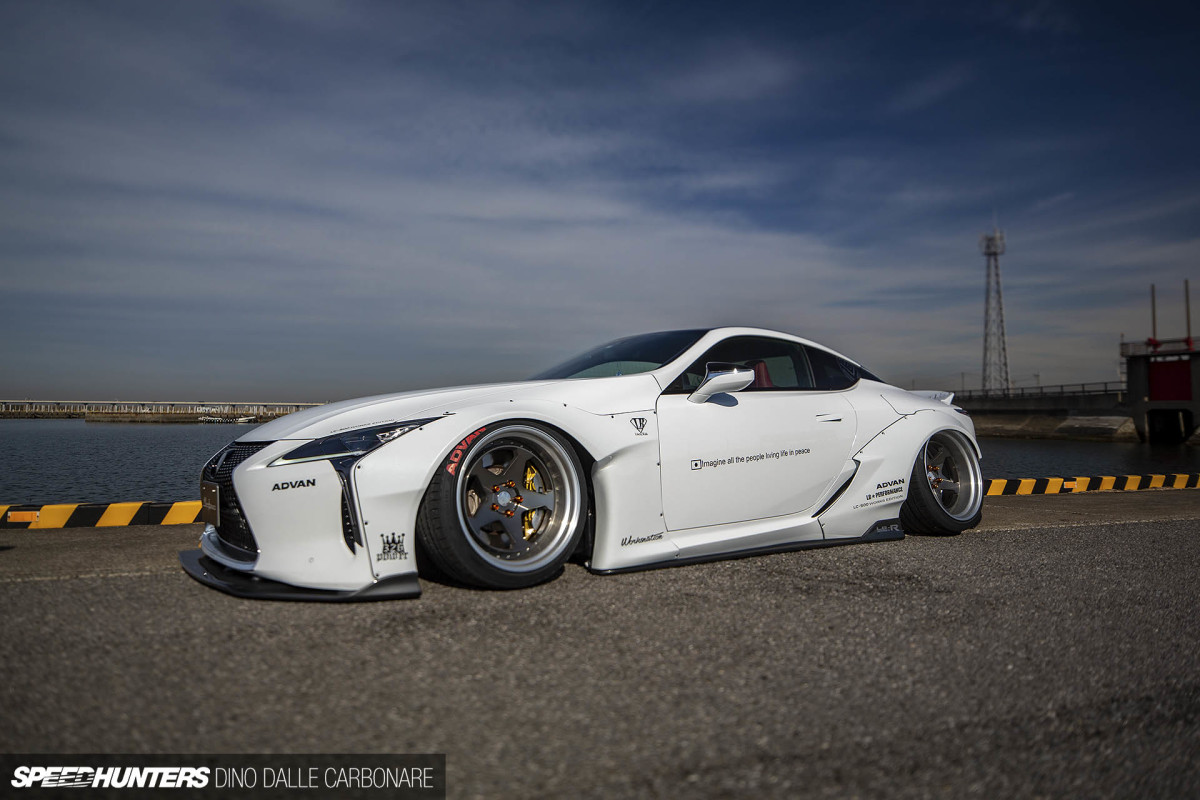 In show car fashion the passenger side of the car runs a different pair of wheels, but I'll get more into that shortly with some detailed shots.
Leather Cabin, Hybrid Powertrain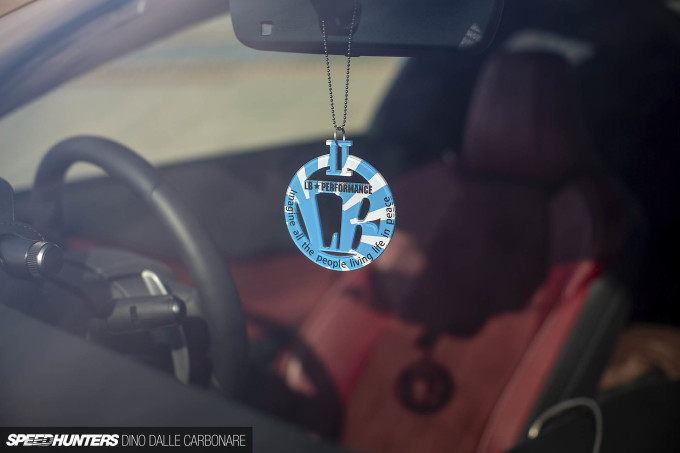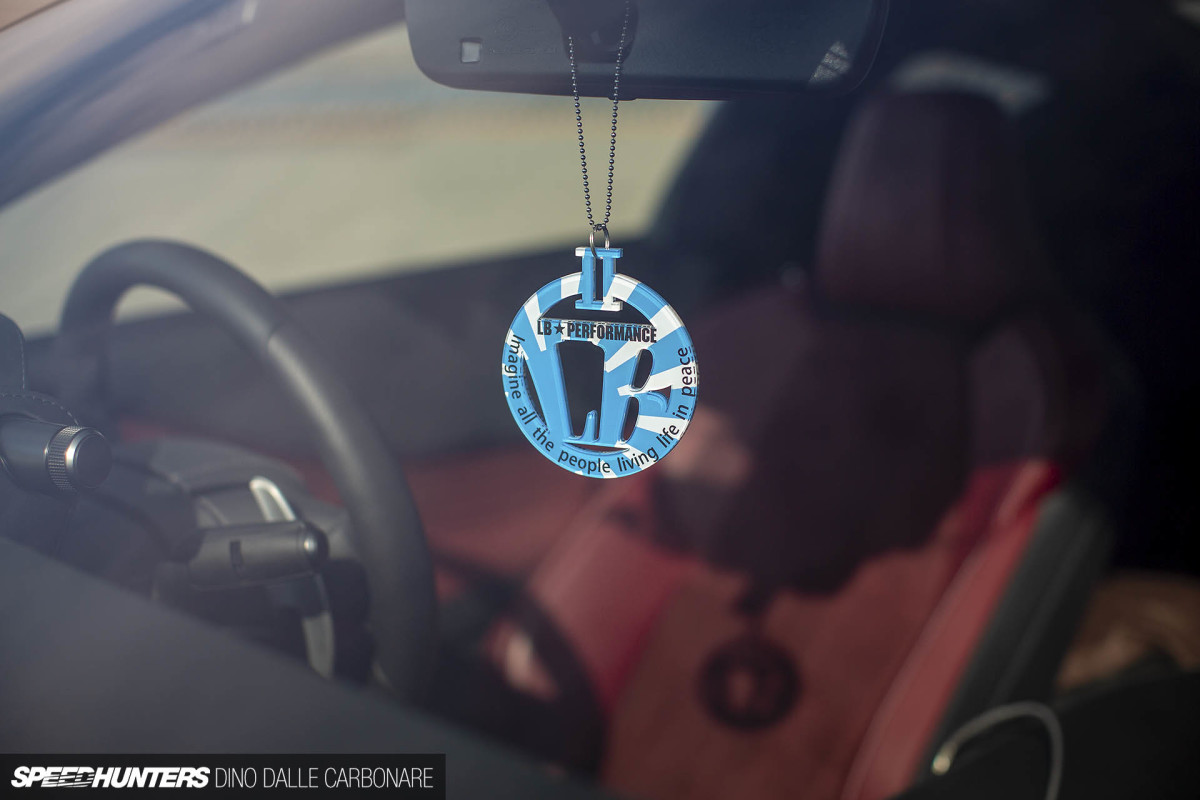 You never really understand just how much Lexus has pushed the envelope on its latest cars – and the new LS is possibly even more refined – until you take a look inside.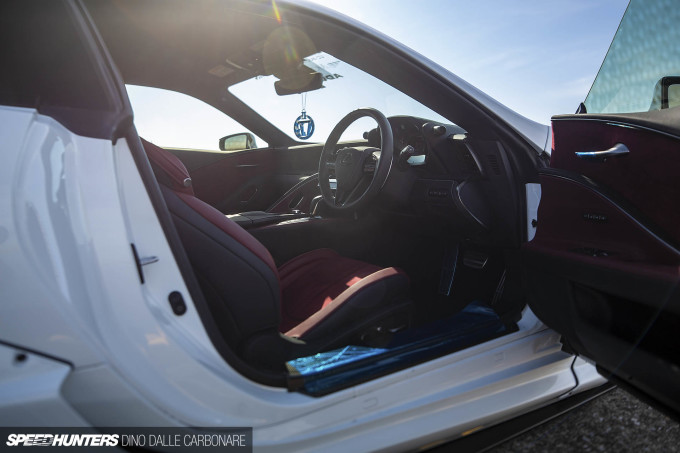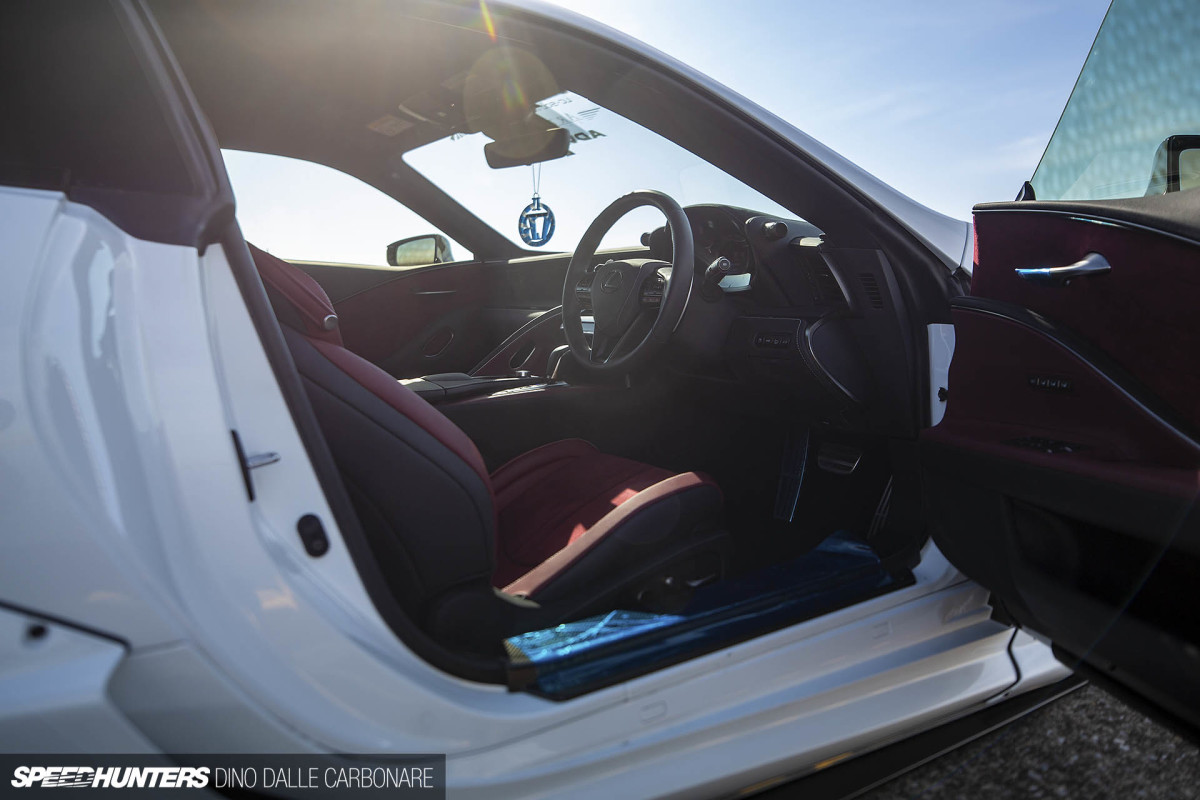 This car was sourced new for demo machine purpose, and as you'd expect on something built to run slow and low the cabin has been left untouched.
There's absolutely no need to fiddle around with what is arguably one of the best appointed cabins in the segment. The quality of the materials, the fit and finish, the level of equipment – or gadgetry as I like to call it – is off the charts. It would be awesome if Toyota did things a little more boldly in some of its more run-of-the-mill models.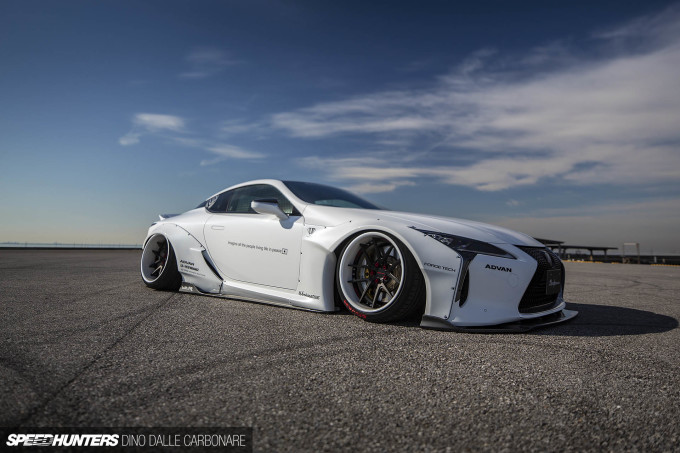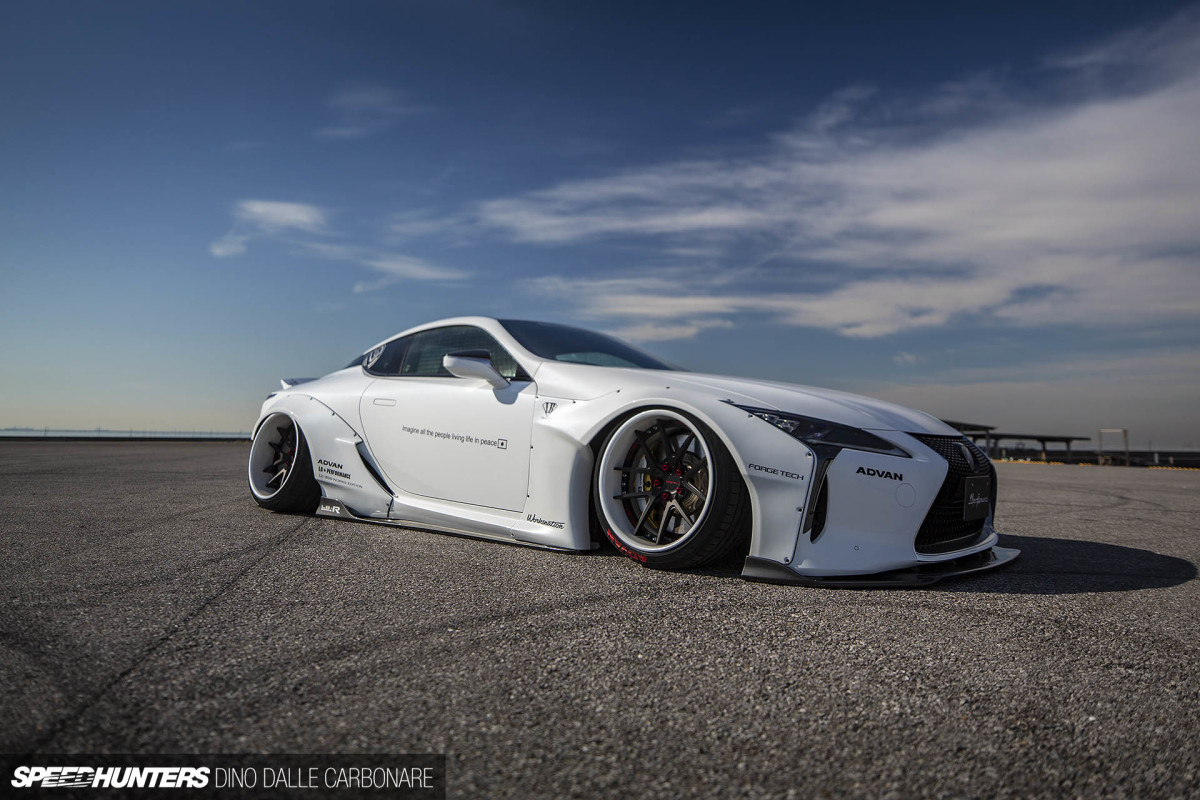 And then we get to the performance, and this is where I could potentially branch off on a tangent and blabber on ad infinitum.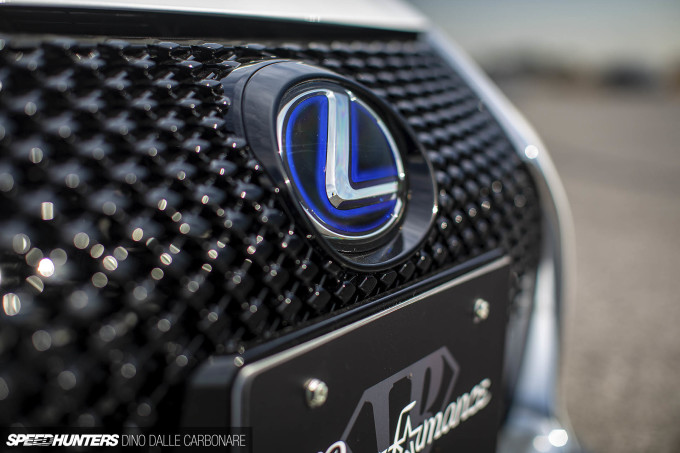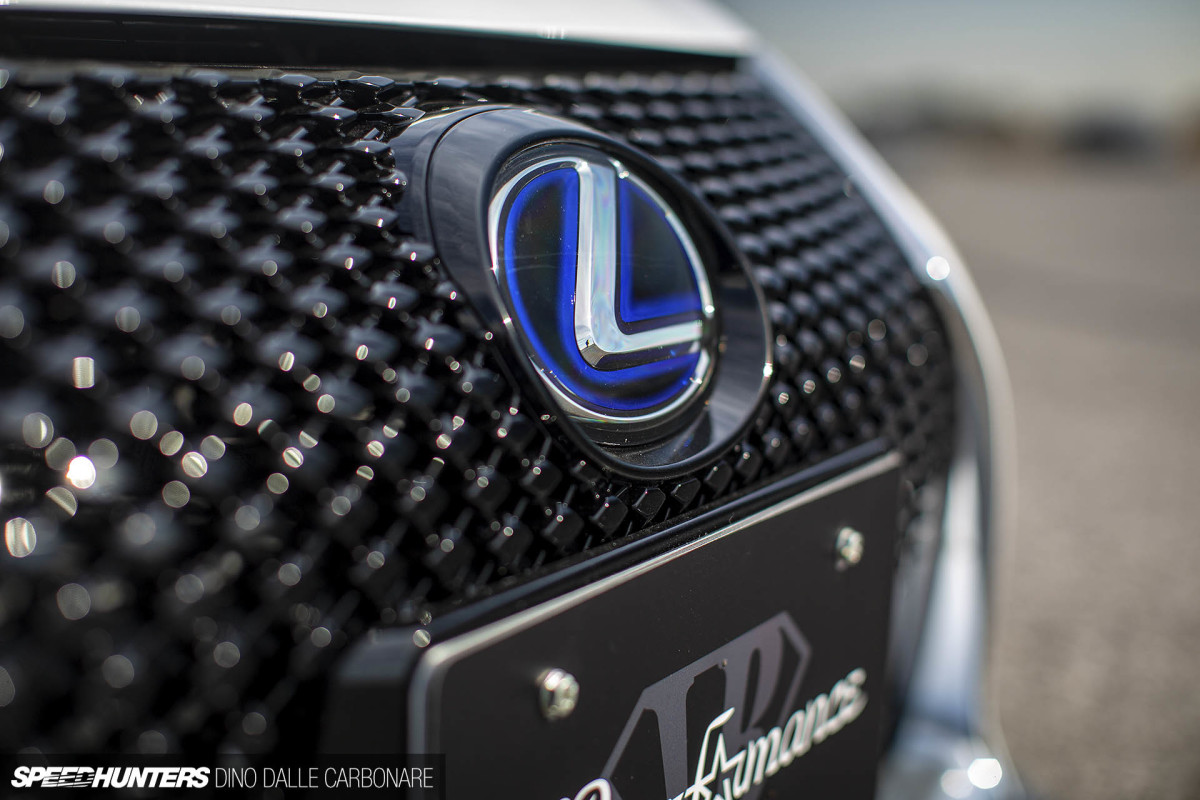 But I wouldn't be talking about this specific variant of the LC, because there's no way this hybrid model (denoted by the blue highlights around the Lexus badges) has got anything remotely to do with fun or driver involvement.
The 300hp 3.5L V6 mated to the electrified driveline (which adds an additional 180hp to the mix) is nothing more than a smooth and refined choice for a car aimed primarily at refined commuting.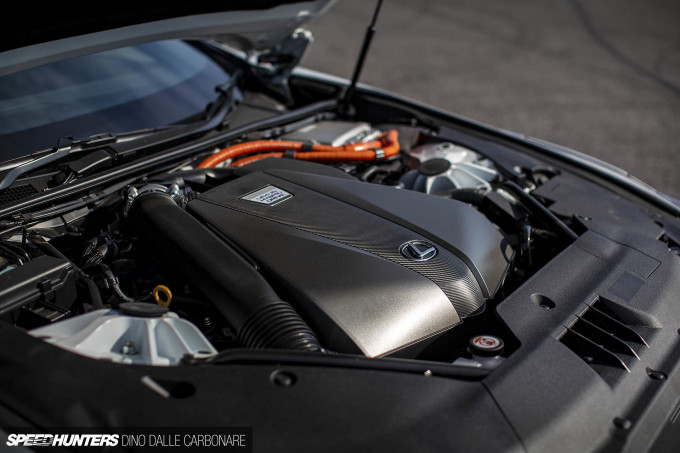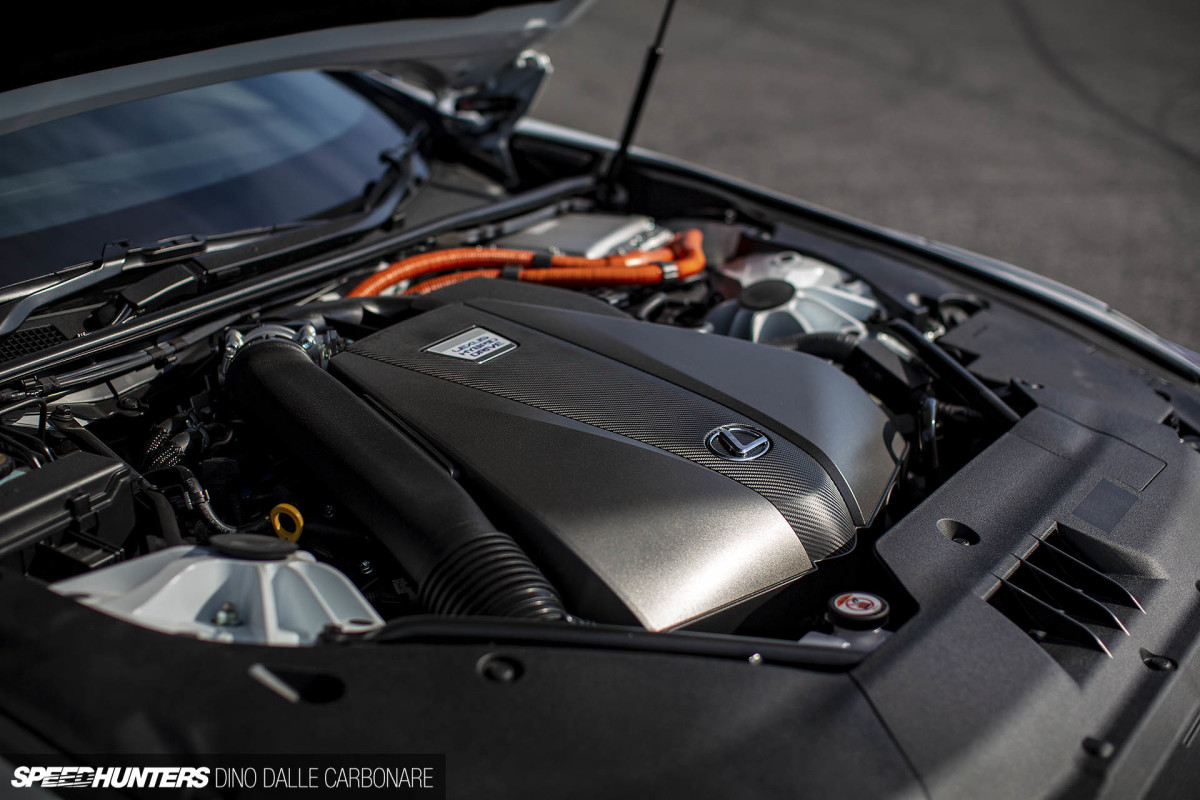 The latter is something reflected in the use of a CVT transmission, my pet peeve. Sure, CVTs have their place in some cars – or should I say transportation appliances – but not in a luxurious coupe that is desperately trying to be sporty. I won't say anything more about that, but what I will talk about are the positives, like the LC 500 which runs a 470hp 5.0L V8 mated to a 10-speed automatic with lock out, and the LS 500 with its twin-turbo 3.5L V6 for even more power. So let's think happy thoughts and not dwell on this particular hybrid version, shall we?
While the stock LC 500h is a pretty quiet car, it does allow some hearty V6 frequencies to escape when put into Sport# mode. Here Liberty Walk has added a cat-back Fi exhaust system with quad tail pipes to give the car the soundtrack its design warrants.
What's Next On The Cards?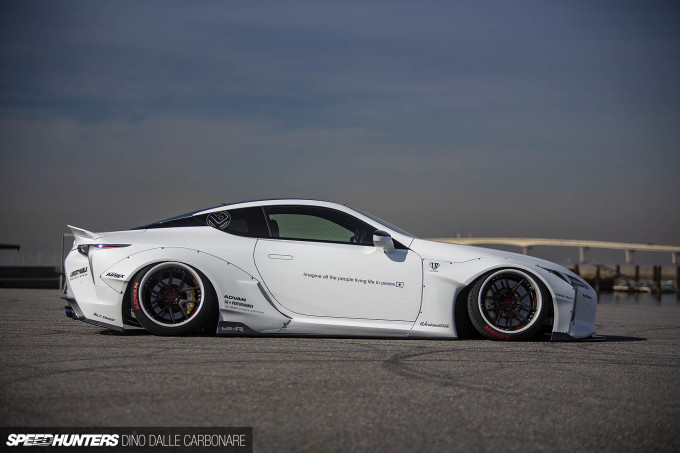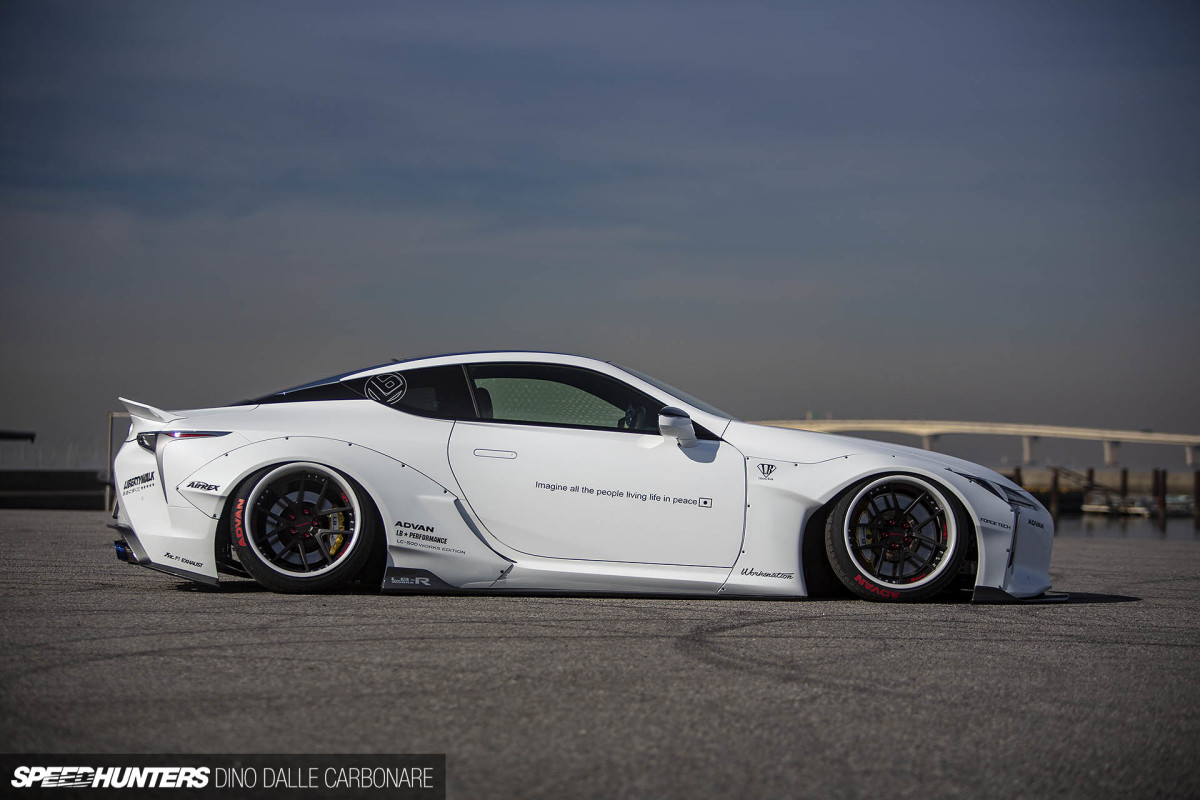 I mentioned the wheels a moment ago, and on the right side of the car we have a set of Forge Tech FTW204s with custom Liberty Walk embossing on the inner disk.
The split 5-spoke 2-piece rims measure 20×10-inch at the front and 20×12-inch at the rear and are shod in Yokohama Advan Sport V105s.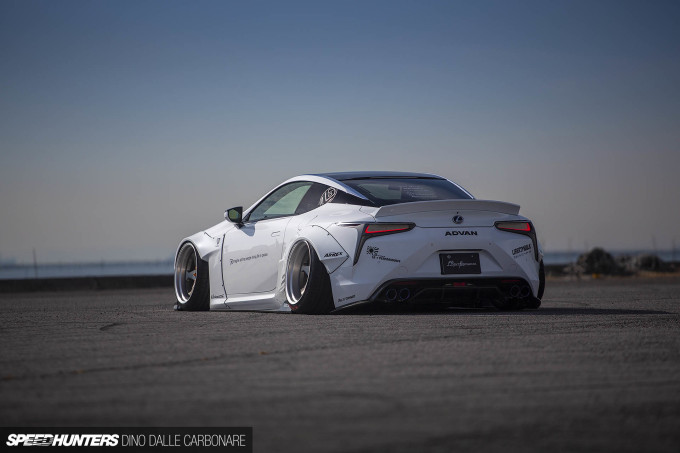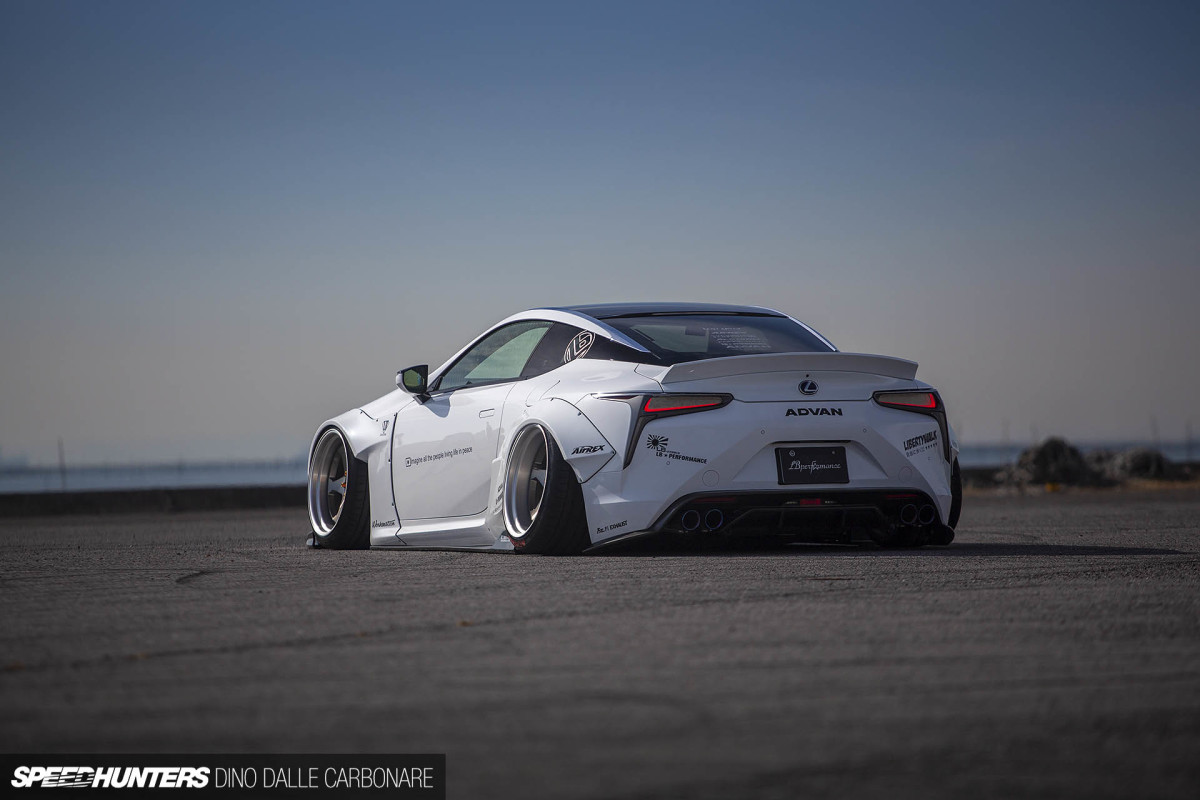 On the left side we have some Yaba King wheels courtesy of 326 Power, which in my opinion work a lot better with the whole style of this LB Performance LC.
The classic 5-spoke design mated to a massive lip will never get old, especially when it's there to really make a properly stanced car stand out. Plus the fact that you are probably more likely to see these Yaba Kings on drift cars or crazy VIP rides makes this application even more unique.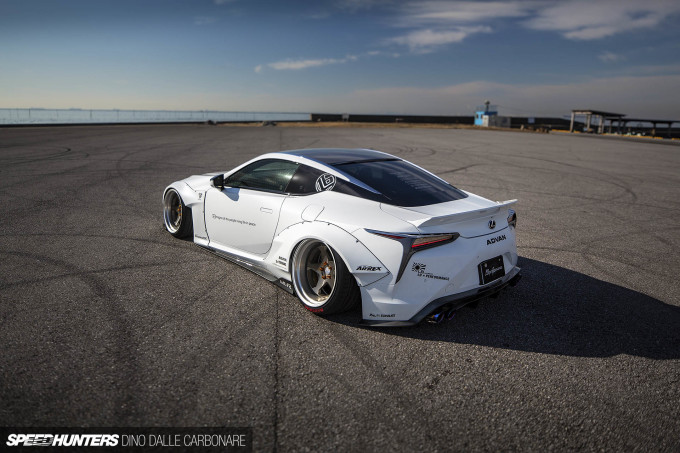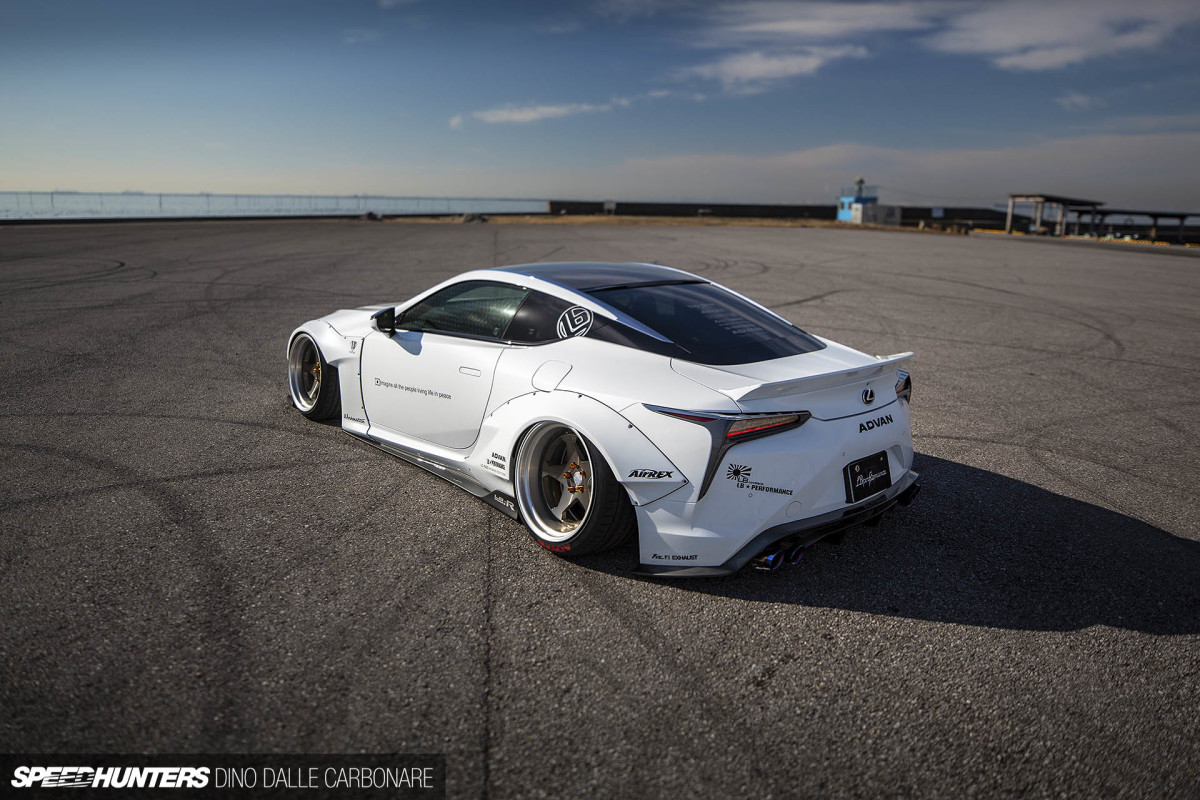 If you ask the guys at Liberty Walk, works fever is indeed something that's happening right now. The overfender is here to stay that's for sure, so rather than trying to pick the next trend, we are probably better off wondering what the next car to get the treatment will be.
Any guesses as to what Liberty Walk will or should work on next?
Dino Dalle Carbonare
Instagram: speedhunters_dino
dino@speedhunters.com
Cutting Room Floor