Wide Done Right
When Pandem announced its overfender kit for the Mk7 Golf chassis way back when, I was excited to see how – or even if – the Volkswagen scene would embrace it. In the time since, I can only recall two or three examples of the kit being fitted, and with mixed results.
For me, the problem is that the kit was used as a purely aesthetic addition for shows cars. This is fine, but I was always curious to see how it would work in a motorsport/performance application. I know that's a rarity with the current wave of overfender-equipped cars, which is probably why my curiosity sustained.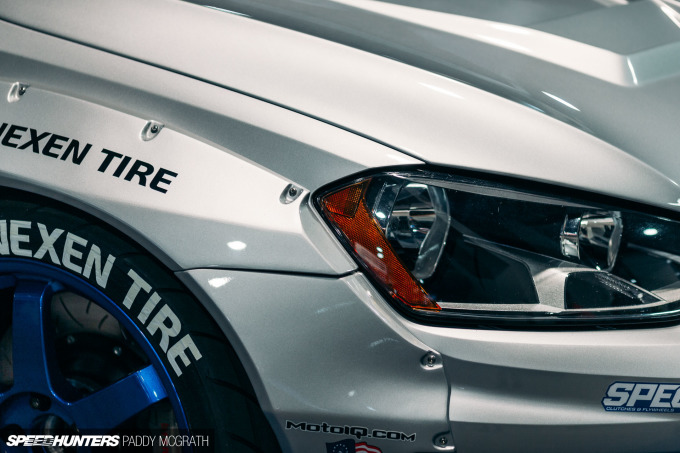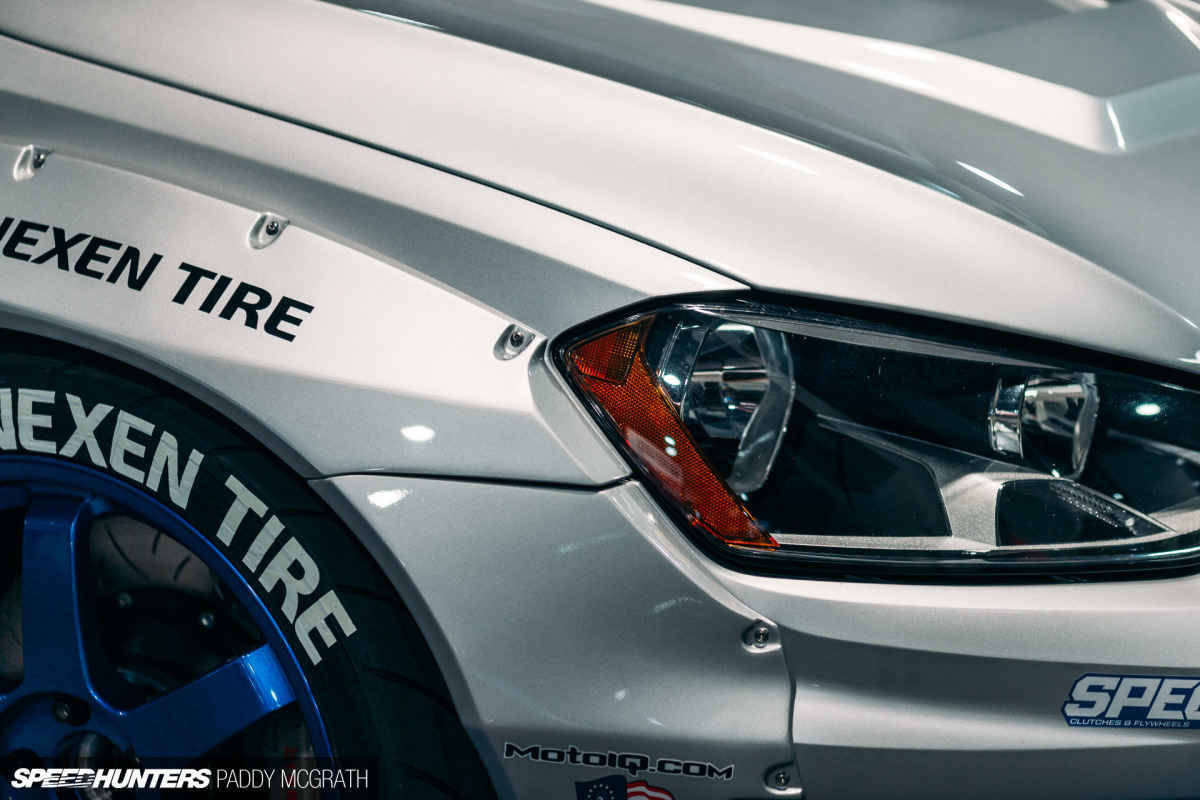 I wouldn't say I had gotten lost at SEMA, but I was definitely treading new ground through a sea of lifted trucks and off-roaders when I found the GReddy Mk7 GTI on the upper floor of the South Hall. I've often thought about what I'll eventually replace Project GTI with, and a three-door Mk7 or Mk7.5 is high on the list. Naturally, this car had my full attention from the get go.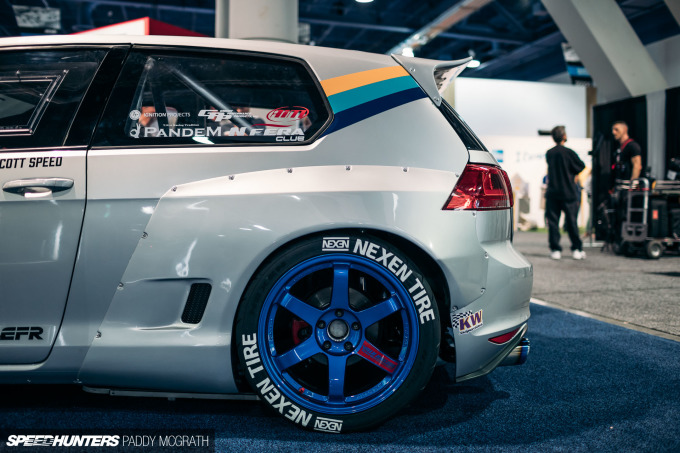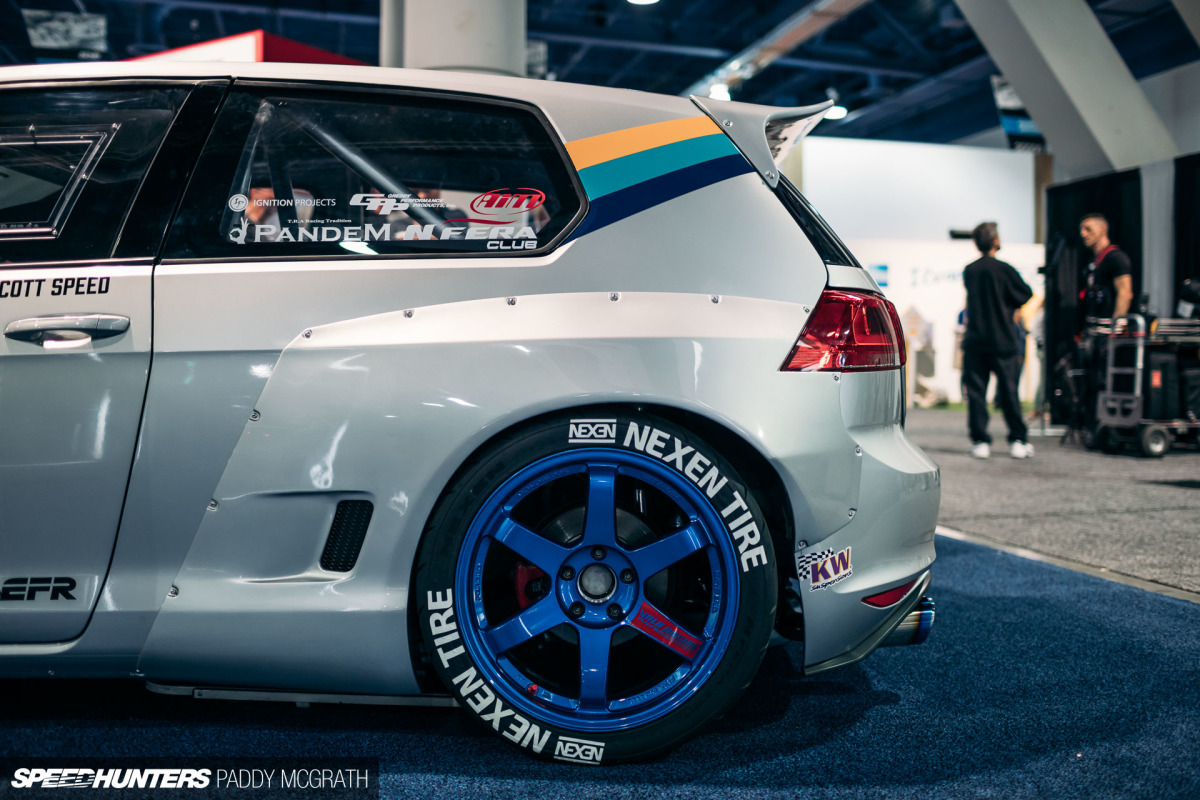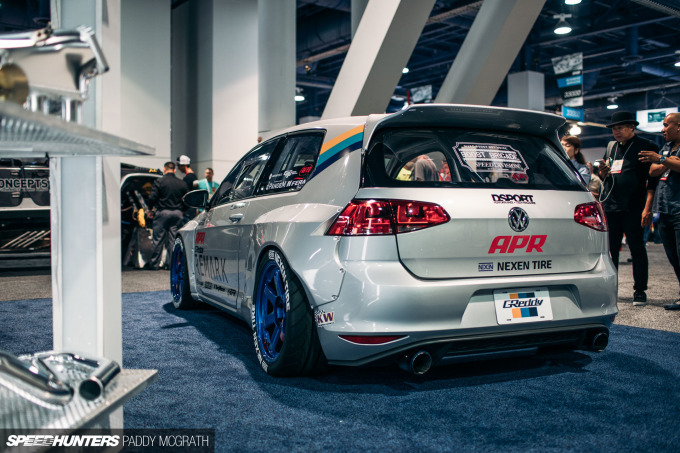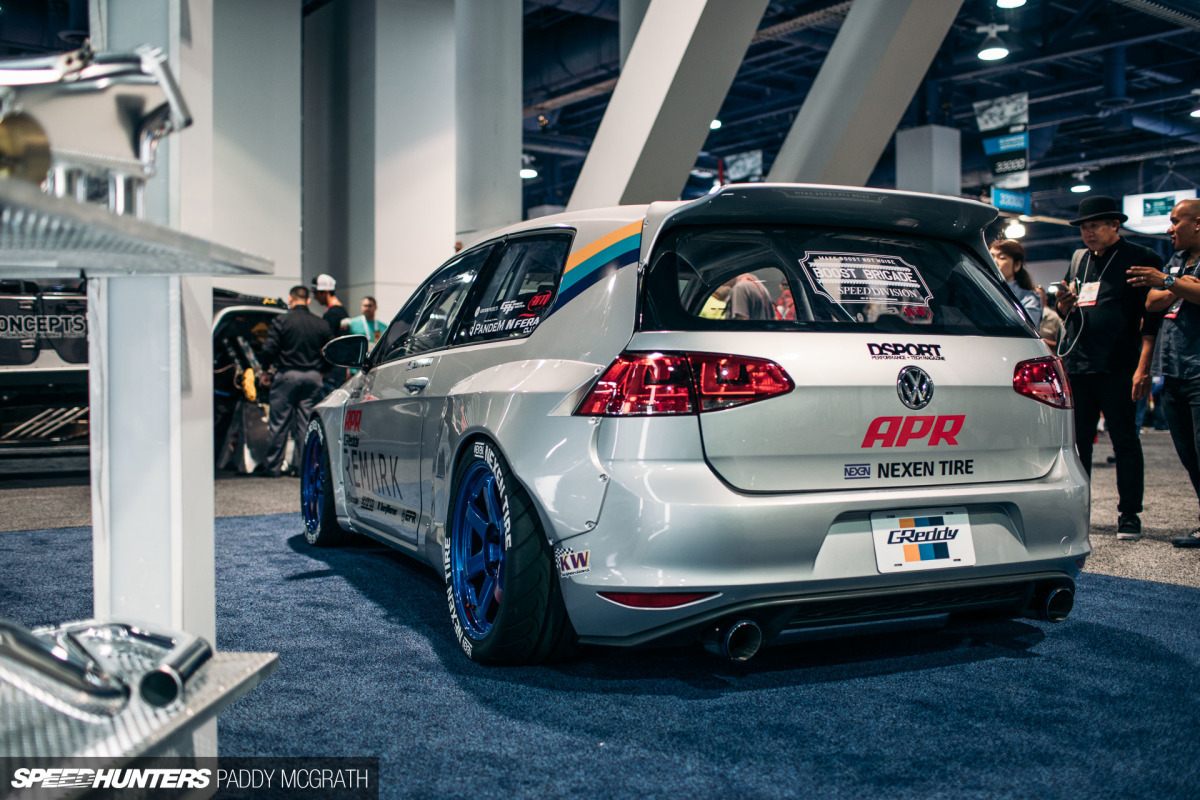 The proportions of the hatchback are perfect with the Pandem kit; the considerably wider fenders lend a muscular and purposeful stance to the car. The wide RAYS Volk Racing TE37s wrapped with wide track rubber are a perfect fit too, and give the car a purposeful look.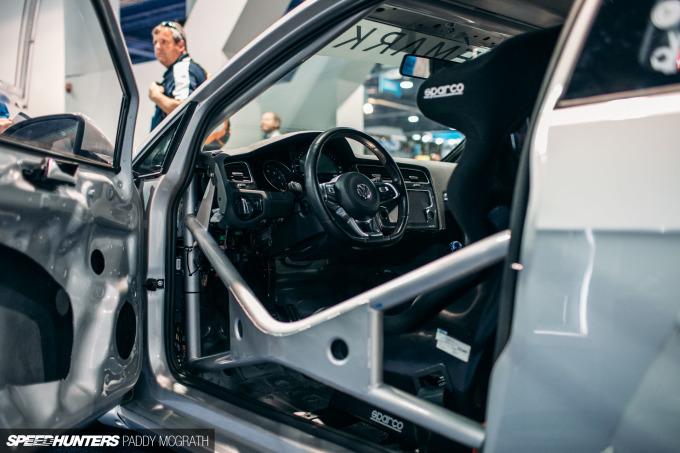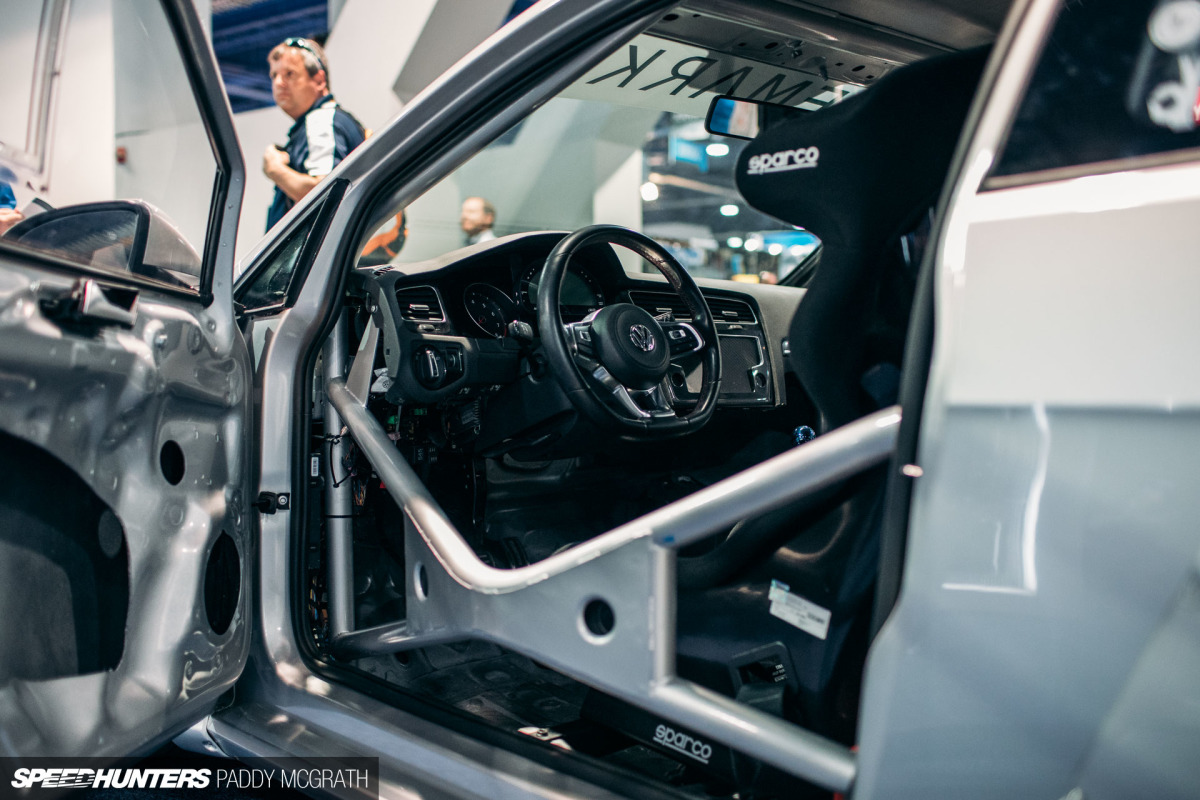 As it turns out, this is a considerable motorsport build with full chassis preparation. The car was pieced together by GReddy in association with MotoIQ and others, with the aim to be raced at Super Lap Battle in the coming weeks. So the stress in advance of SEMA was considerably increased as it needed to be a finished car in order to test as soon as the Vegas show wraps up. No pressure then.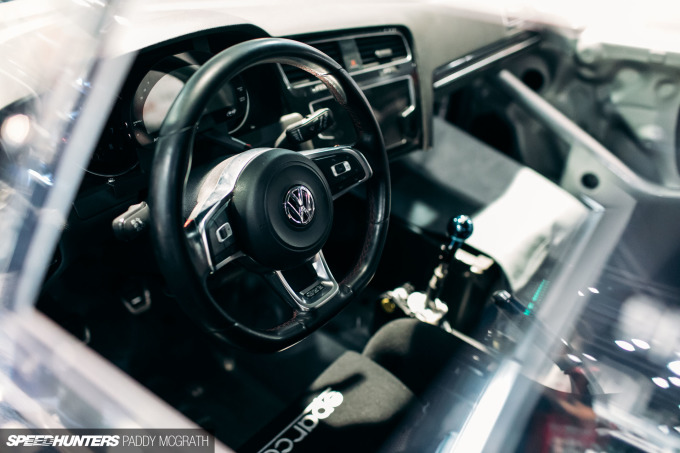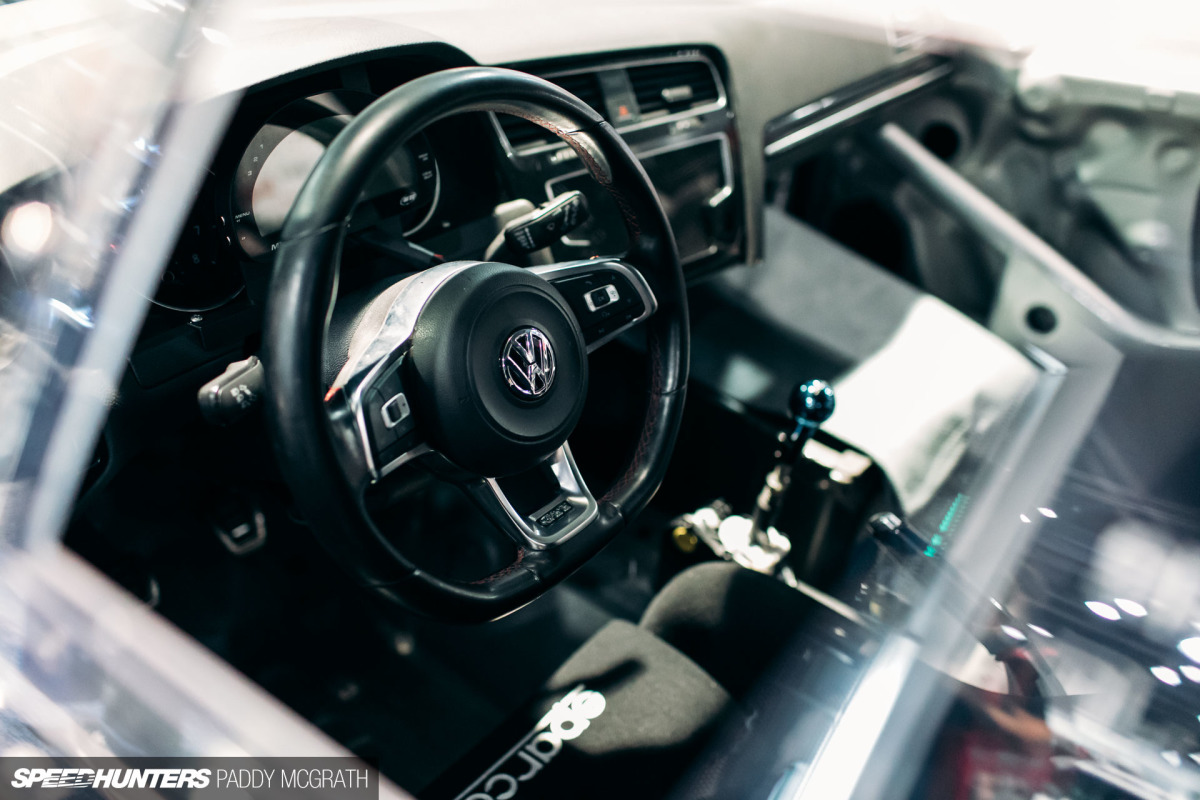 What's curious is the factory wheel and radio remain in place, despite the dash being cut below it. I imagine it's to satisfy the car's CAN bus system, but vital information is displayed on an AiM digital dash sat in front of the original gauges, which are still present.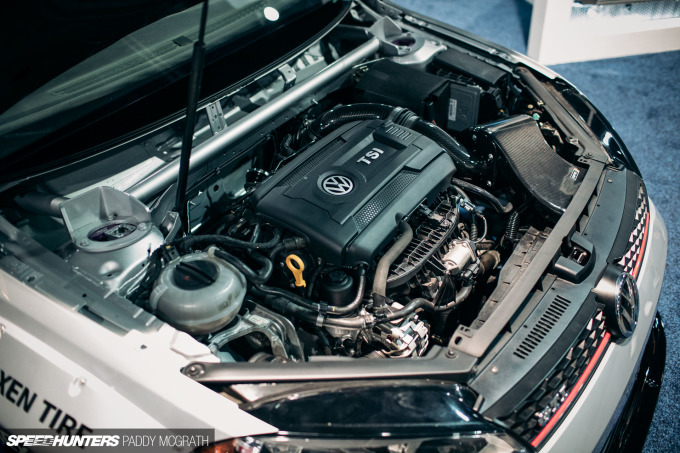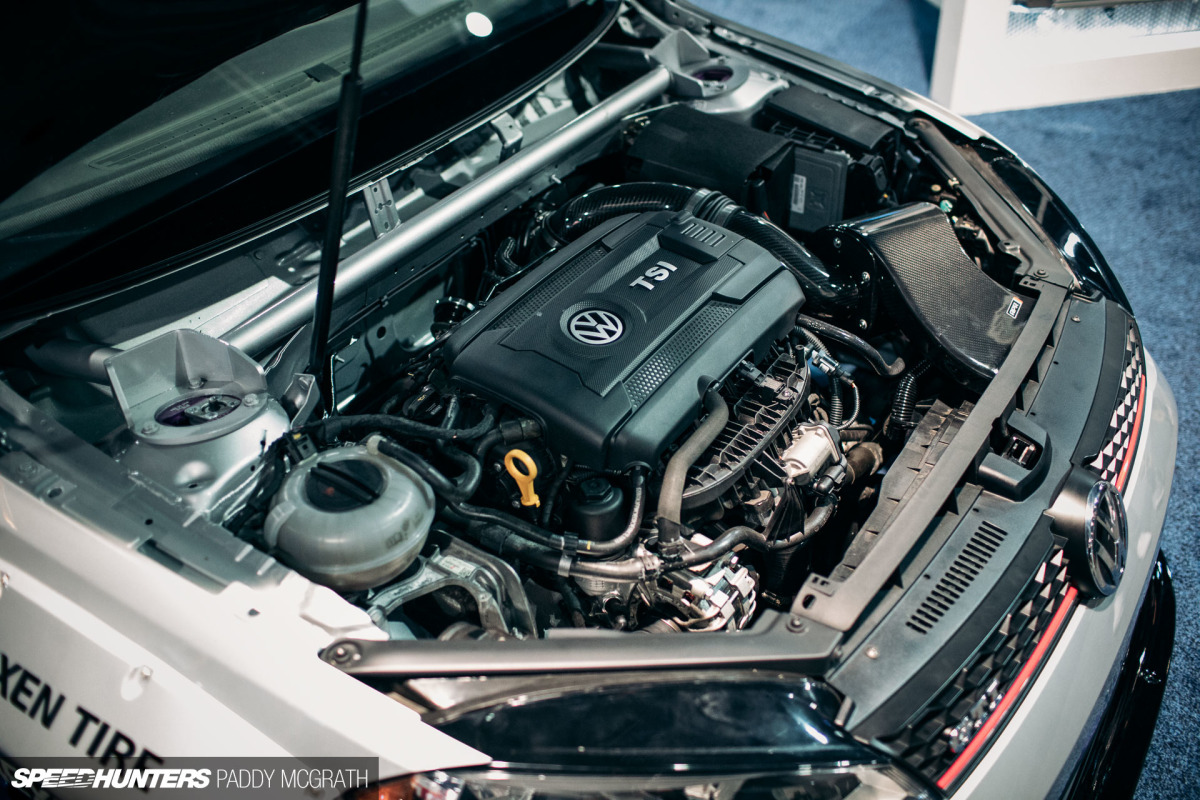 The Gen III 2.0-litre TSI engine is a complete APR-built motor with what I believe is an externally wastegated BorgWarner EFR 7163 turbocharger, and an estimated peak power output of around 550hp. A Forge Motorsport radiator is currently on the way for the car to keep coolant temperatures down, while an APR intake is the only immediate and obvious visual clue that the engine has been breathed on.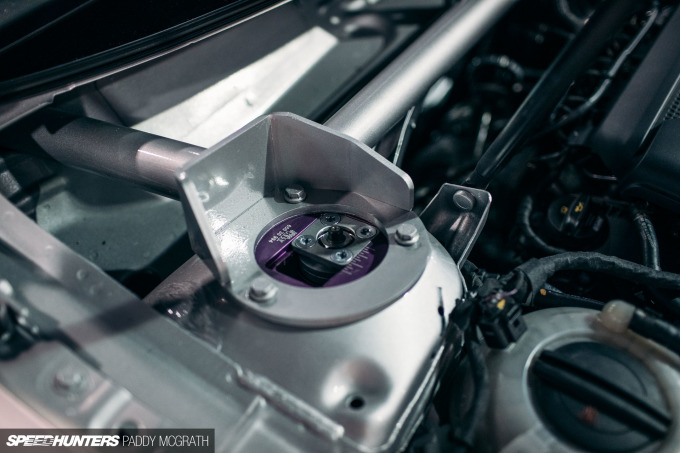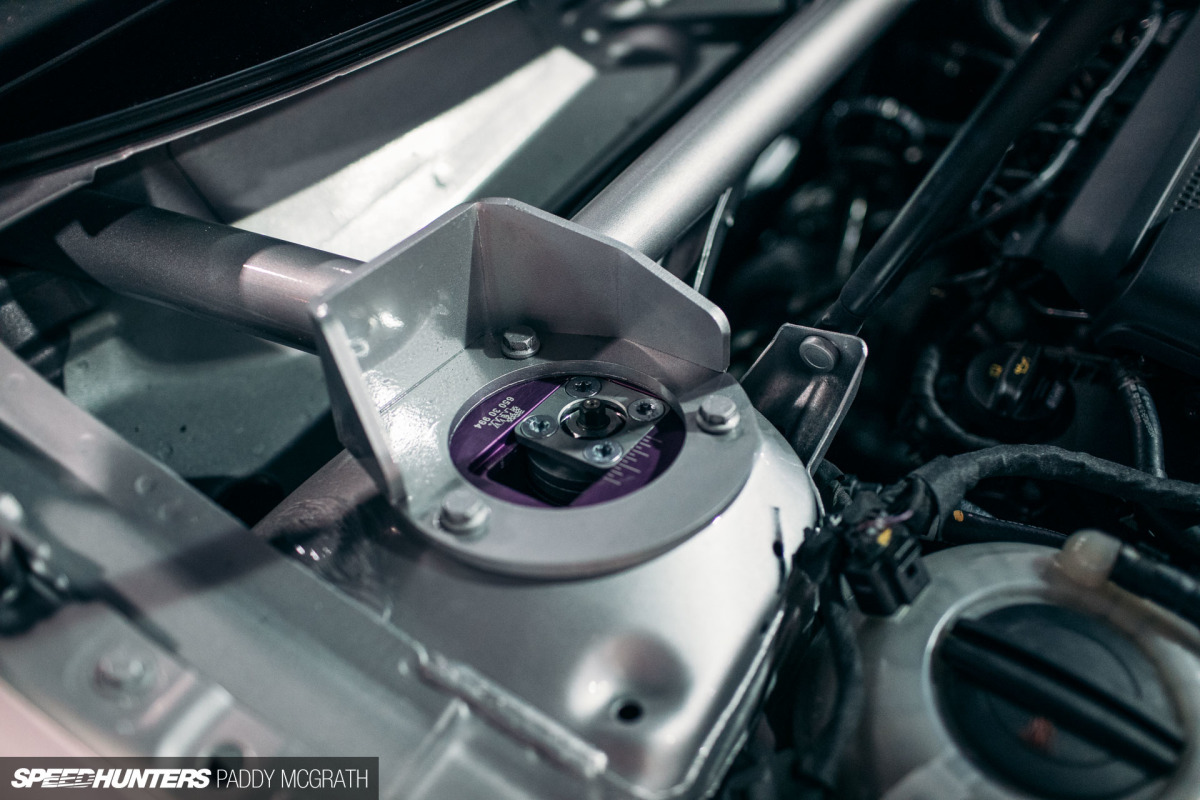 Currently, the car is on KW Clubsports (honestly, I'm not seeking out KW-equipped cars, they just seem to be on every car I shoot, which says something) but I believe the plan is to run a custom KW setup in the future.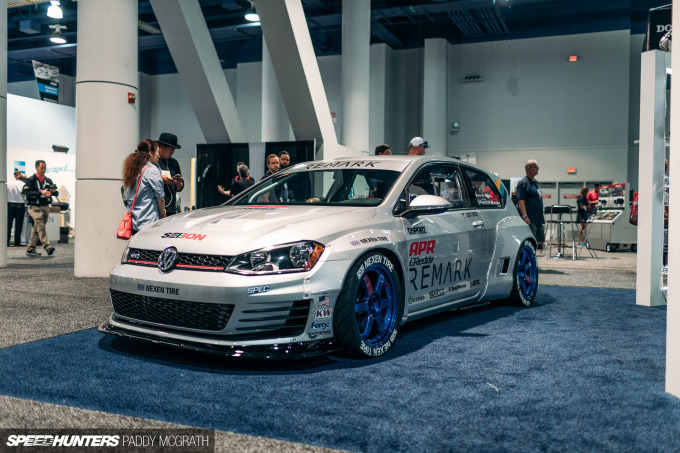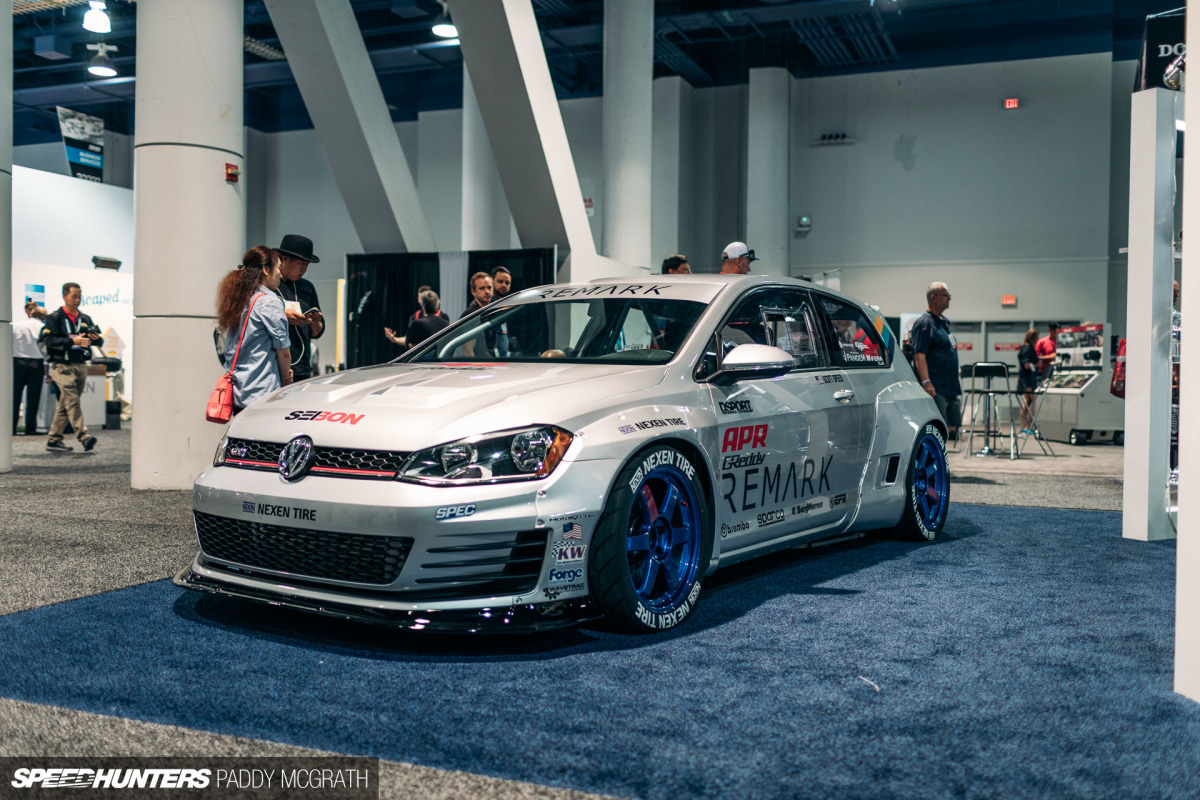 As it's a GTI, the car remains front-wheel drive. The 6-speed manual gearbox has been fitted with a Wavetrac limited slip differential, something that I fitted to Project GTI nearly a year ago, although I'm unsure as to what other transmission upgrades have been made. Typically, most people who desire more performance from this platform tend to opt for a DSG as they can cope better with significant power upgrades without any modification.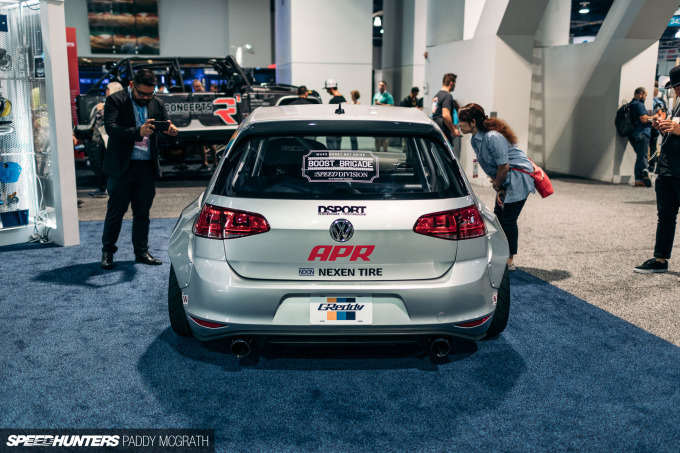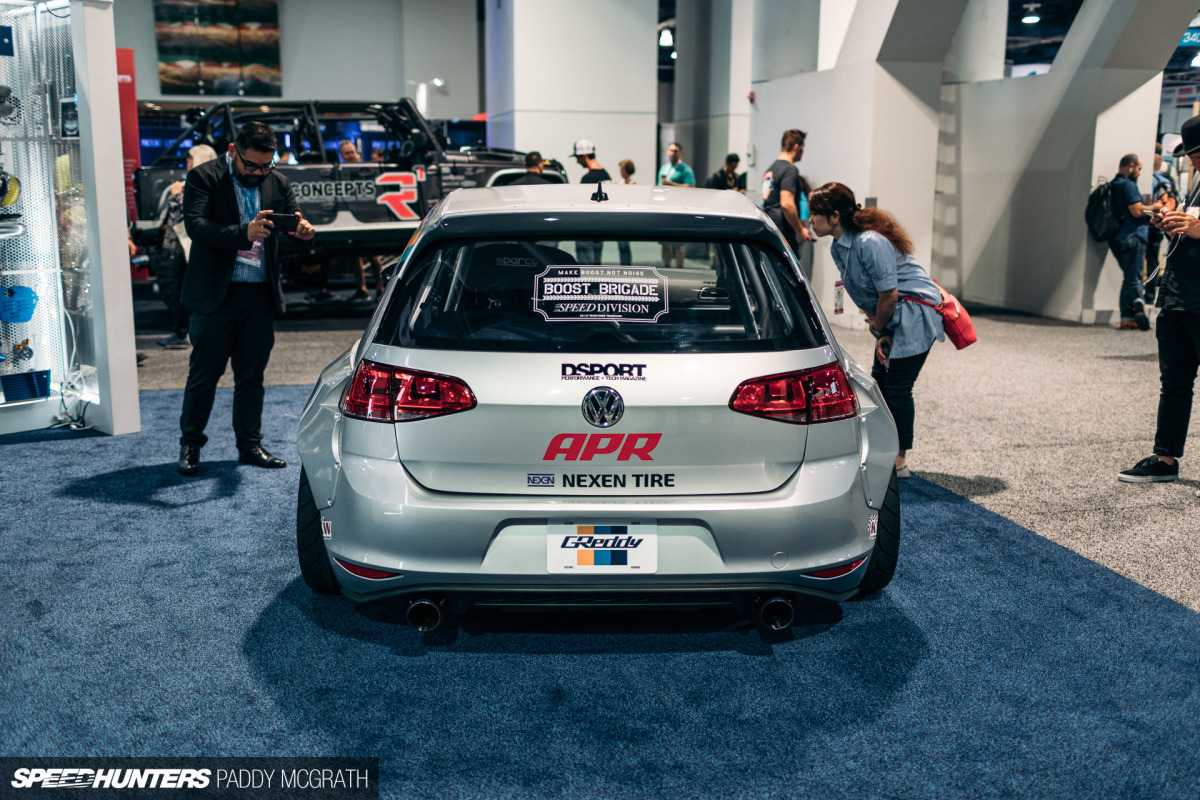 GReddy has put the car on a diet, too. The driver's Sparco bucket is the last seat in the house, and the hood, doors and trunk are all carbon fibre pieces.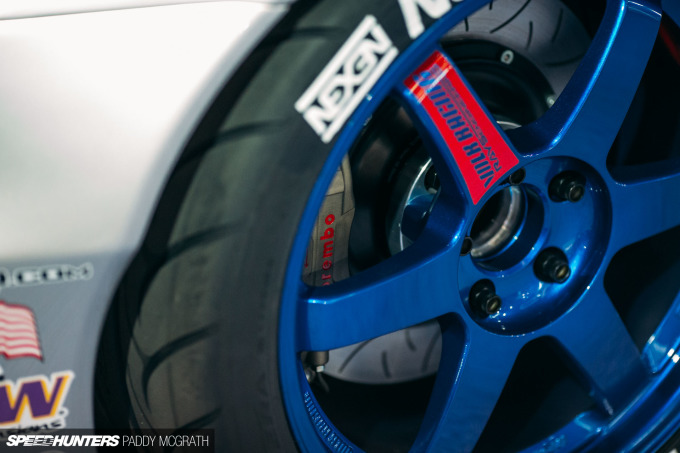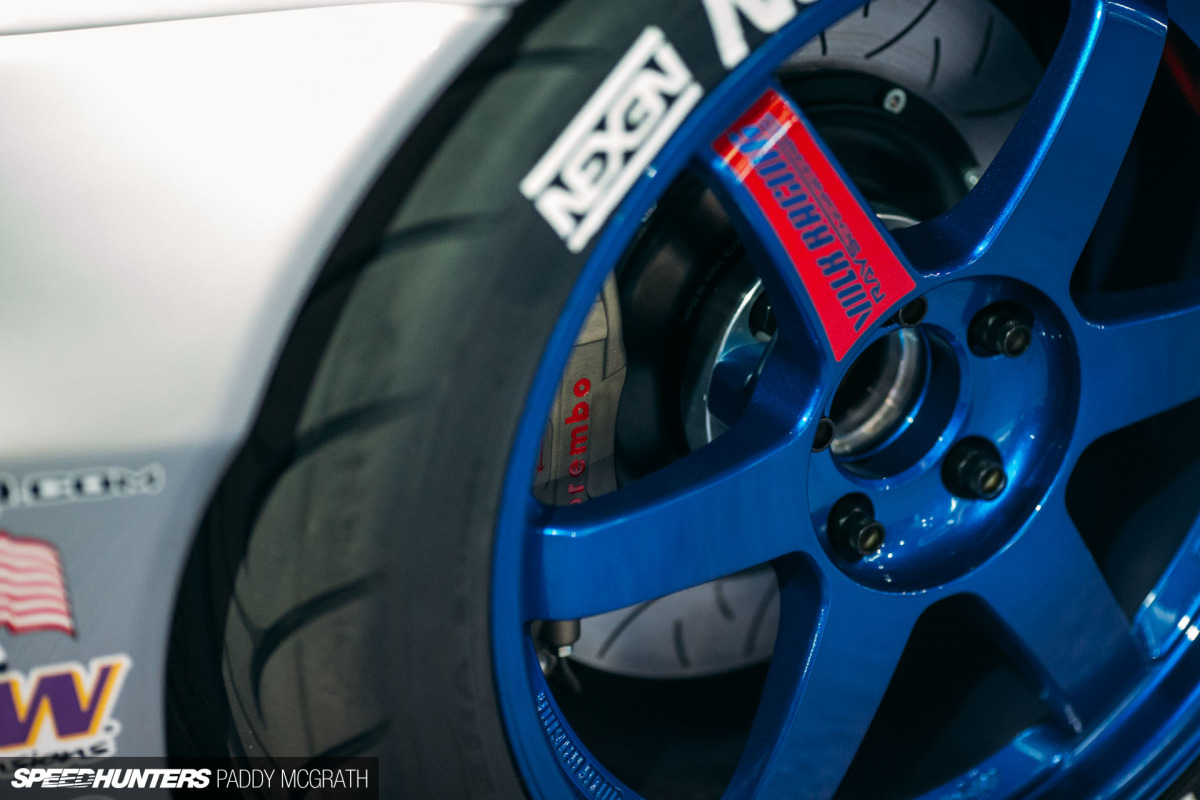 There are still some setup changes to be made to the car before it takes to the track, including fitting a wider wheel and rubber combination on the front, with a narrower rear setup. The Brembo brakes should be more than adequate when Scott Speed takes to the wheel at Button Willow Raceway.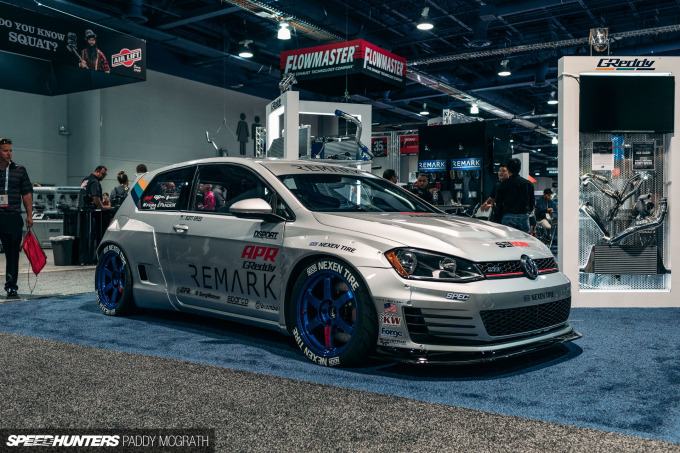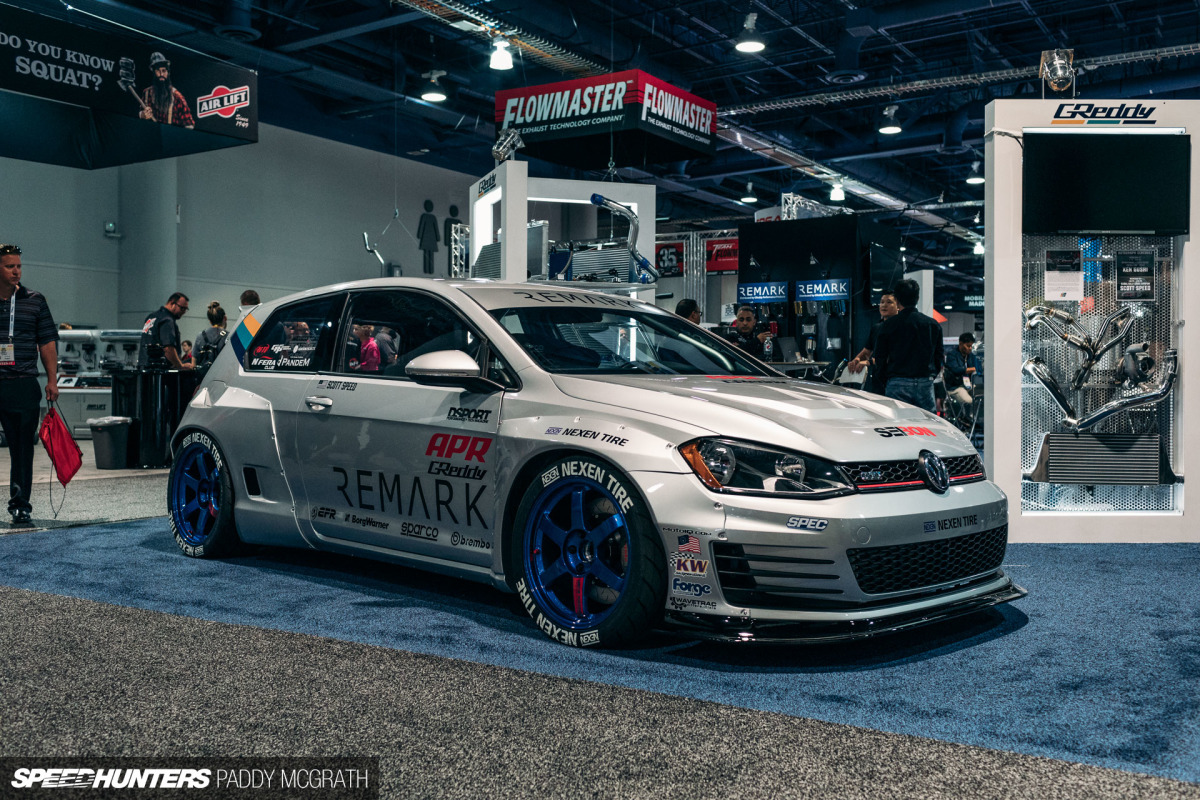 No doubt, there's a lot of potential in the car, and I'll be following its progress from afar when it makes its competitive debut. It is a lot of power for a front-wheel drive car, but the game has moved on so much that it shouldn't be a huge issue any more. Time will tell.
Now, I'm off to check residuals on used 7Rs…
Paddy McGrath
Instagram: pmcgphotos
Twitter: pmcgphotos
paddy@speedhunters.com
Cutting Room Floor