Backstory
Already a staple in the Pacific Northwest drift scene, the ITEM-B FC3S Mazda RX-7 is a one-of-a-kind creation that has been getting better and better as time goes by.
Evan Brown has owned the car for five years and it's evolved an insane amount over that time. In Evan's words, so much time, effort, and money has been poured into this car and the events he's taken it to, that the Mazda surpasses any sort of monetary value.
To keep things fresh, the car has been redone every year for the past three. Evan says it's become a winter tradition and a labor of love for everyone involved in each iteration of the build. This time around the boys went a bit experimental with a proprietary method to create the livery you see on the car.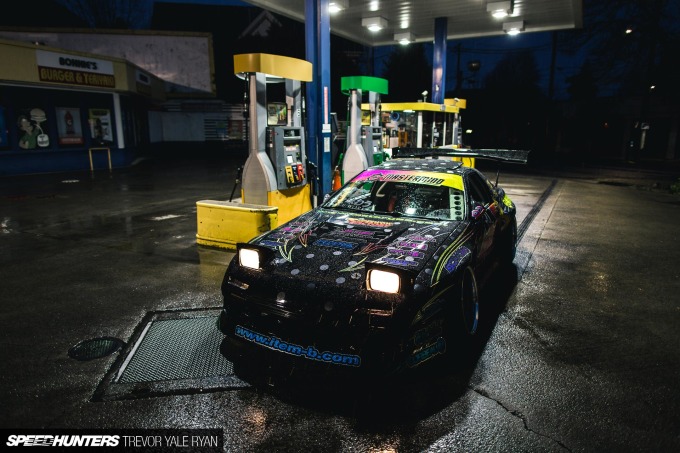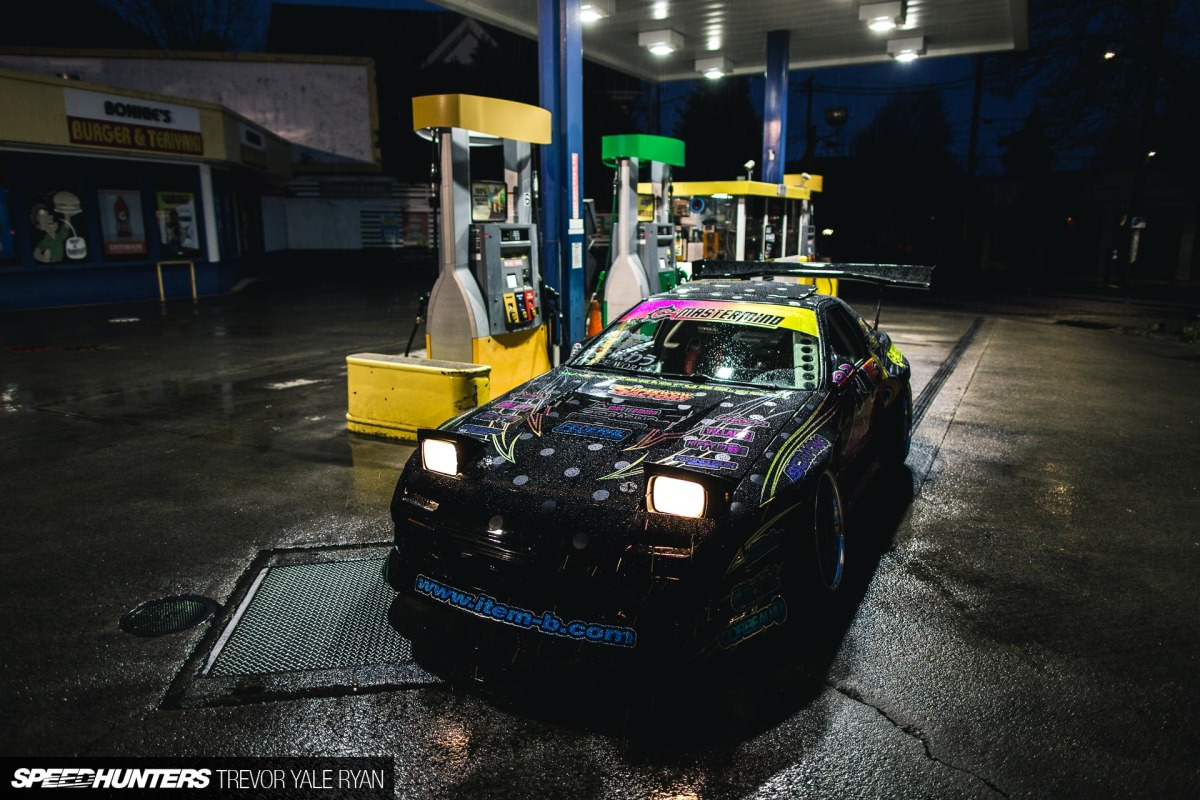 I'm starting this off with one of the last photos I took during the evening that Evan and I cruised around downtown Portland. With the overhead lights of the gas station bouncing off the bodywork, the otherwise subtle polka dots peek out from the glossy black paint.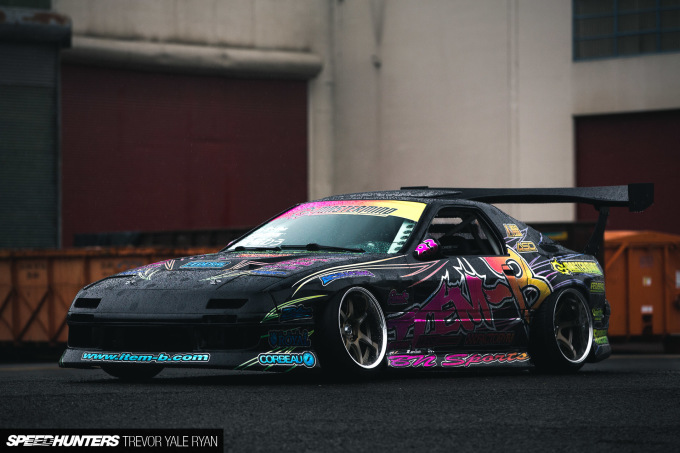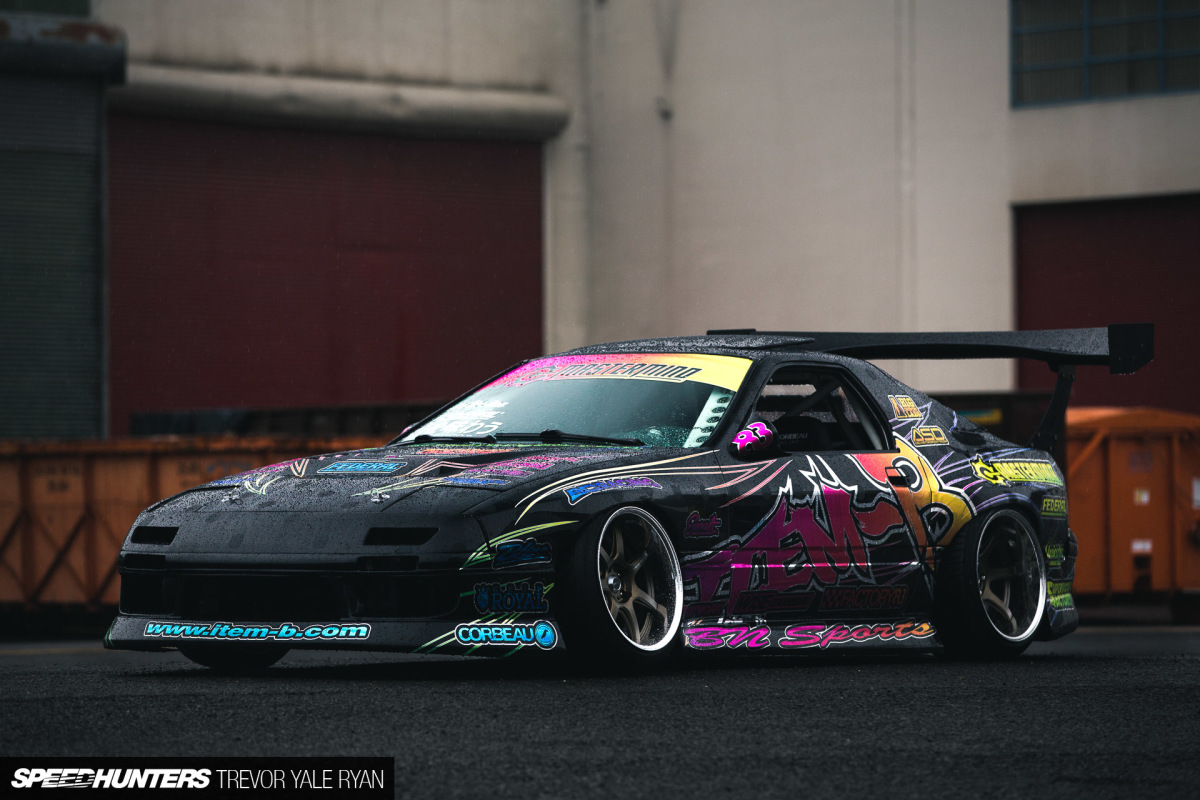 It's not that they're necessarily more important than any other aspect of the car, but in the cold and dreary Portland rain, the dots like to hide in the shadows. Just know that they're there, watching and waiting.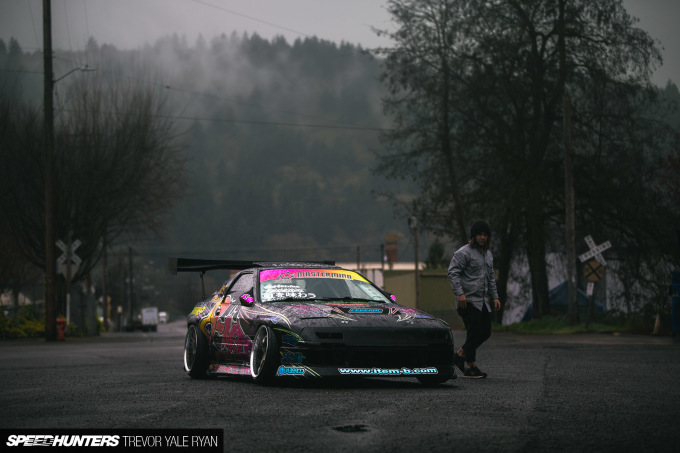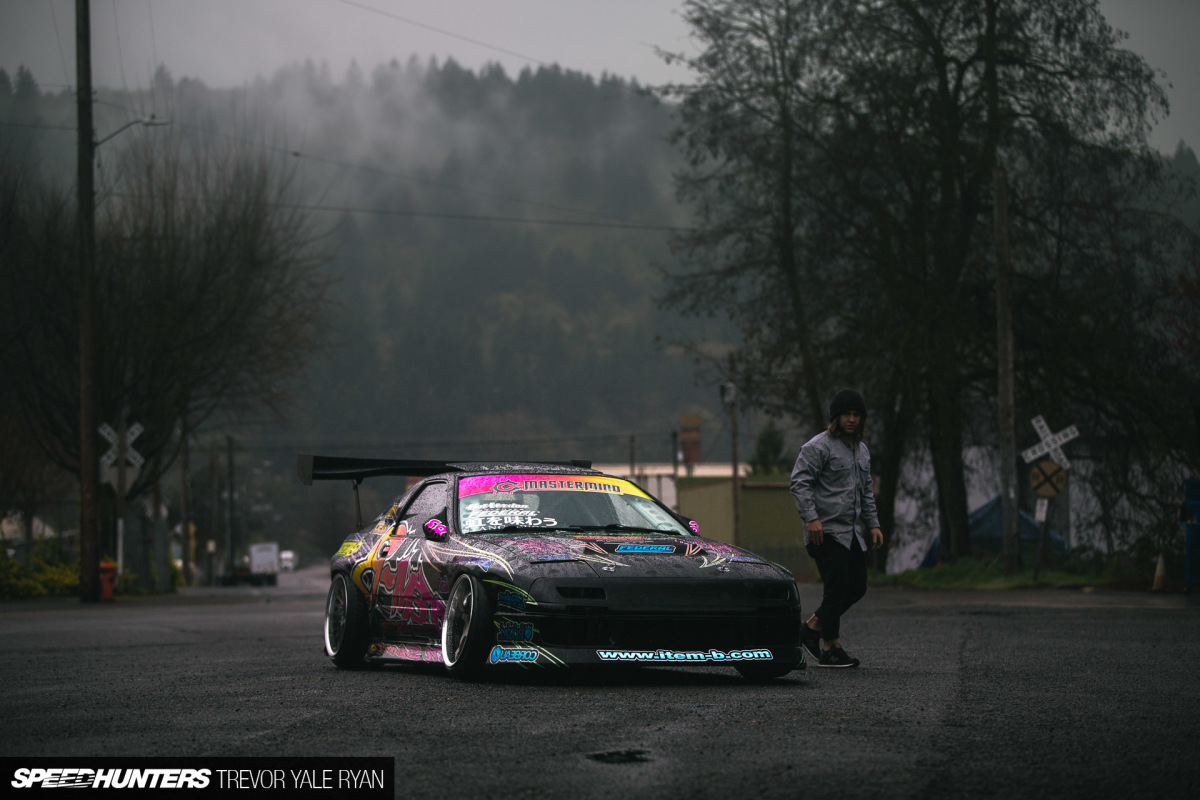 Since I saw the car for the first time I've been waiting, too. Finally on my last trip up north I was able to take a crack at uncovering the thing, and couldn't have been more stoked to do so.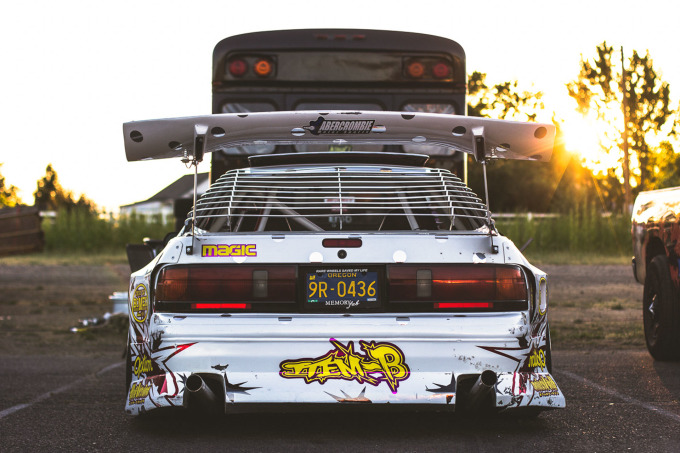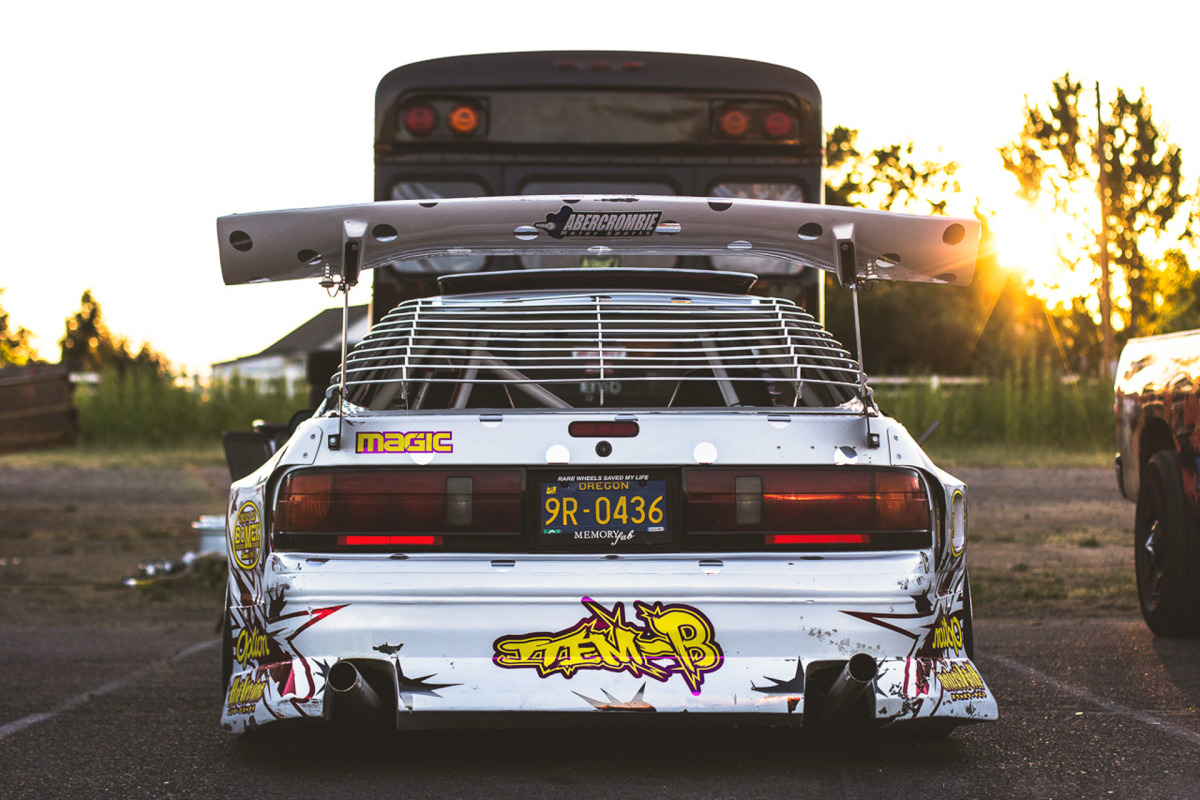 The first time I saw the Mazda was some three years ago at Tandem of Die's 'Bash To The Future 3′. It was the first wild interpretation of Evan's FC and it has only gotten crazier as time has gone on.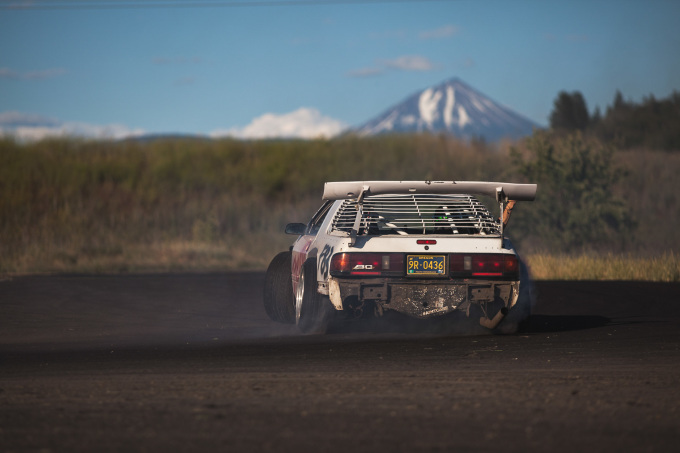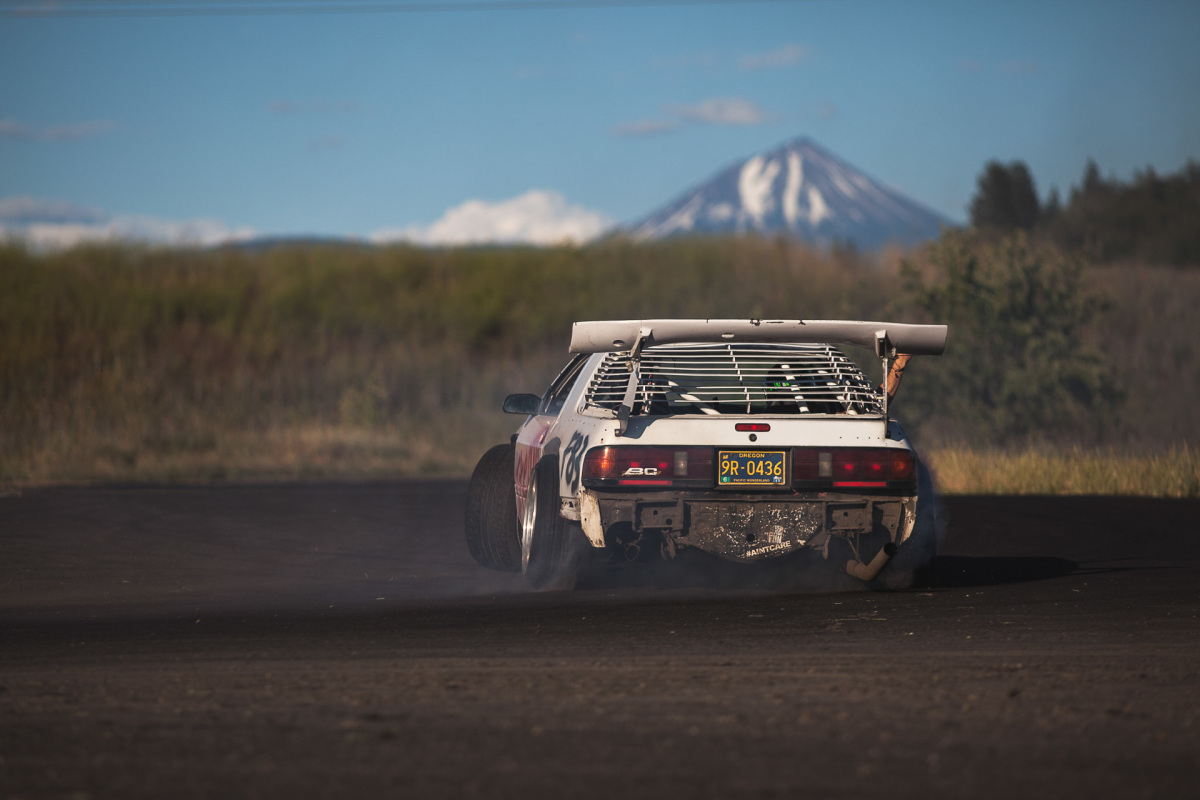 The next time I saw the car was in 2016, completely stripped down, getting ready for Version Two. This is absolute proof that you can take a car that's a bit rough around the edges and turn it into something truly special.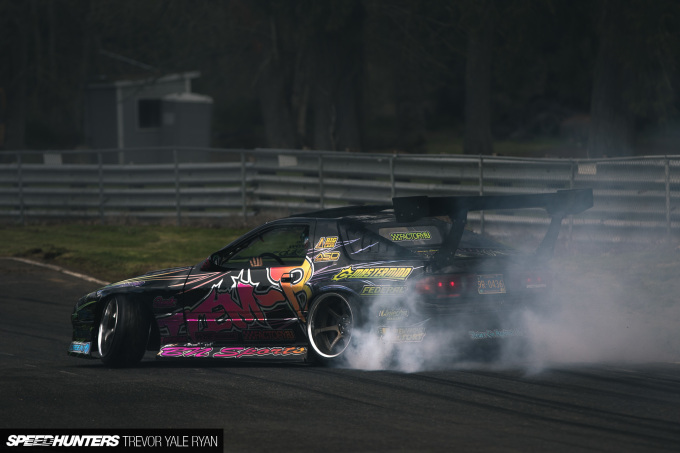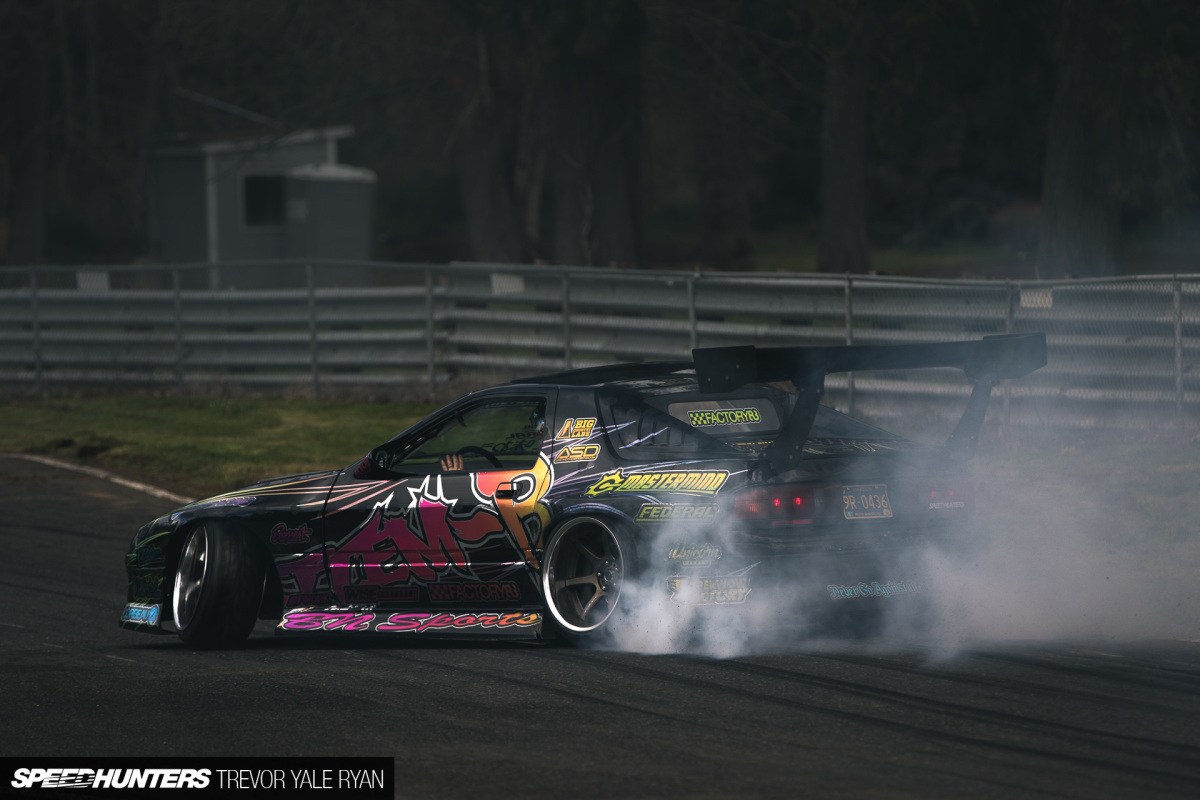 And that's exactly what the Mazda is now: truly special. It's a build that's required the coming together of a handful of talented people, year after year. It's a car that gets hammered on, and a car that Evan knows inside and out.
To give you a closer look at all of the work that went into the car before I made my way up, from fresh paint to finished product, Mark Vasilyuk has created a short film showing just that. If you dig a bit deeper on Mark's YouTube channel you'll find a video showing the car before the livery was laid down.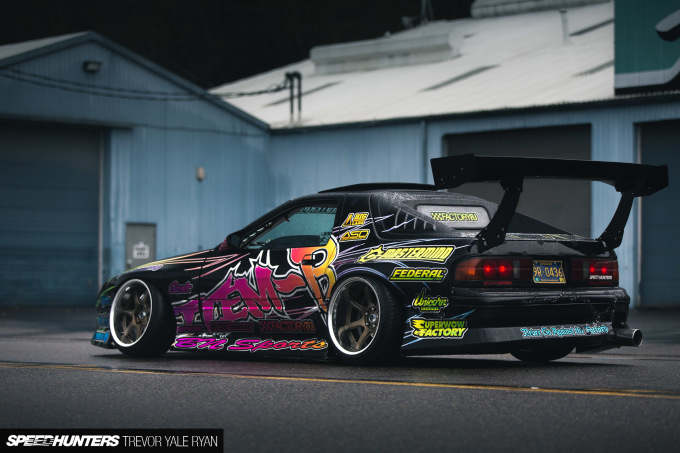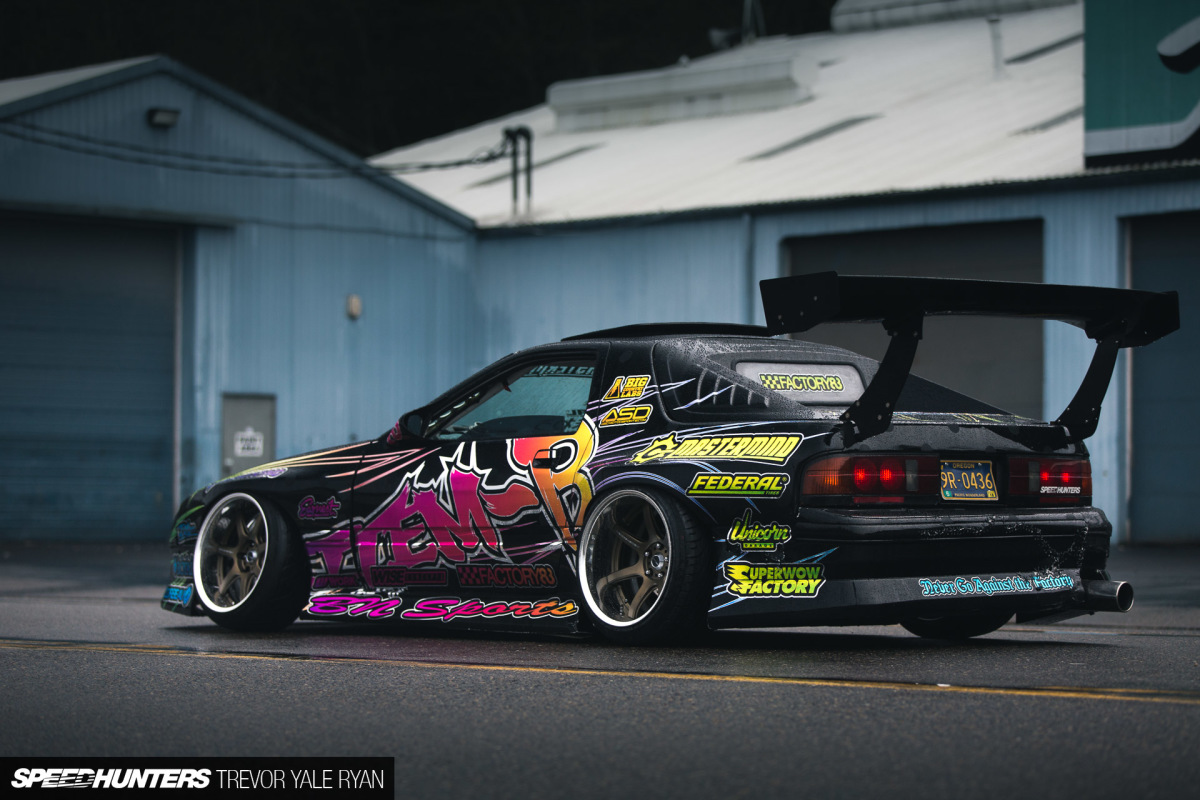 While simple and beautiful beforehand, the car has been completely transformed in the past couple of months into something raw. The idea was to shoot the car before it had any battle scars, but something about the finished car sitting in the garage finished was too much for Evan to resist.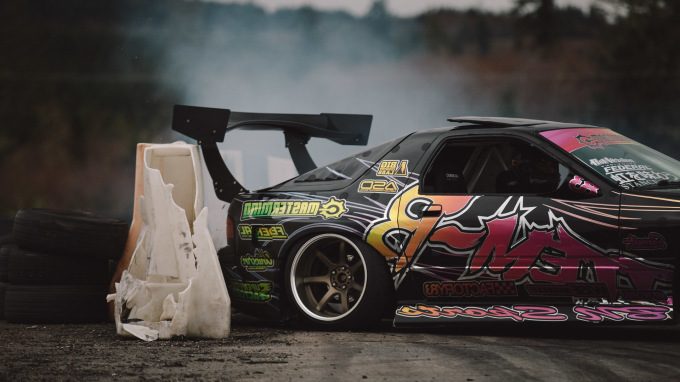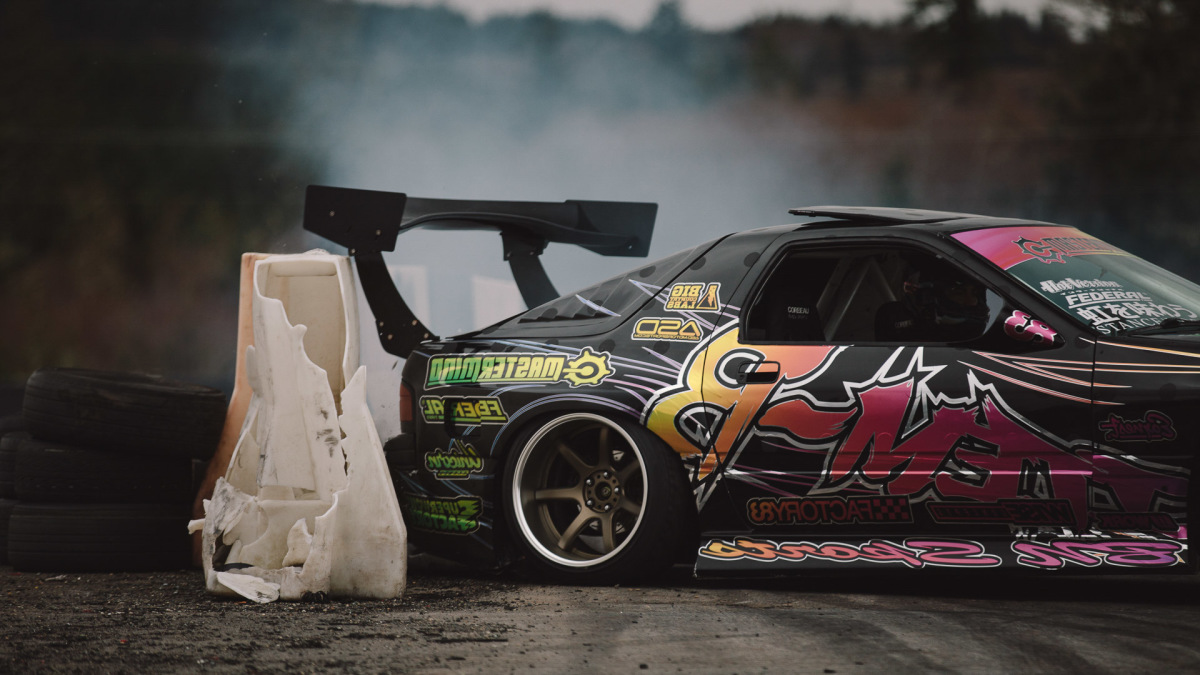 I can't say I blame him for giving it a good thrashing at Spirit Peaks — with my friend Elliott behind the camera — before I got my hands on the thing. I'm actually glad things worked out like this anyway, since the car feels a bit more authentic now.
As it was Elliott who captured the moment where Evan lost his exhaust tip some days earlier, it was only appropriate that he pick one up before we shot the car. When Elliott showed up with something for a diesel truck, Evan commented that it was the "most ignorant thing" he's ever seen. Regardless, it ended up on the car until it found a resting place somewhere in a field drifting at PARC the following day.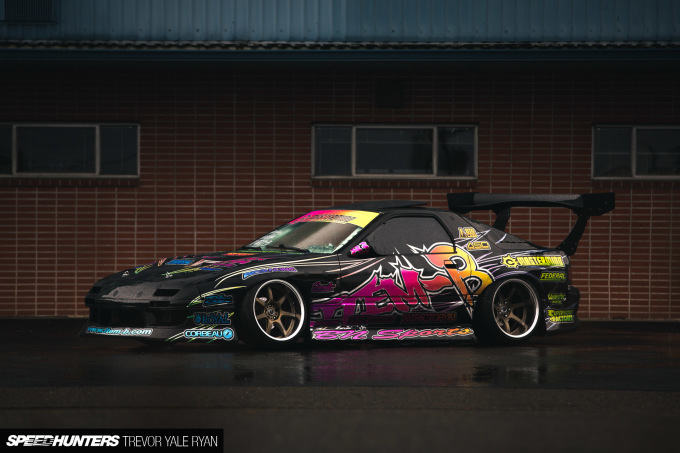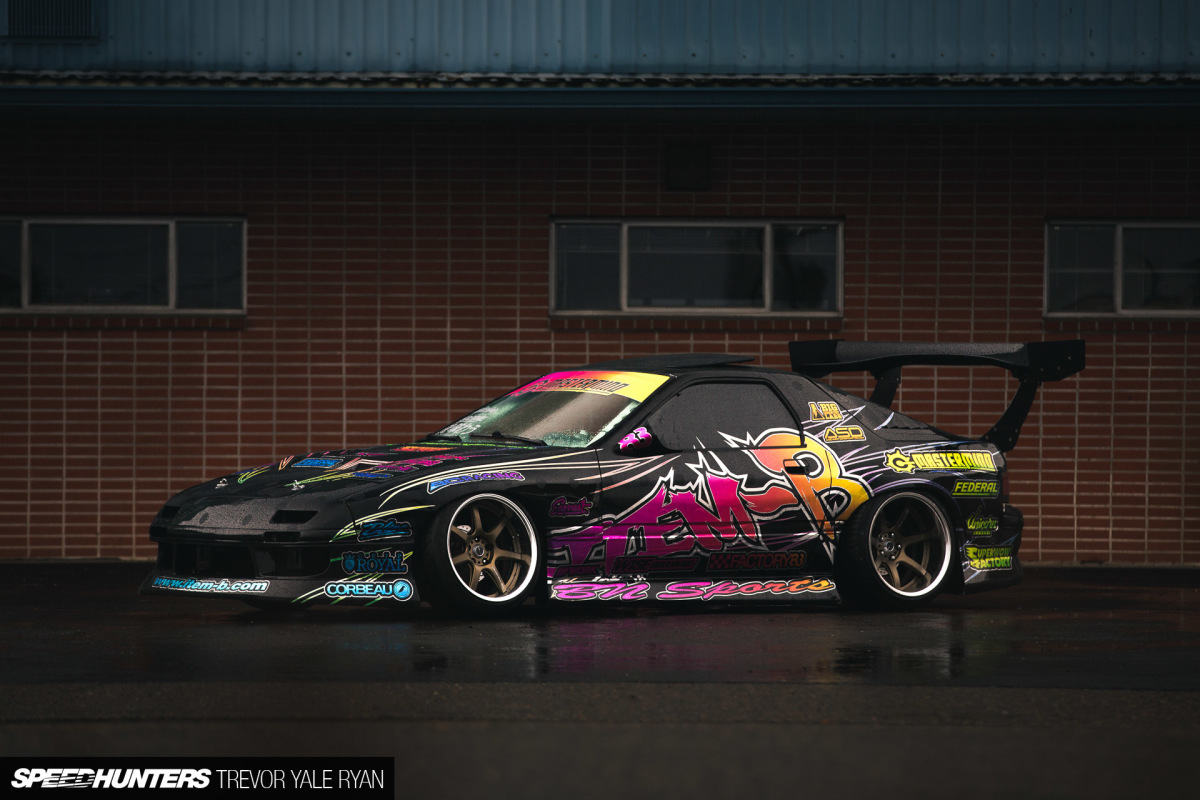 Cheap diesel parts aside, the ITEM-B FC3S is everything a drift car ought to be.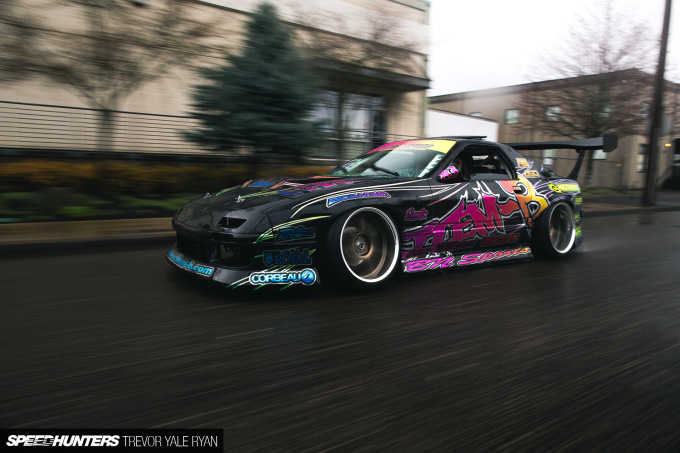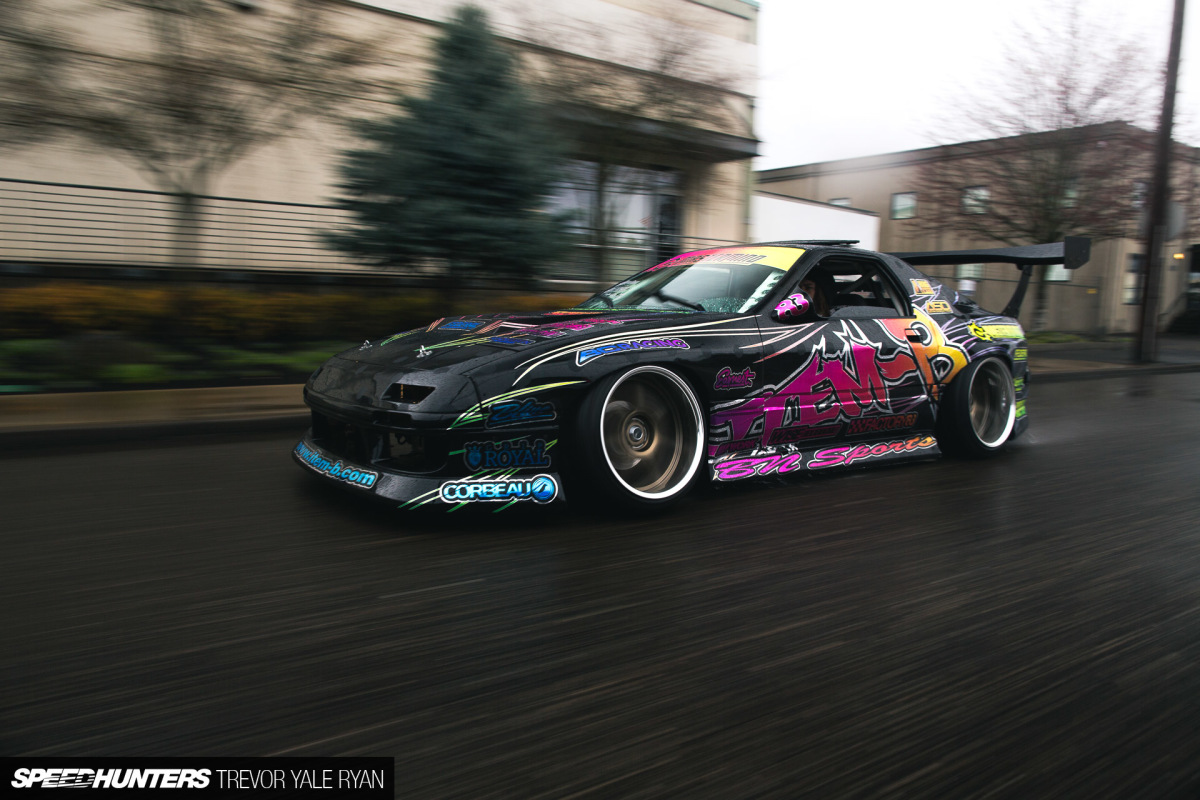 While not a requirement to have a good time behind the wheel, the Mazda just looks so insane from behind the camera.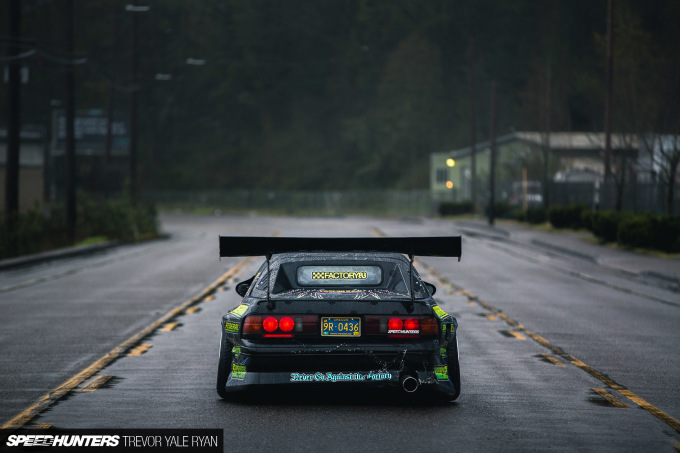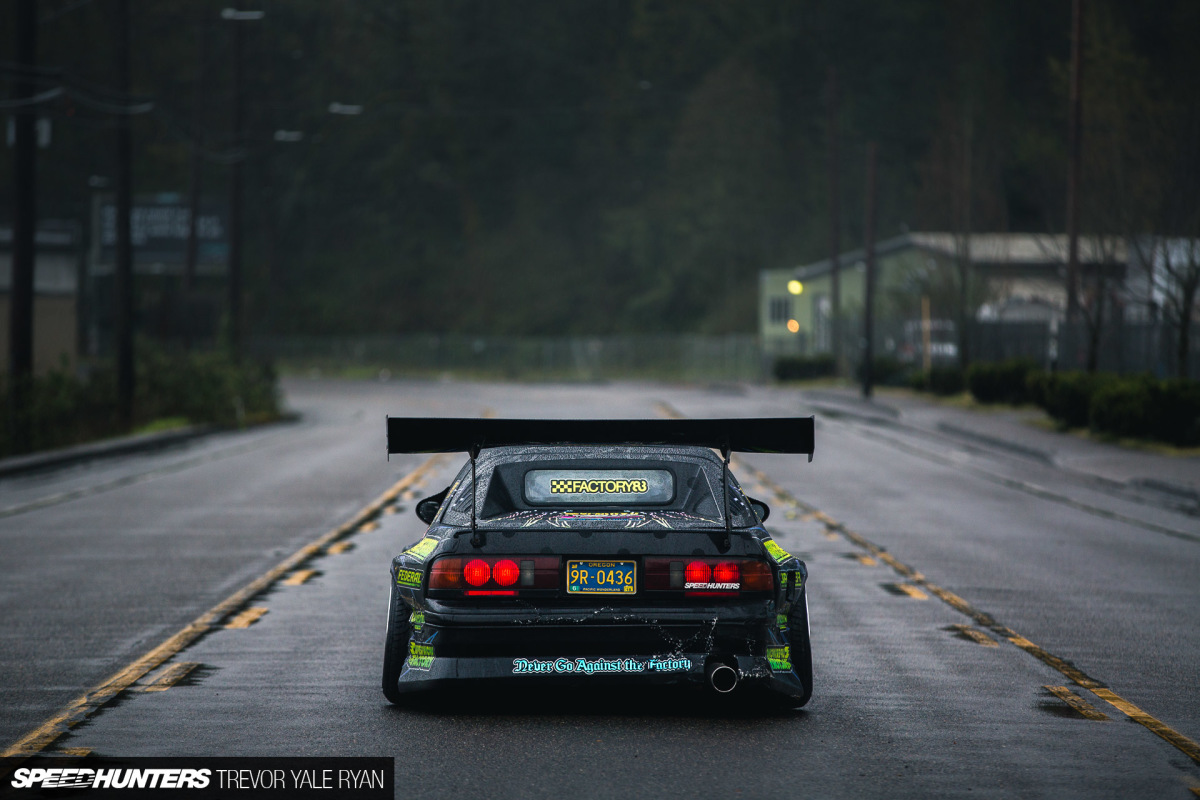 I understand that not everyone has the passion to pour into their cars what Evan has into his, but I just wish that more cars were loved and built in this way.
It Takes A Village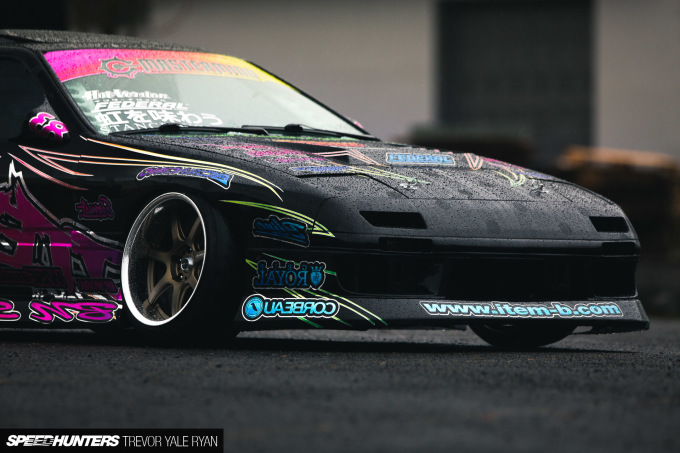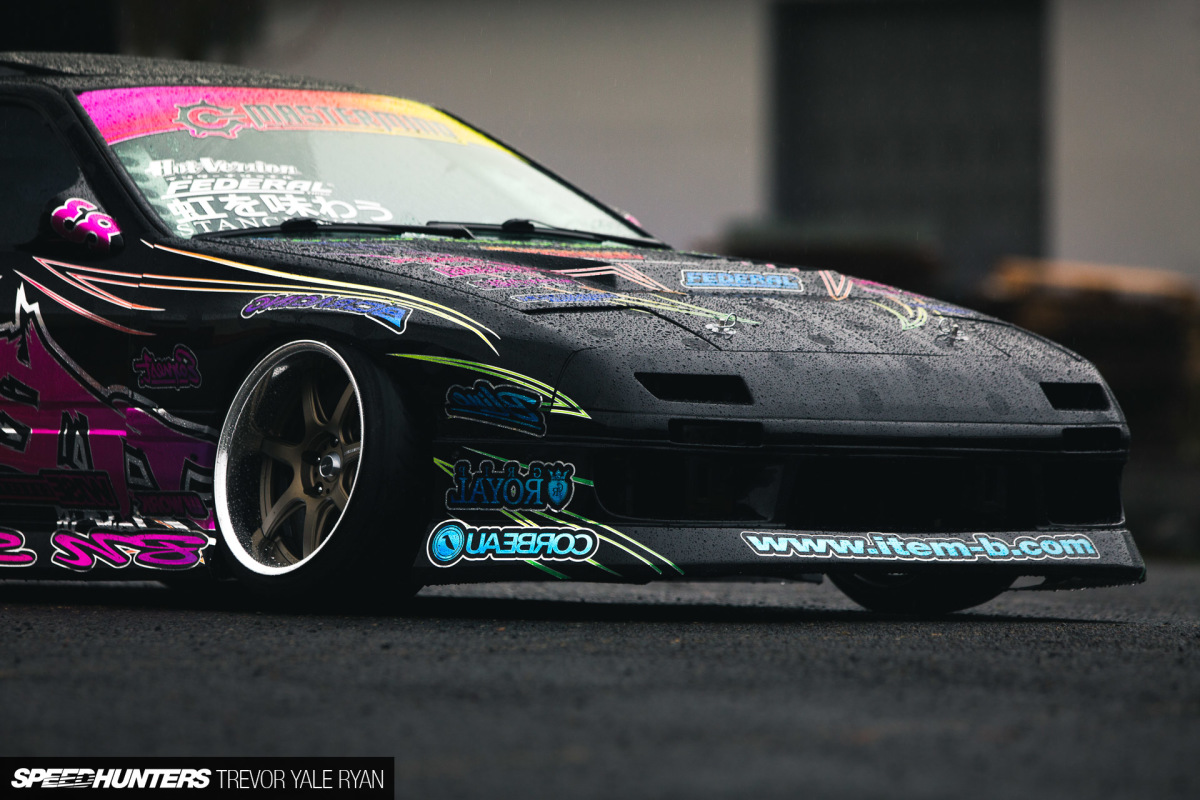 Getting the car to where it is now isn't something that's happened overnight, and it certainly isn't something that Evan's done all on his own.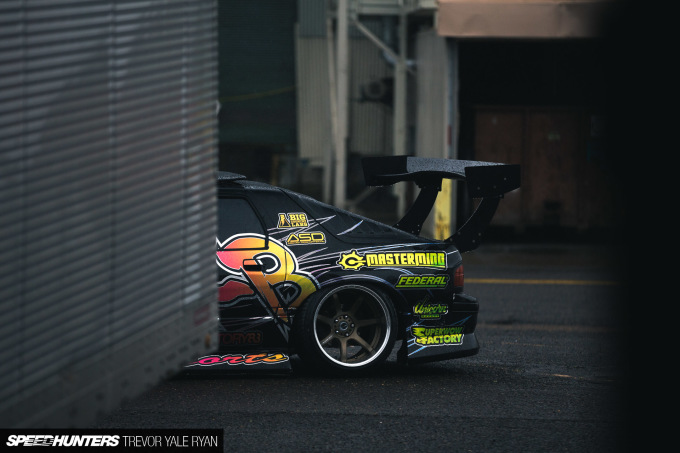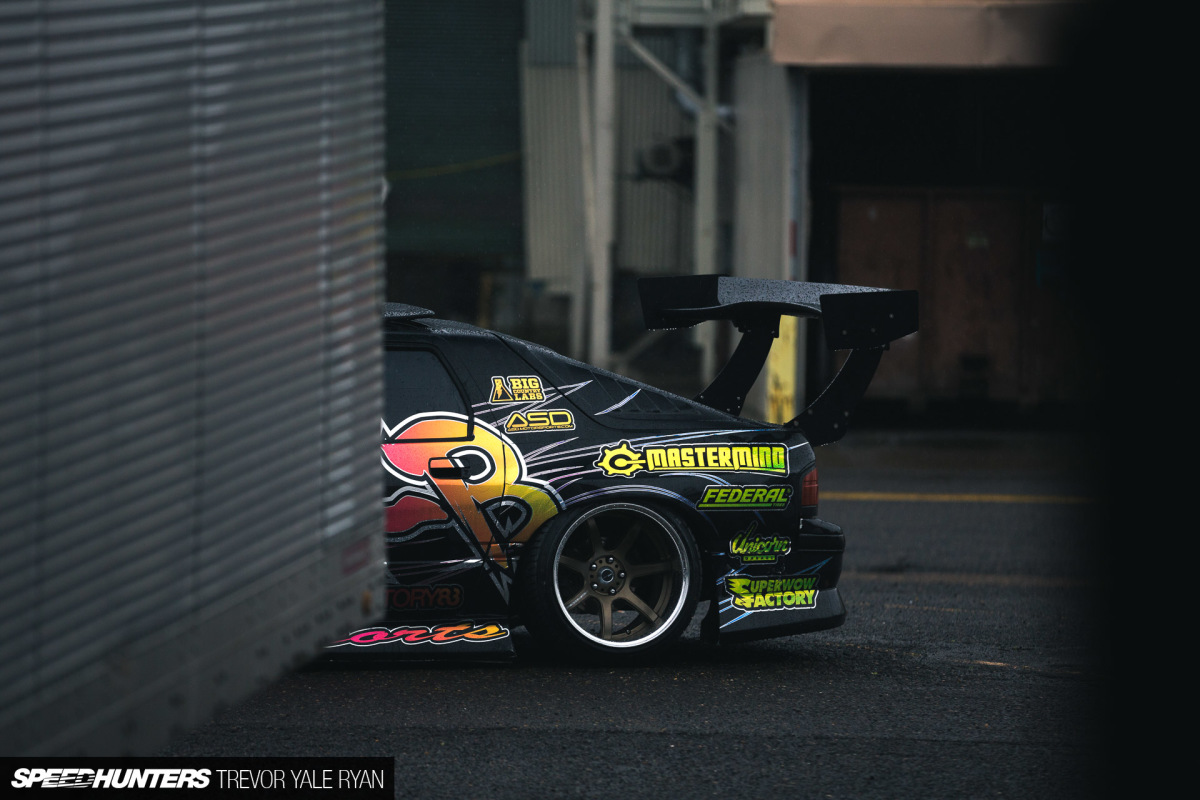 Before the livery was applied, deep glossy black paint was laid down by Paul Wise at Wise Concepts in Oregon.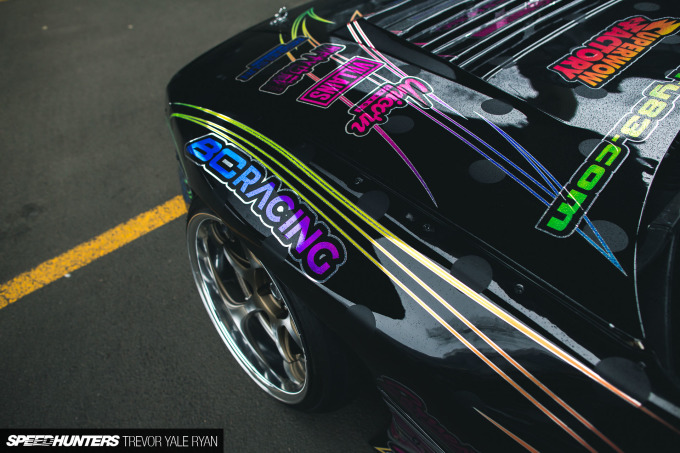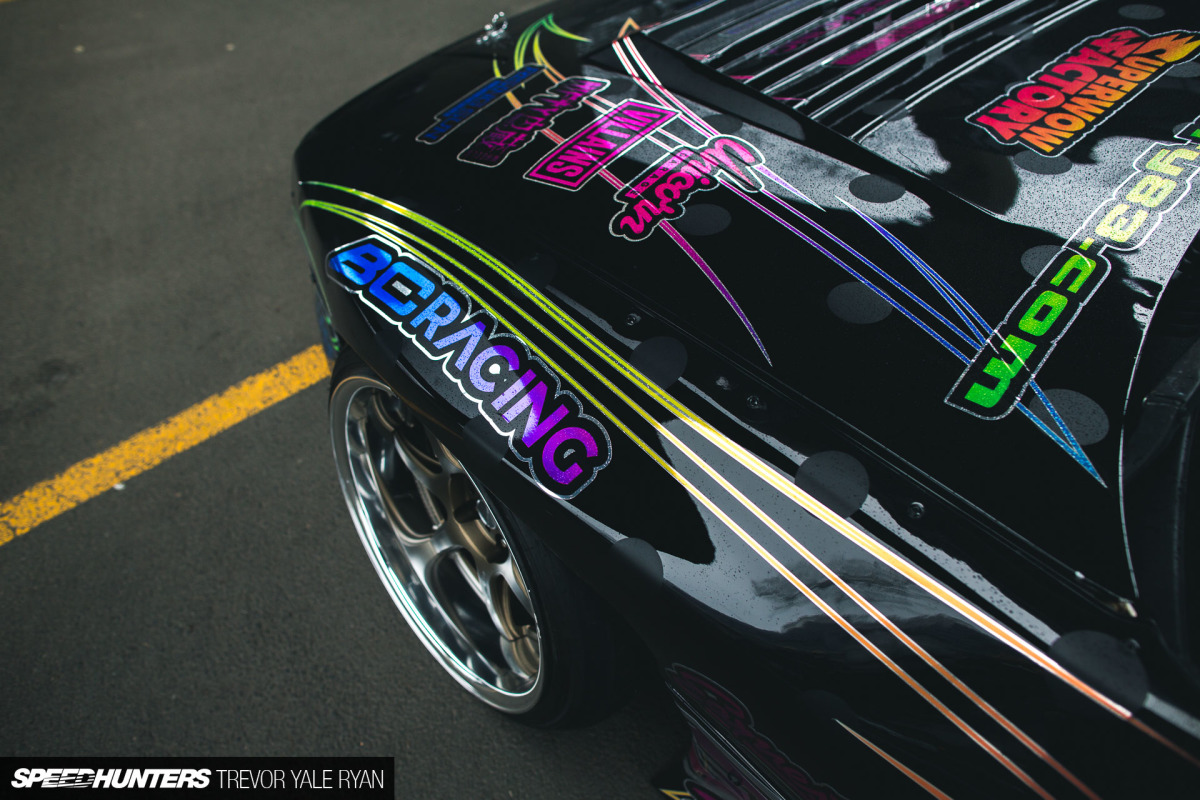 Next, design wizard Ian Dillon was left to create another classic FACTORY83 livery. I saw a couple early options and renders, and let me say if they're any indication of what Version Four might bring, this is a car that will never die.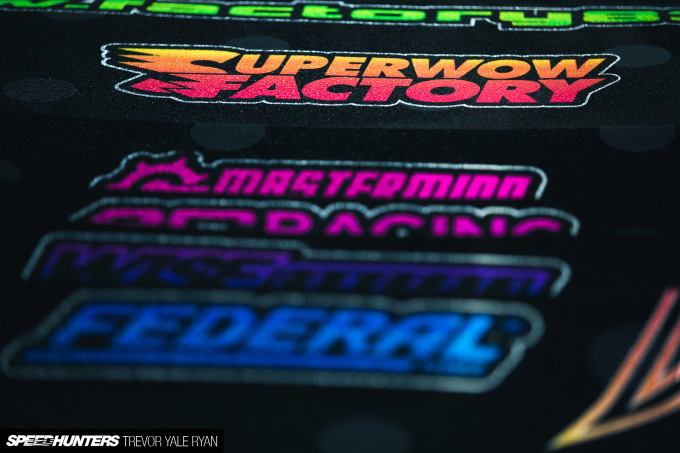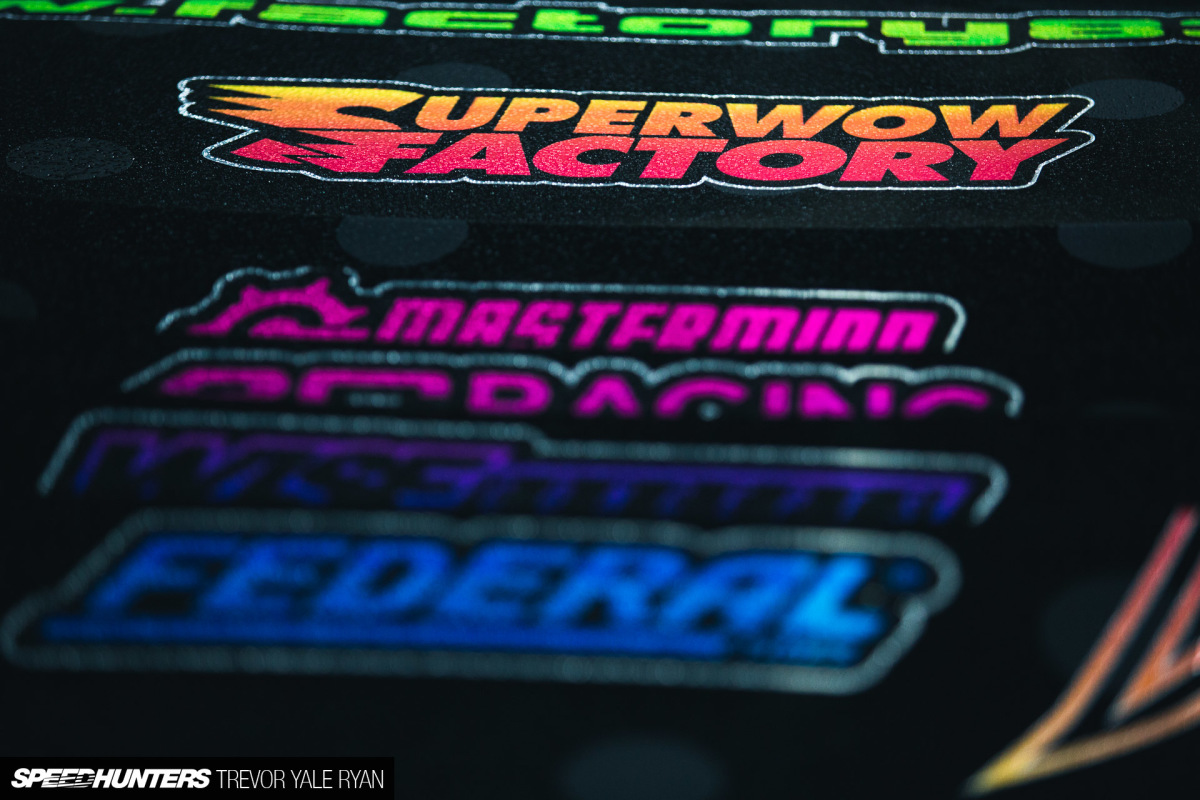 Then, after decisions were made, it was up to David Lindauer at Superwow Factory to make the colorful concept a reality. The only trouble was, the materials required to really pull it off simply didn't exist. To get around this little problem, David devised an ambitious plan.
After buying some top shelf commercially available air release vinyl, David worked his magic printing, cutting, and laminating the only gradient chrome vinyl ever produced — at least that they're aware of.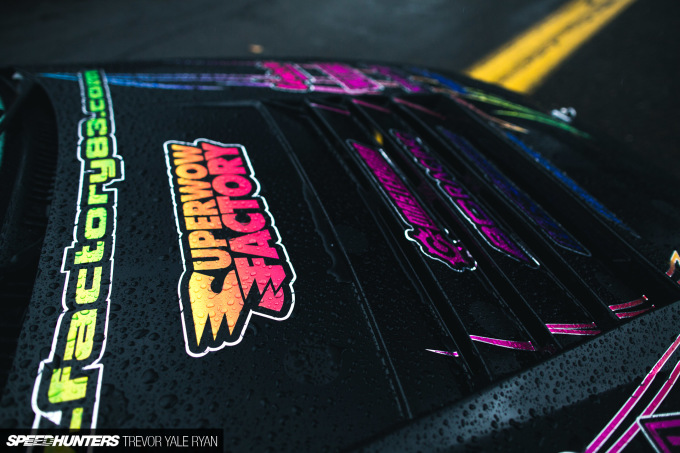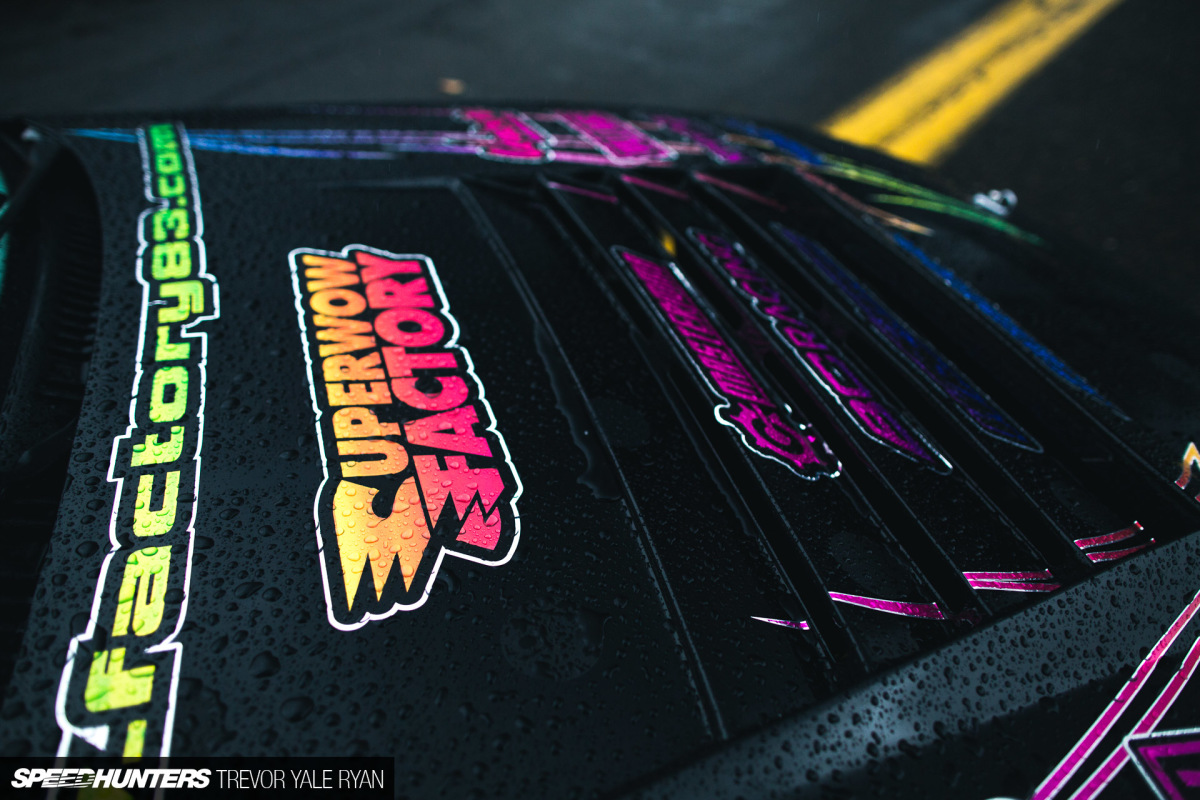 To actually make it happen, Ian came down from Seattle and David flew in from Santa Cruz to install the design on the car.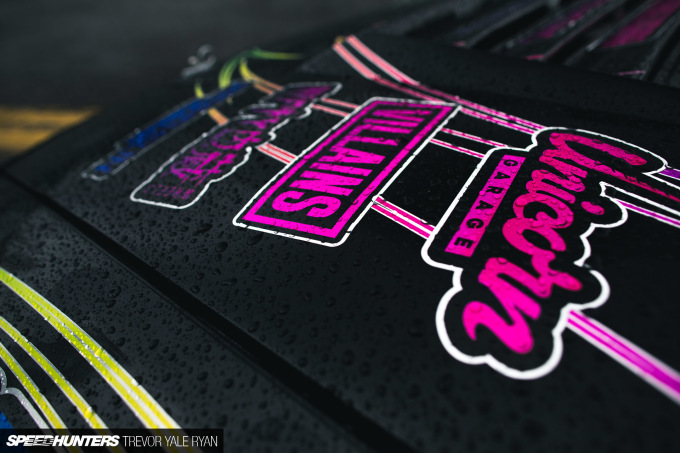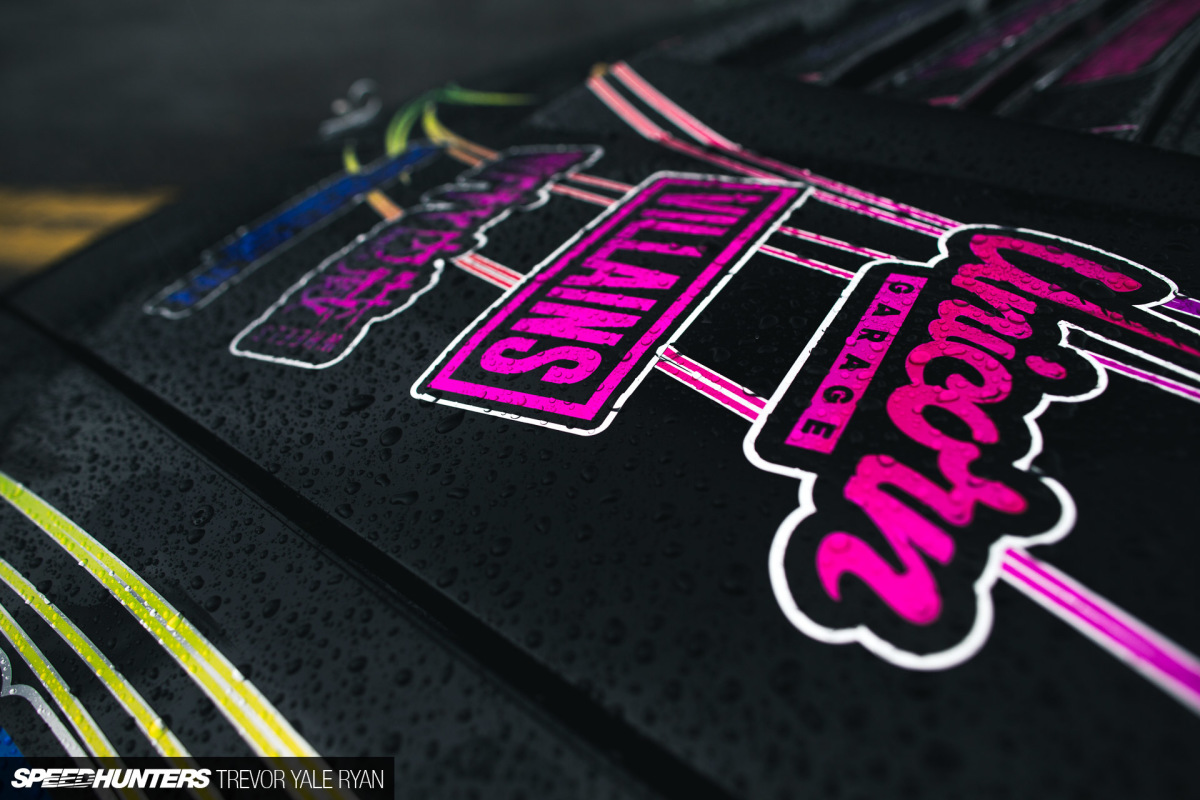 The result of all of this hard work is stunning, and shows what happens when the right people come together with a common goal to make something awesome.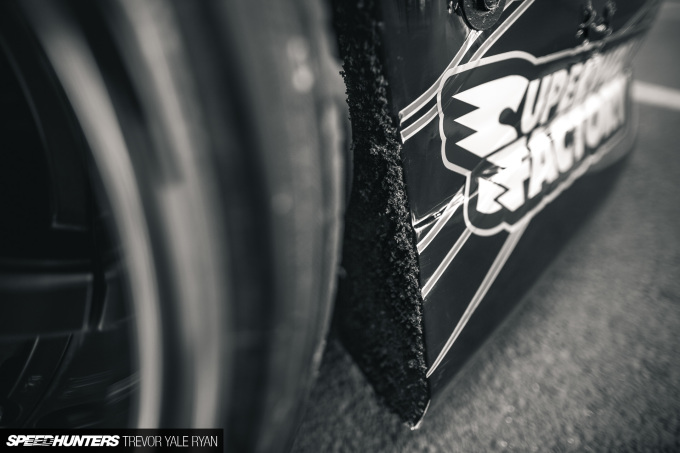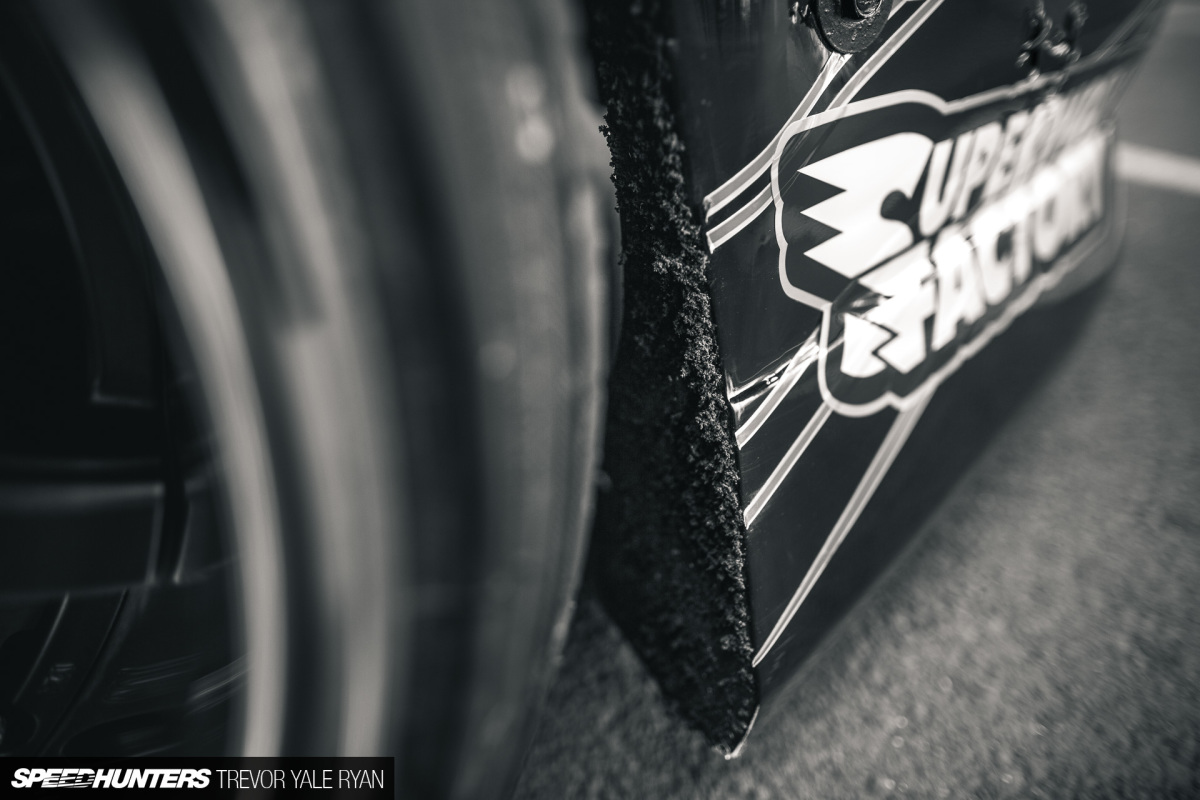 The process seems to have worked well, holding up to plenty of tire burning fury already.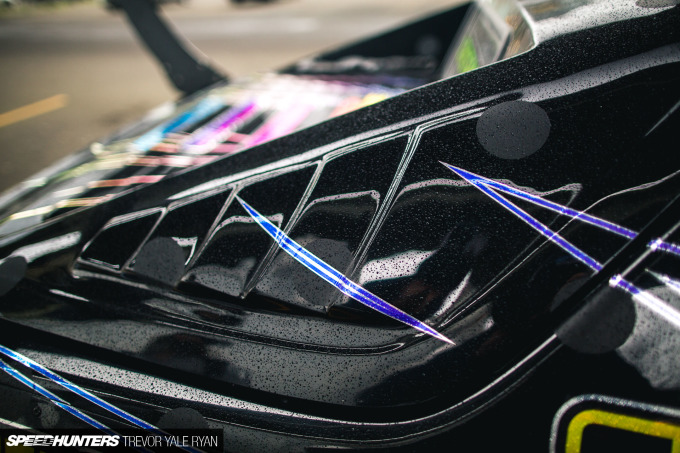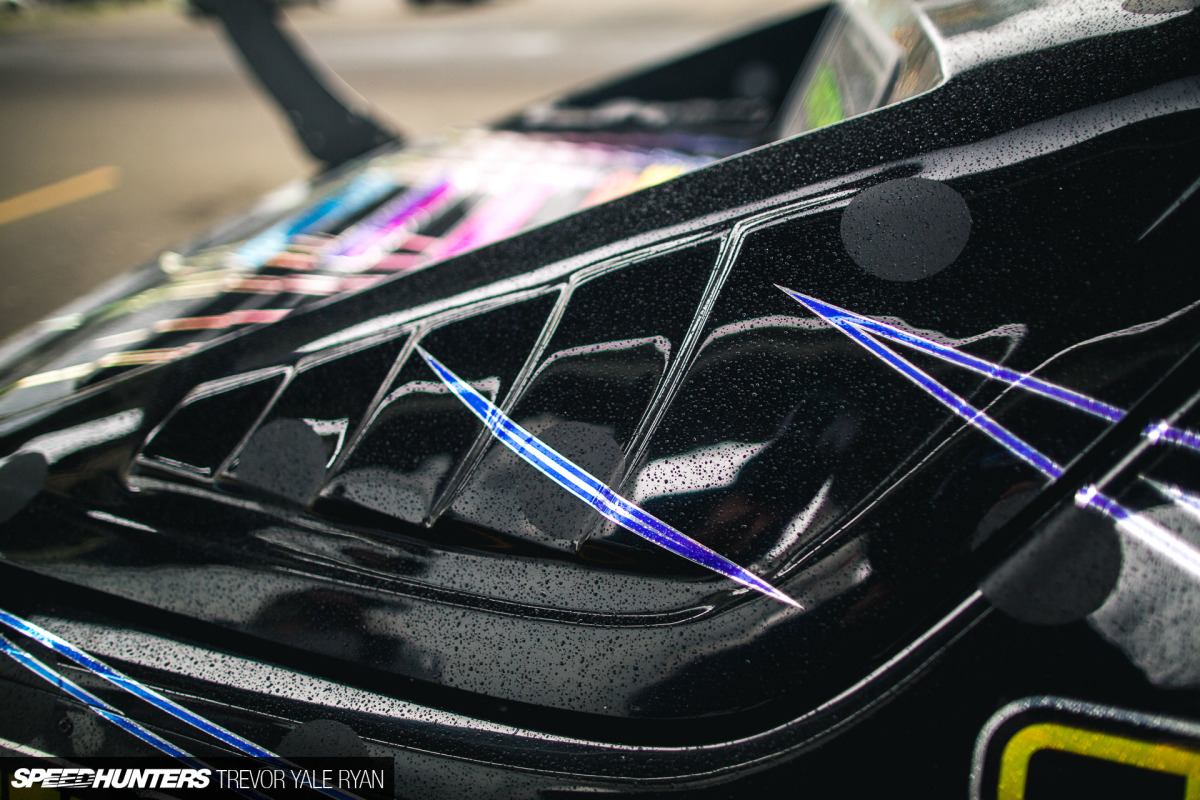 It's essentially a three dimensional design that continues along the sides, top, and back of the inverted hatch that Evan sourced from Yahoo! Auctions Japan, which was imported from his friends over at Wolfreign Motors. It's worth mentioning that the cover saves over 50lb (23kg) by avoiding the use of the heavy factory glass.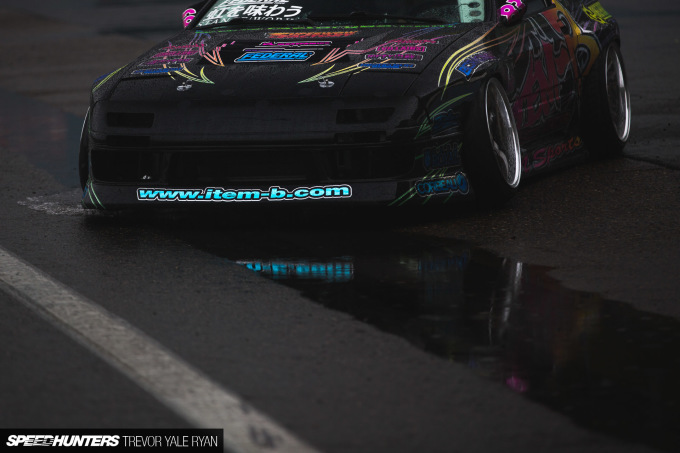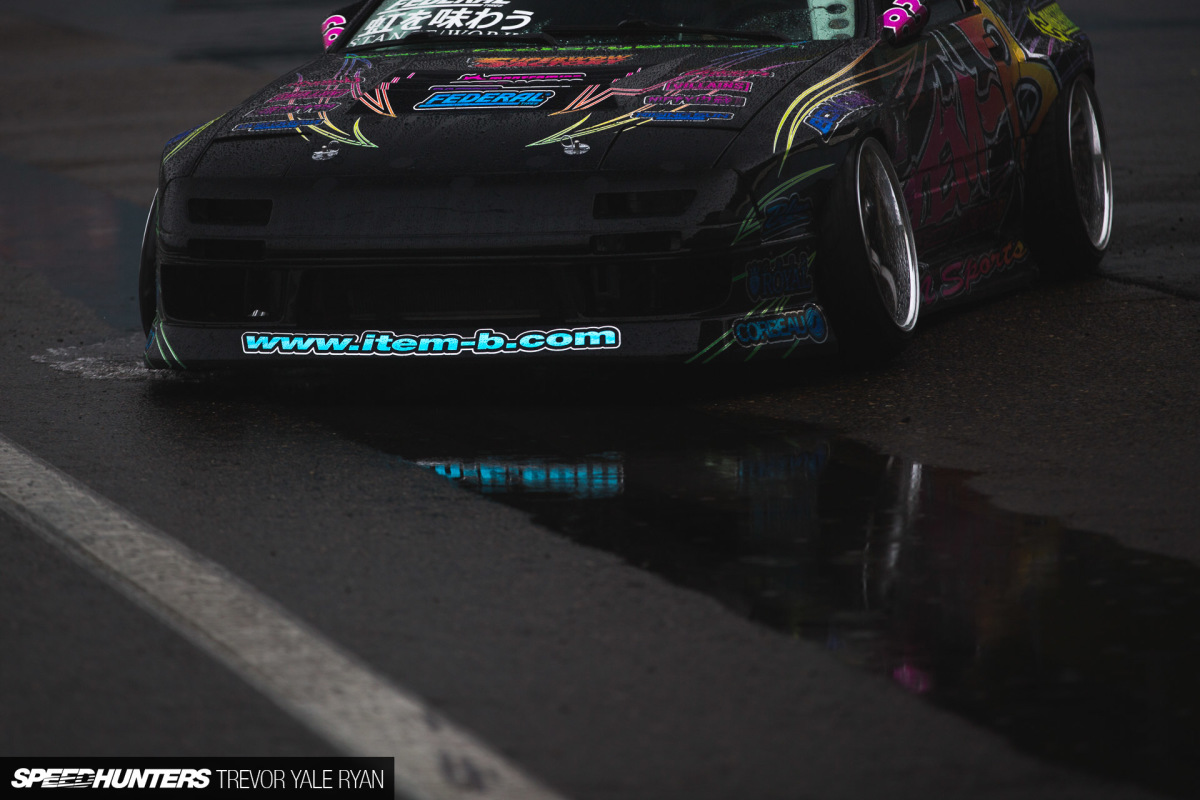 It's one of many decisions that Evan's made to ensure that the ITEM-B FC only gets better as it ages.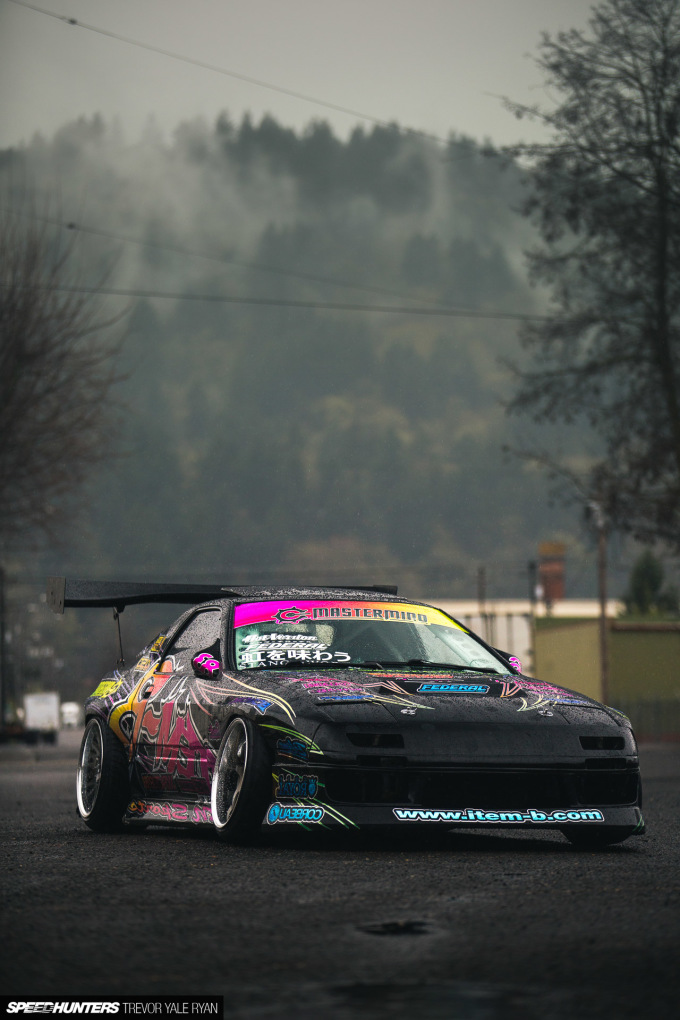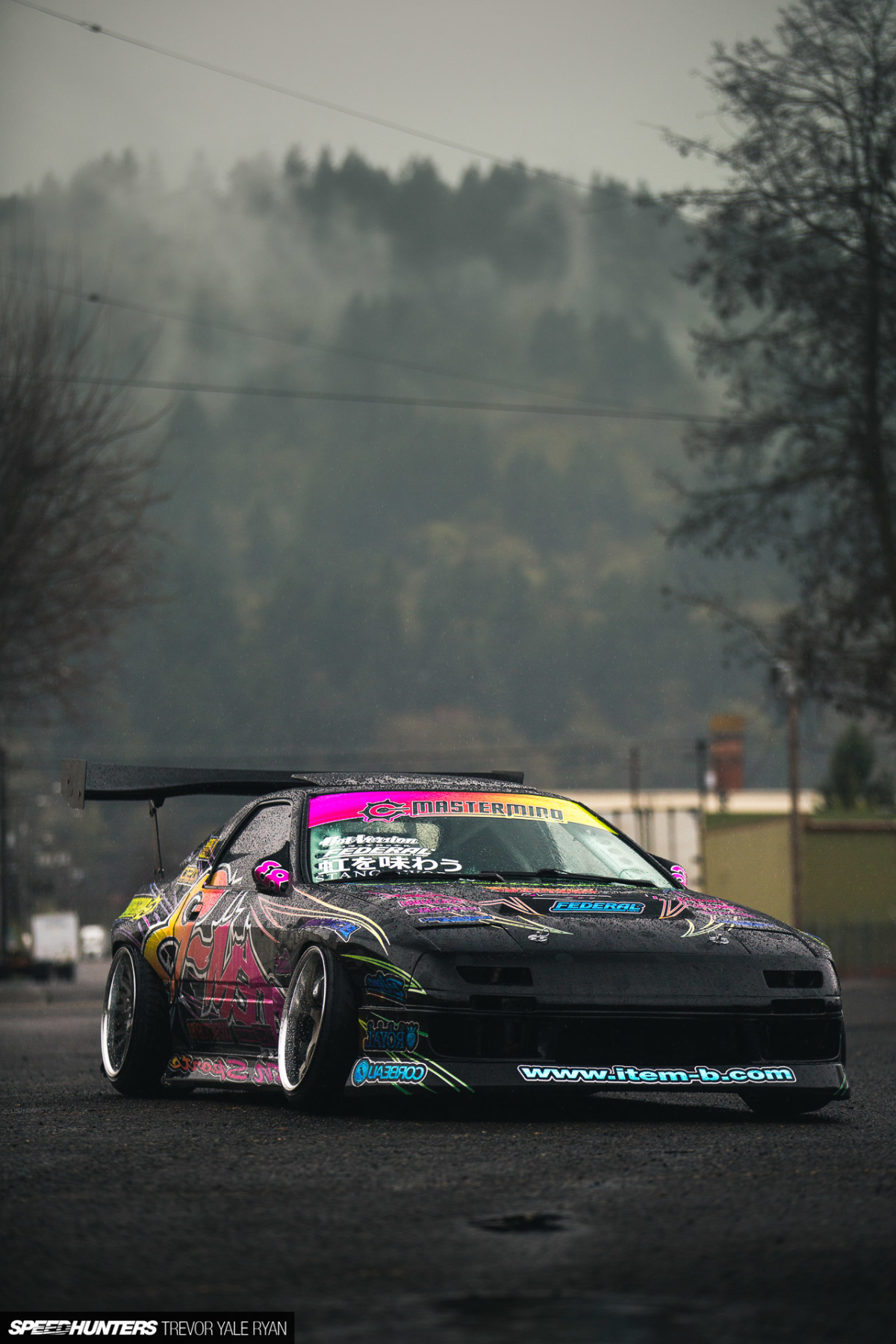 While I was a huge fan of the car when it was white and silver, there's something about using every single color that just works so damn well on the black.
Let's Go Drifting!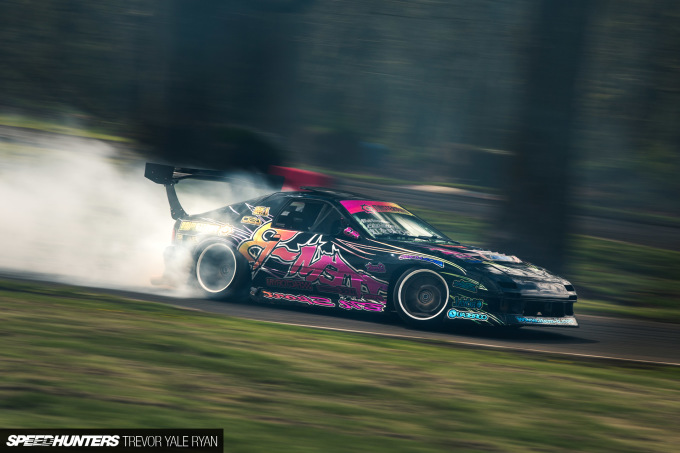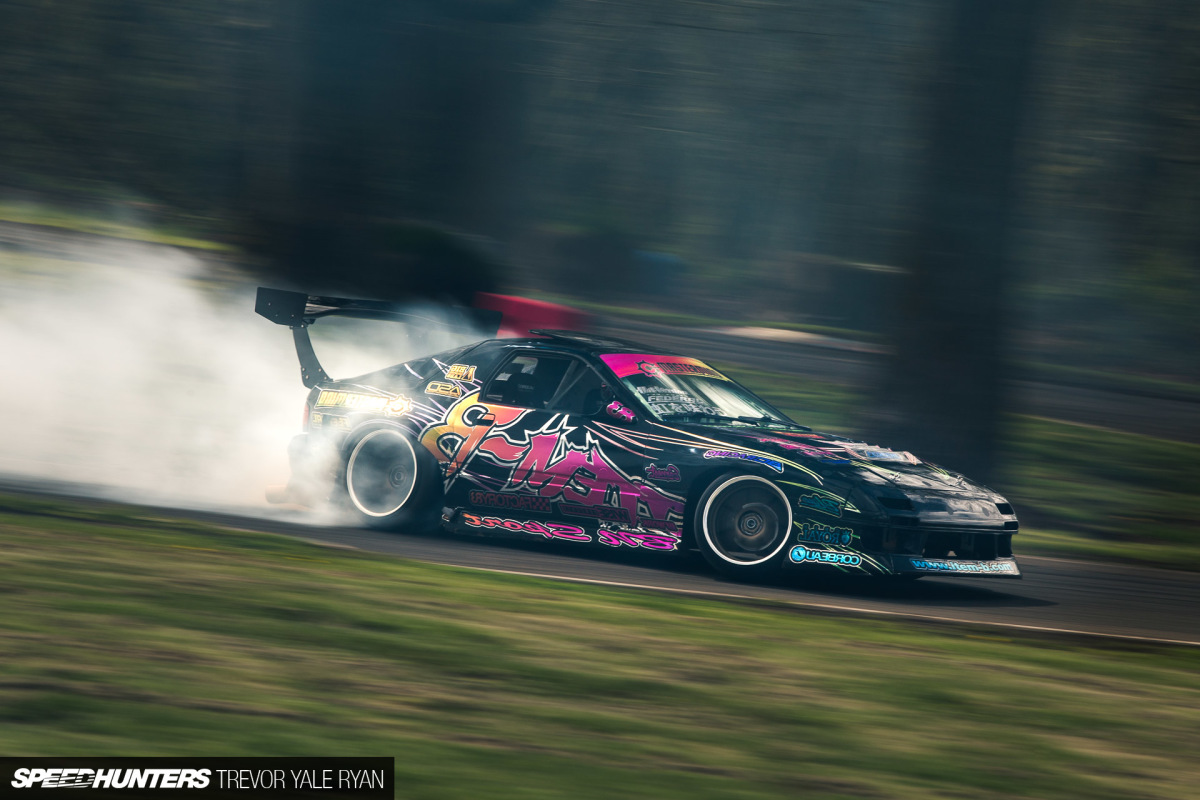 Of course, the actual idea here is to have a good time driving the car rather than just looking at it.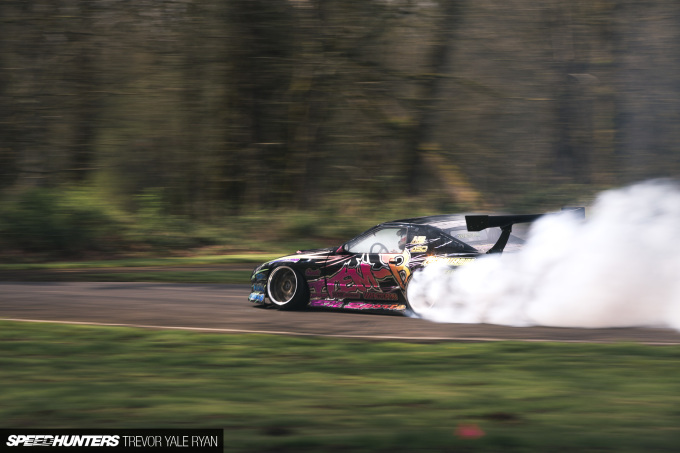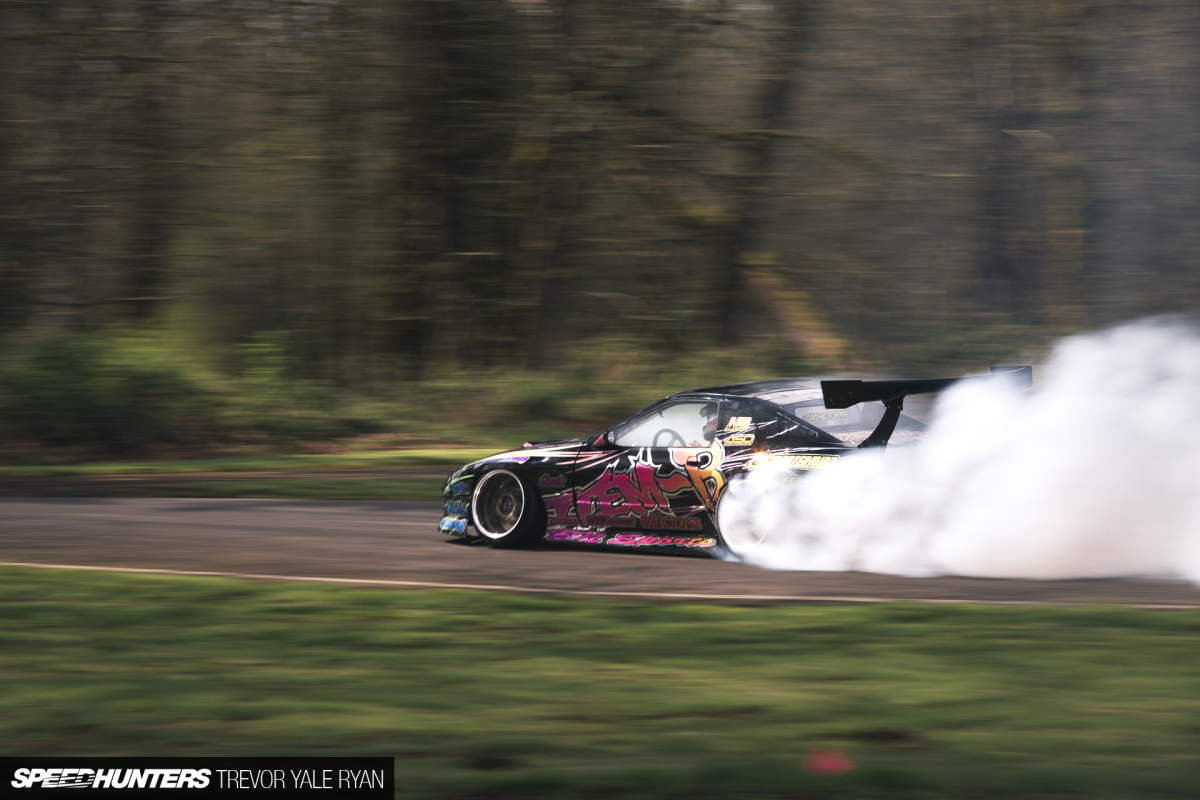 Evan tells me he's built the car with heavy influence from Japan.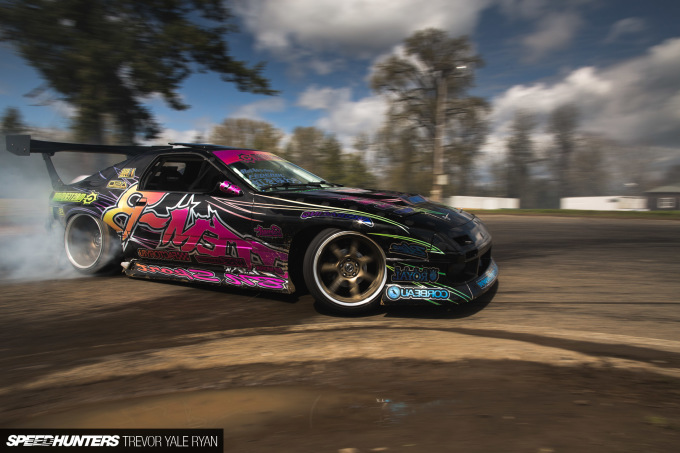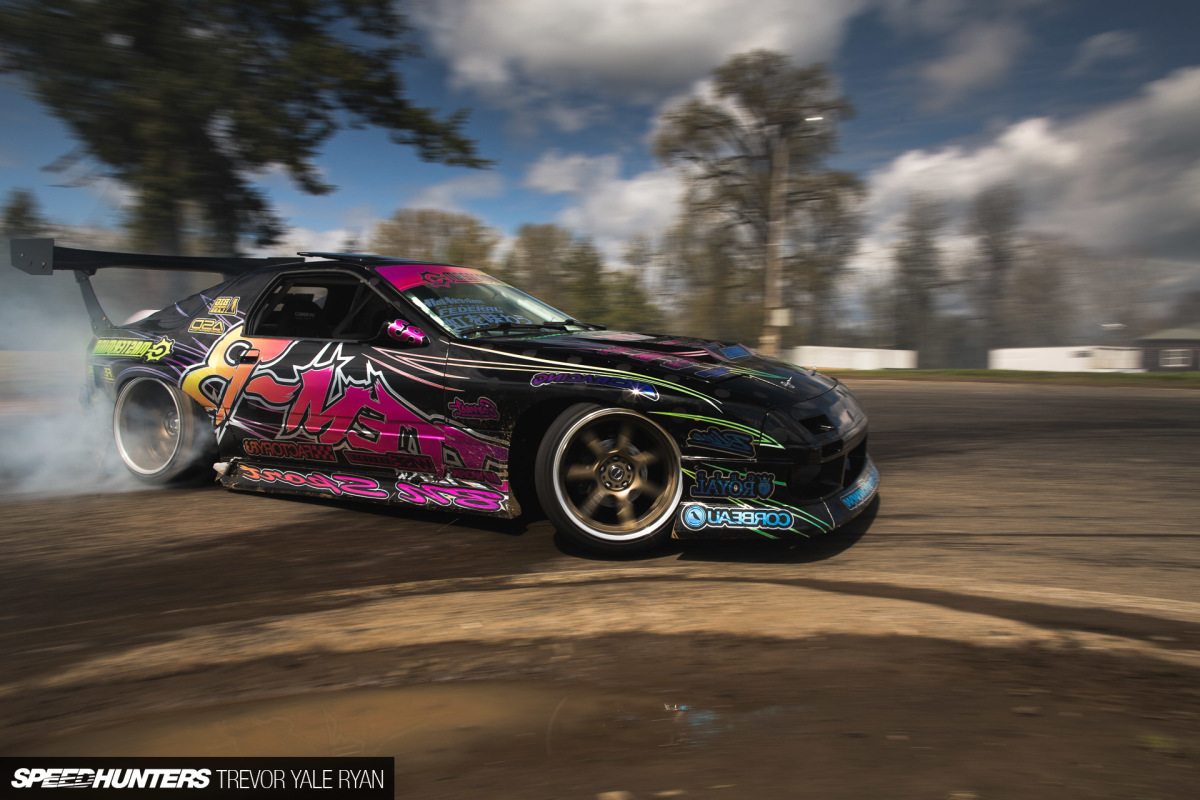 The idea has always been to create a wild aesthetic and pair it with a sort of raw functionality that just works.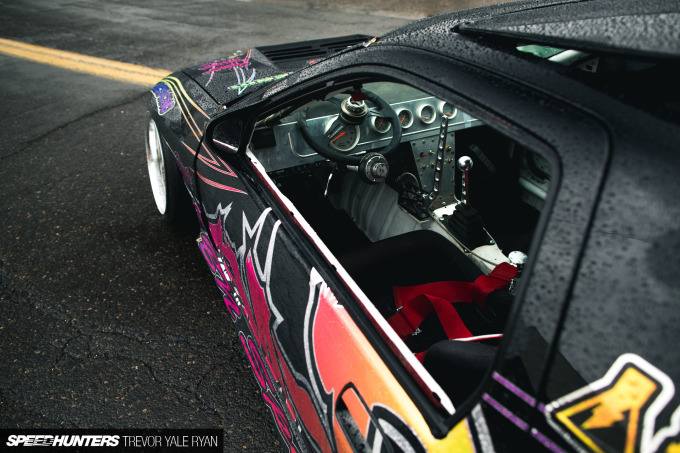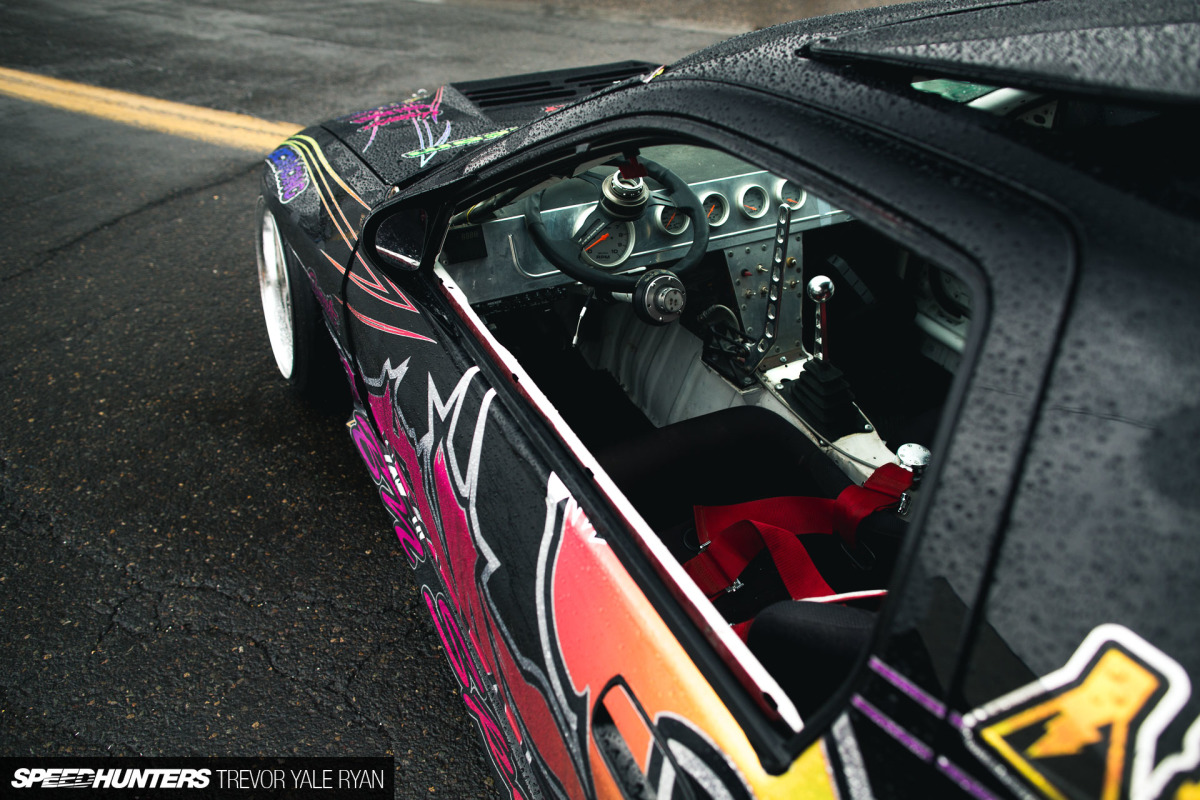 Peek into the car or under the hood and this philosophy is readily apparent; it's dirty but beautiful and has everything you need, right where you want it.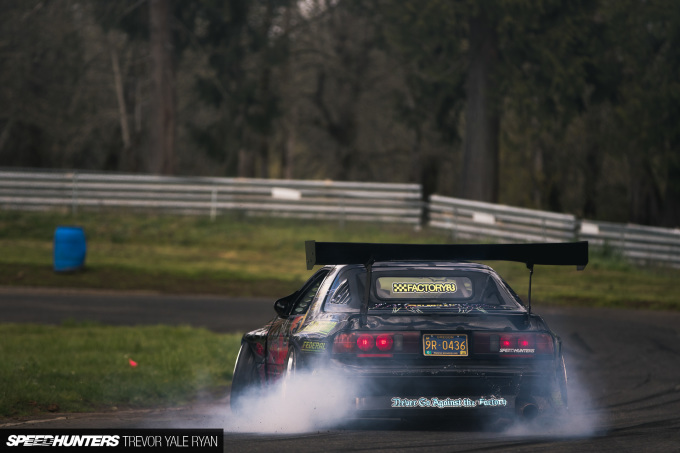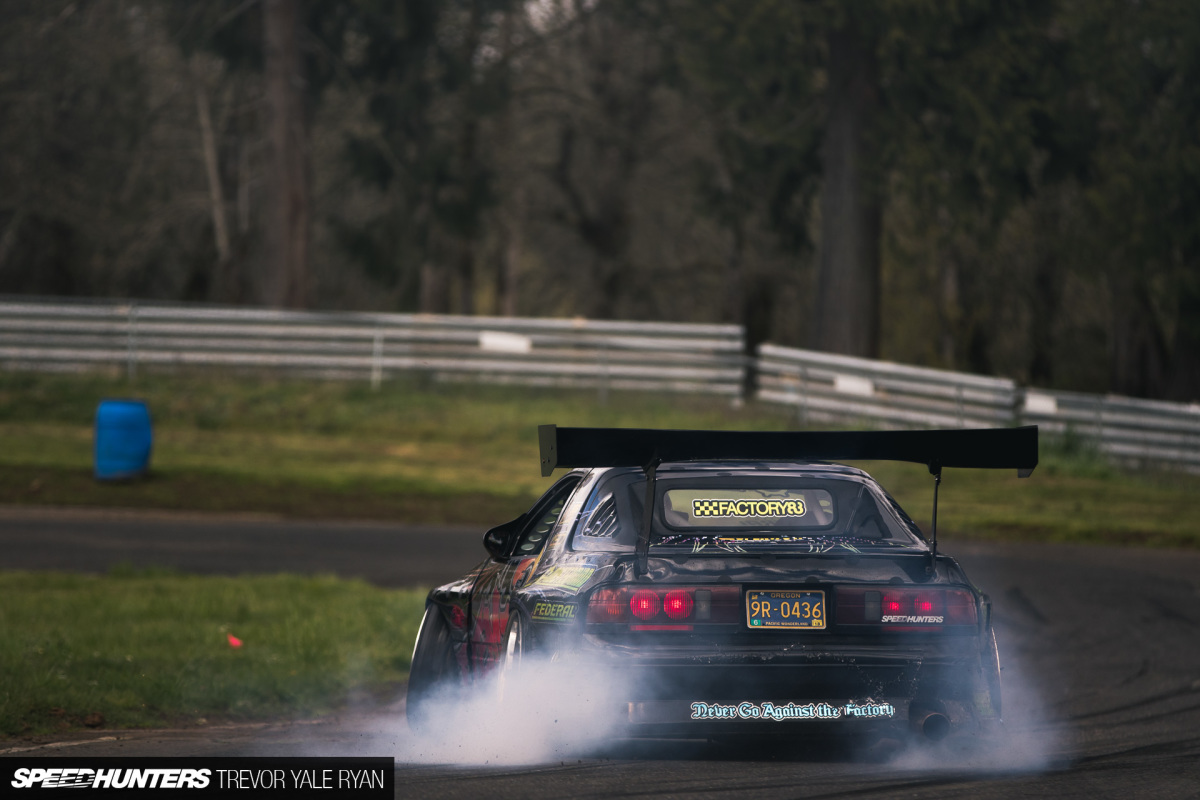 A (big) Big Country Labs rear wing gives Evan grip and stability at speed, while an ASD Motorsports handbrake disrupts his normal trajectory to kick the rear end out as he pleases.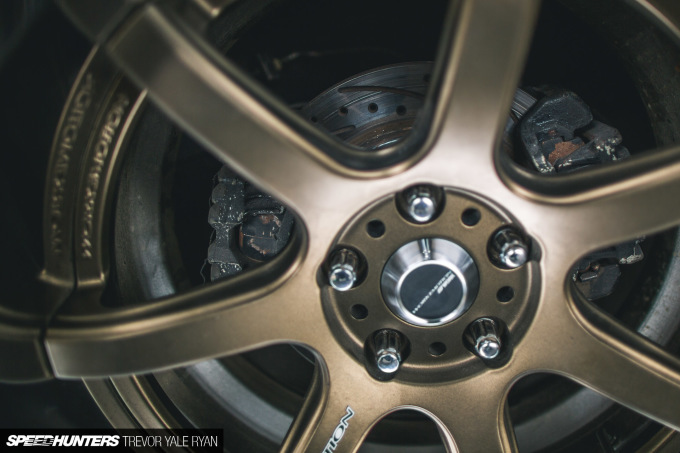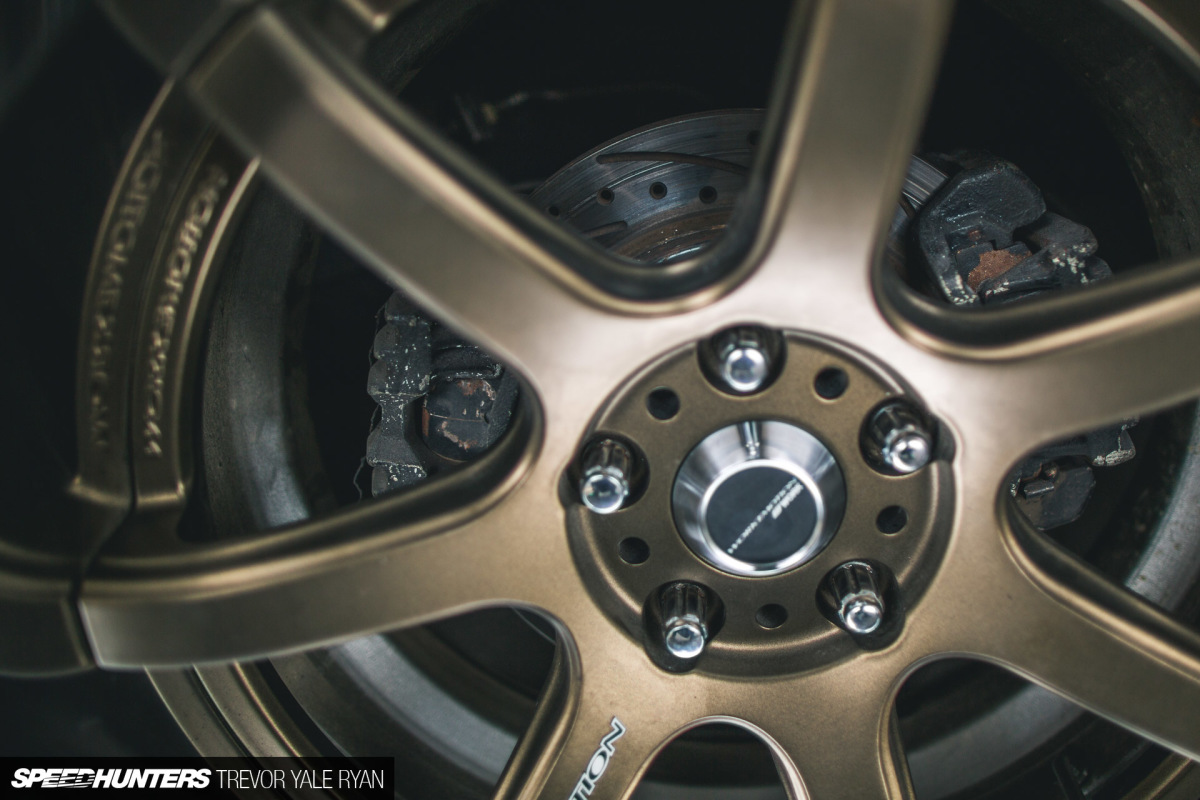 This is made possible by a pair of Villains dual caliper brackets that hold FC TII rear brakes as well as the extra set for the slides.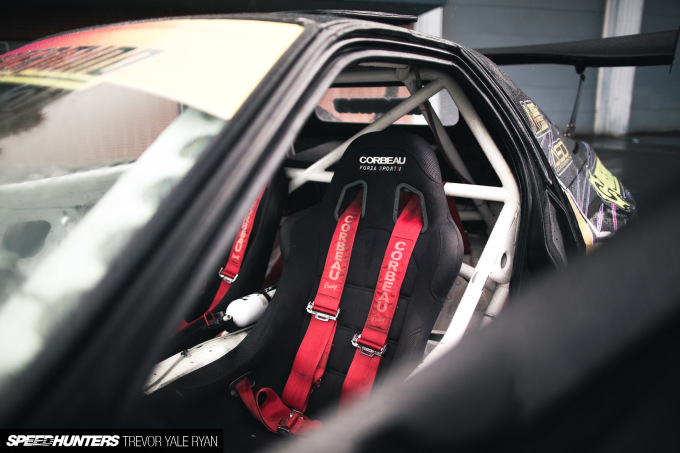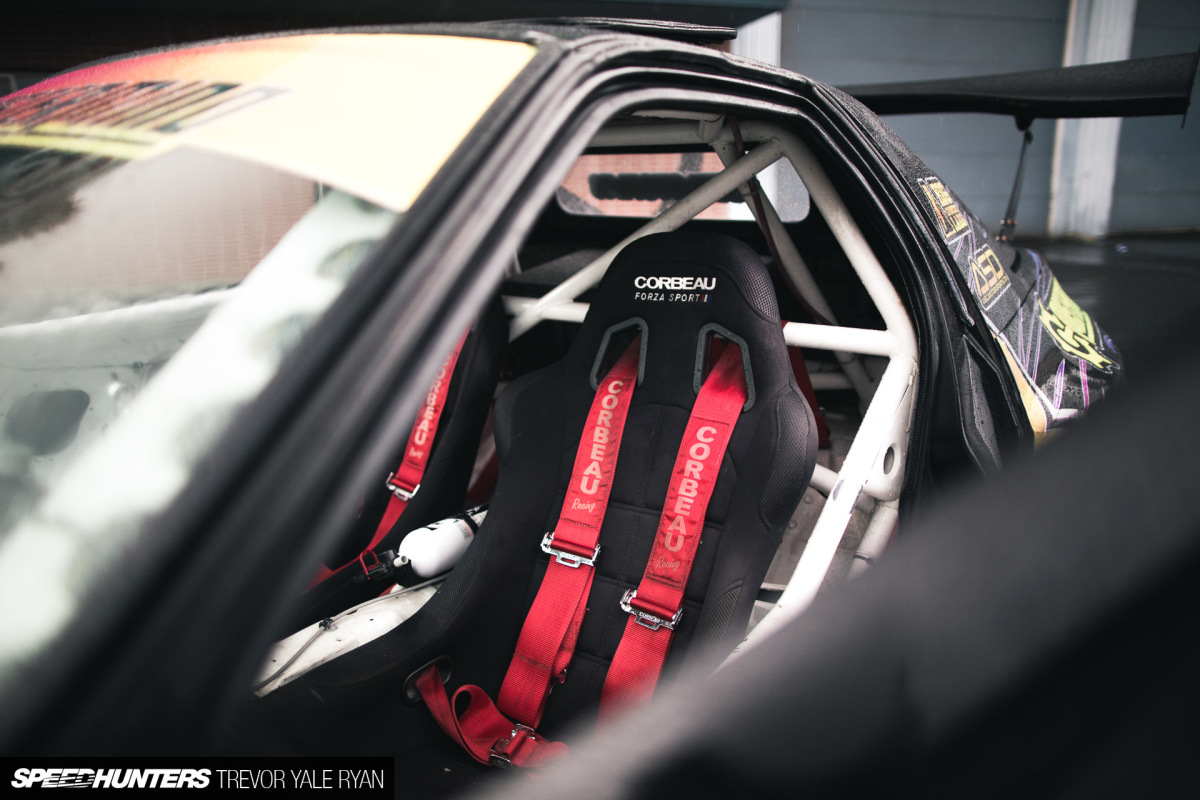 Back inside the car, pair of Corbeau Forza Sport seats hug Evan with Corbeau harnesses as he squeezes the last bit of potential out of the car.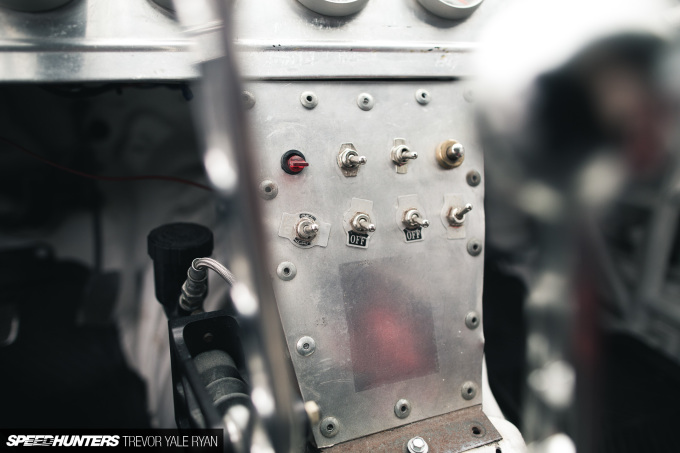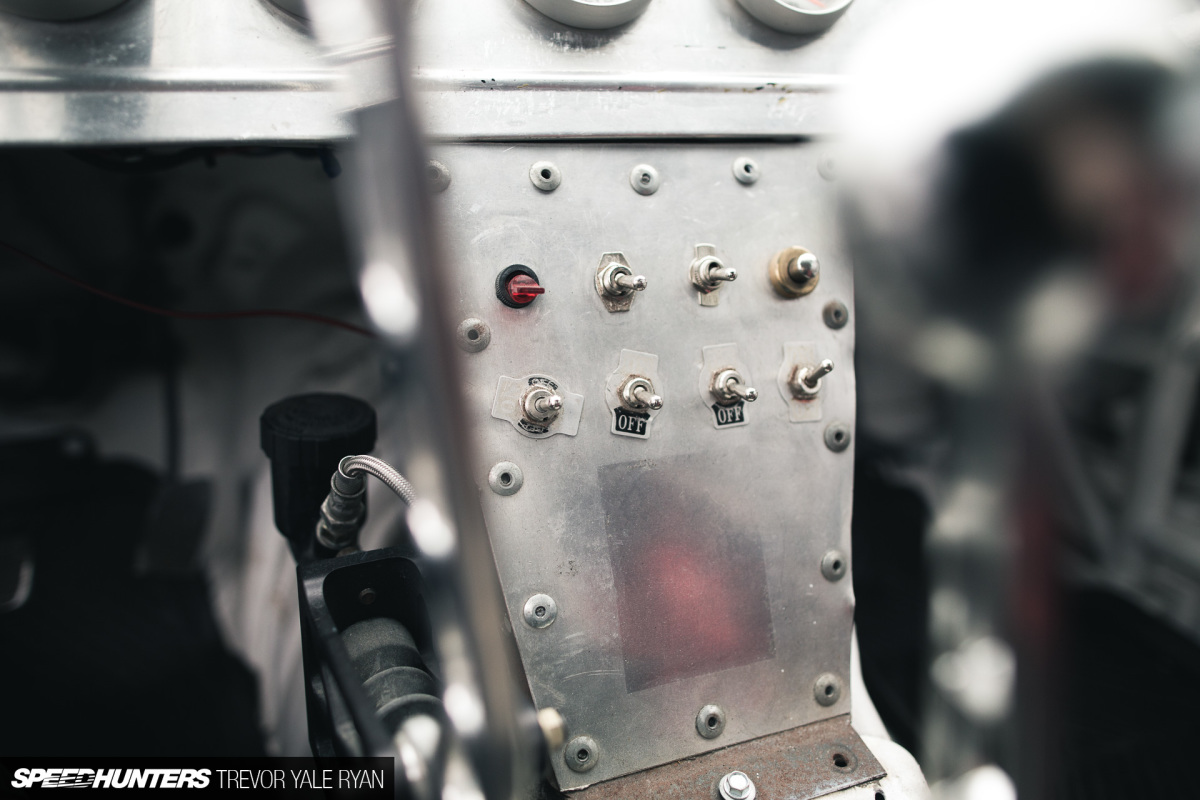 From the fiddly race switches to the no-nonsense wiring and door handles that don't quite work, this thing means business.
Another detail inside, one that I didn't expect to see, was a custom box that houses two 6×9-inch speakers and a 12-inch subwoofer with the amp tidily bolted to the box. It's an removable setup that Evan's friend Lalo Mojarro designed, allowing the car to meet tech when he needs to.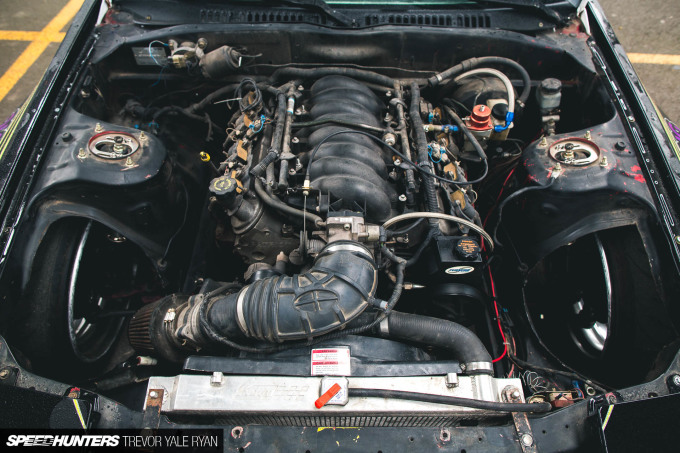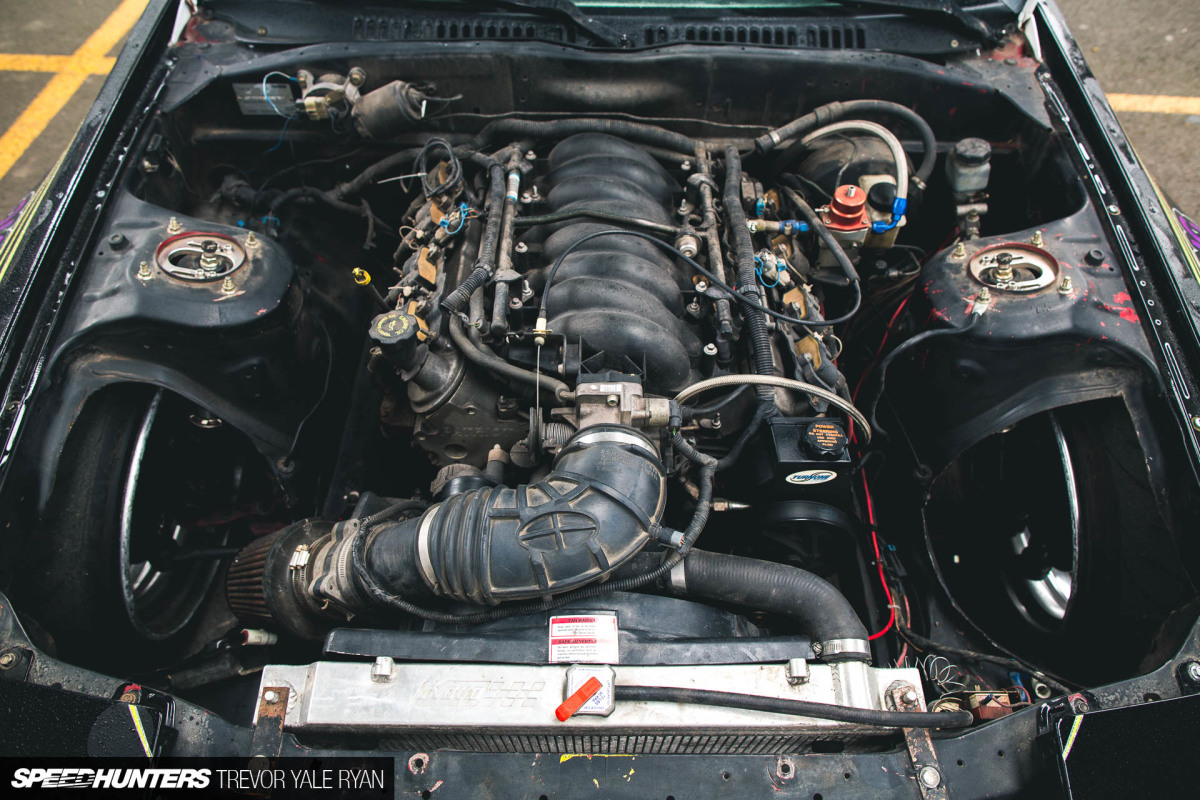 In contrast, the addition of a V8 to the Mazda is something that I entirely expected to see. Evan is all about seat time, and the aluminum block LS1 has been giving him reliable horsepower for the last four years. Evan hasn't had an issue that couldn't be fixed at the track in over 100 events.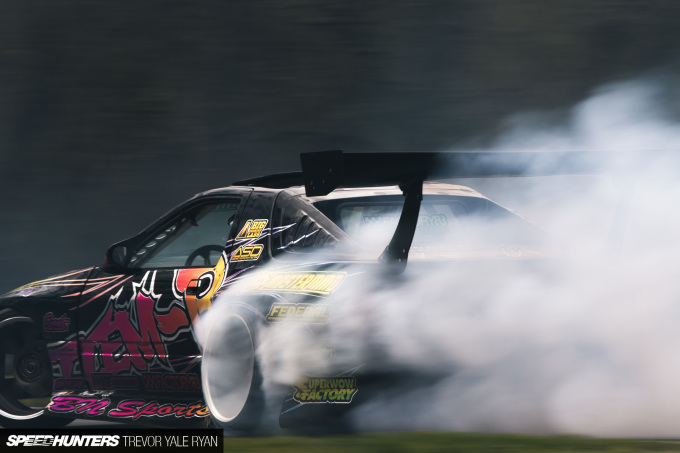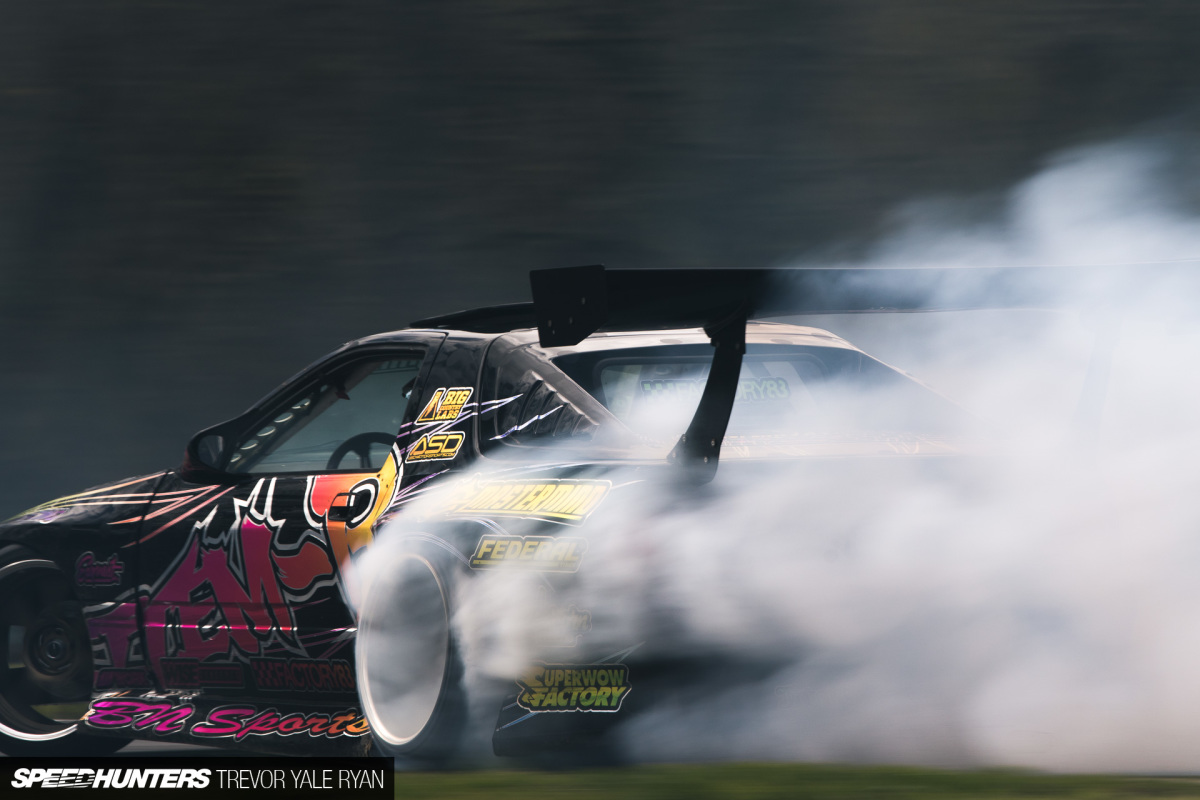 If you have any complaints about this motor I doubt that Evan will hear you over the 502whp the Mazda makes, on pump gas no less.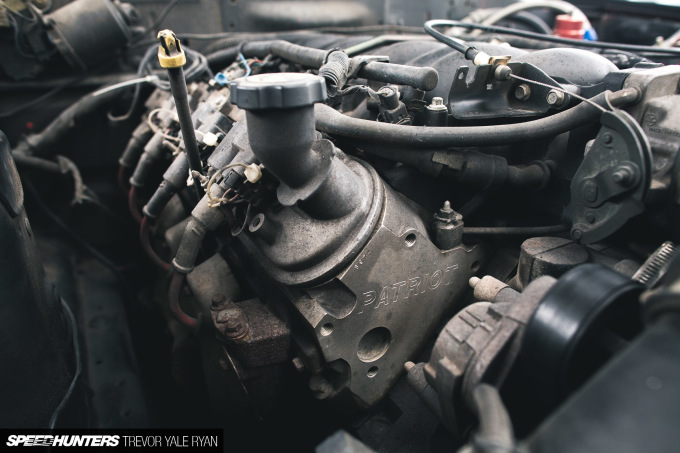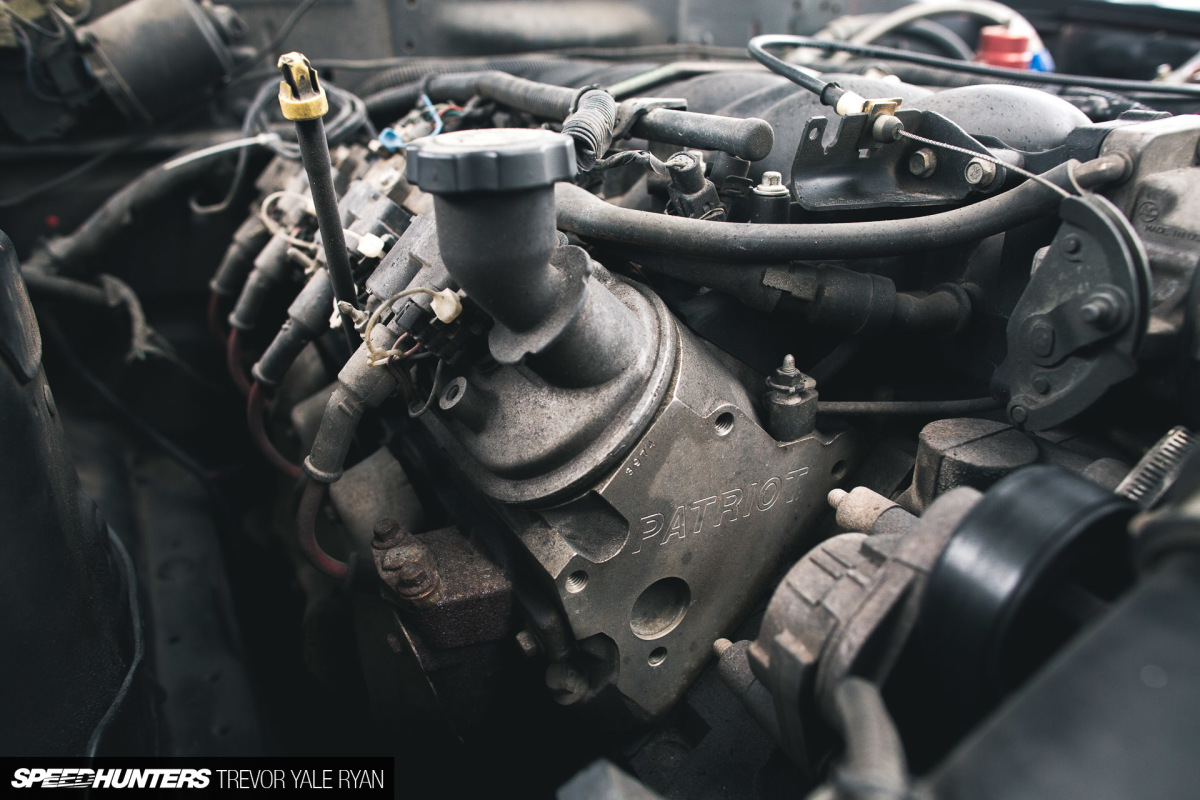 The power output is achieved through Stage 2 Patriot heads with titanium valve springs and hardened push rods. A custom Comp cam thumps away on 1.7:1 roller rockers while an LS6 intake manifold and ported throttle body feed the thirsty girl with plenty of air. Evan mentioned that his injectors are at 95% duty cycle, but they've never given him any trouble.
Power is sent into a T56 transmission and then out back to a Ford 8.8-inch diff with welded 3.73:1 gears. The setup is actually from a 2004 Ford Explorer, and the same rear end I stuffed into my '66 Mustang. With a ridiculous custom driveshaft that comes out to around 16-inch due to the 95-inch wheelbase and beefy American parts, it's a setup that can easily handle the abuse.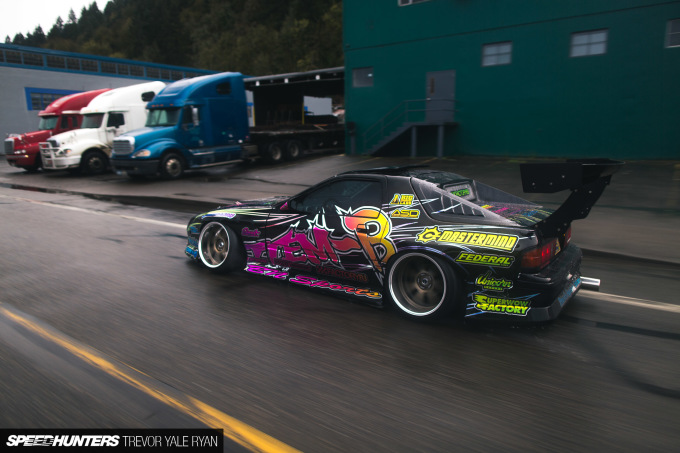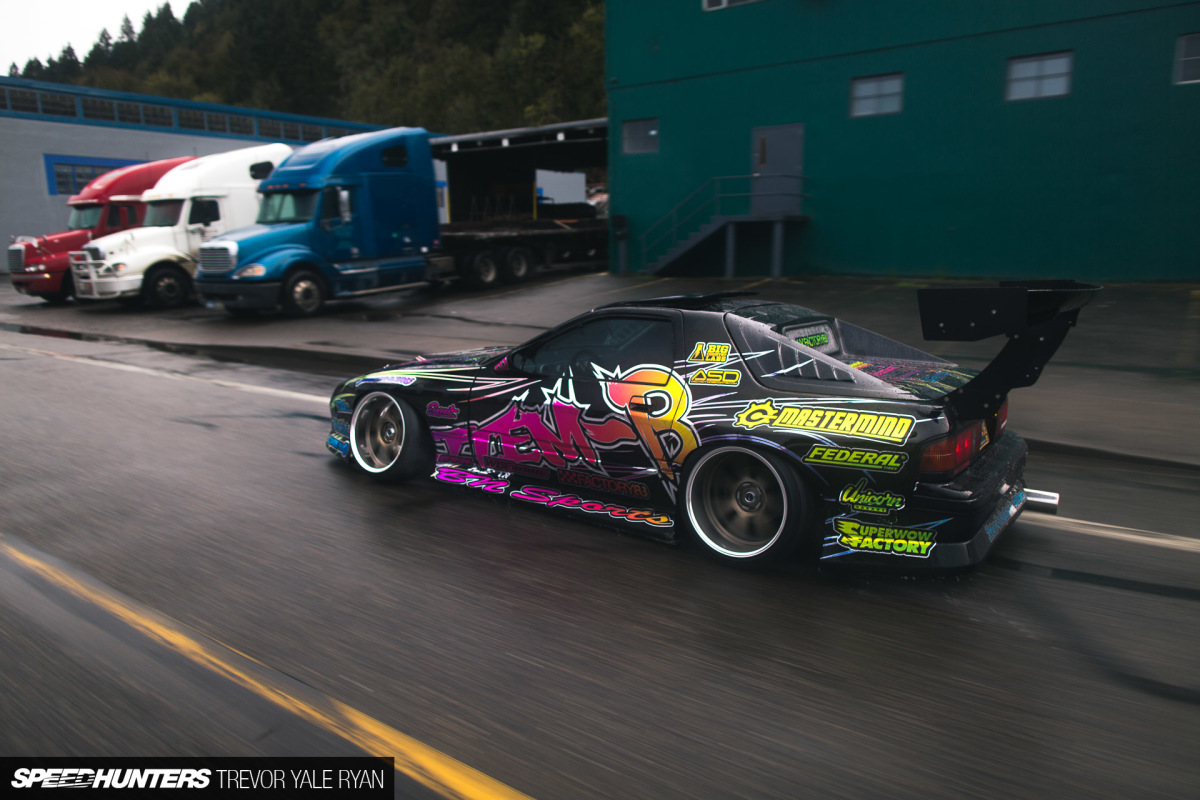 The drivetrain is definitely the most American part of the car, but this is the land of red, white, and blue after all.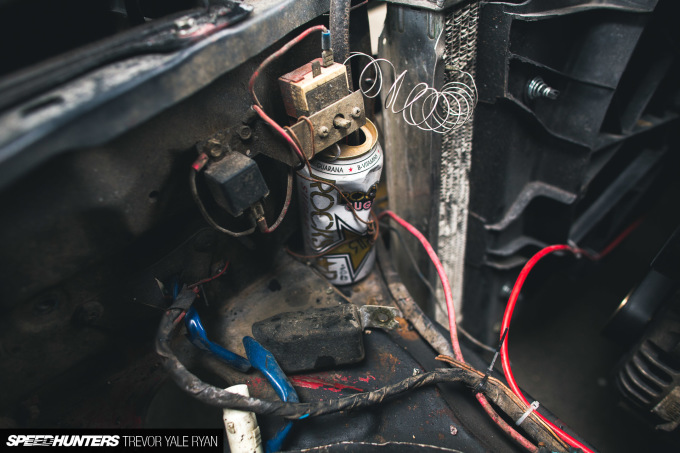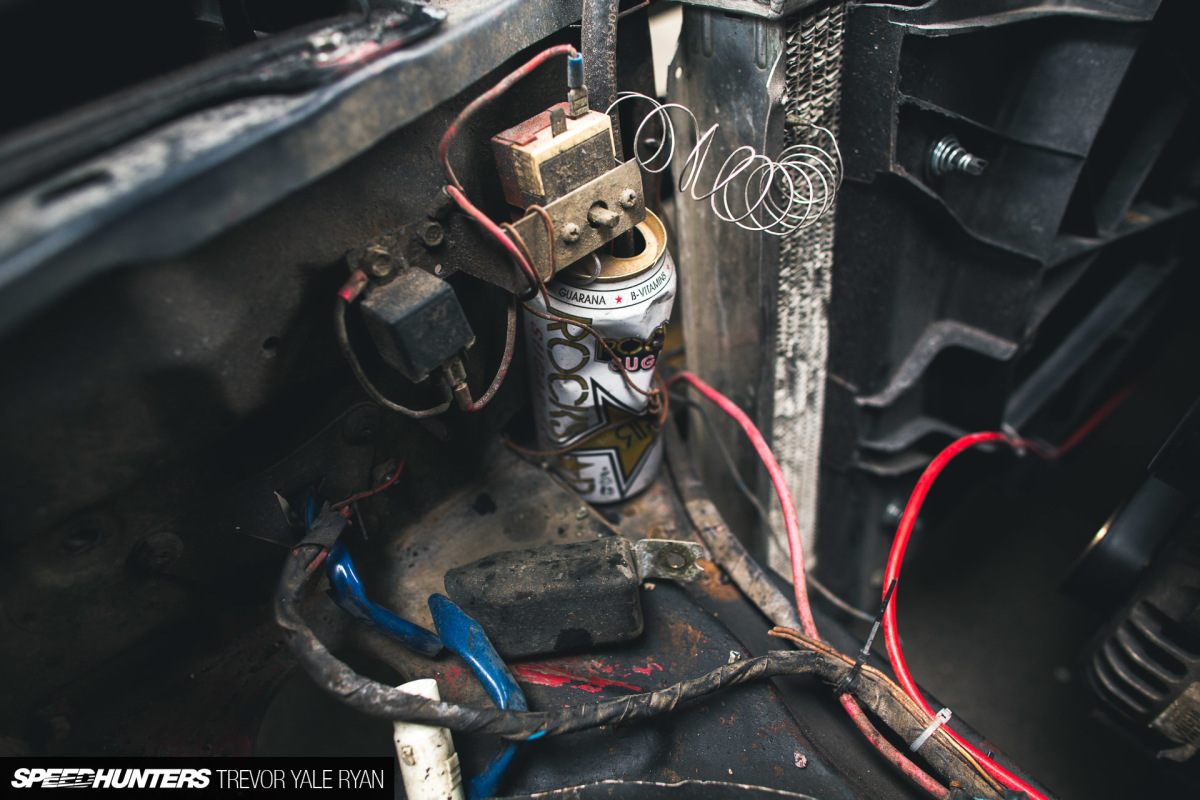 Under the hood things aren't so tidy, but Evan says that flaws don't bother him if he's aware of how they were made and why they were left overlooked. If the options are to drive into town for an overflow tank or stick an old can under the hood and get back on the track, you know which choice Evan is going to make.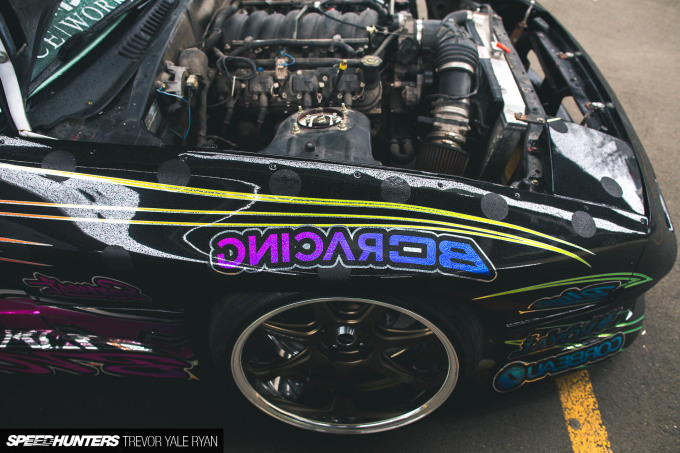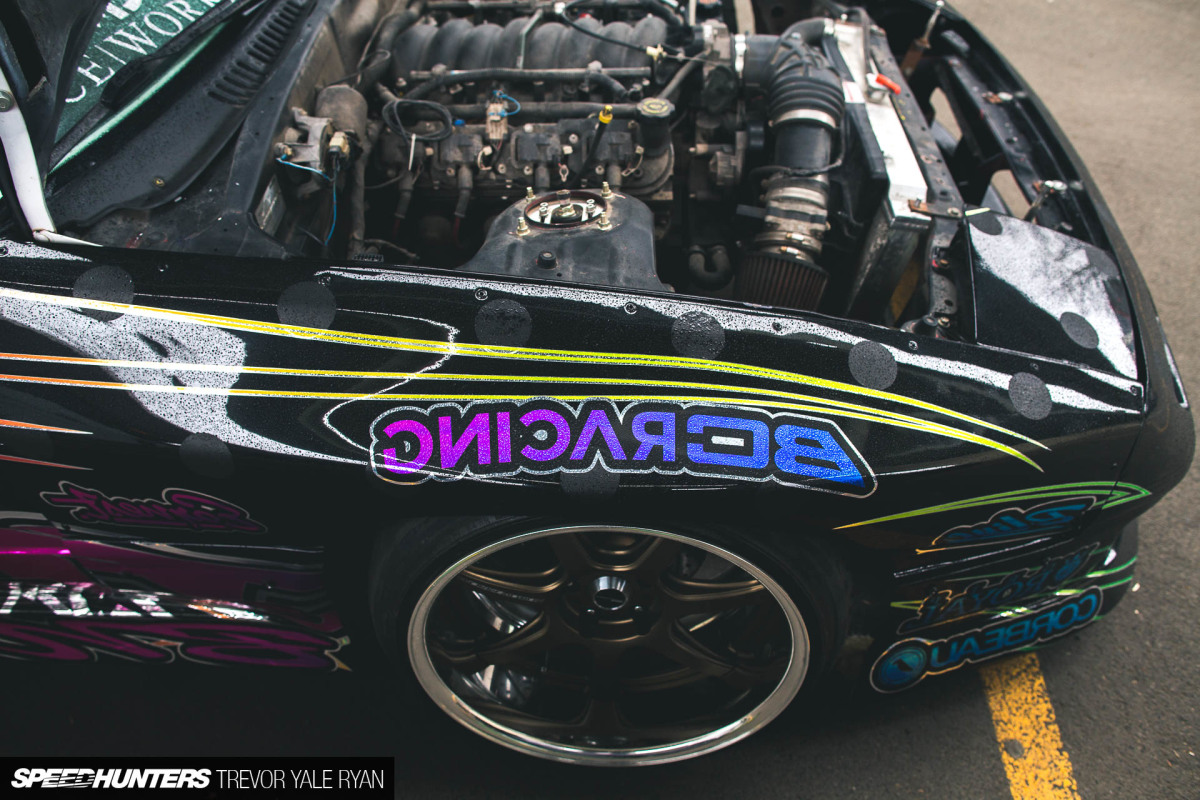 On either side of the motor sit 90mm overfenders that were modified by Paul at Wise Concepts to flow seamlessly with the lines of the car. The extra space in the front houses bronze Work Wheels T7R2Ps in 18×10.5-inches, while 100mm overfenders out back allow for 18×12-inch wheels.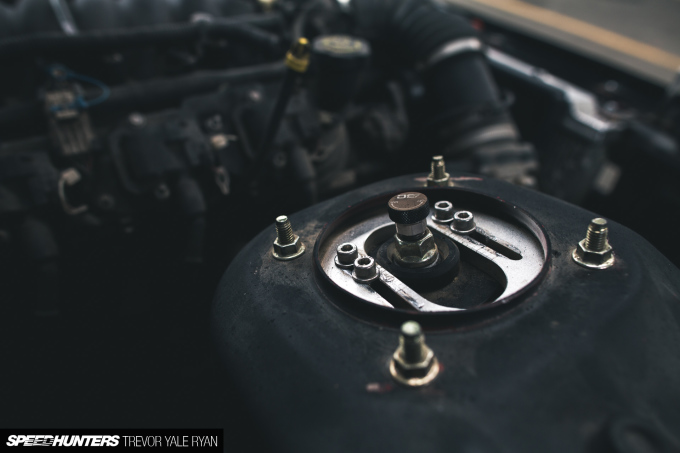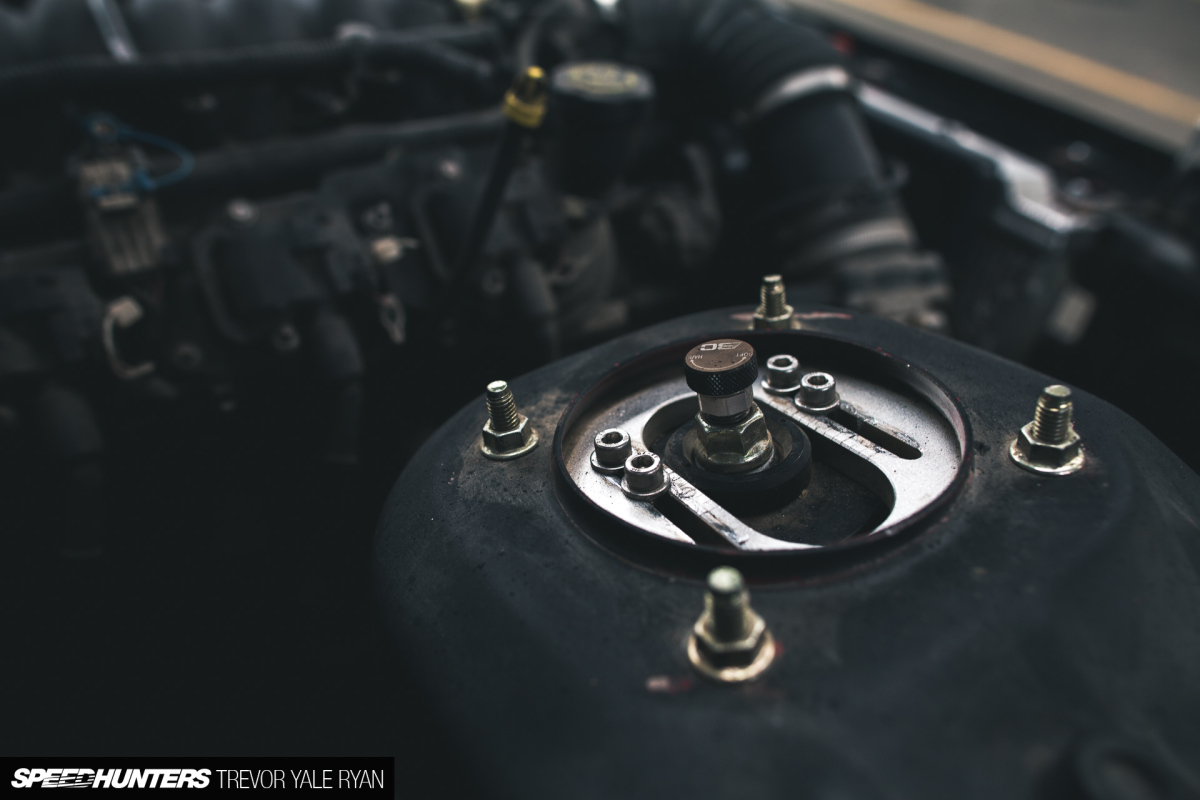 To keep all this power balanced with grip Evan has BC Racing coilovers on all four corners. The front coilovers were modified to add camber without having to add king pin inclination; it's something to do with the effect of FC-specific steering jacking as well as getting the gigantic 10.5-inch wide wheels up front to tuck.
Further complicating matters you have Villains 40mm extended LCAs, Villains knuckles, and Villains inner and outer tie rods. Yes, the same Villains Drift gents as the ones paving a Meihan replica track in Walla Walla, Washington. With the setup Evan ends up with around 60-degrees of steering angle.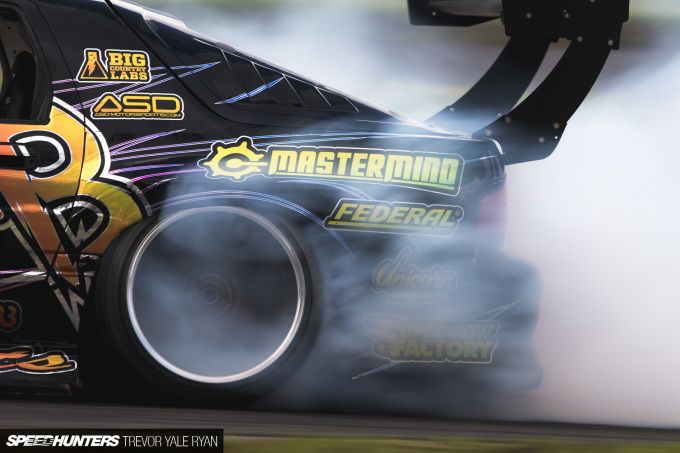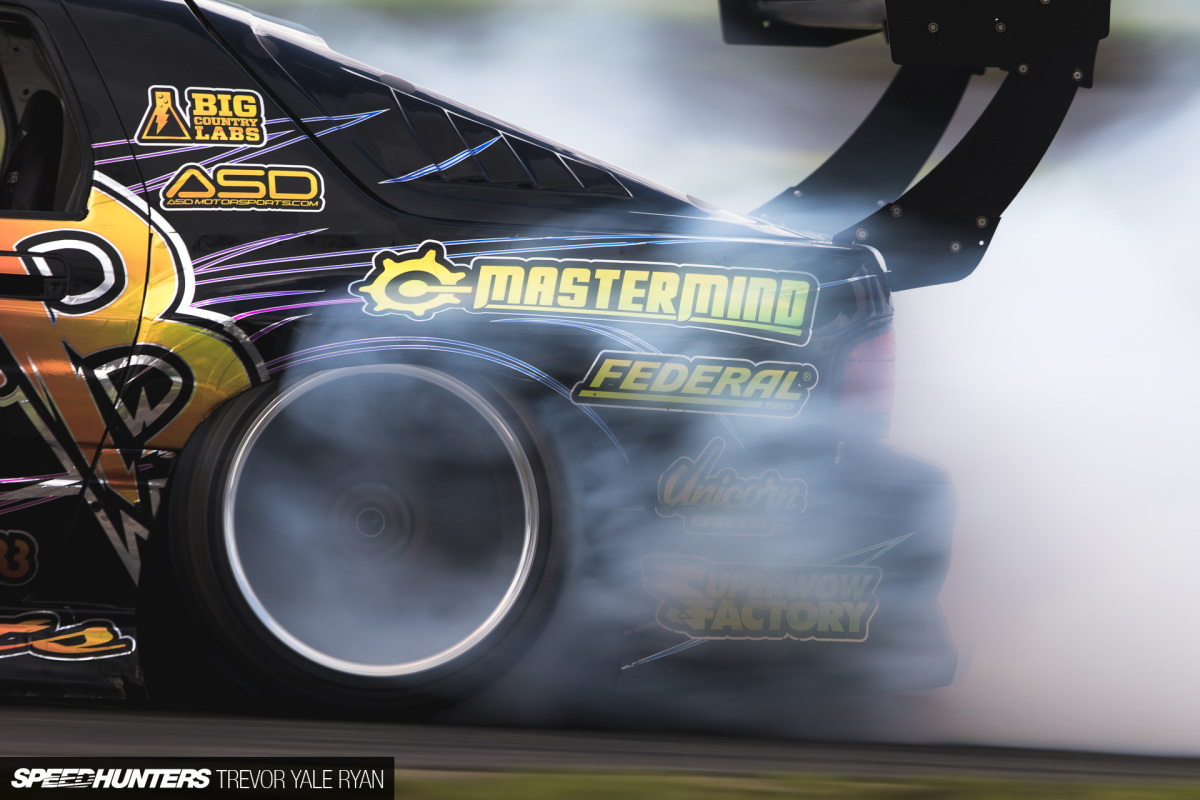 The result of all of this is a car that goes like a bat out of hell.
Around Town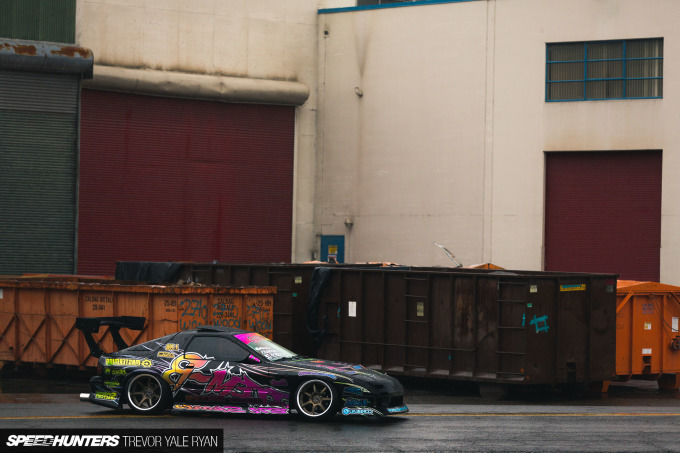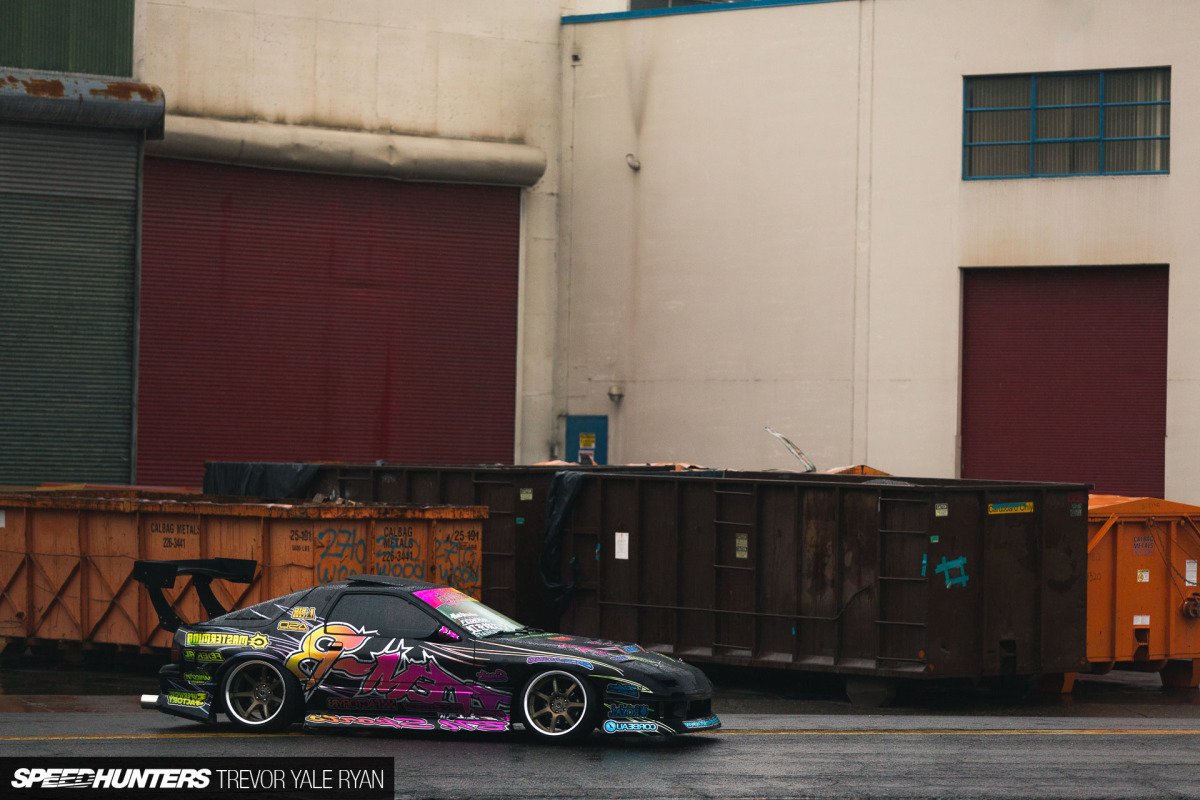 As Evan is an Oregon guy through and through, our shoot wouldn't have been complete without a tour of a few of Portland's best spots to take photos.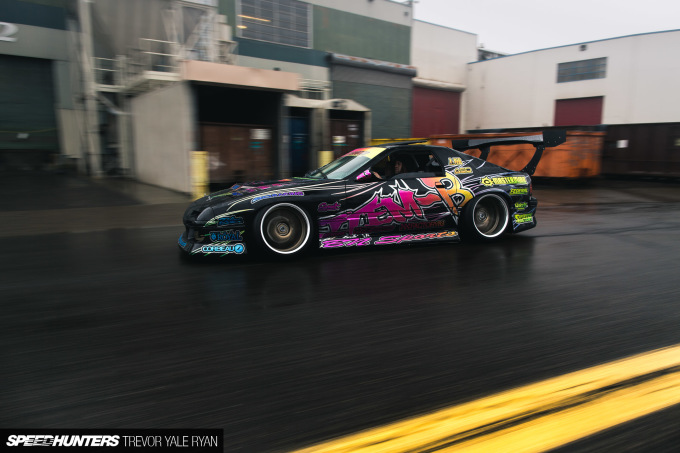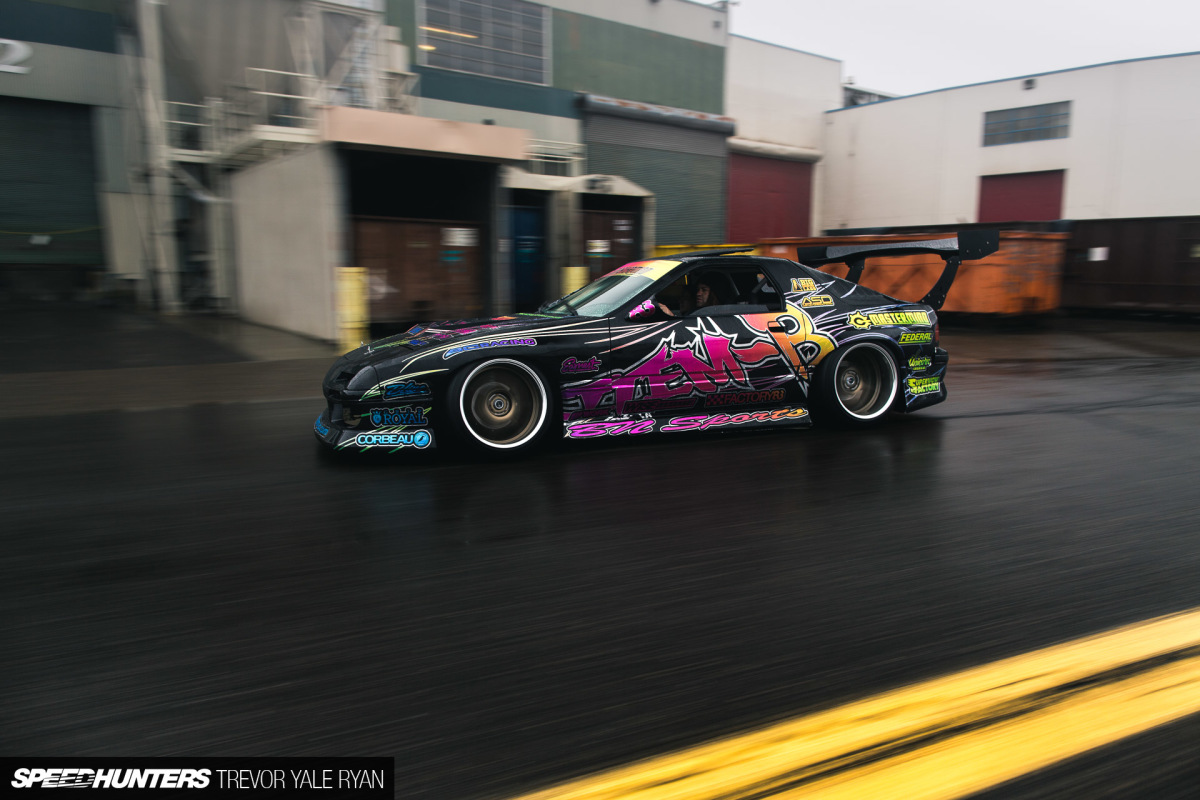 I know there are many more nooks and crannies to be found in and out of the city, but it was a lot of fun following the ITEM-B Mazda around for the afternoon.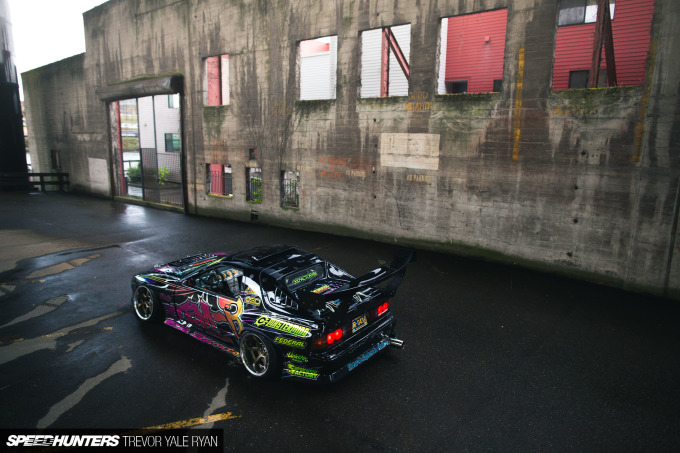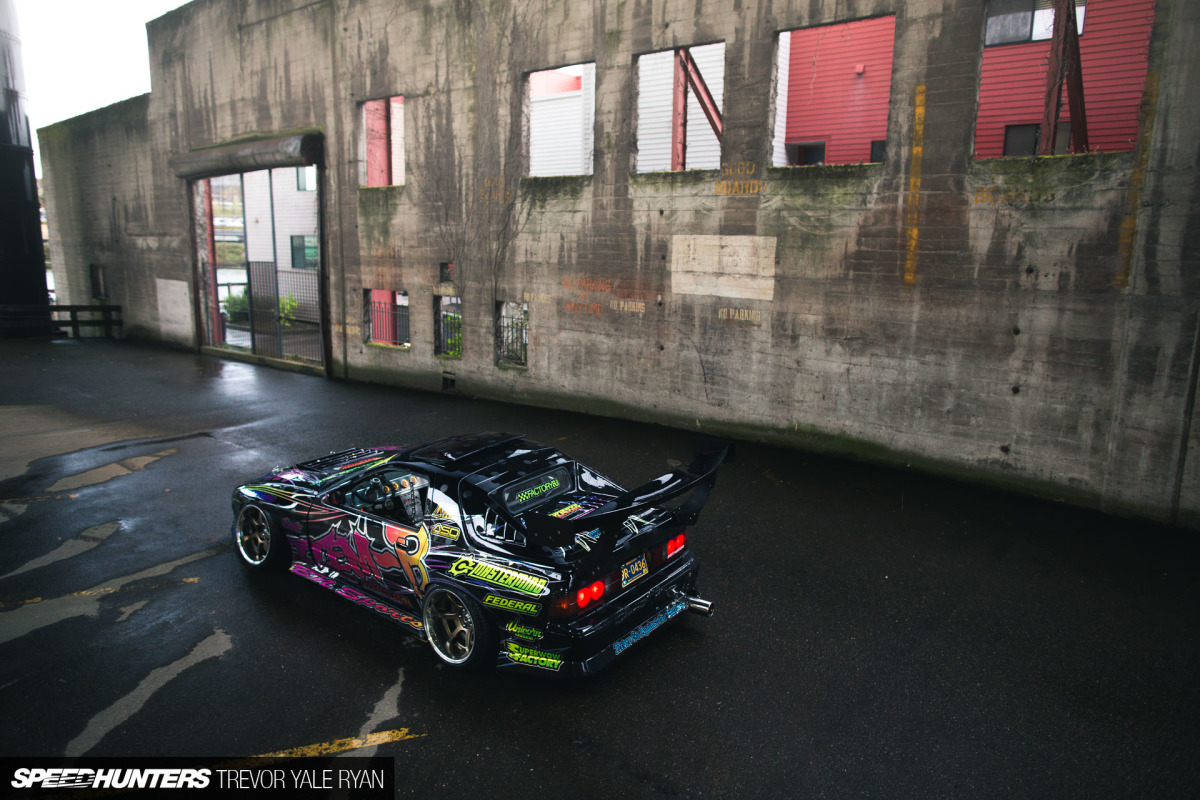 Evan took me to a lot of places I never would have thought of even if I knew they existed. As a photographer himself, it was really cool to see things through Evans eyes and capture them myself.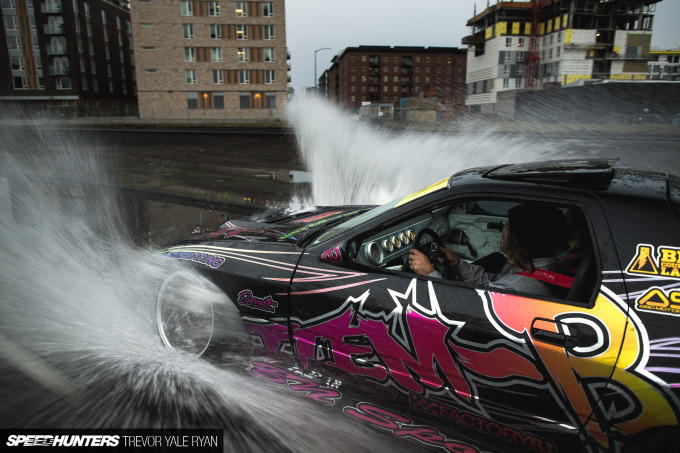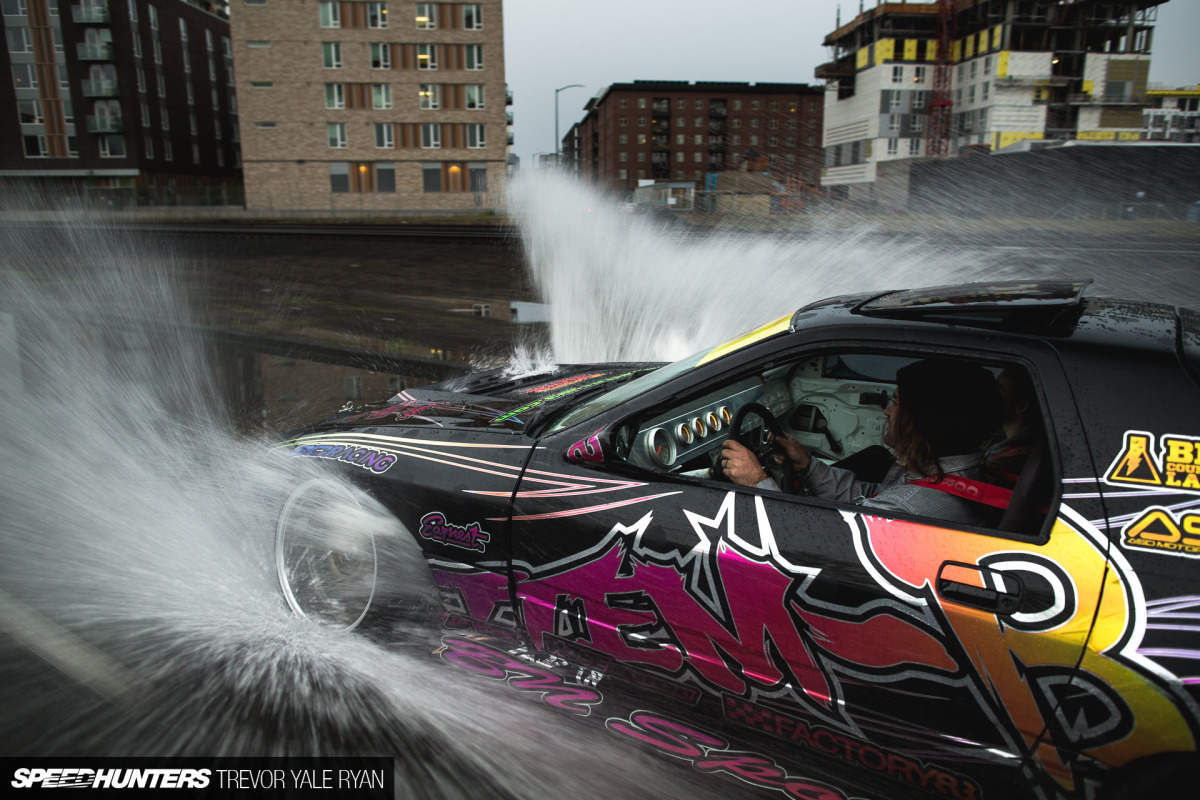 One highlight of our cruising around had to be this photo. A couple clicks back I have a shot of Evan pointing out the window as he yelled something. I think it was "puddle!"
I probably should have listened as my gear, and my entire self, got completely soaked; I had to change my shirt and luckily my camera was fine. But if I'd heard what he said and hid in the car, I wouldn't have gotten the shot of him plowing through the standing water.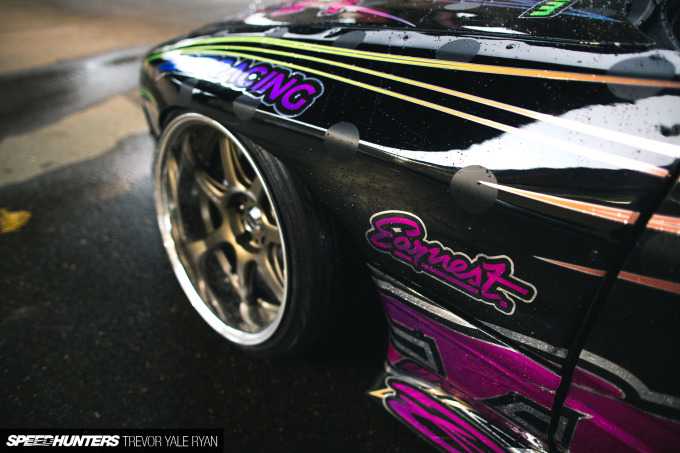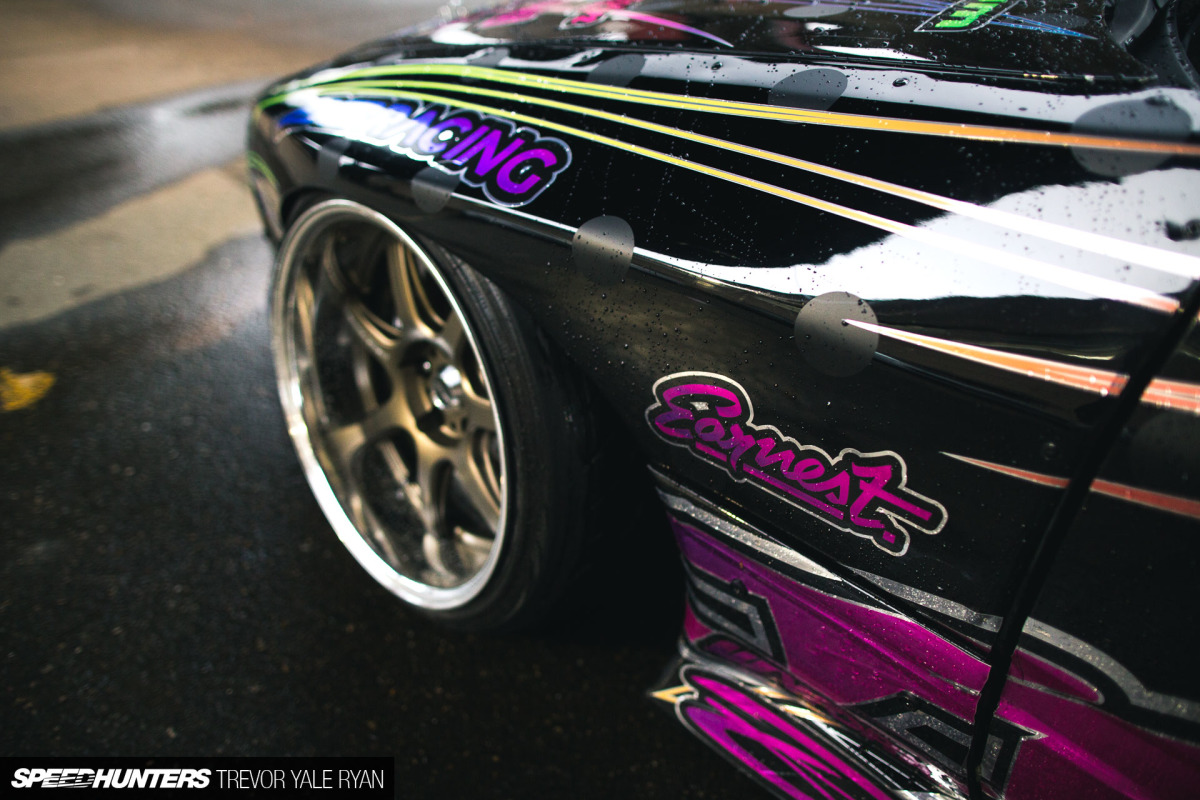 Such are the trade-offs, I suppose — Evan's clearly made some more significant sacrifices in building this RX-7. In fact, before he got into cars Evan had a completely different life, hitchhiking around the entire continental US after graduating from a private school and turning down university opportunities.
He wanted to travel without limitation, and says he didn't have a dime to his name or a care in the world. After a life changing accident that nearly resulted in an amputation, Evan started looking for other ways to fuel his passion for art and adrenaline. Now, drifting has becoming just that.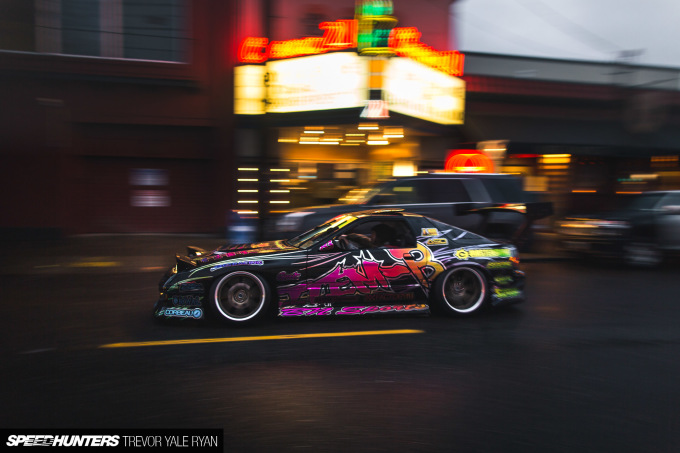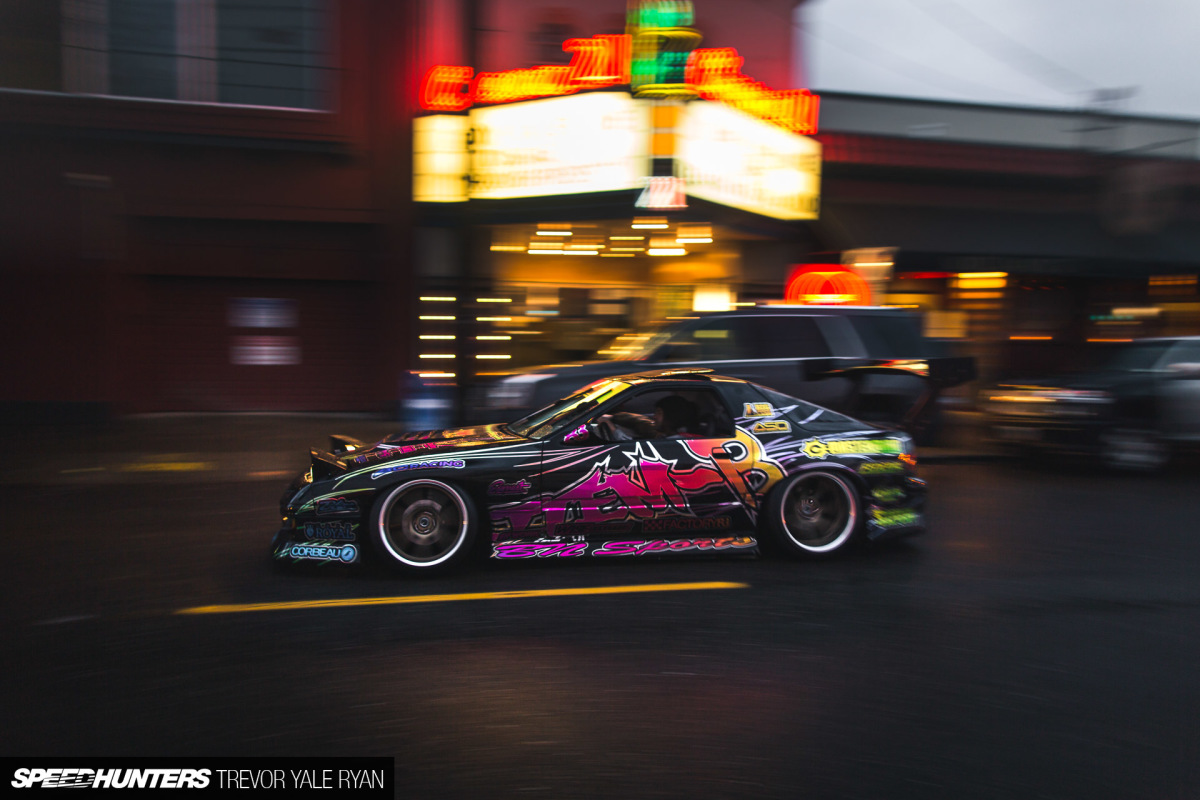 Evan tells me he went with the FC rather than an S-chassis because the Mazdas are "just a bit more unkempt to drive." While they don't have the aftermarket support of some other makes, a simple suspension setup is all you need in the lightweight, short-wheelbase car.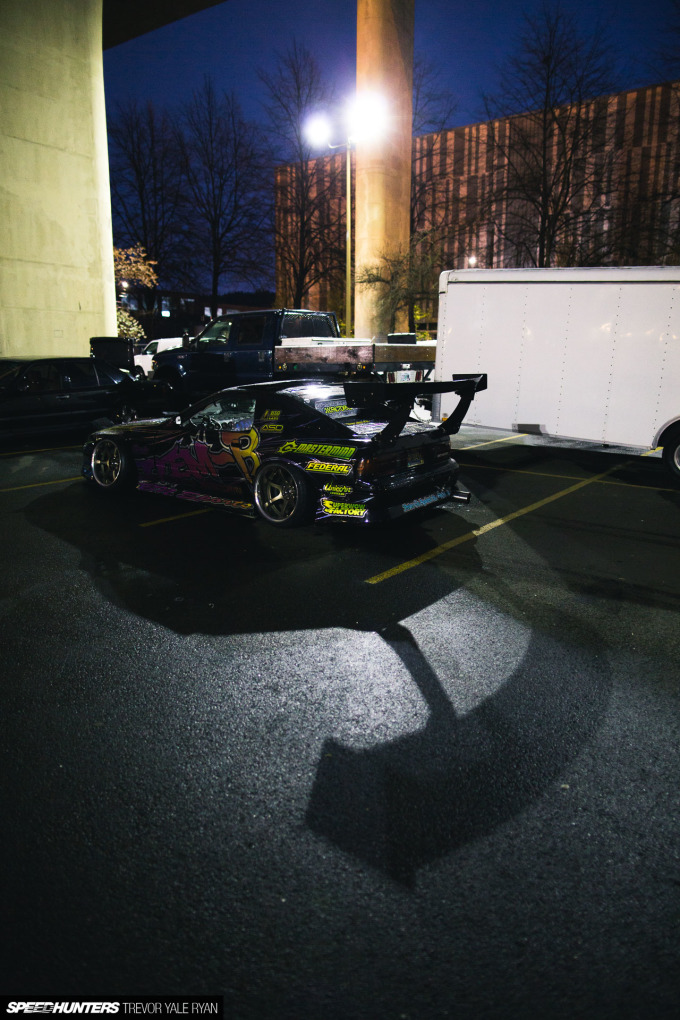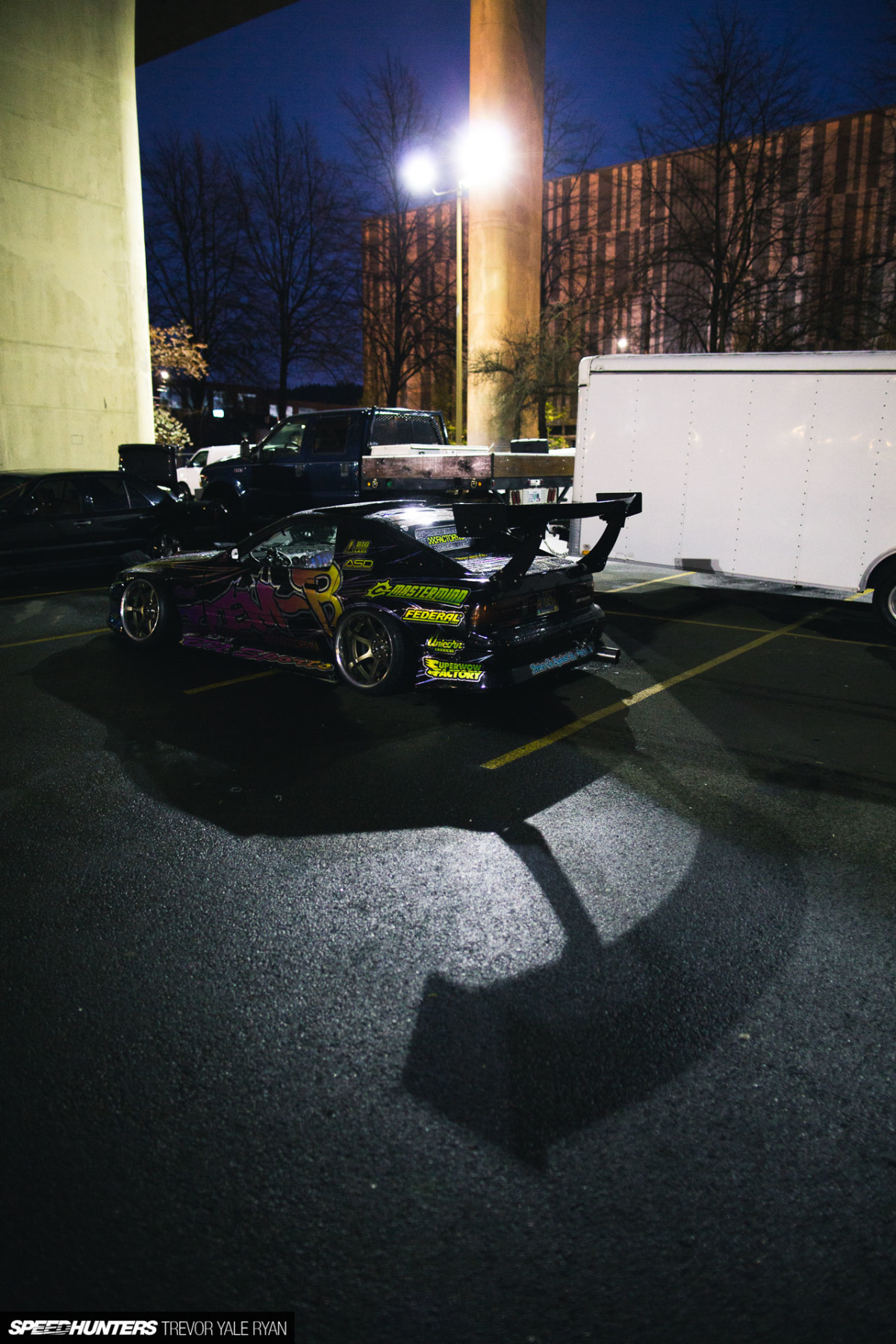 The FC3S in drift trim also looks appropriate with enormous wheels, while other Japanese cars of the same era would simply look ridiculous. I'd say the same about the big wing out back, made even more ominous in the car park where we packed it up for the night.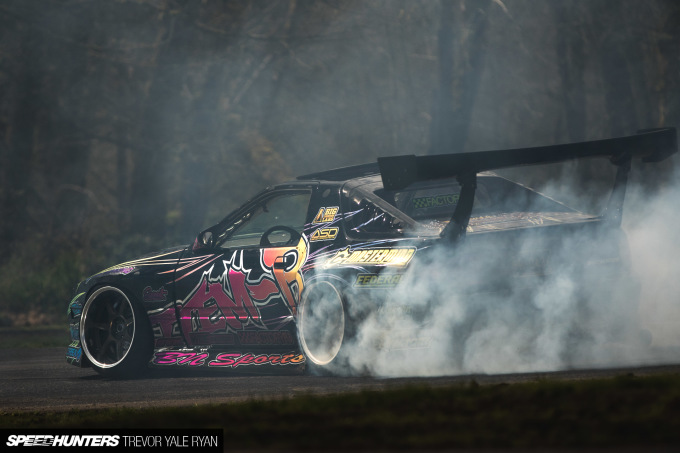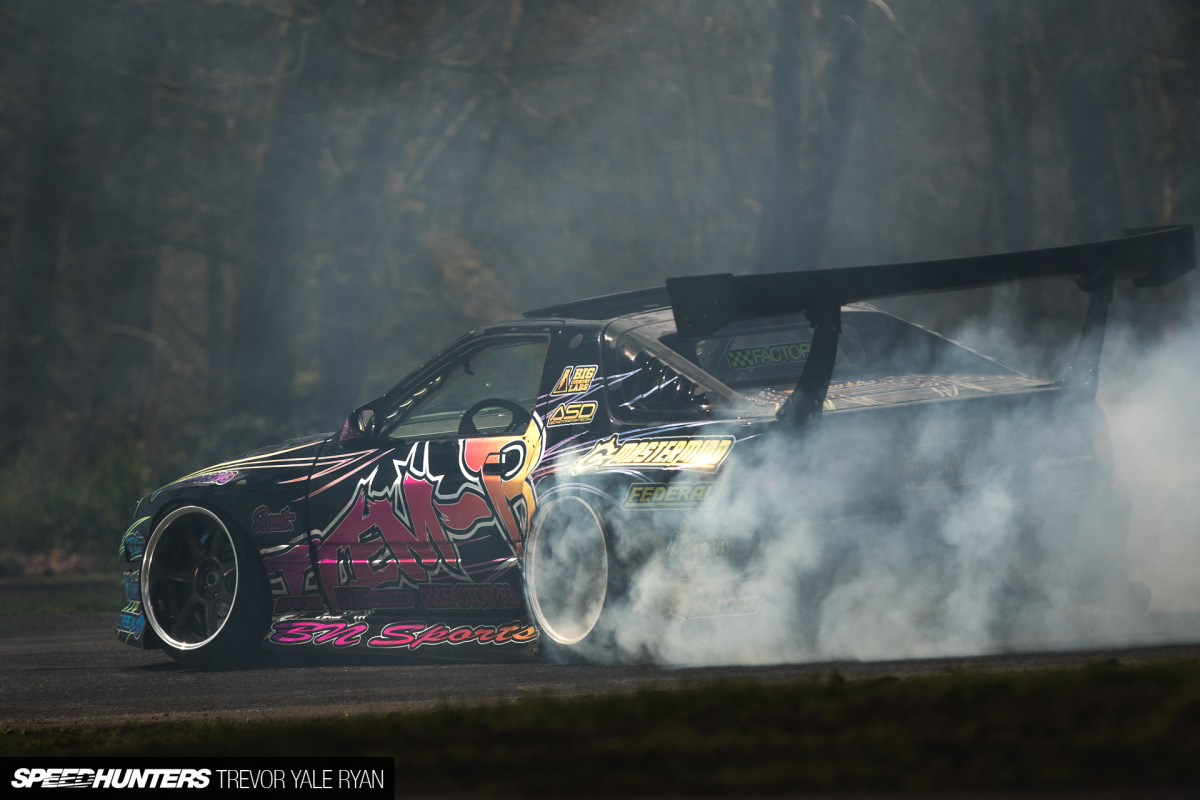 After the fact, I sent Evan a message asking him what his favorite thing about the car is. Rather than interpret his response myself, I'll just share exactly what he said.
"I love how well I know it. In a world of momentary interactions and single servings, it's become some crazy constant in my life and it's like a friend to me now. With the common trend in drifting of trading and selling your car and buying other people's project cars, I've had mine since the very beginning of the build and know its every feature and flaw."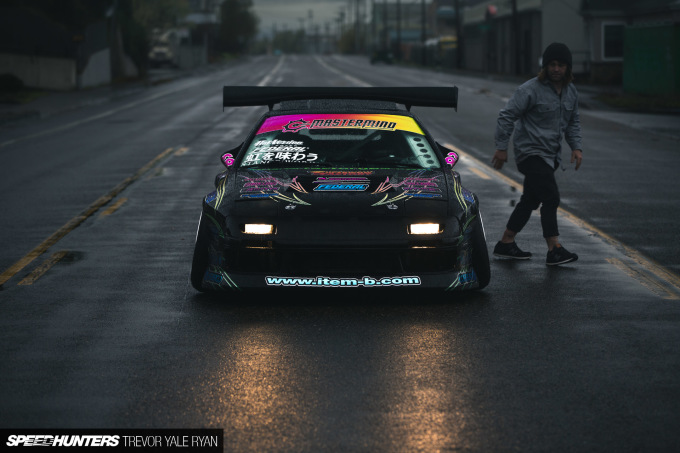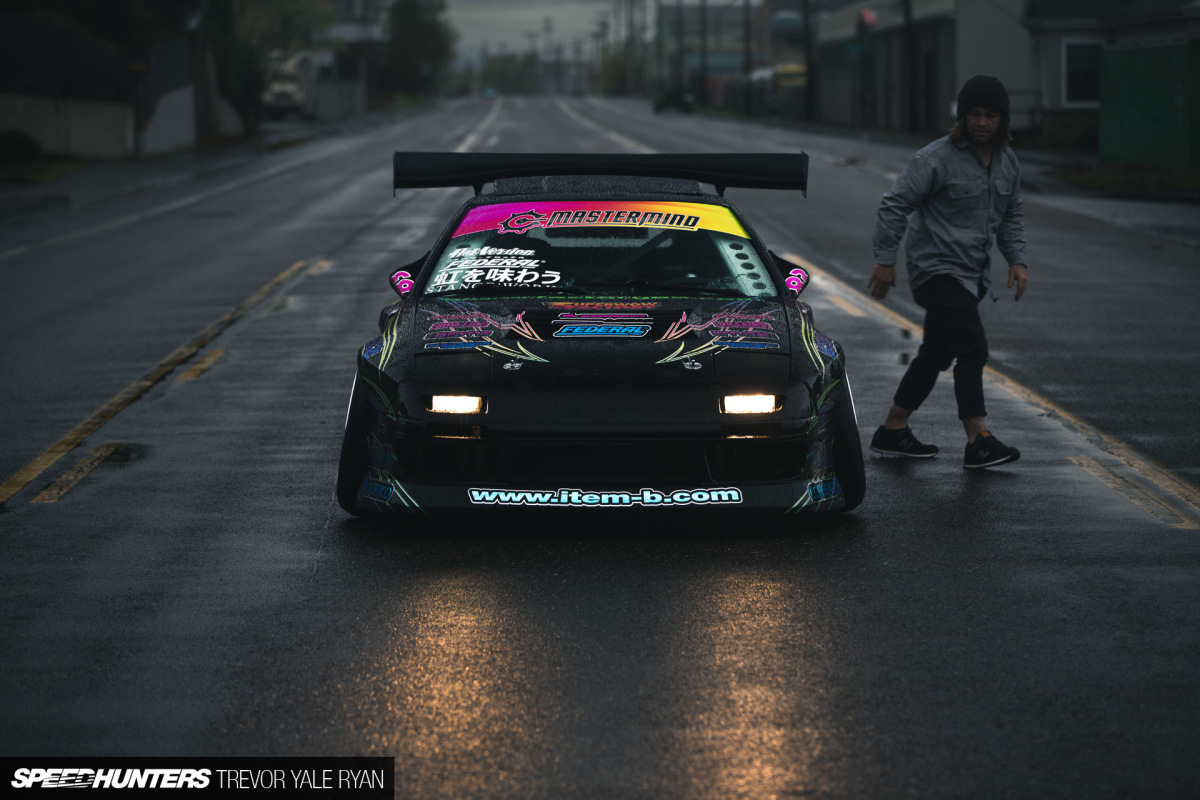 The ITEM-B RX-7 is so much more than a car to Evan. He's grown with the car over the years, and I'm positive this isn't the Mazda's final form.
See you next year for Version Four.
Trevor Yale Ryan
Instagram: tyrphoto
TYRphoto.com

Video by Mark Vasilyuk
Instagram: skuraweekly
Cutting Room Floor