Wet Start
What does drifting mean to you? Is it 1,000hp monsters sliding through a few corners at a racetrack? Or is drifting meant for the mountain passes in Japan, a nostalgic pastime that will never be the same?
I feel that drifting is a bit like certain racing series where everyone seems to insist that it was better before. There are so many people who say that drifting has been completely ruined by high horsepower builds, ruined by drift missiles, ruined by Americans, ruined by regulation, ruined by just about anything and everything. Everyone likes to think that drifting peaked the moment they first learned about it or did it for themselves.
And that's completely understandable, and likely why I've personally defined drifting as I have. To me, drifting is somewhere between commercialized competition and the legends of the touge: grassroots gatherings. The first proper drift event I went to consisted of 100 or so cars drifting all weekend at a go-kart track in Oregon; just a bunch of friends hanging out and having good fun. There's something very pure about that to me.
And this is why I couldn't have been more stoked to attend a private day at Pat's Acres Racing Complex in Canby, Oregon earlier this month. PARC is one of my absolute favorite places to shoot, and I'm hoping this year I'll be fortunate enough to make a couple more trips up north to the track. It's surrounded by trees and always seems to have good light and great drivers. With less than 20 of the PNW's best tearing up the course for the day, I knew it would be a good one.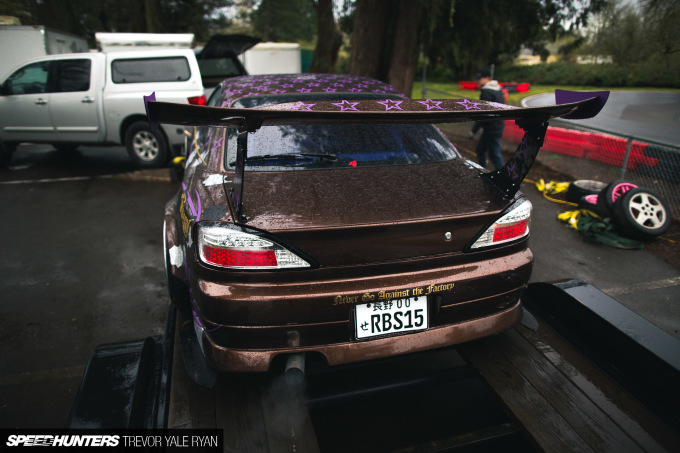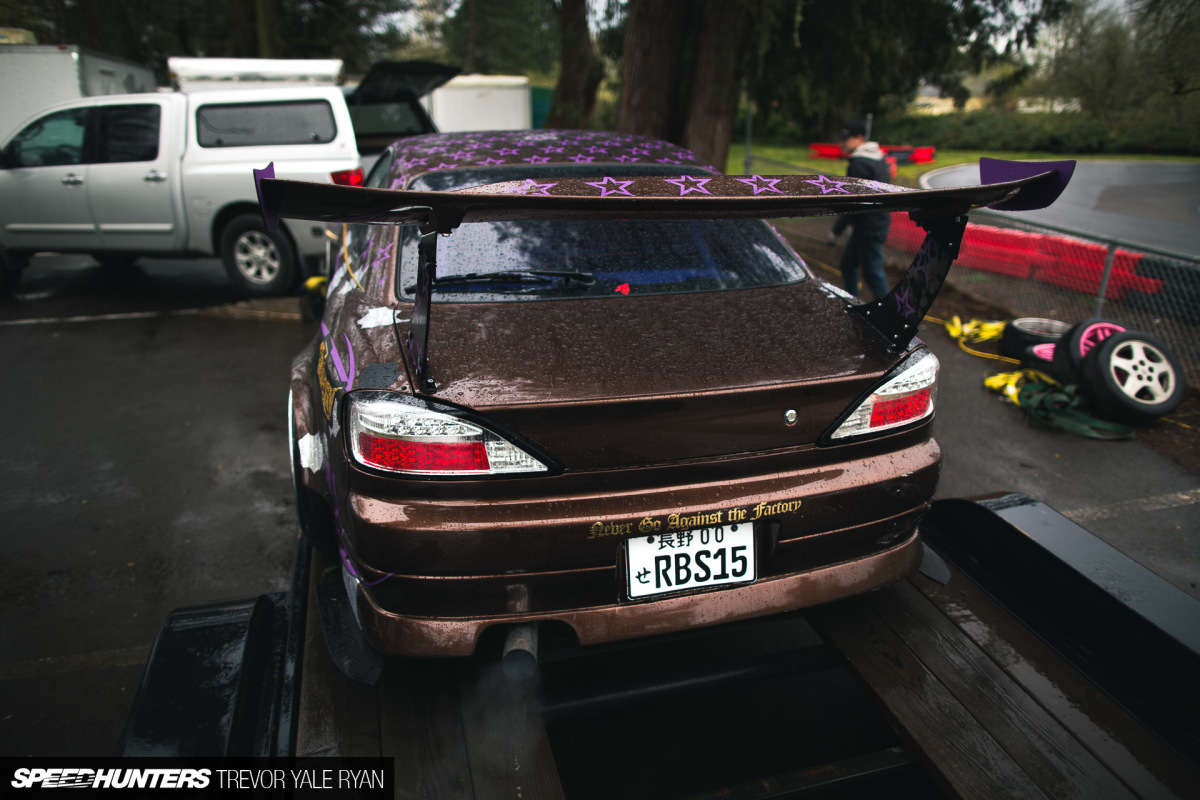 When I showed up to the track I was greeted by Brett Williams' wicked S15 getting unloaded with a fresh coat of rain still on the car. Unfortunately, half of the Villains team weren't able to make the day since they're actually building their own racetrack — Villains Sportsland — funded almost entirely by the local drift community. If that doesn't scream 'grassroots' I don't know what does.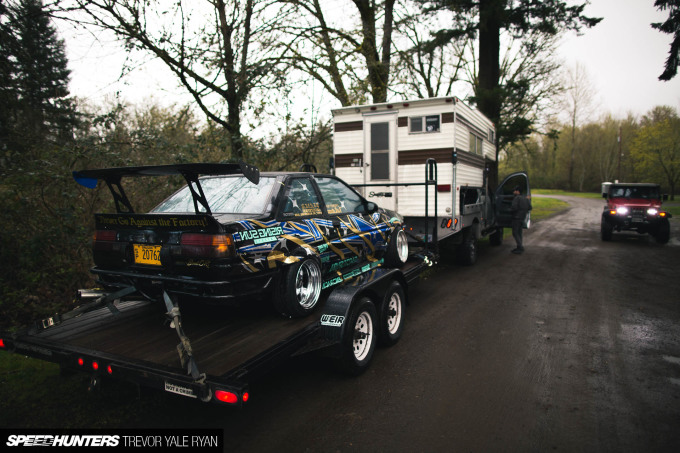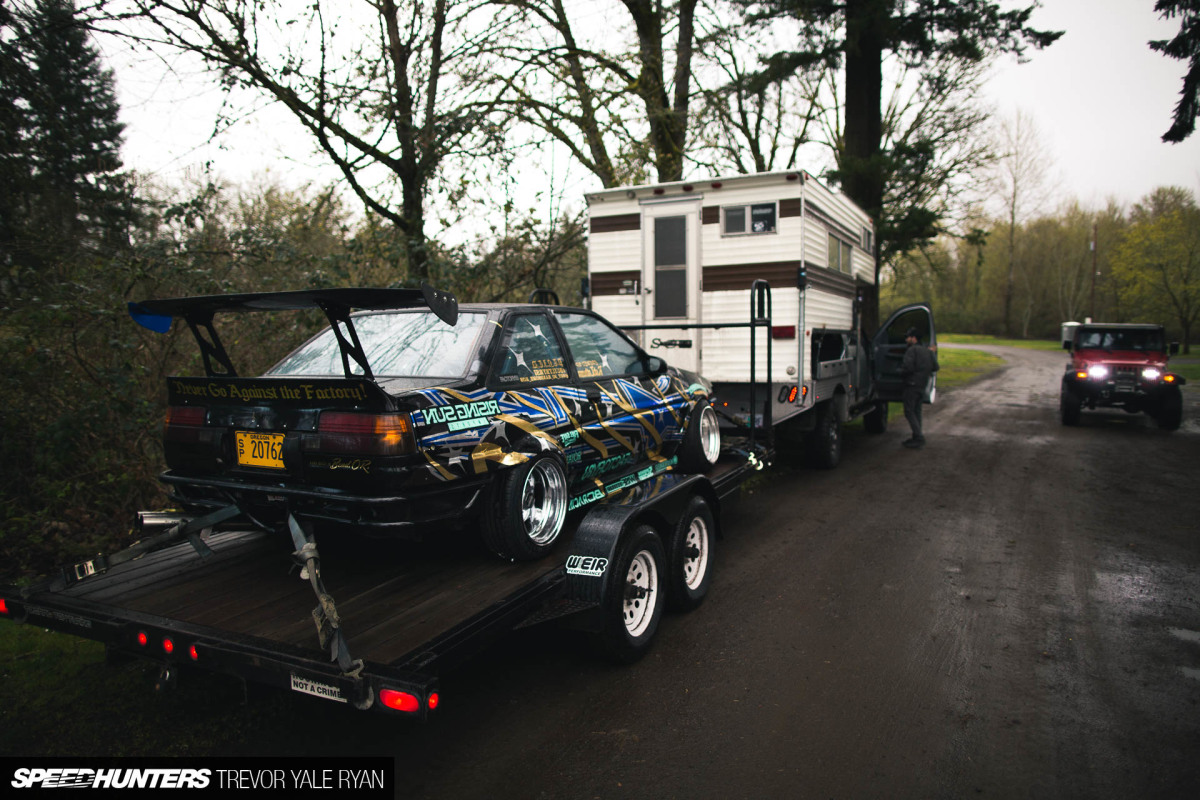 As the morning went on, more gents arrived, including Rob Latham with his SR20-powered AE86 notchback.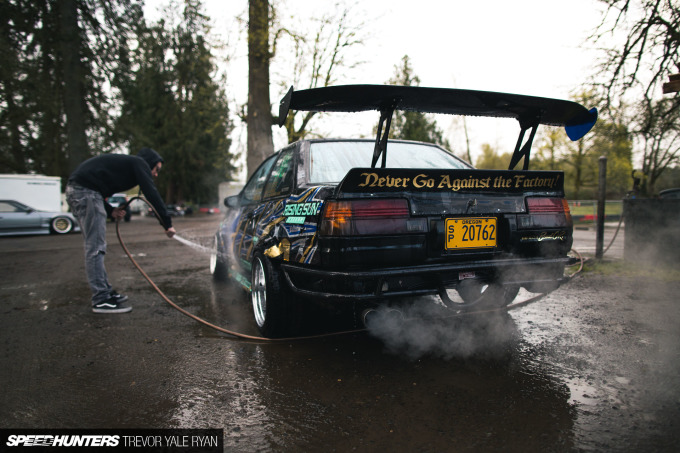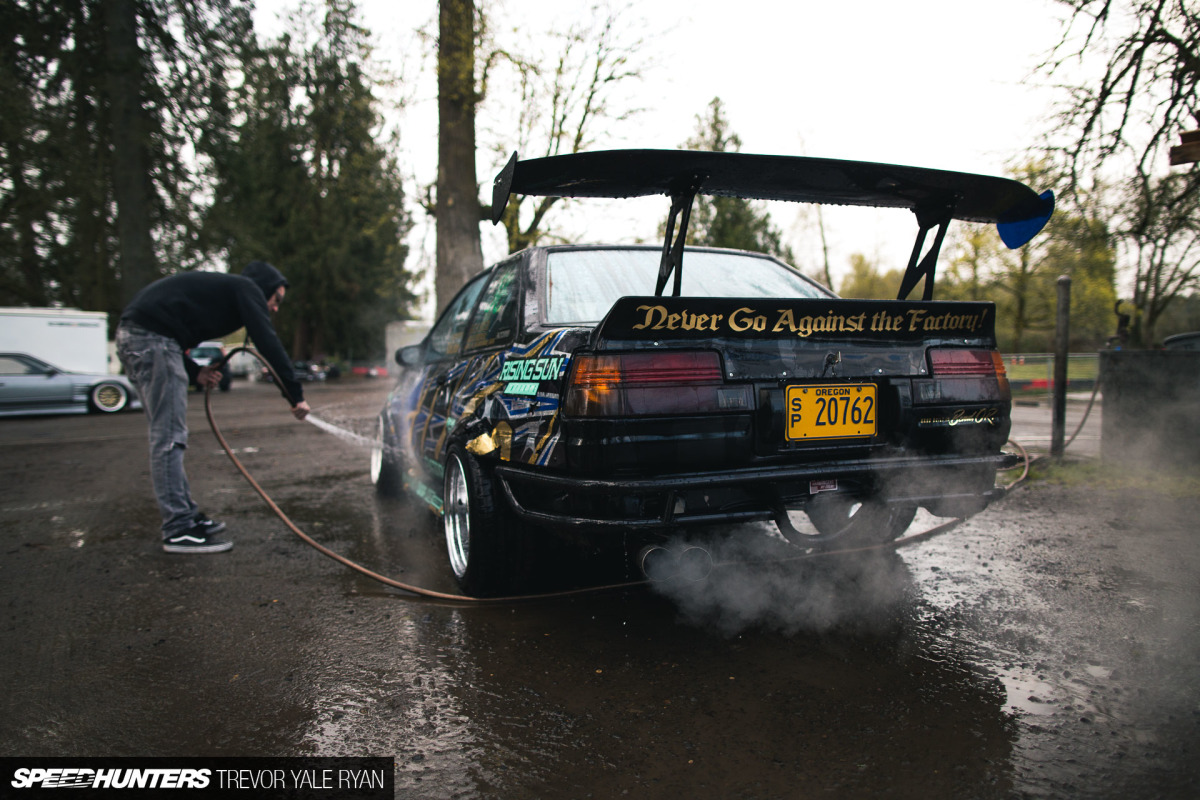 Making 279whp and 269ft-lb of torque (Rob laments that they weren't able to find just one more of either) with a fresh livery designed by Ian at Factory83, this 86 has been given a new lease on life. It's a wild build that can go as fast as it looks.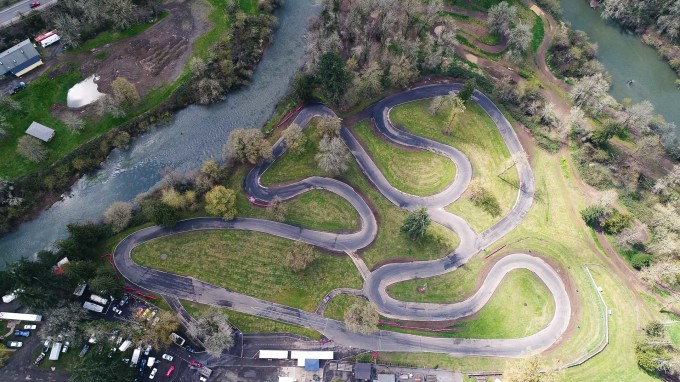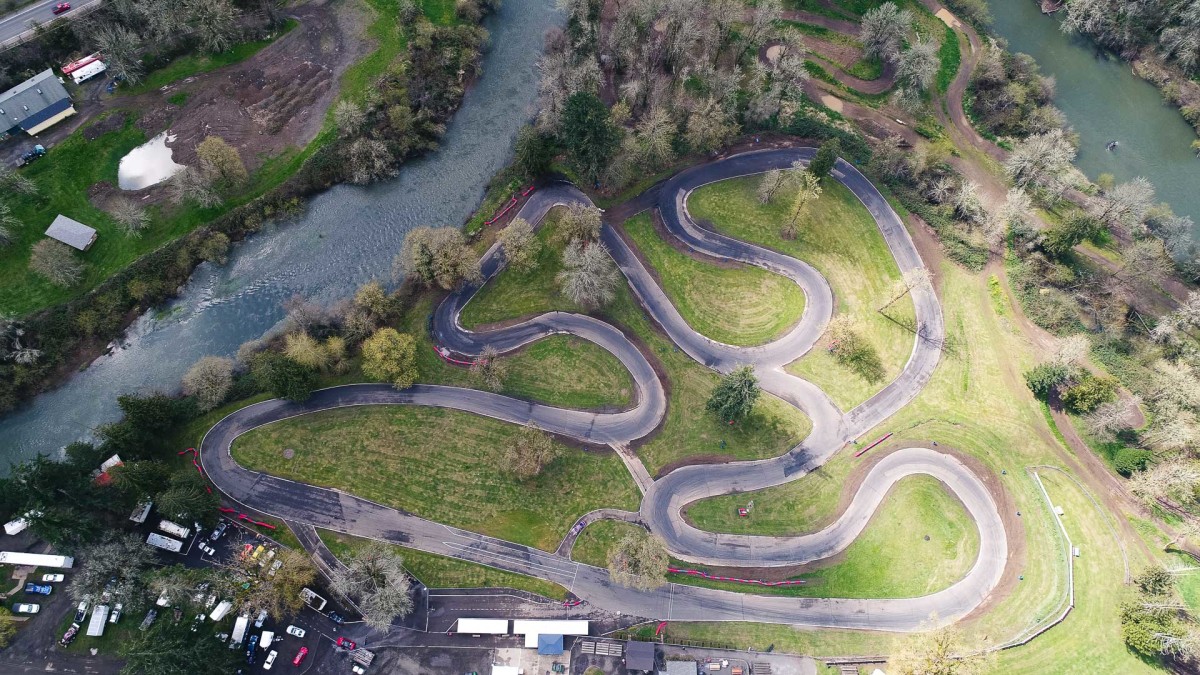 From the amazing layout (big ups to John Jimison who was out with his drone for the day) nestled between a kink in the river, to the basketball hoop in the pits and spent rubber planter boxes, PARC is a one-of-a-kind facility.
While best known through the decades for go-karting — the owner, Chris Egger, used to blast around the course as a kid with his buddies — drifting has become a staple at the course.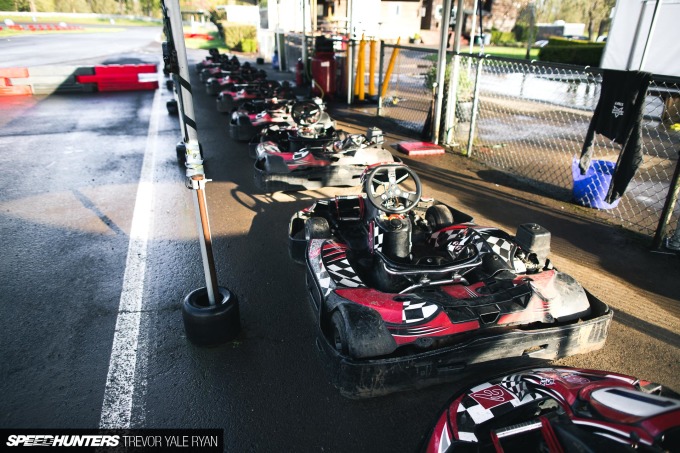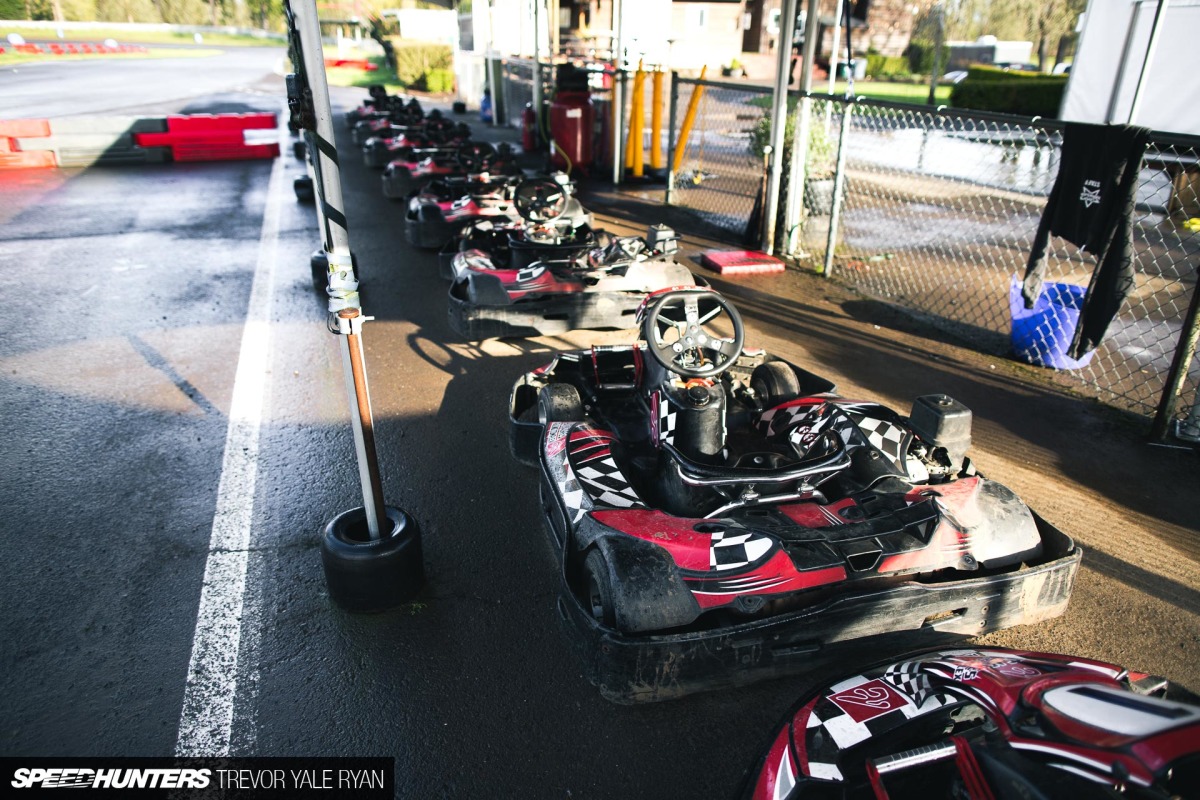 I'll admit I've never been too keen on go-karts, but on a proper mini road course like this they look quite enticing.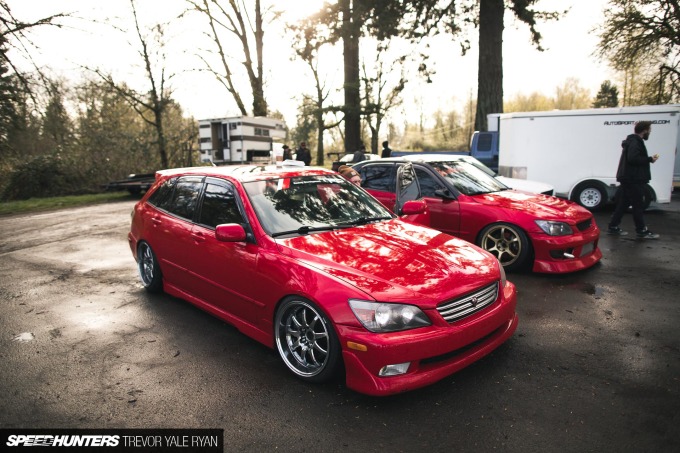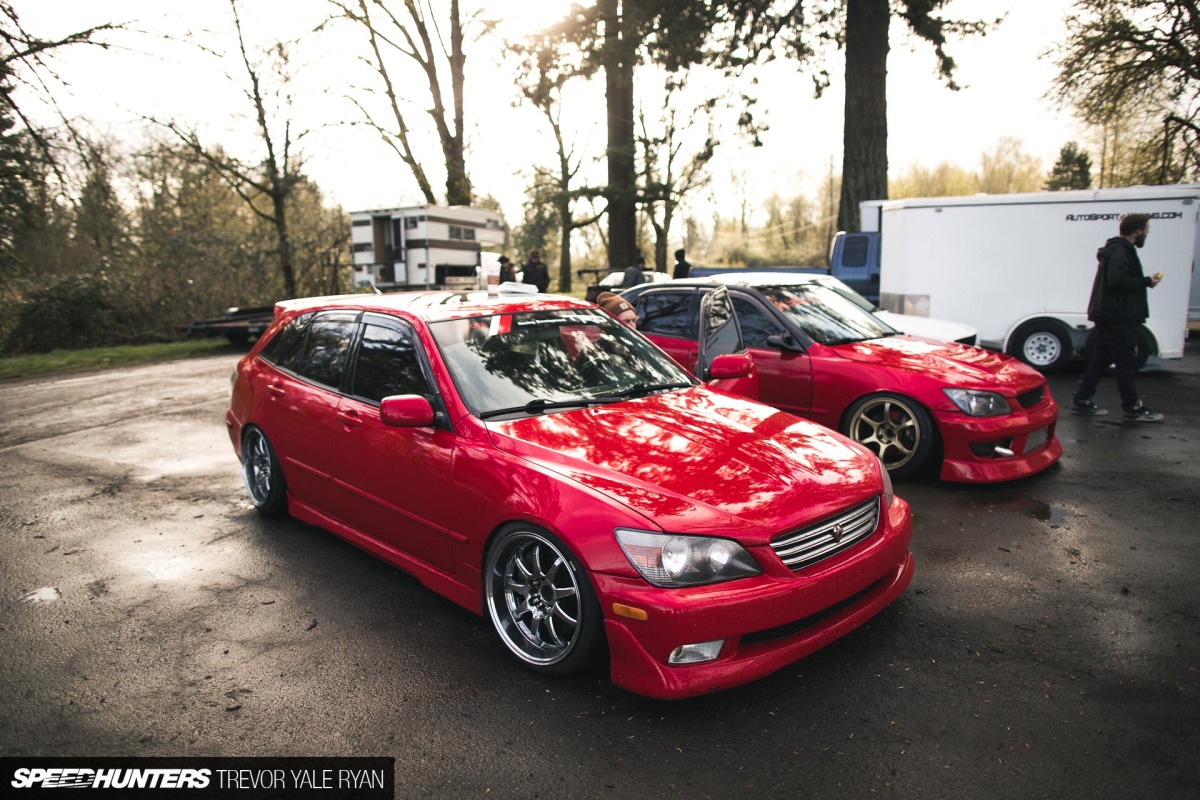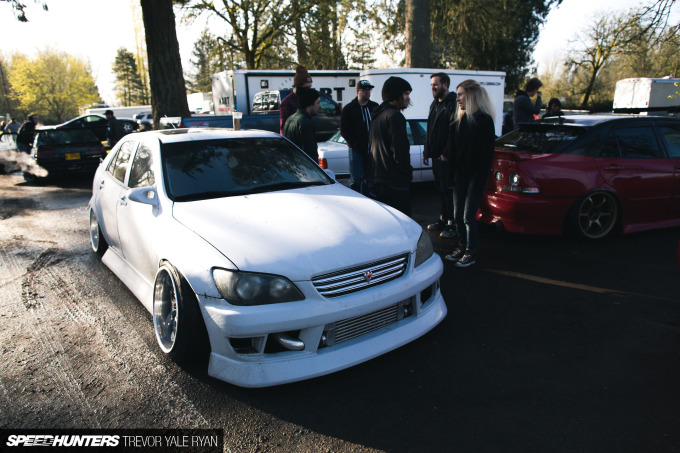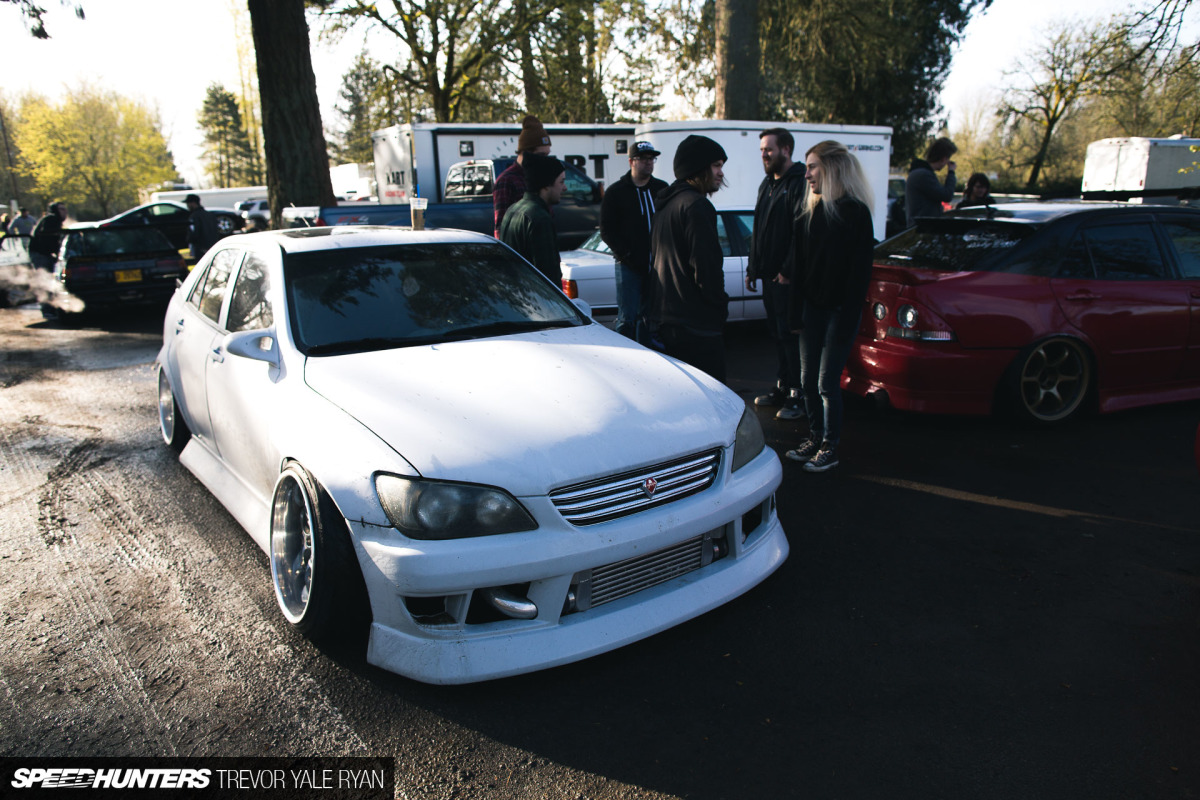 But I digress, this is about drifting after all. AJ Gillett from Risky Devil showed up with his daily driver wagon and drift-prepped Lexus IS300, and Danner Spellman came shortly later with his own.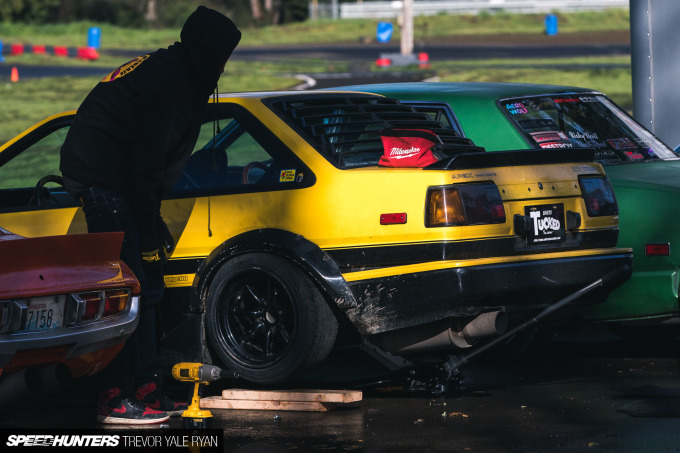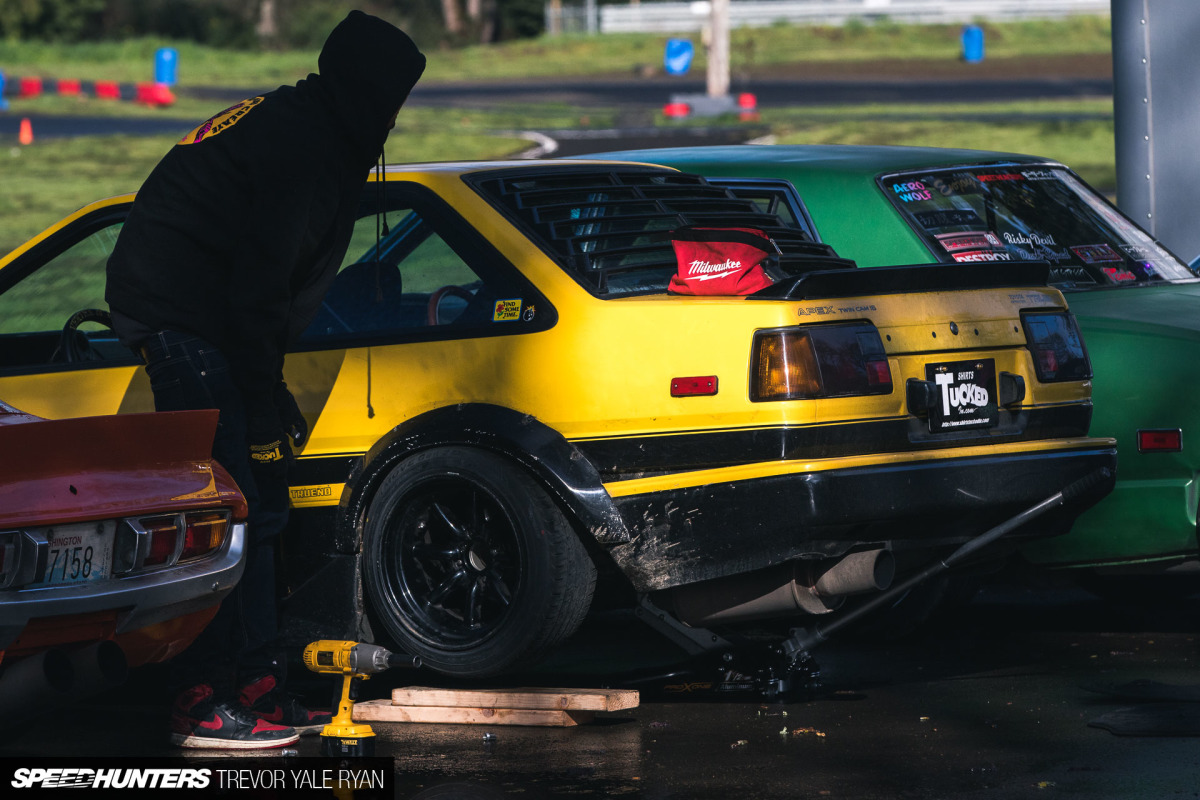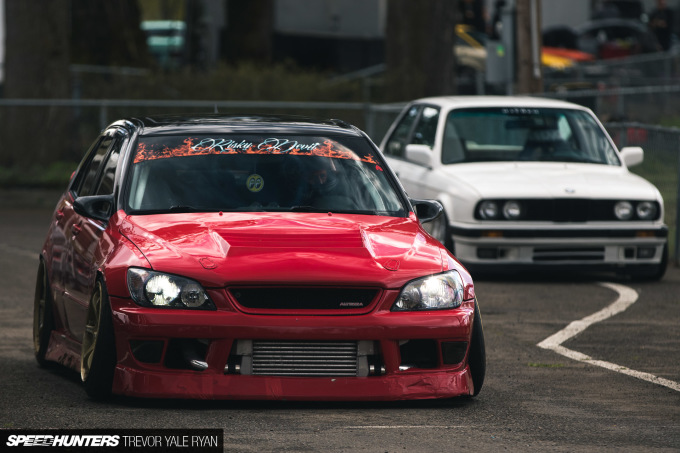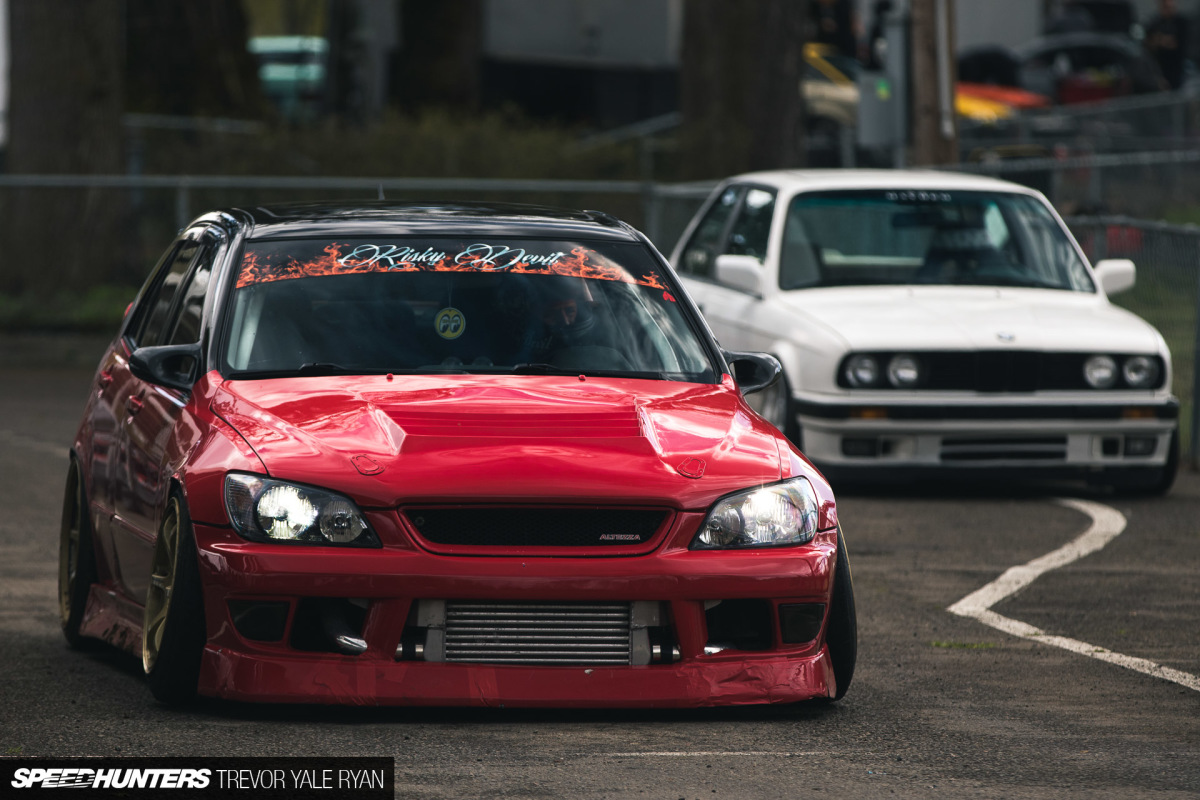 With cars prepped and ready to roll, the drivers weren't entirely eager to hit the soaked course. It's a bit of a catch-22 as the best way to dry it out is to drive on it, but the early laps are certainly the least fun. The course was greasy and patchy early on in the day with lots of spin-outs despite the drivers easing into things.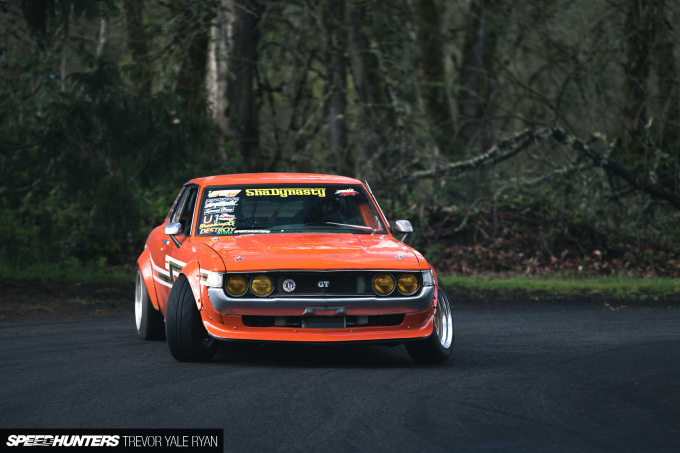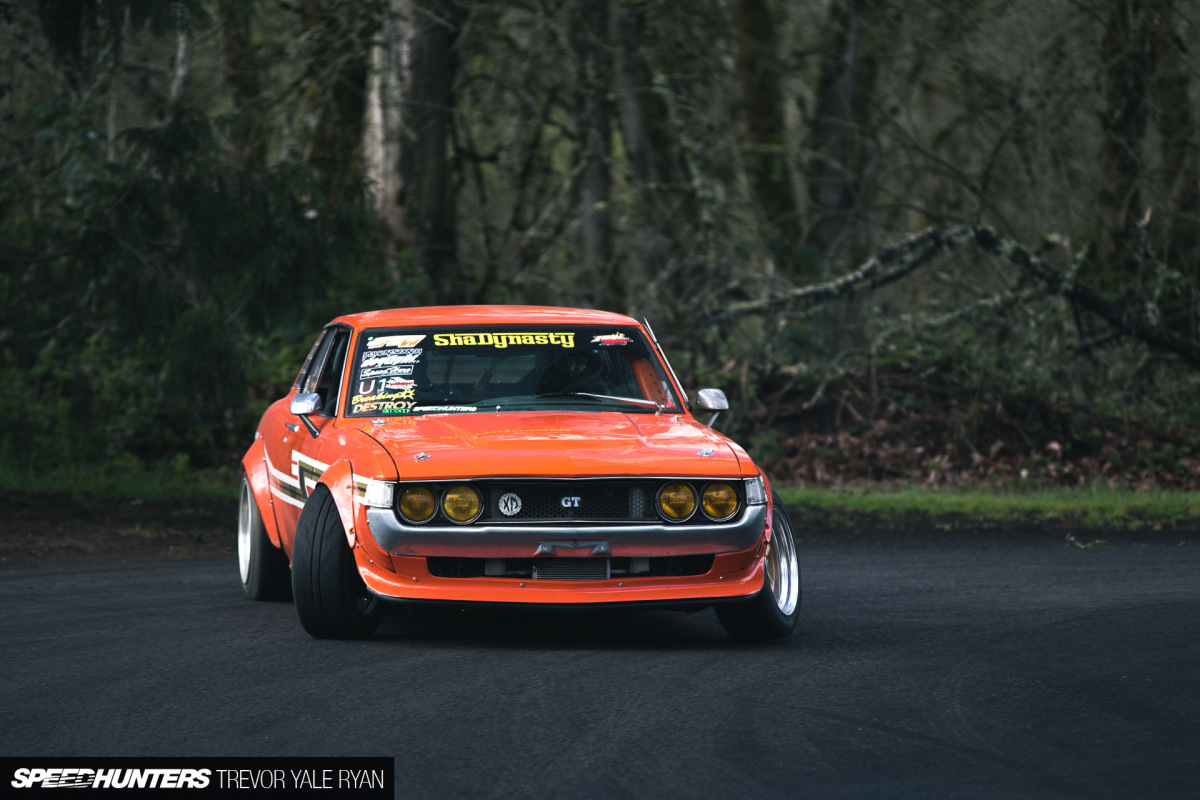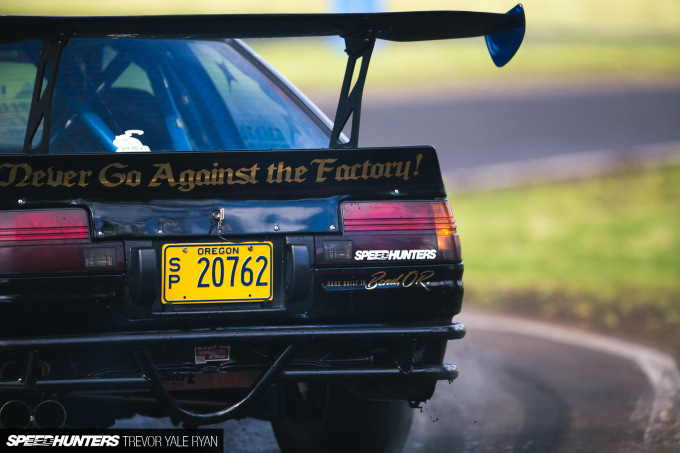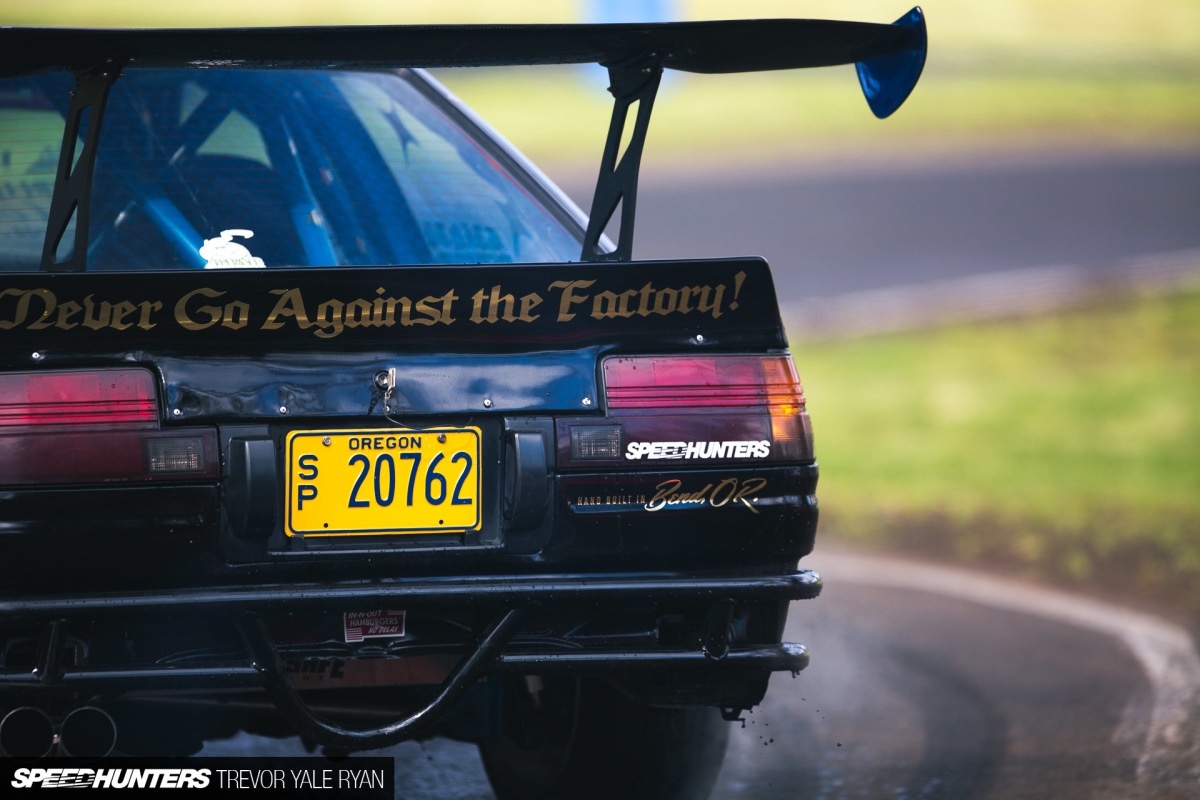 Drifting Intensifies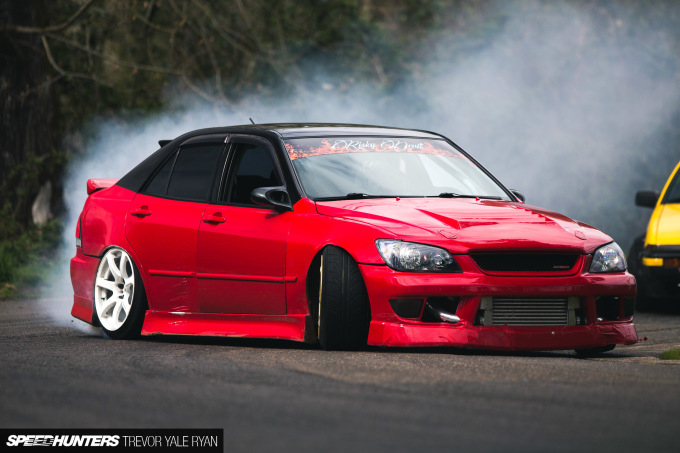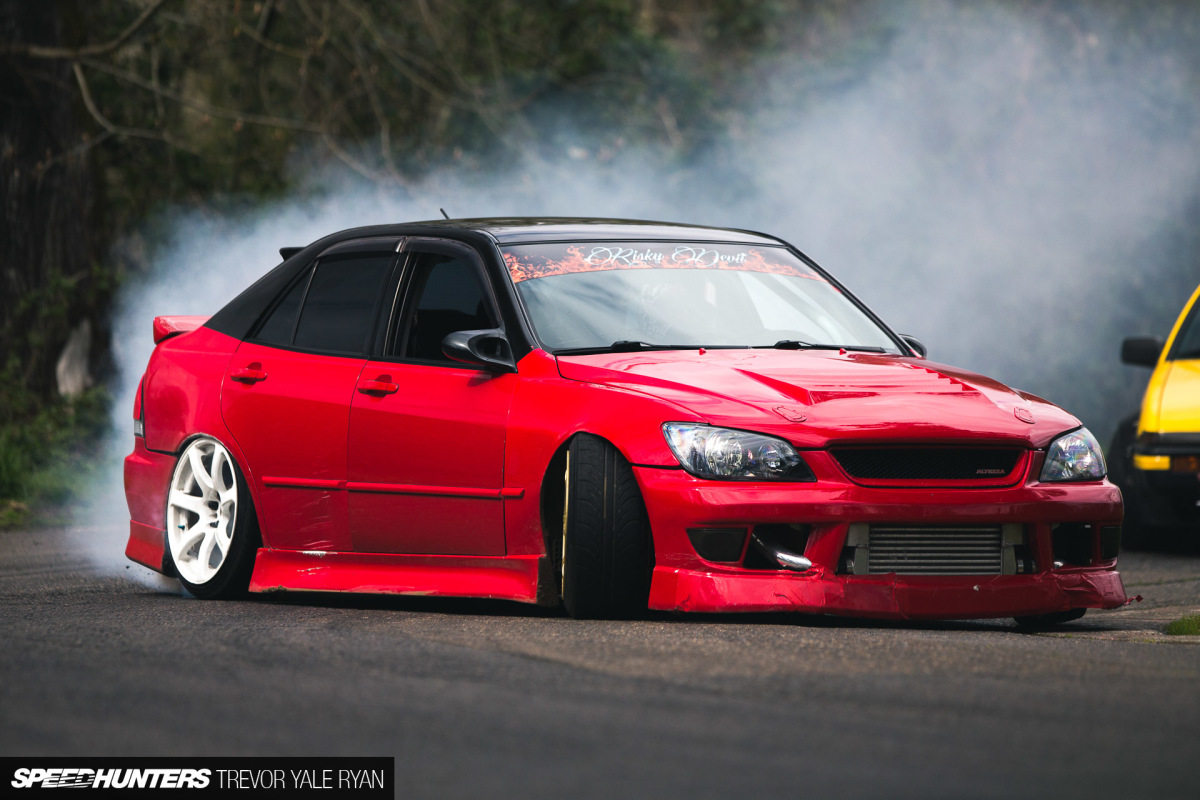 Drifting without tire smoke just isn't quite complete; once the course dried up, things got a bit more wild.
If the photos aren't enough to prove it, our friend Mark Vasilyuk put together a video to show just how wild things were. Now, imagine 10 times the number of cars and you have a typical day of open drifting at PARC.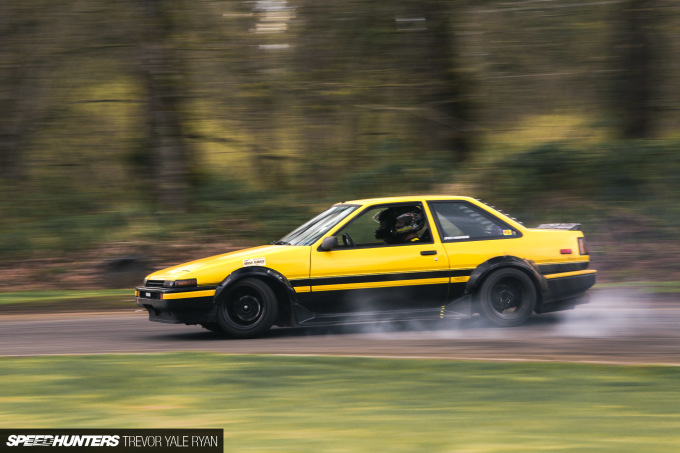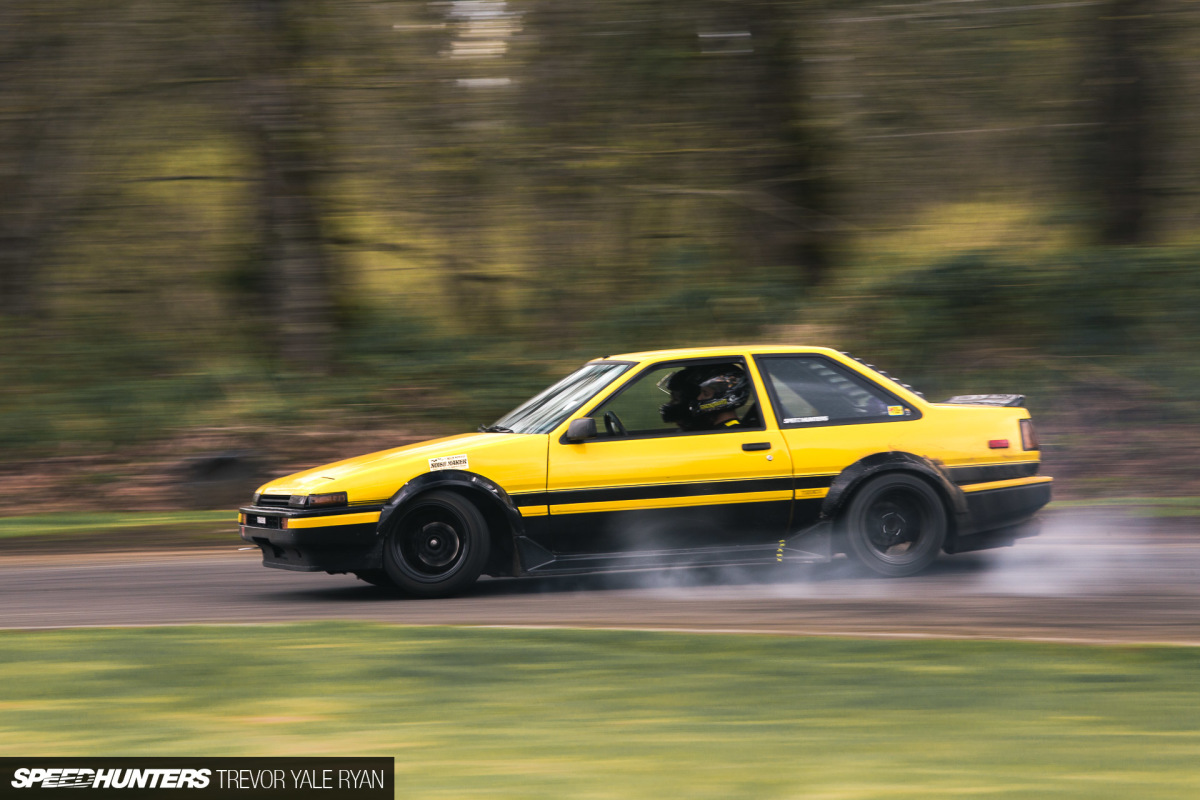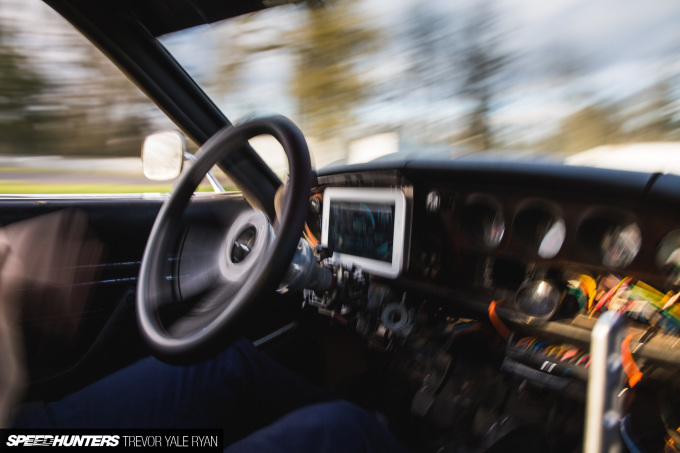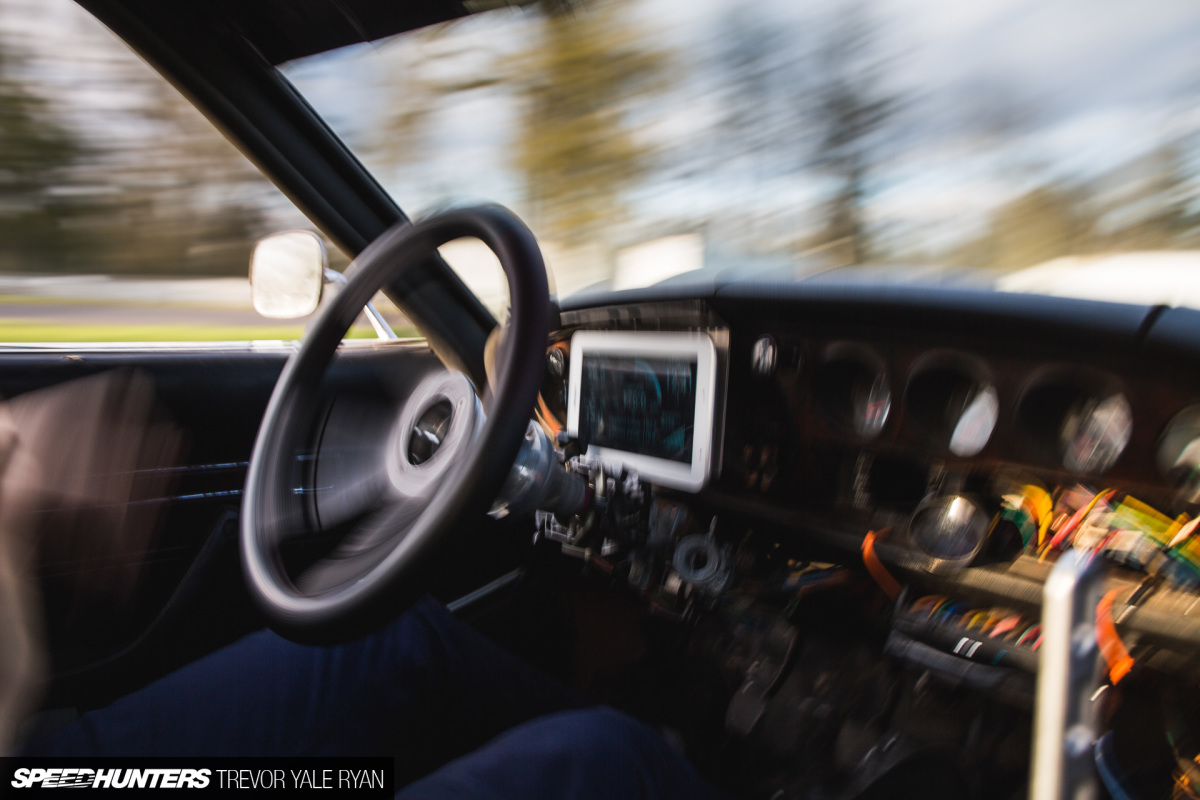 Being taken for a few laps in Matt Panic's RA21 Celica was definitely a highlight of the day; the ride was proof that you don't need a ton of power to have fun on the free flowing course.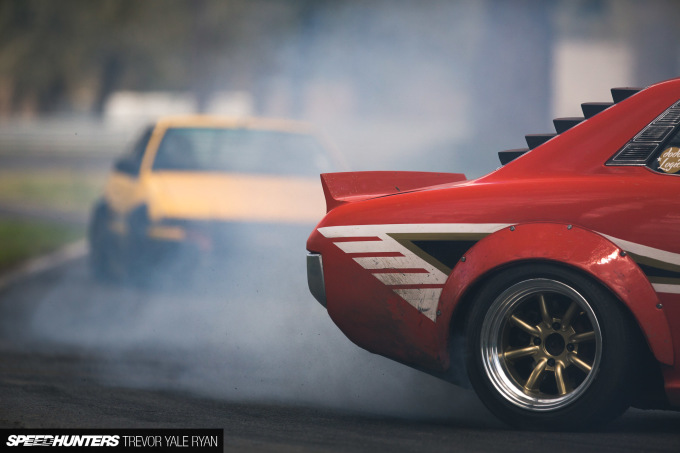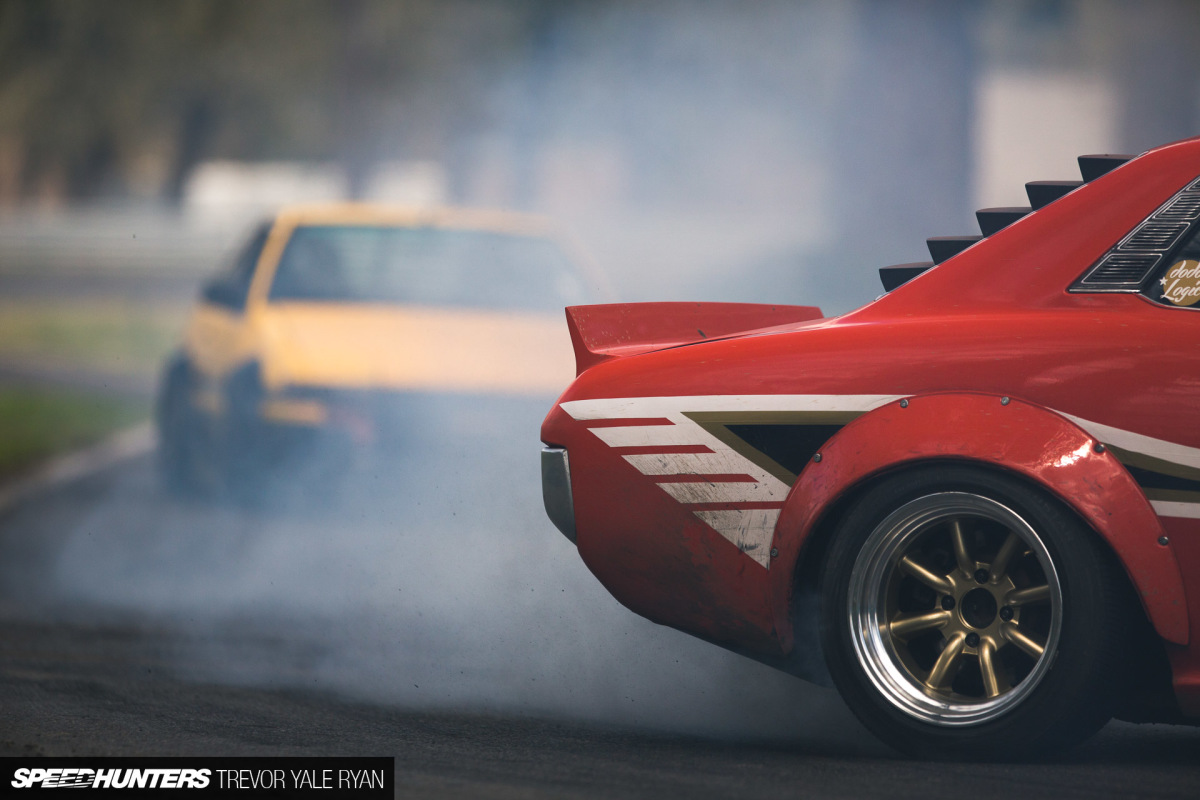 On that note, you'll notice the ShaDynasty boys, as well as the insane ITEM-B FC3S are mysteriously absent from this story. They deserve a closer look and I promise I'll be giving you one.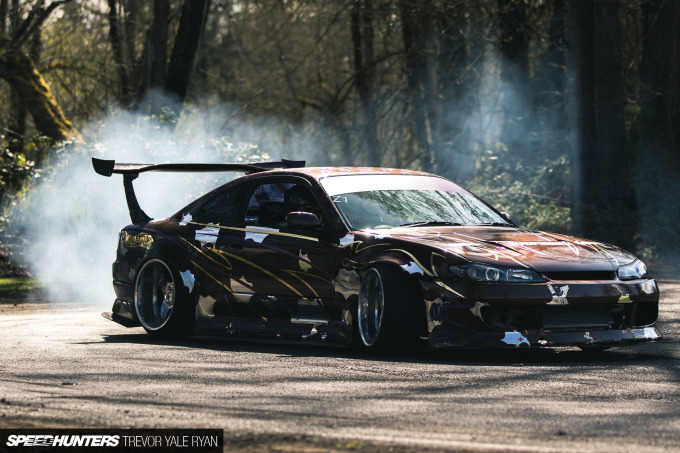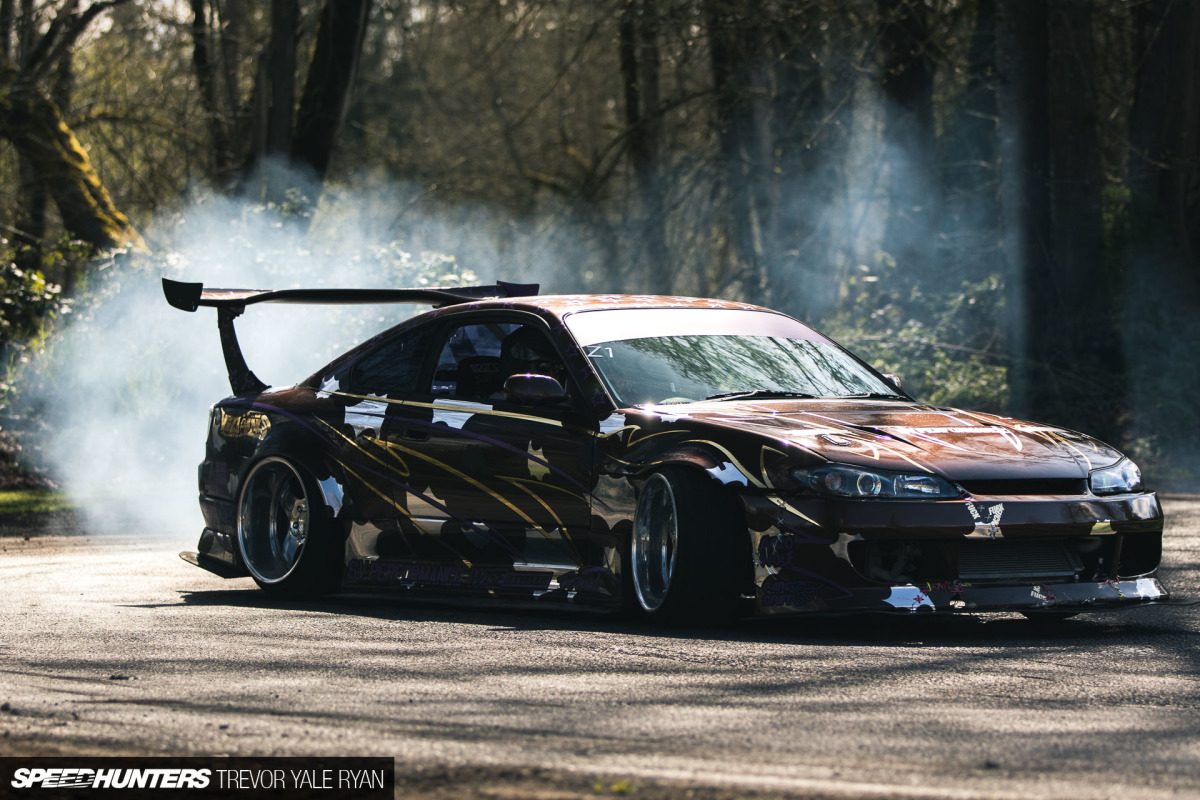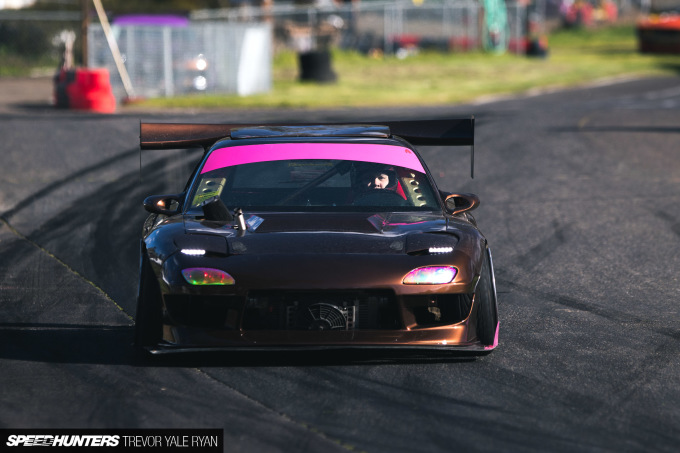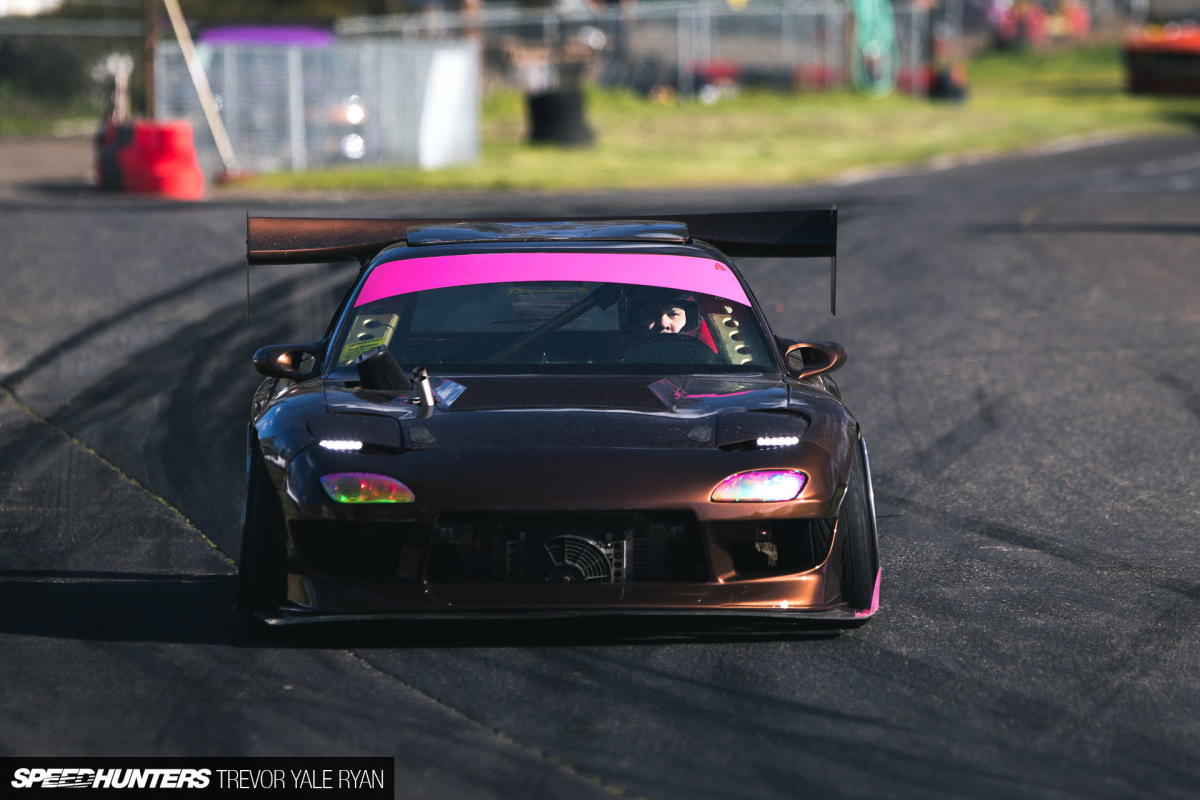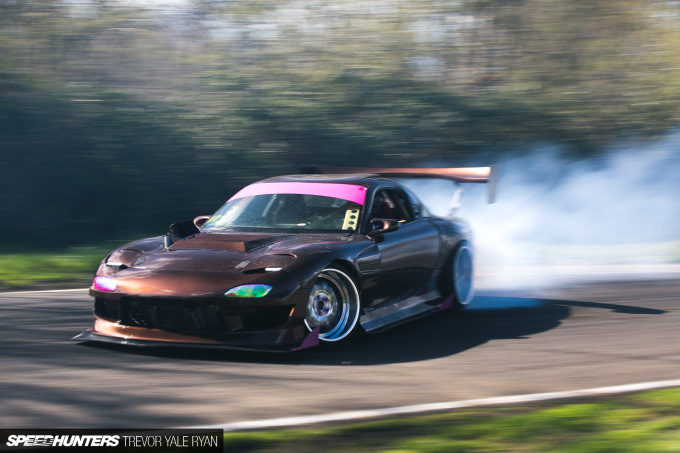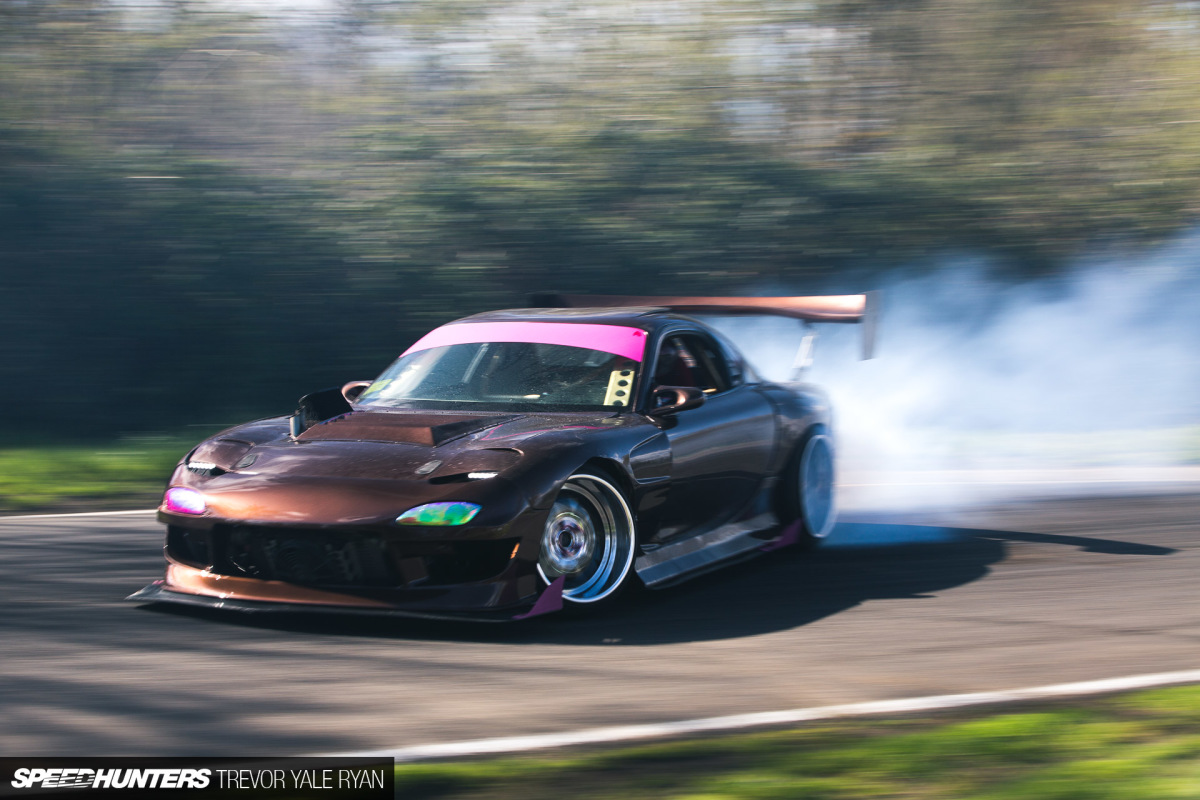 The Villains Drift team is very much in the same boat, but I'll have to take a special trip up to Villains Sportsland another time to get all the boys together.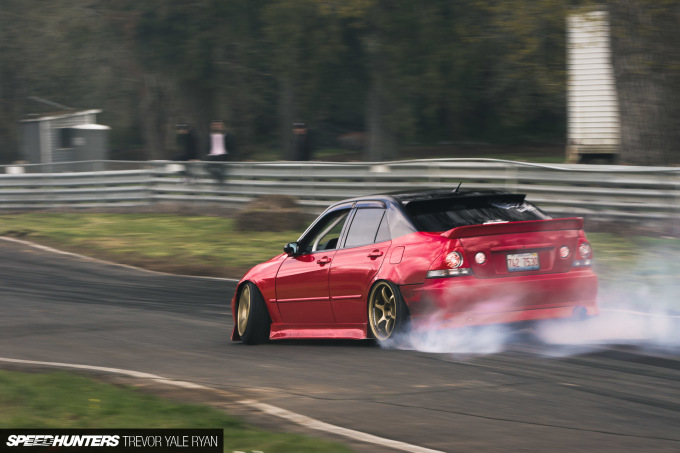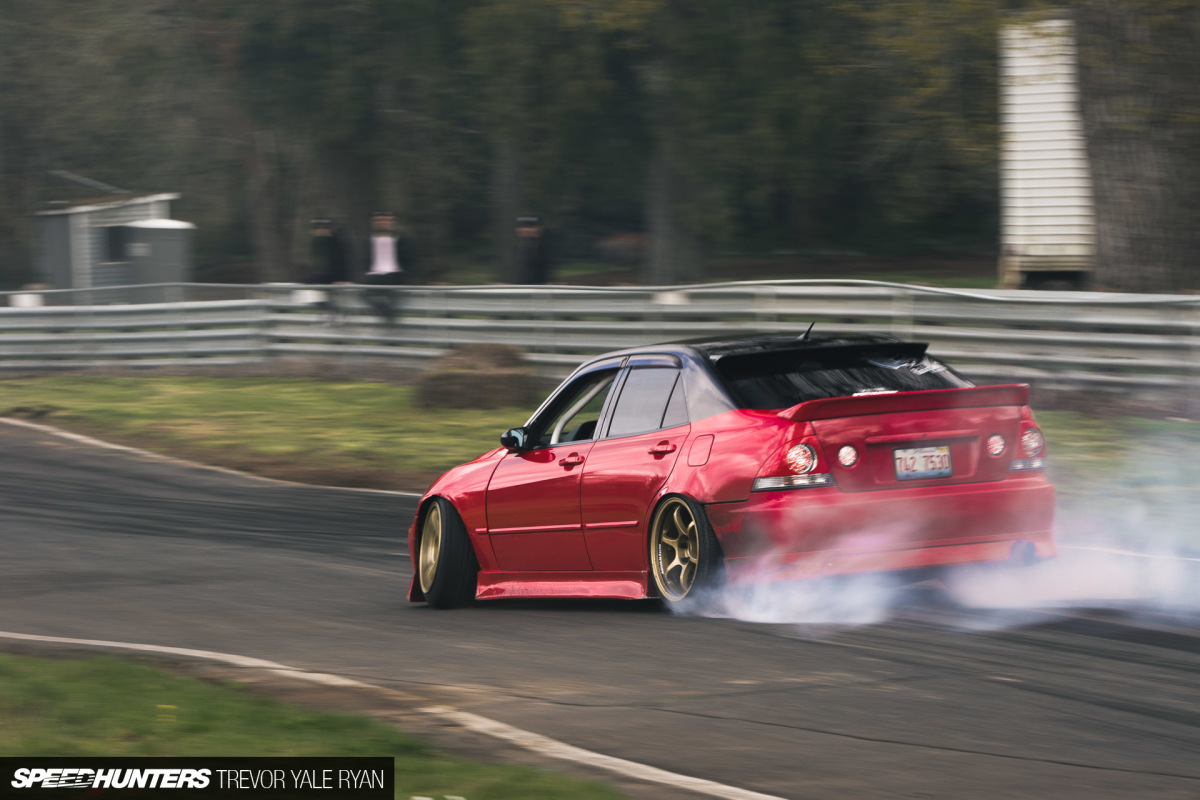 Meanwhile, right here at PARC drivers were all making their own interpretations of the first corner. Depending on how much power you have and how big your balls are the initiation point moves farther and farther back down the straight.
With the track more or less to himself, Marcus Lyons spent the better part of an hour hitting reverse entries. Over and over.
He didn't get it right every time, but was getting closer and closer to a clean run through turn one.
Finally, he stuck it. Perfect initiation, ridiculous angle, and a flawless follow through. Absolute satisfaction, I'm sure.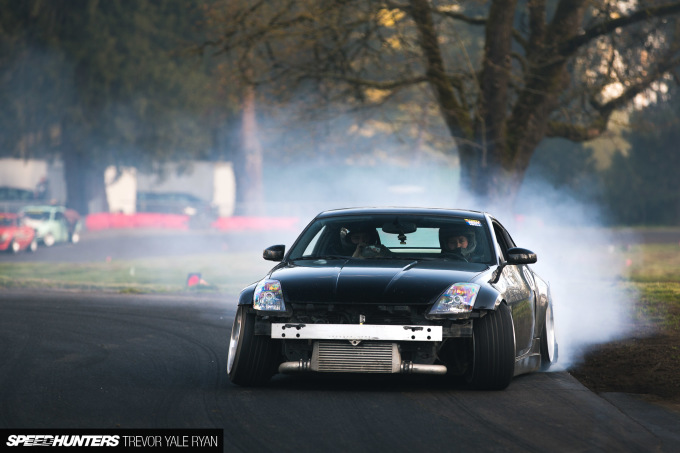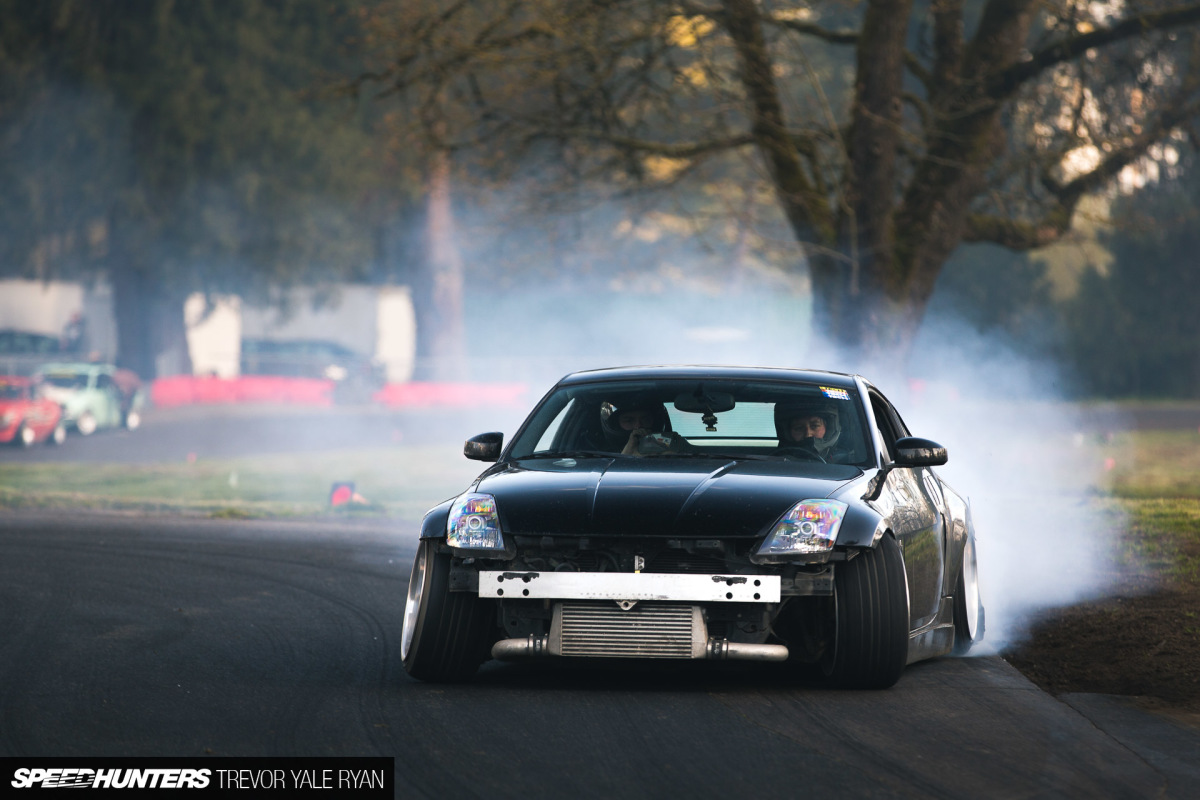 Marcus told me that since the PARC day he's sold the Vortech-supercharged VQ35DE 350Z to build a Laurel. I suppose that's just one more reason to make another trip to Portland.
Girls, Girls, Girls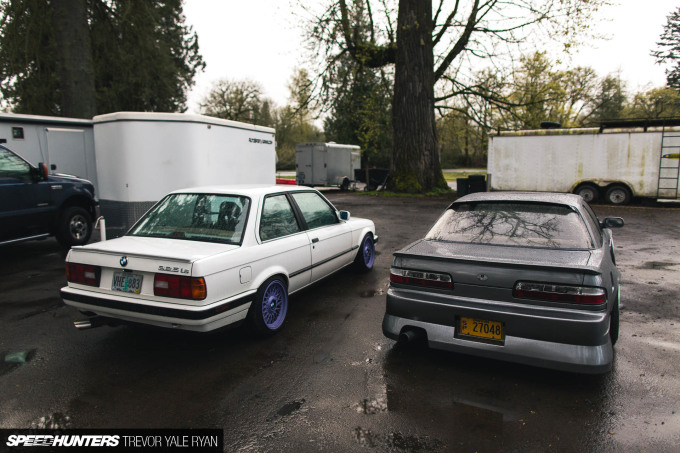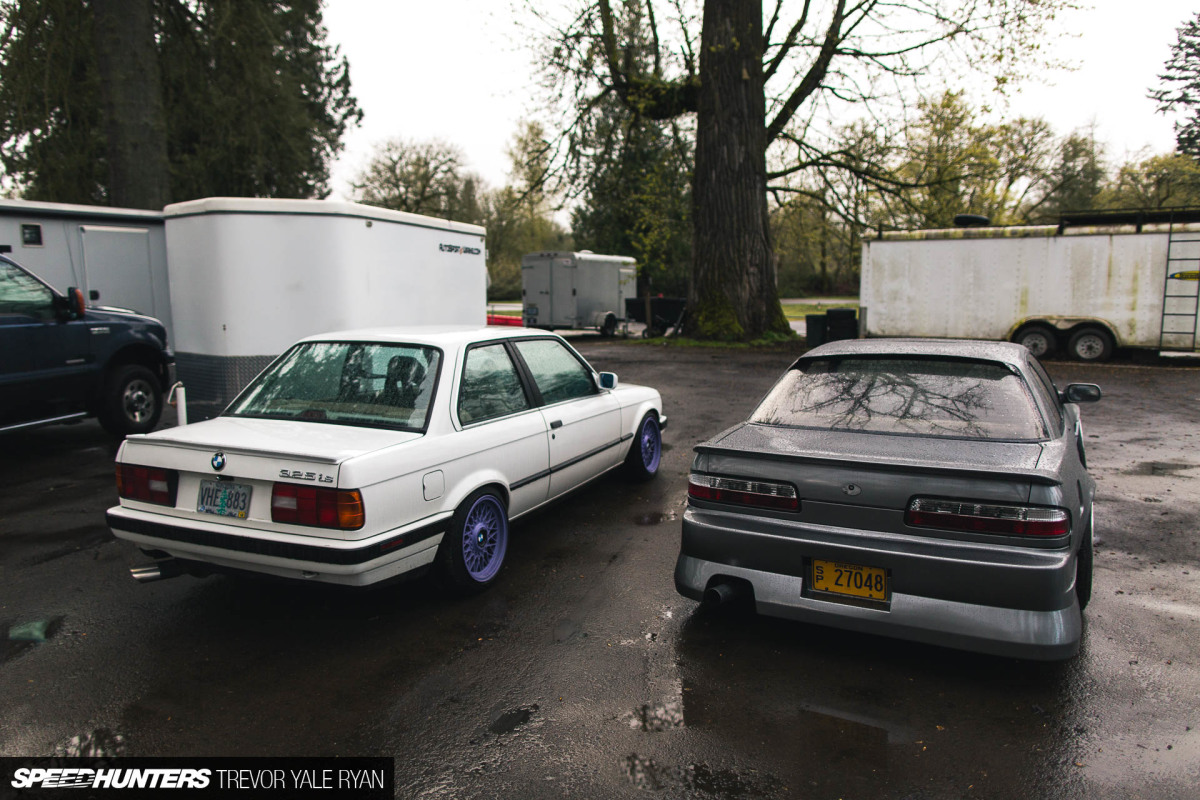 Early in the morning I met a pair of girls named Kalin and Jess who were out drifting for the day in a BMW E30 and a JDM Nissan S13, respectively. I really have to stress that I'm not strictly qualified to talk about this topic, but I have to say it was great to see them out.
In my experience, it's almost exclusively motorsports events where the line for the mens' room is five longer than the ladies' room. Whatever the reason for this, at PARC, owner Chis Egger told me it's a bit different. The last drift event held at the track attracted over 600 spectators, nearly half of them female.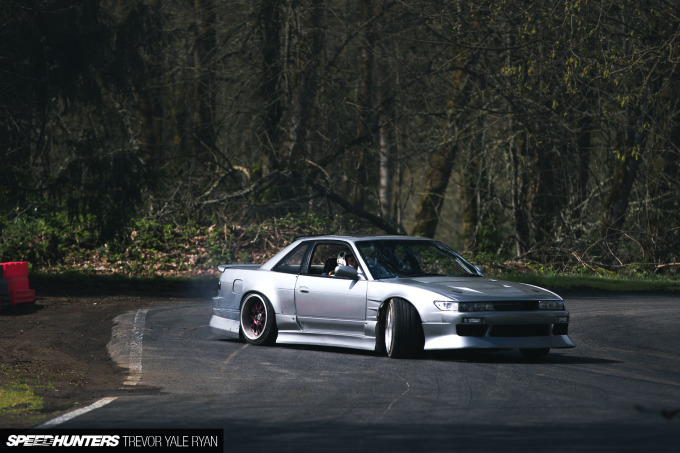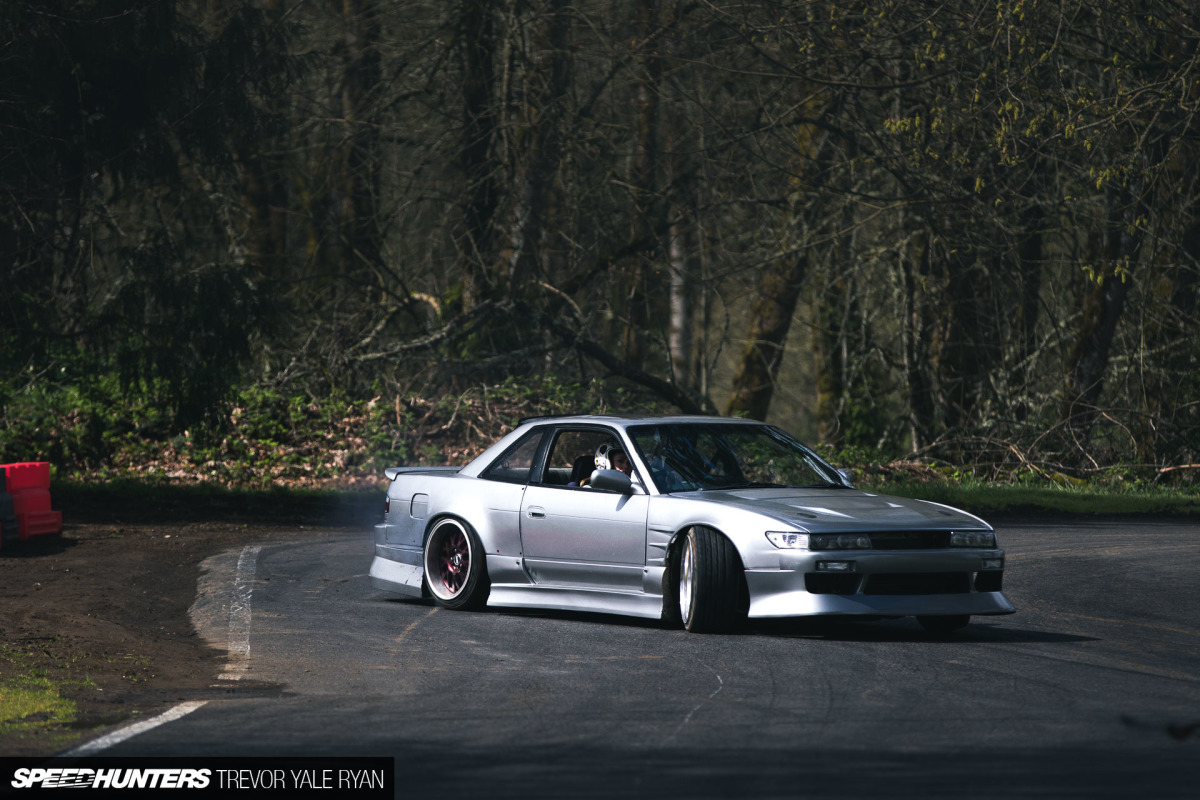 Chris has responded to the interest and PARC is fostering the local women drivers by providing them with free training time during the season. Chris says he'd like to stay ahead of the curve and make it as easy as possible for the girls to get track time.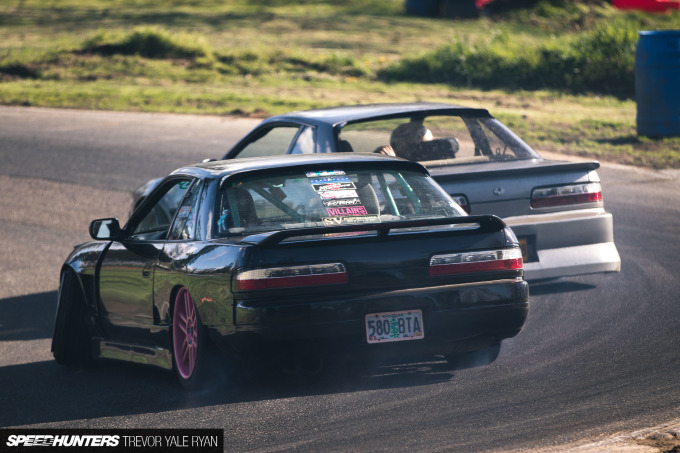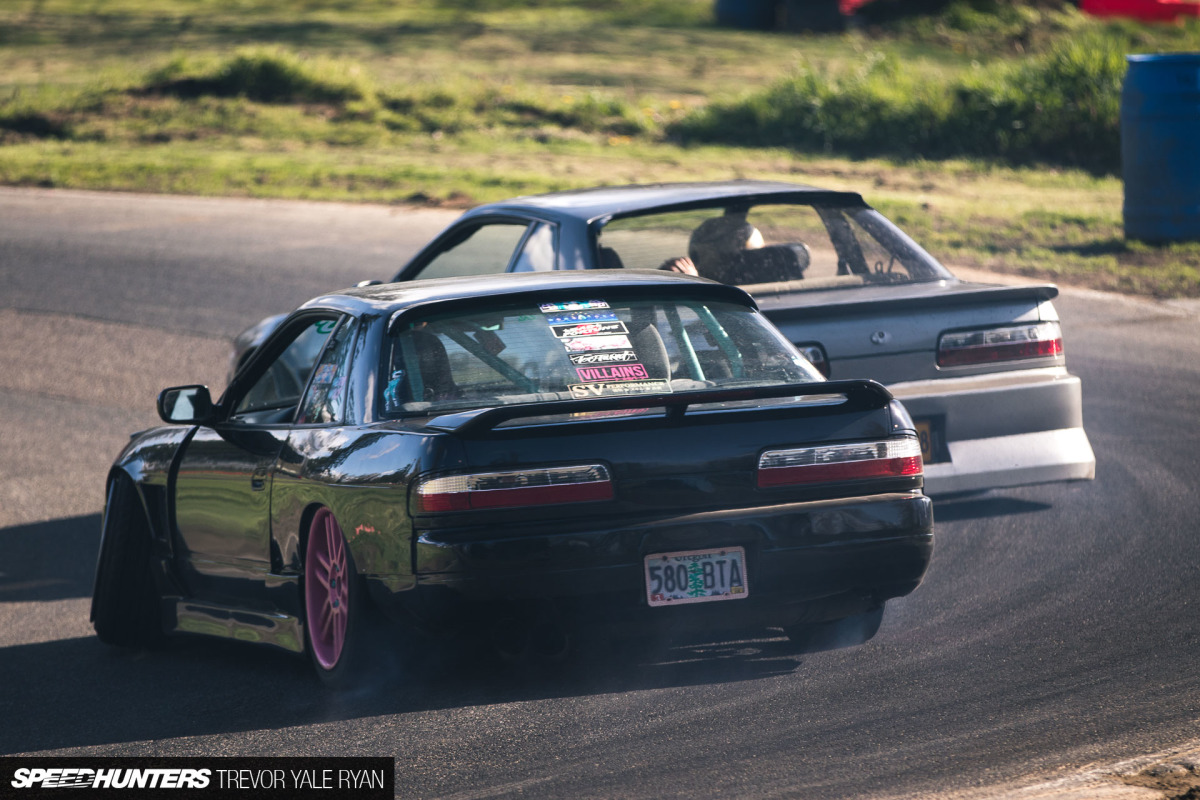 Later in the day Kayla McNutt showed up to get some skids in with the crew. She's been drifting for two years, having owned this S13 for five. Kayla said the SR20 powerplant has been wonderful to her and she hasn't had to swap the car yet.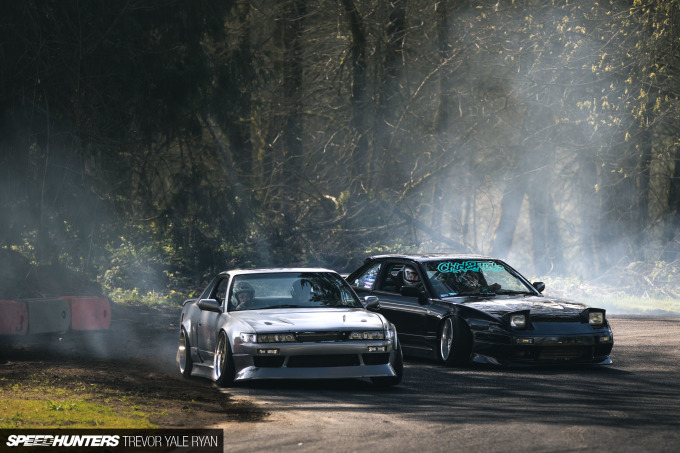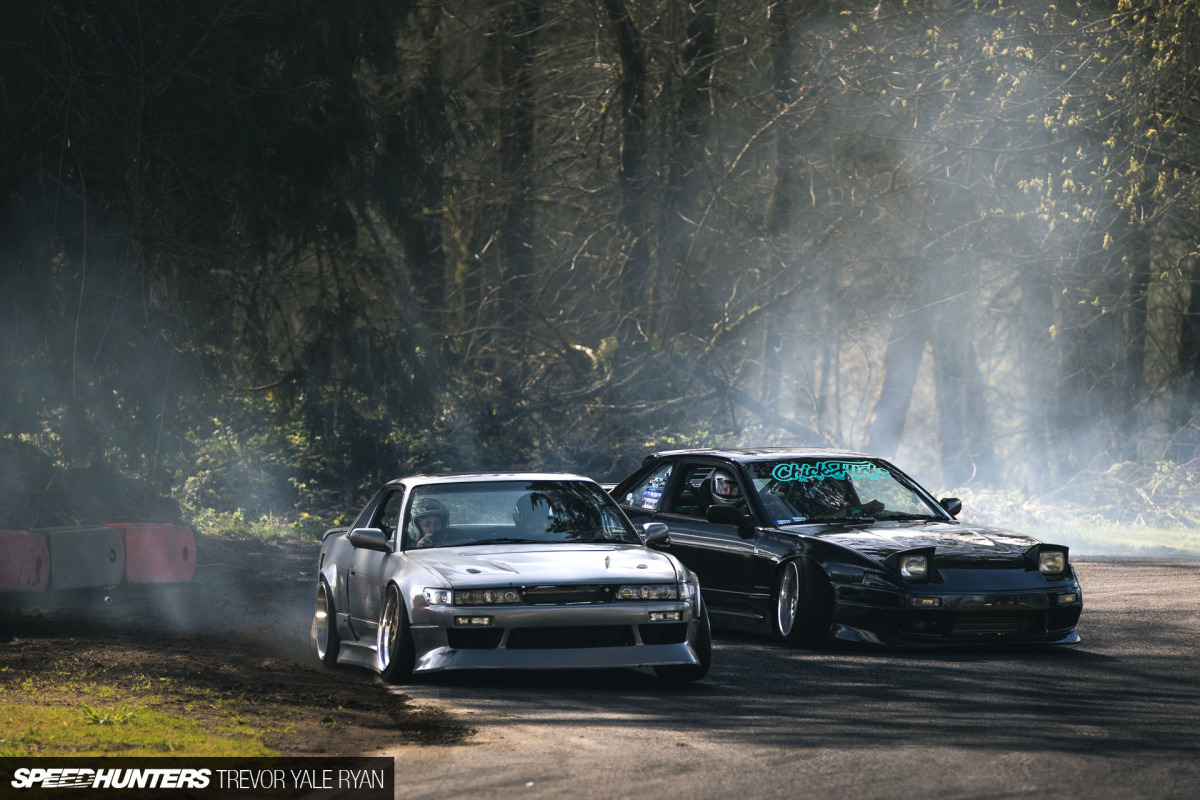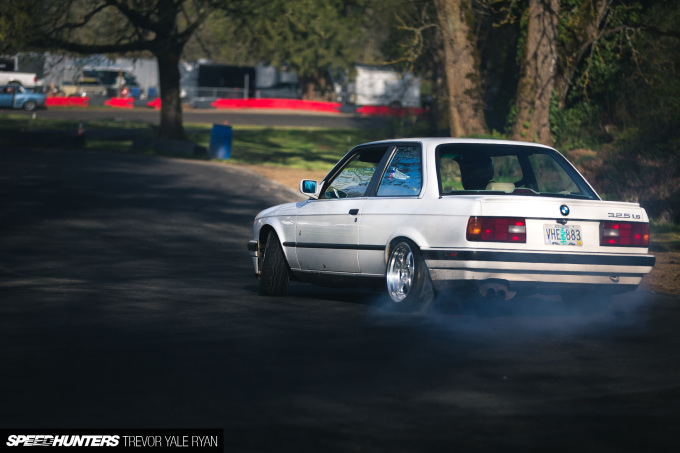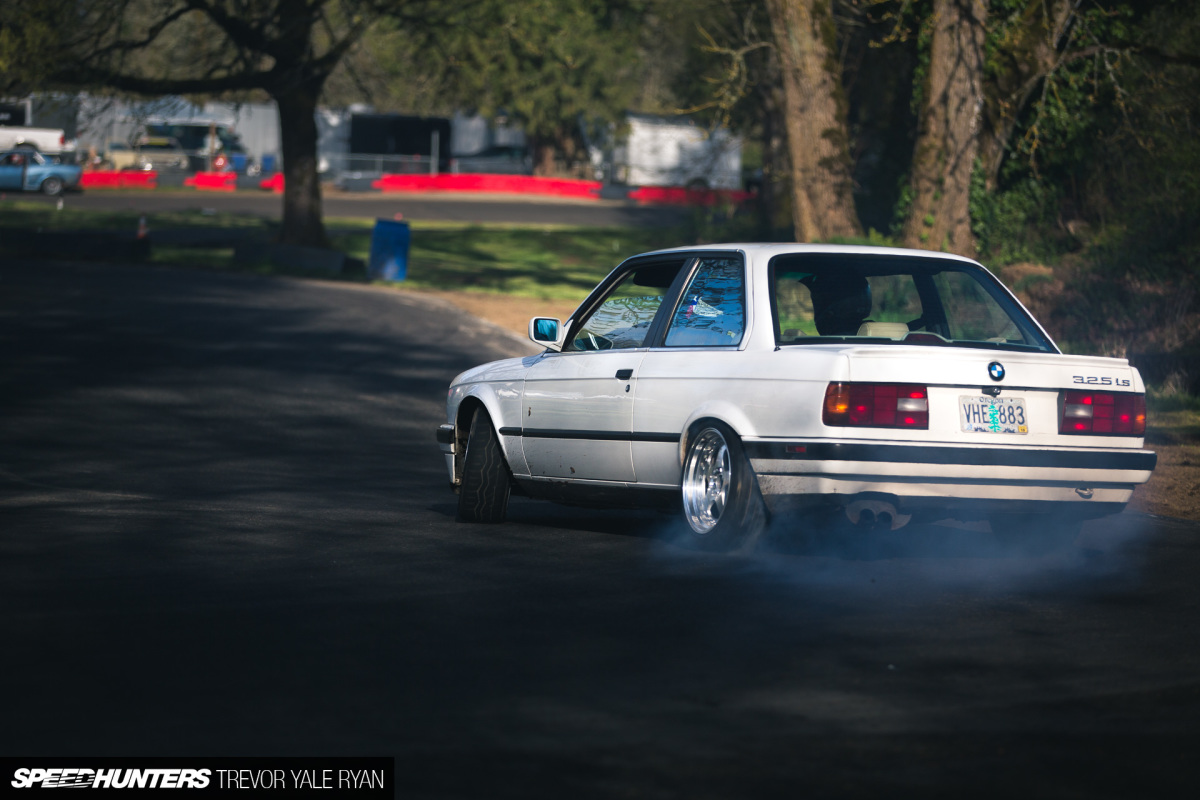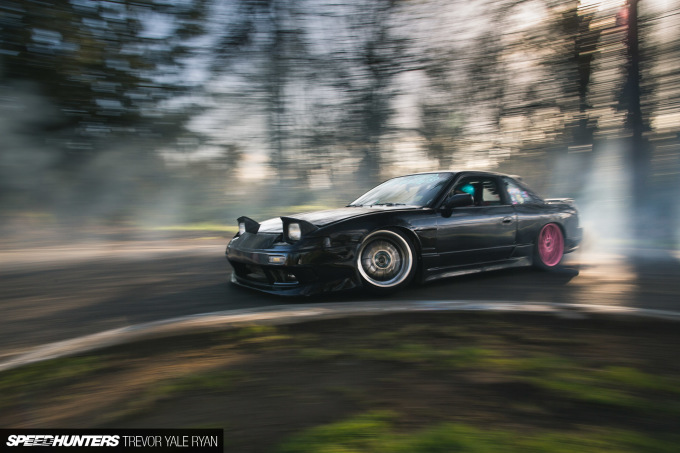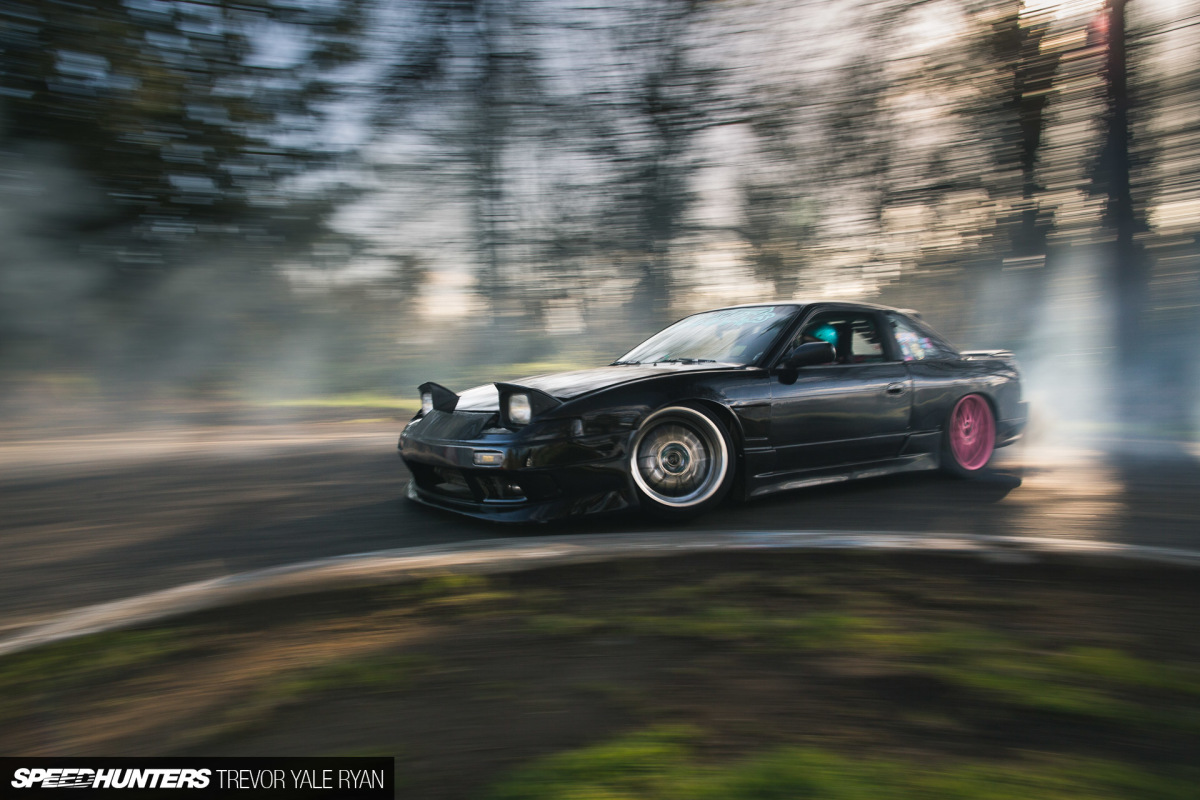 Destroy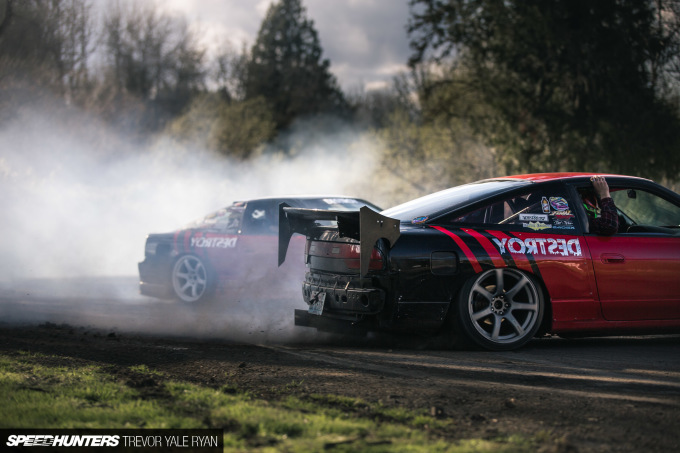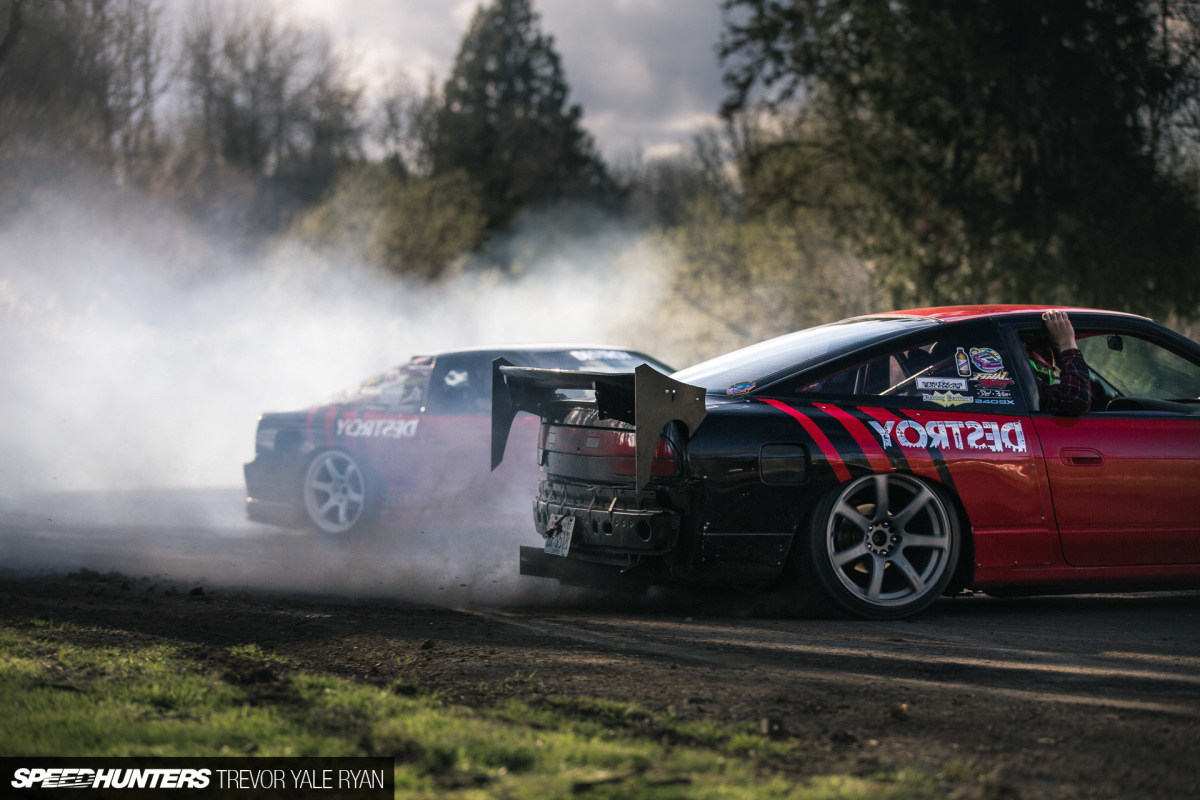 Then there's Destroy Drift Team. Aaron Leavitt and Erik Harshberger made a 400-mile round trip trek out to PARC driving the cars they'd drift with. It wasn't exactly smooth sailing for the pair, and I'm fairly certain they arrived with no sleep after replacing a couple items on the way to the track.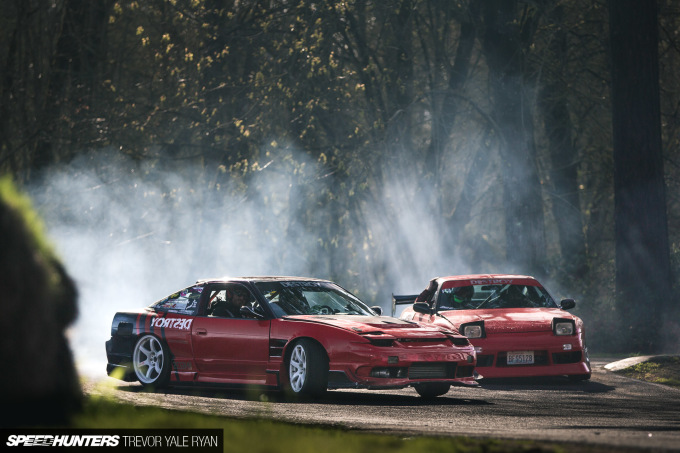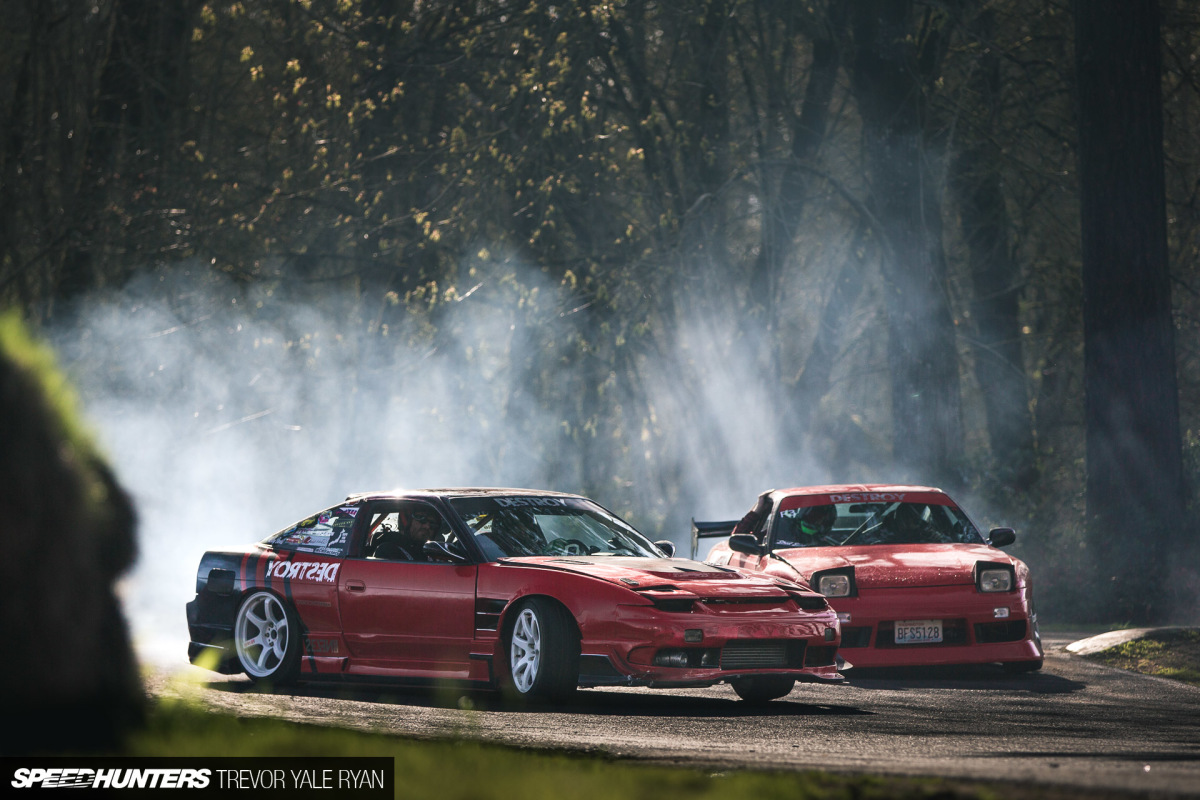 Complete dedication to get some seat time.
Erik made the trip in his VQ-swapped S13 with little trouble, and it's cool to see a drift car with a bit of an outside-the-box swap that just works.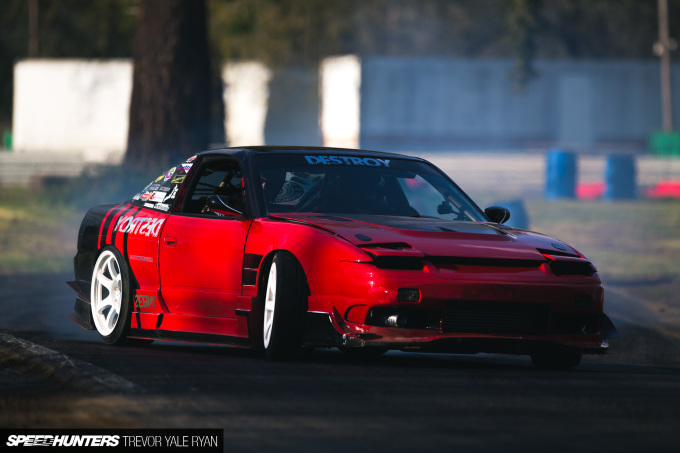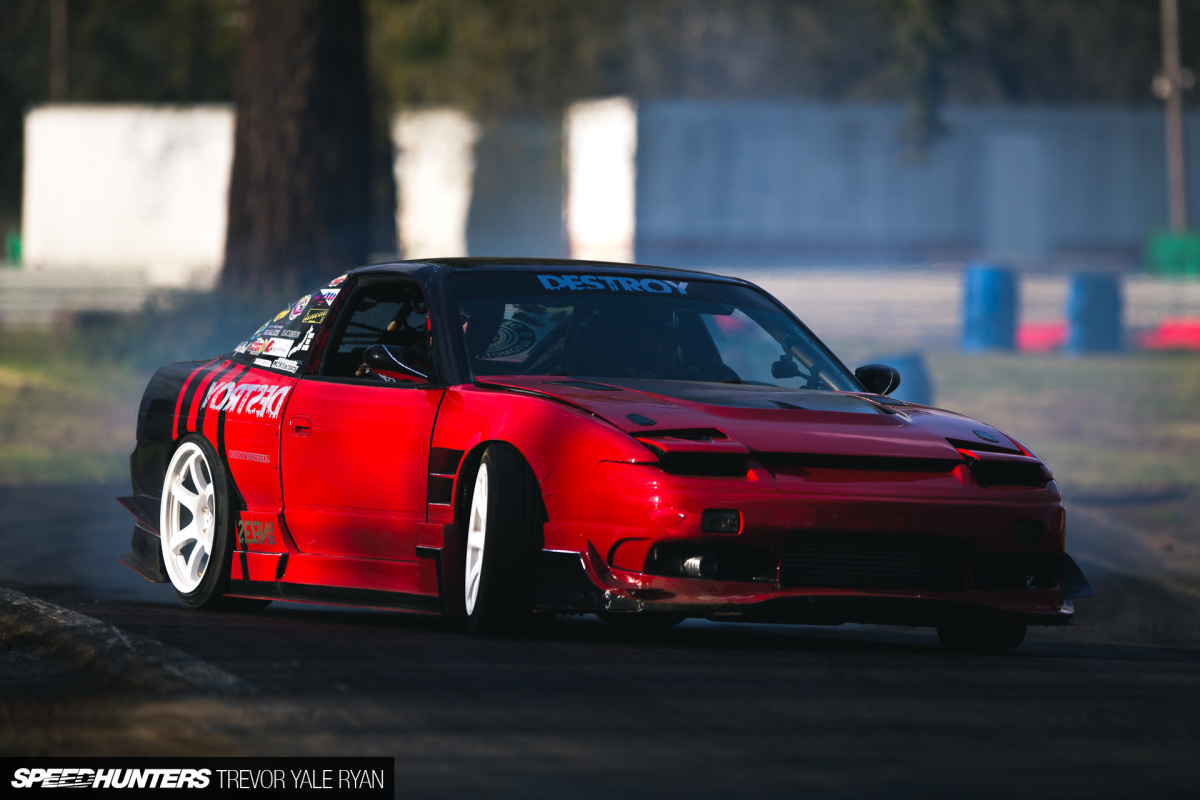 It was Aaron's 1.5JZ that was giving them a bit of issue on the road, but all was well once they made it to the track.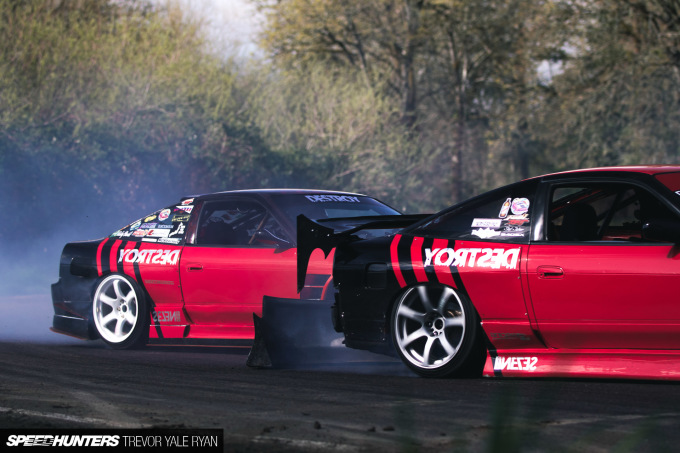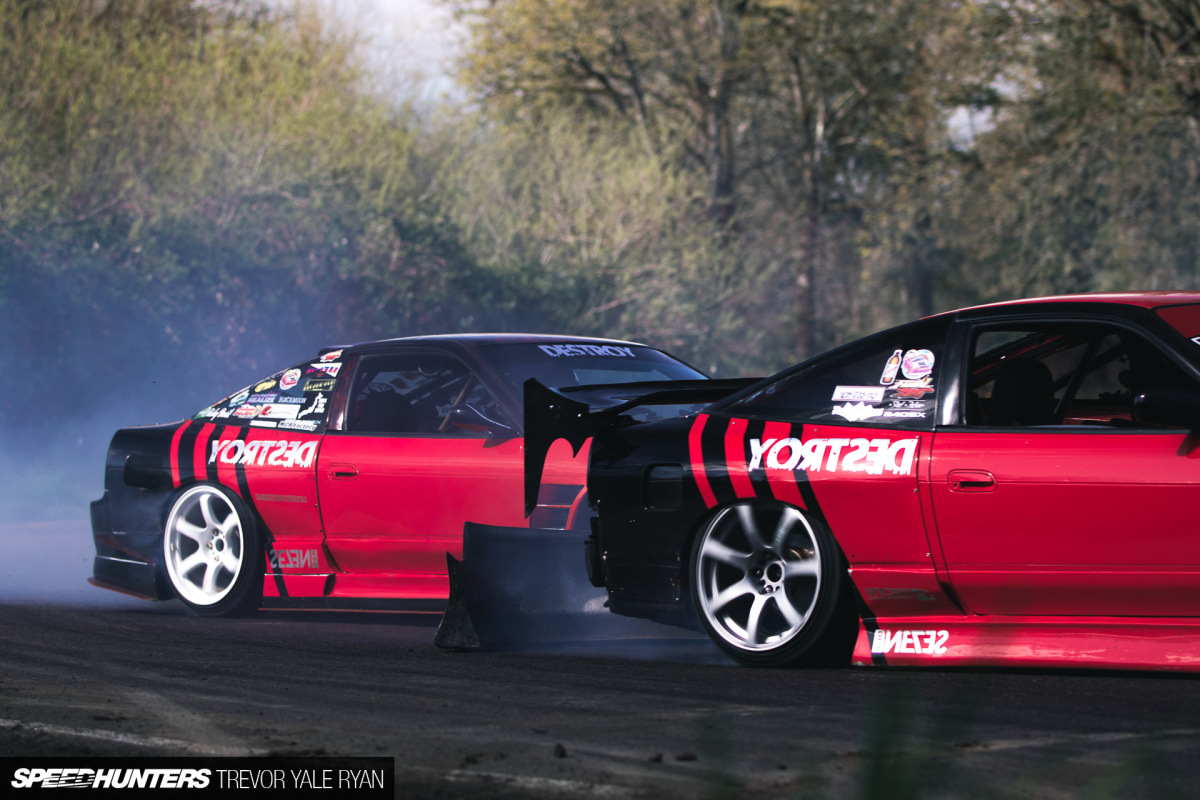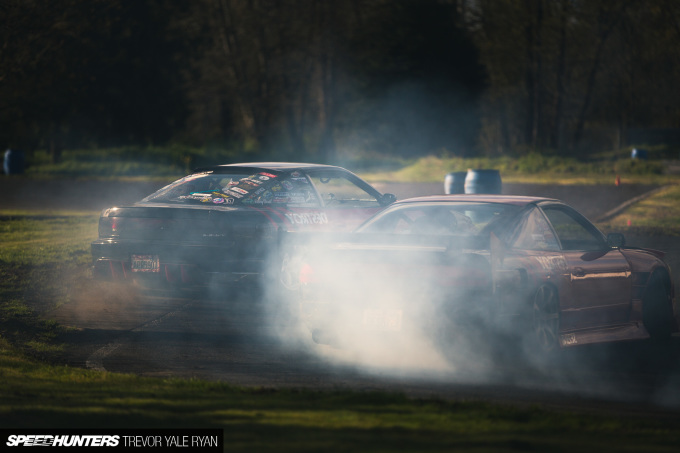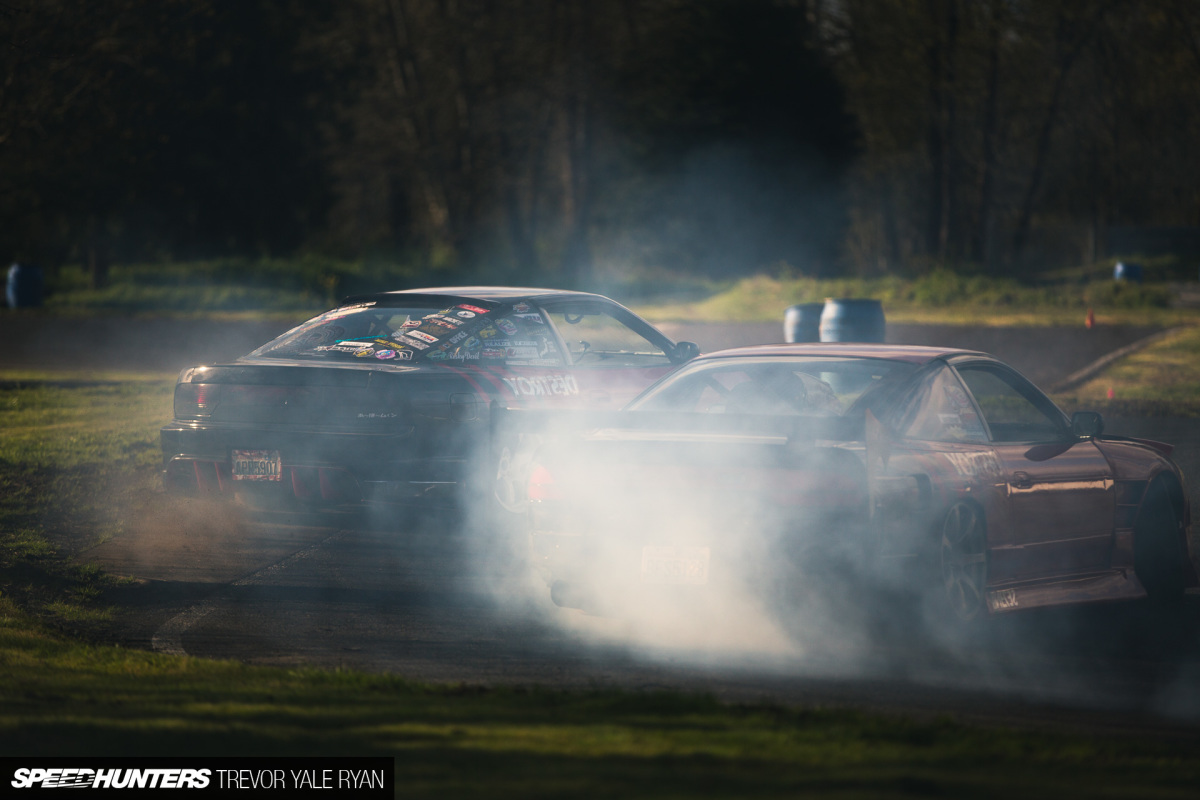 Needless to say, much fun was had by all parties involved. The drifting went on until the sun started to disappear behind the trees.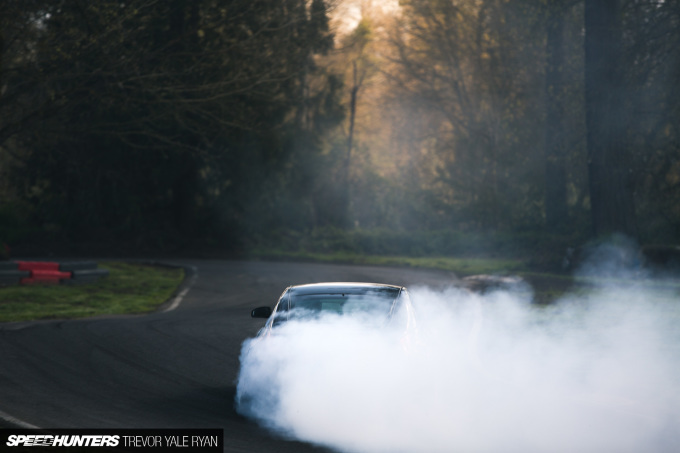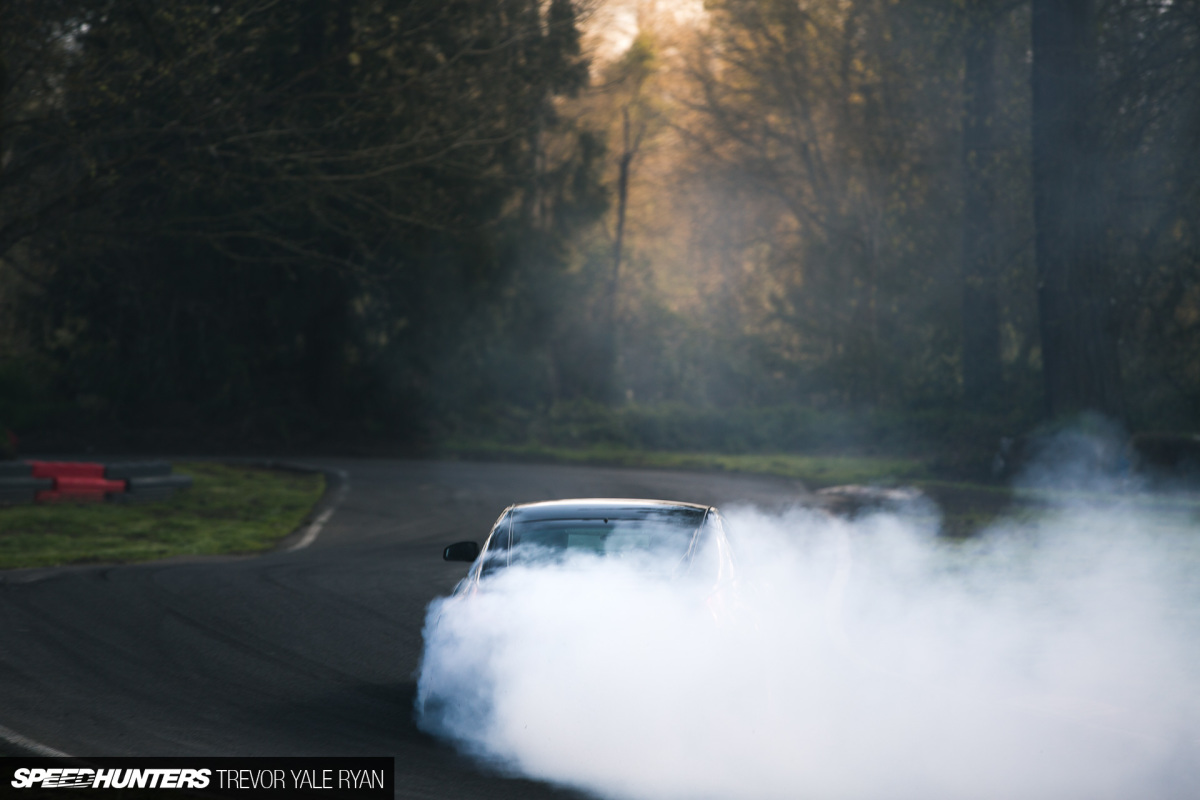 I really can't thank Chris enough for letting us goof off at the track all day, and for all the boys and girls who made it out so I could get some photos of what goes on in the Pacific Northwest in its most pure form. No competitions, no sponsors, no broken laws – just a laid-back day getting sideways with your friends.
This is drifting.
Trevor Yale Ryan
Instagram: tyrphoto
TYRphoto.com

Video by Mark Vasilyuk
Instagram: skuraweekly
Cutting Room Floor