Memories
Looking back at the last month, I visited Tsukuba Circuit on three occasions to cover events that are all quite different from each other.
First we had Attack, a time attack series that has become hugely popular over the years and represents all that is good about that motorsport genre. Then it was the idlers Games, a unique event where the focus isn't so much about lap times as it is experiencing real competition. And then it was the Rev Speed Hyper Meeting, a gathering of street and track-prepped cars, again defined by its own unique atmosphere.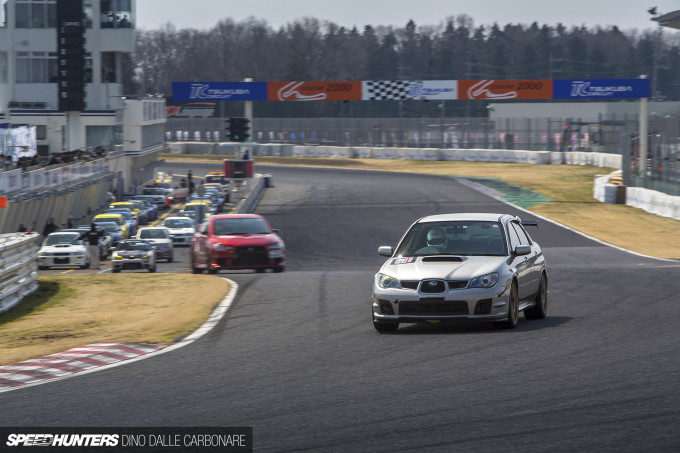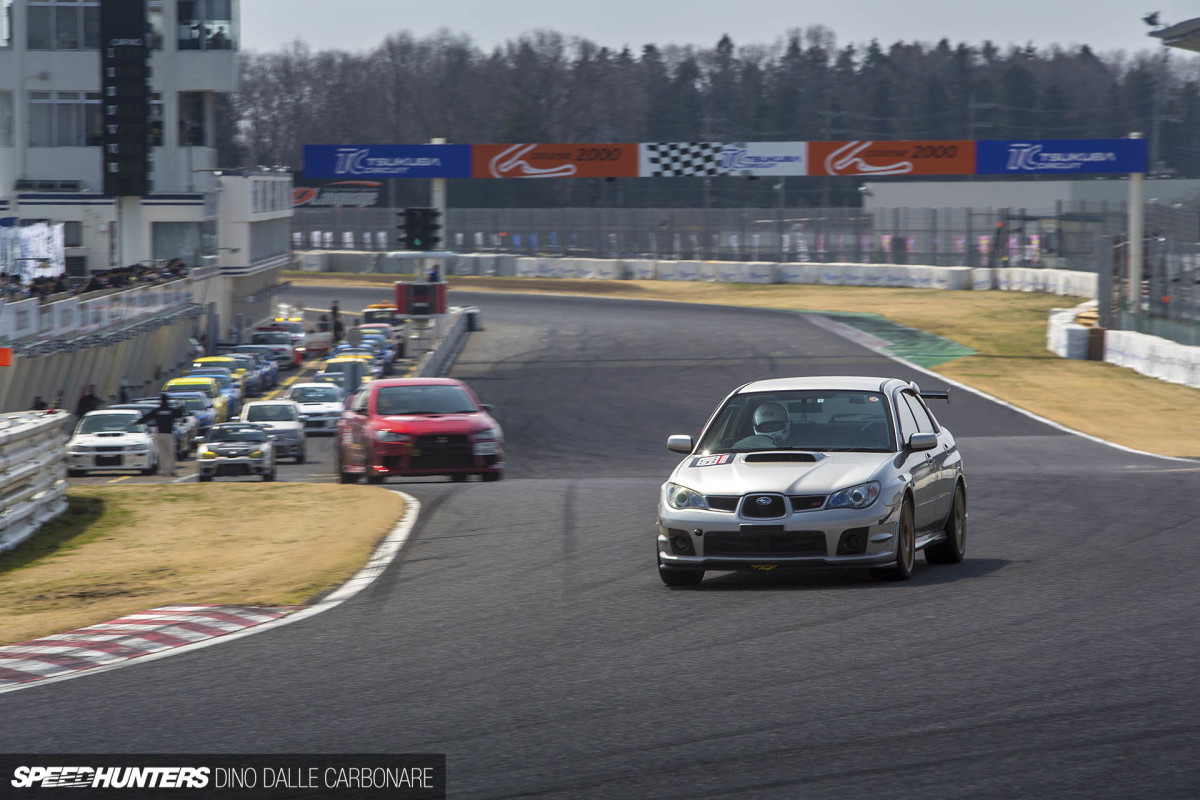 In the three spotlights that I've so far shared with you, I did touch on the fact that compared to years back, Hyper Meeting's organizers have changed the event's structure somewhat. While it's still centered around the Subaru Impreza and Mitsubishi Lancer Evolution, these days there's so much more to it.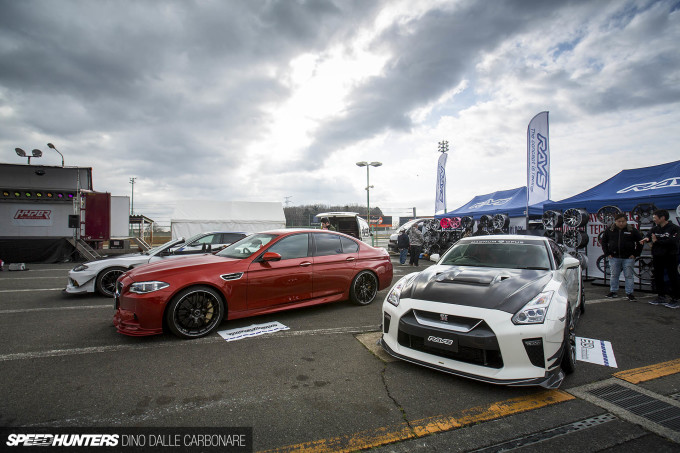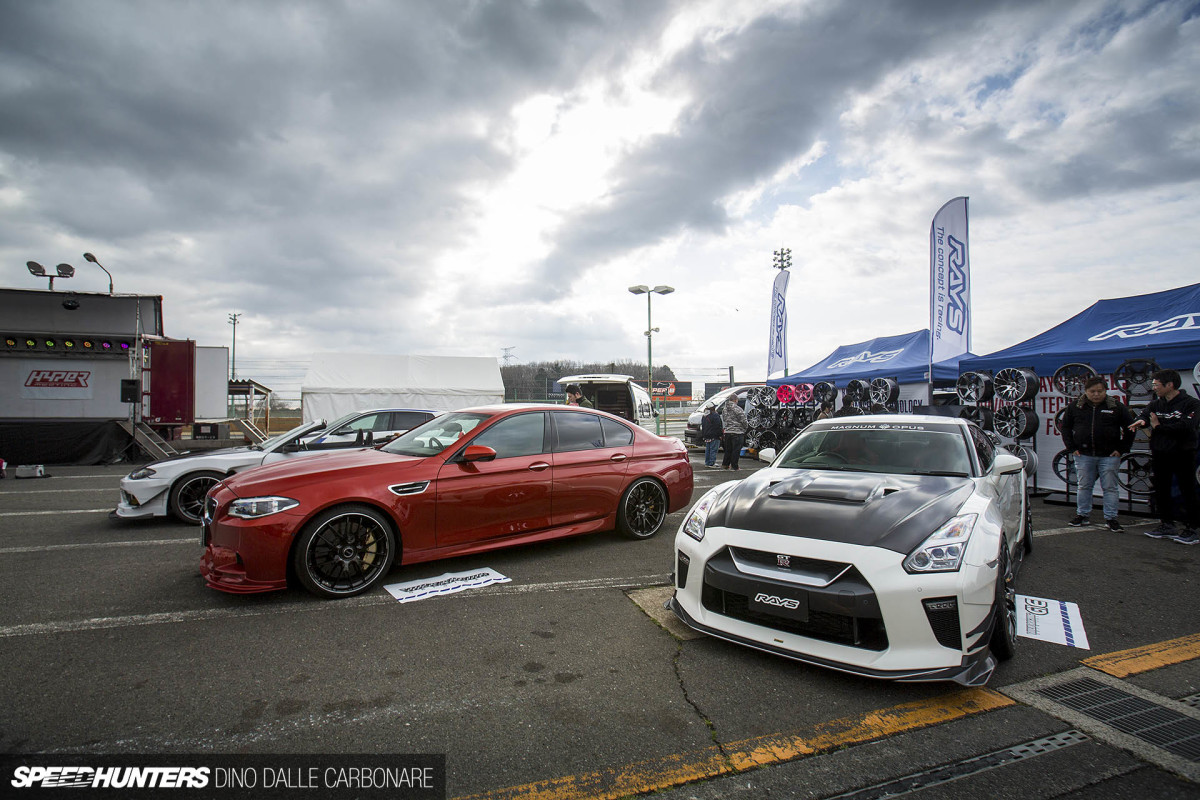 So what was always a bit of an otaku type of event has flourished into something way cooler, and in doing so it's now attended by so many more people.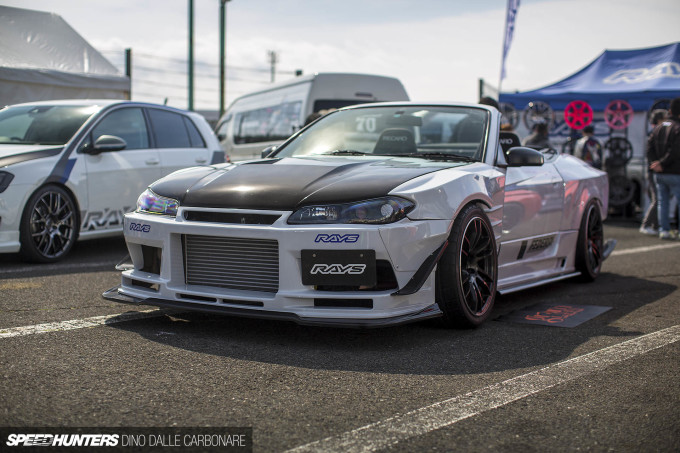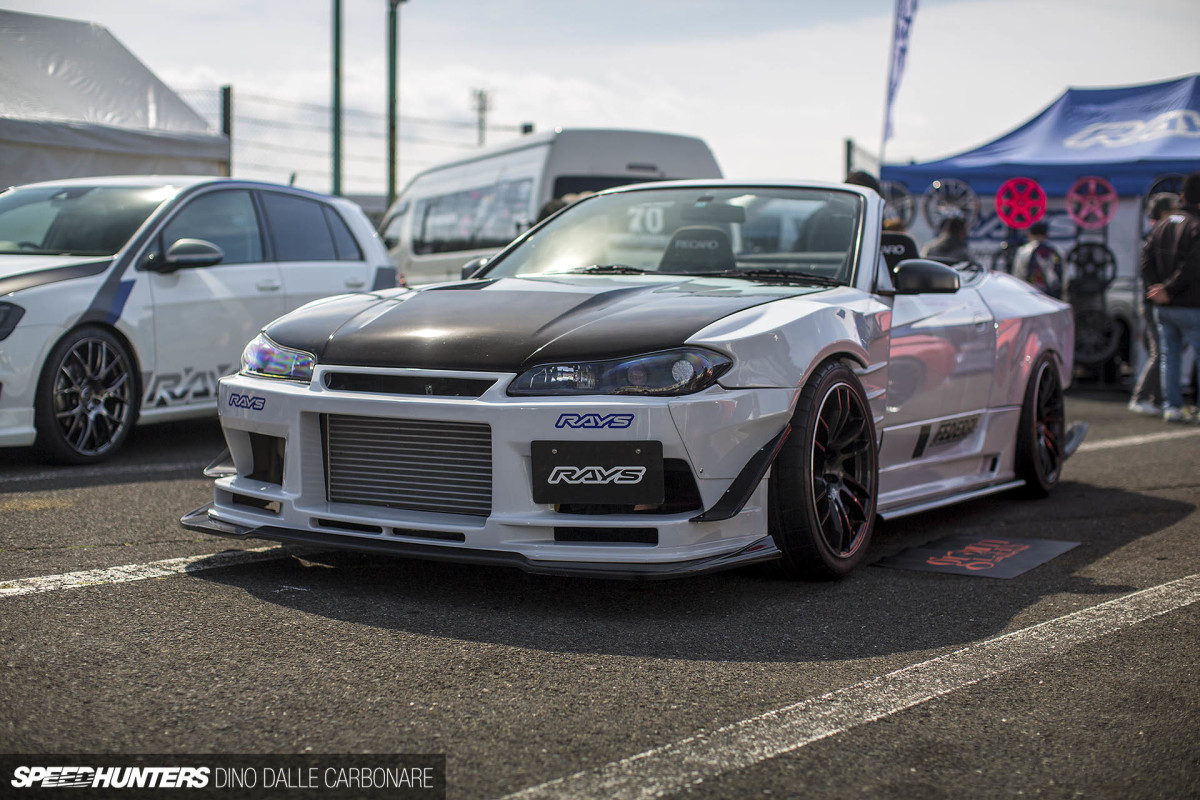 As it's run by the guys at San-ei Shobo, the publisher of Rev Speed, Option, Doriten, and a ton of other Japanese automotive enthusiast magazines, there's always going to be big support from the industry, but I really enjoyed how familiar companies like RAYS mixed it up a little bit this time around. The wheel maker had an R35 on show, but next to it a BMW M5, then a Kazama Auto-kitted Silvia Varietta, and a VW Golf to complete the lineup. I loved the variety, but the drop-top S15 really stood out to me; I've yet to shoot it, so I really want to tick that off the to-do list soon.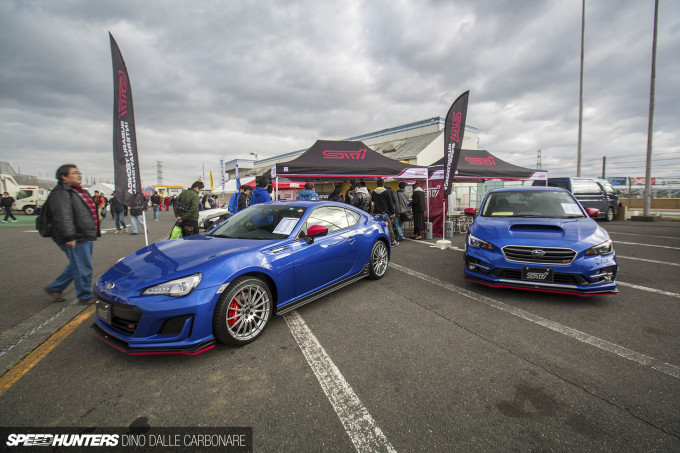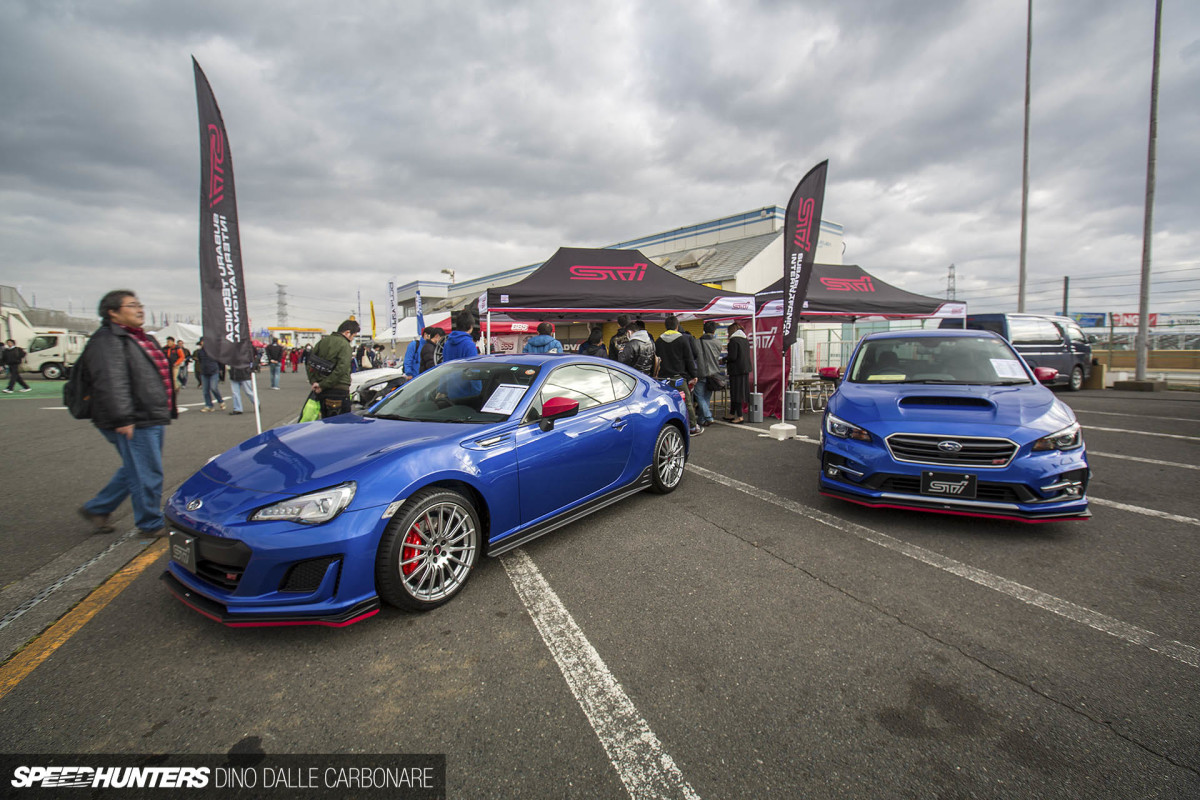 Subaru Tecnica International brought out its BRZ and Levorg demo cars, showing off all the parts that can be sourced from the current catalogue. Like all vendors, STI had discounted its prices for this event meaning some proper deals could be had.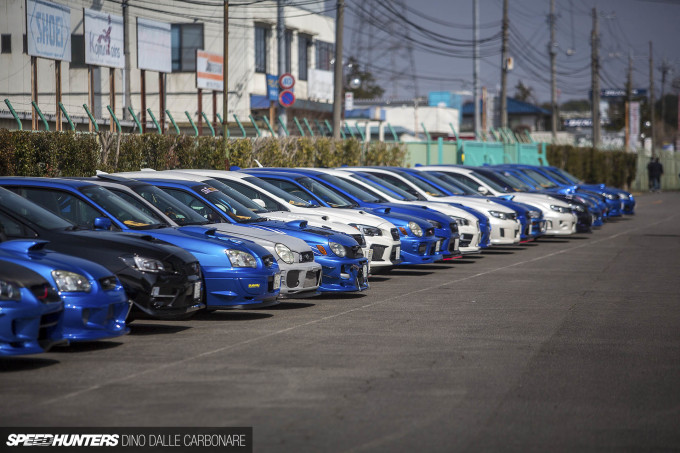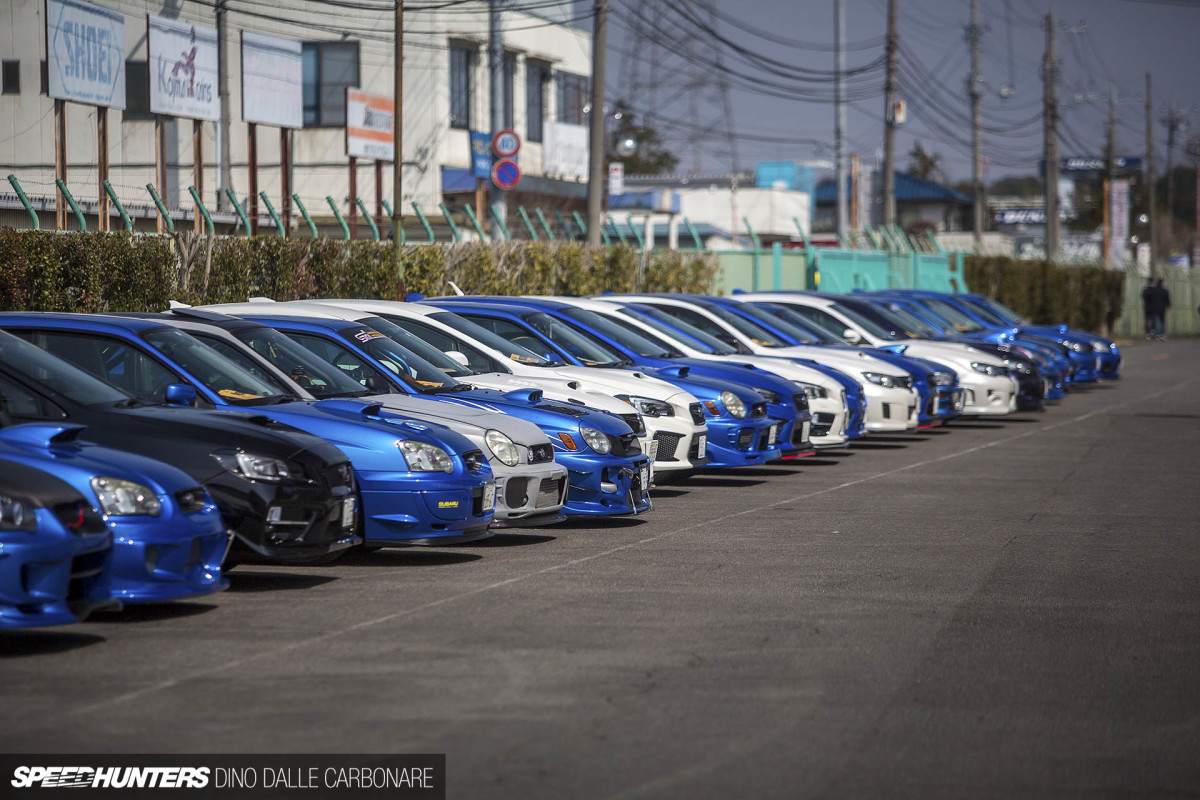 The paddock behind the bleachers on the main straight was cornered off for Subaru-only parking.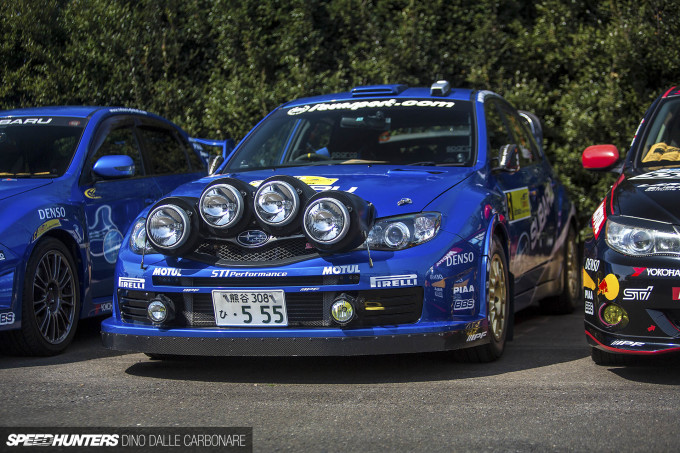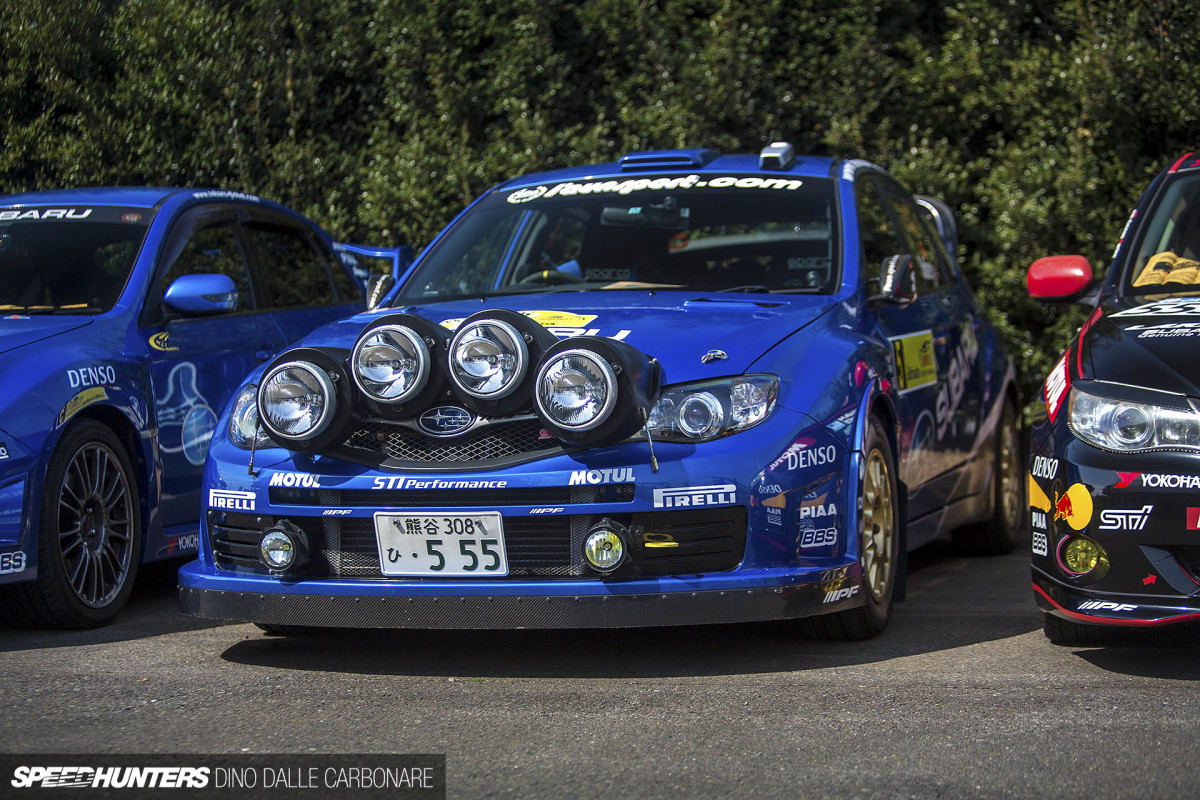 There is still a huge amount of passion for these cars in Japan, which is something that's great to see. Obviously Subaru understands the importance of having halo cars like these to top its lineup, but it's sad the same can't be said of Mitsubishi. Back in the day there were masses of Evos and official Mitsubishi support at this event, and I loved attending because there was always WRC cars on display. Of course, the Lancer Evo is no more, but I'm still holding onto the slither of hope that the model will make a return once Mitsubishi sorts its current situation out.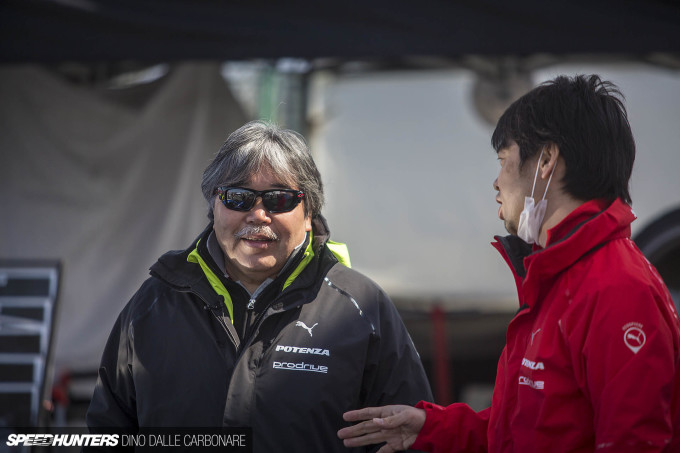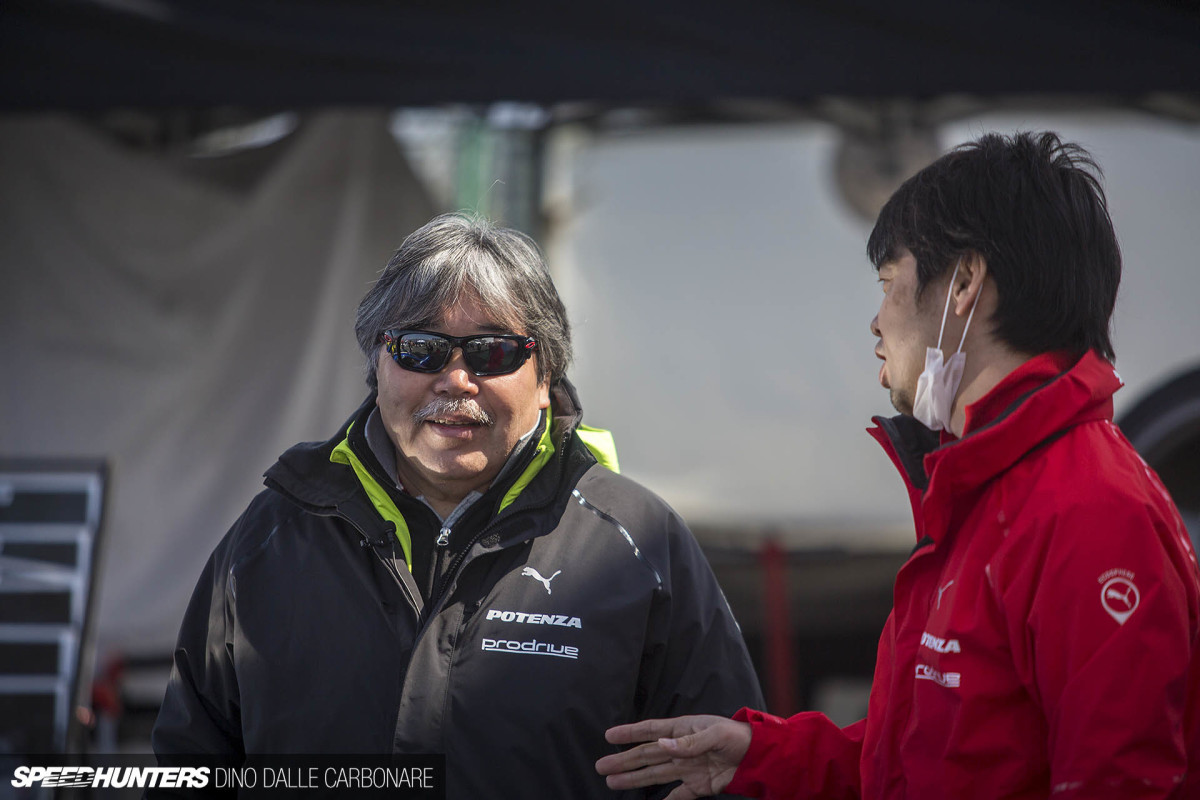 Fujioka-san of Auto Produce Boss is a regular at this event and for 2018 attended with his long-time supporter Bridgestone to do some hot laps in his highly tuned BRZ.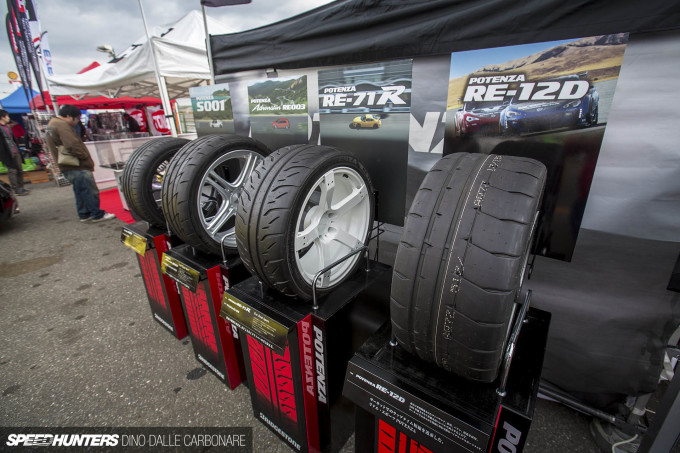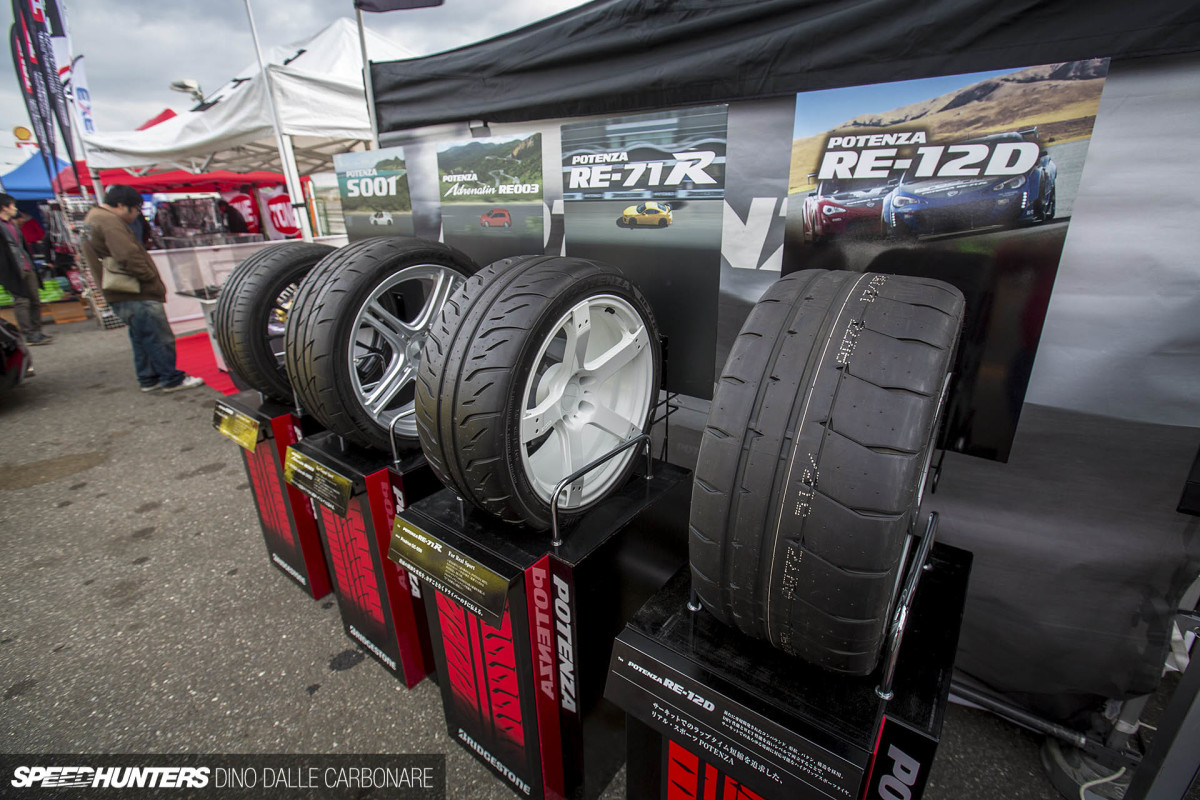 And speaking of Bridgestone, the tire maker stole my attention with this display showcasing its new S model, the RE-12D. I never even knew this was coming, but I'm pleasantly surprised to see another top-end track tire on offer.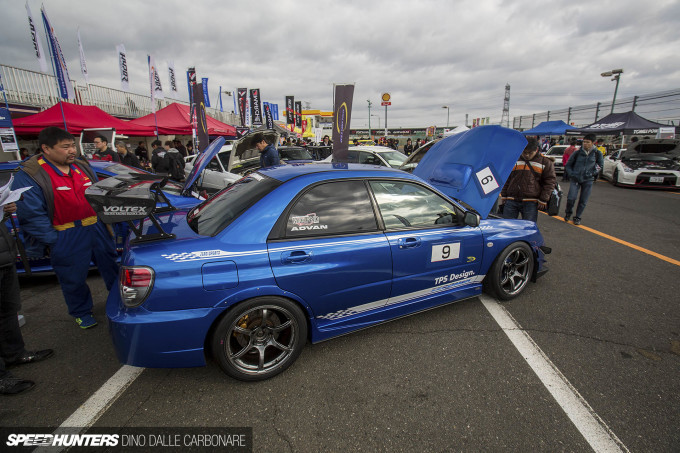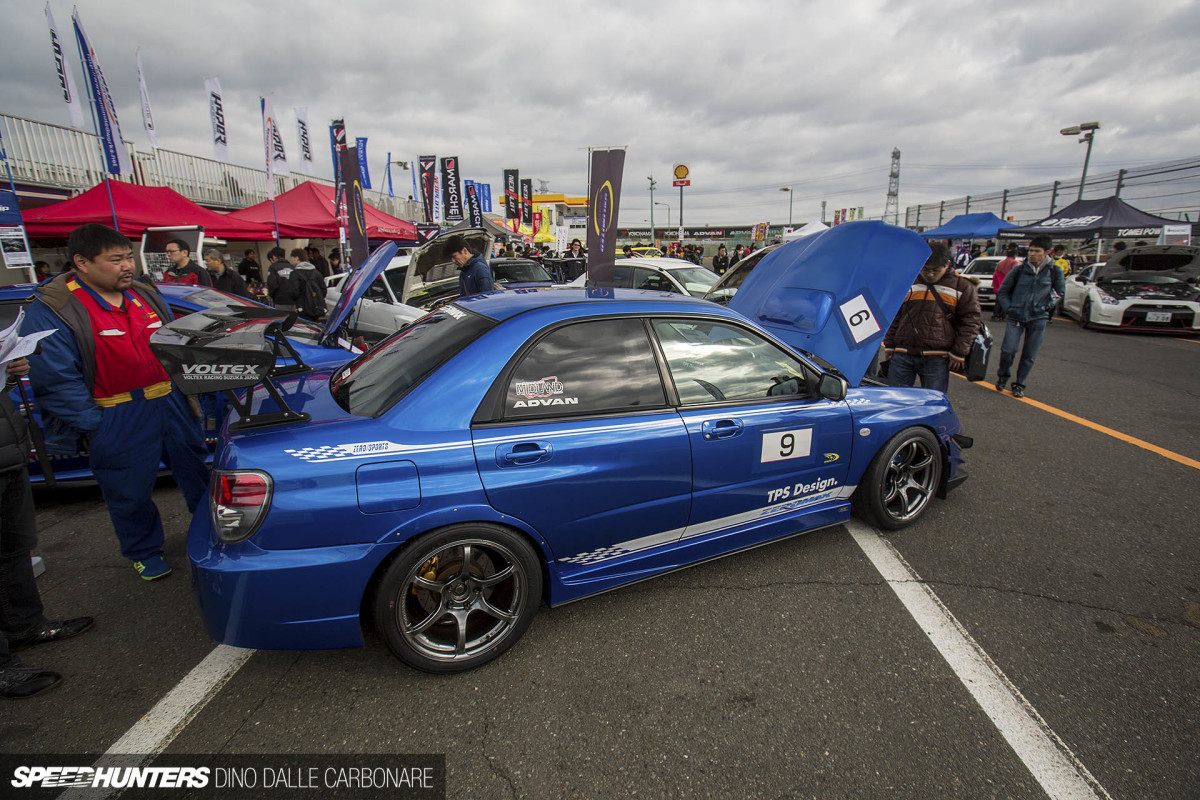 The main paddock area was like an open air version of Tokyo Auto Salon: demo cars everywhere, and familiar names showing off their latest cars and products and chatting directly to fans.
Paddock Hunting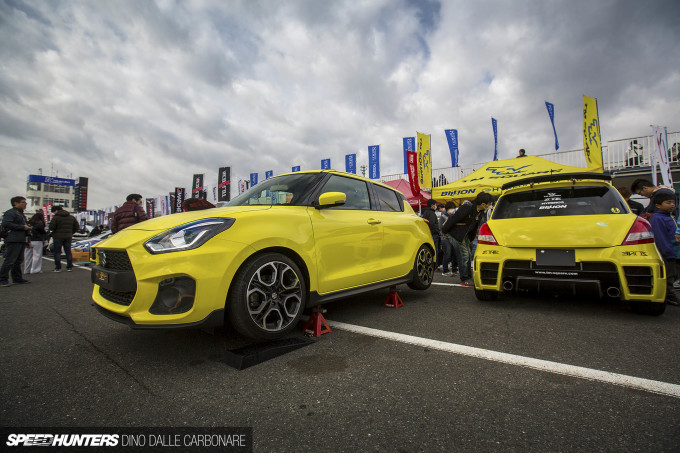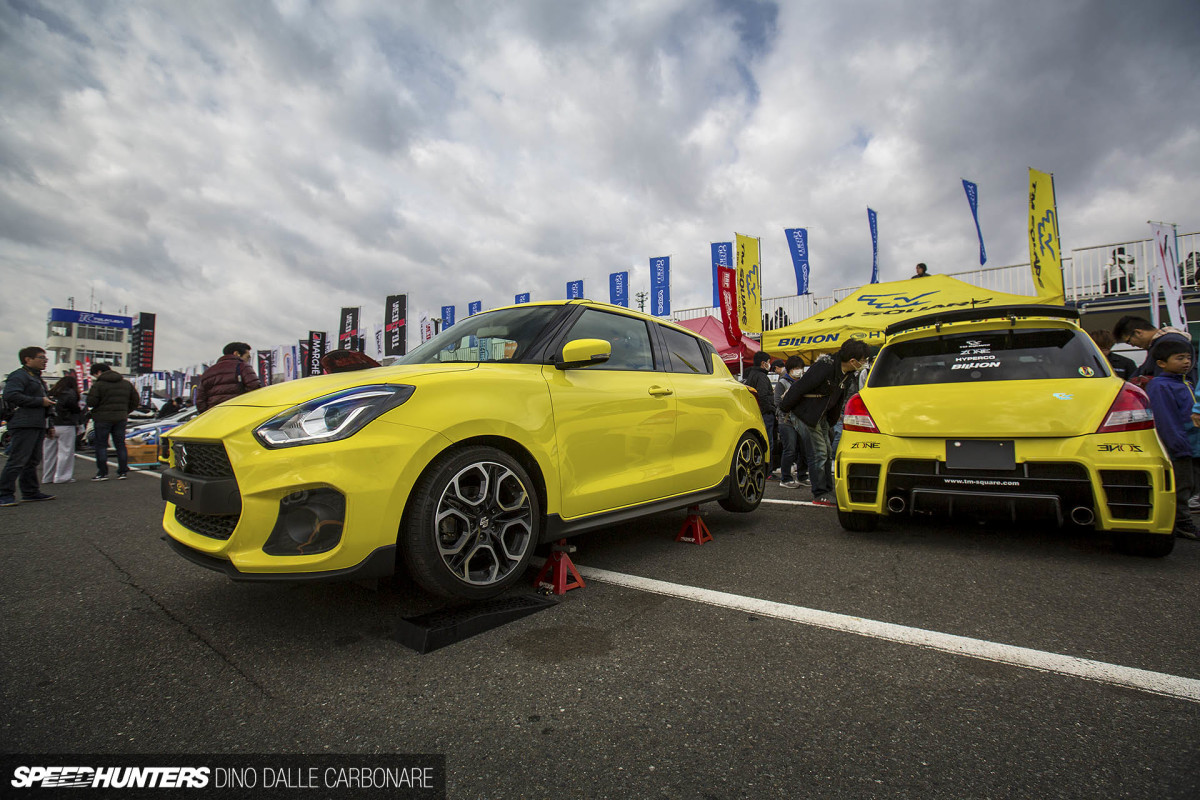 Like a lot of other tuning shops in Japan, TM-Square has jumped on the new-gen Suzuki Swift Sport with all they've got. The compact turbo hatch continues to be a top seller for those wanting an entry-level performance car to hone their driving skills in.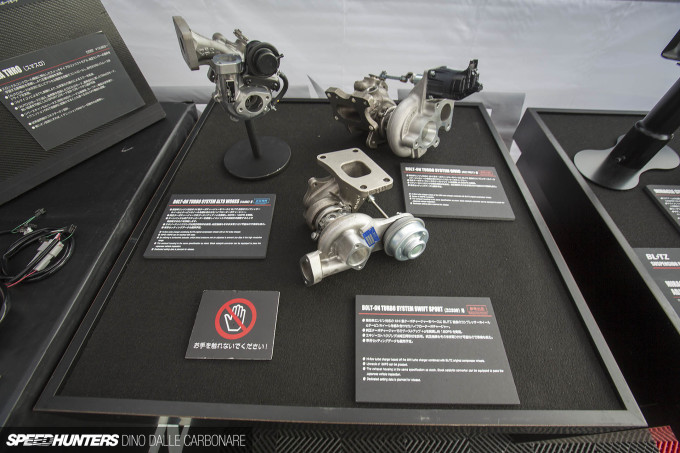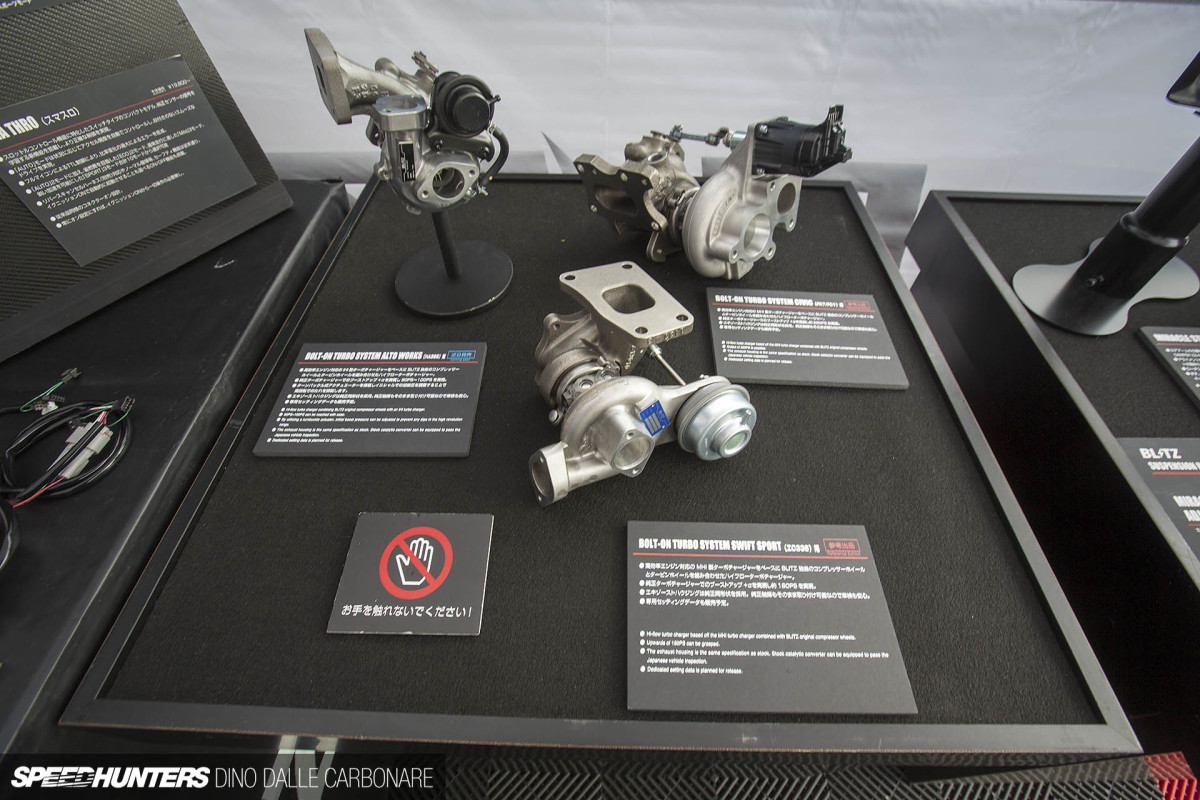 Blitz too continues to develop products for the more affordable side of the market; just take a look at this trio of tiny little turbos! If you've got a Swift Sport or an Alto Works and are looking for a substantial power bump, Blitz has you covered. The bigger turbo at the very top of the display is for the new-gen Honda Civic Type R, another car we'll soon start seeing properly tuned.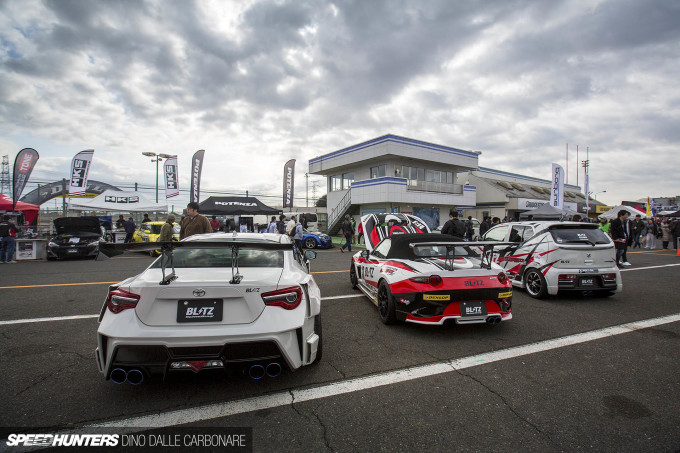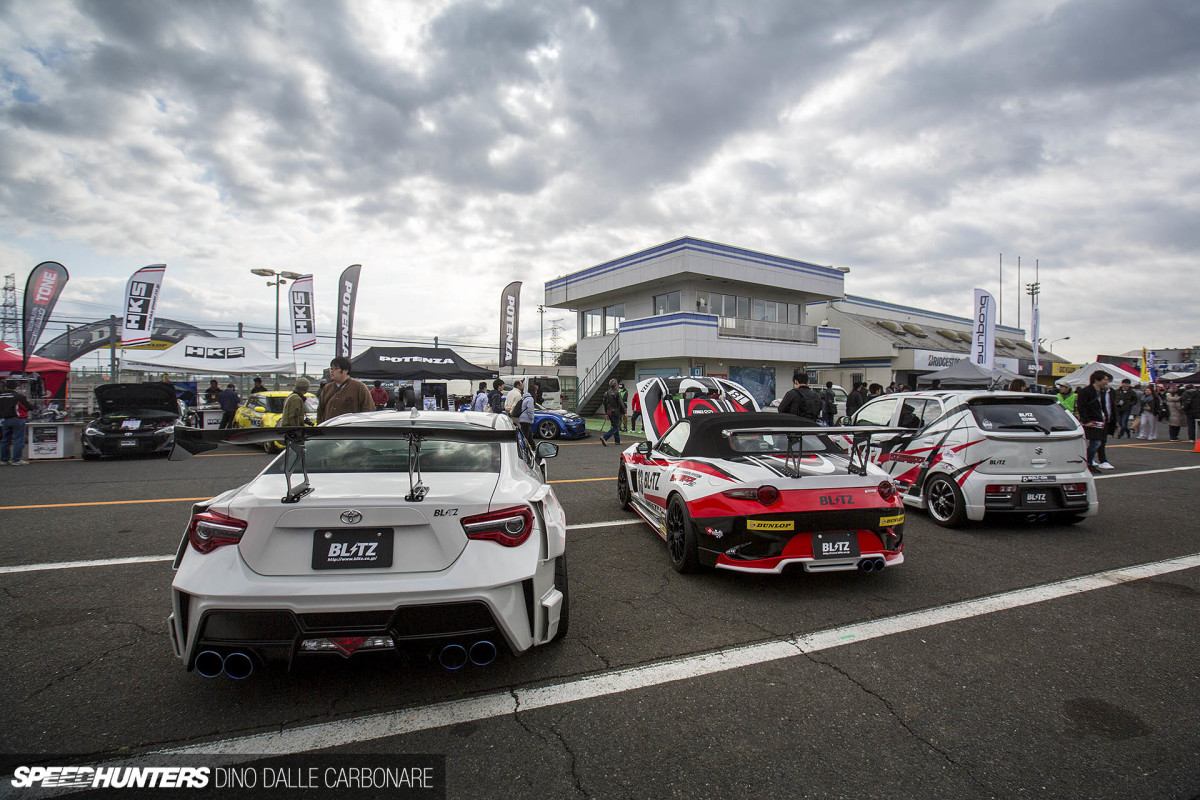 The turbos were cool, but Blitz's trio of demo cars was even cooler.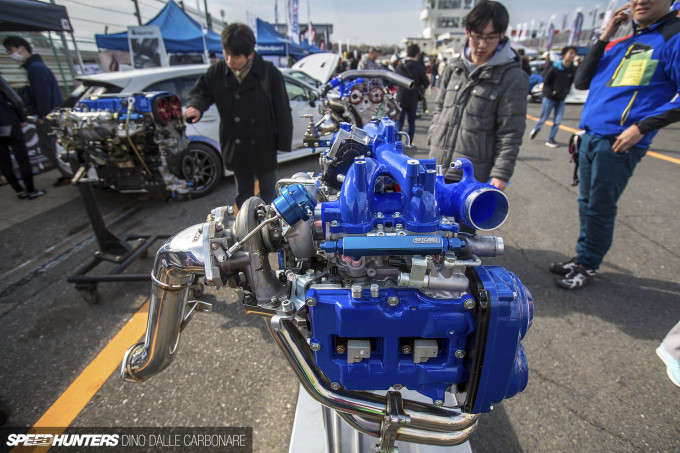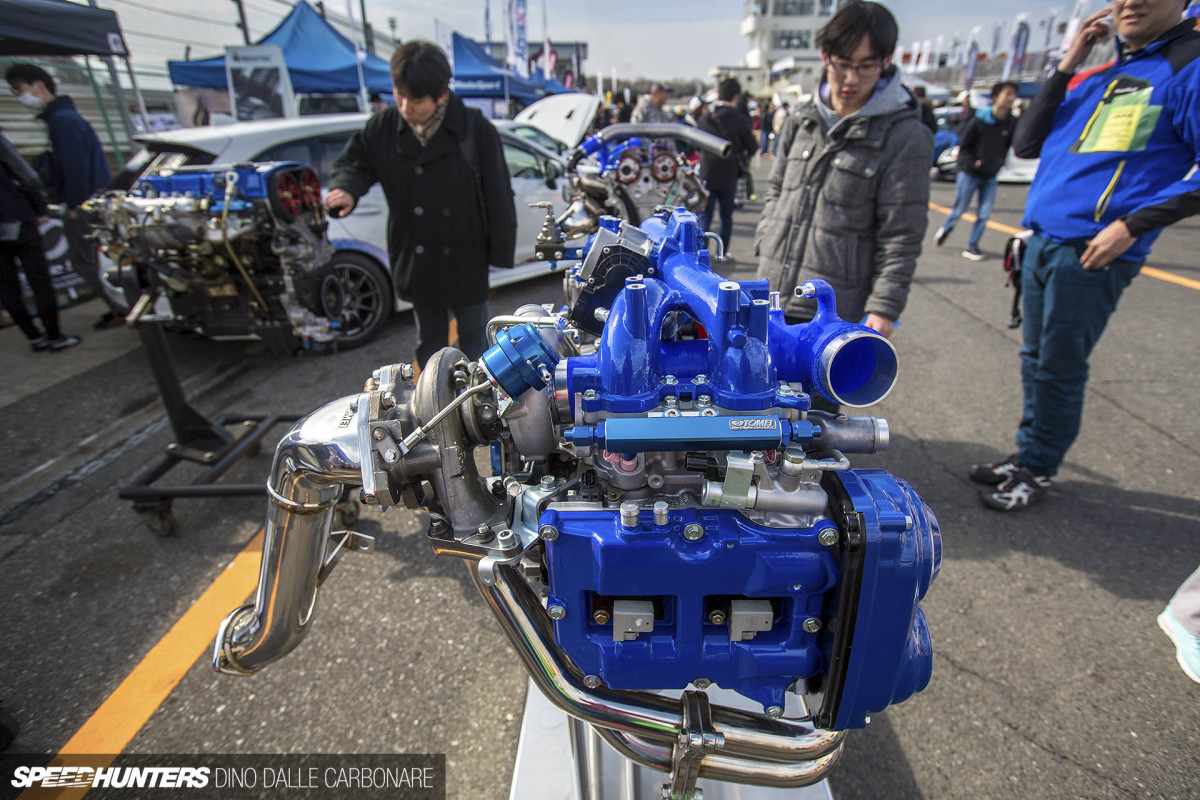 The blue head covers are a dead giveaway as to who these display engines belong to. If you are into Japanese cars you may have even seen these engines in your dreams.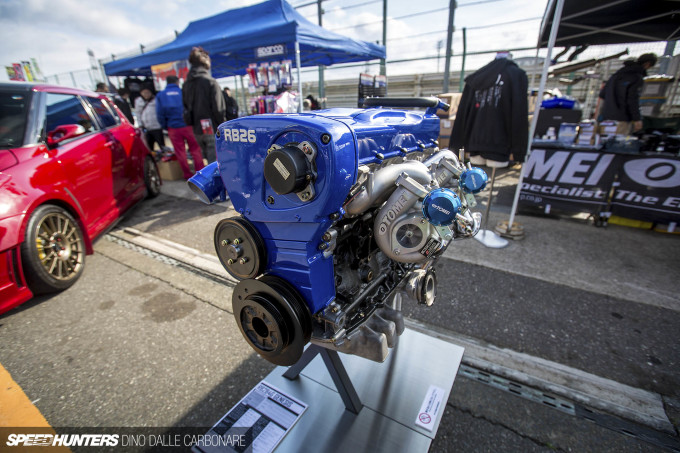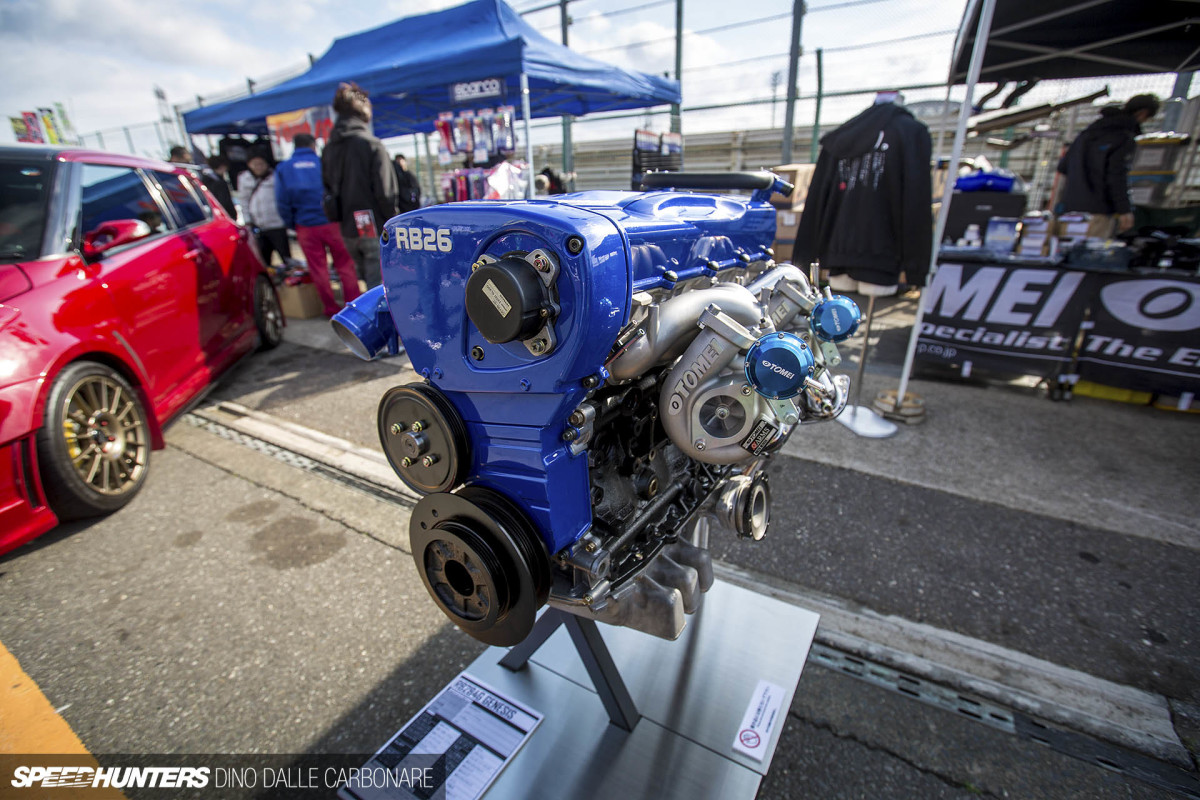 Along with possibly every component you would ever need for a ground-up build, Tomei Powered also sells complete engines under the 'Genesis' banner. The lineup is small but to the point with a ton of choices to fine tune the motor to the specs that best suit what you will use your car for. No matter how many times I've seen these engines on display, I always have to circle them for a bit and drool.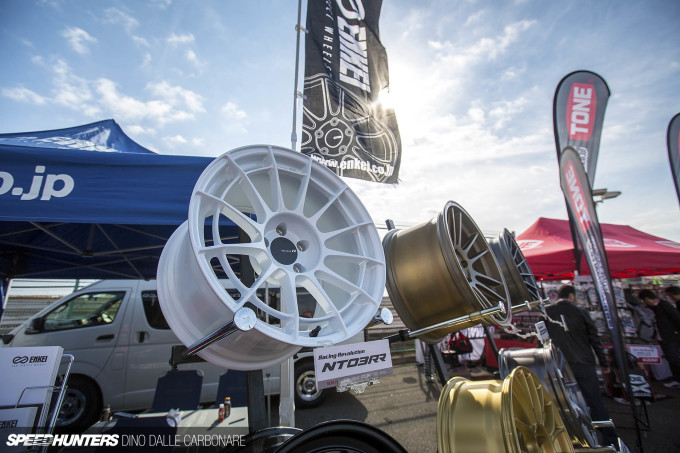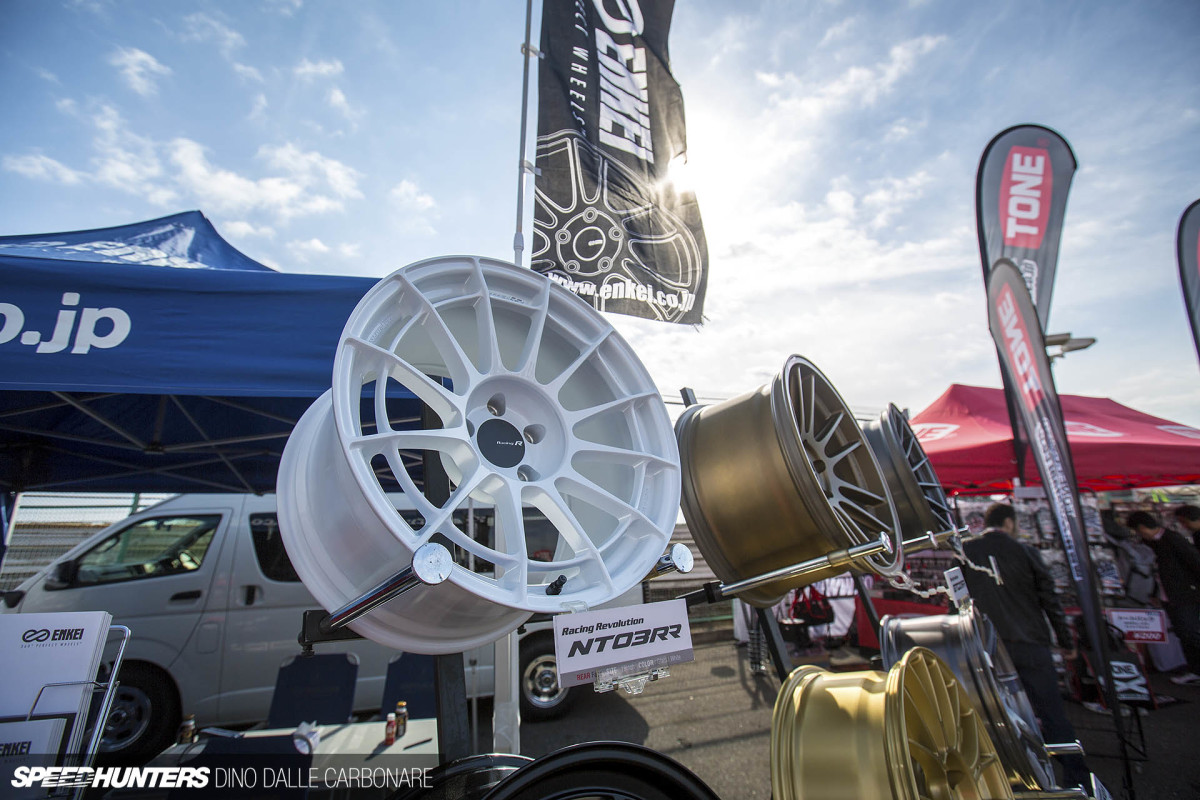 My heart beat a little bit faster when I came face to face with the Enkei NT03RR. This a bit of a special wheel for me and other die-hard BNR34 owners; the first generation of this wheel, which was launched in 1998, was used by the Nissan development team at the Nürburgring Nordschleife while developing the R34 Skyline GT-R. Following the car's debut in January 1999, many Super Taikyu race R34s ran these wheels, as did the Nürburgring 24 Hour Falken race car. To see the new version of the wheel now on sale, sporting that instantly recognizable web design and now a pronounced concave shape to the spokes, well, let's just say the want is very strong.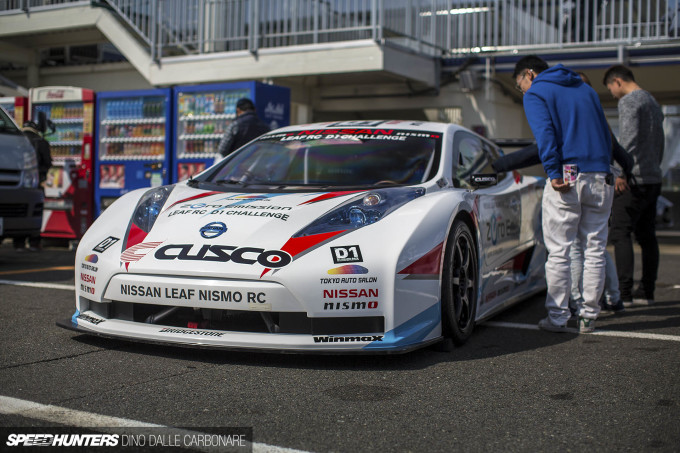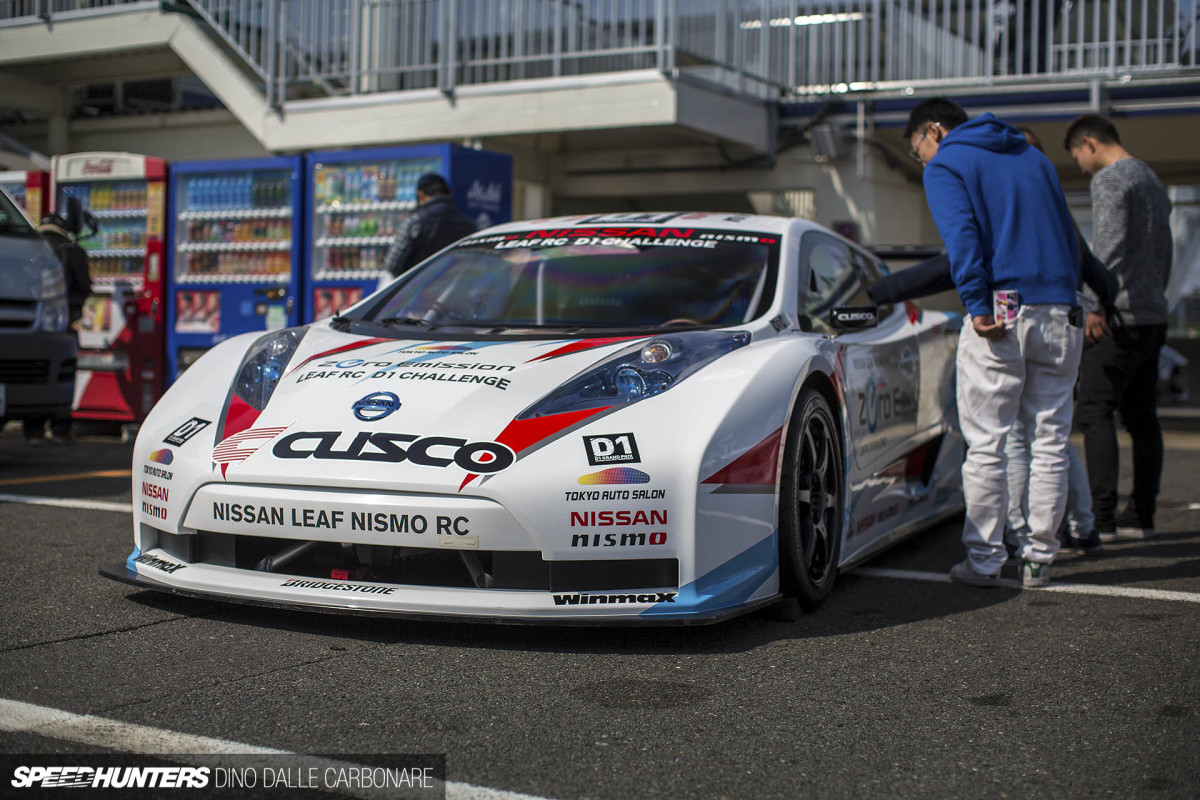 A bit of a strange finding was the now Cusco-sponsored Nissan Leaf Nismo RC experimental race car. The wide-body creation has been around for about five years now, and it was being paraded on track to show off its brutal silent speed.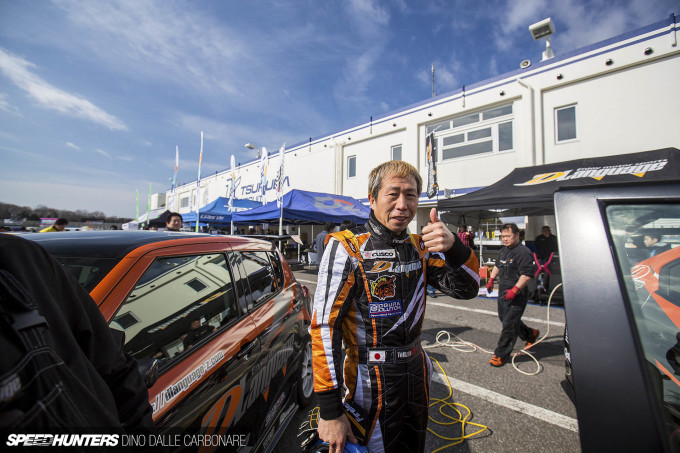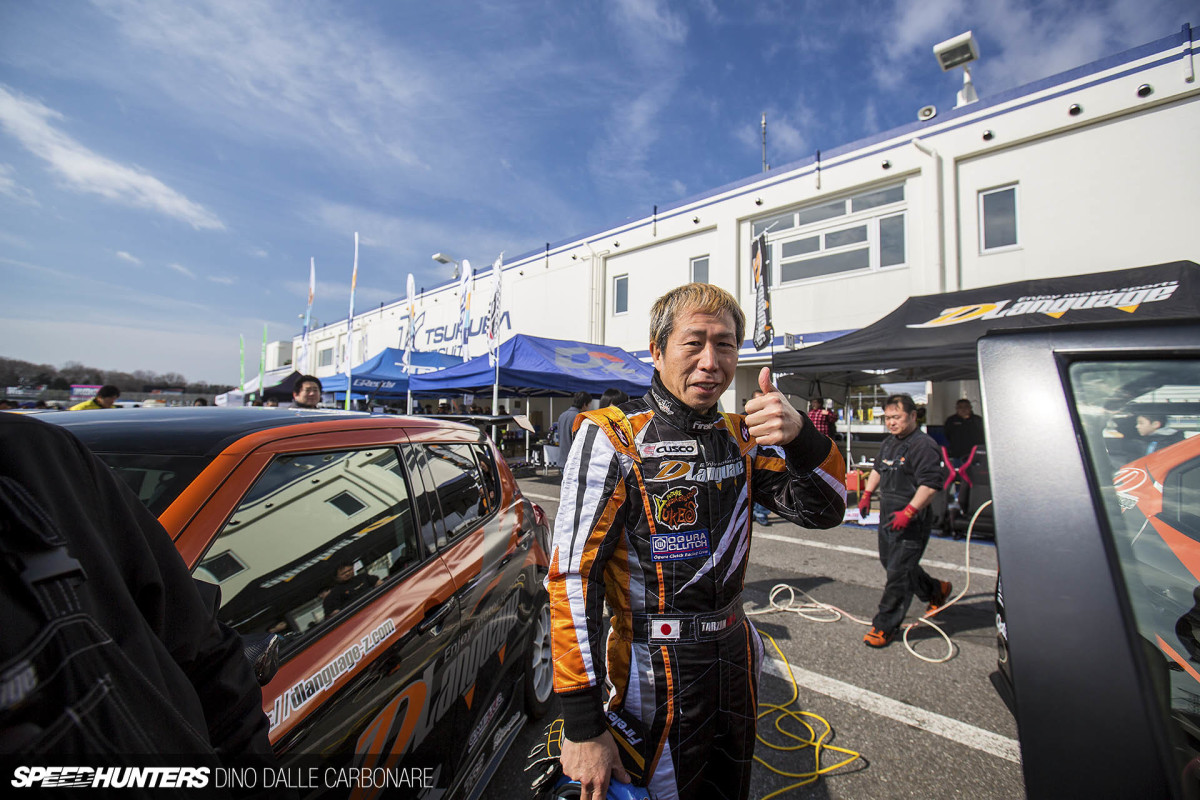 The Leaf was driven by resident crazy-man and JDM driver extraordinaire Tarzan Yamada, who was booked in to do a lot of driving at the event. It's always cool to see famous faces jump into completely different cars and instantly extract crazy lap times, something that's always impressed me with the likes of Tsuchiya, Taniguchi and Orido, to name the most well known outside of the country.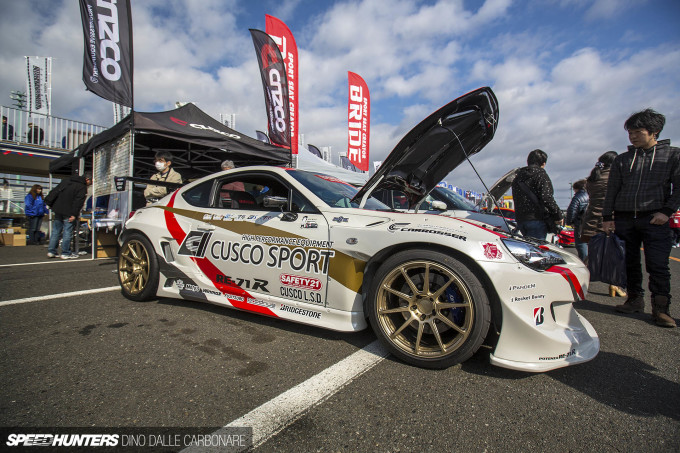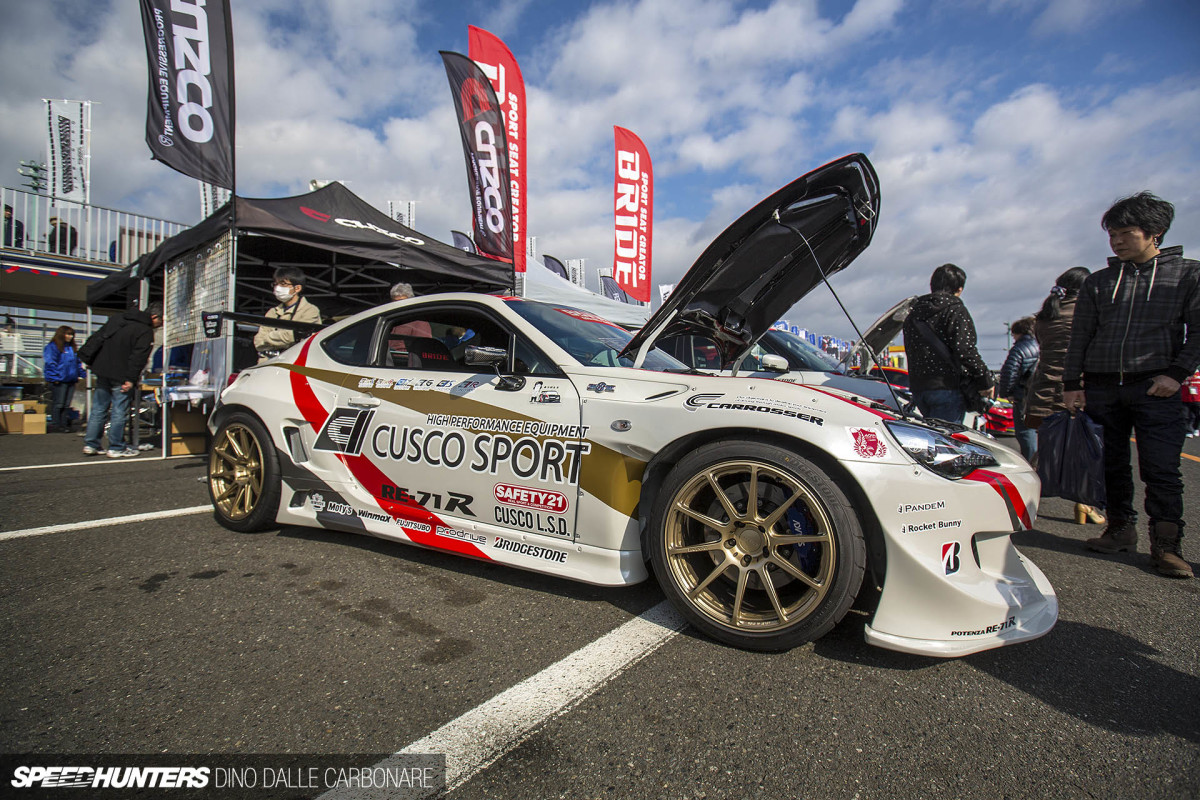 Staying with Cusco, it had another car on display that I've been wanting to sample for quite some time now.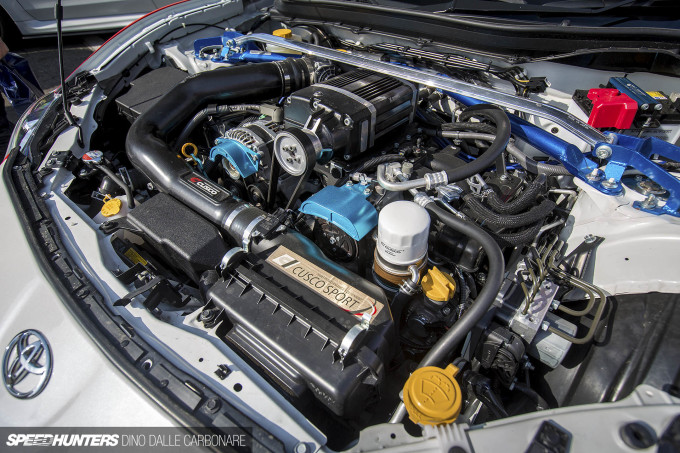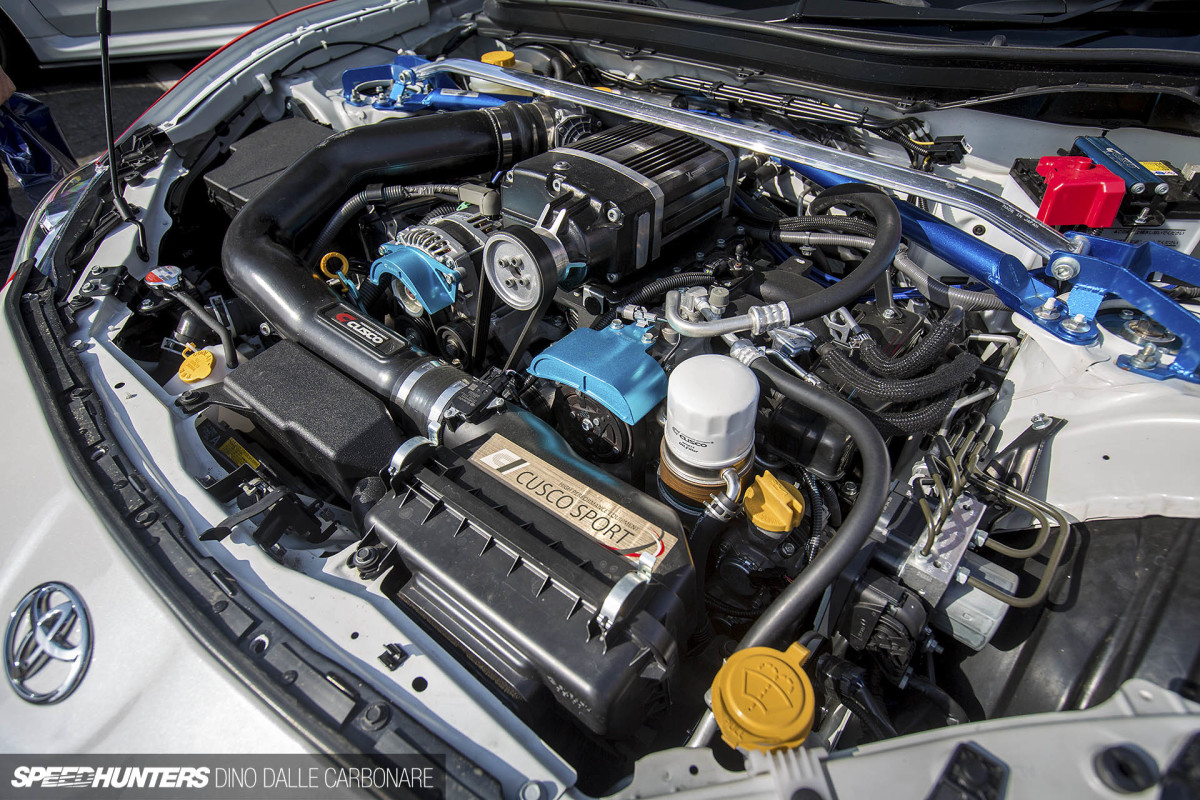 On paper, Cusco's supercharger kit may look like it only adds a minor boost (50hp), but I'm pretty sure out on the street it would feel pretty substantial, mainly due to the linear delivery of the power and torque curve. It's also pretty straightforward to fit and retails for $3800, which is not a bad deal all things considered.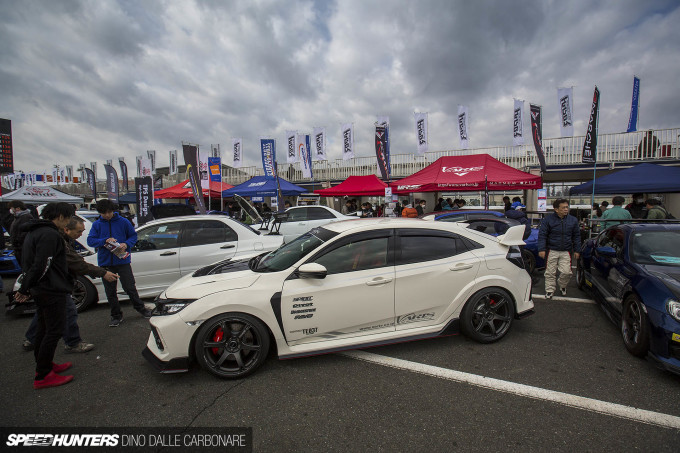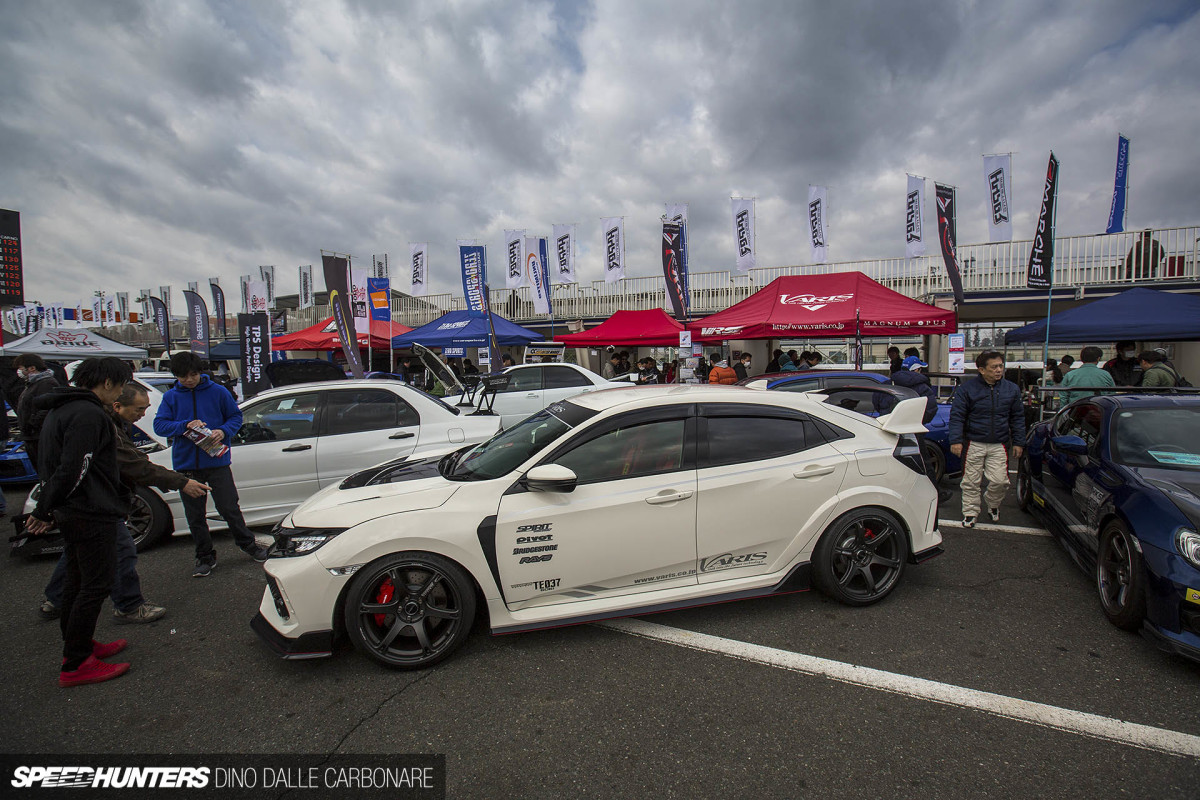 Varis is a company that I think has been killing it lately, and it's nice to see that they've began to play around with the Civic Type R, a car that – and I'm putting this as kindly as possible – really needs some aesthetic attention.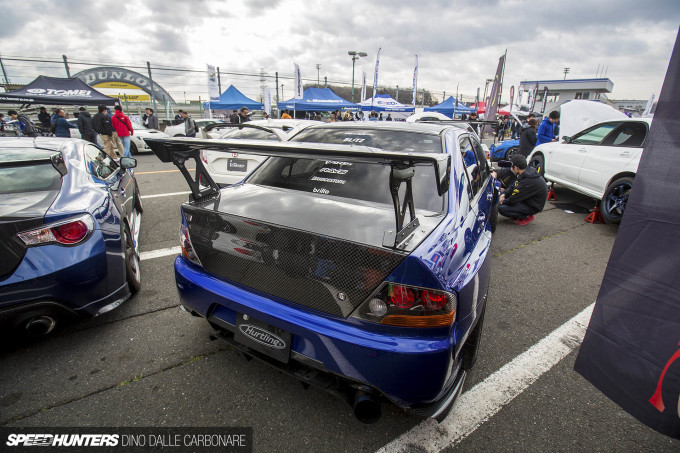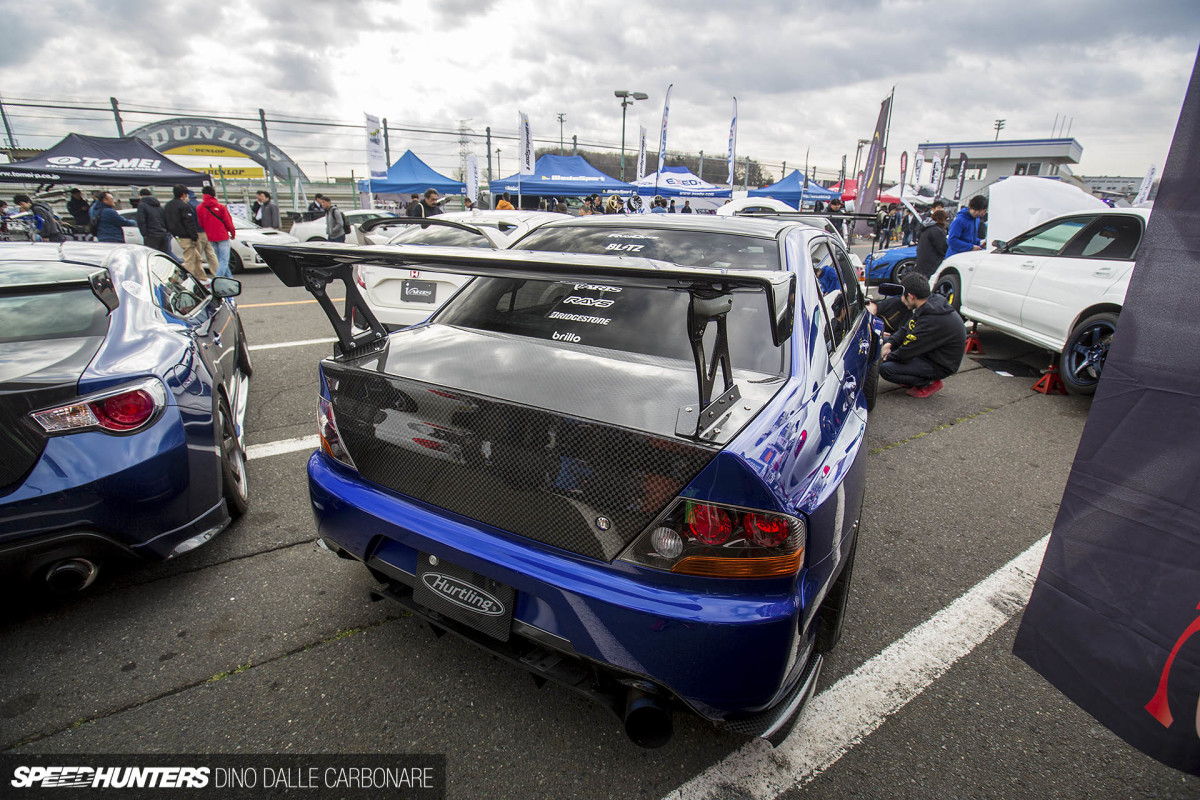 Varis's 'Hurtling' and 'Solid and Joker' sub brands are possibly even more interesting. This Evo was sporting some of Hurtling's thick weave carbon fiber additions.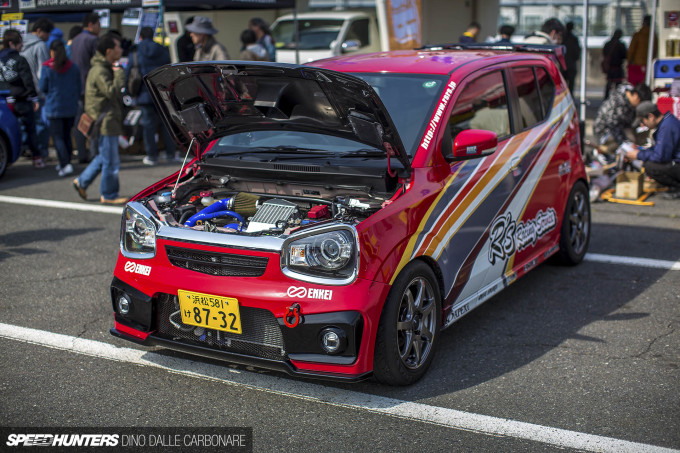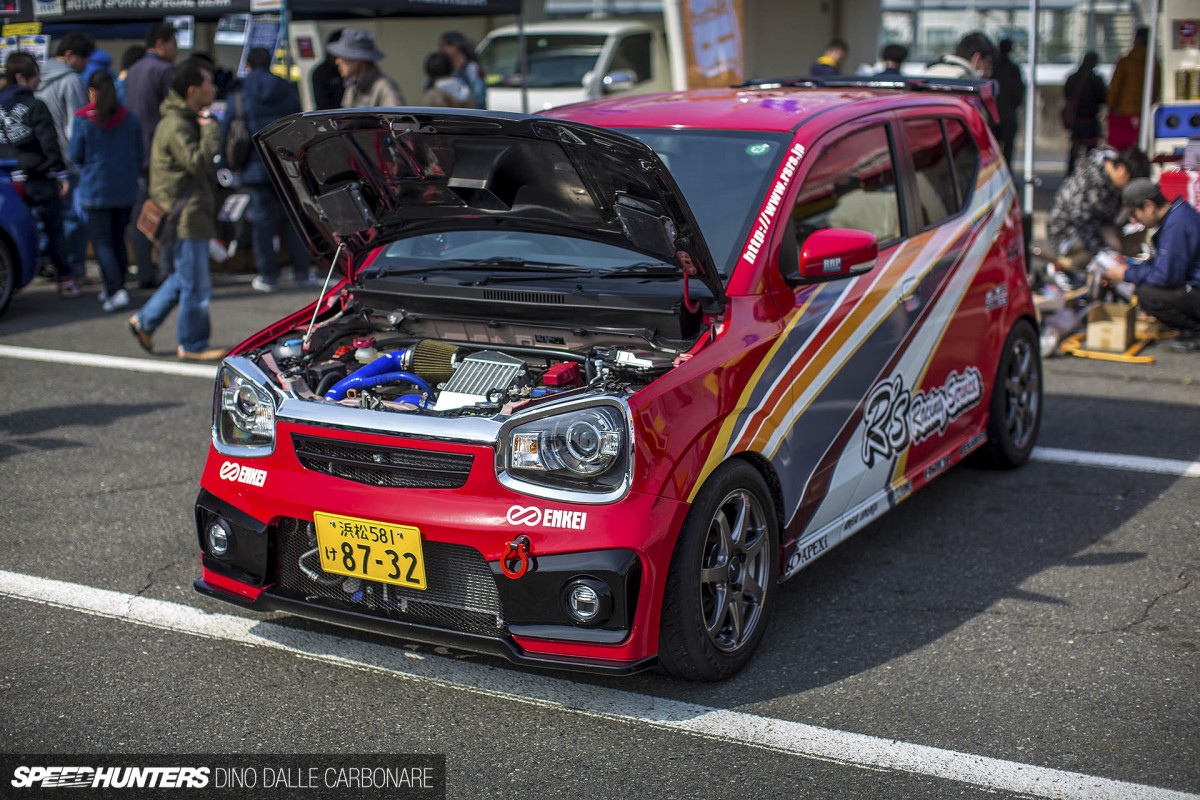 The new Suzuki Alto Works is one of coolest kei cars to have come out of late. To me, this is JDM tuning done right – cheap and affordable fun in a neat little package.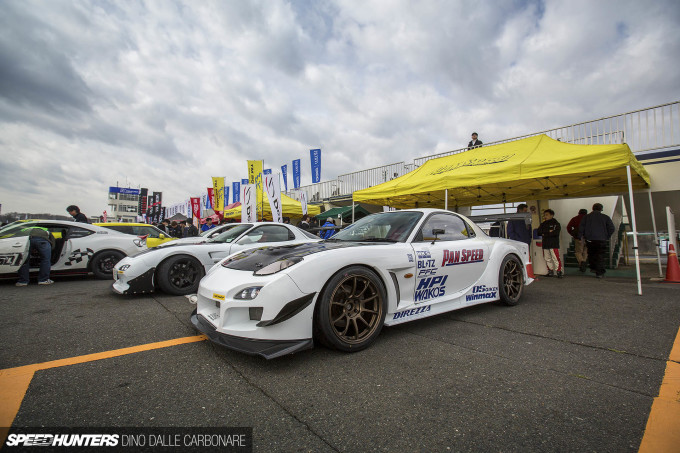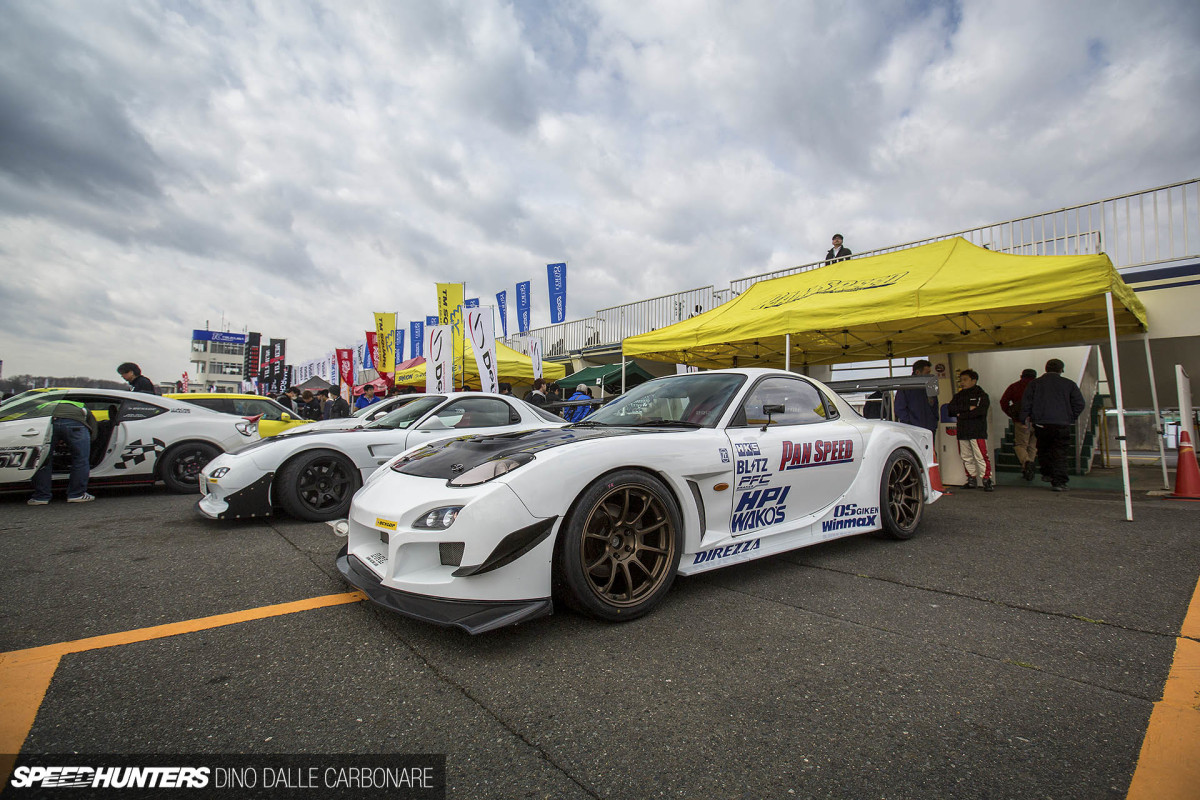 The biggest surprise of Hyper Meeting 2018 was seeing Pan Speed bring out two of their demo cars, because I don't think I'd ever seen a rotary at this event before. It's just another example how it's evolved.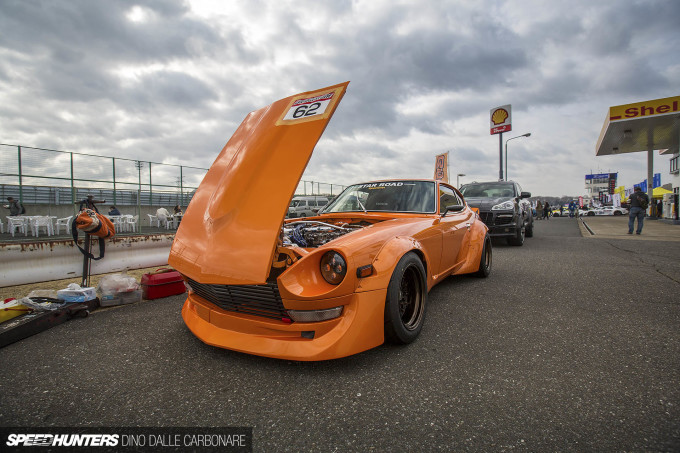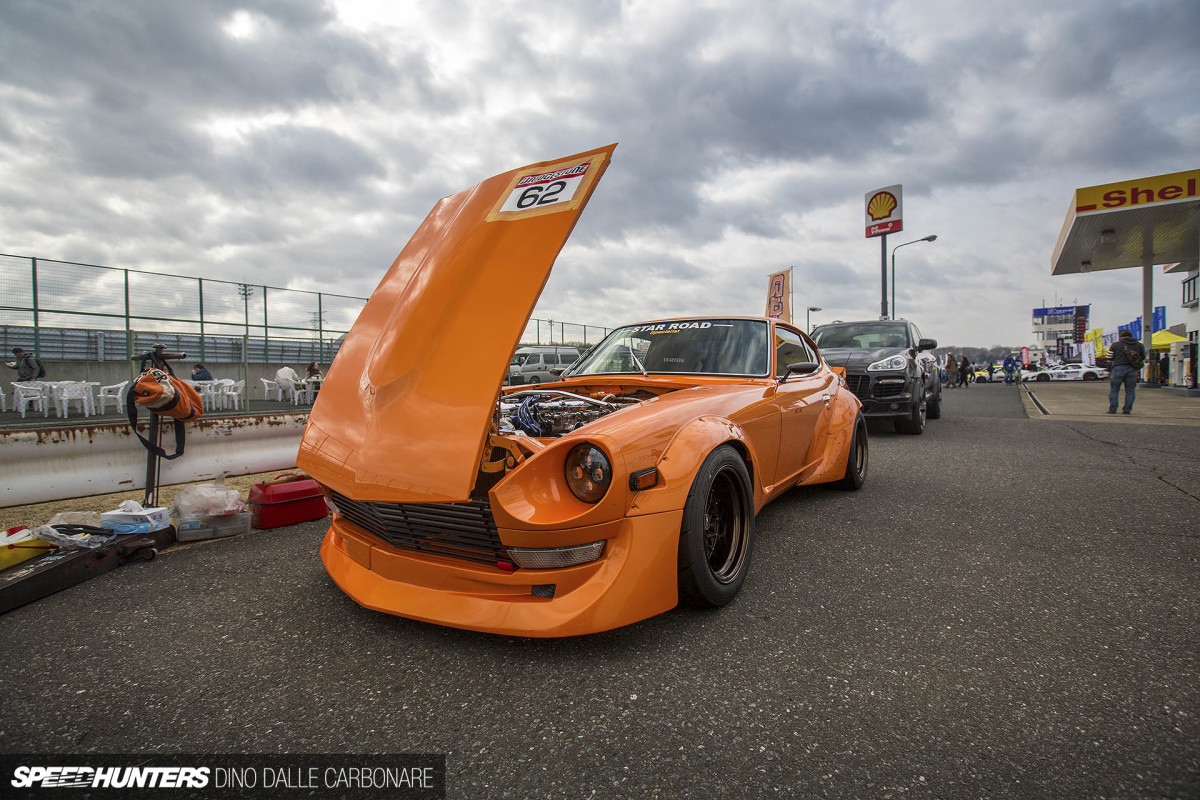 Kyusha culture has really grown in Japan over the last decade, something I put down to it going mainstream and being given the recognition it deserves. Shops like Star Road are partly responsible for at least showing a restomod kind of approach.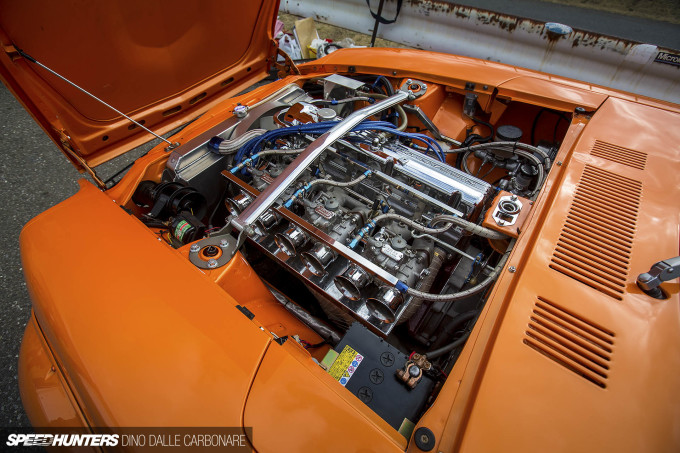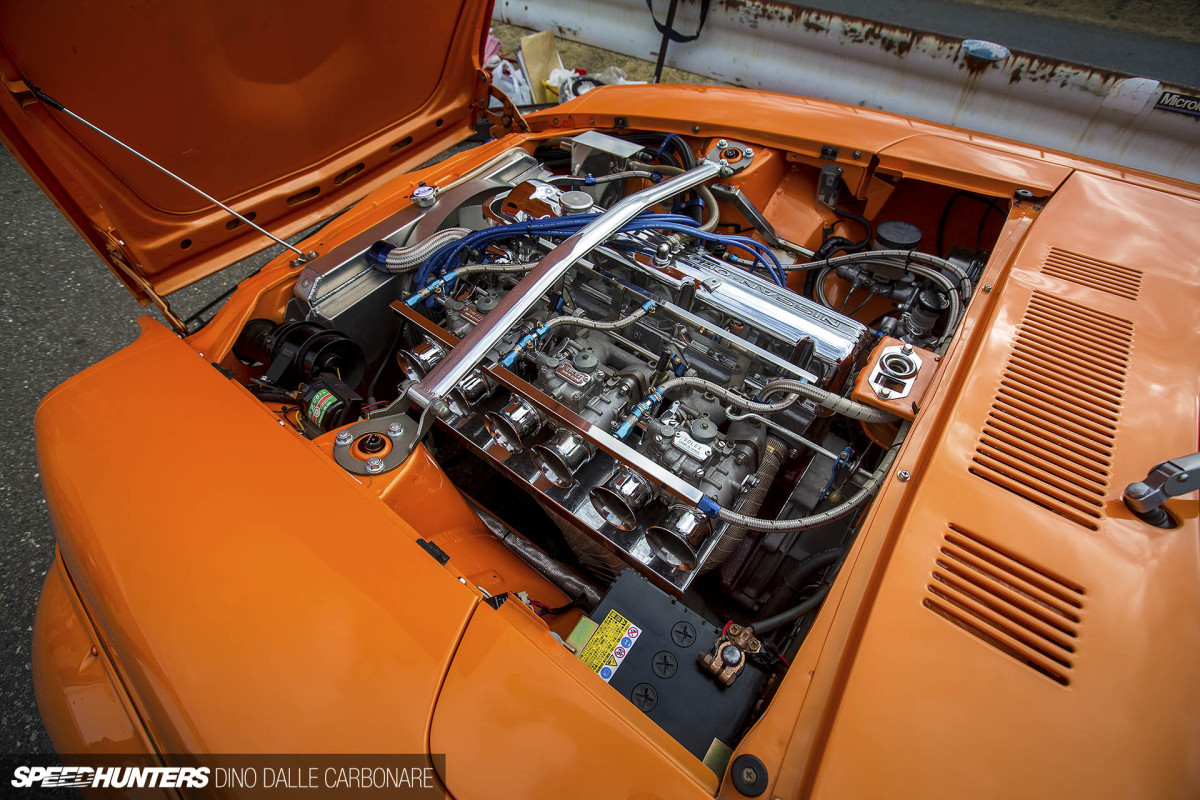 This was the first time I had seen their wide-body S30 in action, its stroked L28 screaming down the main straight.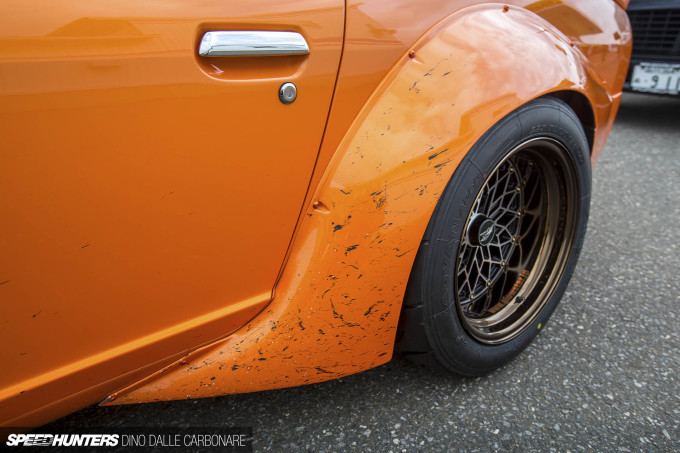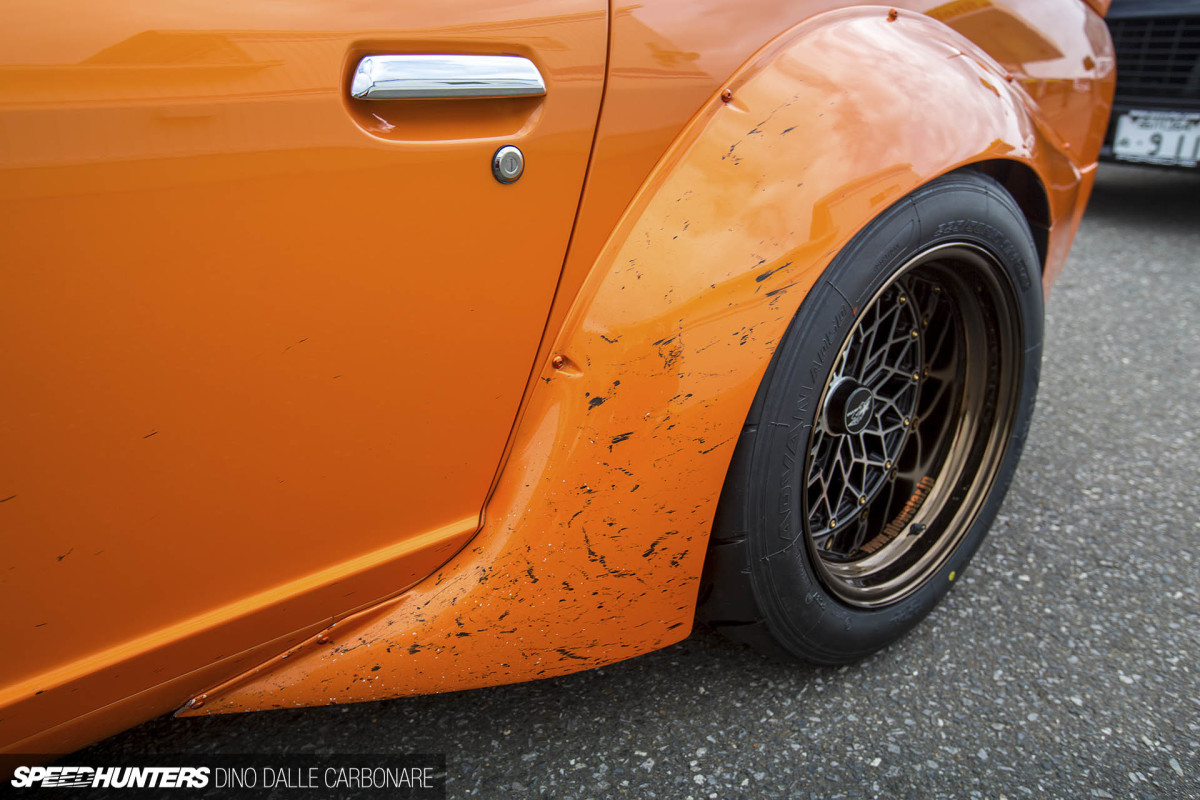 I know guys in the vintage car scene that would cringe seeing this type of conversion, but that's the beauty of it. Like RWB and Rocket Bunny there's an extreme angle to the way these cars can be modified; it all comes down to you what you prefer.
Keeping An Event Current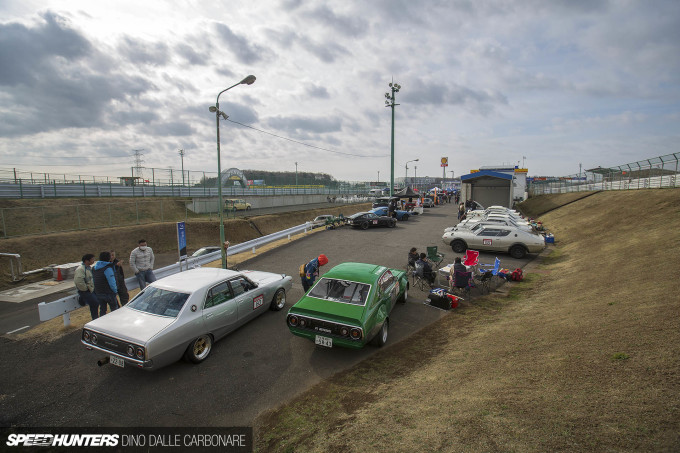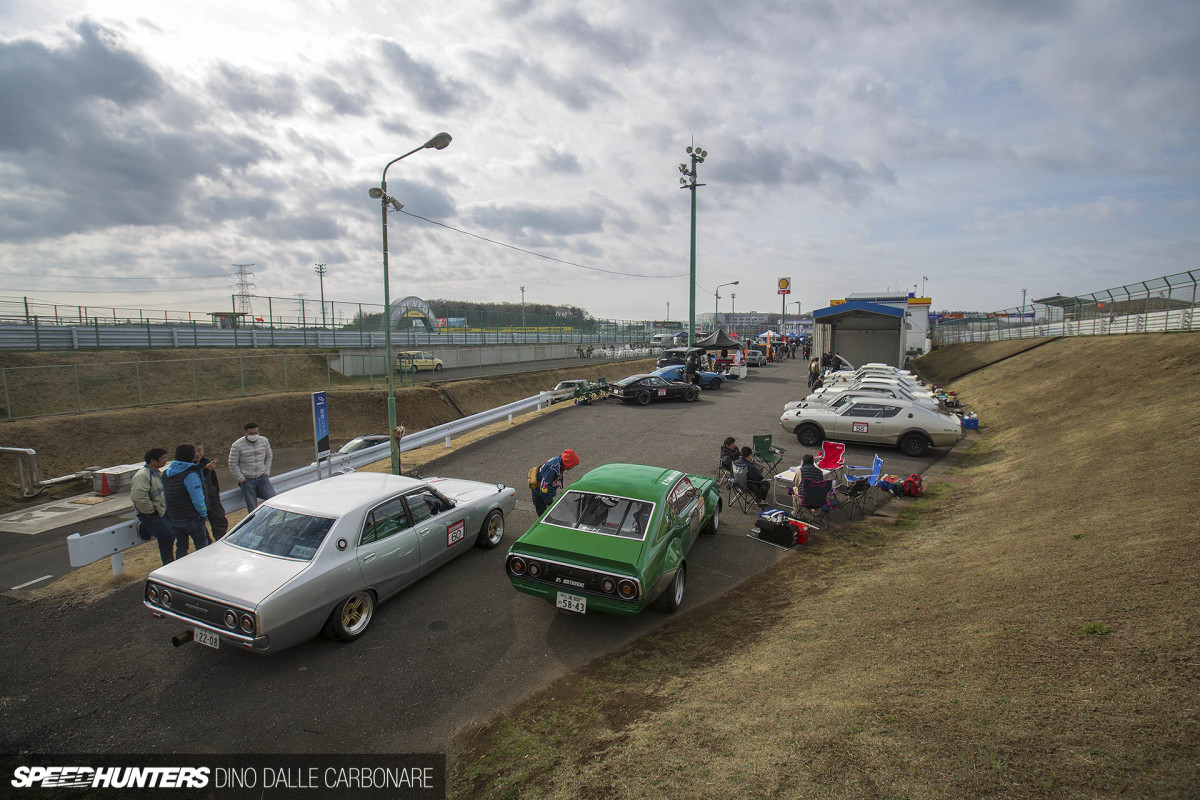 One group of event attendees had taken over the slither of paddock that stretches into the inside of turn one and laid out a rather tantalising selection of Skylines.
From legit Hakosuka and Kenmeri GT-Rs to track-oriented GT-Xs running on S-tyres.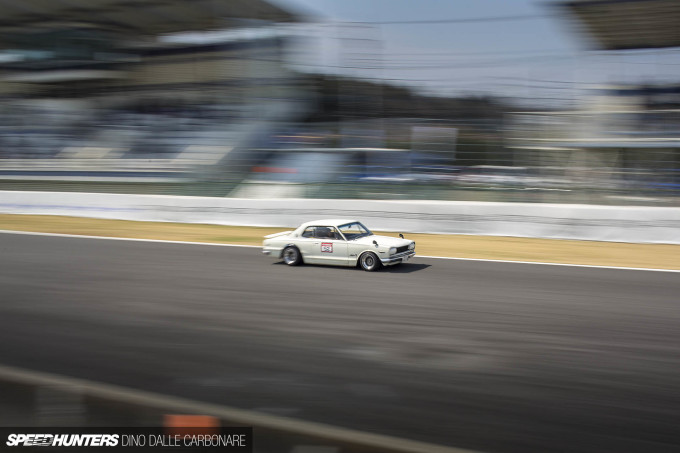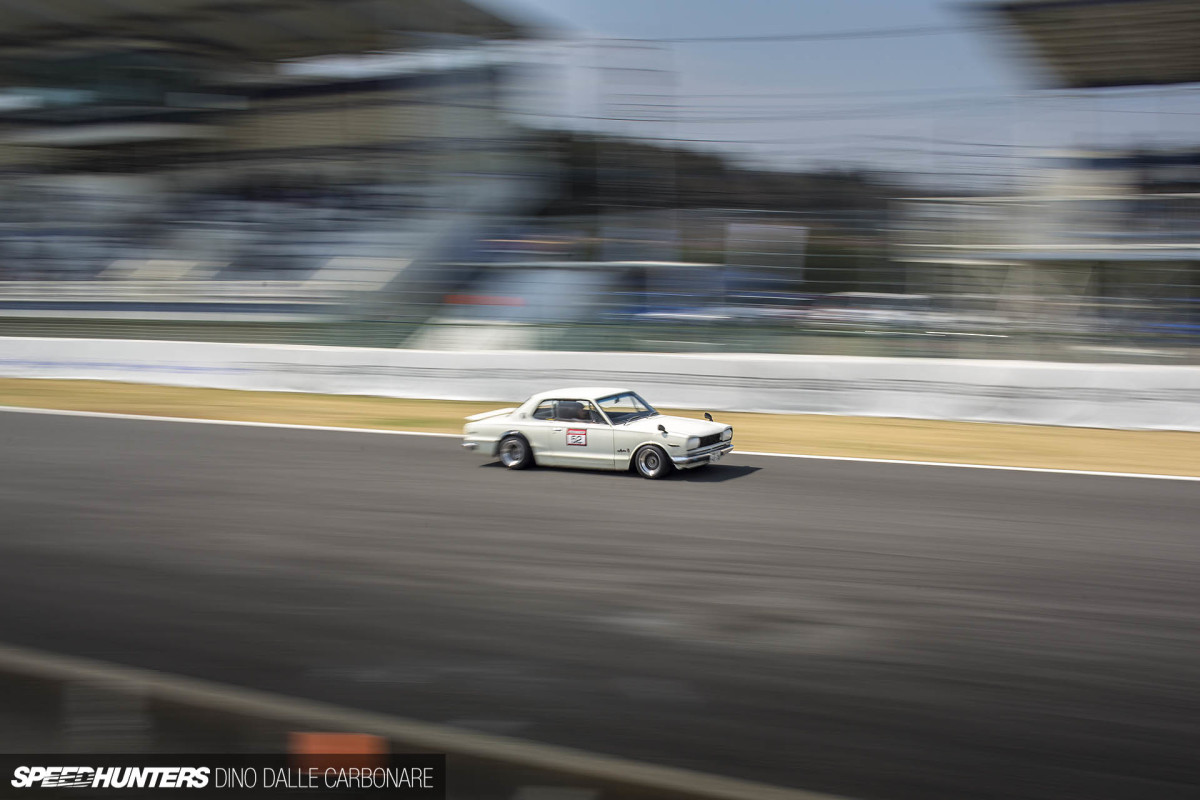 These cars may not be fast by what we are used to seeing at Tsukuba these days, but boy do they make up for their lack of speed with harmonious engine notes.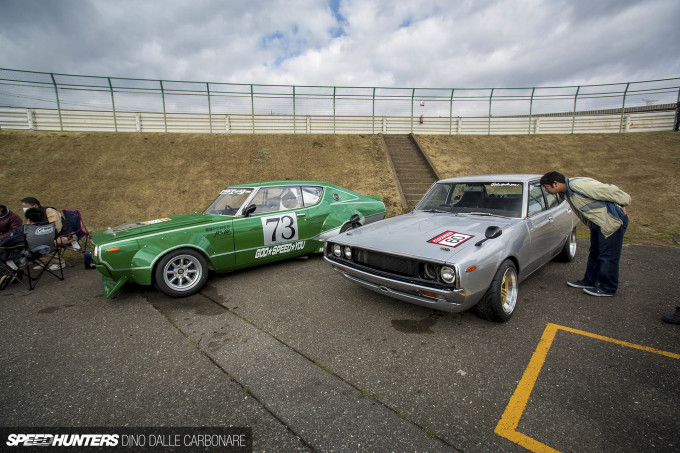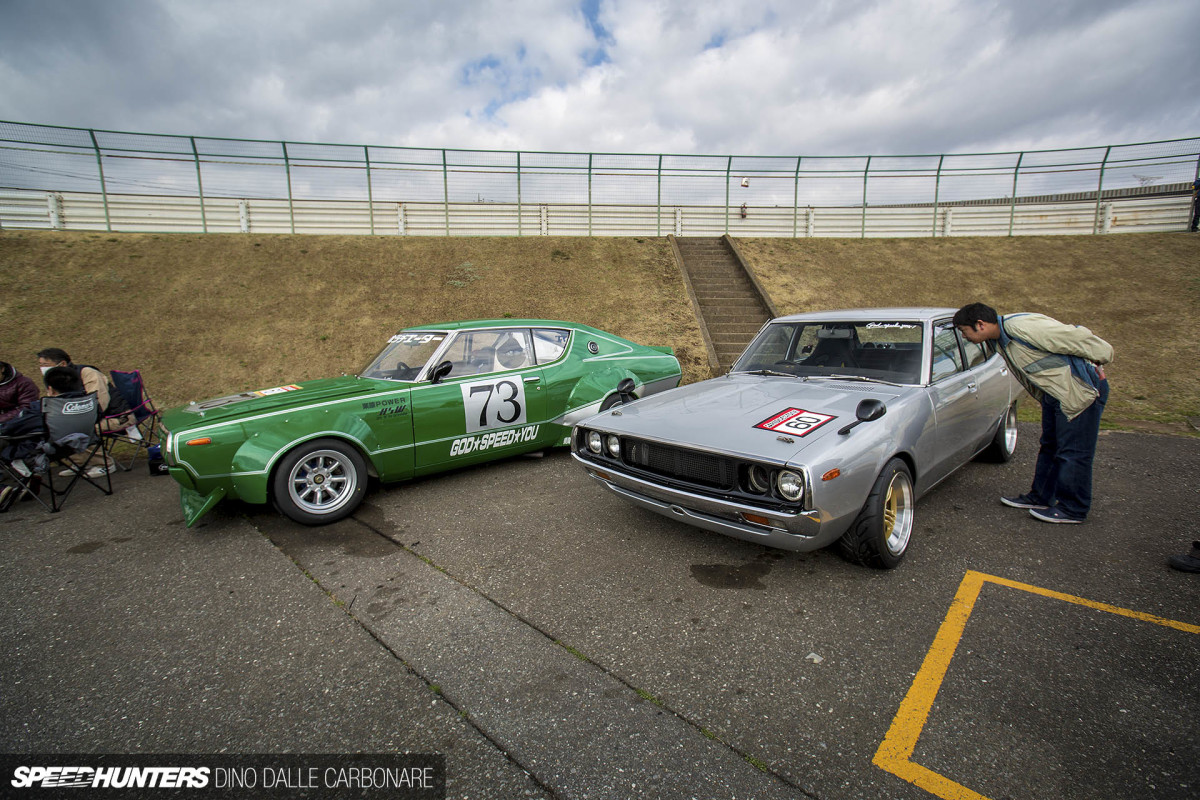 The over-fendered race Kenmeri was quite the sight, but it was the four-door street car next to it that was stealing a lot of the limelight.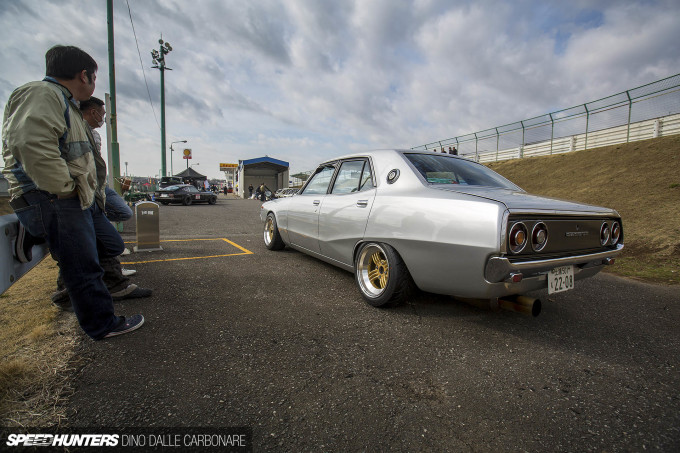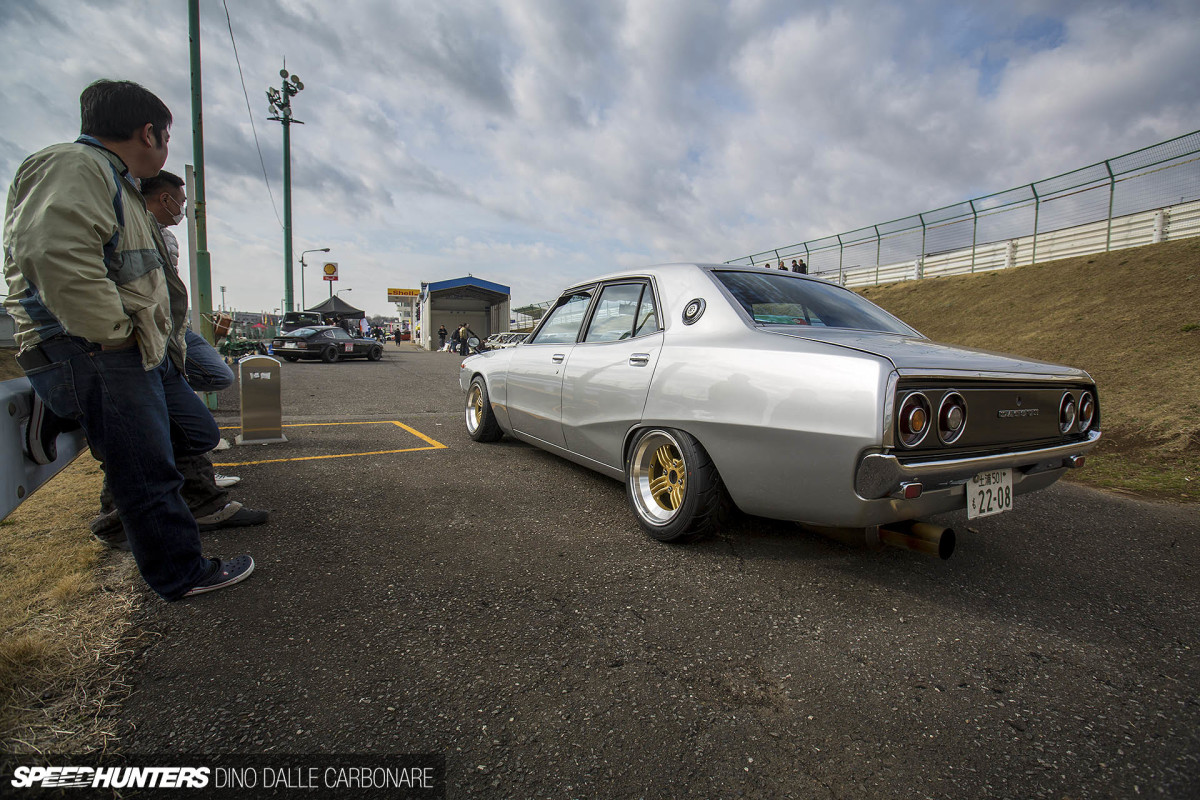 There was something so right about it. A decently lowered Yonmeri on rare vintage Devil Shadow four-spoke wheels – pretty much kyusha perfection, I'd say.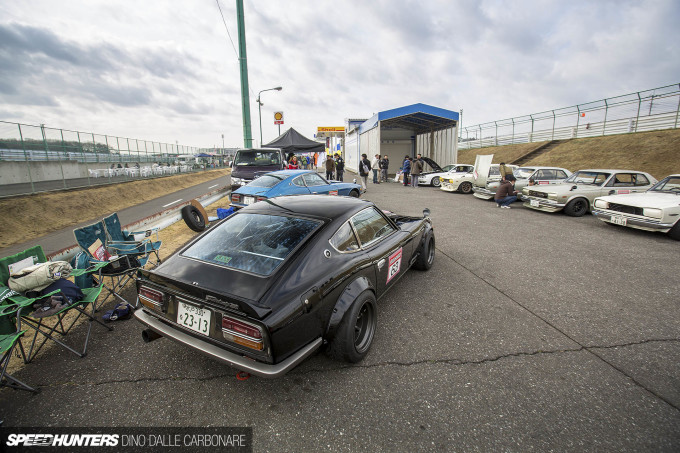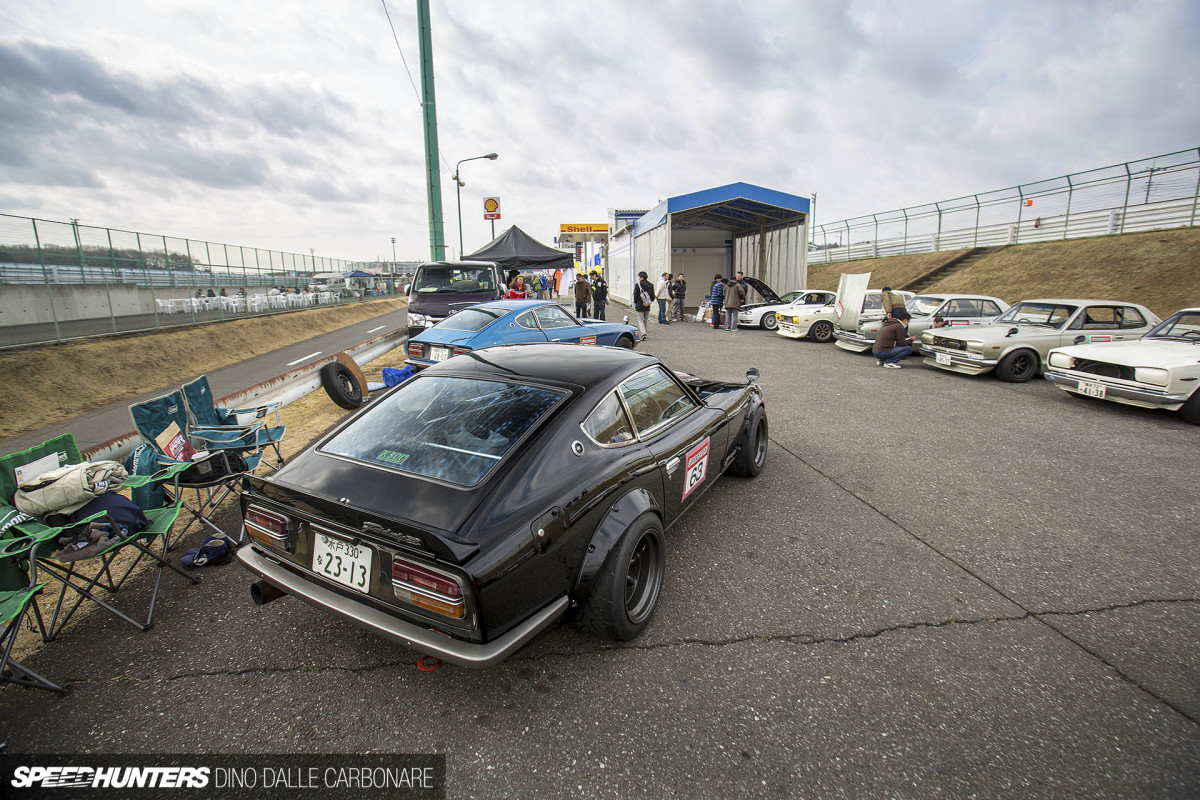 All these cars enjoyed their own sessions on track, injecting a very cool vibe to the whole day.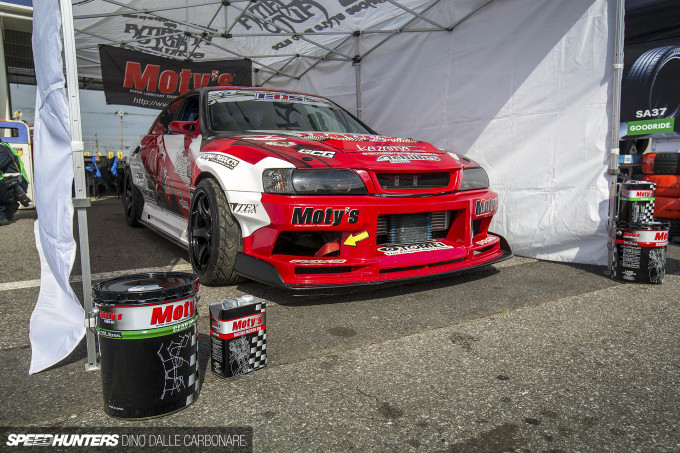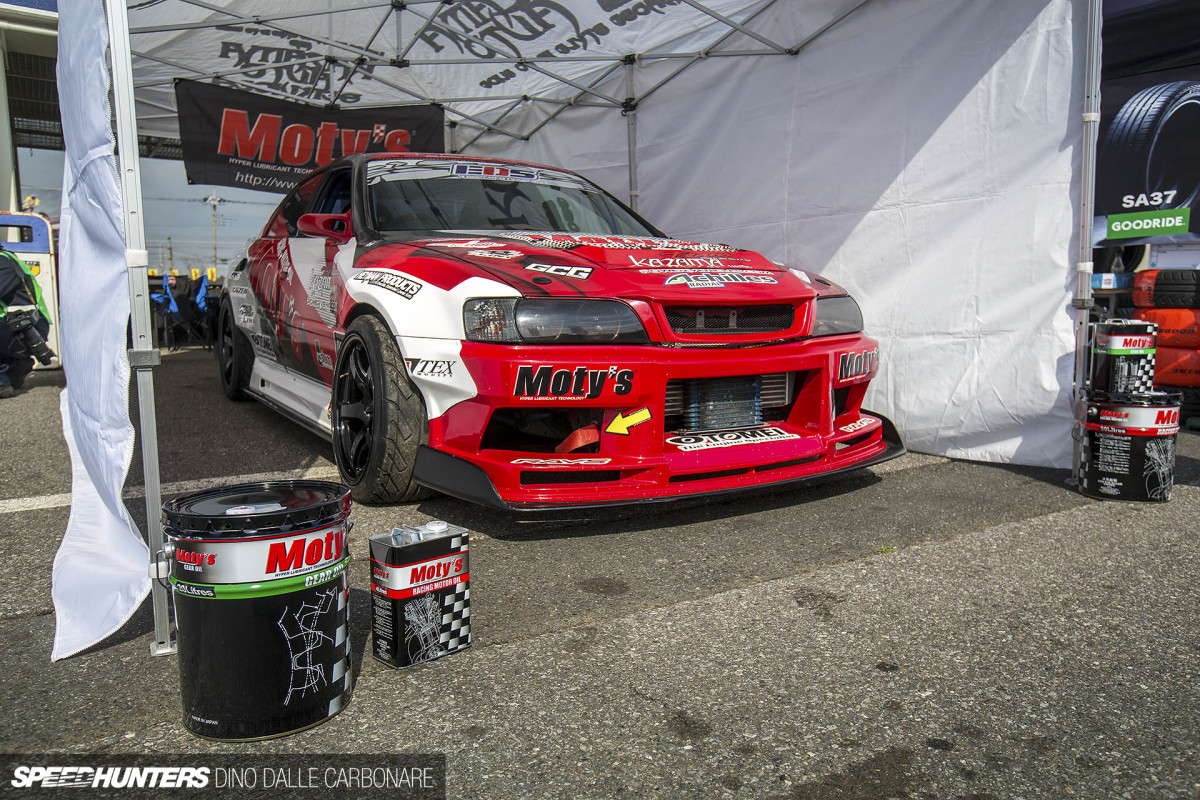 We've taken a closer look at Fujino's 'SR20VET'-powered 180SX already, and that's a car that was joined by Kawabata in the 2JZ-powered RPS13 as well as Andy Gray's wild JZX100.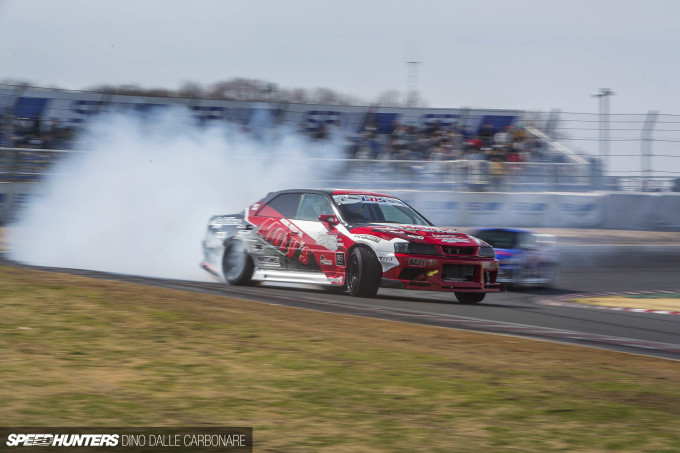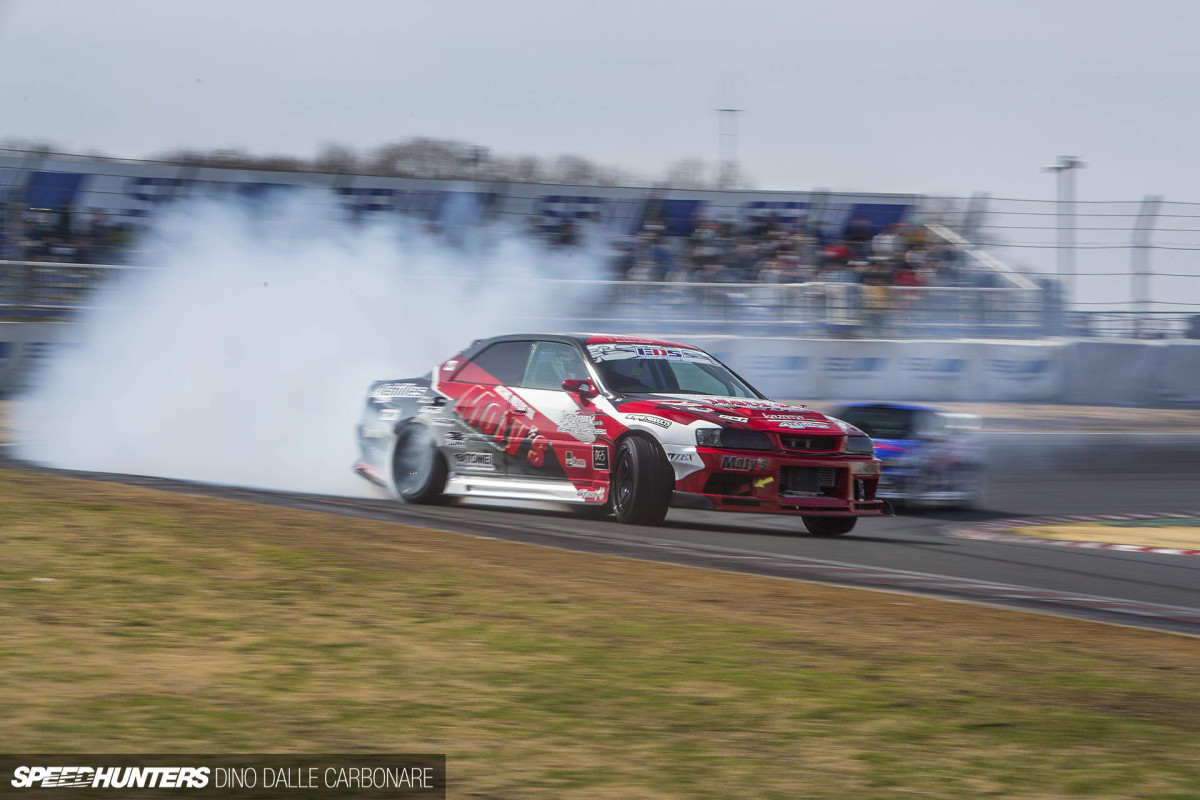 Andy is never afraid to annihilate tires in the name of entertainment. He assured me that his Formula Drift Japan car would do the job even better, but unfortunately it was back at the Powervehicles shop at Ebisu being prepped for competition. Still, he pretty much doubled the amount of smoke Kawabata and Fujino created together!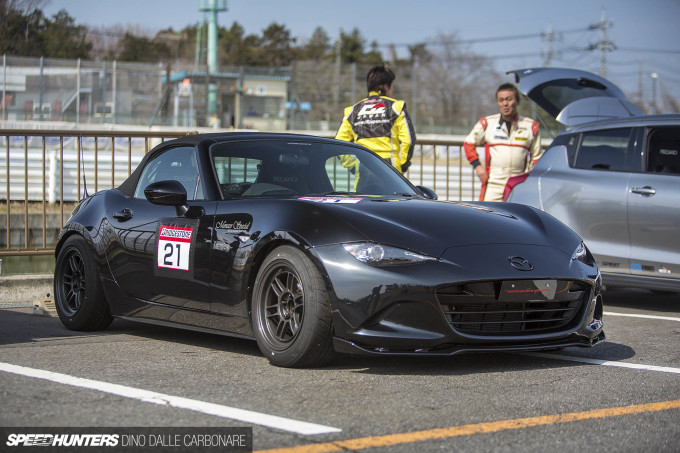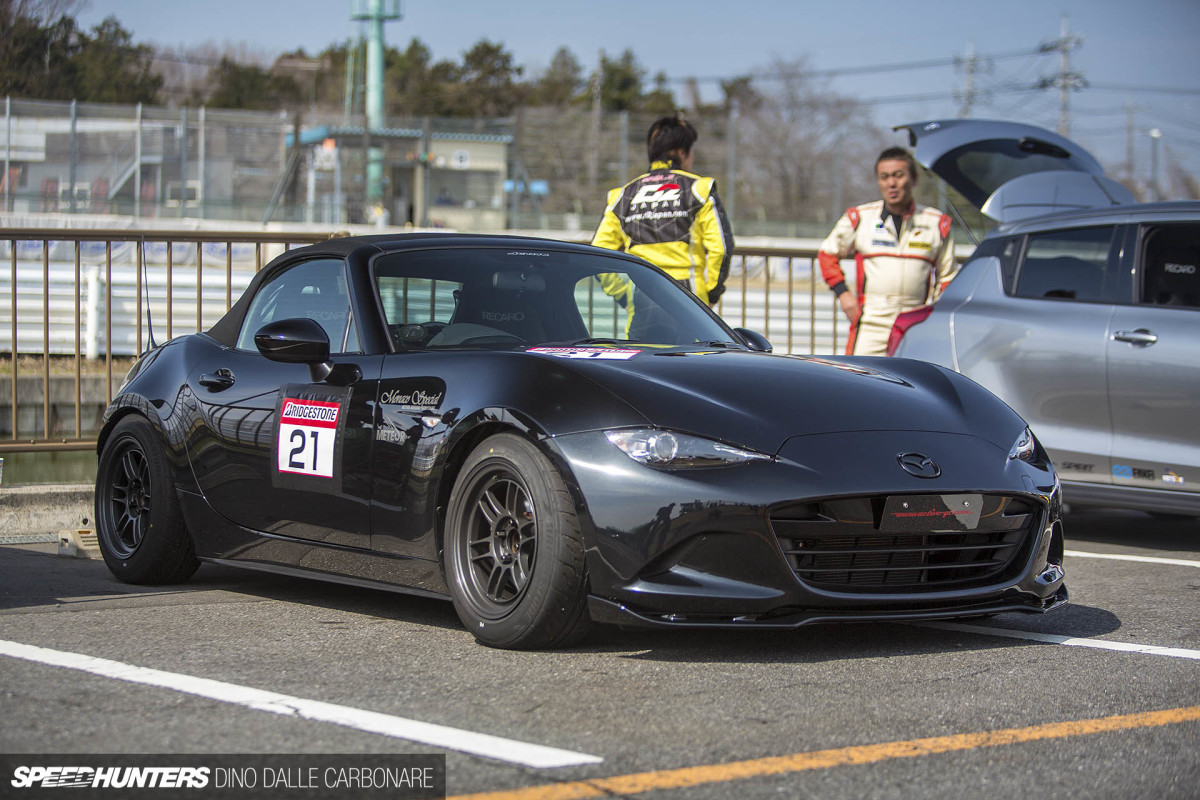 I've been looking forward to showing you guys this ND on Enkei RPF1s ever since I saw it. The black on dark wheels look is one that works beautifully, but more to the point I think this is pretty much the best example of perfect fitment I've seen in a while. 15-inch rims and chunky side walls – this is how it should be done on a compact car like the Roadster. The ride height is functional as is the wheel offset, and the generous tire sidewalls will give the car sublime mid-corner adjustability and feedback as it becomes part of the suspension. The key would be choosing optimal damper settings and tire pressures to get the right balance, but it's nice to see that some people out there still go for what we can safely call an old school setup. 10 out of 10 from me.
Part of the day was an open track session where people had a chance to take their cars around Tsukuba for some timed laps.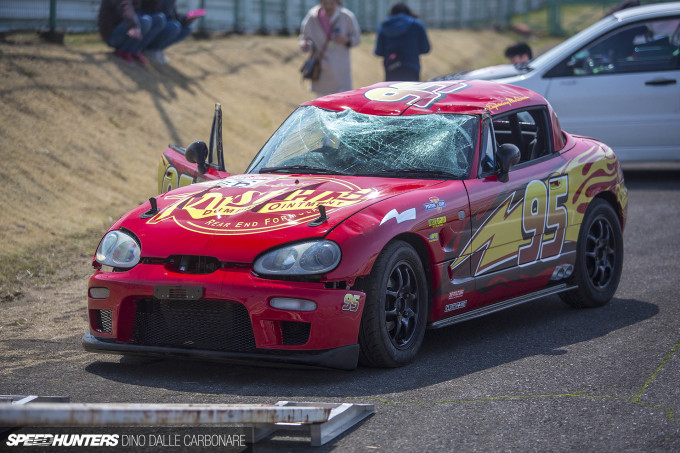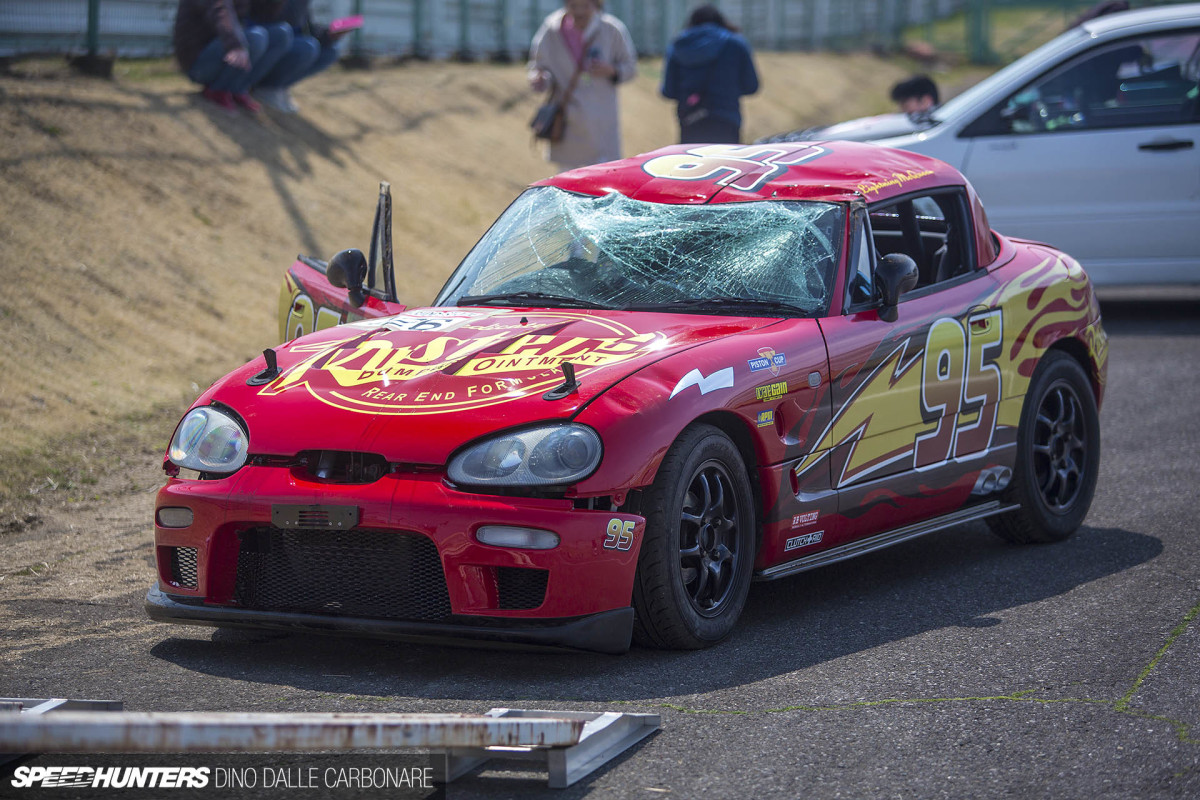 Unfortunately, track driving can turn sour pretty fast as the driver of this Lightning McQueen-themed Suzuki Cappuccino found out. It's always sad to see, but at least no one was hurt.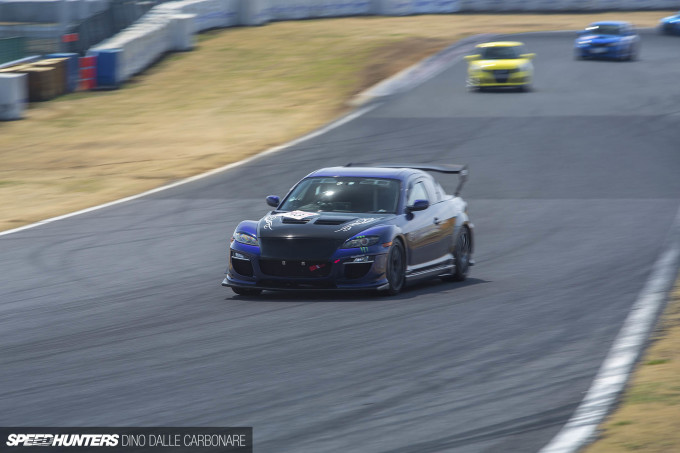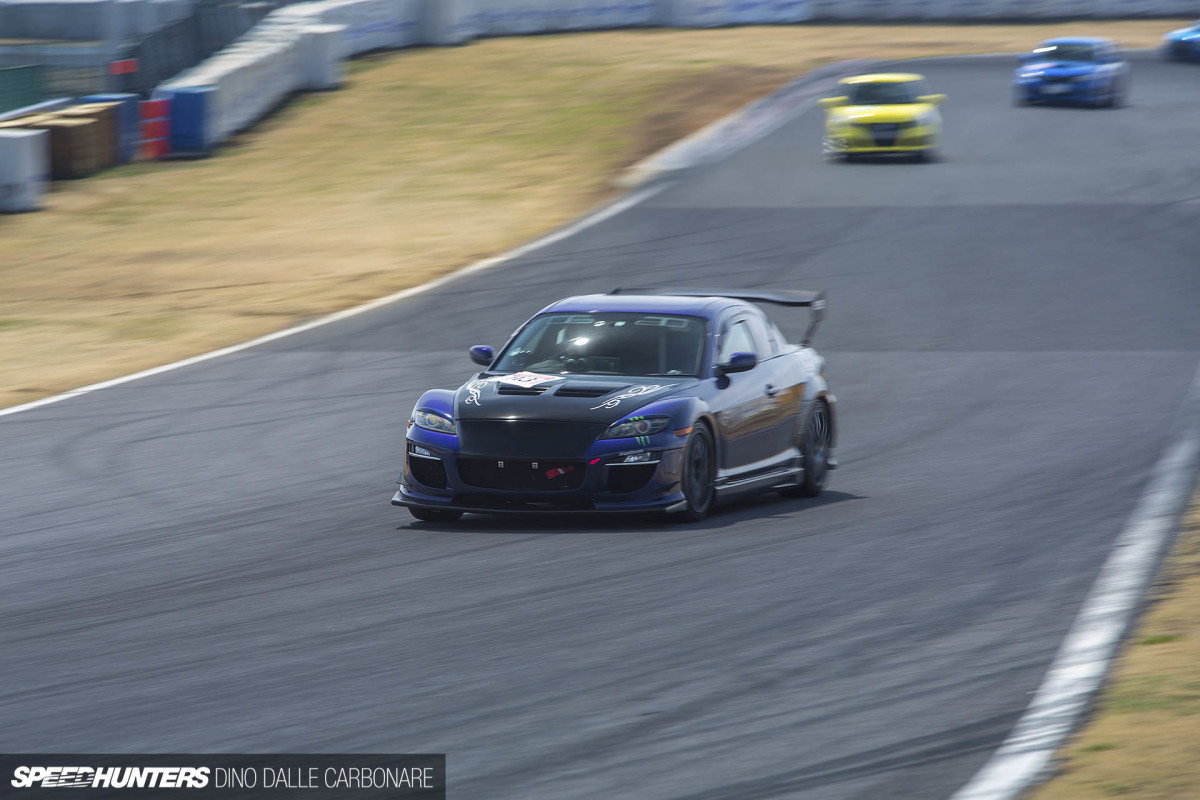 It was a fun day revisiting the Hyper Meeting, especially seeing such a well known event having grown and kept up with the times. That said, I think I'll purposely take a break from Tsukuba for a little bit – three weeks in a row is a tad too much, even for me!
I think it's time for a spot of grassroots drifting…
Dino Dalle Carbonare
Instagram: speedhunters_dino
dino@speedhunters.com