The Wagonist
The wagon, the body style that created the old American family tradition of cross-country trips. But nowadays these cars are associated with minivans, and as such they are no longer desirable.
It's time to change that thought and John Huckins' 1972 Datsun 510 should help steer the course of the wagon revival.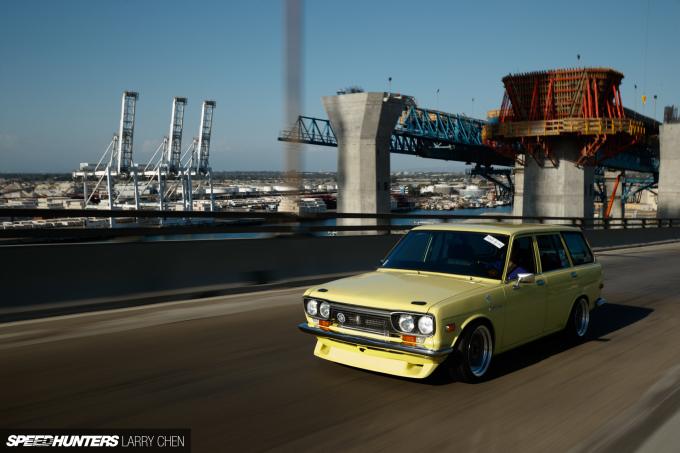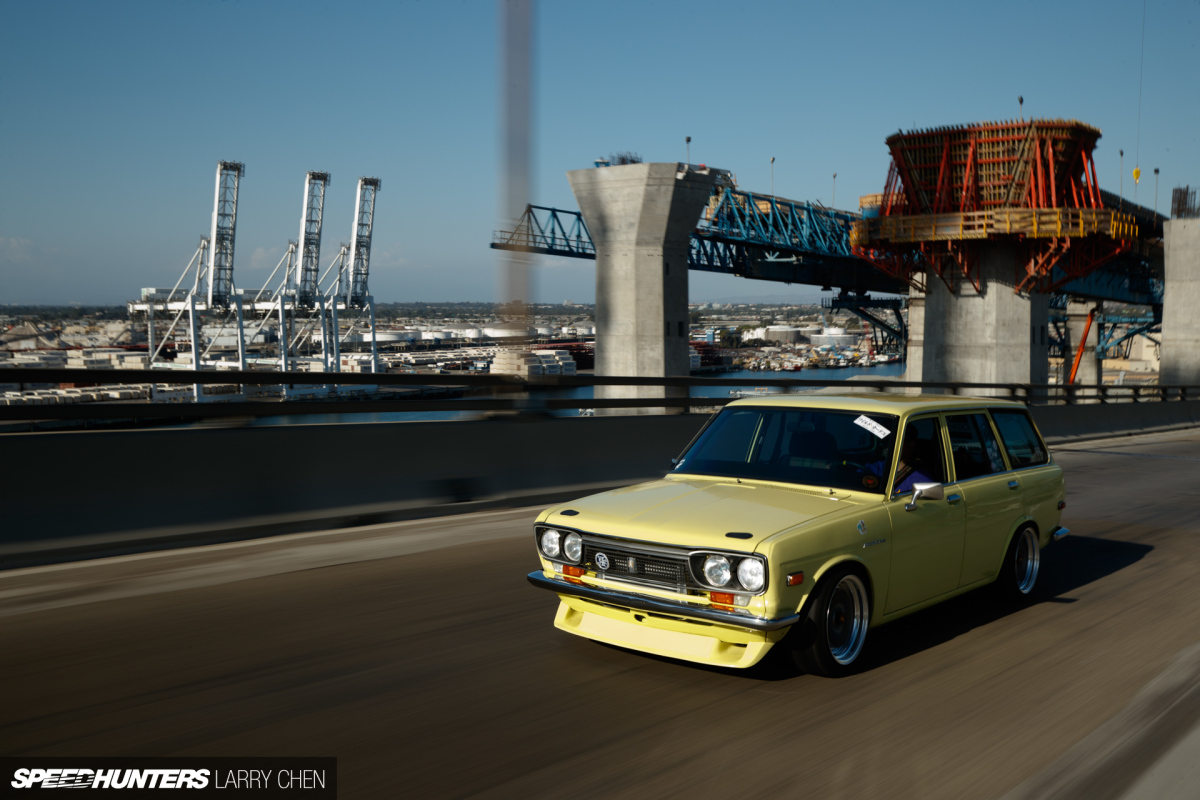 The wagon was once the car that everyone wanted because it was cool. You could find amazing builds from hot rodders with wagons like the Chevrolet Nomad, the Ford Fairlane, and the Dodge Polara. But what was a cool genre of cars has now been reduced to bad jokes thanks to movies like National Lampoon's Family Vacation. However, that didn't deter John when he picked up this 1972 Datsun wagon more than 10 years ago.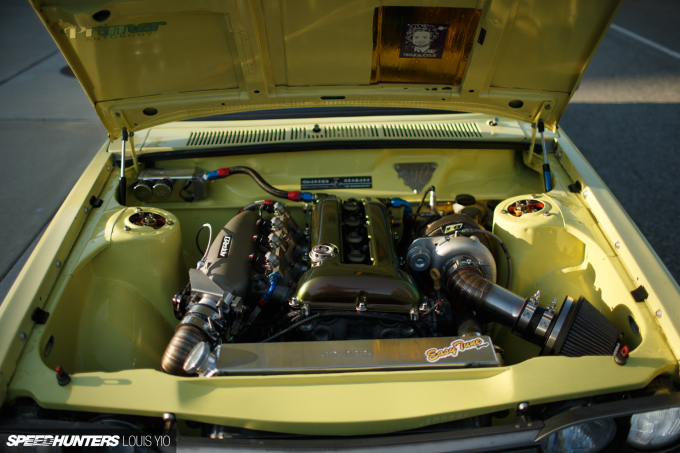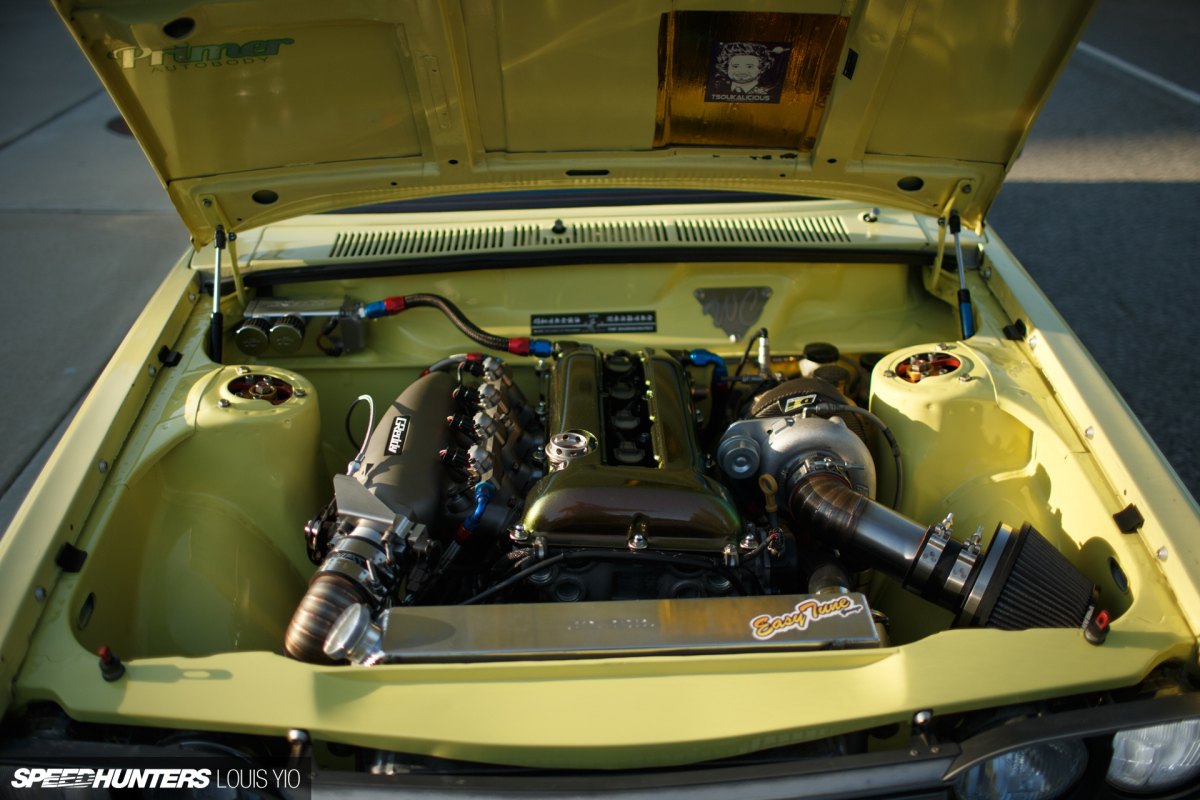 Like the hot rodders of the past, you're not going to find much stock within John's 510. Under hood is the classic Nissan swap – a SR20DET red top version. This engine has seen two rebuilds over the course of the last decade, but it certainly has made up for those removals. Inside are CP forged pistons connected to a set of Brian Crower rods which have all been balanced. With the crank, the engine has a compression ratio of 8.5:1 to survive boost with California's poor excuse for premium fuel.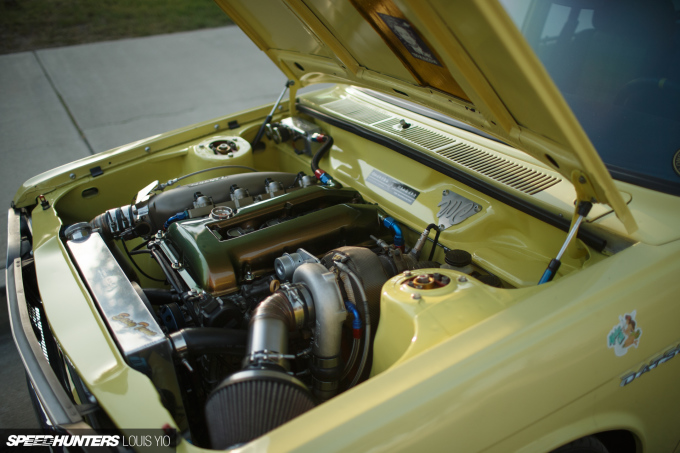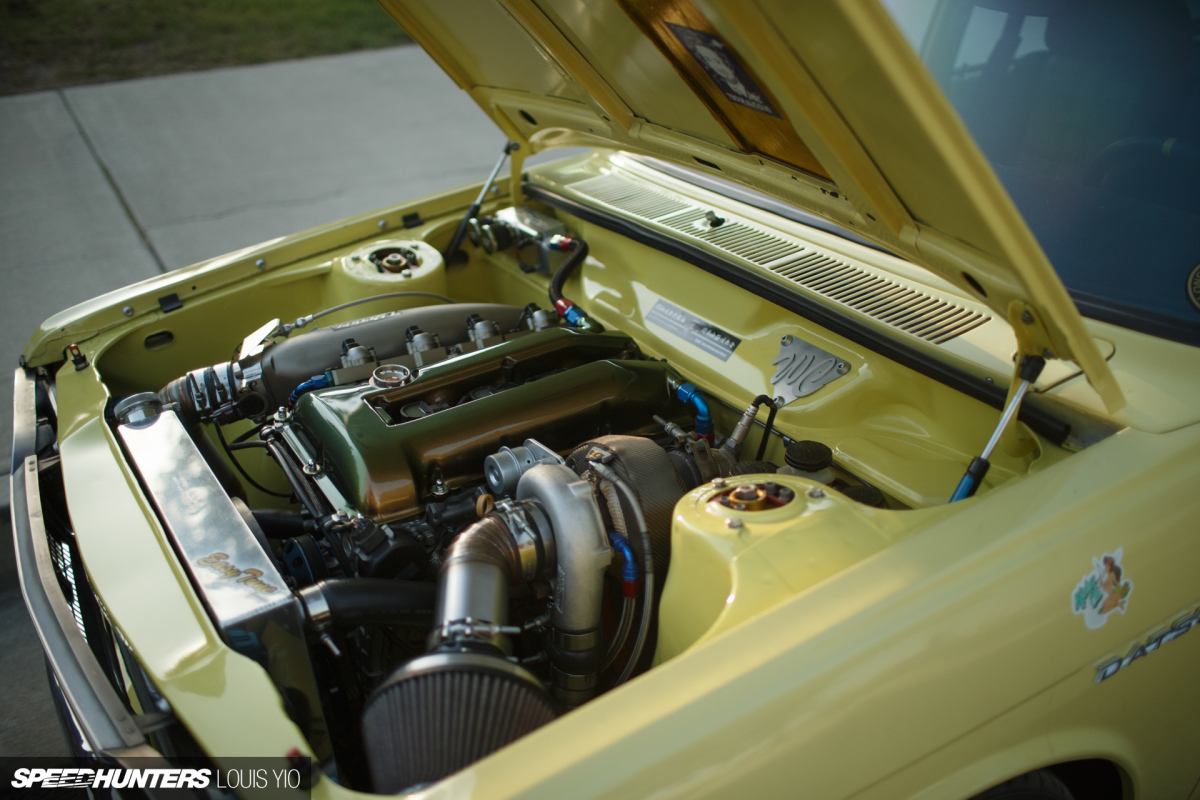 Supertech valves allow air and fuel to flow into and out of the combustion chamber, but a set of Brian Crower valve springs with titanium retainers keep them from floating at high RPM. A Precision Turbo 4828 turbo gets that spent gas through a top-mount log-style exhaust manifold, and the boosted air is sent from the intercooler to a GReddy plenum. In all, the SR20DET makes about 300hp with a mild "butt dyno" tune on the A'PEXi Power FC engine management system.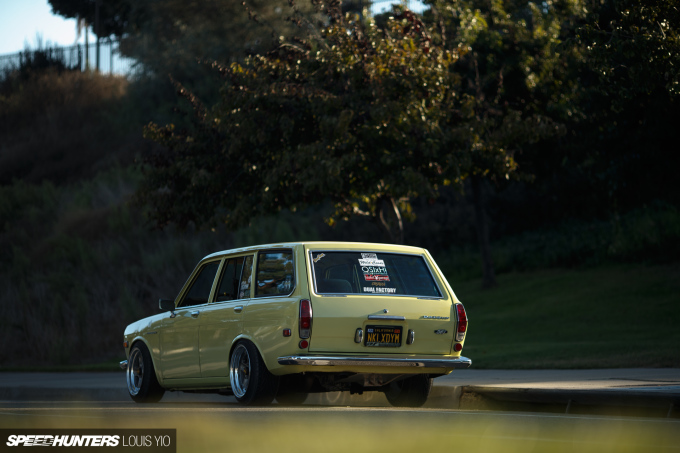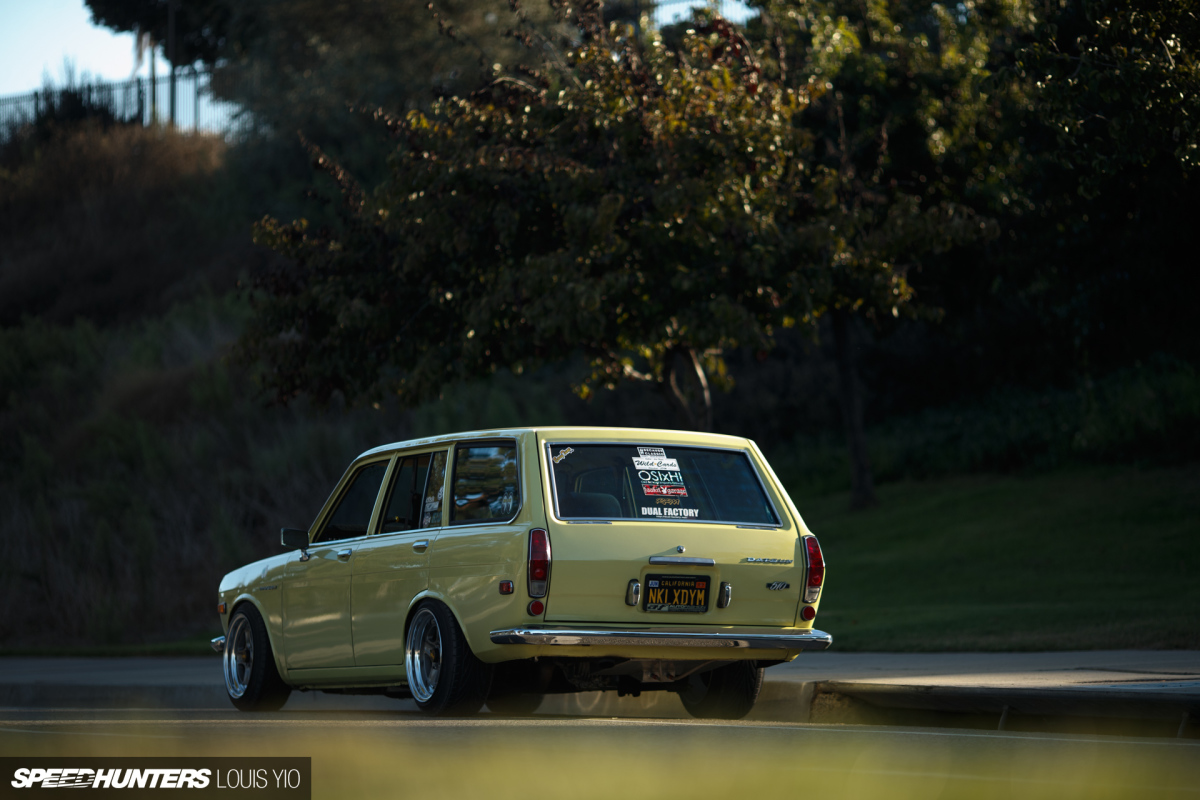 The original rear end was never going to cut it with the newfound power from the engine swap, so out went the leaf springs and differential and in went a Ford 8.8-inch rear end with a custom 4-link setup.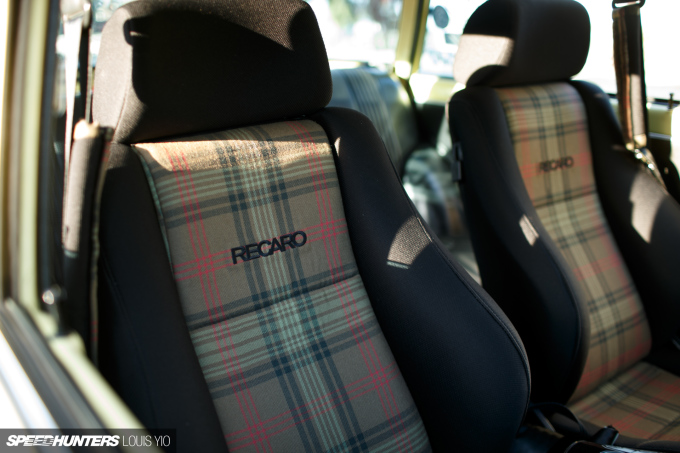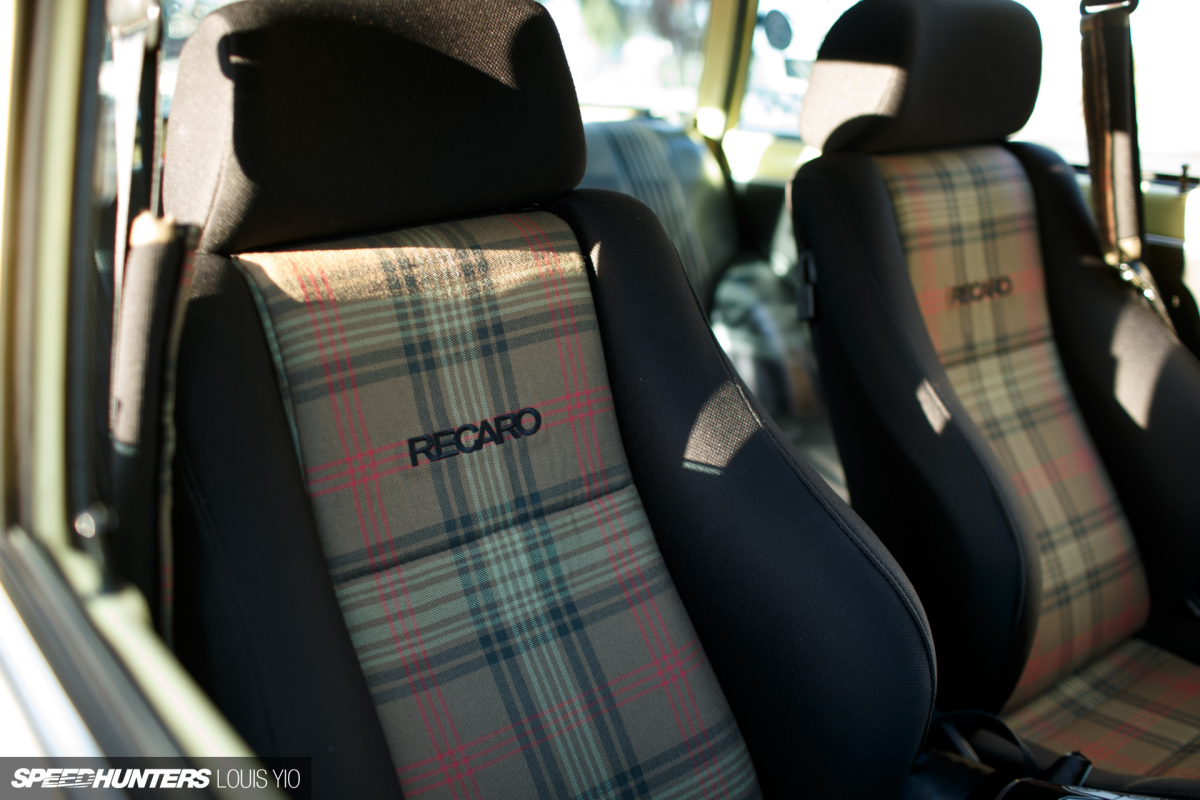 The front seats are a pair of reupholstered Recaros with real Scottish-made tartan fabric, harking back to John's family's ancestry. With most classic cars you don't get a center arm rest for the front passengers, but John installed an aftermarket handbrake and wrapped it with a Renthal Fatbar handlebar pad. It's better than resting or bumping your elbow into solid metal, if slamming a chin on a set of handlebars is anything to go by. Don't ask how I know…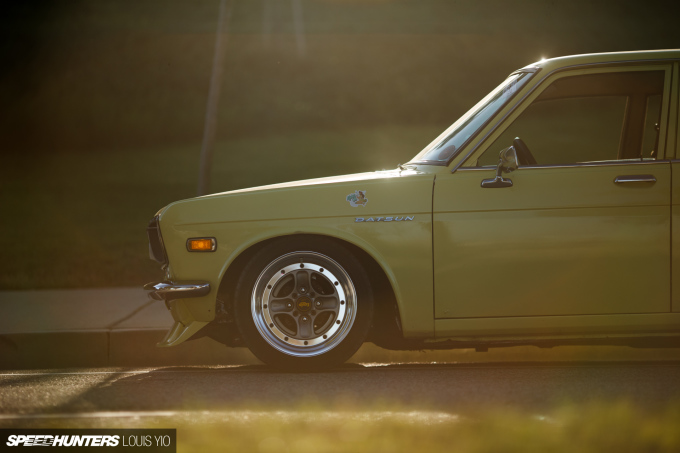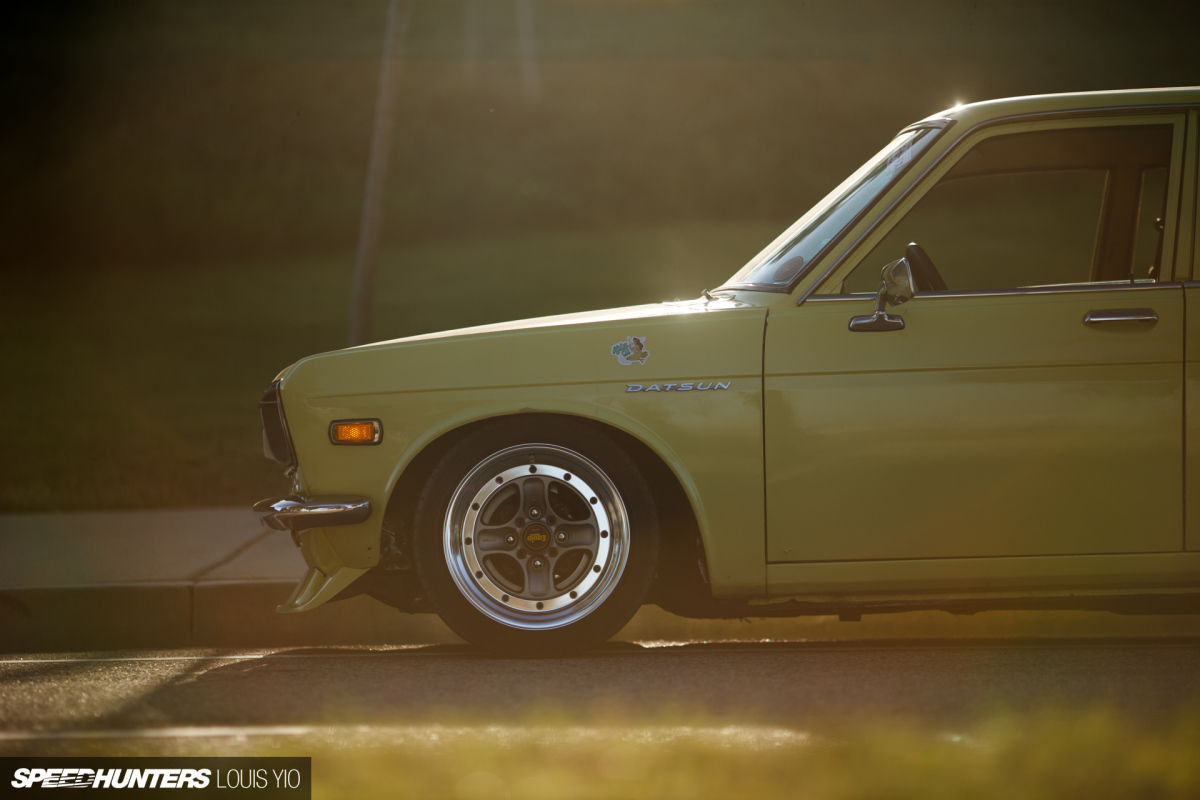 The front suspension is easy to find parts for as it's all still Datsun 510 spec, so under the fenders and behind the Work Equip 40 wheels are Techno Toy Tuning parts, Tokiko Illumina inserts in 280ZX strut housings, and Wilwood Superlite 4-piston calipers. The rear isn't quite as bolt-on considering it went from leaf springs to a 4-link that came on this version of the Ford 8.8-inch from a Thunderbird Turbo Coupe. However, to get it to fit and work with the 510, it had to be narrowed down and the bolt pattern changed from the 4×108 (4×4.25-inch) to 4×114.3.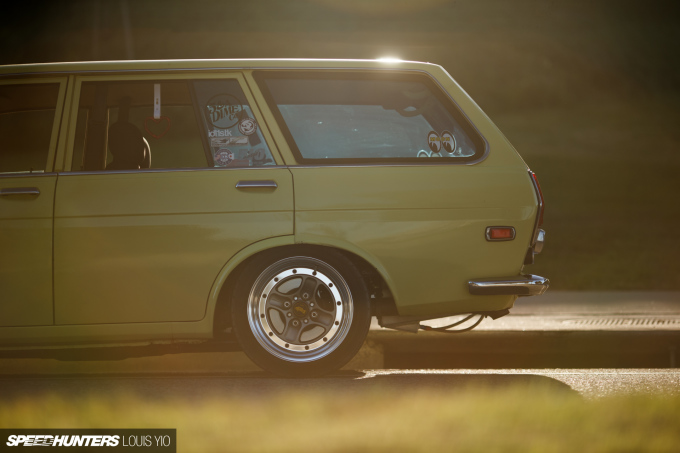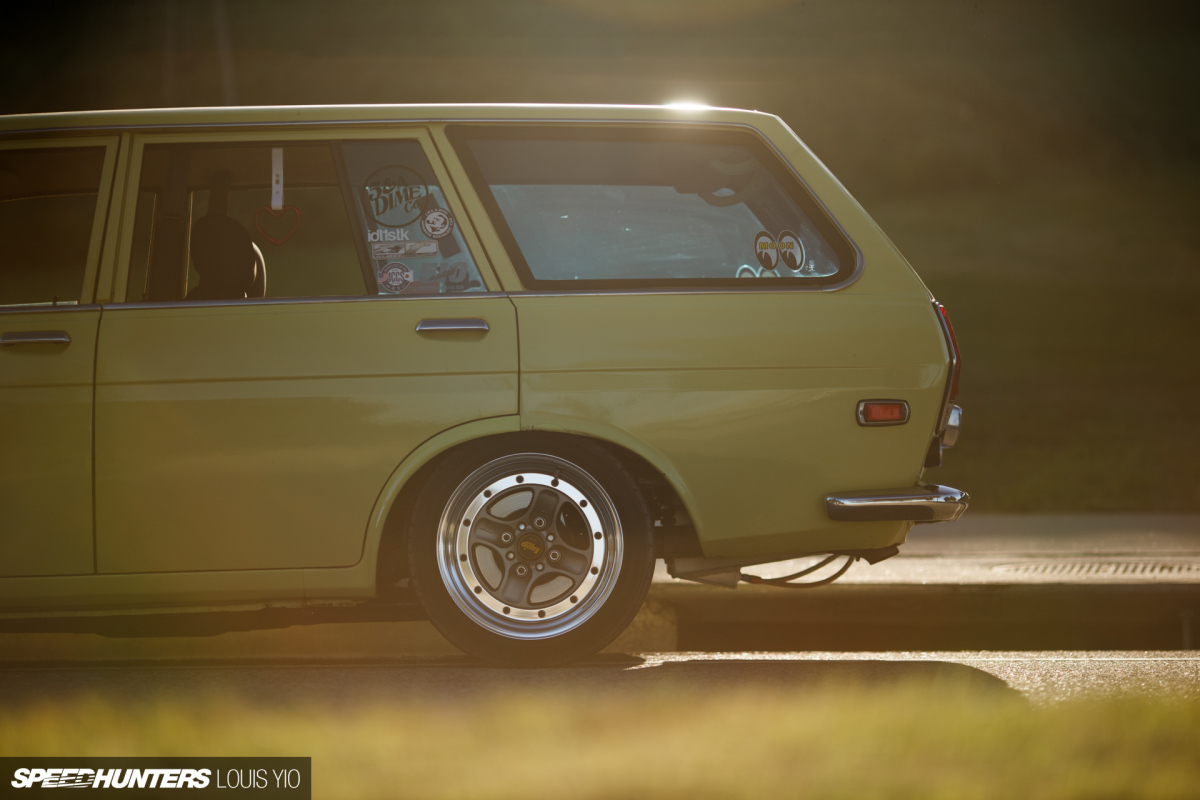 The 4-link's lower links were straightforward as the front leaf spring hangers could be used to fit and move the bracket on the axle to work with that position.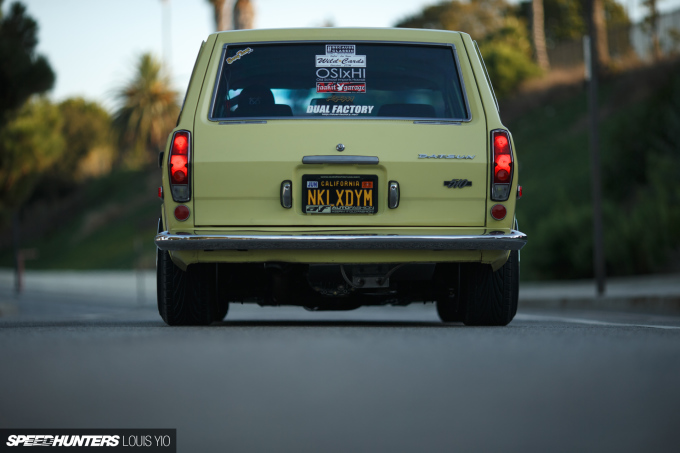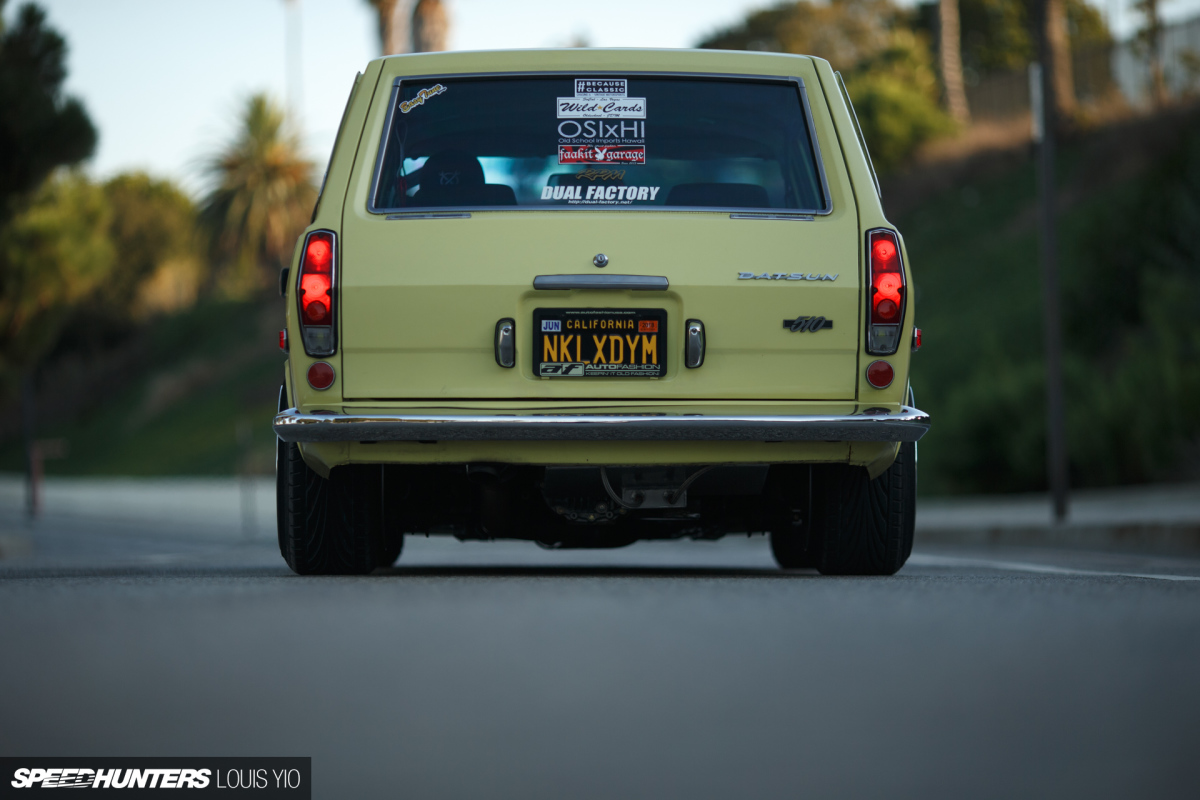 Straight upper links are used on top, with a panhard (track) bar to locate the rear end. This also meant that John had to find a way to mount the coilover suspension, so a friend of his created an upper bar in the back of the wagon. They then cut two holes out so that the new coilovers would pass straight through. So, yes, there are two holes that expose the interior to the elements, but John resides in SoCal, so it's not like it gets cold here. These modifications also required the use of a fuel cell since the original gas tank would no longer work with the 4-link.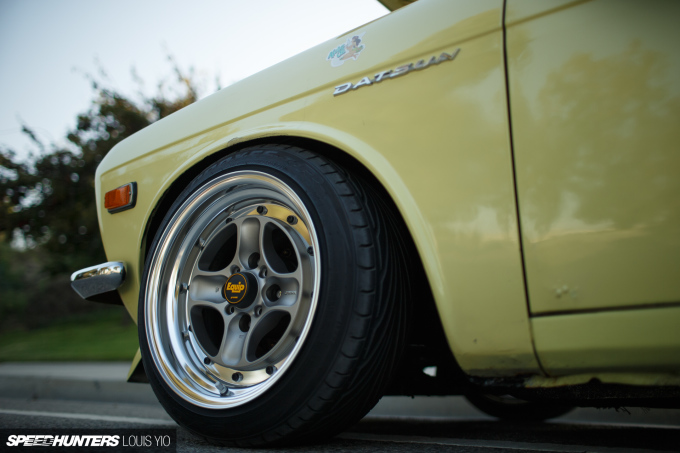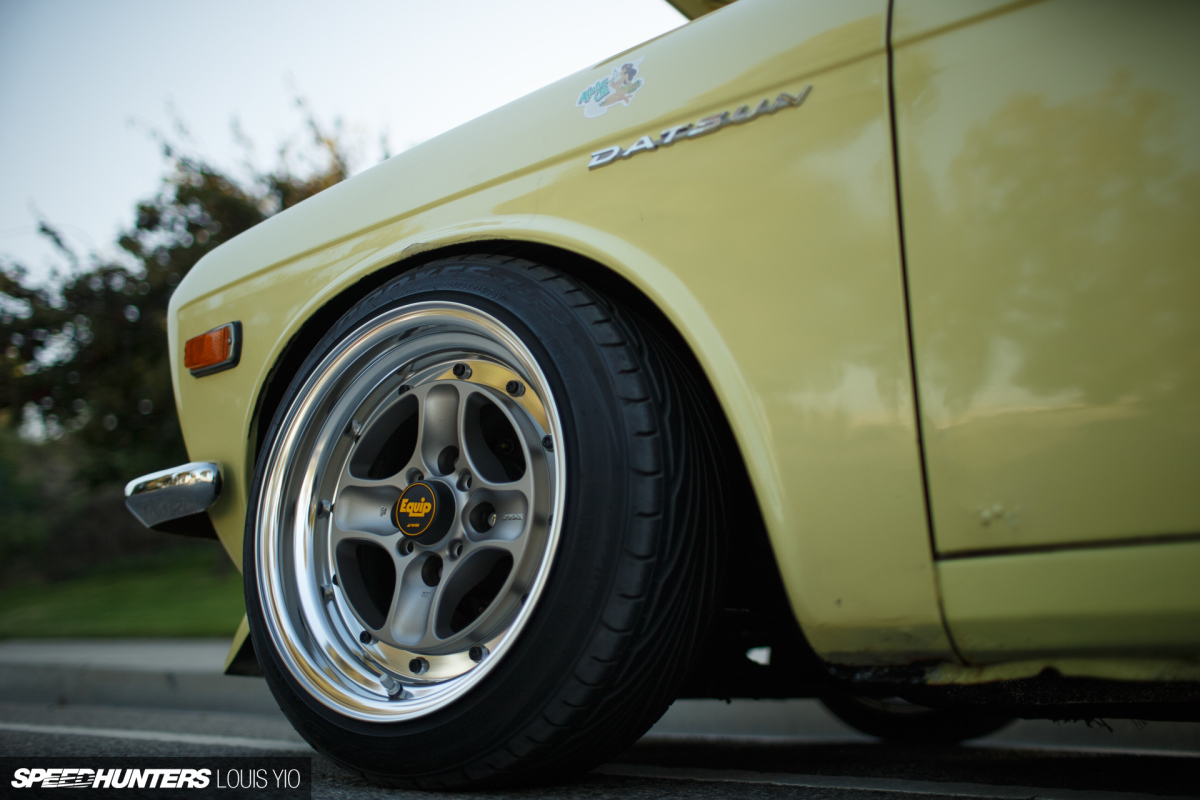 The Equip 40s are wrapped in 195/50R15 Toyo Proxes T1Rs in the front and 205/40R15 Proxes R1Rs in the rear, but don't bother looking up that size here in the US as it's not an allowed size per the National Highway Transportation Safety Administration (NHTSA). Instead, these were imported from Europe, and the reason for the size is purely because of looks: a 205/50R15 and the 205/45R15 were both too tall and a 195/50R15 would be a big stretch on the wide rear wheels John is running.
This is an amazing wagon build and one I hope rekindles some love for this body style. It's a classic American cross-country trip vehicle that's got some Japanese and US hot rodding mixes, an engine that makes more power, an axle that's probably too big, but all stuff that shouldn't break on you if you push it hard – something that Johns like to do.
Words by Justin Banner
Instagram: jb27tt
Facebook: racerbanner
Twitter: RacerBanner
Photos by Larry Chen
Instagram: larry_chen_foto
larry@speedhunters.com
Louis Yio
louis@speedhunters.com
Instagram: lusciousy
Cutting Room Floor