Good Times With The Goodguys
When the Goodguys Rod & Custom Association invited me over to shoot their G-10 1970 pickup for them, I stretched the visit out a bit and went for a wander around the offices.
But the stretching wasn't done there, and I coerced the gents to take out their 70-year-old, one-of-a-kind Viper V10-powered 1948 Chrysler Town and Country. After all, I'd need to take rolling shots of the pickup out of something, right?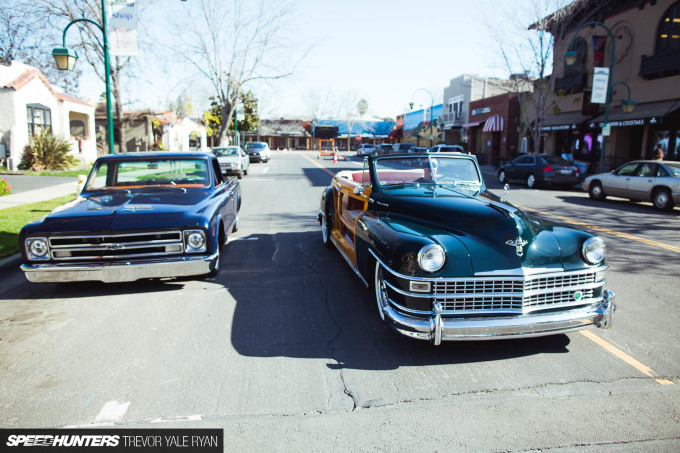 If you're CJ Holt or John Drummond, my editors at Fuel Curve, taking quarter million dollar (or more?) restorations out to lunch is old hat, so the plan was a go. We had the two cars to ourselves for the afternoon, which is certainly the beginning of a recipe for a good day. It was as much of a mind bender to see this thing on the road in 2018 as it was to cruise around all day with the guys humoring my pedantic requests, but they were happy to oblige. A bit faster, a bit to the left, actually this spot is no good, move up two inches, and more of the same…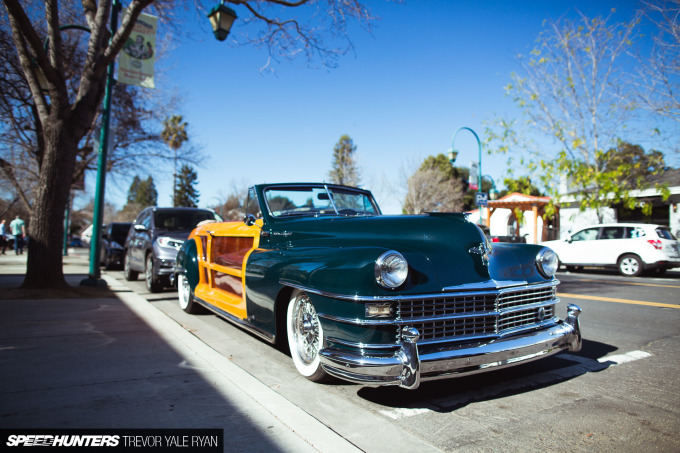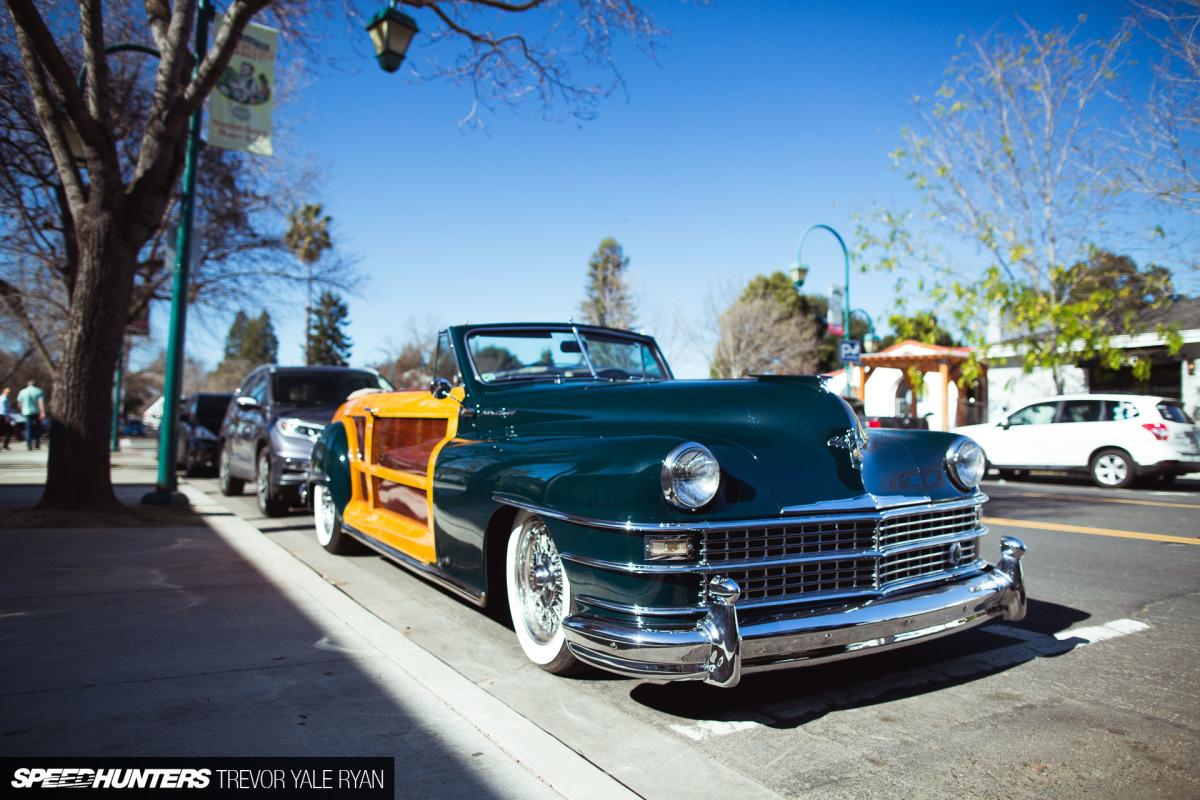 We stopped around the corner from Goodguys HQ in downtown Pleasanton for lunch, and as you might expect the Chrysler was a bit of a head-turner.
Almost every single person who strolled by just had to stop and ask about the old woodie during the lunch stop (thanks for the lasagna!). It's just such a beautiful and striking creation that when you come across it out on the street it's almost a confusing experience.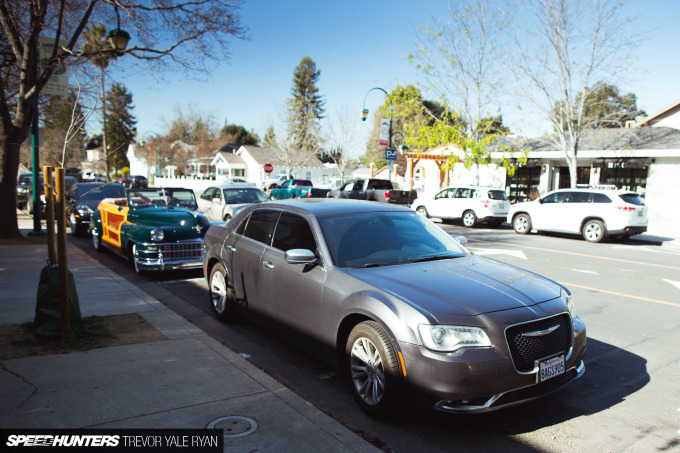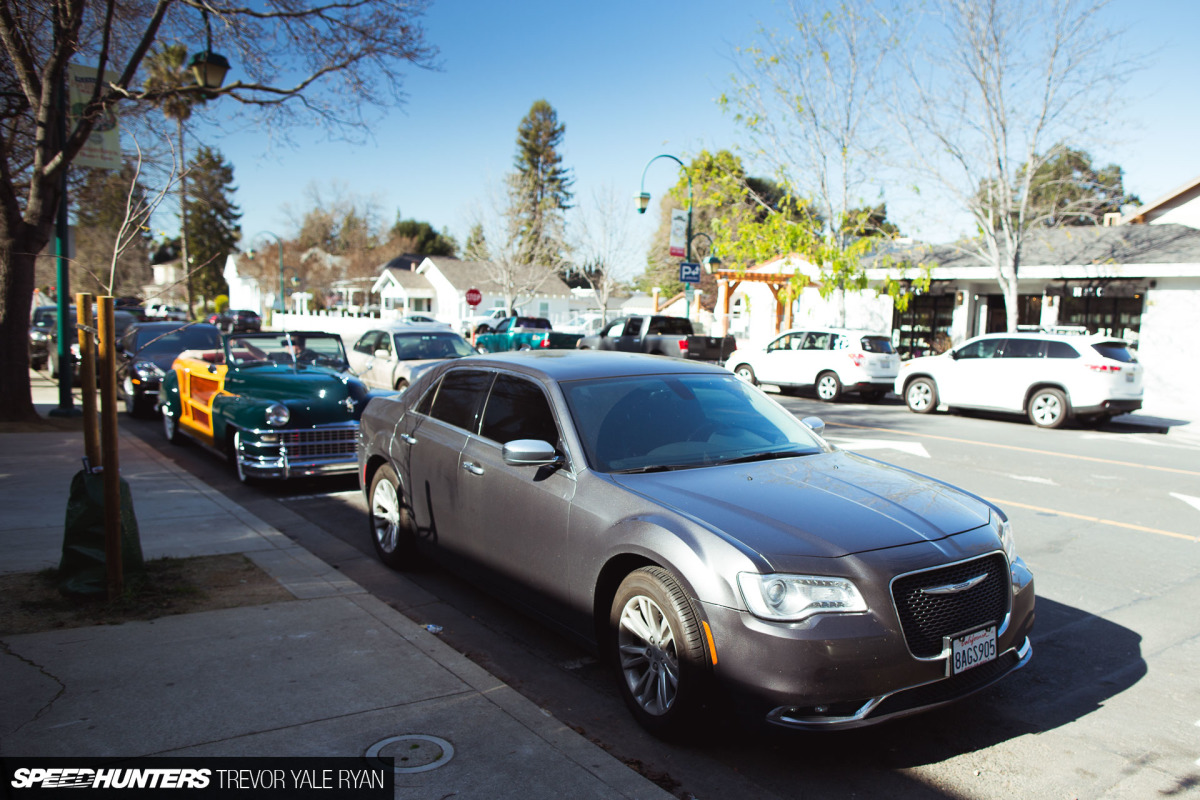 As luck would have it, on our way out a modern Chrysler parked in the spot directly in front of us. Seven decades separate these two cars, and the differences in design are painfully obvious. They certainly don't make them like they used to.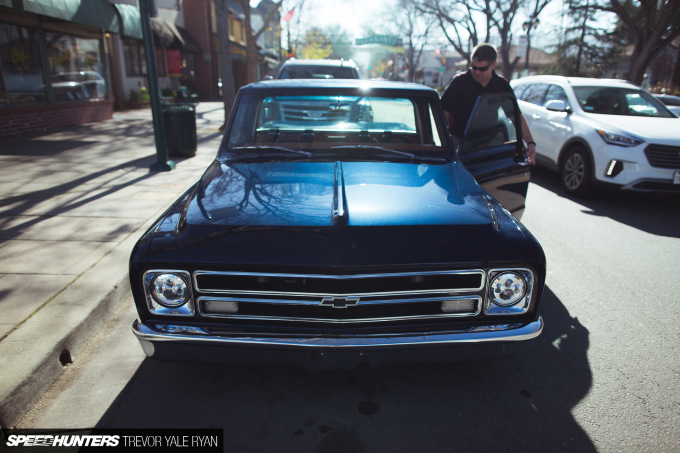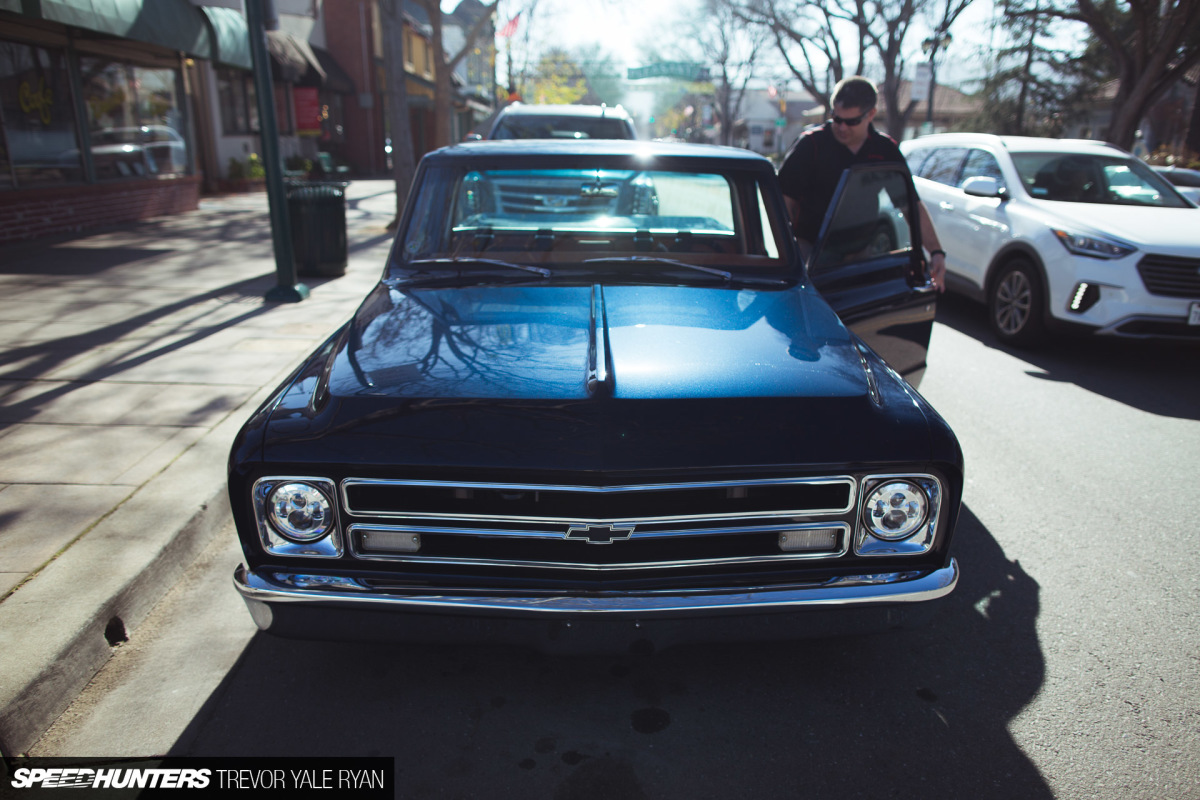 It was back in the Goodguys' pickup for me and CJ, and off to our next location.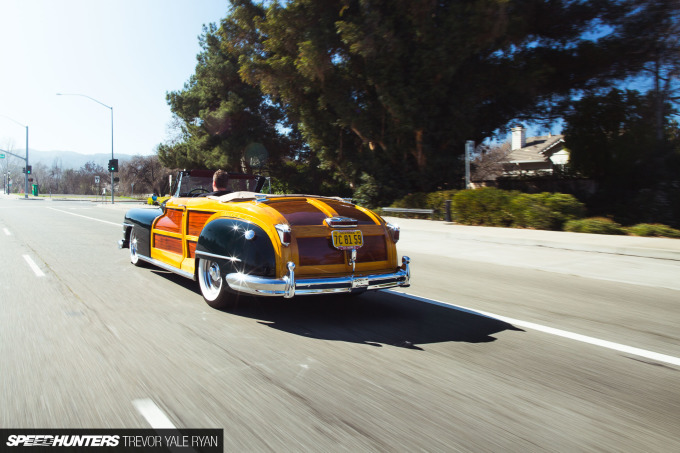 Honestly, I wasn't quite sure where we were heading, but I knew the guys would have something good up their sleeve.
The Perks Of Being A Goodguy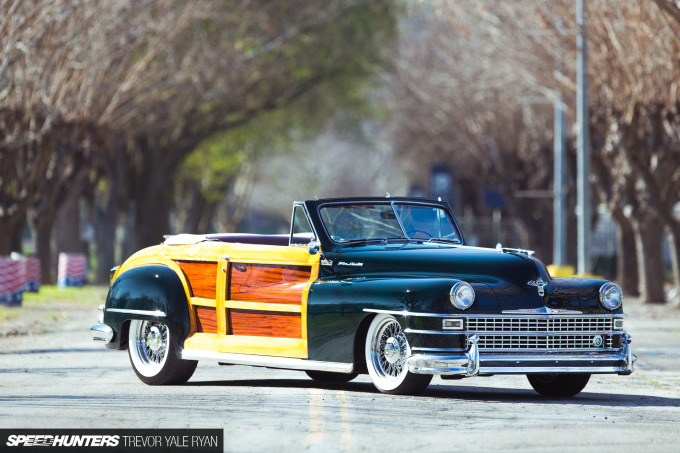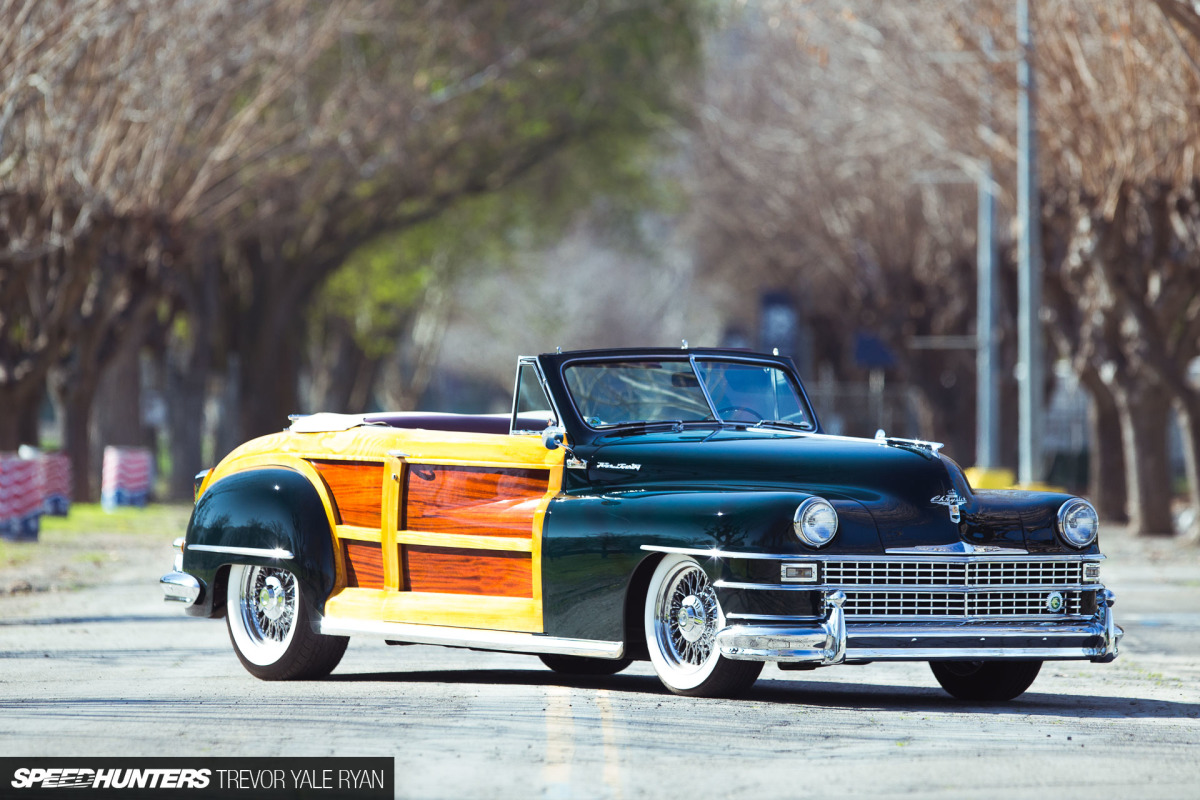 The spot turned out to be the Alameda County Fairgrounds. I was a little confused at first, because as far as I knew the fairgrounds was a completely off-limits location.
But, if you're the Goodguys, you just make a quick call and the place is all yours. It's insane how many connections and friends these guys have across the entire country. I guess this is just one of many good side effects that come from hosting over 800 massive events in the last three decades, catering to upwards of 20 million show-goers in this time.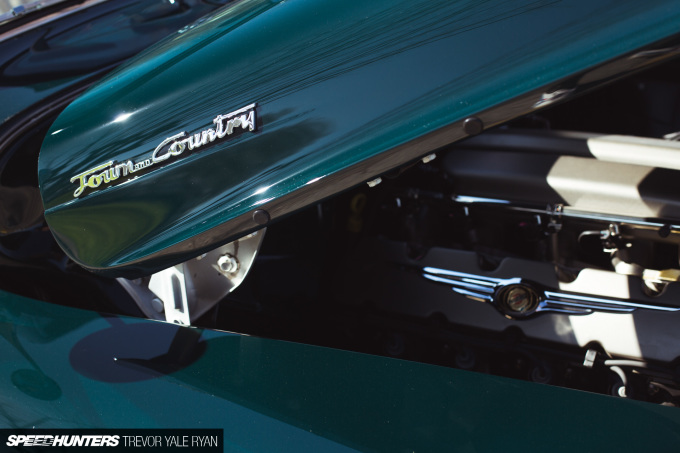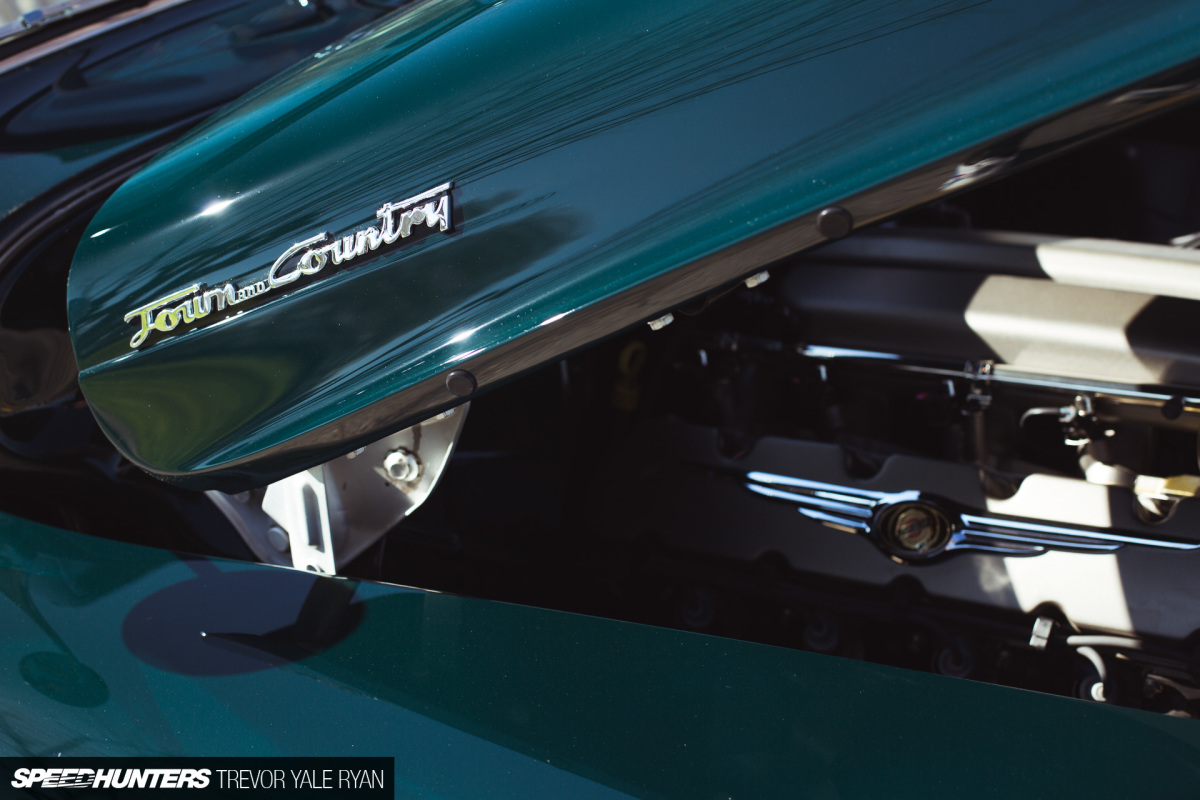 Anyway, I'm fairly sure you're a lot more interested in what's under the hood of the old Town and Country than you are in what I've had for lunch, so I'll cut to it.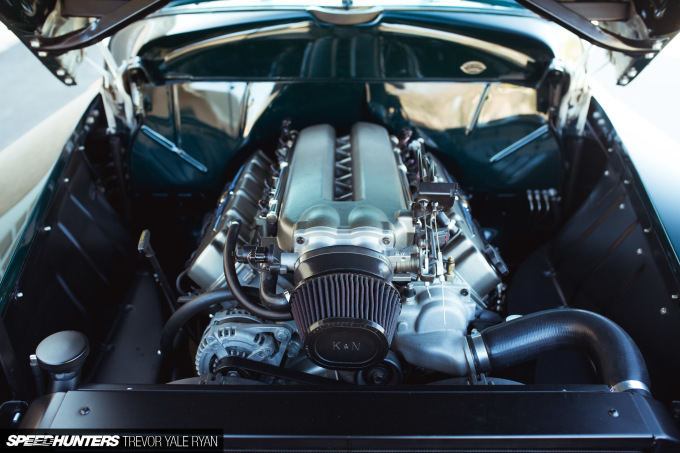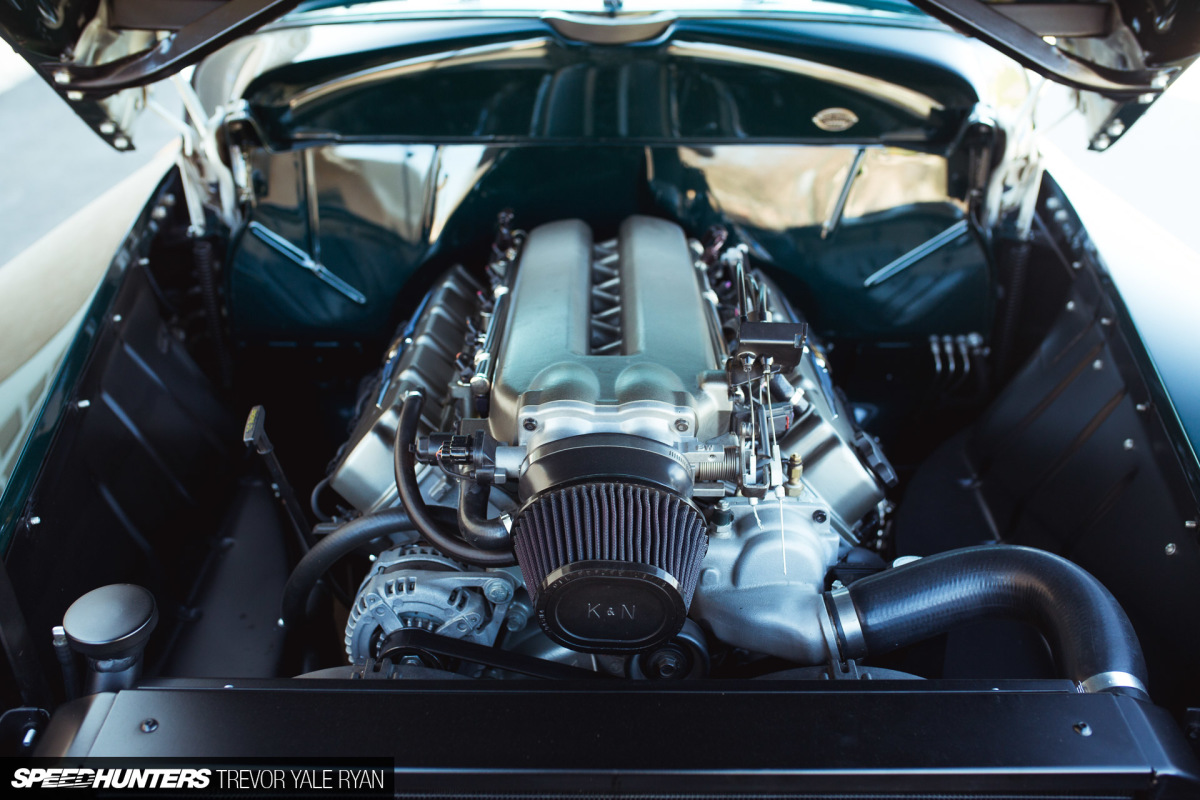 The Viper V10 is a glorious thing to behold, and the craftsmanship here is unreal. I've grown up around American muscle cars and seen many a restoration, but this is just insane.
The Chrysler, which was a bit of a basket case when Goodguys picked it up, was put together by Hot Rods & Hobbies. The job was commissioned by none other than Goodguys founder Gary Meadors himself. He was the kind of guy who would drive to every show, all across the country; he never trailered anything unless he had to.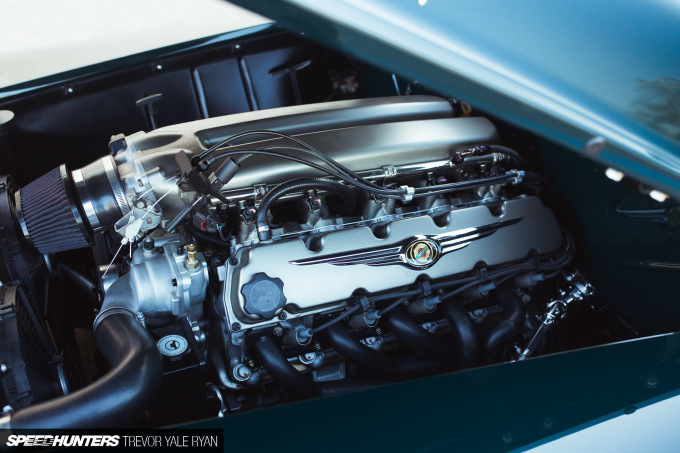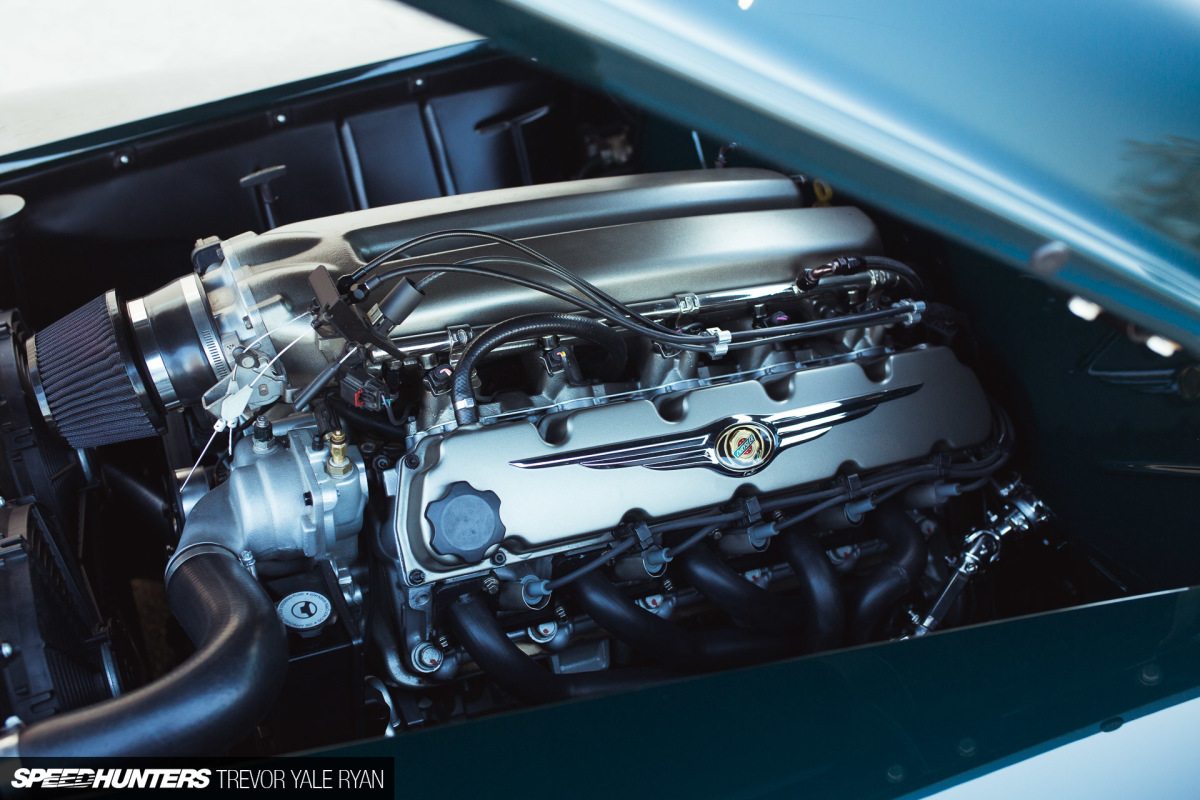 As such, I'm sure Gary was grateful for the relatively reliable setup. Back in the '40s, the Town & Country originally came with a gargantuan straight eight that only made 135hp. Now, with the V10 from a Dodge Viper the Chrysler is good for over 500hp, which definitely livens things up a bit.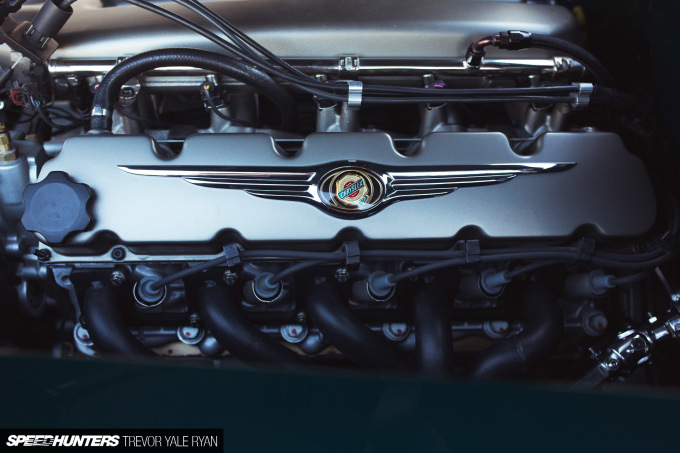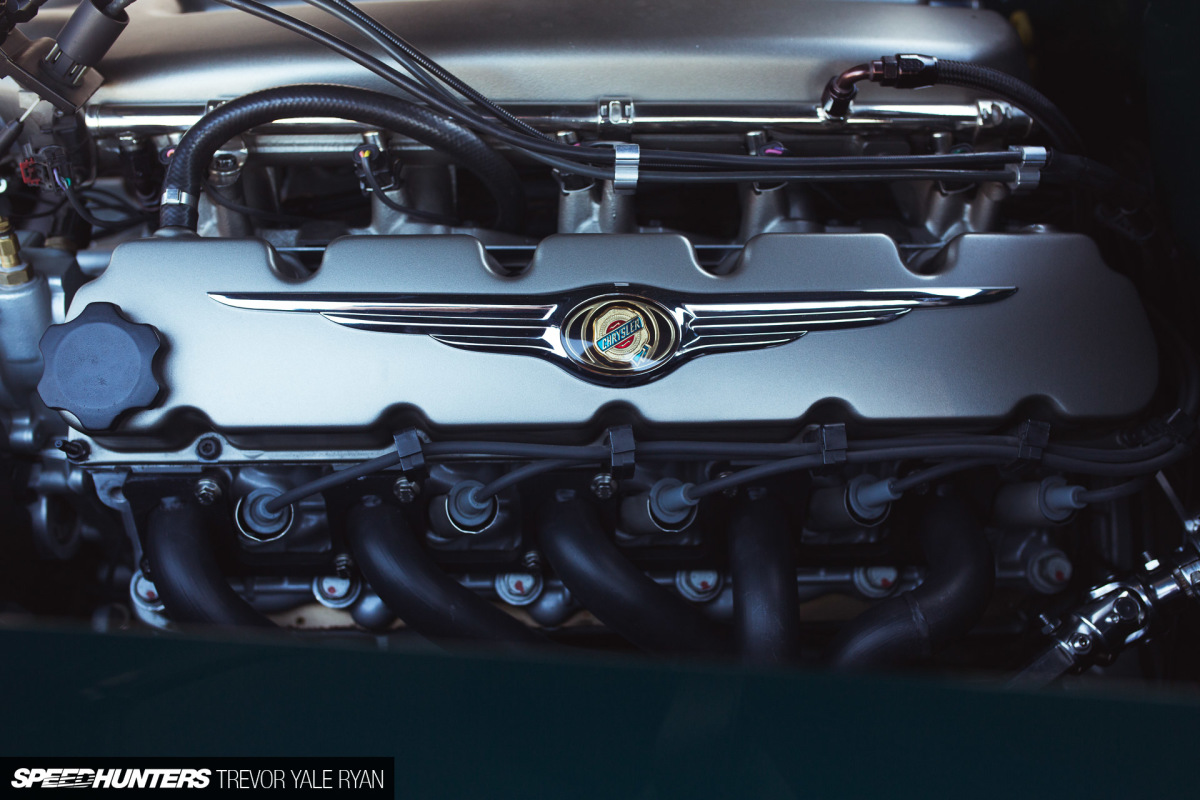 Just look at that valve cover, though. I've never thought the Viper engines were necessarily all that good looking, but what Goodguys has done here with Hot Rods & Hobbies is very good to look at.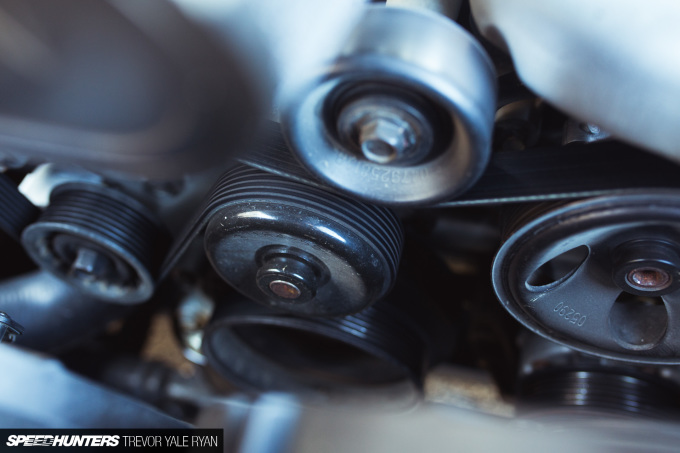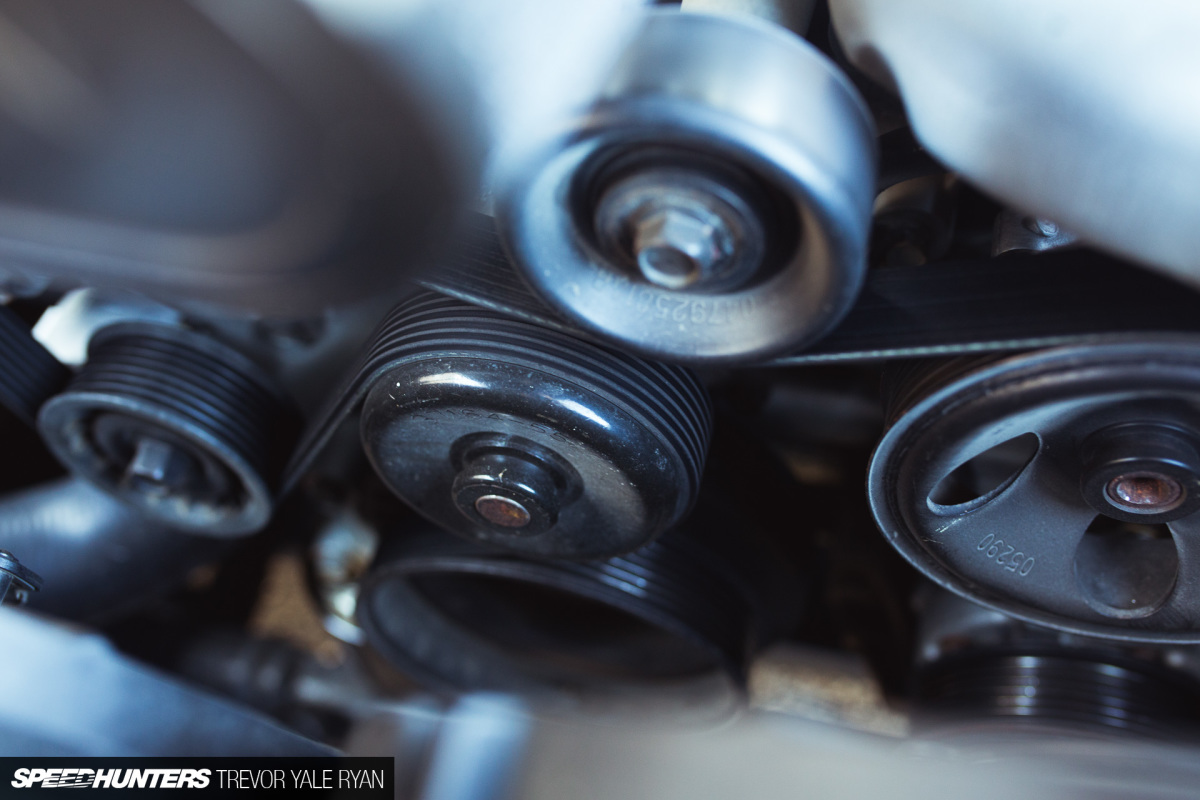 All of the Viper's original running gear is used too, so that means you have decent power steering, A/C, and an alternator (instead of a generator, which is what anything pre-1960s would have had).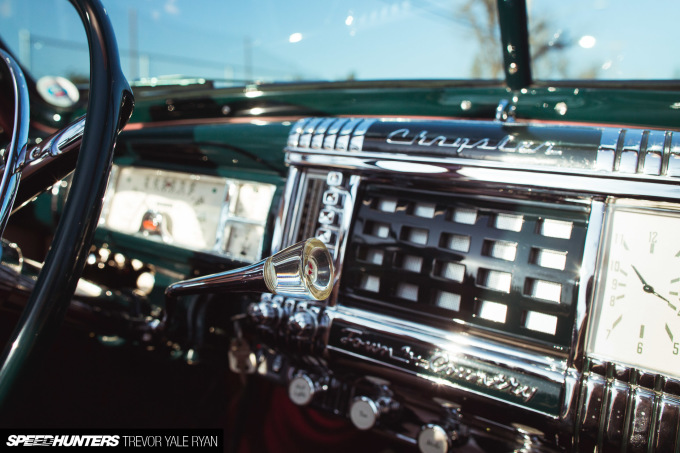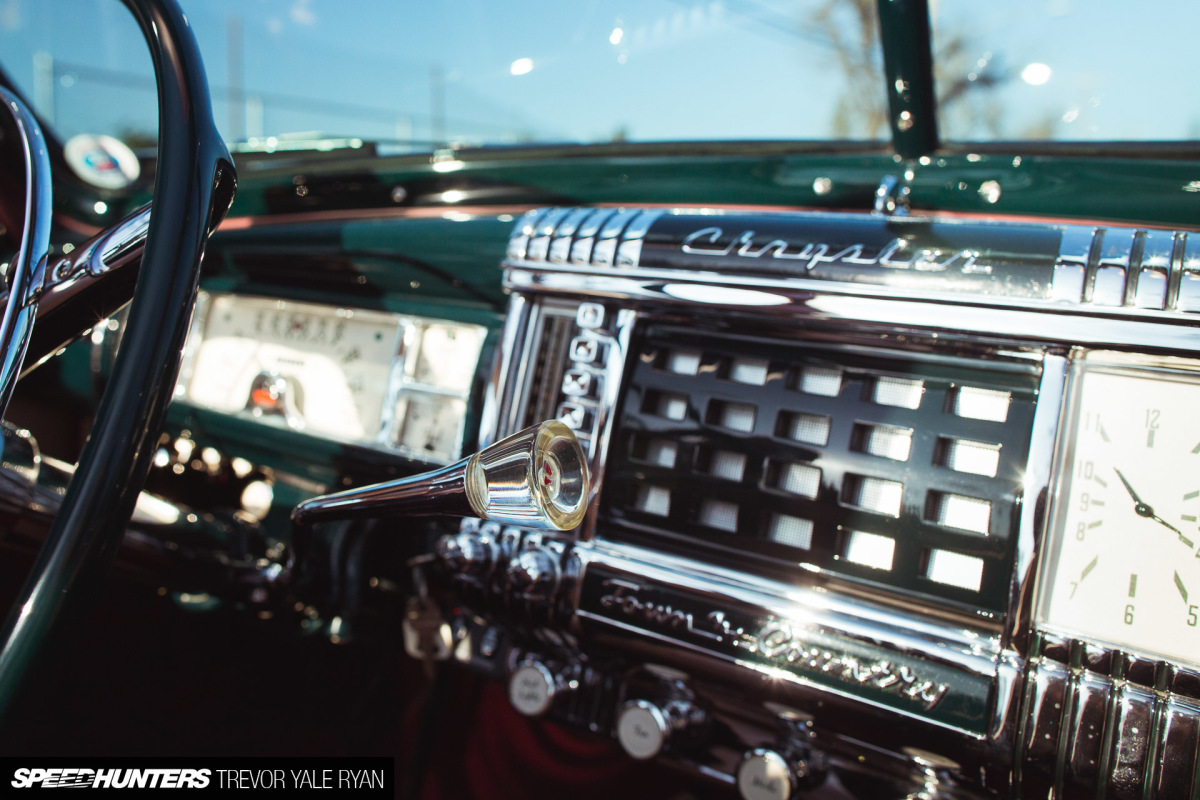 It's still got the proper old-school column shifter too.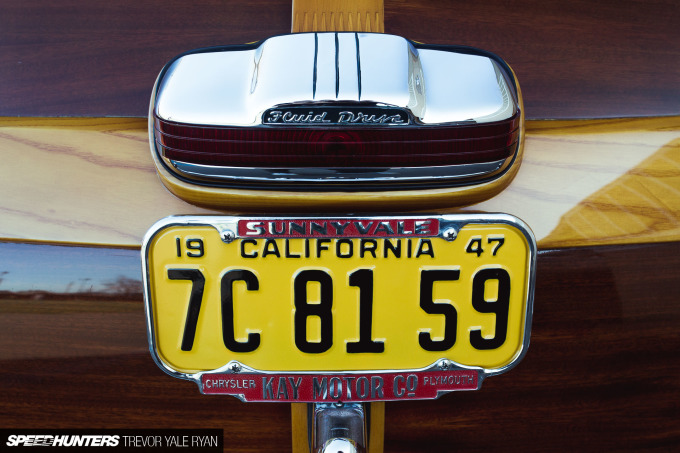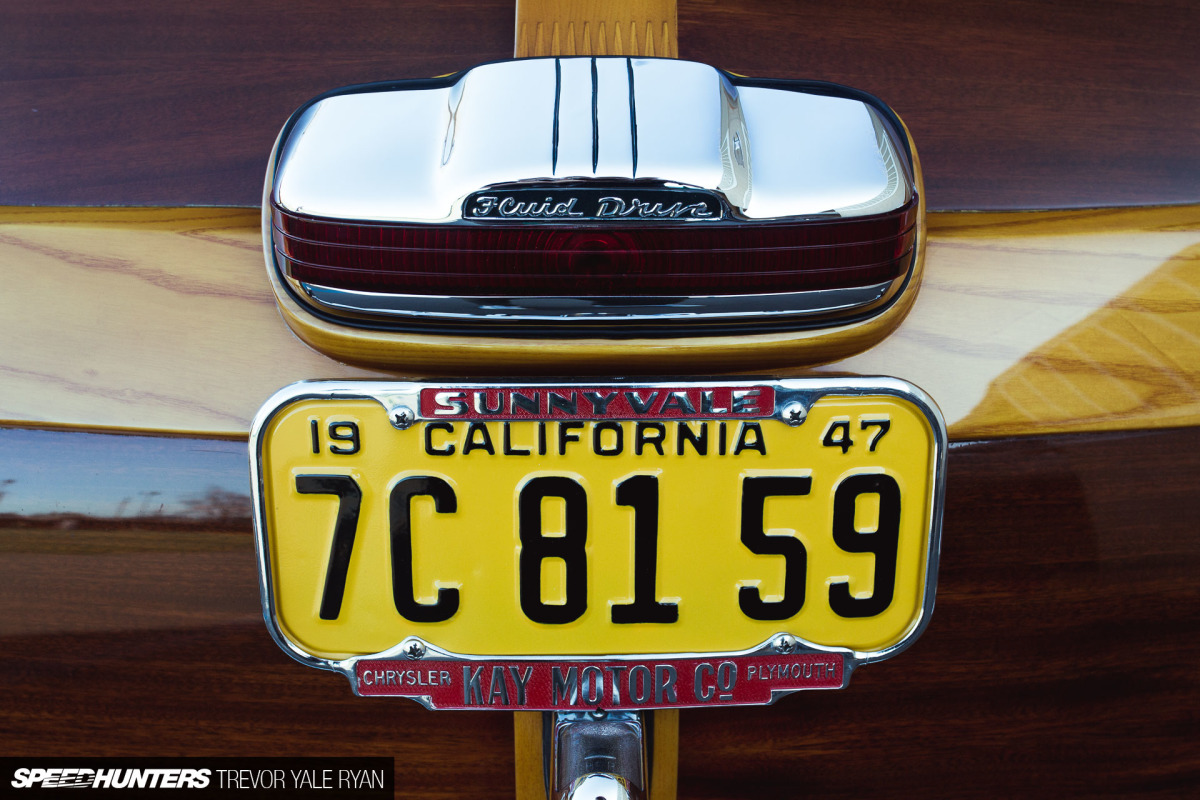 And it's equipped with 'Fluid Drive' whatever that is; something about the original transmission I suppose.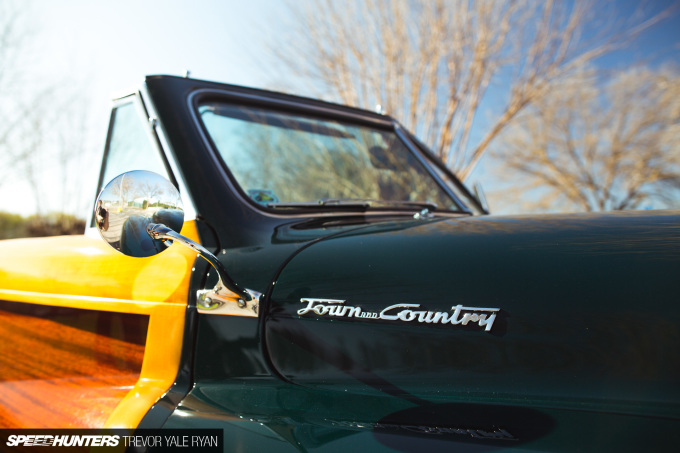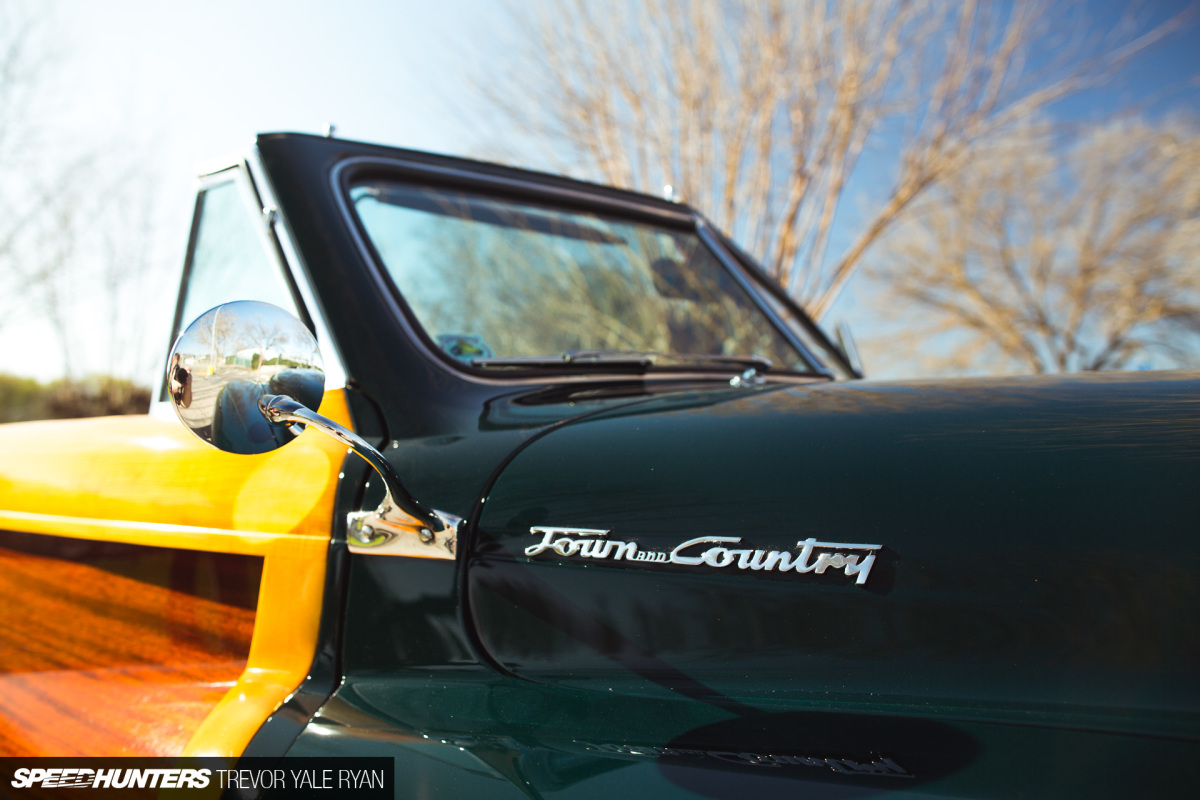 From the outside, you'd never know what lurked underneath.
Bells and Whistles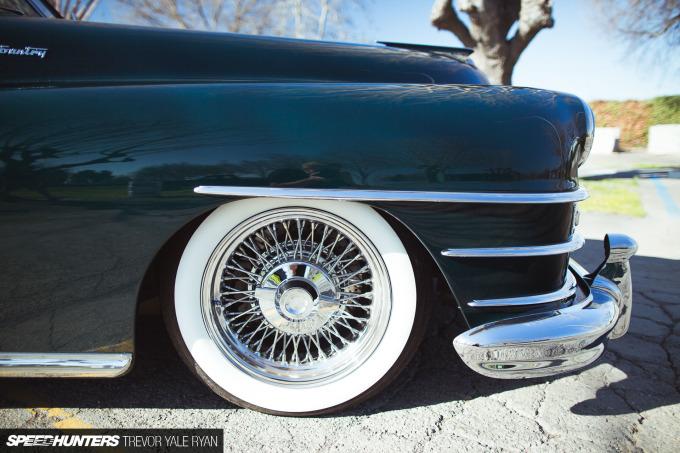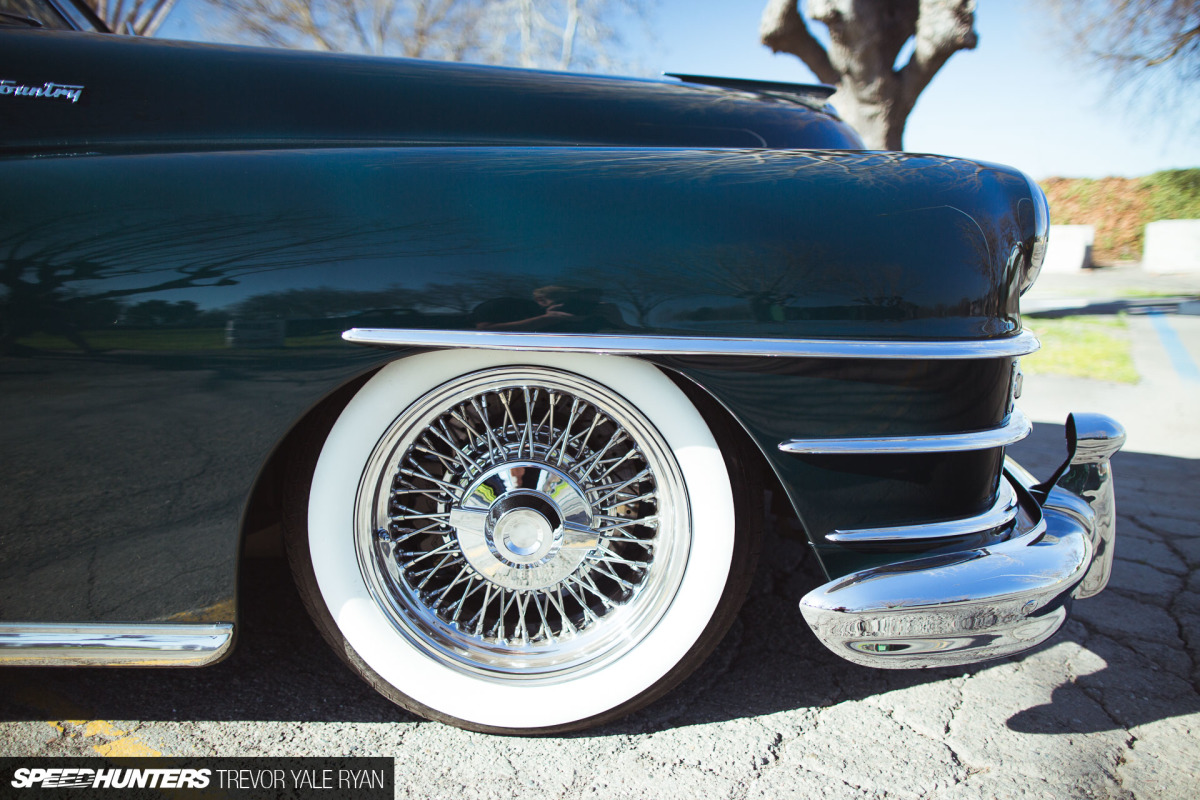 Back in its day, this thing was high-class. It still is, actually, and all of the chrome trim, spoked wheels, and whitewall tires have been handily restored and sourced for the Goodguys' Chrysler.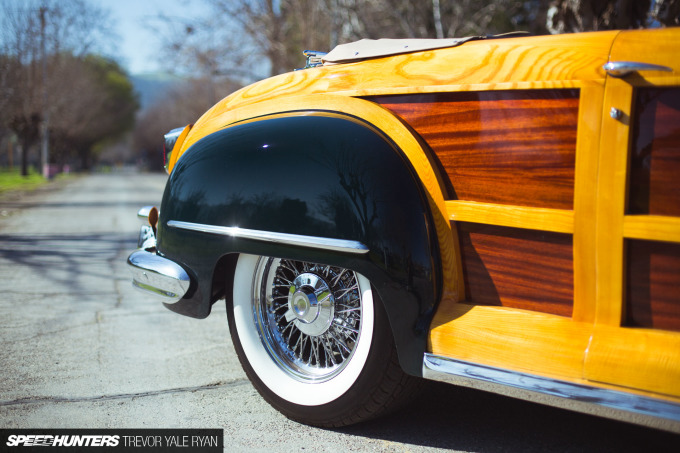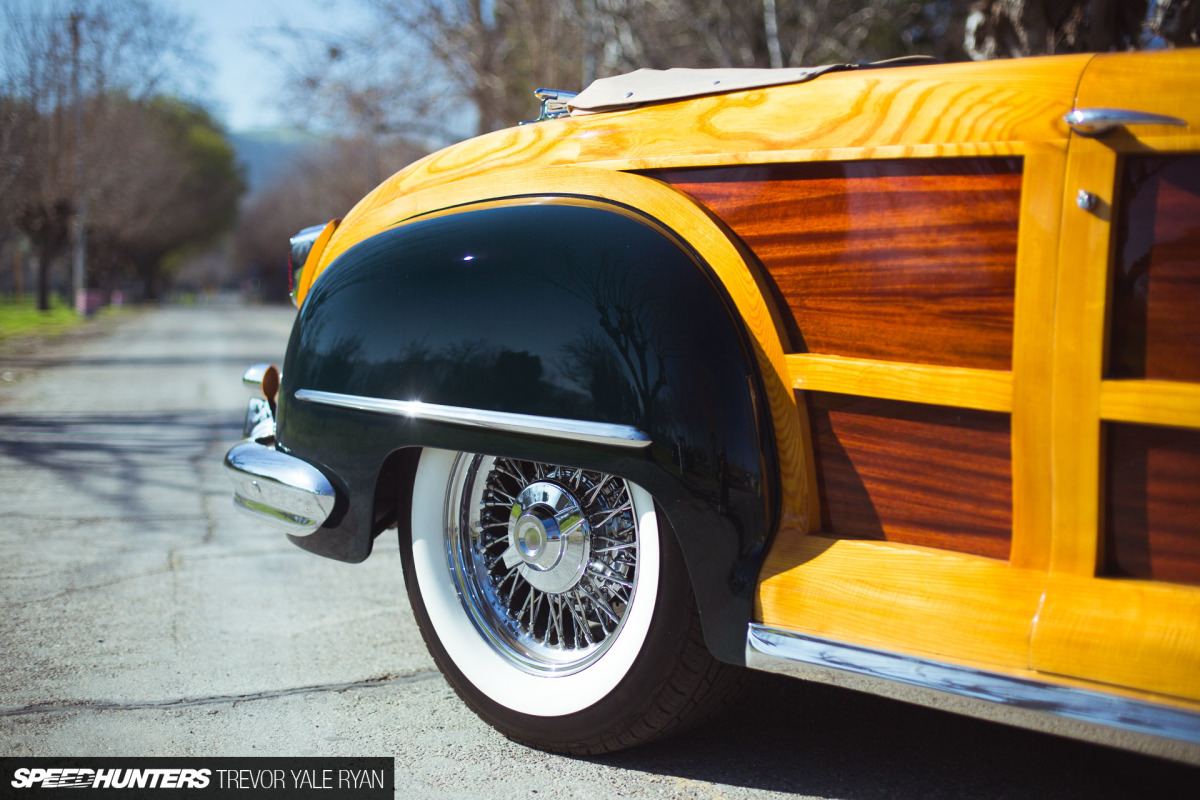 Turns out the Town and Country was tucking tire before it was cool…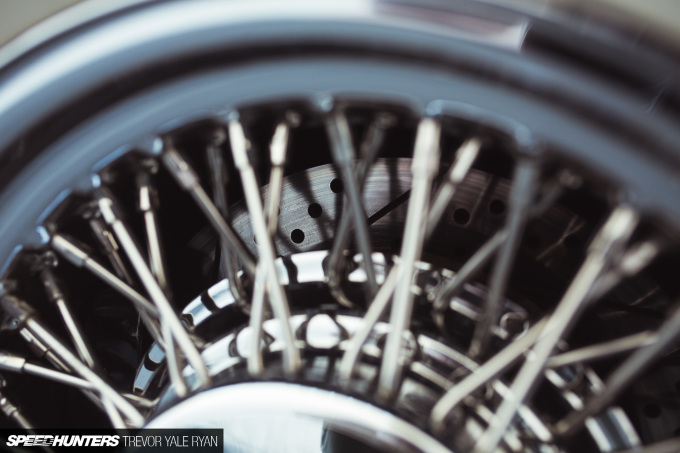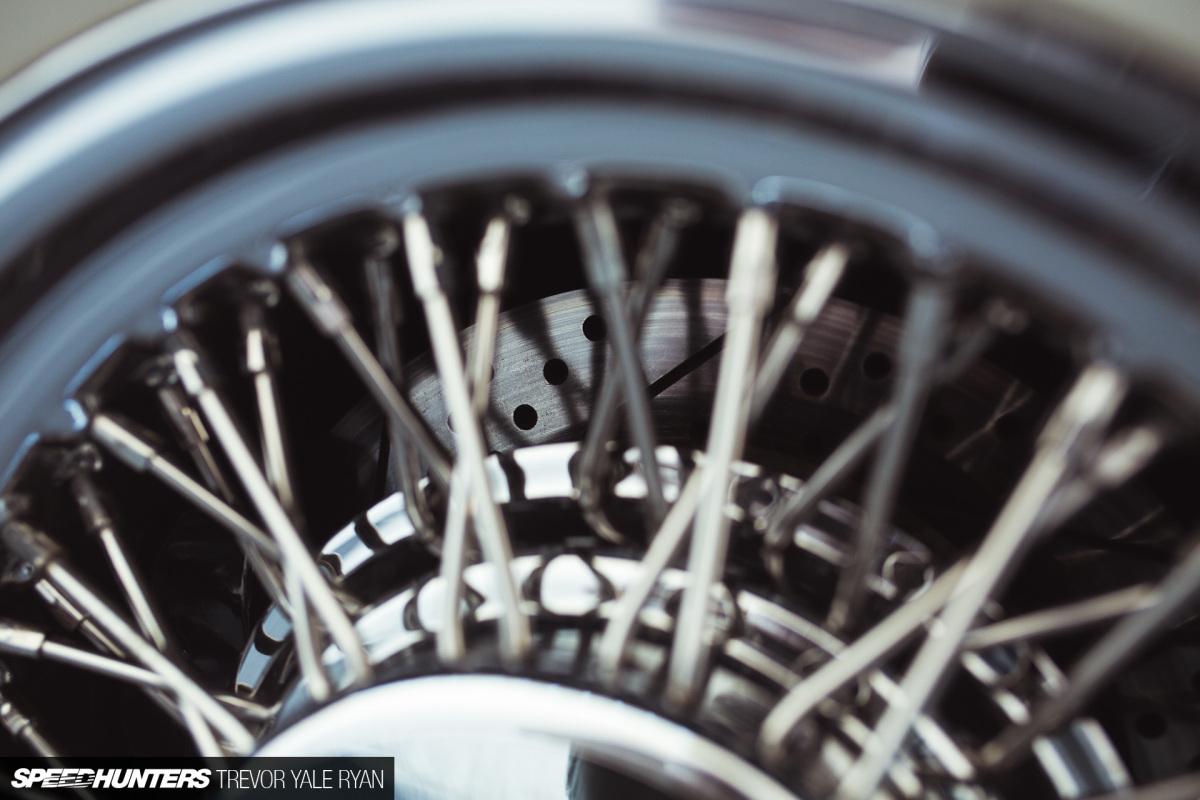 If you look closely enough, you do get the hint that this is a bit of a performance oriented old boat. You definitely want the extra braking capability to match the 380% increase in power this thing has from the Viper swap.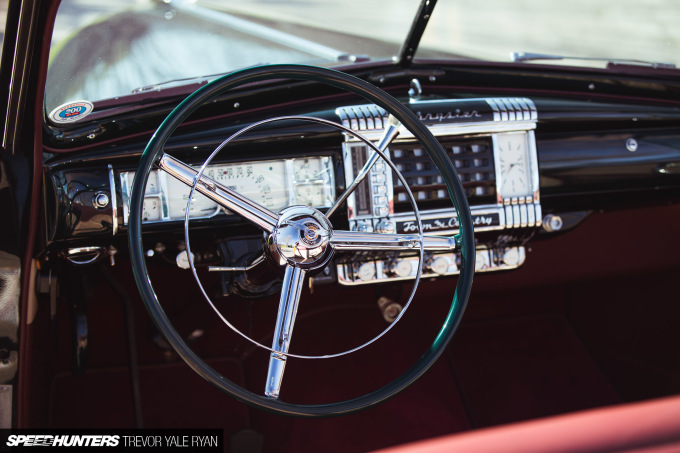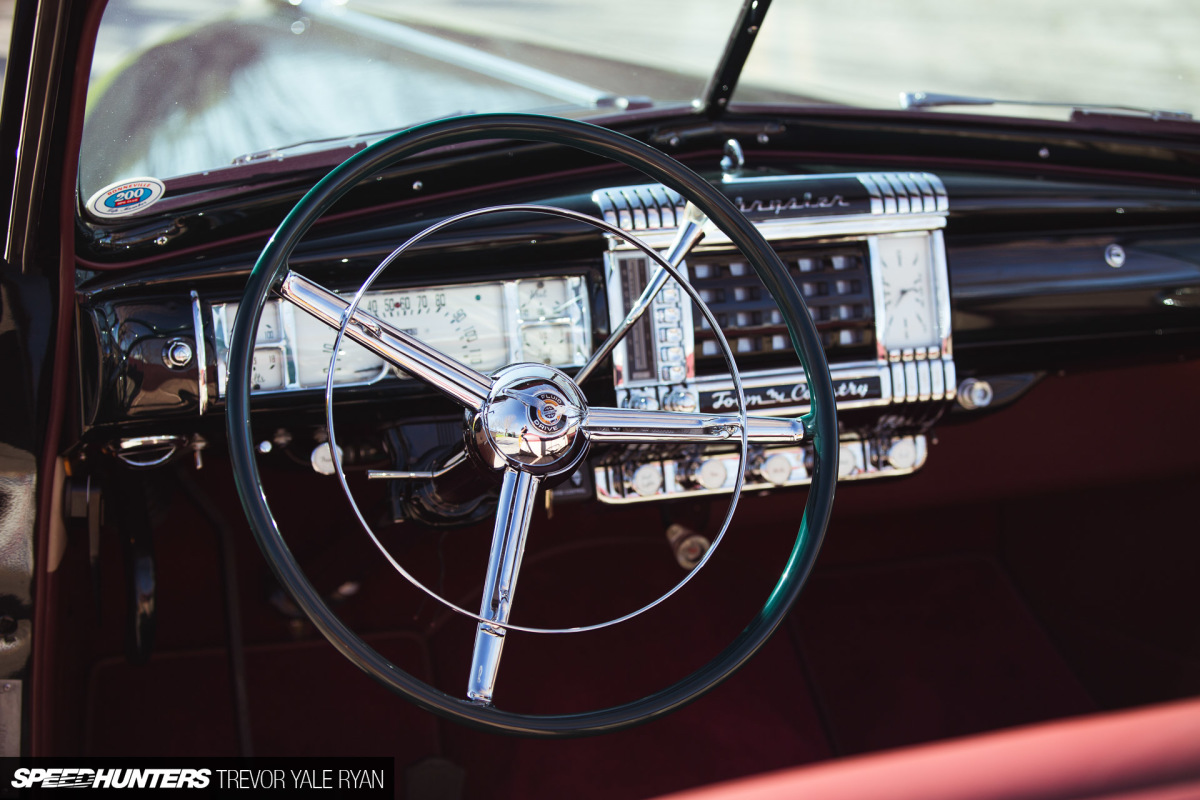 Inside, it's got all the fancy doo-dad's from the '40s.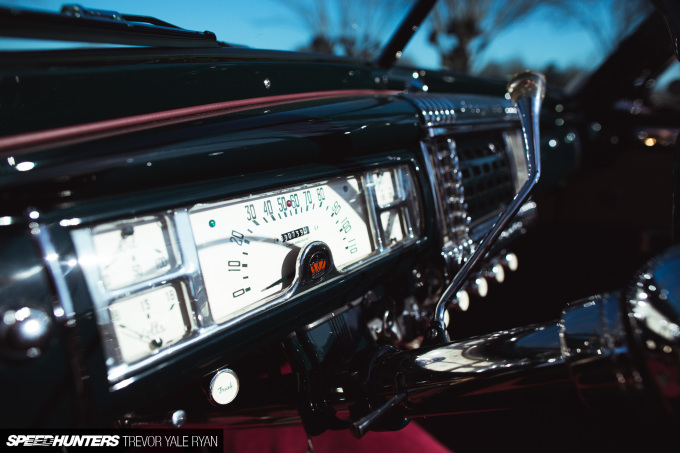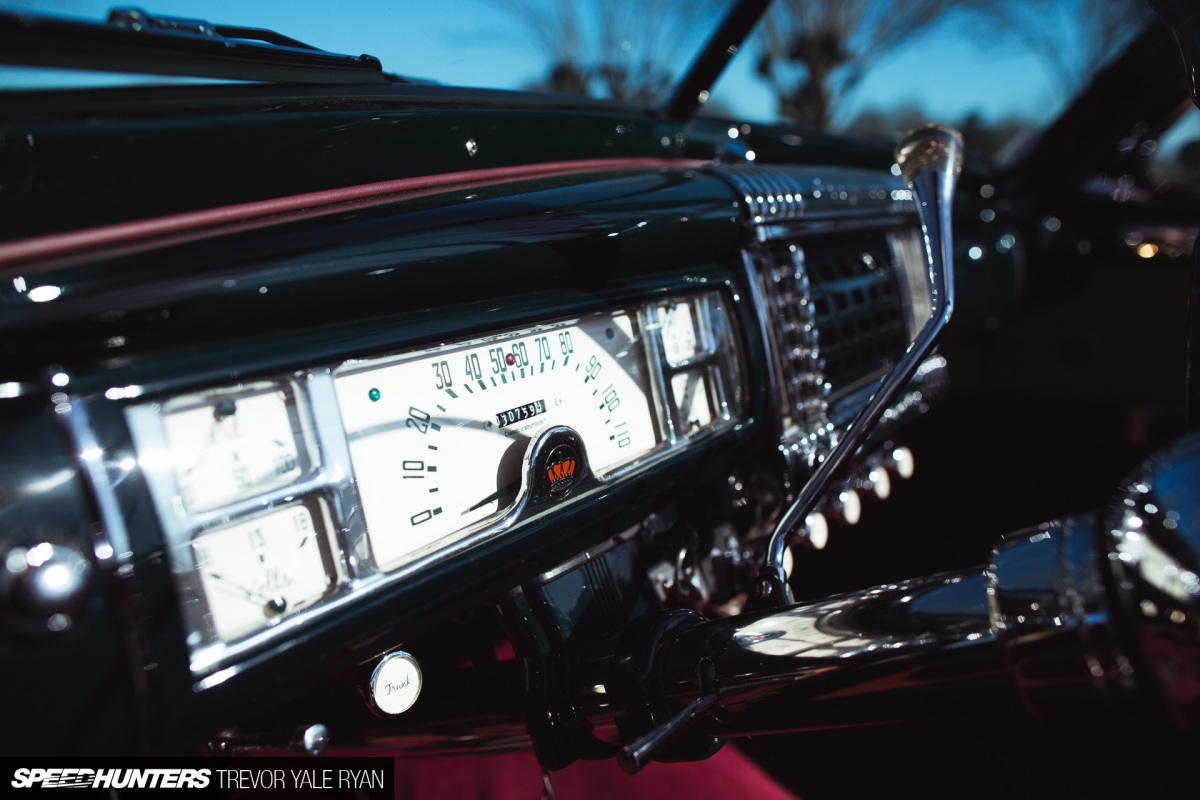 It's amazing how the more things change, the more they seem to stay the same.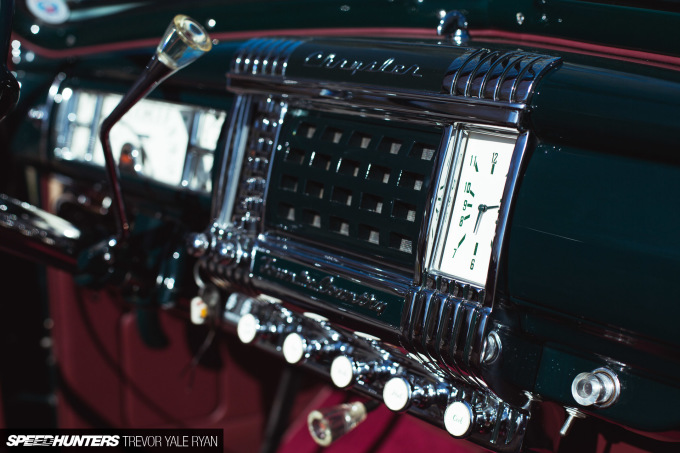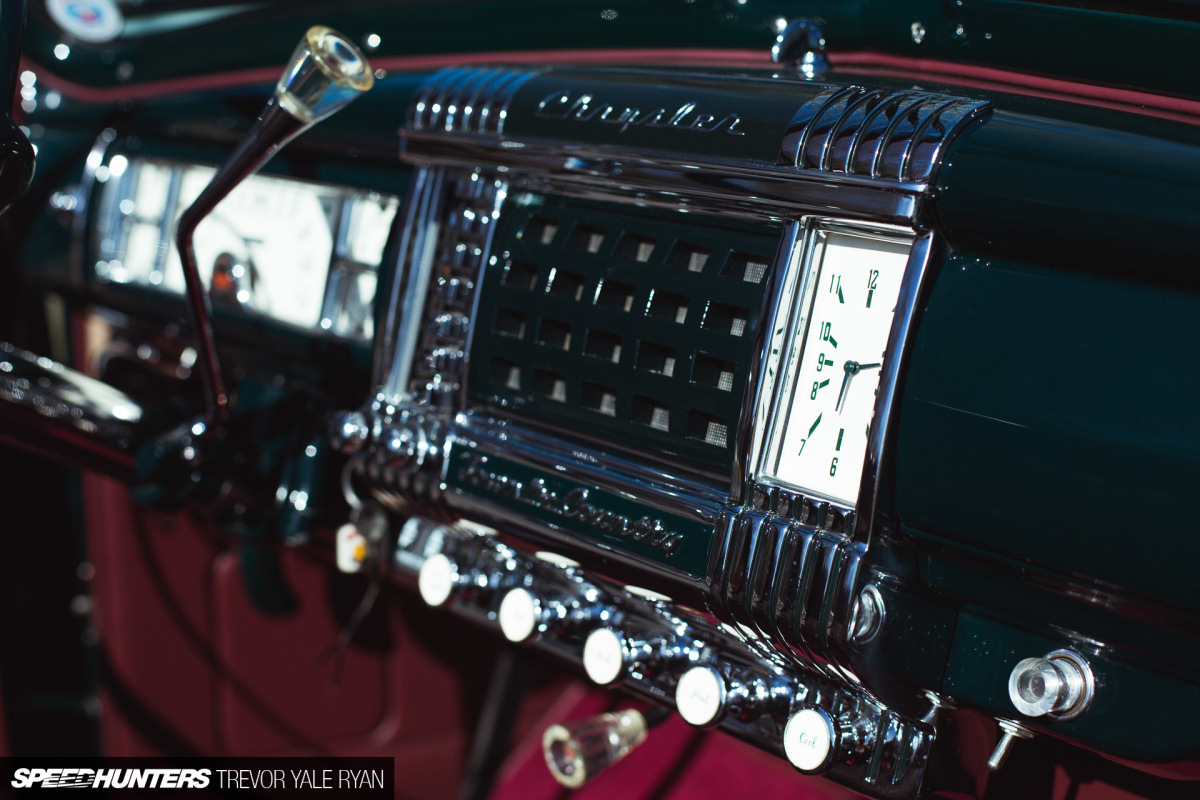 When it comes to car interiors the fundamentals have pretty much gone unchanged for the past 70 years; it's only been in the last few that factory designers have really pushed the envelope, finally welcoming the 21st century into our dashboards.
But at the same time, lots of luxury brands are going back to analog clocks like this one. Go figure.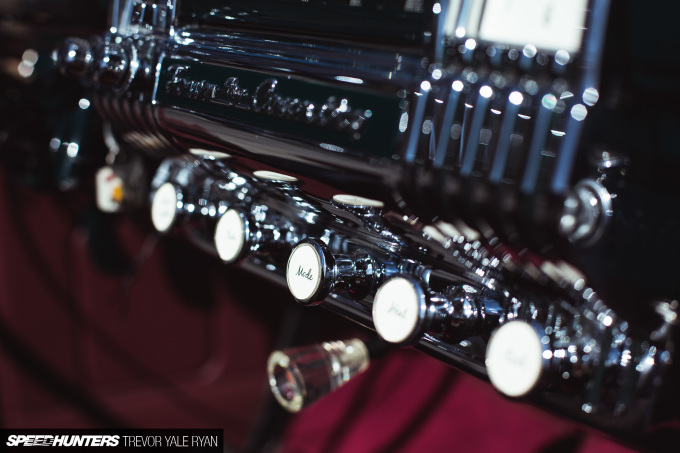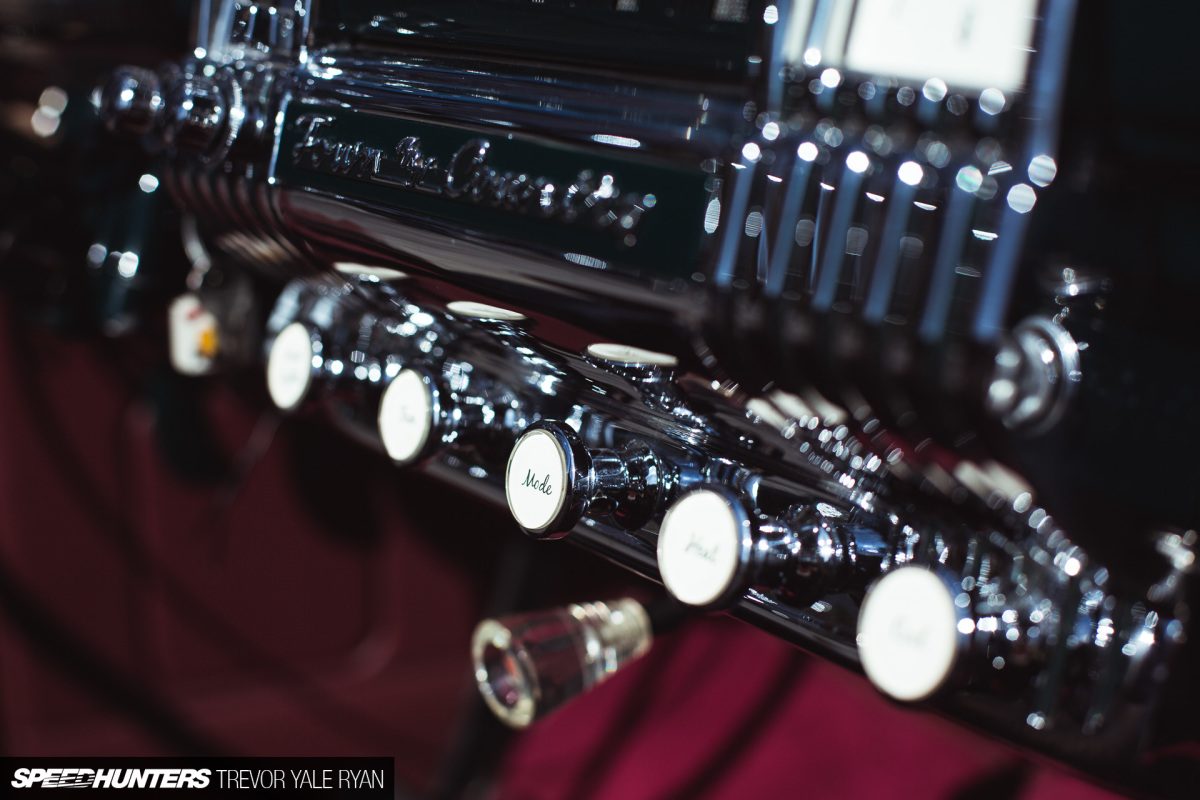 You won't find knobs like this anymore either; instead we get a bunch of plastic fiddly dials that fall to pieces after a few owners. The restored version has satellite radio, which is a nice touch.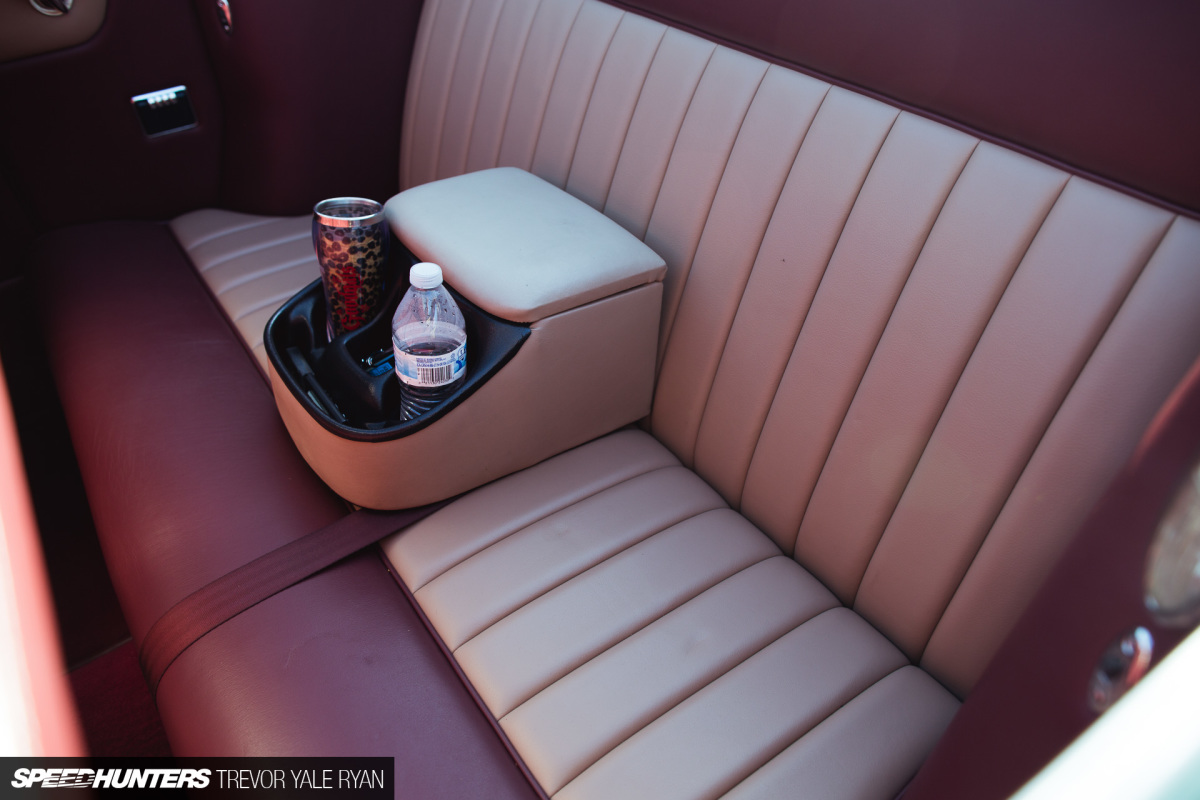 All of the upholstery has been completely redone too, but what else would you expect. You have to put your drinks somewhere…
1948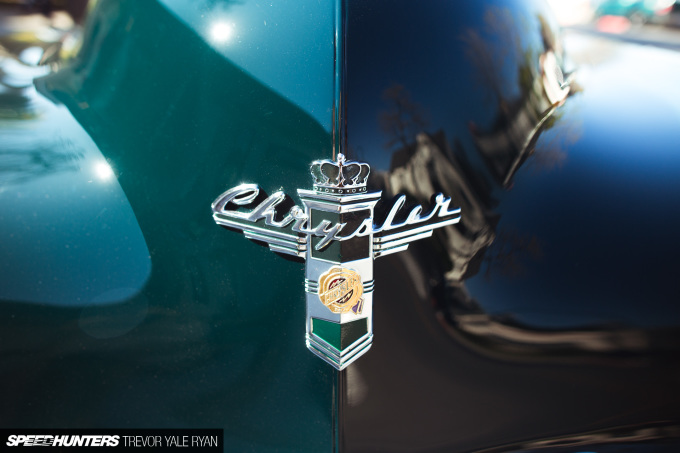 As I shot the car, I tried to imagine what it would have been like to be around in the '40s.
Firstly, in 1948, automakers seemed to think that wood was a good choice for the exterior of a car (actually it was due to a metal shortage after WWII). Aesthetically, it is pretty great, and I can't even begin to think about how all of this was recreated as I know absolutely nothing about woodworking.
More significantly, 1948 was the year Gandhi was assassinated, the year the Soviet Union began the Berlin Blockade, the year the United States sent a monkey into space, Truman signed the Marshall plan, and Rick James was born.
All manner of amazing, inspiring, and tragic things were happening around the globe, all while production was chugging along in a Chrysler factory and this very car was built.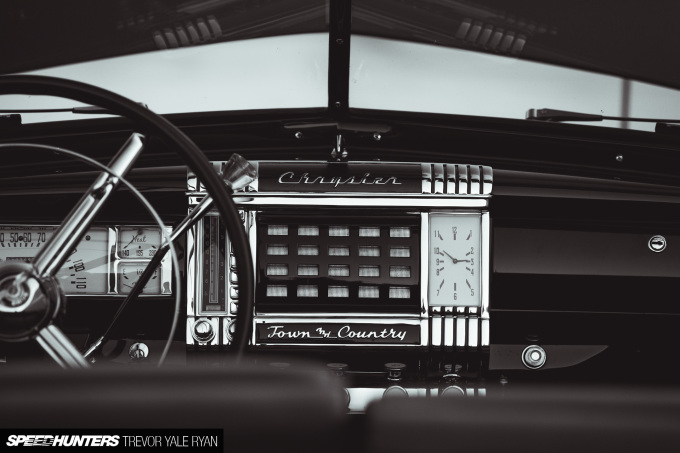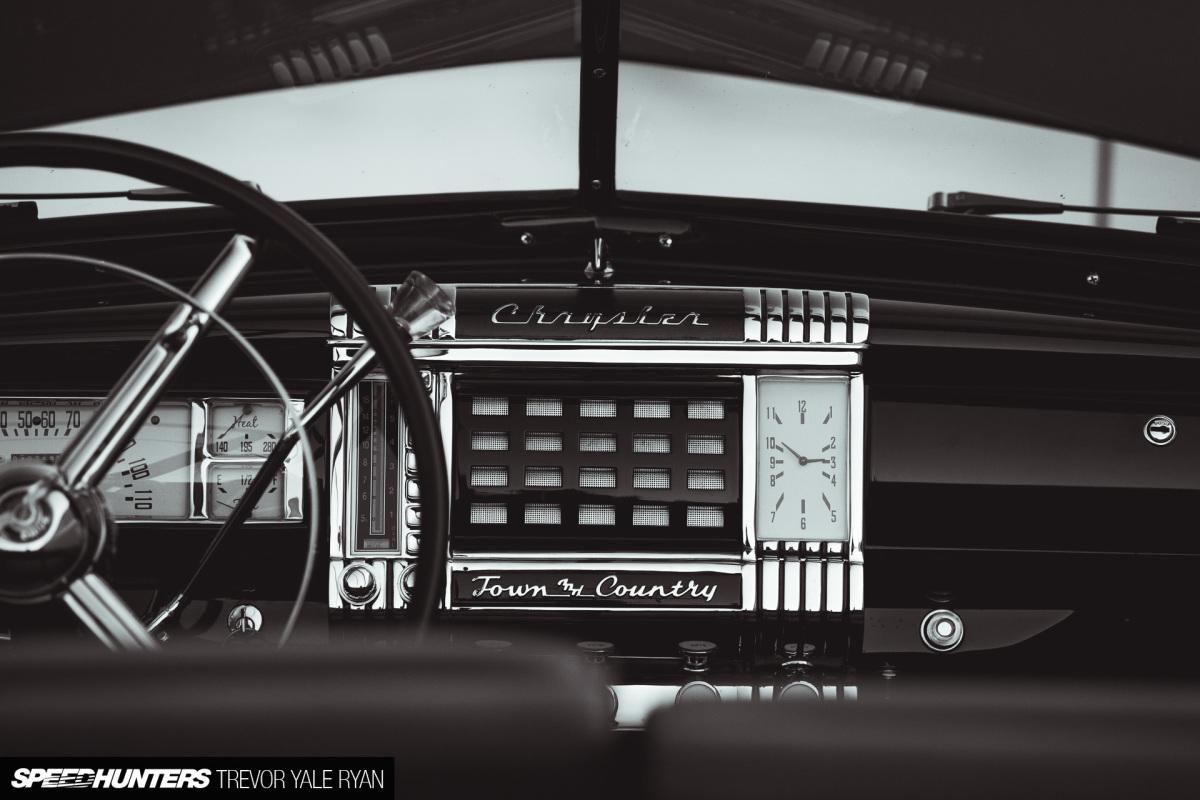 In automotive circles, Ford released their first F-series truck and Porsche built the first 356. Gas cost 16 cents a gallon, and you could buy a fully loaded Town and Country brand new for under $2,800 (barely less than the average annual salary at the time in the United States).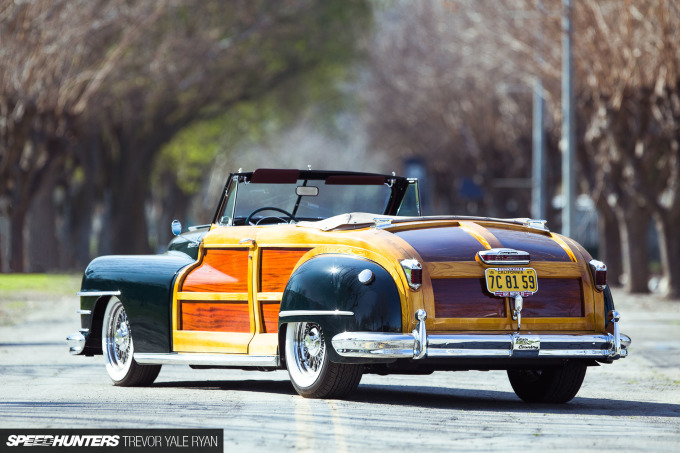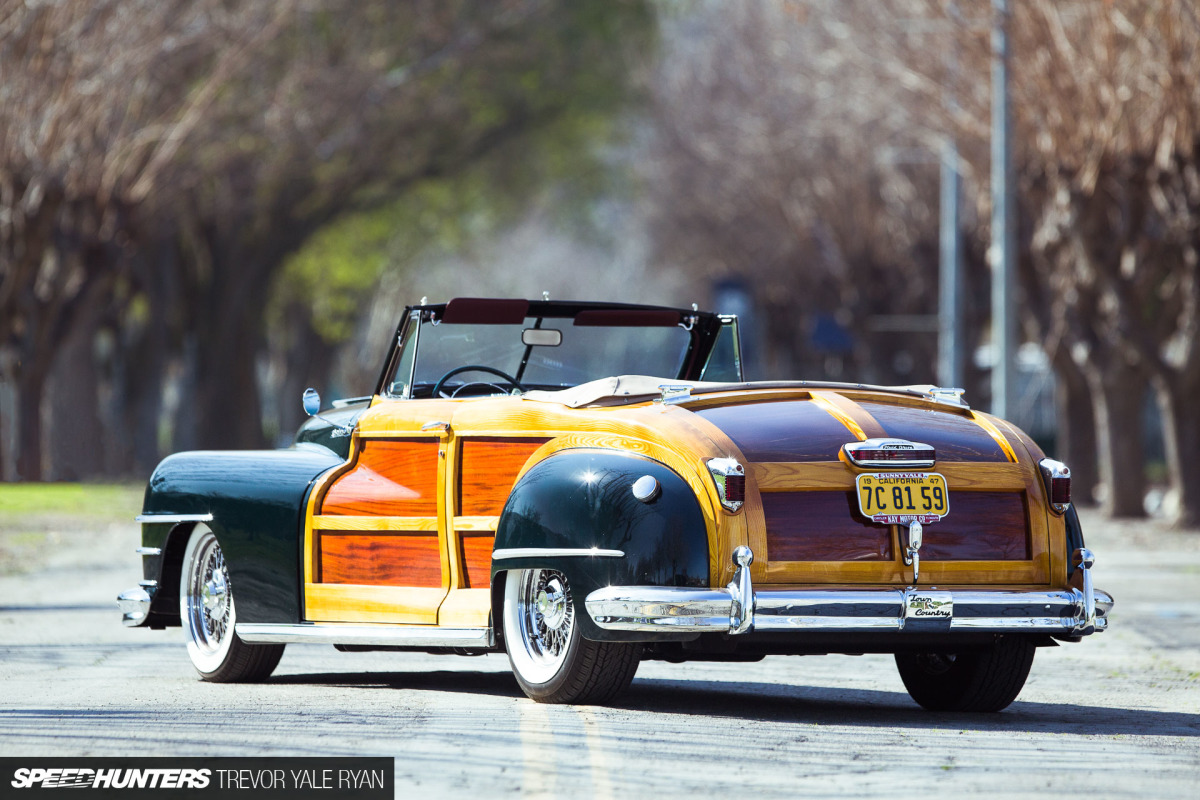 This isn't the sort of car I'd normally think of featuring, and I really have to thank Goodguys for letting me spend some time with this special restoration. It's a bit odd that a car has seen more of the world than I have, but that's definitely the case here.
Every car has a history, with the shape this thing is in now I'm sure it's got another 70 years in it, easy.
Trevor Yale Ryan
Instagram: tyrphoto
TYRphoto.com