The Day's Itinerary
For nearly the last year, I've been shooting for the Goodguys Rod & Custom Association and their website Fuel Curve. It's an arrangement that's gone quite nicely in tandem with my work over here, seeing as how for the most part, it's two different parts of the same world.
I'd been by their offices in the San Francisco Bay Area suburb of Pleasanton before, and was blown away by what Goodguys has tucked away over there. When they got in touch with me to shoot a classic pickup truck they had built a few years back, I jumped at the chance to take a peek around the shop.
If you're reading from America, you already know who they are. But if you're tuning in from overseas, you may not be familiar with who these guys are. Goodguys has always best known for hosting huge get-togethers, often with over 100,000 people attending their shows. It's not just an annual affair, either, but instead once or twice a month, all across the country.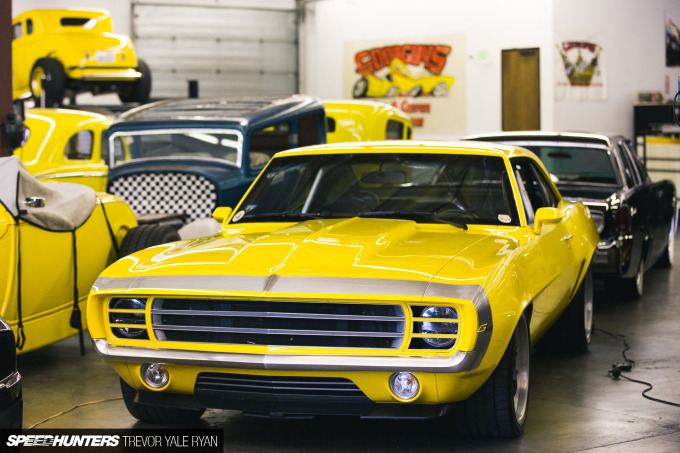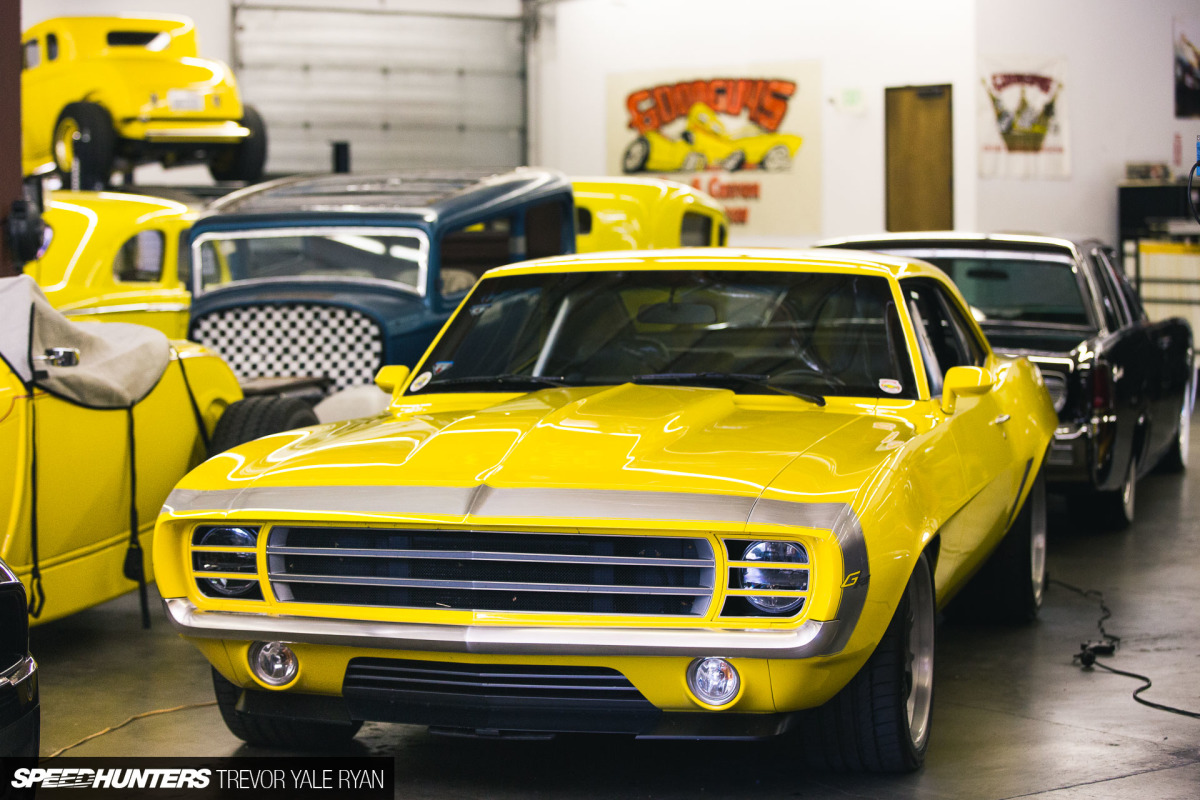 I took far too many photos to go into detail about each one; instead, I'll just take you on a little (actually big) stroll around their Pleasanton premises. My first stop will be the garage, where nearly a dozen phenomenal restorations reside.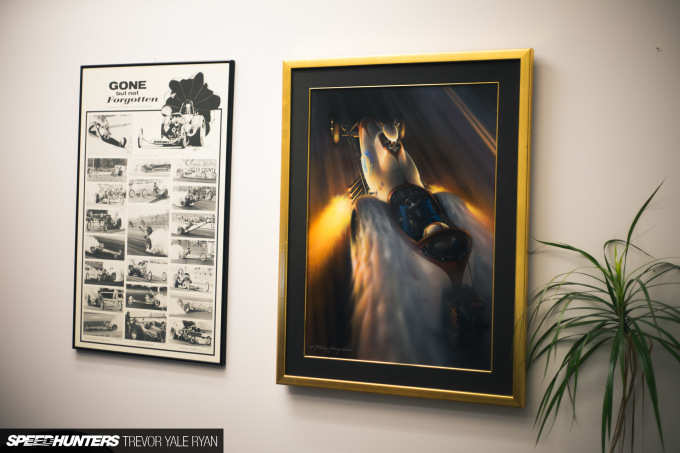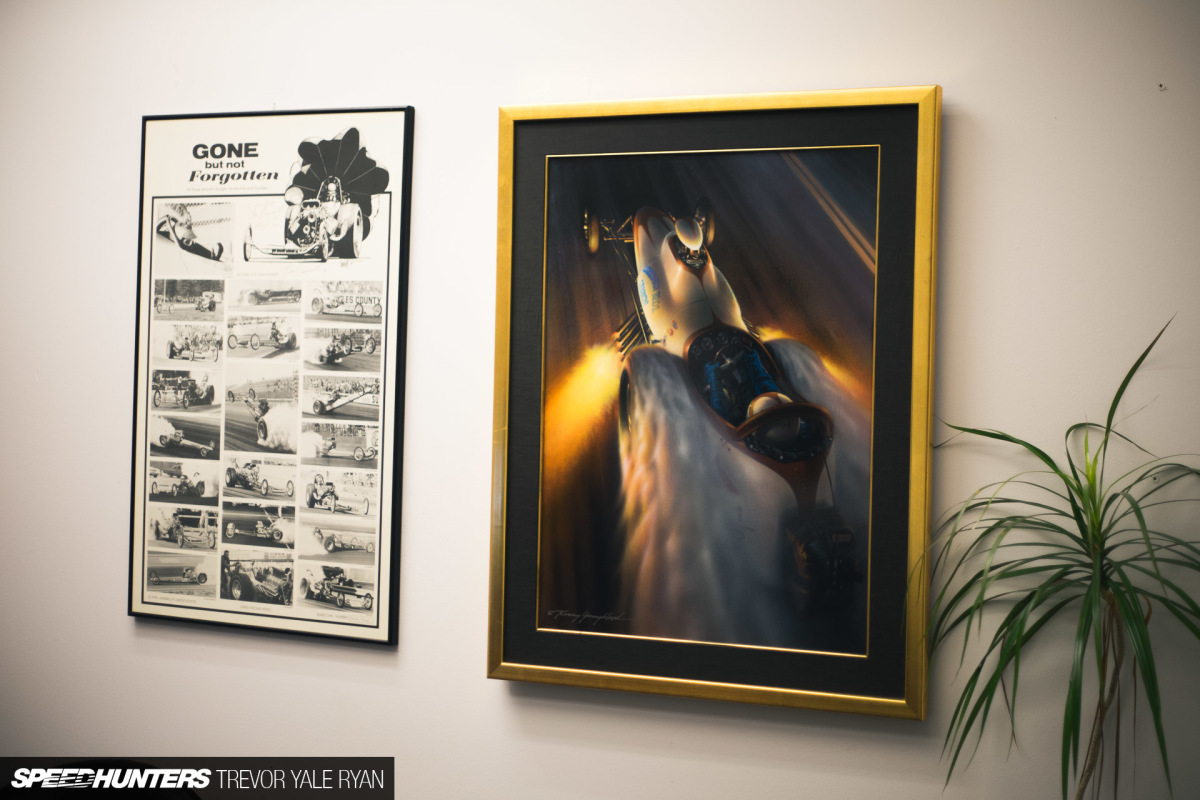 Next, I'll take you down the hallways of their offices, where a ton of vintage hot rod art can be found; this HQ is more than a place to get work done, it's a museum.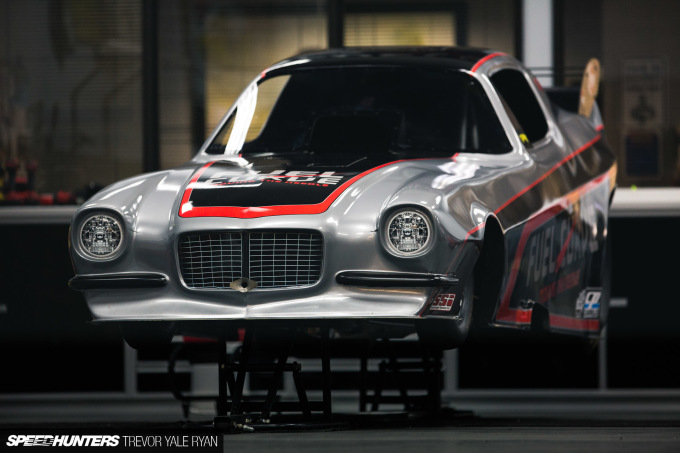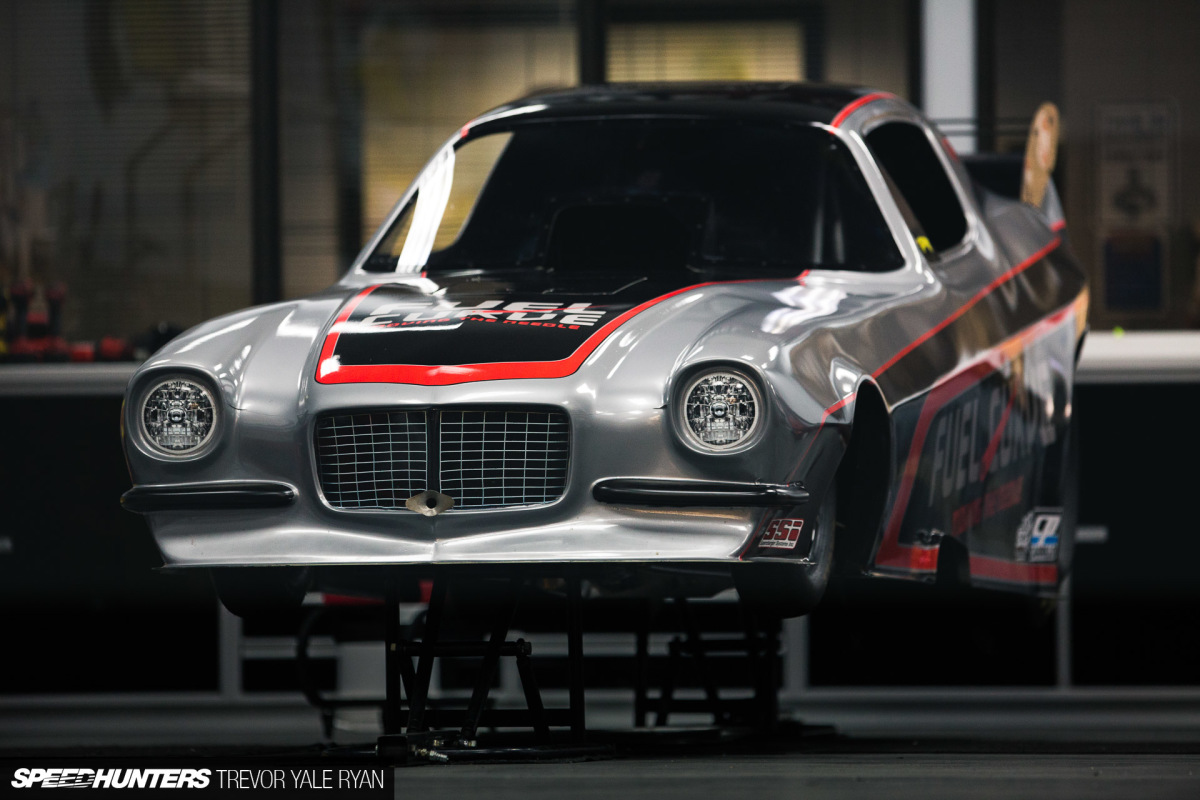 Finally, we'll take a stop in the funny car room, where a ridiculous 3,500hp Camaro sleeps at night. The engine is being torn down at the moment, so it was a good opportunity to take a look at the relatively bare chassis.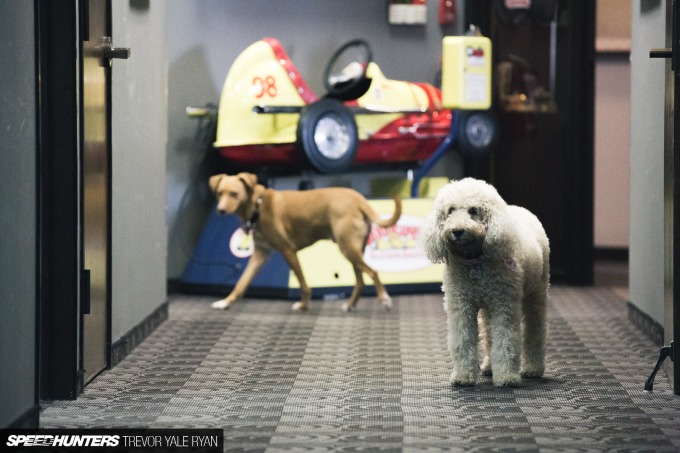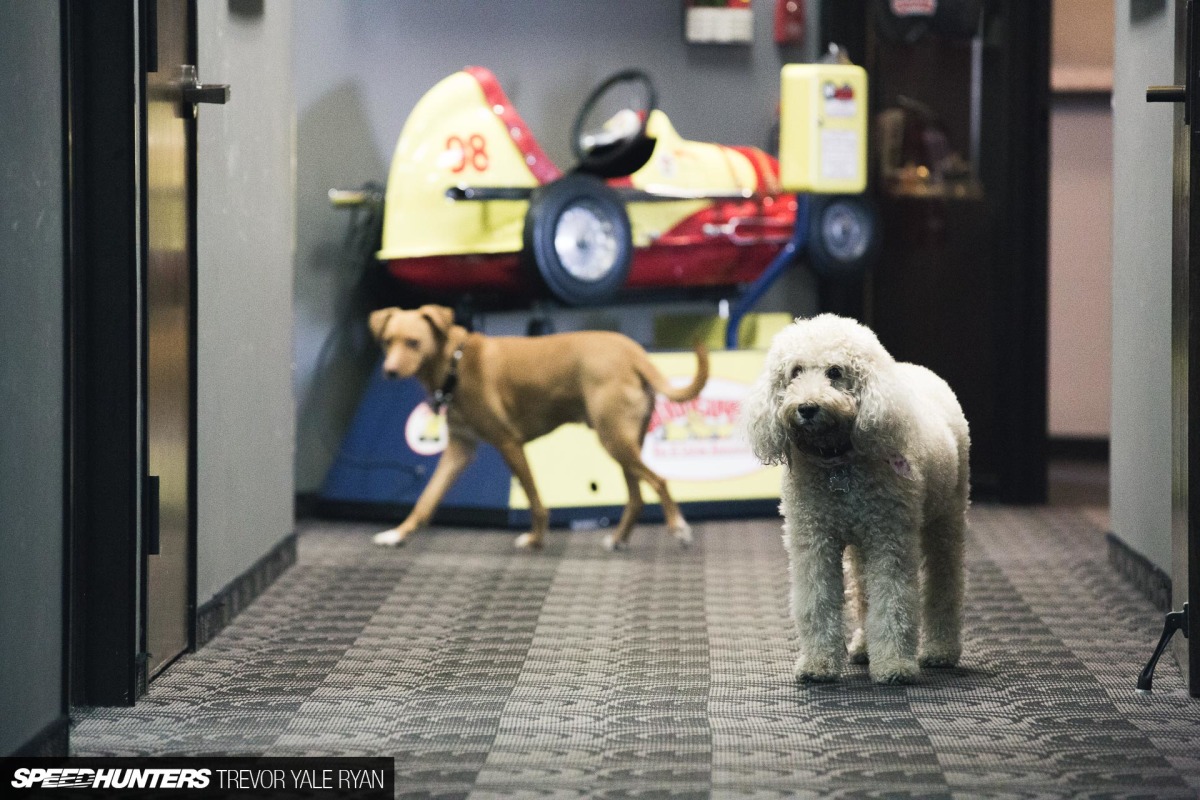 A side project for the day was the get the two shop pups, Marley and Max, to like me. You can see from their suspicious looks they gave me early on that it was going to be an uphill battle.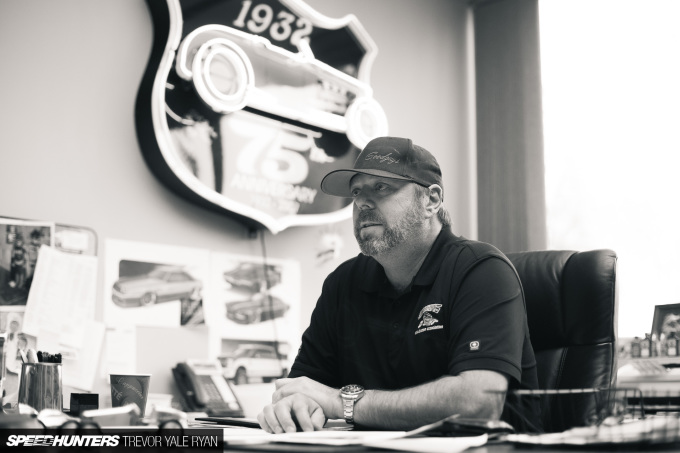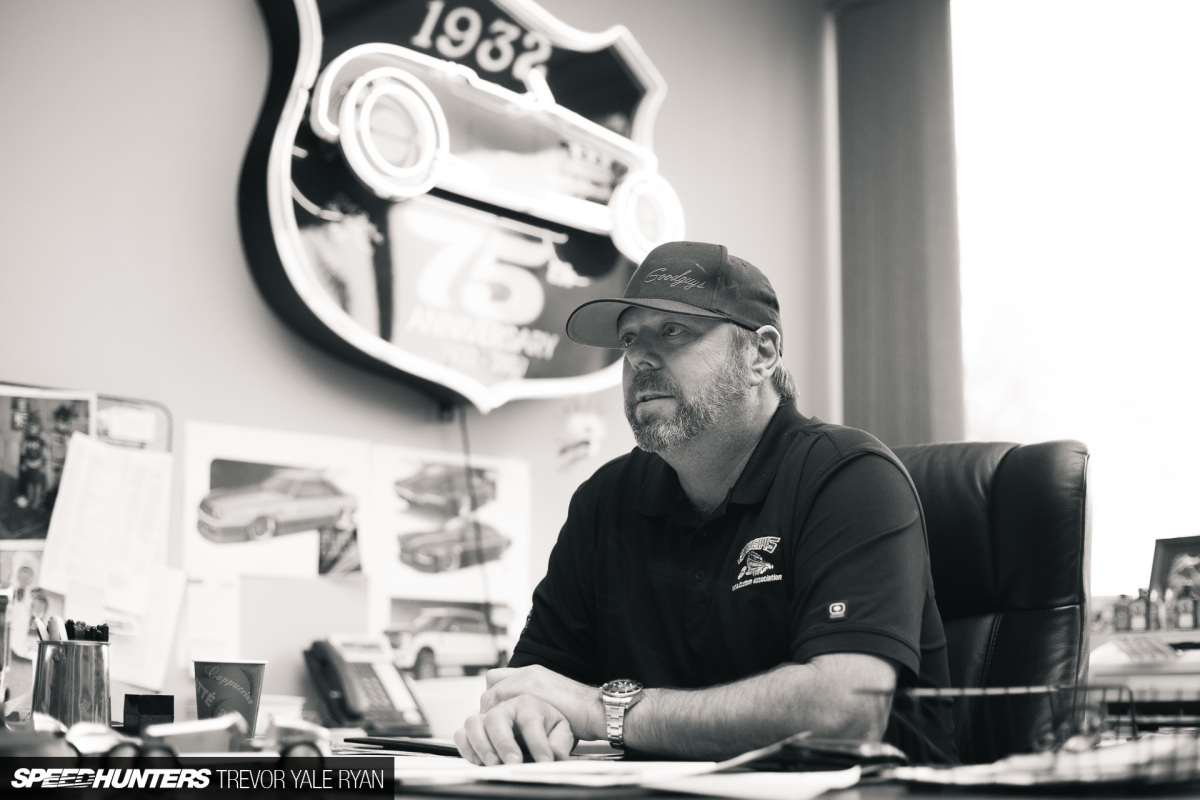 I also had a chance to sit down and talk with Goodguys president Marc Meadors. If you're savvy to the muscle car show scene here in America, you'll already know that Marc is the son of the late Gary "Good Guy" Meadors. Gary was a car guy through and through, and started Goodguys in 1983 after an already stellar history in the automotive world.
In the past 35 years, Gary's car club grew to over 70,000 members and has held over 800 shows to date, with everything from swap meets, drag racing, autocross and demolition derbies going down at the events. His son Marc has big shoes to fill and, like his father, he's having a blast doing it. Literally, actually, since he pilots the funny car.
The Goodguys Garage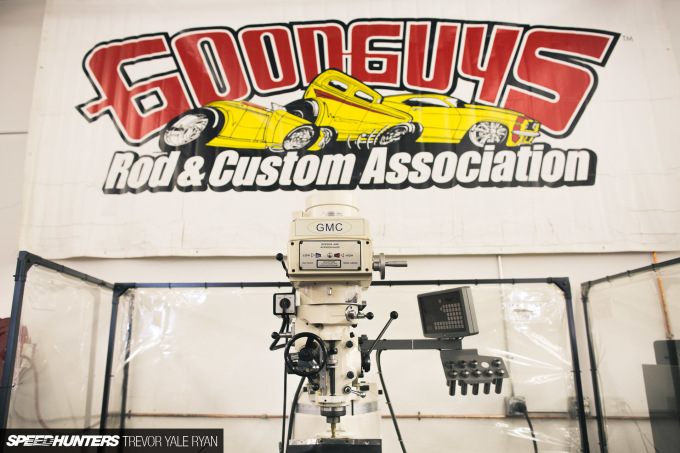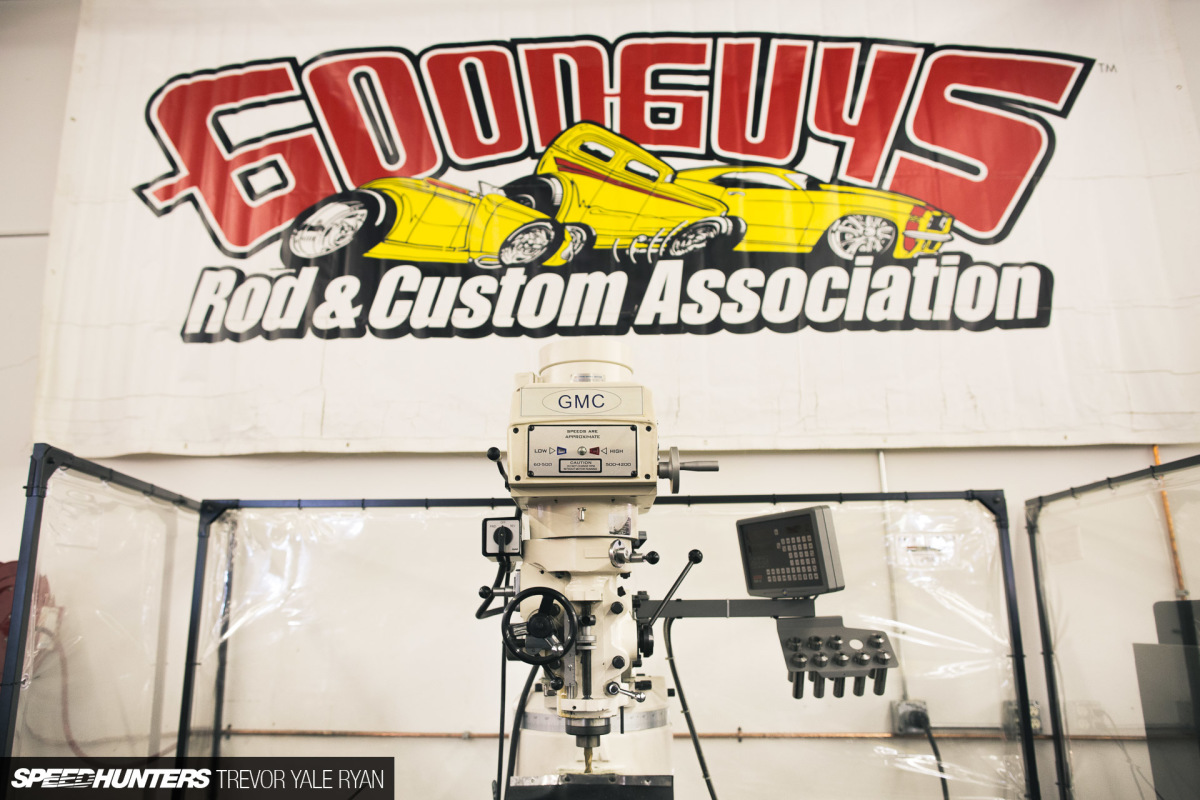 Anyway, first stop, the workshop.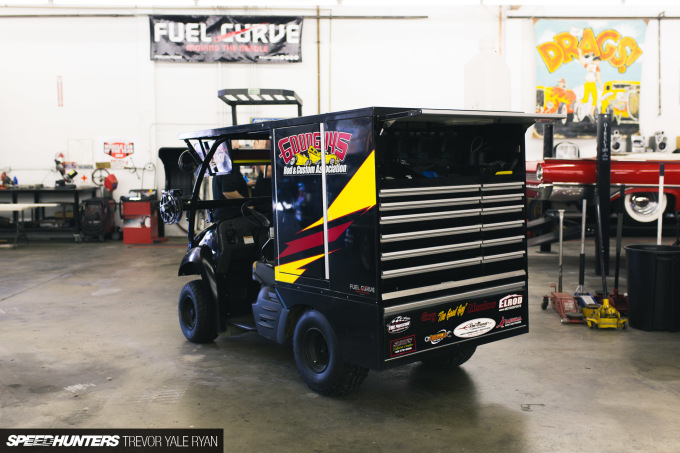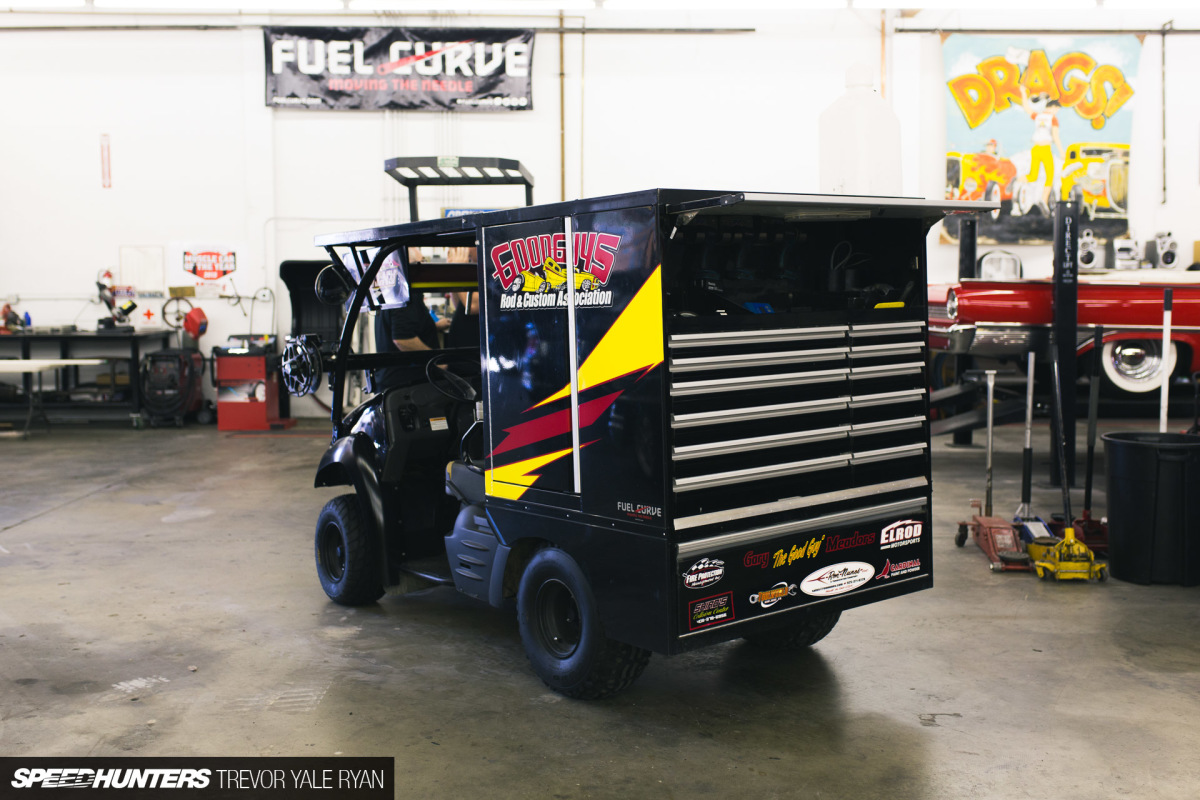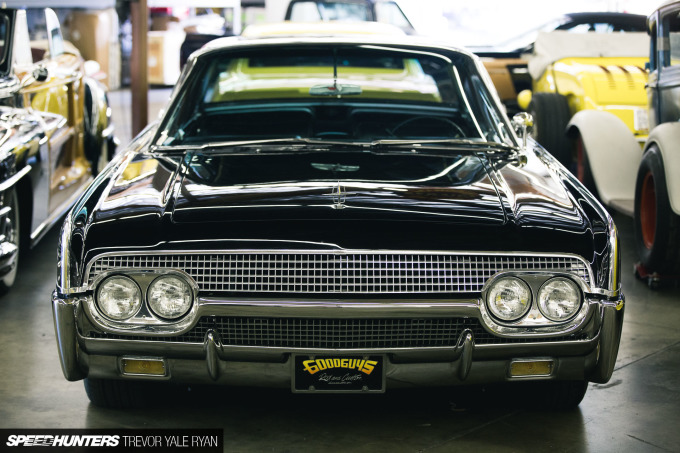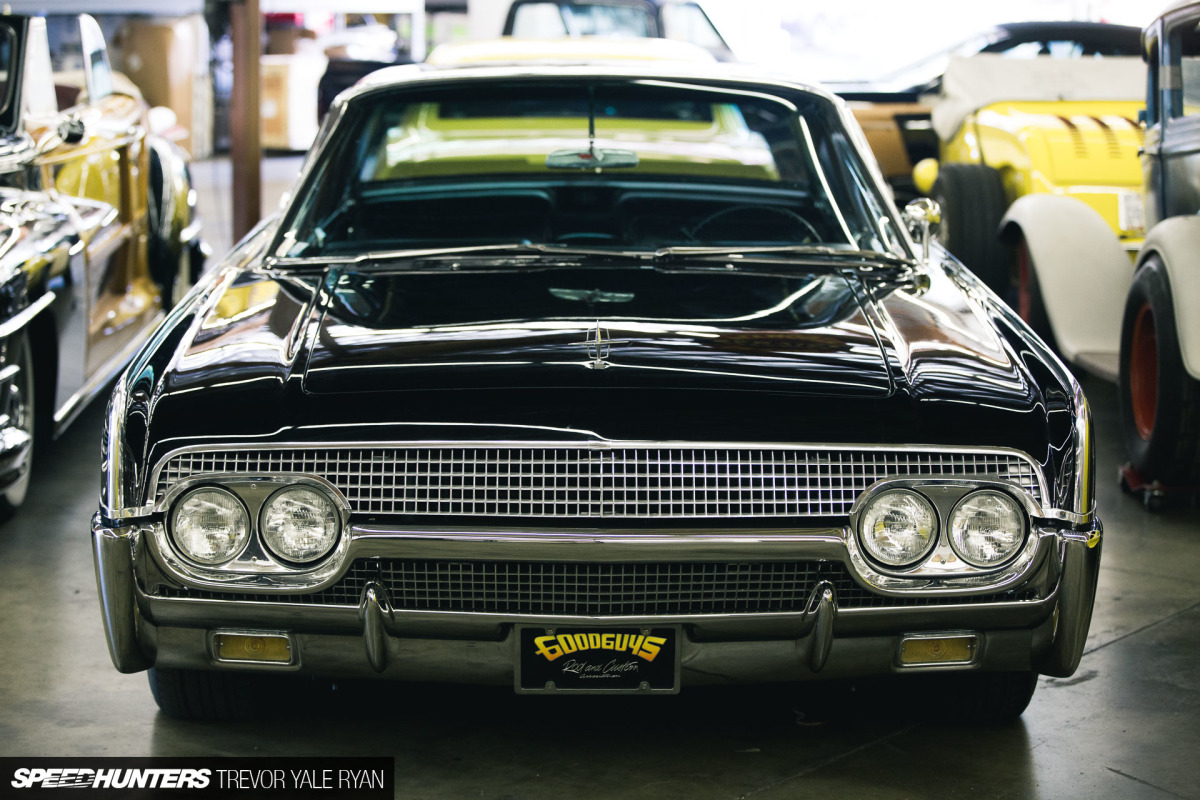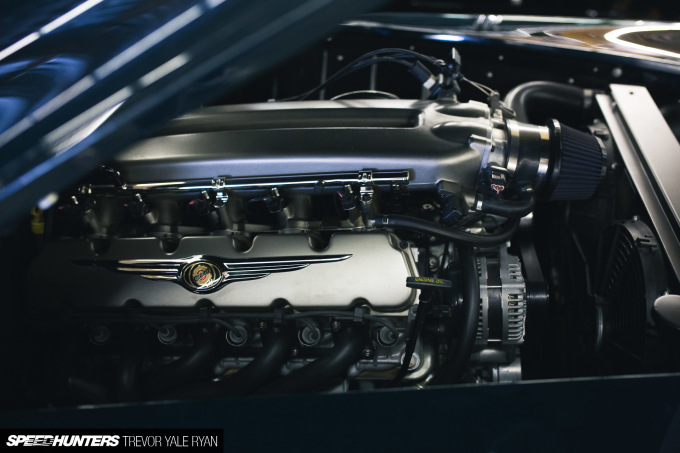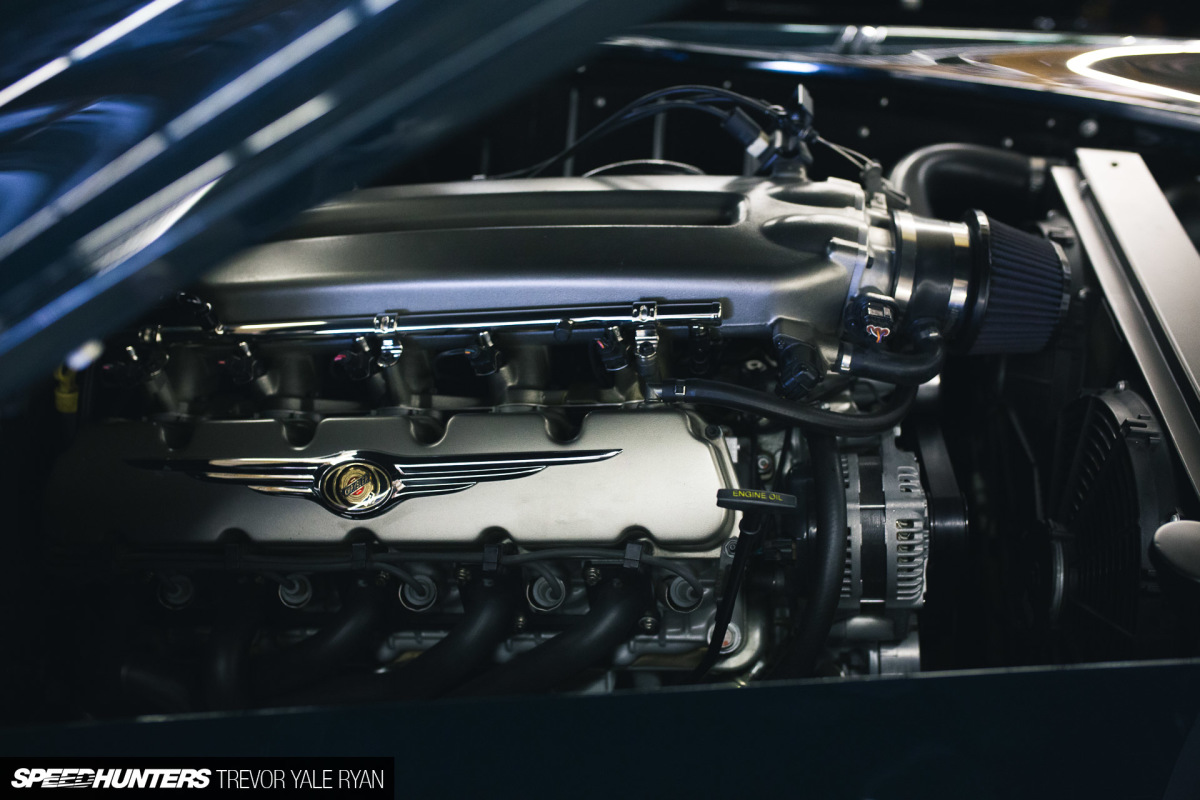 This Lincoln had to be one of my favorite cars of the day, but behind it was actually something even more interesting. It's a 1948 Chrysler Town & Country that's been completely restored, with a family-correct Mopar swap.
I convinced the guys to take me out in it so that we could get rolling shots of the pickup truck – from a quarter million dollar restoration. They kindly obliged, and I was able to sneak in a feature on the V10 '48 as well.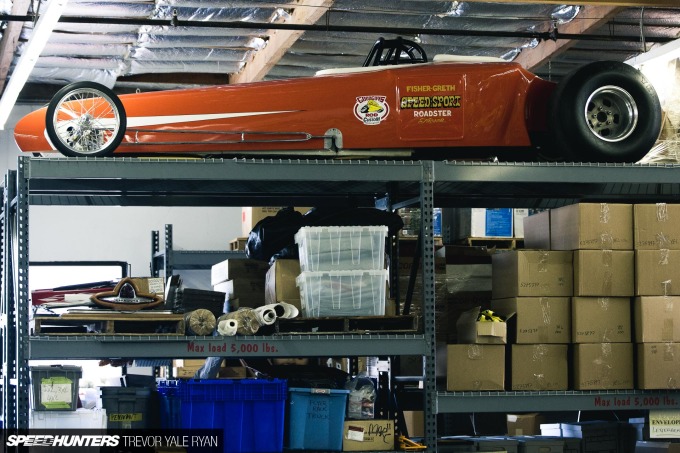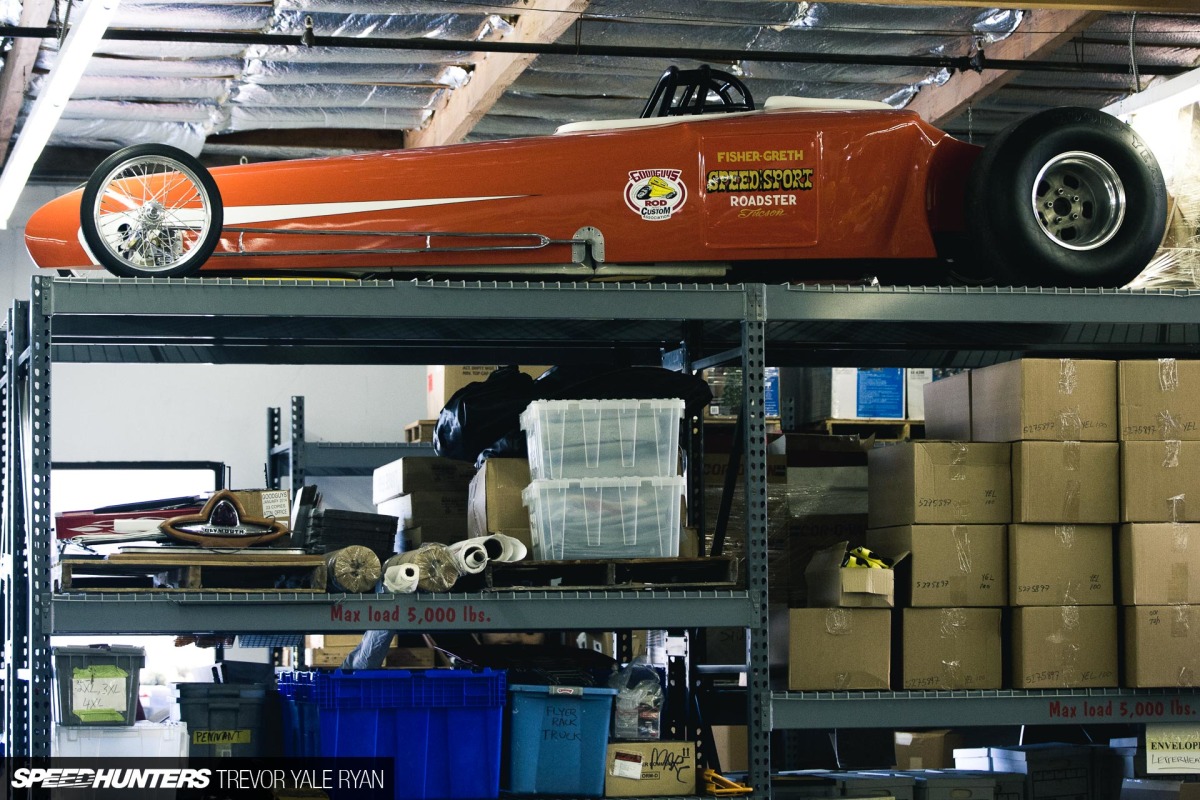 The place is chock-full with good old school cars, so full in fact, that some have been relegated to the shelves.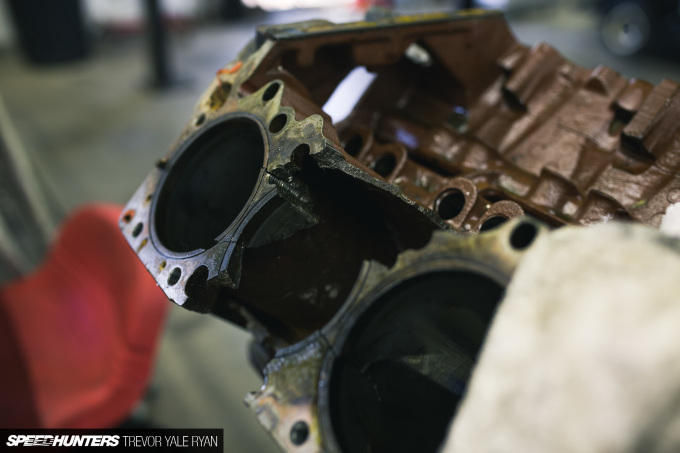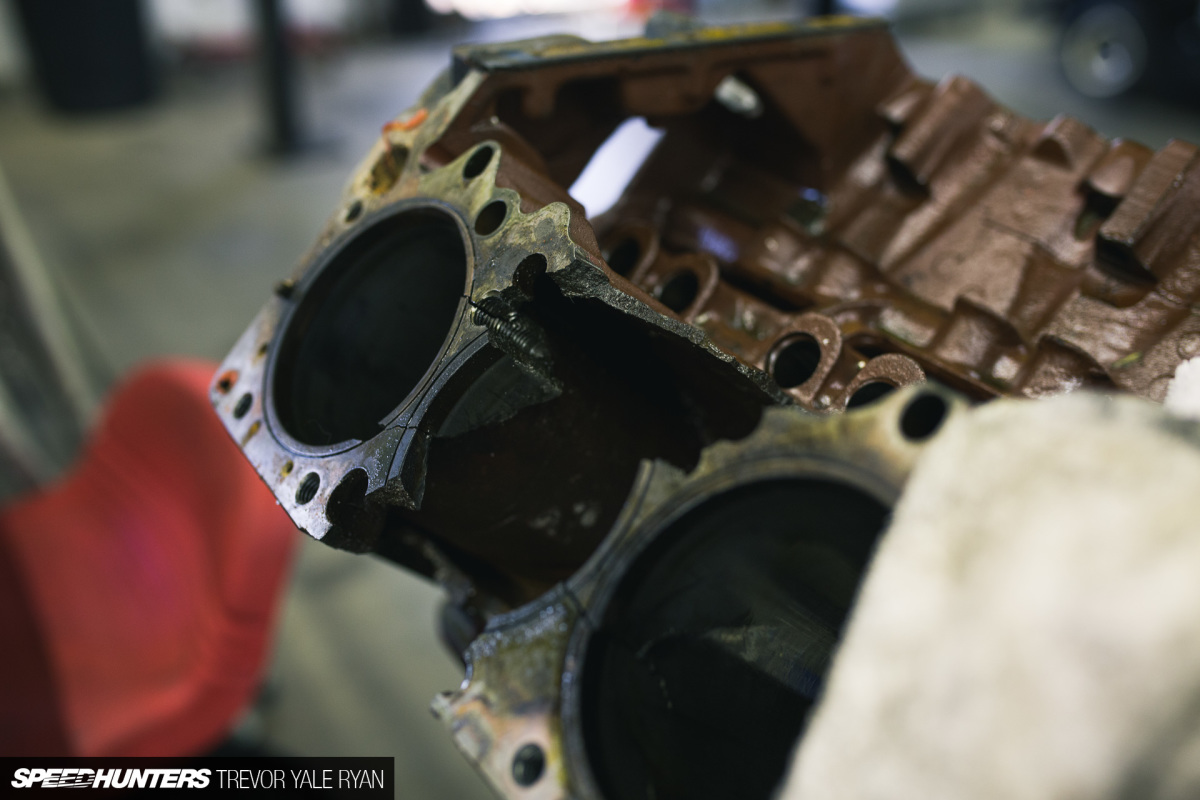 This particular dragster was out of commission after blowing its motor in dramatic fashion.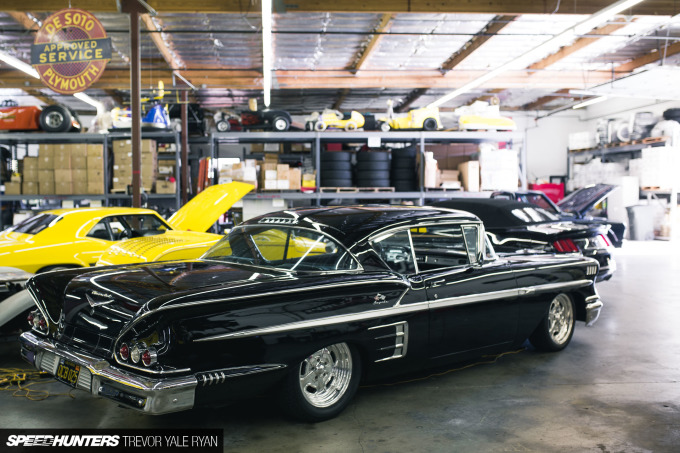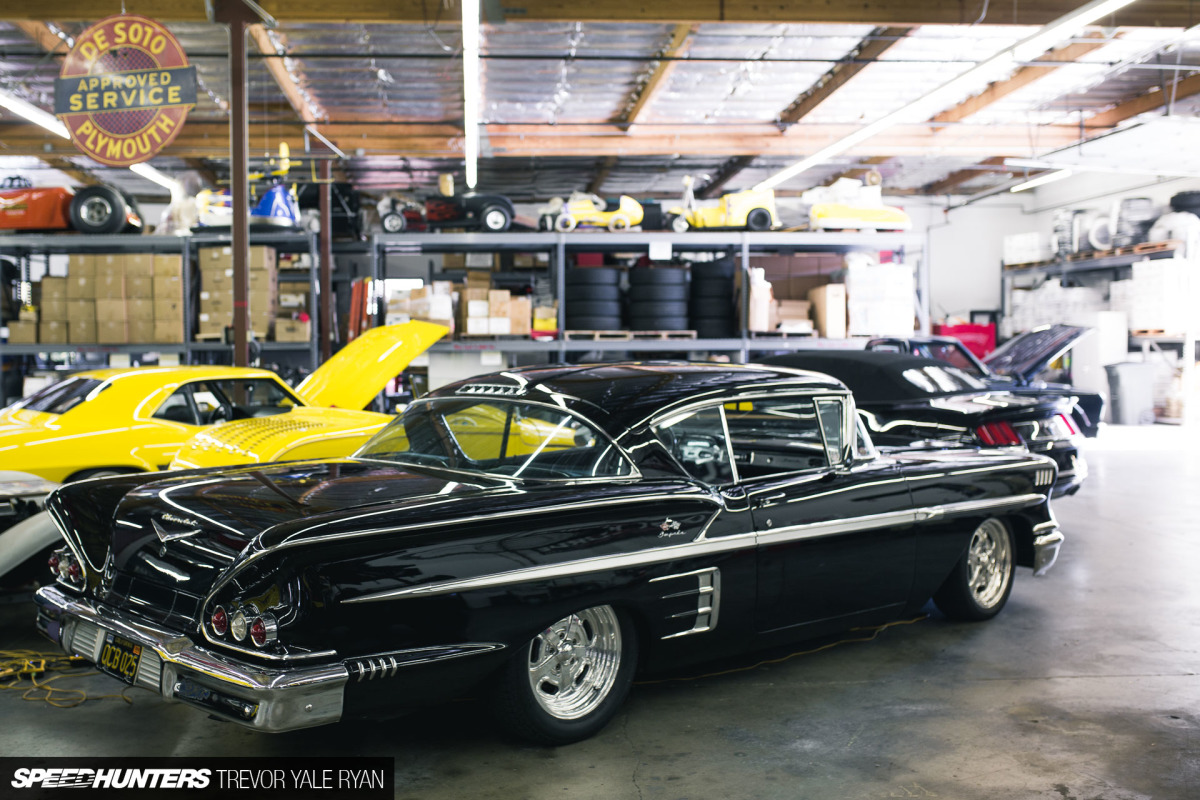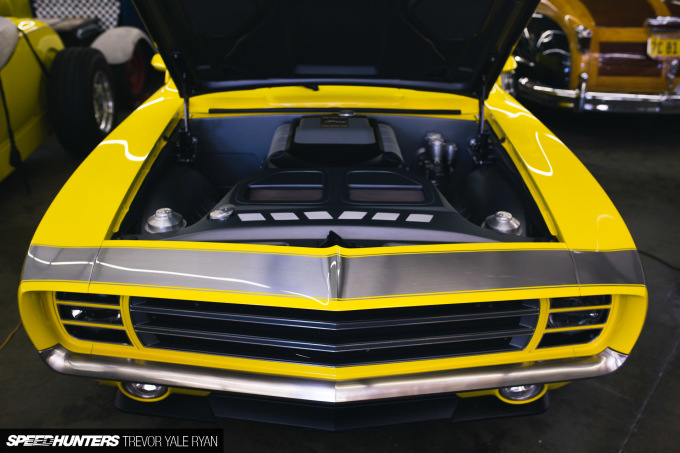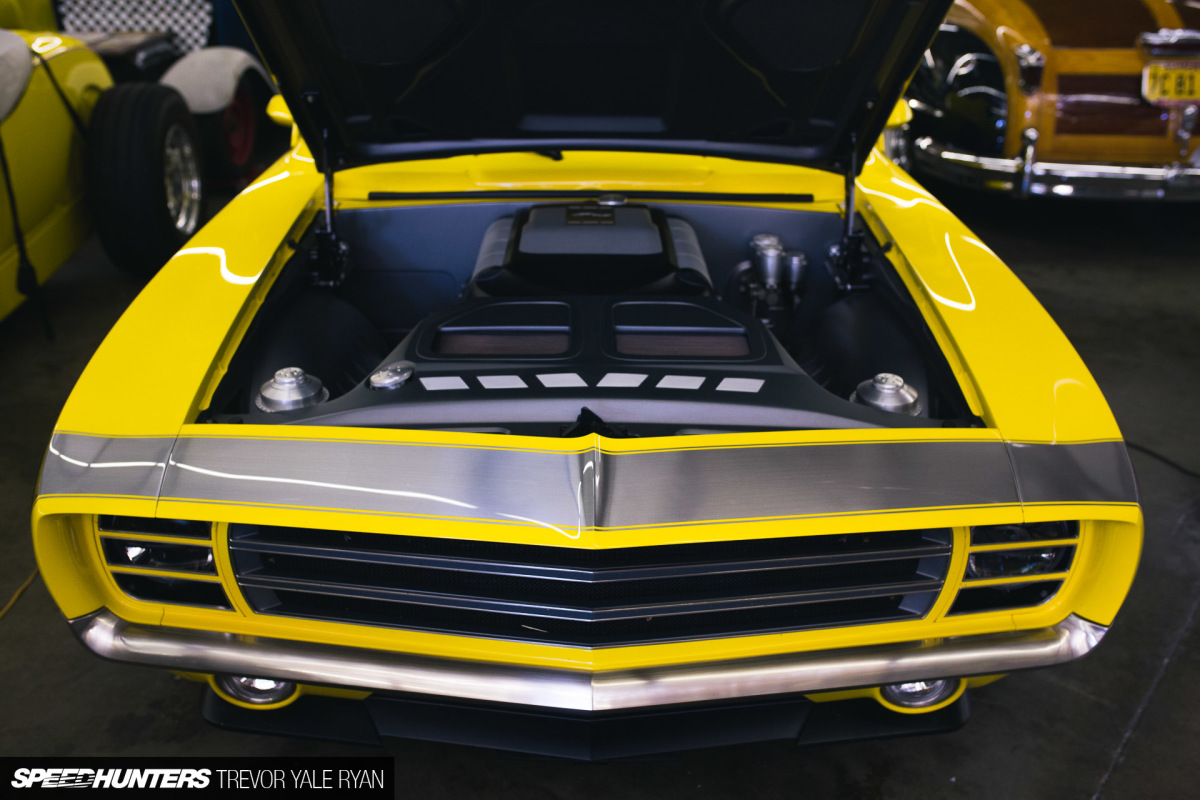 Seriously, this place is home to so much feature-worthy American iron.
Like this hand-built Moal creation. This and the '48 Chrysler are probably two of the most valuable cars here.
As much awesome stuff as there is tucked into the giant garage, there's a good handful of the Goodguys collection that isn't present in these photos. At least a few cars are always out at shows, on display, loaded into trailers, or on loan somewhere.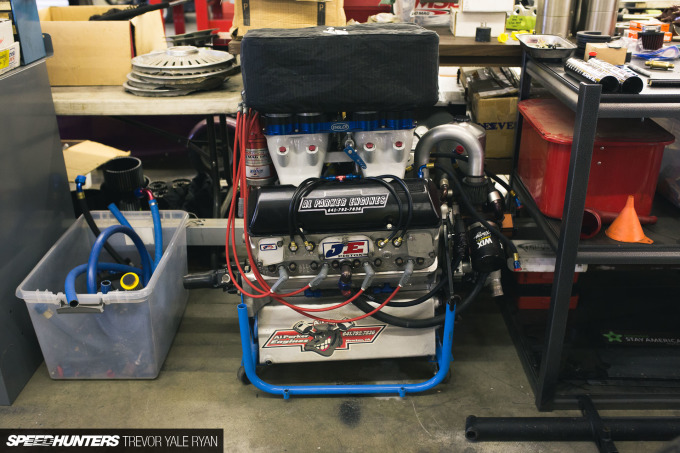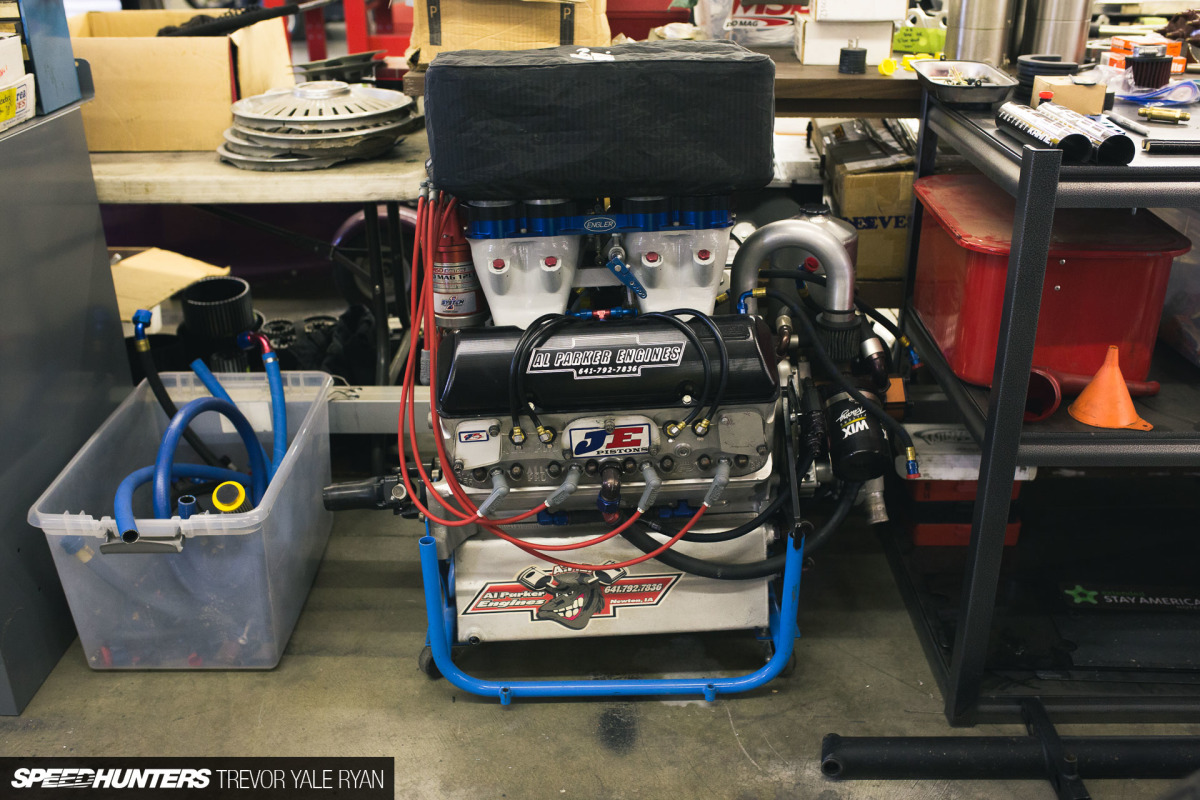 The more I dug around in the garage, the more good stuff I found. It's almost comical to just see a motor like this sitting on the floor, but that's just how it is around here.
Still no luck with Marley or Max, by the way.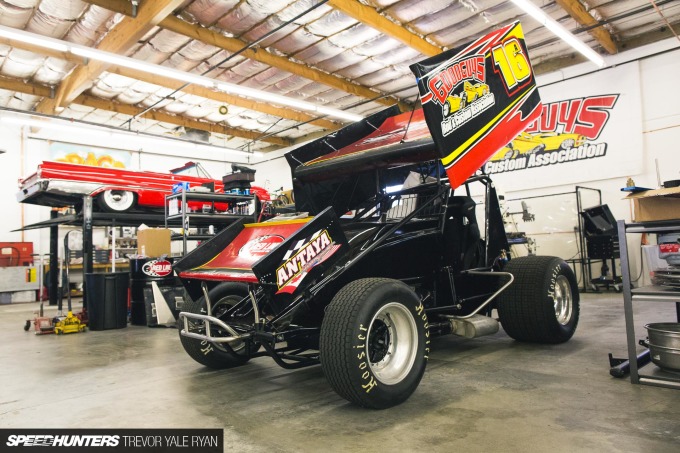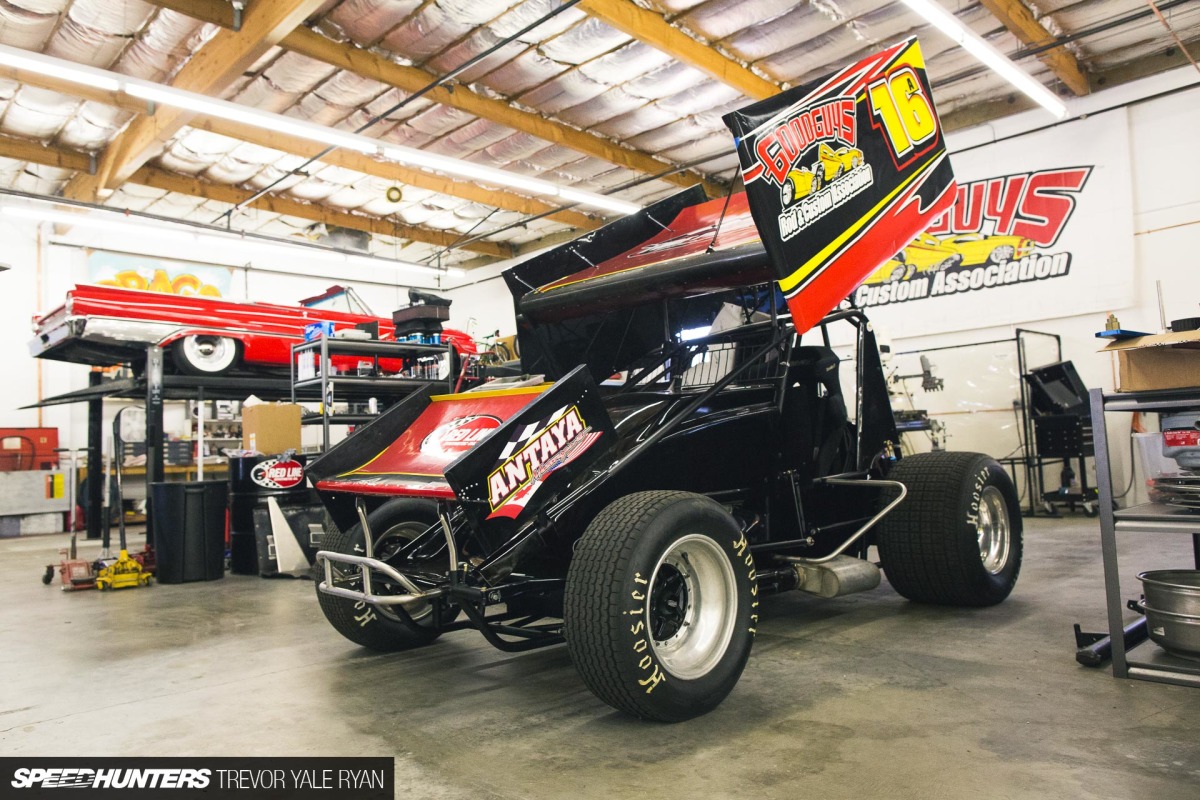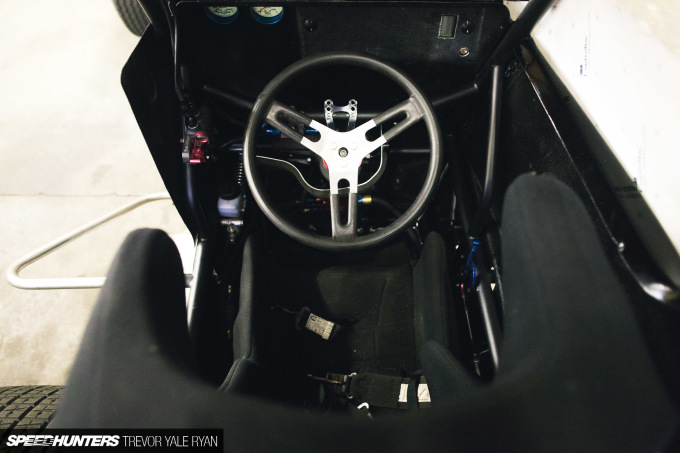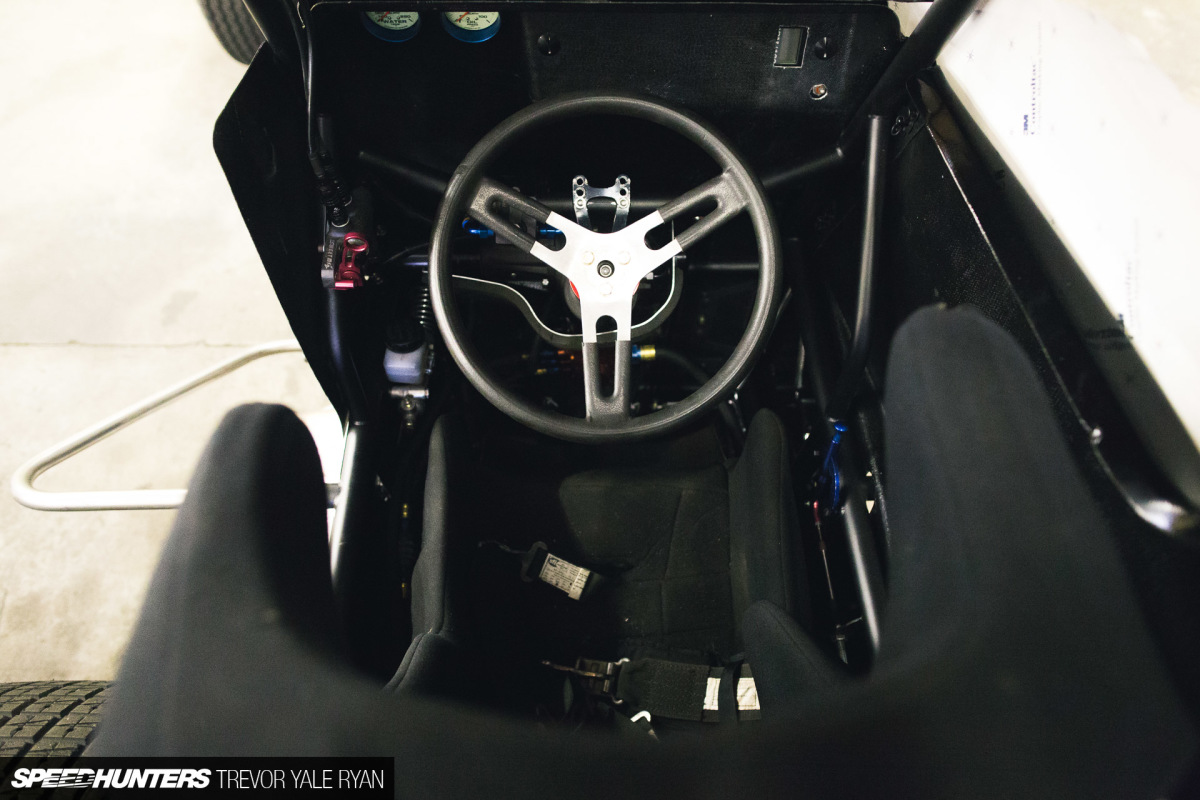 Can you imagine what it must feel like to slide around in the dirt at over 100mph in one of these?
Outside was another incredible testament to Goodguys' continued success. You know you've seriously got it made when you have two semi-trailer trucks and a few trailers just hanging out on the side yard at any given time. The best part about these is that they haven't been wrapped — that's paint. In fact, PPG has a special 'Goodguys Yellow' just for the shop and their builds.
And like they say: paint ages, vinyl dies. Just look at that old van as evidence. I have to say, I've never wanted a van so badly in my life. I actually asked about it, but my editor at Fuel Curve, CJ Holt, said it's part of the family at this point. Many a junkyard run have been made in this thing.
The Best Office In The World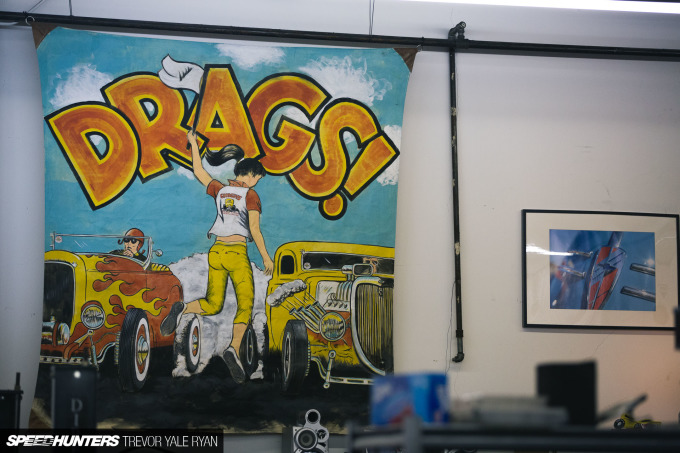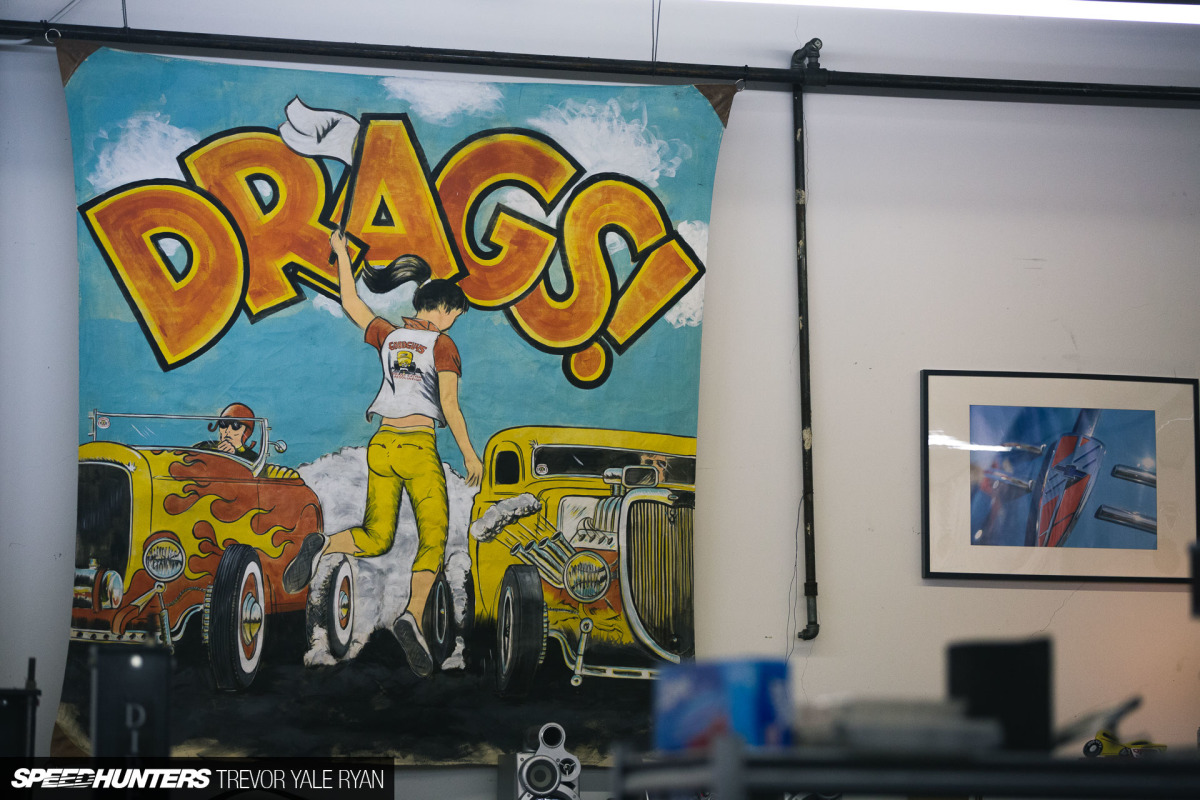 As promised, a good look at all of the old school goodies these guys have collected over the decades is in order. You might have noticed this giant banner in the background of a couple of the garage shots, and it's just one of many pieces that Goodguys has had commissioned.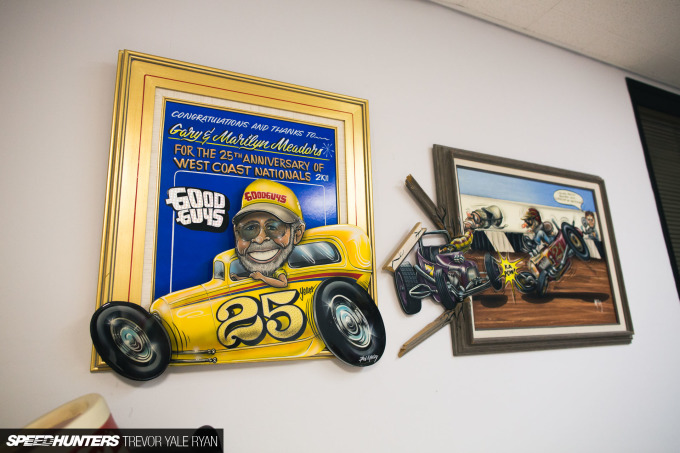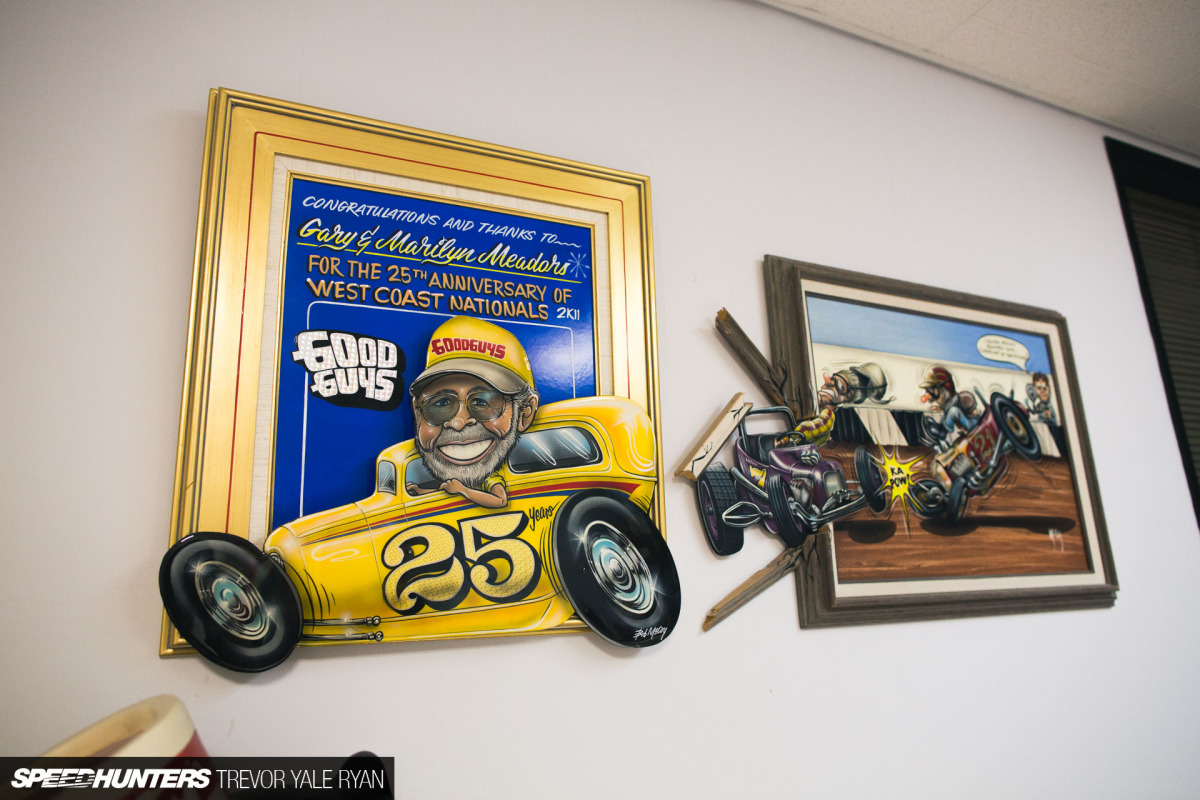 Many of the other items in their collection are gifts, and others have simply been purchased to liven up the halls.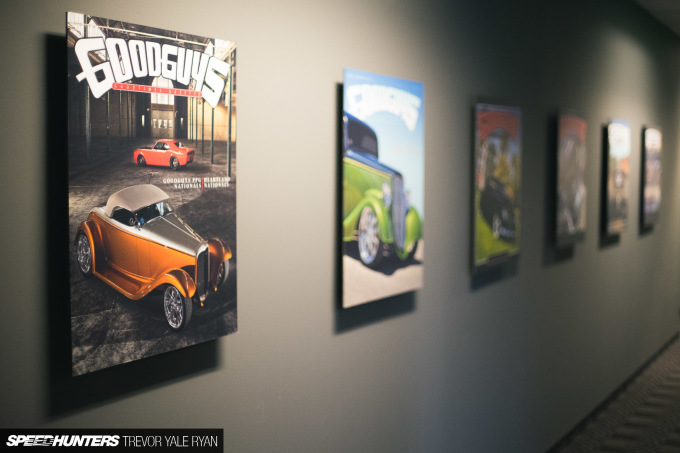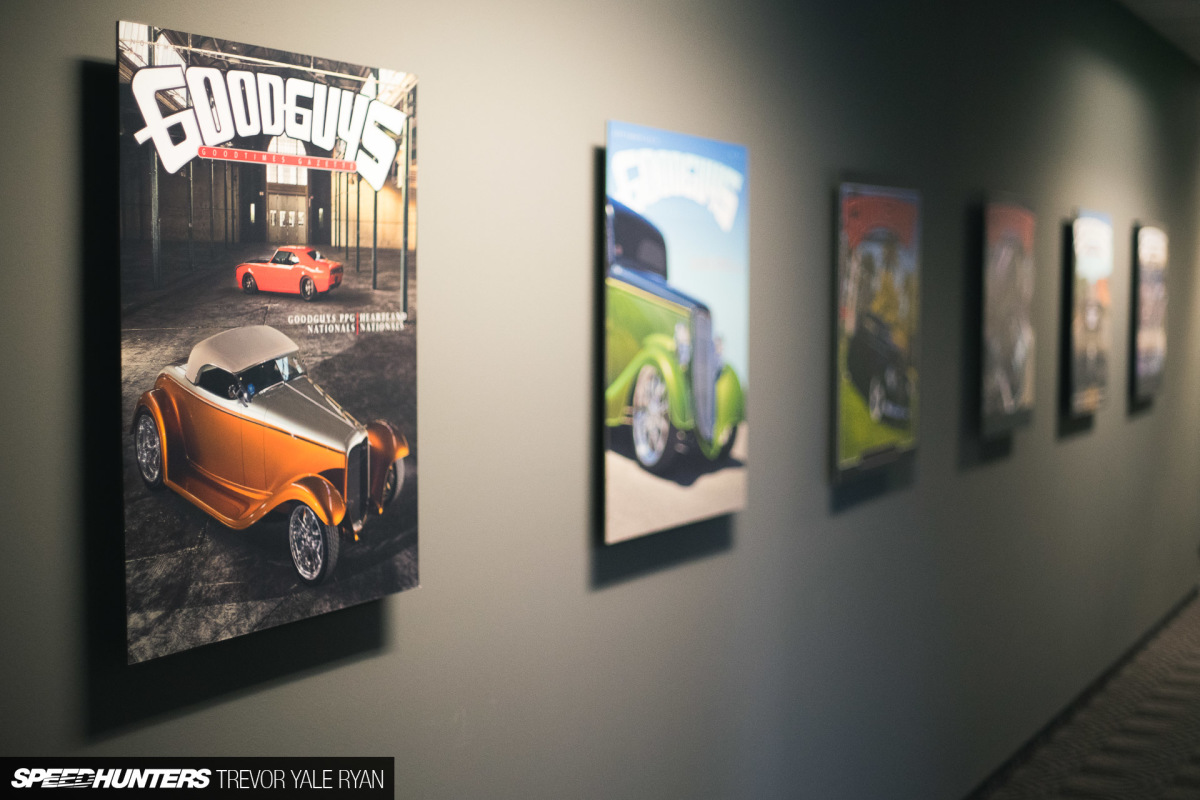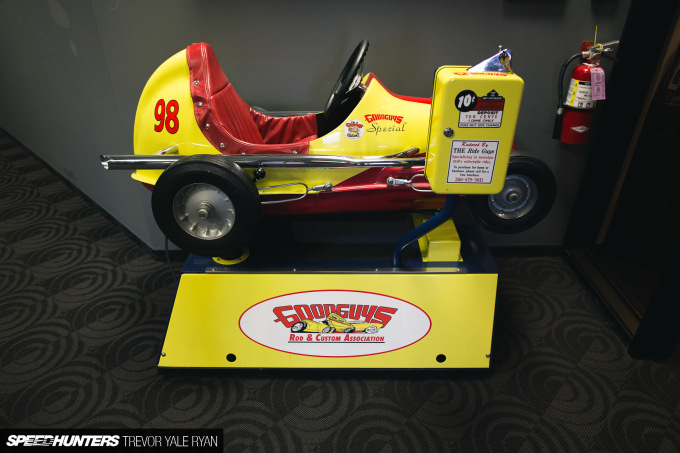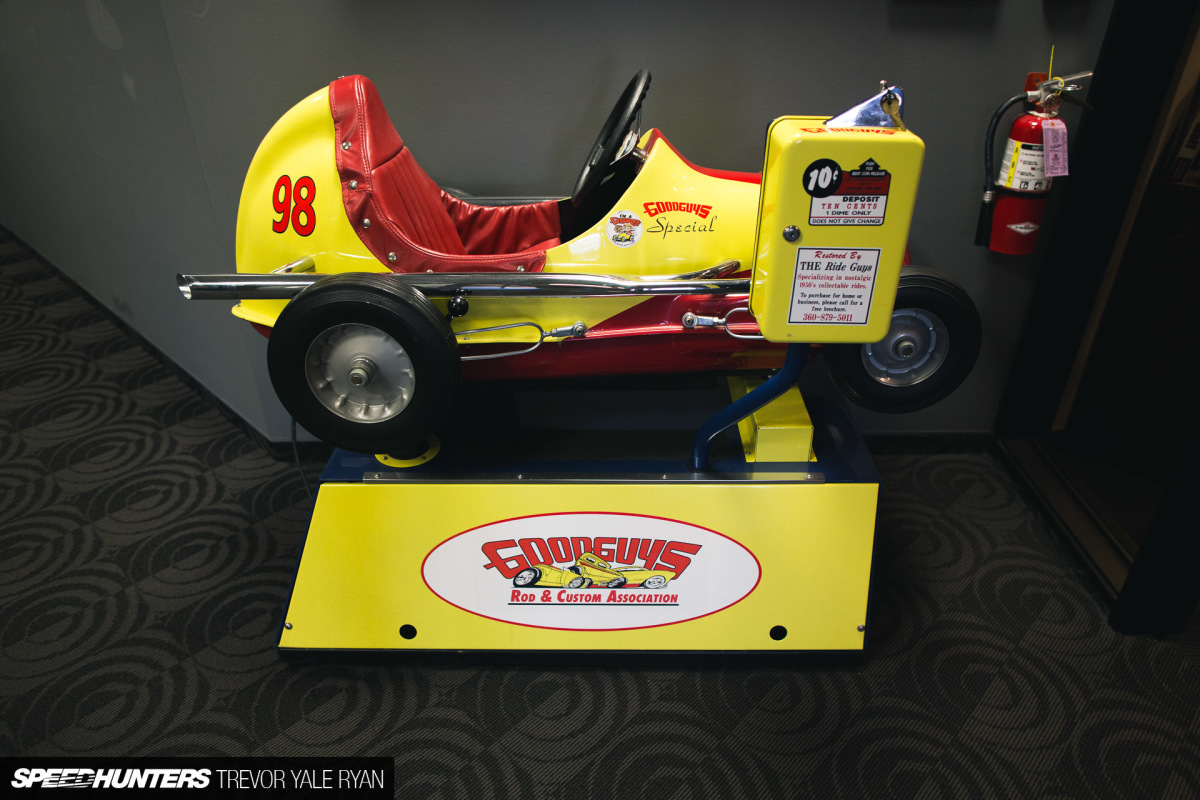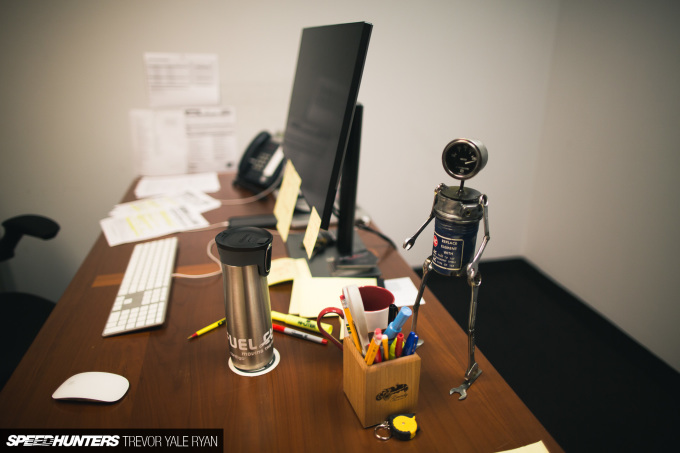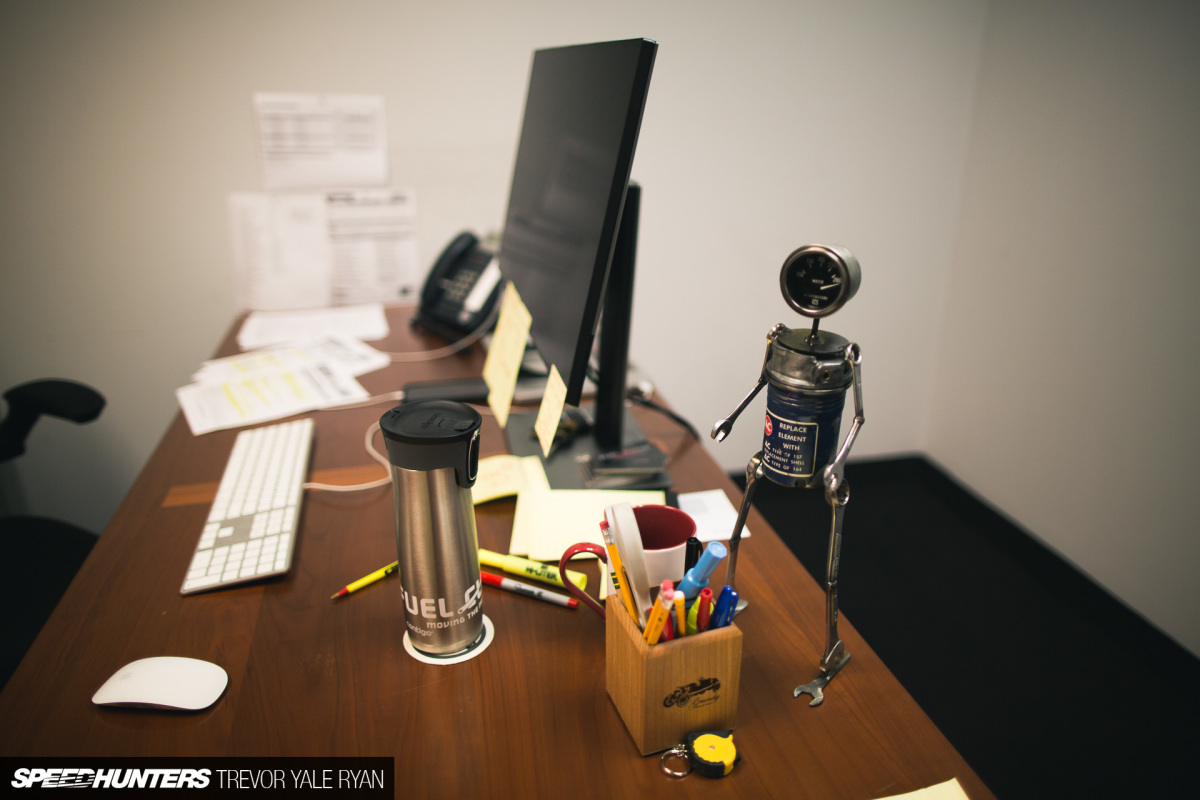 I had to sneak into a few offices during my visit too, just to see what it was actually like behind the scenes. I have to say, I wasn't disappointed.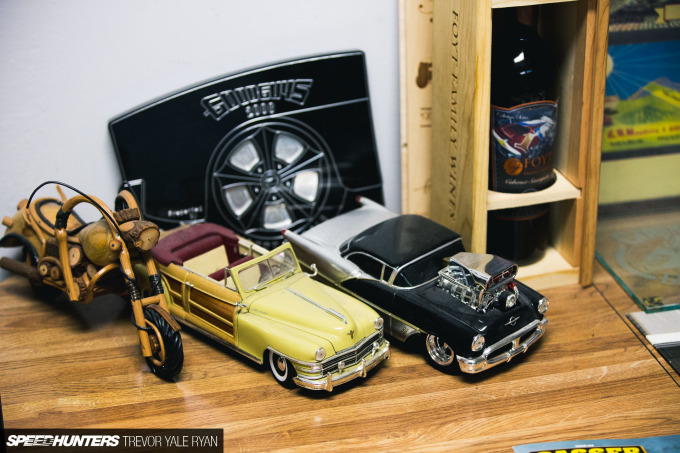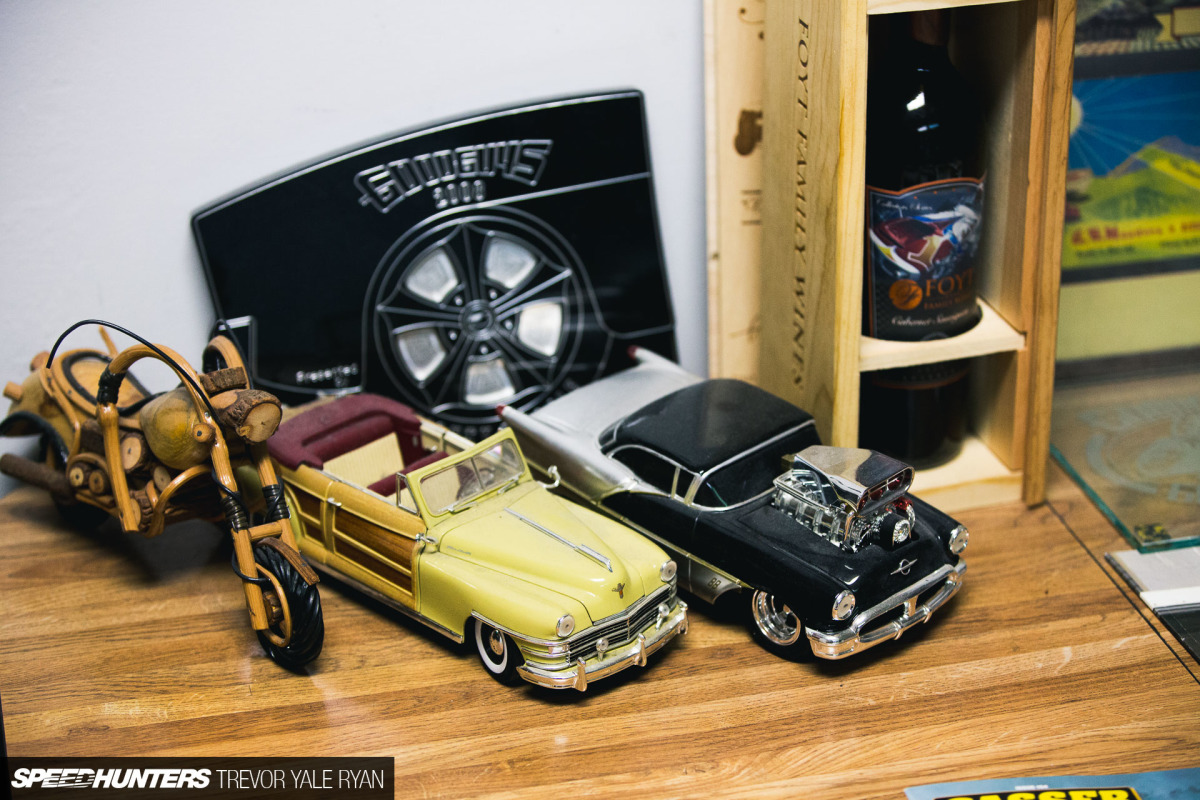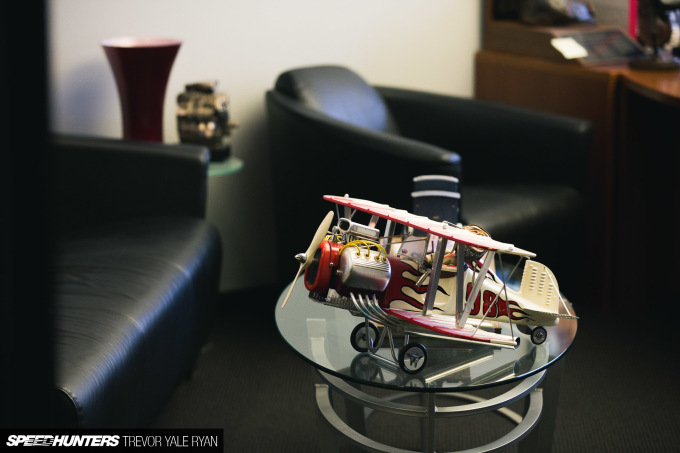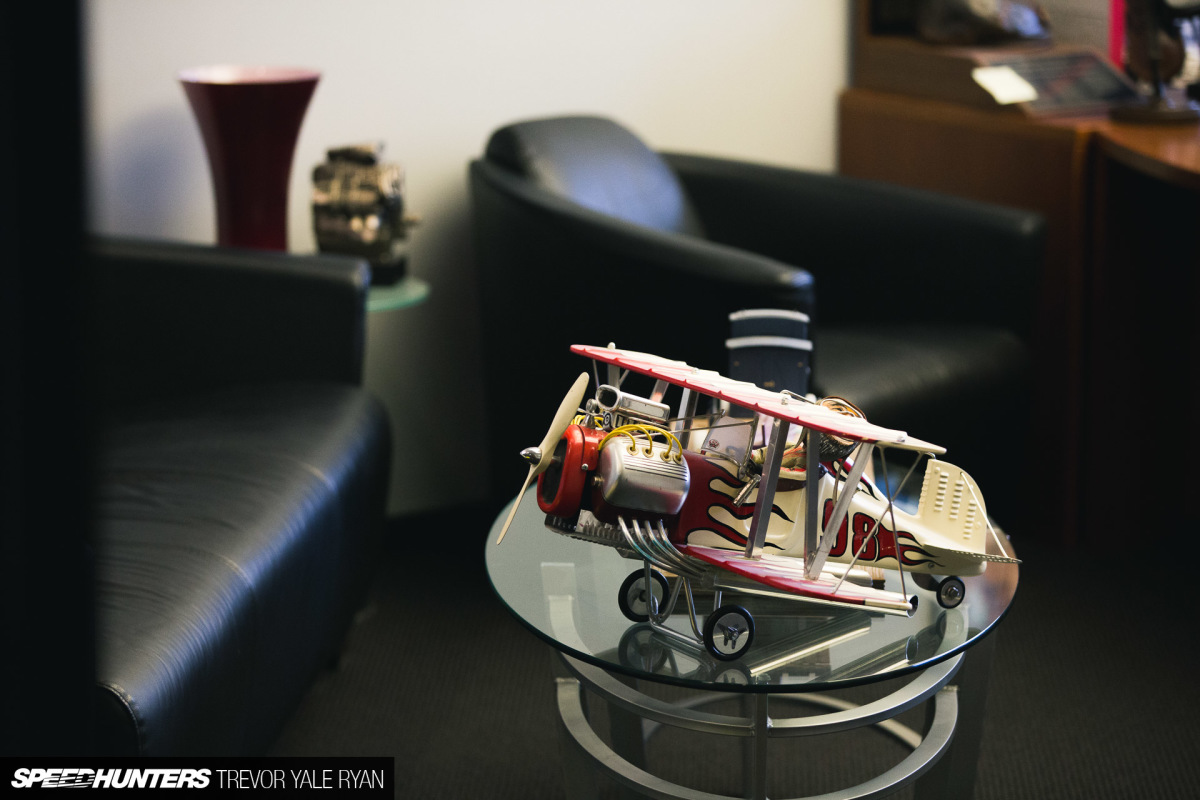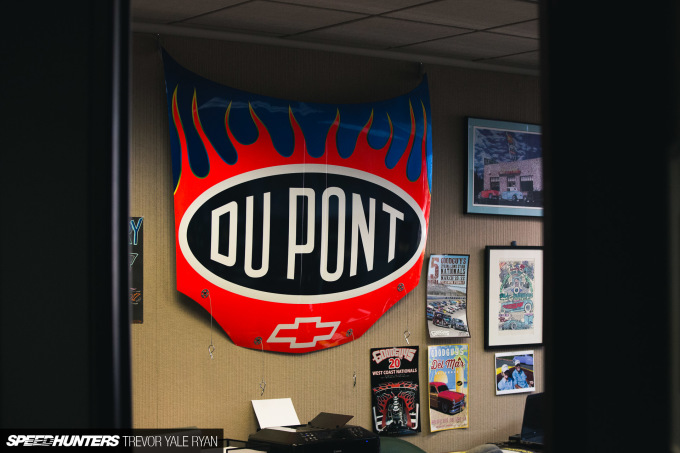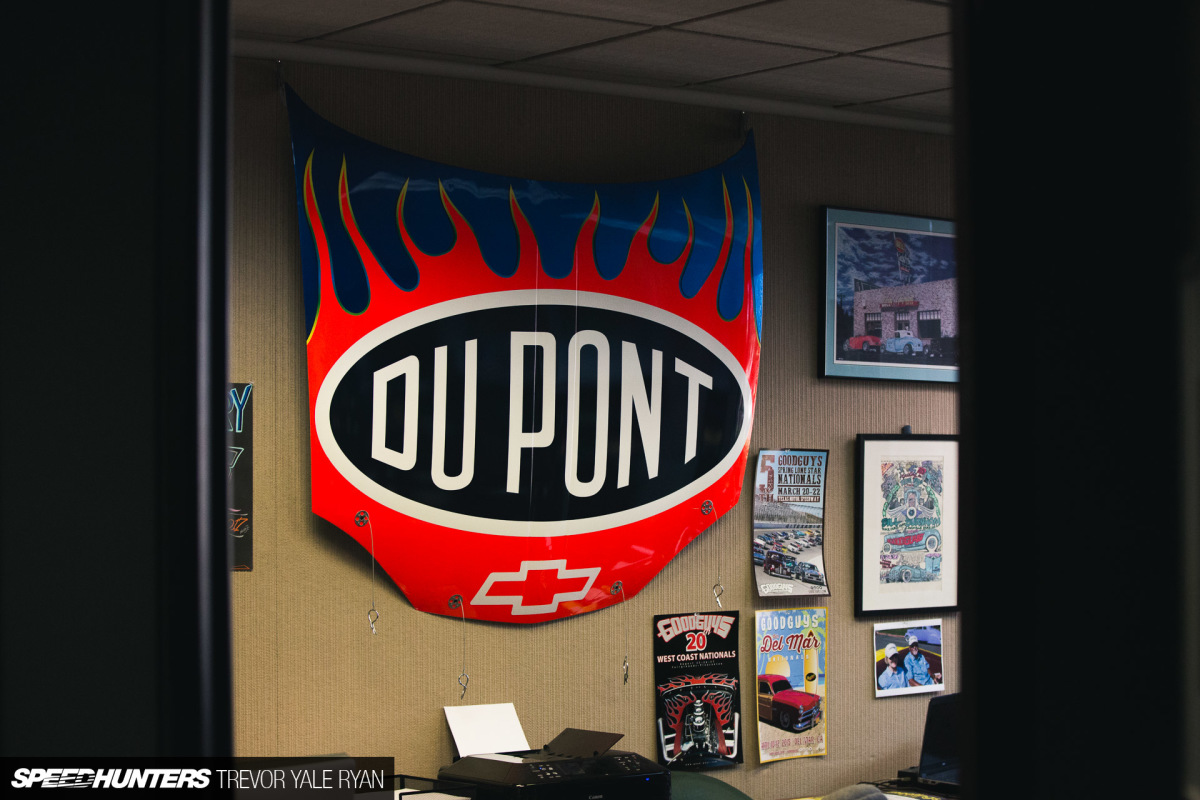 Who else has stuff like this hanging on the wall opposite their monitor?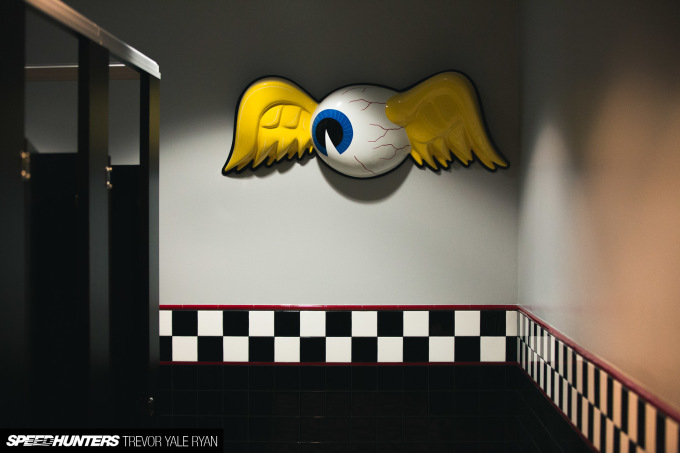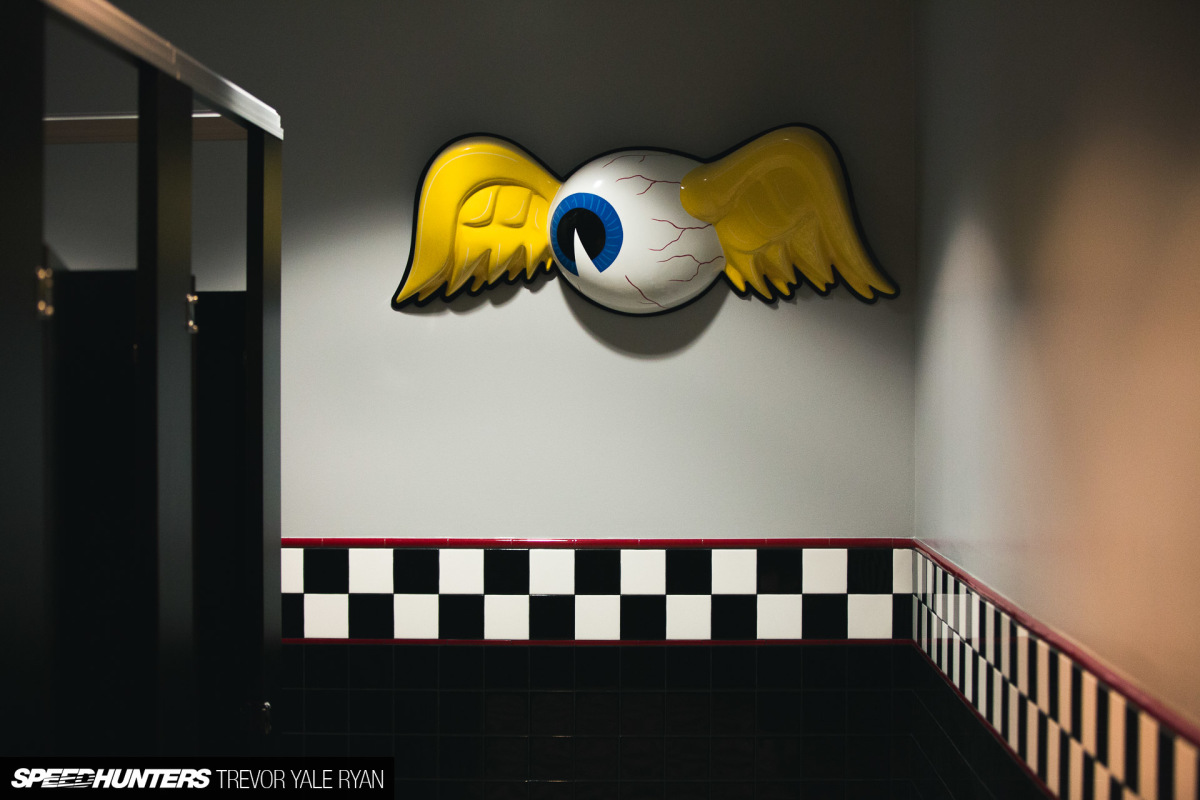 Even the bathroom was a bit rad, but I'd generally advise not to take your camera out in a restroom…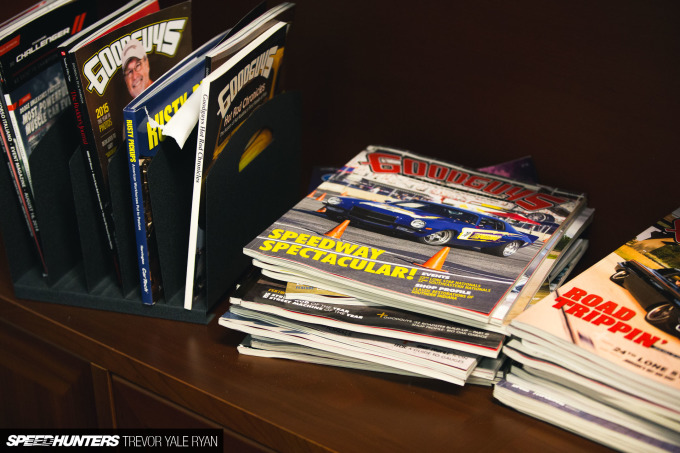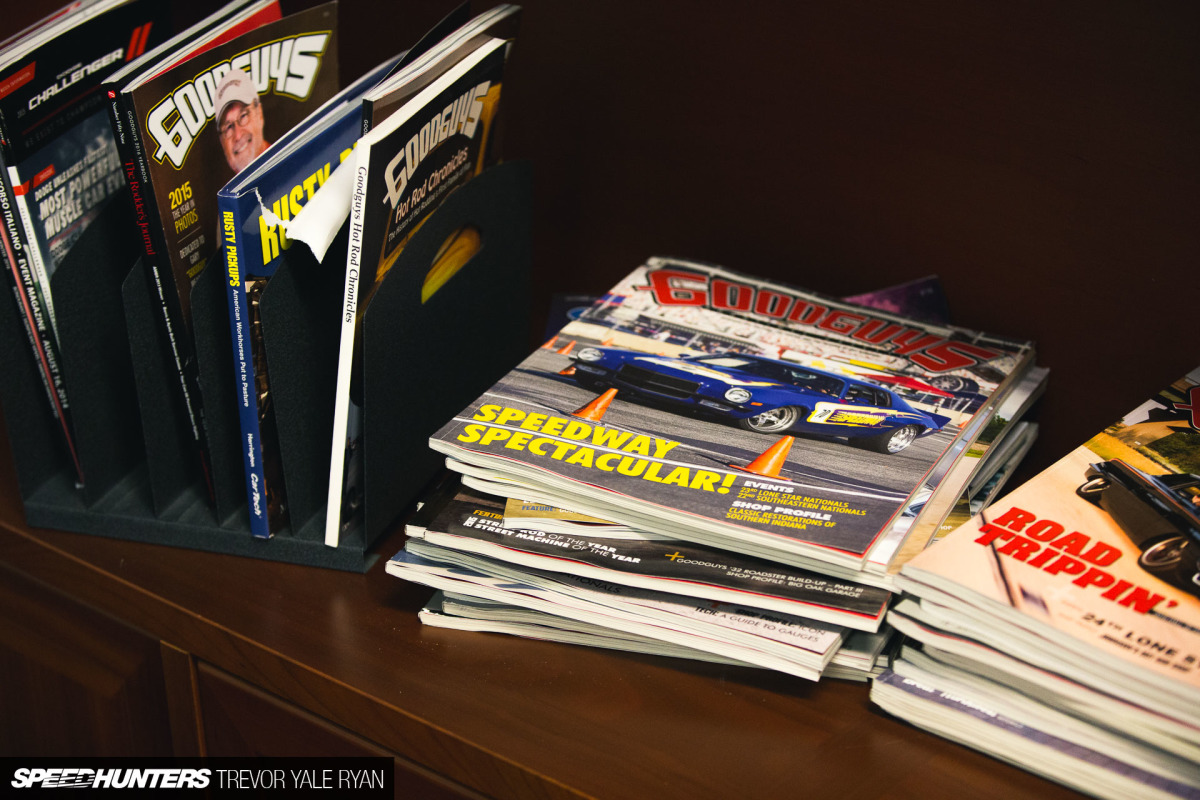 Of course, stacks and stacks of Goodguys Gazettes could be found on the shelves of most offices.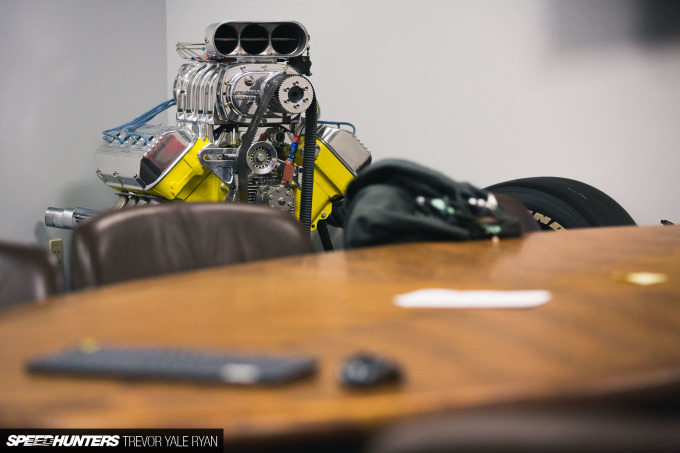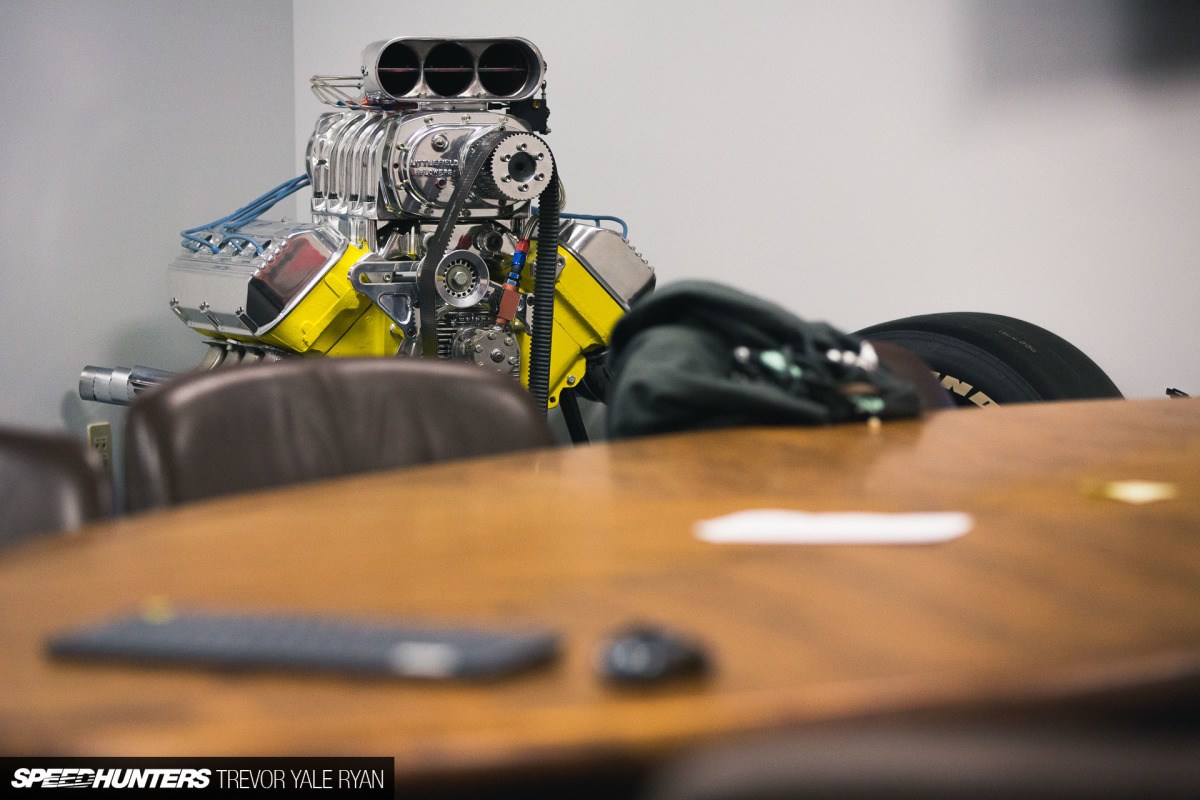 Then, I found the conference room.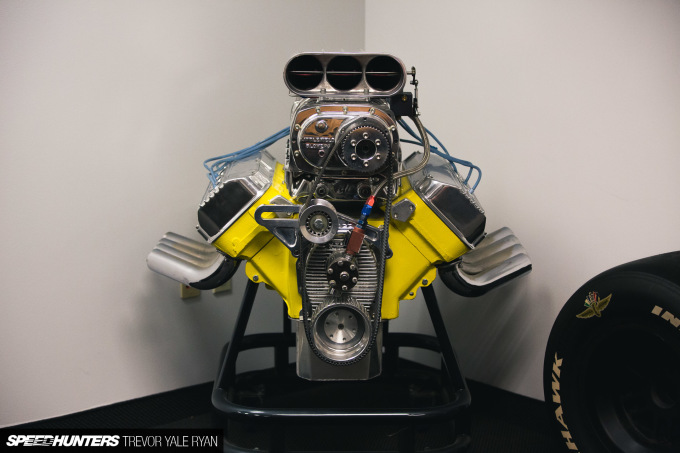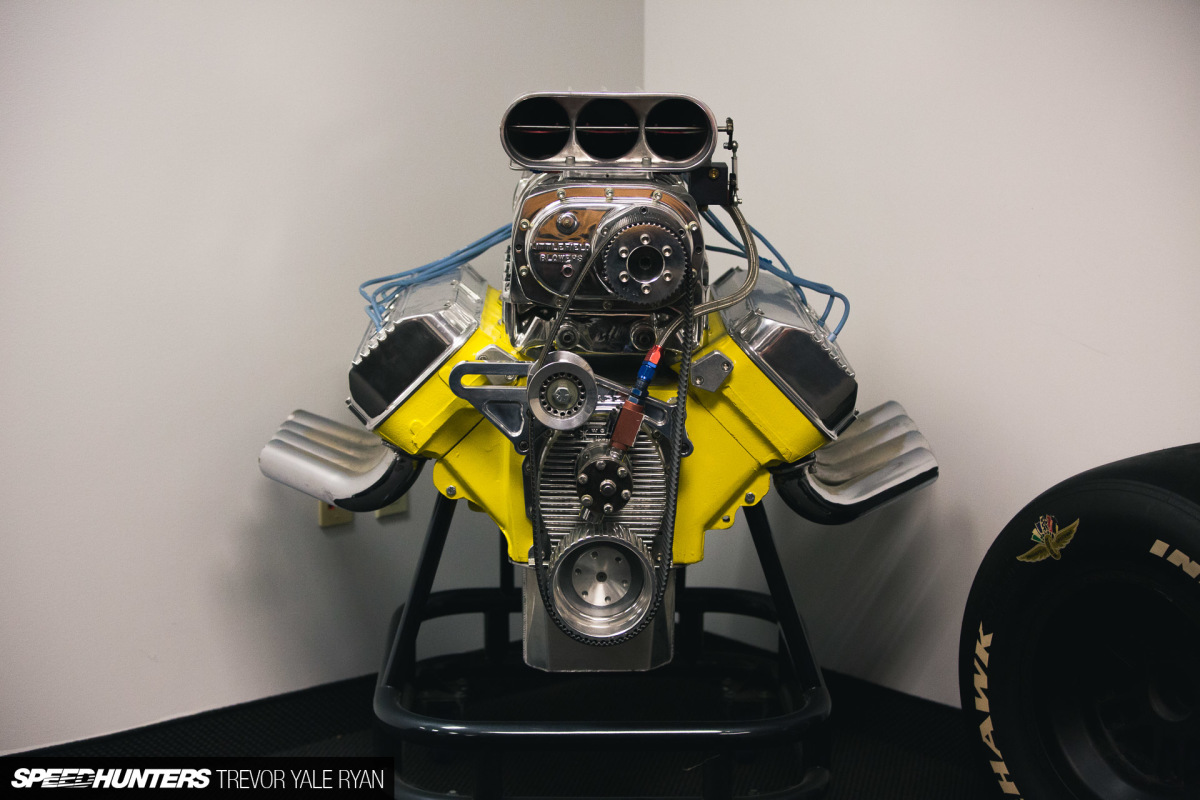 Few things are as inspiring as a supercharged, straight-piped, large-displacement V8. Really though, it is a seriously special place to be and a great place to get work done.
Haha, That's Funny!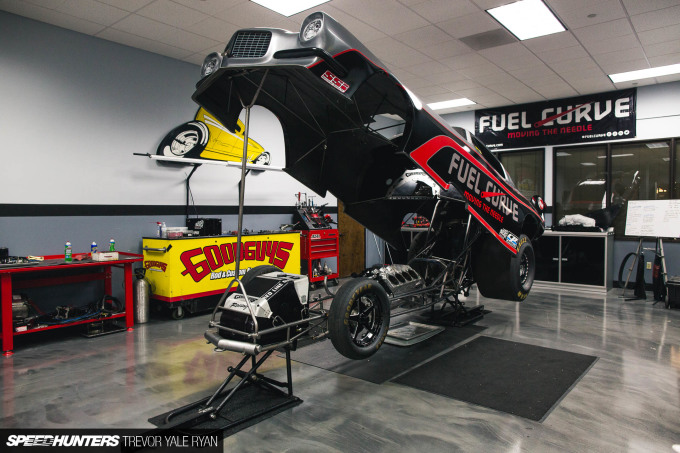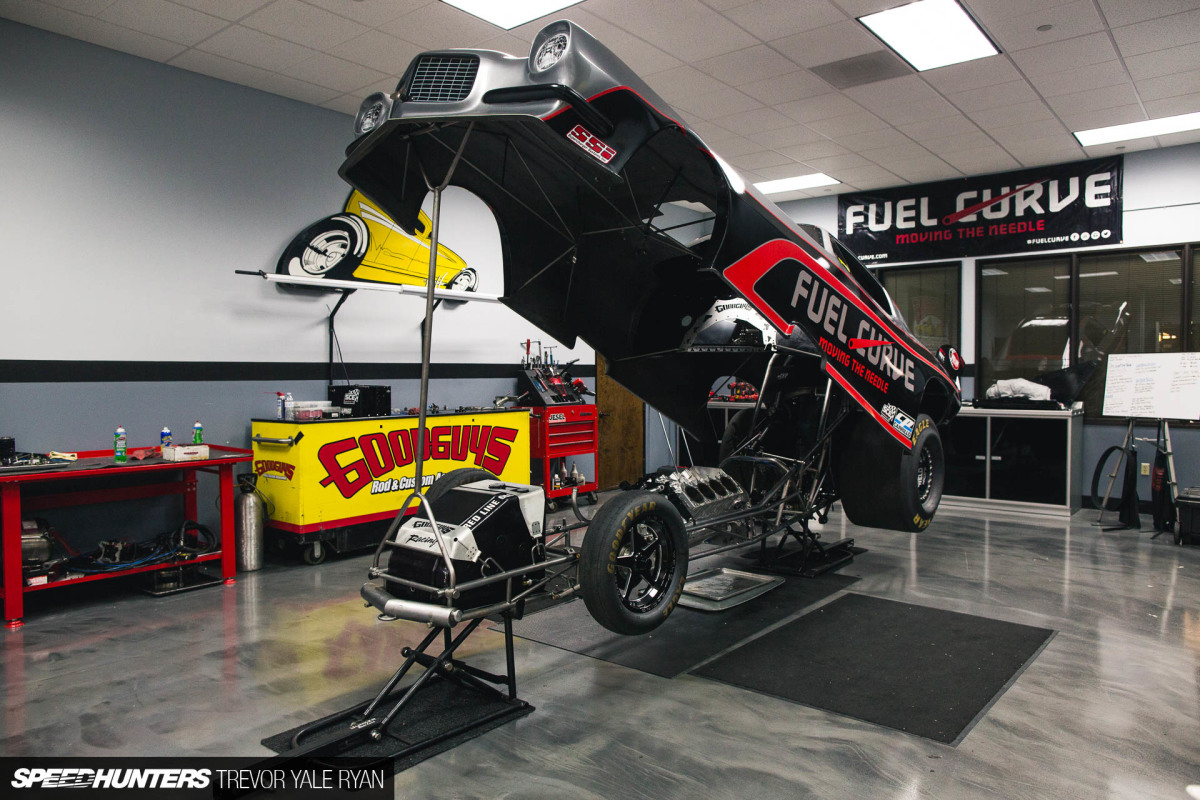 Alright, why are they called 'funny cars?'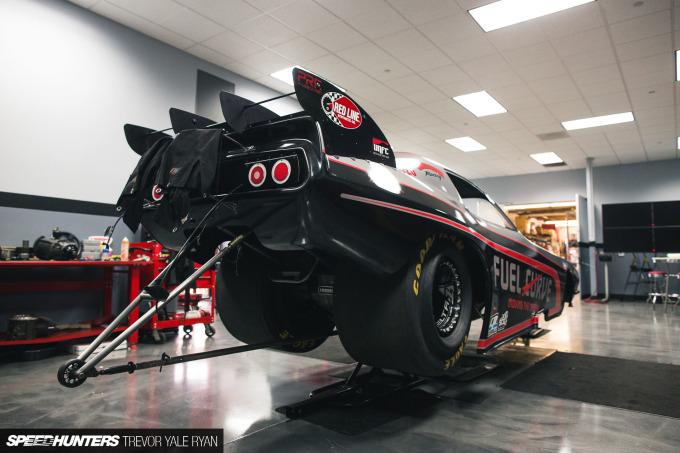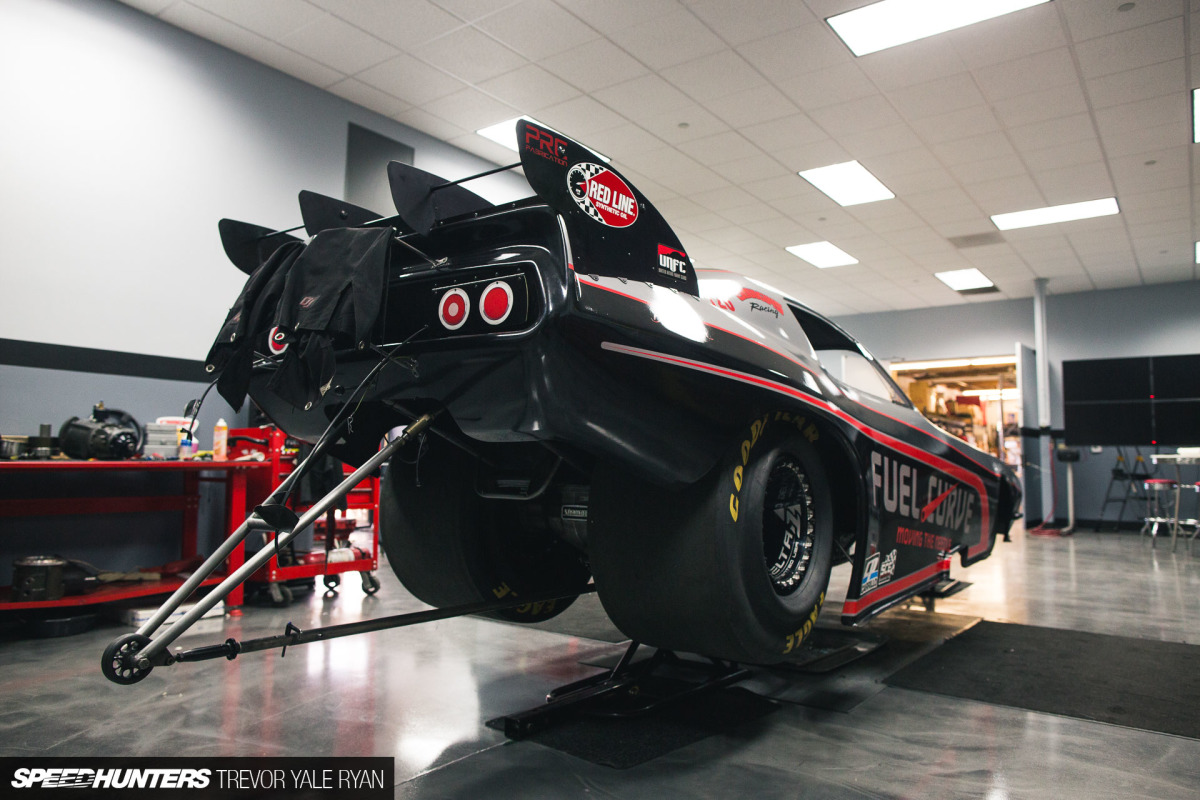 Turns out, it's just because they look a bit funny. Seriously, look it up.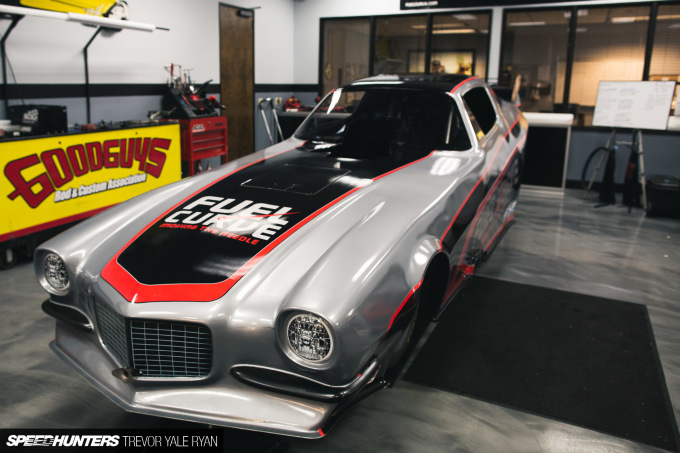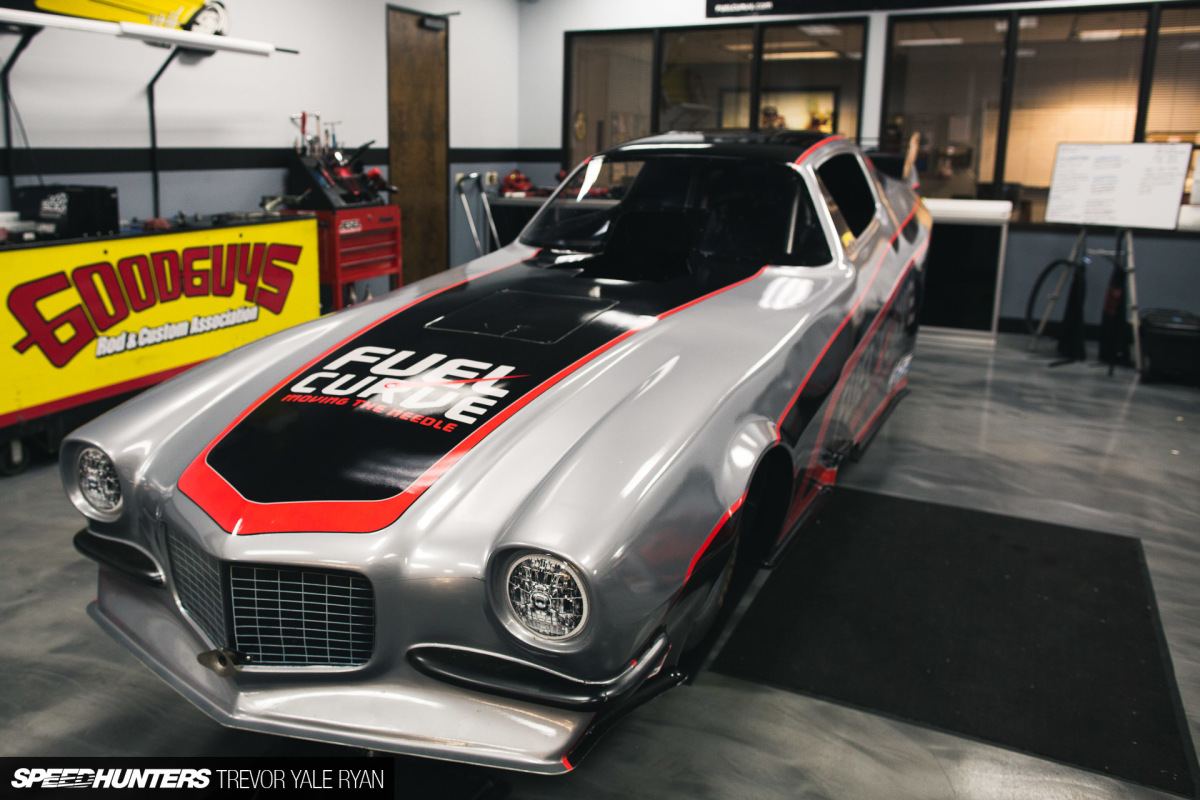 I suppose the length of that hood is rather comical, after all.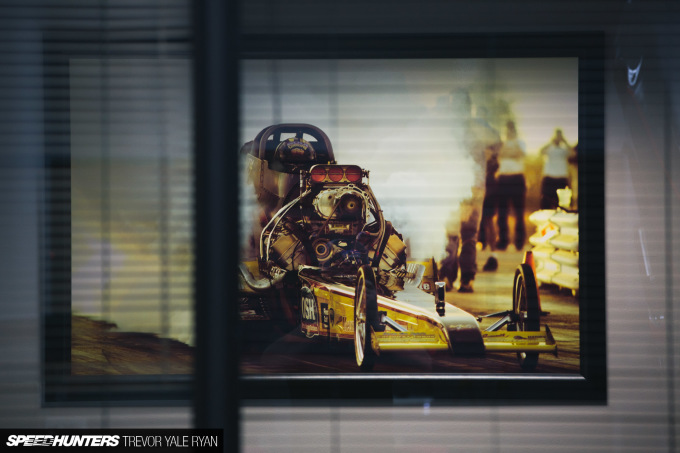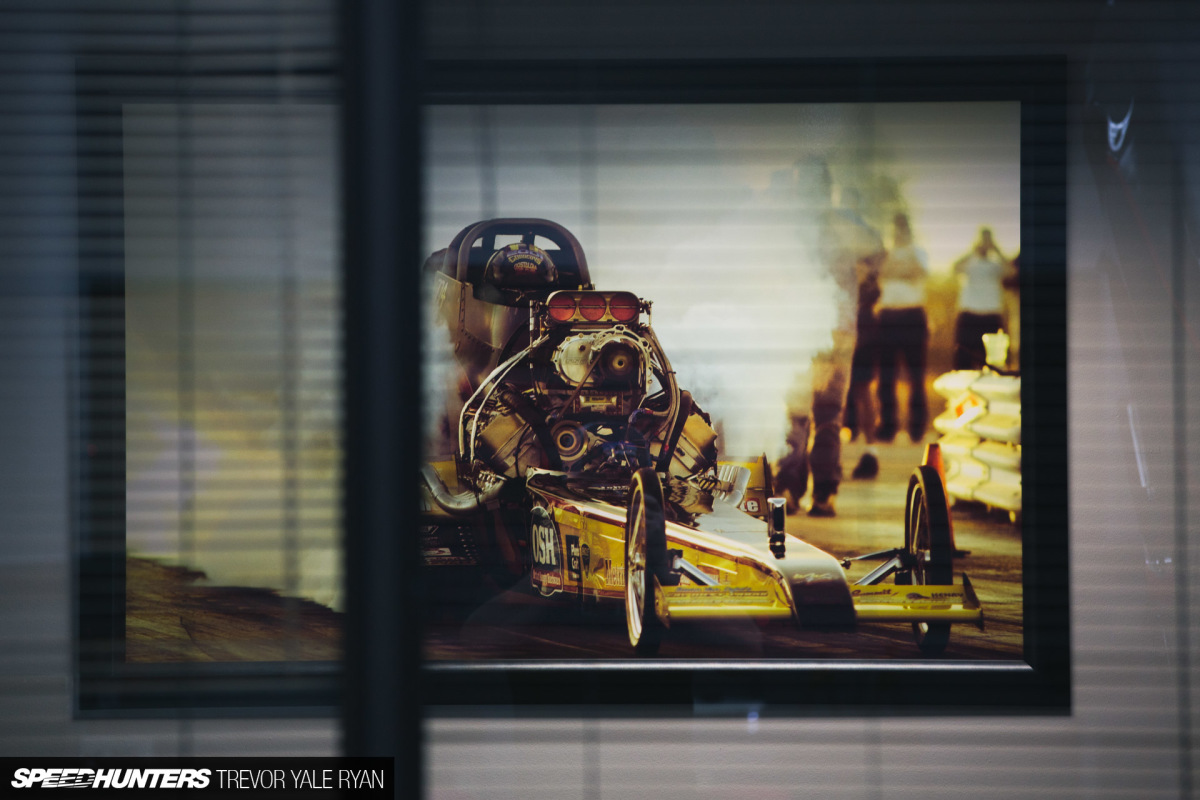 While poking around in the Camaro's shop I also noticed another crazy drag racing photo hiding in the office behind the funny car. After my visit, I definitely want to find my way to the drag strip this year.
More plaques and artwork could be found in this shop, some of which were priceless family momentos.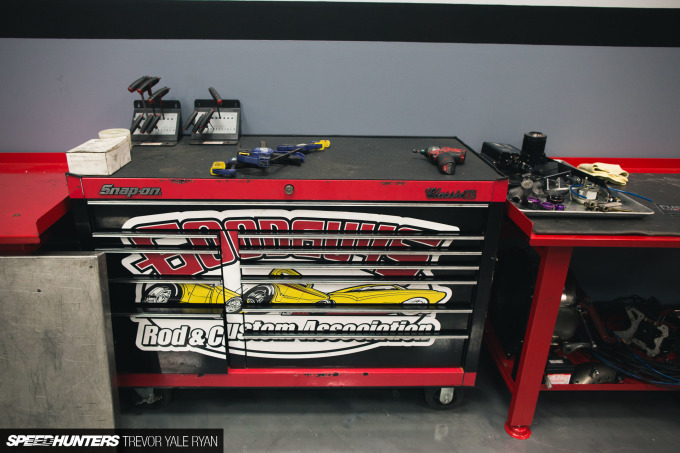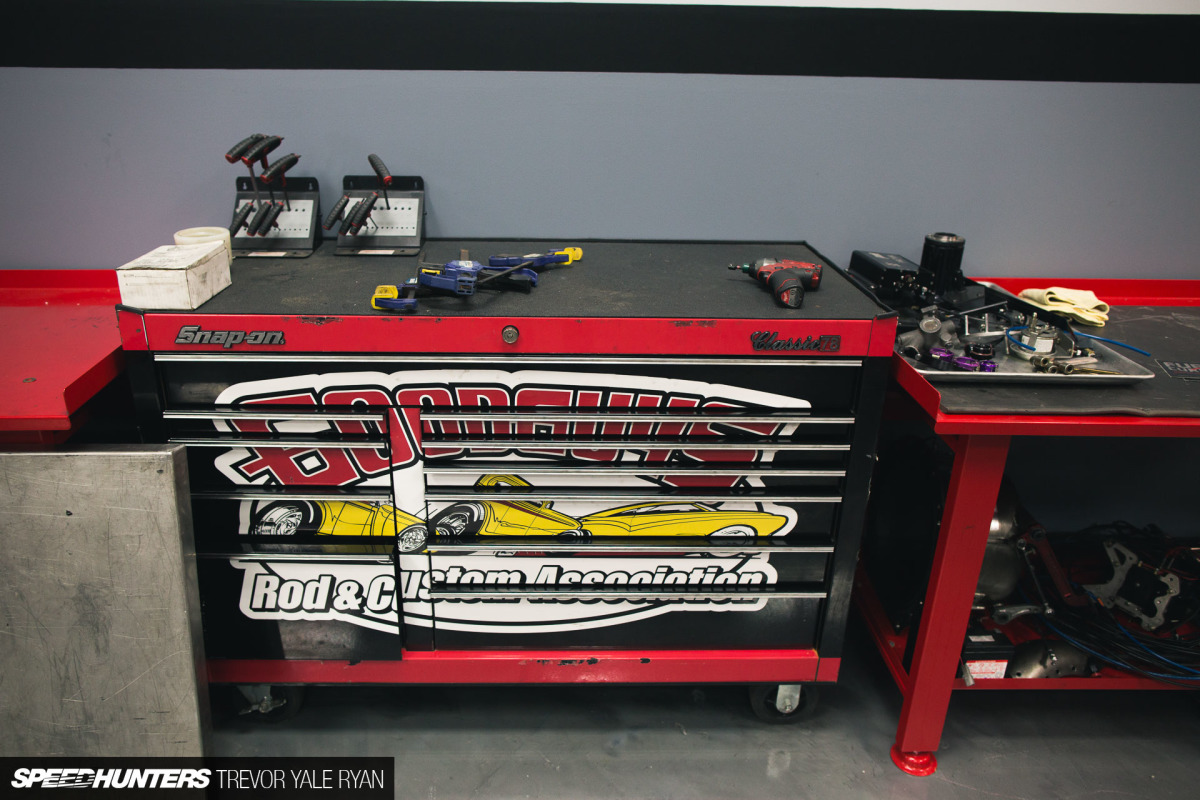 Tons of tools and parts, big and small, littered the room.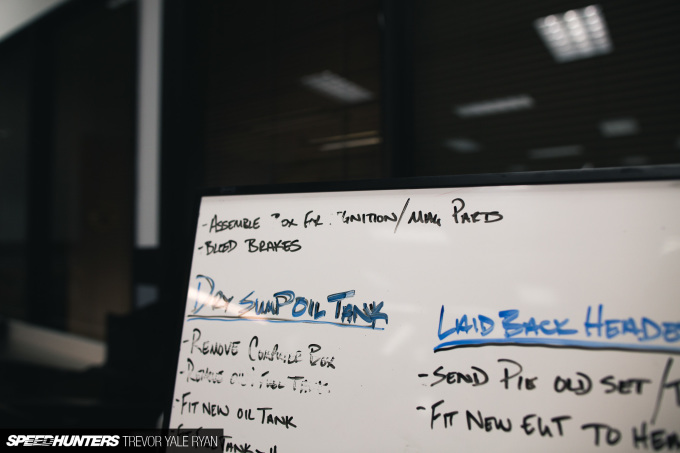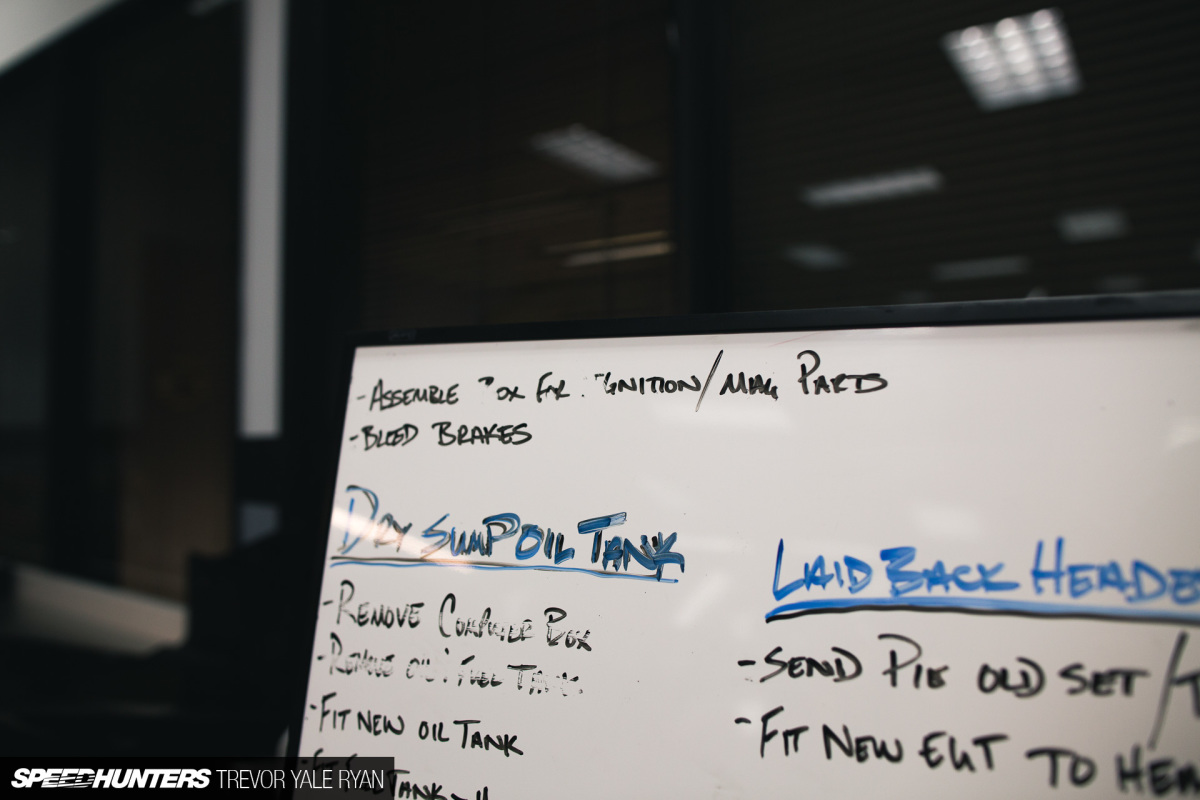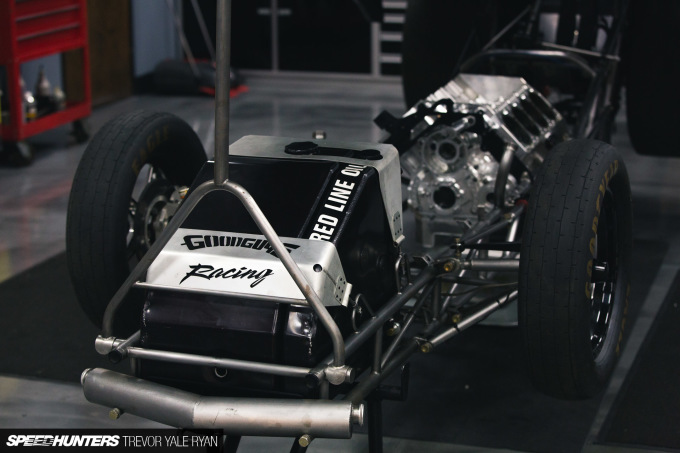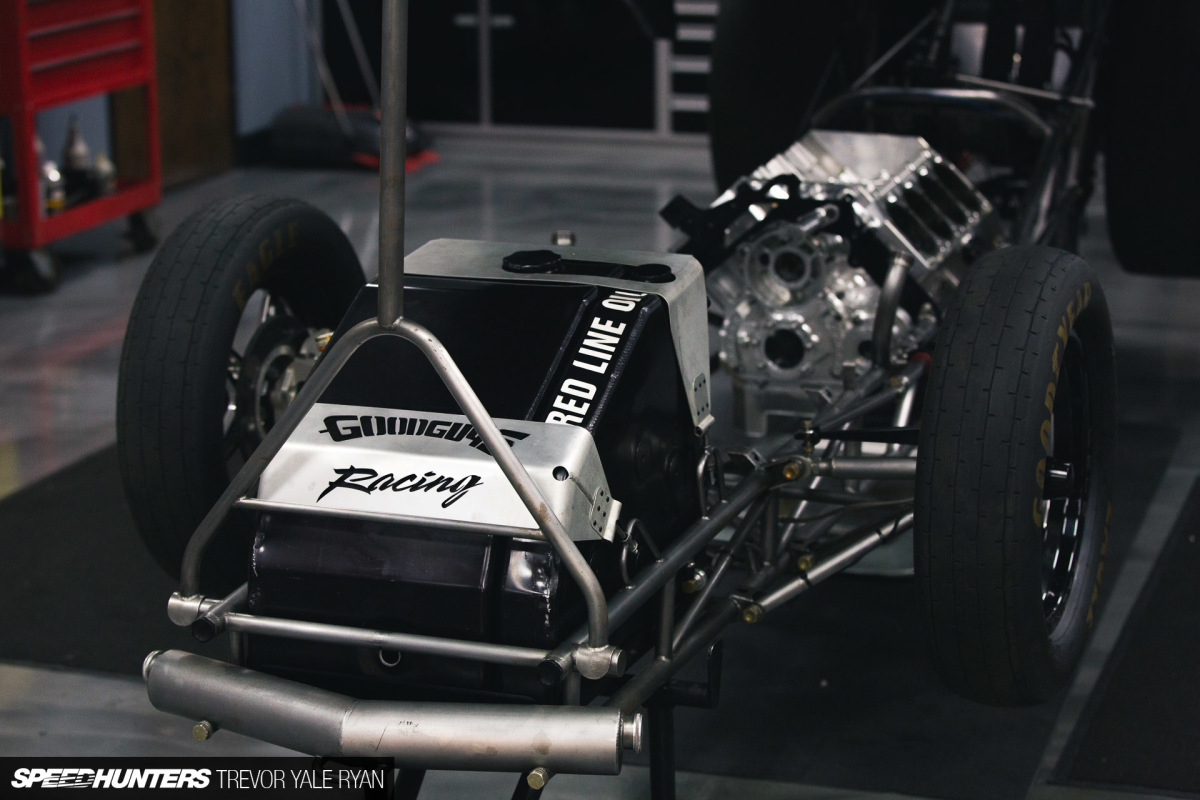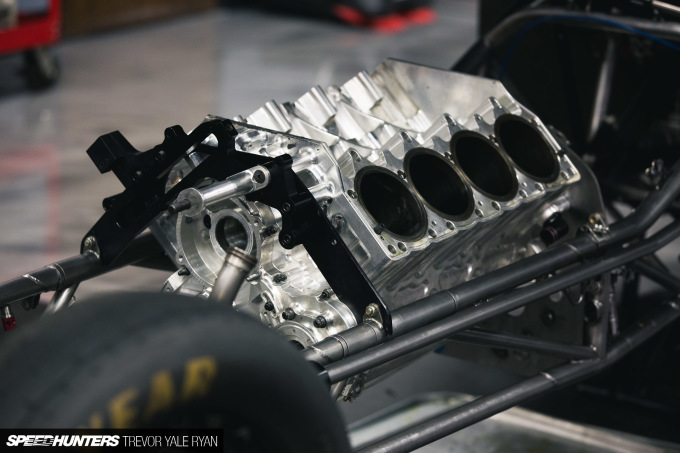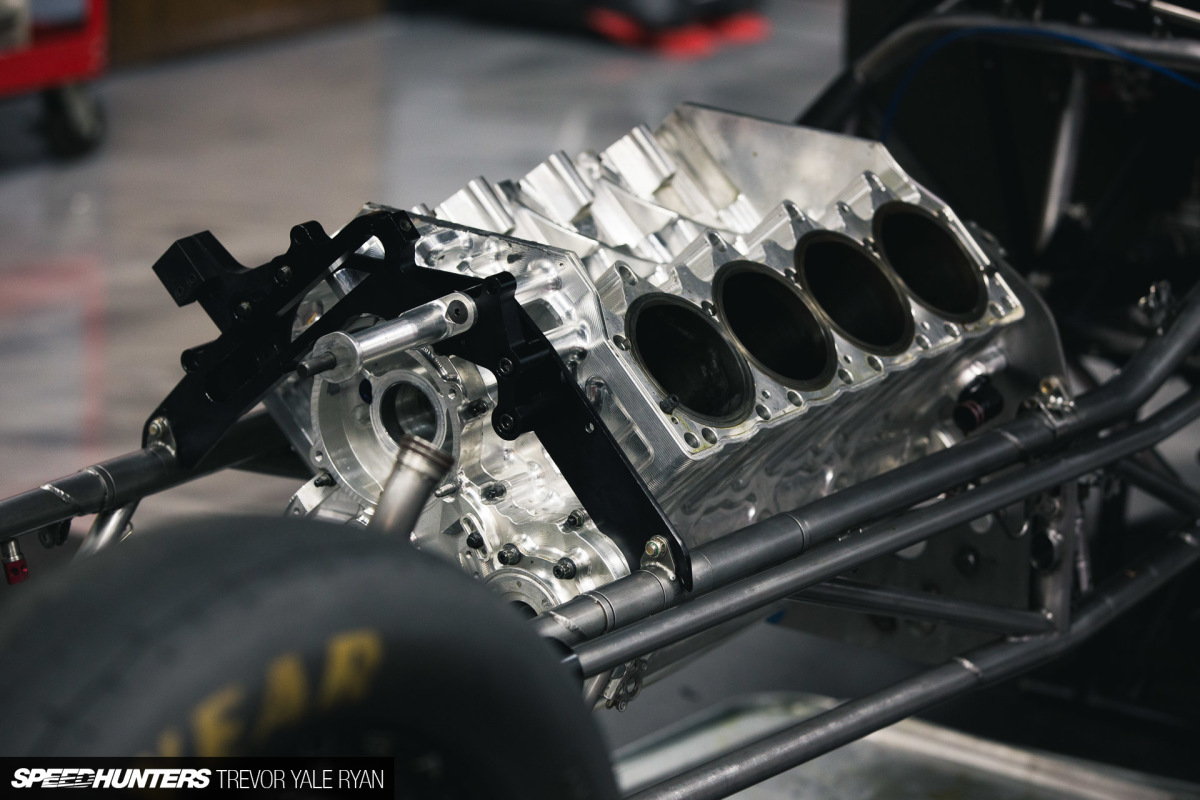 Then there's the massive billet alluminum Noonan Racing 413 cubic inch (6.77L) motor at the heart of it.
I actually expected it to be bigger; it's mind blowing that the engineers are able to pull 3,500 horsepower out of this thing.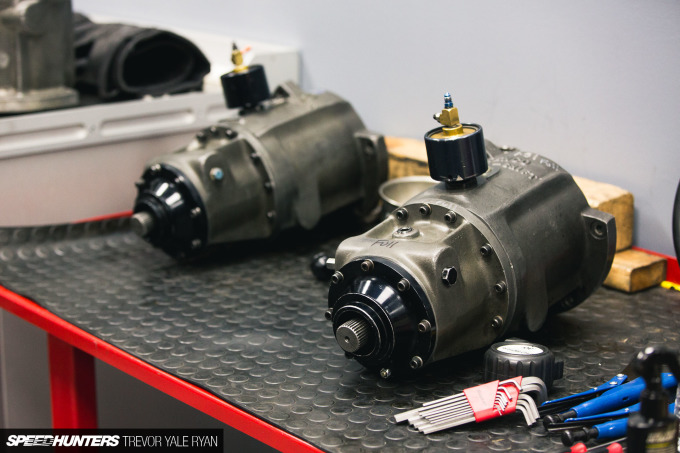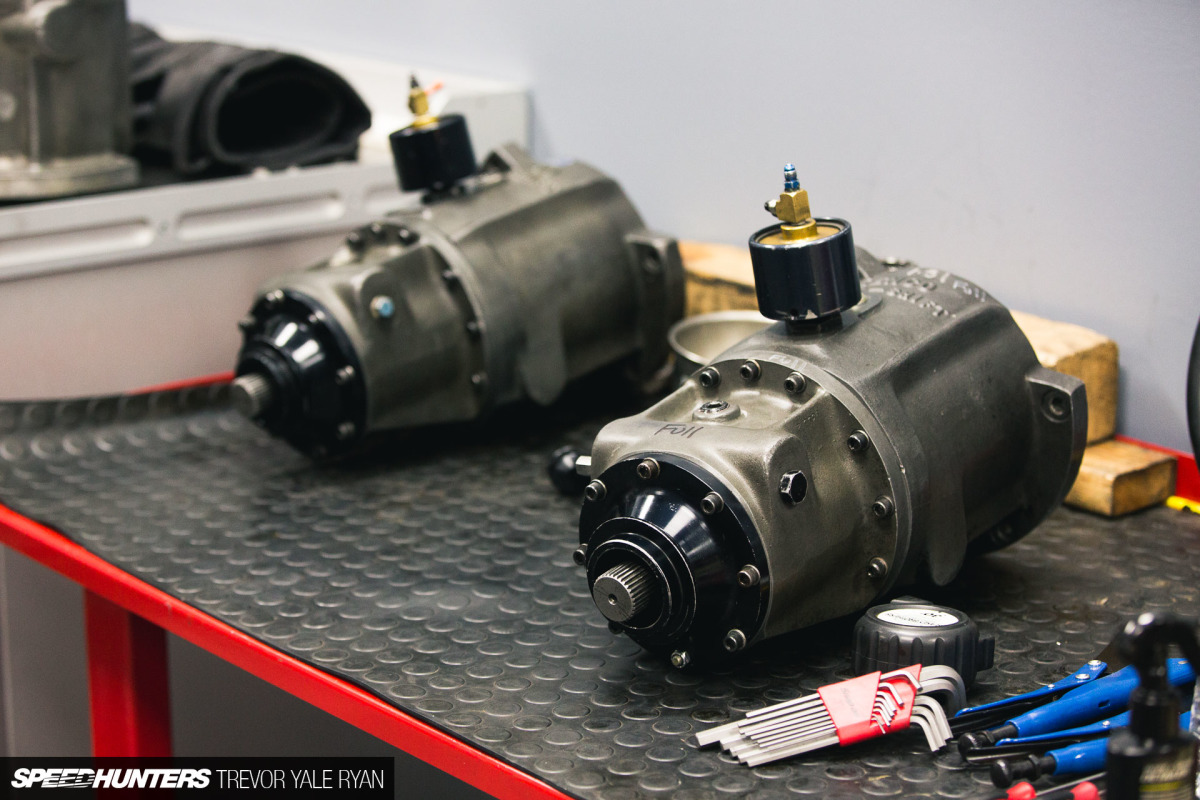 The transmission is a small affair as well, and uses compressed air to clunk into gear.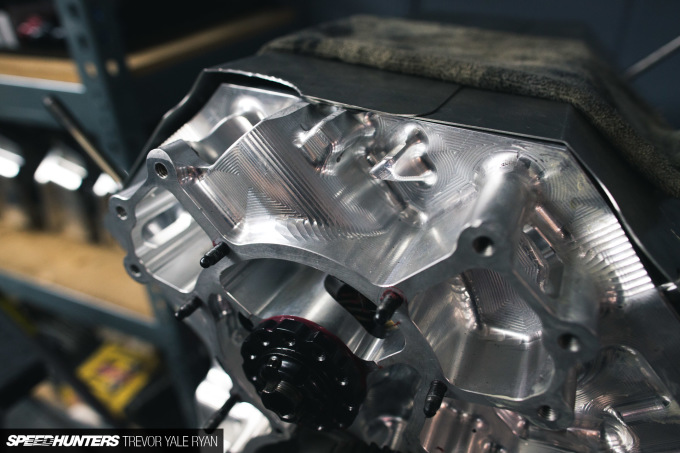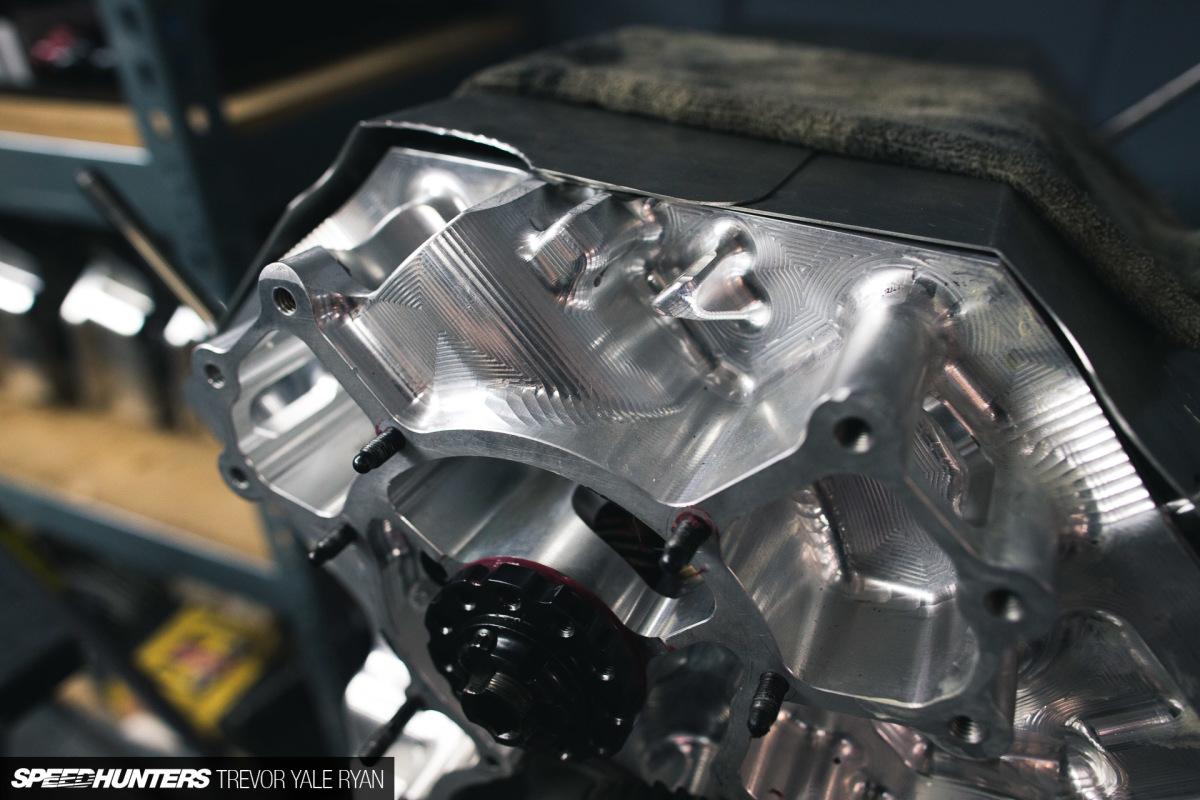 In yet another side room, a back-up motor lay waiting. What a work of art.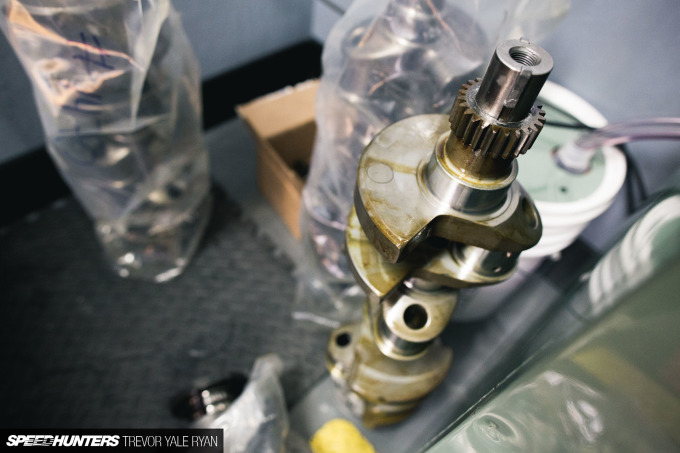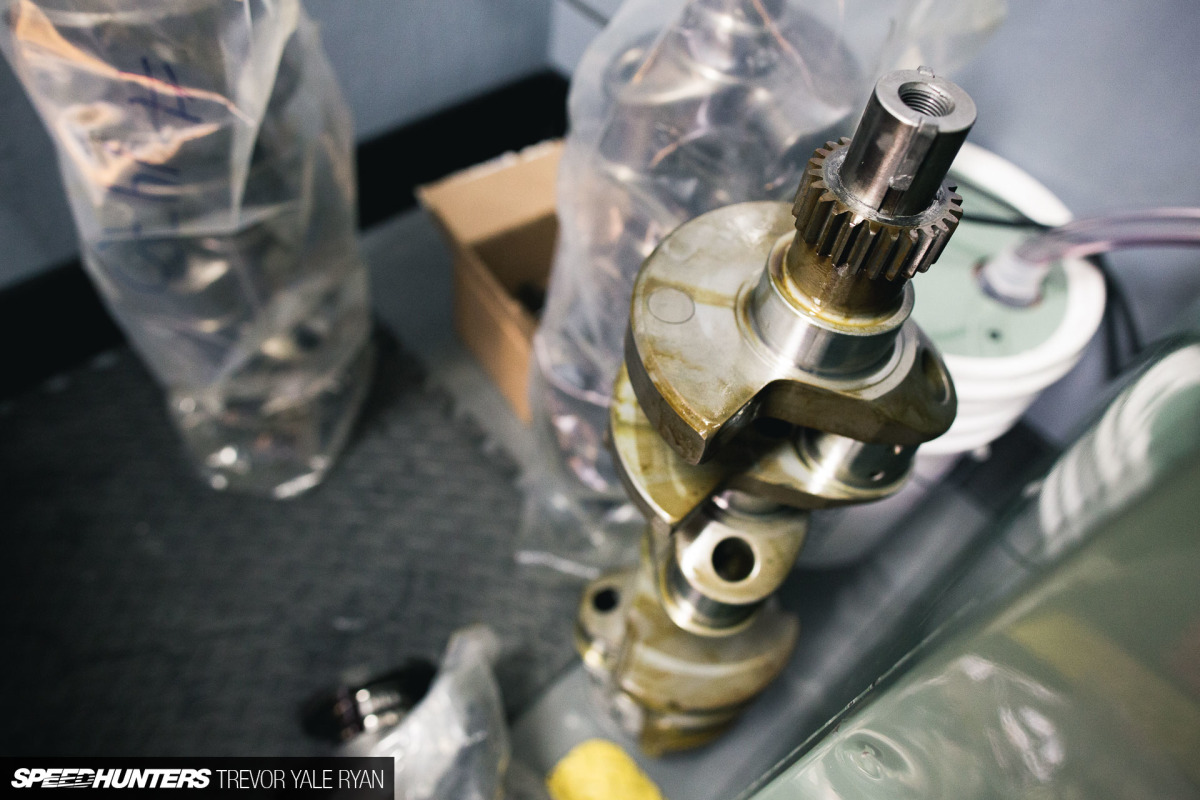 Gordon, seen here on the left lifting the body up and down for me with help from CJ, is caretaker of all the toys these guys have around the shop. He had plenty of good stories to tell, and helped me a fair bit during my day-long adventure perusing the shop.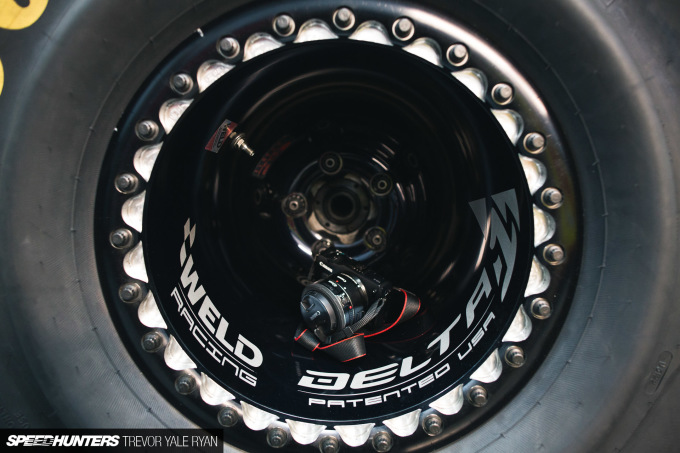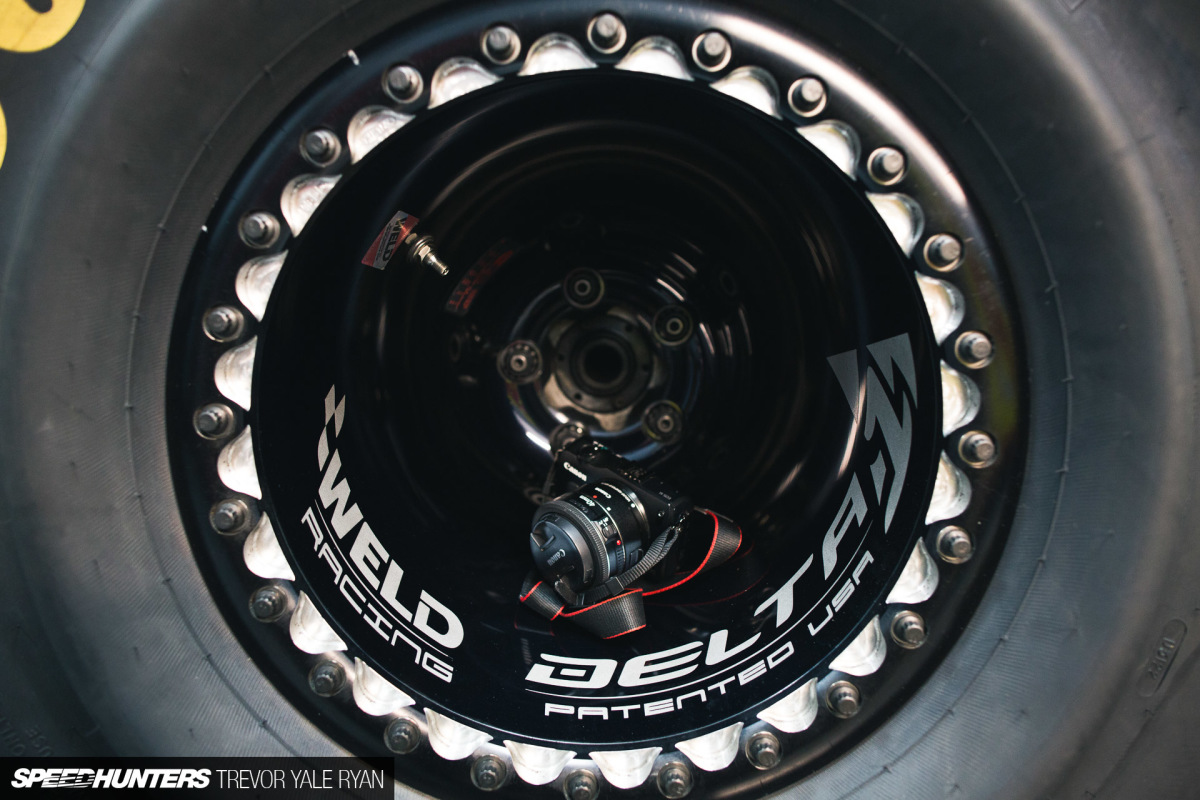 It's a bit hard to get a sense of scale, so you'll noticed I've placed my little Canon EOS M inside the wheel for some perspective.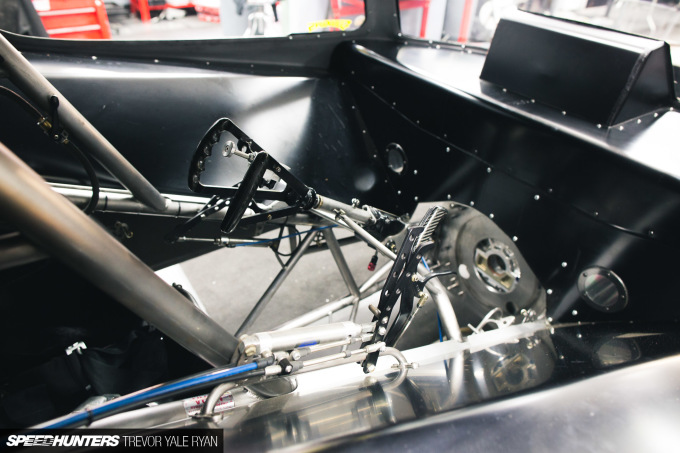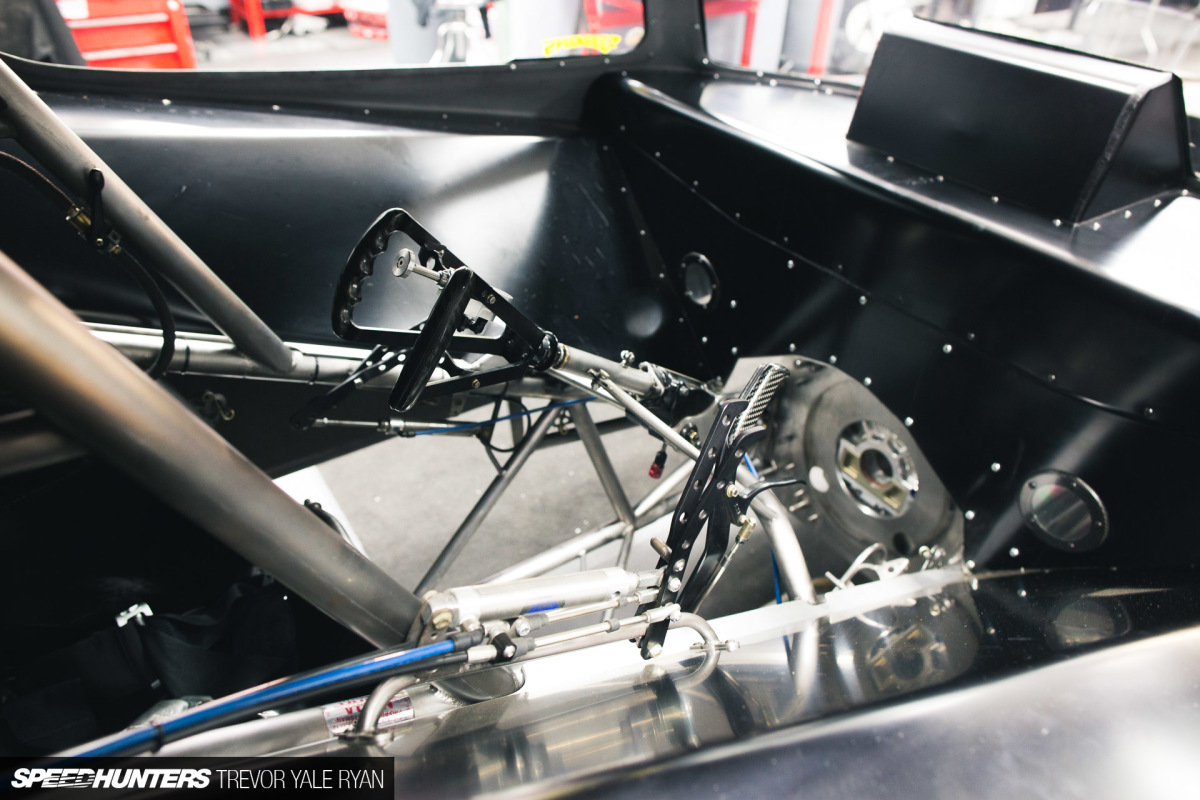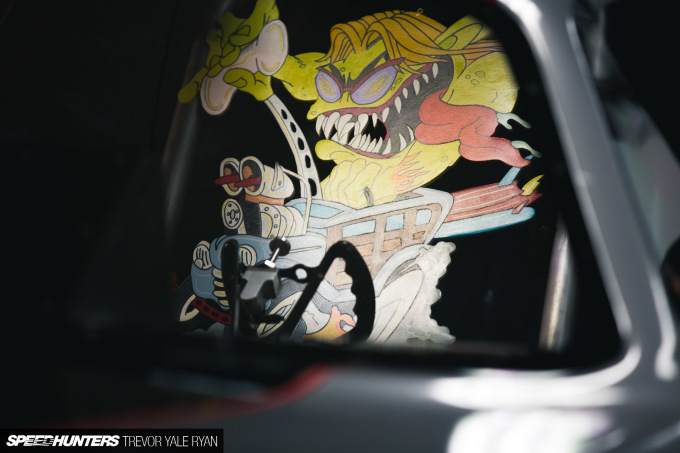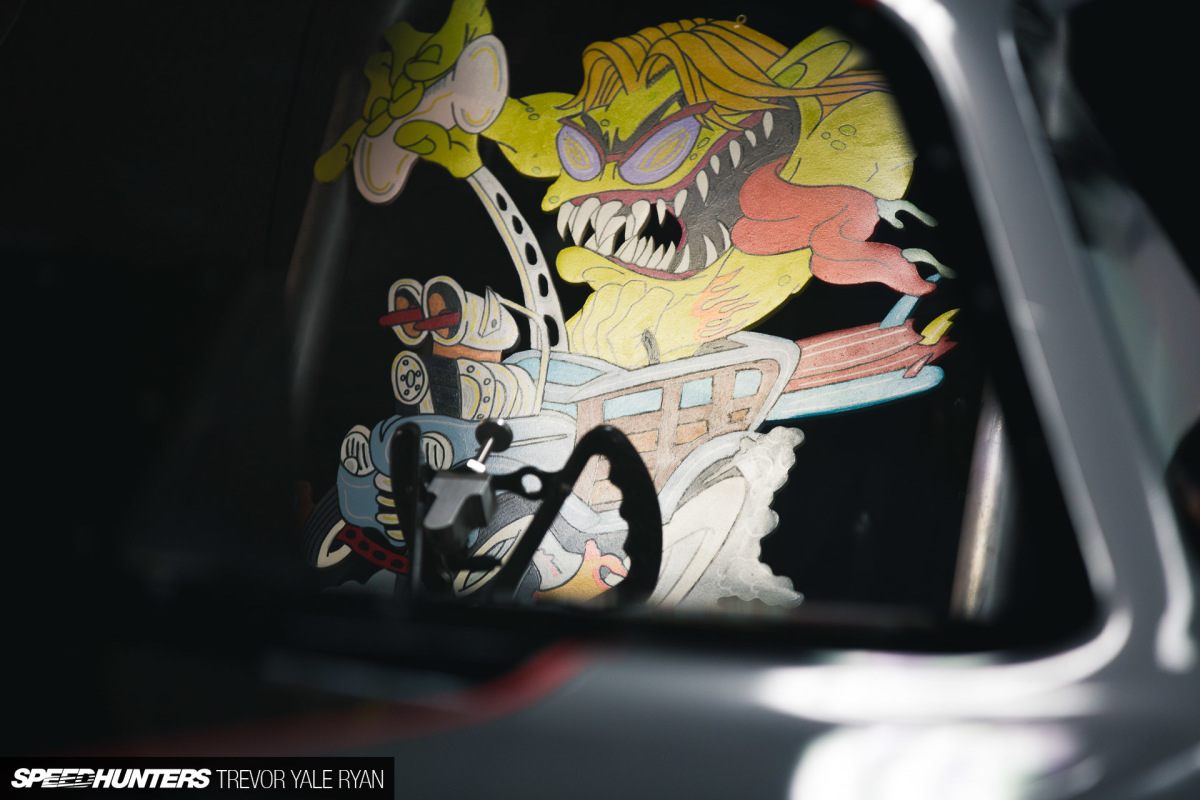 I think you have to be a bit mental to launch one of these off the line (no offense, Marc).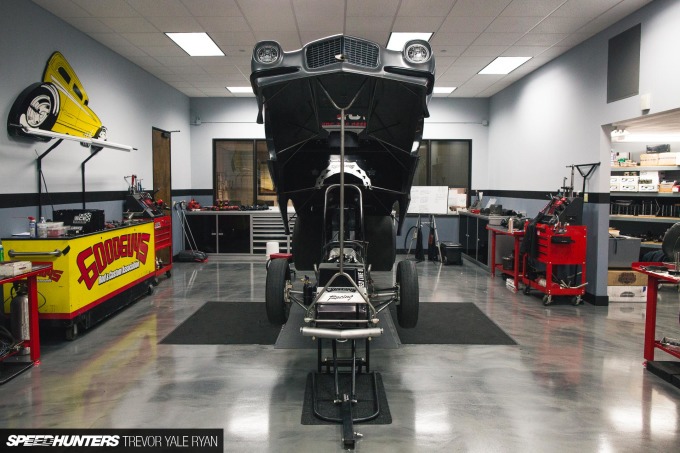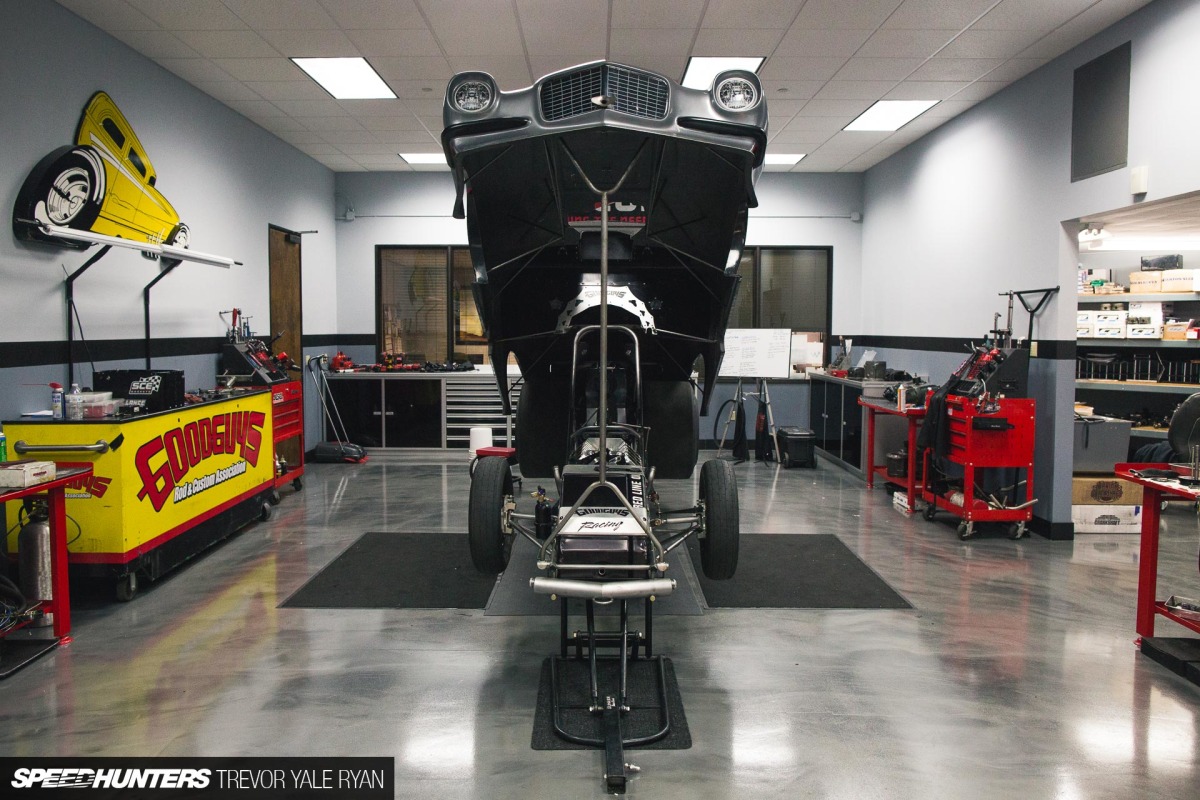 That's most of the good stuff in the Camaro's lair, and hopefully this season I'll get a chance to follow the team along to a race or two.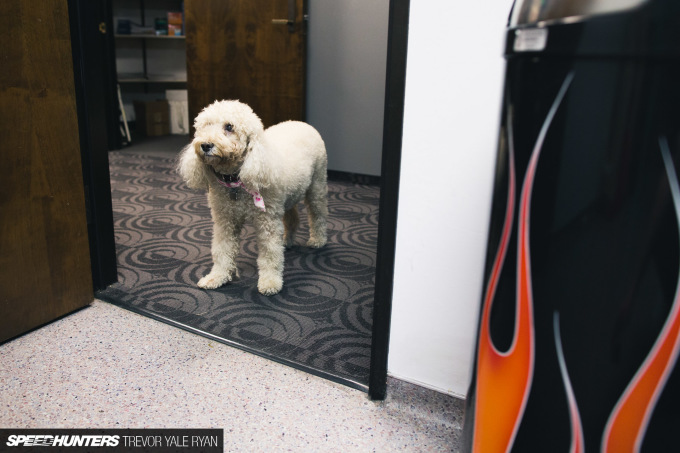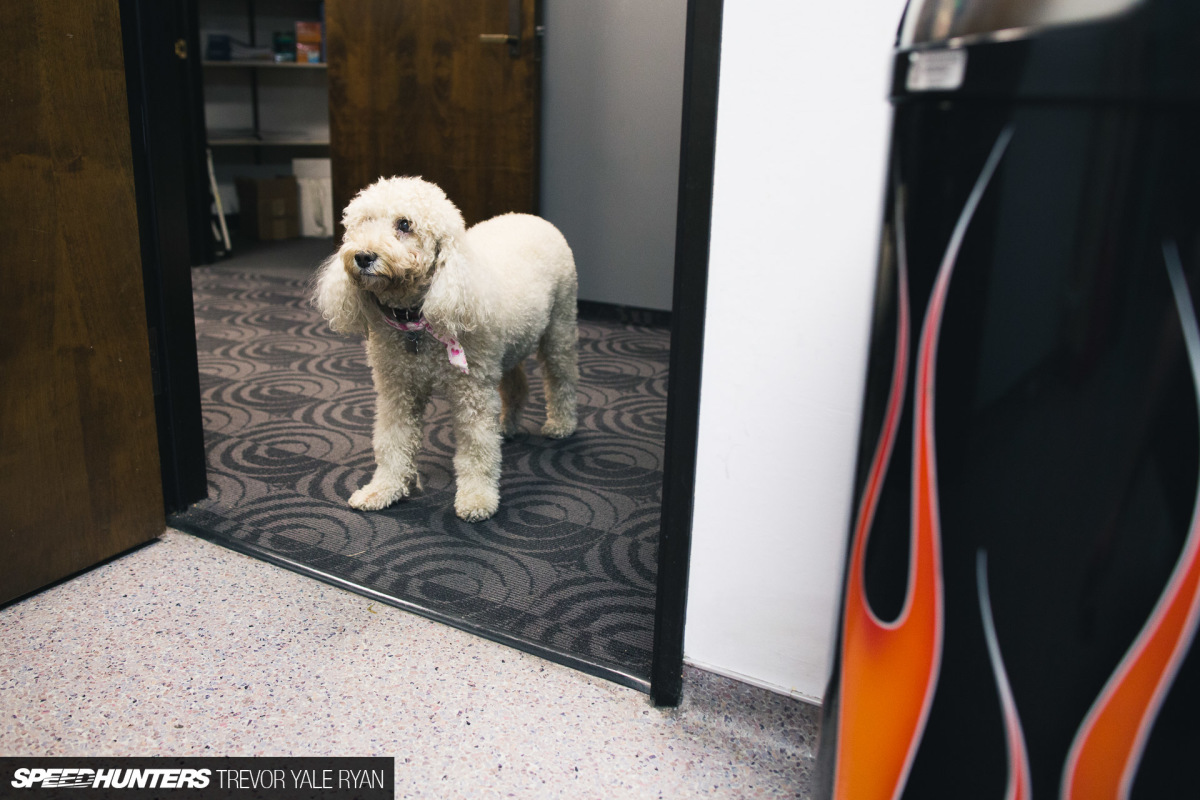 The day was wrapping up and Marley was still skeptical… bummer.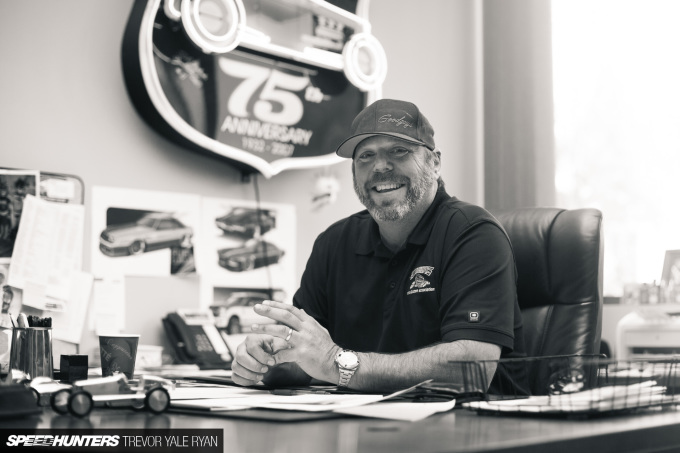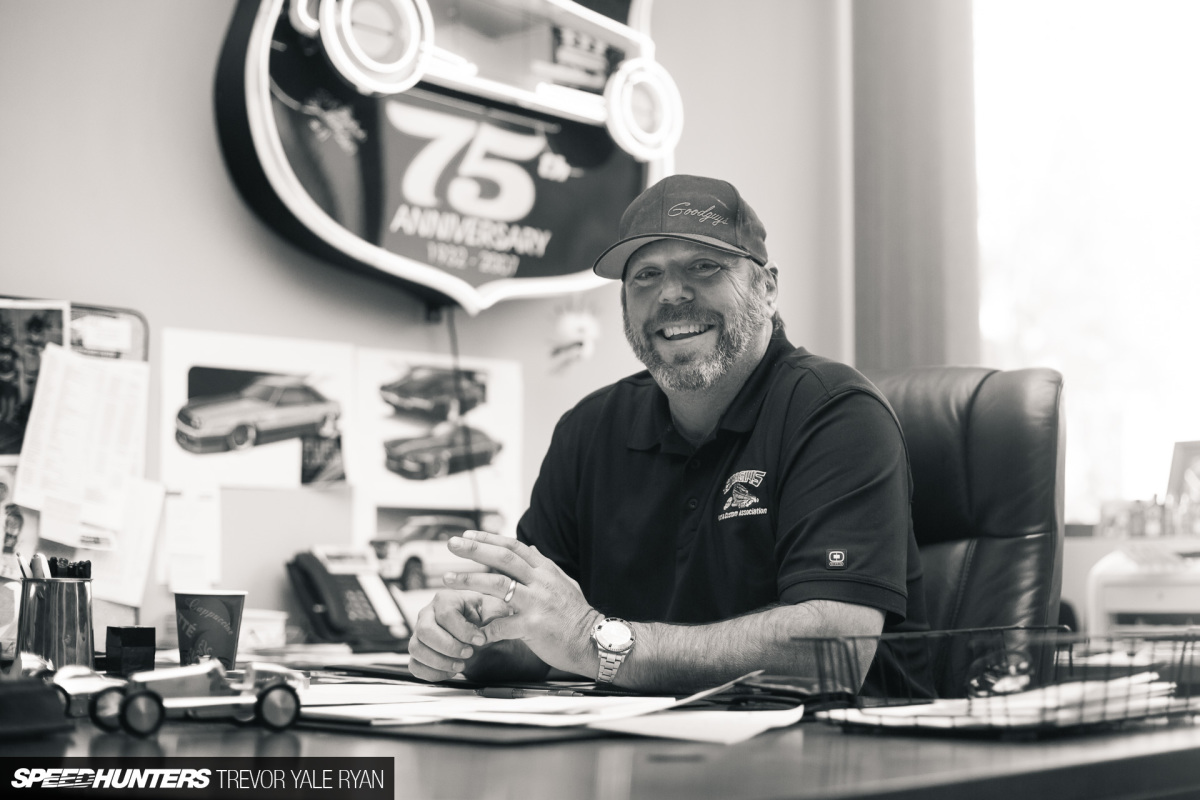 Like I mentioned earlier, I finished off my visit by chatting with Marc Meadors about Goodguys, Fuel Curve, Speedhunters, the one million people who attend their 20-or-so shows a year, and why I quit my engineering day job. Looking back, I suppose we actually covered a lot of ground – you'll be hard pressed to find a guy running such a big operation who is as down to earth as Marc is. But when you get to call doing what the guys here do "work," it's certainly not a bad life.
I've already shot the insane Viper-powered '48 Chrysler, but if anything in particular piqued your interest, let me know in the comments below. I need a good excuse to go back so I can get in the dogs' good graces.
And to figure out how to wrangle myself into that old van…
Trevor Yale Ryan
Instagram: tyrphoto
TYRphoto.com