Lights, Camera, Action!
It seems hard to believe, but it's been well over a year since I've updated you guys on my Datsun 240Z project car, otherwise known as Ole Orange Bang.
While it would be easy for me to say that I've been too busy with shooting, that would just be an excuse. My life is cars and the culture surrounding it, and this of course includes living it myself and being an active member of the community.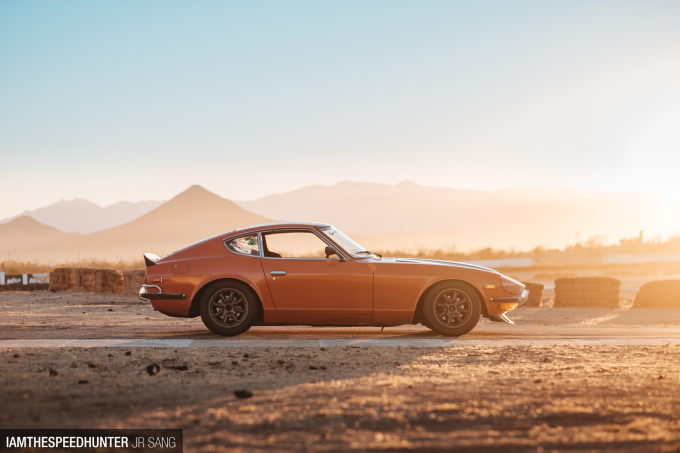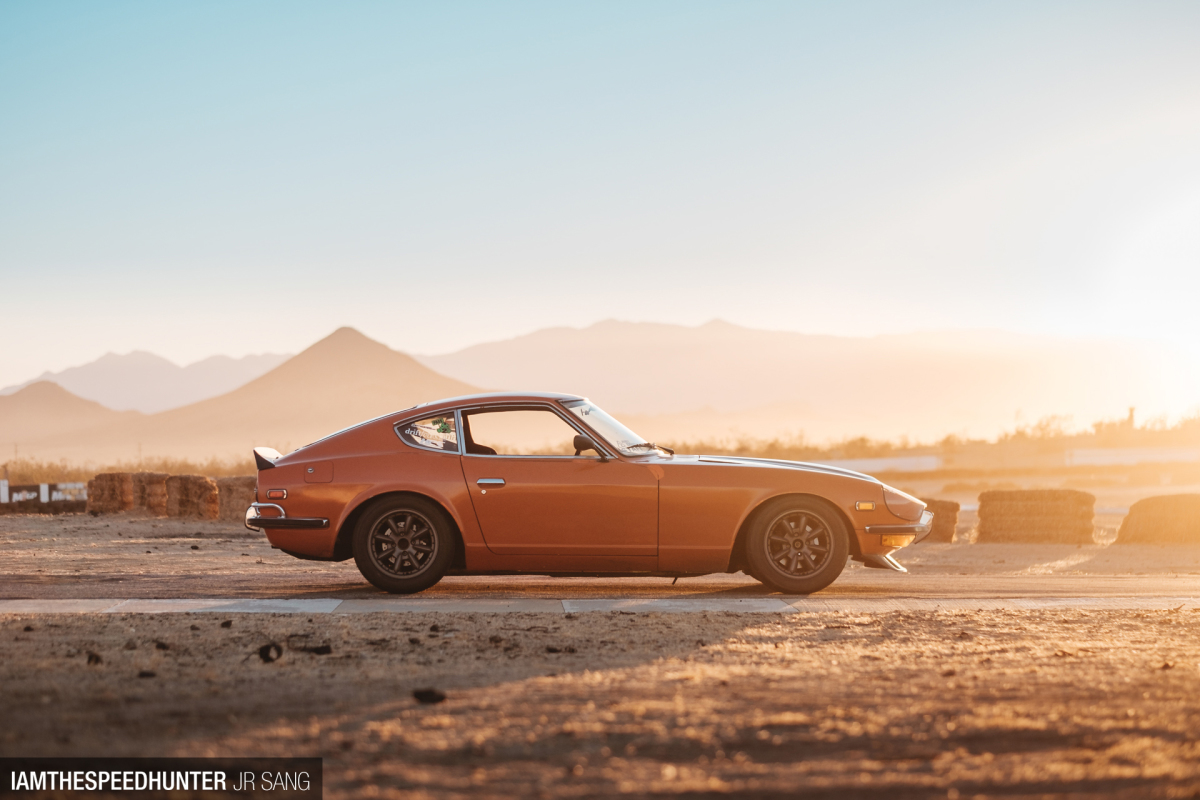 When I last left off, we were trying to figure out where exhaust fumes were entering the cabin from, but since then the car has evolved so much.
I finally upgraded to LED tail lights, which of course helps quite a bit in the looks department, but was a modification made mostly for safety. The stock lights were incredibly dim, and I was always afraid of being rear-ended by someone not being able to see me stopping.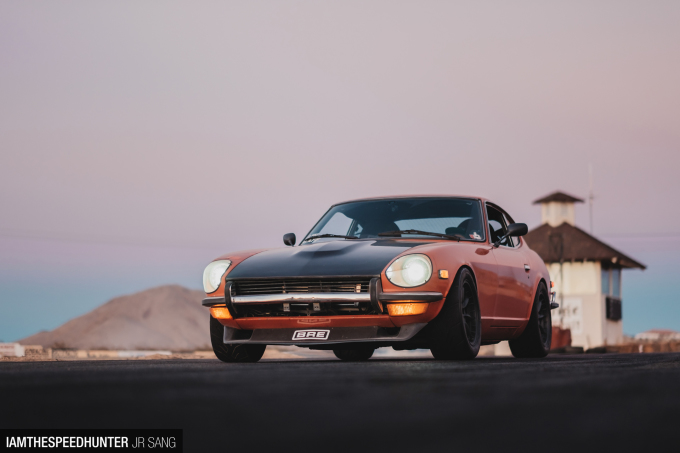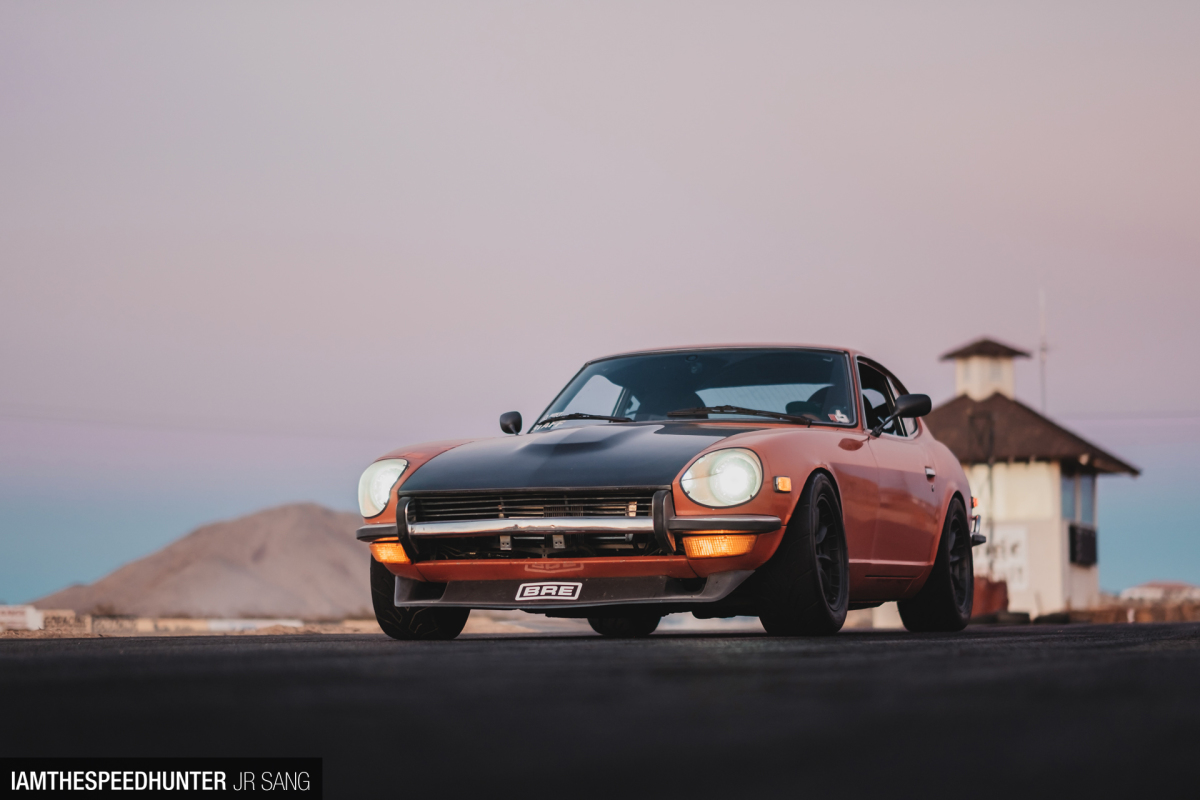 Once the tail lights were upgraded, I just had to upgrade the headlights too. I could barely see at night.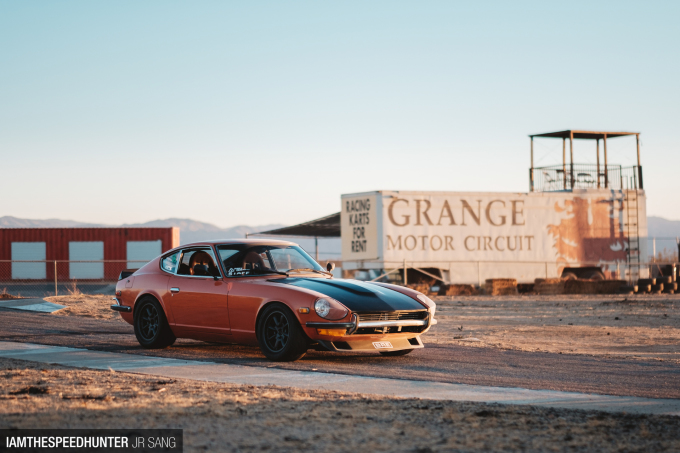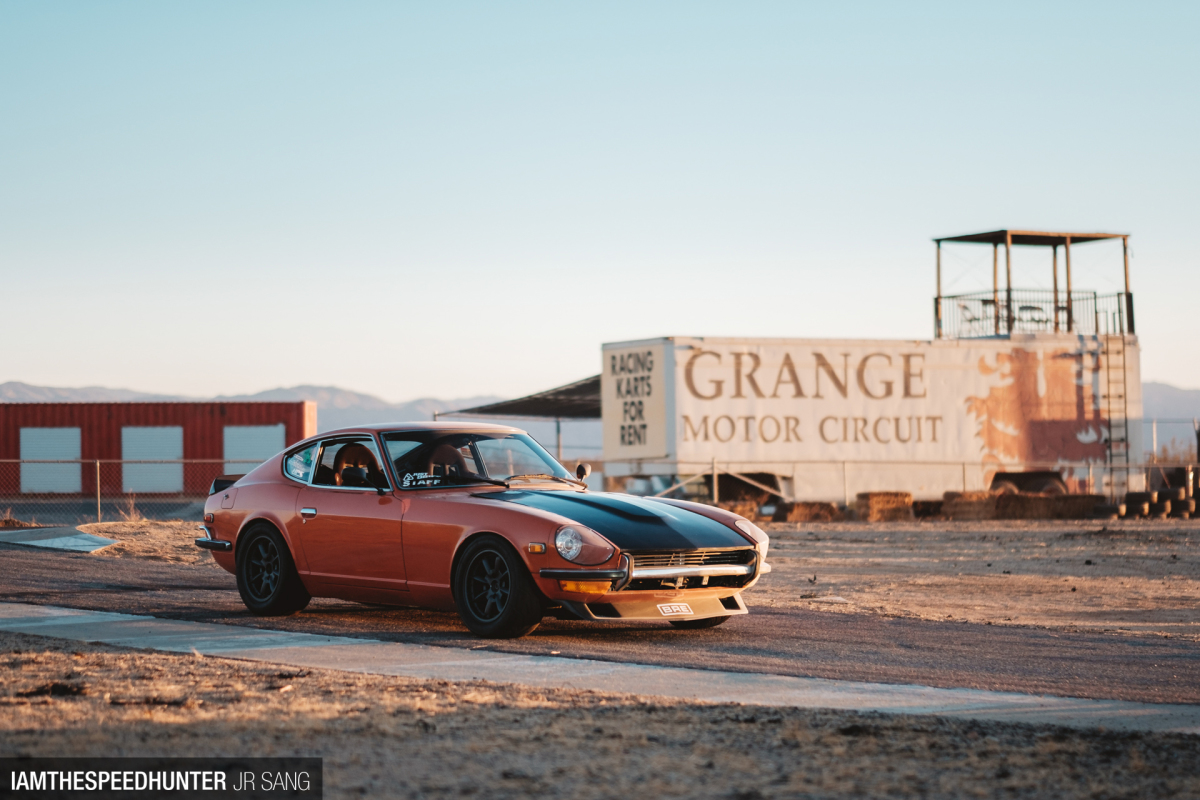 Aside from a few minor bits and pieces, the major work I've undertaken in the past 16 months is pretty hidden. The biggest job was having had the entire car rewired at the same time a Vintage Air air-conditioning system installed. That's right, this almost 50-year-old car has working air conditioning and heating – it's becoming more of a street car as each year passes.
Dapper Lighting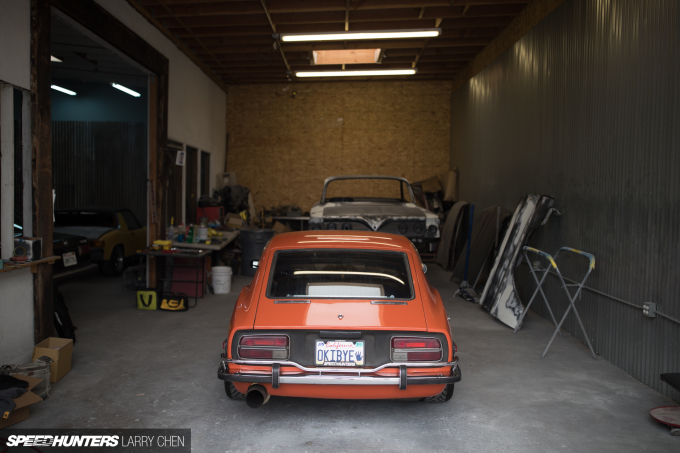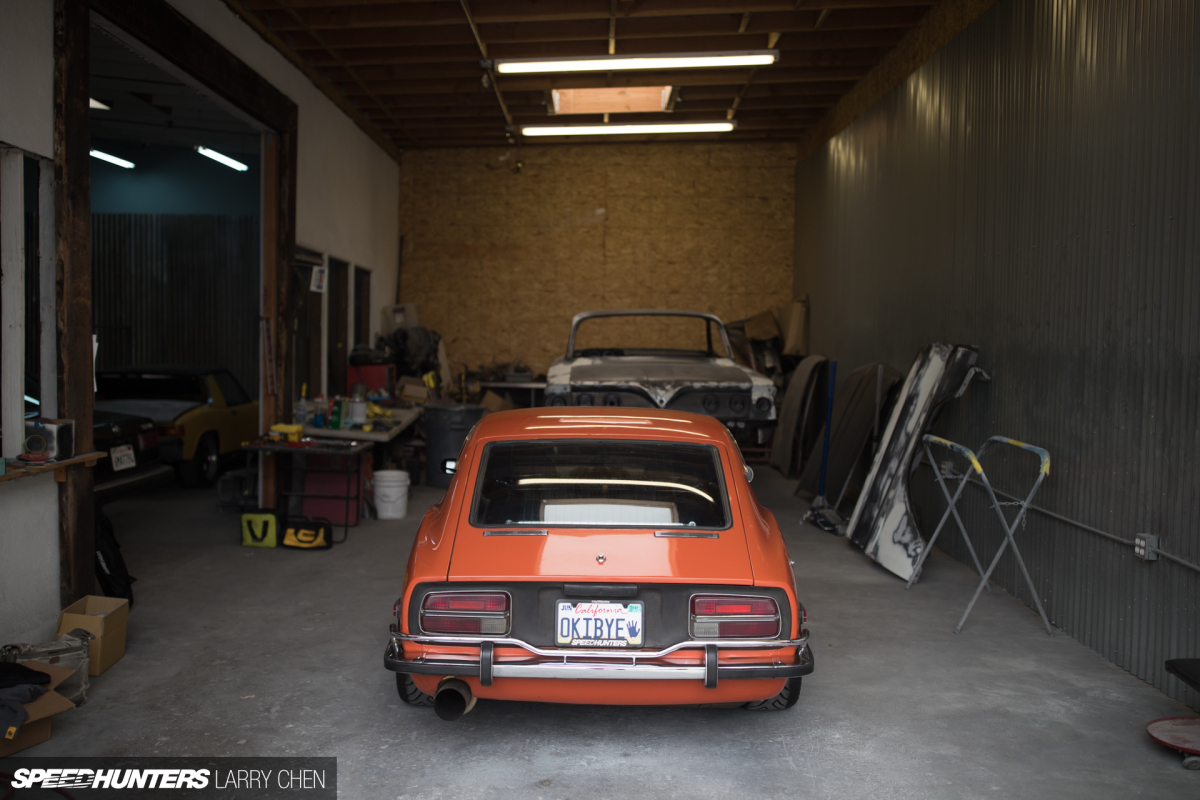 So lets rewind the clock back to when my friends at Dapper Lighting messaged me, asking if I wanted to upgrade the headlights on Ole Orange Bang. Of course I could not have said yes any quicker, and within a few weeks I had the car at Magnus Walker's chop shop ready to have the conversion done.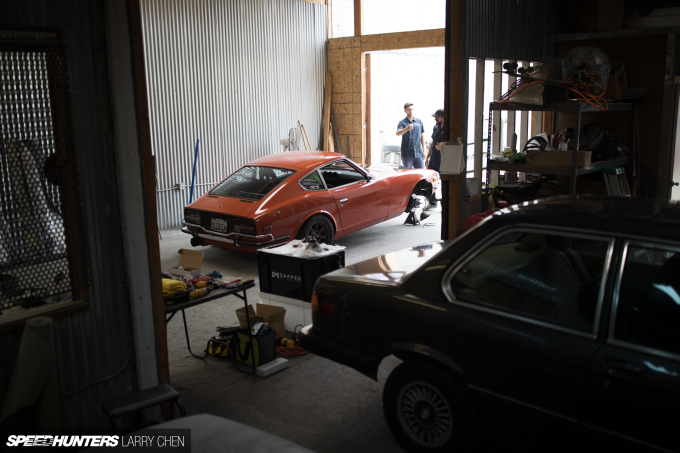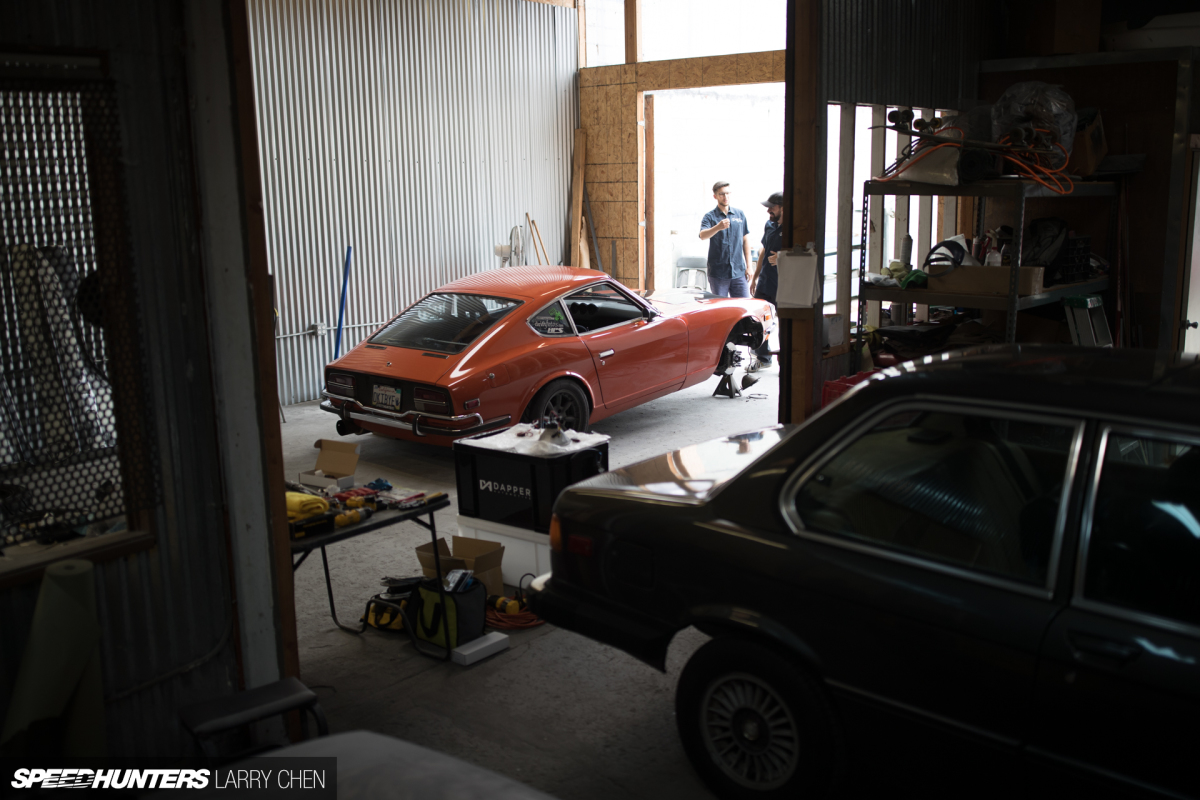 I figured it was the perfect place for the guys from Dapper to do the work; there's lots of room and plenty of shade – the latter being a must at the height of a SoCal summer. Also, my garage was full.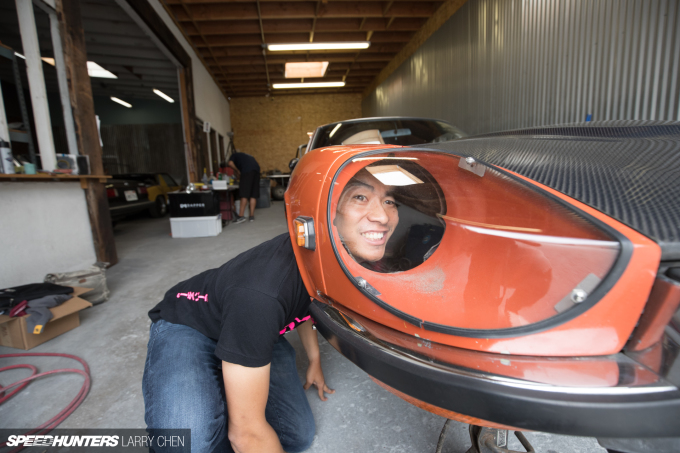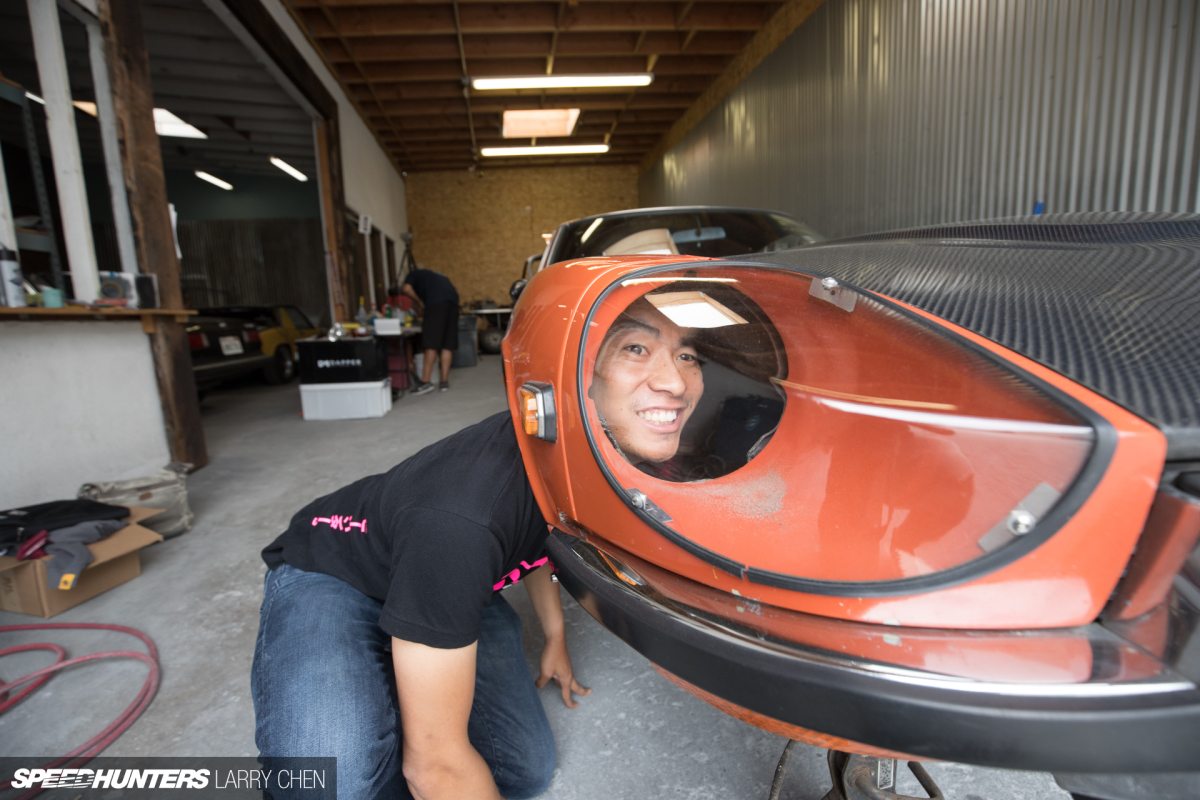 Within no time the Z's original headlights were out and some goober was in.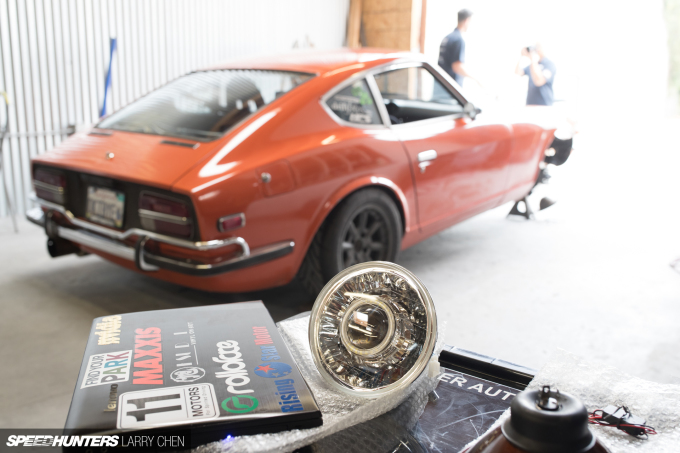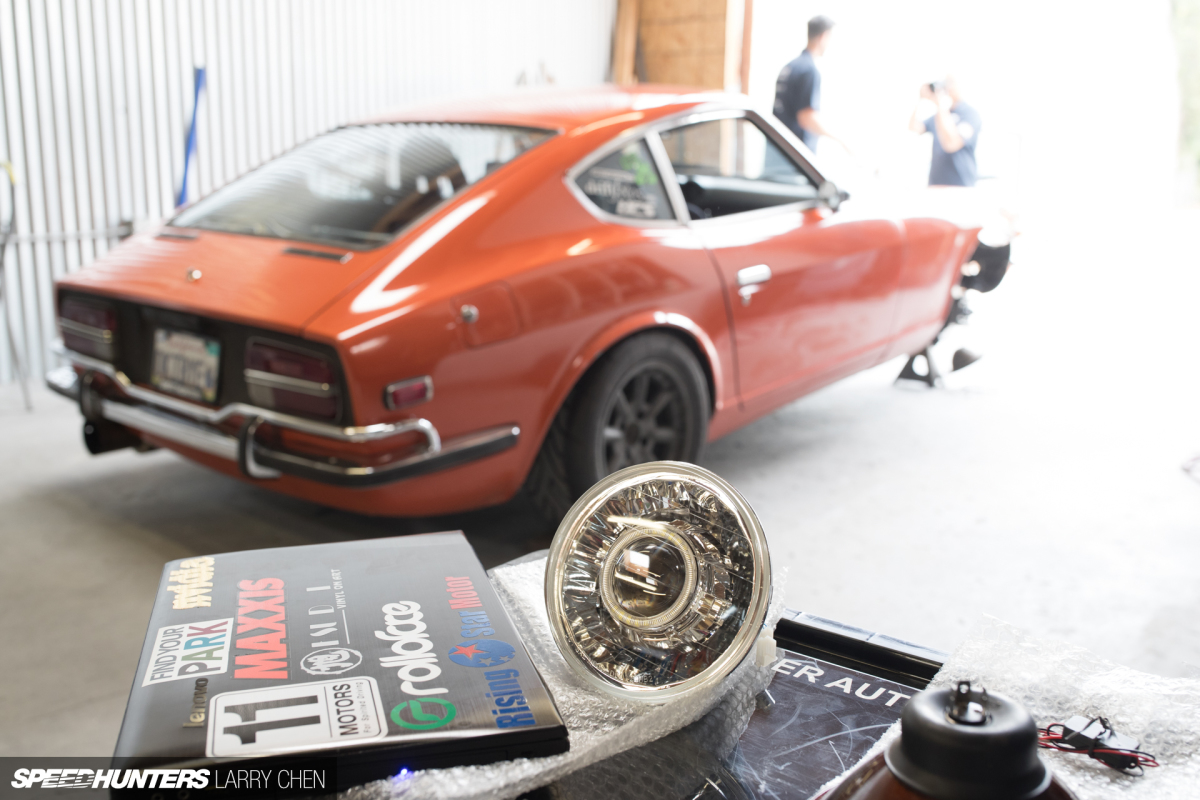 HID lights on a 1970s vehicle? It may seem like blasphemy to some, but I've built this car for driving first and foremost, and that means being able to see at night is more important to me than keeping the car period correct.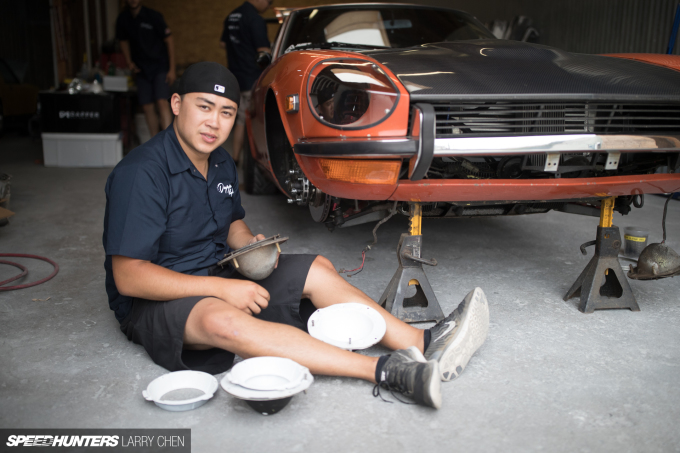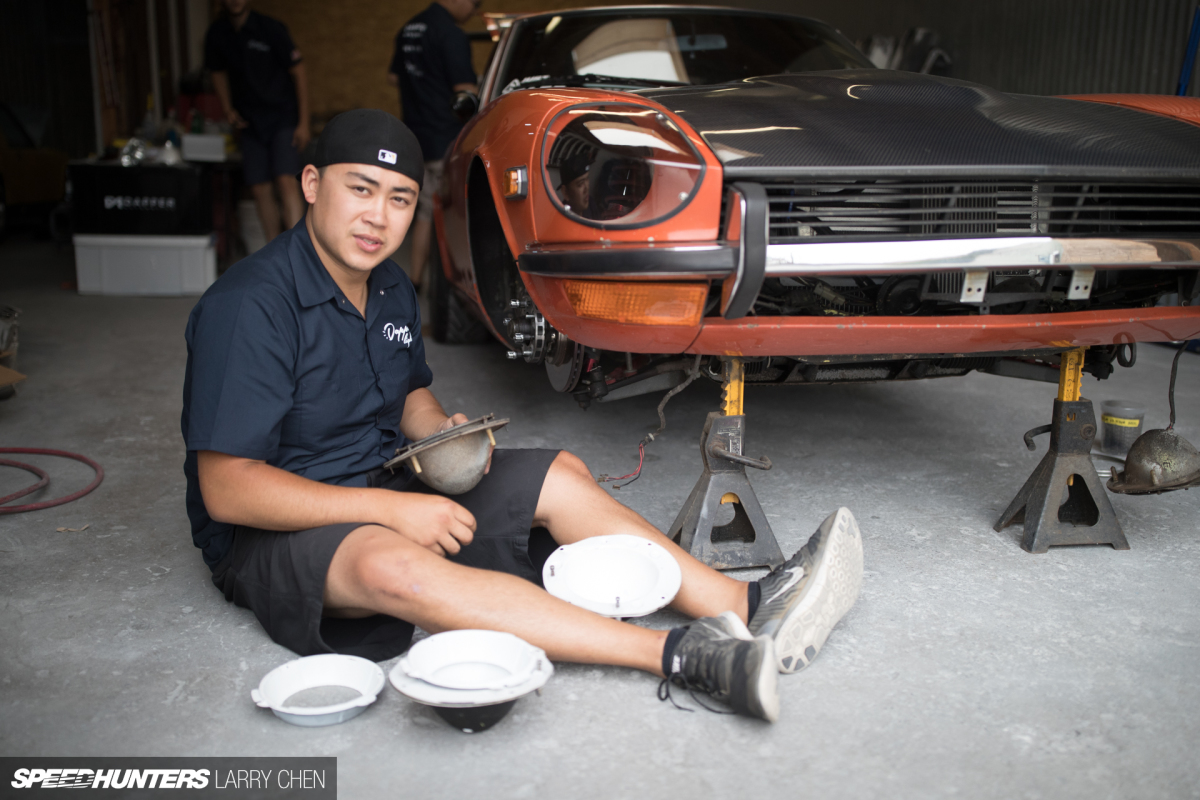 Ben Silverstein, the founder of Dapper Lighting, is also a Z guy. I'll be sure to shoot his super-clean 280ZX the next time we go on a cruise.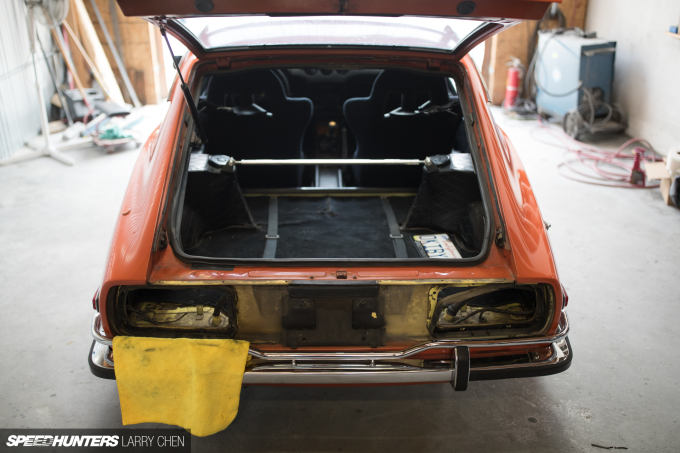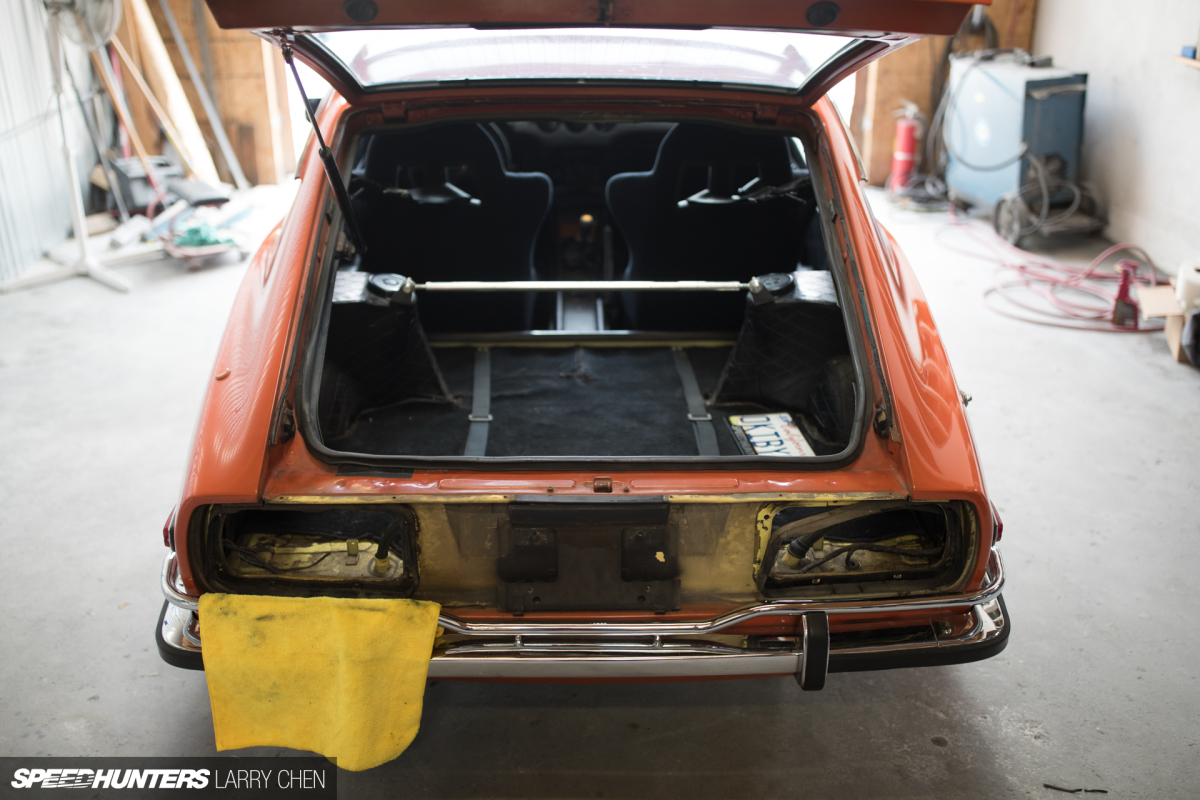 If you guys didn't already know, when Ole Orange Bang left the factory it wore yellow paint. In repairing some crash damage, the previous owner figured the car would look better in orange, and subsequently had the whole thing resprayed. Well, the exposed exterior panels anyway.
Since we were taking the entire tail light assembly out, I figured I should have my buddy Matt Brown paint the rear panel. He paints all of Magnus Walker's cars, so I knew he'd do a good job on something super simple.
The best part of this LED taillight kit for the 240Z is that it doesn't destroy the stock housing, and also still retains the original look when the lights are off. The old adhesive is heated up allowing the taillights to be taken apart, and then it's just a case of slotting in the LED boards.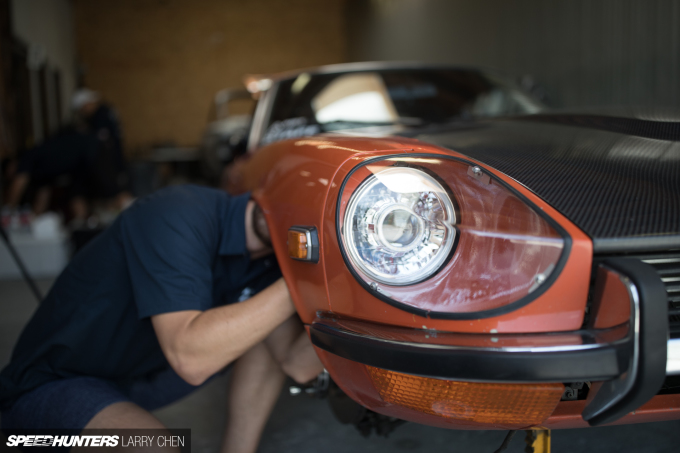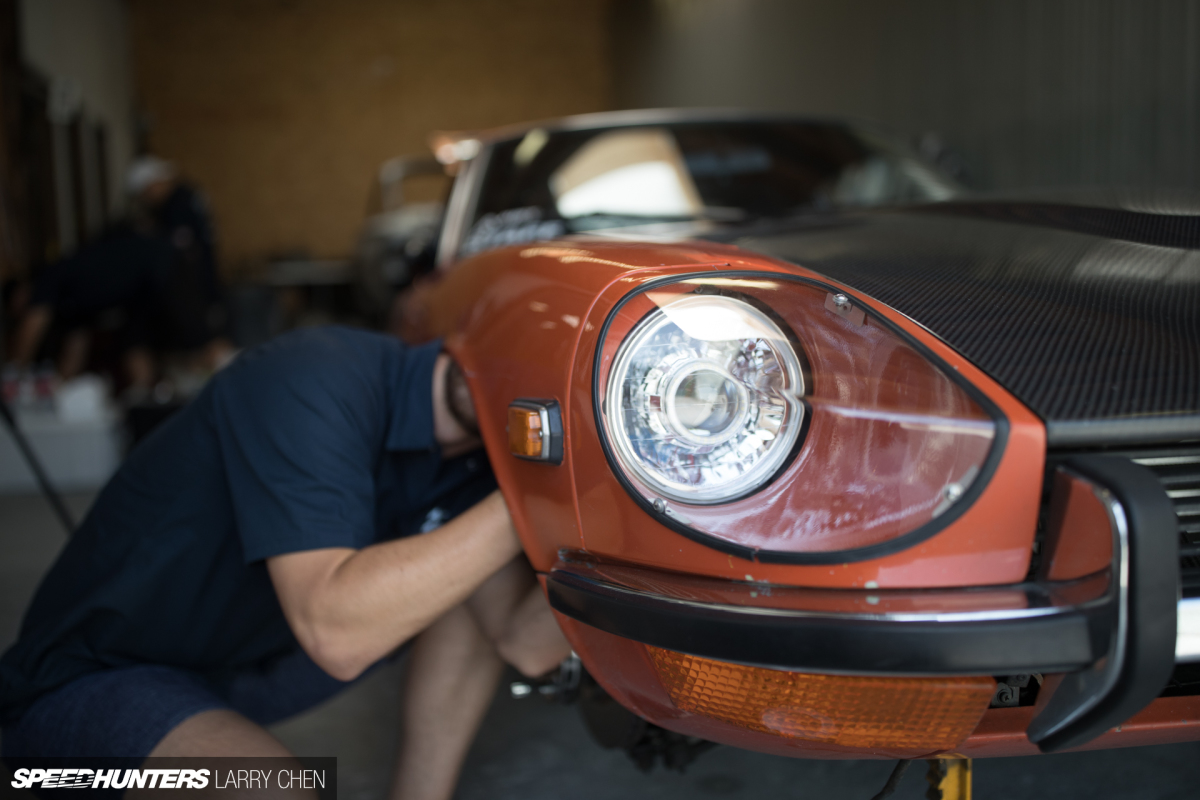 While the HID lights were cool, Dapper Lighting has since come out with LED lights with integrated turn signals. I'll touch on those in my next post.
Vintage Air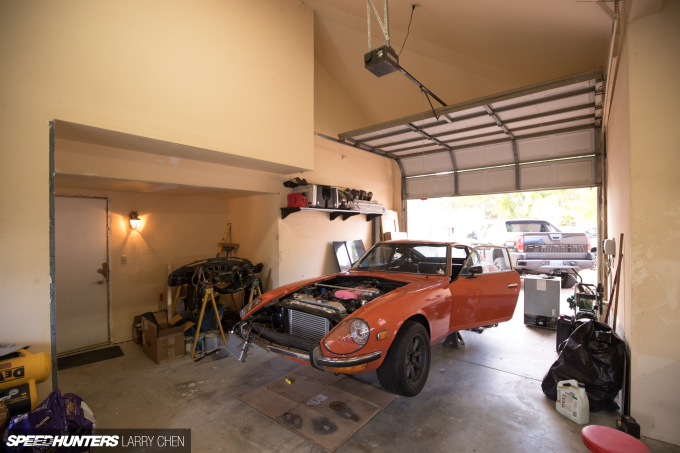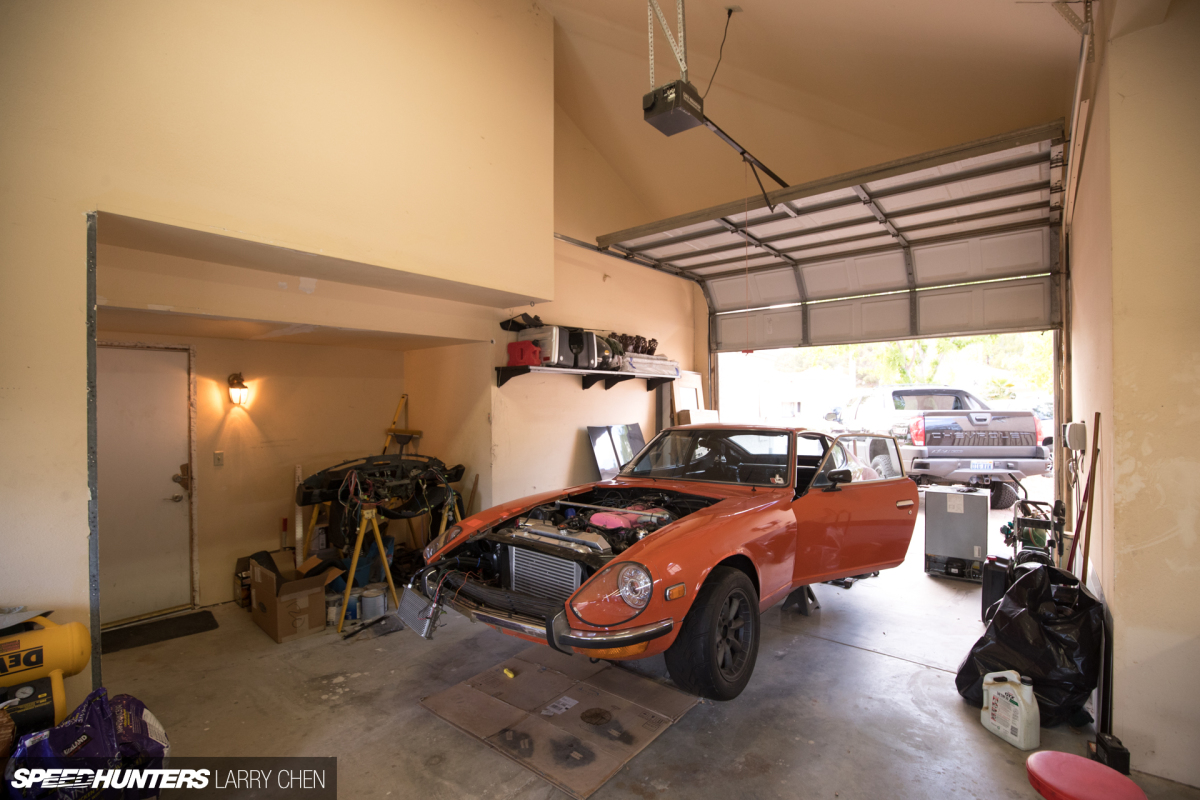 My next modification was not for safety nor speed. In fact, it makes Ole Orange Bang slower, but at the same time so much more enjoyable.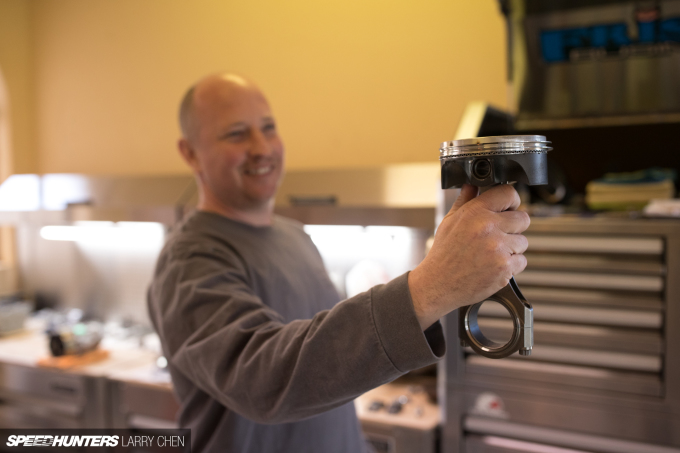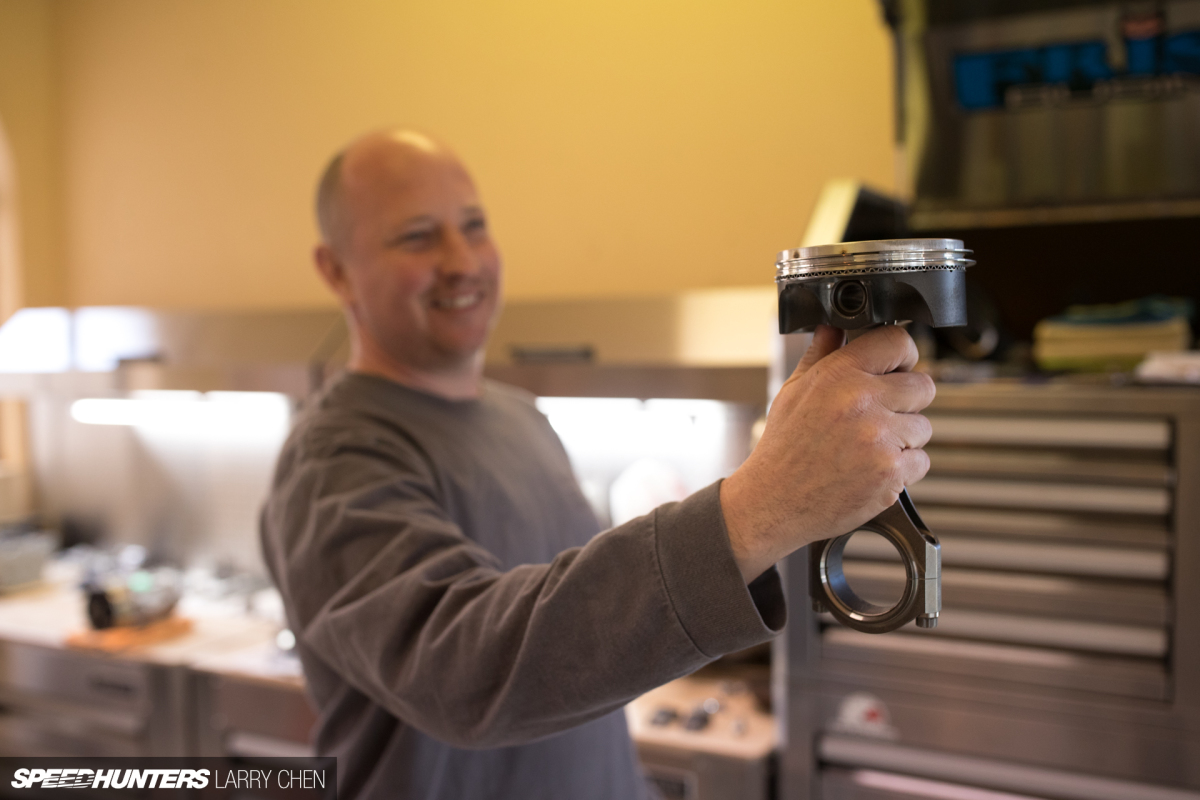 Enter Brian Oldfield, another Z enthusiast friend of mine. He has been building rally cars most of his career, including his stint at Vermont SportsCar.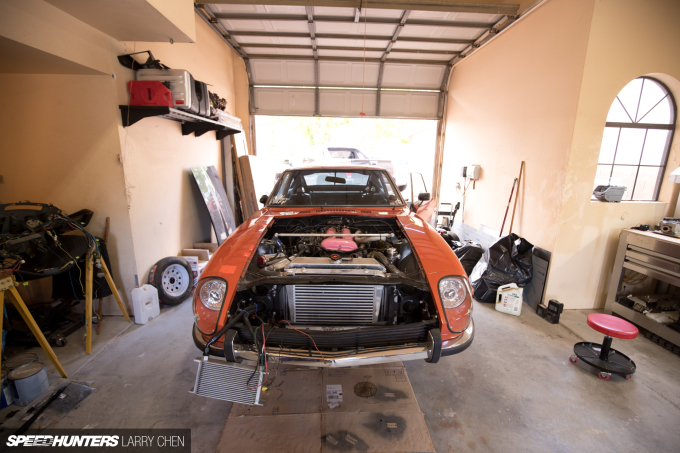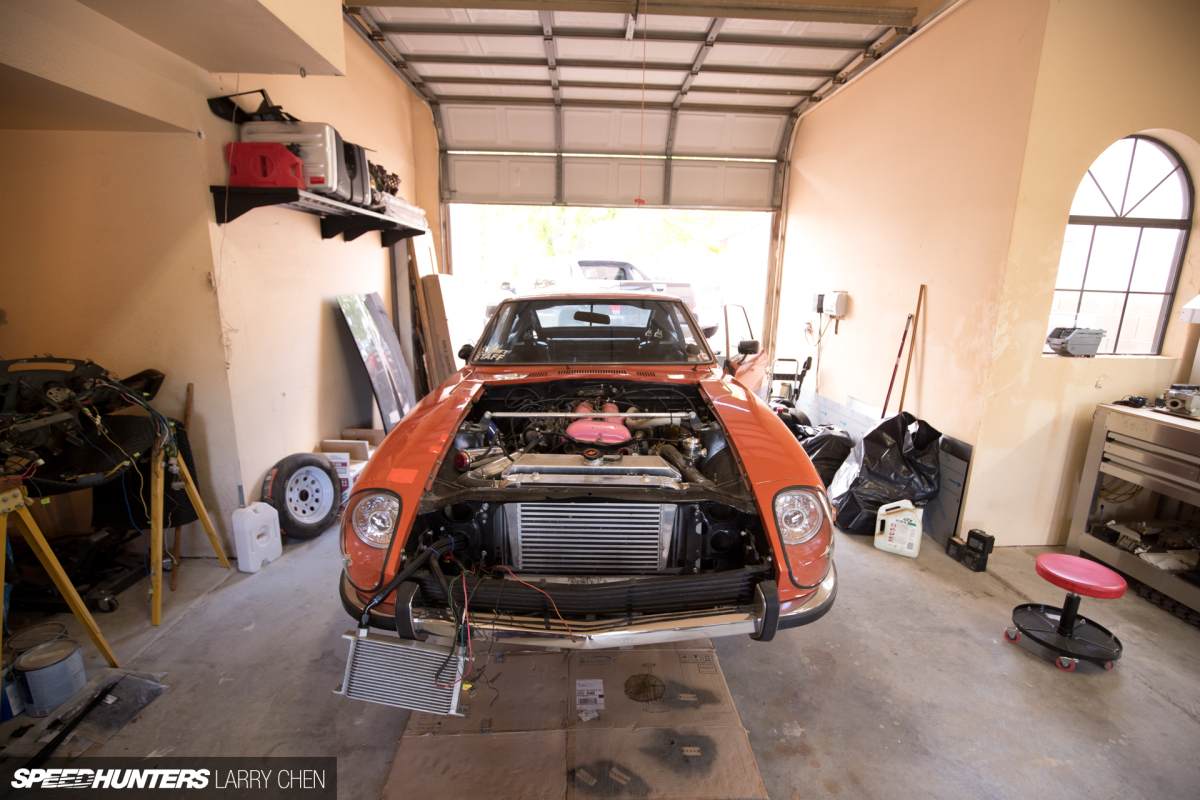 Brian also built Peter Brock's latest BRE 240Z, which some of you might remember from the SEMA Show a couple years ago. I saw that car and I could not believe that it had aftermarket air conditioning fitted. I'd heard of Vintage Air before, but for some reason had assumed that their product was mostly for American muscle cars, as those are the sort of cars you usually see the systems fitted in.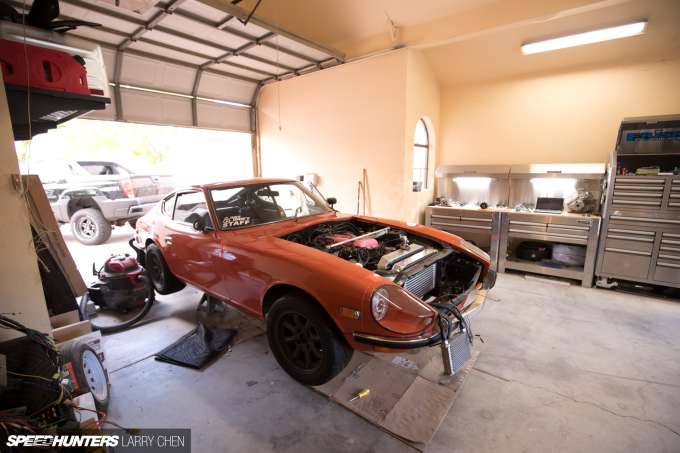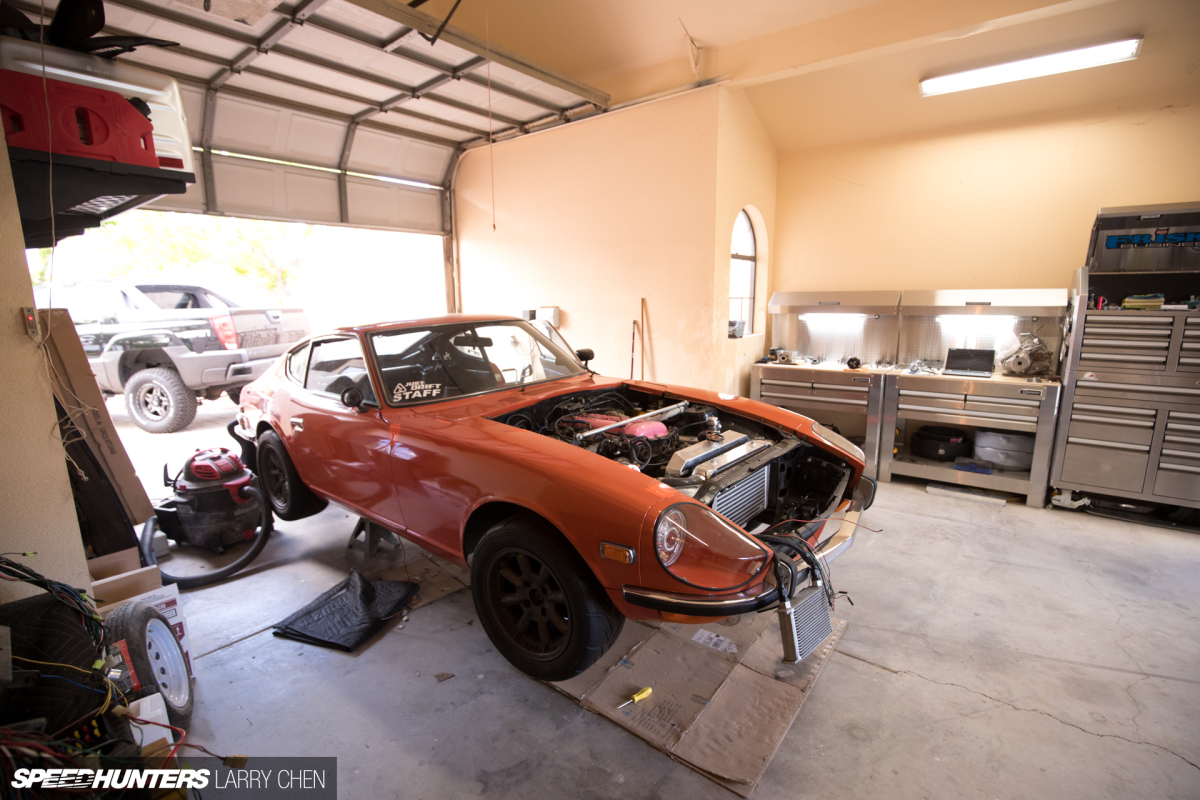 But not only does Vintage Air make smaller units for a range of cars including the Toyota FJ40, it also has a mini heater matrix, evaporator, defroster and blower all-in-one that tucks nicely under the dash of the 240Z. More on this later.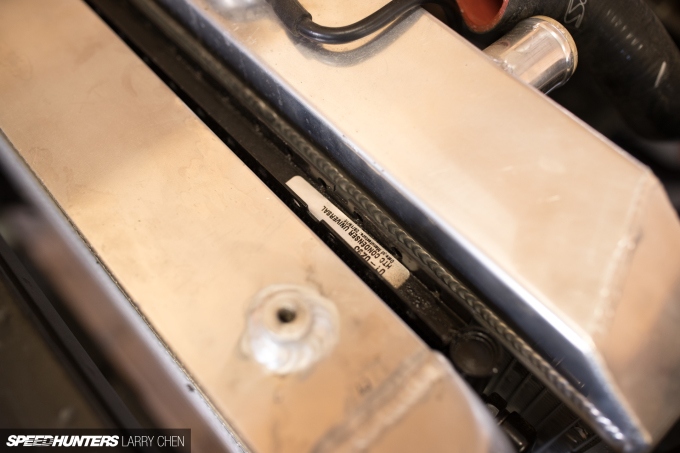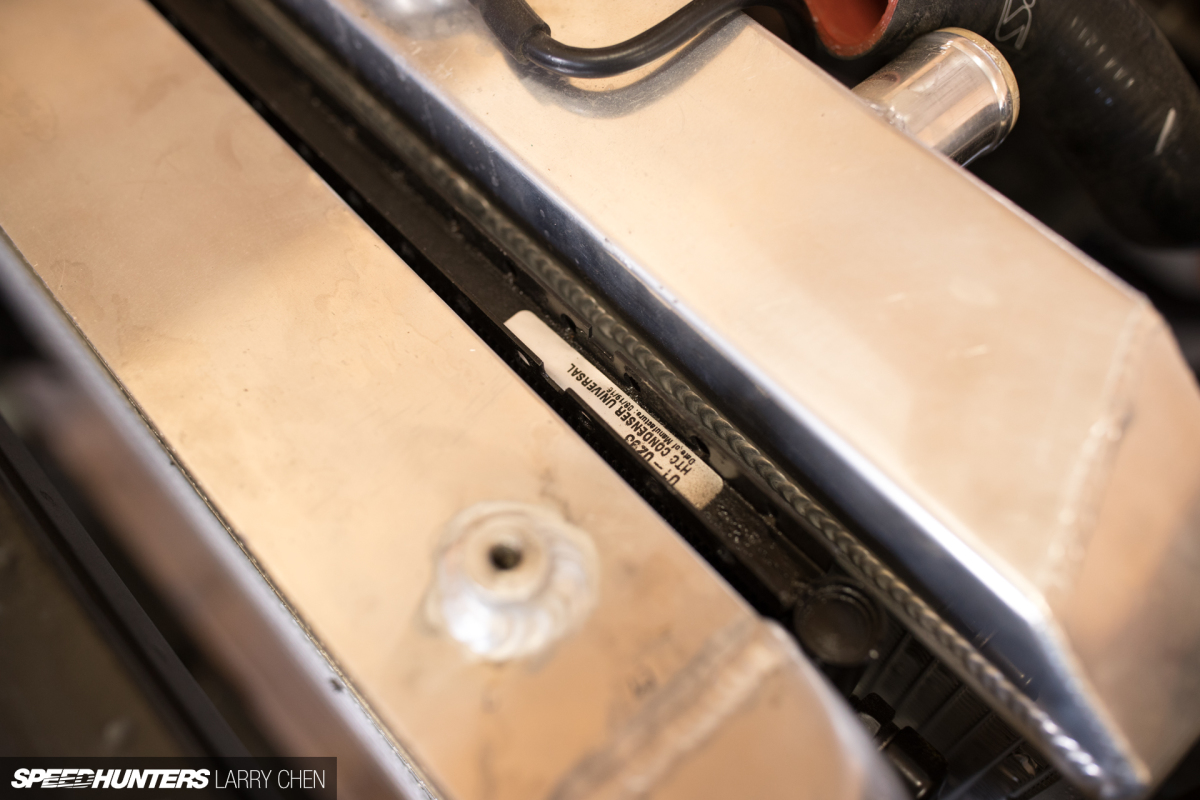 For my kit, I used a 12×20 universal condenser also from Vintage Air. It fit perfectly between my engine's intercooler and radiator.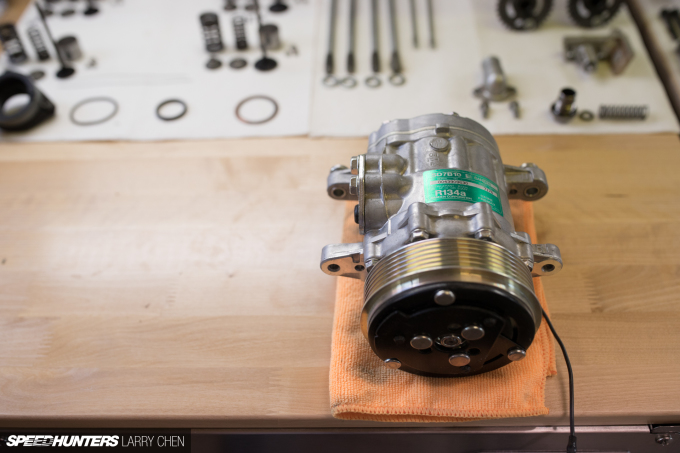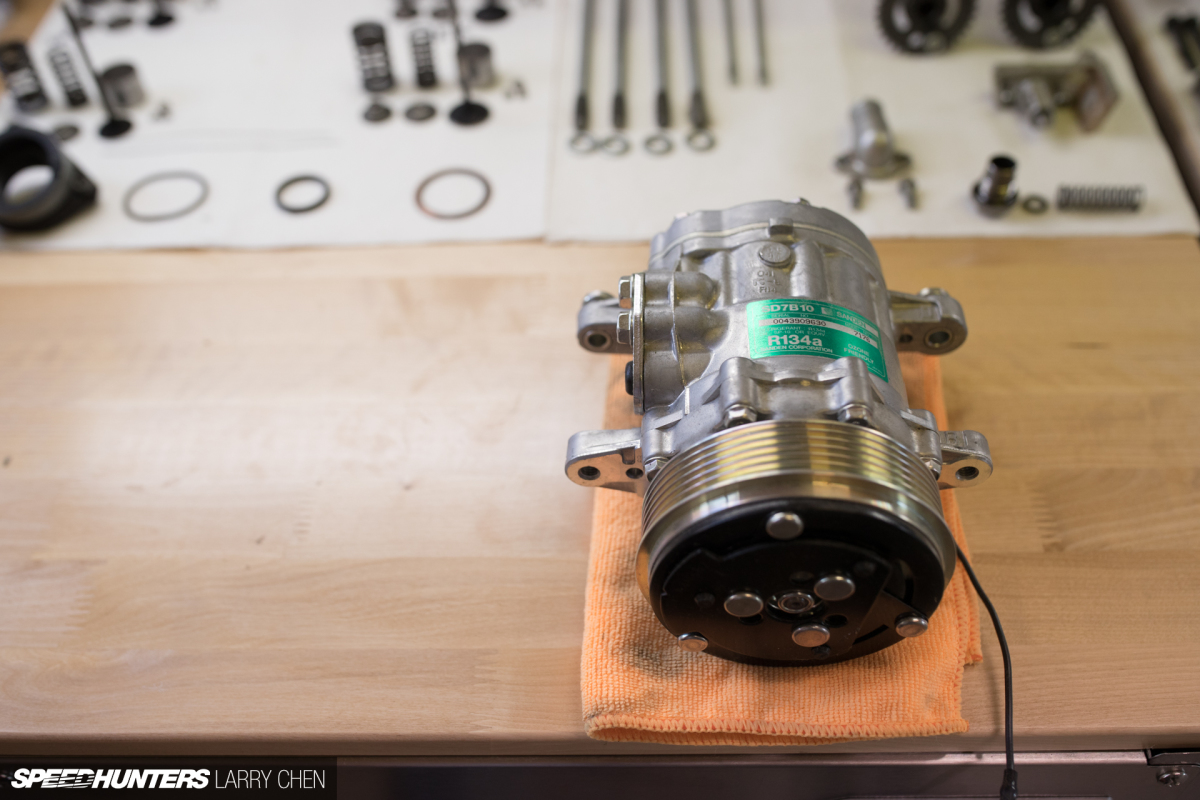 If I still had the original L24 engine in place it would have been easy to utilize the stock L24 compressor for the install, but since I have an SR20DET swap, the stock compressor would not work for a lack of room due to the 240Z steering shaft. Vintage Air sent over a Sanden SD-7B10 compressor that has compact dimensions and click to fit hoses. There is plenty of room with it mounted on the SR, even with the original Z steering shaft in the way.
It was crazy to see the dash and all of the wiring out. Over the years there had been a lot of extra wiring added to the car, including those for the stereo and a full-on alarm system with automatic locking doors. All of it was junk, so Brian pretty much rewired the entire underside of the dash, binning what was deemed unnecessary.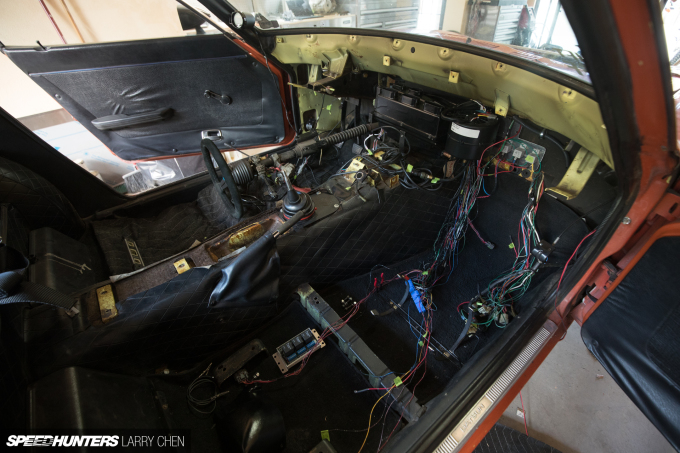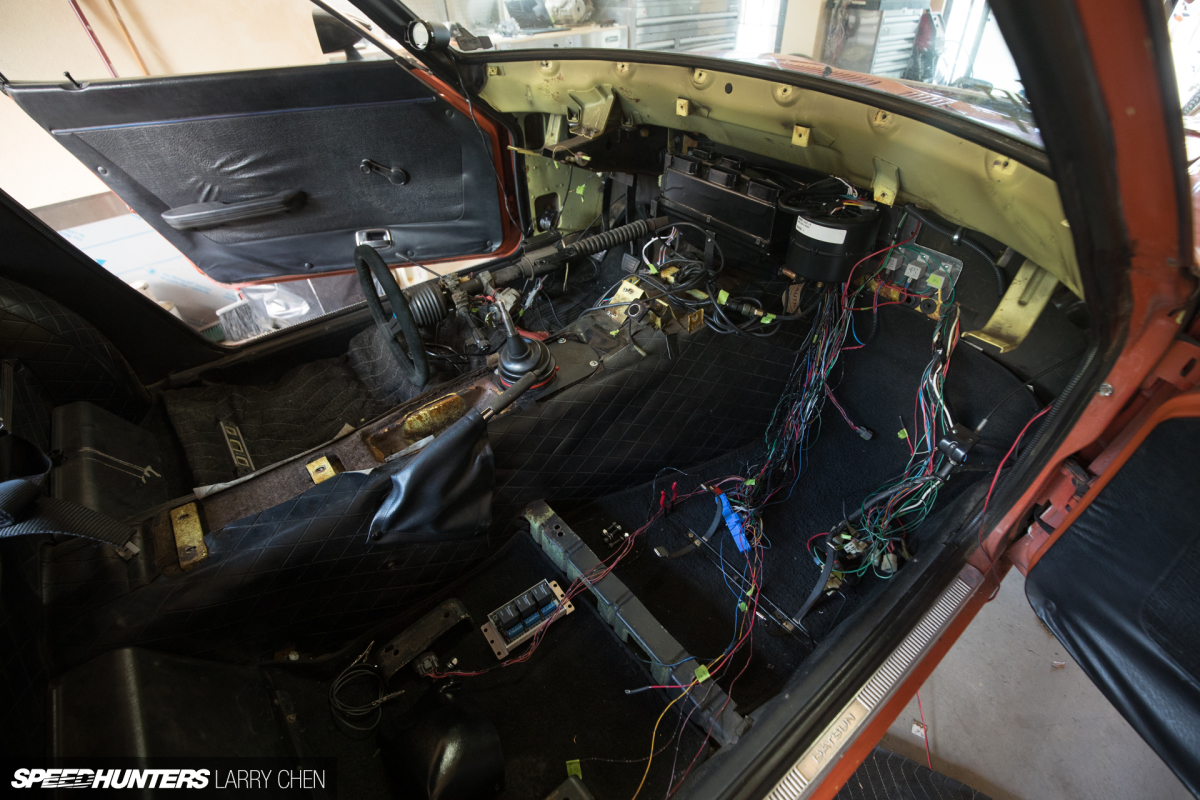 It was one of those moments where we thought we might as well change it while it was out. Of course, you can get yourself into a lot of trouble with that kind of thinking.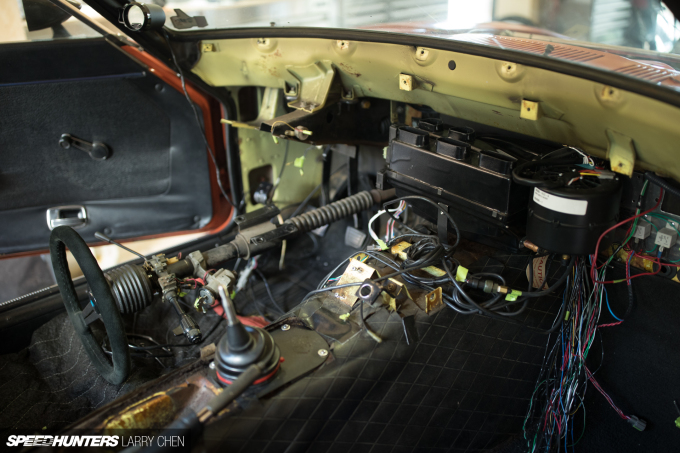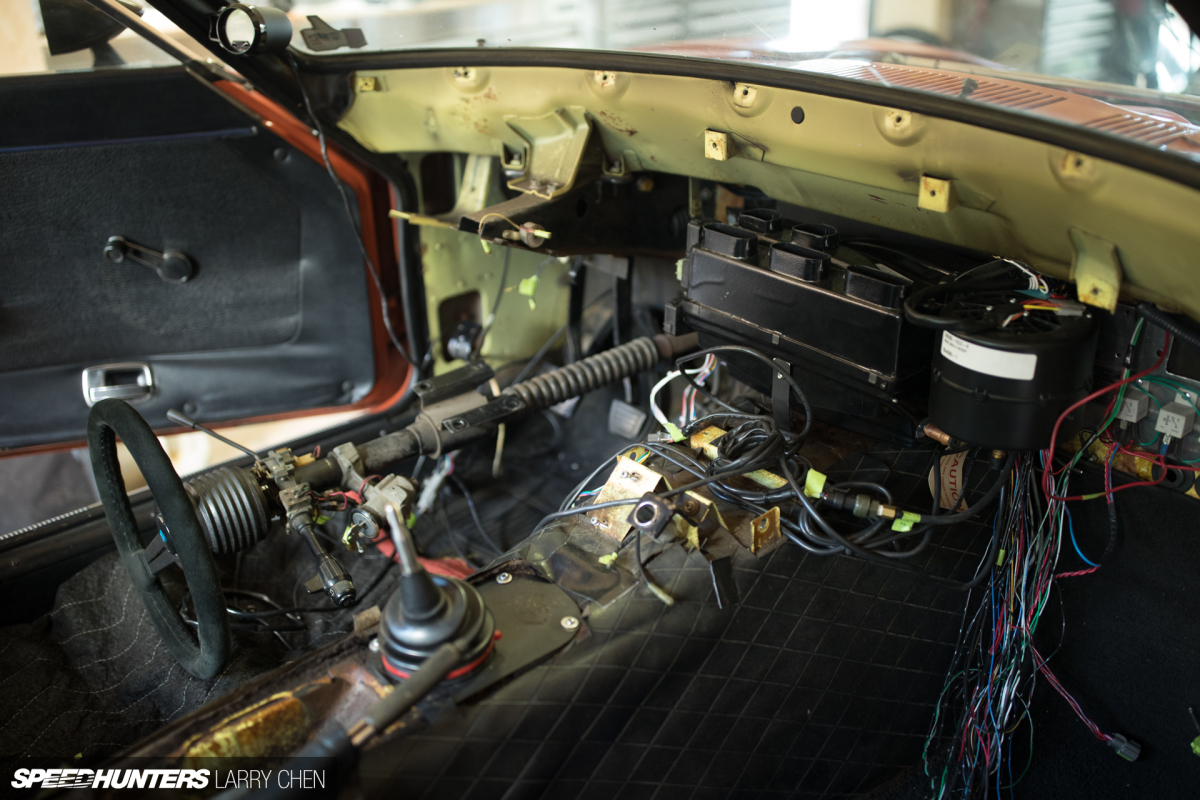 That little black box is the Vintage Air Gen II Mini heat/cool/defrost unit. The entire package is much smaller than the Z's factory heating unit.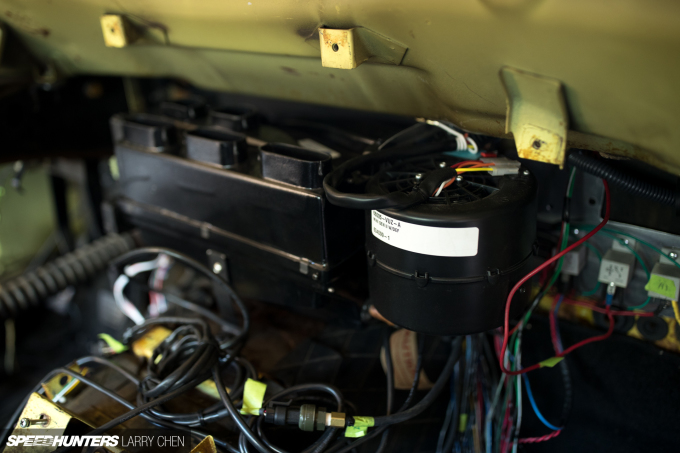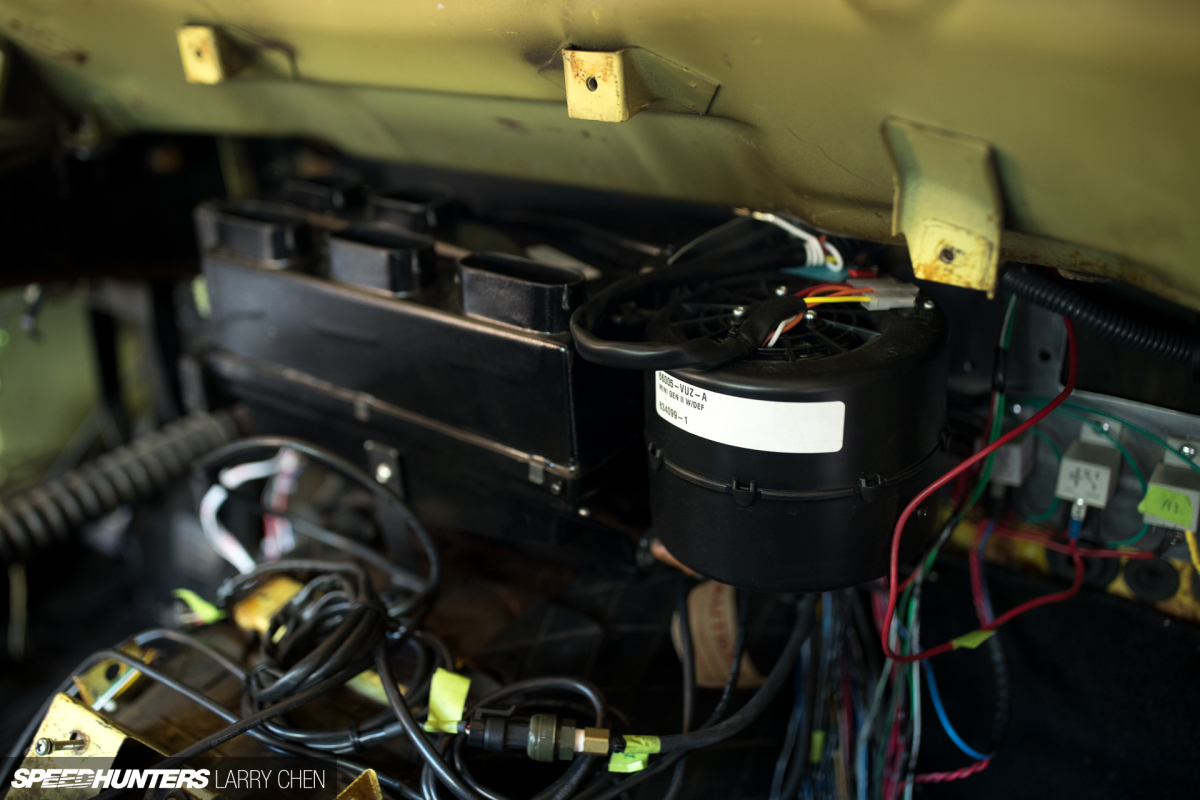 While the blower may look small it packs quite a punch. I find myself having to turn the A/C off even in the hot Los Angeles summer because the cabin gets too cold.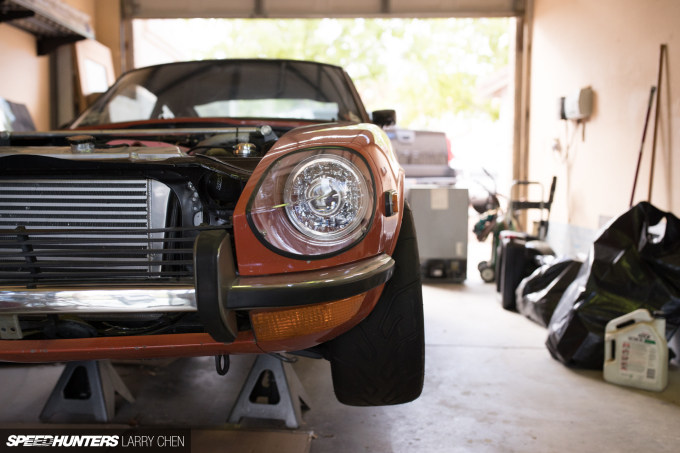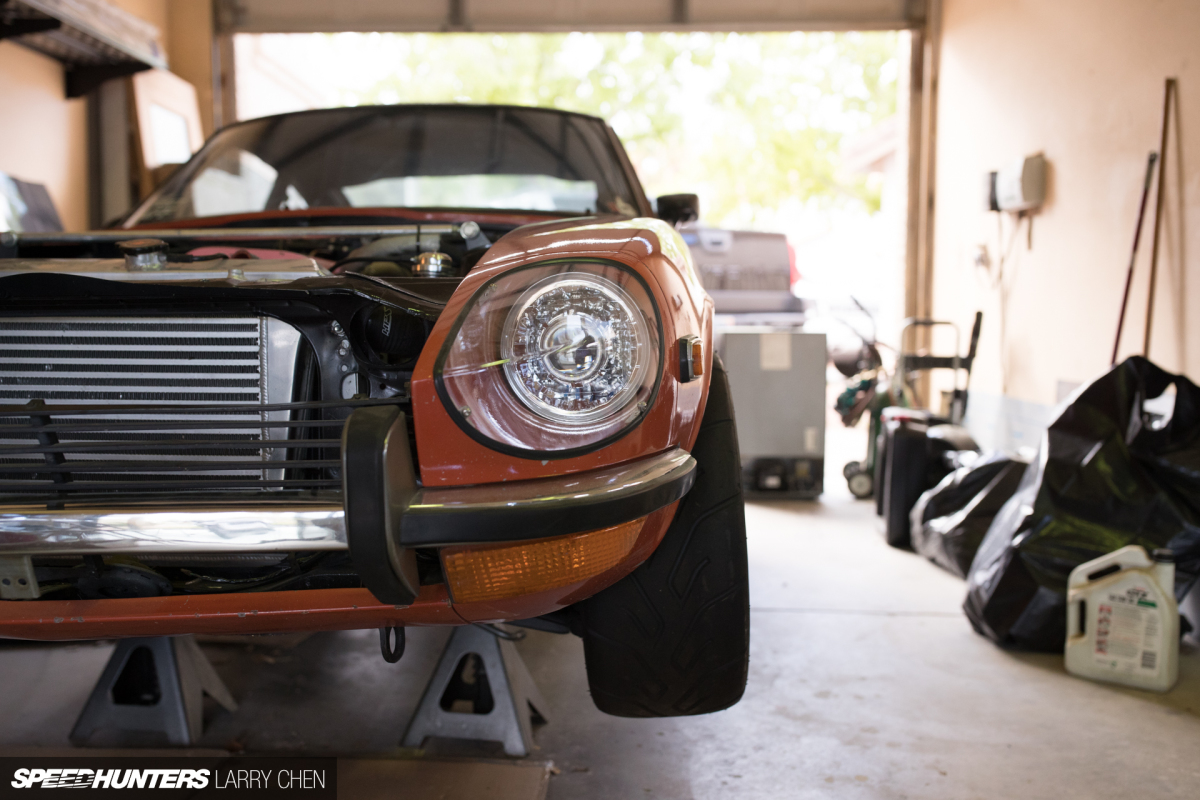 Aside from the hoses which were custom made for this build, everything else came from Vintage Air.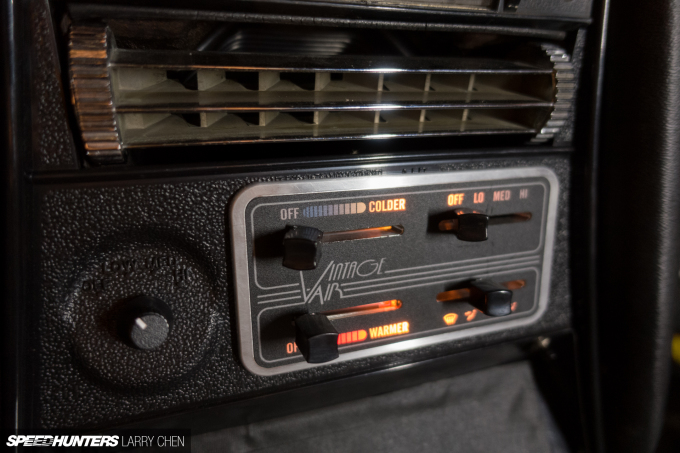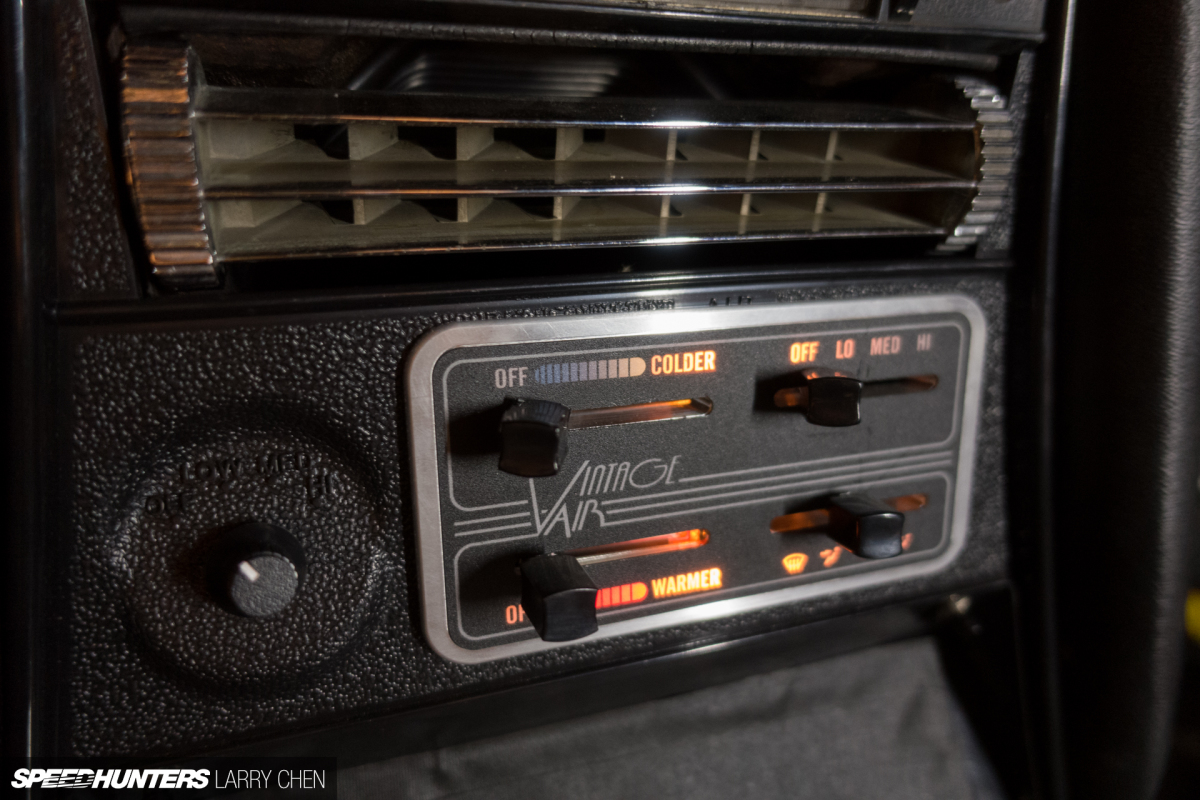 The control panel uses four levers and keeps the OEM look and feel from the stock 240Z A/C unit. I love the old school appearance of it, but instead of plastic the panel is CNC-machined out of a single piece of aluminum.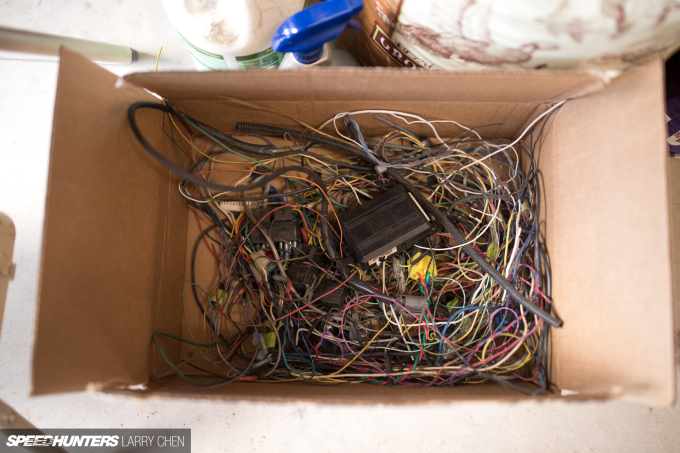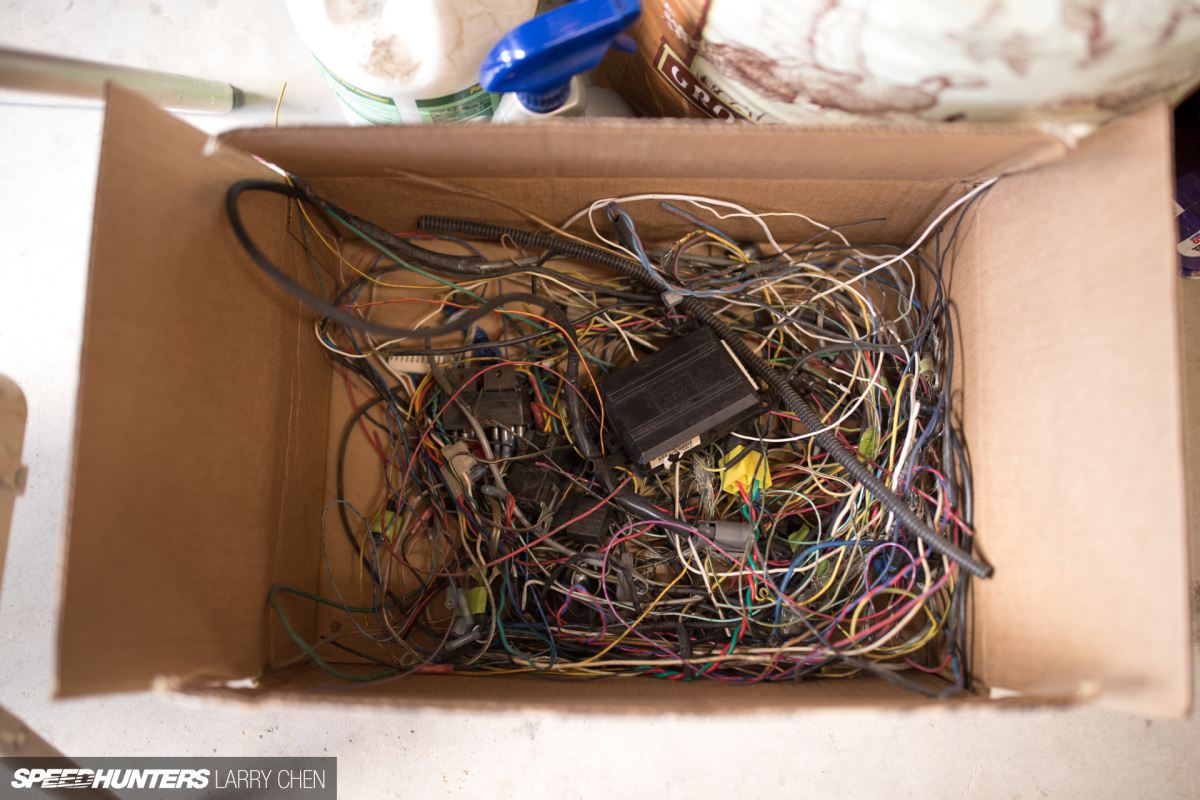 This is how much junk wiring and redundant electronics were pulled out of the car; it must have weighed at least four pounds. The old alarm system is there too.
Brock Racing Enterprises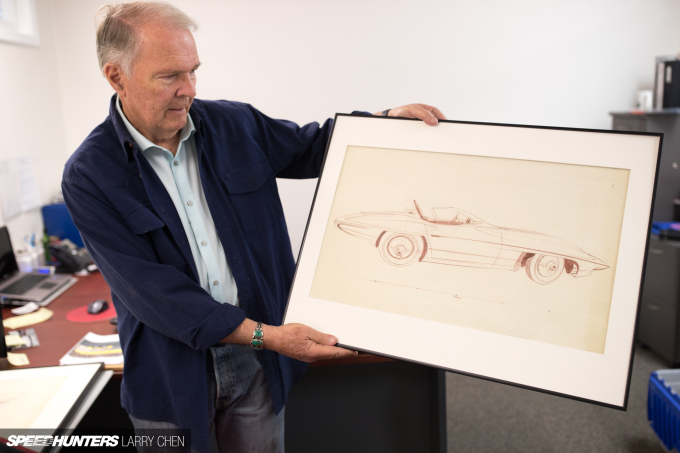 A moment ago I mentioned how Brian had built the legendary Peter Brock's most recent BRE 240Z. Well, around the same time Brian did my rewire, he took me over to Brock Racing Enterprises to meet the man himself. Here's Peter showing me the original drawing he did while designing the Corvette Sting Ray.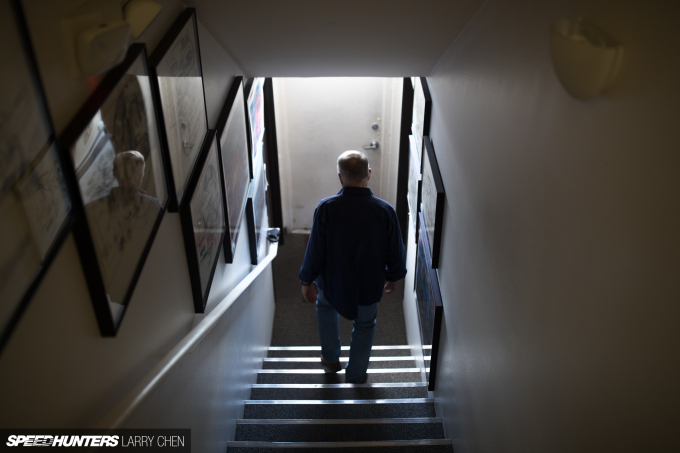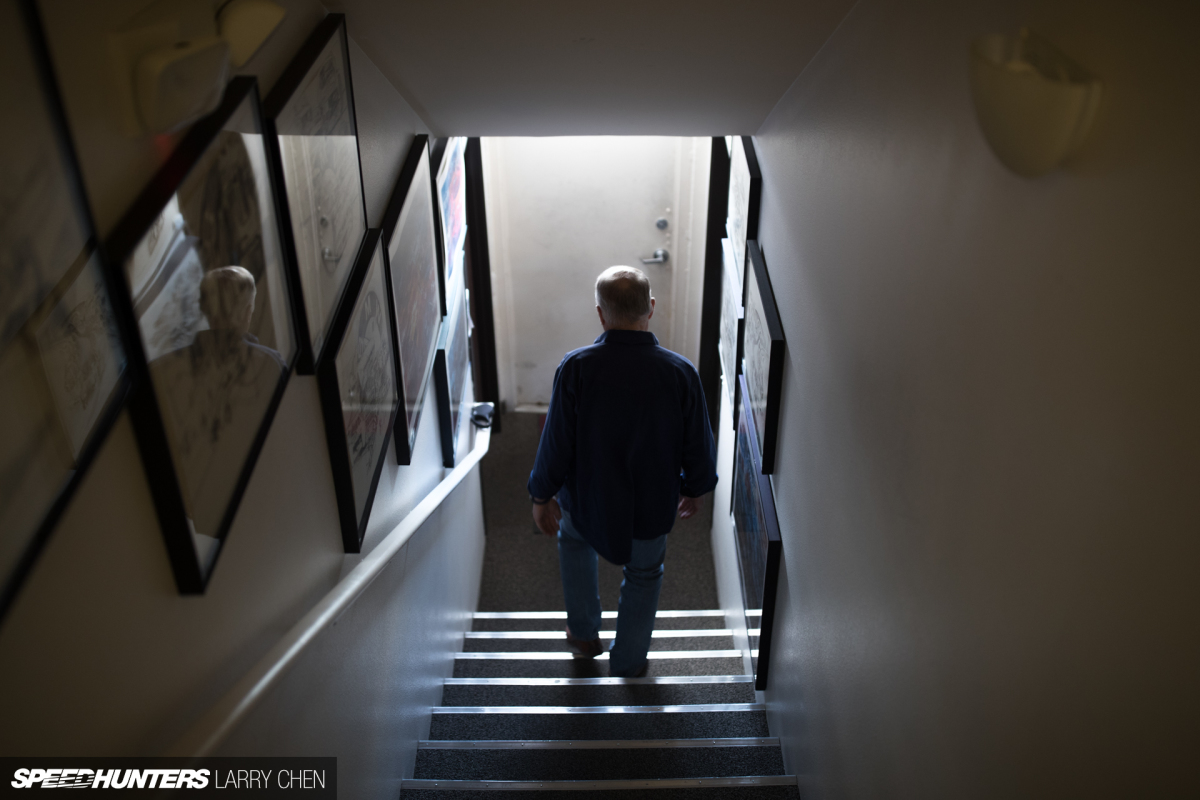 Having shot Michael Jackson, Tom Cruise and pretty much every other celebrity you can think of as a paparazzi photographer, I never find myself being starstruck anymore.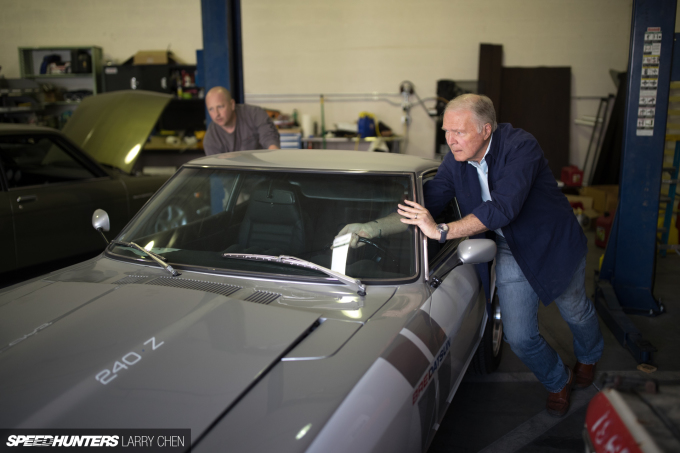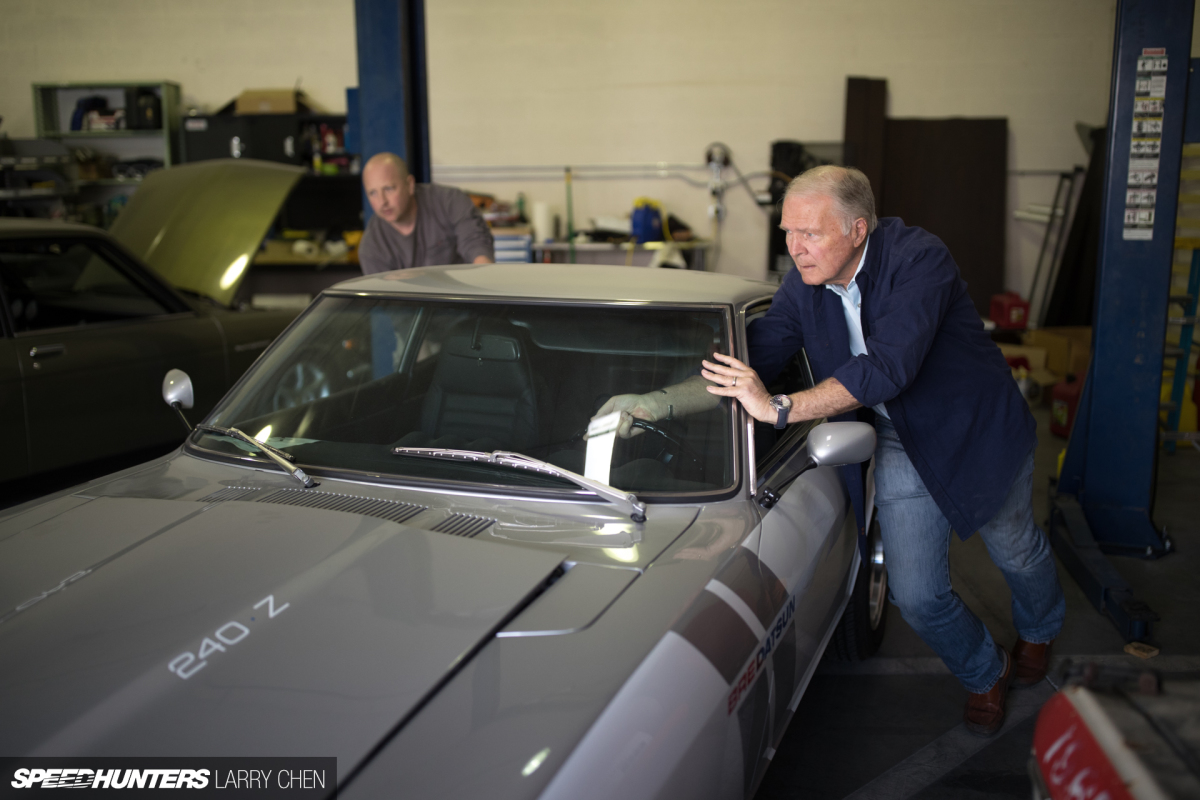 But getting to hang out with Peter while he showed me his cars really blew my mind. I really look up to him and what he has achieved over the years.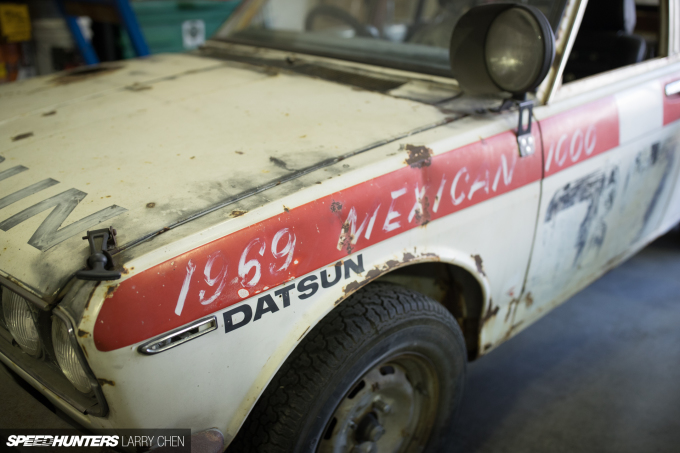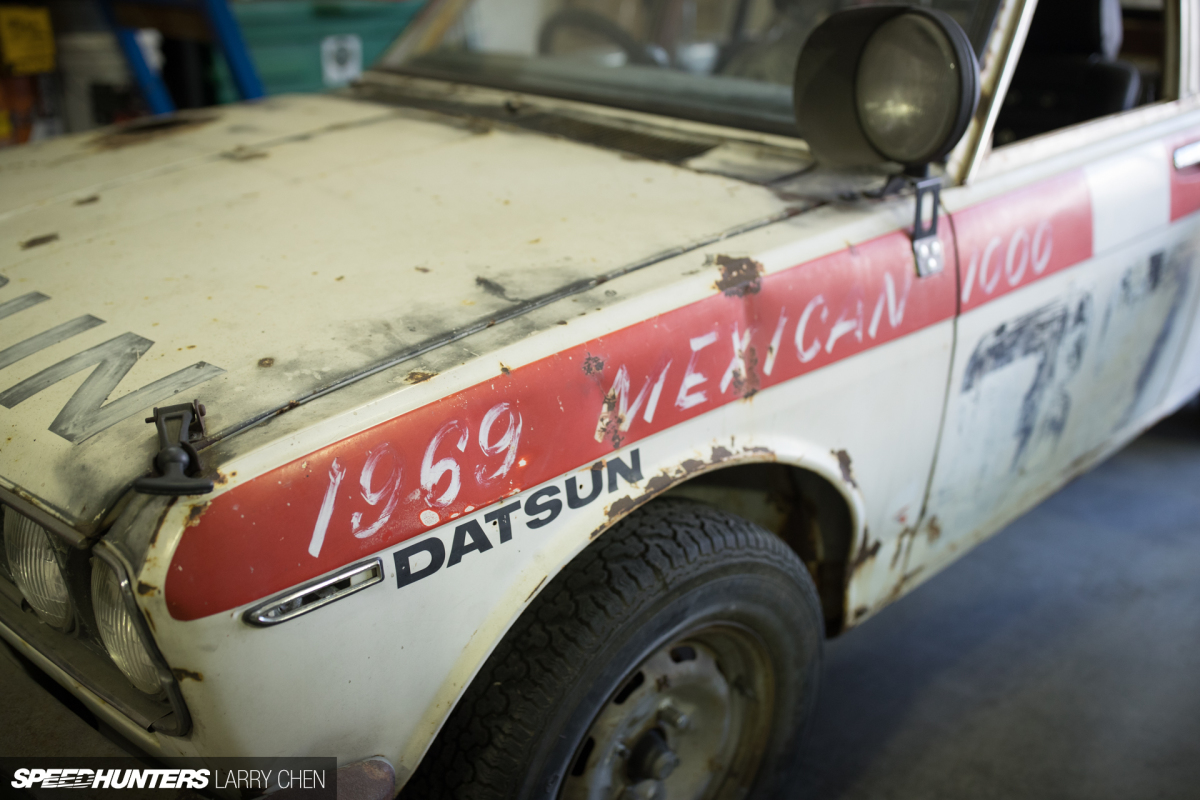 Previously, I'd heard Peter speak a few times and we even shot photos at Formula Drift, but I never really had a chance to meet him. It was a real honor to be in the presence of such a legend in racing circles and car culture as a whole.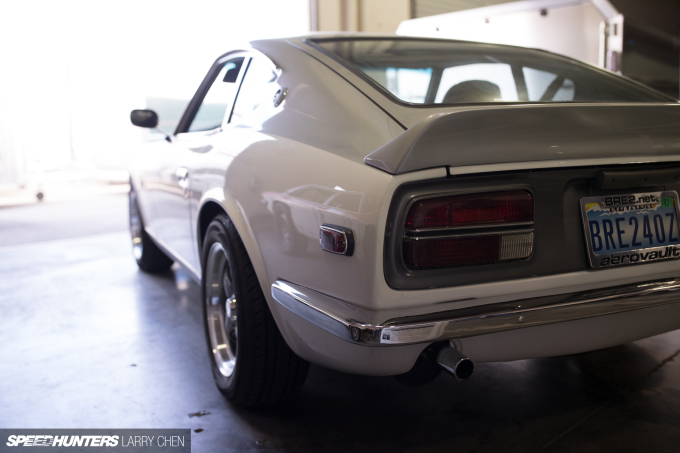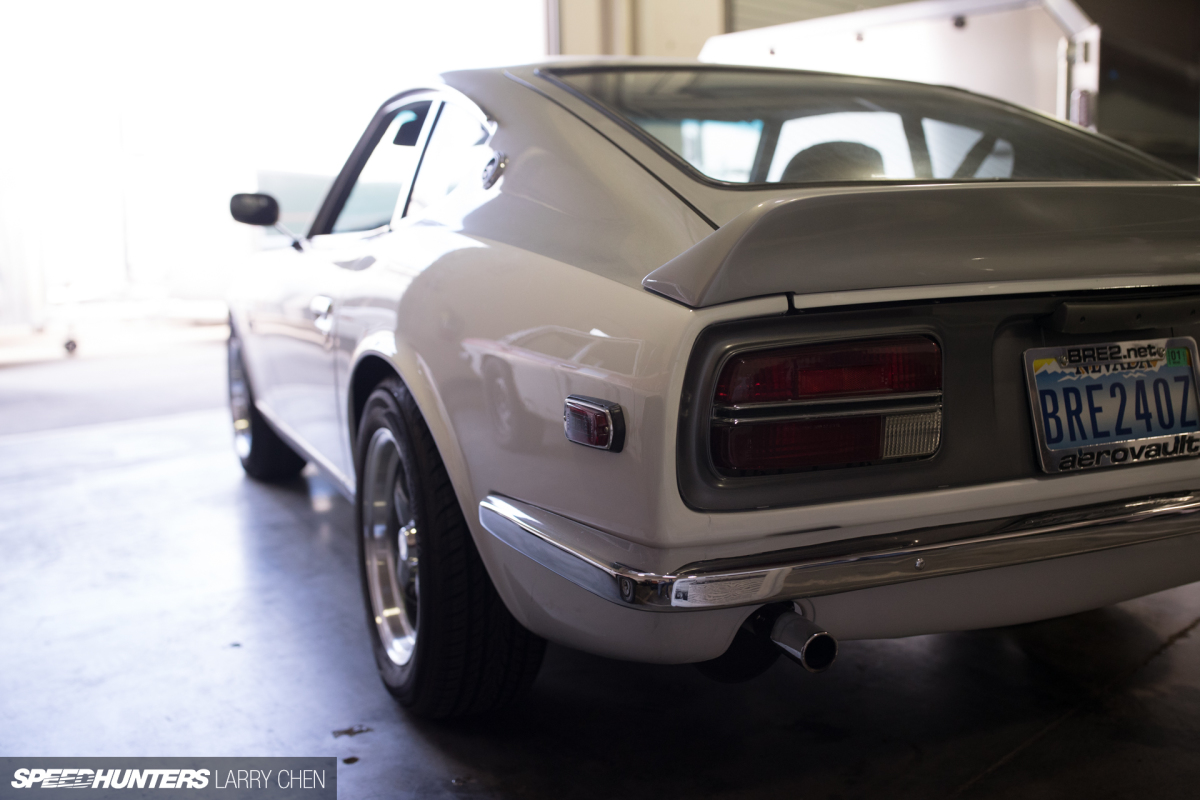 It was also cool to check out the zero-mileage BRE 240Z that Brian built. I don't think I could ever own a classic car this clean, as I'd get rock chips and scratches on it from day one. But this was the car that inspired me to have A/C and heat.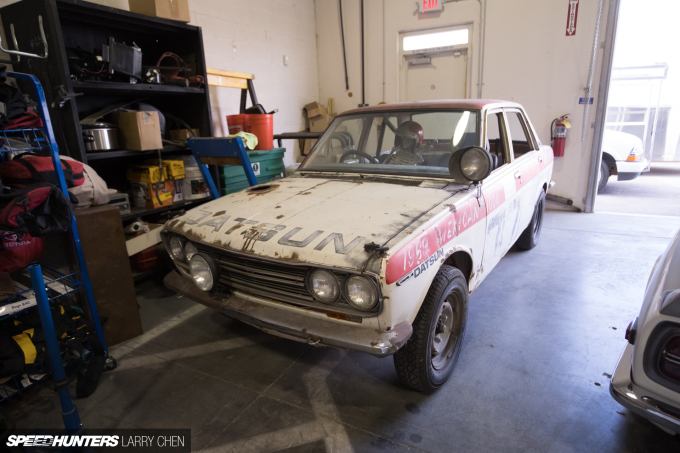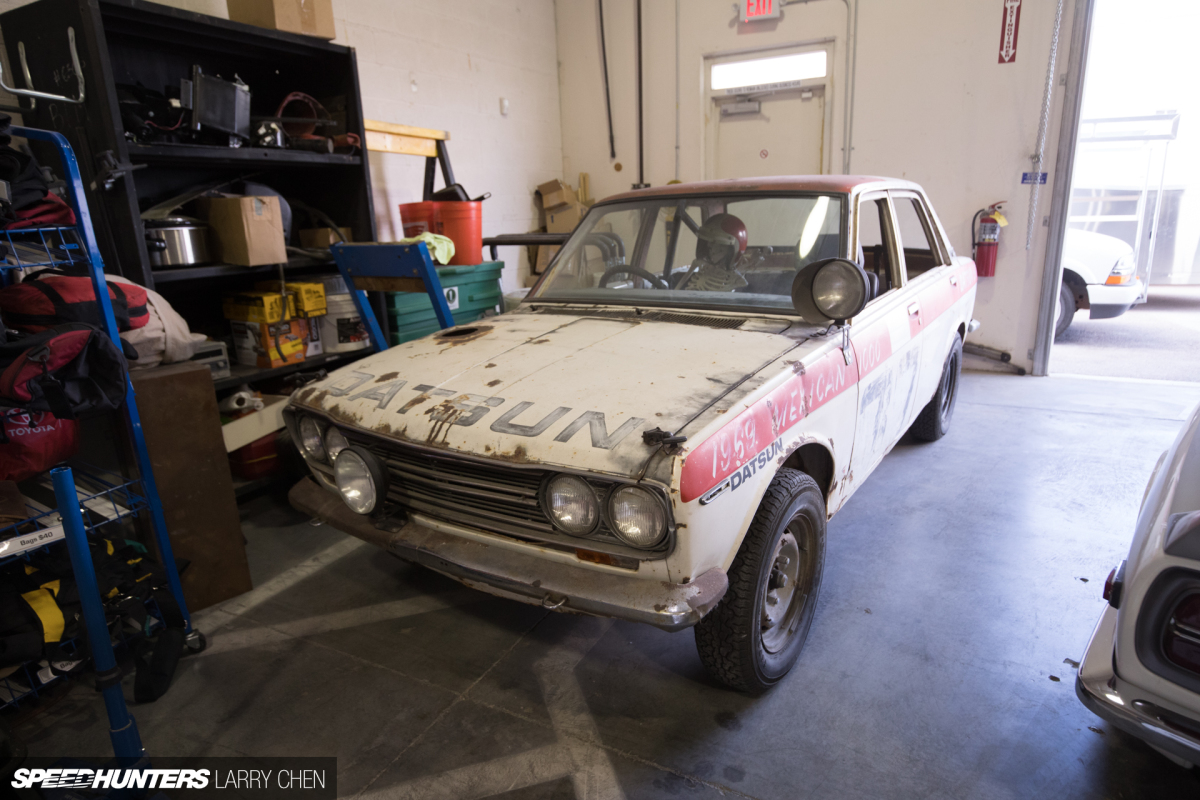 This Datsun 510 from the Mexican 1000 was absolutely amazing. I love the patina.
This 510 build is a few years old, but it's still super clean. It's also a handful to drive with such a large V8 in a small chassis.
The rest of Peter's shop was so cool to walk through with decades' worth of memorabilia displayed on the walls and shelves.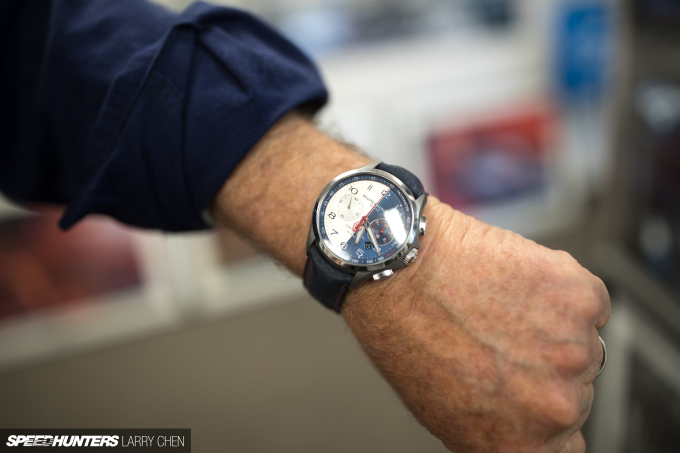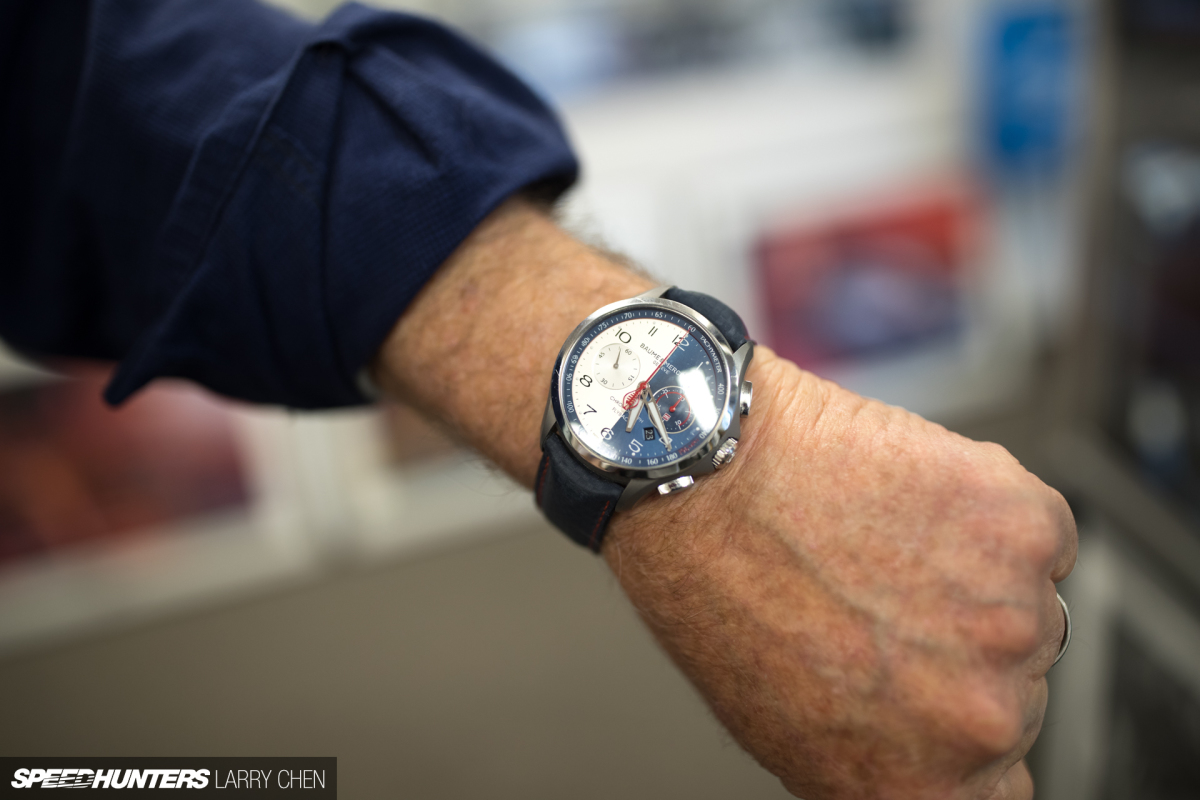 I mentioned to Peter that the watch company Baume Mercier hired me to shoot an event where they were releasing a watch that he had designed. Peter held up his arm and casually said, "You mean the one I am wearing now?"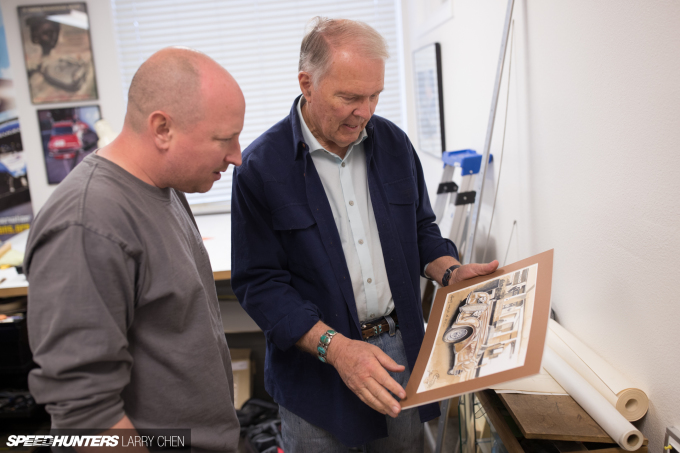 If you guys are ever in Las Vegas, make sure you stop by BRE; they have a storefront where you can buy Z parts and diecast models. Who knows, maybe you will run into Peter. If you do, tell him I said hello.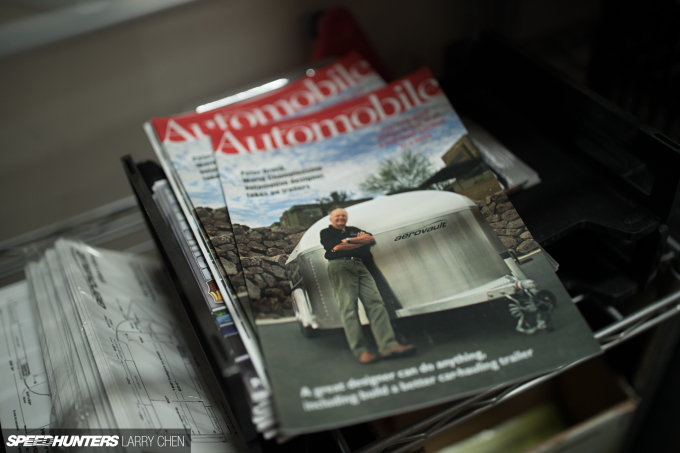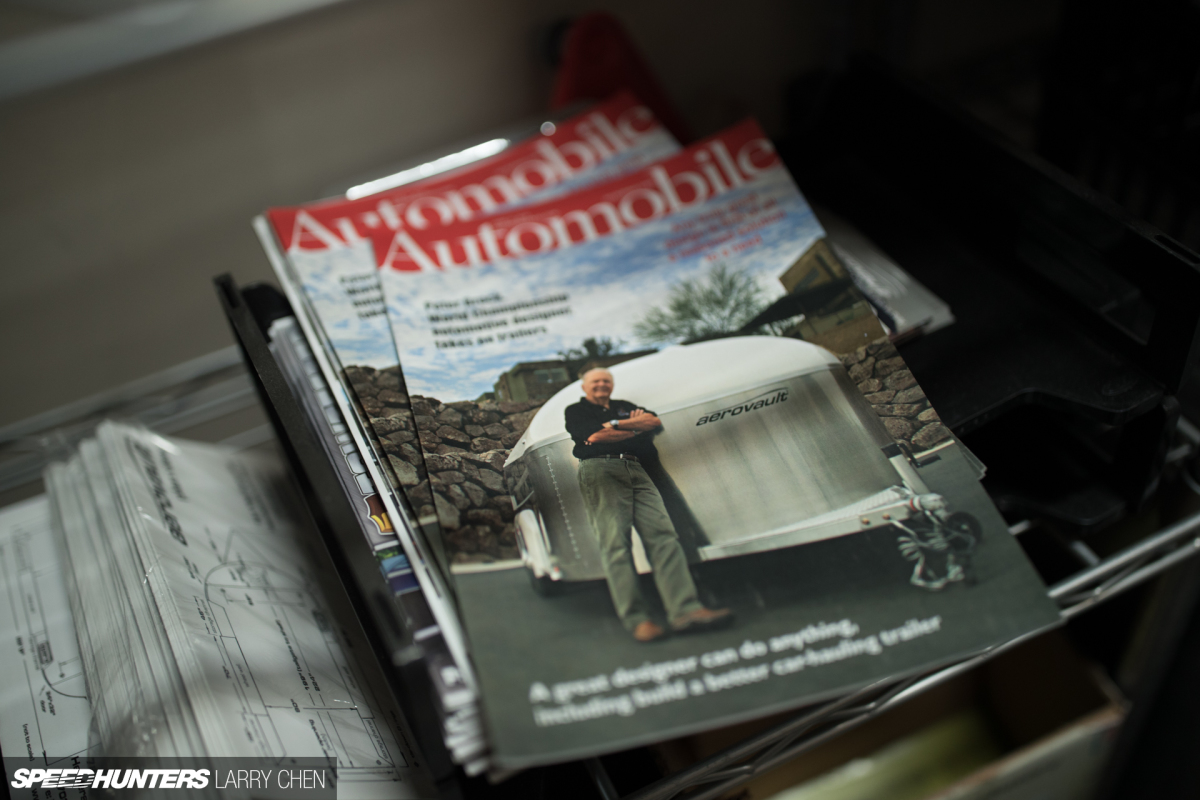 Peter still works very hard, but these days he designs and builds high end aluminum trailers for transporting expensive cars; you may have heard of the Aerovault. He still manufactures real BRE parts though, which brings me to my next modification.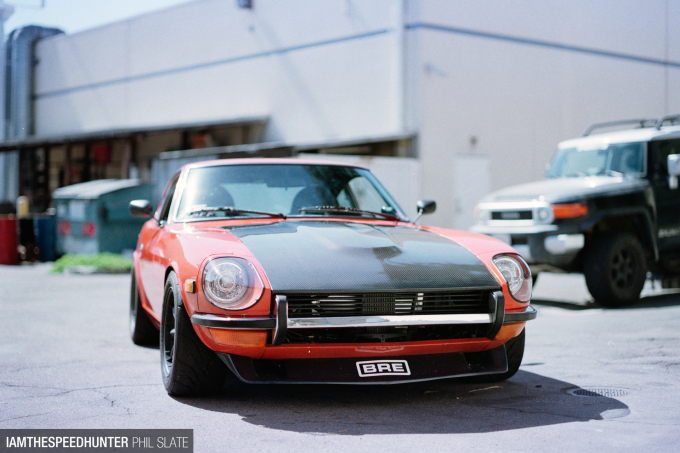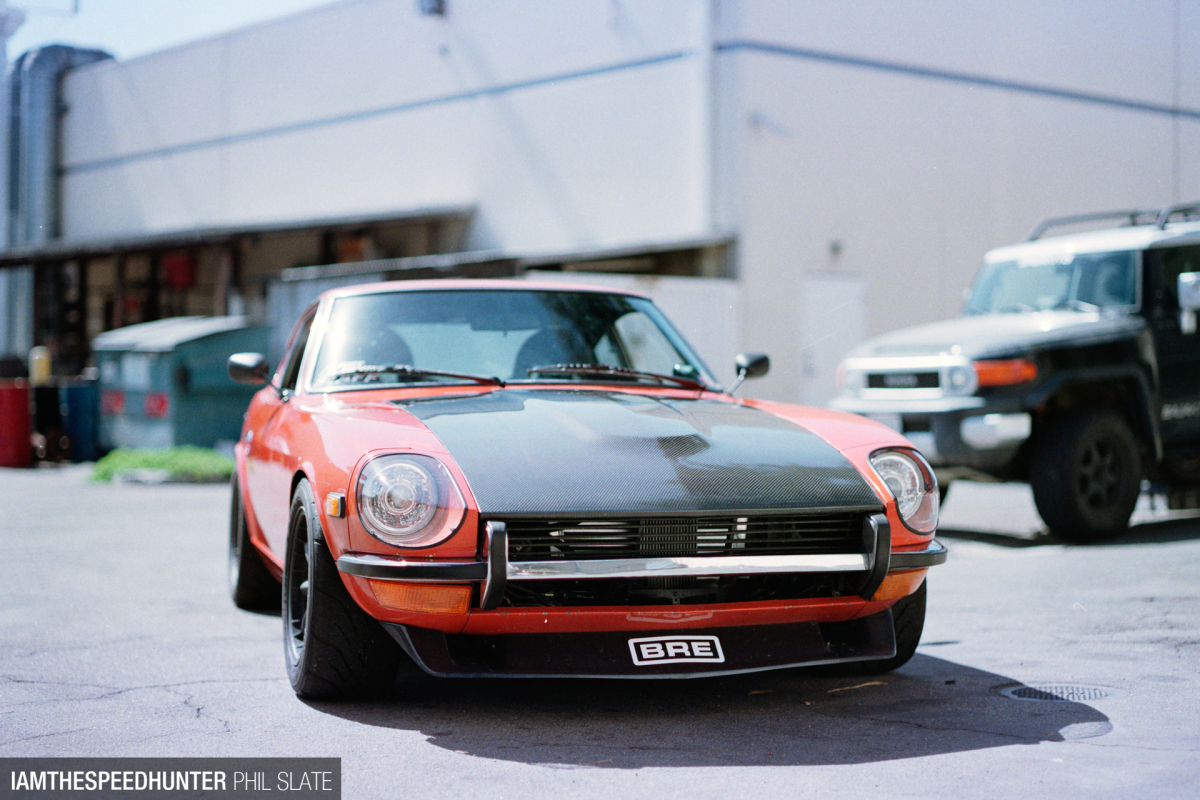 I finally got real BRE parts on my 240Z! The front lip is actually called a "spook", and it's a functional item providing a bit of downforce and also cooling for the front brakes. On top of that I picked up a real BRE ducktail, a part that so many aftermarket manufacturers love to copy. It's so nice to say that I have the real deal.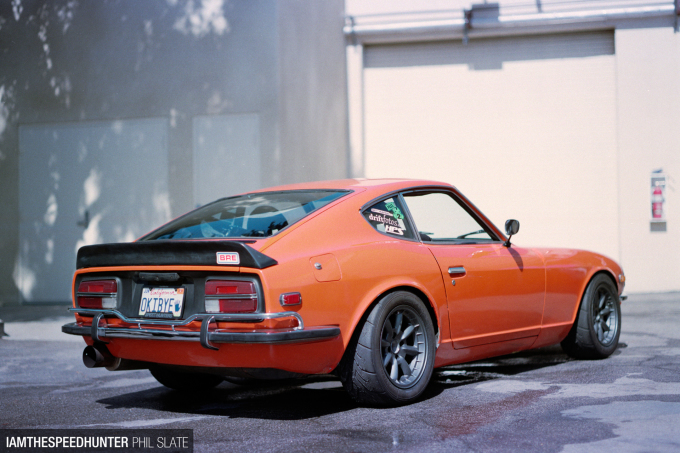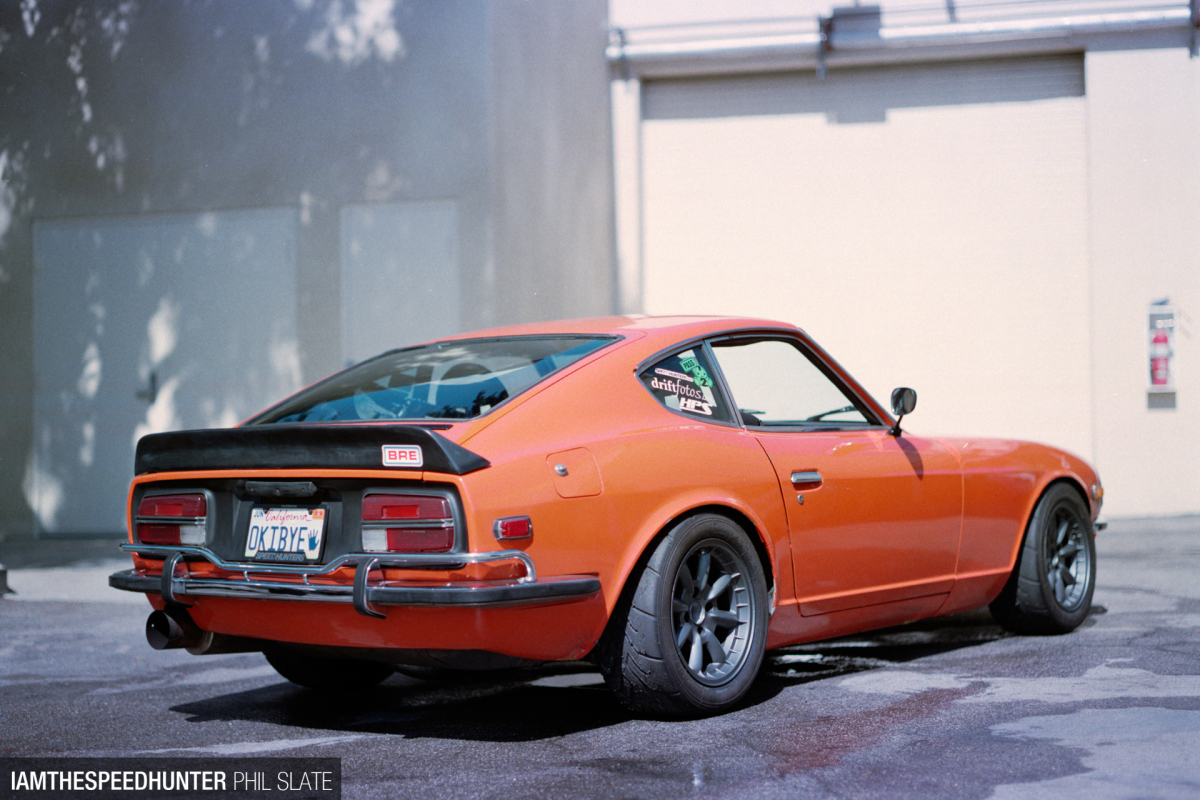 To finish it off, I've added BRE side mirrors, which were designed by Peter for the 240Z race car.
It's so nice to have my 240Z back, and with the help of my friends it's so much nicer to drive now. These last few photos were from my buddy Phil Slate, who actually builds Magnus Walker's Porsches. He shot images these on 120mm medium format film.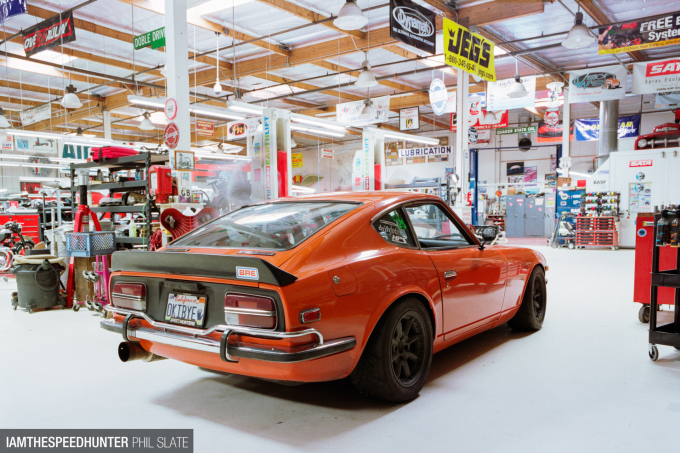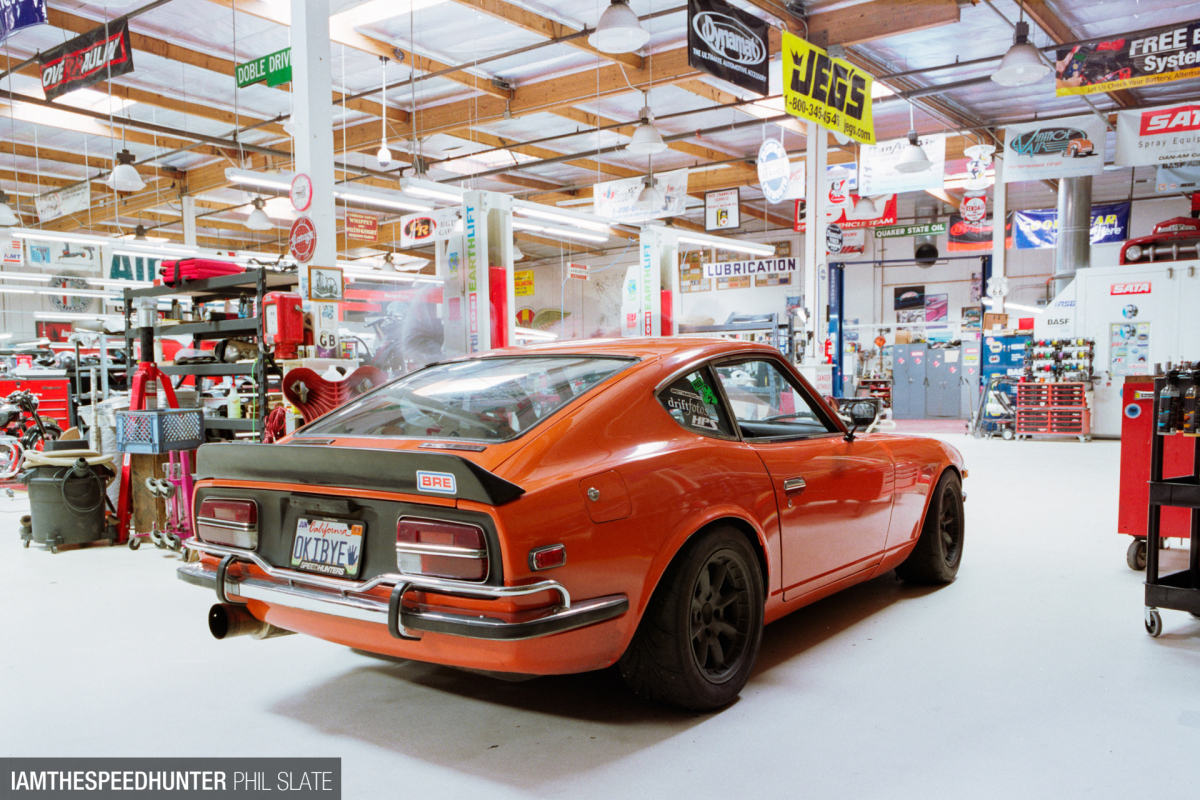 One of my first stops was Jay Leno's Garage. I've visited the garage before, but the guys wanted to show me a new waterless washing product that they've come up with.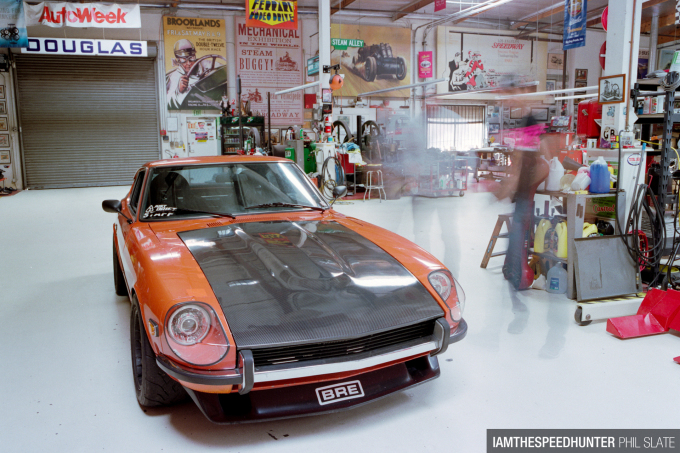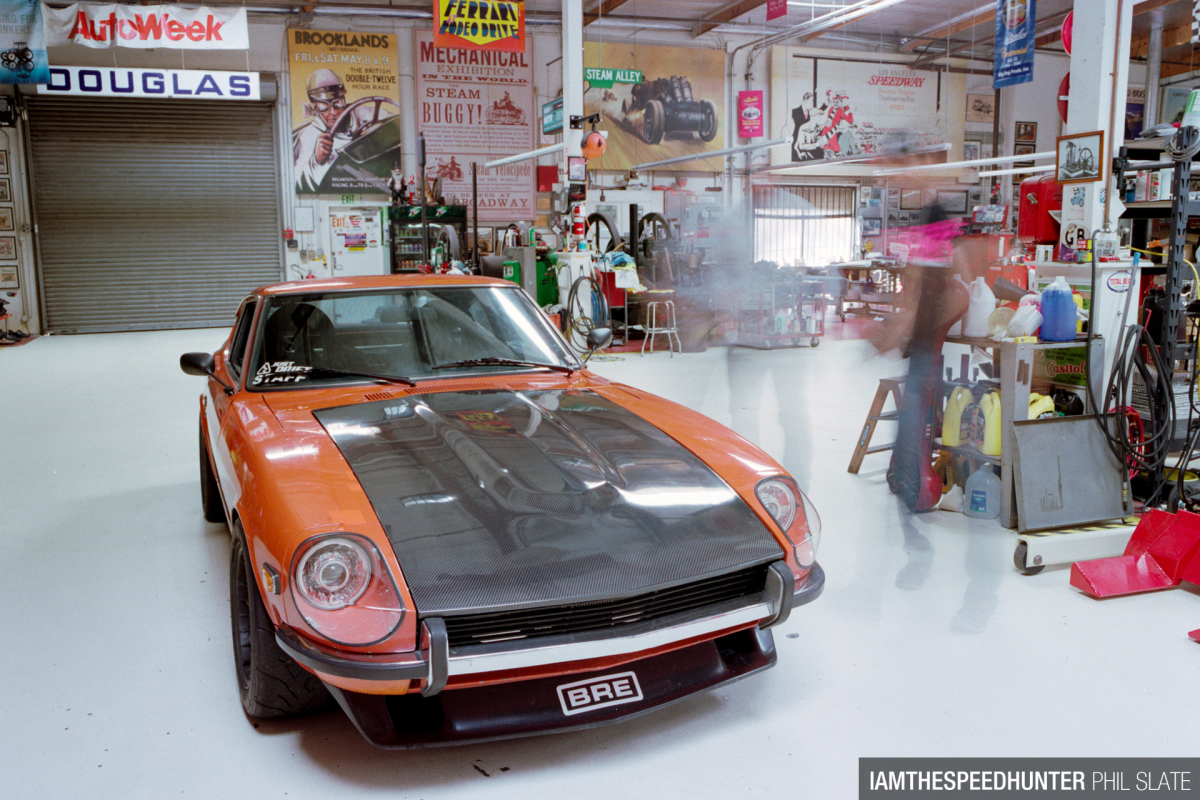 I think the Z has never looked better and the BRE aero bits really set the car off.
As you guys know though, project cars are never finished. I have so many things in the works for Ole Orange Bang, but I just hope that you guys don't have to wait a year for another update.
Larry Chen
Instagram: larry_chen_foto
larry@speedhunters.com
Additional Photos by Jr Sang, Louis Yio & Phil Slate