We're all aware of the 'cool uncle'.
He's a jack of all trades, he can fish right next to you and catch something each time he casts, while you're stuck catching minnows…
He's the guy that you trust to BBQ the food at gatherings, the one who might still be wearing short cut off denim jeans with a matching mullet while listening to The Scorpions. He's the one who would take you out for some ice cream when your parents weren't looking and the one who was always looking for an excuse to have some fun.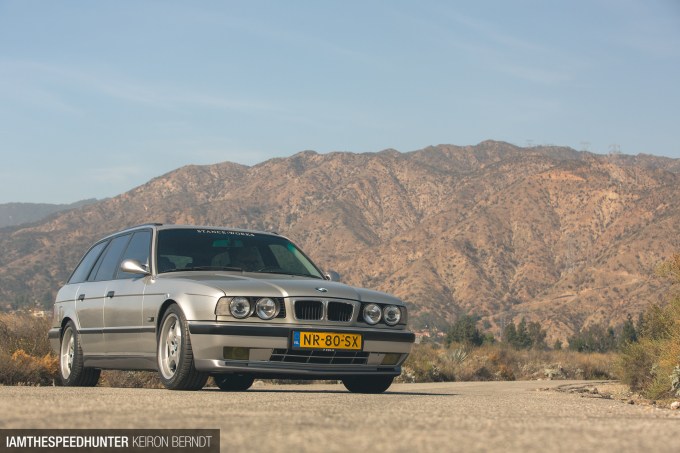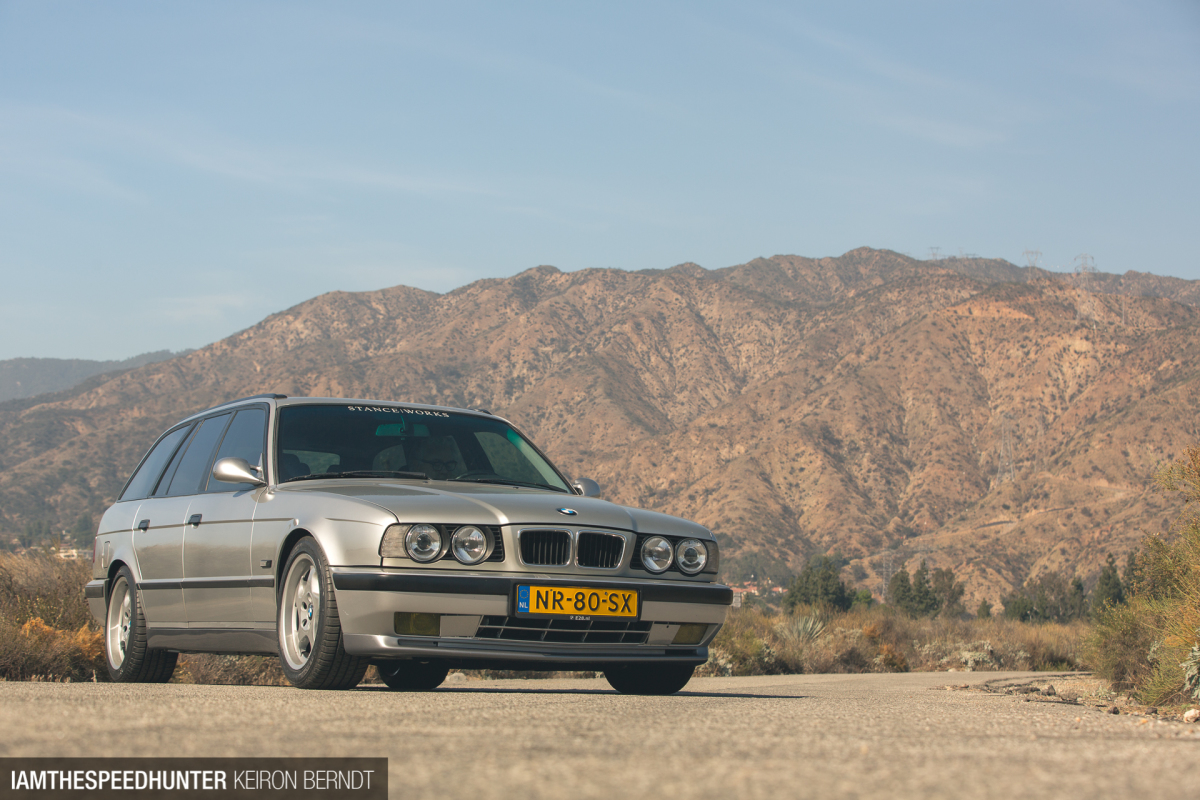 In this case, my cool uncle – for the day, at least – was Ron Perry. Although, thankfully, without the short jeans and the mullet. Some of you might remember Ron and his E34 "M5" wagon from my first Speedhunters story on modifying classic BMWs,< Needless to say, after spending the day with Ron, it's clear that he isn't your stereotypical 'cool uncle', but the one with savoir-faire for anything BMW along with an added dose of class.
Ron has created what BMW should have brought to the US in 1992; an M5 Wagon. While BMW did indeed create an E34 M5 Touring, it never came to North America. An E34 M5 Wagon is one of the rarest production M cars ever to have been made, with BMW producing only 891 examples, all in left hand drive configuration for Europe.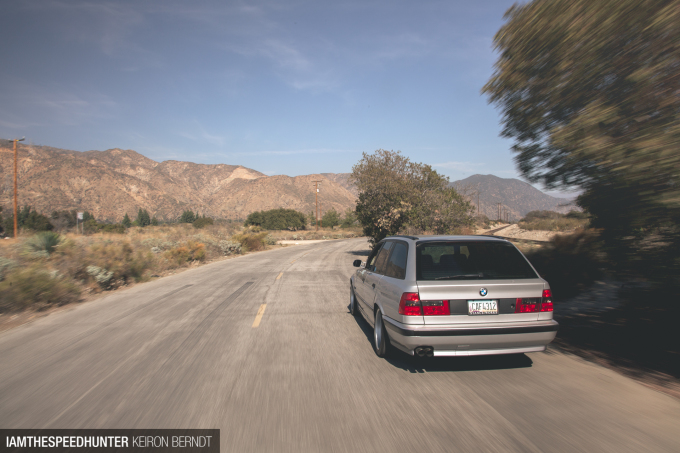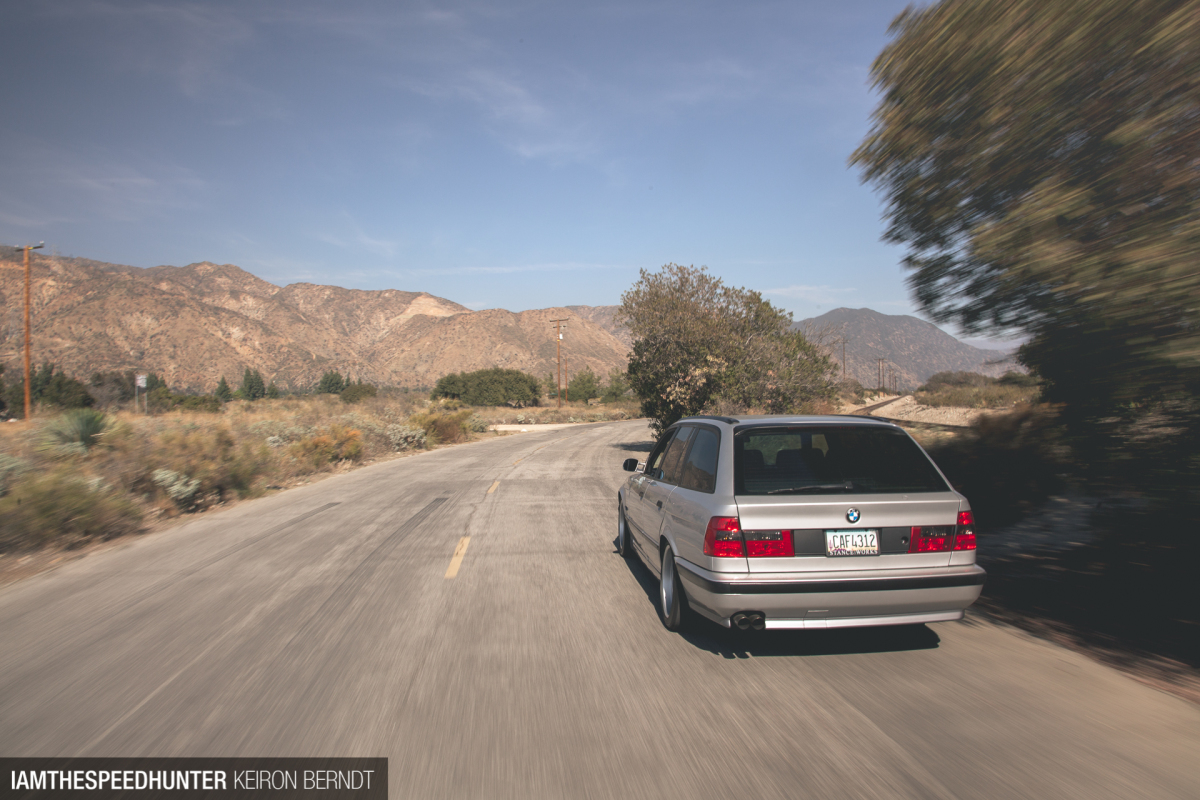 That being said, Ron left no stone unturned in his quest to build a US-legal M5 wagon. When I say that this E34 was built like a car off the assembly line in Garching, I'm not exaggerating.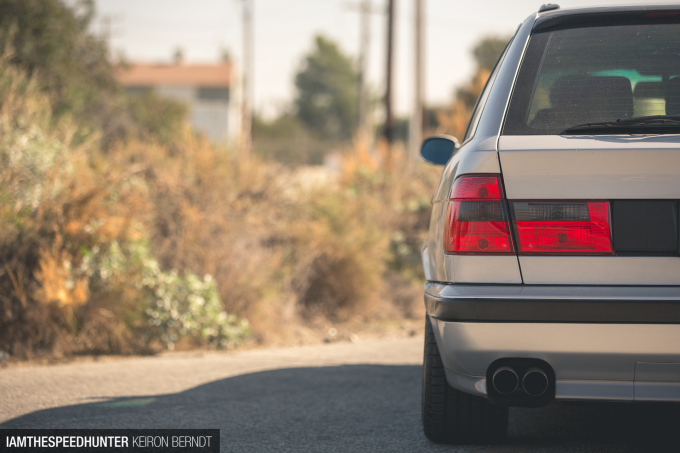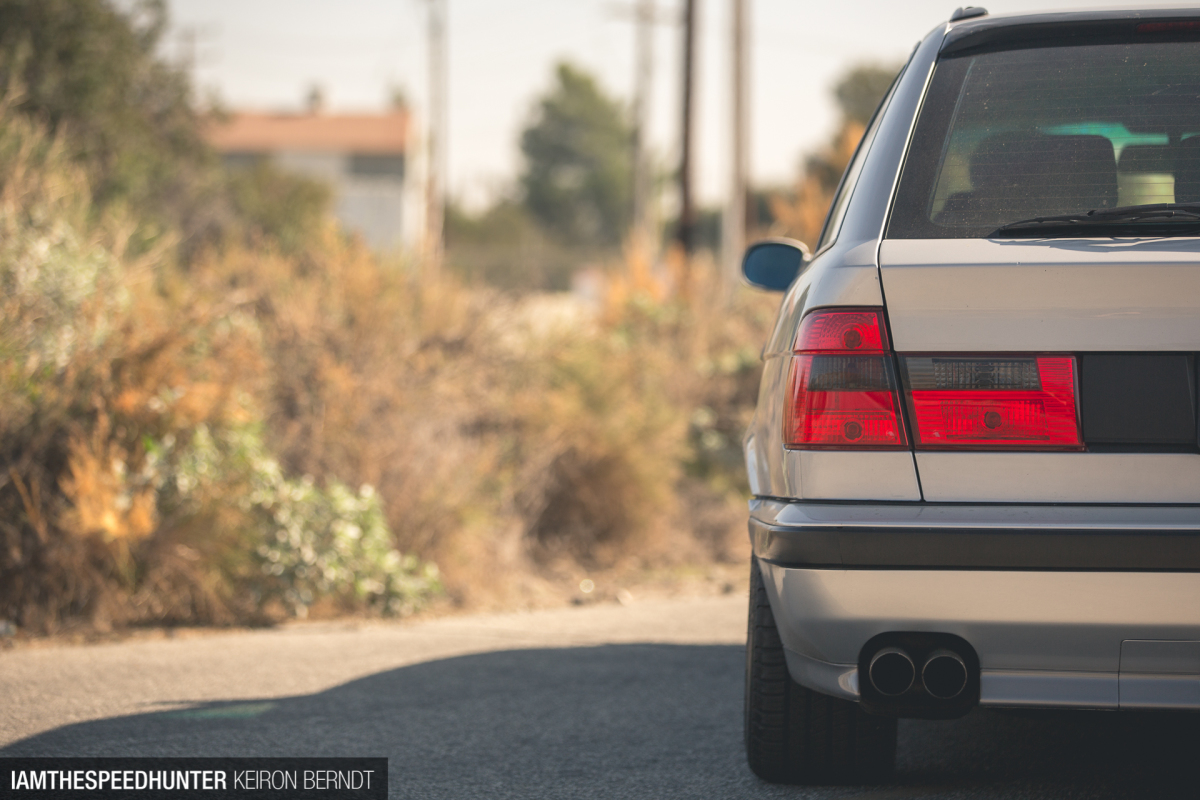 At first glance, this E34 Touring may not seem that much different from any other wagon on bags, but it's when you start to take note of the subtle yet rare details, it becomes clear just how well put together this M5 is.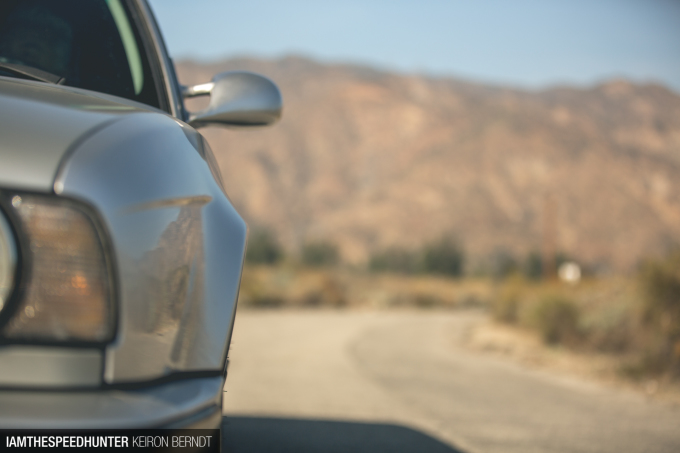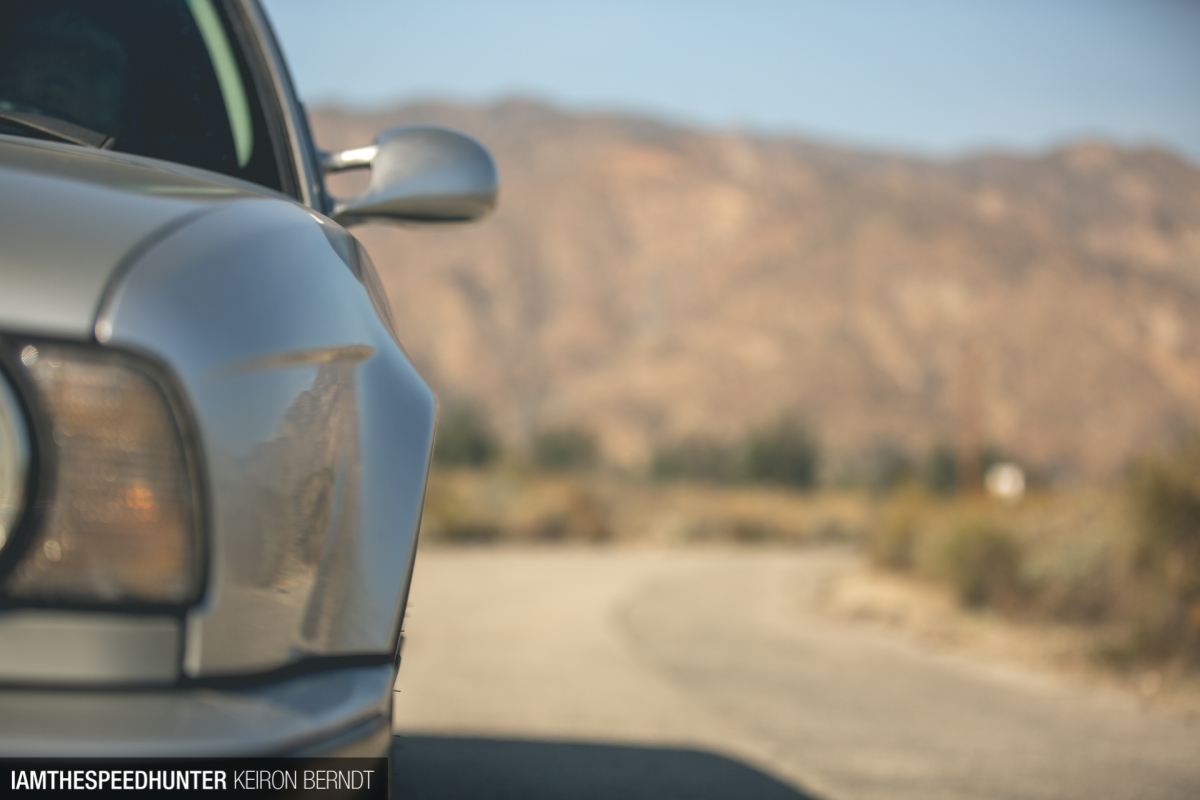 From the slight flares on the fenders from the M5 body kit, to the M5 front and rear bumpers, everything is neat and tidy. Finding parts for the build wasn't as hard as it would seem, but then again, when you've been in the BMW restoration business as long as Ron has, you know where to look and who to talk to.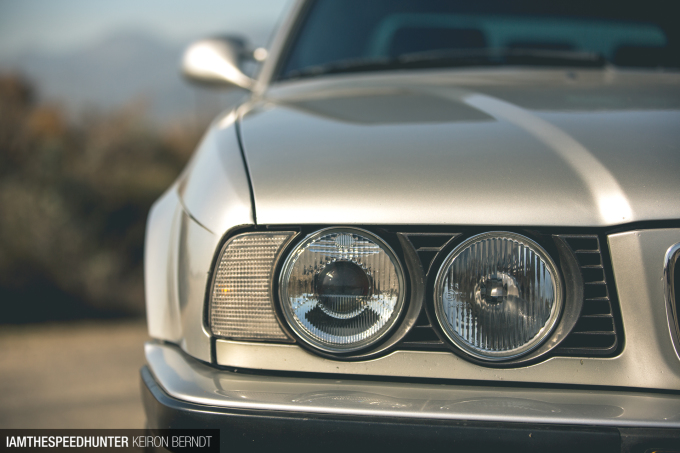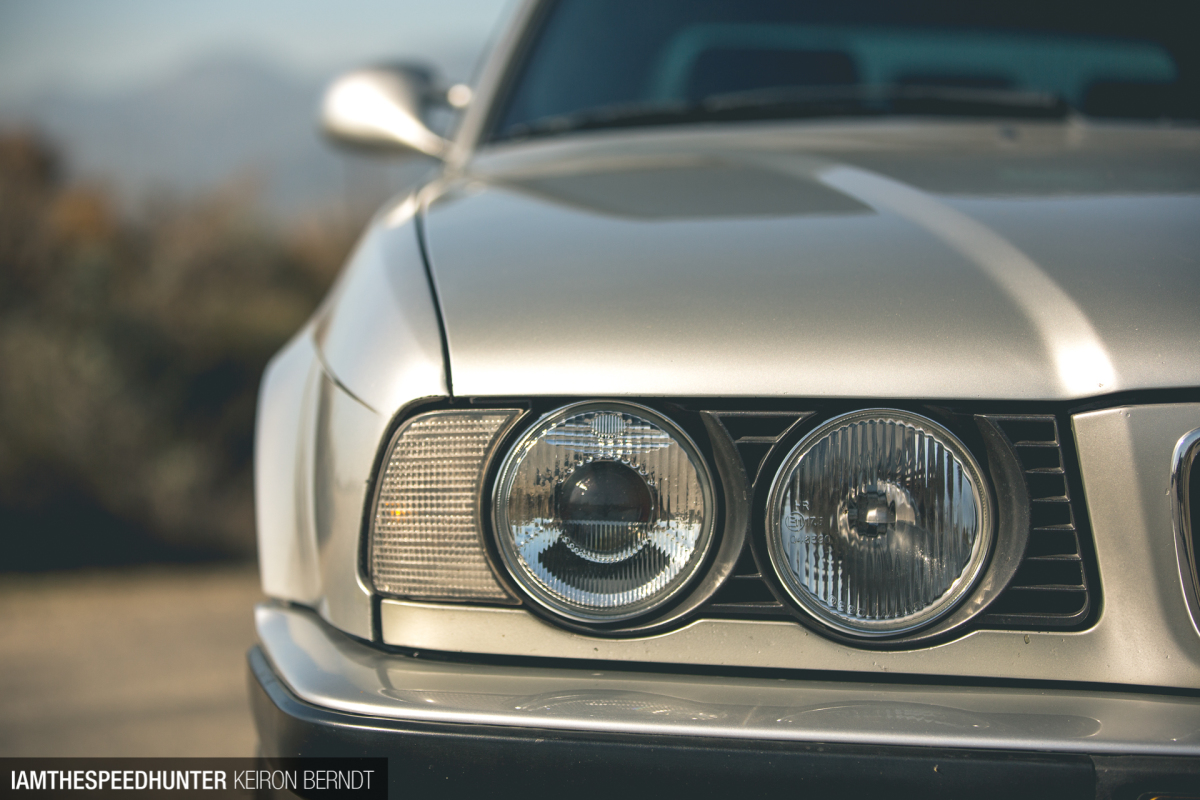 The set of paint-matched M5 mirrors along with a pair of Euro 'smiley' headlights just accent the look of the car in the same way BMW would have done it.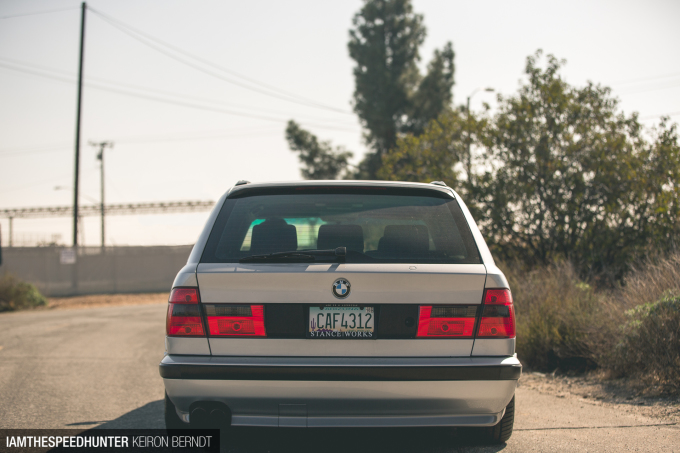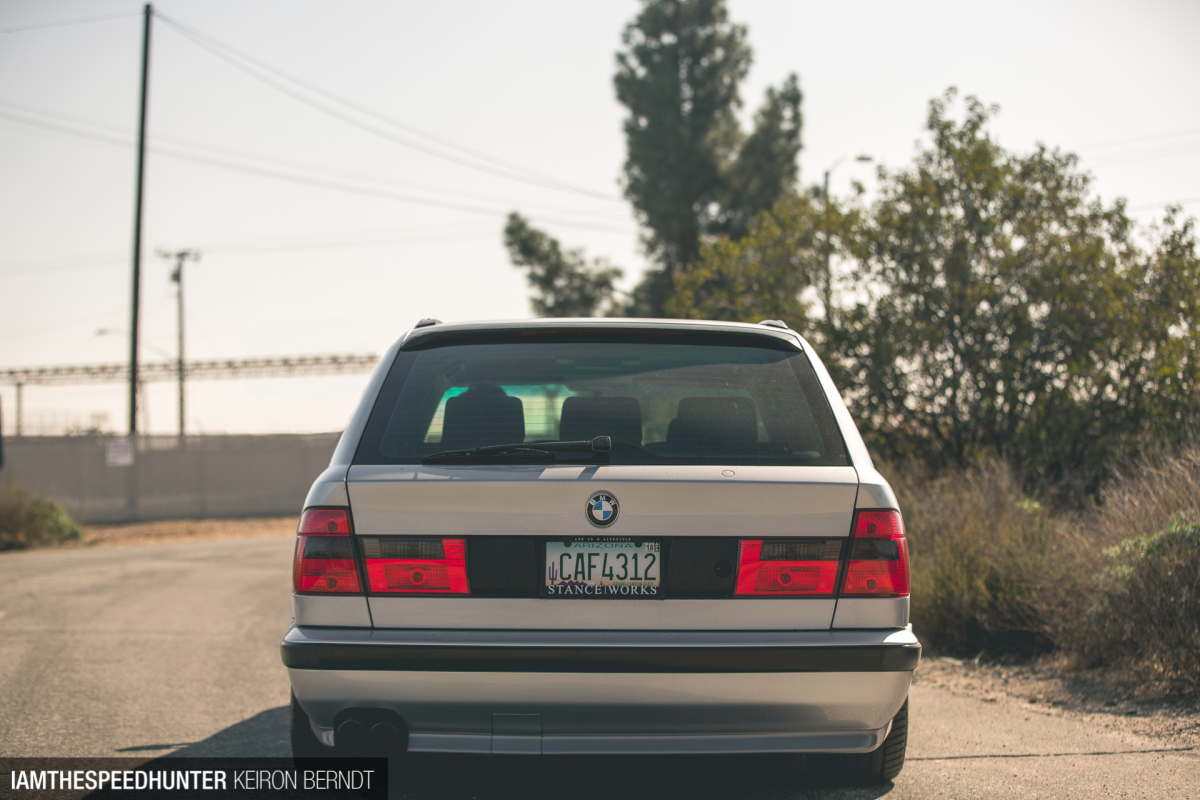 You really can't go wrong with a set of LED tail lights at the rear.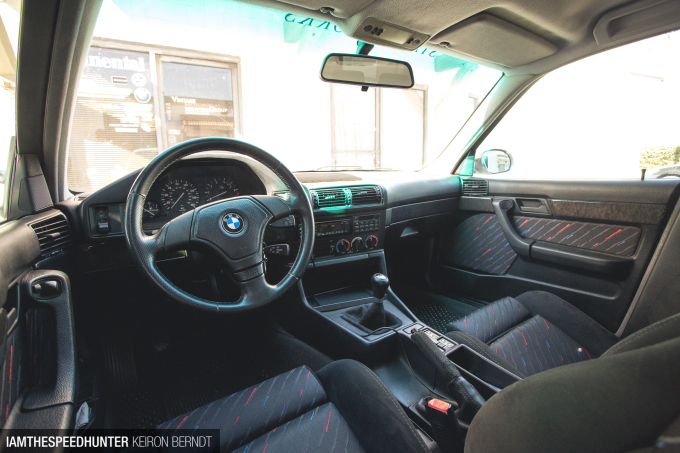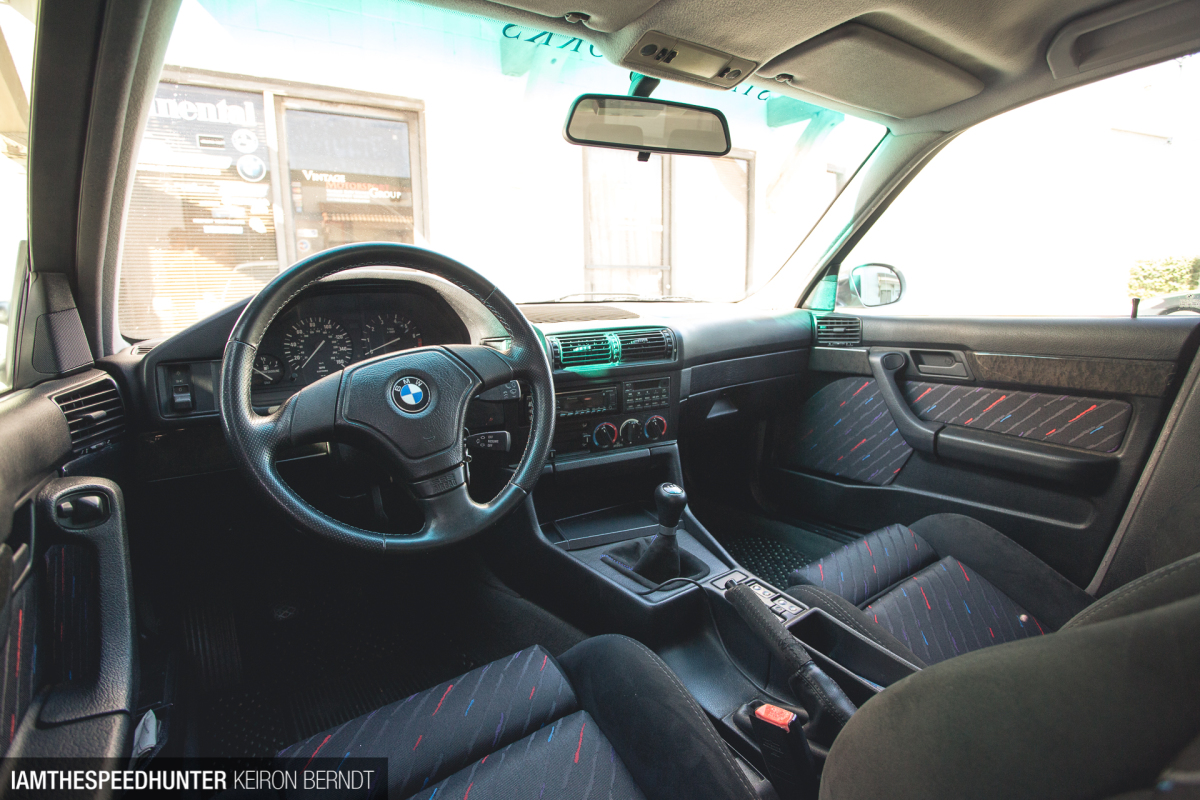 With the exterior dialled in, Ron turned his attention to the interior with a full set of M5 sport seats trimmed in BMW M Rain fabric with matching door panels. It's easy to see why this is one of the most iconic patterns that BMW has ever made.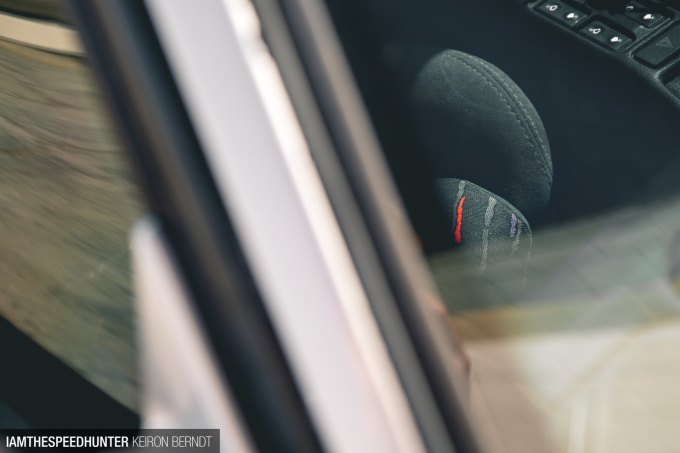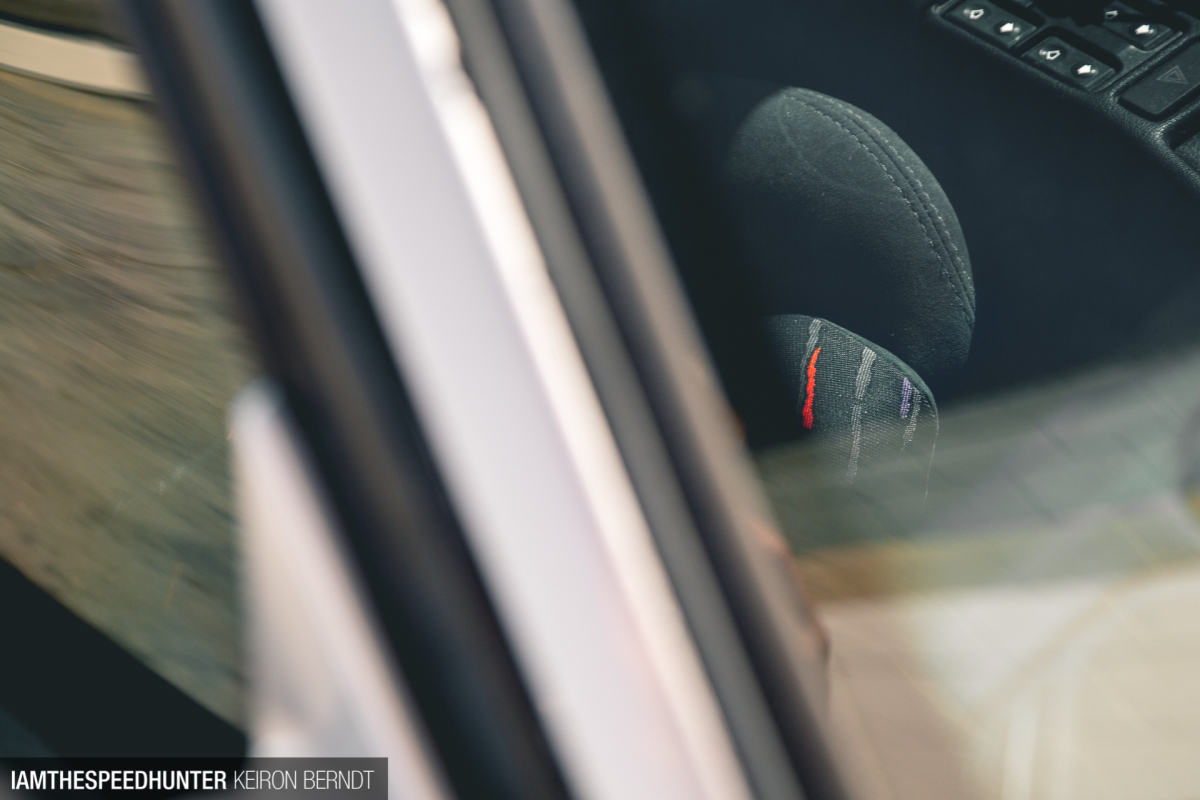 Along with the Rain cloth seats, Ron fitted M5 Bird's Eye Maple Wood trim that flows with the interior design. 
In the same way that the exterior was done, Ron made sure that everything was just the way that BMW would have done it, including fitting Euro rear headrests, Coco mats and a ZHP shift knob.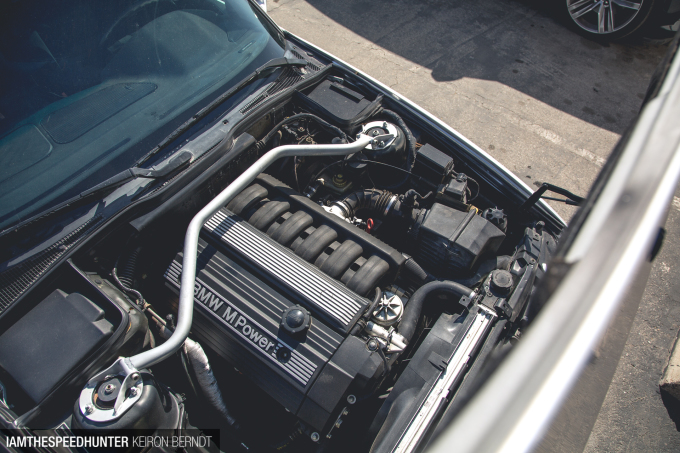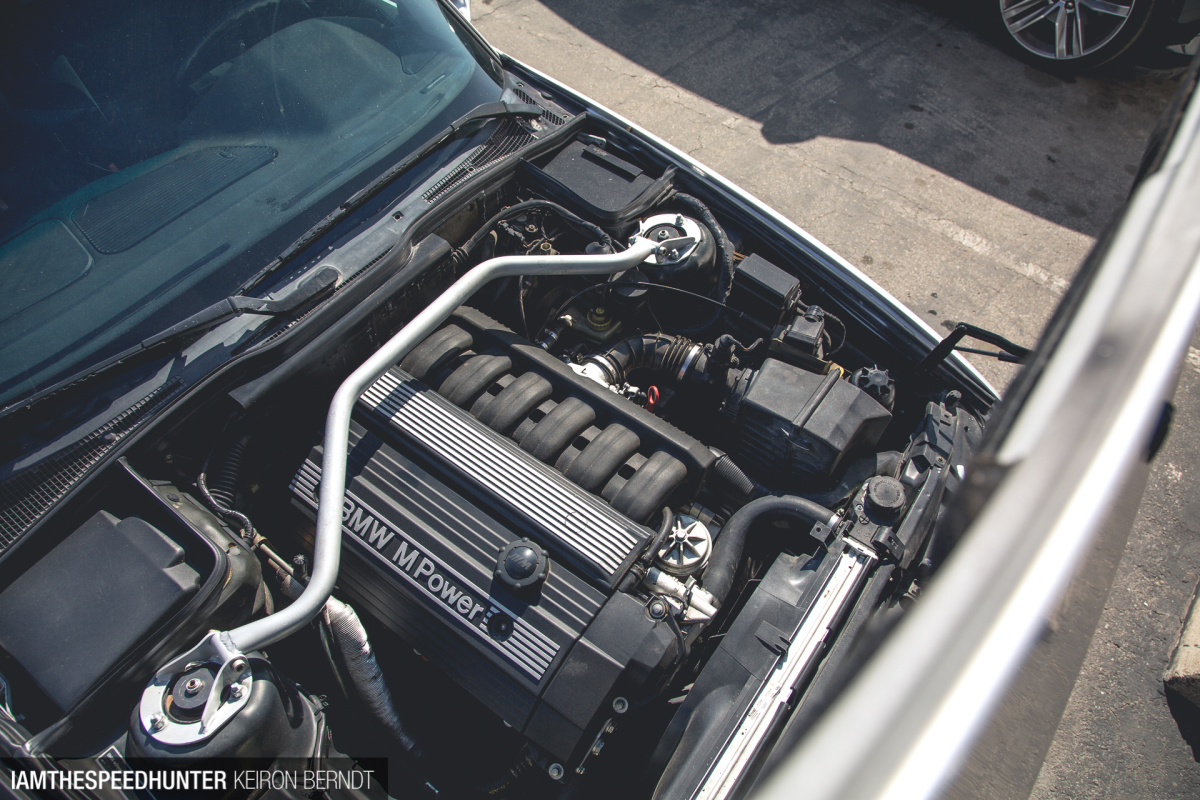 While an original M5 Touring came with an S38B36, Ron opted for an E.A.T. D'Sylvia chipped S52B32 from a 1997 E36 M3, matched up to an E46 330i six-speed transmission. While Ron admits that a manual transmission might not be ideal for his 100 kilometres (64 miles) daily commute, he believes that the performance benefit is well worth the leg cramps.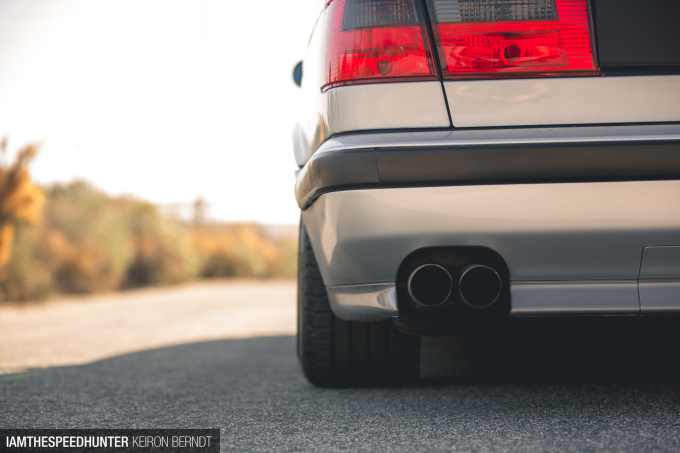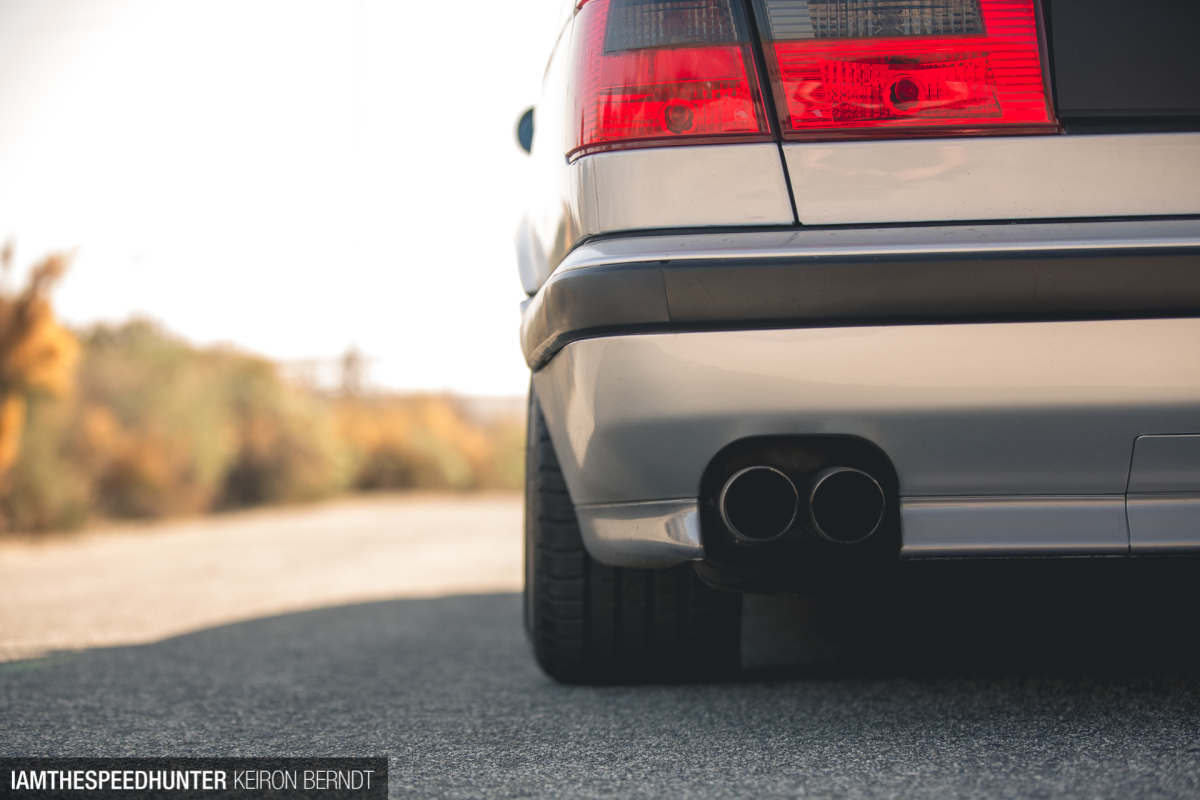 Along with the motor and transmission, it features an M5 exhaust that tastefully blends the straight six's output into a harmony.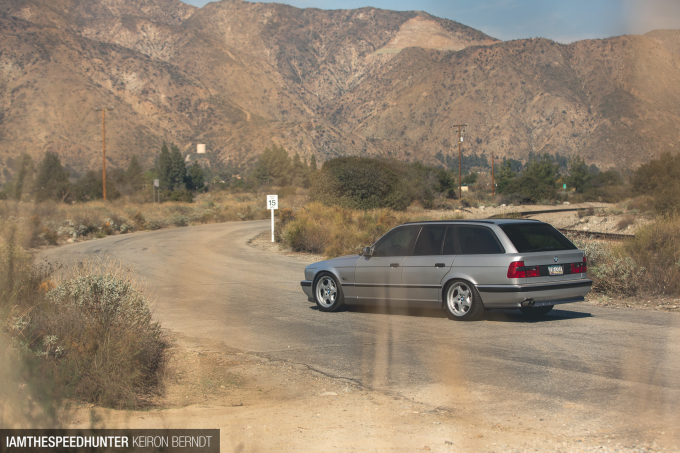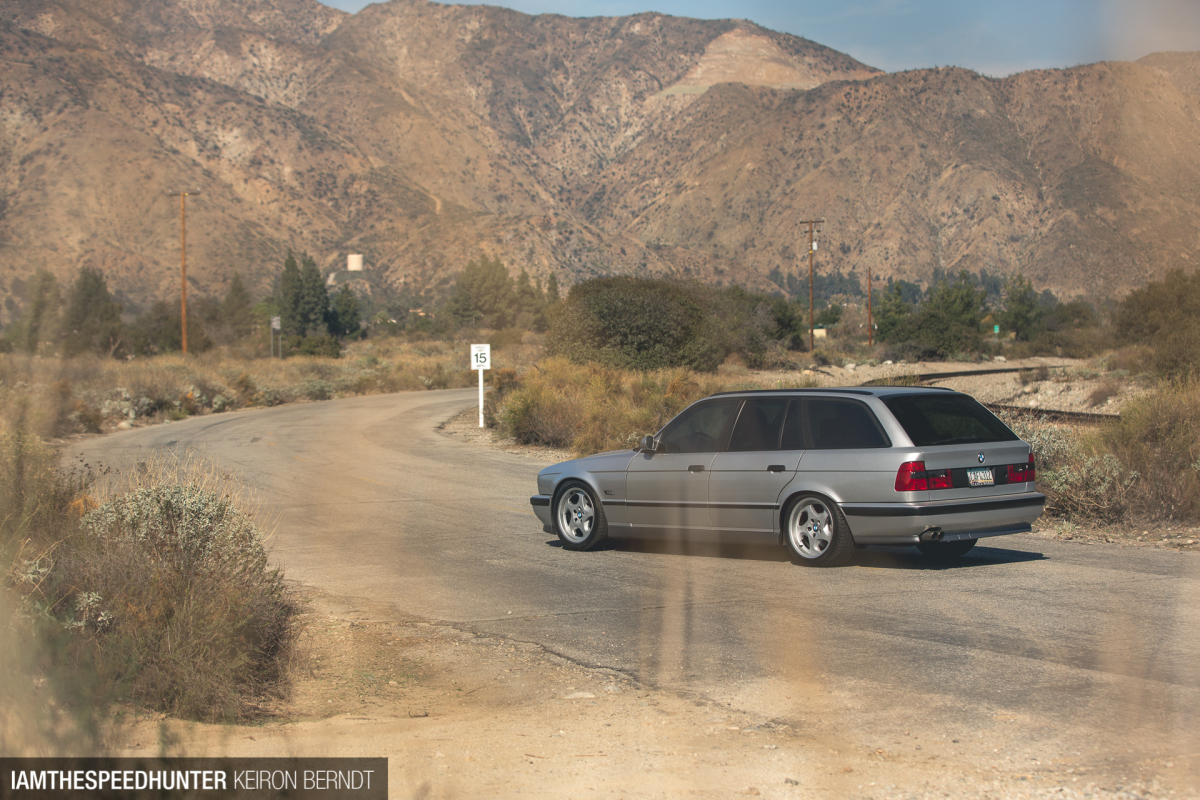 When it comes to practical suspension modifications for city streets, there isn't much that beats an air suspension set up. Ron ended up going with an Air Lift Performance V2 kit, while also picking up a second kit for his E12.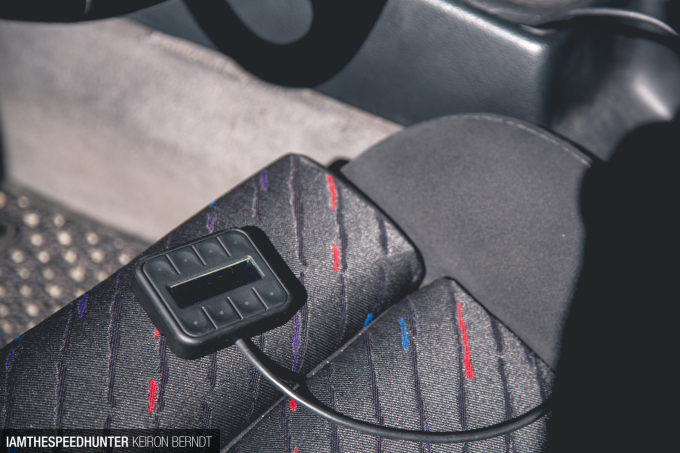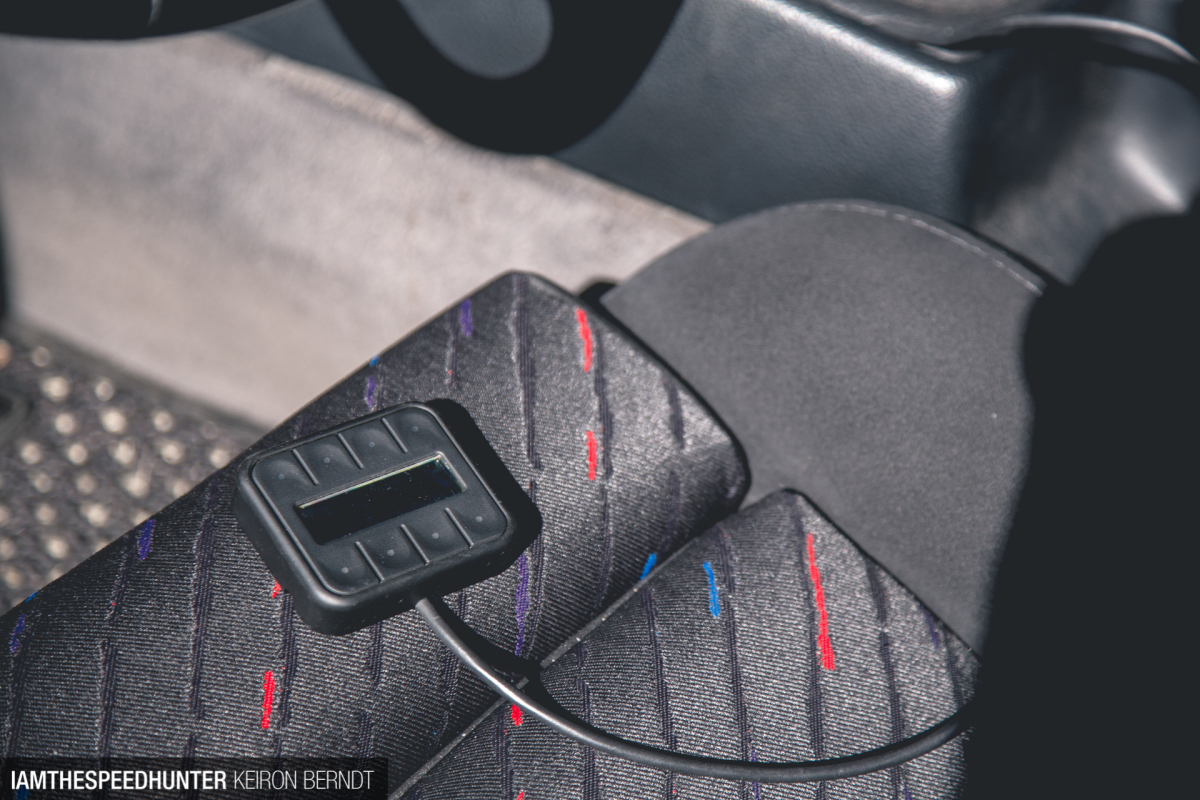 The controller integrates well with the period correct interior and allows Ron to adjust on the fly for the changing third world roads that many LA streets have become.
I'm always amazed by how much flexibility you have when it comes to air suspension, as it allows you the freedom to go from monster truck to snowplow in a matter of seconds.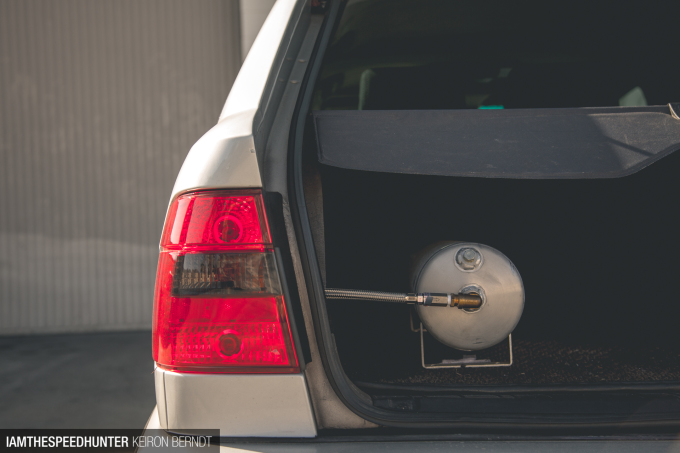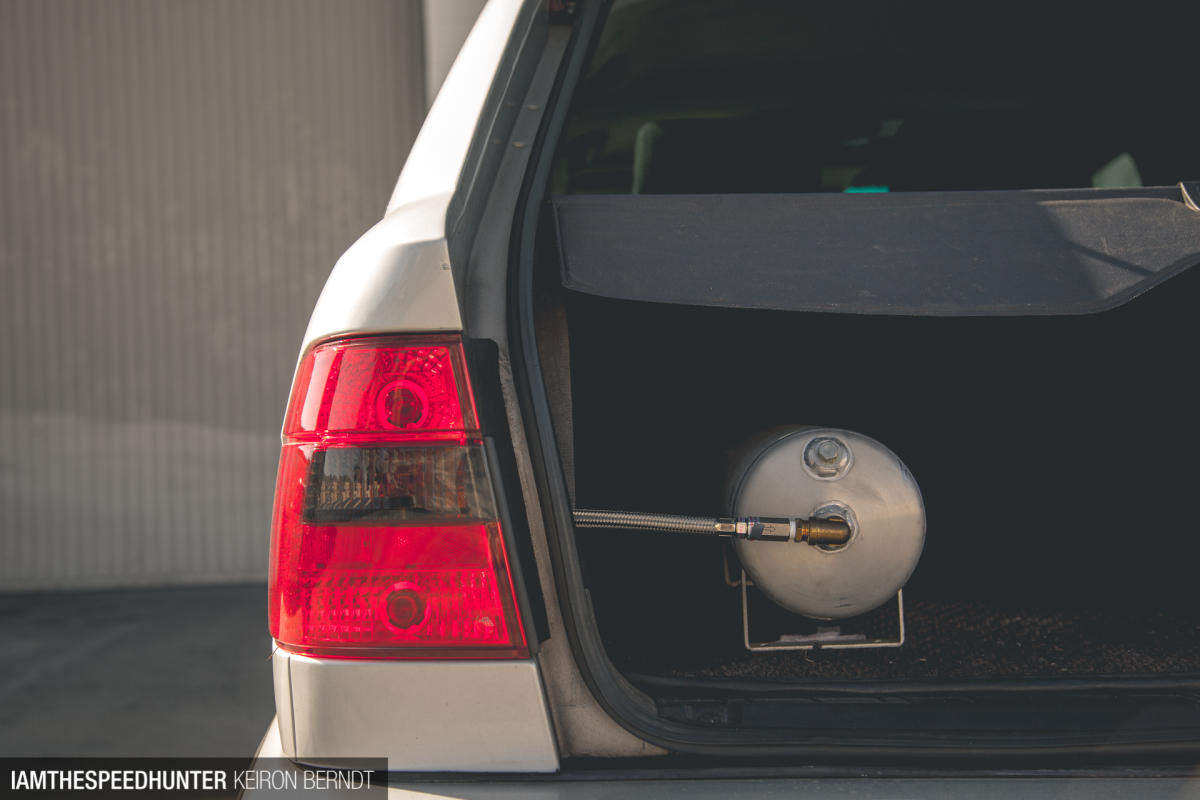 The air tank sits on a Coco mat in the trunk, while not taking up much cargo space.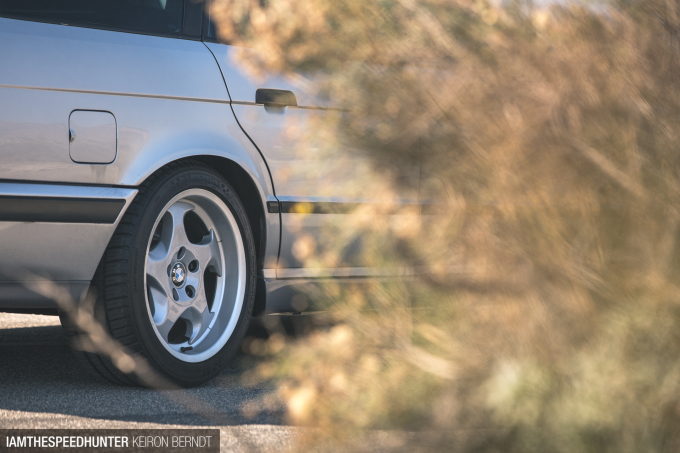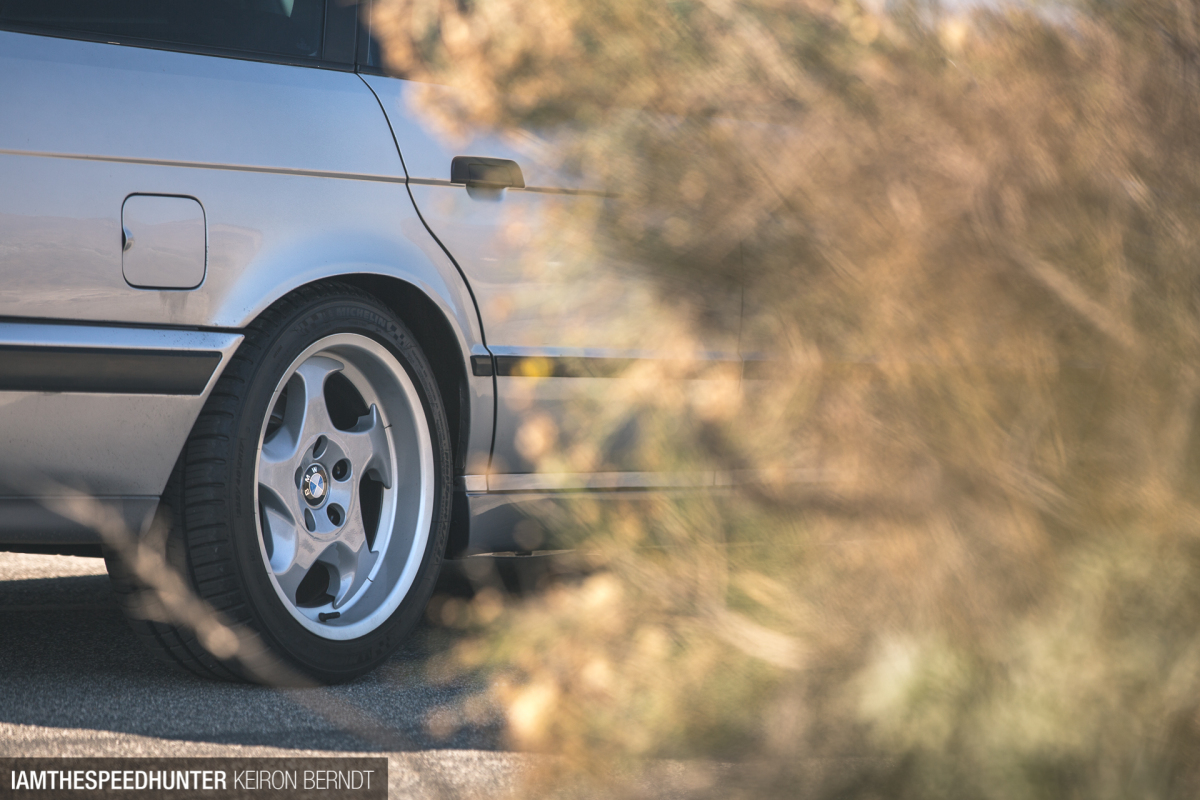 When it comes to wheels, Ron did that right too, with a set of staggered 'Throwing Stars' from an M-System II E34 Car. M-System II refers to when BMW re-designed their stock E34 wheels, the renowned 'Turbines', over to the 'Throwing Star' design in 1992. This ensured a period correct wheel choice on this 1995 model E34.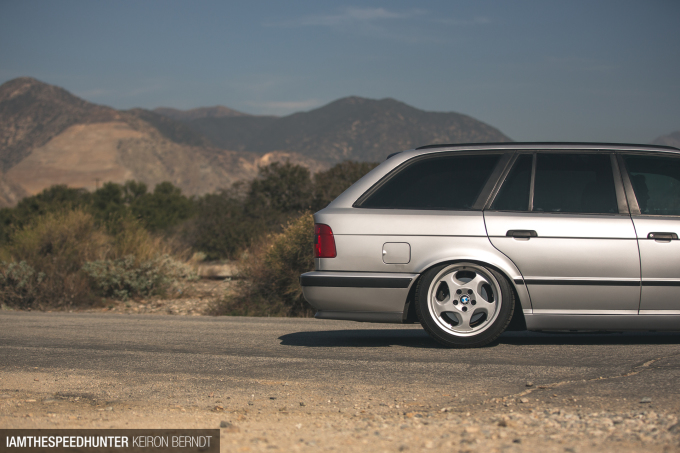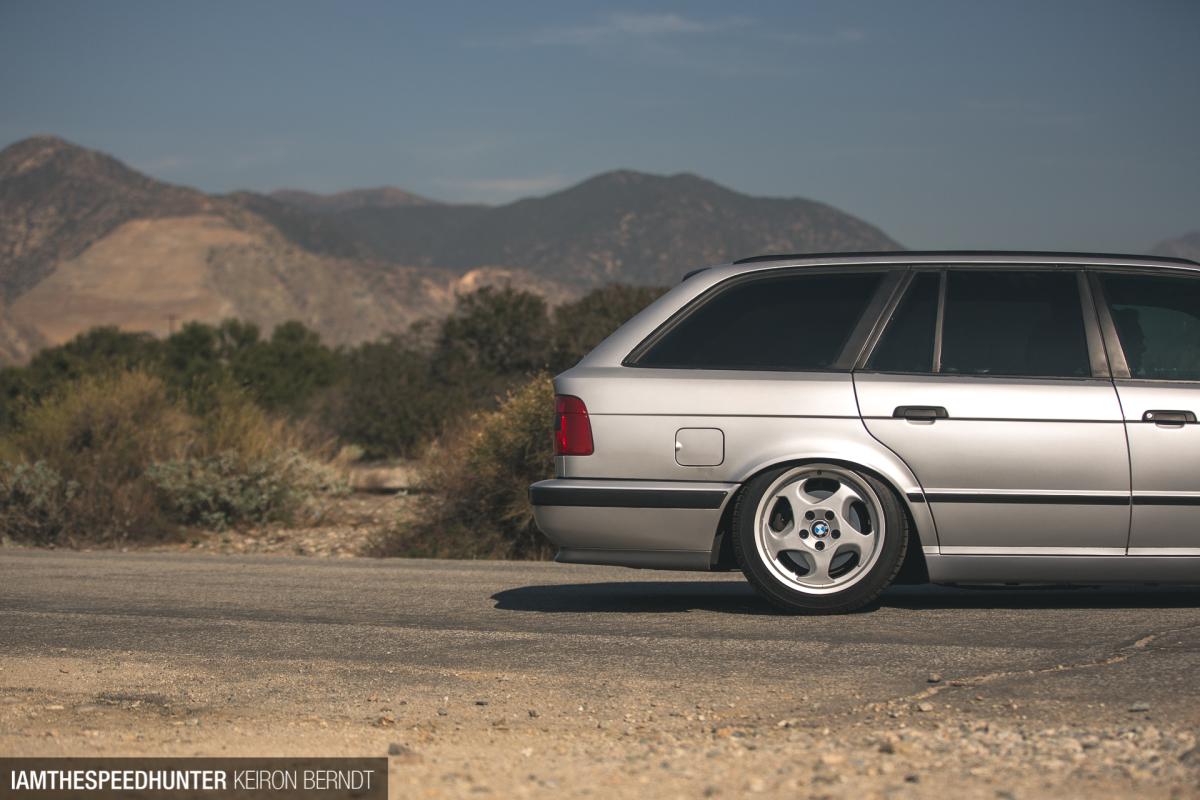 Ron has been restoring and working on BMWs for the past 15 years, and has had the joy of owning countless other cars, but none compare to his wagon collection.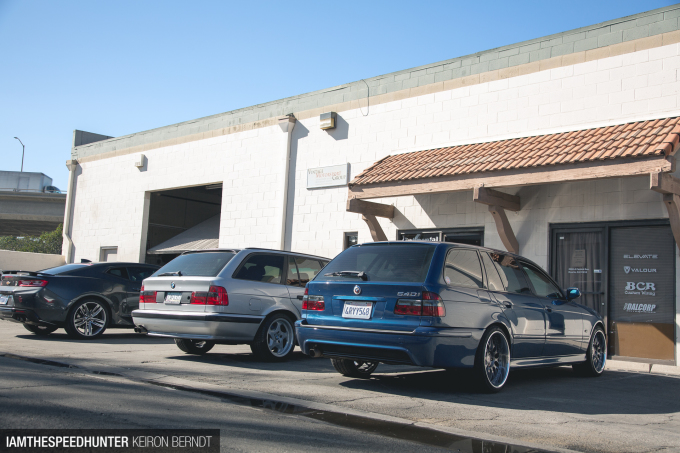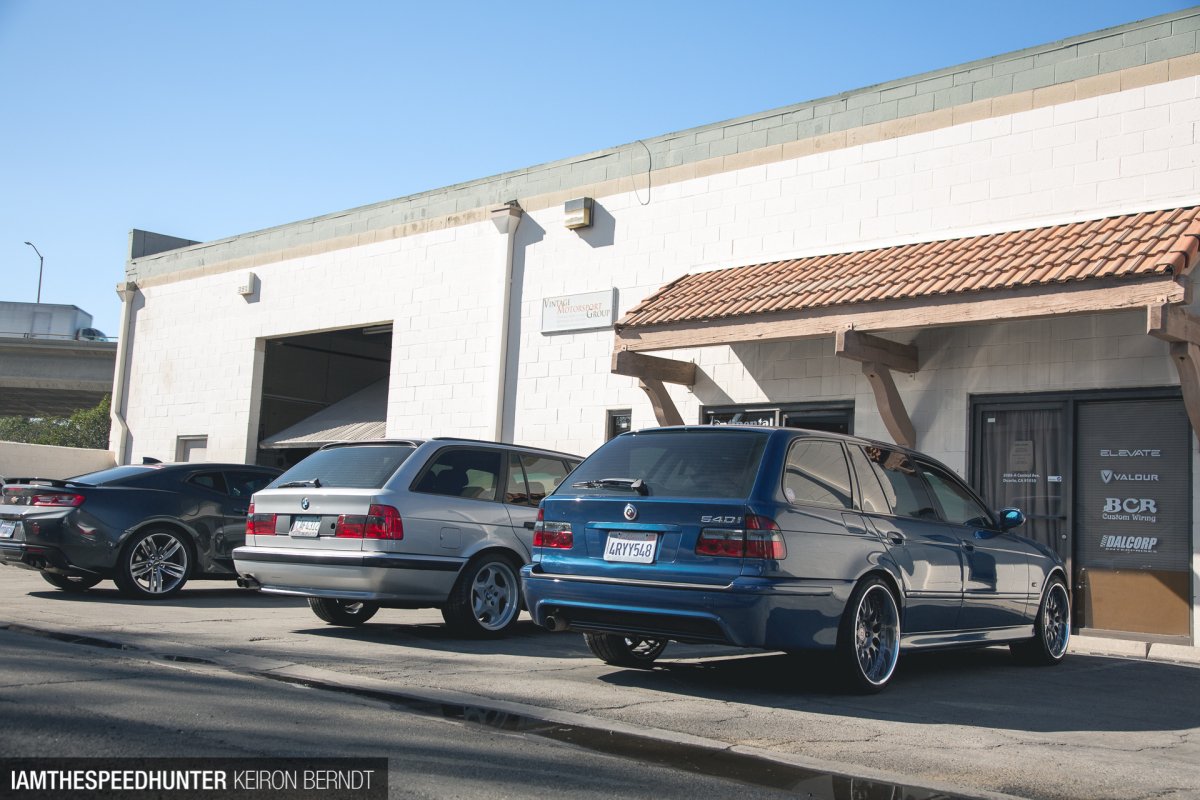 Other than this E34, Ron's daily driver is this stunning, yet slightly modified, 540i Touring. Currently, it's sitting on a set of HRE 540R 19-inch wheels, while rocking an M5 front and rear bumper, M5 mirrors and a performance chip.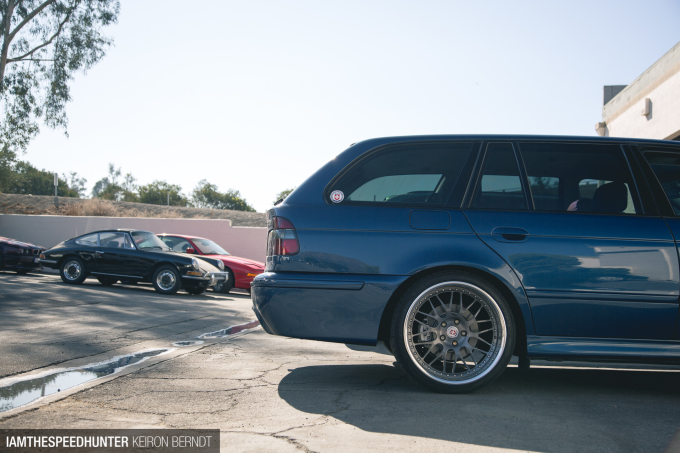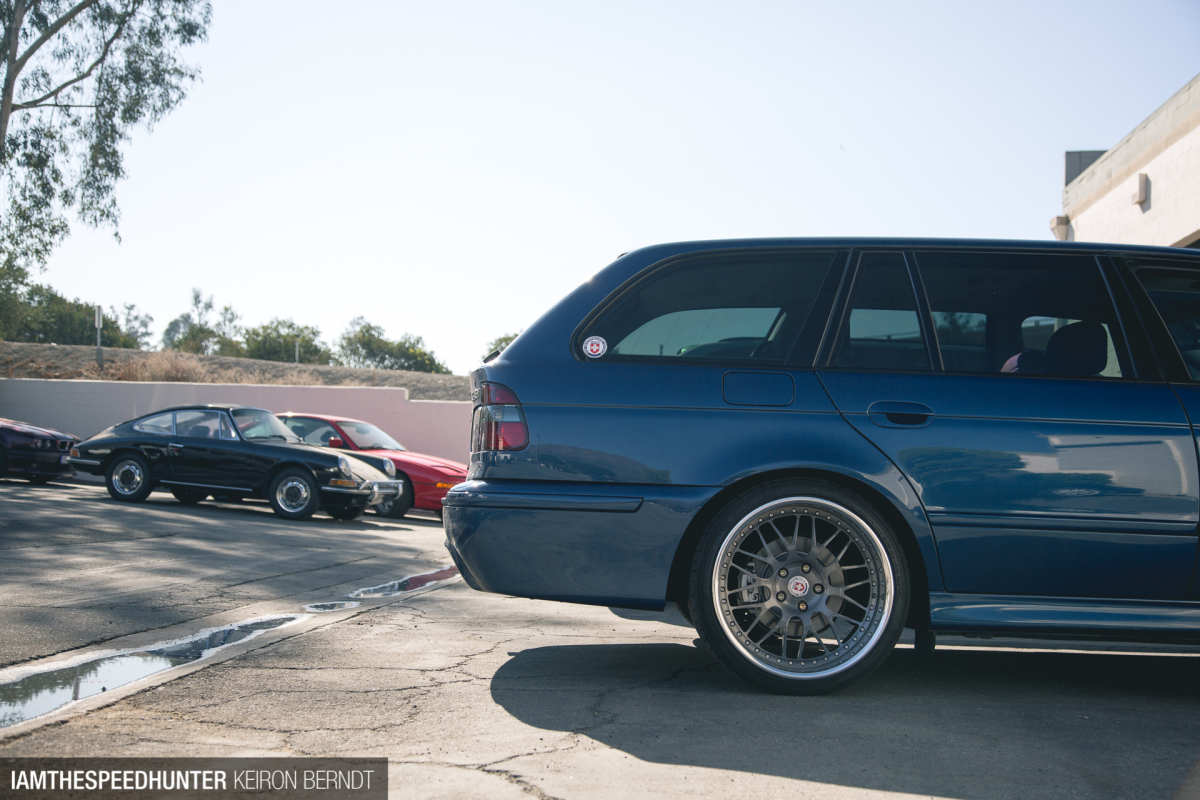 But then again, it's likely to go further under the knife once Ron has taken care of all the routine maintenance.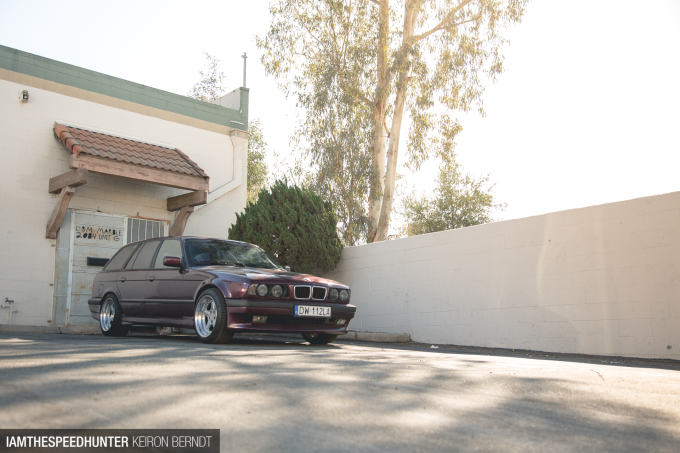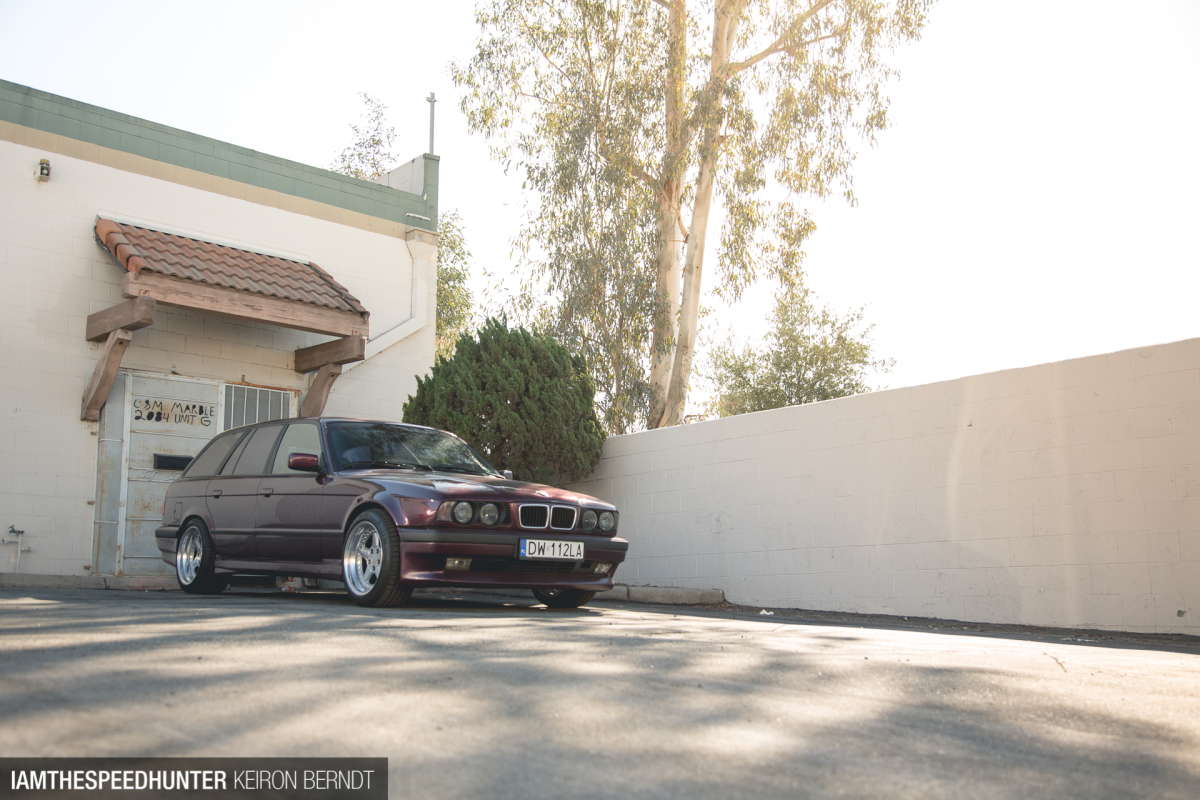 The final member of Ron's Touring trio hails from Poland, of all places. Ron happened to find it on eBay and suspects that it failed its TÜV (vehicle inspection) and given its age, it made sense to import it as it was DOT and EPA exempt.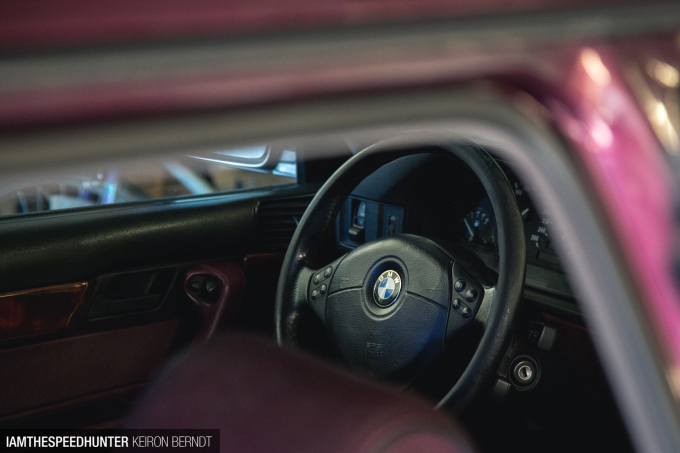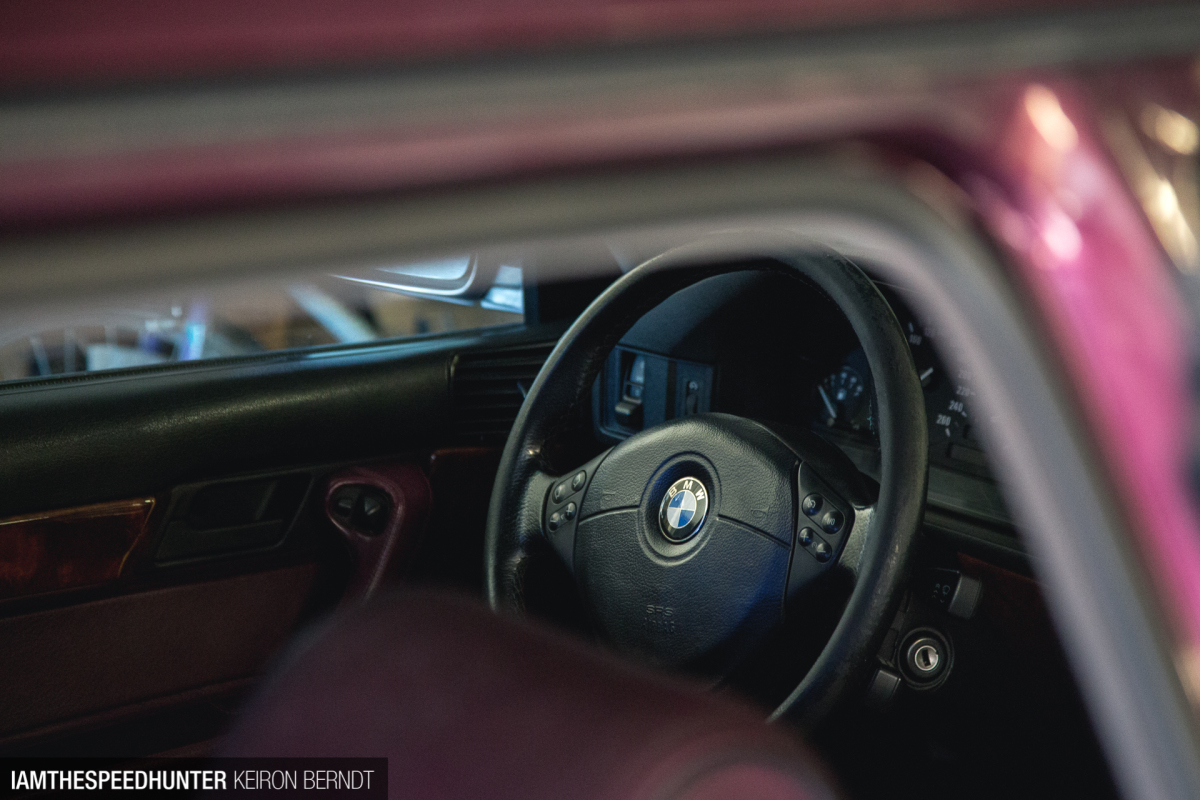 This E34 is about as Individual as it gets, featuring an Amethyst exterior and interior. Along with the set of AC Schnitzer rims, Ron plans on installing a set of CAtuned coilovers, swapping the current five-speed for a six-speed and ultimately fitting an M60B44 V8. However, these three wagons aren't the only things brewing in Uncle Ron's garage…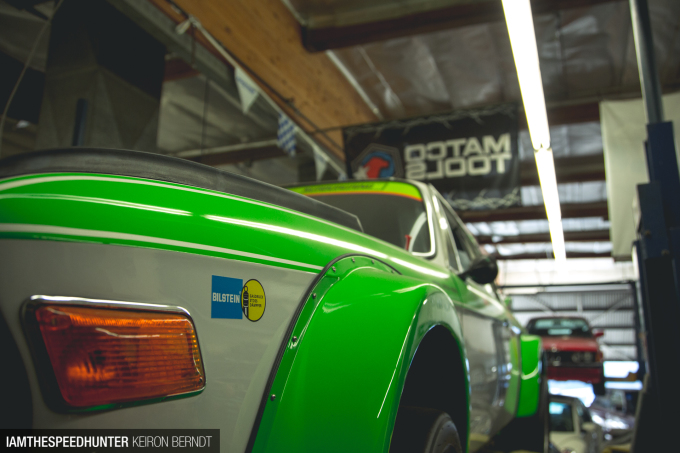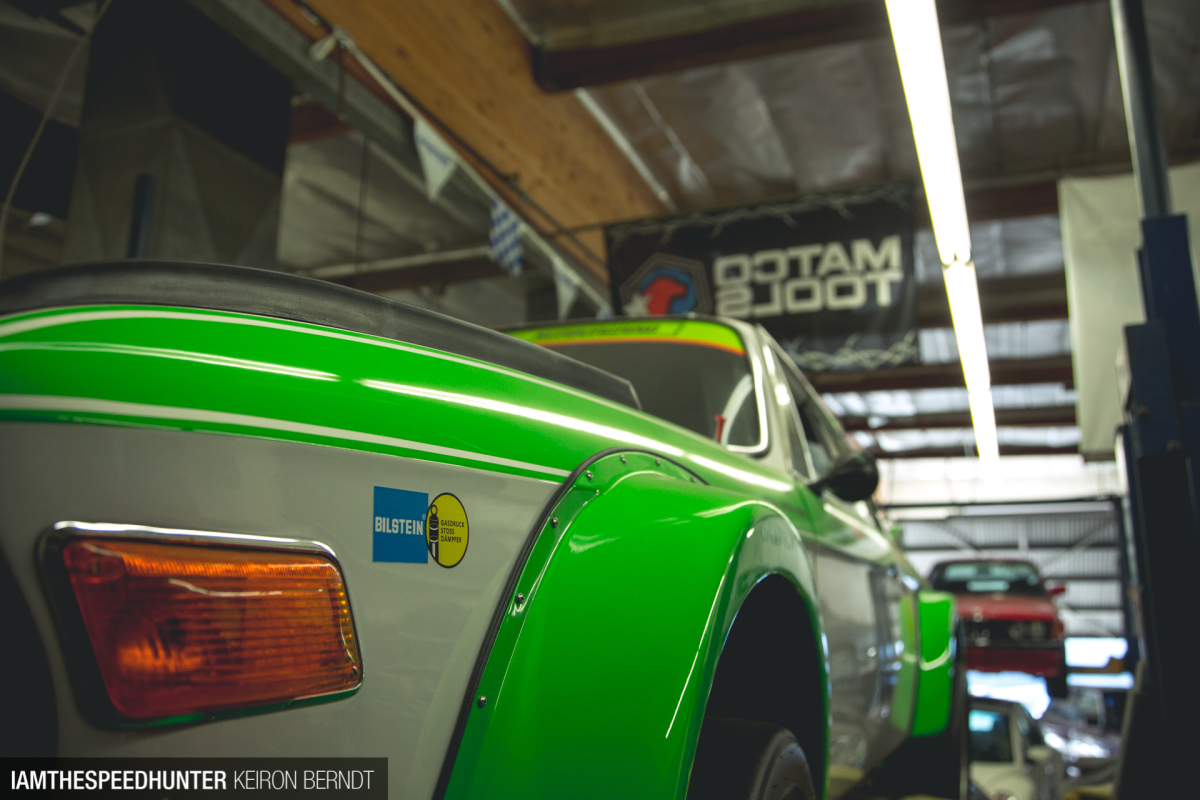 Stay tuned for a full tour and a rare glimpse of a piece of BMW heritage. 
While I'm a huge fan of absolutely mental builds, there's something to be said about keeping it period correct, and I have the utmost respect for Ron and his passion to ensure BMWs are treated the way the Bavarians have always wanted.
Keiron Berndt
Instagram: keiron_berndt
Keiron Berndt Photography