Location Hunting, Again
After wrapping up a little trip around SharkWerk's workshop, Alex Ross and I took his buddy Ralph's 540hp Porsche GT3 out for a spin.
If you haven't caught on by now, this is a shop that builds cars to be driven, and driven hard. And if you aren't familiar with the SharkWerks 4.1-liter upgrade, worry not, we'll dive into it here.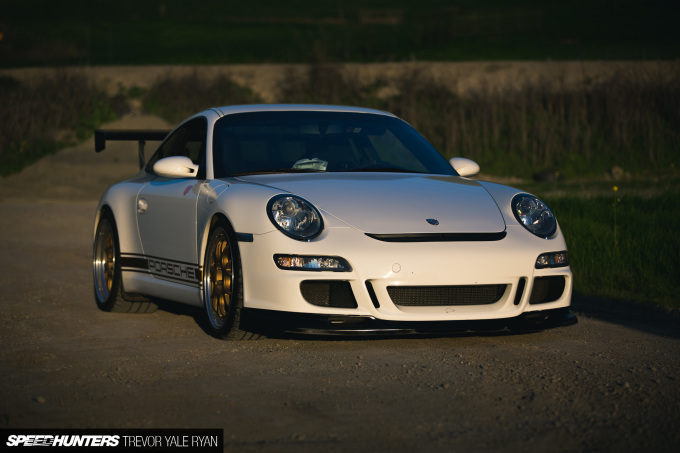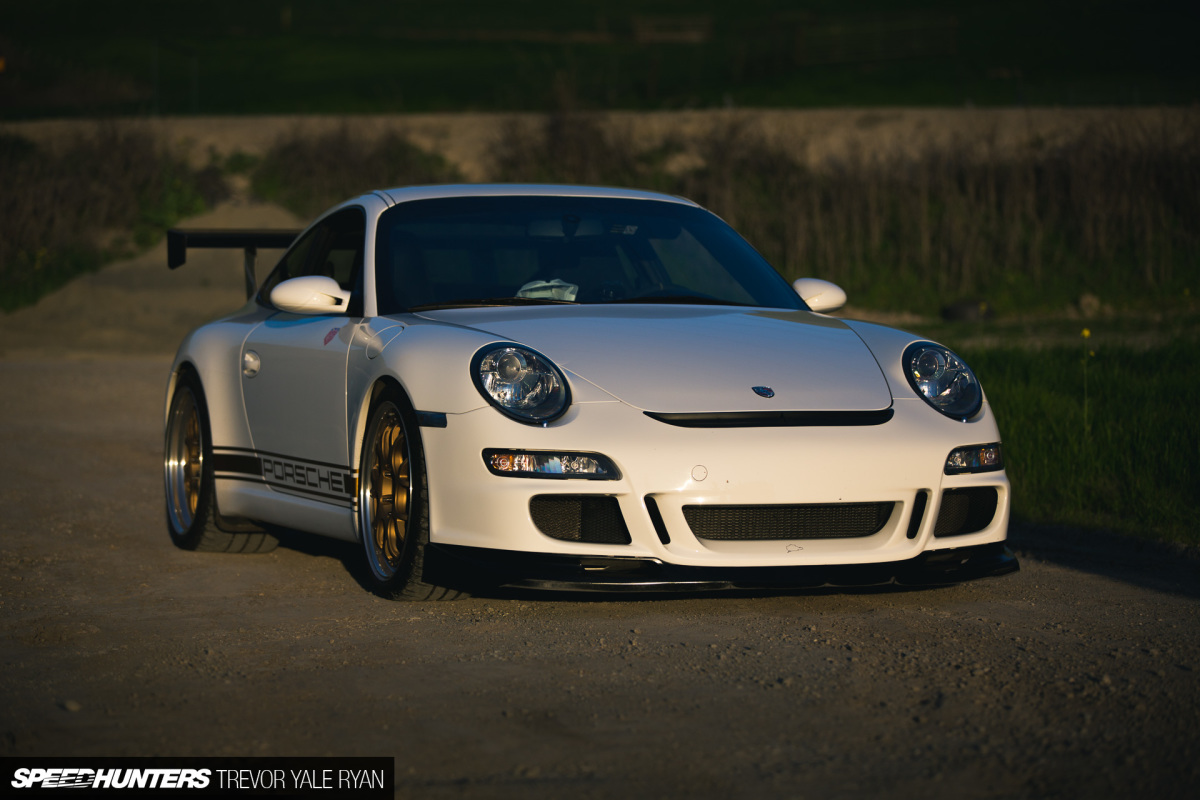 I'd previously scouted a location that I thought was pretty cool, one that I hadn't used before. Unfortunately, before I was able to take even one photo a police officer rolled up out of nowhere. He didn't think my spot on the dirt trail was that good; in fact, he thought it wasn't much of a spot at all for a car to be…
I was able to snag this on my way back to the 997, but I didn't want to push our luck.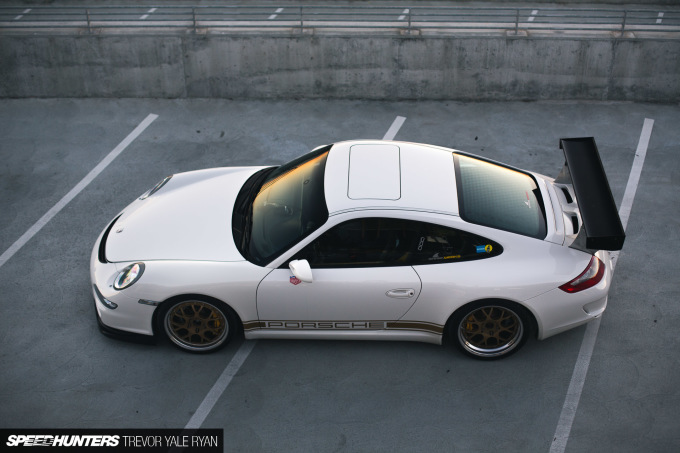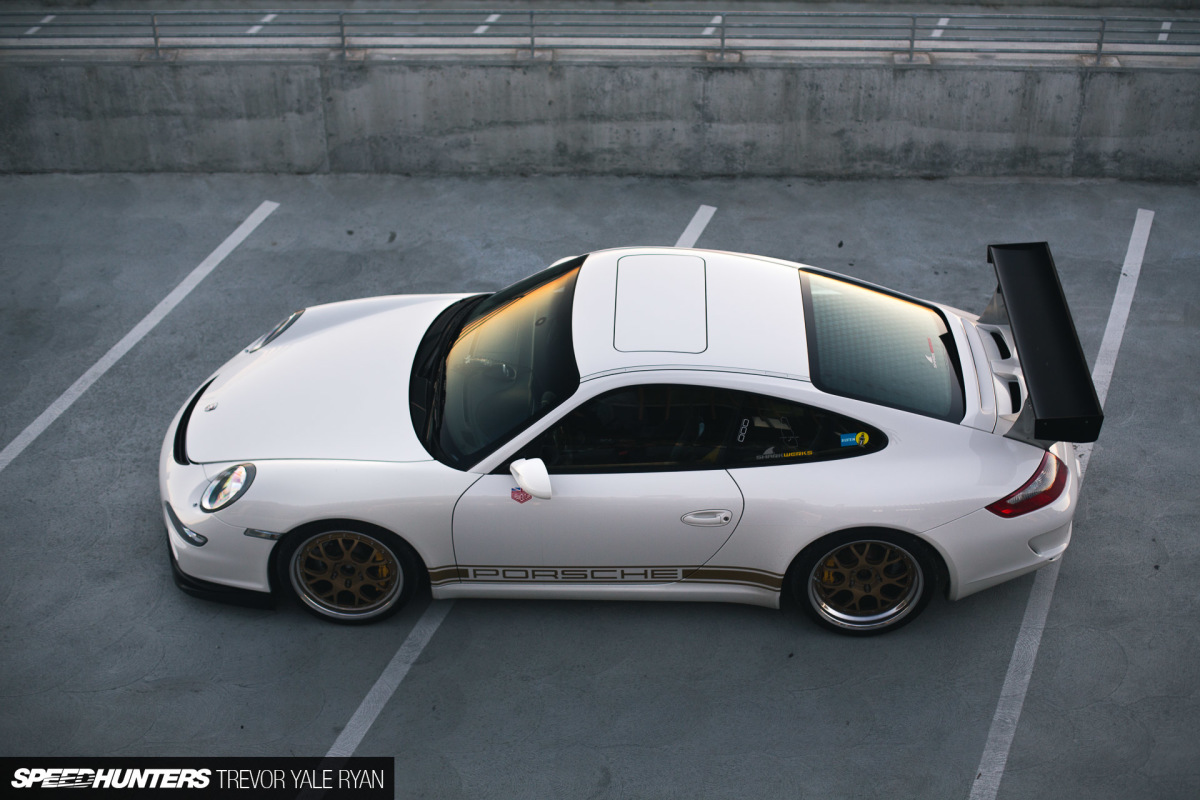 Luckily, a proven parking garage was nearby and I was able to get into the build here. Before we jump into the car, though, you ought to know a bit about the owner.
Ralph is pretty much the SharkWerks torture test; at 70 years old he's something of an original outlaw, if you will. Working for Vasek Polak in the 1950s and '60s in Manhattan Beach on Porsche race cars, he owned a Speedster and two 356s before he was 18.
That should give you a at least a bit of an idea about the man behind this particular machine.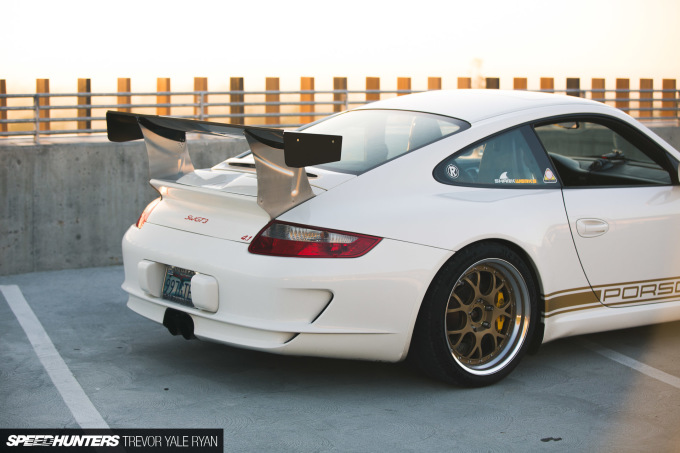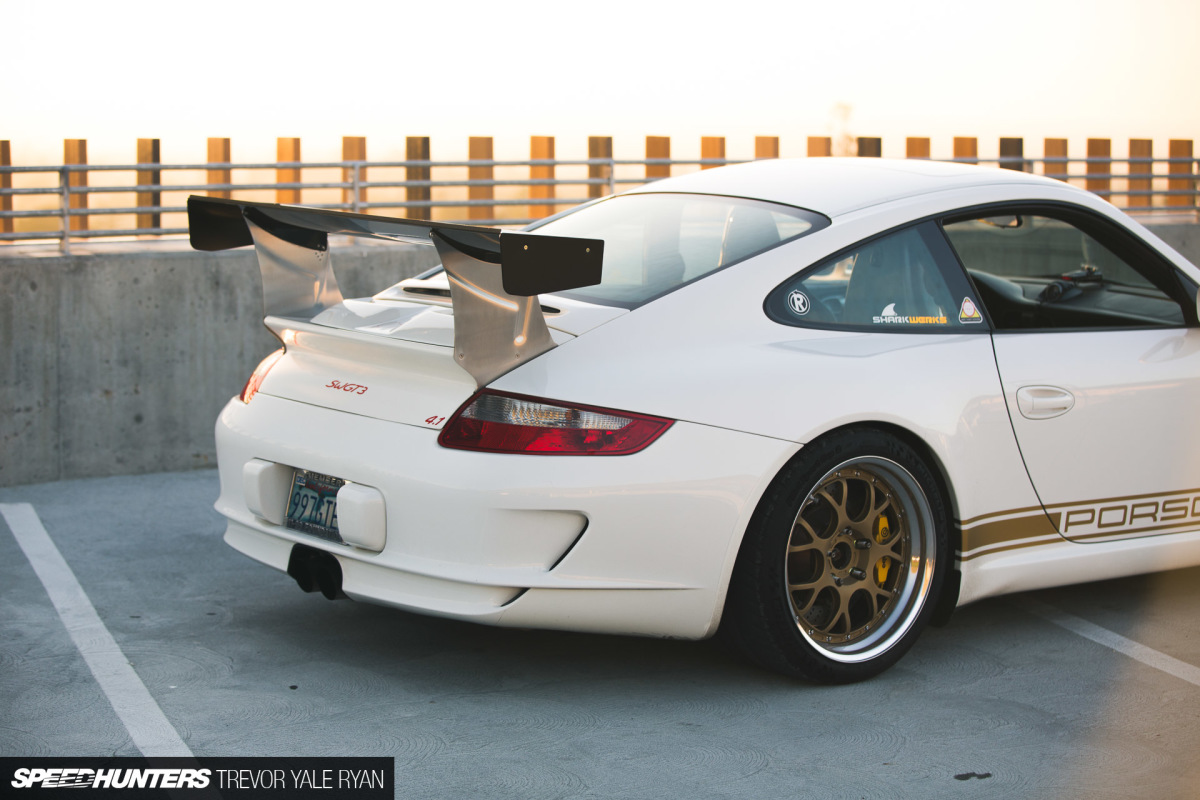 As for the car, minus the phenomenal Cup wing, it's a fairly understated affair. Most of the improvements that have been made to the GT3 are ones that you can't see, but instead, feel. The difference behind the wheel is immediately noticeable; the stability upon turn in, and feedback through the apex, the responsiveness (and sound) on corner exit, and so on.
These are things that a Porsche is already good at, so what's the secret sauce that SharkWerks has been pouring all over their cars to make them so incredible to drive?
Four Point What?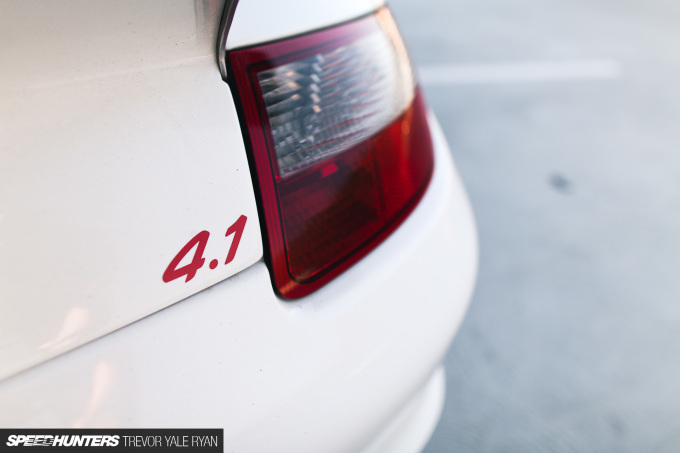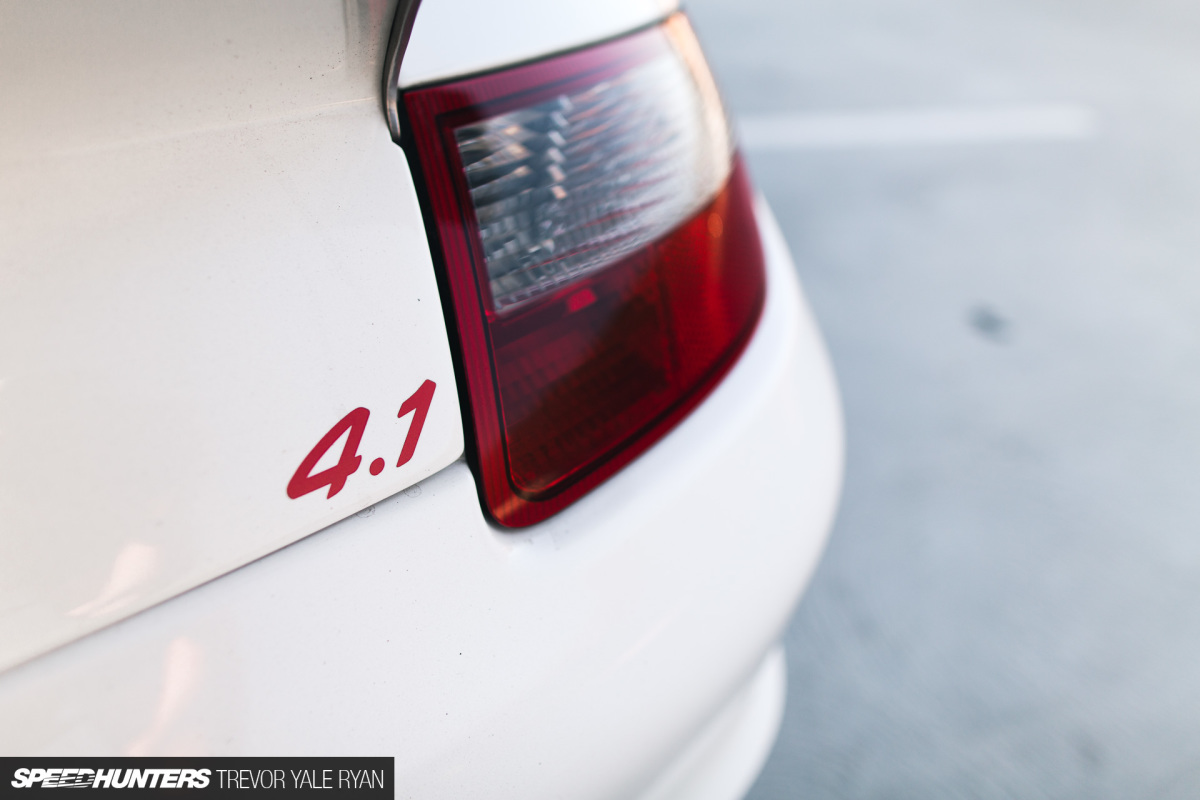 First off, there's no replacement for displacement, as we say the good ol' US of A. The car now has the SharkWerks/EVOMS 4.1L, but as a 2007 997 GT3 Ralph's car originally came with the 3.6L. The factory engine was certainly no slouch, though, making 415 or so horses at around 7,600rpm.
SharkWerks, along with R&D partner Evolution Motorsports, have said phooey to that (no offense Porsche), and reckons that extending the peak power out to 7,950rpm provides for a better driving experience. In fact, the upgraded and lightened crankshaft in the setup is capable of over 9,500rpm, which is just incredible to think of out of the 4.1-liter flat-six. You get the bonus of an extra 125hp too, so it's a righteous kick in the pants when you give it the beans.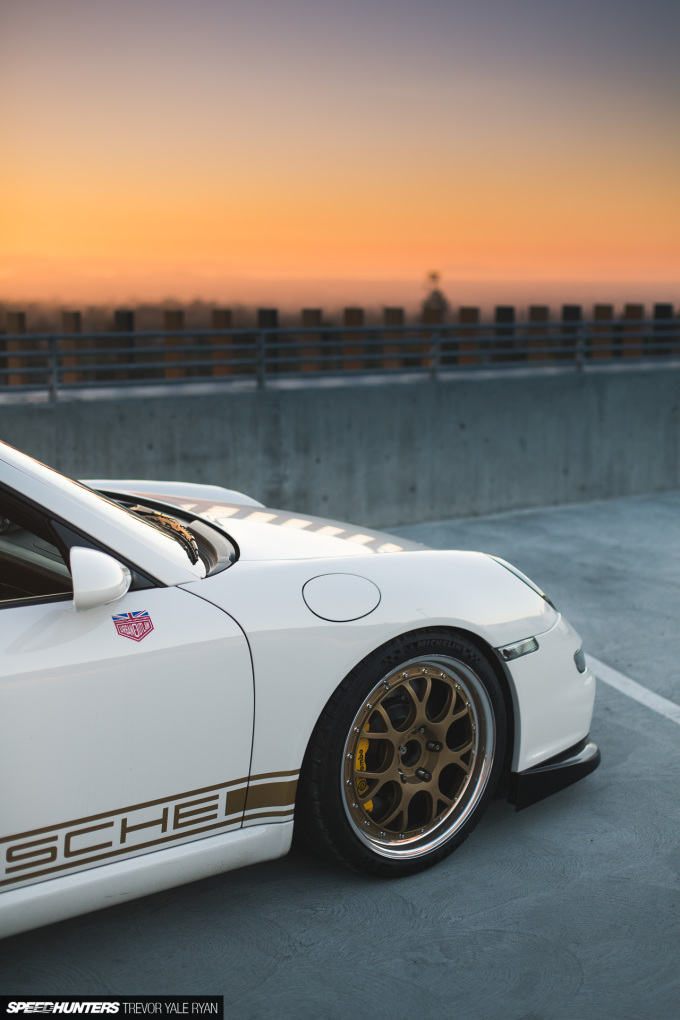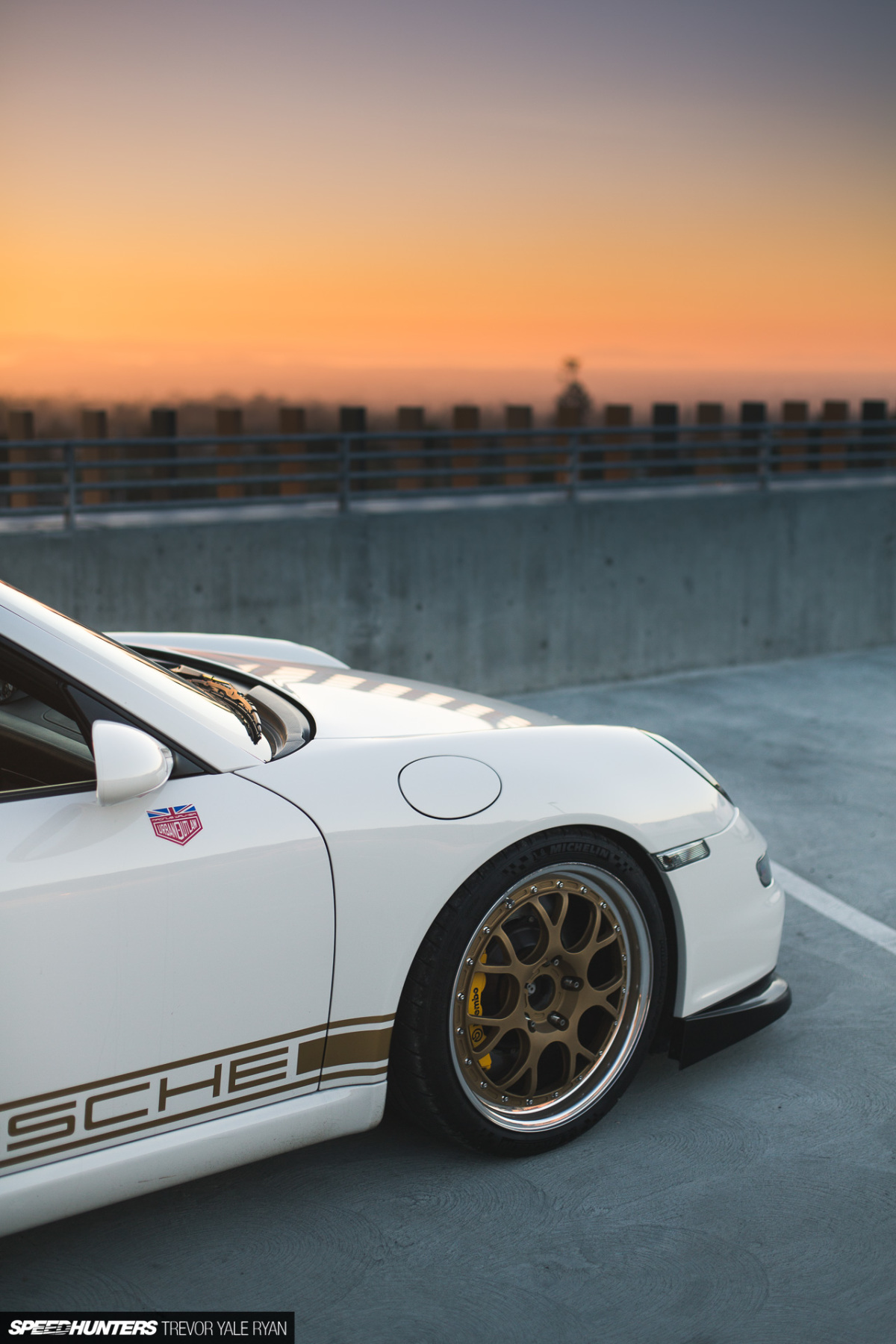 Of course, the power comes on a lot sooner in the 4.1, and you'll enjoy the significant increase in torque throughout the entire rev range. This is made possible with the SharkWerks/EVOMS 104.5mm bore piston and cylinder set that makes use of steel liners with Teflon-coated pistons and titanium wrist pins.
This trickery has saved 20 grams per piston and makes for a much smoother and faster-revving engine as well.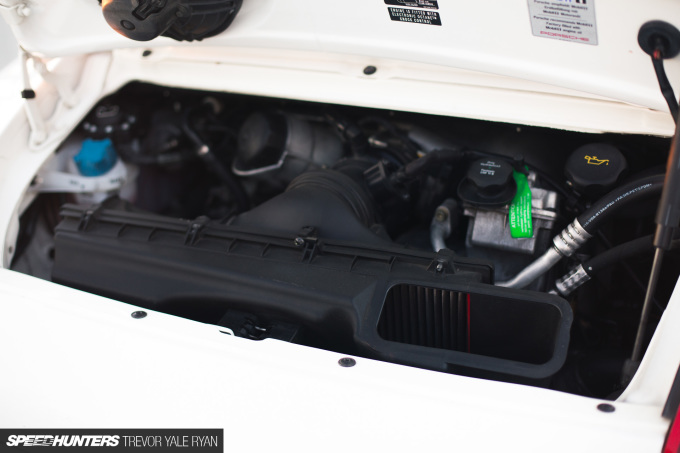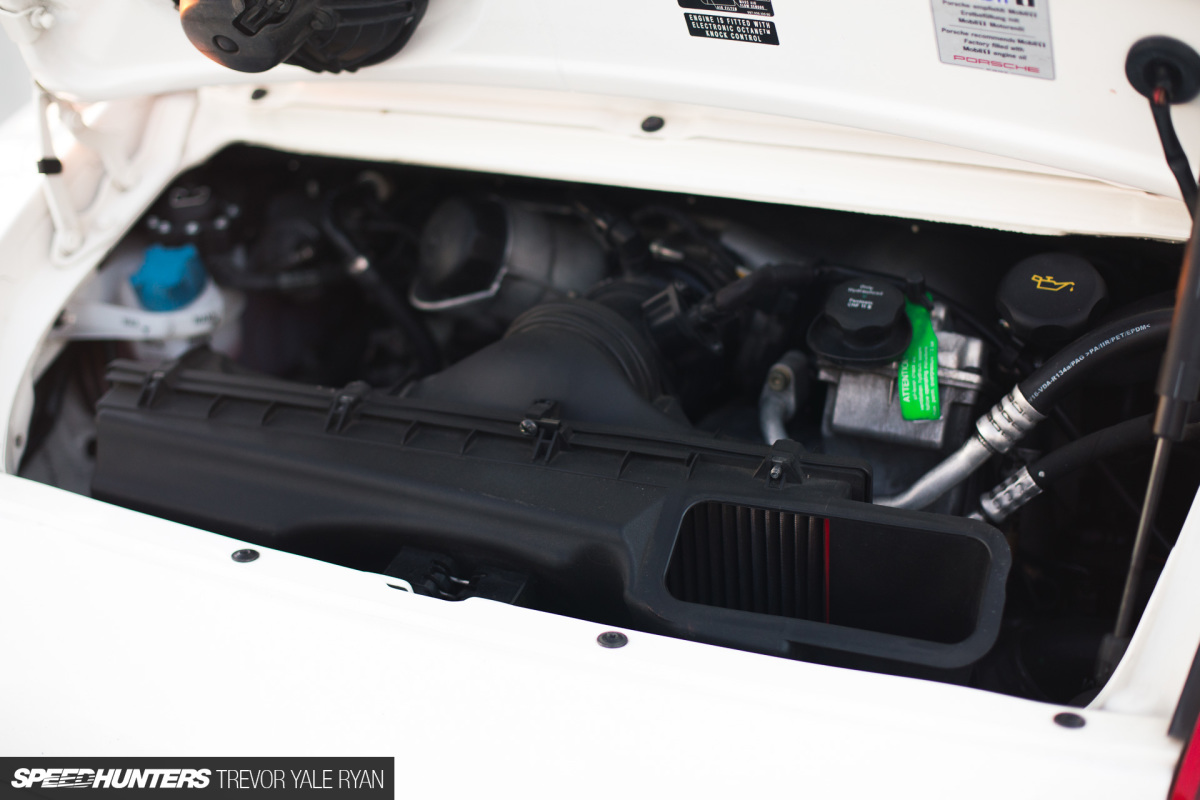 The rods, which make for an 80.44mm stroke together with that upgraded crankshaft, are also an EVOMS collaboration. The gents have opted to stay away from titanium for their street motors as it tends to get a bit stretchy over time, instead going with a forged tool steel and a lightweight-as-possible design.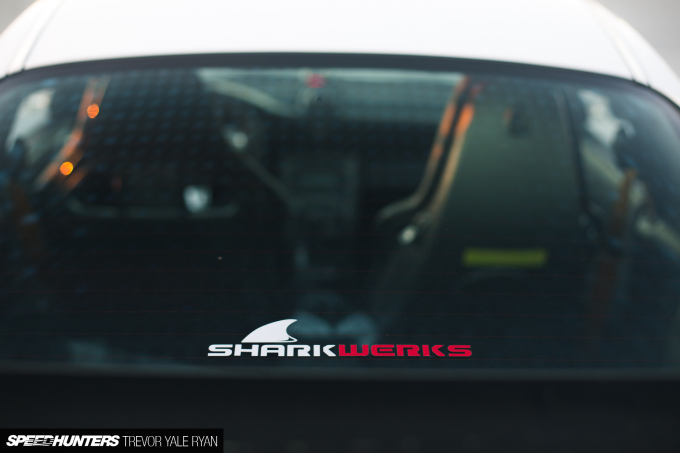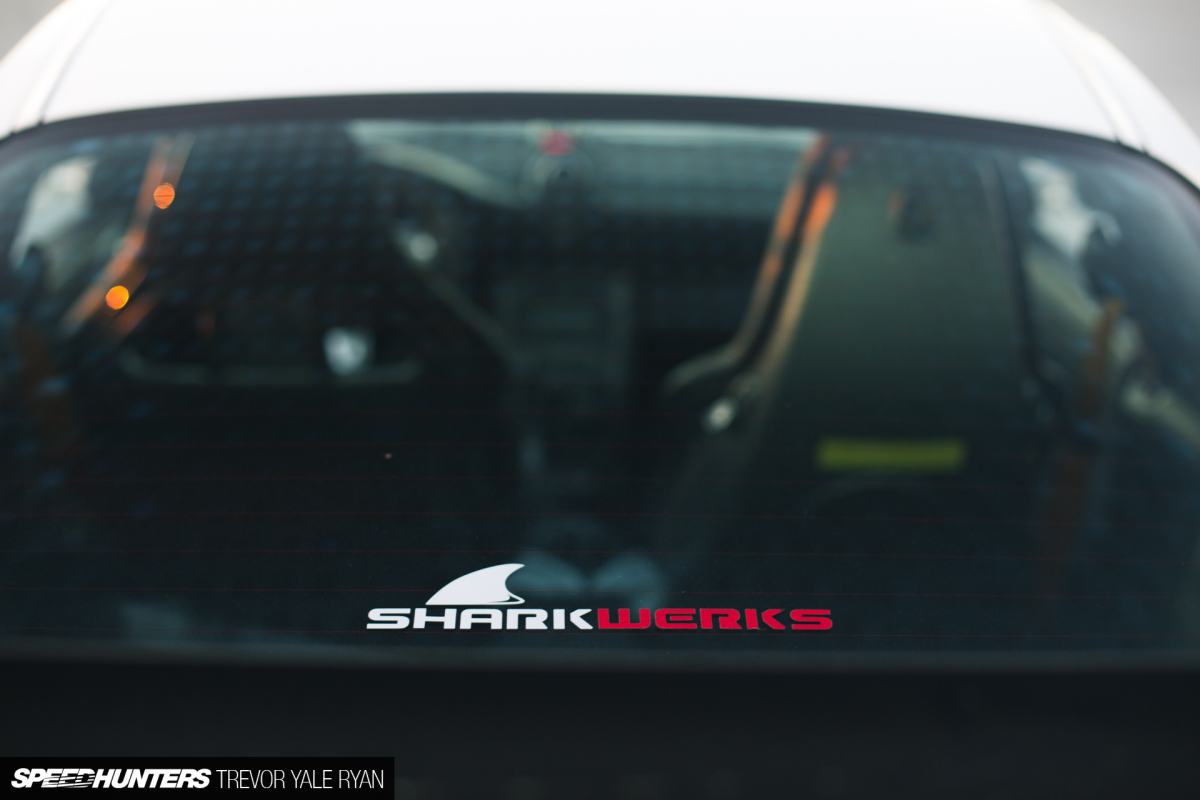 I think I ought not to share the actual spec, but the compression ratio in the 4.1L setup is higher than even the latest the factory 991 GT3 RS ratio (12.9:1). To ensure longevity of the now 540hp engines, John Bray of EVOMS and James Hendry over at SharkWerks have applied a variety of race-prep techniques to the engine case as well as every bit inside.
Thousands and thousands of test miles went into creating this setup and ensuring it was reliable, as is the SharkWerks way. The result is that anyone with the cash can experience the something that even Porsche itself is unable to deliver to the masses.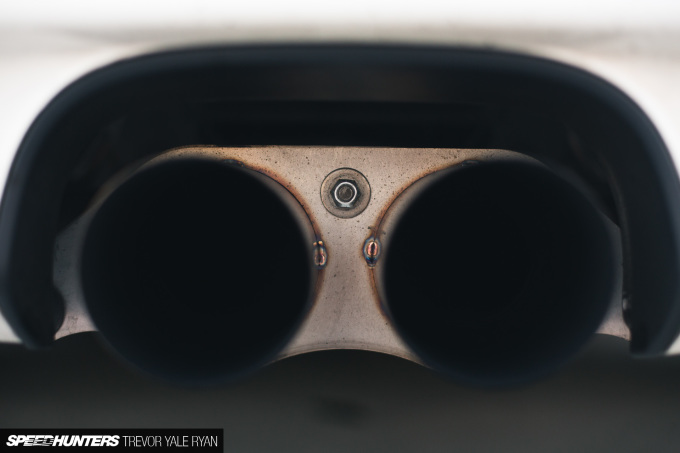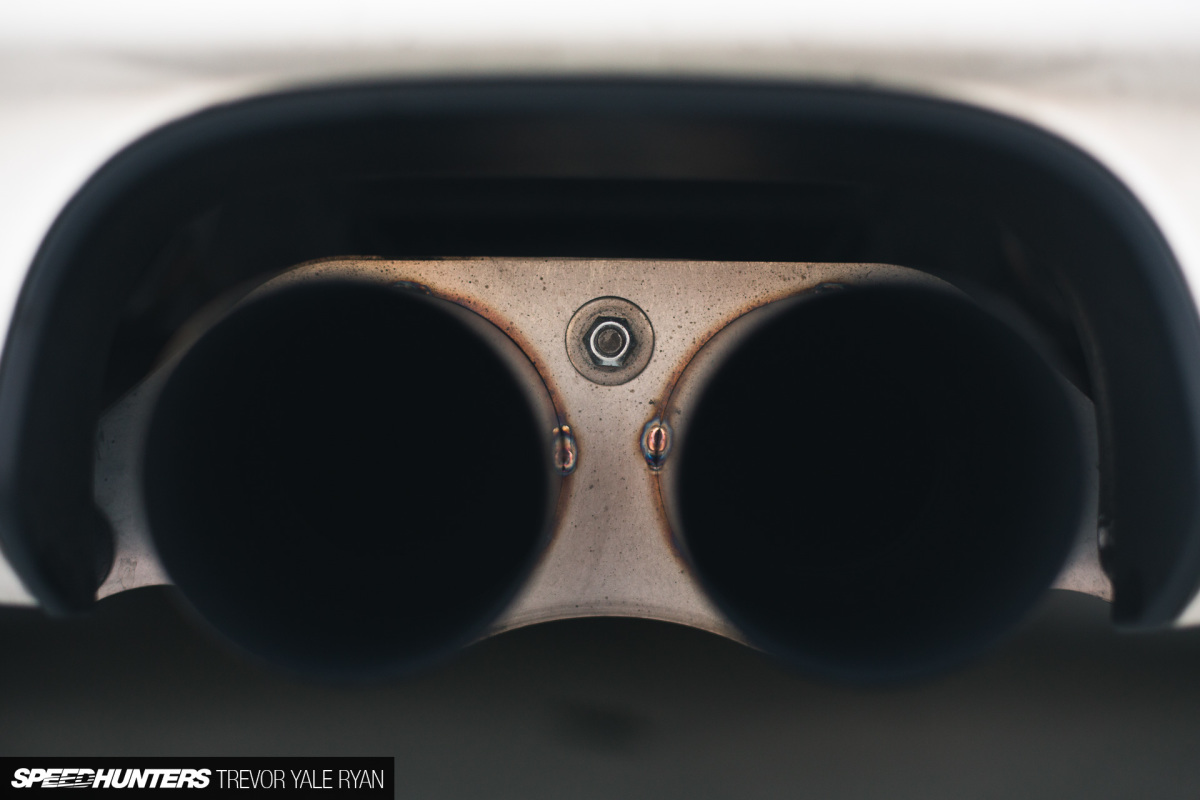 To make things even better, SharkWerks has fitted the 997 with their street exhaust which saves 19 pounds (8.6kg) off the back end of the car.
If you opt for their (very, very loud) track setup, you'll drop a whopping 57 pounds (25.8kg). They told me this option is "strictly for the track, or crazy nutters."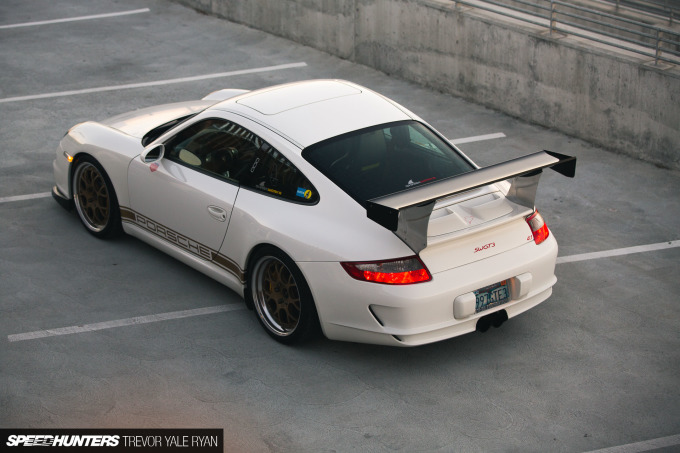 The terrifically-built motor makes an already great car something exceptional. Of course, on Ralph's GT3 SharkWerks didn't stop there.
Everything Else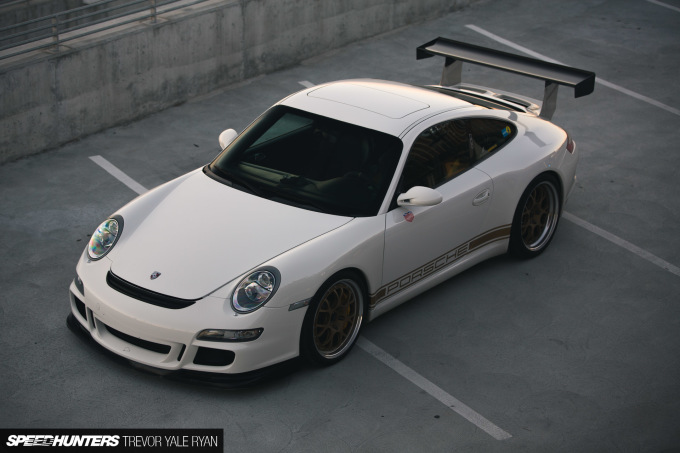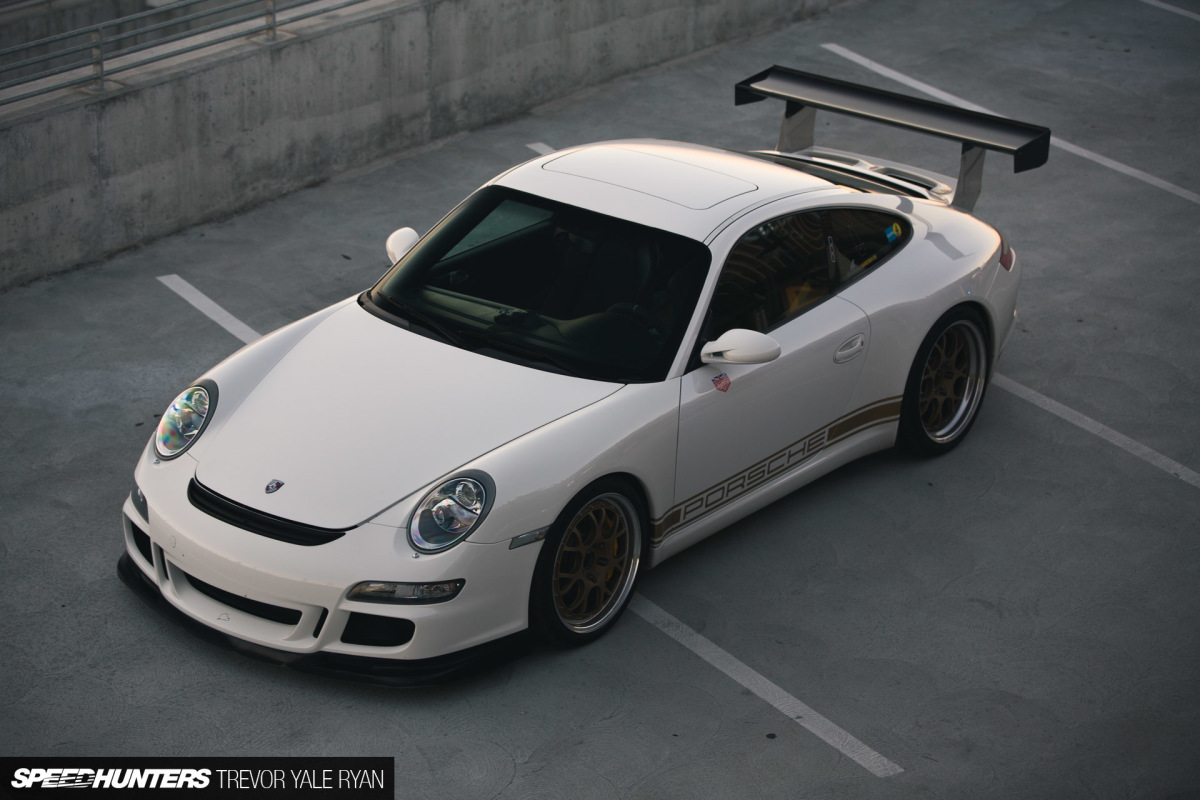 While not extremely obvious, every aspect of this car has been improved: the looks, the handling, the driver feedback, and the power delivery which I've already covered.
The most noticeable modifications are the big Cup car wing that's been added (which comes with that super-cool deck lid) and the Cup front spoiler. While not huge game changers at lower speeds, Ralph is definitely one to take the car up and over the 100mph mark at just about every chance he gets.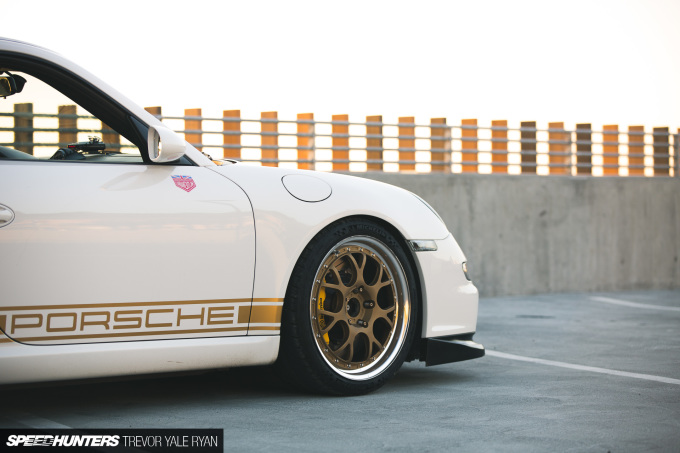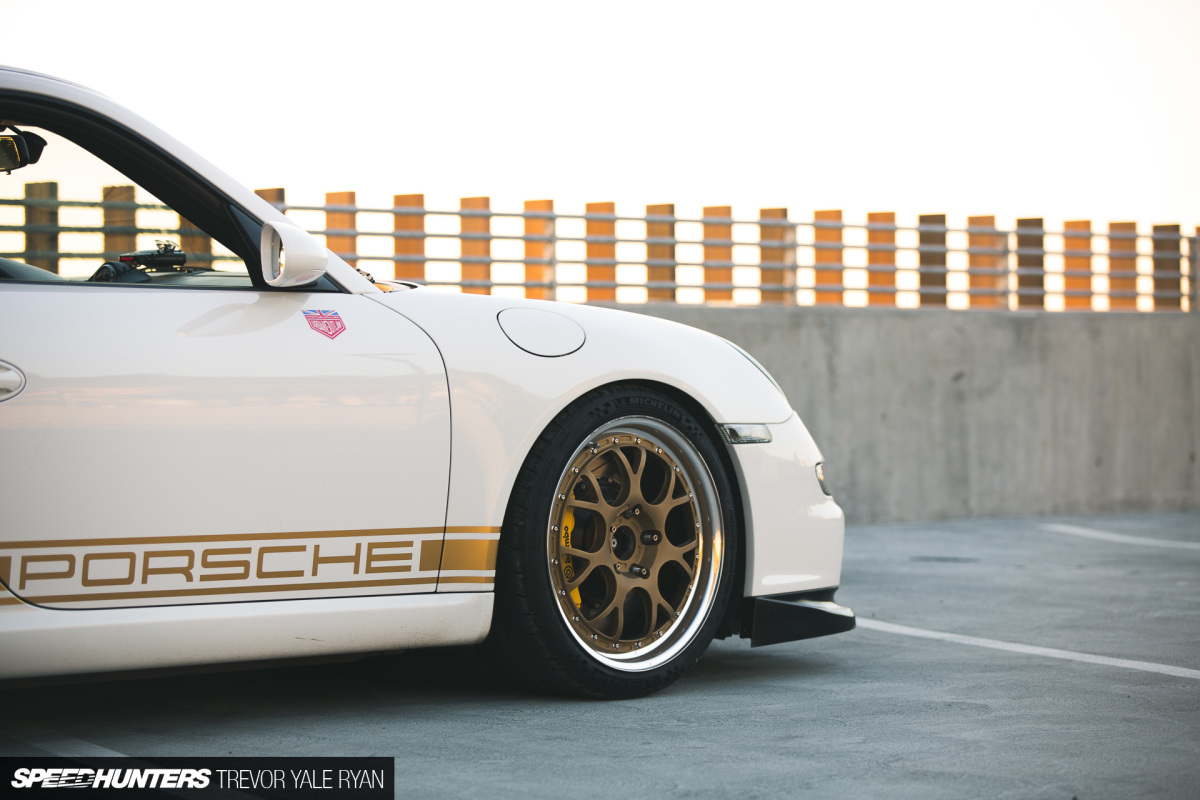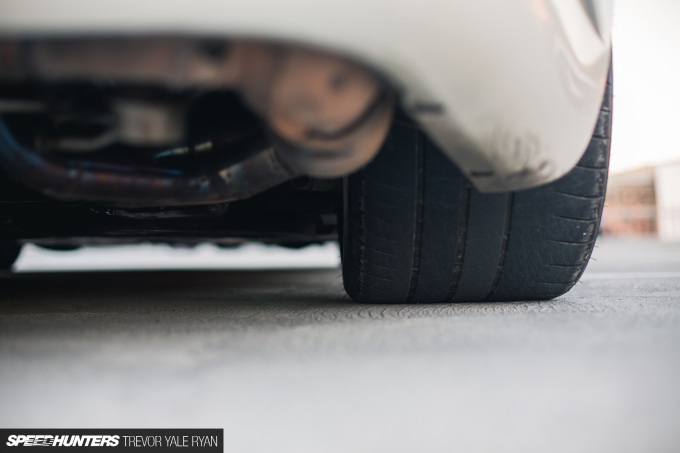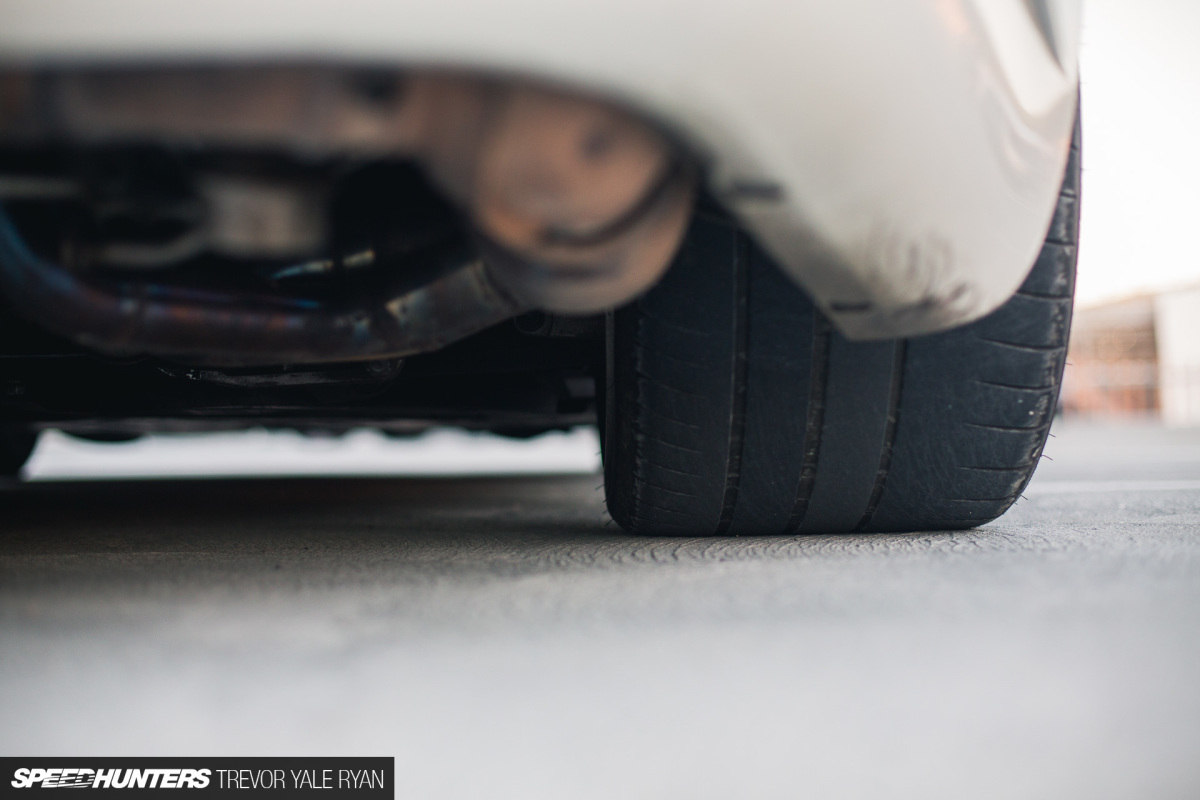 The wheels are forged three-piece Fifteen52 Apex RSRs in 19×9-inch and 19×12-inch, wrapped with meaty Michelin Sport Cup 245 and 305-series rubber. Inside the beefy wheels are Brembo GT brakes front and back which make use of 15-inch and 14-inch rotors.
The handling is tidily taken care of with RSS/SharkWerks adjustible links, bump steer kit, inner mono-balls and adjustable thrust arm bushings up front.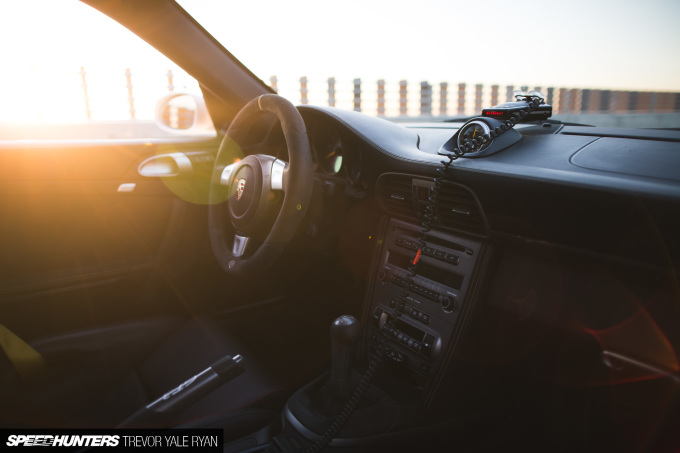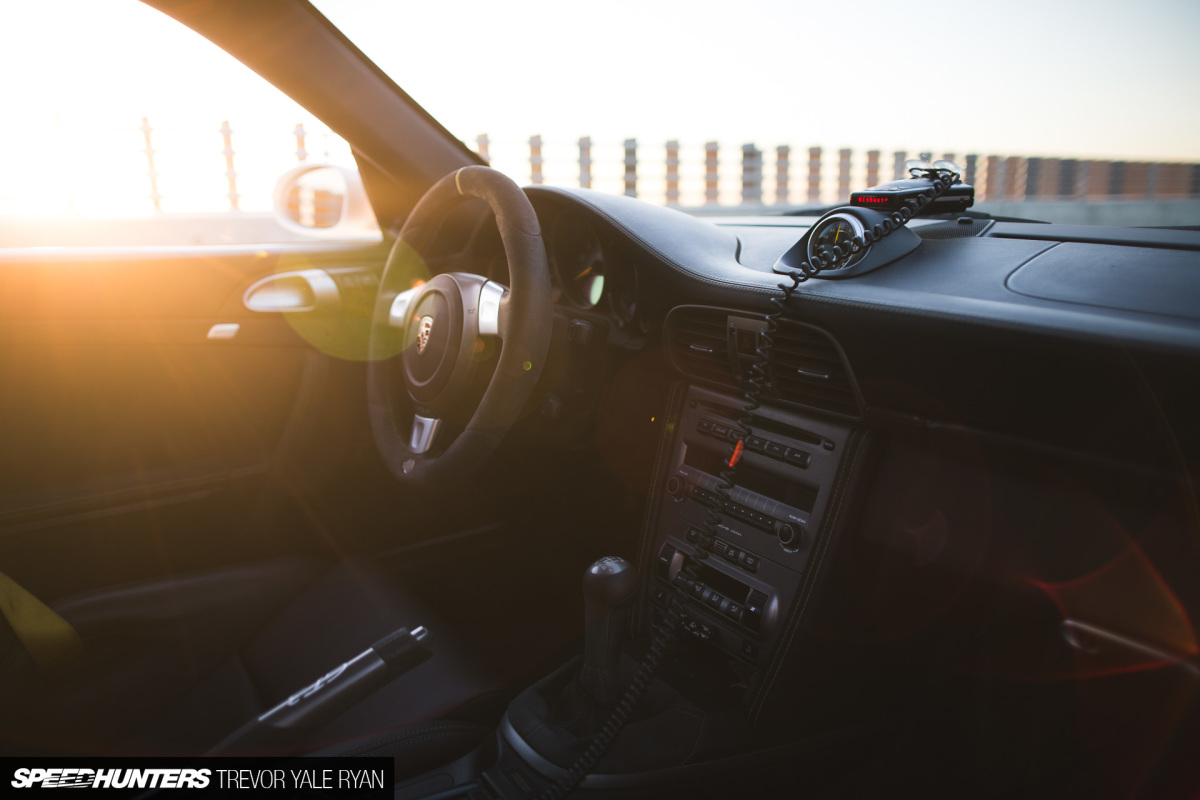 Inside the car, not a whole lot has changed. From the factory, it's already a quite pleasant place to have a sit. It took a few passes before I realized that the wheel is a TechArt piece, not a factory one. It's pretty simple inside, and worth noting it does have the proper three pedals.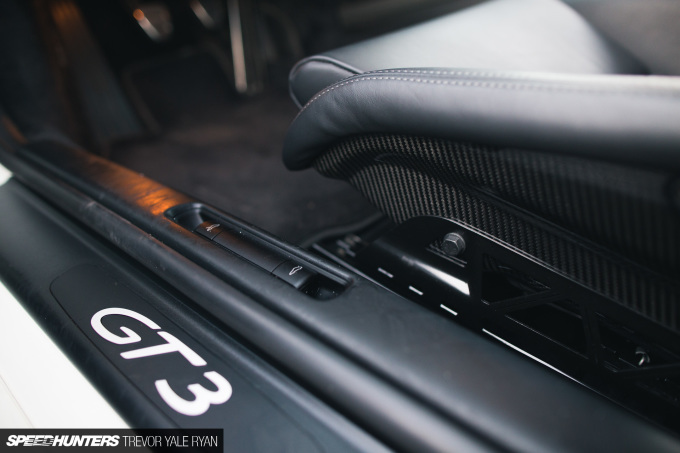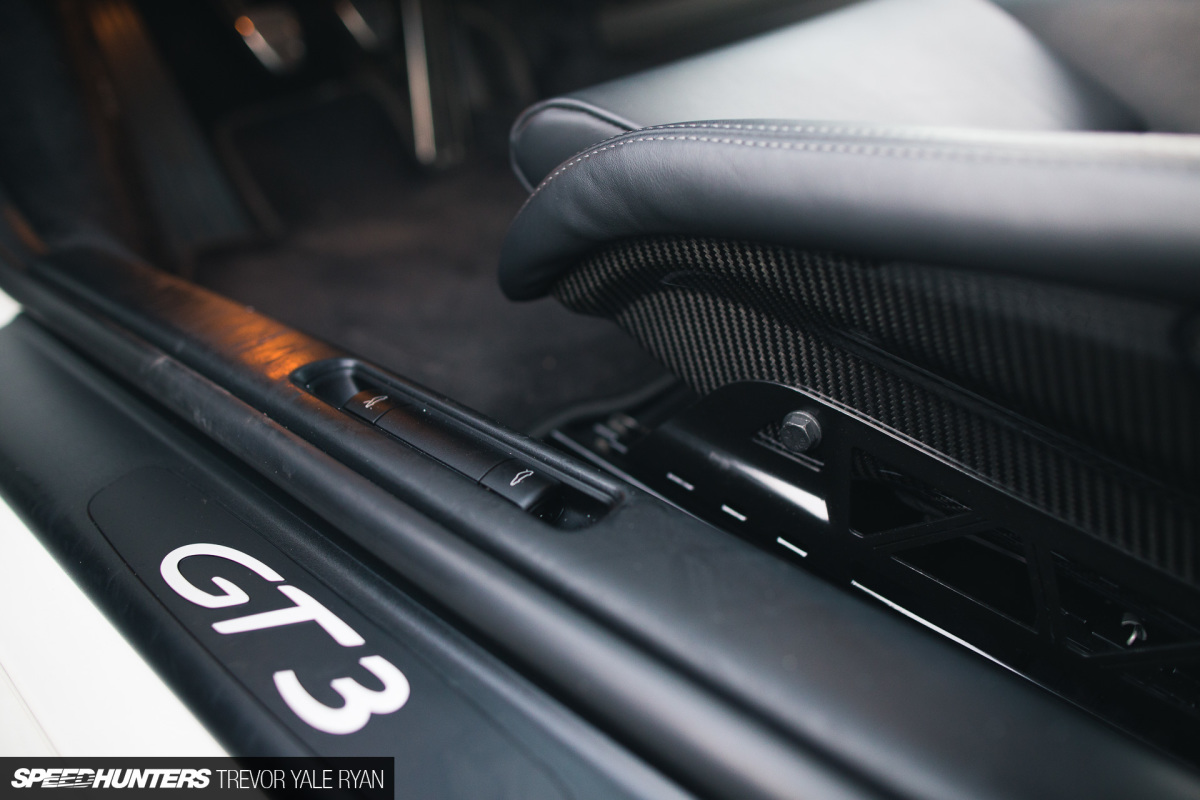 The carbon fiber bucket seat is second to none and hugged me quite nicely. I've put on a few pounds since becoming a Speedhunter last year and the list of seats that fit me well seems to be shrinking as I do the opposite.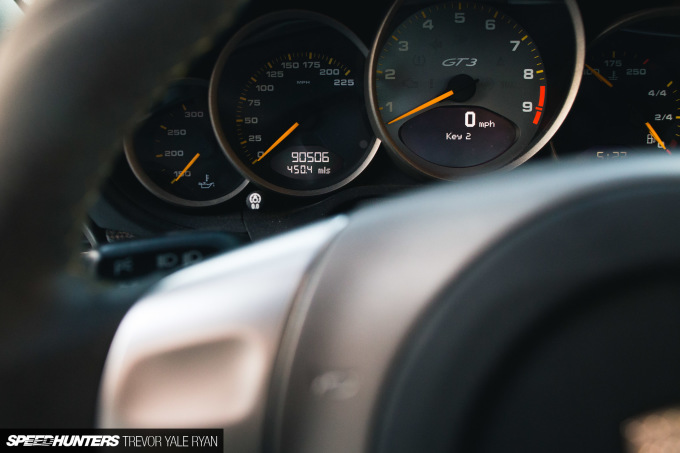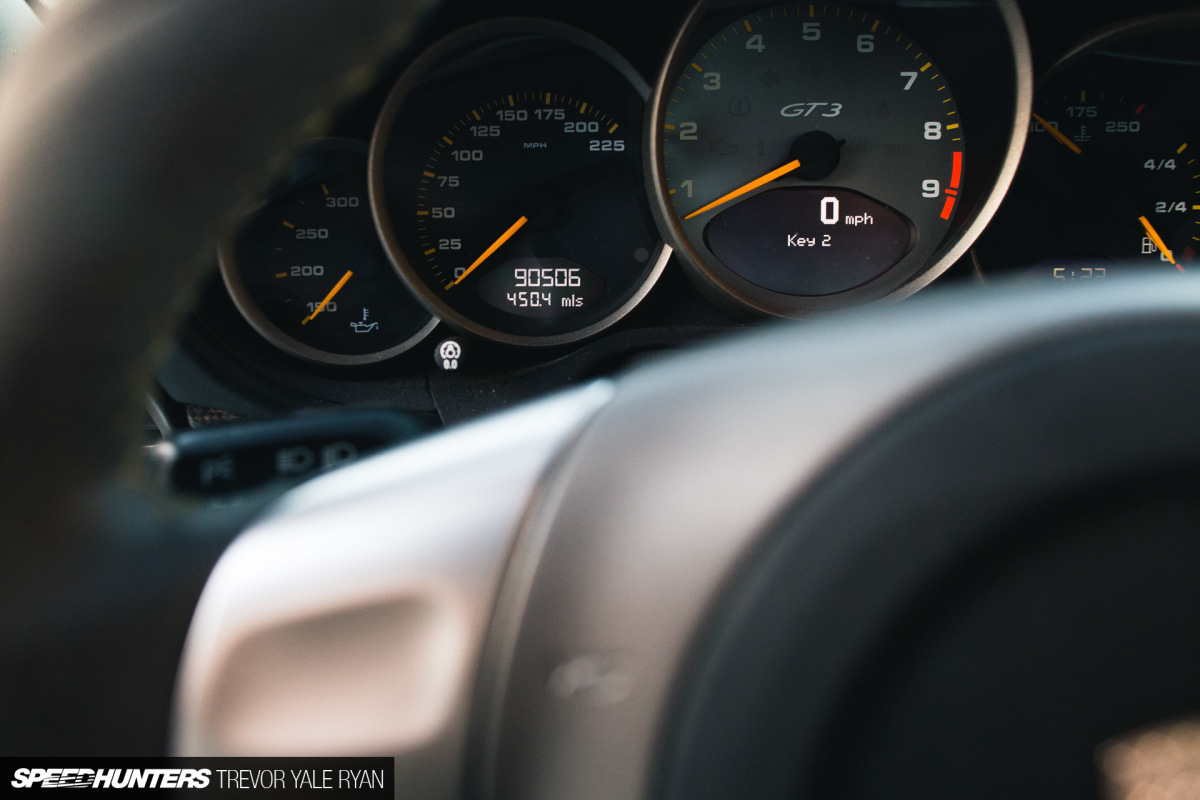 Check out that odometer. For a guy who owns a lot of other Porsches it's hard to believe that Ralph has clocked up nearly 10,000 miles a year since this thing came off the showroom floor.
But looking around the car, it's pretty obvious that Ralph is a guy who just loves to drive his Porsches. He even carries around an extra lip for when he inevitably destroys the current one at speed.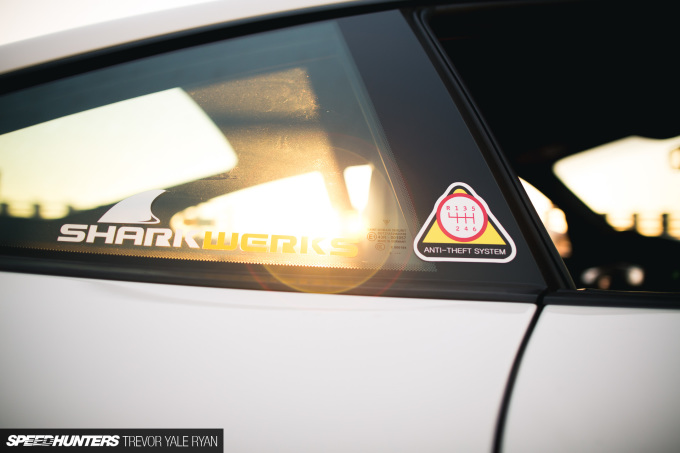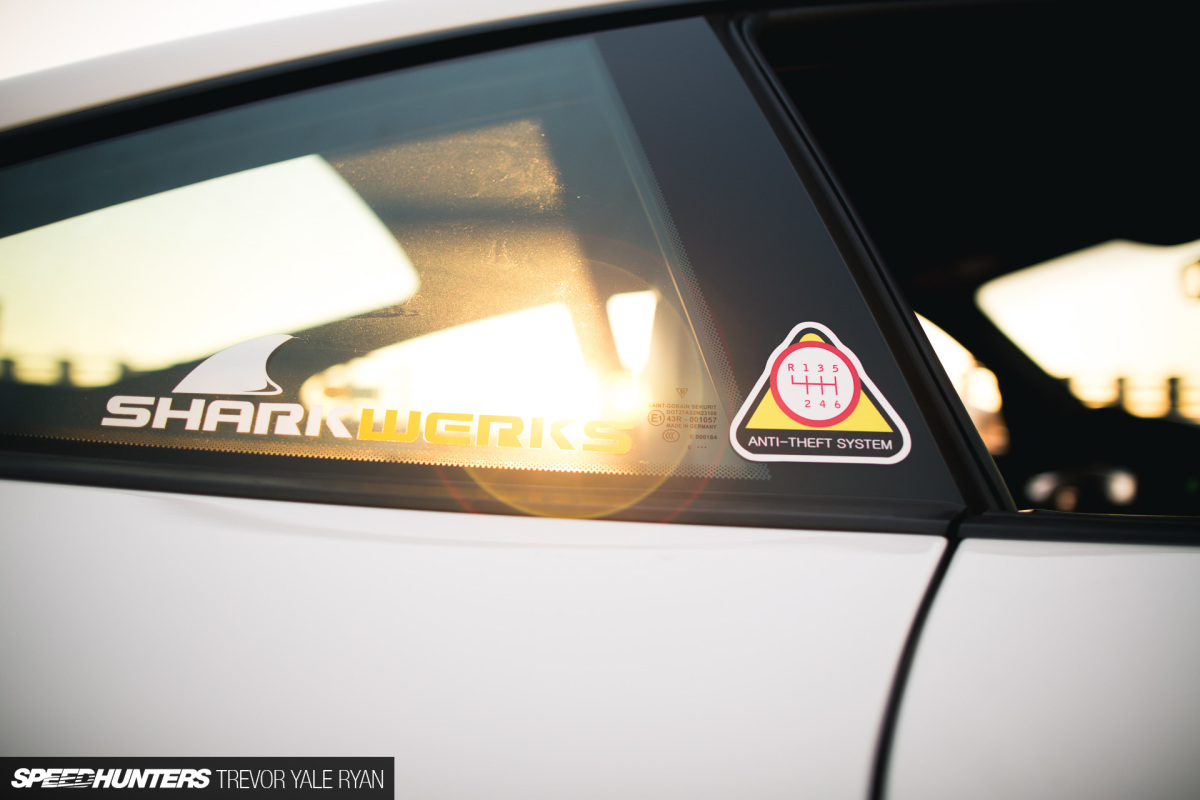 Thus, Ralph has been the perfect test bed for the 4.1 setup along with other SharkWerks upgrade parts.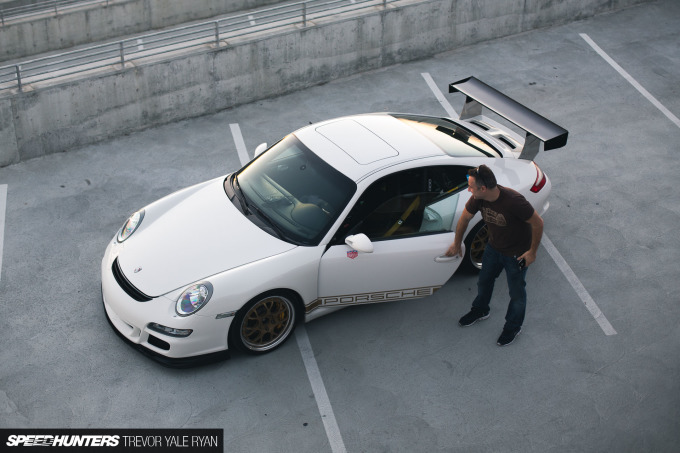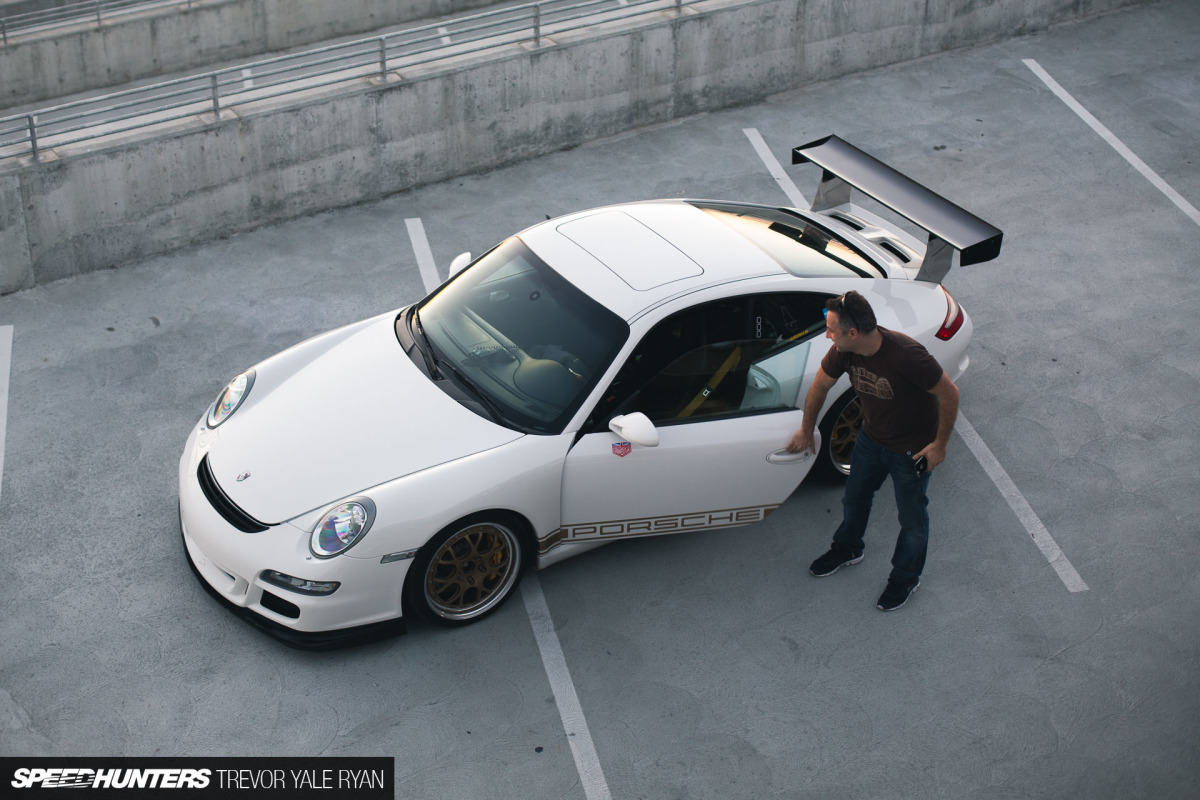 Alex tells me they're really quite lucky that Ralph's taken a liking to them — both his driving ability and Porsche expertise are absolutely tops, as they say.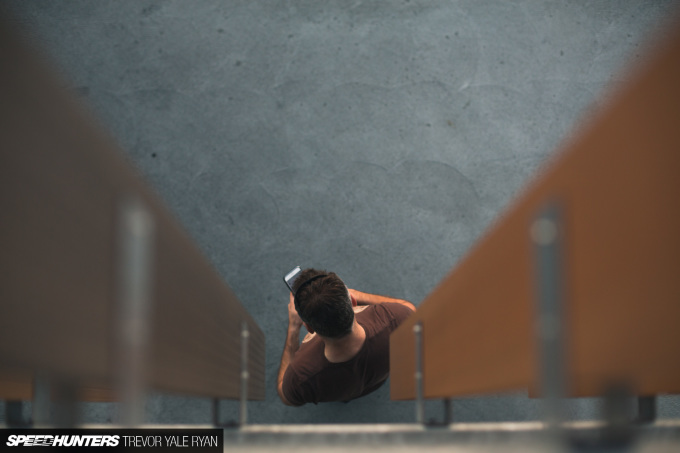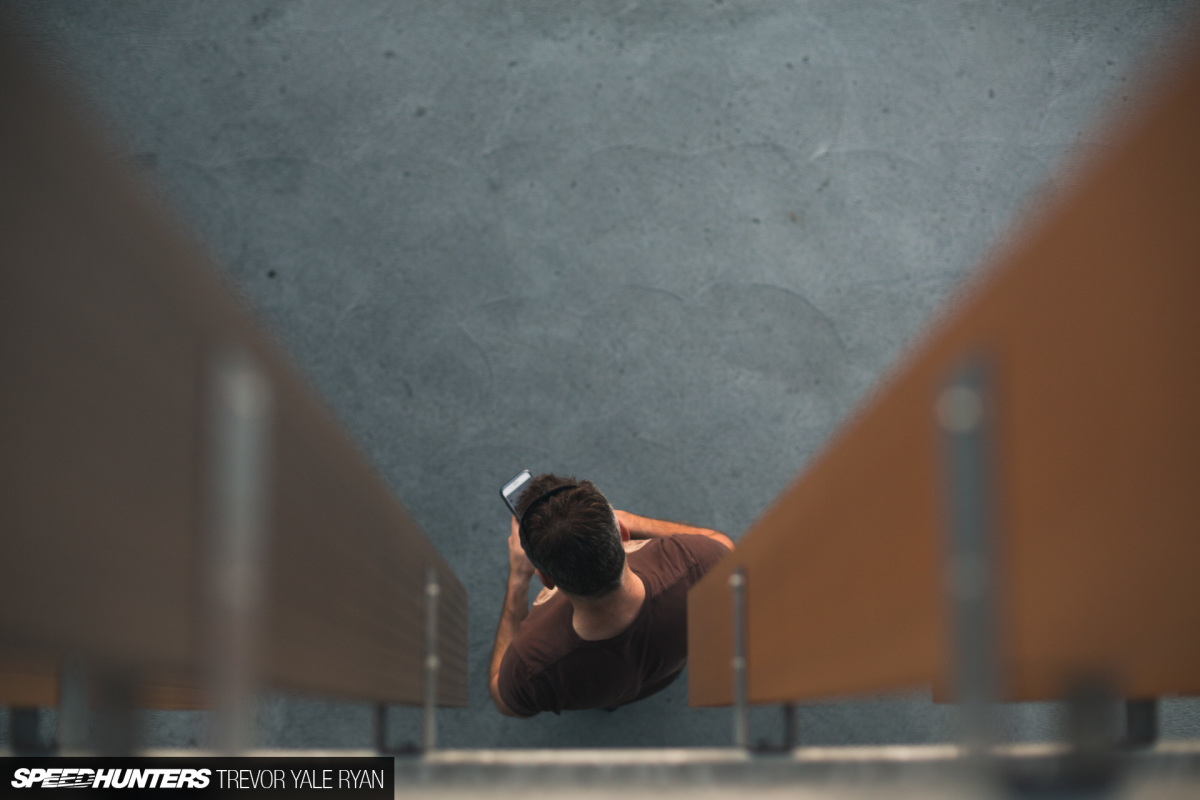 As I had a last look around the 4.1, Alex caught up on the emails I'd been sidetracking him from all day.
I finally concluded that everything about this car is exactly what it should have been from the factory — it's far better than even the more recent 4.0 and RS variants. I understand it just isn't quite possible when you have production numbers to meet and marketing teams and investors and who knows what all else.
But since Porsche won't do it, we can be thankful for shops like SharkWerks who gladly will.
Trevor Yale Ryan
Instagram: tyrphoto
TYRphoto.com
Cutting Room Floor