All Bets Are Off
If you're holding an ace card, there are two ways to present it.
You can either keep it up your sleeve, wait for the right moment and let your opponent play into your hands, or you can slam it down on the table straight away, scream "Blackjack" and rake in your winnings. There are no prizes for guessing the approach Austin Barnett's 2012 Subaru Impreza has taken.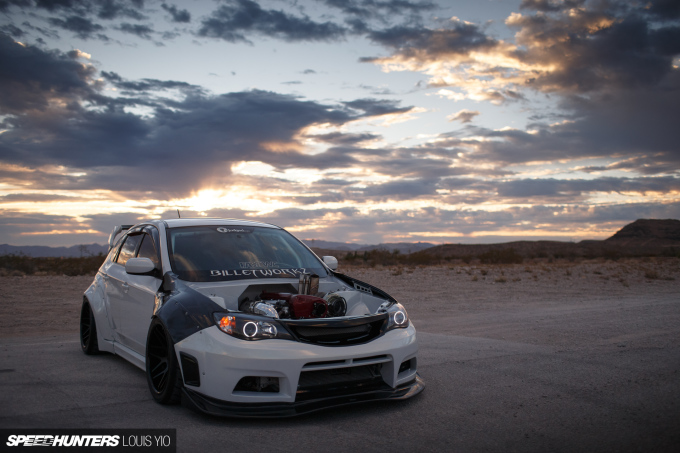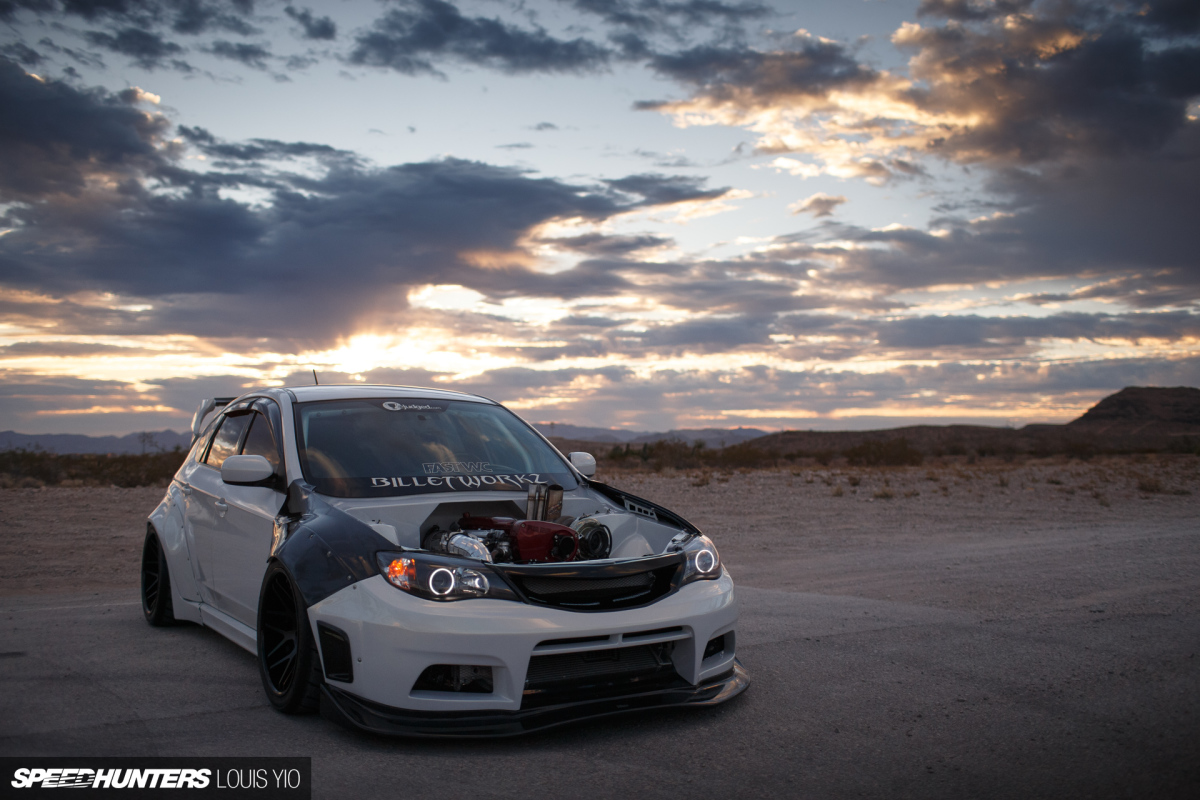 It smashed the table, upset the dealer and there are chips everywhere.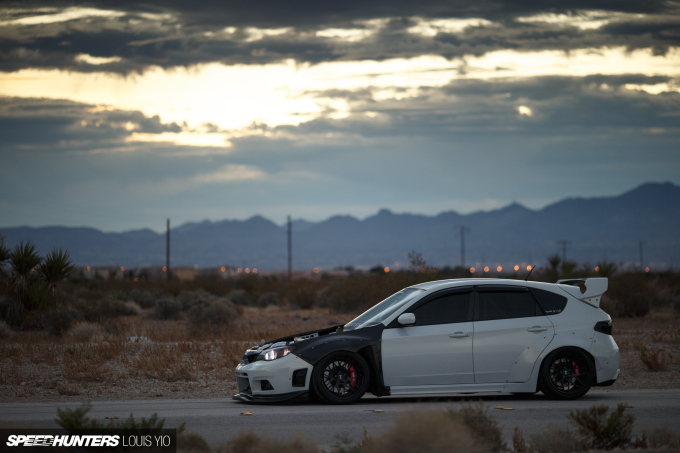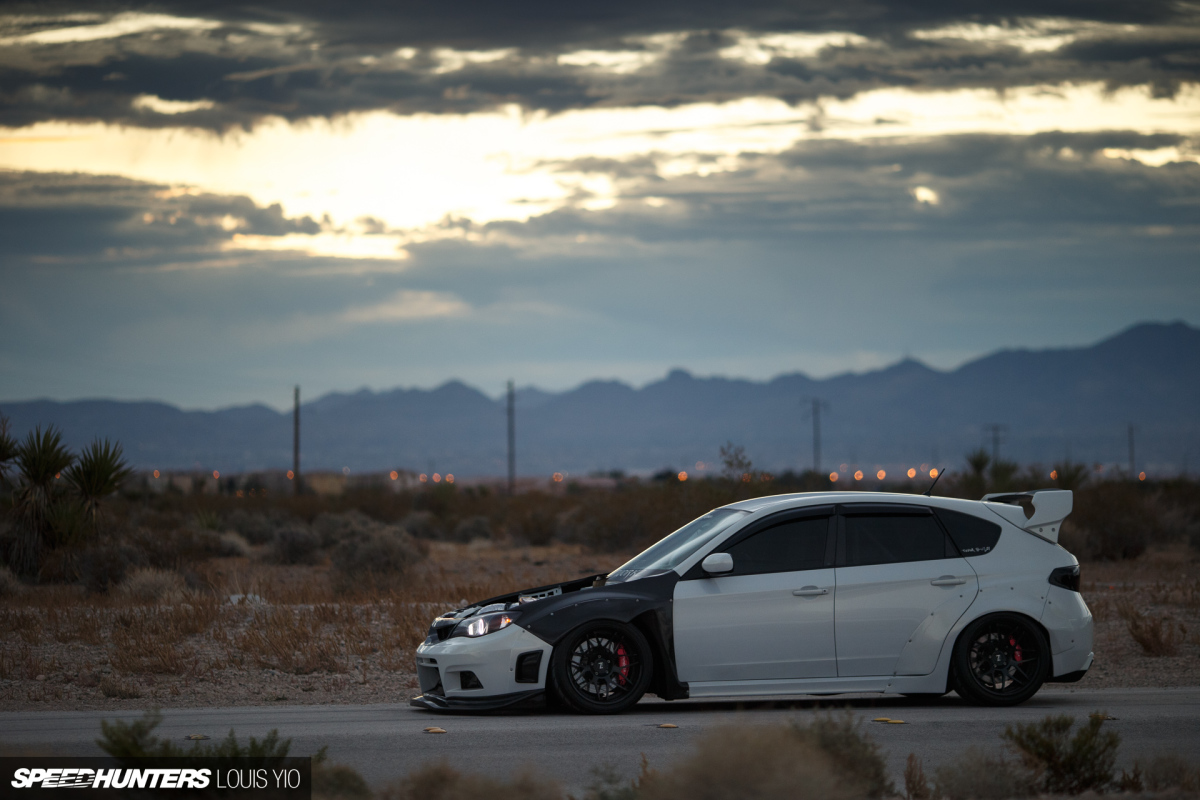 Before we get to the elephant in the room and delve under the imaginary hood, let's take in the exterior details first. Austin purchased the car brand new from a dealer, but it didn't take long before he started modifying it to suit his tastes.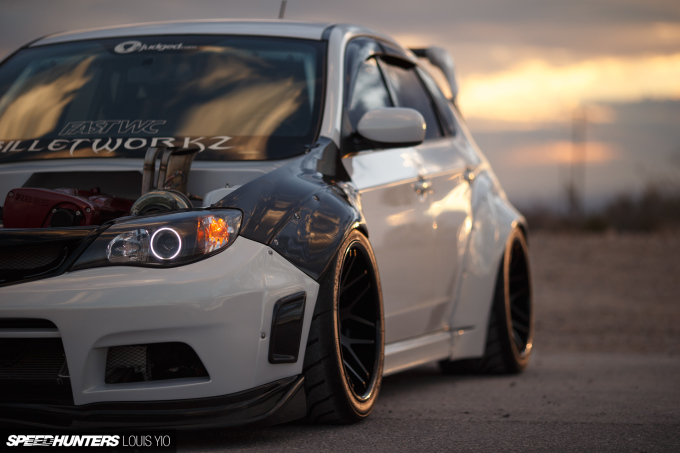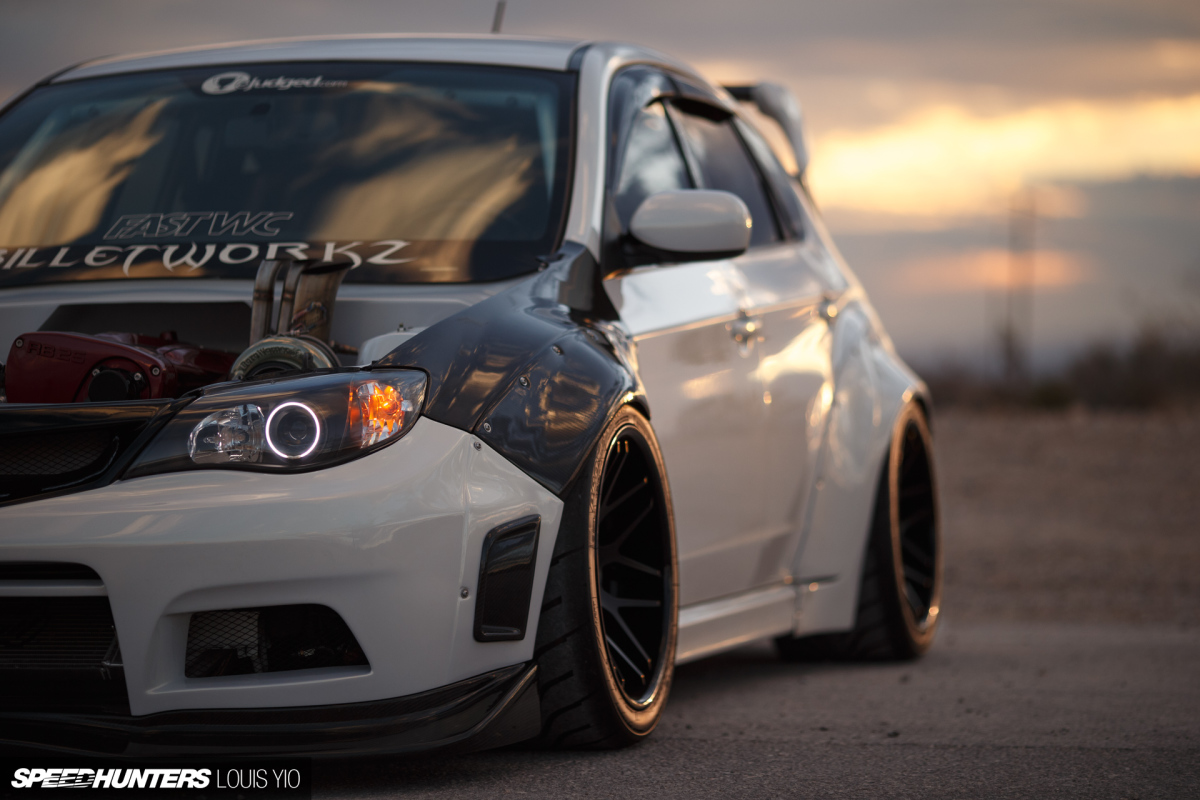 The widebody kit came first. The Impreza was bulked up with a MntRider Design widebody kit, adding around eight inches of girth front and rear.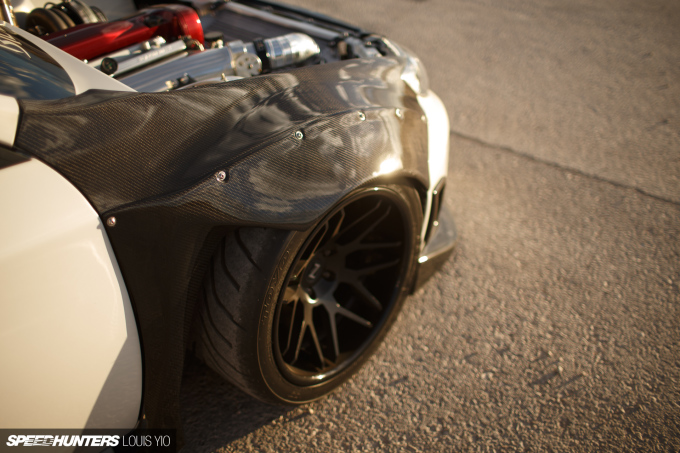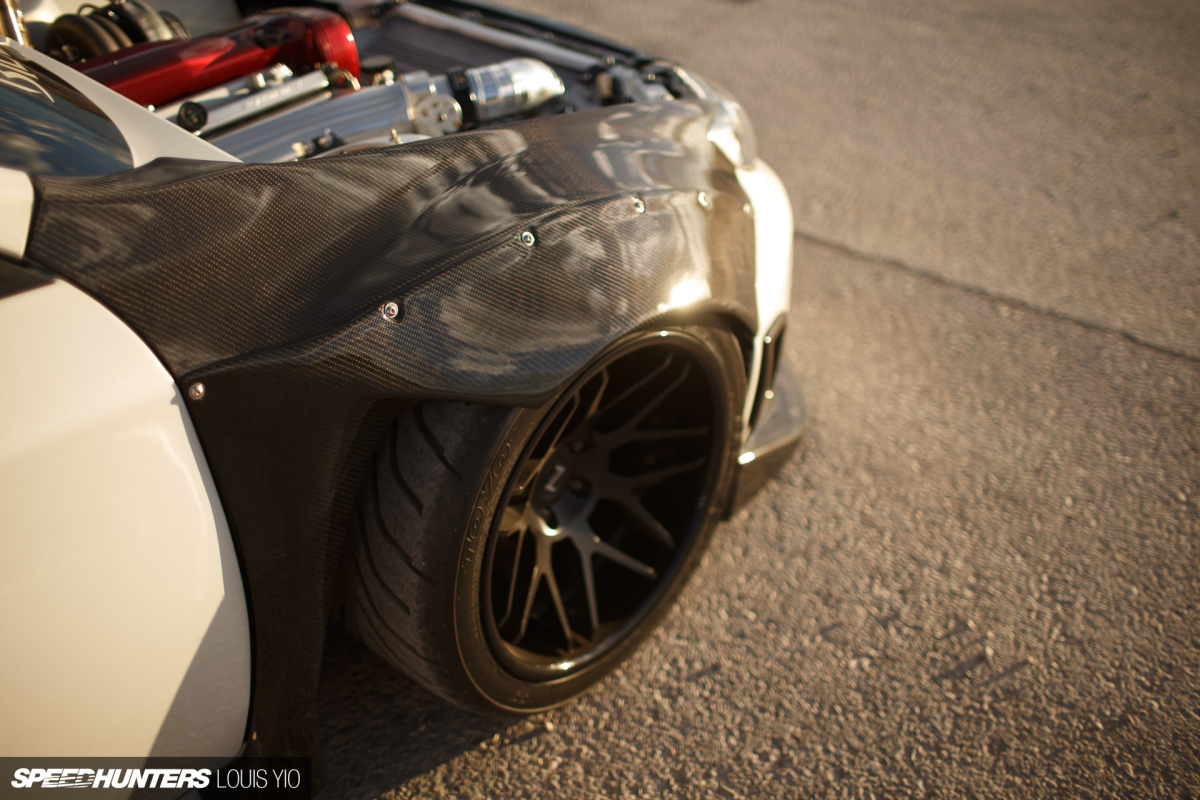 The front fenders are then further modified and accompanied by Carbon Fibre Element front fenders and flares, left with their weave exposed to contrast with the pearl white paintwork.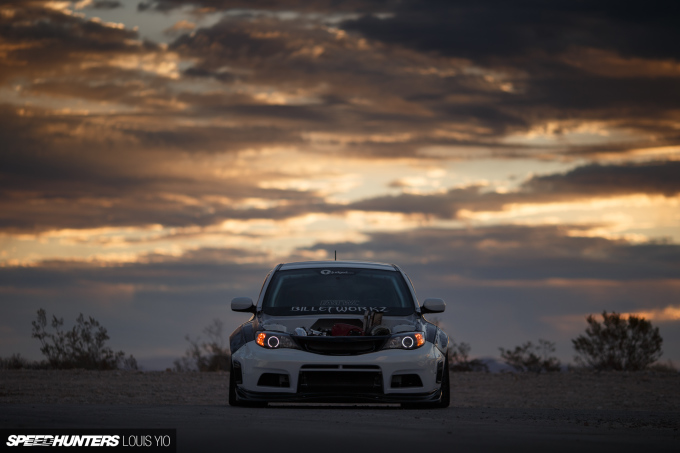 At the front, a Varis front bumper, custom headlamps and IPF JDM fog lights bring additional aggression…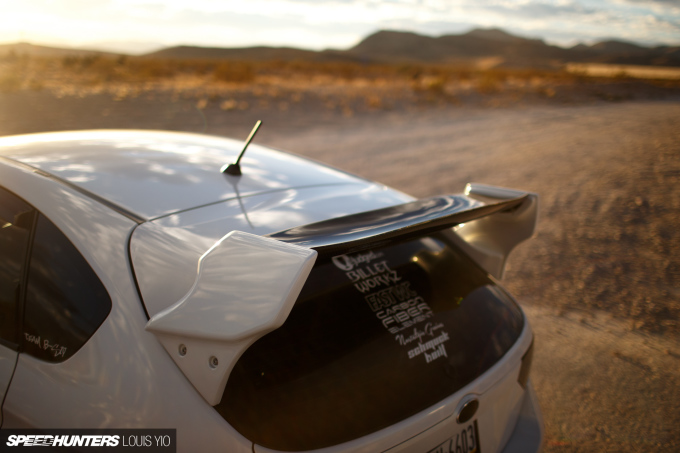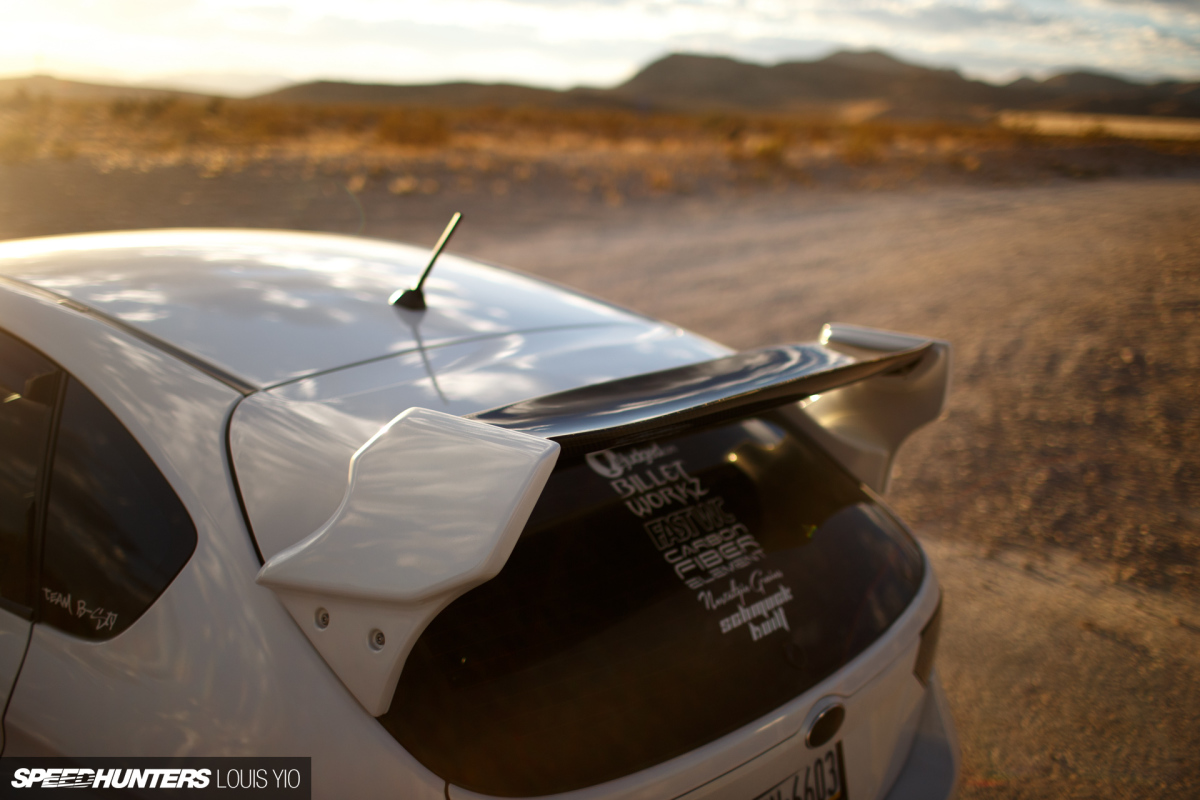 …while from behind an APR Dodge Viper rear diffuser was modified to fit the Subaru and a Blacktop Aero rear spoiler tops off the look. The car was then coated in a one-off gold pearl white.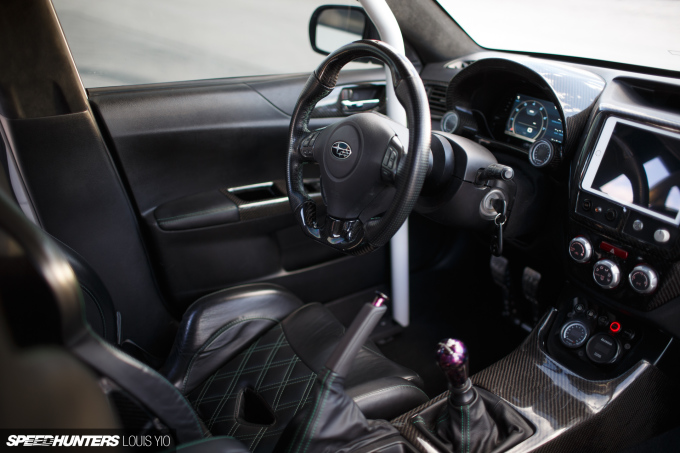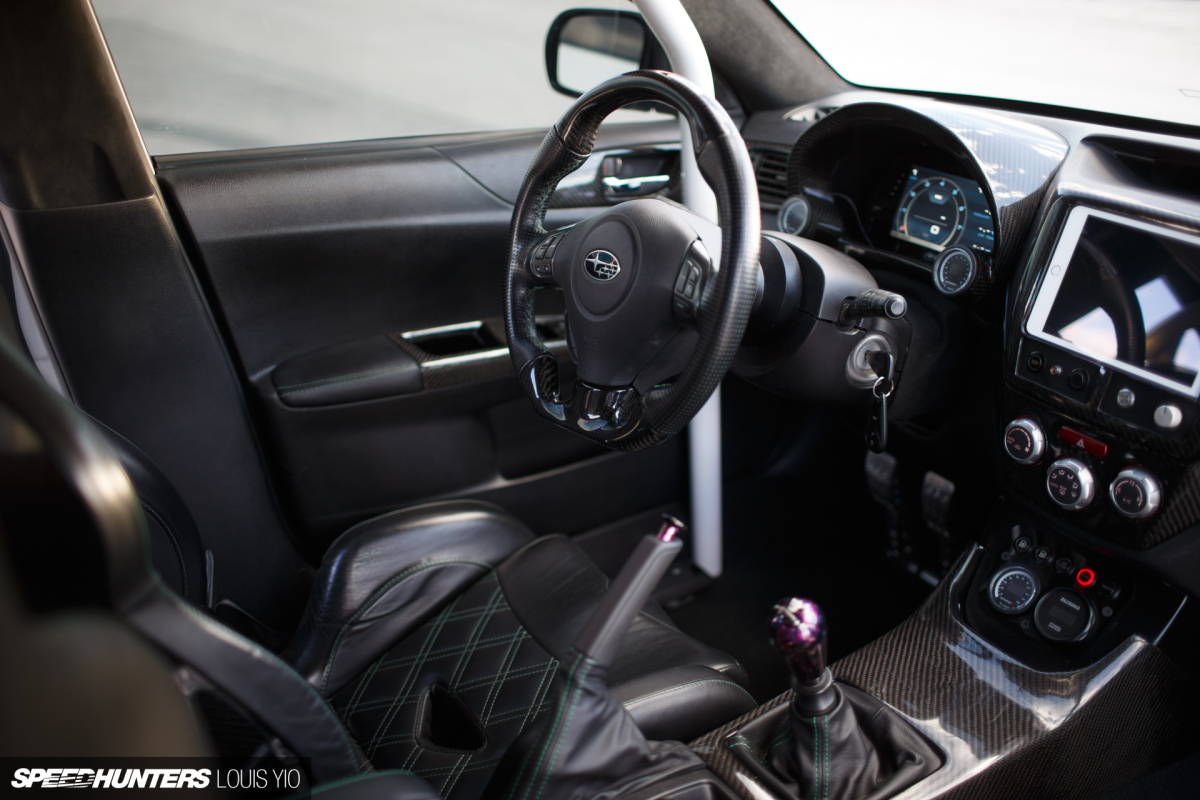 Inside, Takata Drift Pro LE seats and harnesses hold you in position and an Agency Power six-point roll cage helps keep the squishy matter inside in one piece, should the worst happen.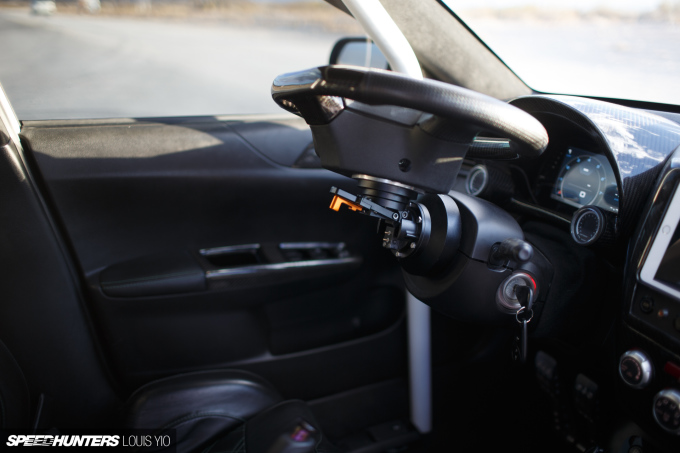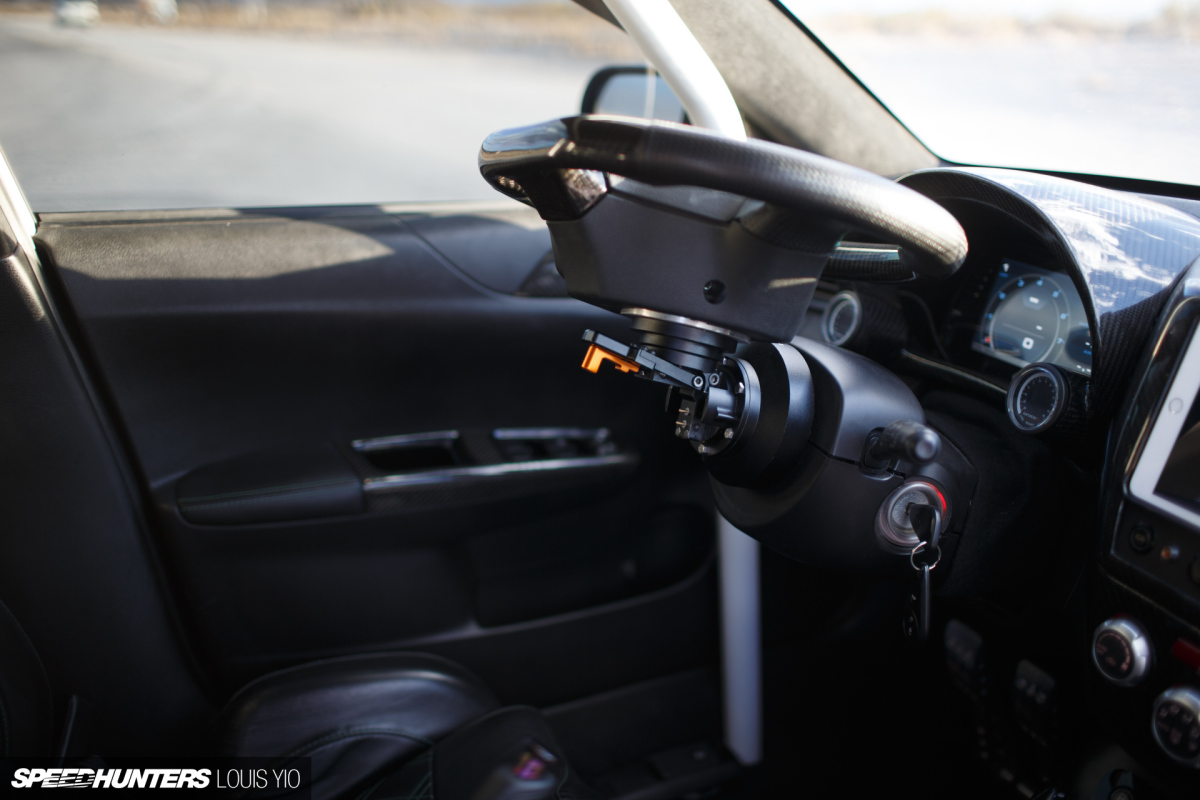 A custom carbon-fibre steering wheel, dash and transmission tunnel cover was created by Carbon Fibre Elements for the build. The shift knob and e-brake button are Billetworkz' own items.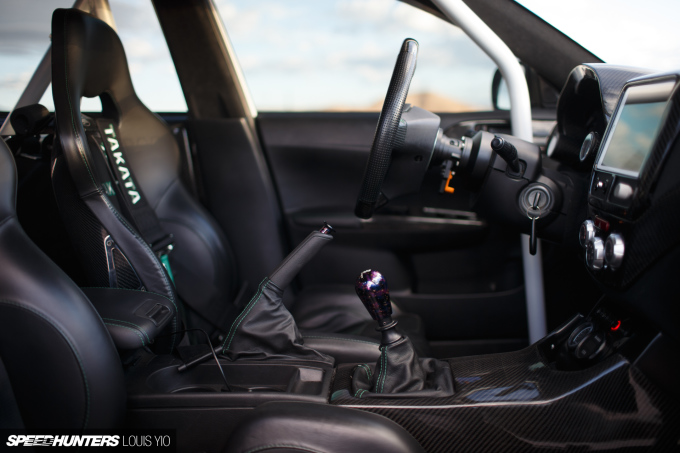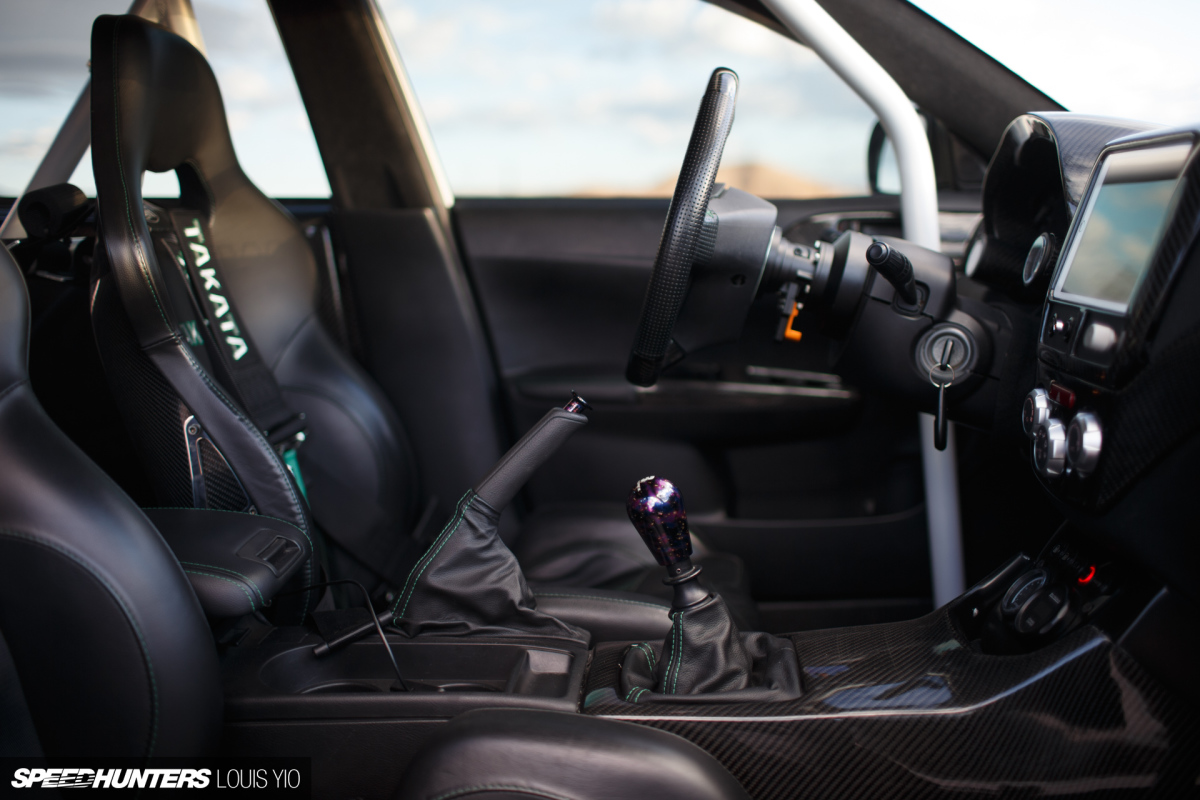 It's hard to tell from the images, but the steering column, dash, pedal box and seating position have all been altered from stock to take into account the repositioned engine and drivetrain, which called for a re-think of the bulkhead and transmission tunnel.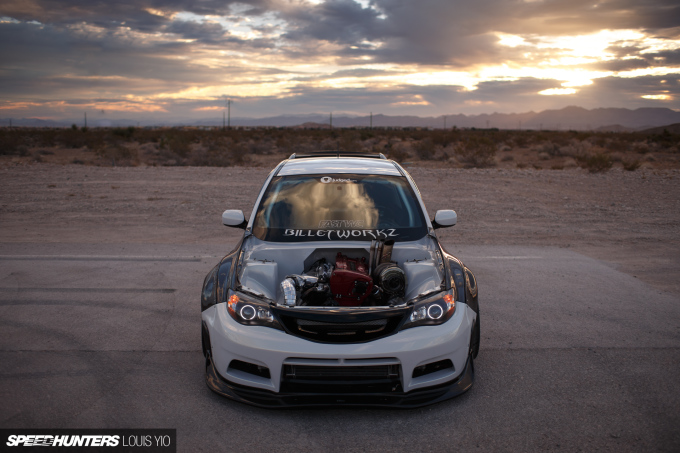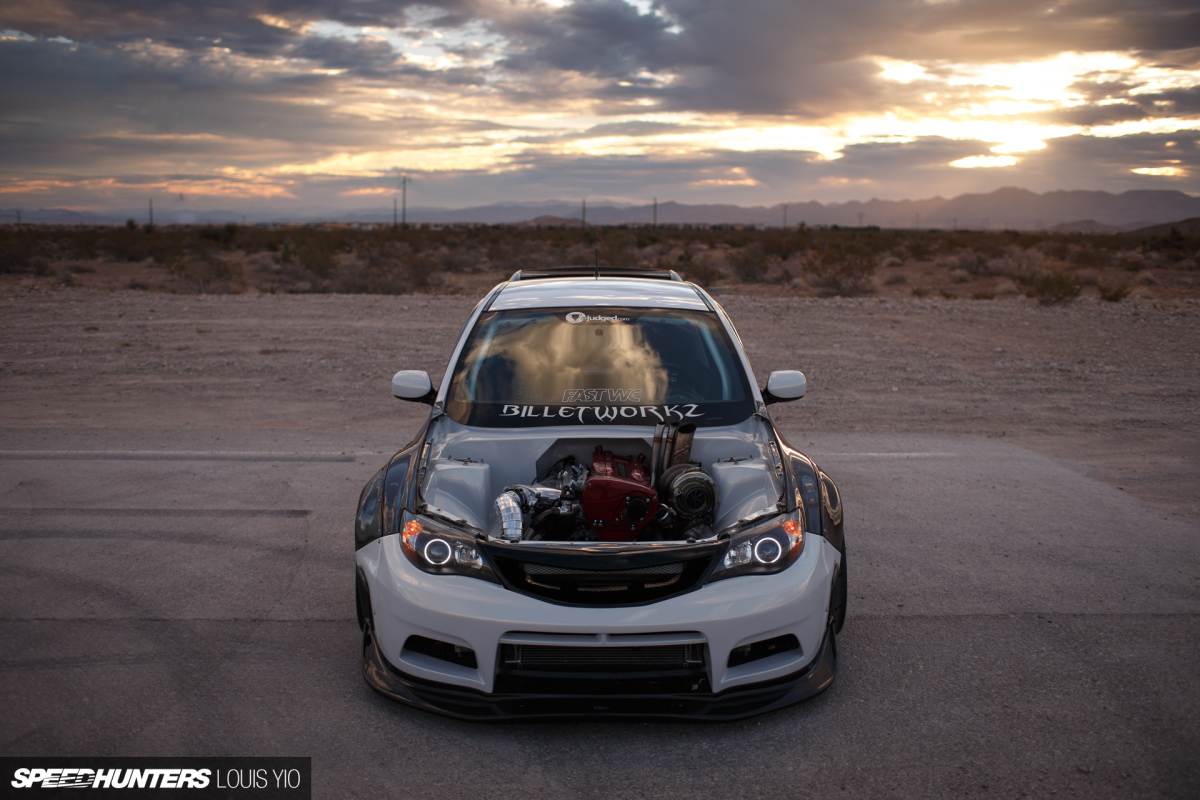 Ah yes, the engine and drivetrain – Austin decided that he wanted more power and, building the car to coincide with the launch of his new business, Billetworkz, it made sense to do something extreme to grab attention. This, coupled with the desire to keep the Impreza all-wheel-drive made an RB26 swap the obvious choice.
The Ace Card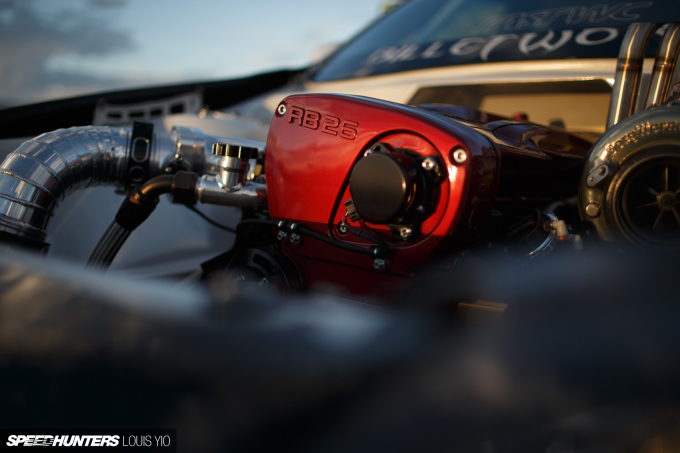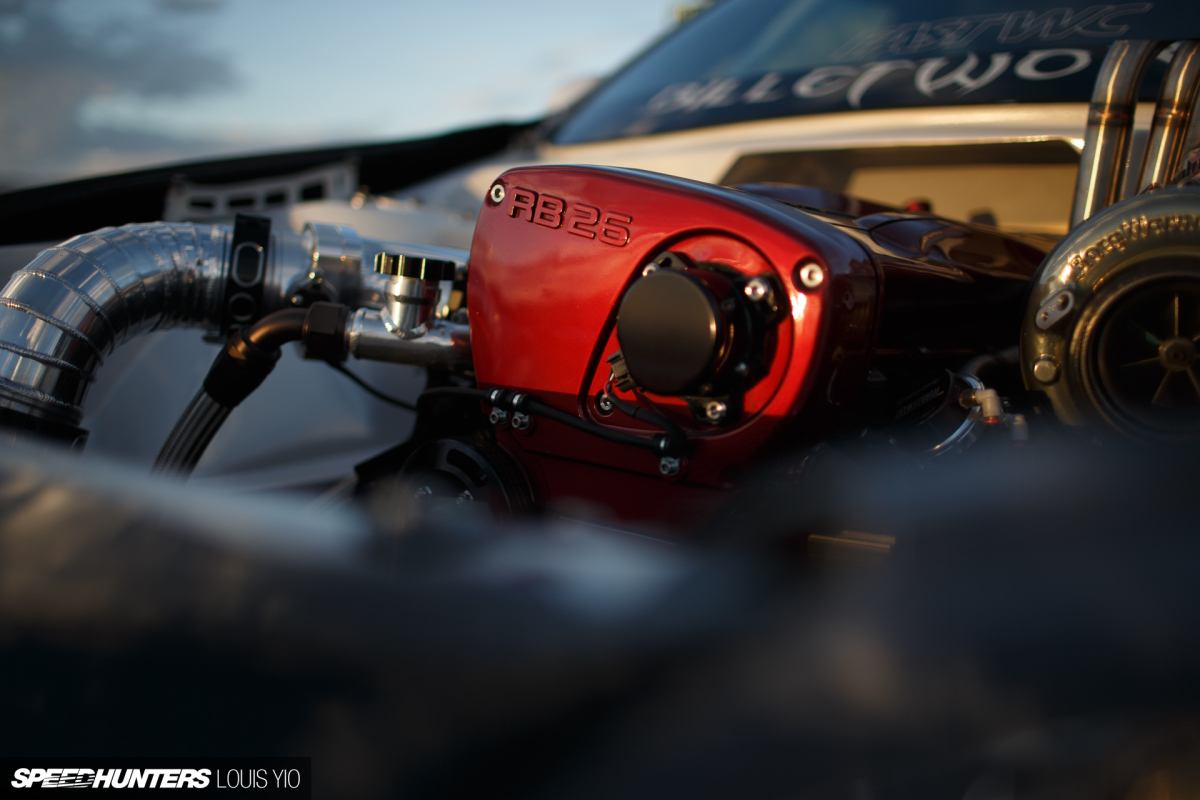 If you're reading Speedhunters and don't know why the legendary Nissan Skyline R34 power plant is so revered, then I'd suggest opening up a new browser window, taking a moment with Google and getting up too speed. We'll be here when you get back.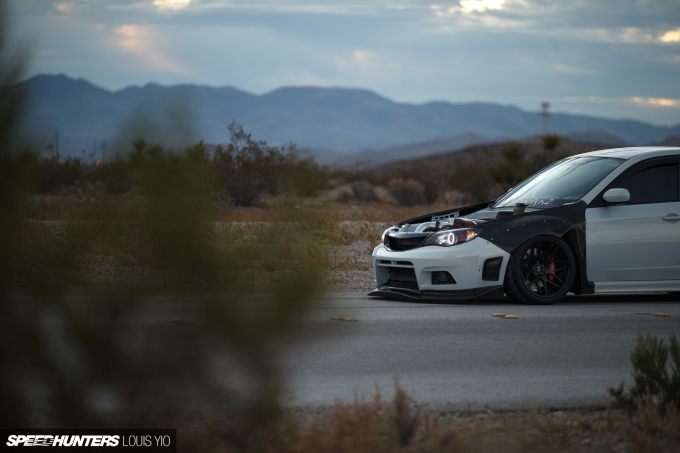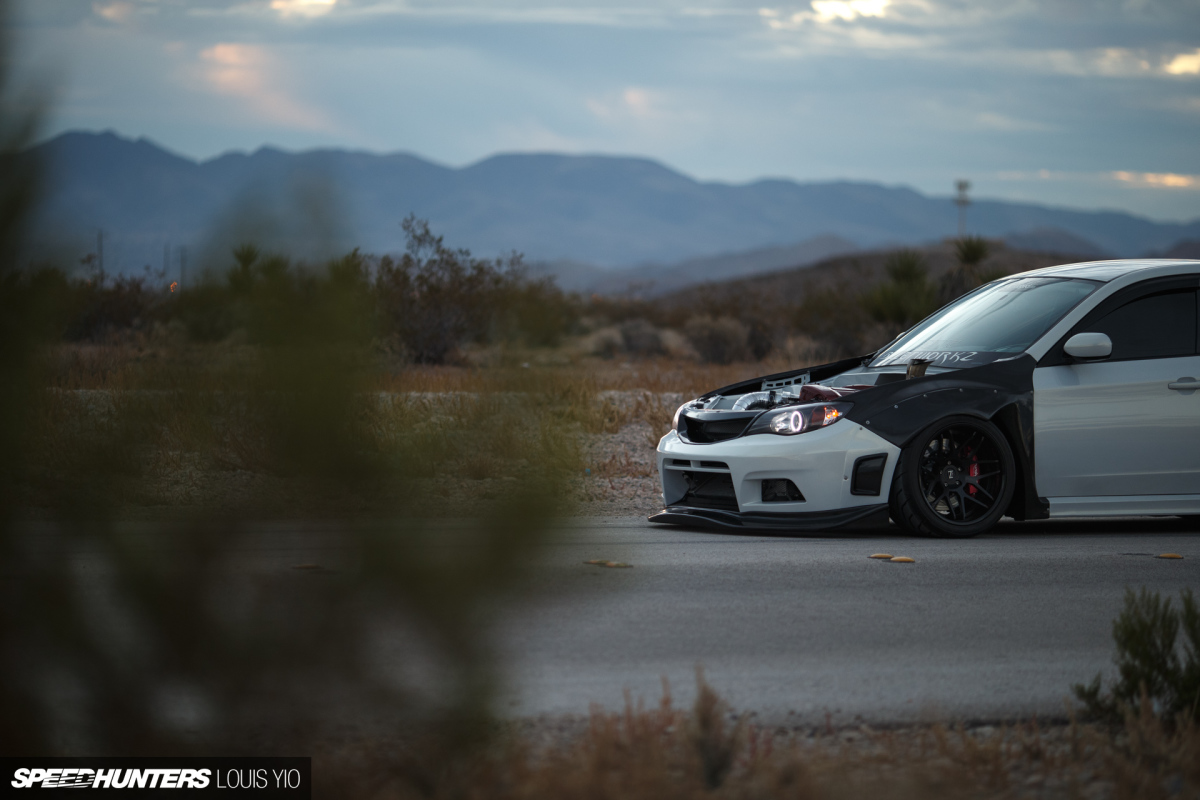 Obvious doesn't mean simple, and Austin tells me that retaining the Nissan AWD system, along with its technical wizardry, was by far the most challenging aspect of the build.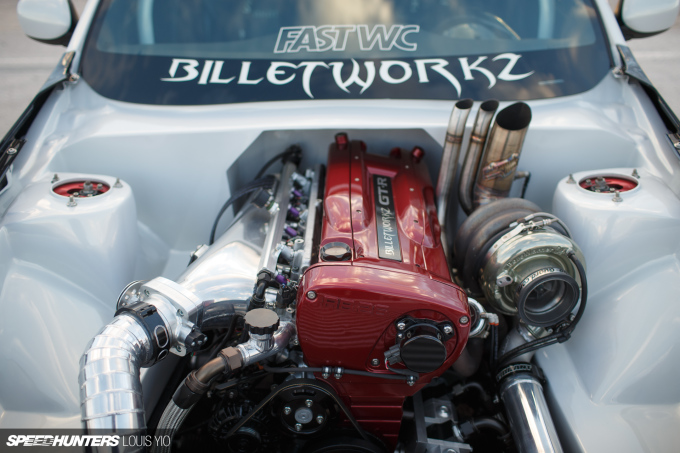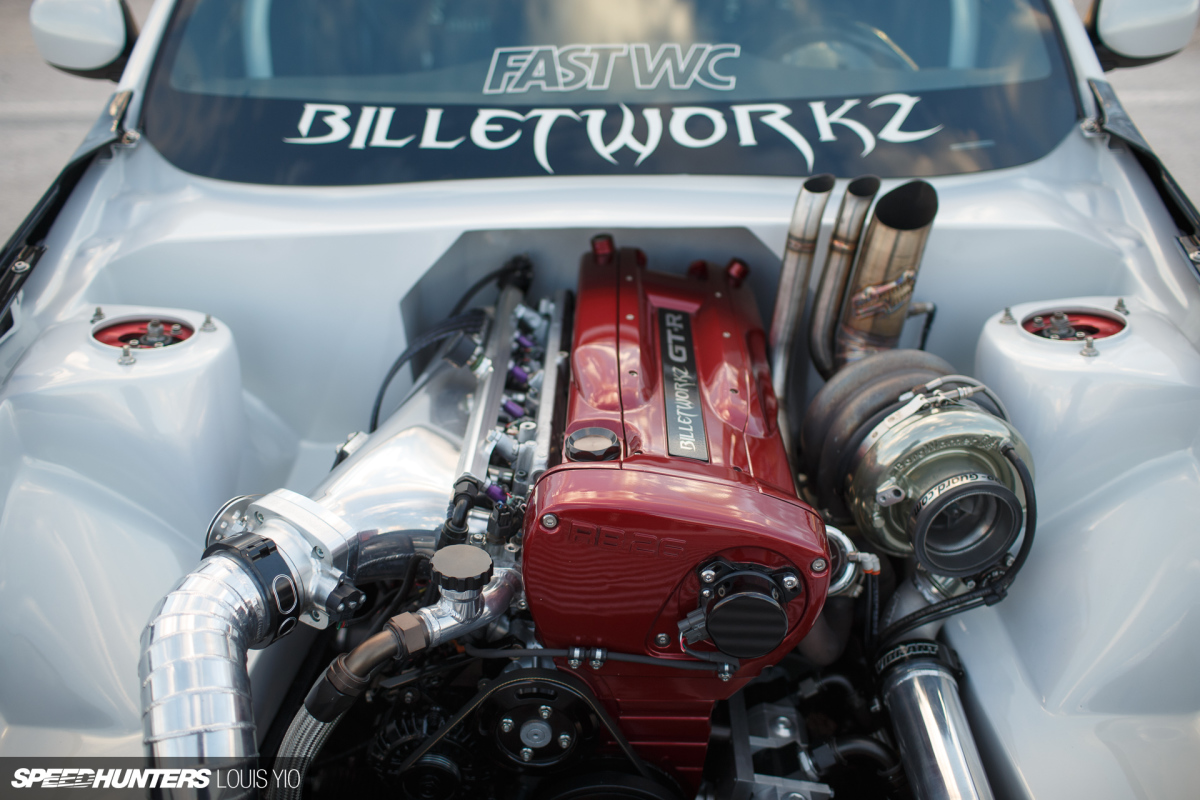 Transplanting a complete engine and drivetrain setup in this manner takes an incredible amount of work, so Austin called in the help of Dave Brown at FAST of West Chester to handle the swap.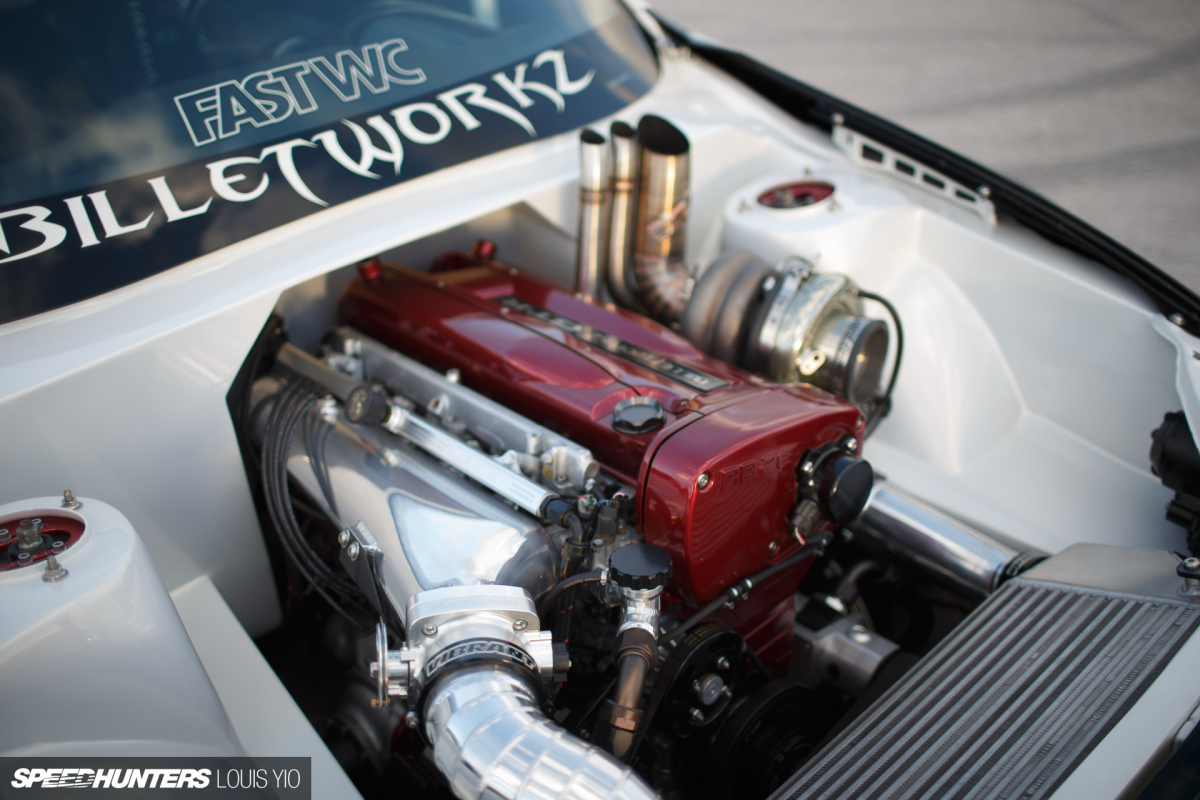 To make room for the new inline-six and Nissan drivetrain, Dave created a custom metal work firewall and transmission tunnel. While the welder was to hand, he also completely shaved and tucked the engine bay.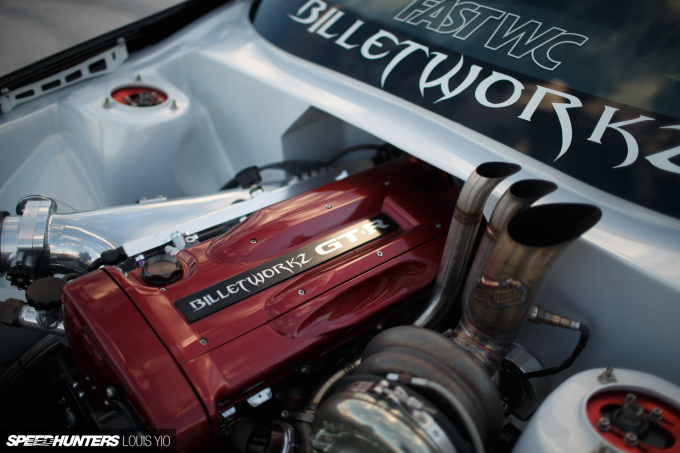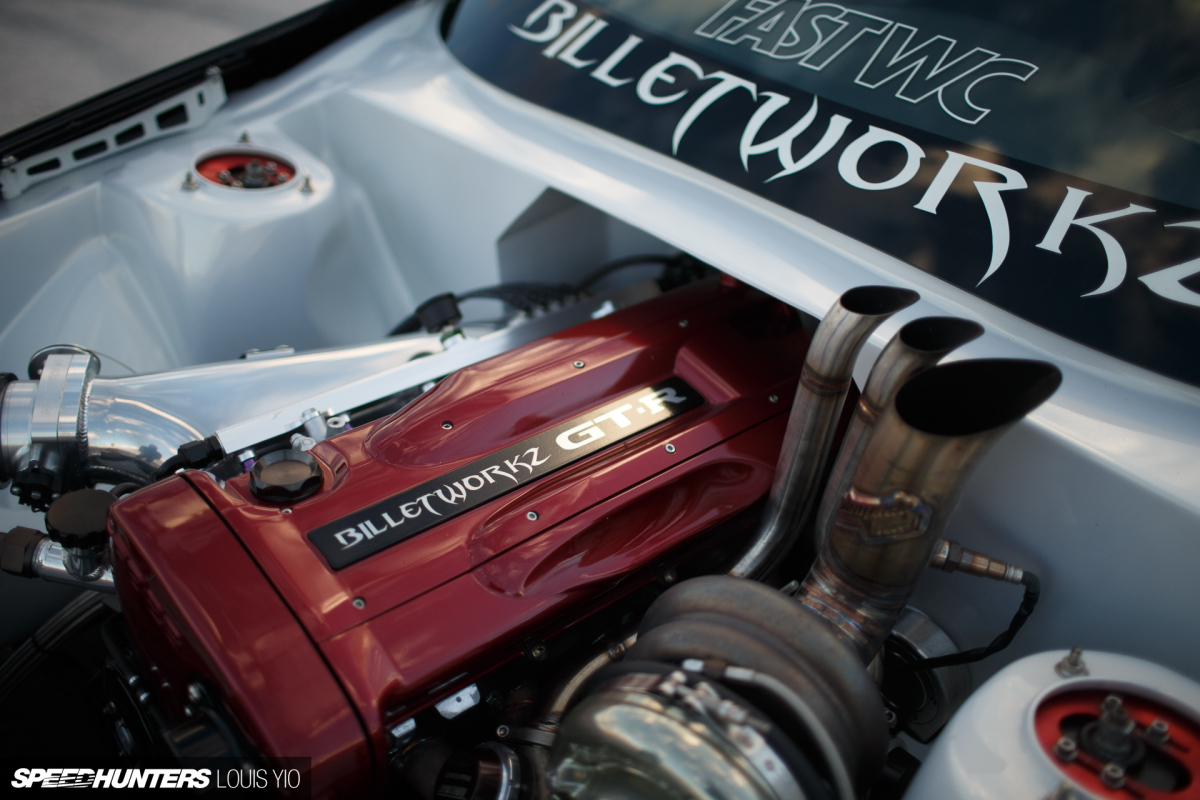 The result is a masterclass in minimalism.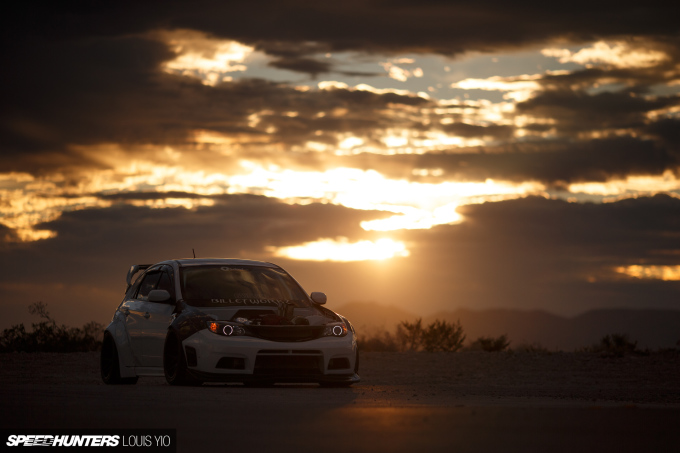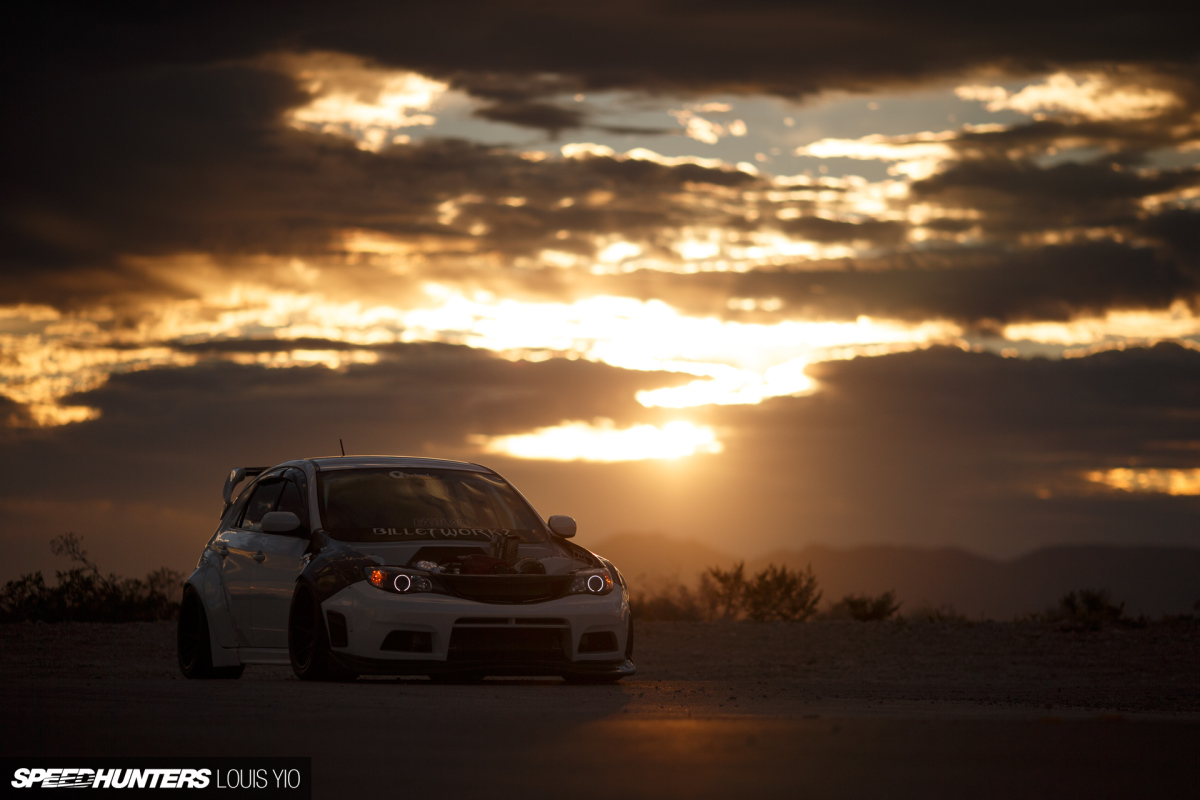 There's just as much work that has taken place underneath that you can't see; a custom tubular front subframe was fabricated at FAST along with a custom transmission crossmember, rear subframe and diff mount. For all intents and purposes, everywhere Nissan meets Subaru had to be modified and/or fabricated by hand.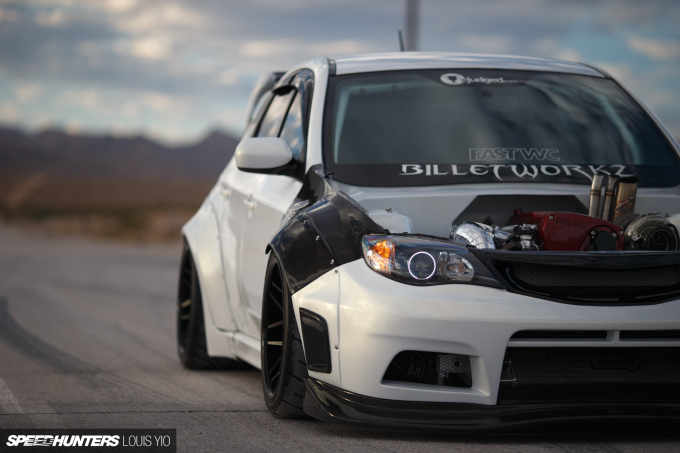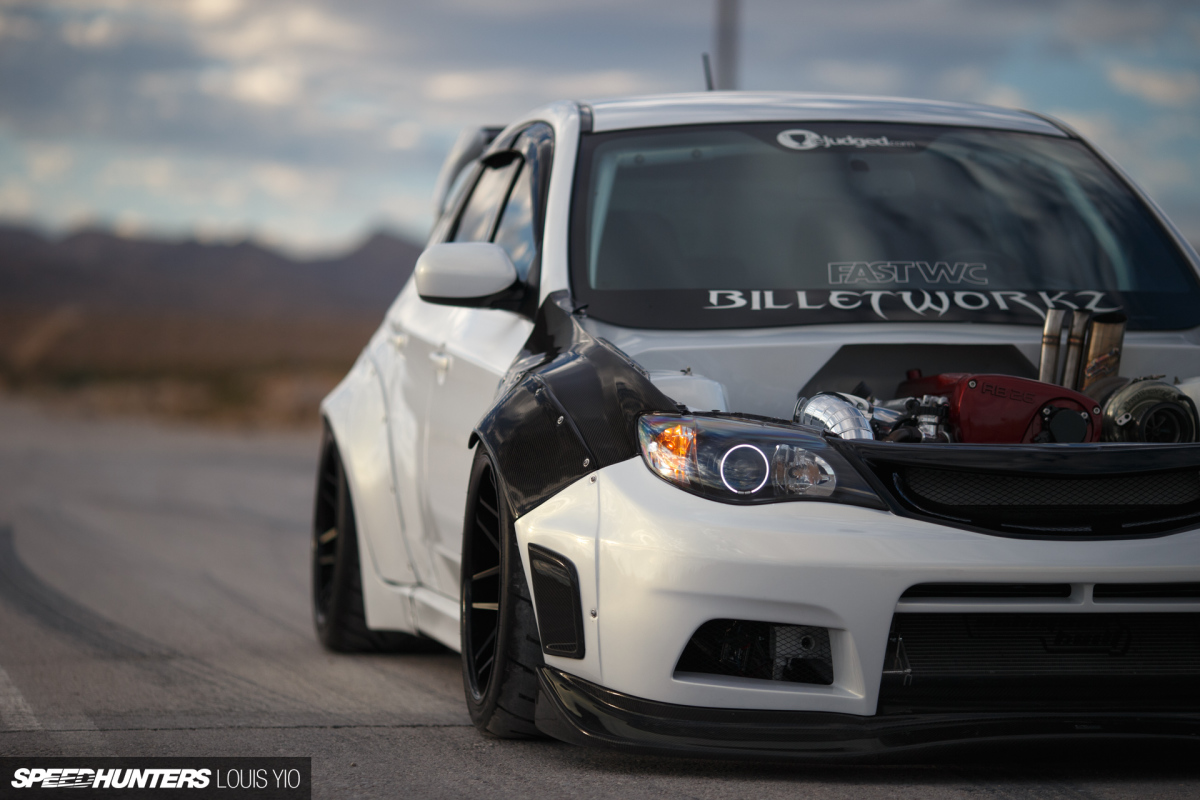 The RB26DETT is no slouch in stock form, but Austin was keen to extract more power out of this potent engine.
Jason Schmuck of Schmuck Built, was called upon to fabricate the piping for the car, from the full exhaust to wastegate dumps, intercooler piping and radiator. Jason also built the piping on Willy Izaguirre's E21 Batmobile that we also featured recently.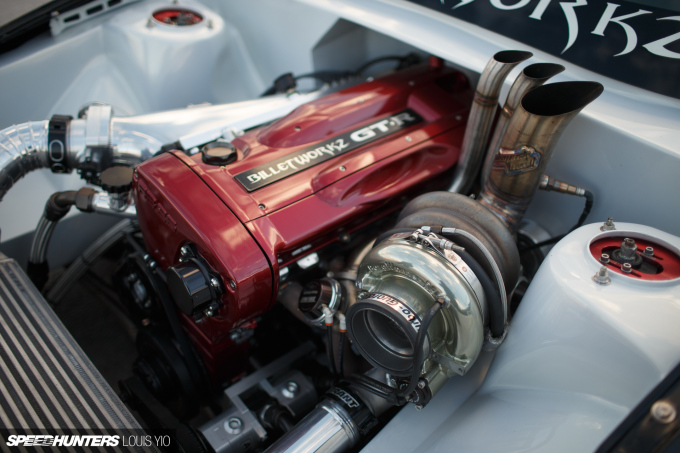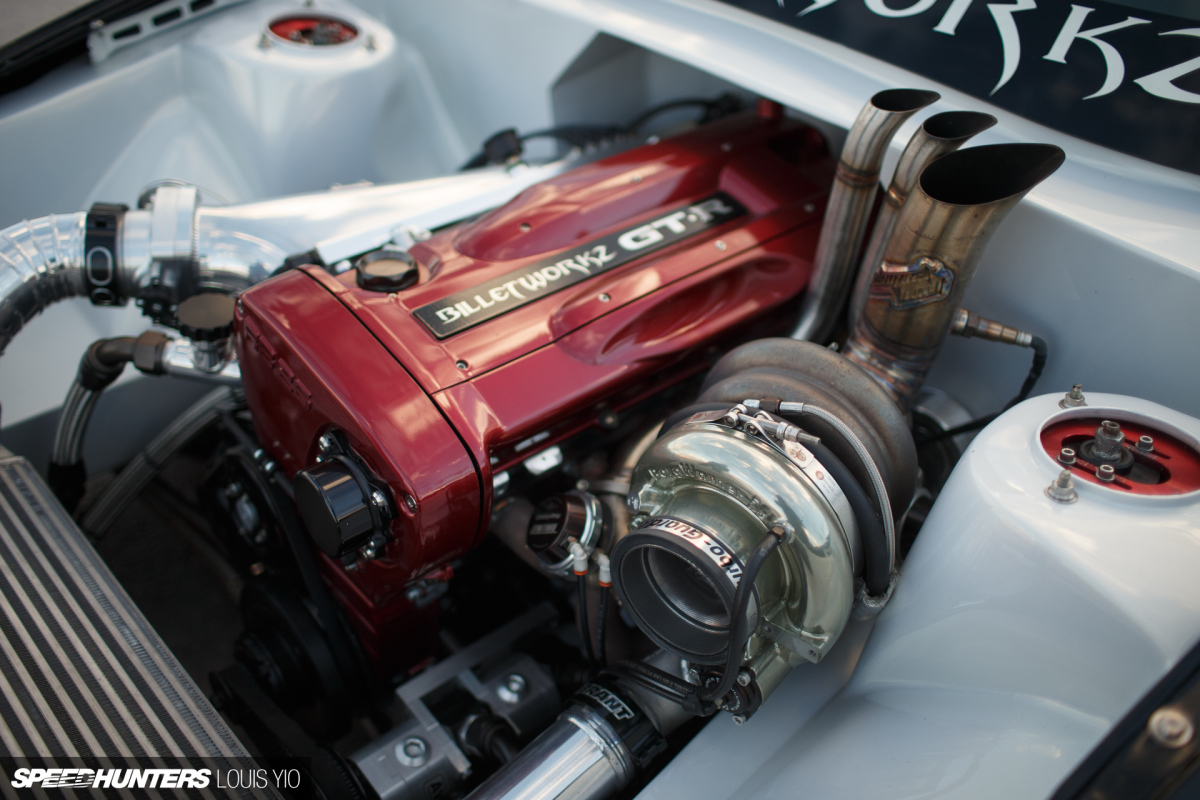 A BorgWarner EFR 9174 twin scroll turbo brings the party, ramming inordinate amounts of boost through the 90mm throttle body and into a Plazmaman intake manifold.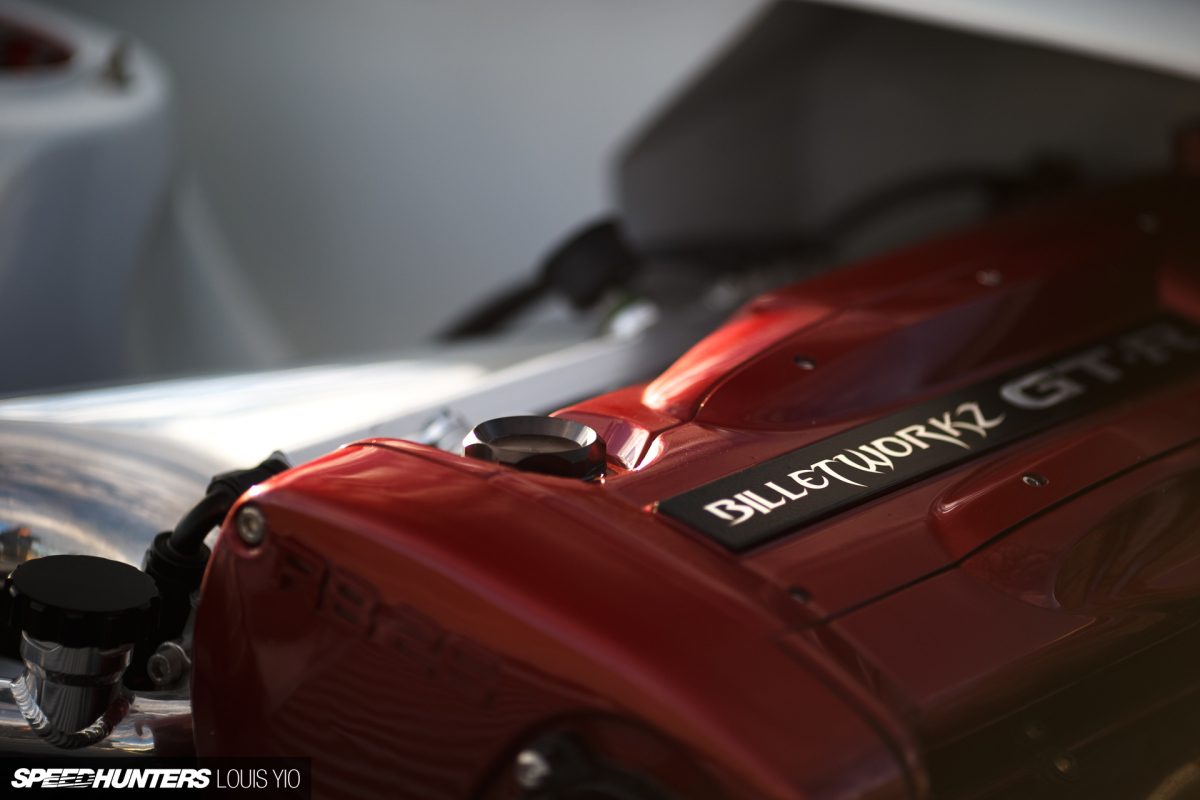 The necessary combustible fluids are supplied by dual AEM 320 E85 fuel pumps and ID2000 injectors overseen by a Zeitronix flex fuel system, while a dry sump oil system keeps everything nicely lubricated and safe from oil starvation when cornering.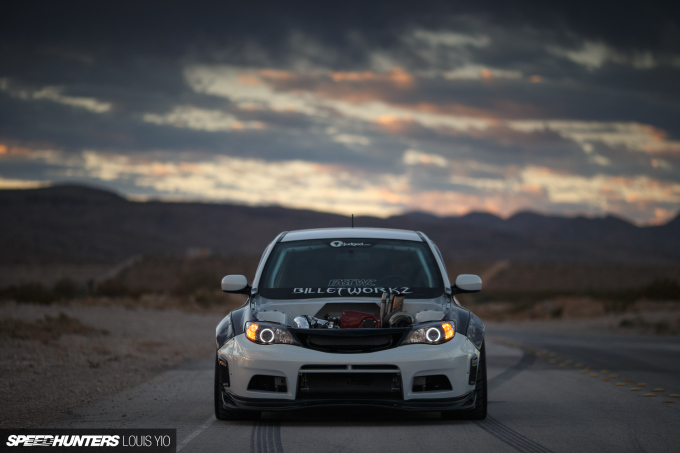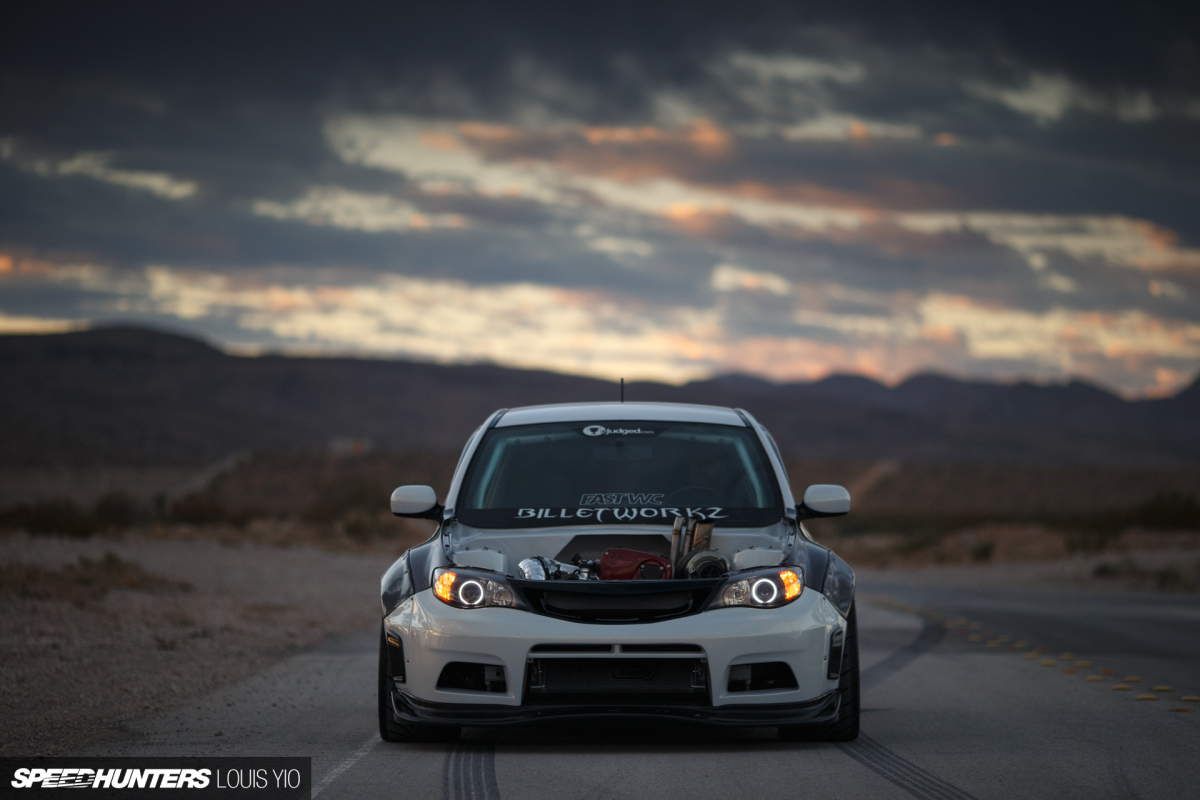 The RB26 is powered by a Haltech Platinum Pro ECU, hooked in by a Wiring Specialities harness. The resulting power is a not-too-shabby 713whp and 568tq, along with a sweet six-cylinder symphony to boot.
The Art Of Machine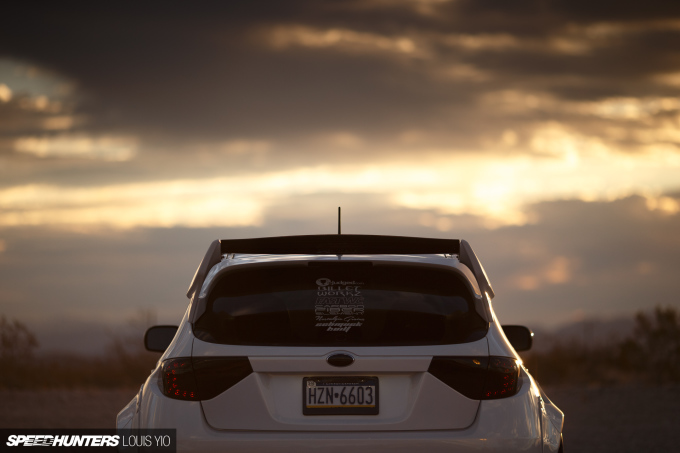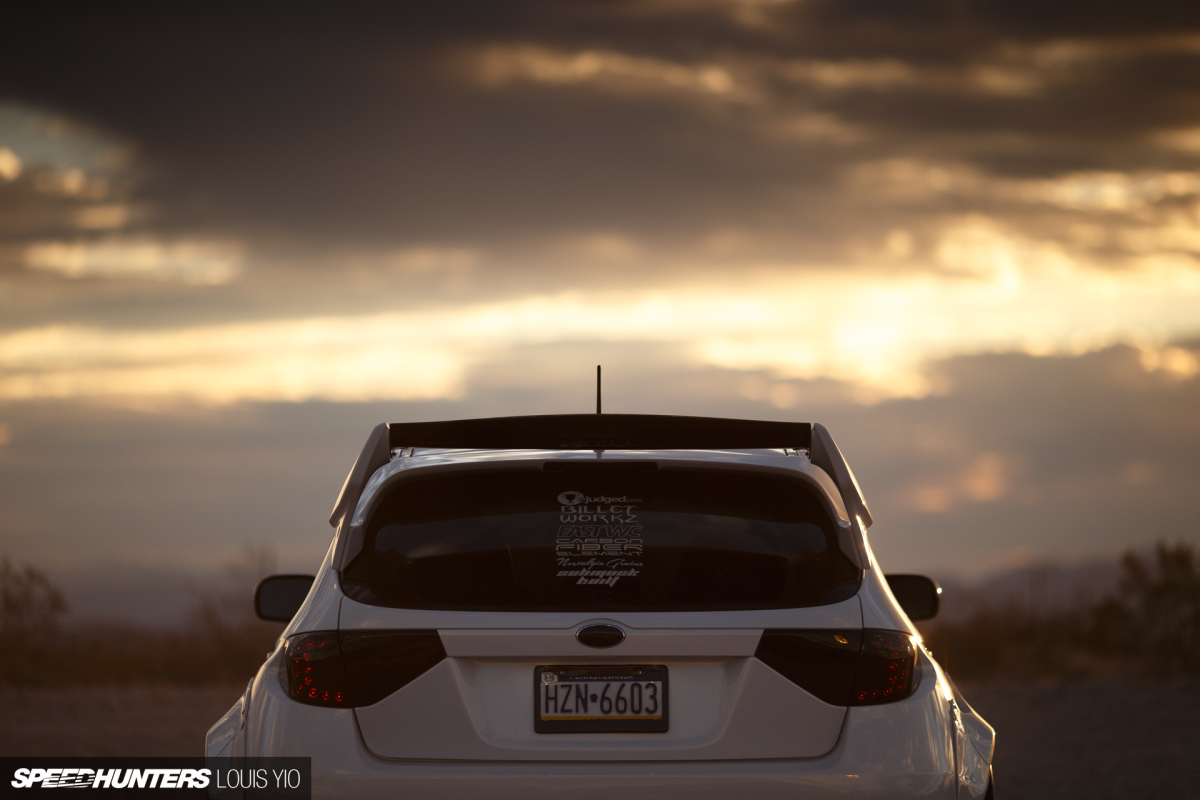 Austin tells me that it's a visceral driving experience, not because of the power alone, but because of the cacophony of sounds fighting for your attention – the turbo whistle, the fuel pumps, the dry sump system, the electric steering system all whirring away. That's without mentioning the roar of the engine and four-foot flames shooting up in your line of sight whilst trying to hold down over 700hp.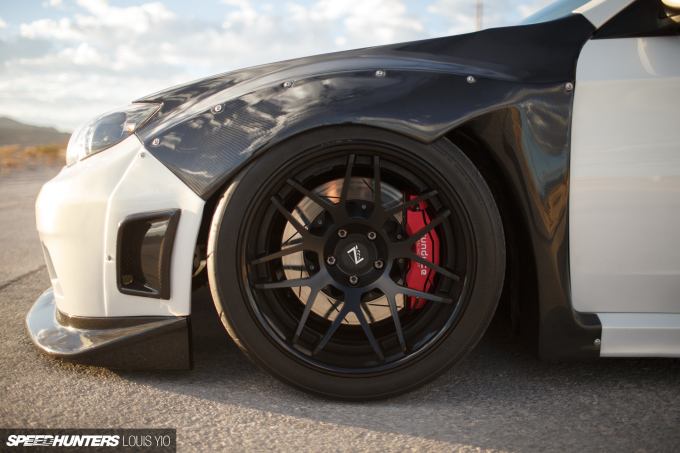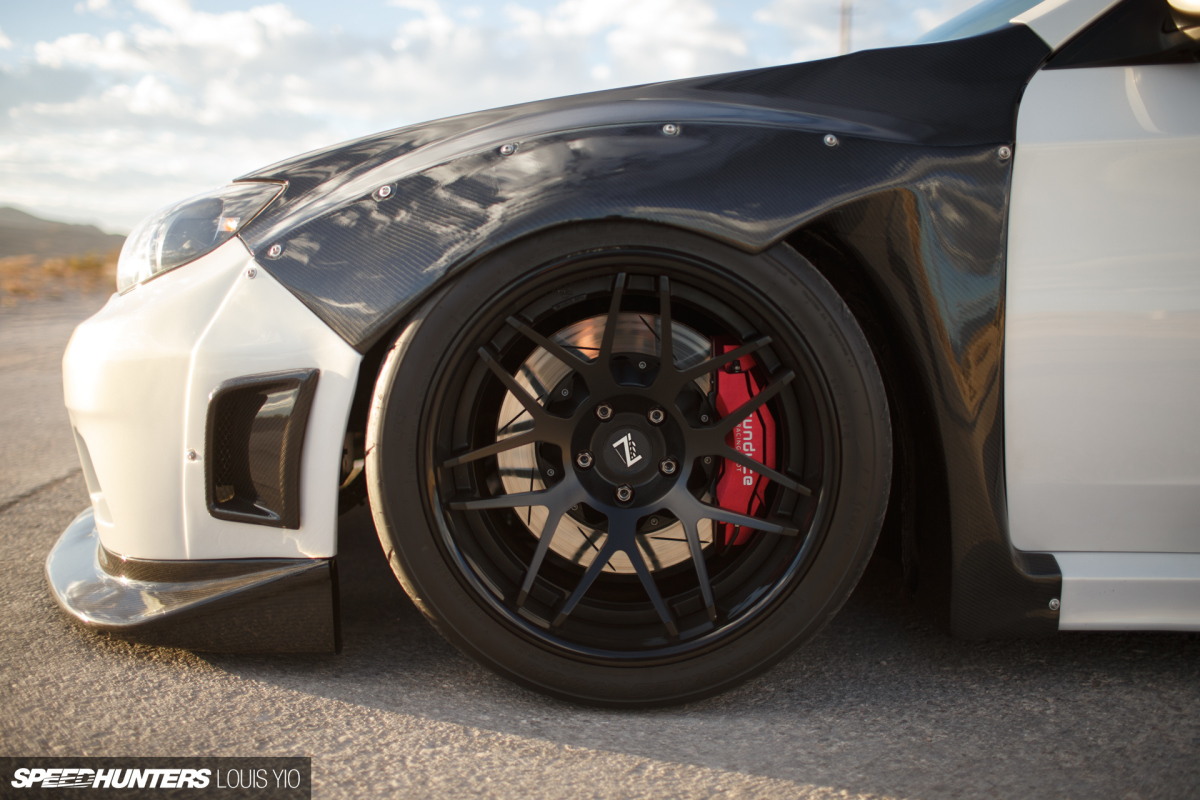 Putting the power to the ground at all four corners involves an ATS Triple Carbon clutch and Driveshaft Shop Stage 4 axles and shafts. Austin can then use his Full-Race Motorsports ETS Pro centre diff controller to manually assign power, even allowing for some rear-wheel drive fun, should the fancy take him.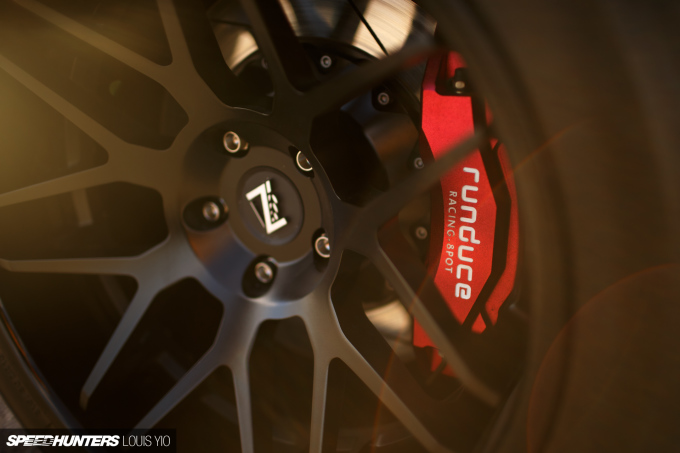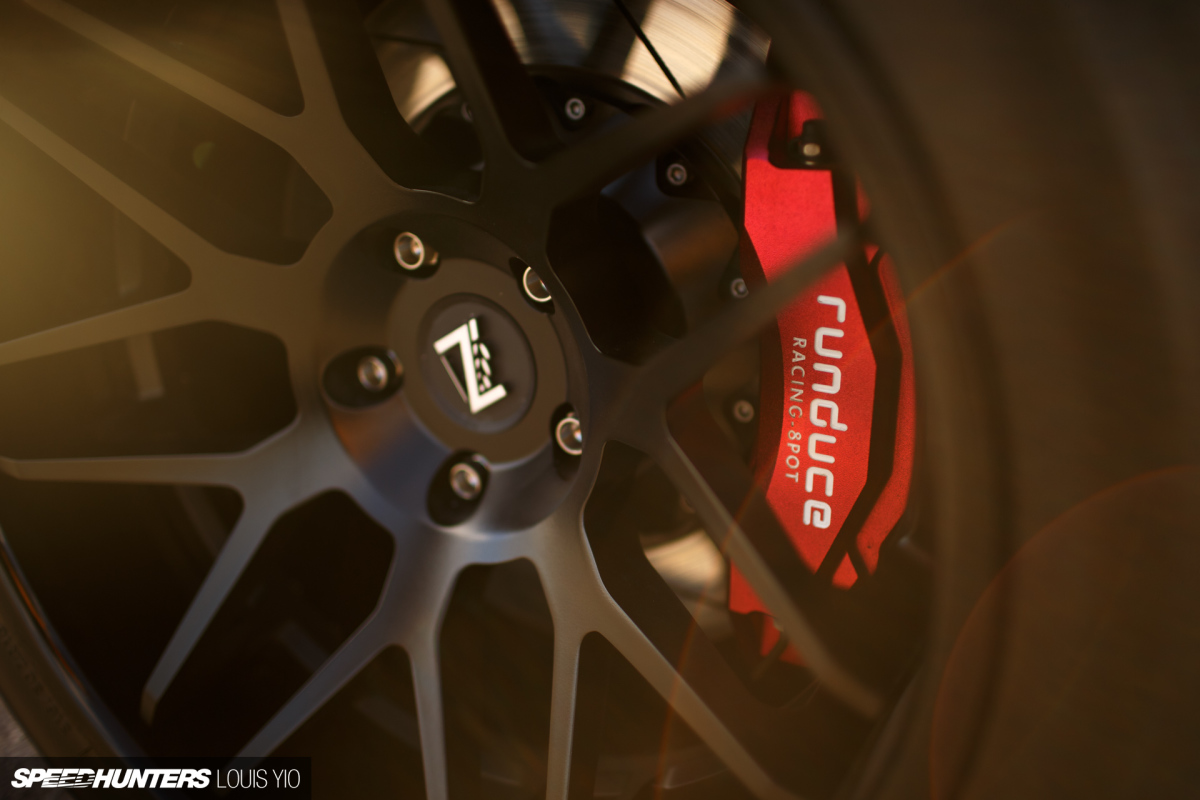 The task of stopping the madness falls to four huge anchors, one at each corner. A Runduce eight-pot front big brake kit and six-pot rear kit are more than up to the task.
A set of gigantic forged Nessen S|7.0 wheels contain the monster stoppers, measuring at 18×12-inches all around. These are wrapped in sticky 315/30 Toyo R888s.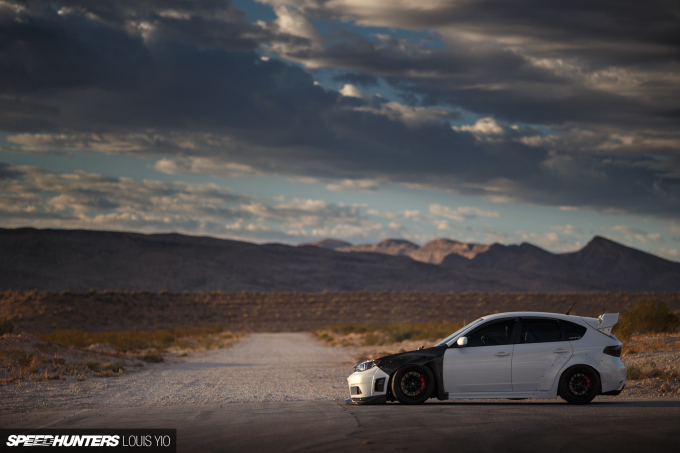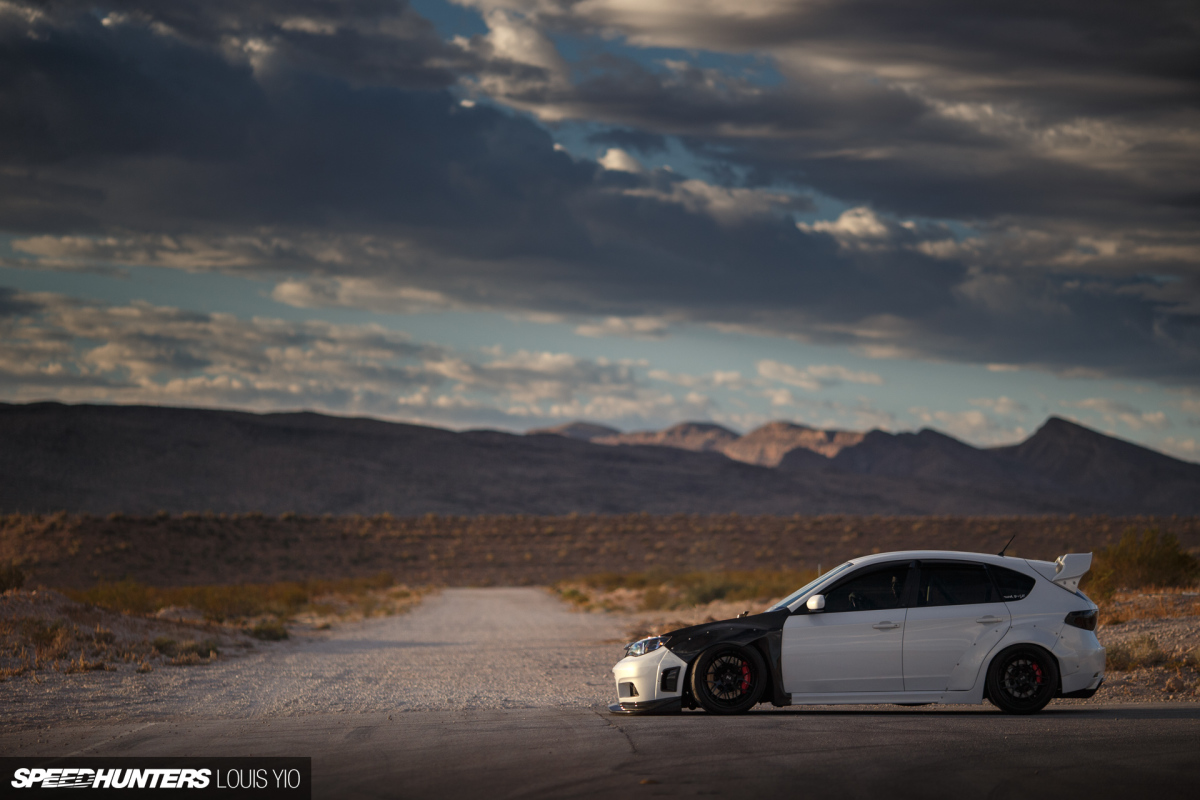 Austin was keen to retain the Impreza's street drivability whilst building it to be a hit at shows, so air suspension was the logical route to take. A full Air Lift Performance setup is tucked away in the boot, utilising Air Lift Performance's 3P management system. Up for street, down for shows. Simple.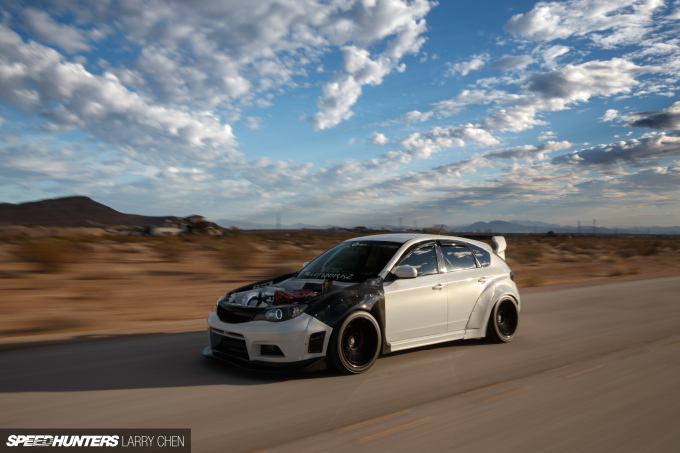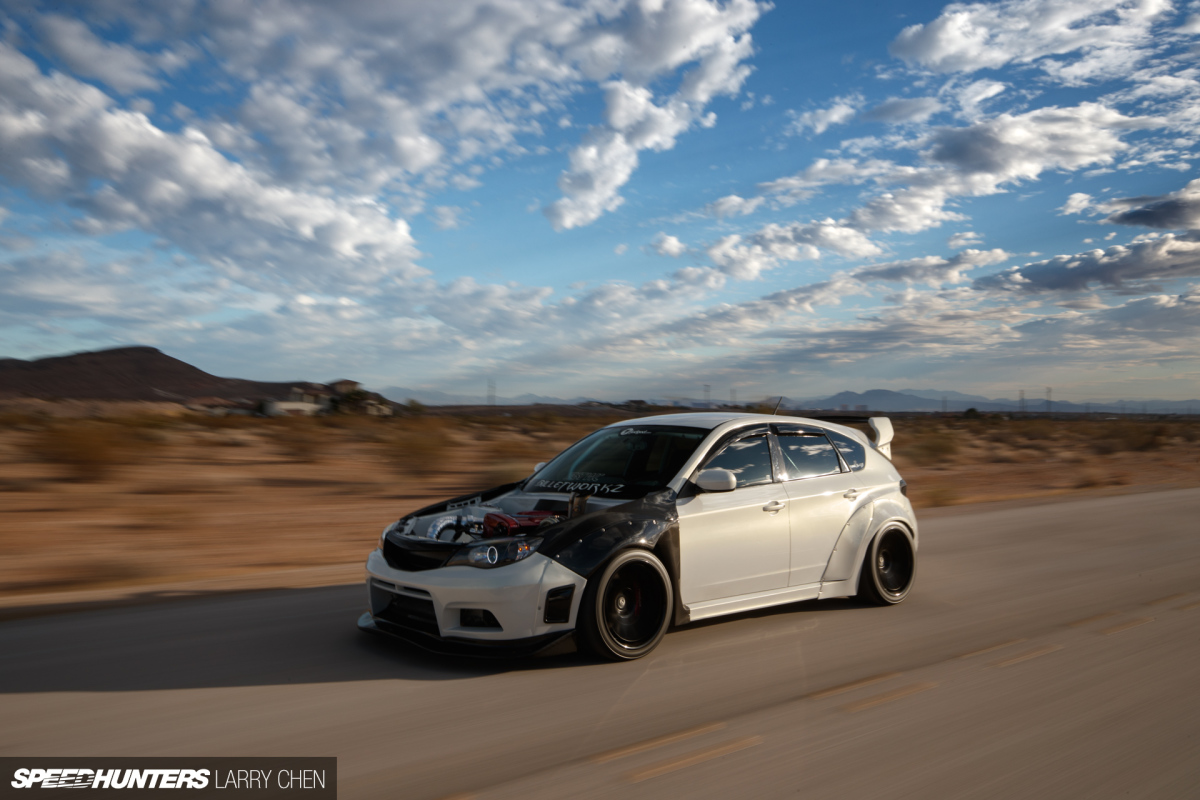 The build's not done either – Austin is currently working on a fresh RB26 block, stroked to 2.8-litres, along with a fully built head. He's aiming for more power and an improved powerband with a view to take the Impreza on track this year.
Who says that show cars can't be go cars too?
Words by Jordan Butters
Instagram: jordanbutters
jordan@speedhunters.com
Photos by Larry Chen
Instagram: larry_chen_foto
larry@speedhunters.com
and Louis Yio
louis@speedhunters.com
Instagram: lusciousy
Cutting Room Floor