Arrival
I waited my whole adult life for my first trip to Japan.
Ever since watching grainy 240p equivalent videos of a man called Taniguchi drifting a red Silvia for a Yokohama promotional video, which had been downloaded from the internet and subsequently burned onto DVD, I was captivated. First by drifting, and then by the country in which it originated.
It took the better part of 15 years before I finally sat on that Boeing 777 destined for Tokyo Narita. The 11-hour flight literally and figuratively flew by. We left London Heathrow on a Tuesday afternoon and arrived in Narita at lunchtime the next day. No sleep was had on that flight. It was the adult equivalent of the night before Christmas morning.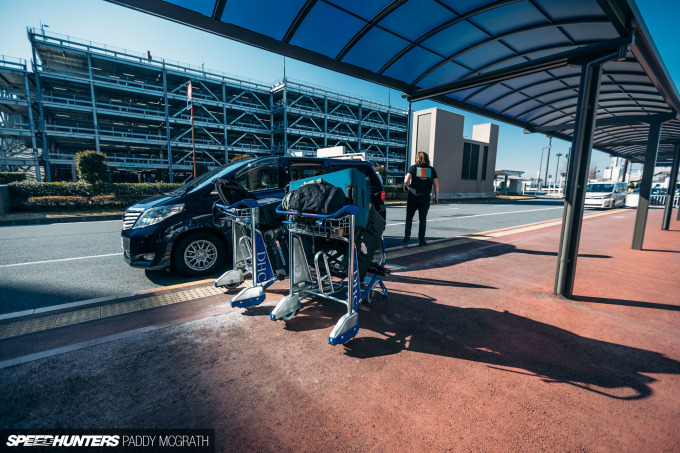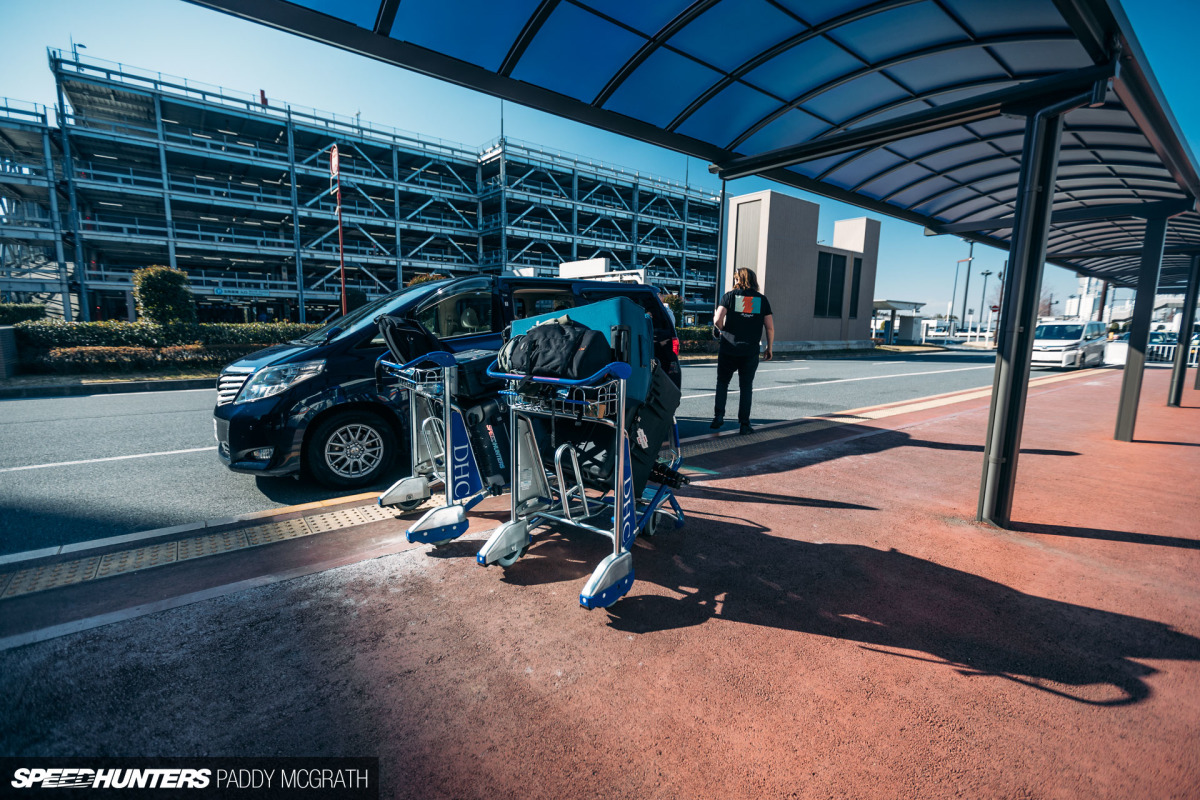 From London, I had the company of one of my favourite humans, filmmaker Stephen Brooks. By the time we landed, cleared immigration, collected our bags and cleared customs, we were greeted by fellow Speedhunters Ben Chandler and Mark Riccioni, who had arrived a day or so before us.
Airports always feel like airports, no matter where in the world you might be or whatever language the signs might be in. It's that first real taste of a new country when you get on the road, and there was no doubt that we were now in Japan. A quick diversion to our hotel to check in, freshen up and grab some food before heading out into the evening.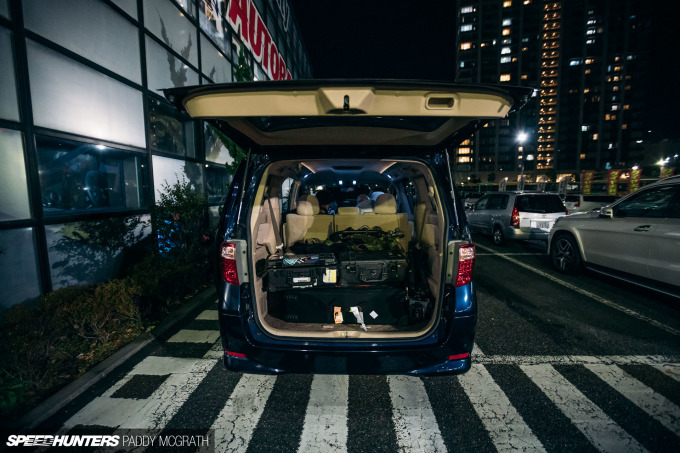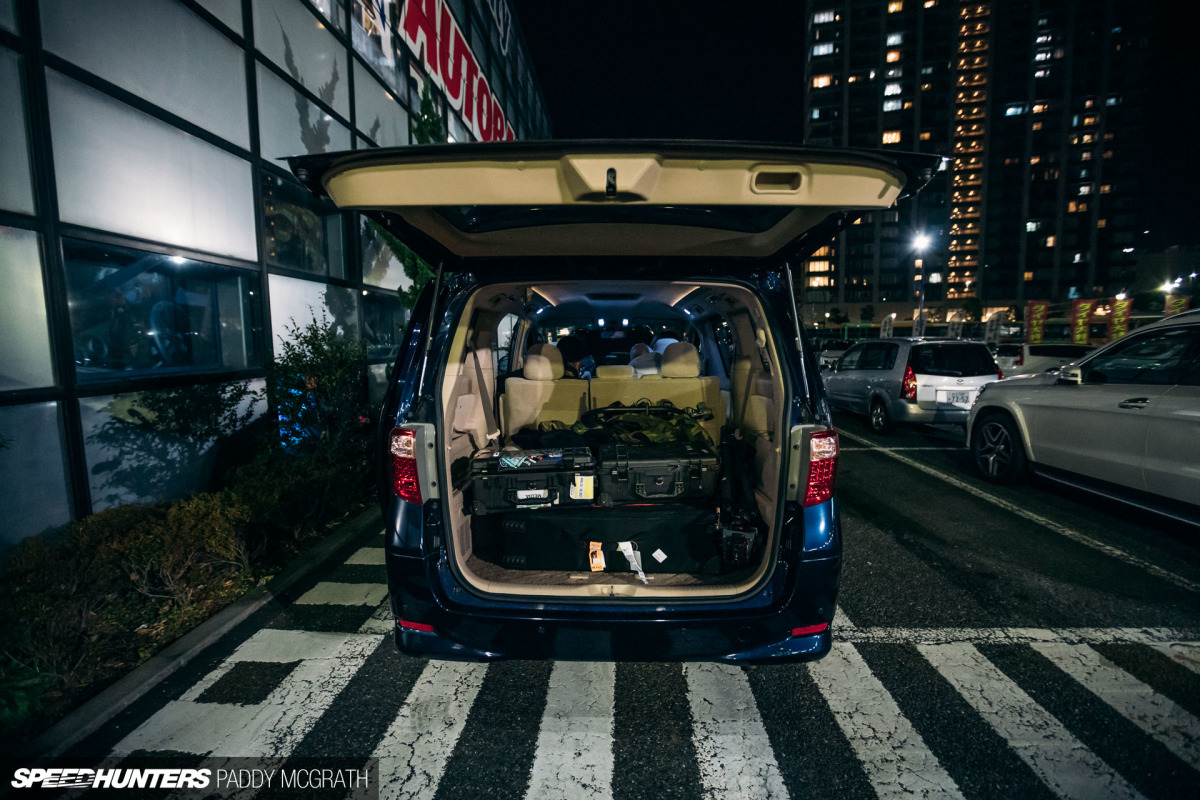 Our primary source of transport for this trip would be a Toyota Alphard (which I'm not still not sure if it's pronounced alp-hard or alf-hard) and our first significant adventure would bring us to the car park of a Super Autobacs in Tokyo Bay.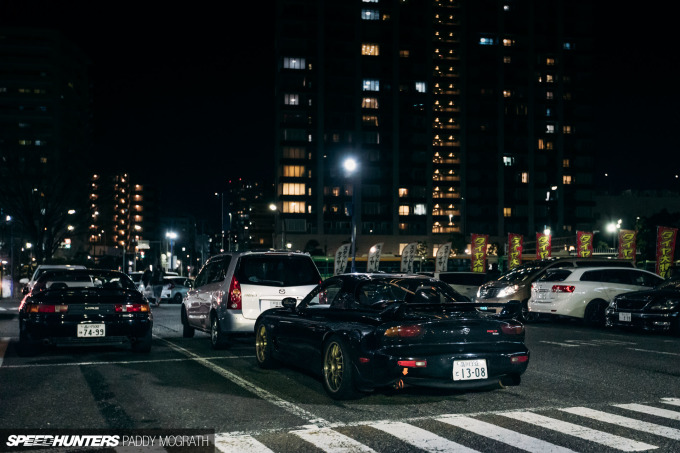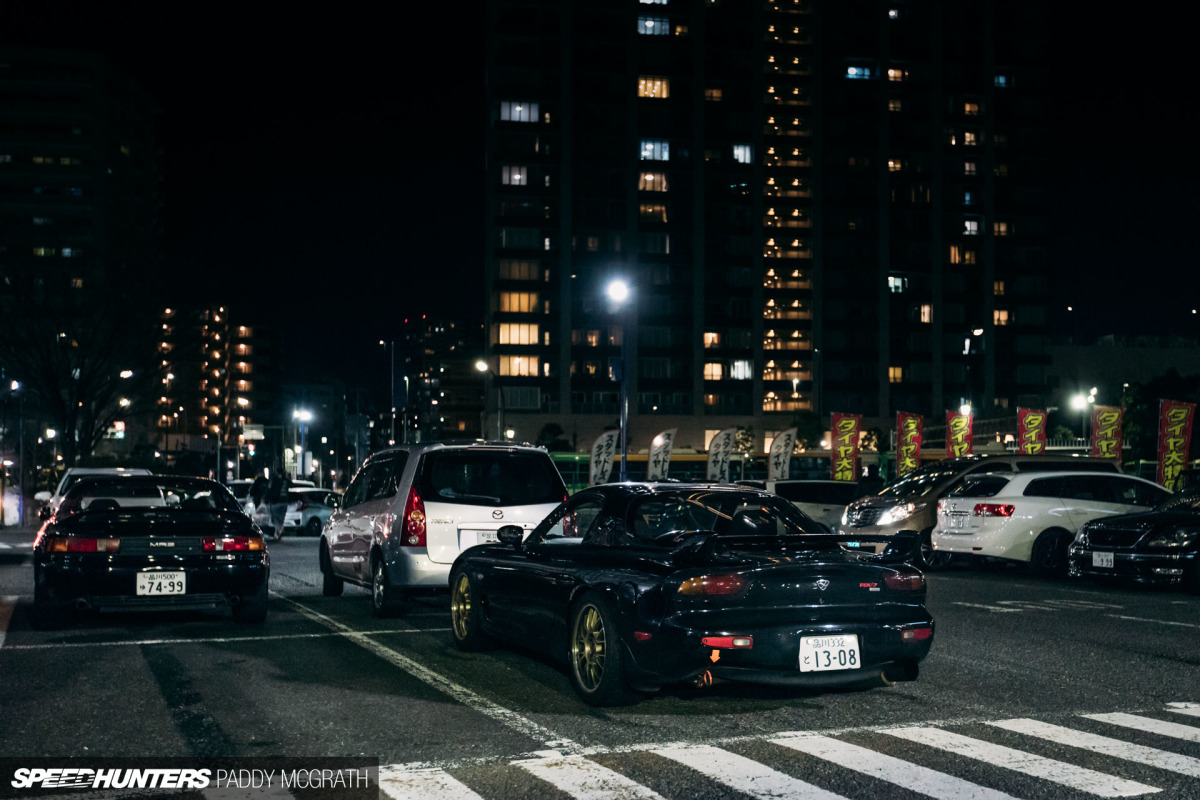 At this point of the evening, some of us were approaching the 24 hours awake mark, which really only added to the surreal feeling that we were experiencing.
It's not all tuner stuff in Super Autobacs, as it's the perfect Japanese equivalent of Halfords in the UK or the auto section in your local Walmart Superstore. You have everything from simple maintenance items, car interior parts and other basic things for everyday motoring.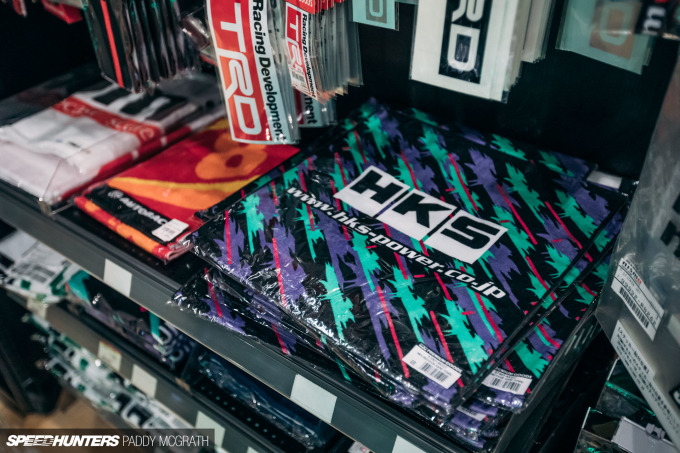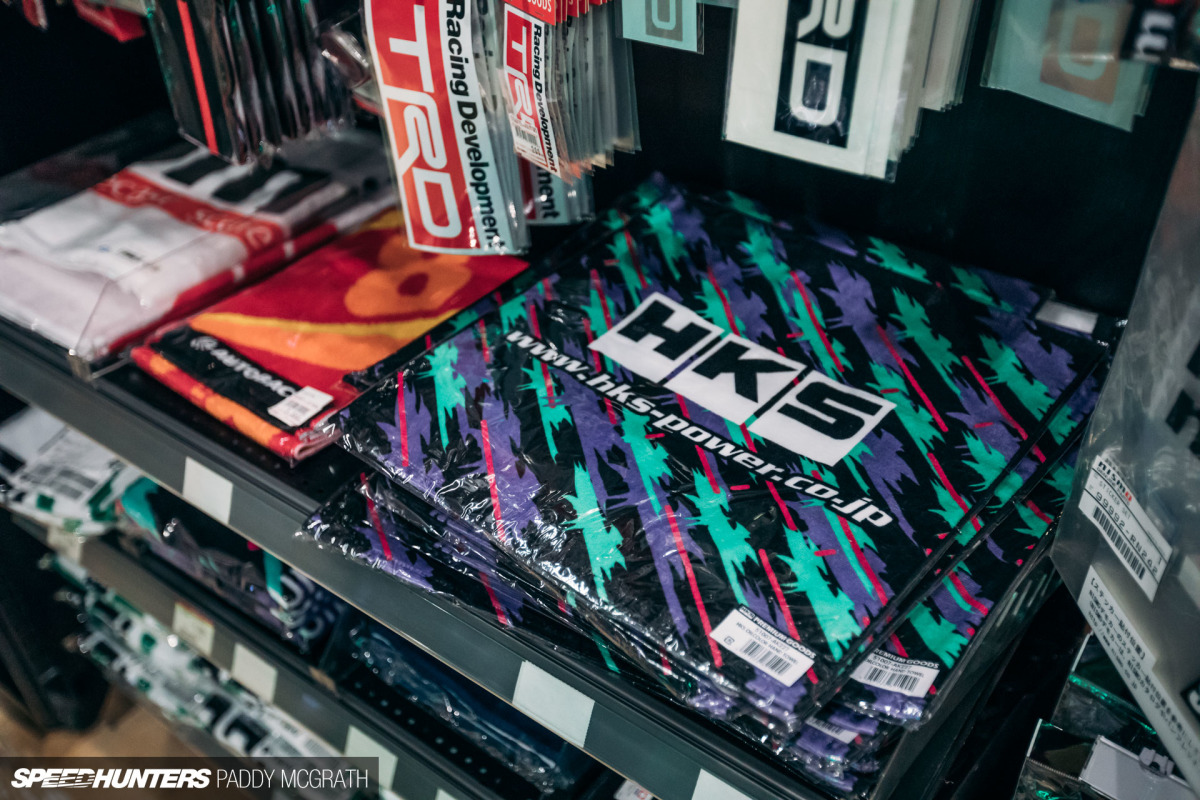 With no idea what any of the signage meant, it required a proper exploration of the shop floor to really see what was there. Essentially, it was the ultimate automotive gift shop. I still regret not picking up one of those HKS towels.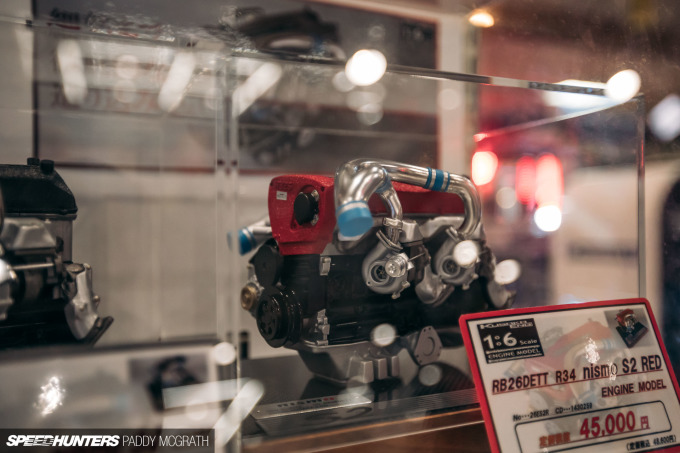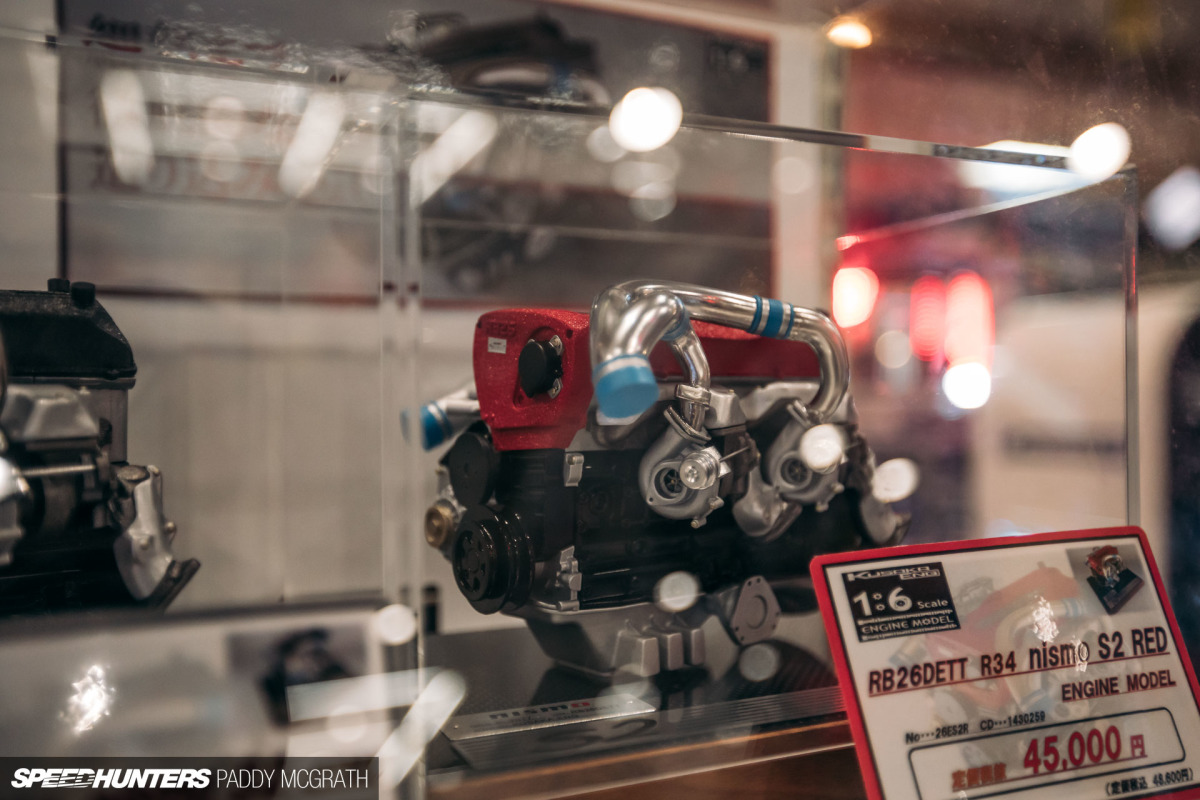 A small selection of 1:6 scale RB26 engines were on display, priced at¥45,000 or approximately $410USD.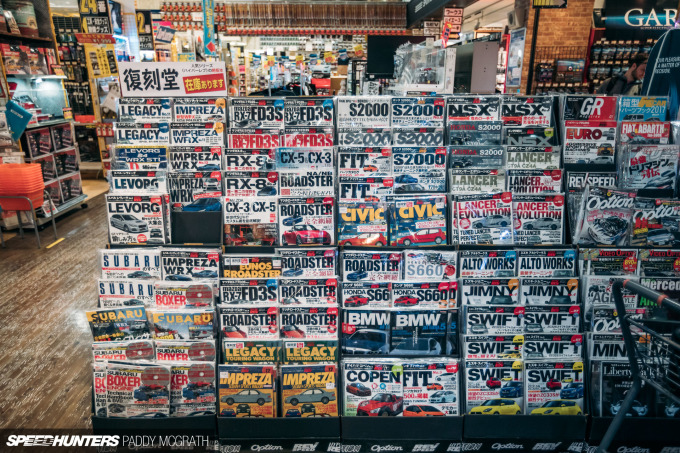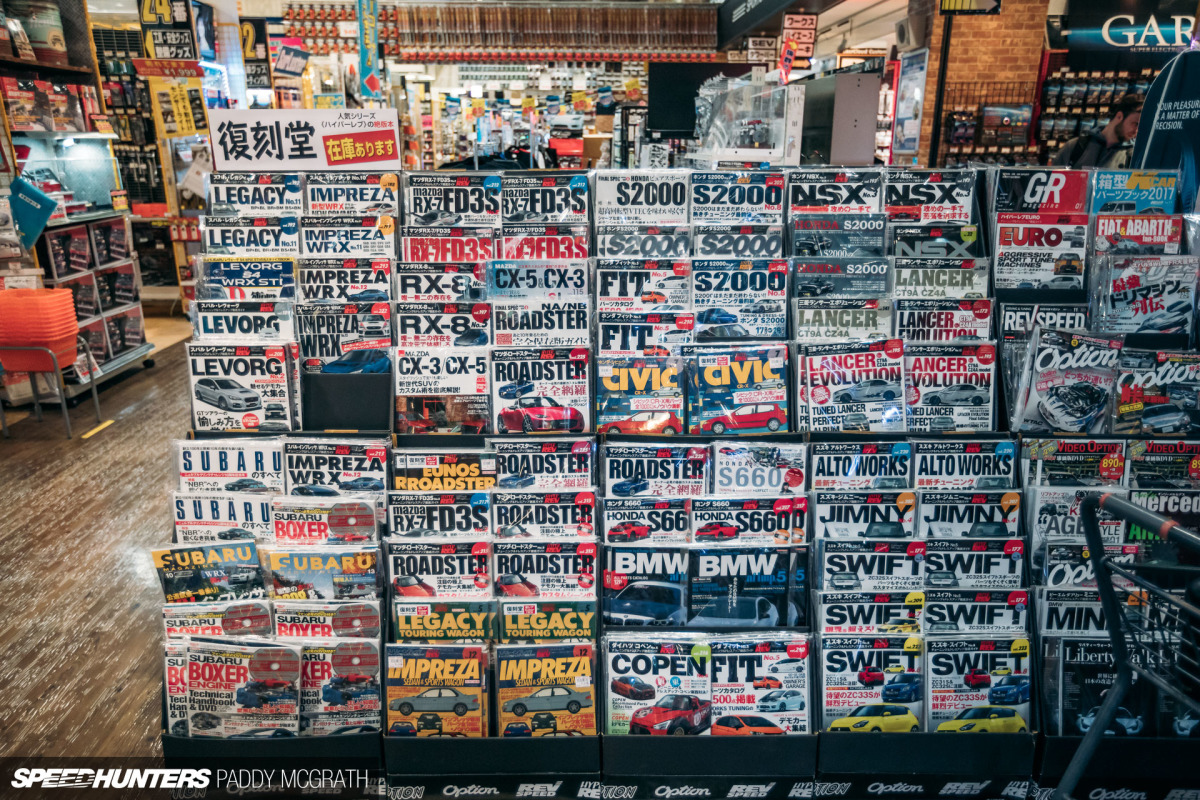 The literature section was impressive, although not a patch on the Tsutaya Books store that Dino would bring us to at the end of our trip. I picked up a Hyper Rev magazine a couple of years back for Golfs from the Speedhunters store, so I was pretty much covered. I was still tempted, mind you.
While maybe not represented here as it's a comparatively small selection, the variety of Japanese car magazines absolutely stunned me. Print is very much alive in this country.
The visit was short, but it was the perfect appetiser for what was to come over the duration of this trip. There was never really one big thing that blew me away, but it was always lots of little things. Oil coming in cans, rather than plastic containers as an example.
No, I don't know why Ben was wearing dungarees, but I still love him regardless.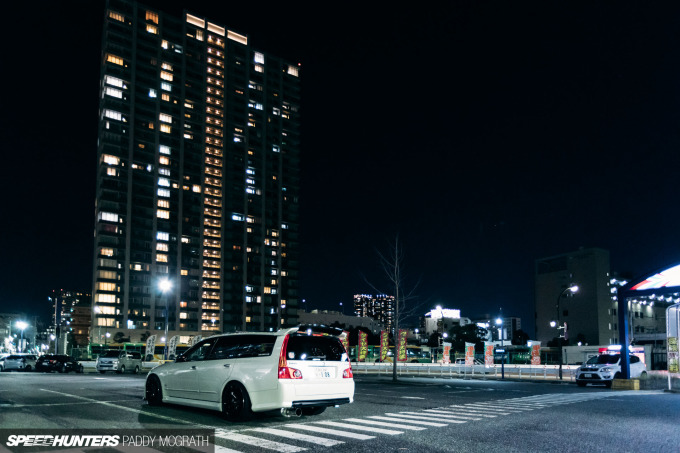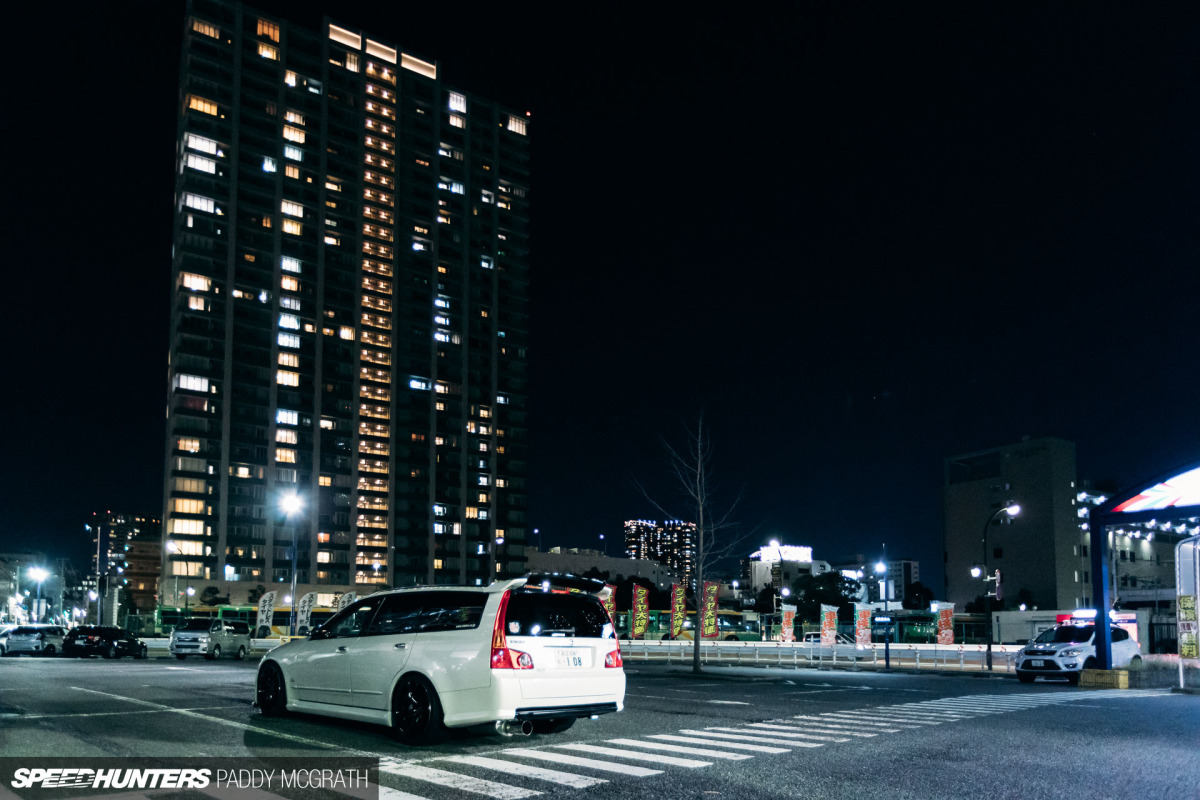 Back out in the parking lot, the black FD3S RX-7 we saw on our arrival had been replaced by a white Nissan Stagea M35. This would be a recurring theme throughout the trip, where we would ultimately lose count of the interesting metal that we saw all around us. Cars that in other places around the world would be showstoppers, but are just the norm in Japan.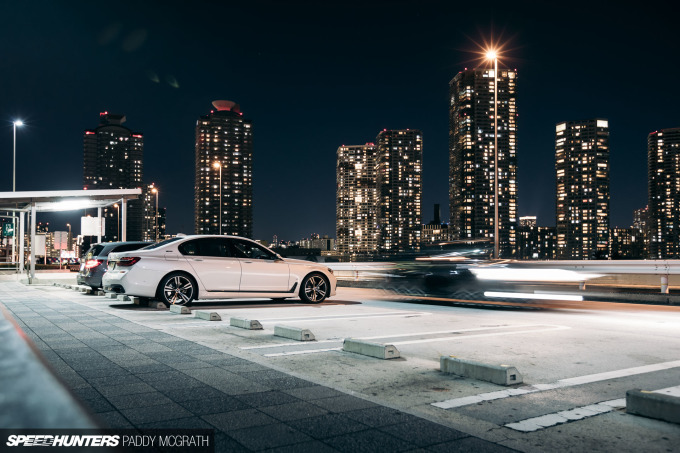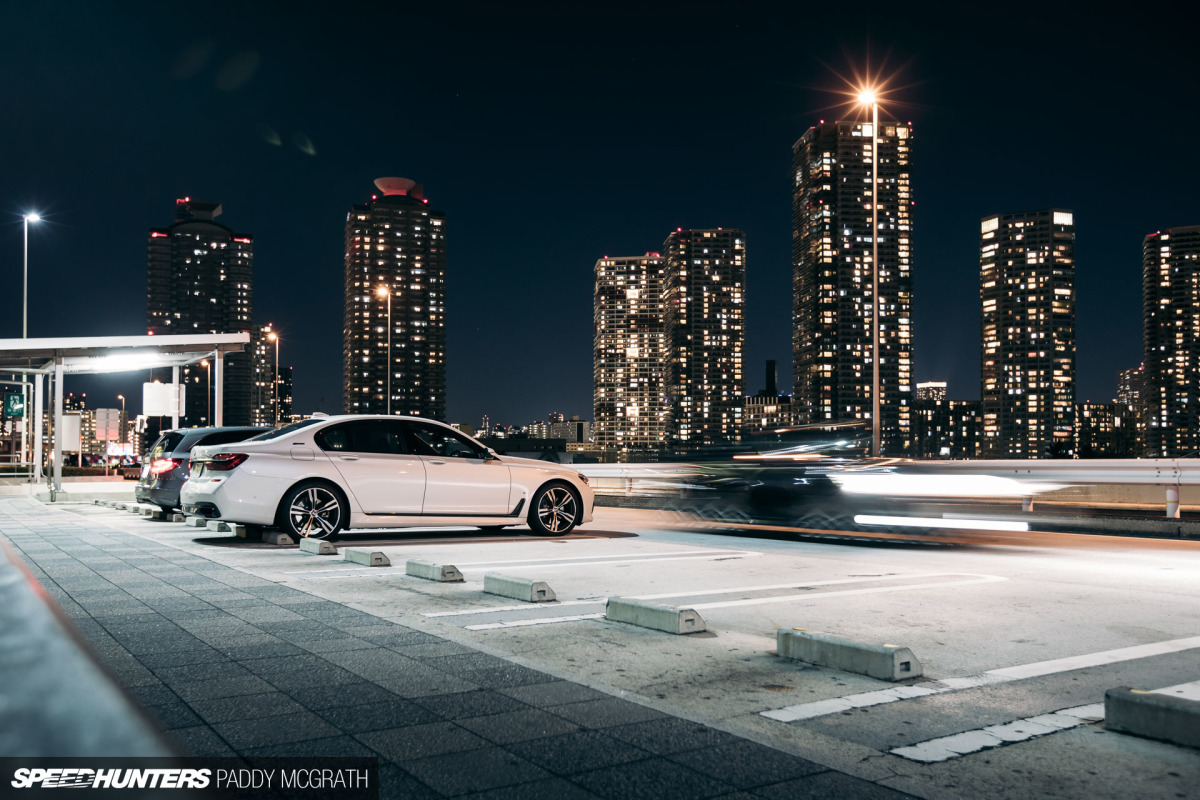 Our next destination was a location scout for a shoot we had planned later in the week at Tatsumi PA. Tatsumi, along with Daikoku, are maybe two of the most recognised parking areas in Tokyo. I'm sure if you've even a passing interest in Japanese car culture, you're aware of these locations.
For as long as I can remember, I've been looking at the coverage that Dino regularly brought us from Tatsumi, but to actually stand there is a whole other experience. It's much more compact and narrow that I had realised. It's also much busier, too.
It wouldn't be Japan without the mandatory vending machine experience. The machines are absolutely everywhere, and are all fully stocked and in perfect working condition. It's another one of those remarkable things, and something that wouldn't work in most other countries due to vandalism or outright theft problems.
What was crazy – to me, anyways – was once how you made your selection, a small screen displayed seemingly live footage of your drink being made inside the machine. Completely unnecessary, but absolutely brilliant at the same time.
I don't recommend the strawberry flavoured hot chocolate, mind you.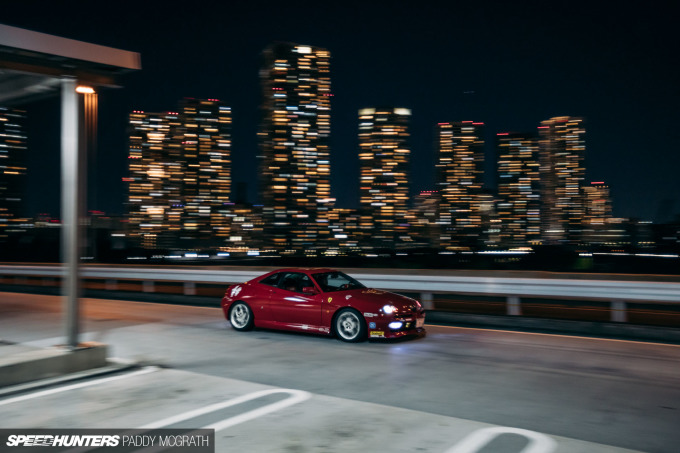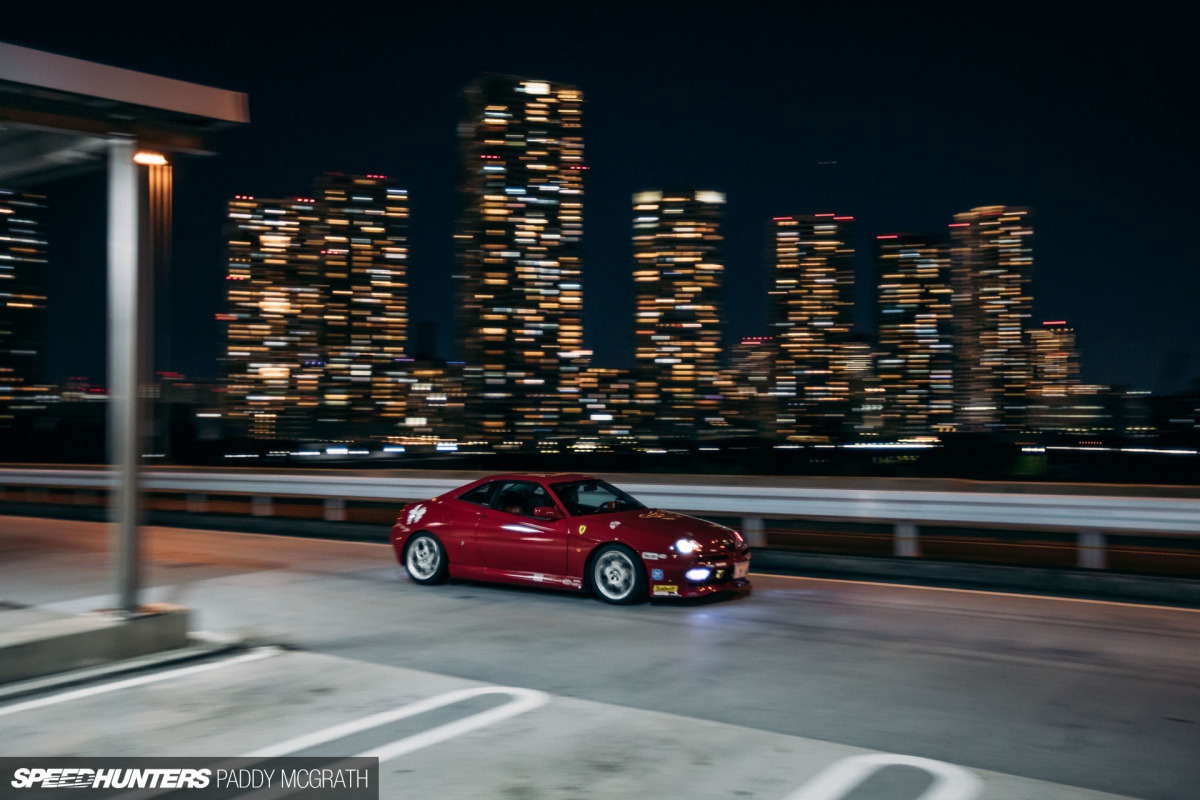 On this particular evening, the only peculiar sighting was of an Alfa Romeo GTV which rolled through.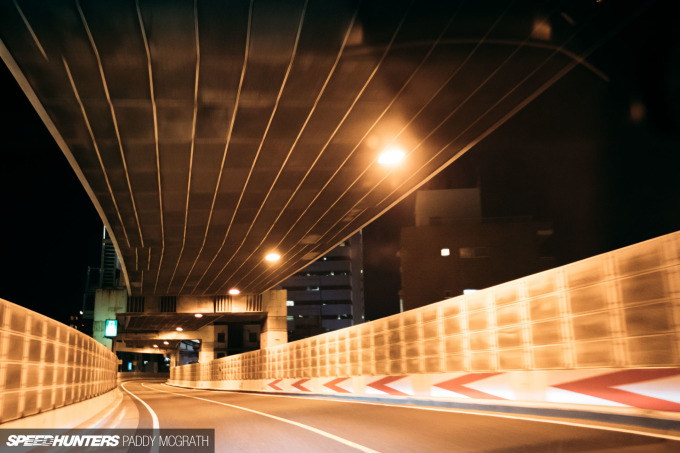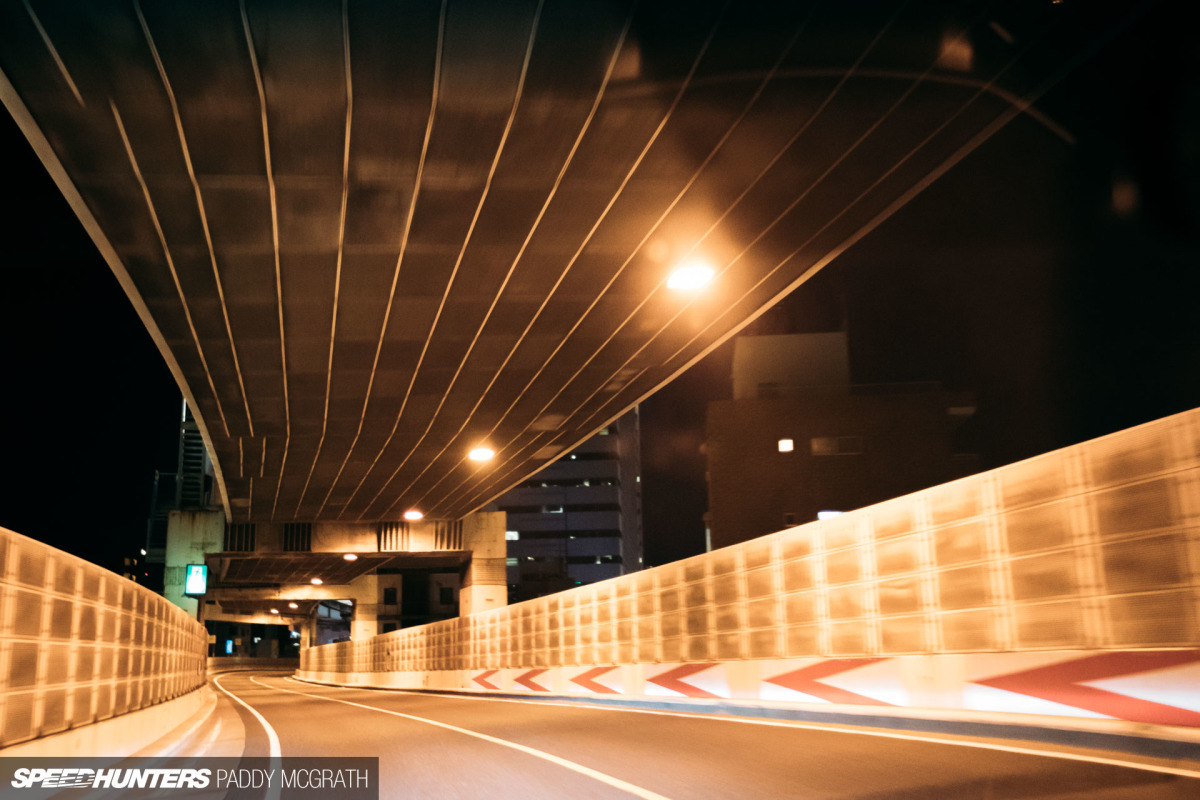 It was a relatively tame first evening in Japan, and certainly the quietest of the whole trip. By the time we made it back to our hotel, I was on my 30th hour awake and despite my want for sleep, the next morning couldn't come quickly enough.
Glory, Glory Yodobashi
The start of our second day required a trip into Shinjuku to visit a camera store to ensure that we were fully stocked for the week ahead. This would be pretty much our last amount of free time on the trip, so it was bonus to become tourists for a couple of hours at least.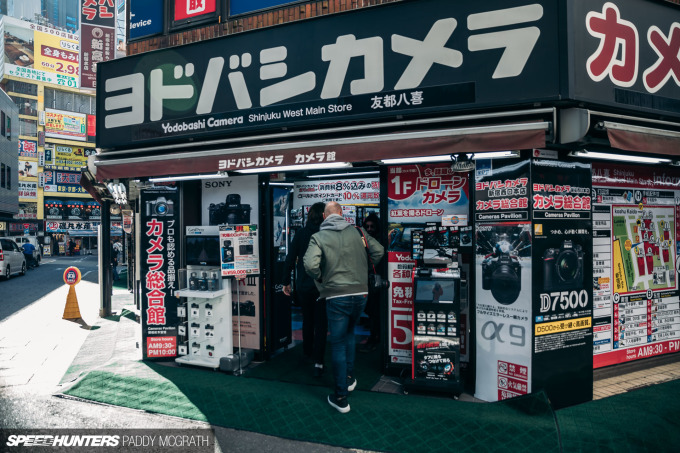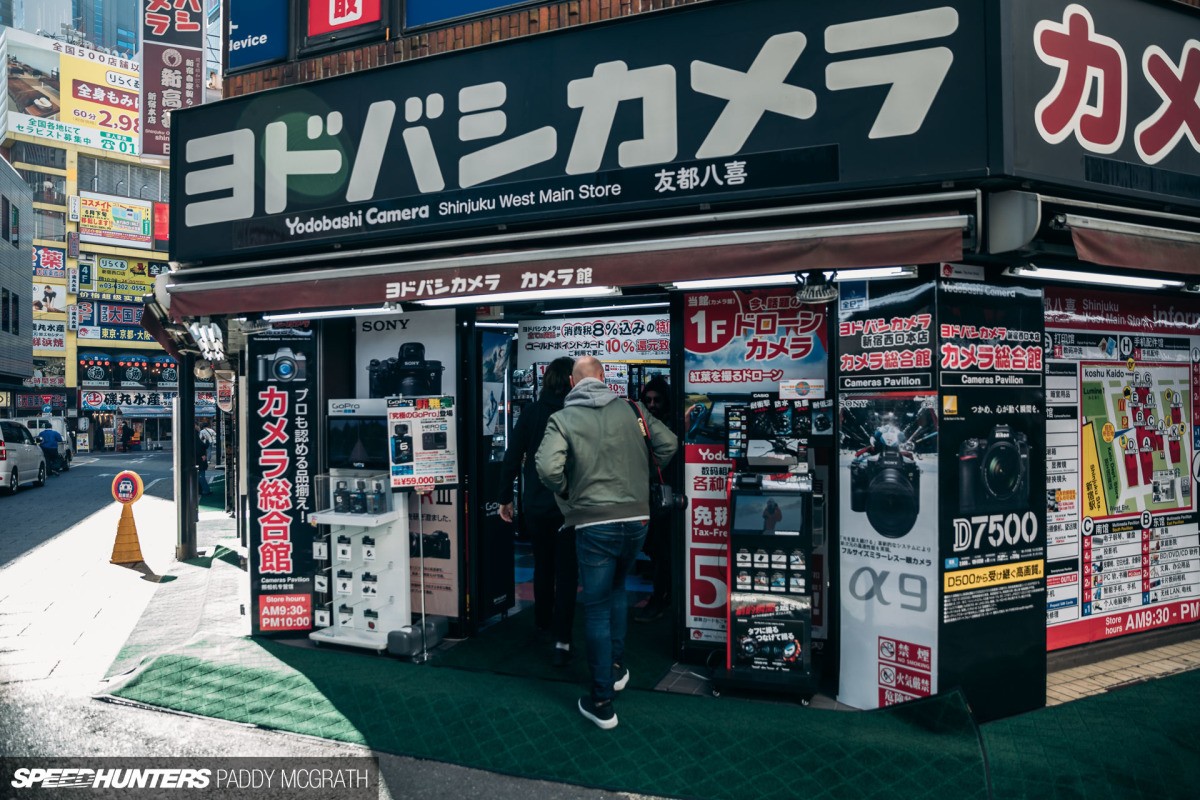 As Mark had visited the area previously, we had an expert guide with us at all times. He brought us to Yodobashi Camera, a prominent store in Shinjuku. From a visual standpoint, everything in Shinjuku was turned up to 11, with countless signs, screens and advertising hoardings competing for your attention.
An assault on the senses, no doubt.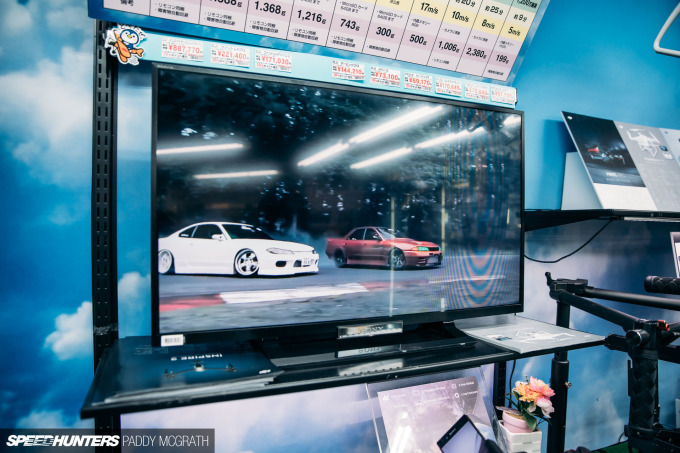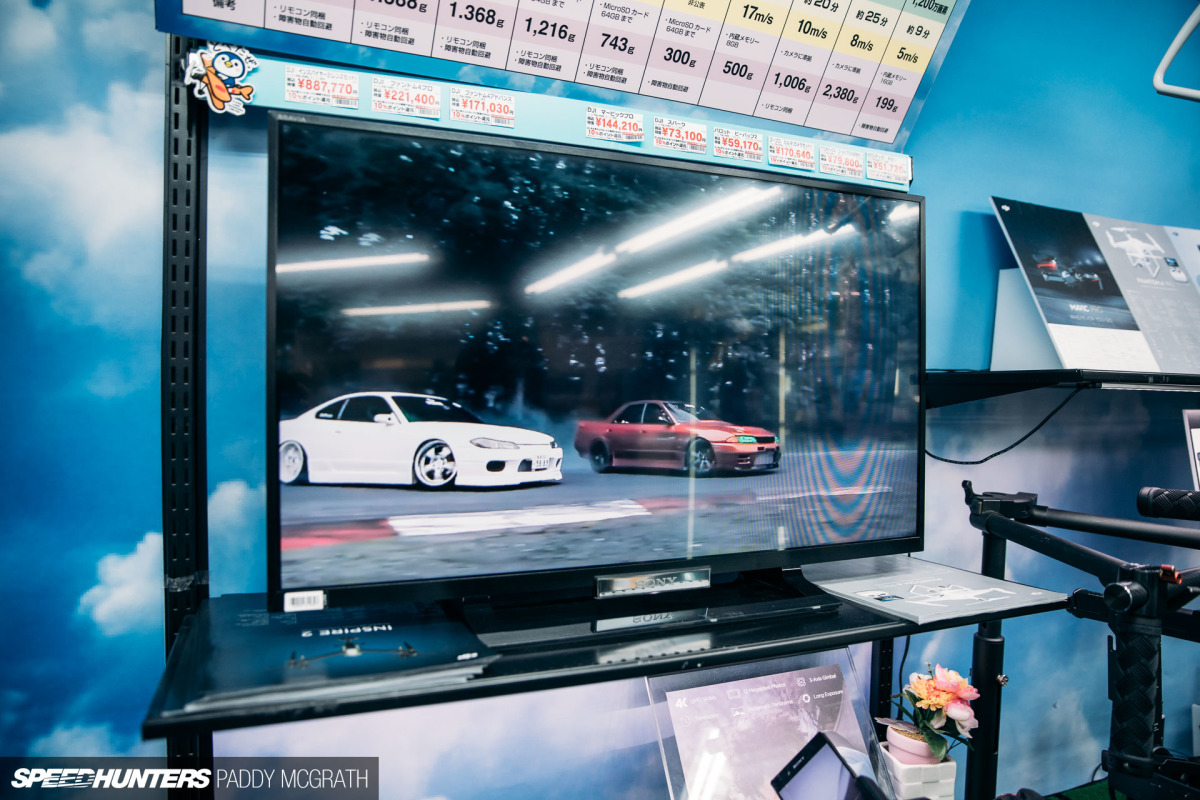 Once inside, I found it brilliant that the GoPro section was running random clips of drifting to promote the products on offer. It wasn't high level, polished pro drifting, but really cool grassroots stuff.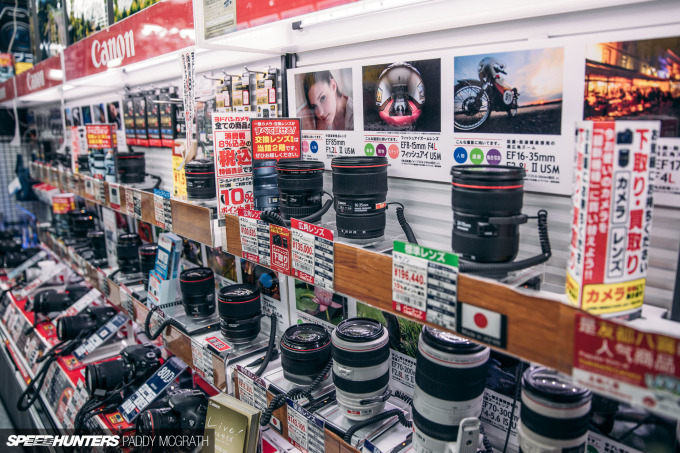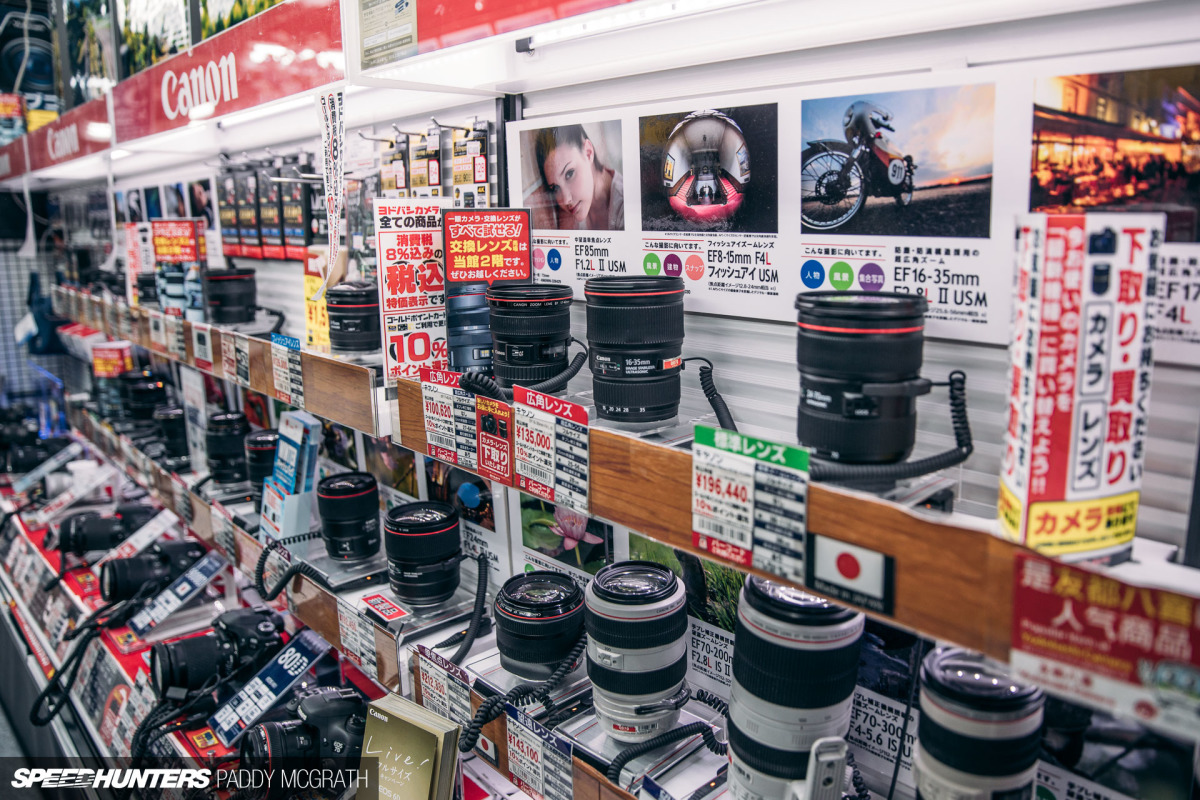 The store was neatly organised into different sections, which were easily navigated. What's cool is that you could try out pretty much any lens on any particular body you wanted. The cost of equipment was cheaper compared to most European prices, too.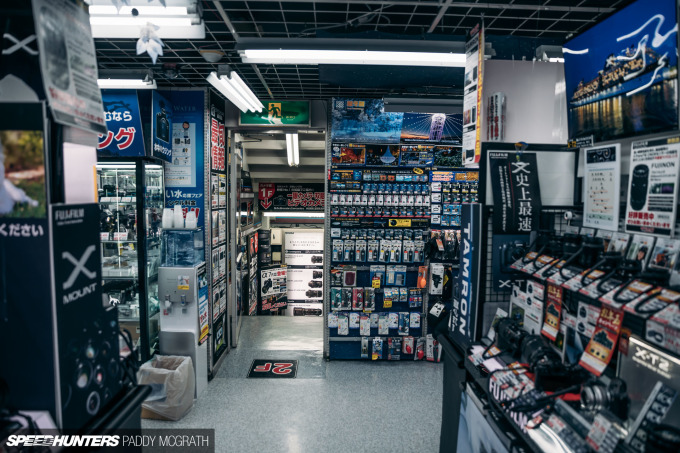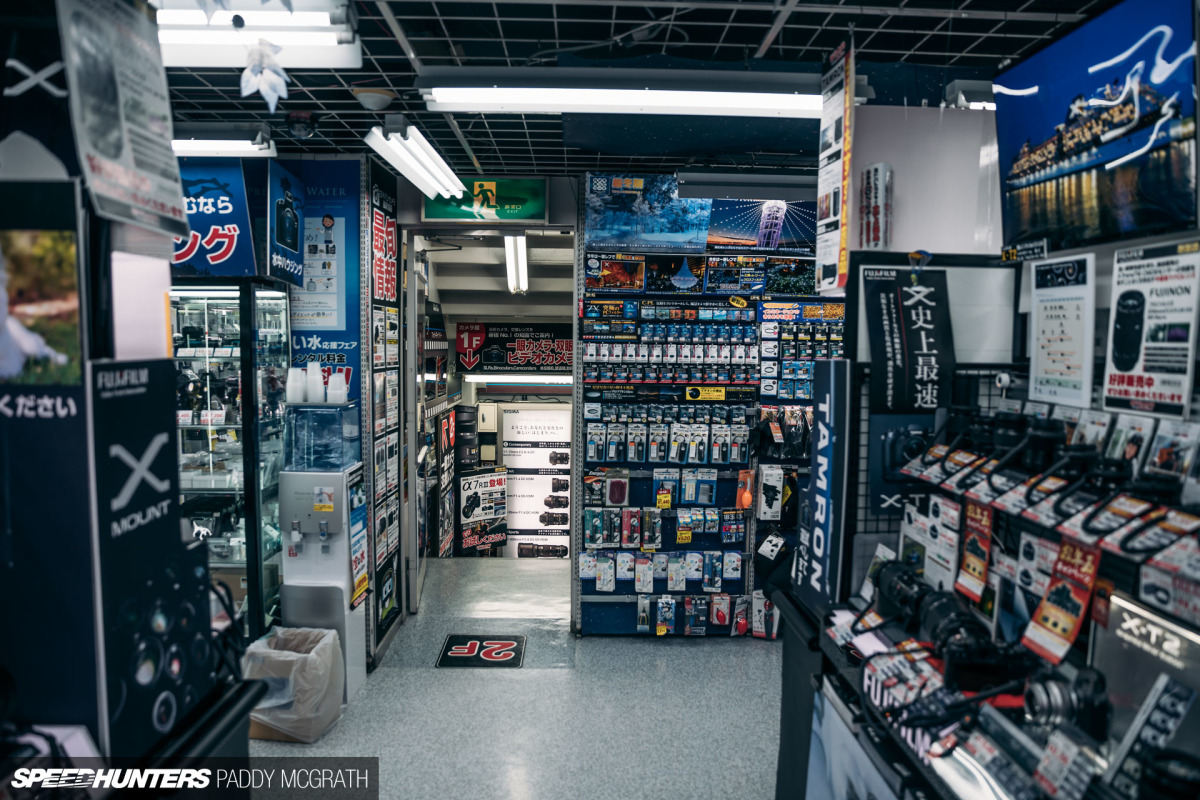 The store continued up several levels, all with the same curious instrumental derivative of The Battle Hymn of the Republic on continuous loop. I feel for the store employees as it definitely constitutes a form of cruel and unusual punishment.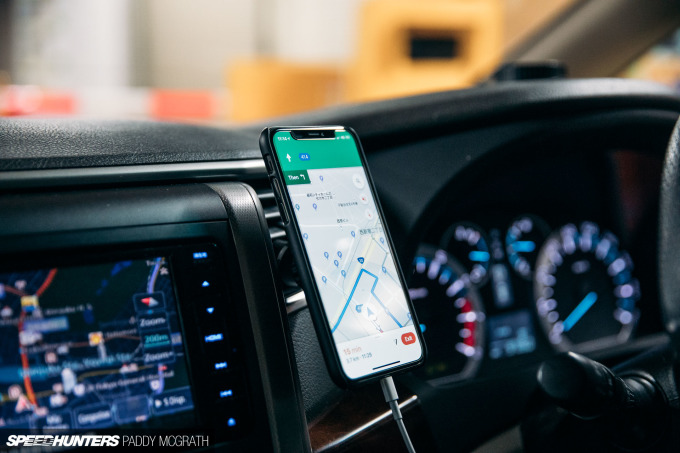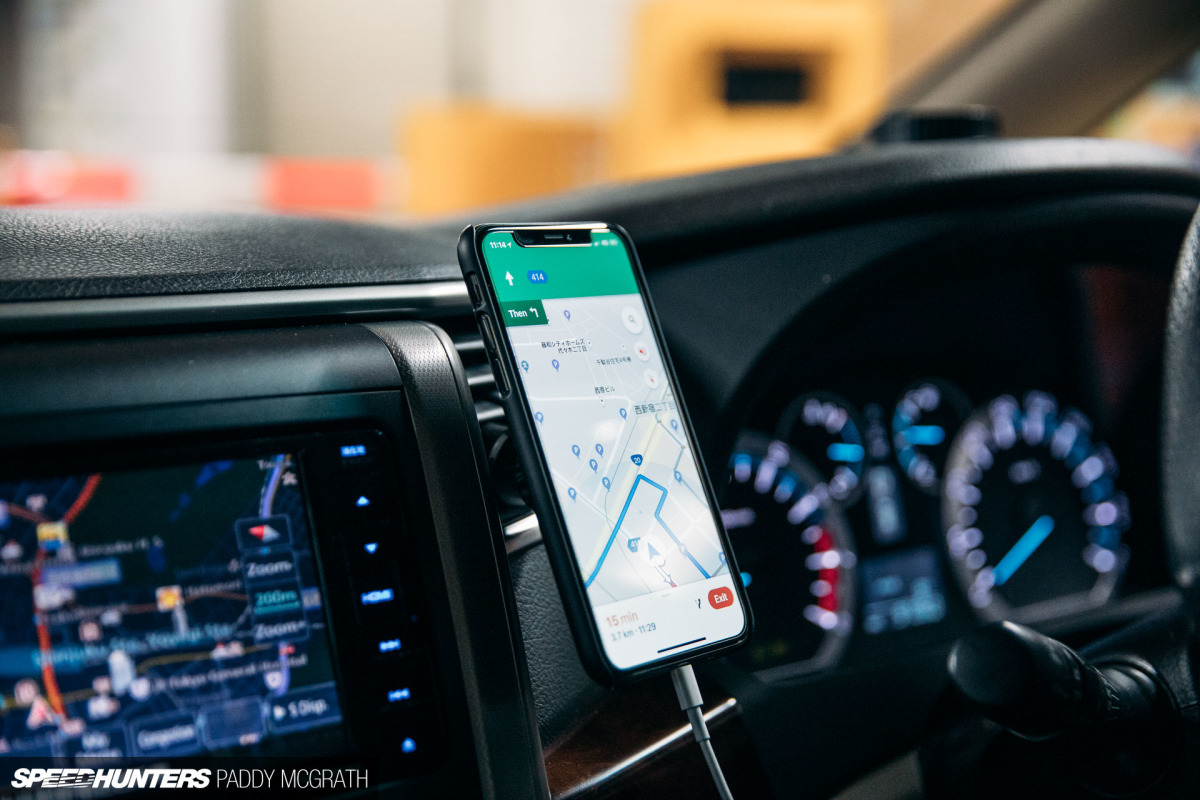 With Mark having planned a day of Speedhunters related activities, we took to the road once more. Navigating in Tokyo isn't as awful as I had thought it might be, but it was still pretty difficult at times.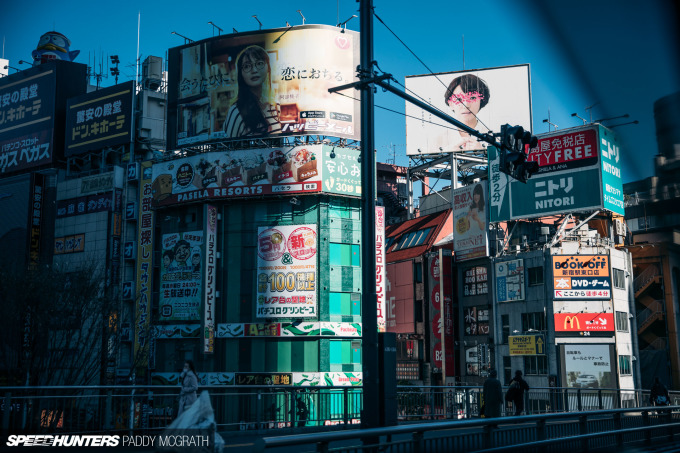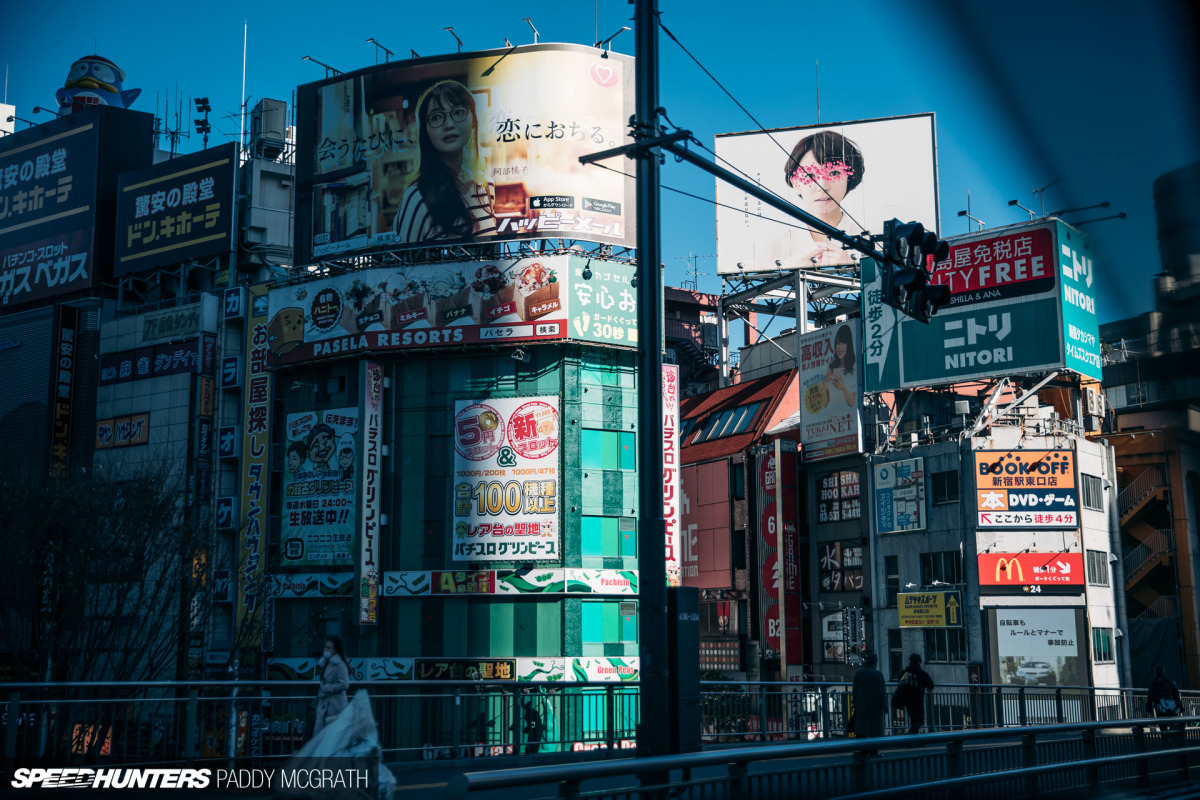 However, as this particular idiot had left it too late to get his International Driver's Permit, I was free to sit in the passenger seat and take in all the sights. Every cloud and all that.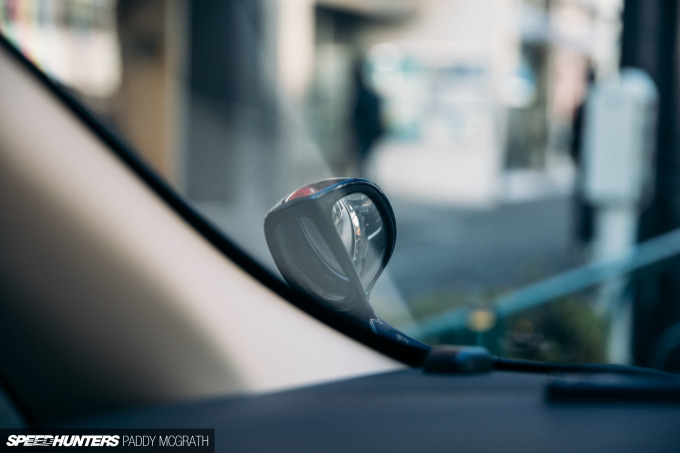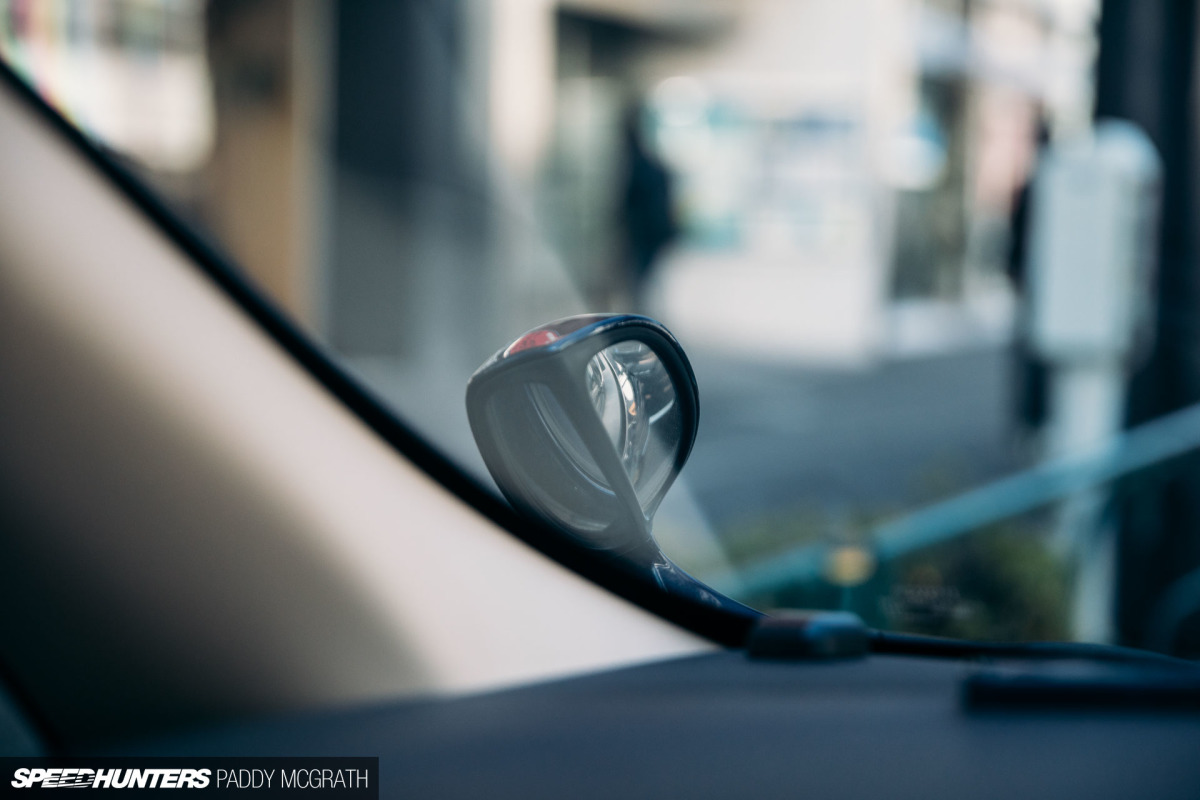 A curious addition to our Alphard was this passenger side fender-mounted mirror. From the passenger seat, it's hard to decipher what it's for, but from the driver's seat it shows the front bumper and allows you to get vehicle as far into a parking space as possible. Again, just brilliant simplicity.
Things that I was not expecting to see: unusual Golfs in the shape of an Alltrack and R Wagon. It also reinforces my belief that everything looks better with a Japanese number plate.
From Shinjuku, we headed in the direction of Yokohama. We had a date with some RX-7s planned for later that evening in Daikoku, but figured it was worth seeing what else was in the area. Needless to say, things escalated pretty quickly.
The Used Car Lot
With no particular plan in place, our aimless drive to Yokohama resulted in a pretty unexpected find. Just on the side of the road we noticed a used car dealership, but nothing like anything that I've ever seen before.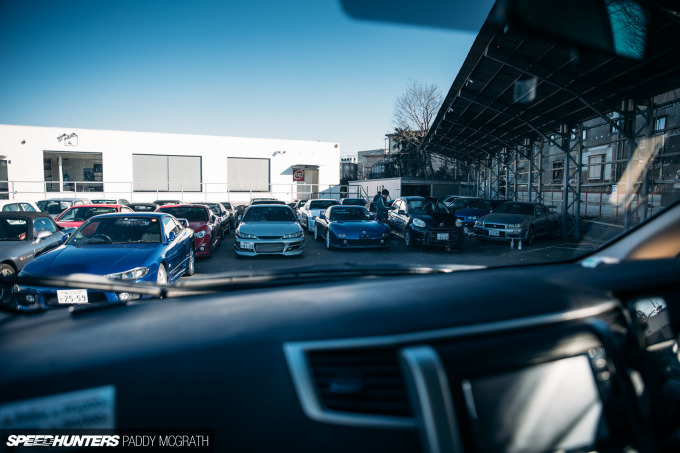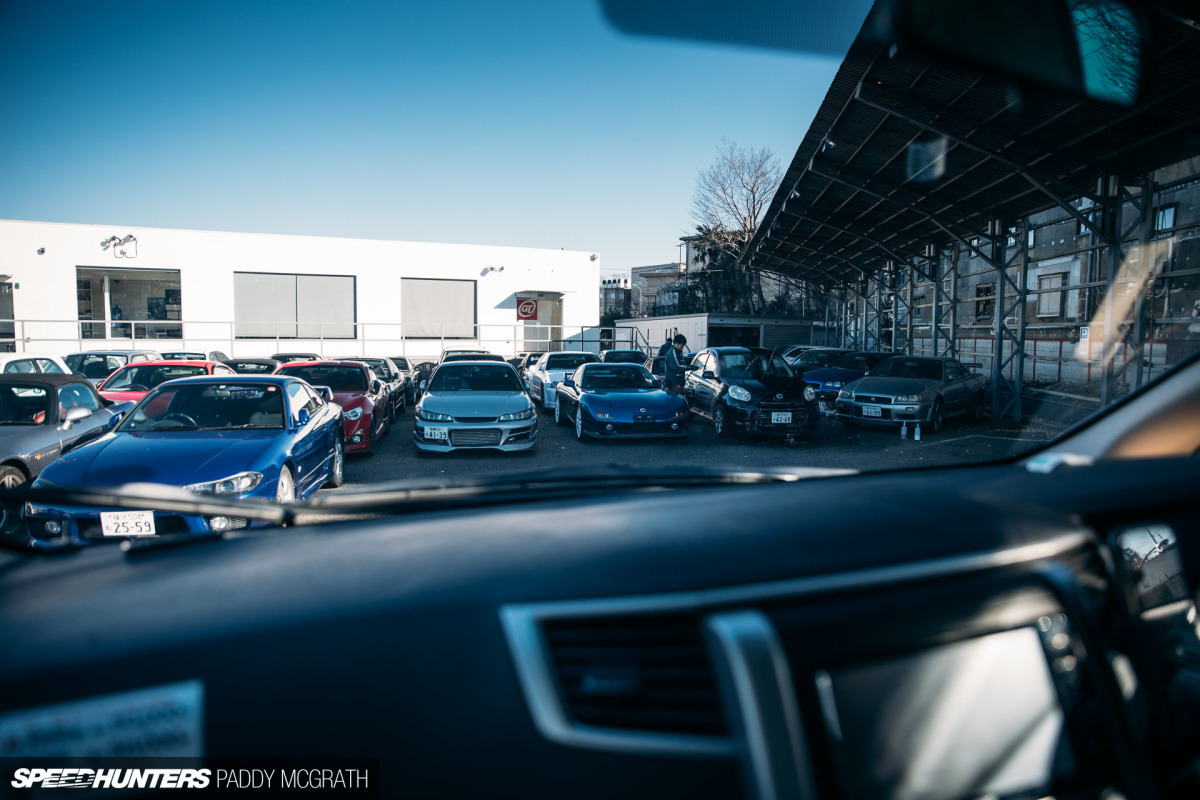 We had to loop around the block to get back to it, before parking in one of the visitor spaces.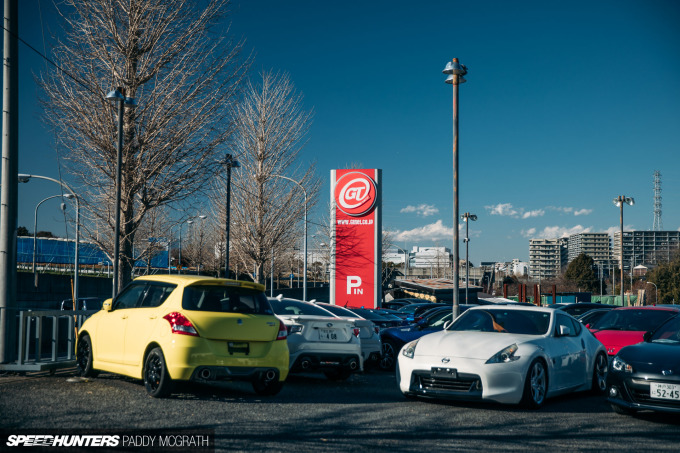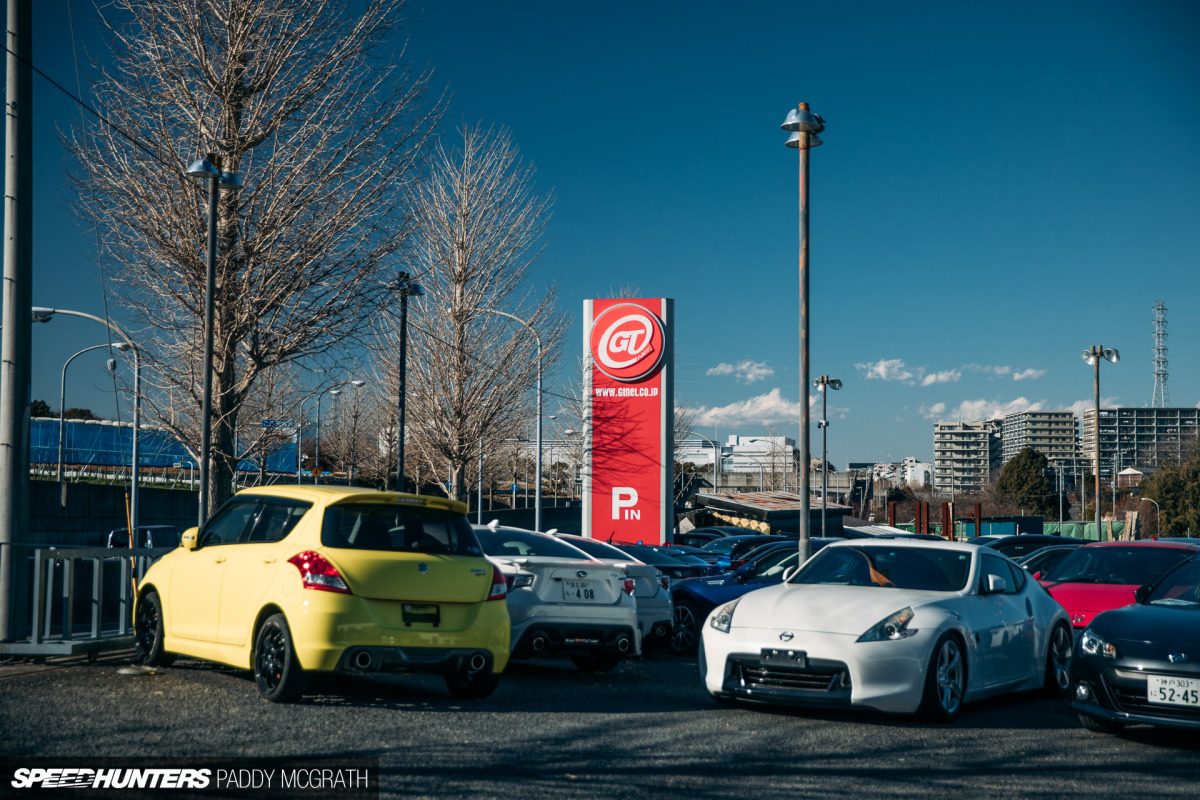 The business which we were invading was that of GTNET, a company which clearly specialised in performance Japanese cars of all shapes and sizes. I'm unsure if GTNET is a franchise or a standalone operation, but it was comfortably one of the coolest finds I've ever come across so unexpectedly.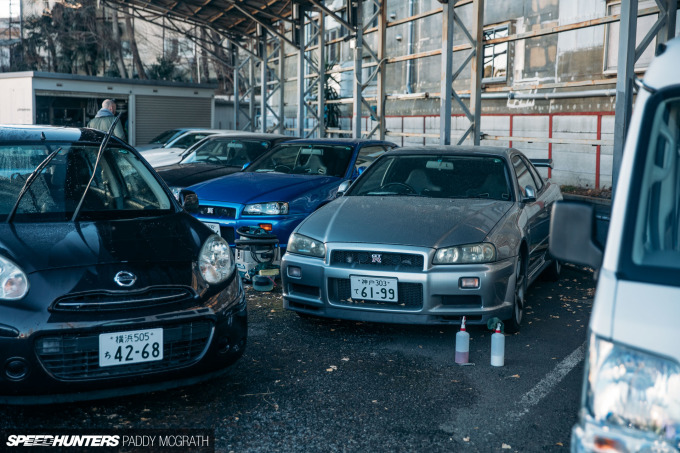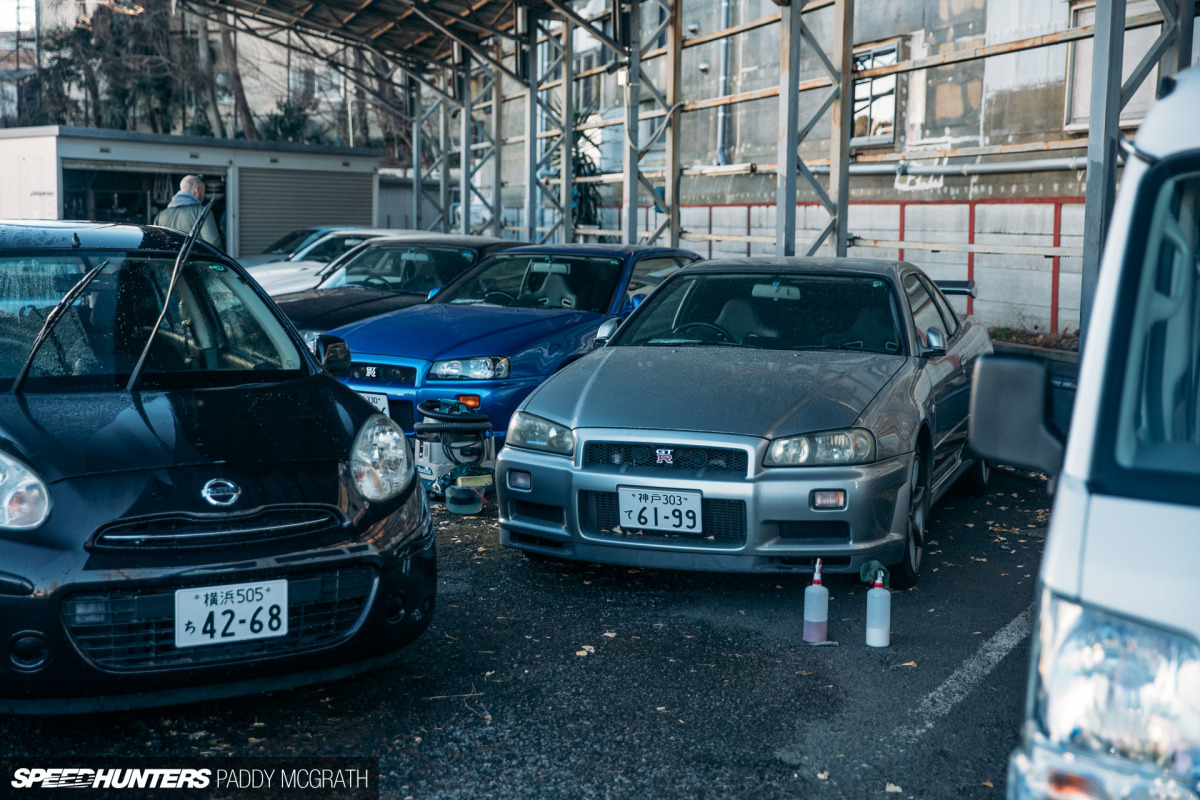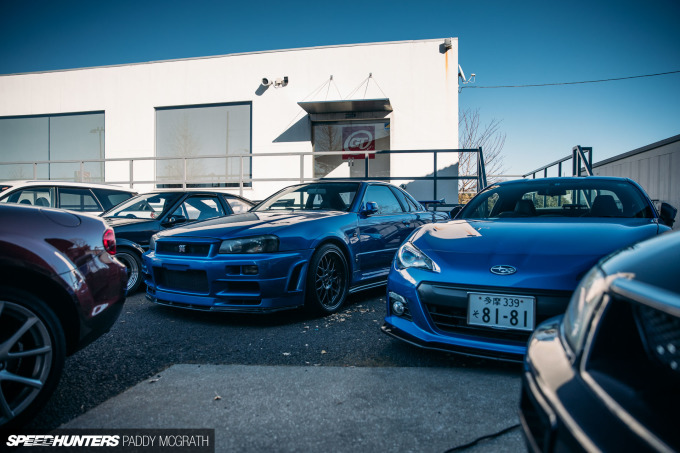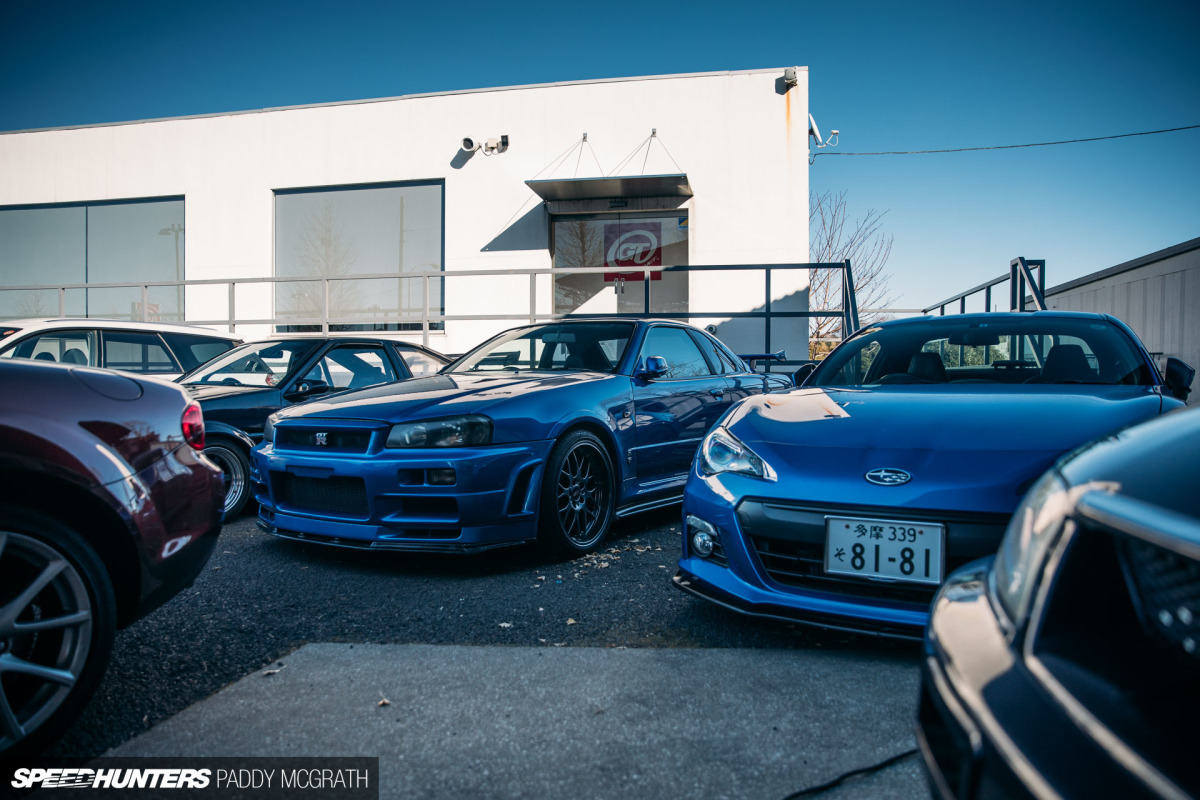 What makes it so remarkable is how normal it is. There's no fanfare or celebration, it's just casual. Well, as casual as you can be when you have five R34 GT-Rs practically beside each other, surrounded by all manner of modified Japanese cars, including even more GT-Rs.
A lone and tired looking AE86 (a car that's becoming a rare sight, even in Japan now) was tucked away right at the back of the lot, boxed in by a plethora of cars.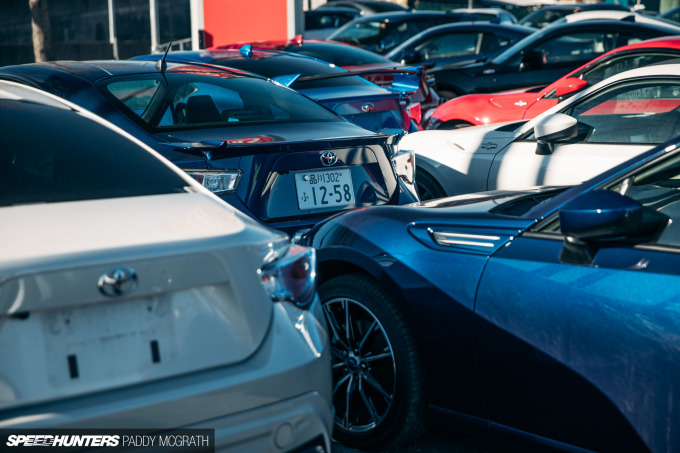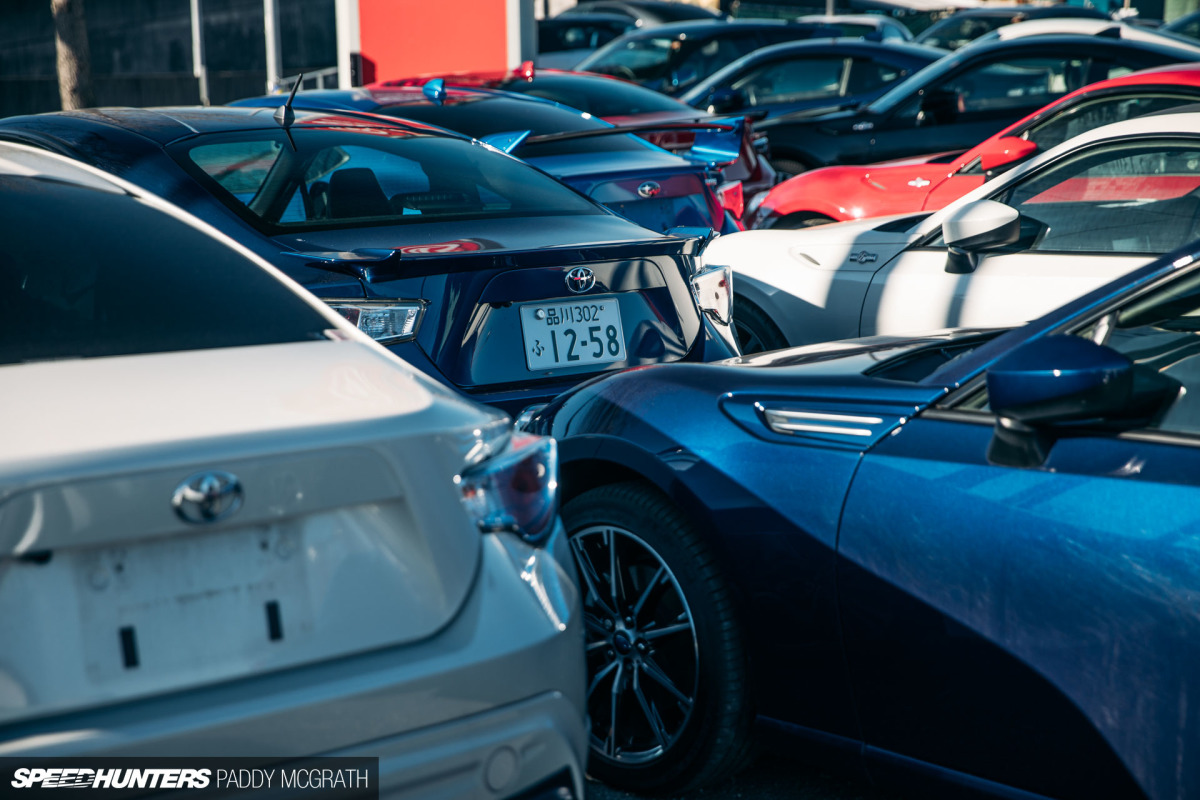 What was stunning was the sheer amount of ZN6/ZC6 chassis cars aka the GT86/BRZ twins; they must have made up 75% of the stock on the forecourt. Due to their new price in Ireland (€43,000/$53,000USD) they never really took off, but I can see them becoming much more popular here in the future as they offer great value used.
Some of the cheaper examples here had a window price of¥1,200,000 or €8,800/$11,000USD
See anything you like?
So as not to intrude, we didn't spend a huge amount of time here, which was probably to the benefit of our personal finances. It did spark up a conversation as we took to the road again, though. With AE86 prices going through the roof and GT86 prices on a downward trend, will the new Hachiroku pick up where the original car left off? That is, as a low-cost, rear-wheel drive car with lots of tuning potential.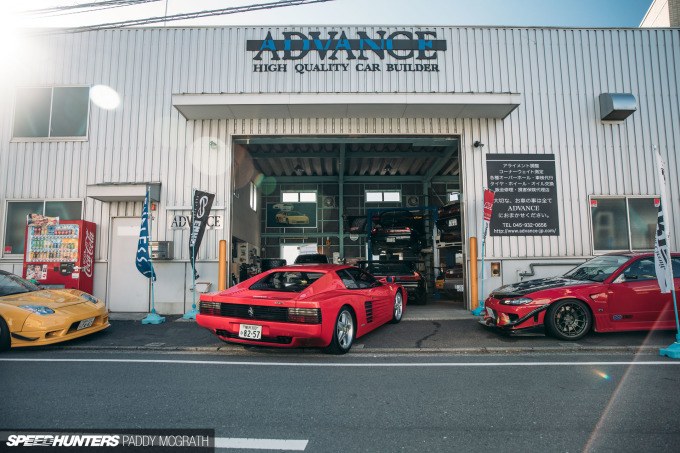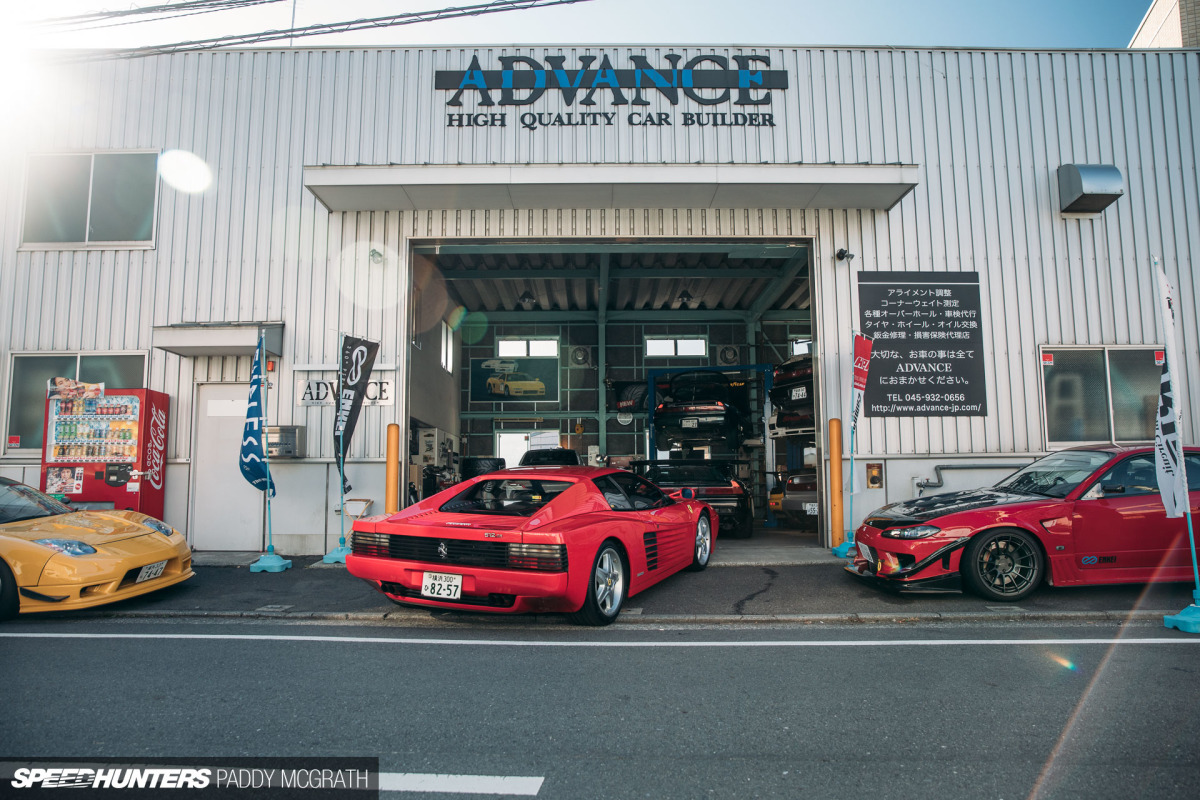 With Mark continuing his role as our epic tour guide, he realised that we were near Advance, having shot there a couple of months previous with Evo magazine and our own Blake Jones. Again, the initial first sight was a welcome one.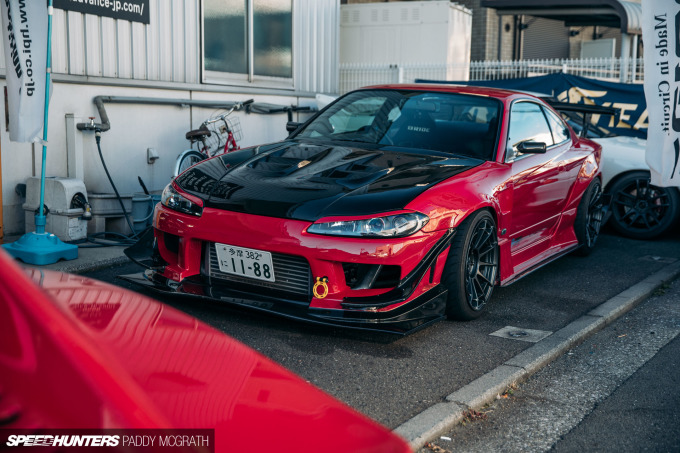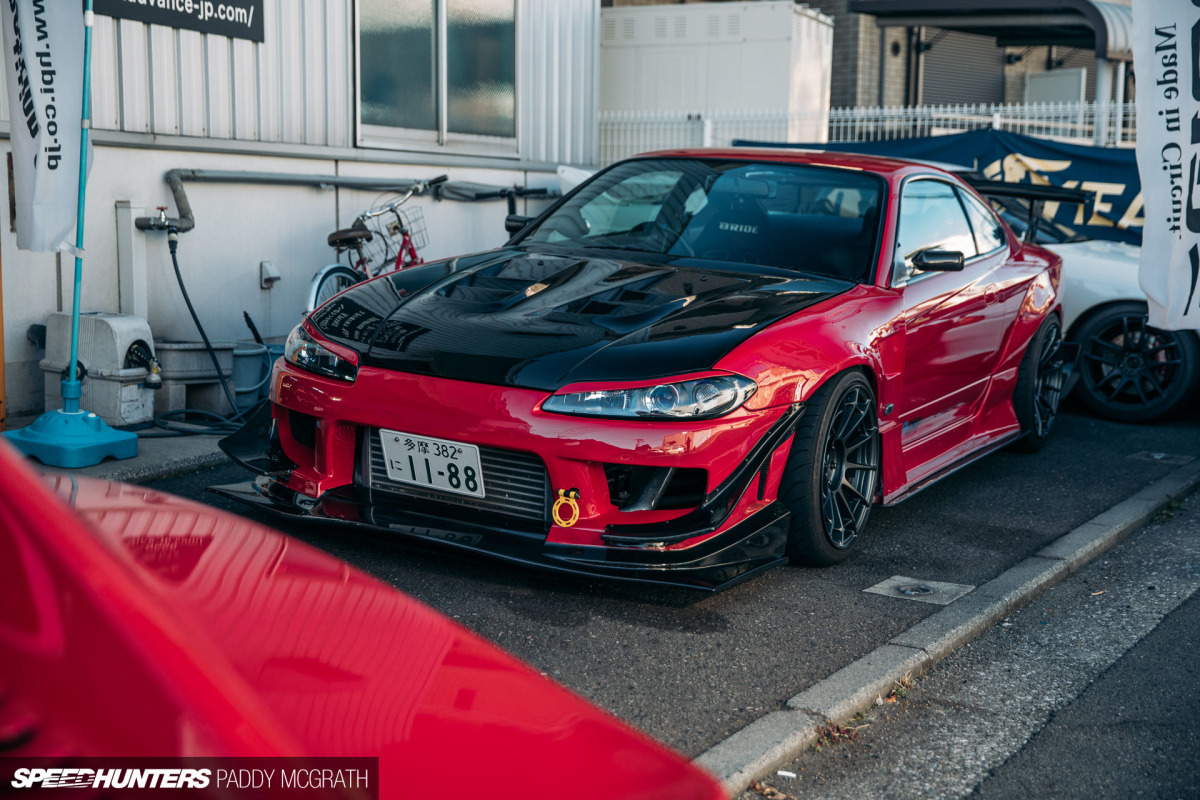 If you know anything about Japan, it's likely that you know how little room there is for businesses or homes. Space is at an absolute premium, so you find these amazing concentrations of awesomeness. In this case, it was literally overflowing onto the road outside.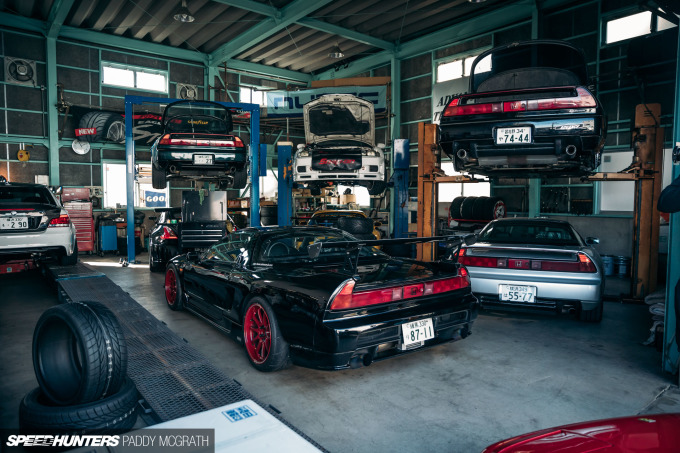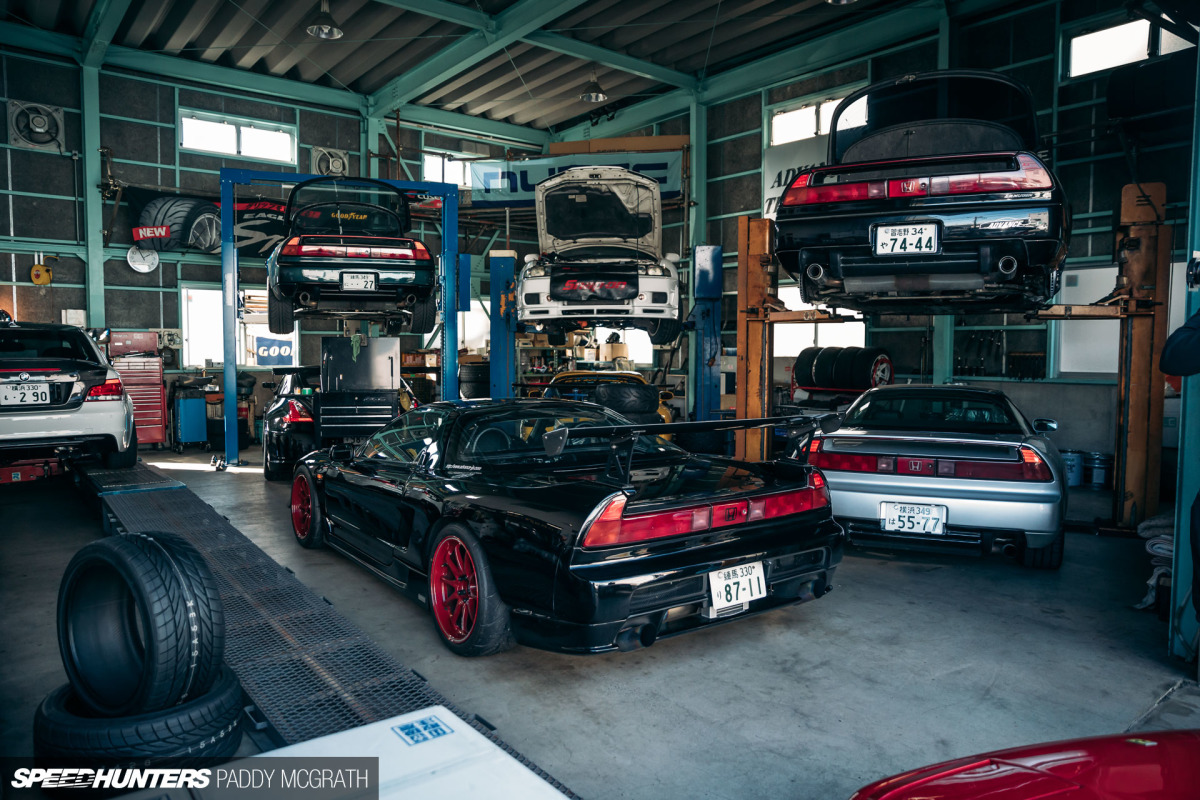 Still, what was inside was somehow even more impressive.
When we arrived at Advance, the staff were having lunch but still welcomed us inside to photograph and look around. While I can't talk you through the details of every car present, I'm sure you can appreciate what's here as we did. That 1 Series in particular caught my interest.
At this point of the day, we were just past our first 24 hours in Japan. Technically, I should end it here but I think I'm going to take a little bit of artistic license and keep going for another few hours. It would be rude not to, really.
Revolve With An F
Again, our epic tour guide had a lead on another shop nearby Advance, but what we didn't realise at the time was just how nearby it was. After repacking our gear into the Alphard and buckling up, we moved maybe 100 feet up the street before arriving at our next destination: Revolfe S.A.
We could still see the front door of Advance, for what it's worth.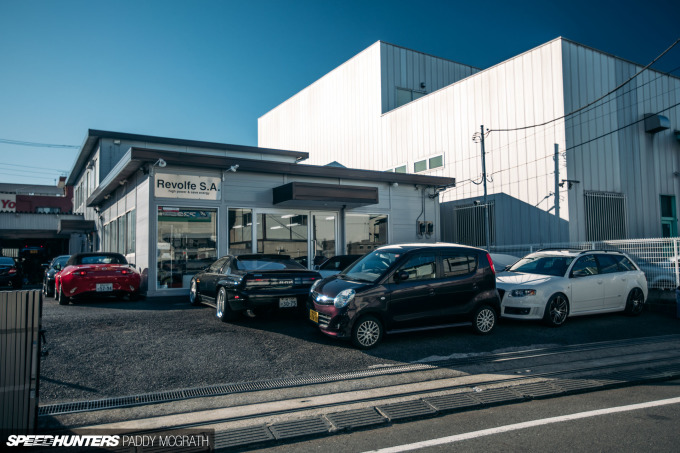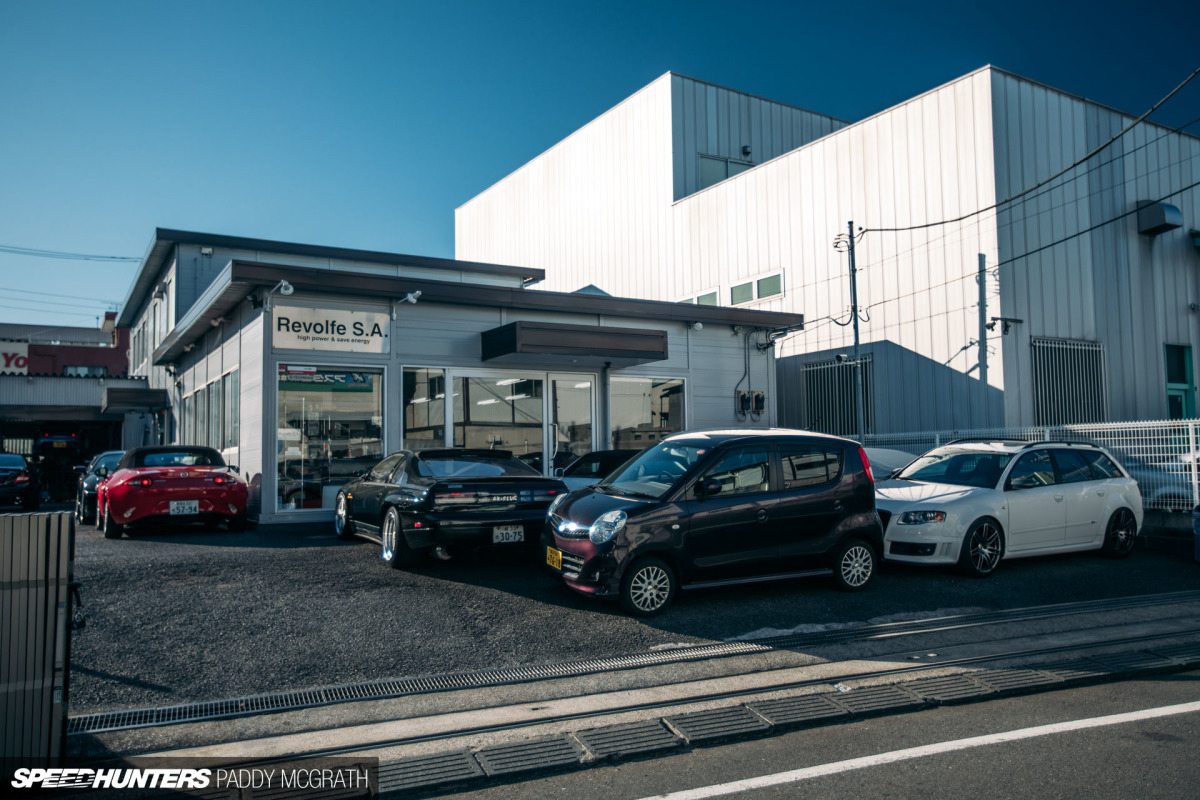 Revolfe is a shop which while I was familiar with the name, I wasn't fully aware of their significant history, including the owner being one of the original members of the infamous Mid Night Club.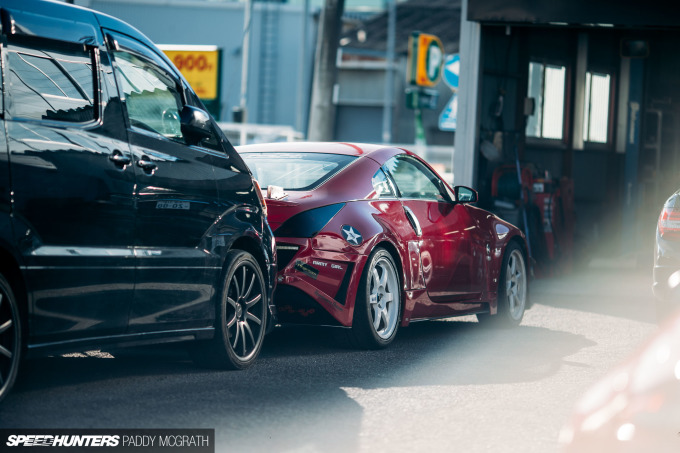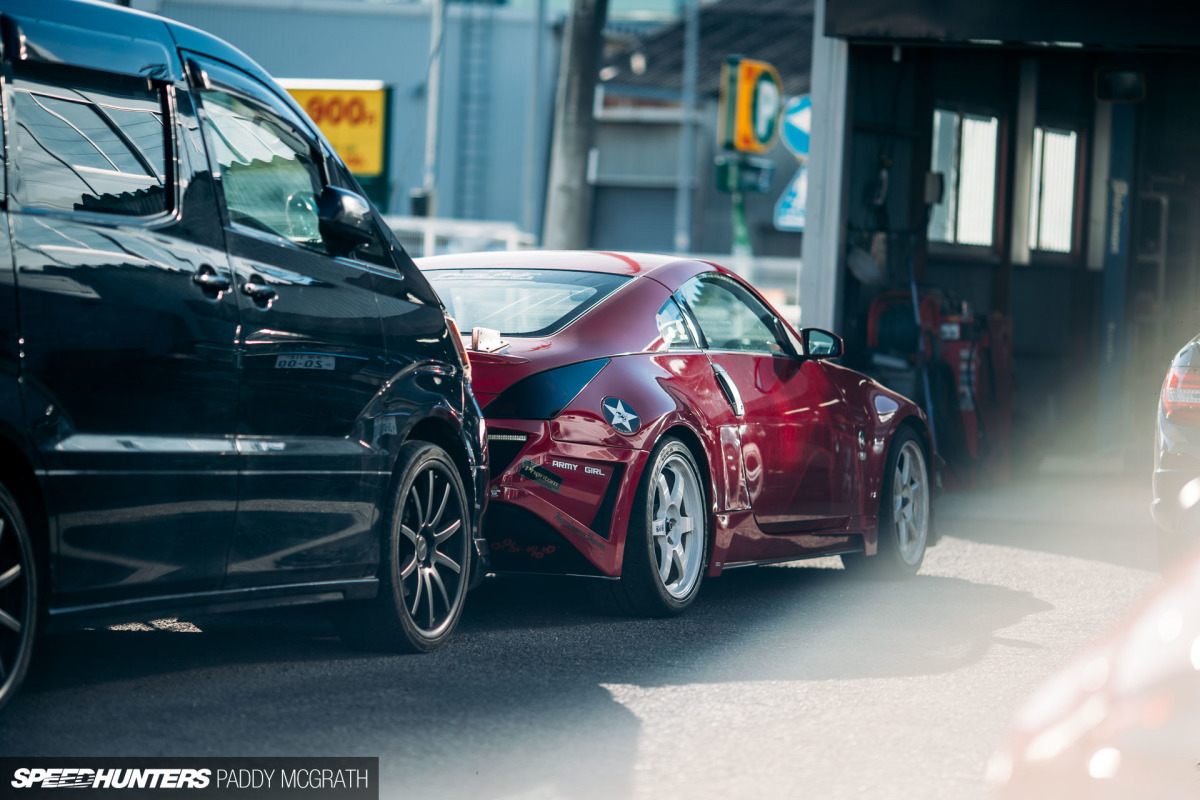 This was just a standard Thursday at Revolfe, and it was business as usual.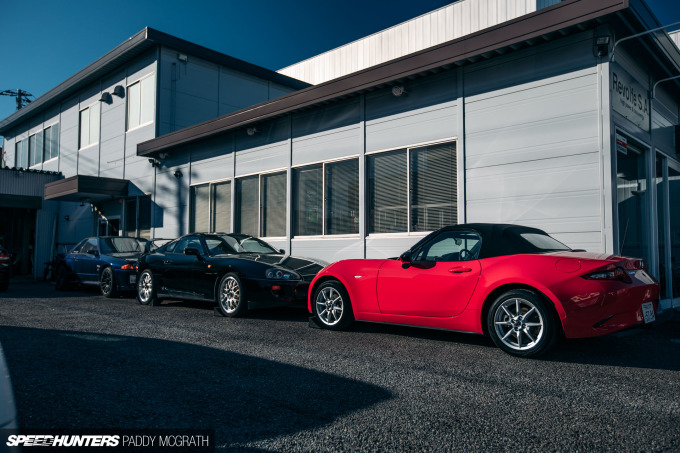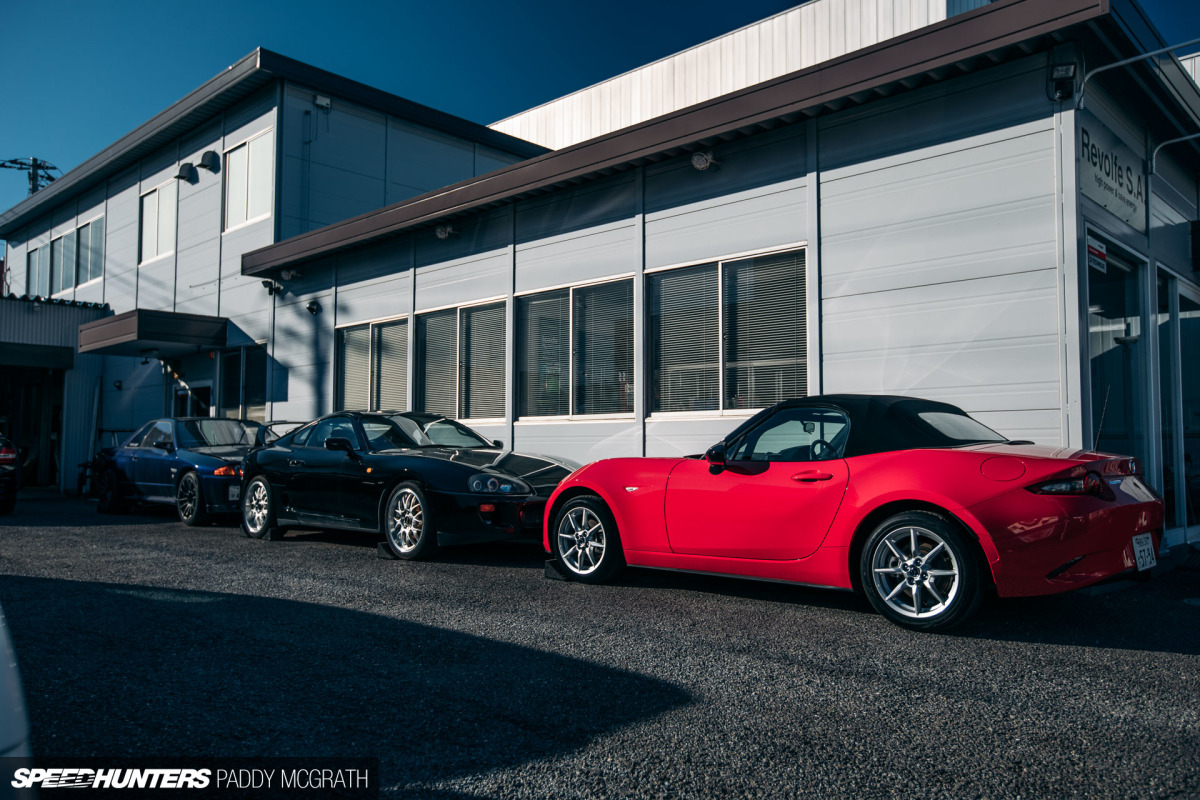 Again, we were keen not to intrude on our hosts for too long, despite their welcome. There was just enough time for a quick look around the yard, which featured more than one notable build, and a look inside their workshop…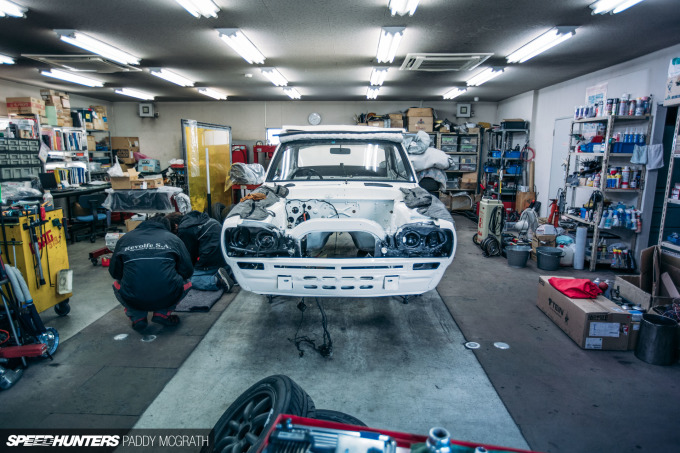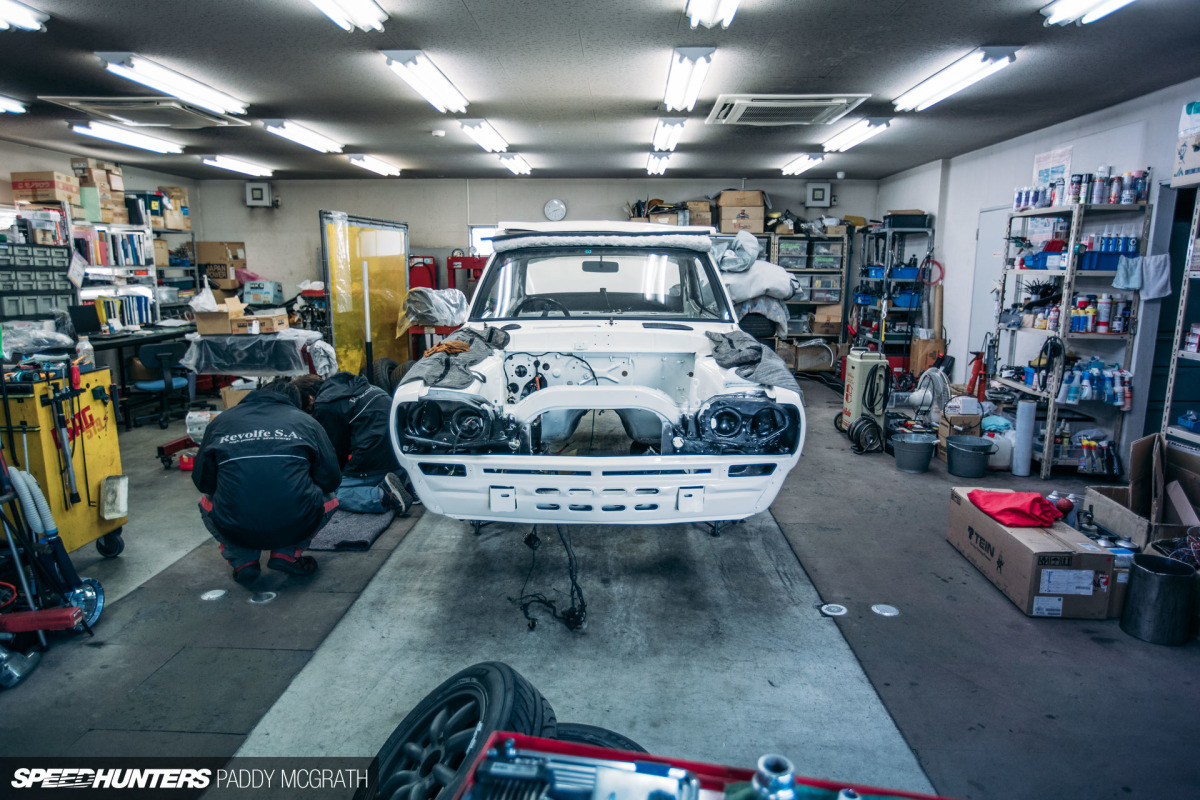 …which at the time was home to a Hakosuka (pronounced Hak-oh-ska, as Dino has taught me) mid-build.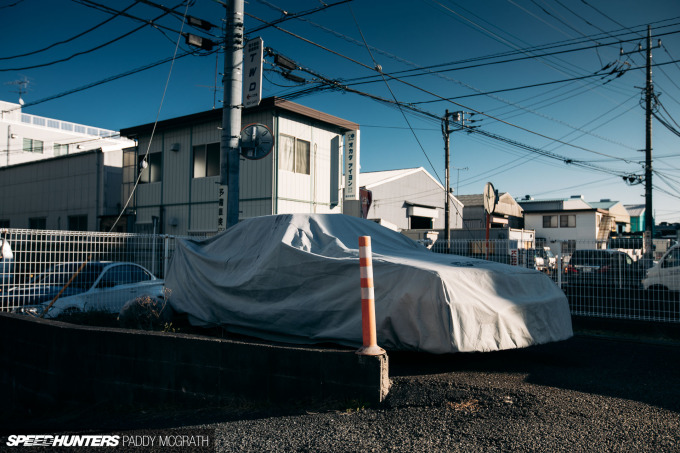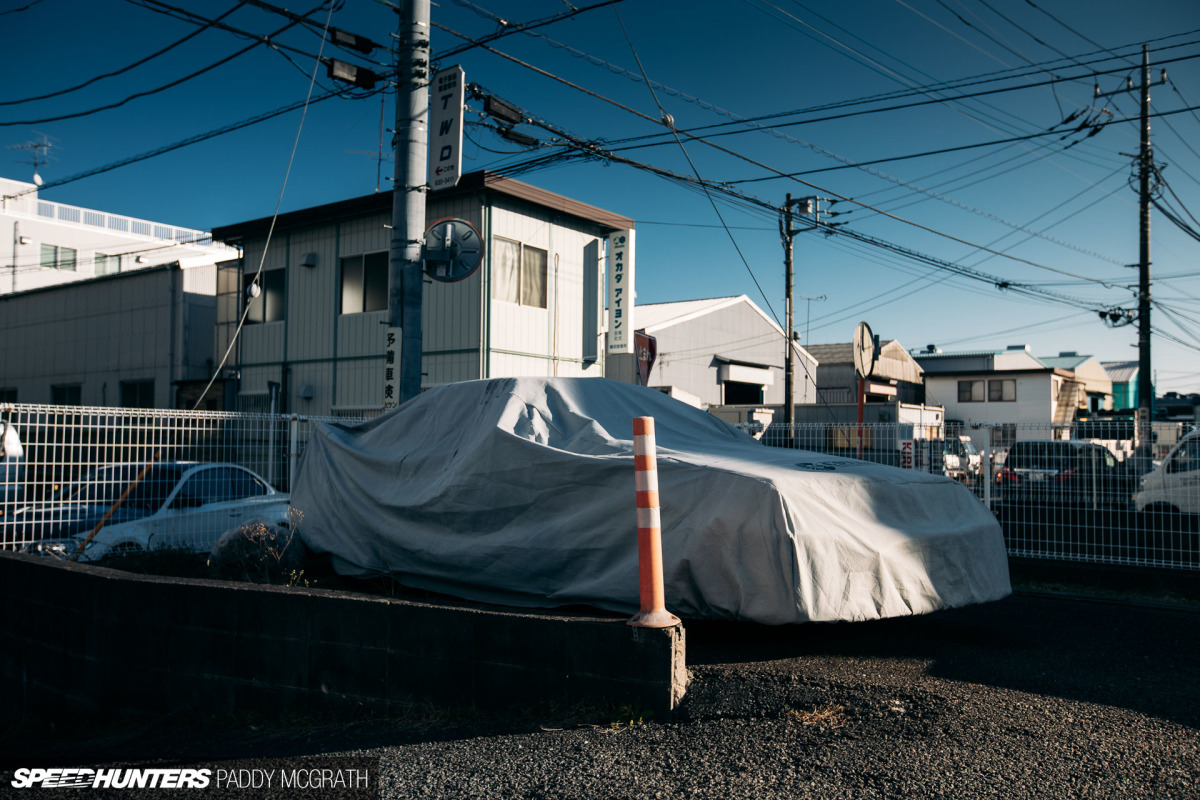 Just as we were about to leave, I took this photograph of a car under a cover. I didn't know what it was, and part of me didn't want to know as the mystery was so enjoyable and the other part didn't want to intrude or be a nuisance. However, Mr. Revolfe noticed and quickly removed the cover.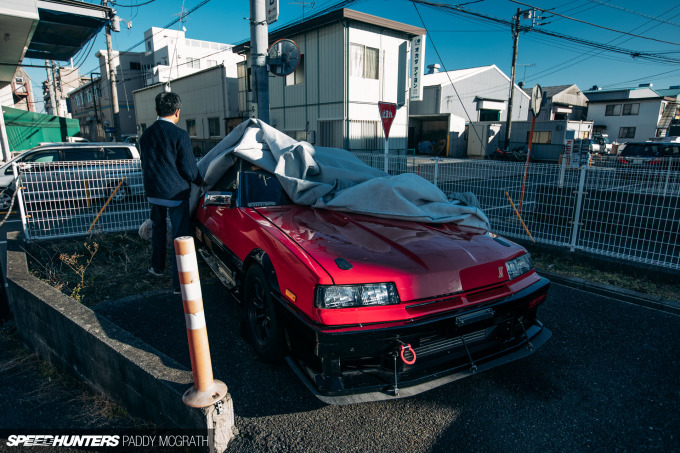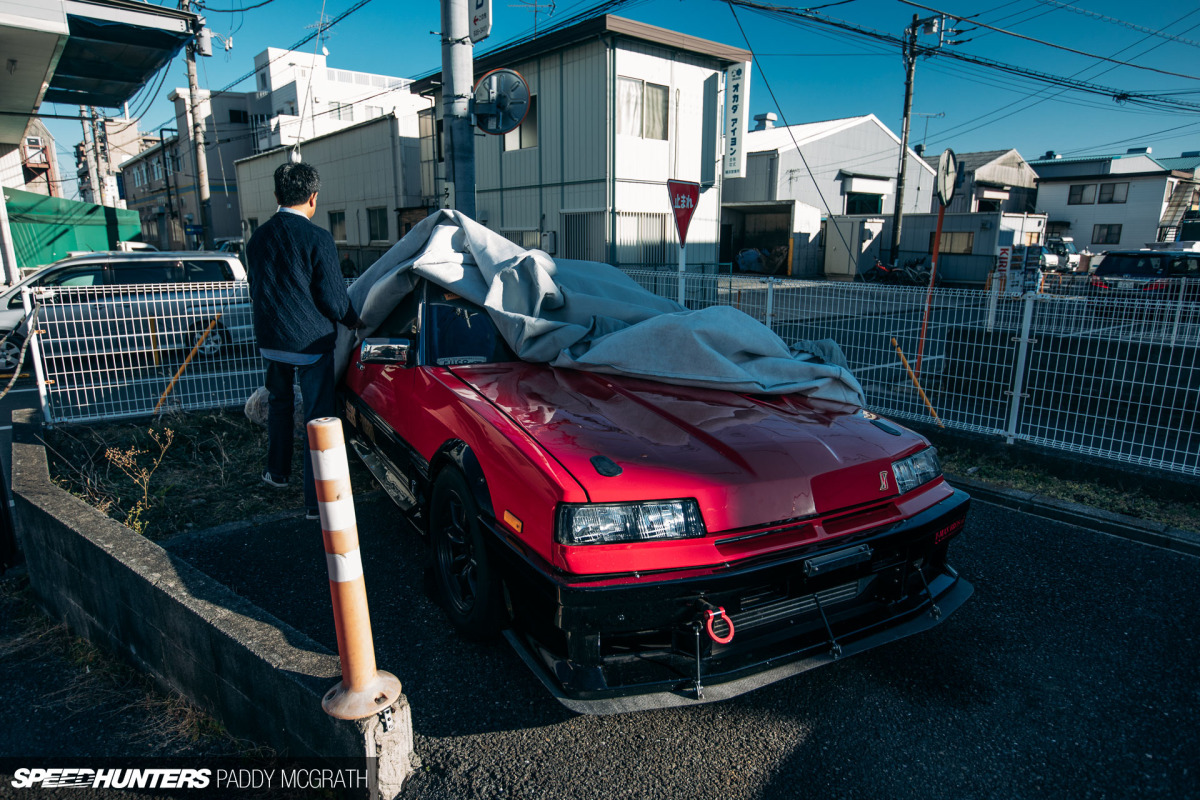 As it happened, it was definitely better knowing what was beneath. The R30 Skyline is an often forgotten member of the Skyline family, but this was a stunning example, by any measure. From carbon panels to what looked a well tuned turbocharged FJ20 motor, it's definitely a car that I would like to see in more detail on Speedhunters in the future. Who from our Japan team will be the first to shoot it?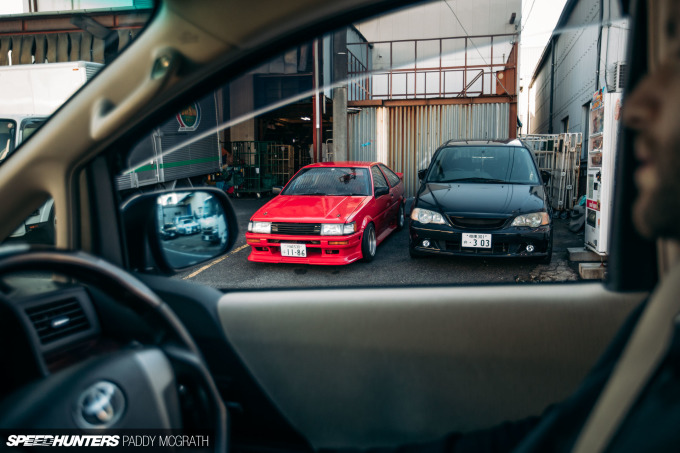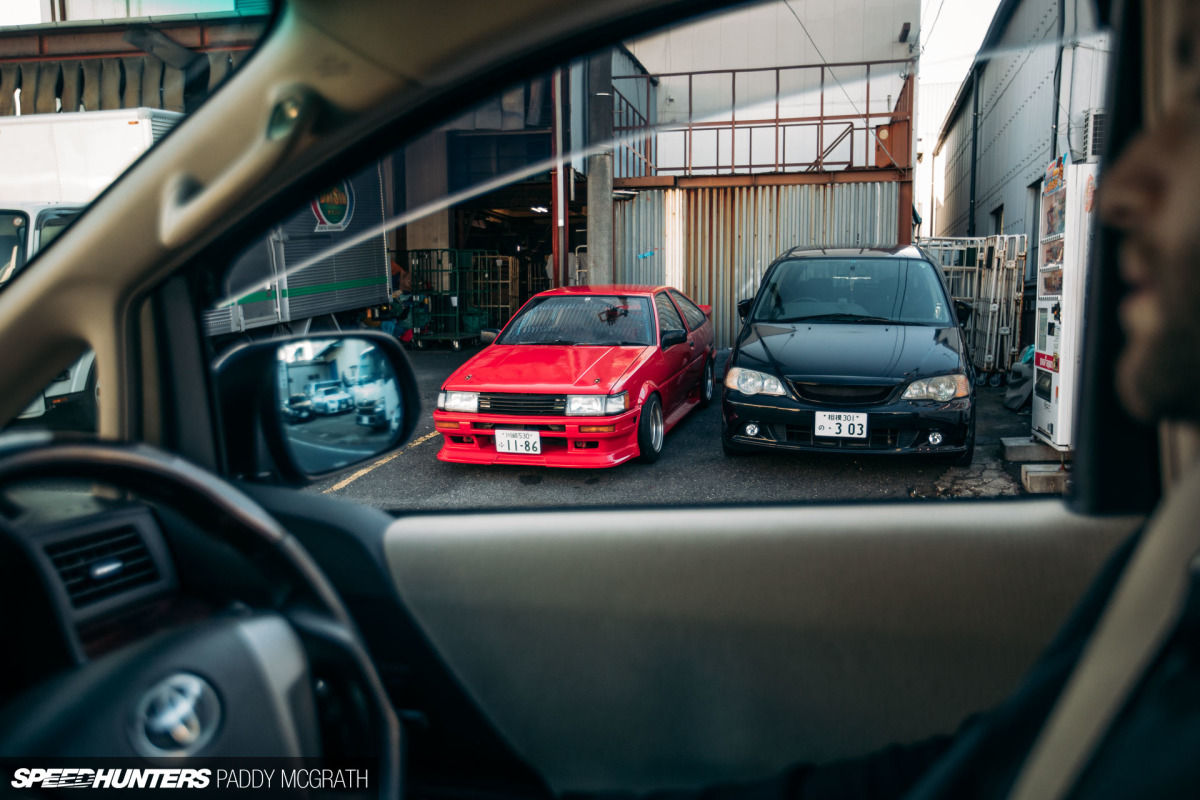 Again, we ventured onwards but this time to our final destination of the evening; Daikoku PA. Random AE86 sighting included for posterity.
Oh, and we actually had a shortover stop at Studie AG in Yokohama, which you can find in the Cutting Room Floor chapter.
24 Hours-ish
Whatever about Tatsumi PA, Daikoku is the one.
It's the one we all know, the one that's instantly recognisable in almost any photograph day or night, and the one to visit if you can only make it to just one. Again, this evening was all Mark's doing.
First, there was time for dinner. Anyone who knows me will know that I'm a fussy eater, but despite the general mocking throughout the entire trip, I didn't fare too badly. This was a pork katsu curry which was much more enjoyable than it actually looked.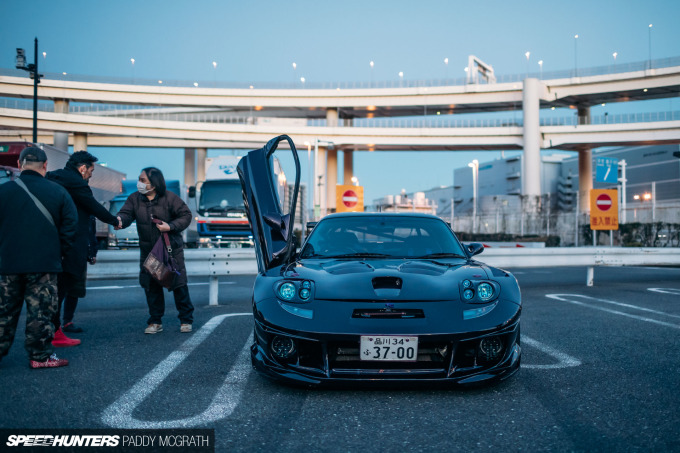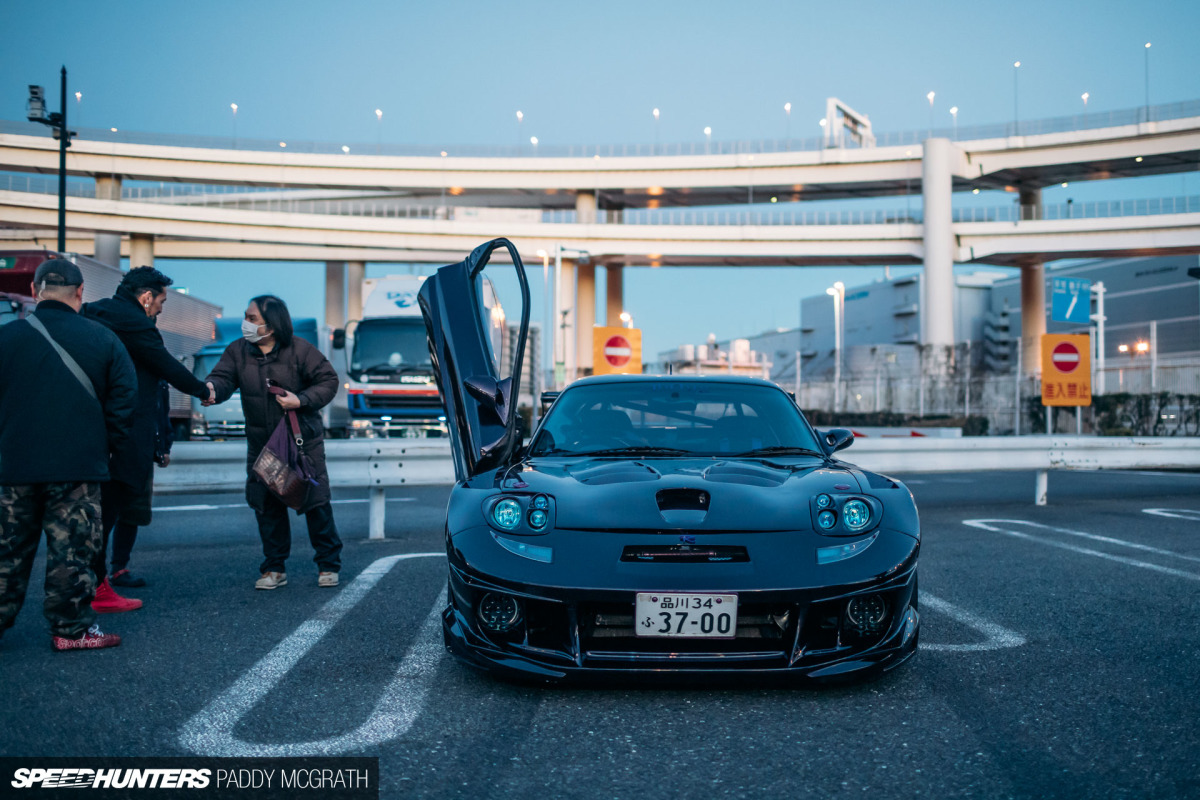 Still, it wasn't a culinary trip we were on. With food consumed, we headed back out into the cold to meet our first group of local car owners, whom just happened to be a group of Doritos enthusiasts.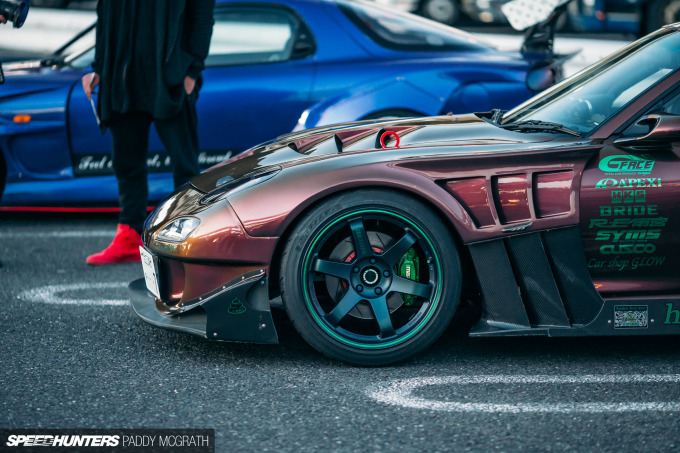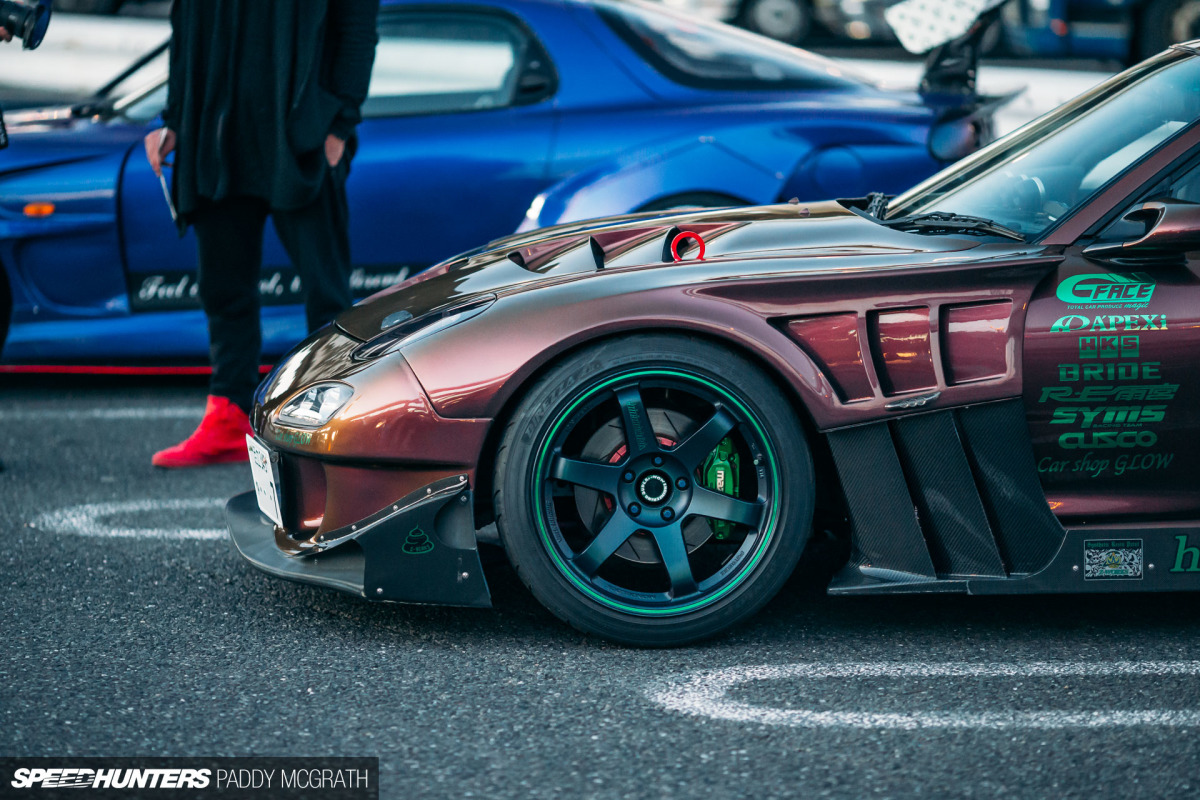 These were some pretty extreme RX-7s, it has to be said.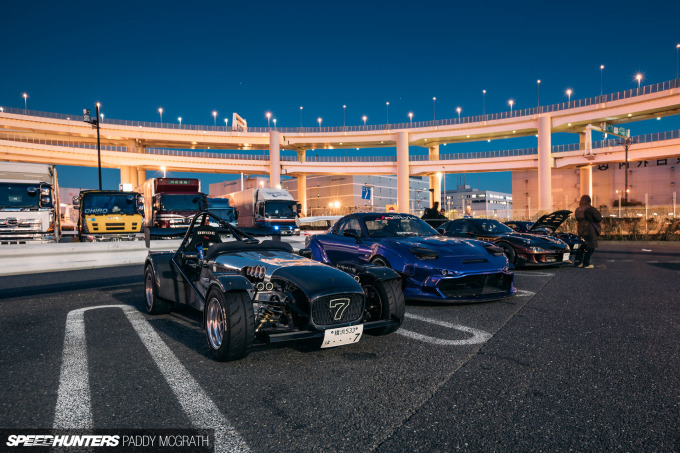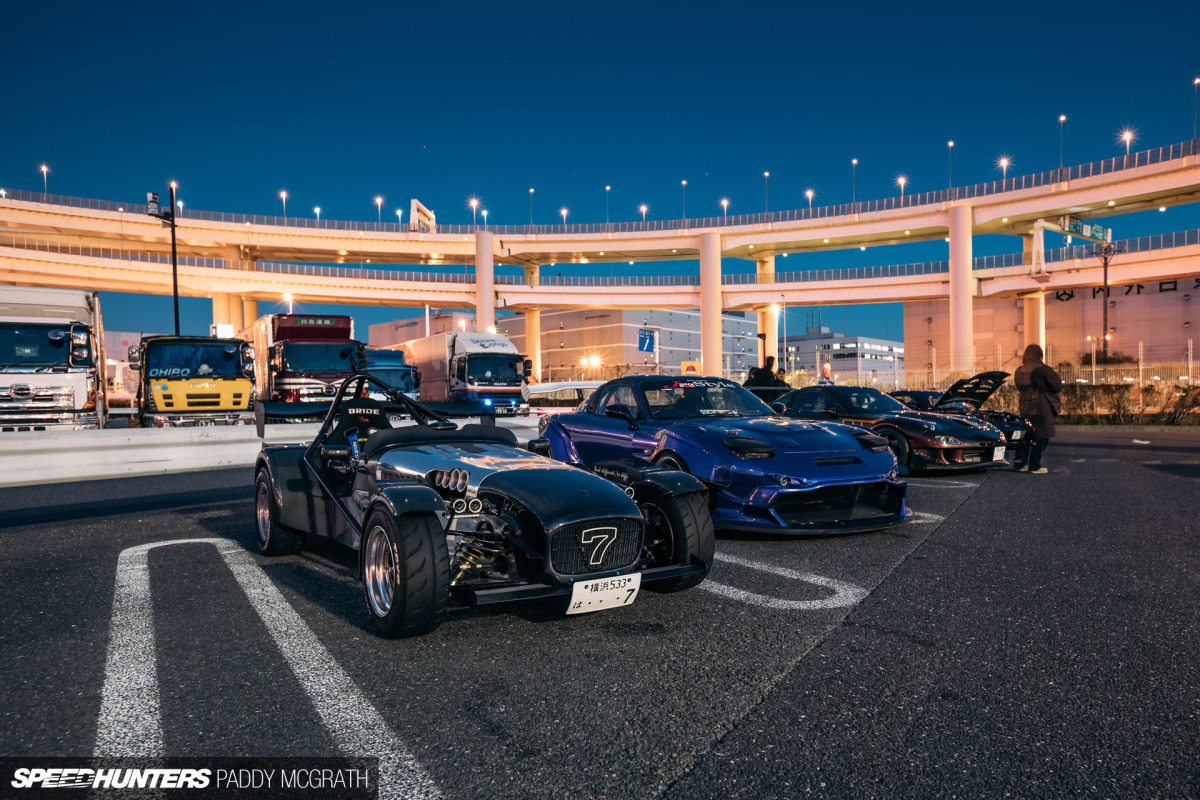 While I do enjoy a good it of Wankel action, their Seven-type friend which had accompanied them was maybe my favourite of the lot. The sheer lunacy of running open trumpets, on what I was told was a BEAMS 3S-G engine, is just silly and brilliant at the same time.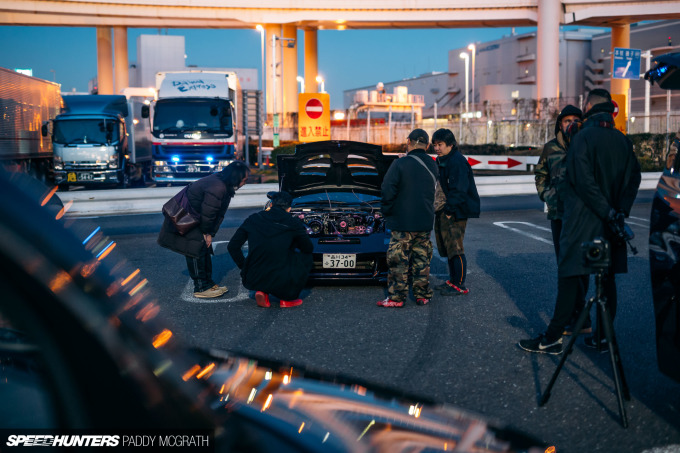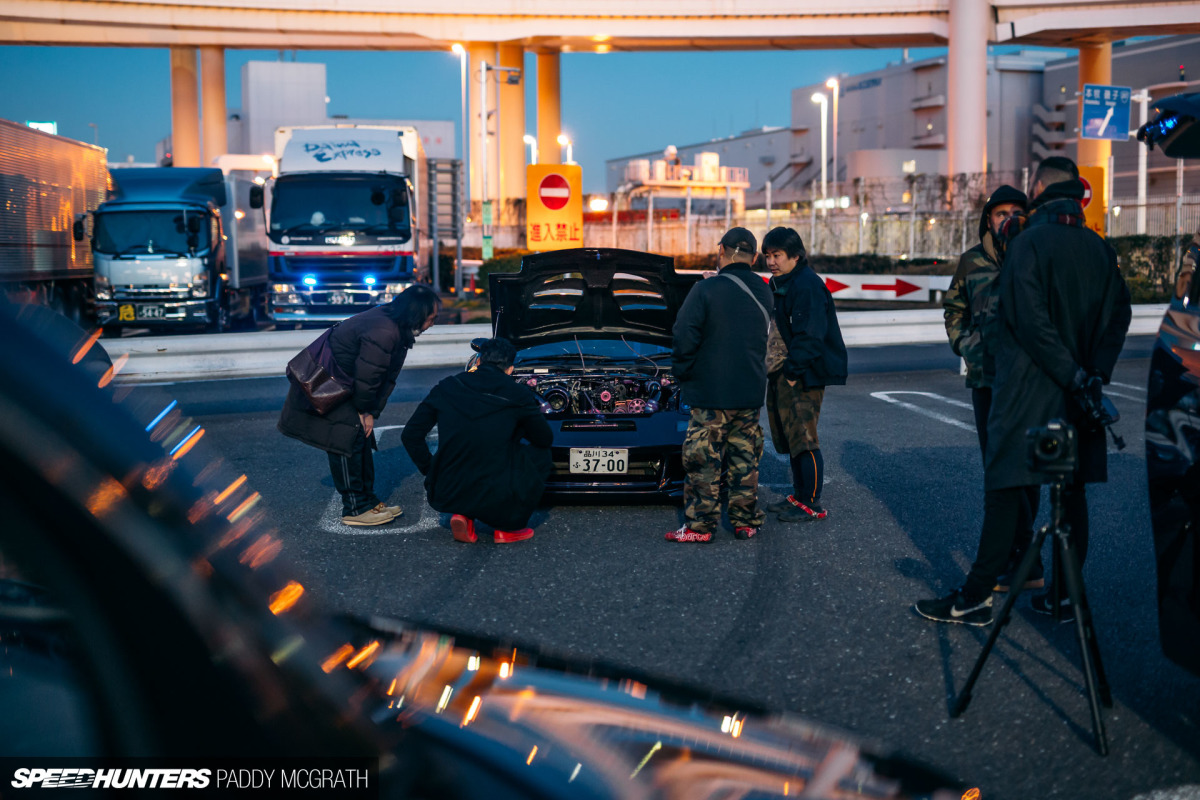 To be quite honest, there wasn't really any purpose to this gathering other than to share a love of cars and take some photographs. While the language barrier is often the biggest obstacle, we seemed to be able to get by with copious amounts of hand signals and the regular use of English-speaking locals.
That last bit obviously a little bit more beneficial than the former.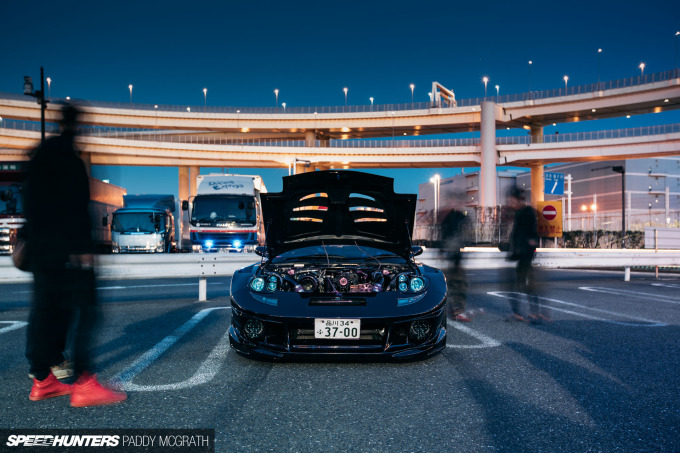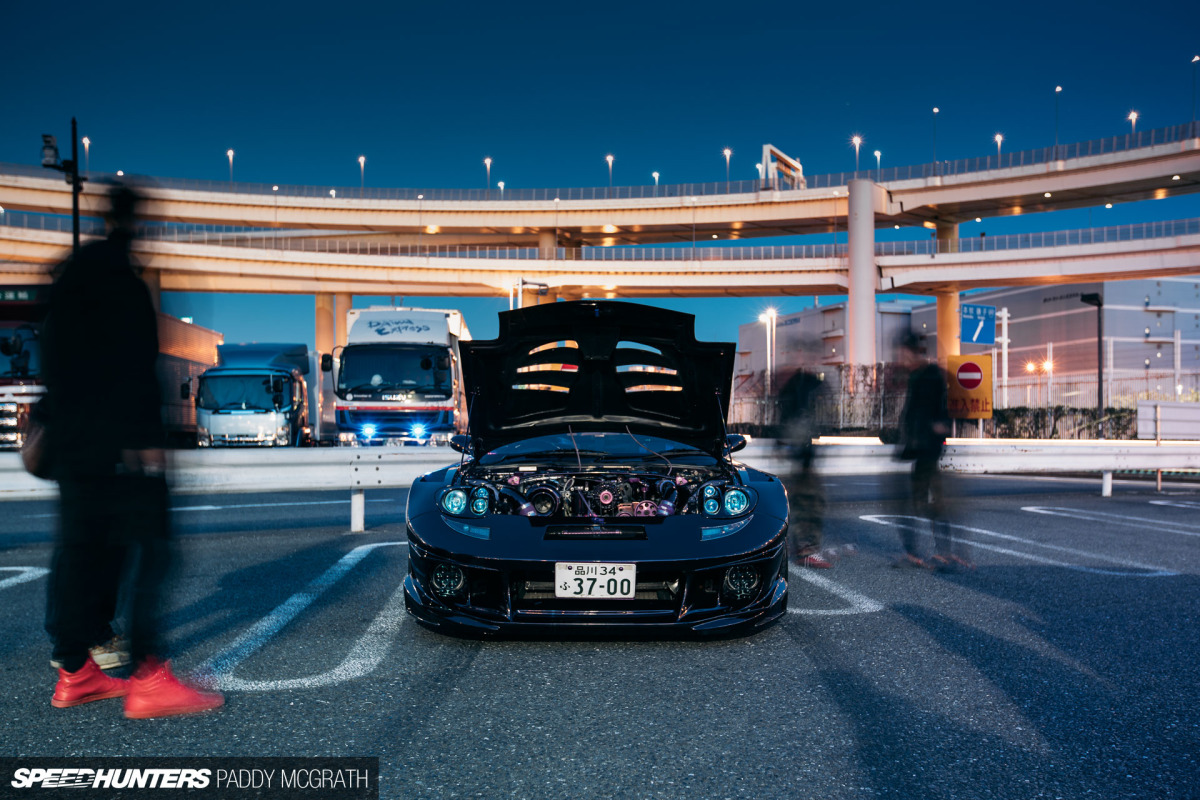 The darkness came pretty quickly, which allowed us a different (and maybe more familiar) look at the parking area.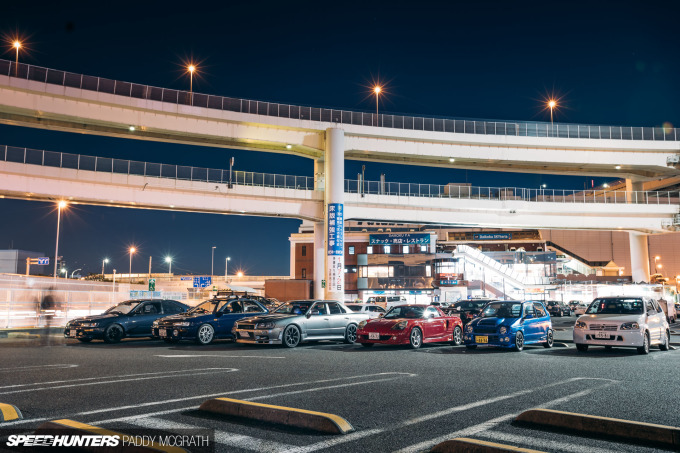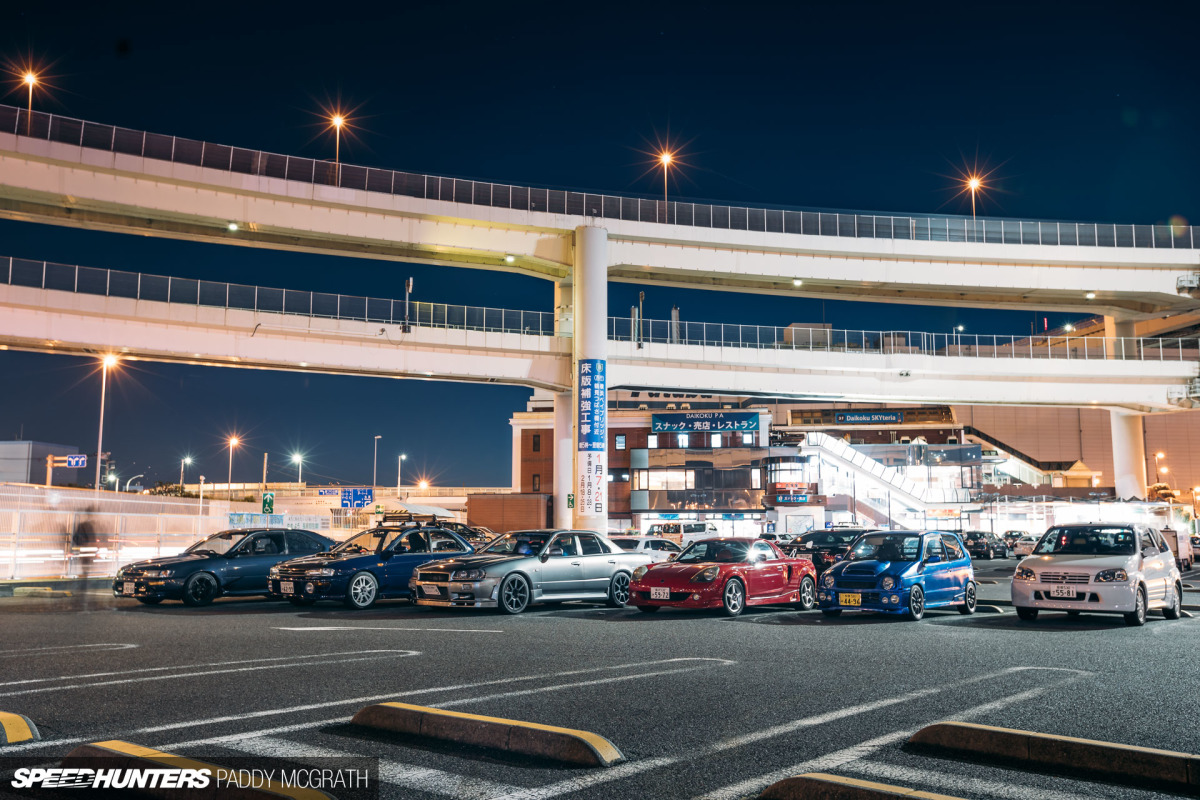 A group of what I assume were local friends came to hang out behind us, taking photos of each others cars and generally just doing the same thing we all do, the world over.
One of the RX-7 owners suggested that we could drive to another location, and we were grateful to have some local insight and to find somewhere we might not have otherwise.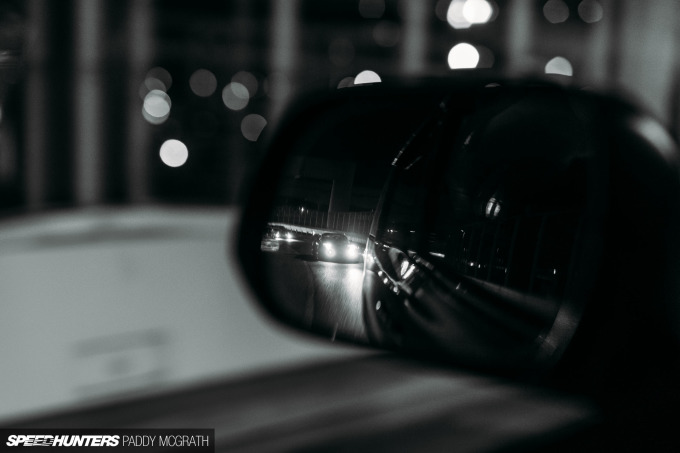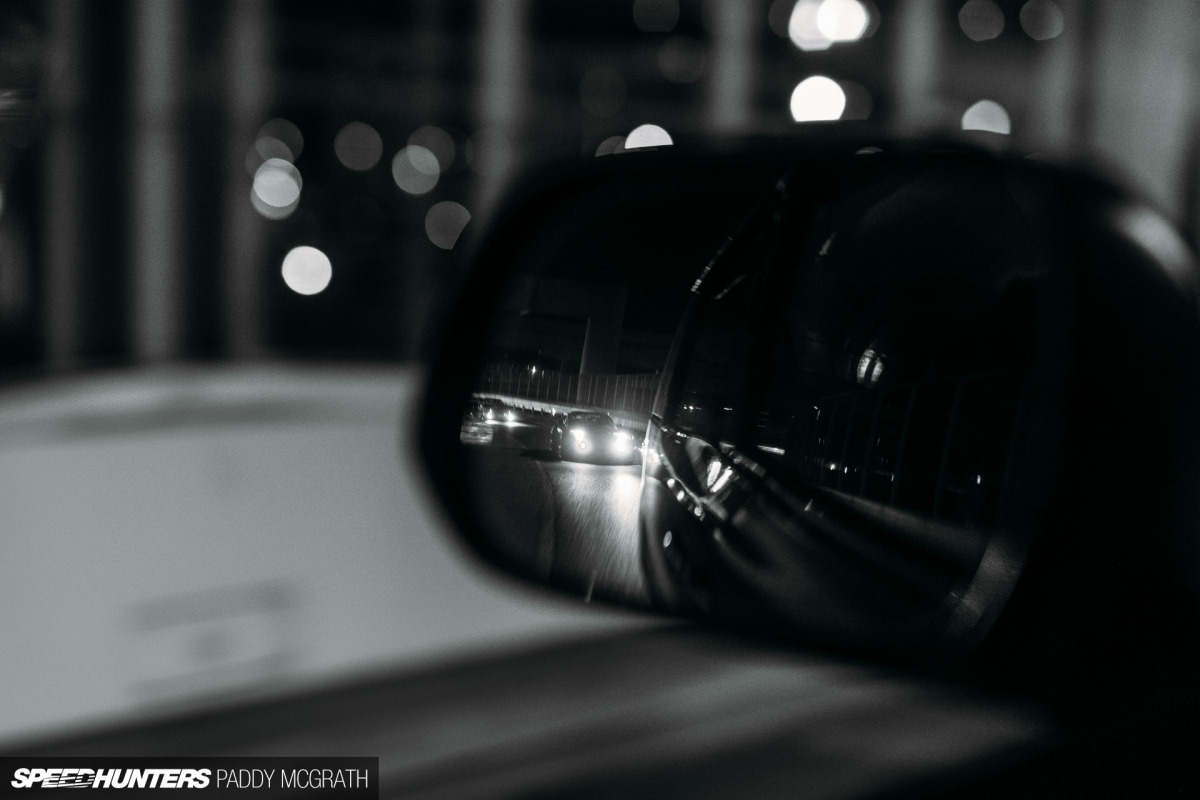 Back into the Alphard.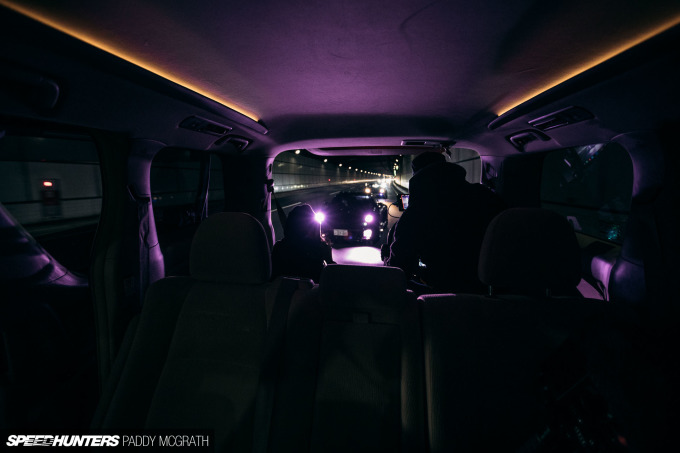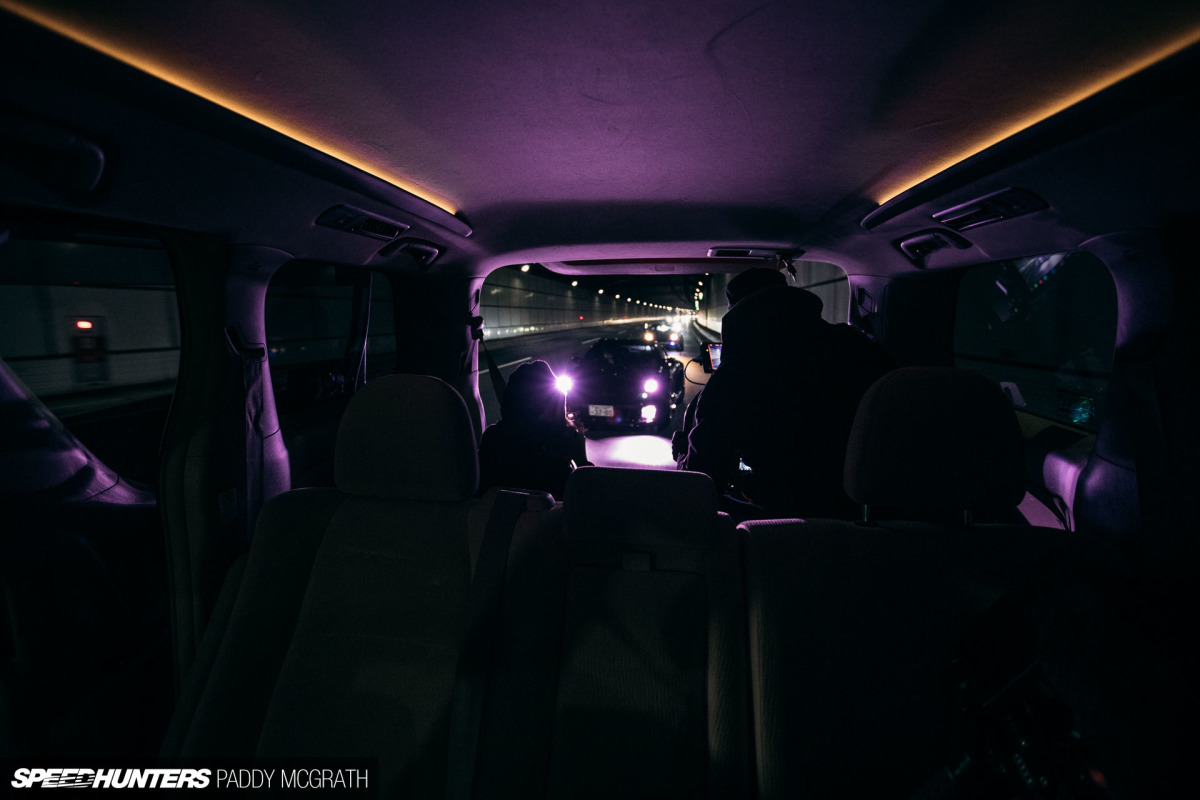 With Mark and Brooks harnessed in and shooting car-to-car, I was regretting my earlier choice of sitting up front. It was significantly warmer mind.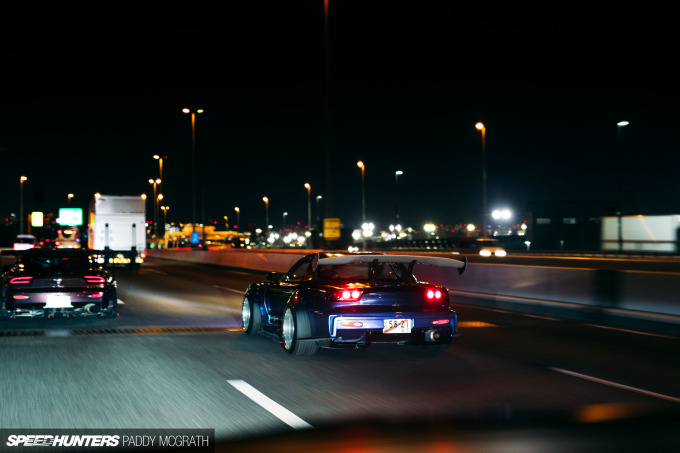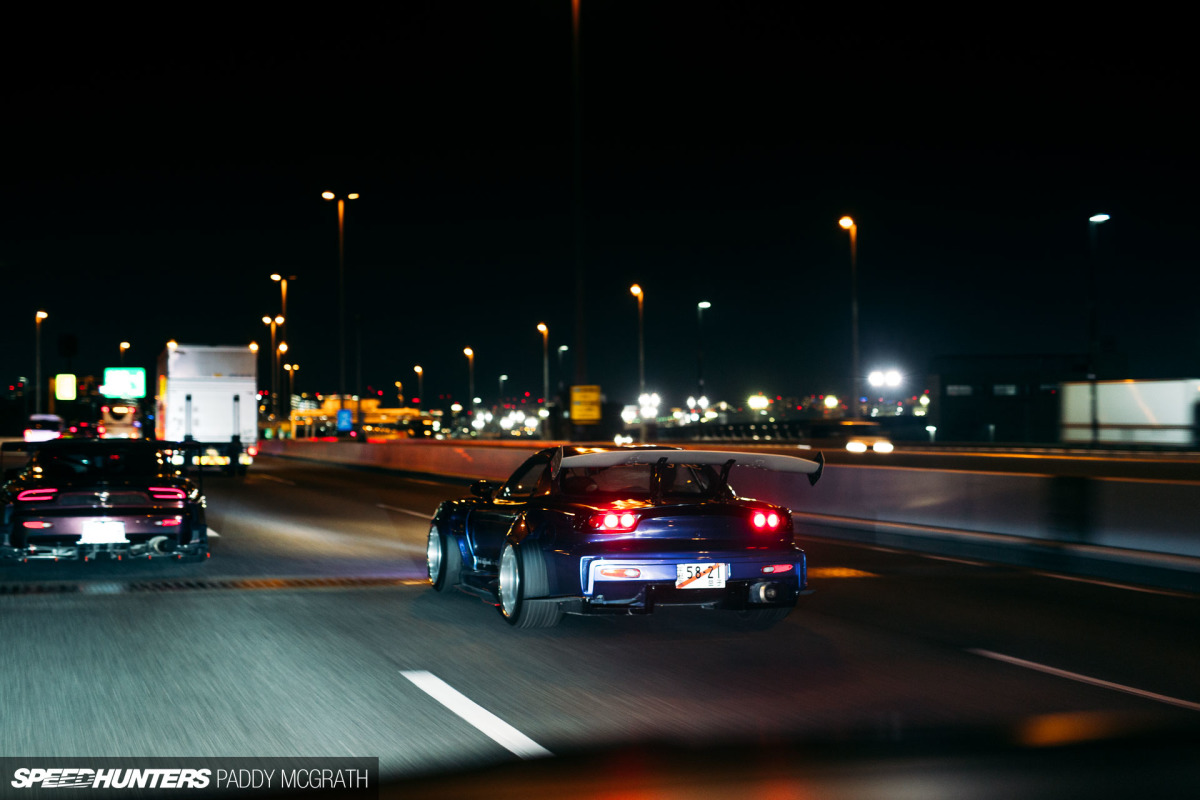 Japan is a fascinating place, with fascinating people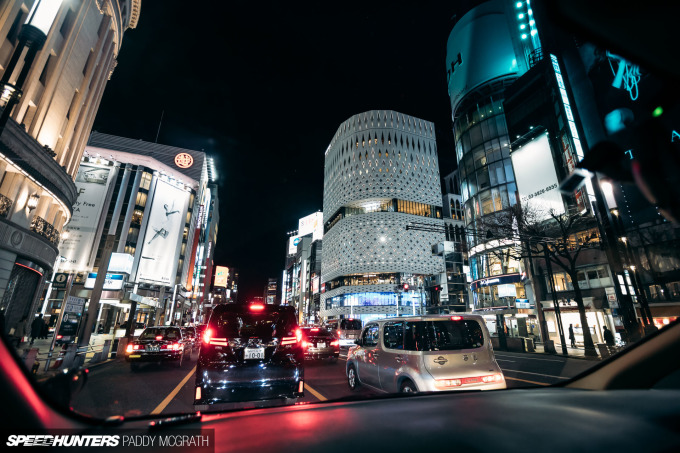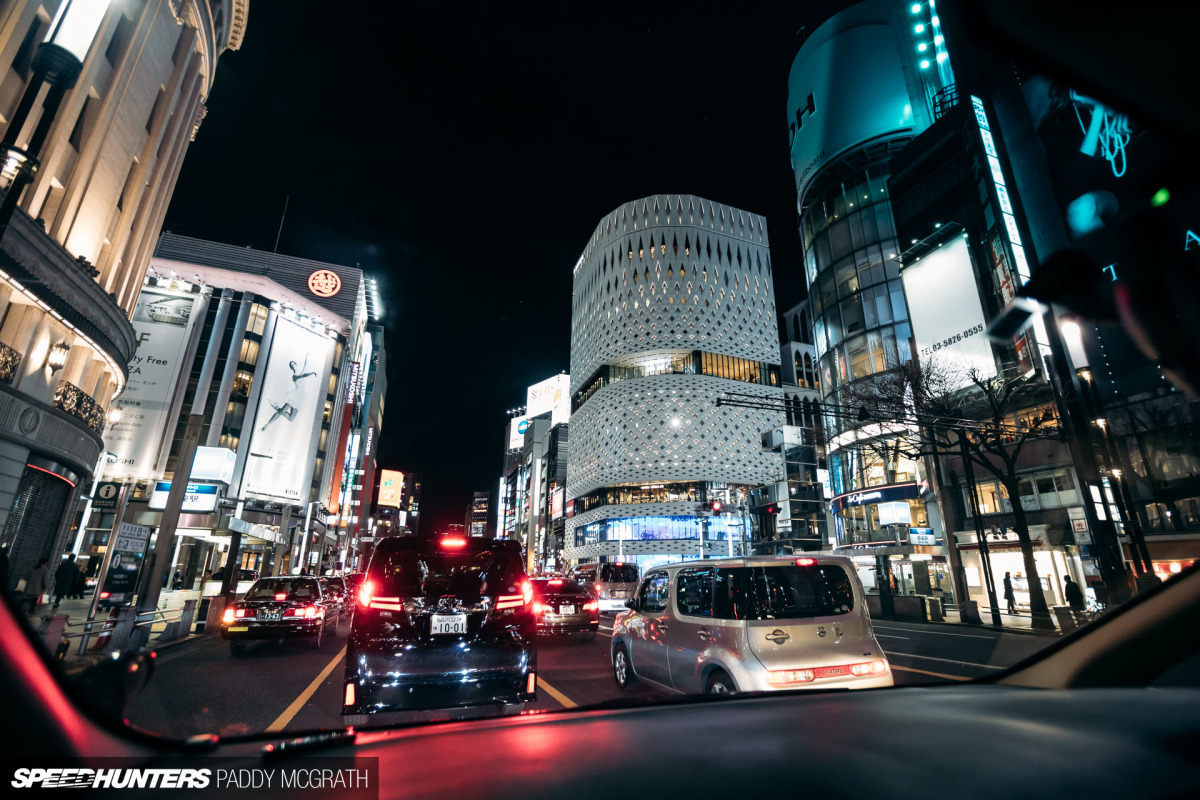 Over the course of our week in and around Tokyo, we saw and documented things that I never could have even dreamed of. With only a loose plan in place (our official stance was to have no plan at all), we essentially winged it in order to see where we would end up.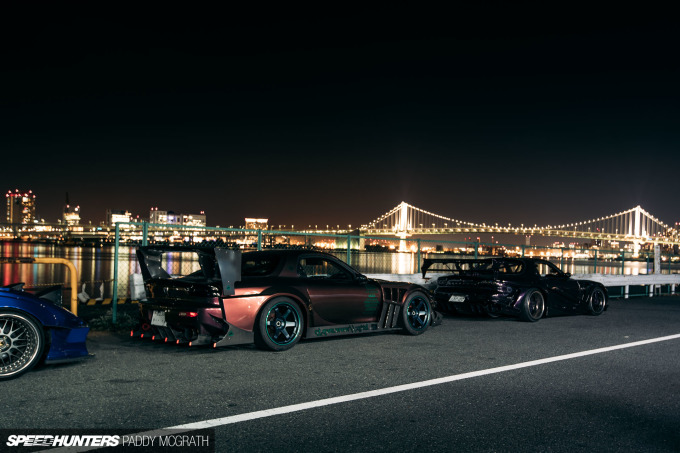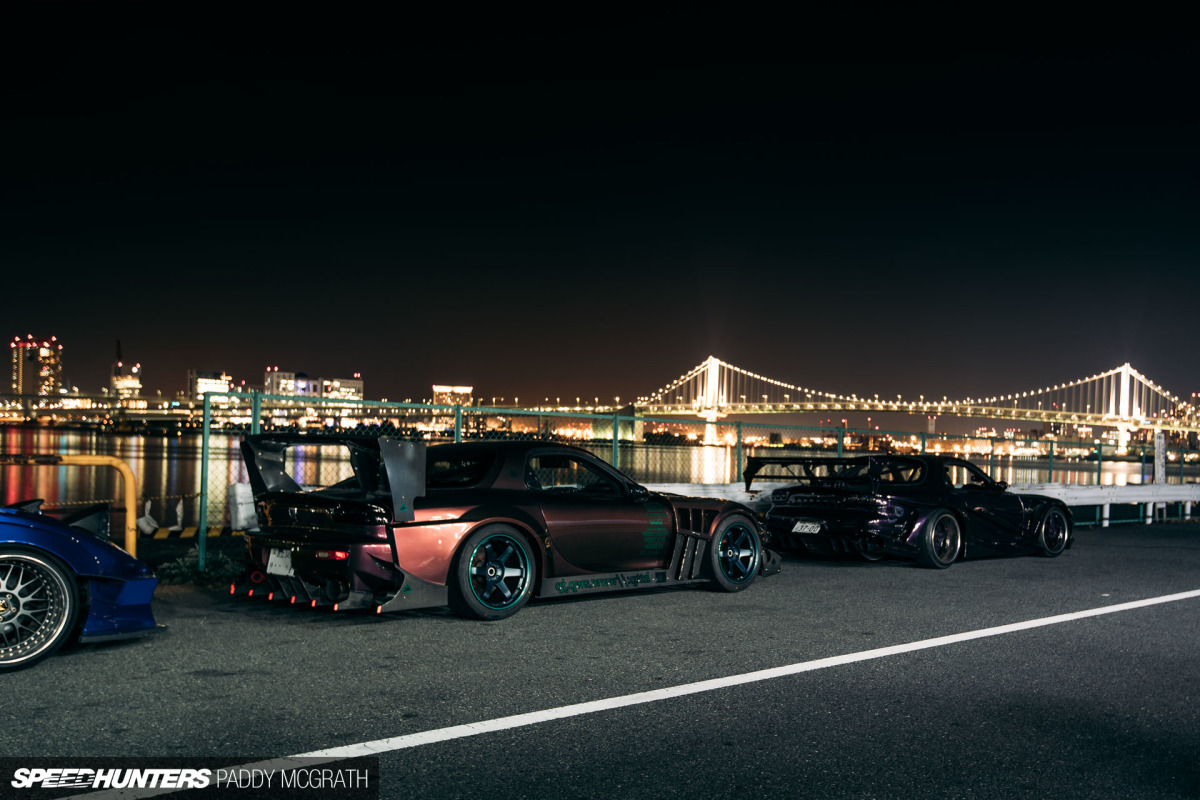 In a previous article, which was written one evening after a particularly long day, I wrote a title which proclaimed that everything is better in Japan. It wasn't that I was trying to talk down anywhere else in the world, rather just trying to highlight how incredible, how plentiful, and how varied car culture is in Japan.
The only part of this entire story which was pre-planned was to meet the Mazda owners at Daikoku on the Thursday night – everything else was spontaneous or just happened upon.
While it may technically have been longer than 24 hours, it just goes to show how much can happen in one day in Tokyo.
Paddy McGrath
Instagram: pmcgphotos
Twitter: pmcgphotos
paddy@speedhunters.com
Cutting Room Floor