Two Type Rs
I have to admit, Hondas are not my go-to when I'm looking for a feature car.
In fact, besides an NSX or the occasional built S2000, I can't say that I've ever really sought after any Hondas to shoot before. However, Inspire USA's two Type Rx Hondas are something a bit special; I would even go as far as saying that these are actually two of the best cars Honda ever made.
Both Type Rs are vastly enhanced versions of a base model that was essentially a humble commuter vehicle; something dreamed up by the marketing department that would sell en masse for cheap. Growing up I had plenty of friends whose first cars were some version of a Civic or Integra; these exact models are the quintessential Hondas of my time. In other words, a little bit boring.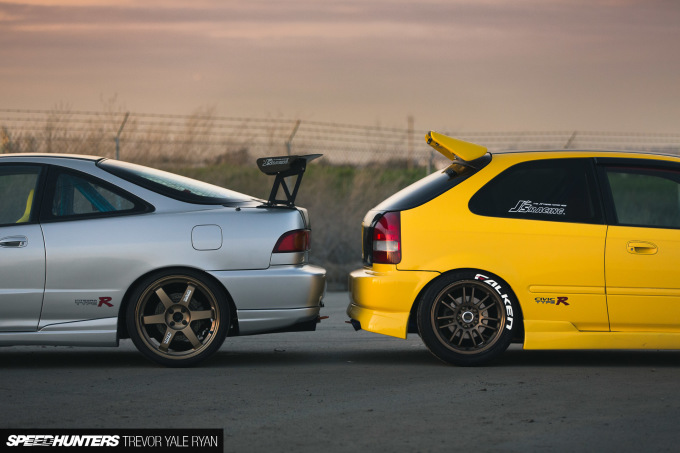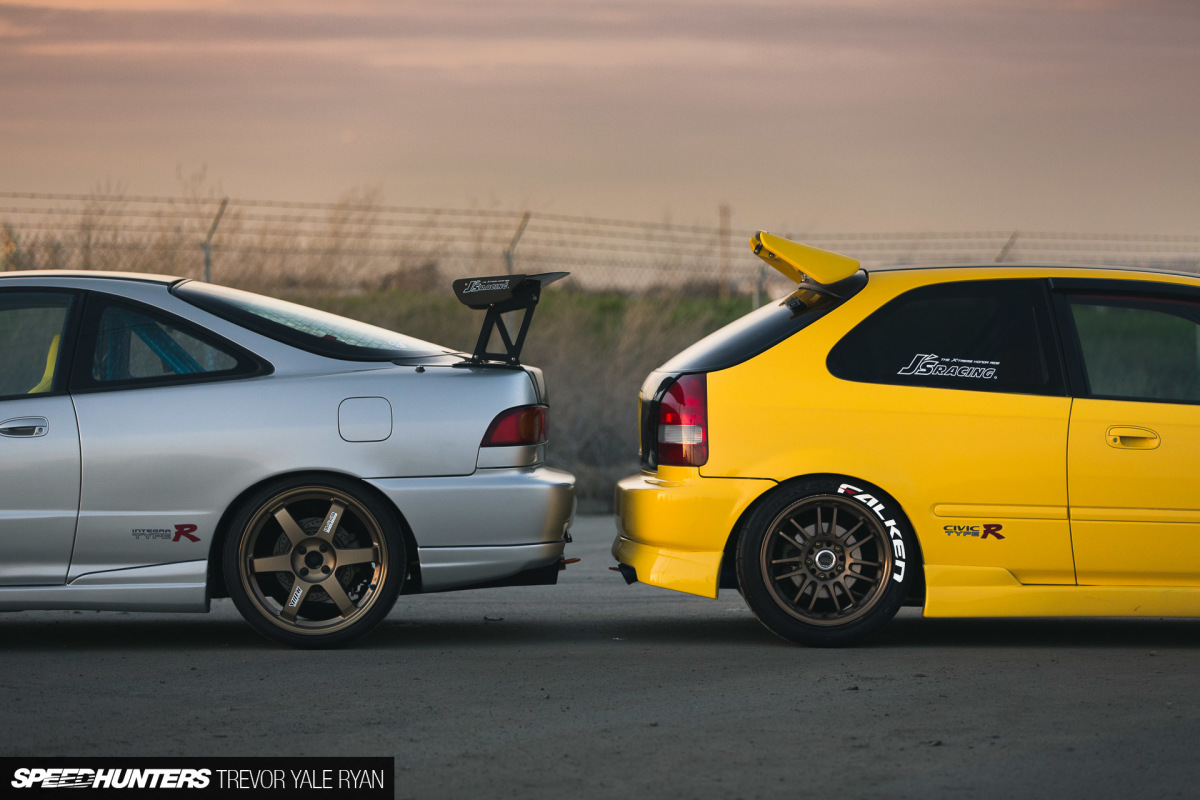 The Type R on the other hand was the lighter, more powerful, circuit tuned version. The very best Honda you could get your hands on in the year 2000 (without stepping up to already-mentioned NSX or S2K, both of which were sort of outside the realm of Honda's bread and butter) would have been one of these two cars you see here.
Certainly not boring either, especially after a healthy dose of aftermarket tuning.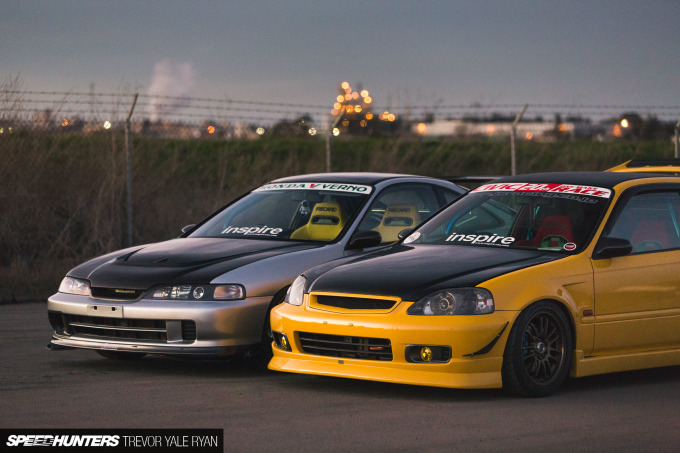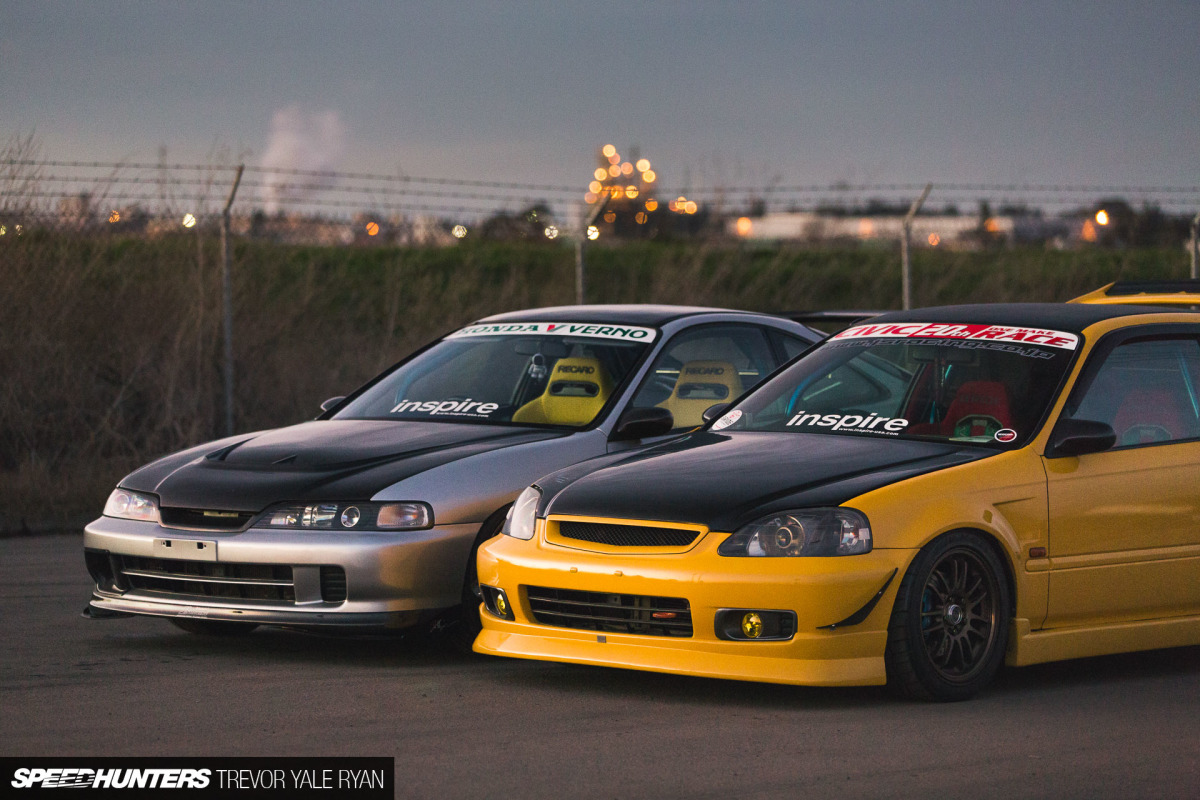 It's worth mentioning that their owner, Eric Tsoi, has had over 100 cars in his time. When you consider the number of makes and models that have come and gone, it's no mistake that these two have been in his collection for a decade now. The DC2 and EK9 are two cars that Eric just can't bear to part with; they've been modified heavily and they're just at a good point where he can hop in and enjoy either one.
When they aren't being driven they create a good bit of fanboy buzz in the shop at Inspire USA; here in the States seeing a legit right-hand drive Type R is not a common thing. In fact, the Civic Type R of this era was never offered stateside, so any one you come across had to be imported.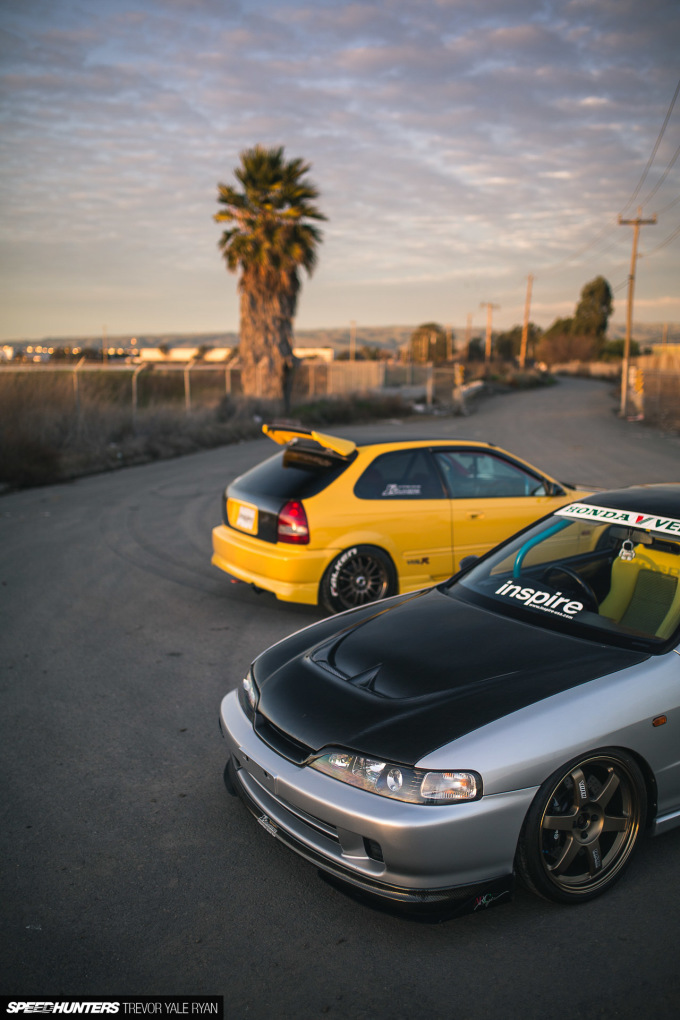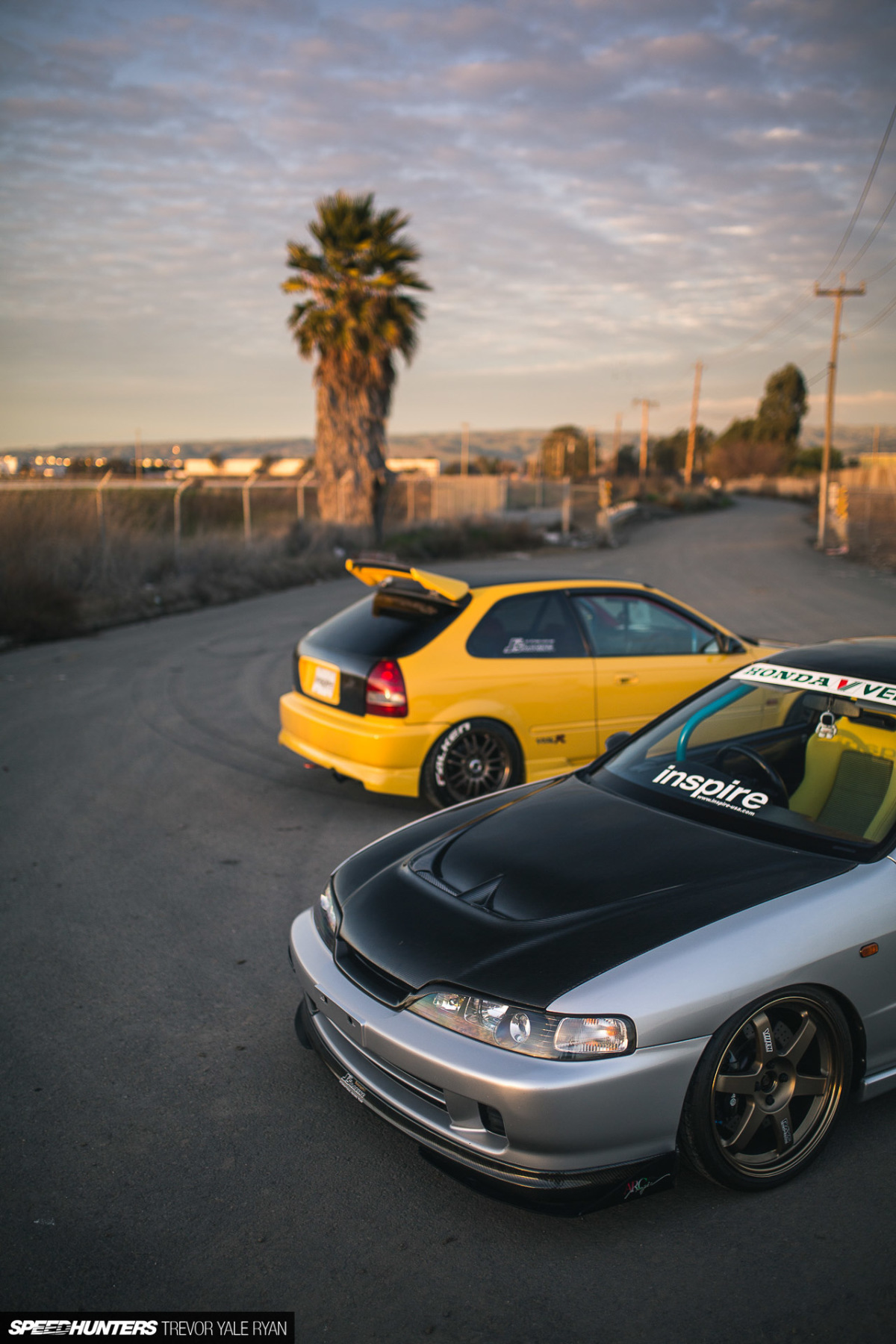 Then, there's just that intangible vibe about the way these cars have been set up. It's something you can't quite put your finger on, but the more time I spent around them the more I had a burning desire to get behind the wheel.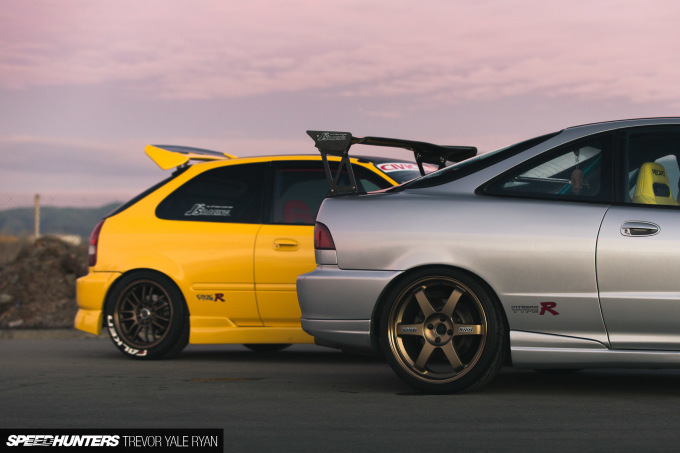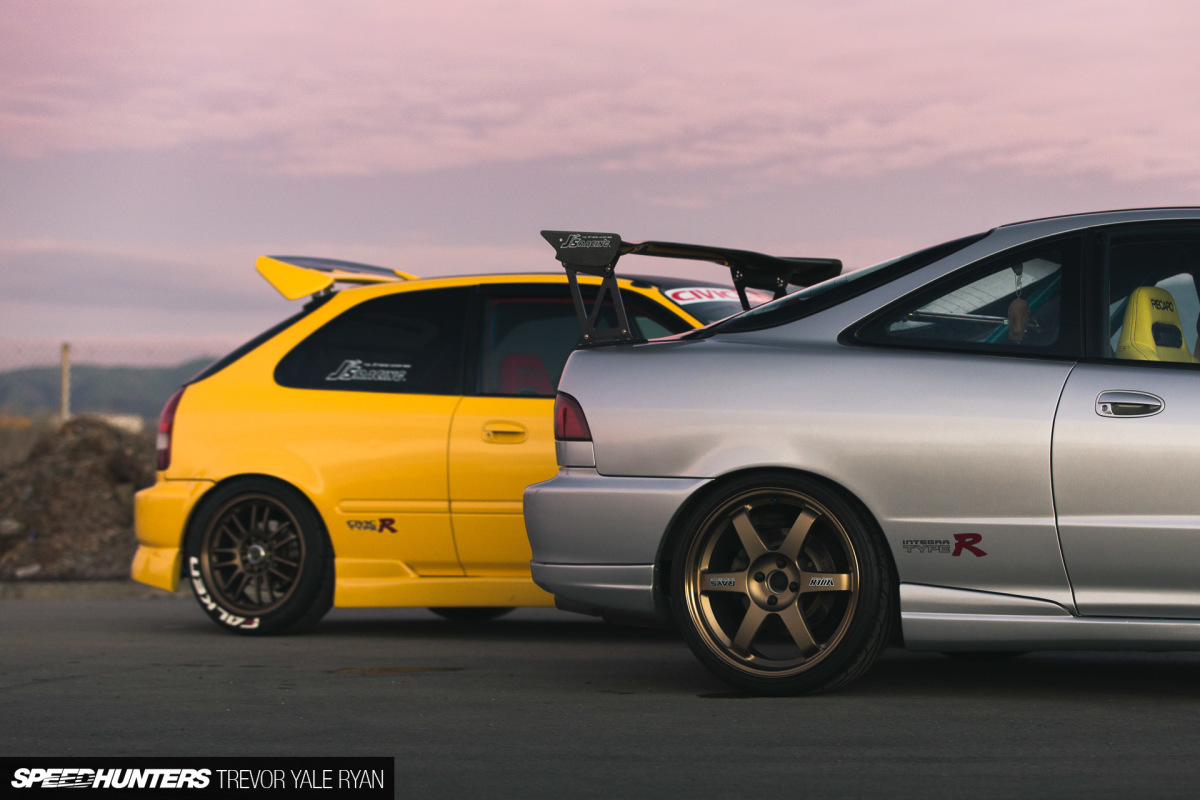 But when presented with the choice, which one would you hop into?
I'd previously thought that the Integra would be a hands-down winner on paper, but once I looked a little more closely, this isn't the case. Actually, they're both about the same size, weight, and power output from the factory, with just 12hp separating them.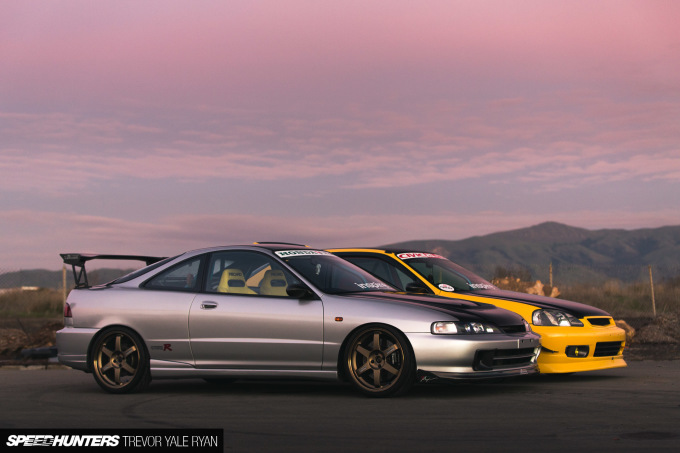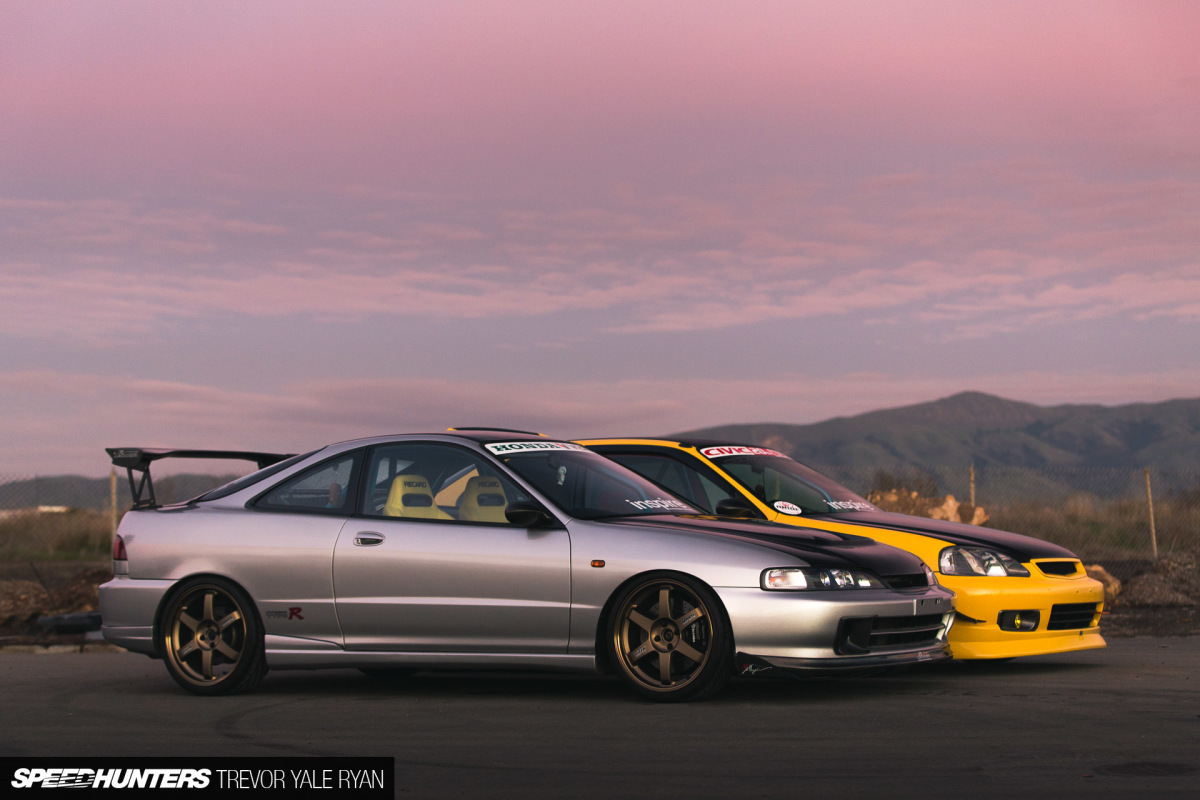 I suppose the only way to really sort which one is the better car is to dive into each build.
The 2000 Civic Type Rx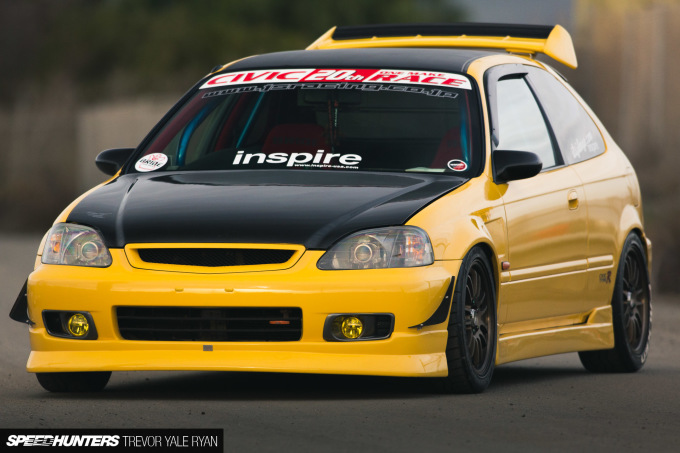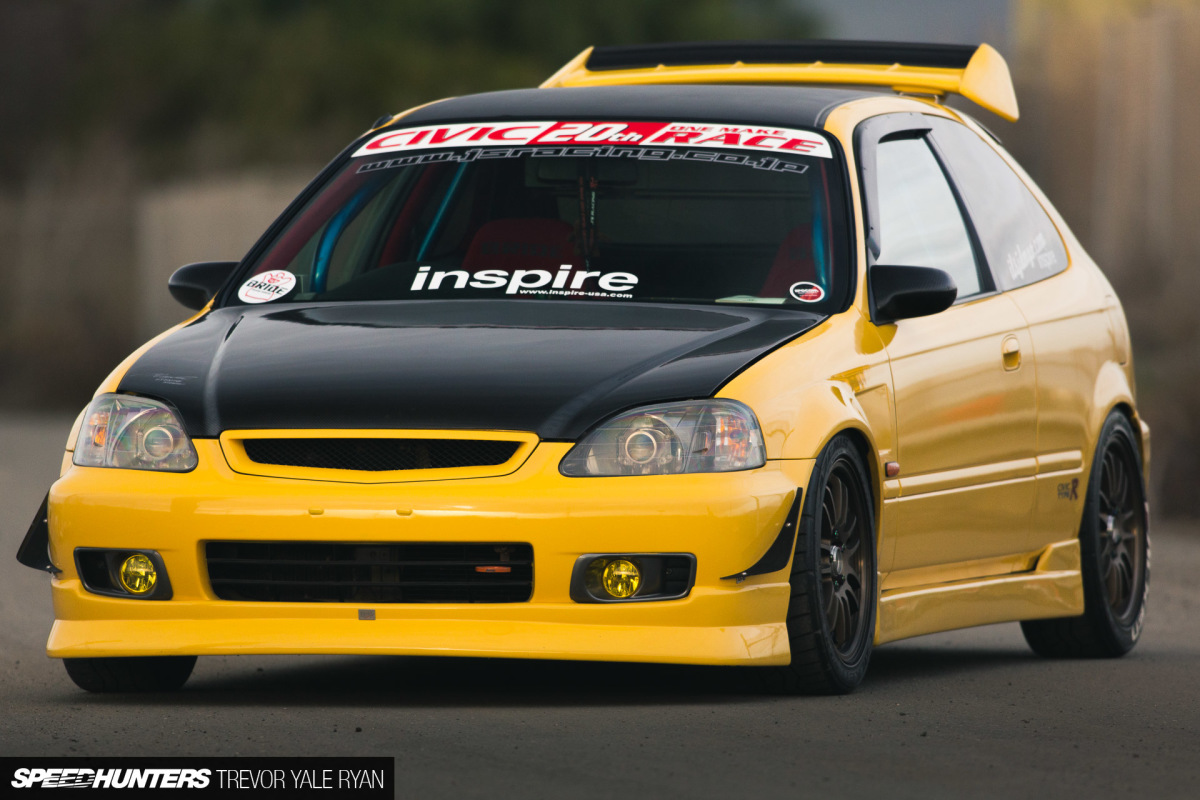 We'll start with the yellow Civic hatch. While Inspire USA attends plenty of local car shows, Eric has only ever brought this car out to one, where it took home first place for 'Best Civic.'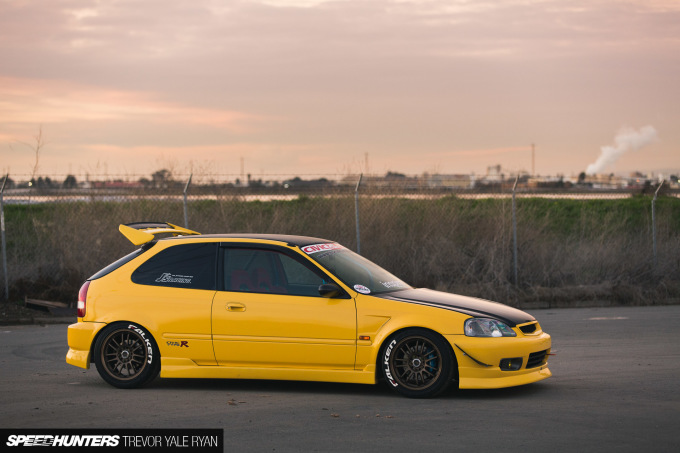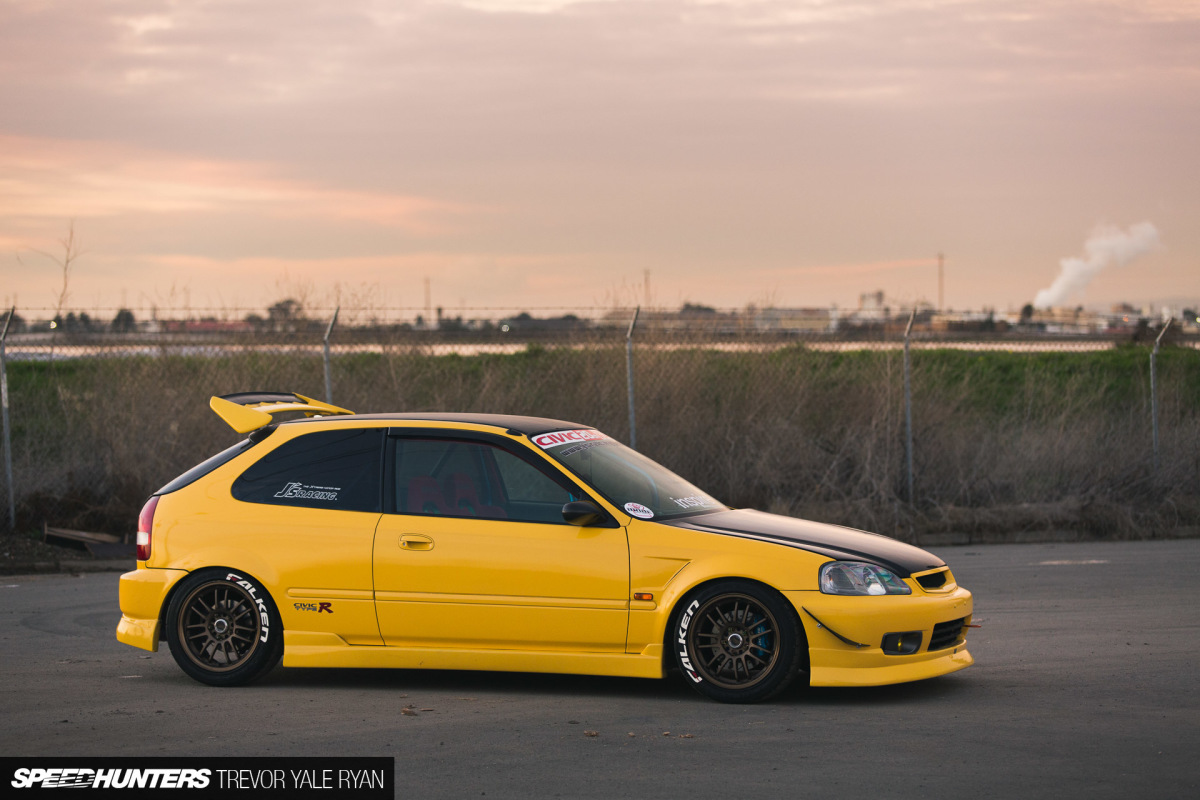 I have to say I wholeheartedly agree with the judge's decision; there's something about this car that's just spot on. All of the Type R goodies in conjunction with the J's Racing aftermarket bits just come together so nicely.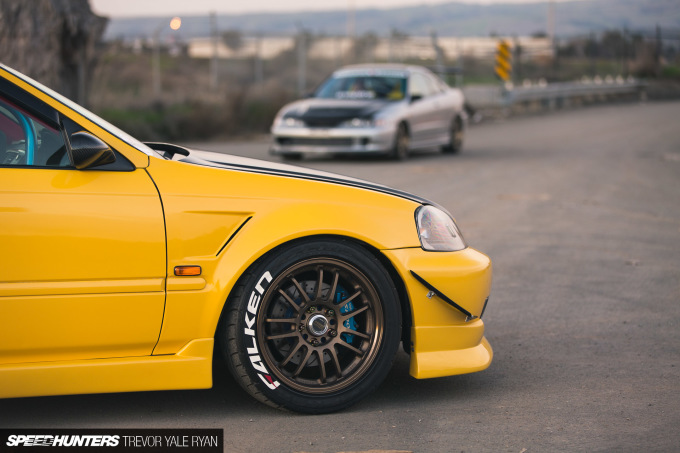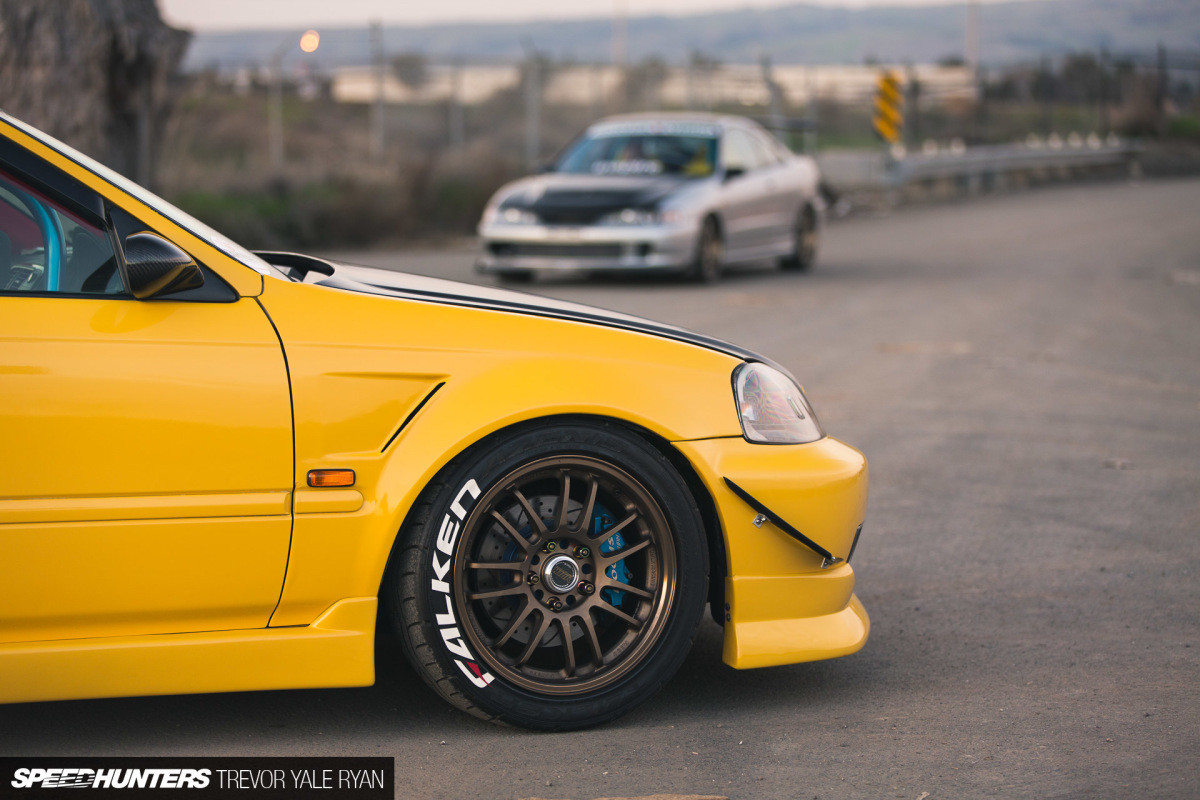 Walking around the exterior there are so many things that are so right about it. The RAYS Volk Racing RE30s and Chargespeed full lip kit works well with the J's Racing fenders and canards; these parts along with many more give that late '90s look the aggressive edge it needed. And with Spoon calipers hiding behind, you know this car is just at home on the back roads as it is at a show or a meet.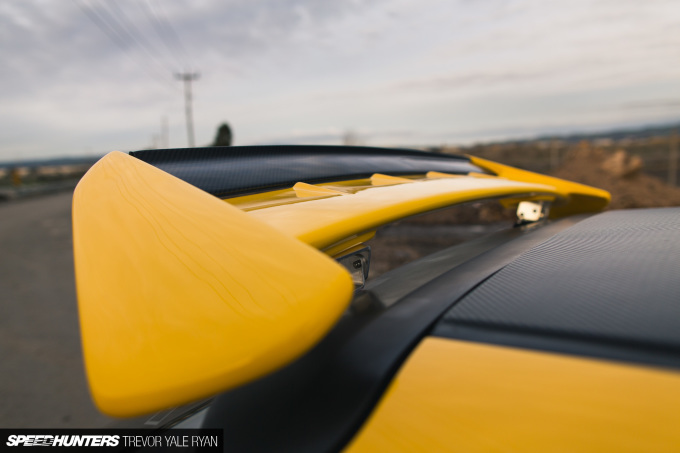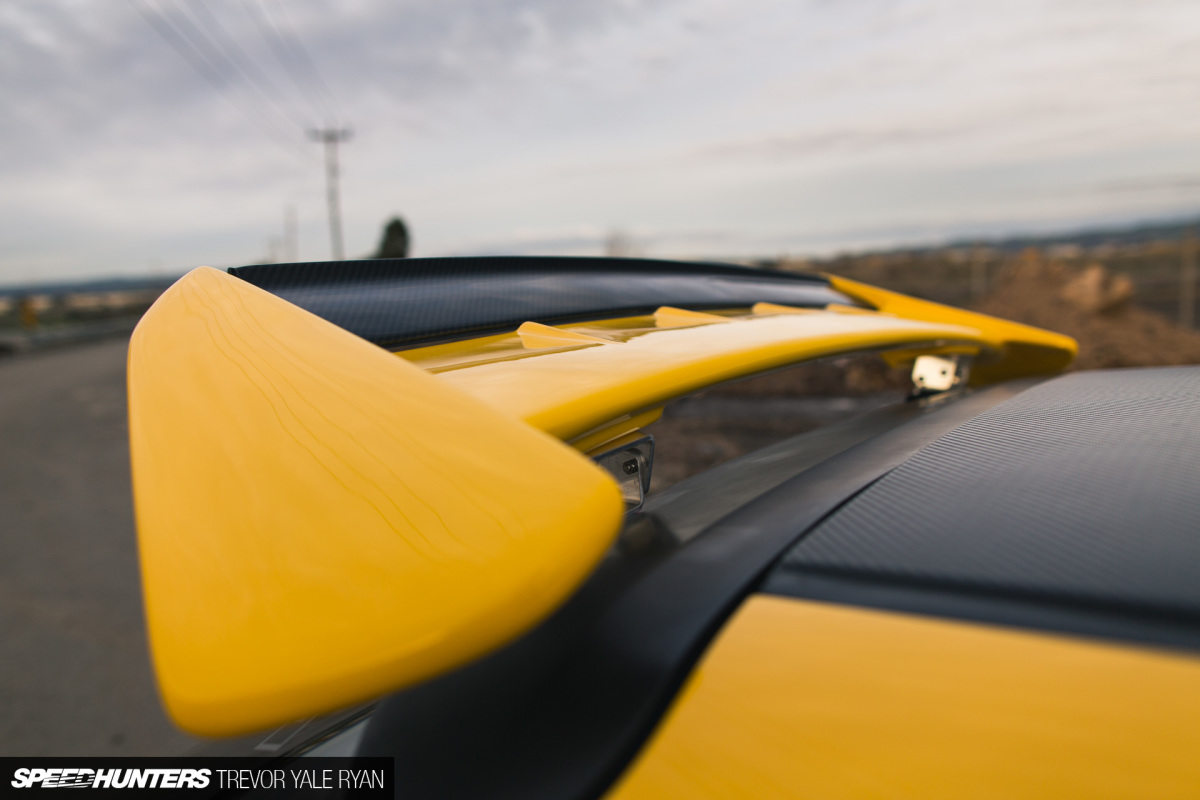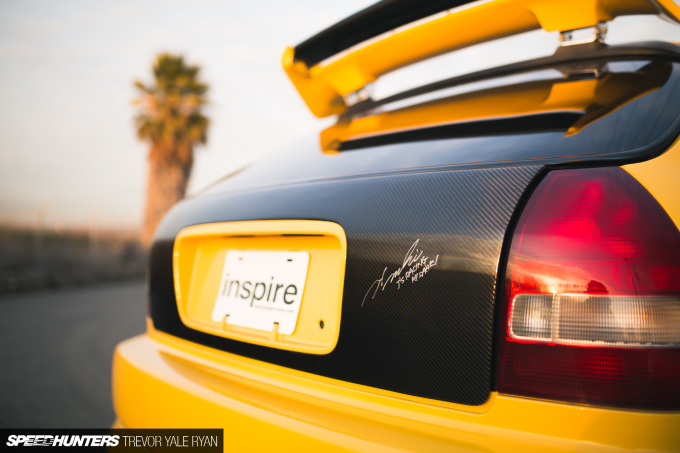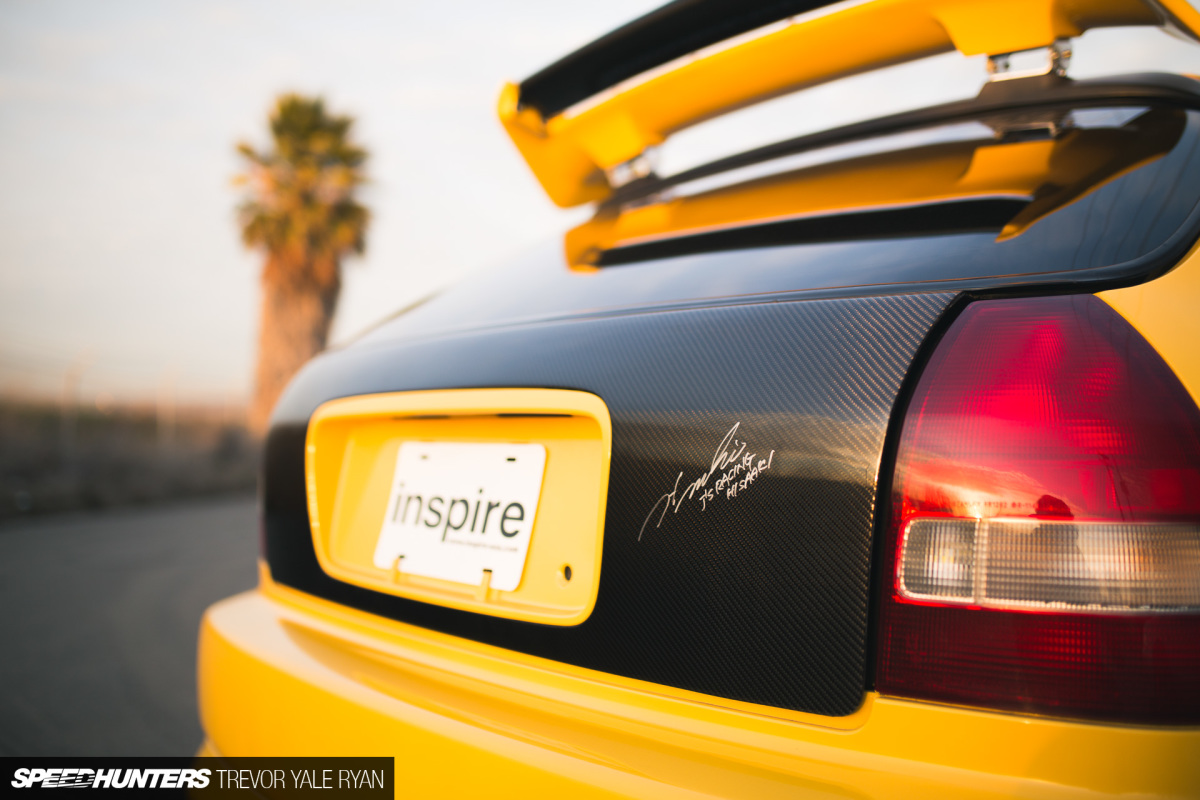 The mod list is pratically endless, including Inspire USA carbon fiber mirrors, rear hatch, and hood alongside other carbon fiber bits like the Seeker spoiler and roof. Perhaps one of my favorite touches to the whole thing is J's Racing president Hisaaki Murakami's signature, sharply contrasting against the carbon fiber.
It's little things like this that make cars more than just cars.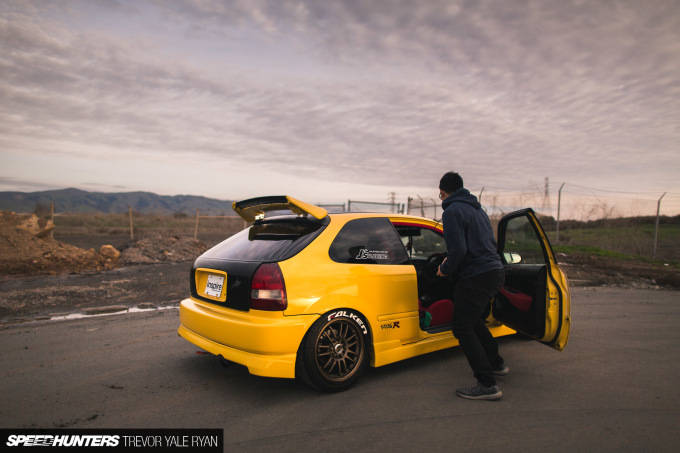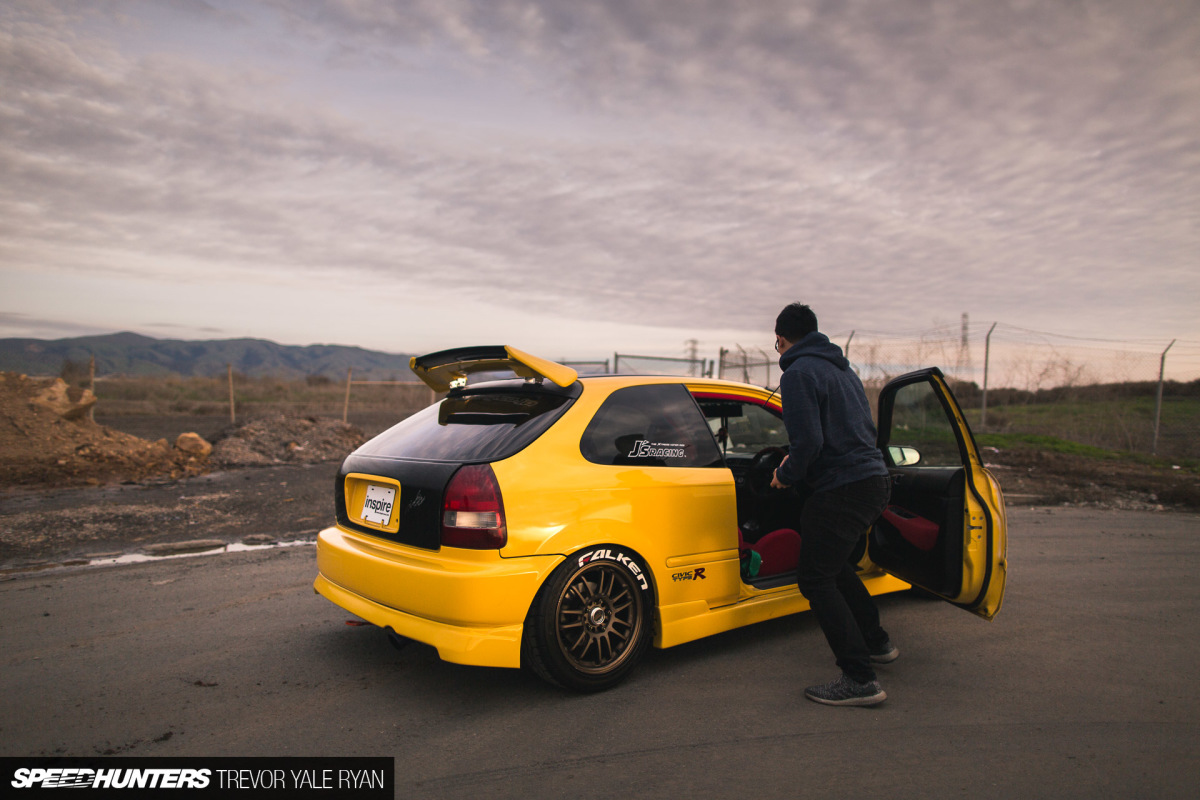 Plus, the fact that it's RHD just gives the Type Rx bonus points out here in California.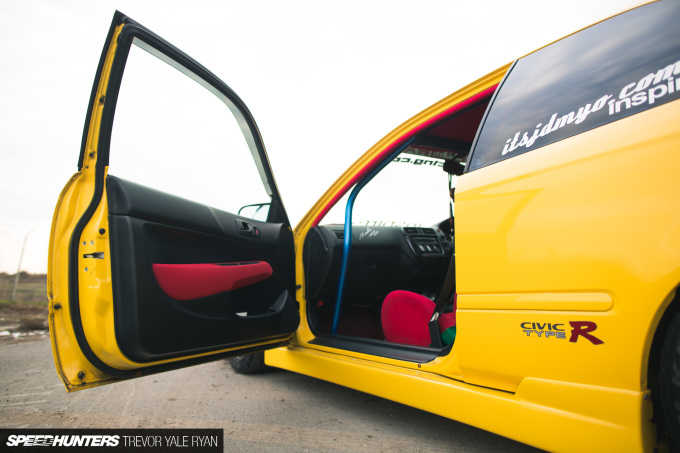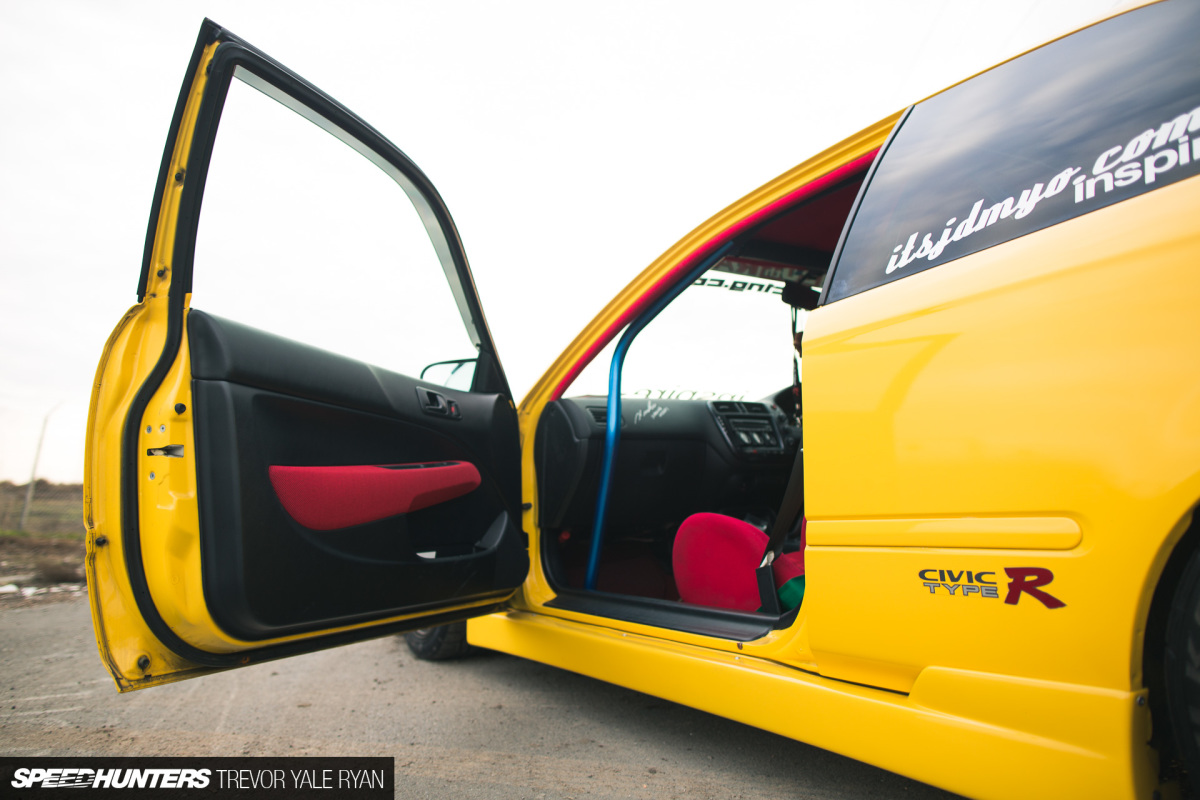 Inside, the massive mod list continues.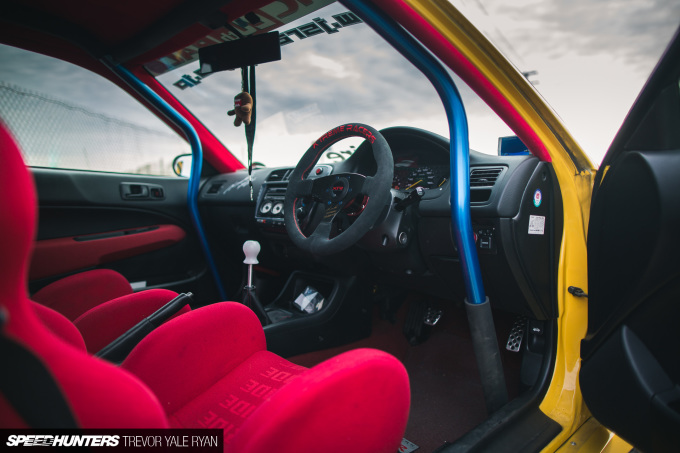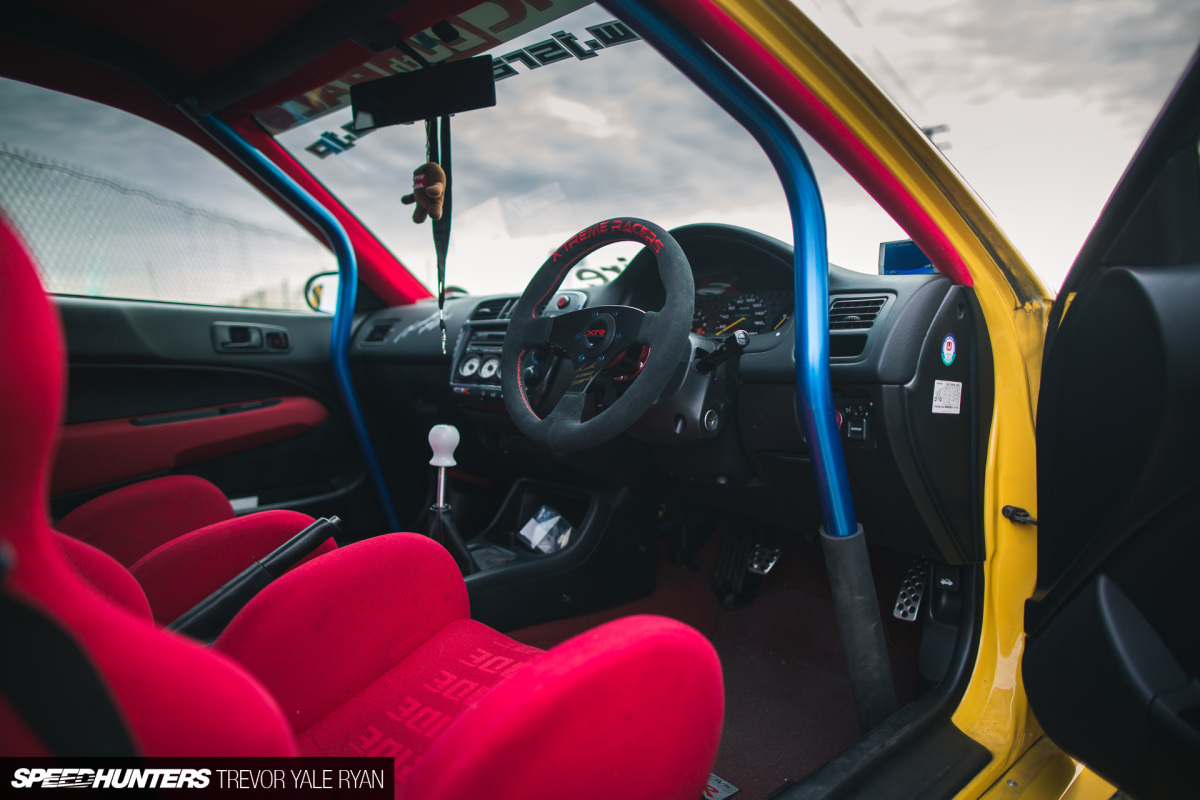 A pair of proper red Bride Ergos along with Bride pillars and headliners fantastically carry over the intent from the factory red R-spec headliner and set the mood of the interior. Along with the red-stitched J's Racing wheel, which is also akin to the limited Type Rx aesthetic, it's a great place to be.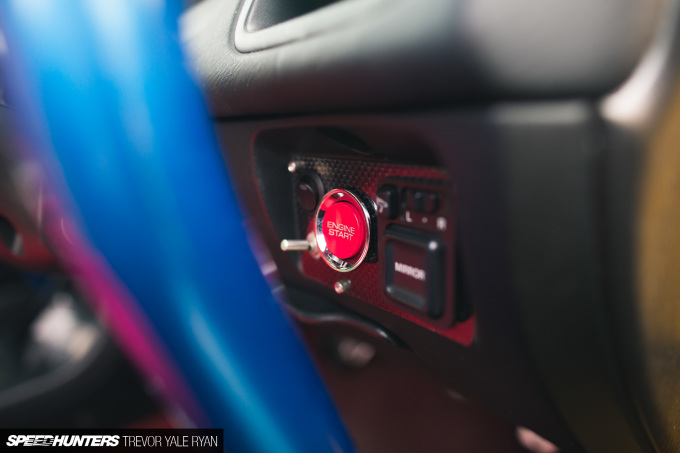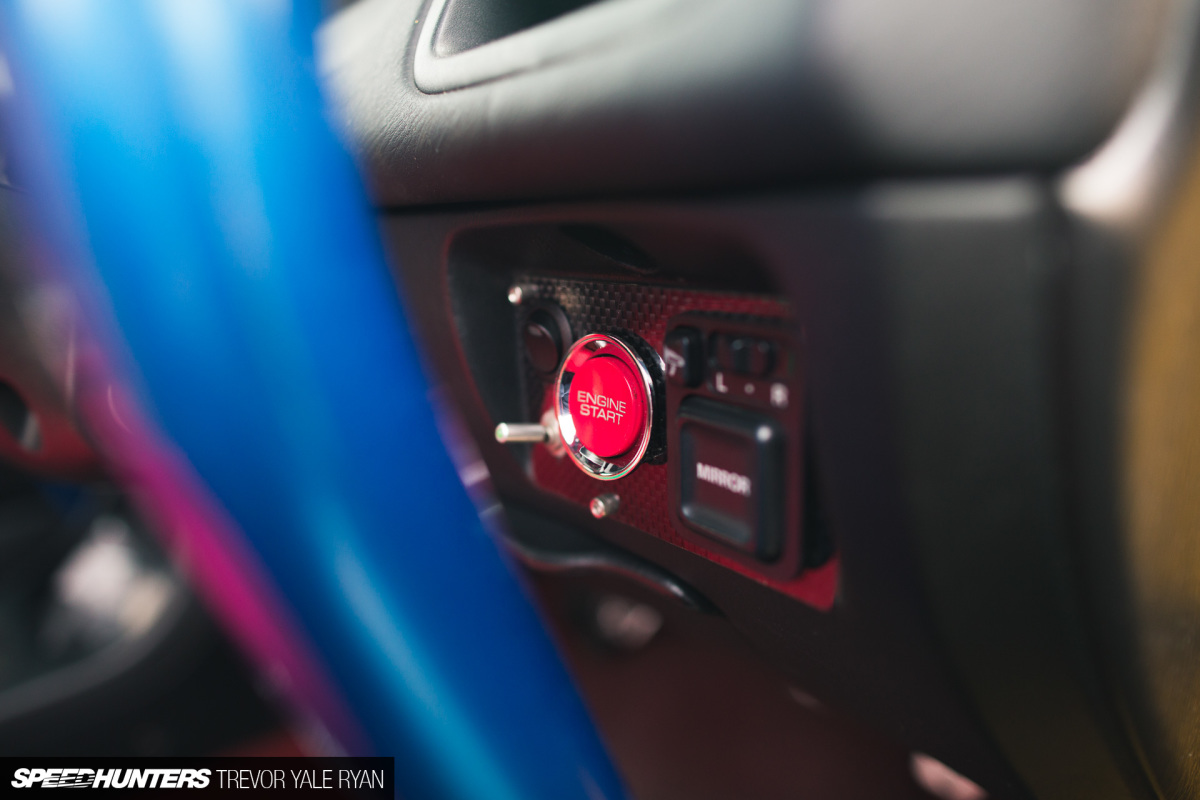 There are so many additions to the car that transform it from your standard Honda into something so much more. Like I said, I was really itching to get behind the wheel of this thing the longer I spent with it.
A bolt-in cage from Cusco provides some added rigitity to the already stiffened Type R chassis, while a J's Racing strut bar in the trunk furthers this end. It's seriously a good recipe for backroads fun, topped off with Takata Racing harnesses to ensure both the driver and passenger remain firmly planted when tearing up the touge.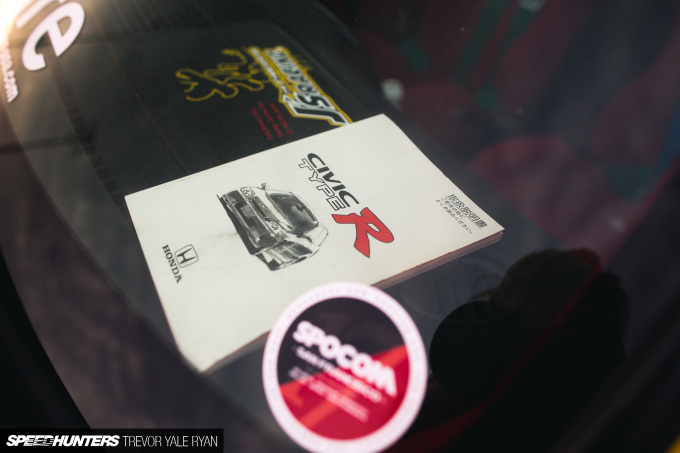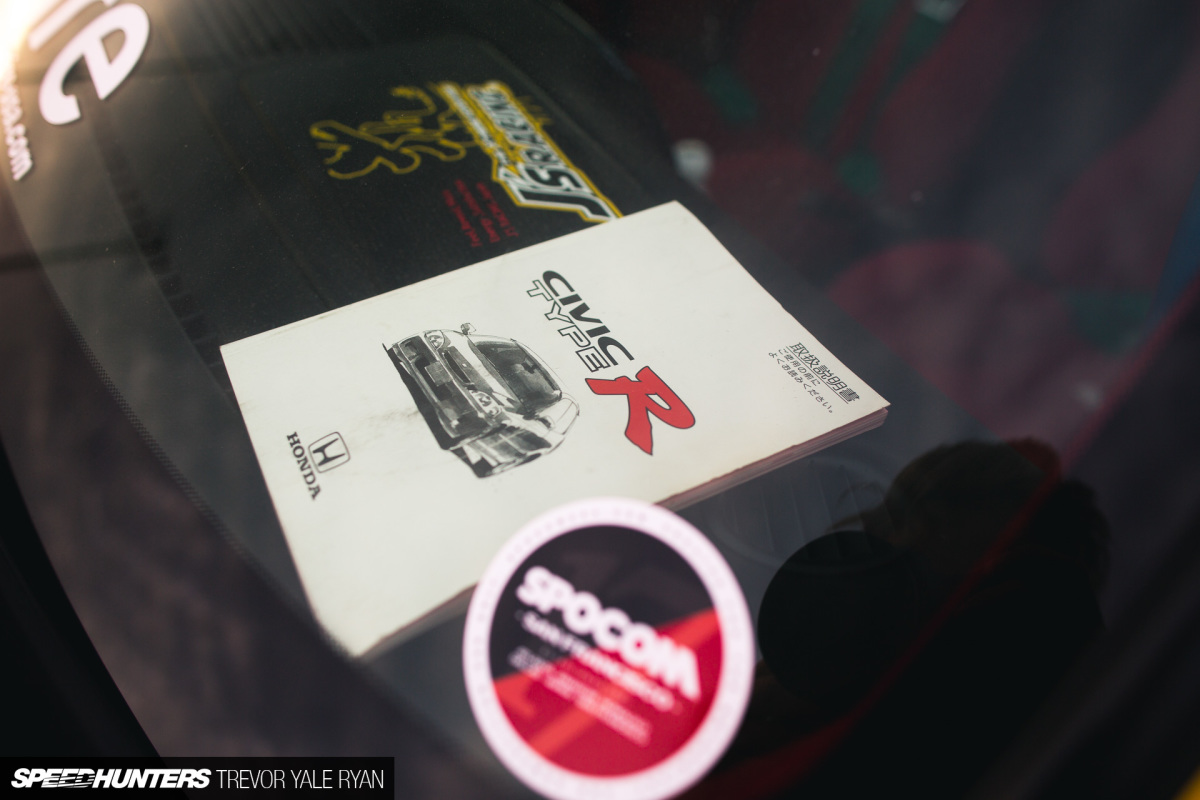 I was also quite pleased to see an original manual sitting on the dash.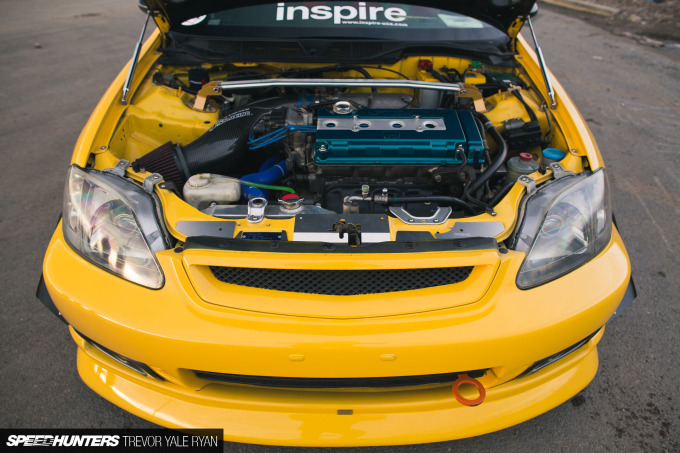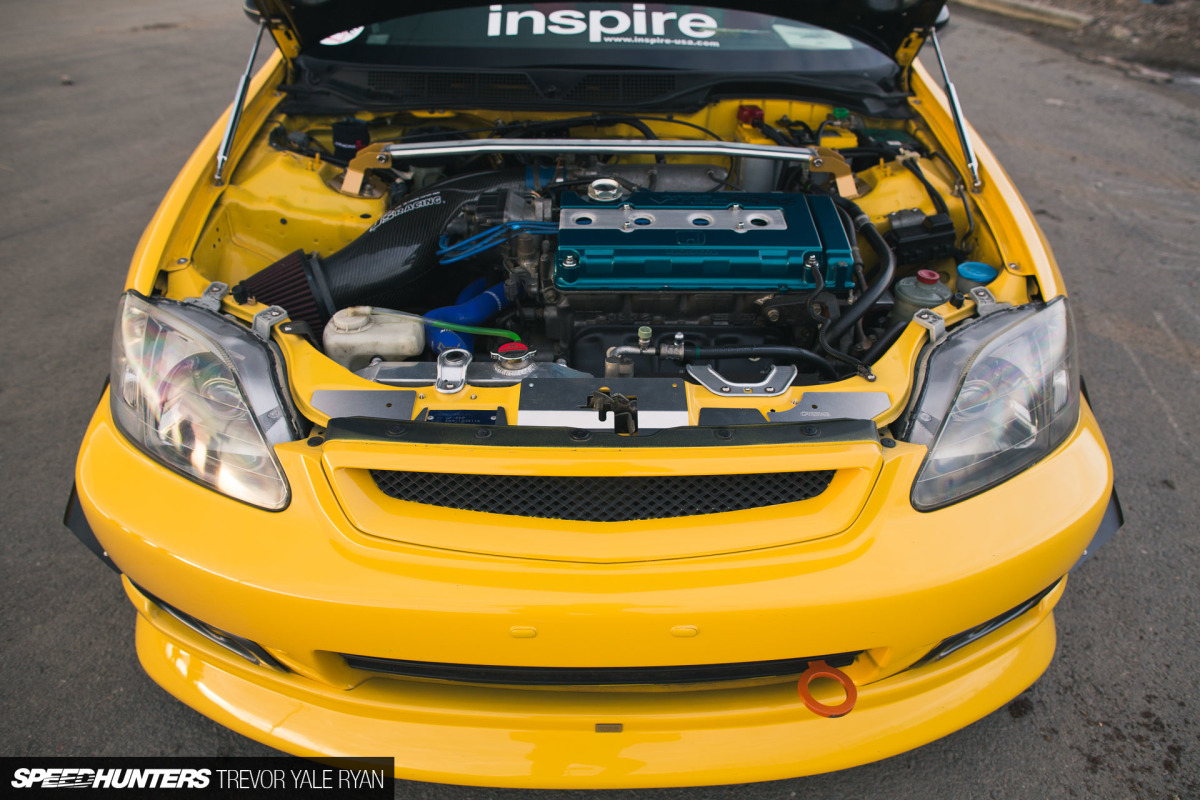 Then, under the hood, there's just more good stuff, all put together so nicely.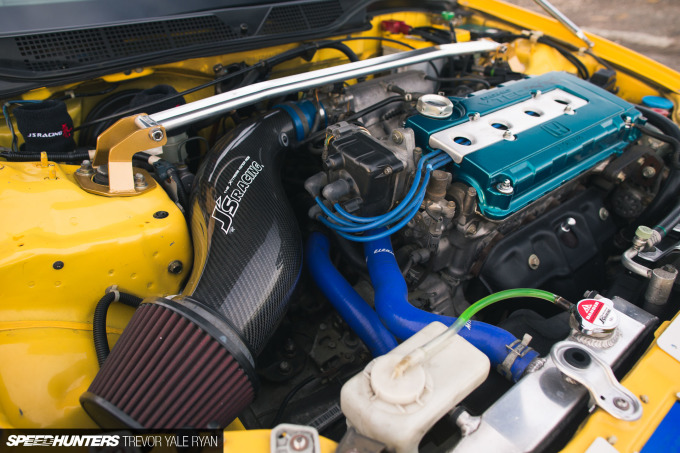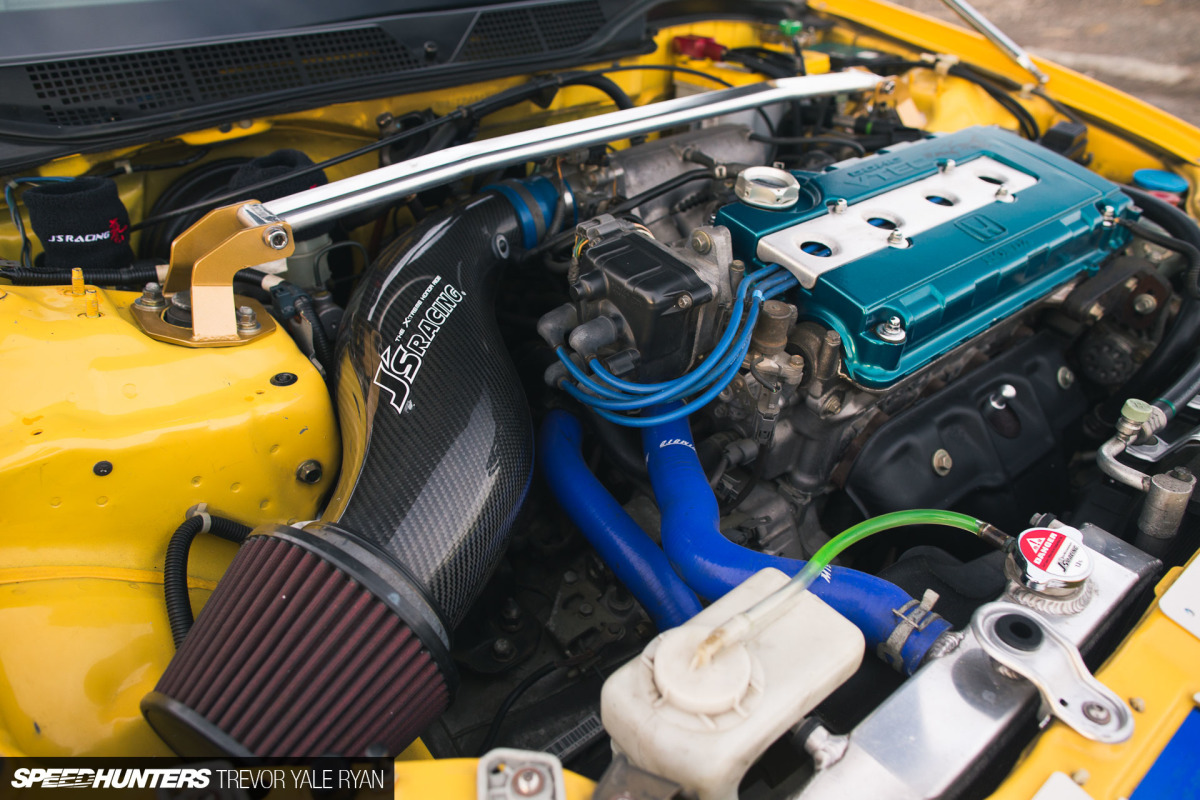 That carbon fiber intake is definitely a piece I was drooling over when the hood was popped. You might have sensed by now that this car is practically the J's Racing Civic, also making use of the Japanese Honda tuner's titanium exhaust.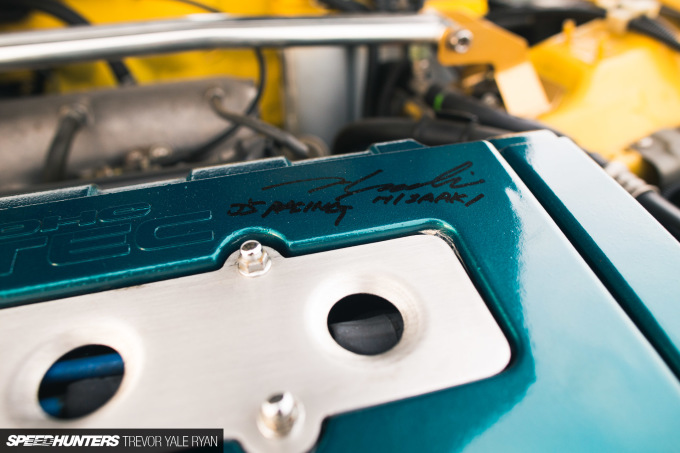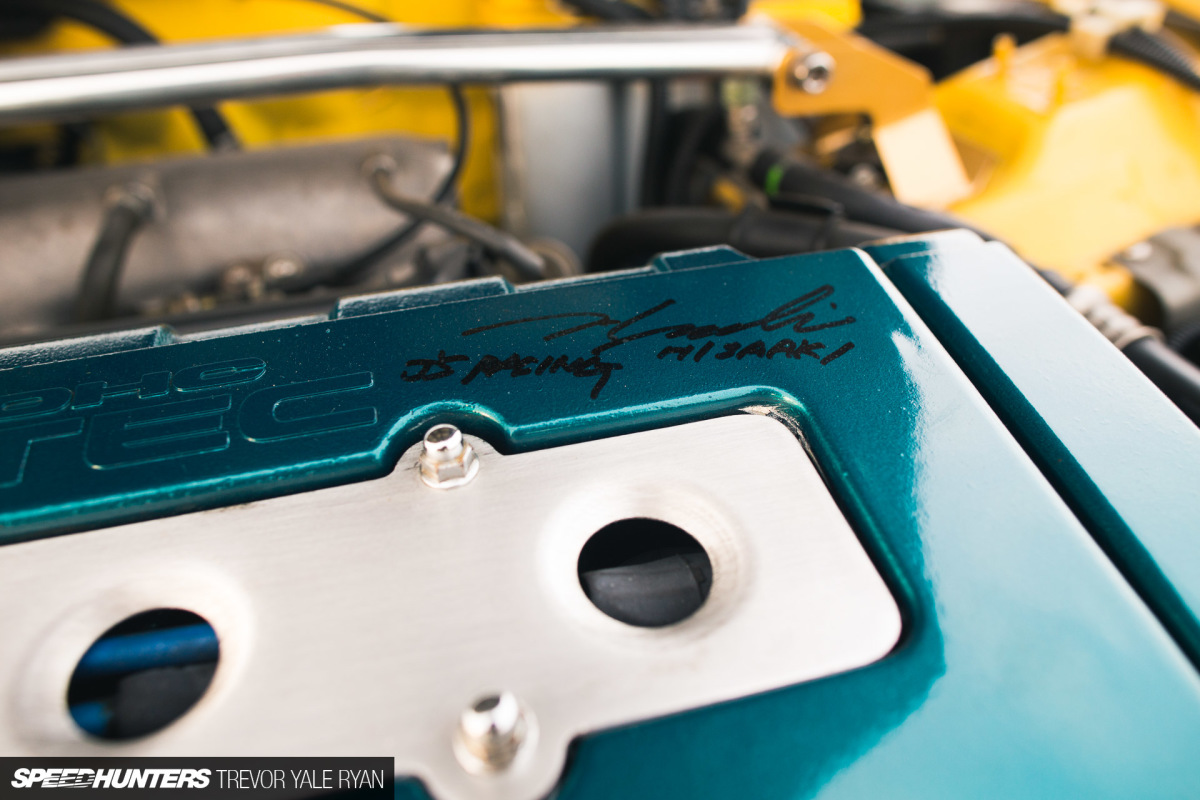 As such, Murakami's signature also resides in the engine bay.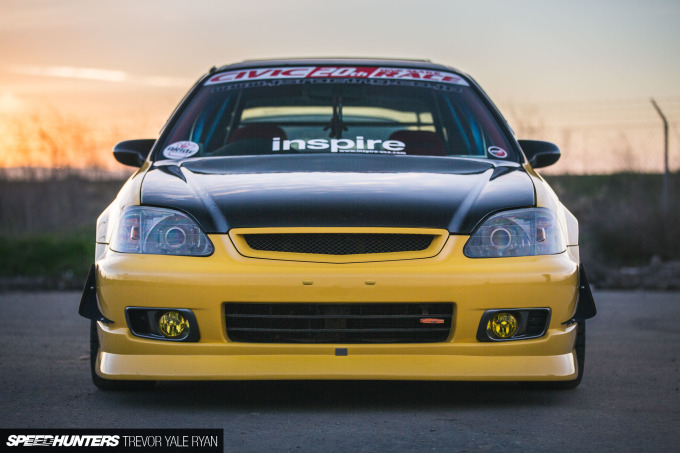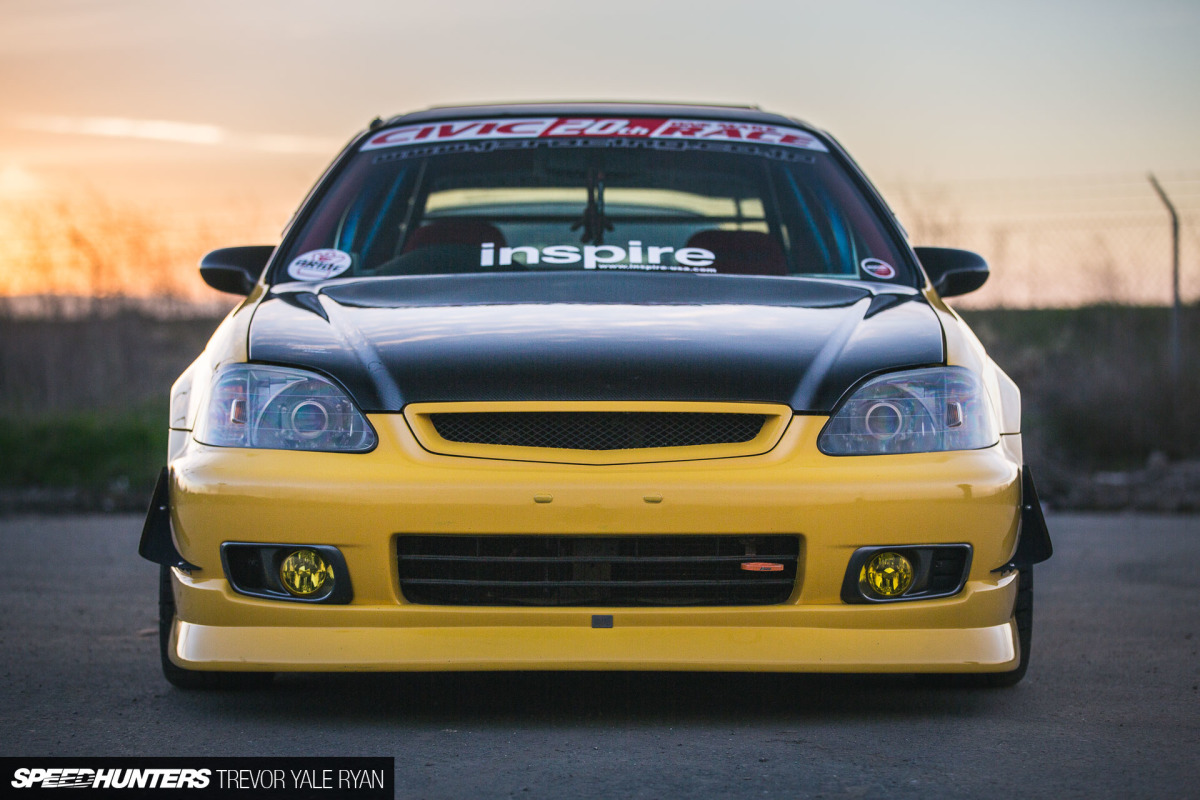 Suspension and overall stance is improved with Cusco coilovers and Function7 control arms, while tow hooks and fog lights further the exterior aesthetic. Seriously, I could go on and on about this car.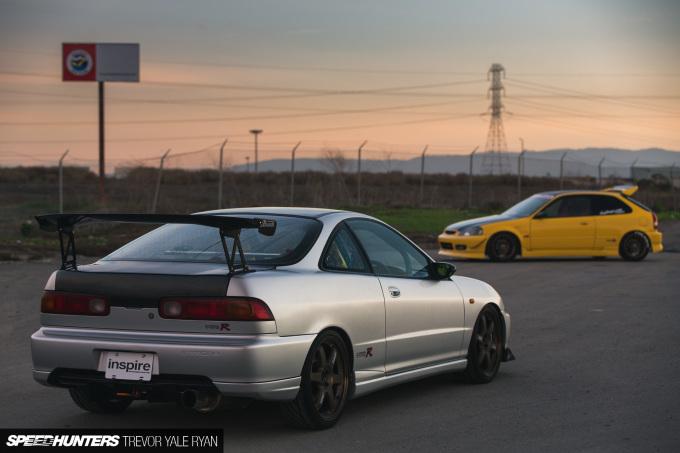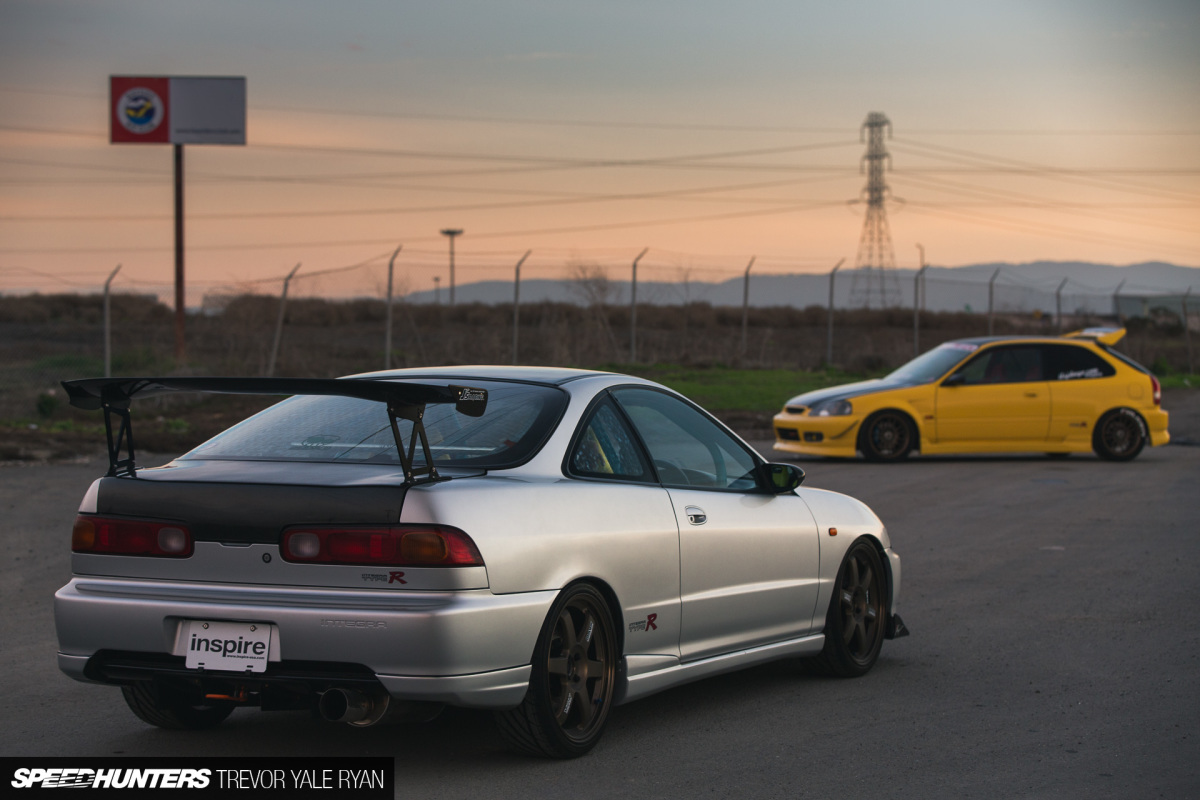 As much love as I have for the Civic, its cousin demanded some attention as well.
The 2000 Integra Type Rx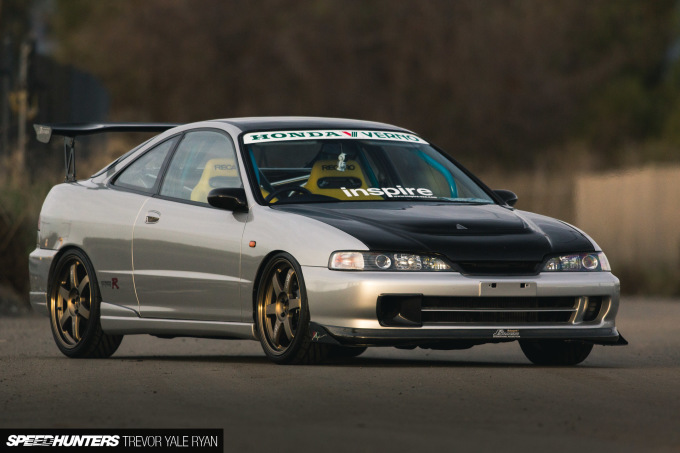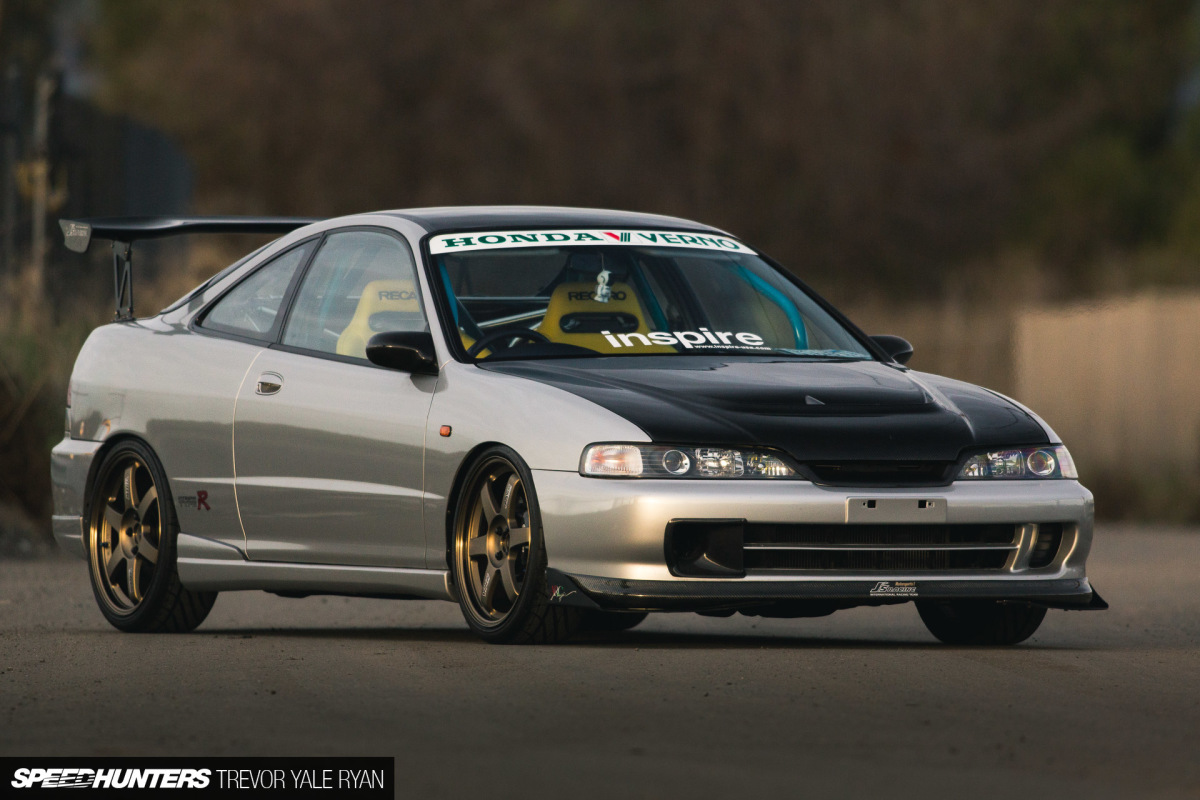 Eric's DC2 is just as well-built as the EK9 and carries a similar aura.
Classic bronze RAYS Volk Racing TE37s have been chosen for this car, and it amazes me how many different models these wheels look good on. Wrapped in some Yokohama Advans, it's a sweet setup for the backroads. A bit more sidewall might be nice, but the larger diameter wheel doesn't allow for this — also stuffed into the larger wheels is a Brembo GT big brake kit.
Early Integra Type Rs ran a four-lug setup from the factory, but this car, which was originally a five-lug setup, was converted back just to run these wheels. The TE37 want is strong, after all.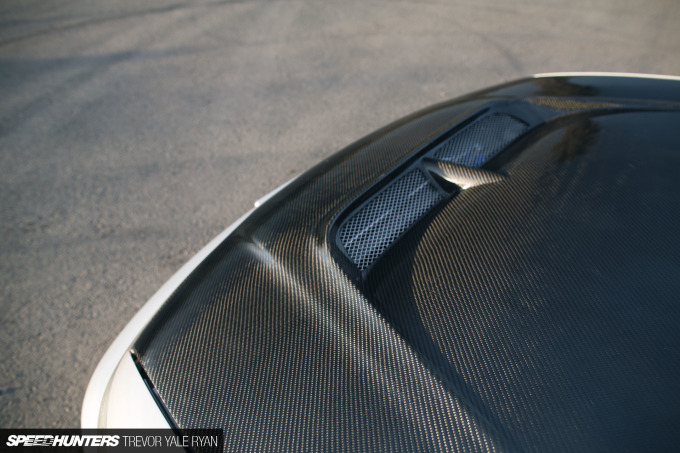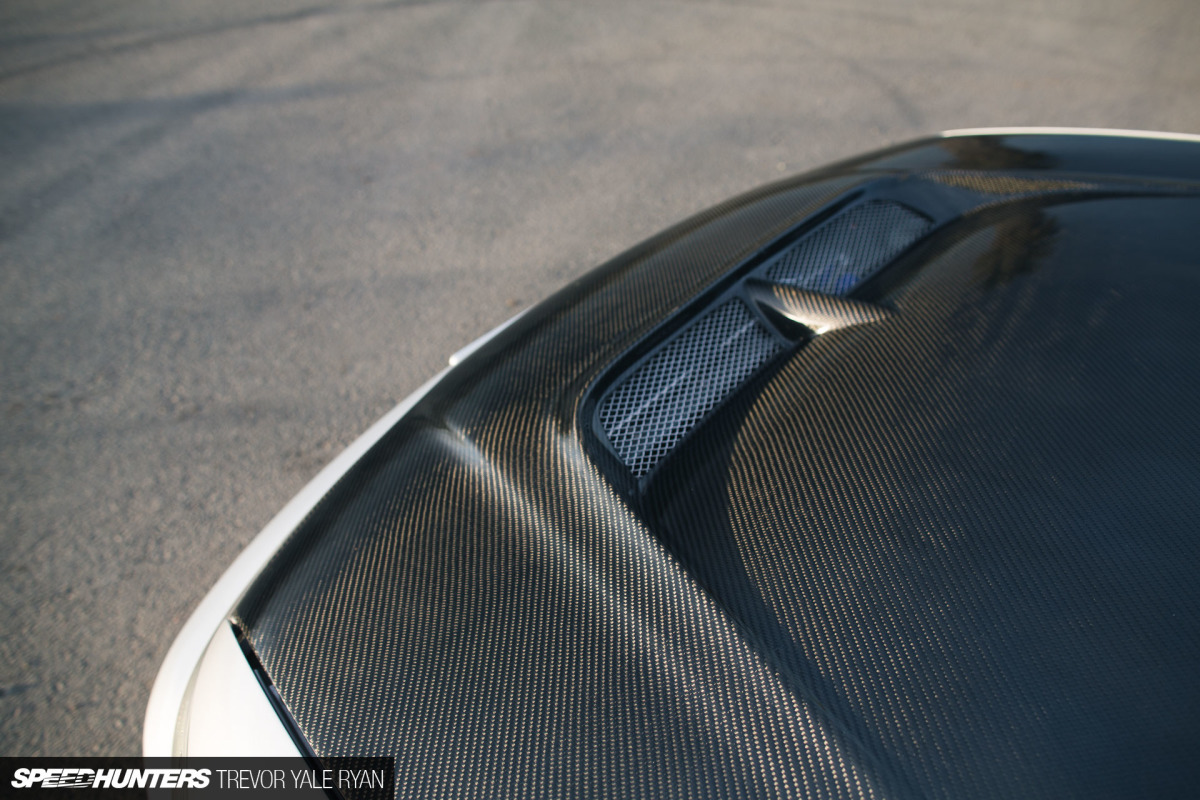 Lots of carbon fiber parts have found their way onto this car as well. Like the Civic, the roof is one solid lightweight carbon fiber piece and I rather like the vented hood which pairs nicely with the trunk. All of these are parts you can only get from Inspire USA.
The carbon fiber ducting is courtesy of J's Racing, as is the big rear wing. Meanwhile up front, an ARC Magic splitter helps speed up the airflow under the engine.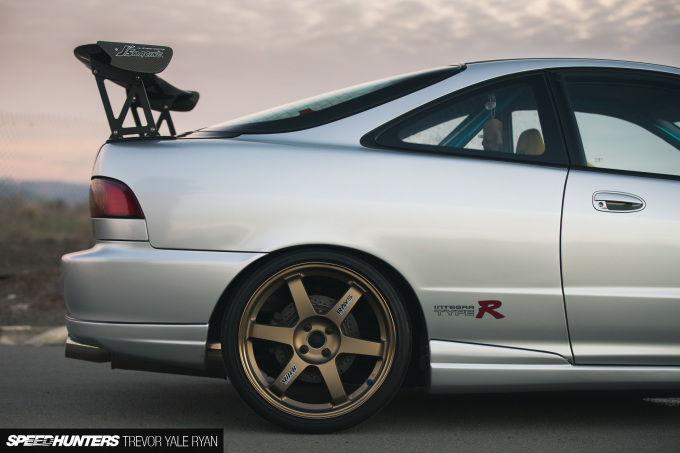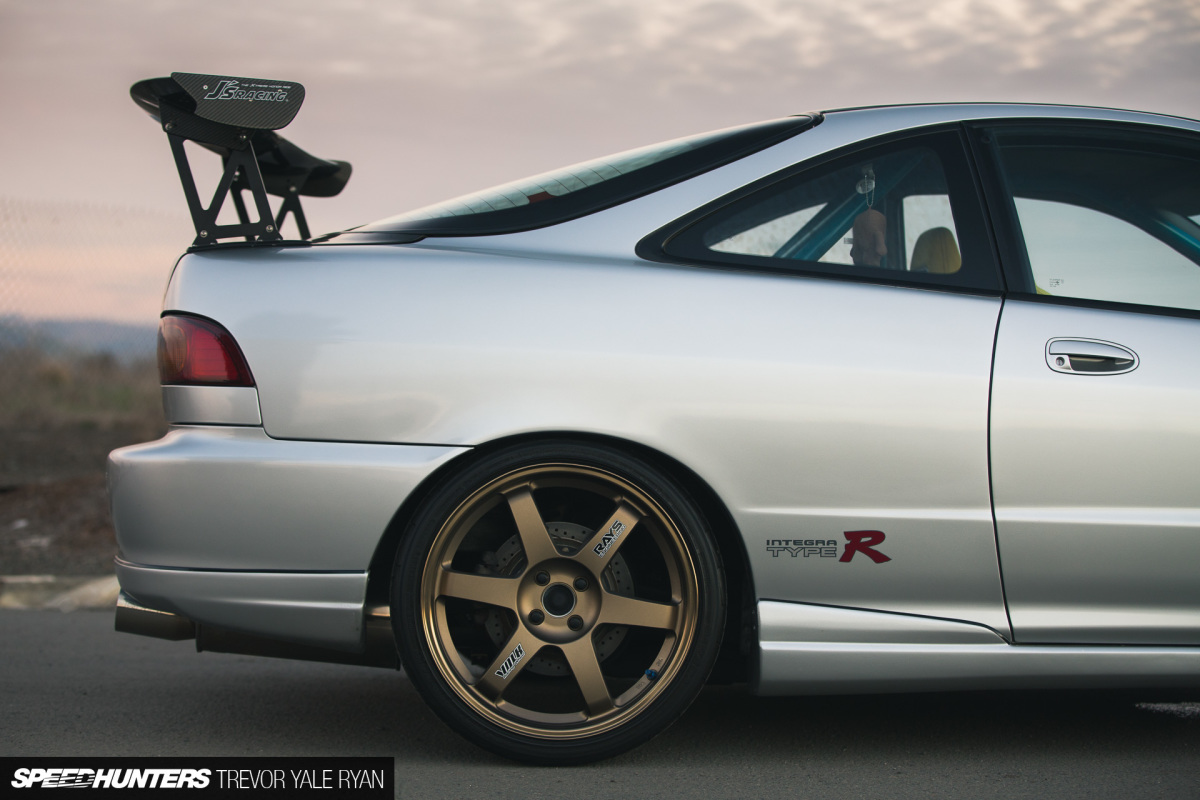 It's quite a good car to look at especially in that Japan-only R silver — overall aggressive looking without being too overstated. Like the Civic, it's just begging to be driven at speed.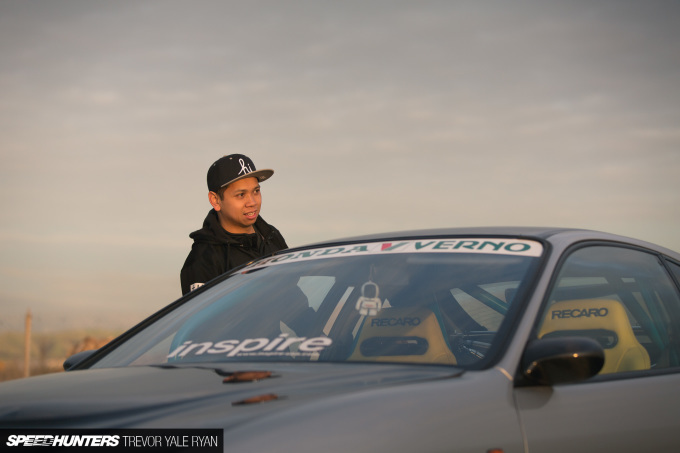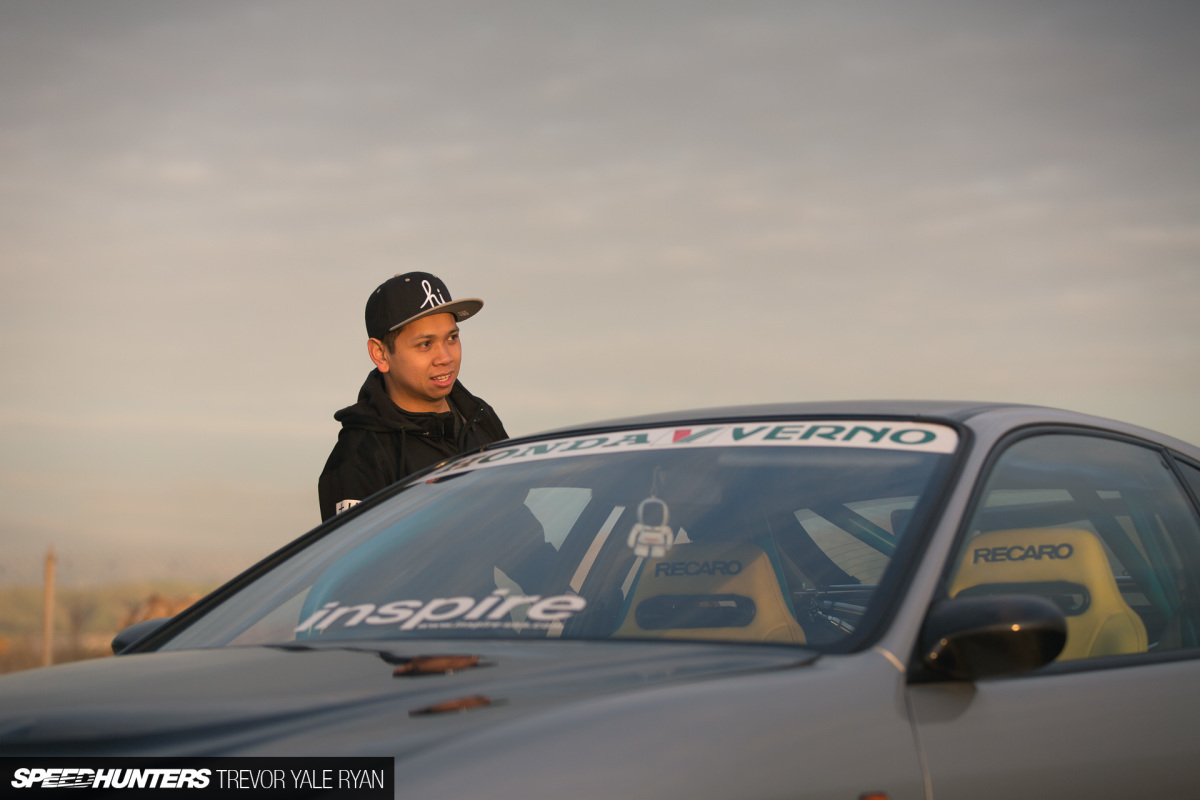 Of course, jumping in the opposite side of the car is always fun too; helping me out on the shoot was Tony Pham, a guy I've become good friends with after shooting his NSX last year.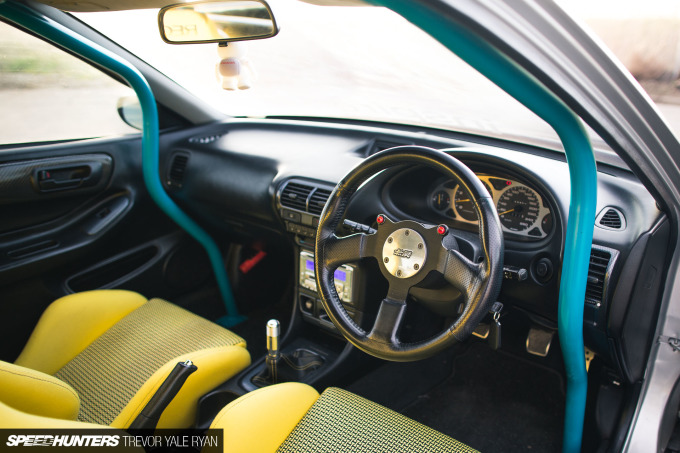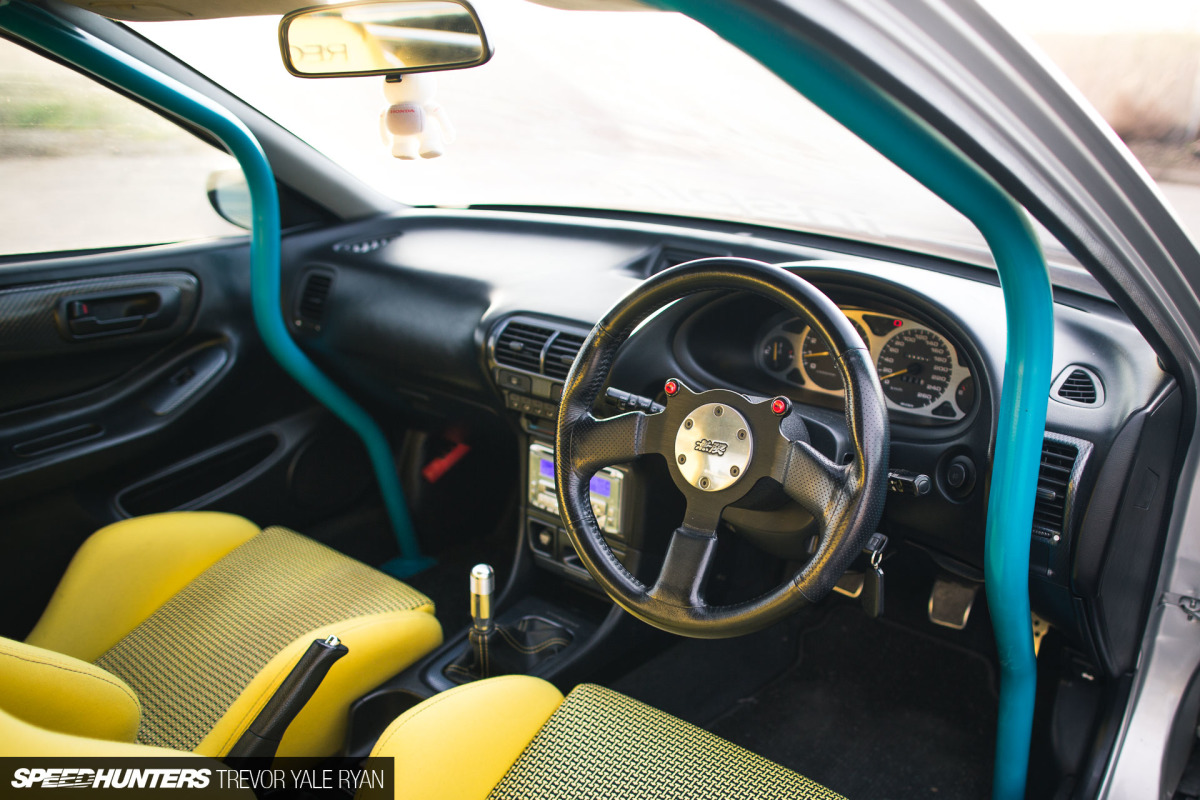 Once you're inside, it's a similarly cozy situation.
You can see right away that this build is much more Mugen based, and we'll see more of this under the hood.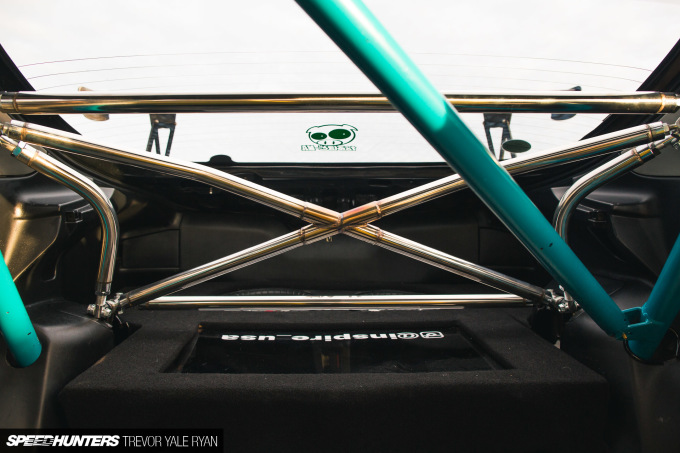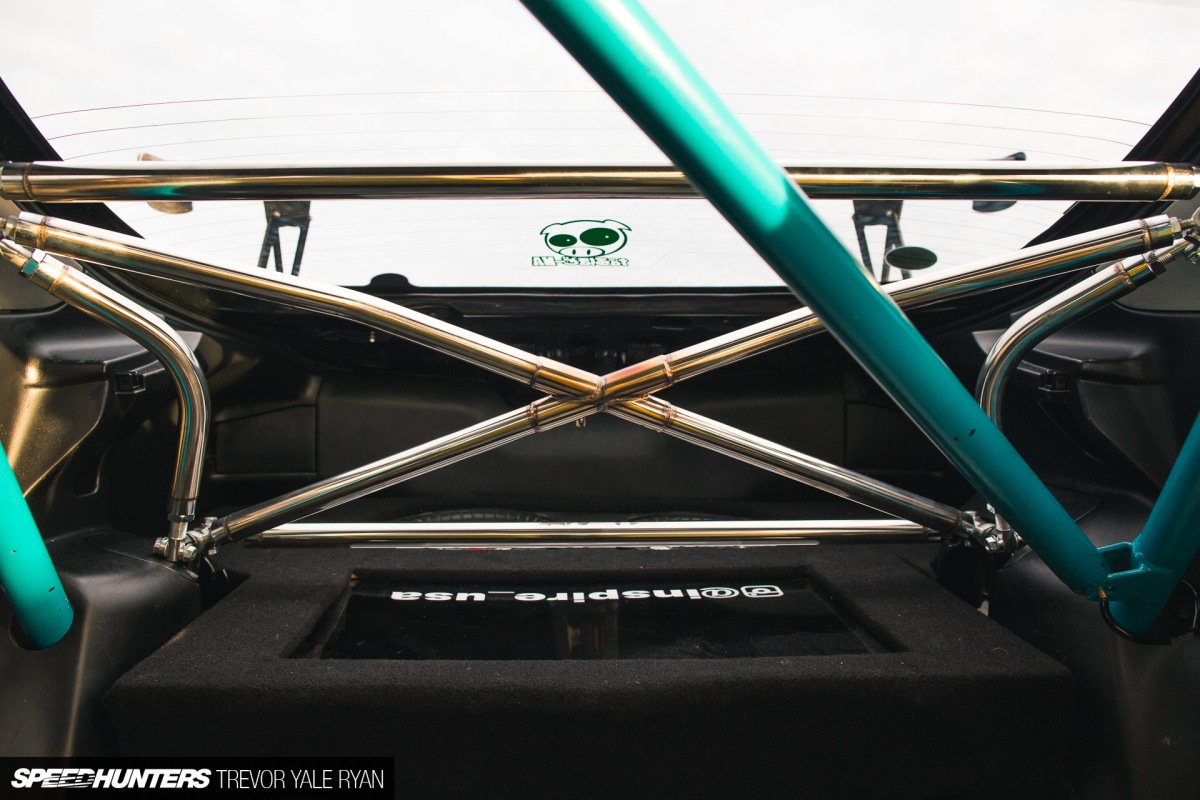 All of the details are matching and proper 2000s goodness. This car also makes use of a Cusco cage along with a good bit of bracing in the back end thanks to a Next Miracle X Bar.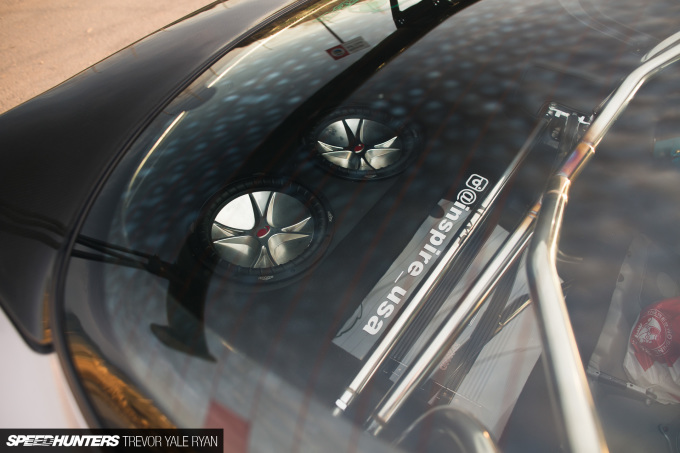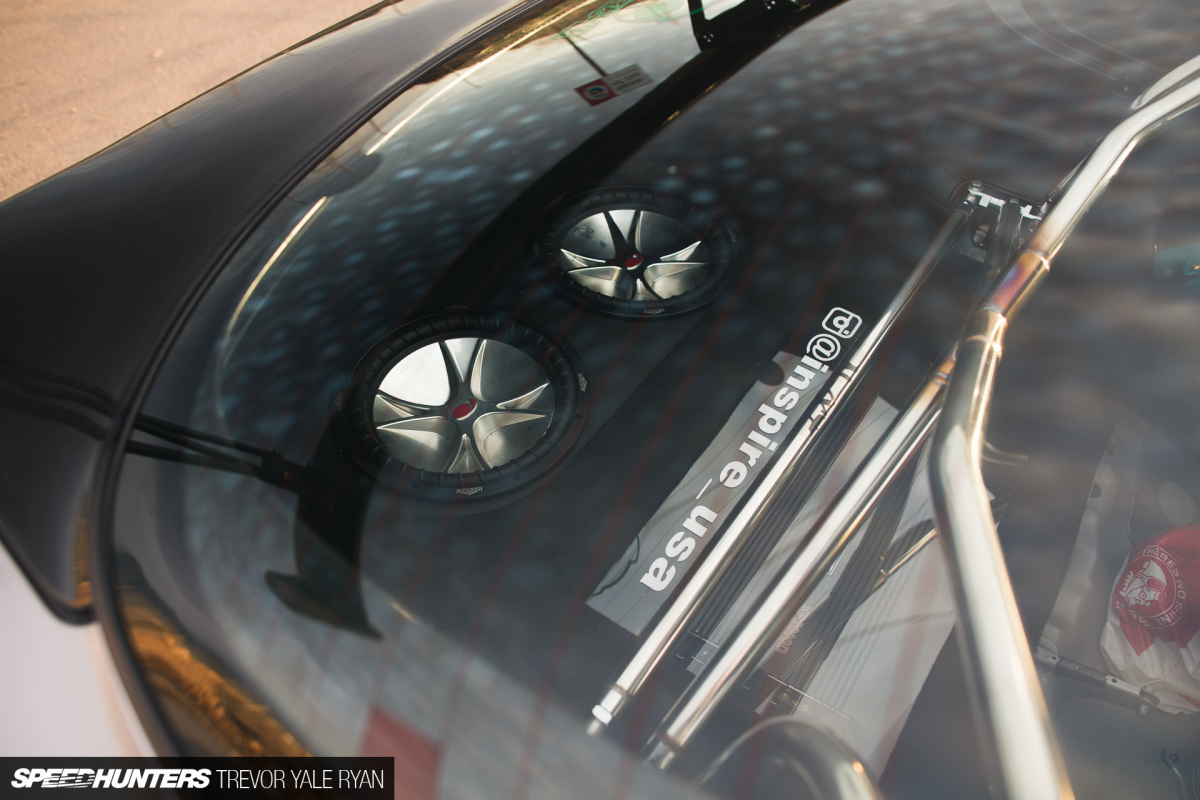 Something I didn't expect to see was a large pair of subwoofers in the rear of the hatch. While it doesn't make the car any faster, at least it's well put together — for a car where laptimes don't matter, why not?
Eric also has the proper Type R-style Recaro Wildcats included in this build, and you might have noticed the yellow stitching on the shift boot matches the seats. Another Type Rx detail that's been carried over after parts have been swapped in and out over time.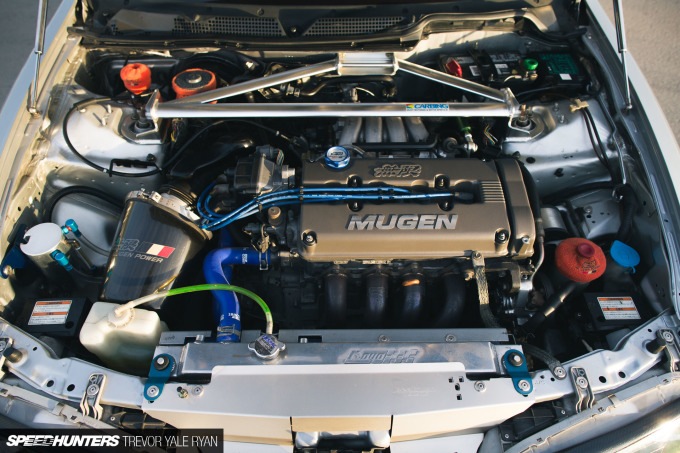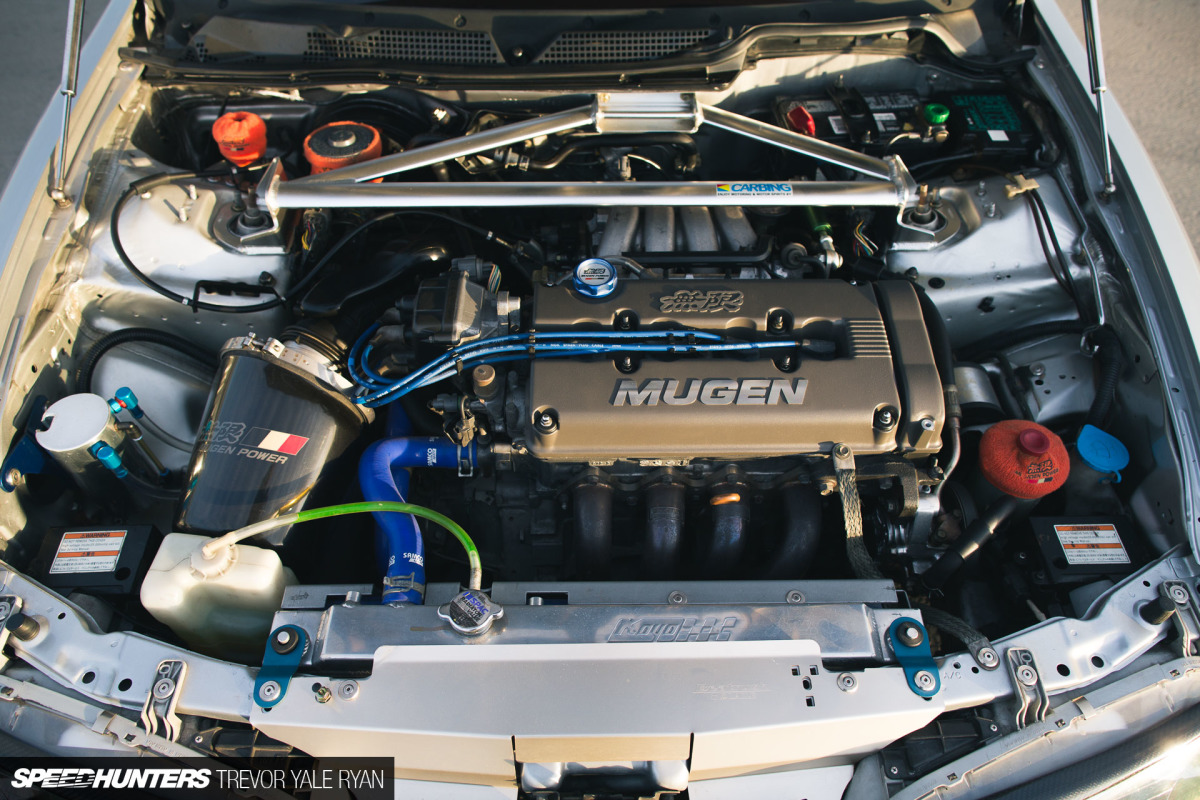 As I mentioned, the Integra is filled with Mugen parts throughout. If you managed to miss the dollops in the interior you can't miss the name under the hood, displayed prominently on a rather rare valve cover.
Mugen, Mugen, Mugen — air passes through a Mugen intake and out Mugen headers before being passed on to a Blitz exhaust for that unmistakable healthy Honda buzz.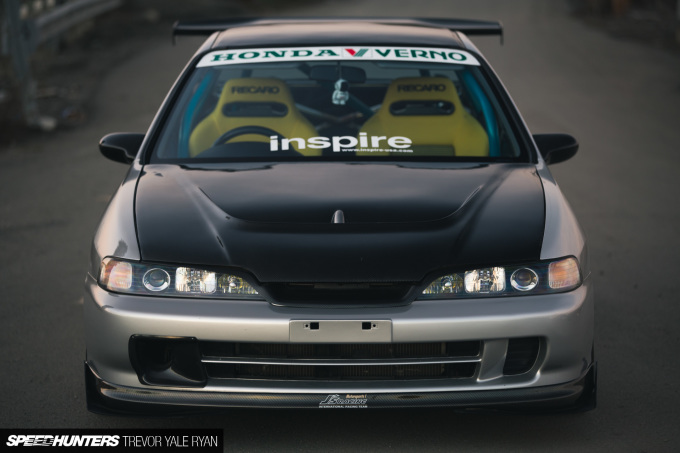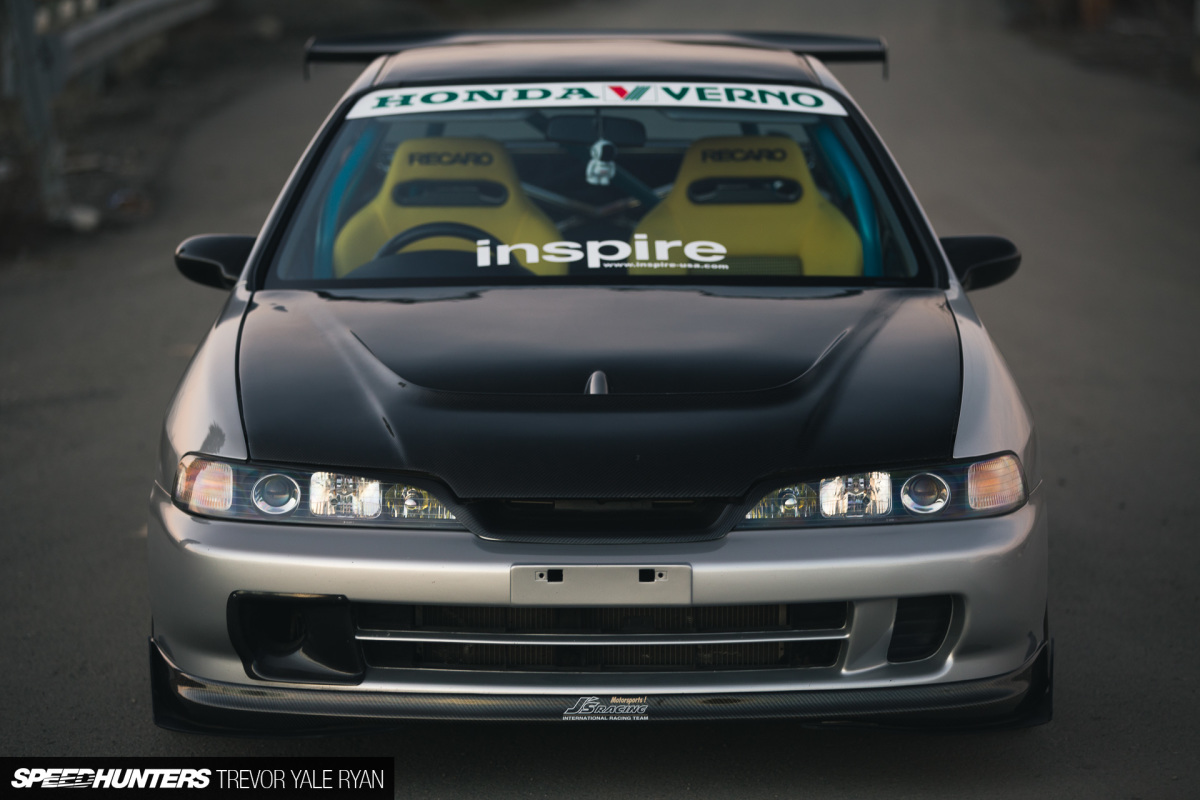 The Integra also makes use of Function7 control arms, like the Civic, however the suspension has been replaced with Tein coilovers in the DC2. In my opinion, the car sits just right in this form.
So Which One Is The One?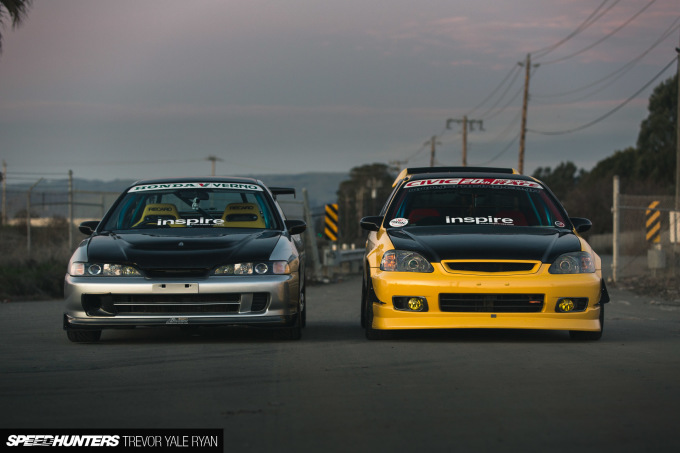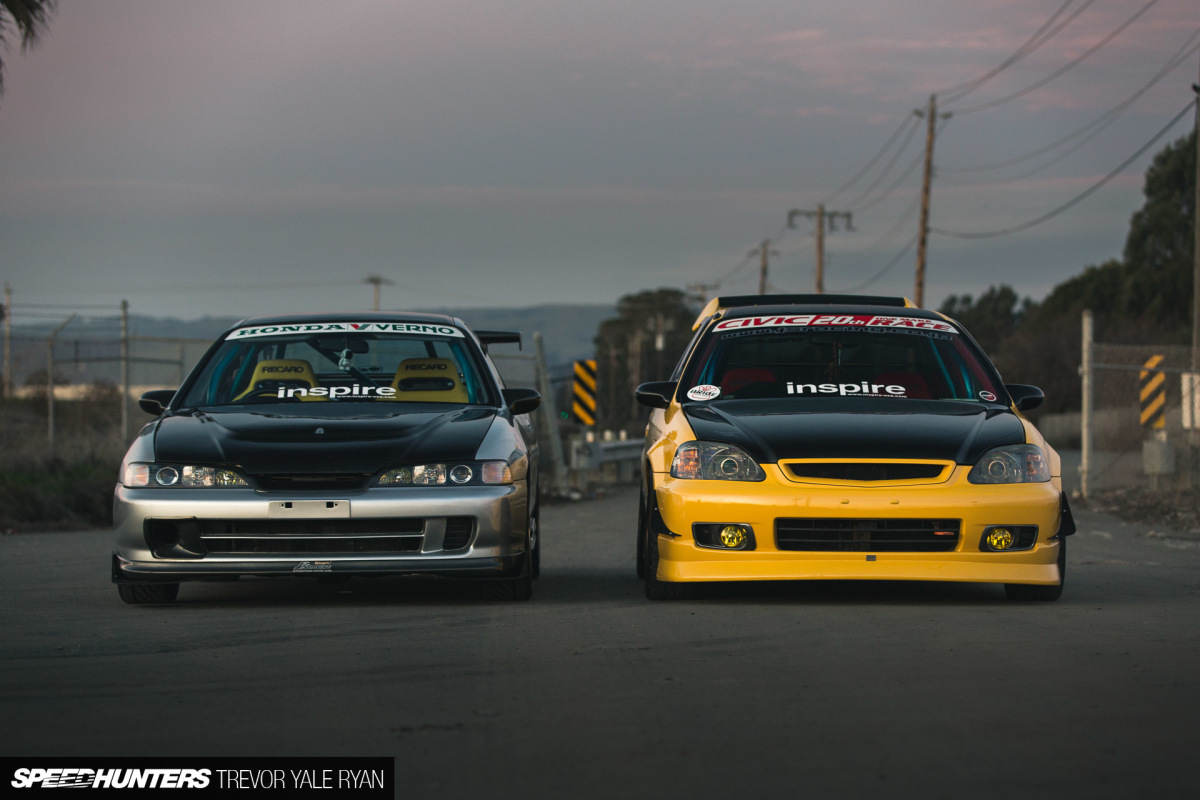 So there you have it, two Type Rs, built in similar fashion. But which is the better one?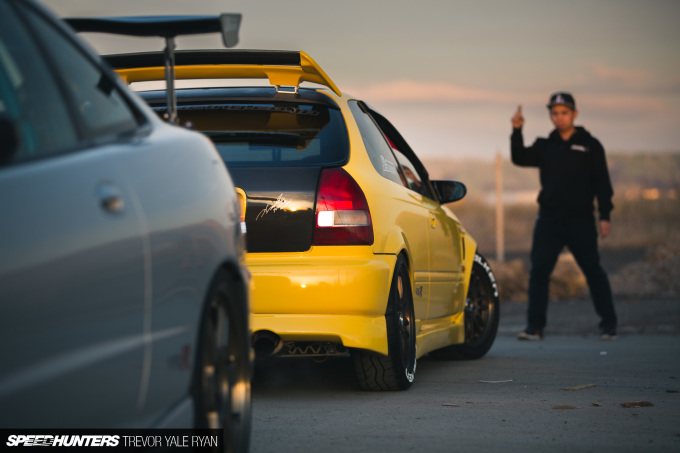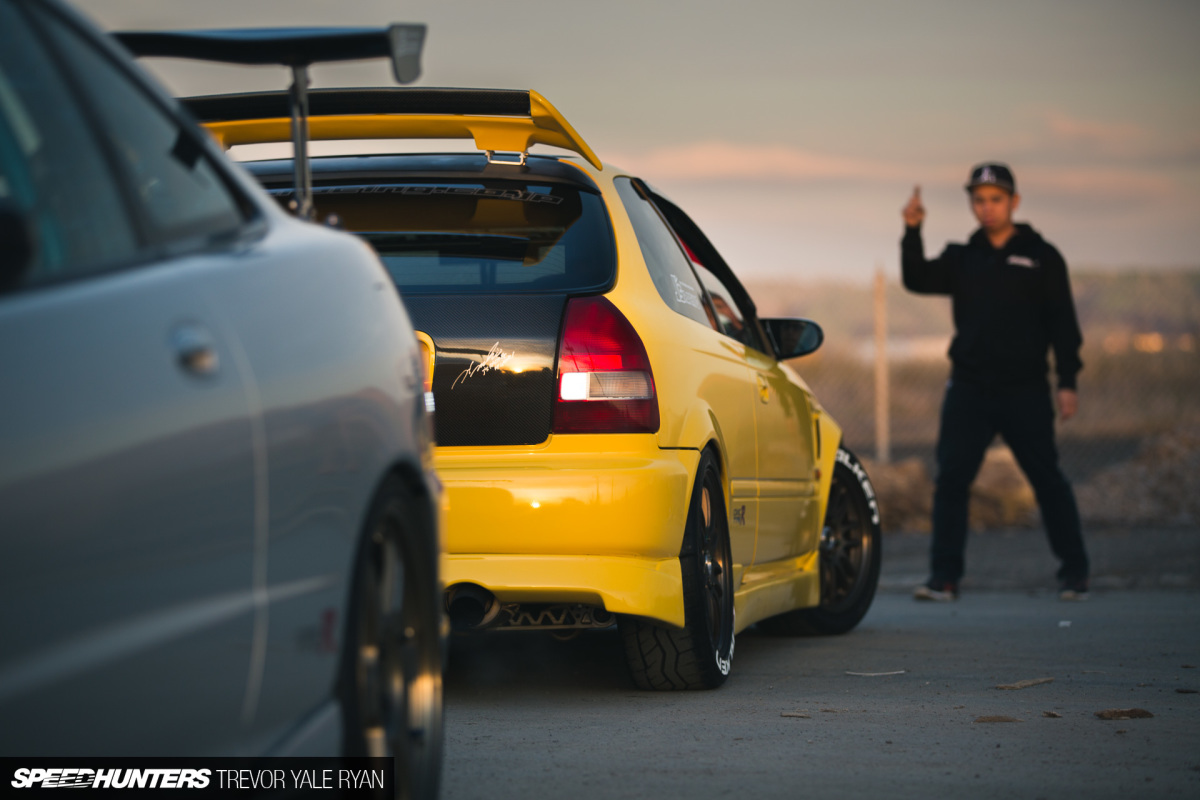 Before I shot the cars, for no particular reason (besides my childhood preferences, and perhaps Initial D) my choice would have been the Civic.
And if we go off the photo count alone, the yellow Type R seemed to command more of my attention.
I figured the EK9 was smaller, more nimble, and probably more fun to drive. But by the time the sun went down, I'd learned a few things that I went into the shoot not knowing.
The wheelbase of the EK9 is actually 50mm longer, not to mention the overall height is nearly 70mm taller. I was right about the Civic being the lighter of the two, but with the Integra making more power it's a bit of a wash.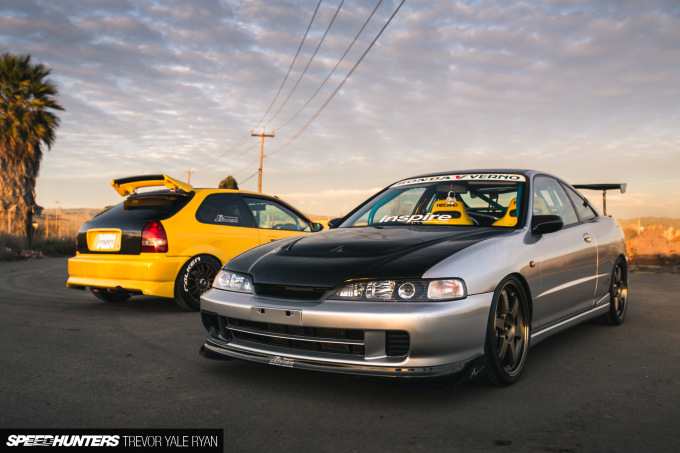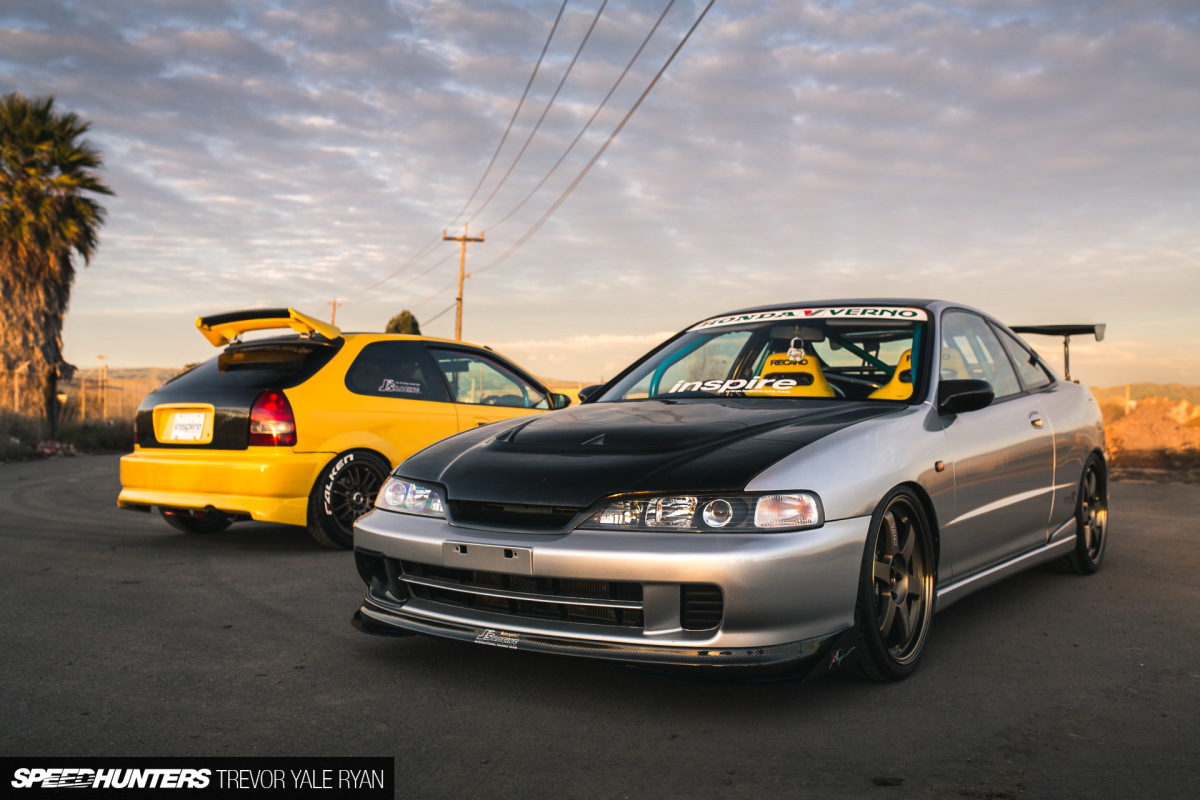 I set out to make a definitive decision, almost sure that I would leave this shoot confident that one was better than the other.
In reality, that just wasn't the case. The one I would prefer to take for a drive was the one I was last looking at.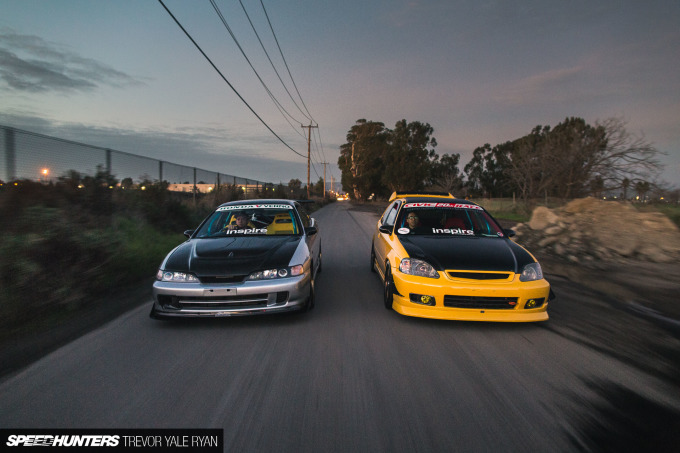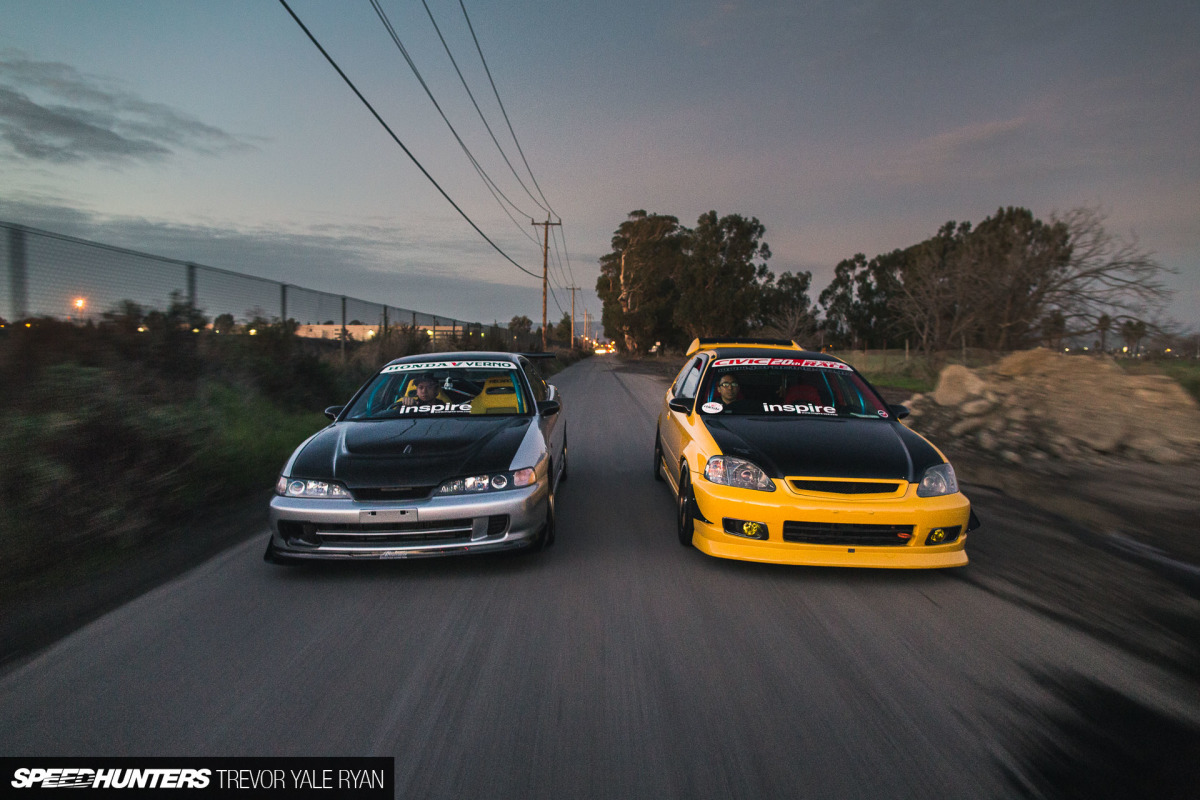 If it really came to it, I do suppose I'd take the Civic – but not for any particular reason. I'm quite dissatisfied with this indecisive result, but I suppose this is why Eric refuses to part with either one.
More importantly, which is the one you would have?
Trevor Yale Ryan
Instagram: tyrphoto
TYRphoto.com
Cutting Room Floor