Overseas
Car culture in the San Francisco Bay Area of Northern California is very much alive. Each and every weekend there's a show, meet, or cruise of some kind if you look hard enough.
The weekend I'm about to share with you was no different.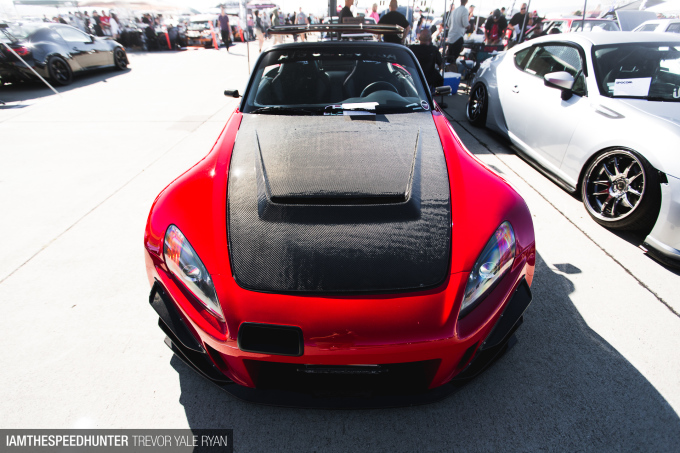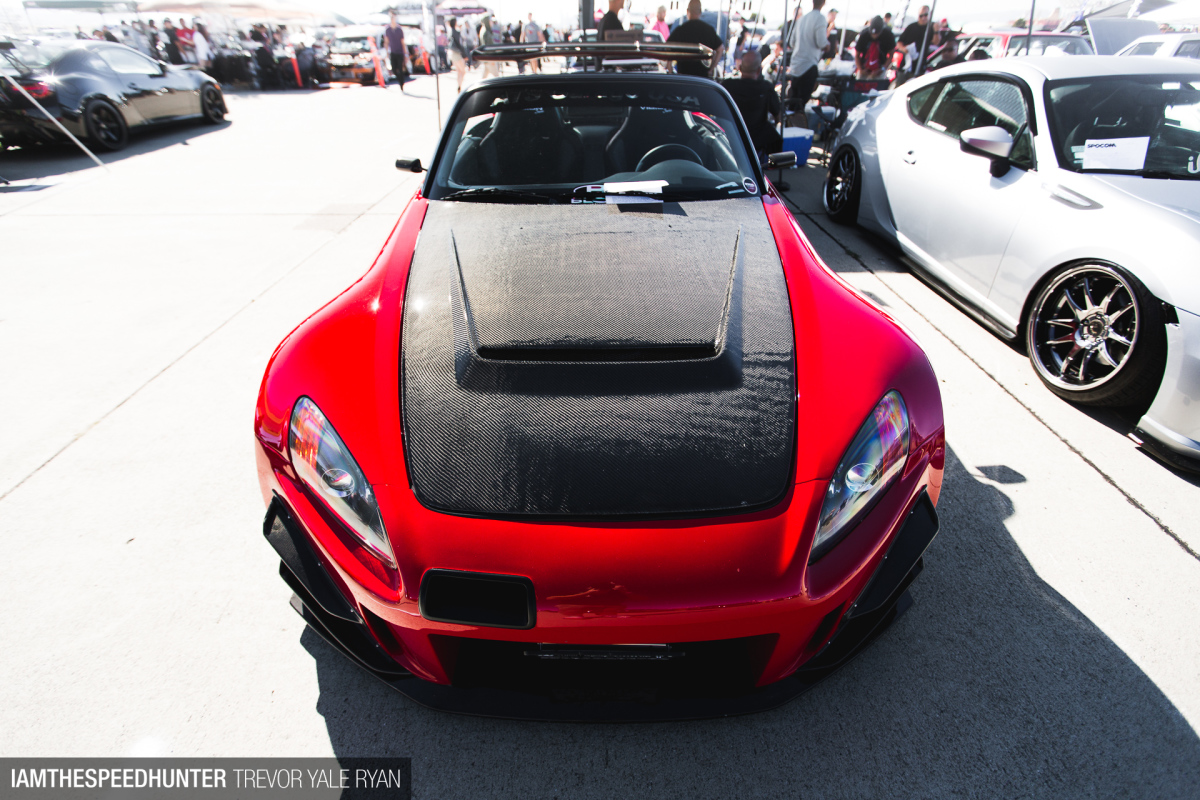 To start things off, it's important I mention that Teramoto Japan also made the trip overseas for the recent Spocom San Francisco show – working this into the title, however, was a task beyond my ability.
Not only were J's and Teramoto here for the tuner event in Alameda, but also for a small meet at a local Bay Area shop, Inspire USA.
The Show: Spocom San Francisco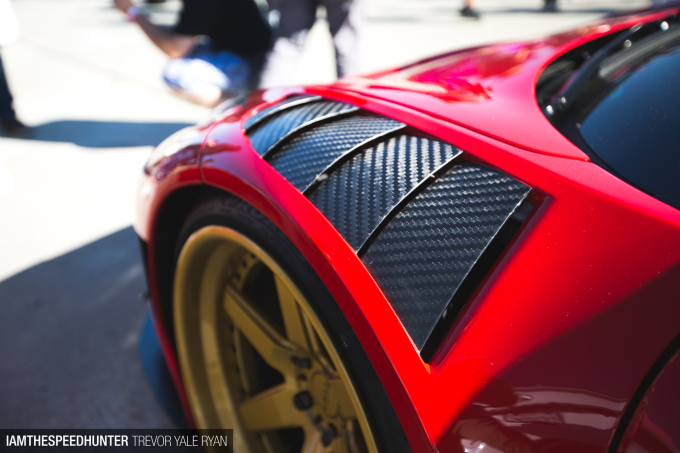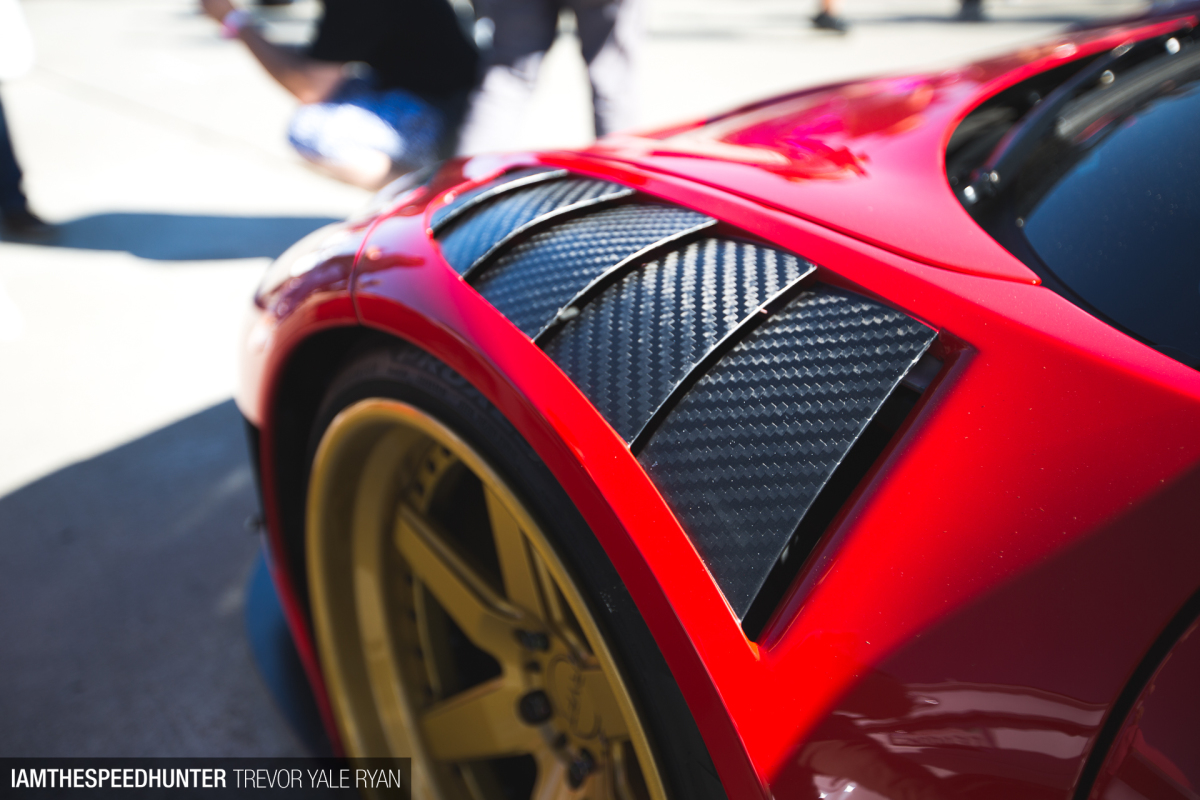 Spocom seems most well-known for Japanese cars, but plenty of other makes find their way into the show. Of course, it's a safe bet at any show you'll find a majority of cars sporting just wheels and suspension, but that doesn't mean there aren't a good handful of great cars that turn up.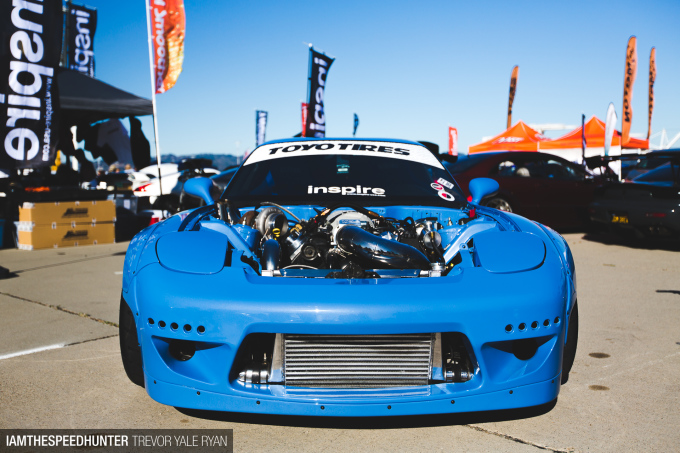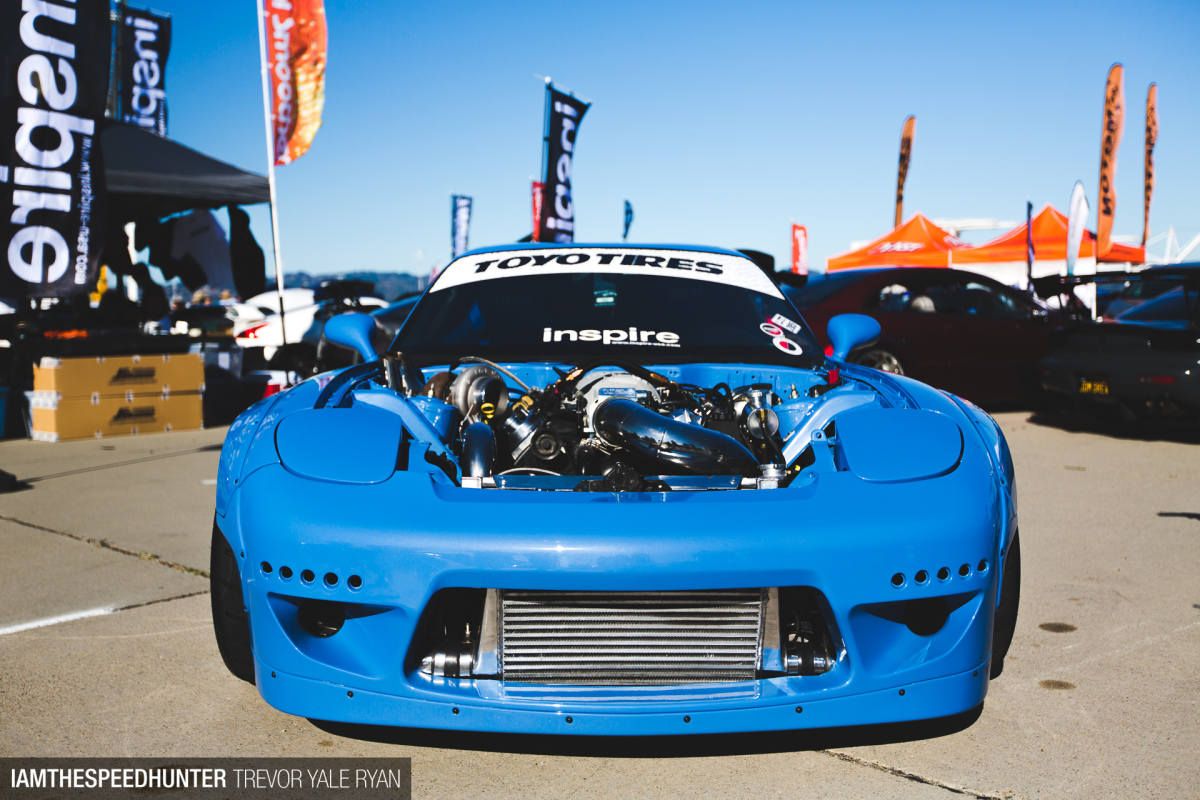 On that note, though, I've heard many of my friends (particularly photographers) in the scene who admit that they just don't bother going to these shows anymore. They're tired of the cars that are simply, dare I say it, stanced.
While it would be great to see more creativity on the whole, I was able to find quite a few builds here that were worth taking a moment to get a closer look at. Cars whose owners went the extra mile and finished off the details, as well as cars that were made to be driven hard and go fast in style.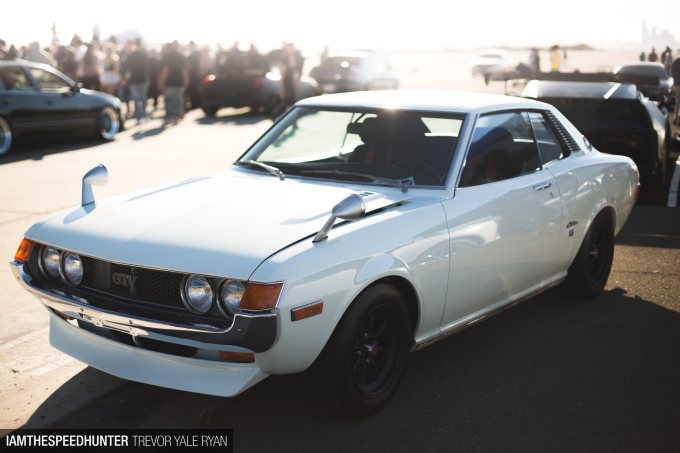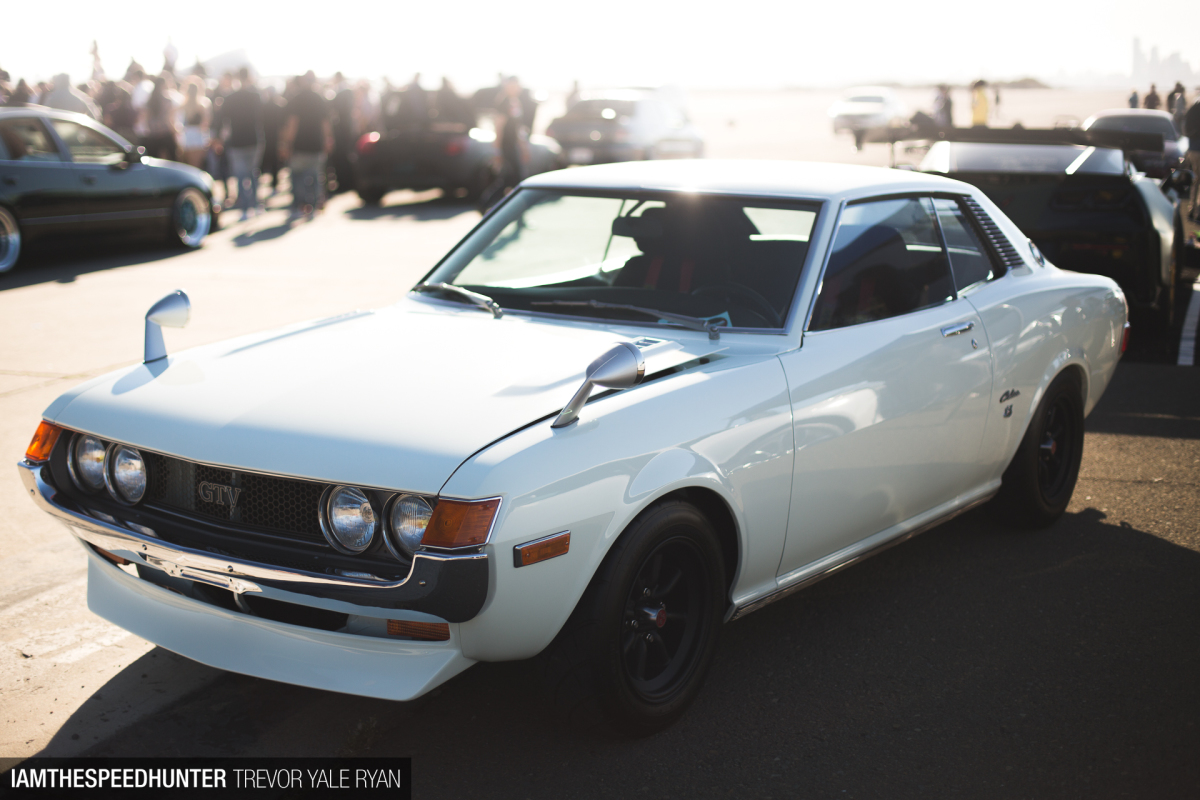 I'm always a sucker for any old Japanese car and this beautiful Celica is a prime example of something that excites just about anyone. And as you can see behind the car, there certainly was quite a turnout for the event.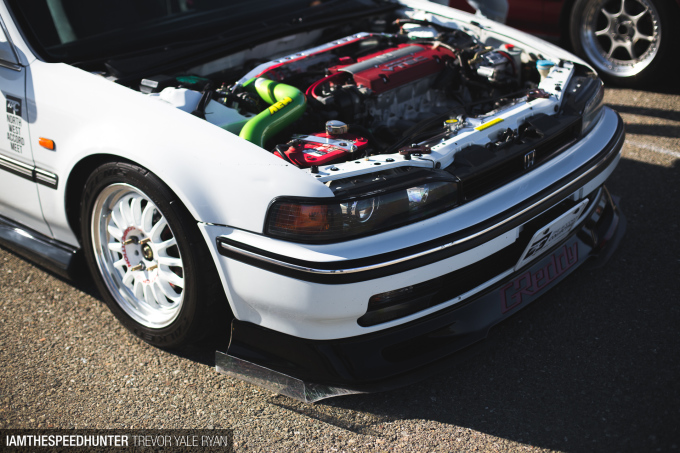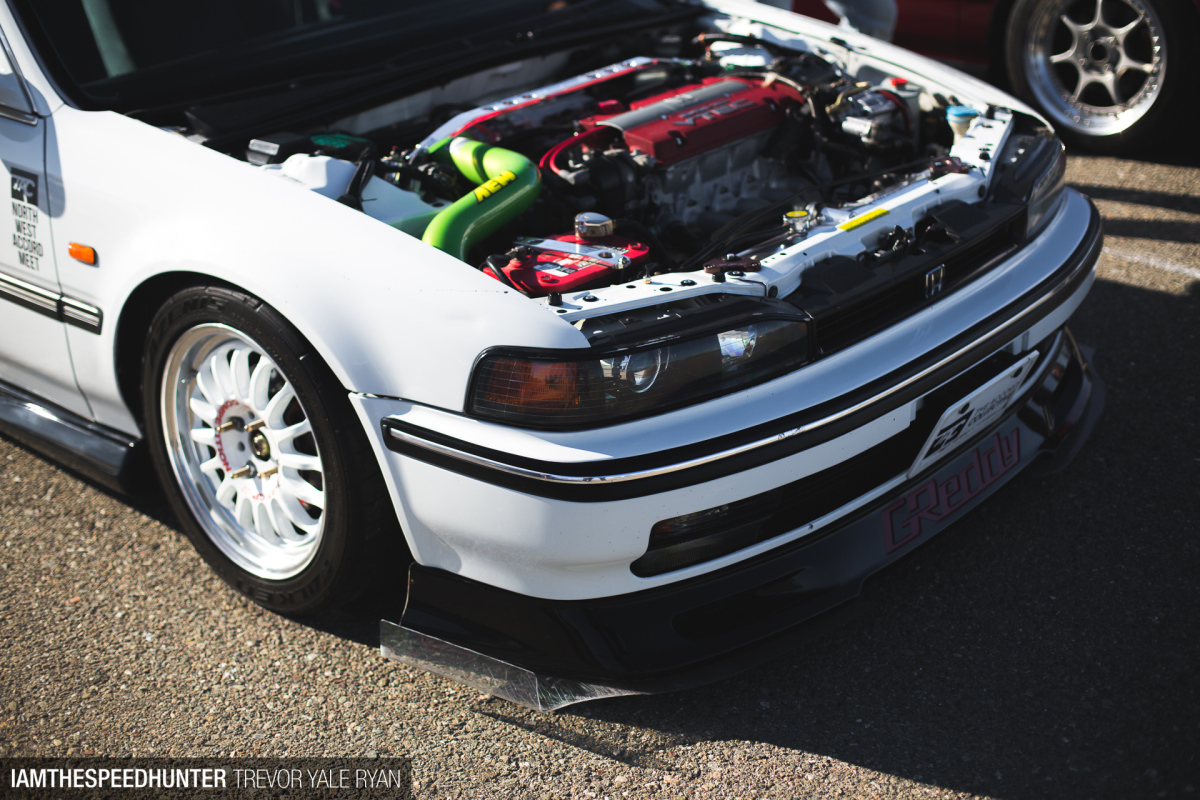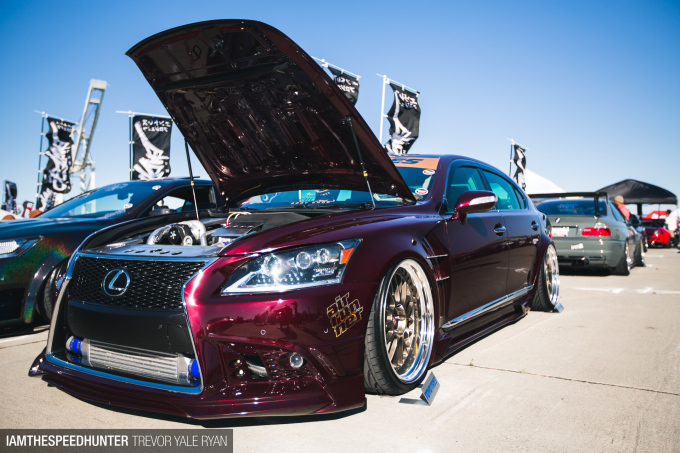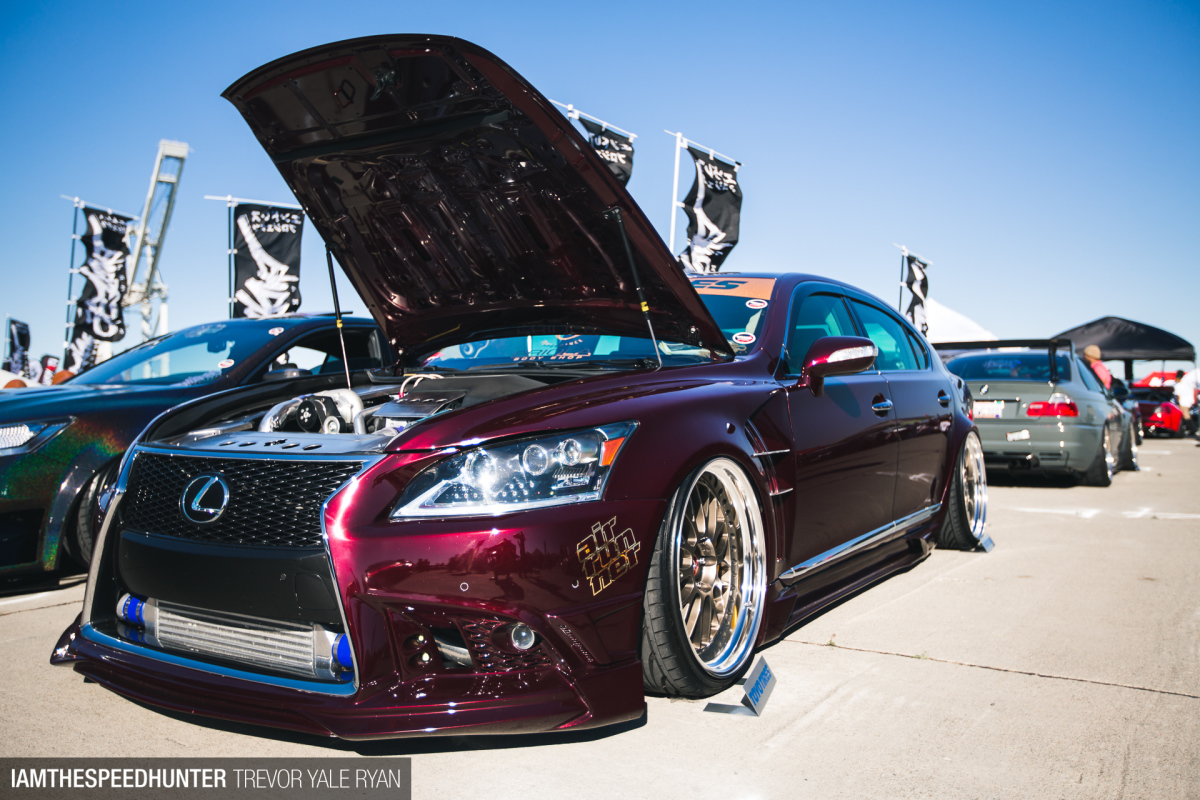 While the majority of show-goers gathered around the stage area, I used the time to find some empty space around a few cars that for the rest of the day were surrounded. One such car was this supercharged Lexus LS460 which was, quite literally, sitting on dished Work Wheels.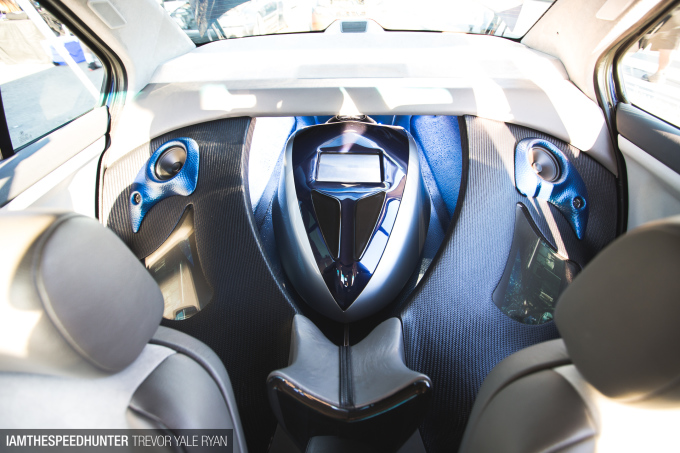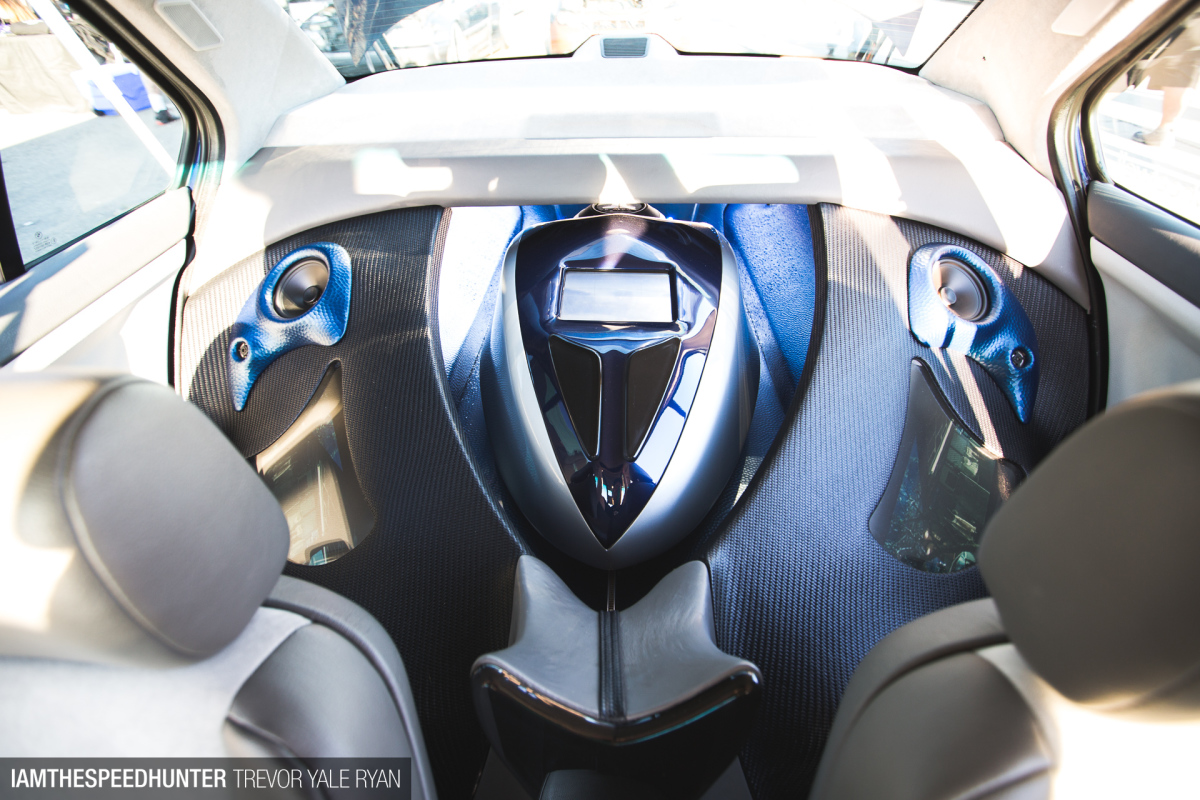 One of my absolute favorites had to be this BMW E36, whose owner seems to have gone mad. Maybe this is popular somewhere else, but I certainly have never seen a waterfall in a car before. This is the kind of outside-the-box thinking everyone would like to see more of — if you're going to modify your car, why not go all out.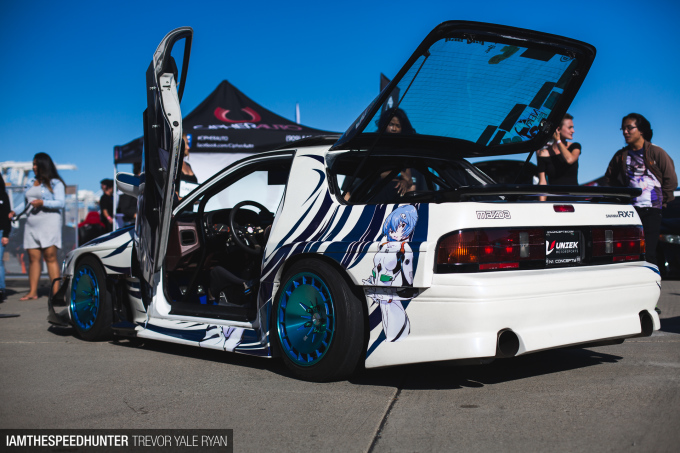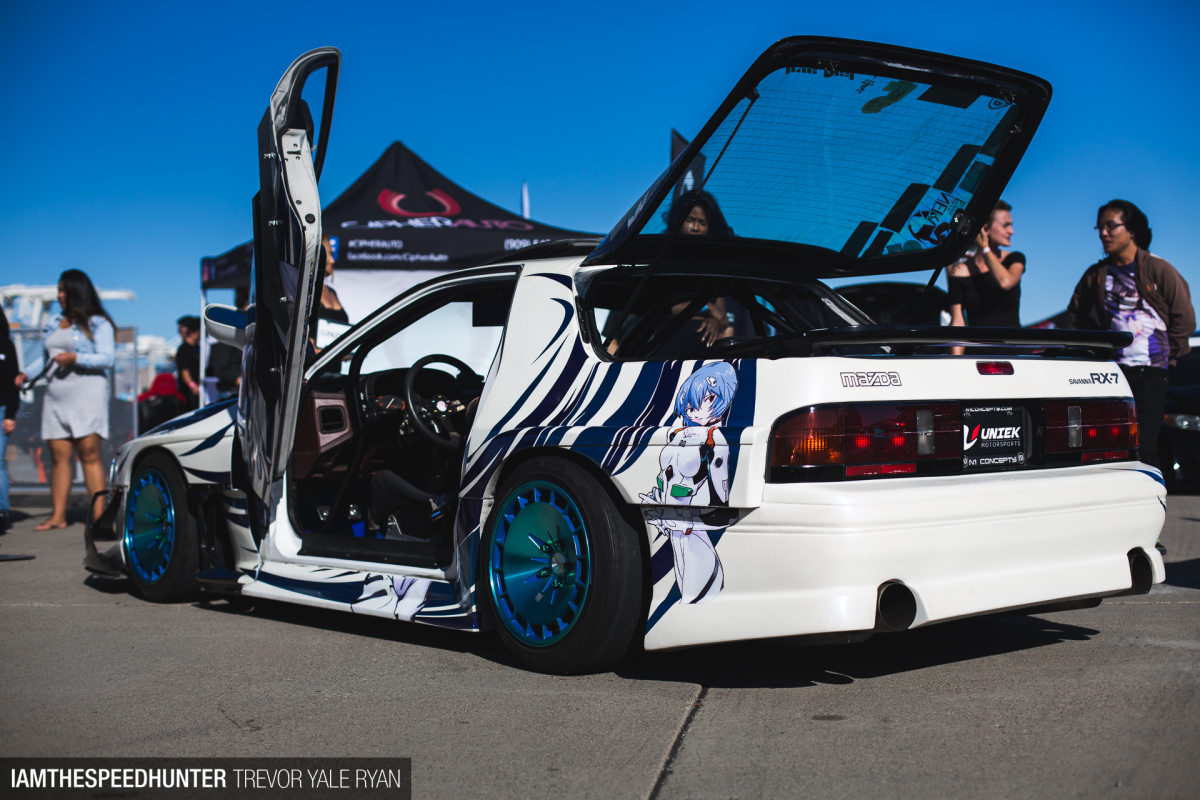 Another favorite that isn't afraid of going all out is Masahiro's FC3S Mazda RX-7 which is soon undergoing a massive overhaul. I've ran into this guy a few times now and his car never disappoints. Next year, though, the FC is getting even better and we'll be right there to bring the build to you; an RX-8 subframe, select RX-8 drivetrain components, and even an RX-8 dashboard will all find their way into Masa's itasha-style RX-7. Knowing his impeccable attention to detail, it will be done right, too.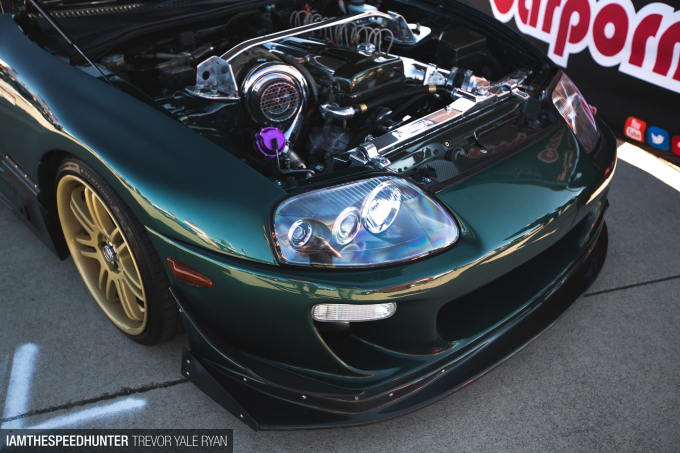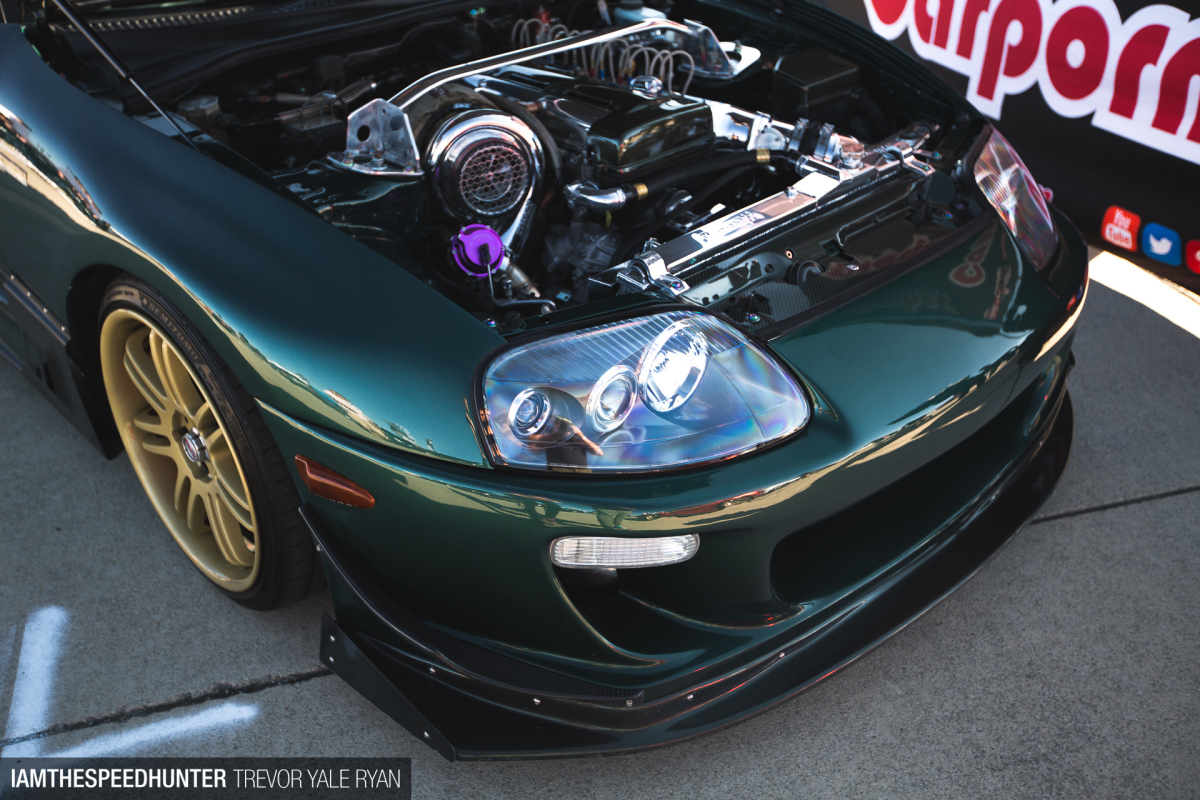 Of course, there were also plenty of your standard, clean, JDM legends present as well. A good Supra always stands out and this gold and green combo is absolutely killer.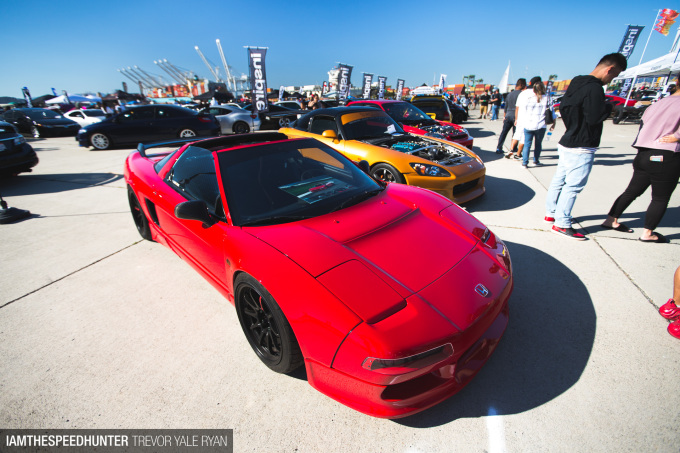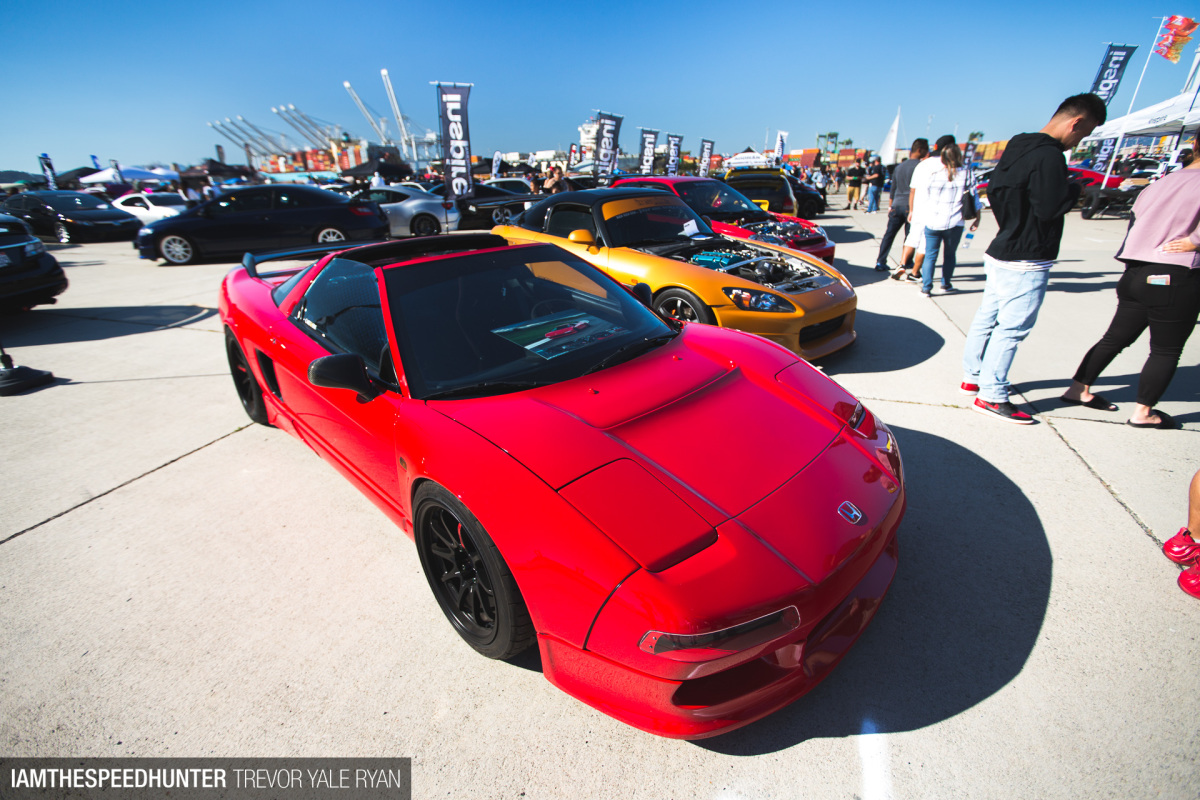 Really, my only complaint with the show was the harsh light on the beautiful, clear, sunny day. And that's hardly something to complain about.
Back at the Inspire USA booth, which they were sharing with J's Racing and Teramoto, parts were moving fast as the show was winding down. I'd be joining the group again the next day for some demo installs of Teramoto's T-REV unit and to take a peak around the Inspire workshop in Fremont.
The Shop: Inspire USA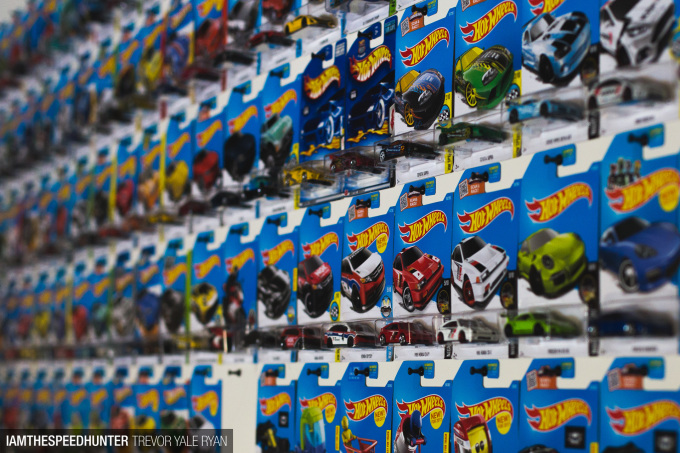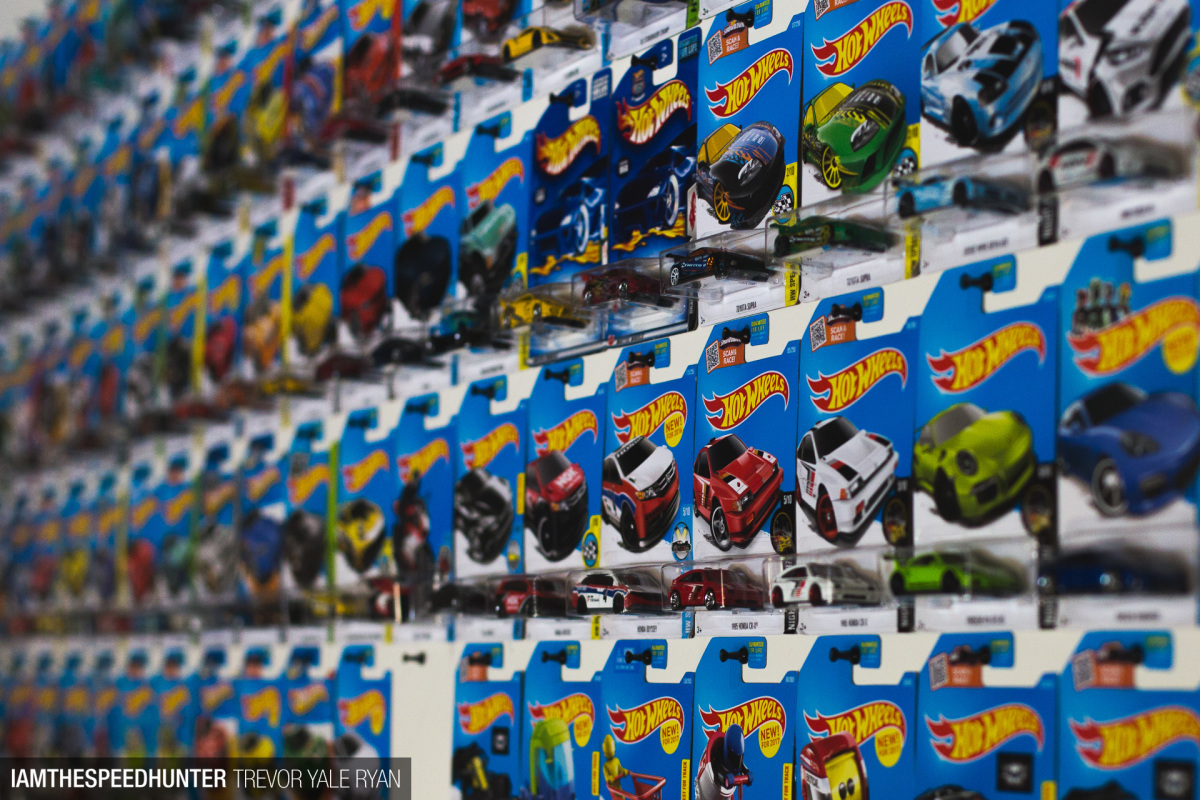 If you aren't familiar, Inspire USA is one of those shops that everyone in the Bay Area already knows about. They have friends all over the state, the country, and even around the world. They've also got a Hot Wheels collection that might impress even Larry, who, as we know, is quite the connoisseur.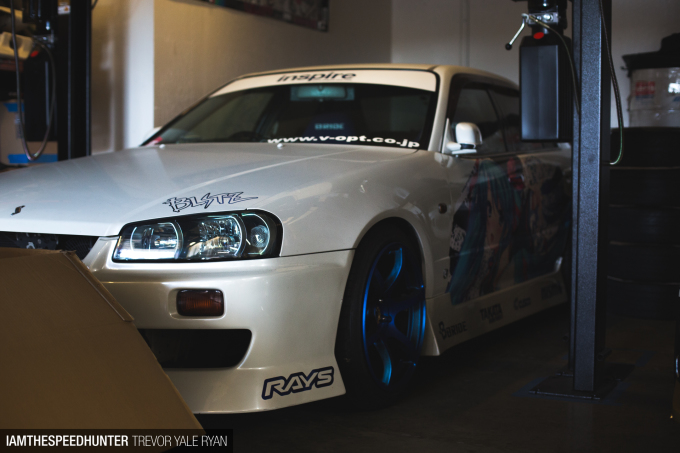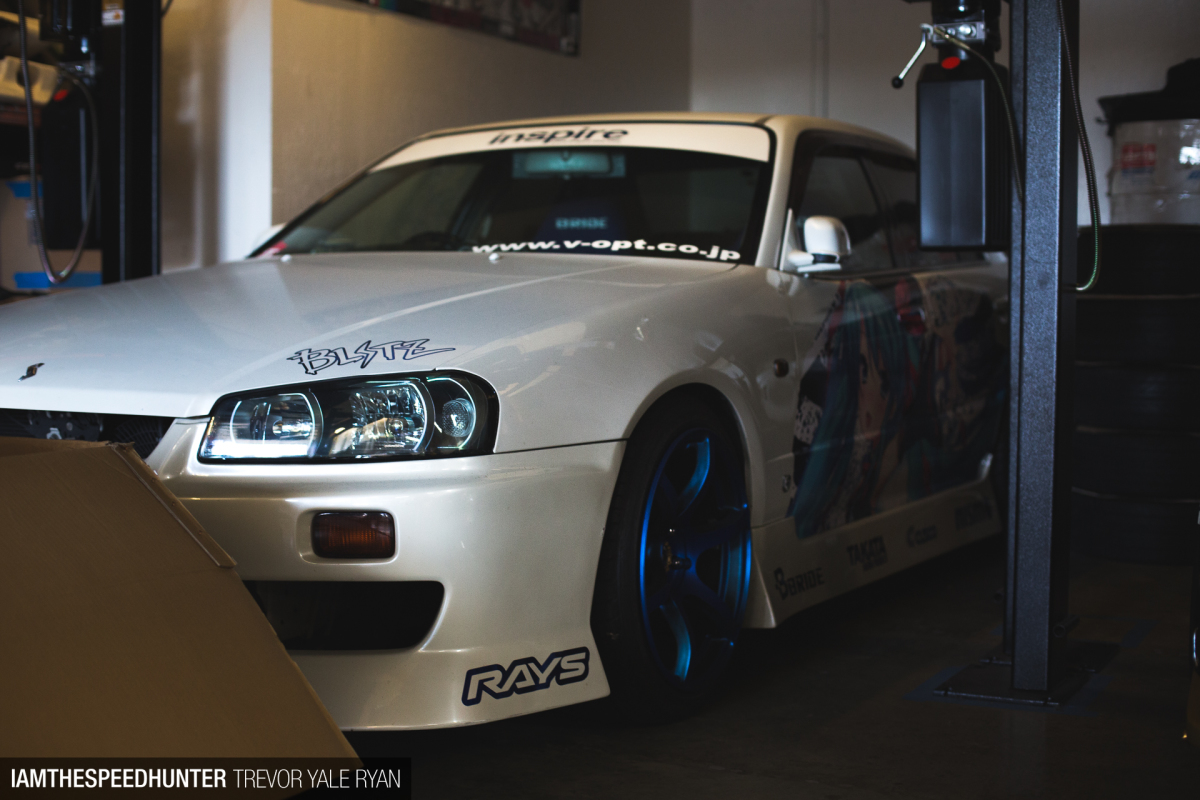 Inspire has a number of great cars hiding out in the shop that I hope to soon feature. Most aren't exactly allowed on the street, but I'm sure we can find a way around that small issue. After all, these things do need to stretch their legs now and then…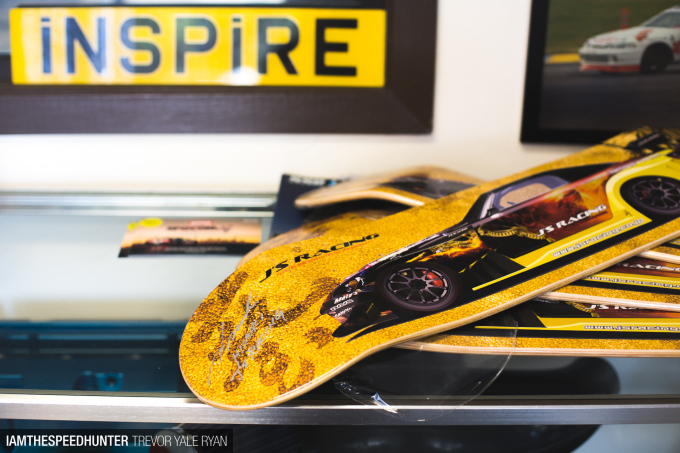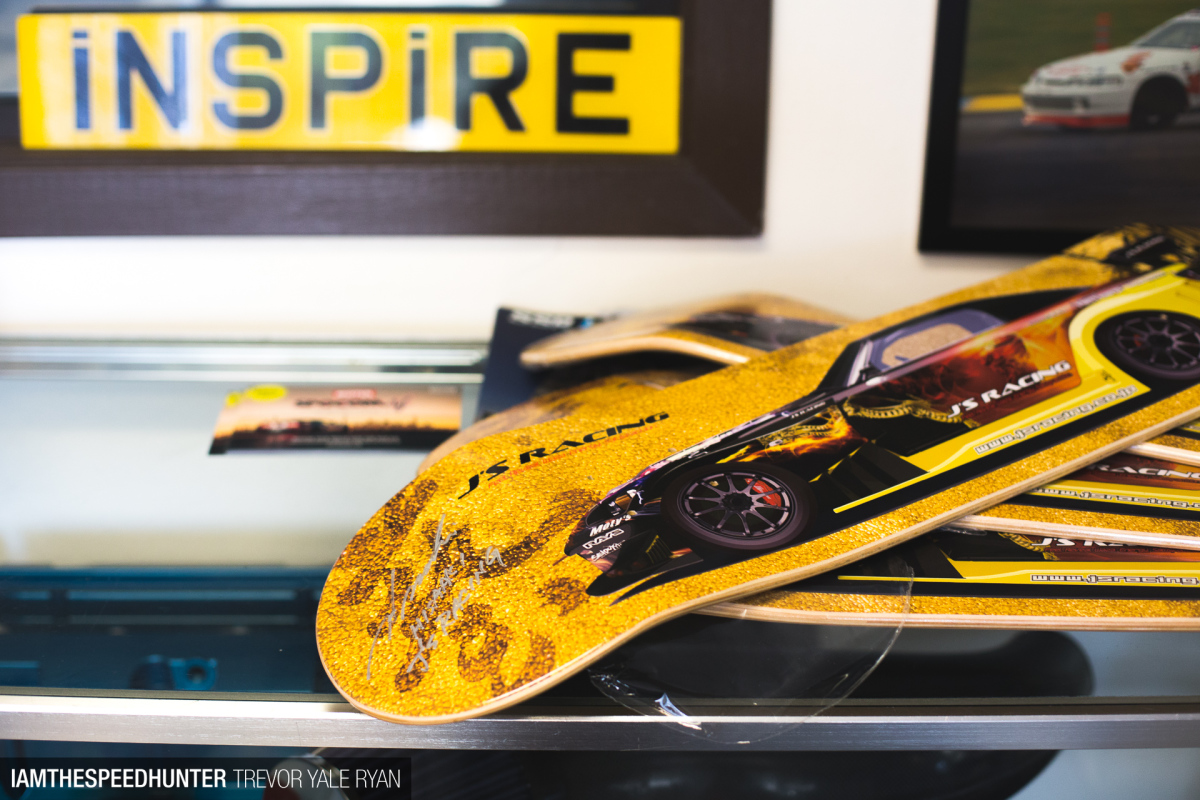 The shop really is everything you would hope for, down to the tuner mags and clever stickers. While the Teramoto guys were setting up, the president of J's Racing, Hisaaki Murakami, signed a small number of limited edition skateboard decks and banners.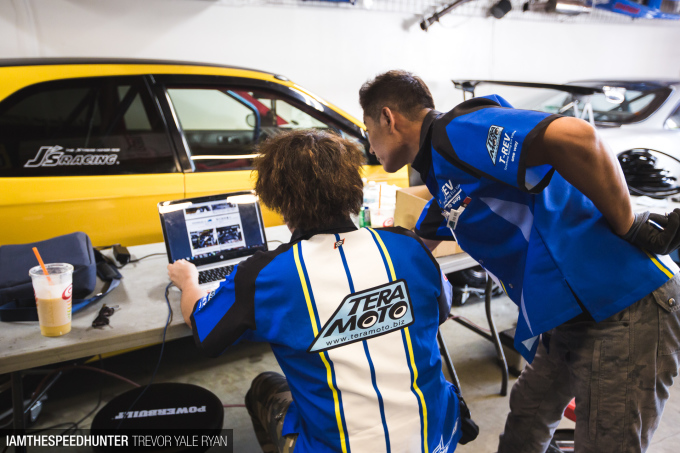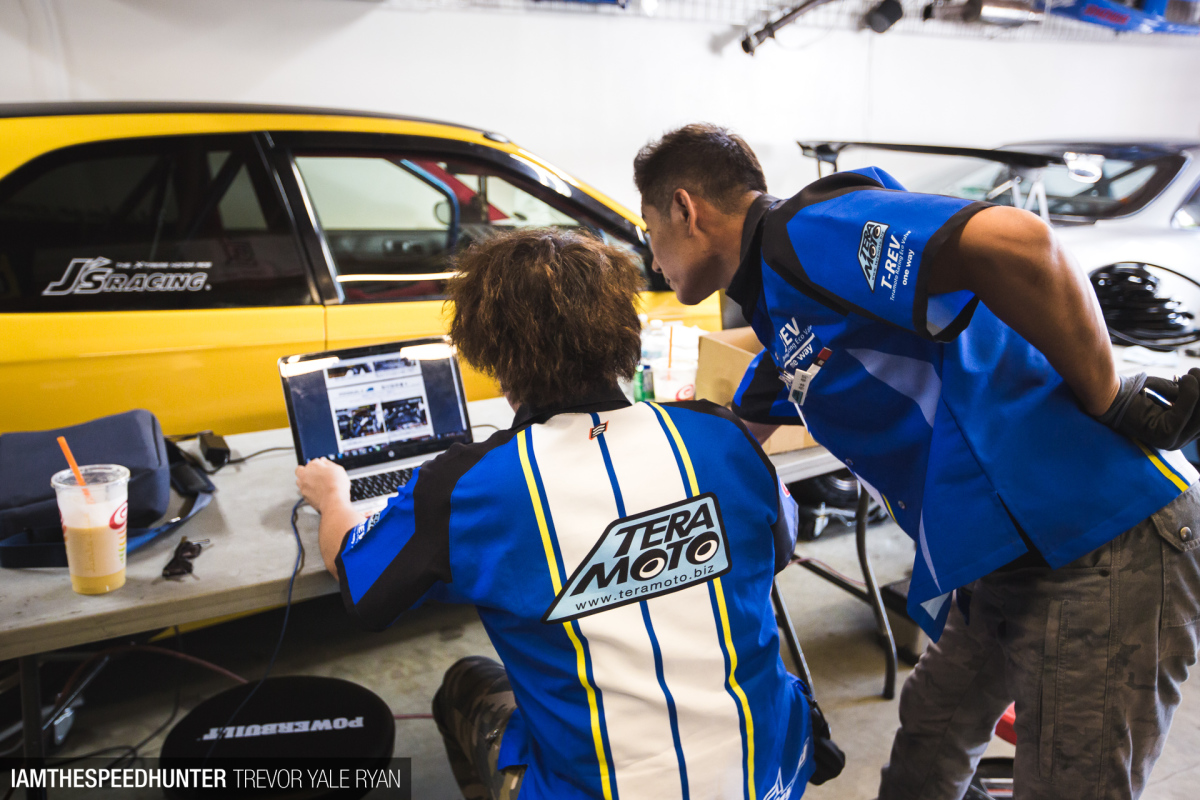 Back in the workspace, Kazufumi and Koji Teramoto were checking their notes before moving forward with their next install. Our friend Tony, whose NSX we featured earlier this year, recently picked up a Honda S2000 for track use, and the VTEC motor under abuse would be a perfect environment for T-REV to do its job.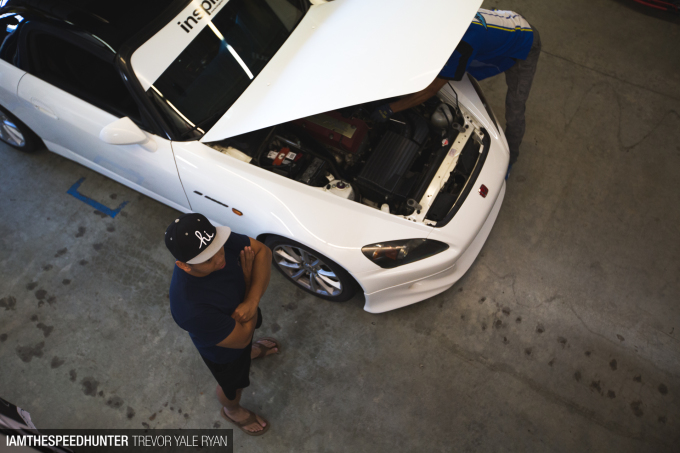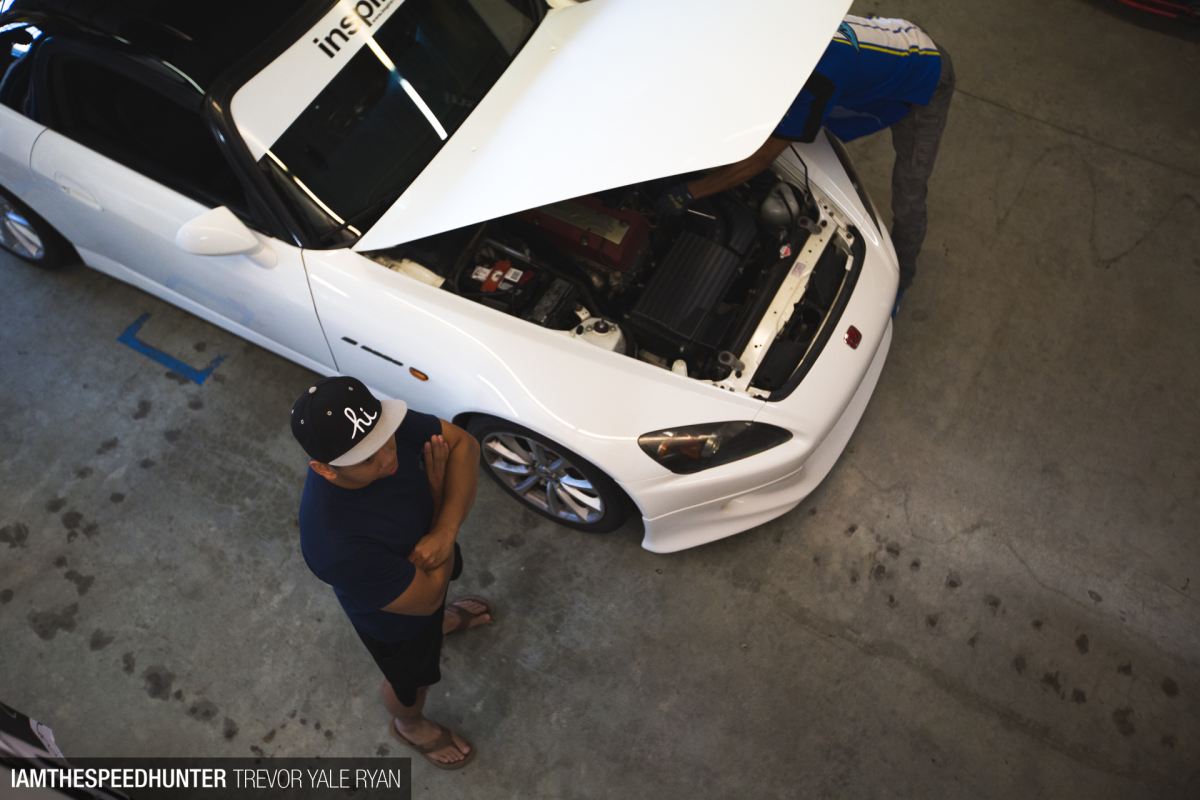 I took this time to ask a few questions about the T-REV technology, because frankly, I hadn't heard of it by that name. While there are plenty of cars using these parts in Japan and elsewhere in Asia, it's thought there are only 20 or so running around with it in the States. The Teramoto device is a simple enough little unit which apparently was first used on motorcycles, where racers were looking for every last inch-pound of torque they could find.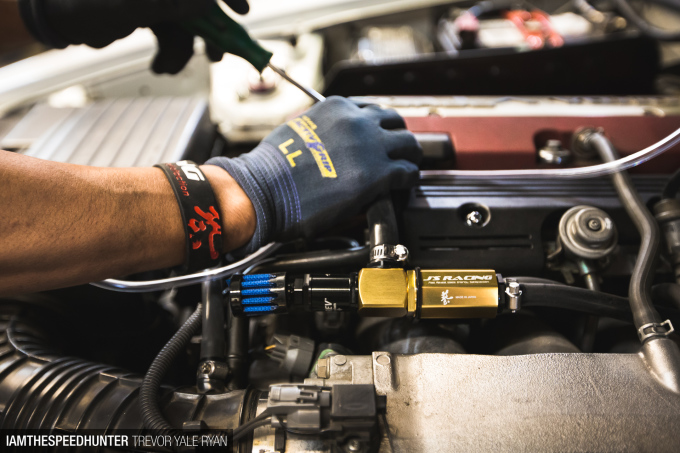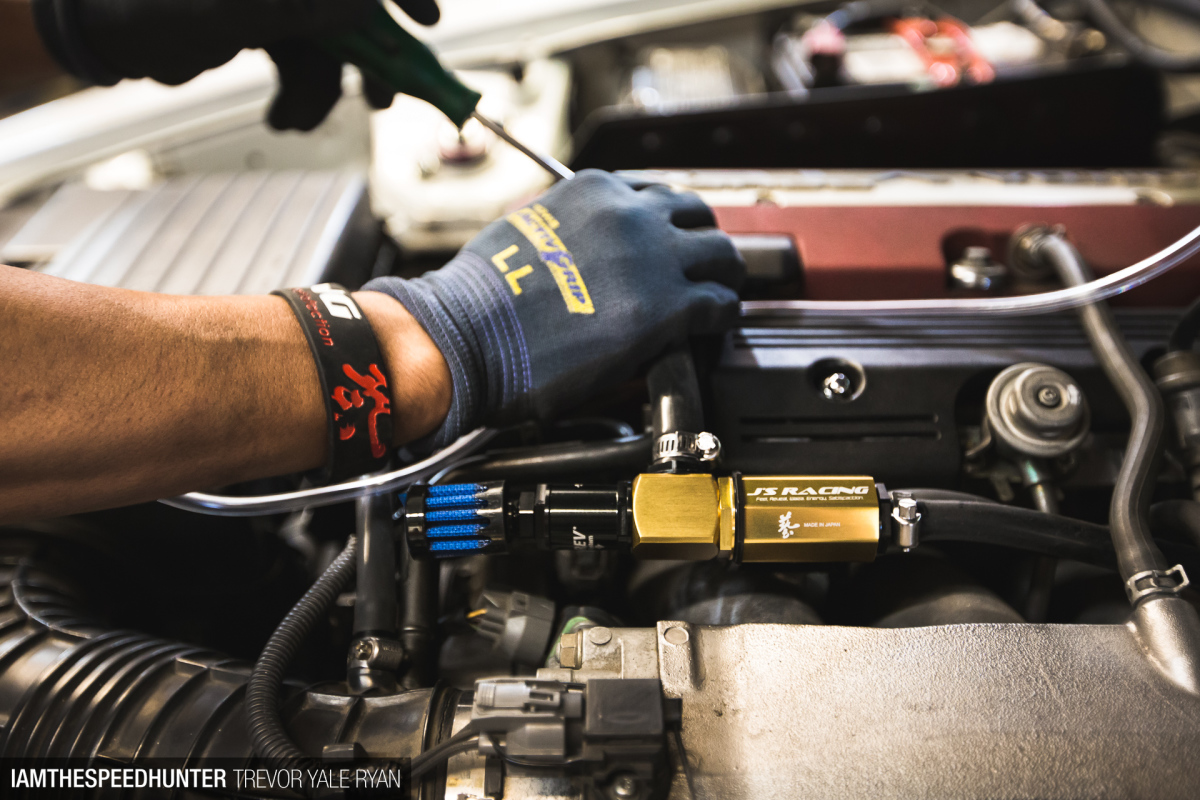 It's not a new idea; the basic principle is to simply relieve crankcase pressure to find a bit more power, speed up and smooth out the revs, and help your engine run longer. I remember slapping together a DIY vent with a check valve for my '66 Mustang and I noticed improved responsiveness and even a bump in gas mileage, something I was grateful for in the carbureted fuel-sucker.
The Teramoto brothers, though, seem to have the design and subsequent install down to an absolute science. And just check out Koji's stance!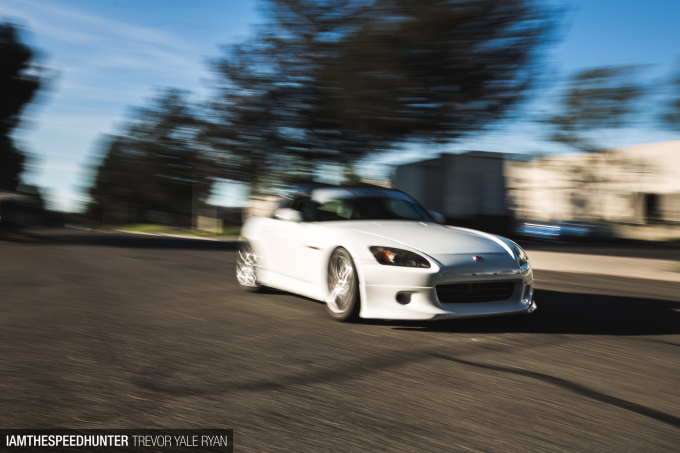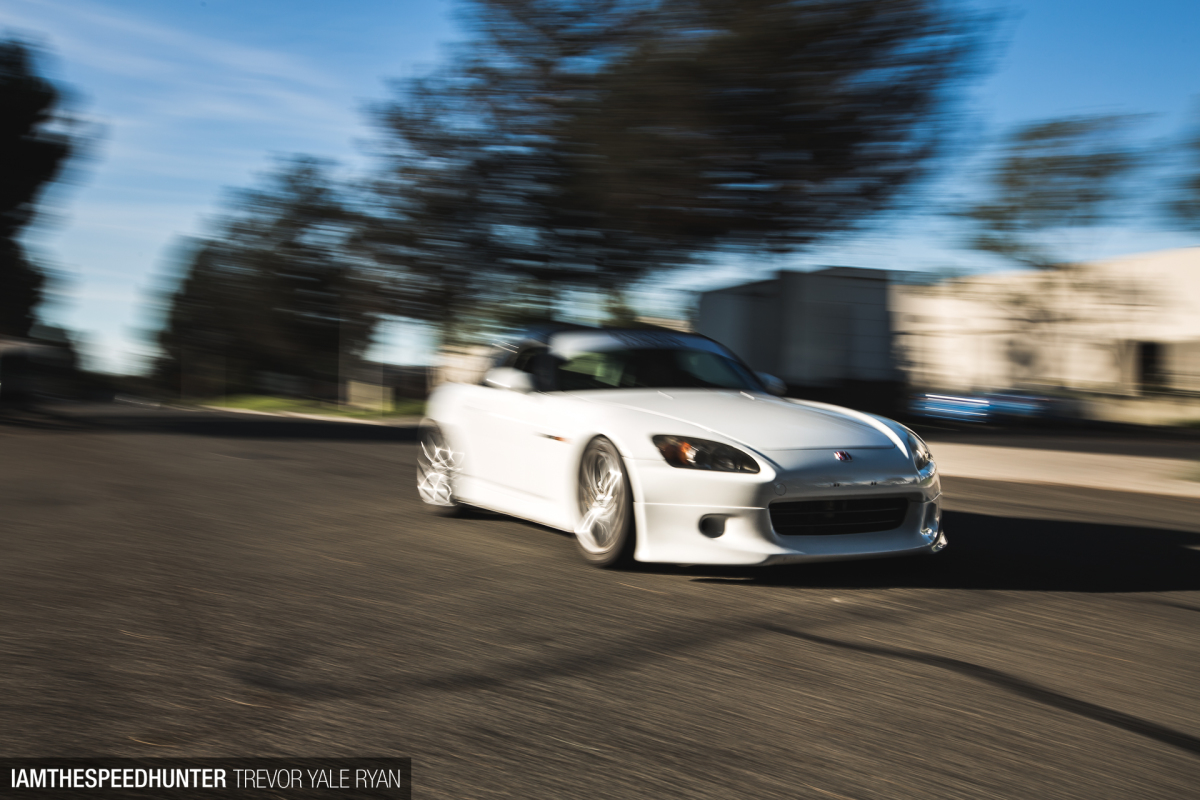 The result is a clean end-product and instant results. All that was left was for Tony to take a few laps around the block with the new piece installed, and he reported a smoother throttle response, and what seemed like more power all through the rev range. Being the skeptic I am, I followed up with a few guys who recently had one installed, and their data clearly showed a massive reduction in crankcase pressure. Dyno results also backed up this claim, with as high as a 10hp increase on a different, highly modified S2000 (apparently the T-REV unit works best on Honda's VTECs). I guess all that's left is for me to get my hands on one for my 10AE Miata and see for myself.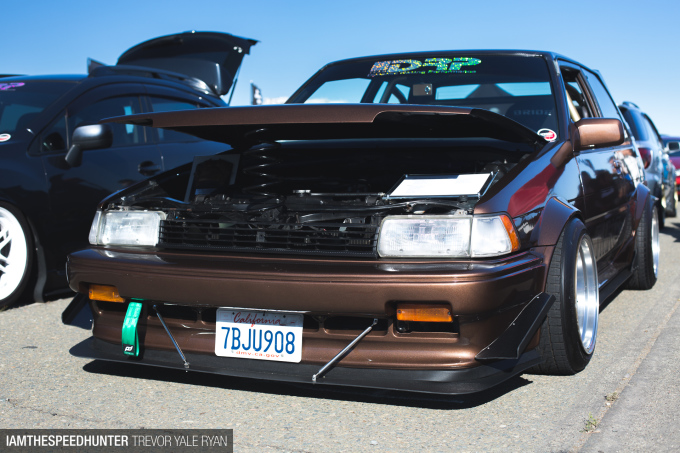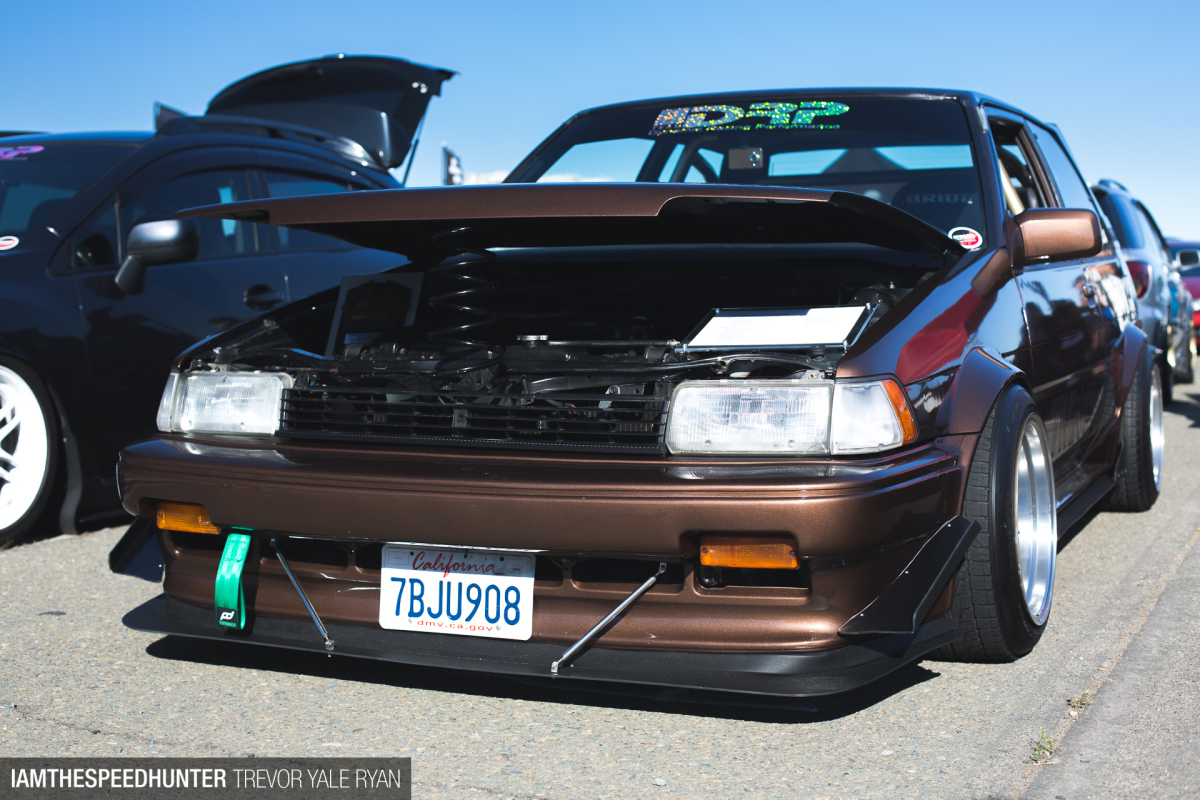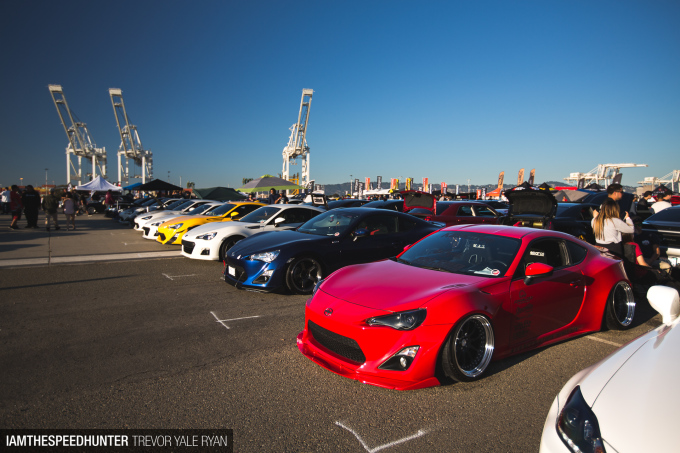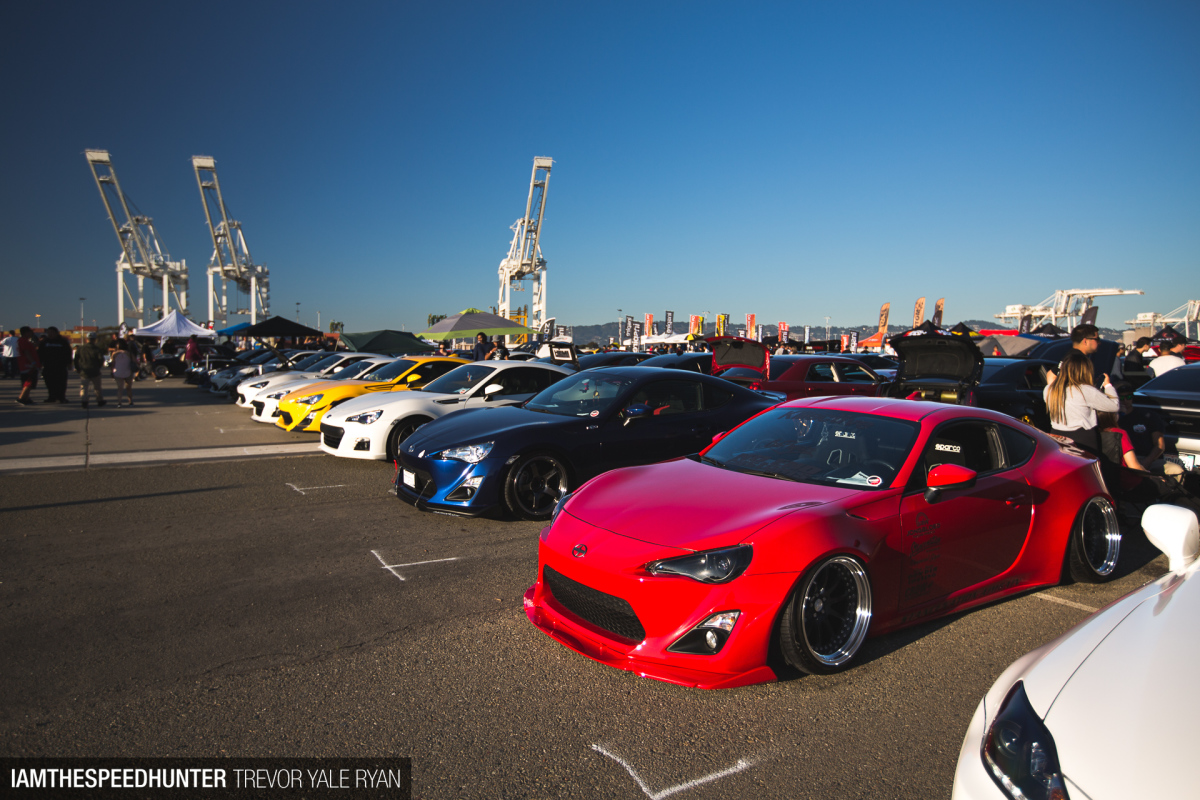 At any rate, this was a great weekend with some great people. After listening to the doubters and the whiners, I went into the Spocom weekend with relatively low expectations and left with new friends and new knowledge, inspired to tear back into my own cars. This is what every car show should do.
Trevor Yale Ryan
Instagram: tyrphoto
TYRphoto.com