It was cool reading through the comments on my recent black and white post covering off Project GT-R being wrapped. I'm also glad that no one really guessed the color I chose for the vinyl, as in a way it's made me feel like I've gone for something that's totally unexpected.
But believe me, a bit of thought went into this rather interesting hue. When Hashimoto-san told me that my car would be running a set of classic gold BBS Motorsport wheels for this year's Tokyo Auto Salon show, visions of old race cars running the iconic 2-piece design conjured up in my mind. And that's when the idea came to me: I should go for a take on British Racing Green.
I mean, it's a GT-R, a Japanese sports car, so it doesn't make any sense at all to go for a color that's usually associated with English automobiles. Perfect. It will confuse and upset, but most importantly, people will take notice – exactly what you want a car to do at a show like TAS, right? If people take a few extra seconds to look at your car because it's different, that's a win in itself as far as I'm concerned.
On Thursday morning I picked up the completed GT-R from Kawanishi-ya in Yokohama and drove over to the Makuhari Messe exhibition center in Chiba to tick off something that's long been on my bucket list: showing my GT-R at Tokyo Auto Salon.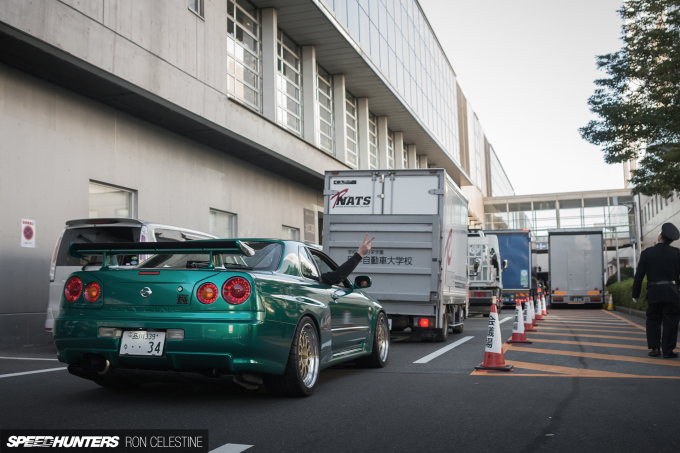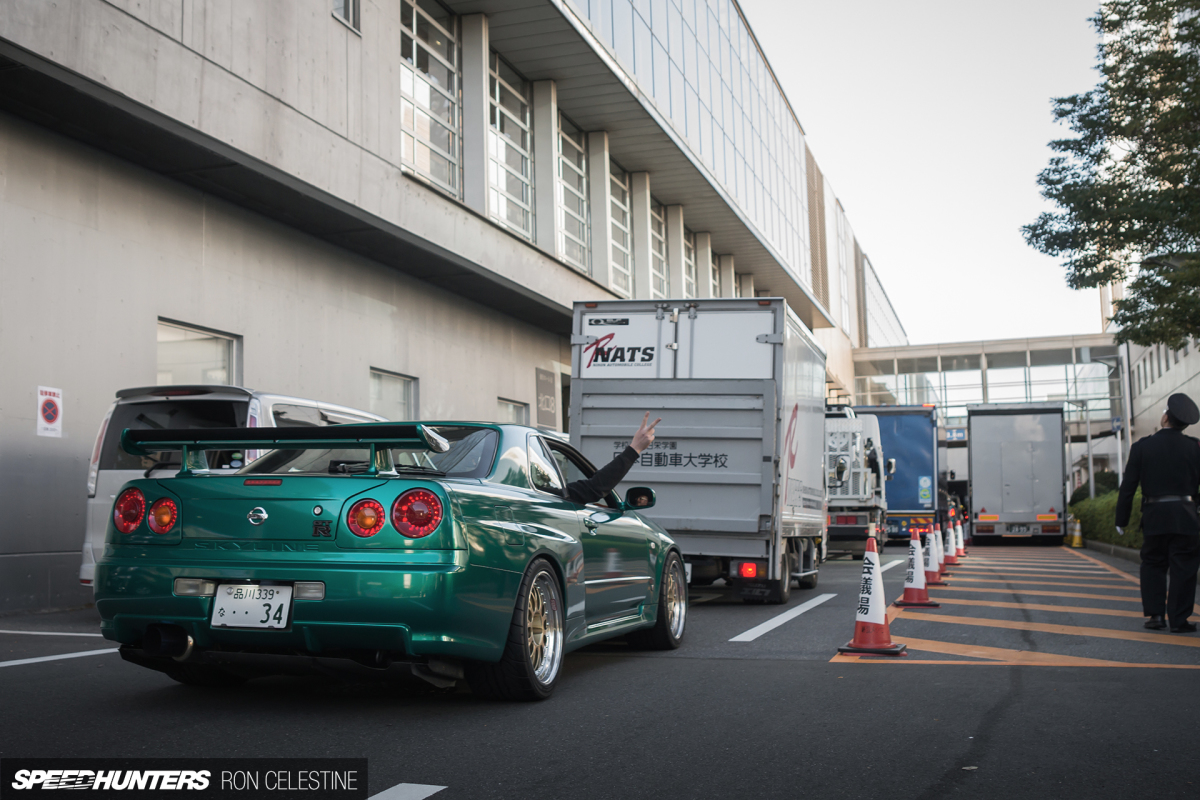 Thankfully, Ron was there as well, meaning we could immortalize the moment with a cool series of images.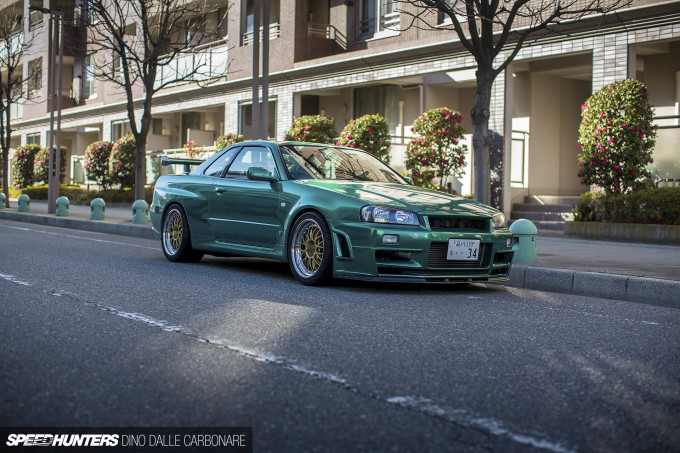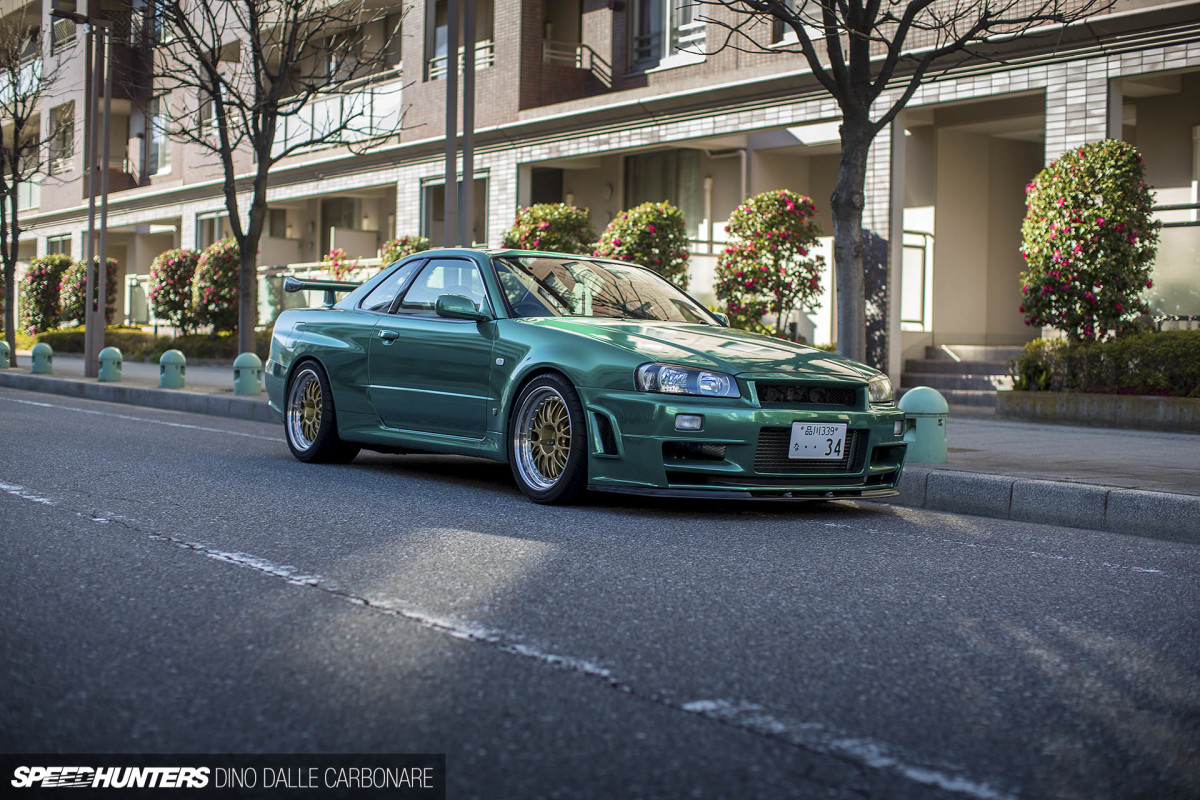 Before we did that, though, I had to ensure we at least got a few shots of it in nearby Makuhari New Town to share with you guys. I'm sure you'll see some images floating around the internet from the show, but seeing a car out in the open just makes things all the more special.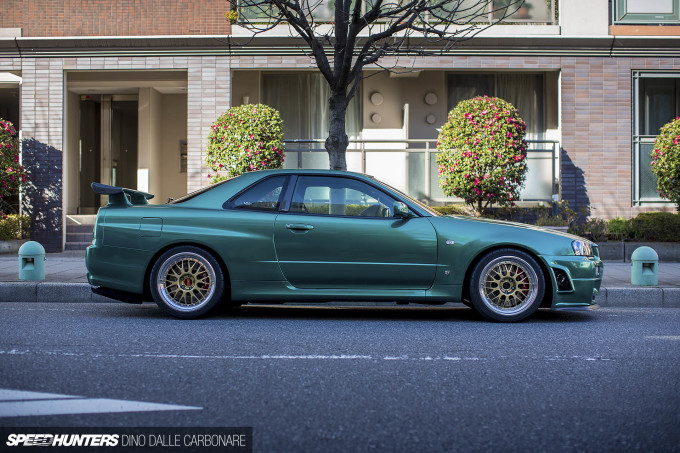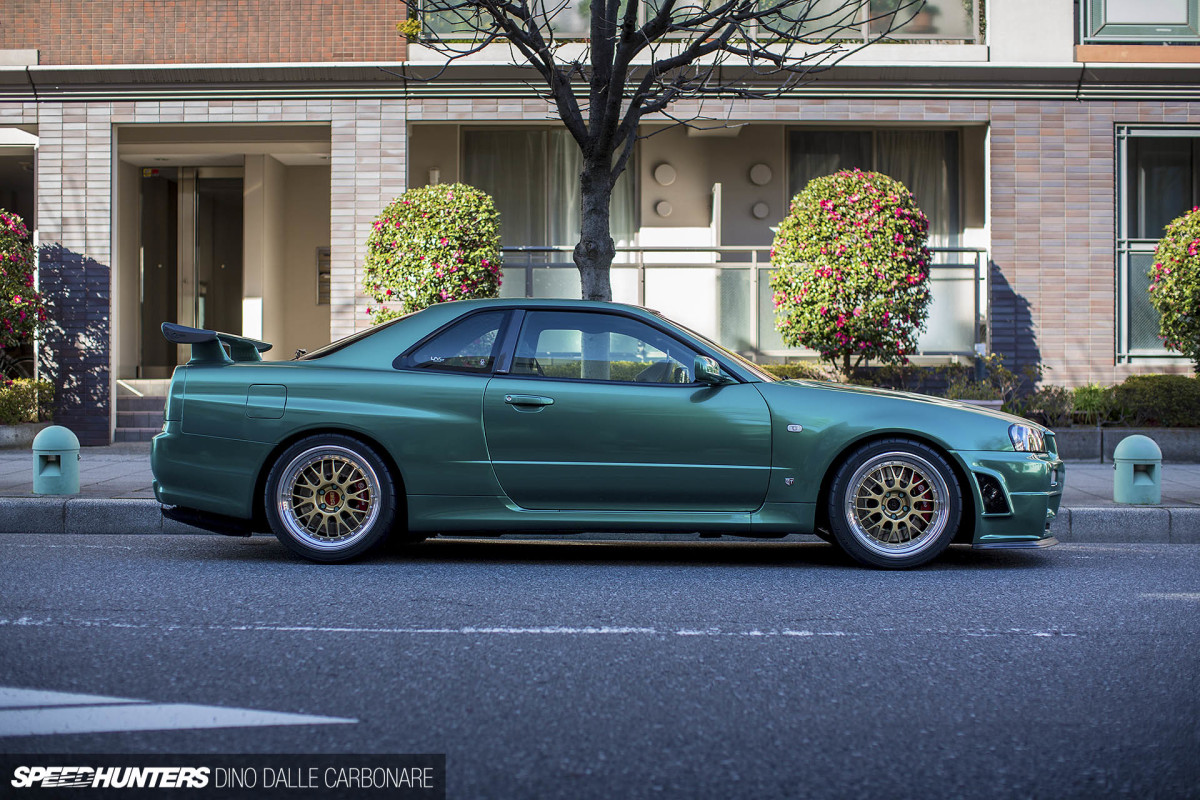 When British Racing Green, or BRG as it's commonly known, was first born, it was a much lighter shade of green than the one we associate it with today, so if Nissan had decided to offer the BNR34 in an inspired tone, I'm thinking that this is what it may have looked like. Bayside Green, perhaps? I don't know, but if there had been a green version of Bayside Blue, I think this pearlescent shade with teal flip might have been the perfect match.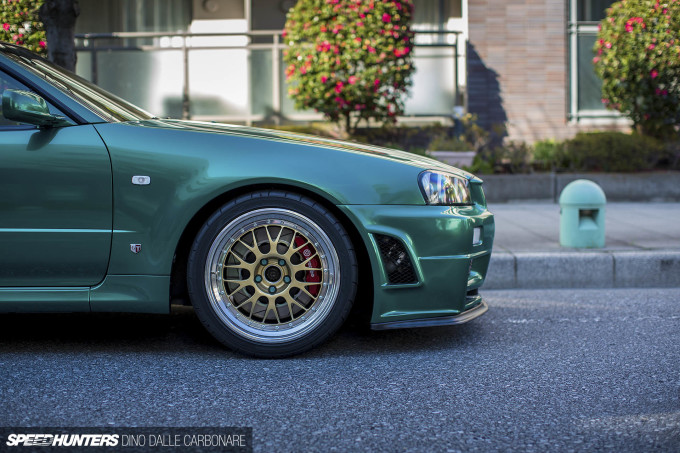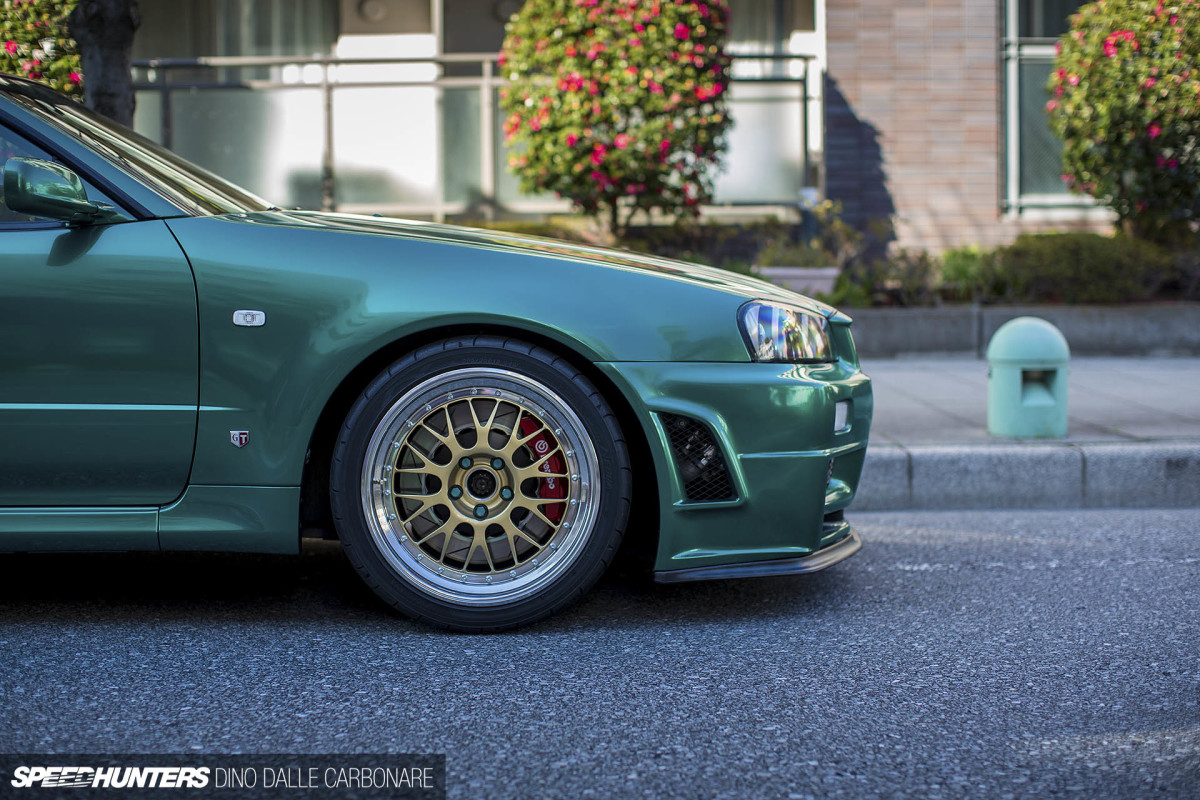 Then there are the wheels. These are BBS Motorsport E88s, a classic design built for and used predominately in racing. They measure 18×11-inch and are shod with Yokohama Advan Neova AD08Rs, the same 295-section tires I've been running on my red RAYS Volk Racing TE37RTs for a few years now. The split rim layout does make them appear smaller than they actually are, but I think that only adds to the brutally functional look they possess.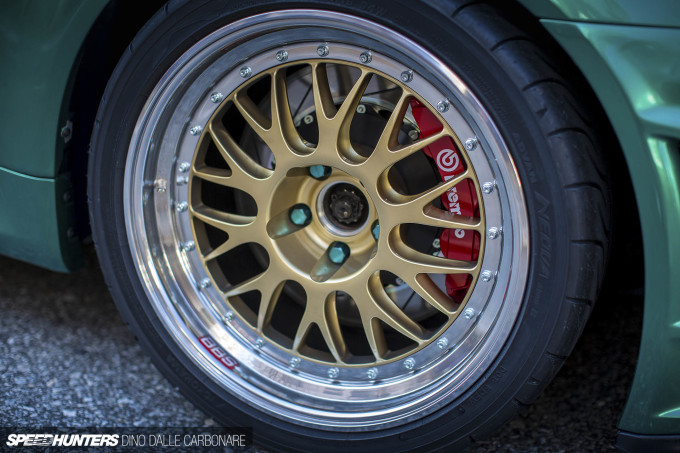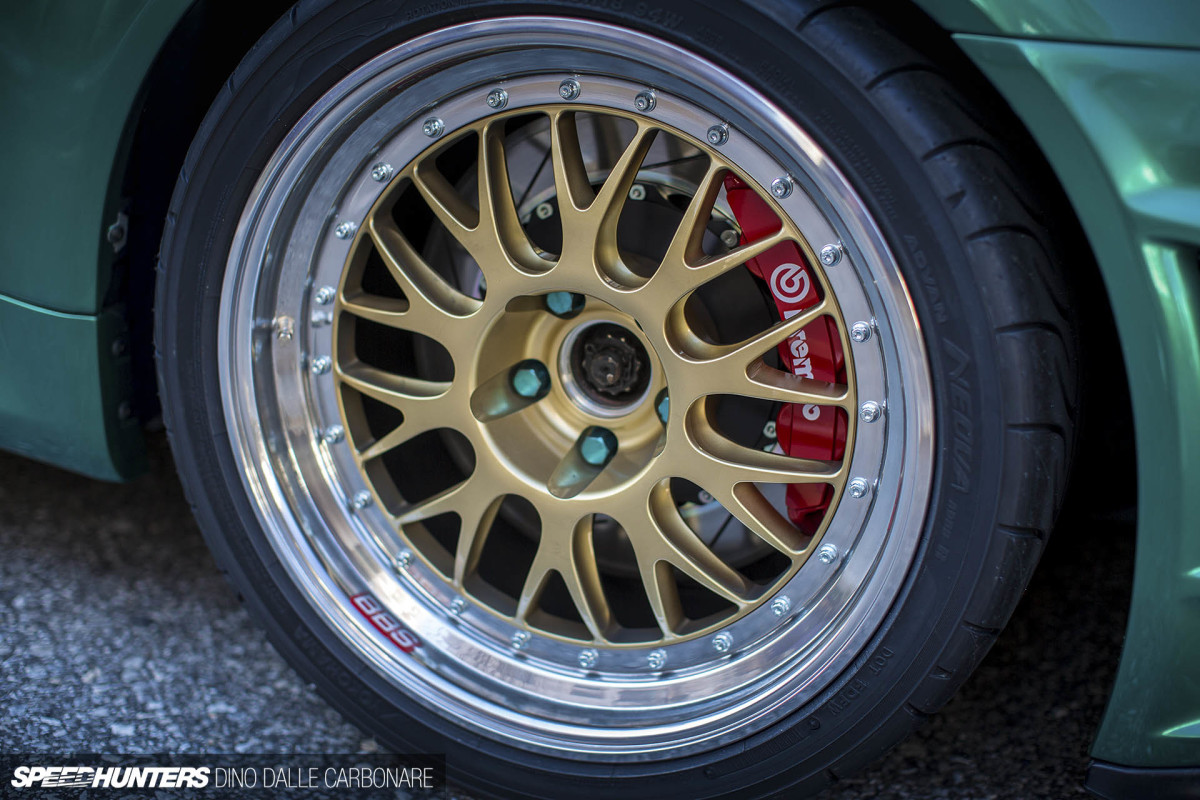 Behind the front spokes are Brembo GT 6-pot calipers mated to 355mm 2-piece, slotted and floating rotors. I spent most of the drive over to the Auto Salon trying to bed them in properly, and I'm happy to report that with each brake pedal application they came more and more alive. I can't wait to put these bad boys to the test!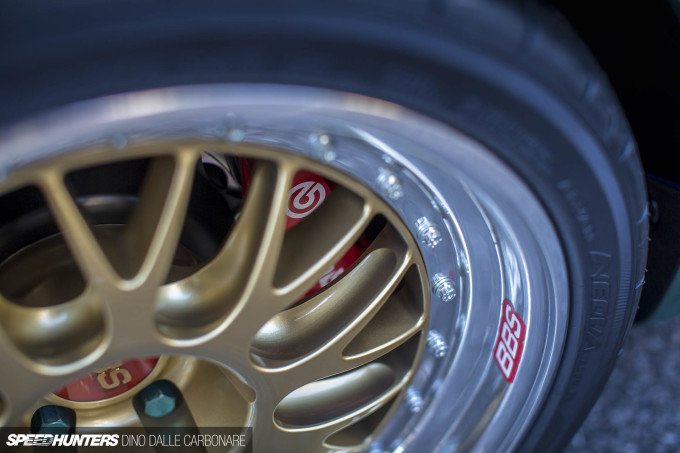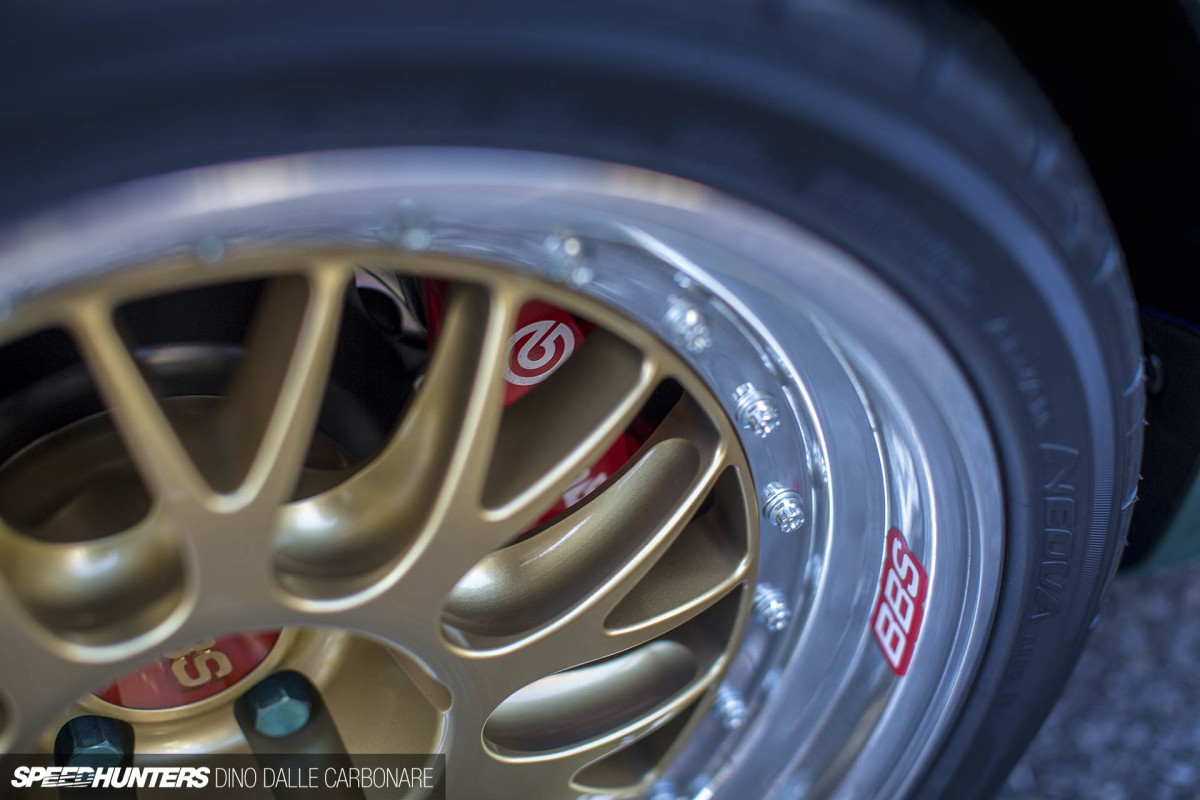 The rear rotors measure 345mm in diameter and are accompanied by 4-pot calipers. Oh and don't worry, those aged blue wheel lug nuts were swapped out for something more fitting once the car was parked up on the show floor.
Back to the exterior wrap, here are some close-ups of the embossed 'Tokonatsu' and 'NuklHeds' logos that Narita-san and Nakamura-san incorporated into the rear wing stays. These guys are coming down to the show on Friday morning to re-wrap the passenger side headlight just like it was before it was removed for my late-night drive back to Tokyo.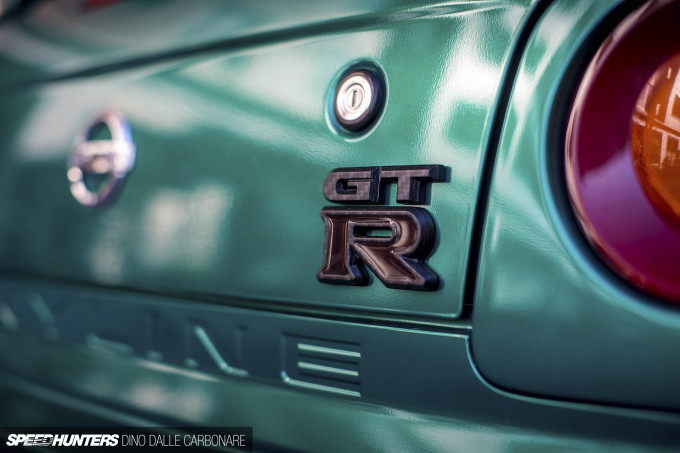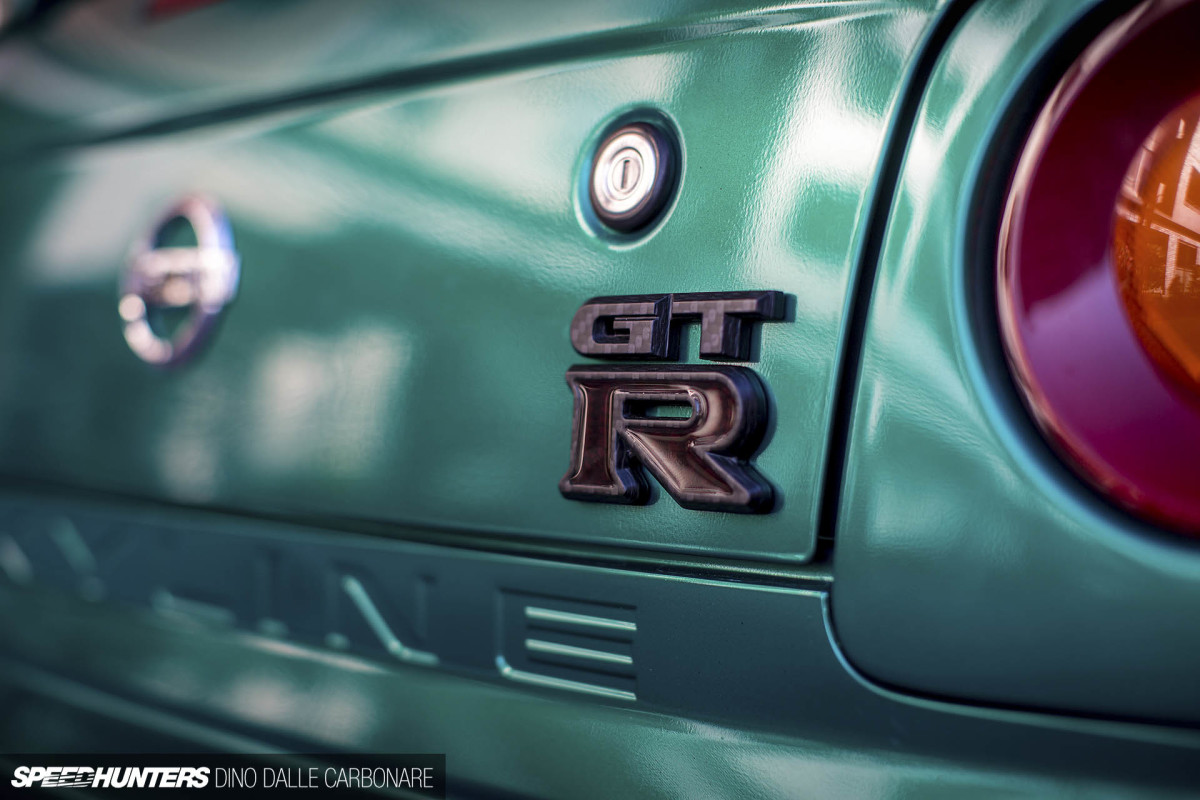 Once the car was all wrapped up I finally had the chance to add a little something that's been sitting on display in my office for a few years now. This R35 GT-R badge from Overtake was CNC-machined from a 15-layer block of carbon fiber.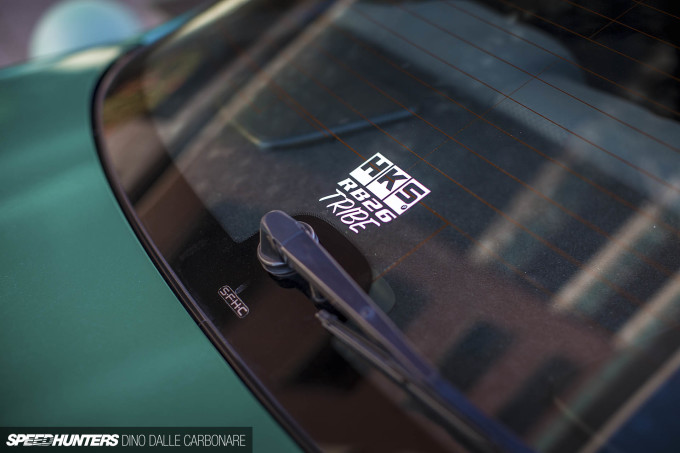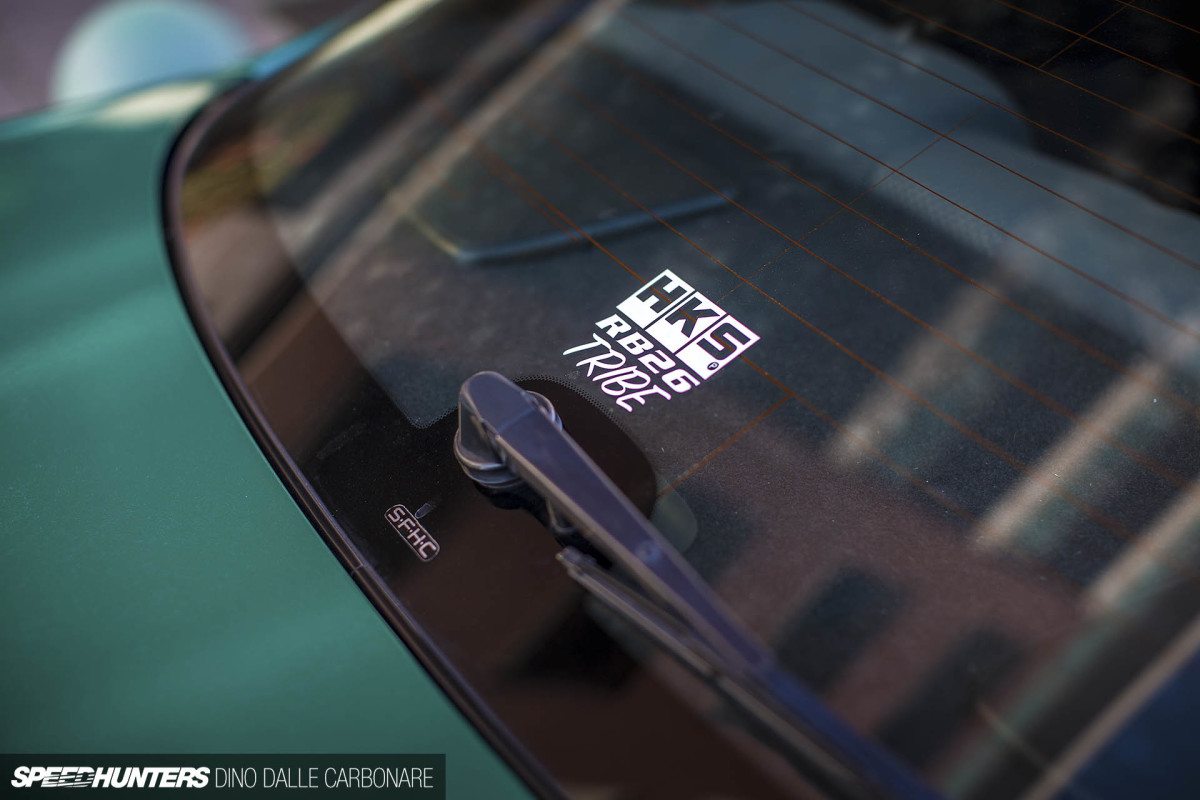 The 'RB26 Tribe' sticker on the back window hints at there being some HKS bits hiding under the hood, but more on those in an update post on the engine.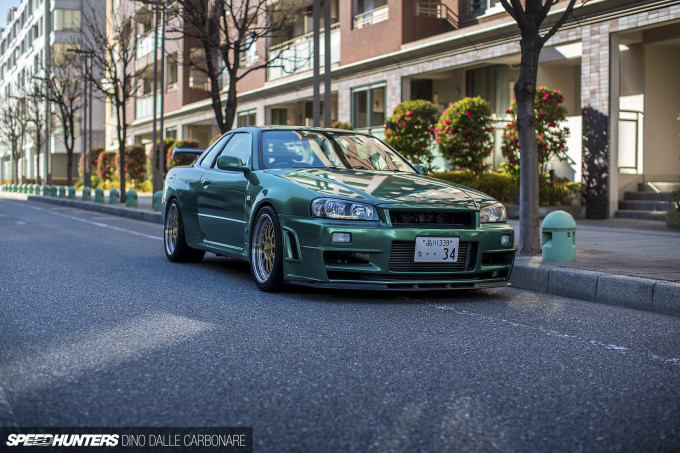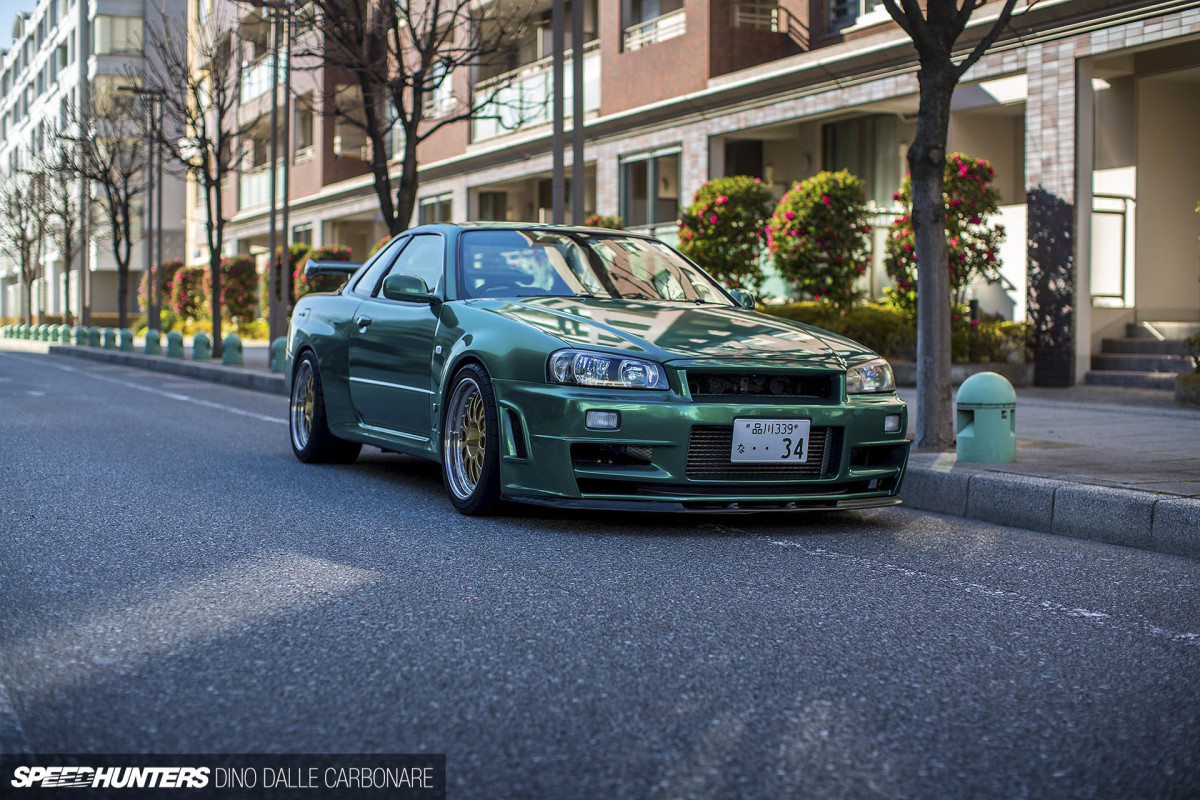 I'm beyond ecstatic at how everything has come out; it's like I've fallen in love with my 19-year-old car all over again!
Here are some more details of the wrap, hopefully showing you how it interacts with light. Vinyl wrap technology has certainly come a hell of a long way over the past years.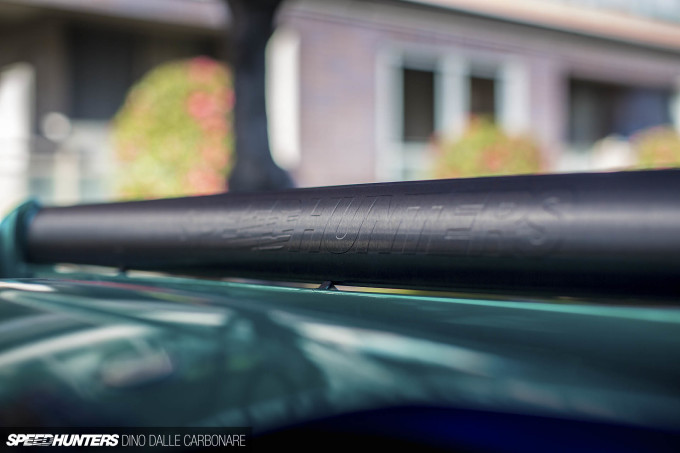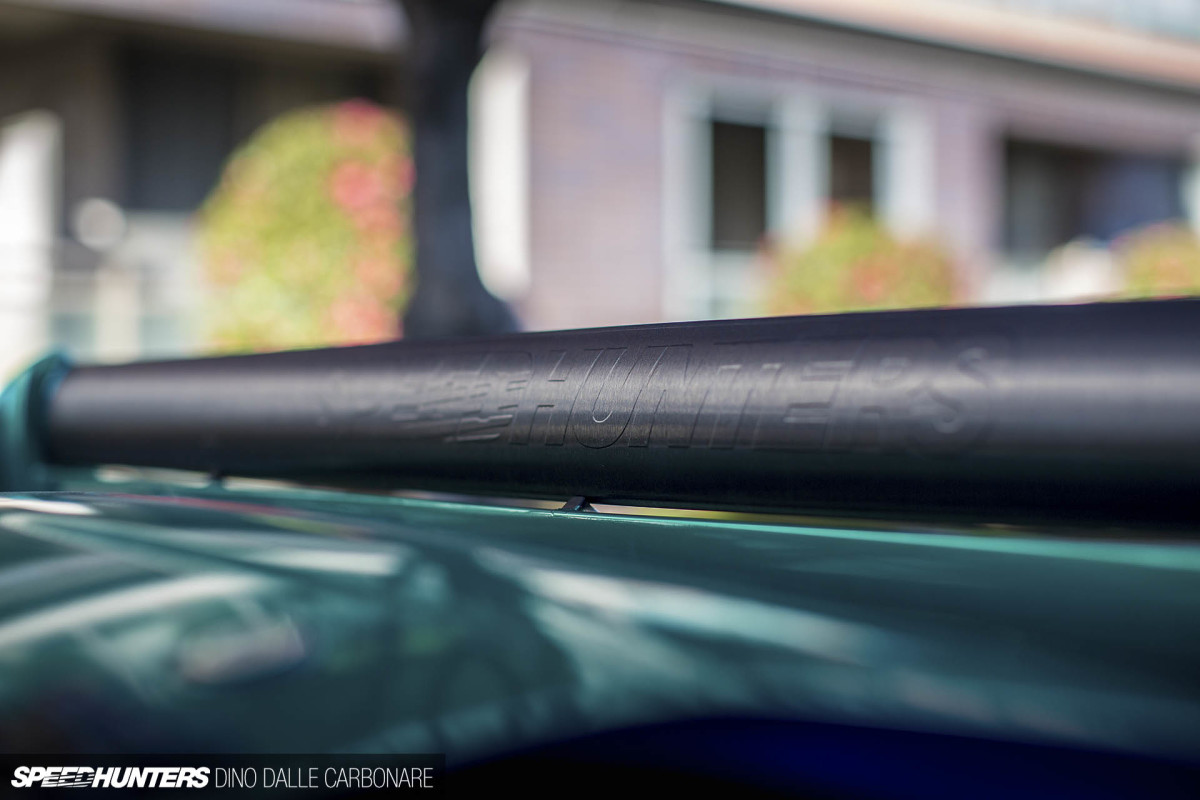 Let me know what you think of it all – I'm quite keen to hear everyone's opinions, good or bad. I'll just end by saying that it's so difficult to plan something in your head, hoping that it might work out, and then spend a month flat trying to make it all come together. I have to give a massive thank you to all parties involved, from the guys at Hashimoto Corporation, to Narita-san and Nakamura-san, as well as Kawanishi-san who managed to fit the brakes at such short notice.
If you're attending Tokyo Auto Salon this weekend, make sure you stop by the Hashimoto/Speedhunters booth for a look.
Dino Dalle Carbonare
Instagram: speedhunters_dino
dino@speedhunters.com
Additional Photos by Ron Celestine
Instagram: celestinephotography