'What's happening with Project GT-R?' 'When is the next update?' 'When will it be finished?'
These are just some of the questions I've been getting from people over the last year, if not longer. Well, you're all about to find out. It's a long story which I'll need to explain in a detailed series of posts, but I wanted to first give you a synthesized recap of what's been going on up until now, and what's happening in the next few days.
You see, Hashimoto Corporation, the company that distributes Speedhunters merchandise in Japan, approached me a few months back with an offer to showcase Project GT-R at the 2018 Tokyo Auto Salon. Would I ever! I jumped at the chance of a lifetime, but with it came with the responsibility of getting the car ready in time.
Like with all cars destined for a large international show, it was always going to be a rush to get everything ticked off the list, which is why I'm putting this post together on the floor of Kawanishi-ya in Yokohama. Here, the final parts are being fitted before I take the GT-R to Makuhari Messe for TAS setup on Thursday afternoon.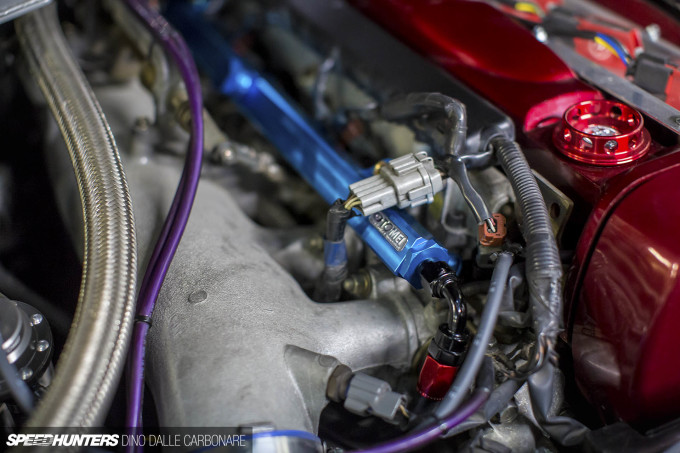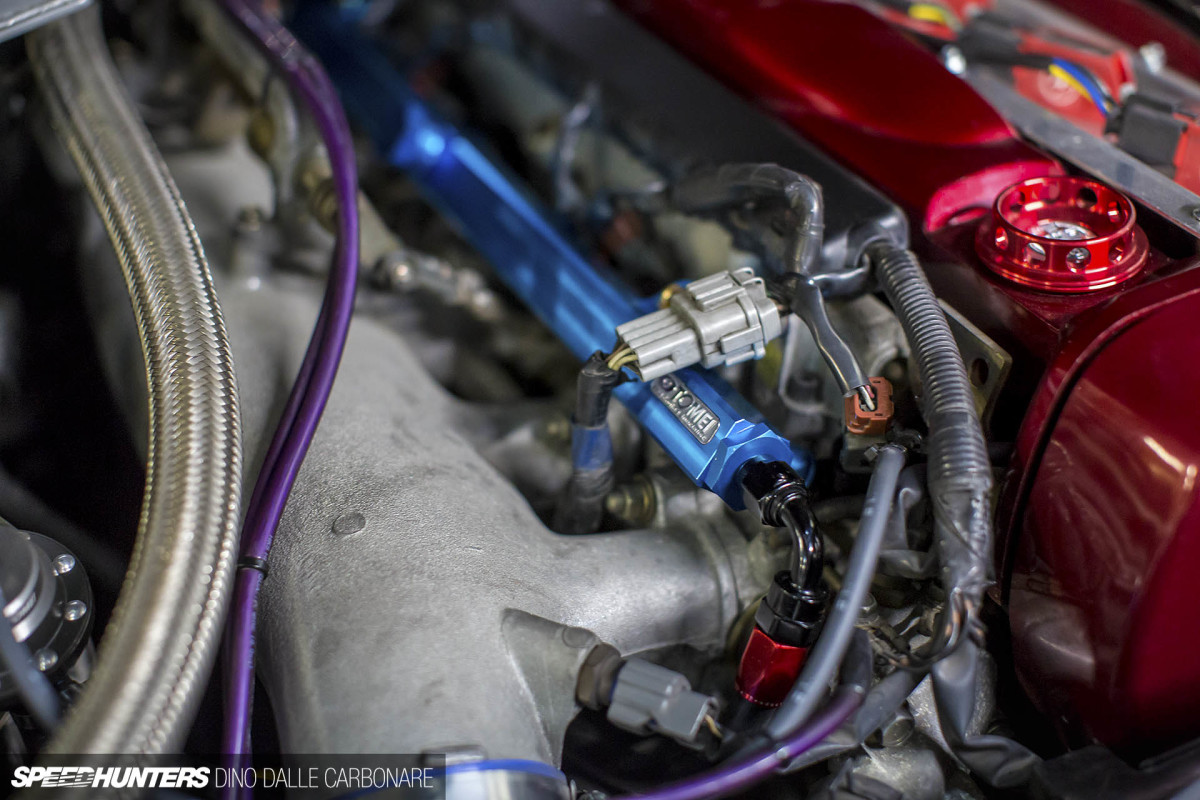 But let's rewind a little. There is a lot I need to bring you all up to speed on, starting with the engine, which is about 80% complete – at least for this first step of mods. The RB26DETT is now running a pair of HKS GT turbos, and with that modification came the need to upgrade the fuel system, something that was done back in summer.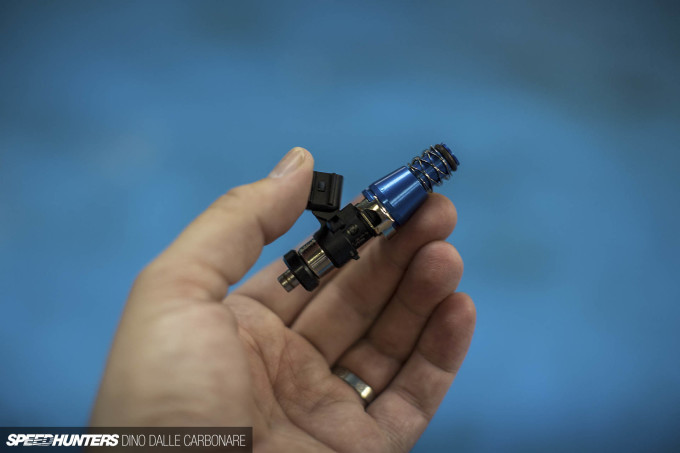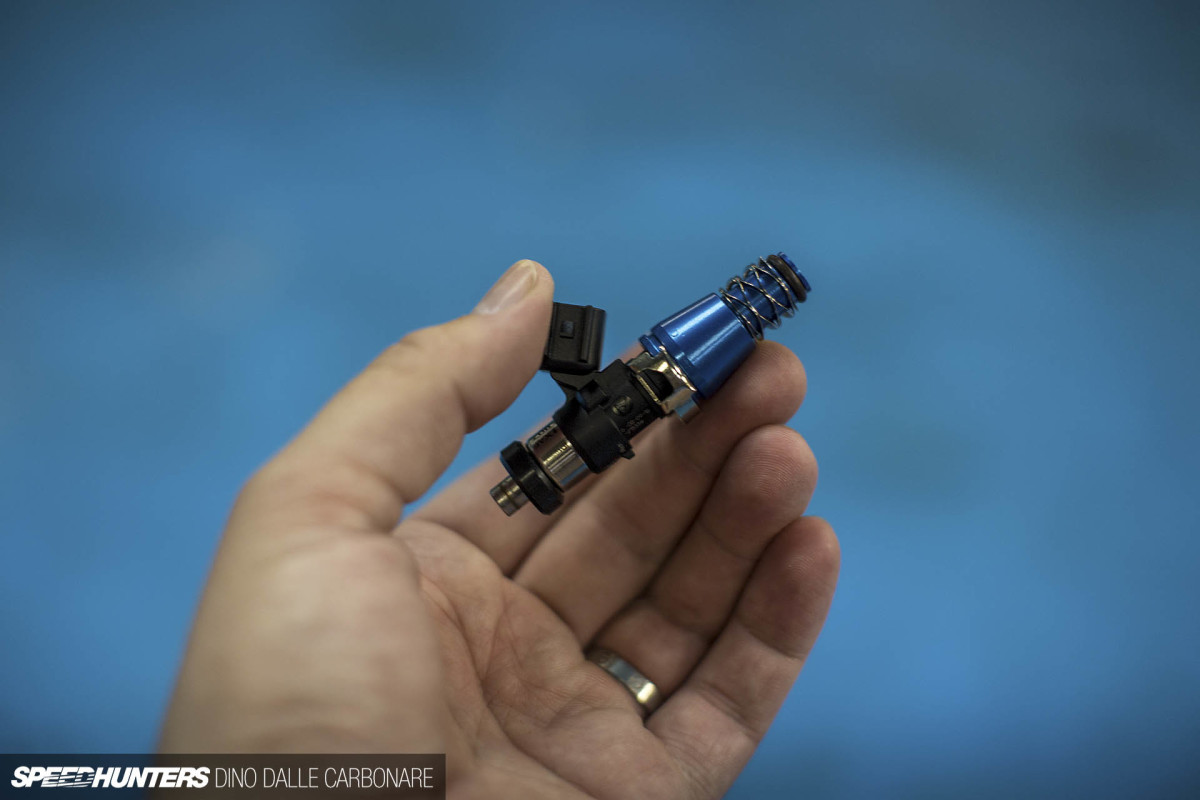 Not wanting to do this step twice, I went straight to a large-capacity fuel injector setup with six Bosch Motorsport ID1050x injectors from Injector Dynamics.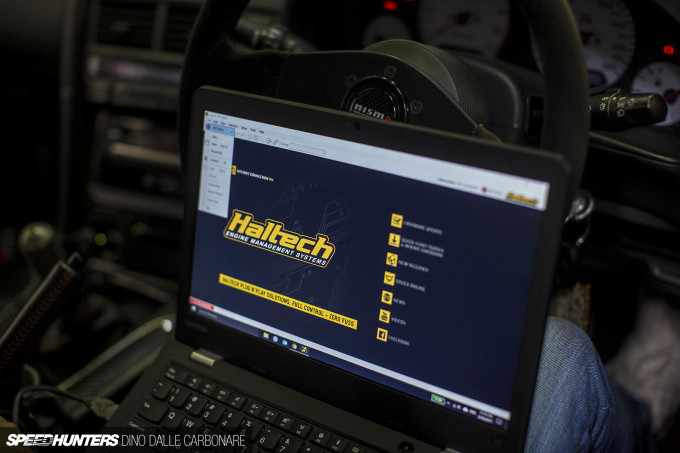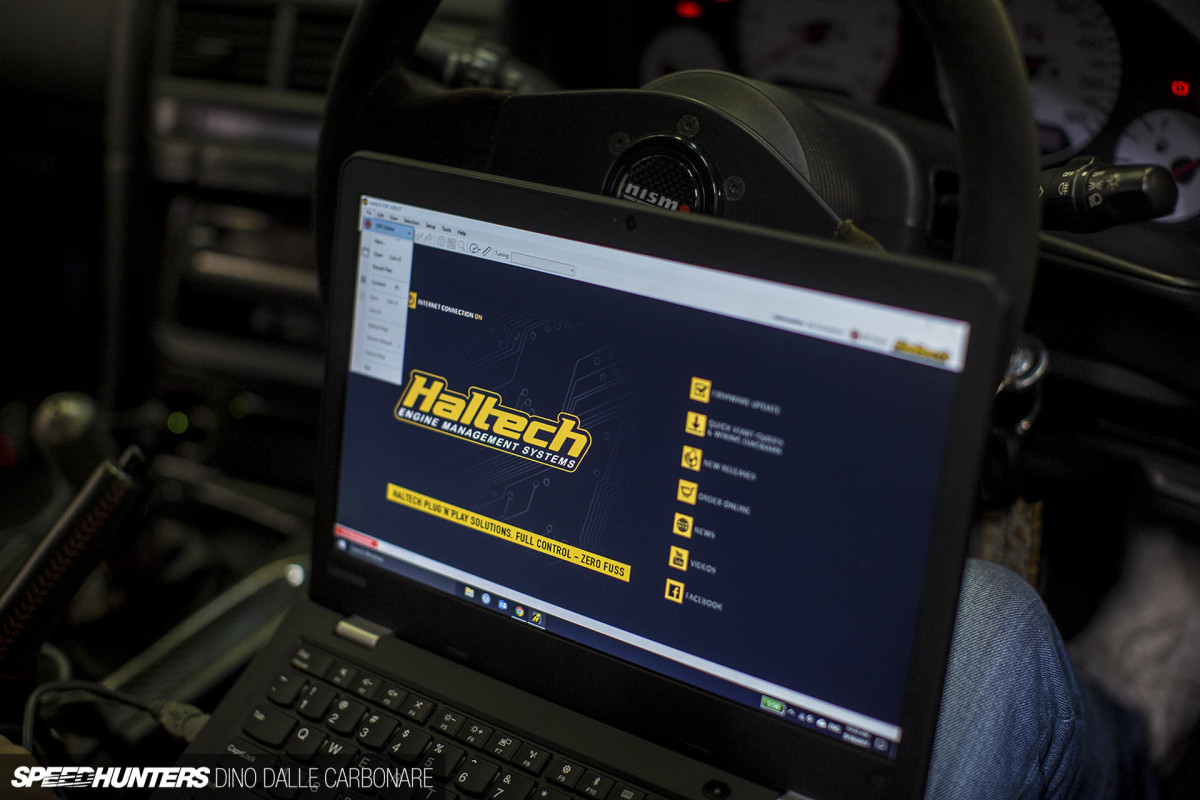 The car then went on the dyno at Do-Luck so Italian engine mapper Ennio Rancati could set up the Haltech Elite 2500 to a point where I'd at least be able to drive it around to other shops. Limited to 4,000rpm and with a fuel cut in place if boost rises above 0.75bar (11psi), it's far from a proper tune, and that's because there are still Tomei Poncams and a Tomei 1.2mm metal head gasket to go in. The latter will allow me to raise boost to around 1.2bar (17.6psi) and shoot for 500-550hp.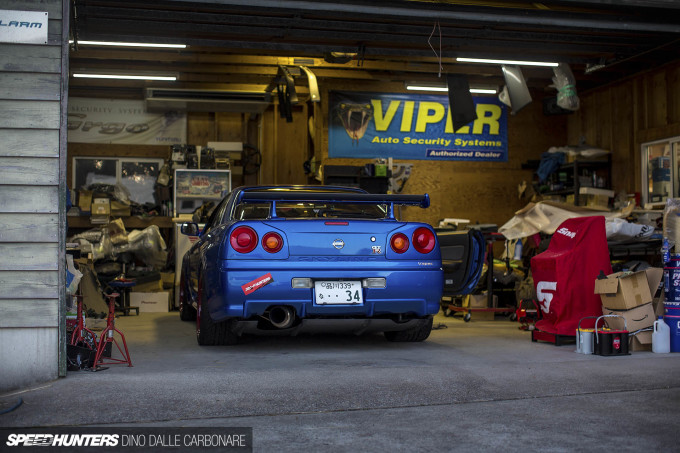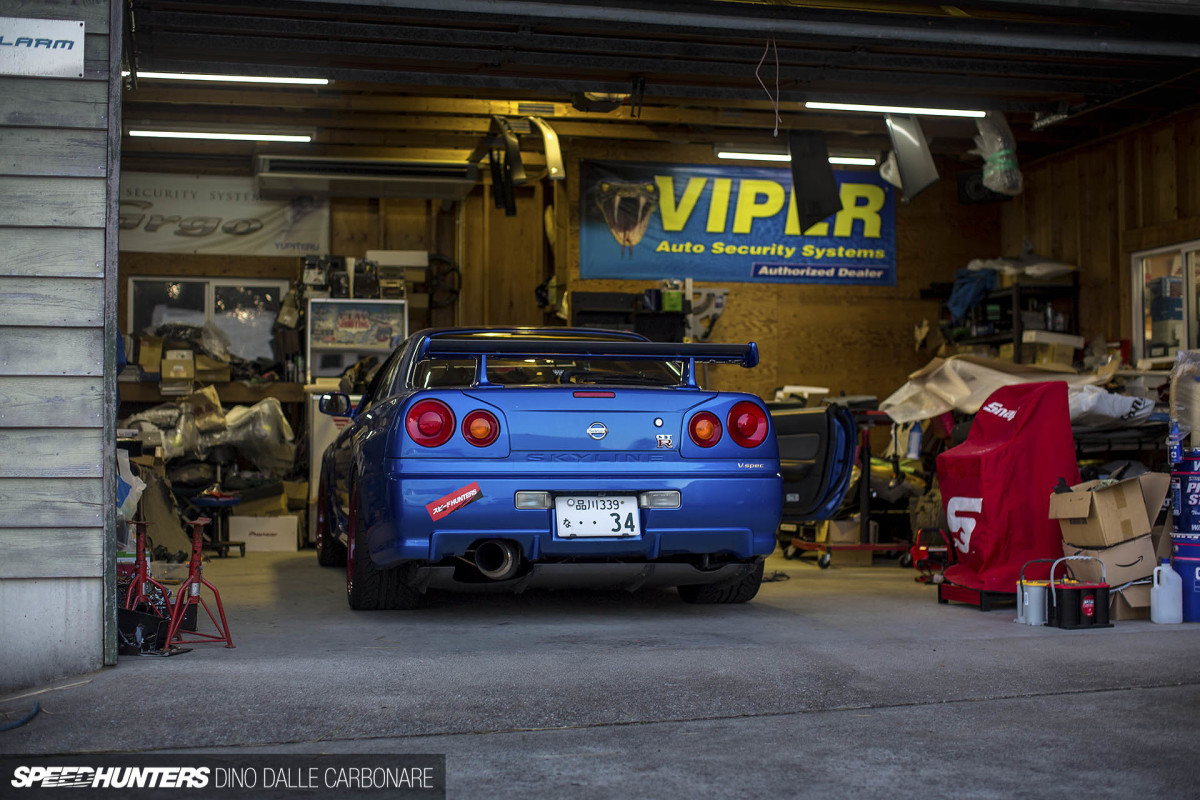 The car then stayed with Nakamura-san at Worx Auto Alarm who took care of a bunch of smaller things which I'll go into more detail about in the near future.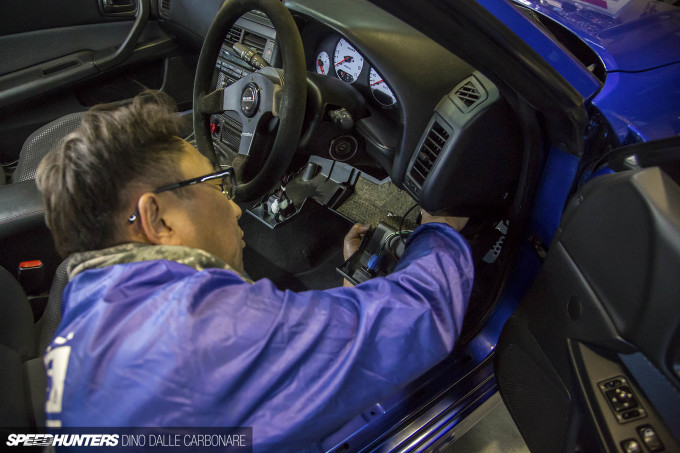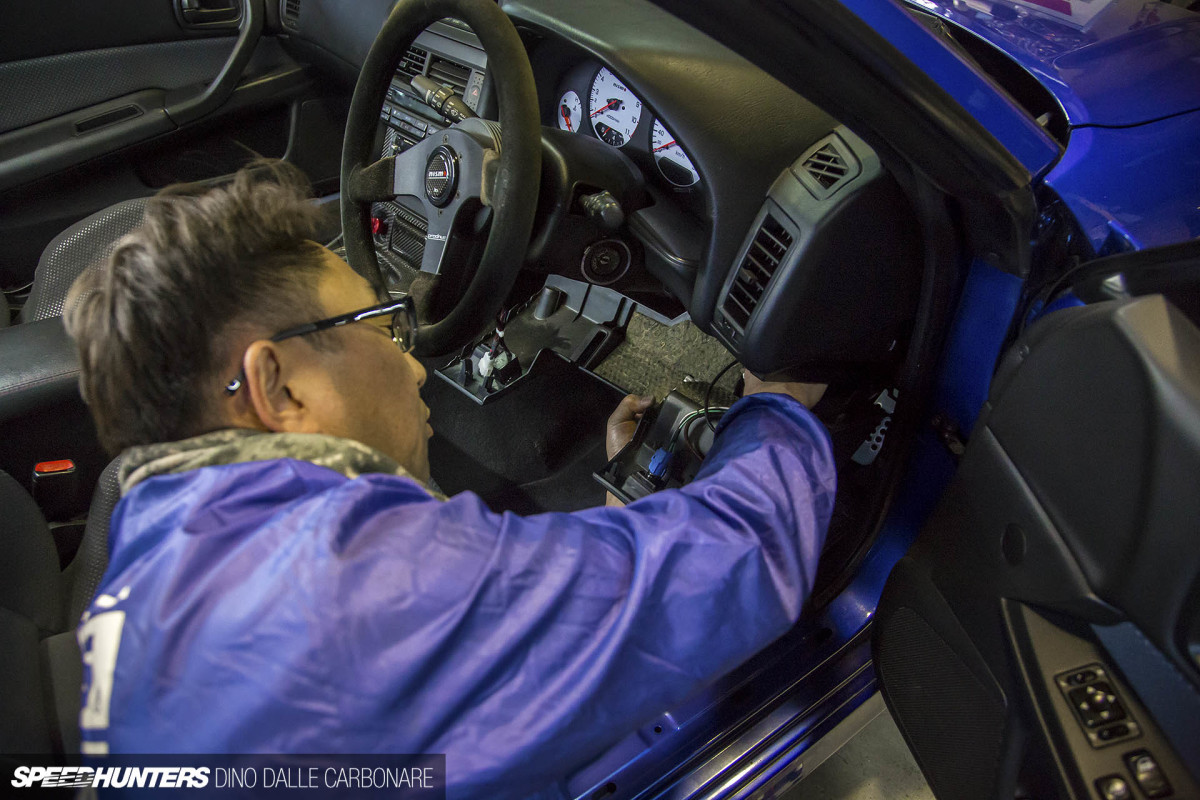 This included fitting the button for the KW HLS (Hydraulic Lift System) and replacing the MFD LCD screen with a fresh unit from R34 GTR MFD in Hong Kong, as well as some other touches you guys will definitely like. Or at least I hope you will!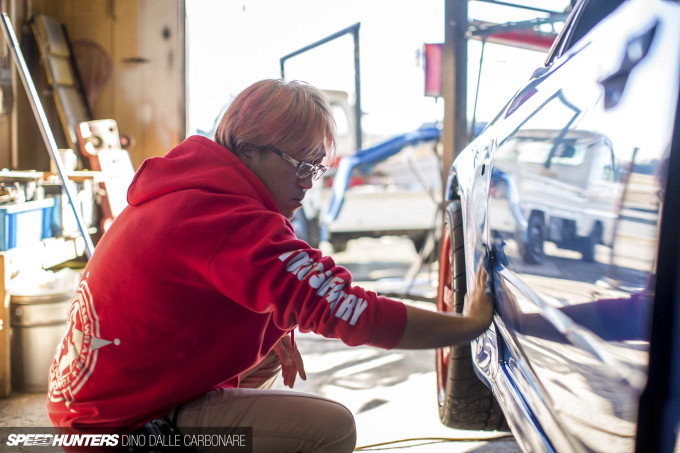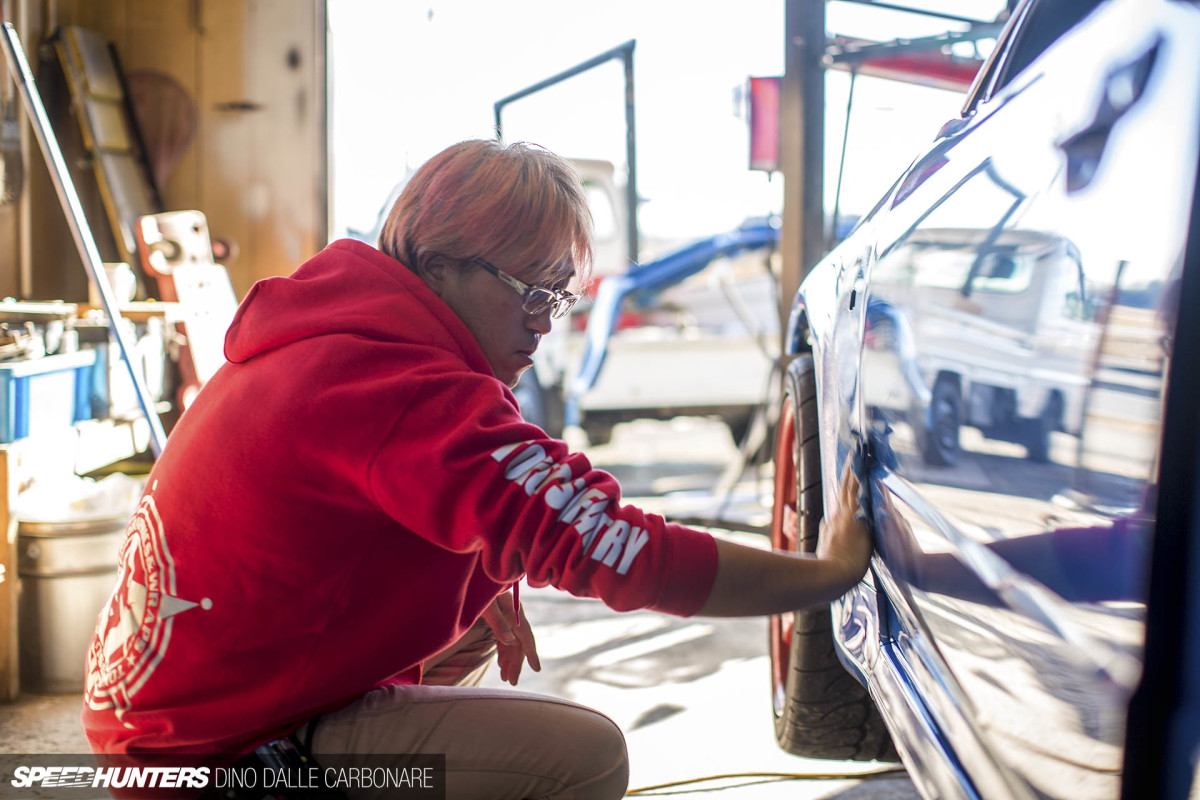 Then came the need and want to make sure the GT-R stood out at the biggest show on Japan's aftermarket tuning and styling calendar. Because as cool as a Bayside Blue BNR34 is in Japan, there are a ton of them around and it just wouldn't stop people in their tracks.
That's where Narita-san from Tokonatsu Factory and Nakamura-san of NuklHeads came to my rescue. With just two weeks before TAS, they told me to bring the car up to Nakamura's shop in Utsunomiya where it could be wrapped in a color that would ensure a statement was made. I don't want to give away what color the car actually is until it's all complete and sitting on the booth – hence why the opening shot of this post is in black and white – but hopefully it's all going to be worth it.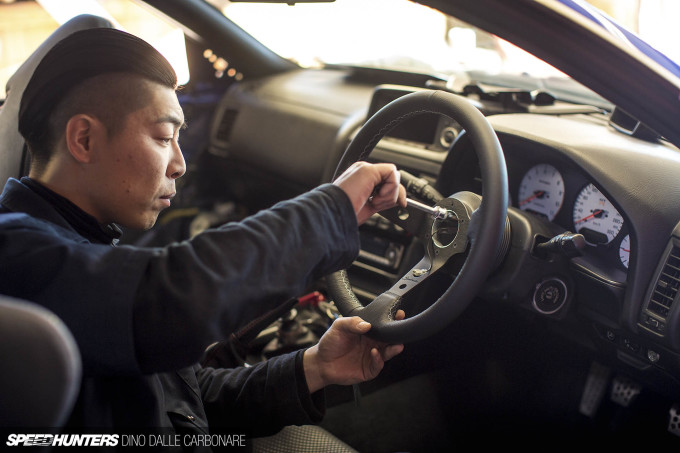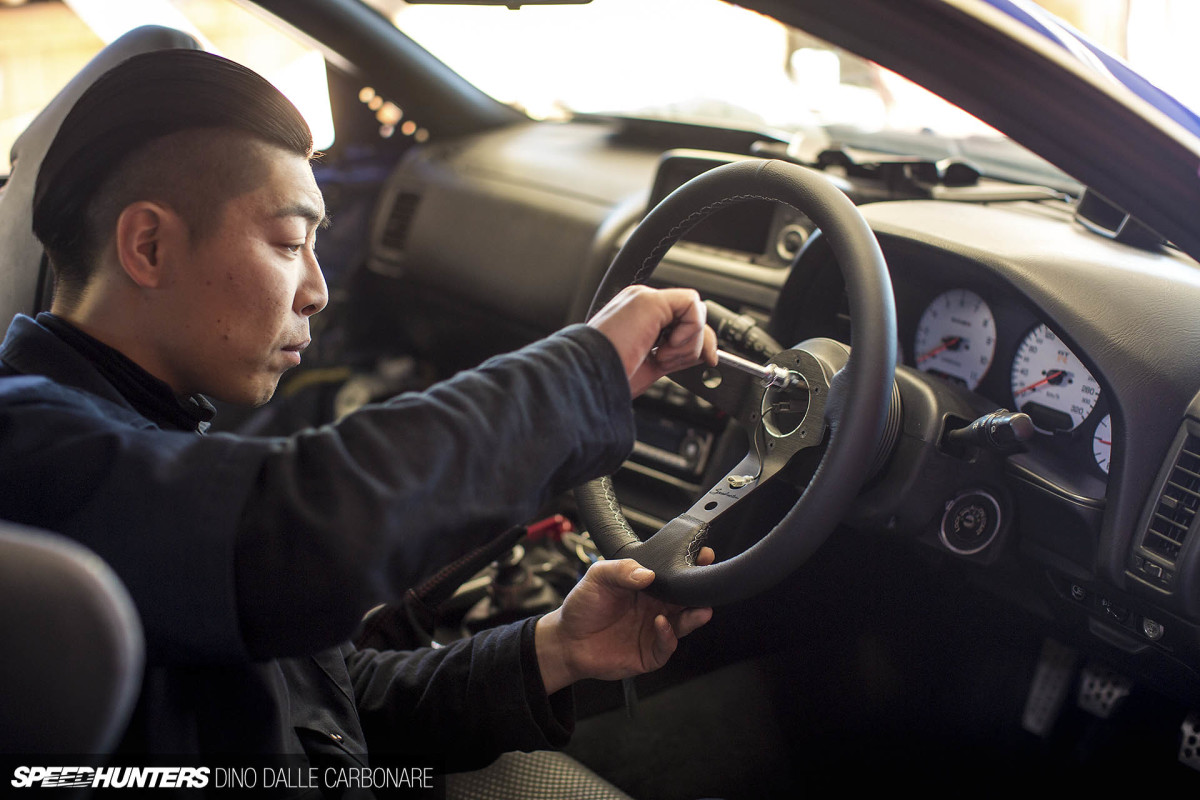 These two guys and a crew of friends worked through New Year to strip the car down and prep it for the wrap, and I was blown away by their level of dedication. It's because of their hard work that the car looks so cool right now. Nakamura-san, who is a pro painter by trader, took every single paint chip, scratch and dent out as it would show through the wrap, but here he is fitting the Renown x Speedhunters steering wheel I've been holding onto for a while. I figured a debut at TAS would be just the right time to show it off.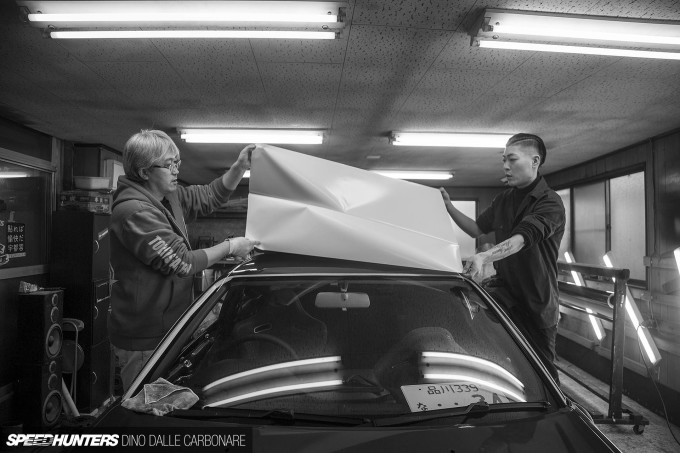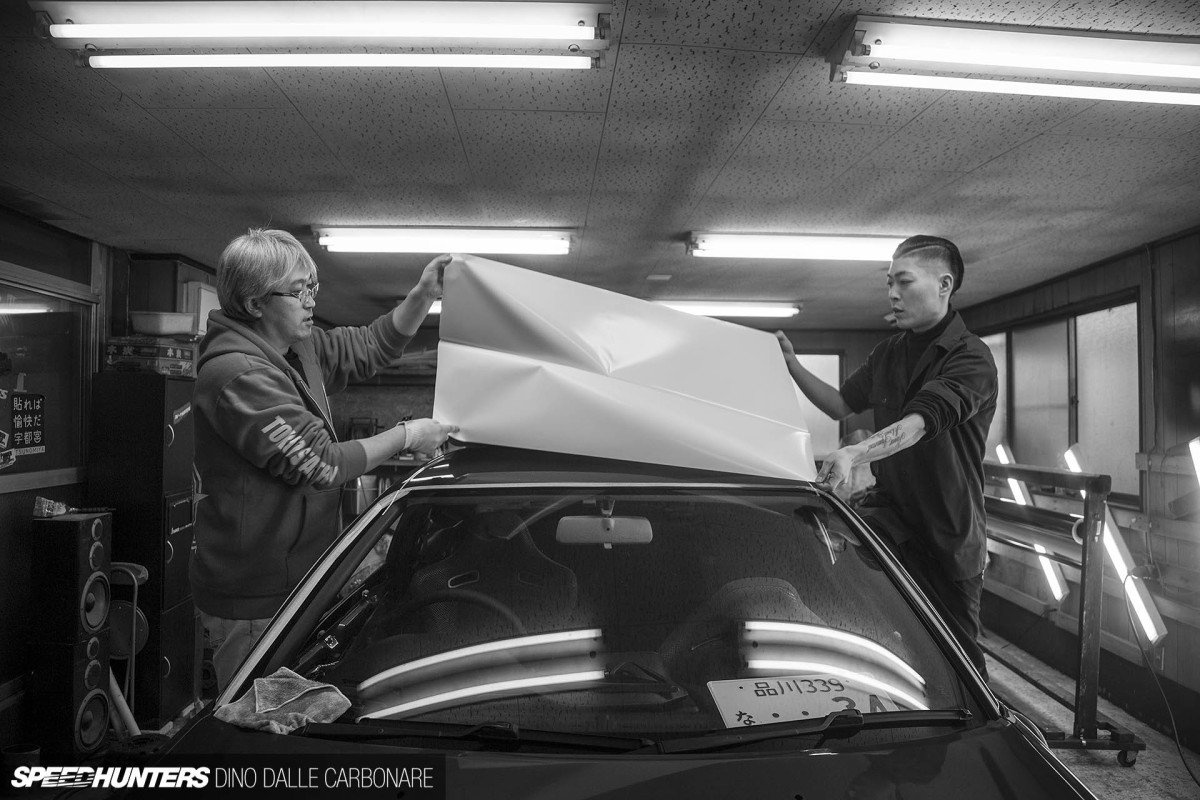 After three days of prep work and serious cleaning, de-waxing and de-greasing, it all began.
I was able to head up to Utsunomiya, about 200km north of Tokyo, twice to see these guys in action and learn all about the ever-evolving art of wrapping, which until a week ago I knew very little about. I then had to fly to Malaysia for the RWB Museum opening in Johor Bahru (stay tuned for coverage), but every day I would get a batch of images of the progress being made, including detail shots of how they tackled issues with wrapping the overly-angular shape of the R34.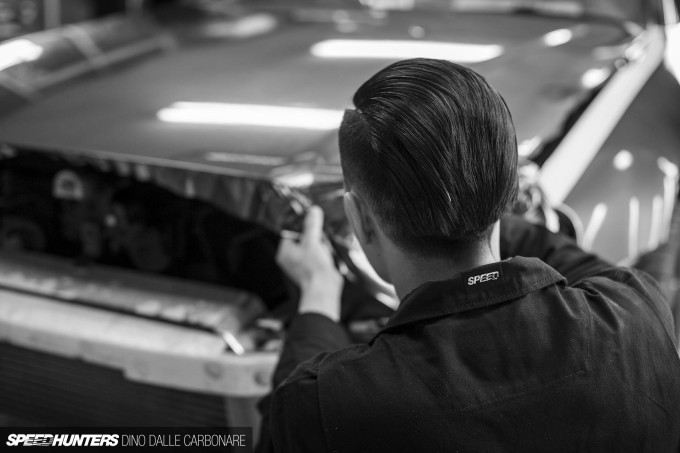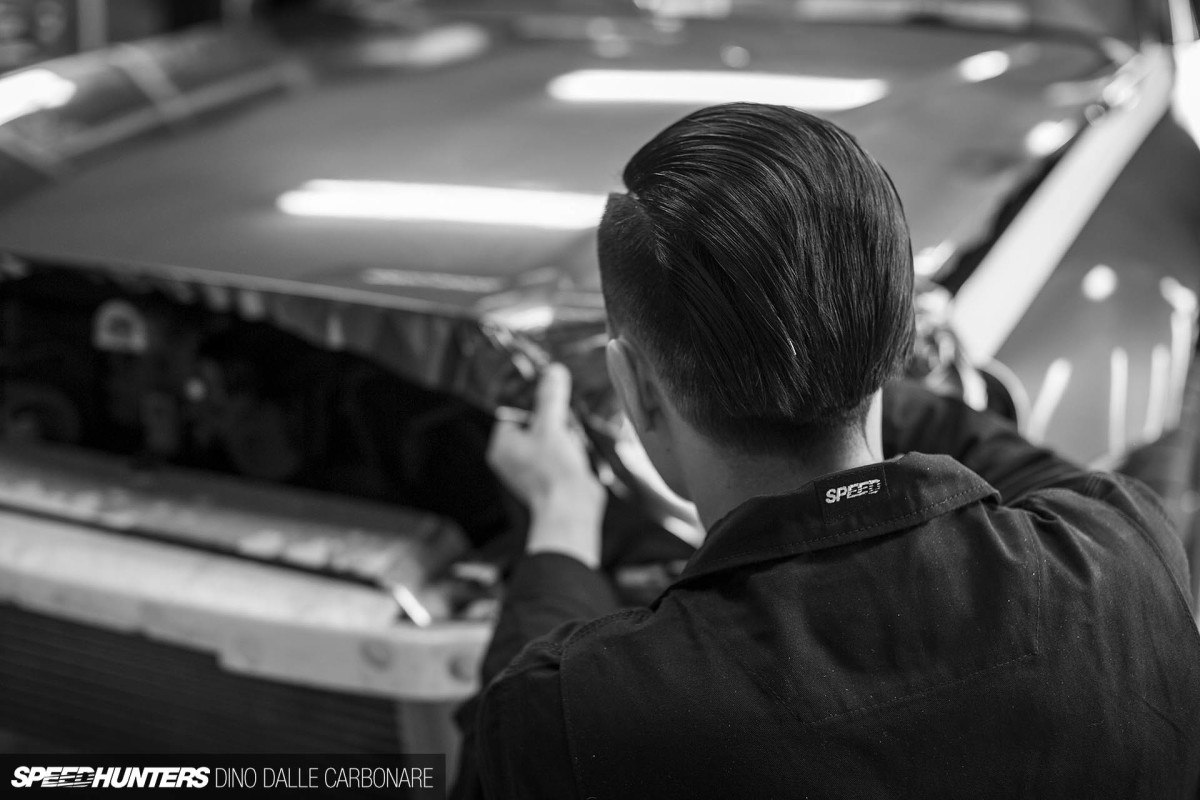 Yes, that is a Speedhunters 'Speed' insignia on a set of overalls – this very special Earnest x Speedhunters collaboration will be dropping soon…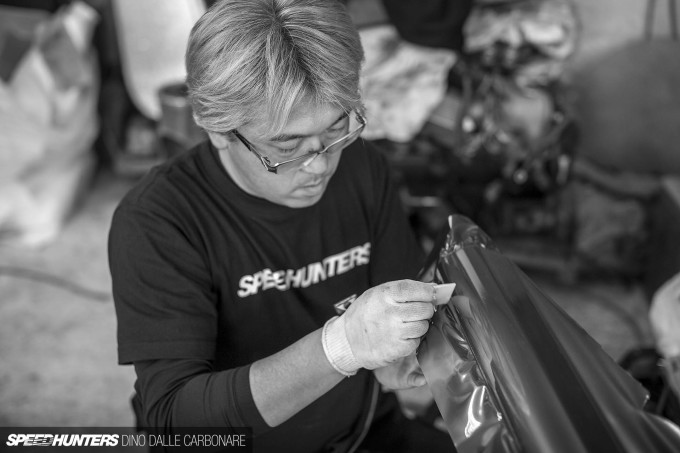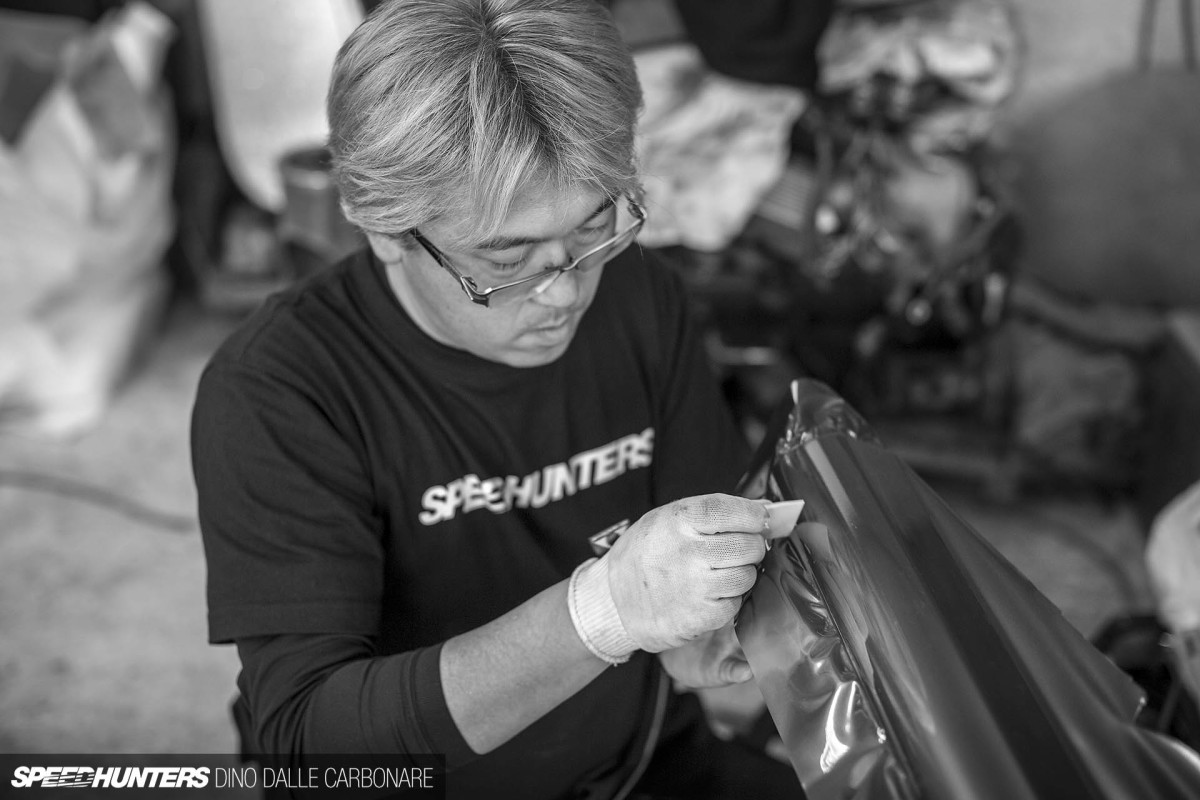 Narita-san is no stranger to Speedhunters; we met him years back while he was drifting his R33 GT-R at Nikko. He's got a nice collection of cool cars which I'll be back to shoot in the next few months, including a Z06 Corvette which likes to light up the rear tires in third gear.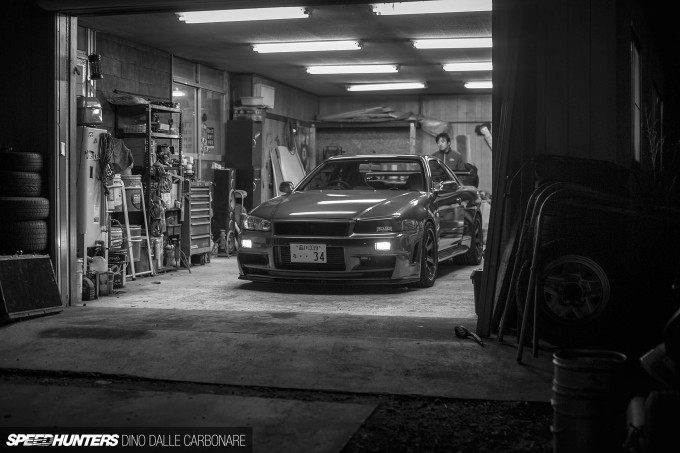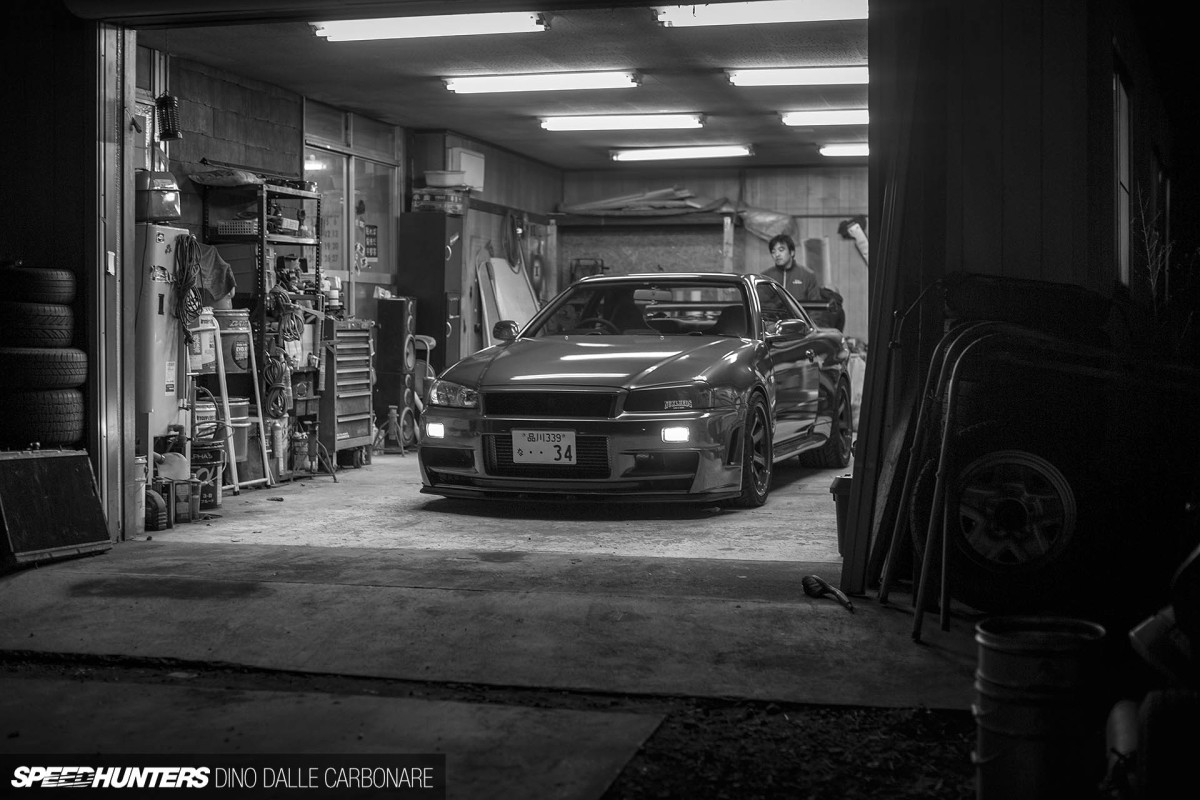 After landing back at Narita Airport on Tuesday afternoon, I dropped off my bags at home and jumped on the train up to Utsunomiya to pick up the finished and fully-wrapped car. I took it easy on the return trip so as not to risk even one single stone chip, and finally made it back at 2:00am.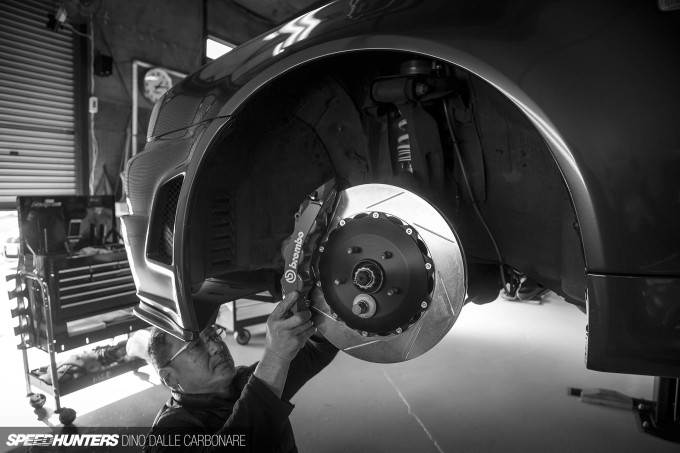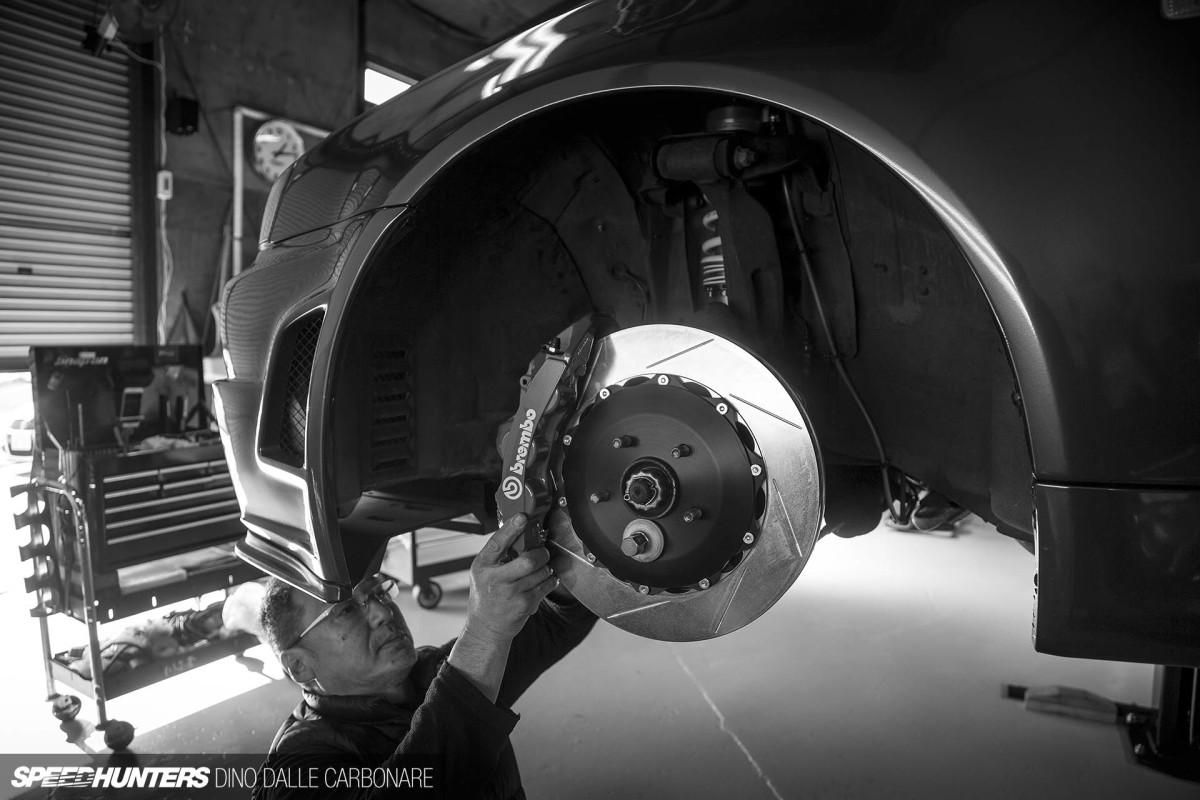 The road to TAS continued today as I met Kawanishi-san at his shop in Yokohama at 10:00am where he's been fitting a mod that's extremely well overdue on Project GT-R: a serious brake package. We'll be working right through the day getting all four corners upgraded, and then fitting up a special set of wheels for the show that should be dropped off any moment now.
Wish me luck!
Dino Dalle Carbonare
Instagram: speedhunters_dino
dino@speedhunters.com