The Truth
What on earth just happened?
It feels like just the other day that I was getting sunburned at events, but now it's so cold I can barely get my fingers to turn the polarizer on my lenses. Time sure has a tendency to fly by at a ridiculously fast rate. But that's a good thing, because December is the month that my favourite season in Japan gets started.
You all know what I'm talking about, the proper hunters of speed will be out and about across the country at circuits like Tsukuba, attempting to shave precious seconds off their best lap times. Tuning shops and amateurs alike have until the end of February to extract the utmost performance from their cars, and as ever the Tsukuba Super Battle is the one that kicks the whole season off.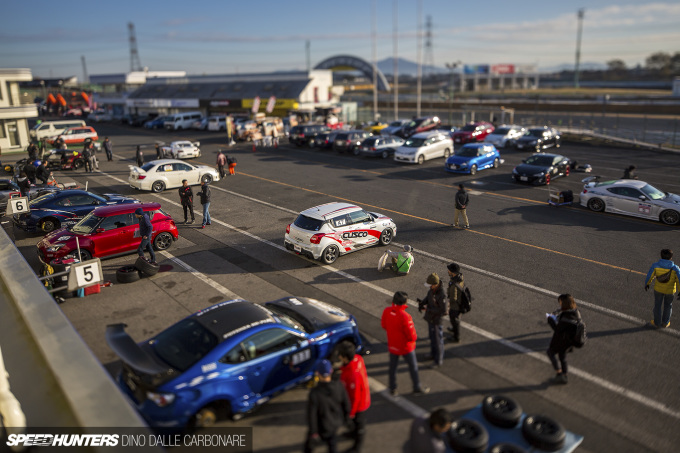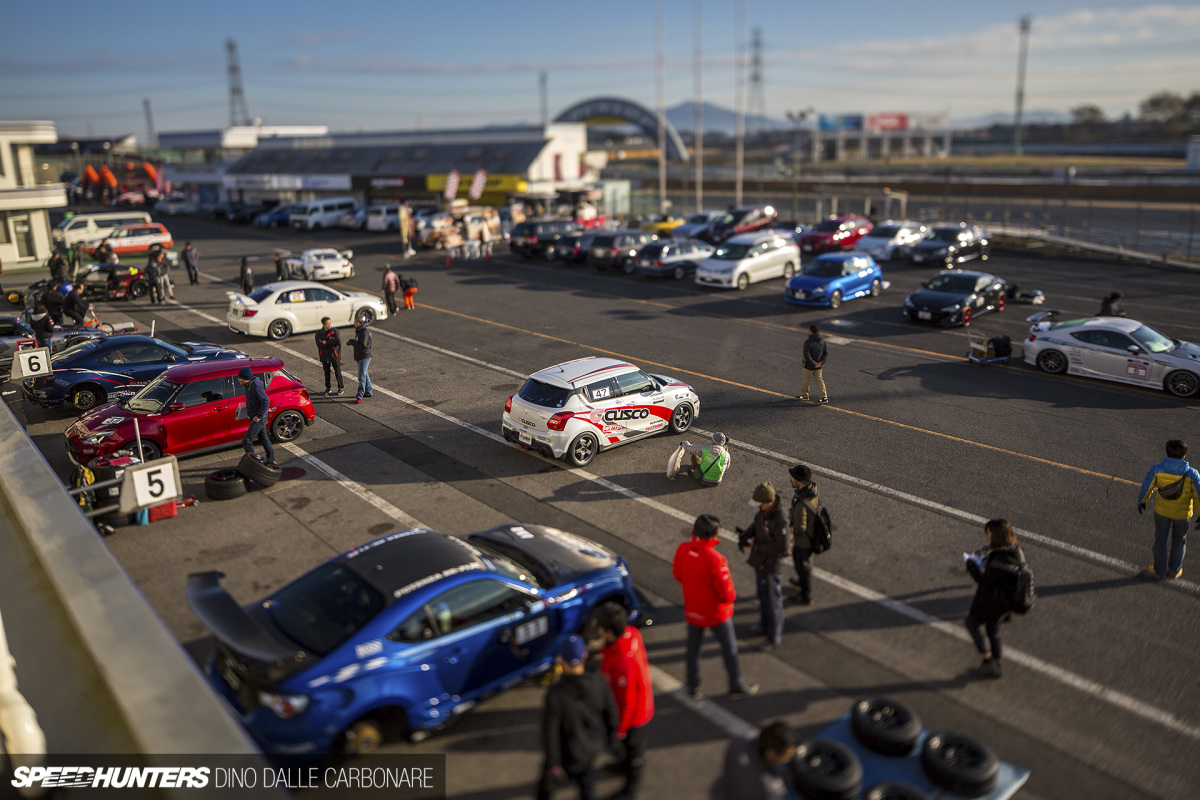 It's the longest running time attack event out there, an for years it's been evolving and changing. Okay, I'm sugar coating it; I'll get straight to the point…
The event has progressively shrunk to a fraction of what it used to be back in the day, and that's not a good thing. It's also not a necessarily bad thing either, but let me elaborate on that.
You see, like anything, the tuning market has evolved pretty much along the same lines that the Japanese domestic market has. I keep going on about how there are no longer interesting cars out there, which is somewhat true as there are definitely less, but the main aspect is that tuners no longer see the reason to blow a ton of money and time in developing a crazy demo car that can challenge lap time records. The envelope has been pushed so far that it's caused a split.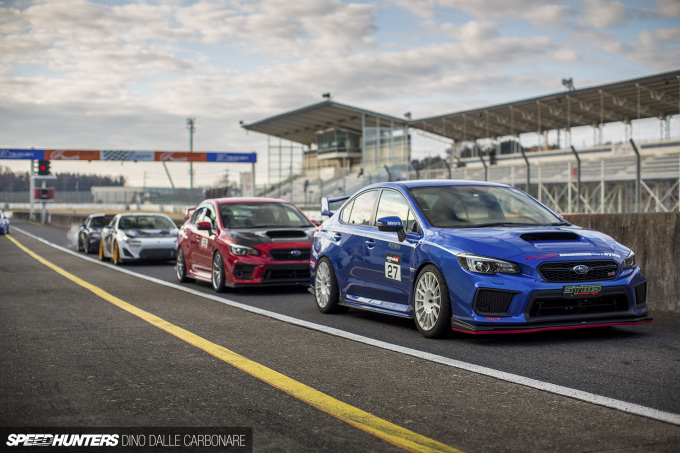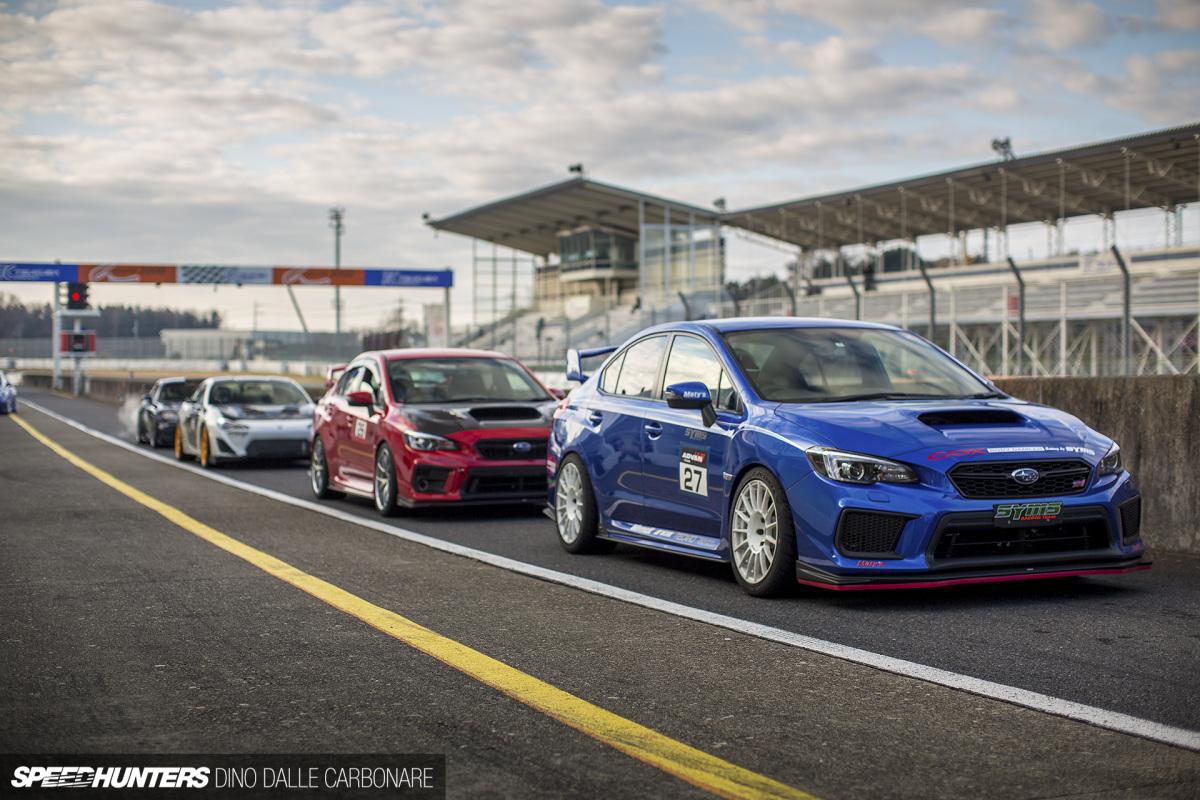 There are still plenty of teams attempting to go fast and under the mid-50 second barrier at Tsukuba, but it's given space for other businesses to reinforce the idea that you don't need to be a millionaire to have fun setting lap times. So as the bigger players in Japan move towards events like Attack and the Option Fuji Super Lap, Rev Speed magazine has been left to cater to the lovers of track driving and the more affordable side of the car spectrum.
This coincidentally aligns perfectly with their reader base who are the type of otaku car guys that buy the mag to get insights into driving techniques and advice on setting up suspension geometry and interpreting telemetry. Let's also not forget that Option and Rev Speed (as well as Doriten, G-Works, Motorhead, GenroQ and the Video Option series) all belong to the same publisher – San-ei Shobo – which is trying to split up its audience to get its business models to work properly.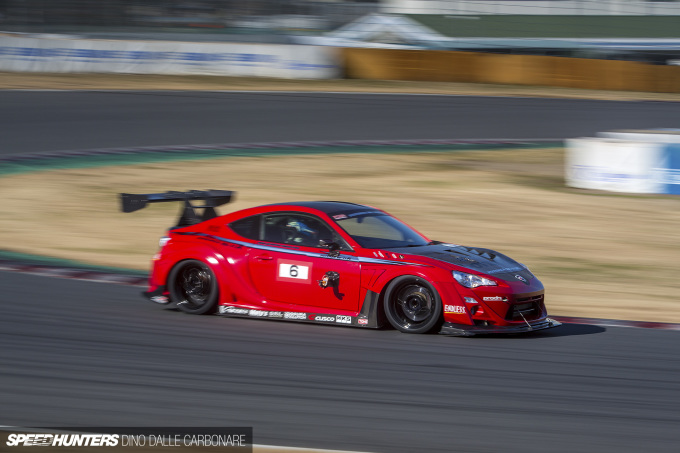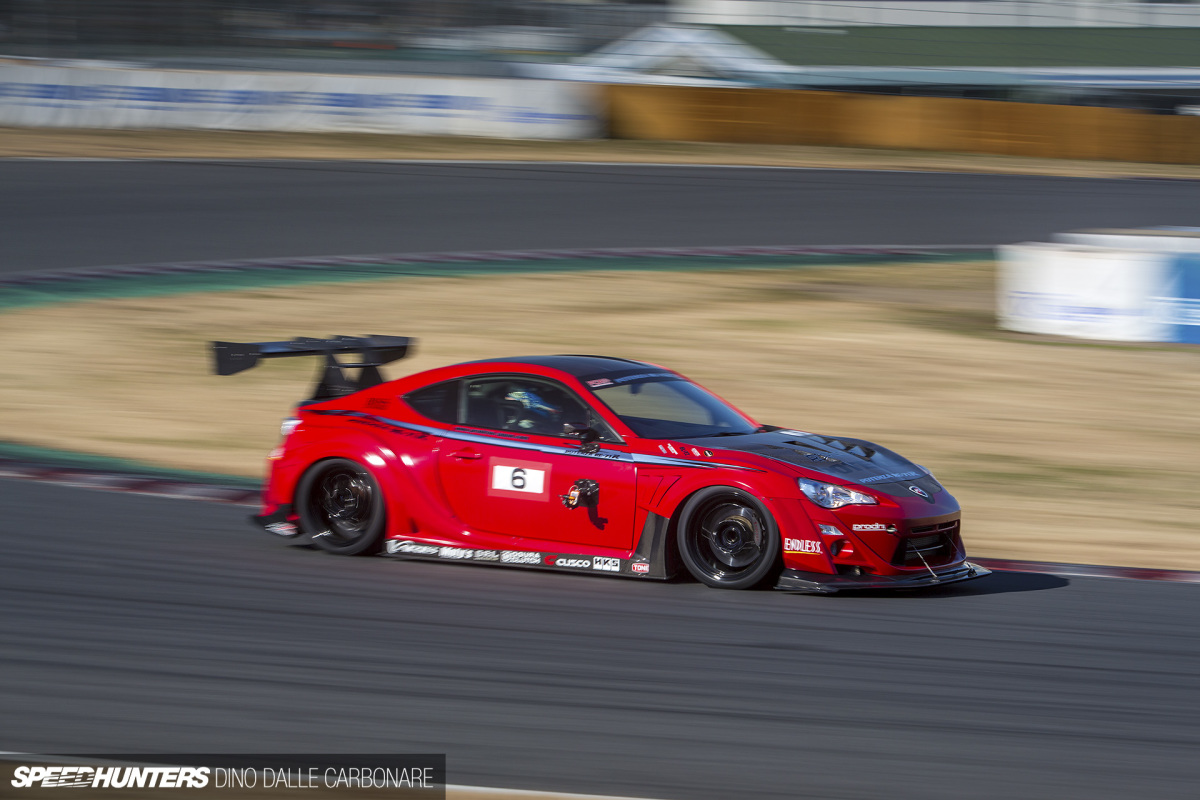 That said, there is still a lot of exciting stuff happening at Super Battle; I just wanted you guys to understand how things are before diving into this opening post.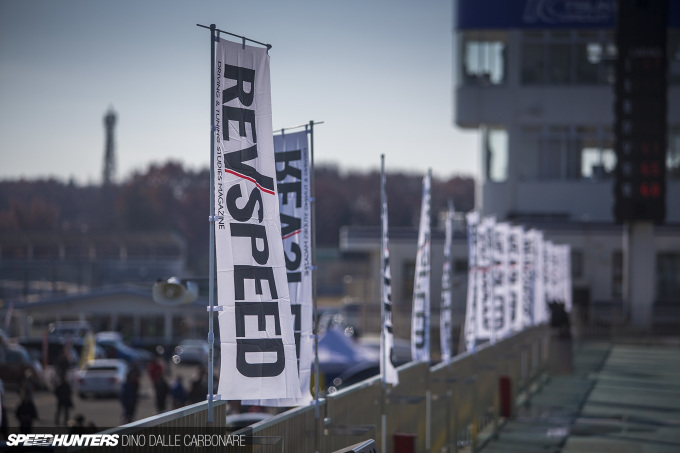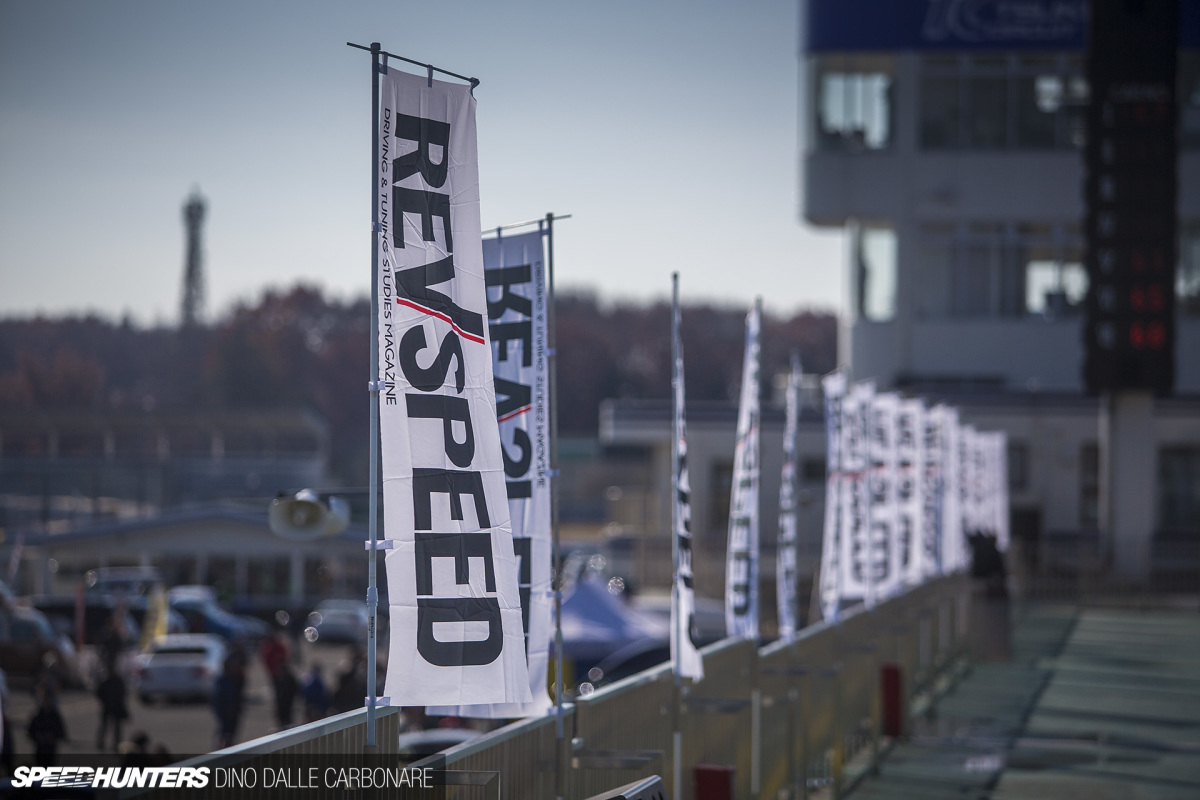 By the end of my coverage and the various spotlights I have lined up, you'll understand exactly what it's all about these days. Like how Rev Speed has evolved to cater to the amazing variety there is in the Japanese car scene, rather than just focusing on the craziest record breakers.
So while the Super Battle turnout was probably the smallest I've ever seen in the decade-plus I've been covering it, the mix of cars is what kept the excitement flowing. That said, I couldn't help but feel a wave of sadness hit me upon discovering that there was only one GT-R present in the paddock; the Rush Factory R35. I shed a tear and quickly moved along.
Same, But Different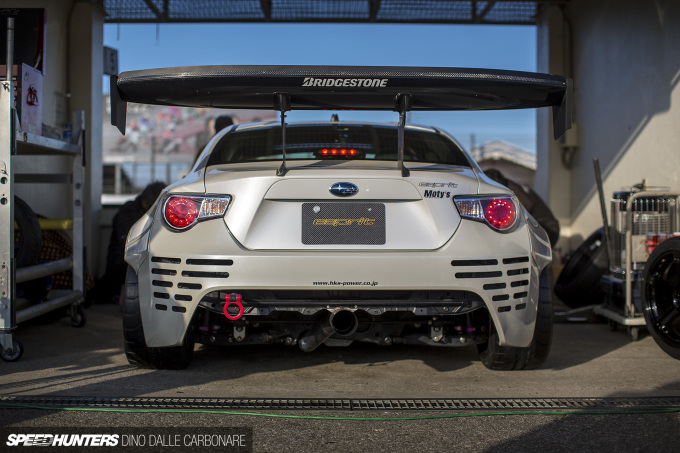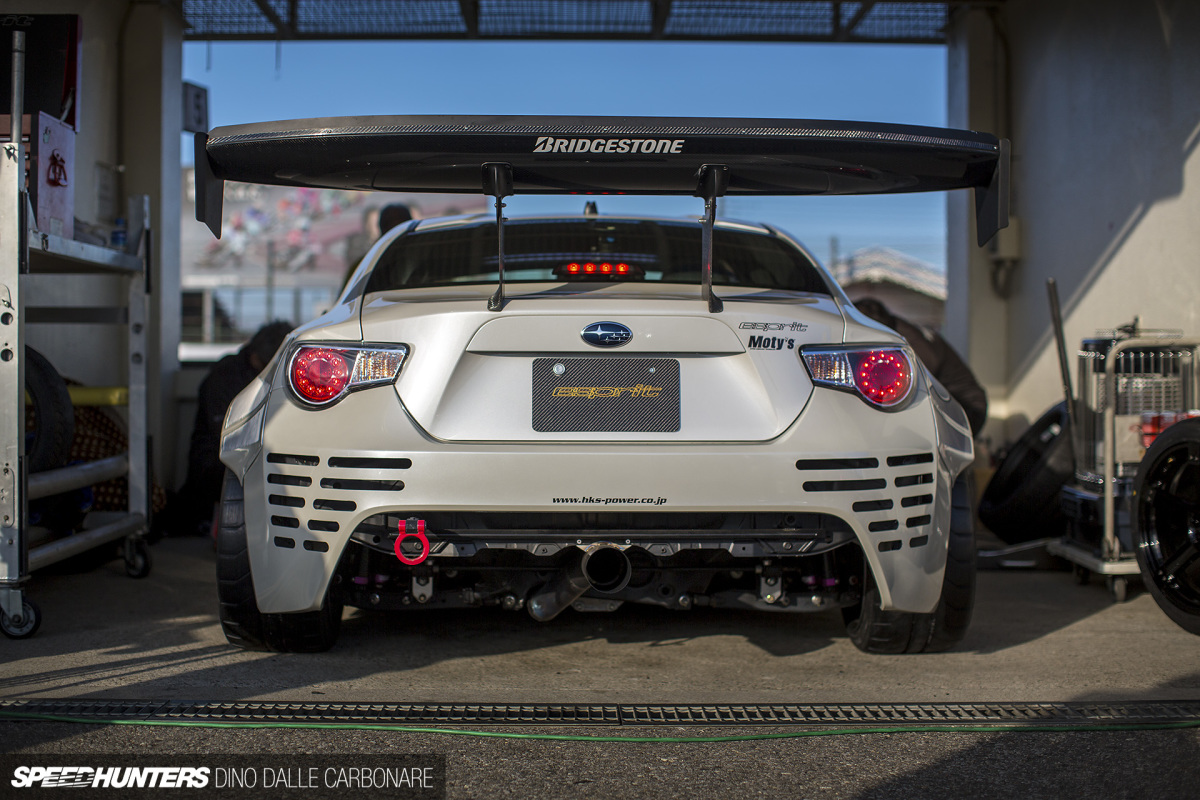 I then spotted the Esprit 86 and I felt happy again, seeing that proper tuning is still very much alive. This turbocharged ZN6 managed a 58.1-second lap, which is quite nuts if you think about how much slower a stock version is – probably 10 seconds slower, or more. Looking at this car reminded me that the HKS GTS800 is still out there, and coincidentally was at Tsukuba the day prior for testing and filming for an upcoming promo video. I really do wonder how close that car will get to the Tsukuba record…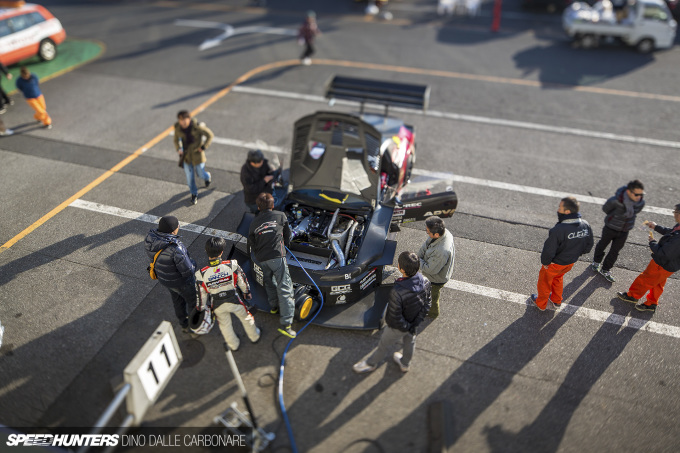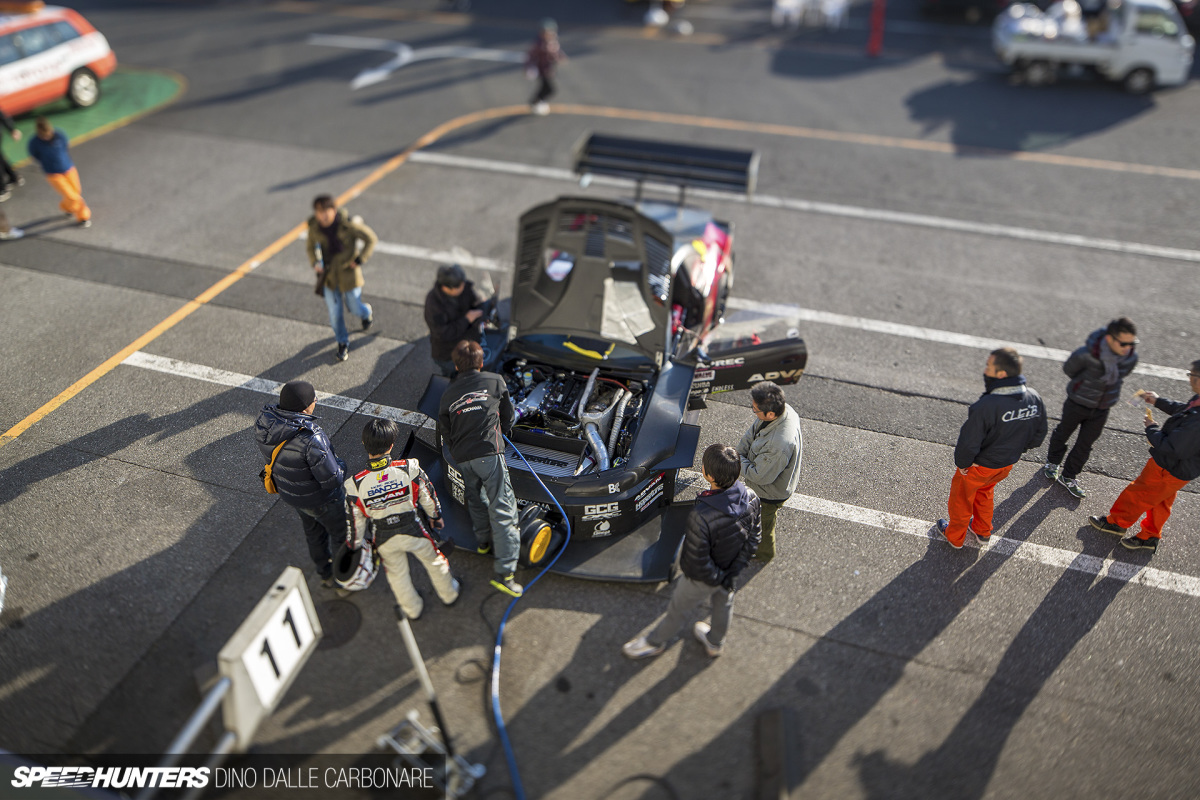 Speaking of which, here's Under Suzuki with a car that needs no introduction.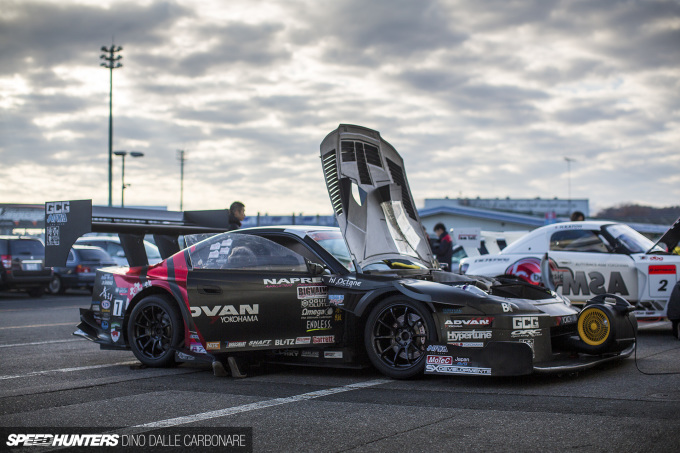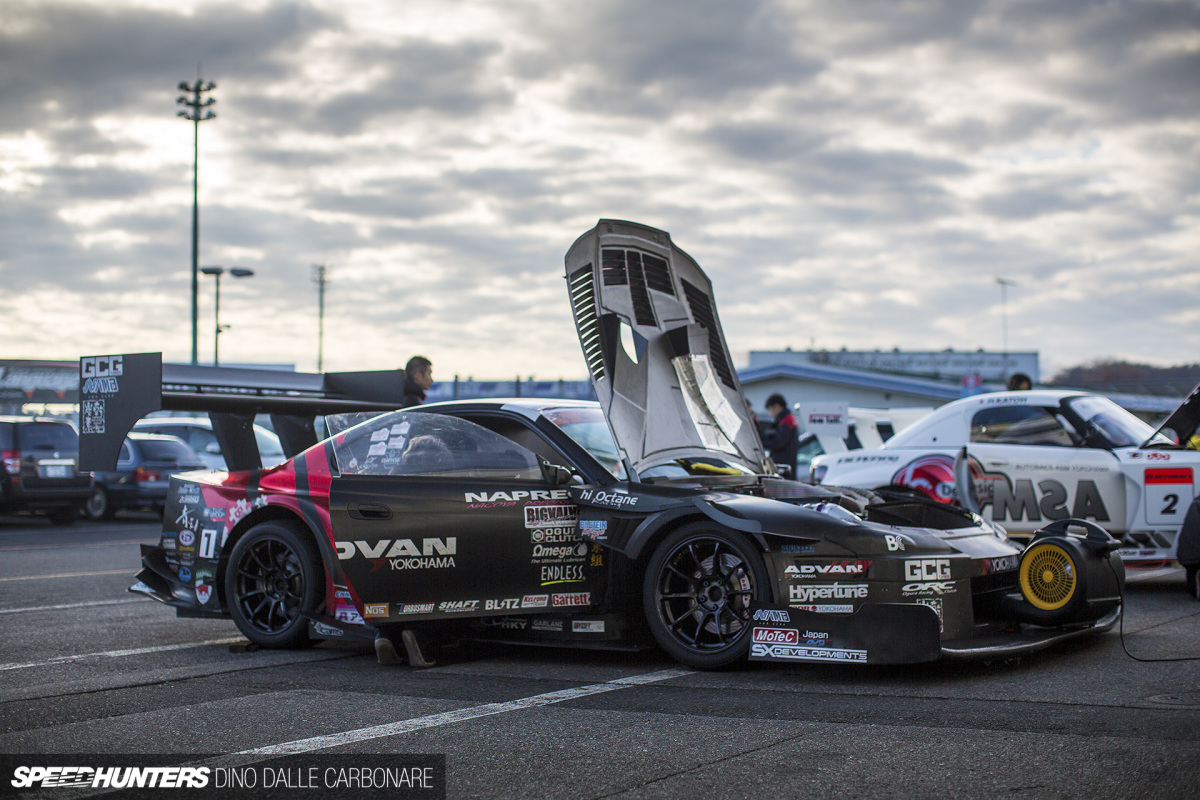 Suzuki-san is an absolute machine; he's been constantly chipping away at his time for a decade now, and as I was walking into the paddock on this particular morning he managed to set a new personal best and track record lap time of 50.366. It's an incredible achievement, but chatting to him after the event I could sense a bit of disappointment.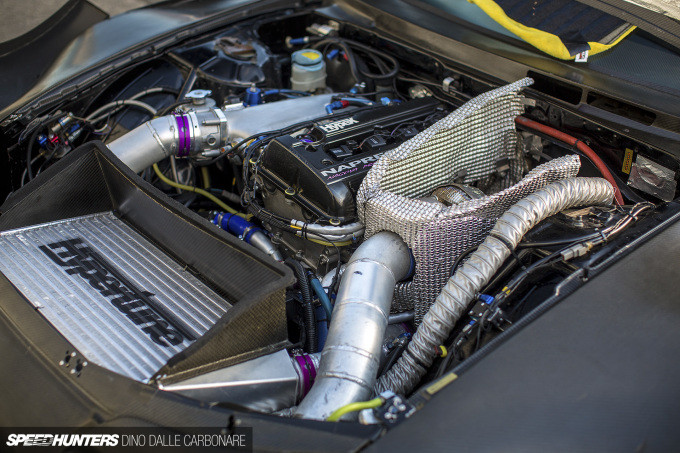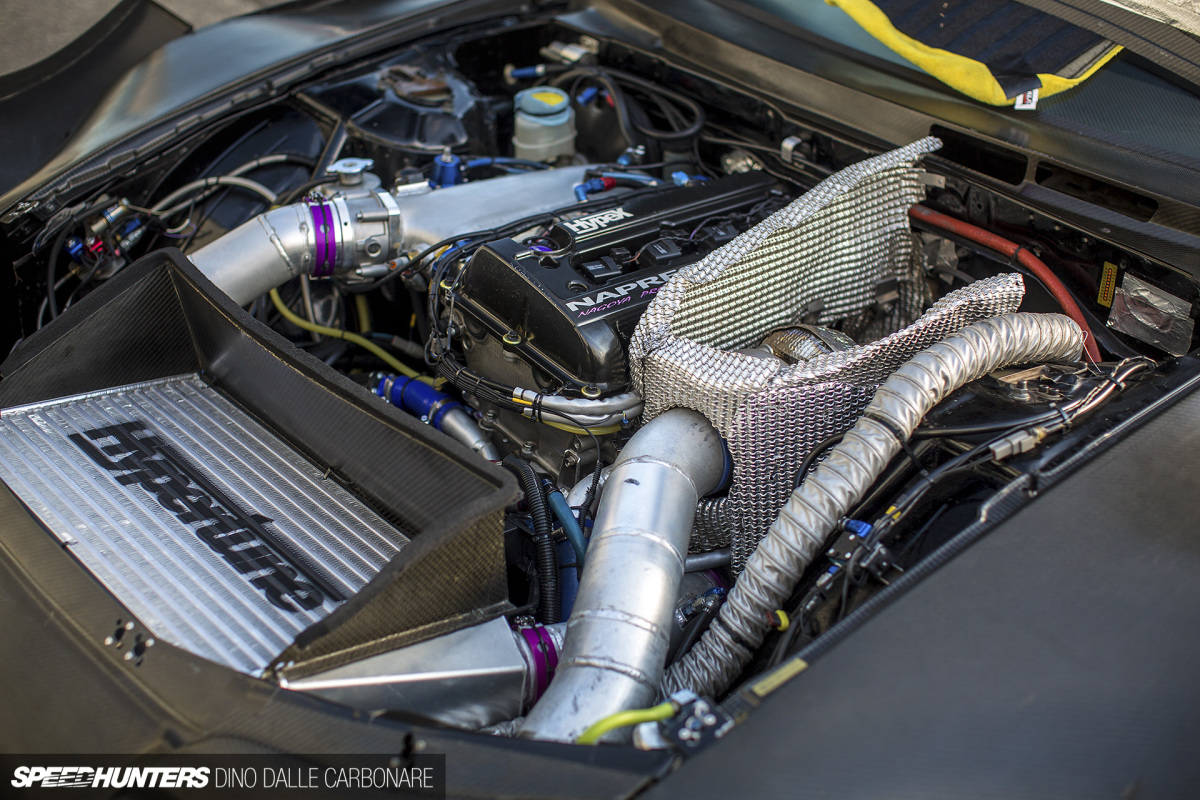 Part of it was due to another engine failure. It was minor this time, but it meant missing out on two more record-resetting attempts he had planned for the day. The other reason is because he hadn't broken into the 49-second bracket. Suzuki told me that his car is more than capable of getting there, it's just nailing everything perfectly to make it happen.
But this in no way takes away from the fact that he's an absolute legend and will no doubt achieve his goal sooner or later. His next attempt will be in January, so I'll make sure to be there.
The ASM Yokohama S2000, another favourite, was also at the event. Aside from the fact that it's a disgrace I haven't featured this car properly yet (this must change this immediately), the hard-tuned Honda is still thundering along in the low 58-second zone with a best of 58.308. I tip my hat to ASM for sticking with natural  aspiration and concentrating on developing and improving everything else.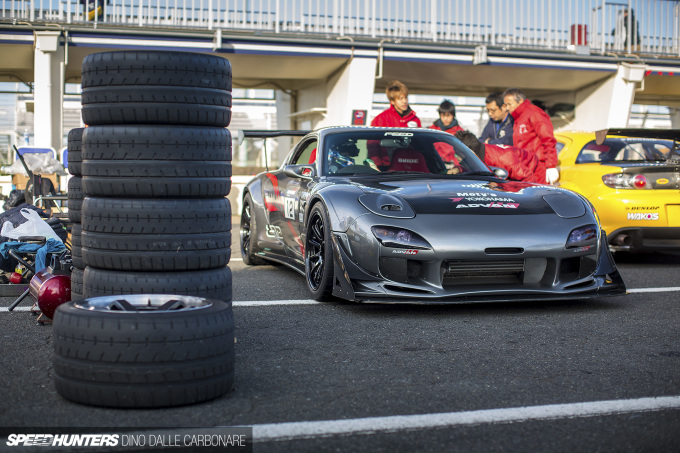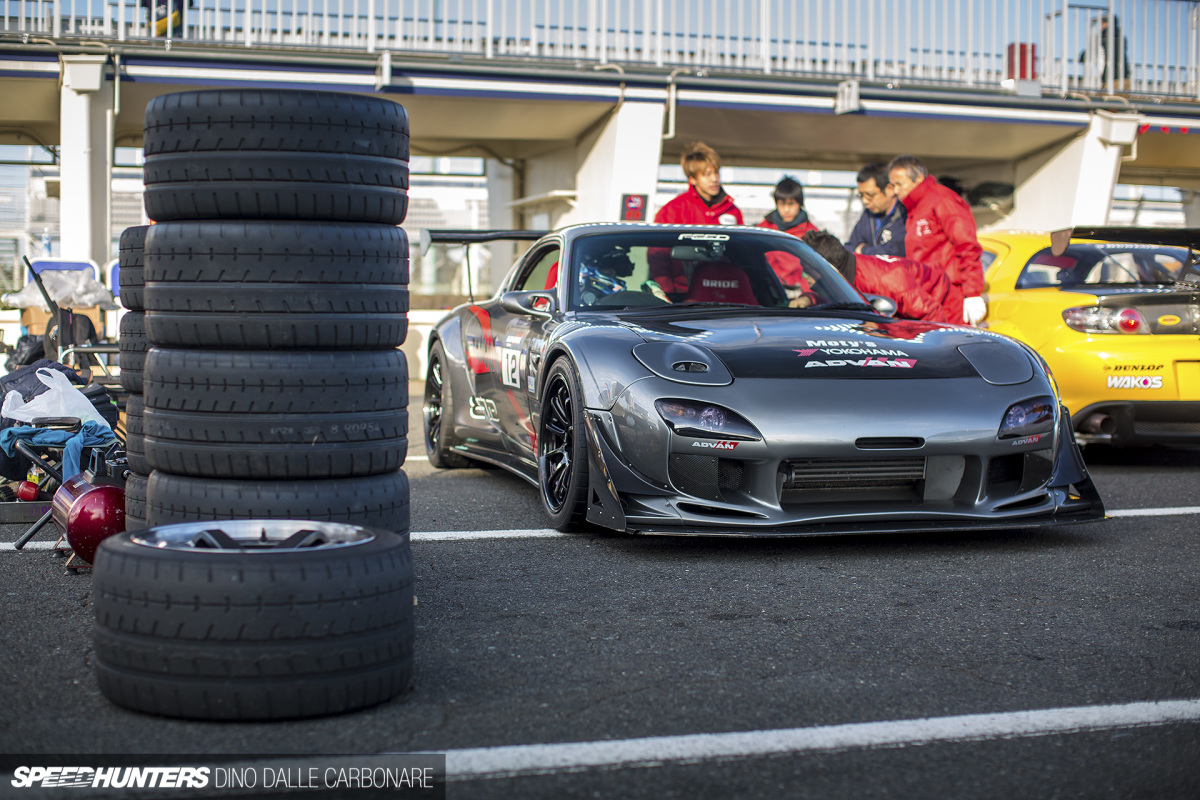 Fujita Engineering, AKA Feed, has always stuck to a well-defined tuning recipe. With Nob Taniguchi at the wheel their demo car has run a 57.987 lap, but still manages to look like it's a street car.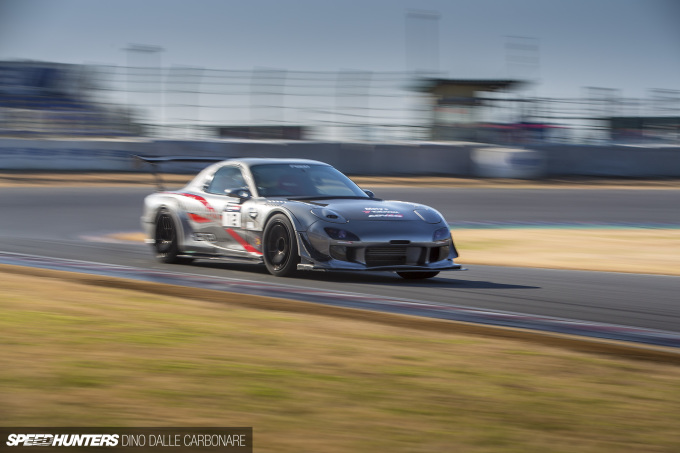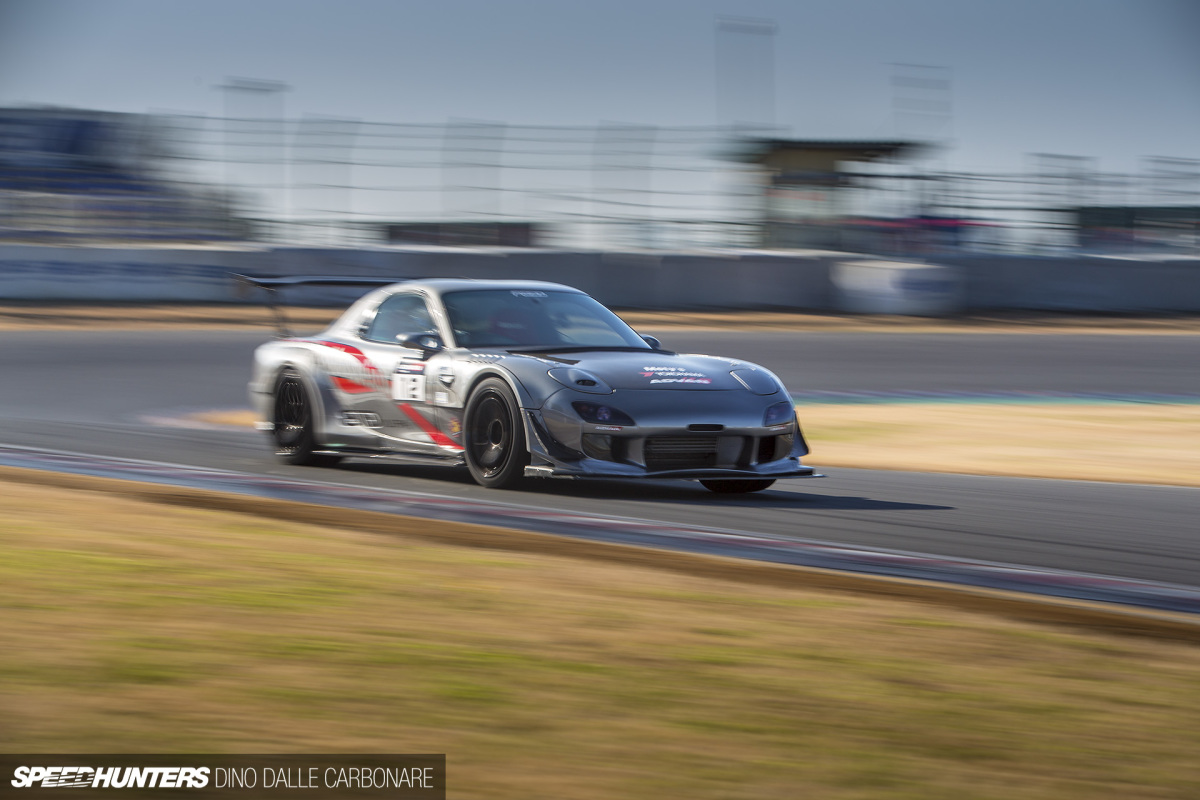 There are subtle aero upgrades in place, but it's so beautifully simple that it continues to blow my mind. In fact, I think you could easily find 50 street-going RX-7s that look wilder than this at any 7's Day meeting.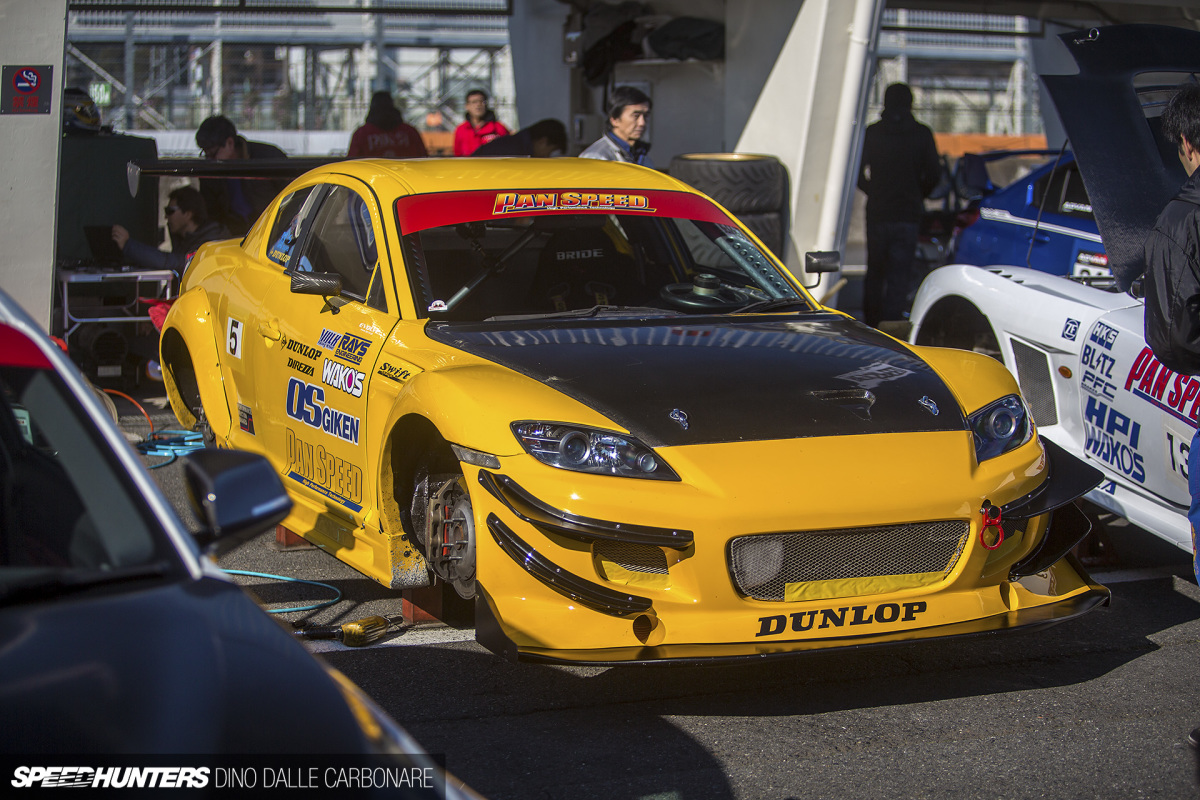 And since we are talking about rotaries, we can't possibly not give space to Pan Speed. I won't lie, this is my favourite rotary outfit; it impressed me the first time I visited 12 years ago and I have regarded it as the top shop since then. The thing that makes them stand out for me is that everything they do is out of the need for function.
Their engines, their suspension setups, and their body parts – which are designed by a Super GT aero specialist – are made to add something tangible to a car's final time around a track. And their three-rotor RX-8 was the third fastest on the day with a 57.333 lap. It's extremely light, well set up, and has just enough power.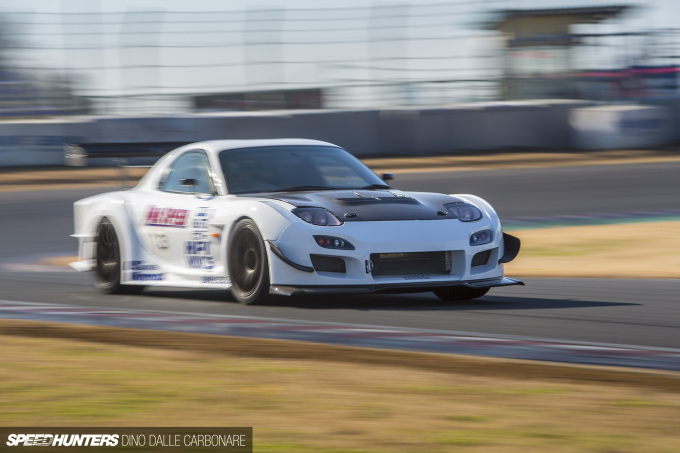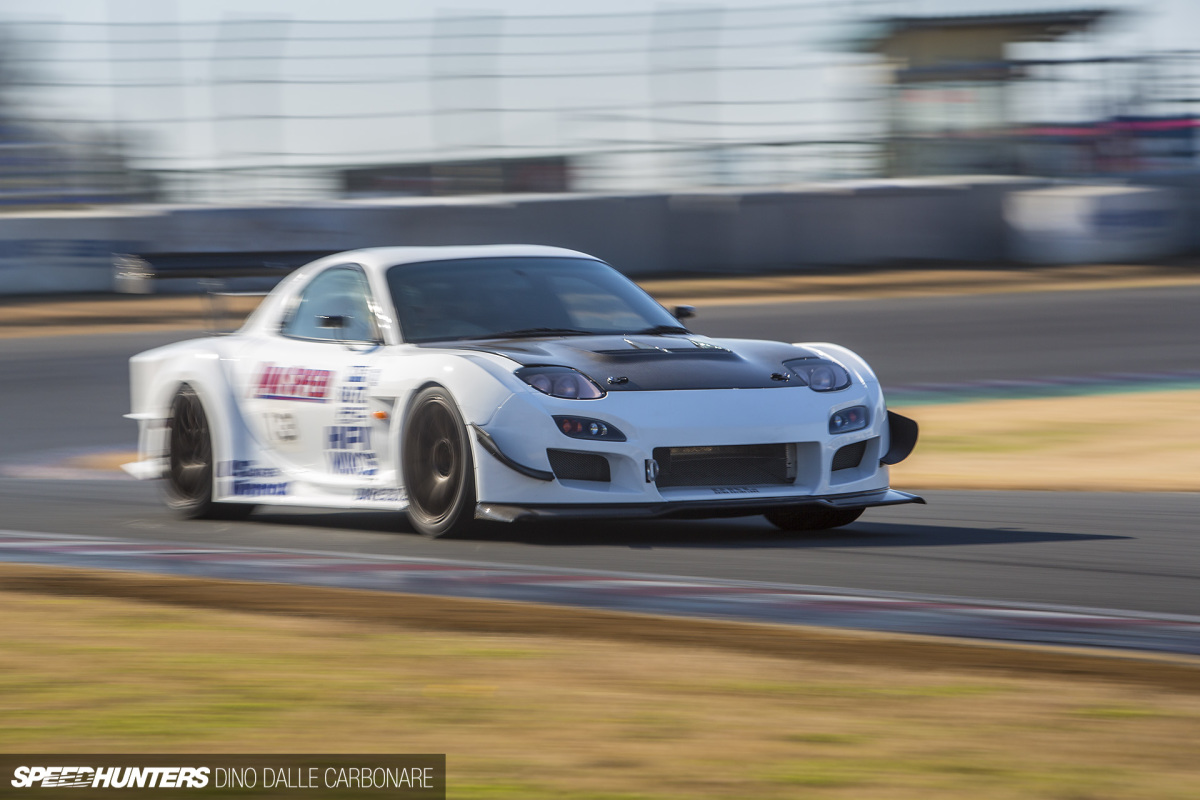 This Pan Speed customer's FD3s, which is still road registered and runs a 500hp motor mated to a Quaife sequential transmission, managed to dip into the 59s, which was a big result for the owner.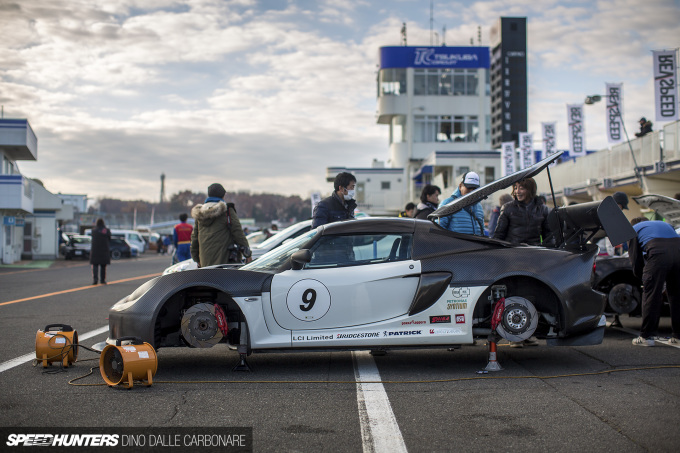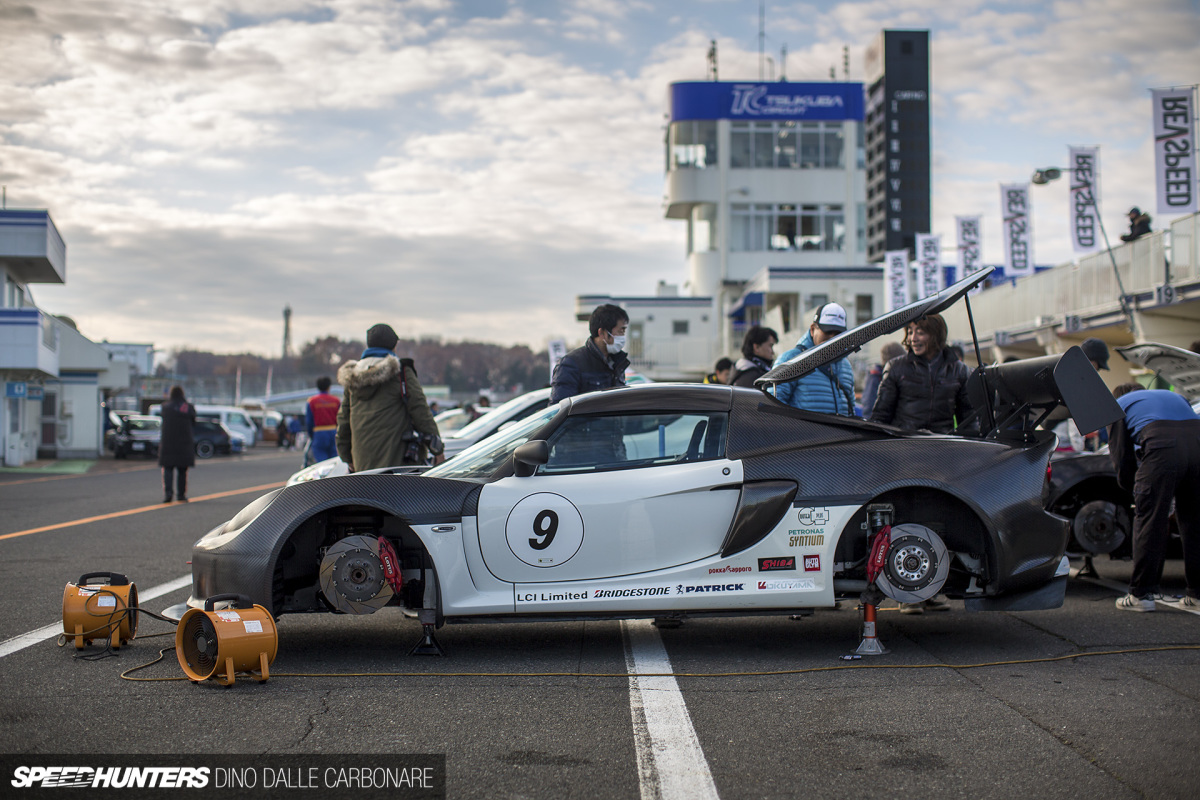 Having run 56.502, the Ti Racing Lotus Exige was the second fastest car on the day. That said, it was almost six seconds off Under Suzuki's pace, which if you think about it much will give you a headache. In no way does it take away from the fact that this is an insanely fast car though.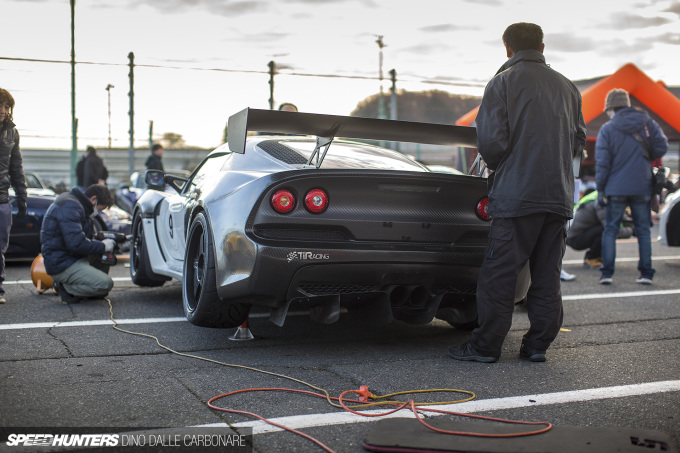 It's pretty much all carbon fiber, helping to drop weight and to make full use of the Toyota V6 in the back. And yes, before you guys remind me again, I need to go to Chiba to visit these guys and see how they make these cars so damn fast.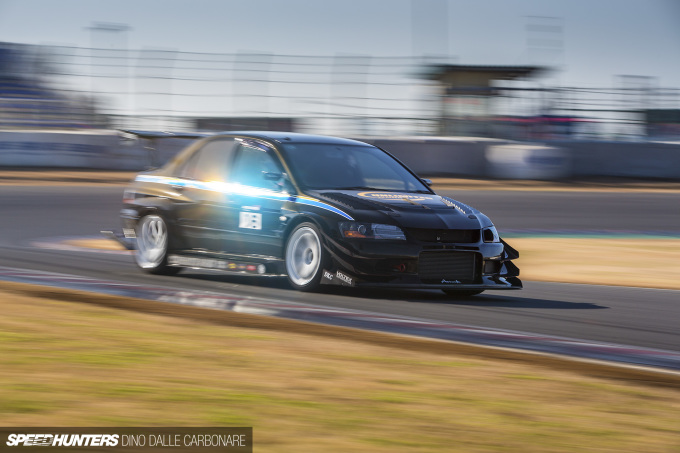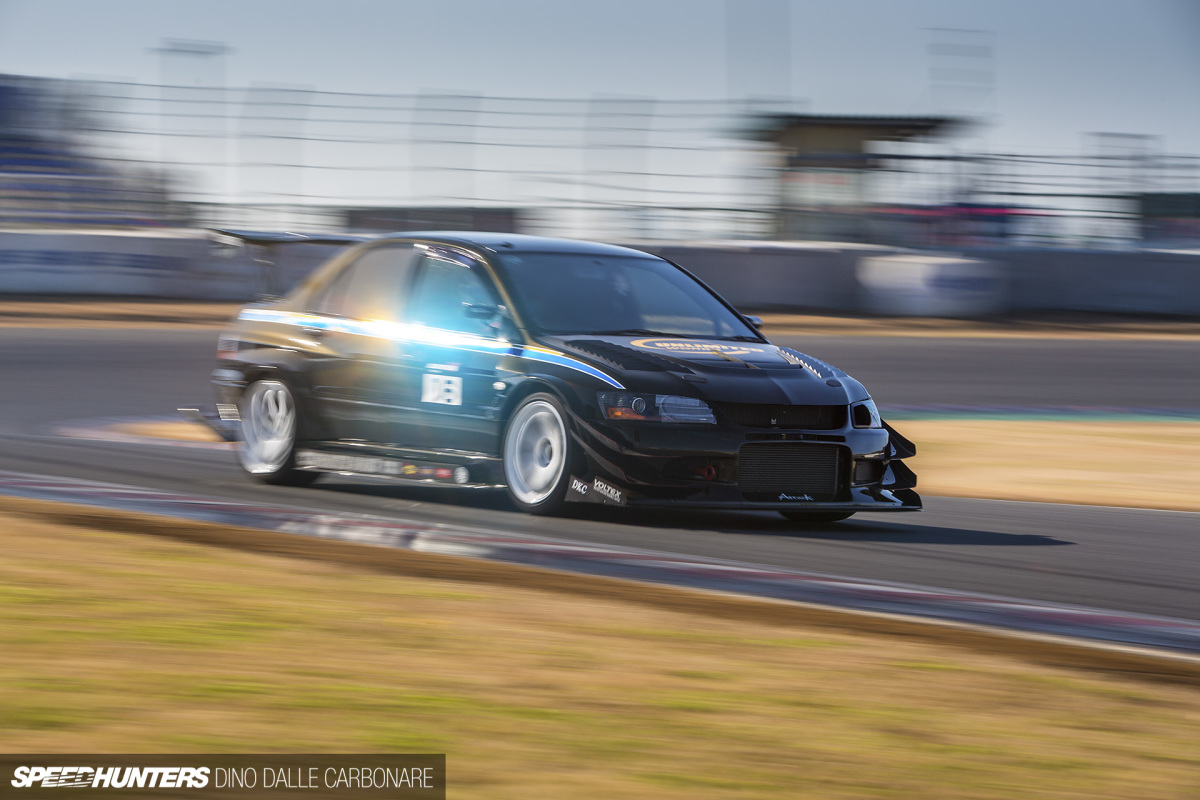 Only one Lancer Evo at the Tsukuba Super Battle? Yes, times have definitely changed. But like I mentioned earlier, it's more of an evolution and split of the sport rather than the end of it all. It was cool to see Sato-san of Unlimited Works bring out his Evo VIII and manage a 58.945 lap on the day.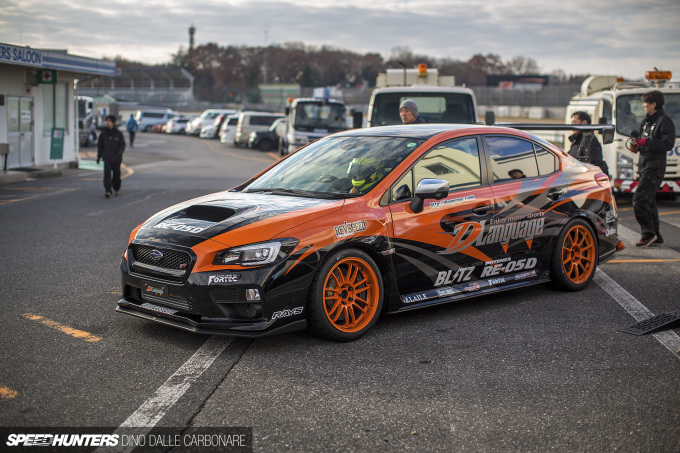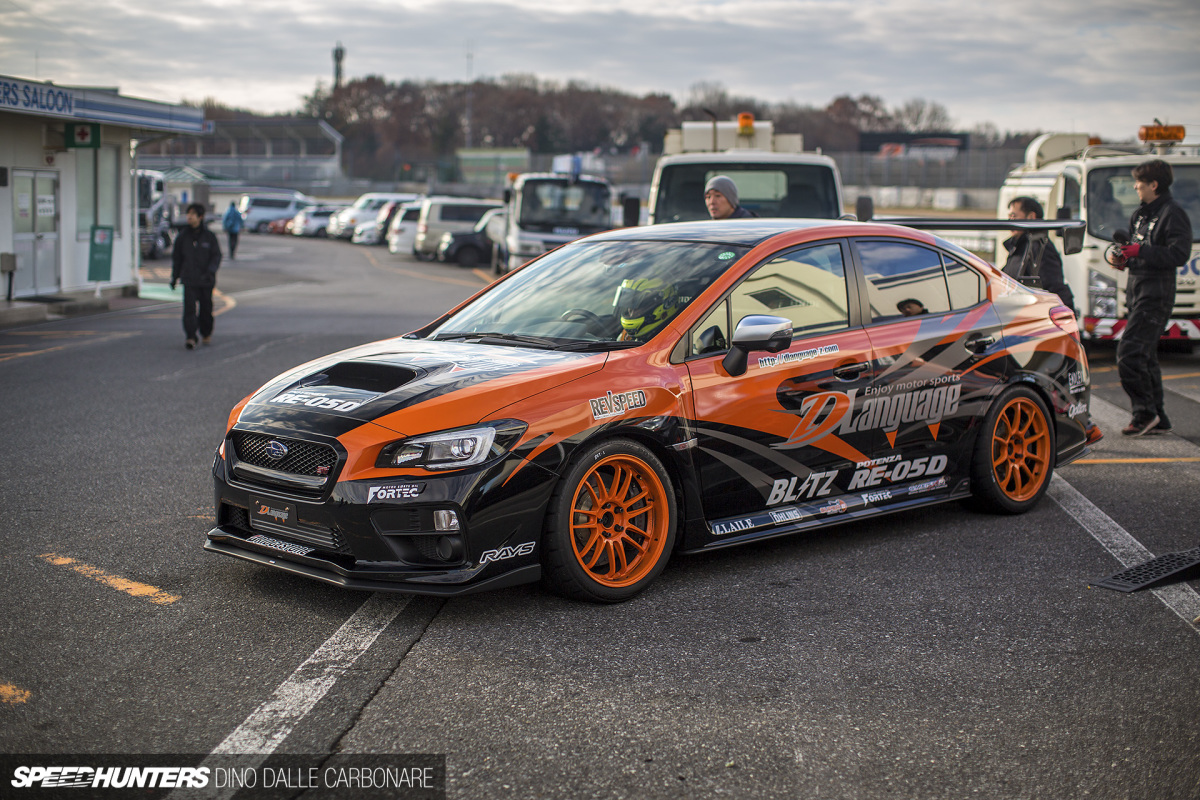 And where there's an Evo the WRX STIs aren't too far behind. In fact, with the Evo now gone, the Impreza is slowly becoming the car many tuners are looking to in order to develop new products.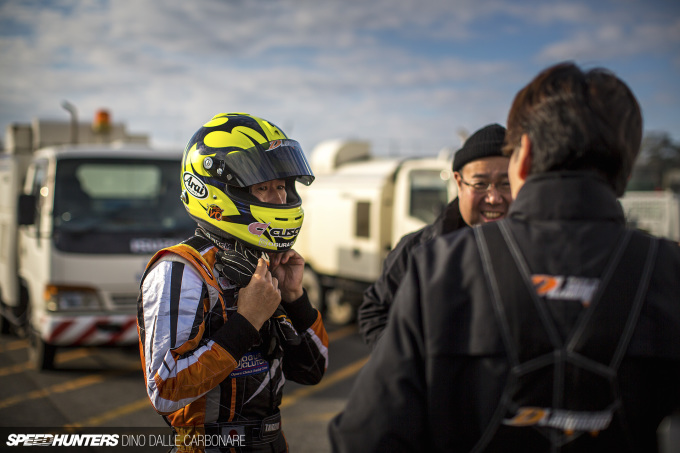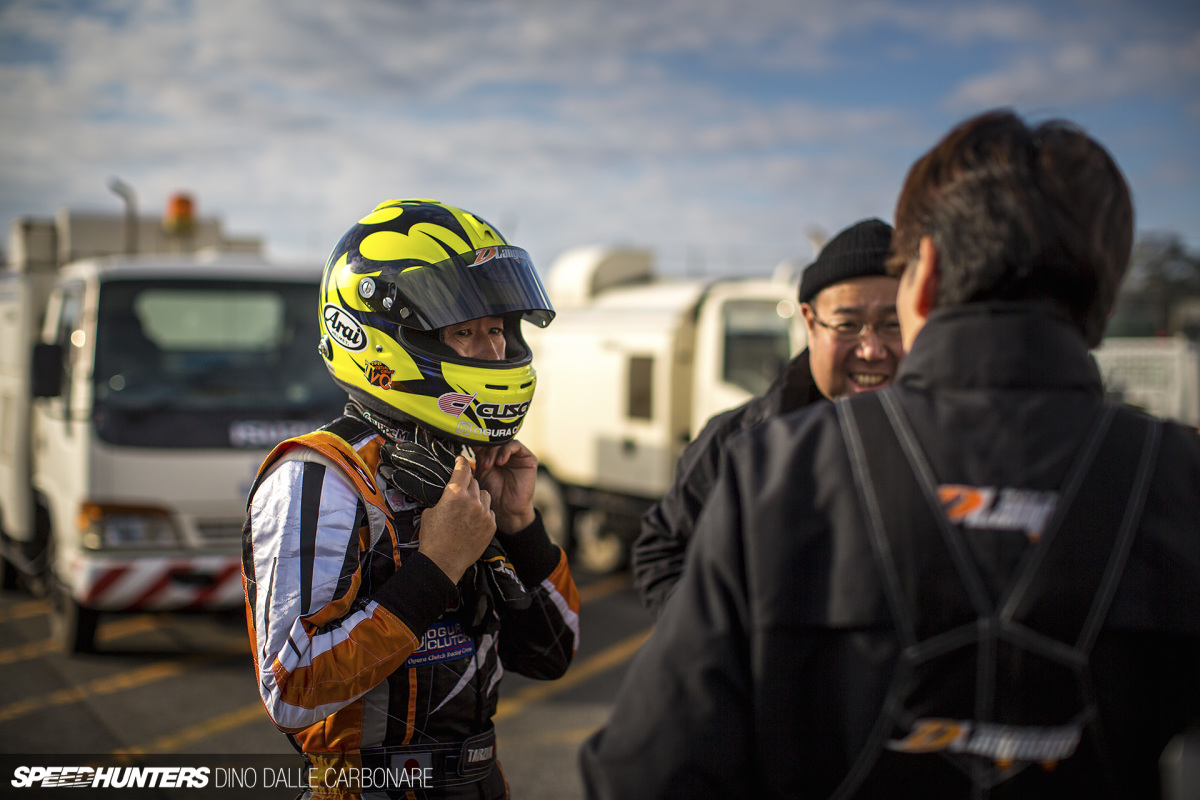 D-Language had Tarzan Yamada onboard to drive their street-spec VAB and test out the Bridgestone Potenza RE-05D tire. Their best lap time on the day was a 1:00.957, which isn't too far from breaking the one-minute barrier and impressive for a road-legal car on street radials.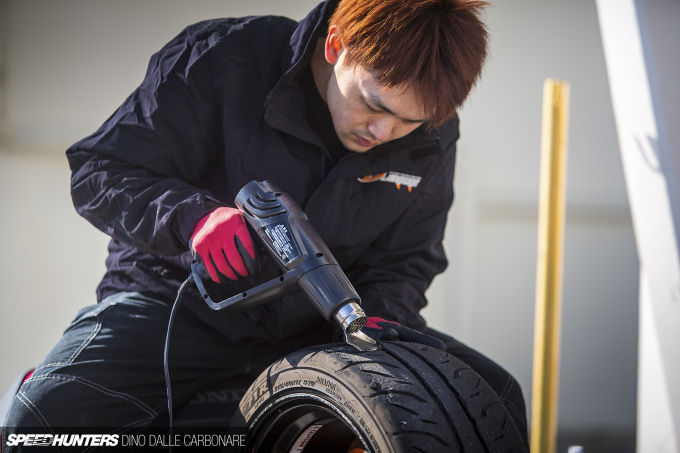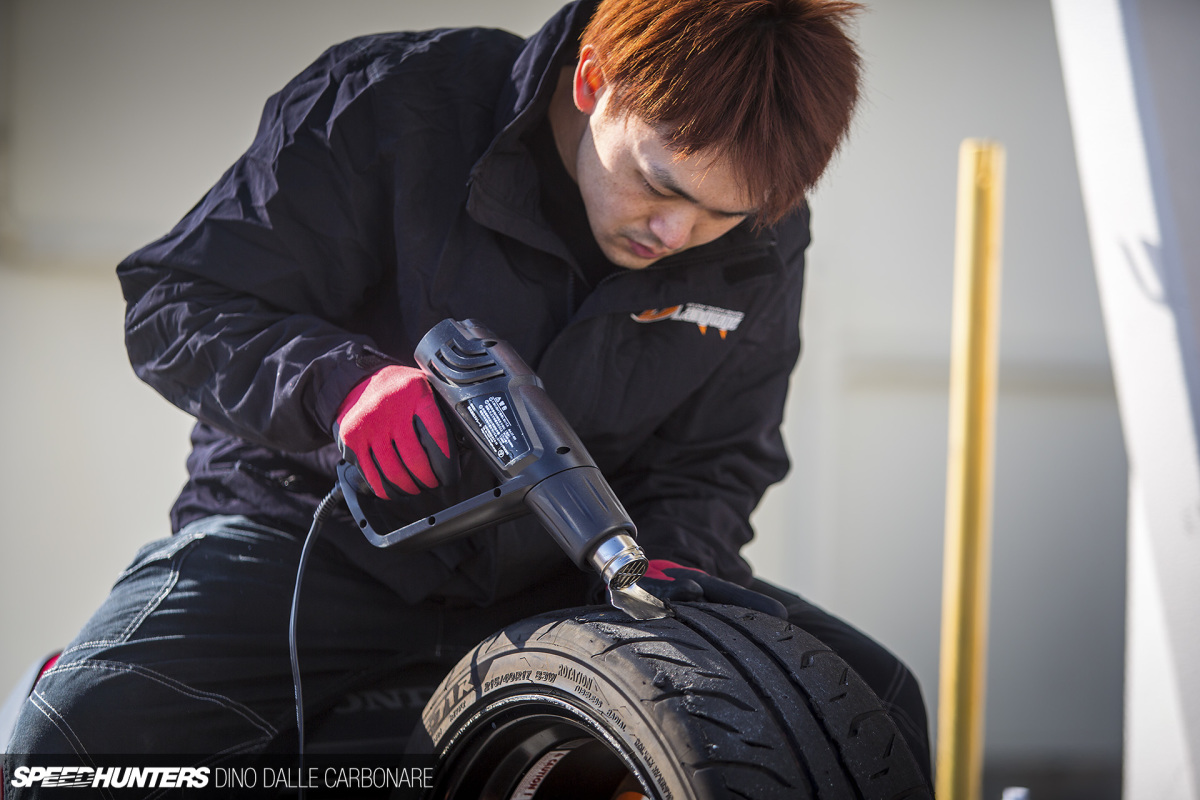 The D-Language Suzuki Swift was on Potenza RE71-R radials, which prior to every outing were giving a thorough shave to ensure they'd perform to their maximum.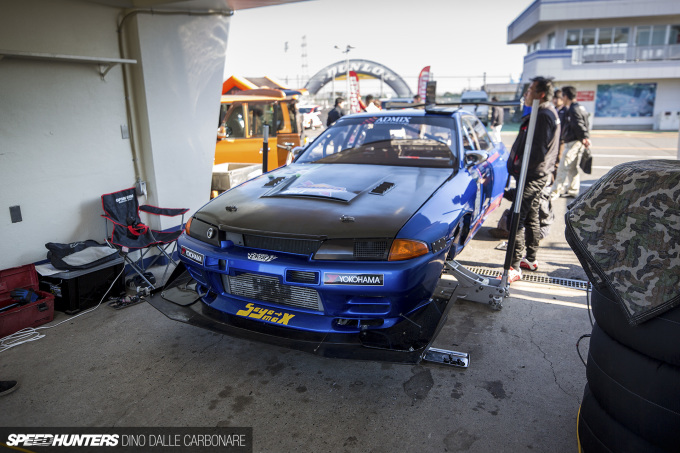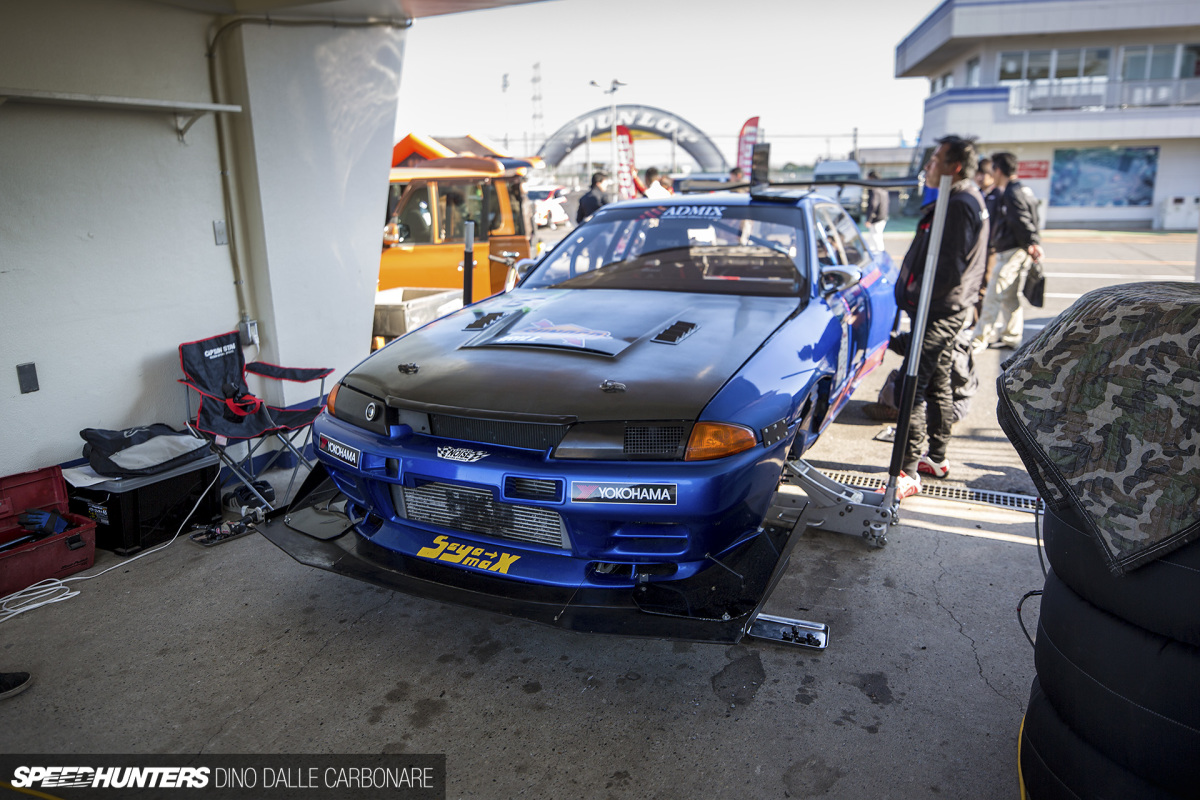 As I mentioned earlier, there was only one lone GT-R present, but there was also a Skyline – this R32 Type-M four-door brought along by Admix.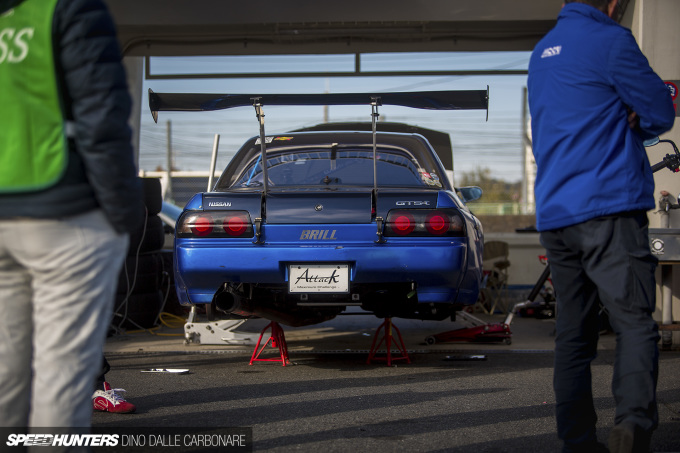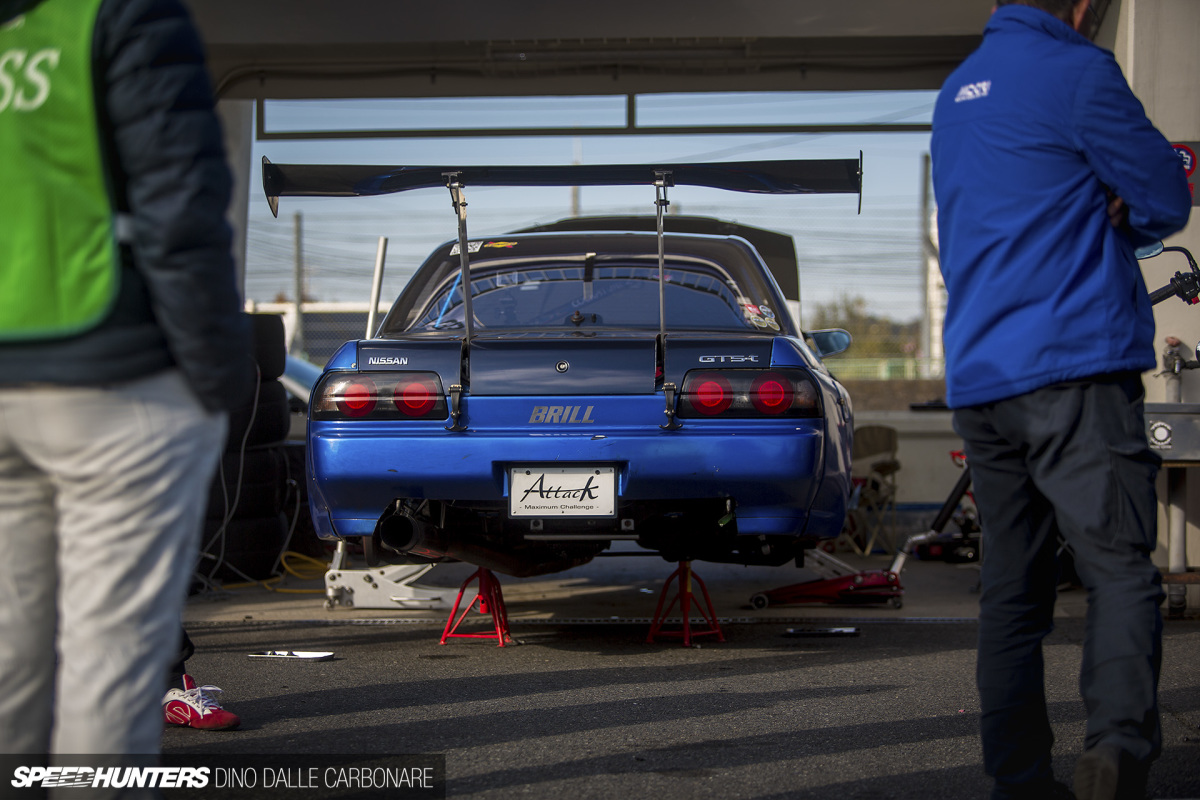 It's a very interesting platform to base a time attack build on, but it's what one of their customers wanted to do so they made it happen. With a best of 59.285, you could say that their job is done too, especially given that breaking the one-minute barrier was the first goal they wanted to achieve.
Emphasis On The Small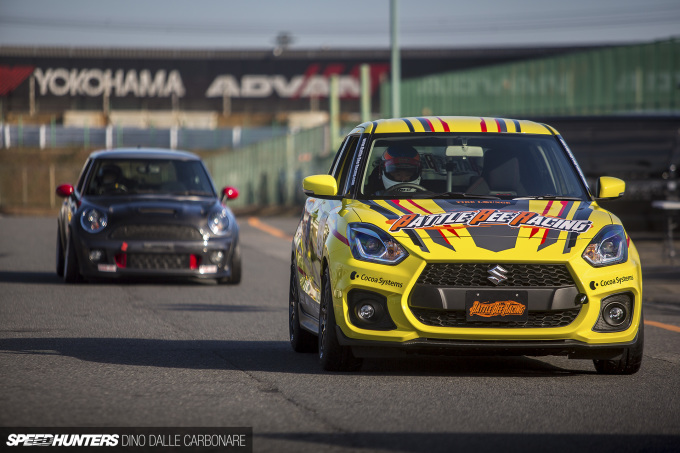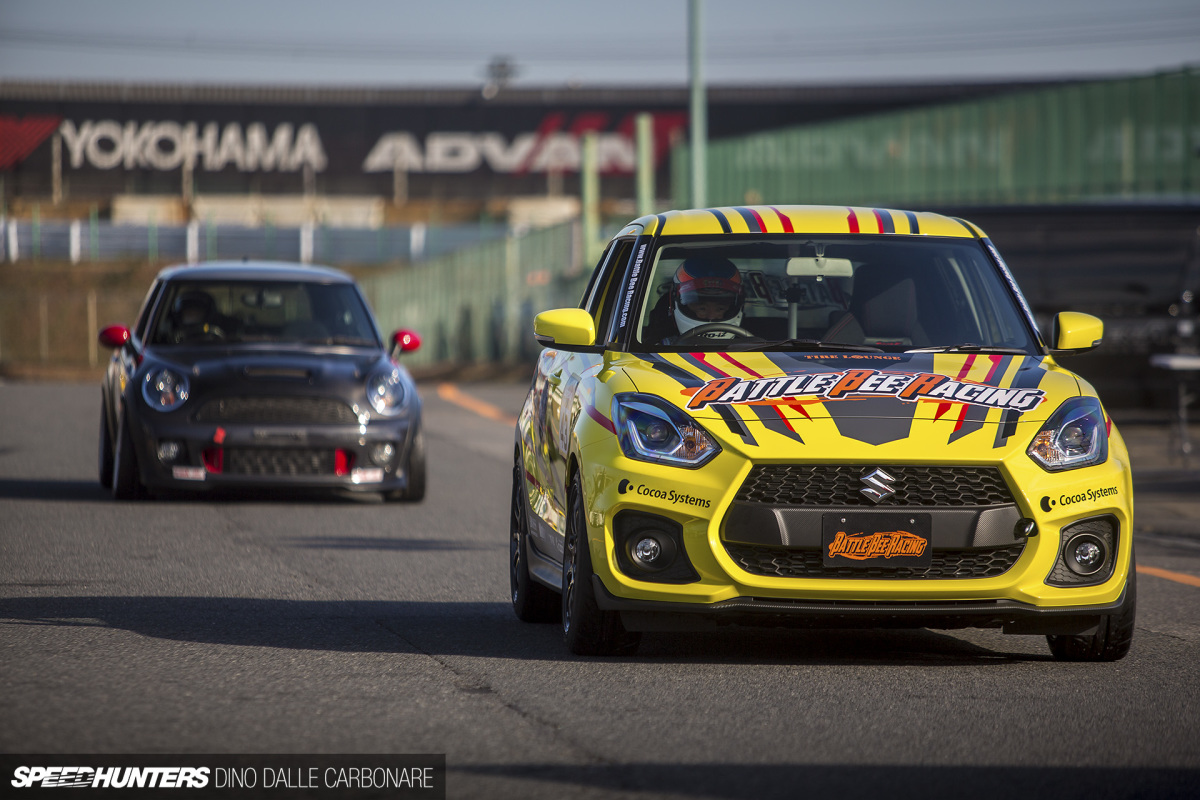 A good part of the rest of the paddock was comprised of smaller cars. Cars like the MINI Cooper and the new generation Suzuki Swift, which has always been a favourite for those wanting to go track racing on a budget.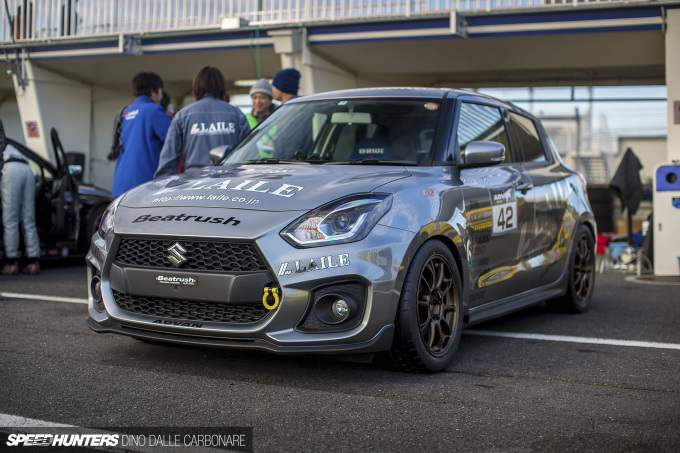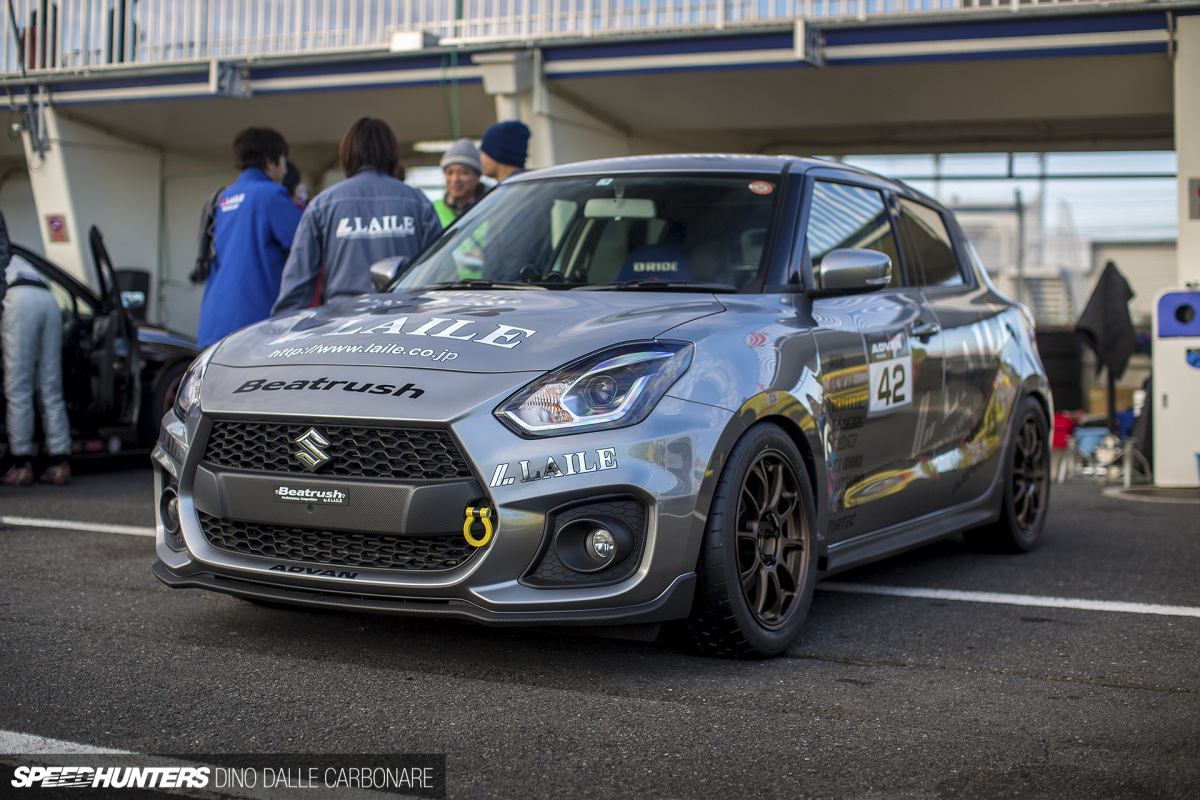 The affordable car game, which you'll see a bit more of in the spotlights I've got coming, is what Rev Speed has always been good at catering to. There are so many little shops across Japan that work hard at creating cool and affordable products for cars like these, so it's great they have an outlet to show the fruits of their labour and prove to the public the effectiveness of their parts.
Plus, how damn good does the ZC33S Swift look slammed on a set of RAYS Volk Racing ZE40s?! This thing lapped in 1:05.766, which is a similar time to what a BNR34 GT-R managed back in the day. It makes you think, right?
While most people out there automatically associate Midori Seibi Center with GT-Rs, this is the car they brought along to this year's event: A Renault Megane RS on TE37s, which posted an impressive 1:04.544 lap time.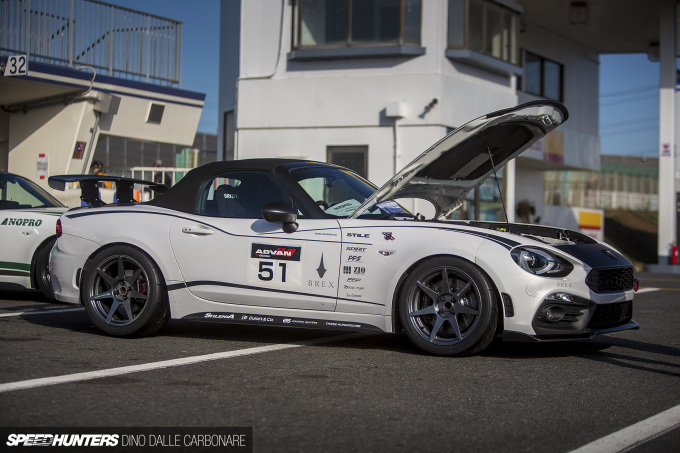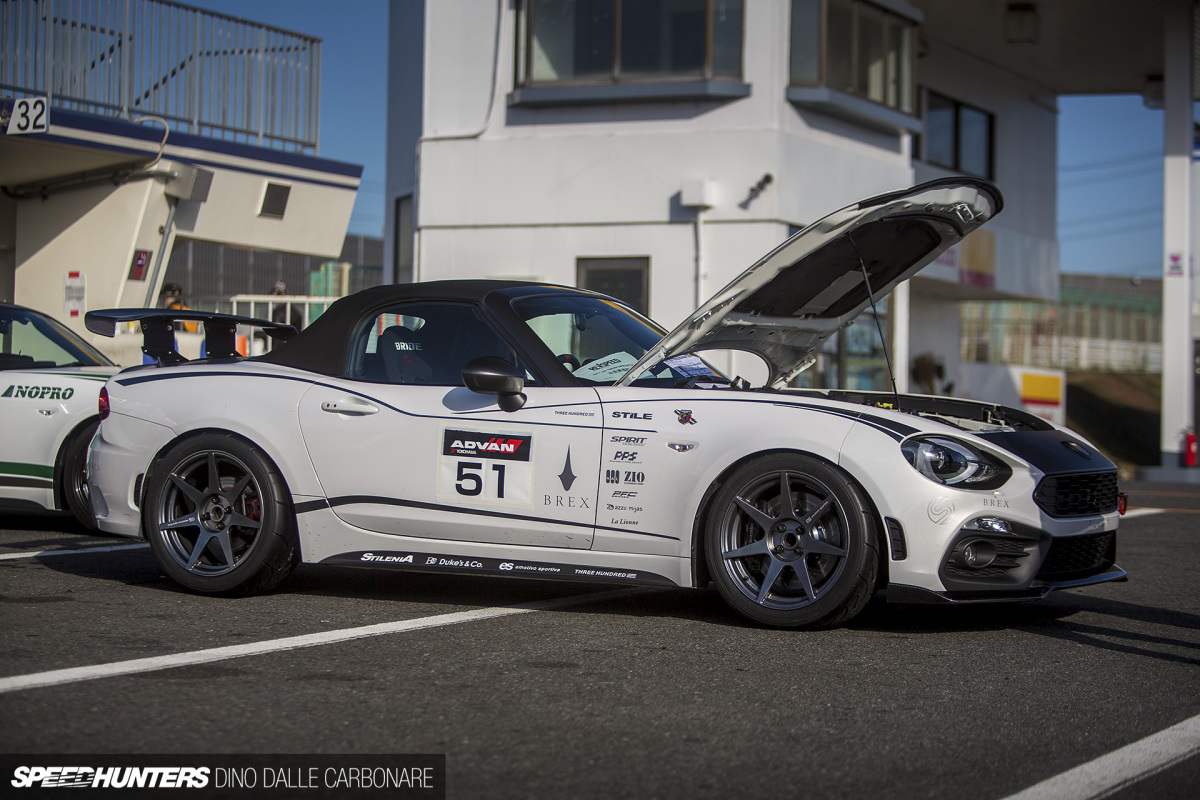 Because it comes with a turbocharged engine, the Abarth 124 Spider has become a popular chassis to improve upon, just as Stile has done with its demo car.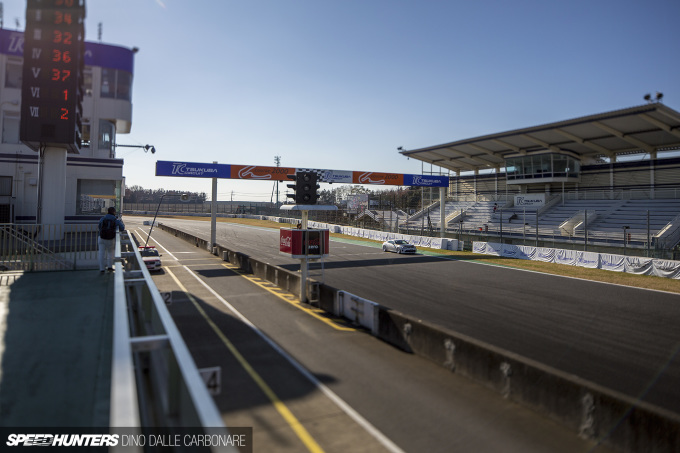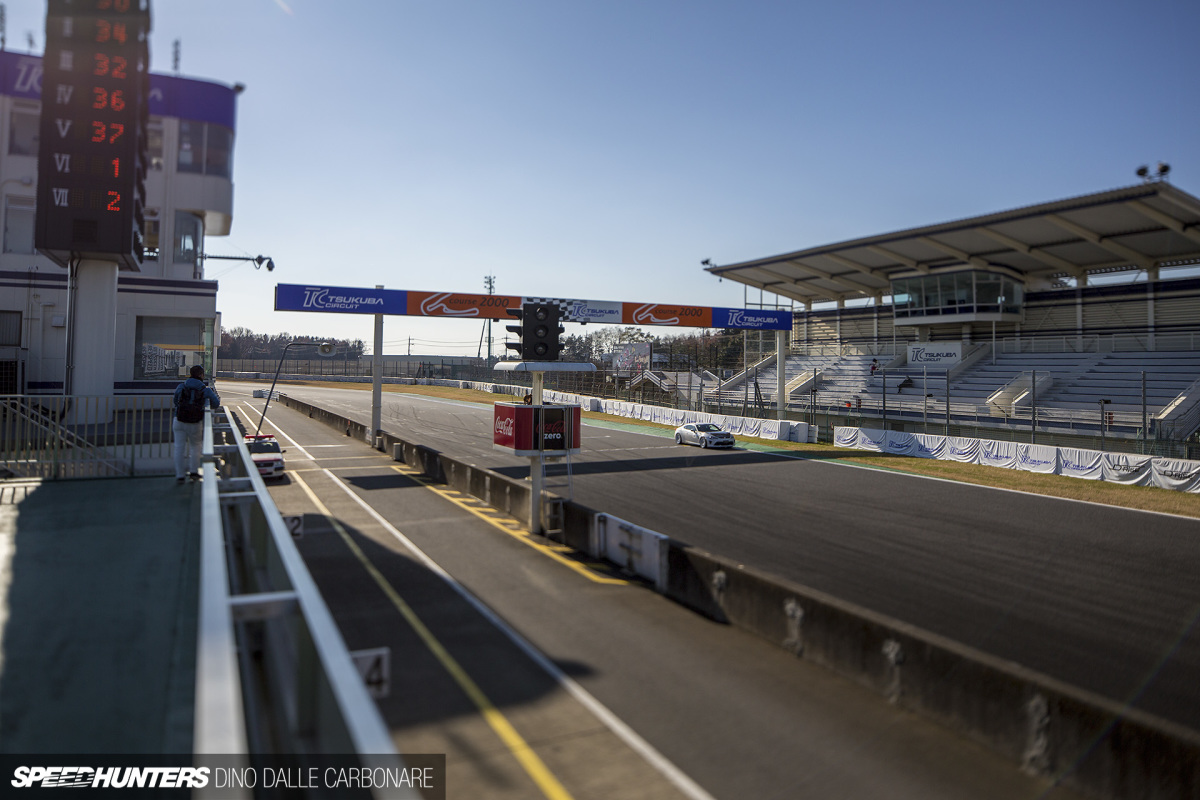 So there you have it, an insight into an old and familiar event which has slowly evolved into something to match the current state of affairs within the Japanese car scene.
Change isn't necessarily bad, and there was still a great vibe at the Rev Speed Super Battle; you just have to remember that the big boys are now playing elsewhere. We'll just have to make sure we don't miss those events either.
Dino Dalle Carbonare
Instagram: speedhunters_dino
dino@speedhunters.com