A Skyline Syndicate R32
It's still 2017, right? In some places, at least.
Seeing as how another year is already done and spent, I still owe you a proper look at a handful of more cars from R's Day at Laguna Seca.
I patrolled the paddock to see who showed up to the NCRC track day and I finally settled on a favorite of each body style. 'Settled' really isn't the right word, though, as these builds simply blew me away.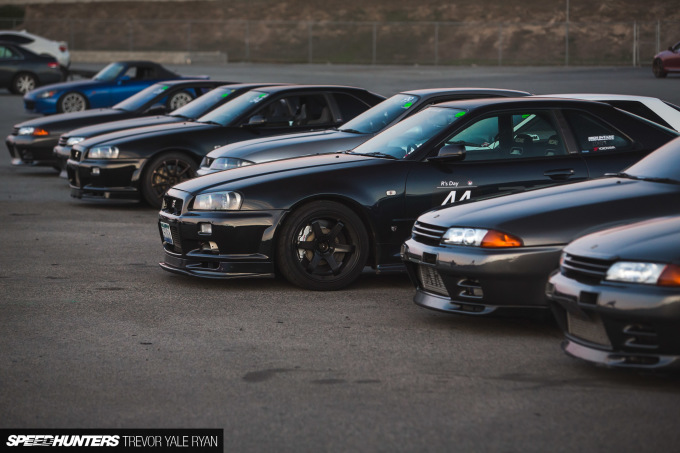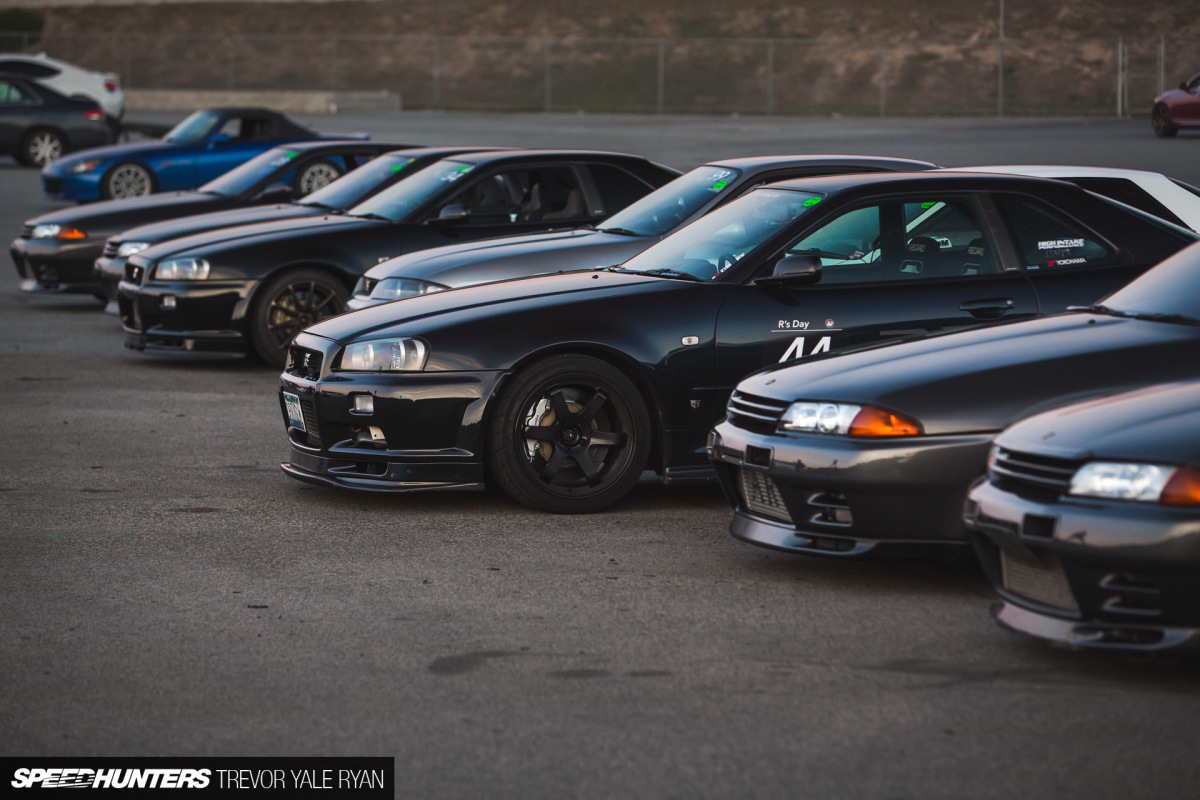 We'll start with the R32 body style and work our way up to the more modern renditions; as you can see, there were plenty to choose from here.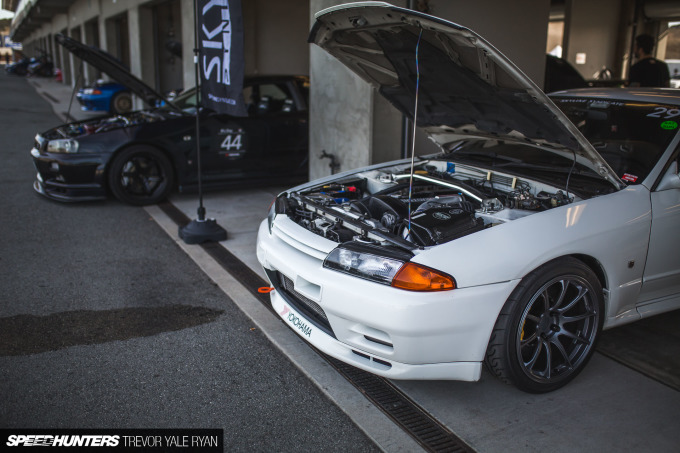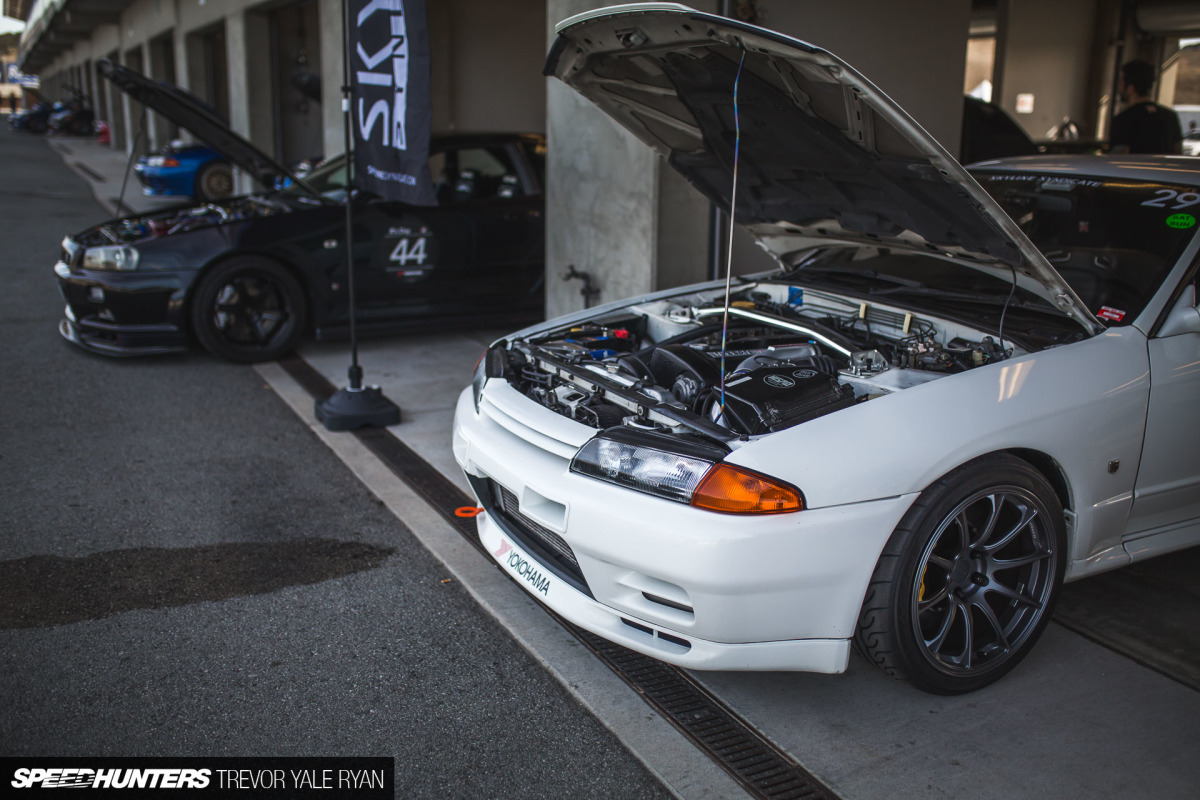 As one of the organizers of Skyline Syndicate, Lerry Liu's Skyline is an expectedly clean and complete build that's as ready for the back roads as it is for the track.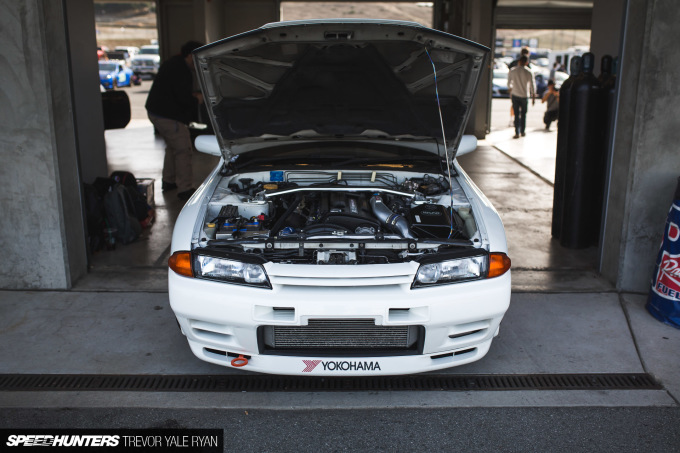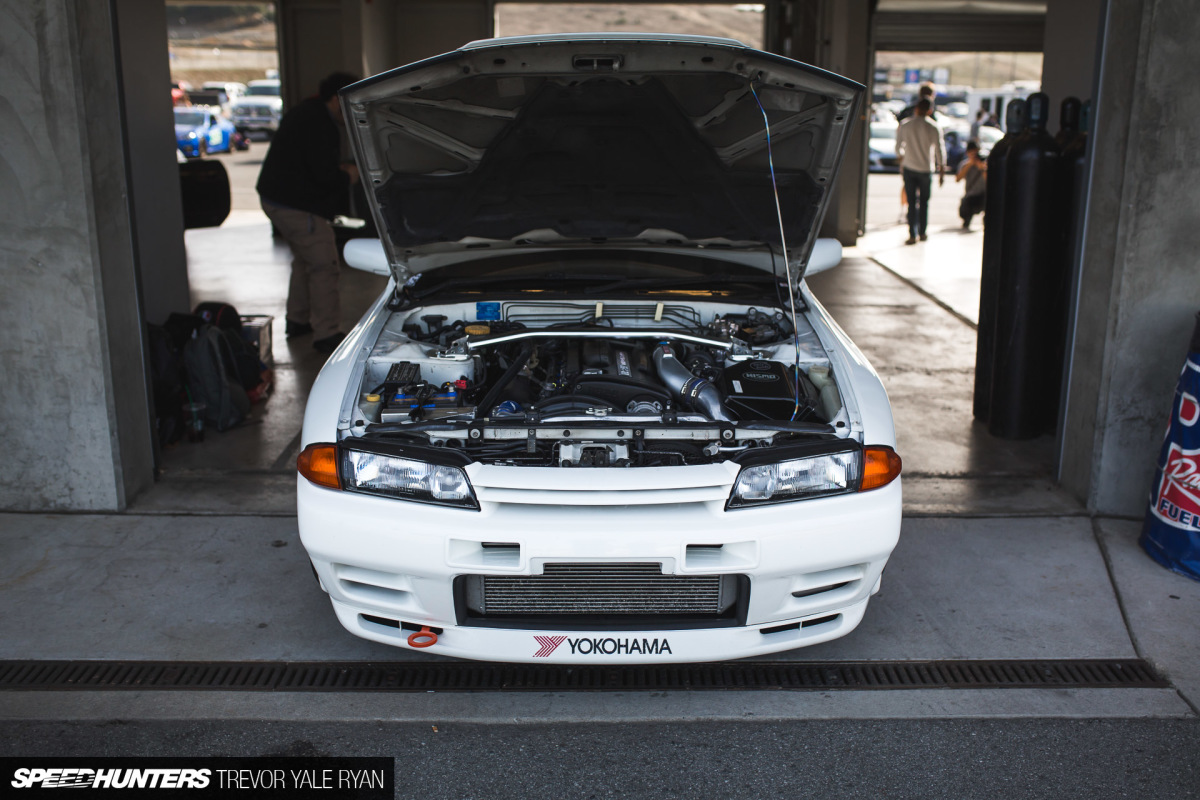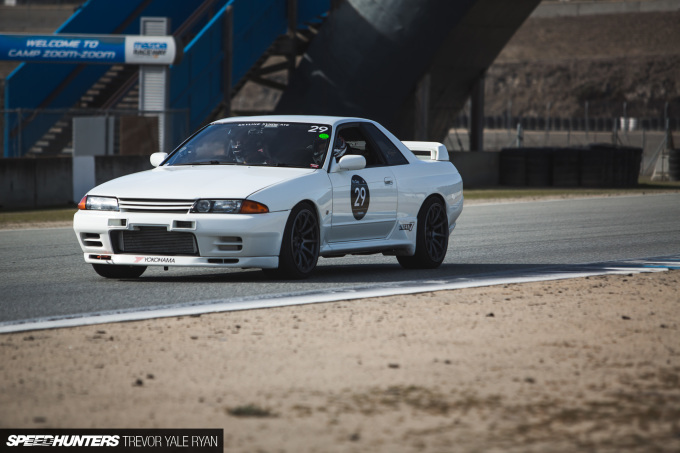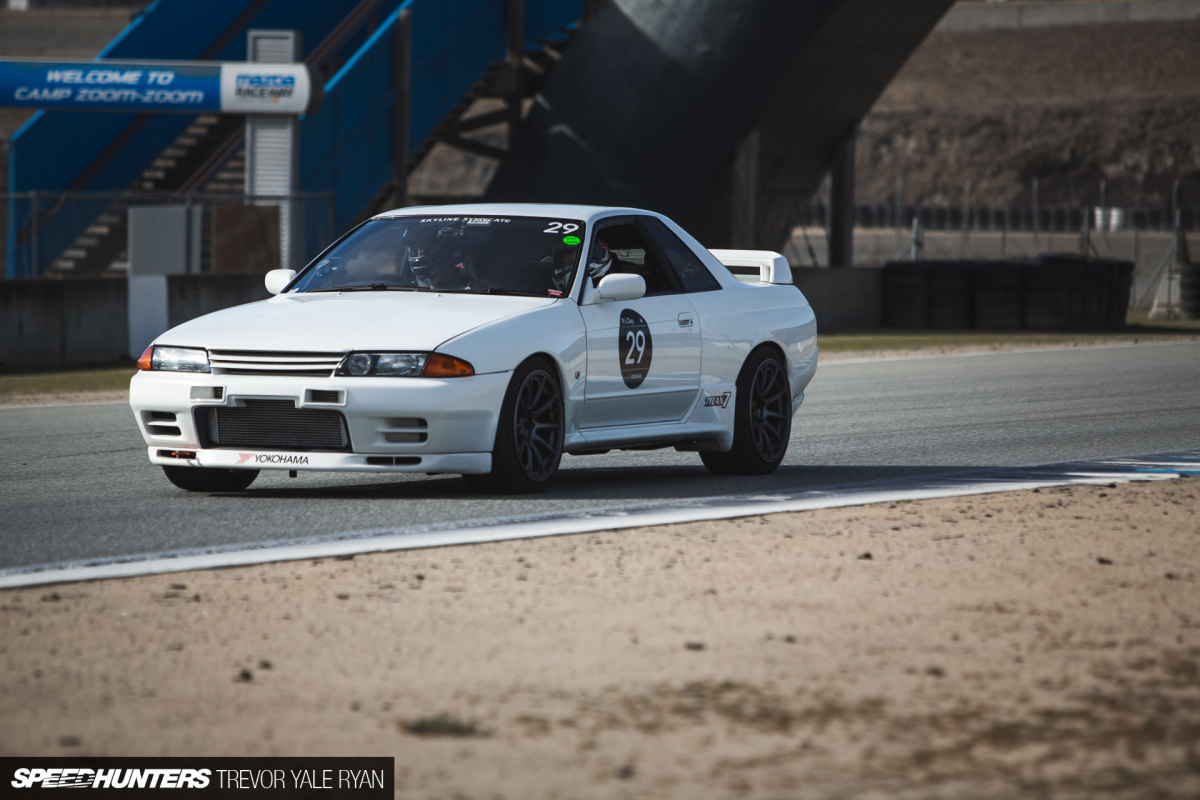 With a fully built RB26 that makes use of a HKS 2.8L kit with forged pistons and a Tomei Poncams, you really can hear the difference as it roars down the straight on the track. A Nismo large capacity fuel pump and Sard 550cc injectors keep the motor fed with fuel before it's burned and sent out a stainless BNR34 turbine outlet.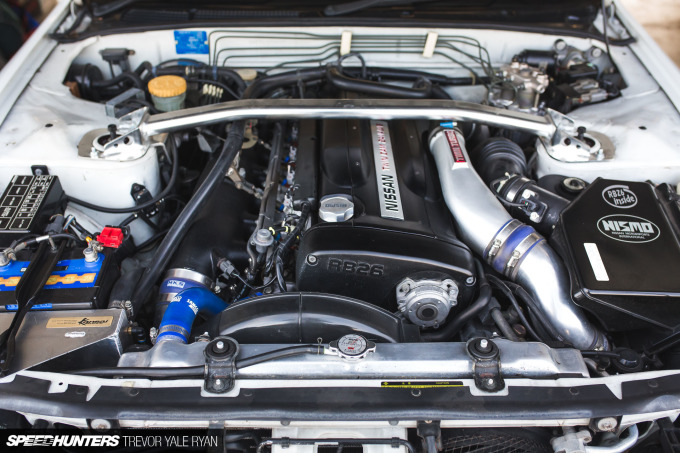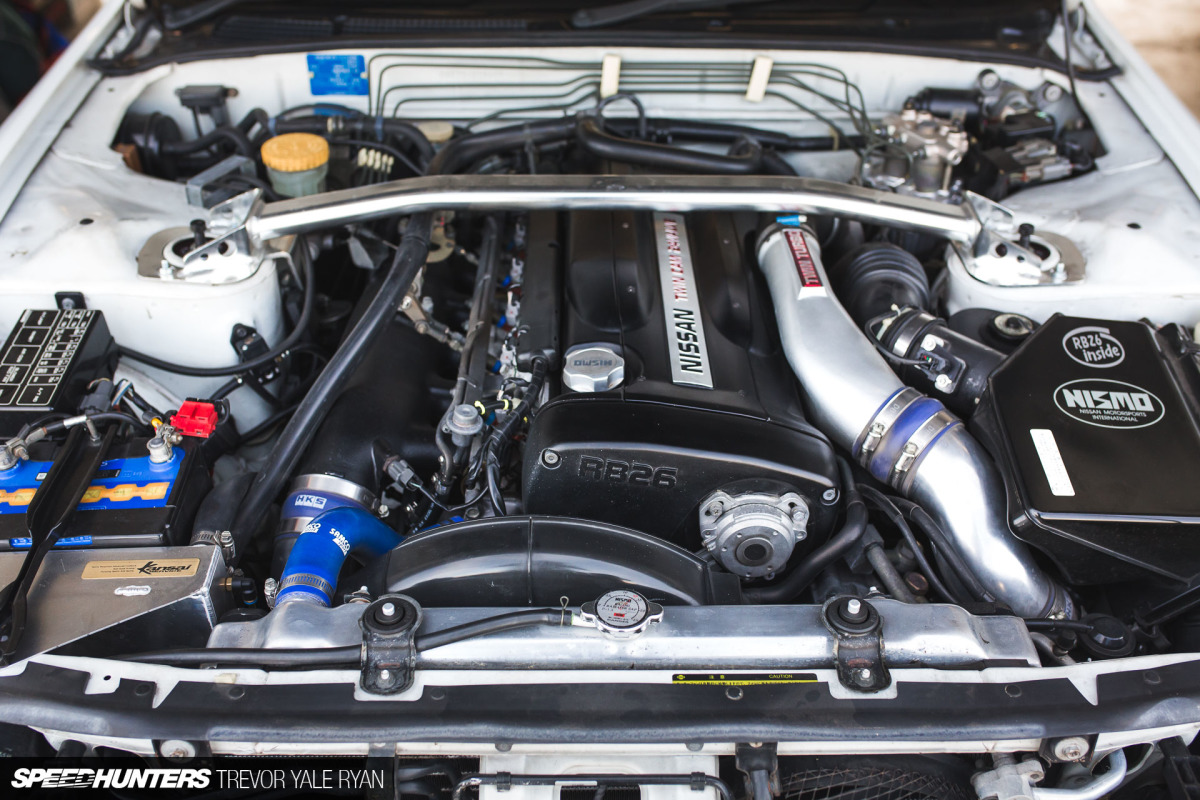 The drivetrain has also been fettled with; Lerry makes use of a twin-plate clutch that sends power through a BCNR33 transmission on to 2-way LSDs.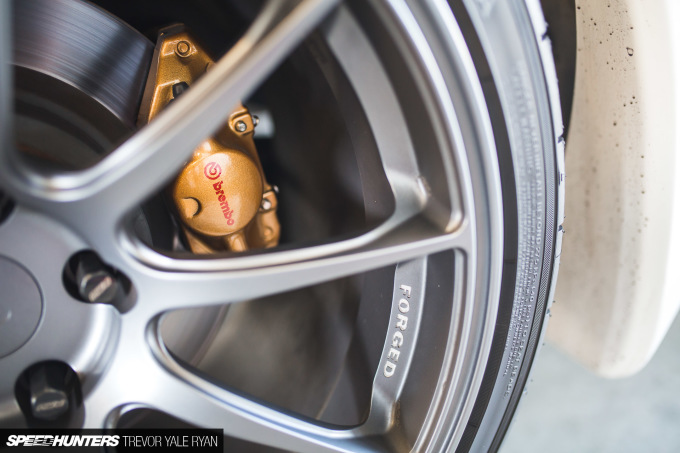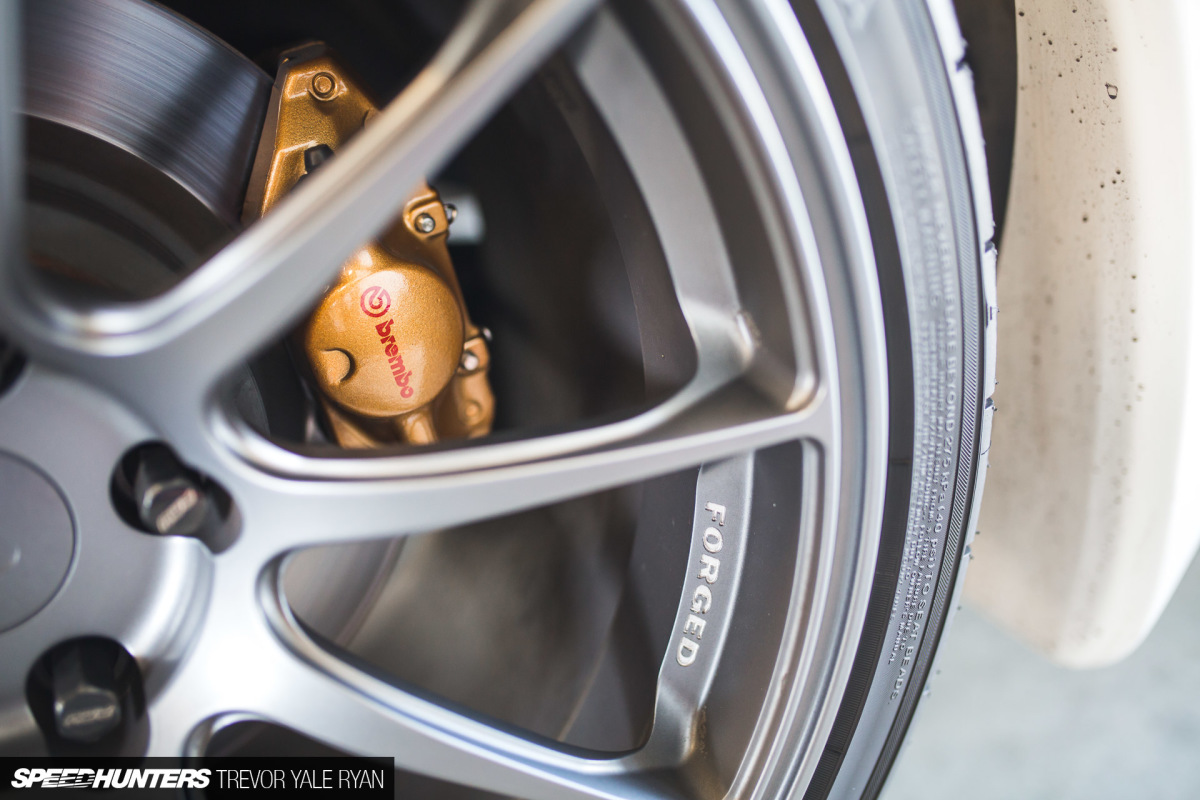 The power finally finds its way to the road via sticky Yokohama Advan Neova AD08R rubber that's wrapped around 18×10.5-inch forged Titan 7 T-R10 wheels.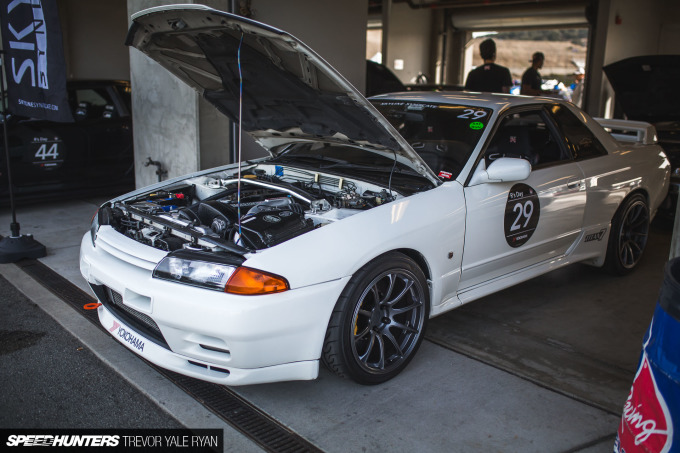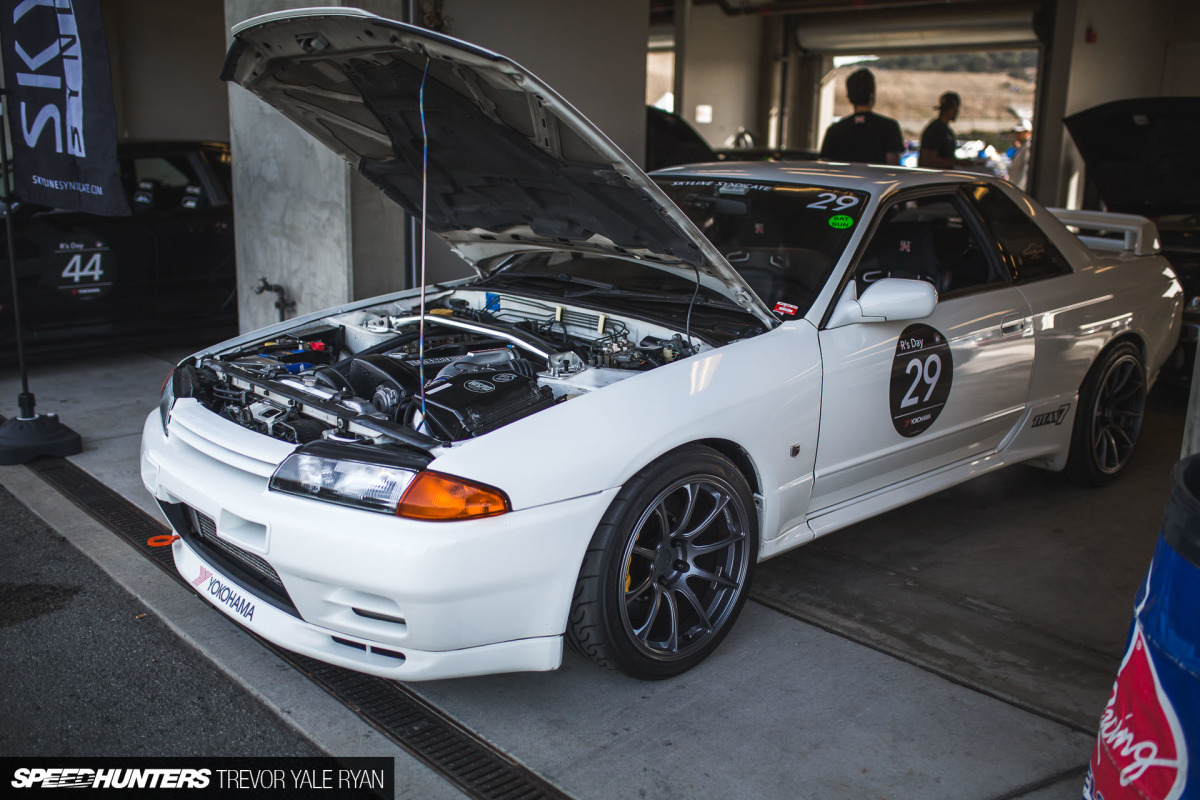 Of course, the suspension has all been upgraded for track use. Feal Suspension 443 2-way adjustable dampers help keep Lerry's R32 planted, with additional bracing up front, in the back, and underneath.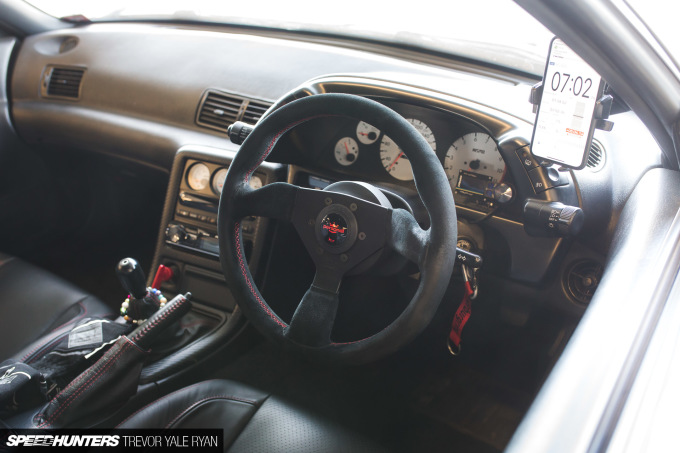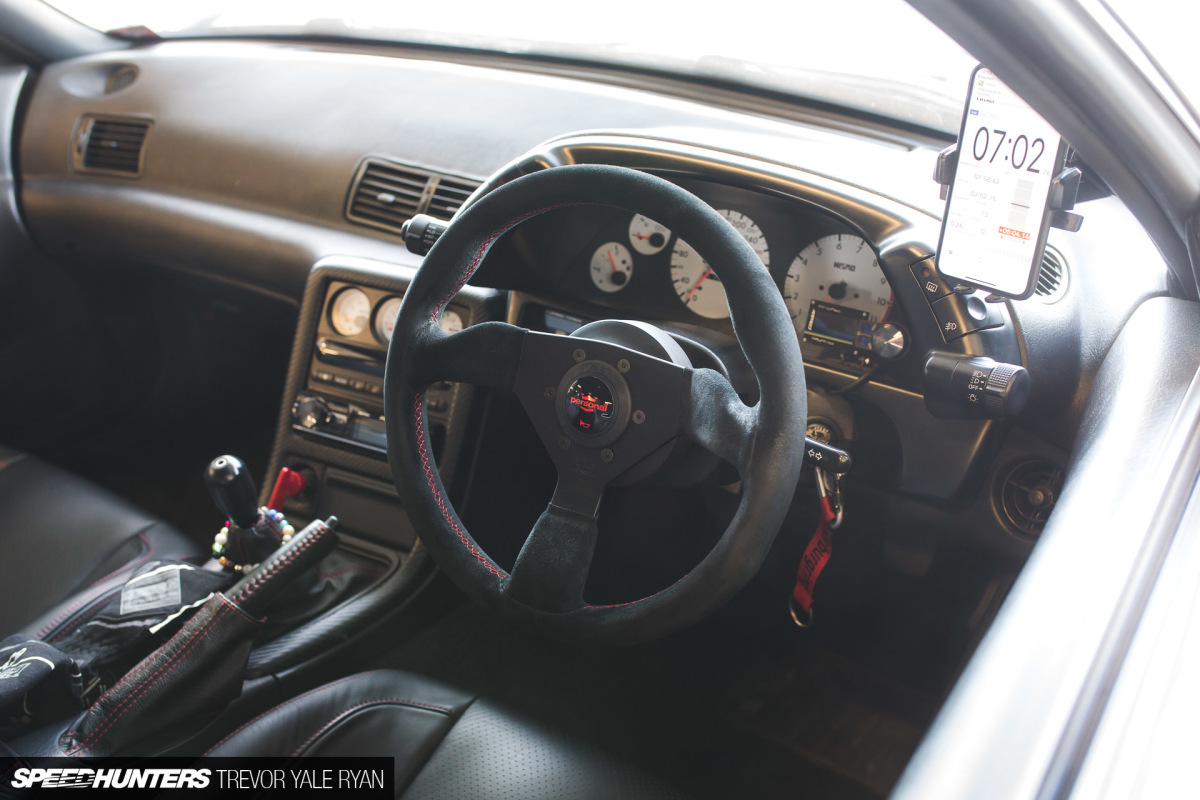 Inside, it's more of the same. Quality Robson leather is on nearly every surface and a Personal steering wheel replaces the factory one for improved feel. Lerry has even neatly snuck a subwoofer into the back. Overall, it's a pleasant and reasonable place to be – ready to hit the track, but not entirely stripped out or over-built.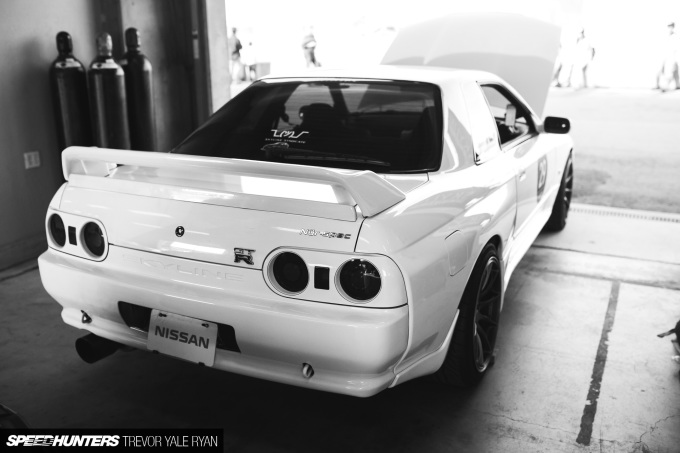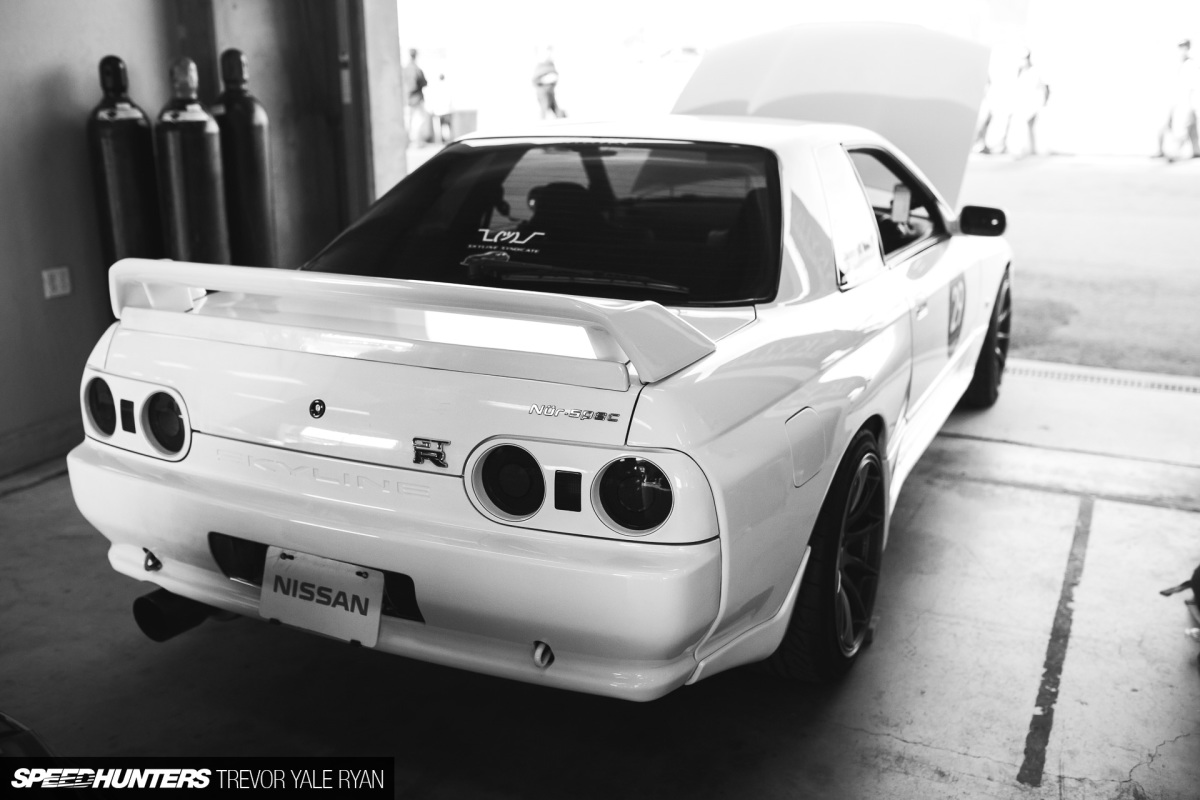 Good choices all around, I'd say. It's somewhat understated looking, but I've only just scratched the surface here; the closer you look the more you recognize that this is a car with a mod list a mile long.
The Elusive One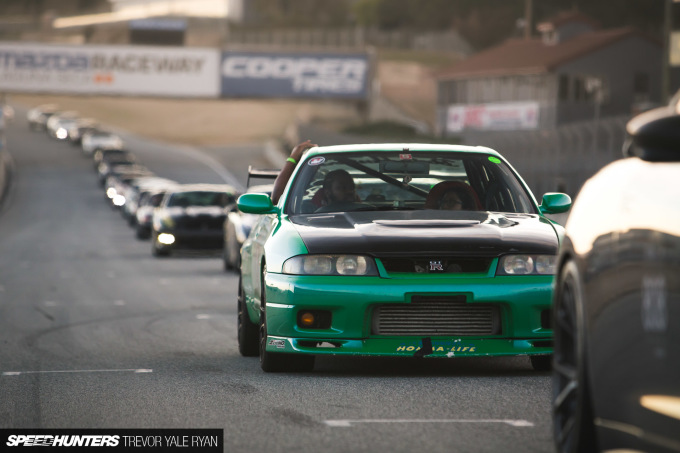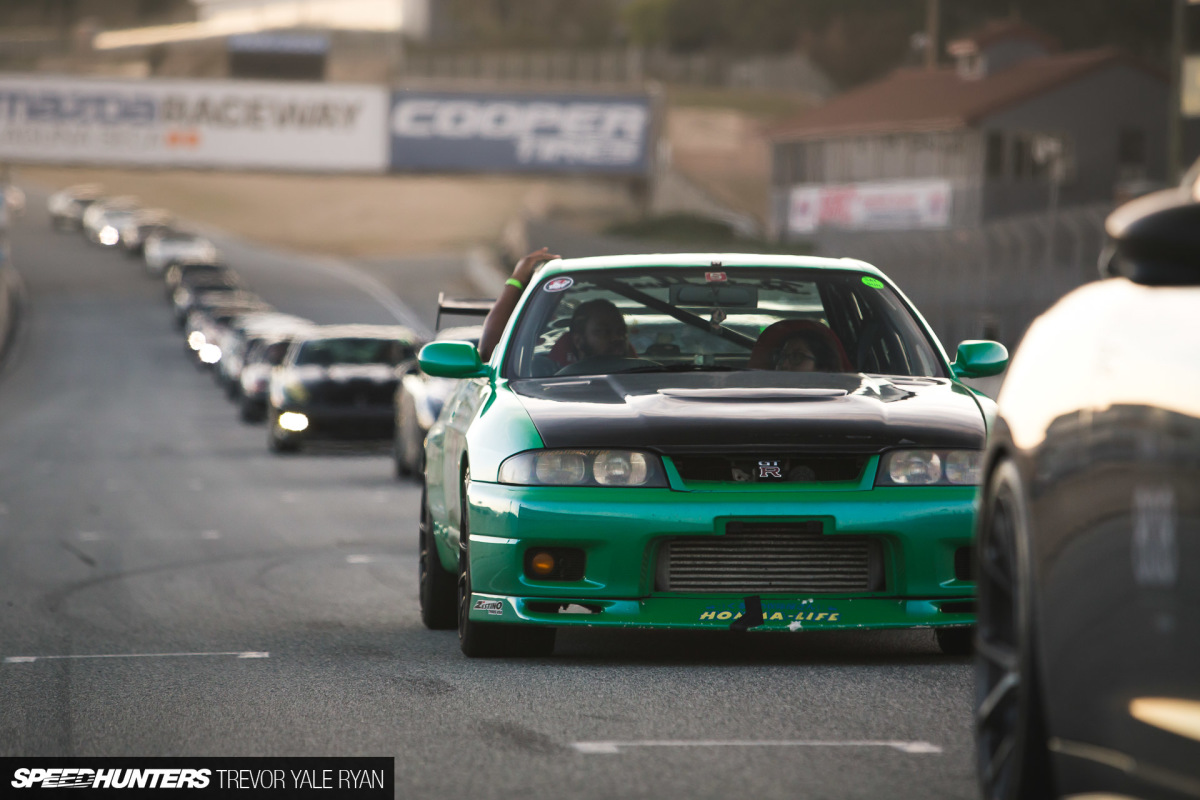 Next up is the R33: the least-popular Skyline GT-R generation here in the States. When I saw Gary's car in the garages, I had to know where it came from. The short answer, of course, is Japan.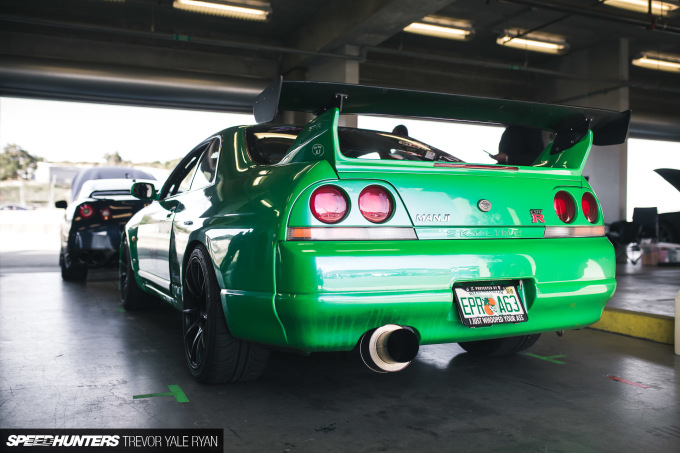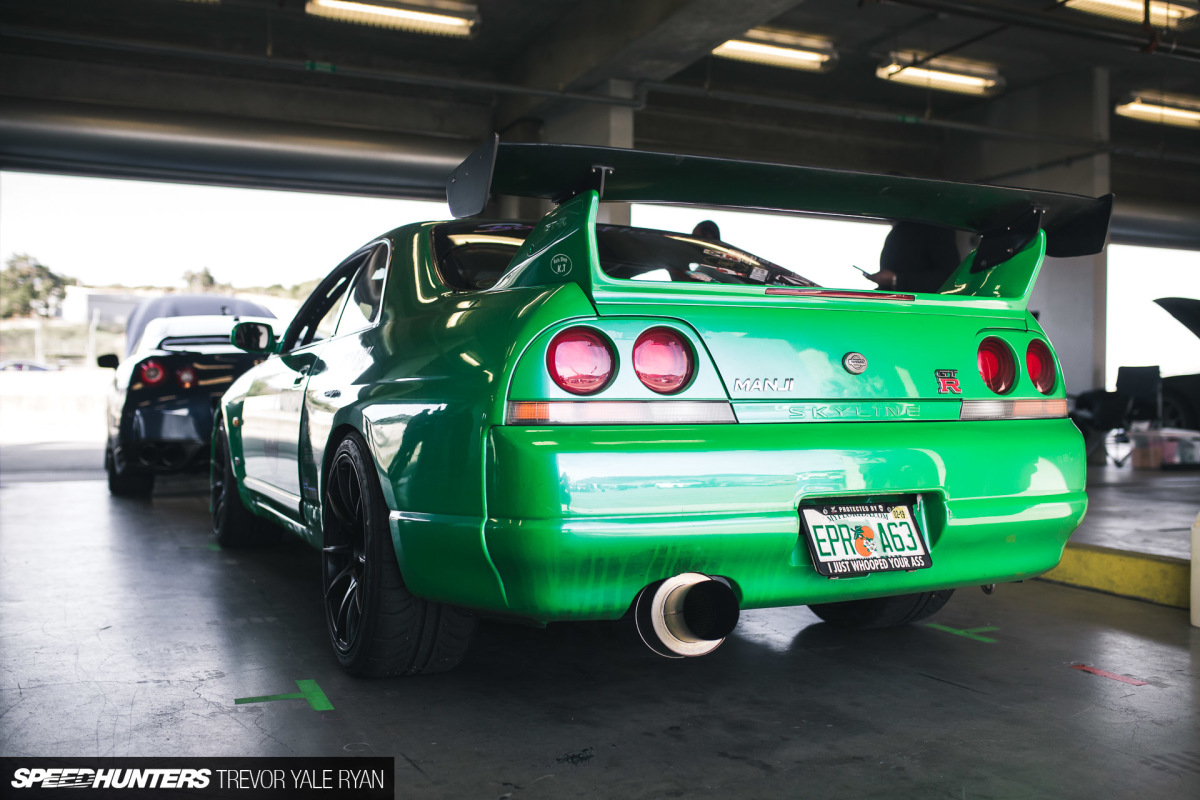 That's where they all come from, including the often-overlooked fourth generation version. Despite its unpopularity (which there are a variety of reasons for) it seems that deep down, everyone really loves this body style.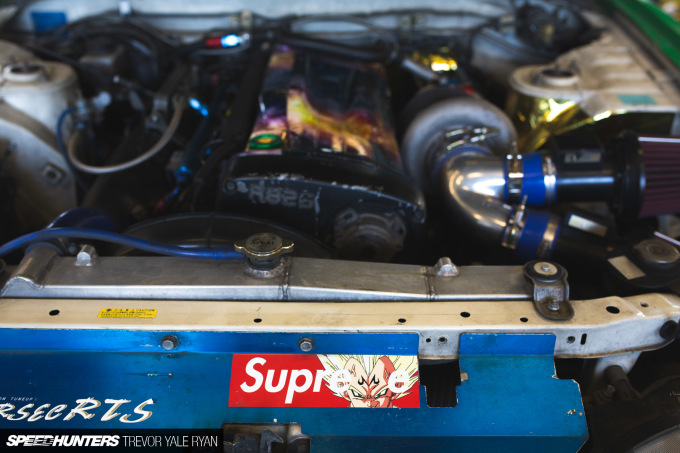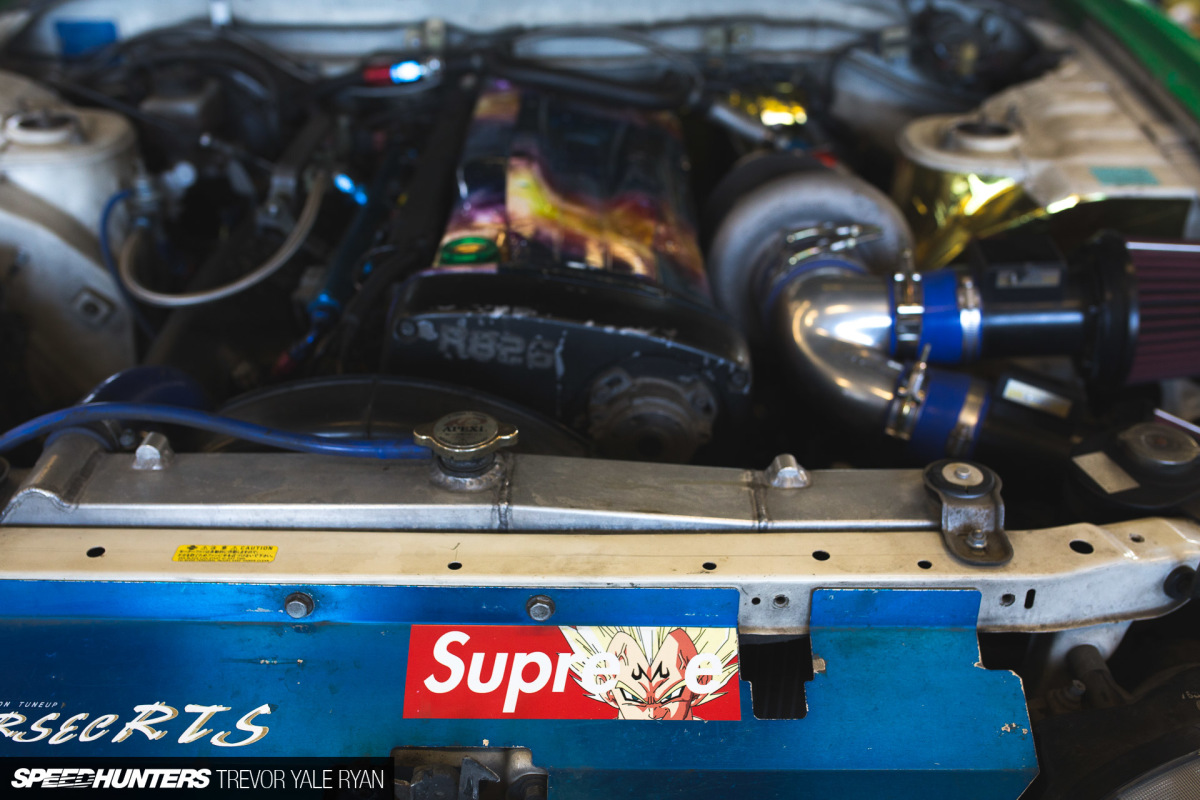 Due to its rarity here, people become extra excited when they come across one. Gary's was no different, but one thing did set it apart. It's this next bit of information that I was really after when I first saw it.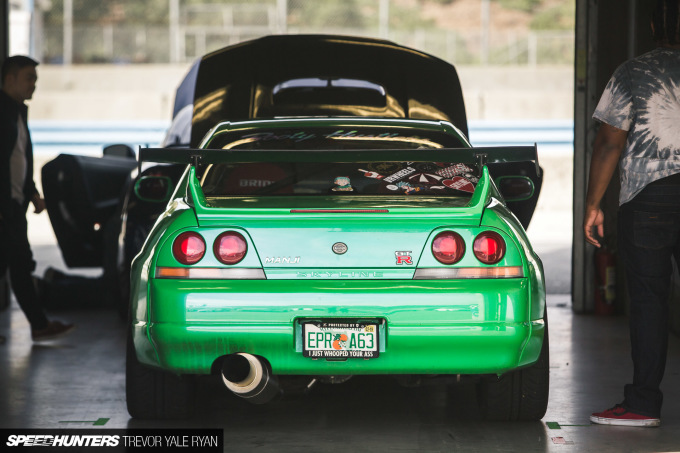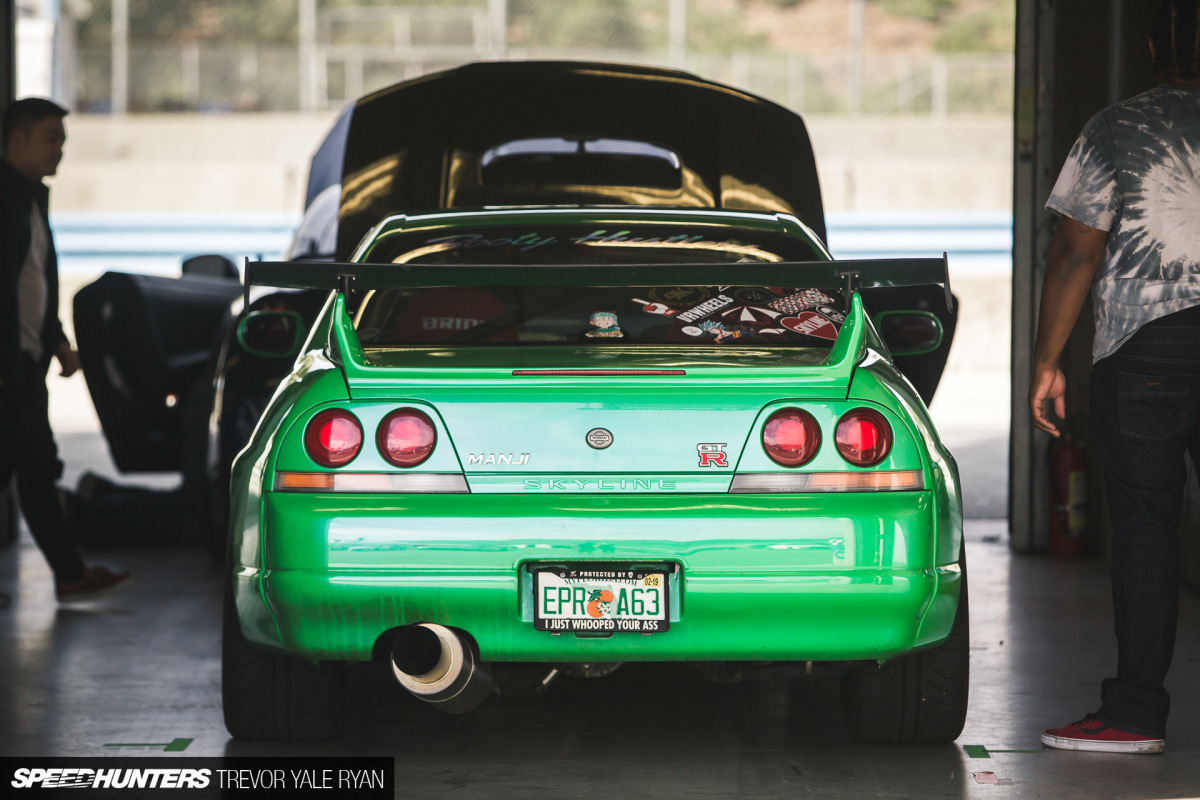 This car came from the drag strip; it was a built, high 8-second quarter mile car. Seeing one made for this purpose stateside is a conflicting experience, and I suppose that's why Gary repurposed it for the track.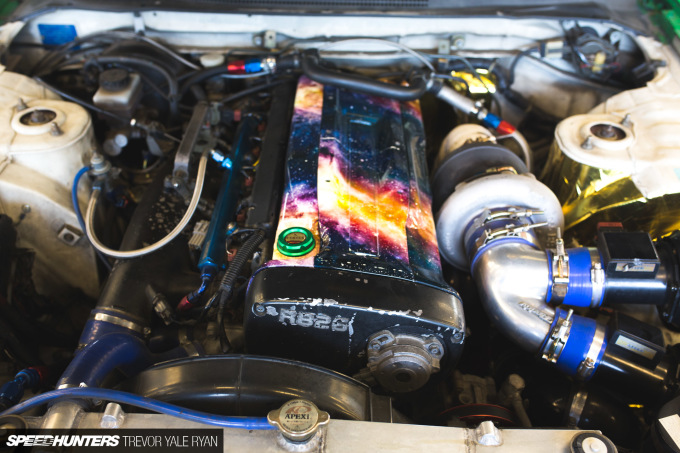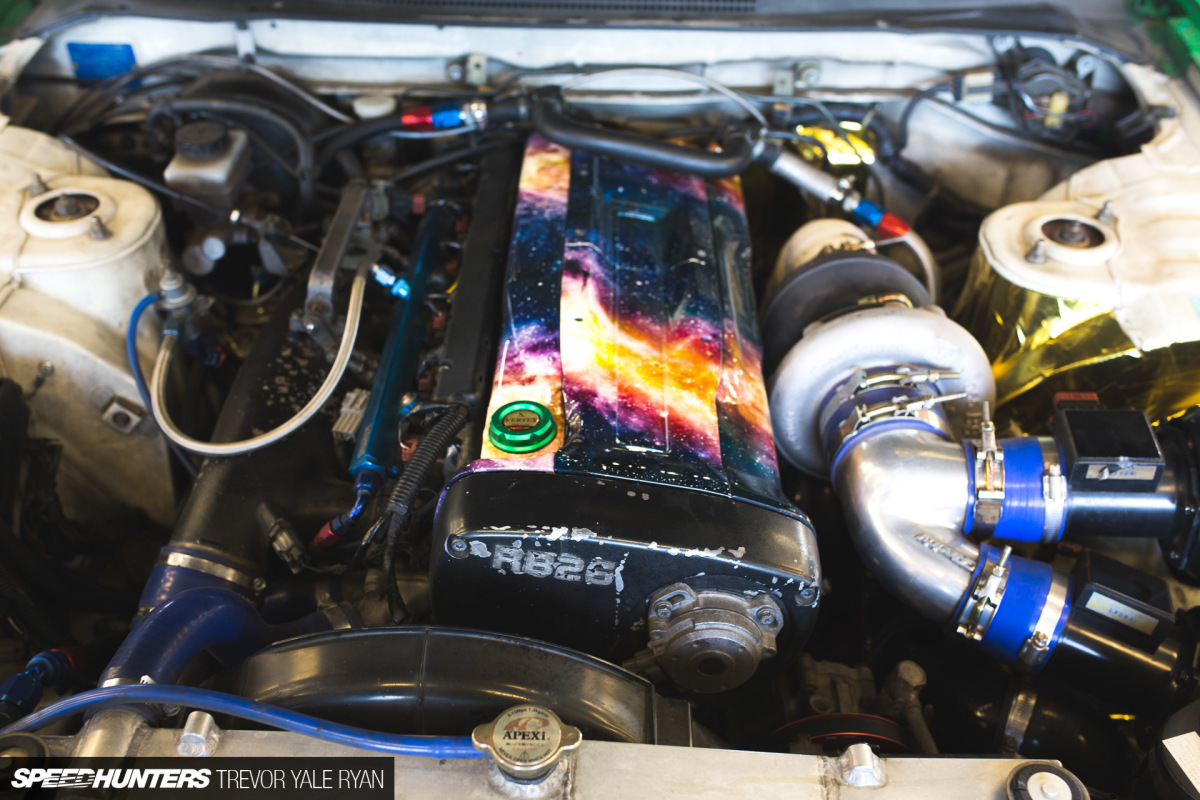 It shipped over with a setup that once made 1,000hp, helped by an HKS T51R turbo. Gary has since swapped this out for a BorgWarner SX300 unit with a 44mm wastegate, 1,000cc DeatschWerks injectors and a handful of other goodies to make the thing go.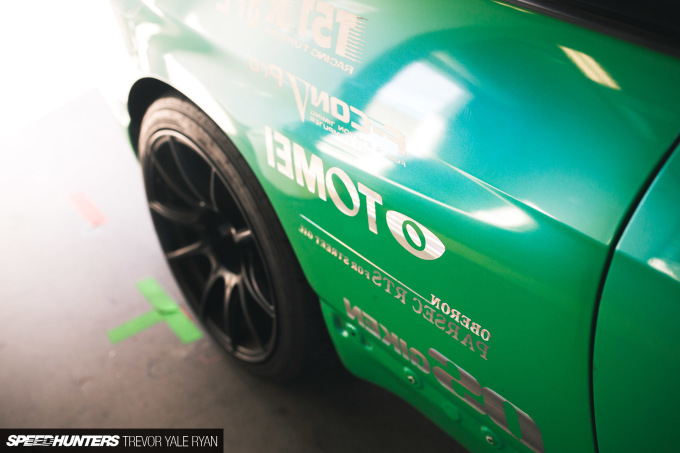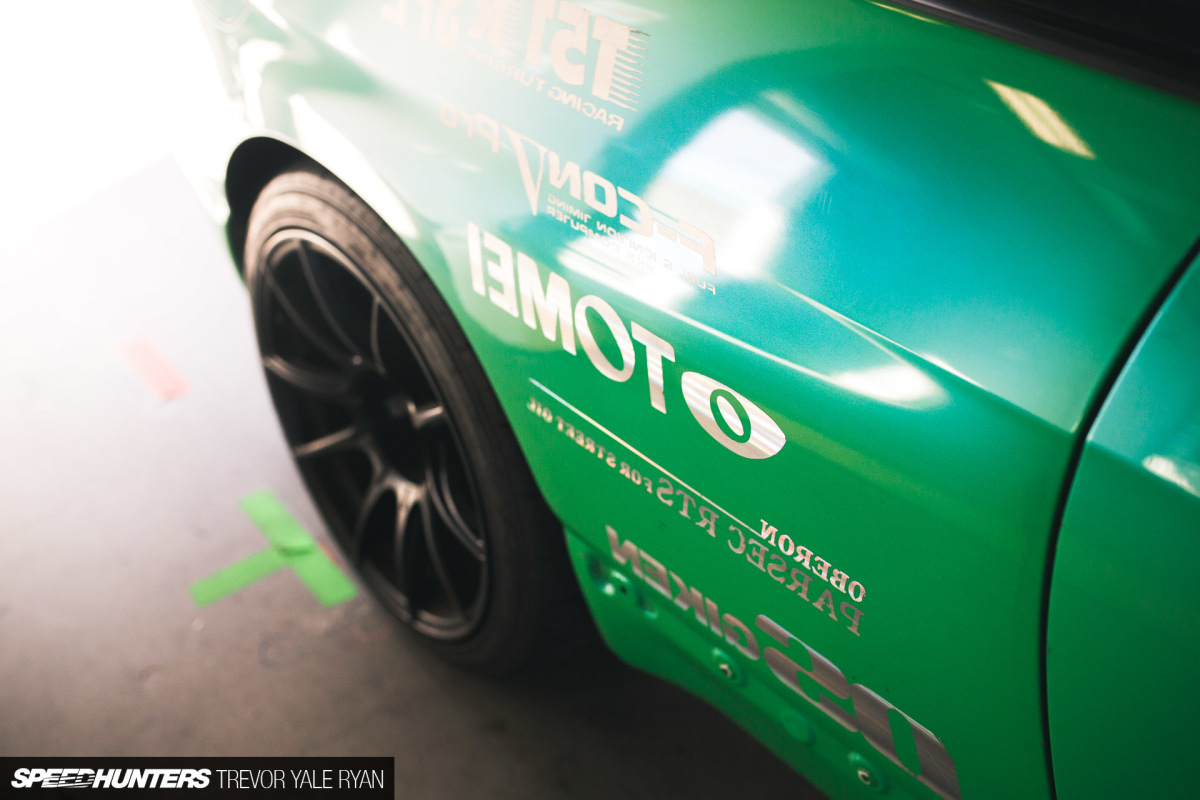 Outside the dreamy engine bay, the external styling has so far been left as it was when it came from overseas — I quite like the shiny old stickers that are still on the car from its drag racing days. Gary has added some of his own, and the wheels are SSR GTX01s with grip-spec Zestino rubber mated up to continue the Japanese theme.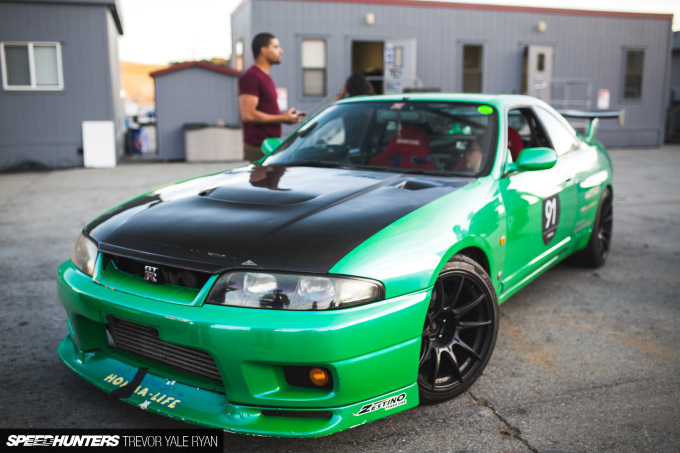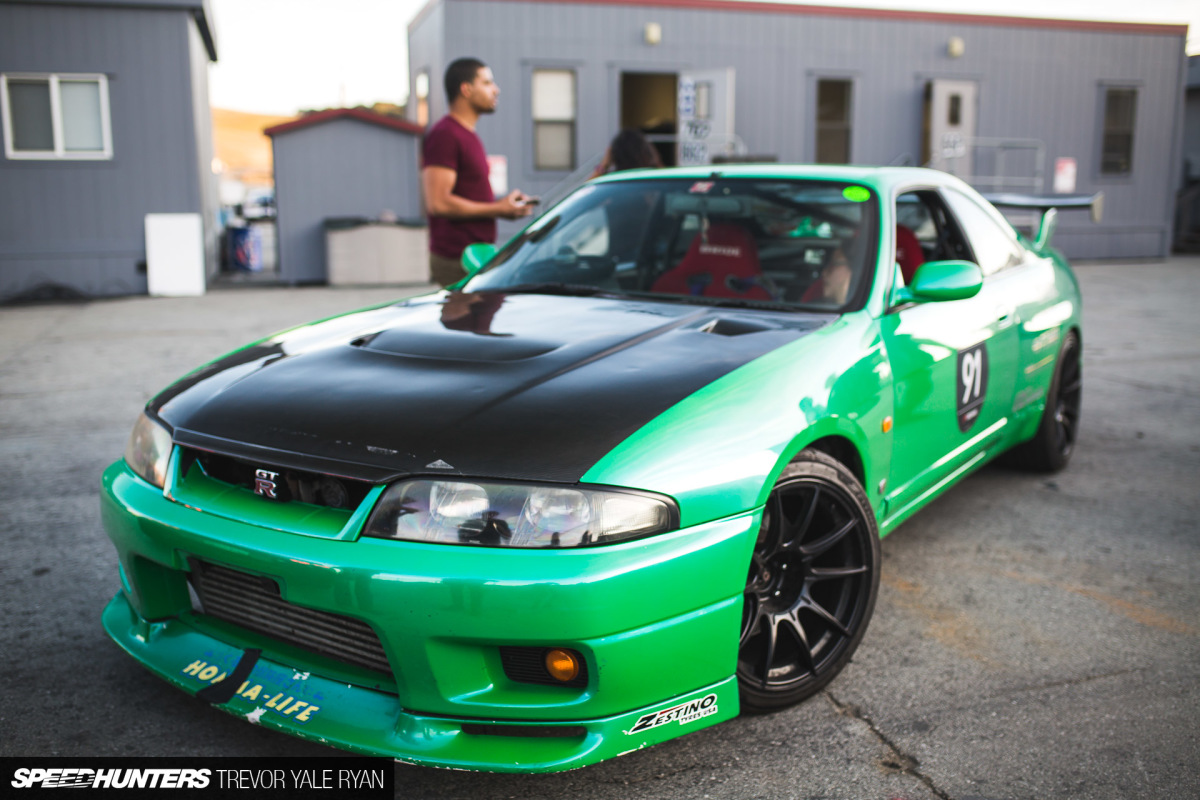 While perhaps often the odd one out over here, Gary tells me the R33 is his favorite of any Skyline, due to so many things being just right in his eyes. He's done plenty more to the car since acquiring it than I've mentioned here, and I'm sure he'll continue.
Victor's V-spec MPII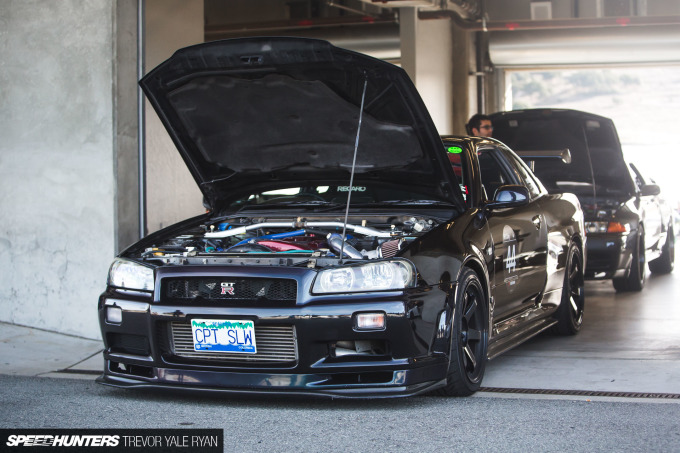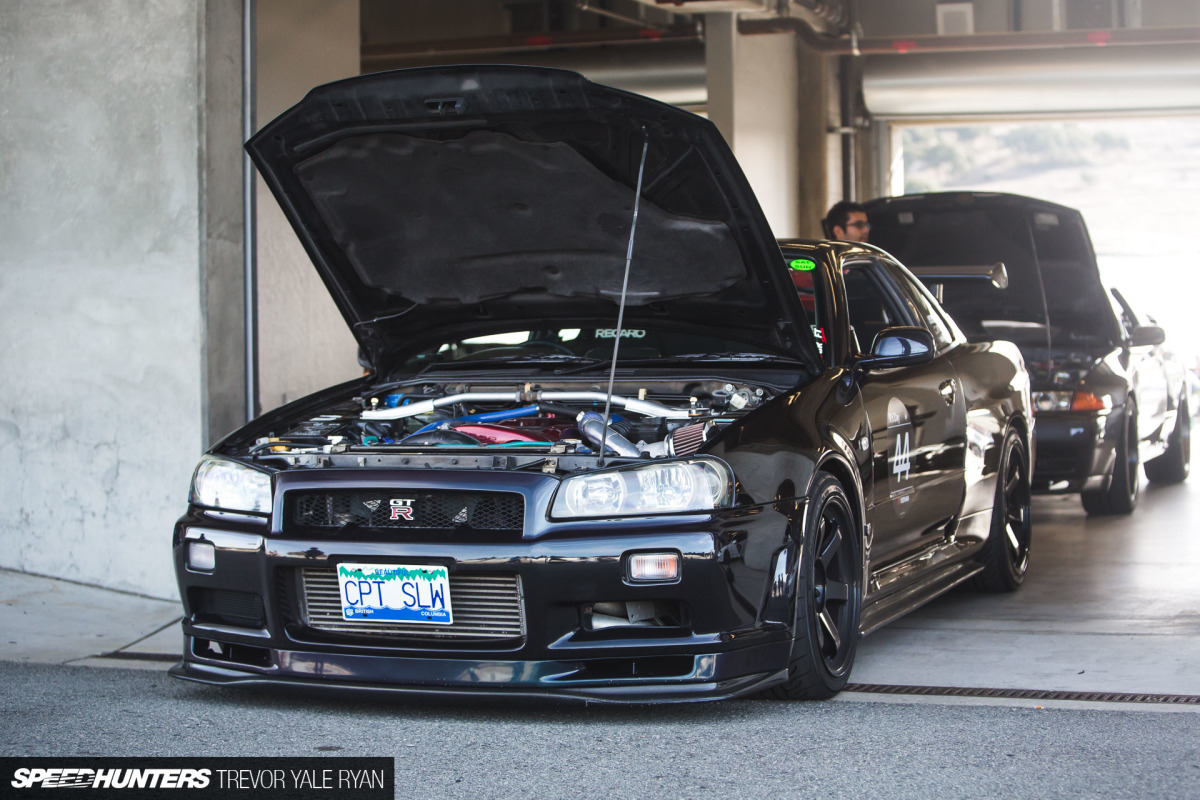 After three comes four, and this is where I had a bit of trouble. I just couldn't decide on one, so for the moment we'll focus on Victor's 1999 R34 V-spec.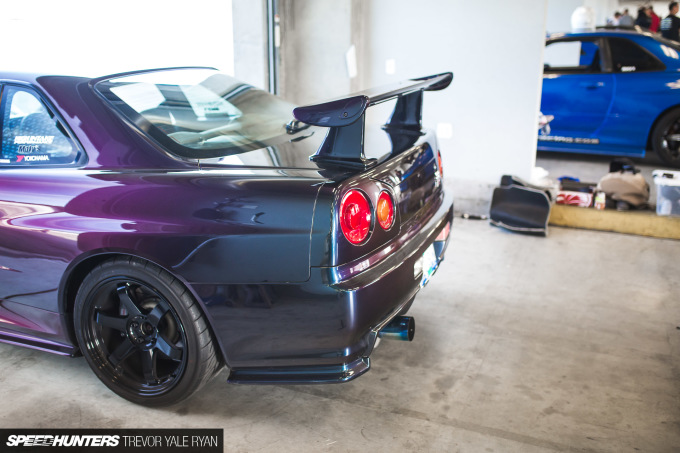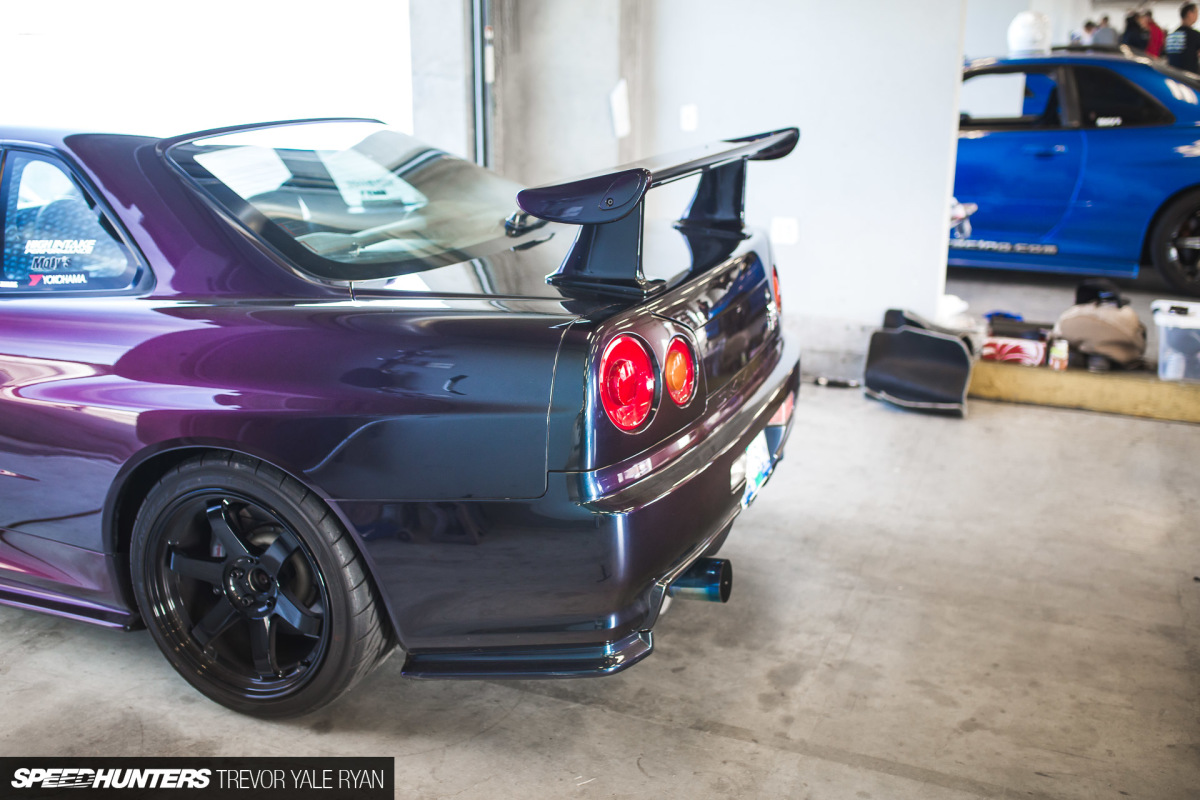 The first thing you notice about this car is that Midnight Purple II paint. I've said it before, but I'm generally not a fan of these super-pearl, color-changing style jobs. But it just works so very well here, and the rarity multiplier makes it even better.
Paired with a Top Secret carbon front splitter, Trial rear wing, Nismo GT-LED competition tail lights and signals, along with classic 10.5-inch-wide RAYS Volk Racing TE37s in an 18-inch diameter, it's a great car to look at.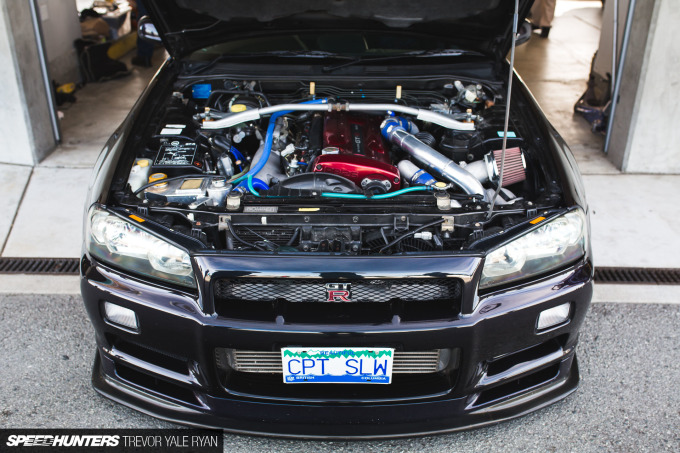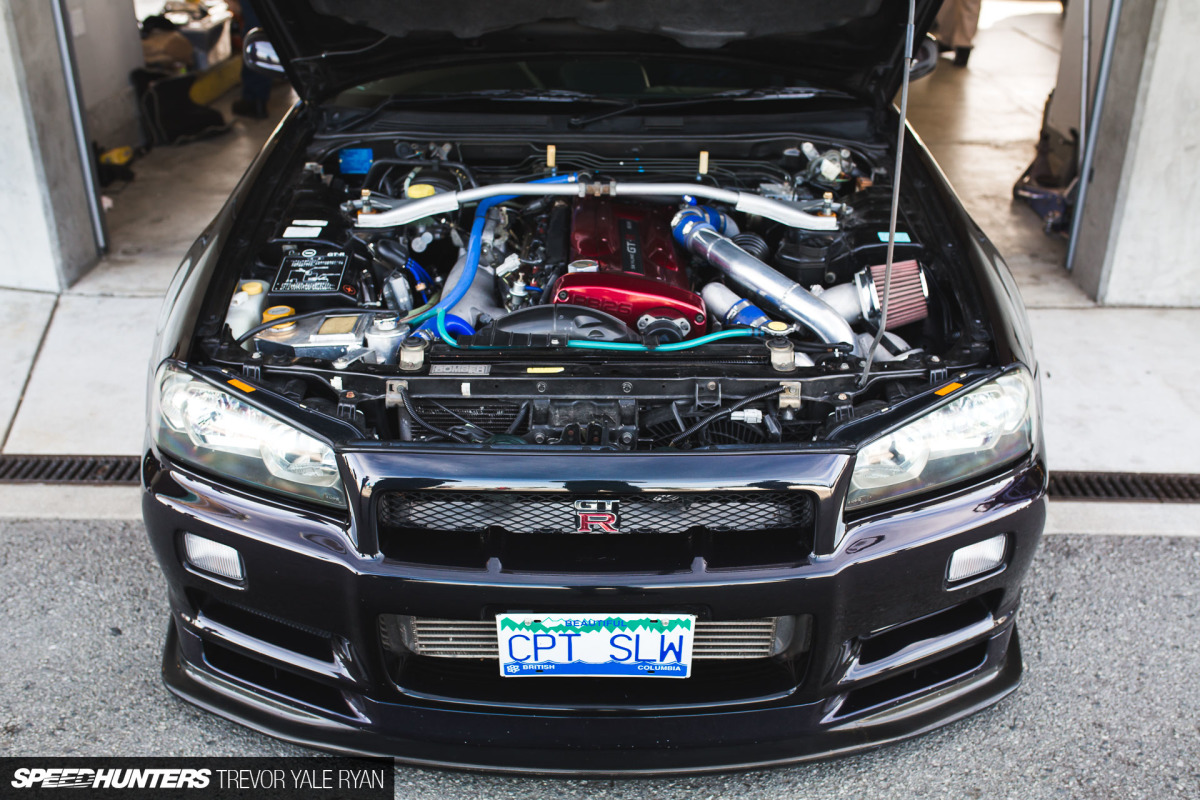 Victor didn't stop with the aesthetic modifications, of course. Under the hood he has an HKS GT-SS turbo kit along with a HKS cams, helping the RB create a healthy rumble.
An ATS twin-plate clutch makes for quick shifts to transfer all the power when you're wide open at the track, and a plethora of aftermarket coolers and the like help keep the temps in a reasonable range.
Under the car itself, big Brembo 6-pots bring the front wheels to a stop with Brembo 4-pots out back, certainly useful on a technical track like Laguna Seca.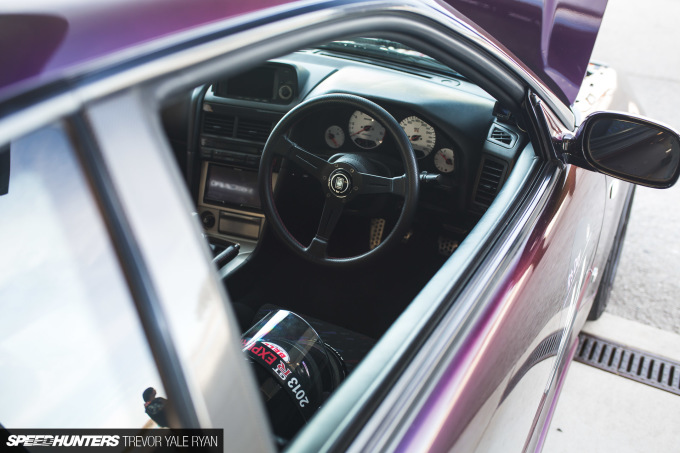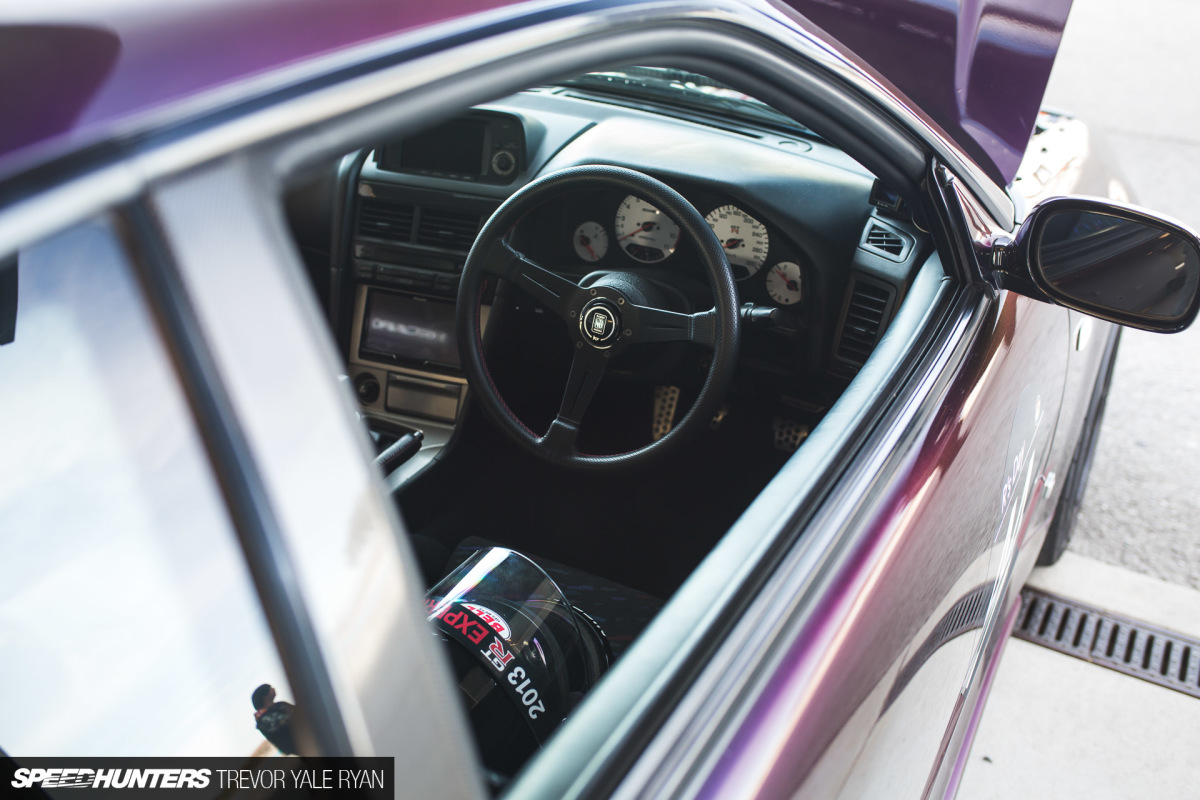 The interior is every bit as modified as the rest of the car, and like the others this isn't exactly an all-out track build. A Nardi steering wheel and reclining Recaros make for a more comfortable driver's experience. Victor also mentioned he has a Panasonic electronic toll collection unit, which I imagine is great for all the Japanese tollroads we have here.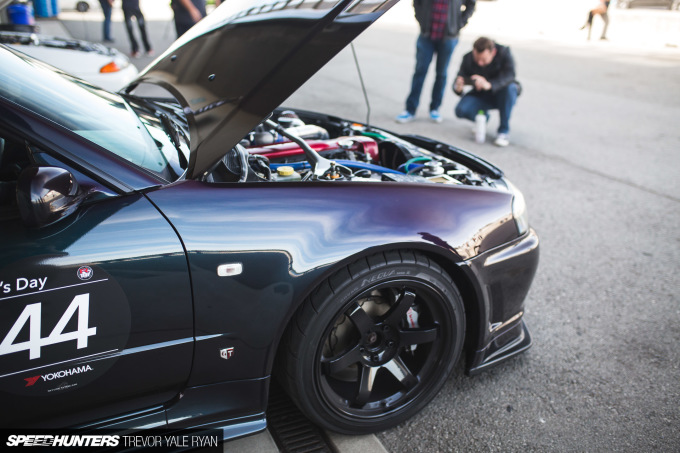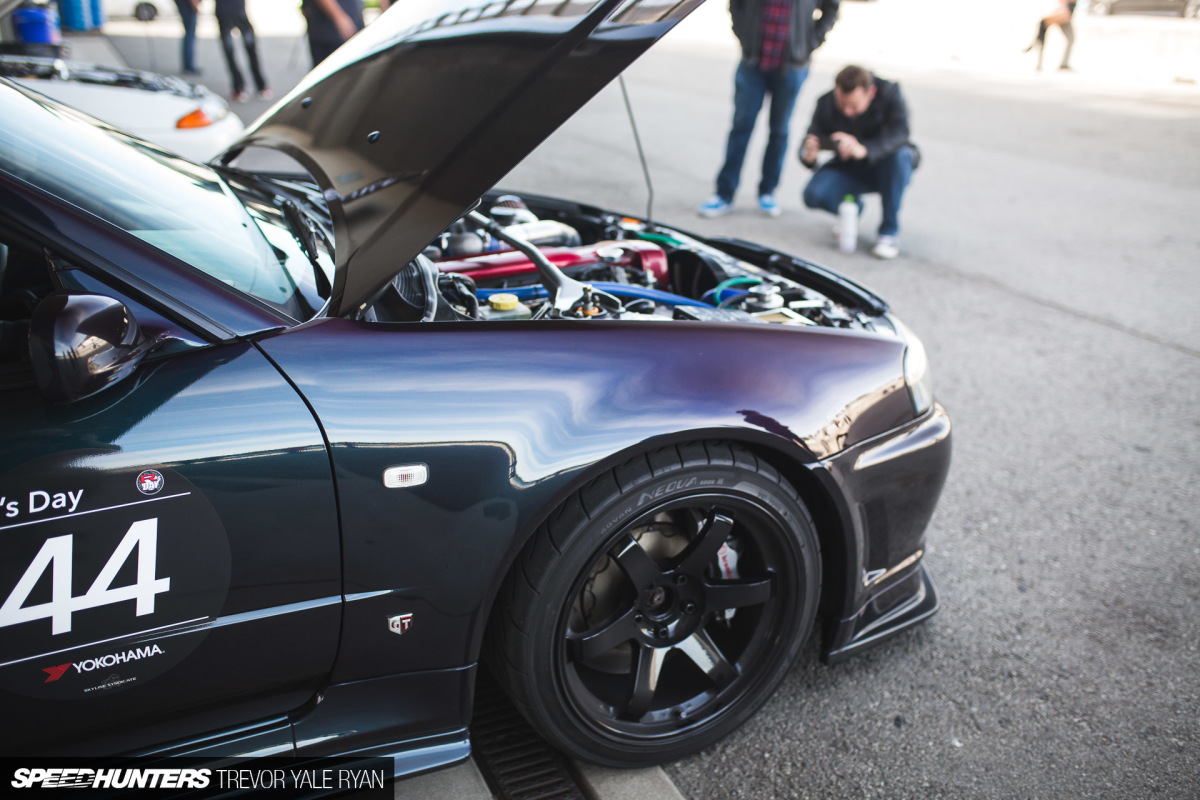 Jokes aside, this is a beautifully-built R34 that's just as ready for a show as it is a track day or the touge. It had plenty of admirers throughout the day.
The Awkward Big Brother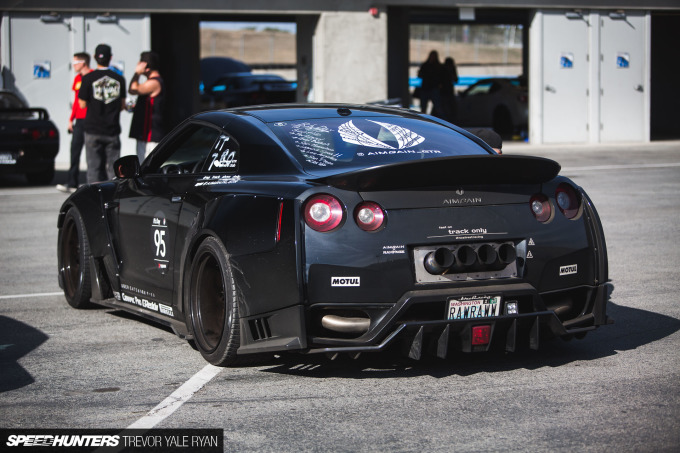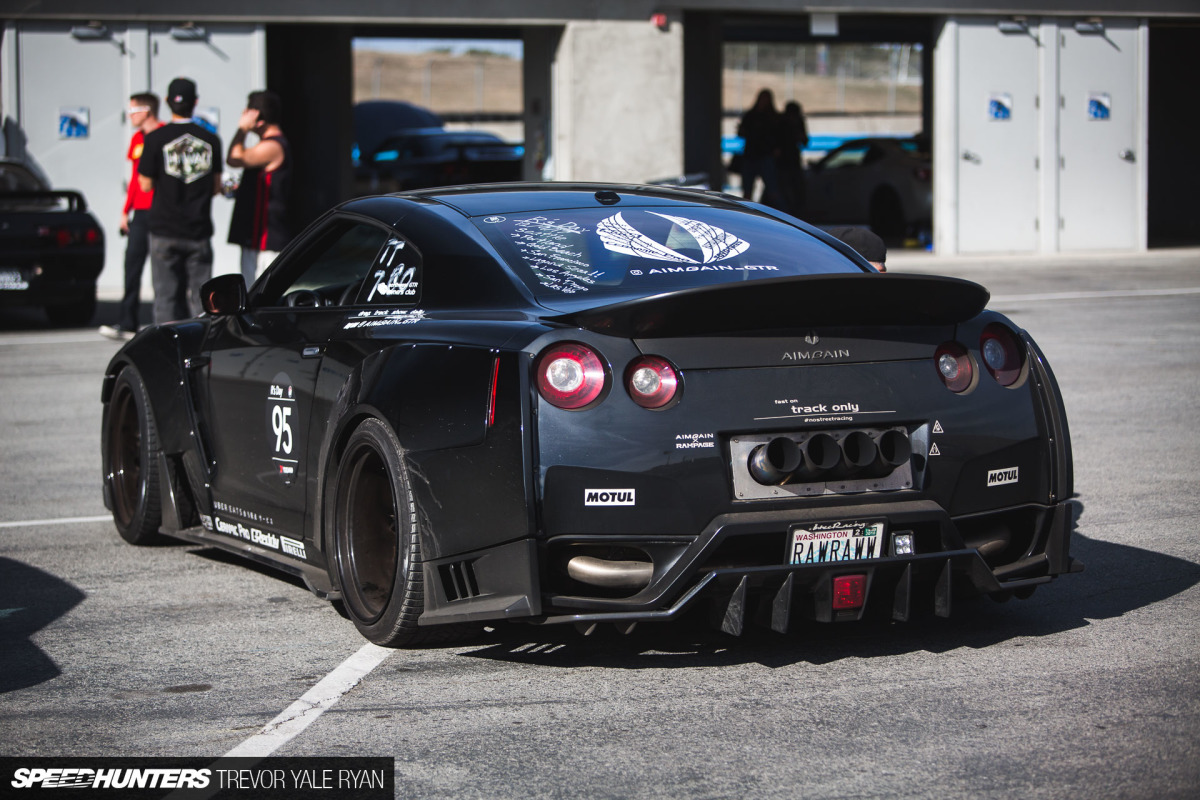 Seeing as how I'm looking at each of the GT-R chassis from '89 and on, I can't just skip over the R35. I must admit I'd generally be okay with this, though — the R35 body style is indubitably the ugly duckling of the group, and I've never been a big fan.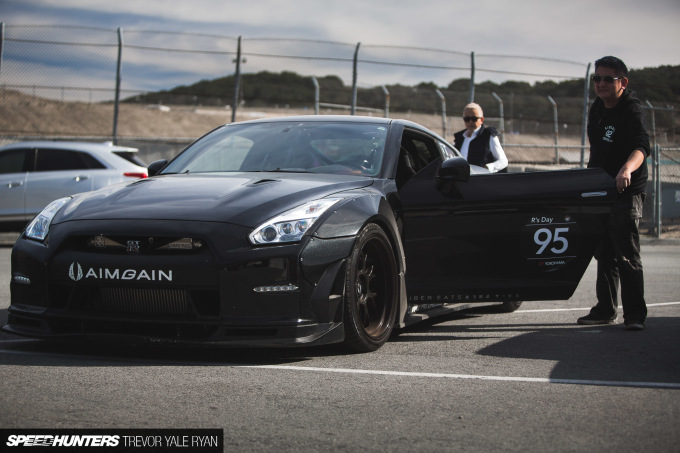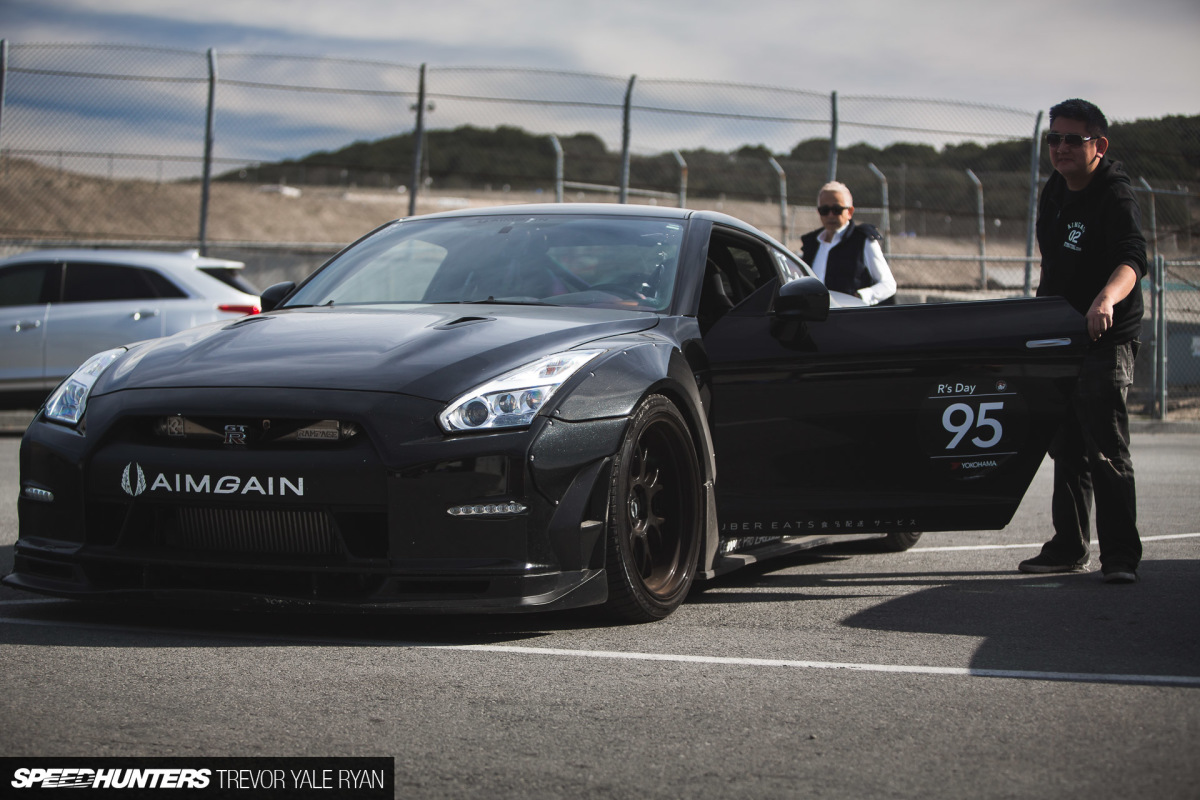 However, Simon's Aimgain-kitted R35 is a great looking, insane machine. It's also clearly not a car that's babied, which is always a good sign.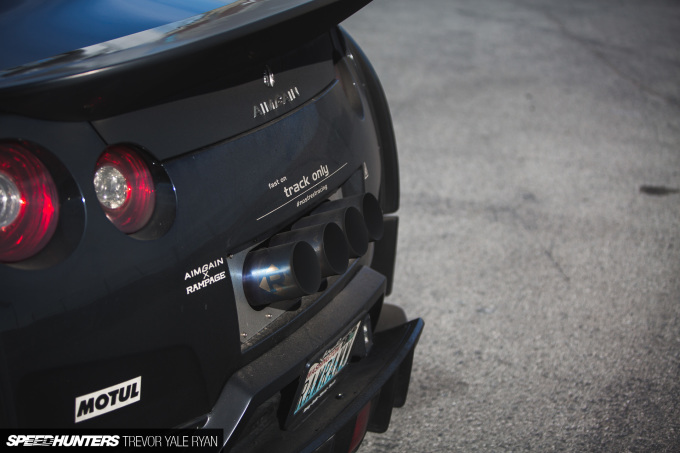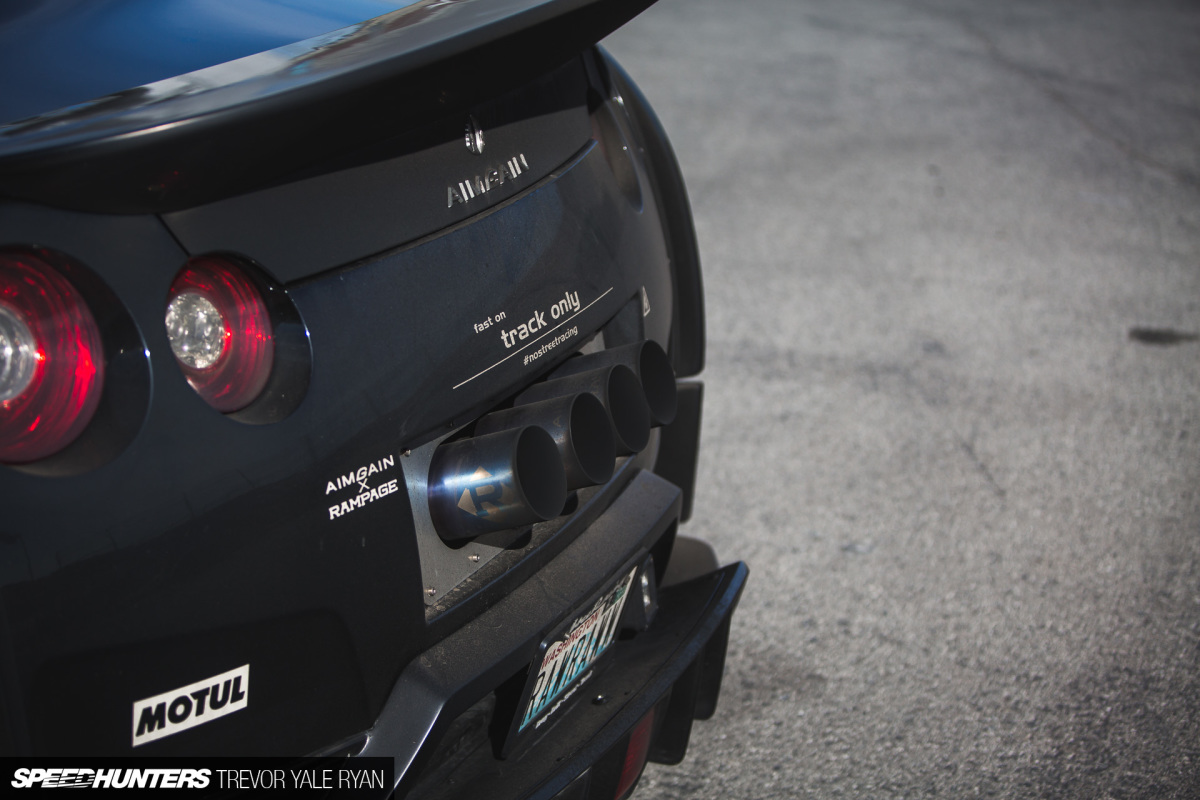 Despite making the long drive here, he was unfortunately booted from the circuit after just a few laps for being far over the strict noise limit of 92dB at Laguna Seca. If you're curious how this happened, look no further than his massive quad-tip exhaust. It's very much an in-your-face sort of thing.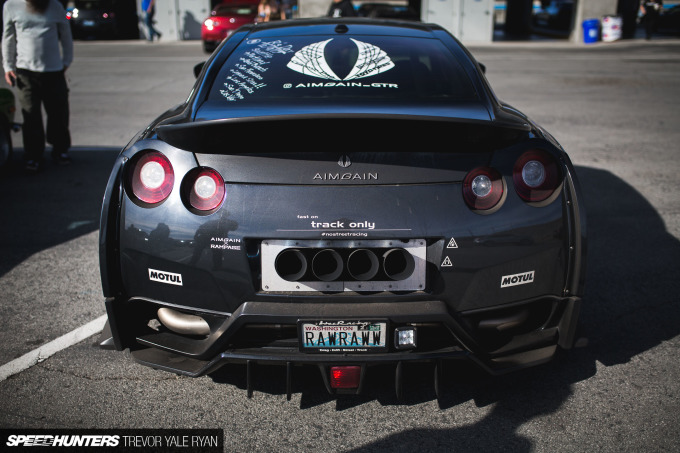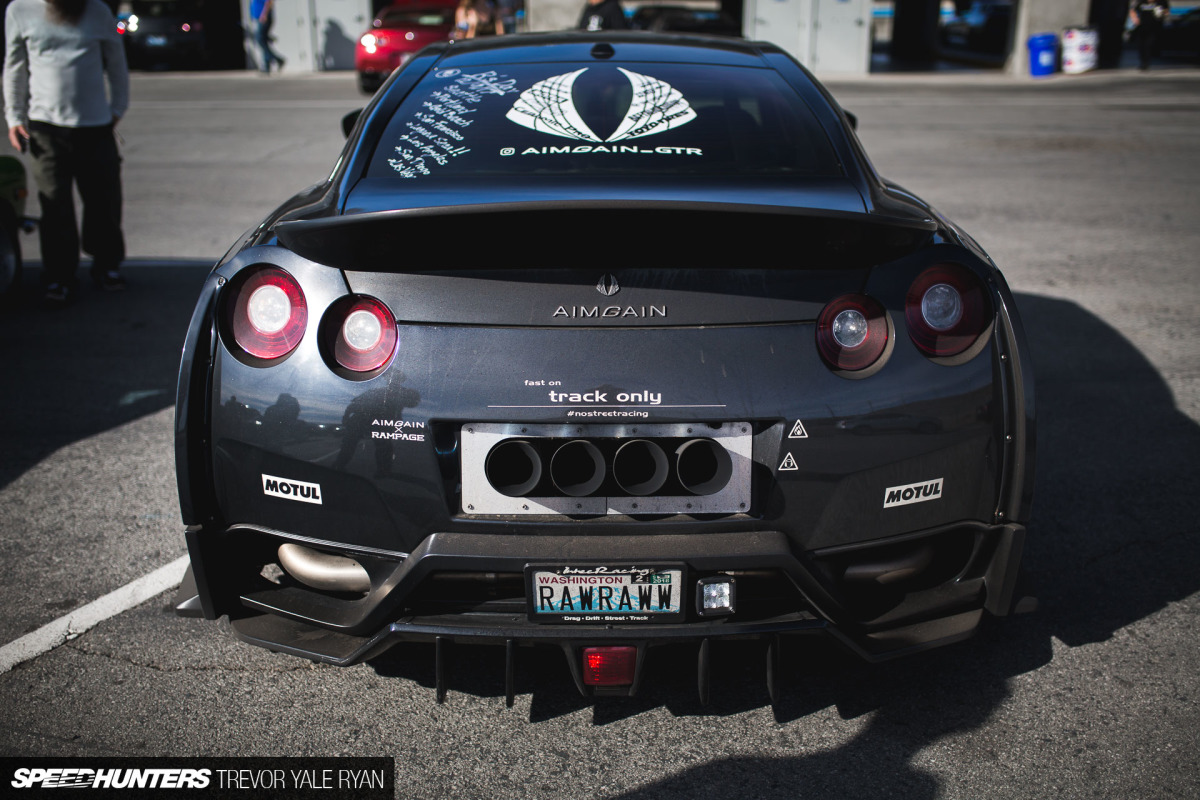 Simon didn't seem to care at all about the black flags though, as he was really just here to hang out with friends and check out the other creations that showed up to the track.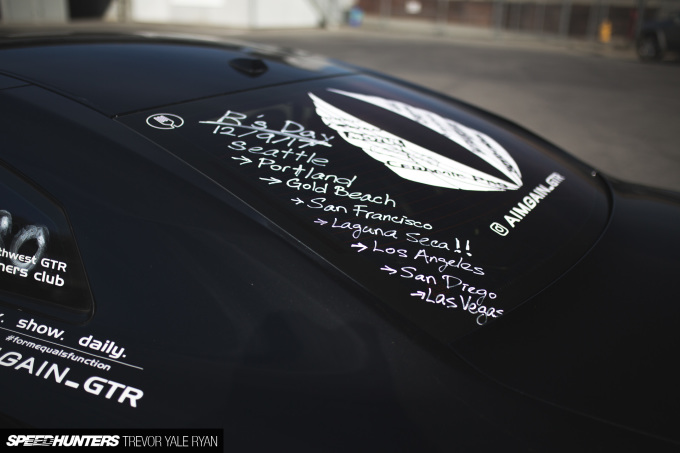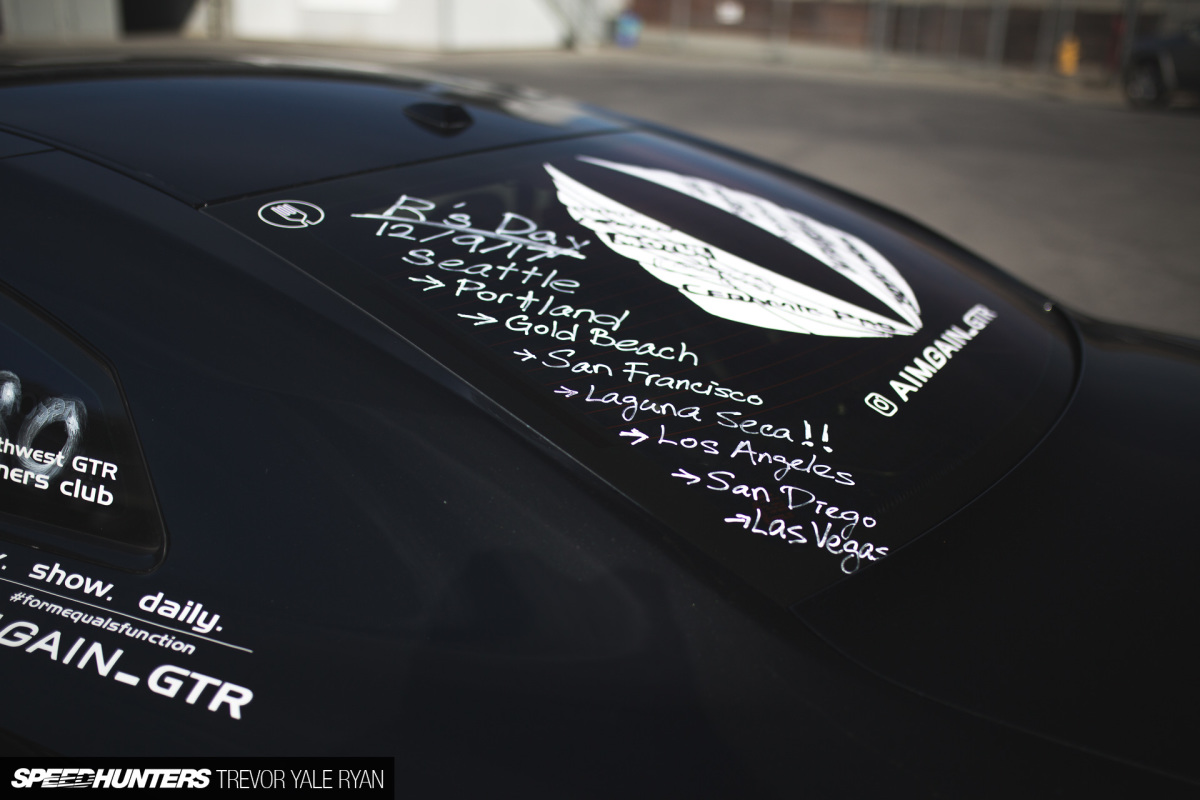 It certainly wasn't his first encounter with an R's Day event either, and I'm glad Simon made the trip out to Monterey for this one.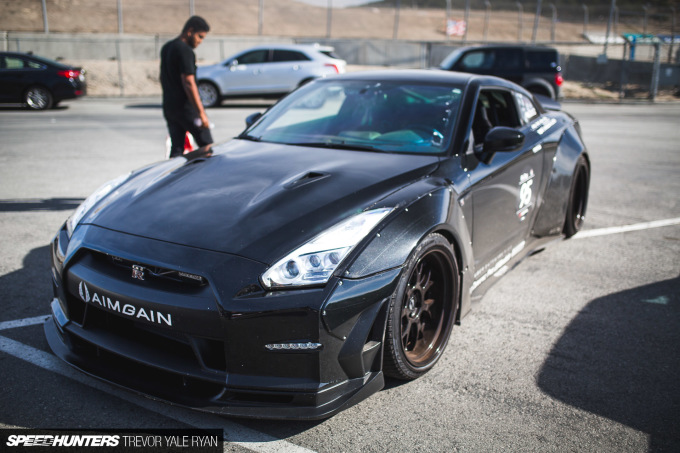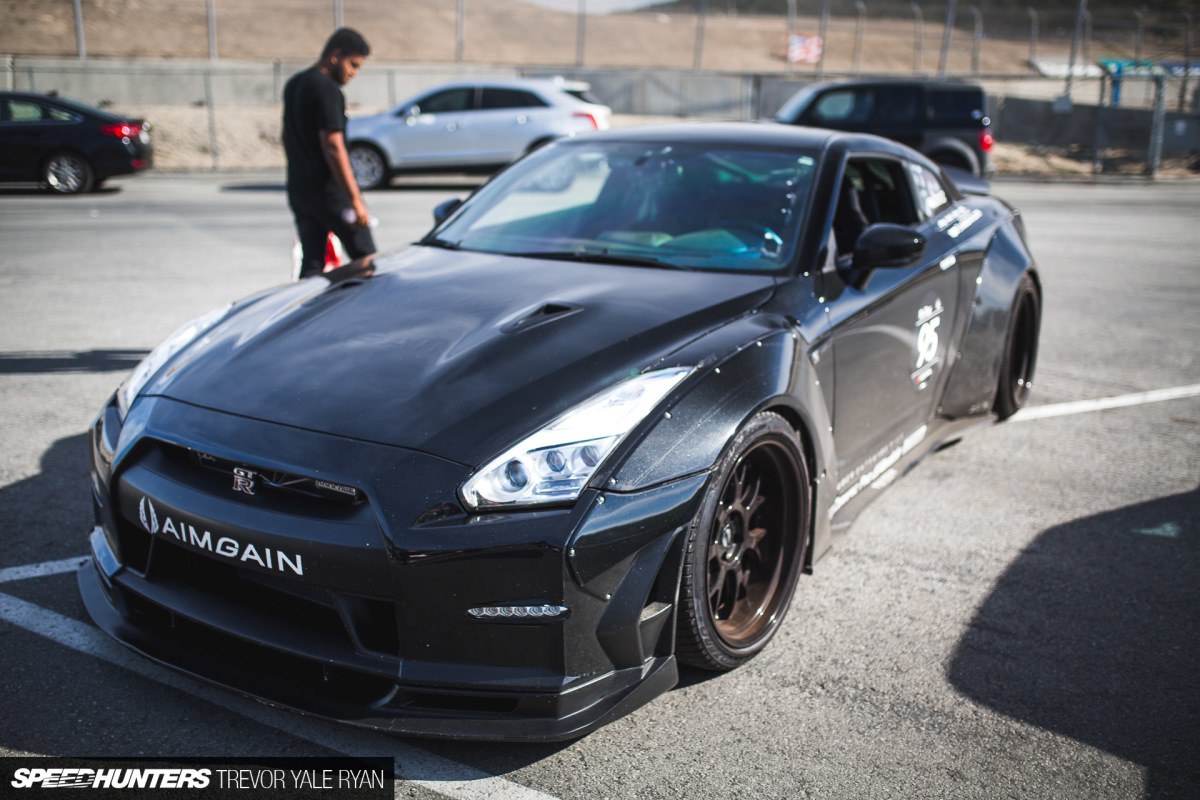 R35s like Simon's give me hope for what I usually write off as a strange, large, unappealing model. Nothing like an Aimgain body kit to liven things up, I suppose.
One R To Rule Them All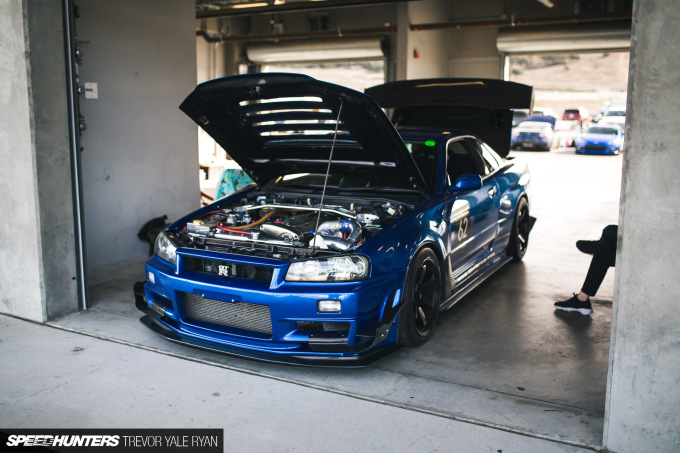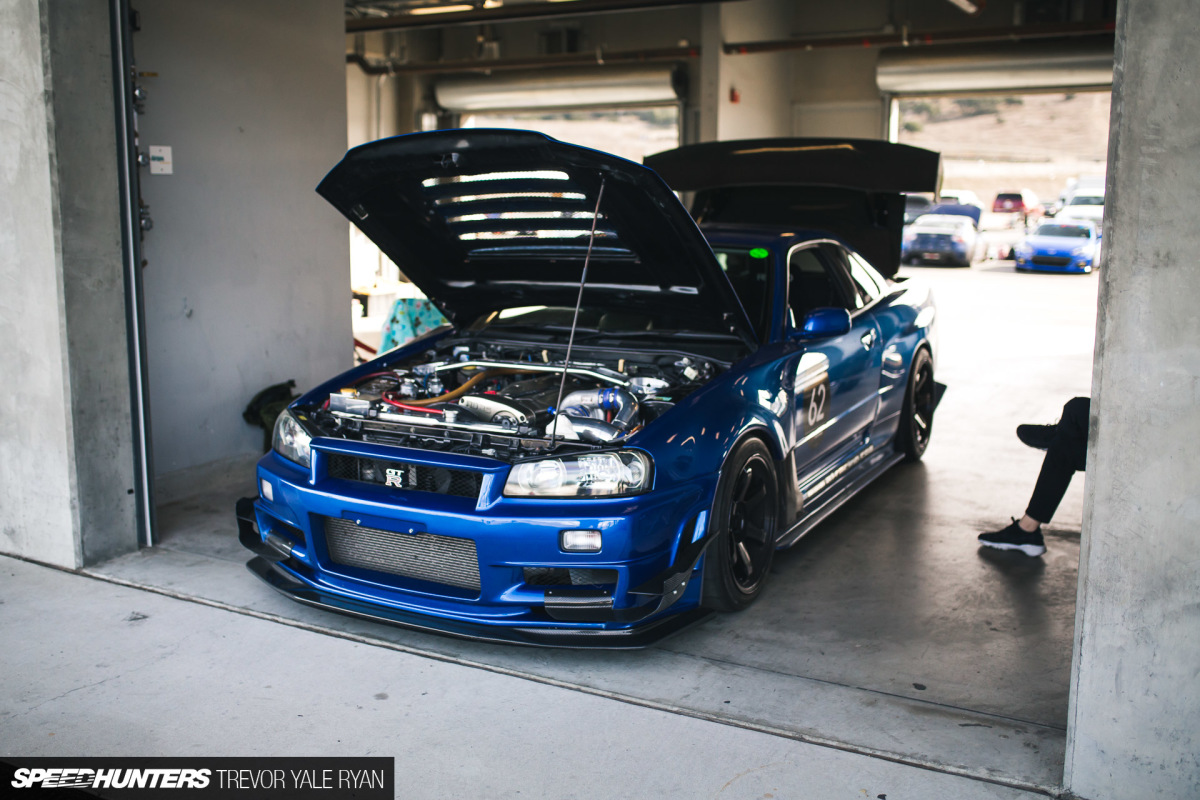 Lastly, I couldn't pass up Charles Wong's 1999 V-spec. This was perhaps the most modified GT-R at the event, and one of my favorites.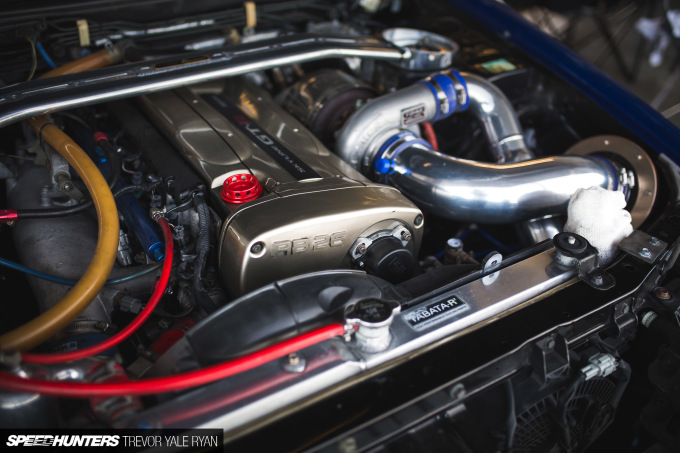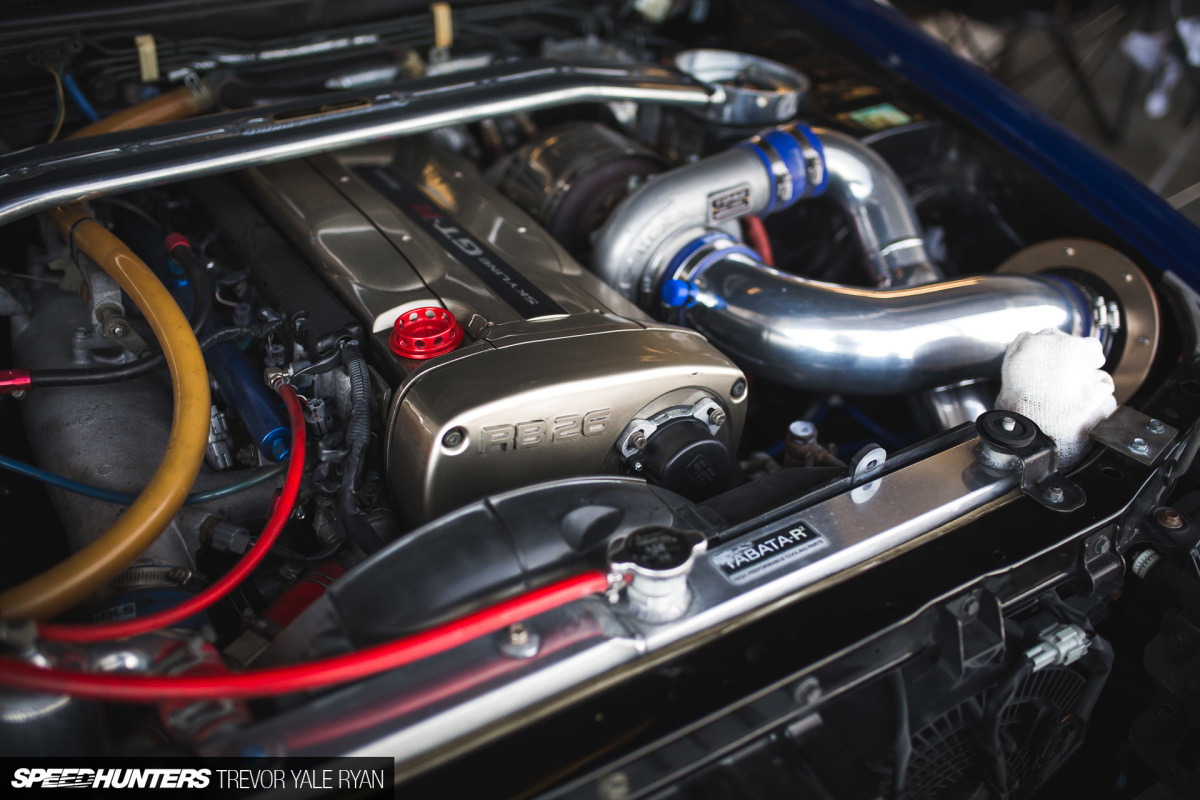 Inside the engine bay the BNR34 Nür-spec valve cover just looks so right. Underneath this piece lies a thoroughly built motor with parts from Trust, Reimax, Fujimura and Naprec just to drop a few names.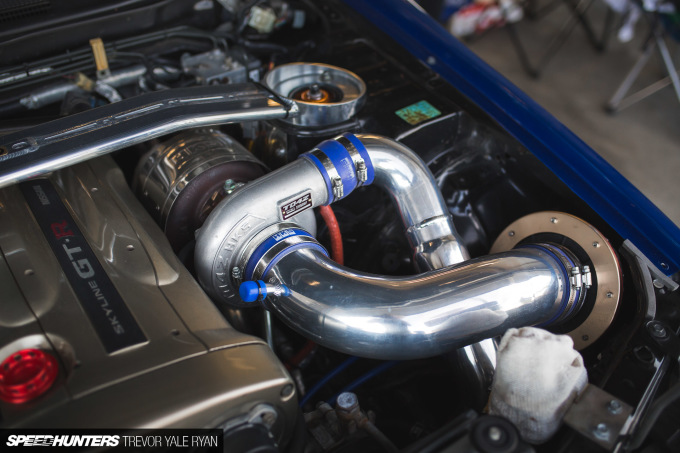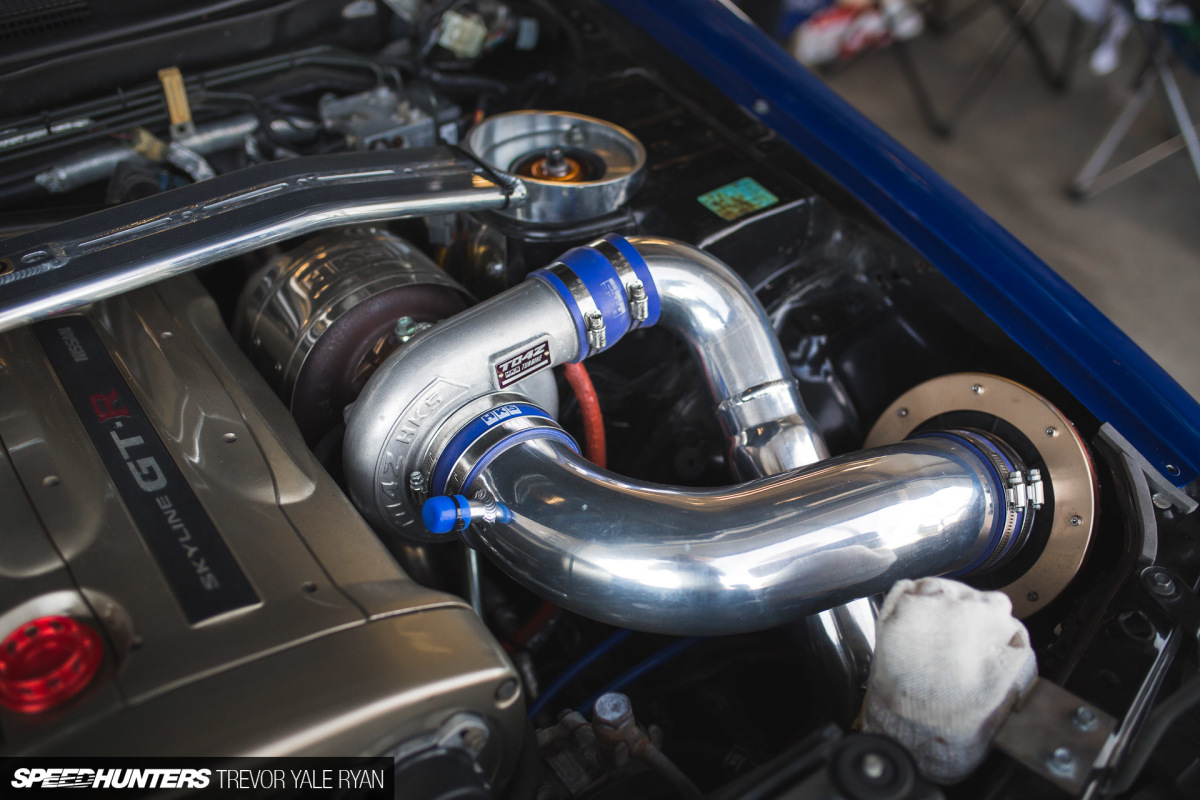 To help force air and fuel through the RB, an HKS T04Z turbo kit was selected along with an HKS wastegate, Super Power Flow intake, stainless exhaust, and down pipe. After combustion, spent fuel travels loudly and proudly though a Tomei Expreme titanium cat-back exhaust.
To ensure there's enough fuel there in the first place Charles went with Sard 1,000cc injectors coupled with two Nismo large capacity fuel pumps. That ought to do the trick.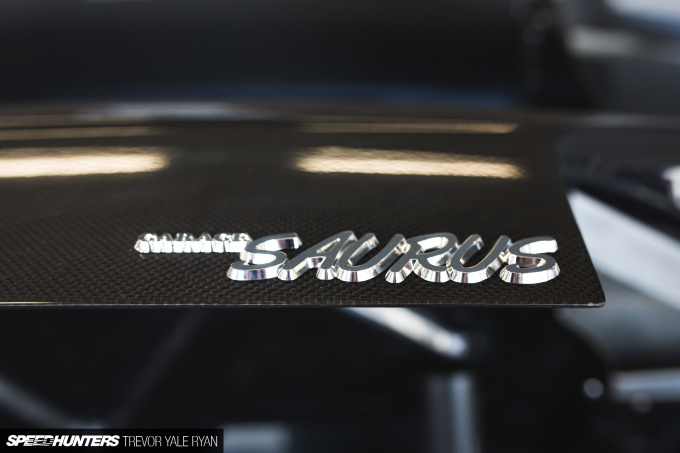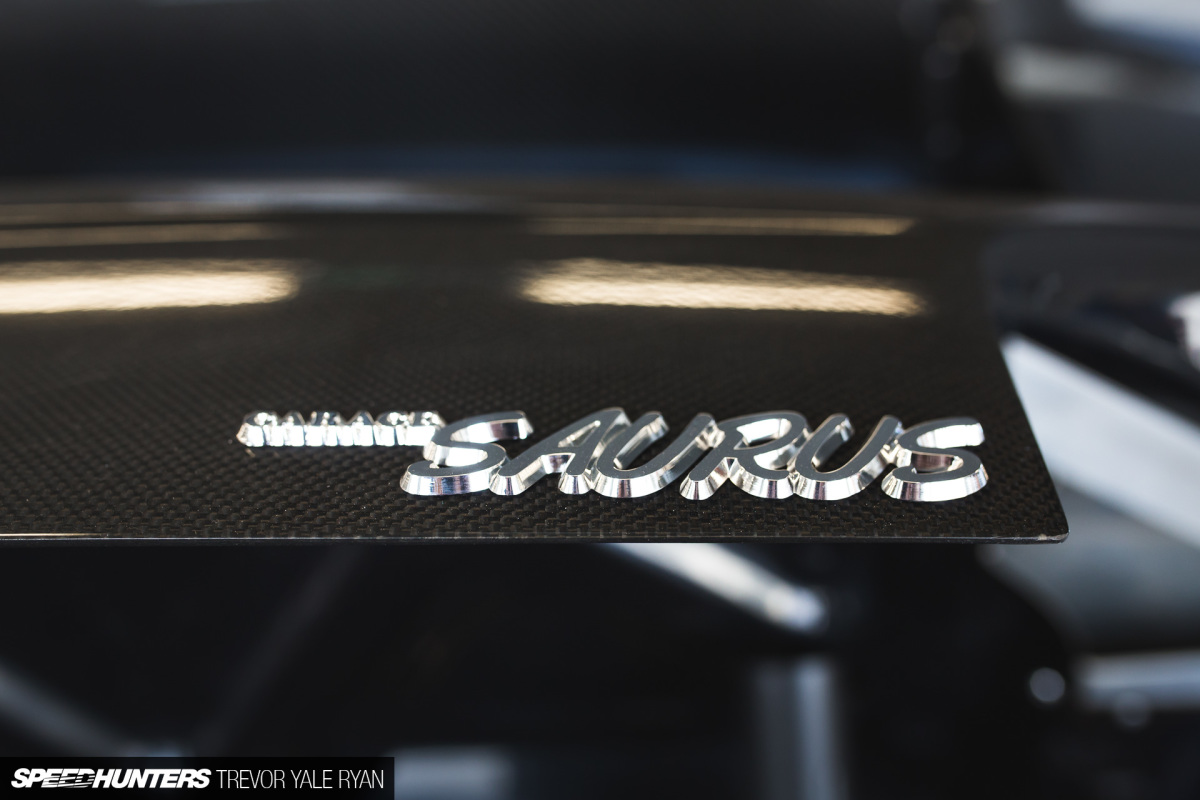 It's all controlled via the HKS F-CON V Pro 3.4 version engine management system along with a Blitz DSBC boost controller. The tune was completed by Garage Saurus; as such the R34 proudly wears a Saurus badge.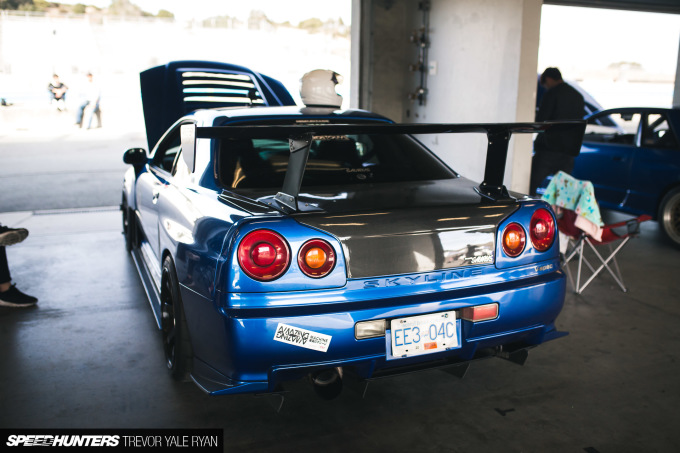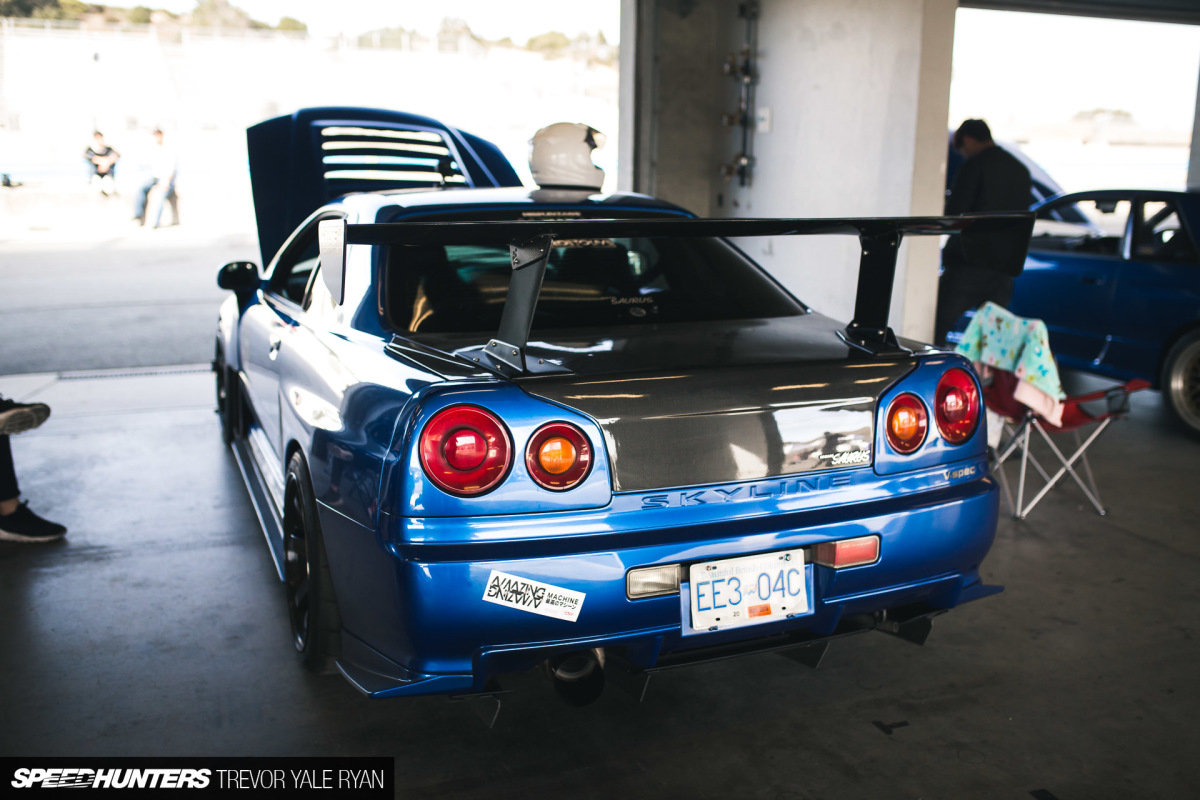 Like Victor's R34, power is channeled into an ATS carbon twin-plate clutch and up front the differential has been swapped for an ATS carbon limited slip unit.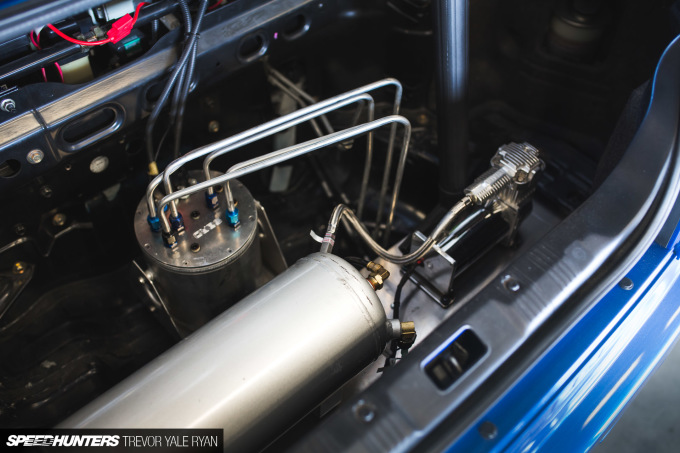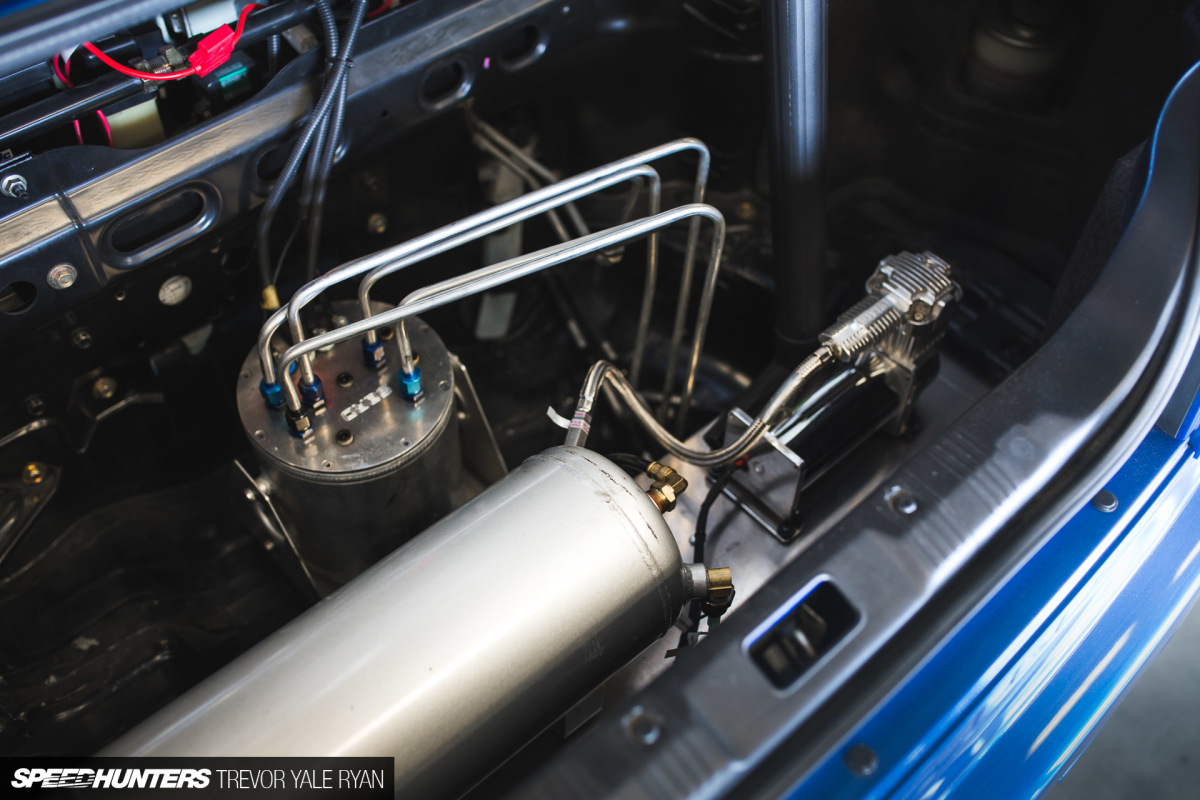 Handling is tidily taken care of by a set of Öhlins DFV coilovers that are used in conjunction with a Stance Suspension air cup kit. Nismo sway bars front and back, along with aftermarket control arms and subframe bracing by Kansai Service make this car even more amazing in the corners.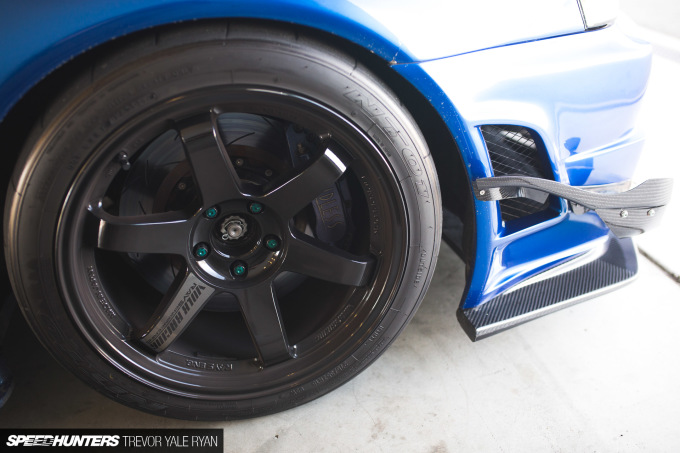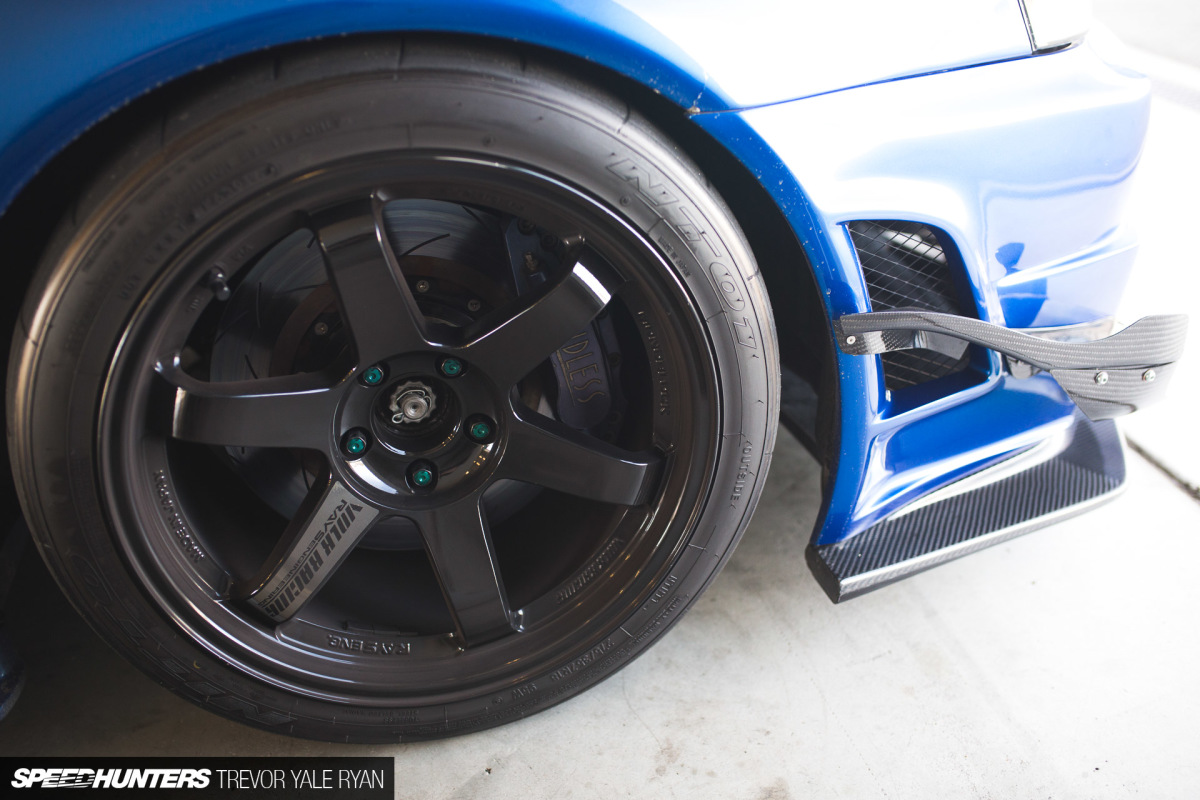 A big brake kit front and rear balances the build, ensuring that Charles can safely bring all that power and cornering speed a prompt stop.
Up front are Endless Racing 6-piston calipers and DBA 2-piece rotors measuring 355mm in diameter, with 330mm Biot 2-piece rotors in the rear.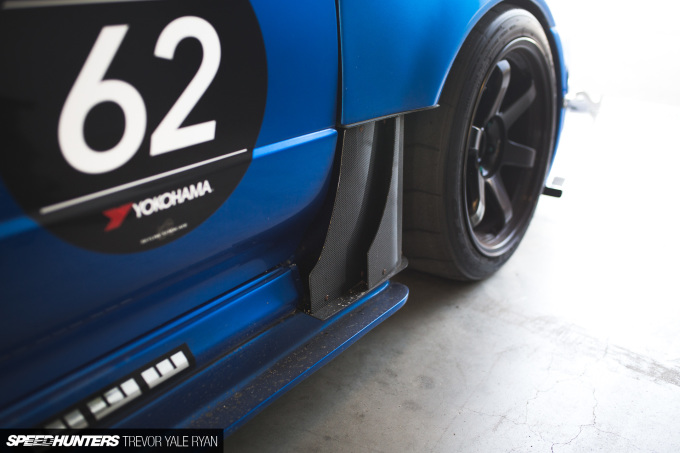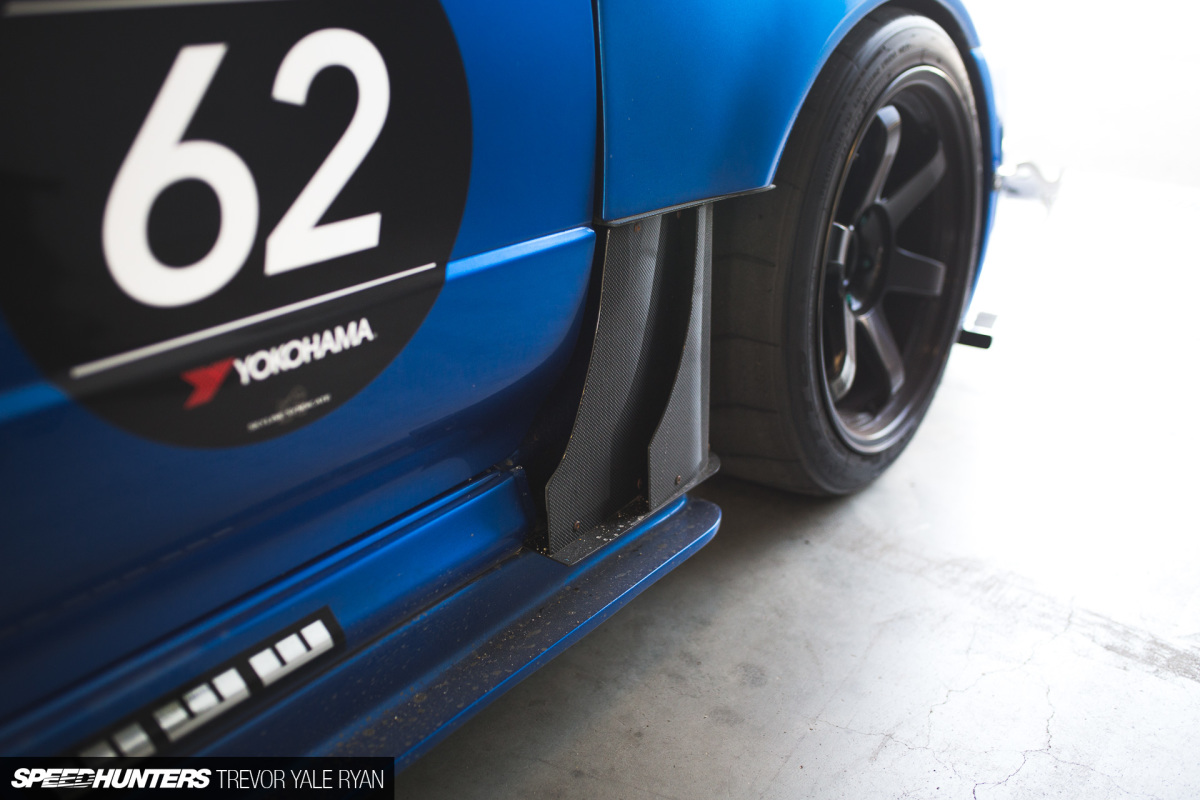 The wheels are lightweight RAYS Volk Racing TE37SLs in 18×11-inch format, which have been refinished with a gloss black. The +18 offset wasn't adequate for Charles, so he's made use of some small spacers to get the proper fit. Meanwhile Nitto NT01 tires in 275/35 fill up the wheel wells on all four corners.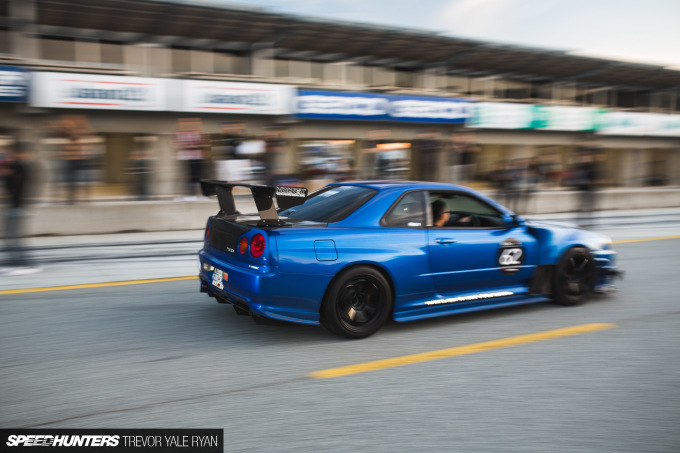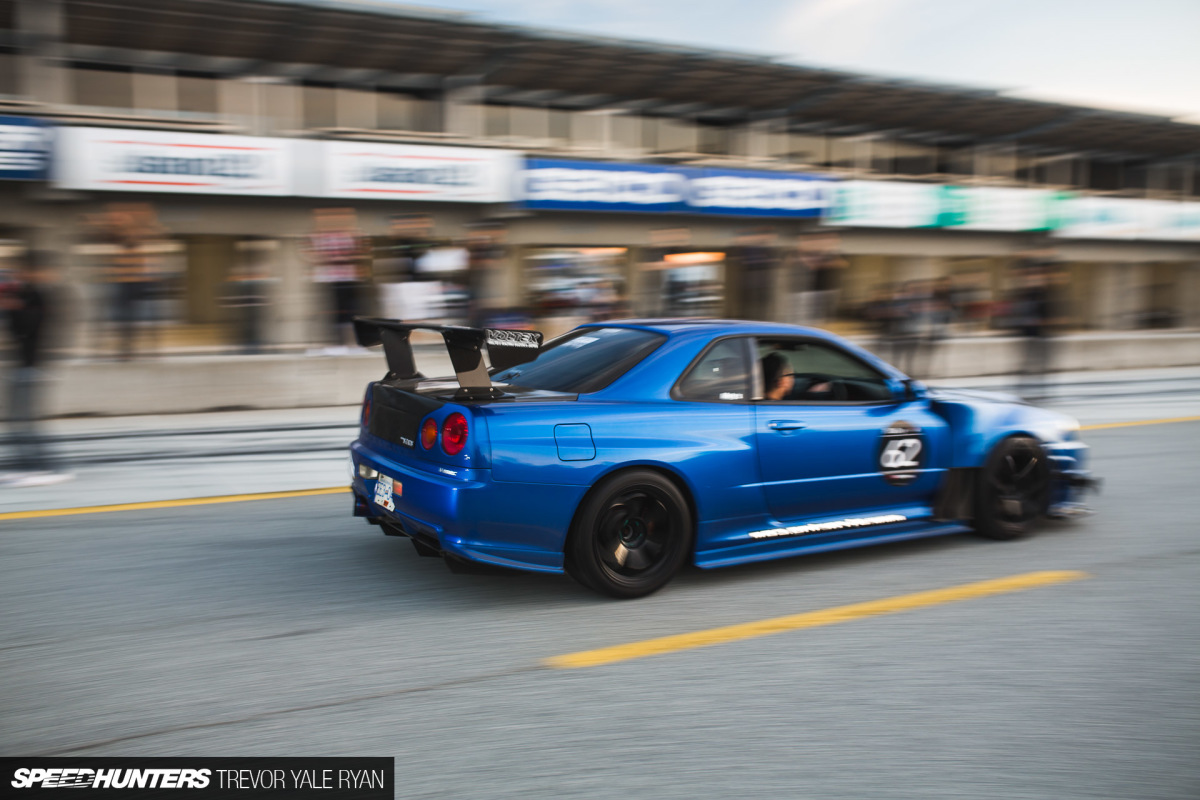 Charles has left no stone unturned around the body of the car either. The CarShop F1 carbon splitter works well with the Nismo Z-tune spec front bumper, while a Carshop F1 carbon trunk pairs nicely with the massive 1800mm Voltex Type 4 GT wing in the rear.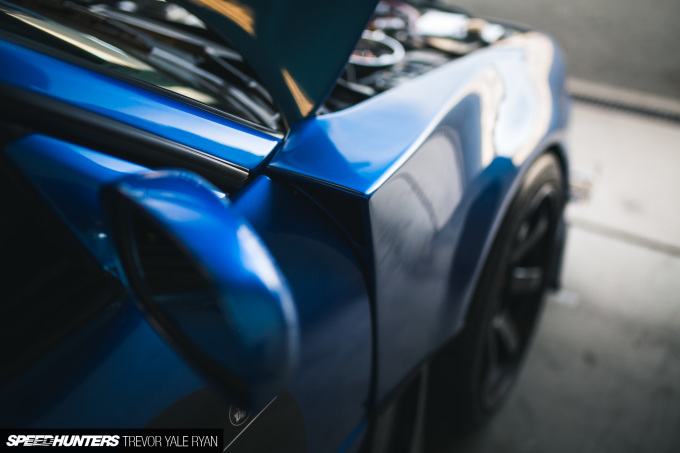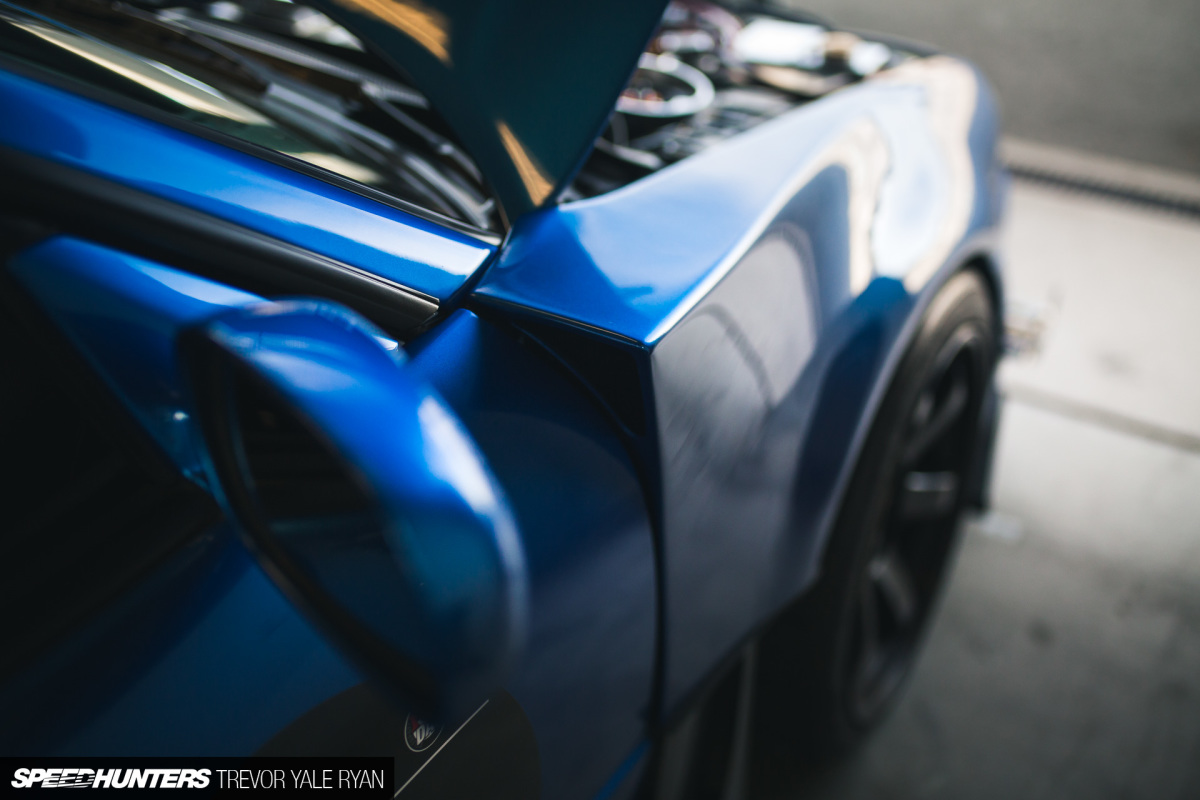 Garage Kagotani front fenders and side skirts along with Hasemi rear spats nicely wrap up the exterior. It's very much a polished build, one that I kept coming back to, finding some other detail I had missed before.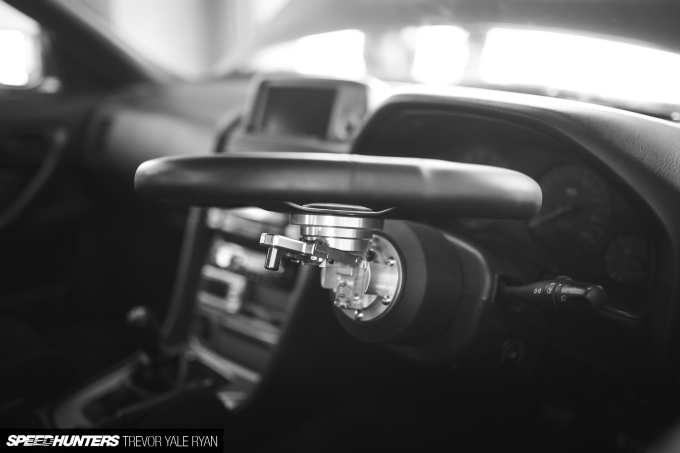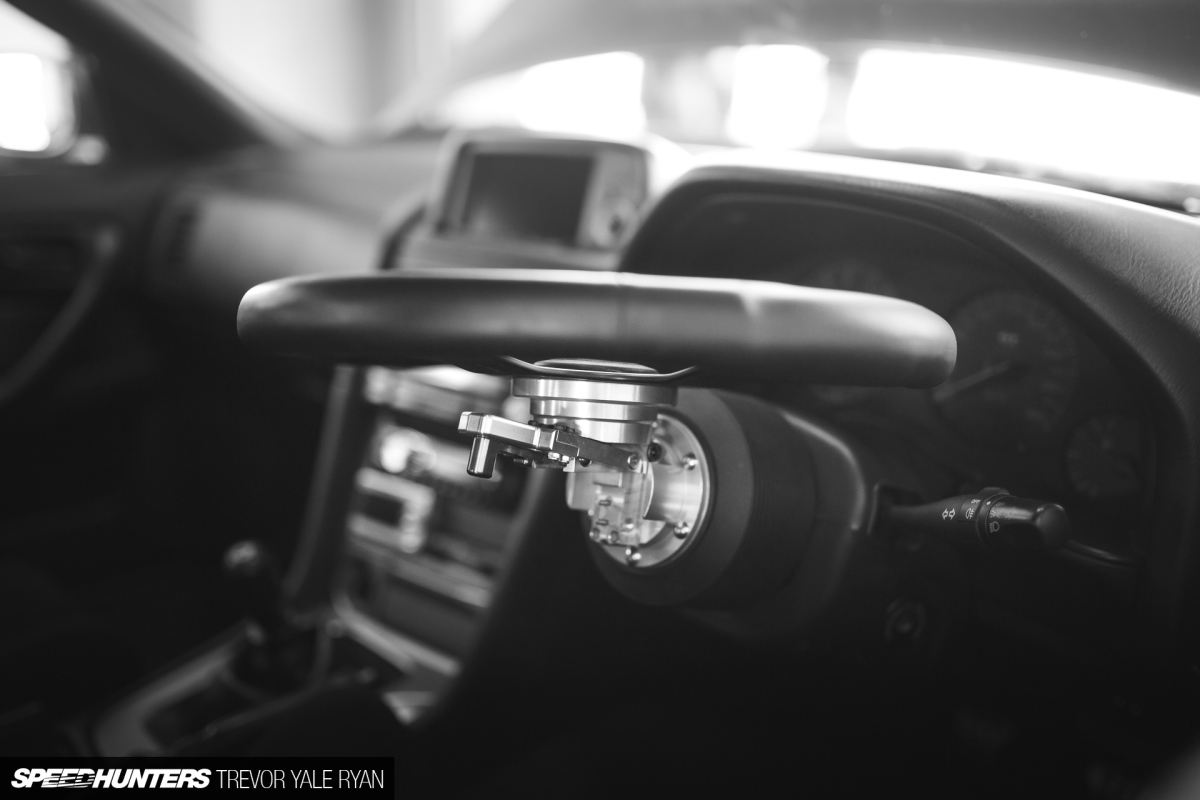 Details like the Works Bell quick-tilt that fixes the Personal Blitz steering wheel to the car, or the Nismo 320km/h dash cluster.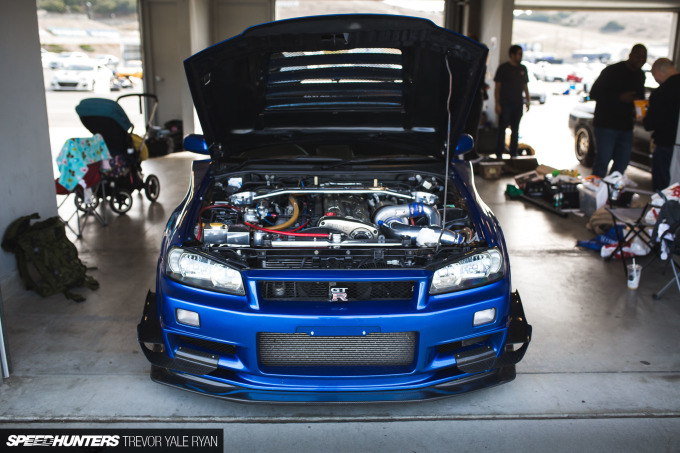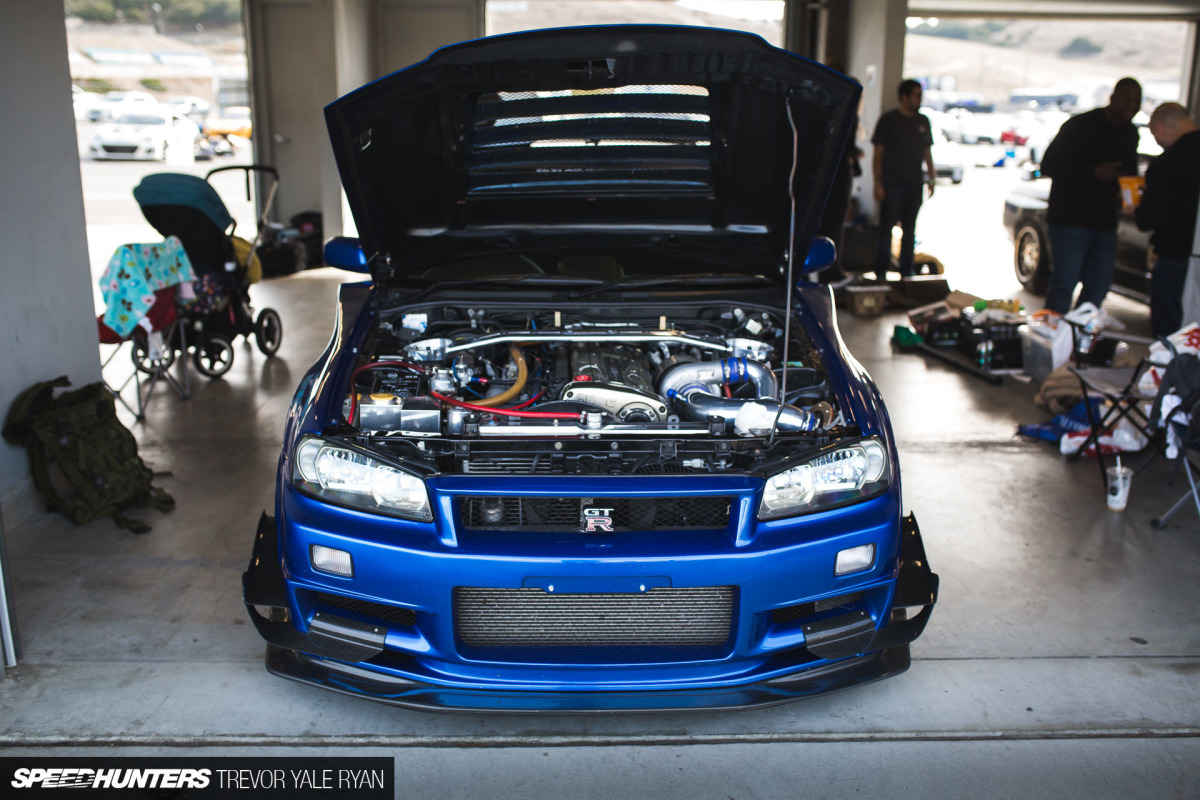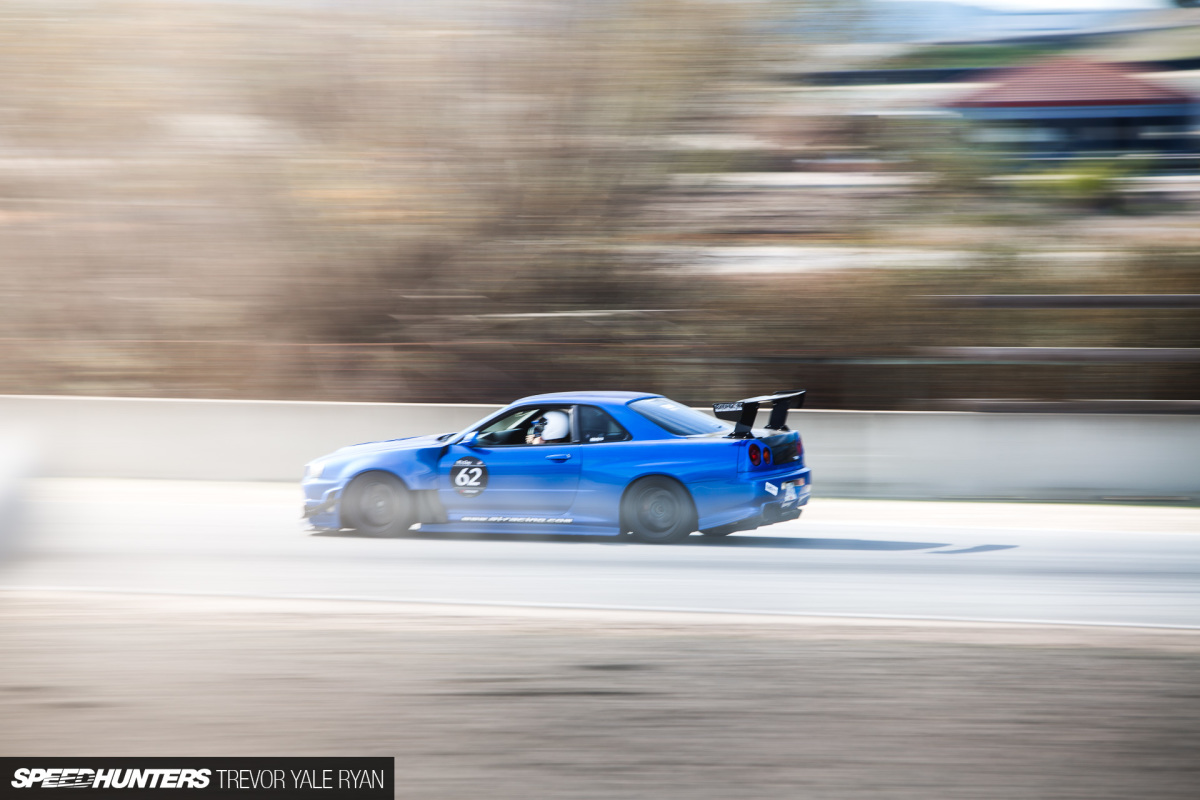 I'm not sure if I've ever seen a car at the track that was this meticulously pieced together, but now I have.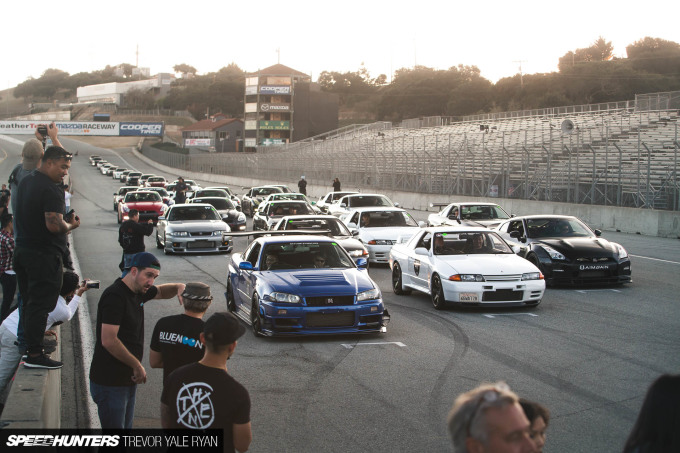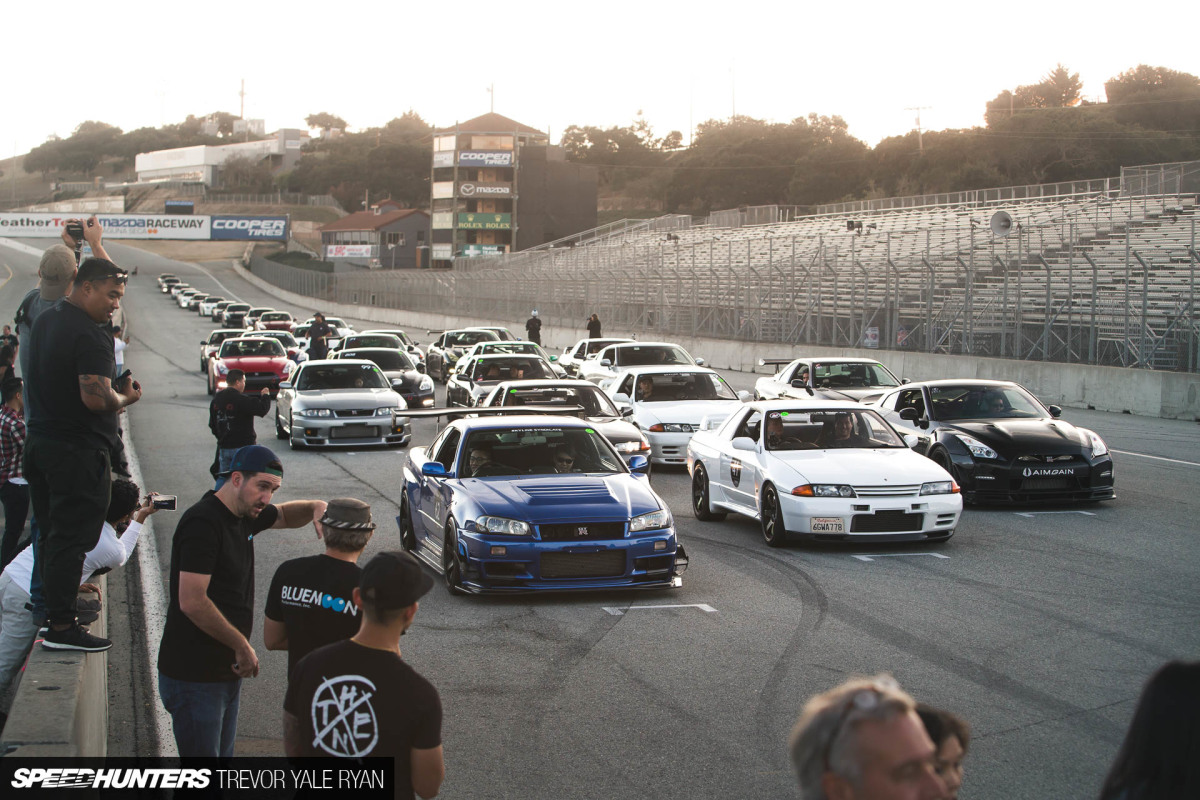 Again, none of this would have been possible without Skyline Syndicate putting this all together, and I can't wait to see what they do for their next event.
Trevor Yale Ryan
Instagram: tyrphoto
TYRphoto.com
Cutting Room Floor