Regularly associated with building hot rods and V8s, Richard Rawlings of Gas Monkey Garage wanted to do something different and decided that his next project would be a Japanese make. He wanted to ensure the car was legit, so worked with an expert and well respected member of the JDM auto society, Big Mike.
Their creation made its way to the 2017 SEMA Show.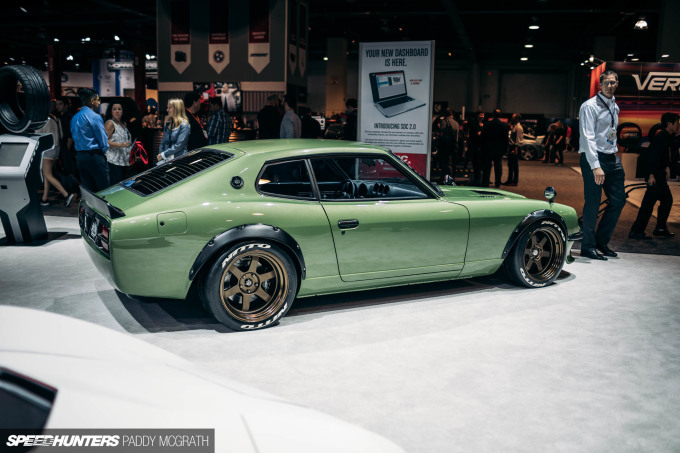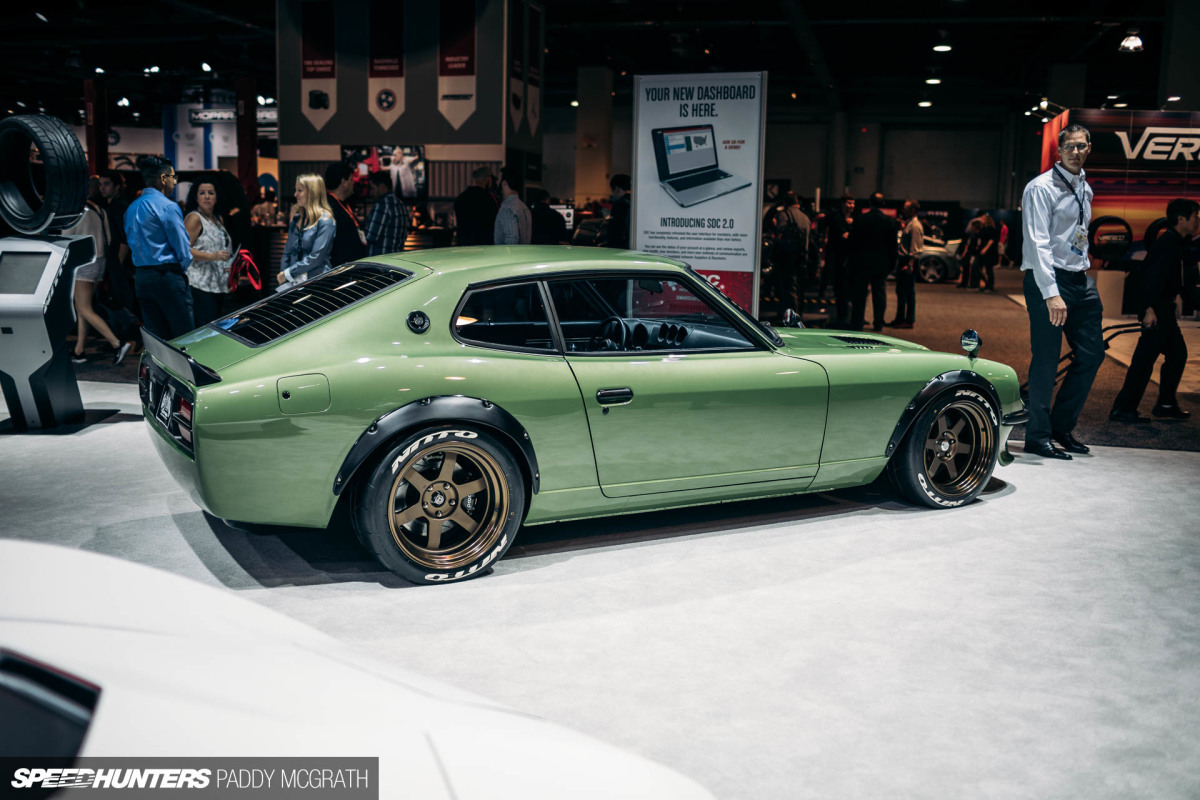 I think it's safe to say that many of us here at Speedhunters are fans of Nissans. Dino's BNR34, Paddy's work with the Worthouse S15s, and of course Larry's 240Z with its SR20DET swap – we're pretty well versed in the Nissan life. So we couldn't help but take a closer look at the Gas Monkey Garage 280Z, as displayed at the Nitto Tire booth.
What I really like about the S30 is its body shape. The roofline, rear quarter windows, and the steepened angle of the hatch all scream British sports coupe to me. There's a little bit of Jensen Interceptor, a little bit of MG MGB GT, and a little bit of Jaguar E-Type all mixed in by Nissan to give us the Datsun S30. In this case it's a 280Z 2+2 model.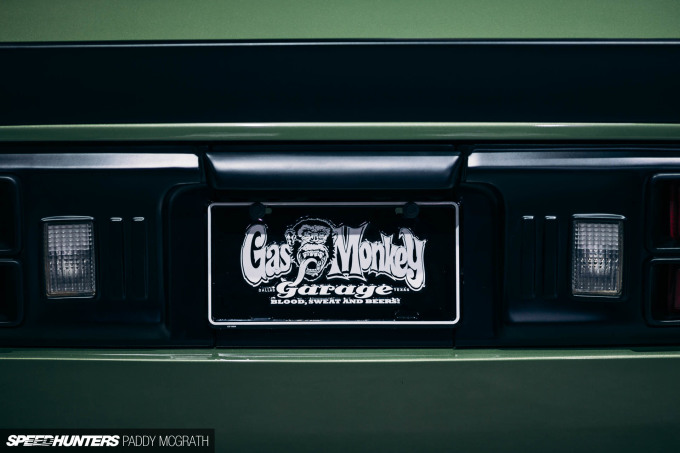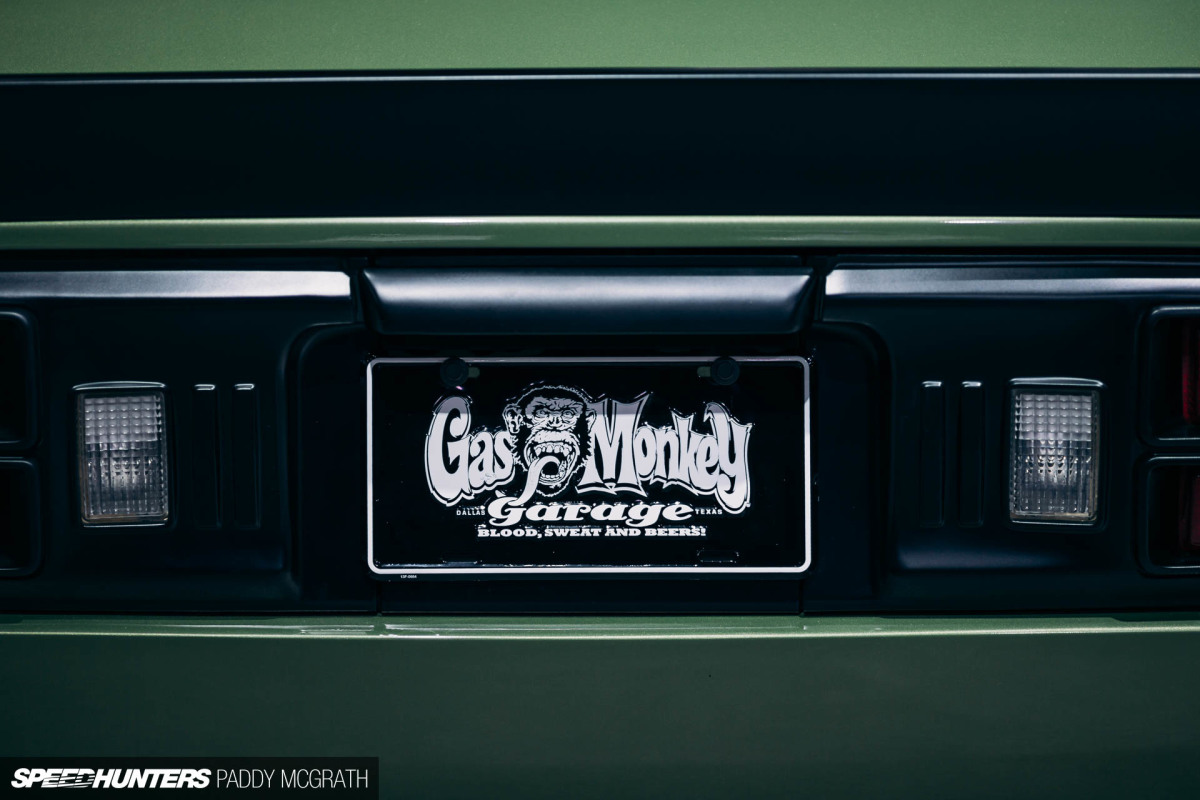 Richard is normally rounded into the circle of the V8; Big Mike is tied in to the Honda scene with his builds, including his Prelude we featured at SEMA last year. However, just because these guys are stereotyped into those builds doesn't mean they can't build something outside of that realm. That's why they both went with this 1975 280Z.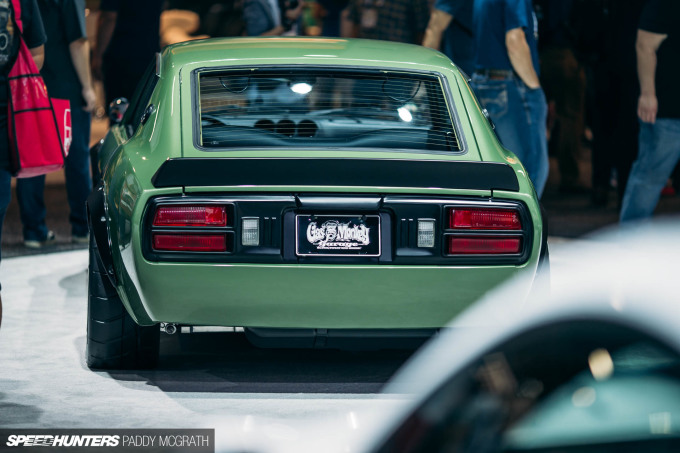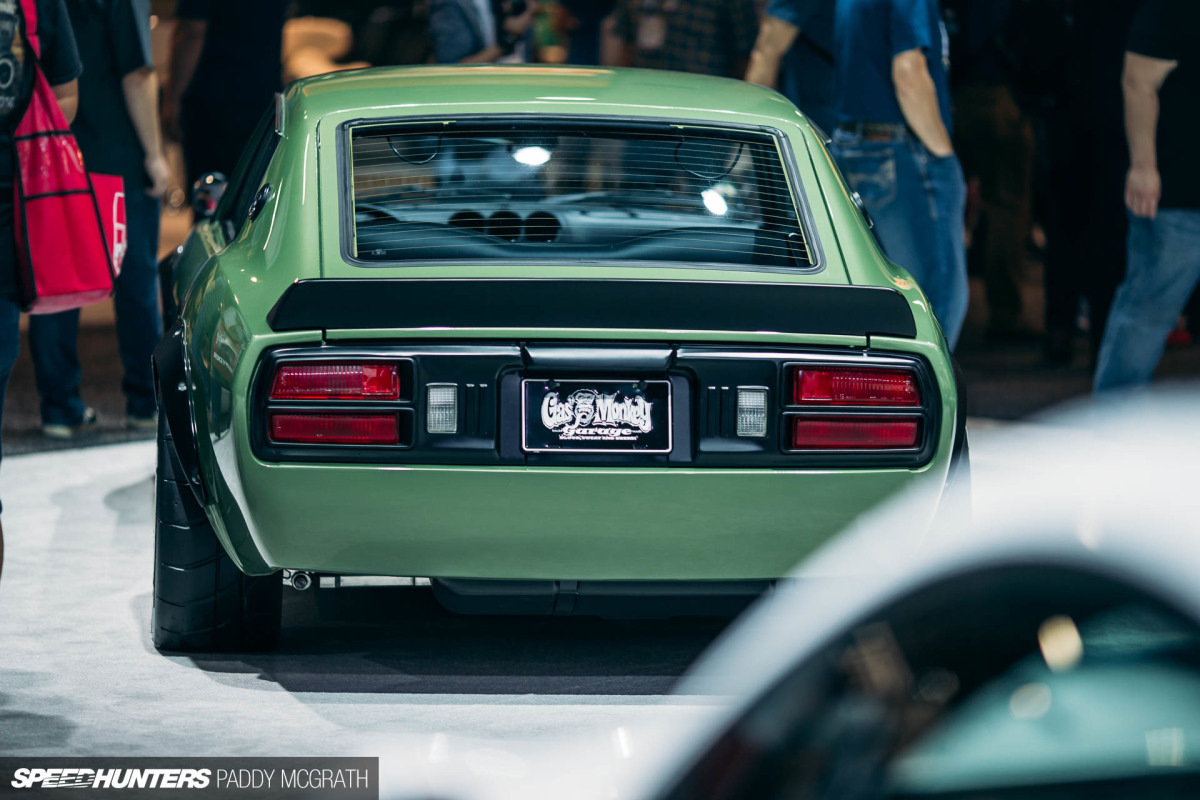 We can't help but do some comparisons to Larry's Z when you consider these both have been swapped to Nissan's SR20DET 'Blacktop' engine. This one has been worked on with a Honeywell Garrett GT3071 that attaches to a Hypertune exhaust manifold and matches the valvetrain setup of a pair of Tomei Poncam camshafts and rocker arm stoppers. Before air is sent down the turbocharger, a custom made dual inlet airbox has a pair of K&N filters made for a Chevrolet to filter out those dust particles. The CP pistons feature a 9.5:1 compression ratio with the Carrillo H-Beam rods at the stock length and crankshaft stroke.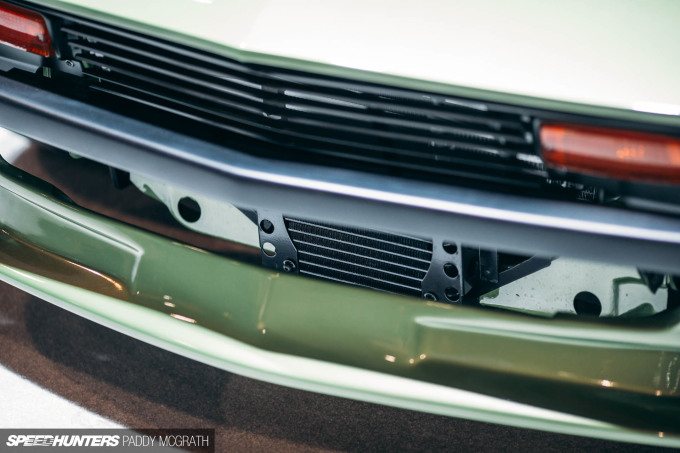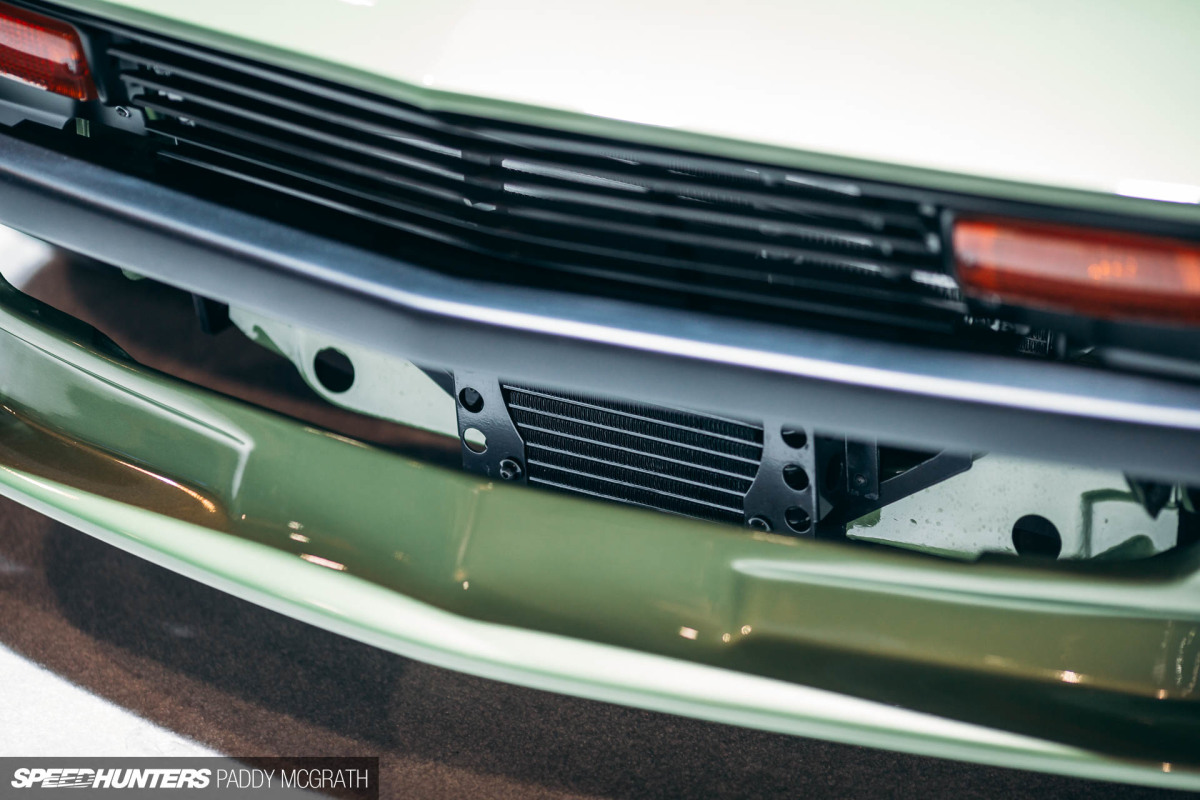 The Garrett boosts ambient air into a Vibrant Performance boost tube to the McKinney Motorsports intercooler. Once the temperature is dropped, it's then sent to the Hypertune throttle body and intake manifold while their fuel rail sends that precious go juice to the cylinders by the Injector Dynamics 1,050cc/min injectors. A Turbosmart Race-Port blow-off valve protects the turbo from compressor surge while a Turbosmart 45mm Hyper-Gate45 wastegate maintains boost pressure in combination with an AEM boost solenoid kit.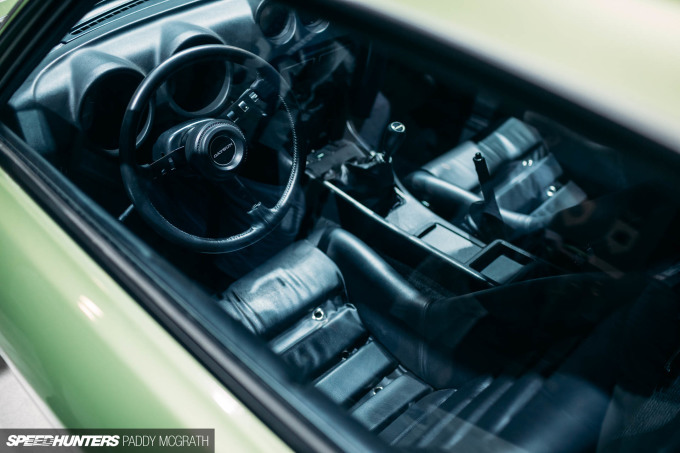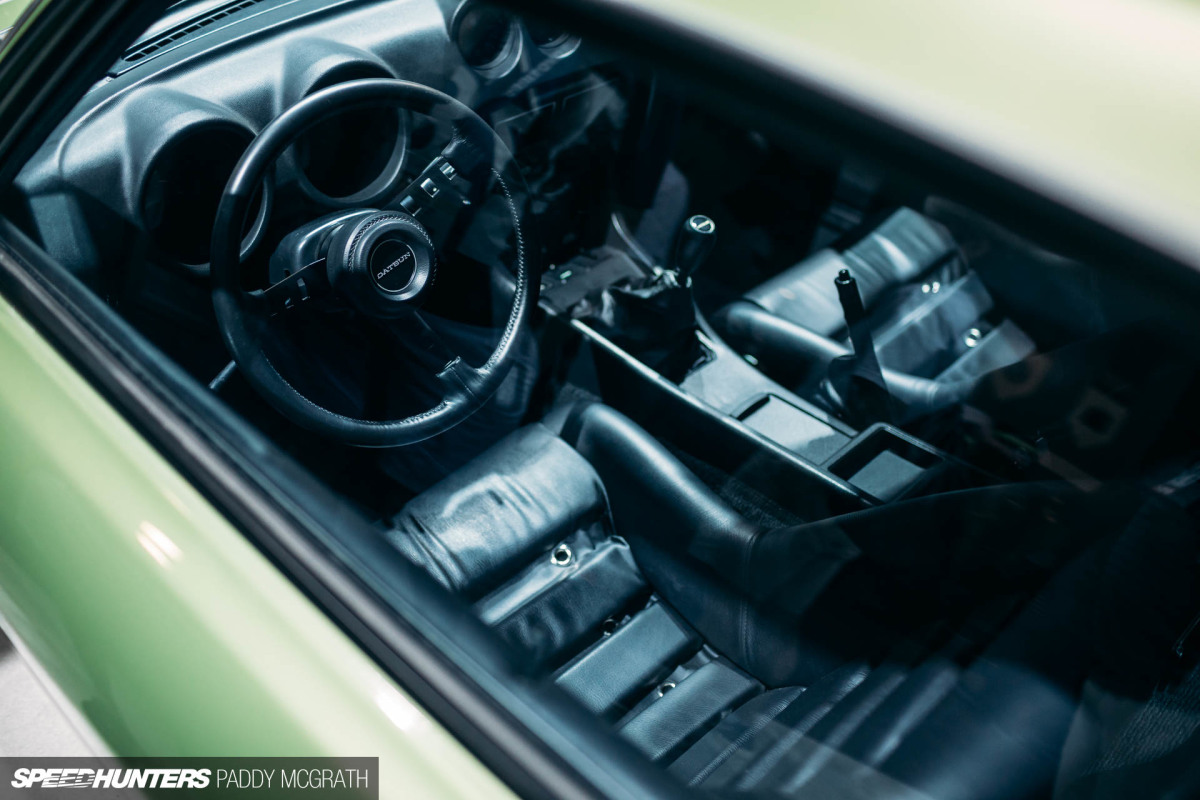 Engine management is handled by an AEM system that gets inputs from a matching AEM Uego controller and sensor. The ignition is a four-channel coil driver by AEM as well, and all of the connections are made by legendary wiring master Rywire with a mil-spec SR20 harness. Switching for lights and accessories is achieved through a Rywire keypad. Speedhut gauges gives vital information and speedometer readings while a Datsun Competition steering wheel (with matching shift knob) gives steering feedback as the driver and passenger sit in a pair of 09 Racing bucket seats while the 'plus two' sit in a custom rear seat.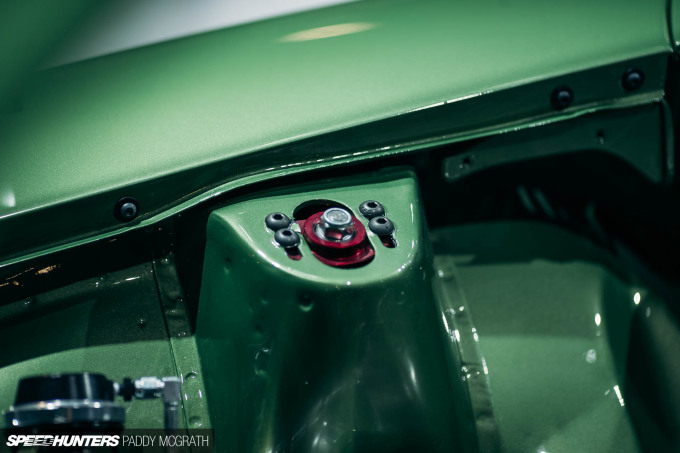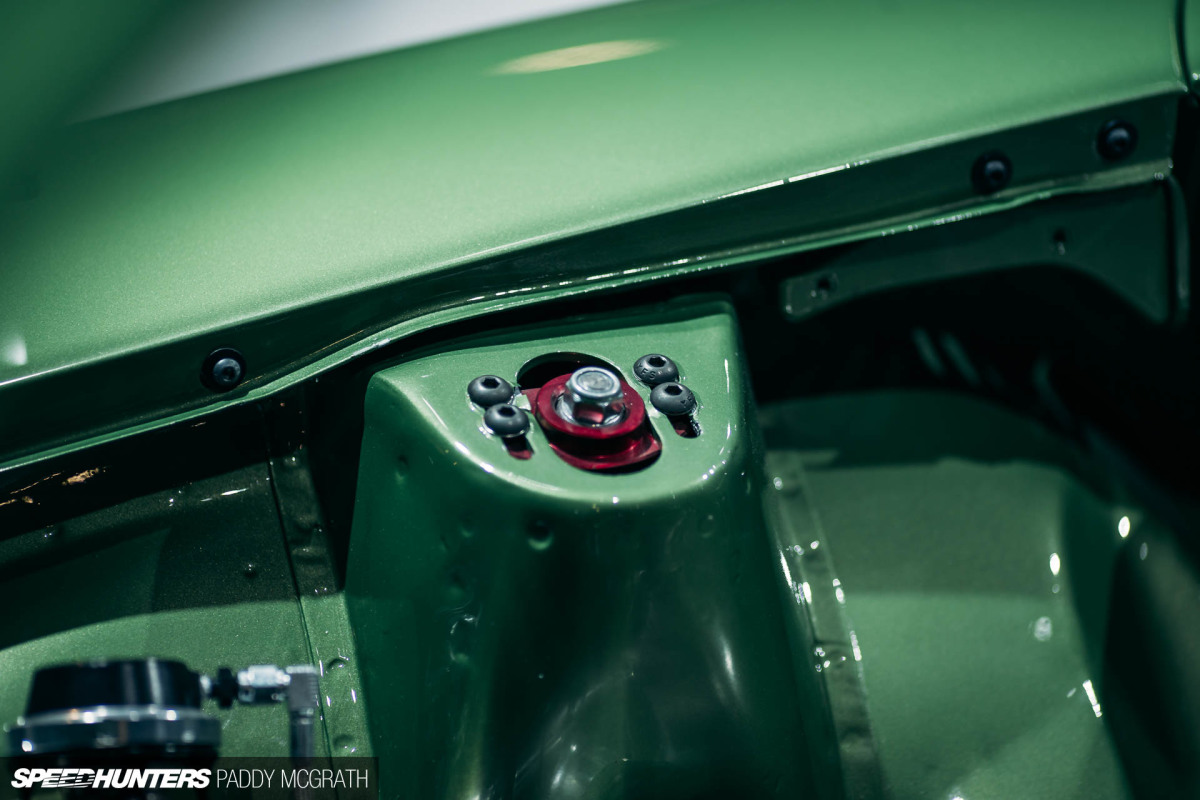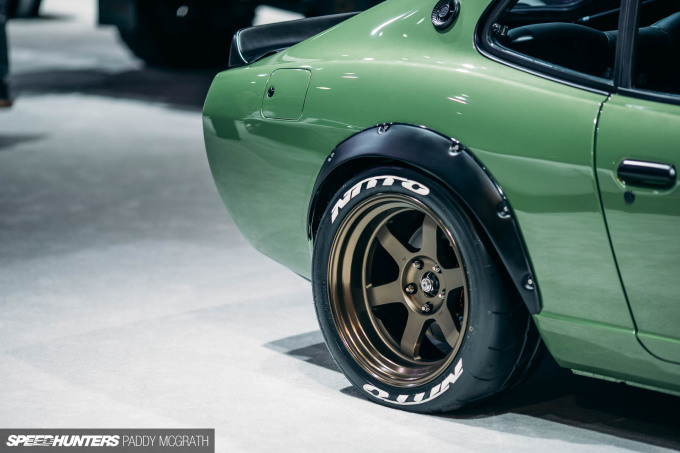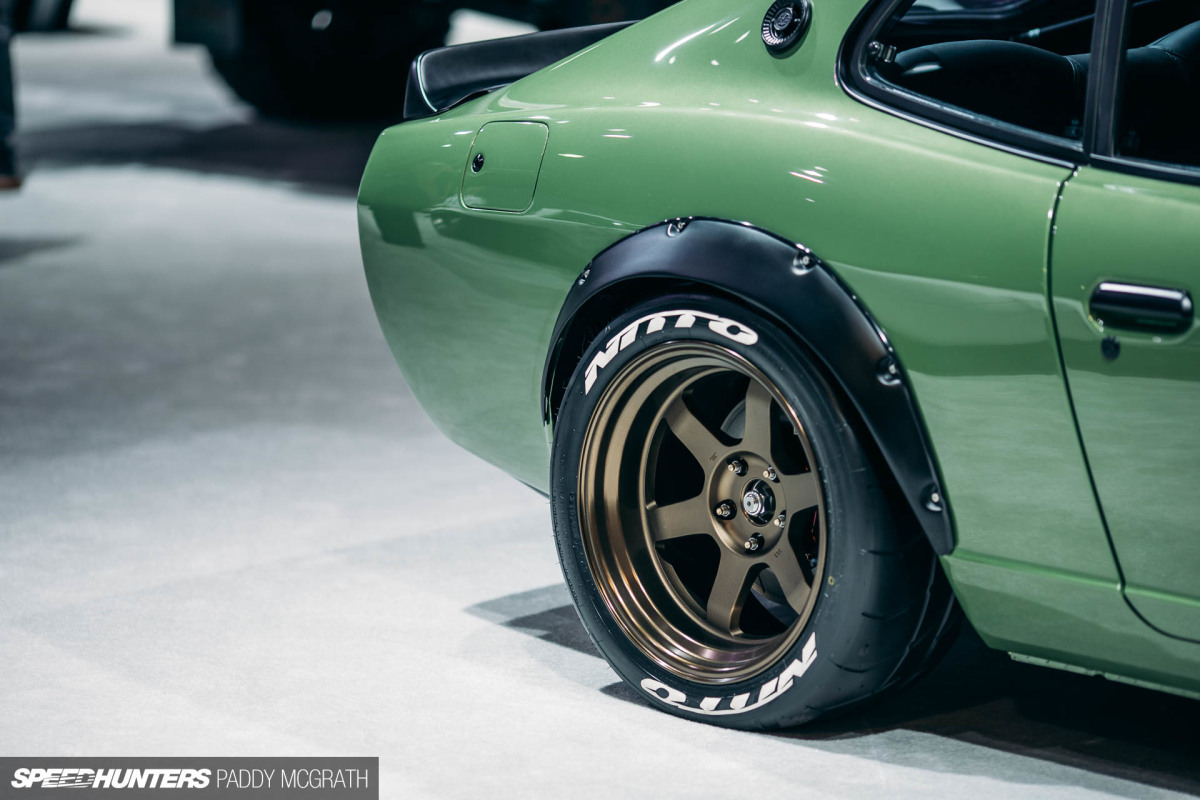 From the control arms to the coilovers to the hubs, the suspension is a full suite of Arizona Z Car components. The wheels are RAYS Volk Racing TE37Vs in 17×9-inch -10 front and 17×9.5-inch -15 rear for that proper lip a classic sports car needs, with a set of Nitto NT01 tires in 225/45R17 front and 255/40R17 rear. Behind the classic-looking forged wheels are Wilwood 6-piston front and 4-piston rear brakes.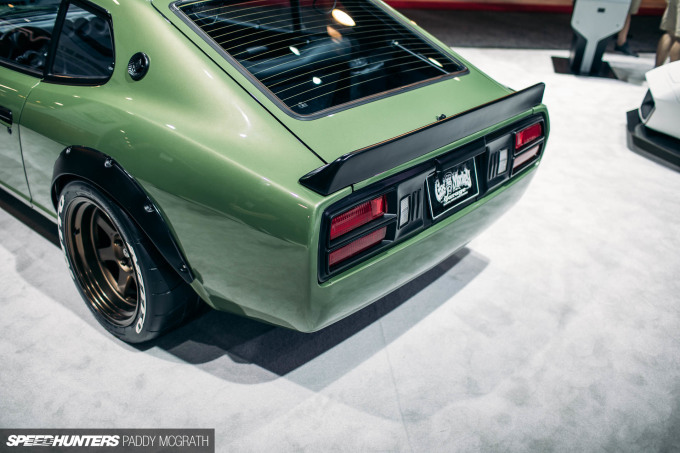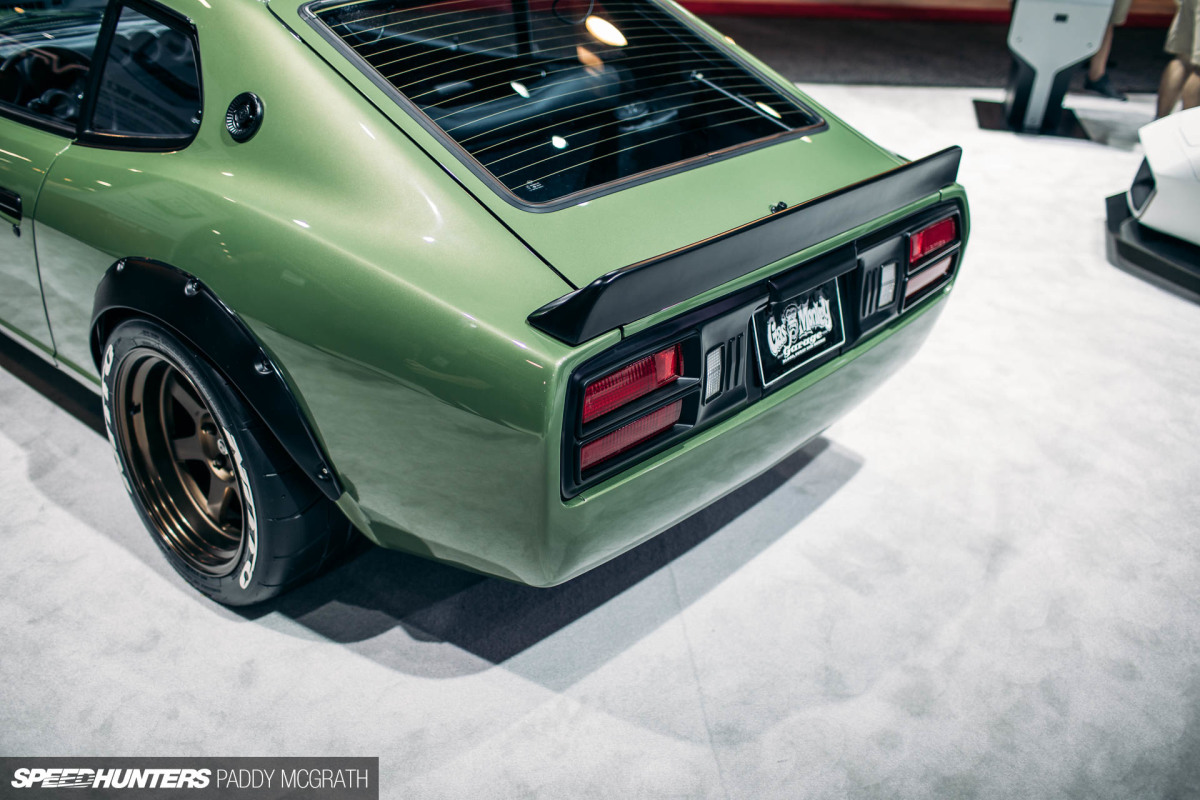 With more power than stock, you need a drivetrain to match it. A Silvia 5-speed transmission is more than up to the task, but an ACT XTSS clutch gives bite to the lightweight 10.5-pound flywheel. From the output shaft, the driveshaft spins up a Q45 R200 differential with a Tomei 1.5-way limited slip differential. This ensures that the rear tires get proper traction with a little bit of lock as you get on the brakes to help keep the chassis square under initial braking. The rear axles are also an upgraded and custom pair.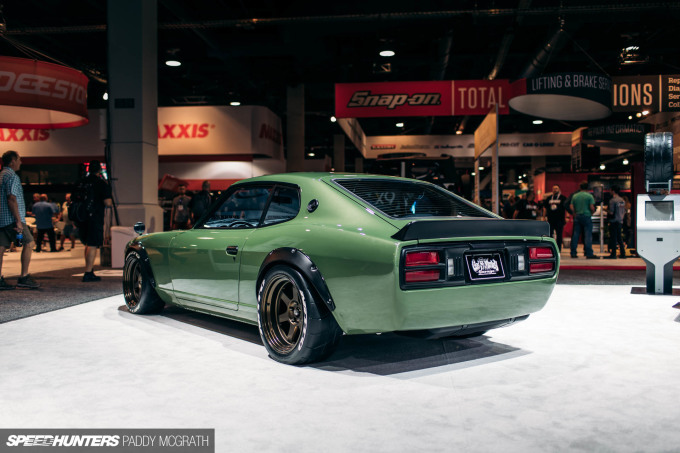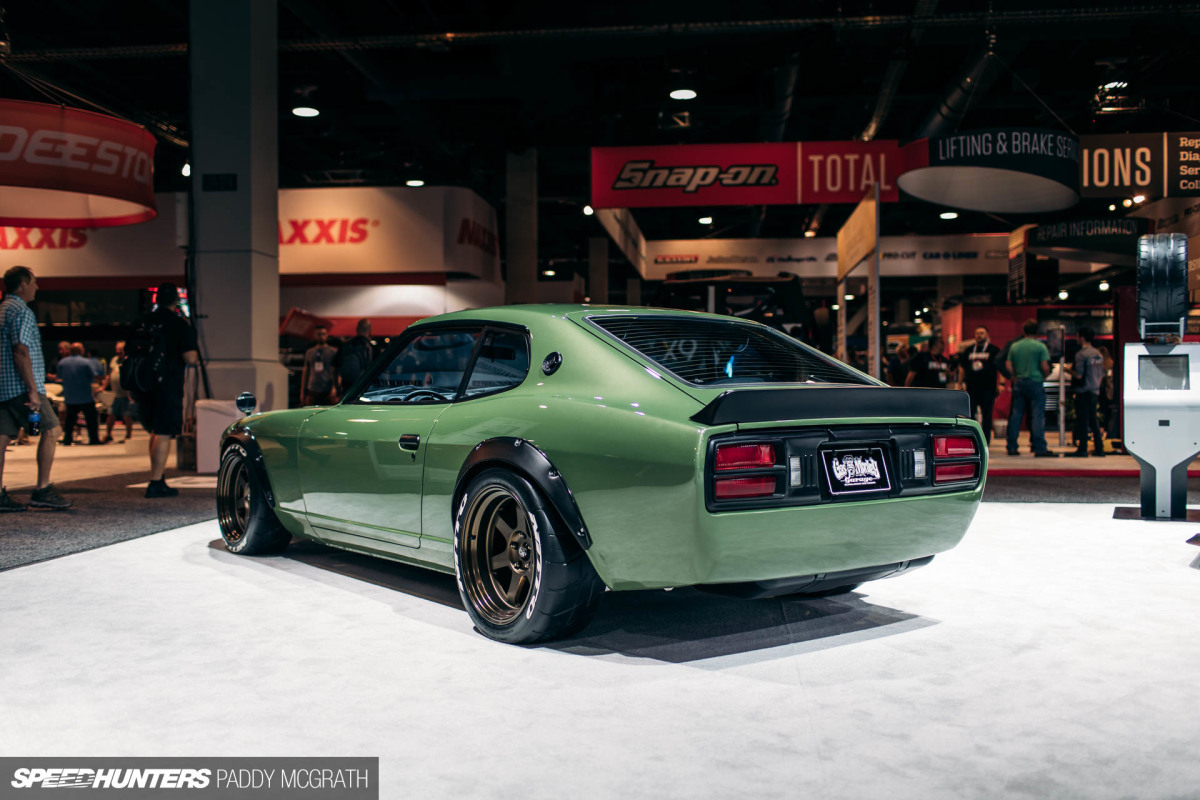 Now we get to the part that just catches your eyes – the Leaf Green Metallic laid on the 280Z. However, the body isn't stock as it features a custom made contoured rear pan to replace the bumper. The BRE rear wing brings out memories of the classic road racers but a little bit of British thanks to the 280Z's 2+2 body. ZG flares front and rear attached by Downstar hardware allow those far wider than stock wheels and chunky tires to sit under a body part rather than out in the open. A 240Z front bumper replaces the 280's with a Type 1 ducted air dam directing air away from the underbody. Of course, you can't have a JDM-inspired Z without a set of Nissan's original fender mirrors.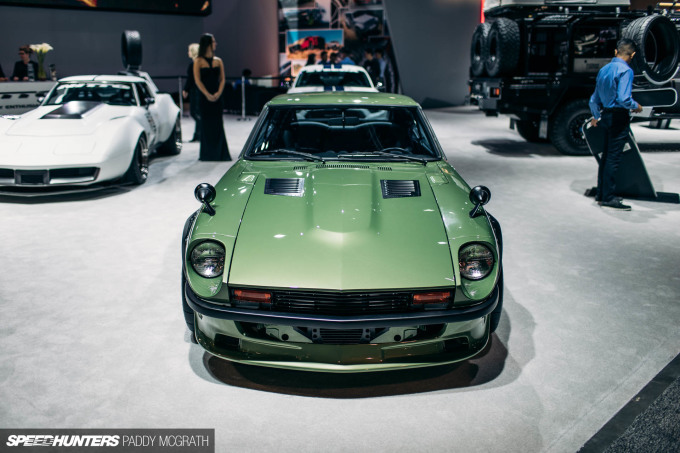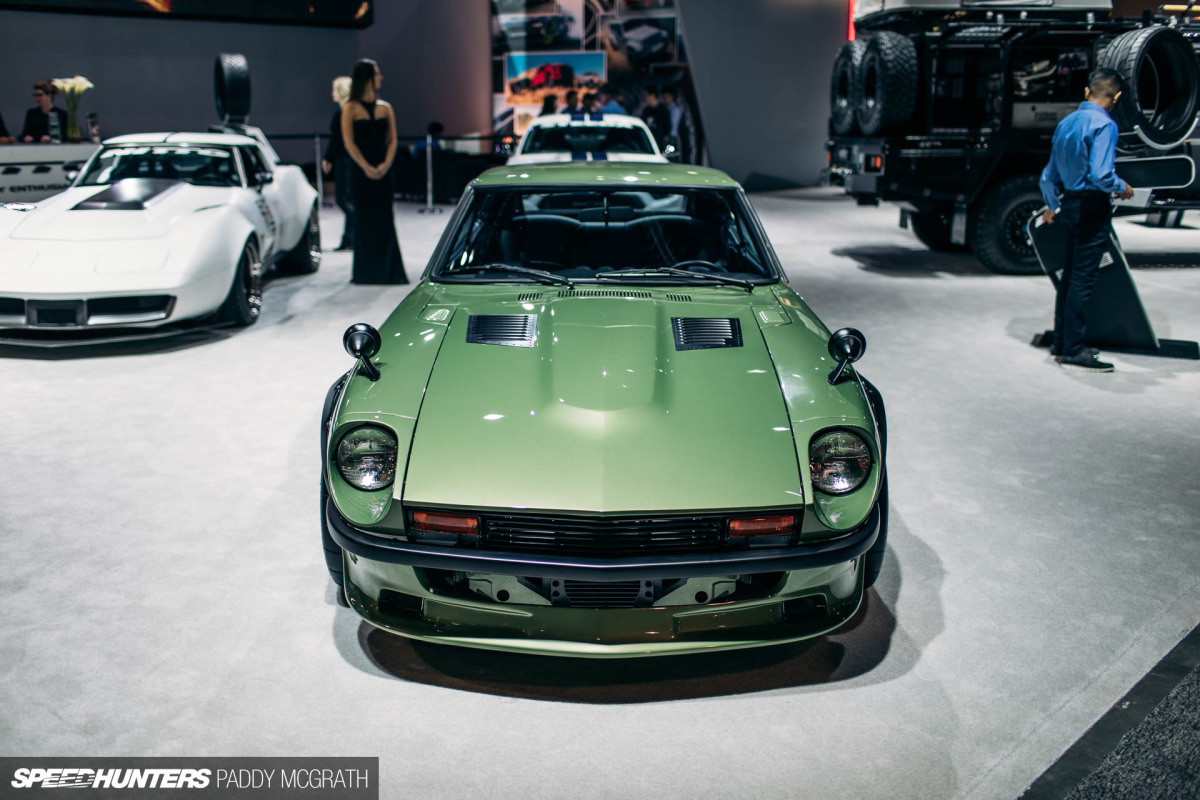 I think it's safe to say that this will be a Nissan and a Japanese car that hot rodders and JDM-heads alike will be able to sit back and say, 'yeah, that's awesome.' As the Z goes beyond classic car and into the collector realm, builds like these will probably start to become harder to find. And that's part of what makes this build by Big Mike and Richard Rawlings with Gas Monkey Garage so special in the end. It also makes us look forward to their next projects.
Could we potentially see Mike do a hot rod? Could Richard finally build a Honda? Maybe they'll collaborate again? Only time will tell…
Words by Justin Banner
Instagram: jb27tt
Facebook: racerbanner
Twitter: RacerBanner
Photos by Paddy McGrath
Instagram: pmcgphotos
Twitter: pmcgphotos
paddy@speedhunters.com