Every car in the Speedhunters realm isn't just a car, it's a reflection of its owner and creator.
It's something that we all too often overlook, and something which removes context from a build. Without context, you can never really appreciate a car.
For as long as I've been involved in hunting speed, I've known Neil Sheehan. We both grew up in the same town, although we never really knew each other until our love for cars and photography introduced us. He's maybe the most outspoken person I know when it comes to cars, and certainly has an opinion on pretty much every facet of car culture. Nearly all of which, are equal parts accurate and hilarious.
His passion and enthusiasm for cars, the JDM scene in particular, can only be described as infectious. He was the original driving force and creator behind Juicebox, Ireland's absolute best car culture site. What's funny is that he didn't drive or even own a car during Juicebox's formative years. There's no judgement on that; I didn't get my full license until I was 25. Simply, we couldn't afford to drive here.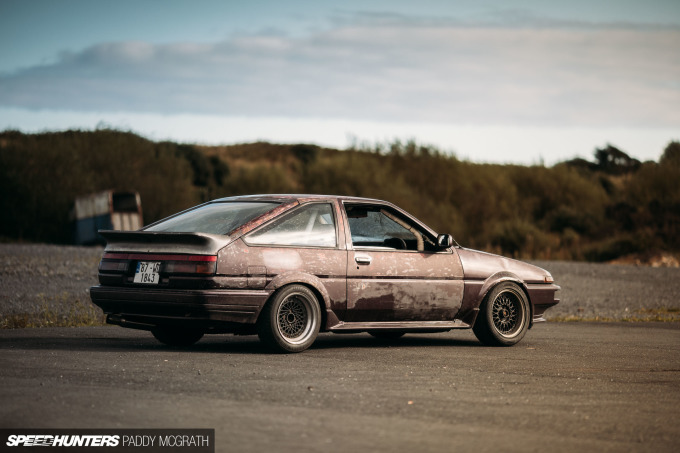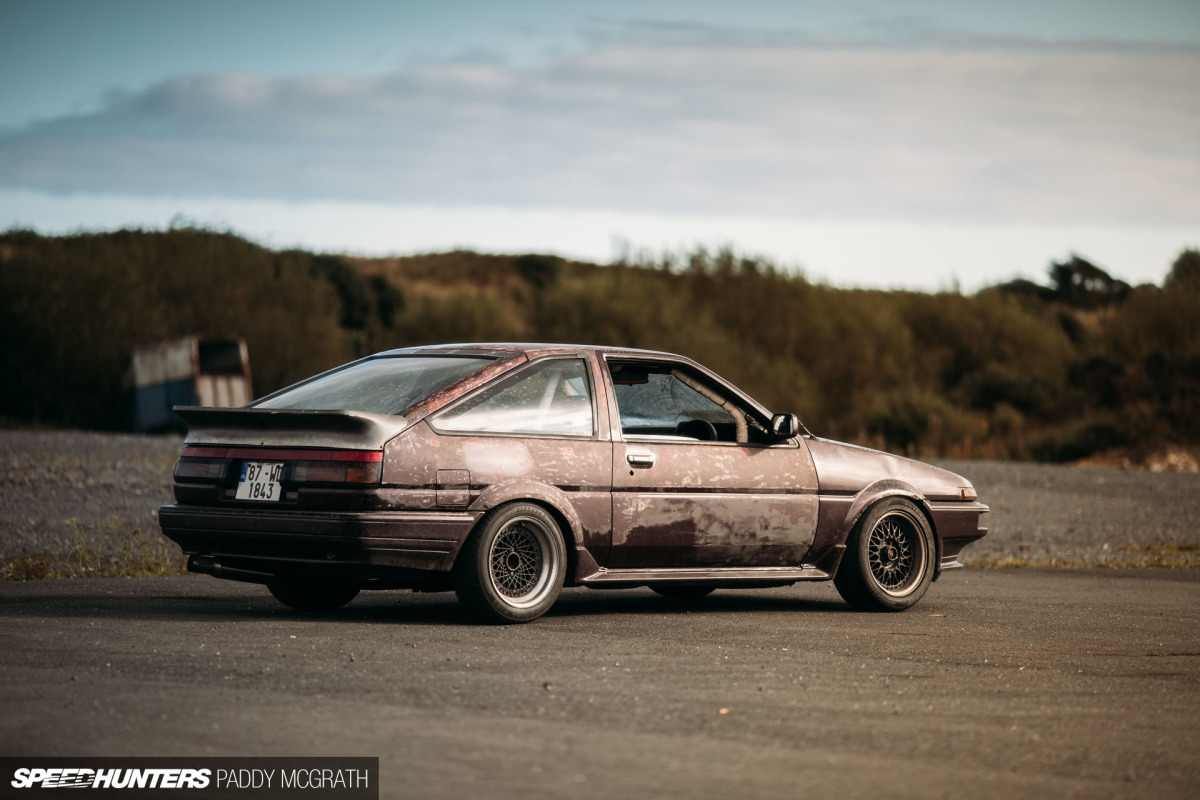 Like a lot of people I know, Neil felt the effects of the recession in Ireland hard. It ultimately forced him to emigrate to Canada, where he lived for a few years before – thankfully – returning home. I can't count the number of friends that are now living overseas, and likely never to return on a permanent basis. I'm glad they've found new lives, but they will always be missed.
Upon returning home, Neil had gained a new appreciation for Irish car culture, something he found was missing in Canada, or at least paled in comparison. His energy for Juicebox was revived, and with the help of friends, set about arranging last year's Juicebox BBQ, which went down a storm. In the year since, he's got his license and a humble daily driver. However, his dream car – a Toyota AE86 – still evaded him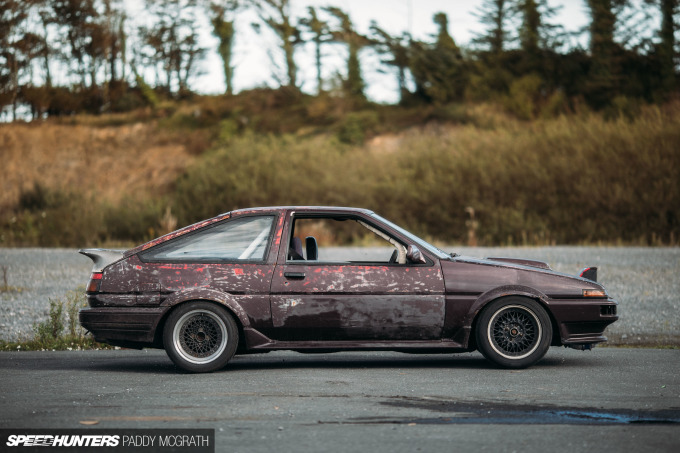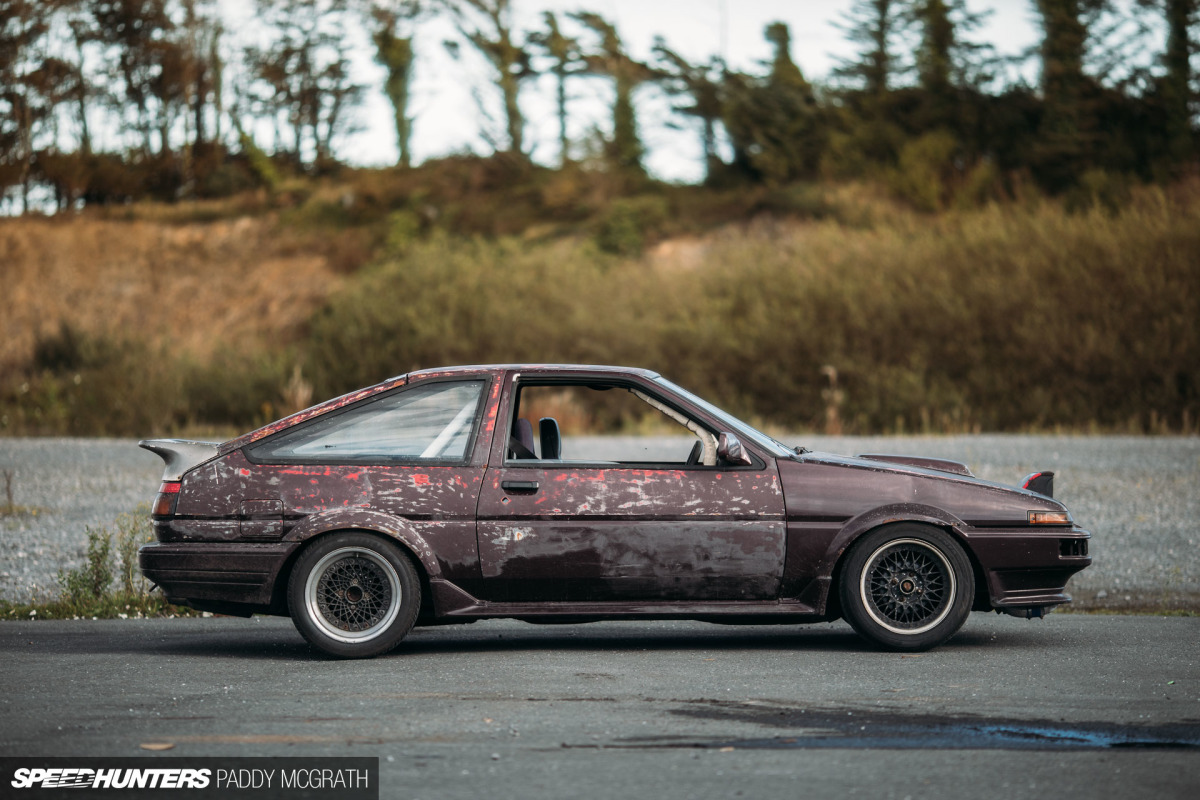 With AE86 values rising at an alarming rate, it seemed that it might never happen for him. However, over the course of a few weeks, and through some incredible circumstances and luck, he found himself the owner of not one, but two AE86s. Sort of.
The first was actually a two-door AE85 shell, which he recovered from a container with the help of some friends. But it was only a few weeks later, that he was made aware of an AE86 that needed a new home. There was a catch, however.
Video warning: swearing and awful accents are contained within.
The 1987 Trueno GTV – one of the last AE86s made – was exported from Japan into Ireland in around 2005 or 2006, and was used as a competition car in the early days of Irish drifting. It would have come with a naturally aspirated 4A-GE from factory, of course, but at some point during its life in Japan it was re-powered with a supercharged 4A-GZE from a front-wheel drive AE92 Levin or Trueno GT-Z. "Proper '90s crust" as Neil describes the conversion.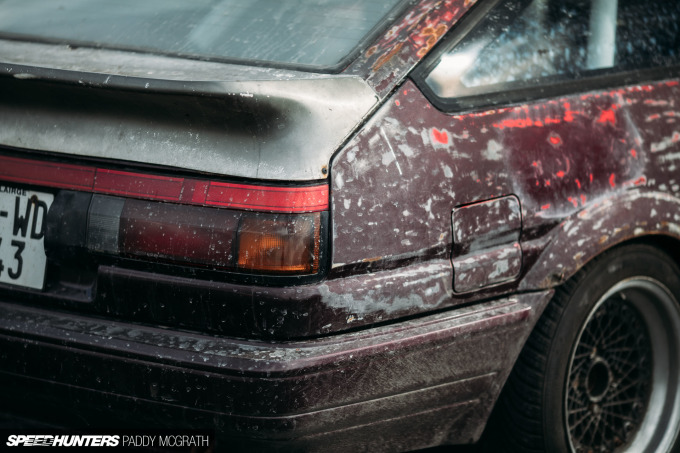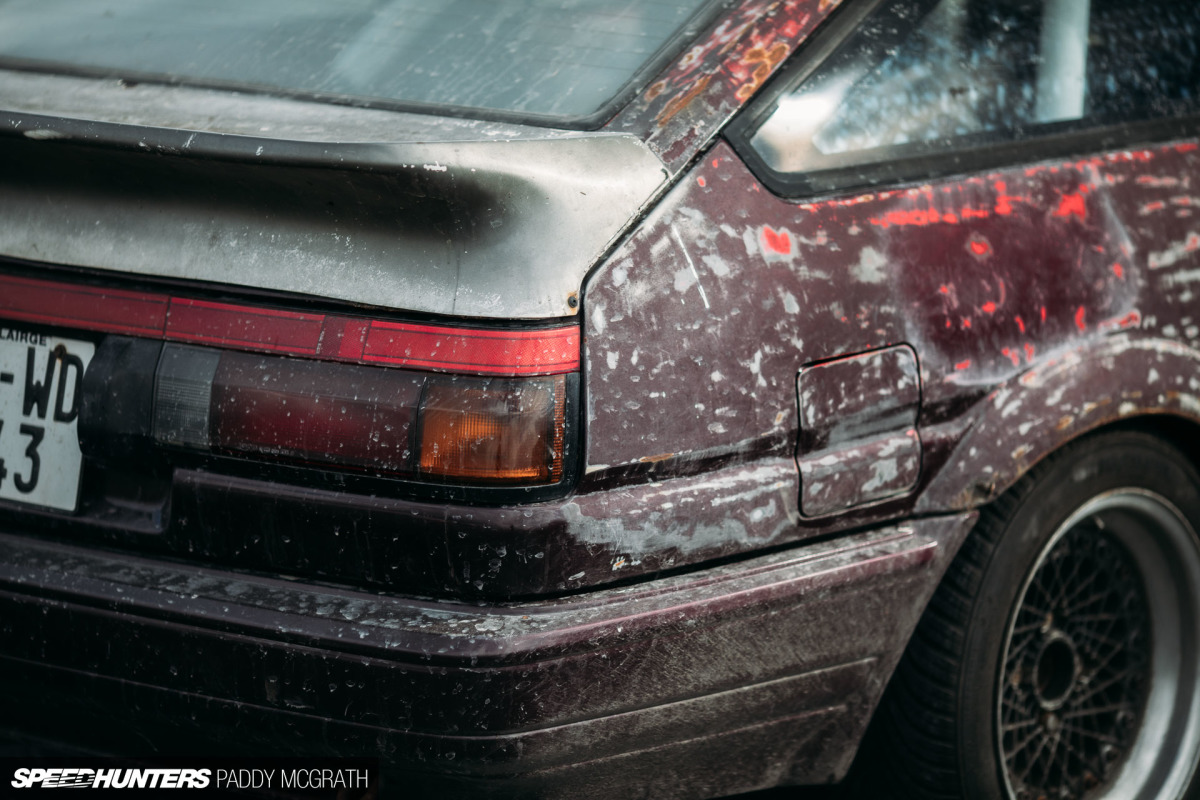 The kouki Trueno was sold on again; the top mount intercooler was replaced with a front mount (the scoop remains) and the car continued to be used in anger. Around this point, the paint started to flake and the lacquer was peeling, so it was taken off the road to be sanded down and resprayed. That never happened.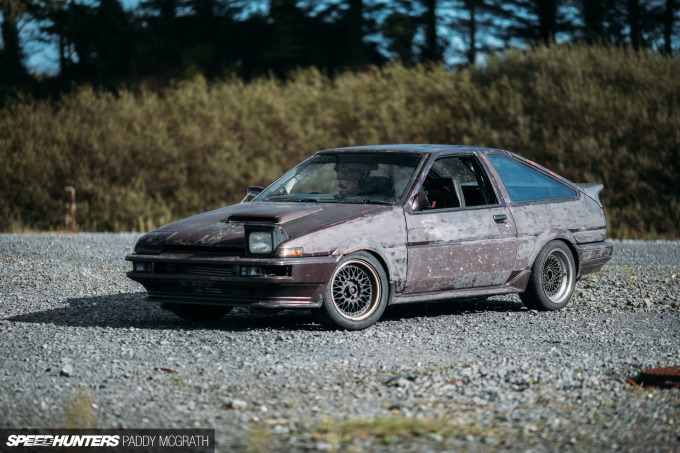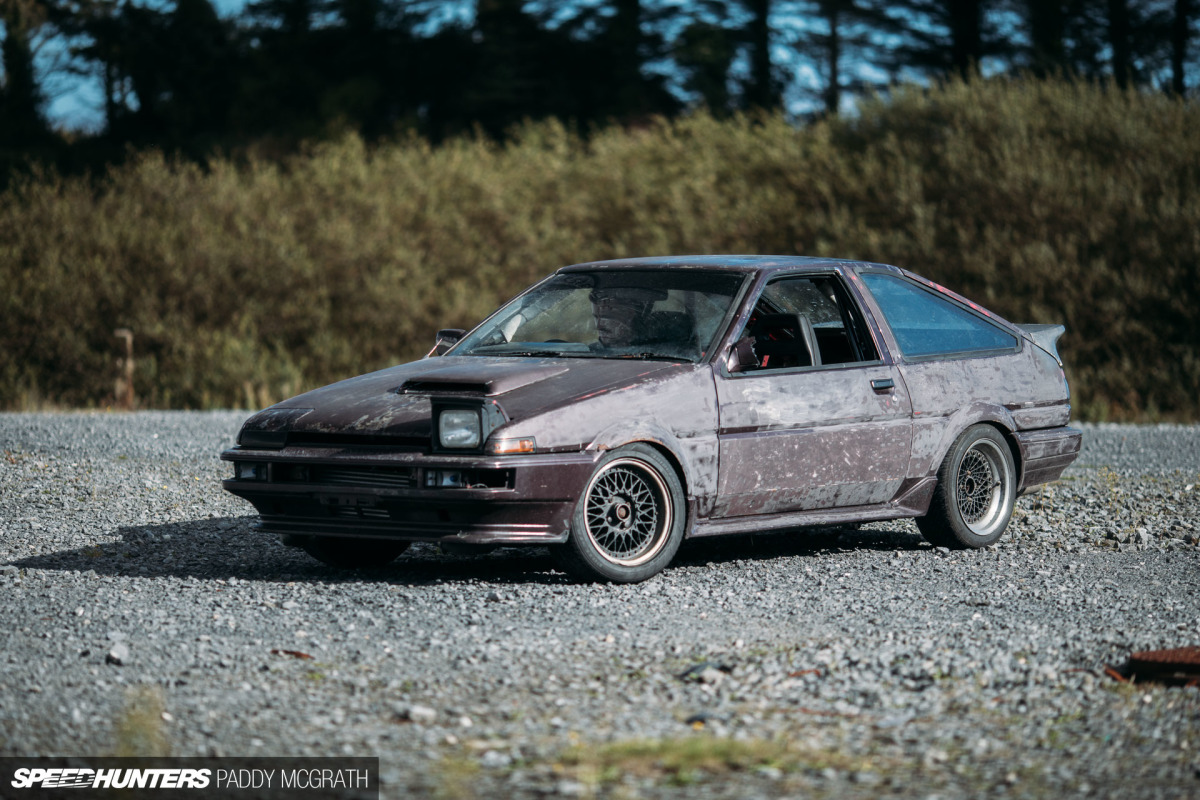 For quite a few years the Toyota sat in a back garden, slowly being overgrown by nature. Its then owner was obviously aware of this, and when he heard that Neil was looking for an AE86, set about getting in touch with him through his friends. A deal was done, the car was recovered, and its restoration began.
Neil's original plan was to use this as a parts car for his AE85 shell, but as it was cleaned and examined, he fell in love with the Trueno. It was in surprisingly good shape too, all things considered.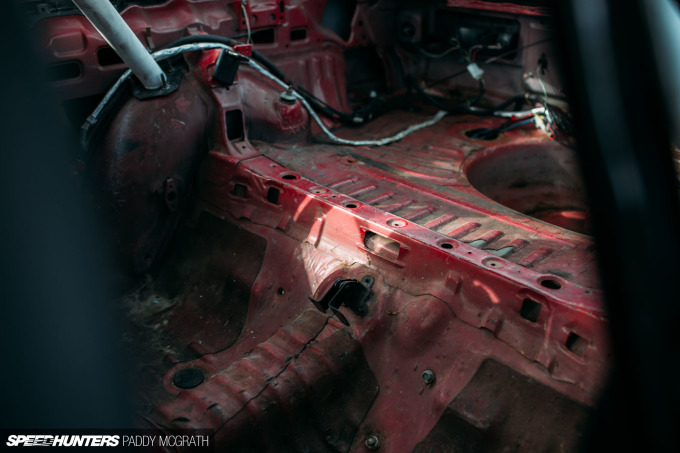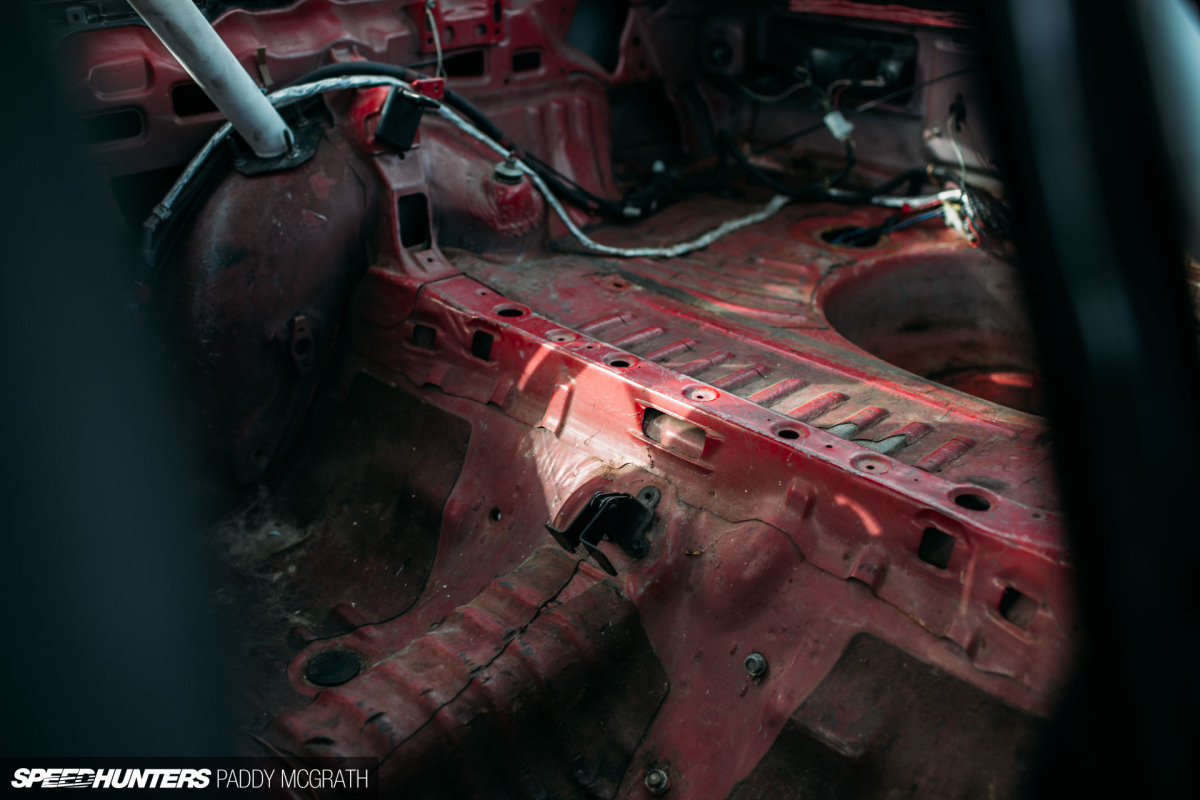 There is some rust and rot to deal with, but nothing that's insurmountable. With the interior stripped, Neil's conviction to restore this car was only strengthened.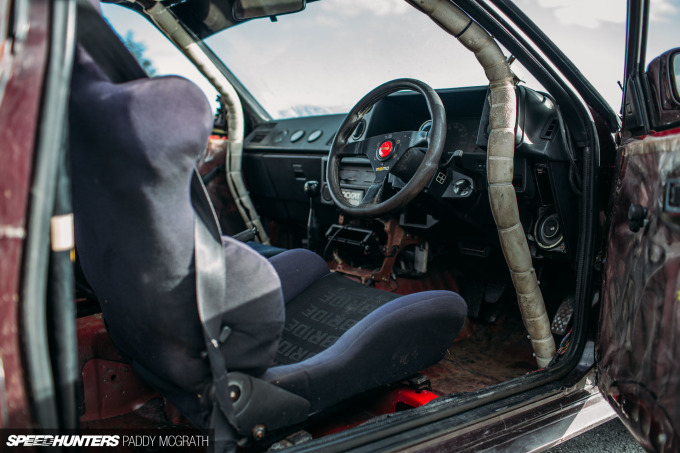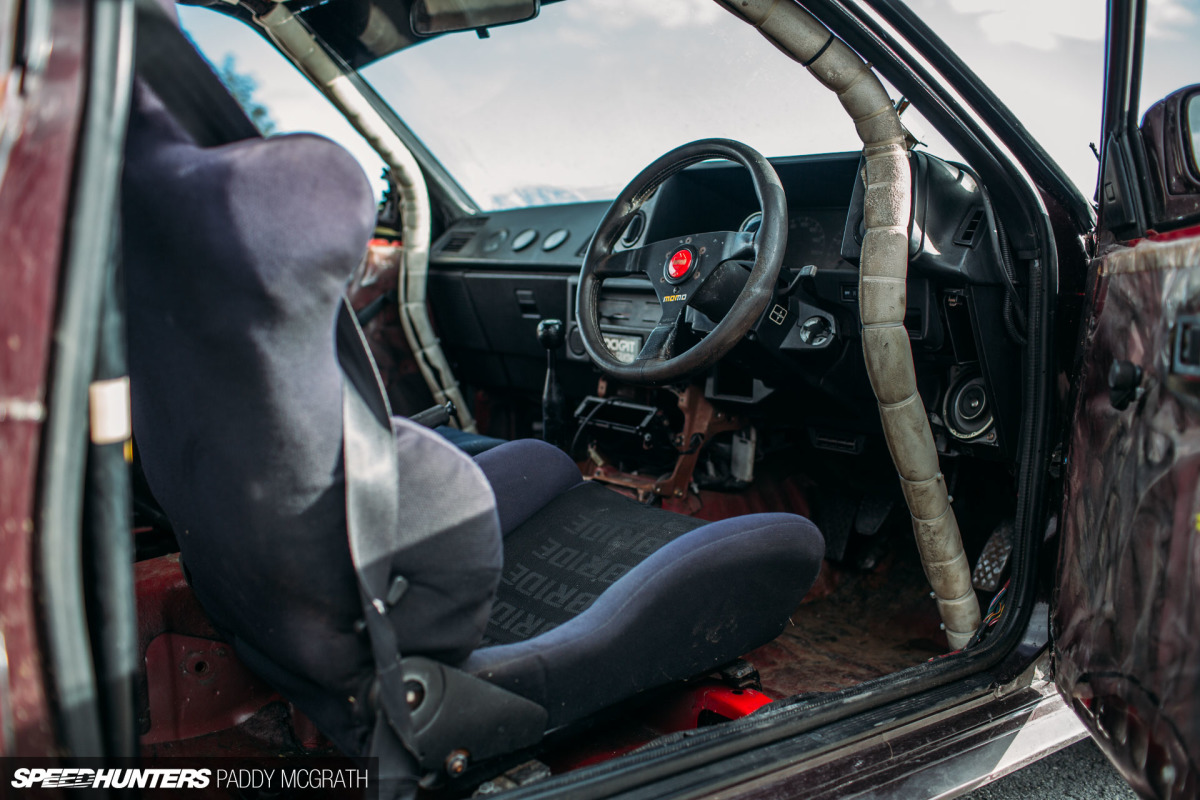 Okay, it needs to be started with a screwdriver for the time being, but it runs, drives and stops. It's as good a start as any. There were some pleasant surprises, too.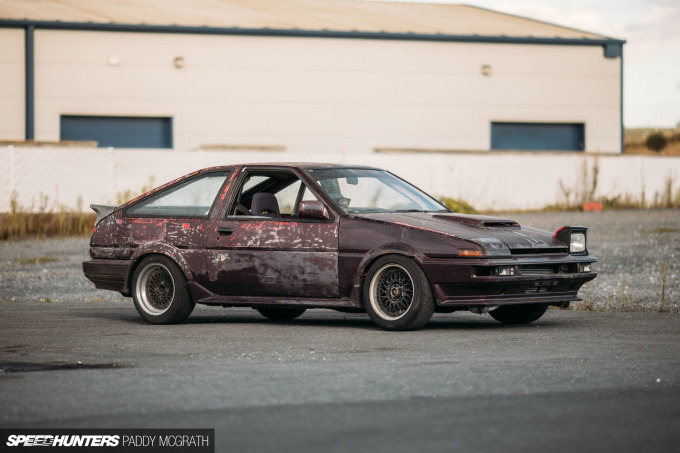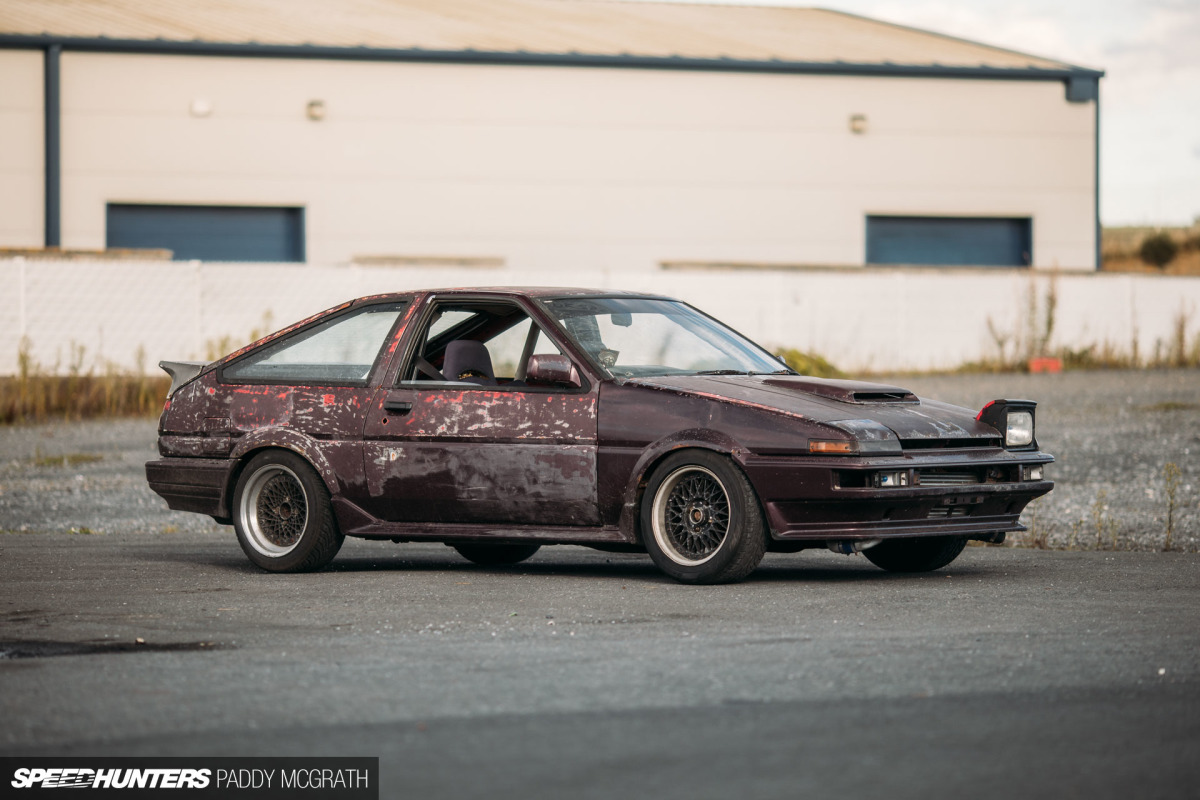 There's a 4.778 final drive TRD limited slip differential, TRD shocks, TRD shifter, TRD N2 wing and a TRD bolt-in cage along with a Momo steering wheel. The rear wheels are Southern Ways; the fronts are Volk Racing by RAYS. It also has the "sketchiest" tyres, ever, according to Neil.
On the driver's side there's a Bride recliner that has seen better days, but it's nothing a good upholsterer can't repair.
Along with the AE92's 4A-GZE engine and loom swap, came the same AE92 cluster which Neil laughed off as a complete botch job.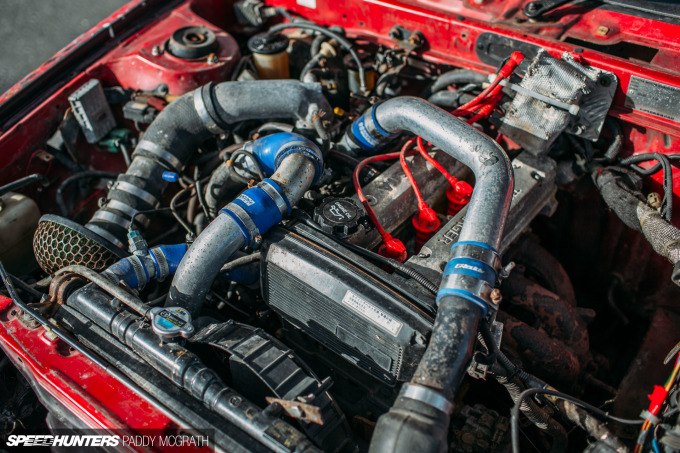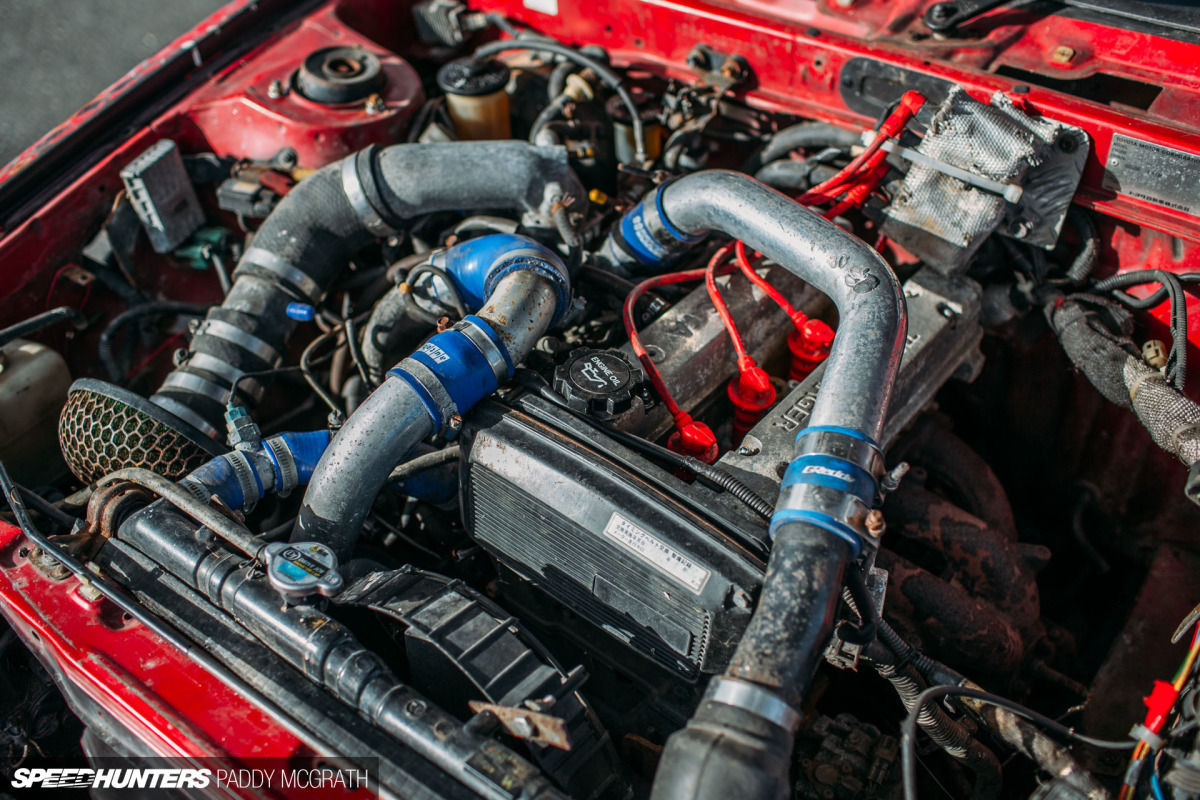 As said above, it is running, but does need tidying and further tuning. It's also running a smaller Cusco supercharger pulley for higher boost, along with what I think is a GReddy front-mount intercooler conversion kit with hard pipes. I'm not sure what Neil's plan is here, as it's still early days in the restoration, asides from documenting the build on the Juicebox YouTube channel.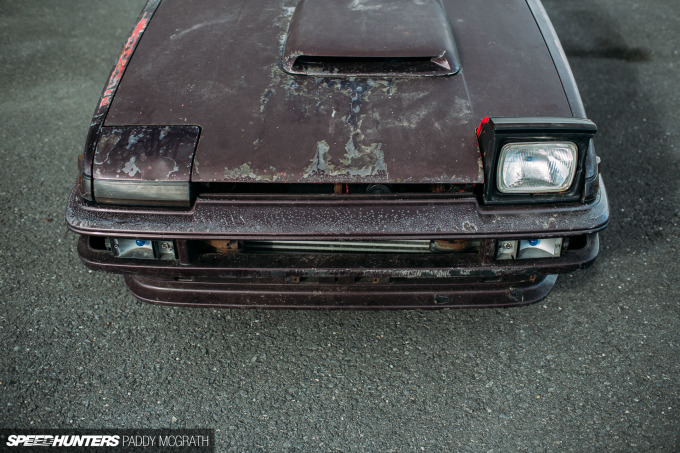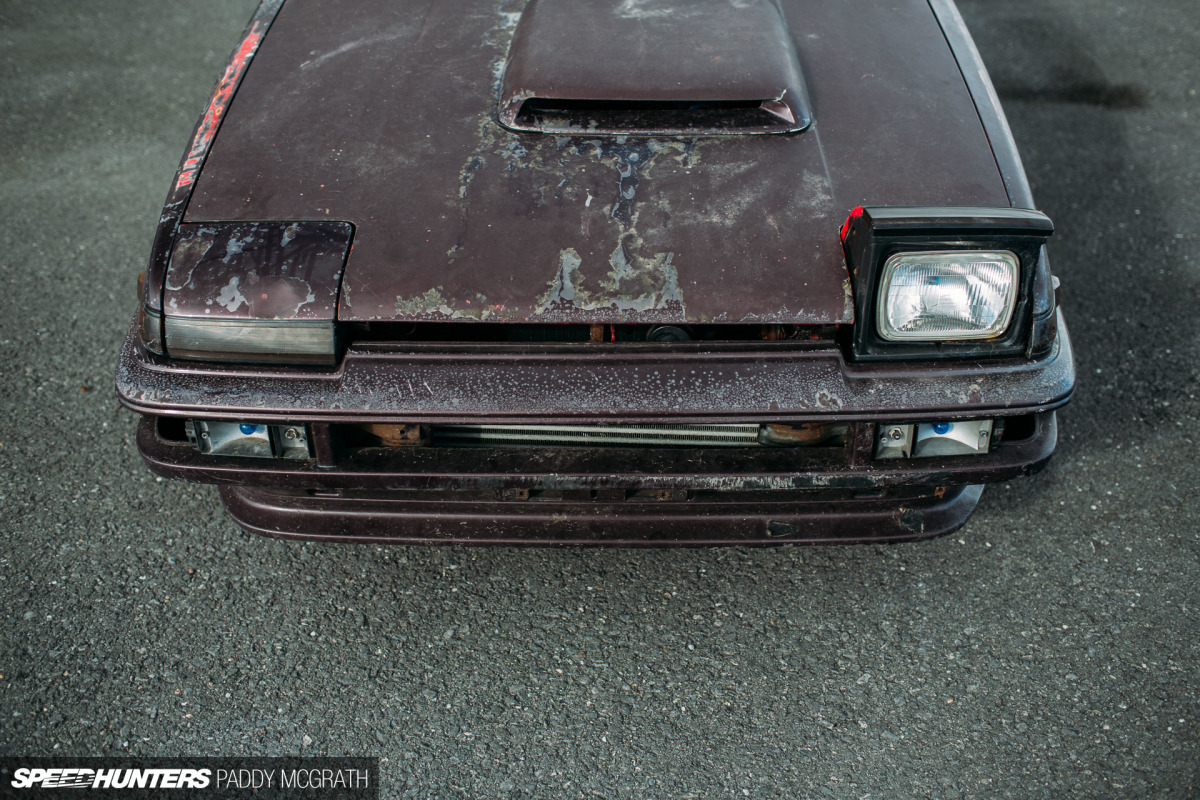 For now, it's baby steps as the car slowly begins its transformation. Part of me wants to see its patina and neglect retained while turning it into a screaming 16-valve and mechanically-perfect fast road car, but the other part of me wants to see what all the years of ideas that Neil has in his head can do with this car.
Considering it was almost certainly destined for the scrapyard, he can really do no wrong with it. Nothing could be worse than it rotting away in a hedge. Hopefully, this won't be the last time we see this car on Speedhunters. It's just up to you, Neil.
Oh, and there's the small matter of this year's Juicebox BBQ to attend to.
Paddy McGrath
Instagram: pmcgphotos
Twitter: pmcgphotos
paddy@speedhunters.com