Running Free
When it came to picking a car to spotlight for you at the recent Annual Retro Toyota Gathering here in the UK, I certainly had plenty of choice.
I think we tend to 'do' Corollas pretty well on our small island. Importing cars and parts from Japan is fairly easy, there's a large aftermarket support, and the knowledge base available to Hachiroku-heads is a hugely important resource.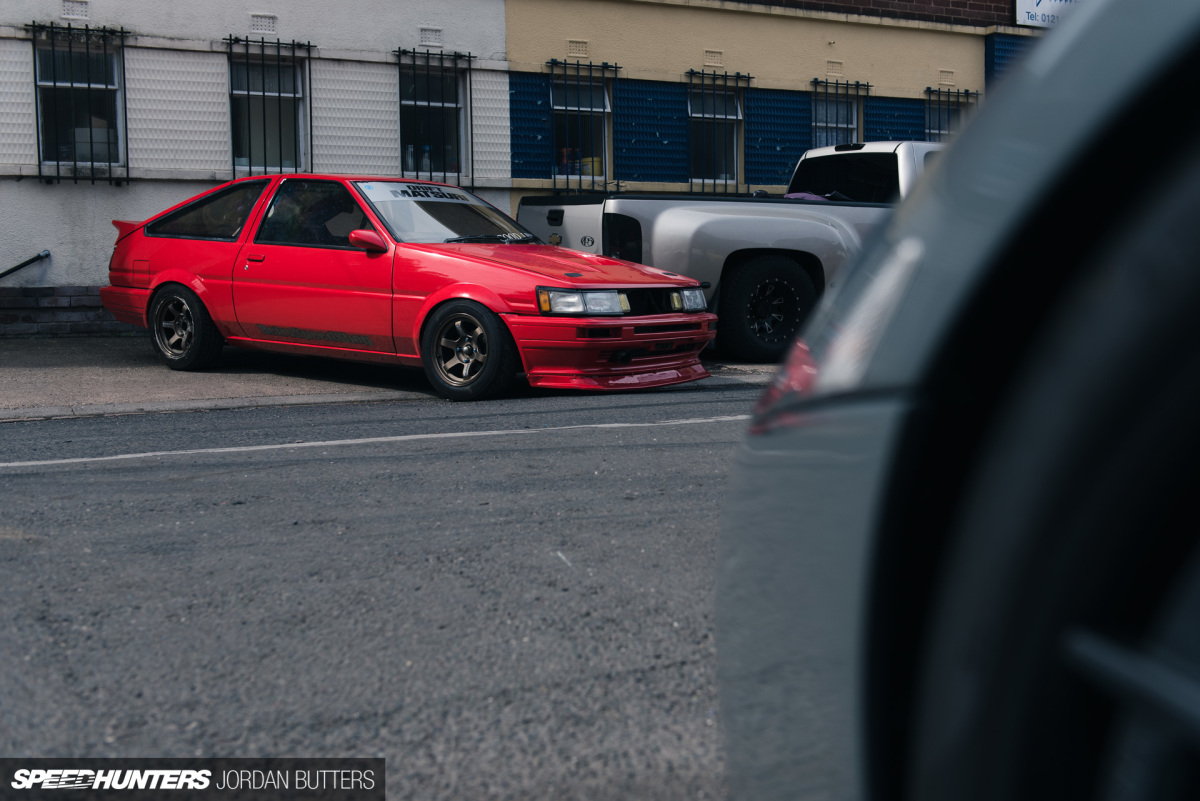 If you're considering, or part-way through, doing one thing or another to your AE86 and you're unsure of the best way to go about it, the chances are that someone else in the Corolla Brotherhood has already taken on the task and can lend their advice.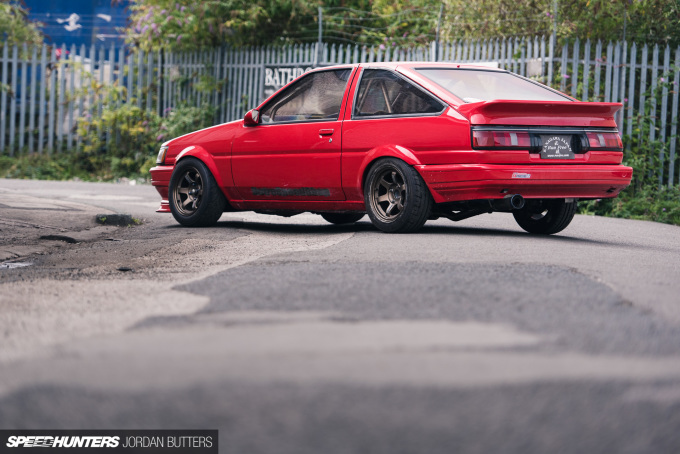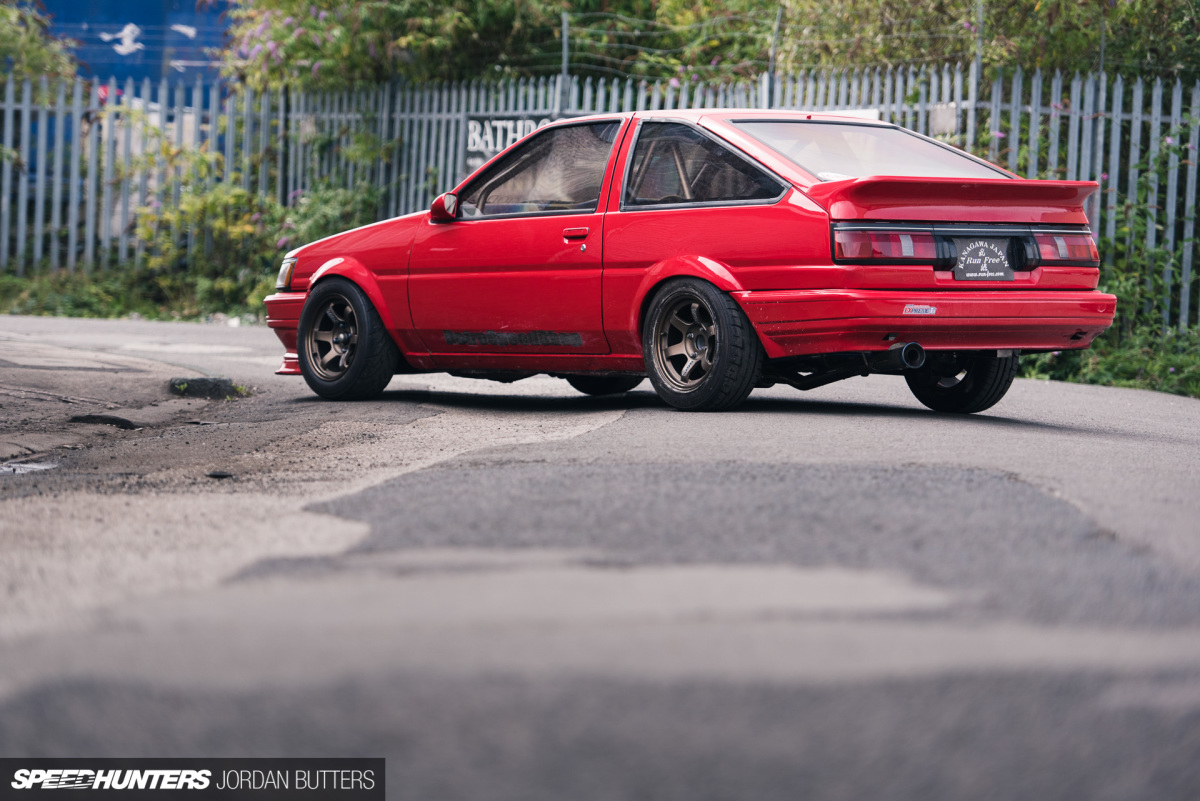 Chris 'Paz' Parry is one of the UK's longest standing AE86 aficionados, as well as one of the founding fathers of UK drifting. In the 10 or so years since I first met Paz, he's owned a handful of cool Hachirokus built for one sole purpose – to have as much fun as possible sideways whilst staying true to the roots of what the AE86 is supposed to stand for.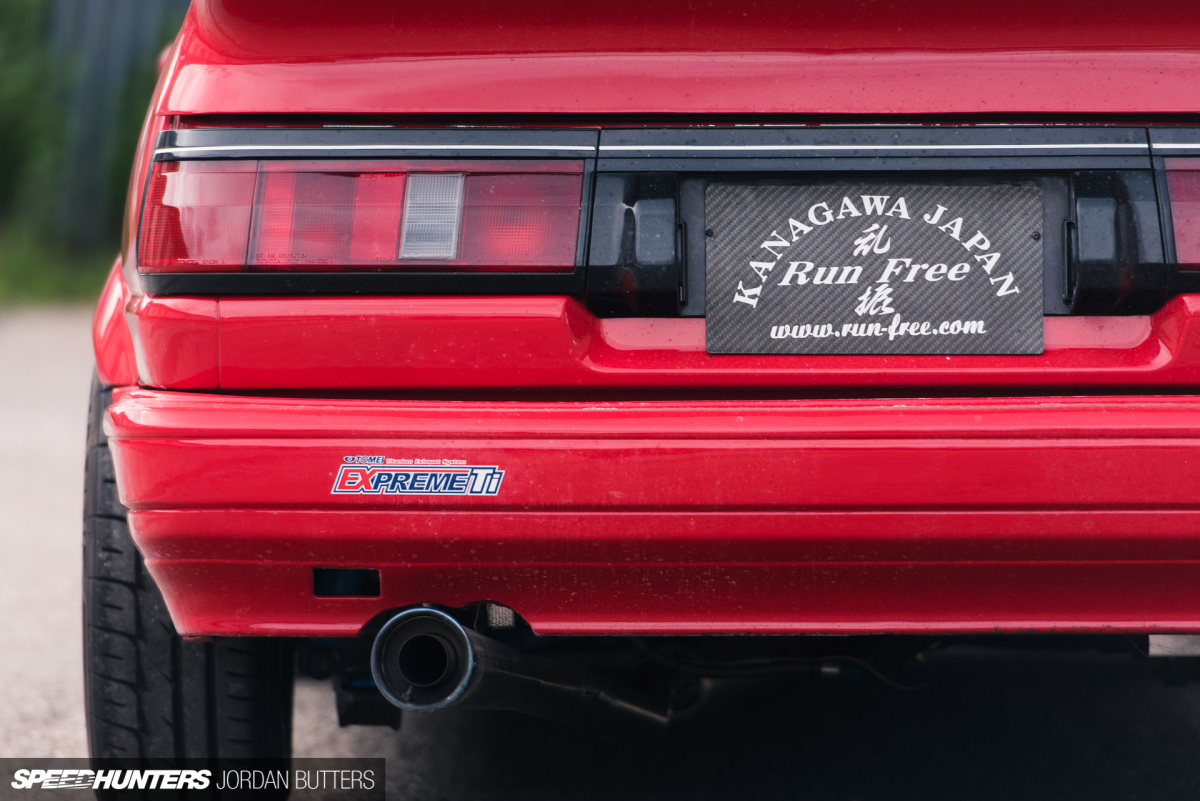 That's really the main reason why I chose his 1986 Corolla Levin GTV over the many other worthy contenders at this year's UK 86 Day get together. It's not the cleanest or the rarest and it doesn't have the most power, but Paz has built his Levin with a sole focus on driving hard.
No frills, just thrills.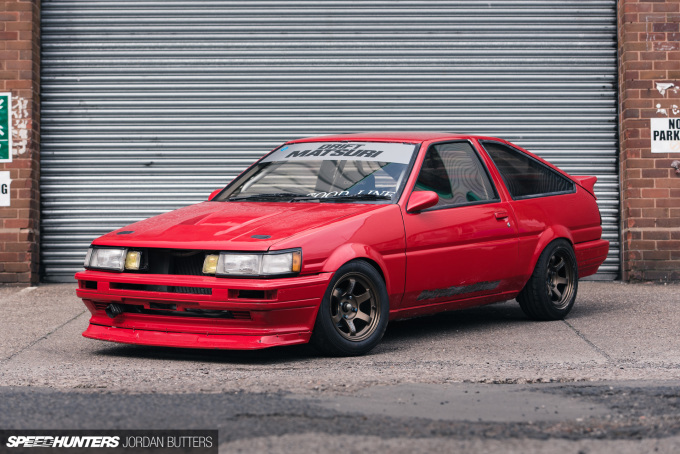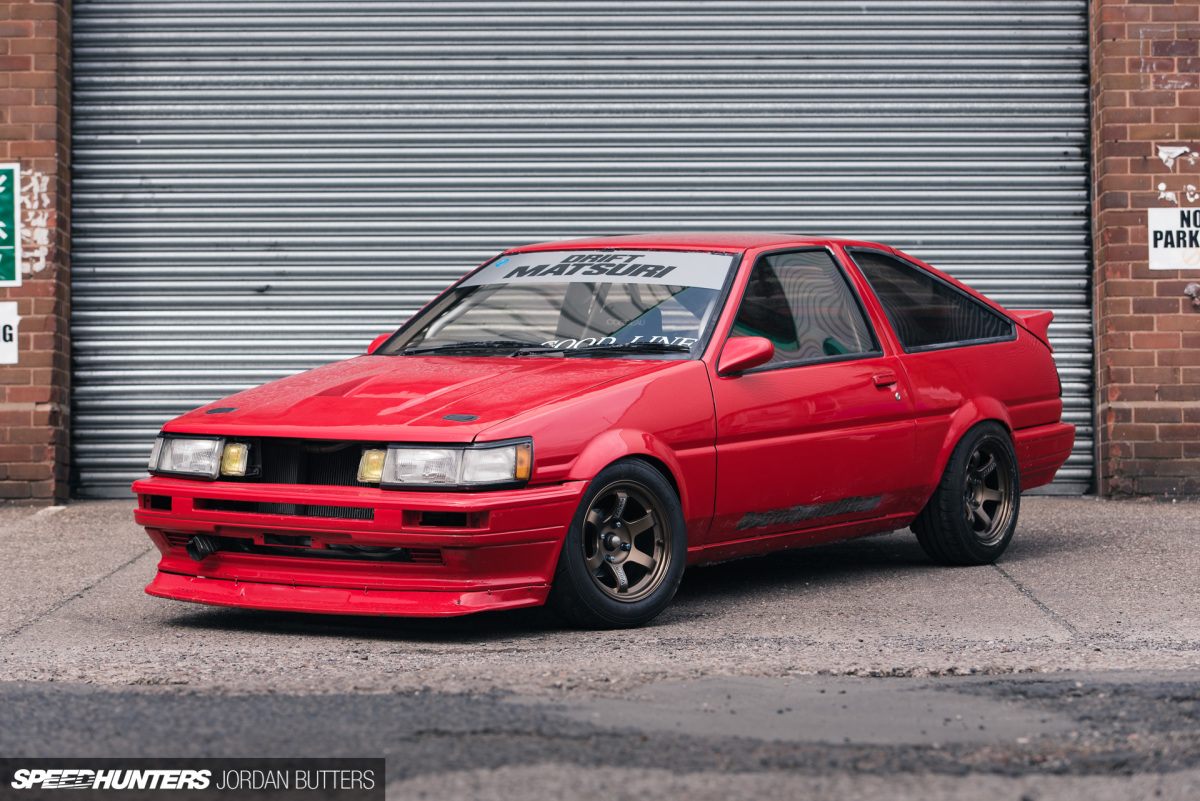 Although cosmetics are lower down the priorities list than mechanical ability of the car, Paz's Hachiroku has still been suitably beefed up in the looks department with a fine selection of parts that'll pique any AE86 fan's interests.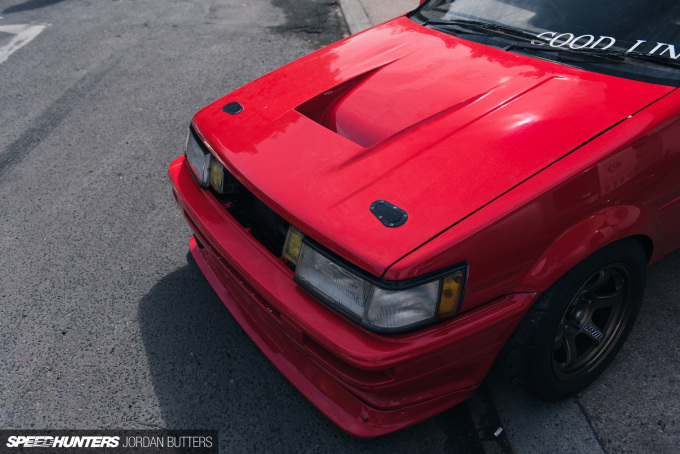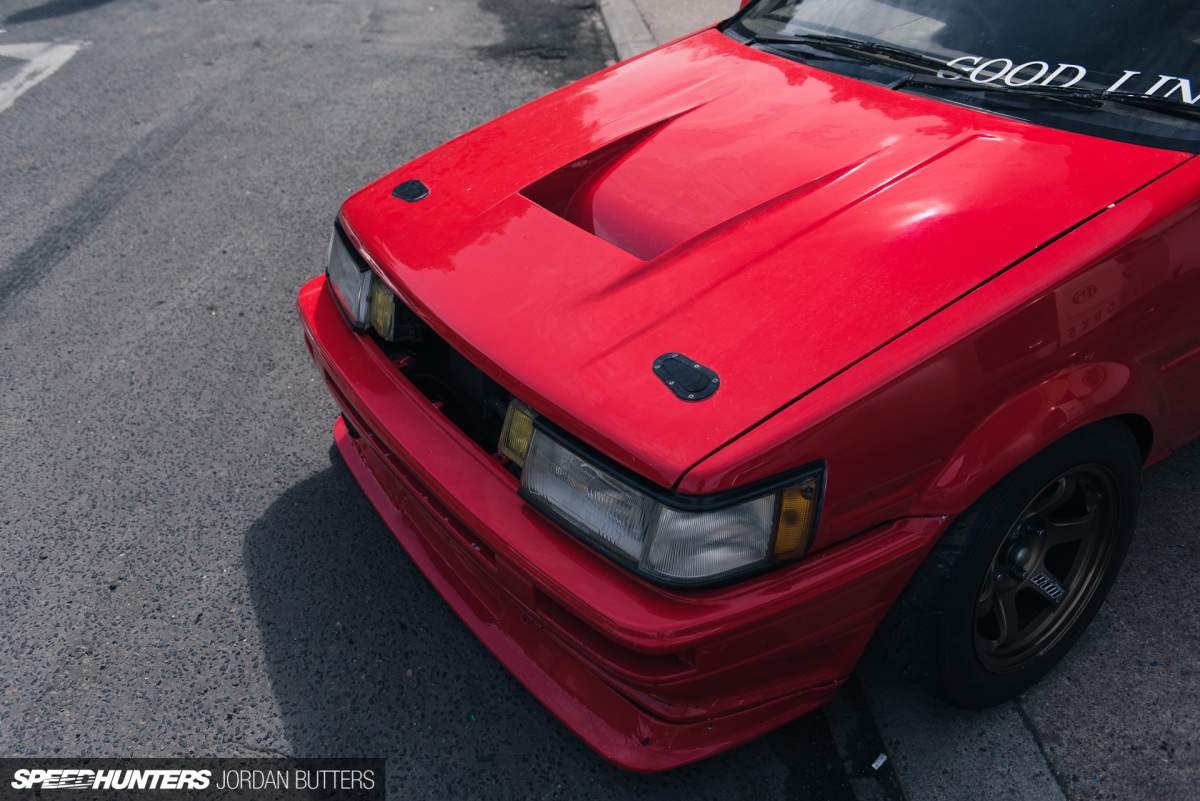 A Goodline bonnet takes pride of place, adding aggression whilst helping to keep bay temperatures down. Paz usually runs a Goodline front bumper too, although this is an OEM item you see currently.
Other subtle additions such as the TRD N2 rear wing and East Bear mirrors improve the exterior.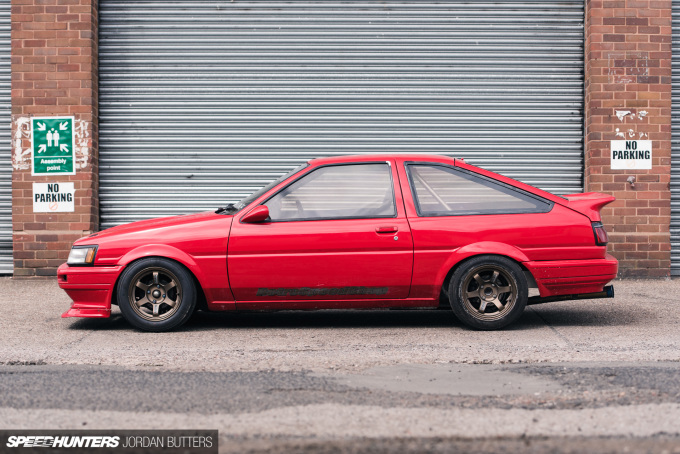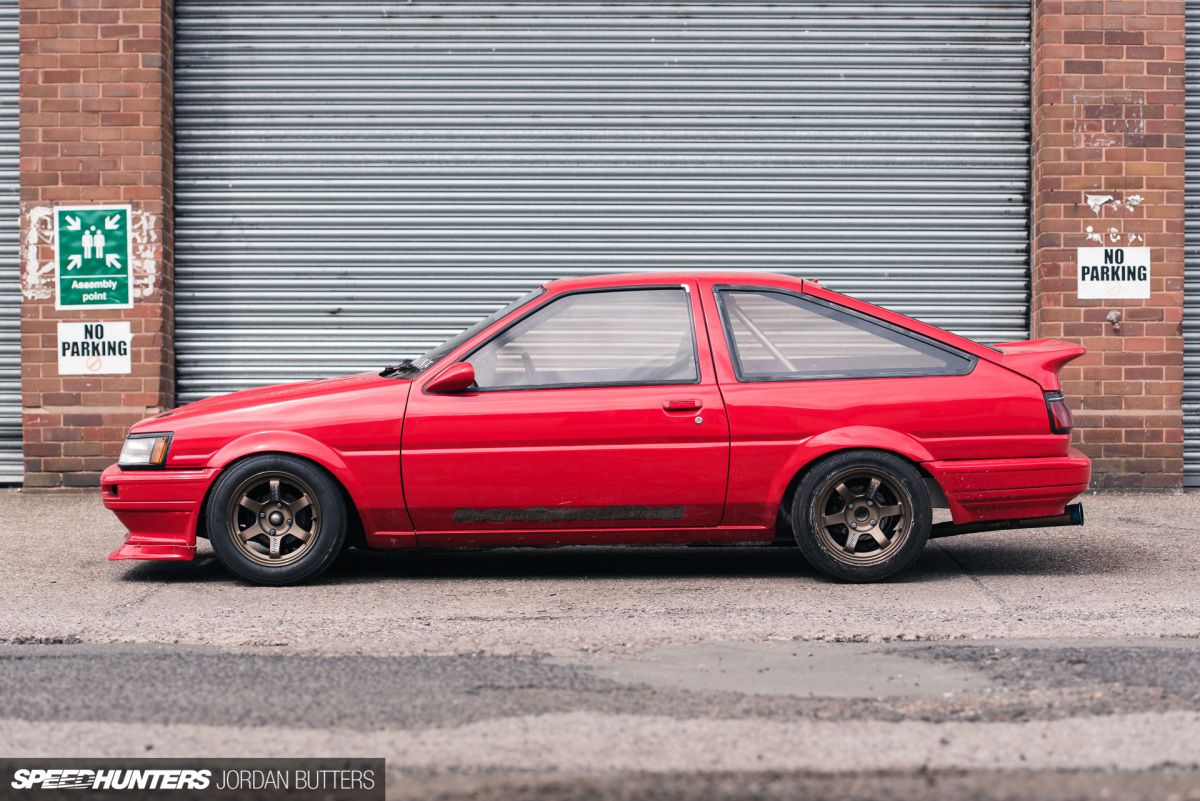 I realise it's a very subjective topic, but if you ask me these small changes have struck the perfect balance by accentuating the AE86's shape with some additional aggression.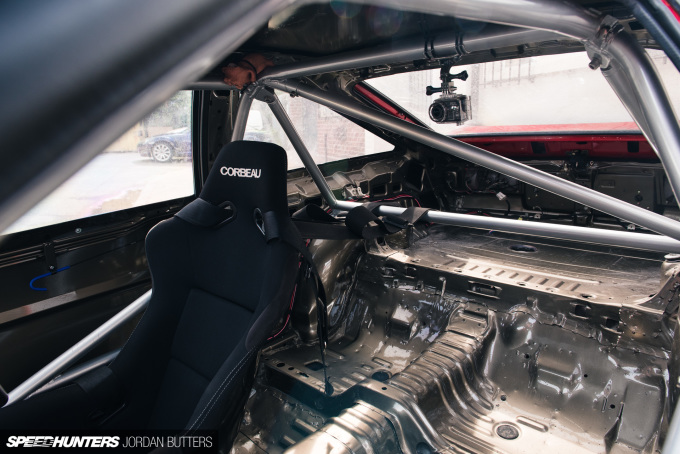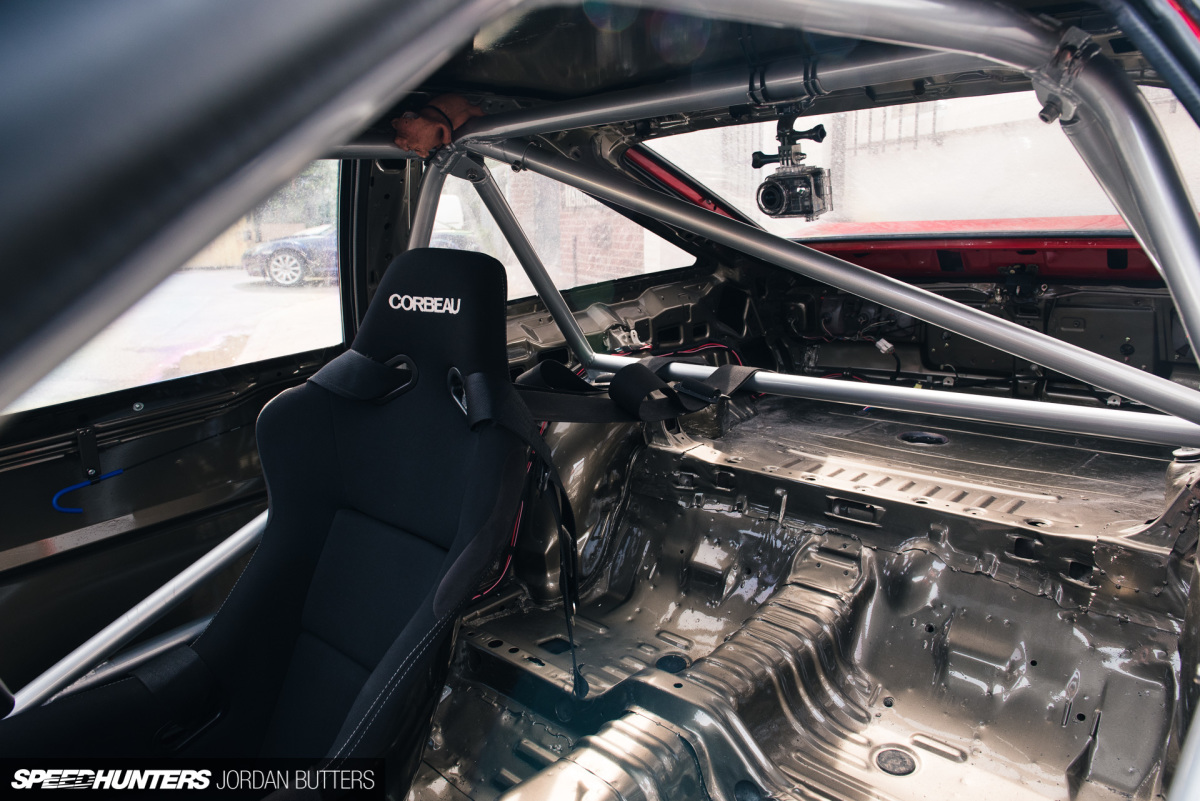 The chassis has been stripped back and lightened as much as is possible; all unnecessary metal and brackets have been shaved, including the contents of the doors. The windows are now bronze polycarbonate items. The chassis was fully spot welded before the entire lot was coated in a custom bronze colour, and protection comes in the form of a full custom Cusco/Safety21 rollcage with additional door and harness bars. A 30-litre fuel cell and fuel cooler are hidden beneath the custom boot floor too.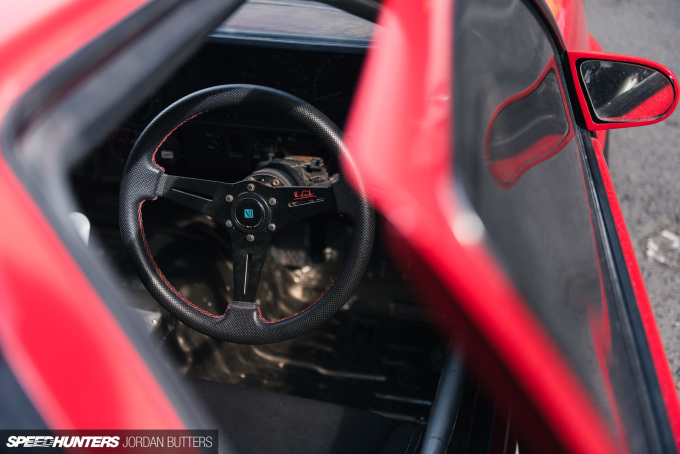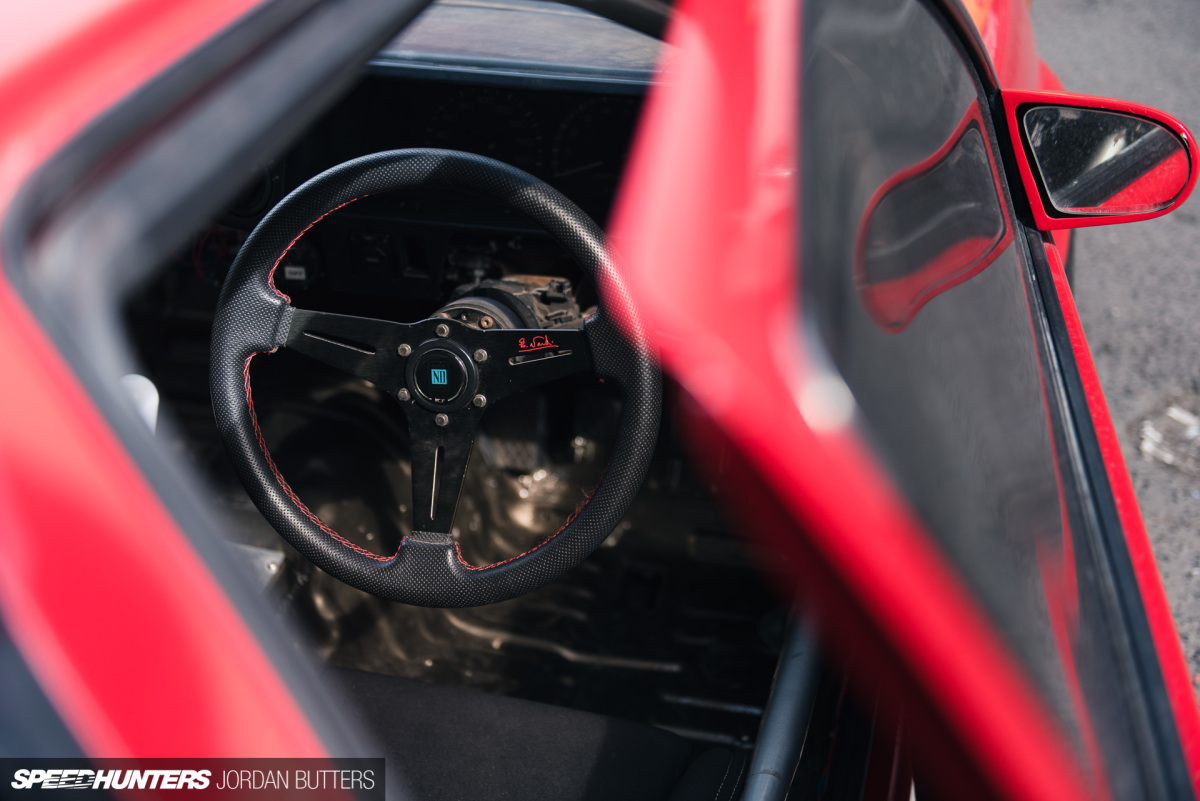 The rest of the interior is minimal to say the least; a single Corbeau bucket seat and Luke harness hold you in front of a classic Nardi wheel.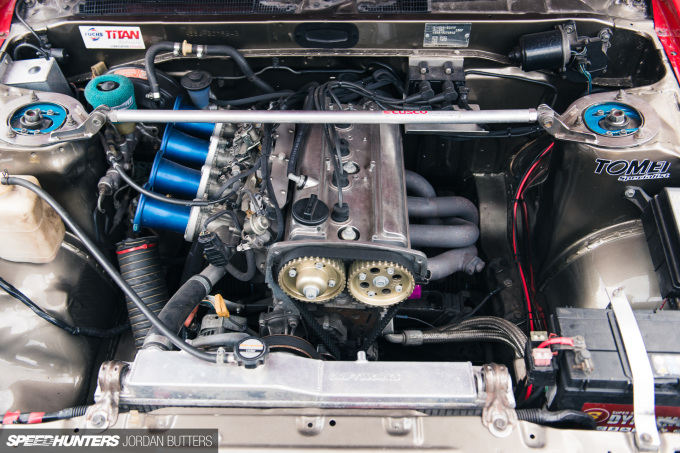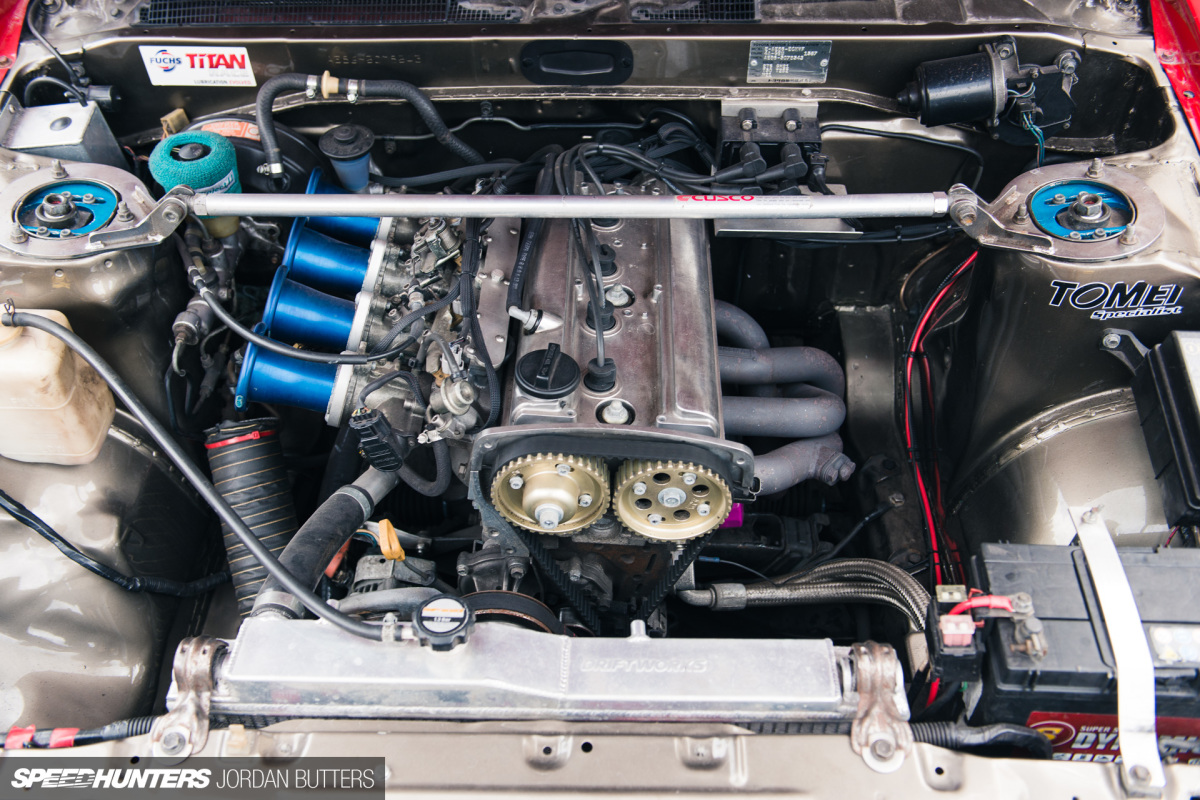 Naturally, at the heart of the operation sits a highly tuned, naturally aspirated 4A-GE, this being the later 20-valve blacktop variant as found in the AE101/111 Corolla and AT210 Carina. The head has been ported with all casting marks removed and the block skimmed. The engine was rebuilt using Toda cams, valve springs, and cam gears, 11.5:1 pistons, new rings, steel con-rods, a 42mm crankshaft, ACL bearings, ARP hardware and sealed with a Cometic 0.6mm MLS head gasket. Ancillaries include a May Motorsport water relocation kit (as designed by Rob May, whose AE86 race car we featured earlier this year), Raw Engineering crank pulley and a Driftworks oil cooler and radiator.
The engine has been dropped 10mm over the stock position for improved weight distribution.
Getting efficient power from a small capacity NA motor is crucial, so air is sucked into the engine via port-matched AE111 throttle bodies, and gases expelled via a port-matched A'PEXi 4-1 manifold. Saving weight is equally as important, so a Tomei Expreme Ti titanium exhaust carries the spent gases rearward, whilst tipping the scales at a svelte 4kg!
The result is 190bhp, give or take, and aggressive power delivery at over 9,000rpm, although it's currently limited to just under.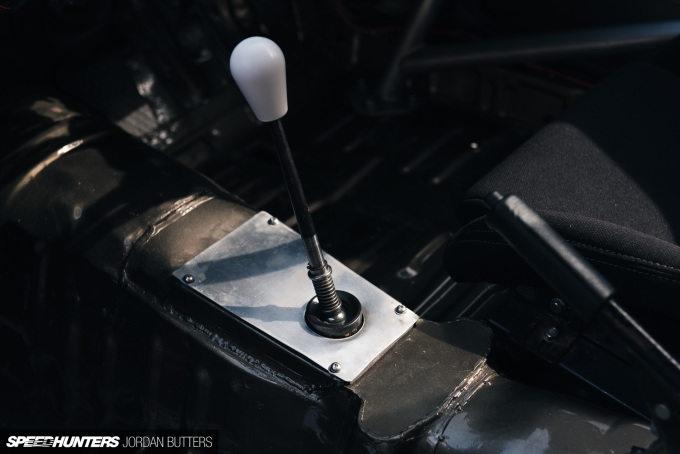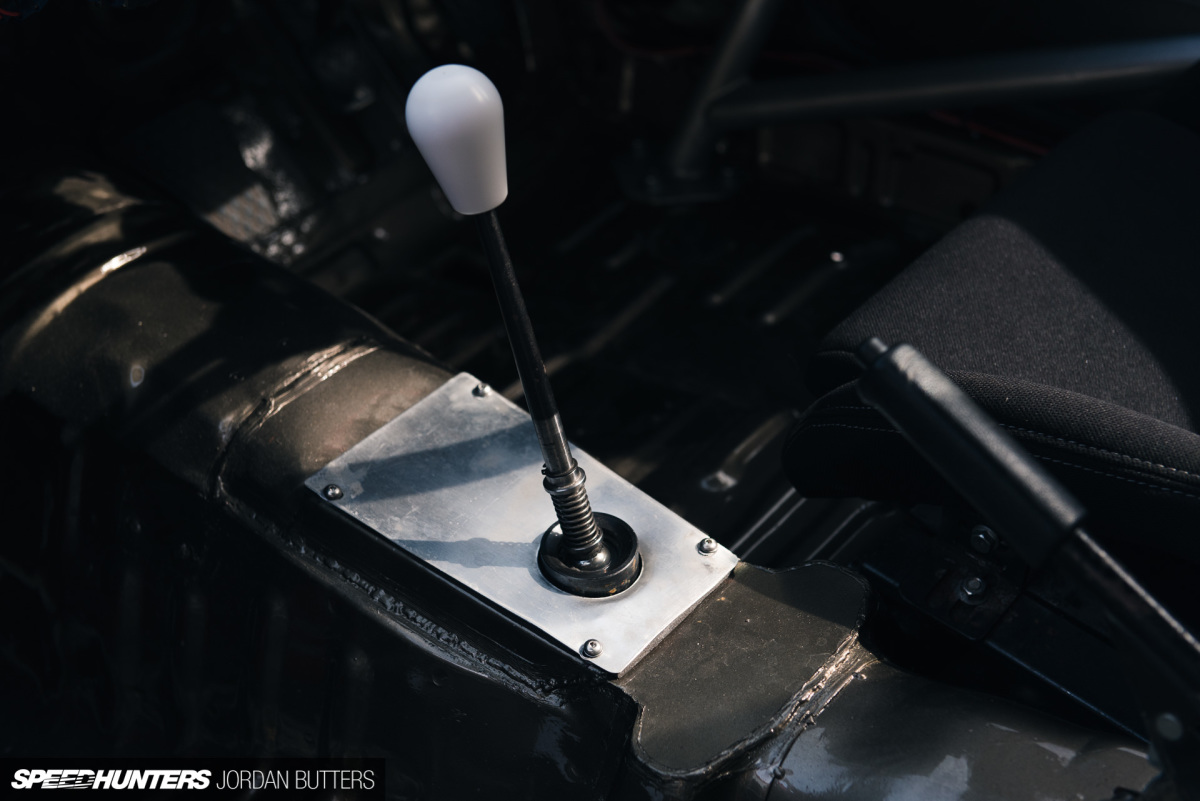 The drivetrain has been built to take continued abuse too. Power is delivered to a Quaife Type 9 straight-cut gearbox via a 2.0-litre Pinto clutch plate with AE92 cover and flywheel. A custom one-piece prop delivers drive to the rear differential with M-Factory 5.3 ring and pinion, sitting within a modified axle housing. Paz takes his drivetrain health pretty seriously, so a Cosworth rally diff oil cooler complete with 240-micron feed filter is fitted, along with a temp sender so Paz can monitor diff oil temperatures from the cabin via a small gauge in the dash.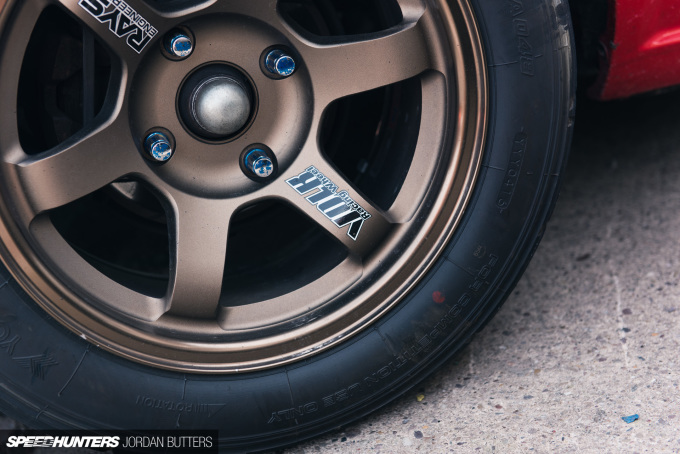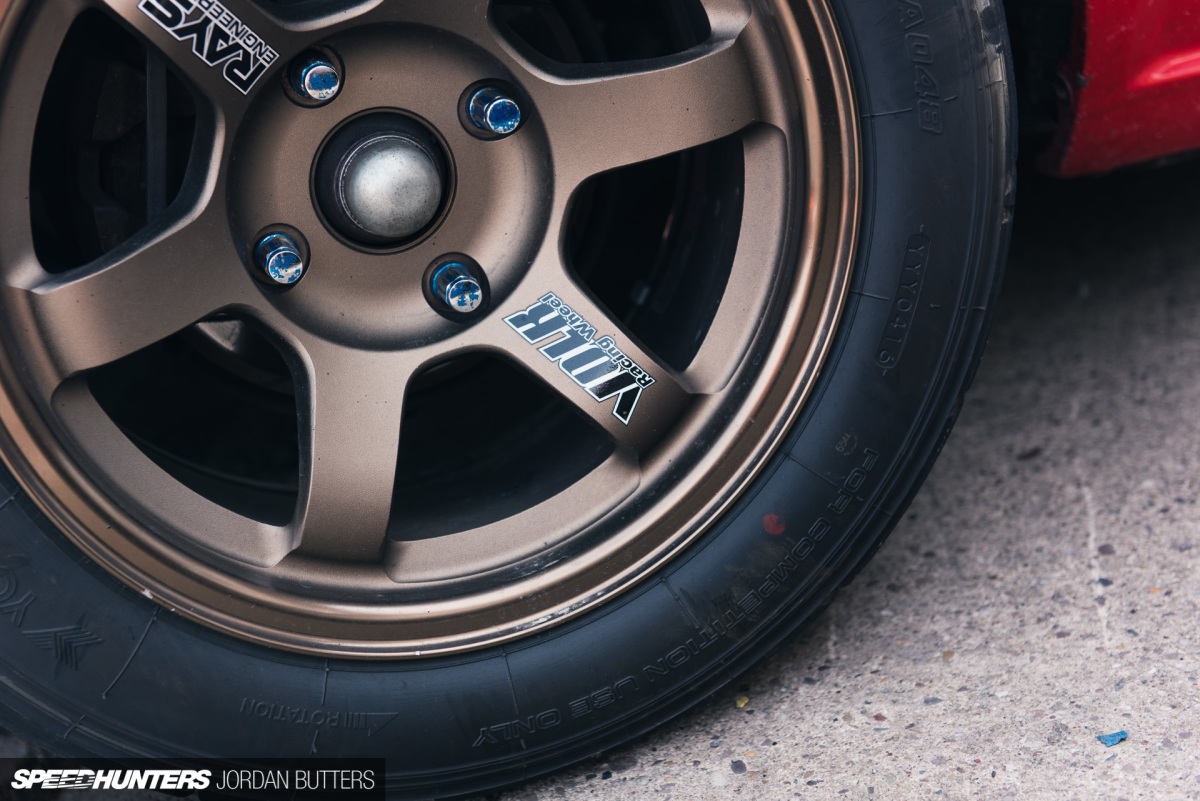 The bright red paintwork is offset by the gorgeous bronze RAYS Volk Racing TE37s that adorn all four corners, measuring in 14×7-inch with a 0 offset.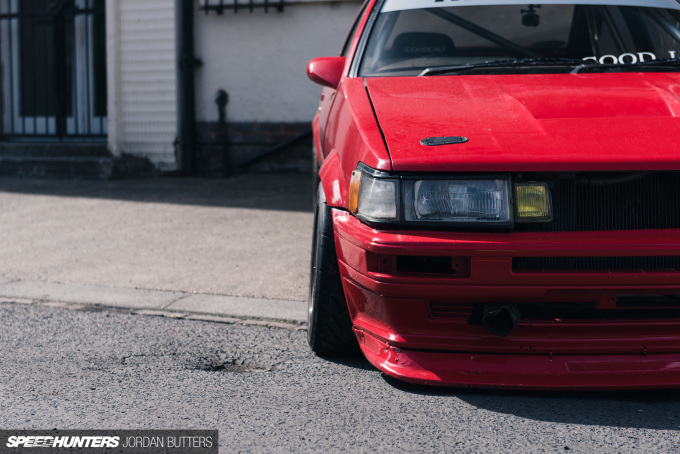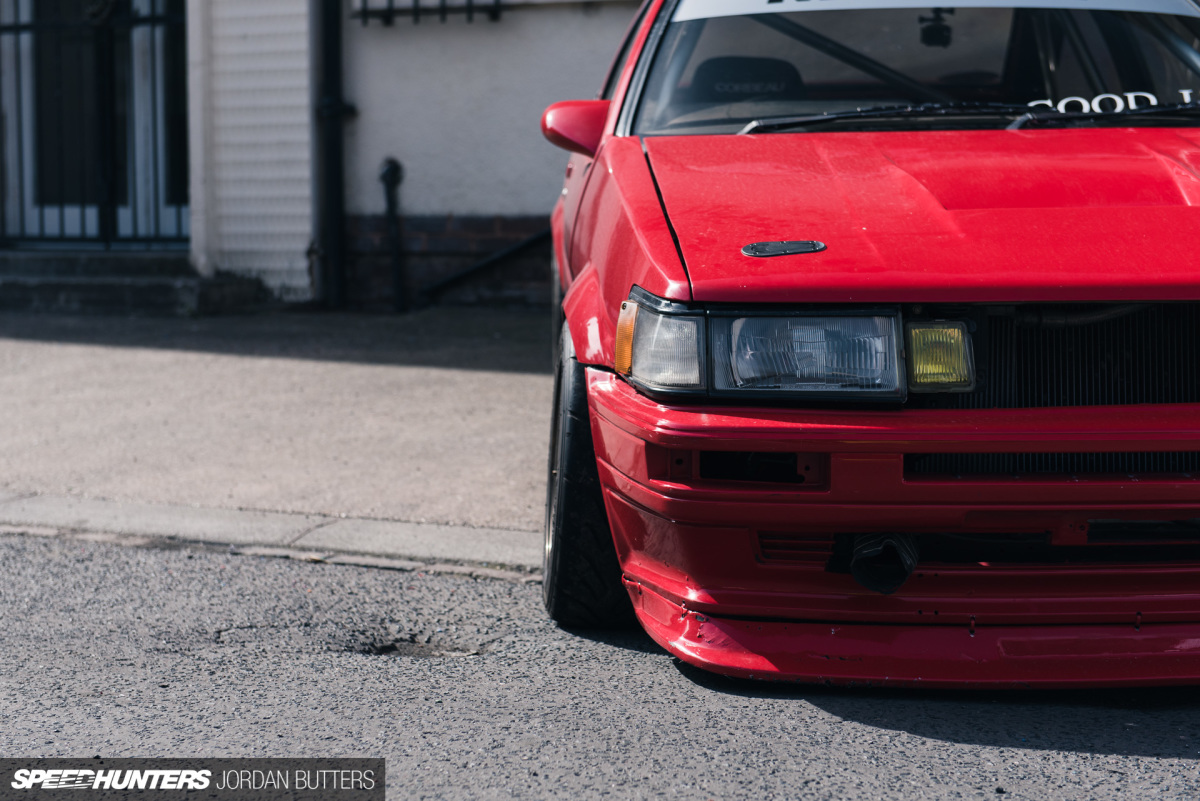 The footwork is equally well catered for – TRD Blue short-stroke dampers with Swift 060/065 springs control the ride, complete with Cusco front top mounts. Retro Speed Shop front lower control arms, Grp4 Fabrications tension rods and brackets, and Techno Toy Tuning negative roll camber adjusters allow for plenty of geometry scope at the front, while custom Heyman knuckles offer extra steering lock.
Anti-roll bars from TRD and Cusco keep things tight at the front and back, respectively, and the Corolla's rear suspension is further bolstered by traction brackets, Cusco four links, and a Grp4 Fabrications rose-jointed panhard rod.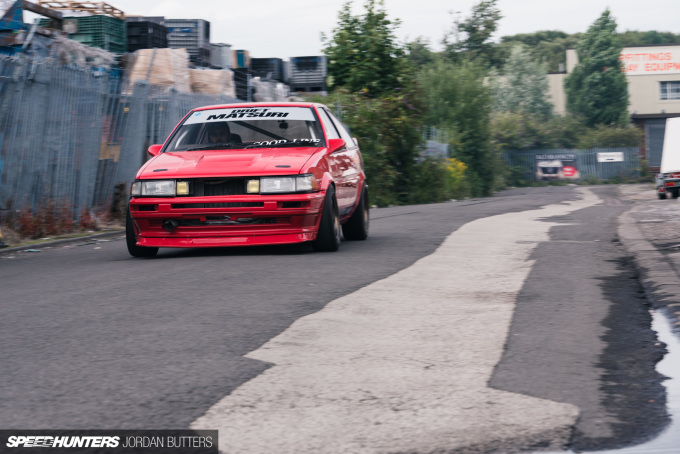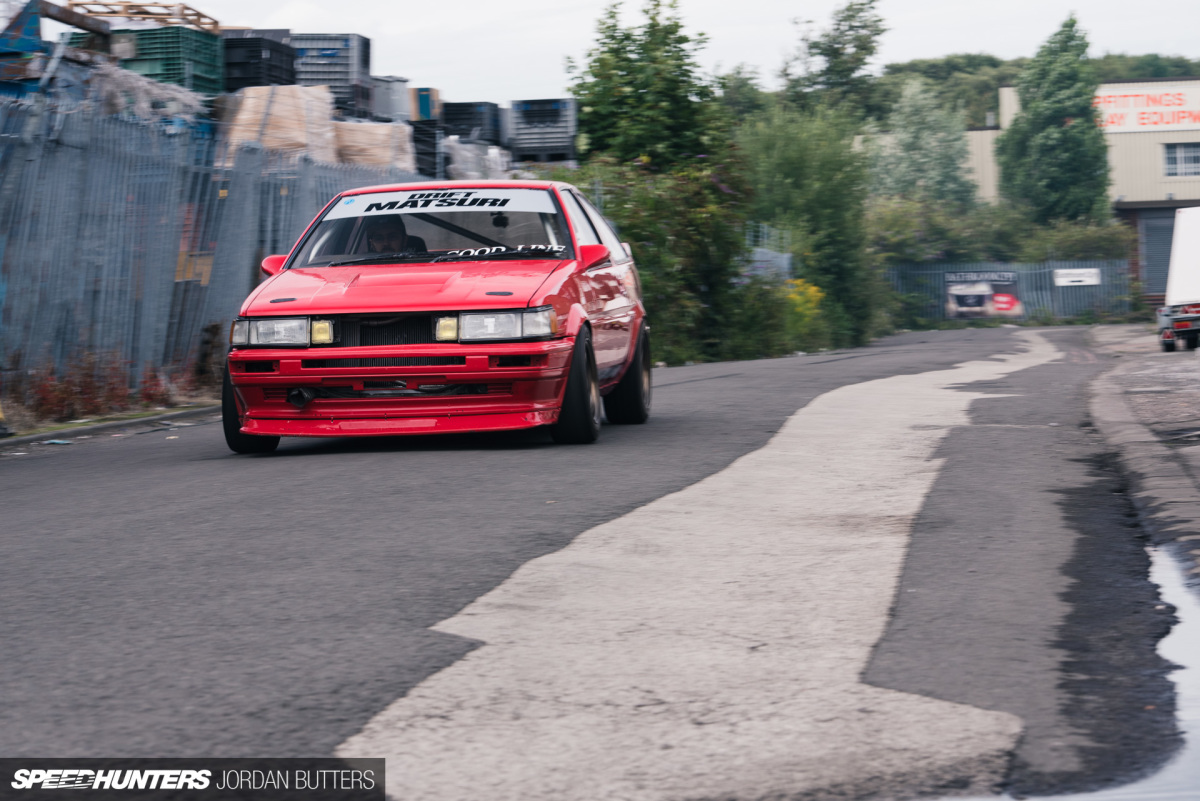 There's no half-measures here. Paz's Levin is an out-and-out driving machine, and he very much subscribes to the AE86-way of driving it, with fast and violent initiations and a throttle like an on/off switch.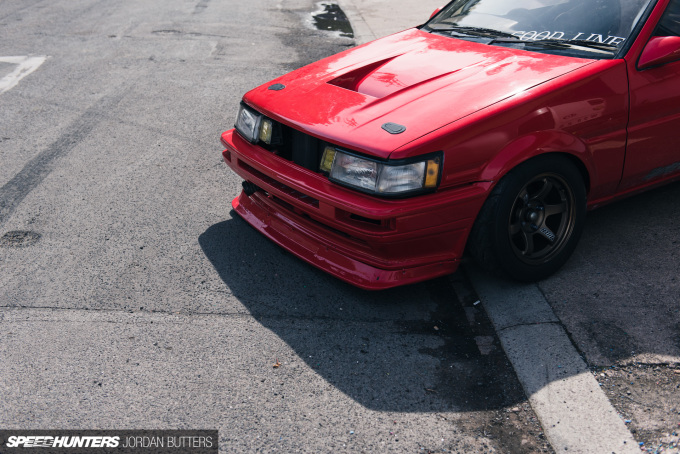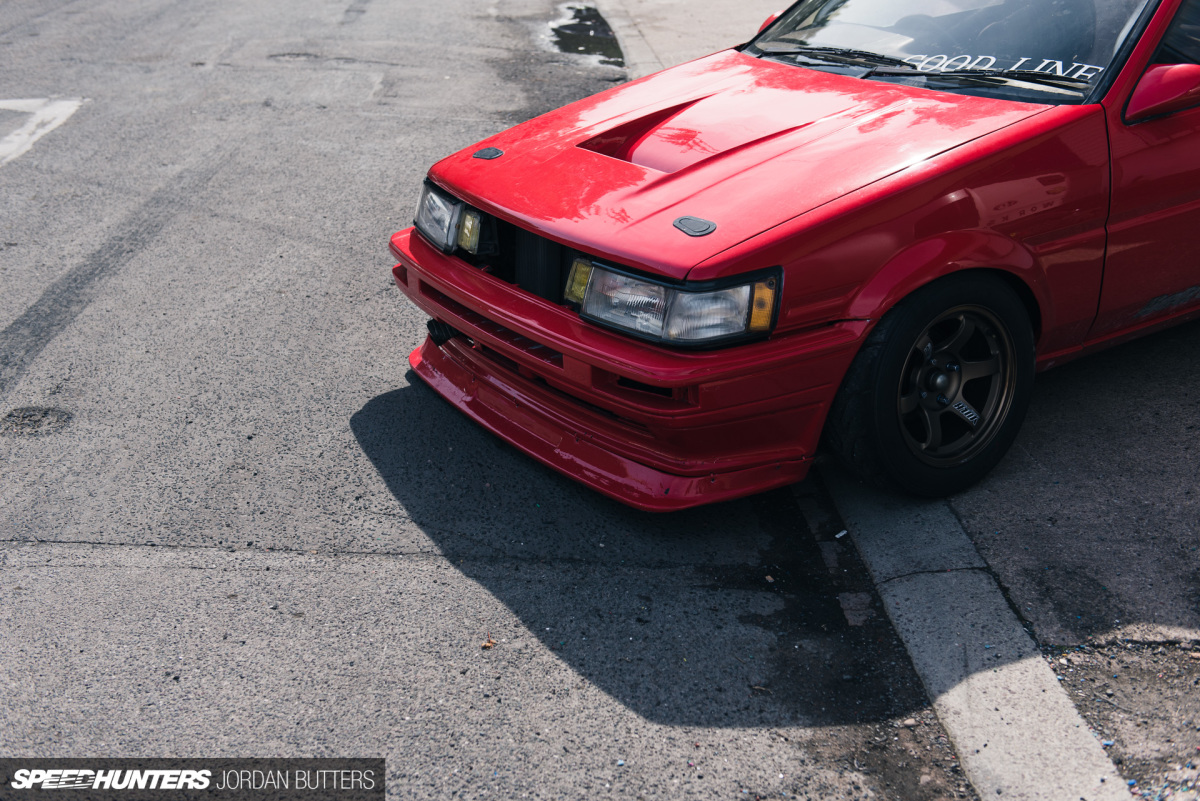 With next to no weight, perfected handling and a high-revving four-pot NA screamer under the bonnet, it's what the AE86 stands for…
Paz would like to thank Iain Boote, the Corolla Brotherhood all over the world and his wife for the support.
Jordan Butters
Instagram: jordanbutters
Facebook: Jordan Butters Photography
jordan@speedhunters.com
Cutting Room Floor