It might seem like a paradoxical statement, but it's not inaccurate.
Our friends at Manthey-Racing are obviously not strangers to the Nürburgring Nordschleife, but their latest achievement has been catching attention around the globe. In recent years, Nürburgring times have become less and less exciting, as manufacturers blur the lines of what's considered a production car or even resort to some dubious methods of recording an 'official' lap time. Understandably, the doubt which follows means that fast times don't quite feel as significant as they once did.
This particular time is interesting though on a couple of levels. First, the lap was recorded by renowned German magazine, Sport Auto, which used its own test driver, Christian Gebhardt. By having 'outsiders' as such drive and record a time, it lends a lot of credibility to the result of 7m10s (00:07:09.59). When the same outfit tested the Porsche 918 Spyder, it lapped at 7m13s, three seconds slower than this GT3 RS MR, which should put the time in perspective. The Sport Auto lap times are largely considered as the most trustworthy lap times recored at the 'Ring.
It's worth adding that this is a full Nordschleife lap, and not just a Bridge to Gantry time.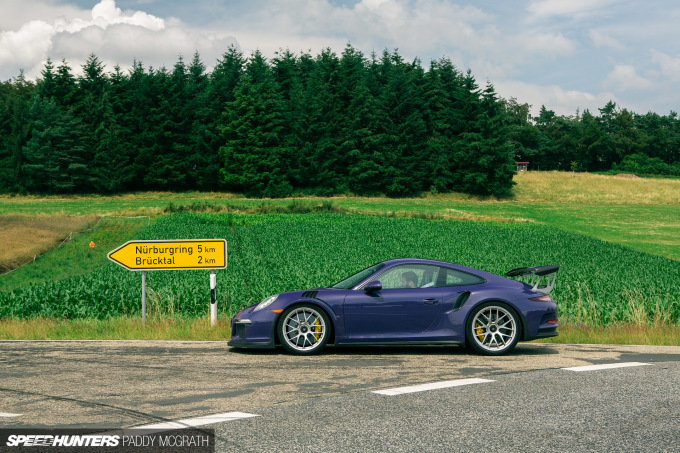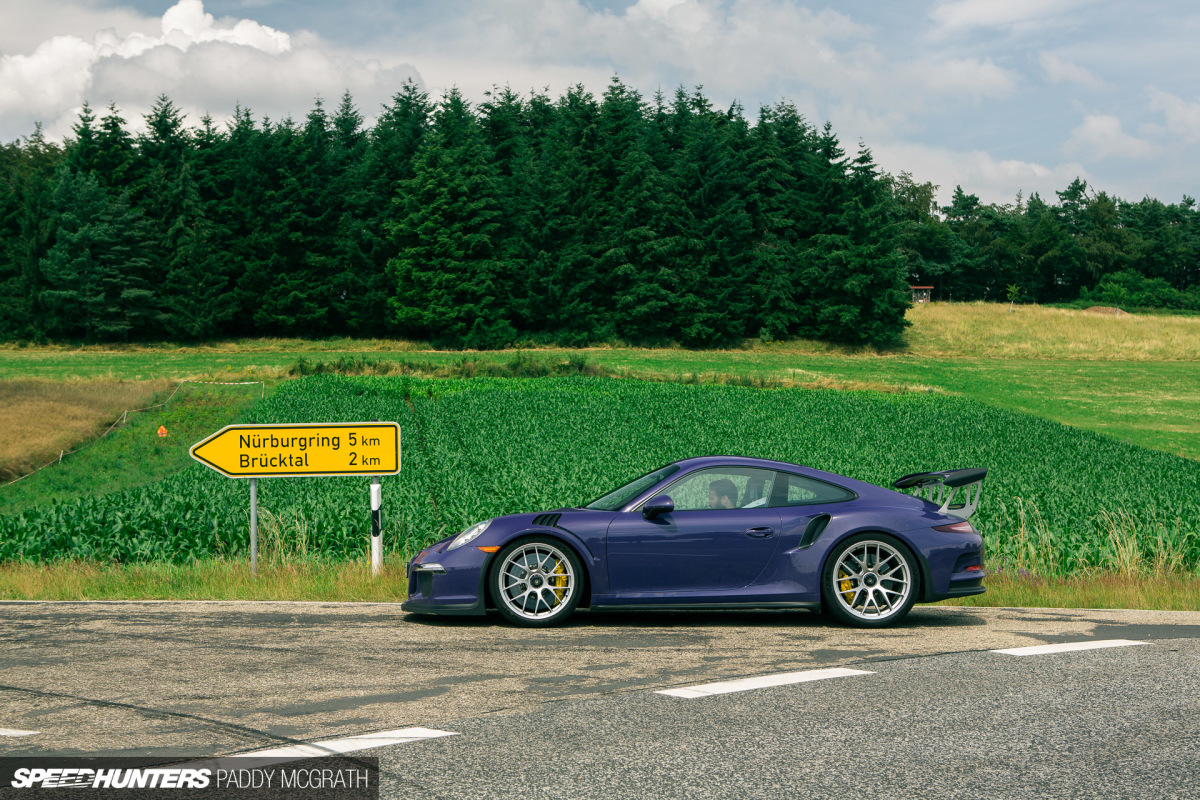 The eagle-eyed amongst you might recognise the car as being the very same GT3 RS that we shot last year during a heavenly visit to the Nürburgring. Truth be told, we weren't aware at the time of the ultimate purpose of the car, although we were informed that it was under development and it certainly wasn't a stock GT3 RS.
The most impressive part (for me, at least) is that this record-setting car was developed and improved upon without making any engine or gearbox modifications. It's running the same power (500hp) as any other production 991 GT3 RS. Instead, Manthey-Racing focused on chassis development and setup to get more of the iconic Porsche. Working with KW Suspensions, they developed a 3-way adjustable coilover setup with remote reservoirs and front and rear adjustable top mounts. This kit has been specifically tuned for the 991 GT3 Rs to make the most of the chassis. They've taken some weight out, in the form of their magnesium wheels which removes just over 12kgs or 26lbs of rotational mass.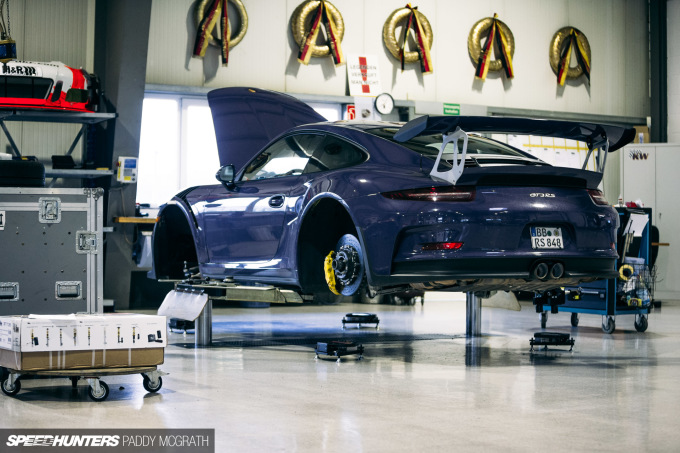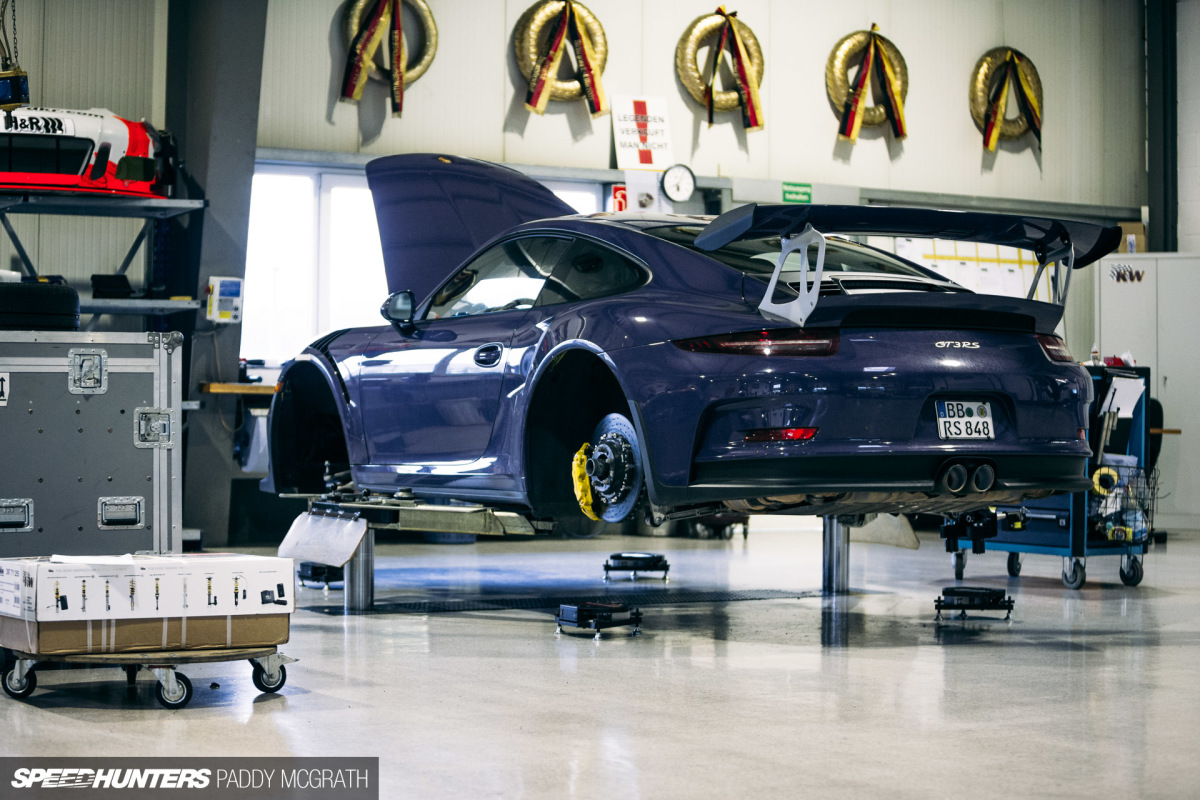 Other changes include an uprated street-legal brake pad, an optimised underbody cover for improved aero flow, an extended roll cage and some rather nice seat cushions in Pepita design.
You can't not be impressed by that. They've not tried to reinvent the wheel, but rather just focused the performance of what was already an awesome car. During that memorable afternoon last year with Michael Grassl, I asked him if the GT3 RS could even be improved upon from factory. Well, I think we have the answer.
Paddy McGrath
Instagram: pmcgphotos
Twitter: pmcgphotos
paddy@speedhunters.com