Thursday August 3rd
The speed at which the 2017 Formula Drift season is passing, is frightening. It feels like only a couple of weeks ago that James Deane and Piotr Więcek shared their plan to compete a full FD campaign in 2017, but in reality, it was 10 months back. By the time the Irwindale final comes around in October, it will have been over a year since the decision was made.
From the outside, expectations have been high for the newest team in the paddock. In particular, expectations for what James would achieve in his first season have been astronomical. It hasn't been quite that straight-forward, but what the Worthouse Drift Team have achieved in what has only ever been intended as a learning year, has far exceeded even their own expectations.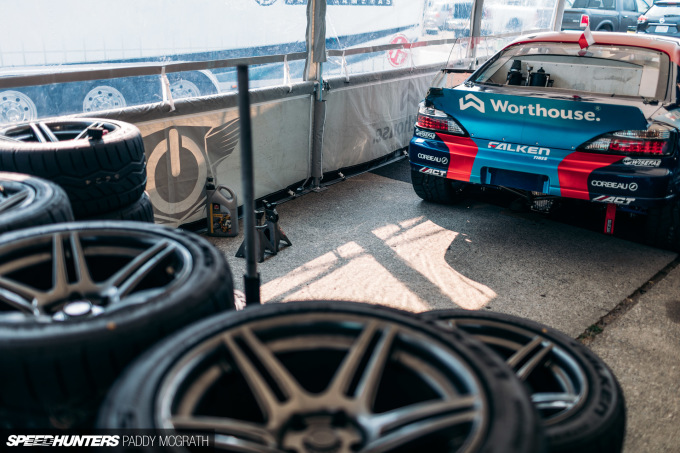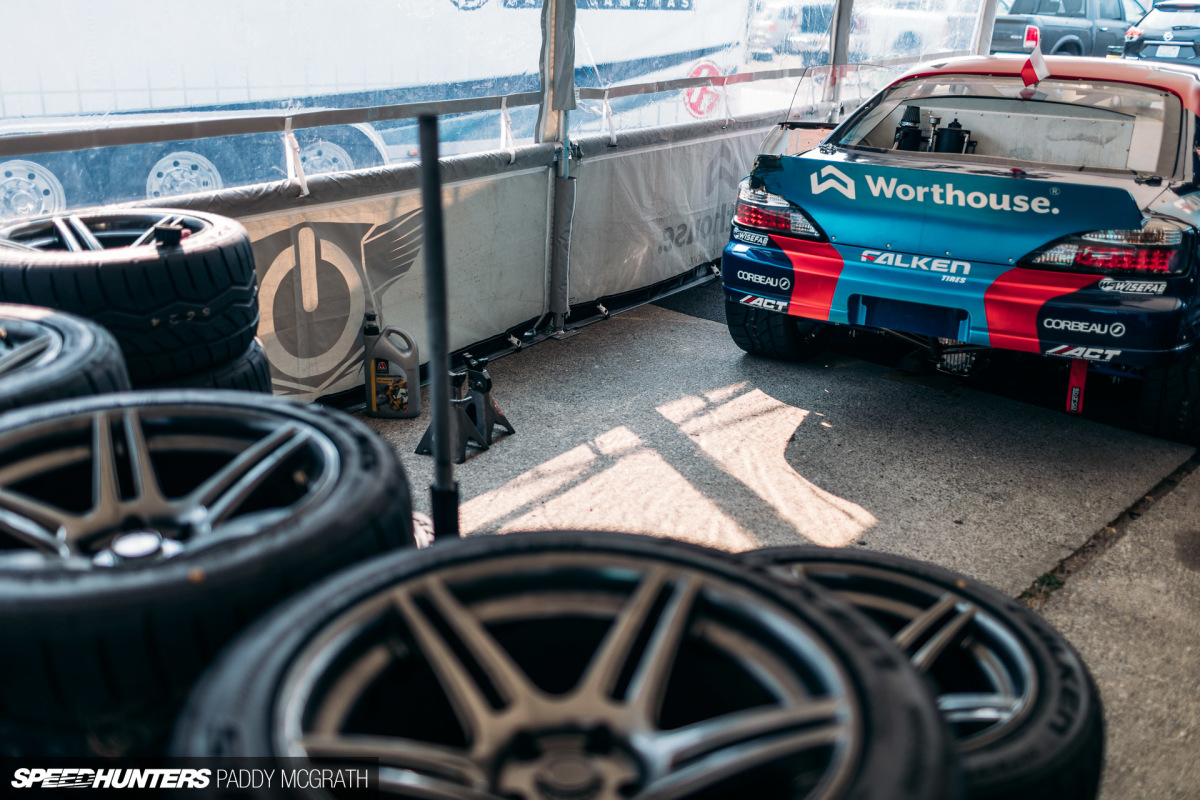 When I caught up with the team in Monroe last week, James was narrowly leading the points standings with Piotr being miles ahead of his nearest rival for Rookie of the Year honours.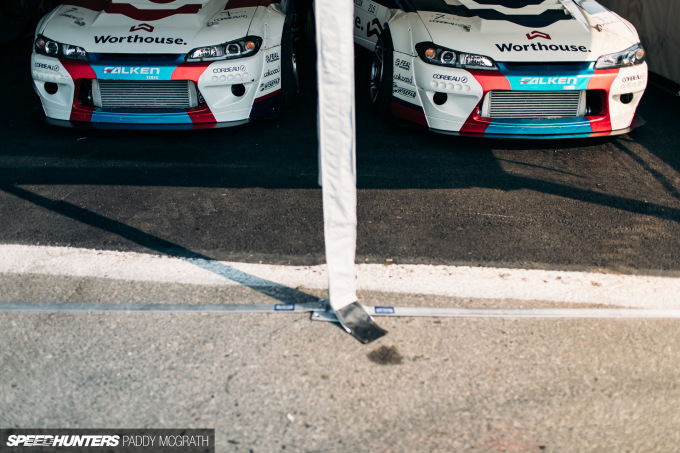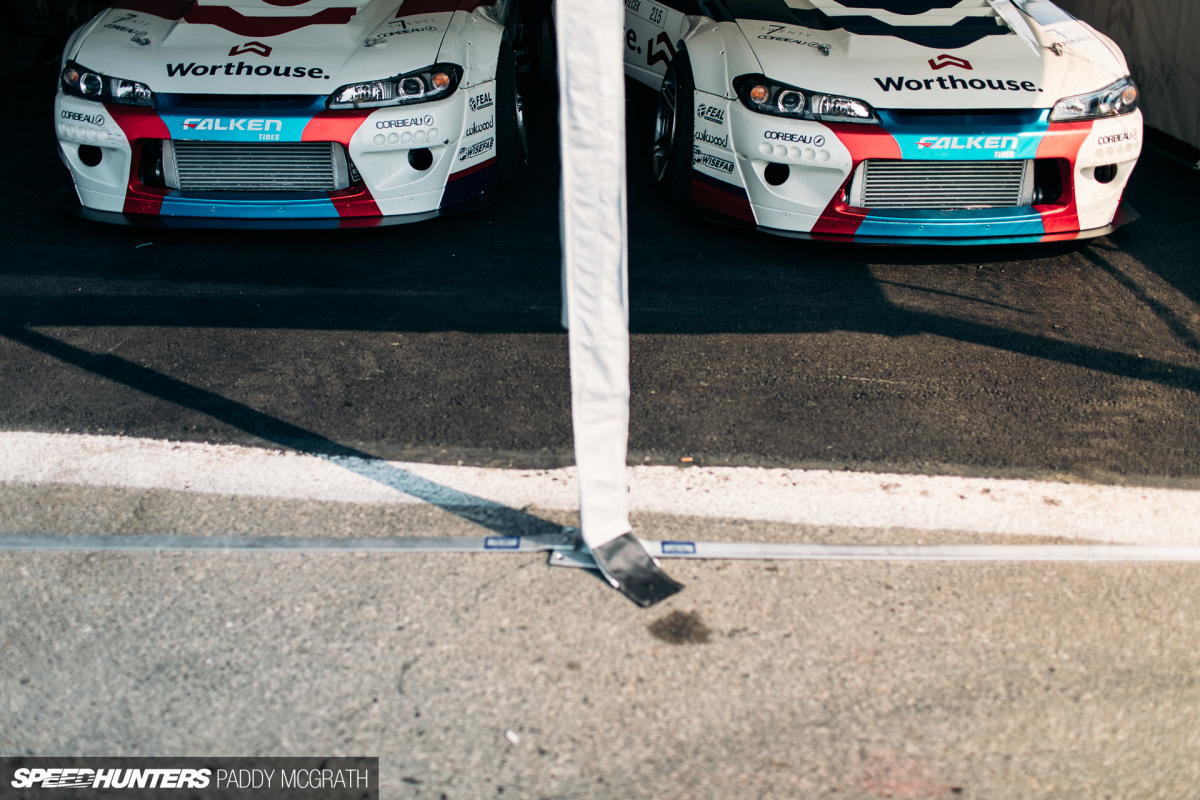 The cars had been transported from the previous round in Montreal, all the way back to the Bridges Racing workshop in Huntington Beach, California, before making the long drive north along PCH to Washington state. While at Bridges, both cars were checked over, and in Piotr's case, repaired after his run in with the wall at the Autodrome St-Eustache.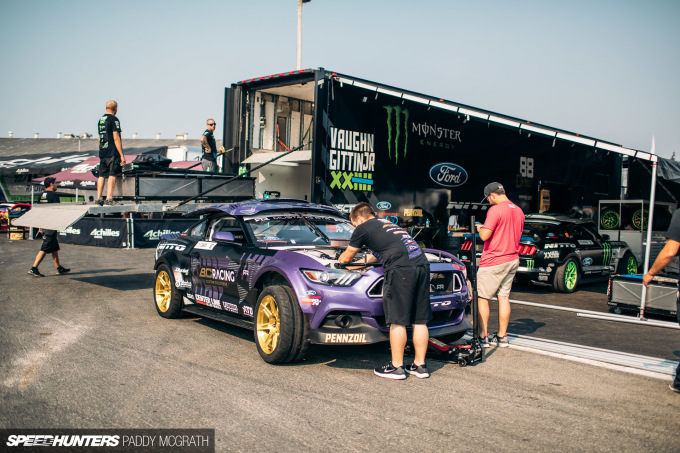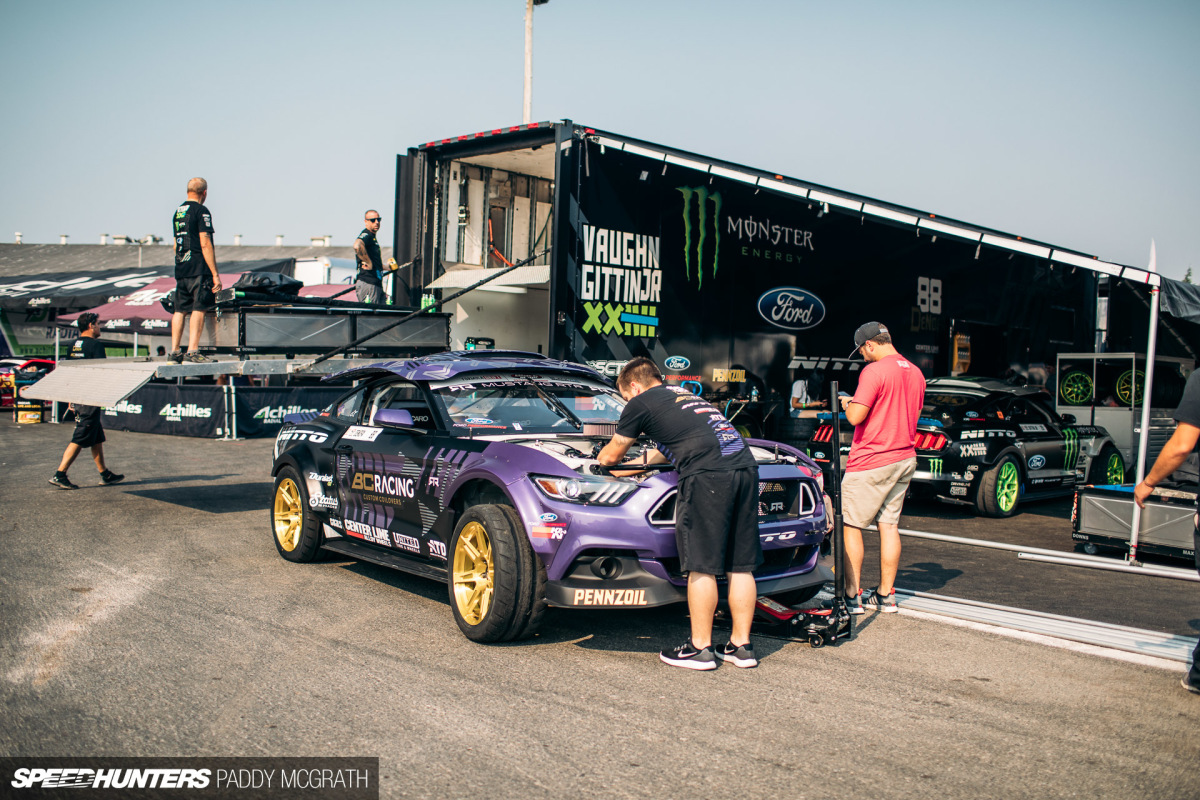 The pacing of any Formula Drift event is something that I've come to really appreciate, especially on a Pro2 weekend. Practice is abundant, but you always feel that everything is ramping up as you get closer to qualifying, Top 32 and the Top 16.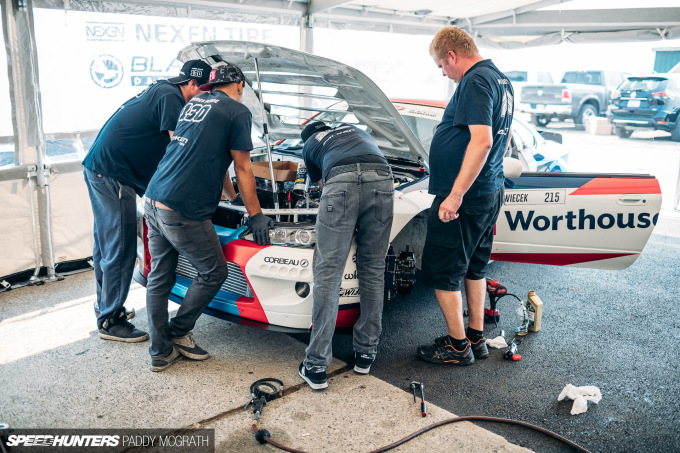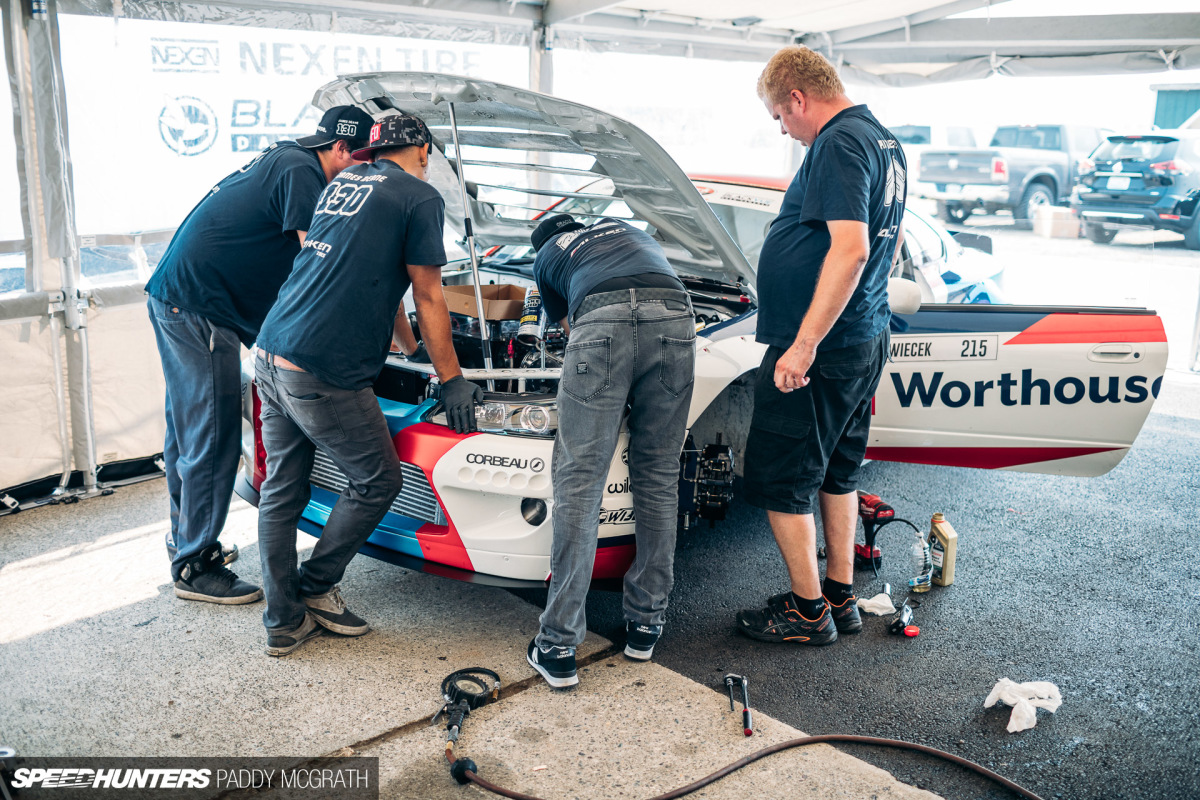 However, there was an immediate problem with Piotr's car as he drove to the start line for the first practice session. The Worthouse cars are near identical; they're both prepared and cared for by the same team, but it always seems to be Piotr who falls foul of lady luck, and I'm not sure why.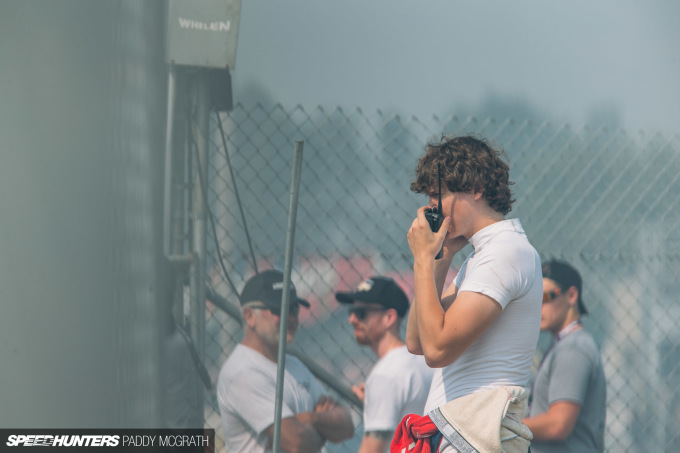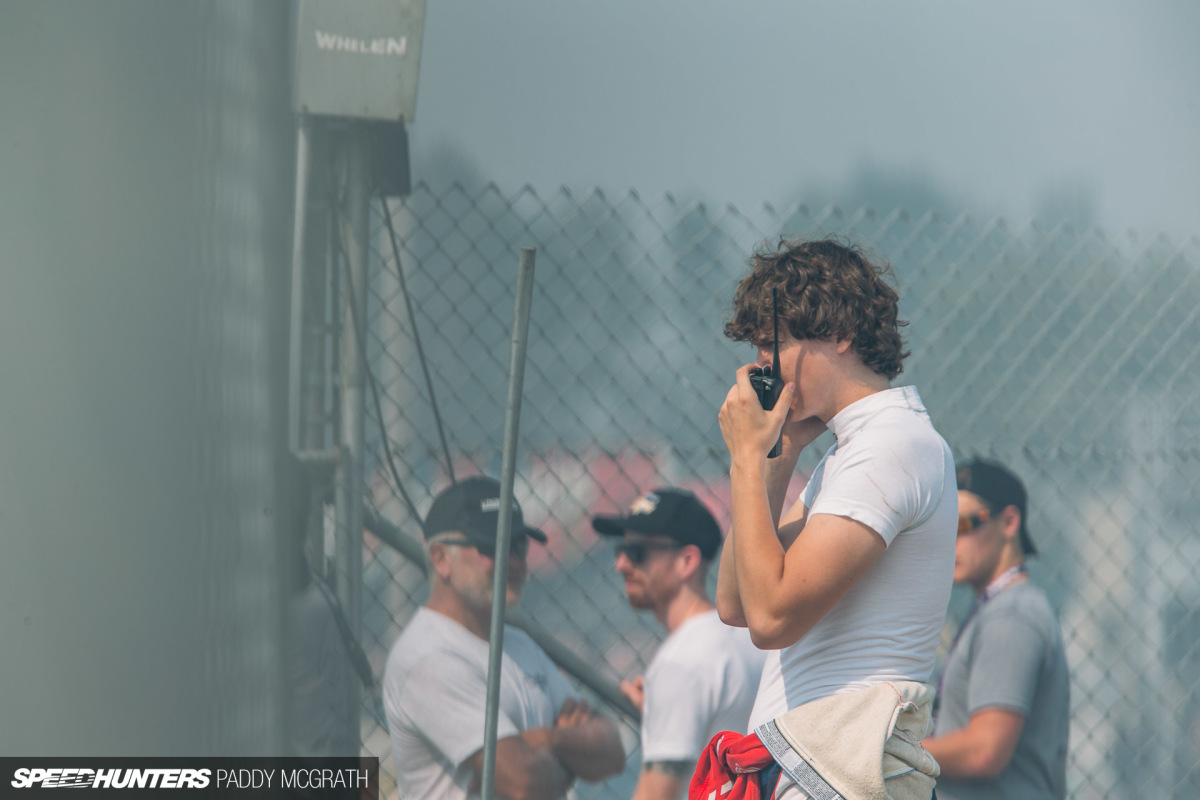 Not for the first time, he got his first experience of an FD course from trackside. This would be the first time that both drivers would compete at Evergreen Speedway, and when you're up against a grid of drivers who've driven the track countless times before, you need every lap you can get.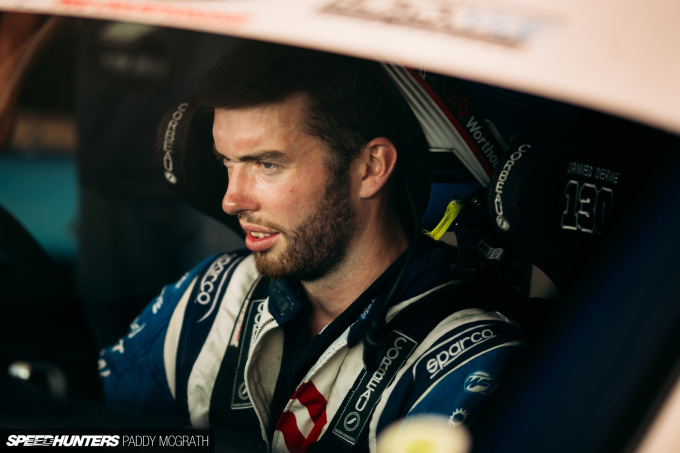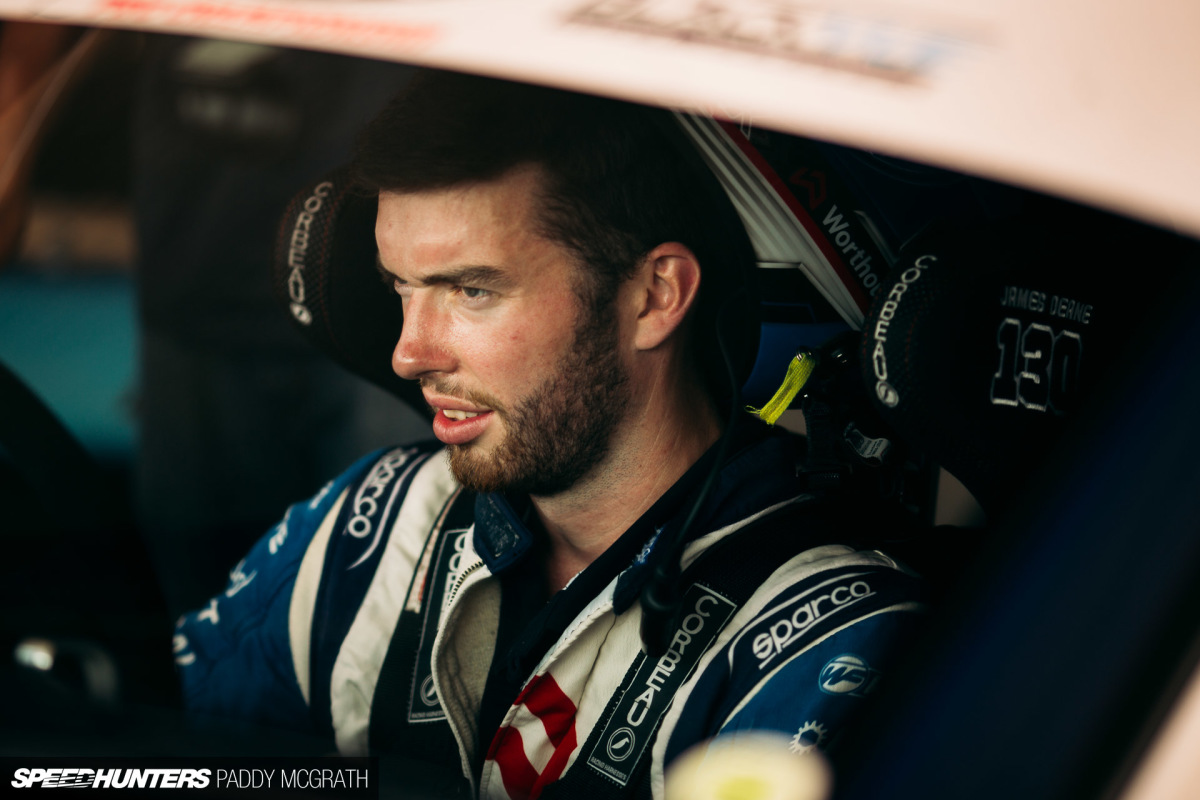 James had no such issues, and was able to get an abundance of practice in over the course of both Thursday sessions.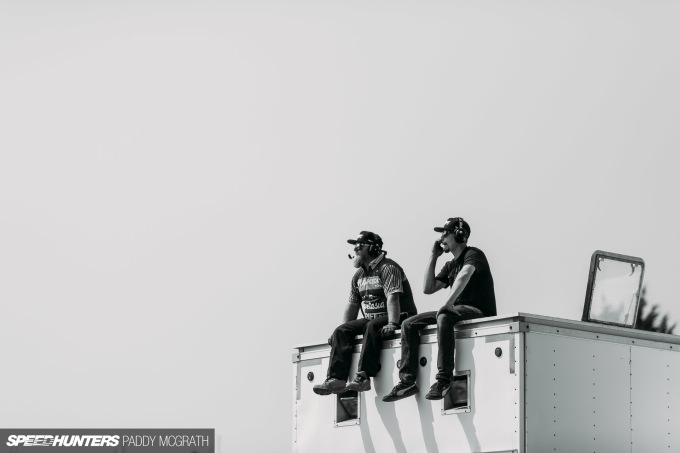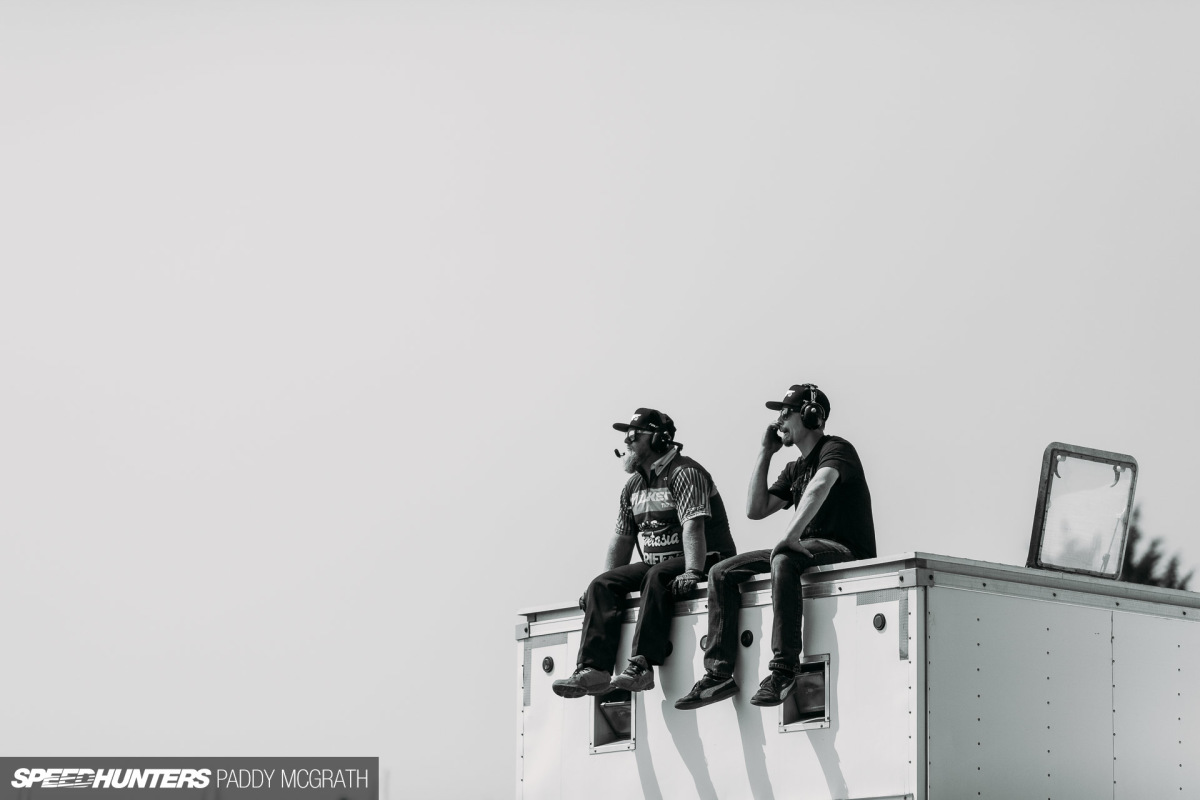 All year I had looked forward to Seattle the most, as I had been told its climate was the closest to Ireland's. Unfortunately for me, and maybe worse for the drivers, it was a record breaking weekend in the north west, with temperatures easily passing 90°F (32°C) every day.
The issue with Piotr's car was down to a failing brake master cylinder. It's my understanding that the bore was scored inside, which was causing the brake system to draw air every time the pedal was pushed – not ideal in a competition environment. With no spare master cylinder at hand, an improvisation would have to be figured out which would cost Piotr the majority of his practice day.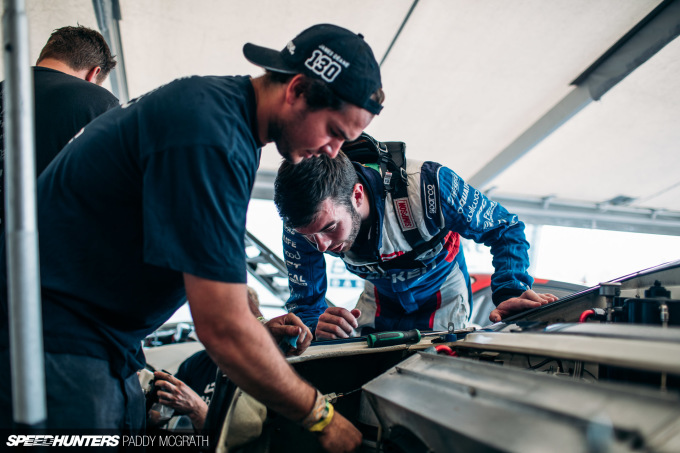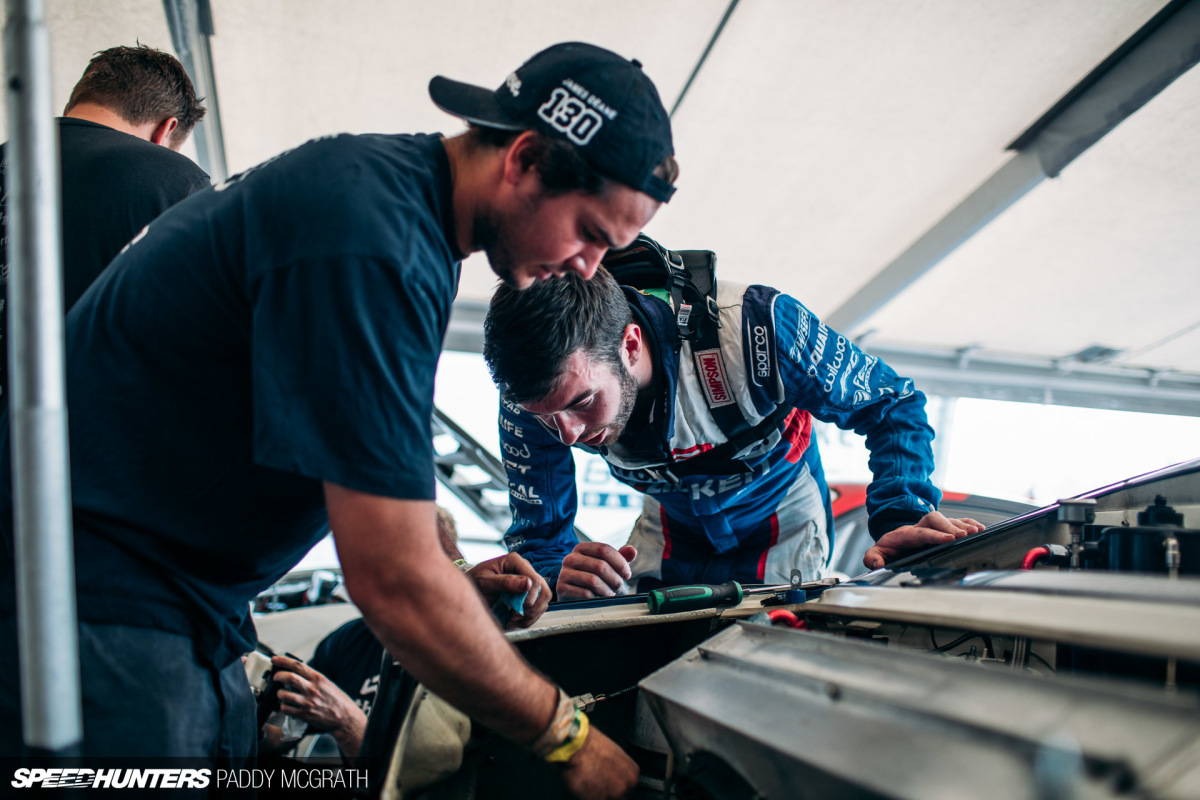 James' sole issue was a slightly overfilled dry sump tank, which was easily remedied by removing some oil from the system.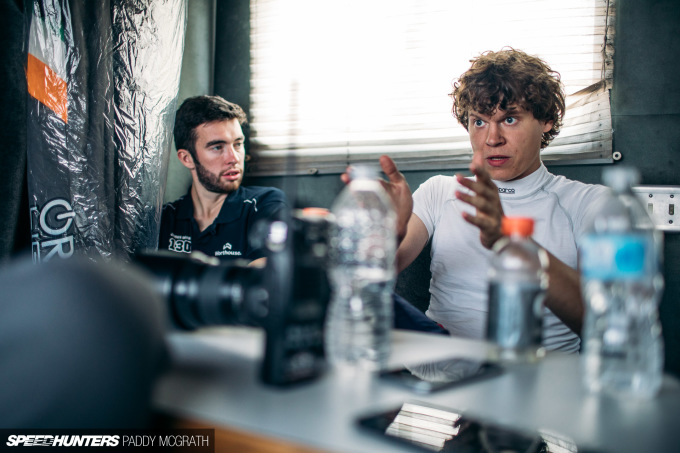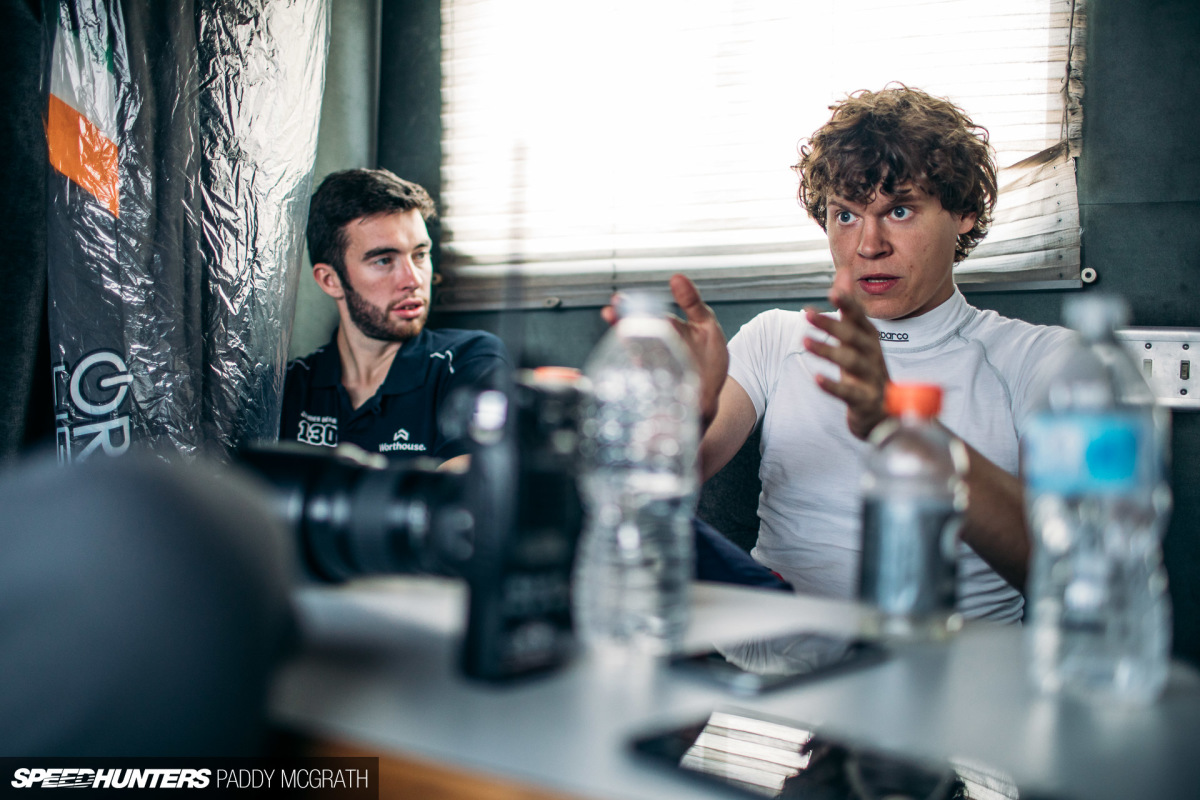 During the break, both Worthouse drivers along with stablemate Dean 'Karnage' Kearney took to the relative comfort (and AC) of the team truck, to share as much information as possible about the current situation. It's usually during these brief meetings that I see these guys at their best, as their knowledge and understanding of the sport comes to the fore. They talk about things which I never would have considered before.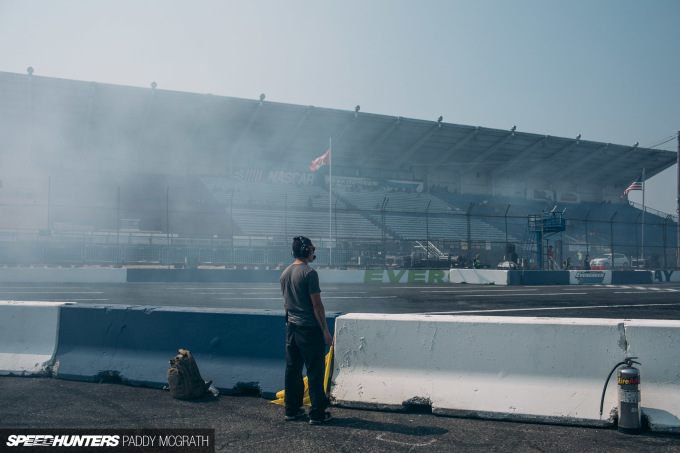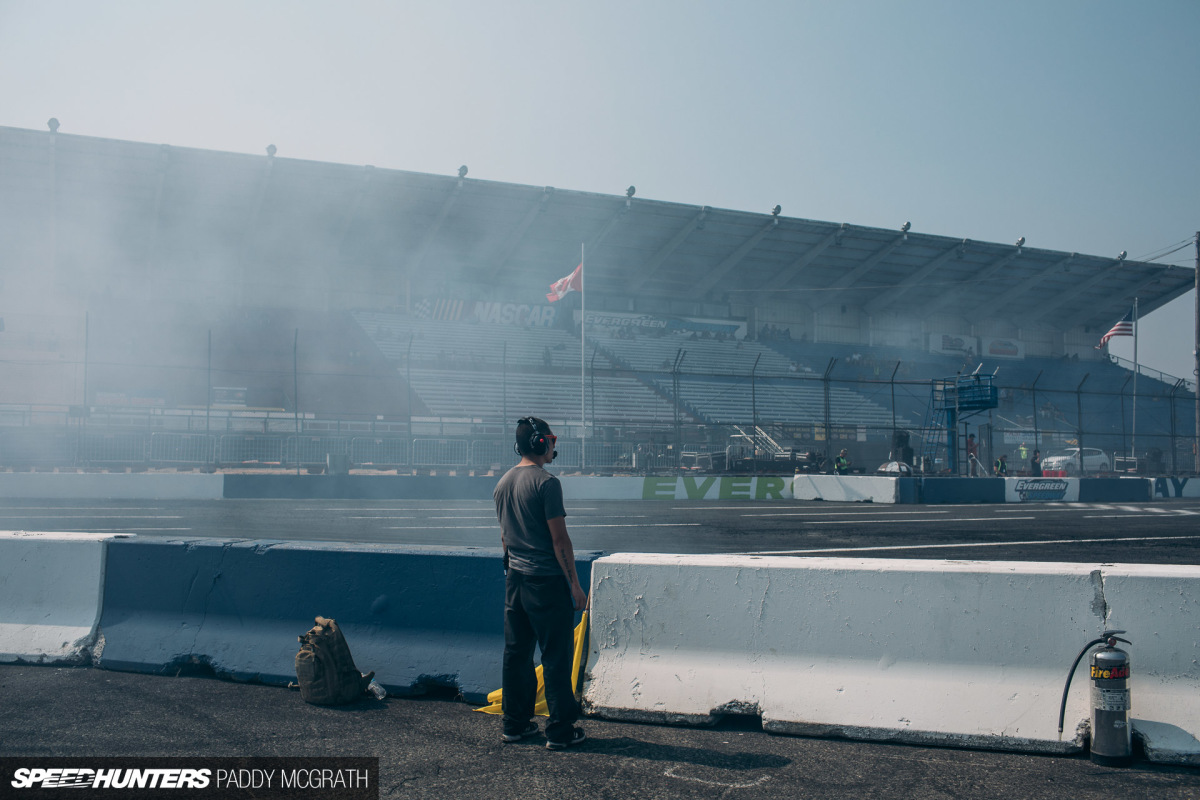 A lot of their talk revolved around the track, which features one of the fastest sections in the Formula Drift season: the first bank. With a requirement to run a high line, it left a very small margin of error. This fast bank (Outer Zone 1) lead into a Touch & Go before they transition back against another wall for OZ2 and collecting two inner clips (IC1 and IC2) before crossing the finish line.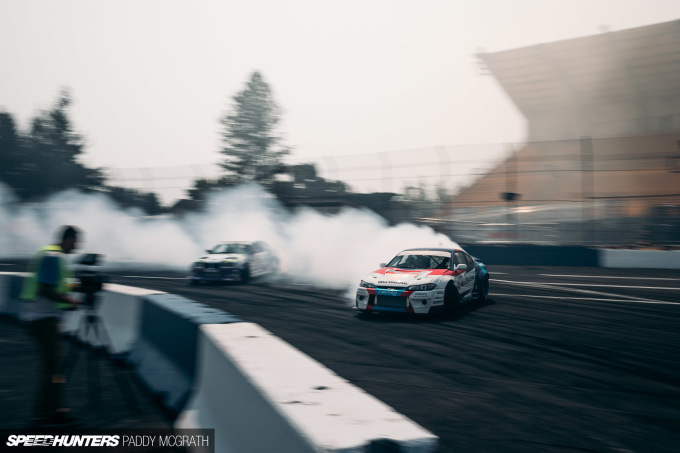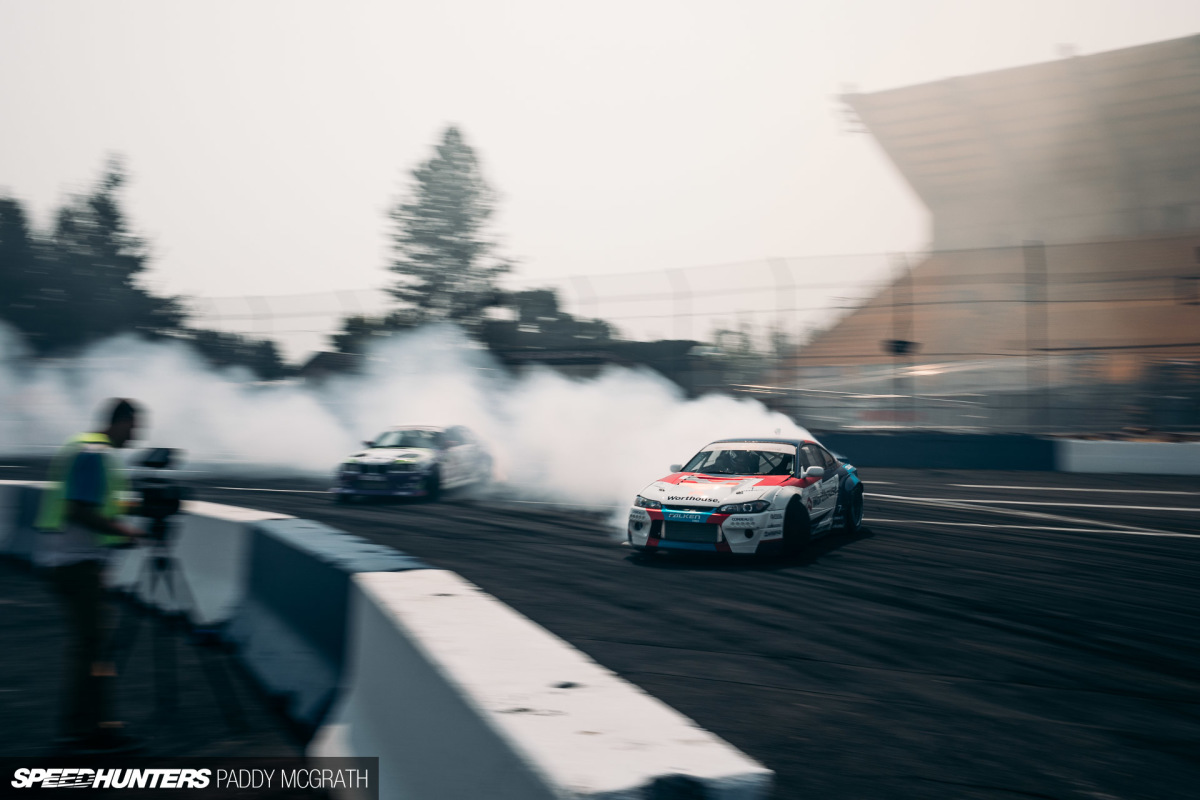 It might sound simple, but to do it seamlessly and exactly as the judges asked, made it one of the toughest courses so far this season.
Throughout Thursday, James didn't perform a single chase run during practice. Instead, he concentrated on perfecting his lead line, something which has paid dividends for him all season.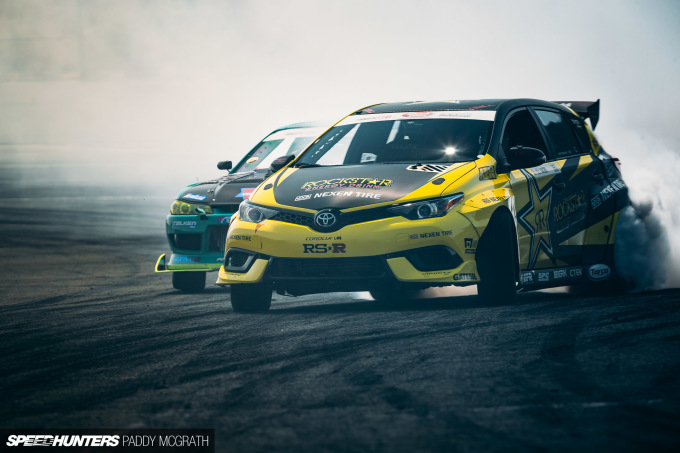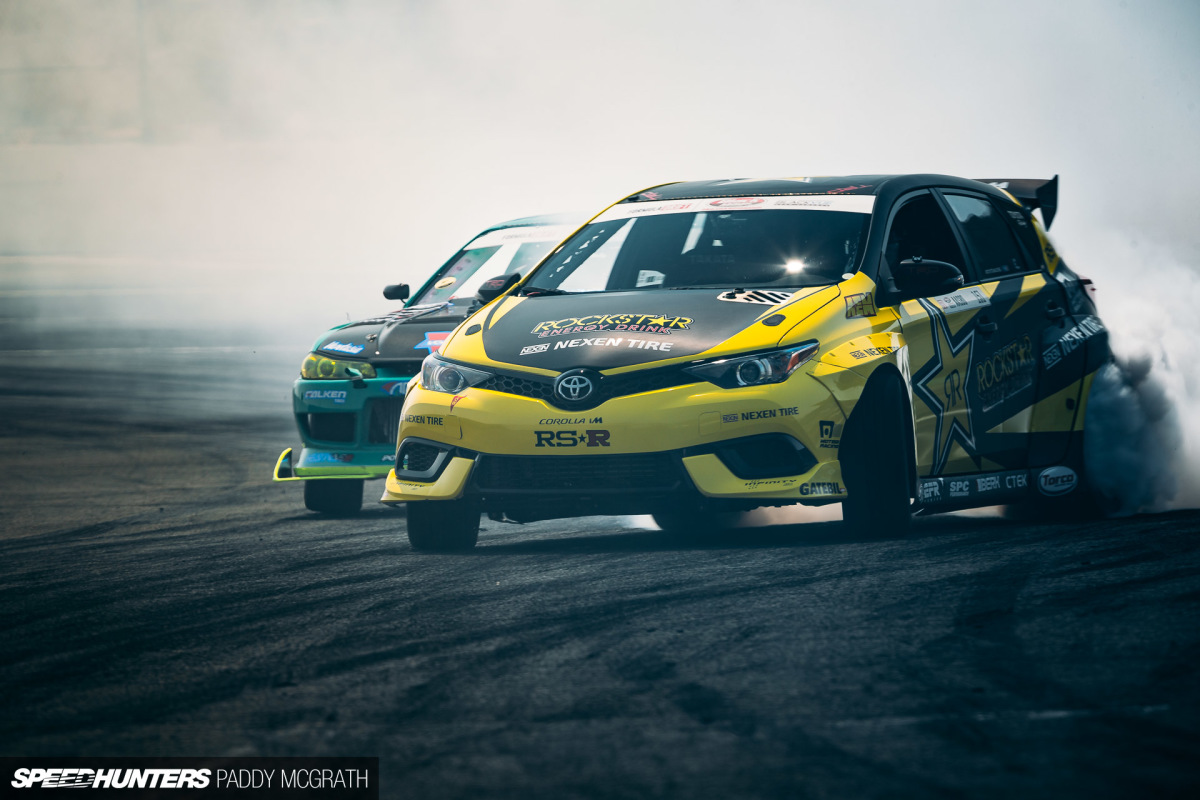 Going into this round, we spoke briefly after practice of the three main title contenders. Deane, Fredric Aasbø and Kristaps Blušs. It was Aasbø of these three who impressed me the most during practice, although Matt Field and Chelsea Denofa amongst others stood out maybe the most.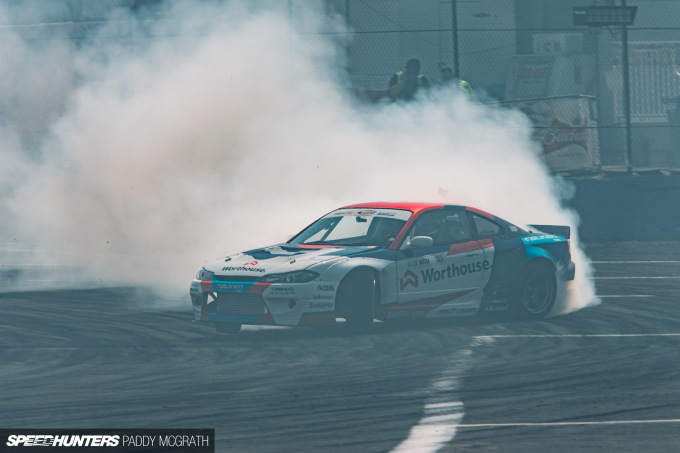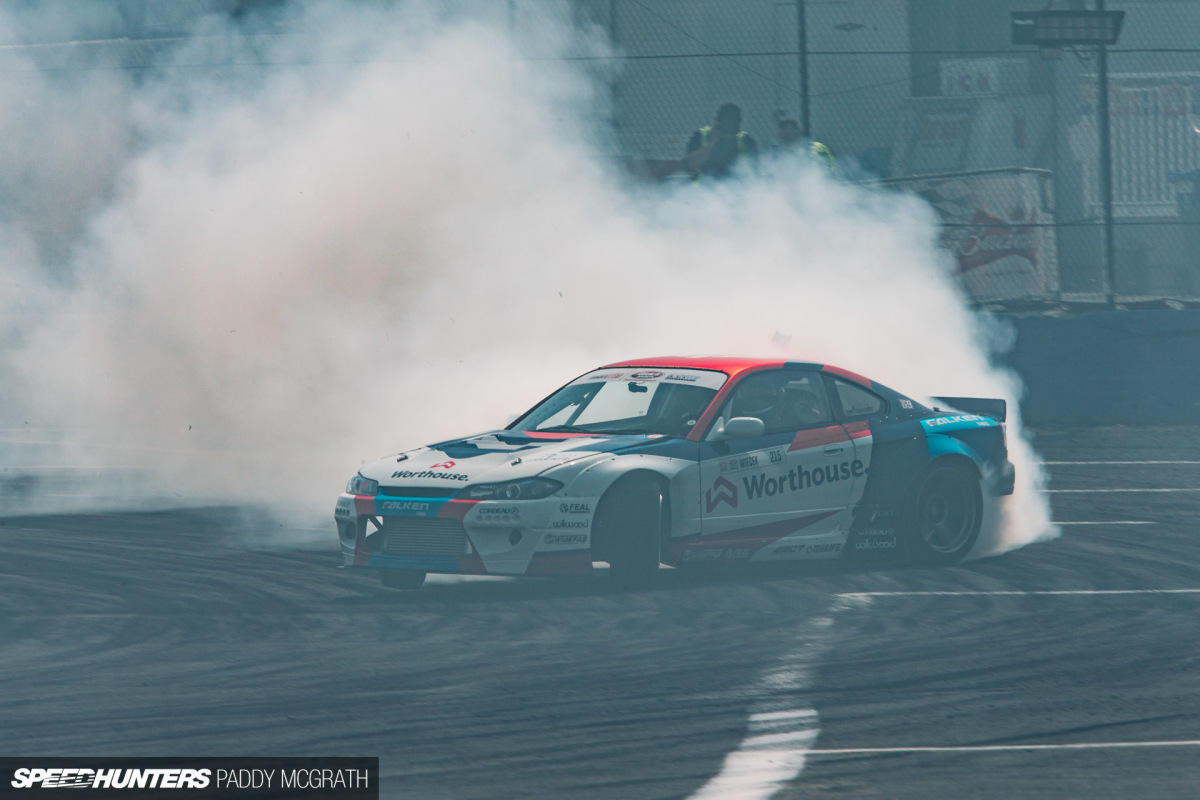 Before practice concluded, Więcek would make one pass of the course. It was his first lap, but you couldn't help but be impressed how solid he looked. This was most certainly the turning point of his weekend.
Friday August 4th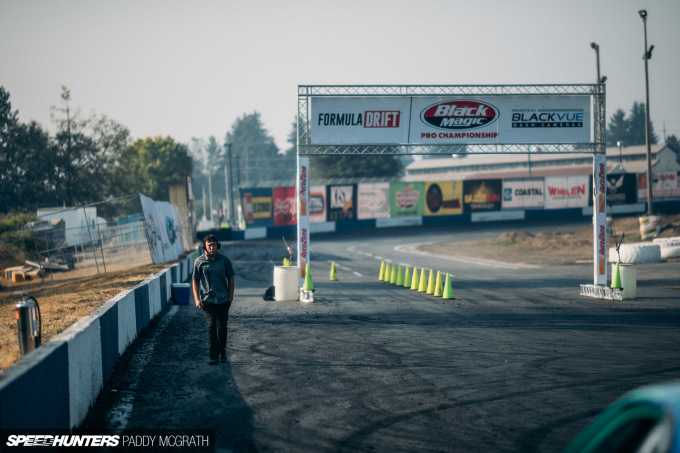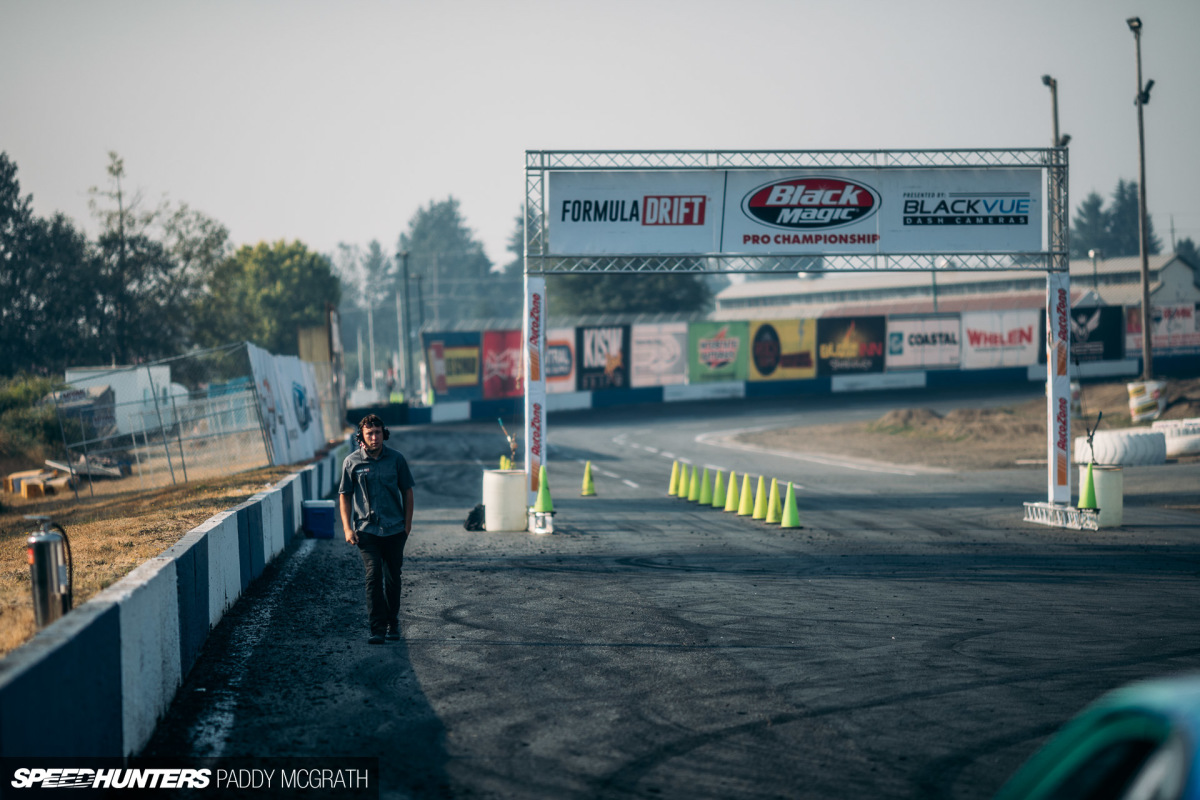 Where Thursday was hot, Friday heated things up even further. The schedule called for one last Pro practice session, before heading immediately into qualifying. Curiously, the session was due to begin at 9:00am but there was no one at the start line when the course was declared hot.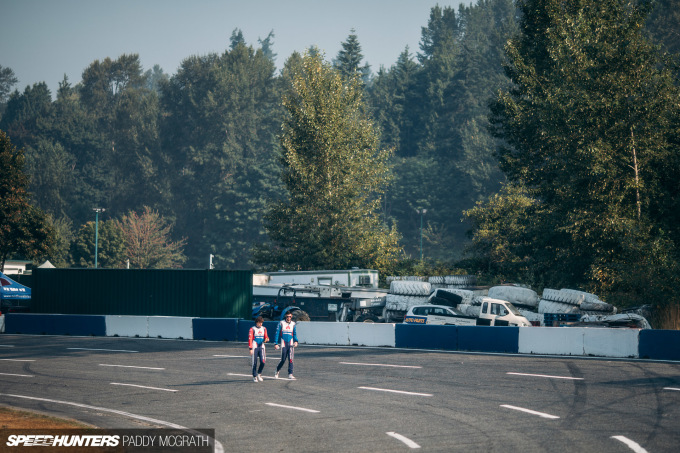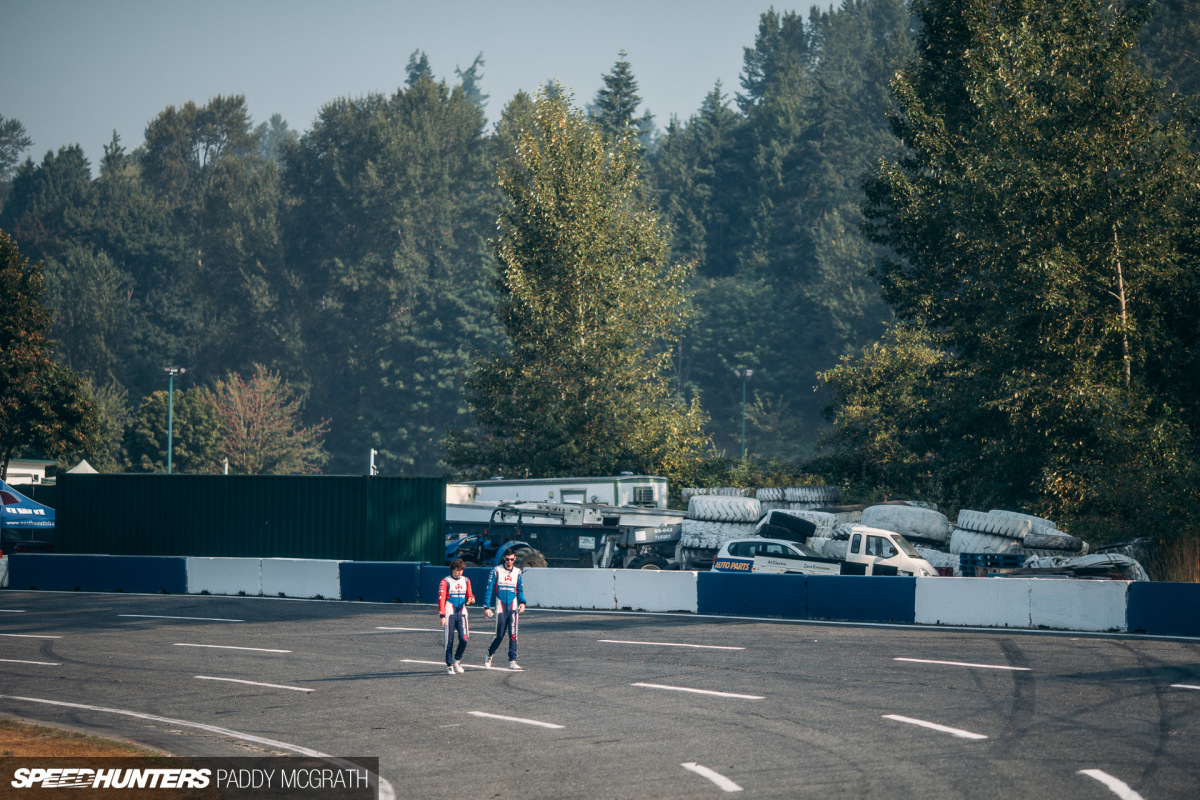 It turned out the driver's briefing had run late, and the drivers themselves were in no real rush to get things underway. Whenever you're ready, gentlemen…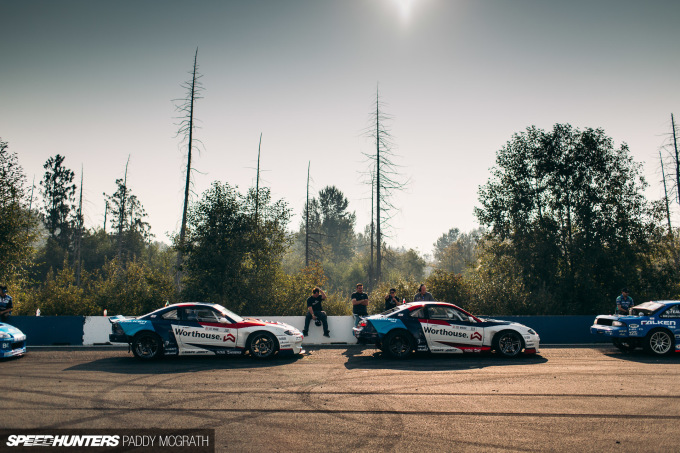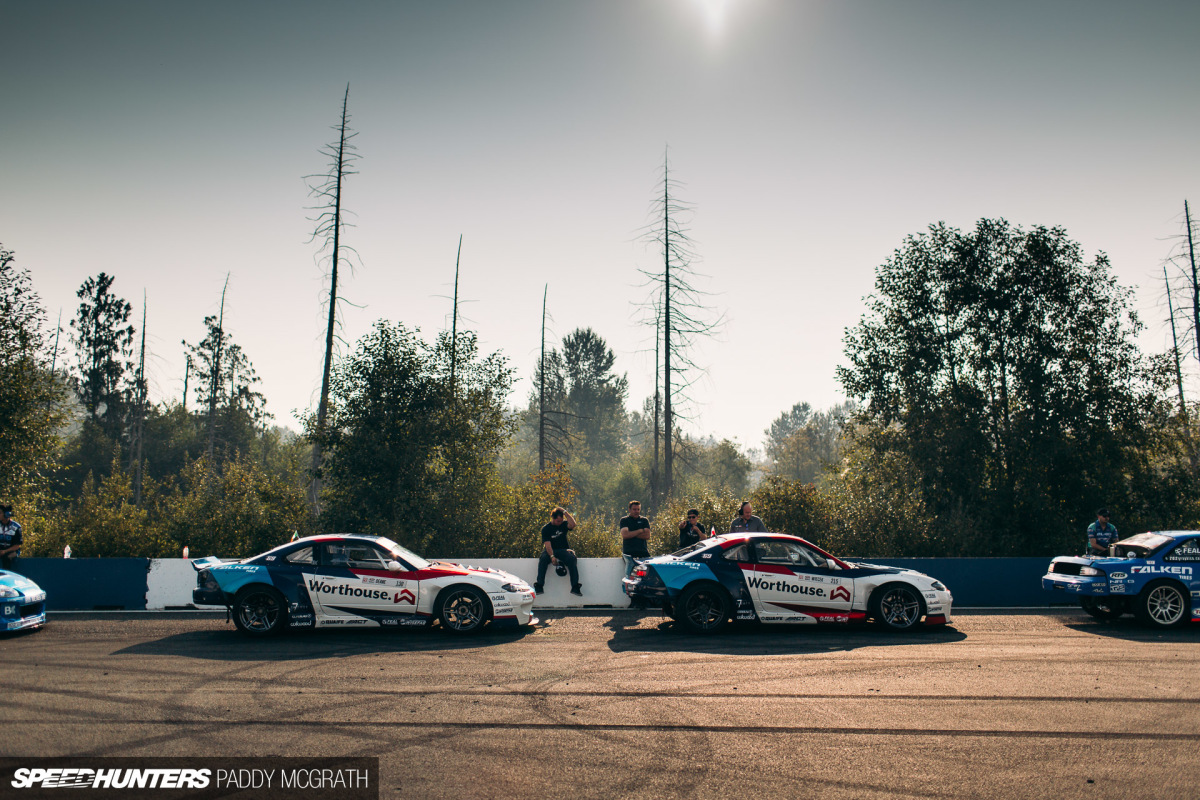 On this particular morning, Więcek had won the race for starting position and would be the first of the Worthouse S15s to make it to the line.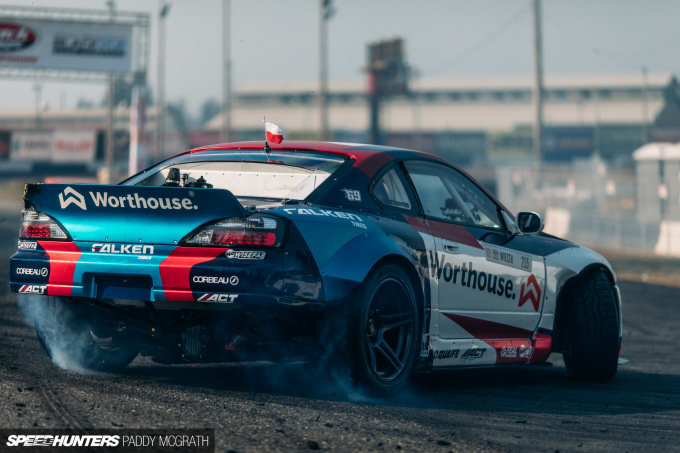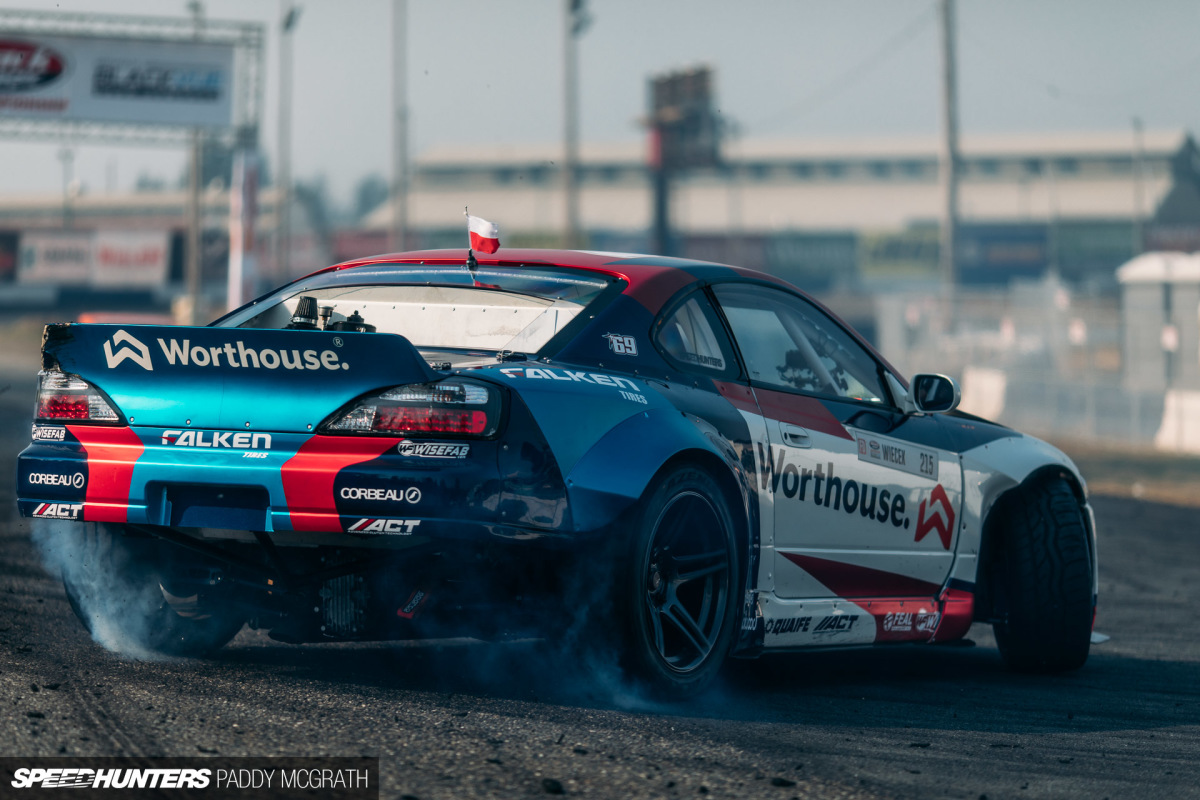 Evergreen Speedway is one of the tracks on the calendar where the spectators can watch the cars warm up right from the sidelines. Larry and I spoke after the event about how we're completely immune to the sight of these cars getting heat into their tyres, but how it blows the fans away. I think I need to start rediscovering that excitement.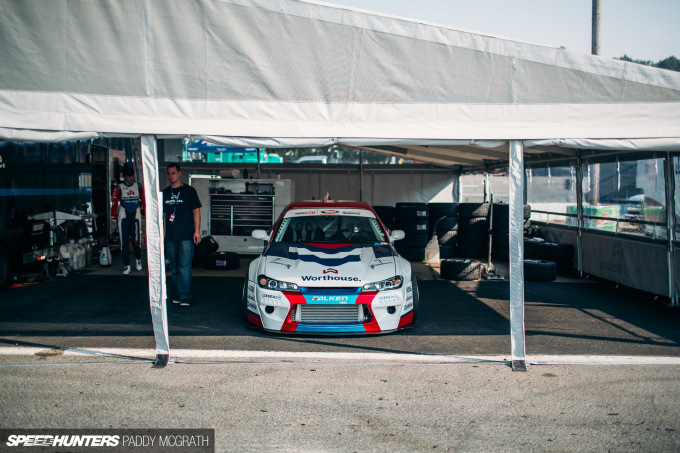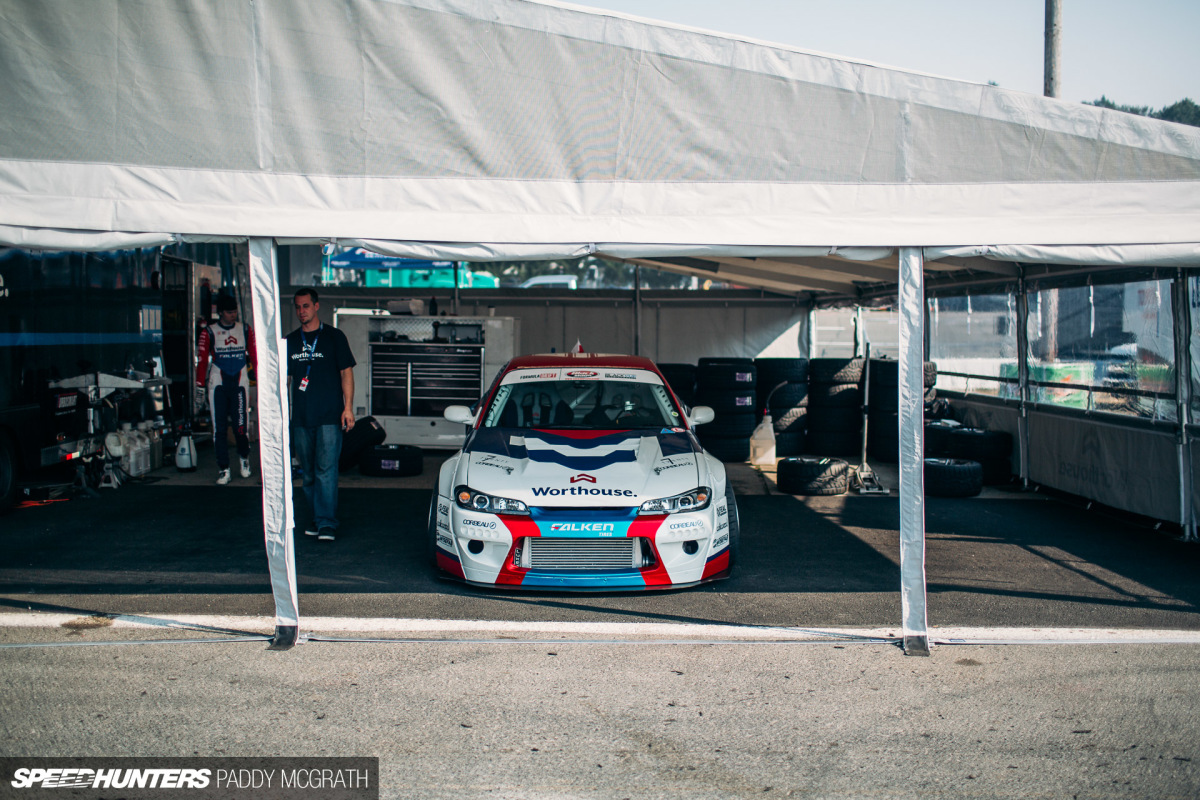 Making my way to the opposite side of the course, I found Piotr back in the garage, with the car raised high in the air. Immediately, I feared the worst.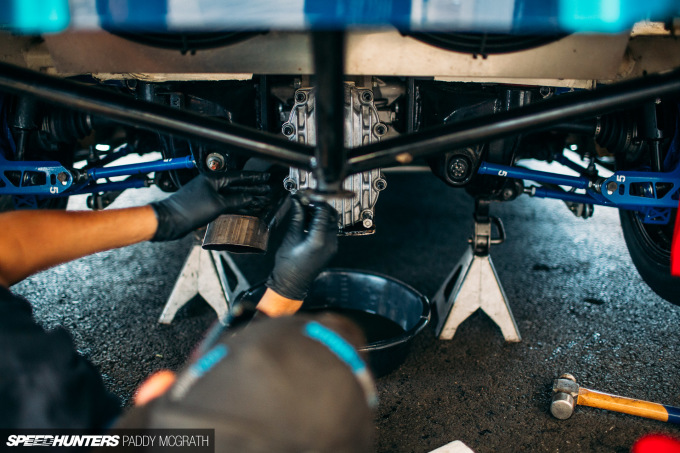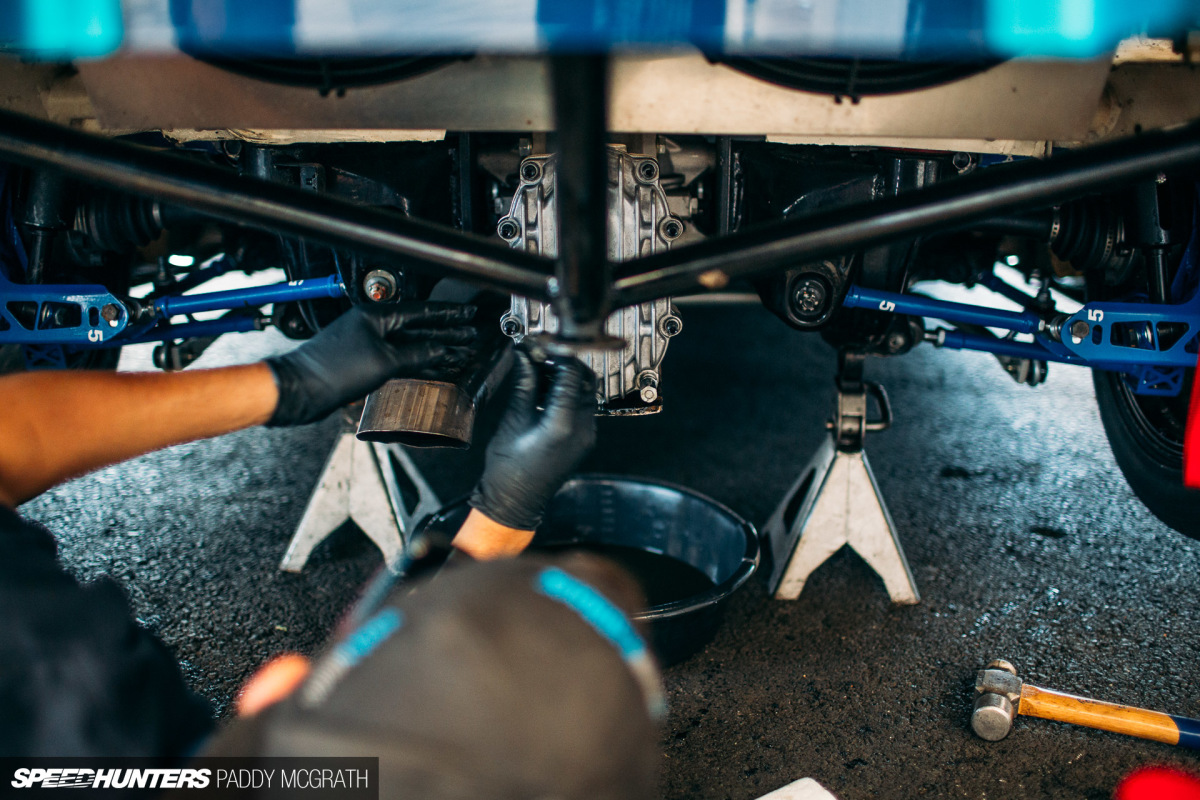 As it turned out, there were no issues and he just wanted to change the final drive to something a little bit longer.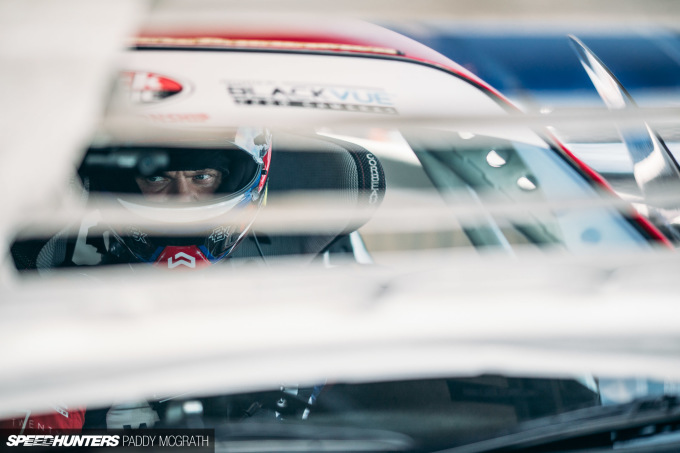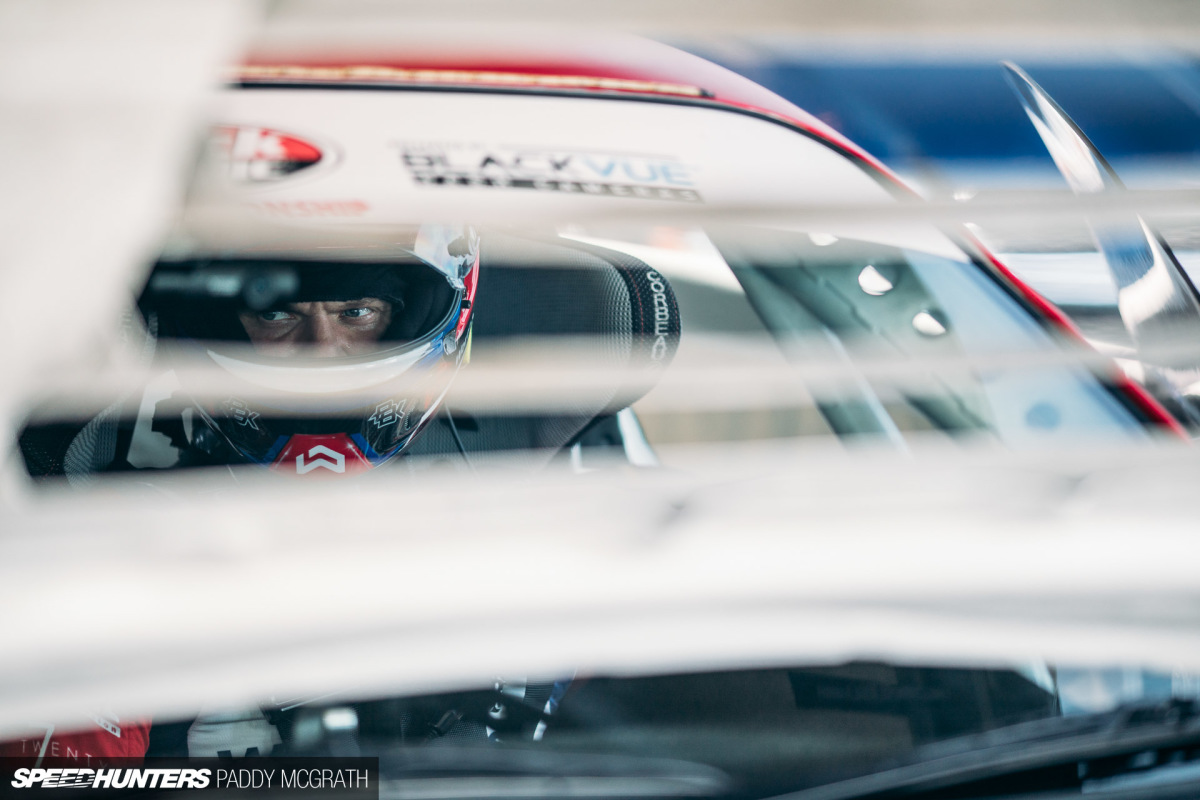 I hate that I immediately go to 'something must be wrong' but Piotr's had a tough rookie year so far. In saying that, he's still put in the performances when required and sits ahead of some proper FD veterans and even a former champion in the standings.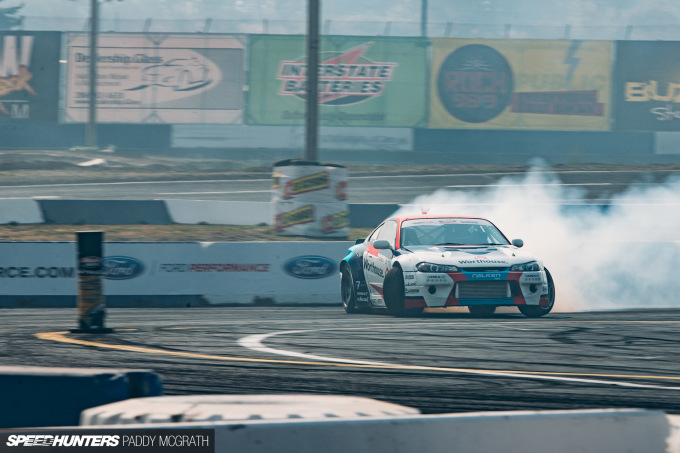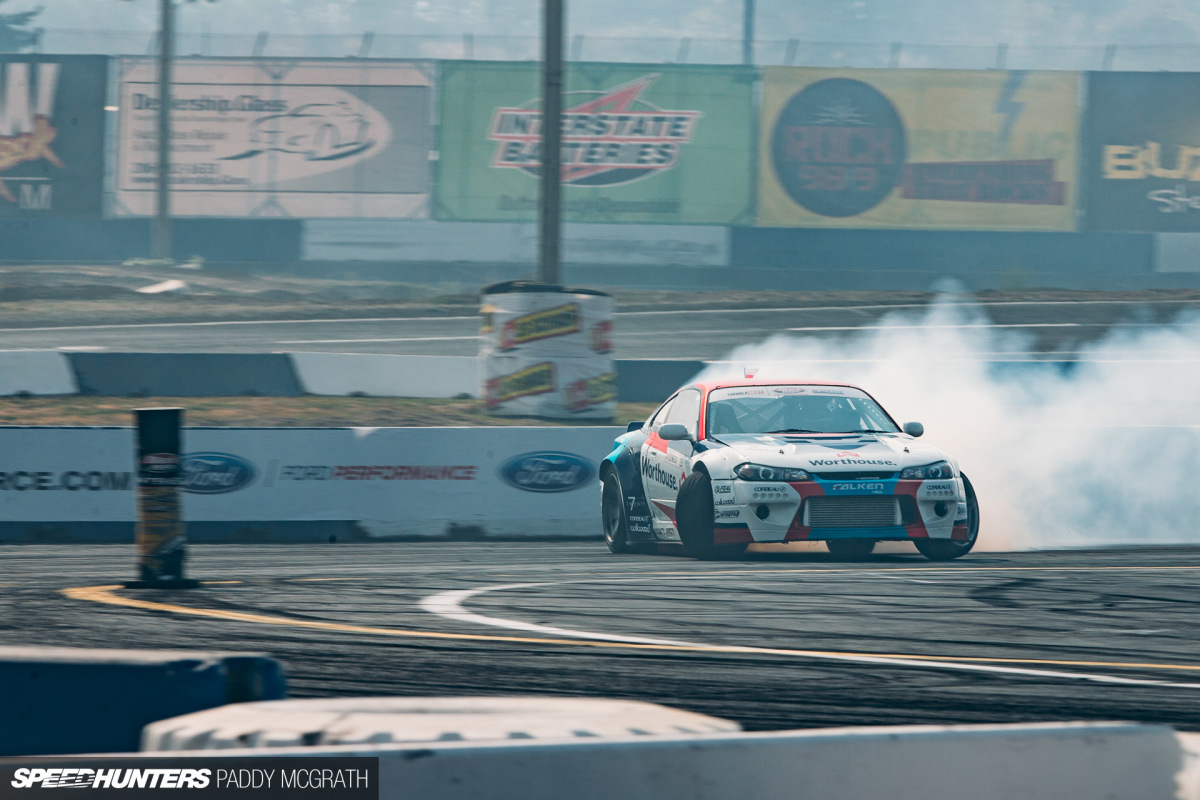 It wasn't long before he was back out, and continuing to find his way around the deceptive course. Where others had three sessions to fine tune the car and practice, Piotr just had one. Every lap counted.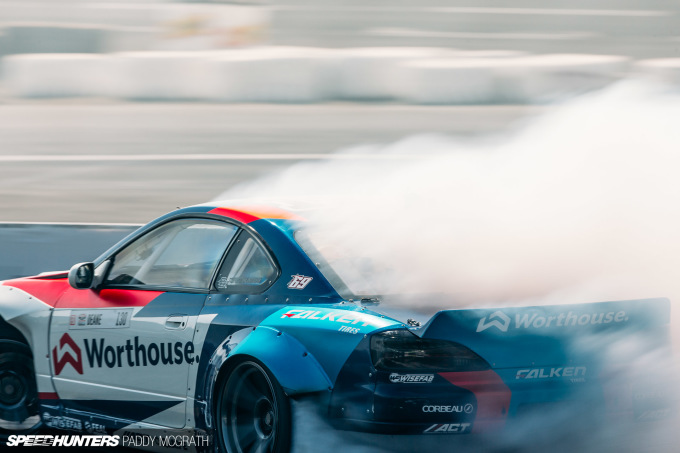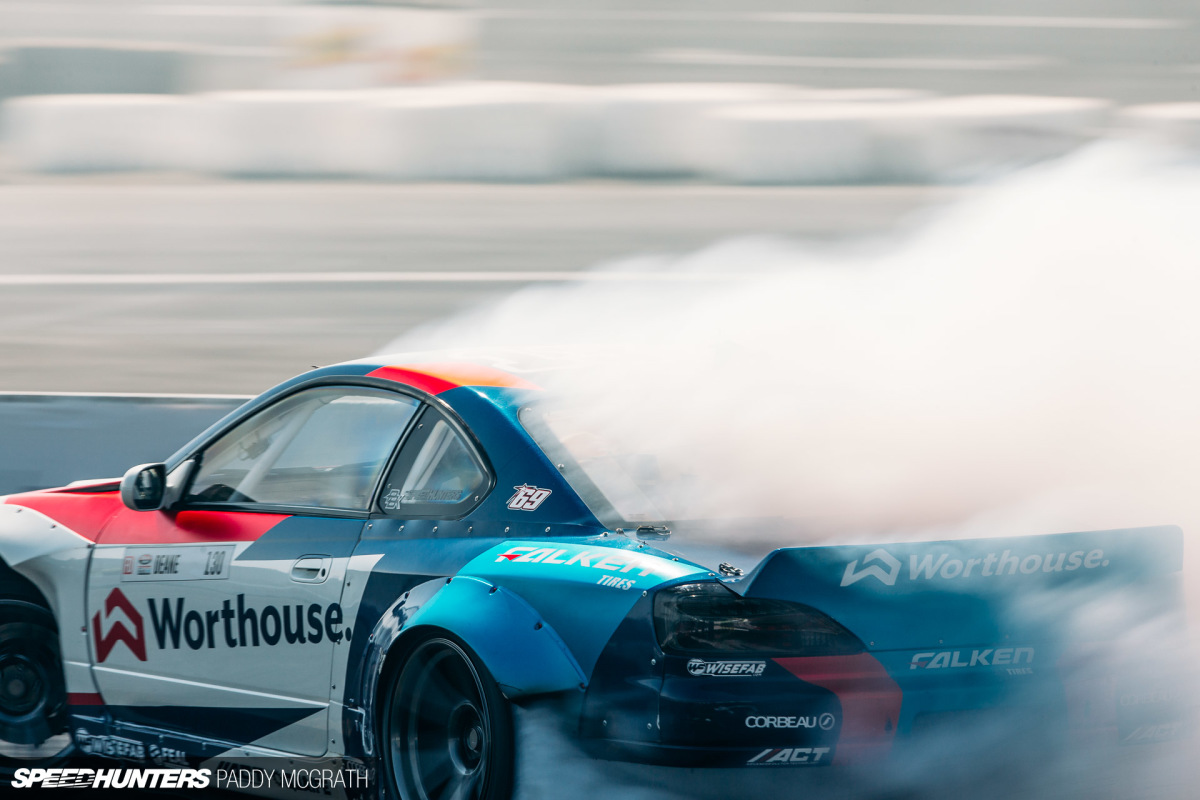 James seemed his typical, consistent self, but by his own admission was struggling to nail the qualifying line. He still hadn't performed a single chase practice run by this point and that would remain unchanged until after qualifying.
The break between practice ending and qualification beginning was only 15 minutes, plus whatever amount of time it took for the drivers lower in the standings to perform their first runs. It's just enough time for the cars to be refuelled, tyres changes and given a quick check over.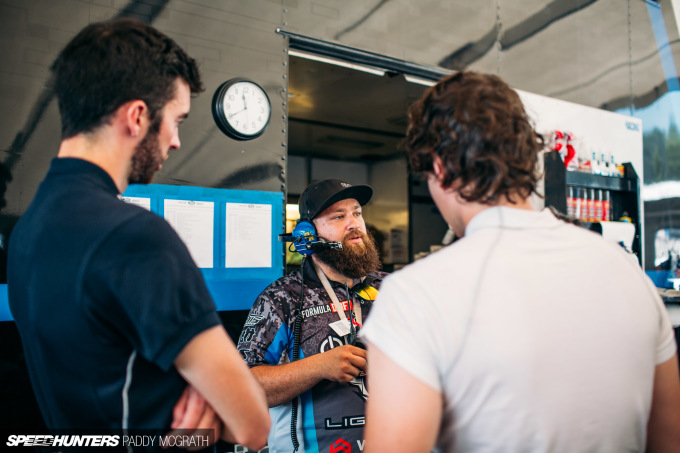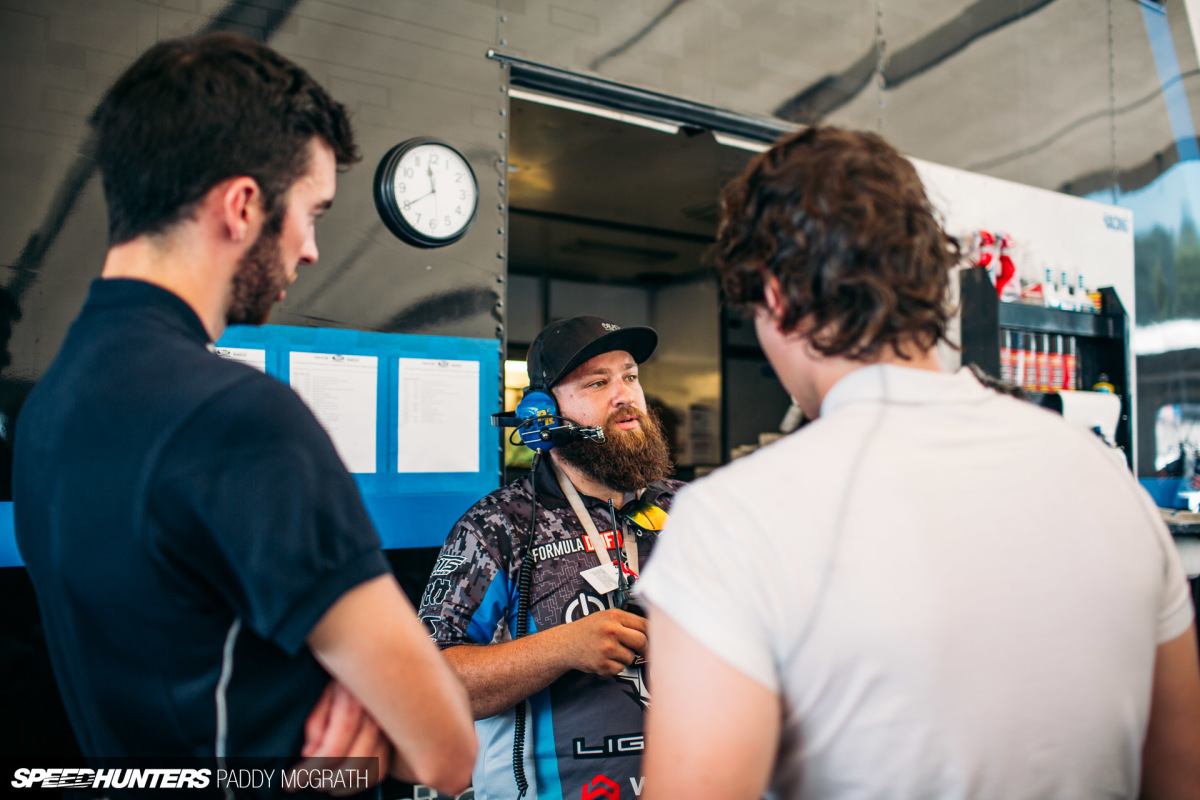 It also gives the drivers a chance to talk, discuss their problems, find solutions, and speak to one of the team's spotters.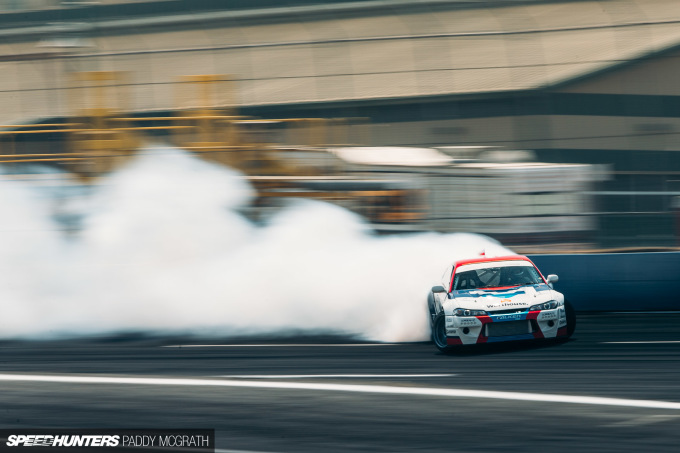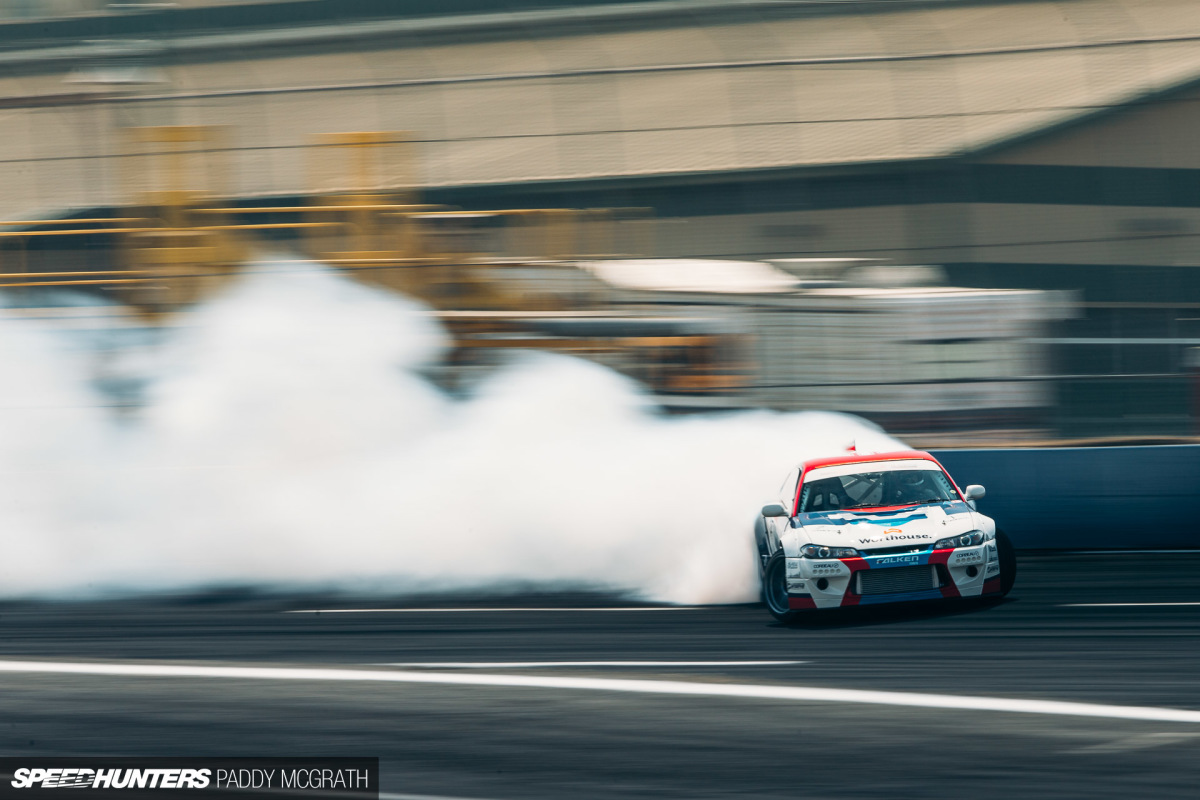 Qualifying is maybe drifting at its purest; it's also the best chance to get the best solo shots of each driver. Despite his limited practice, Piotr managed a nice, solid first qualifying run of 79 points, guaranteeing him a spot in the battles.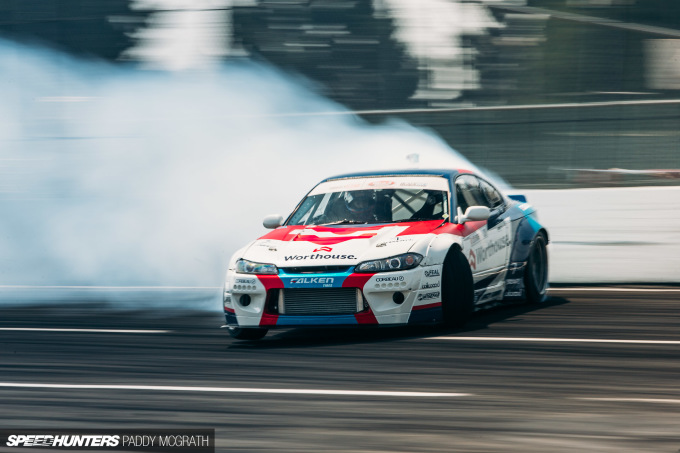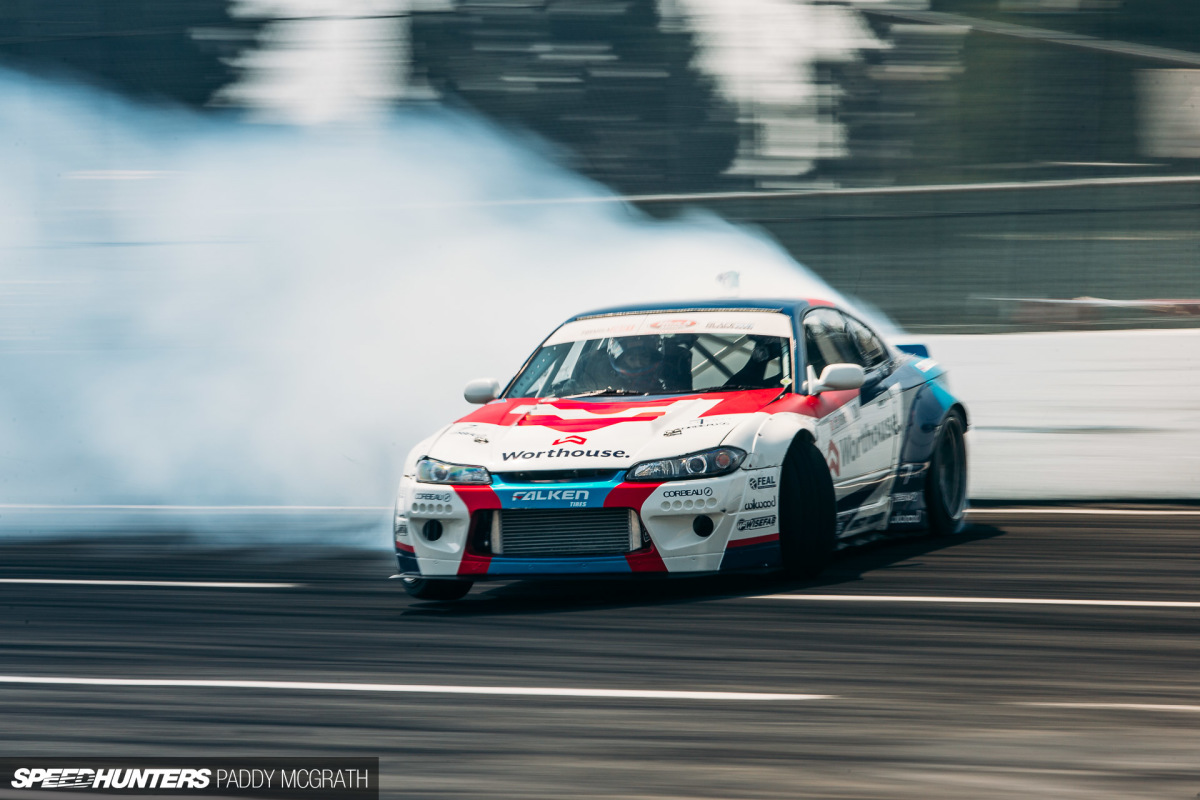 For James' first run, it was a case of practice makes perfect. He scored 92, which gave him top spot going into the second set of runs.
With both drivers through to the main event, regardless, it gave them the freedom to push harder for the second run. Piotr increased his score to an 89, netting him 9th place. James was under a bit more pressure with Ryan Tuerck and Odi Bakchis having bettered his 92-point run by one single point.
James couldn't beat a 93-point run, but he could match it. Combined with his 92-point first run, his higher average gave him his second first place qualifier in a row and the second of his Formula Drift career. It also granted him a bye run straight into the Top 16 for the fifth time this season.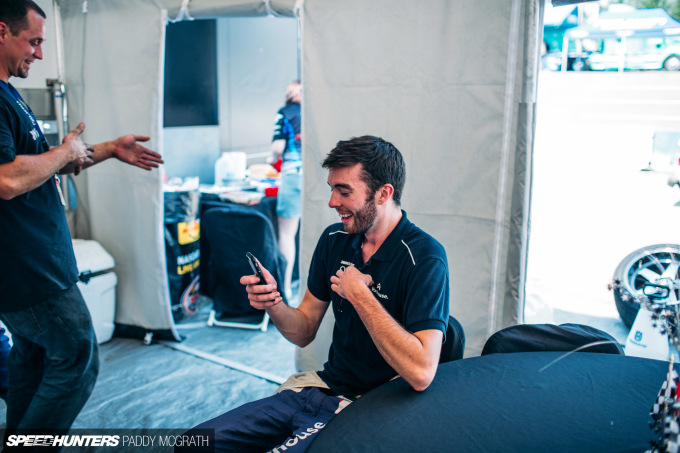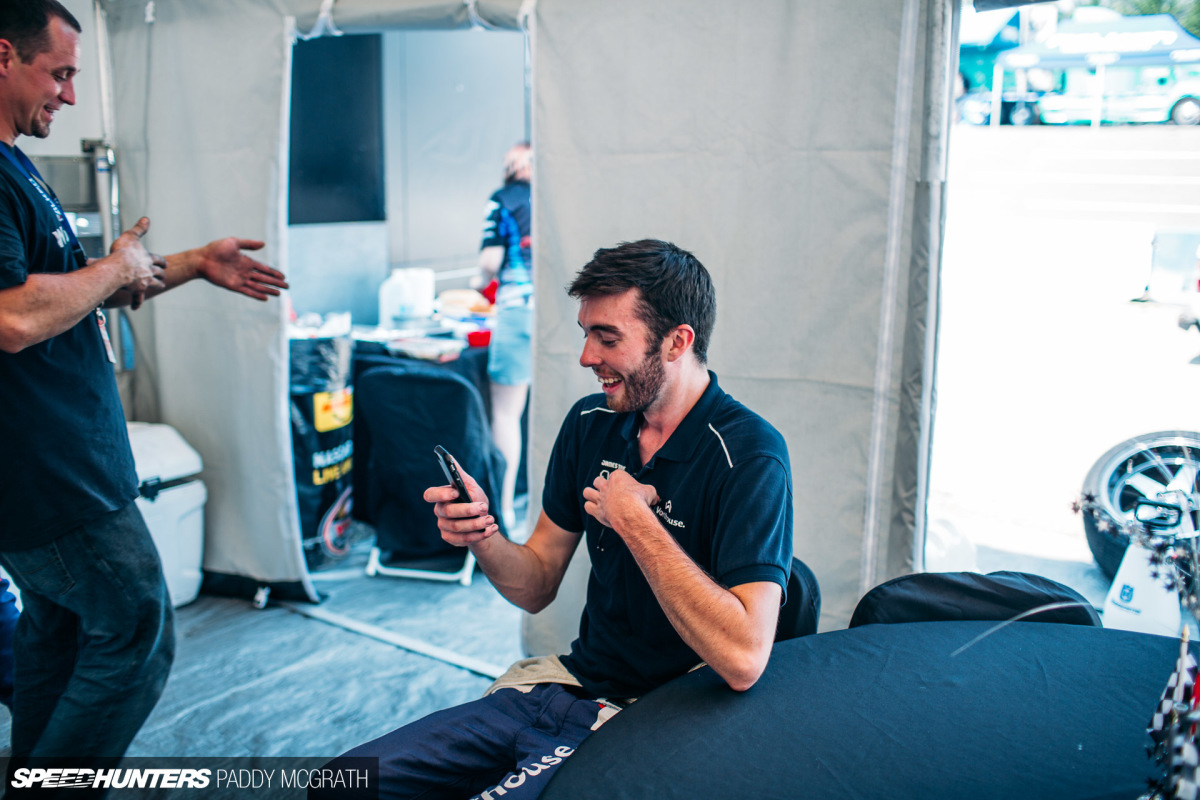 While he might be the machine behind the wheel, he wears his heart on his sleeve when he's out of the car. By the time I made it back to the pit area, he was still smiling and visibly shaking after the run.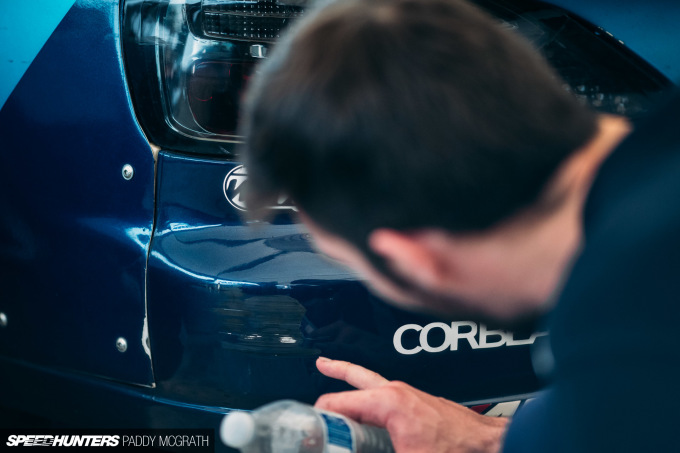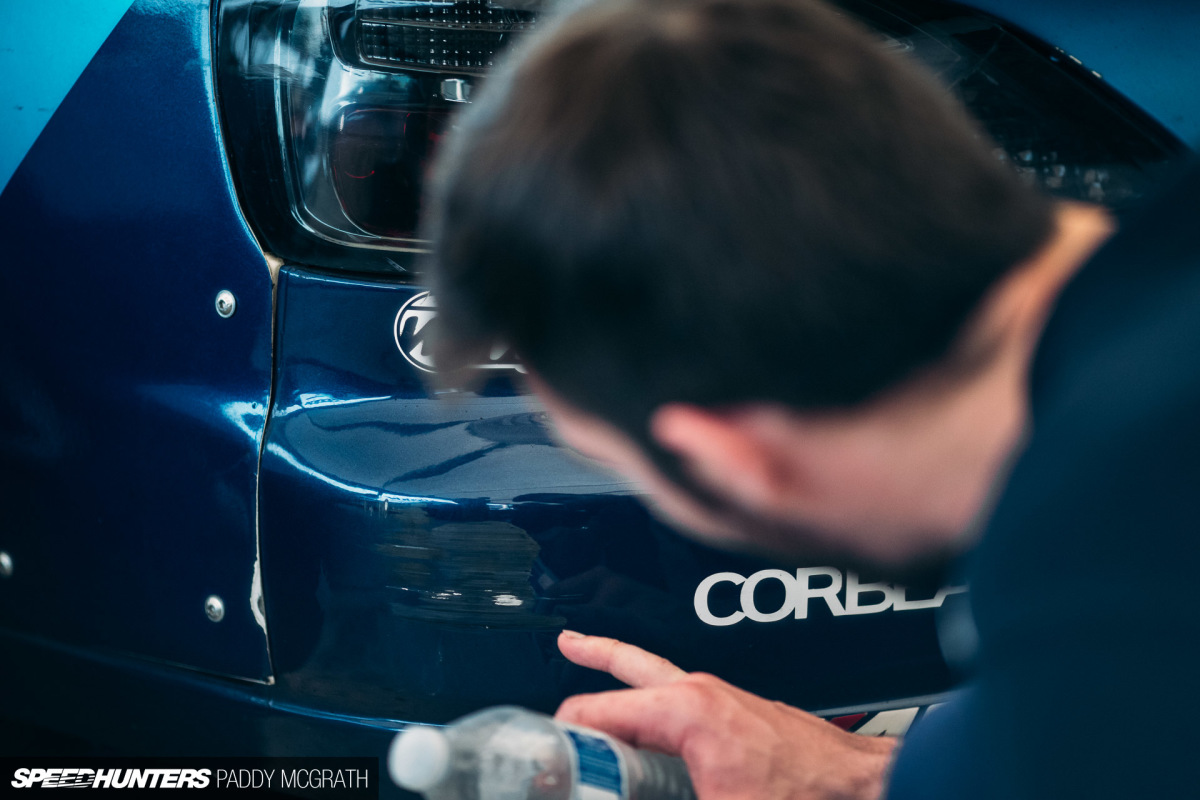 His high line through OZ1 had left the faintest of marks on the rear corner of the bumper, which was still warm to the touch. It's a scar that the car would wear with pride for the rest of the weekend.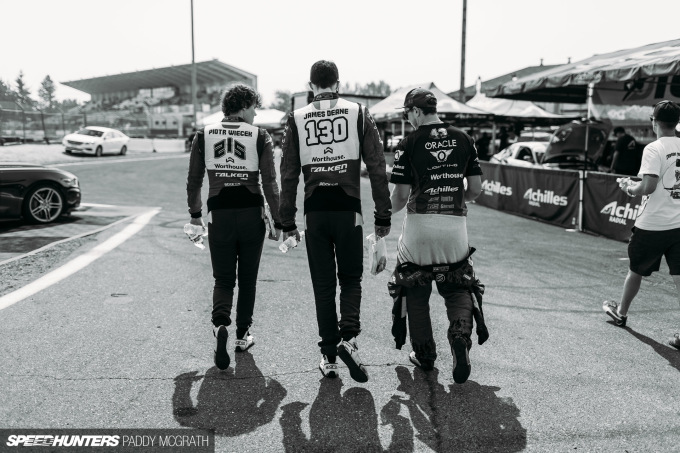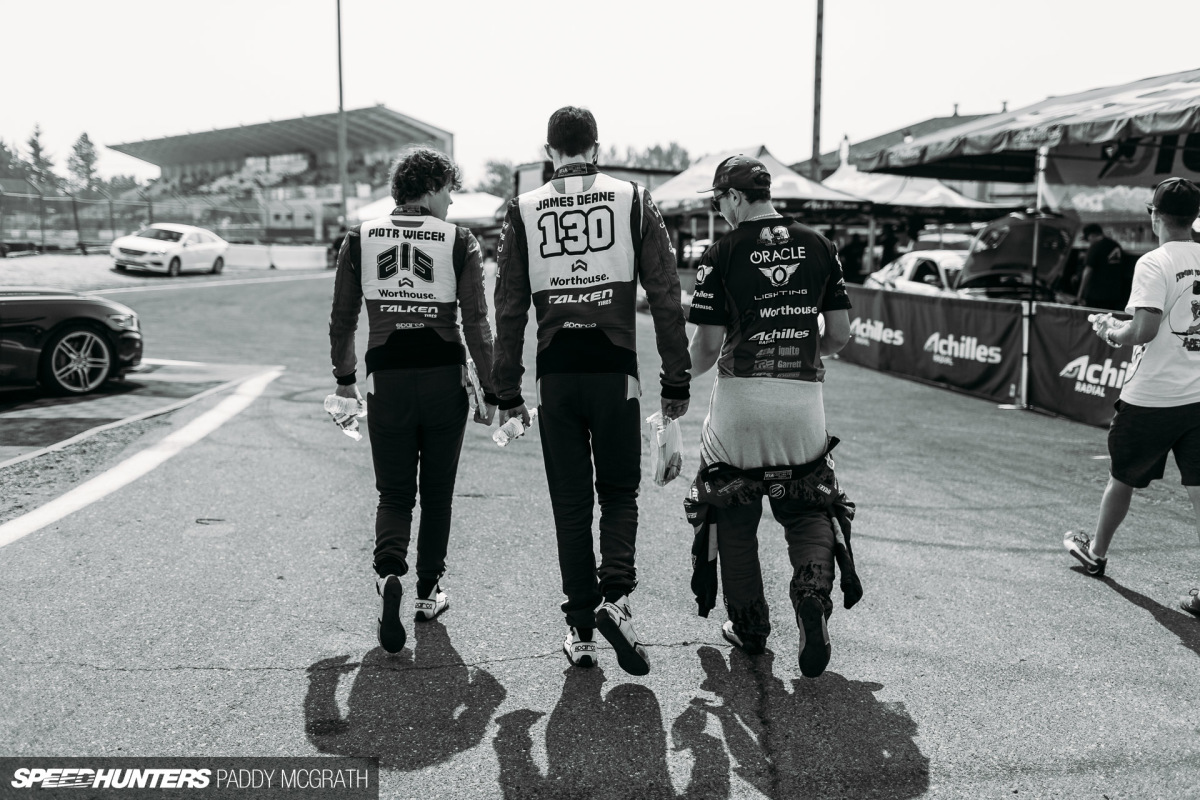 There was a fly in the ointment, despite the team's success on Friday. In the Top 32, Piotr would meet team-mate Kearney and if either of them could make it to Top 8, they could meet James Deane there. Basically, it meant only one Worthouse x Bridges Racing driver could make the podium, regardless of what happened.
That was something to worry about when it happened, until then, it was one battle at a time.
Saturday August 5th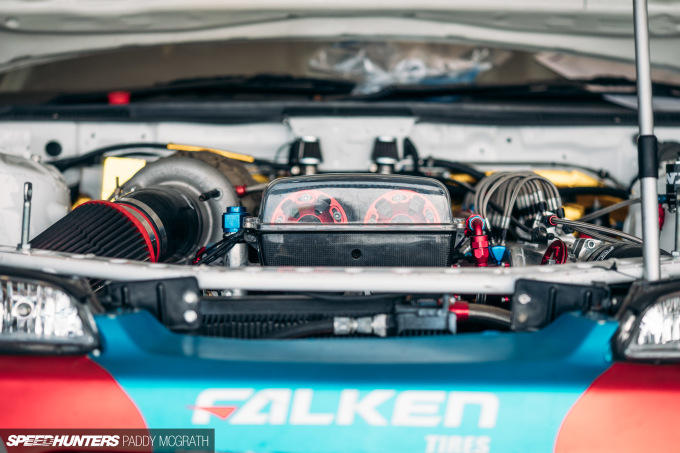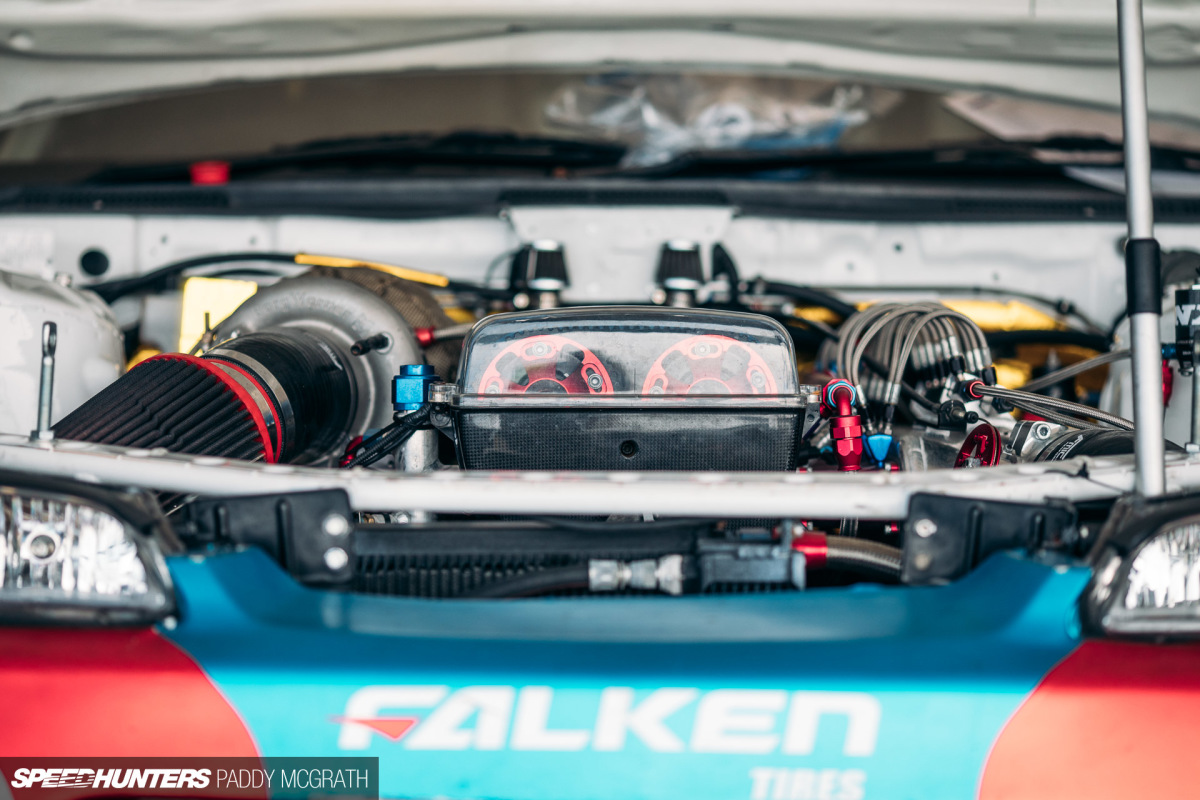 Saturday is game day.
There's always a different vibe in the paddock, right from the off. Friendly faces turn stern; there's little time for small talk and everyone is all business. You might claim it as being un-drift-like, but it's a reality of any serious motorsport. There's a lot of money invested in the sport, and lots of companies expected a ROI.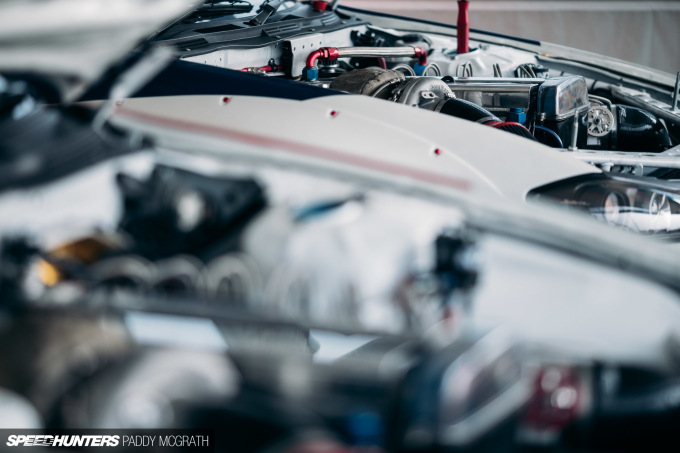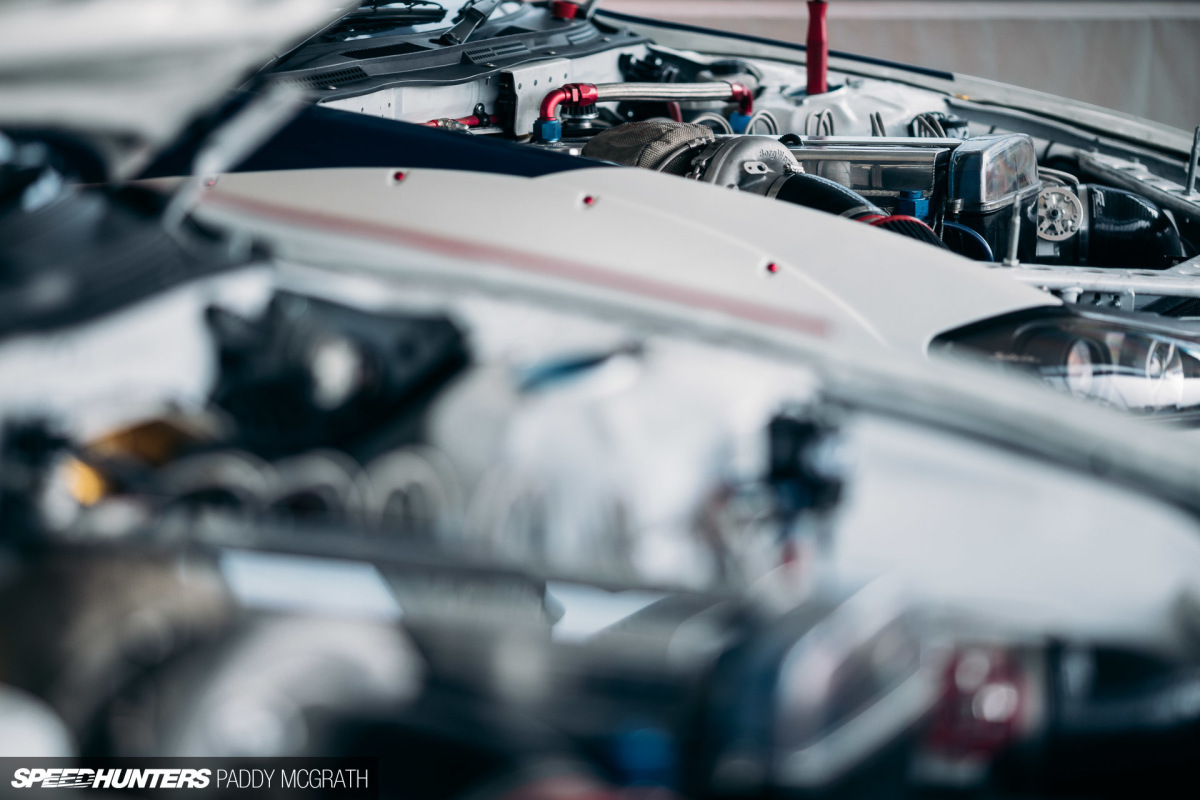 There was little to be done on Saturday morning with the Worthouse S15s, following a straightforward Friday, mechanically-wise. There's almost 2,000hp between those two 2JZs. It's a crazy figure but something that has become the norm at this level. Every single one of those horses are glorious, though.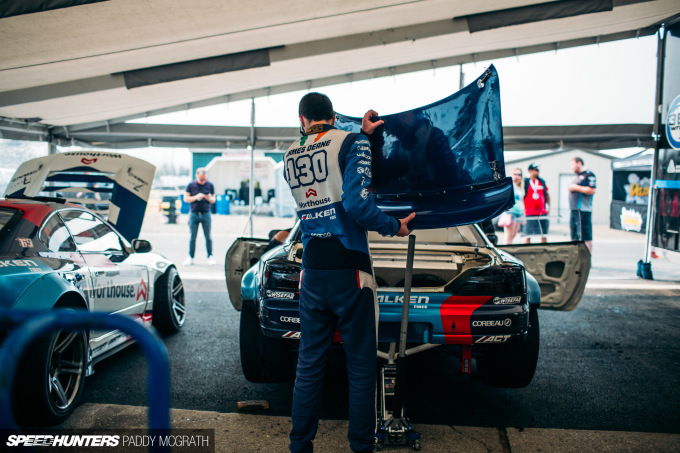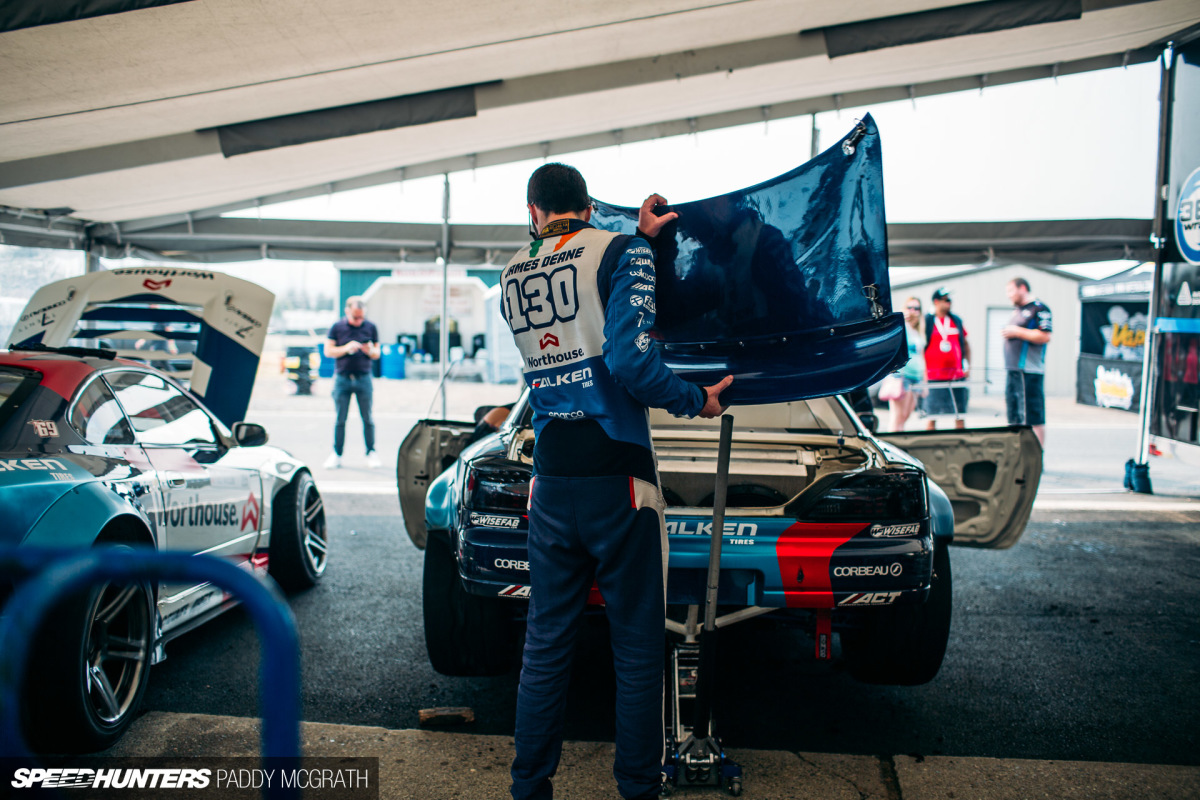 I mentioned it before, but James' hands-on approach to the maintenance on his car always impresses me. Alongside his brothers, he built this car so knows every last nut and bolt on it. Touch wood, it has been tremendously reliable so far this season; especially for a brand new car where one would expect some teething issues.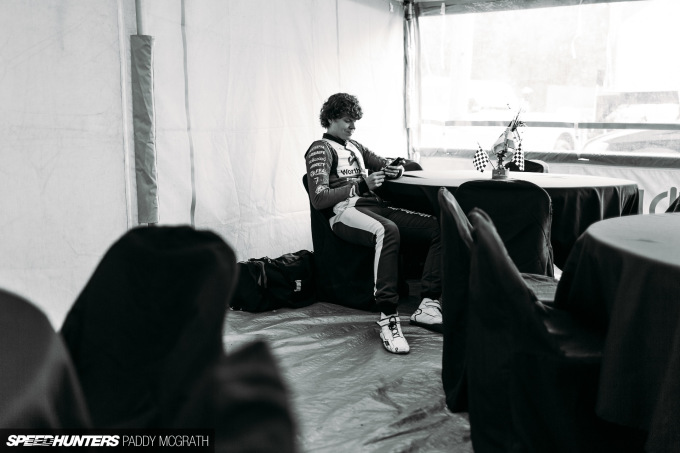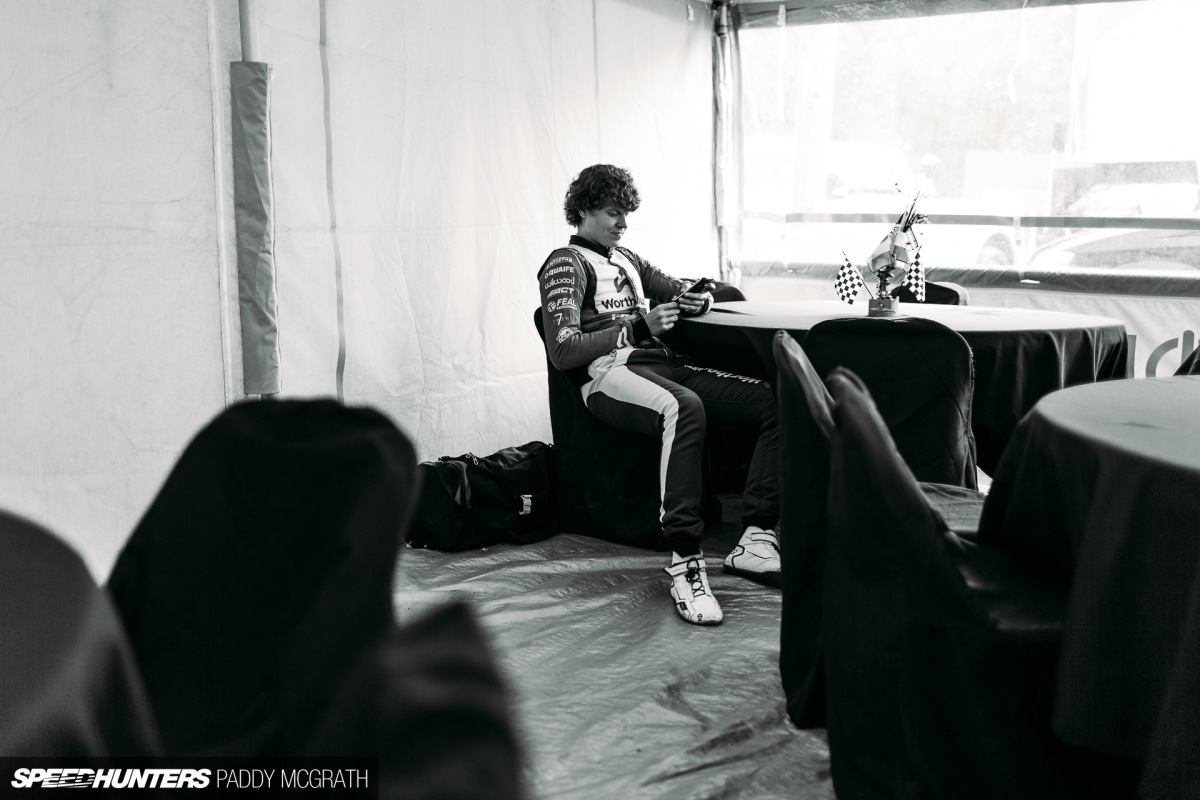 He might not be quite as hands-on as James, but Piotr brings his qualities to the team. He put the team and program together, and comfortably deals with all the responsibilities this entails, along with driving each weekend. They work perfectly together as a team. The knowledge shared between the two is something else, nothing is kept back.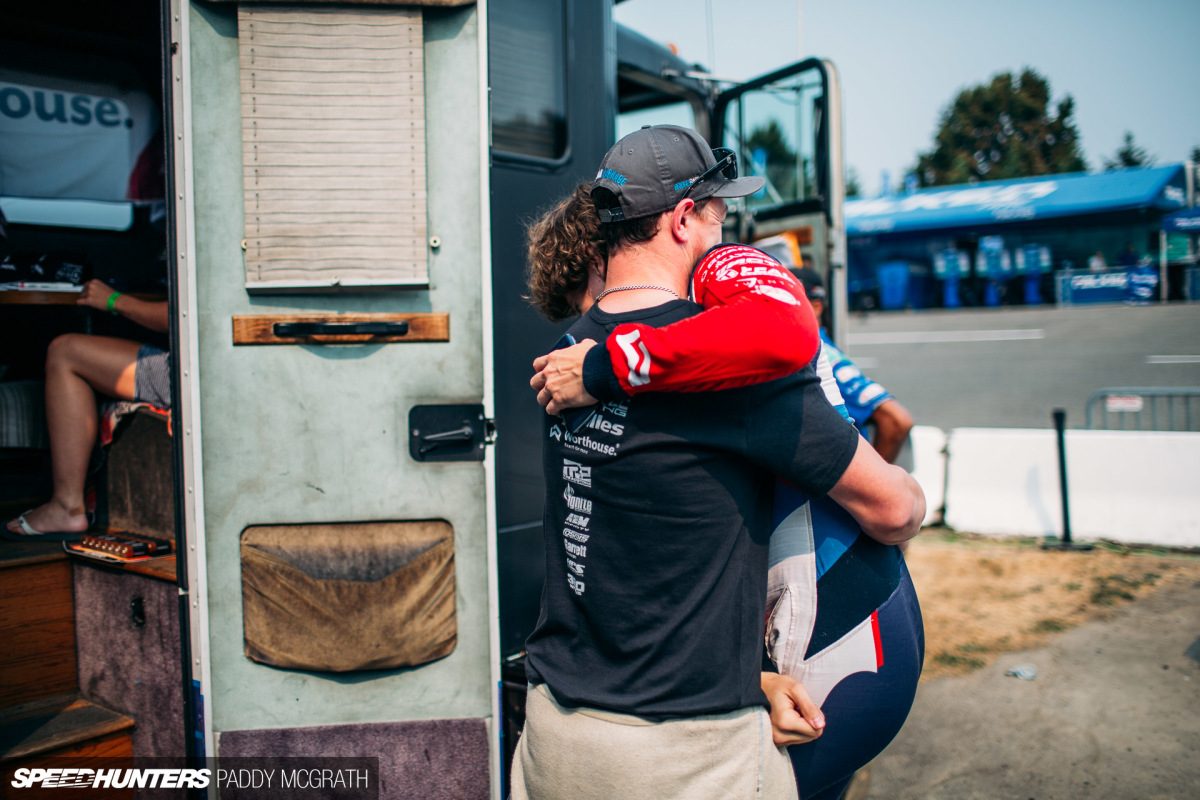 In case team orders might come into play in the first inter-team battle of the Top 32, Dean and Piotr decided to fight it out behind the truck. The camaraderie between all three drivers is pretty solid, which unfortunately for me, is a bit boring from a storytelling perspective. I'll have to start some rumour spreading or something…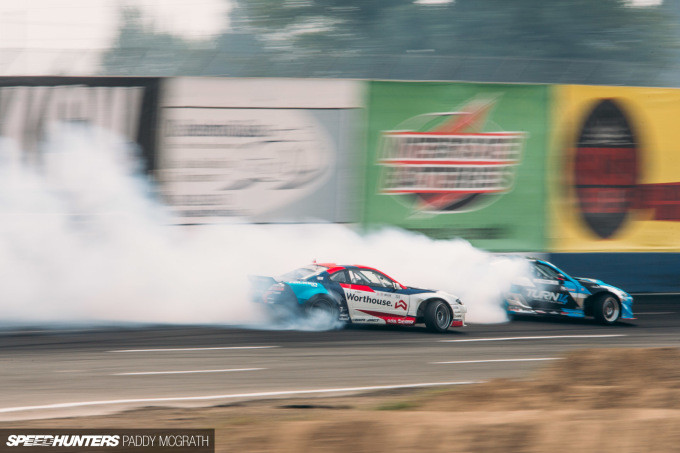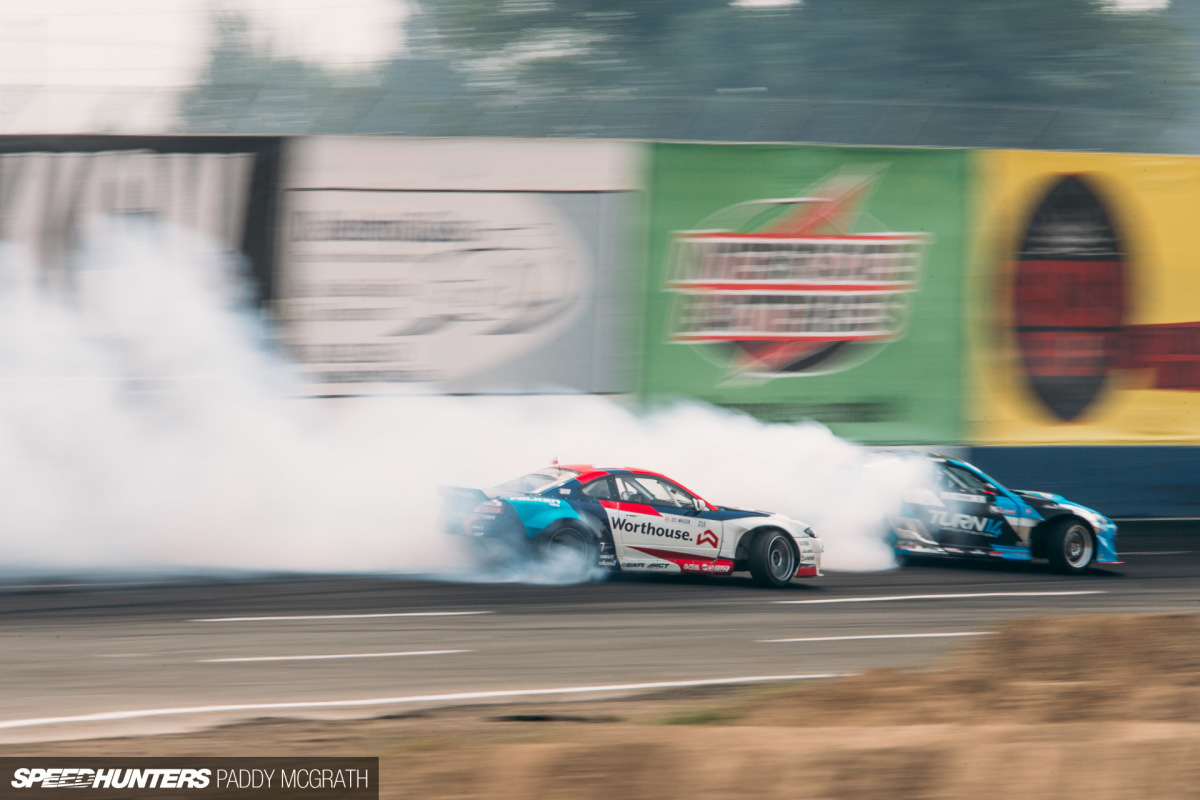 There was one last practice session, and James finally got a handful of chase runs in (not pictured) before we rolled straight into the Top 32. Piotr would face Kearney, while James, as mentioned earlier, would get a straight pass to Top 16, with the drivers opting to not do bye runs for the Top 32.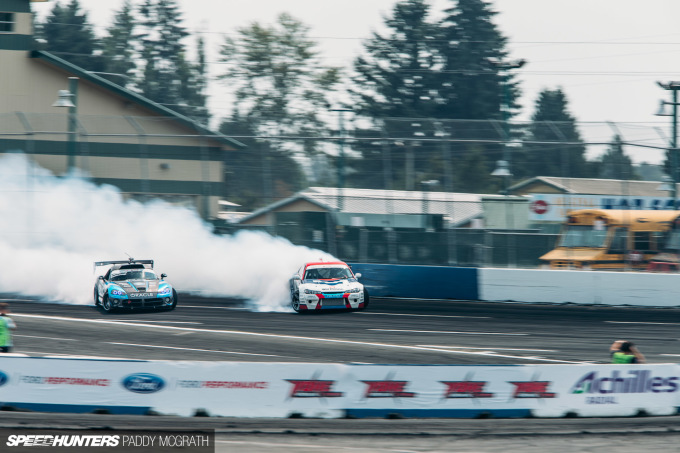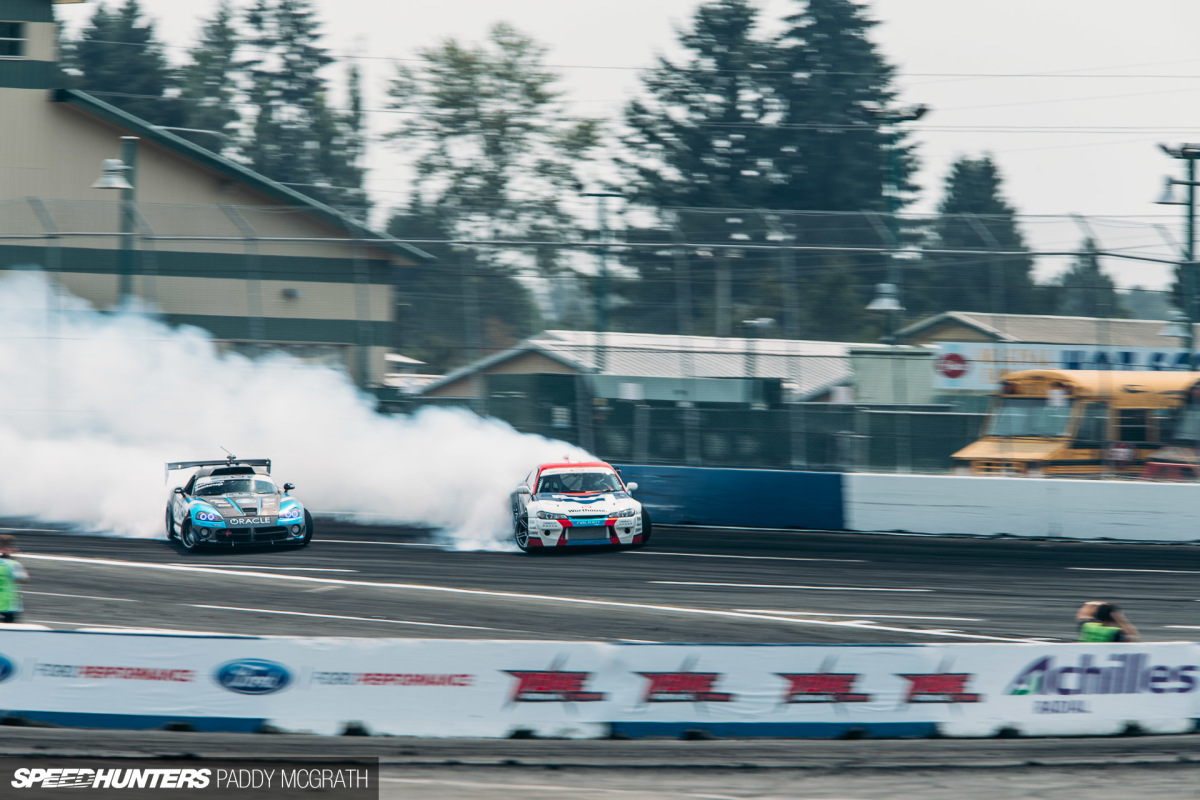 As the higher qualifier, Piotr would lead the two cars into battle. Dean told me earlier in the weekend that at this circuit, he prefers to chase first, as it leaves him with more tyre for his second (lead) run.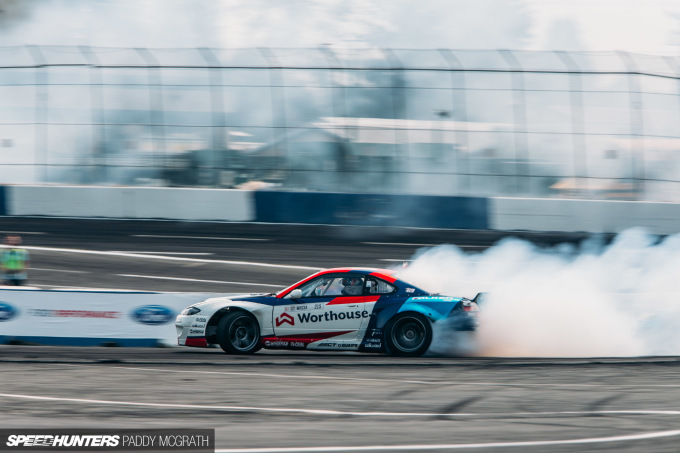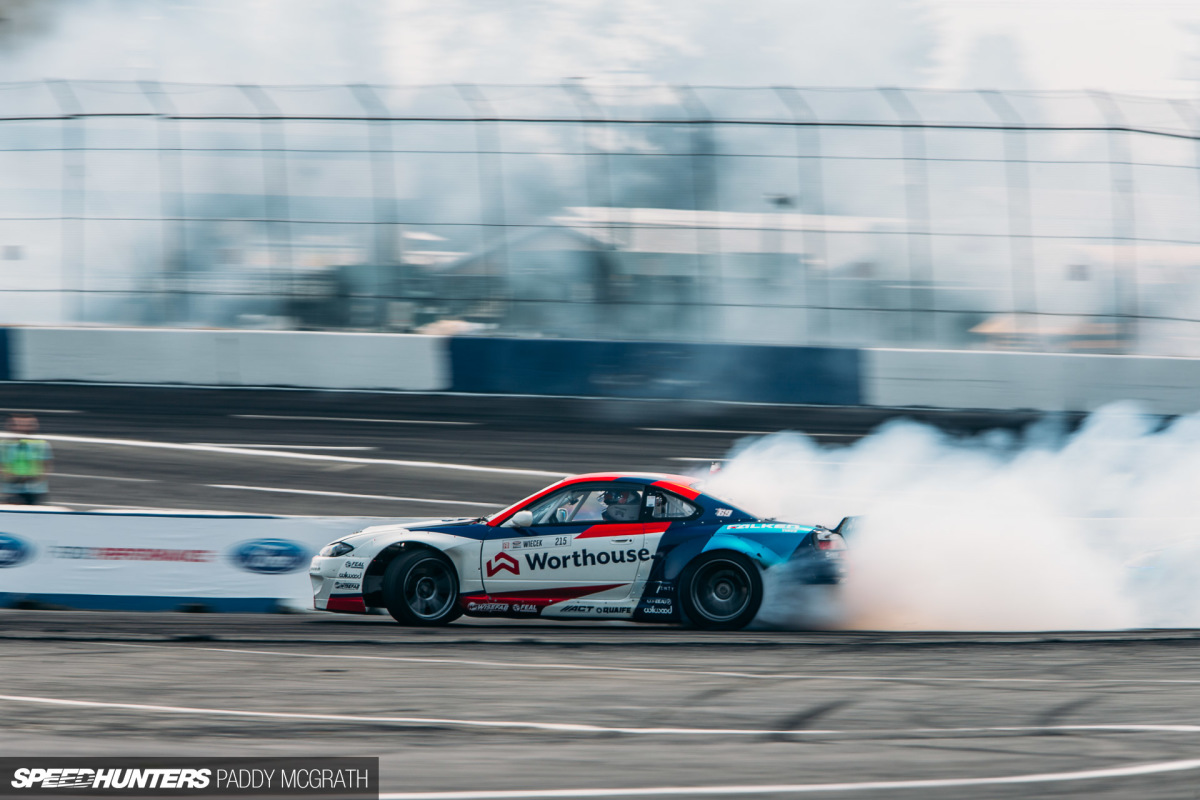 There was no obvious faults with Piotr's lead; similarly there were no huge risks taken either, and the two cars crossed the finish line with no drama.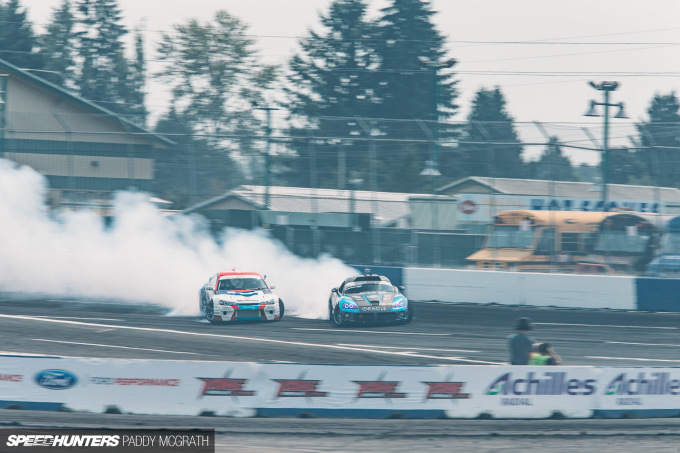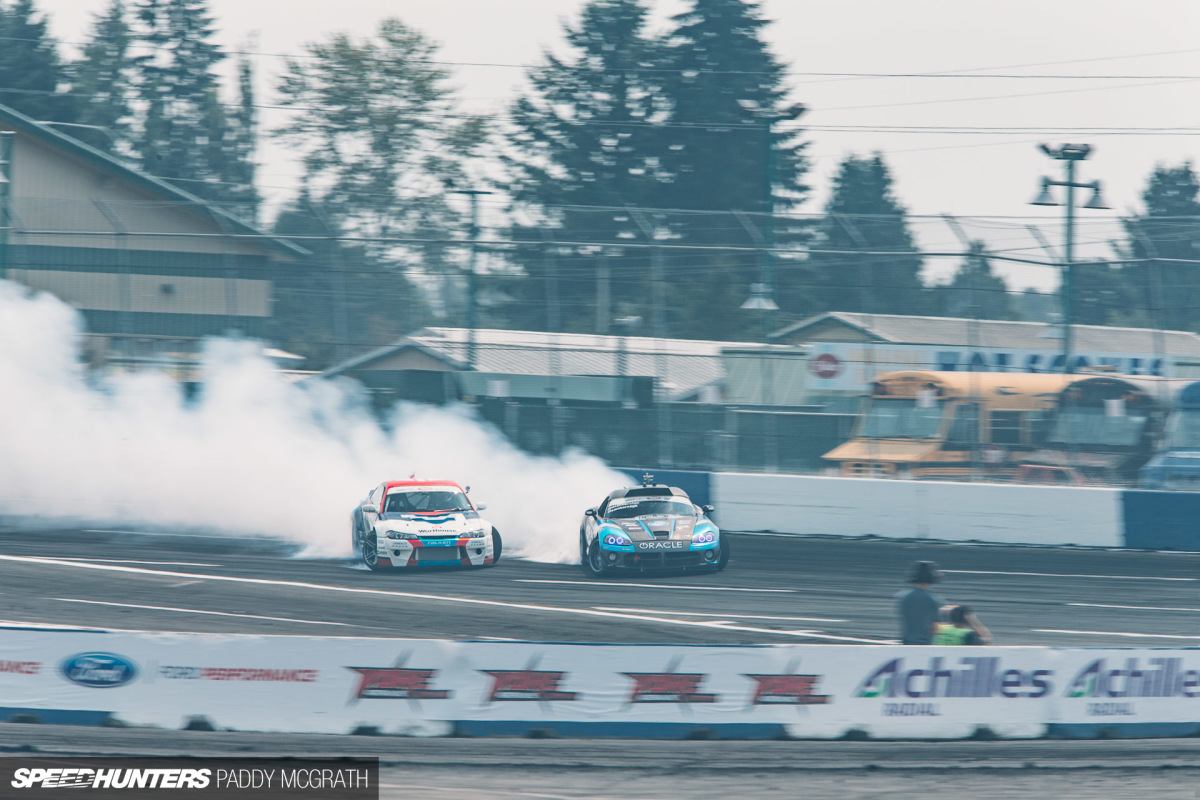 With the roles reversed, the Viper was first off the line. By the time it arrived into my view, it was clear that Kearney was struggling. The car was slow and missing its wing.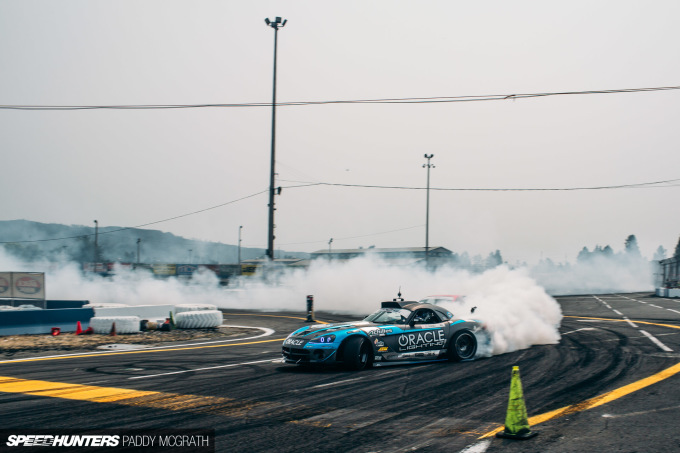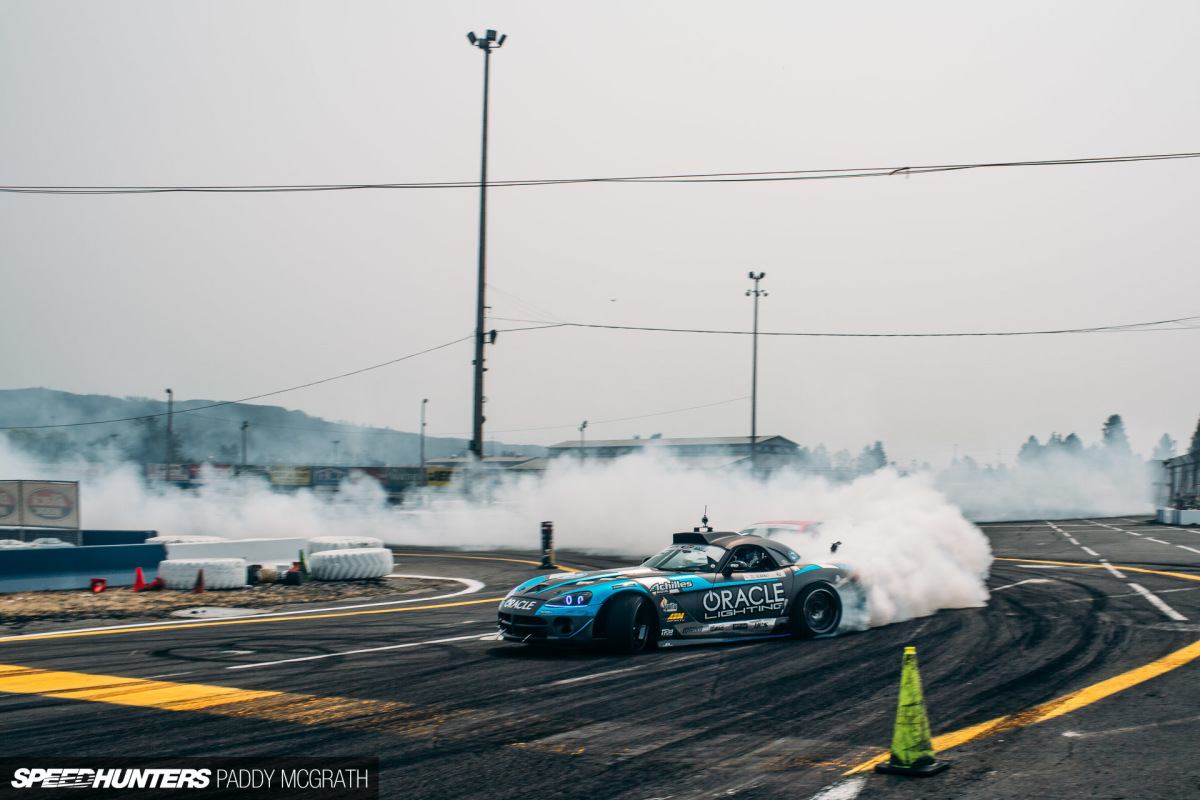 I – wrongly – assumed that his problems had occurred due to contact with the wall at the start of the run. The Viper is one of, if not the fastest cars on the grid, so watching it limp across the line with Więcek's S15 stuck to it was a strong indicator of how this would be judged.
A unanimous victory for the Polish champion.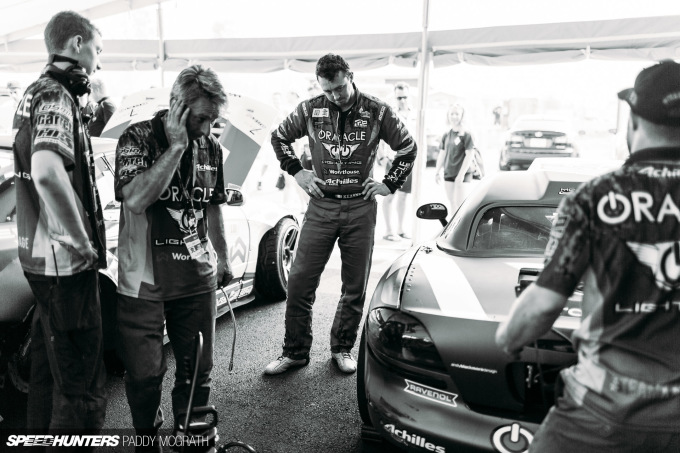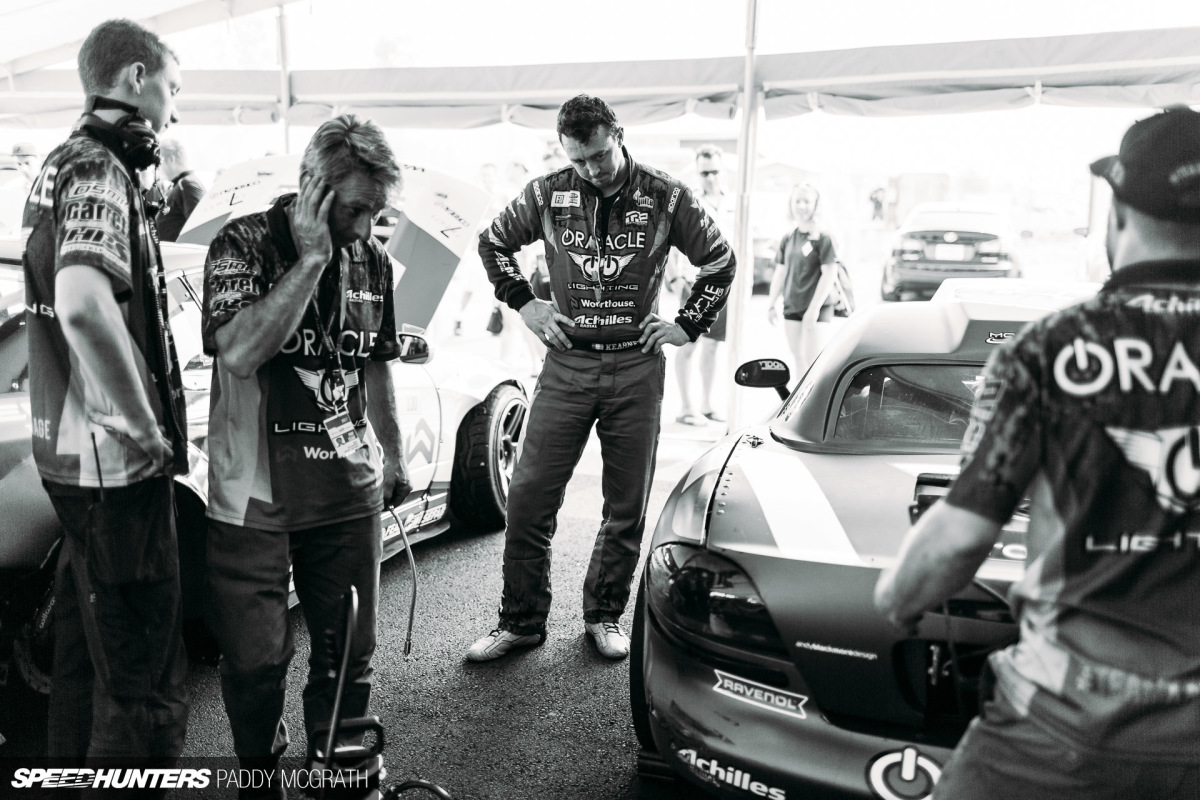 With no other battles to cover in the Top 32, I headed back to the pits to be greeted by a tense environment. Already out of the car, Kearney wore the face of a man caught somewhere between anger and desolation.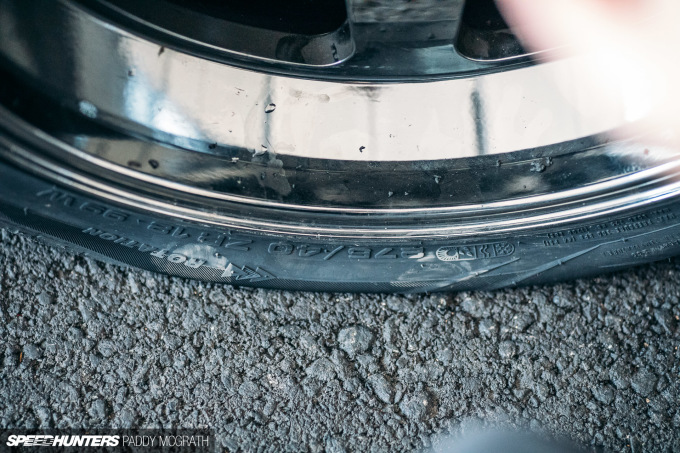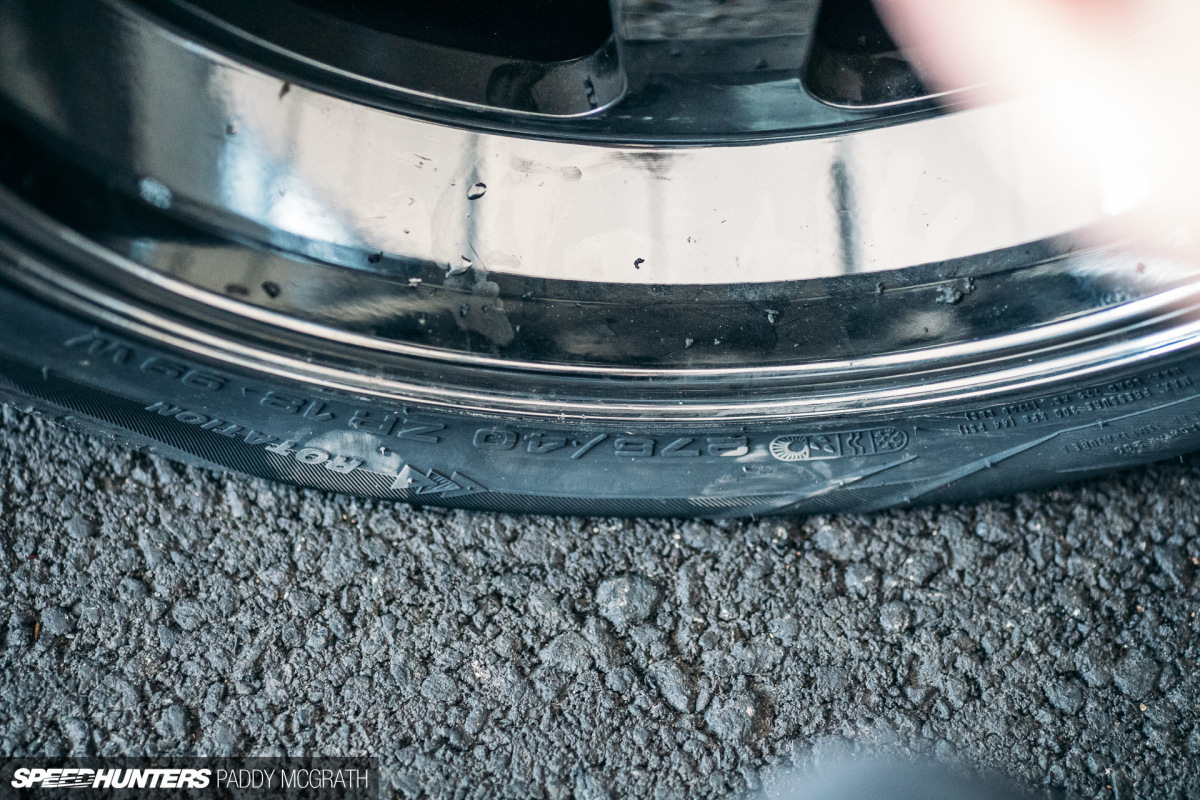 He thinks it happened in the burnout box, picking up some debris which caused a considerable puncture in his rear right tyre.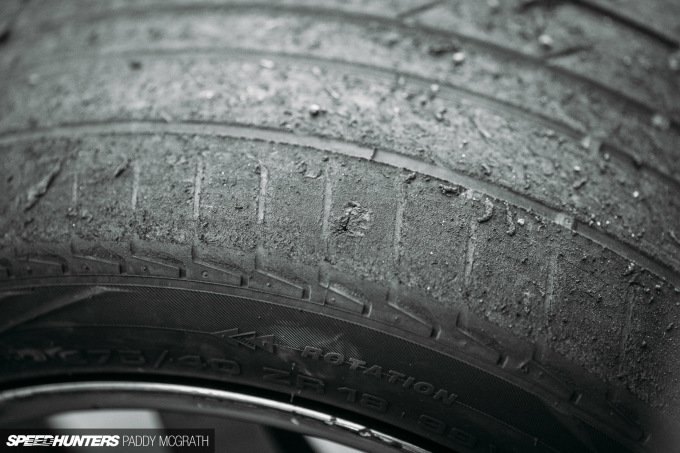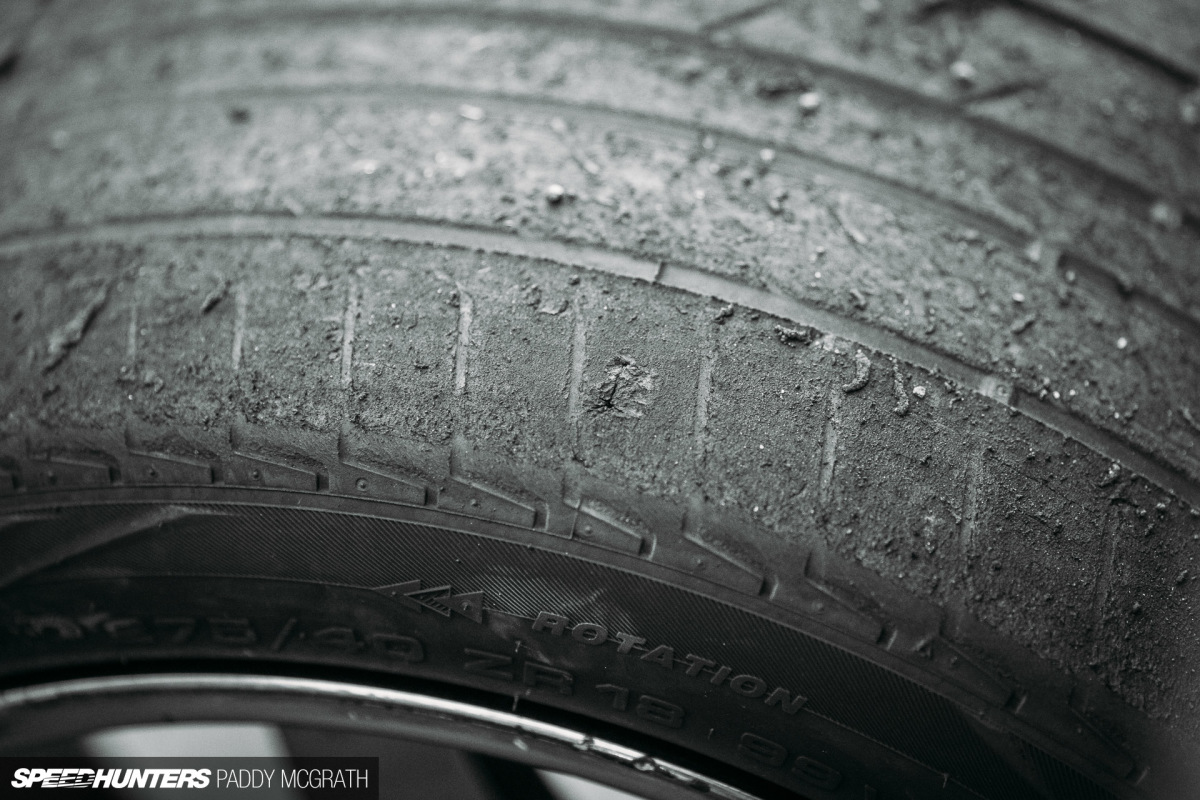 He relayed how the car felt tight on initiation, before completely losing forward traction as the wheel spun inside the by then deflated tyre. He had no chance from the start.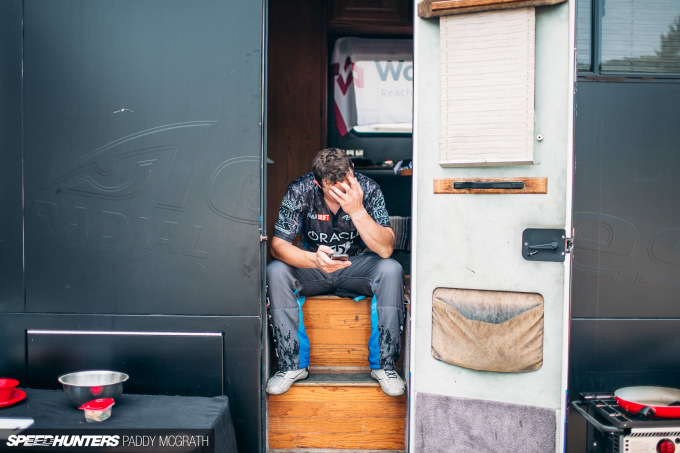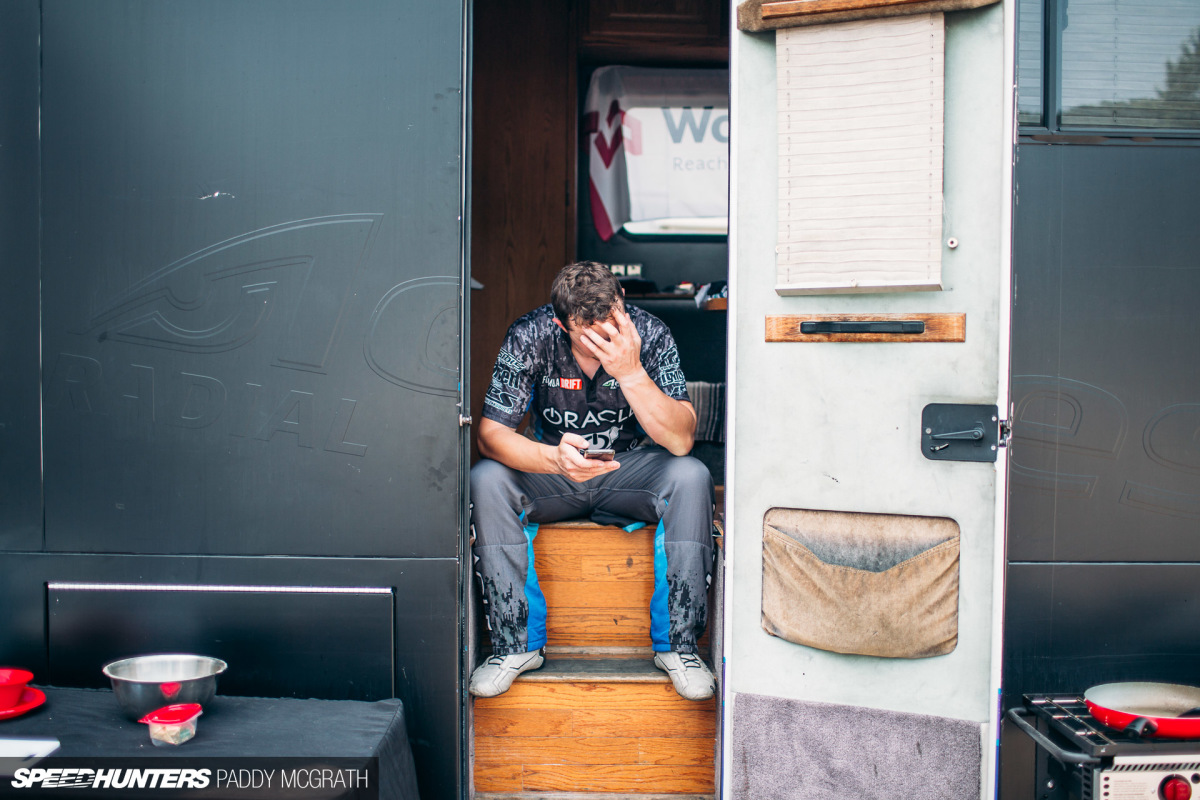 Understandably, he was devastated. Not by Piotr advancing, he said himself that there was no guarantee he was going to win if he hadn't picked up the puncture, but rather by not being afforded a fair crack at his lead run. Unfortunately, it's something which you can never allow for. It was his first puncture in pro level drifting in over a decade.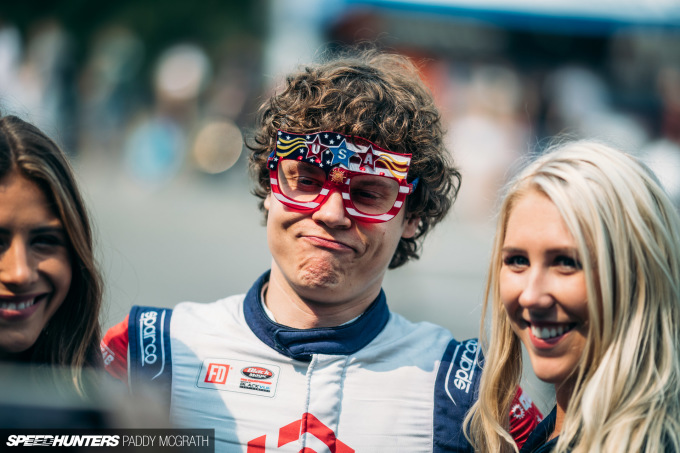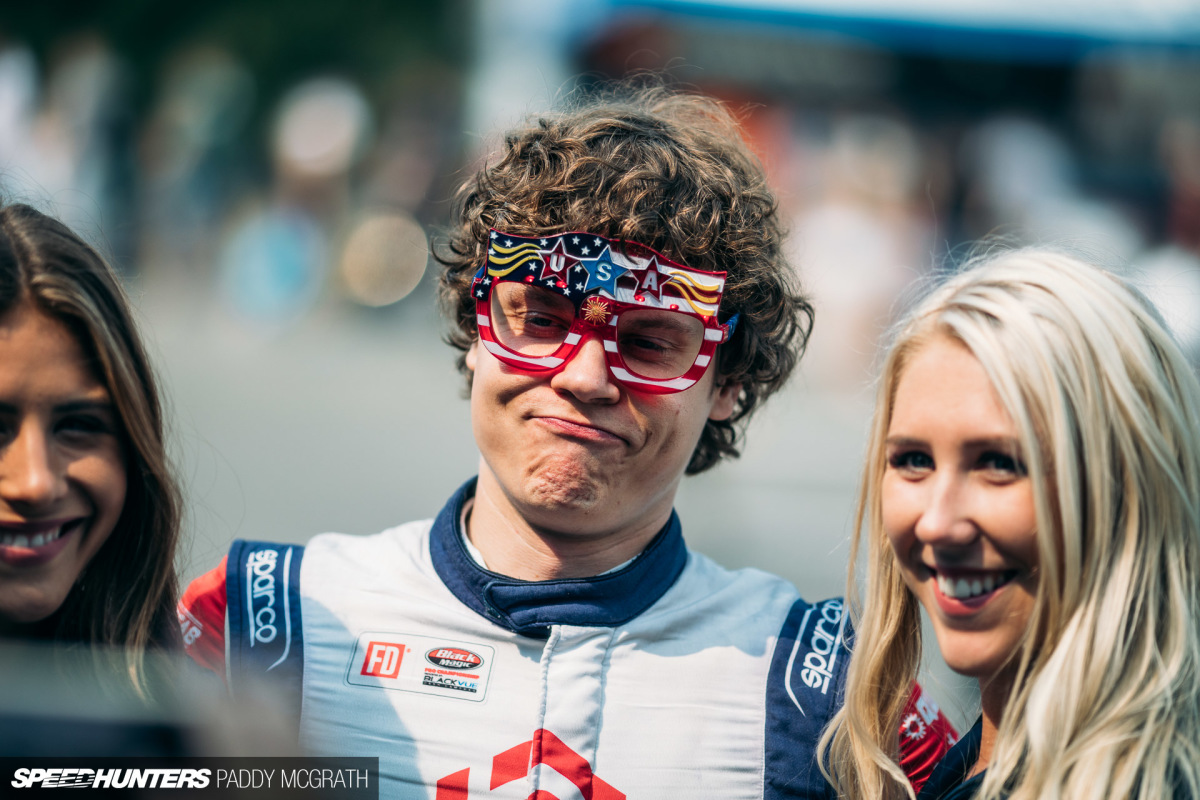 Piotr was slightly more upbeat.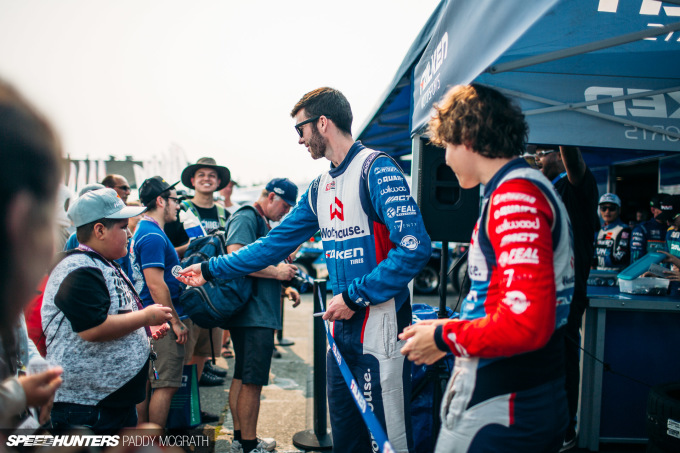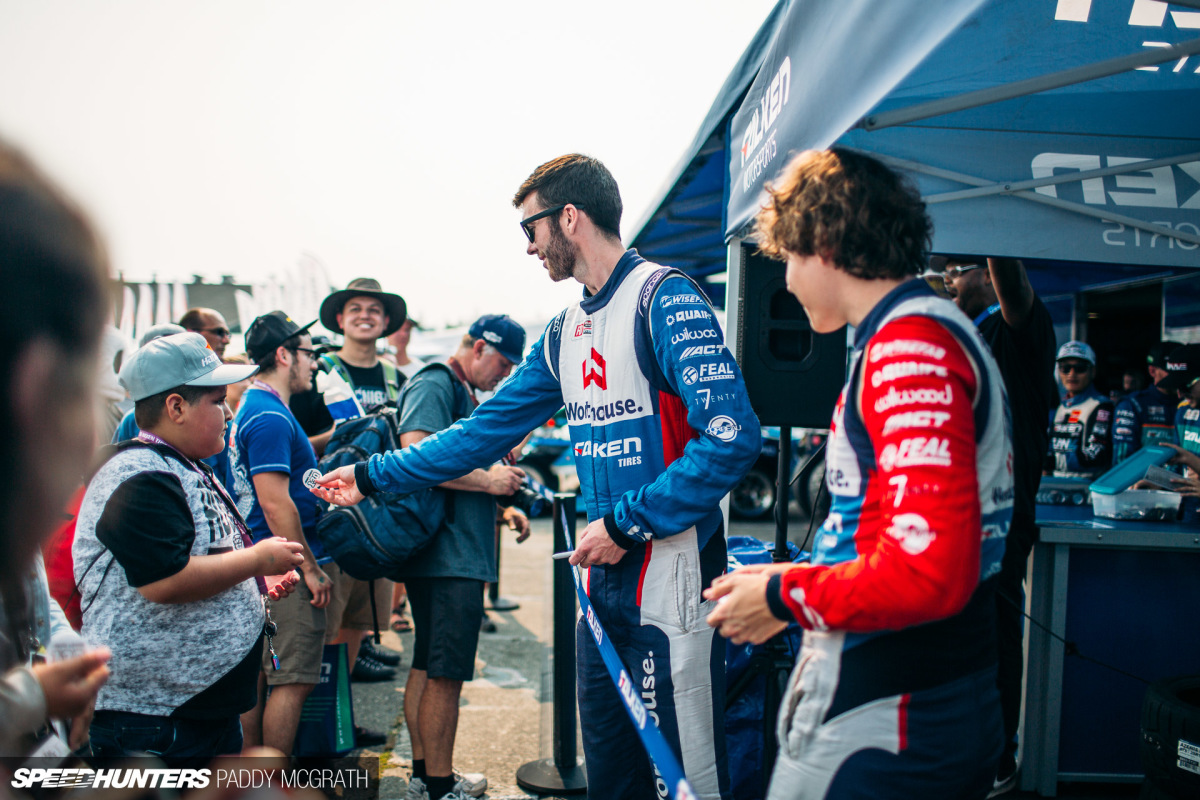 With both Worthouse drivers in the Top 16, and on course to meet in the Top 8, they headed for their routine Falken autograph signing. This is obviously a more enjoyable occasion when both have advanced to the main event, for the fourth time season and the first time in three events.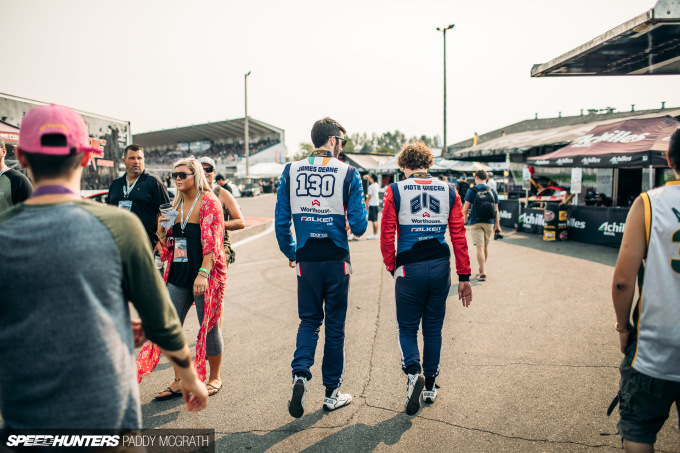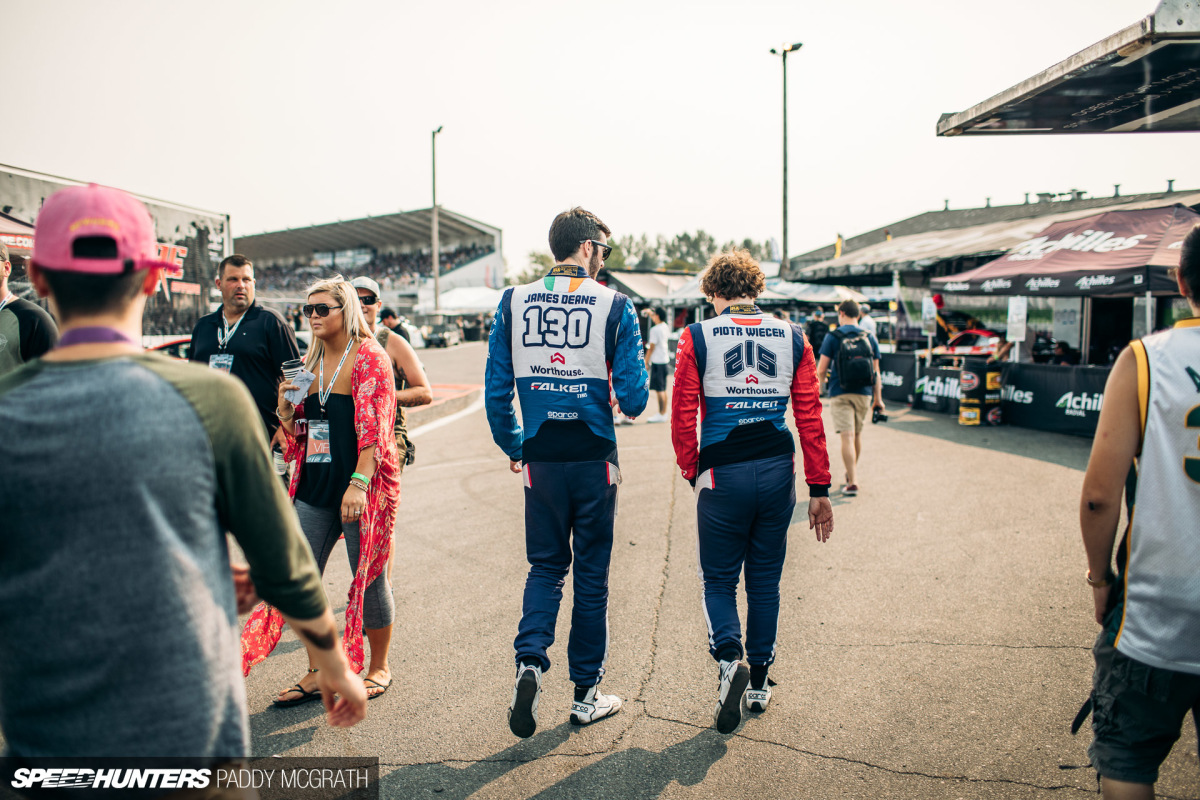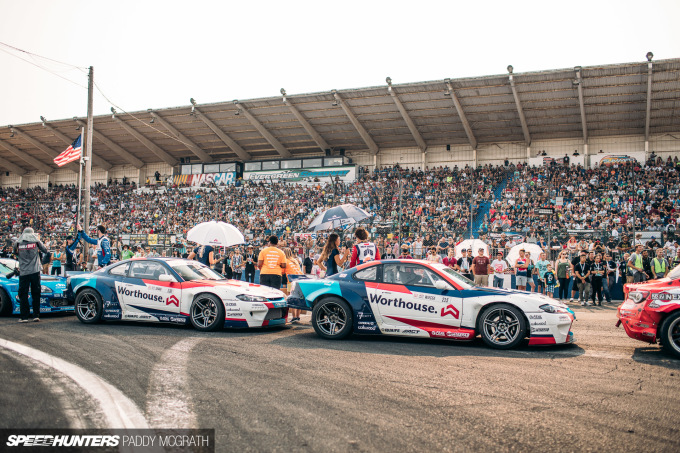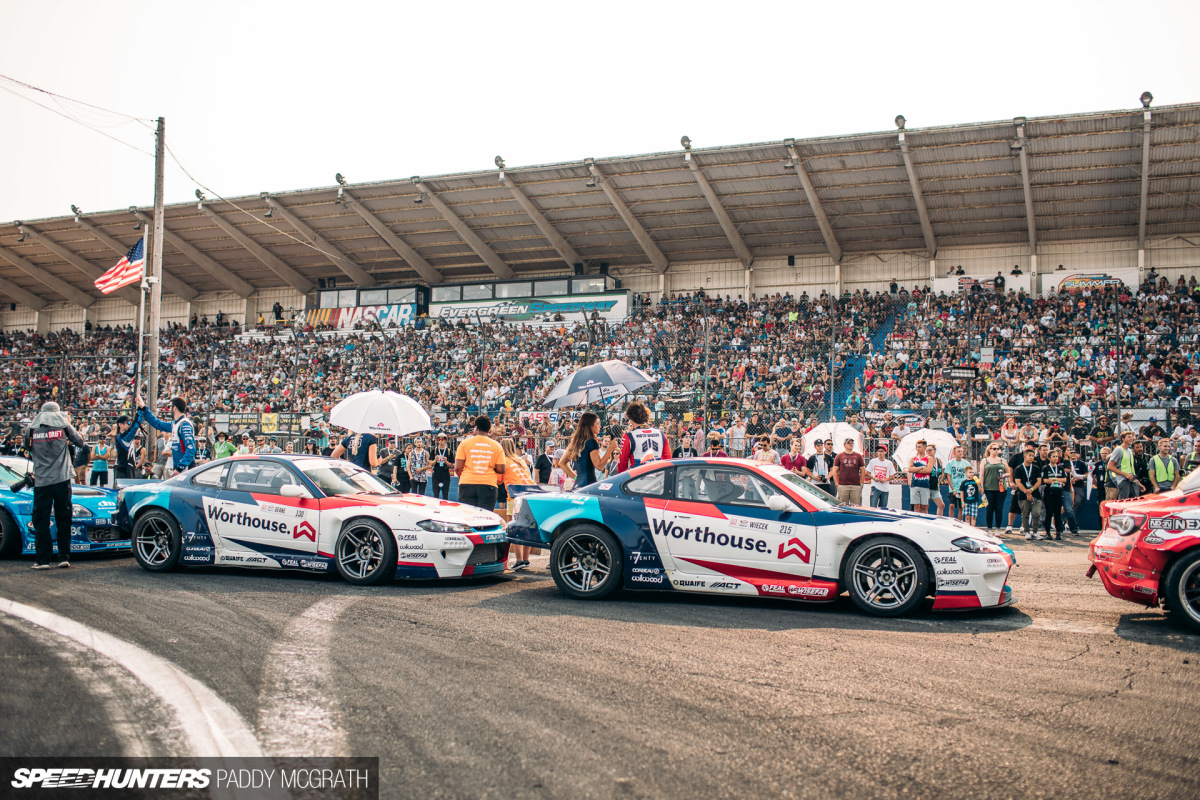 I enjoy a great sense of pride seeing the two cars lined up in front a packed grandstand; it's where every driver on the grid wants to be as an absolute minimum at each event. The F22 fly-over was an added bonus although needed more afterburners.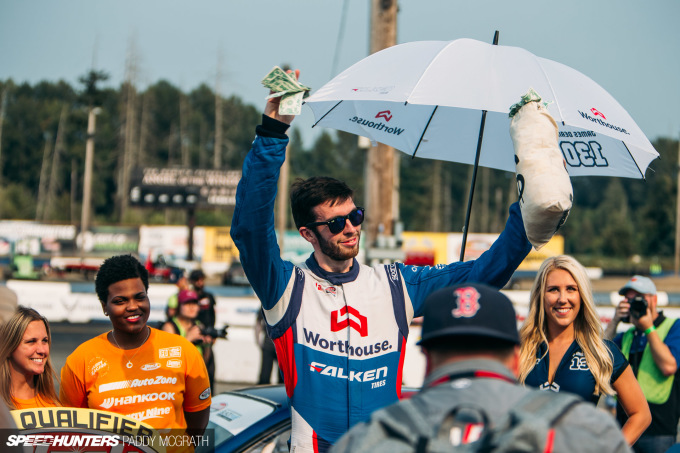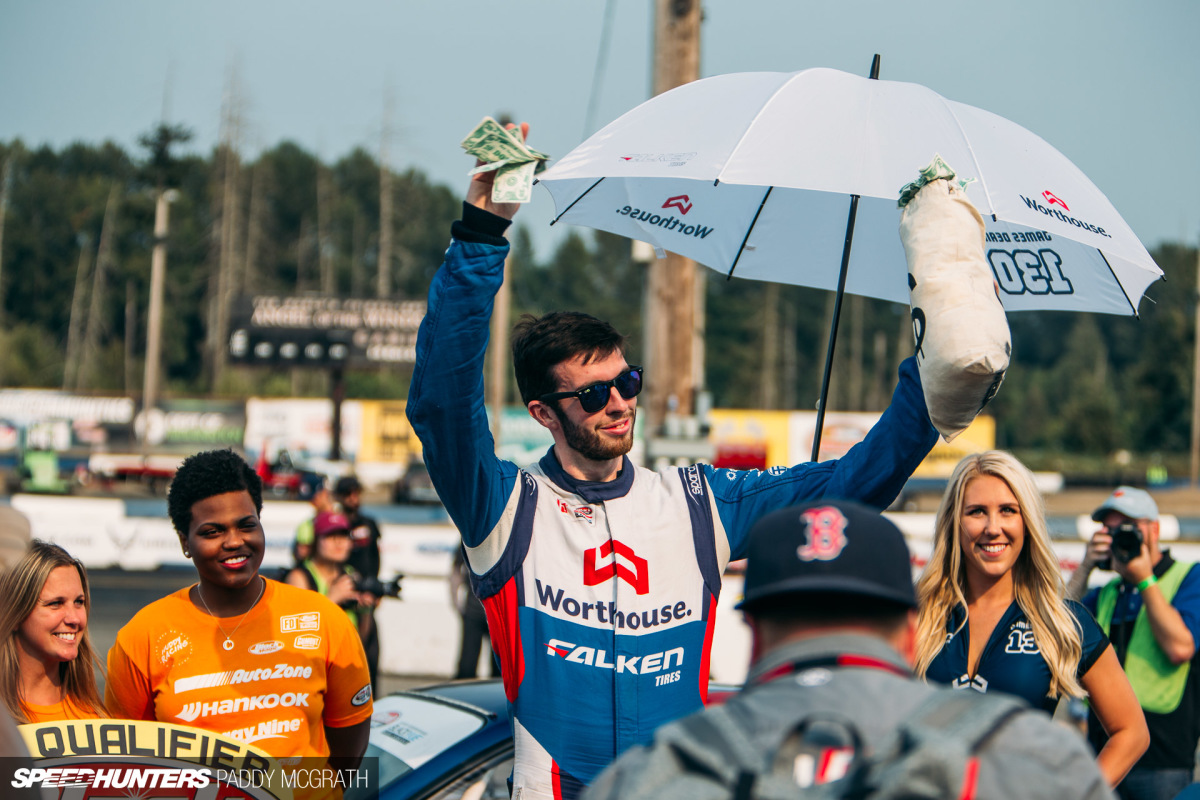 James received his bag of (fake) cash for the second event in a row. We had talked about him launching it into the crowd, but quickly reconsidered when we realised the fence was at least 87-feet tall. Nobody wants to be that guy.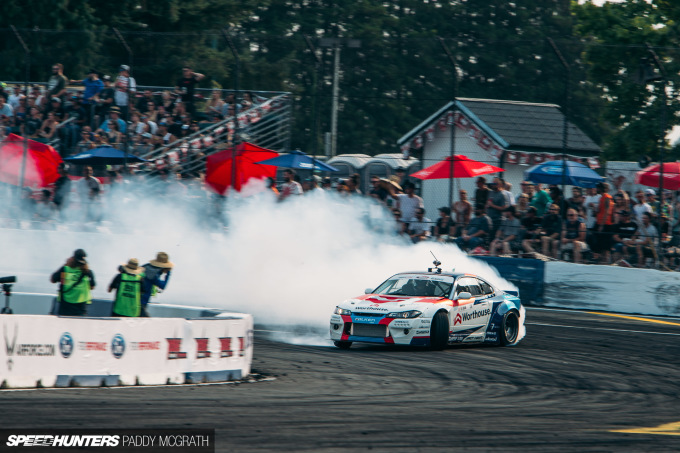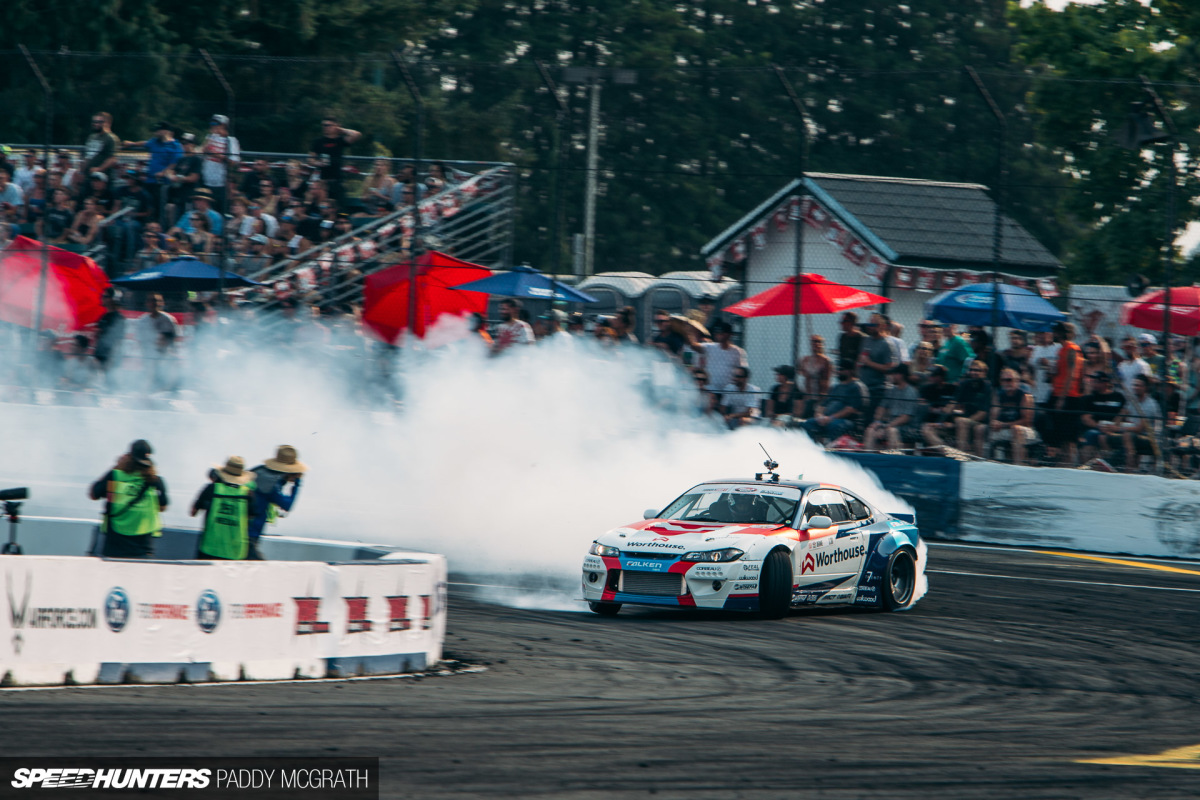 As first place qualifier, he would get proceedings underway as he faced rookie – and the man with the best hair in FD – 'Rad' Dan Burkett. Unfortunately, Dan decided to use his Supra as a sander and to take some paint off the outside wall while in the chase position.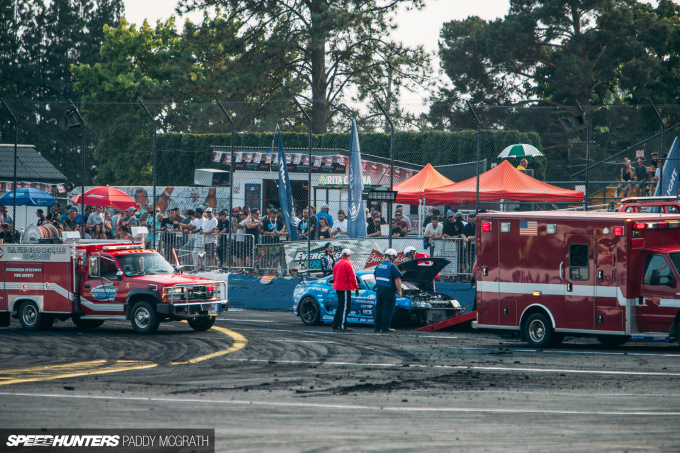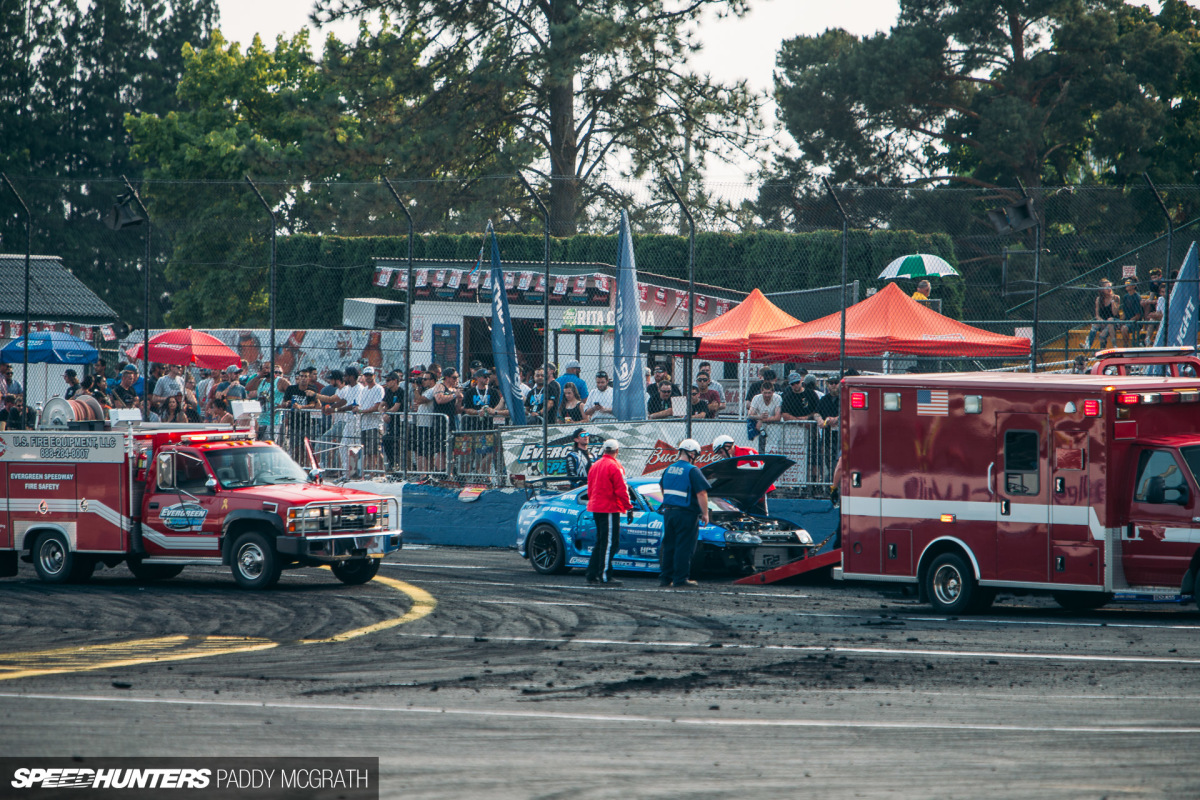 Fortunately, he was unhurt. Let's hope he gets his awesome Supra back together for Texas in a month's time.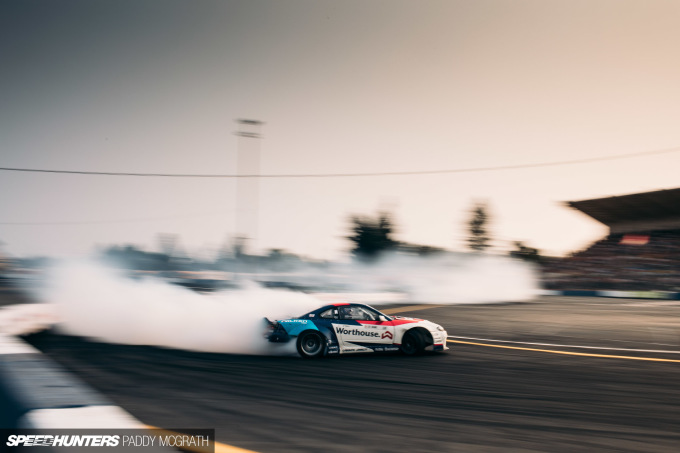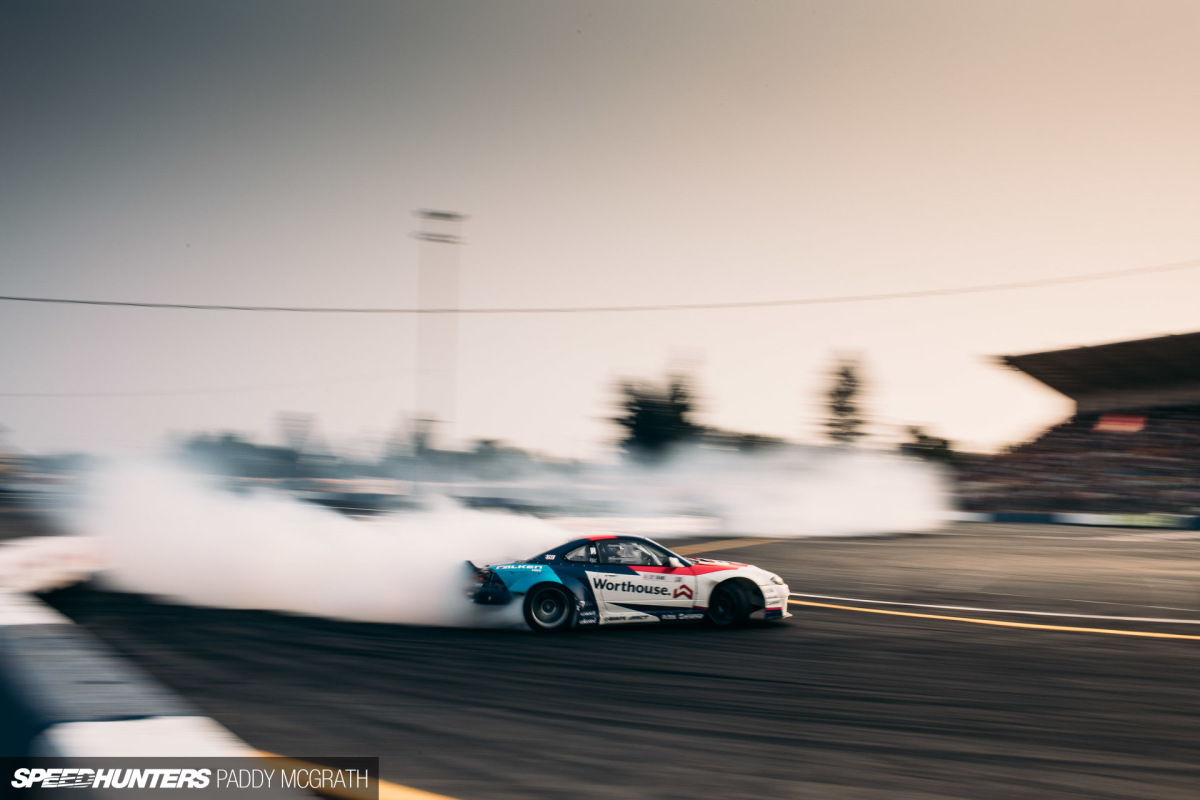 Burkett would immediately retire once he got back to the pits, leaving James to complete a second pass of the course solo to advance to the Top 8.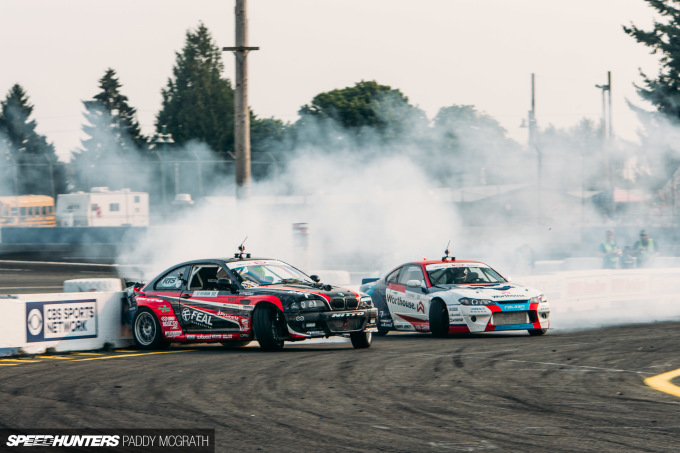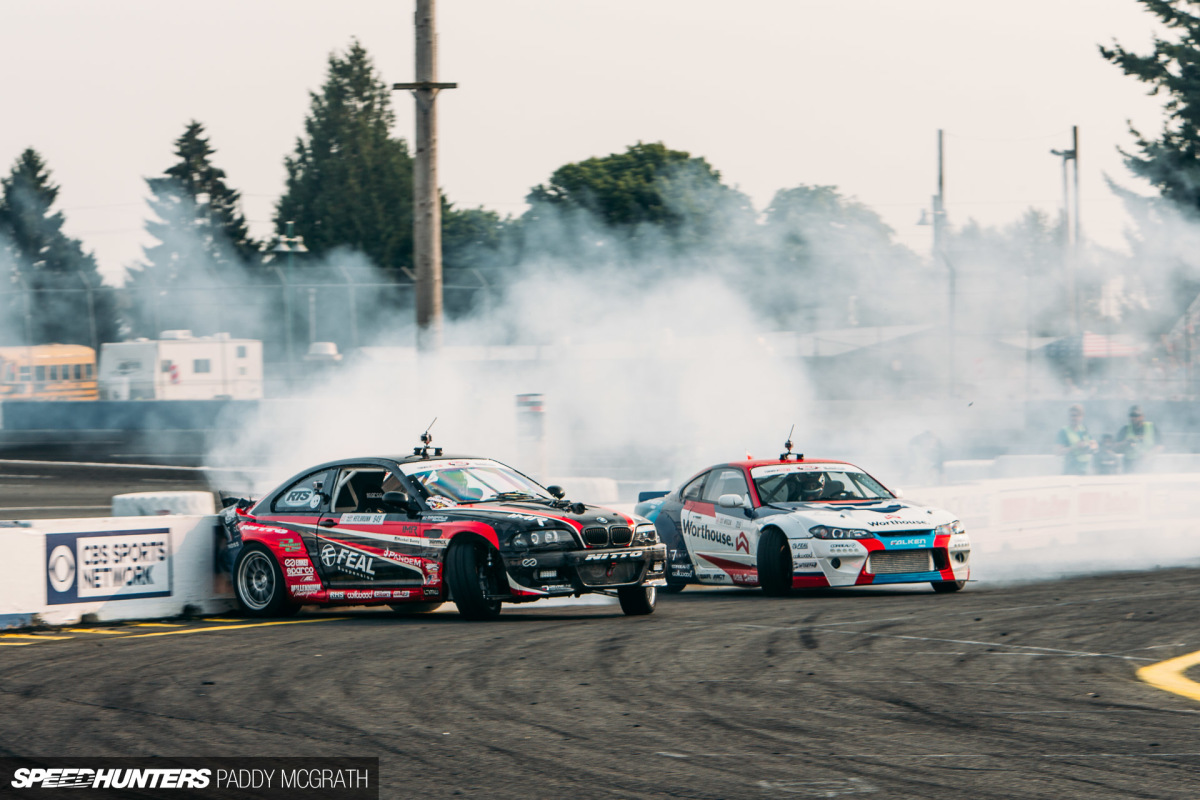 In the next battle, Piotr would chase Peruvian Alex Heilbrunn's monster E46 BMW. He maintained good proximity for the majority of the course, finishing with a flourish and an awesome dive onto the BMW's door through IC2.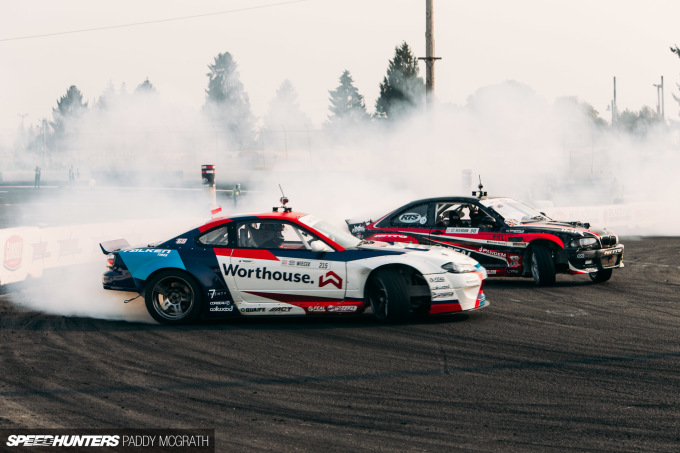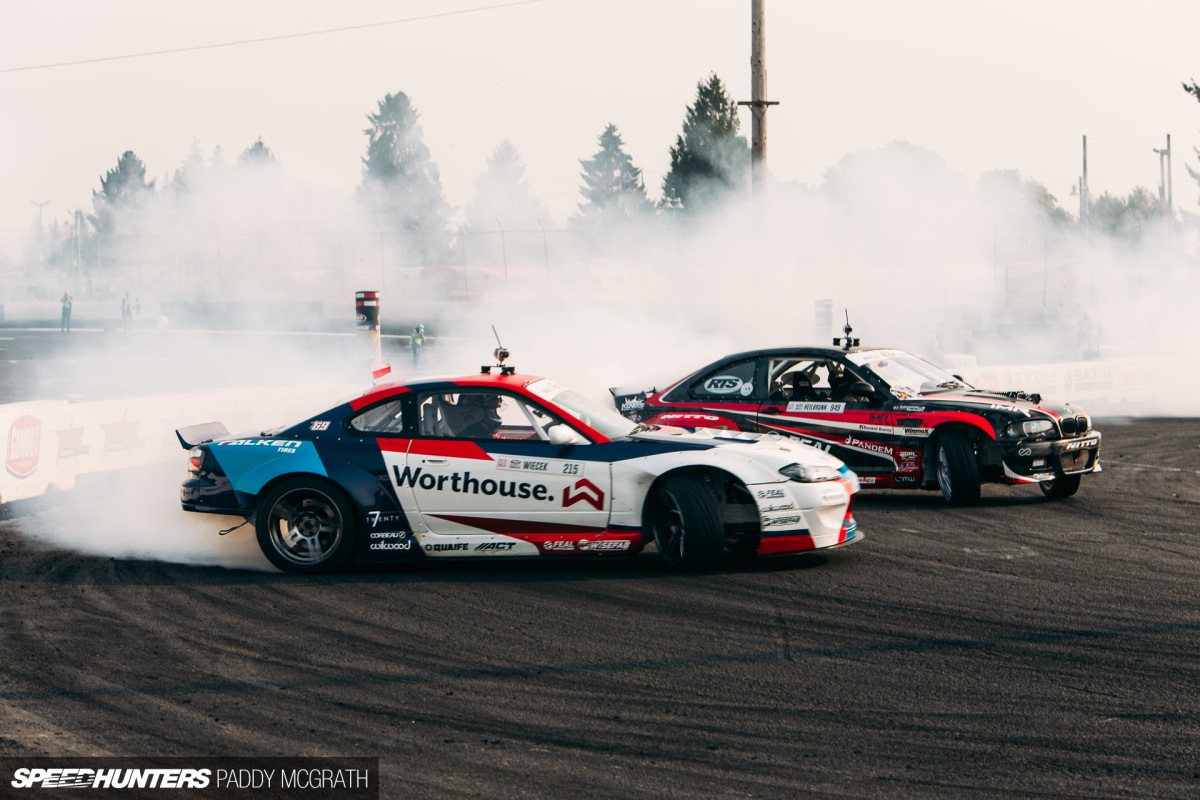 For the second half of the battle, Piotr would open a gap on Alex for most of the course, forcing the BMW to take a few shortcuts in order to catch up. Despite a small correction by Piotr on the bank, the judges considered there to be enough advantage to Piotr and sent him through to the Top 8 with two votes and a OMT.
Of course, this meant one thing: an all-Worthouse Top 8 battle.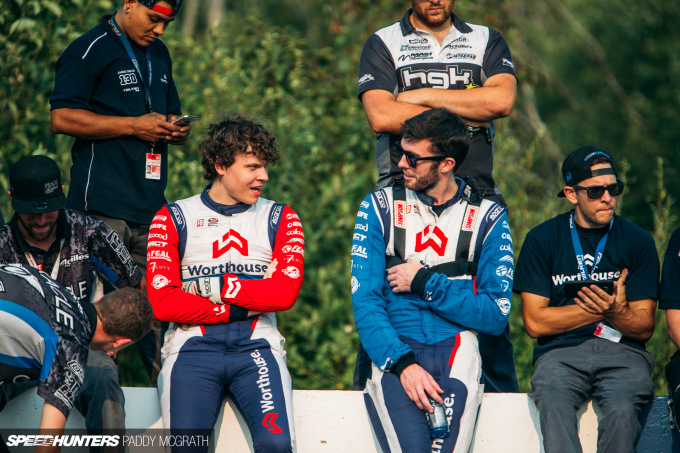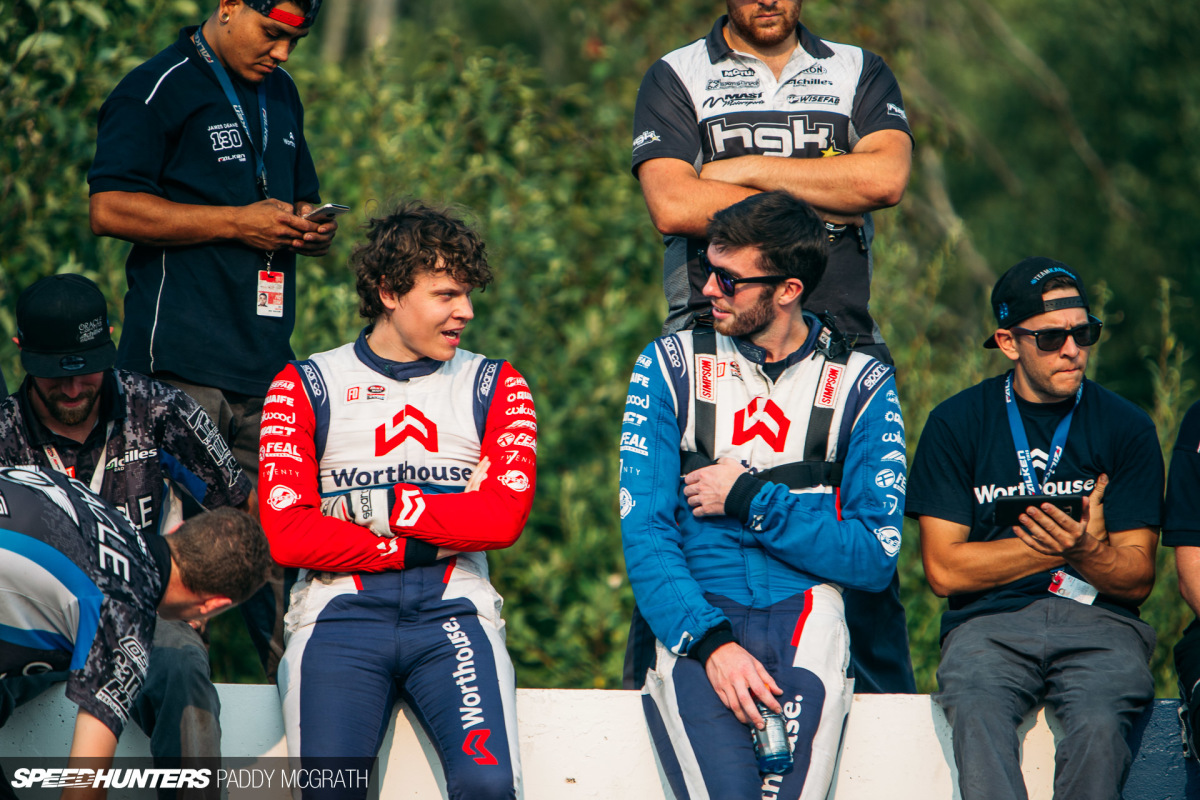 This was both the stuff of dreams, and nightmares. One driver was definitely going through, one was definitely going out, or both cars were ending up in the grandstand.
While I had one eye on the Worthouse cars, the other was firmly on James' main championship rivals: Aasbø and Blušs. Blušs would get eliminated after a OMT with Matt Coffman, while Aasbø would ultimately advance against his team-mate Jhonnattan Castro. One down, one remained.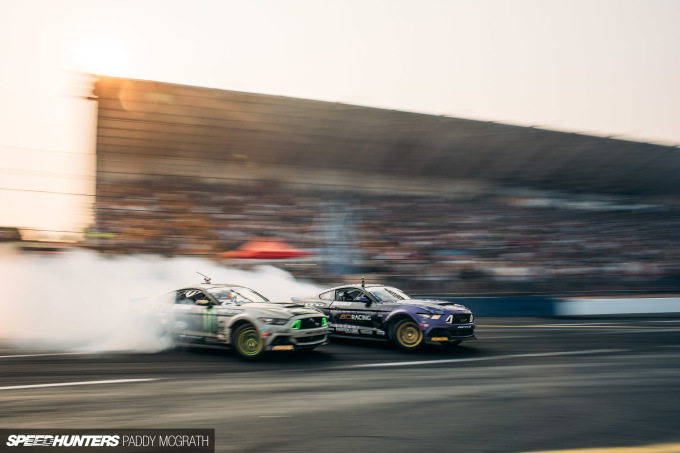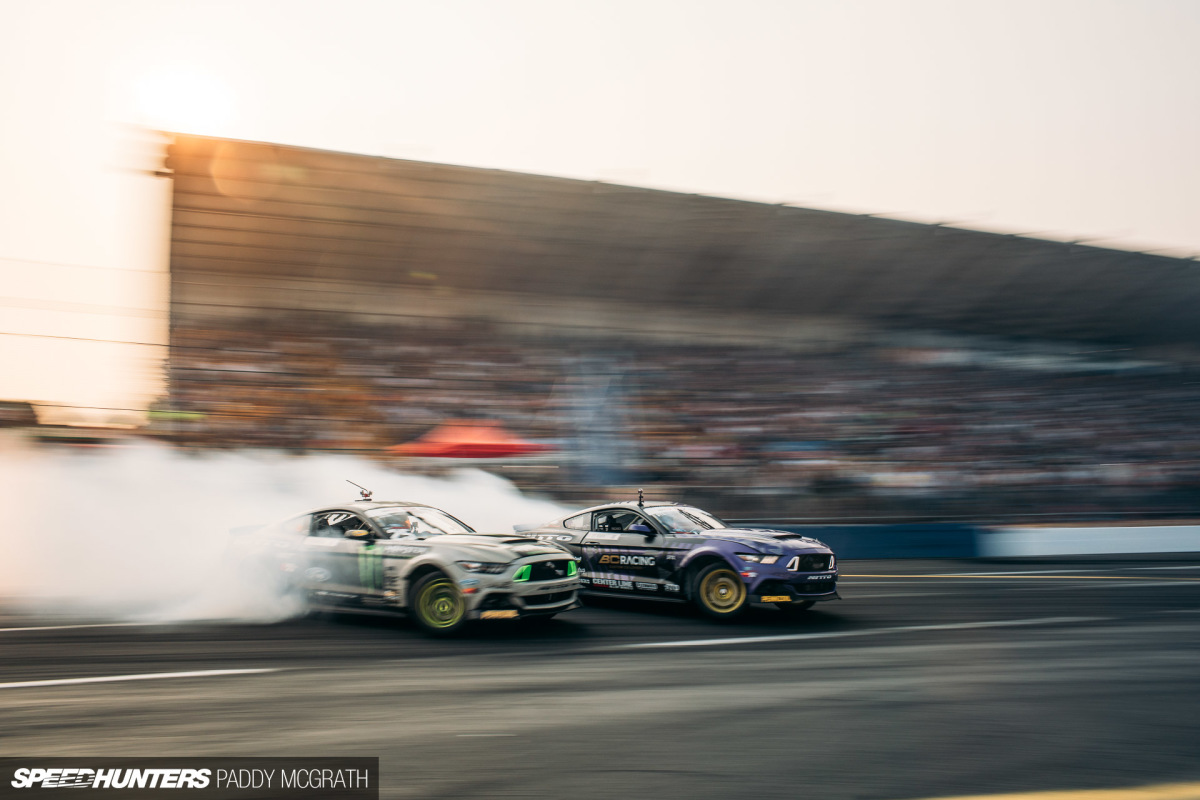 On the subject of inter-team battles, it was a common theme at Round 6. Maybe the best of them was the Mustang bros of Vaughn Gittin Jr. and Chelsea Denofa going up against each other in the Top 16. Stop reading and go find it on YouTube. It was amazing.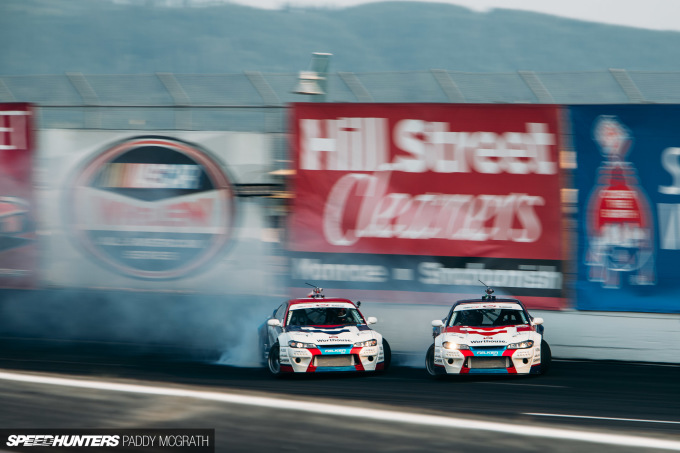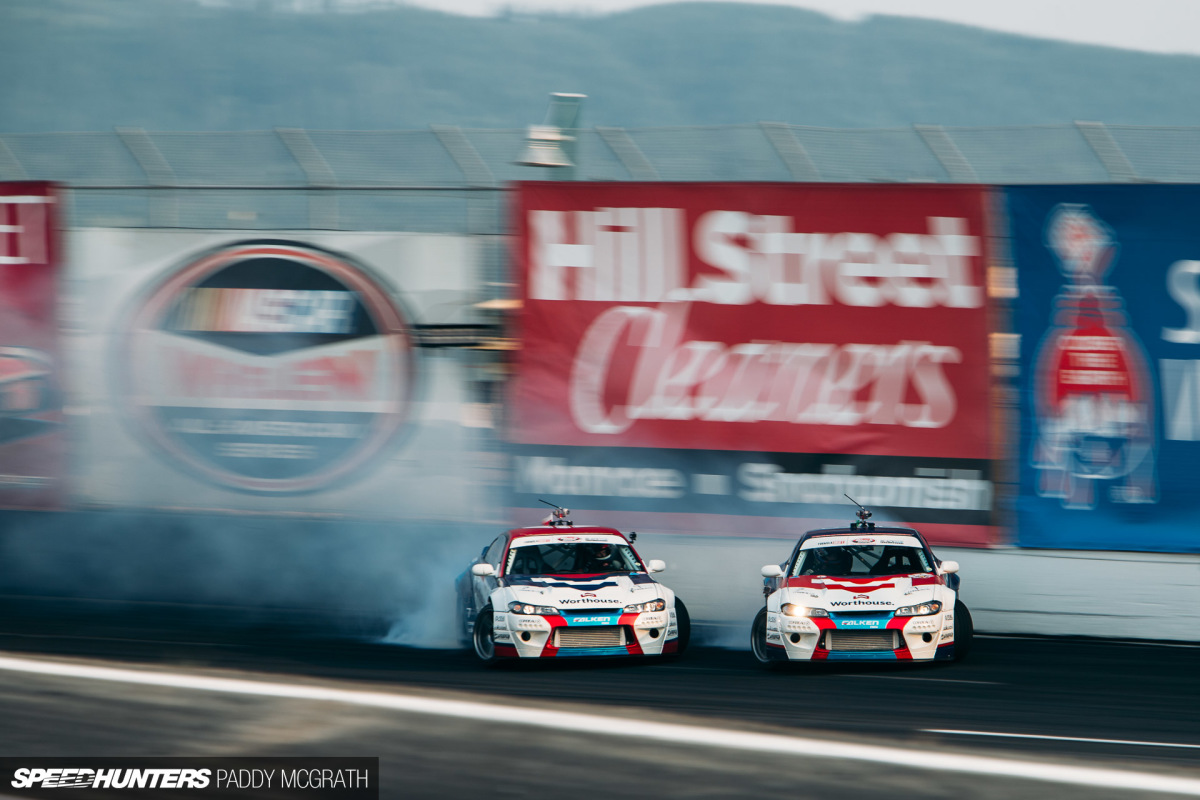 For these two however, it was the battle that a lot of people had been waiting for. James and Piotr have driven against each other so many times over the years that they both know and trust each other to go all out, with no silly games.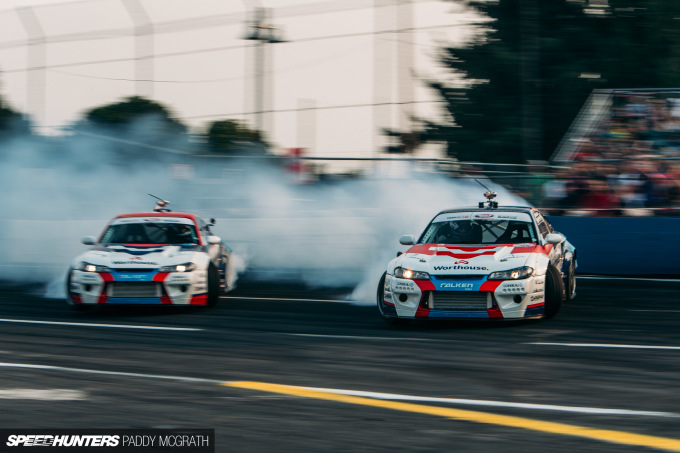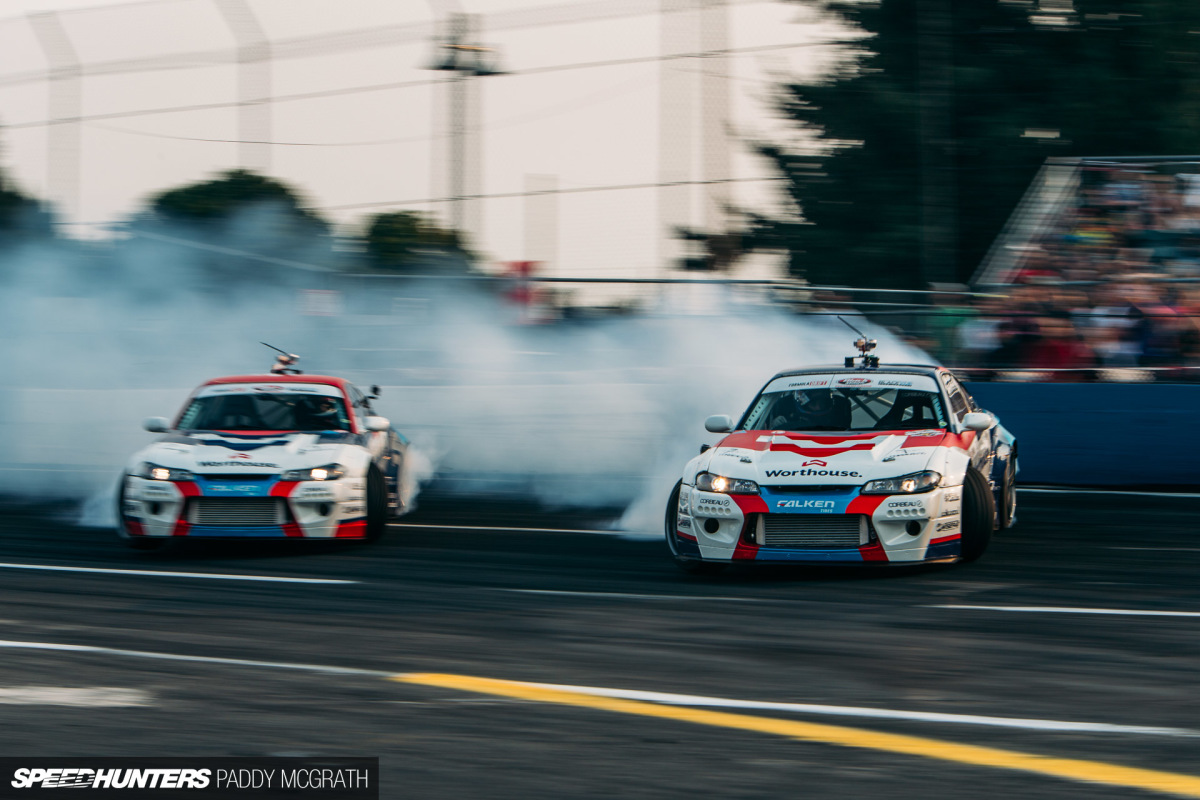 In case you can't tell, James lead them in (blue roof) with Piotr in tow (red roof). It's difficult to make a call from a limited vantage point when trackside, but there was little in it, save for Piotr making a few small corrections behind James. He later told me that the car was getting stuck on full lock.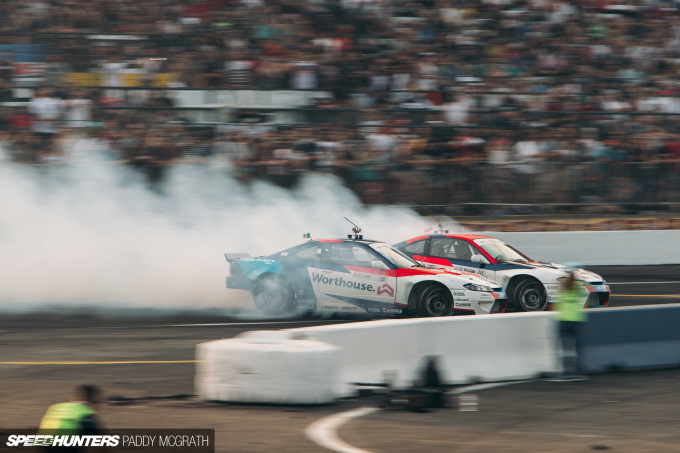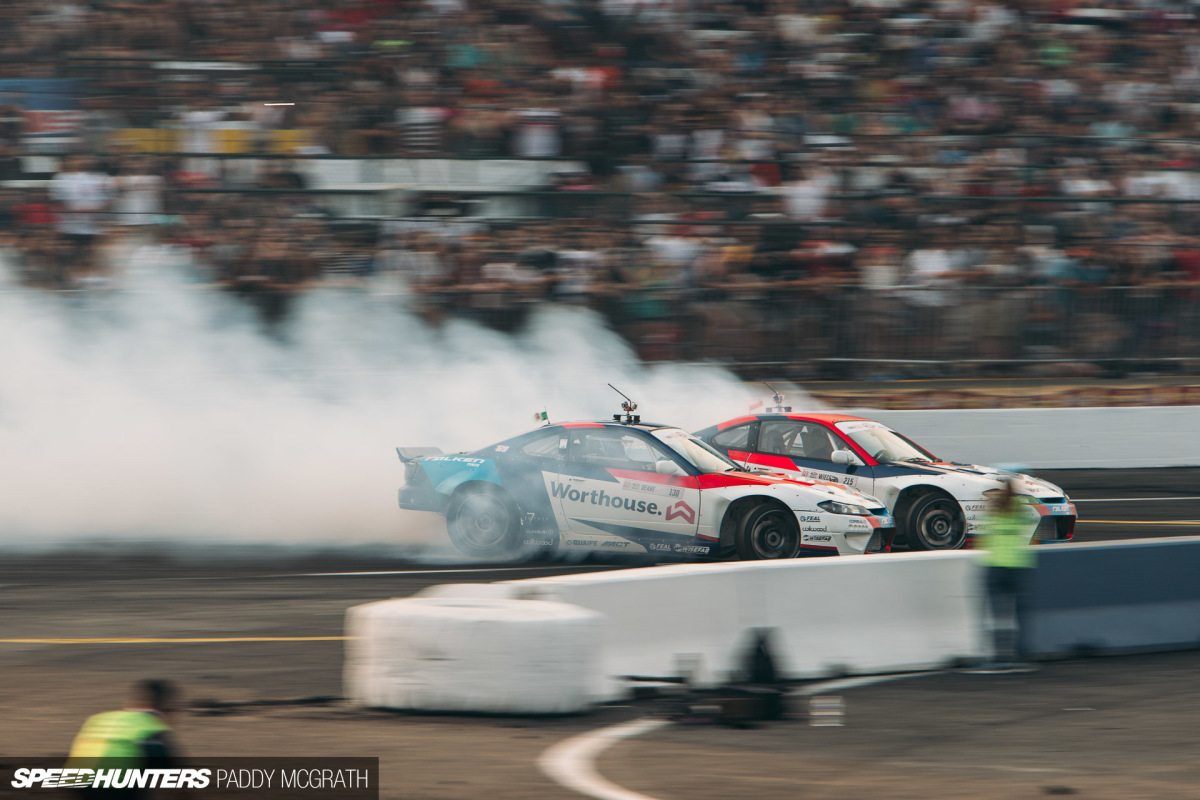 With James in the chase position, he was able to do that little bit more throughout the course which eventually gave him the win and a guaranteed podium spot in the Top 4. Although Piotr was undoubtably disappointed, he immediately got behind his team mate and friend for the rest of the event.
Despite having such limited practice at a new track, this was Piotr's best result so far this season, matching his Top 8 finish in Atlanta but qualifying two places higher. He's now nailed on Rookie of the Year, leading the next rookie by some 116 points with two events to go.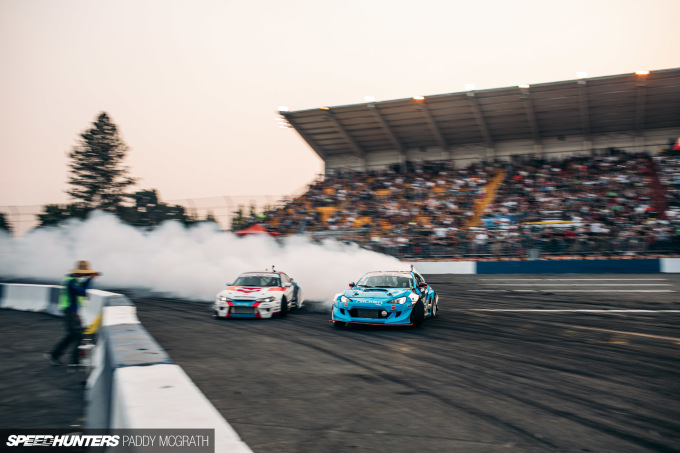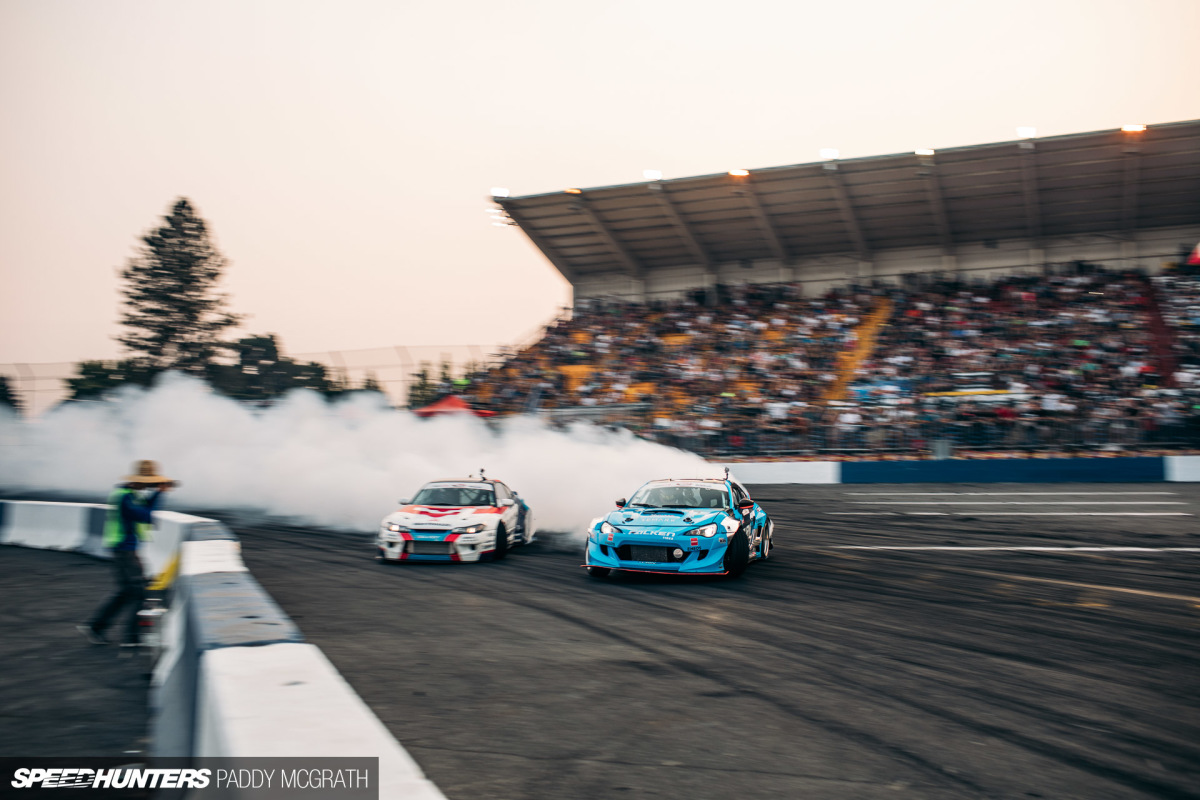 In the Top 4, it would take a lot more for James to get past Falken team mate Dai Yoshihara. It was looking solid for James, until he almost over-rotated coming into OZ2 (the outside wall clip near where this photo was taken). He somehow saved it though, and kept going with minimal loss of speed or proximity, and enough to earn a OMT.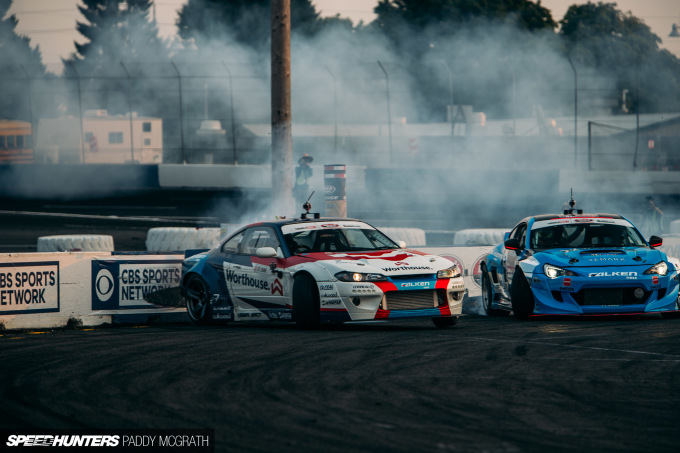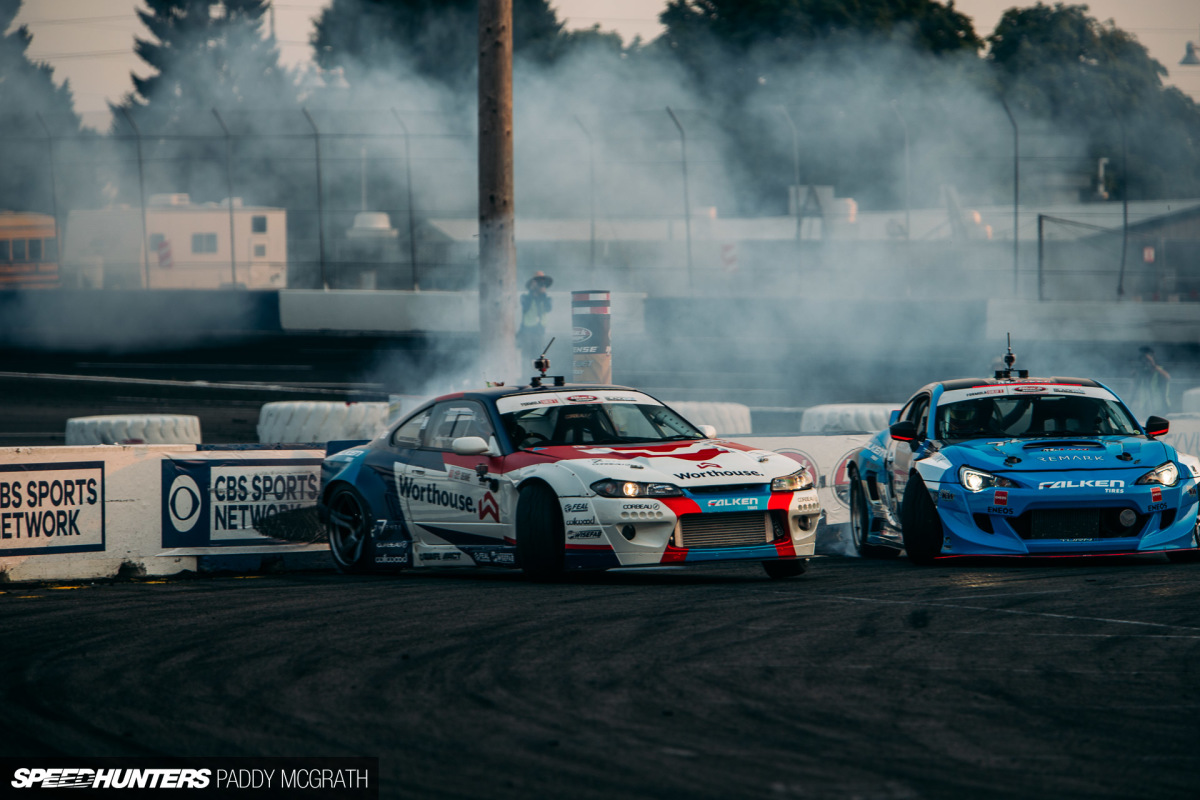 They went again and ultimately the decision would be made by the tiniest differences in their runs. James, in my view, would perform a better lead run, with Dai making the slightest of errors on the final corner at IC2. In the chase, James had a slight correction on the bank but otherwise maintained better proximity throughout the course without the same mistake as Dai at the end. It might not looked enough, but it was enough for another unanimous decision and into the final against Fredric Aasbø.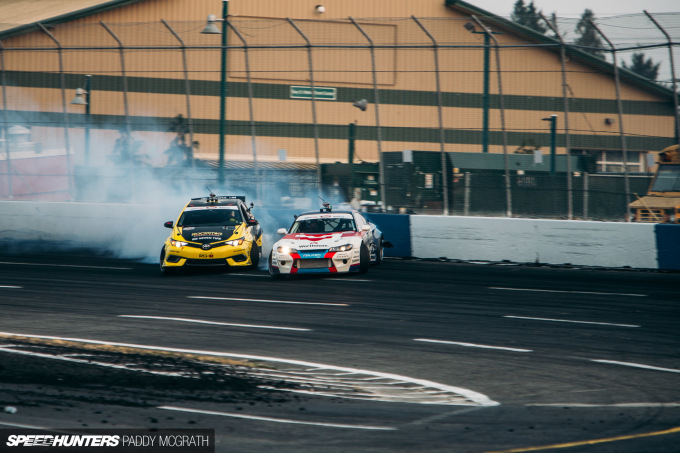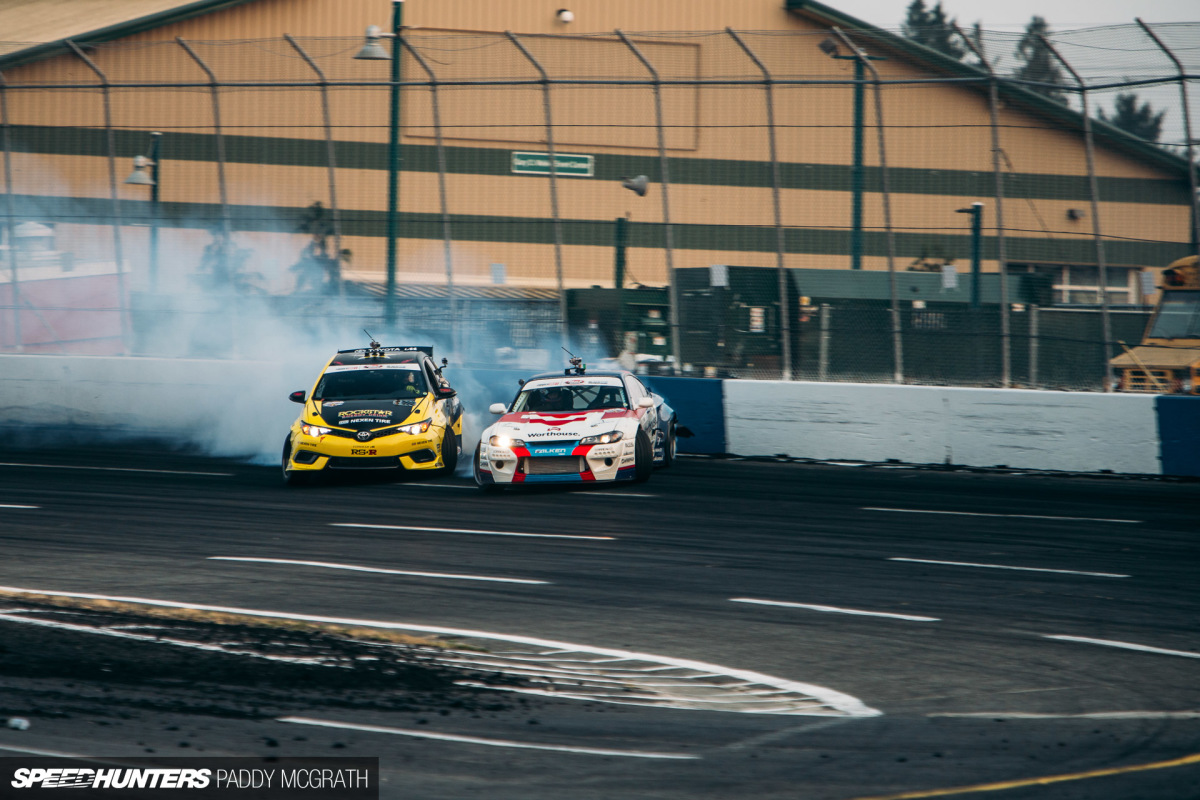 I said going into the event that this round would have a huge influence on the race for the title and I don't think I was wrong. First and second place drivers in the championship battling it out in the final would have huge championship implications. A win for Deane would give him a bit more breathing space at the top; a win for Aasbø would cut Deane's lead to practically nothing with two events to go.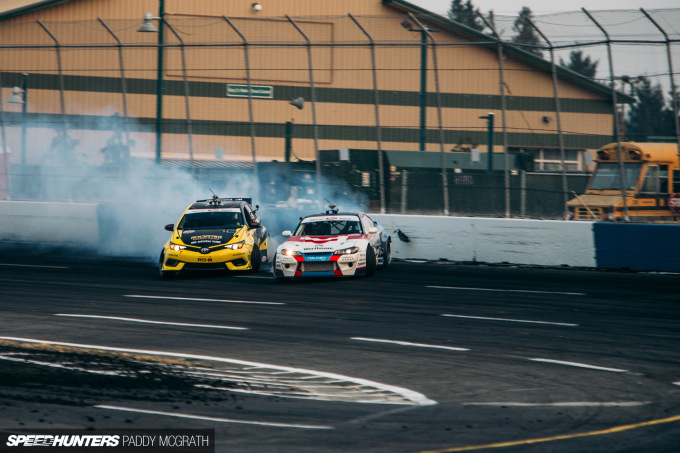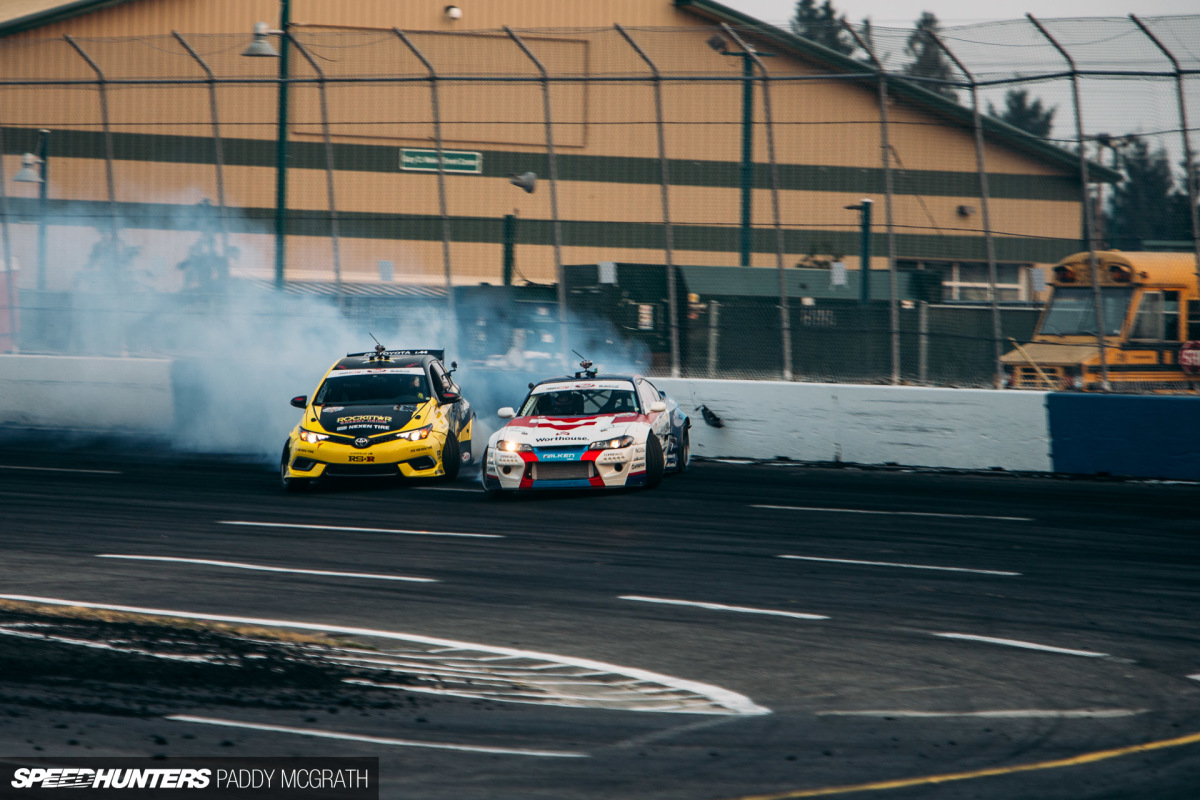 Both drivers were fully aware that this was about more than just an event win. From the off, both gave it there all with Deane removing a taillight in the smoothest and most efficient way possible.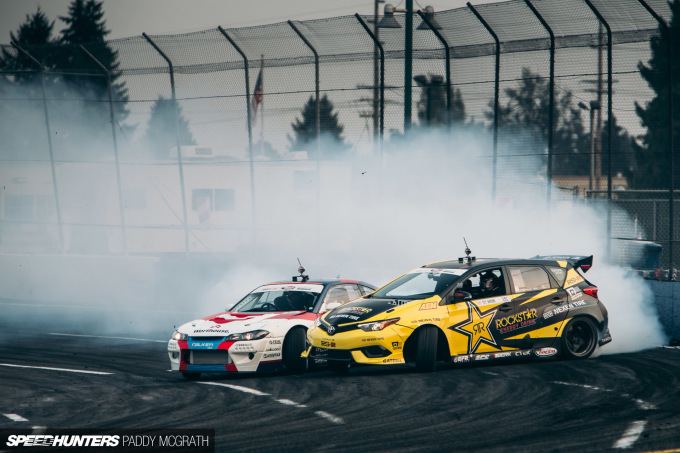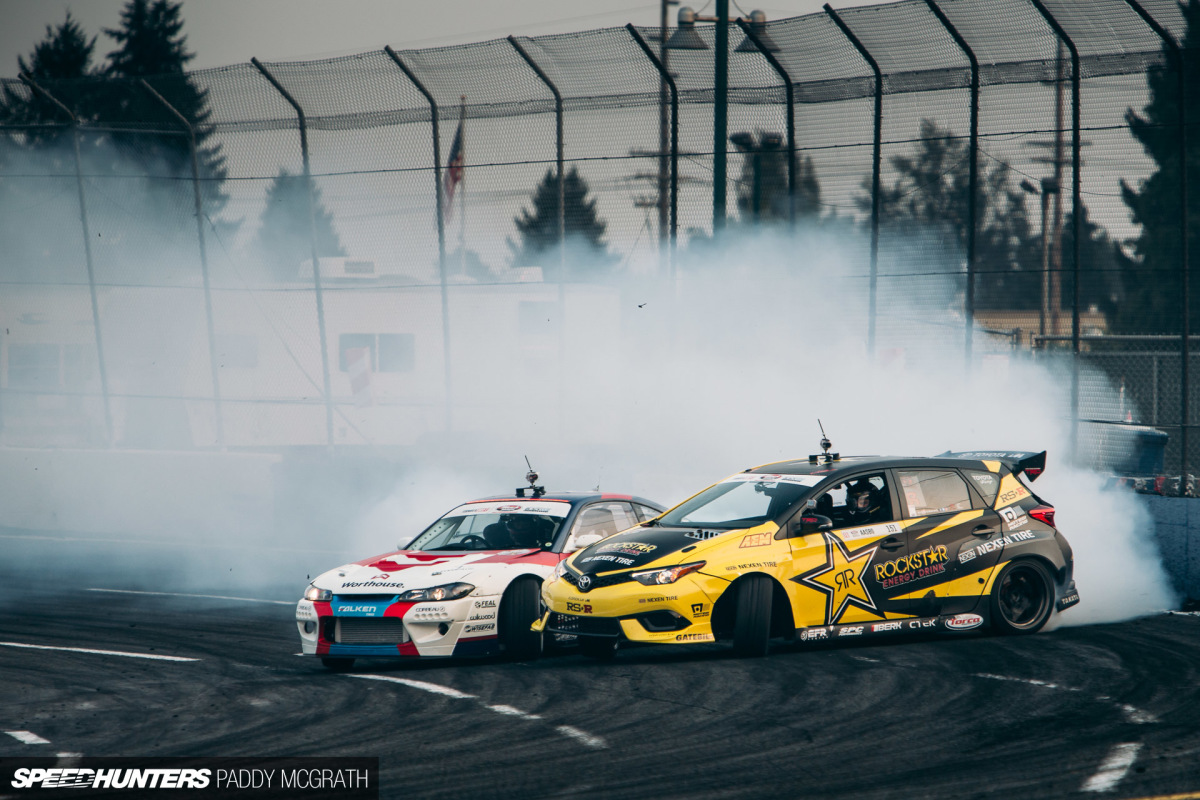 There was nothing in it when lead and chase runs were compared to each other, and the judges were left with no choice but to run them again.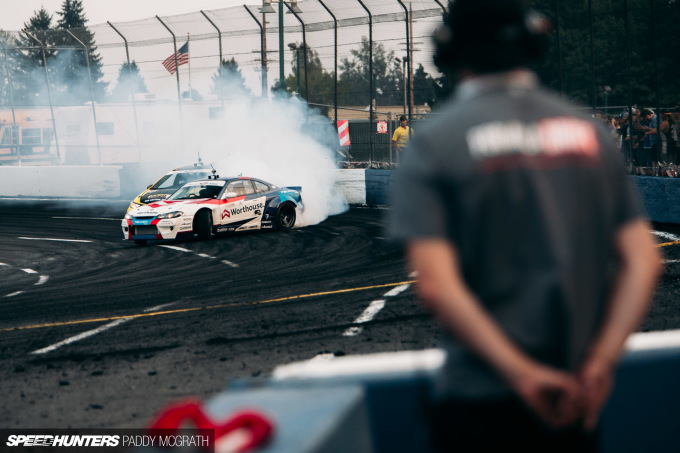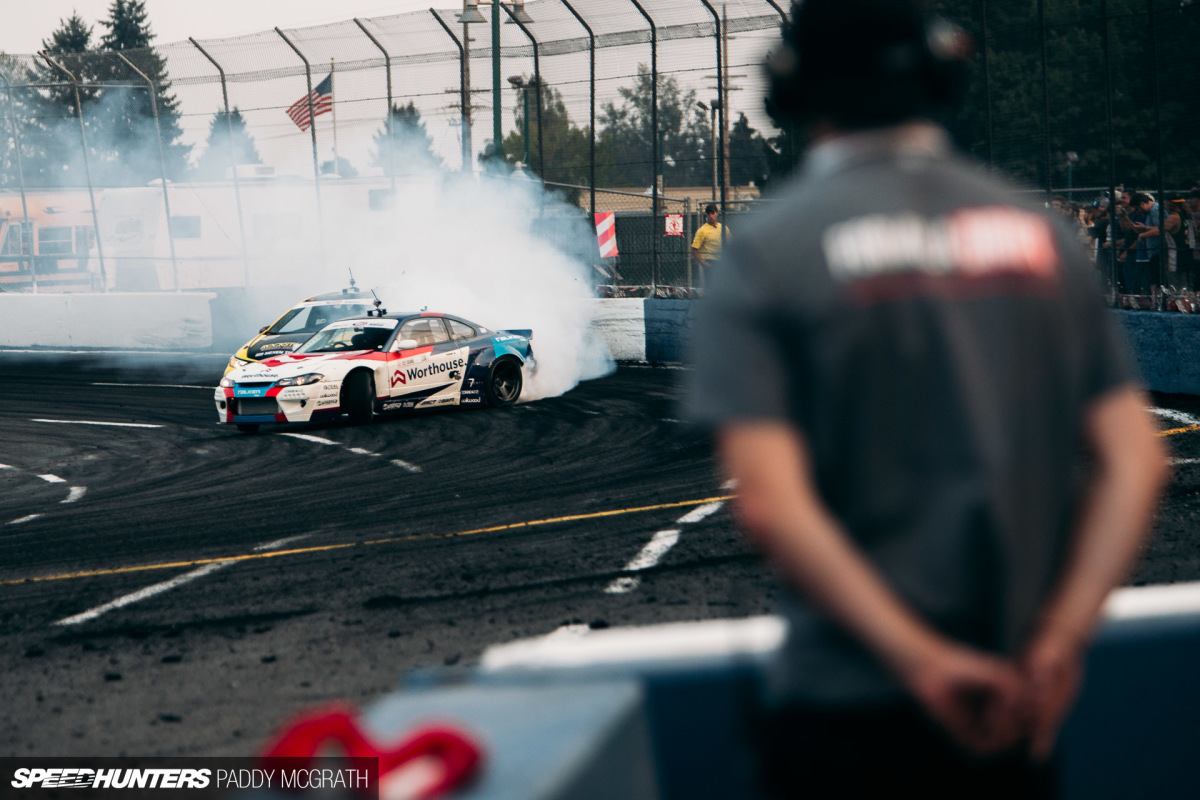 I usually spend a lot of time dissecting footage after an event and try to understand the judges decision, but this time I don't need to. Not that there was some clear defining moment – the eventual result was decided by a split decision of two versus one – however, I'm going to let the judges give their own reasons. First up, James' lead run:
Andy Yen: "On my notes, James won the lead and chase. On the lead, James fulfilled the outer zone one with a better line and angle. Some could argue that Aasbø was faster on the bank, but that's not our focus. The drivers' duty is to run a 100-point lead run, which is to stay nice and high on the bank not lacking in angle."
Ryan Lanteigne: "They were on a OMT already; the first runs were incredibly close and the second set of runs were also very close. At this level of competition, we are analysing very closely and nitpicking every move to find a winner. In my eyes, James did a great job in the lead: high on OZ1, hit the T&G right, good rotation to OZ2 and only tapped IC1, which I didn't see as a major mistake in any way. Aasbø's chase was low in angle on OZ1, he wavered quite a bit and actually held a very low degree of angle in the second half of the zone for longer than I was comfortable with. He maintained good proximity throughout the rest of the track, but I felt he had to compromise too much angle in OZ1 to maintain that proximity later on."
Brian Eggert: "Both drivers initiate around the T-line painted on the course. James runs the top lane around the bank in OZ1, but leaves OZ1 early [starts coming off the bank at the second white/red chevron]. Fredric is right there with about a half car width between them in the beginning and then shallows up his angle slightly to get even closer towards the end of OZ1. James gets out to the T&G and fills OZ2. Fredric is right there with him through both and does a great job at mimicking at the transition between T&G and OZ2. Deane barely bumps the clipping point at IC1 and does great at IC2 finishing wide. Fredric stays planted on James and does another great mimic between IC1 and IC2."
With the drivers swapping roles, Aasbø lead James for the final run of the day:
Andy Yen: "When James was in the chase position, he had better overall proximity [duration of proximity] from start to finish. Some are arguing that Aasbø had amazing proximity on OZ1, but he did have to run less angle to do so and then Aasbø lost some of the proximity after the T&G. I look for consistency and if drivers made an effort to attack the lead car or not."
Ryan Lanteigne: "On Aasbø's lead, he did a good job on OZ1, but wasn't as high as James was all the way through the zone. Aasbø does well on the rest of the track, nothing to complain about there. James was a little further away on initiation, but managed to reel Aasbø in while on the same line and while maintaining the same angle as Aasbø. He then dips down slightly lower for a brief second, and gets back on line for the rest of the track."
"I felt James gave up less to gain and maintain proximity, while Aasbø's angle deficiencies in OZ1 were too serious to overlook. Yes, Aasbø did a great job in the latter part of his chase run, but he had to make a big angle sacrifice on OZ1 for that to happen. James did almost as well from the T&G to the finish, and made very little sacrifice early on to maintain that proximity."
Brian Eggert: "Both drivers initiate around the T-line again. Fredric is slightly lower on the bank in OZ1 than James was on his lead run, but fills OZ1 completely. James starts out with about a 1 car length gap and closes in on Fredric's door by the end of OZ1. Fredric gets out to the T&G and OZ2. James shallows up his angle in OZ2 and doesn't get as deep as Fredric. Fredric does a great job at IC2, IC2, and finished wide. James stays on Fredric and follows the same line. ."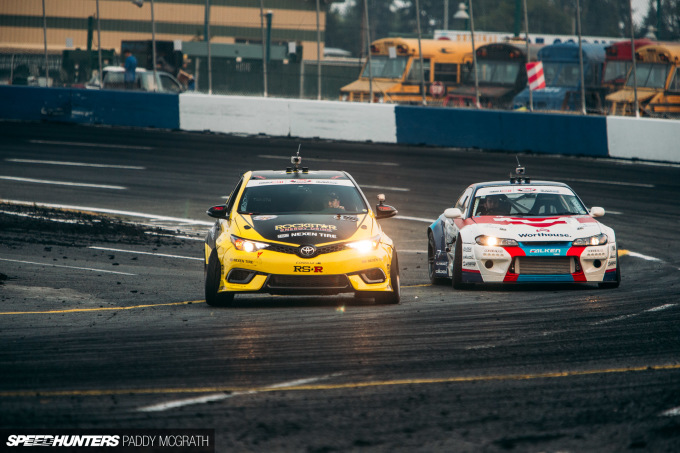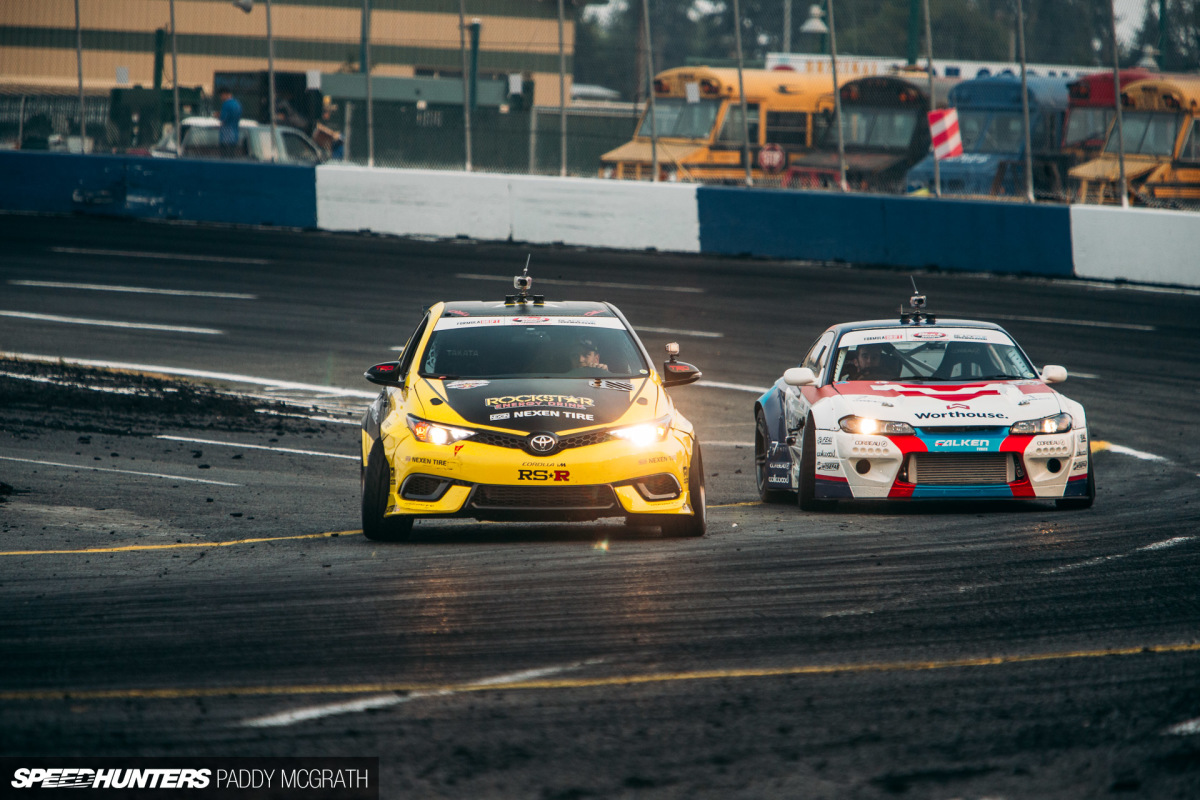 This time, there was a decision, which brought both cars to the finish line in order to announce the result.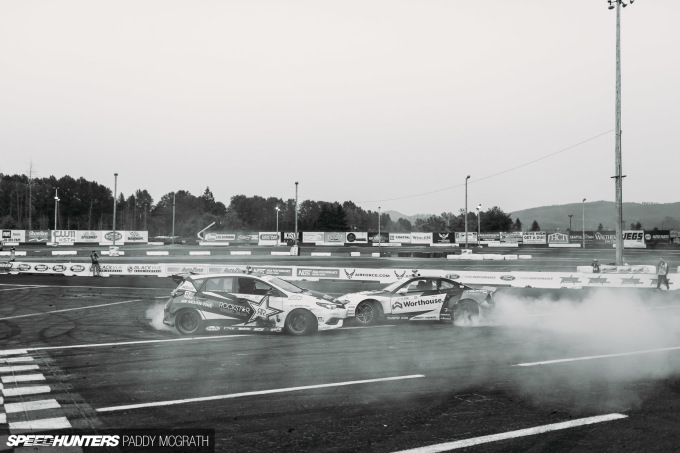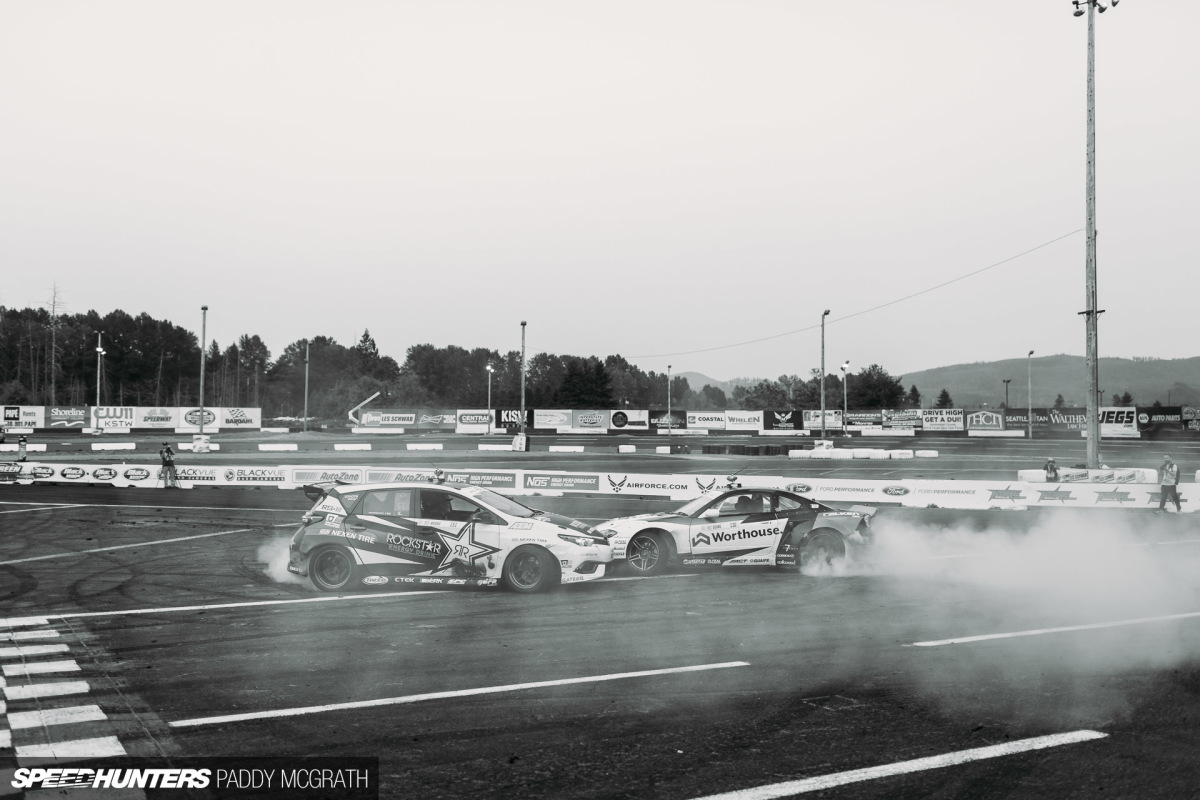 But not before a few celebratory donuts were laid down. Whatever the result, these were the runs that both of these drivers live for: both absolutely flat out and giving it their all, with nothing left in reserve.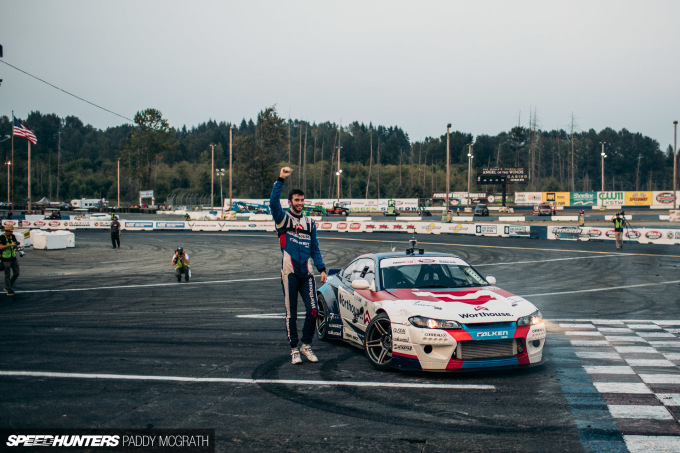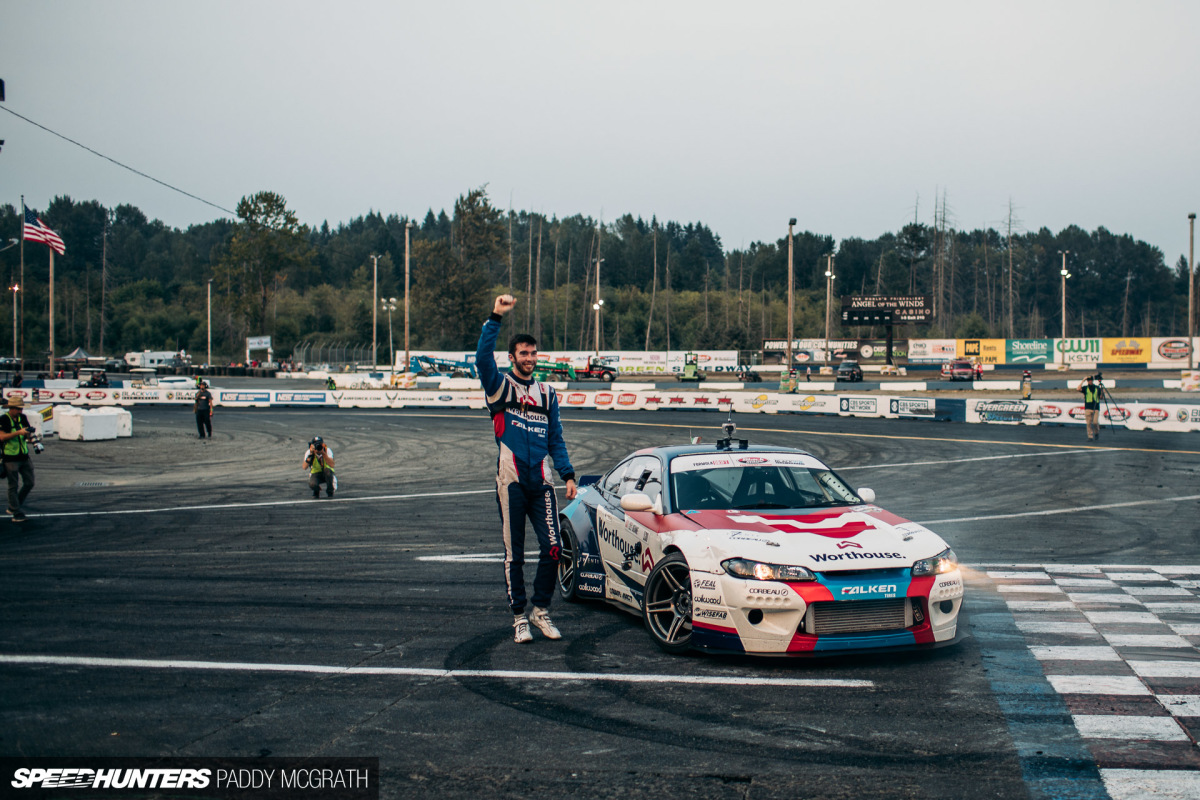 James told me after that if it had gone OMT again, he wasn't sure he would have been physically able to drive the car. He had nothing left to give.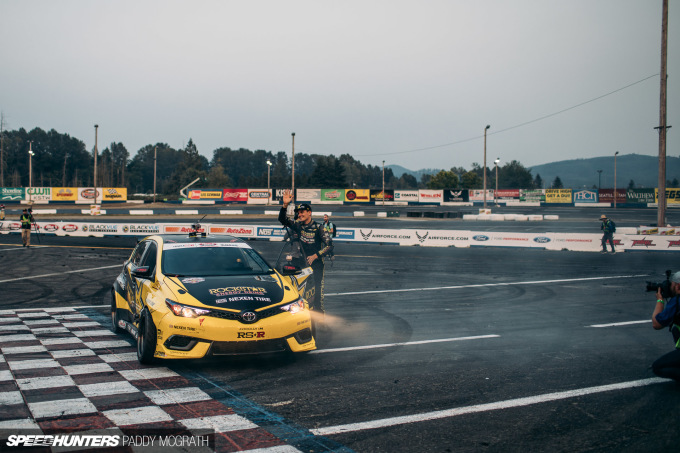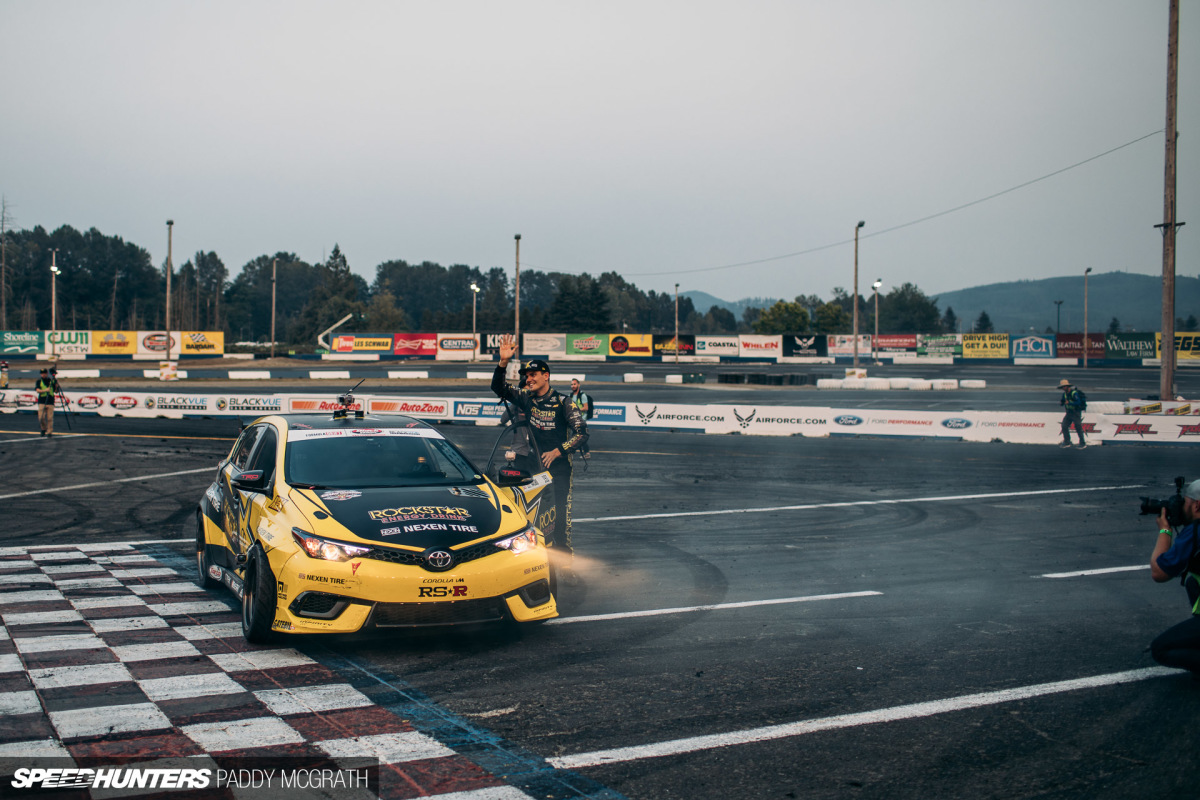 Fredric relayed the same to the guys at Maximum Driftcast. He was living in a permanent state of exhaustion and gave it his all. Both drivers were dead on their feet by the time they got out of their cars.
Two young men at the very top of their game. They shared a genuine embrace, before congratulating each other and telling the other one that they had definitely won.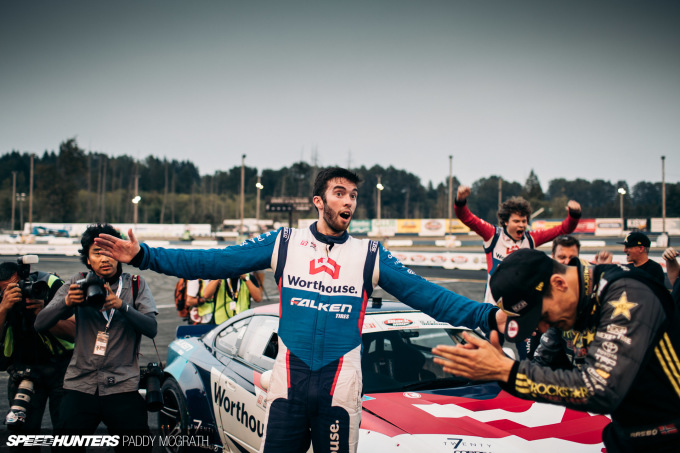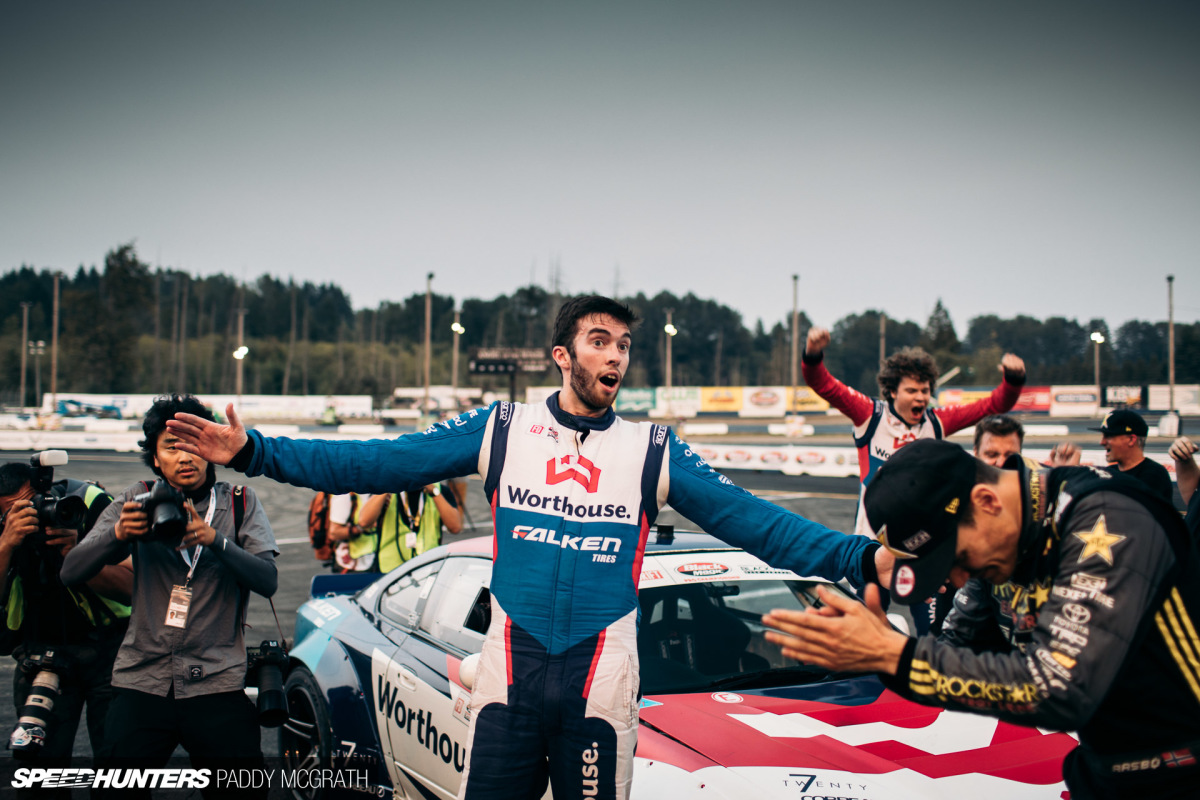 There was, however, only one winner – James Deane.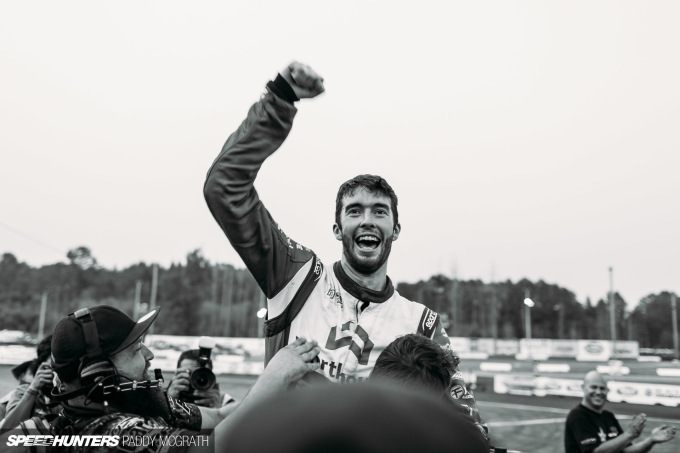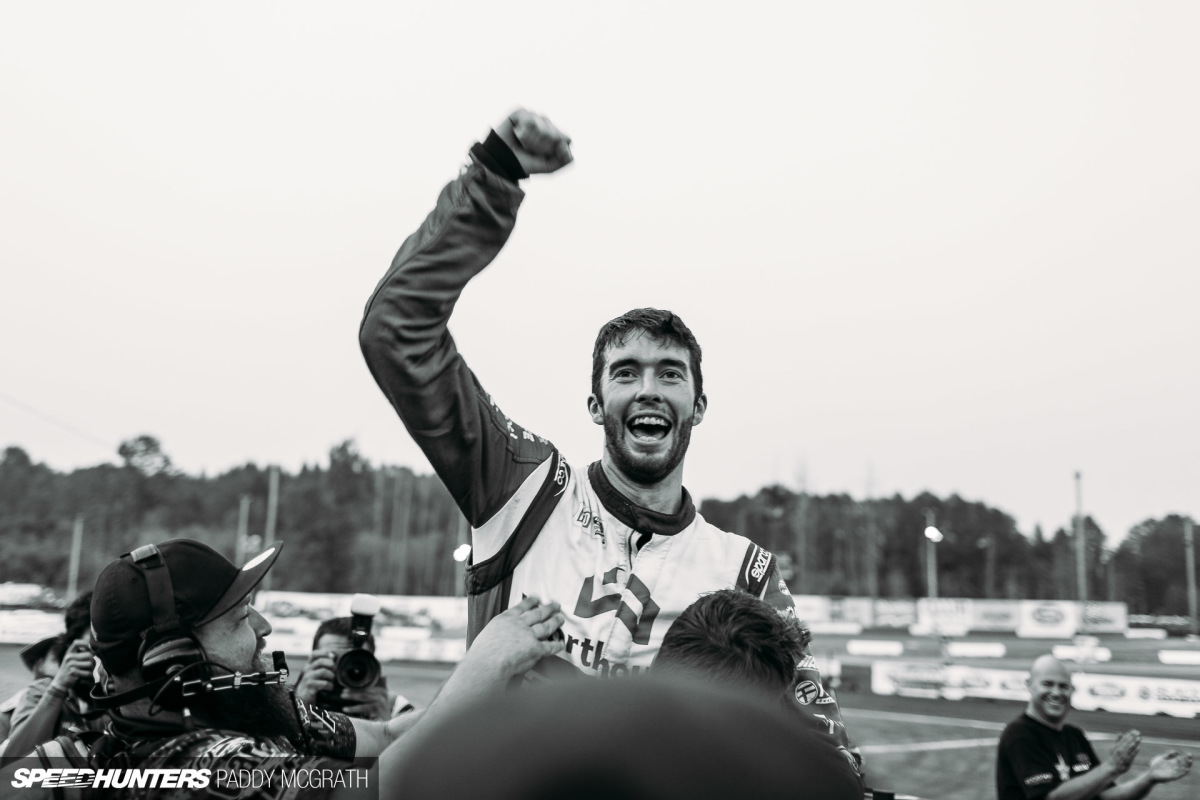 It was a split decision, with Andy and Ryan choosing James and Brian going with Fredric. Brian explains his decision as follows:
"Comparing lead to lead, James ran slightly higher on the bank in OZ1, but left it early, as well as nudged the clip at IC1. Fredric was slightly lower on the bank in OZ1, but filled OZ1 completely. I saw this as a draw."
"Comparing chase to chase, Fredric immediately lands on James' door and continues that way around OZ1 (at the expense of angle for last quarter of OZ1), and does a great job at timing the mimics for the transitions between T&G/OZ2 and IC1/IC2. James matches angle, but it takes him half the bank to land on Fredric's door and then doesn't fill OZ2 as deep as Fredric in chase. Fredric gets a slight advantage in chase. Comparing the two, the lead runs evened out, so since Fredric had a slight advantage in chase, I chose Fredric."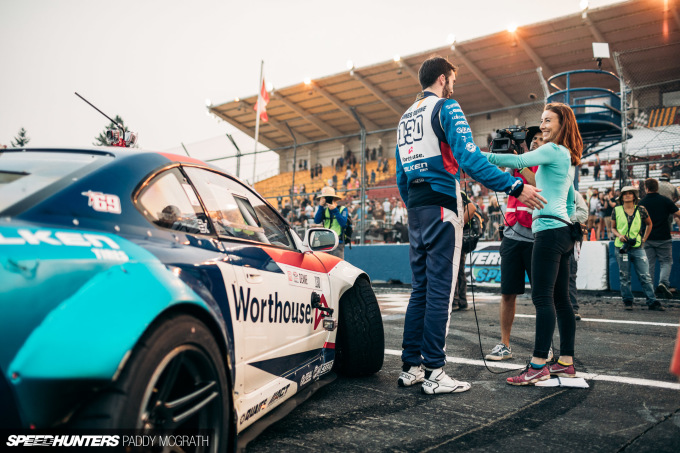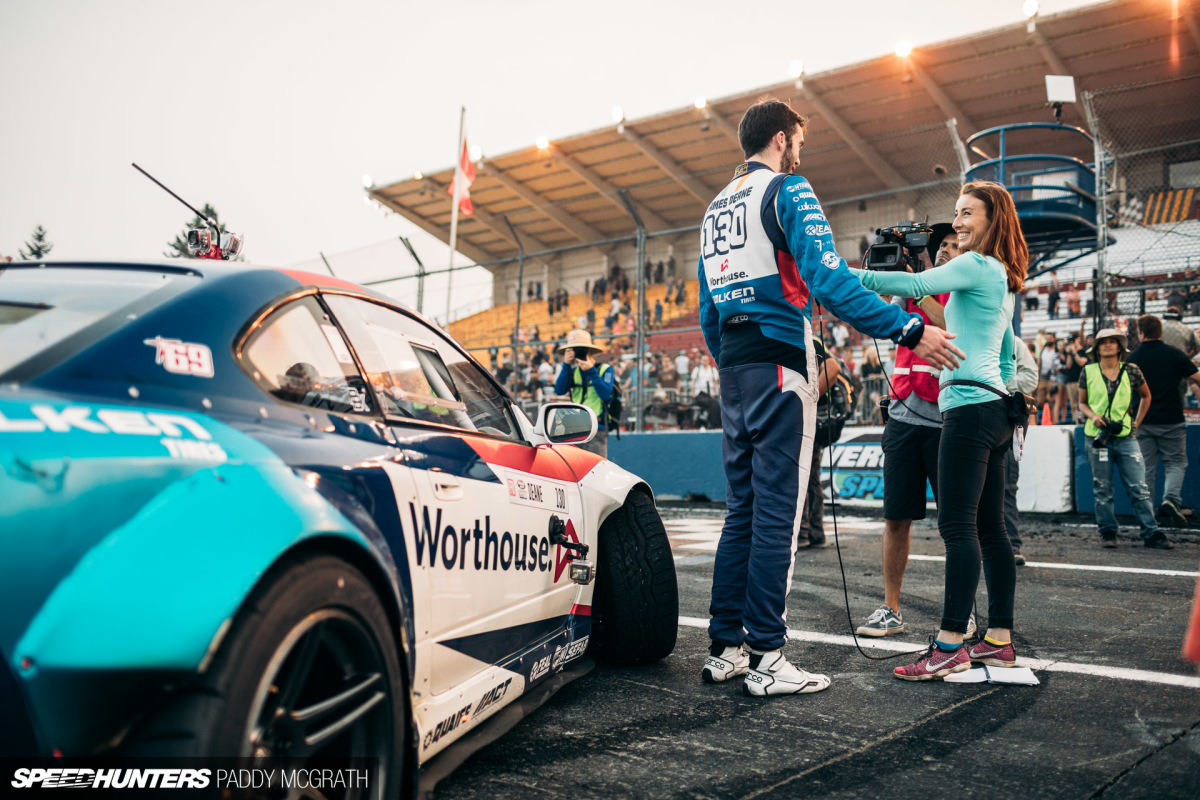 It shows just how little can separate two drivers after constant scrutiny from the men who laid down the criteria. The slightest of slight errors can push a result one way or the other. On this day, it was James' victory.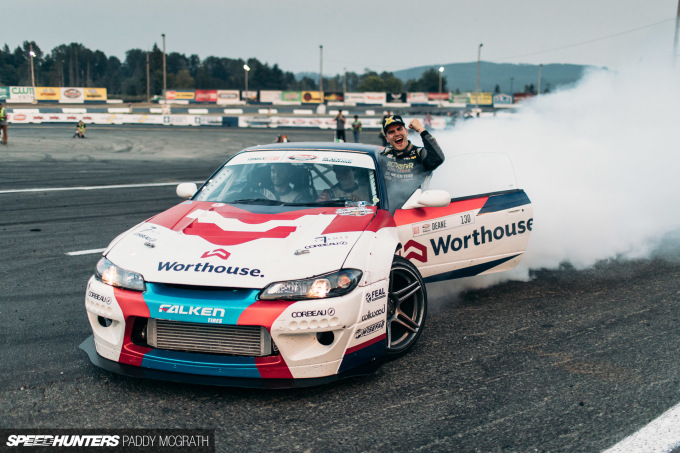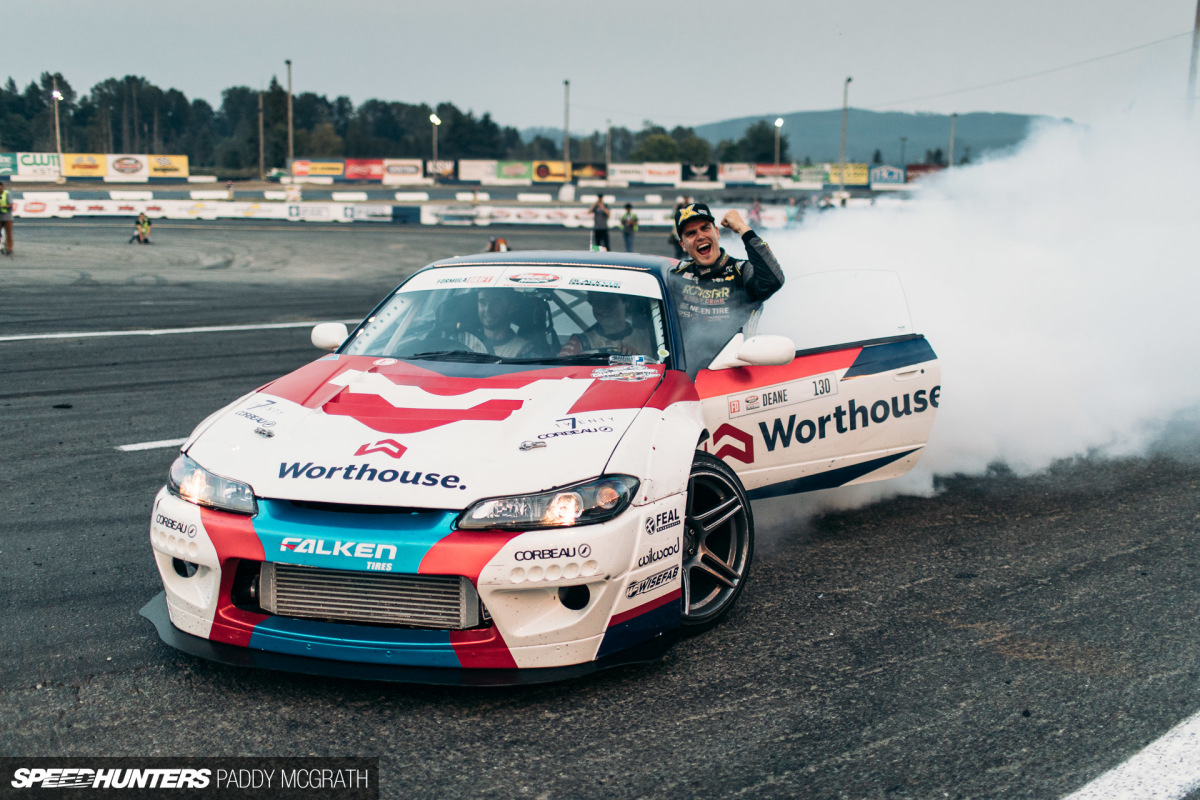 Fredric took the defeat like a true champion, heartily congratulating and celebrating with James. Never for even a moment did he show anything but a smile on his face. When his own car wouldn't start, he hijacked a ride back to the podium. It was no Mansell and Senna ride-a-long moment, but for us, it was damn close.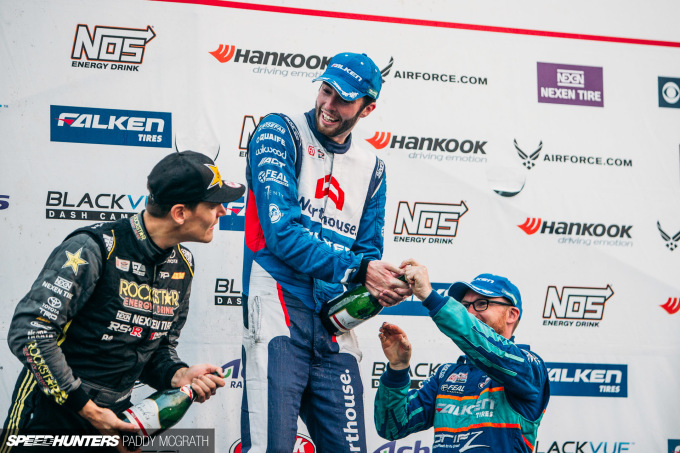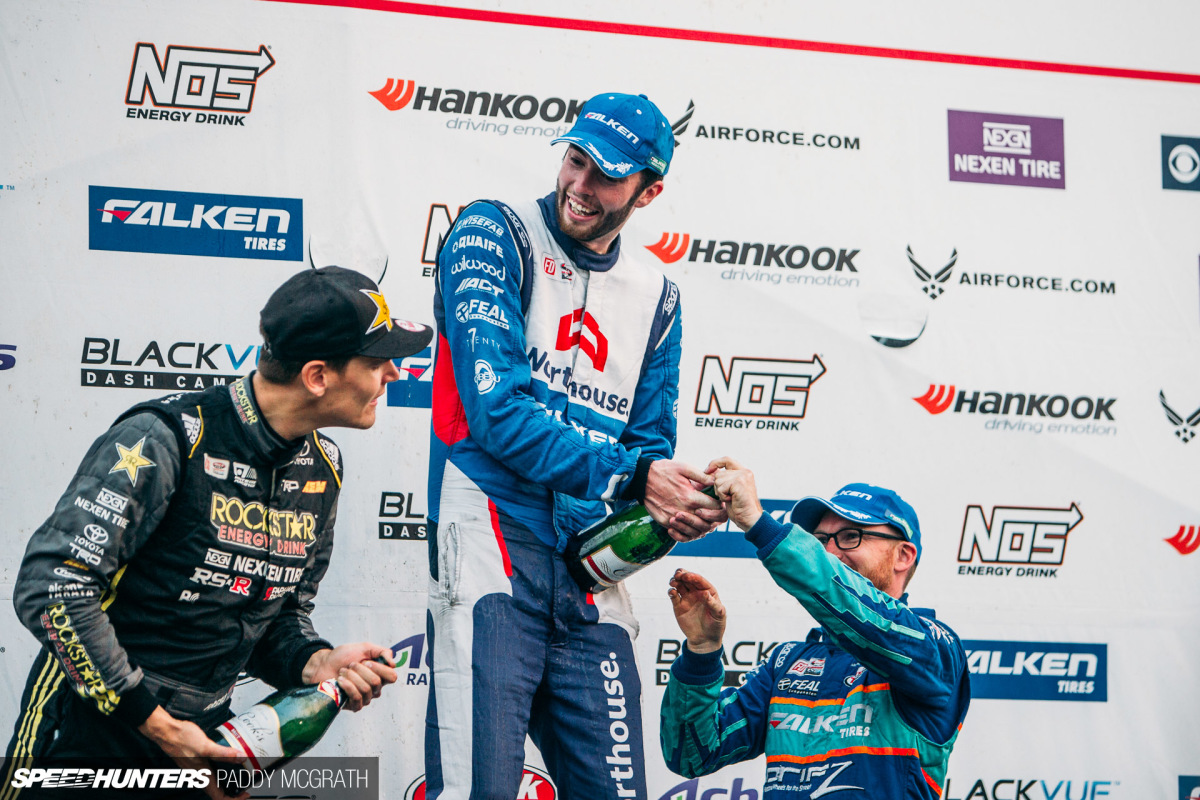 This was a huge victory for James Deane, one which puts him 57 points clear at the top of the standings. It's no guarantee of anything except that he will still be top when the FD circus arrives in Texas in less than a month, but it's his third win in six events, in what was always intended as a recce year.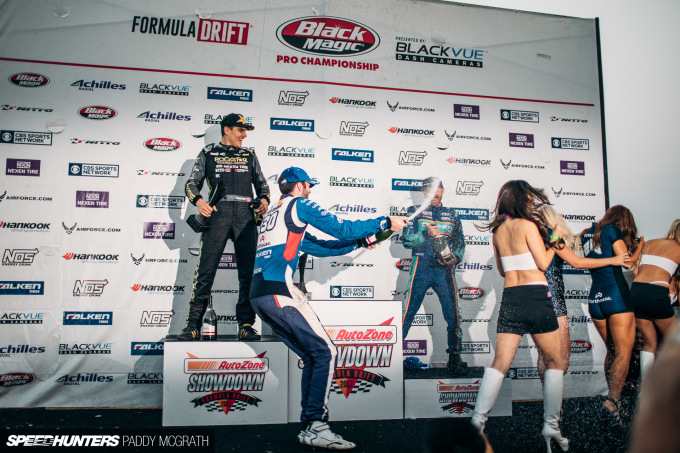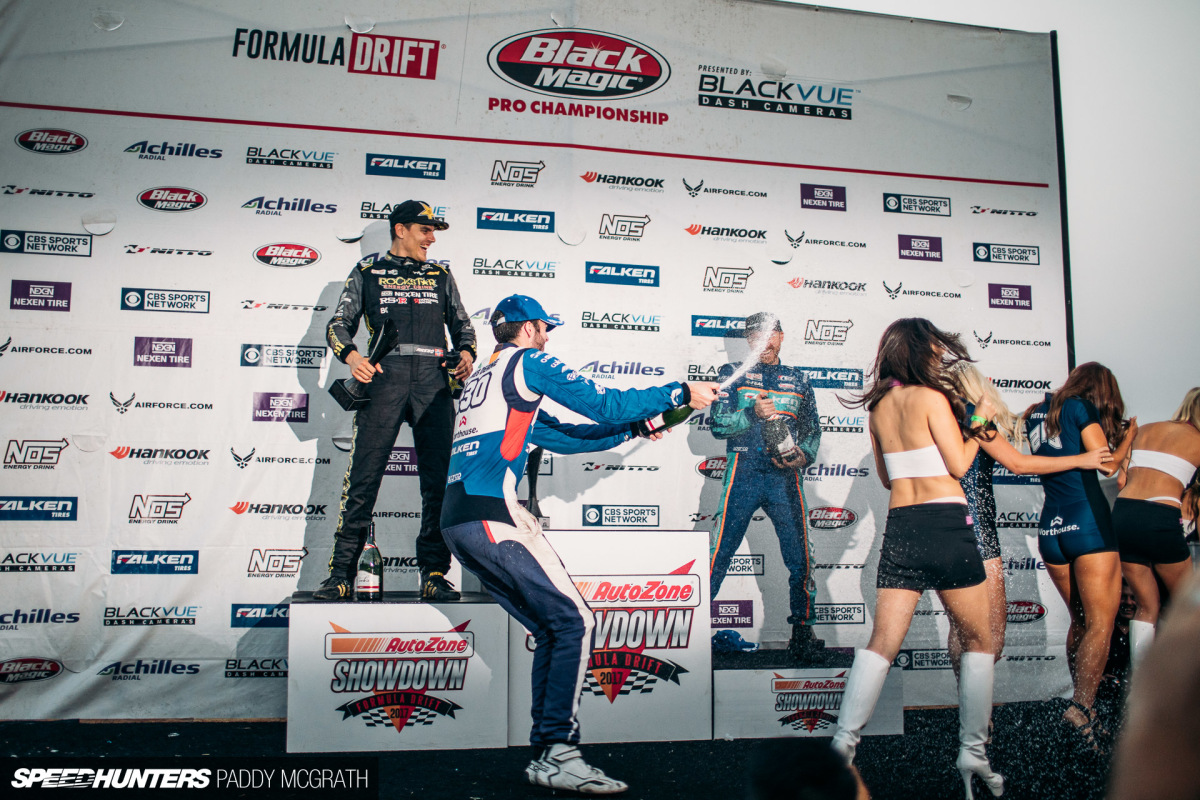 He shouldn't be fighting for the title in his first full season, but he is. While he has never once mentioned the title chase to me – he takes every round as session by session and battle by battle –  it will surely be in his mind that it's getting closer and closer to becoming a reality.
There's still an awful lot that could be won or lost in the next two rounds, however. It's far from over.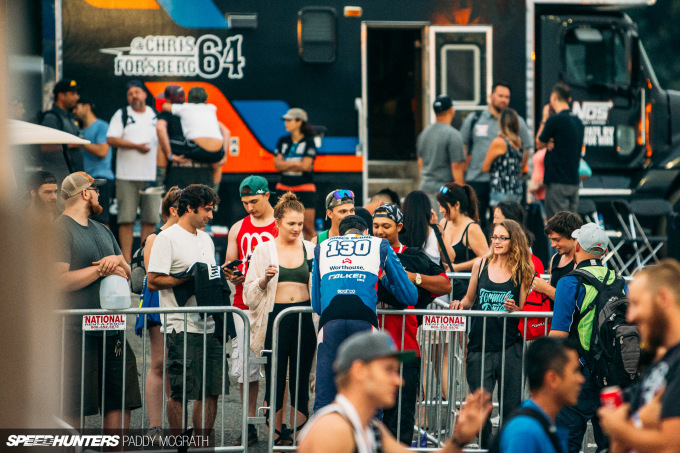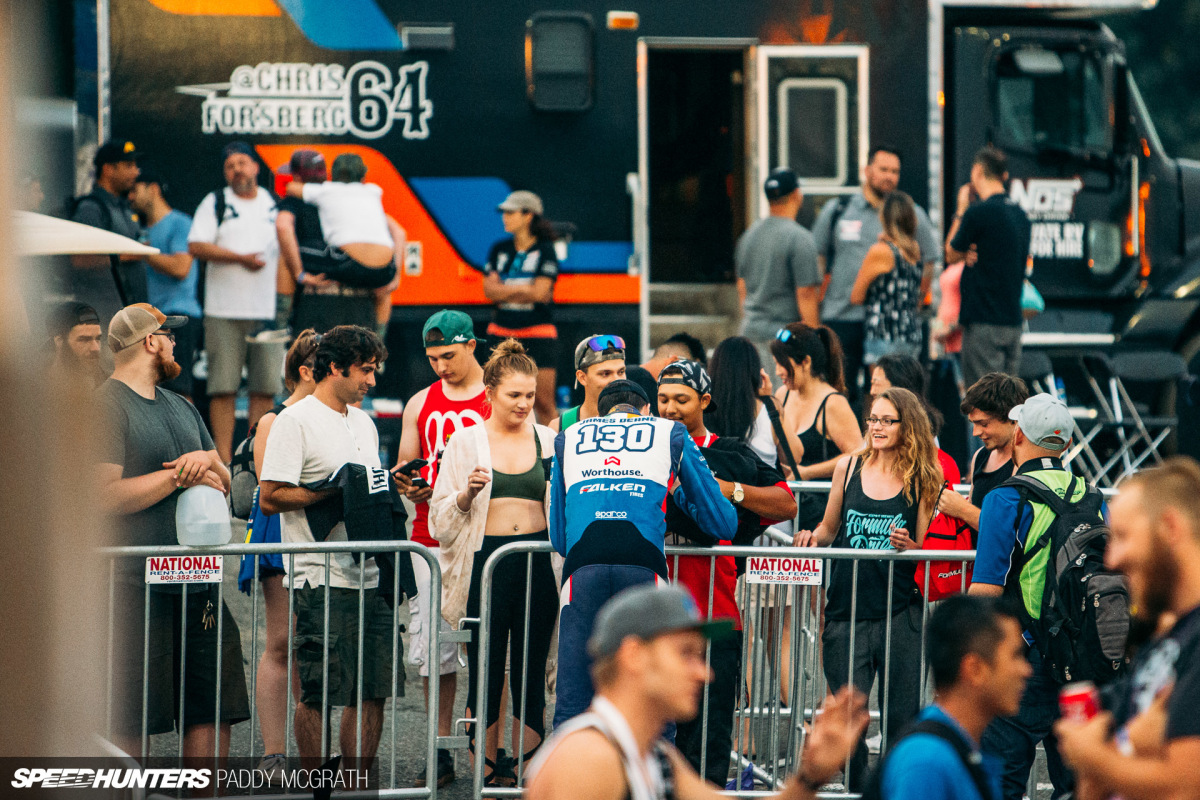 With the podium celebrations out of the way, most drivers returned to their teams and trailers to begin break down and preparation for the next event. Not James.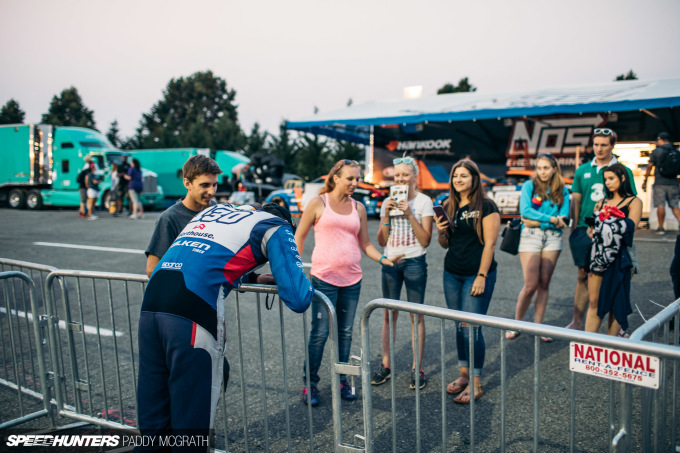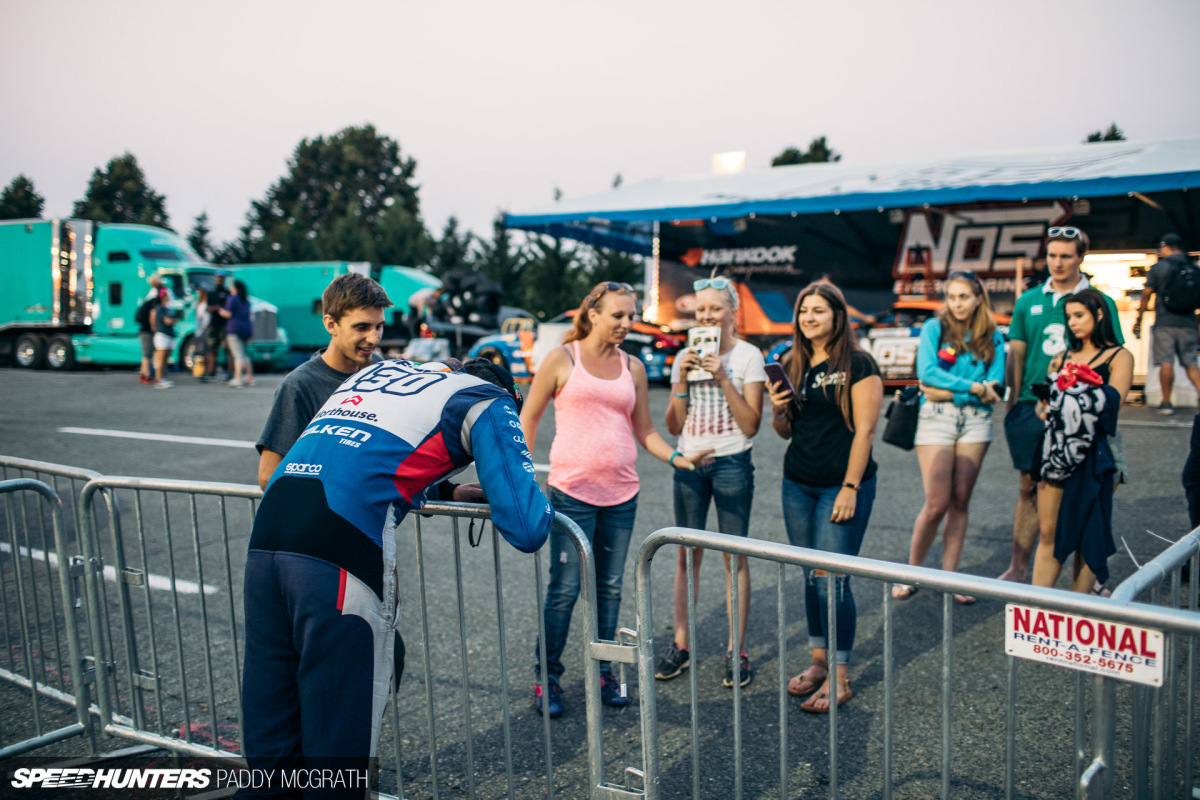 He stayed for an autograph, selfie, chat or just a good old handshake with every single fan that waited after the event. I've had people unfamiliar with James say to me in Ireland that they hope the success doesn't go to his head.
It won't, he'll always be James Deane.
Paddy McGrath
Instagram: pmcgphotos
Twitter: pmcgphotos
paddy@speedhunters.com
Cutting Room Floor