Unexpected
It wasn't the ideal car to start with.
After it made its way across the oceans of the world, from Japan to Ireland, the Blue Mica Lancer Evolution IX Wagon never stood a chance. Rare anywhere outside of Japan, just 2,500 examples were produced, the CT9W survived a couple of months in its basic trim before it was tore to pieces and built back up into its ultimate evolution.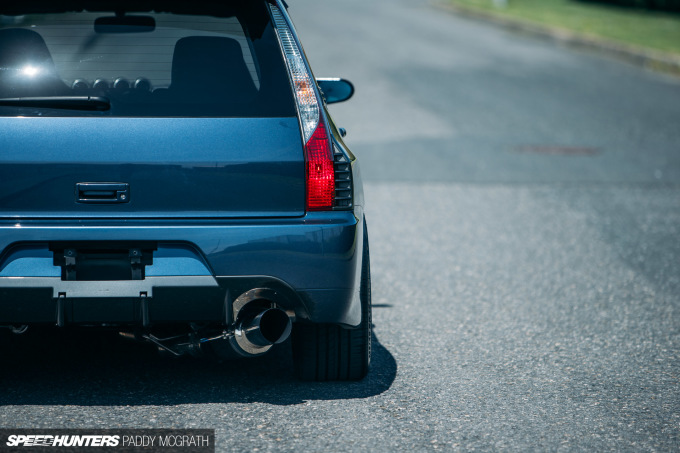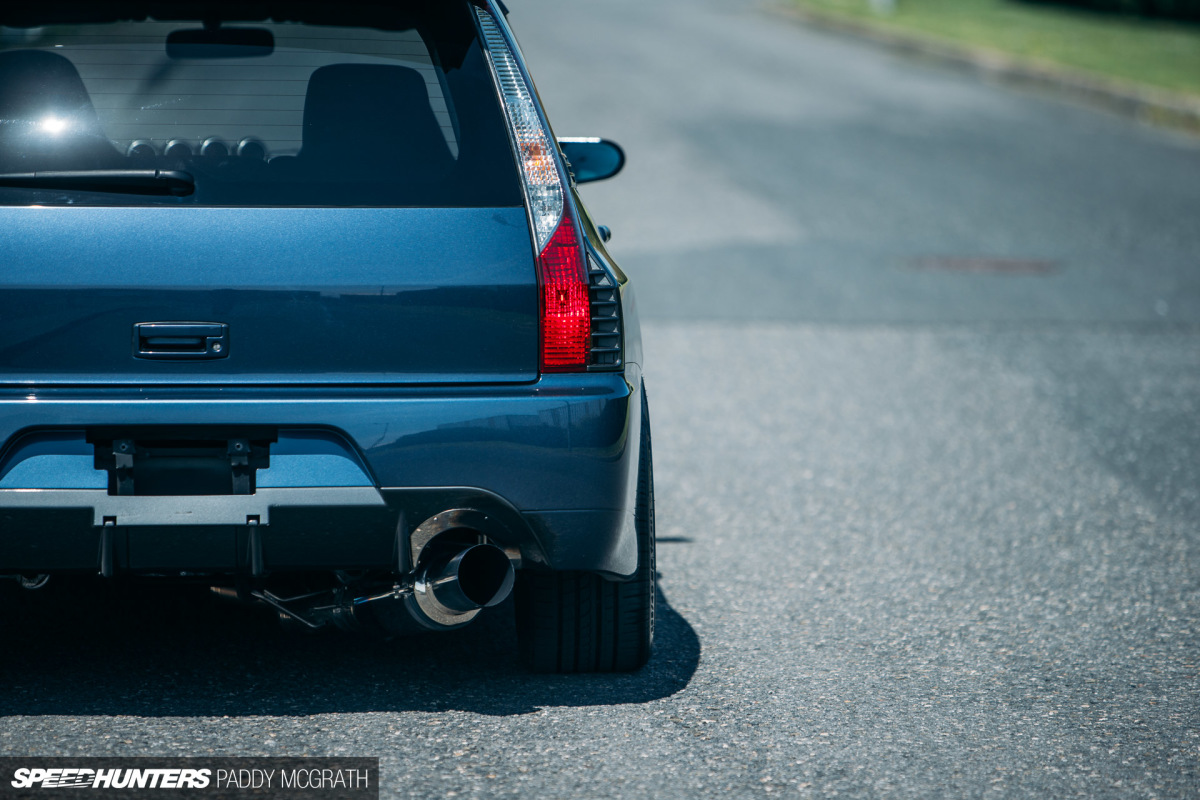 Originally, the car was a 5-speed automatic GT-A version which also meant that it was fitted with a non-MIVEC Evolution VII engine and equipped with a smaller turbocharger for better low RPM performance. It was the presence of the automatic gearbox which was the instigator for the change that would come.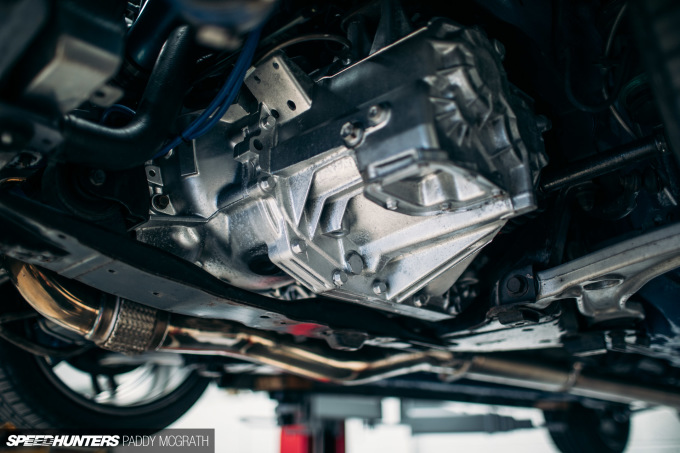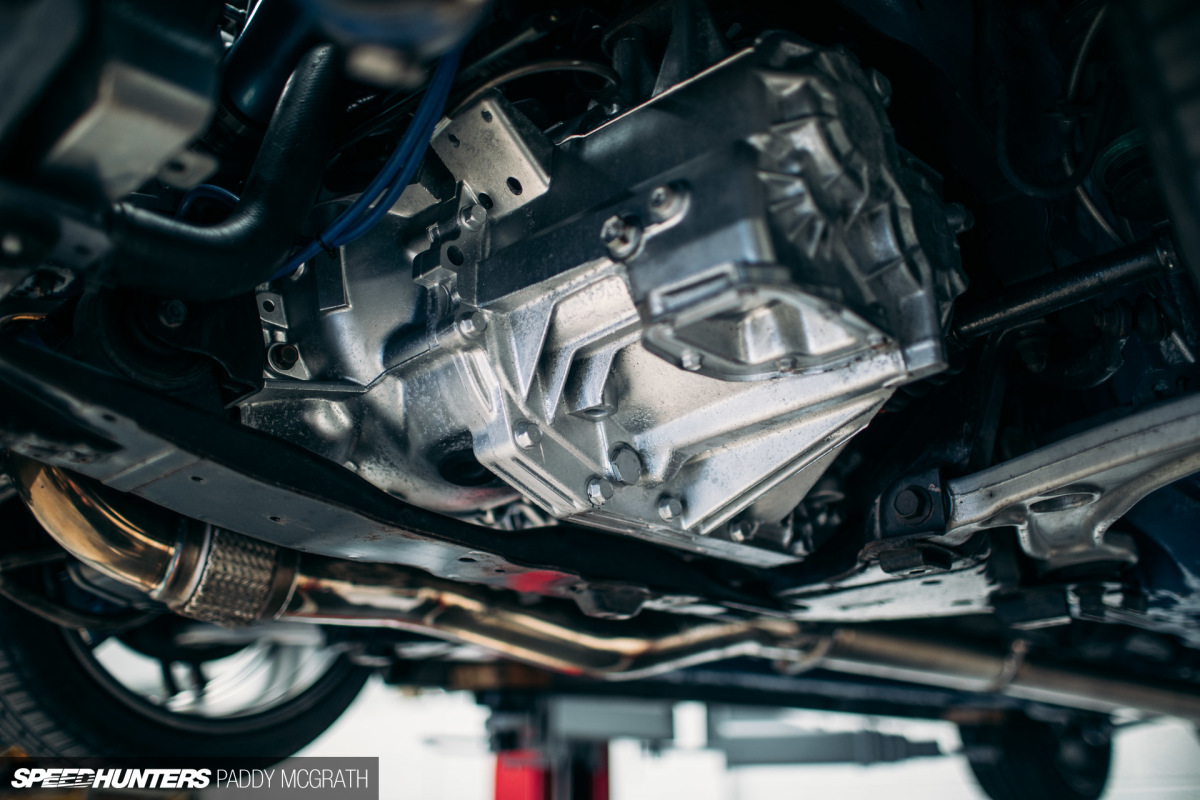 The Evolution VII GSR 5-speed transmission swap, complete with an ATS/Carbonetics Twin Carbon clutch, should have been the beginning and end of the work required, but as we all know, these things have a habit of getting out of control. With the gearbox out, so came the engine too. Before long, the whole car was stripped to practically a bare shell and the real work began.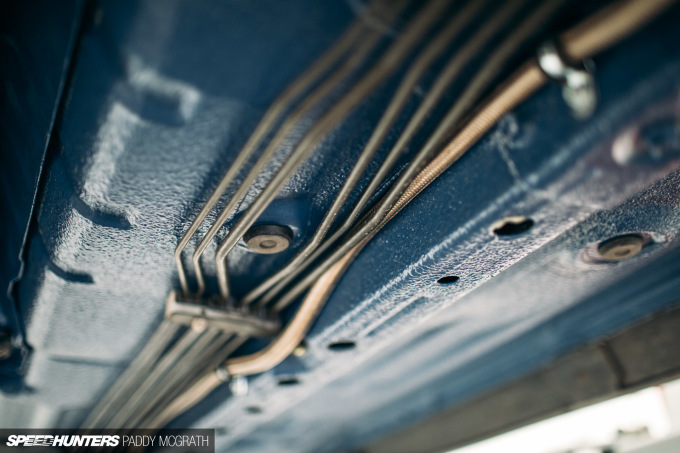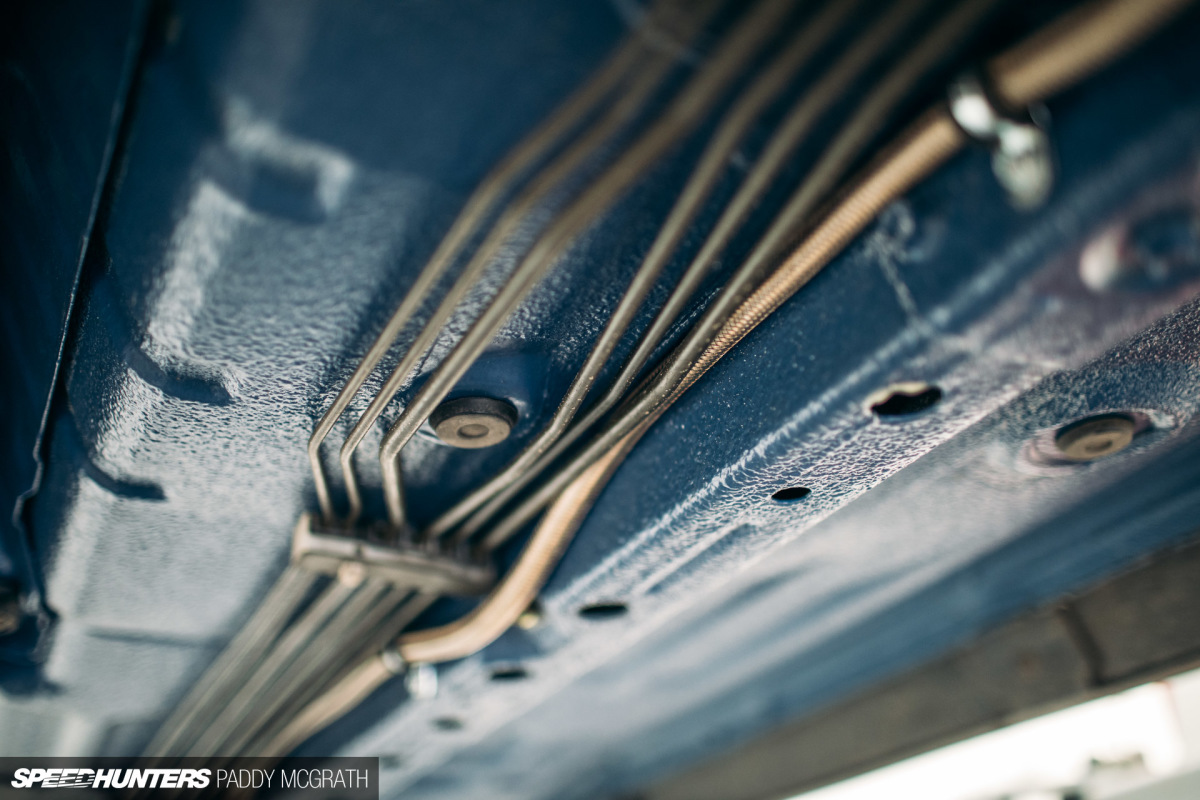 If you've read the prelude to this feature, you will know that Lancer Evolutions are beyond susceptible to rust in this climate. To be fair, they're susceptible to rust anywhere, but Ireland's climate, like Japan's, is notoriously difficult on cars. Even cars that were well prepared from factory often eventually struggle, so the Lancer Evolutions were always going to be up against it, with considerably less protection than the climate dictated. This was a rare good example, so to ensure it stayed this way, a full rust prevention and underseal were applied to the underside of the car.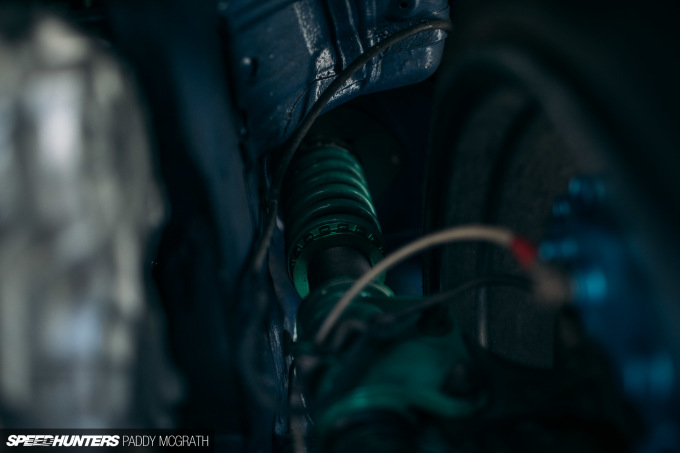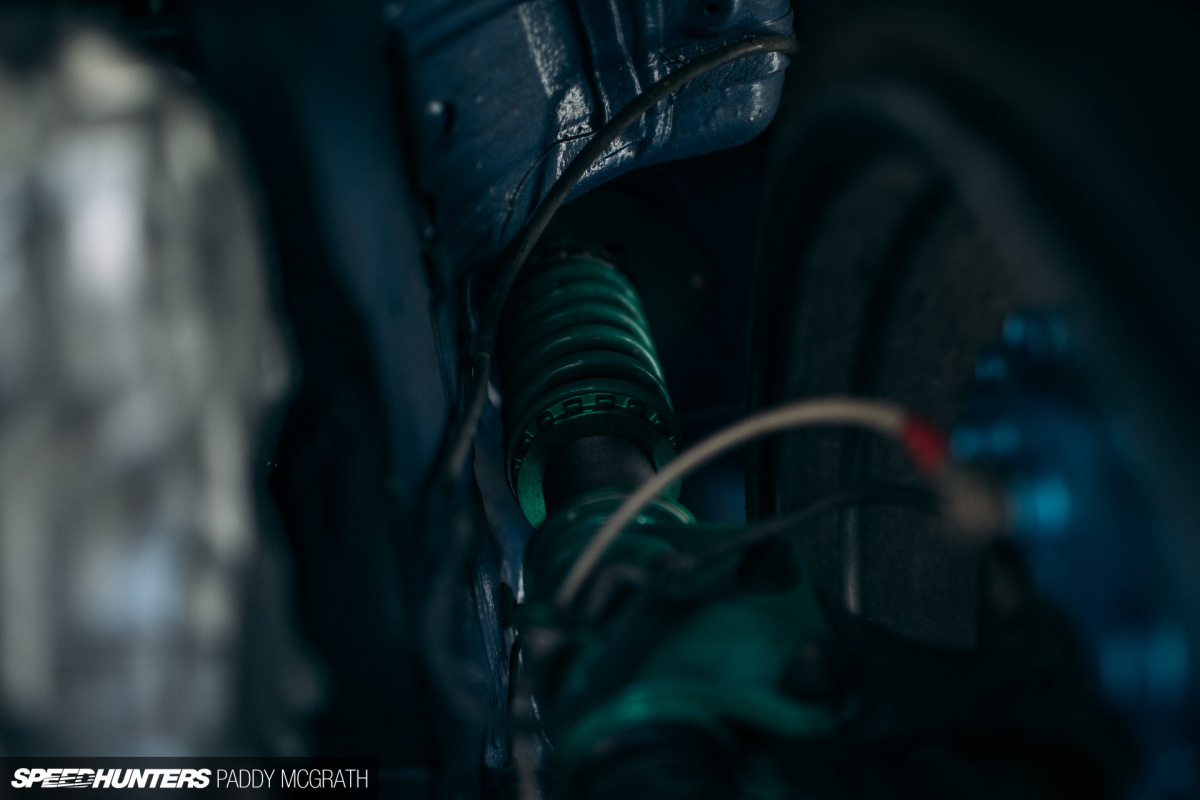 Again, things escalated. Every part that was removed was either cleaned and reinstalled or just replaced outright with a fresher part. Like new or better, is the only way to describe how clean the car is underneath. It's one of those things that doesn't require a huge budget, just patience and an attention to detail.
The underneath was stripped from the bulkhead back, before being resealed; two coats of primer were applied before a first coat of stone-chip protection, followed by several more coats of stone-chip protection mixed with paint. In total, around eight litres (2.1 US gallons) of stone-chip/paint mix was applied, along with 10 litres (2.6 US gallons) of cavity wax.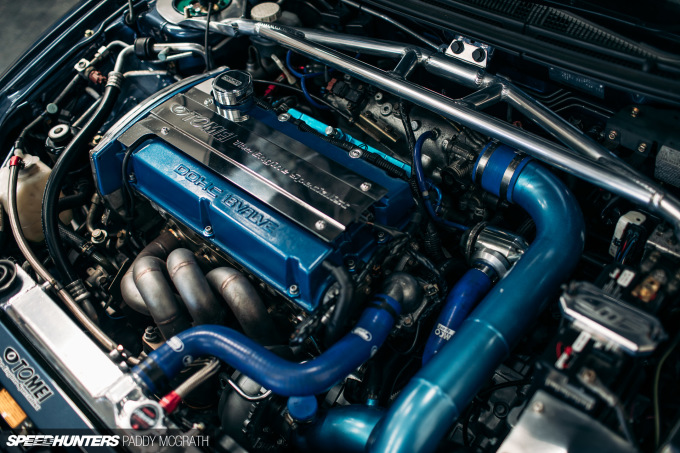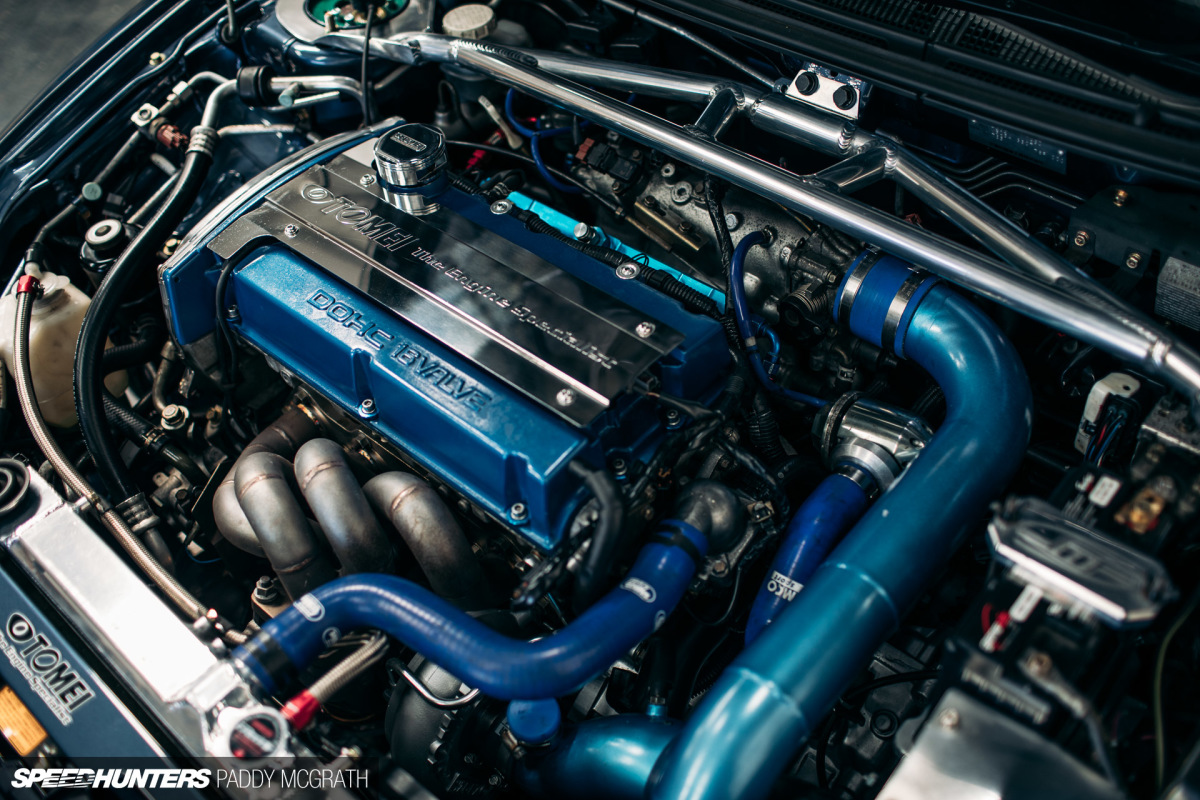 With the perfect shell prepared, it was time to put together the perfect engine. The car's purpose always has been and remains a fast, usable street car which helped define the engine build: a new 2.2-litre stroked Tomei engine built from the ground up.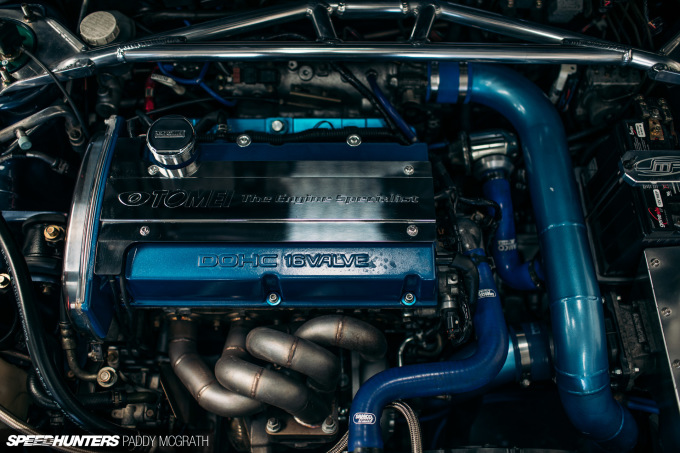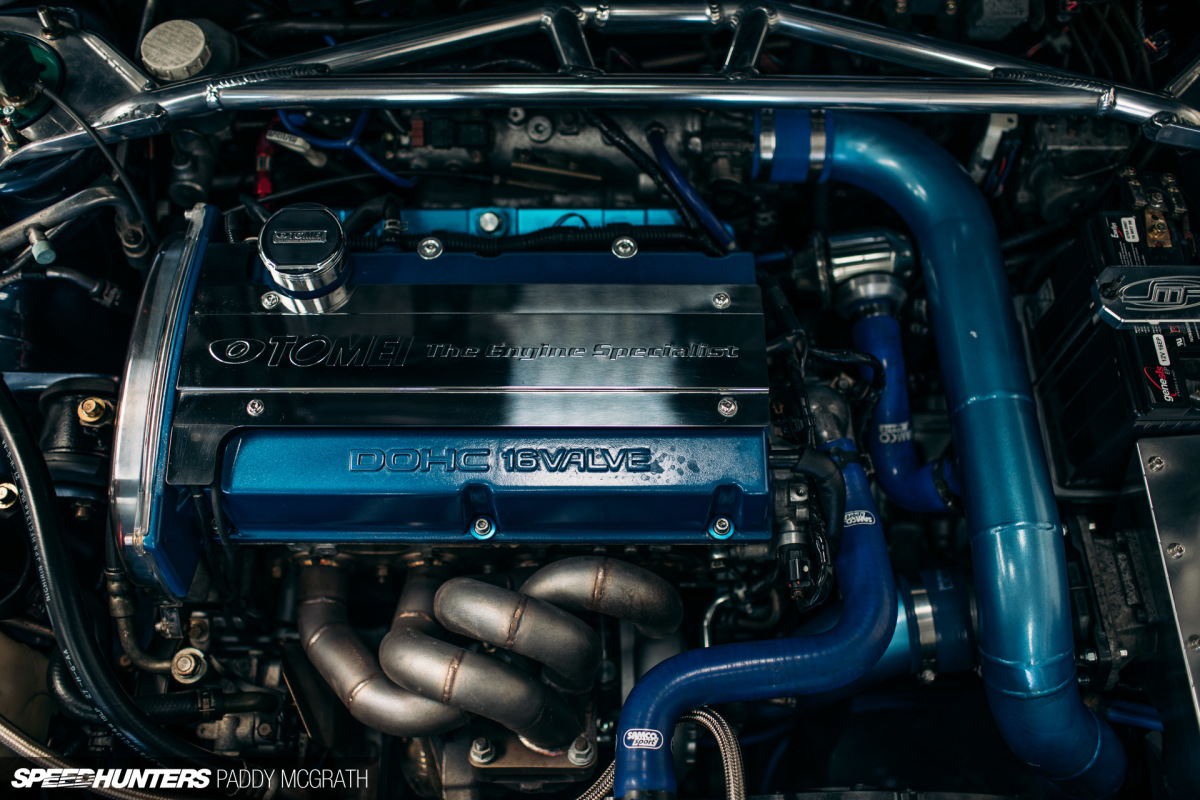 As is often the way, much of the work is hidden internally, but I can give you the highlights: Tomei supplied the crank, connecting rods, pistons and crank scraper.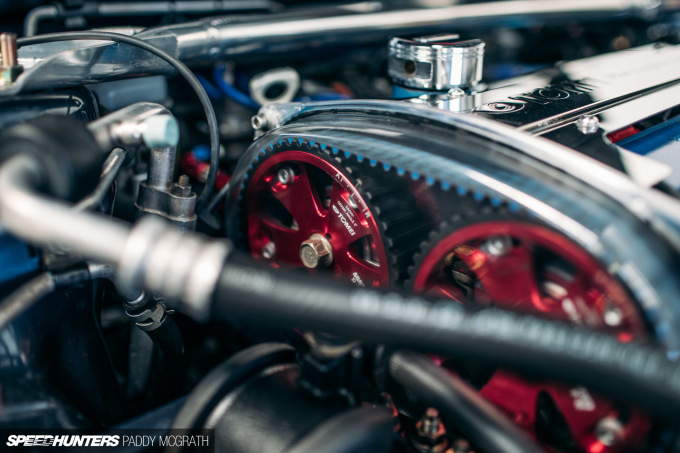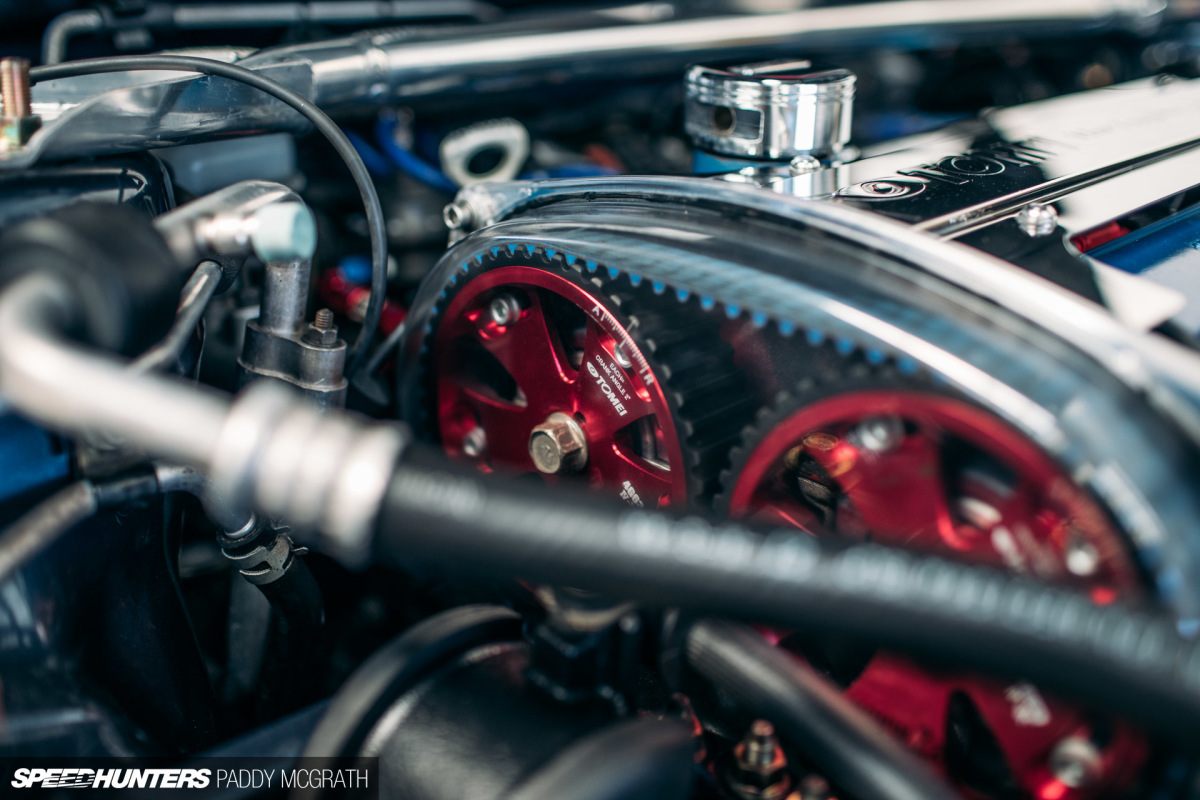 The head was ported and polished, fitted with Supertech 1mm oversized intake and exhaust valves along with Supertech valve guides and GSC valve springs and retainers. A Balance Shaft delete kit was put in place, too, before the head was secured with ARP head studs. Tomei cam pulleys can be seen through the clear Zacklee cam cover, wrapped with a Gates Racing timing belt, they're turned by 270-degree Tomei Poncam camshafts.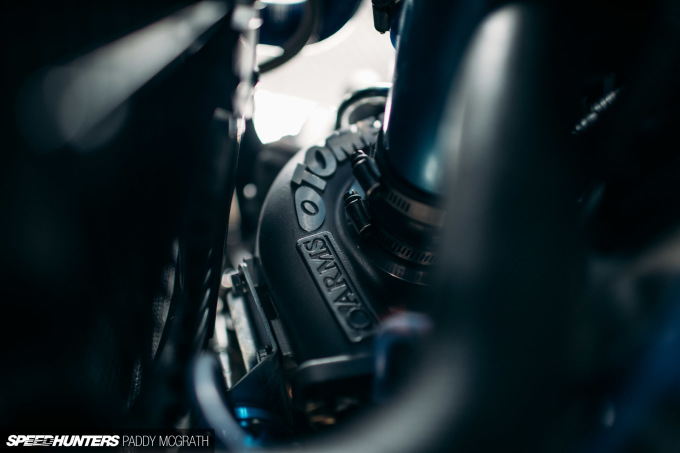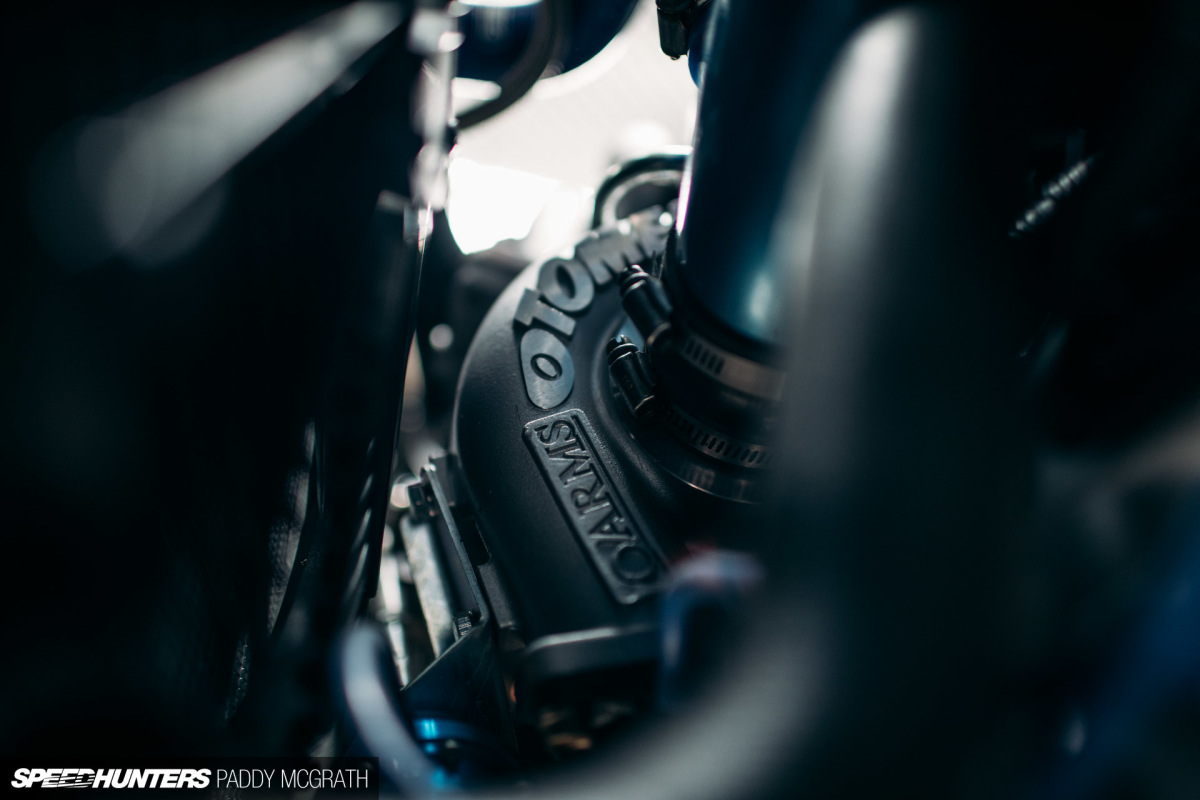 The turbocharger is a Tomei ARMS item, equipped with a Tomei turbo elbow, downpipe and feeding into a Tomei Ti de-cat and Tomei Ti Expreme cat-back exhaust system. You might have noticed a certain brand affinity here, although I'm not quite fully sure what it is.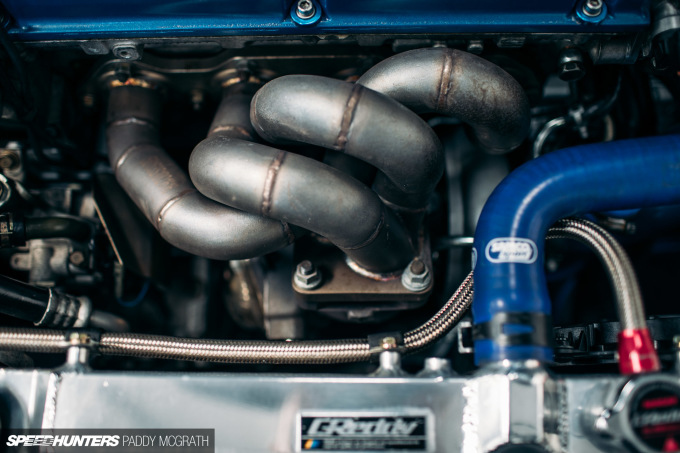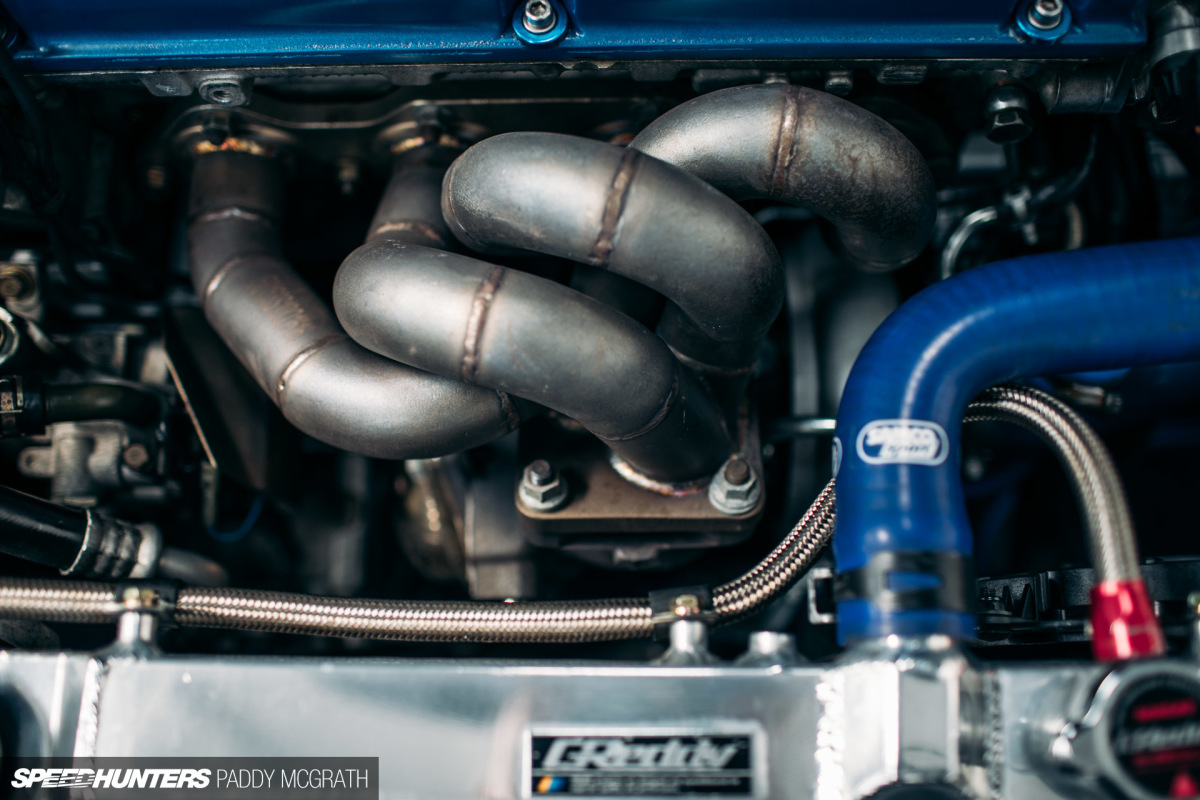 Above the turbocharger, a Japspeed exhaust manifold. On the cooling side, a Trust/GReddy alloy radiator is accompanied by a Trust/GREX oil cooler and an HPI intercooler kit. A 14-inch Spal slimline electric fan is also installed.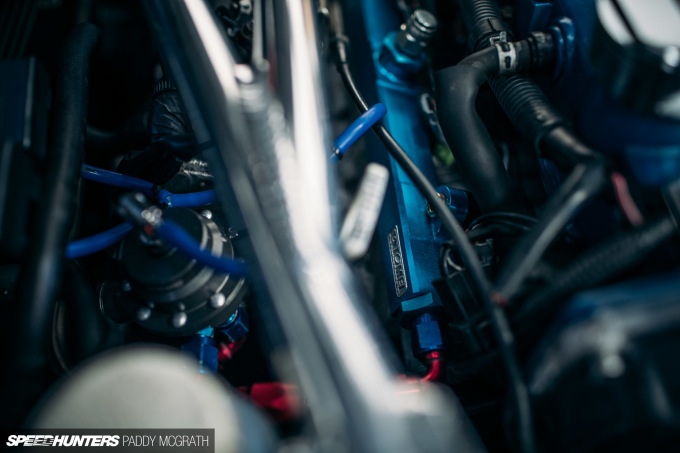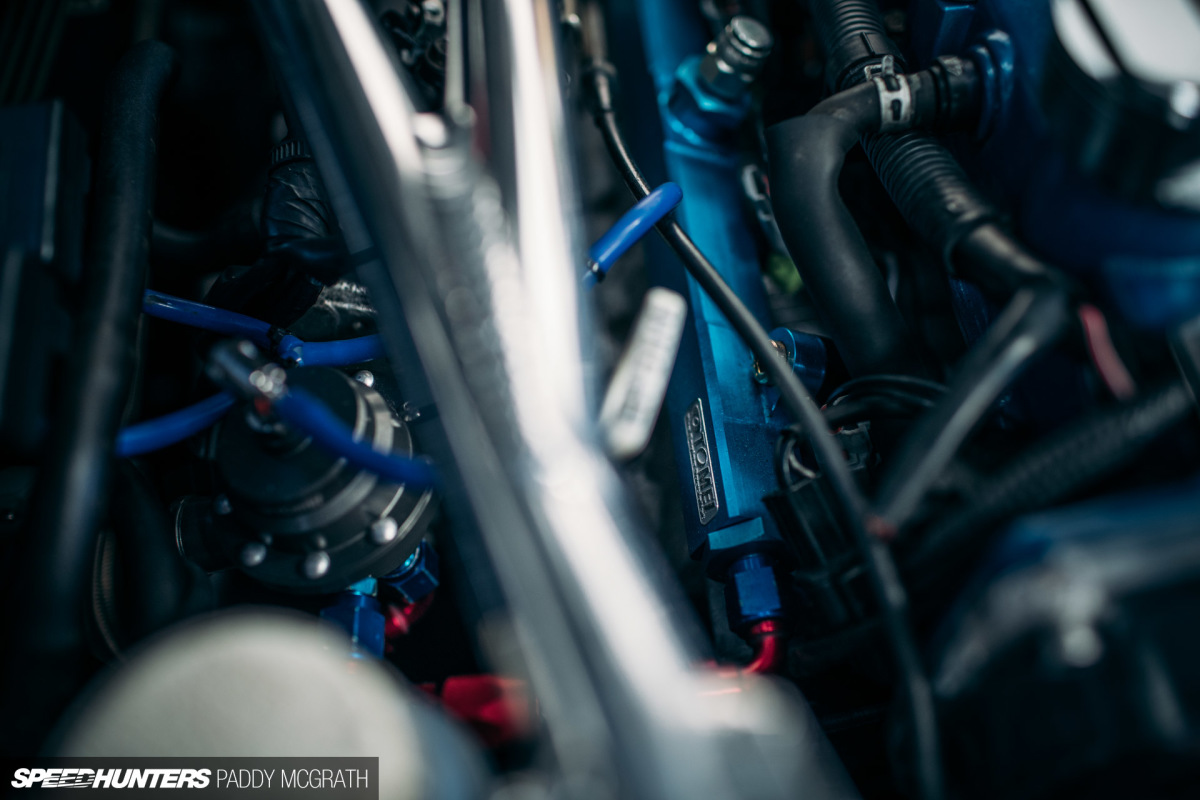 Tomei, again, supplied the fuel rail and fuel pressure regulator, while Power Enterprise 800cc injectors direct fuel into the combustion process.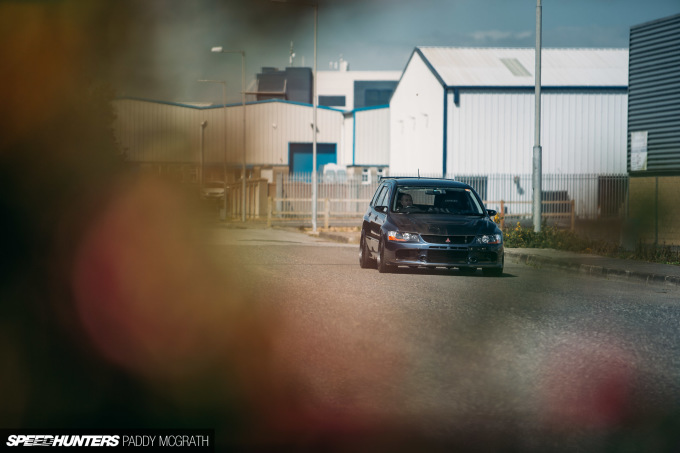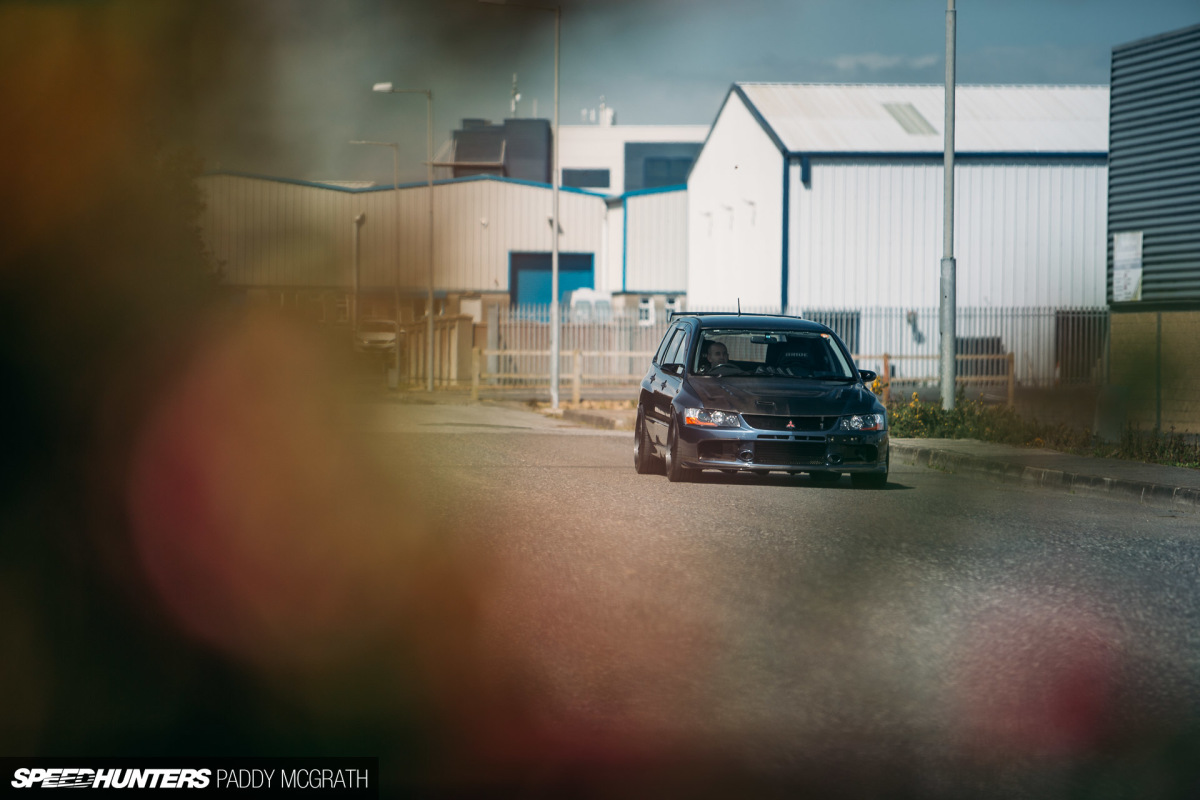 Power figures have yet to be determined, but the car has just finished the running in process and is booked in to be final tuned. A power figure of around 400bhp is estimated, although I get the feeling that the figure is maybe on the conservative side.
All Rounder
There's always a fine balance with something like this, especially with so many aftermarket options available. You're constantly threading a fine line between a car that's reliable and usable or a car that may decimate all, but becomes a chore to own and maintain. At the end of the day, the car that starts first time on the key is the best car. That is, the car you trust to drive every day.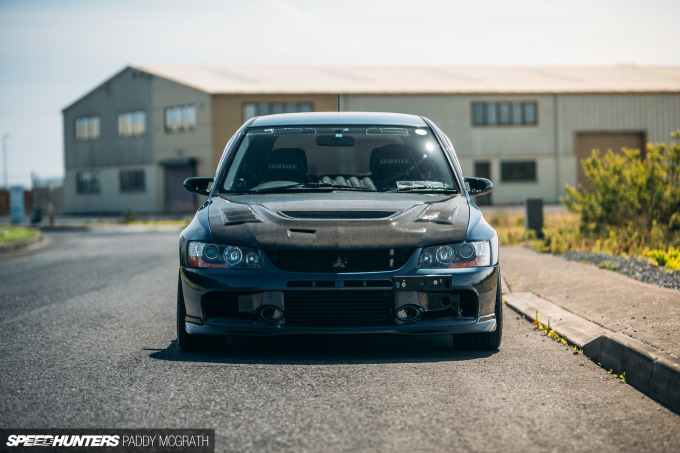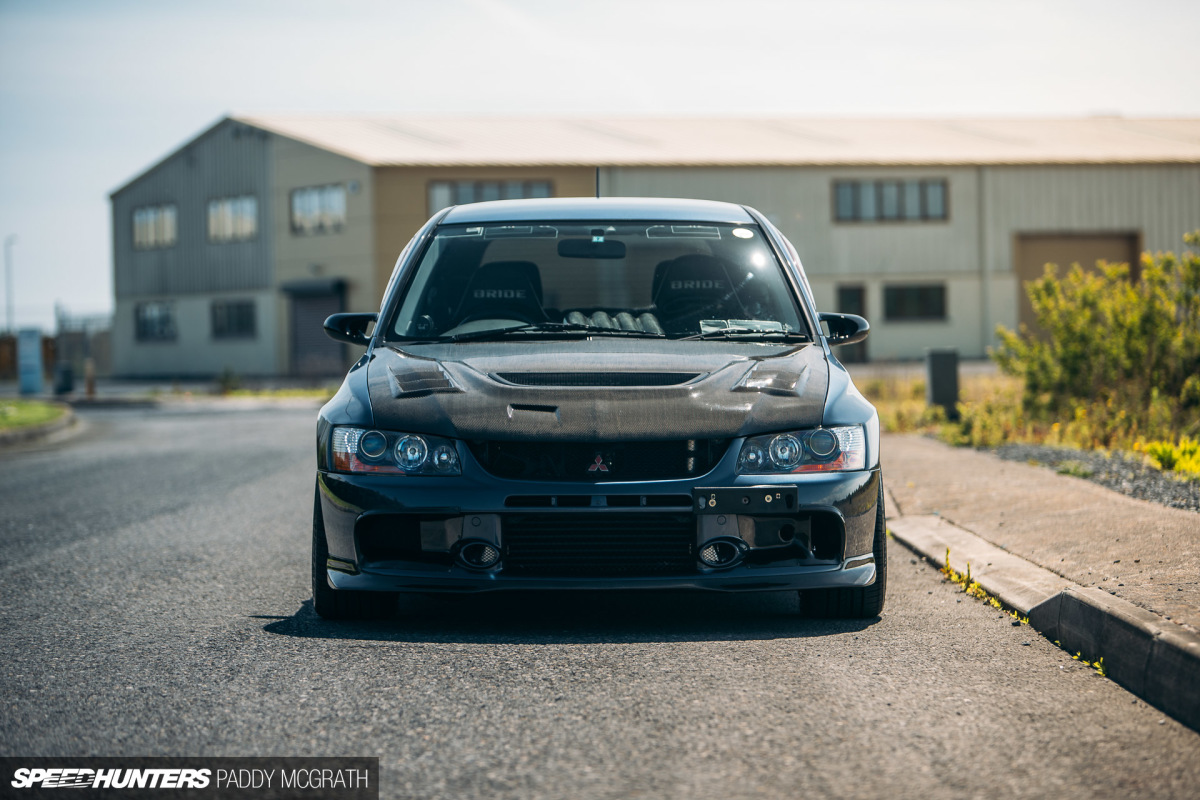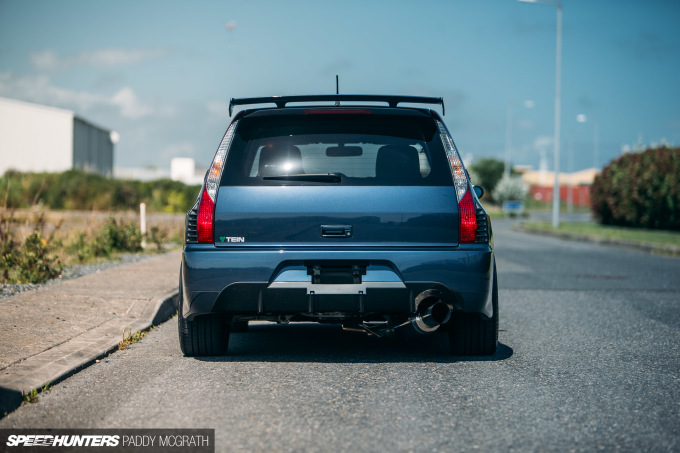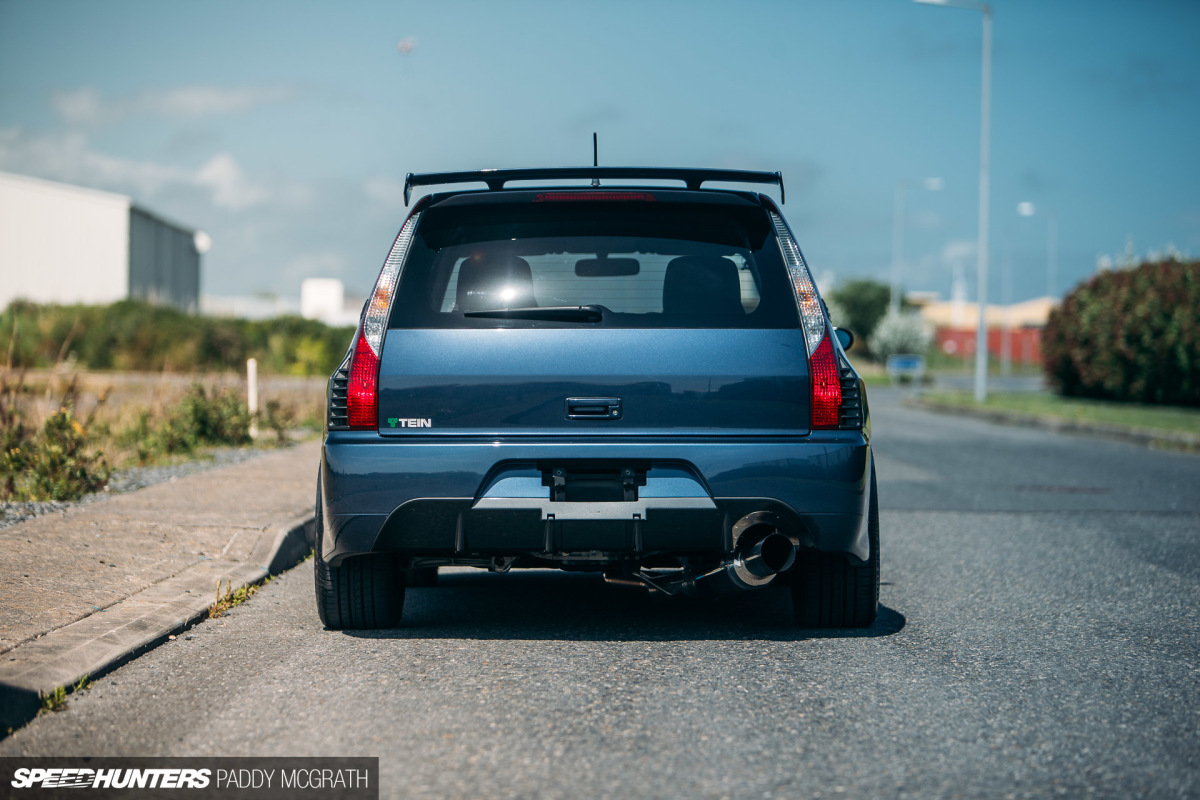 I've always though it odd that Mitsubishi went with full vertical tail lamps on the CT9W, but it's something that I've warmed to over time. The wide rear arches, something I adore, are a dead giveaway that something is amiss with this wagon and it's far from your typical estate car.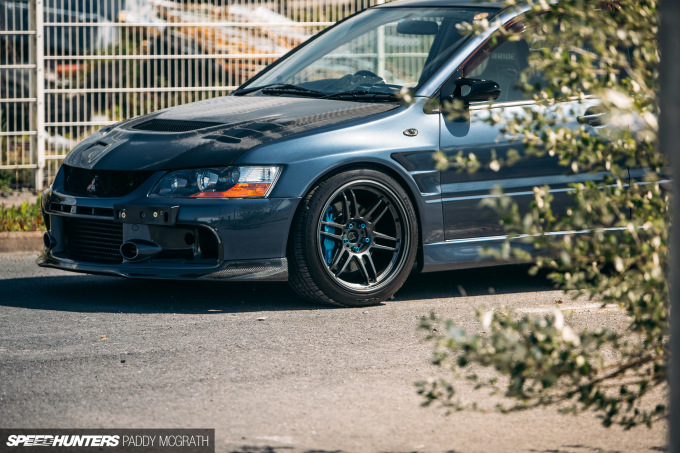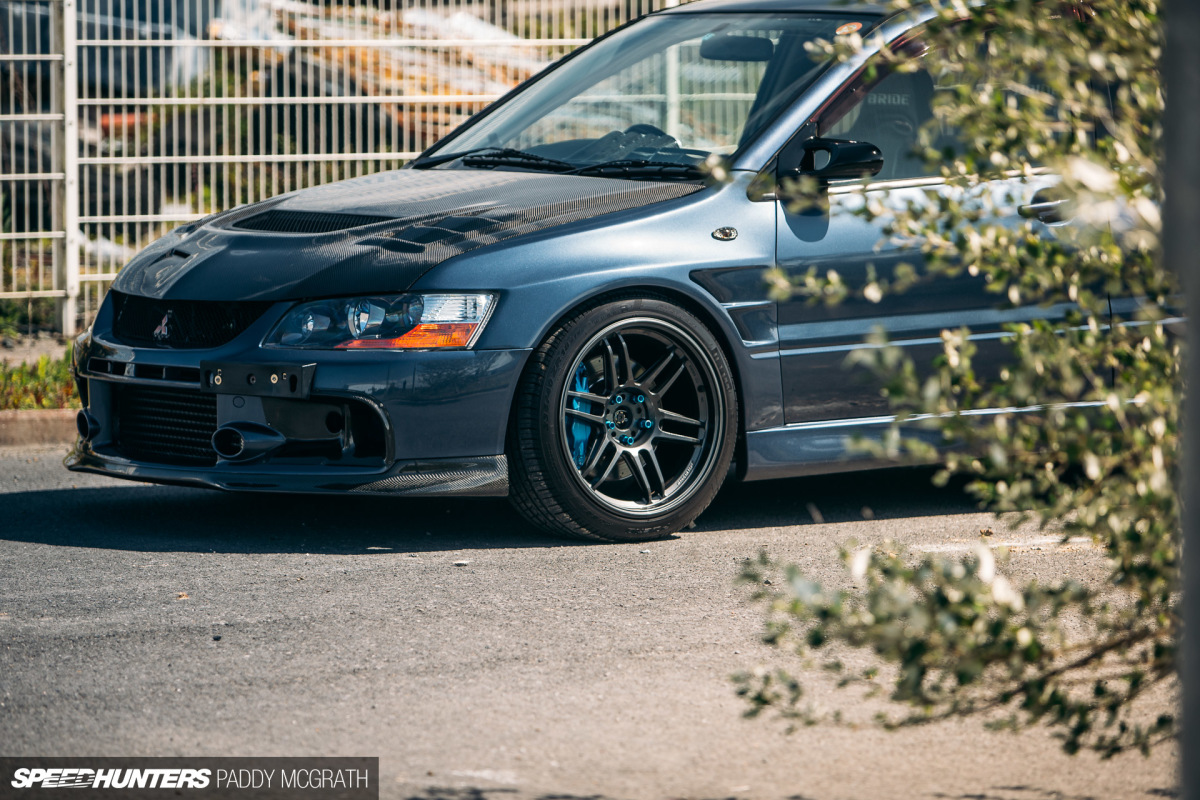 The Chargespeed front fenders are a perfect match to the wide factory rears, although they're just one of a small handful of cosmetic additions to the exterior of the car.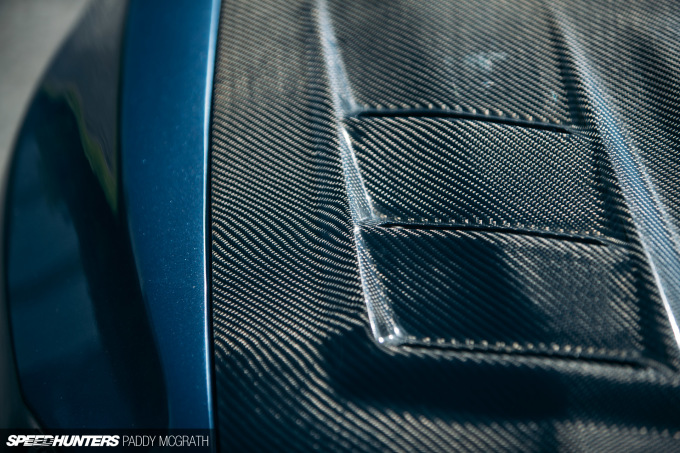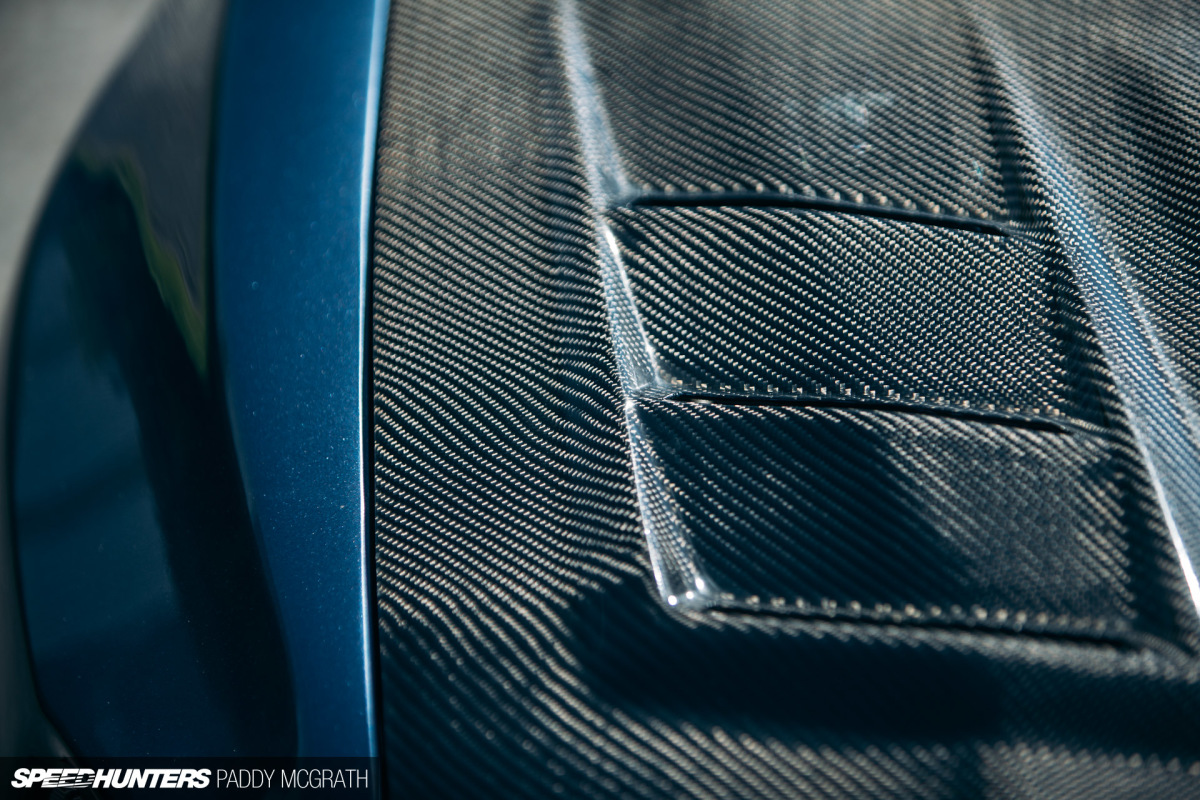 The vented carbon fibre bonnet is paired with a carbon splitter and front bumper ducts. The headlights are those from an Evolution IX MR.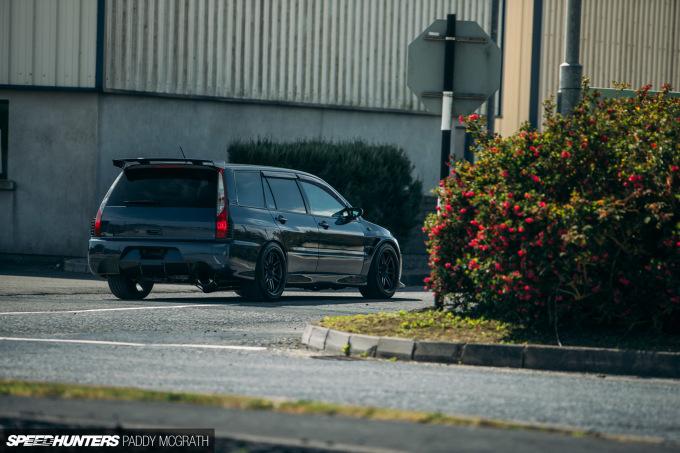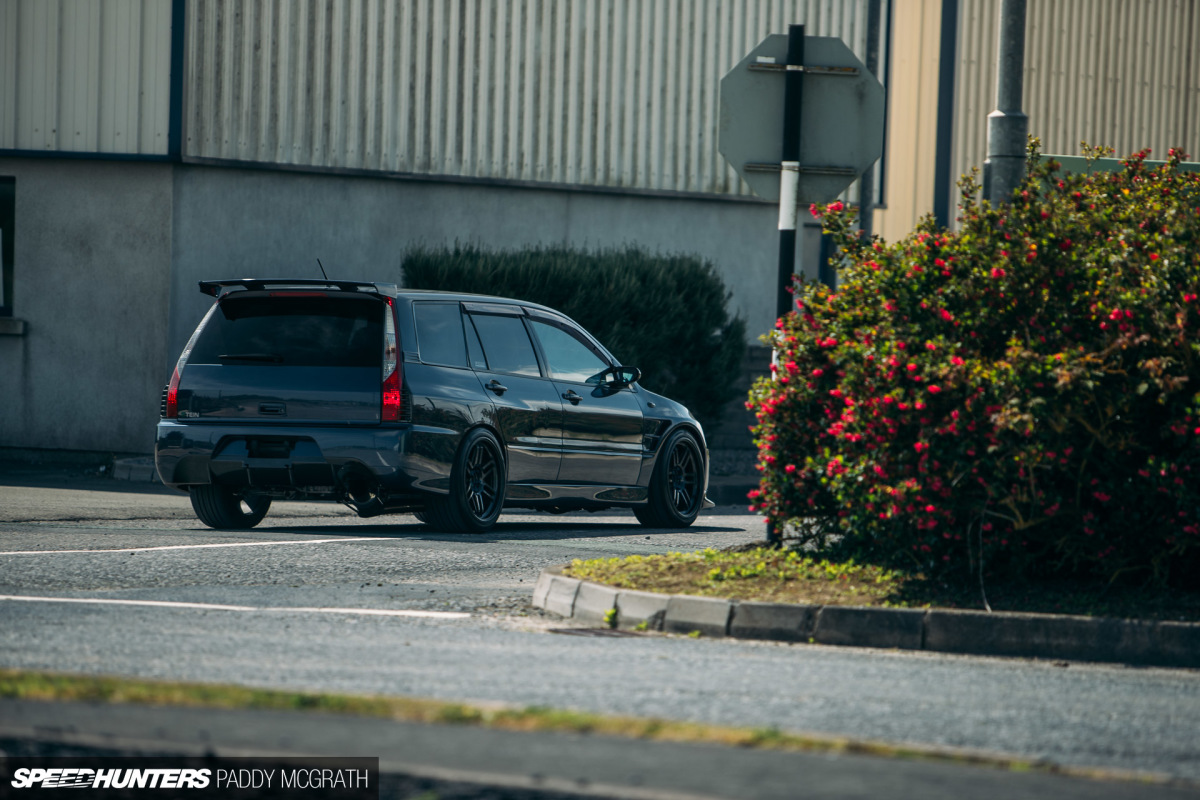 The distinctive rear wing is by Kenstyle, while the exhaust surround is by Ralliart. The Ganador-style mirrors are the only other aesthetic additions to the outside of the car.
Well, unless you consider wheels as aesthetic additions. The 18×9.5-inch (+22 offset) AME Tracer TM-02s are the same size and offset at all four corners, wrapped in Pirelli P Zero tyres.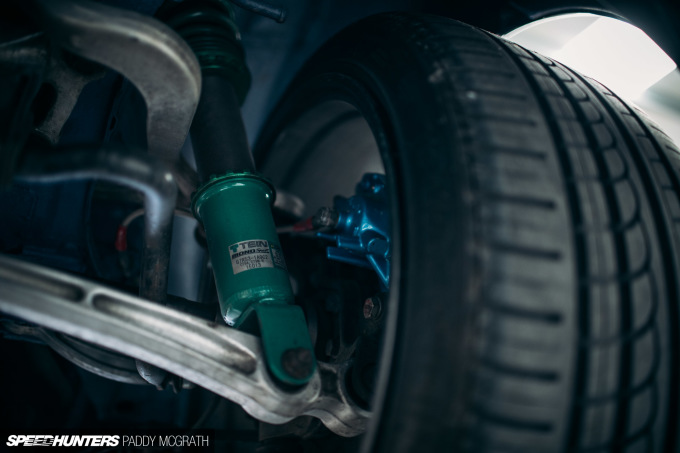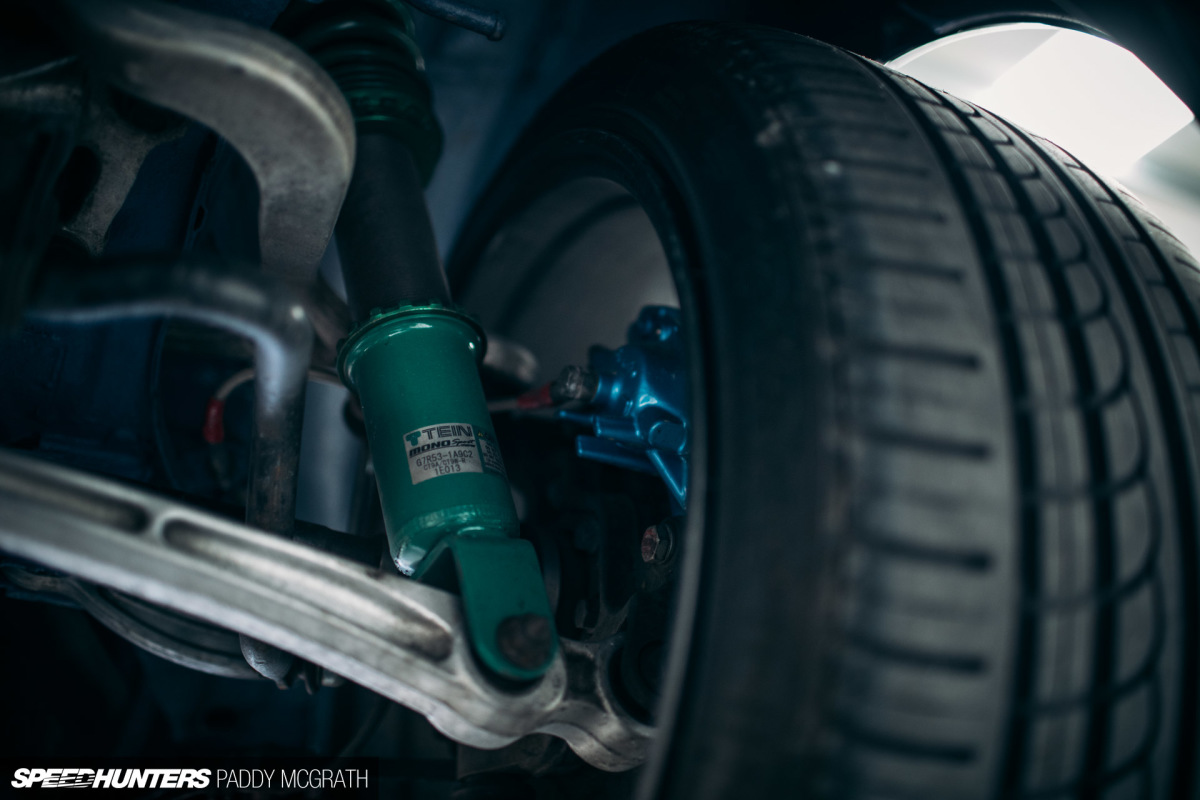 The suspension componentry features some interesting quirks. The Tein Mono Sport coilovers are paired with Cusco front adjustable drop-links, but that's not all.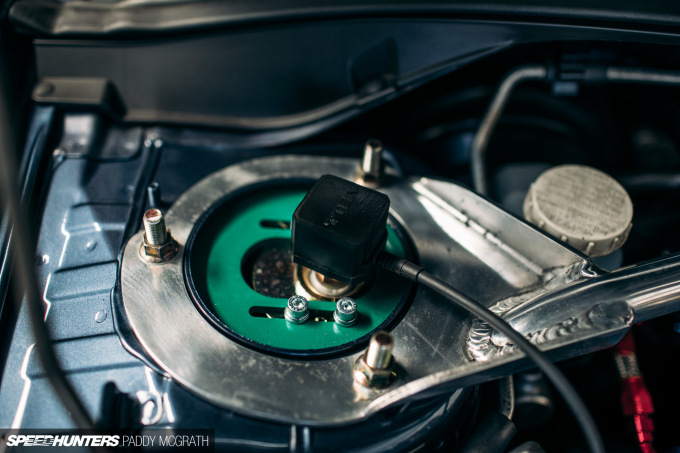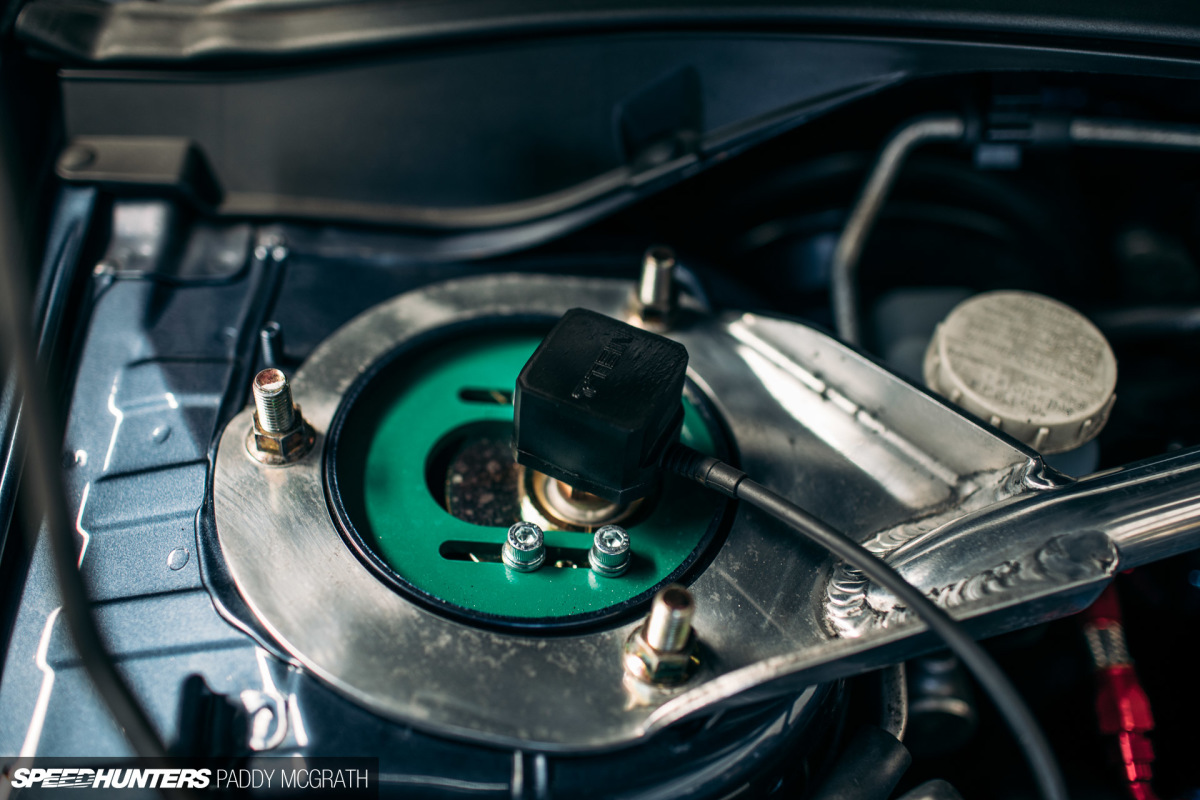 The adjustable shocks are fitted with Tein's EDFC Active Pro which is basically a set of small motors which can adjust the damping on the fly.
They communicate with g-force and GPS sensors to get an idea what the car is doing, and make pre-programmed adjustments according to the driver's desired result.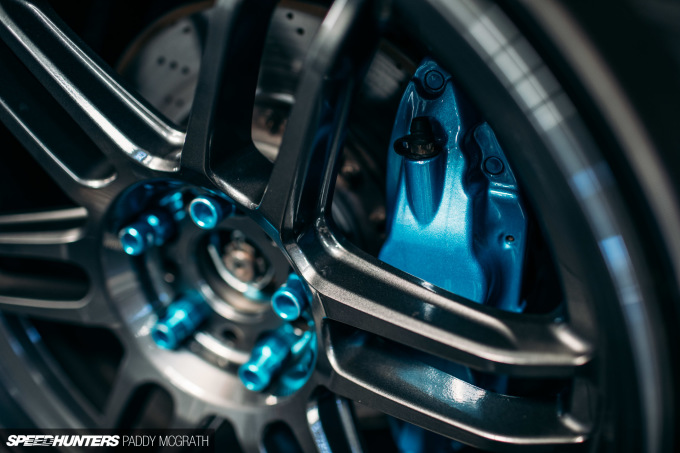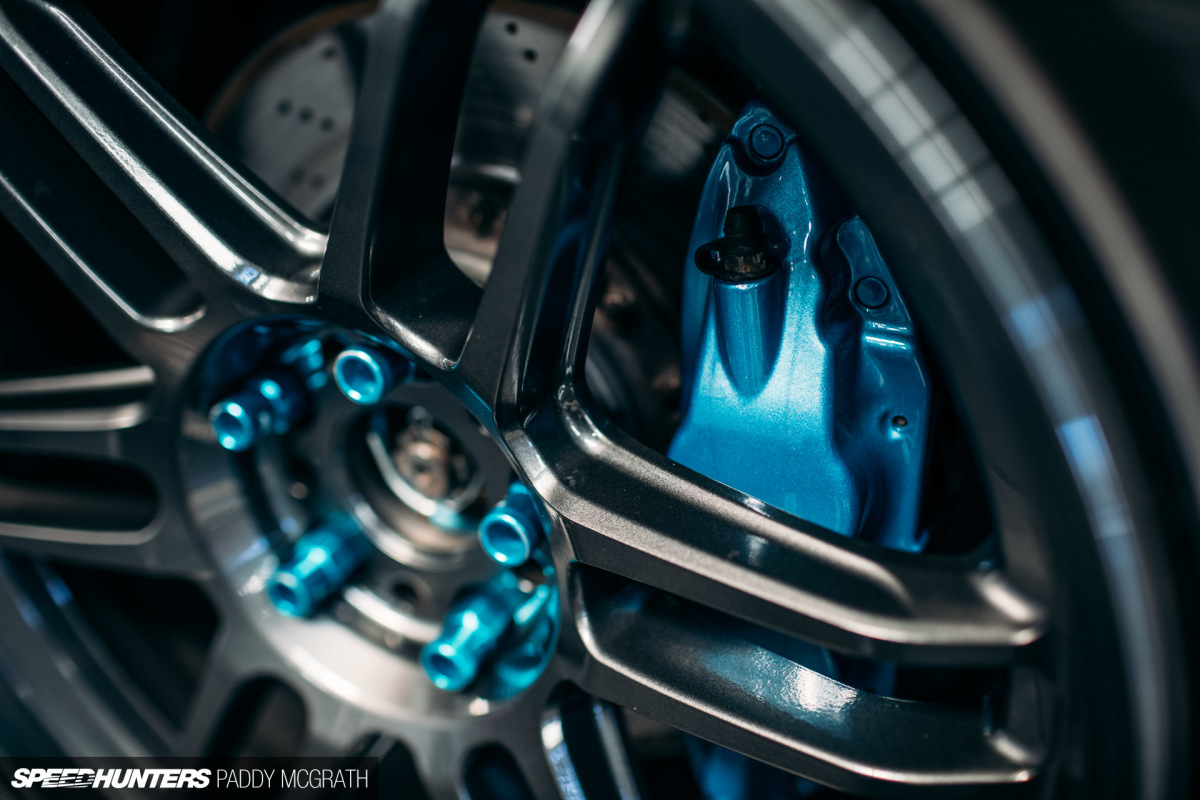 Lancer Evolution-specification Brembo brakes have been repainted and equipped with Endless pads (front and rear) for stopping duties. Rob is running two-piece Performance Friction discs at the front and StopTech rears, with Ralliart lines to ensure a solid pedal feel.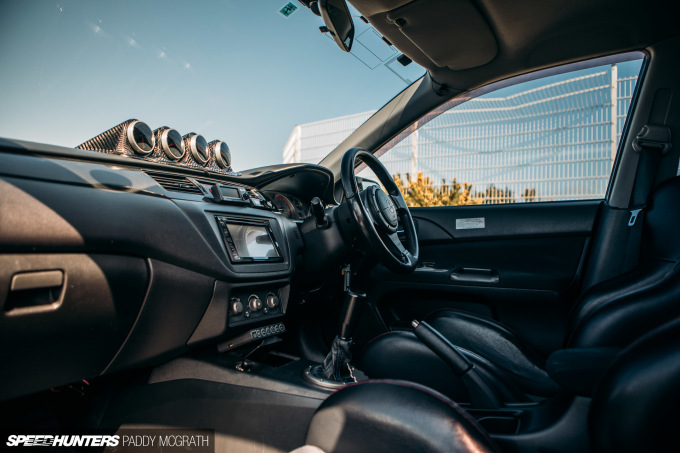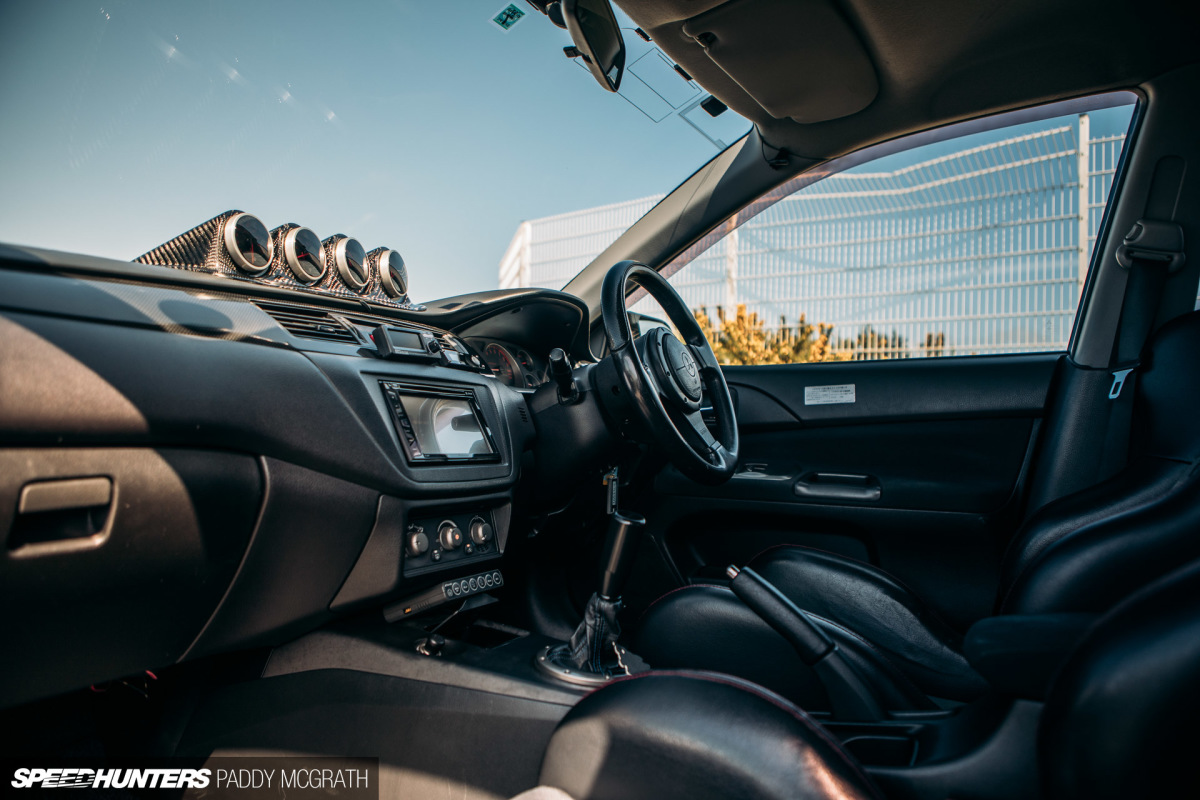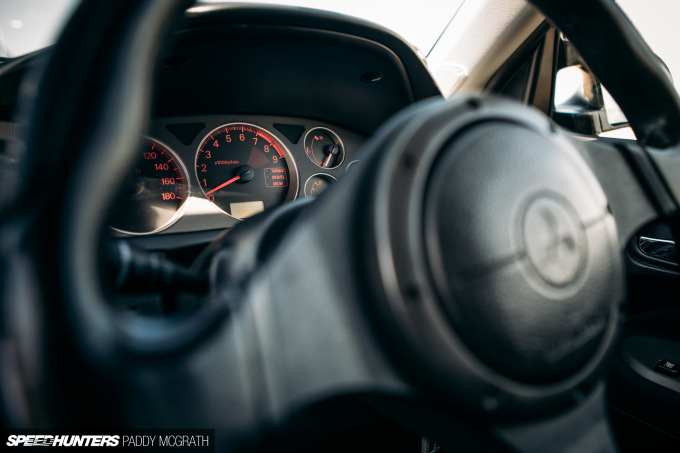 The interior reflects the subtle exterior upgrades. A pair of Bride seats (a Brix II and Ergo II) are the obvious modifications, with a collection of Defi gauges, a HKS EVC-S boost controller, the aforementioned Tein EFDC controller and an Innovate wideband AFR gauge rounding things off. It's enough for the interior to feel special, with going full race car or being completely stock.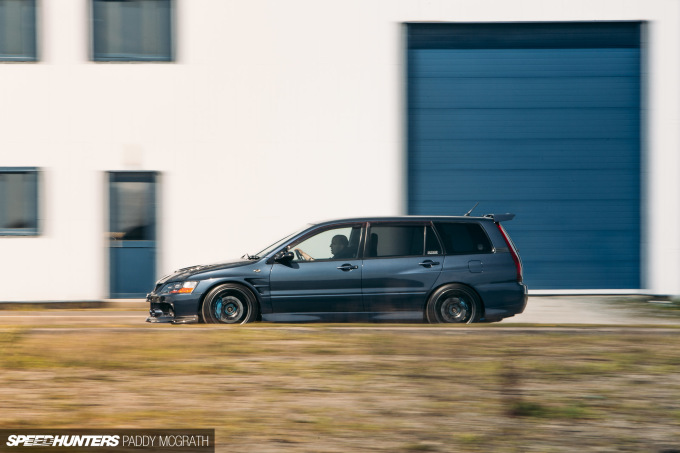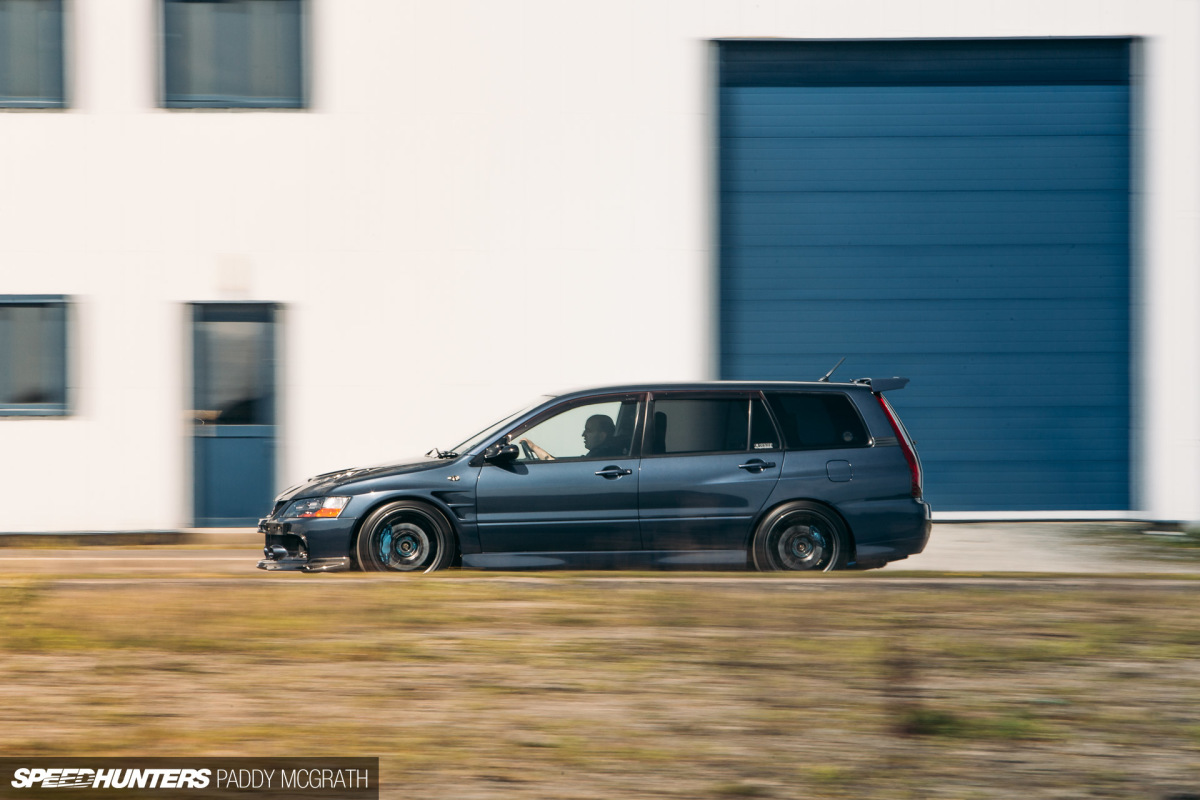 Realistically, it's all the car that one would ever need. At its current level of performance, it feels like a JDM Audi RS4 equivalent. Or maybe a VW Golf R wagon is a more appropriate comparison? Either way, there's not much more you could ask for from one vehicle.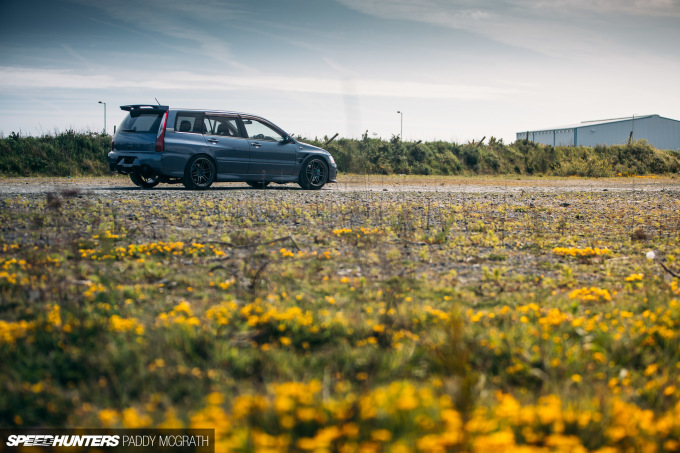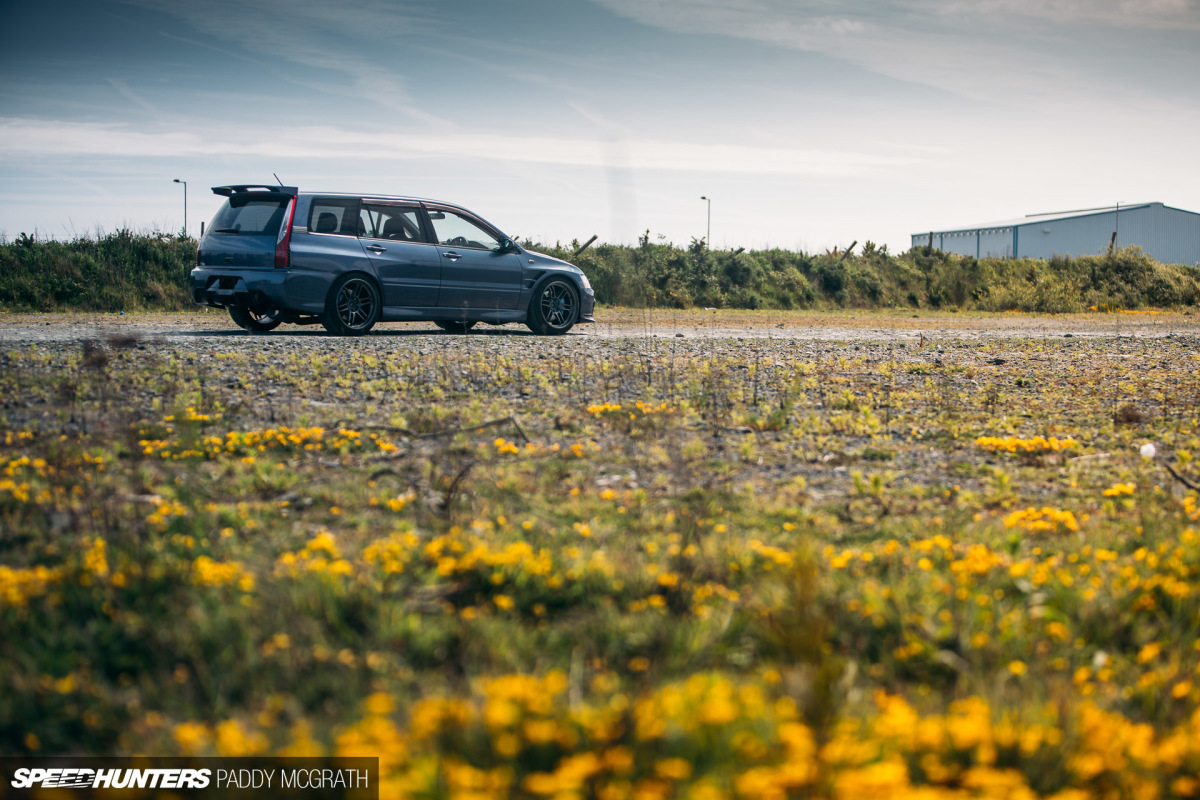 It's also a perfect example of the time old tradition of knowing exactly what you want from a car, building it, and knowing when to stop. There's very little in the way of excess here, and the car is all the better for it.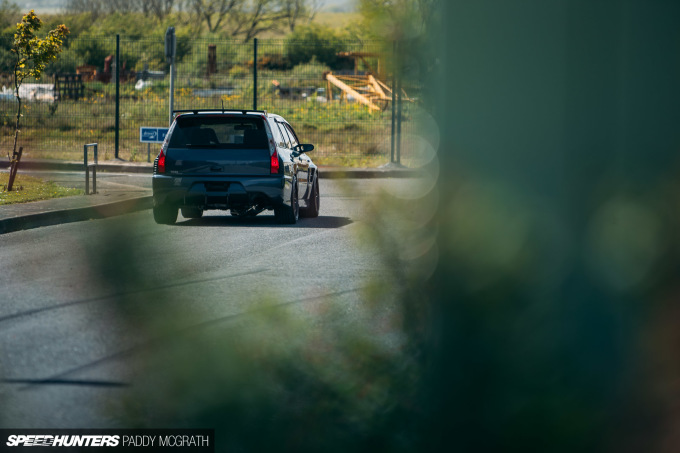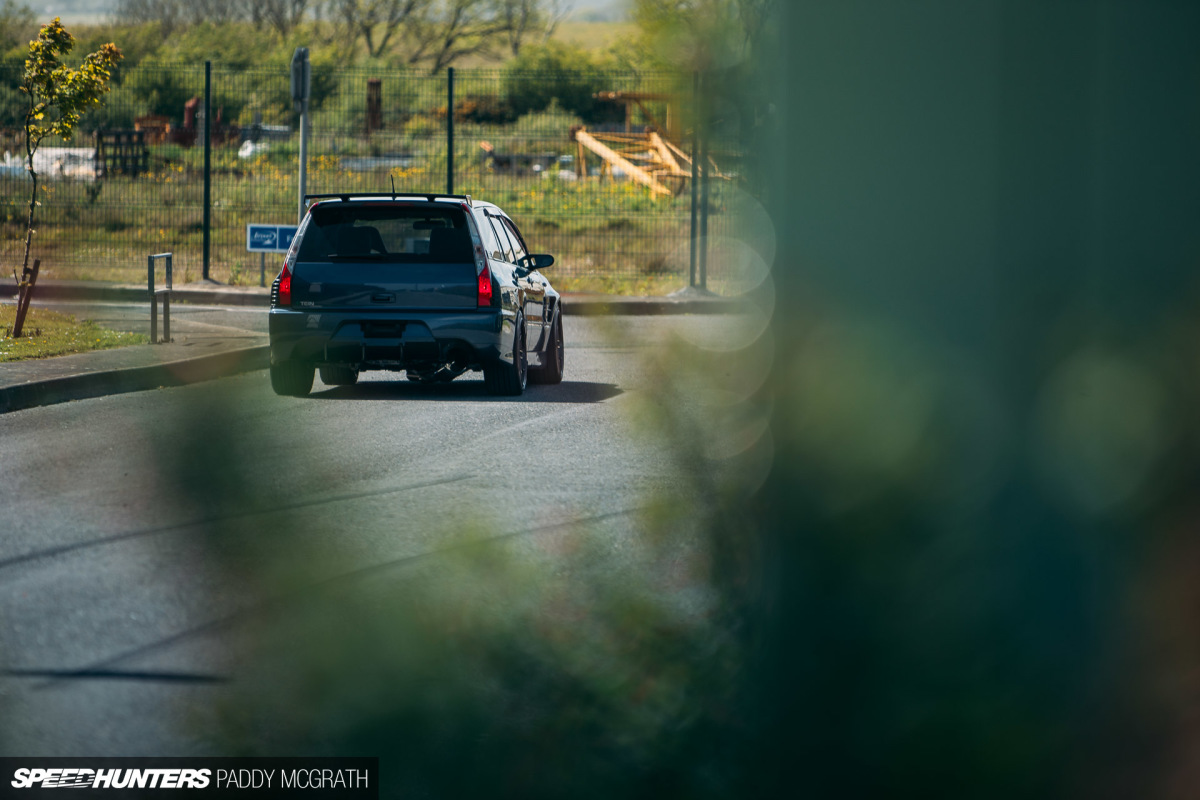 It might not end up being the fastest car posted on Speedhunters this week, but I'll be damned if it's not the most well rounded one. In many ways, I think it's this type of car that's what Speedhunters is about, or should be about. It's an achievable build, and even if Japanese cars or wagons aren't your thing, there's certainly something in here that one can take away for their own projects.
It's the one car for all of us.
Paddy McGrath
Instagram: pmcgphotos
Twitter: pmcgphotos
paddy@speedhunters.com
Cutting Room Floor