Necessity
"How many have I broke over the years? Around 100 I think, if not more."
I expected the number to be high, but not over double of what was in my head. Mitsubishi's Lancer Evolution is undoubtedly an icon of Japanese performance cars, so it's strange being here, where so many have met their ultimate demise. Contrary to what you might think, this isn't an act of sadism, nor is the owner an Impreza lover. In fact, I would think that Rob Dunphy is one of the biggest Evo fans I've ever met.
Behind the closed doors of his workshop in a quiet industrial area, somewhere in Ireland, is a contrasting cavern of chaos and organisation. It'll either bring a smile to your face or a tear to your eye. I don't think that there's any room in here for indifference.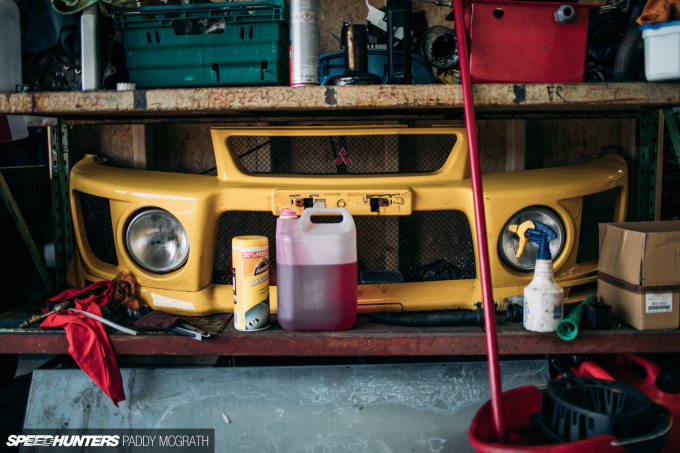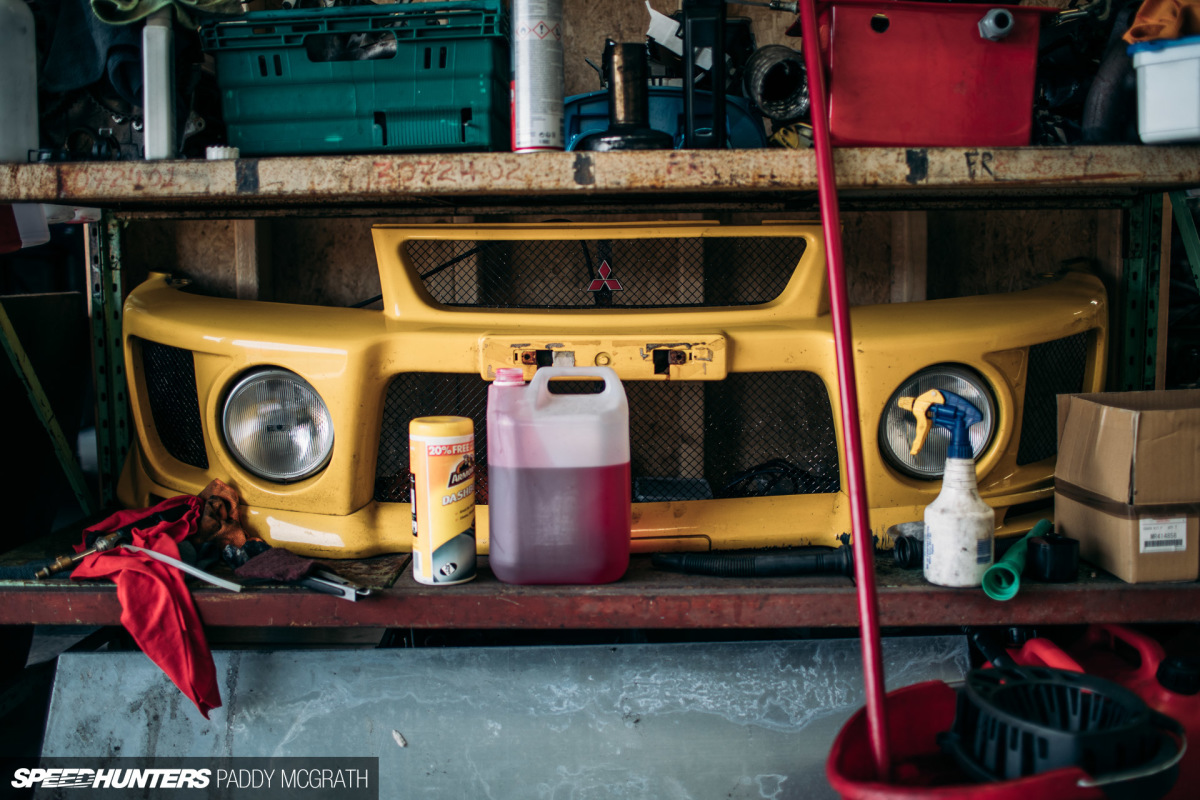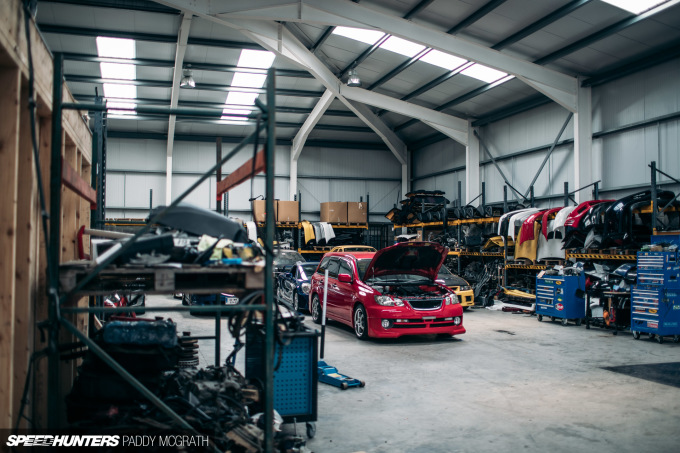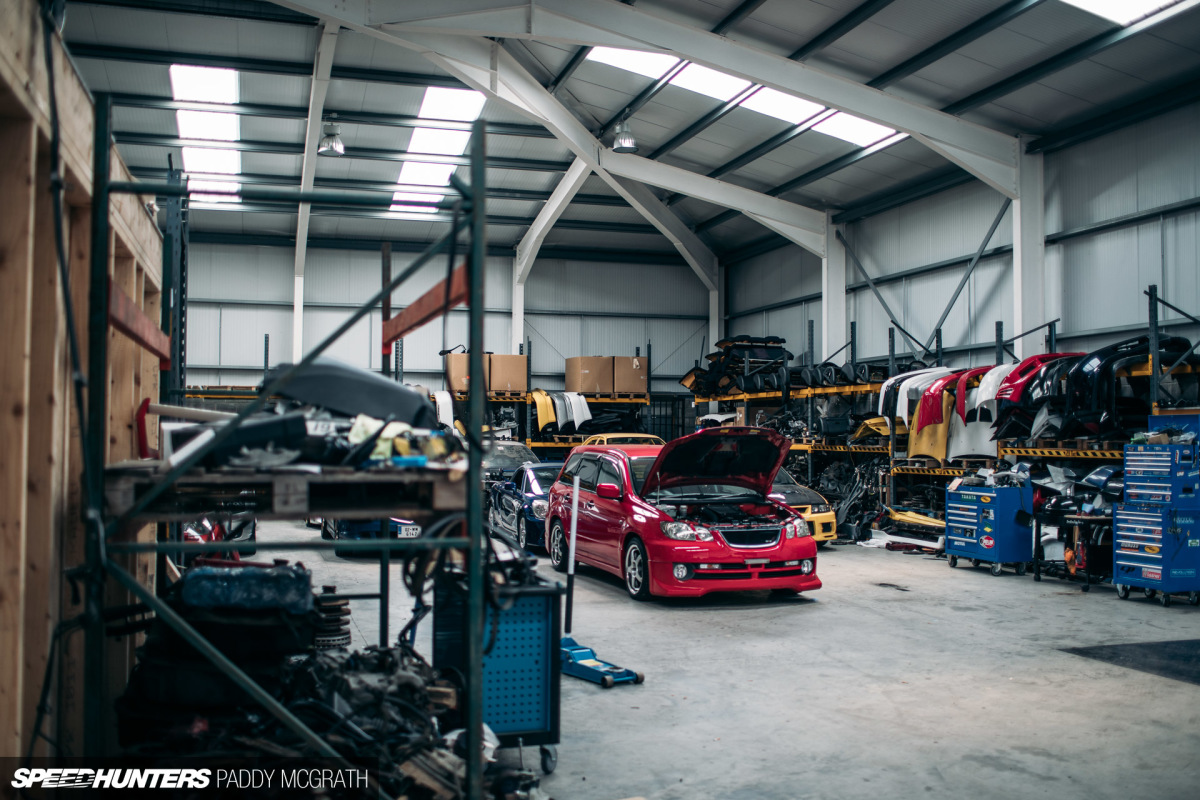 It's a space that's occupied by an eclectic mix of cars, along with enough spare parts to construct maybe 10 or so almost whole Lancer Evolutions. For all the love that the Evo rightly receives, any owner will likely concede that they have one major short coming: their vulnerability to rust.
In fact, of the 100 or so examples that have been broken in this building (and Rob's previous location), he thinks that only five or six were crash damaged cars. The rest had all fell foul of the climate in western Europe and were beyond saving.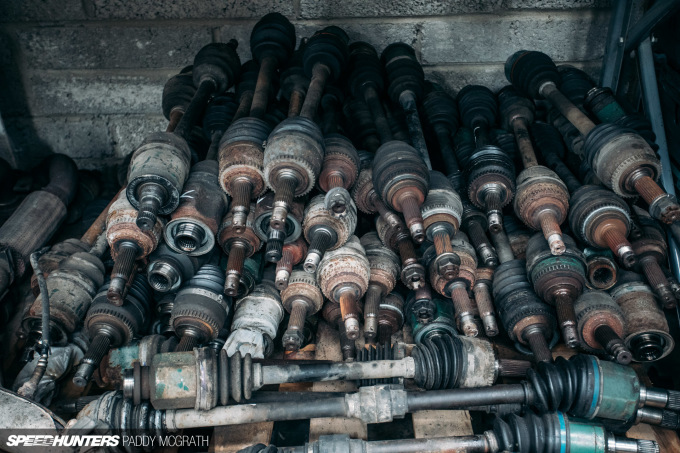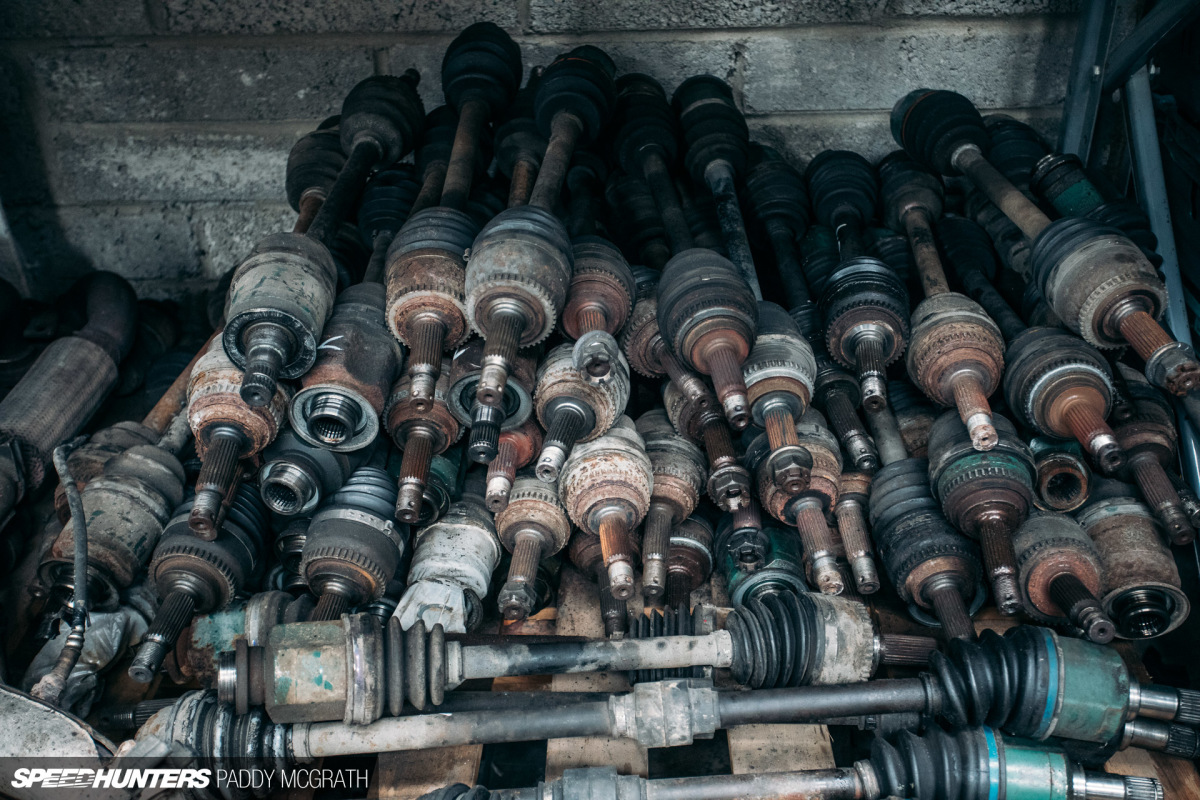 When a car came through the door, it would be stripped of anything of value before the shell was sent to be recycled. The remaining parts leave behind a fascinating collection of both factory and rare aftermarkets items.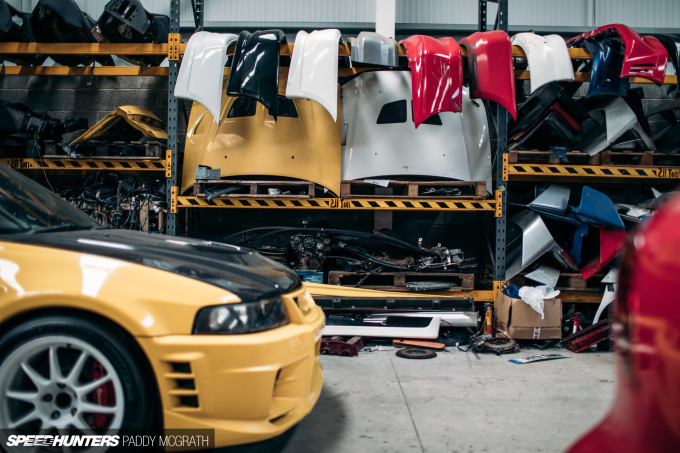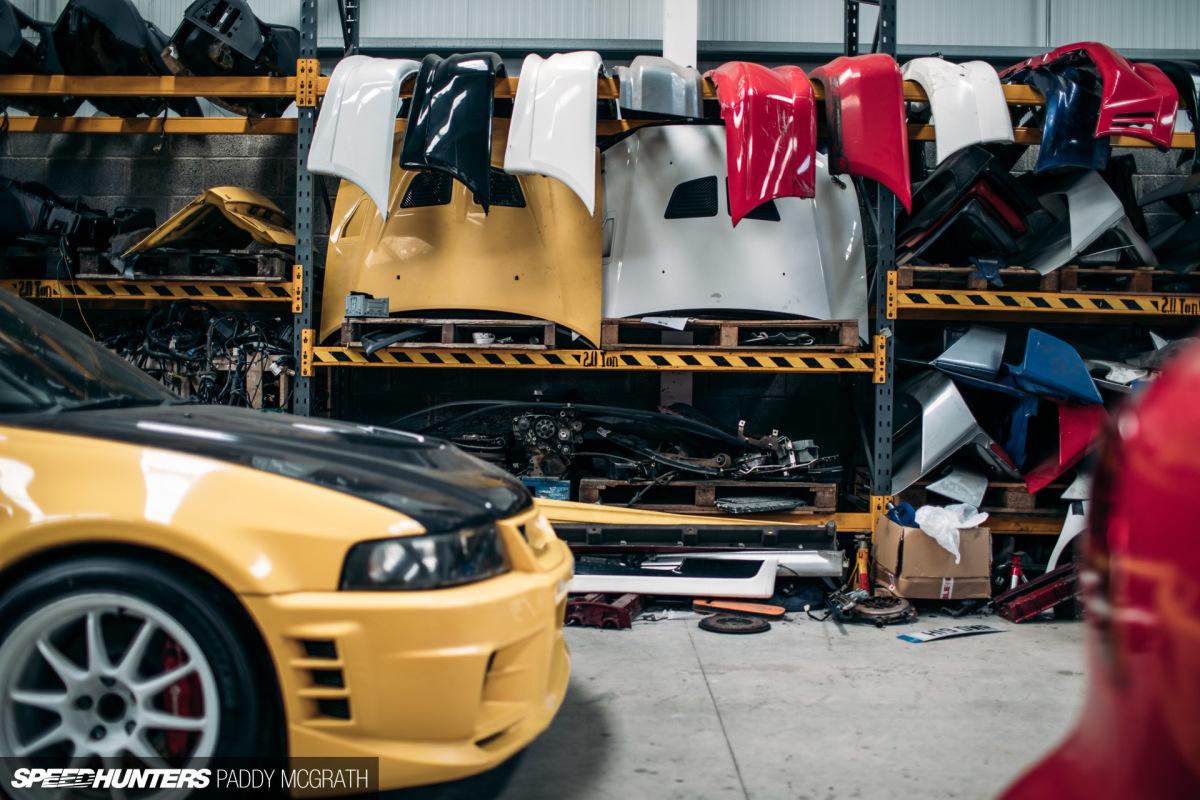 The body panels are maybe the strongest visual component of the parts collection, and give an idea of the scale of the operation/destruction, depending on how you view things.
From turbochargers and manifolds, to still painted fenders and clutches, flywheels and all sorts, you could easily lose hours browsing through everything.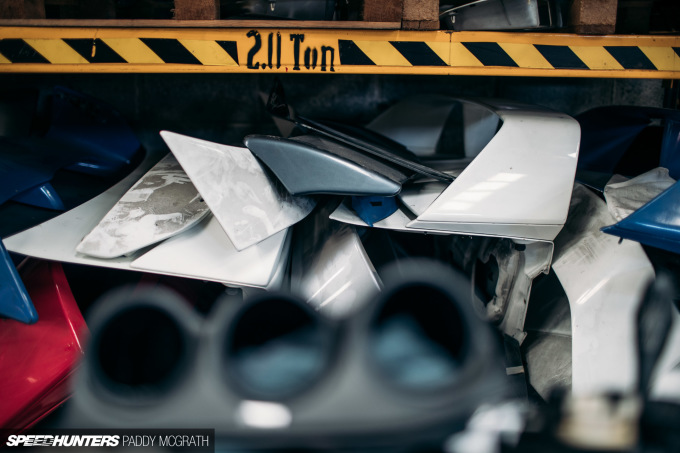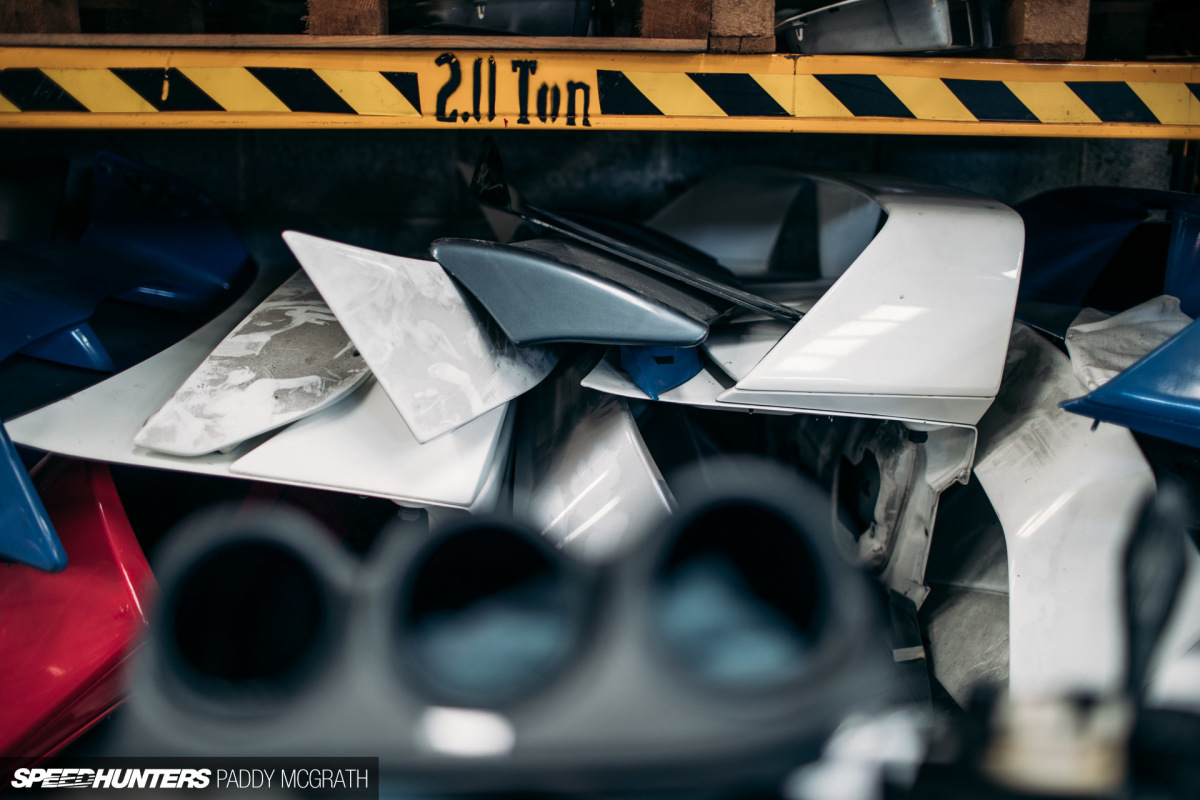 It quickly becomes apparent that there's a method to the madness. Rob reckons he can recover most specific items in less than an hour, and that includes things that might be buried or at the top of the racking.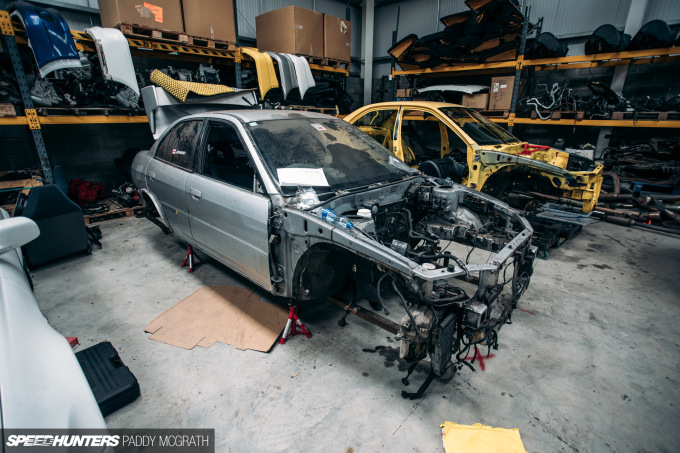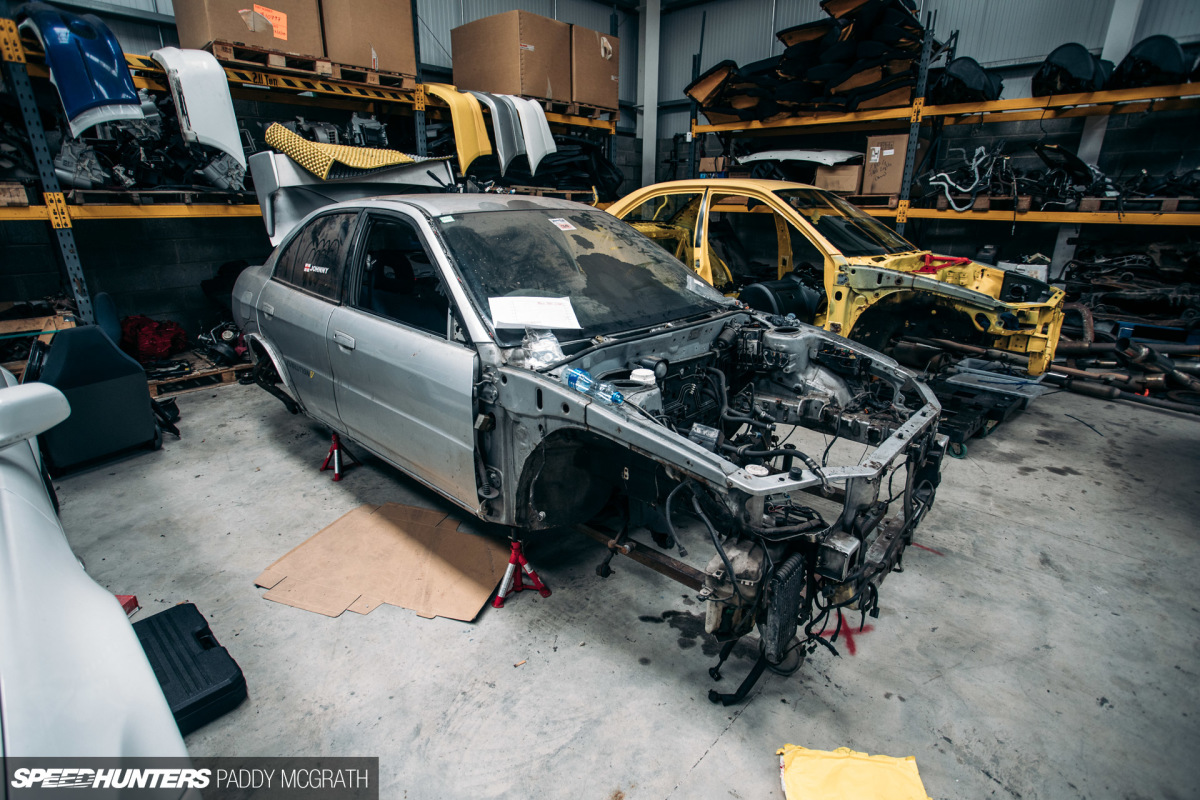 Amongst everything, there are projects that are both nearly finished or just about to begin. The silver shell here is a rare good one, which will be kept on hand or sold at some point in the future.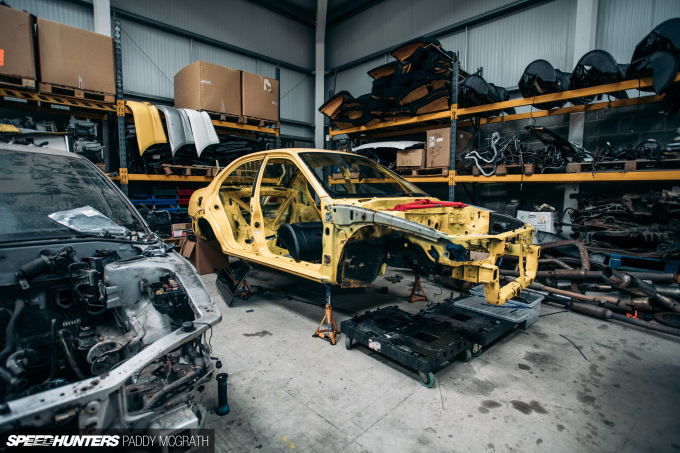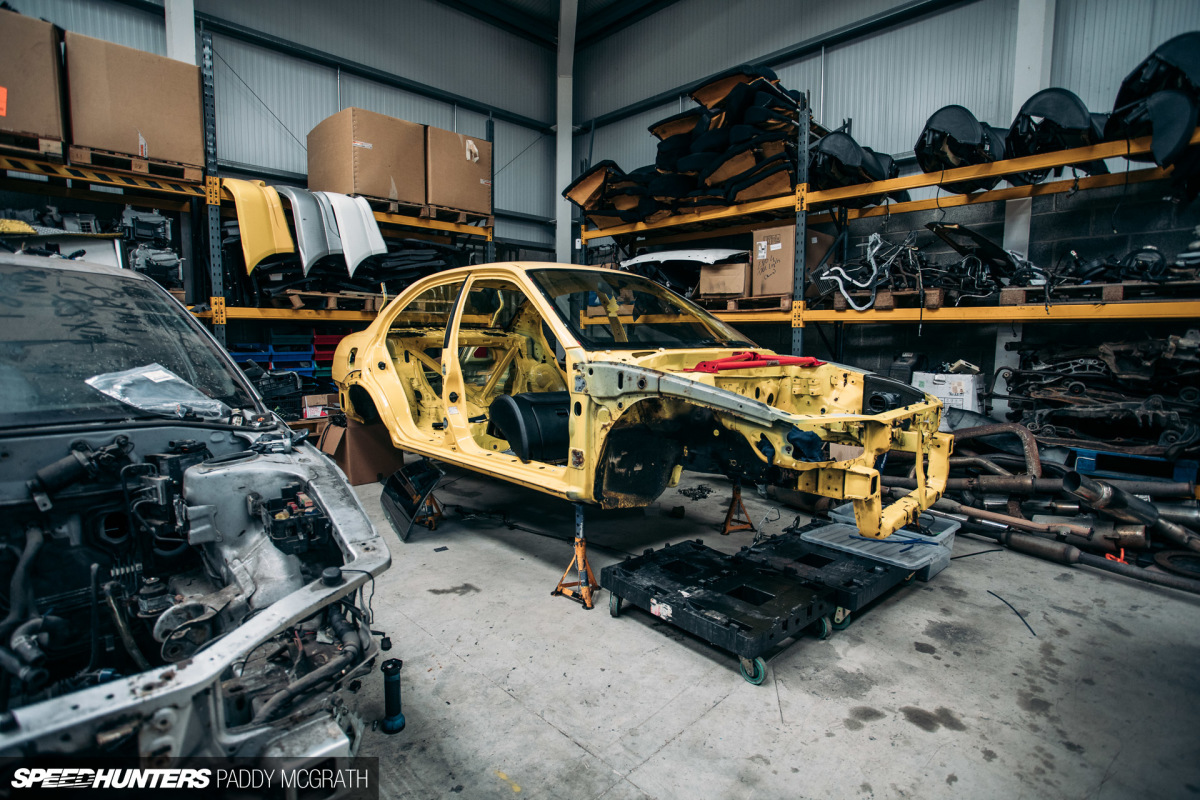 The yellow Evolution V GSR shell beside it will ultimately become a Varis wide-arched car. The rare Monster Sport parts are an added bonus.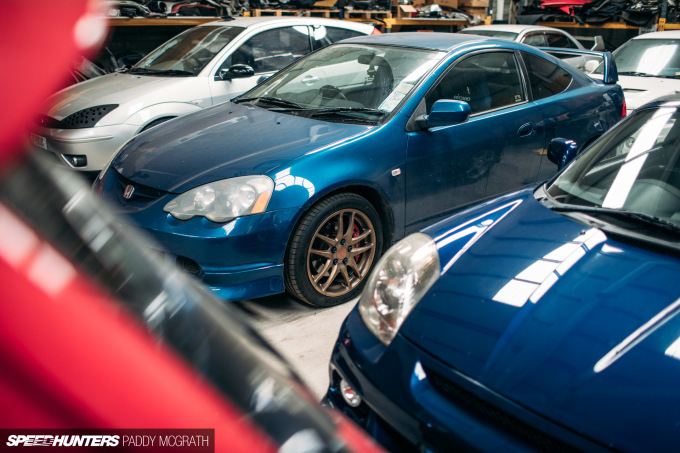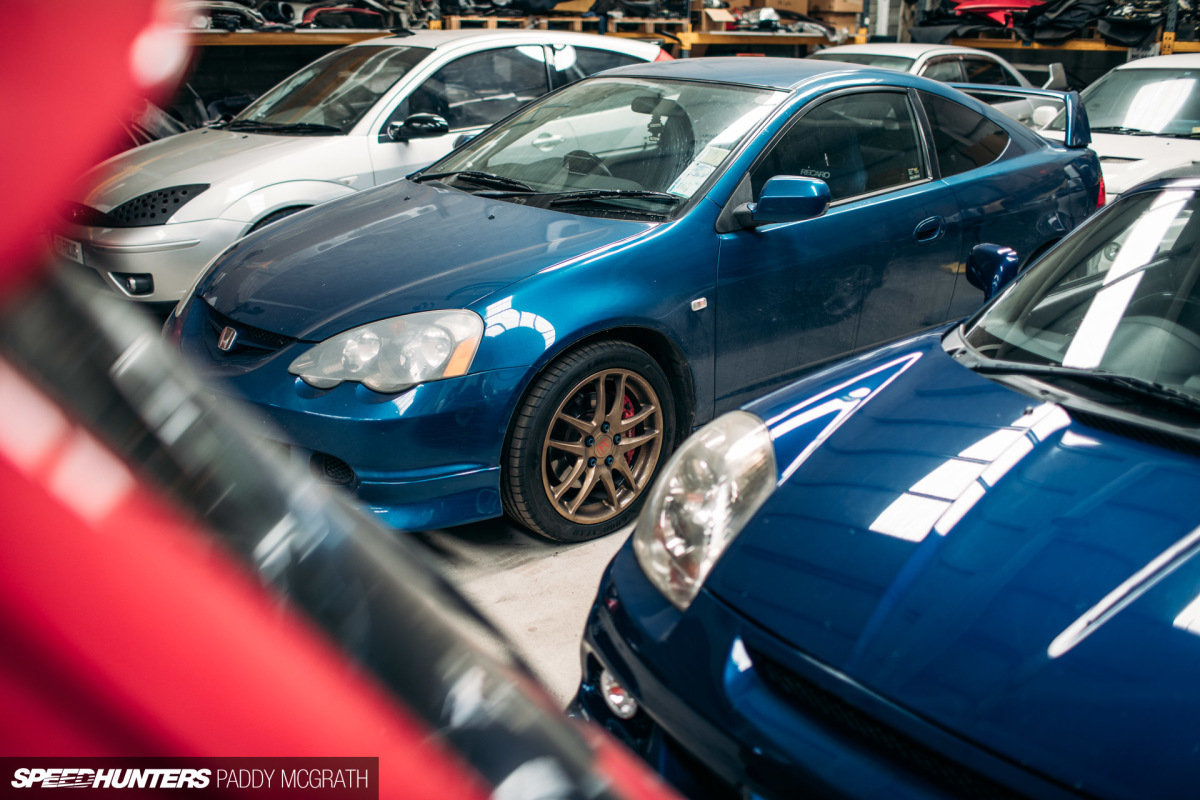 The pair of Vs at the back are being kept in storage for friends, so they are safe for now. The same can be said of the DC5 Integra Type R and Focus ST170 track car, that occupy one corner.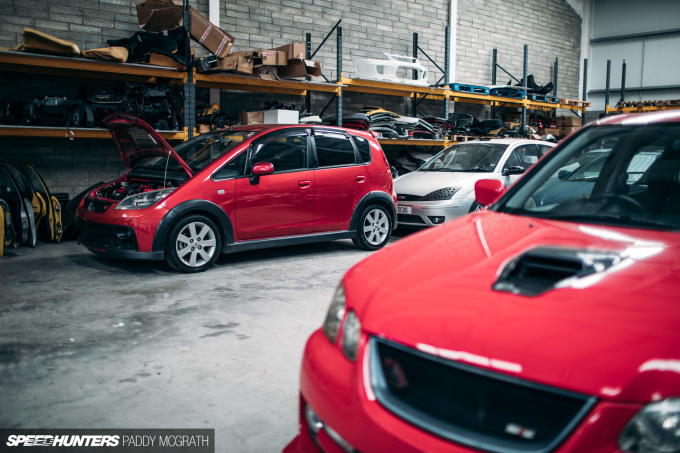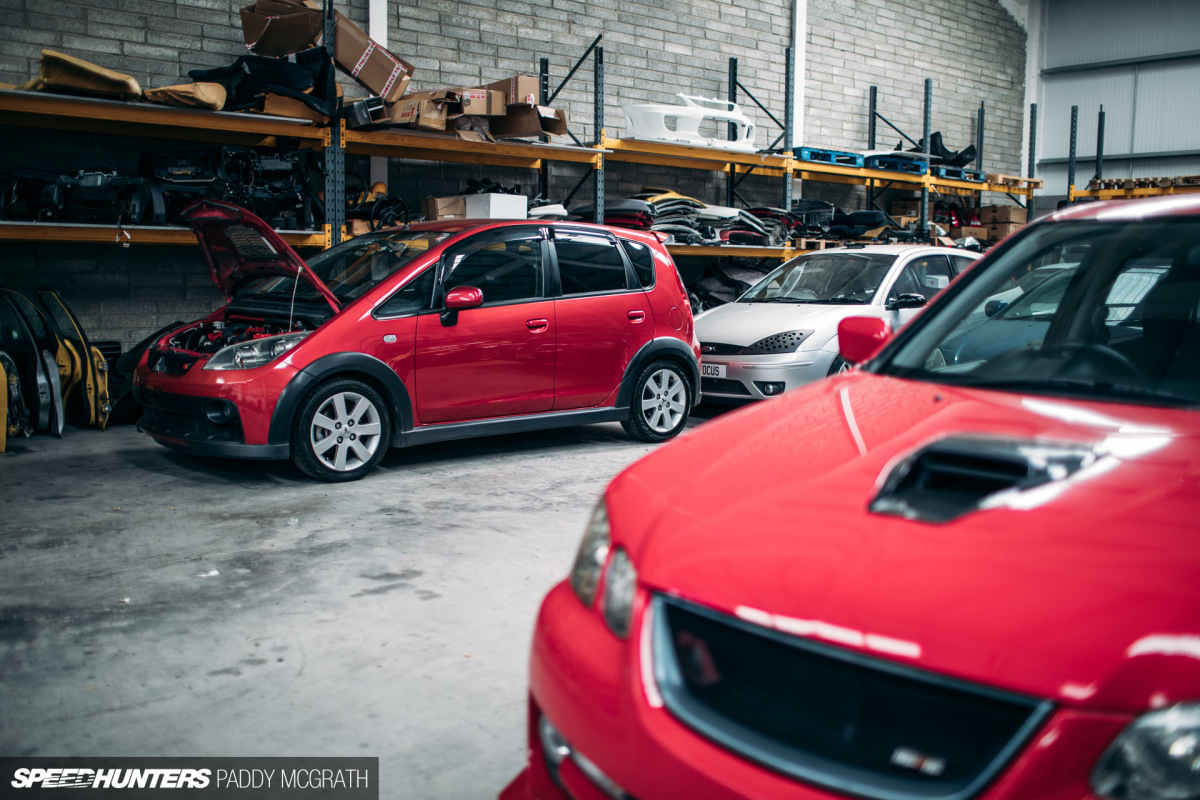 There's also a couple of unusual cars here that are a rare sight on Irish shores. The Mitsubishi Colt Z30 was never a great performer in Europe, but this fresh Japanese import (there's no 25-year rule in Ireland) offers something a little bit different to the norm.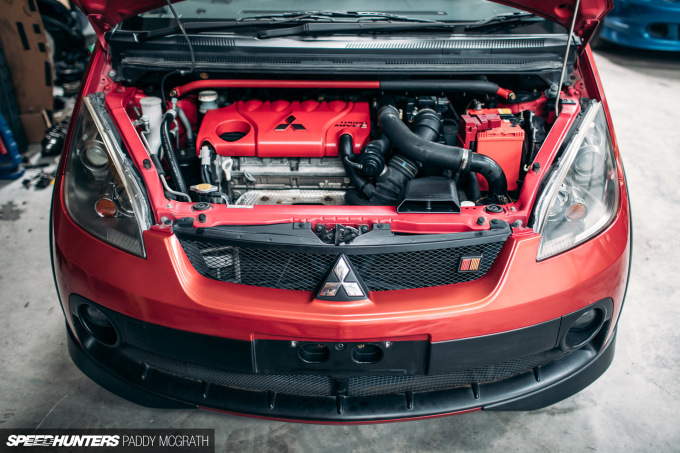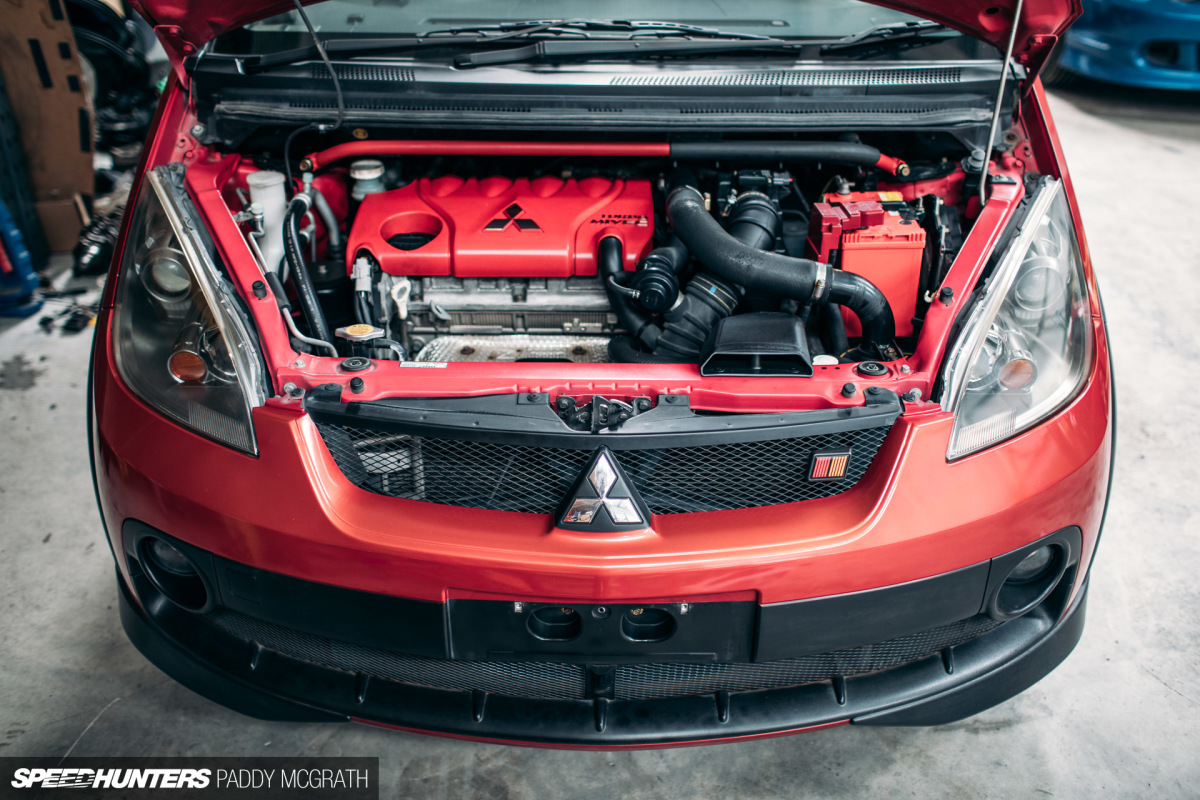 Its 1.5-litre turbocharged unit is good for 160hp in standard trim, but 220hp is not unheard of with some simple modifications and tuning.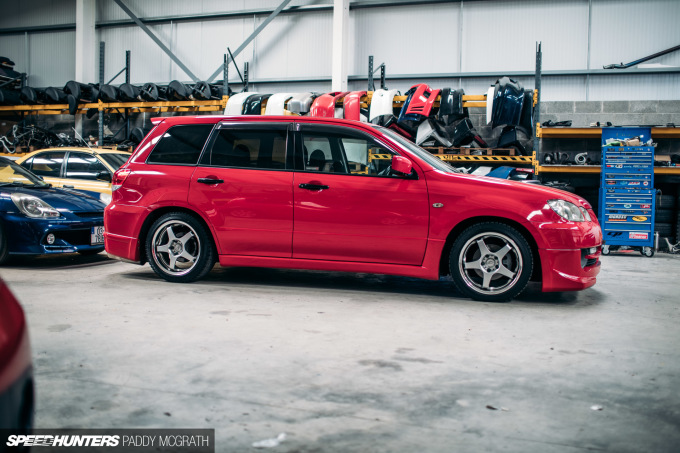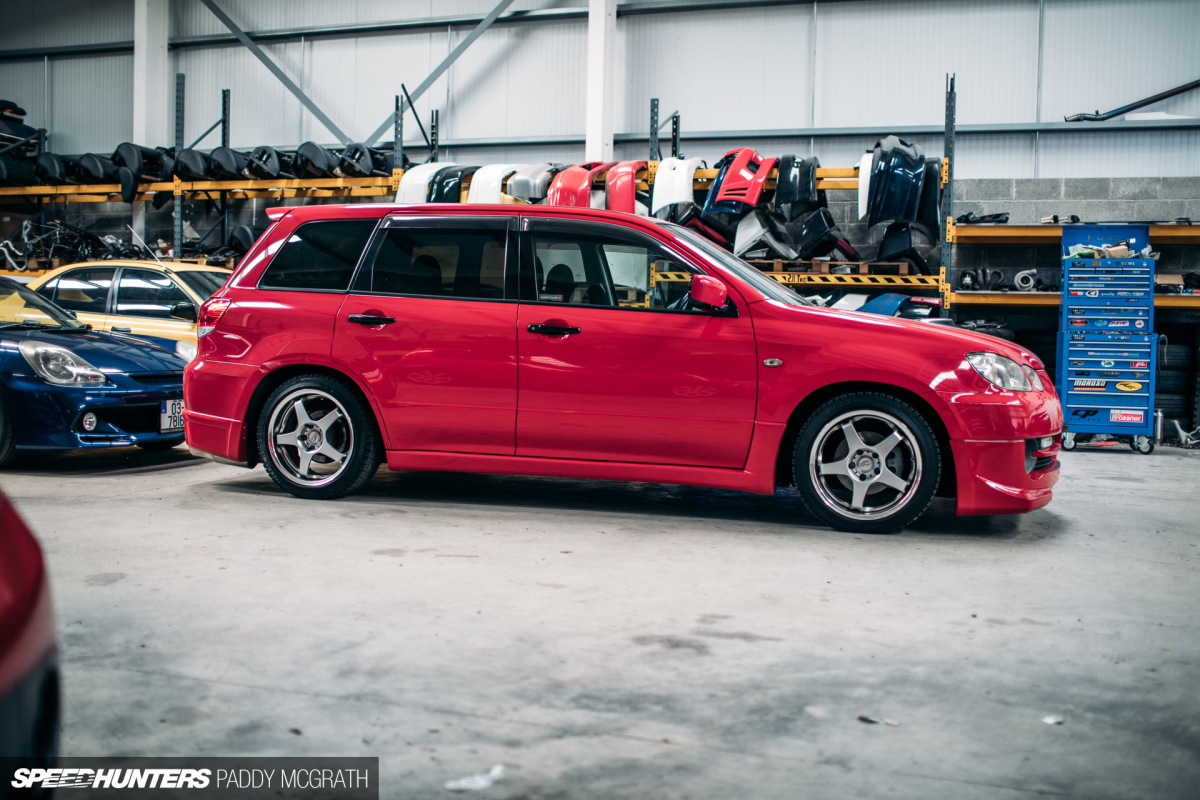 A car which will likely stump a lot of you – I know I had no clue what it was when Rob first brought it in – is another from the Mitsubishi family.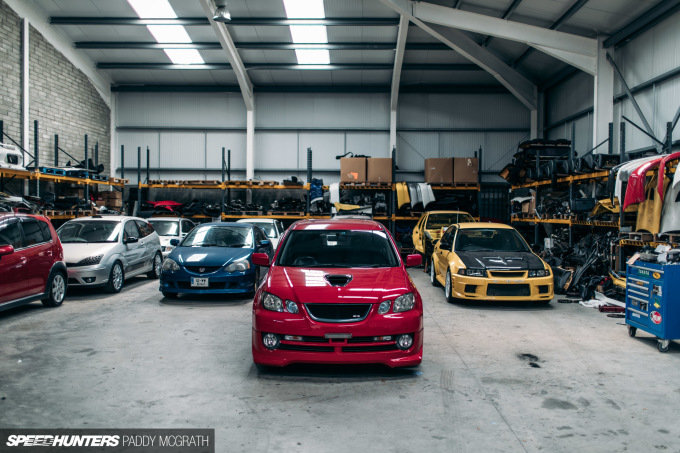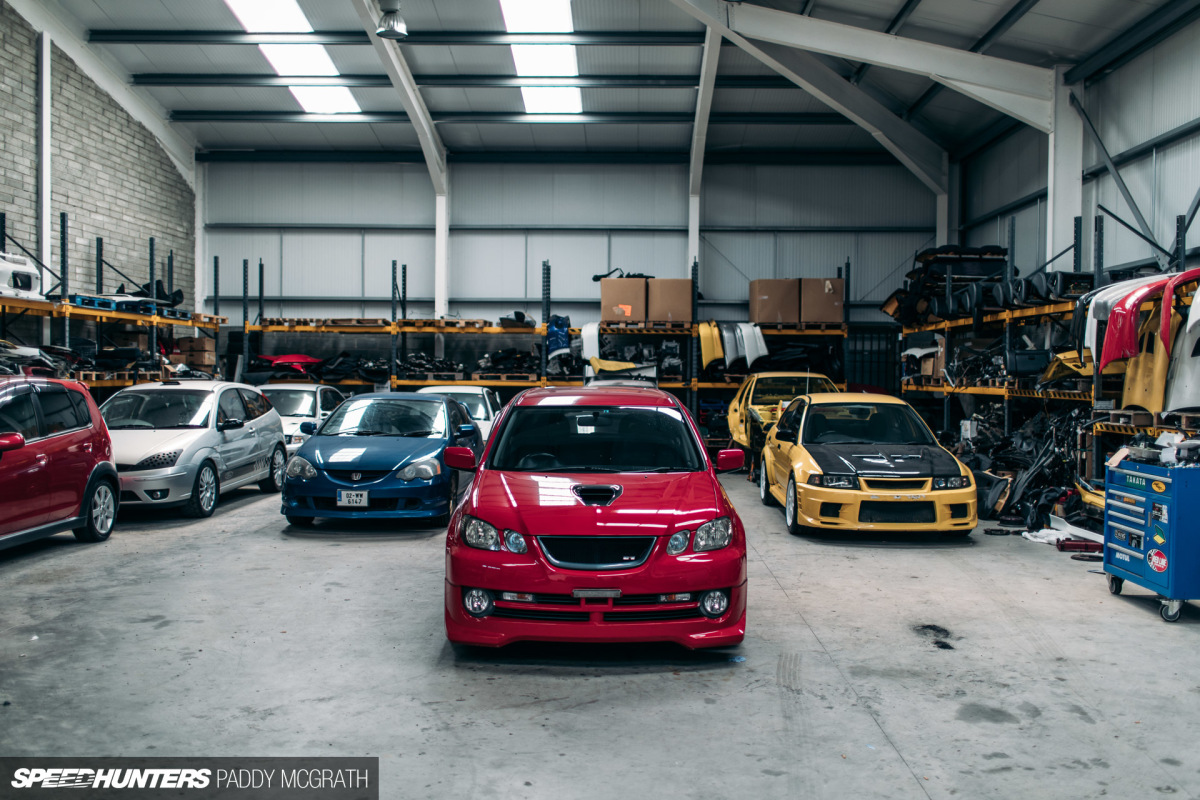 What looks like some sort of Lexus GS, Subaru/Toyota hybrid is a Mitsubishi Airtrek Turbo-R. Sold in limited markets, the Airtrek (also known as the Outlander) was essentially Mitsubishi's Subaru Forester fighter; in this turbocharged specification it's an Evo SUV, of sorts.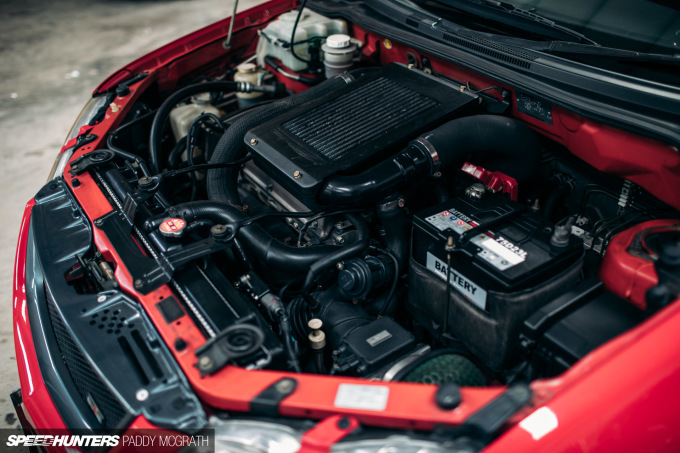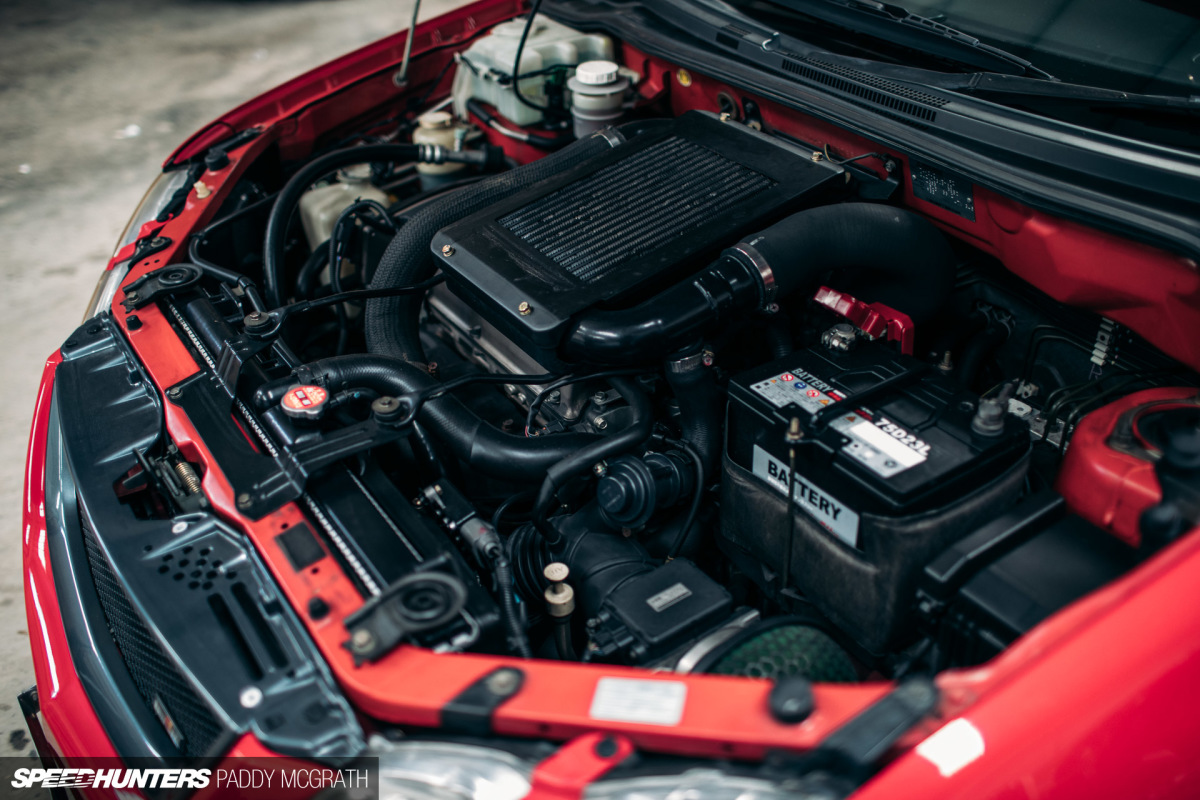 The 4WD car is powered by a mix-and-match of parts from various Lancer Evolution generations. The block is from an VIII, the internals from a V and the gearbox is an automatic from a VII GT-A. It can be converted to a manual, something Rob has been considering.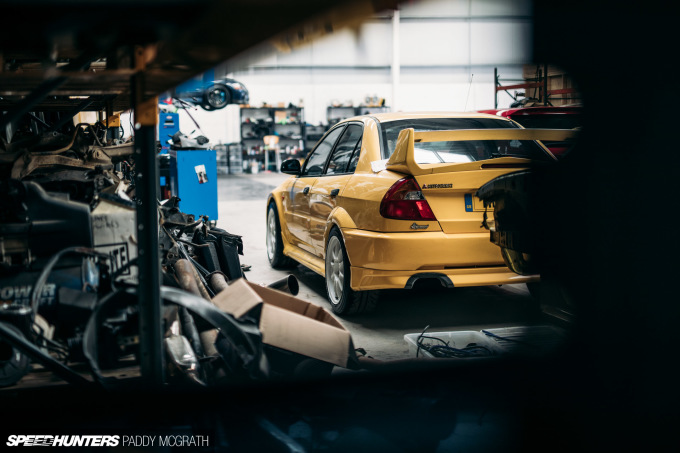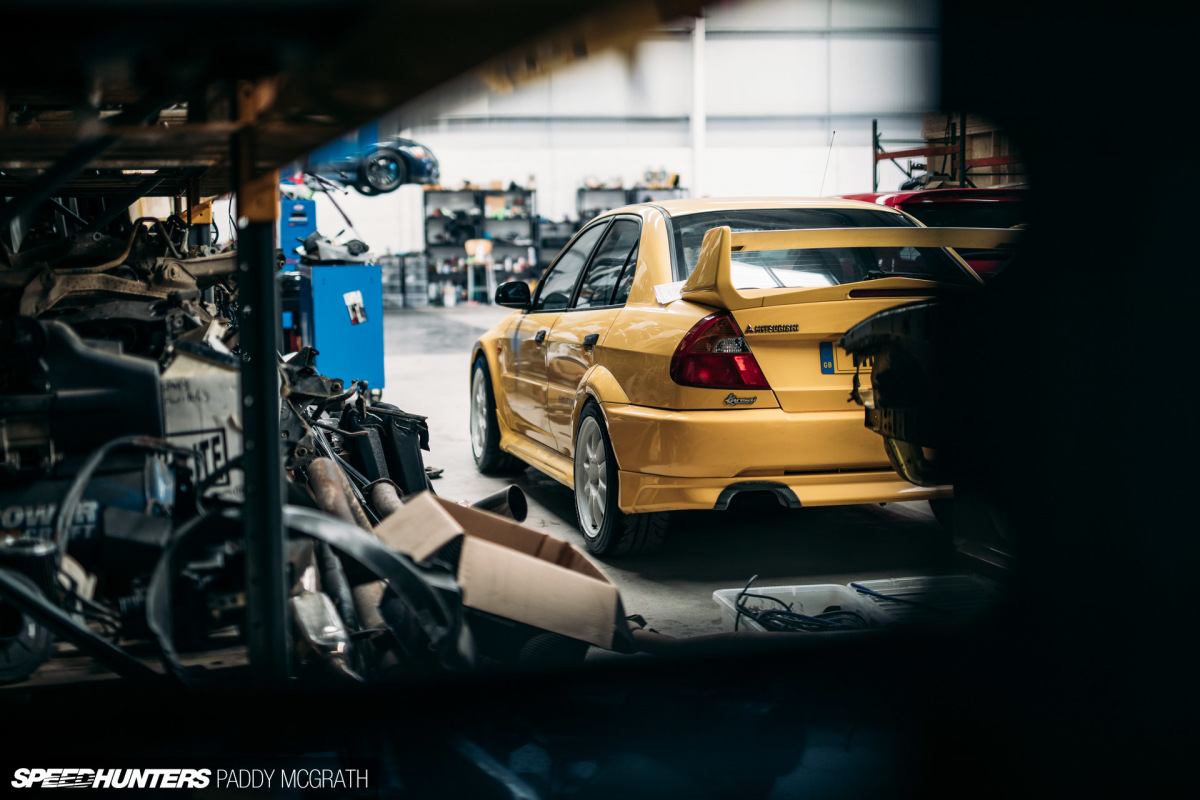 The yellow V RS is a bit of a special one. Its 380hp engine was recently transplanted into a black IV, but the ex-HKS customer car will be restored back to factory specification. Not to mention the 17×9.5-inch Enkei Competition SS wheels.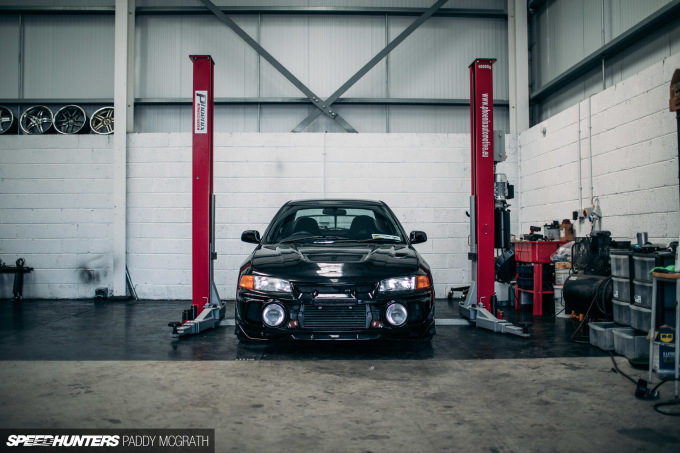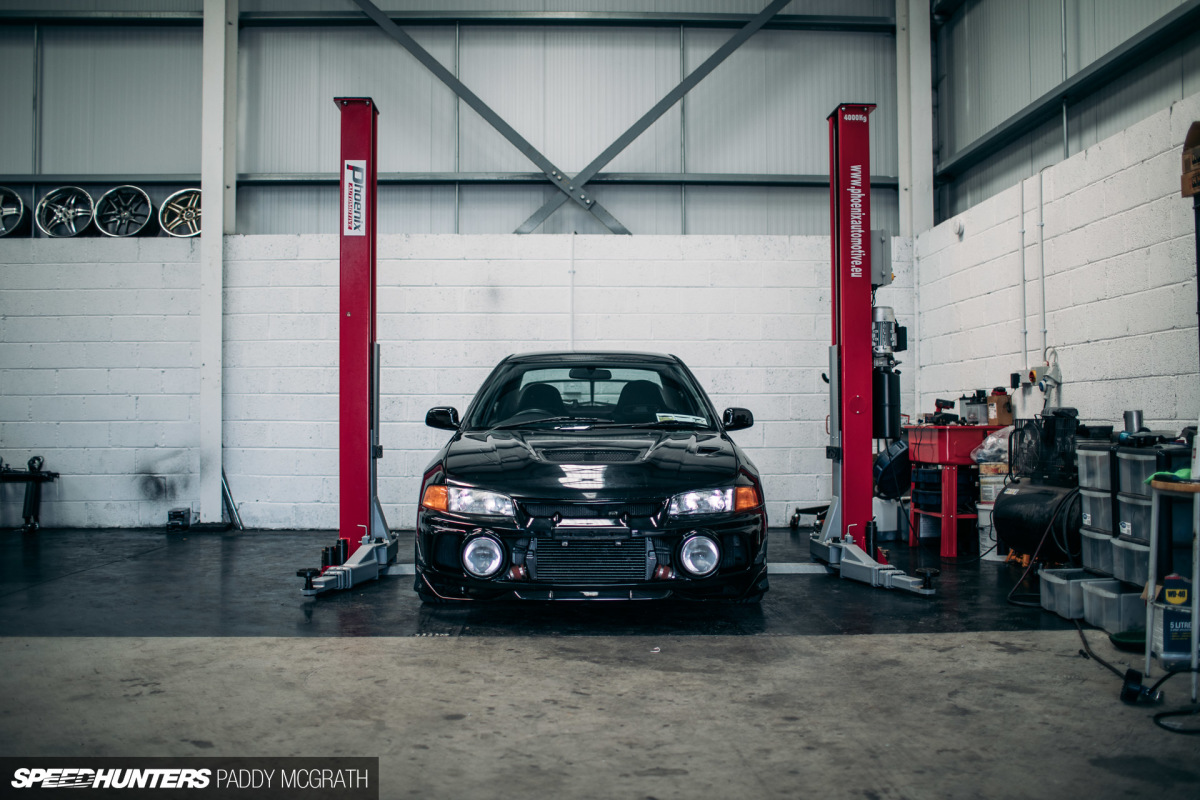 The aforementioned black IV, which was just about ready to head back onto the roads when we photographed it.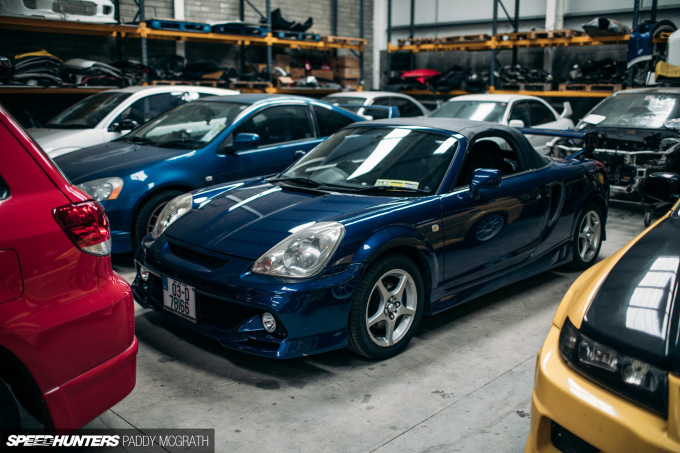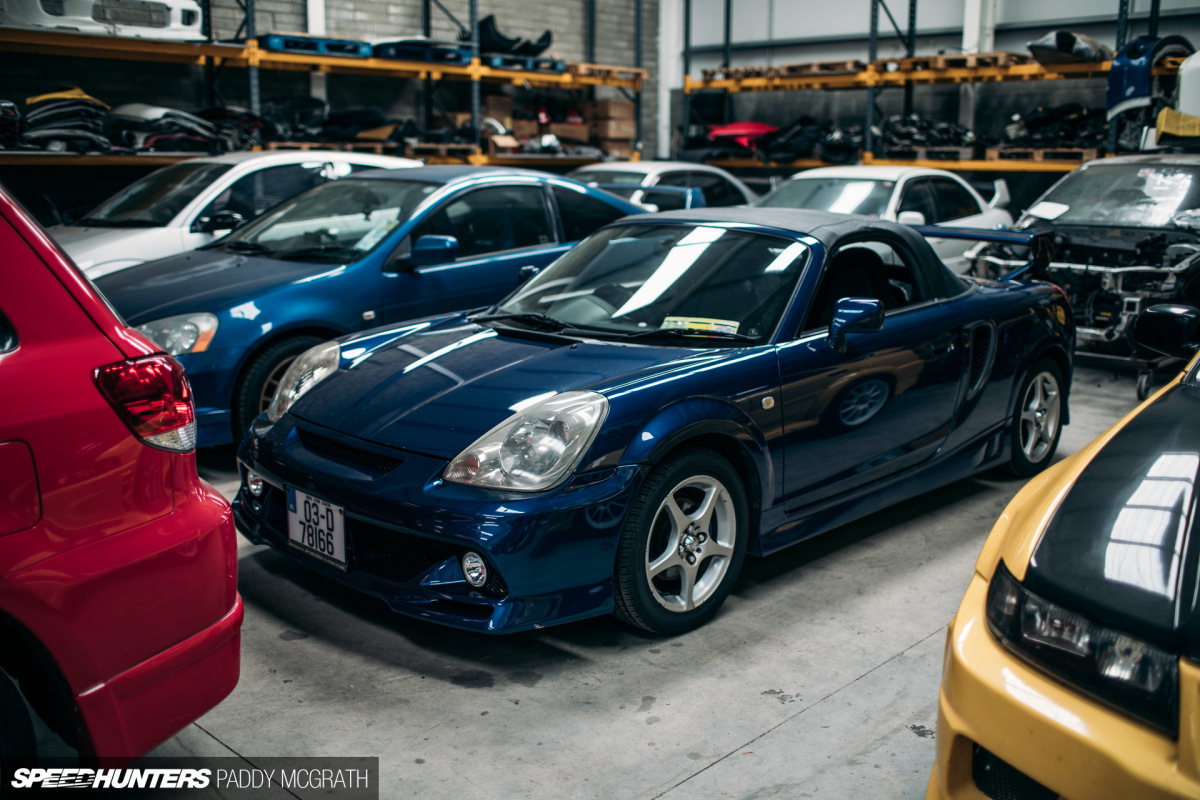 One of the more out of place cars – and maybe the most underpowered – was a sort of impulse buy. The 140hp Toyota MR-S was purchased as a cheap track car. Once an automatic, it was converted to 5-speed manual and still features some nice TRD options, including the kit and suspension.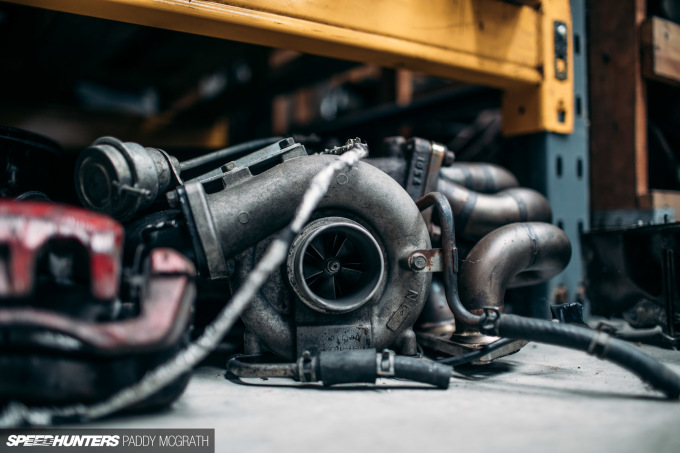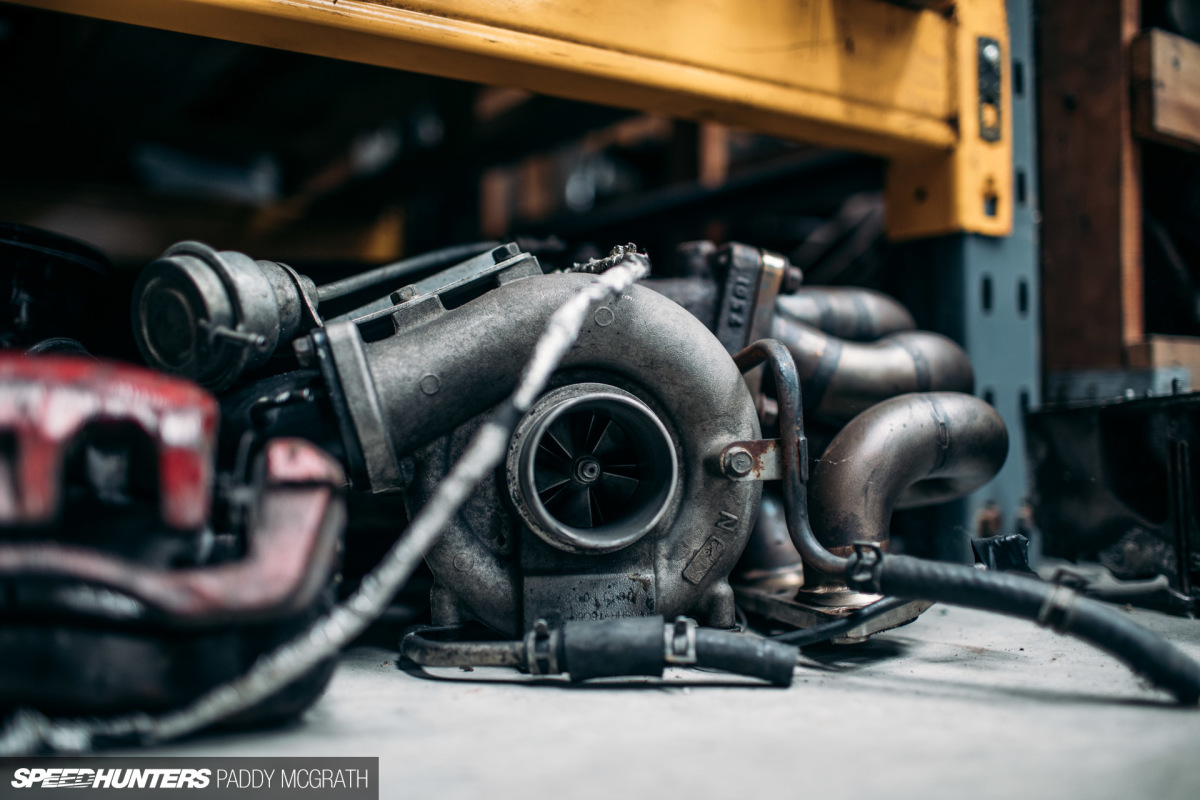 The more I looked around, the more I appreciated that this wasn't a place of doom. It's an operation born out of necessity, one which in some roundabout way is preserving and saving cars.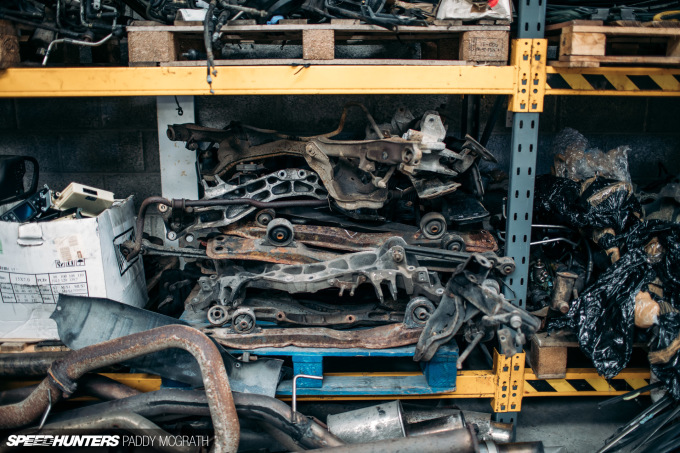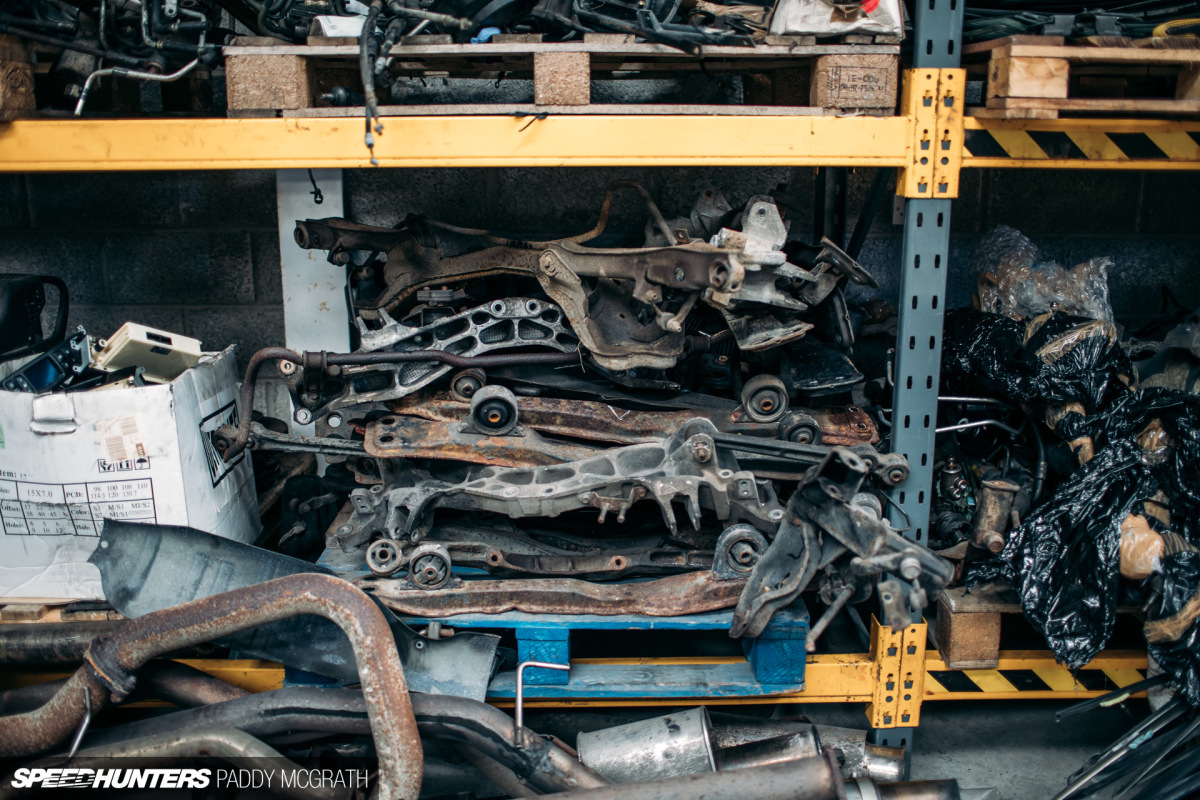 It played no role in the demise of the cars that came through its door; they were already beyond saving. Instead, the bits that could be salvaged were saved and live on for another day.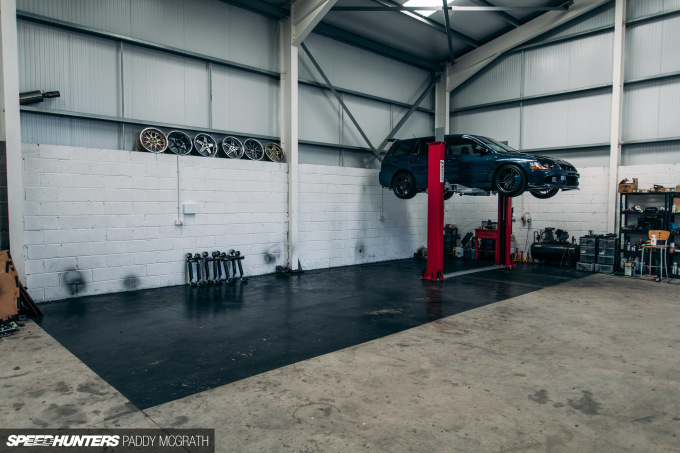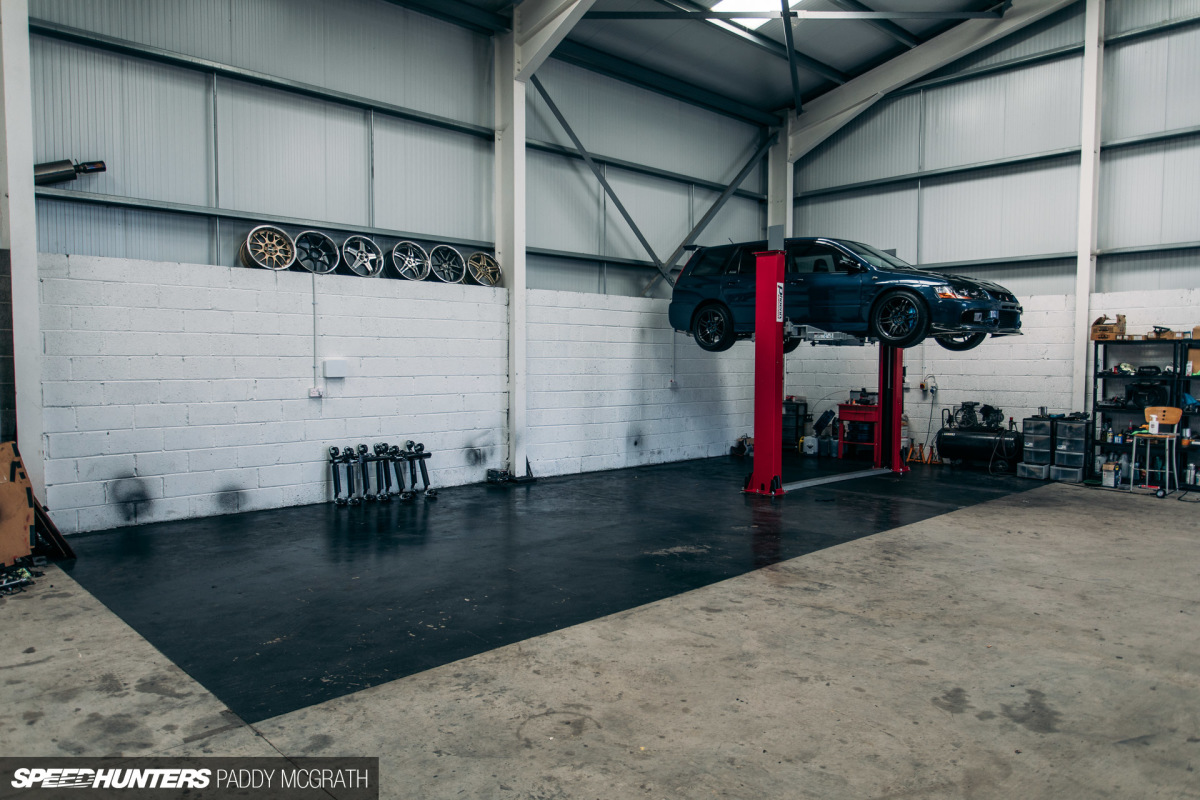 From this very operation have come several notable cars including a remarkable lightweight Evo V RS with a fascinating history in Japan, and a powerhouse Evo V street car. That's not the last of them either, as the real reason I was shooting this day was for something a little bit more practical.
I am curious as to how people view this kind of setup, whether they abhor the idea of so many examples of an iconic examples being broken down and stripped or do they see it as a necessary evil so that the better examples can survive? At least those cars that have died, can live on in some ways, rather than rotting away in the darkness somewhere. Of course, a situation where the cars were resilient to rust would have been the perfect option, but this isn't a perfect world.
Paddy McGrath
Instagram: pmcgphotos
Twitter: pmcgphotos
paddy@speedhunters.com
Cutting Room Floor