An Omori Factory R33 For The Street
For some people, authenticity counts for a lot. The factory-fresh look and feel, plus the official paperwork to guarantee it all, is what's needed to keep the most demanding of customers content. This is where Nismo Omori Factory excels.
When it comes to refreshing, rebuilding and tuning Skyline GT-Rs, it has very much developed its own feel and character. Often dismissed for taking the conservative approach compared to what more power-oriented tuning outfits are able to offer, Nismo has set a very specific philosophy to their approach. And a price to match.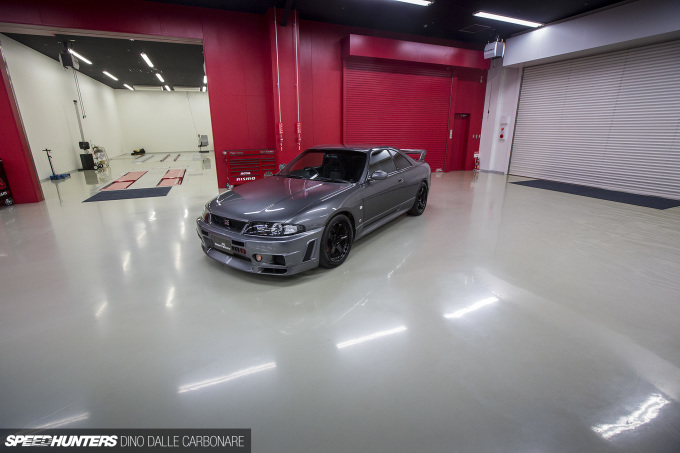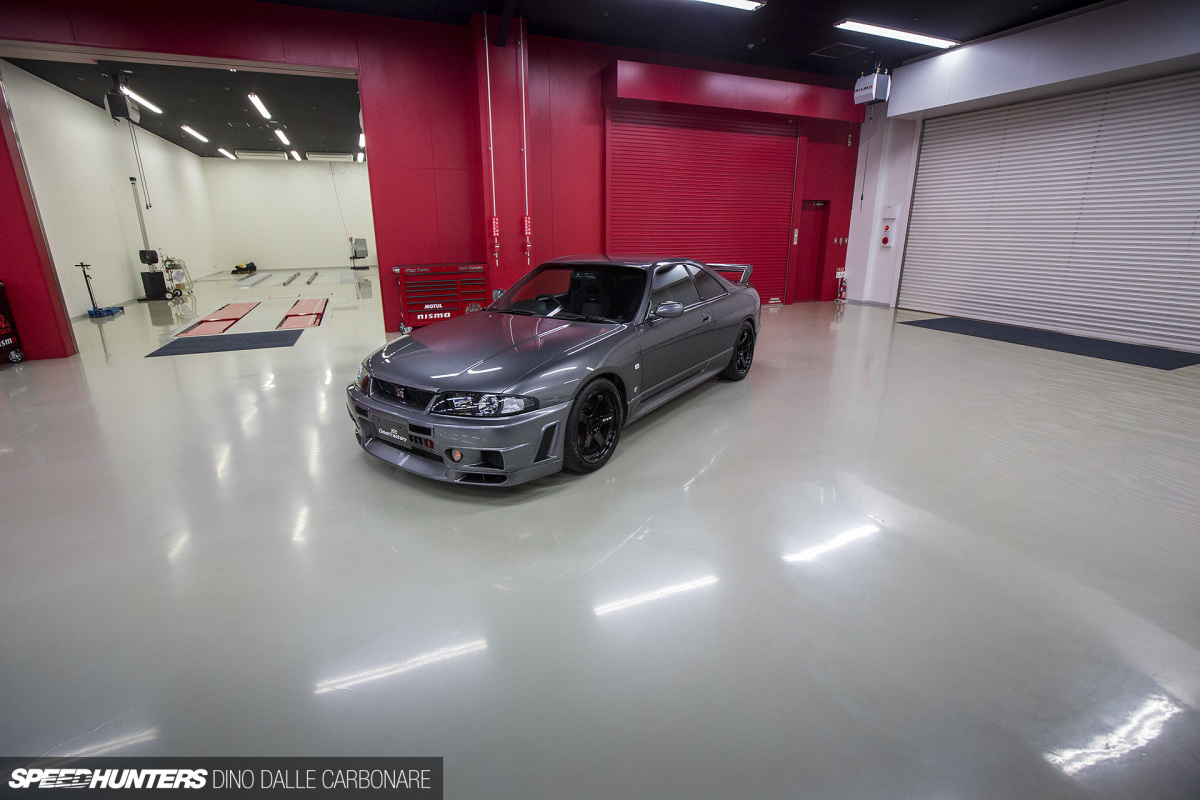 It all goes hand in hand with that image of being linked directly to Nissan, and therefore shooting for the ultimate OEM quality with all the parts it designs and develops. Of course, every addition and modification is factory guaranteed, and that's something far more important to some owners than dyno bragging rights.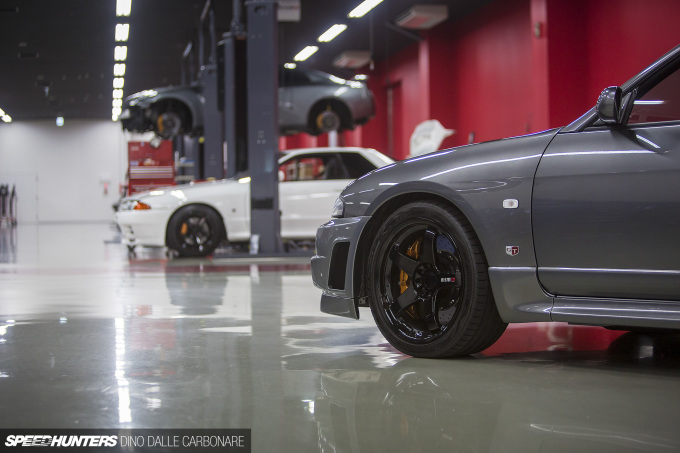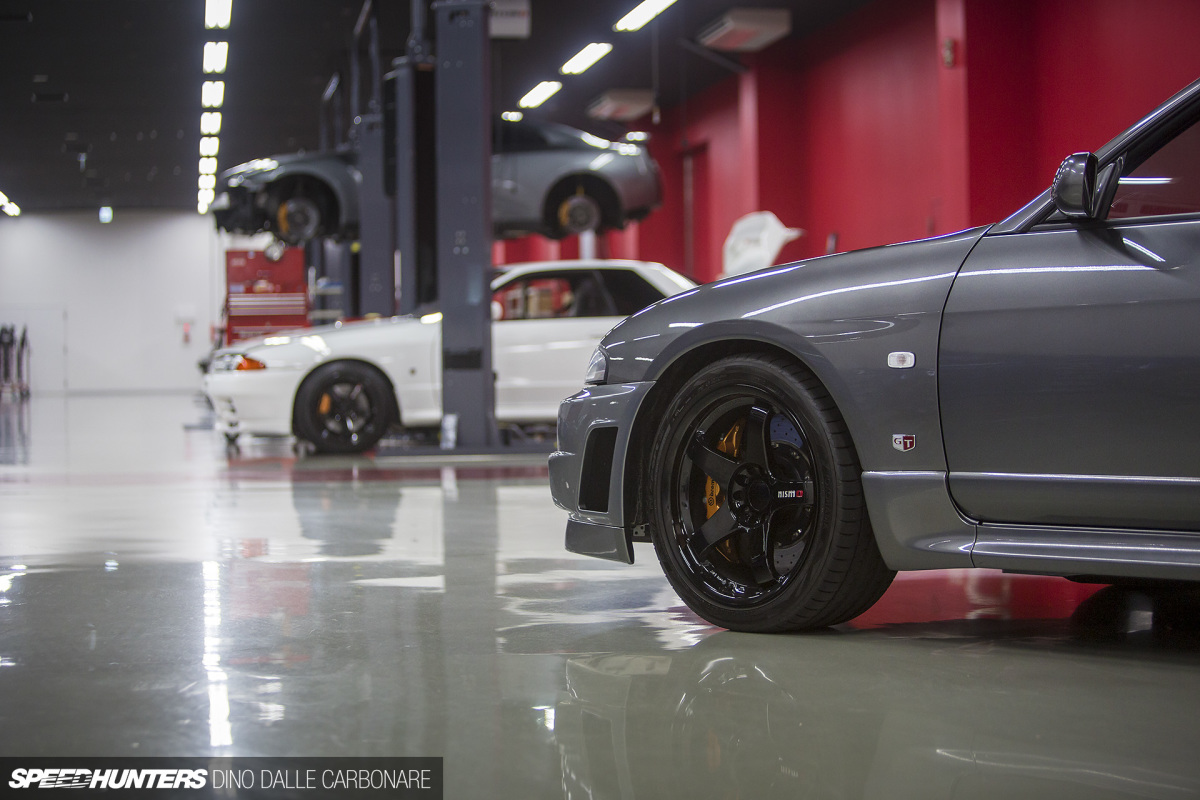 As the RB26DETT-powered series of GT-Rs continues to become more collectable, the Omori Factory workshop has been busier than ever.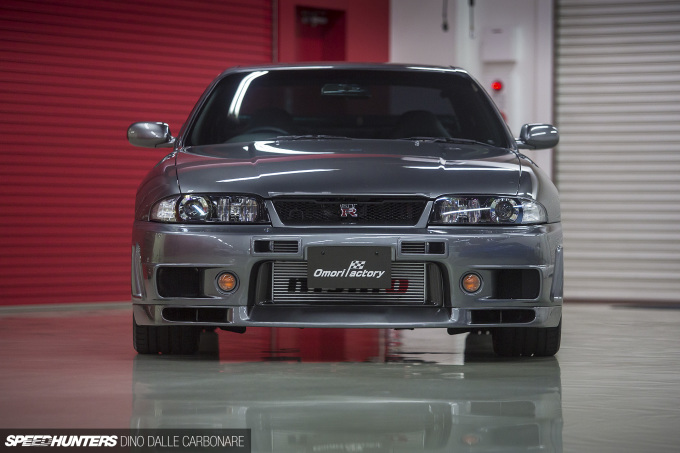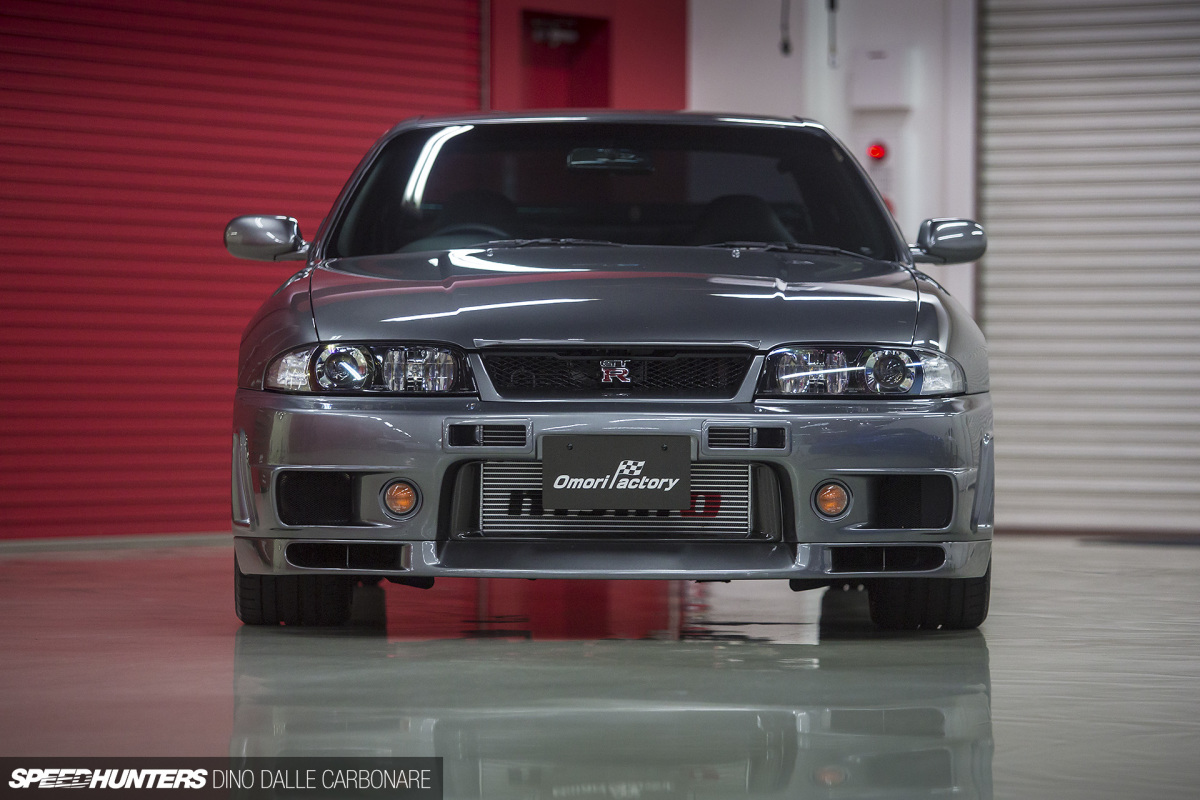 On top of its catalogue parts – the bible to many GT-R owners – Omori Factory also offers additional tuning menus for its more demanding owners. Some years back, we looked at how it approached the Clubman Race Spec package of restoration and modification that would turn any R34 into a focused sports car for both the road and track. This struck quite a chord with you guys, and it remains as one of Speedhunters' all-time biggest stories.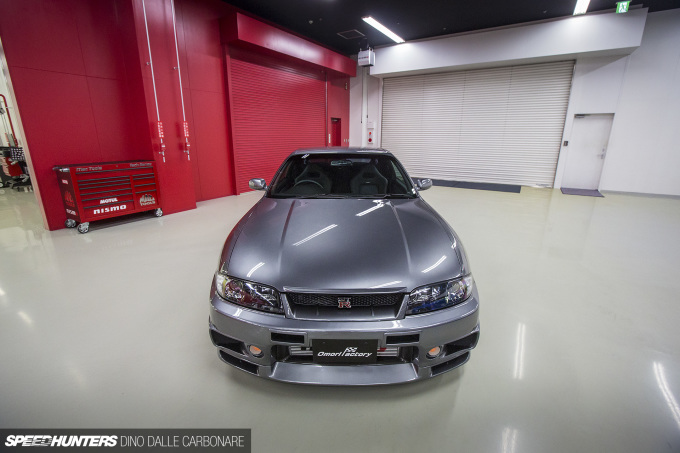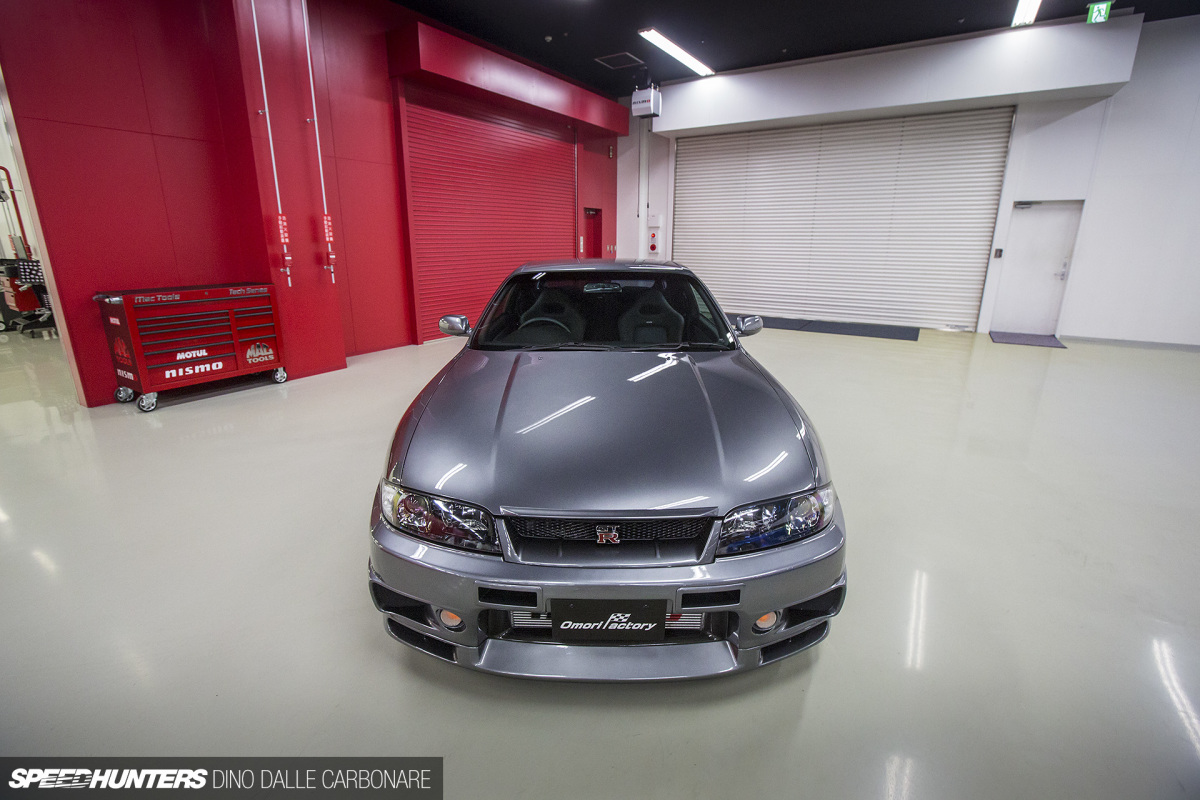 Today, we're going to look at a car that's a little different, but still pieced together by the tuning gurus at Omori Factory. Say hello to the Nismo Grand Touring Car BCNR33 GT-R.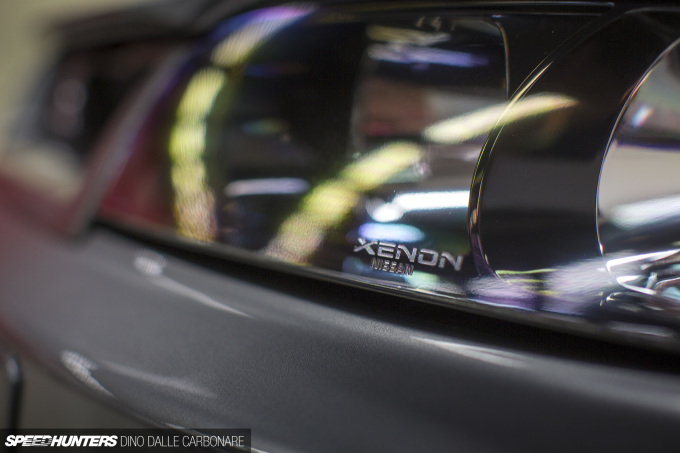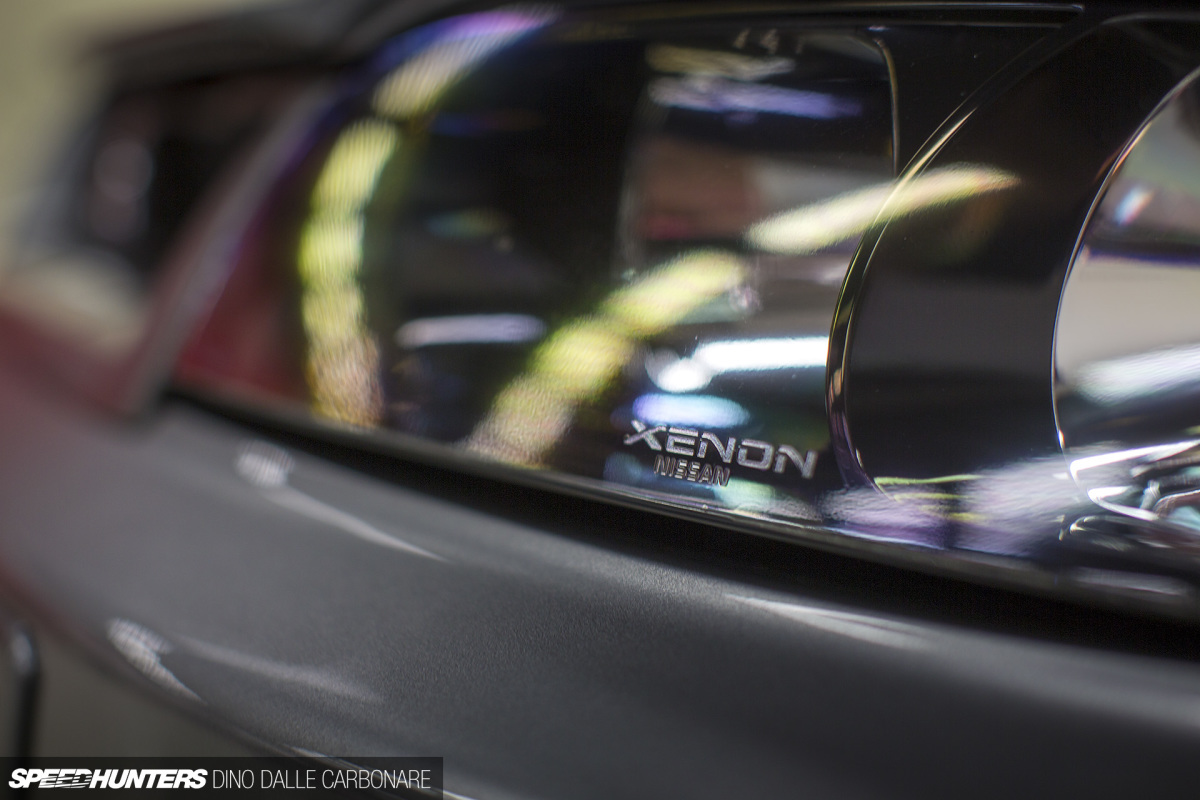 This is probably best described as a notch down from the Clubman Race Spec R34, yet it's still a completely rebuilt car that will require a six figure investment to pay for it all. With the goal more centered around creating the best street GT-R out there – at least as Nismo sees it – the Grand Touring Car package addresses every area of the car. Let's start off with the exterior.
Nismo's demo car got a full strip down and chassis refresh before being fitted with its own bumper, series 2 OEM Xenon headlights, and a lower lip spoiler. There's also a carbon air guide framing the opening to the intercooler, which is there to eliminate turbulence and guide a cleaner flow of air through the core.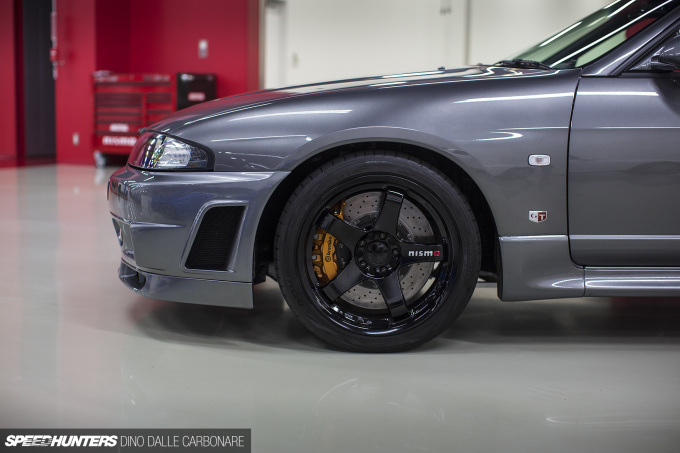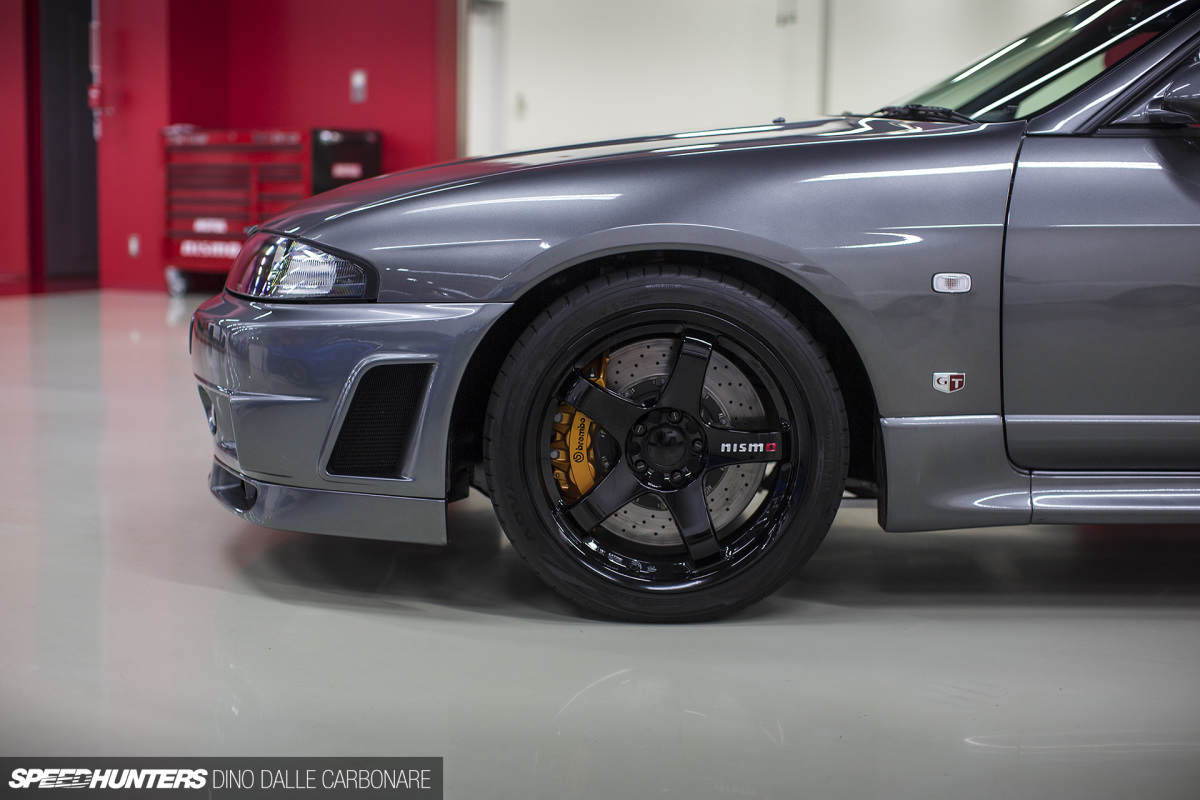 The Nismo bumper also has lateral openings on each corner to vent air that's passed through the oil cooler away on the passenger side and for pure symmetry on the driver side.
A set of forged, limited edition 18-inch Nismo LM GT4s are fitted at each corner, limited because they are ordered from RAYS with a machined logo on one of the spokes to differentiate them from the countless cast knock-offs that exist out there. And since the car is primarily aimed at street use, it doesn't get sticky circuit-spec rubber but a more simple performance tire, namely the Yokohama Advan Sports V105. I run these on Project Drop Top and can vouch for their great all-weather performance.
As with all Nismo demo cars, this special R33 also gets the Brembo brake package from the R35 GT-R, so massive 6-pot calipers up front and 4-pots at the rear biting down on cross-drilled, floating rotors. The kit includes the mounting brackets for each caliper as well as a solution for the integrated drum e-brake at the back.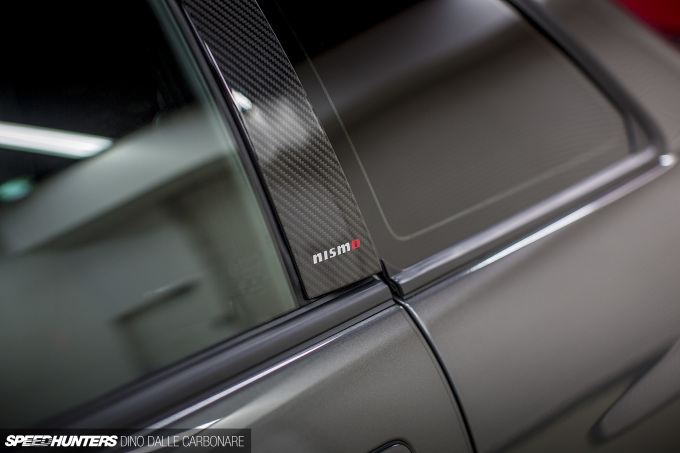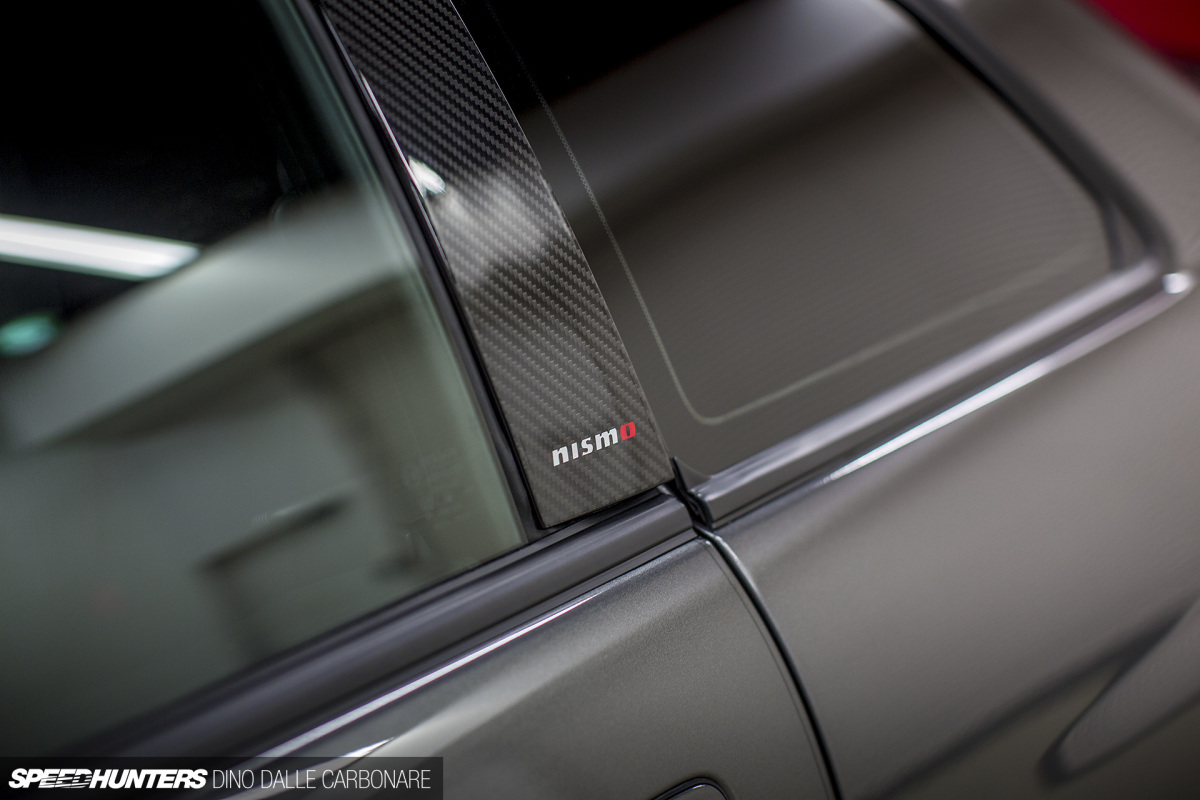 While the Grand Touring Car is no 400R, it still gets a few select pieces of carbon here and there to spice up the 20-year-old exterior. These are new Nismo carbon B-pillar garnishes, which have a real layer of carbon inside rather than the previous carbon-look items.
The rear wing element is in dry carbon, which also means that it's a prohibitively expensive piece, but also a must-have item for this genuine Nismo machine. Seeing as this car got a full strip down prior to the build, I was a bit surprised that the automatic antenna was left in place. If I was an R33 owner and was doing such a big restoration on the car, this would be the first thing I'd consider shaving off. But again, it's all about authenticity, so I guess it had to stay.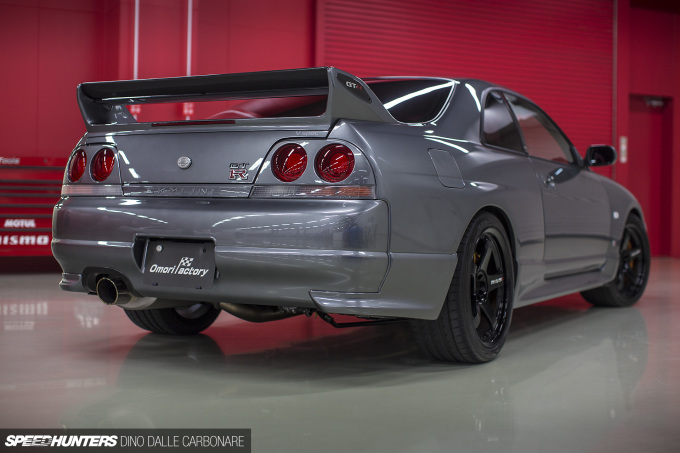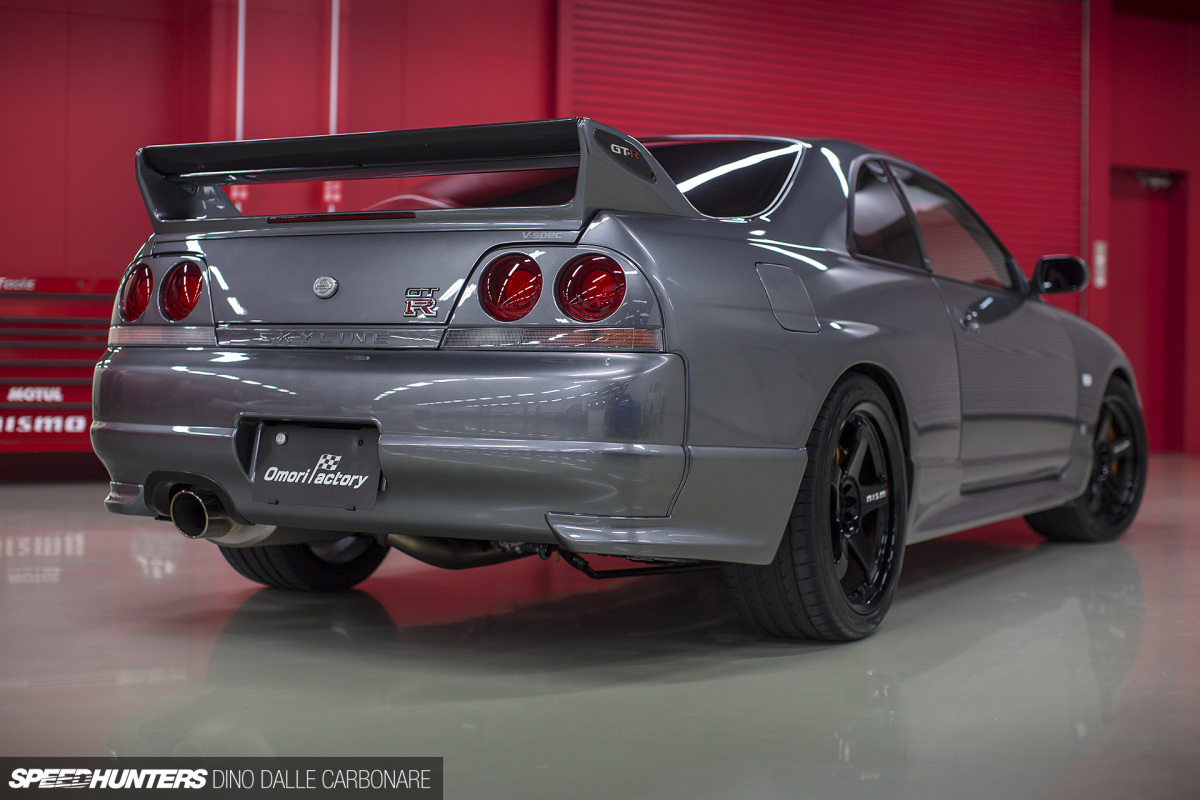 The demo car is painted in dark metallic silver, and just like on Nismo's R34 the quality of the paint job is very high with not a hint of orange peel in sight. The paint is topped off with an extra helping of clear-coat which gives a level of shine that I've only ever seen on show cars.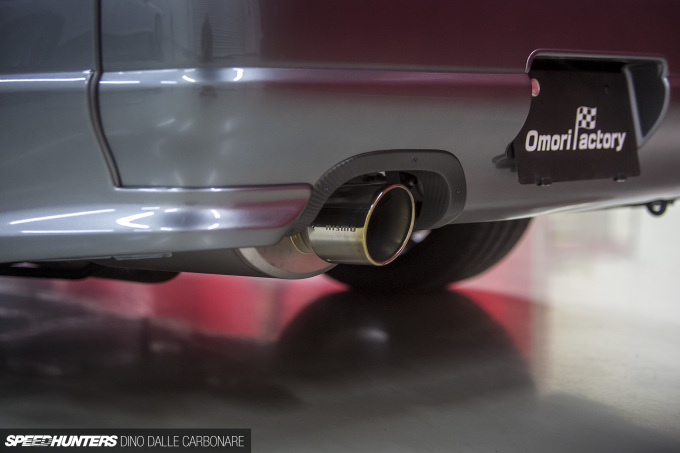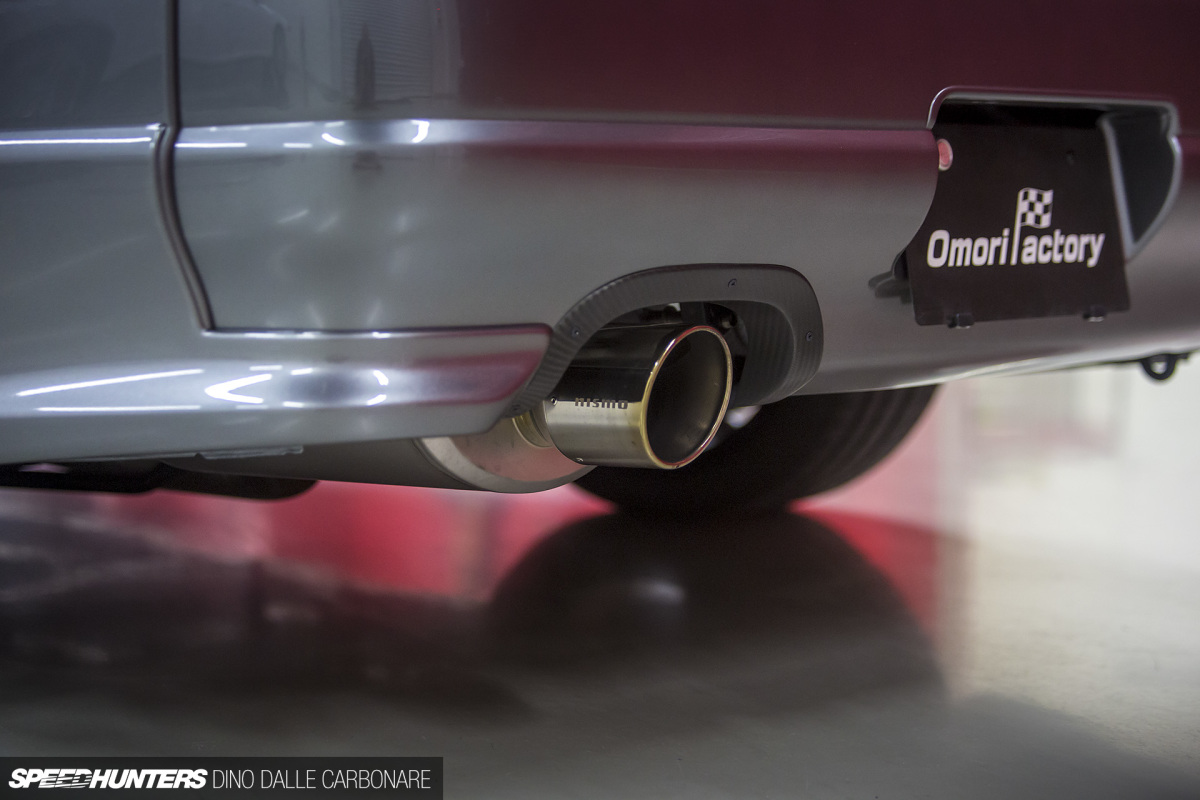 The final piece of carbon sits at the very back, protecting the bumper from the heat of the NE-1 titanium exhaust system's tip.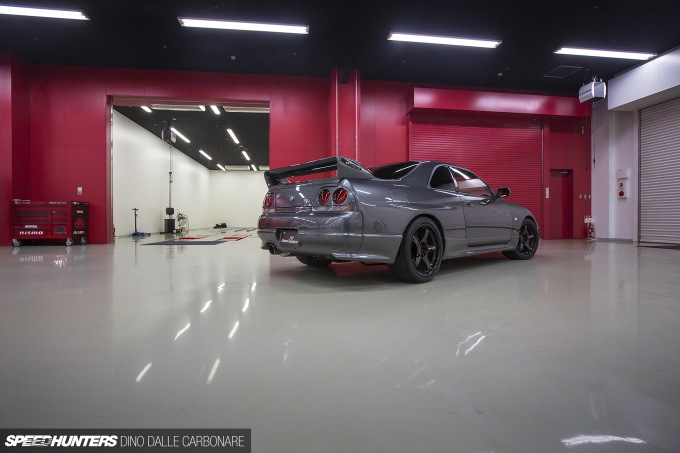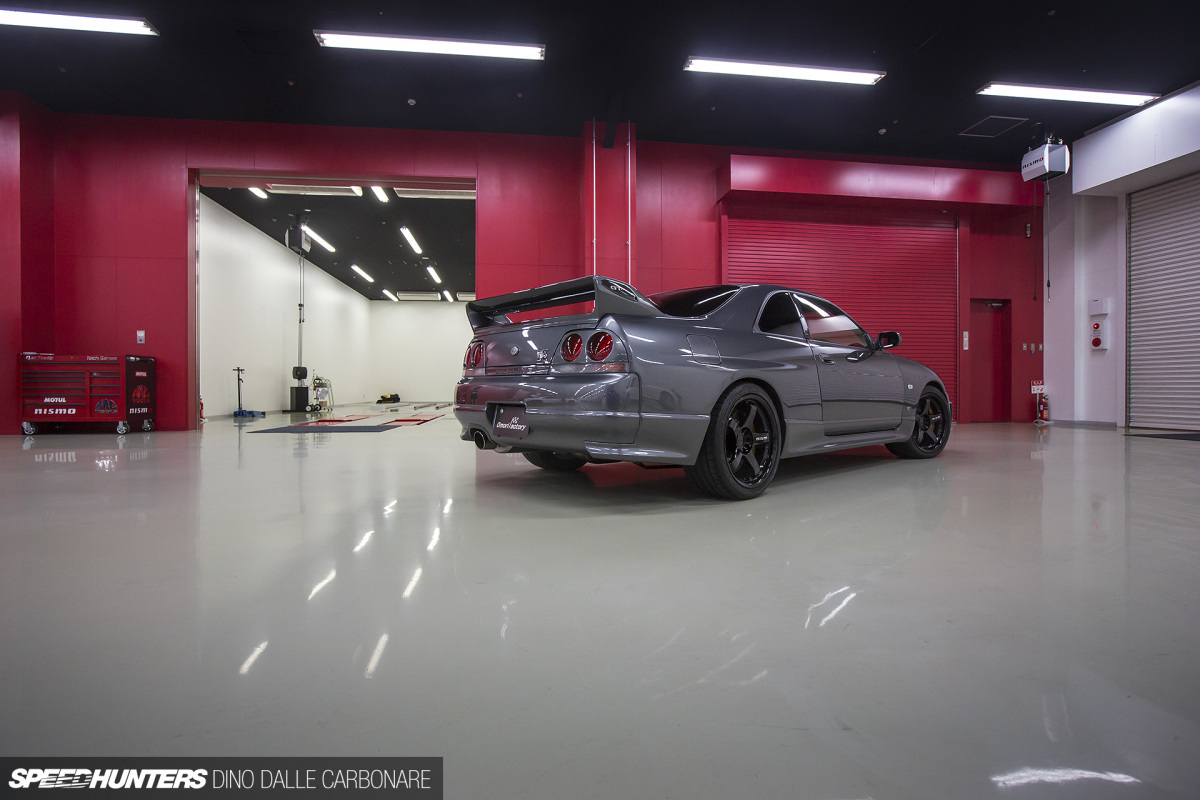 I found it quite strange to be shooting this R33 in exactly in the same corner of the Omori Factory workshop where I shot the R34 three years ago. But the shiny floor and signature red walls and garage shutters just create for the most recognizable ambience you could every dream of having for a GT-R.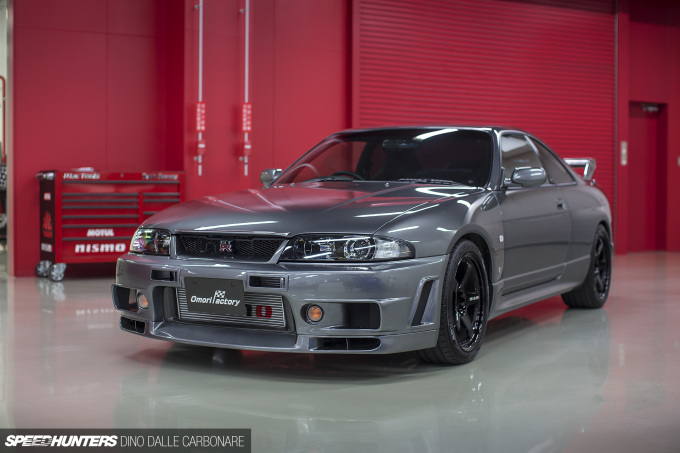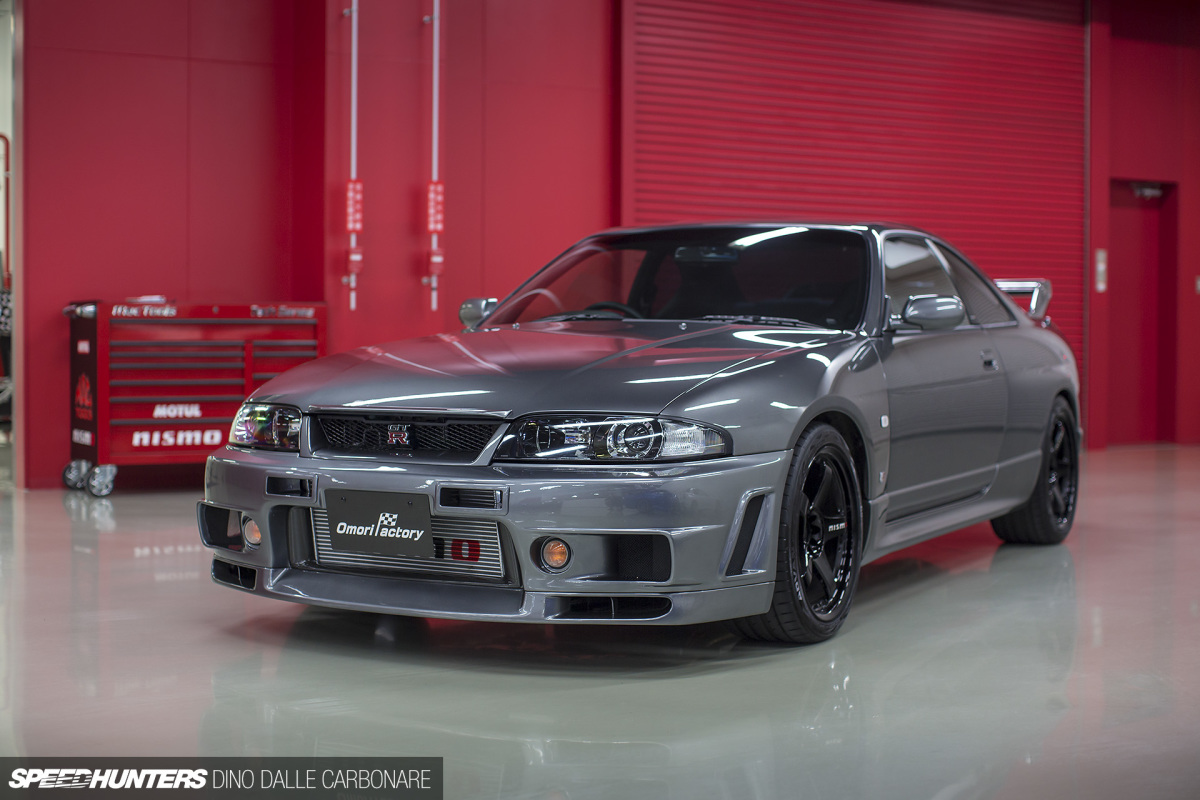 But let's move onto the engine, as I'm sure by now you're itching to find out what's going on at the heart of it all.
The Power Of Nismo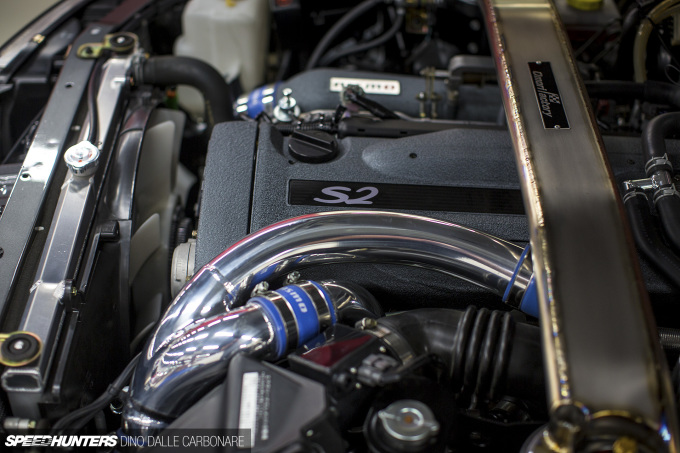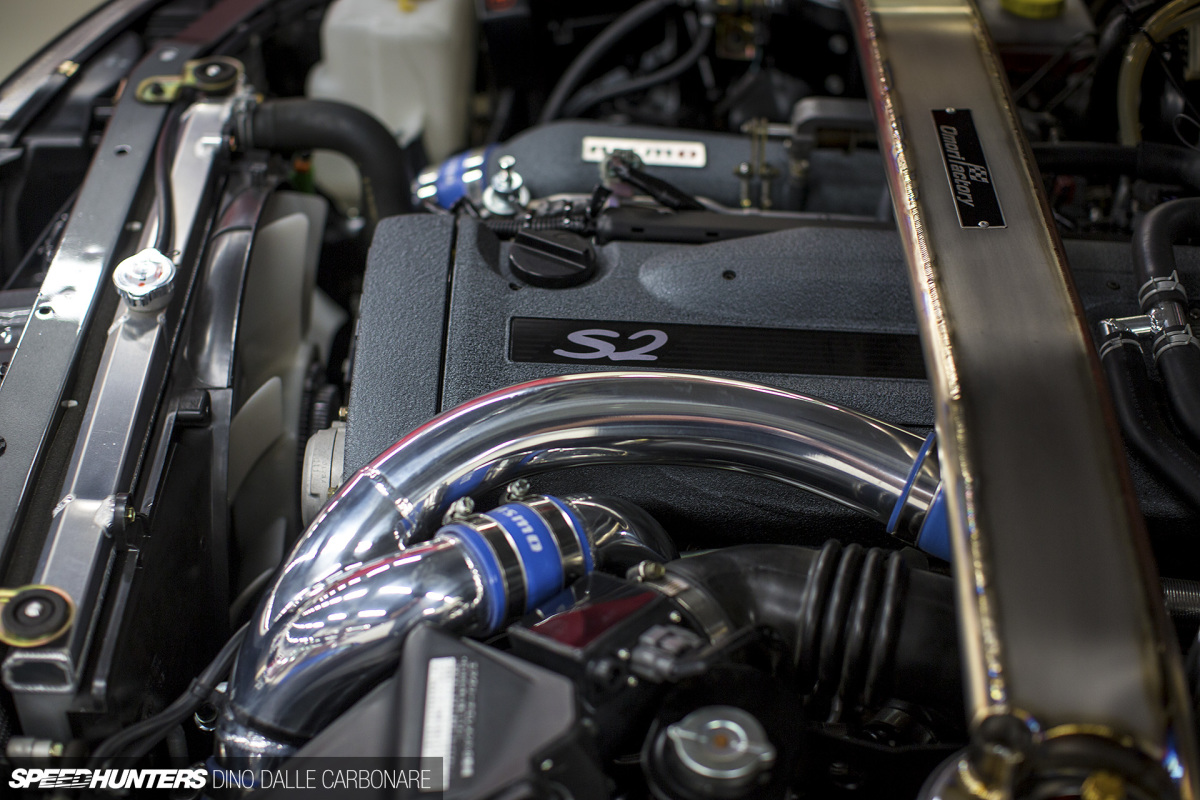 With performance needing to be more geared towards street use and the odd excursion to a fun mountain pass, Nismo didn't see the need to equip this R33 with too much power.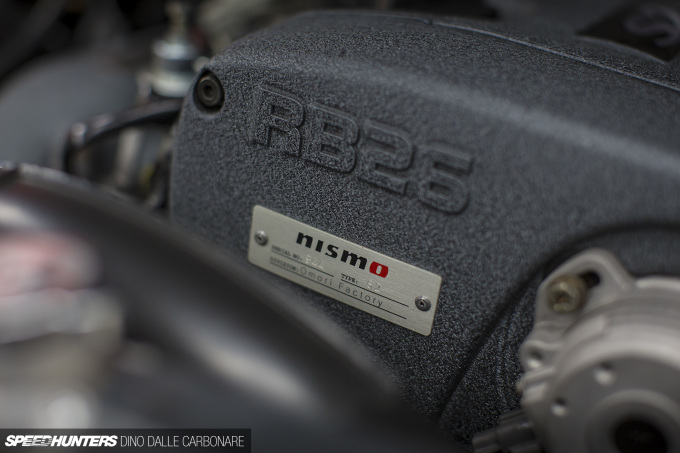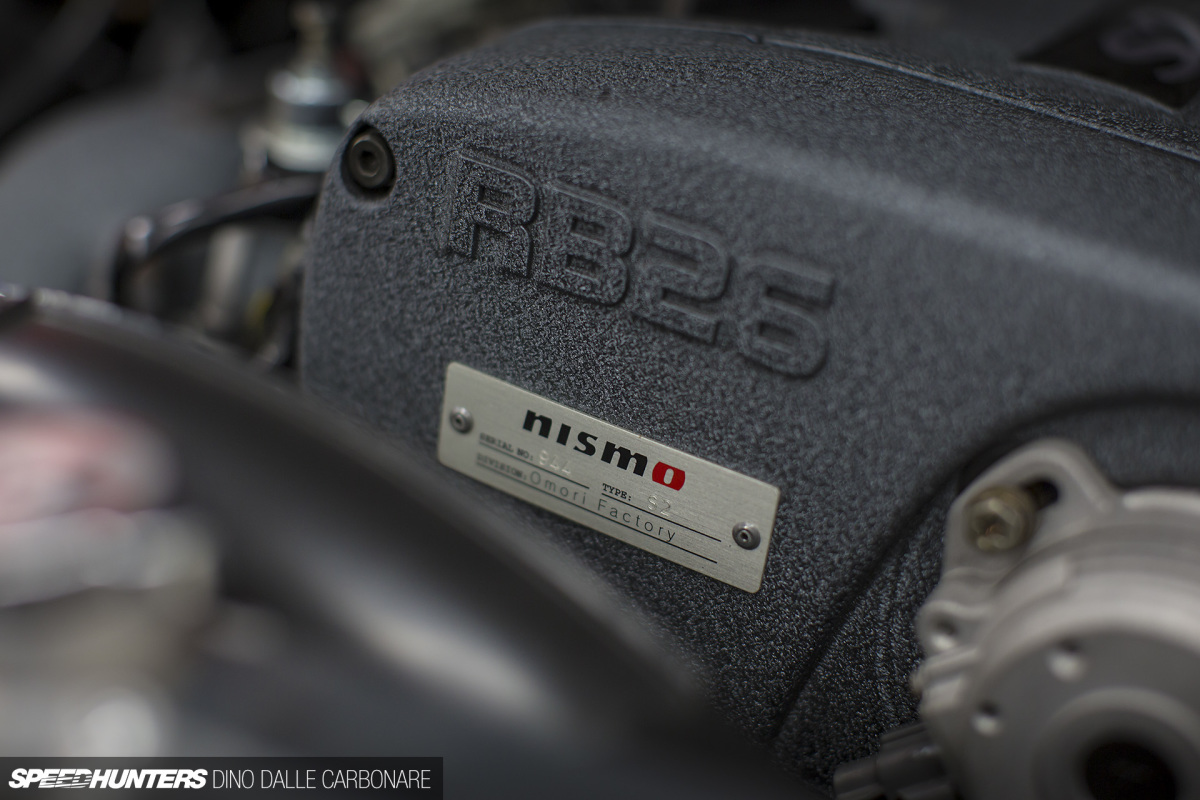 The S2 engine package was deemed more than worthy for the Grand Touring Car spec, a 400hp conversion that not only refreshes the engine with the bits that count, but also adds some piece of mind when it comes to reliability.
For the upgrade, the stock R33 RB26DETT engine is taken apart and the block honed to accept fresh N1 pistons. Lubrication is boosted by an N1 pump, while a 0.9mm Nismo metal head gasket creates a better seal between the block and head, seeing the stock BNR34 turbos the package comes with run at a slightly higher boost pressure level. S2 specific cams and a Nismo timing belt are also fitted.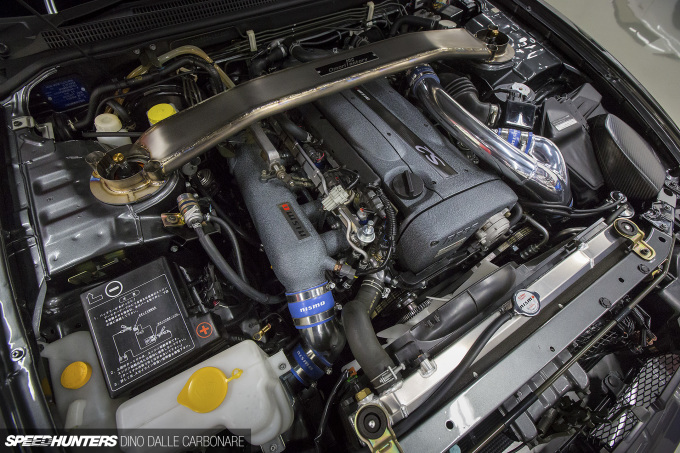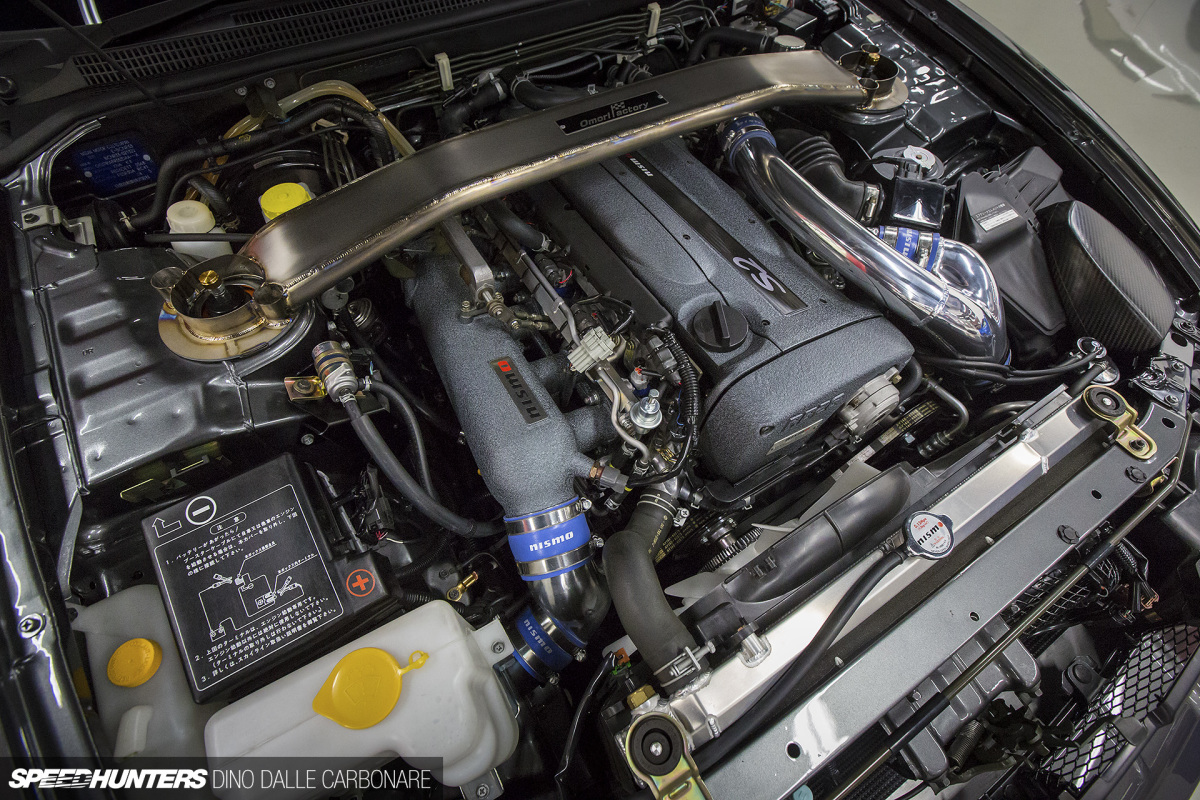 Fuelling is upgraded with R35 VR38DETT 570cc injectors, and the whole package is controlled by a Nismo S2 ECU, which is essentially a remapped version of the stock Hitachi unit. With the engine built, a whole lot of the Nismo catalogue is then thrown at it.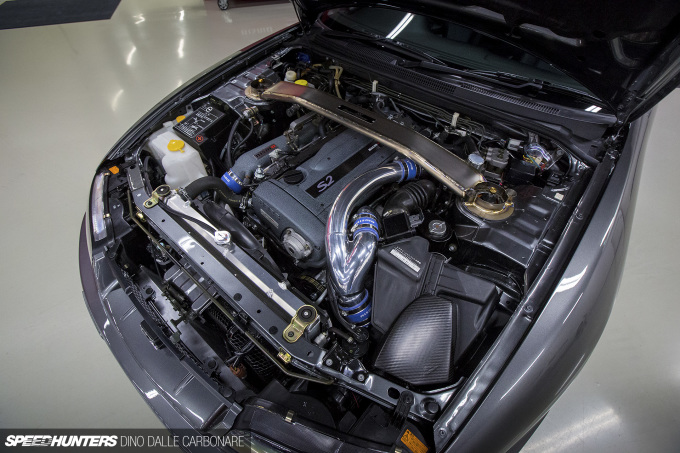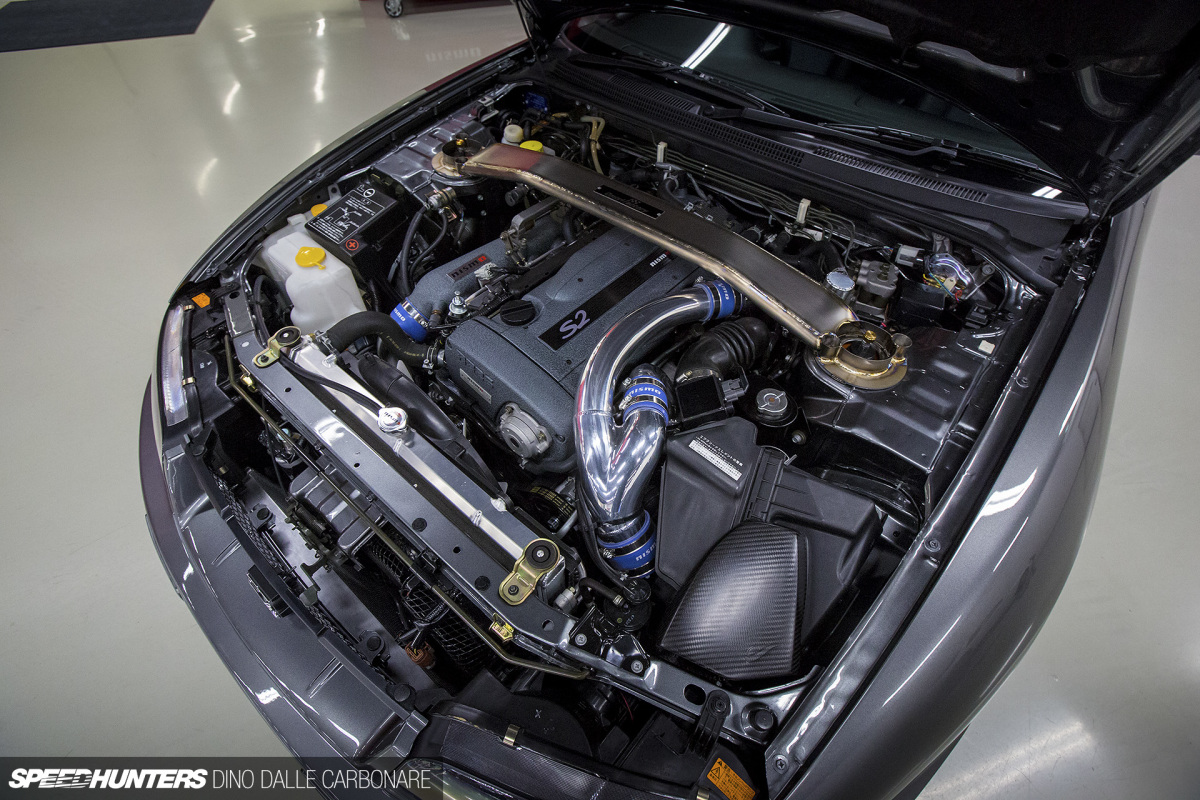 That includes the previously mentioned Nismo NE-1 titanium exhaust, plus a Nismo aluminum turbo inlet pipe, larger Nismo intercooler, and a Nismo GT intake plenum which like the engine covers has been coated in blue crackle-finish paint.
The 5-speed manual driveline has been left stock, but a twin-plate Nismo Super Coppermix clutch is added in to cope with the extra power. Nismo also offers a Getrag 6-speed conversion from the BNR34 GT-R, but that's not been fitted to this car.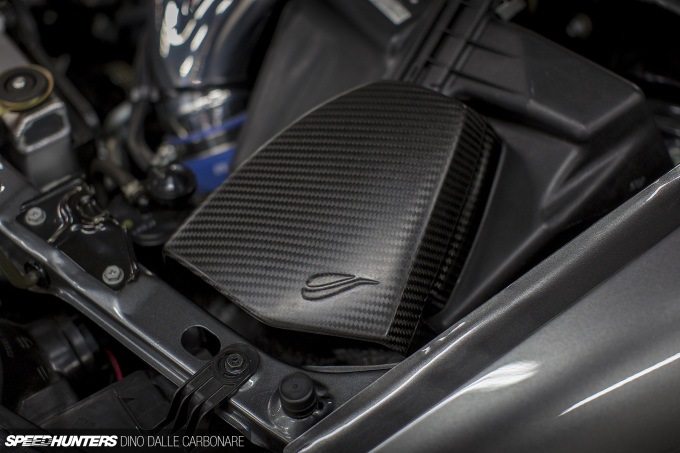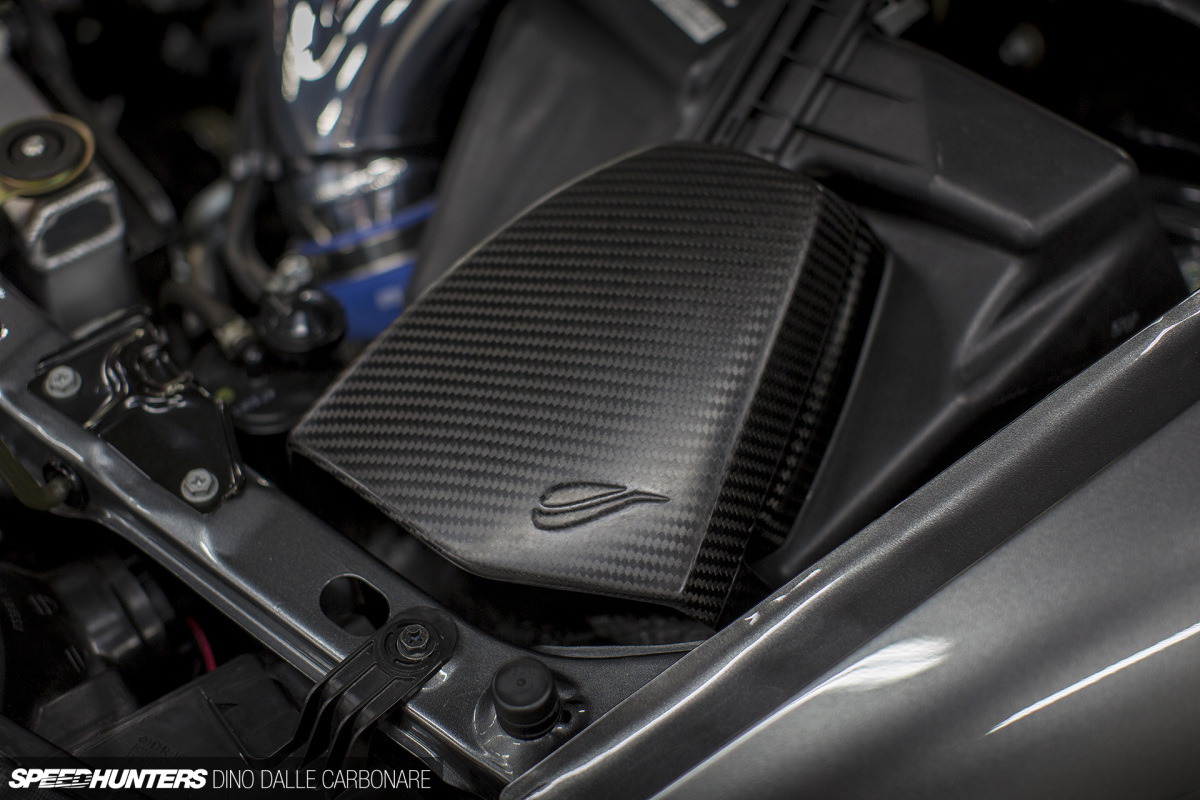 While there isn't anything particularly new about the S2 engine and its ancillaries, this R33 was used to showcase and launch the Omori Factory carbon air cleaner duct, which does a better job of directing cool air into the airbox than the OEM guide did.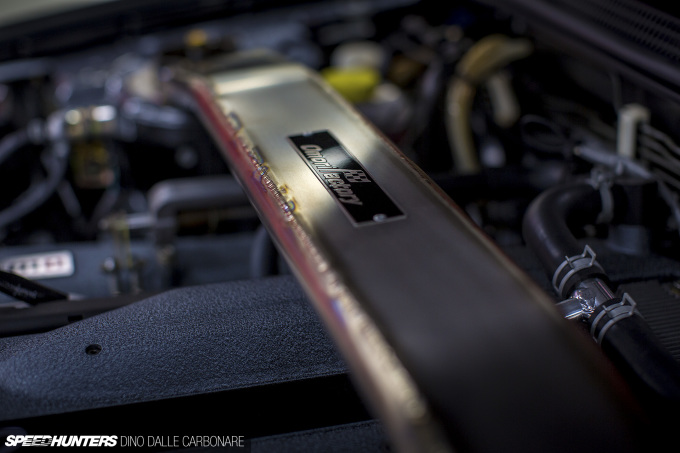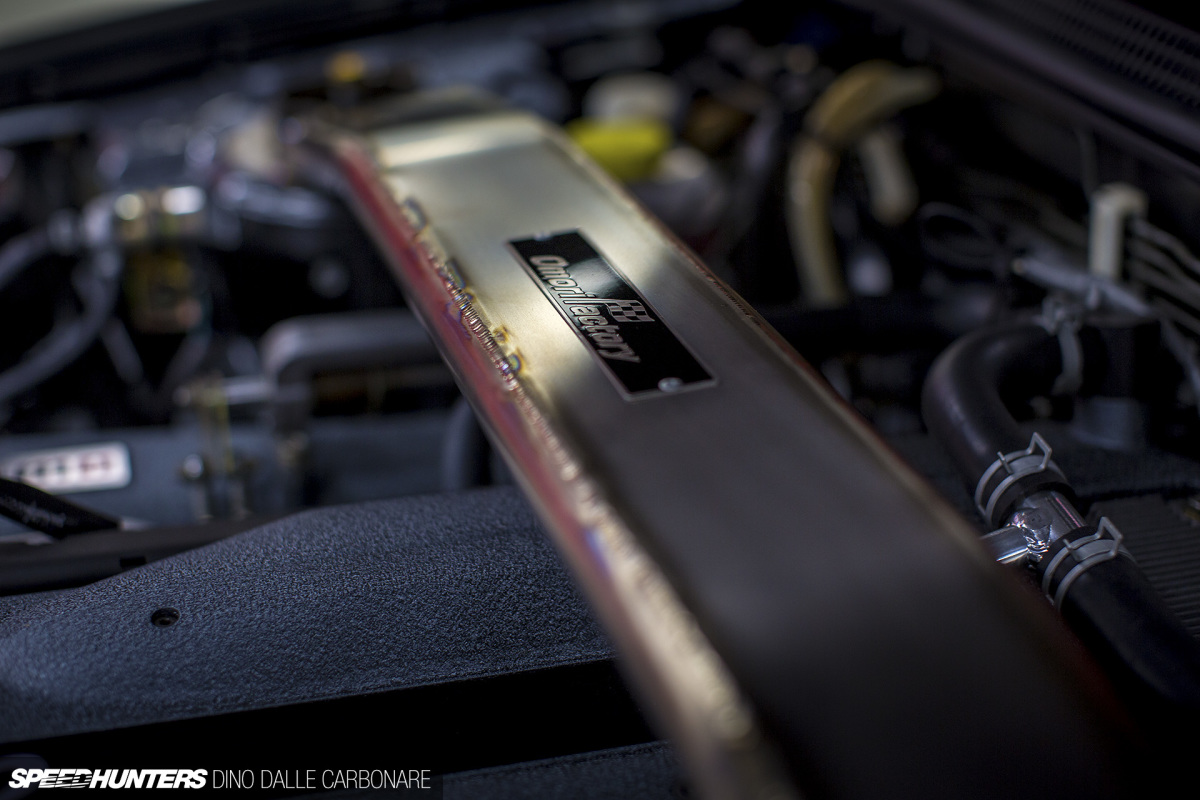 The chunky Omori Factory strut tower bar sits center stage, stiffening up the front section of the shell and showing off the inherent visual qualities of titanium.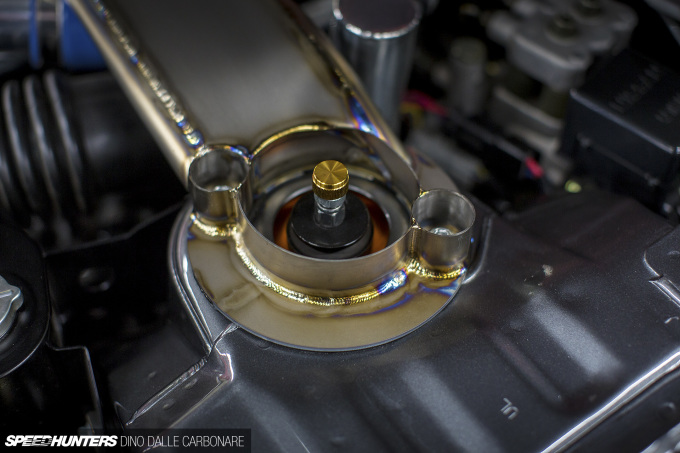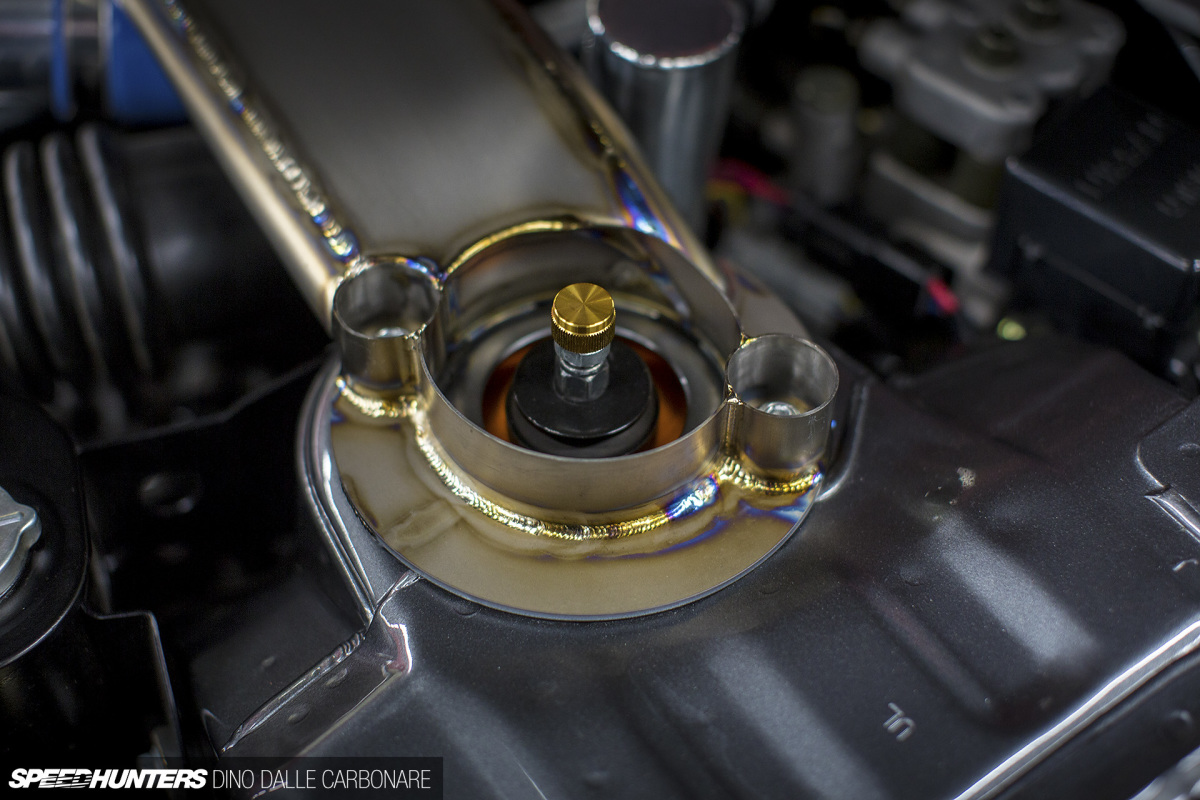 Since Nismo stopped making its own line of suspension, it now fits and offers Öhlins dampers, as are used in this car. The 2-way HAL system is height adjustable and provides a good trade off between comfort and performance. It's matched up to Nismo anti-roll bars front and back, as well as strengthening underbody braces and a Yamaha damper for the trunk which absorbs micro-vibrations. Part of the restoration has also seen carbon fiber strengthening added to the front bulkhead as well as titanium plates to the rear suspension turrets. This also joined a complete refresh of bushes and mounts, but all suspension arms and links have been left stock.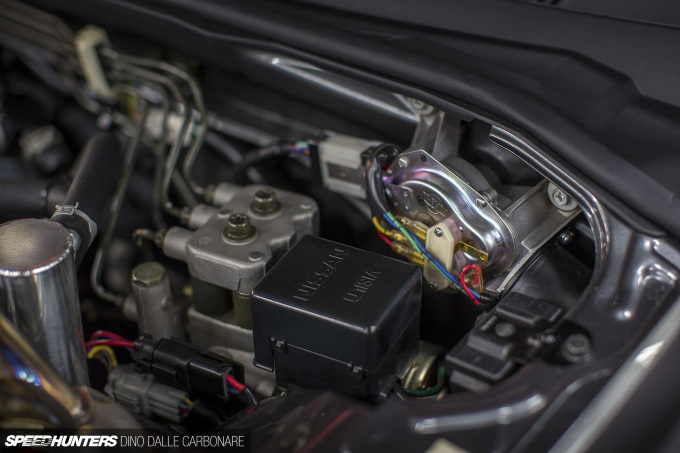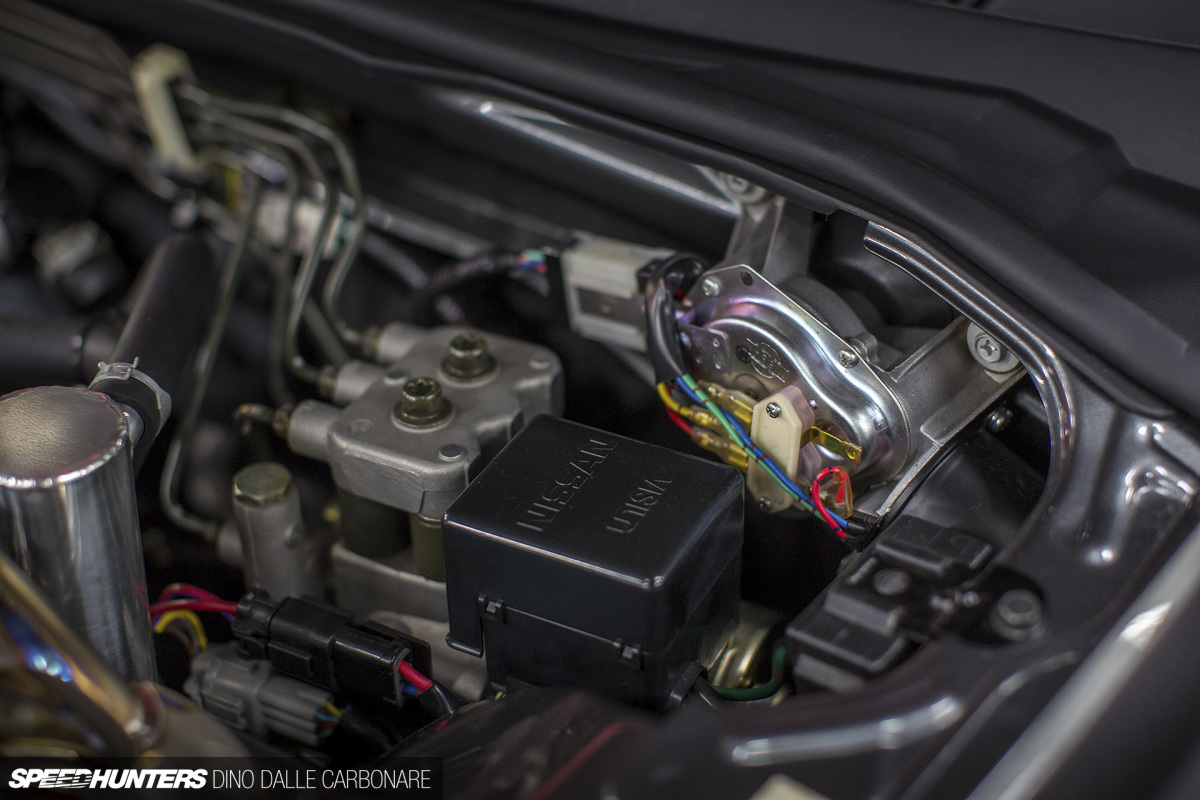 You only have to look around the engine bay to fully understand just how seriously Nismo takes these restoration jobs.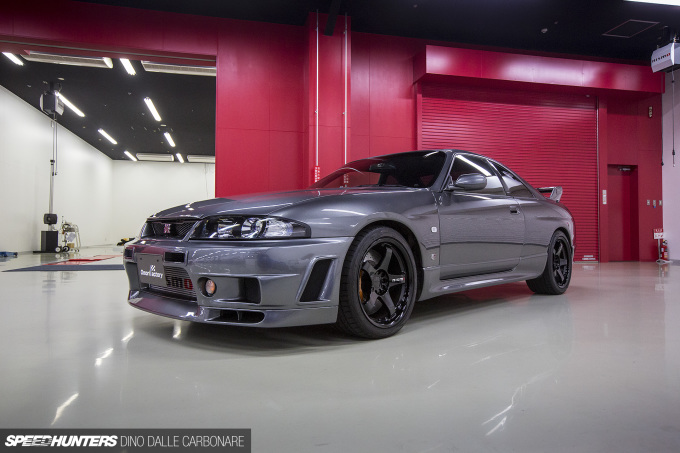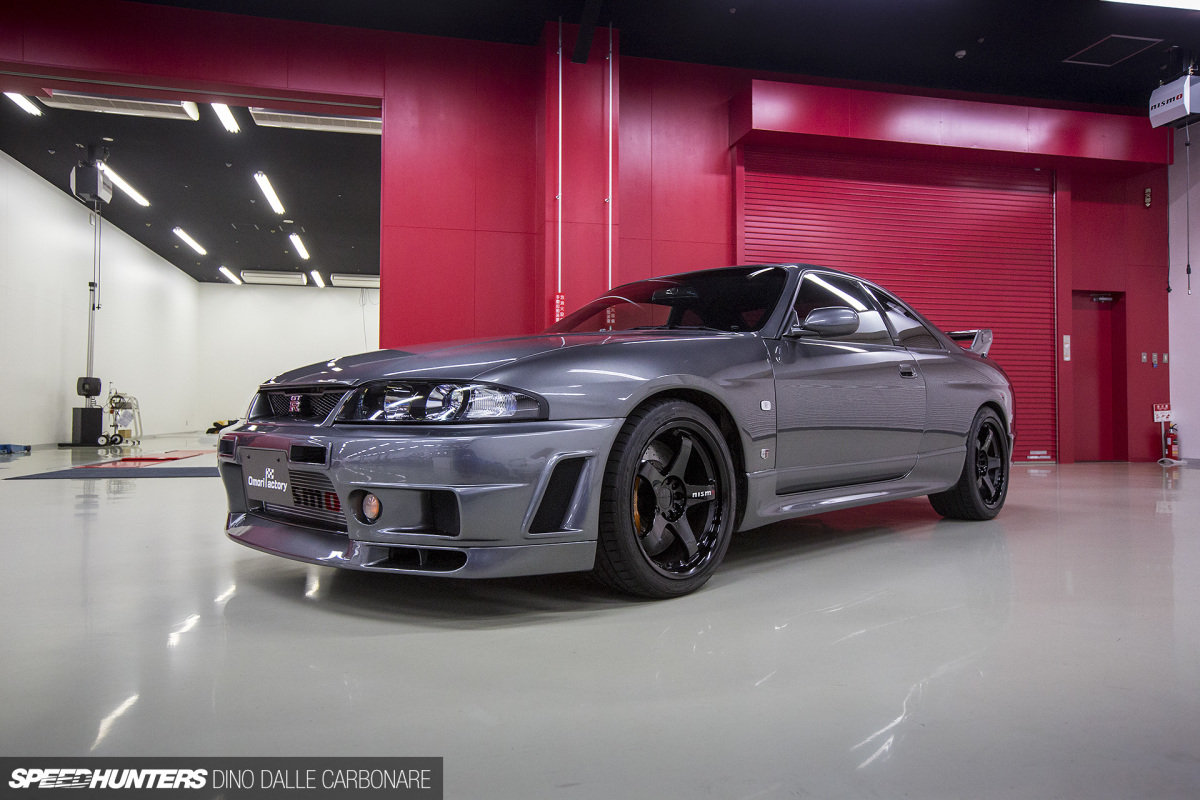 All of this attention to detail and the extra touches that Nismo has thrown in, you know, just because its their own demo car, makes this the cleanest R33 GT-R in existence. Probably. Bold statement, but I'll stand by it.
Finshed To Perfection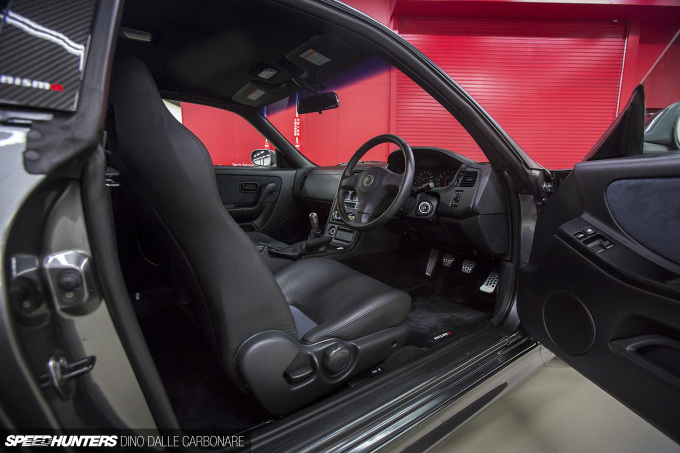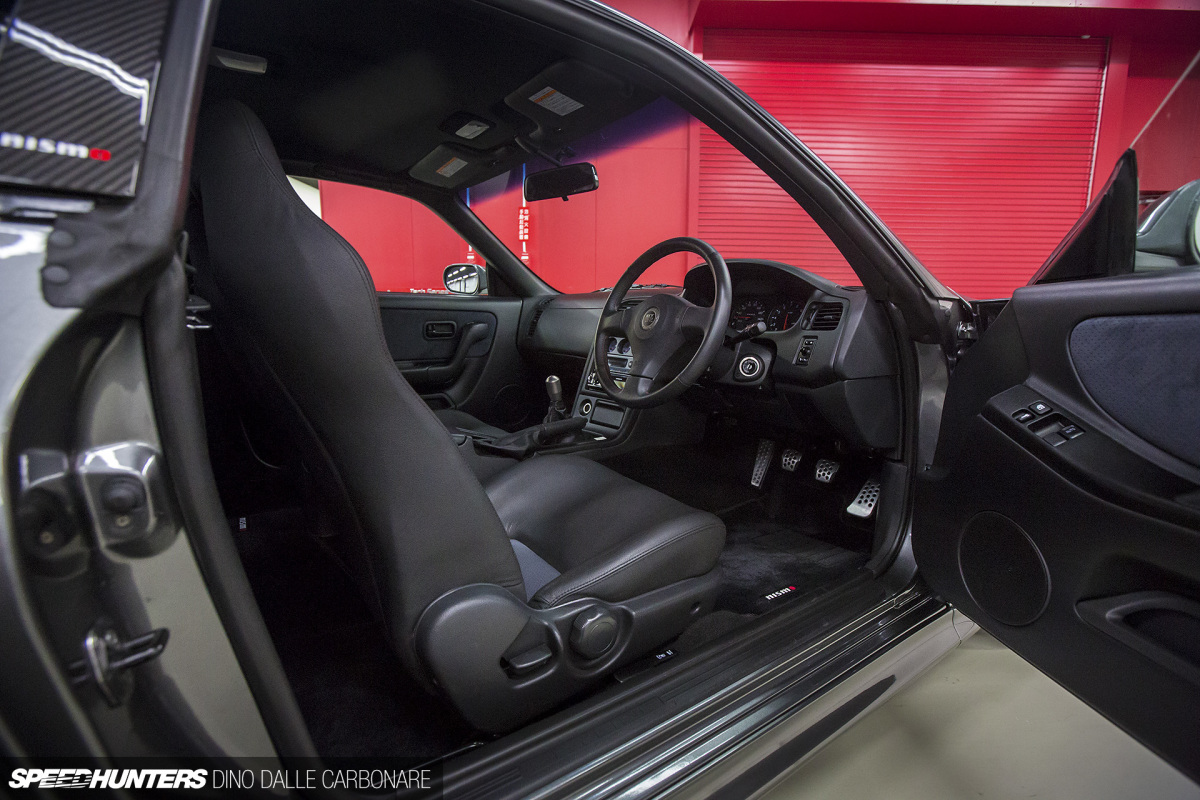 The interior too follows the overall theme of the rest of the car.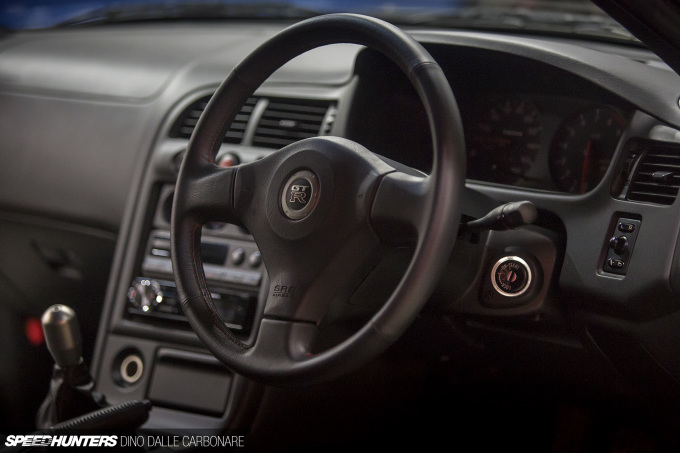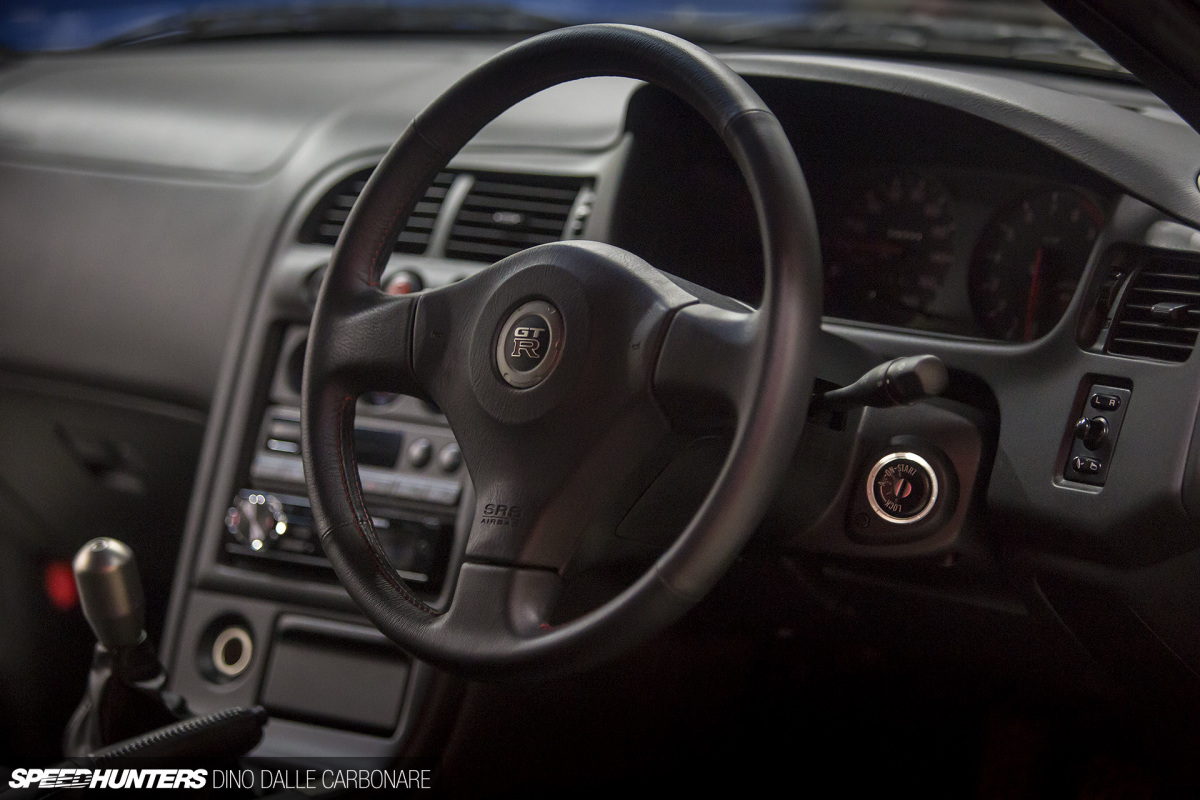 It's simple, with just a few choice additions to make it that little more special. Actually, scratch that, more like Nismo special.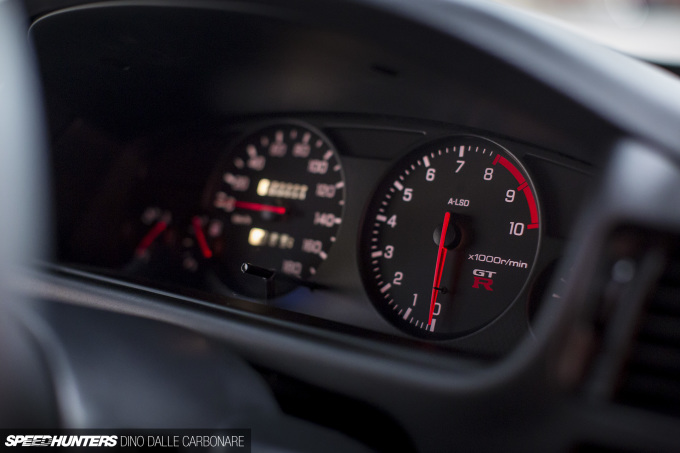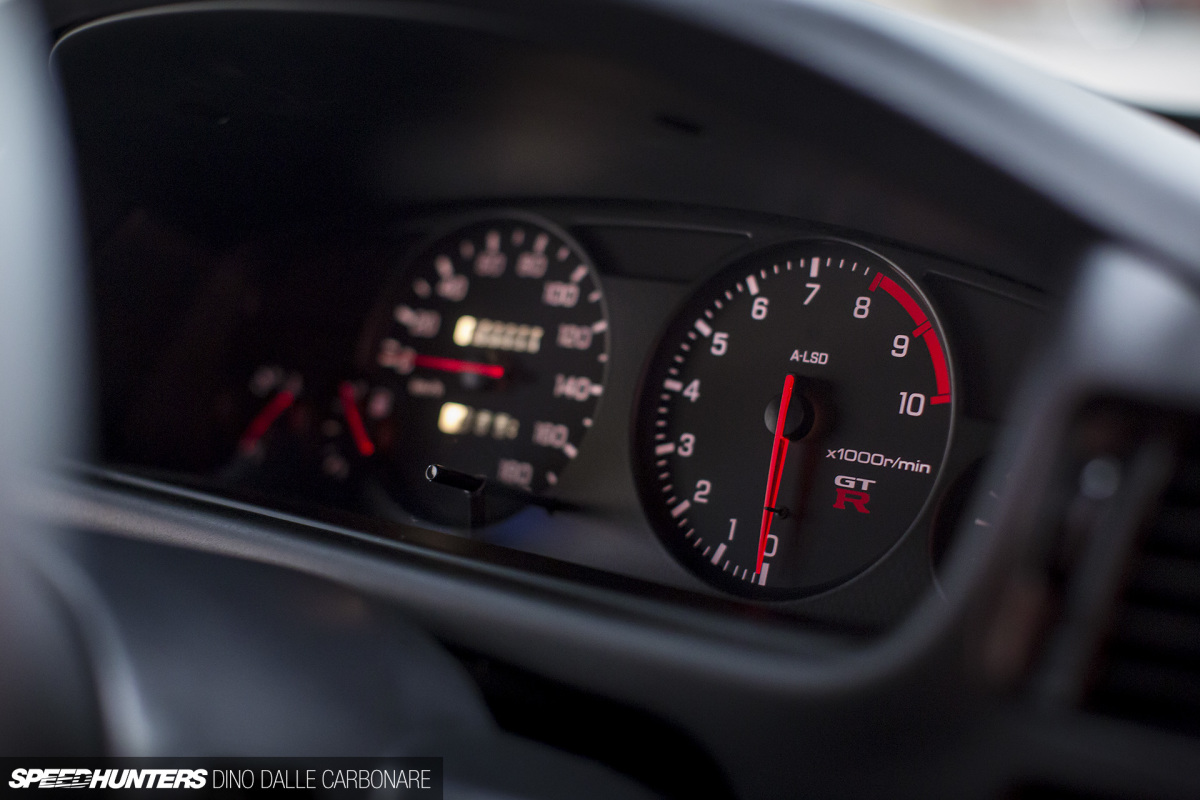 And that's precisely why when you give a car to Nismo to strip down and rebuild, the odometer gets reset to zero. It's official too, noted in all the paperwork and registration documents. This aspect alone makes it worth the great cost to a lot of GT-R fanatics.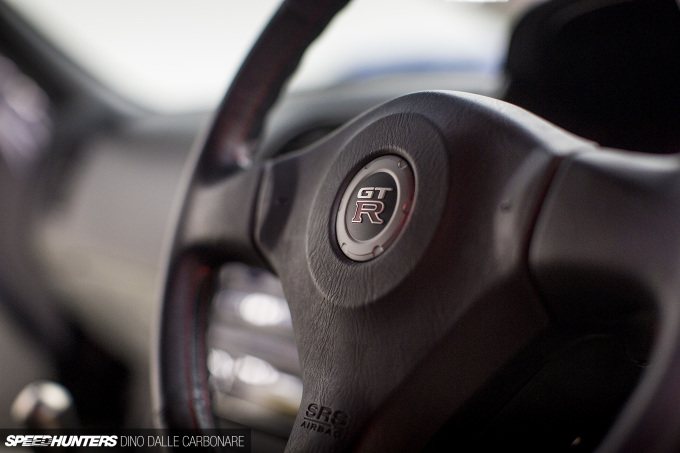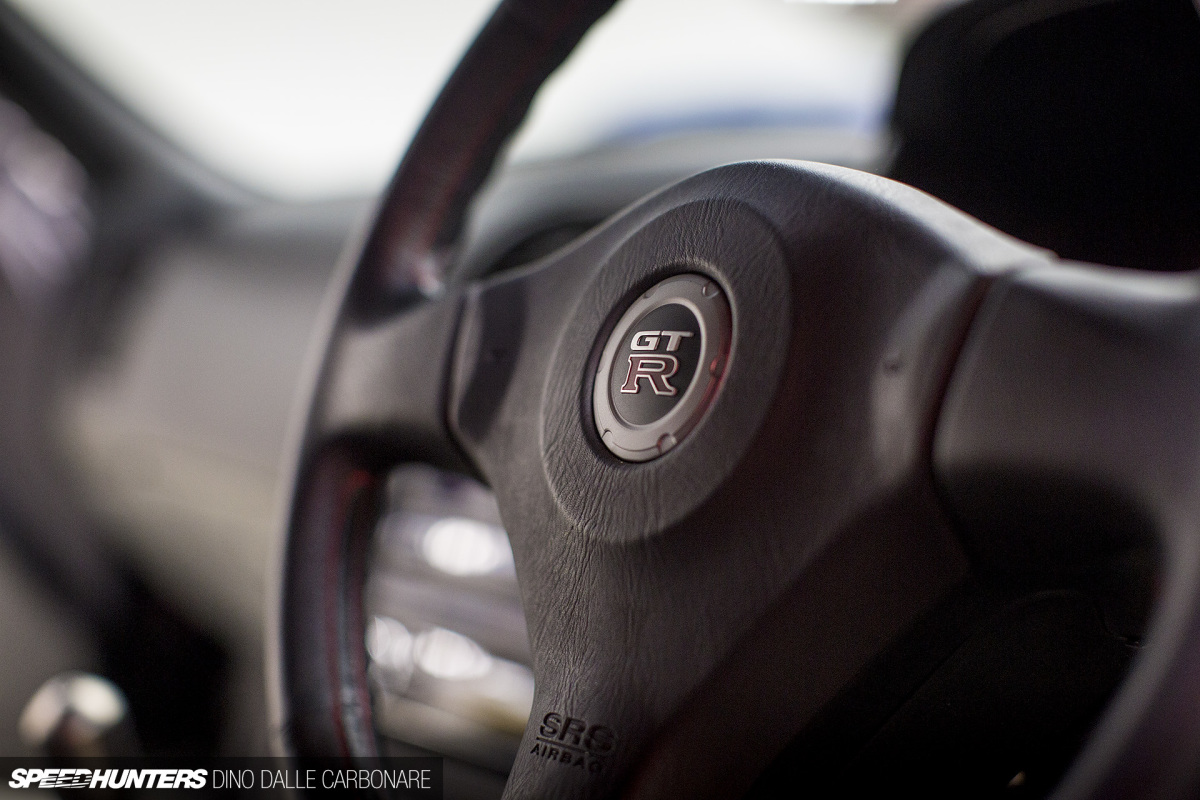 Thankfully, the single most unattractive thing of the BCNR33's original cabin – the stock airbag steering wheel – was replaced with a more modern and coherently designed item from the BNR34. This one change has such a big impact on the interior's appearance.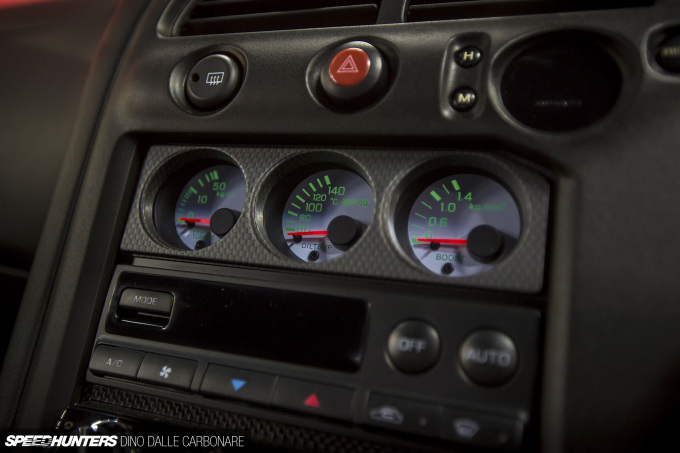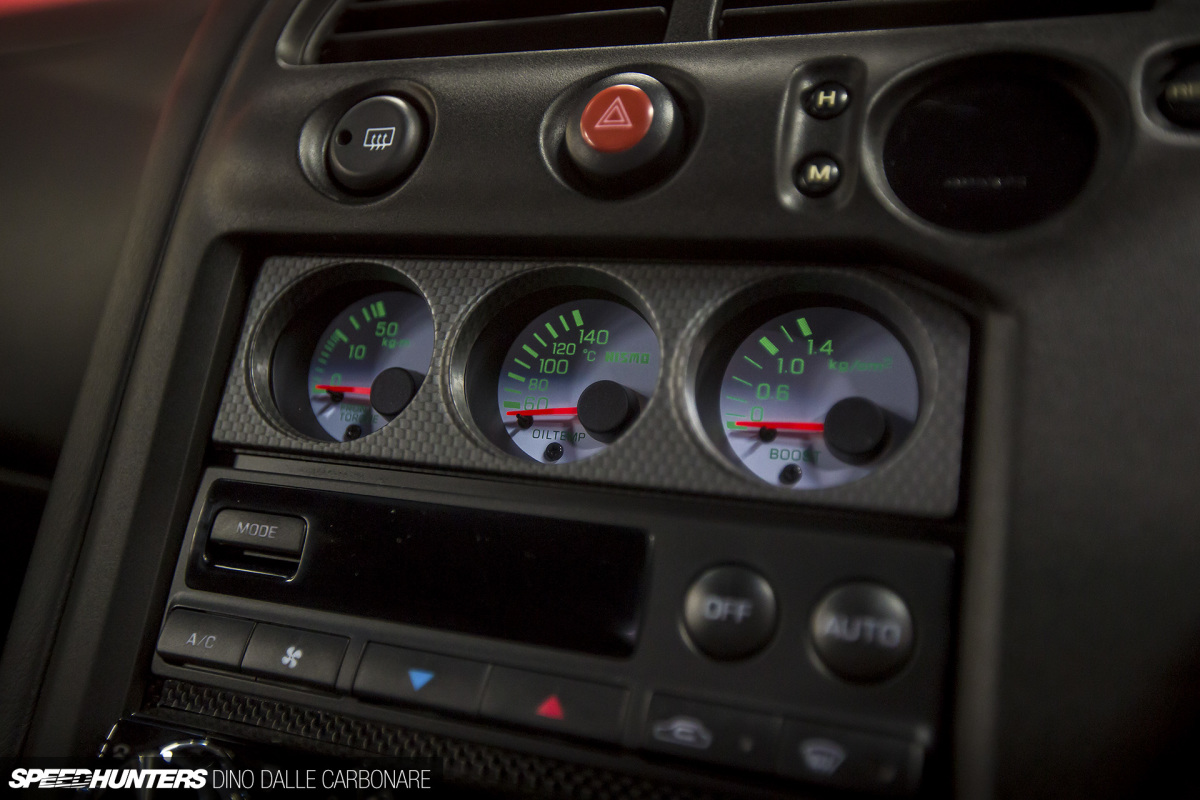 The Nismo gauge cluster in the center console is a nice touch, and it sports the old Nismo logo from the '80s and '90s.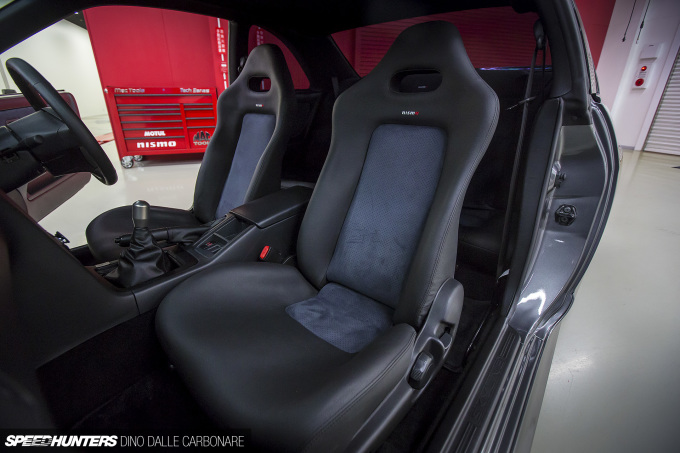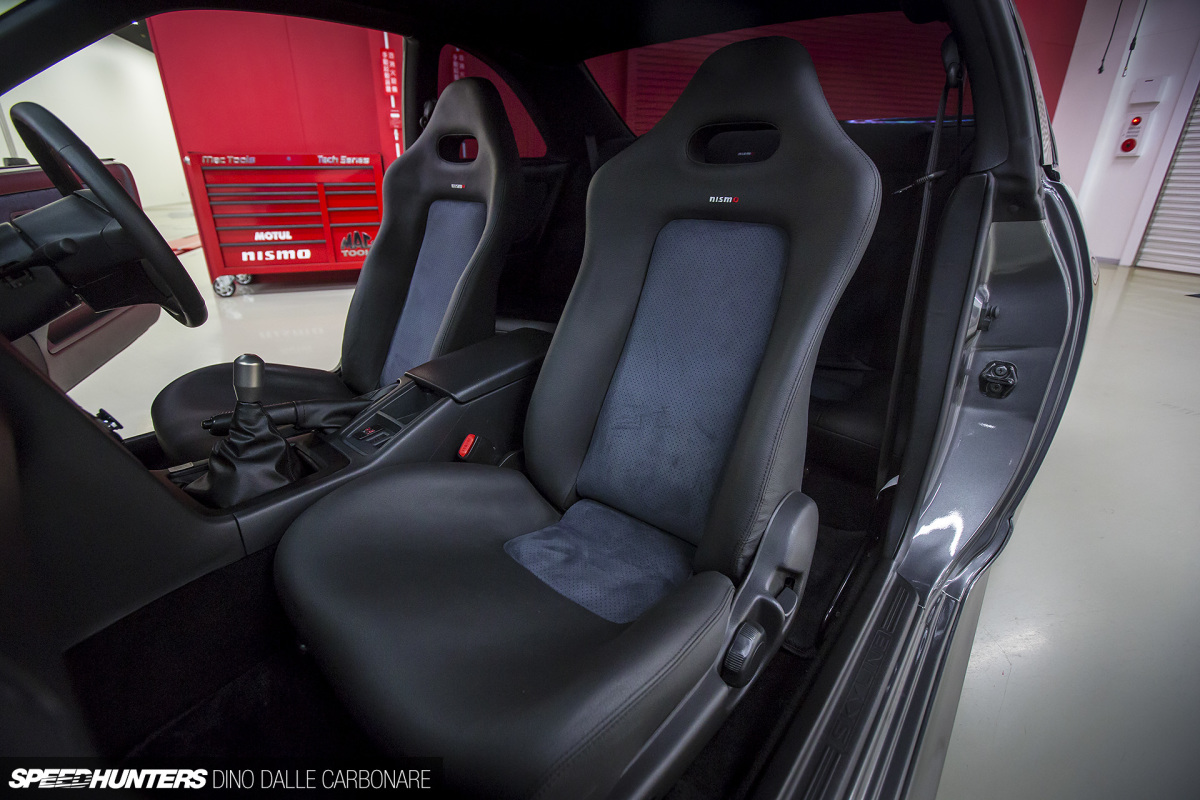 The rest of the cabin gets a feel of modernity thanks to the leather and Alcantara seat covers.
These tightly wrap the front seats and rear bench to make for a much improved ambience. Even the headliner has been reupholstered in black fabric, which again helps the interior feel more up to date.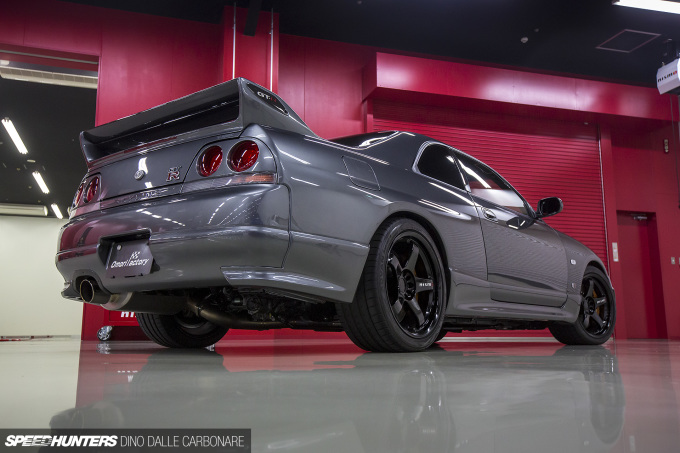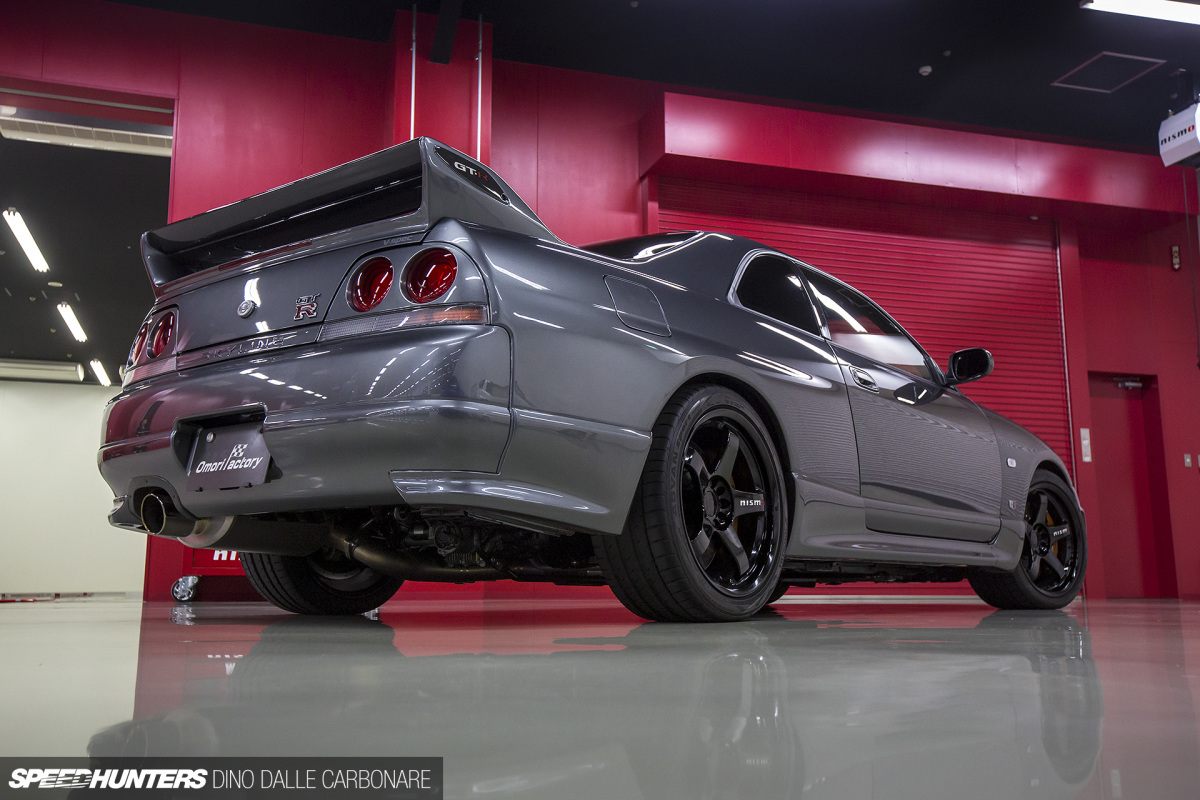 Nismo believes that the more cruiser feel of the R33 was the perfect base for this street oriented concept. Of course, as a customer you are able to spec additions or optional packages as your car is restored and built – just be prepared to pay for it.
As a GT-R owner, I'm very happy to see that Nismo continues to understand just how much love exists for this generation of cars. What's even cooler is that its continuously coming up with parts to improve them in so many ways. Thank you, Nismo!
Dino Dalle Carbonare
Instagram: speedhunters_dino
dino@speedhunters.com