Thursday April 27th
In some ways, I'm glad the first defeat has come.
There was a lot of hype about the arrival of the Worthouse Drift Team in Formula Drift for the 2017 season. Two new drivers on the grid, two new cars and a lot of unknowns. James' victory in Long Beach was proof for many that he could walk the walk, although for some, his immediate success was enough for them to overturn their longtime support, instead preferring to take the more trendy view of him being overhyped and his win being a one-off.
Some of the things that I heard and read after Long Beach certainly elicited a laugh or two, including one claiming he had an advantage because the car was right-hand drive. Others, who previously sung his praises were now chomping at the bit, eager for his failure. Wait until he gets to the ovals they said…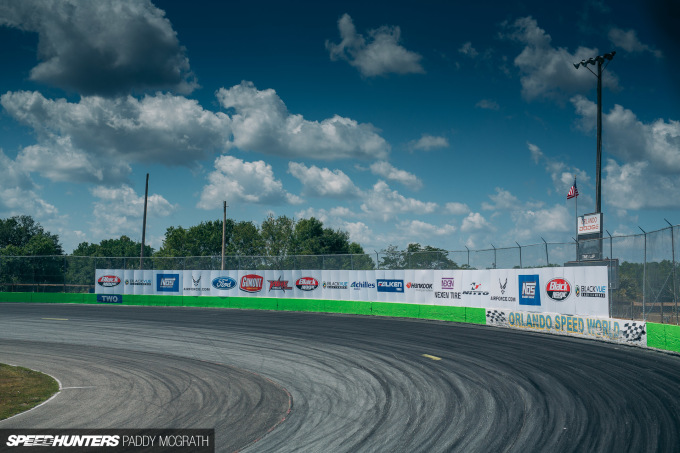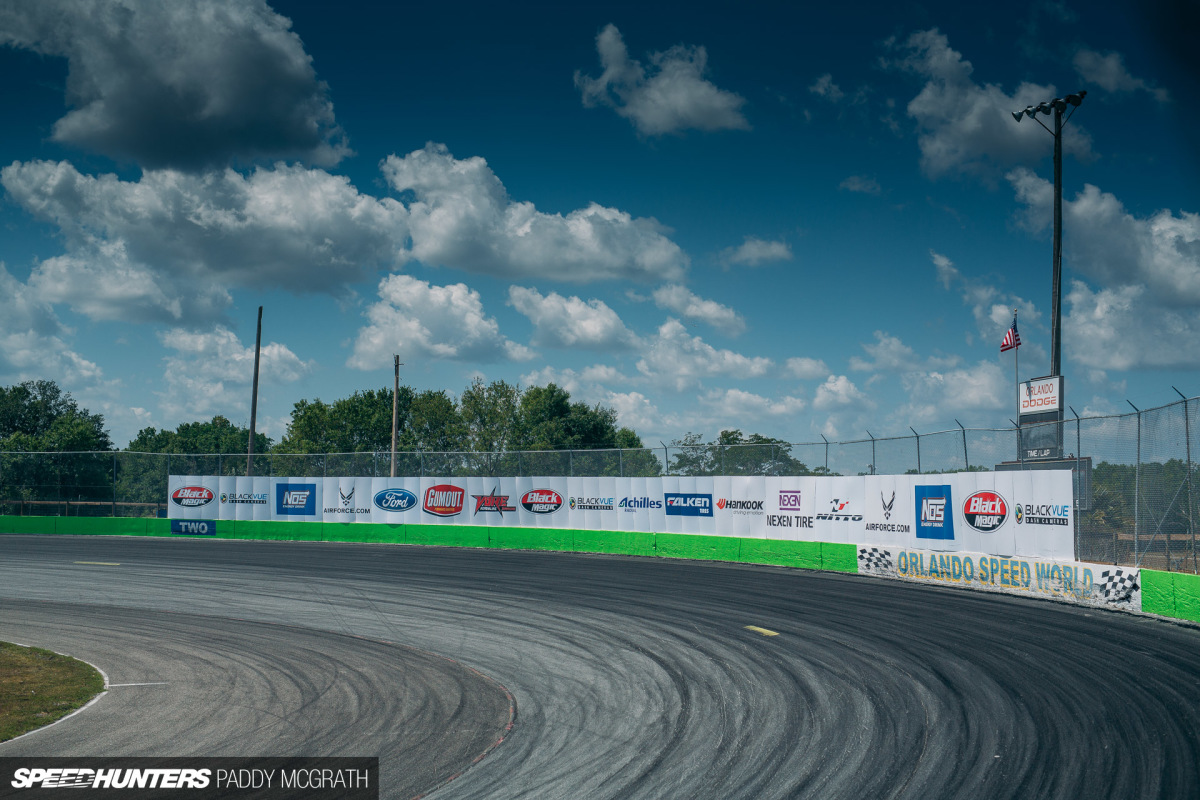 It just happened that Round 2 this year is an oval circuit, with the Orlando Speed World venue having swapped places with Road Atlanta in the Formula D schedule. One ex-Formula D competitor warned me in advance that OSW made Ireland's Rosegreen – itself a tiny short oval in rural Tipperary – look like Talladega.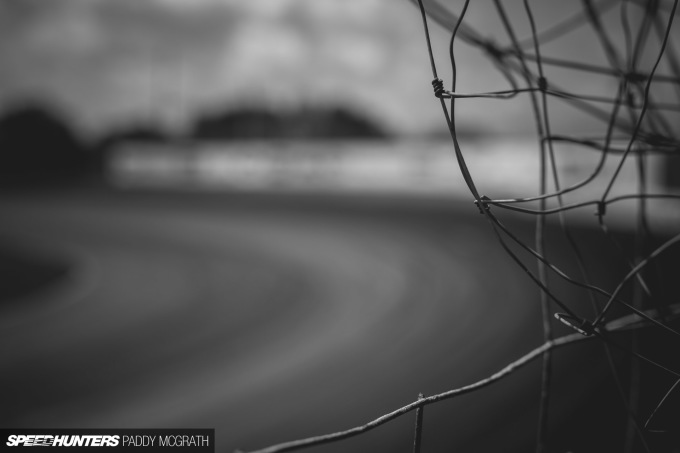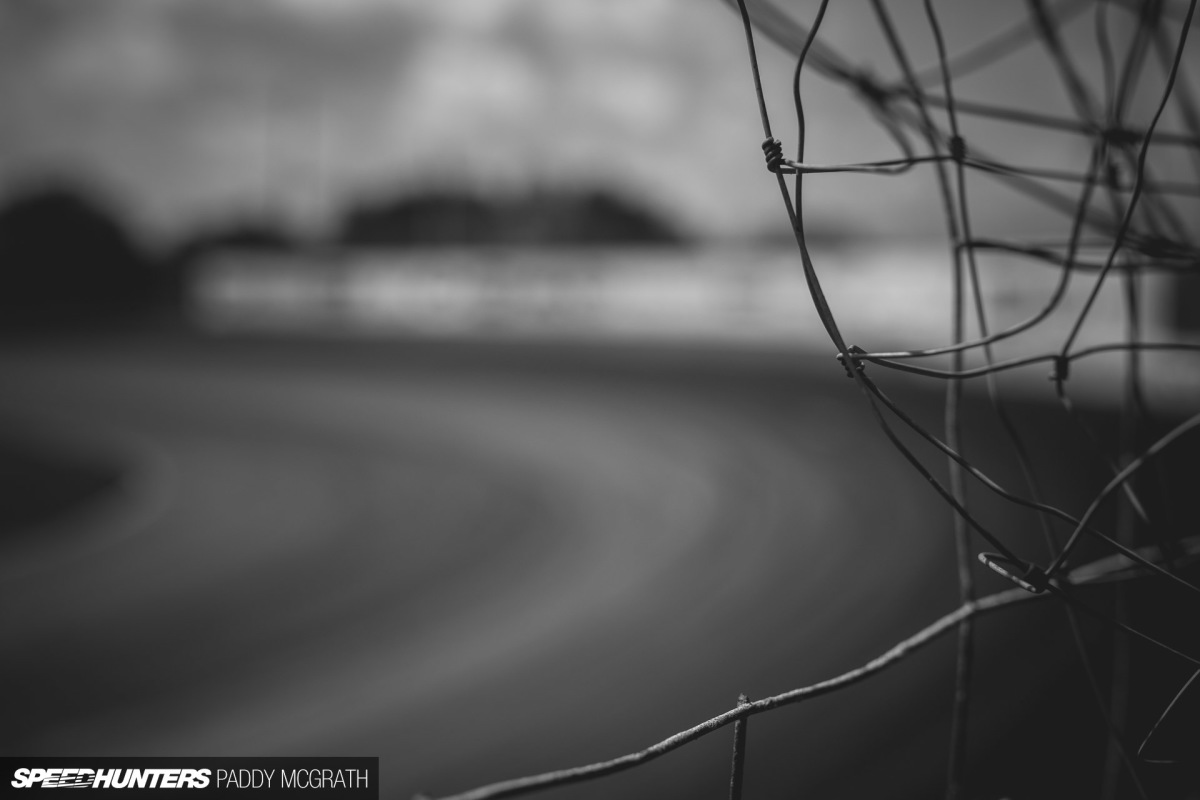 It was an over exaggeration, of course, but we were certainly a long way from the well groomed streets of Long Beach. Orlando is the first stop on a tour which takes in four corners of the United States, a trip across to Canada, along with a round in the heart of Texas. Leaving the familiarity of California behind, it felt like we were about to enter the real war for the Formula Drift Championship.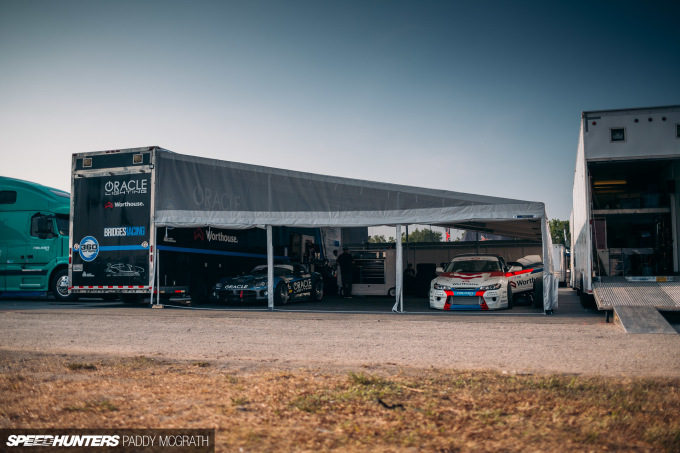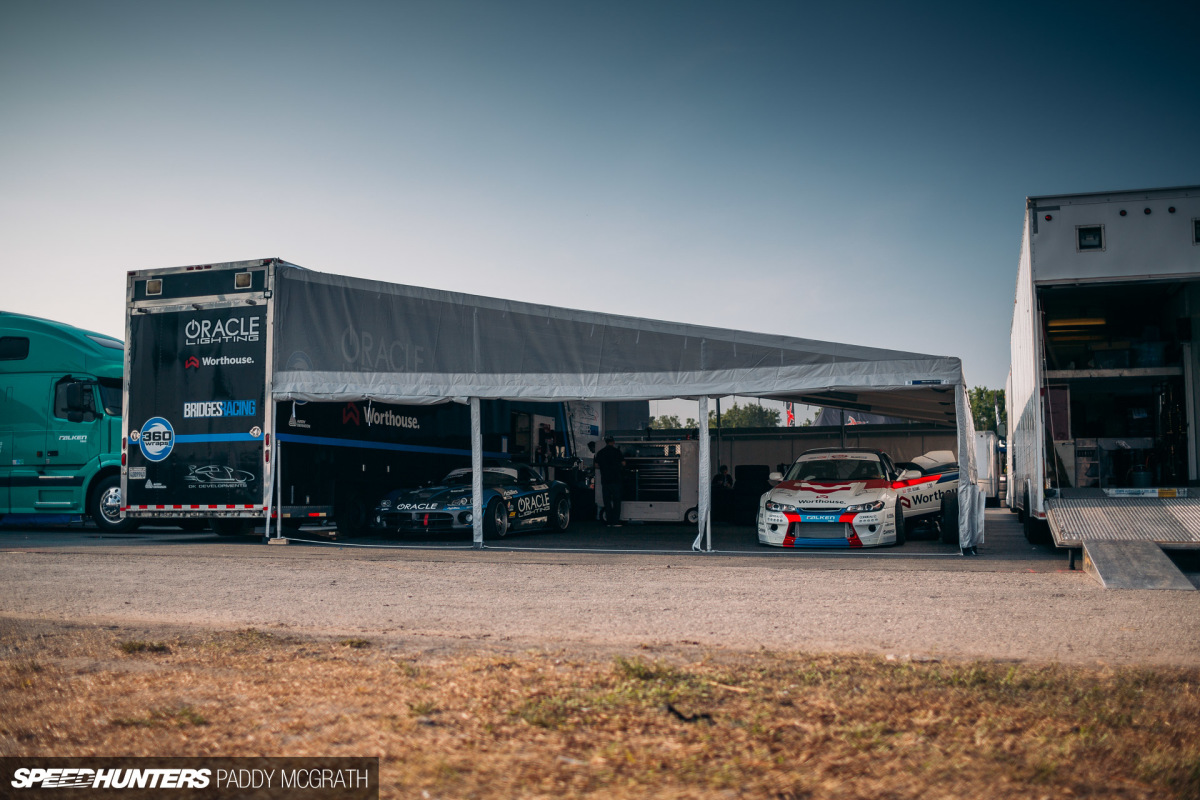 It was certainly less glamorous in Florida, but we were not there for the scenery. By the time I arrived on Thursday morning, the Bridges Racing crew already had a foothold established in the paddock. With the Orlando round also being a Pro 2 event, it meant an extra day of practice for all Pro 1 competitors.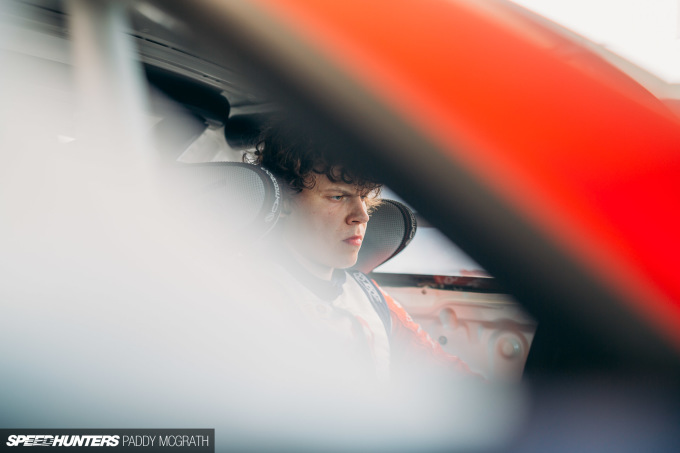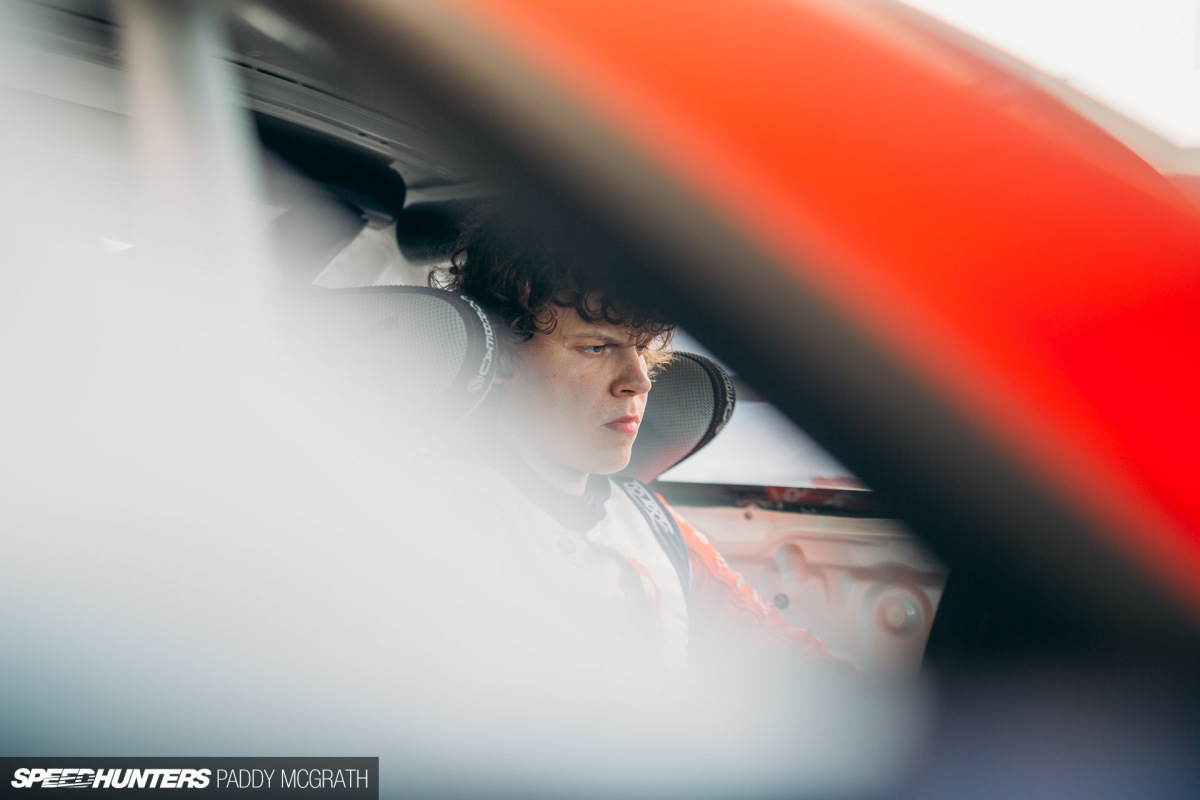 It was also the first venue that neither James or Piotr had driven before, making it an even bigger challenge for the team. Piotr had done well in Long Beach, reaching the Top 16 on his rookie debut and outperforming some of the more established names.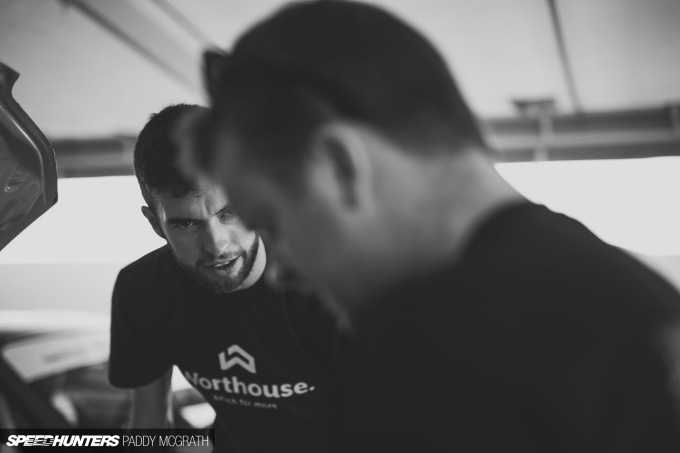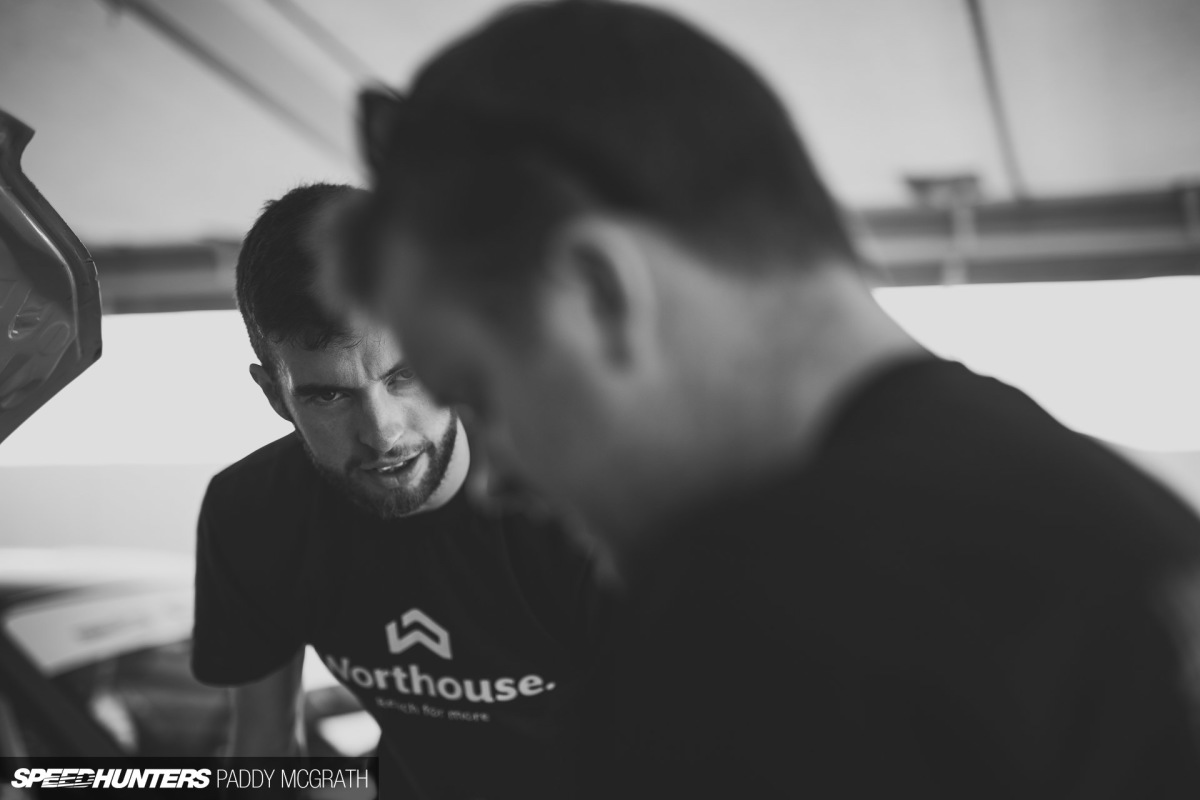 James described Long Beach as the highlight of his career so far, but that was now in the past. He's never been one for reminiscing, instead preferring to look forward. While this might sound like a strange thing to say, there's a major downside to winning your first event in a new car: you don't know what needs improving. We all know that to stand still in motorsport, only means you're going to be overtaken.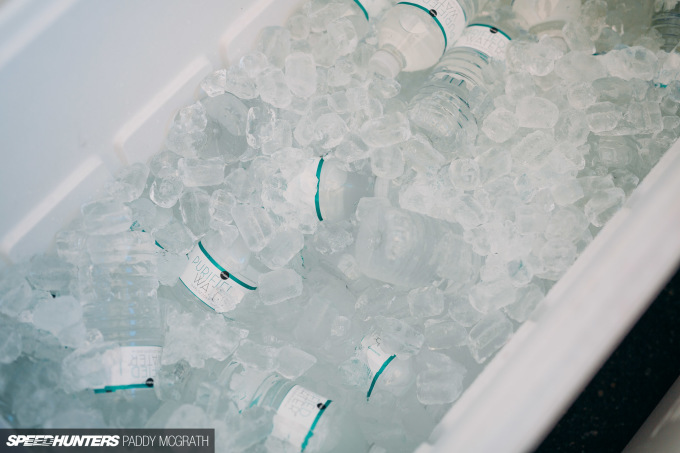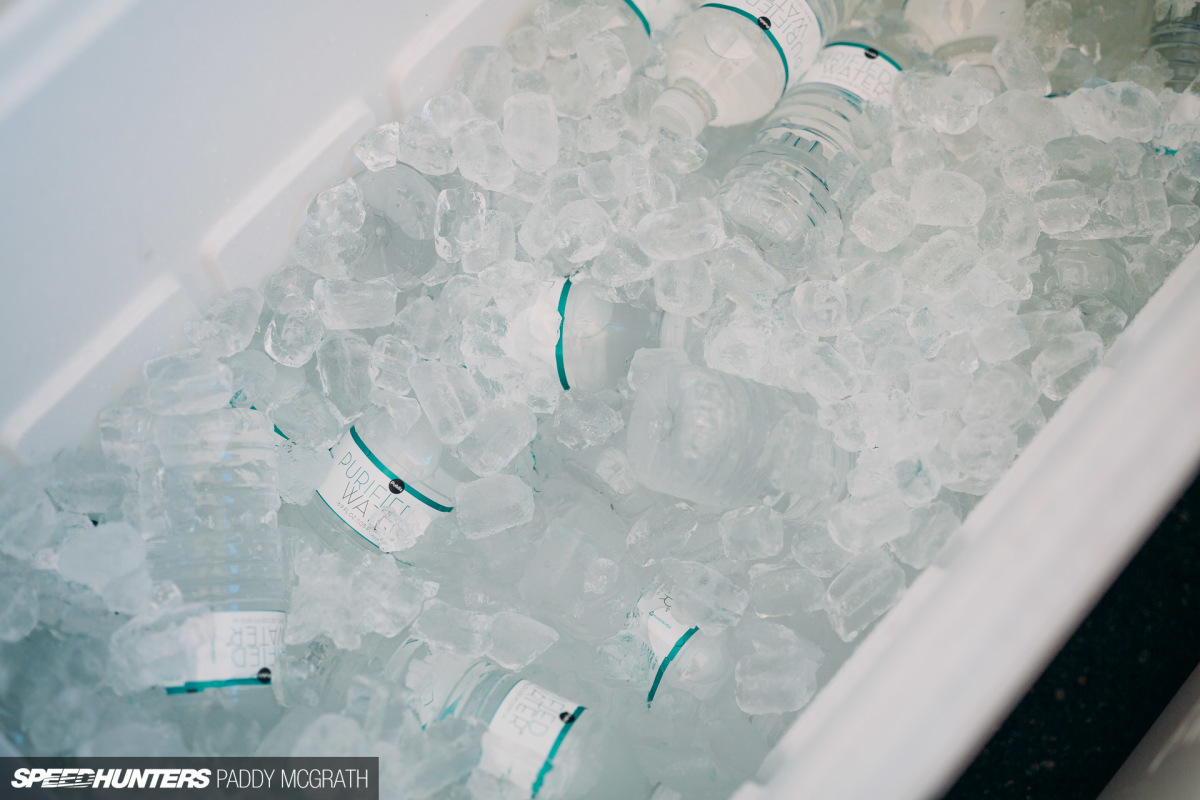 The biggest enemy of the weekend would be the heat and humidity in central Florida. Temperatures regularly exceeded 35°C (95°F) with almost total humidity. It's a challenge that all drivers would have to overcome, but arguable for the two drivers from Europe, it would feel even hotter. For comparison, 21°C (69°F) is considered a scorching day in Ireland.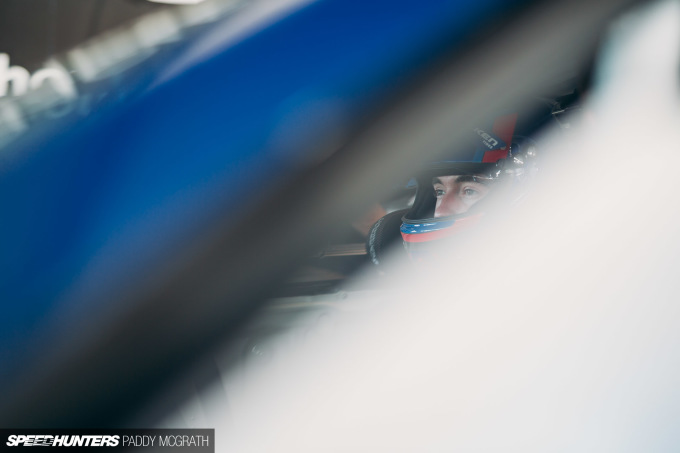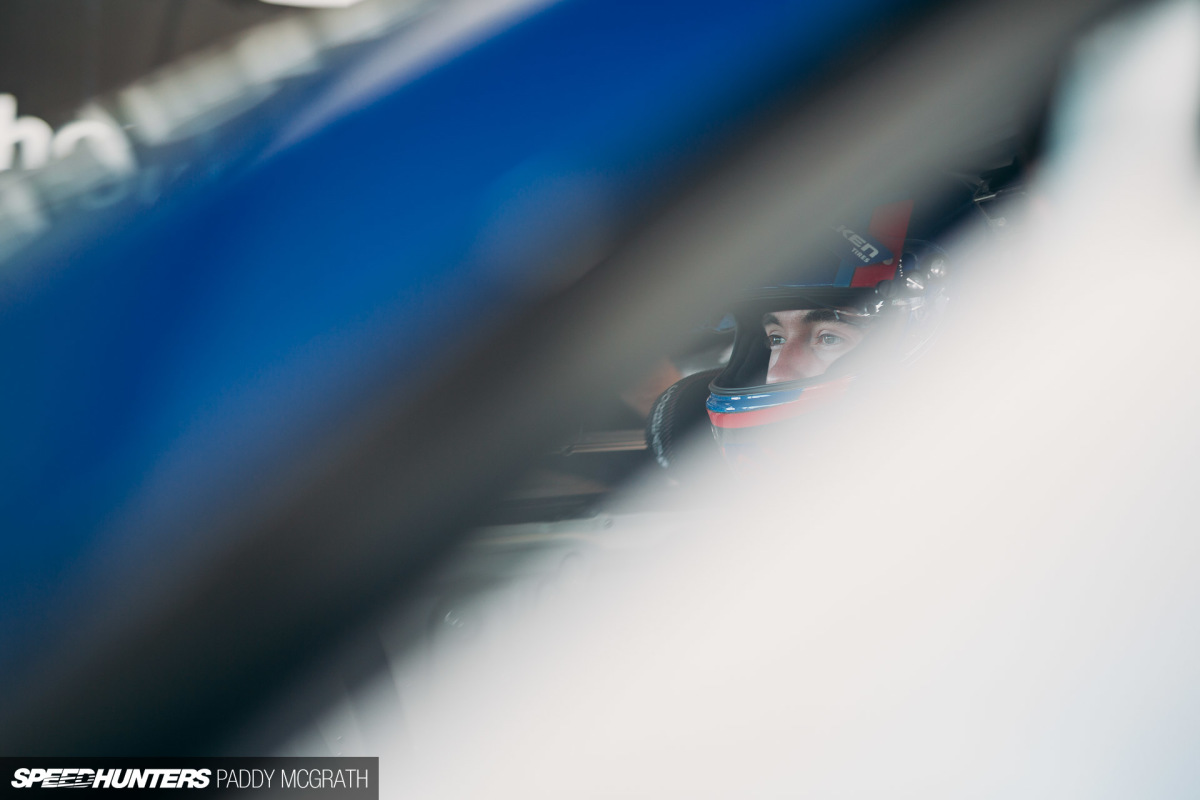 Add to that race suits, helmets and gloves, and sitting inside cars with no driver cooling is akin to hell. It's not uncommon for drivers to pass out or feel so ill that they have to miss a session in this weather, something that was pointed out to both James and Piotr in advance. The solution was lots of water and rest between sessions.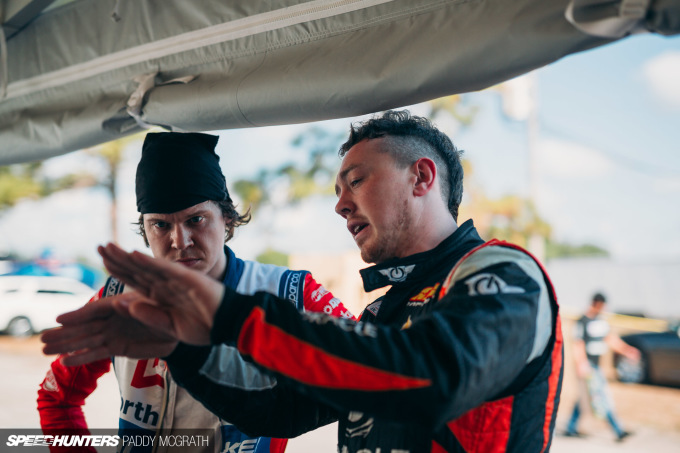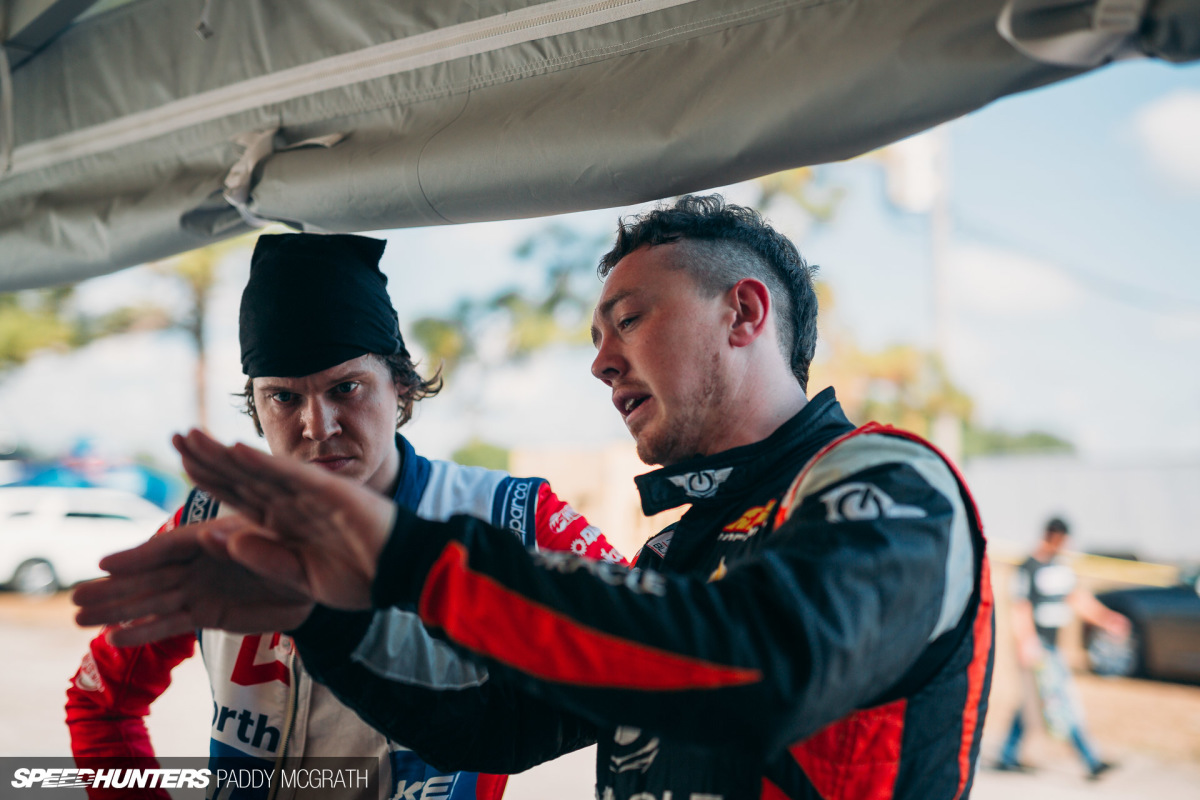 They do have the benefit of advice and counsel from FD regular Dean Kearney who is enjoying his strongest start to an FD championship this year. Kearney's Oracle Viper is sharing tent and truck with the Worthouse team for the season, which makes the trio de facto team mates.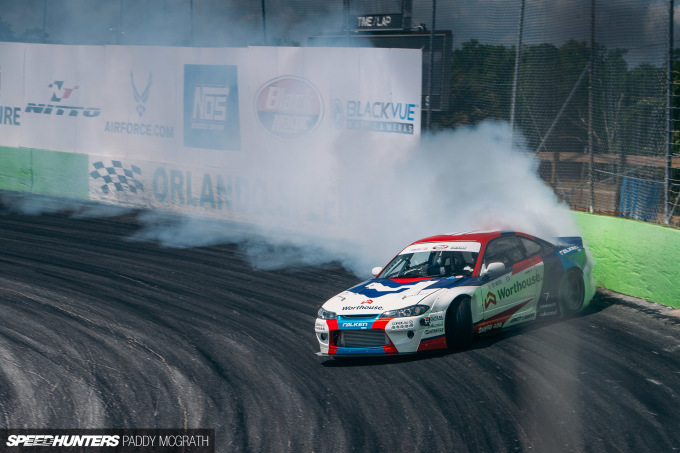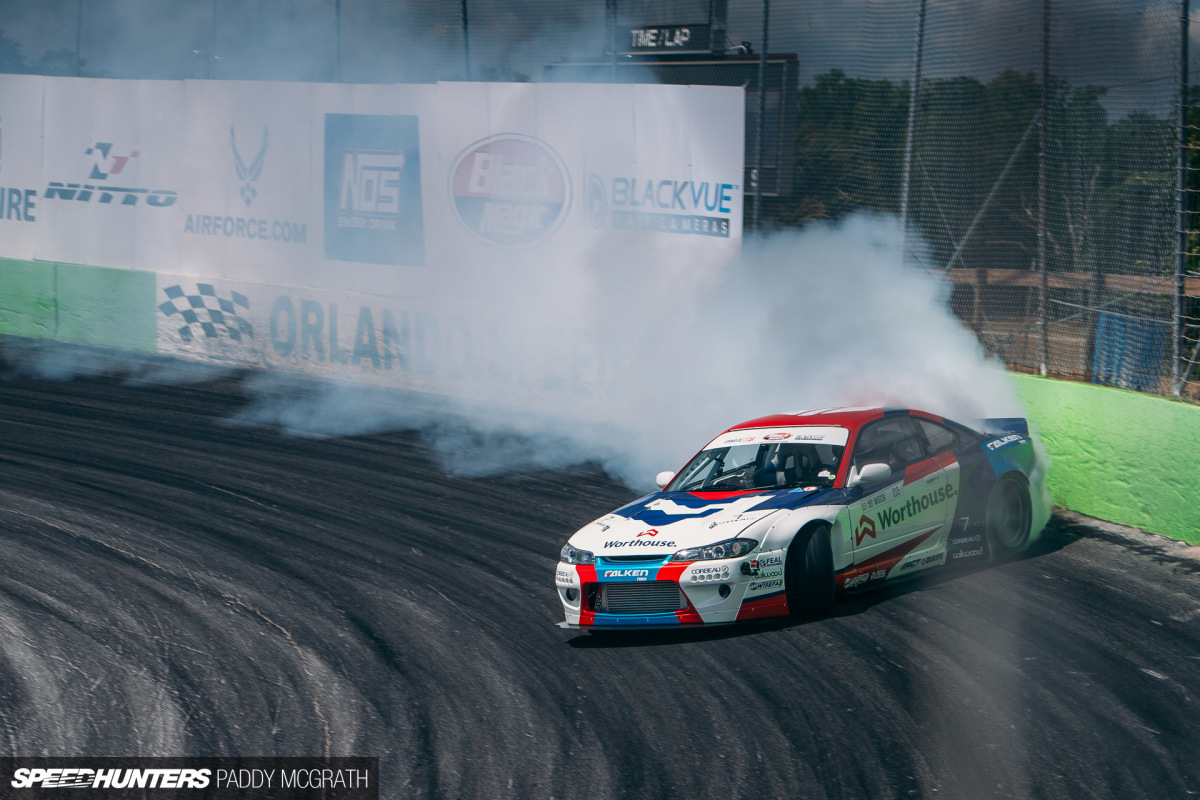 Neither driver wasted much time in getting out on track and quickly getting to grips with the abrasive surface and violent transition from bank to infield.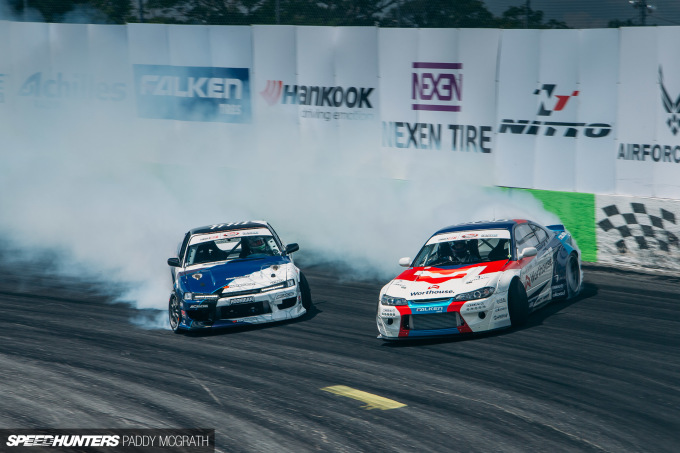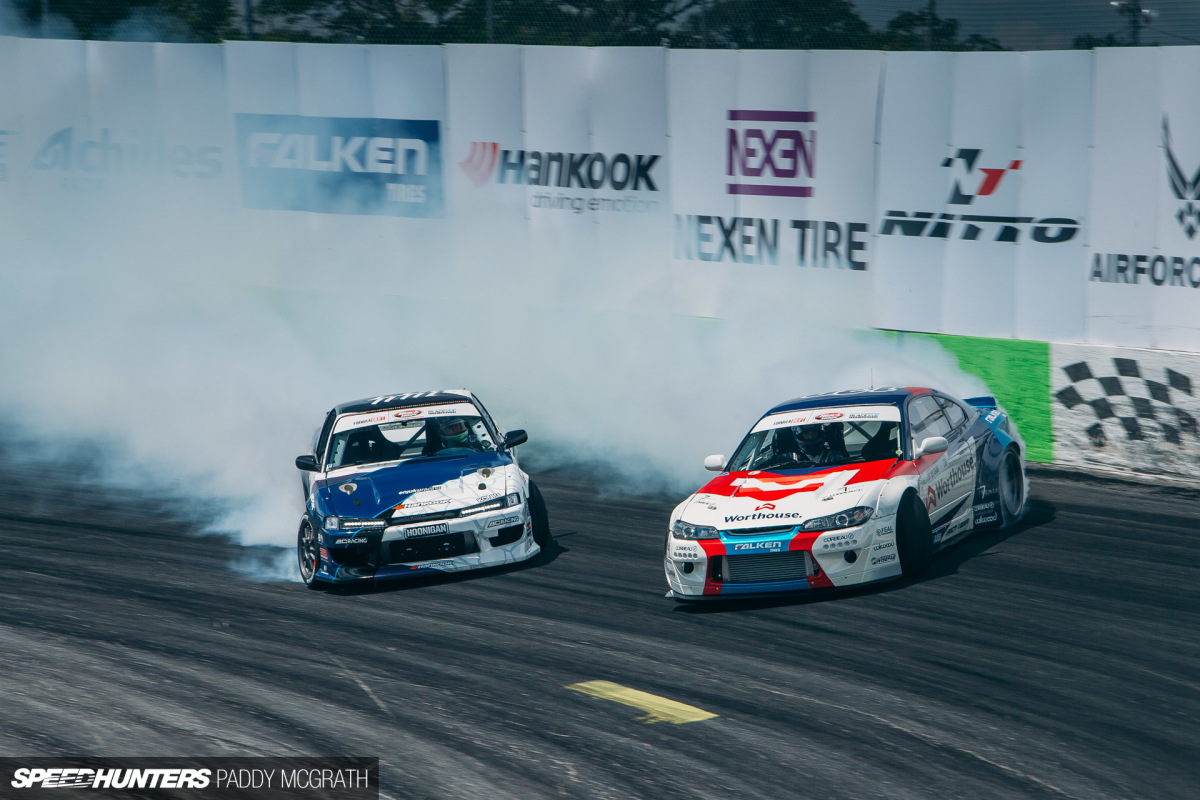 The immediate issues were tyre wear and the impact on the car coming down off the bank. James likened it to crashing the car every lap, or driving a low car straight out of a steep driveway at full throttle.
Both drivers and crew were keen to make the most of the limited time available. After the cars were refuelled, had fresh tyres fitted and data collected, they were straight back out.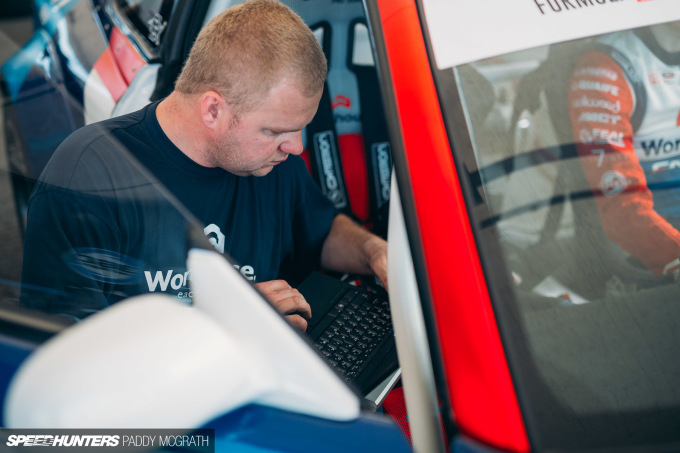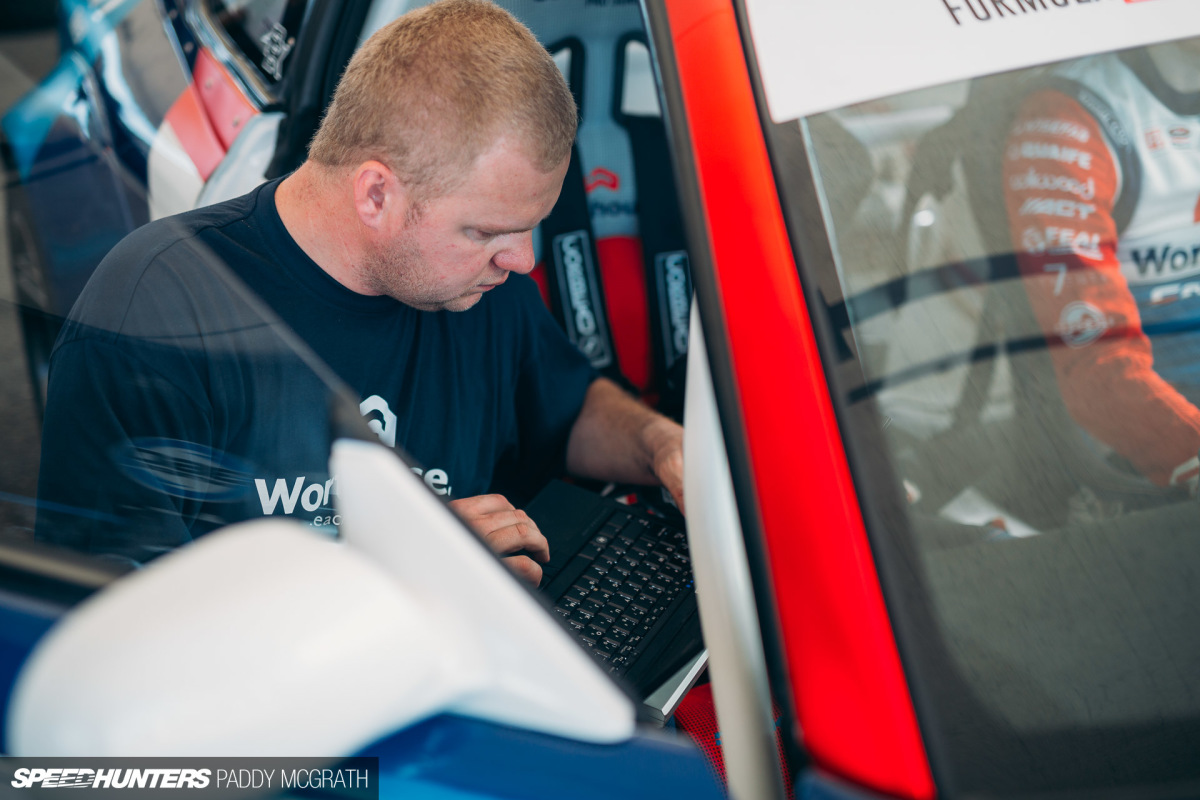 Gelo was operating as chief mechanic, with a separate crew of mechanics for either car at his disposal. He's a softly spoken gentleman, and his value to the team cannot be underestimated. Never once have I seen him stressed or at his wits' end; he just quietly and confidently gets whatever needs to be done, done.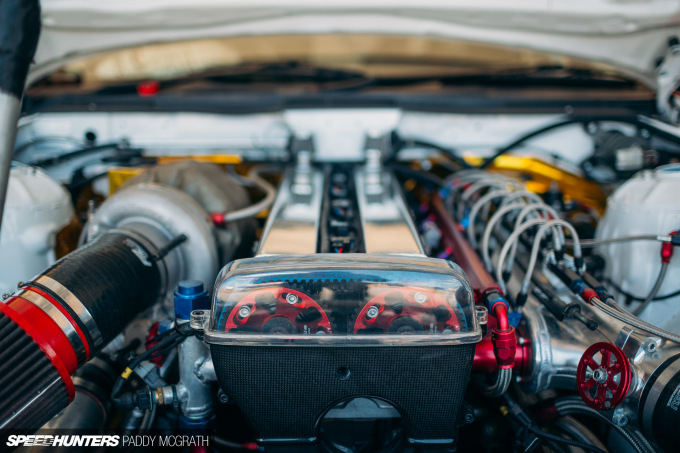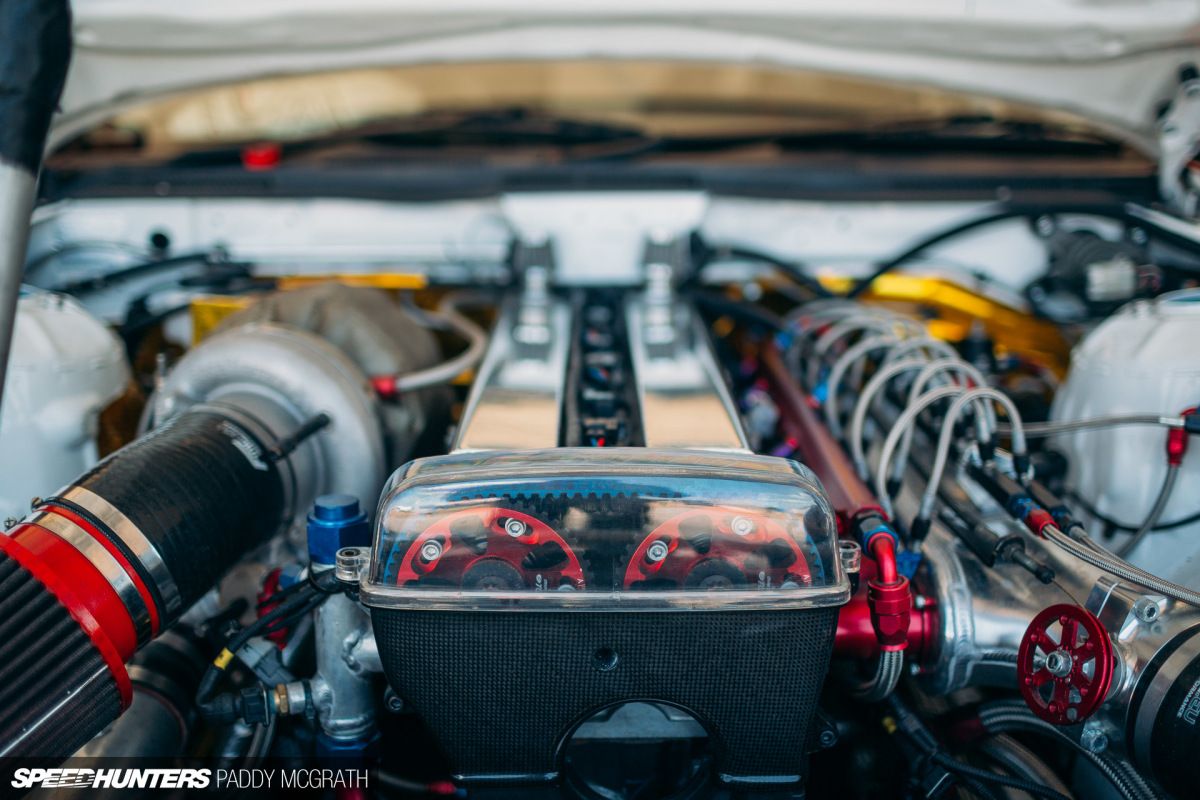 Despite the intense heat, both cars were operating perfectly and without issue.
The same couldn't be said for the drivers who were both struggling with the heat. Fortunately, Thursday was the hottest day of the event and things would – slightly – cool down for the following days.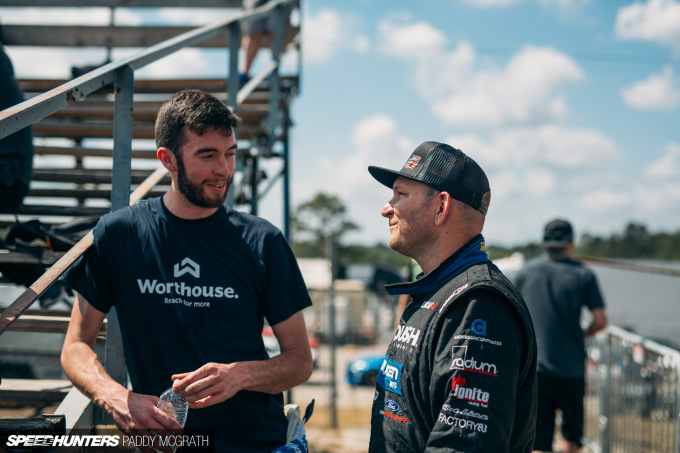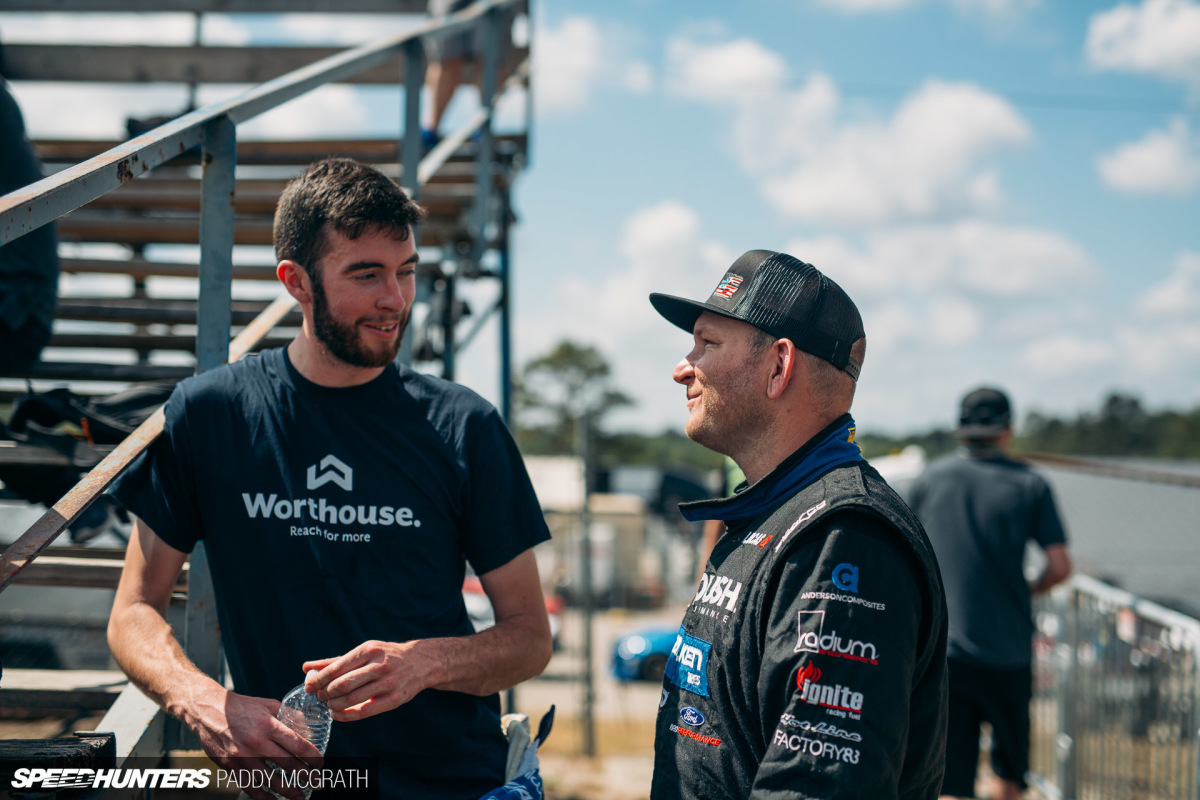 With enough time under their belts, both drivers would take the opportunity to watch and speak with their rivals. Again, most drivers kept their distance from the newcomers, save for their Falken Tire teammates of Fields, Bakchis and Pawlak.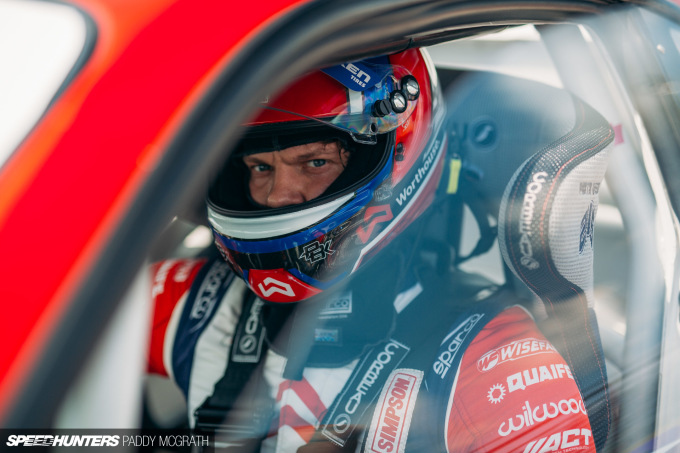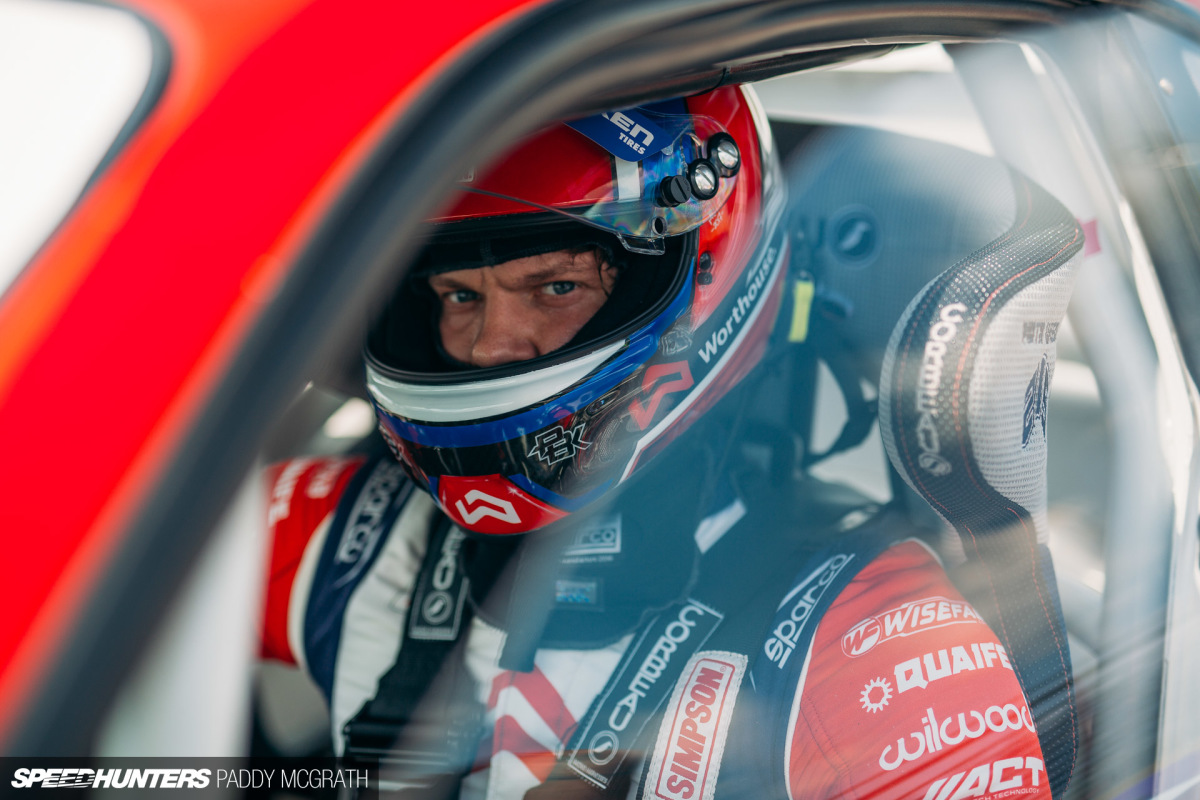 Drifting might be considered the friendly motorsport, but at this level, with so much at stake, it most certainly isn't. I can completely understand why, and in many ways I respect the teams even more for taking things so seriously. Frankly, there's no f**king around.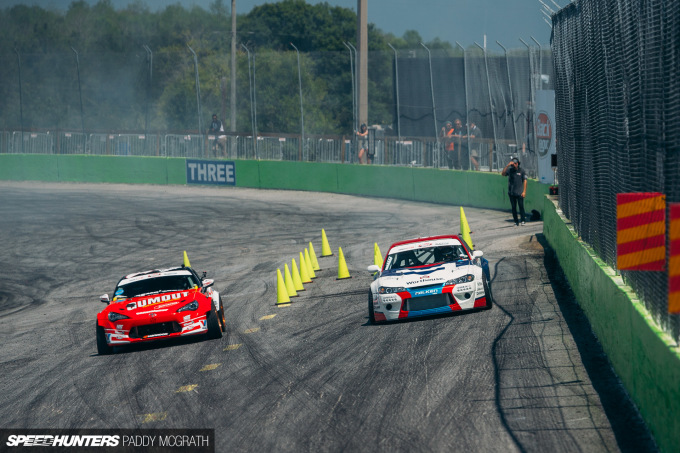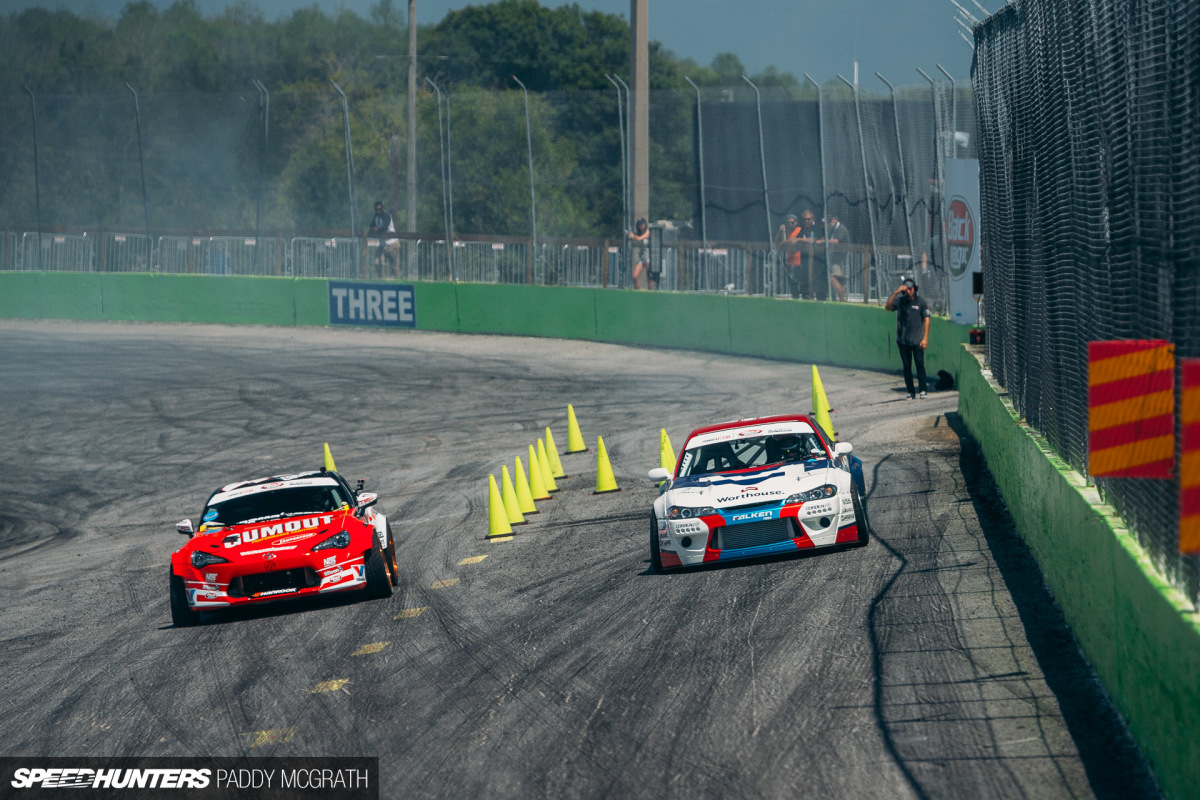 It's also different from the majority of other series in that anyone on the grid can win an event. And as everyone would learn on Sunday, anyone on the grid can cause a major upset, too. As such, it makes every session a valuable one with all drivers pushing hard. I included this shot to give you an idea of the angle of the banking. While not extreme, it is significant.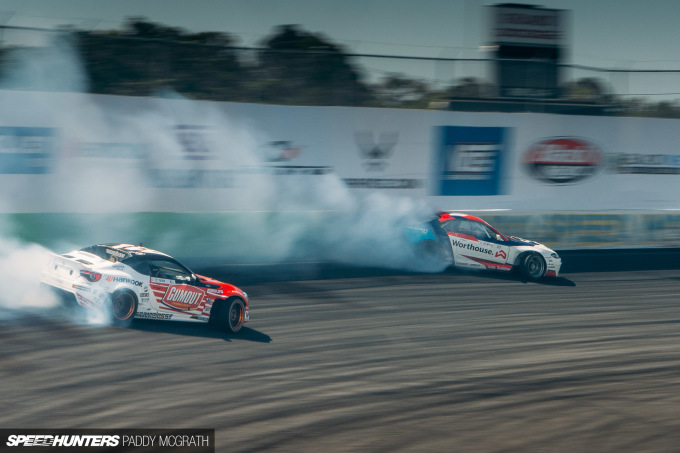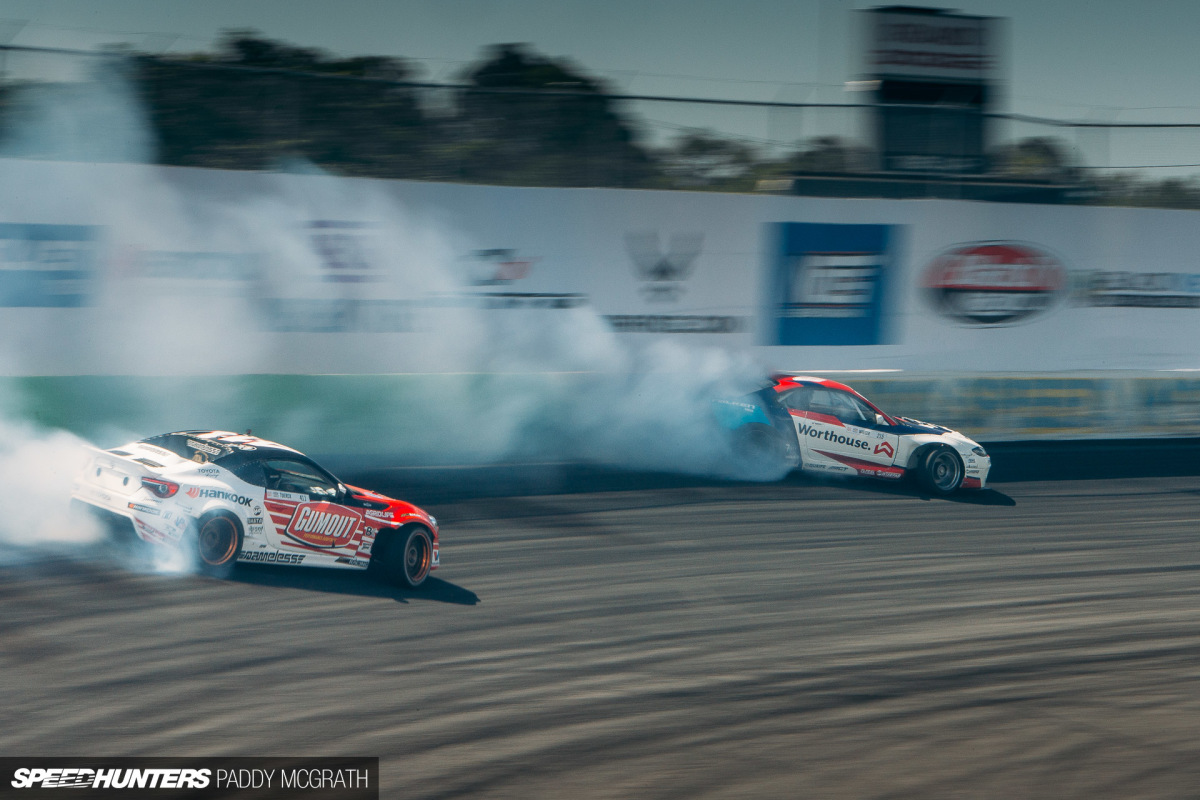 It was during the course of this run that Piotr gave the wall its first tap, before continuing on with the rest of his run. The contact seemed minimal; I actually only noticed it afterwards when reviewing the images and seeing his front wheels straightening.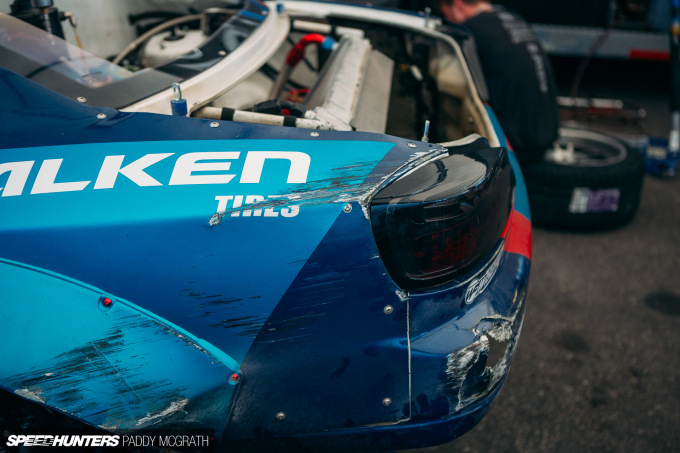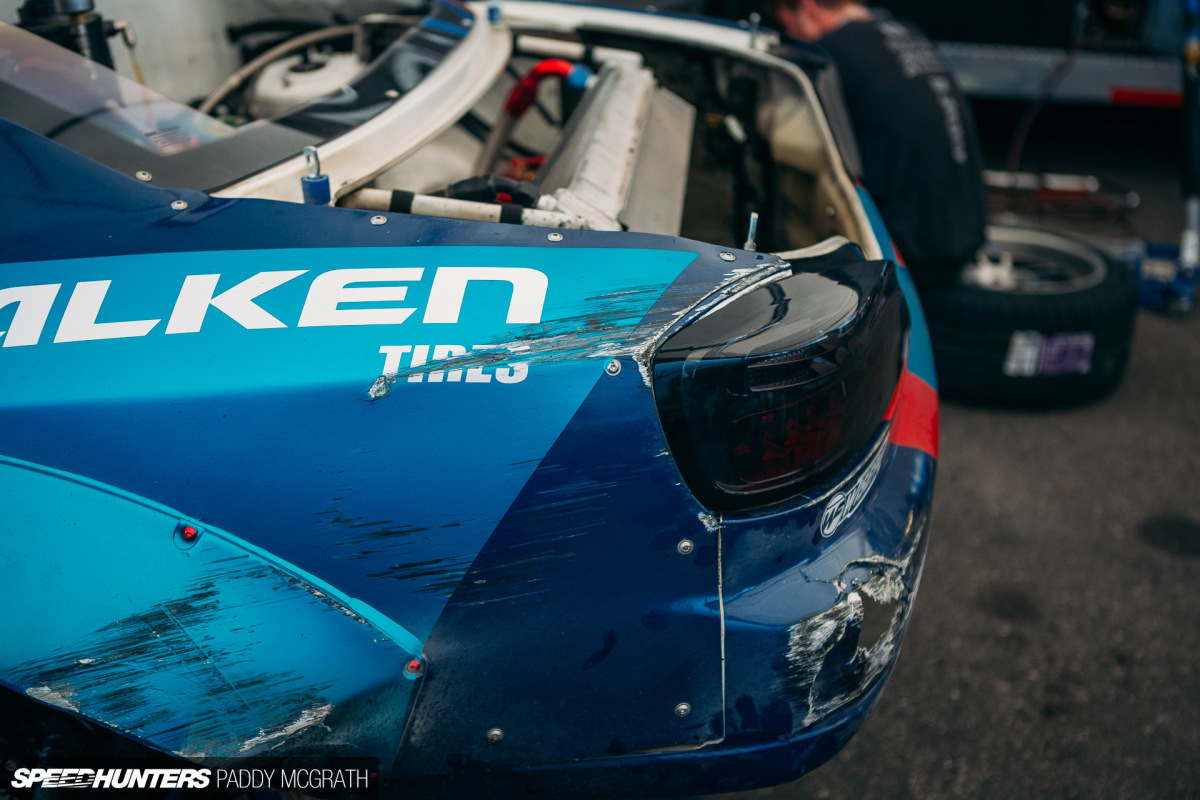 What appeared as nothing more than a graze left a pretty considerable mark on the rear quarter panel of his car. Rear suspension arms were also changed as a matter of precaution.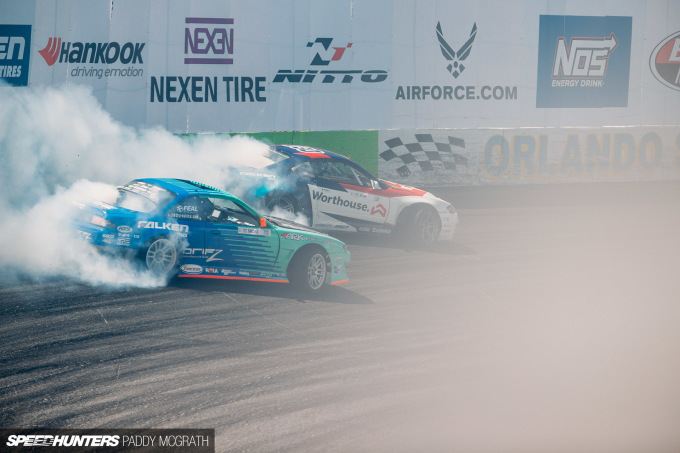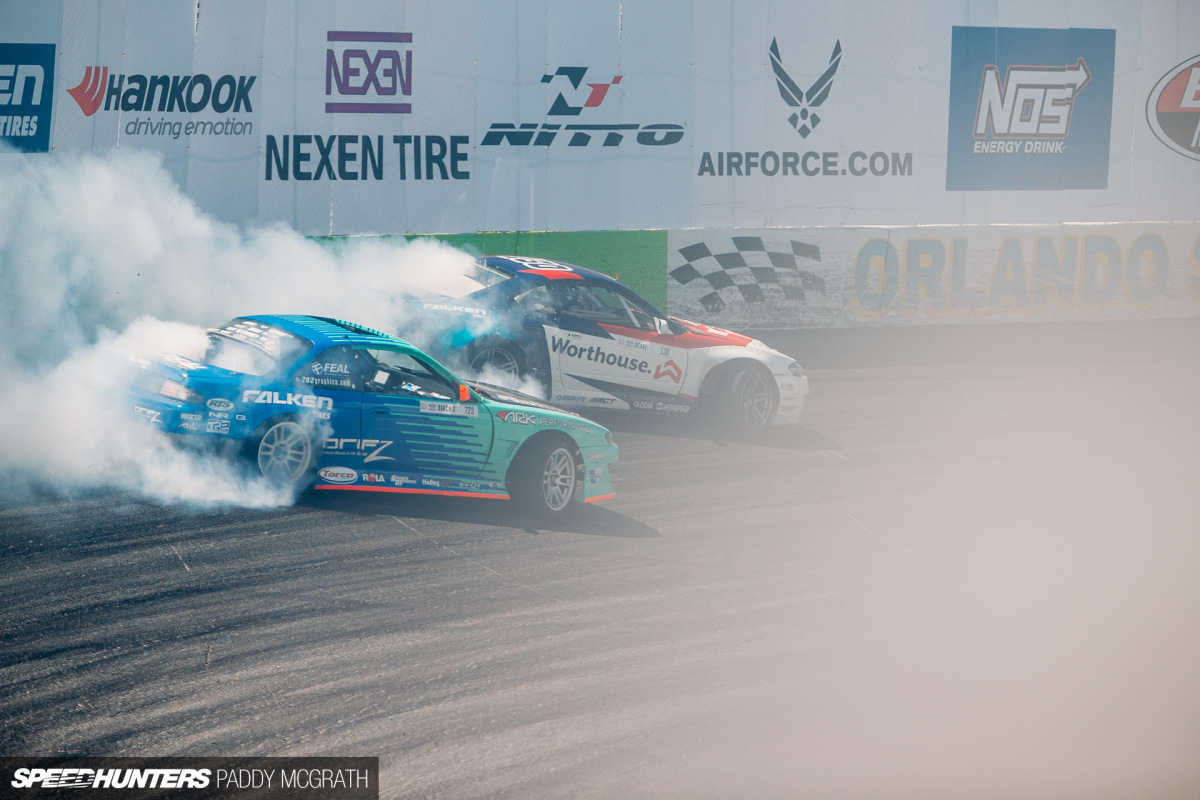 James' car too would need some TLC after hitting Dean Kearney's Viper which spun in front of him. Again, nothing major or anything to stress about, but enough of a reminder that the speed involved here can bite back.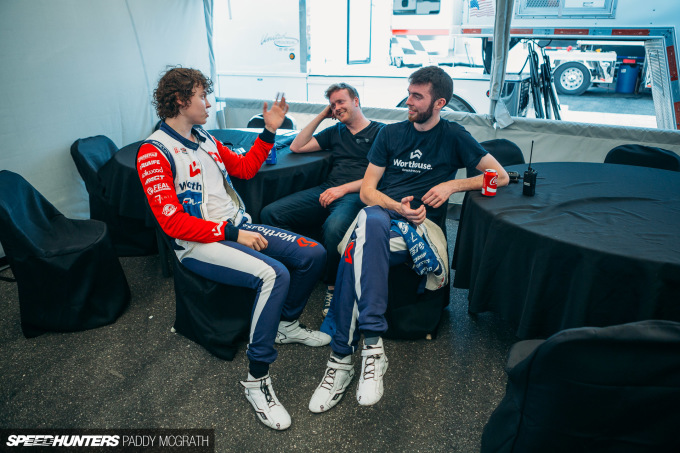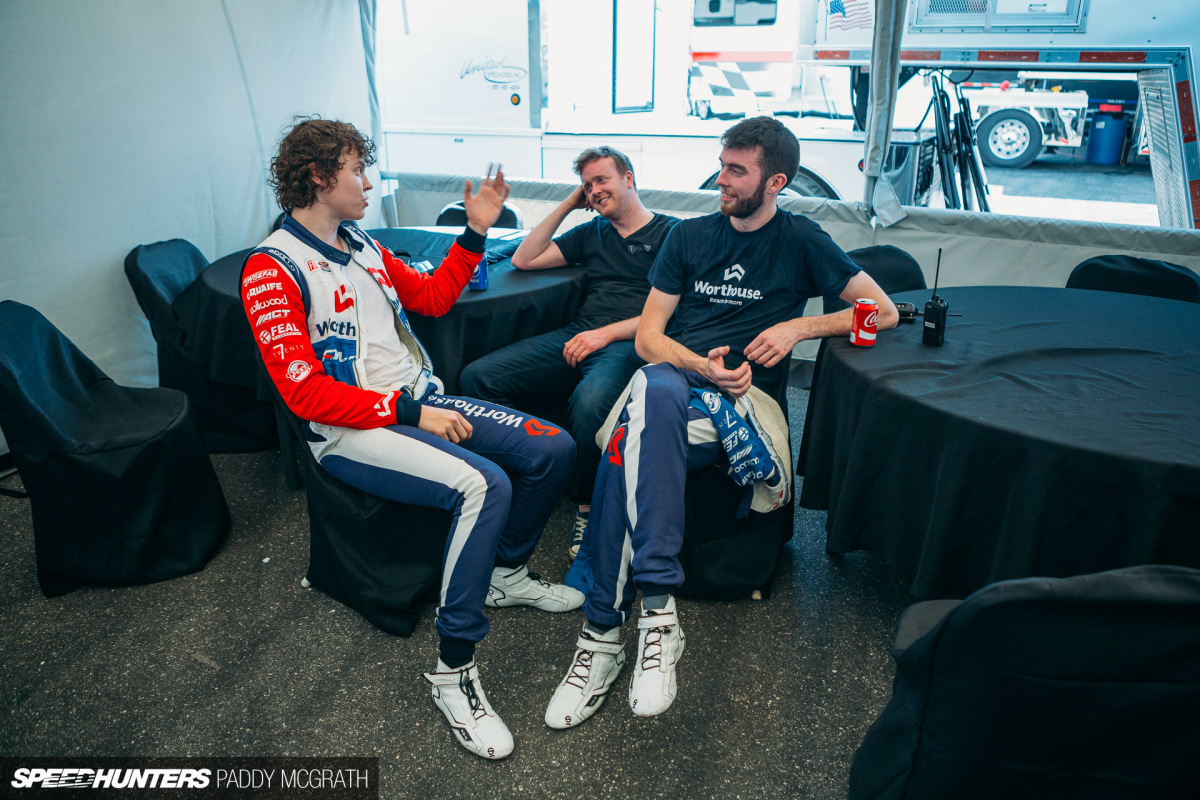 With the second practice session done and dusted, it gave the drivers and their spotter, Michael Sheehan, the opportunity to relax a little and recount the day's events. I'm still enjoying the camaraderie between the team members, and how everyone is considered an equal. No one is pulling rank or keeping information from the other side of the garage.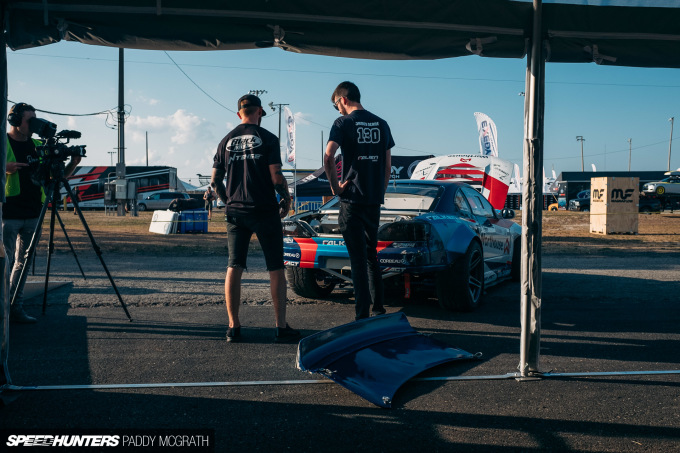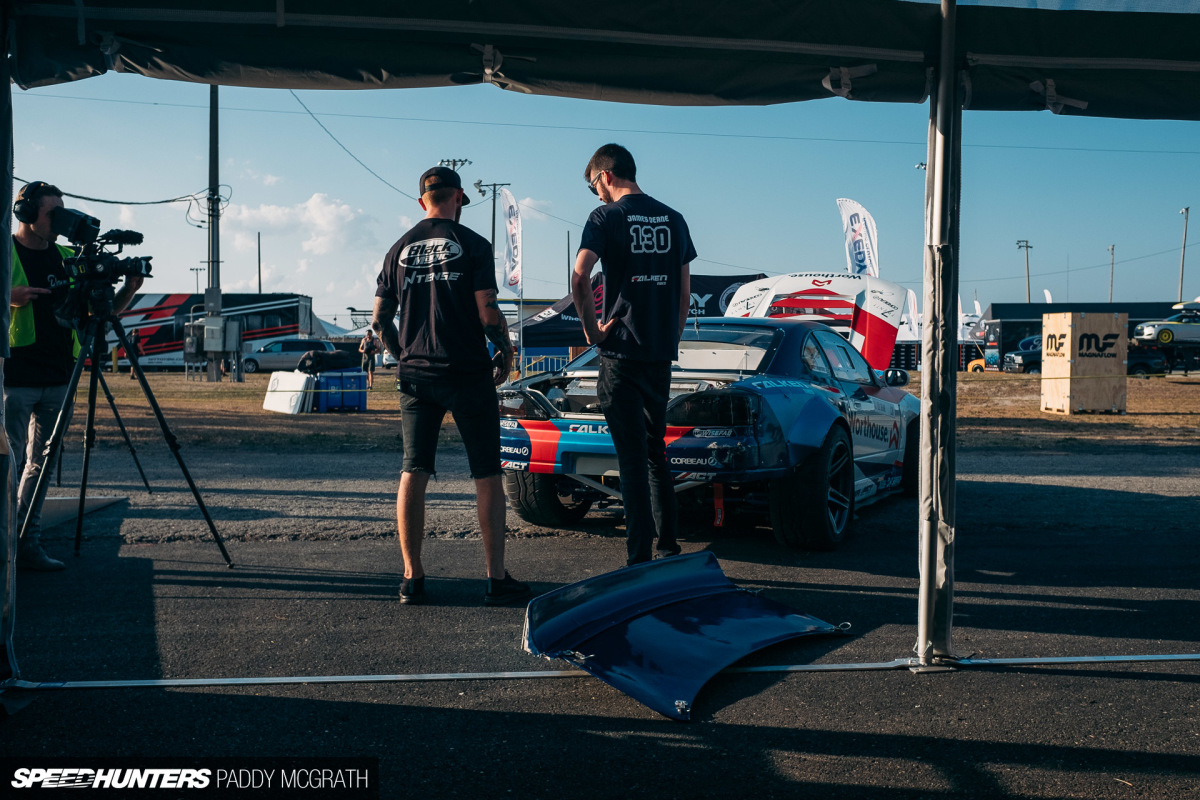 Since his win at Round 1, James has been in high demand with the media for interviews and other things. If you were to believe online speculation, a tour of James' S15 with rival Chris Forsberg should have ended in a bout of fisticuffs. Sadly, it didn't happen.
I know James has a lot of respect for Chris and was pretty pissed off at the allegations Chris endured after Round 1, allegations which Chris perfectly refuted by sharing a video showing his car popping out of gear. It seems that any mistake a driver makes is now judged to be intentional, but people don't seem to appreciate how difficult these high-grip drift cars are to drive and keep sideways. To the point, where a driver is so focused on keeping it on the track, purposely trying to put off a chase car is probably the last thing on their mind.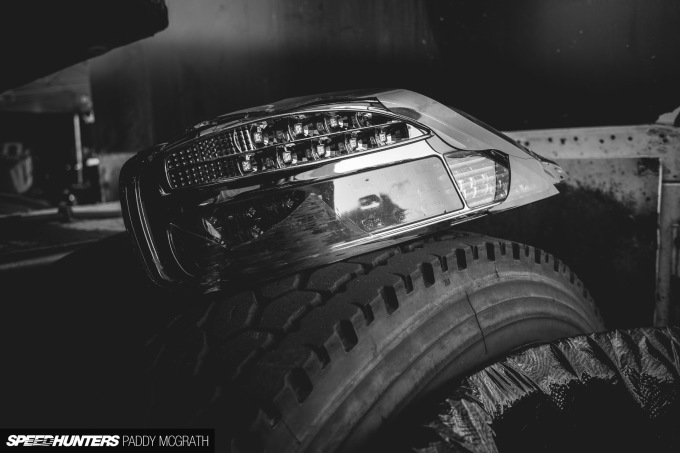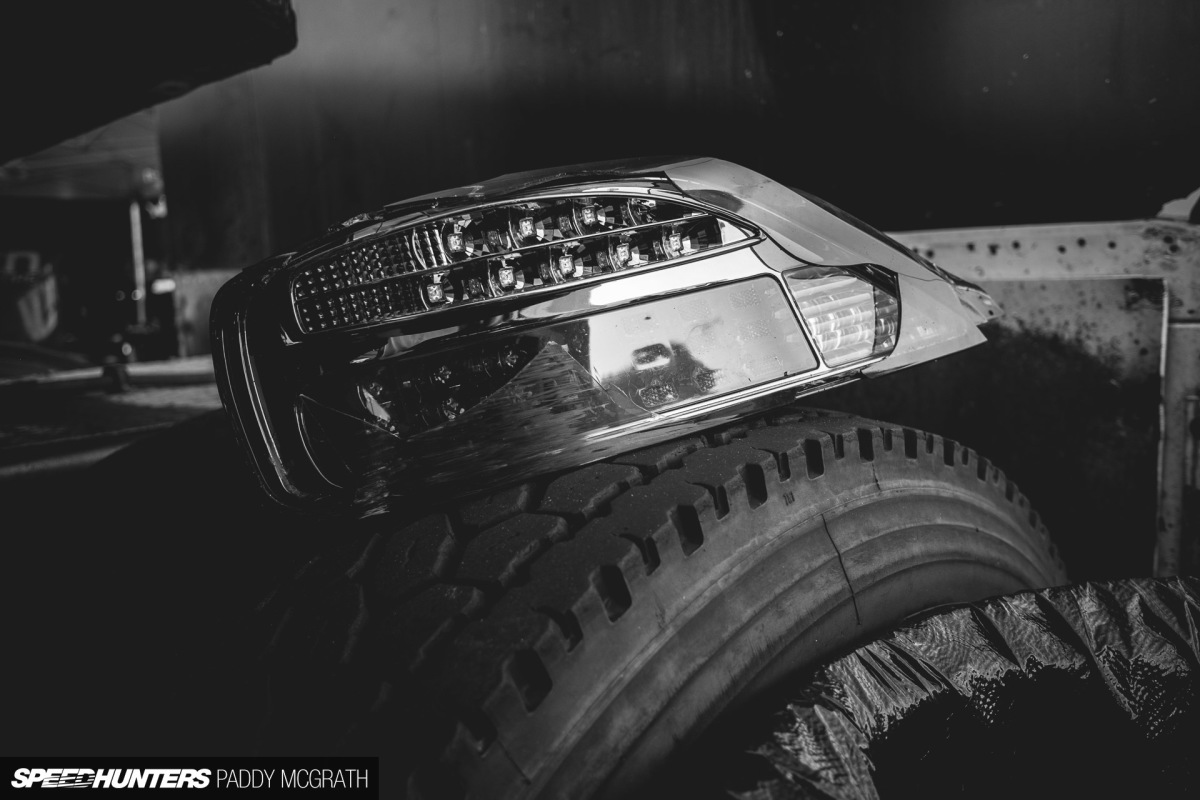 With arguably the most harmless day out of the way, at least from a competition aspect, and both cars relatively unscathed, it was time to call it a night. This was only a precursor of what was to come.
Friday April 28th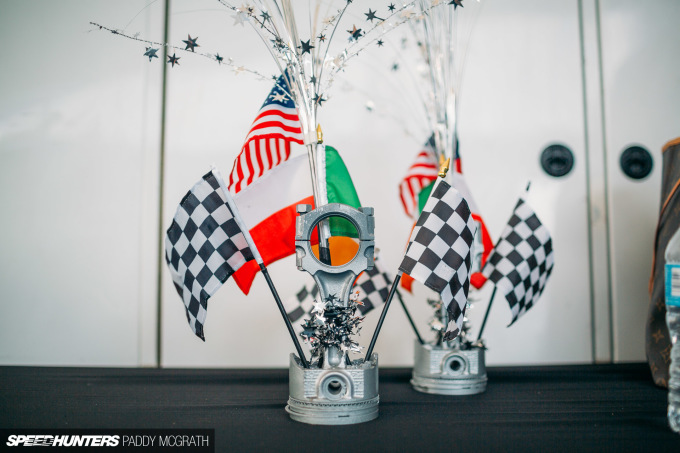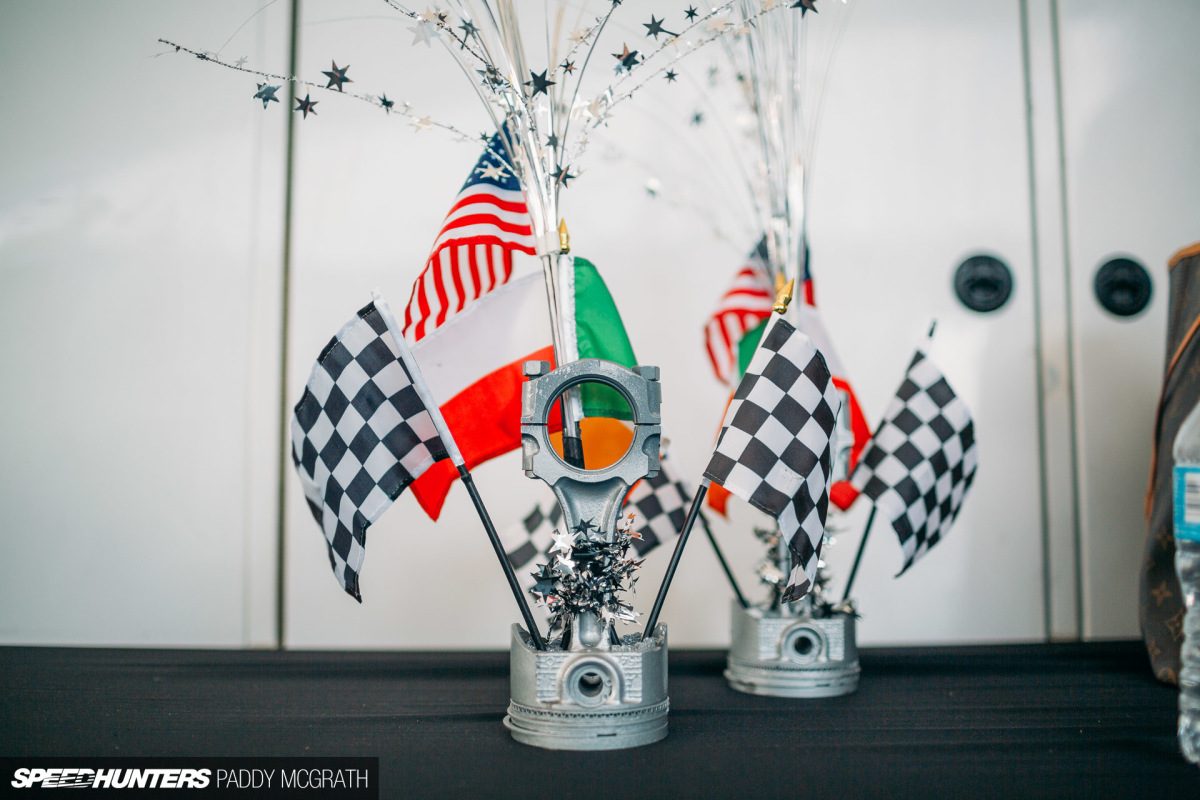 Over dinner and a debrief the night before, the first action on Friday morning was to change the final drive ratios of both cars before the final practice session prior to qualifying. It's a relatively painless process, courtesy of the quick-change rear ends. The plan was to install the new final drives, but have the previous day's ready to go back in if needed.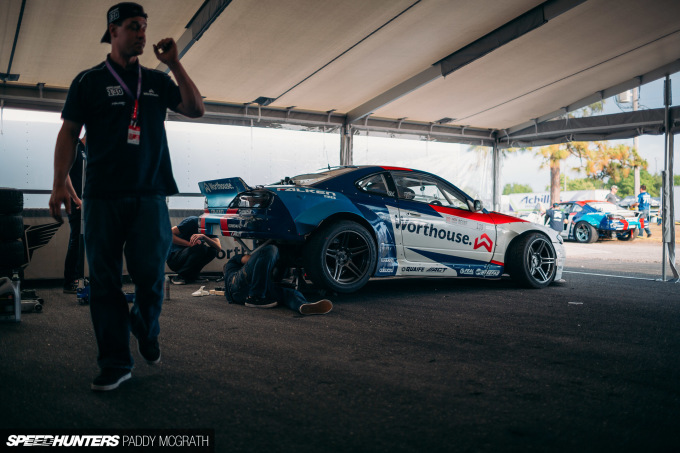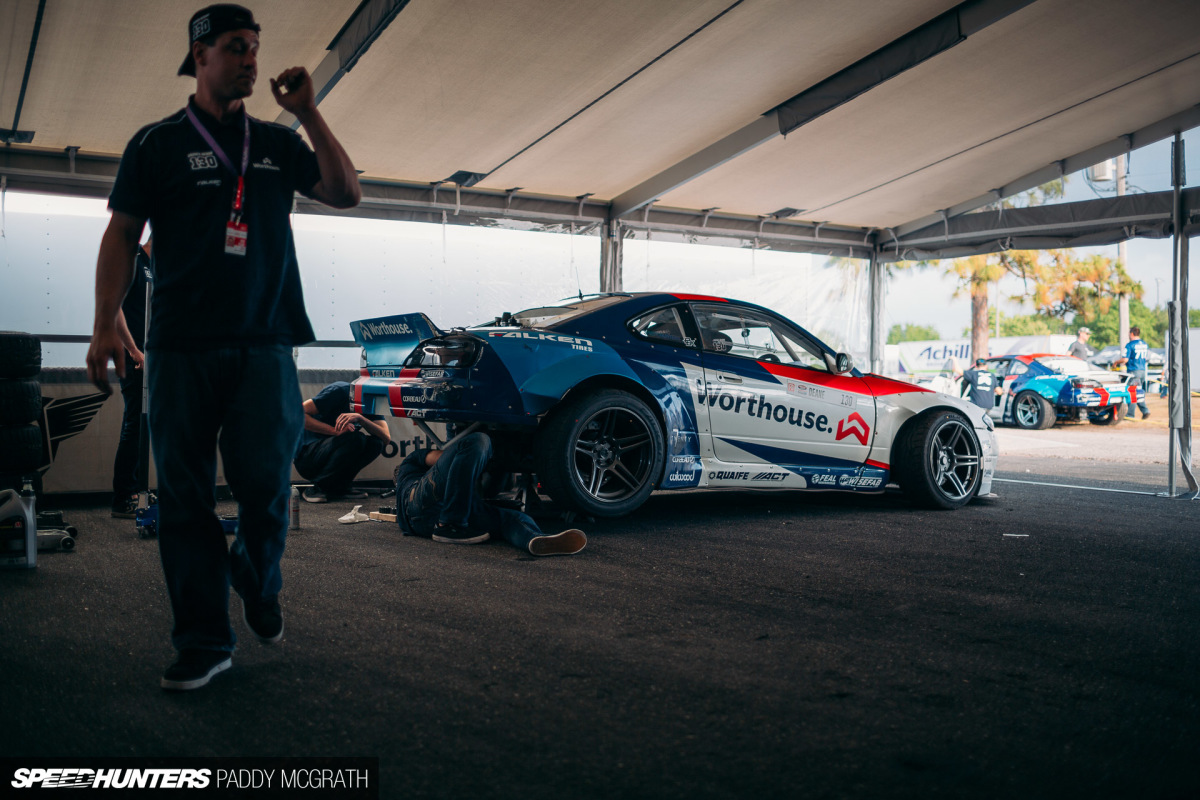 With full check-overs on the cars carried out, fluids topped up and alignments scrutinised again, they were ready for another day.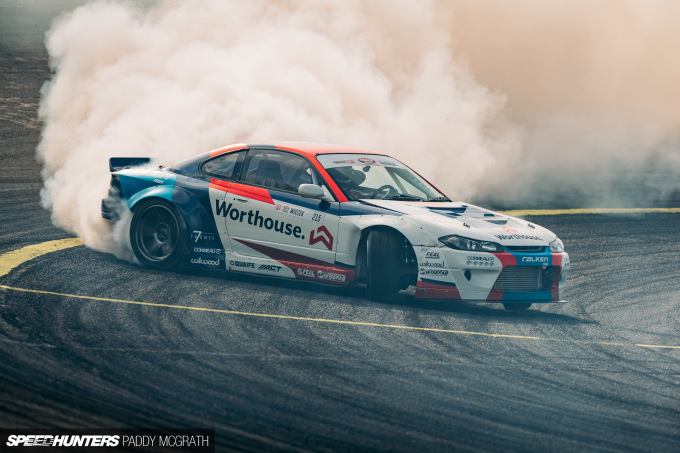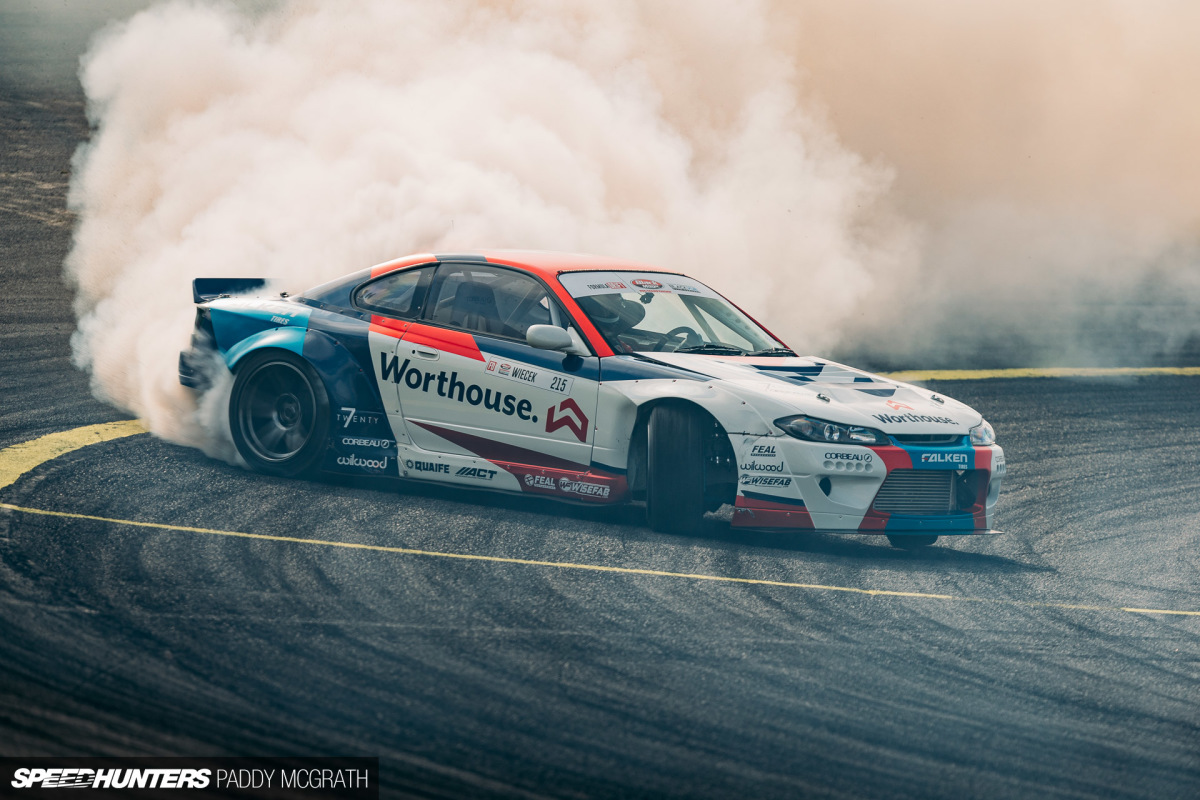 With qualifying looming, both drivers were focused on their lead runs throughout the duration of practice.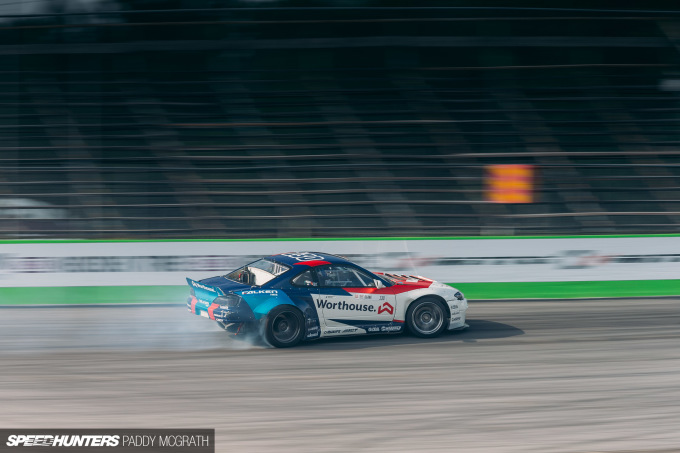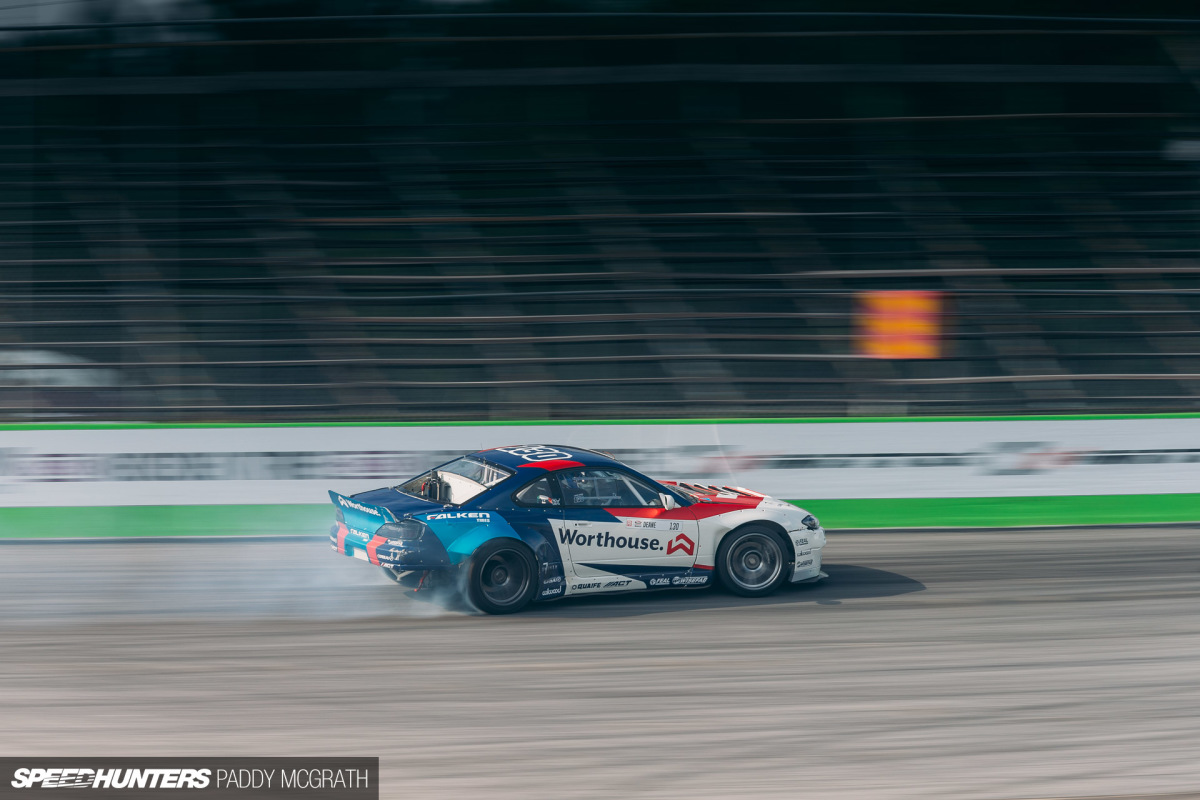 It was fascinating to watch the different styles at play and even the nuances that the track created. For instance, when accelerating into the initiation, if the cars broke traction, they would begin to slide down the banking. This could be used as the catalyst for a Scandinavian-style entry, or it could put you off line.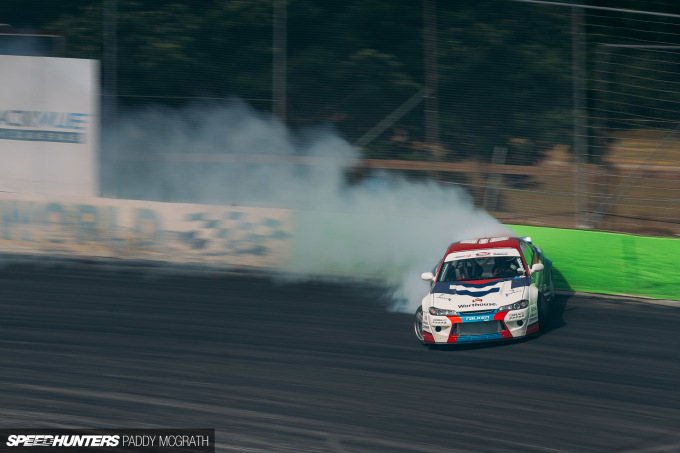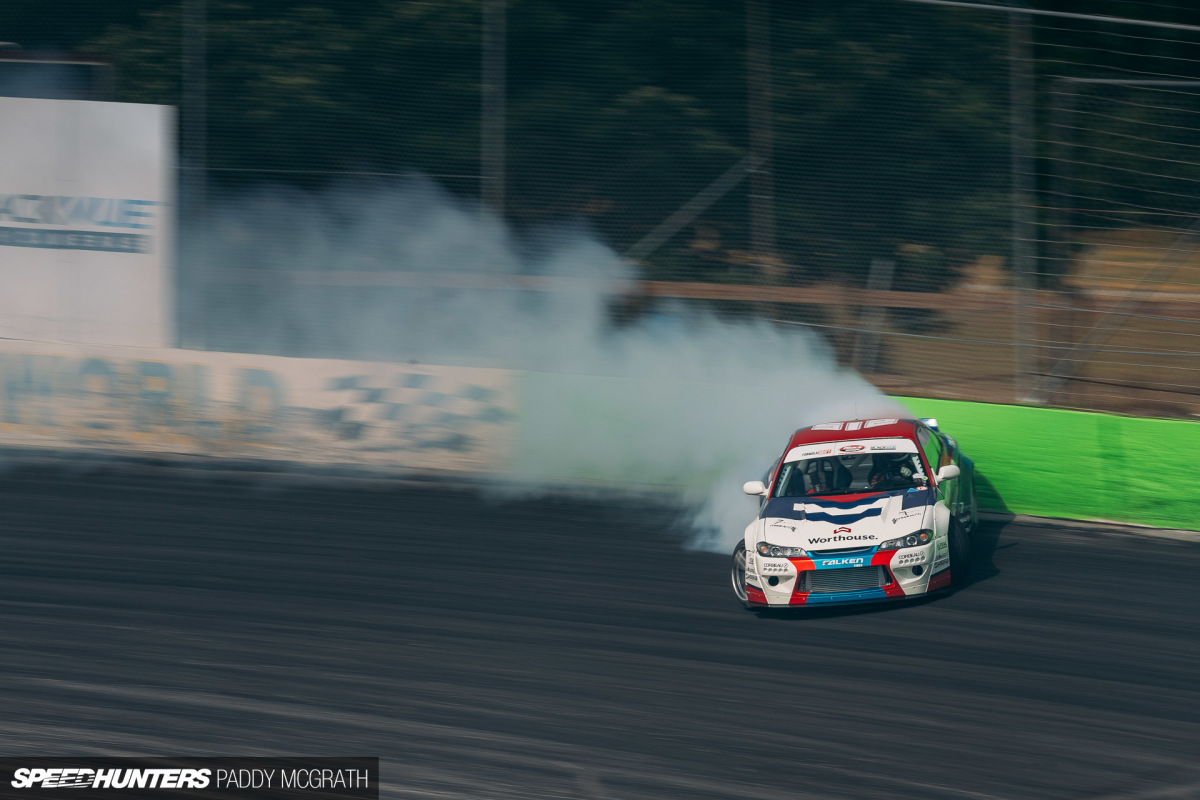 If your line on the bank was wrong, it was likely that you would struggle to correct it for the remainder of the course.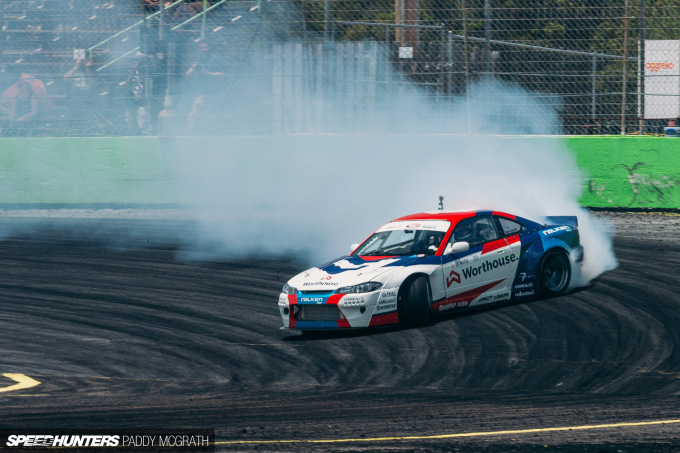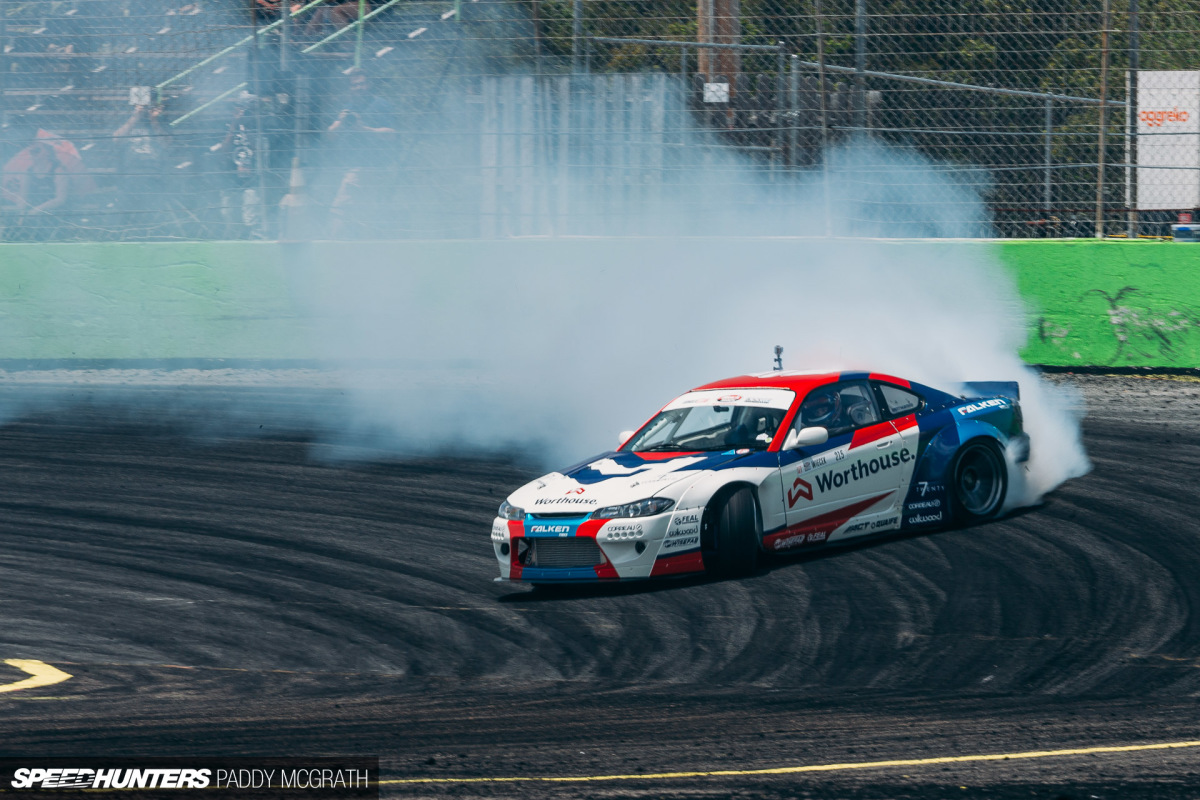 Coming down off the bank and transitioning across the centre section was maybe the defining section, with two inside clipping points in quick succession.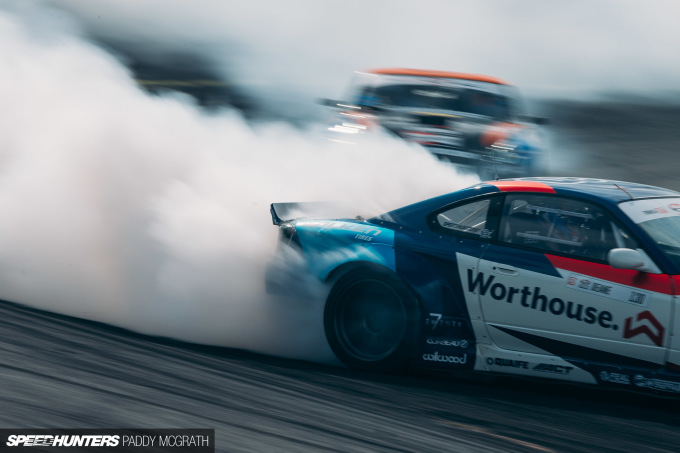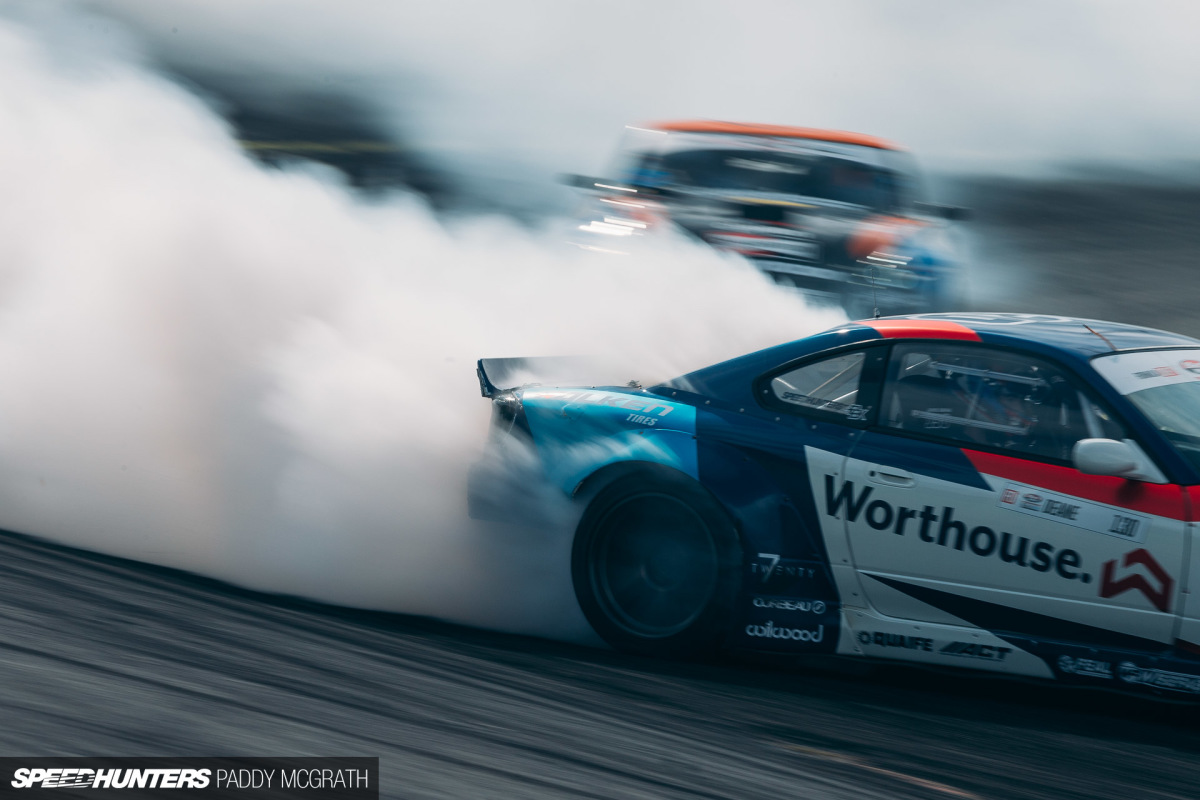 The last section was a case of staying on line and keeping speed, angle and throttle up for a flourish across the finish line. Watching the event in previous years online, I never realised that there's a lot more to it than it first looks on camera. It's a relatively simple layout, but it's also punishing and difficult to really stand out on.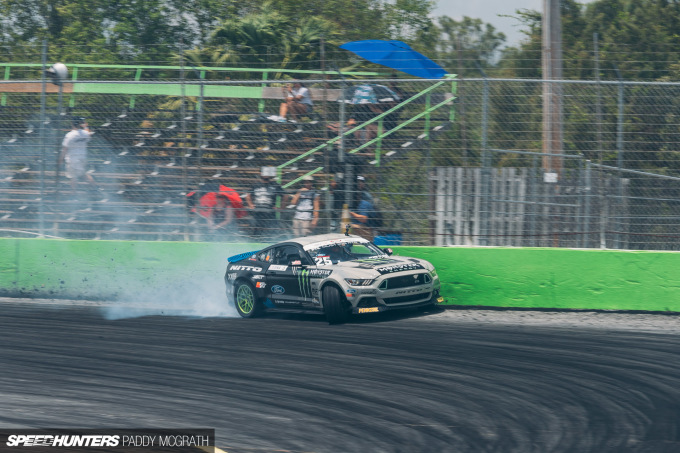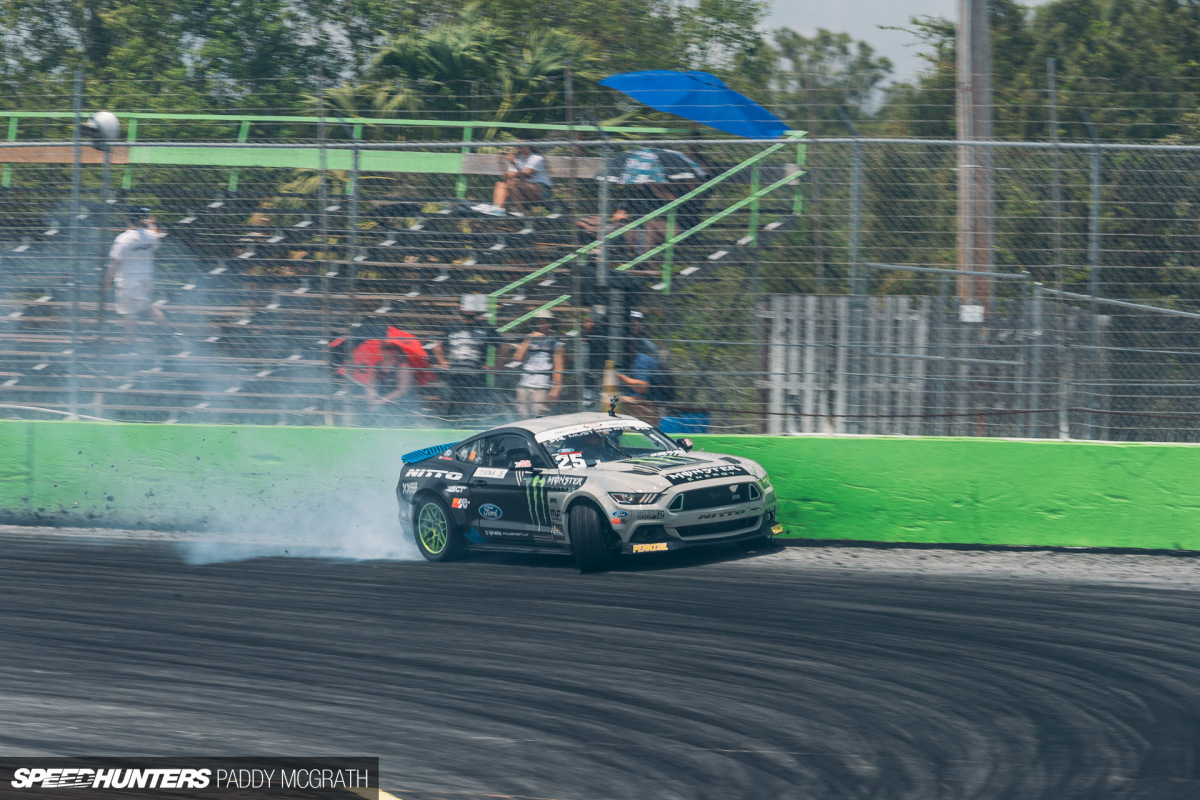 Run wide and there's every chance the wall will suck you in. If this happens, it's likely that your day is over.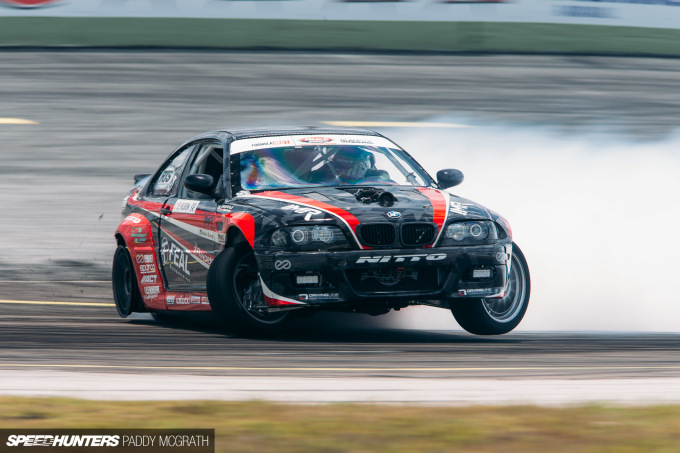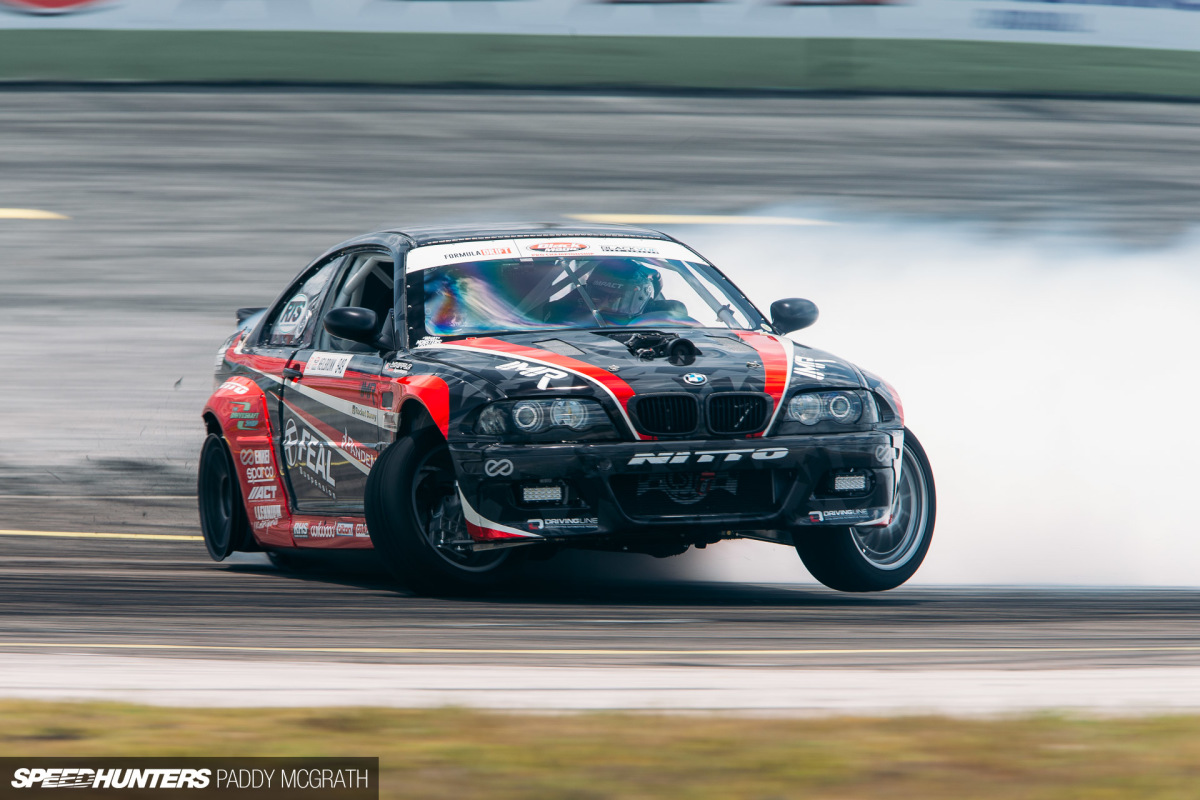 For the on-throttle sections, drivers were doing everything to maximise their forward momentum and speed, knowing that any advantage here would be of huge benefit during the battles. Trying to get tyre pressures as low as possible was the aim for many, but the bumpy infield and transition off the bank were keeping drivers in check. Even a single pound of pressure too little might be the difference between a good run and a tyre de-bead.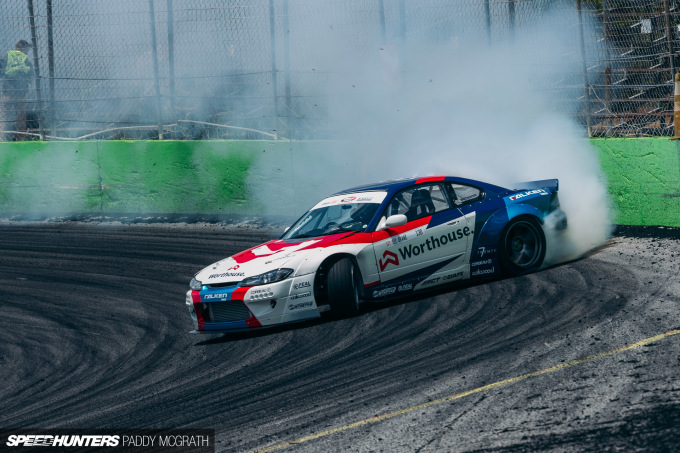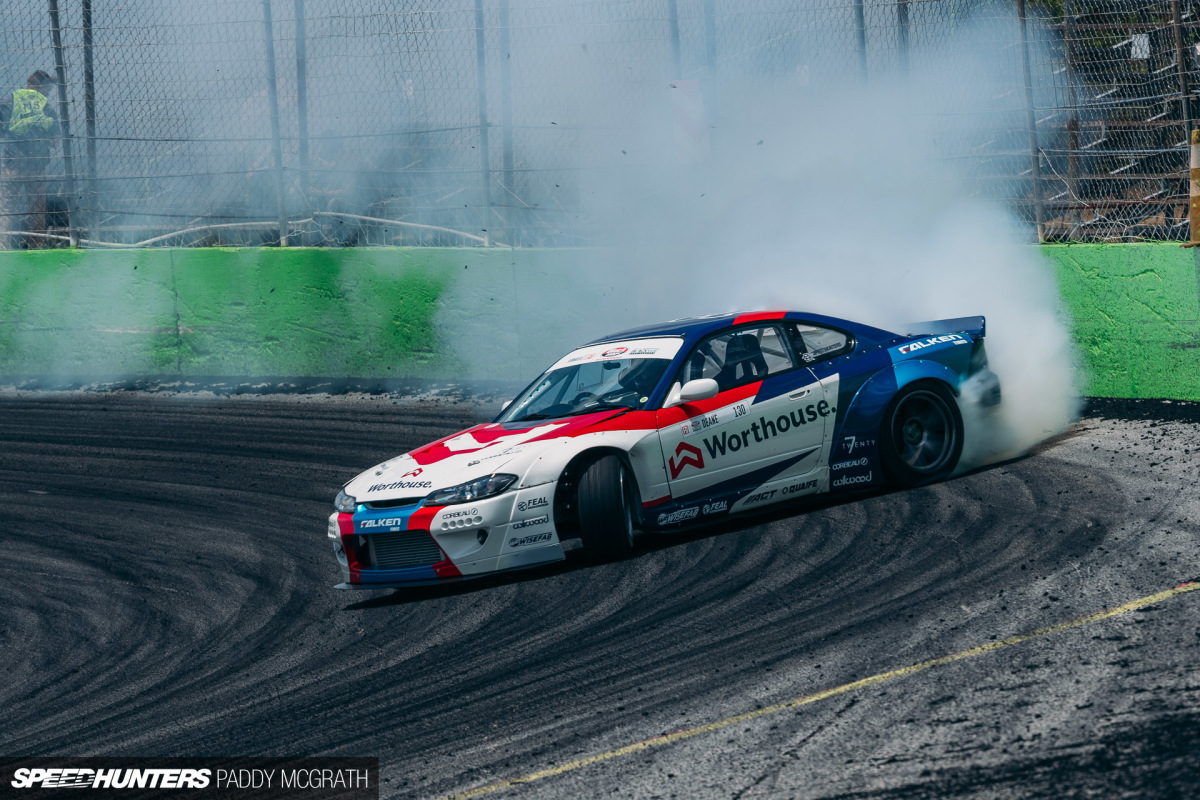 With less than 32 drivers competing for 32 spots, it meant that a safe first run was a no brainer to ensure you made the competition. A high qualifying spot (top five) would result in a bye run to the Top 16 and main event. For James and Piotr, qualifying was largely straightforward. Both drivers put safe scores on the board for their first run and guaranteed themselves a place in the battles.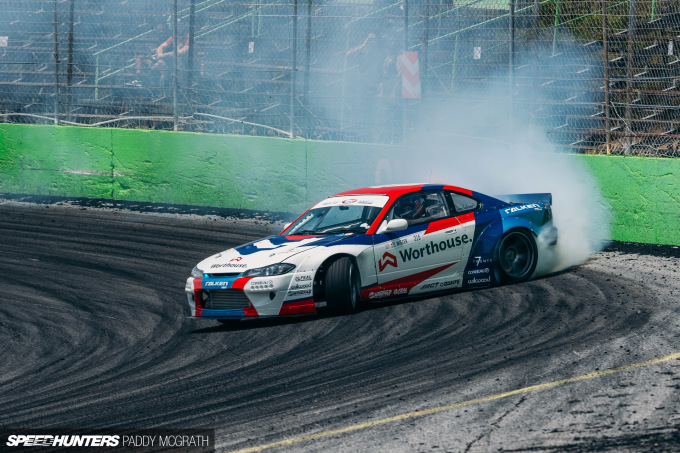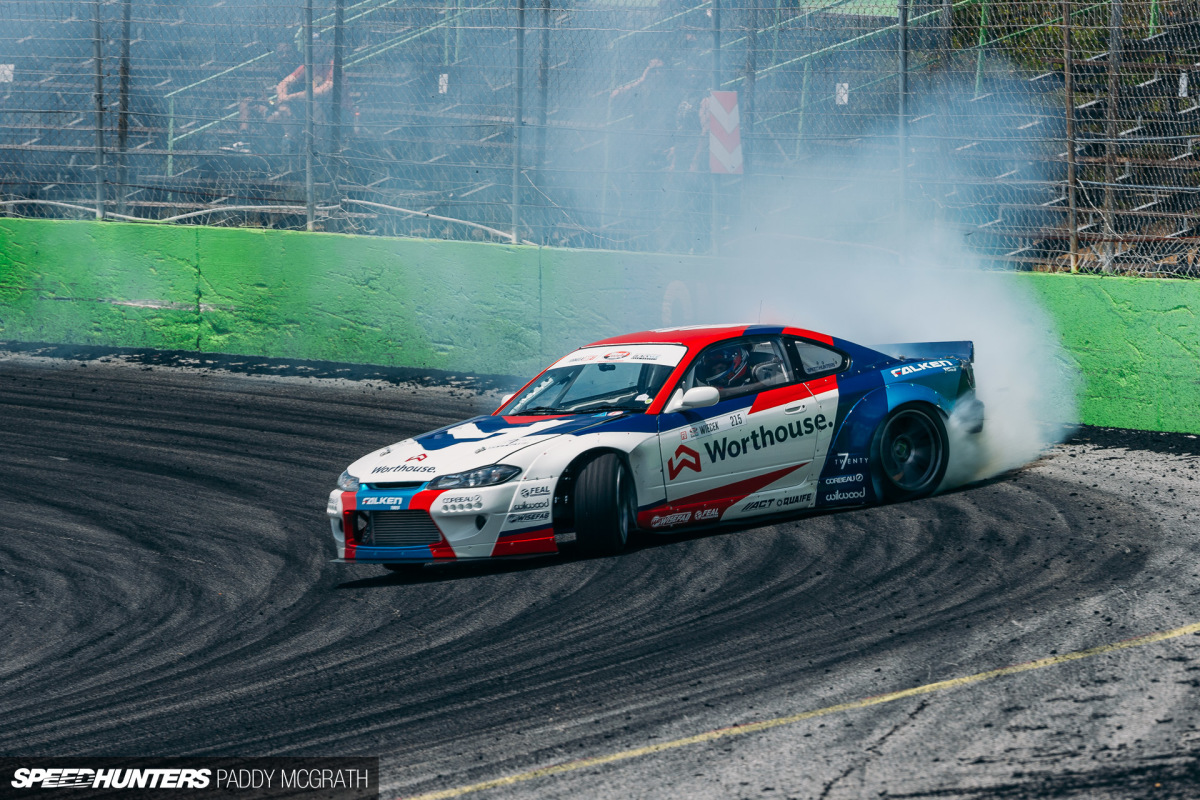 Their second runs featured an extra push from both drivers. Piotr, curiously, wouldn't better his score, despite many thinking that his follow-up run was much better than his first, myself included. The judges docked him points for his initiation, putting him 24th out of 27 drivers. James was able to improve, going from an 89 to a 92 and to 4th place qualifier and another bye run into the main show, which he was very happy with.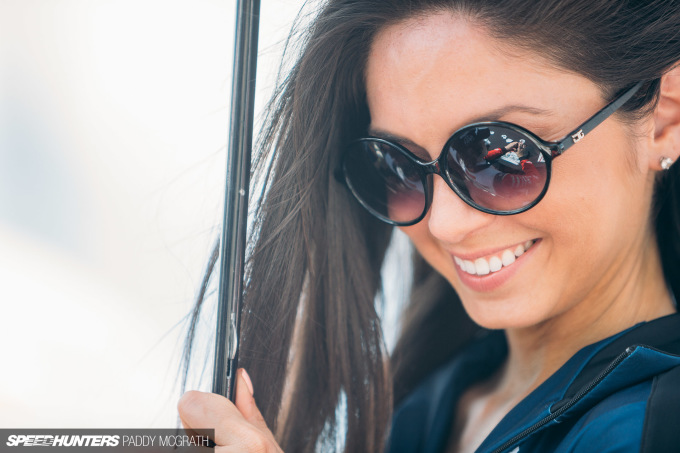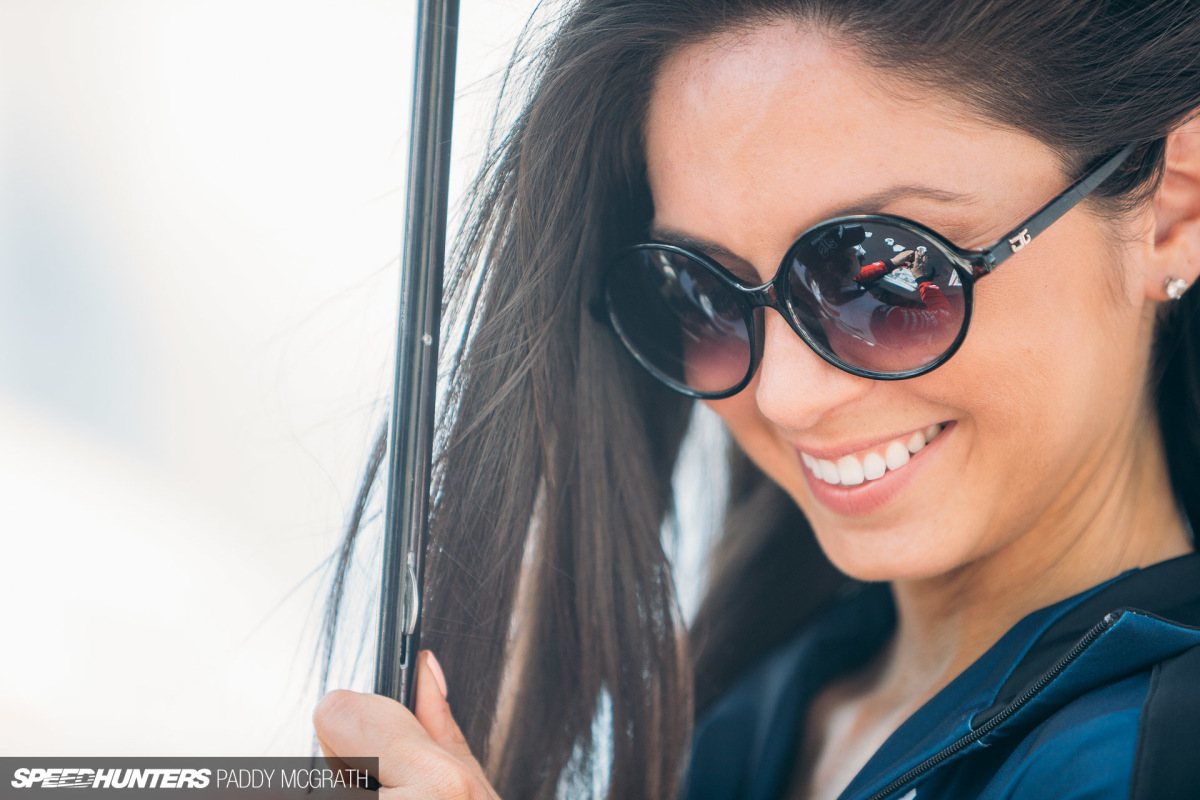 Regardless, both drivers were happy. For James, it meant more points on the board, and for Piotr, a fresh challenge. Neither of these guys are here just for taking part, they want to compete.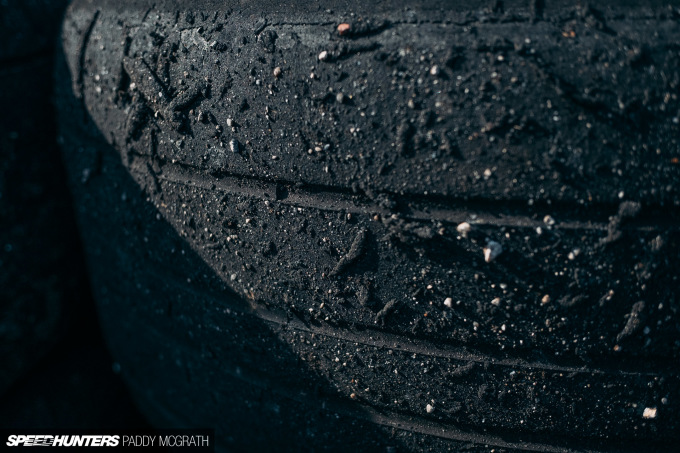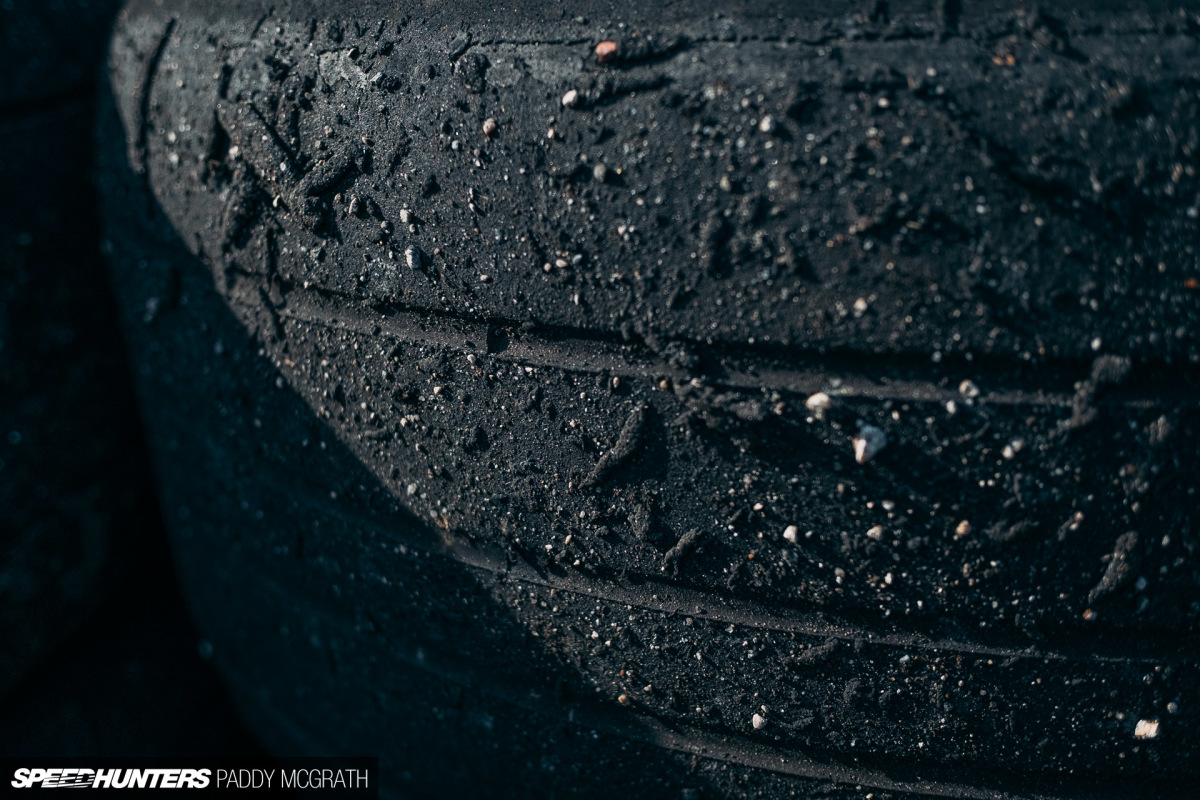 Tyre wear, for all drivers, was still an issue and would become more evident during the battles. One run would pretty much kill off a tyre, with a second run ensuring its place in tyre heaven. There was a certain amount of relief for James and Piotr, as the Falkens seemed to provide consistent grip right until they were fully gone, which gave them both confidence.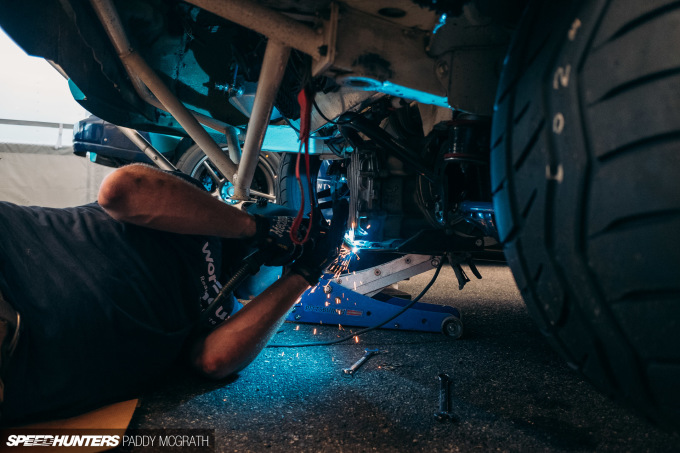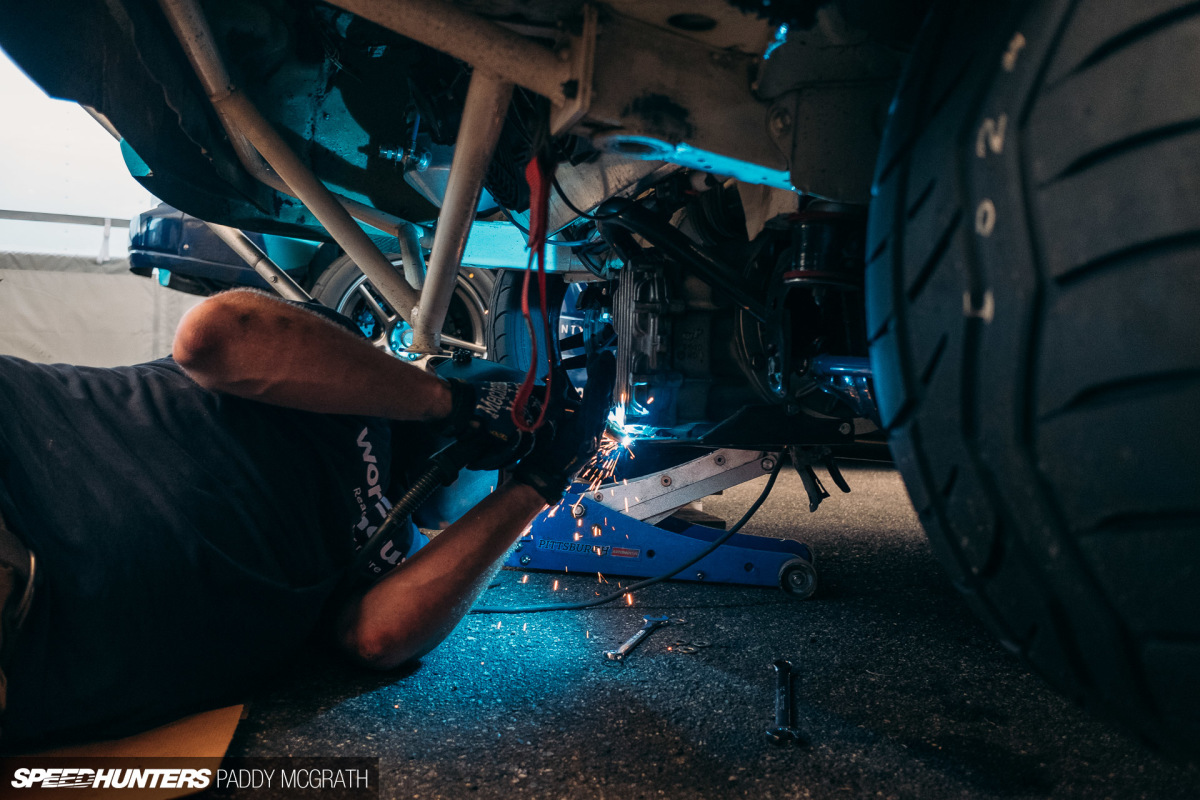 The hard transitions were taking their toll on the cars though, with the rear differentials grinding the ground lap after lap. Differential guards for both cars were fabricated up to protect the diff housings, with a watchful eye being kept on the rest of the rear suspension componentry, with pre-measured and set arms waiting to be easily swapped in if required.
Where Thursday ended on a relaxed note, Friday's ending was more subdued. Not because of what had happened throughout the course of Friday, but for what lay ahead the next day…
Saturday April 29th
As with any morning of an event, things start off in a similar order. Team arrives, drivers arrive, team prepare and check cars, drivers prepare, cars are warmed, drivers go to briefing then come back and get in cars and drive to grid. It's a routine that everyone's familiar with and everyone knows their role or what they should be doing. I like this comparison between both cars on Saturday morning, and that they're wearing their scars on the same side of the car.
Gelo set about double-checking the geometry on the rear of Piotr's car, along with throwing an eye over the new diff guards, before sending the car to the final practice grid.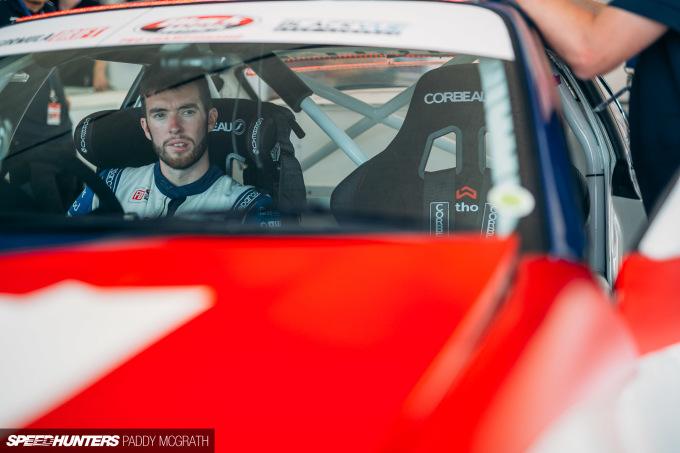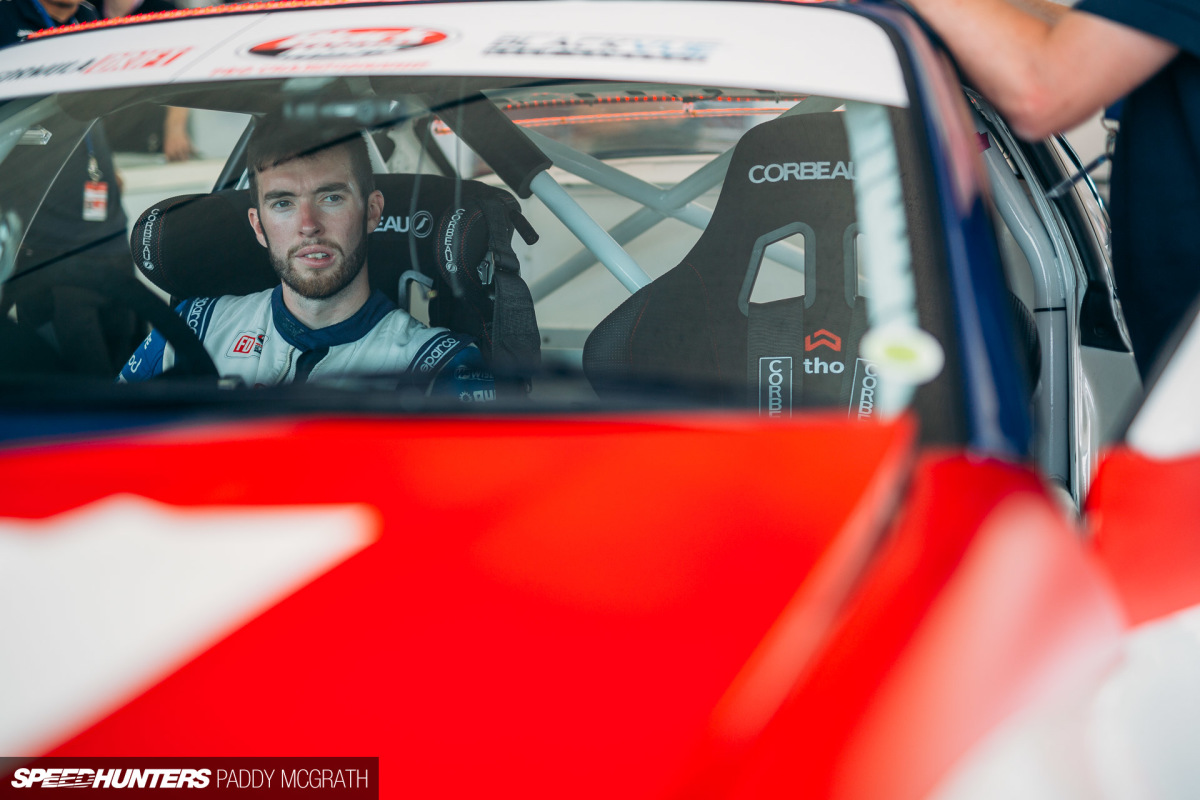 James wasn't moving, though. The look on is face is pretty much all you need to know that something wasn't quite right. Upon starting the car, the engine's oil pressure was lower than where it should be. It wasn't low, just not in quite the right place.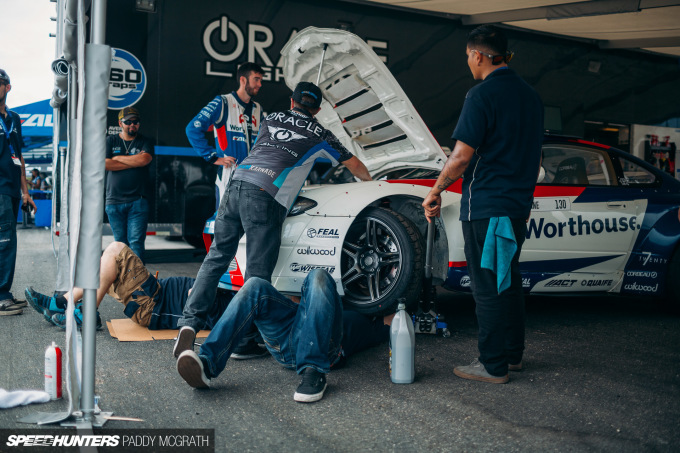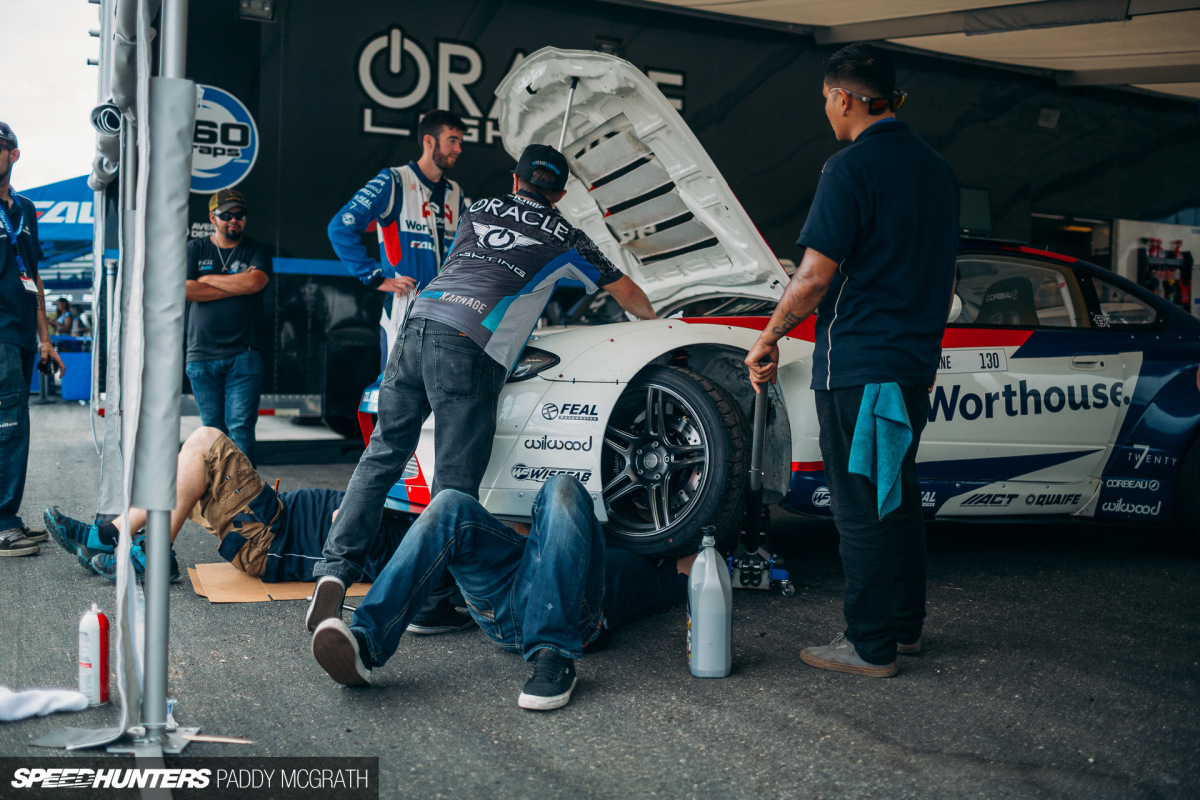 With the other two cars already gone, all hands were deployed on James' car to start trouble-shooting the issue.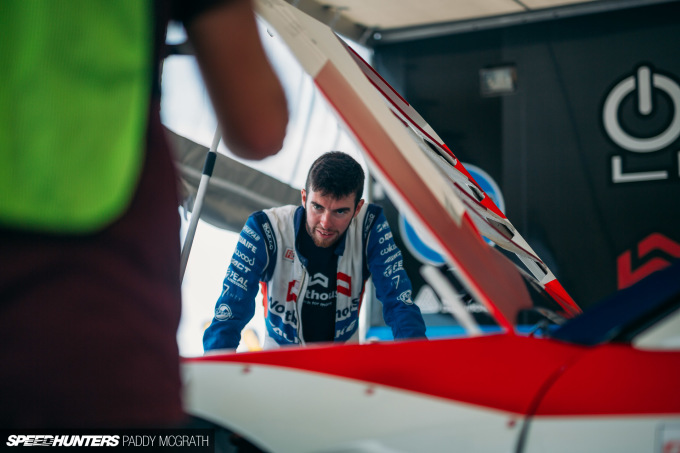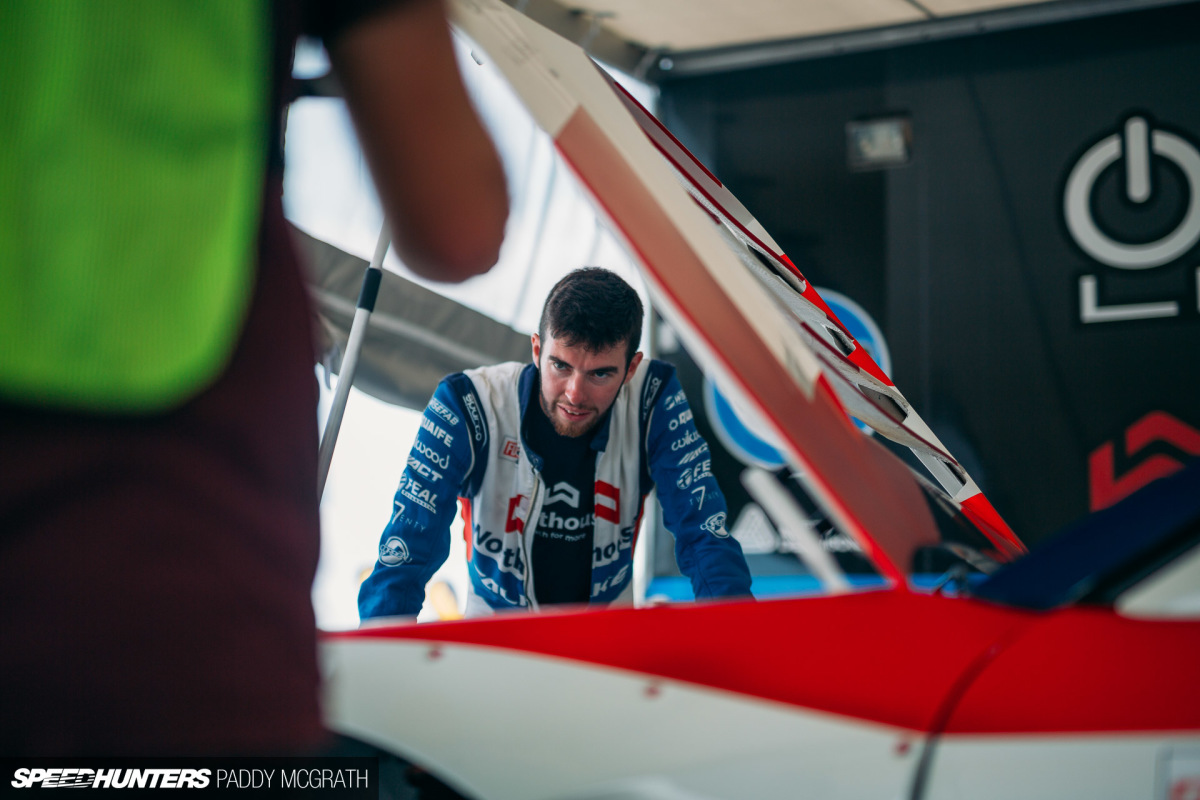 As each minute passed, so did another opportunity to try and get chase practice in. James wears his heart on his sleeve, so when he appears calm and relaxed, he typically is. The opposite is also true.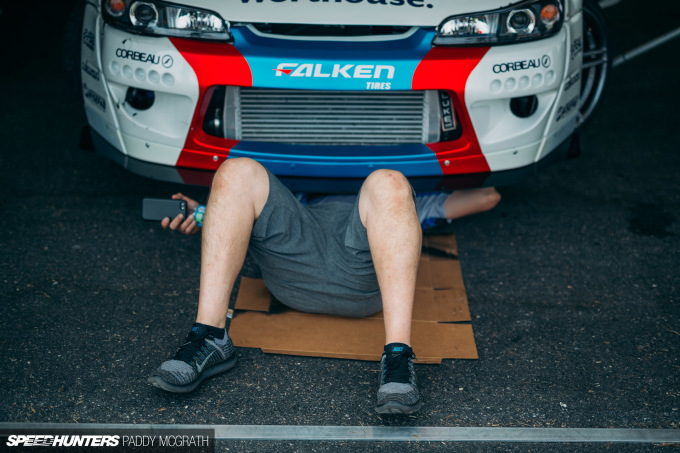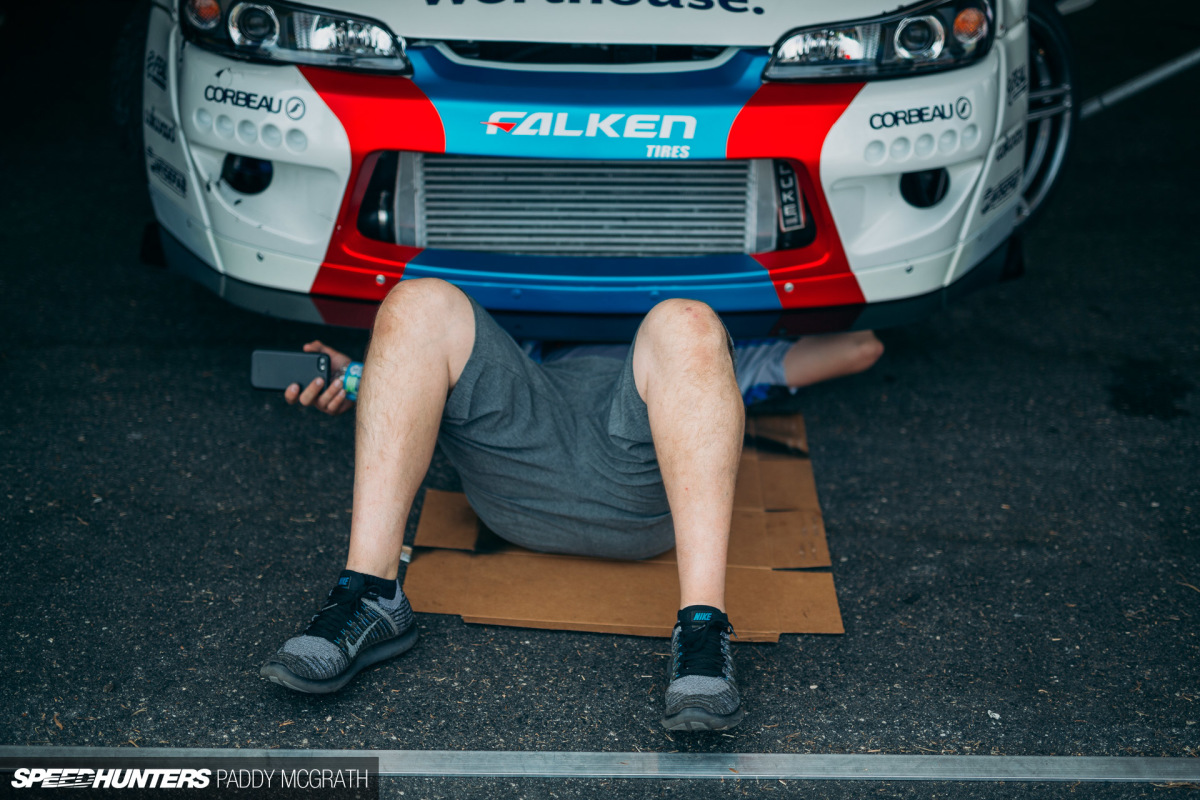 The team manually increased the oil pressure from under the car, but the result still wasn't enough to be satisfactory.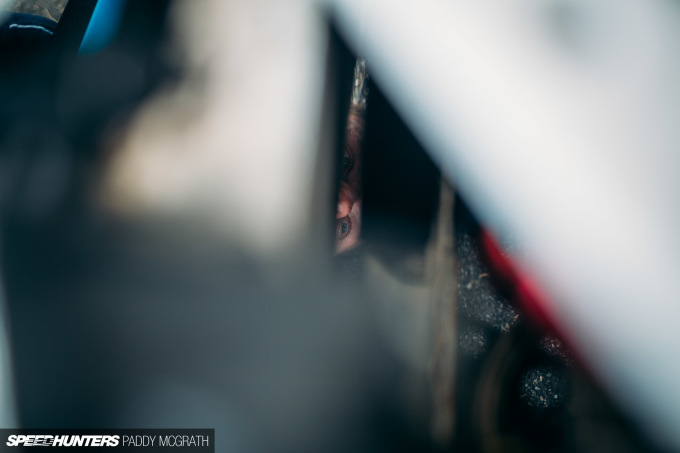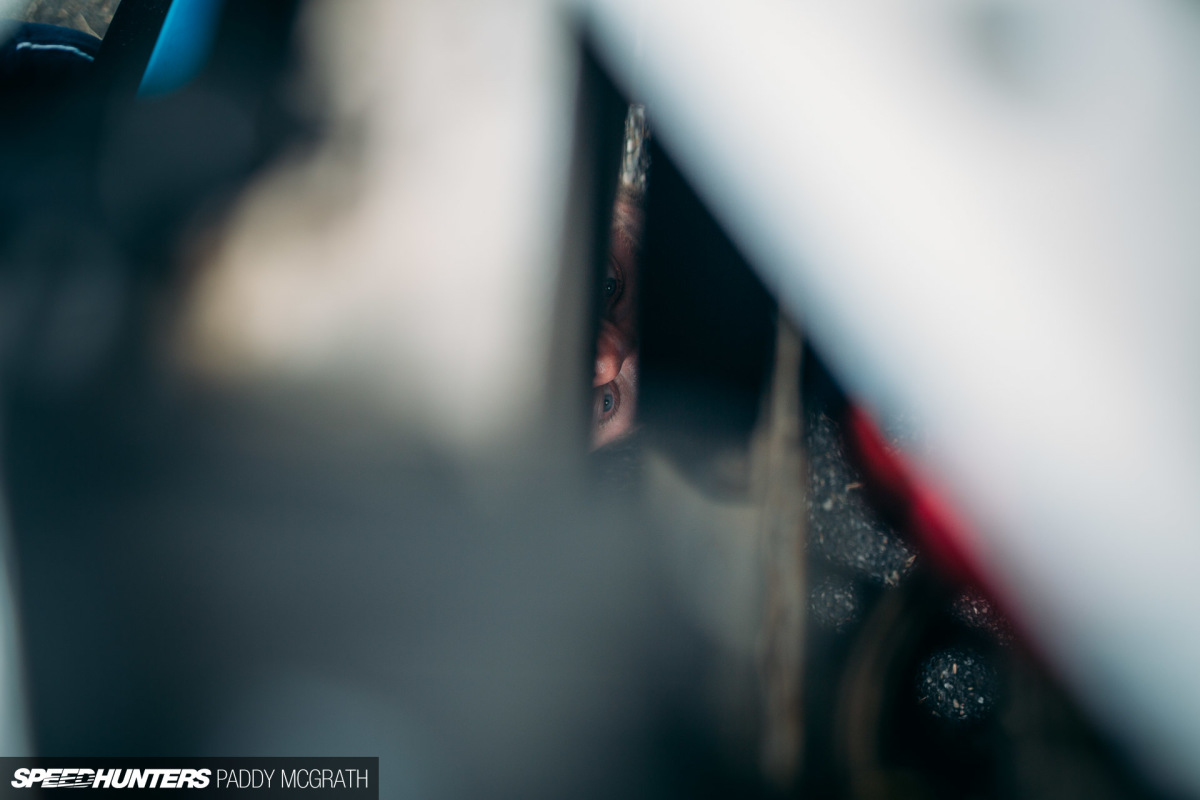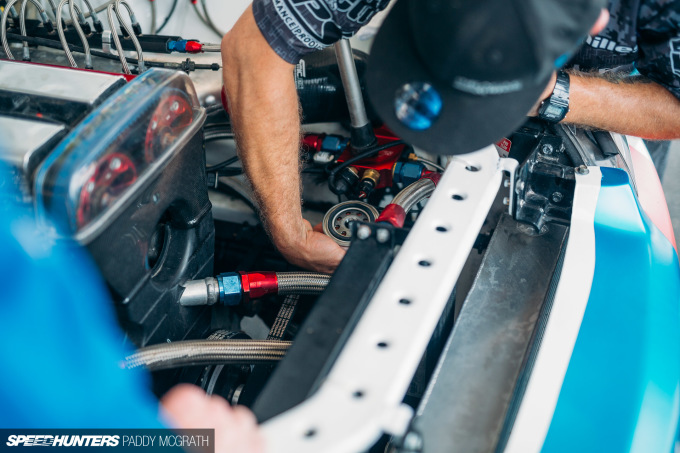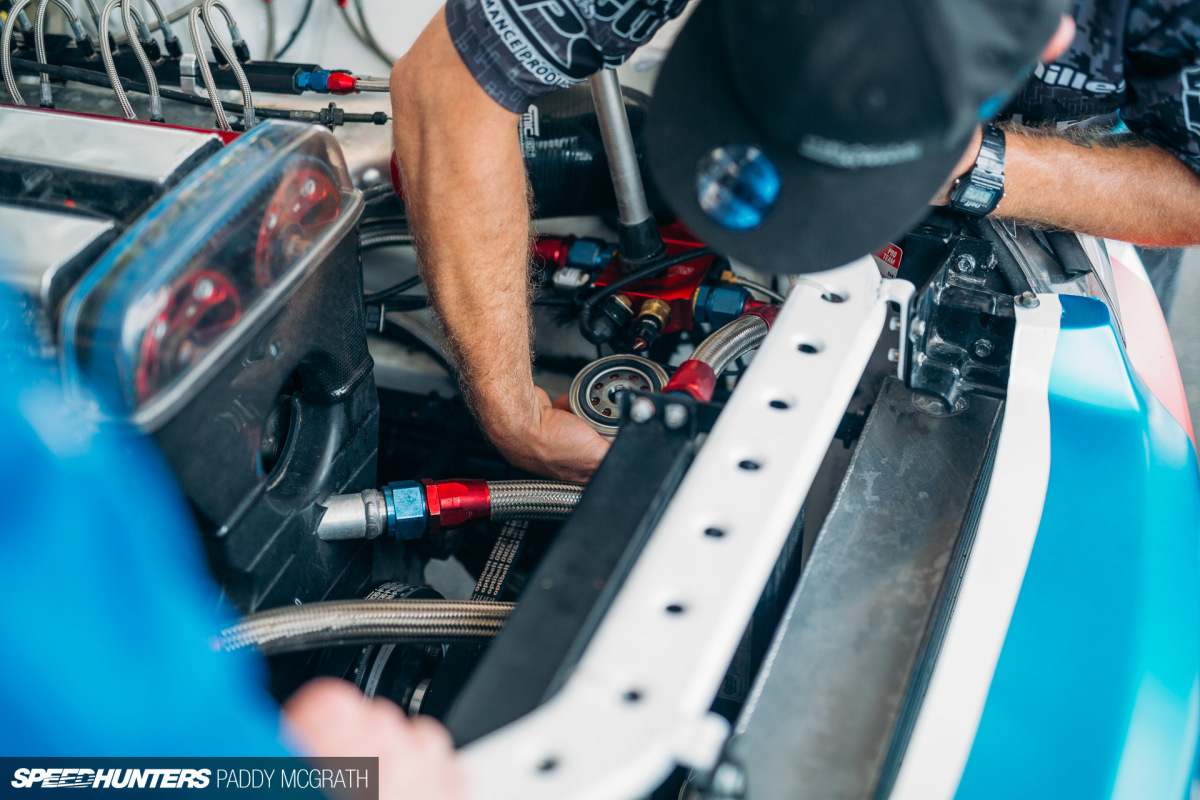 Eventually, it was suggested by James to change the oil filter as a final measure. Asides from just driving the car, James has been involved in building the car from a bare shell, so he has maybe more knowledge of his car than most.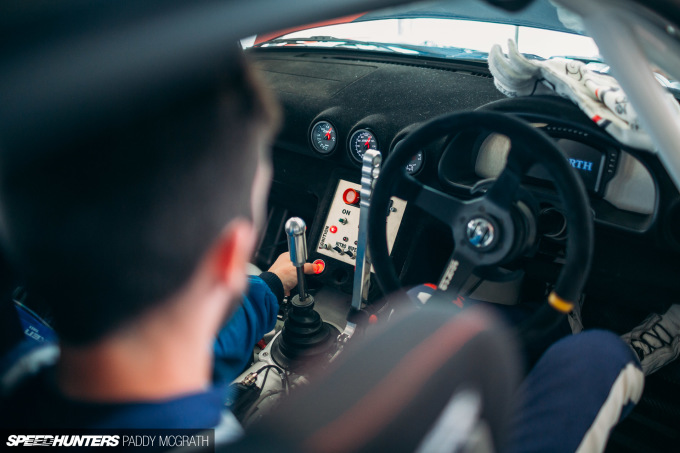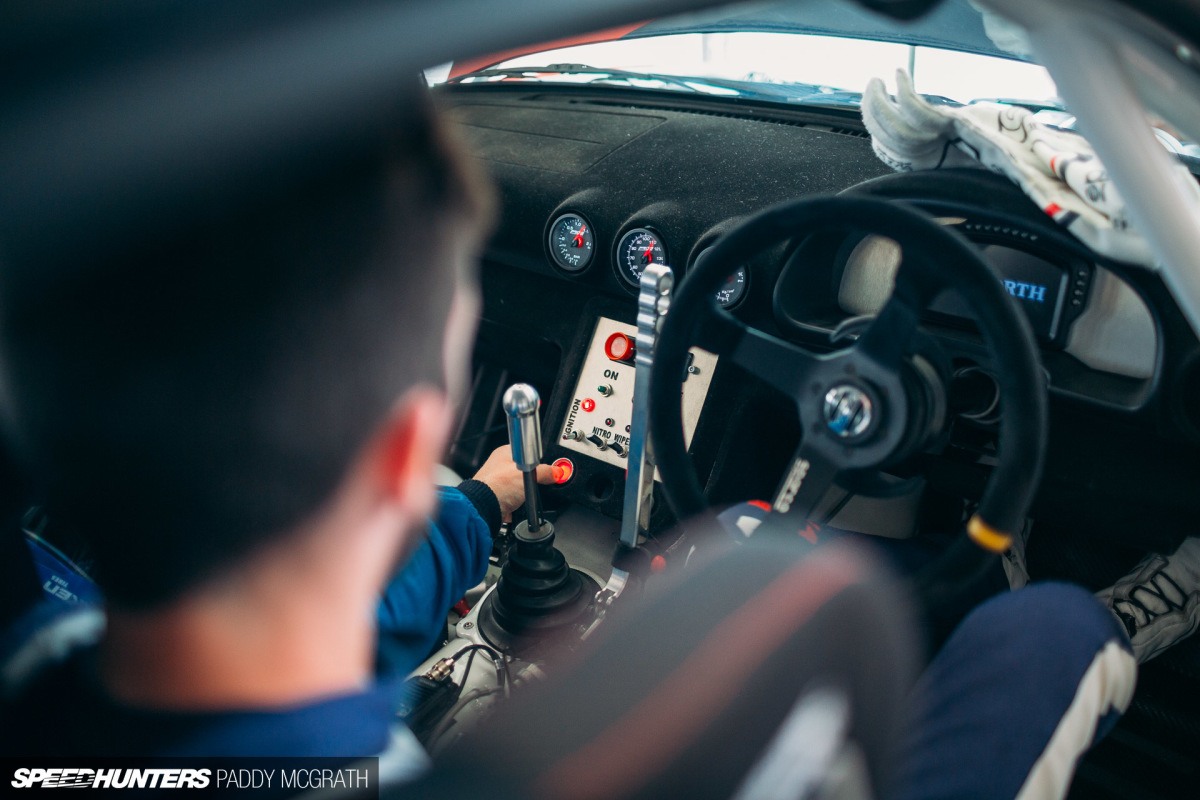 For the last time, the car was fired into life with a new filter fitted. Oil pressure returned, and actually exceeded where it should be as it had been manually increased, too.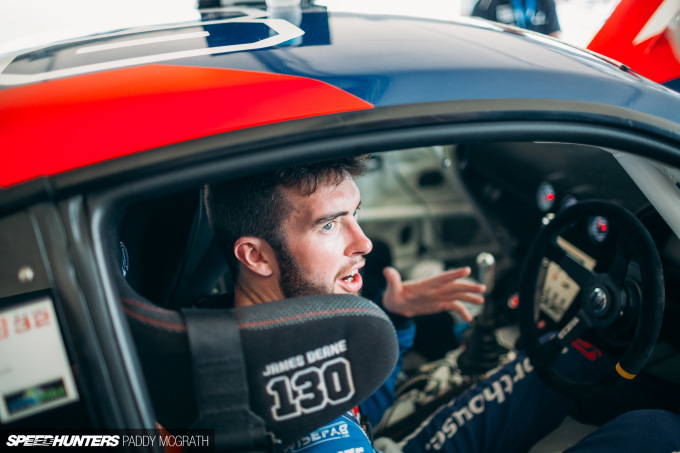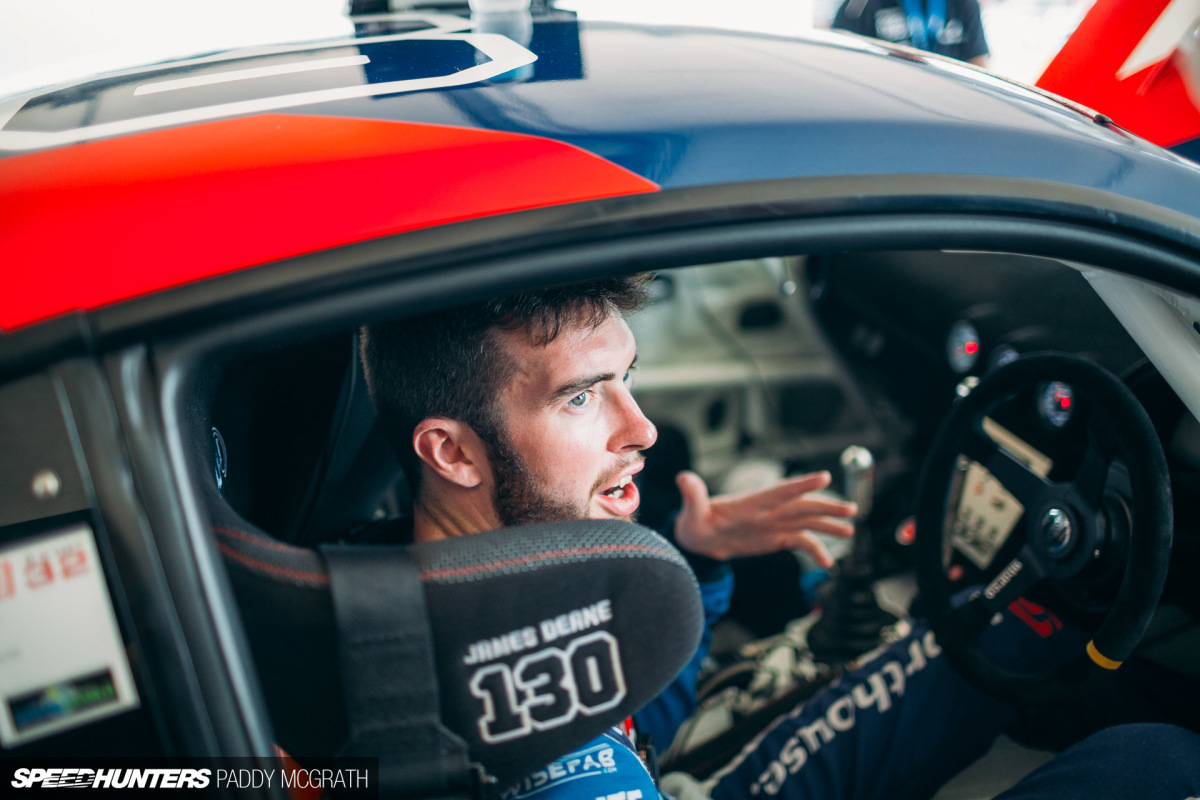 Some quick instructions were communicated, and while the team reduced oil pressure, James could finally get ready to head out.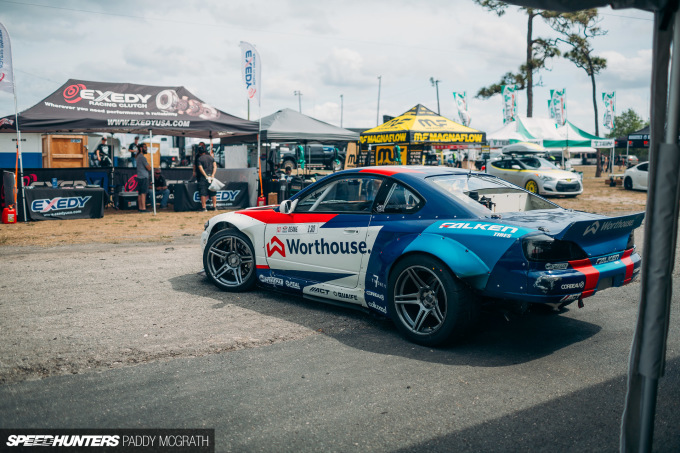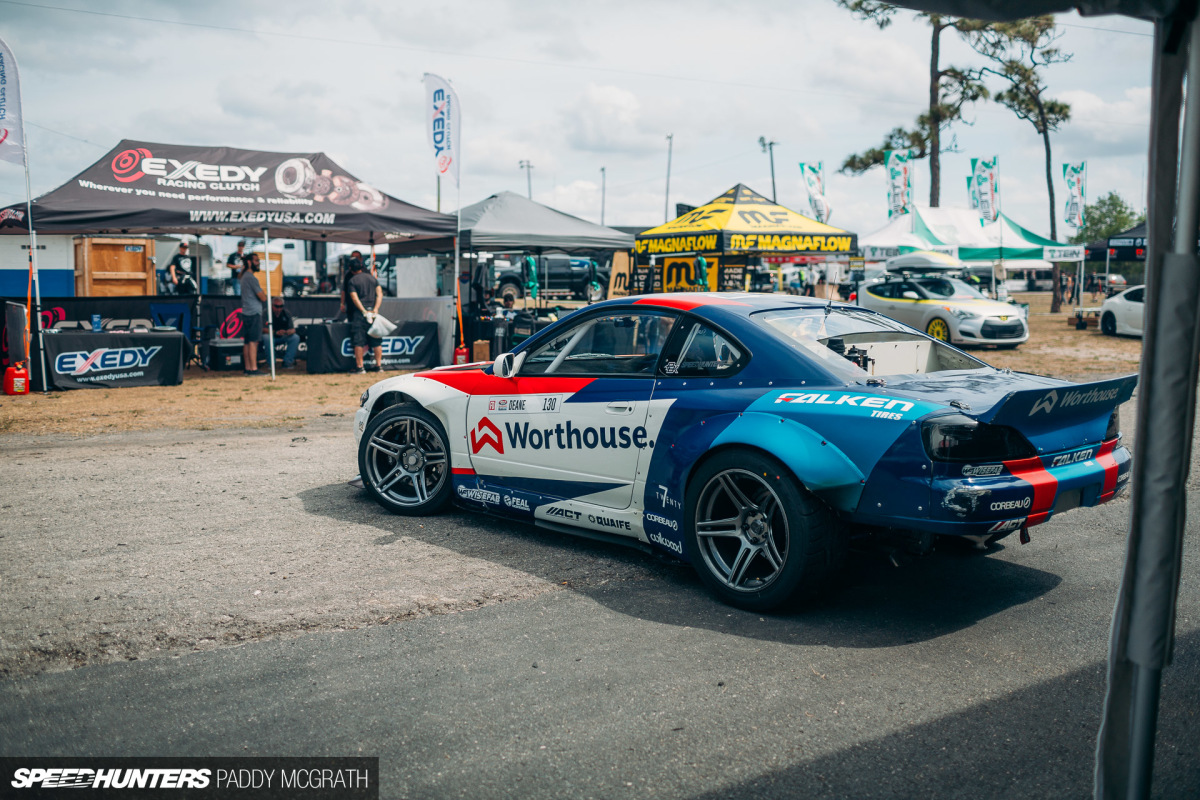 I think that around 10 minutes of practice were lost in total, which isn't a huge amount, but enough to warrant a headache.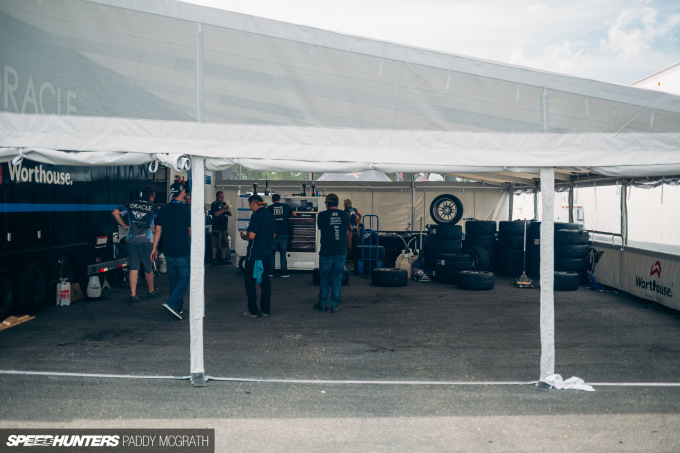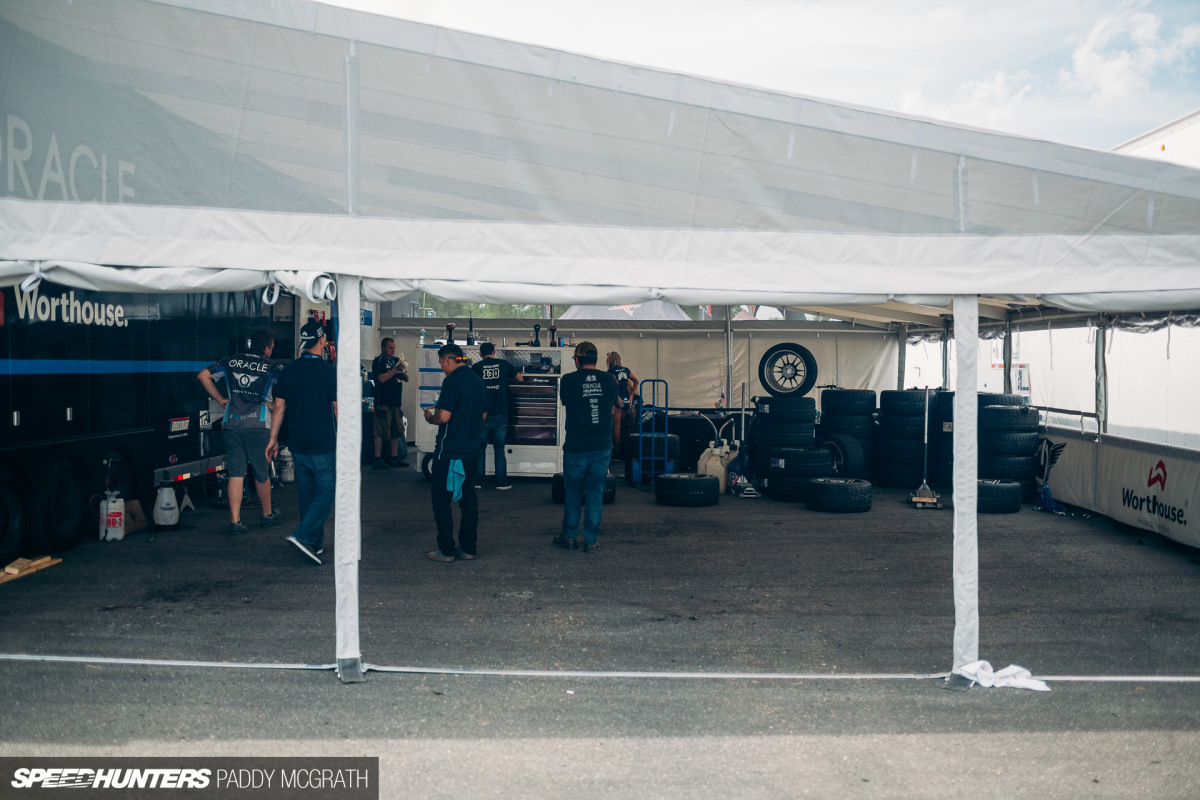 This was about as quiet as it would get in here for the next few hours.
Things went well for the first few practice runs, heat inside the cars aside. Honestly, I sat into one of the cars during the lunch break after it had cooled down for nearly two hours and I had to get straight back out again.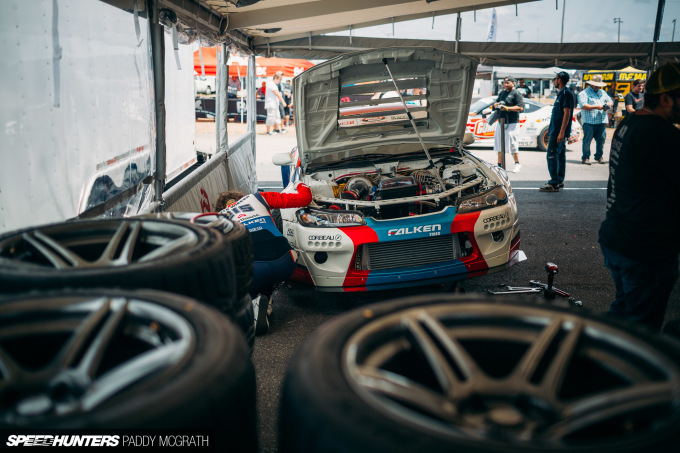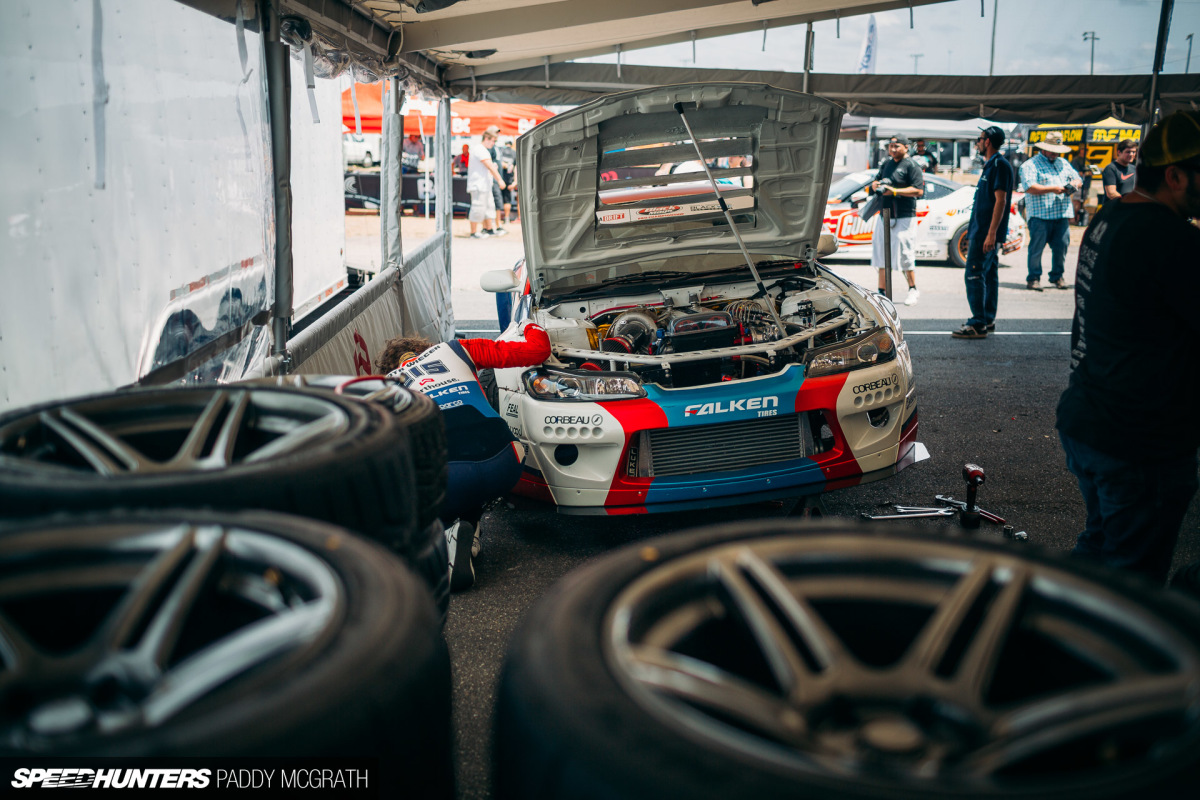 The rhythm in Piotr's practice session was about to be rudely interrupted, however. Following Jeff Jones, Piotr initiated aggressively for what turned out to be a slow entry by Jones. Contact was made and while damage was limited, another set of fresh front suspension arms were required.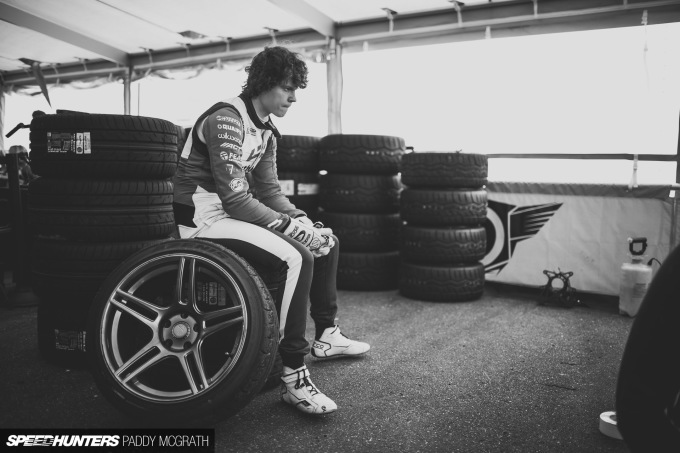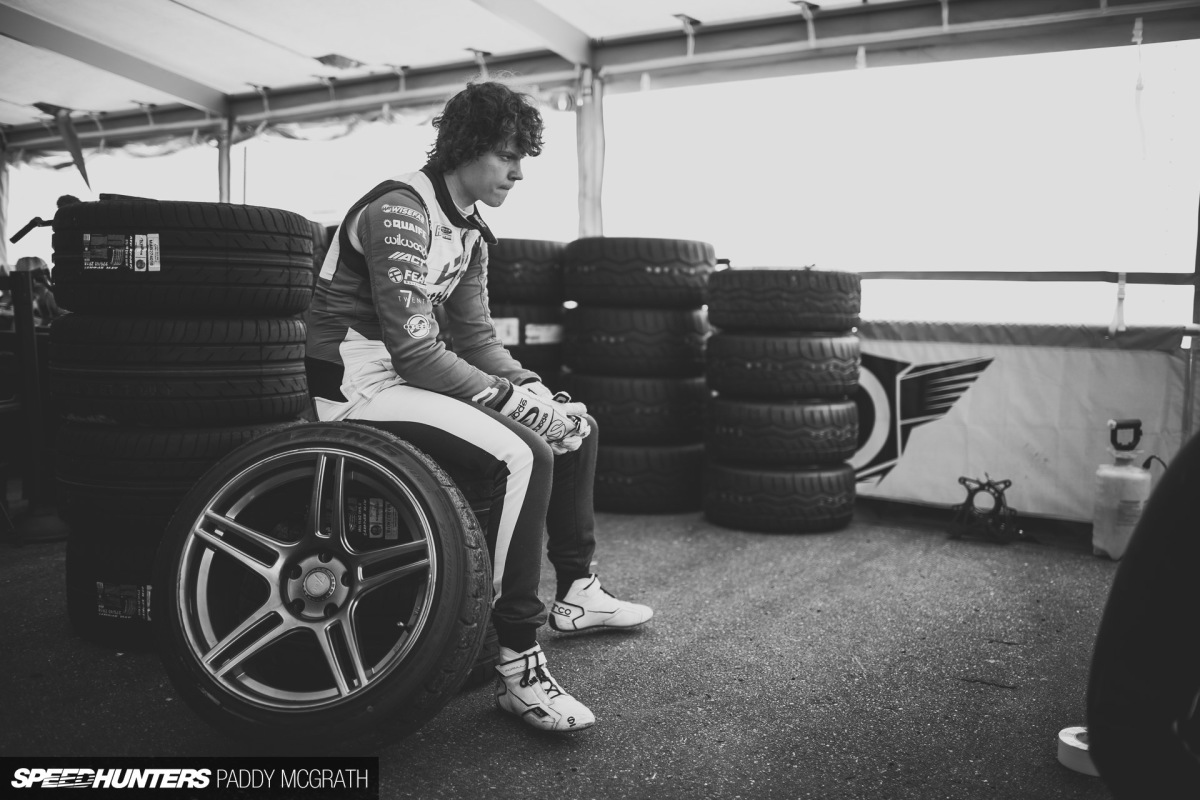 While it wasn't serious, it did eat into valuable time, especially with Piotr's Top 32 battle beginning almost immediately after practice had finished.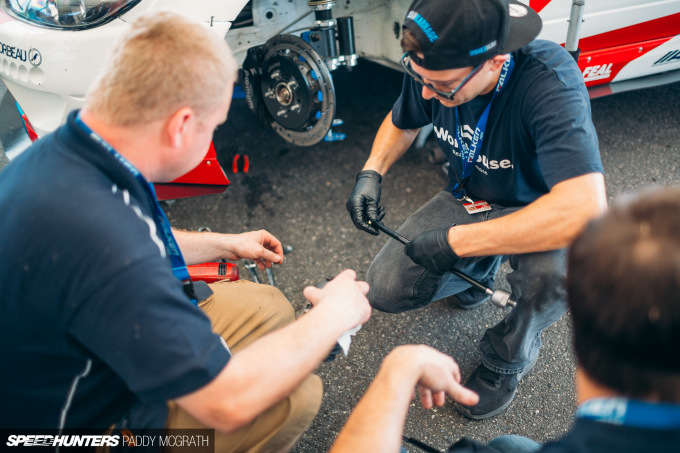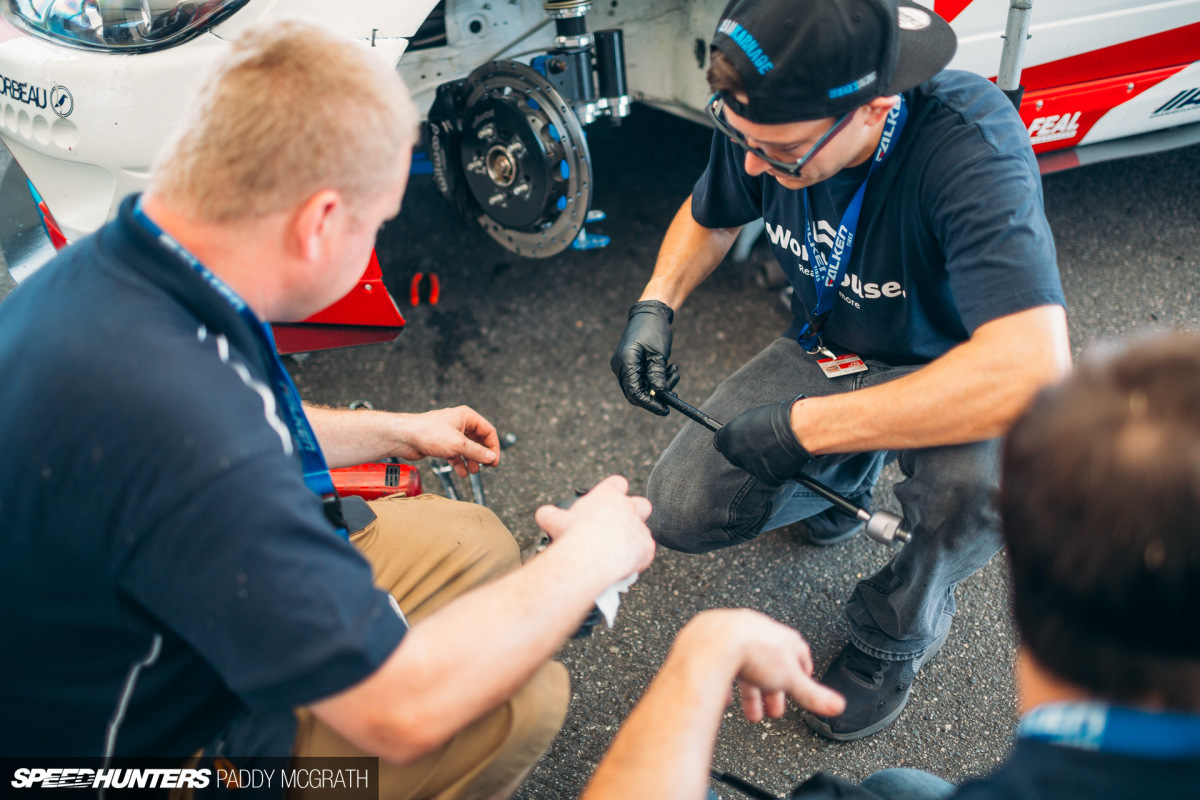 The crew had it turned around in practically no time at all, along with realigning the front of the car.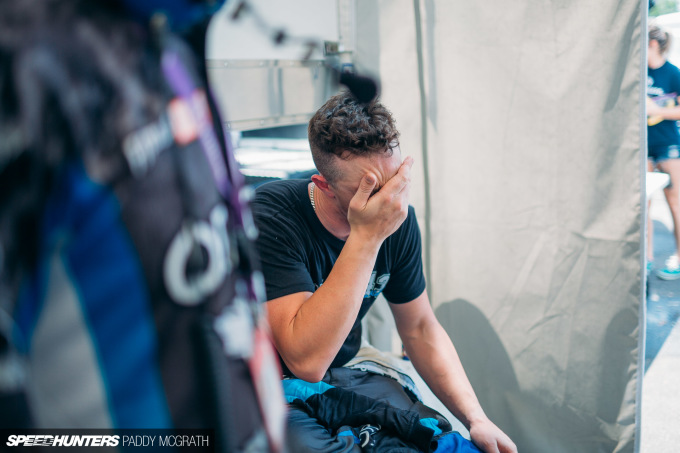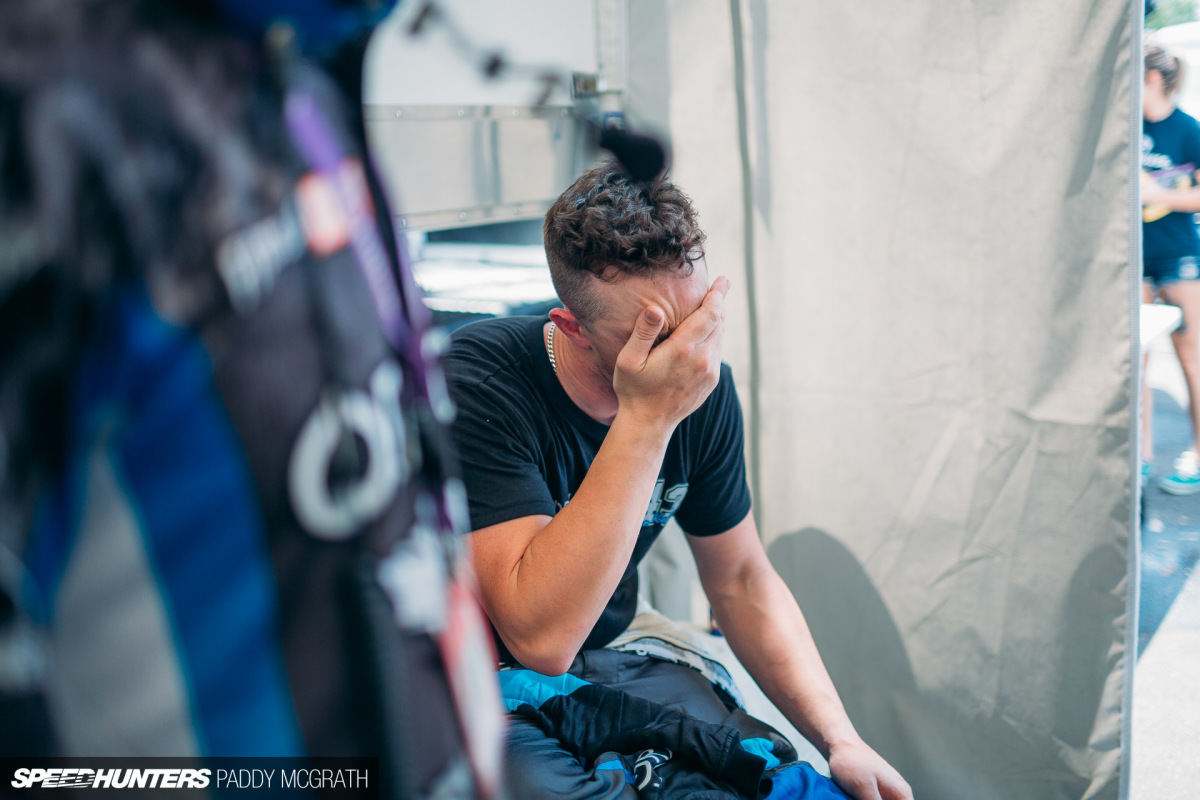 It would be a similar story at the other side of the garage, with Matt Coffman hitting the wall in front of Kearney, leaving Dean with no where to go but straight into him. Luckily for Dean, his door took most of the impact and spared the rest of the car.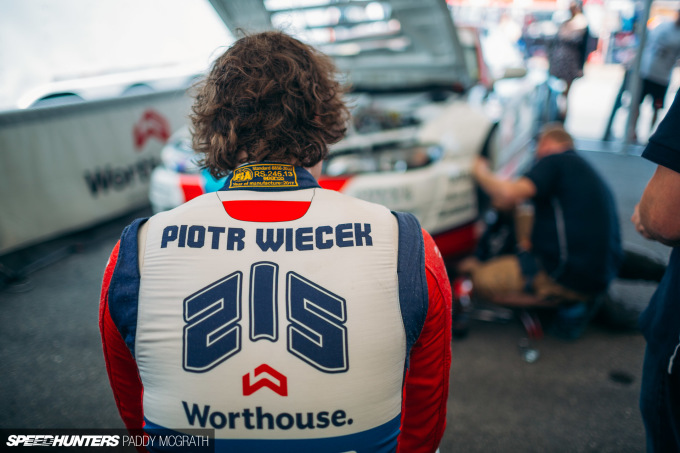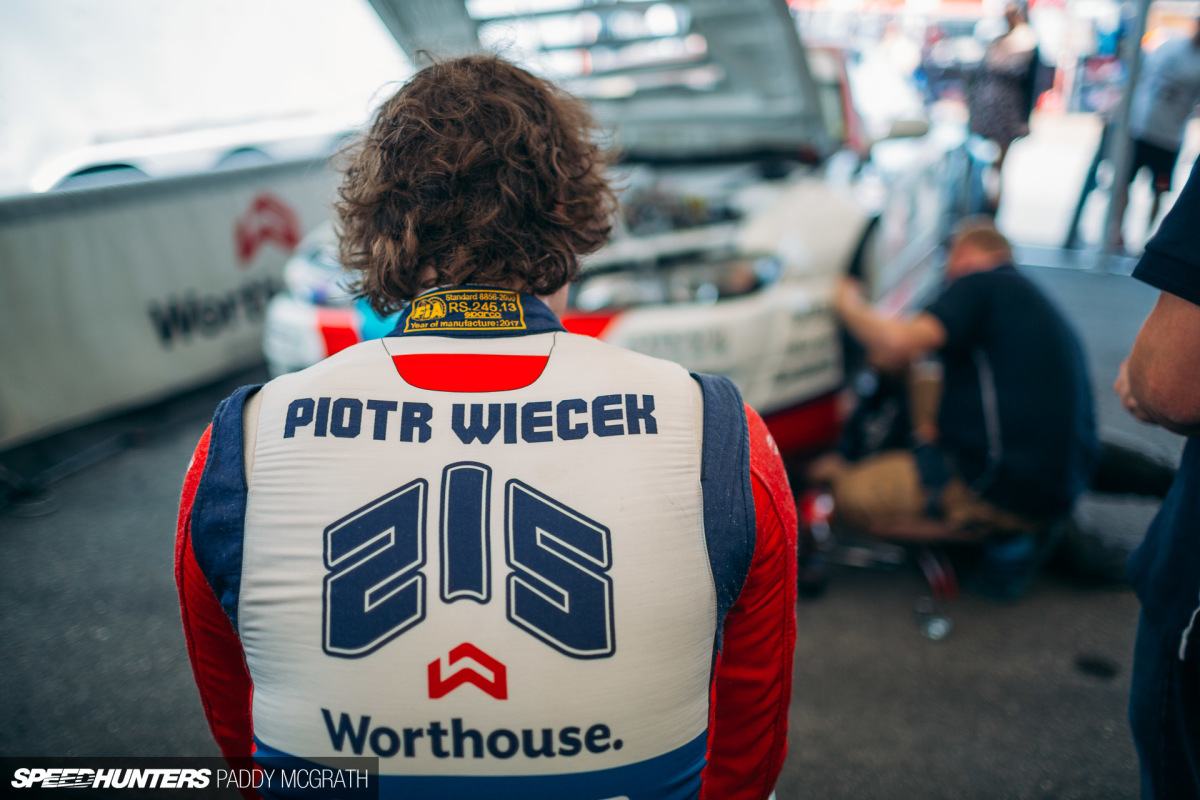 Coffman's mistake would play into Piotr's hands, as he was due to face him in the Top 32.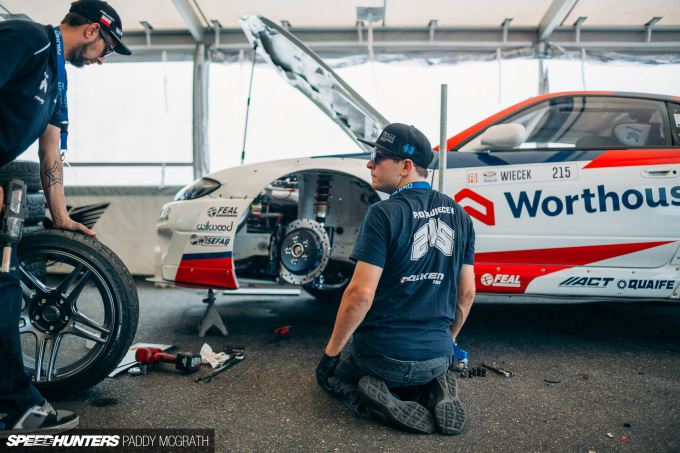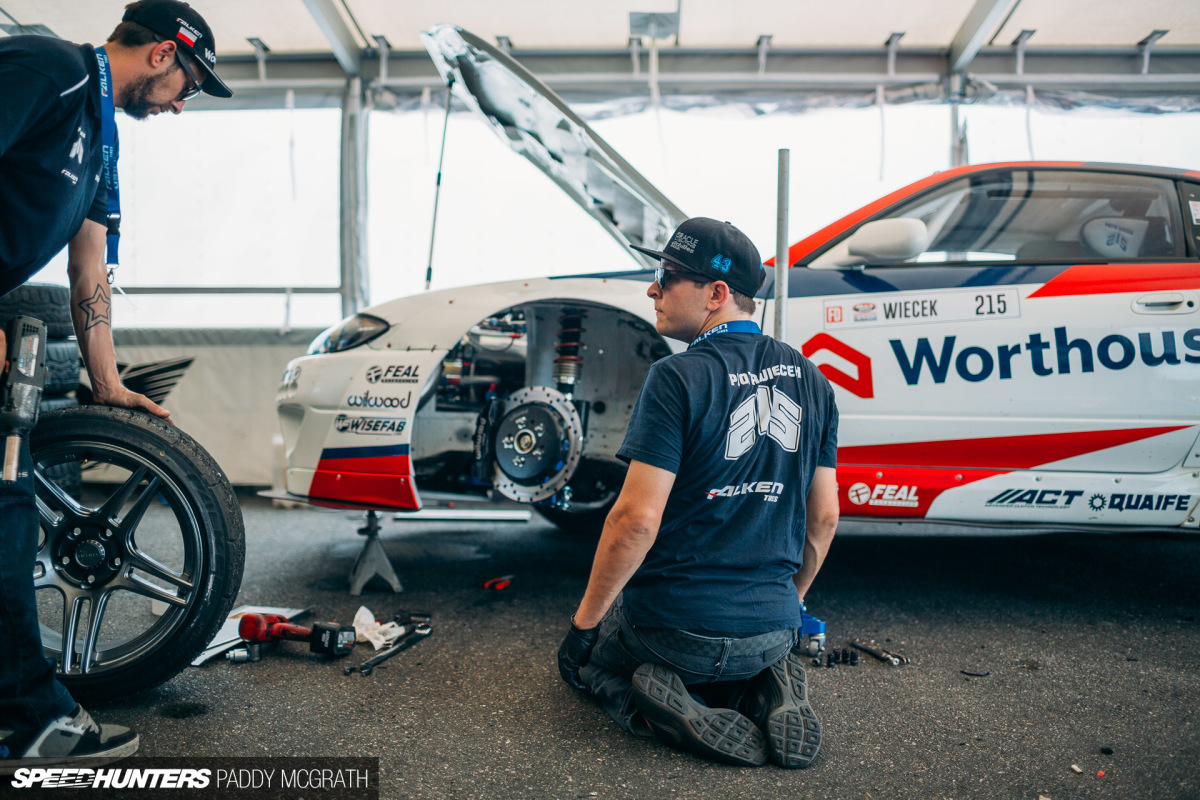 While Piotr's car was ready to battle with a comfortable amount of time to spare, Coffman's crew would be unable to sort the Nexen Tire-supported RPS13, which had suffered far more serious damage, despite their best efforts in time.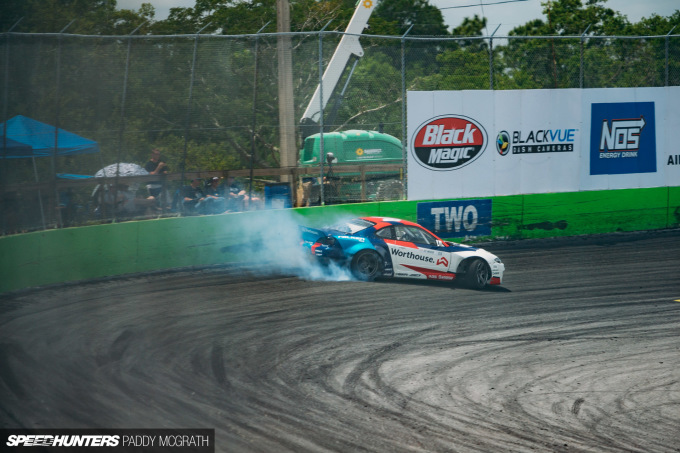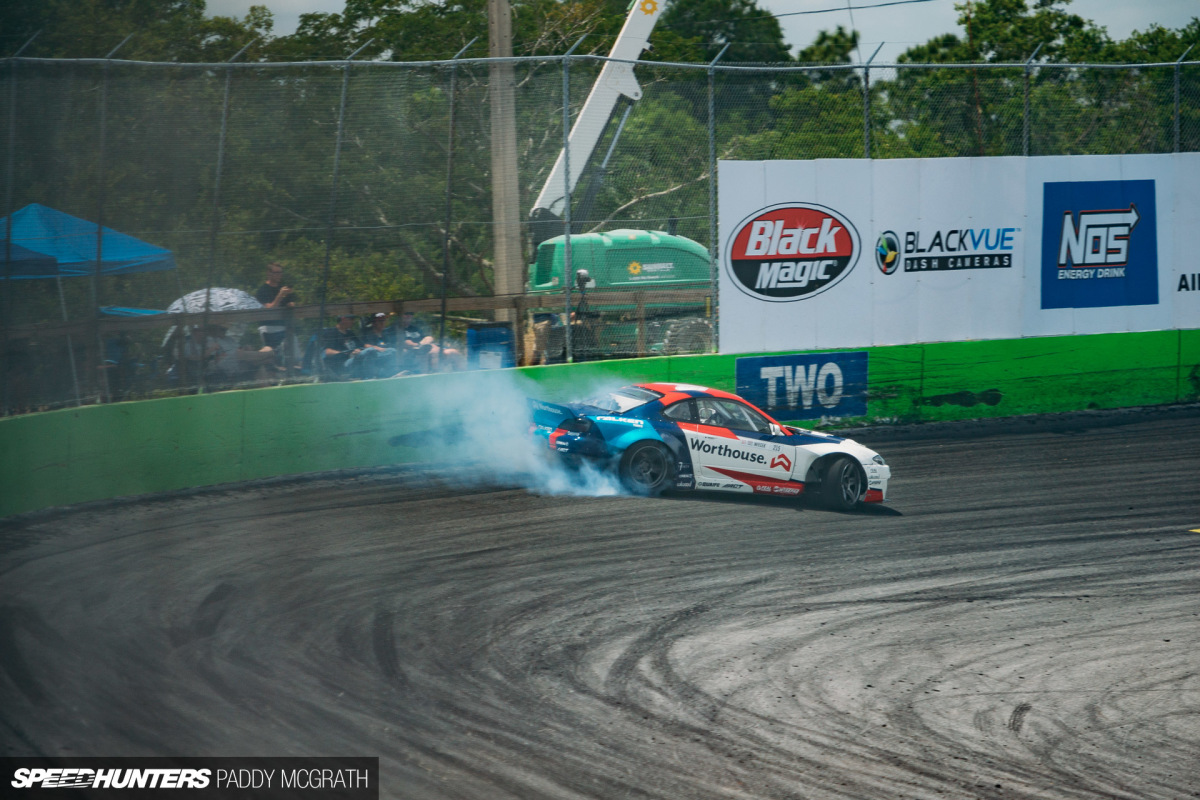 With no Coffman on the start line, Więcek had no one to beat but himself and laid down maybe his best run of the weekend. He could have taken it easy, but that's not Piotr's style.
For the second event in a row, both Worthouse drivers were in the Top 16.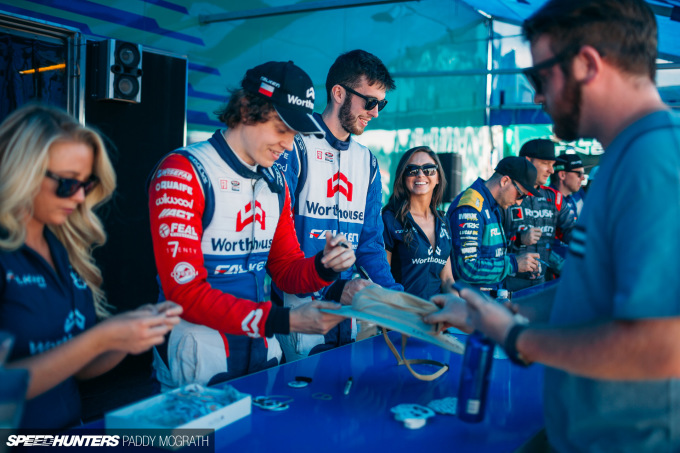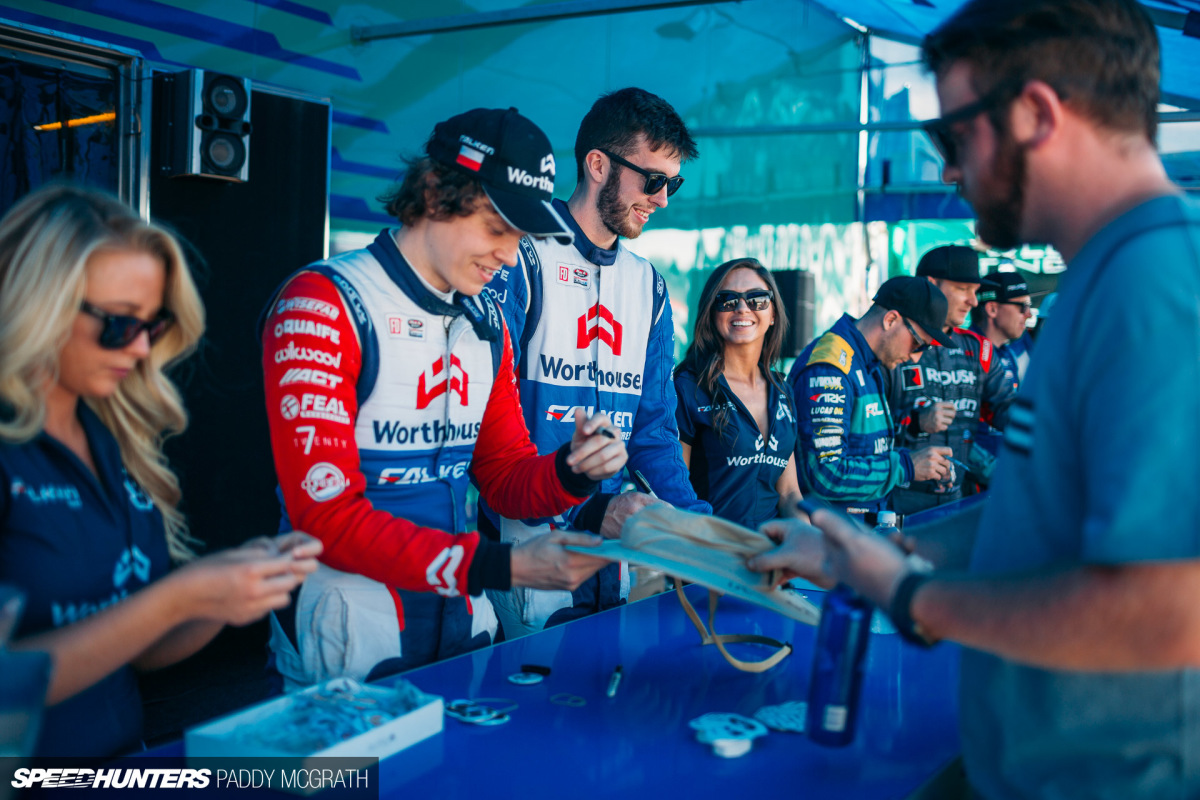 The half-time break was a welcome respite for both drivers, and gave them both the chance to catch their breath and take control of the moment again.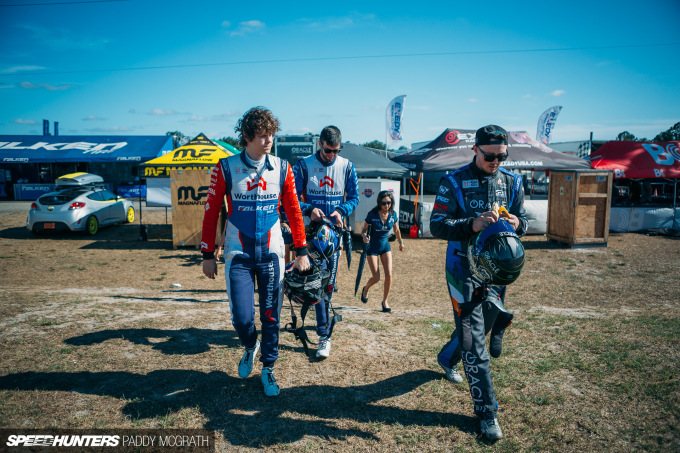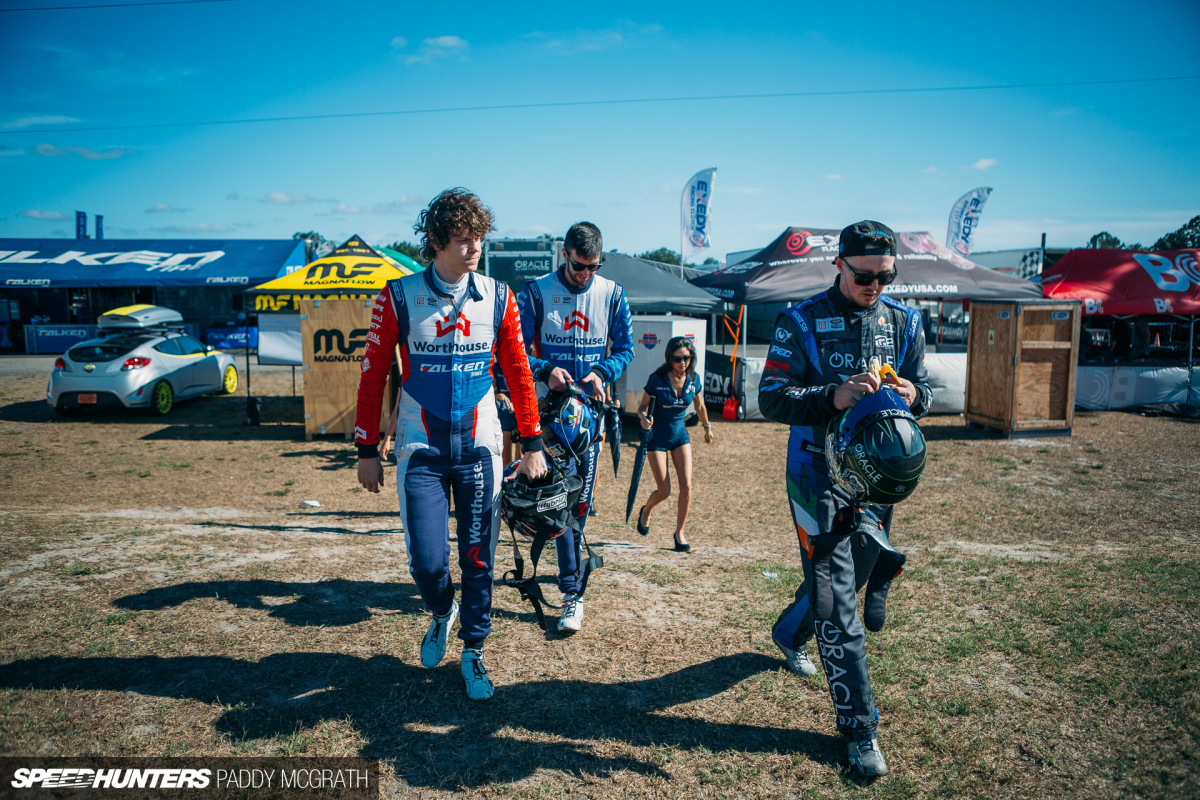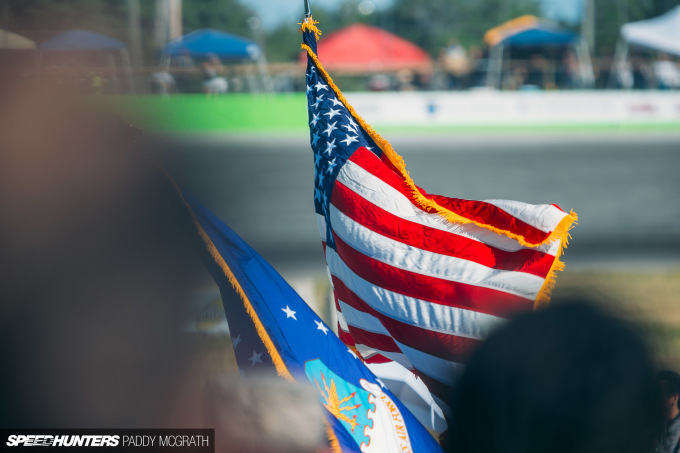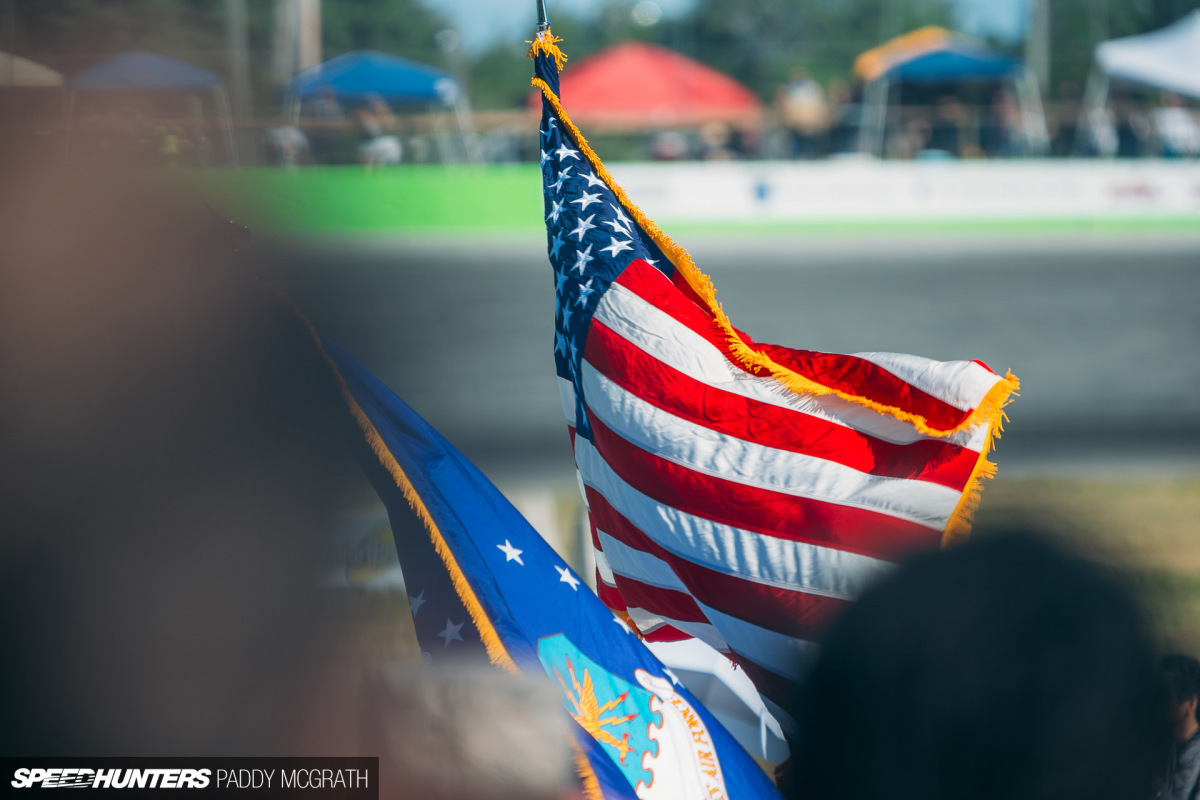 With the heat slowly easing, it made for almost perfect conditions for the Top 16. One quick and funky saxophone version of the Star-Spangled Banner later, and we were ready to rock.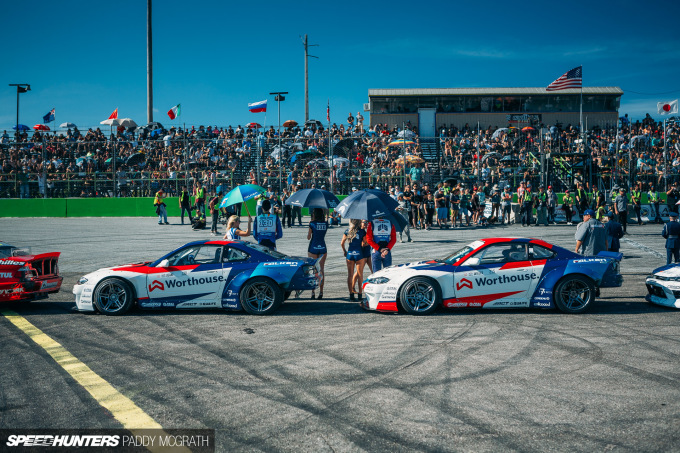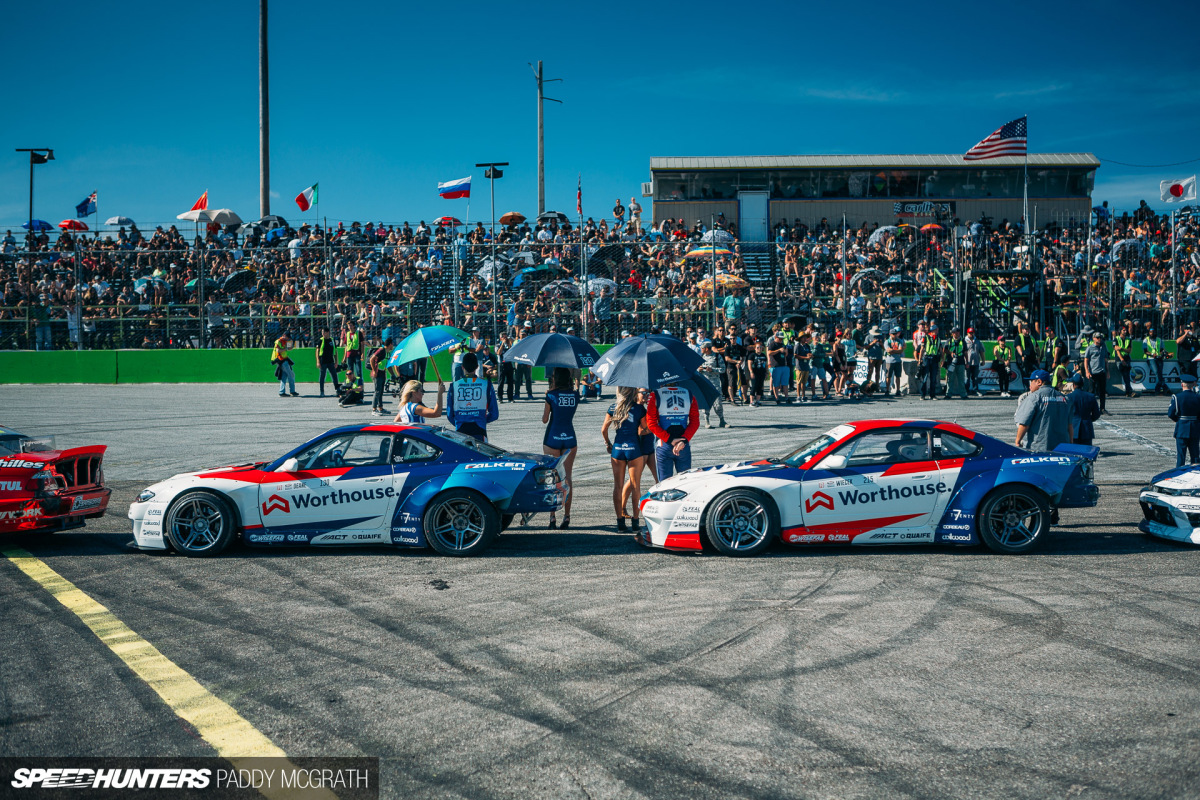 Usually by the Top 16, I'm wishing the time away so we can get a winner and all go home. Since I started following the Worthouse team, I found that I'm far more vested in the outcome and even start feeling anxious before the battles commence. Christ knows what the drivers must be feeling.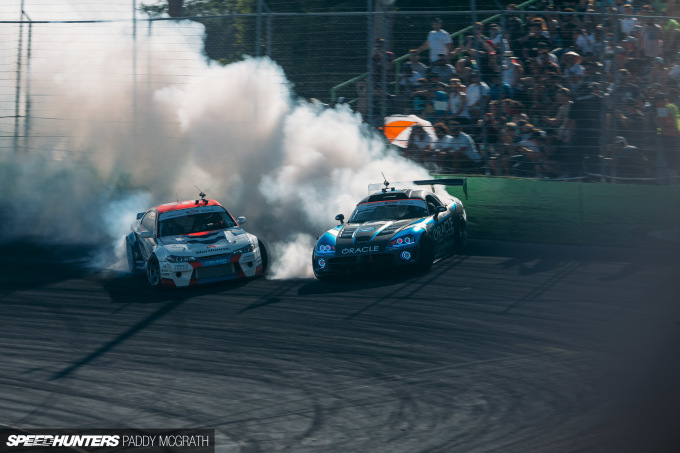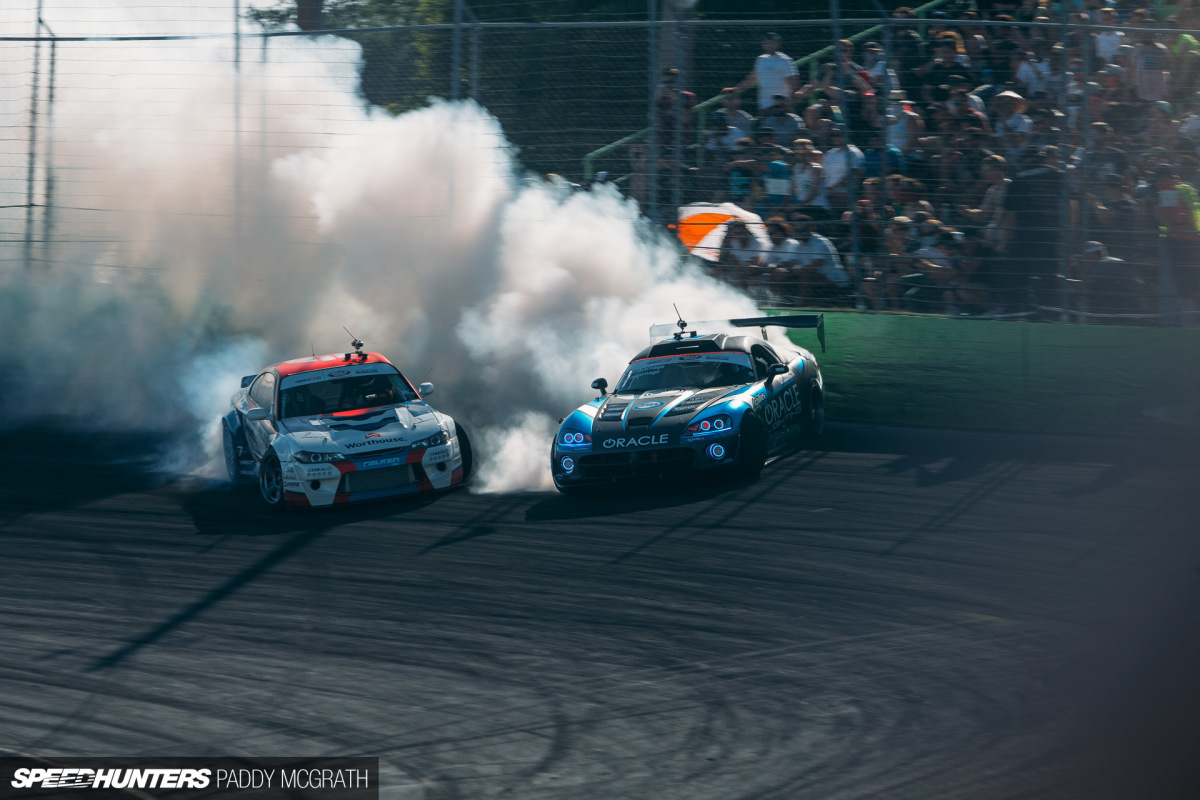 The first battle that was relevant to us would be Piotr taking on Kearney, with Dean leading on the first run.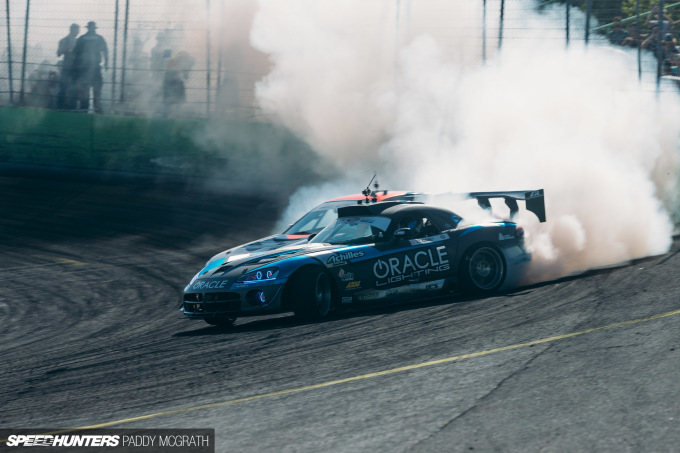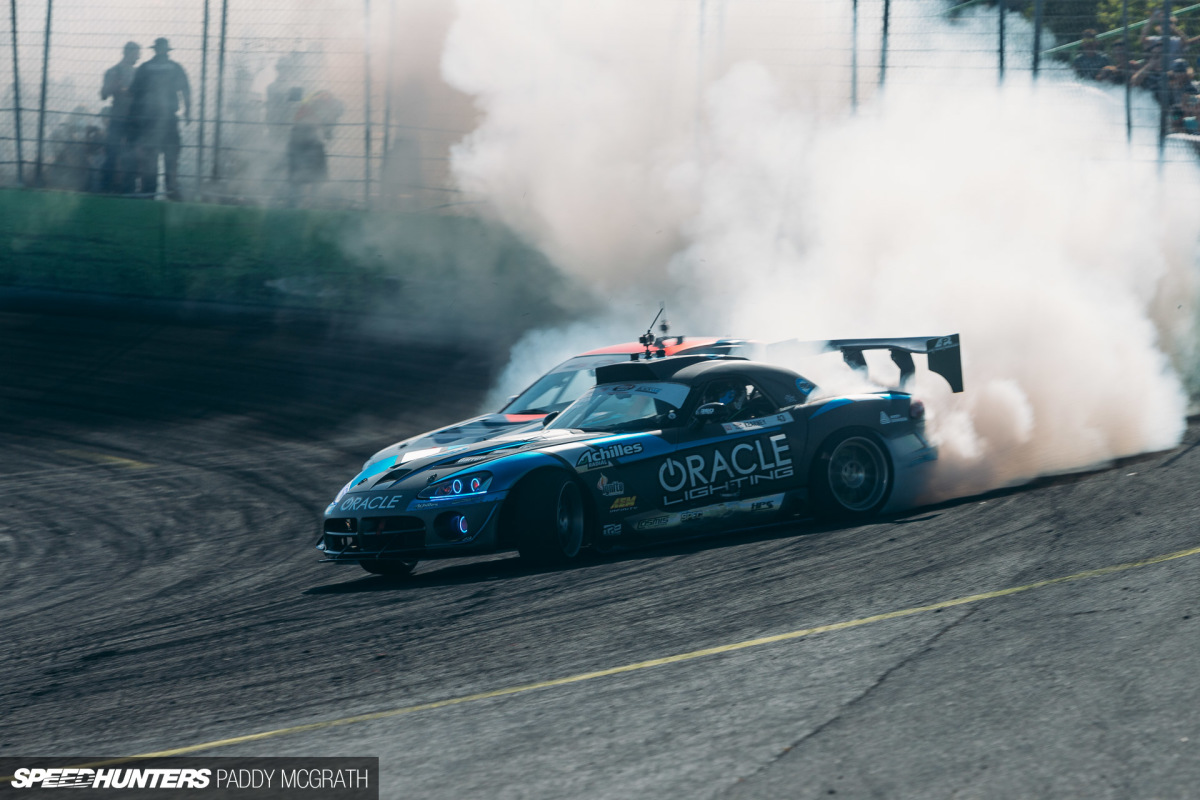 From the off, it was full throttle from both drivers. With similar styles and an inter-team relationship, they both knew that they could trust one another not to perform anything silly.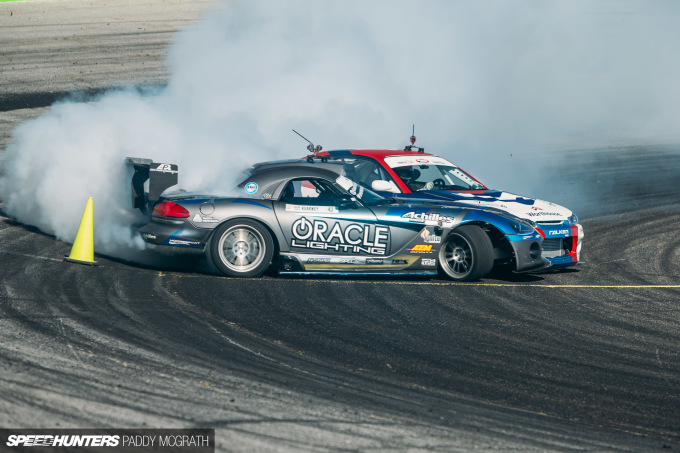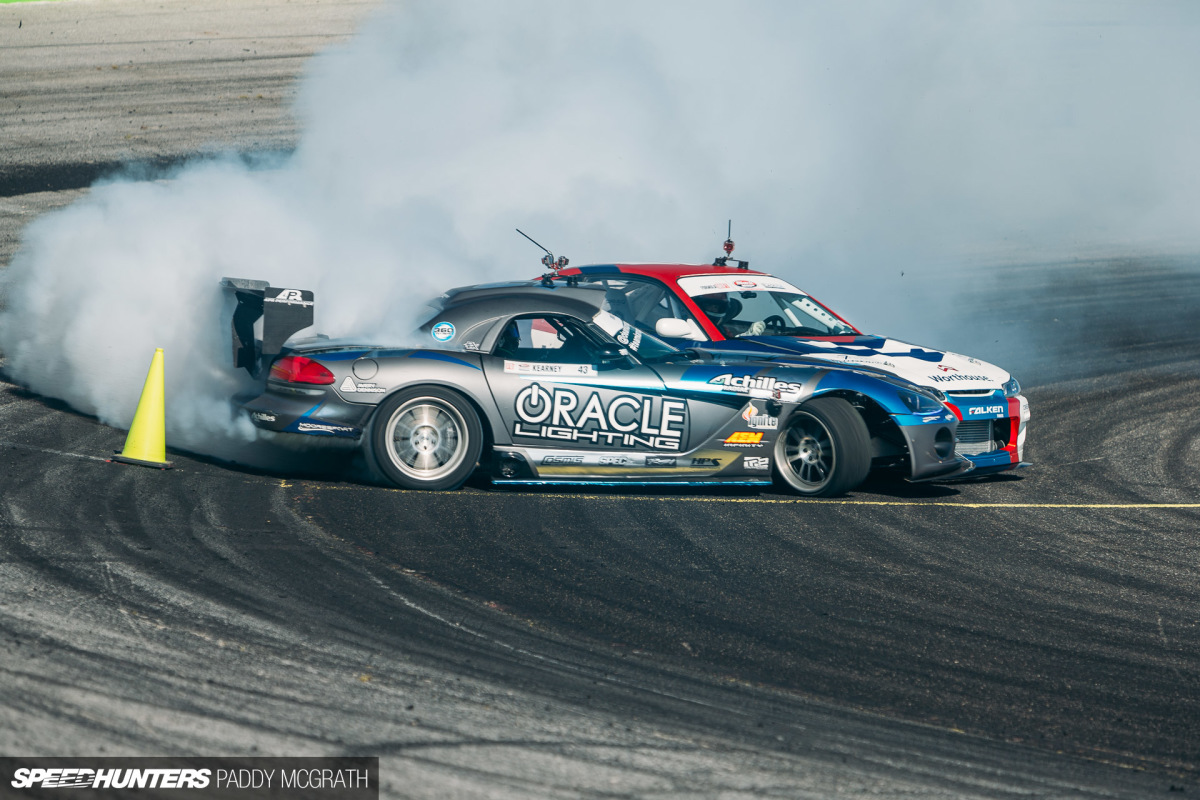 Coming to the end of the course, Kearney got a little wide and ran onto a section yellow line which hadn't been rubbered in. He clutched the car to try and save it but ended up swapping ends as he crossed the finish line.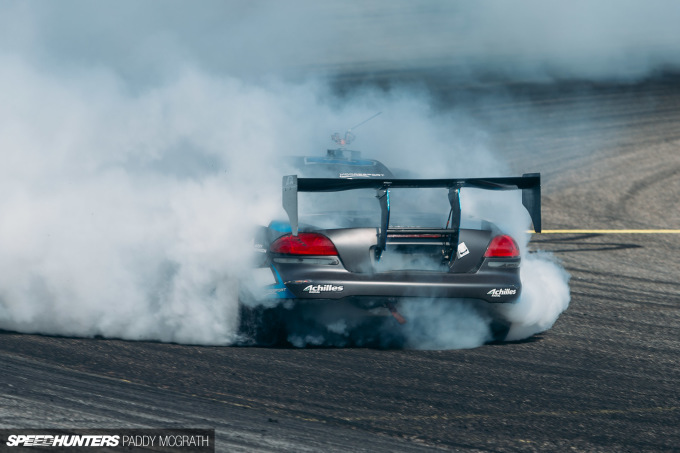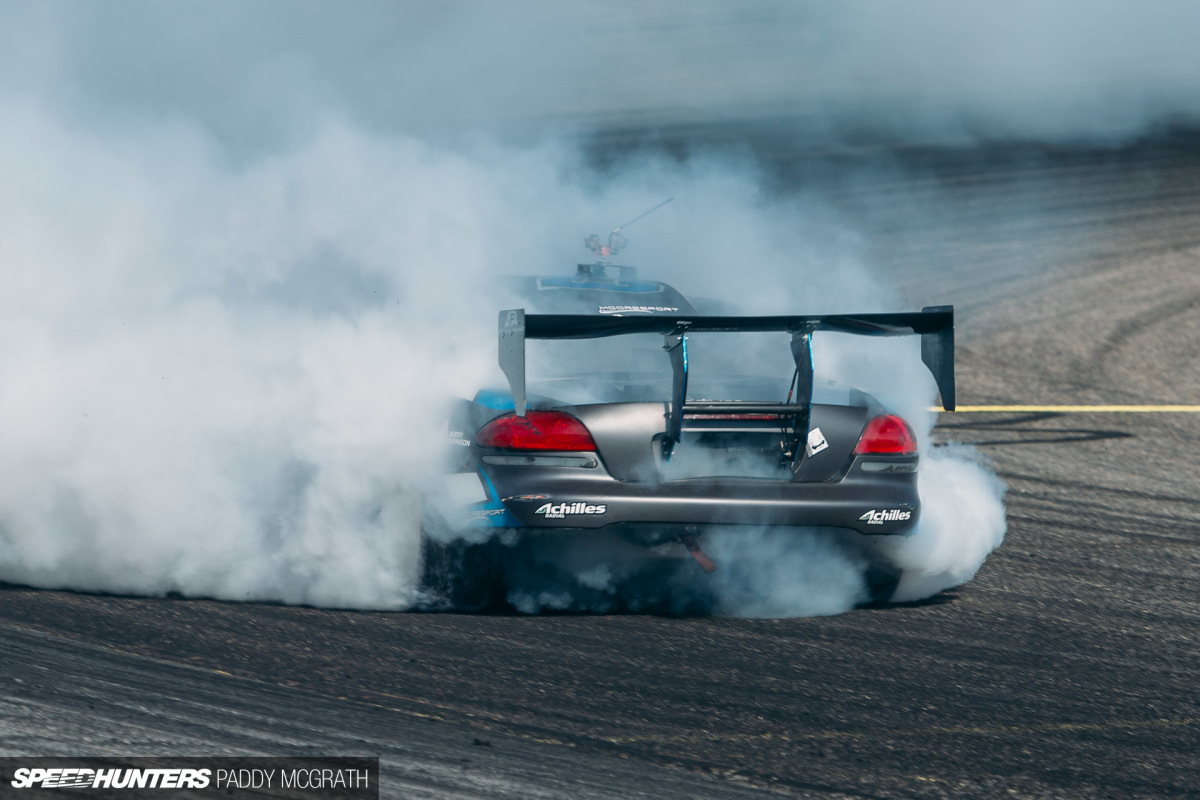 With nowhere to go and barely any visibility, Piotr made hard contact with the front of the Viper in the midst of the smoke. Because the incident was deemed to be Kearney's fault (even by Dean's own admission it was), Piotr was offered 10 minutes to get his car right without requiring his sole competition timeout.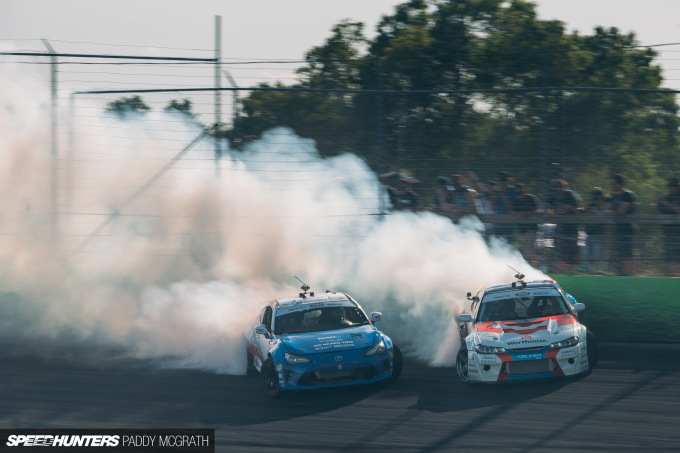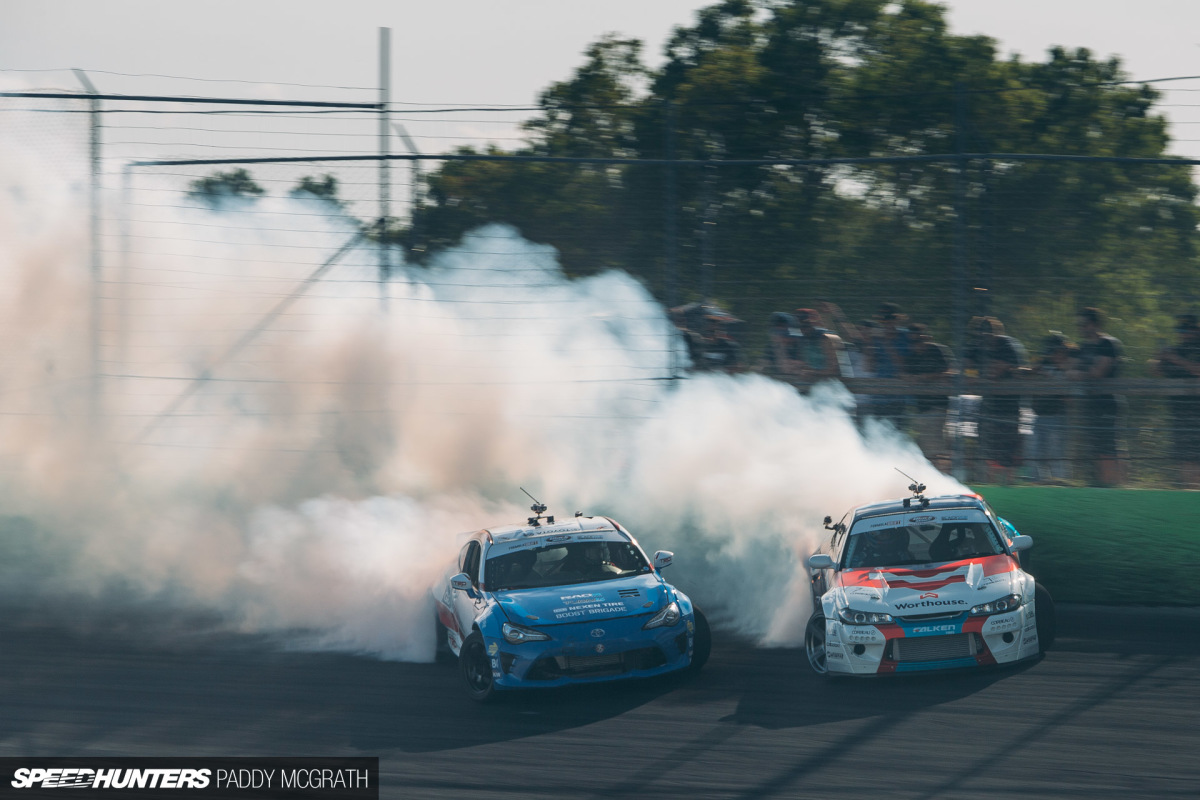 While both cars headed back to the pits, Deane was out to lead against Dominican Jhonnattan Castro. Castro was a bit of an unknown at this event as he had been inconsistent up until this point. What a time to pick to come to life.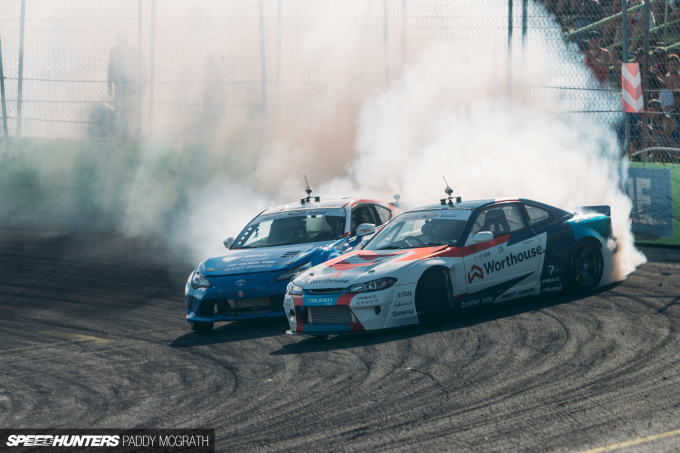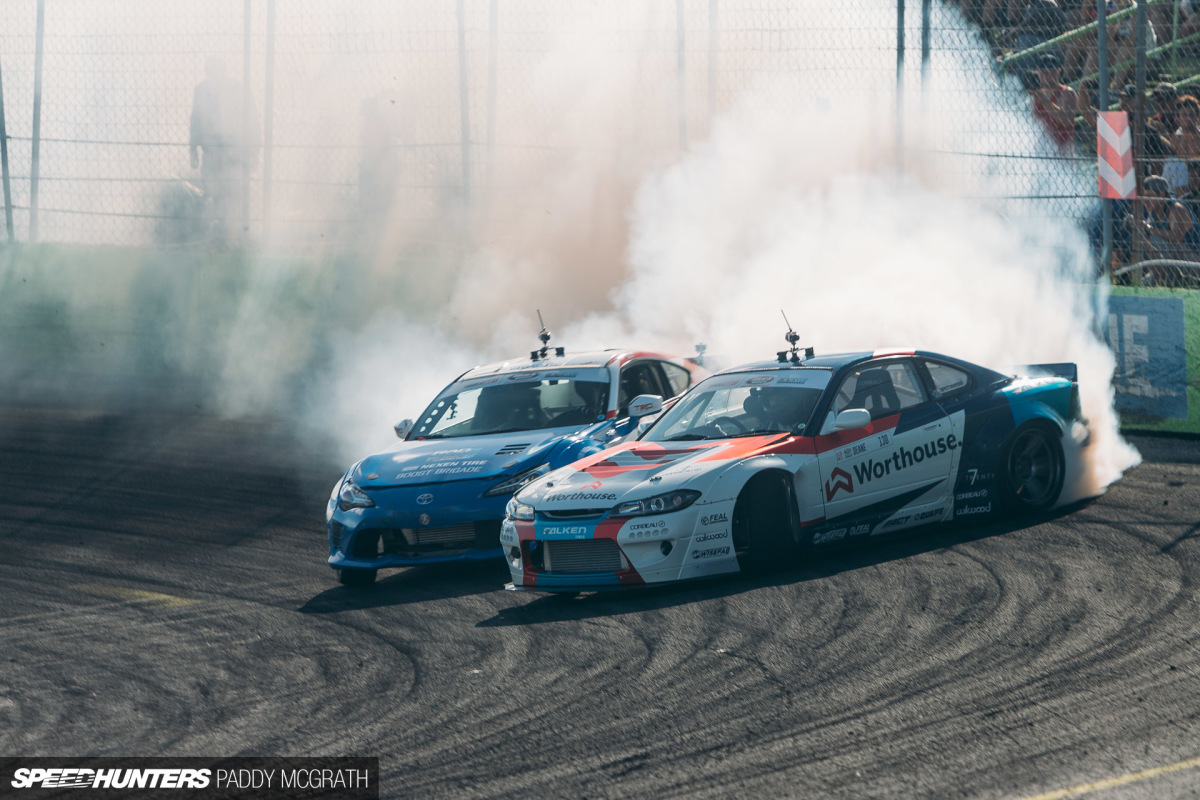 James led first, and all around the bank Castro was right on him in his Papadakis Racing-prepared GT86.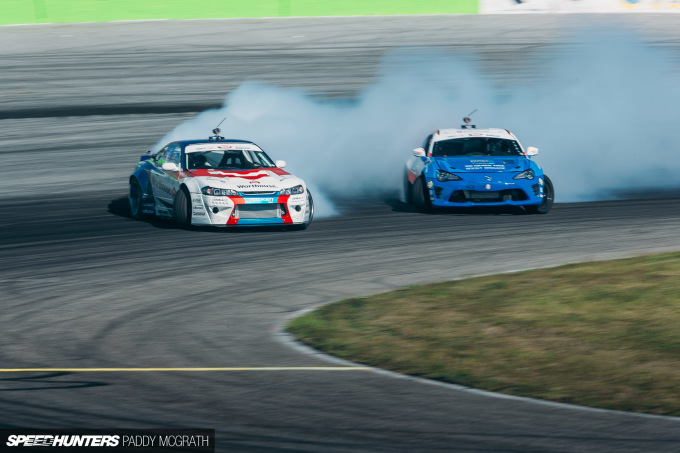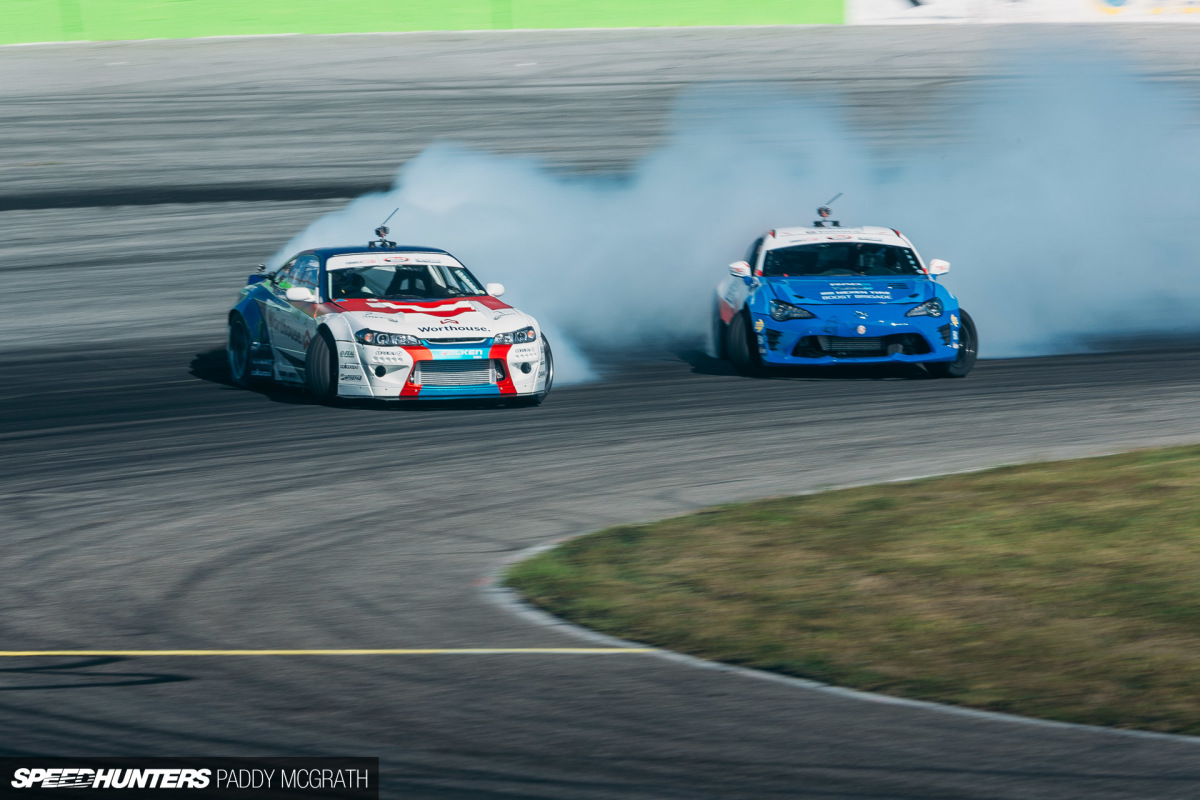 It was only on the infield that James managed to find some breathing space, but Castro had laid a marker down that he was up for the fight.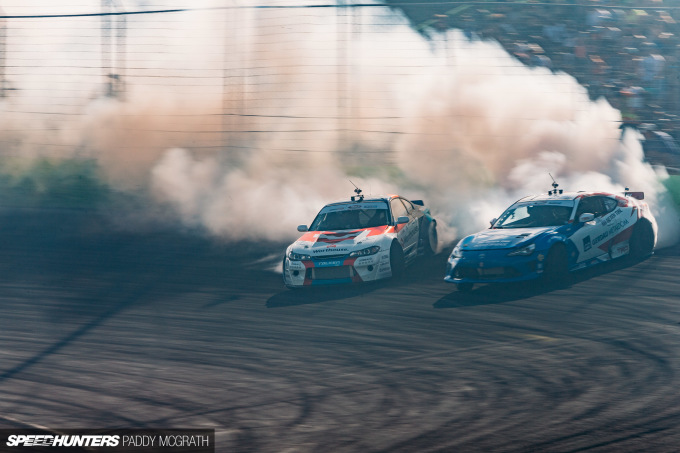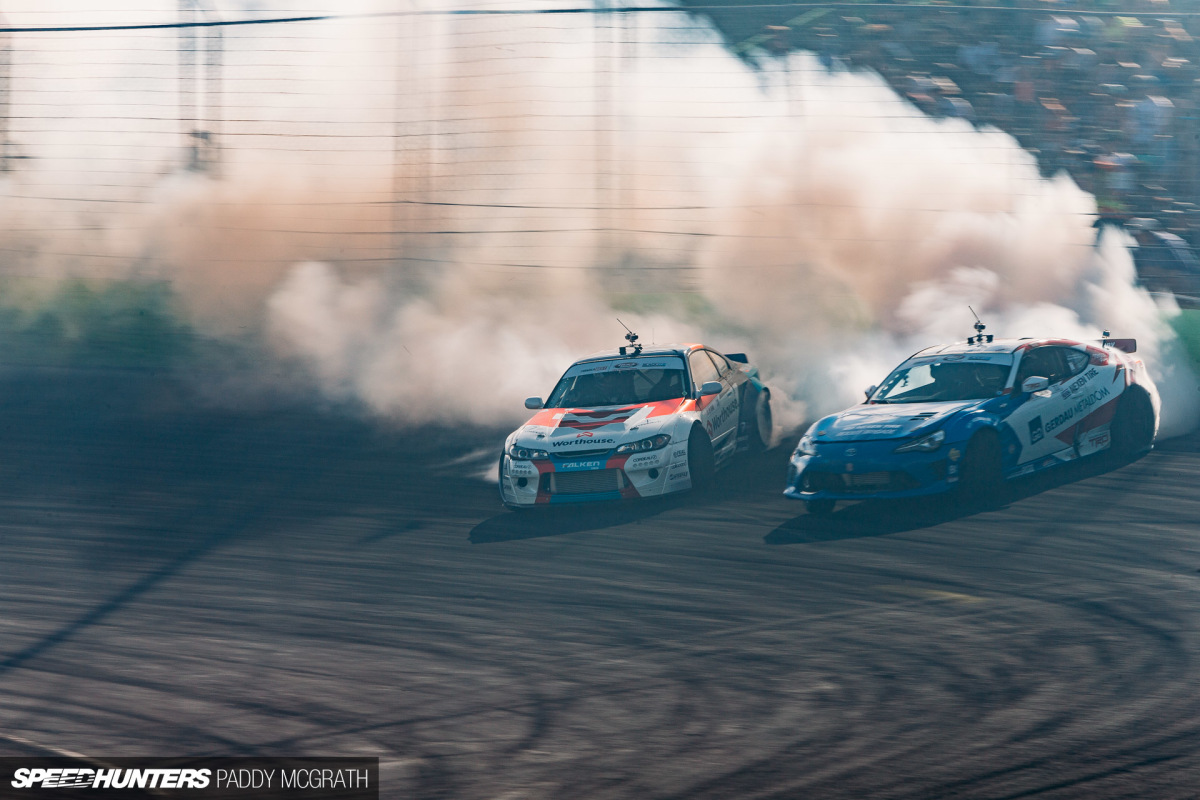 With the order reversed, Deane did well to stay with the now rampant 2AR-powered lead car around the banking.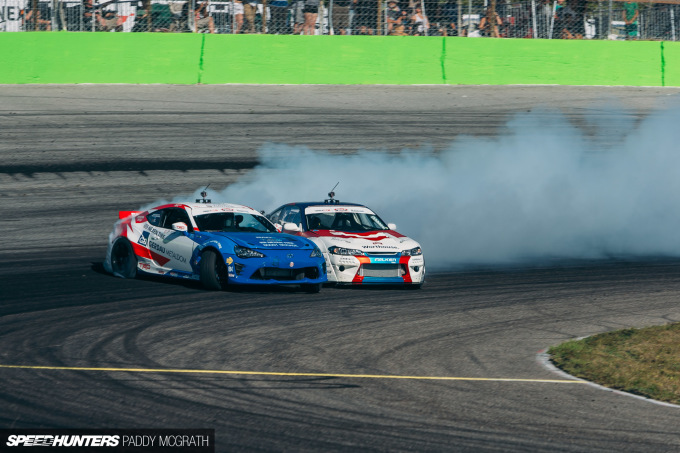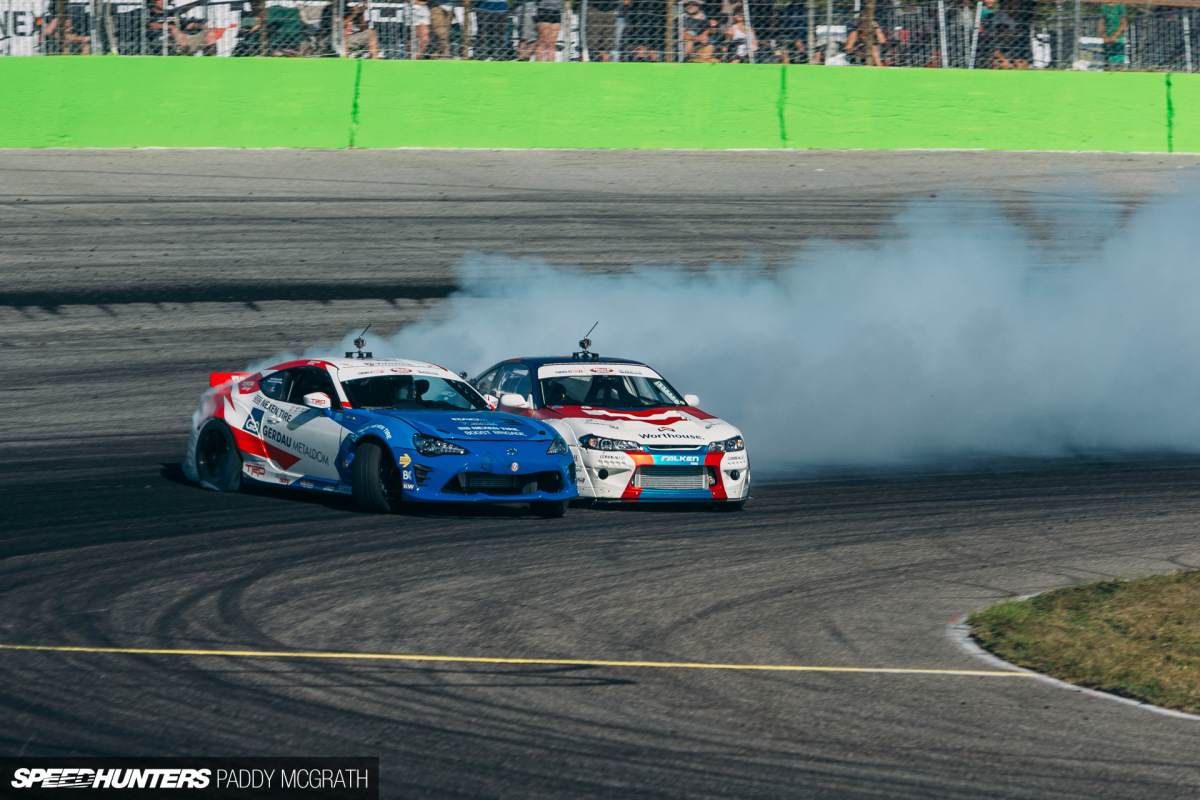 An aggressive transition across the middle saw James maintain a tighter gap around the final corner before we went to the judges for a decision. All went OMT.
I honestly think James edged this battle, but at the same time I can appreciate where the decision to go again came from. I don't think anyone expected Castro to put up this much of a fight, but credit to him, he was stepping up to the plate.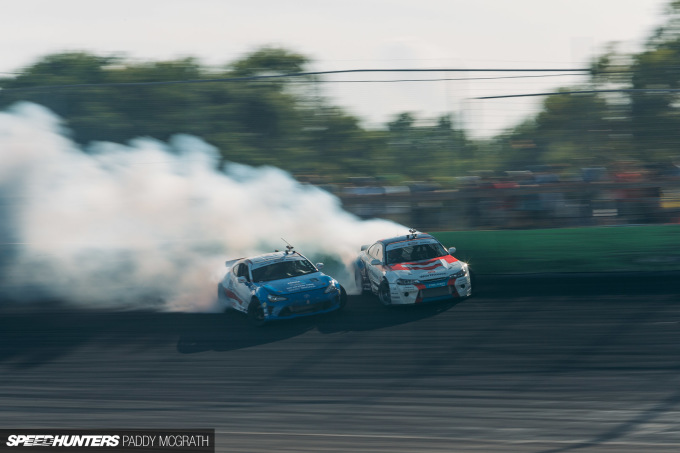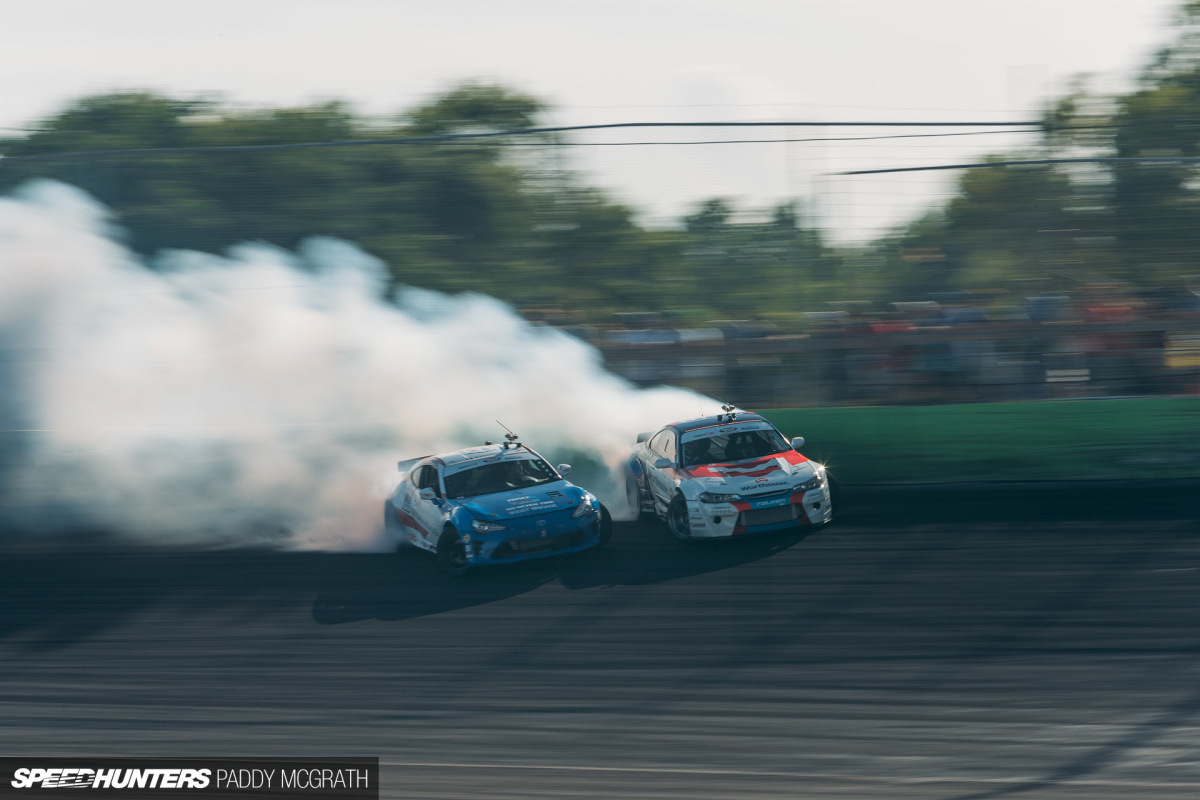 When we eventually came back for the OMT, I think it was far more clear-cut. Castro matched James for angle and speed pretty much the whole length of the course.
I was honestly stunned, and couldn't help but applaud what Castro had laid down. It was one of the all-time great chases.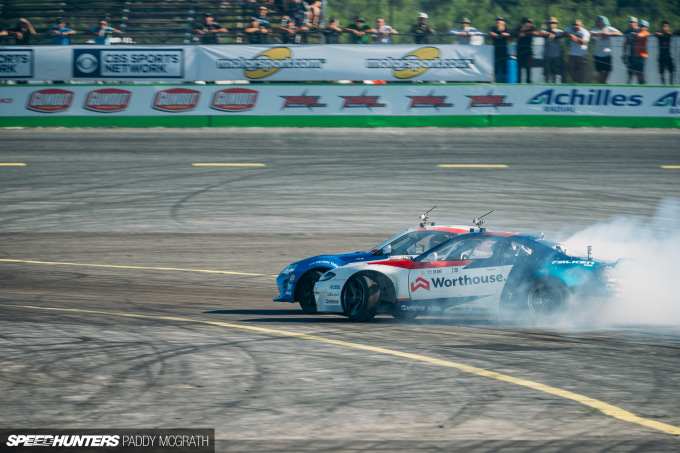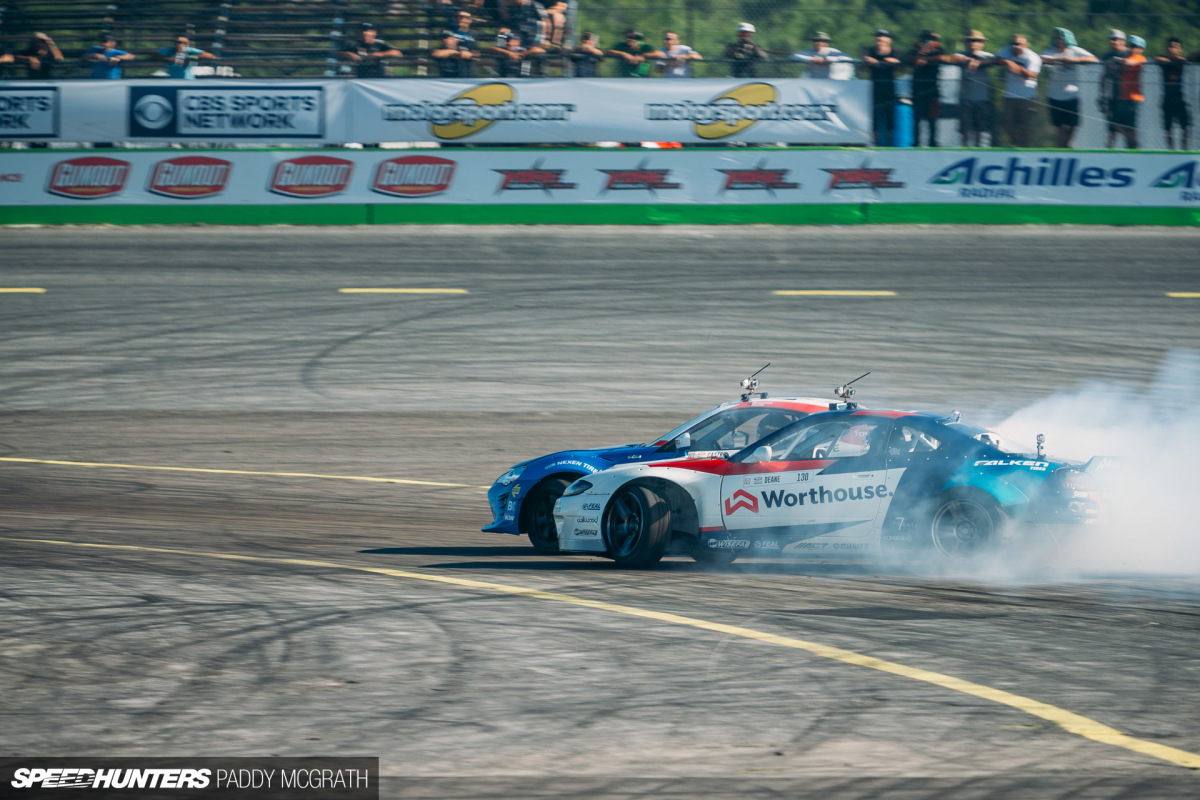 Ultimately, James just couldn't keep with Castro on his own chase and had to sacrifice angle to maintain proximity. He wasn't exactly miles behind him, but it was clear that Castro had been stronger over these two runs.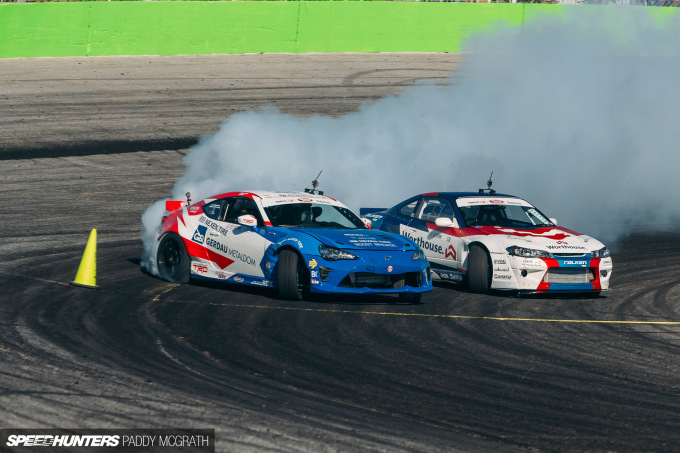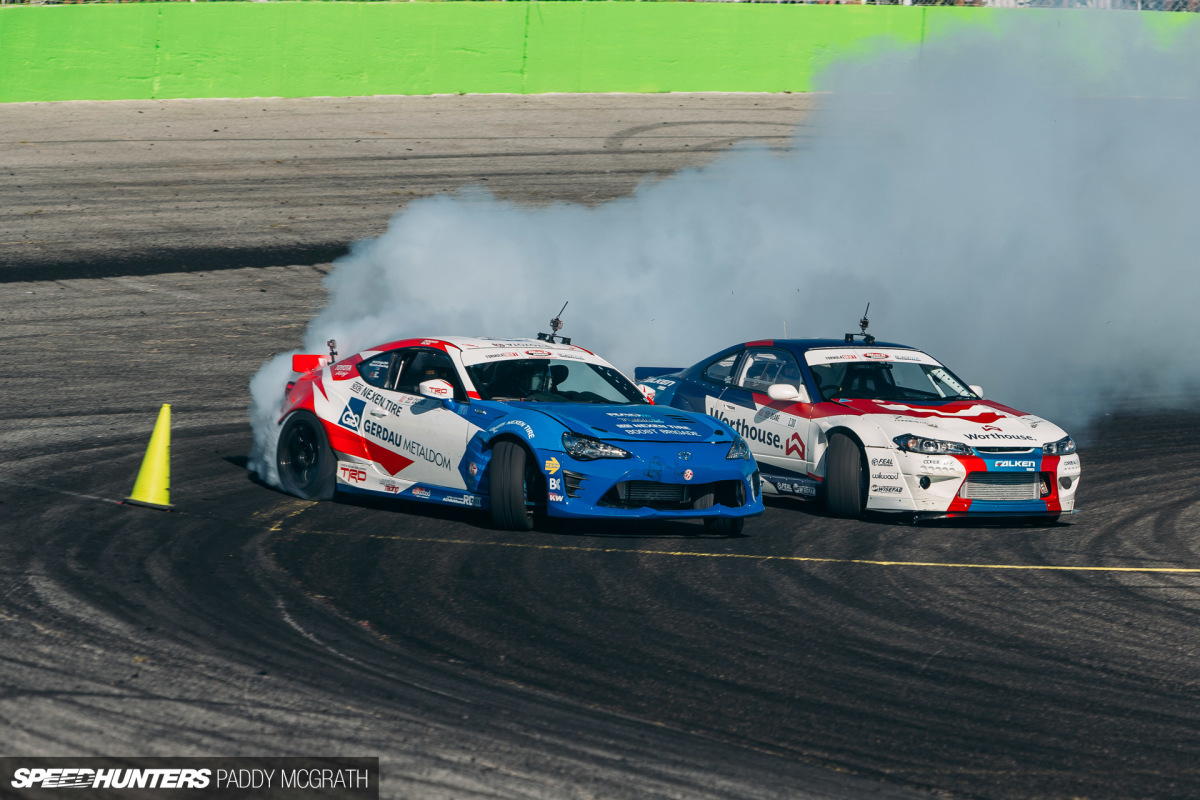 It was a result that no one saw coming, but one that was absolutely deserved for Castro, no qualms about it. If you're going to get beat, then this is probably how you would want it to go down. It was fair and square.
James Deane was out at Top 16.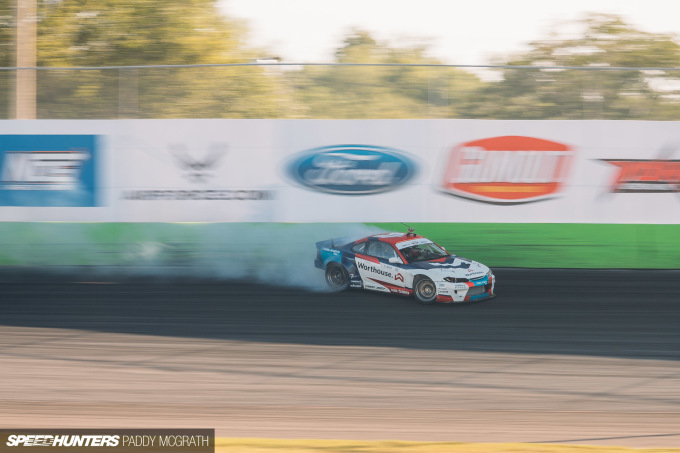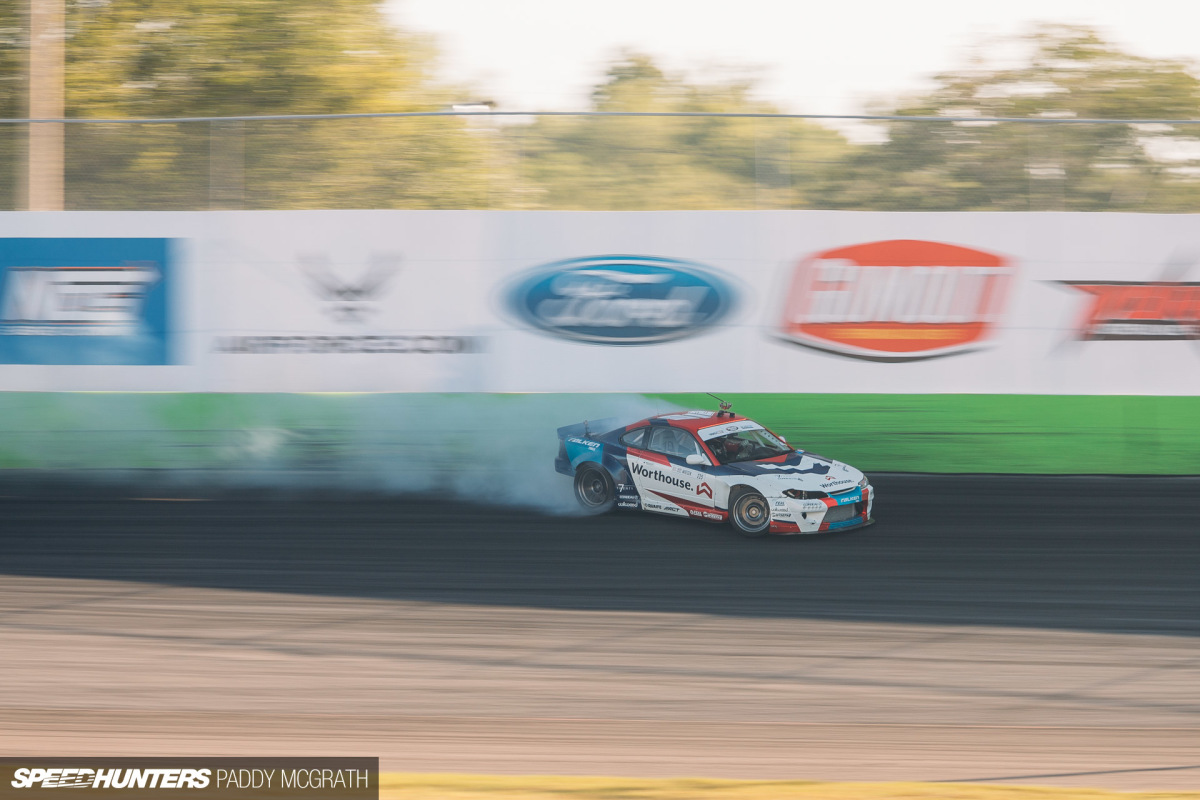 Meanwhile, in the hot pit, Piotr's 10 minutes had expired and he was forced to call his five-minute rule to make the required repairs before running the second leg of his battle against Kearney. This should have been a straightforward run for him, but he tagged the wall and ended up getting sucked in, allowing Kearney to pass cleanly.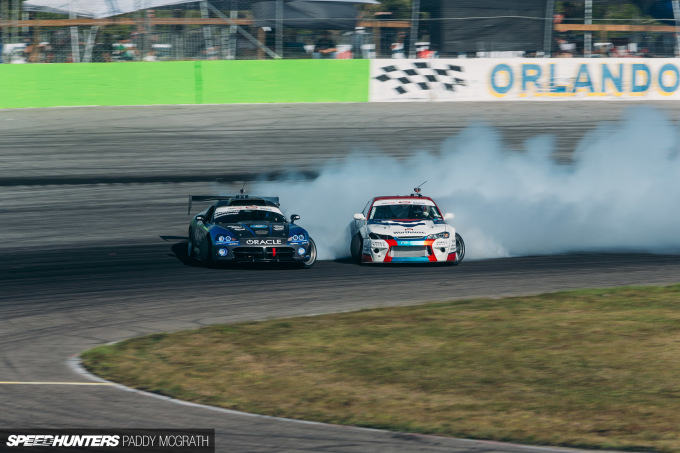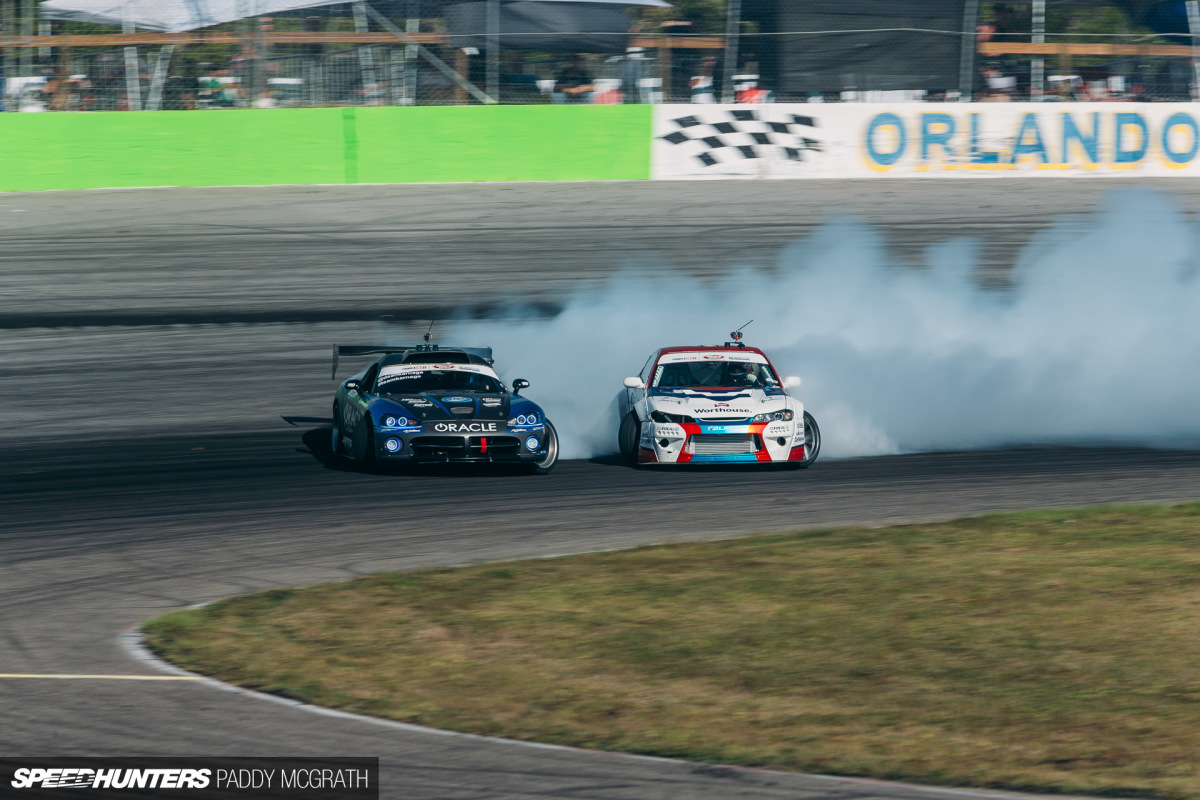 His mistake, which I'm not sure was driver related or if the car still wasn't 100 percent, reversed the scores and forced a OMT.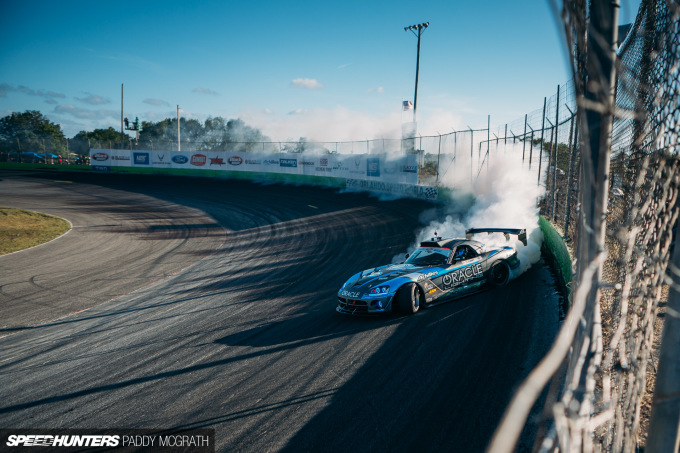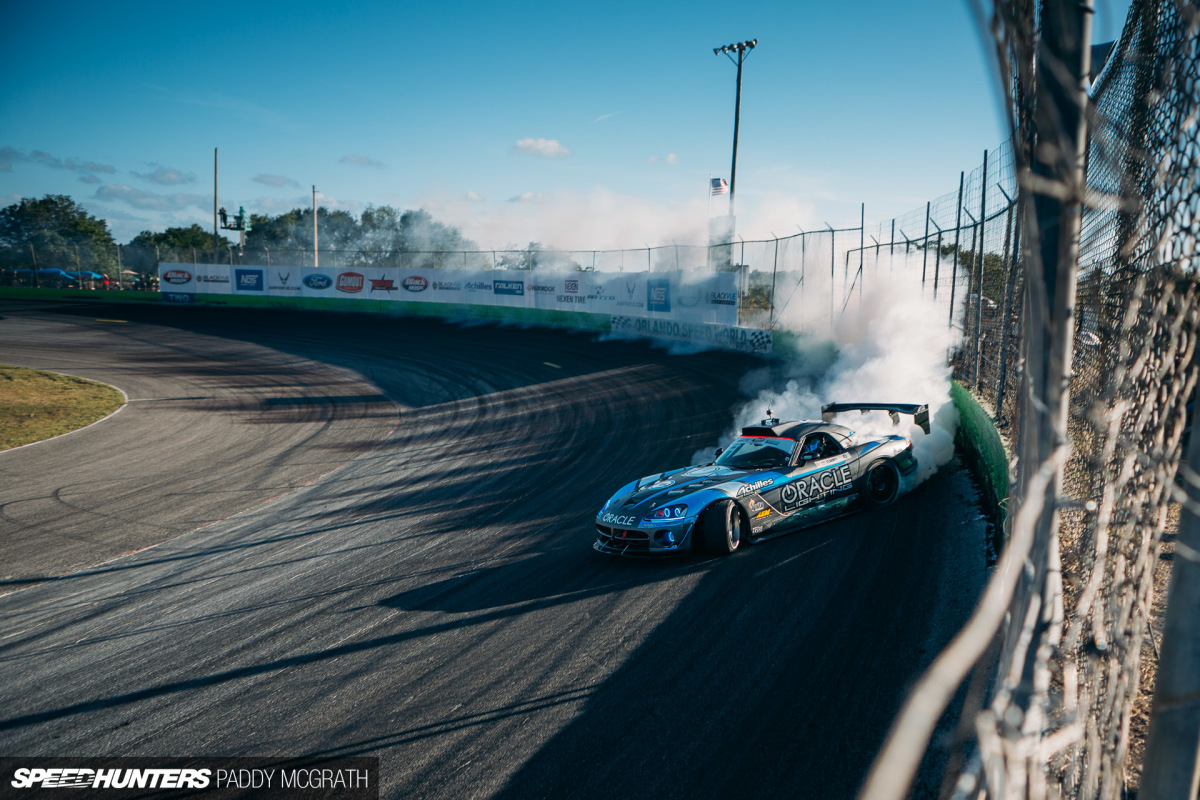 Unfortunately, with more damage on the car and no five-minute rule remaining, Piotr was unable to return his car to the start line and was forcibly retired from the competition. It just left Kearney with a solo run to complete around OSW before he advanced to the Top 8.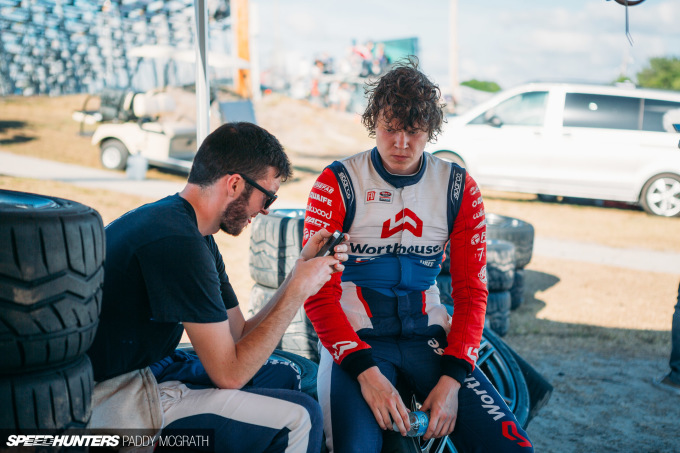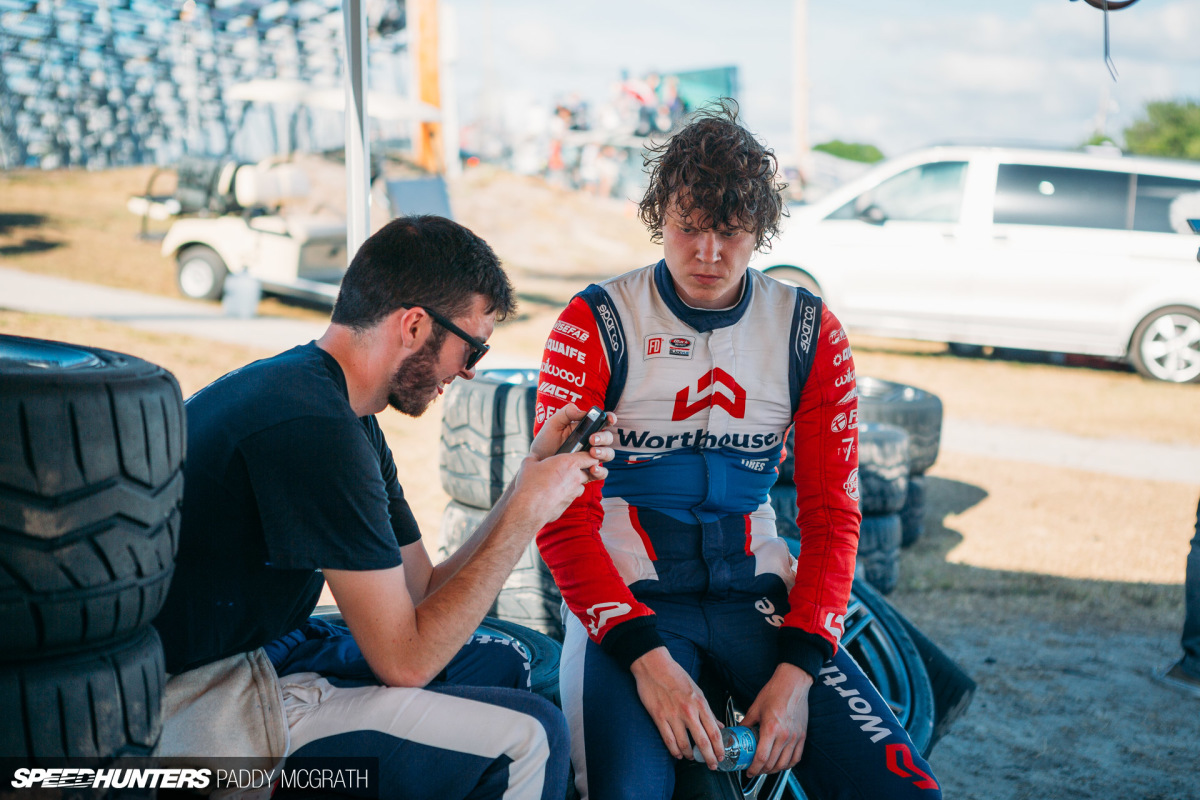 The atmosphere back in the hot pit, with both Worthouse cars eliminated, was not something I had experienced before.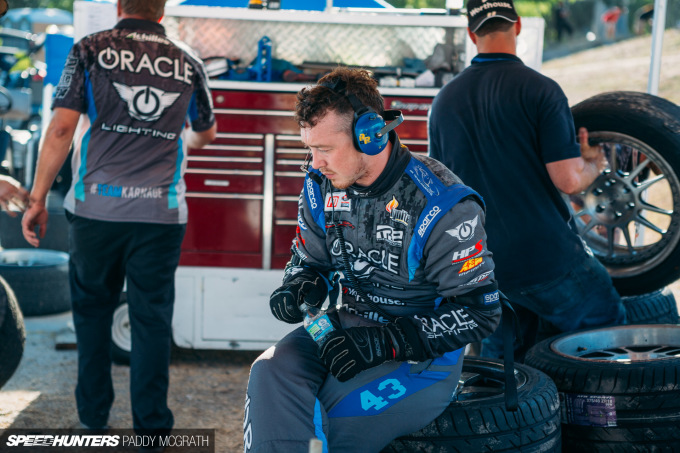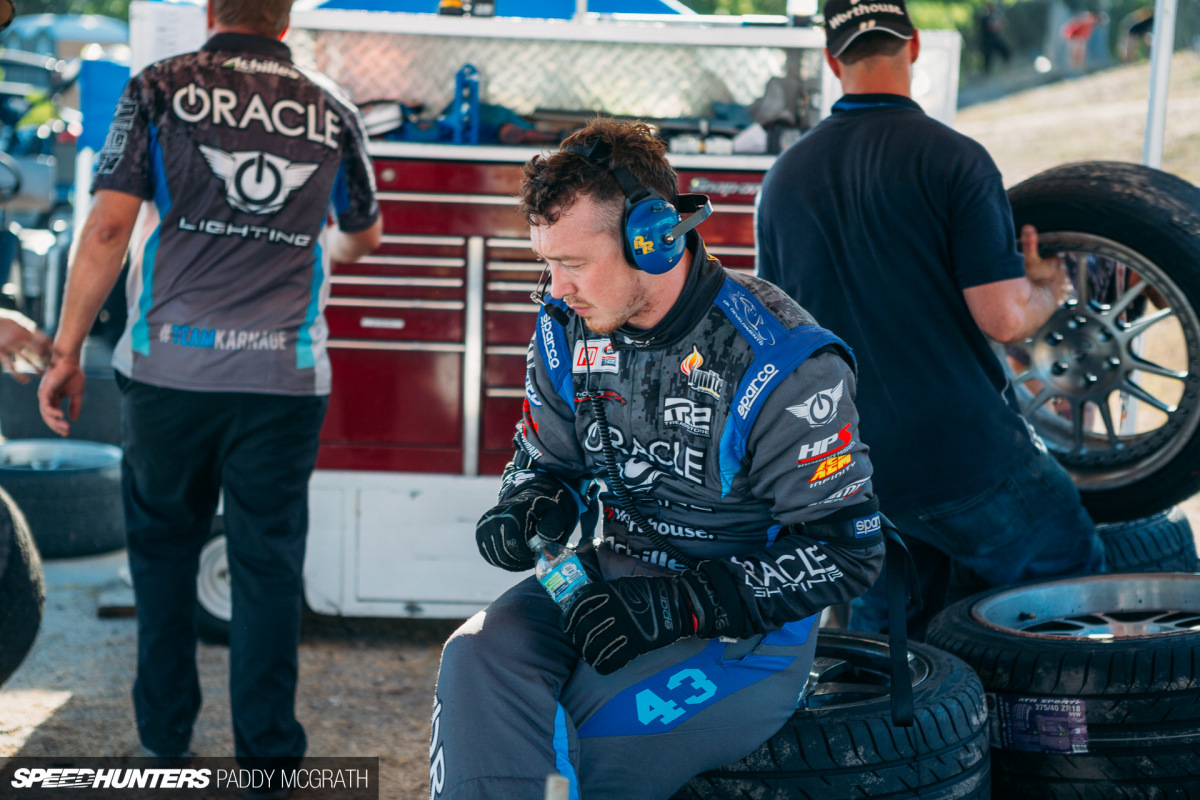 Kearney took no pride in his win over Piotr, instead blaming himself for Piotr having to use his five-minute rule. Piotr blamed himself, apologising to his team mates and crew. There were no winners in this situation; it absolutely f**king sucked.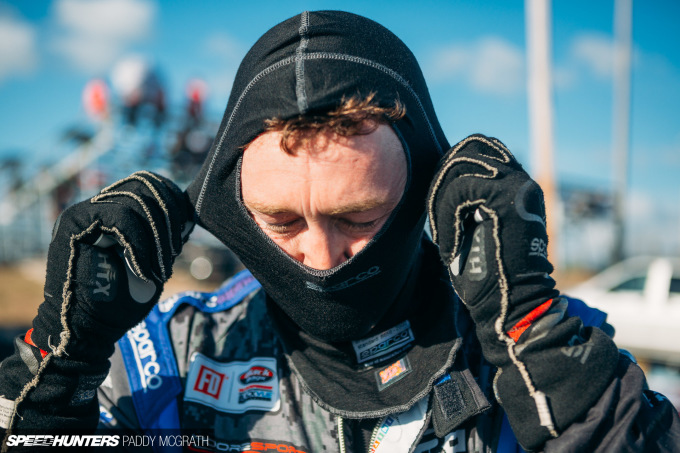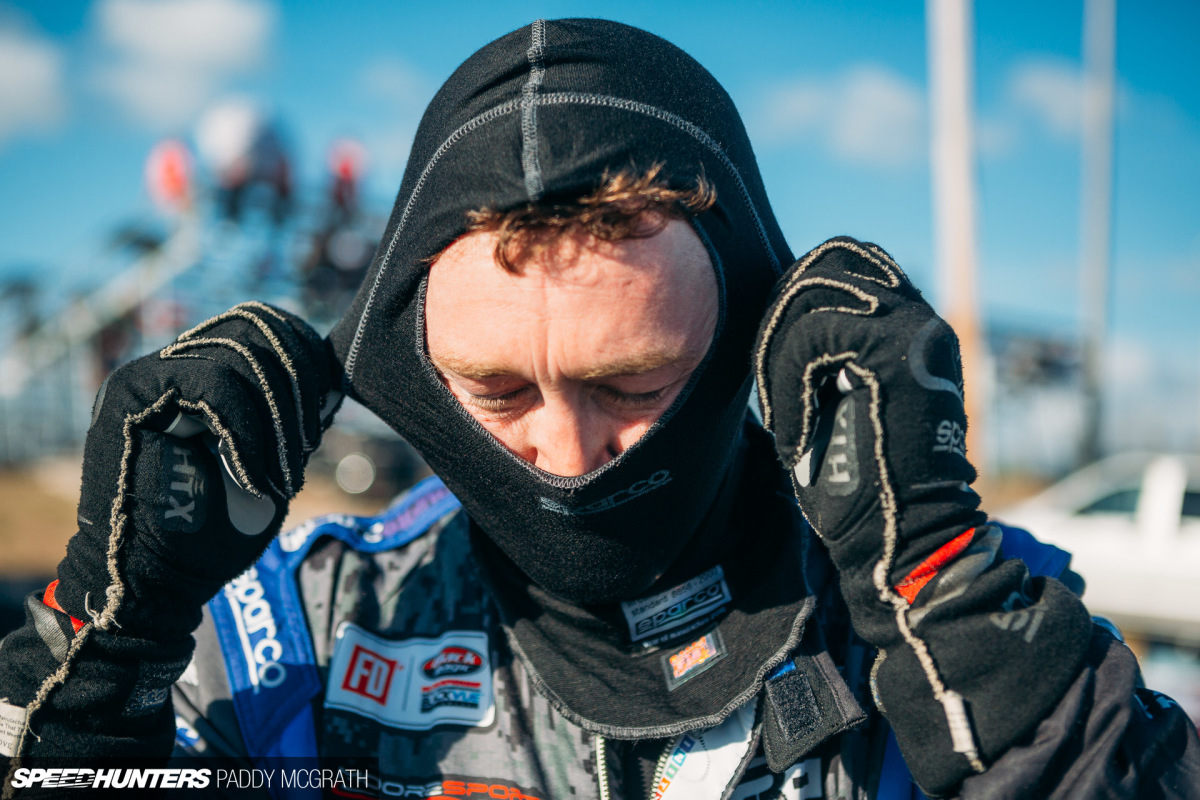 Putting his mask and helmet back on, the only words Dean could give me were "that's a shit way to win" before getting back in his car and heading to the line again.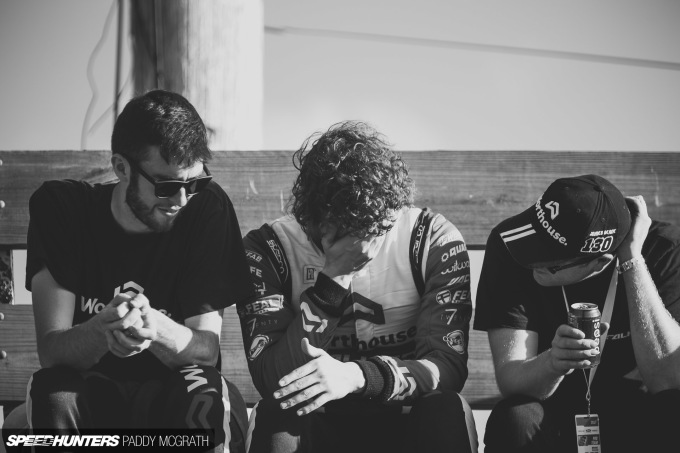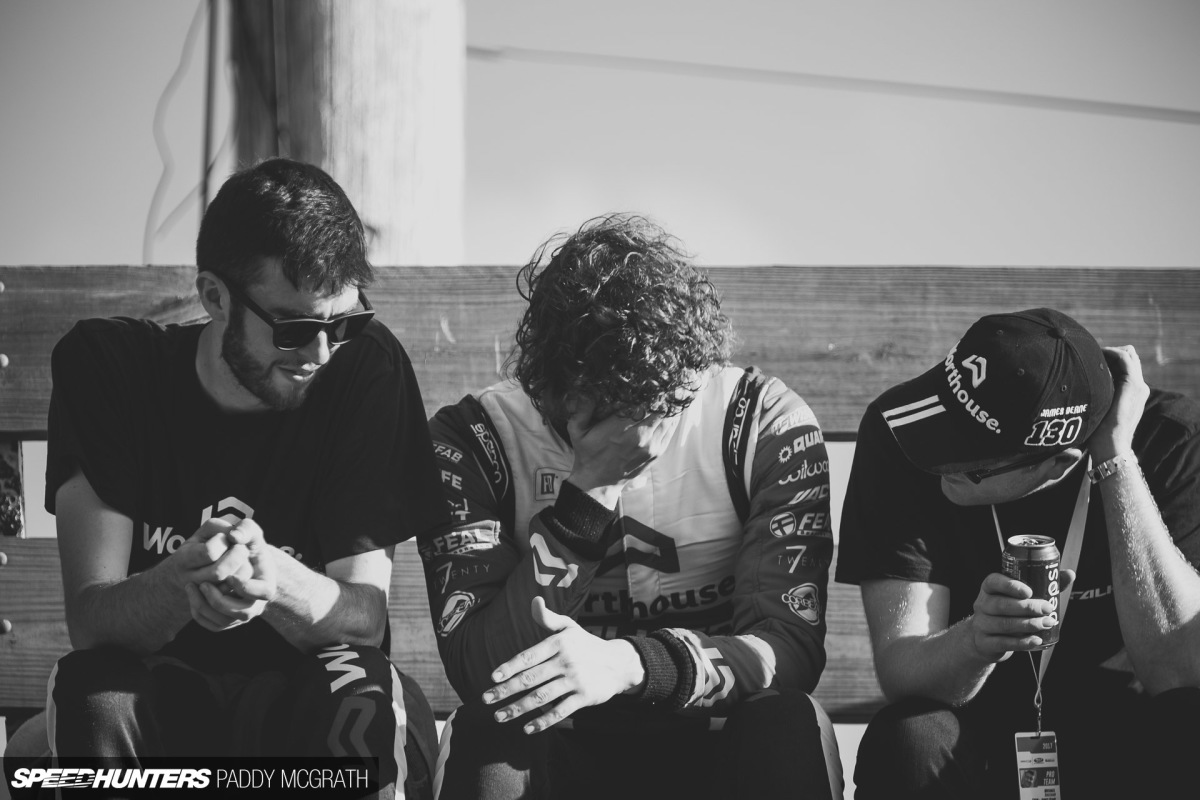 Rather than walk away with their tails between their legs, the guys headed towards the stand to watch the rest of the event. Their disappointment was understandable, and it would have been infinitely easier to hide in the pits, but that really isn't either driver's style.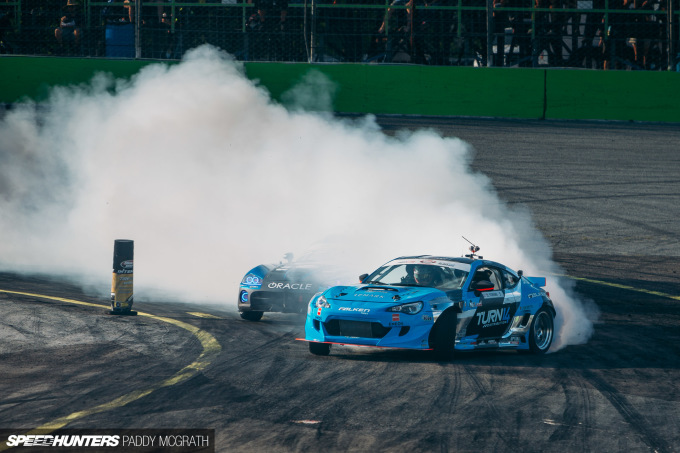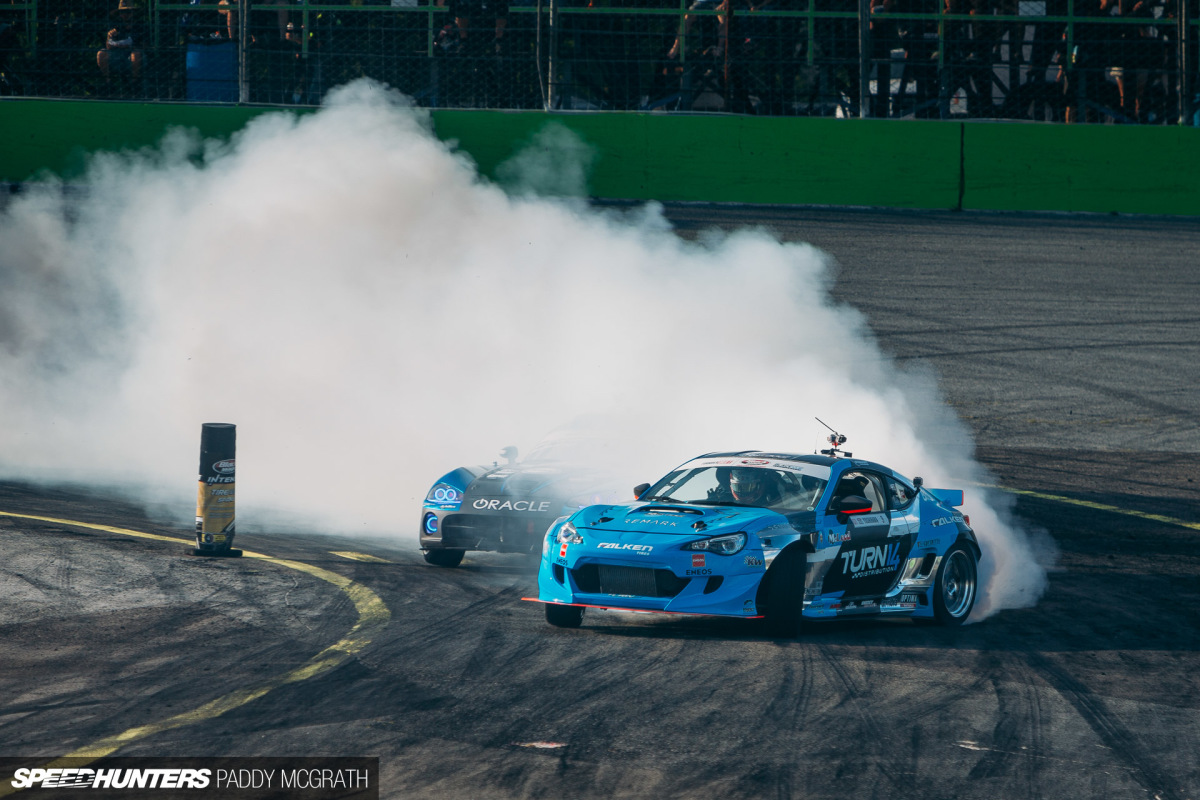 Kearney would put up an admirable fight against top qualifier Dai Yoshihara, but it wouldn't be enough and he would soon join his team on the sidelines. I got the impression that his head wasn't fully in it, but it doesn't take away from the great driving that Dai was delivering all weekend.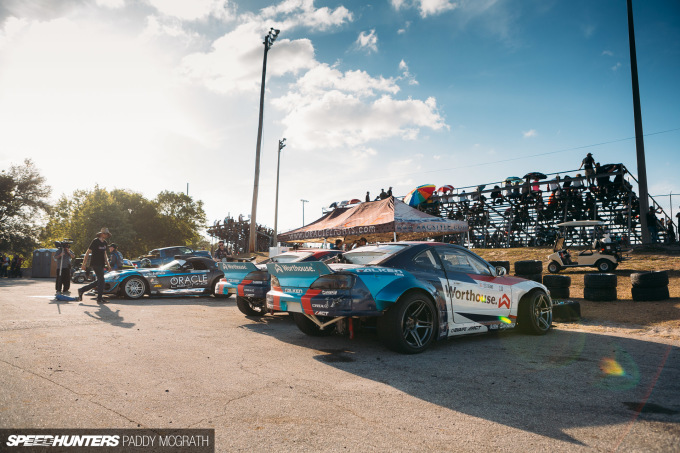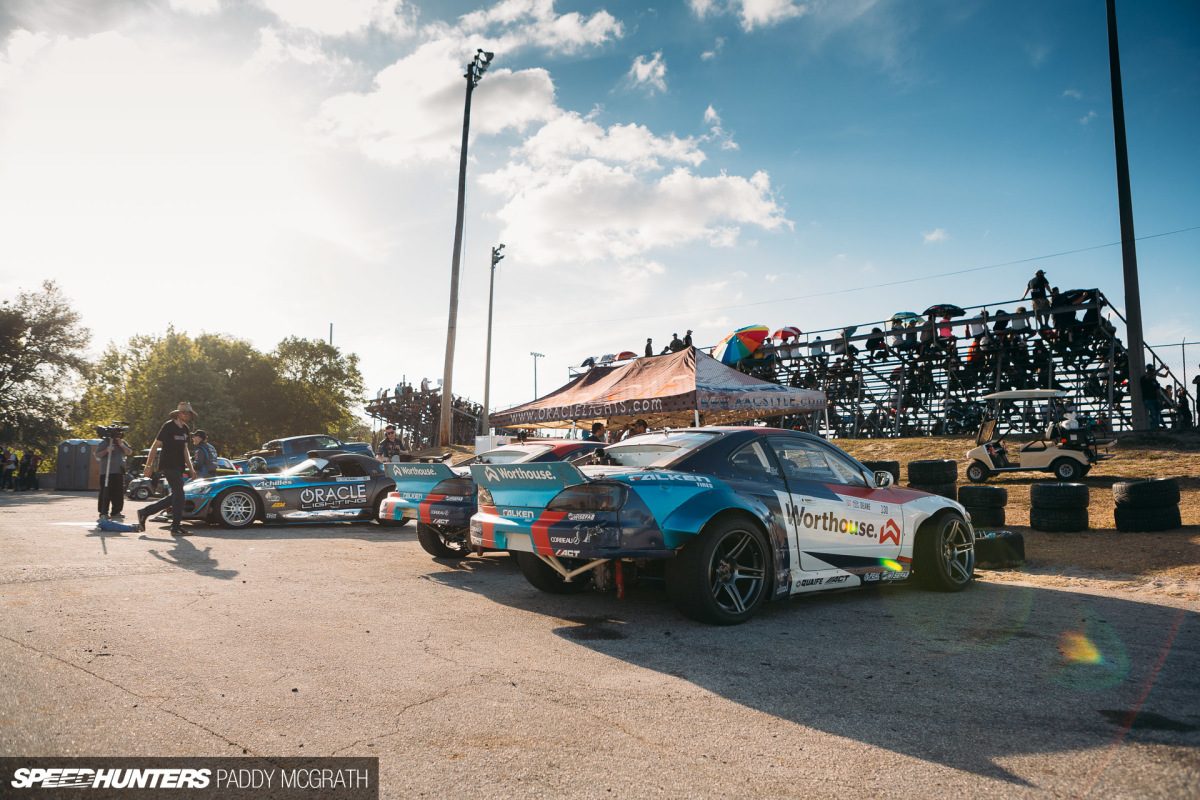 Before the Top 8 had even wrapped up, all three cars were retired from the event. It's not a sight that I'm familiar with when either James or Piotr are involved.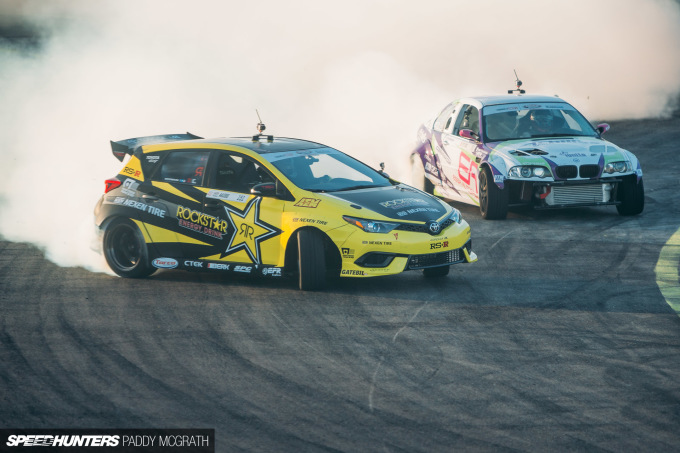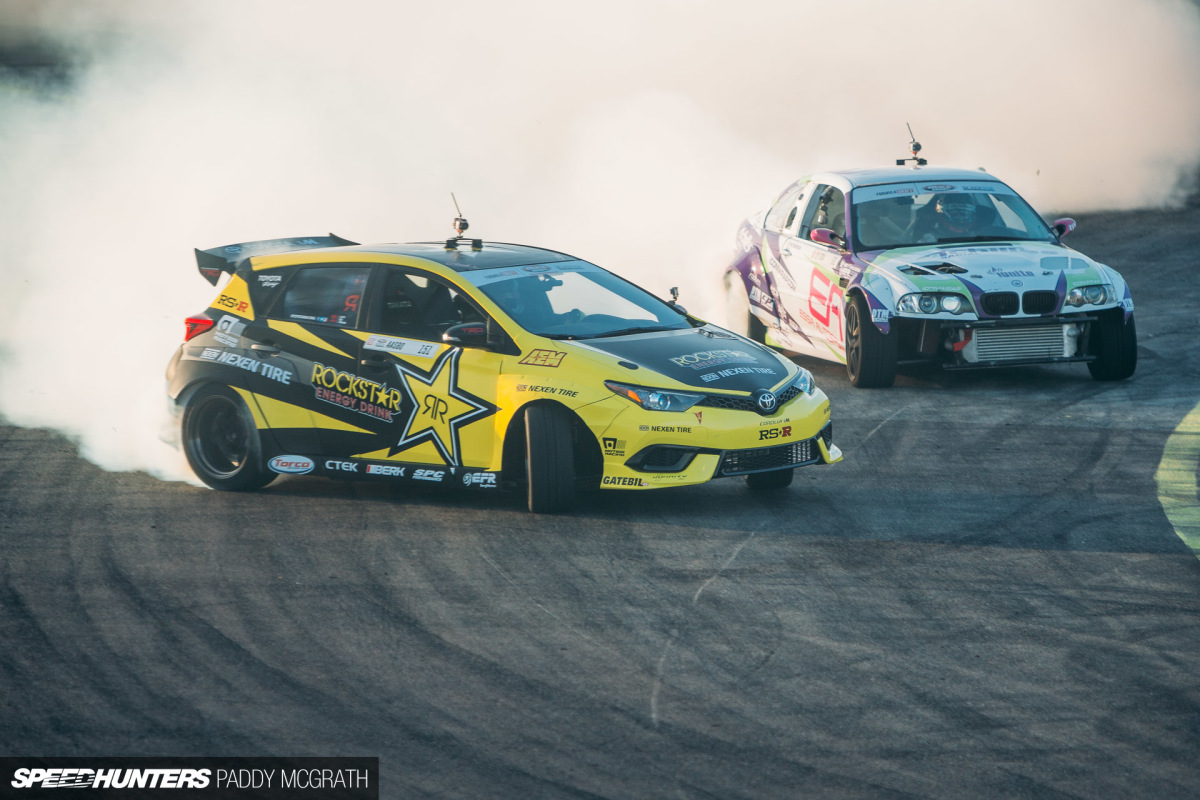 The rest of the event was spent watching the competition complete, while dissecting what went wrong between runs. From the stands, it quickly became obvious that Fredric Aasbø was the man to beat. The little Corolla has a serious amount of fight in it and was an absolute rocket ship.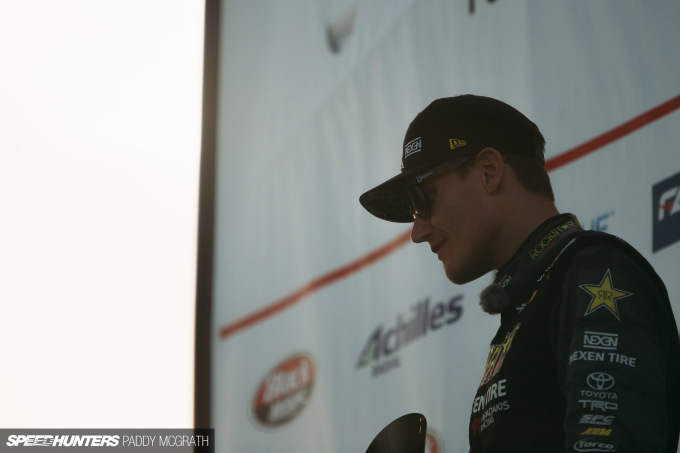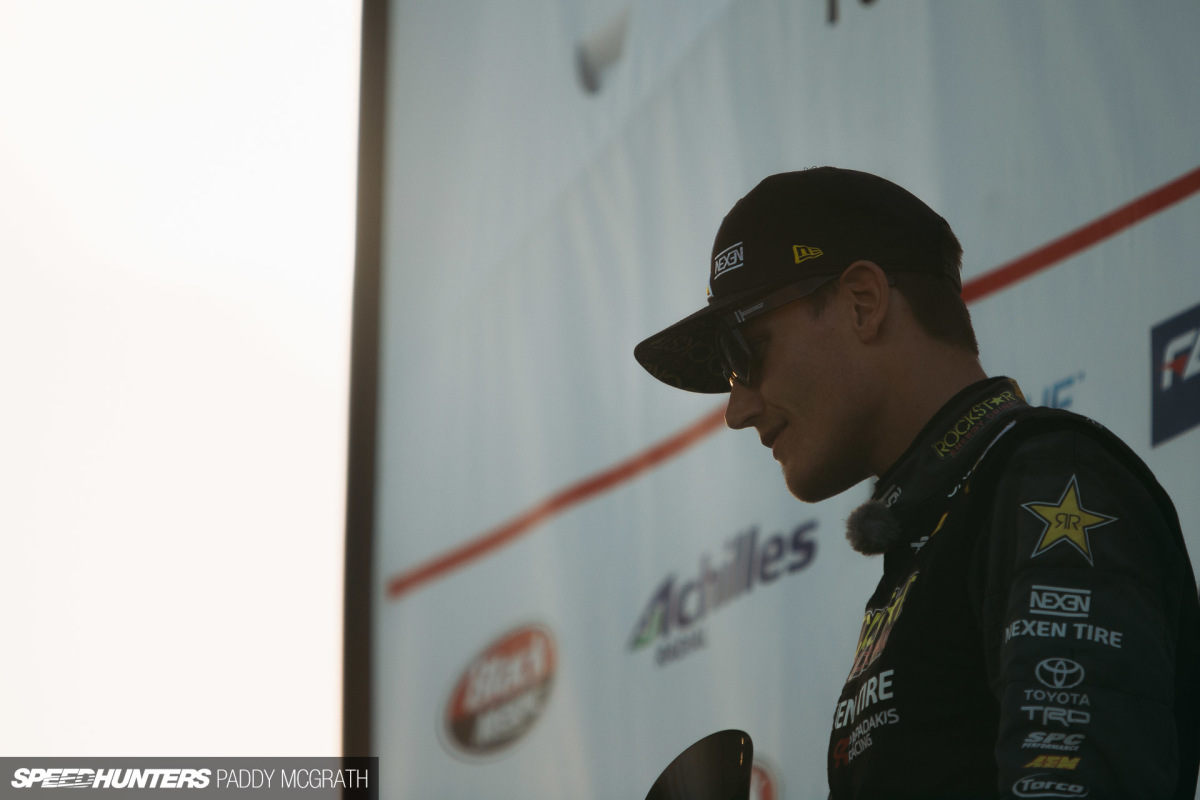 If someone outside our team has to win, there are few people I would like to see at the top than Fredric. It was a win well earned, and proof that the Papadakis Racing crew have some sort of deal with the devil, because I never thought a brand new car like that could perform so well out of the box. Congratulations.
It has been a bitter pill to swallow, but as the saying goes, you can't win them all.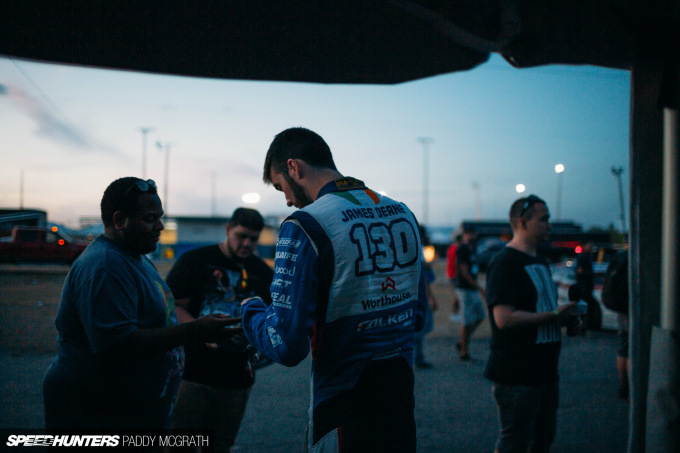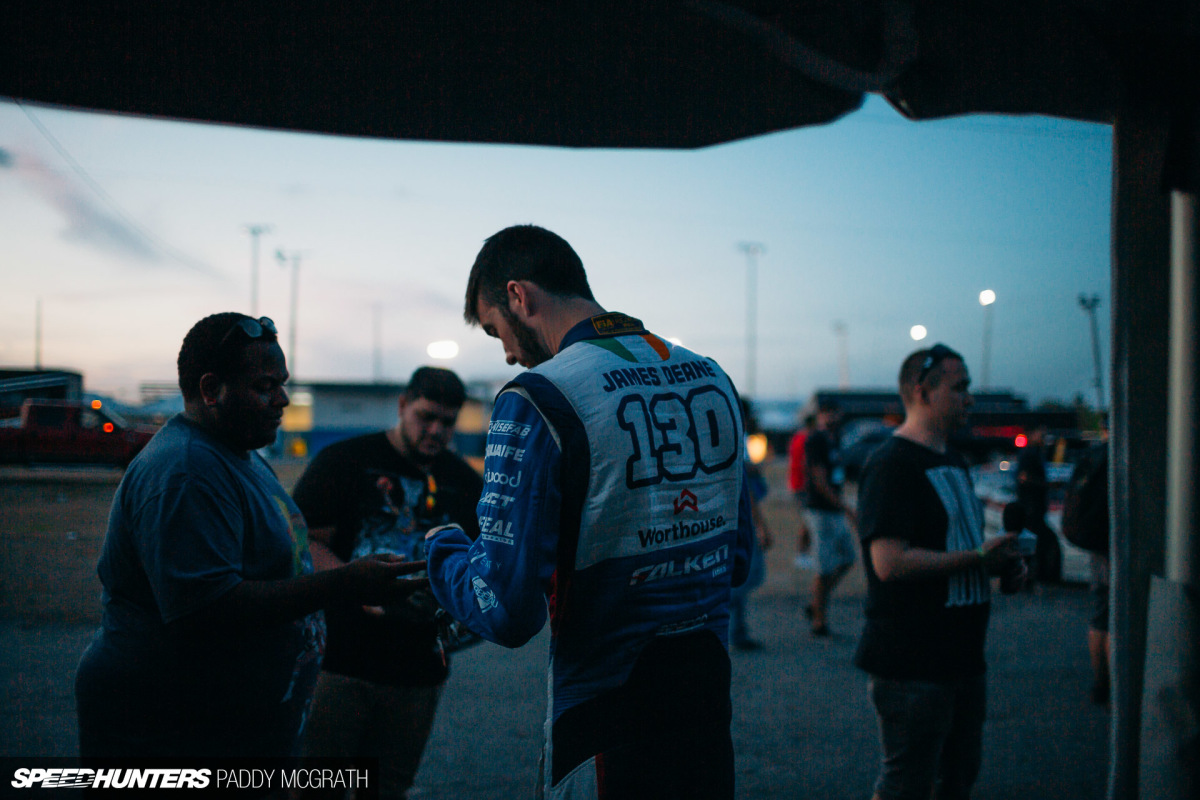 Still, there are positives to be drawn from Orlando. As a team, they know they need to find more pace in the cars. They're more aware now of what's required than after Long Beach.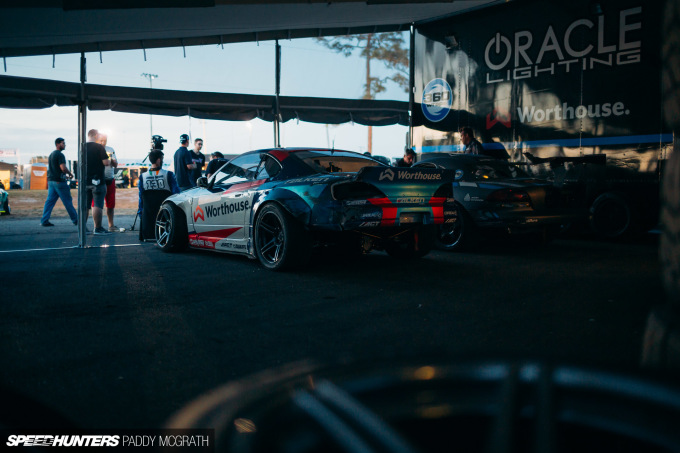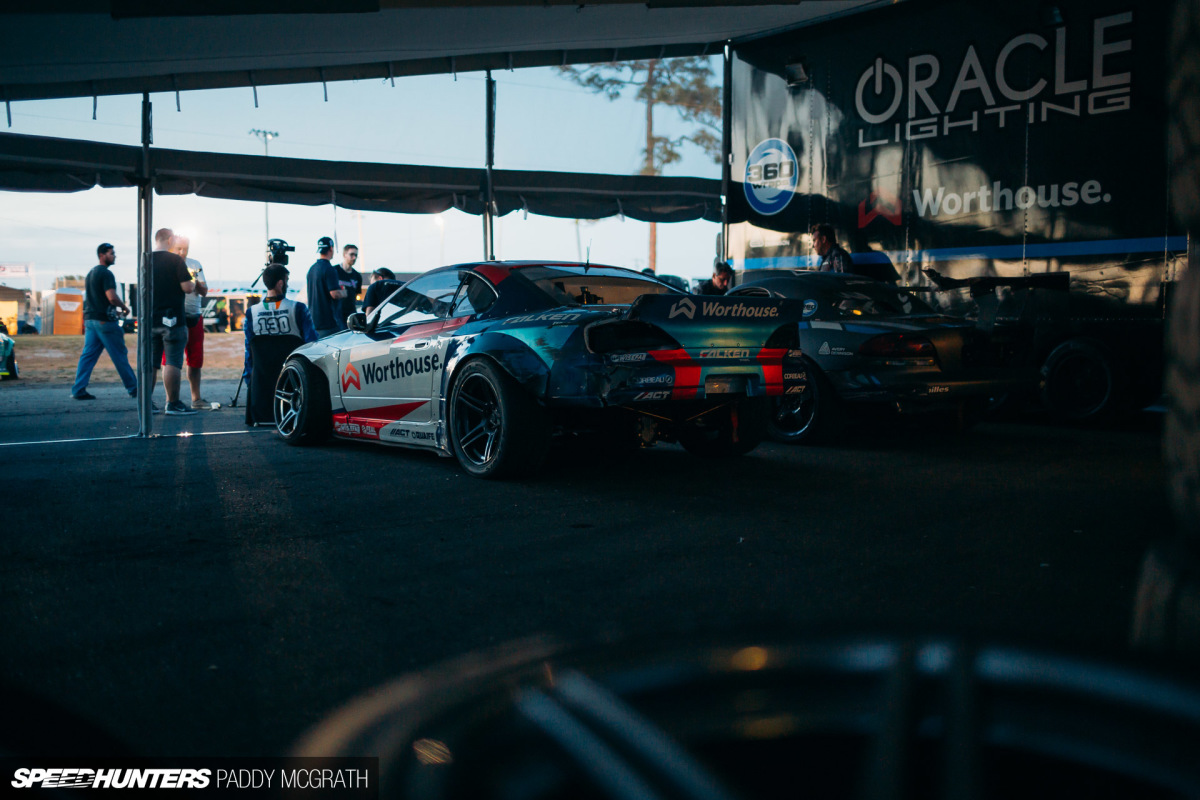 It also puts into perspective just how significant the win in Long Beach was. Two absolutely brand new cars, built in Europe to a rulebook on another continent, that have been immediately competitive out of the box. They're not quite at the top of things, but they're not a million miles off either. In fact, they're right in the thick of it from the get-go.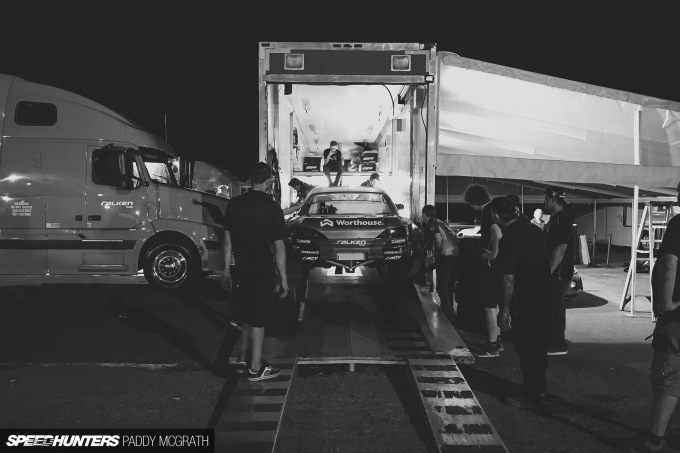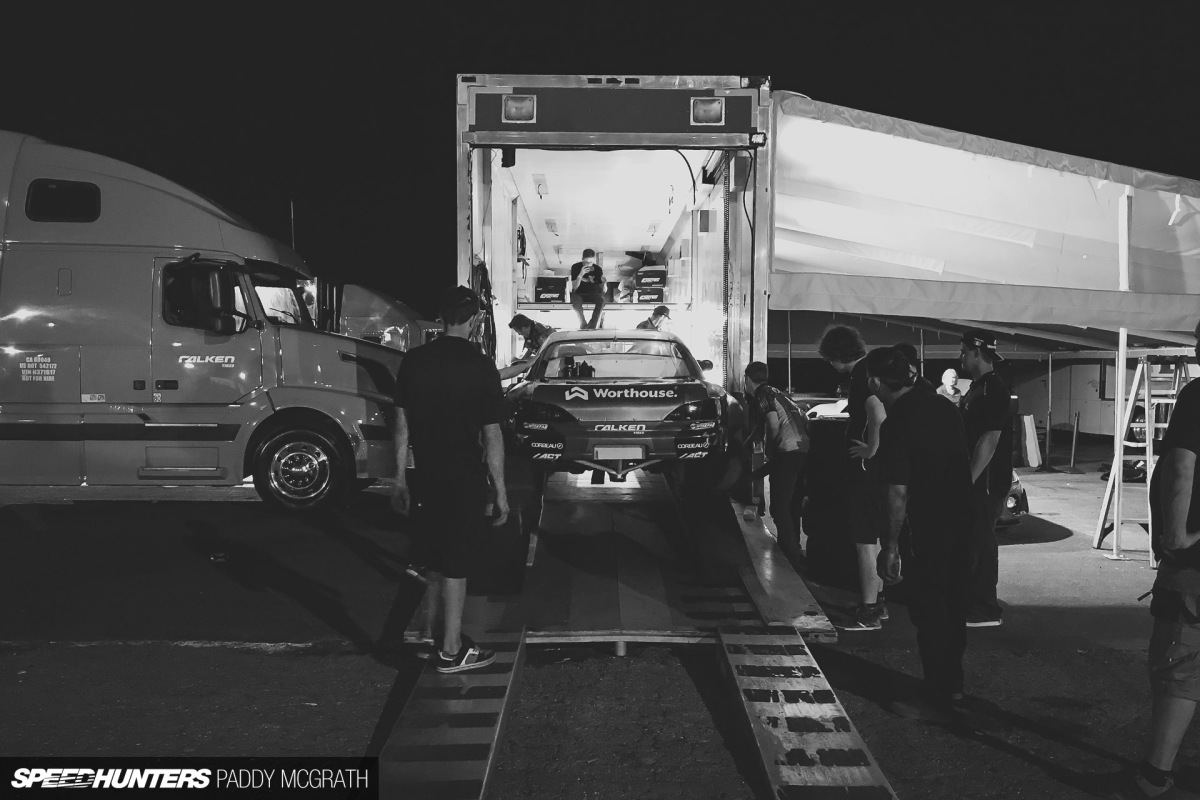 With the cars being loaded into the Bridges Racing truck for the relatively short journey north to Road Atlanta, both drivers can take solace in the fact that already they're leaving their mark. James is second in the overall points standings, Piotr is the highest flying rookie in the series and only 8 points behind last year's champion. There is no shame in that after two events.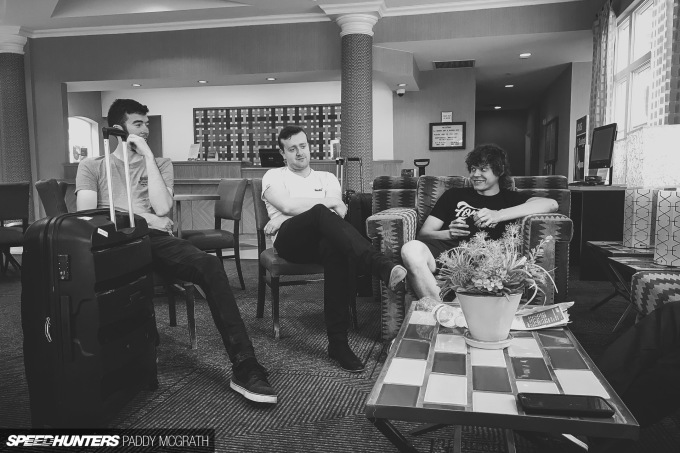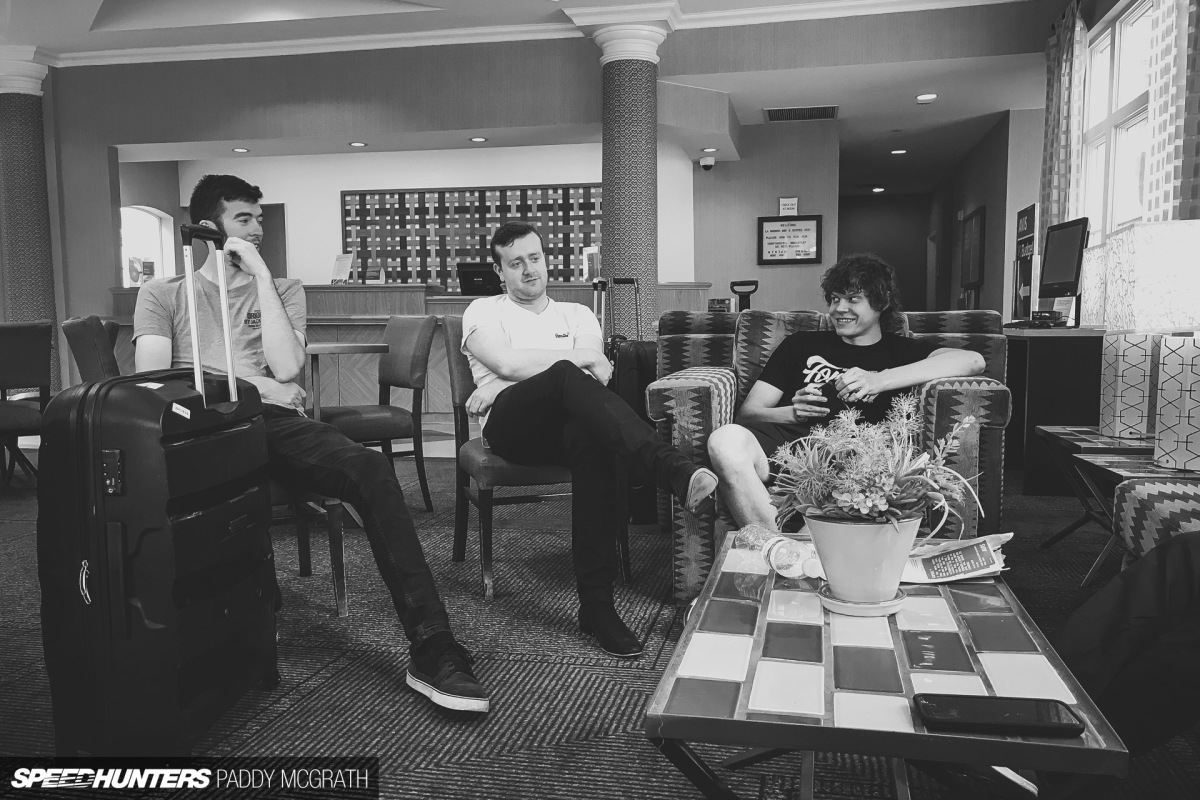 By the time the next morning came around, the mood in the team had drastically improved with eyes already on Road Atlanta in under two weeks time. For so many years, both James and Piotr have dominated Europe, often with little resistance. Now, they're in the midst of a proper fight and they're both relishing it. Win or lose, they will both continue to improve as drivers. This is what they came to Formula D for.
Let's see what Atlanta brings…
Paddy McGrath
Instagram: pmcgphotos
Twitter: pmcgphotos
paddy@speedhunters.com
The Deane x Więcek Story on Speedhunters
Cutting Room Floor