964
It's time to head back to Dubai for the final instalment in the RWB triple build – three cars built in six days by the master of wide, Nakai-san.
Last month we saw how the two 993s went from regular narrow-body Carreras to wild RAUH-Welt Begriff creations, but this time around we're going to concentrate on the 964 that Nakai saved for last.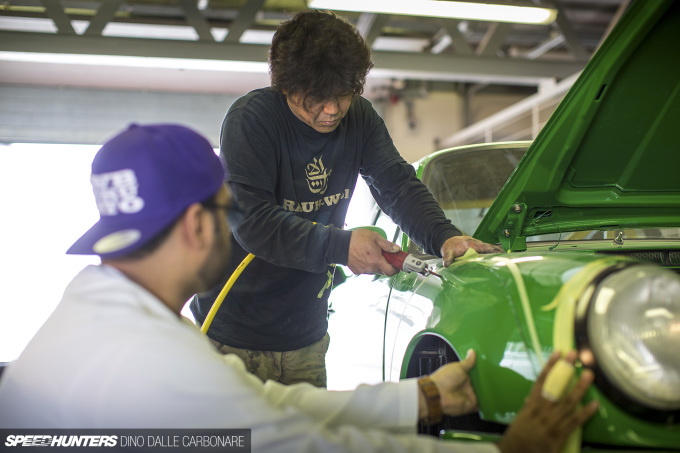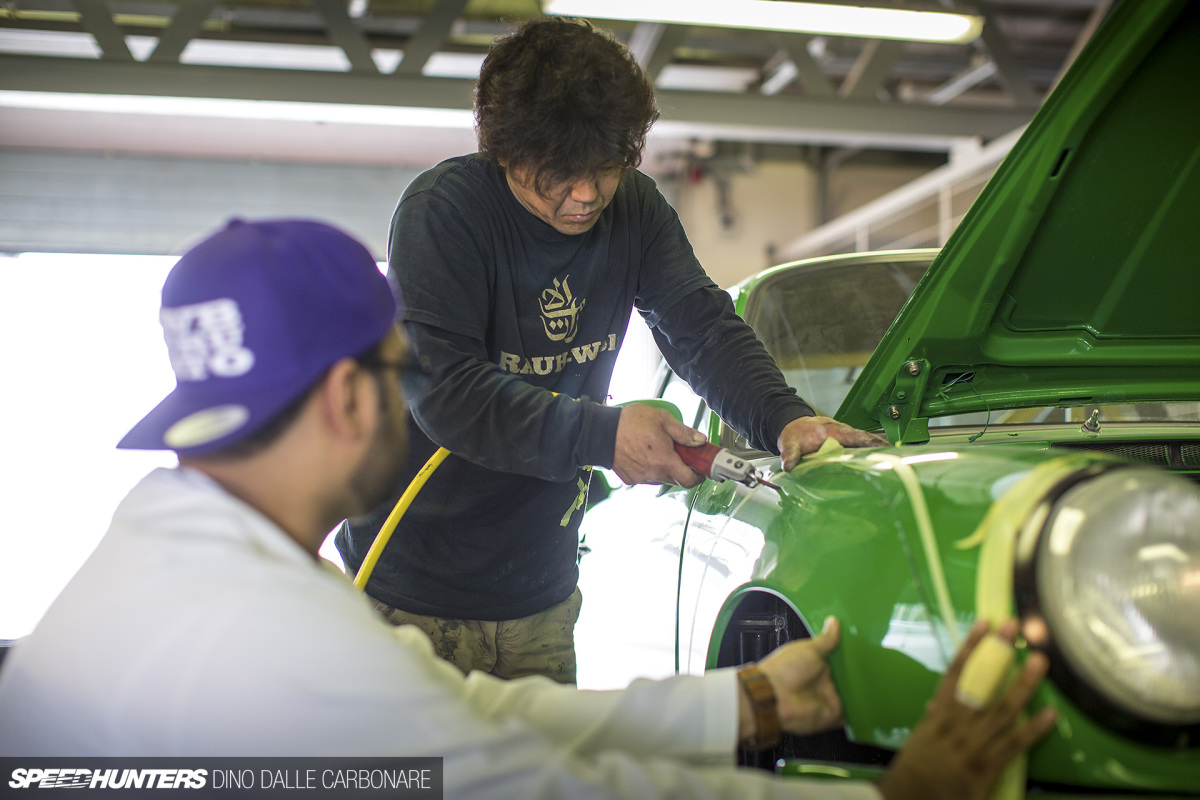 In the interest of presenting the footage from this rather special build in a cohesive manner, I didn't want to include the 964 in the first part of the build coverage. Since Nakai approached it in a production line assembly way in order to use his time efficiently, the two 993s were built (to a point) first. There was much debate among the owners and visitors about this before he even got working, and I'm pretty sure he was figuring it all out as he was going along. But with two days remaining and the 993s about 90 percent done, Nakai moved over to the green 964.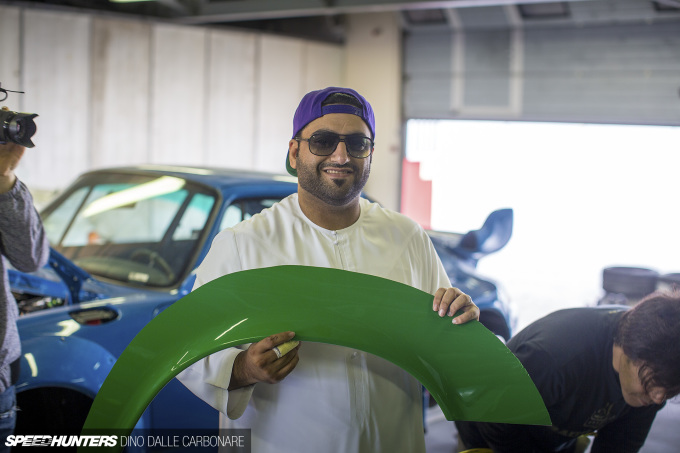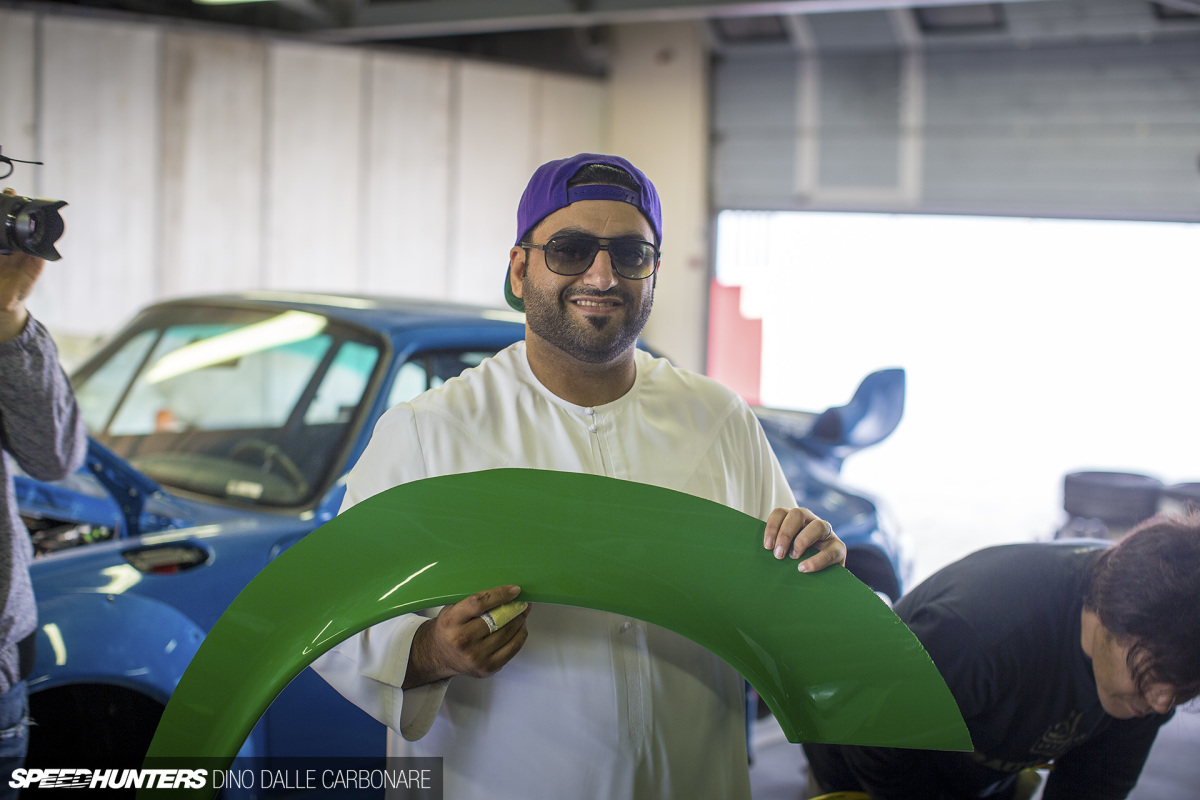 Its owner, Marwan, embraced it all with a smile that spanned ear to ear, and jumped straight in to help Nakai tackle the first fender cut, supporting the soon-to-be-removed metal portion before it was pulled from the car. Holding up that piece is akin to finally stepping into a pretty exclusive club, not to mention passing over the point of no return. With one corner cut, there is no looking back!
Nakai is like a production line robot on autopilot. He handles his belt sander like a samurai would his forged sword, smoothing away the new bare metal edges of the fenders and diving deep into the wheel wells to grind away at the tops of bolts or brackets that might make contact with the wider tires. Actually I take that "might" back, there's no might in anything Nakai does, he simply knows where clearance issues occur. At this point in his career as a master builder there is absolutely no guesswork – it's pure precision.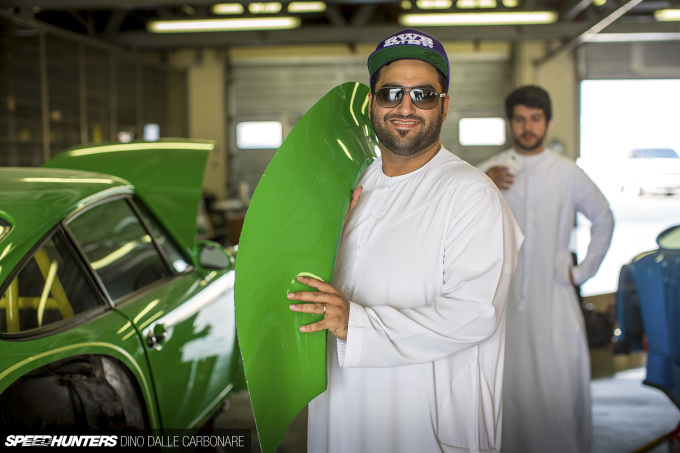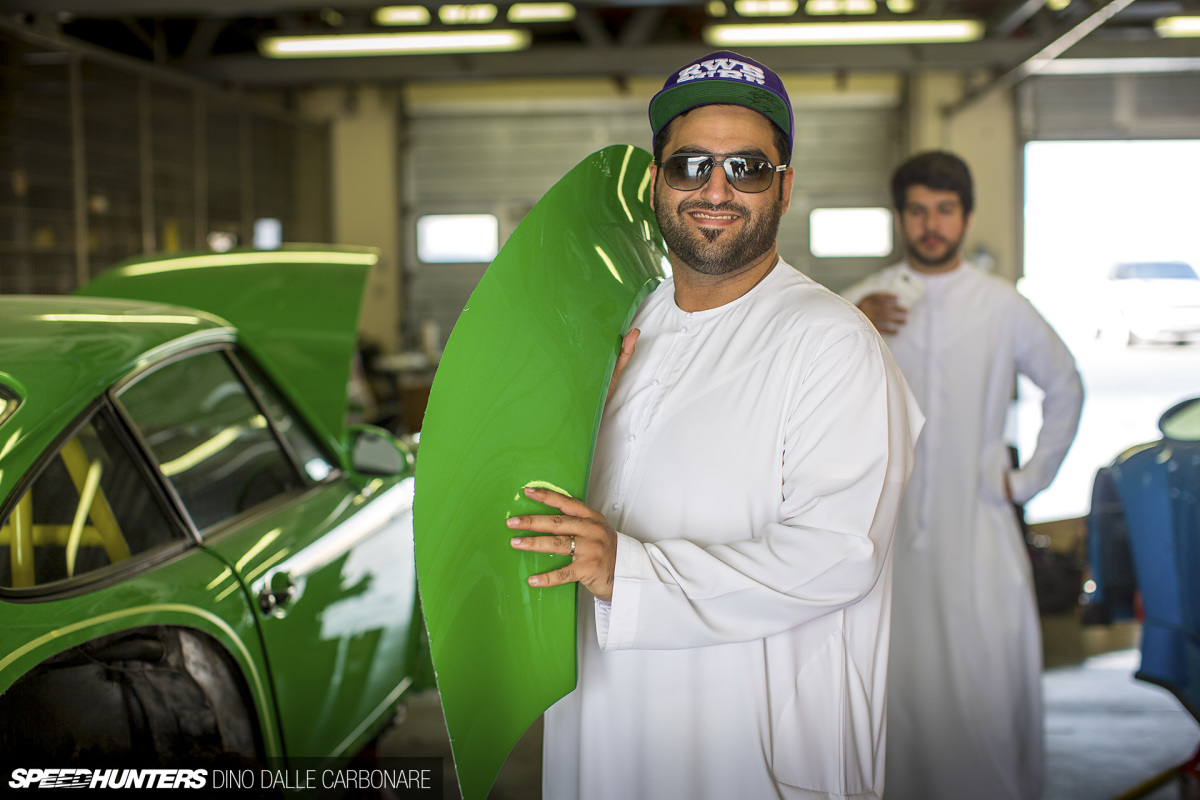 Working at an unprecedented speed means that after a quick break I found Marwan holding a cut rear fender!
After test-fitting the fenders, Nakai always spends some time underneath the car. He resets the alignment by pulling the camber to dead center and then from there works on adjusting things once the wheels get fitted. What ensues is a lot of back and forth to guarantee a true RWB fitment, but this is what gets the car looking proper and performing without a hitch.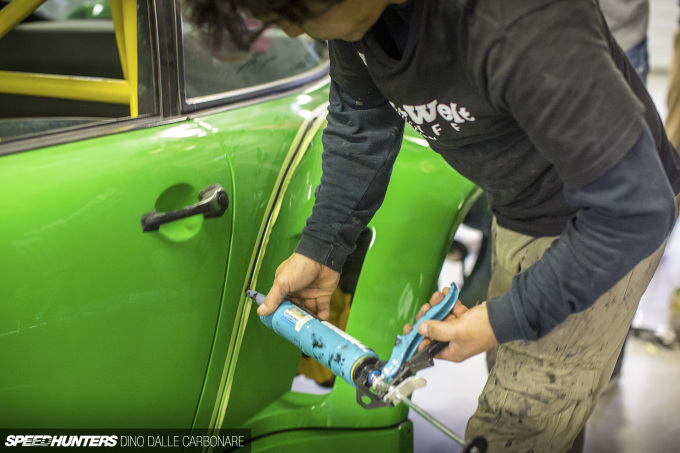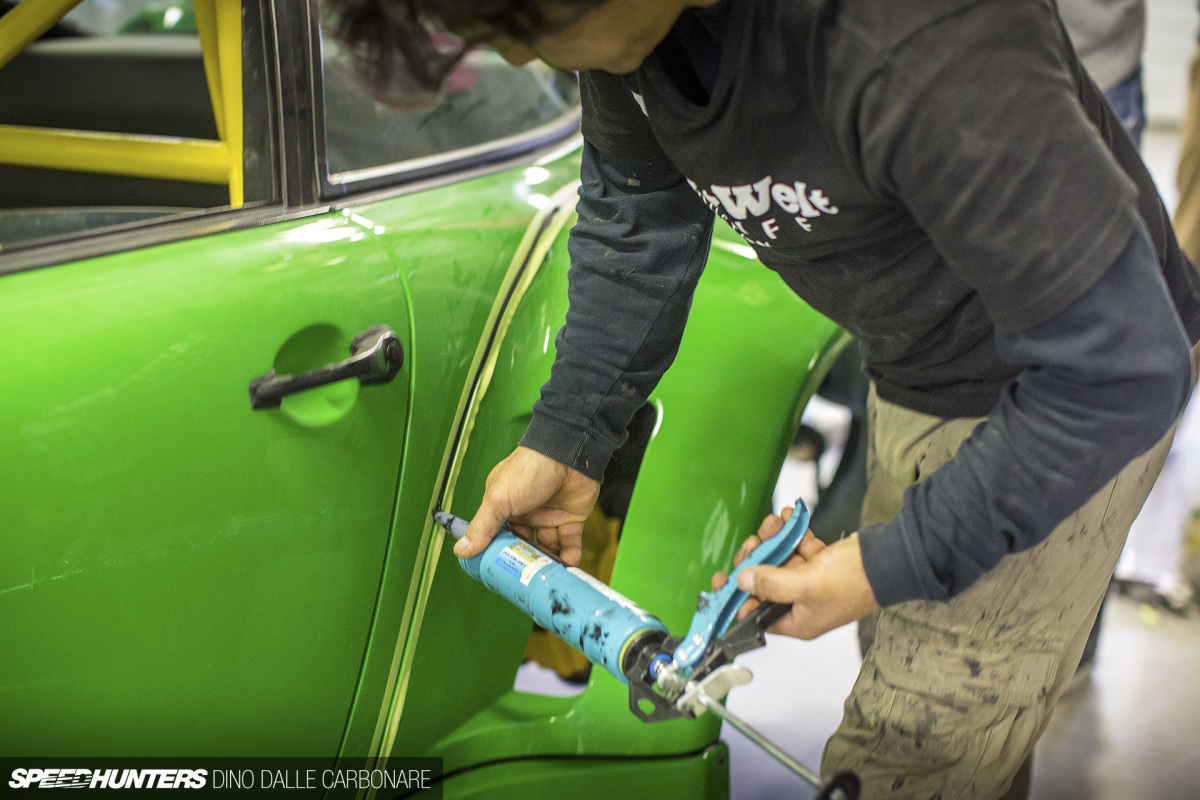 With the overfenders secured in place using satin black Allen head bolts, it's then on to the pure theatre of applying the black silicone to seal the panel gaps off beautifully. In Nakai's mind it must all seem like an extremely practical way to clean up the car. It follows the proper Rough World approach by not being at all fancy; the magical black paste is nothing more than a rubber-type sealant that he discovered at his local hardware story. It just worked so well and stands the test of time and weathering rather well too. But the speed and almost carefree way in which he applies it and then rubs over it with his index finger had everyone in the pits silently staring in awe.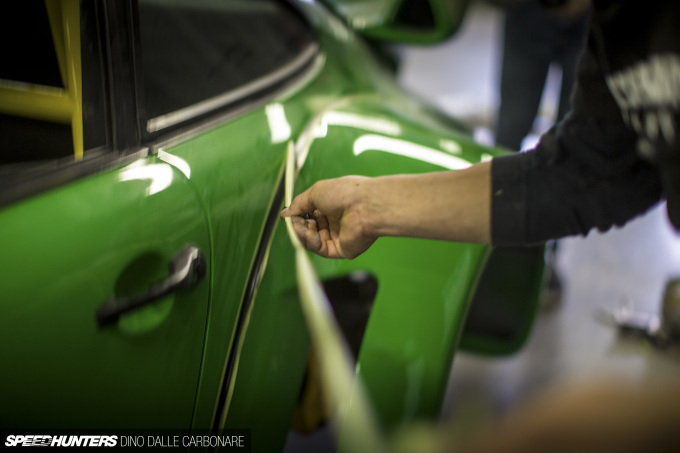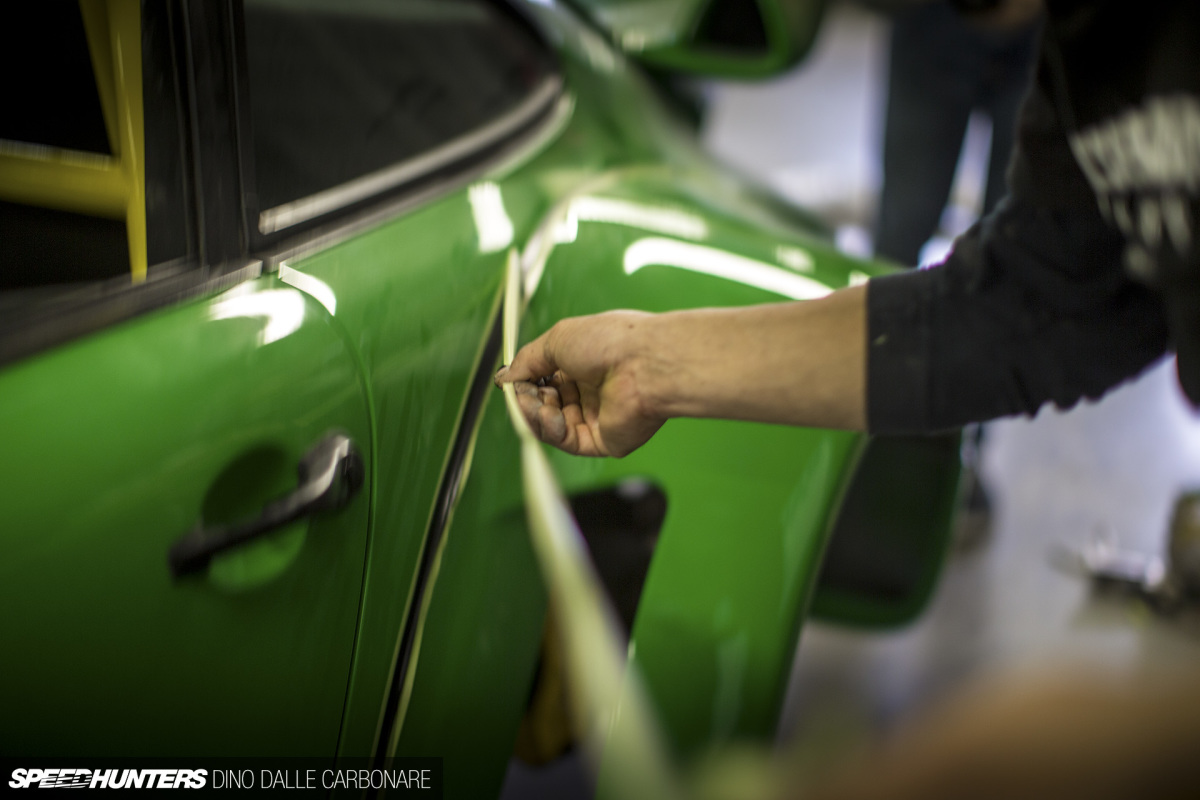 After the finger pass, it's on to removing the thin masking tape with one swift pull.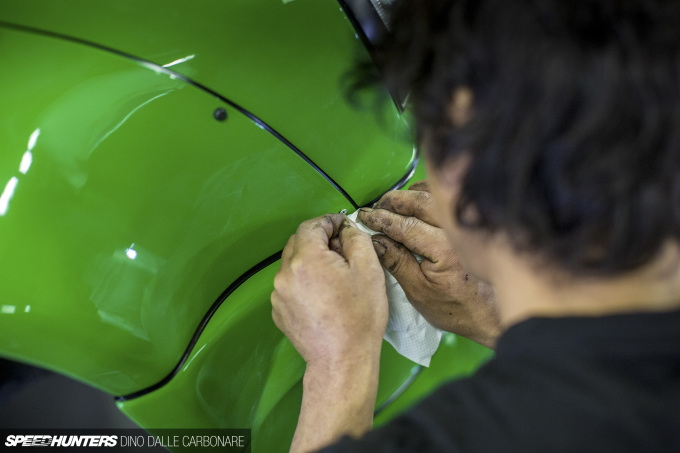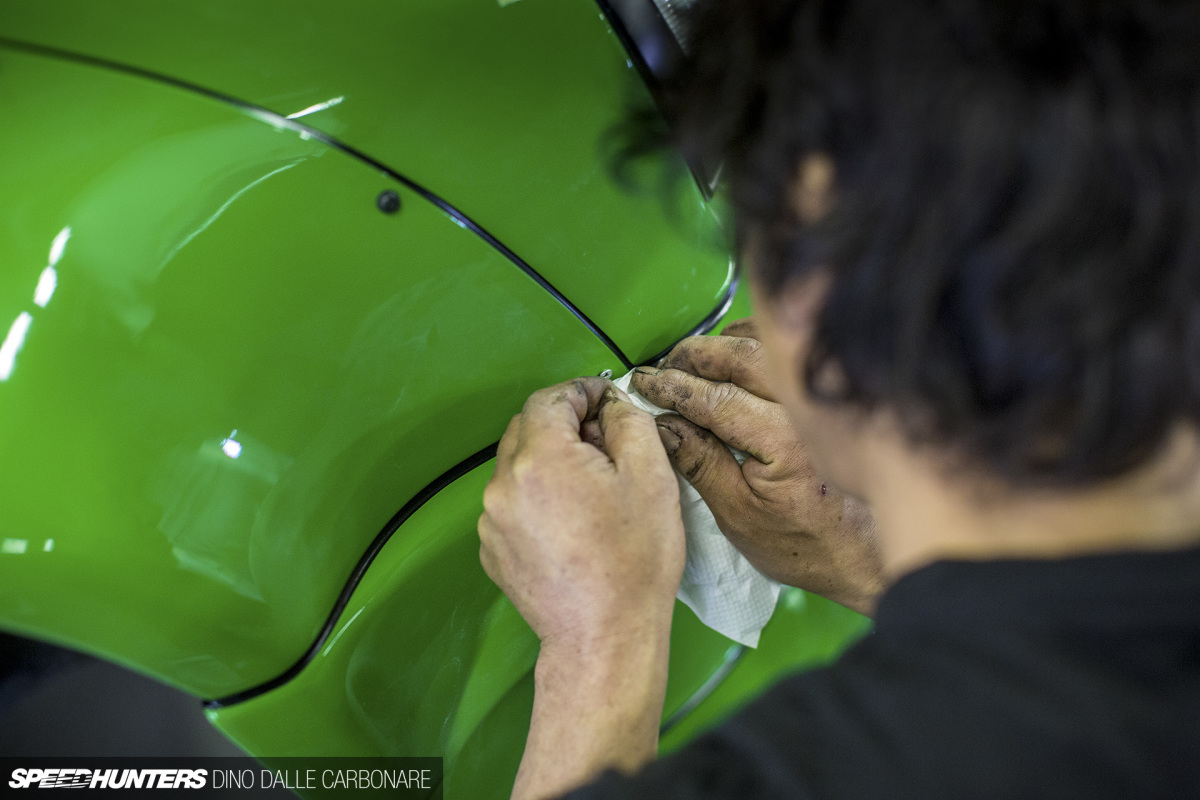 A rough paper towel is then used to clean away any spillover that may have occurred.
Like every step of the conversion, it's executed swiftly. Before you know it, what moments earlier looked like a car in mid-build, takes the semblance of a proper RWB Porsche.
The Details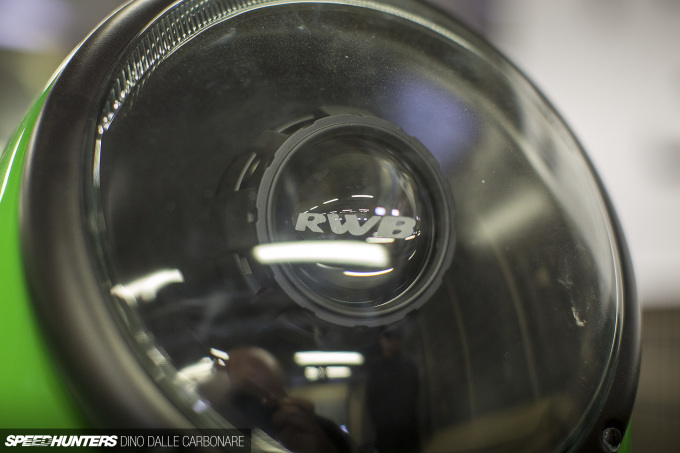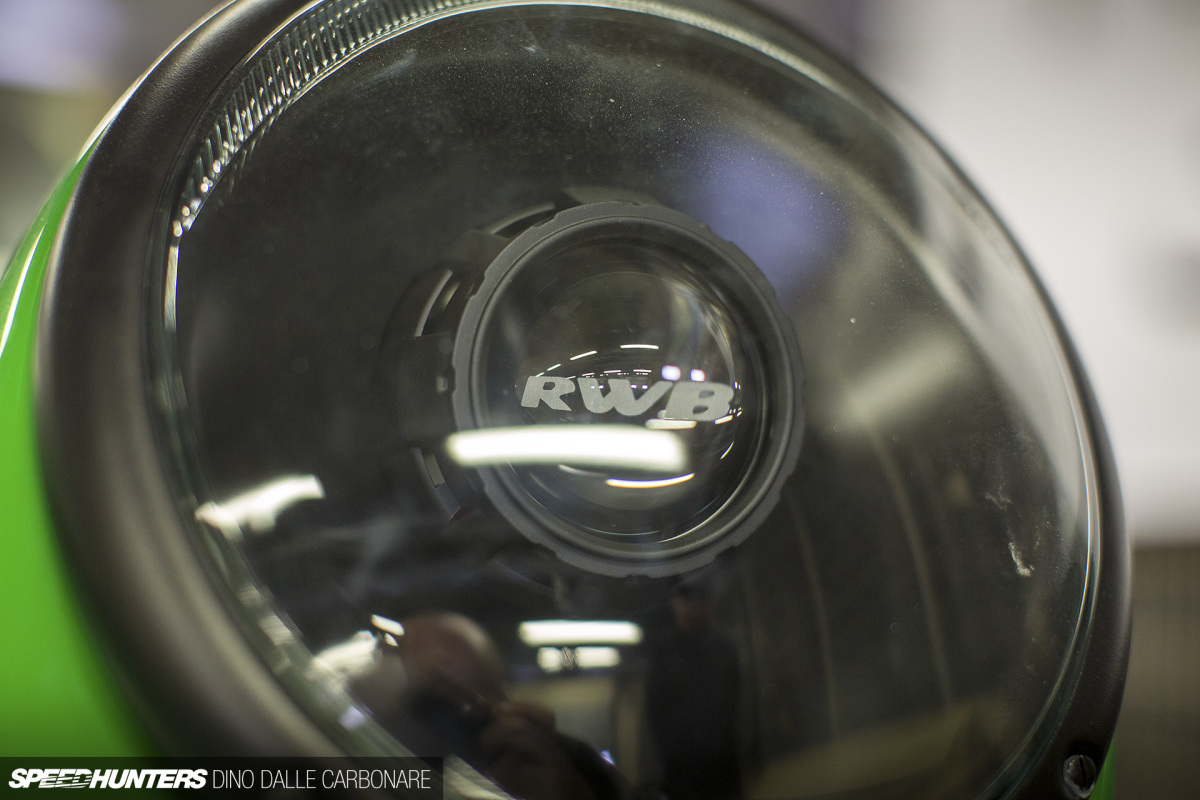 One thing that for me made the green 964 stand out beyond any other RWB 964 I had ever seen, were the HID headlights it was fitted with. If there's something I appreciate more than anything else on a project based upon an older car, is when modern parts are seamlessly integrated. You either do this well or you screw it up; there's a fine balance and it's often easy to make it look cheesy. But these lights worked wonders. The black inner reflectors changed the whole look of the 964, and the RWB-inscribed projector lenses give that subtle modern touch. Obviously they perform a whole lot better than the 964's original filament bulb headlights too.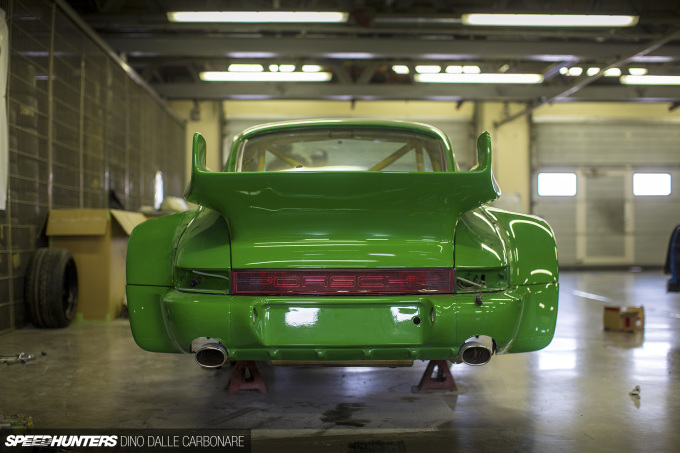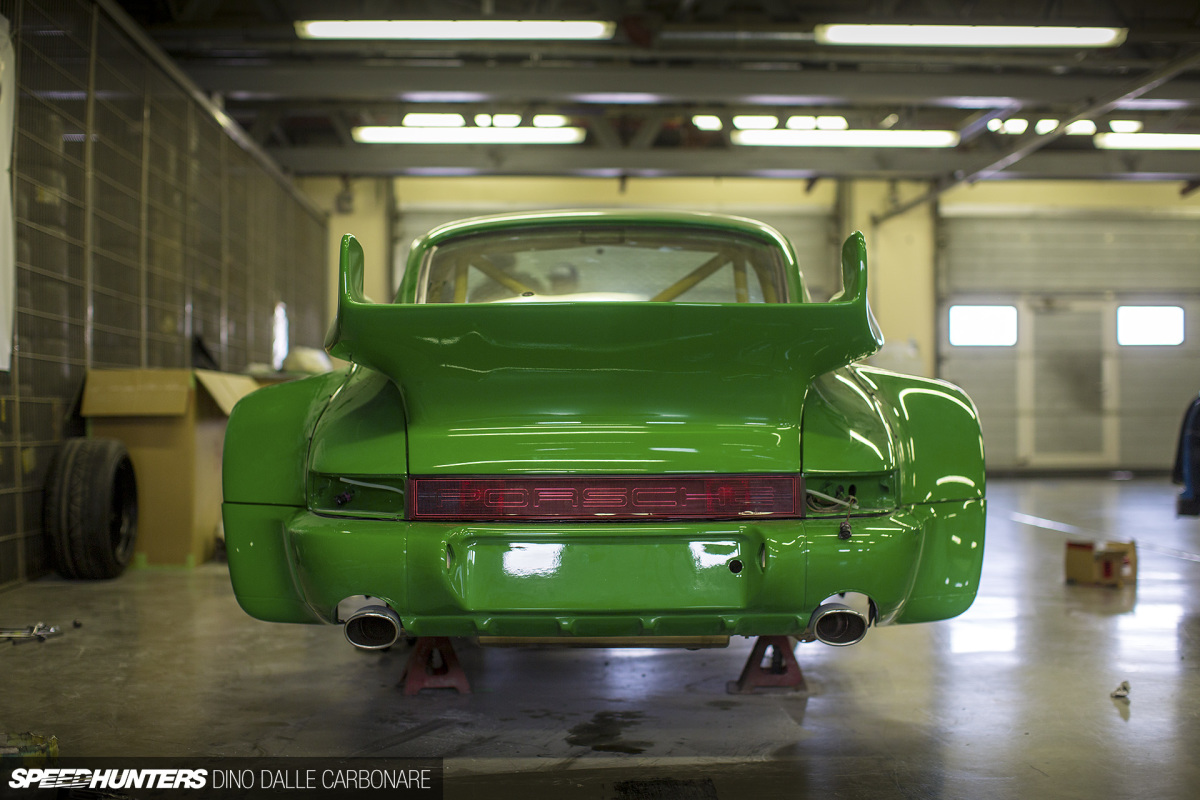 The rear end would also receive new lenses to replace the aged stock items, a nice touch and in my opinion definitely a must when doing a full exterior refresh.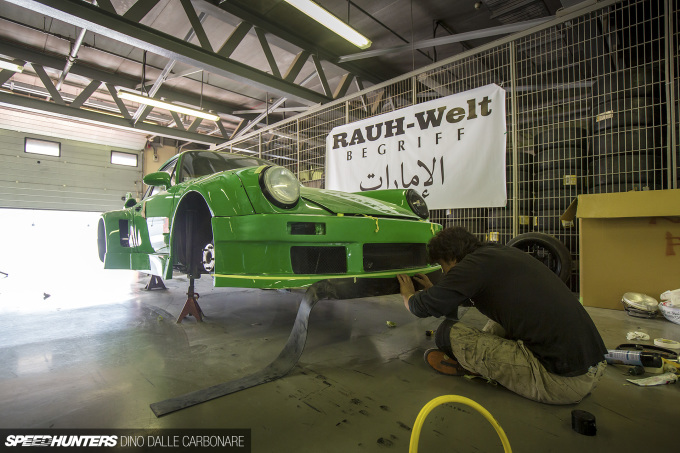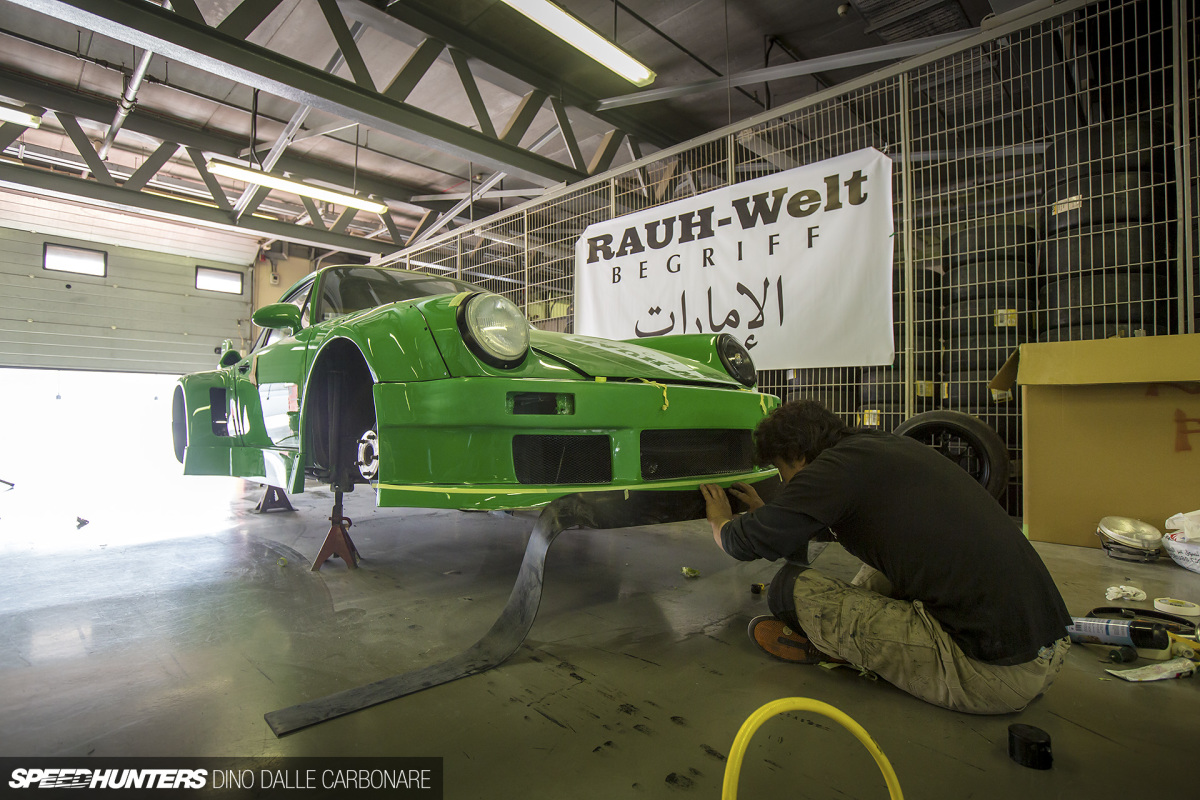 With the side skirts in place, Nakai moved to the front of the car where he applied the rubber lip that had been prepared the previous night.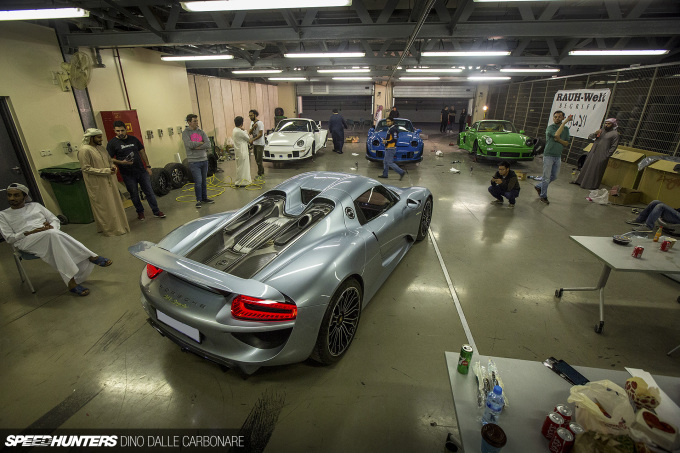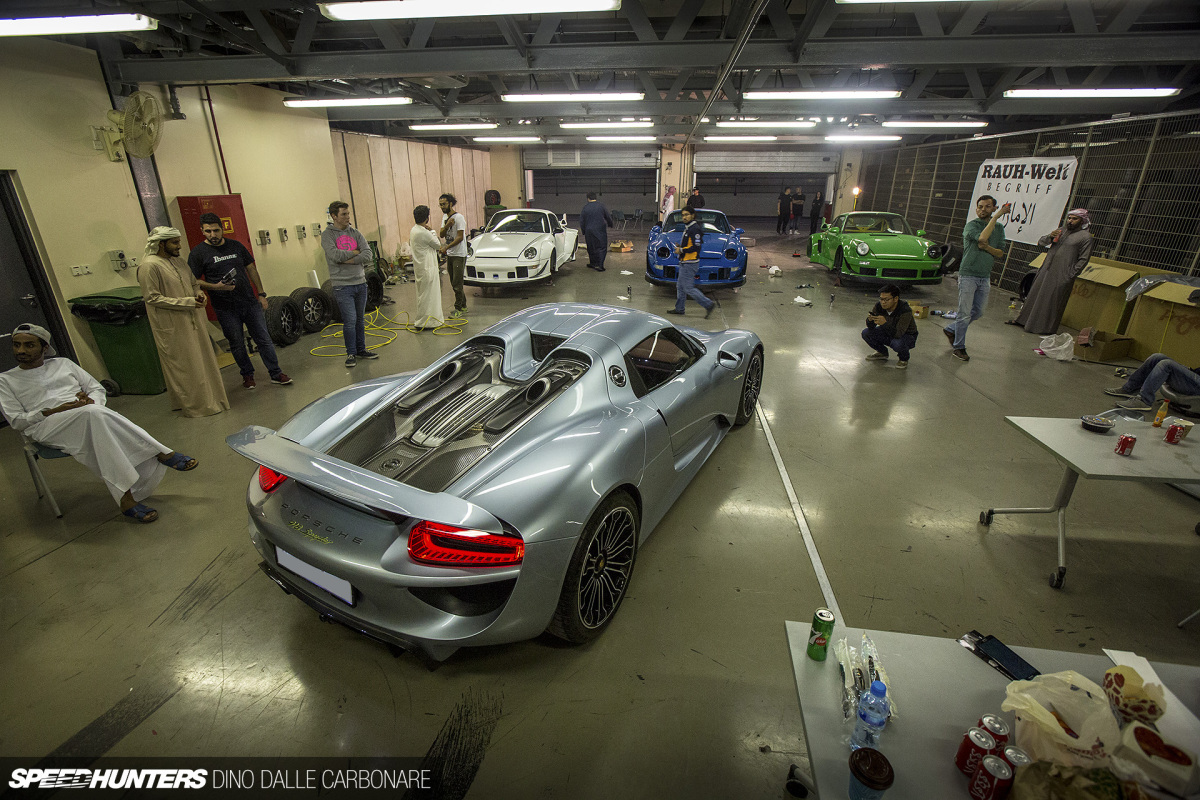 That day turned out to be the longest one, Nakai not giving up until the 964 had progressed to the same stage as the other cars. Towards the evening, Sheikh Khalifa dropped by in his far more environmentally friendly supercar to see how his white 993 and the other two cars were coming along.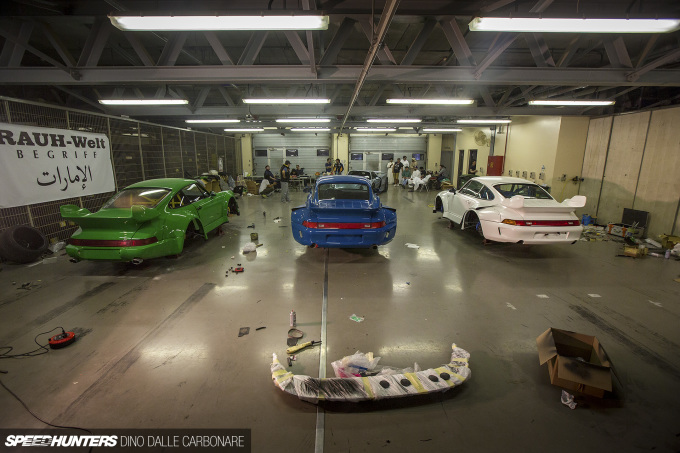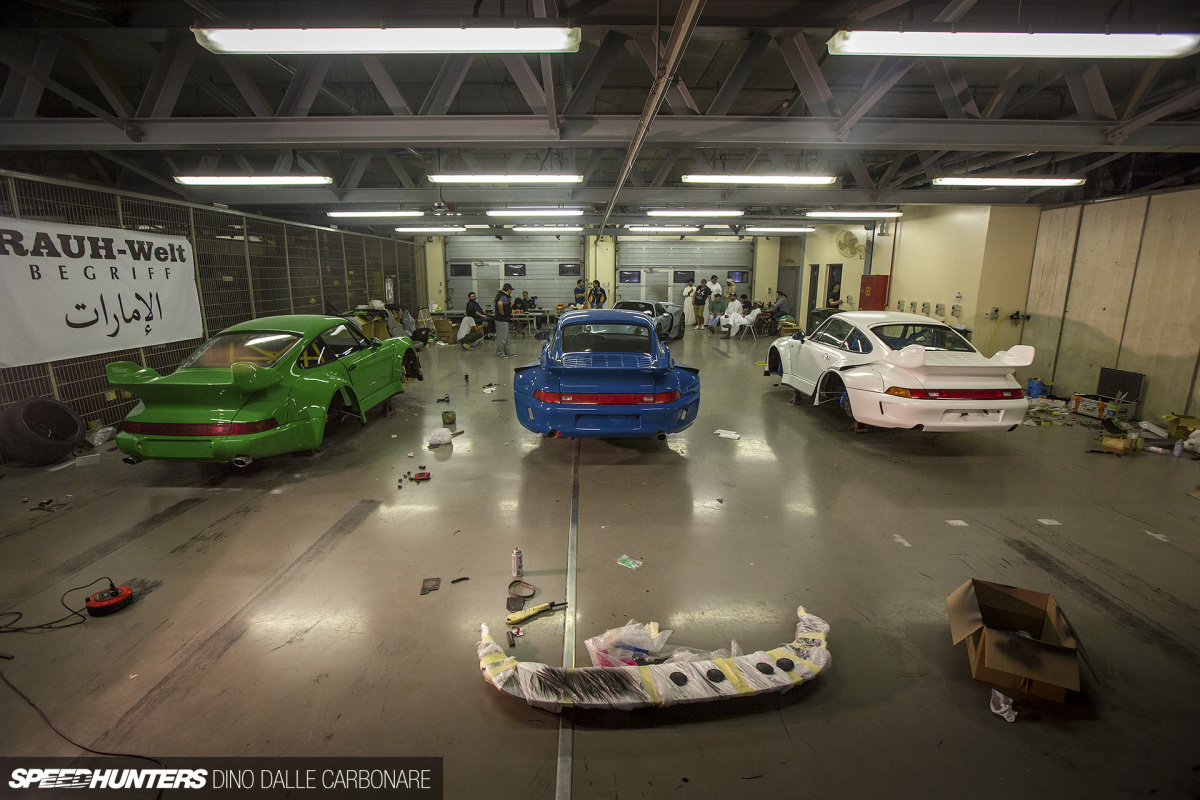 There was something almost surreal about seeing the Porsche trio semi-completed and sitting on axle stands.
Abdulla helped out Nakai-san test-fit the black Fifteen52 wheels that Marwan had chosen for his car so that it could be dropped to the ground and checked for clearance.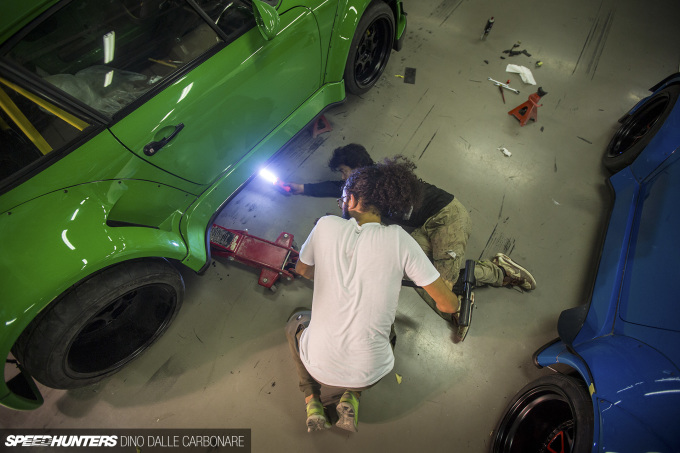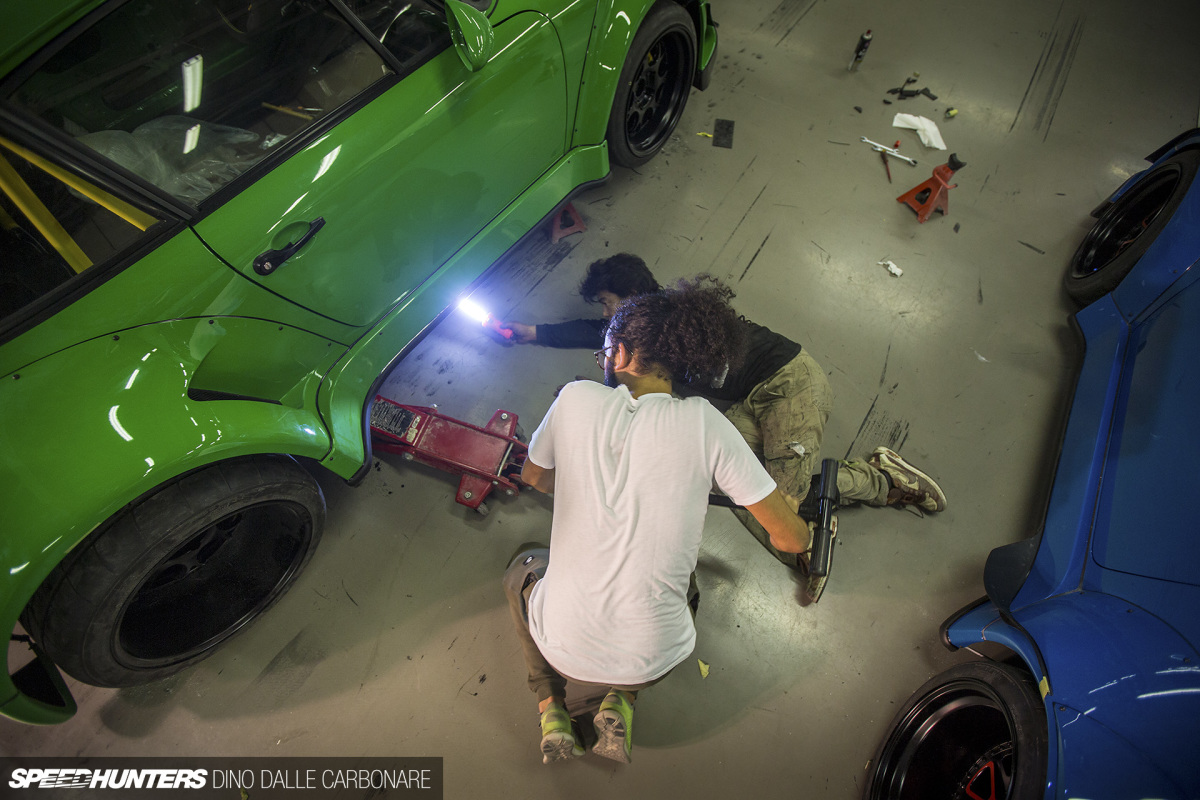 Nakai enlisted the assistance of Mohamed M'nasria, a pro photographer in Dubai who was there with me and other media outlets to chronicle the builds, to slowly lower the car down while he made sure everything was looking OK. With all three cars sitting on their wheels, it was time to call it a day.
The Final Scramble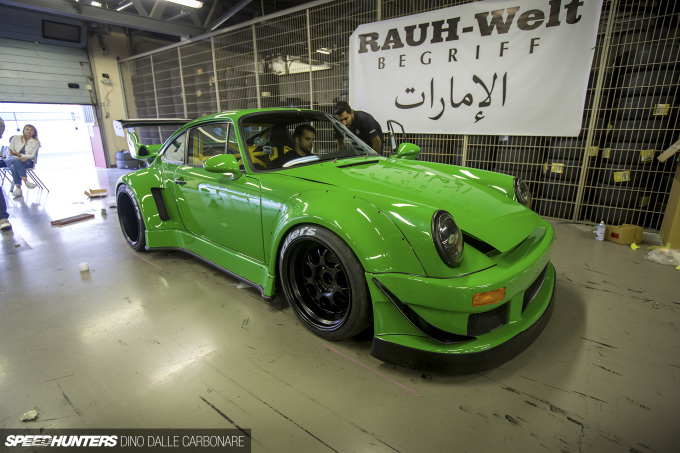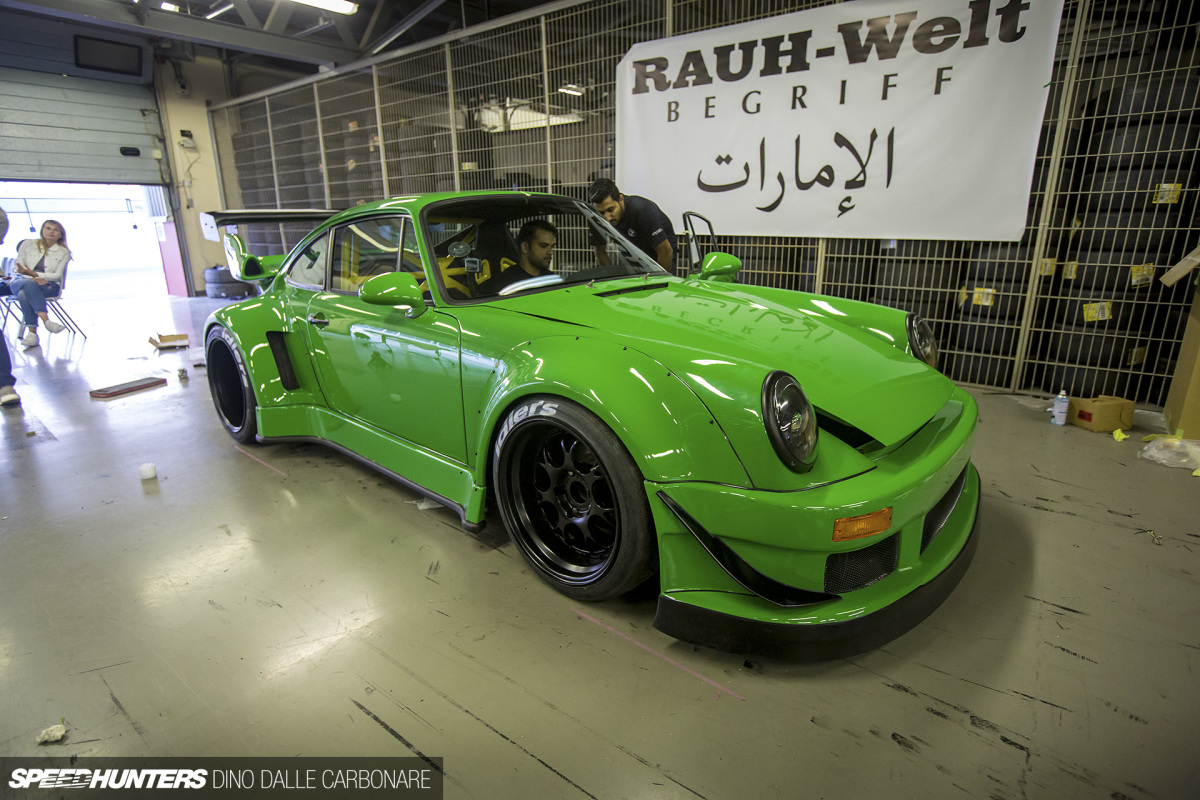 Day six was all about fine tuning and getting the little details just right. I actually had an unexpected surprise excursion into the desert on this particular morning (which you'll read all about soon enough), so I didn't arrive to the track until mid-afternoon. By then the cars were looking well and truly ready to go. The 964 had its ride height set perfectly and the idlers logo applied to its tires' sidewalls.
A crowd had also formed to watch Nakai-san put the finishing touches to the RWB Emirates trio. We had another visit from the gray 930 Turbo I spotlighted back in February (don't worry, it won't be used for an RWB project, the owner has found a different car to base his build on!) and a rather rare 964 Turbo S.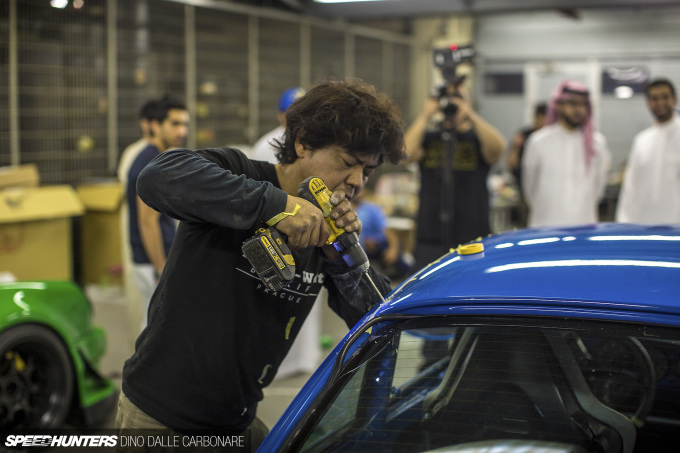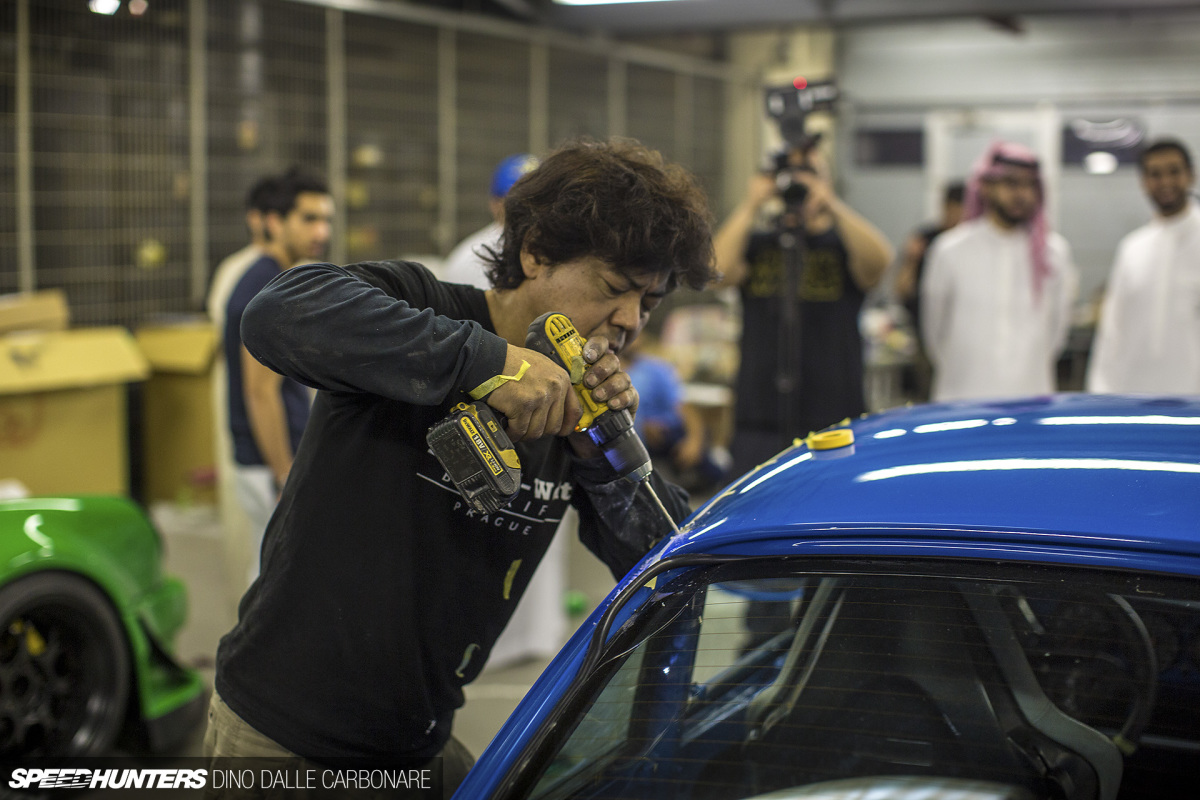 Inside, the master was still in deep concentration, working hard on the final details. The blue 993 – also known as RWB Emirates Number 1 – had been equipped with a bonded carbon fiber roof prior to painting, and as with every carbon roof-equipped RWB car, Nakai added some black Allen head bolts along the roof line to hint at the modification. Here he's drilling the holes where the bolts would be fitted.
Dubai is a special place, the eye-candy you are treated to on a daily basis is quite incredible, and on this last day Sheikh Khalifa drove over to the track in his Lamborghini Aventador SV which had just been wrapped in a sort of tarnished metal vinyl finish.
Like Abdulla and Marwan, Sheikh Khalifa helped Nakai place the windscreen banner that truly makes an RWB car, an RWB car.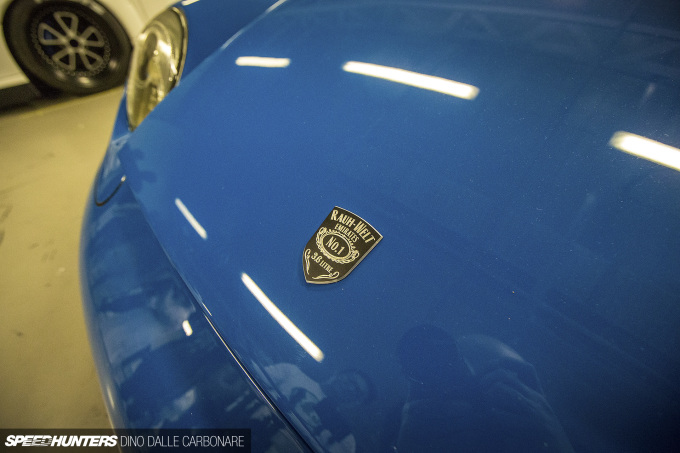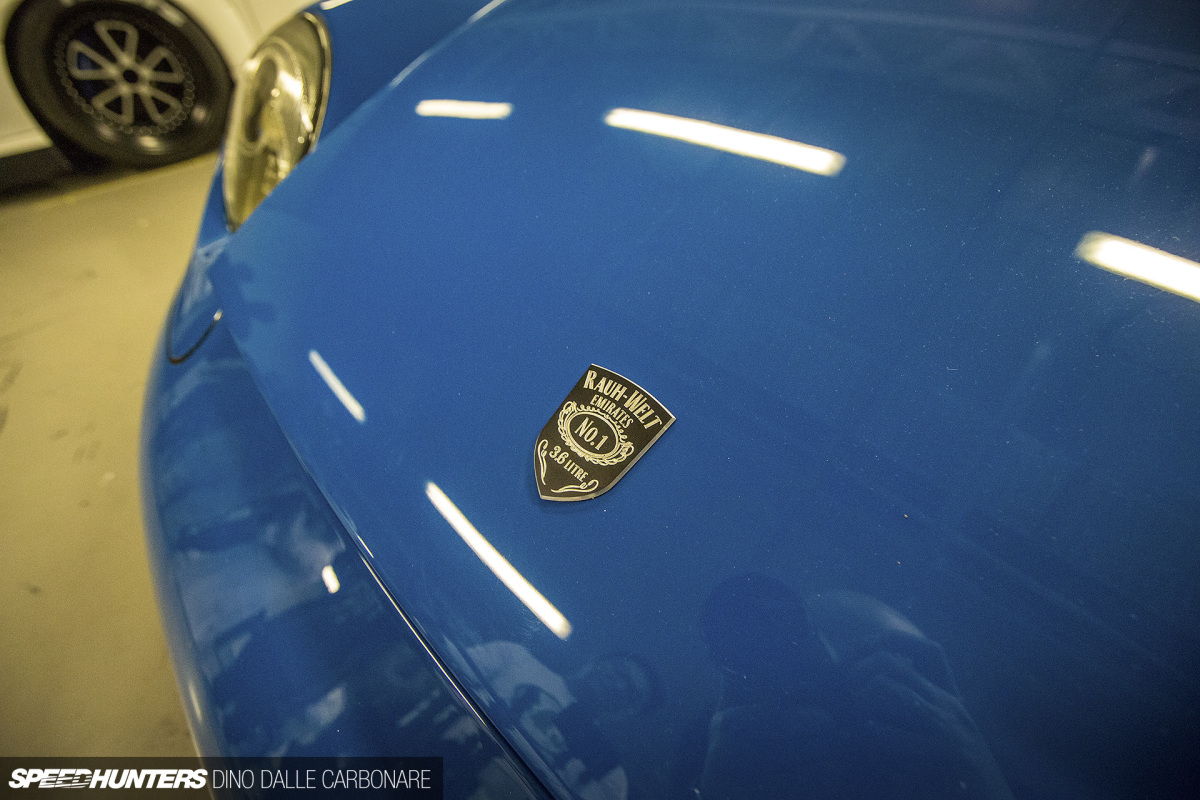 Abdulla's car even received a special ornament badge to mark the fact that it was indeed the first RWB Emirates car to be built.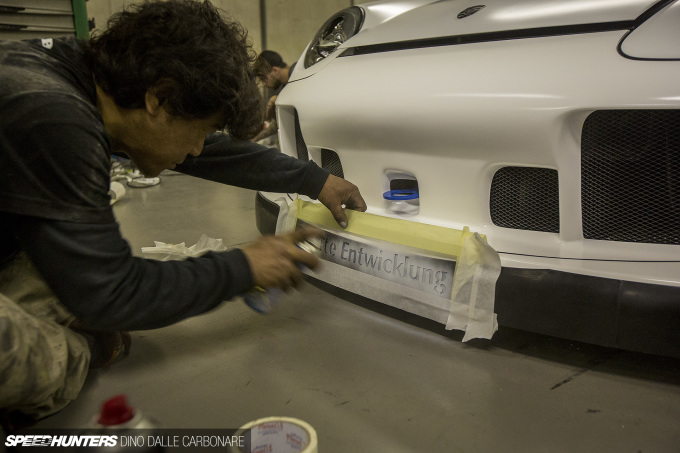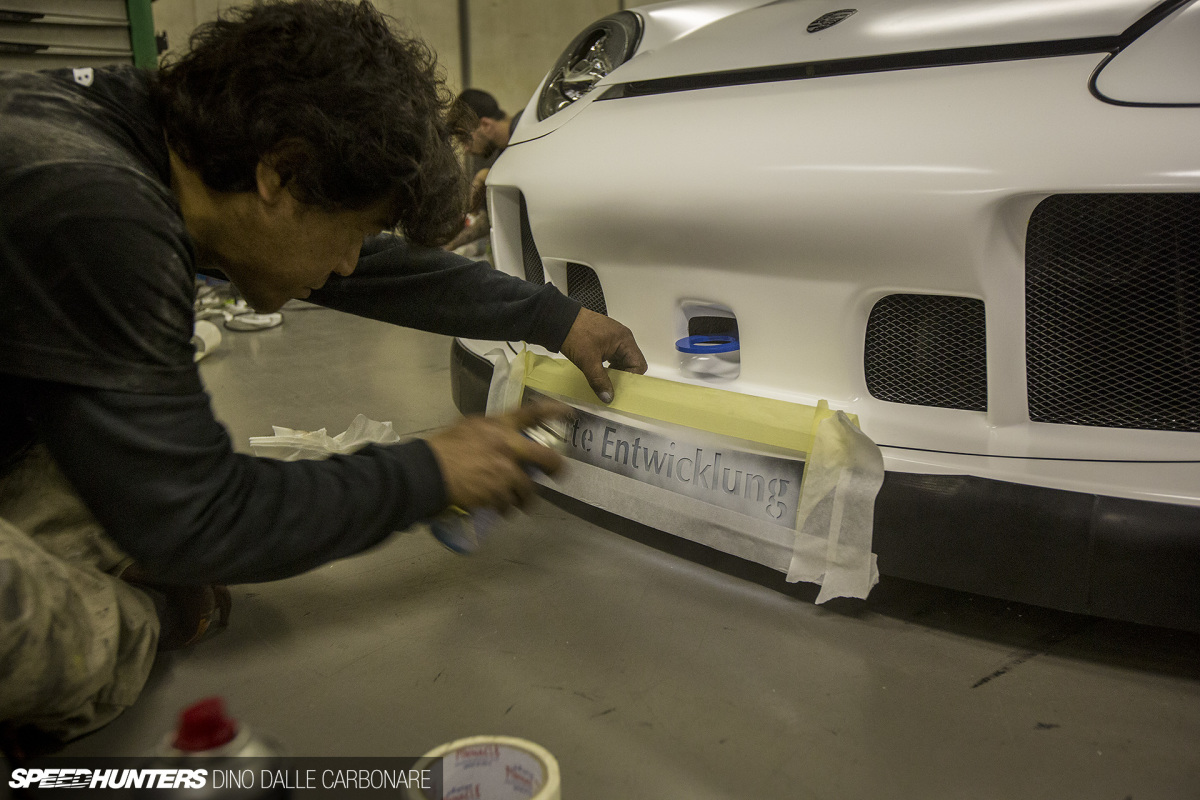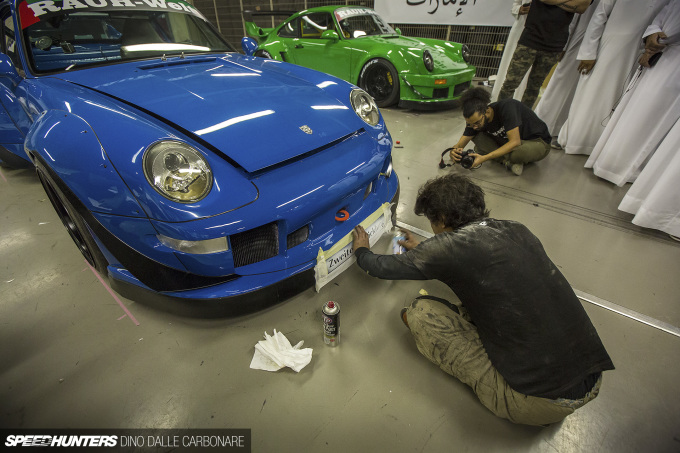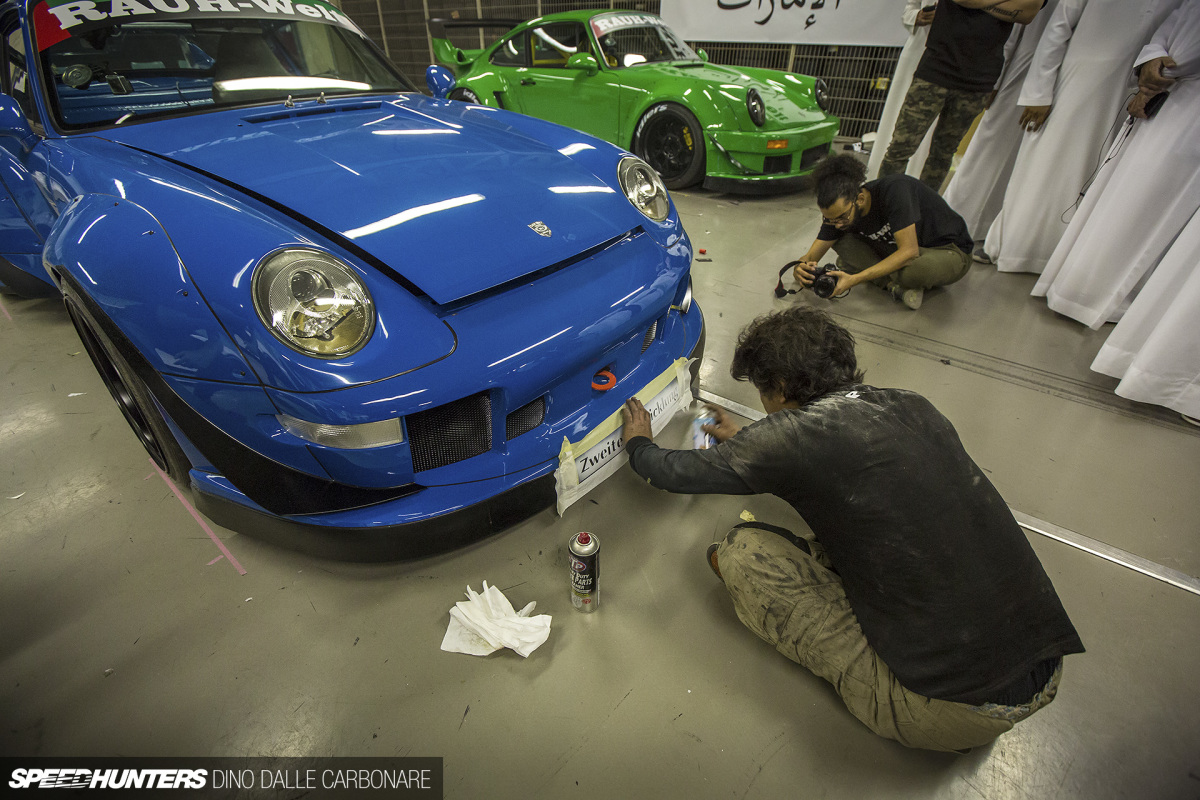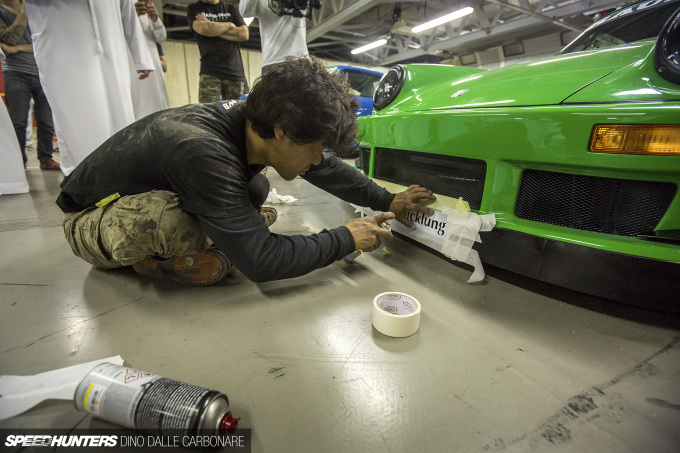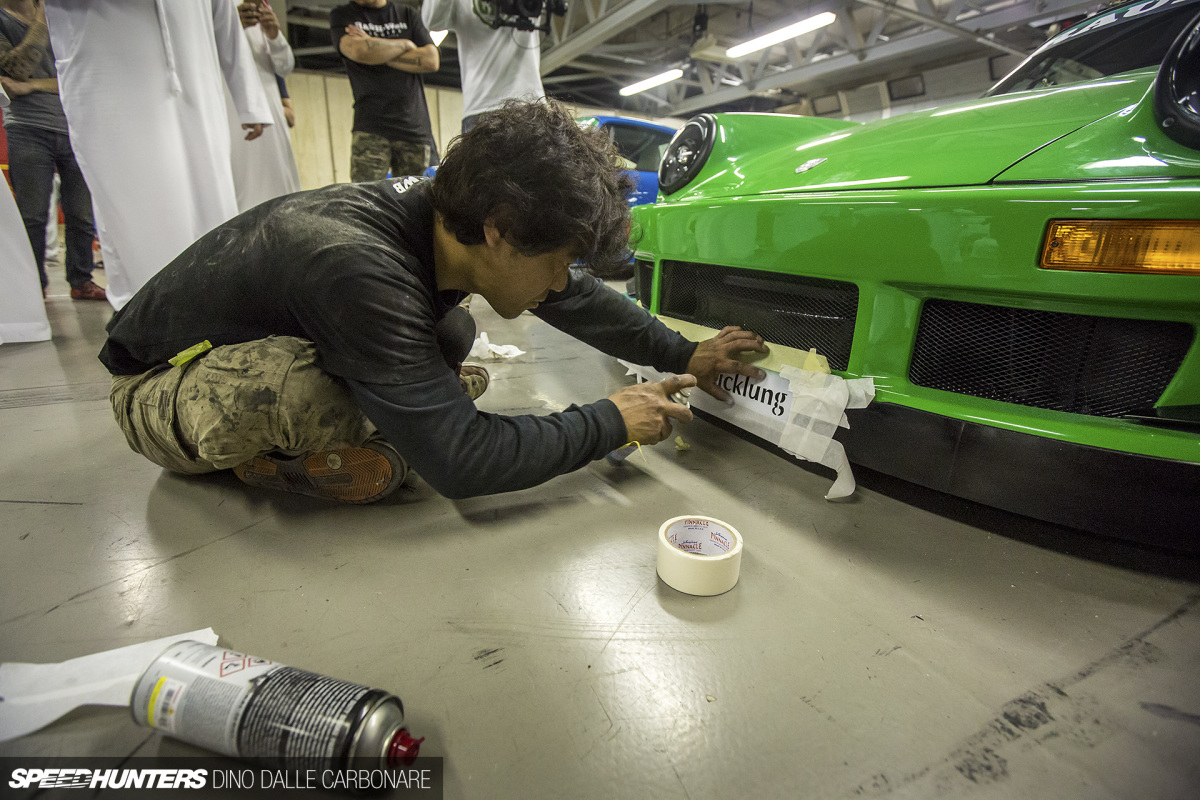 The true seal of approval was added at the very end, Nakai-san getting on the ground, carefully centering the Zweite-Entwicklung stencil, and passing a few blasts of white spray paint over it on each of the three cars.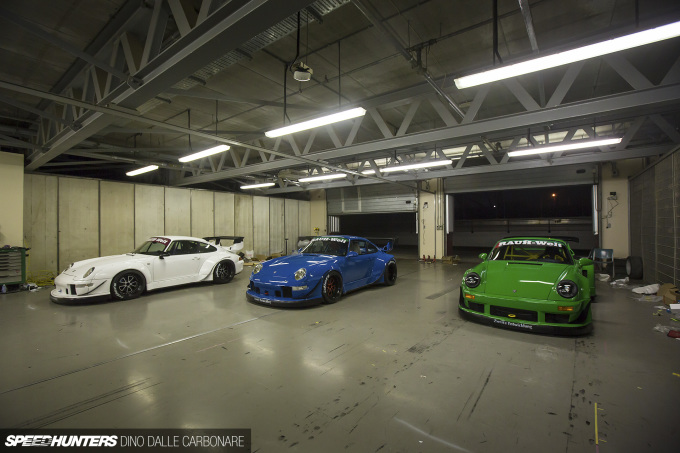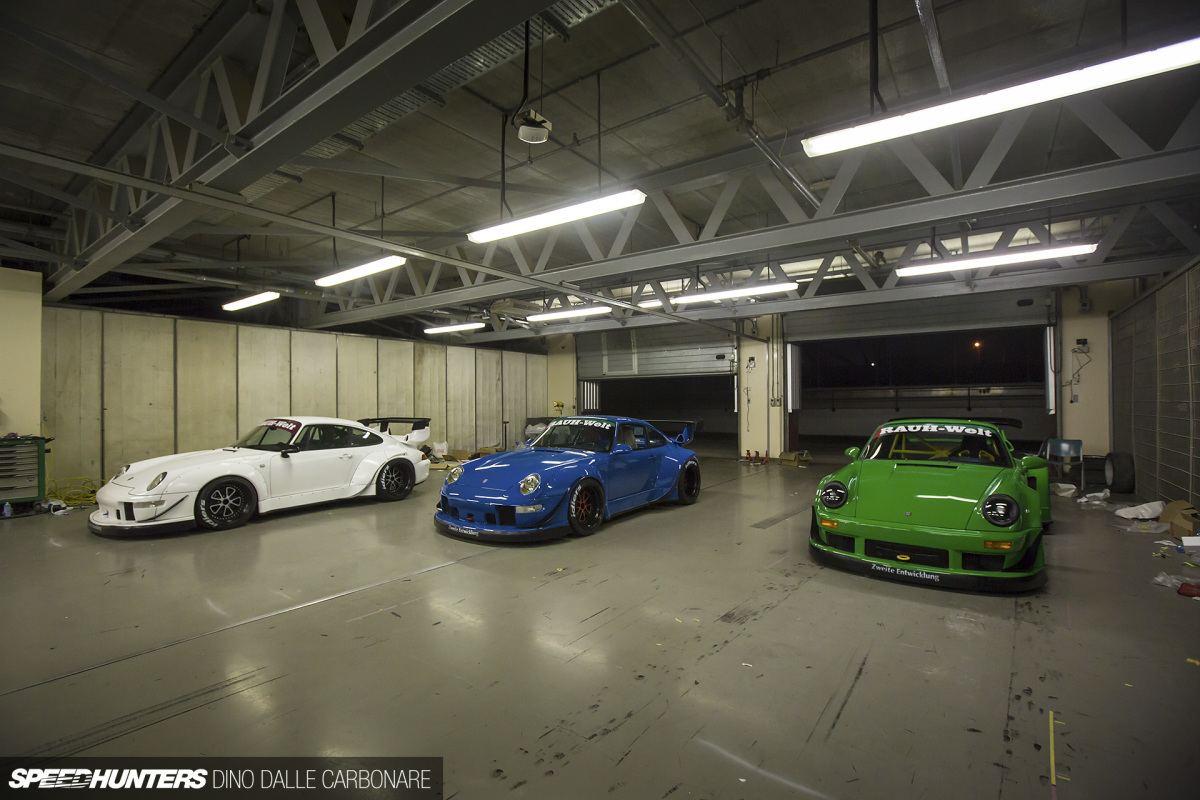 And just like that, it was all over. Three Porsches transformed in the space of six days, each given – like the German words on the rubber lip say – a 'second evolution' or chance at life.
But it doesn't end there for these RWB Emirates cars, because engines and interiors are next on the to-do lists. Whenever the chance presents itself we will be catching up with them and giving them the proper feature car attention they deserve!
Dino Dalle Carbonare
Instagram: speedhunters_dino
dino@speedhunters.com