Built To Drift
Could this possibly be the wildest drift car ever built? The most minimalistic? The best ever? Maybe all of the above…
If you've watched professional drifting come of age in the US, you'll probably associate the motorsport with million-dollar, manufacturer-backed, V8-powered monsters. In Japan, however, pro drift cars are built with an different mindset; there are things that make them a little more befitting to the type of driving and tracks that they are punished on. The style of drifting is different too, as is the judging, and it all trickles down to the little variations in car spec and setup that differentiate the two schools of thought.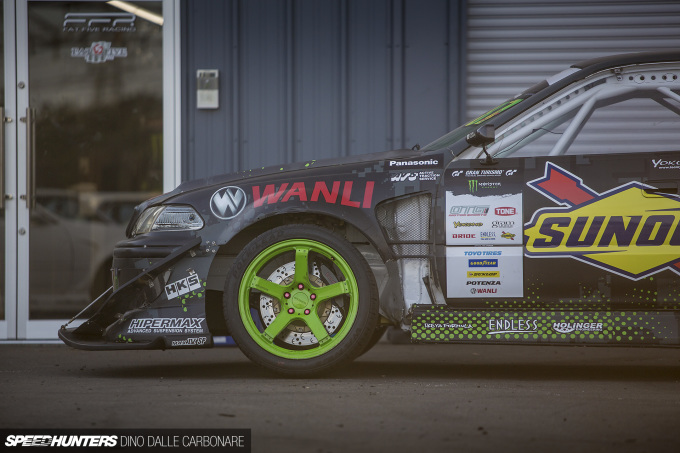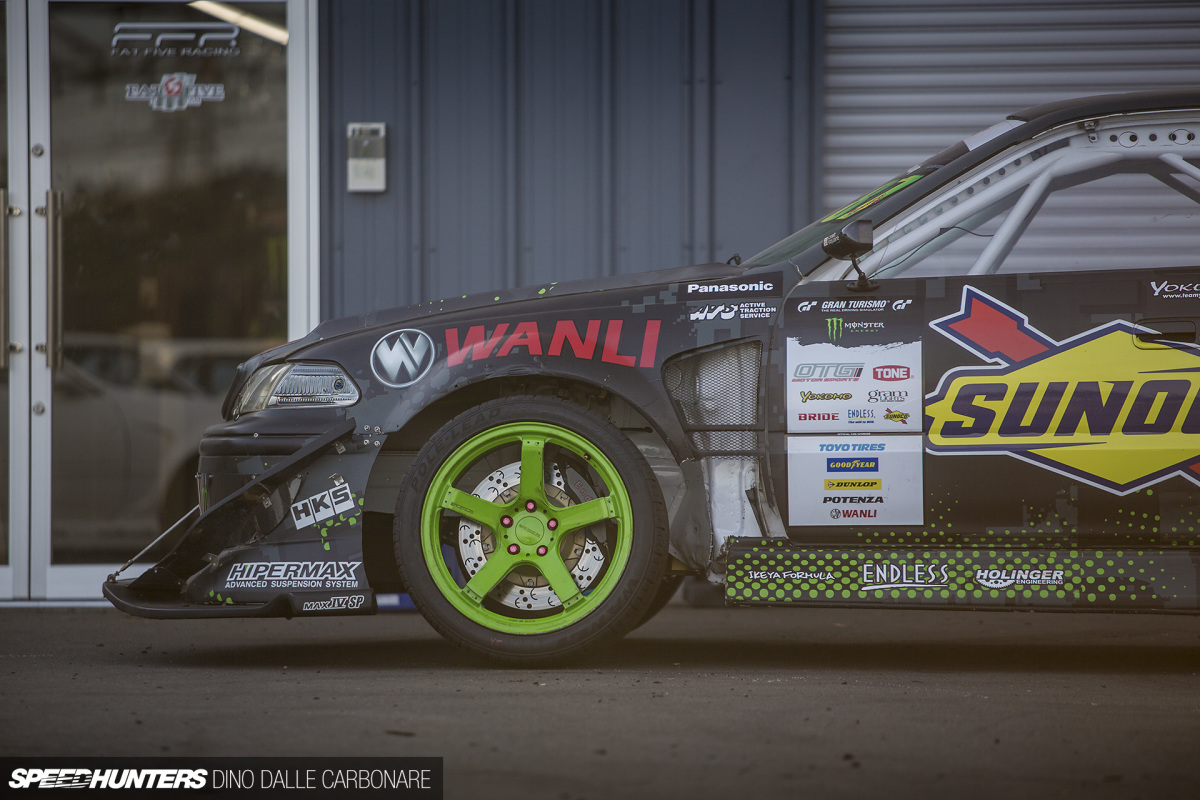 However, I've always thought that Daigo Saito's style of car building somehow combines the two. And that goes for his driving as well. He's adept at modifying his style to match whatever series he may be participating in, and I don't need to remind you of how many he has entered in – and won – during his years as pro. Like many drifters out there, Daigo has always had a big hand in creating his own cars and testing out new things, and that's allowed him to develop his own unique style. There's no doubt that he's a true master of his craft, but for me, his finest creation thus far has been the last JZX100 he used in D1 Grand Prix.
Despite the car no longer meeting D1 Grand Prix technical regulations, Daigo's held onto it, and I was able to grab a few moments with it the last time I dropped by Fat Five Racing in Saitama. And with both a new Formula D series and D1GP about to kick off very shortly, what better way to get us all into a drifting mood.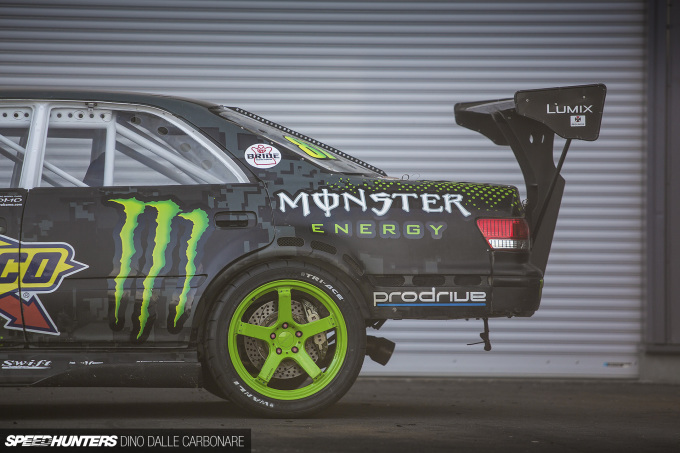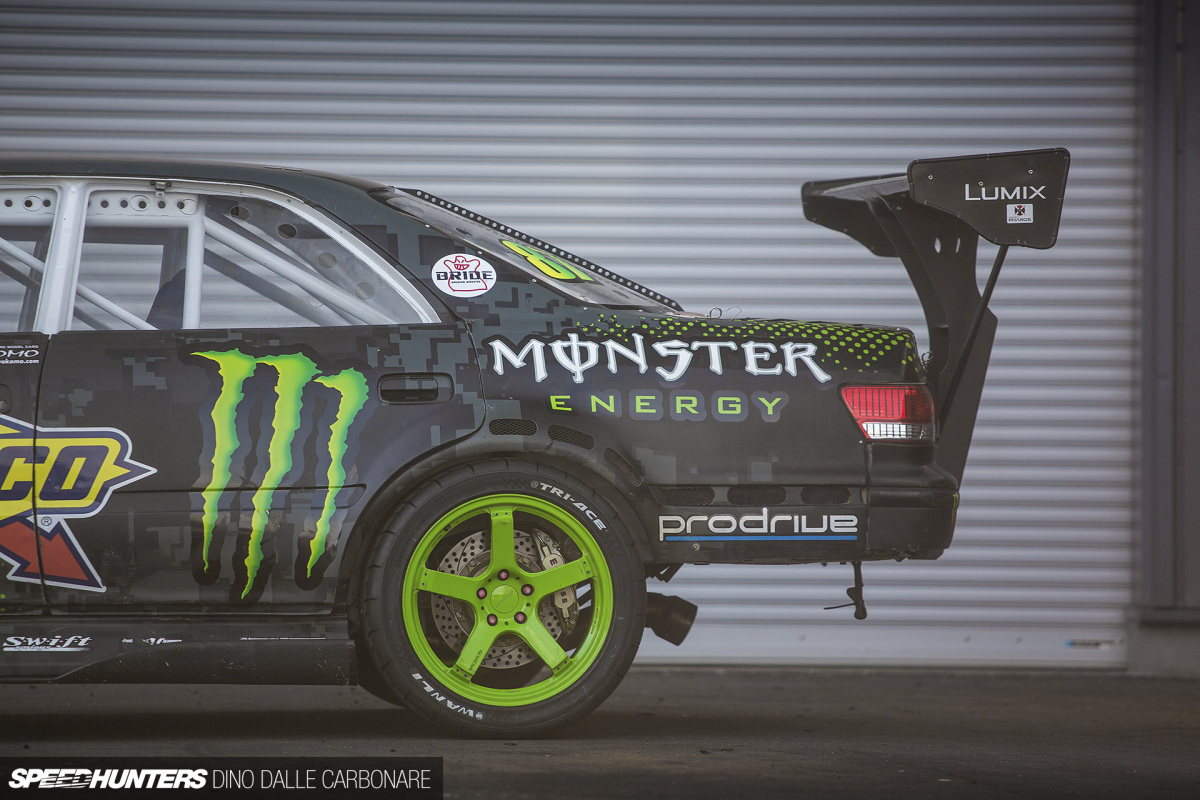 Aesthetically speaking, Daigo's Mark II wears a BN Sports aero kit with added featherweight carbon fiber panels to help shed as much weight as possible. The lightweight focus is a Saito trademark, and it's probably come about through preferring a faster reacting and more twitchy chassis mated to immense mechanical grip and of course oodles of power.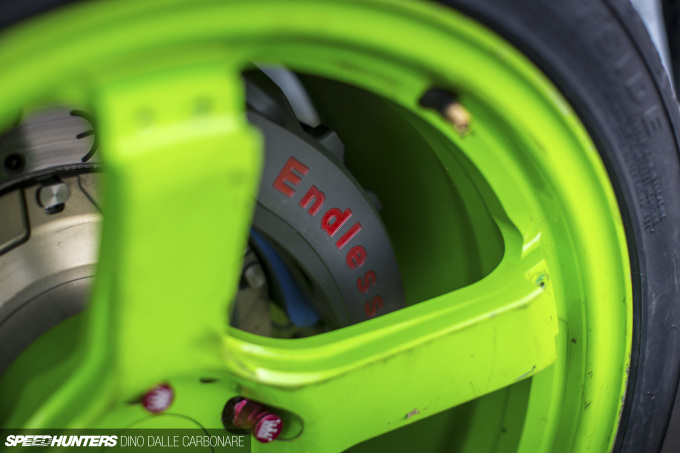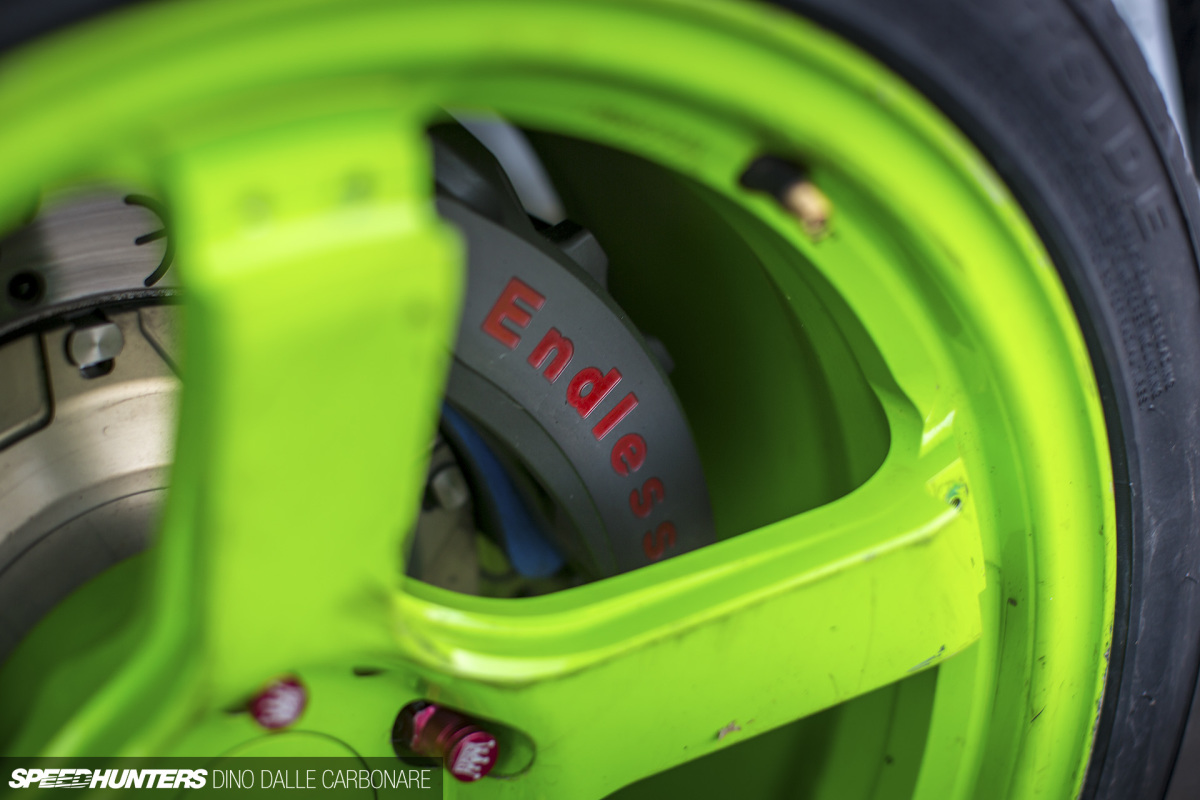 The car sits on forged Prodrive GC-05N wheels painted Monster Energy green to match in with the unmistakable livery that has accompanied Daigo for years in D1. Behind them, Endless brakes, specifically 6-pot monoblock calipers matched to 2-piece E-grooved rotors up front, and smaller and more conventional 4-pots at the rear alongside drilled discs to help dissipate the heat from copious use of the hydraulic e-brake.
I spent a decent amount of time walking around the car and poking at every panel. I can tell you that it's mostly very thin FRP or carbon.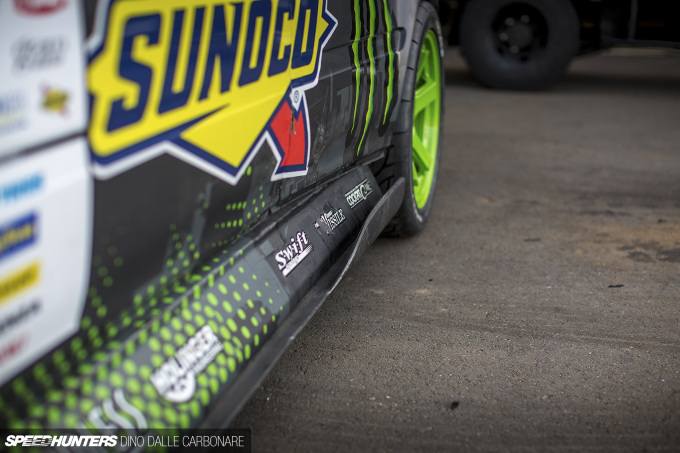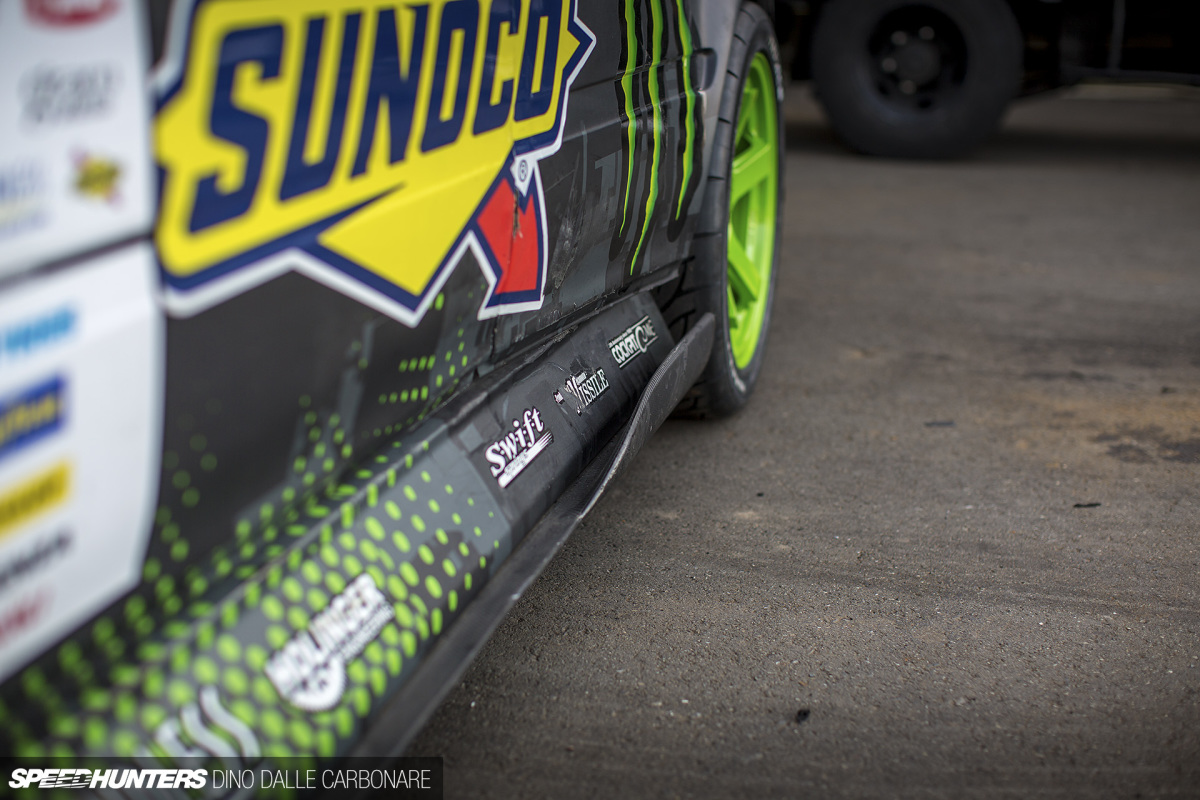 The BN Sports skirts are there to help smooth and direct air towards the wheels, not to mention play with the clouds of smoke that pour out of the rear arches which themselves have been widened and vented.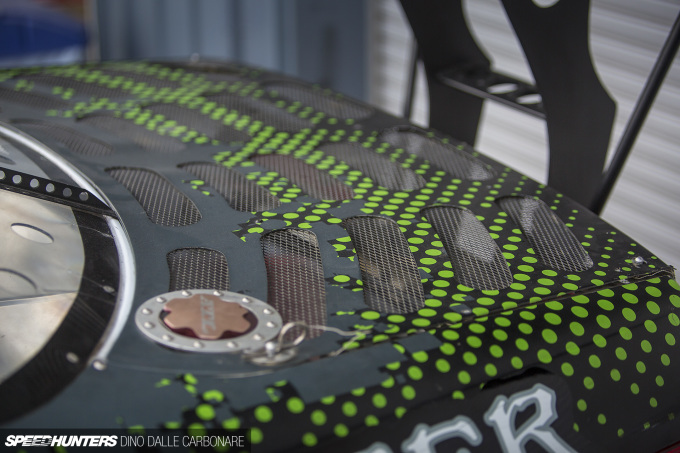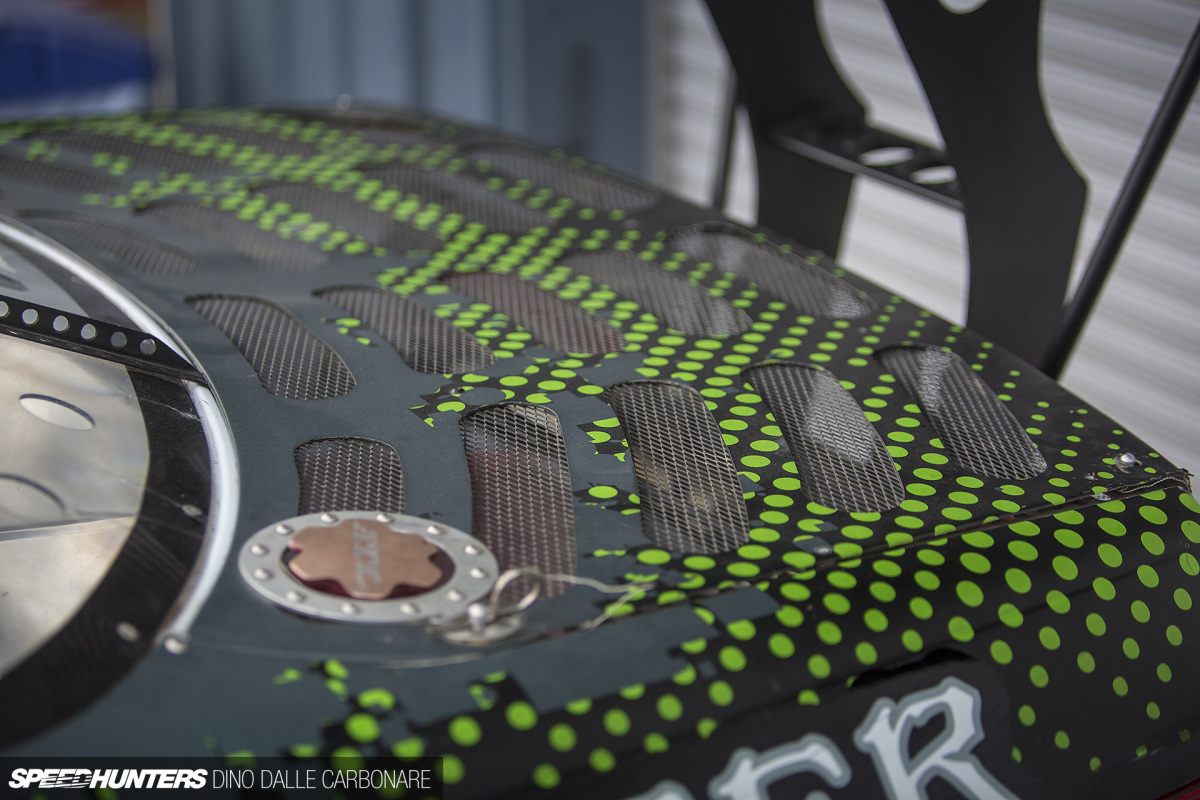 I think there is more metal grille that actual FRP material on the trunk lid, but seeing as the radiator is positioned back there, these openings help to keep the air flowing.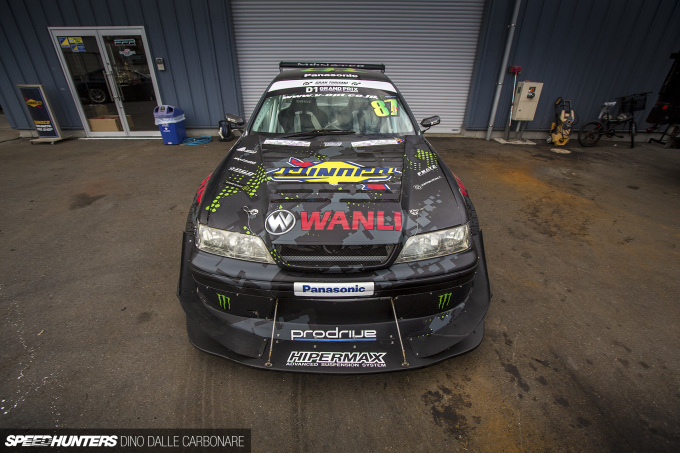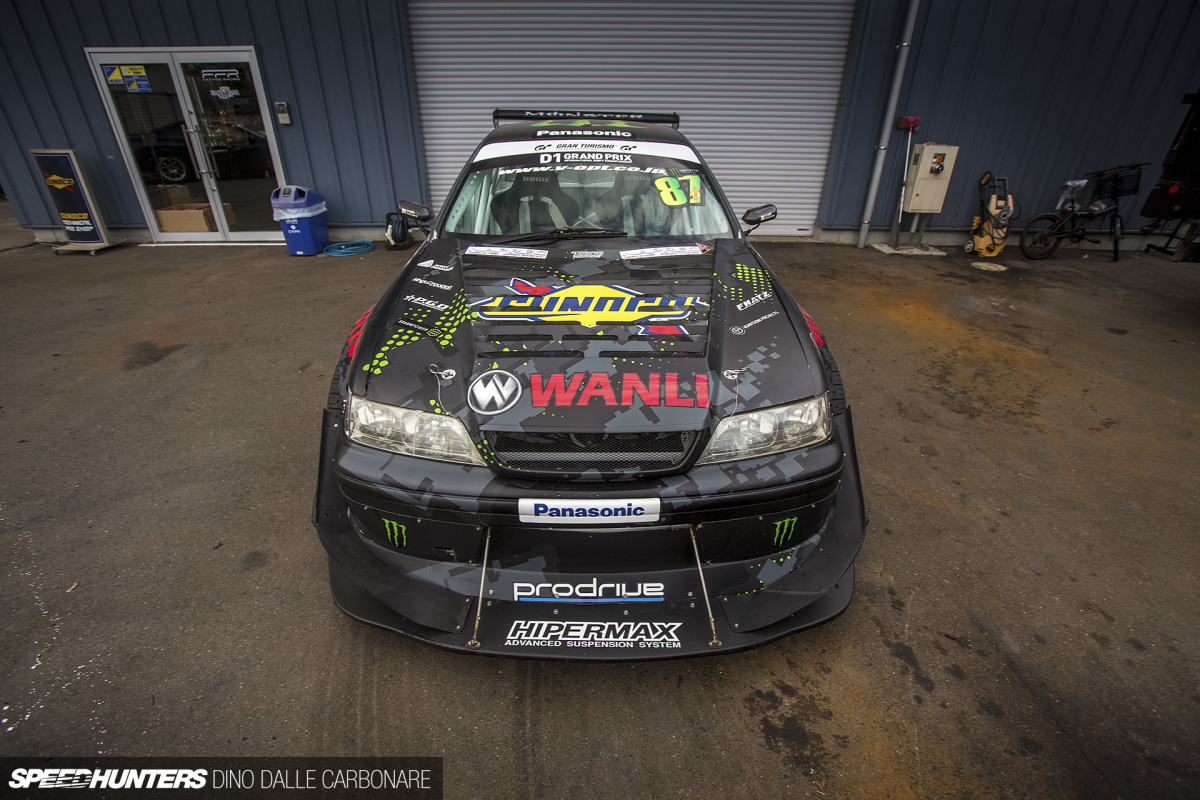 It's the same story at the front, with so much of the hood cut out right above the engine. But beauty is only skin deep; there is pure evil beneath all of this and that's what I wanted to really sink my teeth into…
Who Needs Intercoolers?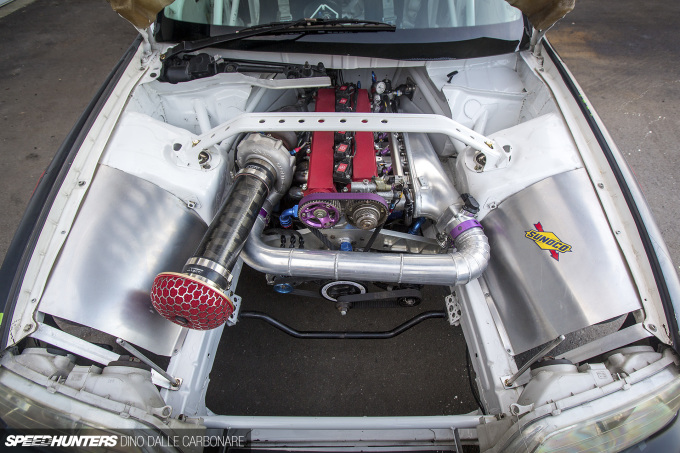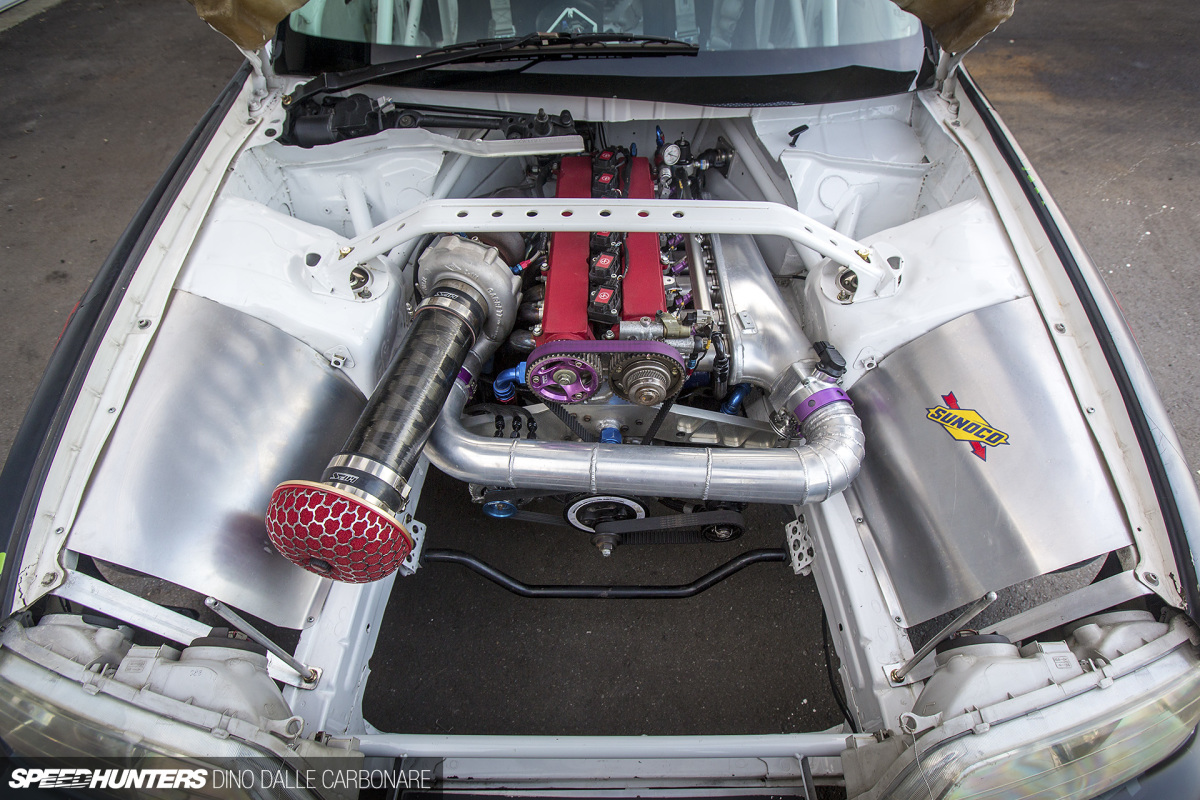 I'll have to pull out the minimalistic adjective here again. I mean, look at this engine bay. There is no detail that hasn't been thought about; it's all geared towards creating the most powerful and agile drift car possible out of a chassis and engine combination that Toyota originally designed to serve pensioners.
What isn't necessary is simply not there, starting with most of the original chassis forward of the suspension towers. The inner wheel arches have been lopped clean off, only the lower box chassis where the subframe bolts up to retained. Custom tube work now serves as the mounting points for the front end.
The position of the 2JZ engine itself is precisely why the car is no longer legal for D1 Grand Prix competition. It sits rearward of its original placement, with cylinder number six pretty much right under the dashboard. Of course, this modification was made to shift the weight bias to a more central position, benefitting the handling and the way the big sedan switches from transition to transition.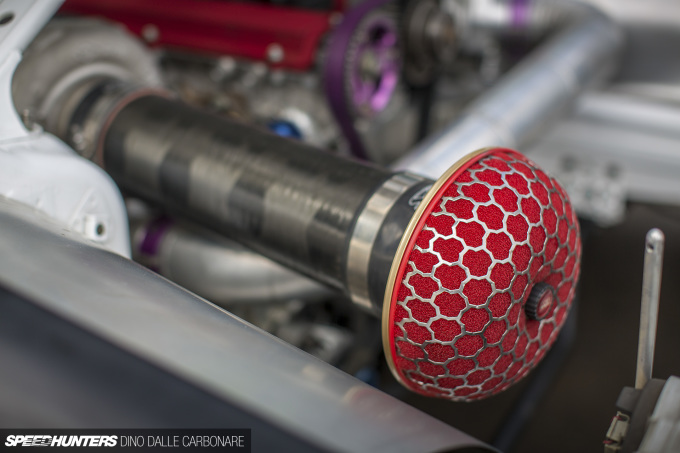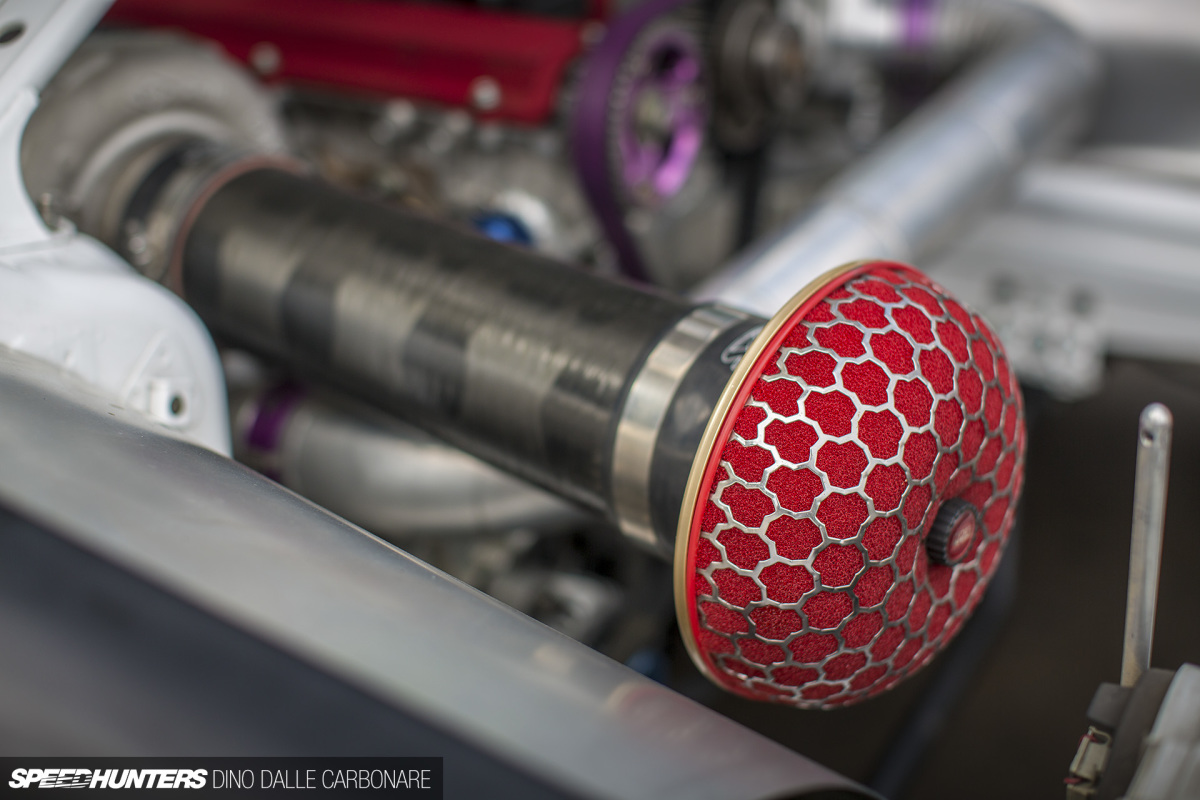 HKS supplied the stunning carbon intake pipe onto which its trademark Super Power Flow filter is mounted, and it extends well into the expansive frontal void of the engine bay.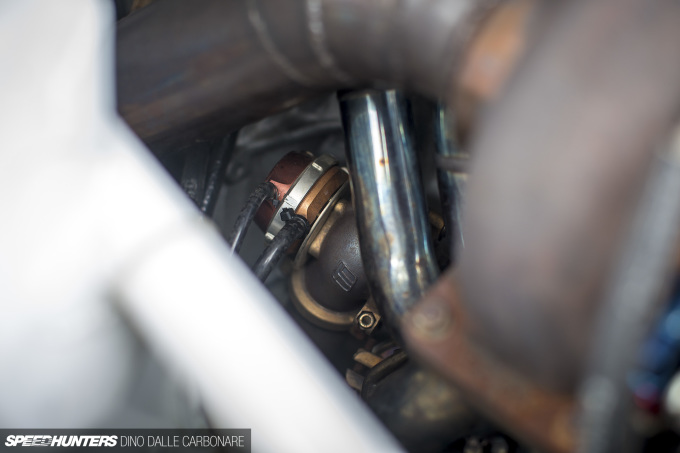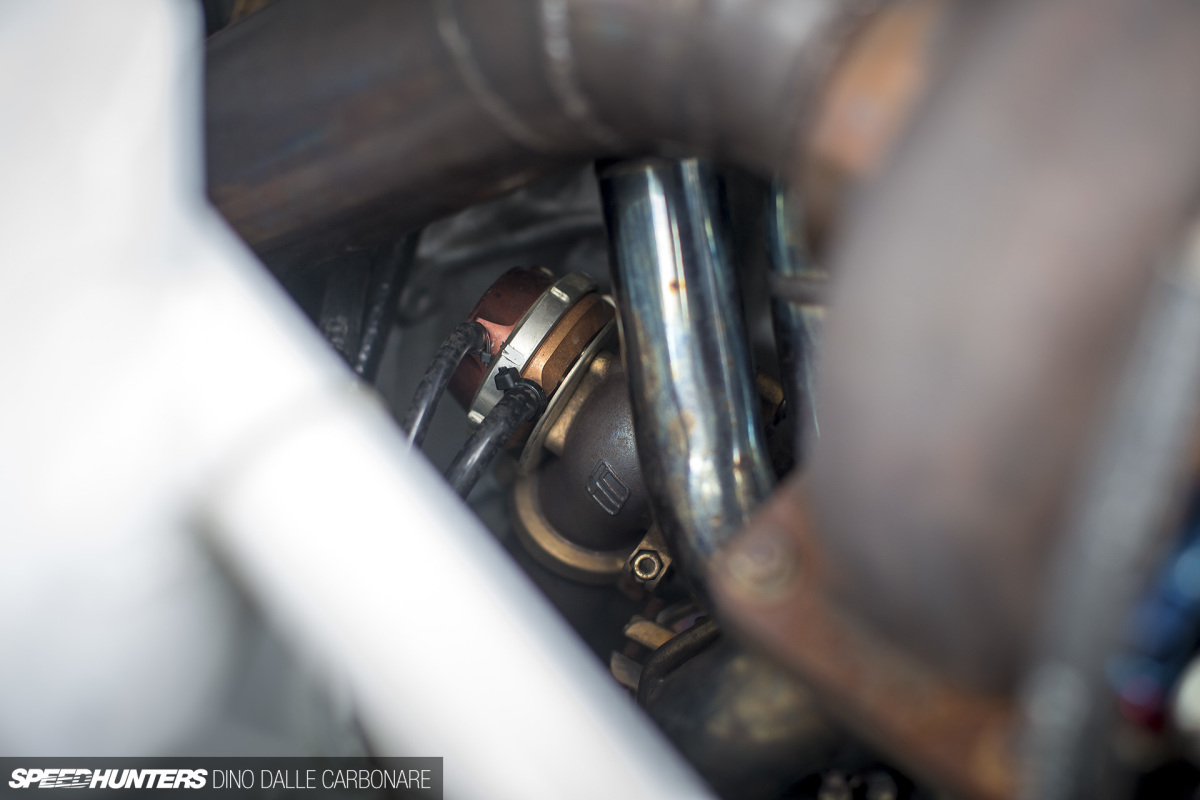 The externally wastegated Garrett GTX4088R turbo must supply pretty high levels of boost as the 3.5L stroked bottom end lives inside a billet and sleeved engine block. Pretty much indestructible? Highly likely.
This 2JZ's real party trick, so to speak, is that it does completely away with intercooling. Yes, there is no chunky core attempting to cool the intake charge so as to shove it into the engine at a decent temperature and density. According to Daigo, it's not something a drift car needs. Because the engine doesn't run for long periods of time, throttle response should take precedence over intake temps.
I have temperature figures in my head that a limiter-bashing, 1000hp 2JZ will be hitting after it's been abused by Saito over a run at say Fuji Speedway or Okayama, and it just doesn't compute. But maybe Fat Five Racing knows something that everyone else building pro-spec drift cars with intercoolers doesn't. Either that, or the engine is so strongly built that it's almost impossible to detonate into small bits. I'd also like to direct your attention to the big Hypertune billet throttle body and the beautiful aluminum intake engineered by the same Aussie wizards. Oh, and Adel Wiggins clamps, I do love seeing these in an engine bay.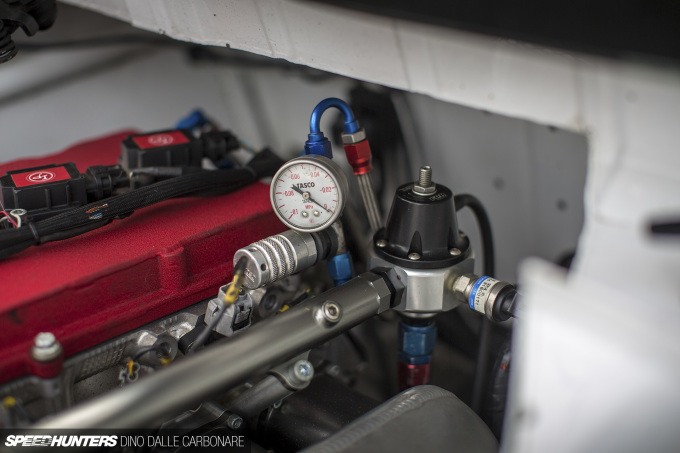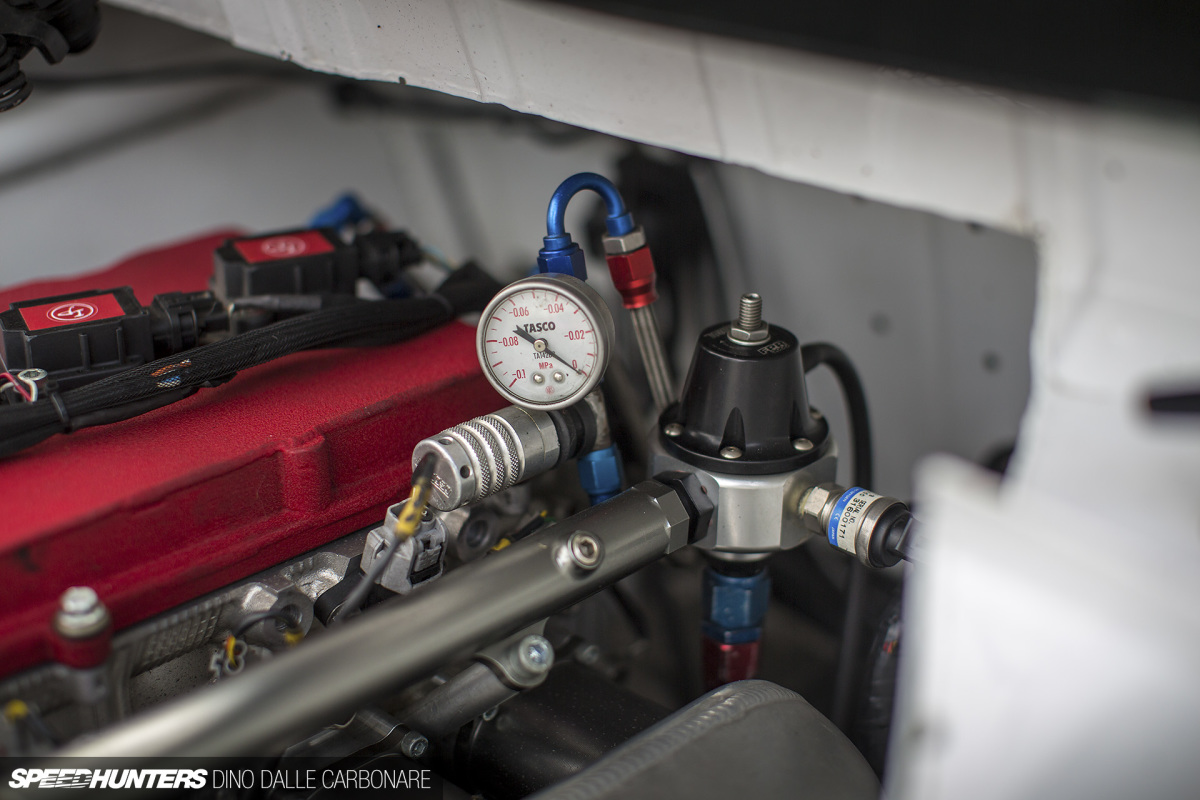 Big power equals a large thirst for fuel and the car runs the latest 2200cc/min injectors, making redundant the use of a secondary fuel rail and another batch of six injectors.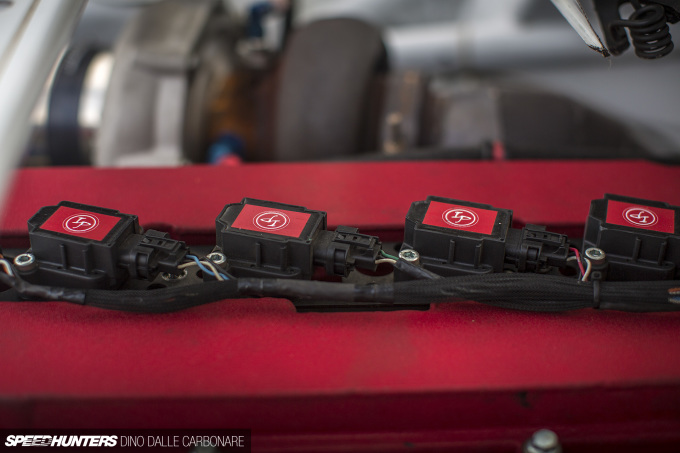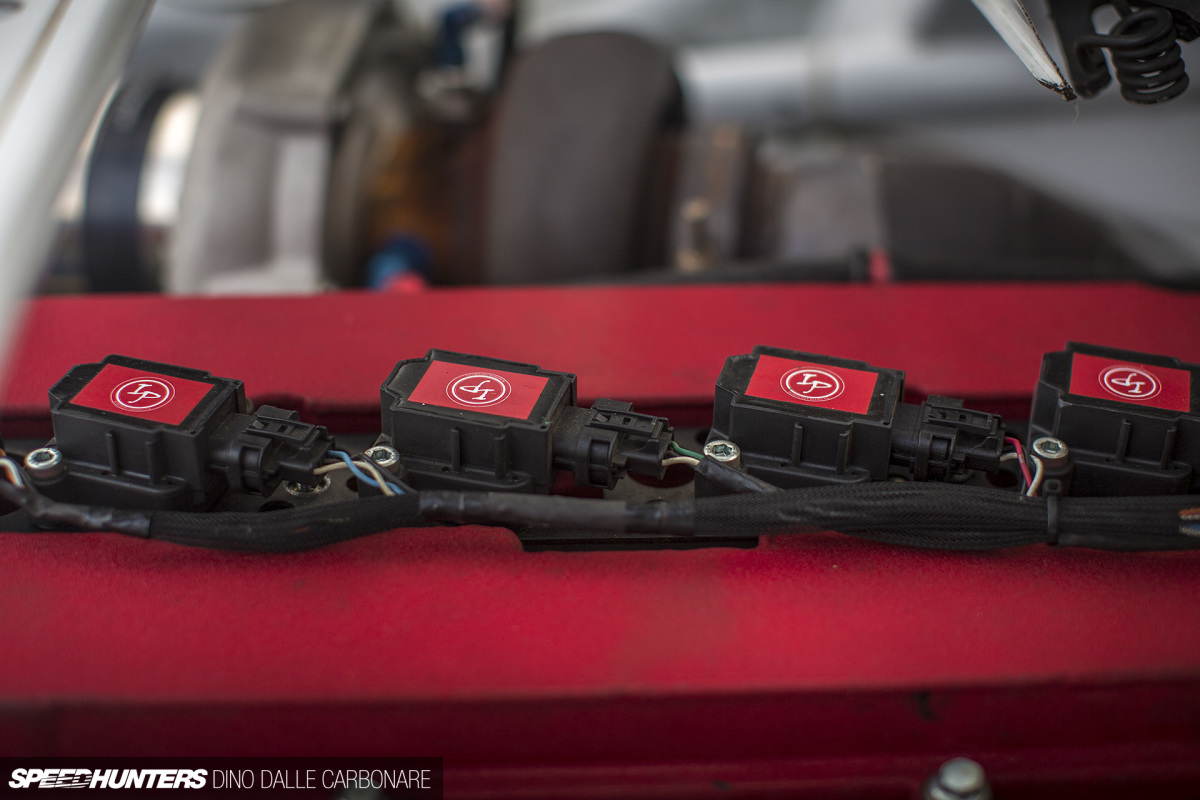 Ensuring the dry-sumped, 3.5L billet block 2JZ doesn't skip a beat is a set of Ignition Projects coil packs. I know how well these function personally as I've been using them on Project GT-R for years.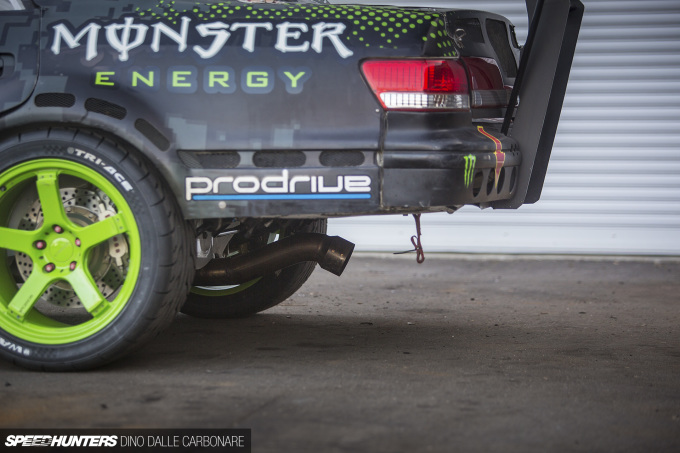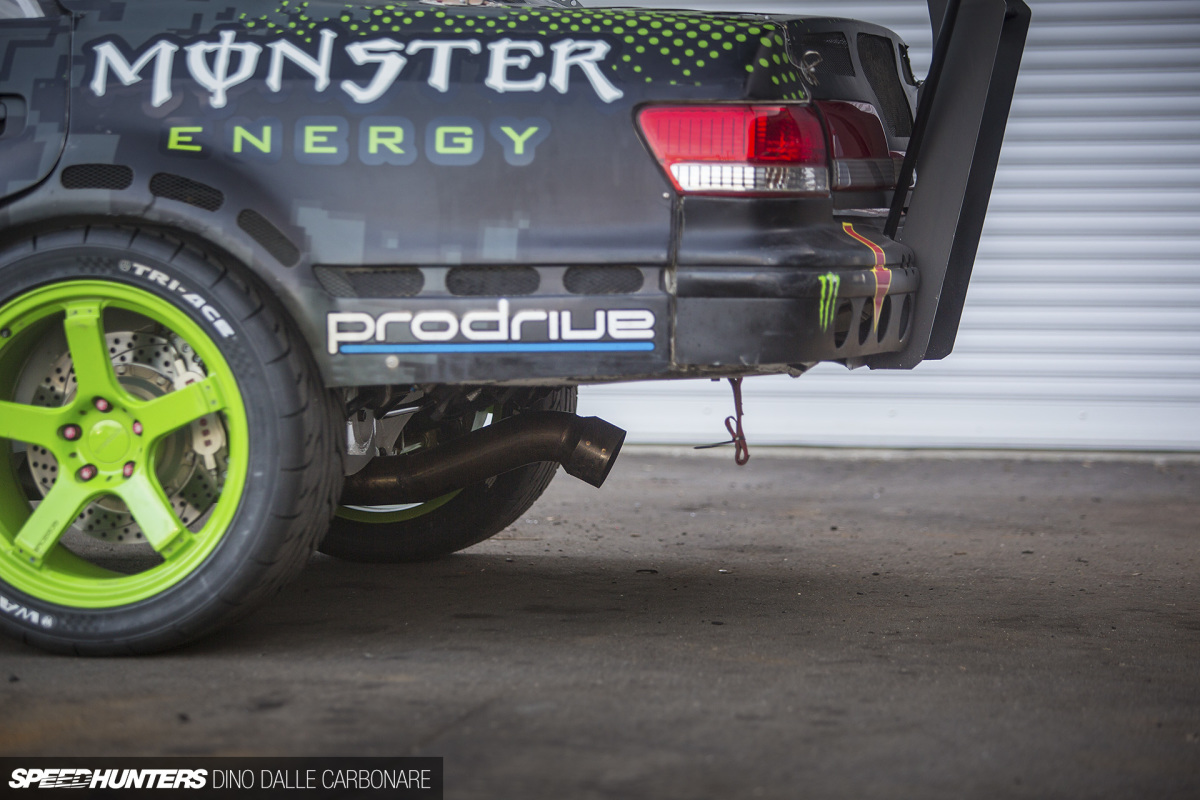 I love the short and sneaky exhaust pipe ending beneath the trunk.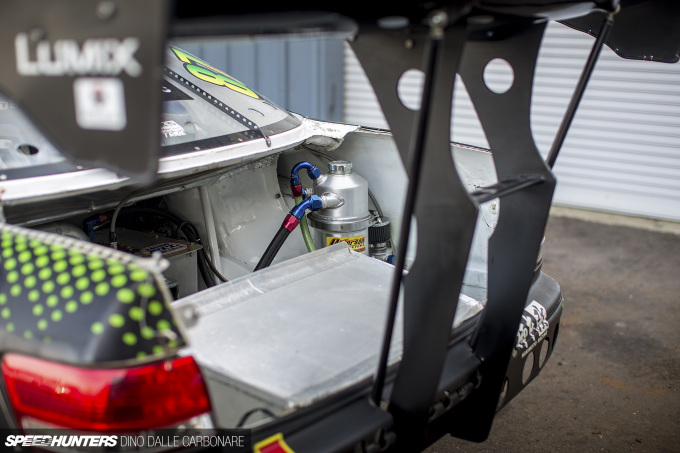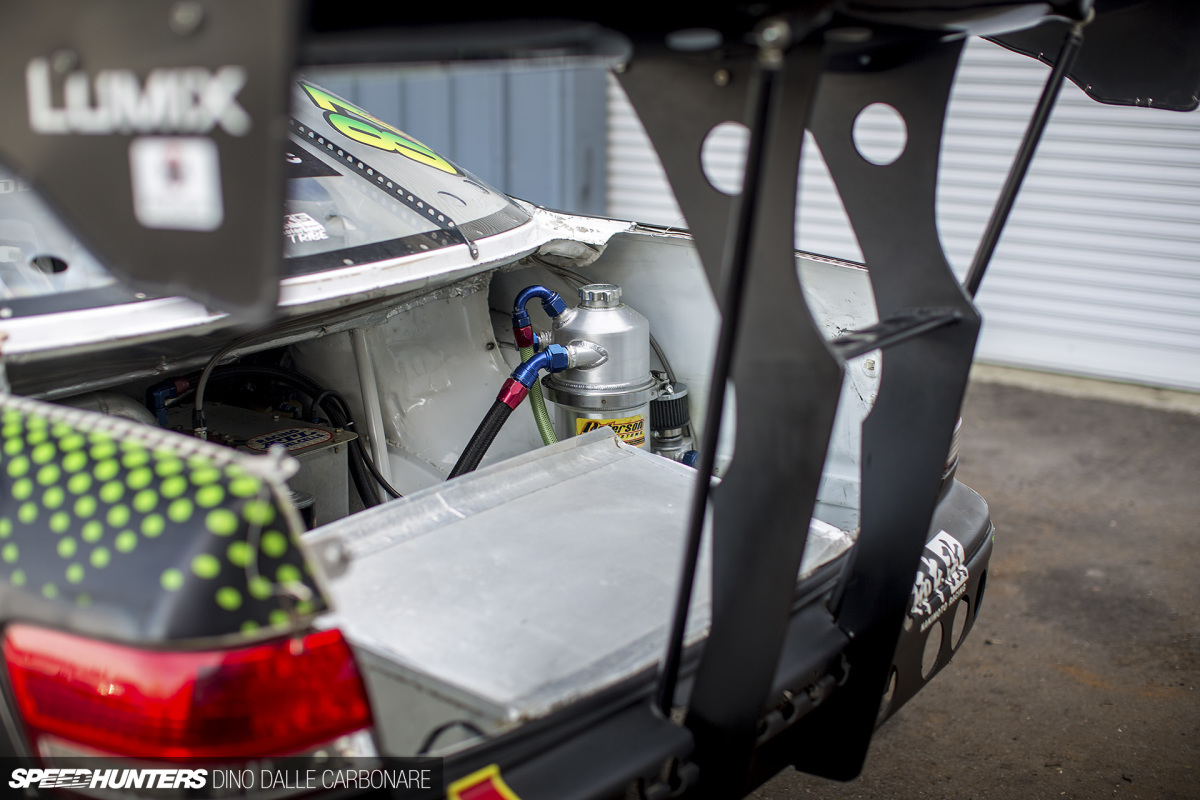 And speaking of the trunk, let's have a quick nose around in there too.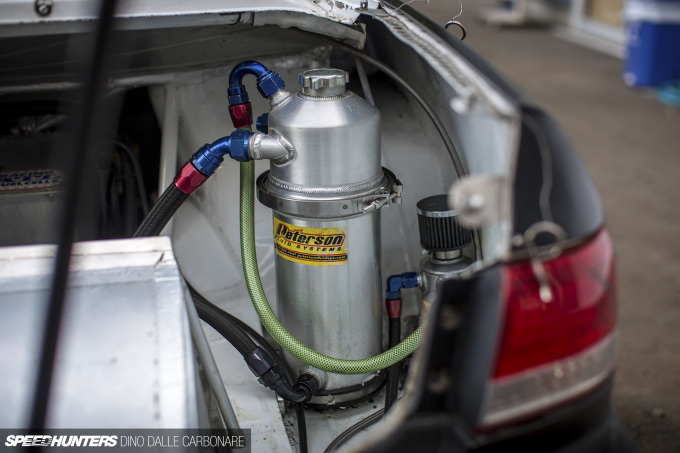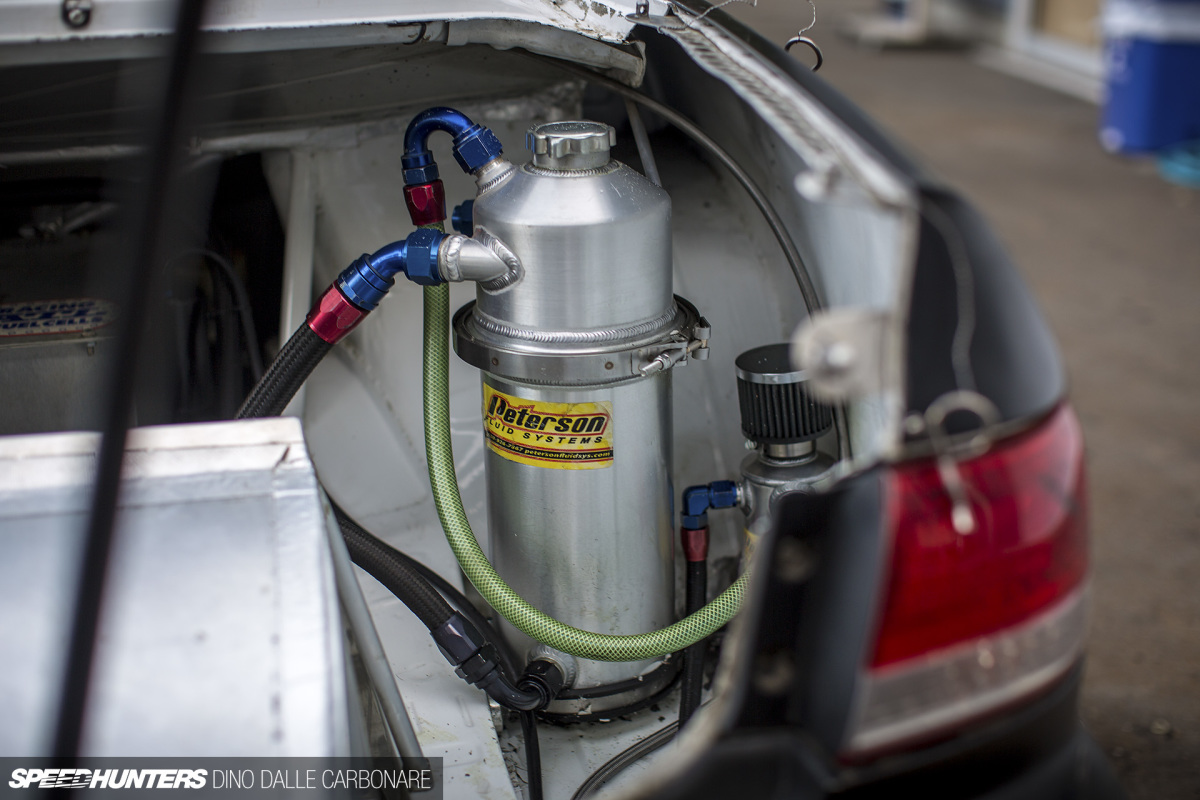 This is where the rest of the ancillary components that keep that engine bay so clean are located, starting off with the radiator, the big oil tank and the breather for the diff.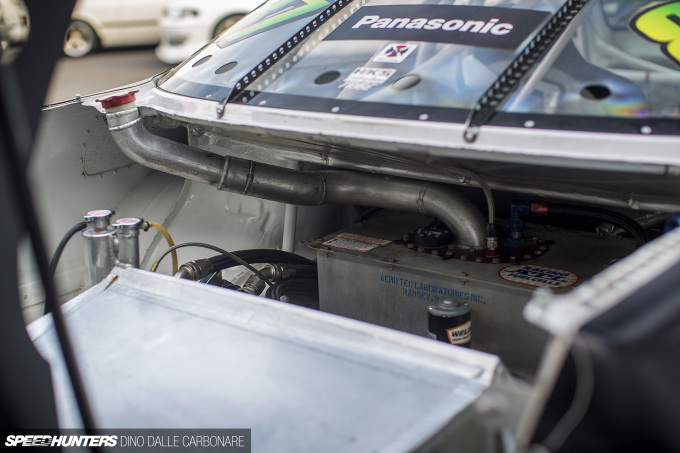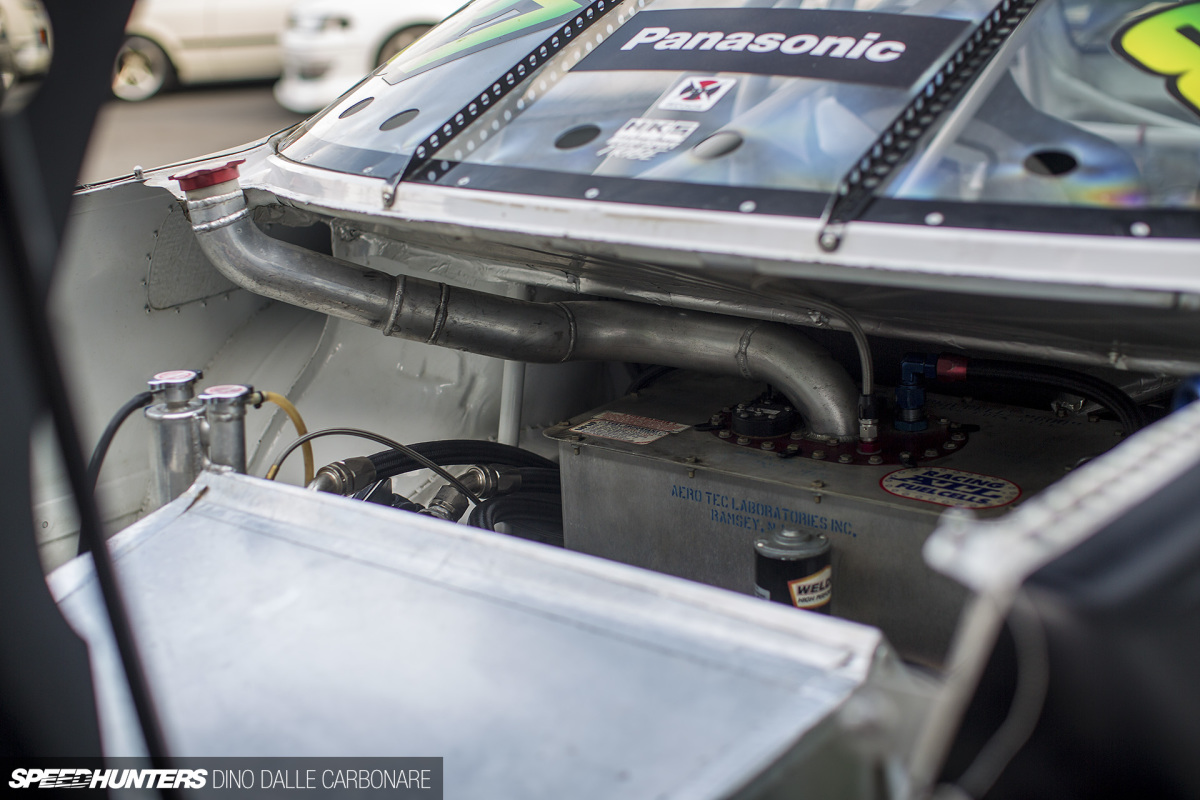 There's also a large ATL fuel cell positioned as close to center as possible. Again, nothing is overlooked for the upmost efficiency and attention to detail.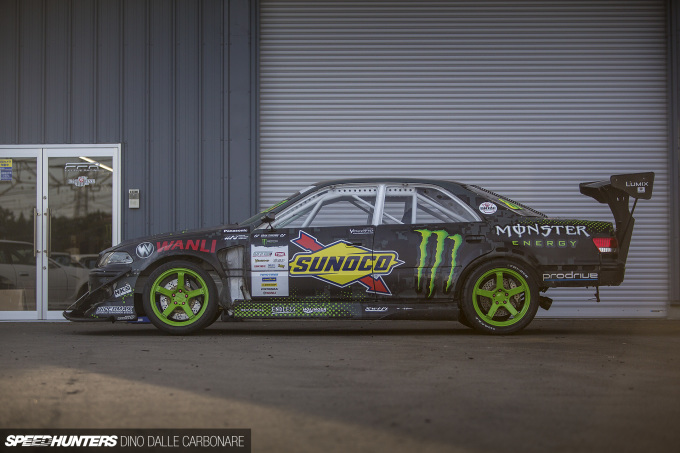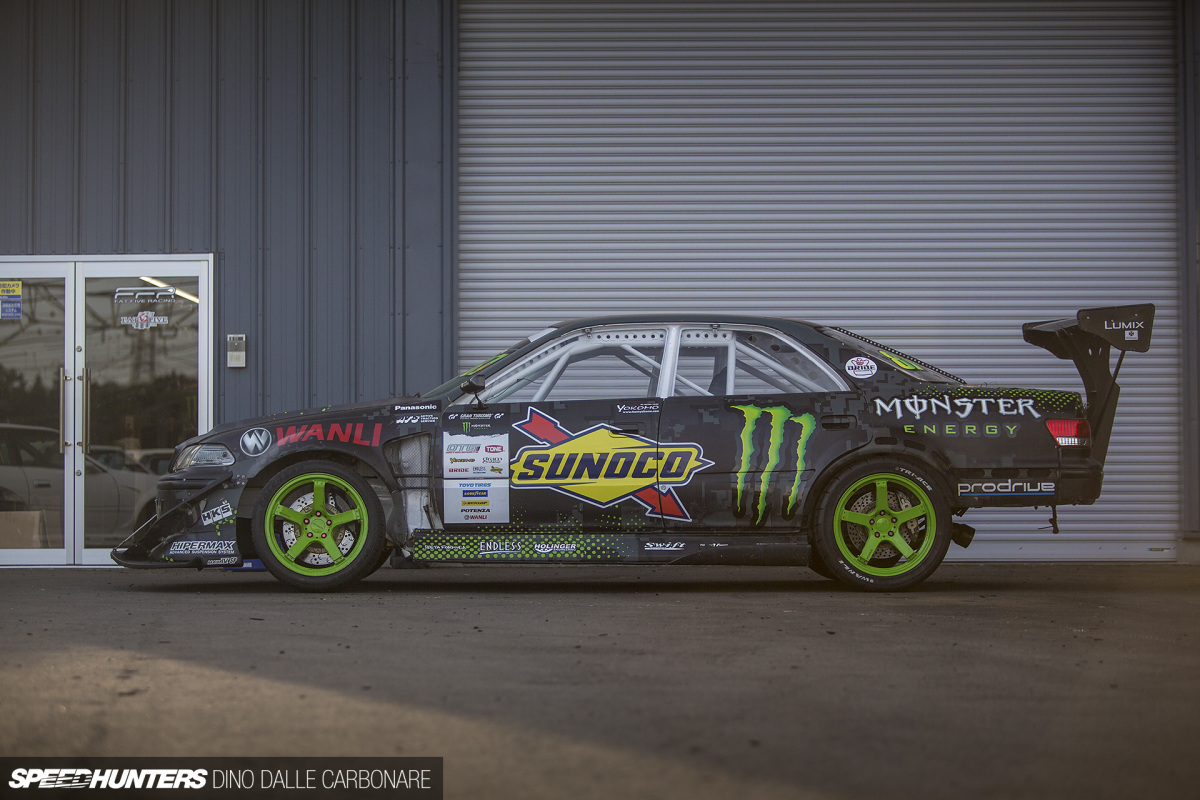 It all combines to create a proper weapon, one that's been appreciated by drifting communities the world over.
Simple Office Space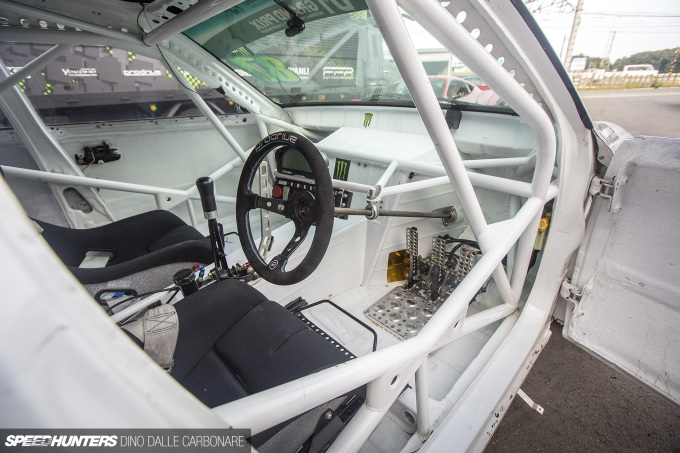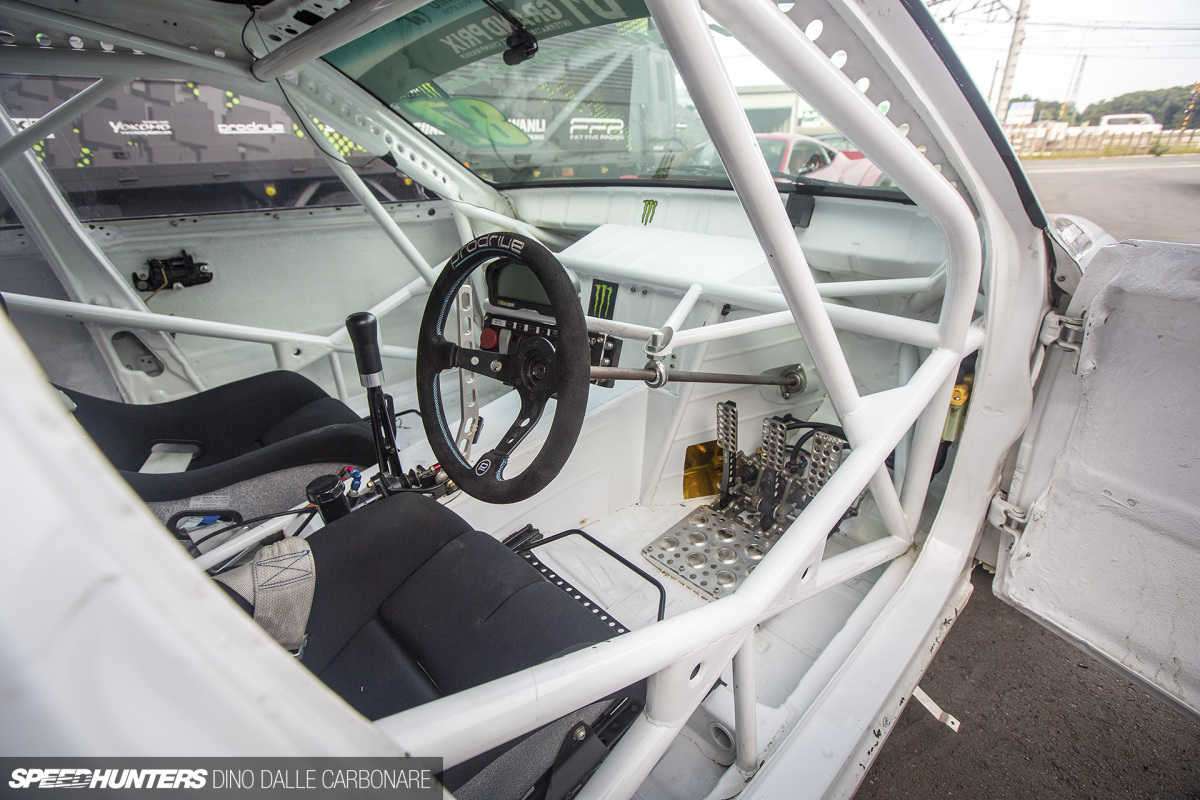 The overall simplicity of the build is carried over to the interior, a heavily boxed space, braced and stiffened by one of the most serious-looking roll-cages I've seen in a Japan-built drift car. It's often said that the Japanese are way behind the times when it comes to roll-cages, and while that may be a fair observation, I don't think it applies to Saito.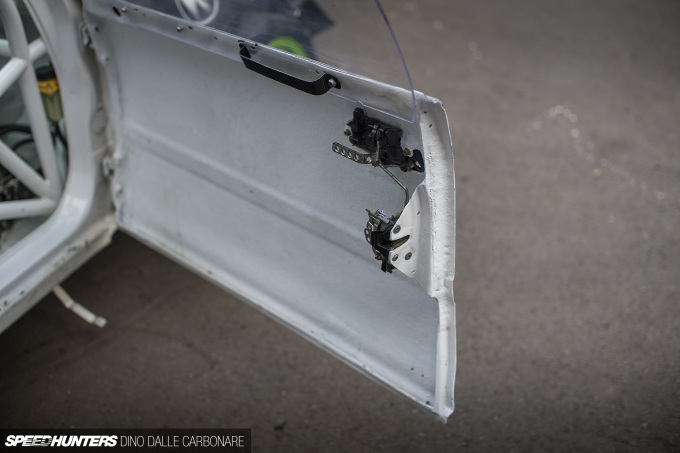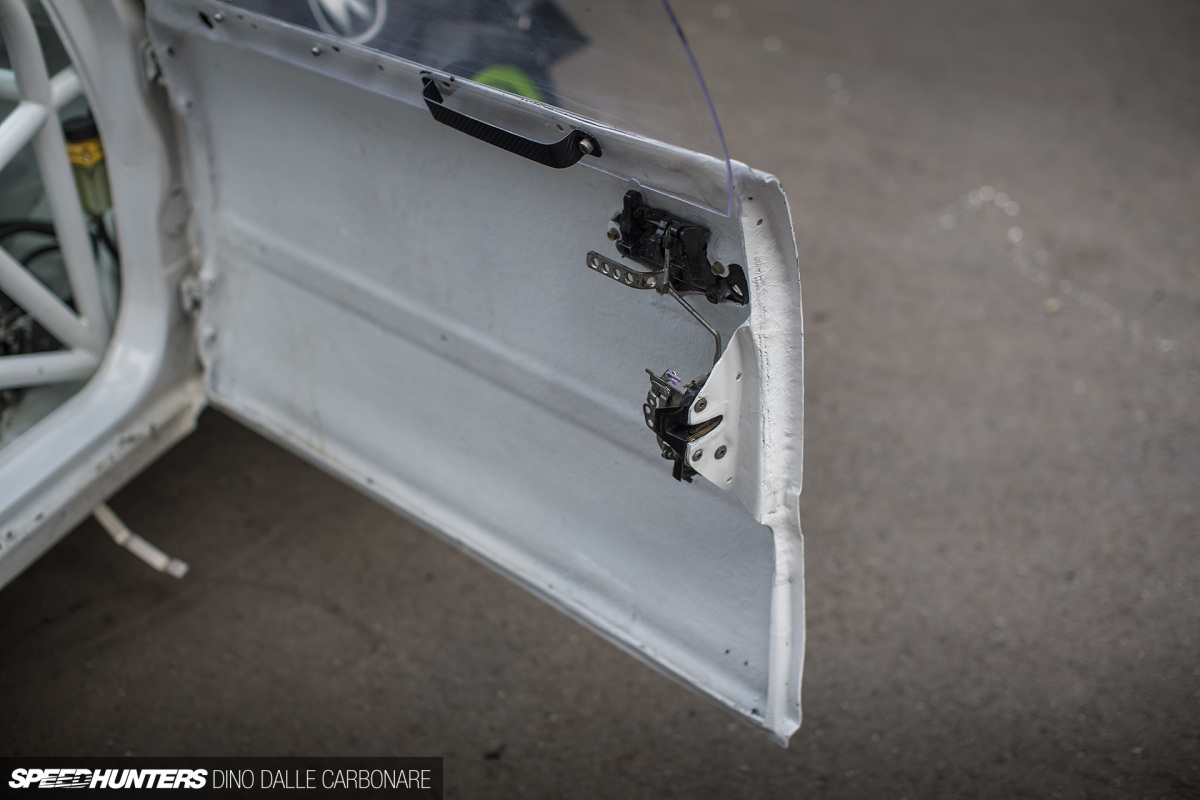 The most comical part of it all was the sheer lightness of the doors; I wouldn't be surprised if these things weigh in at 1kg apiece. It's details like this that for me have always defined the Saito approach to building cars. No f**ks given.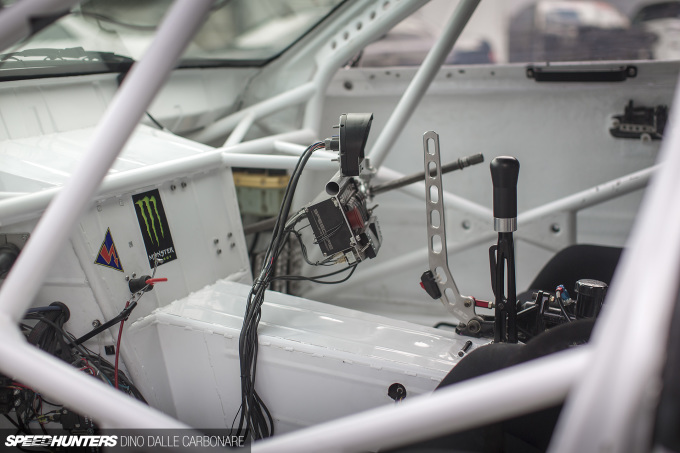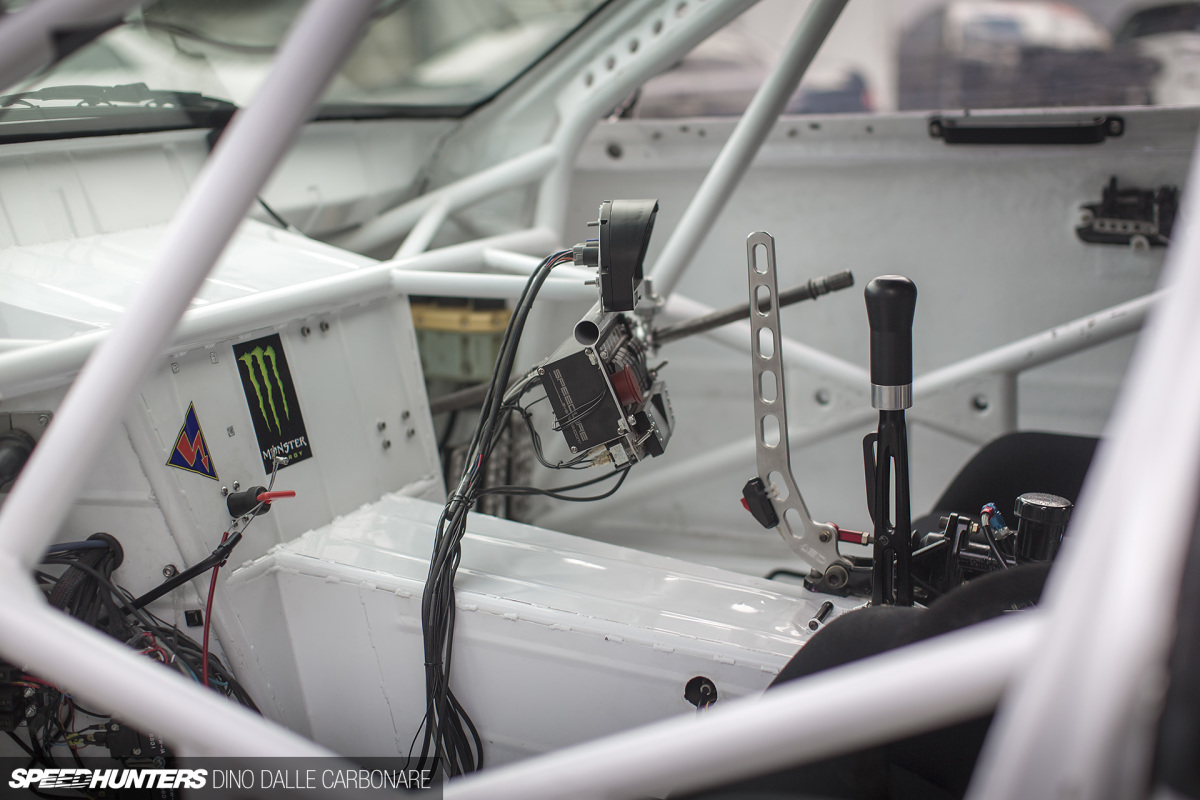 Perched right behind the steering wheel is the Racepak IQ3 digital dash/data-logger along with the switch panel and the assortment of modules that the HKS F-Con V PRO always needs to function and add extra functionality.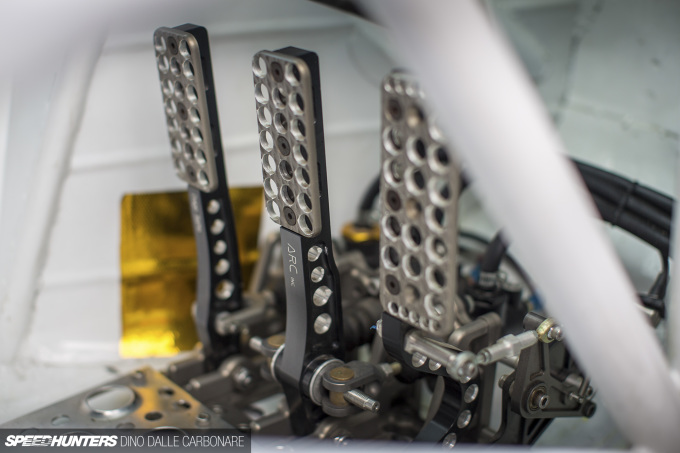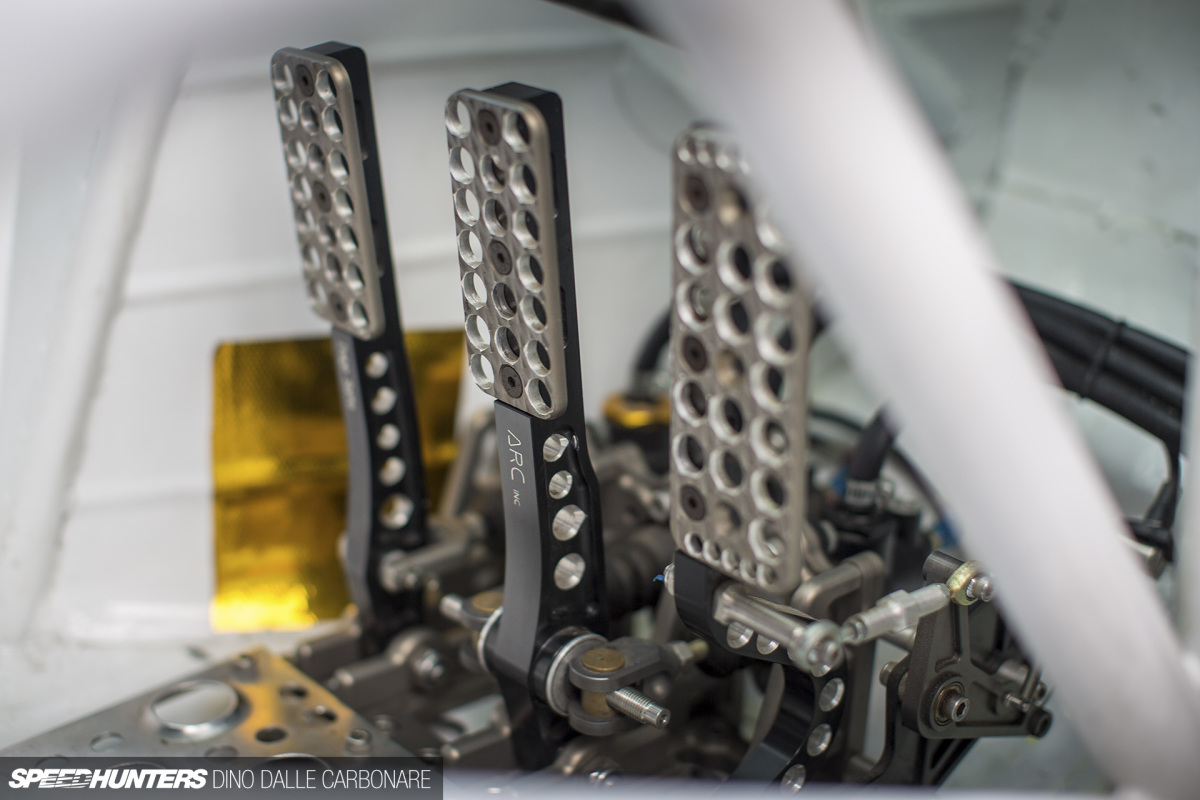 Seeing the driving position has been shifted rearward to bring the Bride seats pretty much in line with the B-pillars, an adjustable pedal box was a necessity.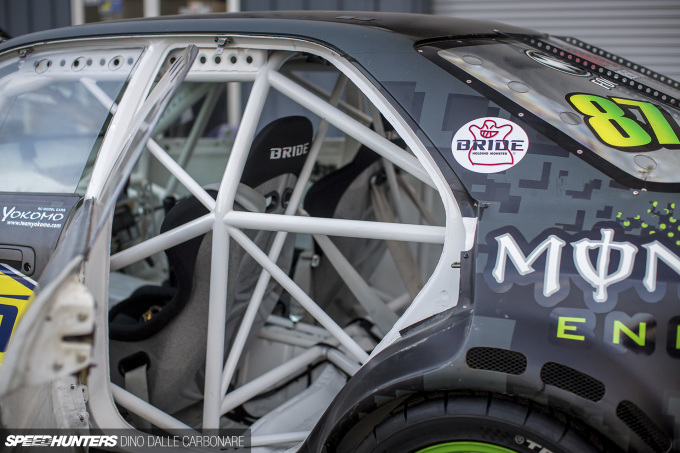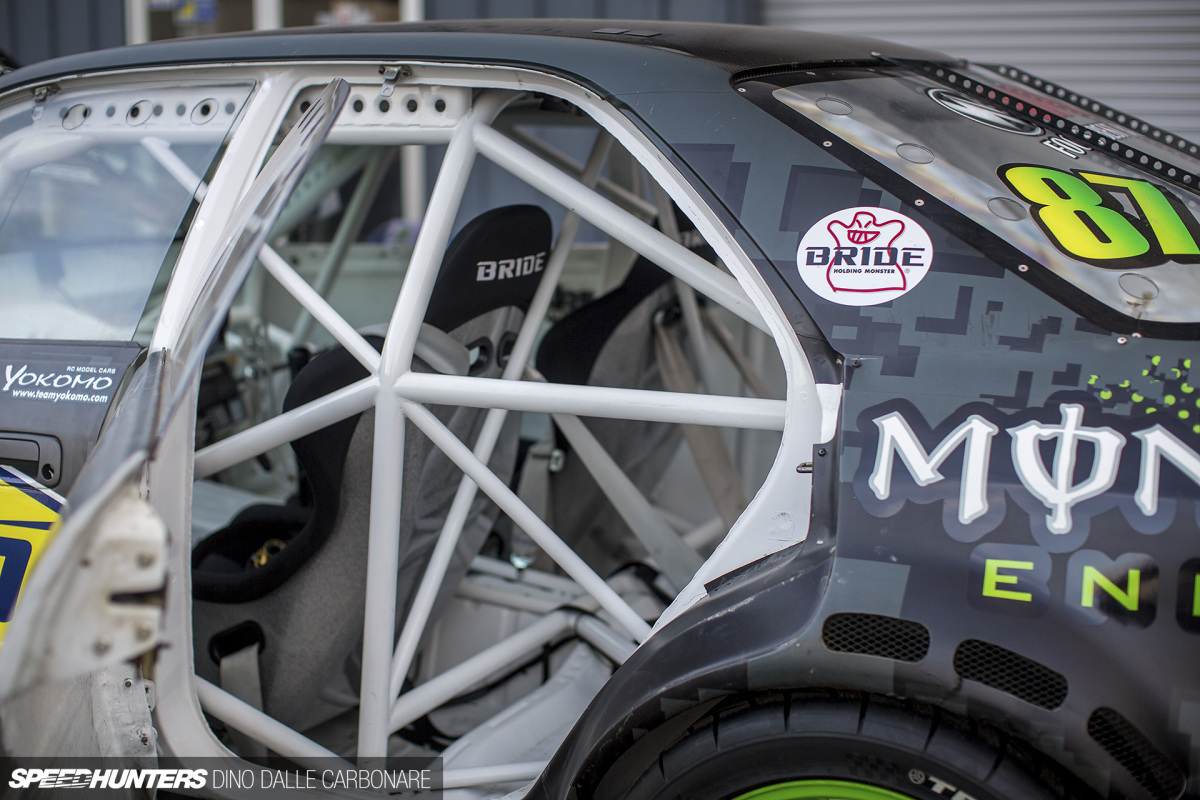 So to answer those three opening questions – Could this possibly be the wildest drift car ever built? The most minimalistic? The best ever? – I'd personally say to yes to all. But what do you guys think?
Dino Dalle Carbonare
Instagram: speedhunters_dino
dino@speedhunters.com