Automotive Tradition
For as great as the Grand National Roadster Show is, I've always felt its name was a little misleading. Sure, open top hot rods and custom cars are a very important part of the show, but there's so much more to the GNRS than just roadsters.
I suppose when your event has been going strong for 68 years there's no reason to change things, and the thousands of people that pass through the gates every January certainly know what they are coming for.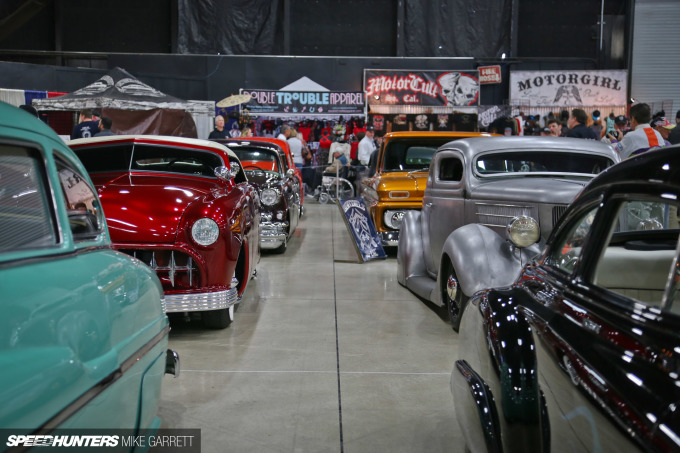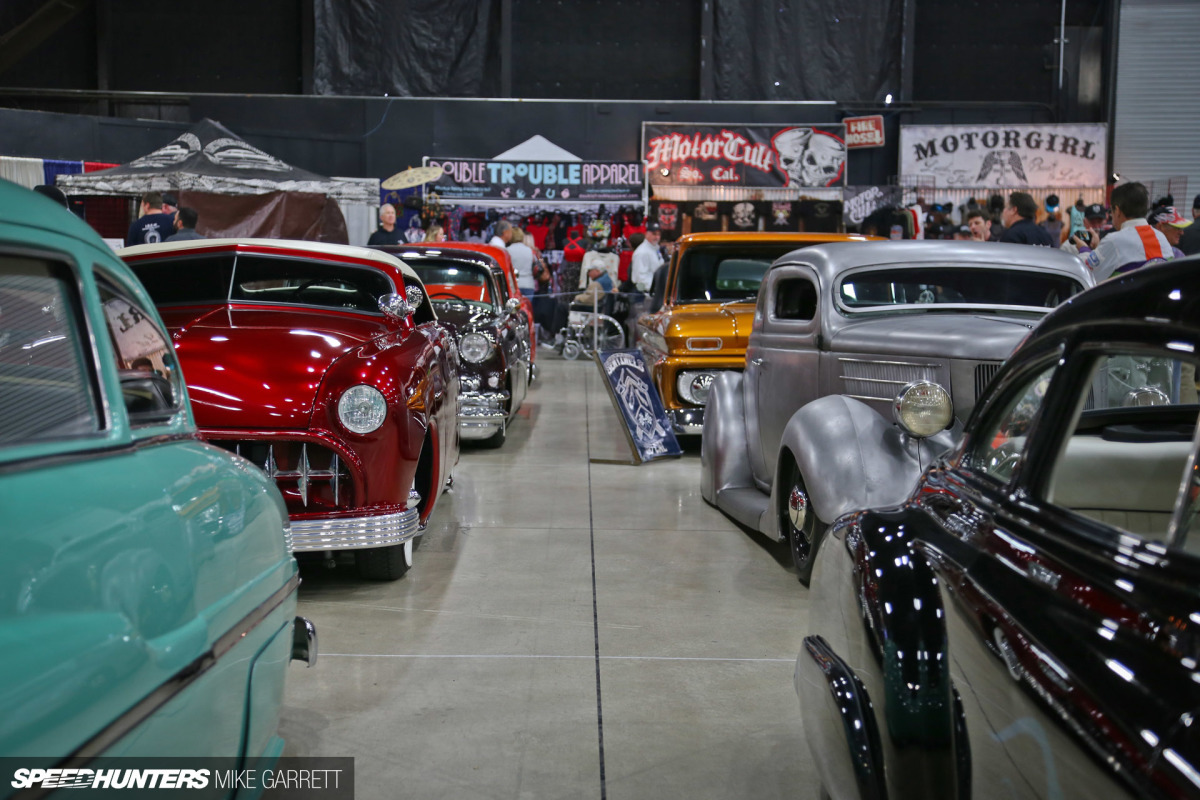 With hundreds of cars of spread across its multiple indoor halls and even more on display outside, the GNRS is actually one of the most diverse car shows of its kind. It's a place where one can enjoy everything from exotic show cars to humble daily drivers and rat rods.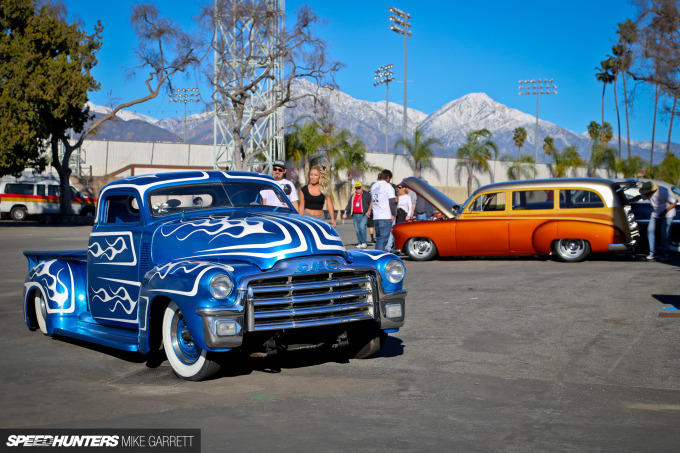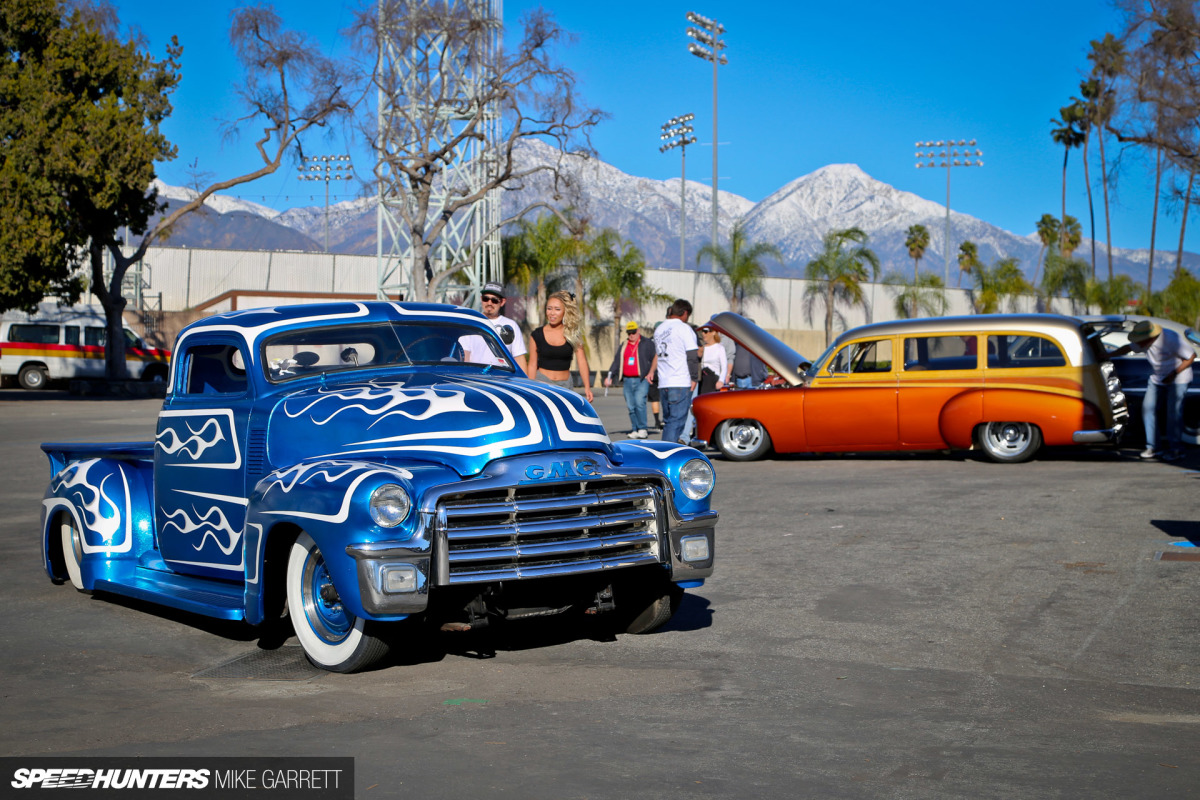 Helping this year's show were ideal weather conditions; it was one of the perfect Southern California days with clear blue skies, temps in the 70s and stunning views of the snow-capped San Gabriel mountains. No doubt this had a positive effect on show attendance, especially considering the rainy winter California has had so far. So without further ado, let's take a look around the show.
One of my first stops was the Suede Palace, which is home to all things from the traditional side of hot rodding. And not just the cars, but the fashion and music as well.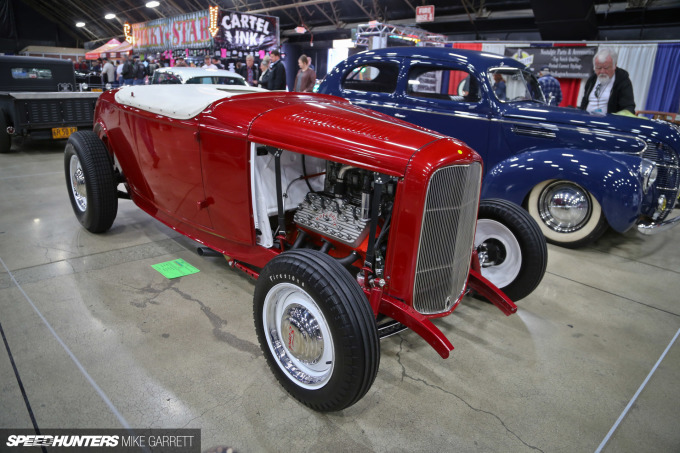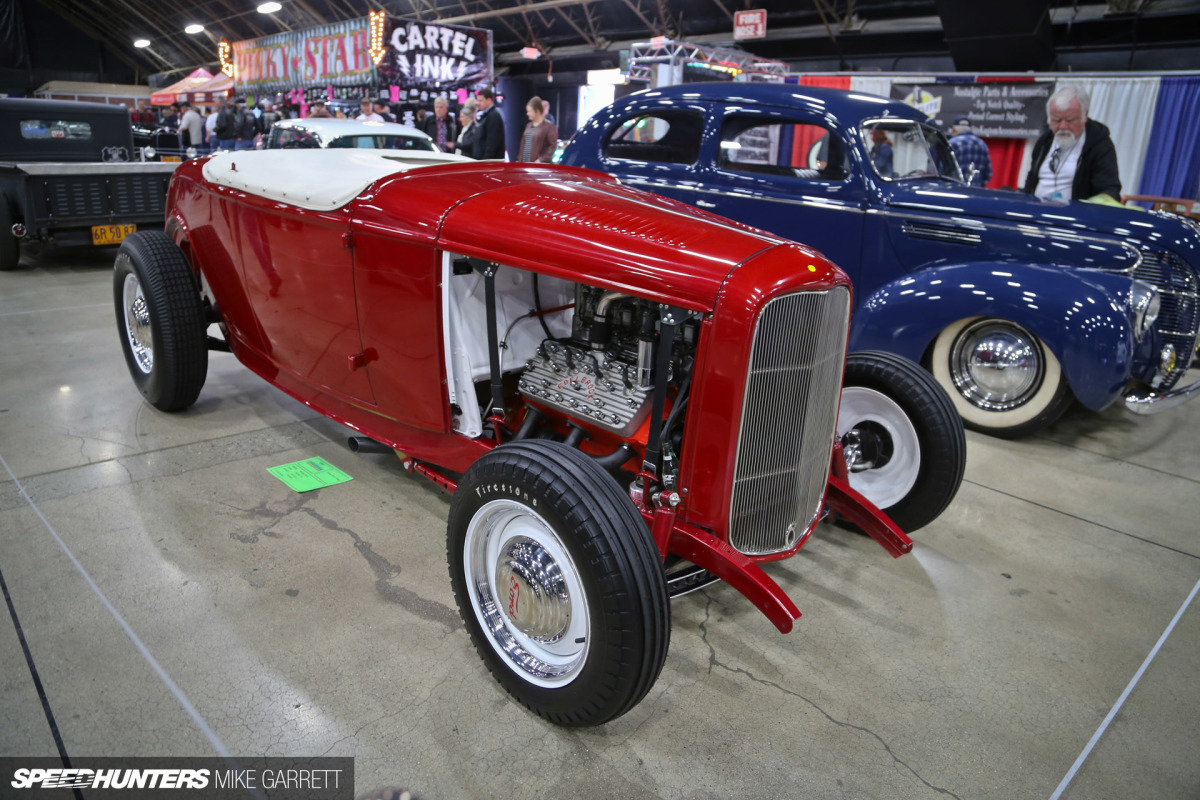 Sure, the rockabilly tunes and vintage hairstyles are cool, but for me it's the cars that do all the talking. Machines like Rich Robert's stripped-down '32 Ford with Flathead power.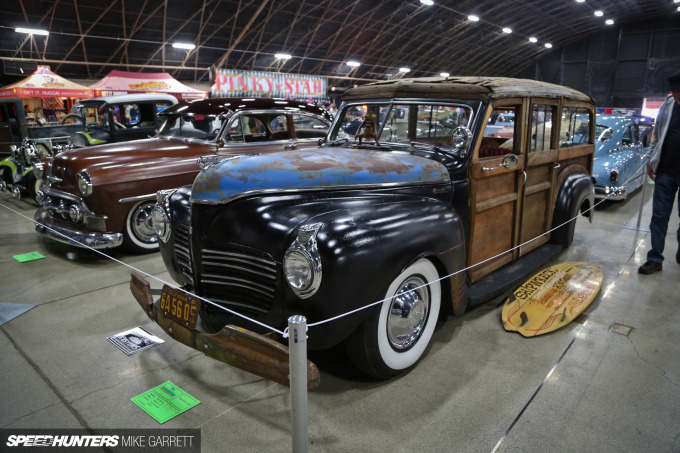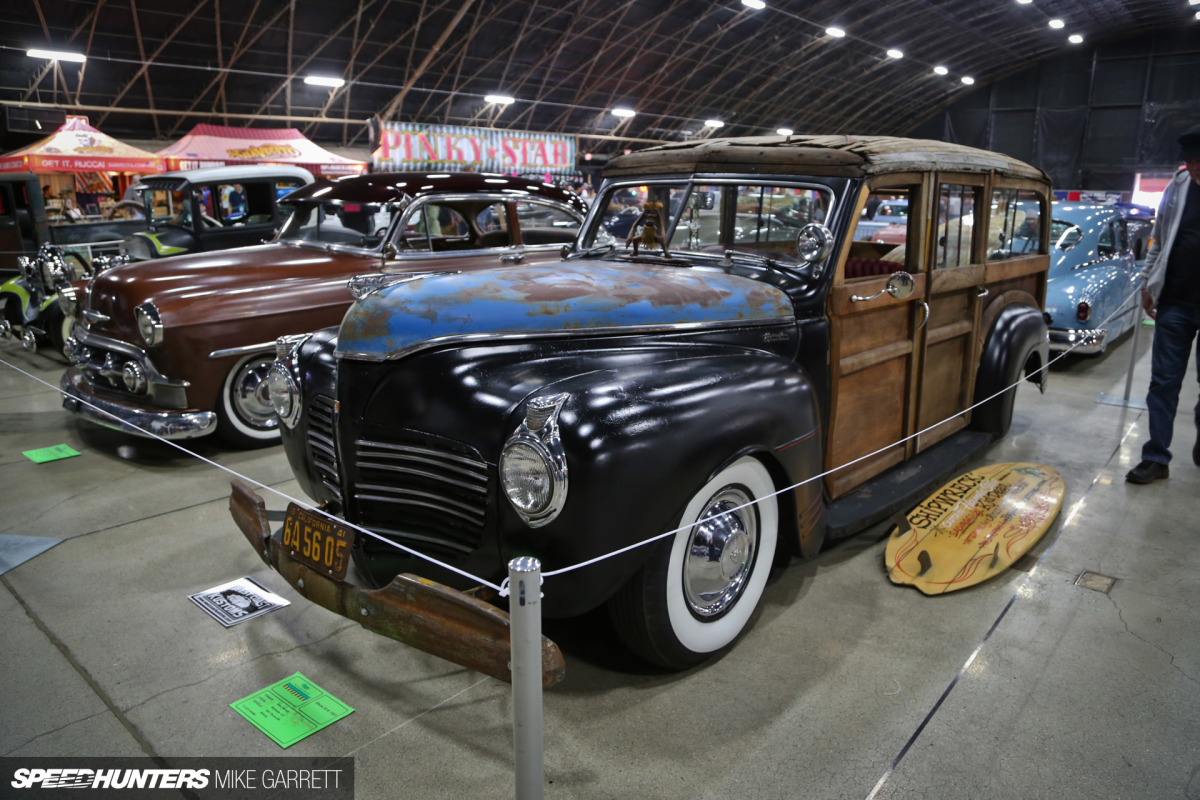 Another cool thing about the Suede Palace is seeing the cars that aren't afraid to show their age, like this Plymouth Woodie known as 'Shipwrecked'.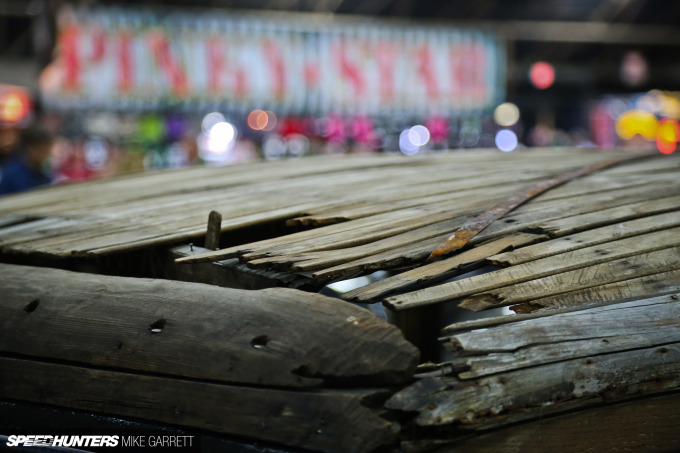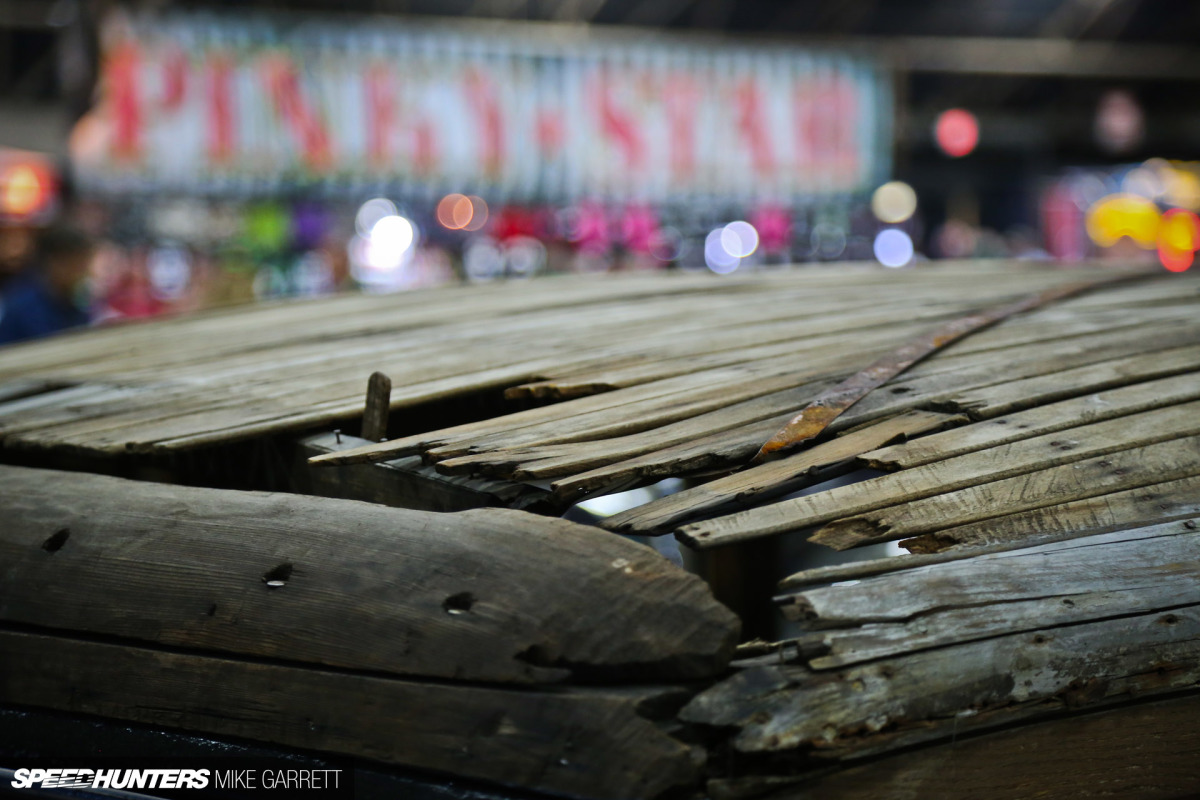 It's one thing to see 70-year-old paint and metal that's been left untouched, but seeing an unrestored Woodie is something else. This is patina at a whole new level.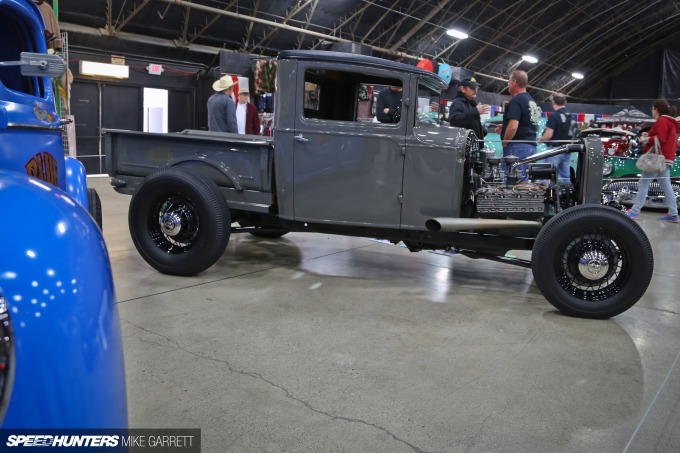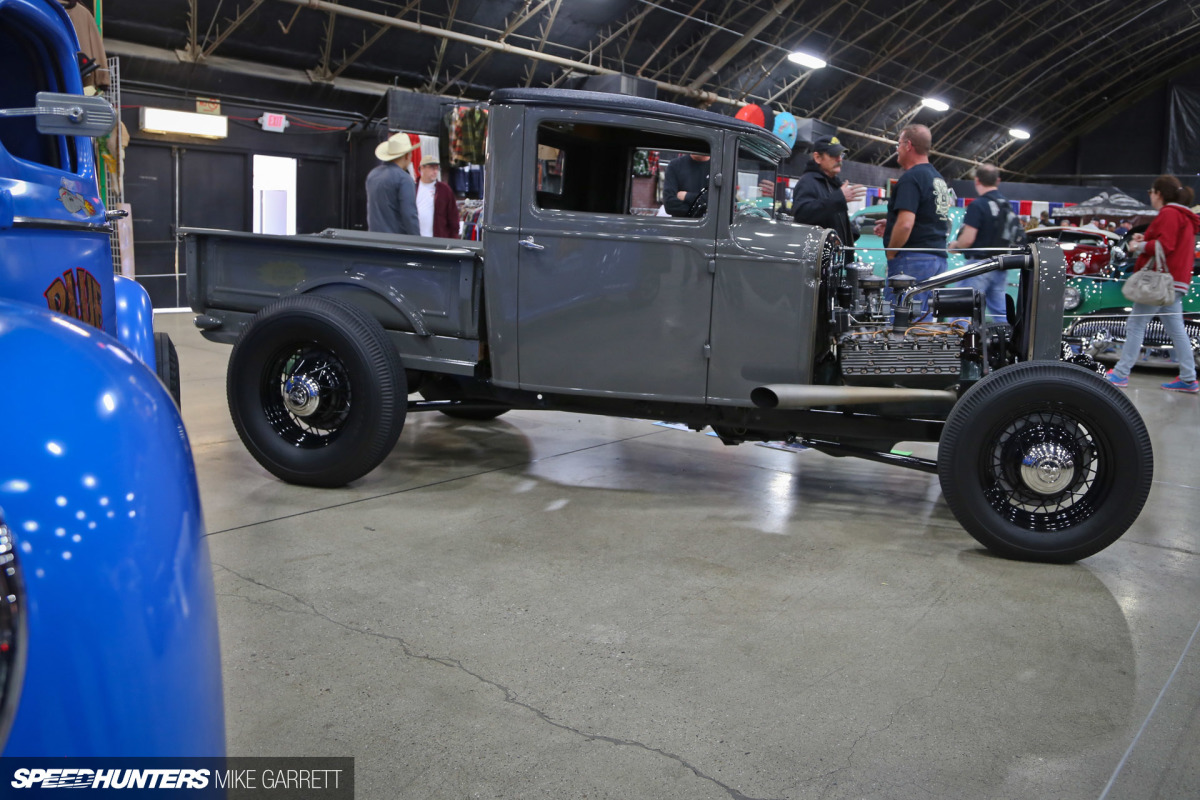 One of the great things about the GNRS compared to other car shows held in Southern California is the number of cars that come from out of state. The Pacific Northwest had a strong representation this year, including this '30 Model A pickup out of Washington.
Beautiful Roadsters & More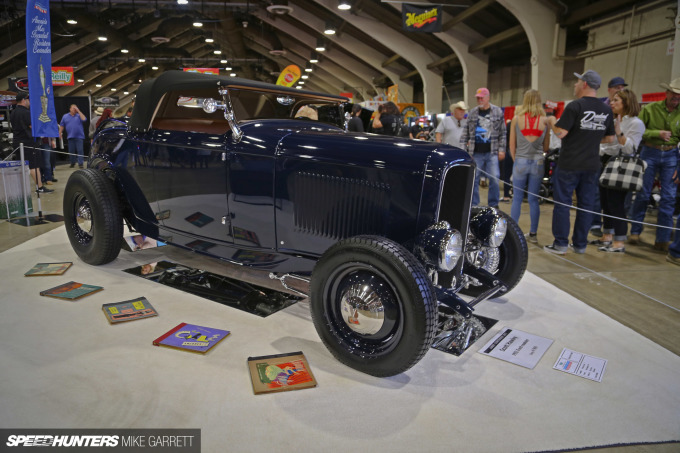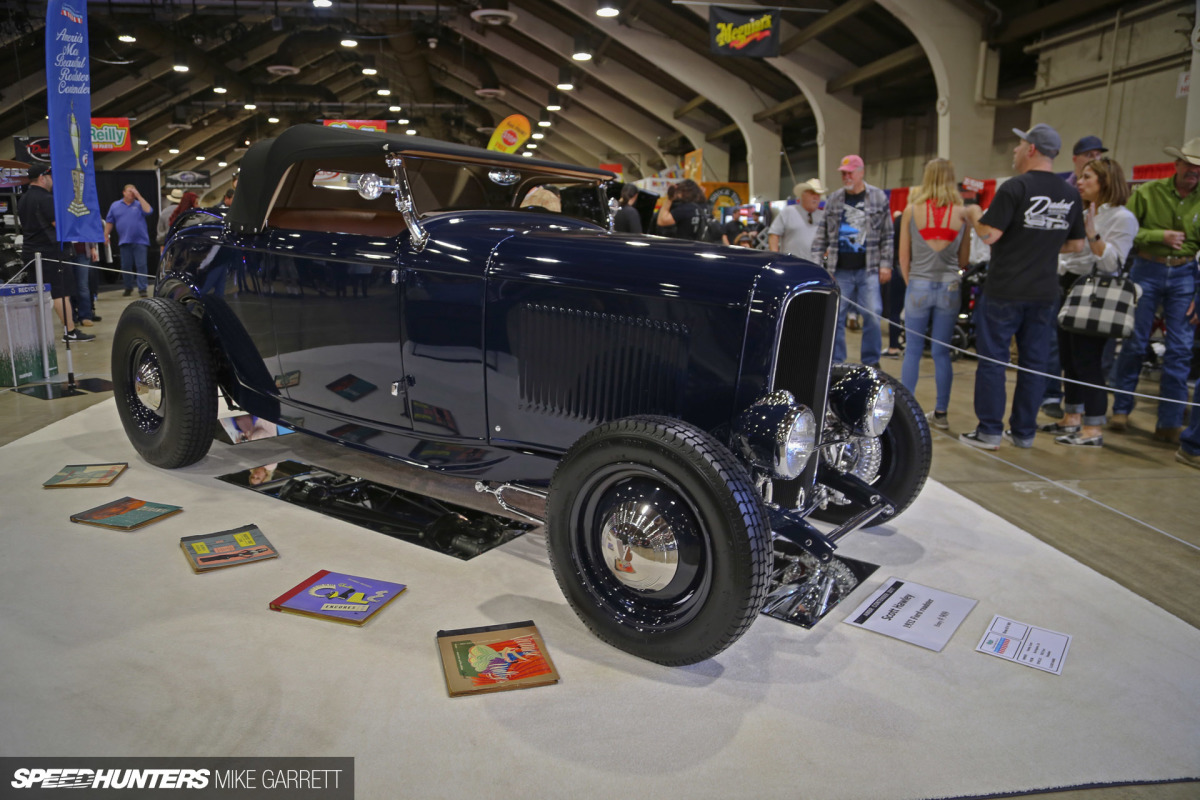 We already covered this year's America's Most Beautiful Roadster winner, but some of the other builds that were competing for the award should not go without mention.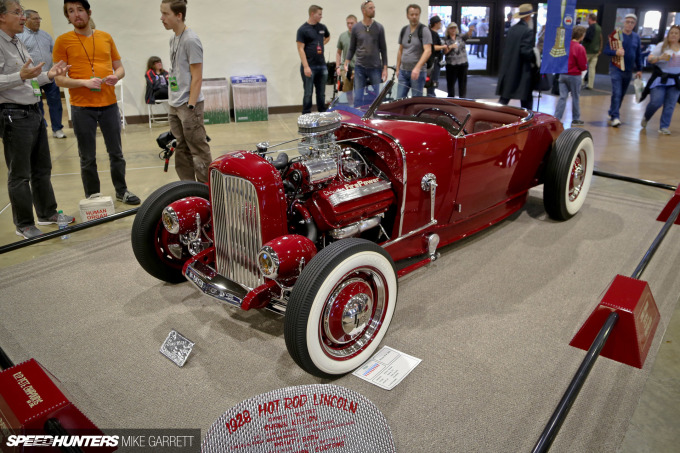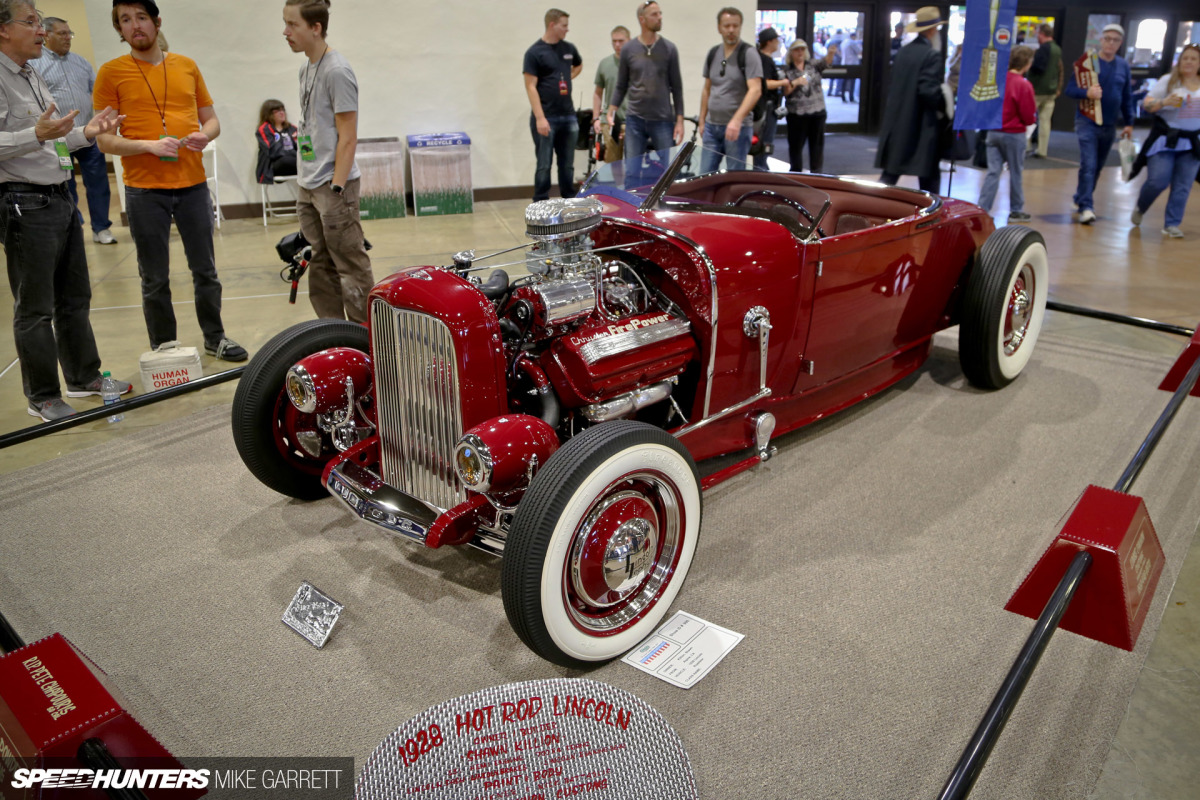 Here's Shawn Killion's '28 Lincoln Roadster, which is built in a decidedly traditional style with a 331ci Chrysler Hemi V8 providing the power.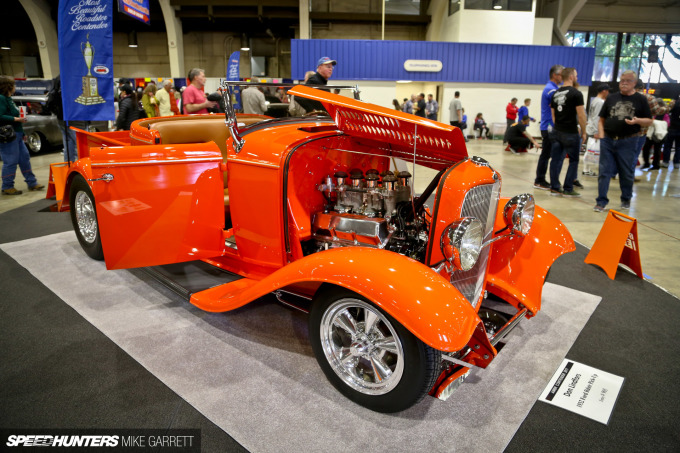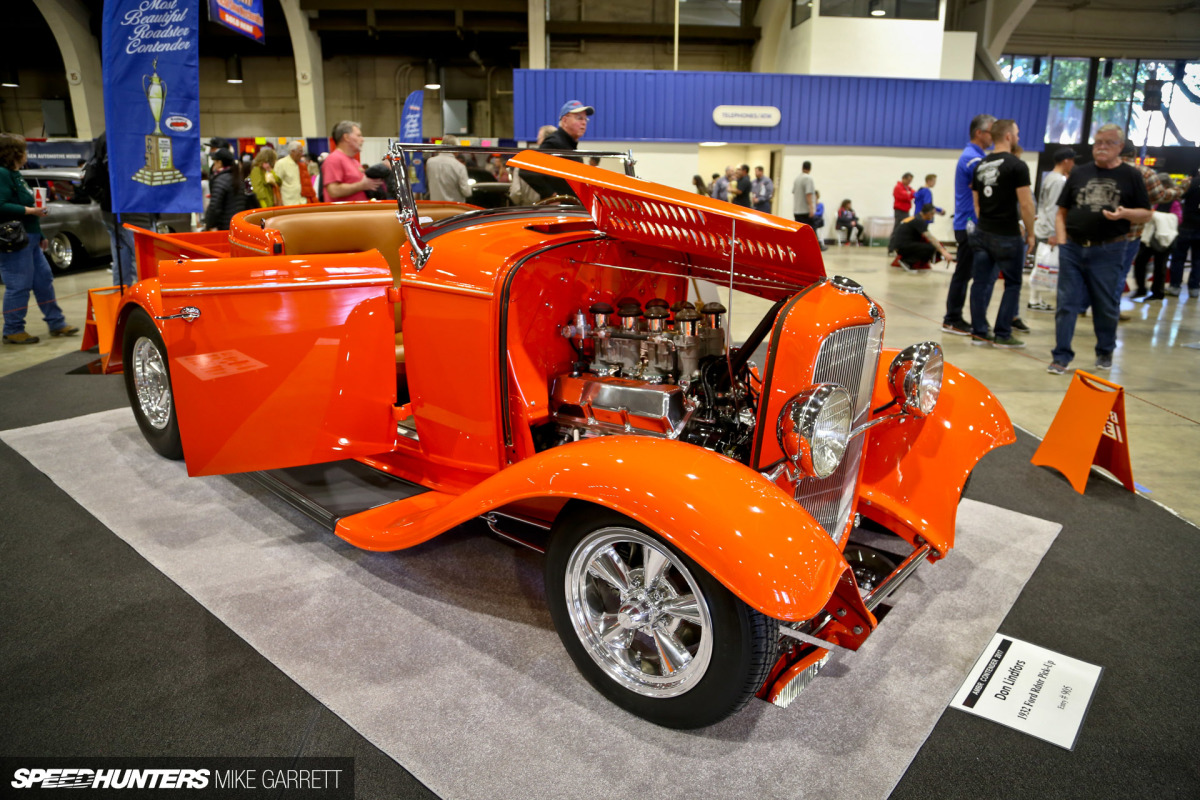 Moving in a more muscle car-influenced direction, here we have Don Lindfors' 'Boss 32′ Roadster Pickup which is powered by a Weber-fed Ford 351.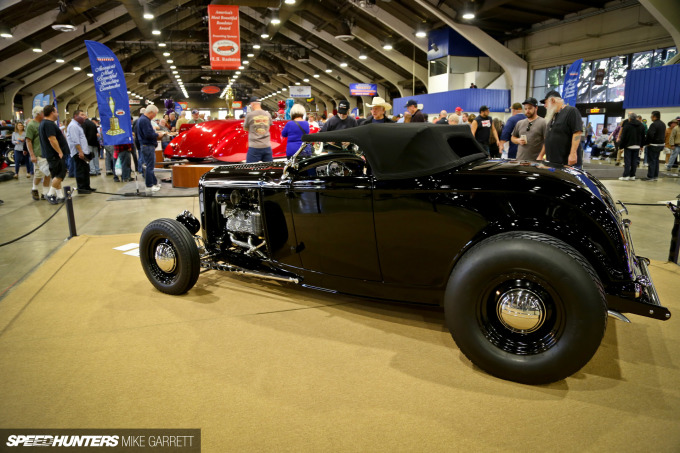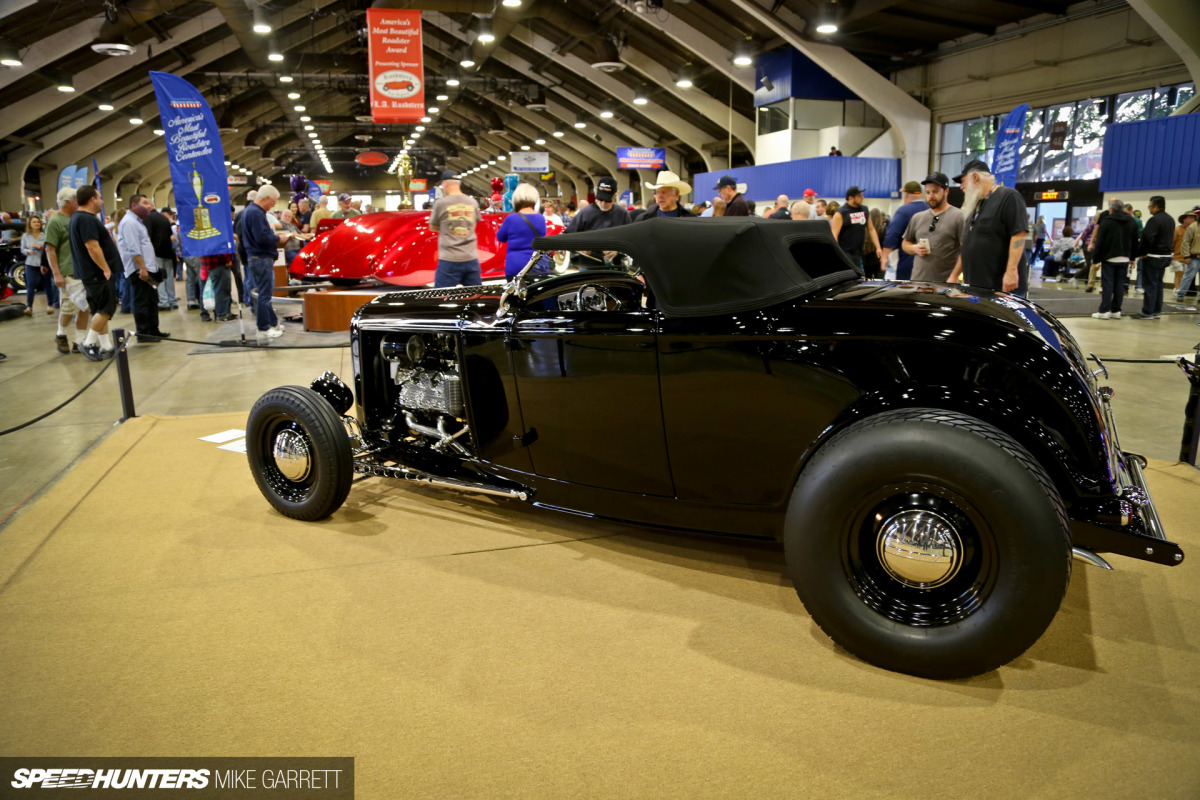 Timeless. That's how I'd describe a build like Gordon Gray's black-on-black Flathead-powered '32 Roadster out of British Columbia, Canada. It's just one more entry in one of the most diverse AMBR fields in years.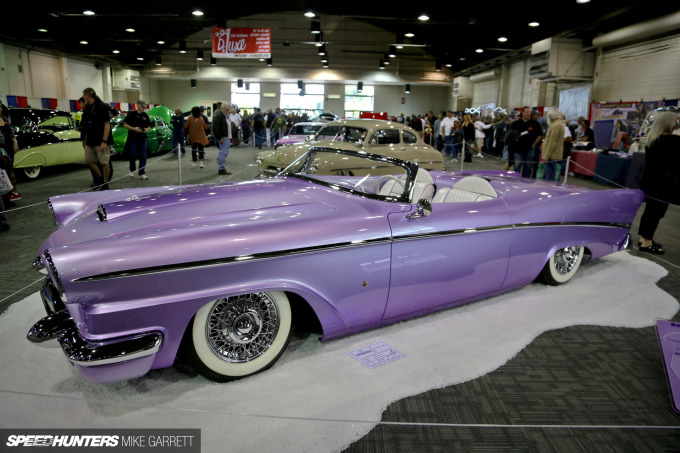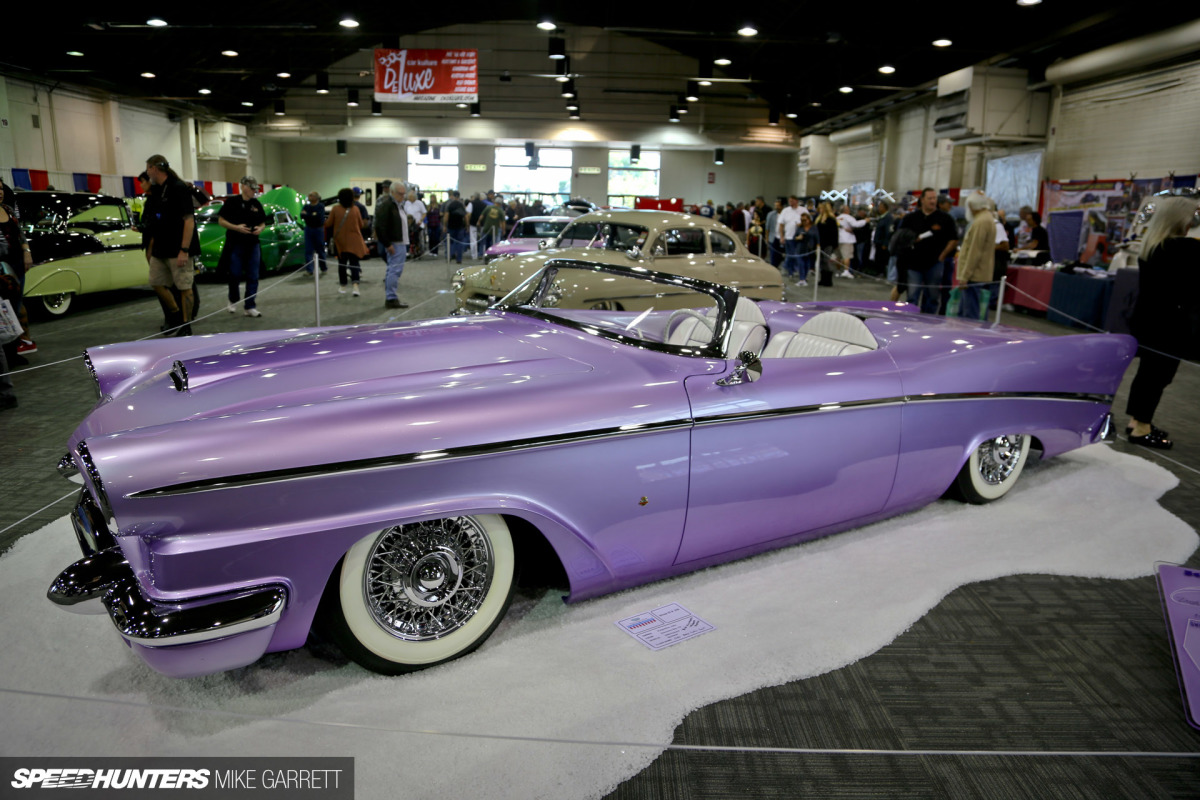 Customs also get plenty of love at the GNRS, and when it comes to building them few do it better than John D'Agostino who brought out a beautiful coach-built '58 Packard known as 'Rita'.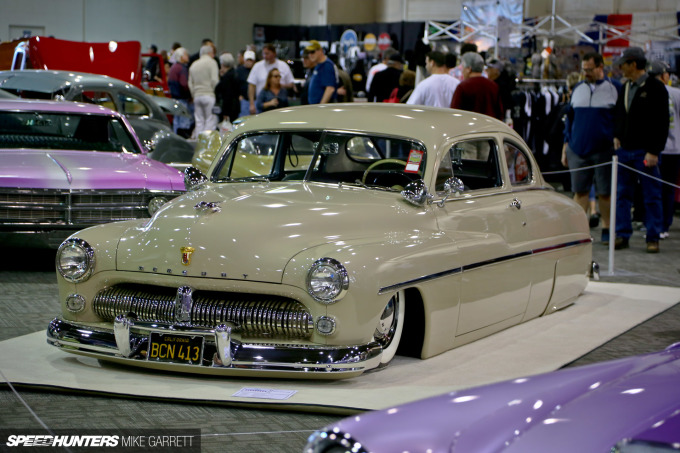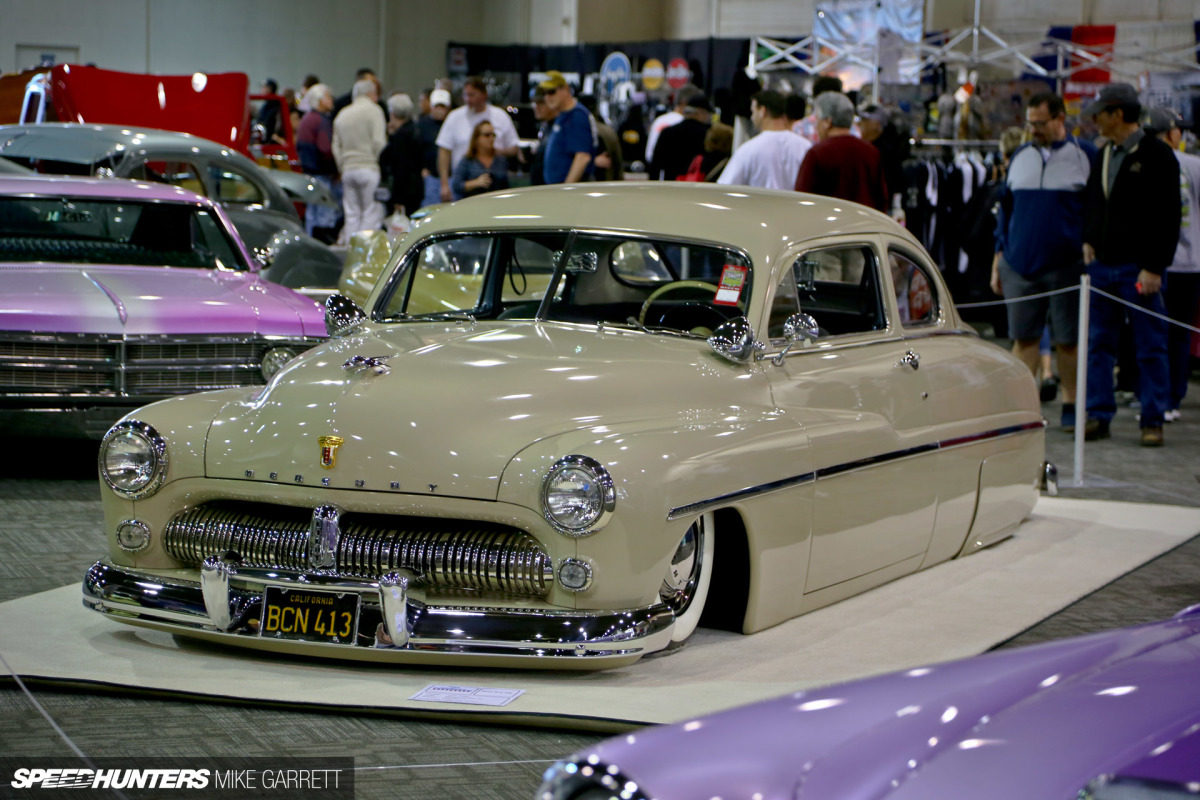 Less extravagant, but equally beautiful was Eddie Tovar's '49 Mercury which lets its ground-scraping stance speak for itself.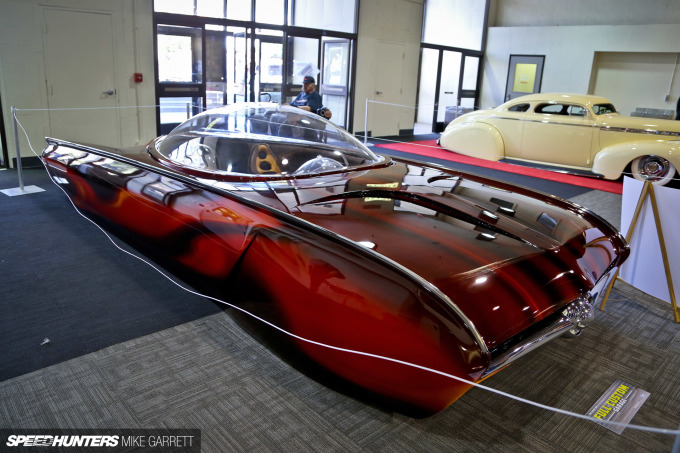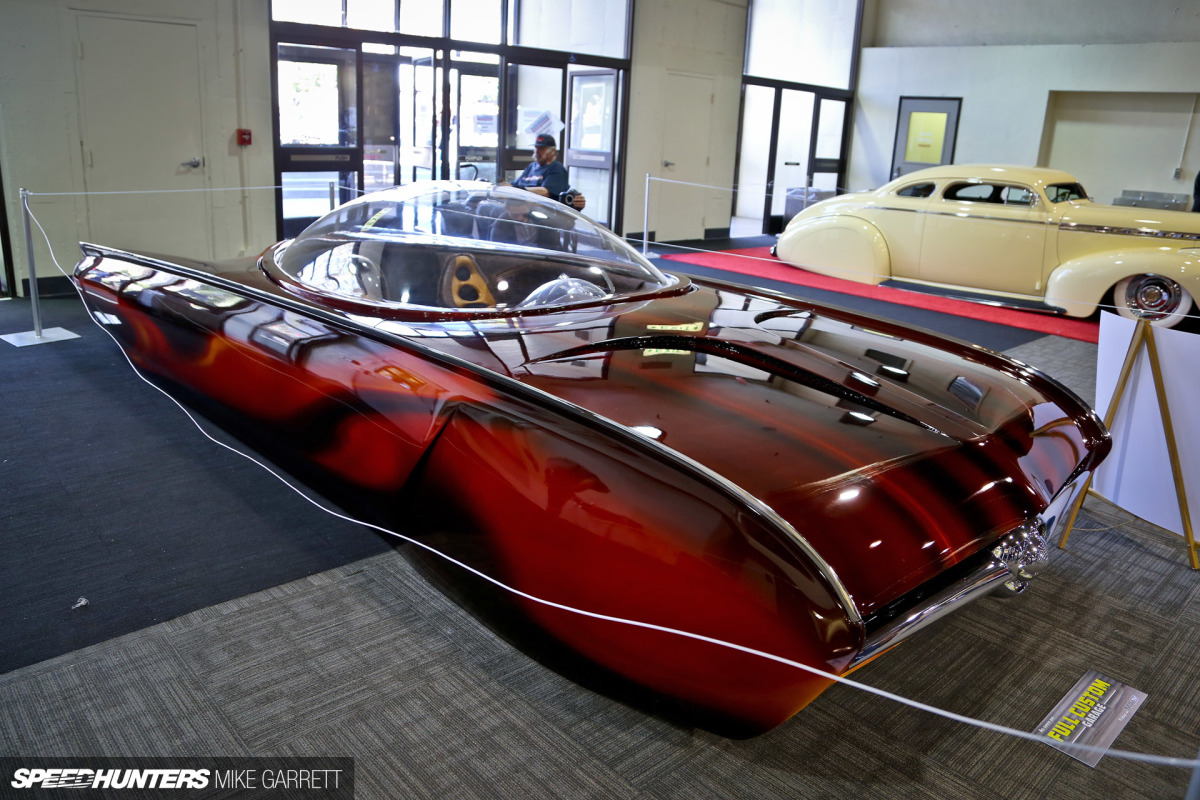 Despite the radical bubble-top conversion and space age styling of Victor Cacho's showstopper, I like that you can still clearly identify the '62 Ford Thunderbird that it's based on.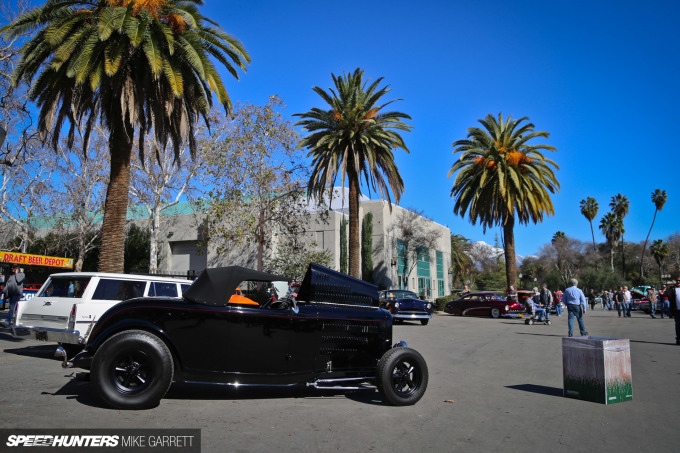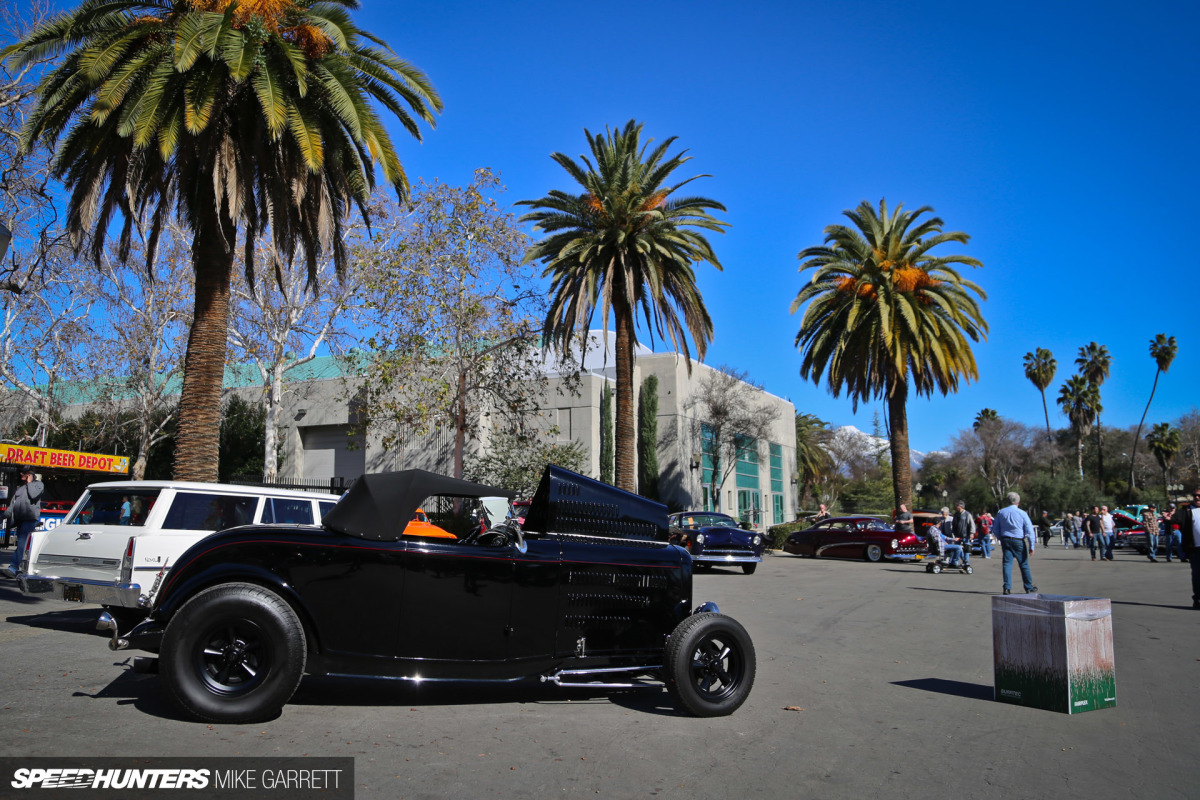 With the aforementioned picture-perfect weather, the outdoor cruise-in area was packed this year, and not just with show cars either.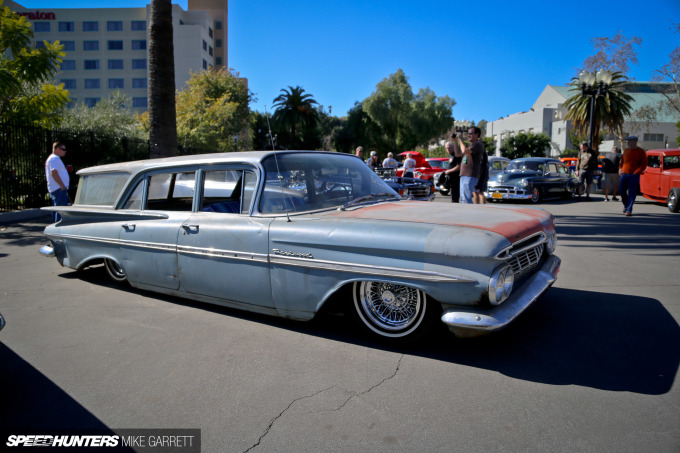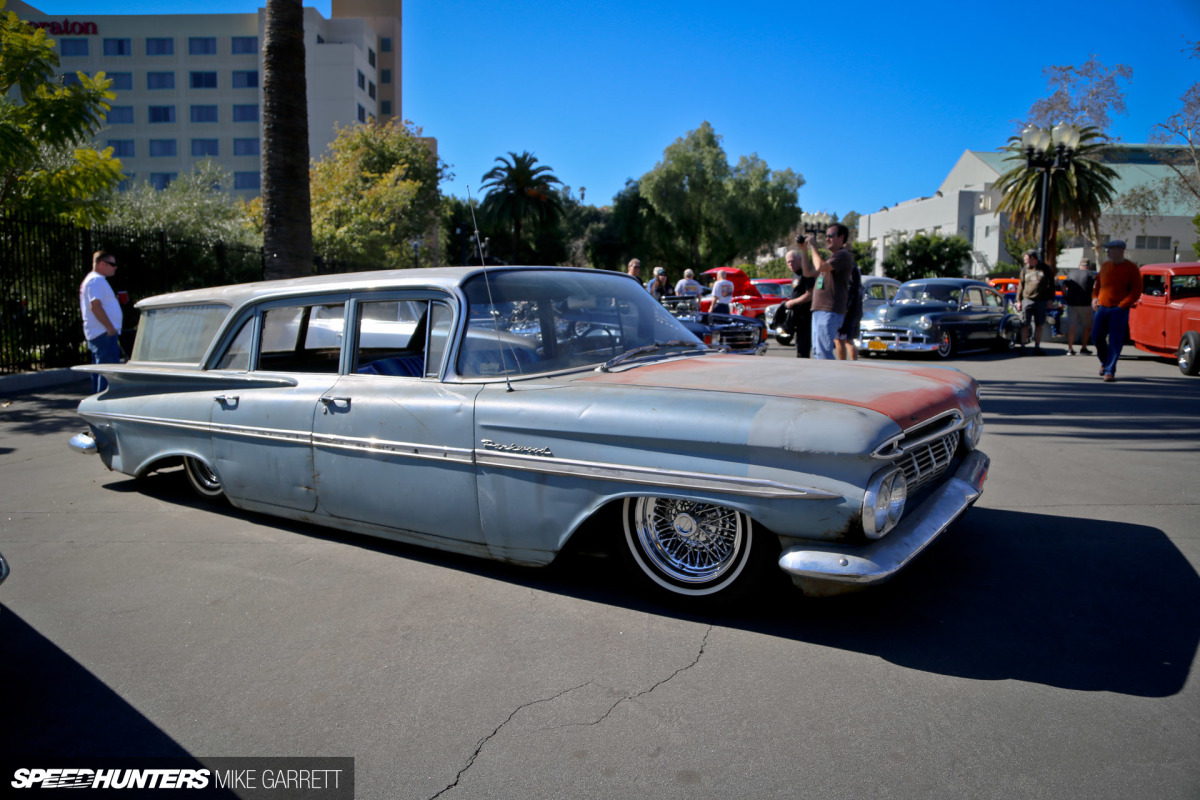 Case in point, this '59 Chevy Wagon dumped on wires and proudly sporting multi-colored, less-than-perfect bodywork. From the big-buck to the low-buck, everyone is welcome in Pomona.
While the Corvair has always had its cult fans, it seems like more and more customizers are now embracing Chevy's air-cooled machine. I fully support this movement and look forward to seeing a lot more Corvair builds in the future.
History On Display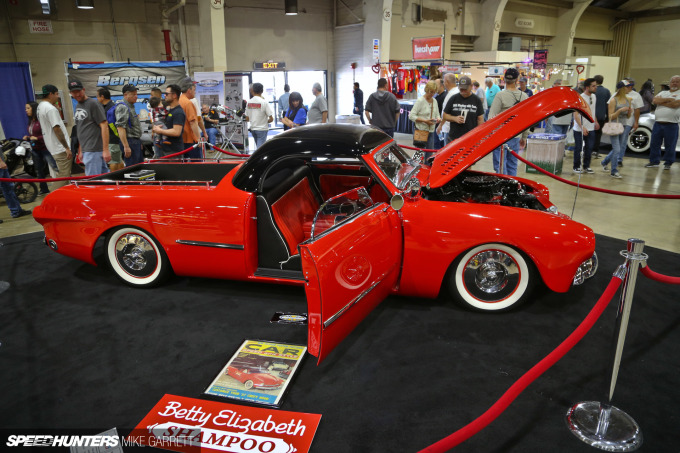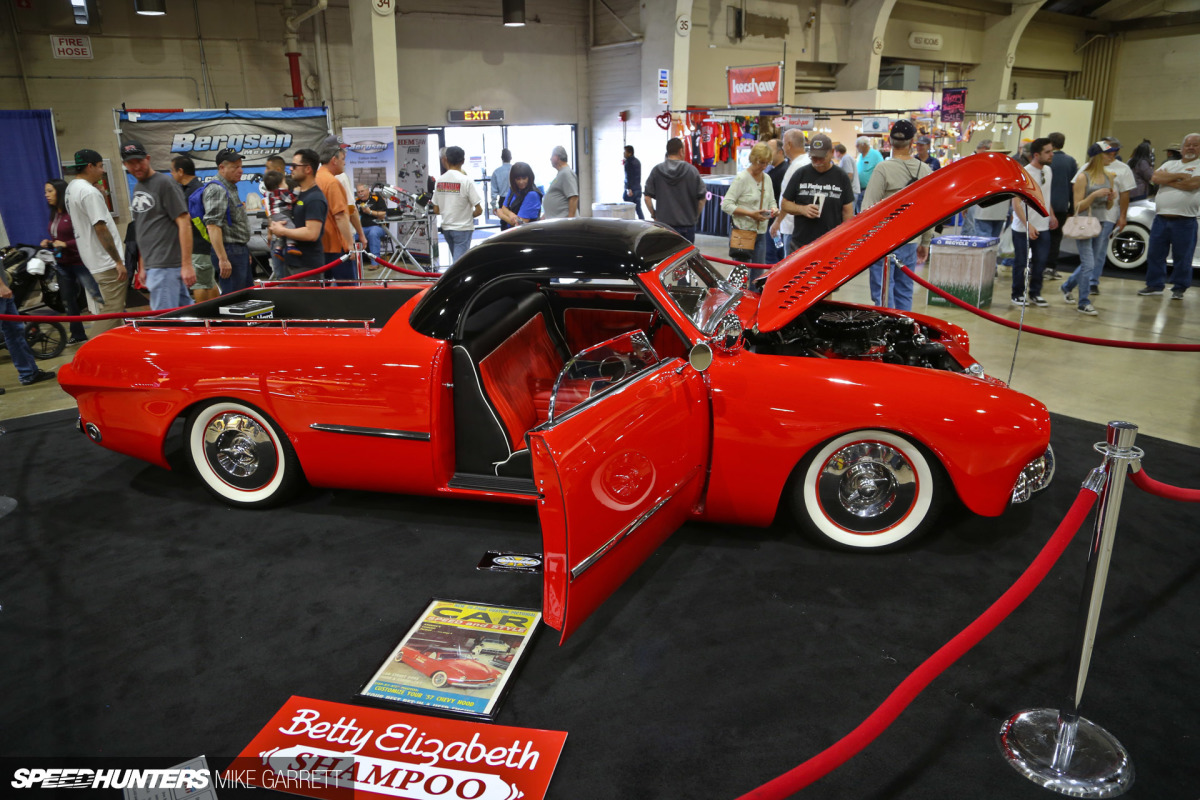 One of my favorite parts of the GNRS is seeing the historic custom builds that have been unearthed and restored to their original form. Here's a heavily modified '49 Ford Convertible known as the 'Shampoo Truck'.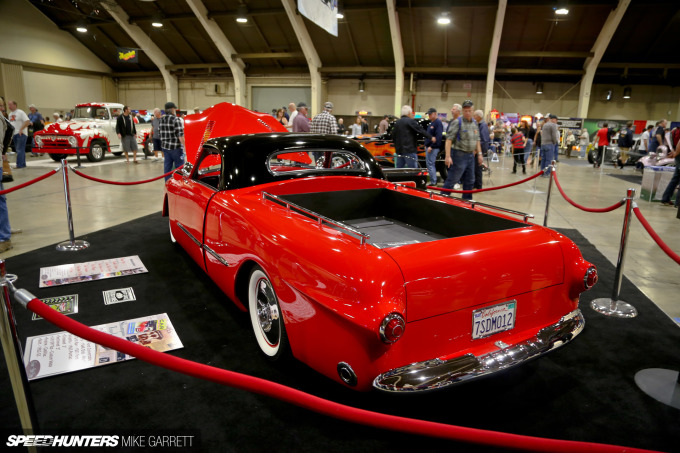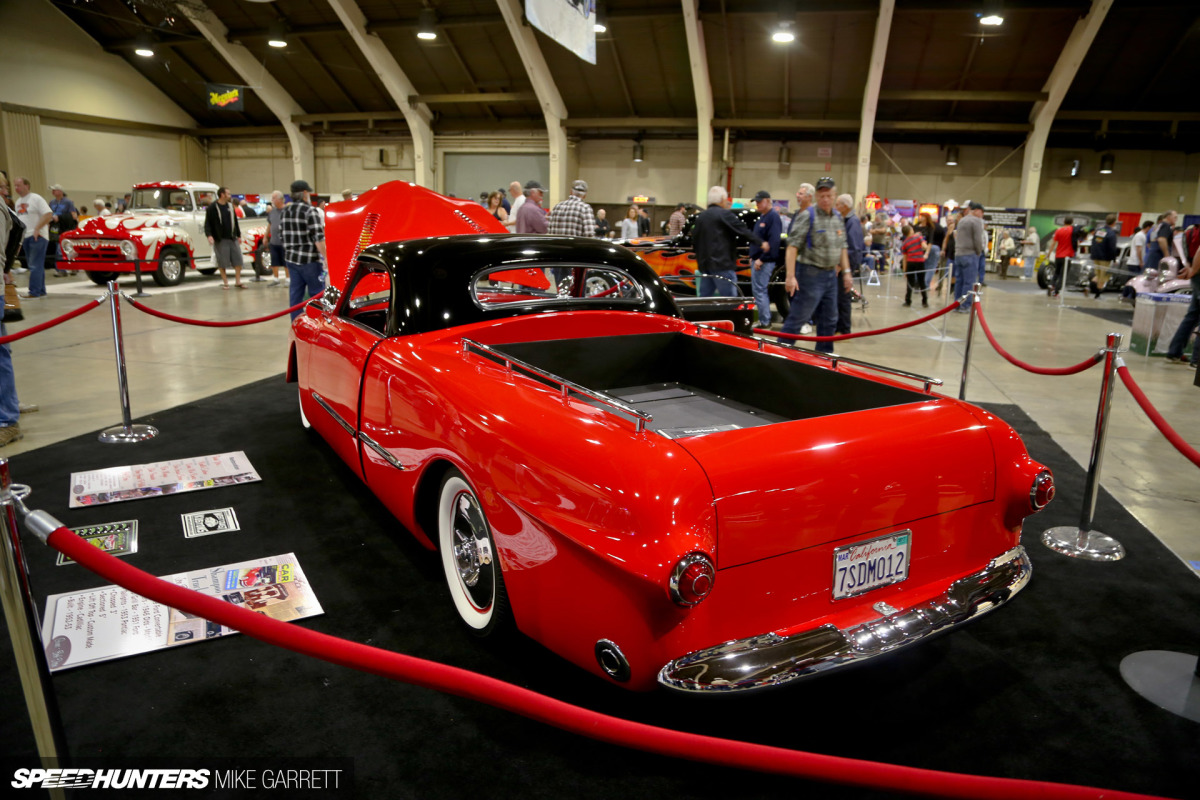 Originally built in the early 1950s, the Ford was chopped, sectioned, converted to pickup bed and fitted with Cadillac V8.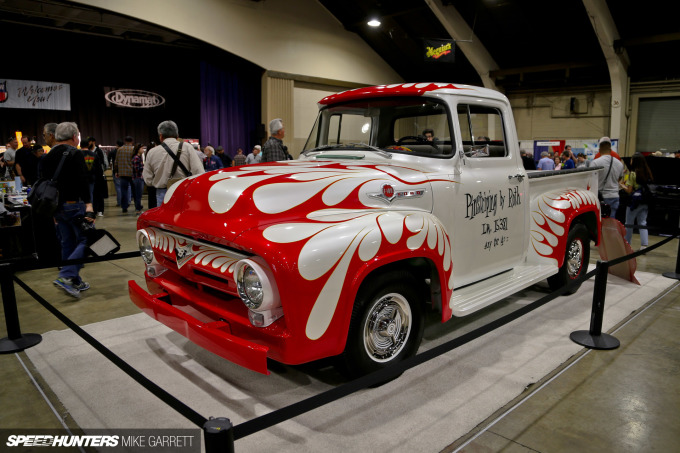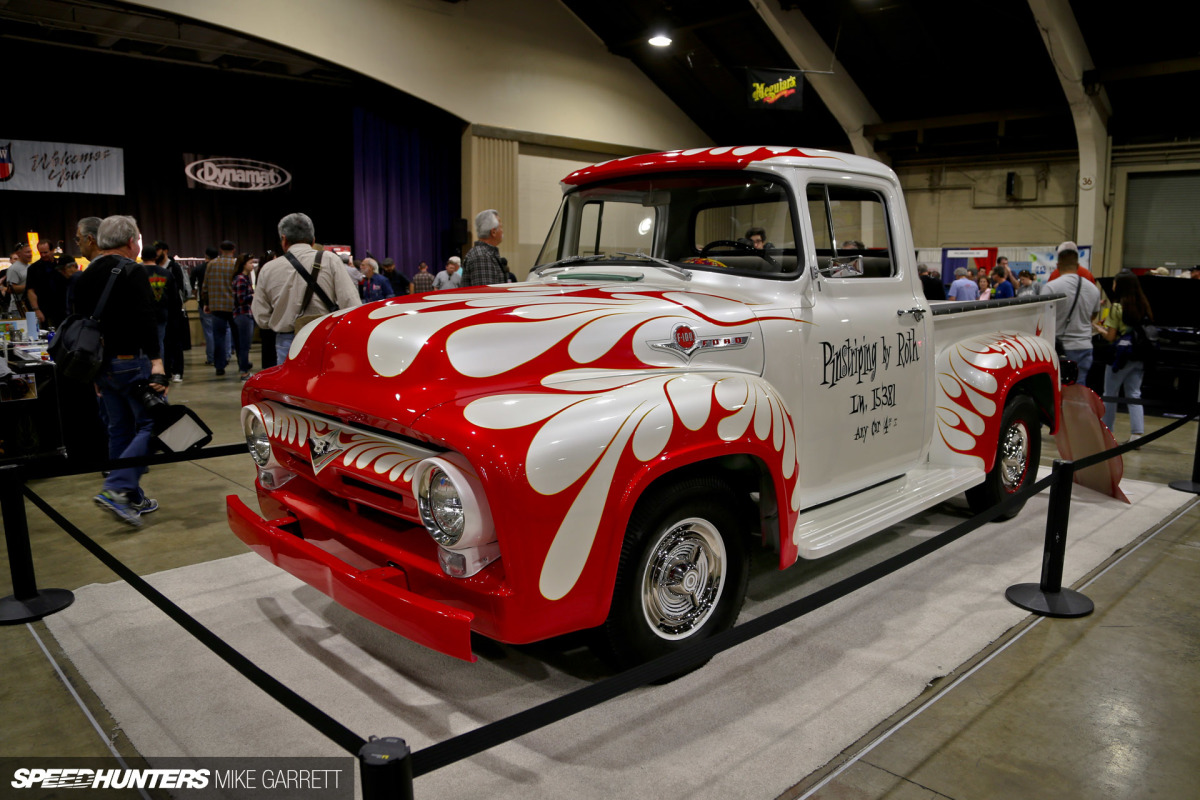 Another historic machine that made an appearance was Ed 'Big Daddy' Roth's original '56 Ford F100 shop truck which was just given a fresh restoration at the hands of Galpin Auto Sports' Dave Shuten.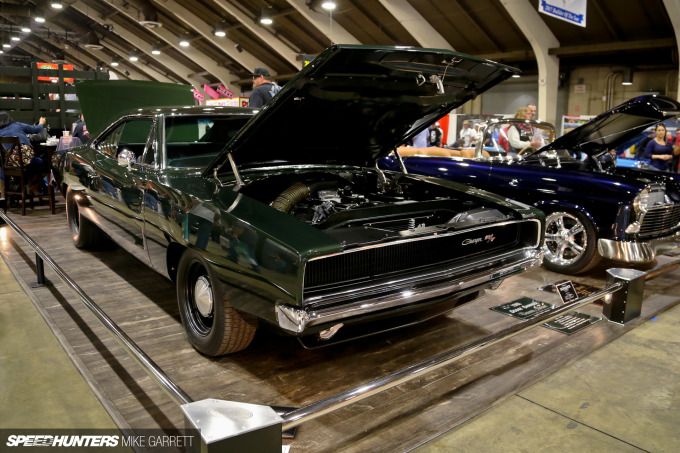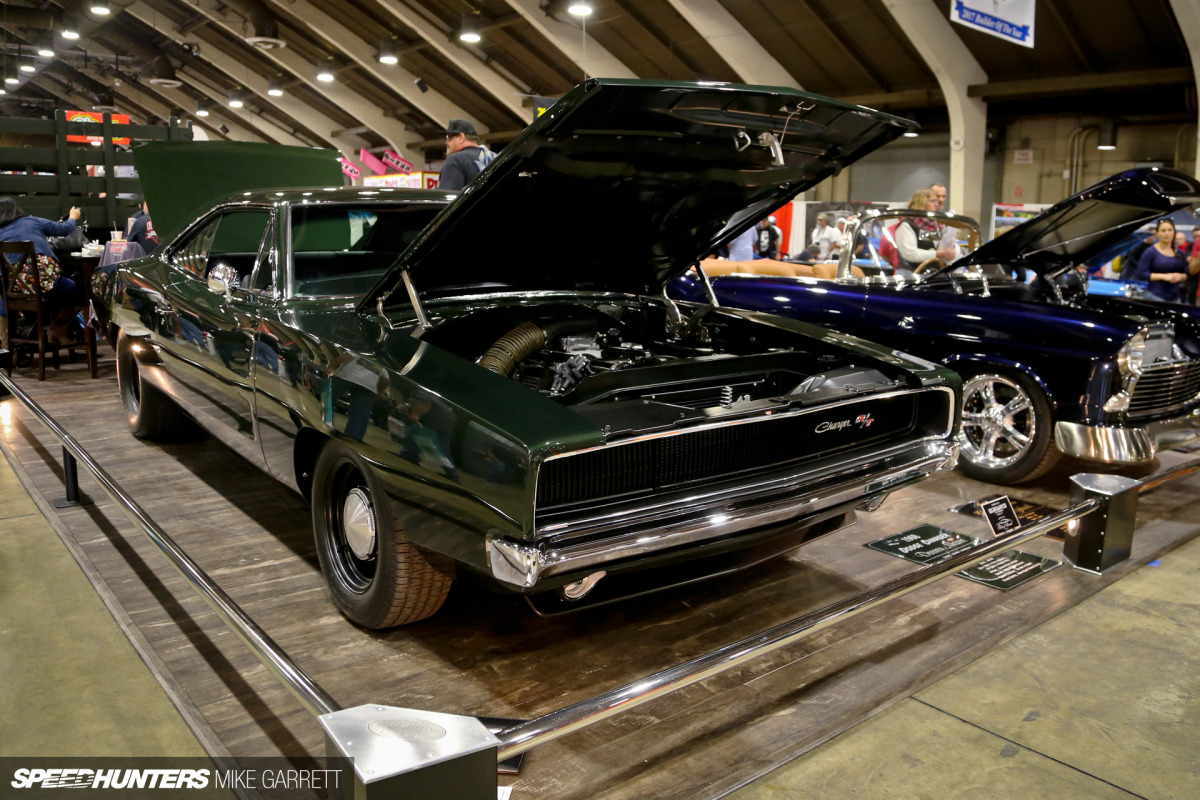 Elsewhere, my eye was caught by a couple of really cool Mopar builds, the first being Darren Moore's '68 Charger which was packing a 572ci Hemi V8 up front. There's just something about that understated green paint and the basic steel wheels.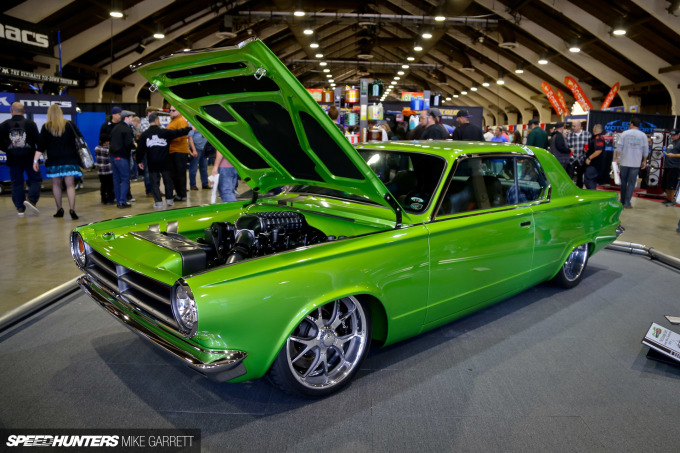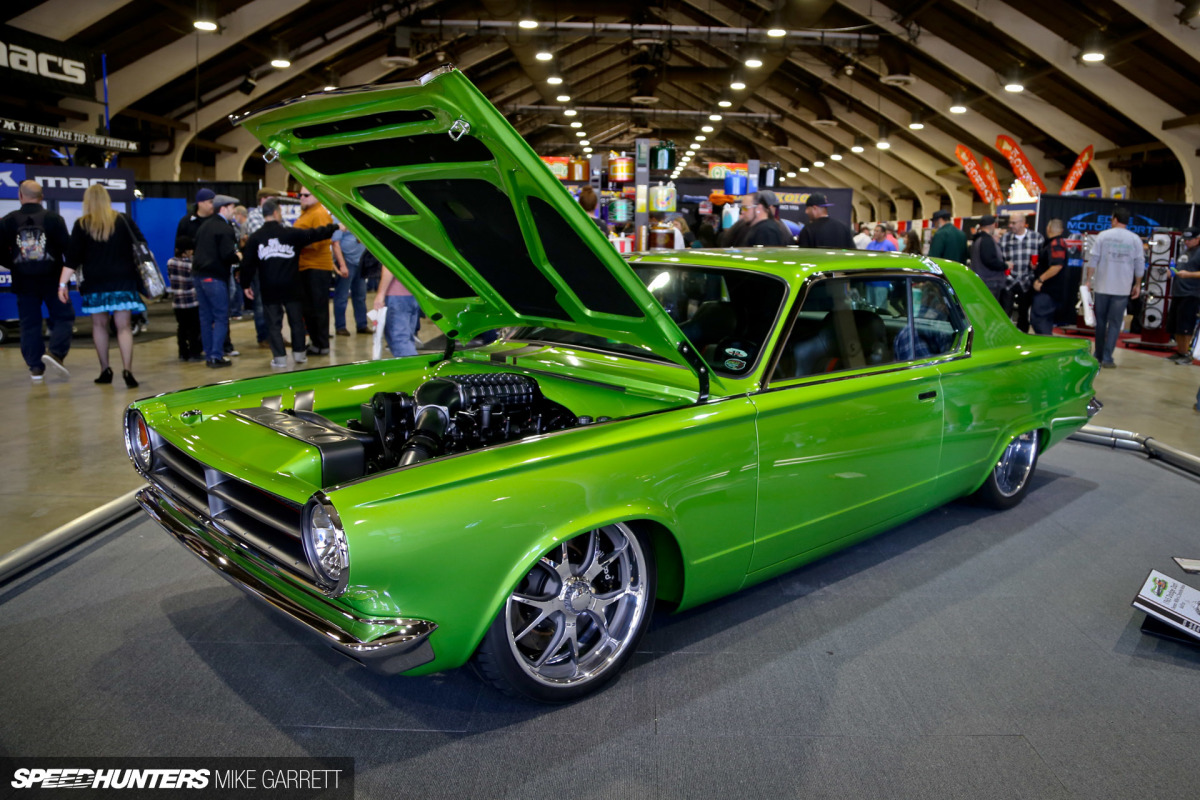 Also green and also Hemi-powered was this '65 Dart out of Alabama. This one's got a Gen III 392 with a ProCharger and a whole bunch of trick one-off parts. Maybe I'm just biased towards the Mopar A-Body?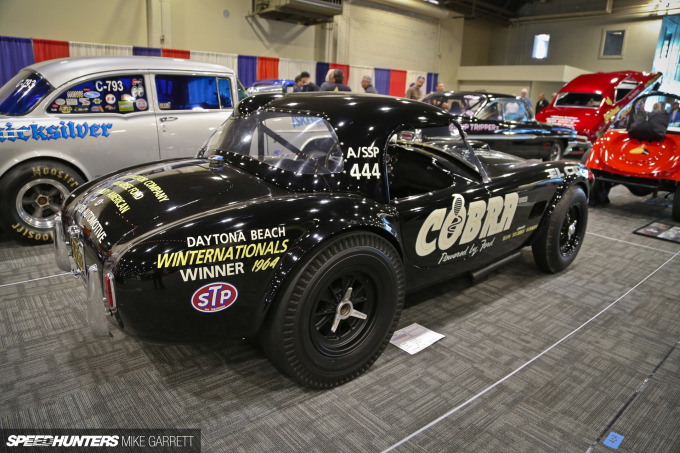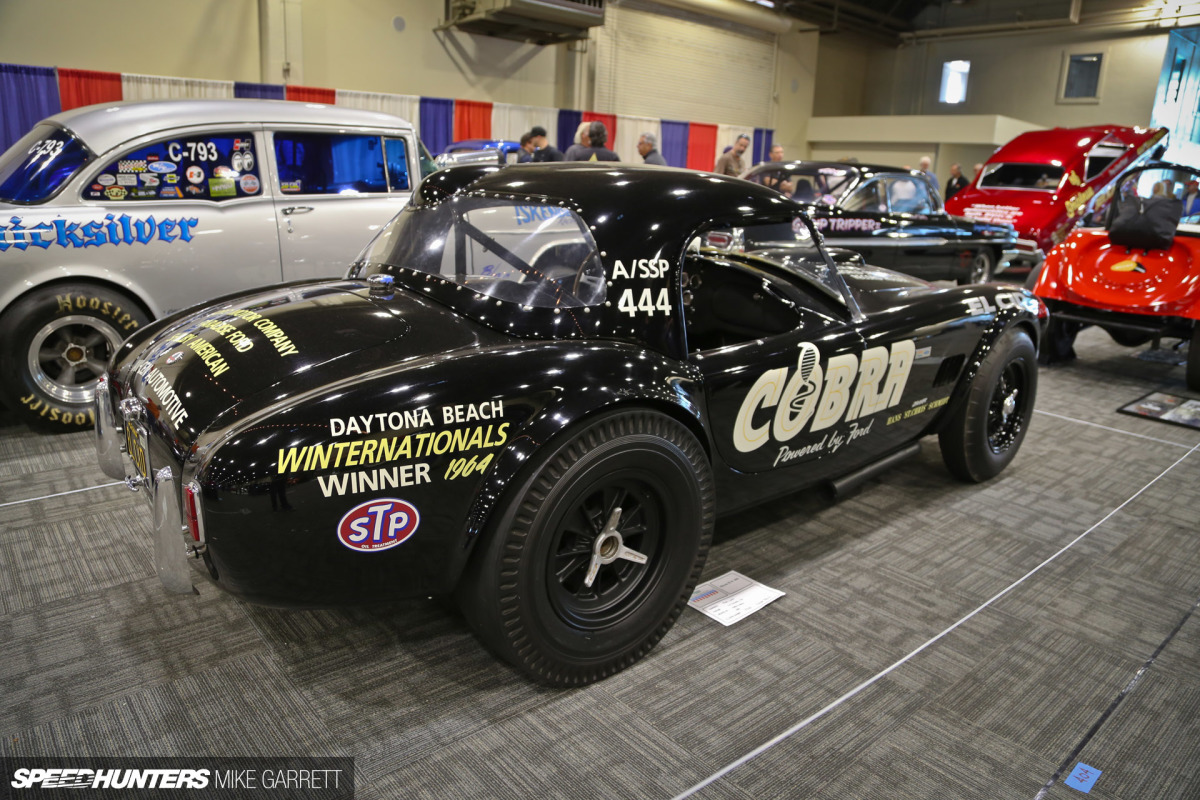 Race car fans would have also found a lot to like at this year's show. Here's the 'El Cid' Shelby Cobra Dragonsnake, which unlike most Cobras was one of five built for action on the drag strip rather than a road course.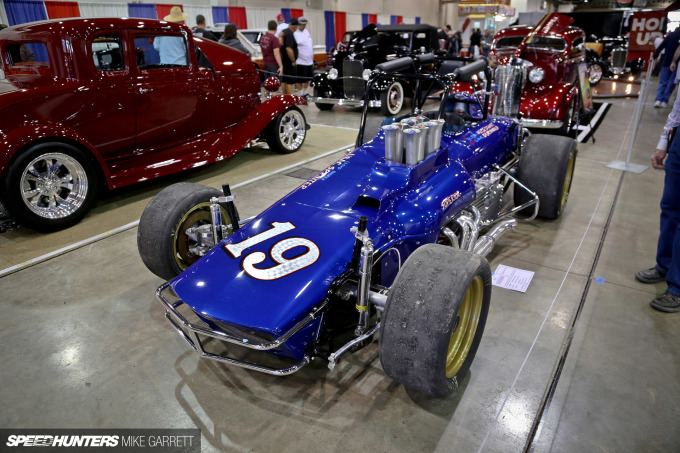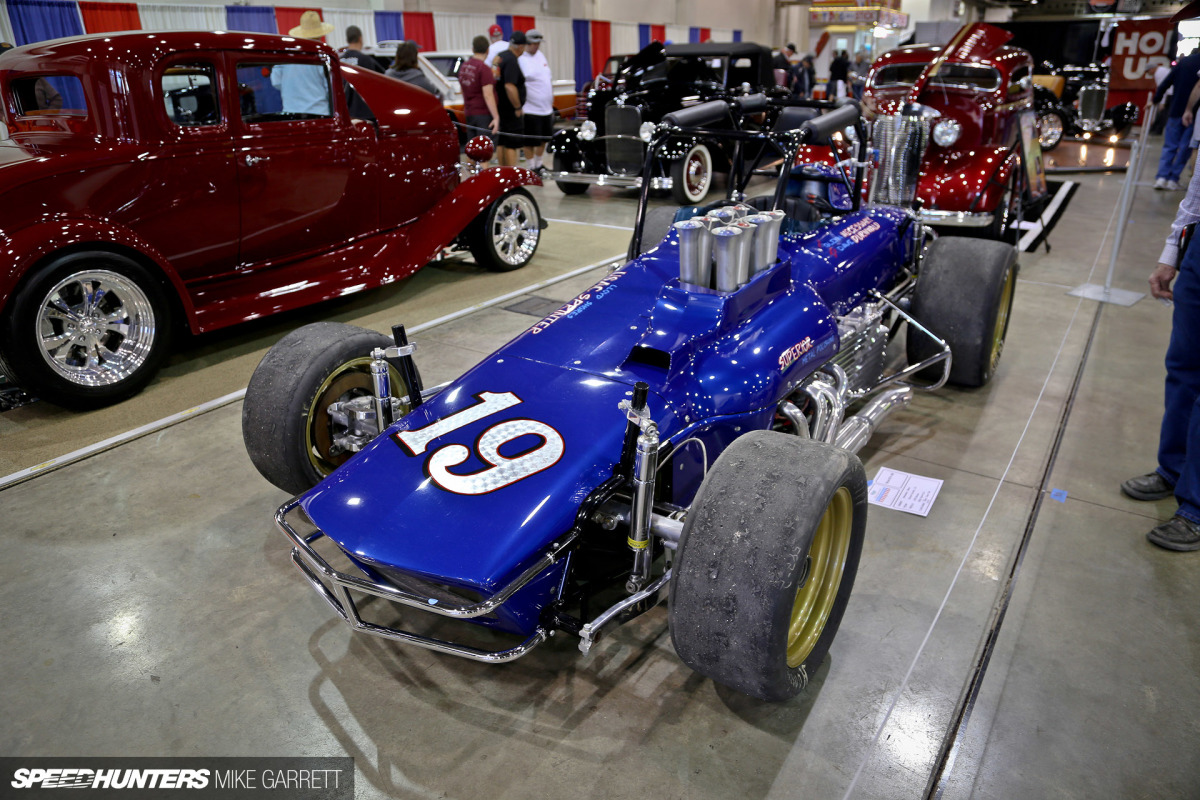 Or for something a little bit different, how about a USAC Sprint Car from 1978? It's scary and beautiful all at the same time.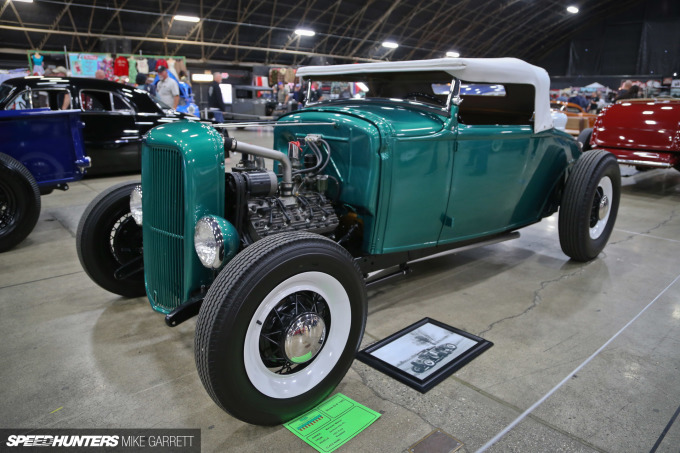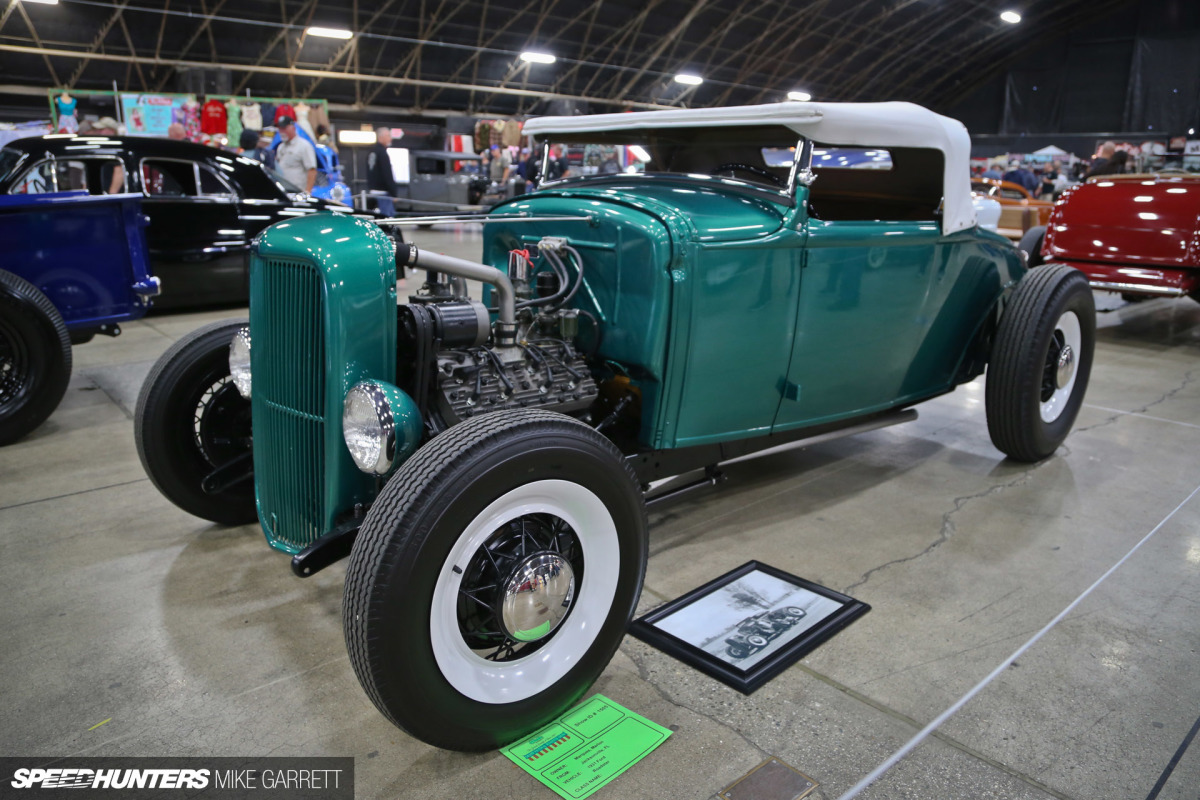 There's plenty more to come from the 2017 Grand National Roadster Show including plenty of car spotlights and a look at a special showcase dedicated to the '55-'57 Chevy, so keep an eye out for those.
Mike Garrett
Instagram: japanifornia
mike@speedhunters.com
Cutting Room Floor