Falling Down
Stop, navigate and listen.
Six years is a proverbial eternity in technology. When my Mk6 was built, the iPad was just about to be introduced to the world, Spotify hadn't yet launched in the United States and 3D televisions were being touted as the next big thing. I guess some of those were more successful than others.
I'm a fan of technology, especially where it has the potential to make my life easier on a day-to-day basis. It's a curious thing, though, how we often spend the least amount of money or work affecting change where we spend most of our time. Of course, it's not really applicable to all cars or people. If you're driving a vintage car, you should tune your 'radio' to the sound of Weber and Dellorto. But for a lot of us, who spend so much time behind the wheel of our daily drivers, a few creature comforts are more than welcome.
This time of year, in the Northern Hemisphere anyways, there's very little joy to be taken from driving; it's a chore. Sure, the cool, dense air is great for turbocharged engines, but with road surfaces deteriorating and regular traffic slowing to a crawl at the first sight of moisture, it becomes a tedious experience.
To avoid frustration and triggering a Falling Down moment, I've learned to back off, relax and love the journey.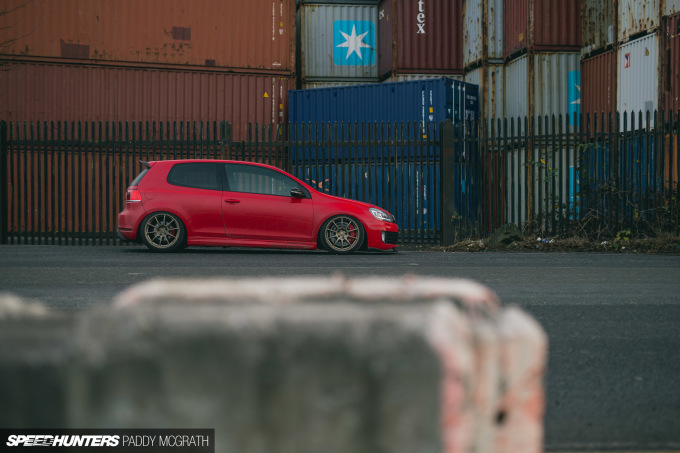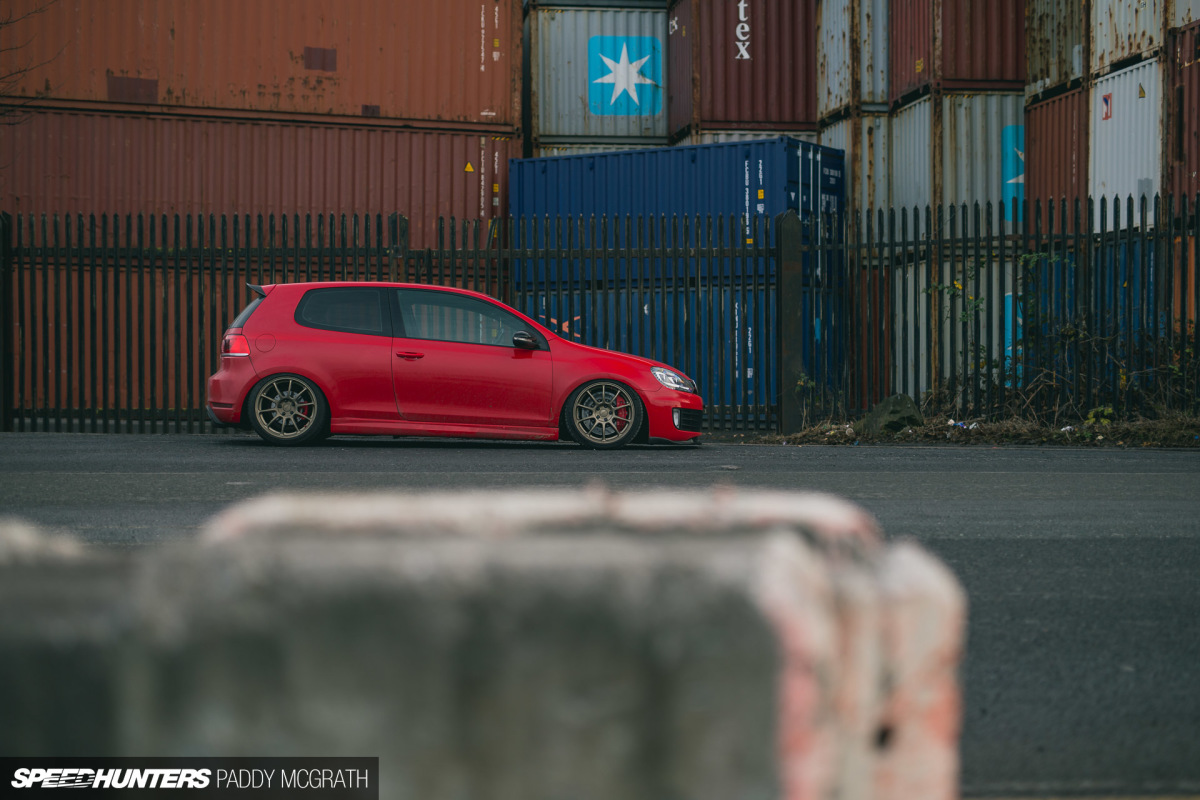 One of the few areas where I felt Project GTI was lacking, compared to my previous BMW E90, was the in-car entertainment and communications system. The Mk6 is far from awful or anything, but it just left a lot to be desired.
When I bought the GTI last year, the dealer had retrofitted an aftermarket Bluetooth system. It did work through the factory controls, but it was unreliable and only featured very basic A2DP streaming.
The car still had its factory RCD310 central unit, which is about as basic as they come. It didn't last long; I picked up a used RNS510 – a factory option with built-in navigation – which replaced the RCD310 a few months into my ownership.
The RNS510, to its credit, has been an adequate companion on long journeys. It's also one of the most simple retrofits you can carry out to a Volkswagen of this generation. It's very much a case of remove old radio, plug in RNS510 and it's ready to rock. Some coding might be required to activate all of its features, but there was no hardware or connection modifications required.
There is a caveat to this, however. It's an old piece of equipment and has been left in the dust by advancements in both OEM and aftermarket technology. Even with the latest maps and software, it feels older than it actually is. The menus and GUI are dated; its performance leaves quite a lot to be desired too.
The problem is, any of the modern Mk7 technology can't be retrofitted easily into the Mk6, and the majority of aftermarket systems just stick out like a sore thumb. What I needed was an aftermarket unit that looks OEM, but is a plug and play install with the latest technology.
Enter Kenwood.
Finding The Hole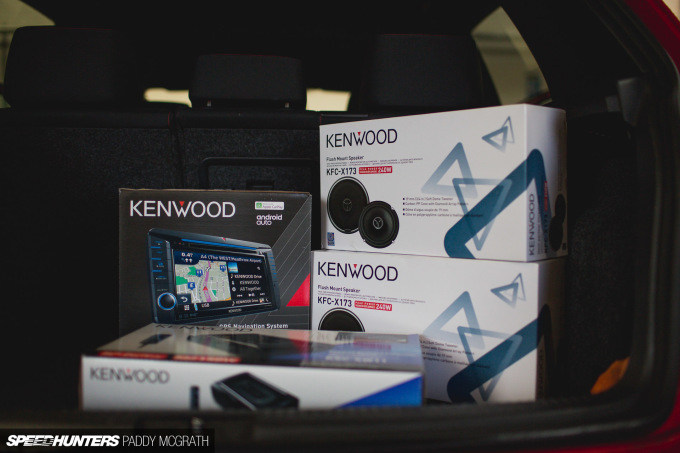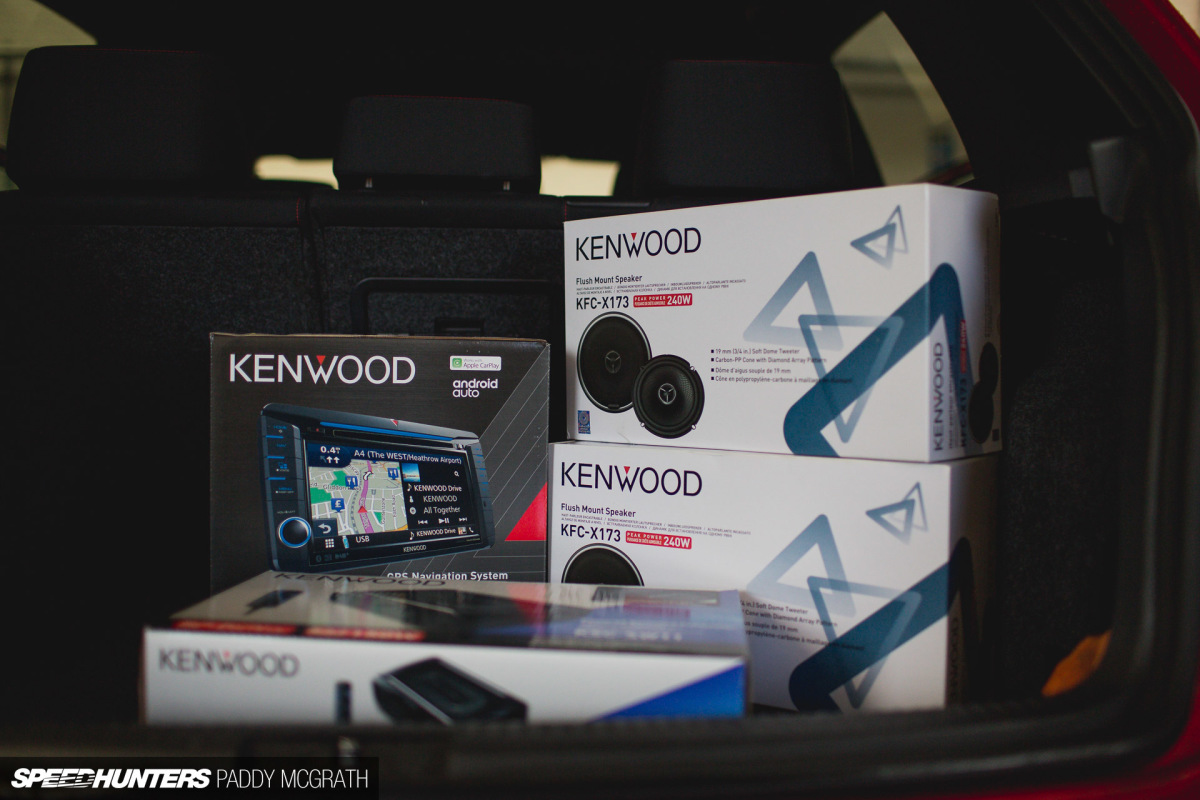 In the interests of full disclosure, I used to run a Kenwood DNX7230 in my E90 and I adored it. Ever since I changed back to Volkswagen, I've been keeping a close eye on what Kenwood UK has been coming out with, knowing that it maintains a close relationship with VW. In fact, in the UK, you can walk into a VW dealer and have a VW-approved Kenwood unit installed into your car. Just recently, the company announced the new DNX516DABS, which is the latest in this line of VW-approved units, made specifically for Volkswagen vehicles.
Upon hearing this, I sent an e-mail to Kenwood UK to see if there were any review units available. To my surprise there was, and they were more than happy to send me one to evaluate. Kenwood UK also suggested that to get the most out of it, I should upgrade the entire factory audio system while I was at it. I was hardly going to say no, was I?
A couple of days later, a considerable delivery arrived and I pretty much immediately set about getting it installed.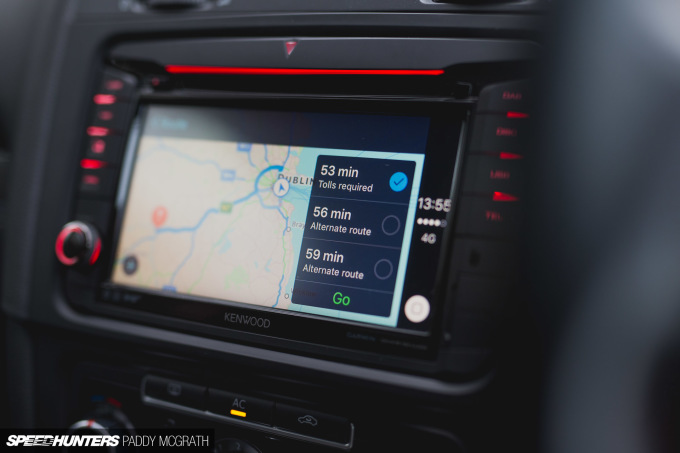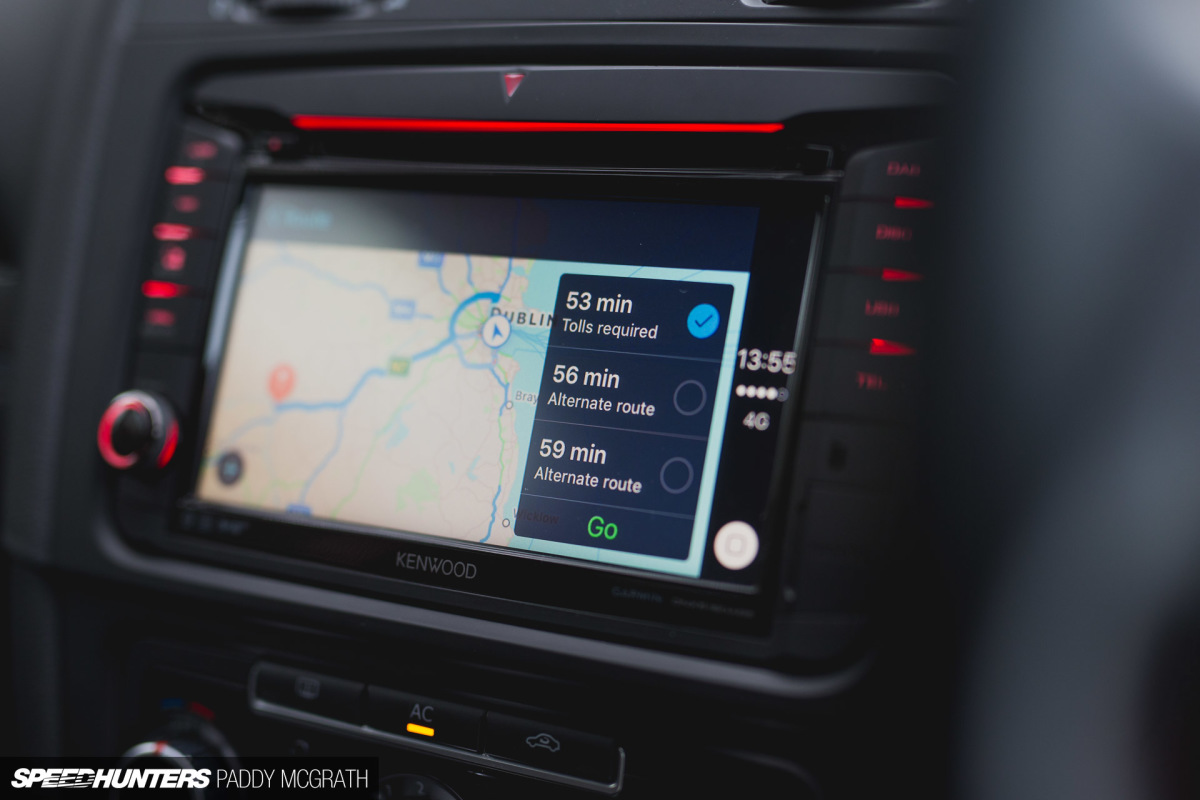 I didn't document the install, because like the RNS510, it was a simple case of removing the old unit and installing the DNX516. I also wanted the unit in the car for as long as possible before I wrote this, so I had a clear idea of its strengths and weaknesses.
It fits perfectly within the factory bezel and matches the same red backlighting as the rest of the interior, although this can be customised if you wish. The unit also retains the MFSW controls, interacts with the MFD between the gauges and even boots with the VW logo on a splash screen. It has built-in Bluetooth, Apple CarPlay and Android Auto, DAB, FM/AM, CD/DVD, Garmin navigation, a plethora of inputs and a MiniSD card slot on the front.
I'll come back to this in a little bit.
Skip forward a couple of weeks and I was finally getting around to installing the rest of the audio equipment Kenwood supplied. I like things subdued, so what I was sent was absolutely perfect to maintain a factory look with aftermarket performance. We started with the front door speakers, which while surprisingly easy to access, were going to be a little stubborn to remove due to them being riveted in place.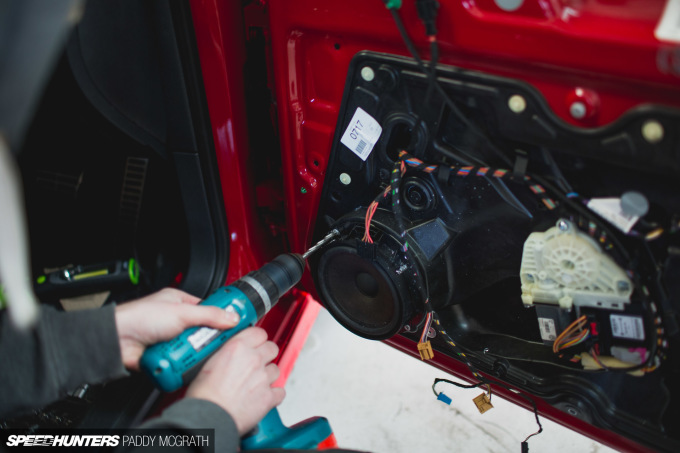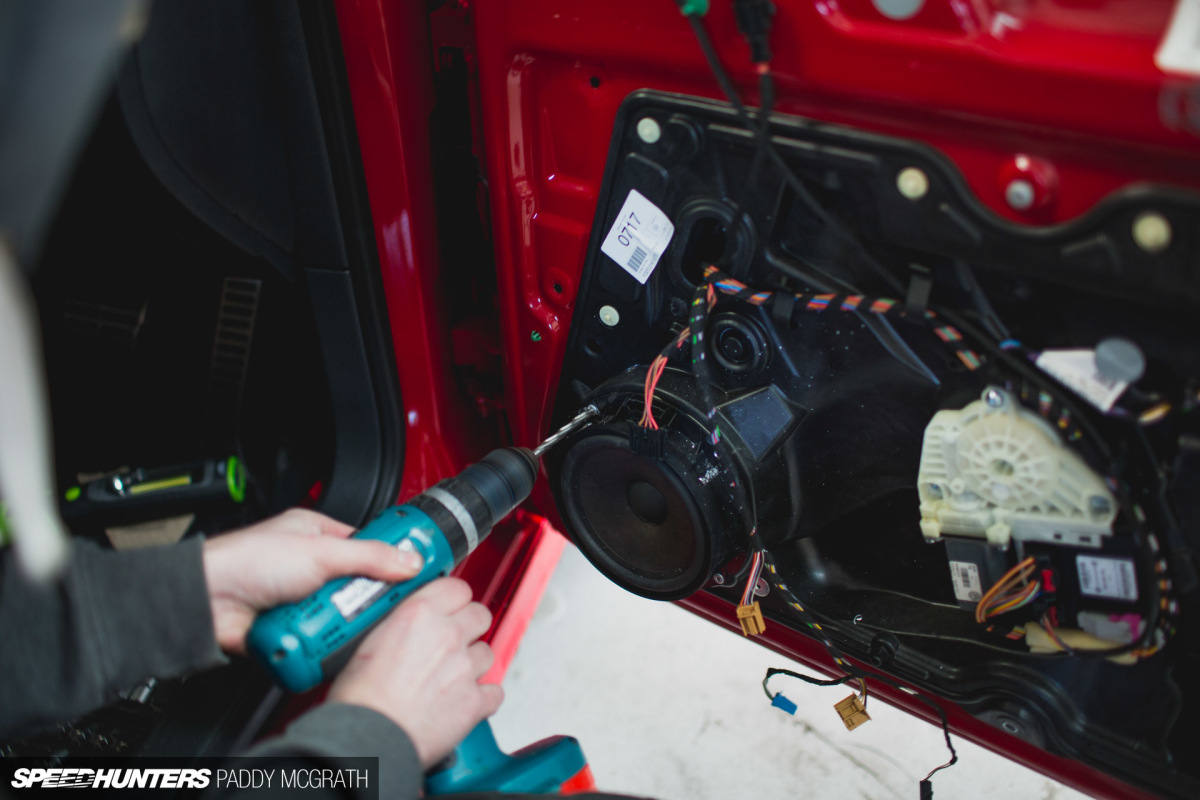 Any excuse for Flip to get his drill out.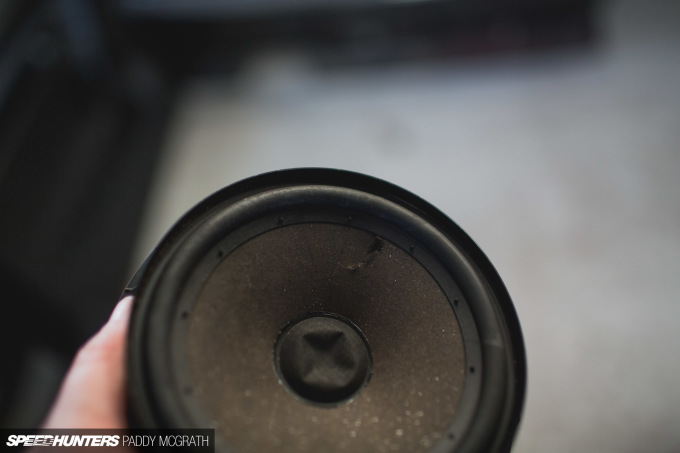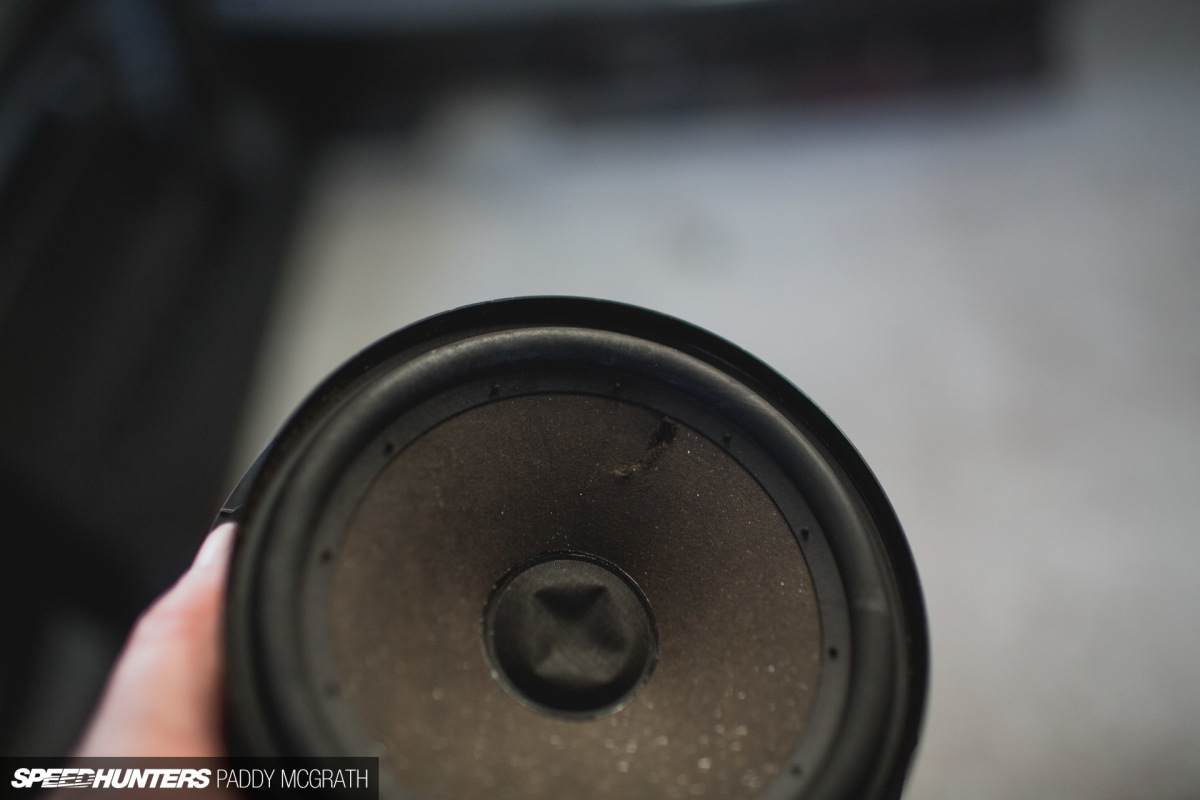 It was a good thing we were upgrading, as I don't think it's optimal to have a hole in your factory speaker. The depressed centre is my doing, mind you.
We were replacing the factory speakers with Kenwood's KFC-X173 2-way high performance flush mount speaker system. The units are 170mm in size, with a 19mm tweeter and a 240W peak input power and 80W RMS. Kenwood was also kind enough to include the correct housing and wiring adapters so that once the factory speakers came out, its went in without a hitch.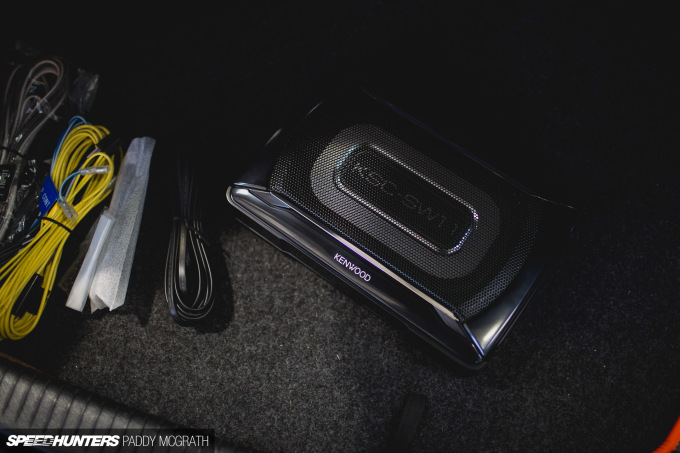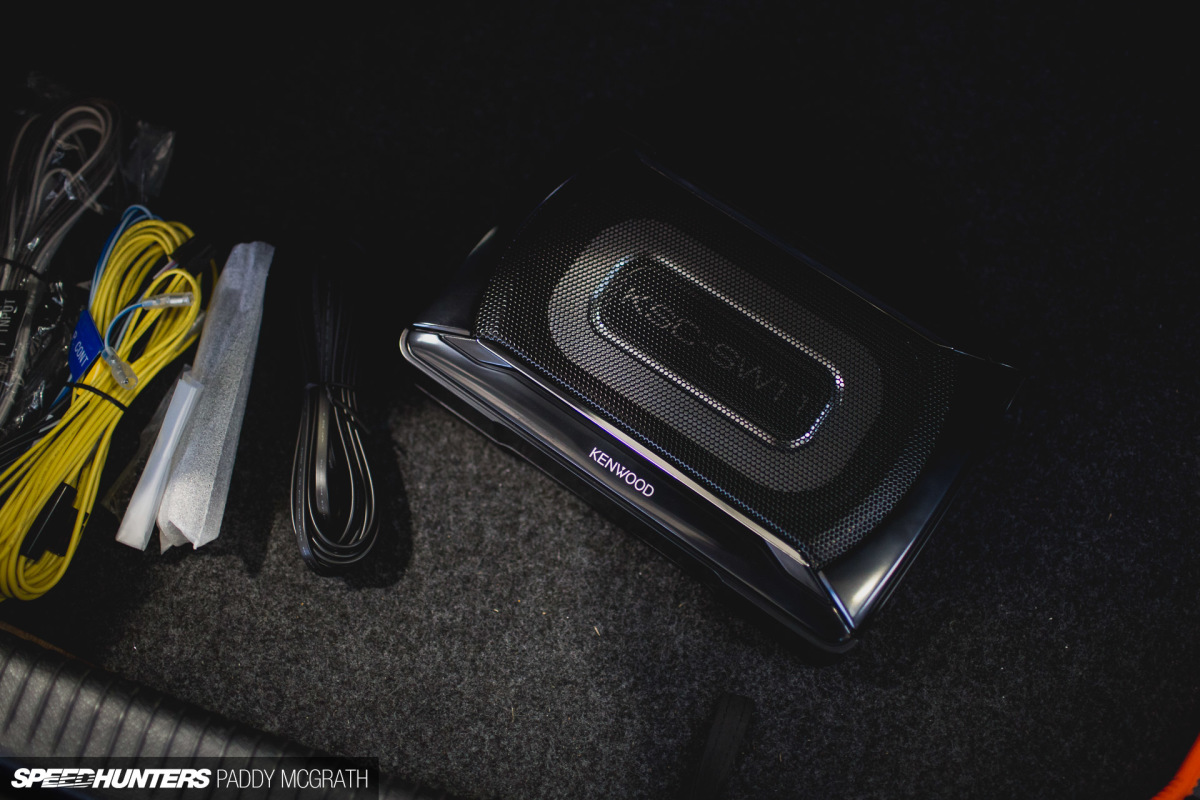 The bit I was most excited about was the KSC-SW11 powered subwoofer. At this point, Flip had to tend to another project, so I was I on my own from this point forward. Not a big deal, but I do have a chronic fear of dealing with any sort of electrics.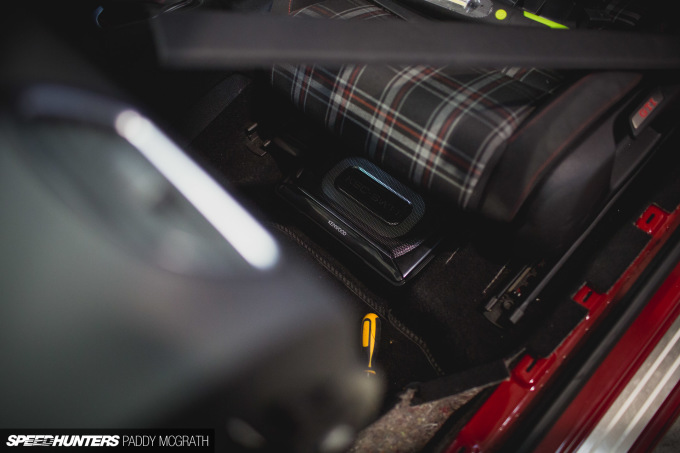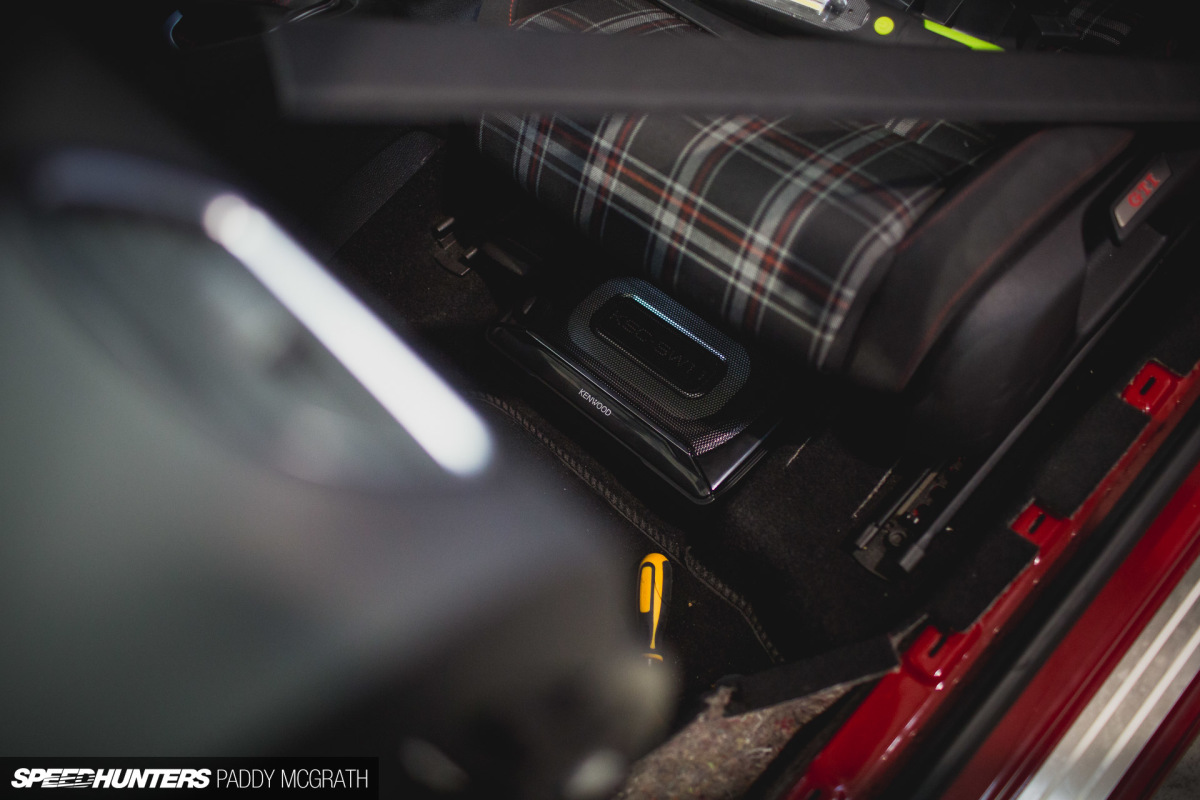 My first task was to find a suitable location for the subwoofer. As luck would have it – or more likely, Kenwood already knew the dimensions – it was a perfect fit under the front seats. I knew that the Air Lift Performance wiring harness was run on the passenger side of the car, so figured it would be wise to follow that all the way to the battery and find an earth along the way. Being on the passenger side, it would also make life easier running any wiring to the central unit.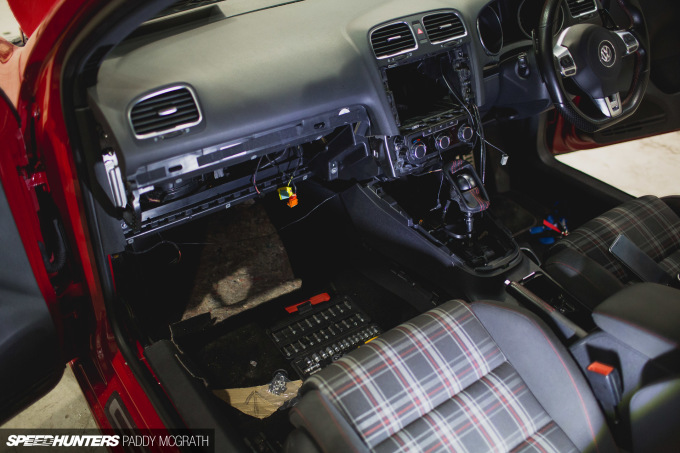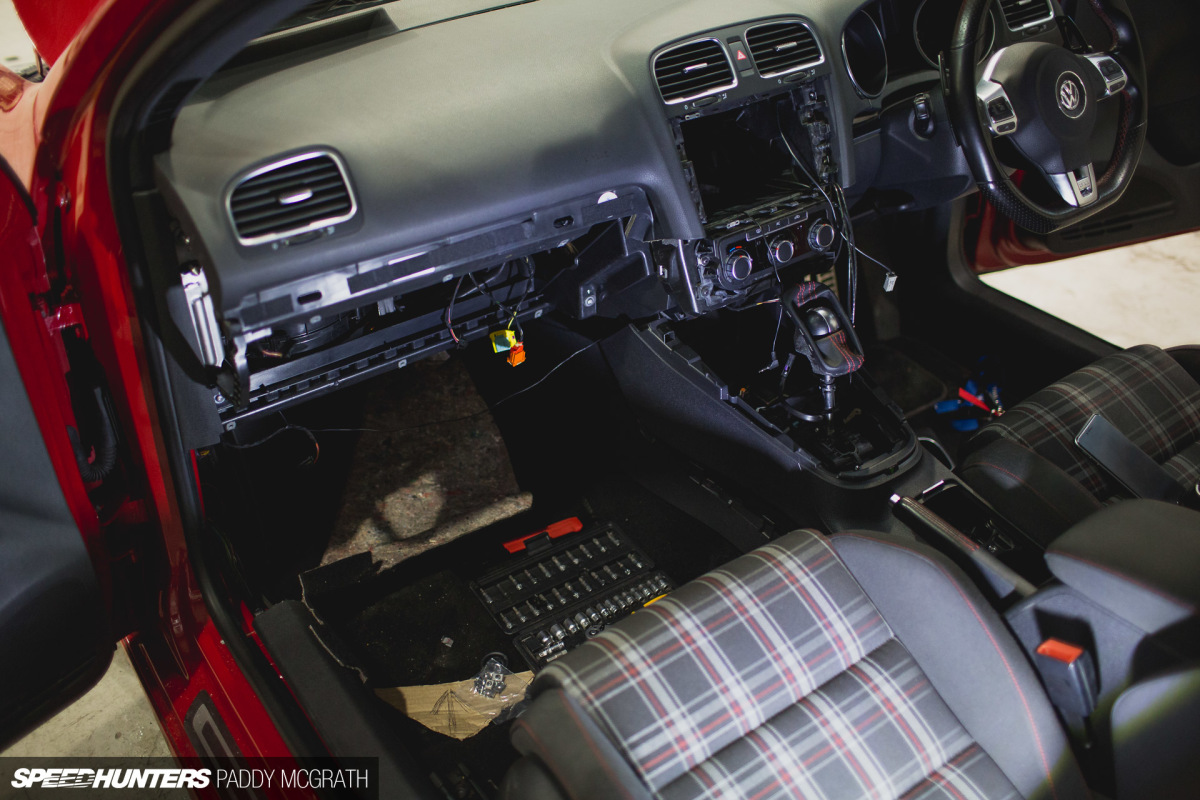 Once the route had been decided, I started removing everything that was going to be in my way. Unfortunately for me, removing the glovebox requires part disassembly of the centre console too. At this point, I also removed the DNX516.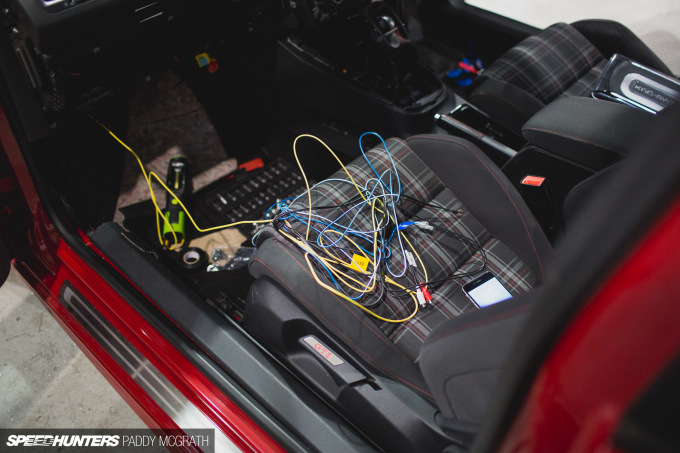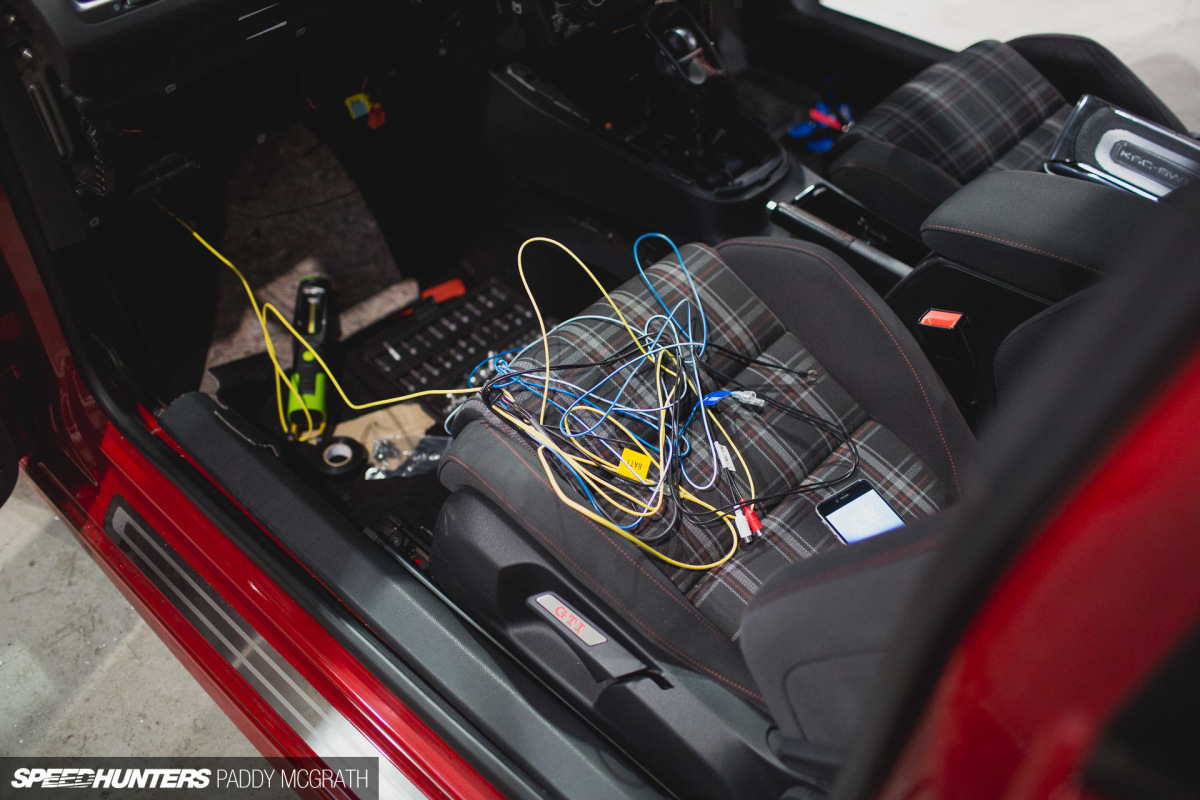 There was comfortably enough wire supplied to run the subwoofer from the rear of the car, but I wouldn't be needing the full length. I simply followed the route where the Air Lift Performance loom was picking up its power from and located a factory earth right at the sill.
Bonus points if you can identify what was in Flip's booth.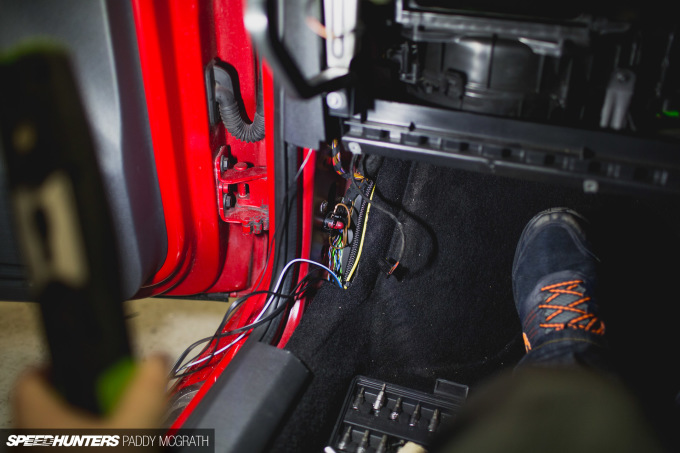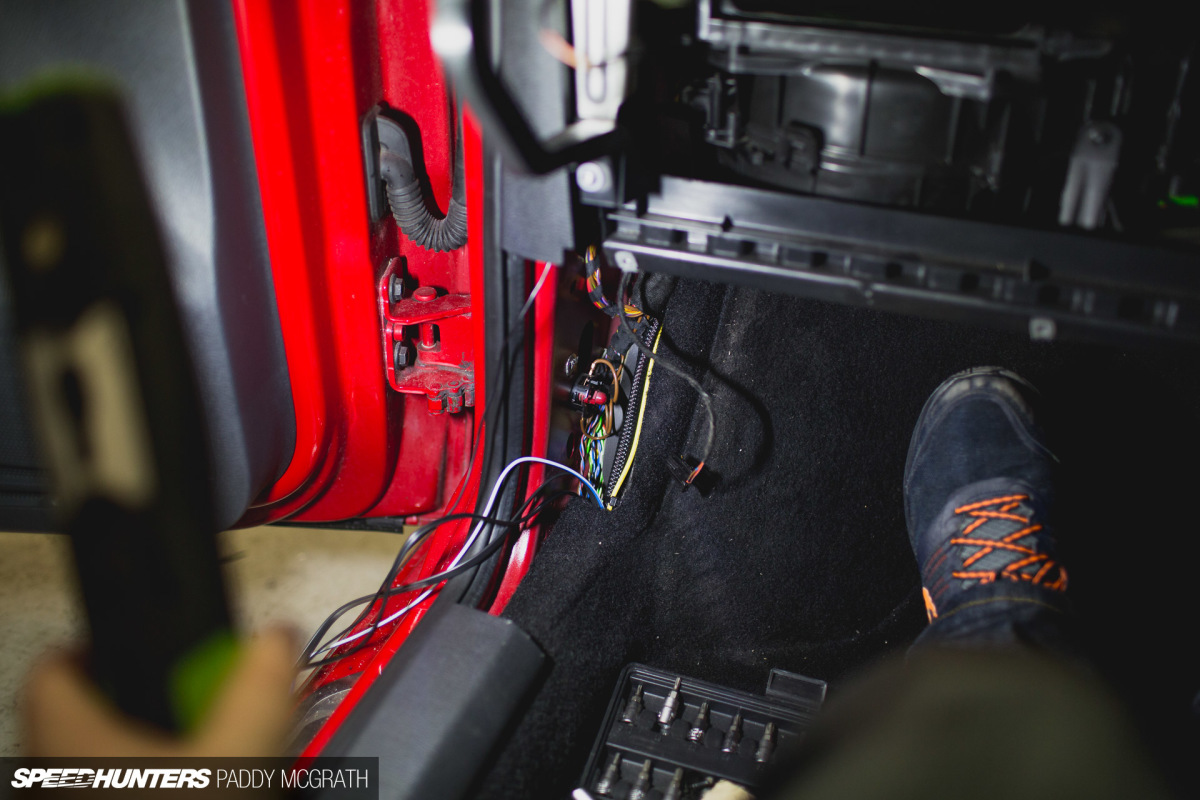 To prevent me getting confused, which is a regular occurrence, I sorted the wires and tied up what was already assigned onto the factory wiring loom for cleanliness. I then ran the RCA leads and the power control lead through the back of the glovebox area, and towards the central unit, leaving enough slack to make it easy to install with the DNX516 pulled forward. All excess wire was neatly looped, taped and tucked away behind the glovebox.
It was then a simple case of plugging in two connectors – one connector for power, earth and an ignition source, the other for a remote – into the back of the subwoofer and securing everything down.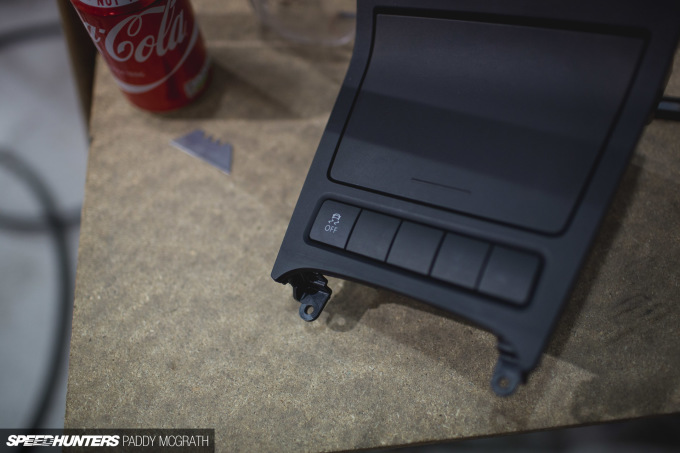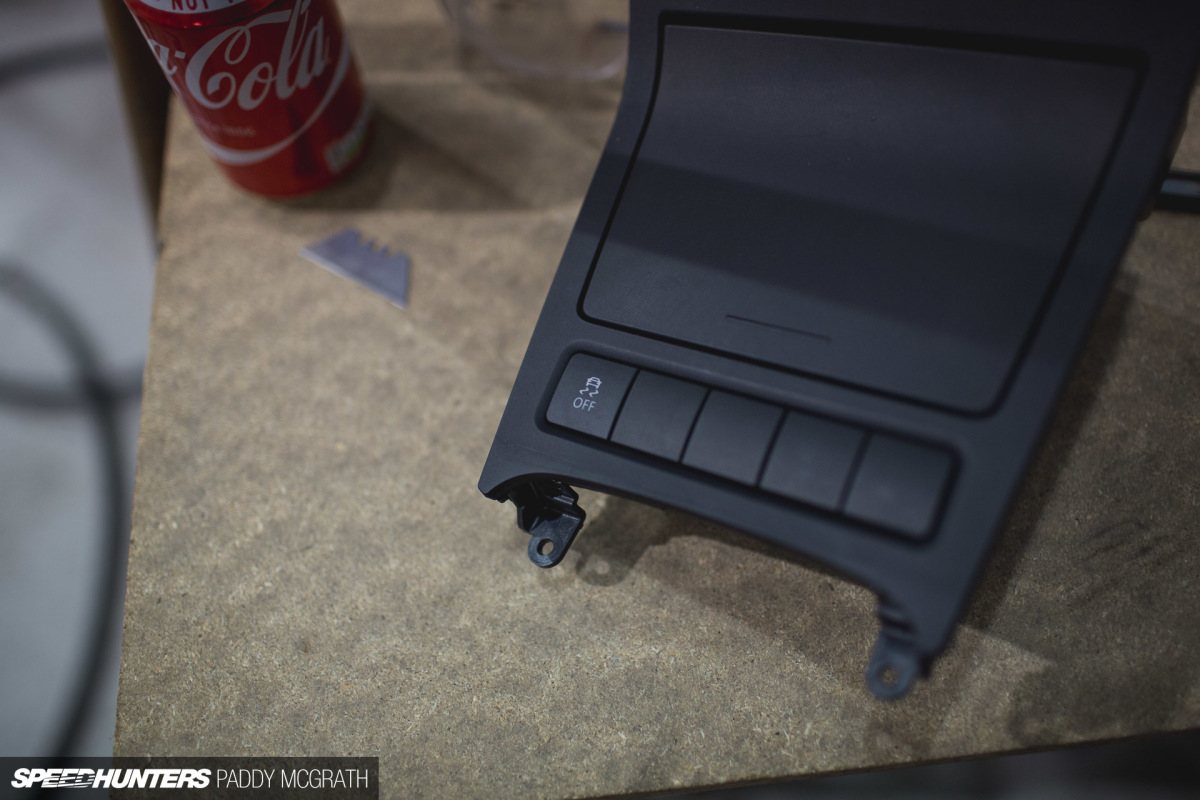 With everything apart, it made it easy to make another subtle upgrade utilising the factory button locations.
I sourced a USB passthrough kit from DoubleApex in the US that adds a factory-looking USB input into the centre tray, which can then be connected to the Phone USB input on the back of the DNX516. Essentially, instead of having a USB lead in the glovebox, I can just plug my phone into this port and it connects the phone directly to the central unit. I also ordered a dedicated USB charging port but didn't fit it at this point. That's something for another day.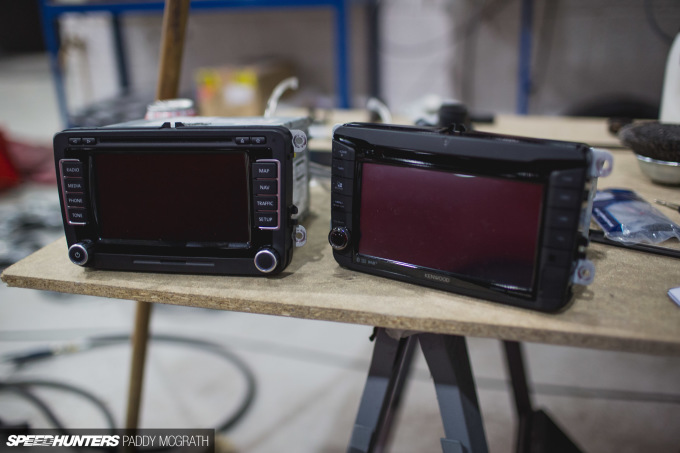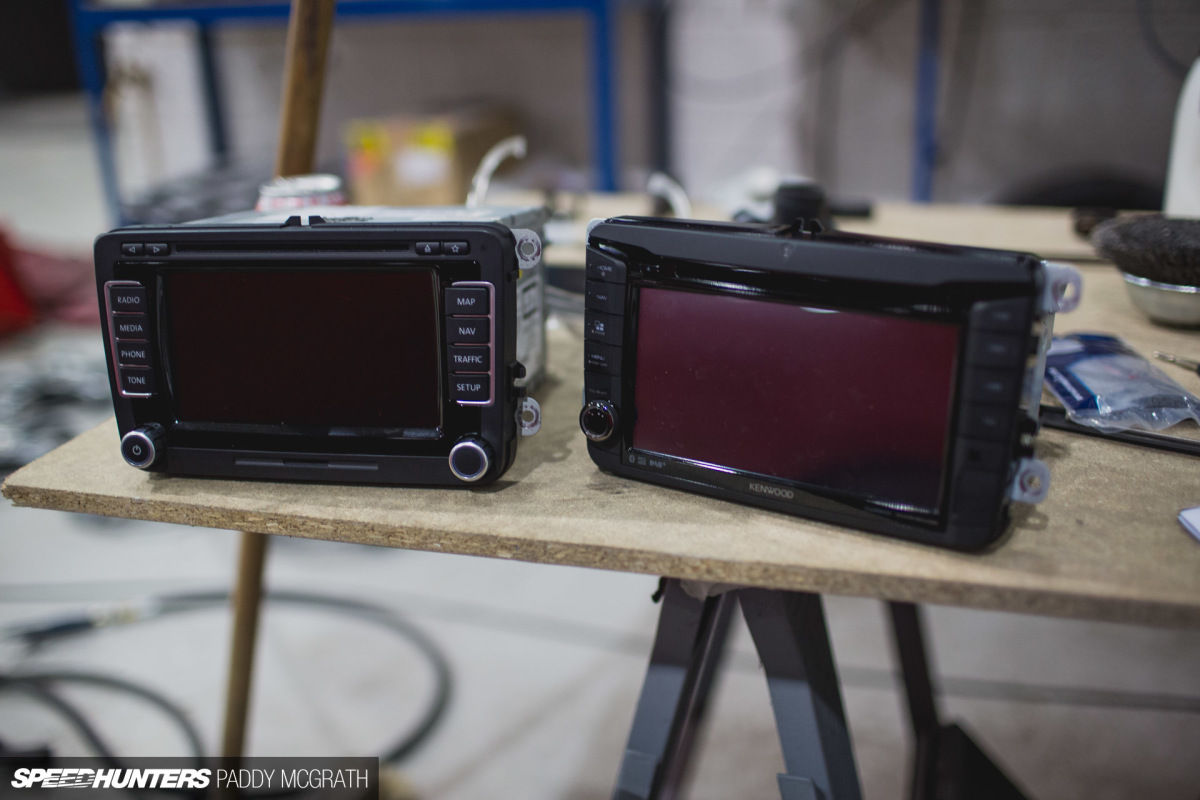 This is hopefully both the last time the DNX516 will be out of the car and the last time I see the RNS510. By the time I finished, it was late and I was in full on hanger mode, so photos would have to wait until the next day.
The Finished Product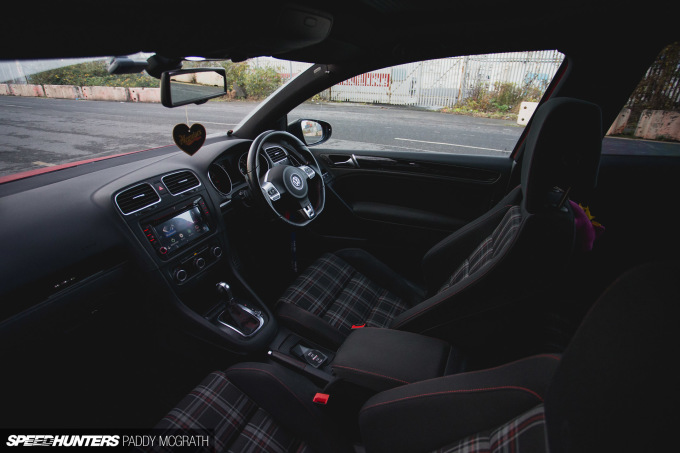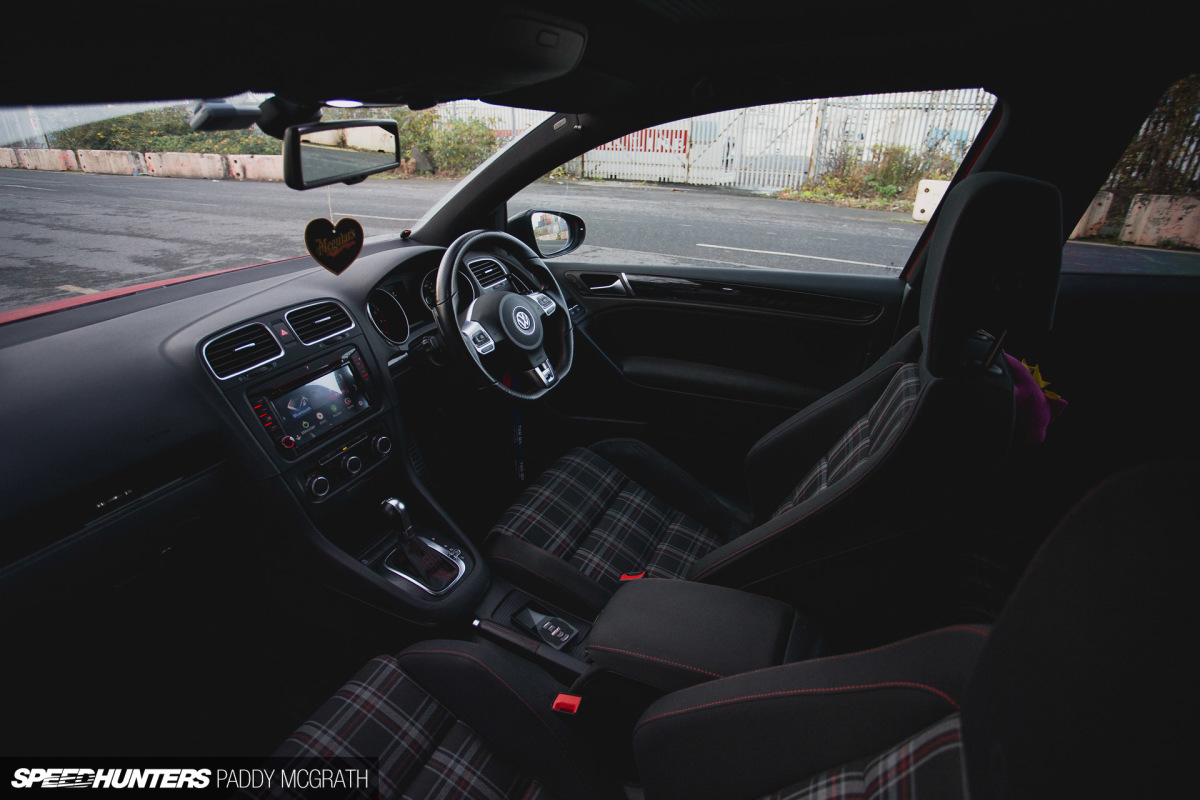 In a past life, my first thoughts when someone mentioned 'ICE' would have been of huge fibreglass boot installs and subwoofers on subwoofers with screens in the wheel wells. It's fair to sa that those days are probably in the past. What I've ended up with is a top quality entertainment and communications system which has integrated seamlessly into the car.
The subwoofer sits out of sight beneath the passenger seat, its nose only seeing light when the seat is slid all the way rearwards. Its wiring runs through a factory cut in the carpet, before joining the path of the factory loom.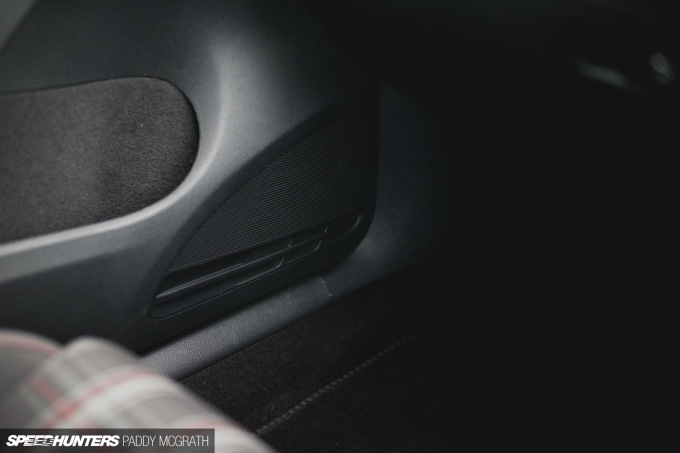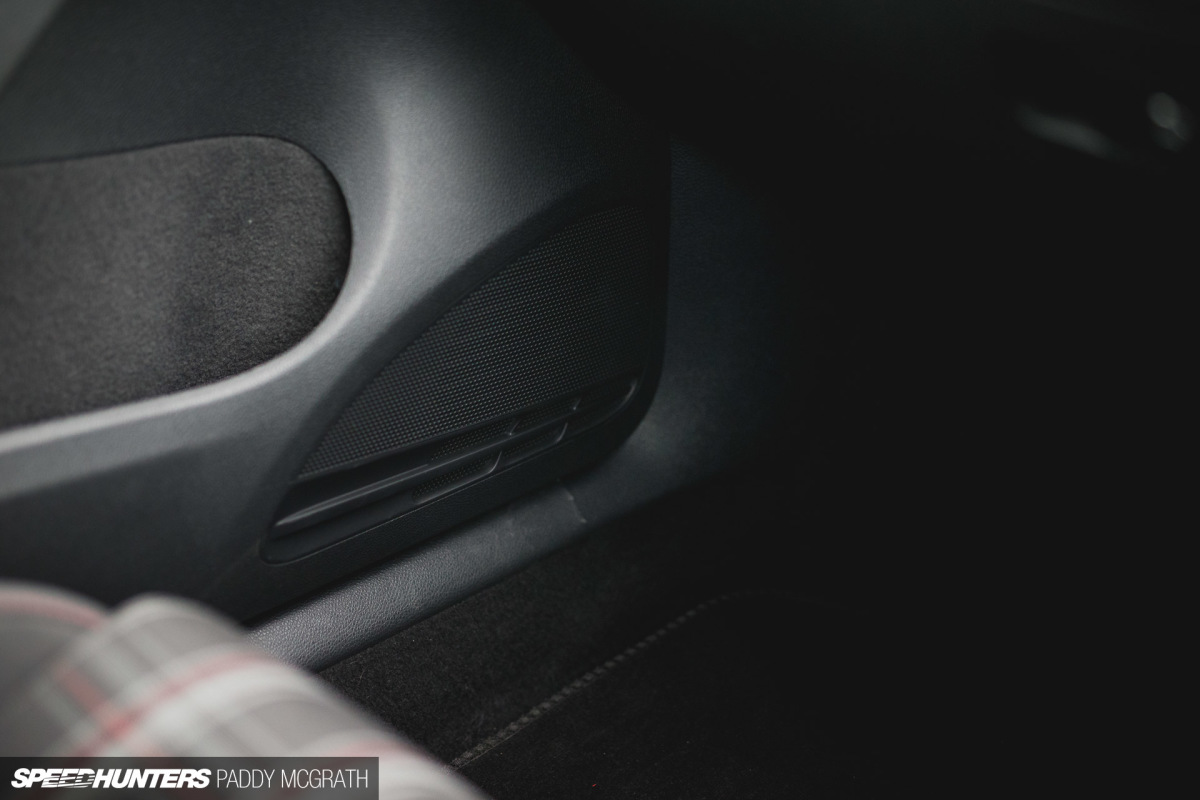 The speakers hide behind the door cards, completely invisible to even passengers.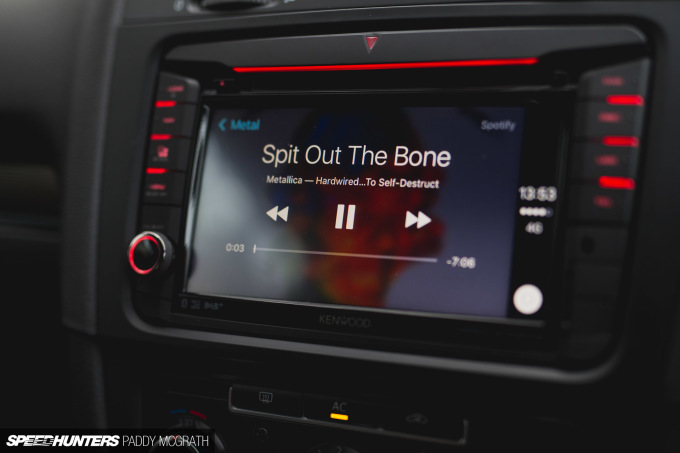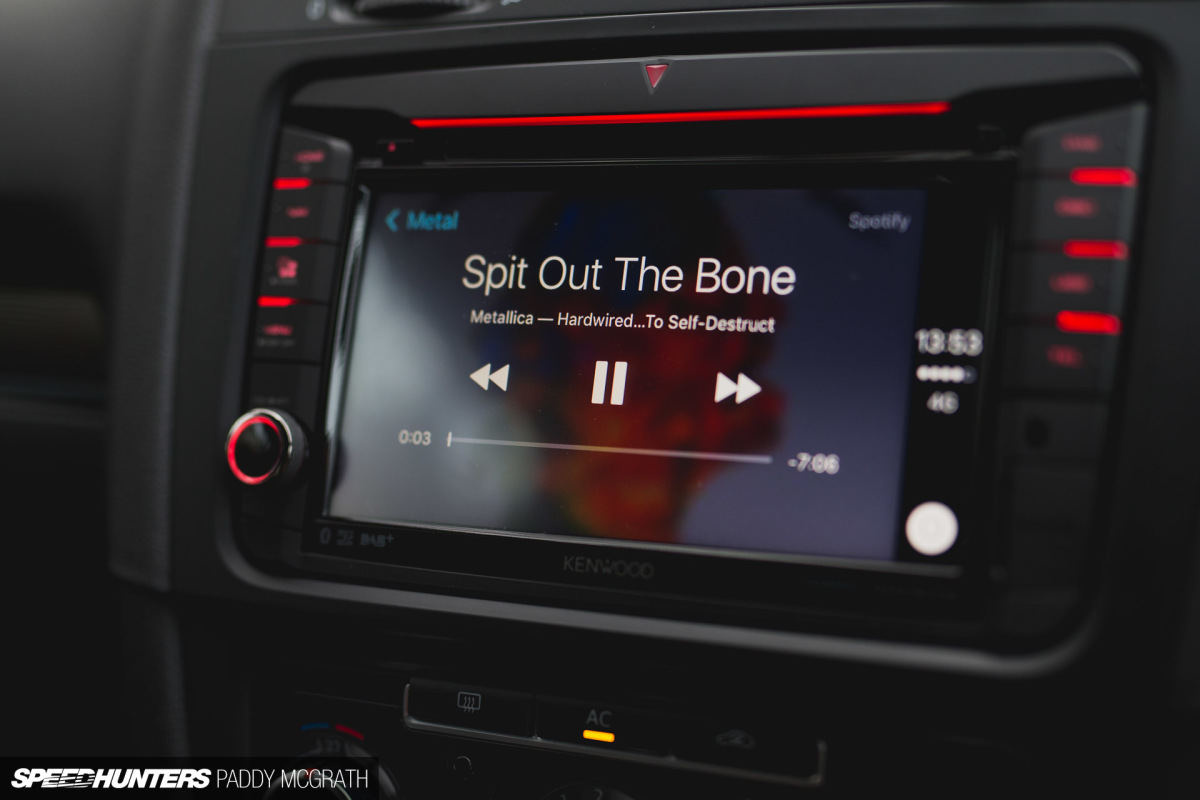 And the central unit itself could pass for stock, save for the subtle Kenwood branding. It fits within the factory dashboard perfectly and is even finished in the same material as the surrounding bezel.
The USB input helps keep everything looking OEM, providing a direct connection to the DNX516 which automatically launches CarPlay once connected. If you're using an Android device, Android Auto will launch offering similar features to CarPlay including Google Maps, phone, messages, Spotify and Google Play Music.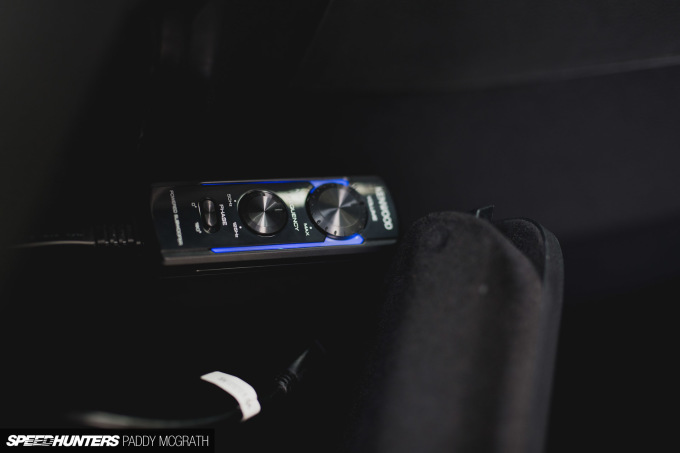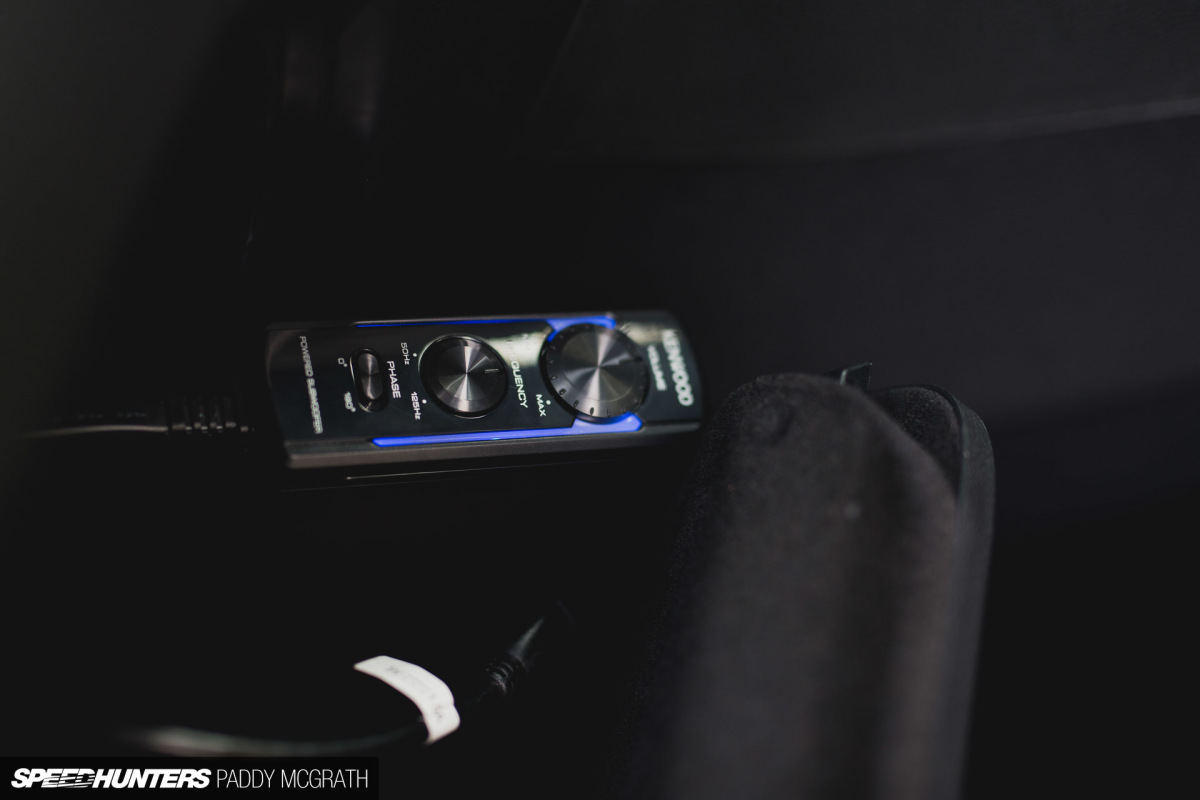 The glovebox is home to a slim remote for the subwoofer and a second USB input for the centre unit, which can be used to connect an iPod, external hard drive or thumb drive. I haven't mounted the former yet, but it'll likely still reside in here, just secured in place.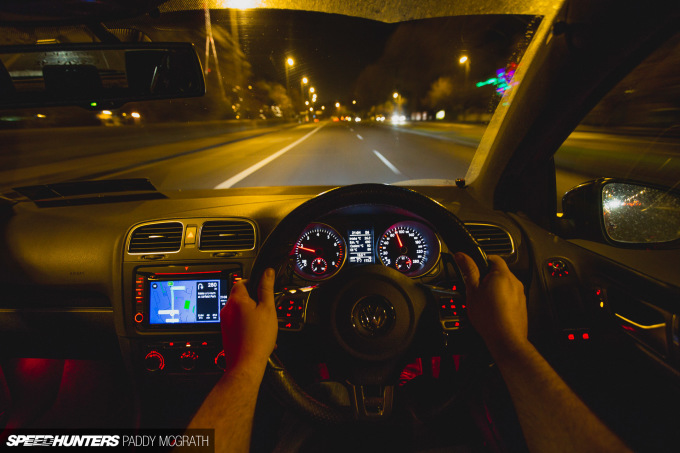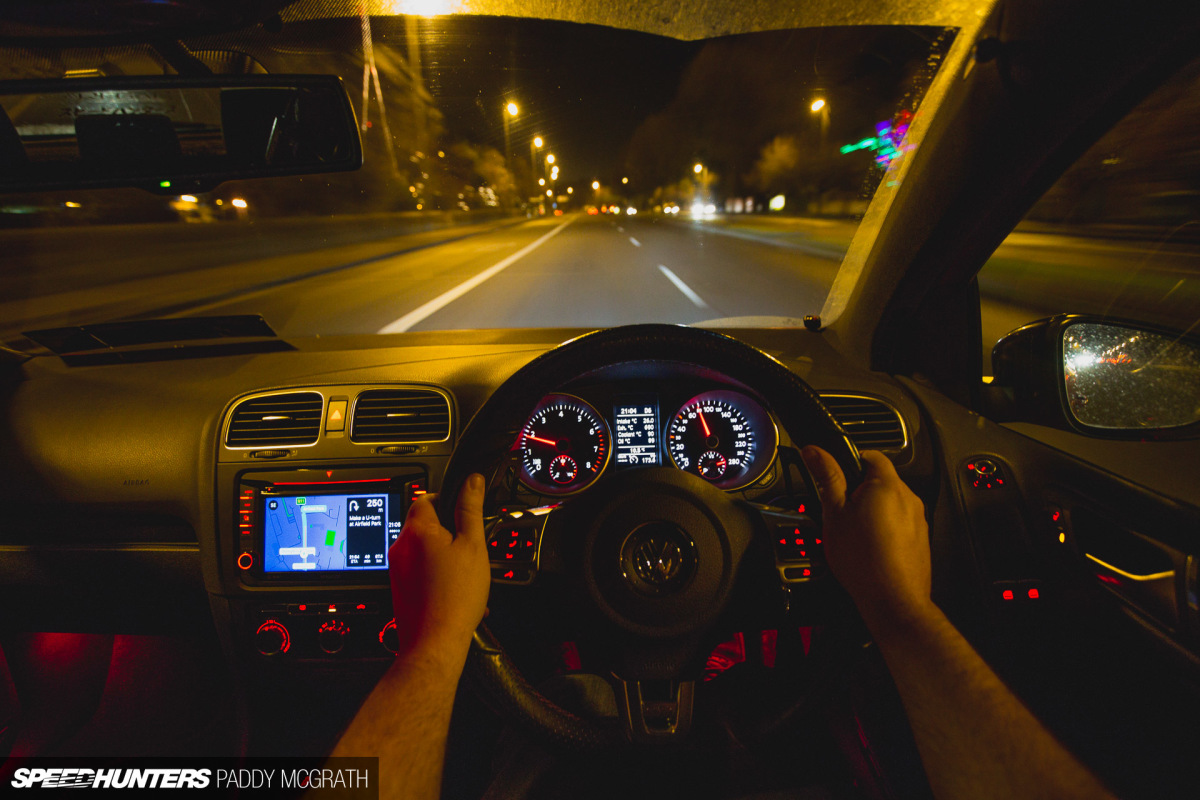 It's still been a relatively short time since everything has been installed, but my in-car experience has changed dramatically. The car feels much newer from the driver seat, purely down to how everything has been integrated and works together. I'm no audiophile, but the difference in sound quality, in particular when cruising at speed on a motorway, is staggering.
Previously, the old setup would reach a point where it would just warble and distort if I attempted to drown out the road noise. Now, I can drown it out to the point that it's so clear I'm hearing little things in songs that I never heard before. If I'm brave, I can push the volume to levels that are quite honestly uncomfortable, but still without distortion.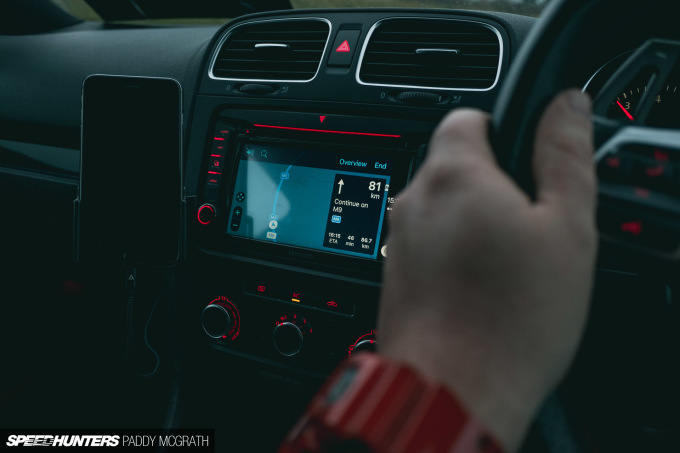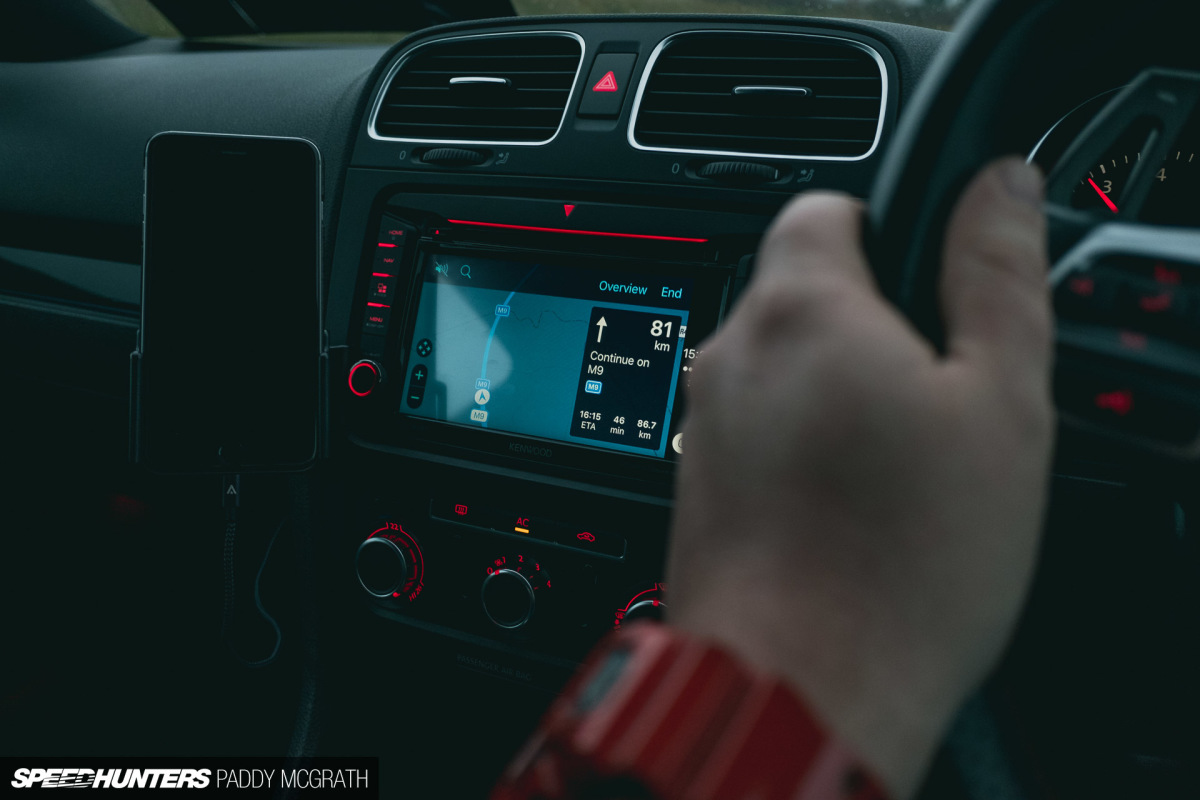 I was never a massive fan of CarPlay before, mostly due to its locked-down nature. I've come to love it though, seeing as I usually only listen to Music, Spotify or Podcasts when driving. Maps has also impressed me, especially being a long-time Google Maps user. If the mood takes me though, I can still use Google Maps or Waze over Bluetooth instead of Apple's equivalent. The bonus of using Maps is that it works with the turn-by-turn instructions on the centre MFD between the gauges.
One of those neat features that I discovered that is if I disconnect the USB lead from my iPhone at any time, it will pick up precisely where I left off if I switch over to Bluetooth. Bluetooth connection with my phone when the ignition is switched on is instant and has been 100 percent reliable so far. I can't say the same about my previous setup.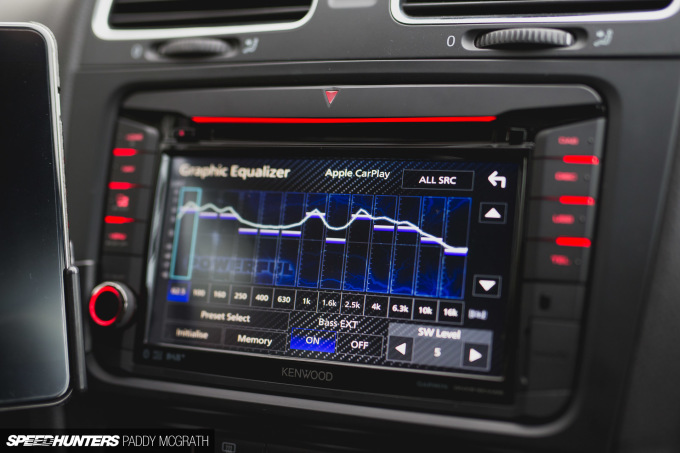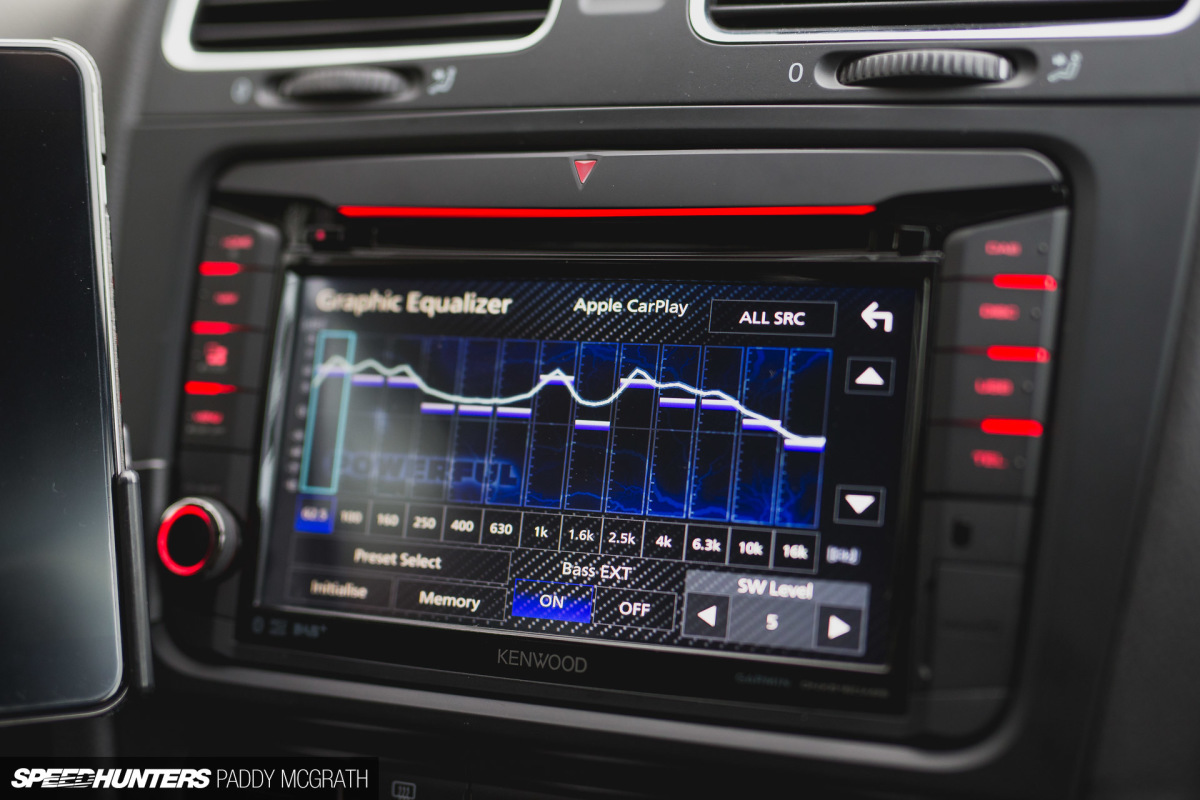 Because we made such a drastic amount of changes in such a short time, I haven't gotten around to customising the sound through the 13-band equaliser, instead using one of the many presets that are installed on the system. I feel that this will be key to getting the most of what I have now.
It's the seamless integration that I keep coming back to, though. At first glance, the interior might appear to be stock, but there's a lot of depth in here; little things that all add up for a more enjoyable experience. From the new Kenwood entertainment and audio improvements, to the customisable REVO MFD menus with selectable engine maps, to the factory auto-lights and extended DSG paddles.
Things that make life easy should never be underestimated.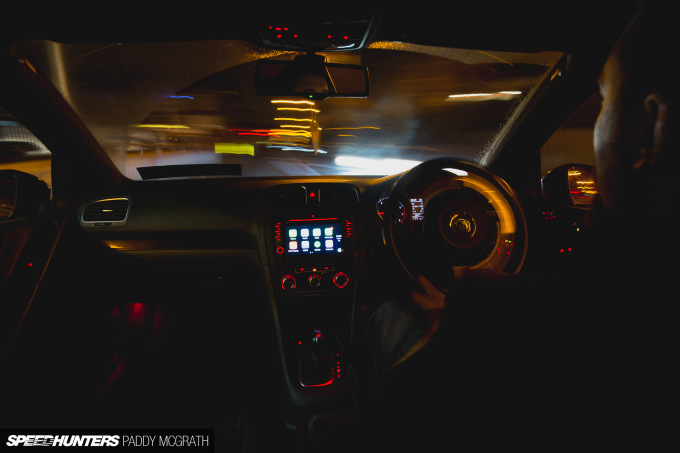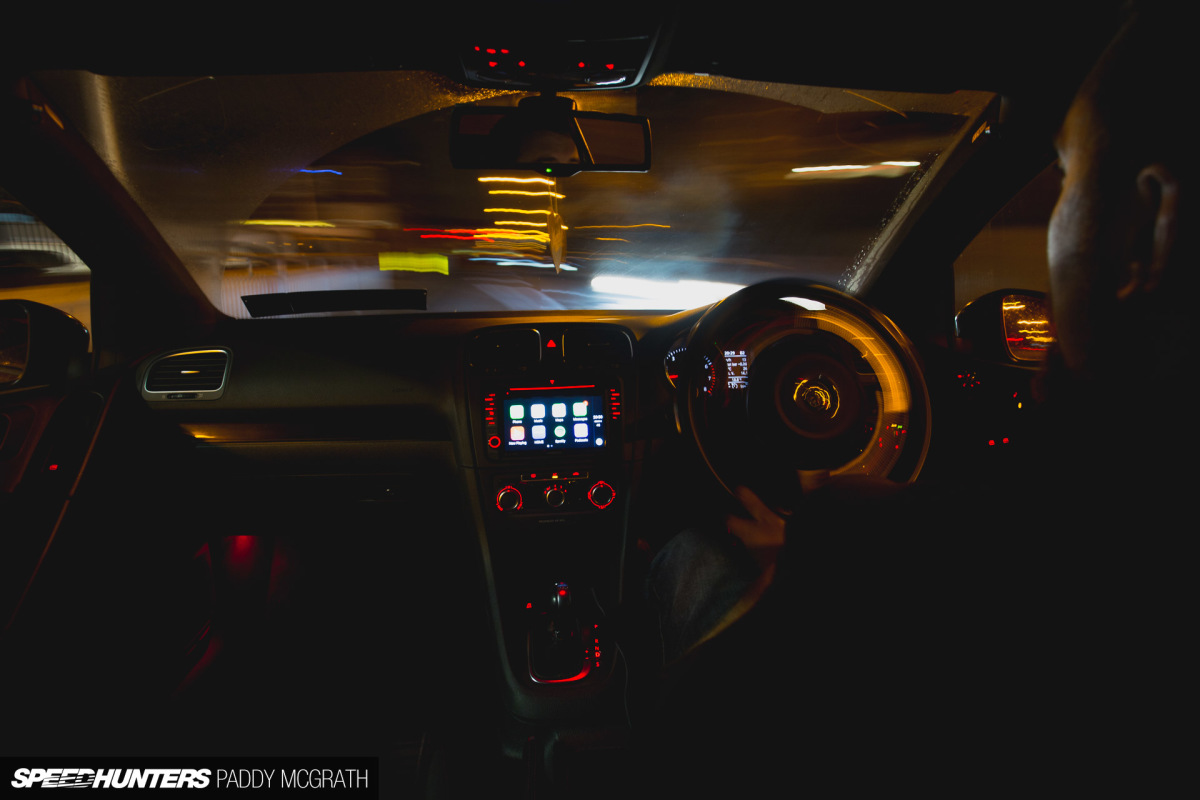 There's a long winter ahead in Ireland, although progress will continue to be made on Project GTI. I still have another few interior upgrades that I'd like to make, which are suitably subtle, of course.
There are also a couple of niggles which have developed over the previous few weeks that I want to get on top of. My rear window washer has stopped working, there's a slight vibration coming from the front, and during my ham-fisted glovebox reinstallation I forgot to reconnect the TPMS reset button, which means that half the dash has to come out again. Still, it'll give me the opportunity to figure out where those two leftover screws belong. Further to this, I still have to install the rear speakers and I'm going to look into adding some extra sound deadening to improve the experience even more.
Until next time..
Paddy McGrath
Instagram: pmcgphotos
Twitter: pmcgphotos
paddy@speedhunters.com
Cutting Room Floor