8 Into 46 Does Go
This car shouldn't work. A V8-swapped, Rocket Bunny-kitted E46 M3 painted in a Lamborghini shade green. It seems all sorts of wrong, doesn't it? It has the hallmarks of a project where someone cherry picked the components in order to cause the most amount of upset. Mission accomplished? Actually, I don't think so.
Back in September, a few of the Speedhunters crew were temporarily based out of Huntington Beach in California, as we worked on getting our plans together for SEMA. Amidst the chaos of commuting and shooting all over the greater Los Angeles region, we had a scheduled down-day to recuperate.
I don't know about you, but when I travel to the other side of the planet, I prefer to make the most of my time there. I loathe the idea of lying down beside a pool, wasting the hours away. Life is for living and all that.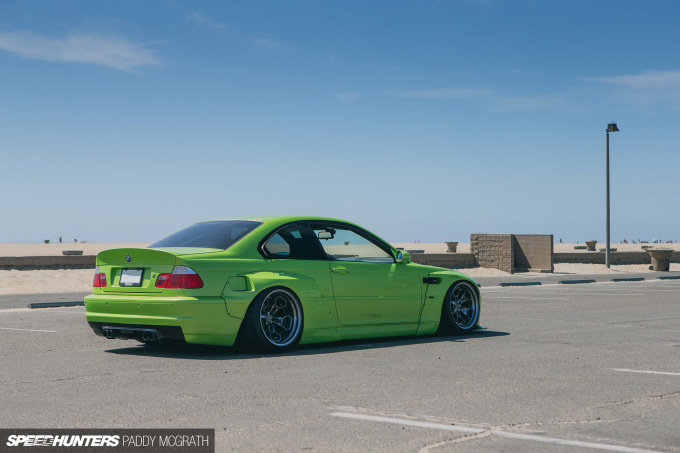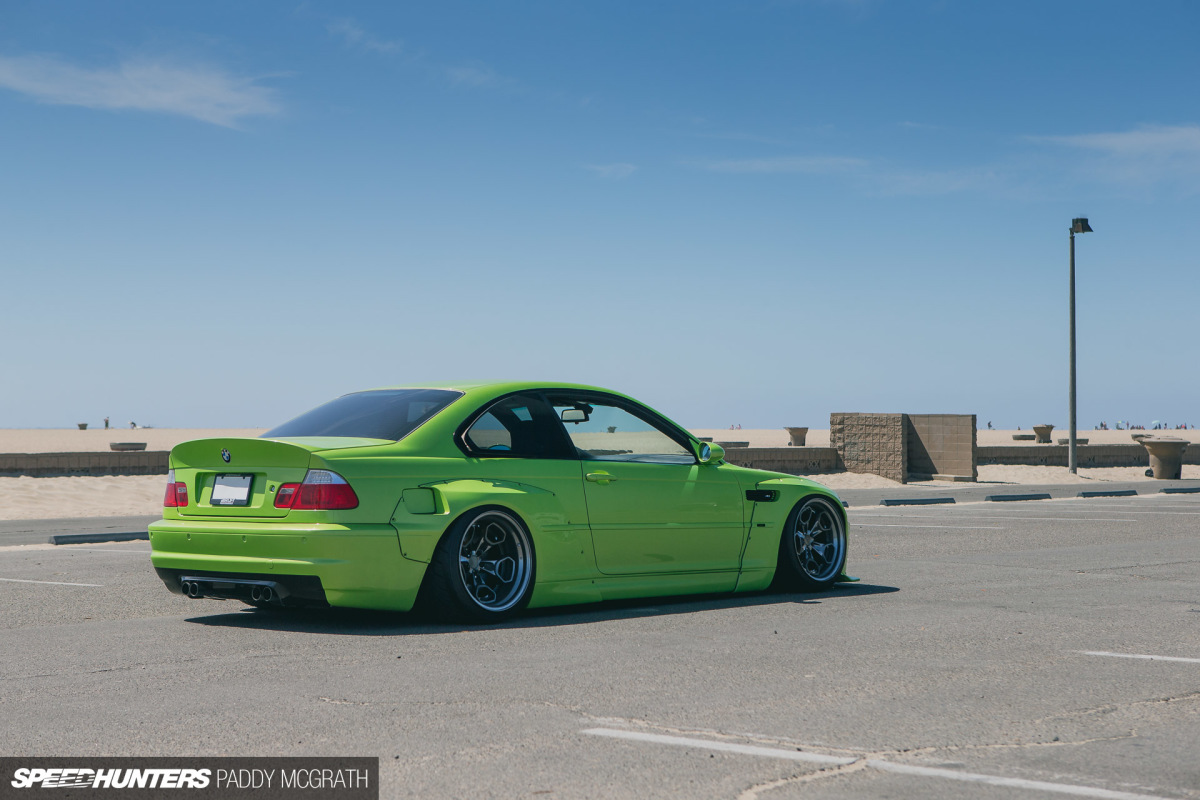 As chance would have it, a long-time friend of Speedhunters had emigrated to the United States some time ago. Out of nothing but coincidence, he settled down in Huntington Beach with his partner and young son. He, Carl Taylor, and his cars are no strangers to these pages. Not because of some sort of obligation to a friend, but because he's responsible for cars that people will talk about.
Seeing as we were so close by, we gave Carl a call, just as he was loading his latest project into a trailer, ready for its new owner the next day. Looking for any excuse to get out of the hotel, Ben, Speedhunters' Commercial Manager, managed to convince him that it would be a great idea for us to shoot it before it vanished into the ether.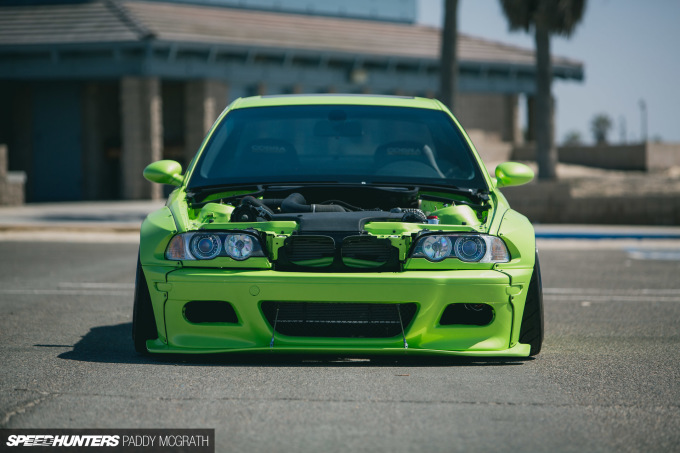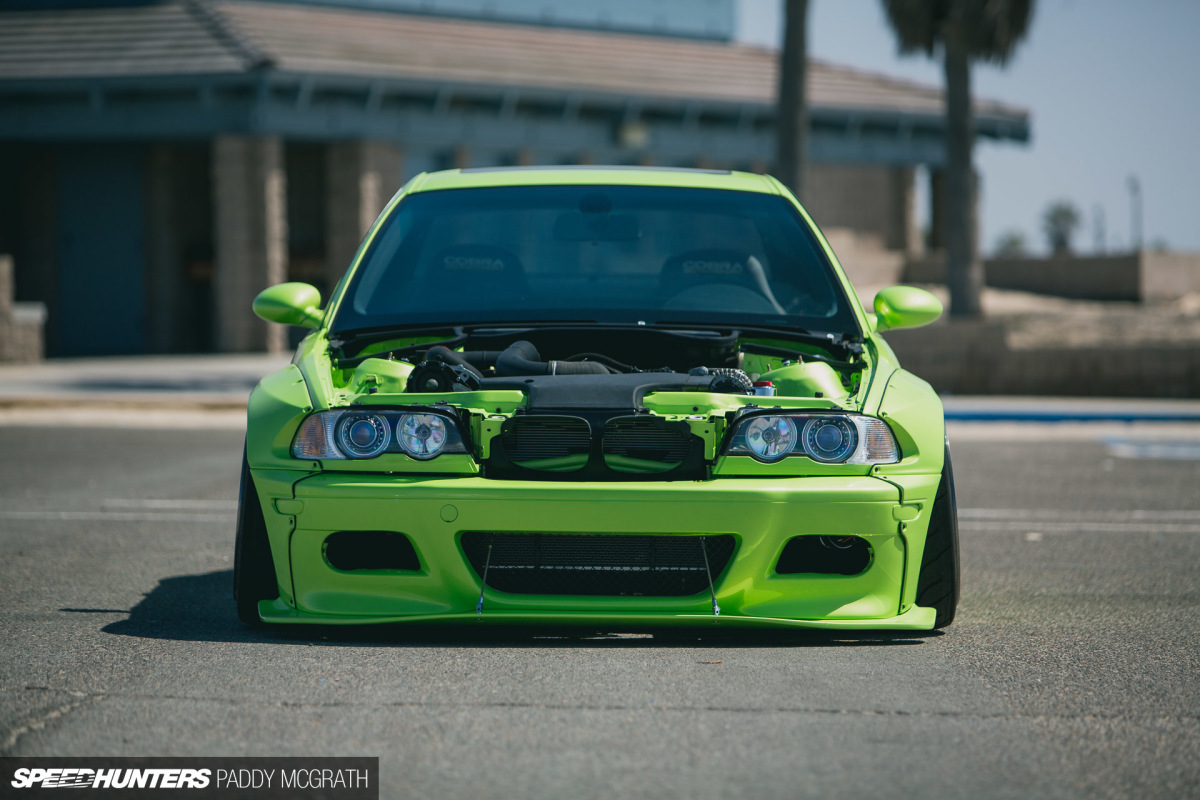 I was aware of the car through following Carl on Instagram, but I really wasn't sure how I felt about it. More so than most, I'm acutely aware of how cars like this tend to ignite a fire in the comments section that's capable of burning right through into the earth's core. The whole subject of contemporary over-fenders fascinates me though, as do the reactions that these cars provoke. Carl isn't the sort to apologise for his car related decisions, so I'm not going to either.
Because I think this is exactly how this style should be done.
I only speak for myself, as always, but the one thing that infuriates me the most about the majority of the current Rocket Bunny or Liberty Walk cars, is that while they are heavy on style, they lack substance. I've seen so many ZN6s that look amazing, for example, but are running almost stock levels of power and performance. Kits like these should be used as the proverbial cherry on top of a wild build, and not just be the sole talking point.
With this in mind, I think that this E46 has everything to back up its visual presence. The colour and wheel combination are an obvious homage to a certain manufacturer from Bologna. I don't think I would have chosen Rotiform's HUR beforehand, but it's a refreshing change from the expected M3 wheel choices. It perfectly suits the OTT nature of the car, with the added benefit of it being an interesting design.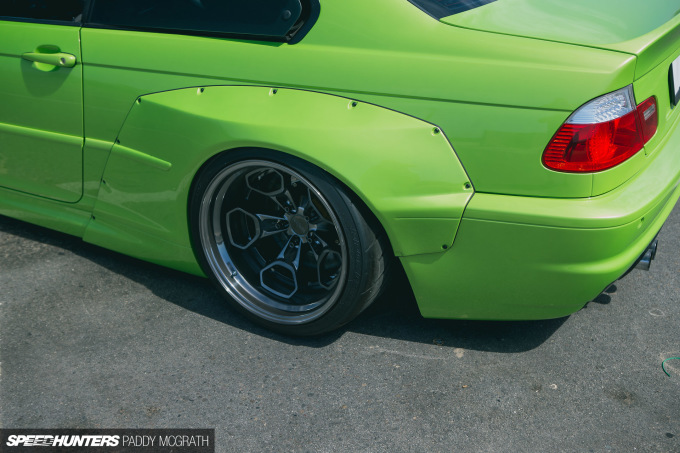 There's a lot of meat on the tyres, too. The 10-inch fronts are wrapped in 255/35R18 Toyo R888s, the 11.5-inch rears in 295/30R18s of the same type. Sure, there's a little stretch but that's fine on a street car. The huge Brembos that lurk in the shadows are impressive in their own right.
With the car equipped with Air Lift Performance's 3H setup, it's perfectly capable in the corners. It would more than hold its own at a track day too, which I can appreciate that is sometimes difficult to visualise when you see a car laid out like this. It does work though. It also reminds me that I need to get back out on track in Project GTI before the year is out.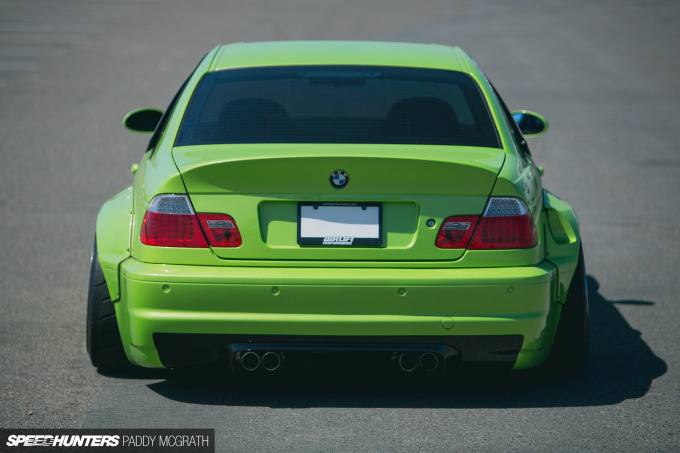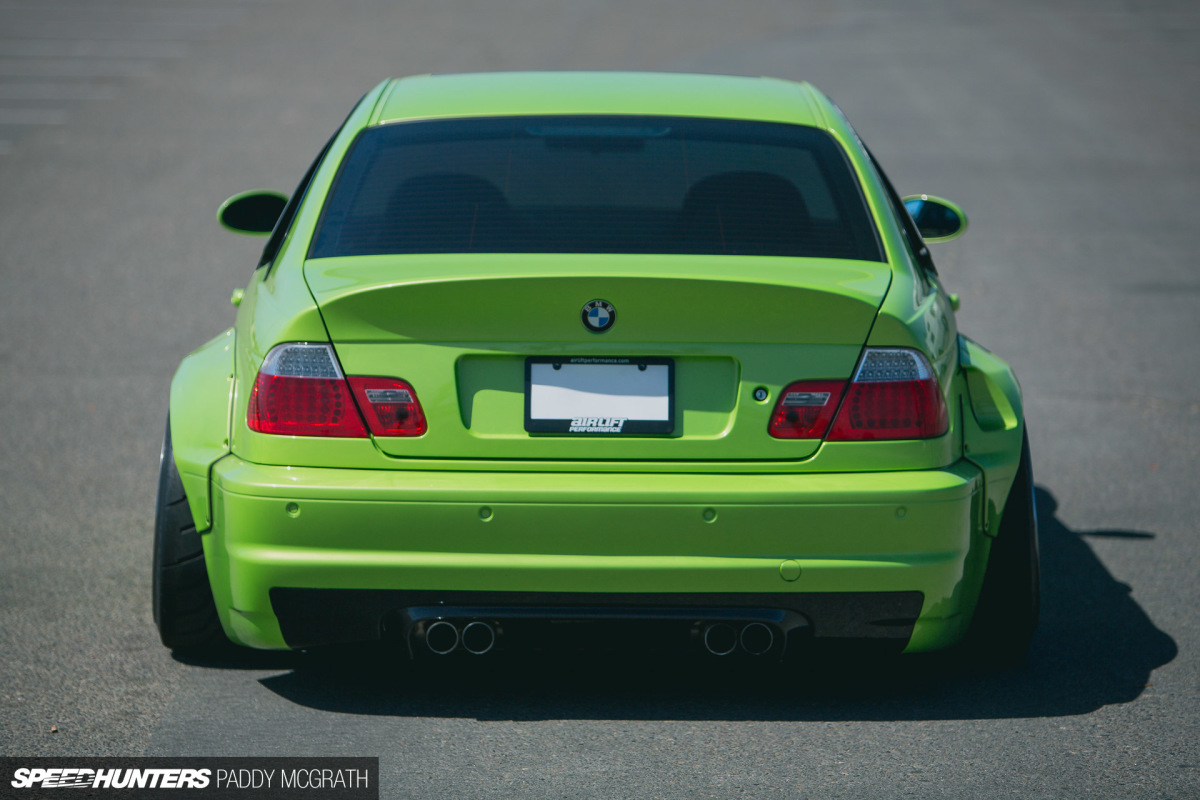 The S54 inline-six has been removed, and in its place a Vortech supercharged Chevrolet LS2. Somewhere in the region of a reliable 550hp should be available with this setup, along with a significant increase in torque over the original BMW motor.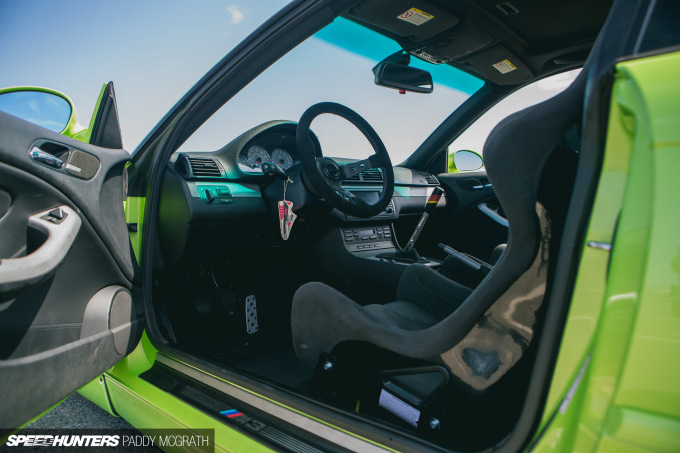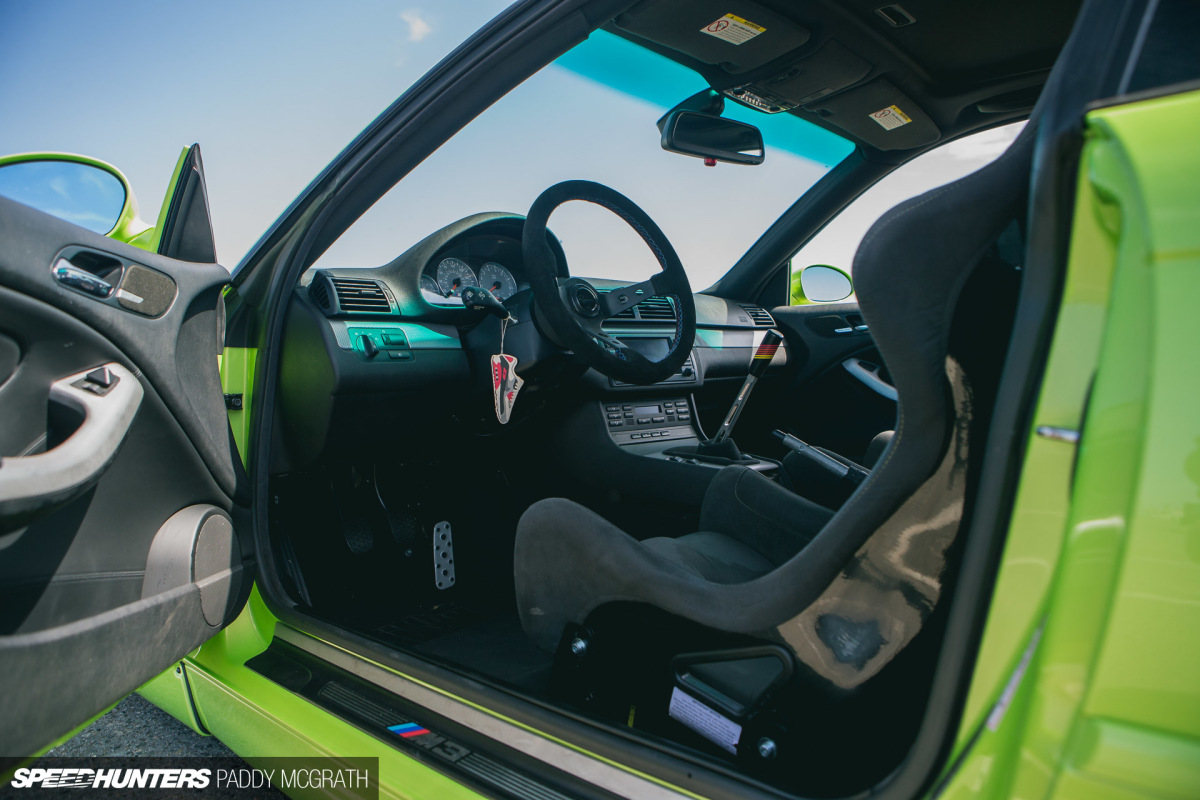 As opposed to the typical stripped race and drift car interiors we see so often, the E46 is palatial in comparison. The upgrades are simple: a pair of custom-trimmed Cobra Suzukas, a dished Renown wheel and an extended Mishimoto Ryan Tuerck shifter, connected to the GTO transmission.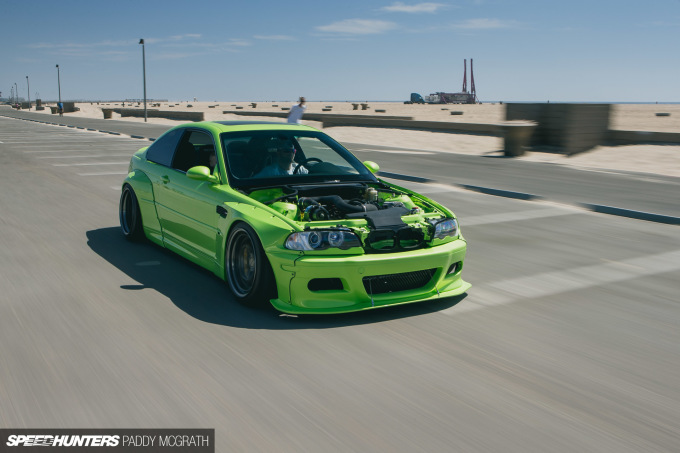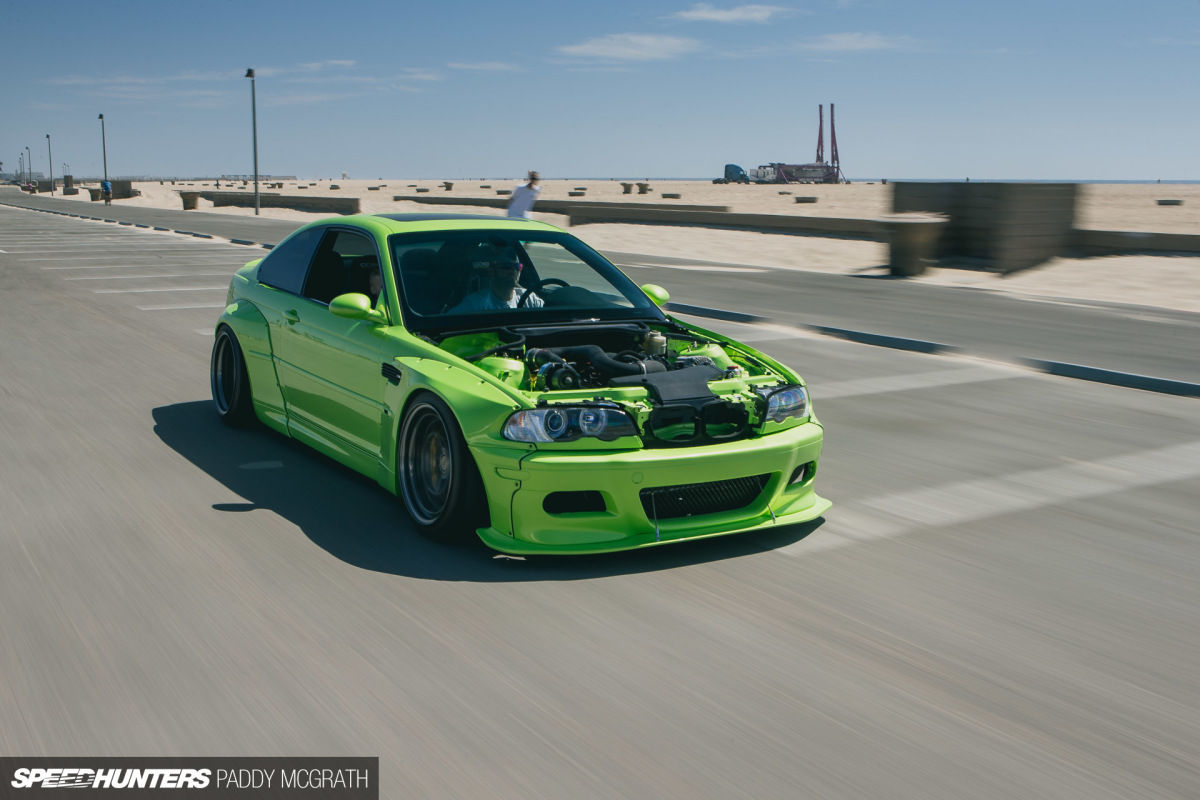 It's anything but subtle, but that's the way it has been with Carl's past builds. They were cars that challenged you, they were cars that always stood out. I find that these things don't often make sense in the confines of the internet where everything is shouting for your attention, but when you see a car like this on the street amidst the ocean of mundane commuting appliances, it becomes a whole different thing. While it may be a car with a focus on style, at least it has the substance to back it up too.
A 550hp V8 M3 on semi-slicks with 30-way adjustable suspension and massive Brembo brakes? Perspective is an interesting thing.
Paddy McGrath
Instagram: pmcgphotos
Twitter: pmcgphotos
paddy@speedhunters.com
Cutting Room Floor