From The Ground Up
'It's all just bags and Rotiforms.' How many times have we heard or read that description when it comes to describing the current VW scene? It's meant as a slight against those within the community, but it also tells another story.
Not so long ago, there was no Rotiform, so it's hard to truly appreciate the astronomical rise of the SoCal company in such a short space of time. In many ways, not only has Rotiform dominated an industry, it's practically reinvented it.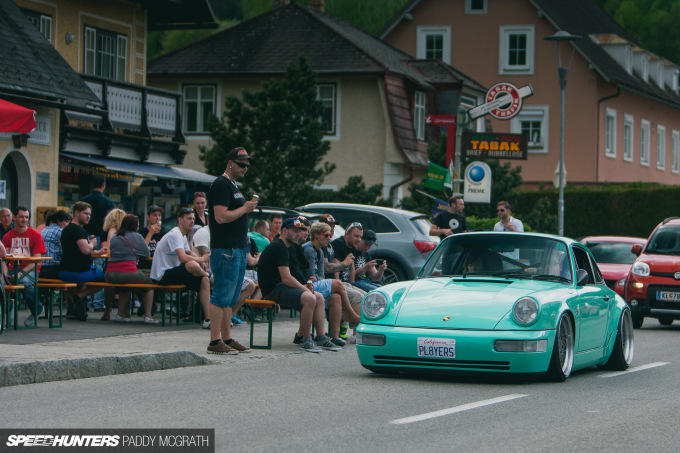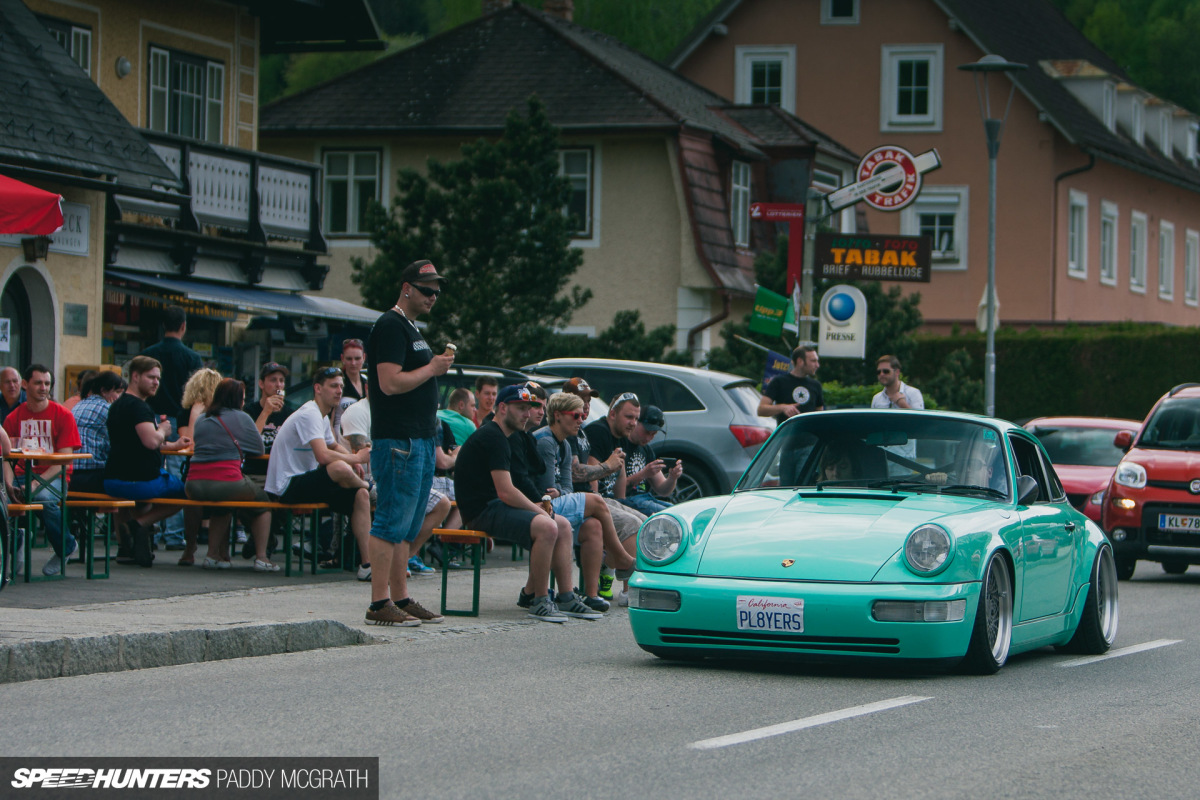 I first met one half of Rotiform, Brian Henderson, back in 2013 on the way to Wörthersee from London. 2013 was the year that Brian achieved a life-long personal goal of building a Porsche 964 and driving it all the way to the famous Austrian event.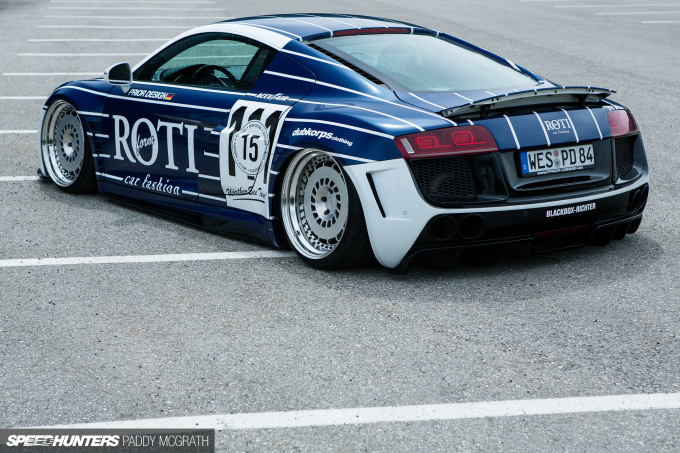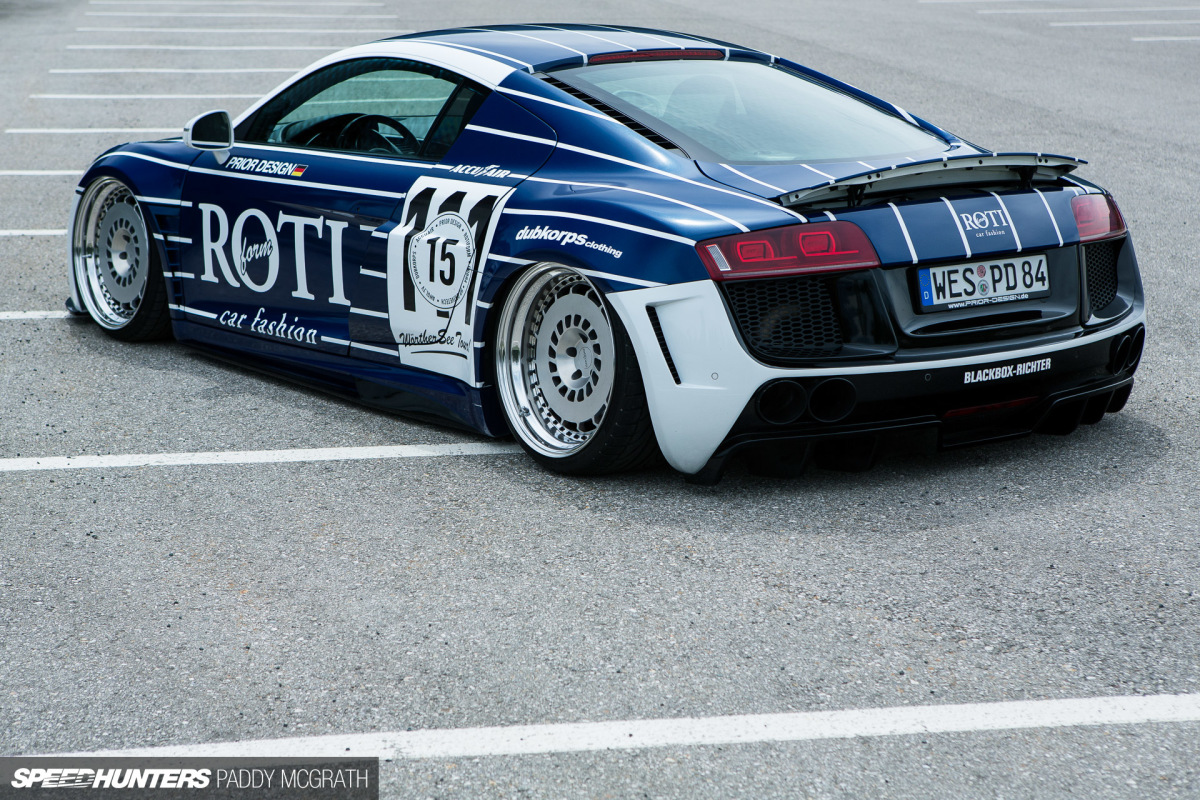 Our paths would cross regularly over the years, always at shows or events abroad. Every time it was like bumping into an old friend. There was a genuine warmth and friendliness to his greeting, something that never changed over the years. He was always excited to share his latest plans and projects. More often than not, we would end up shooting them too.
I always found that there were two types of Brian Henderson car. The first was the type that best reflected his own personal taste and were most often his dream acquisitions, like the 964 and his Audi RS2. The others were created to get a reaction and to create awareness around the Rotiform brand, like the Boss-inspired Audi R8.
I've always been interested in Rotiform as both a brand and a manufacturer. My inner designer always appreciated how far the company was willing to push things, and on the other hand, how it would pay tasteful homage to classic wheel designs reimagined for the modern day. The offer was always extended by Brian to come and visit the Rotiform facility in Compton each time we met. It may have taken several years, but a few weeks back I finally got to knock on the door and meet the people behind the wheels.
Straight Outta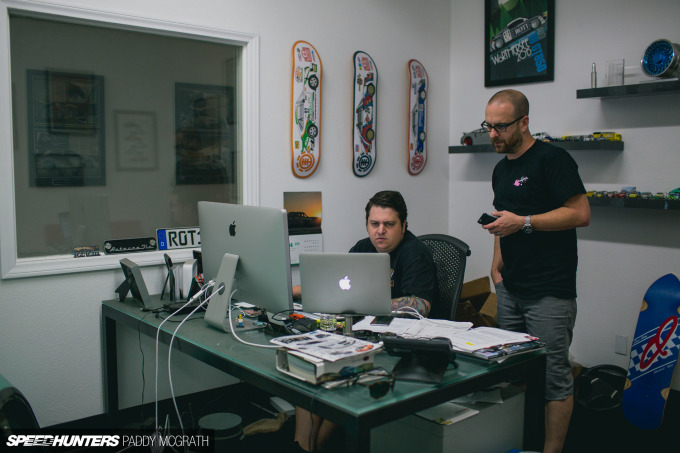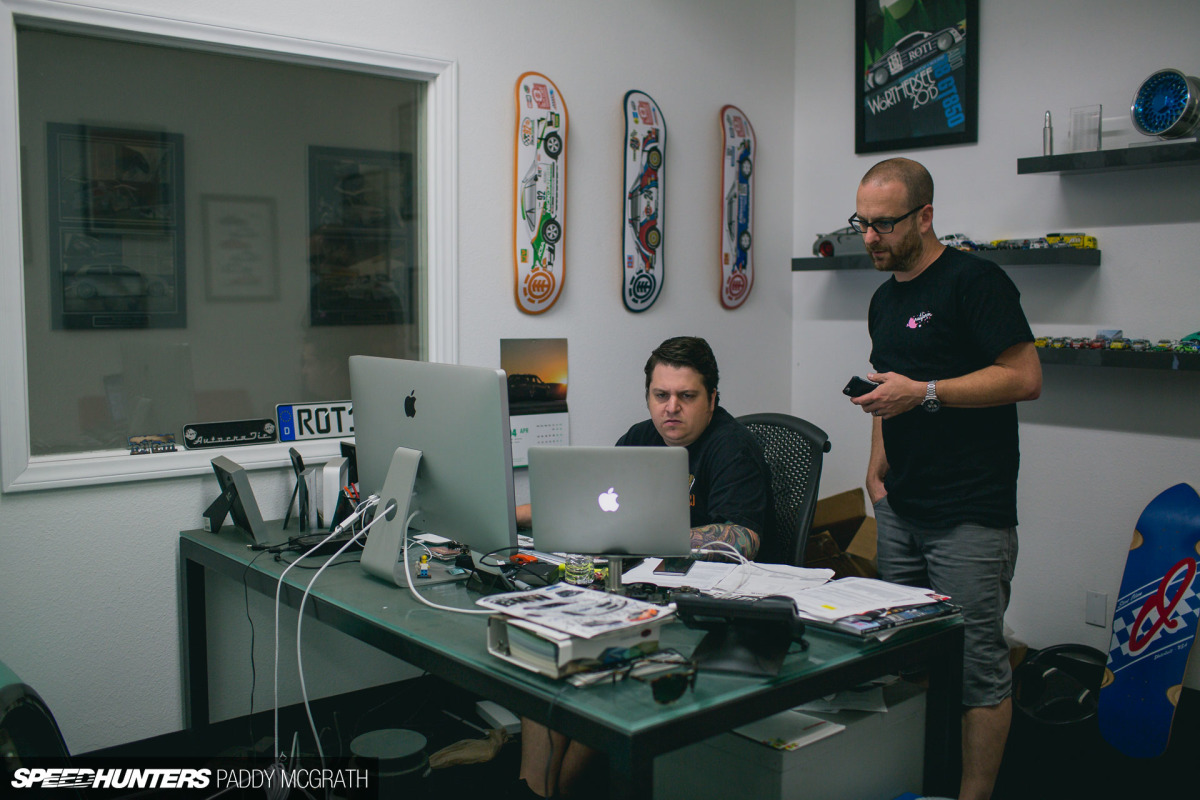 I'm not really sure what I expected when visiting Rotiform's HQ in Southern California. Similarly, I'm sort of curious as to what you're expecting to see here and throughout the rest of this story. While Rotiform is now a world renowned brand, at least in automotive circles, this wasn't always the case. It was seven years ago when Brian and Jason Whipple (left and right respectively) took a chance at starting their own wheel company with two very different wheel offerings: a traditional Y-spoked MIA and the now iconic Lamborghini LP560-4-inspired BLQ. It's not that widely known, but 'BLQ' is the airport code for Bologna airport in Italy, home of Lamborghini, so they were weren't exactly shy in acknowledging where they got their inspiration from.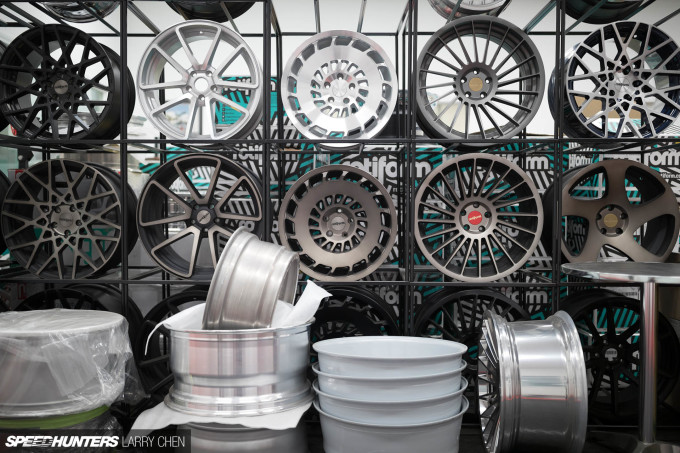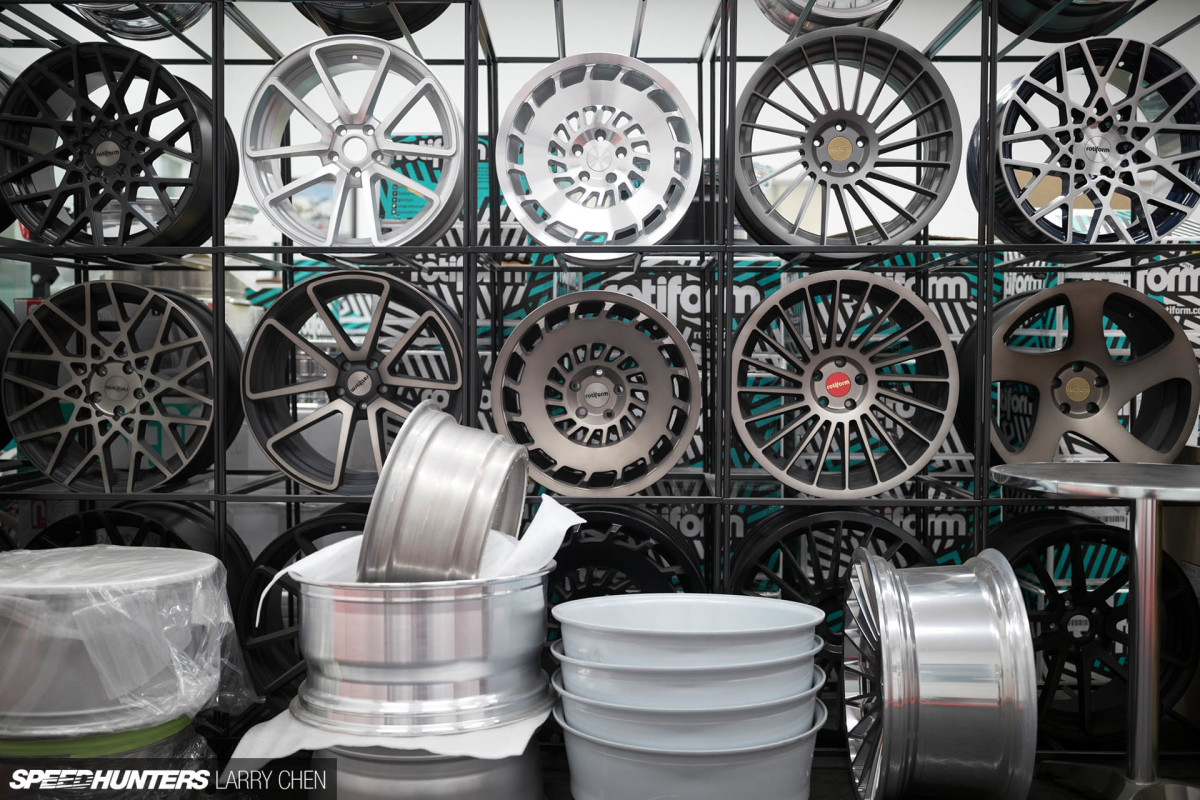 Where they thought that the BLQ was the risk, it turned out to be the making of the company and remains a popular design today. Their lineup of mono-block cast wheels offers affordable wheel styles in a decent amount of sizes and offsets for most consumers. What really sets Rotiform apart though – and the bit I find most interesting – is its ability to custom build a multi-piece forged wheel in the absolute precise measurements and finish required. And I mean precise.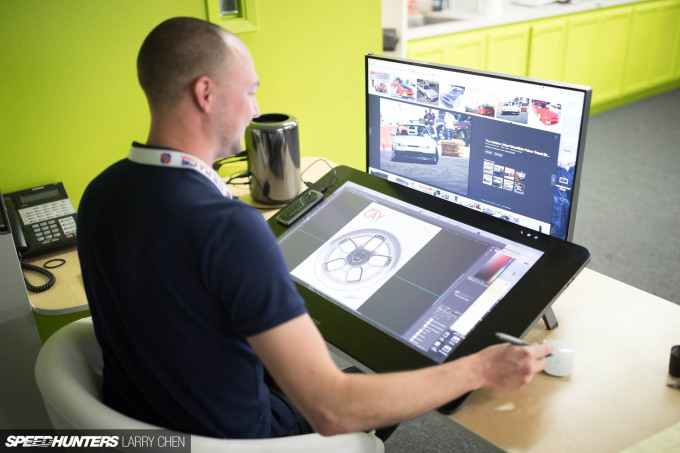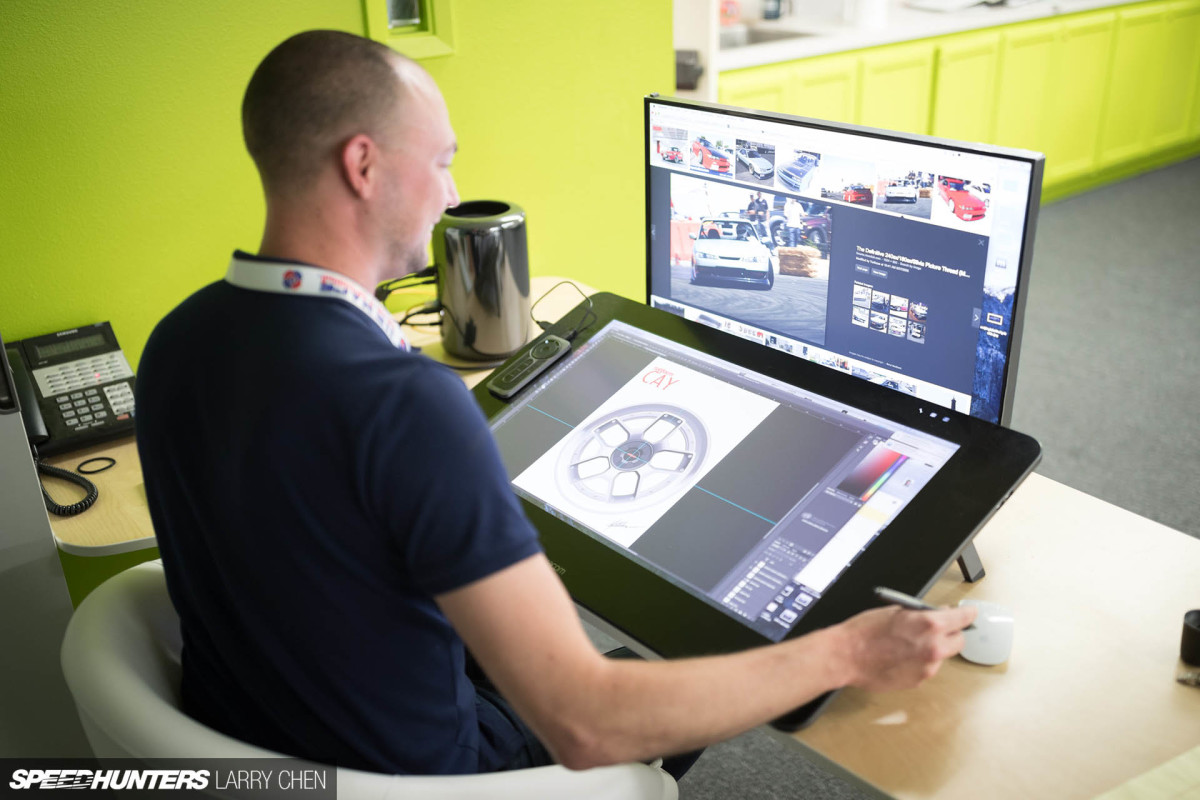 Each design starts out at some point being sketched in-house before being drawn up in CAD in exact measurements. There's a lot of thought for wheel design beyond the face. Stepped or flat lips, concavity, whether hardware is exposed or hidden plus a myriad of finishes to be considered.
These are the wheels in their most raw state, as simple 6061 T6 aluminium forgings. Rotiform has one of the largest stocks of raw forgings in the United States which plays a role in keeping the manufacturing process moving.
Each forging is marked up before being machined in one of many CNC machines on Rotiform's massive workshop floor.
As an engineering appreciator, I find this probably the most fascinating part of the whole process. Raw forging goes in, recognisable wheel design comes out. On the left is what will become a KPS and on the right a QLB.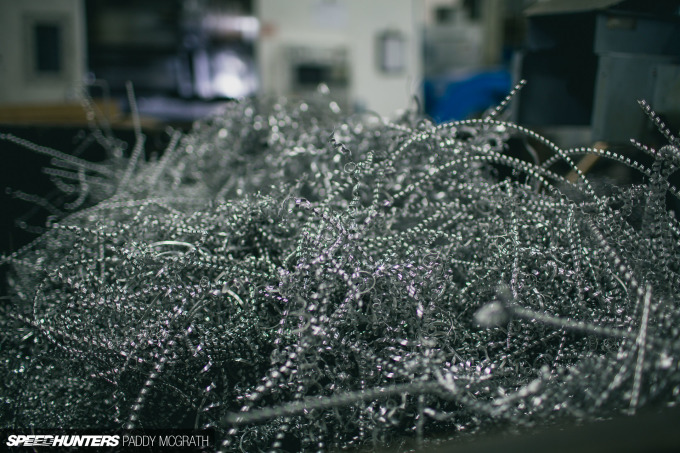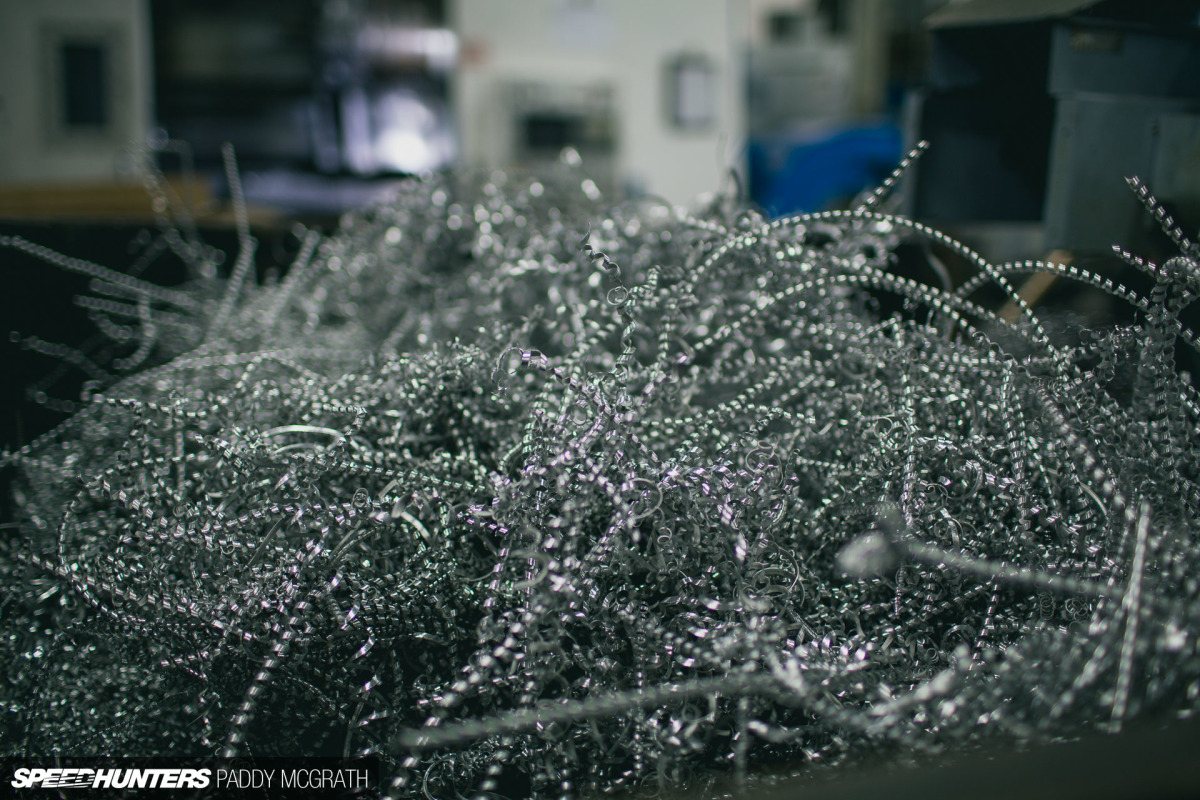 There's often a huge amount of swarf or waste byproduct from each CNC machining session. The leftovers are recycled though, at a rate of two large container's worth every week.
The now machined forgings are next polished, a process which is completed entirely by hand.
Post polishing, the forgings are washed, cleaned and then dipped into large ultrasonic cleaning tanks which removes every last contaminant from their surface prior to paint or powder-coating, depending on the specified finish.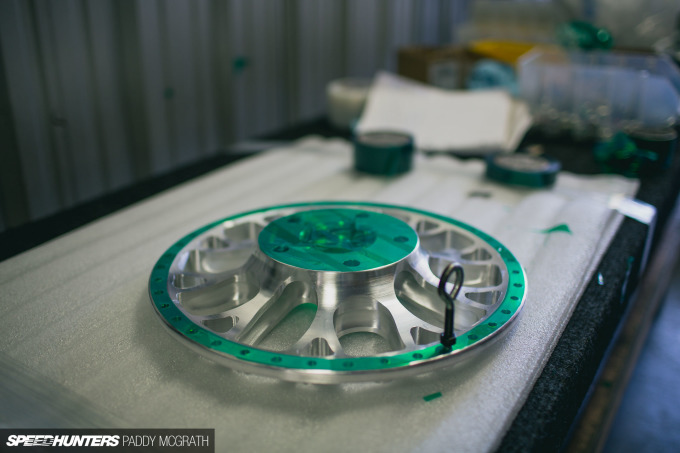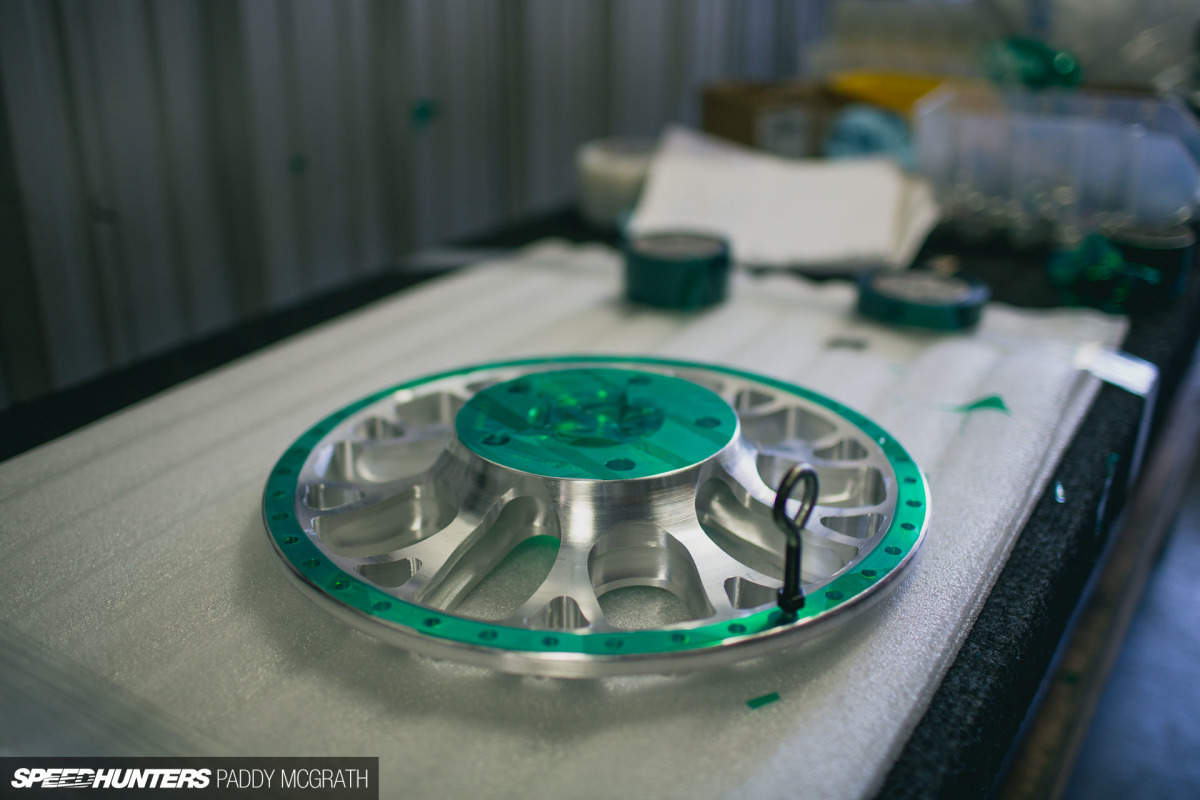 They're then pretty much immediately masked up for the paint or powder-coat stage. A small hook is inserted to allow them to be hung whilst being painted. The guy who looks after this particular task is an absolute wizard with the masking and a blade.
Once masked, they're placed in plastic wrapping to protect them. Unfortunately, the wrapping isn't strong enough to stop us having a look at the very first example of the new LSR wheel design which was heading for paint.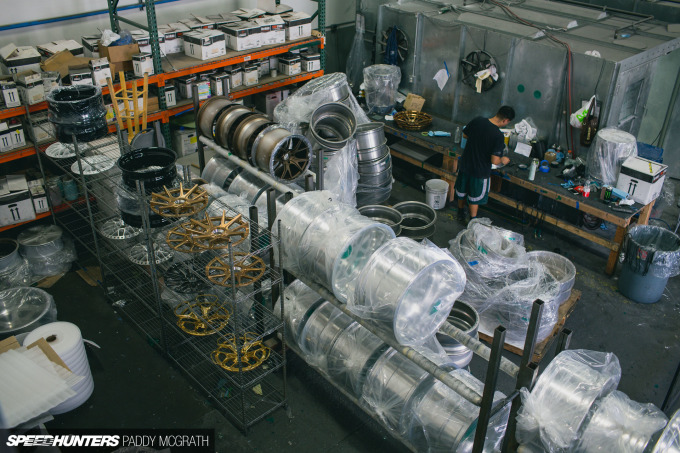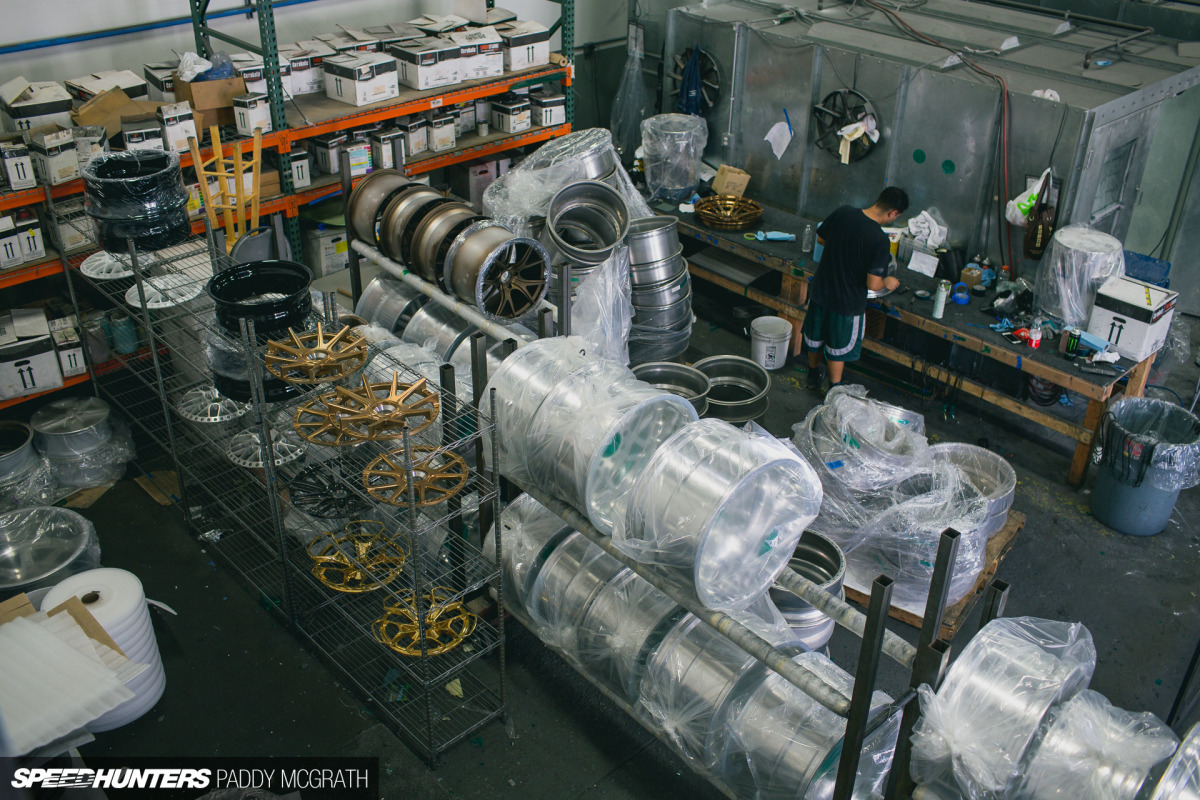 It's at this point where the forged centres may go in one of two directions: to be powder-coated or painted.
Things begin to get really colourful around now and you begin to appreciate the variety of customisation on offer.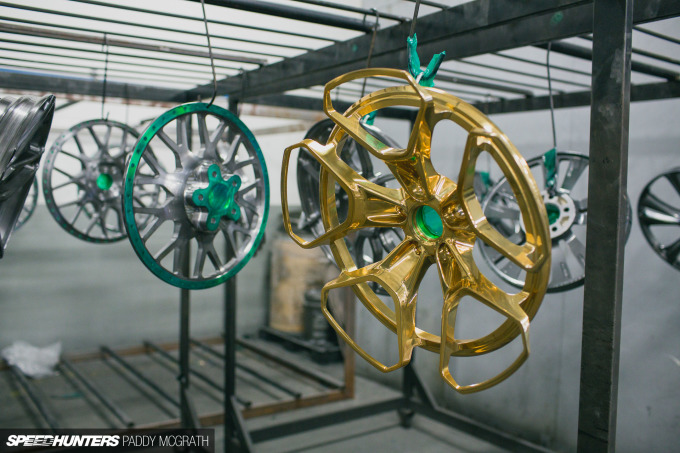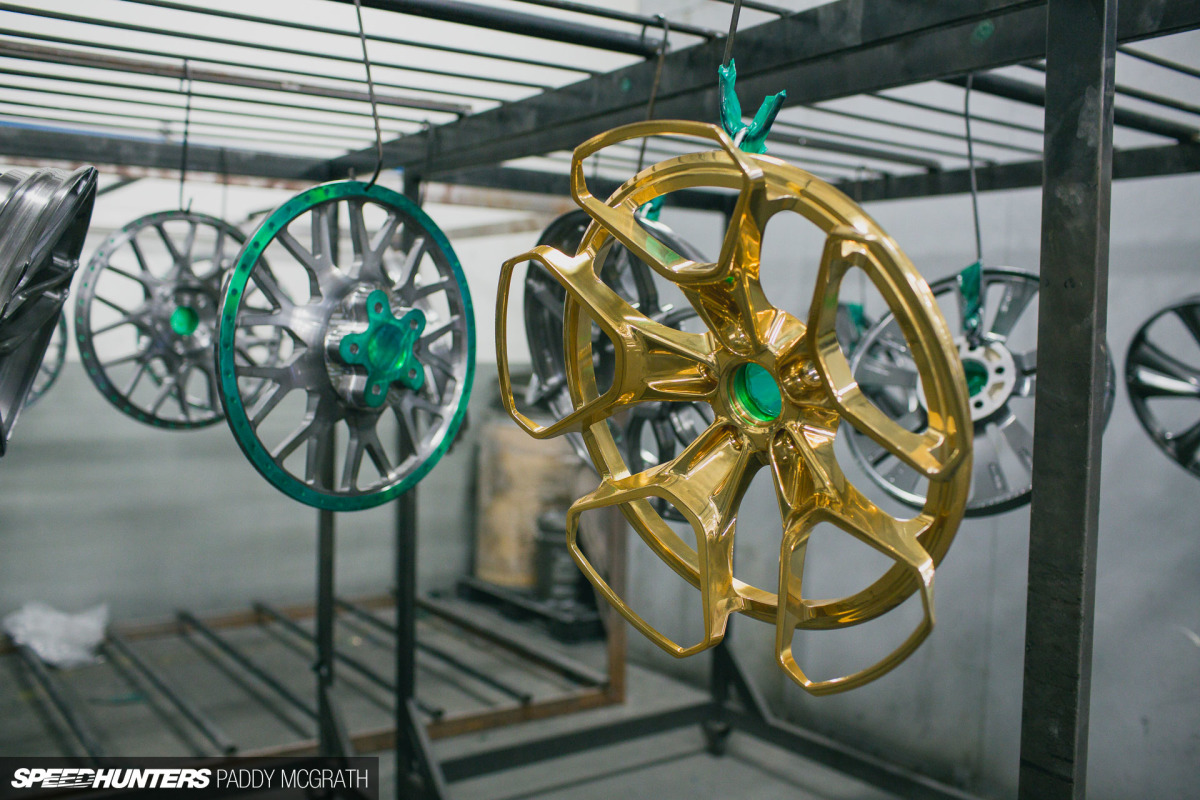 This gold HUR centre is a personal favourite finish.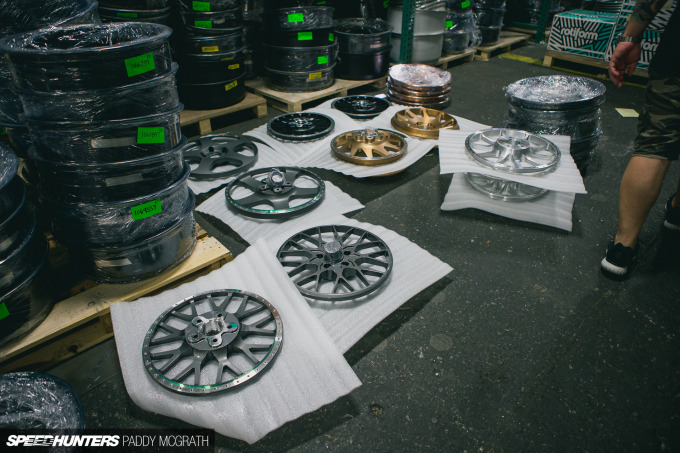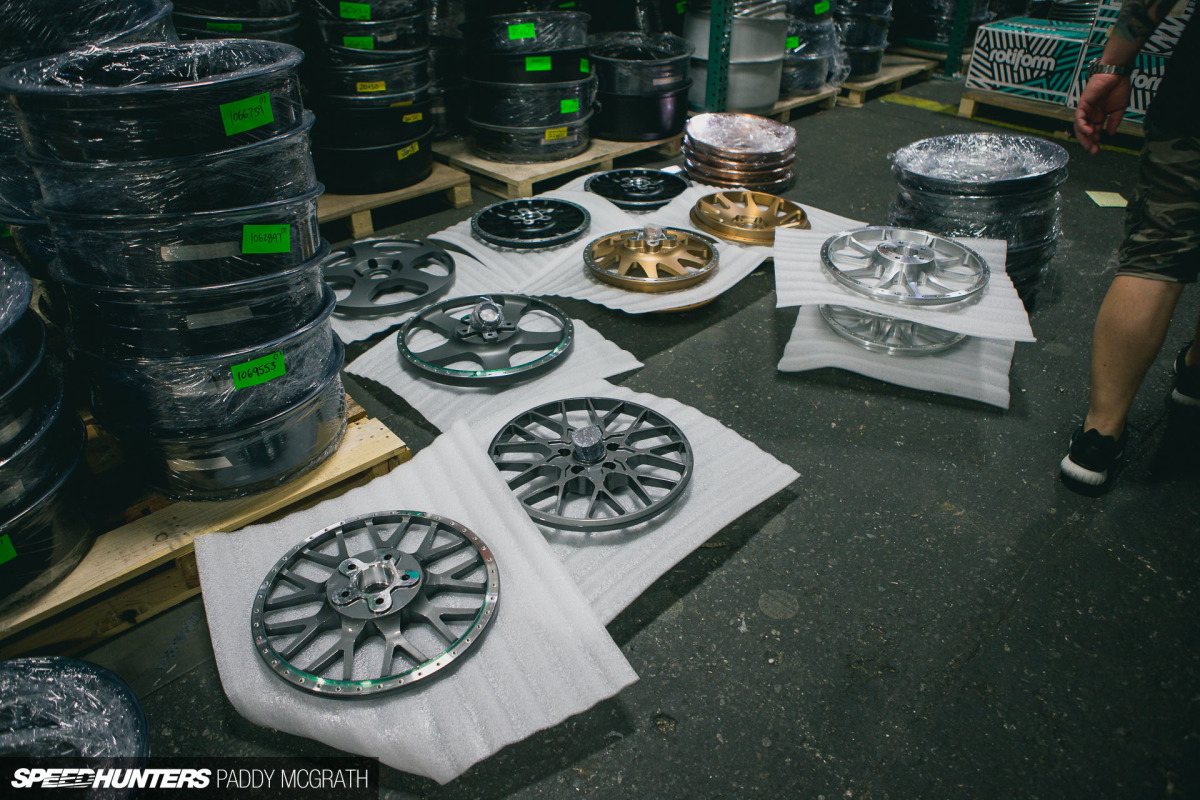 Once they've baked and cured, they head towards the final stage of manufacturing – assembly.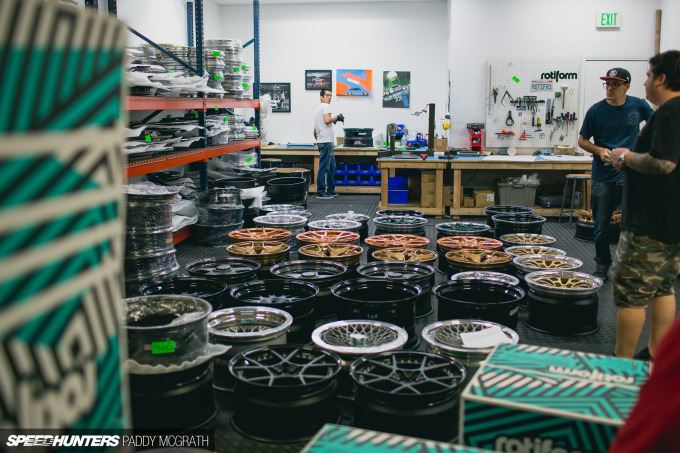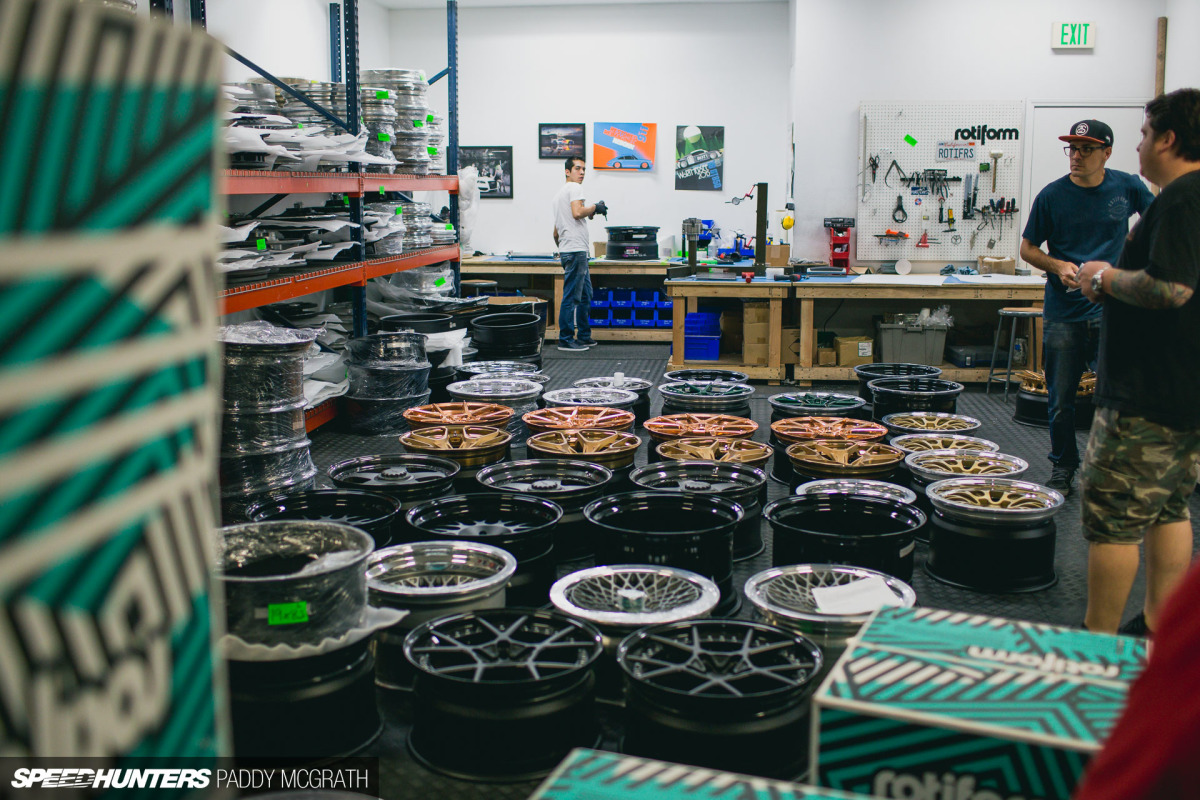 The assembly room is where, both literally and figuratively, everything comes together. It's here that you see just how much variation there is and how even the same wheel design can be treated in such different ways.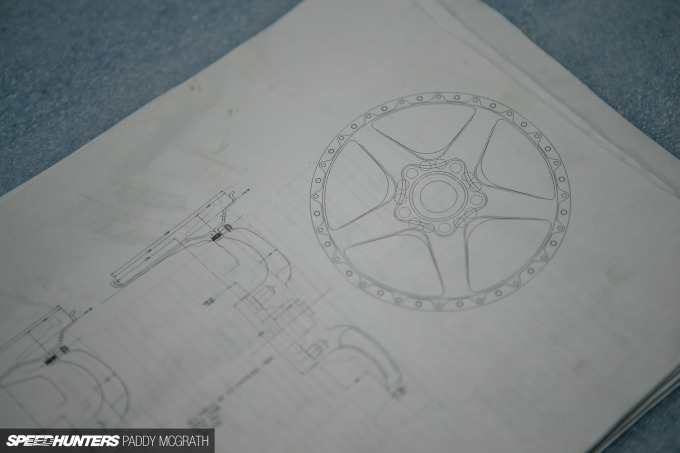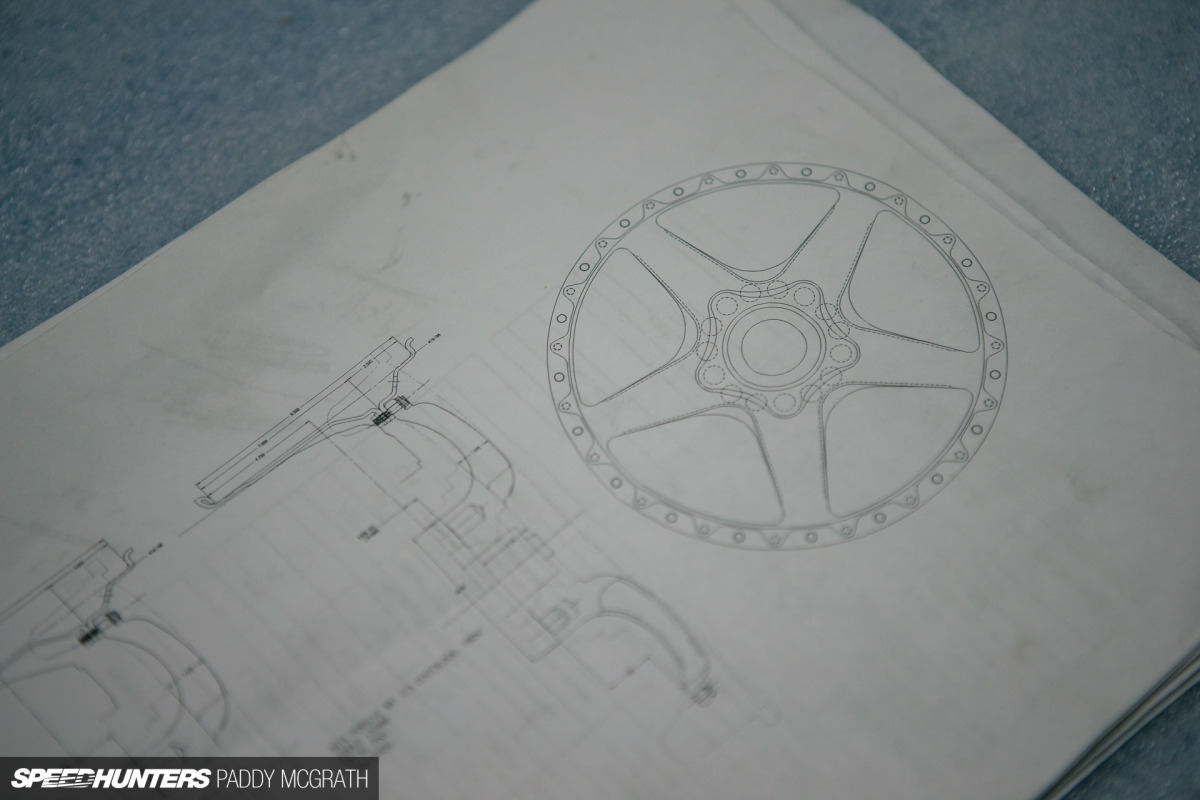 Every set of wheels which is assembled is accompanied by technical drawings which show every detail the assembler will need to know. The drawings are even detailed enough to show how much clearance there is between the finished wheel and the stock brake caliper.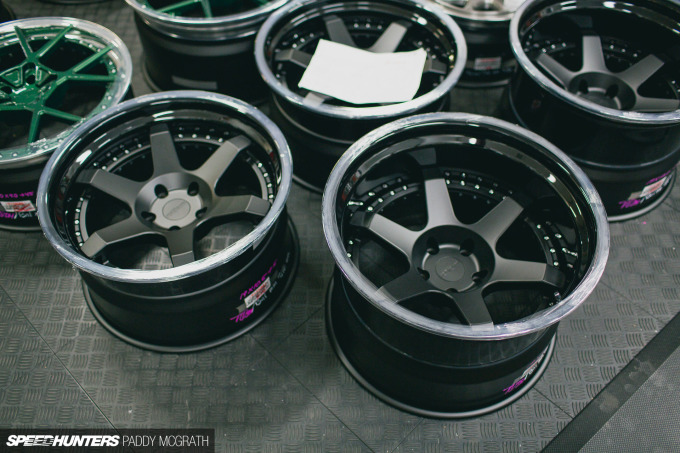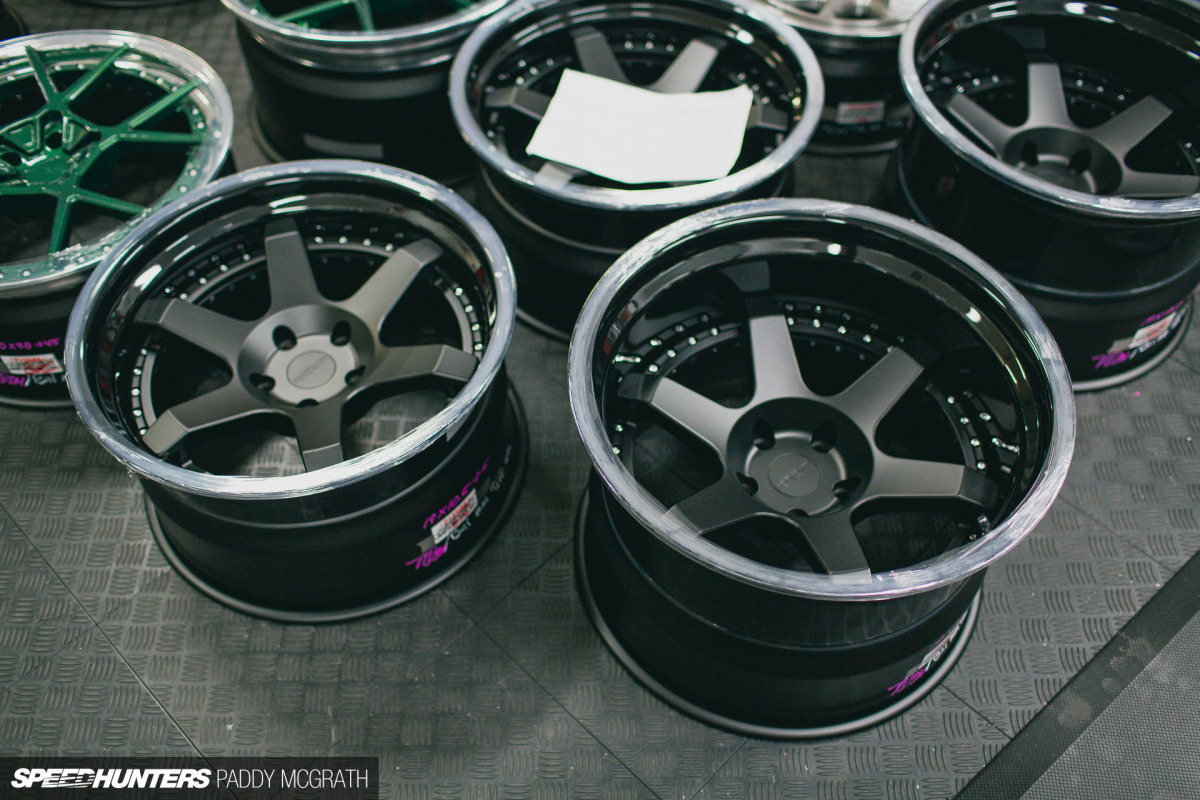 There are many procedures to adhere to when assembling too, from ensuring everything is squared (circled?), to sealing the joins between the barrel, lip and wheel face.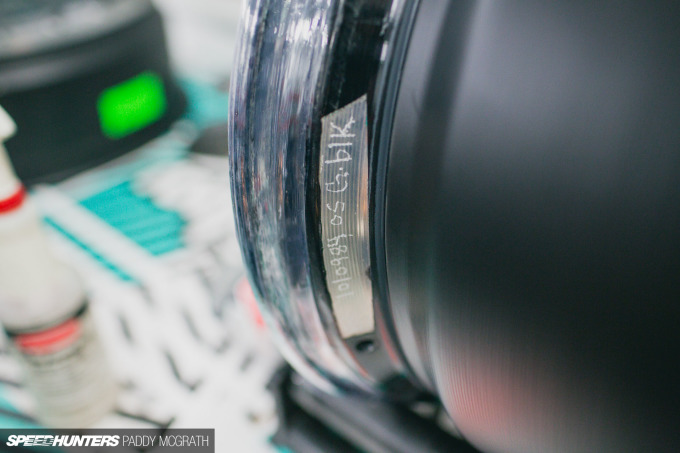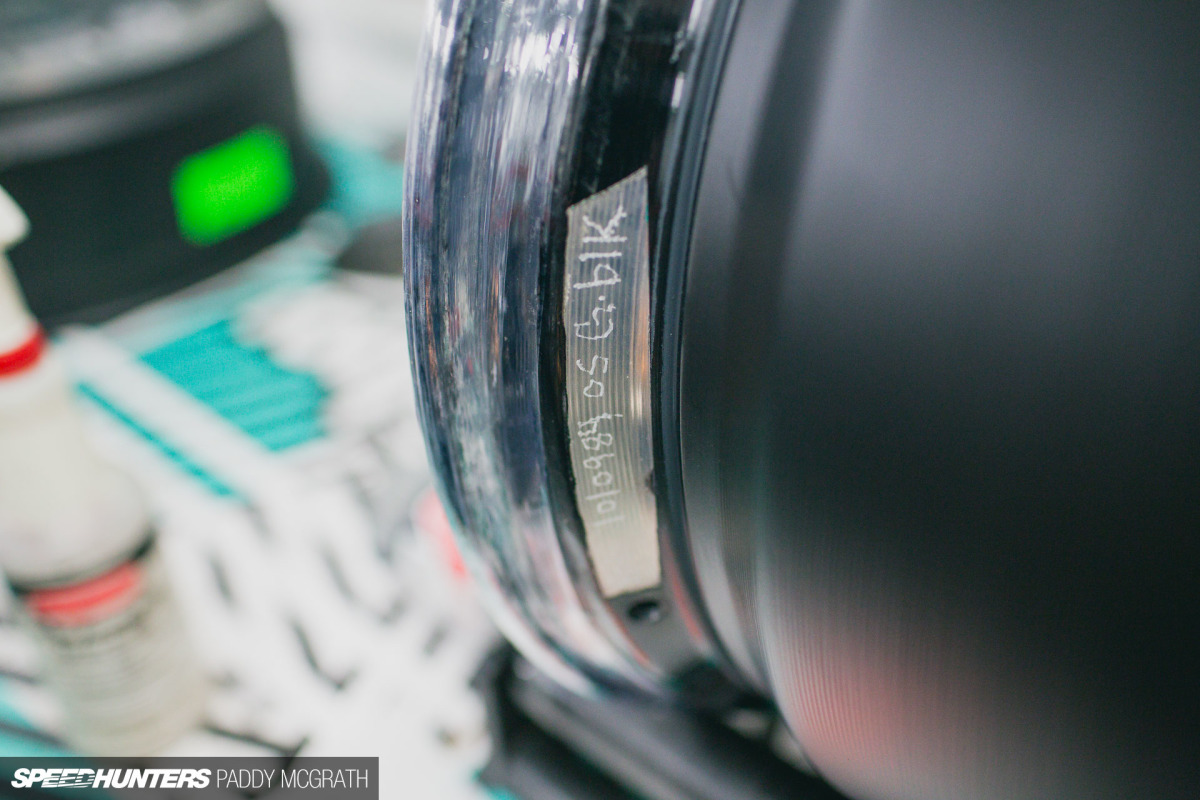 Finally, every wheel is hand engraved with a unique serial number and code which can be used to trace the wheels path through the manufacturing process and the specific finishes and sizes applied.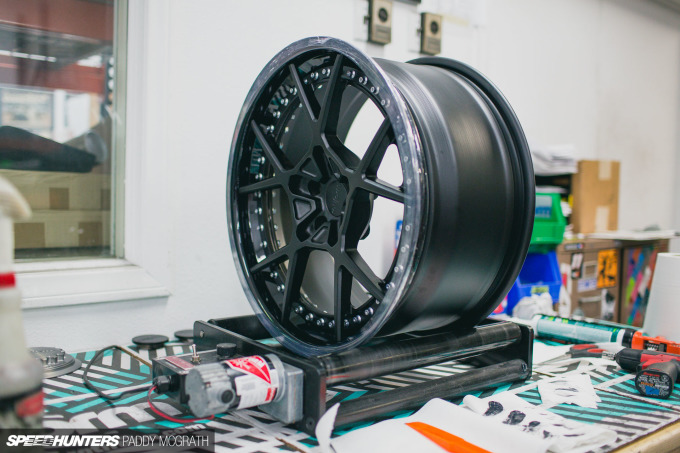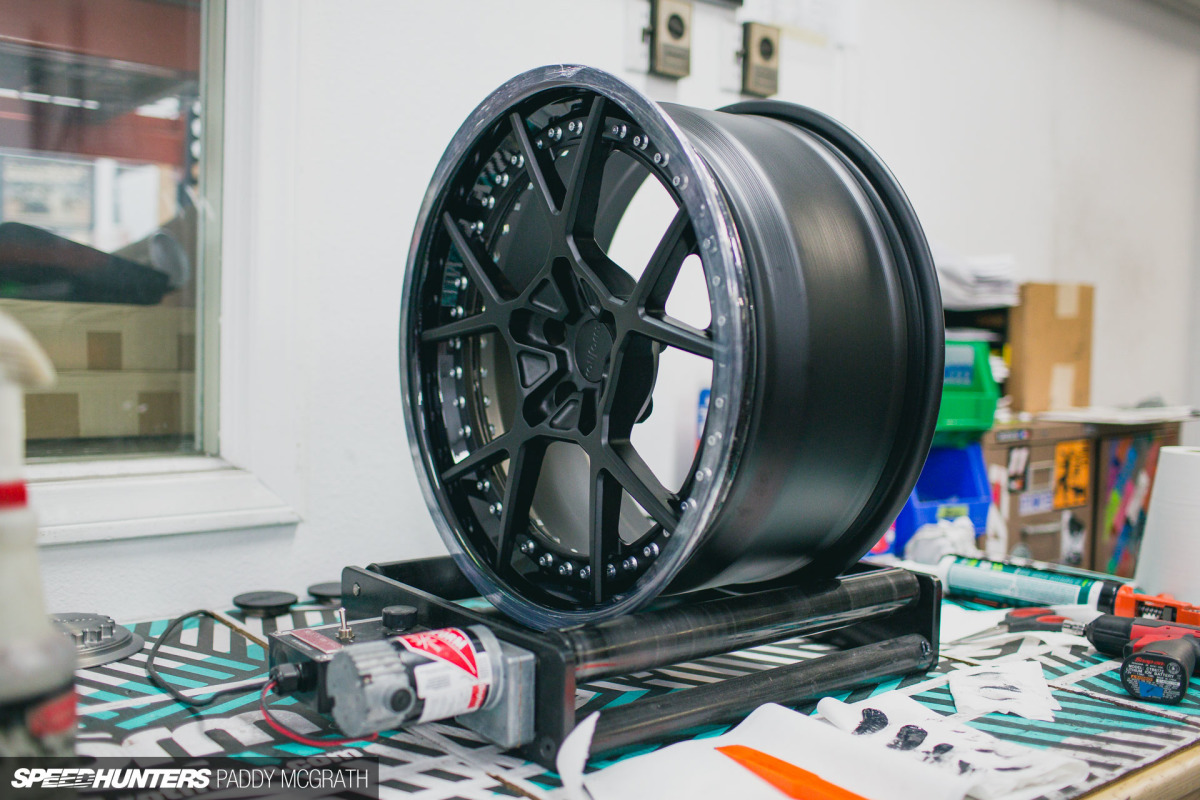 After that, the wheels are packaged, boxed and shipped out. Making the wheels, however, is really only half the story.
Inside & Out
As a creative sort, I hugely appreciate that Rotiform creates all of its own marketing and creative output in house. The team places a lot of importance on high quality media and how they represent the brand to the world. It's such an overlooked area, which is crazy considering the times we live in, but it's not something Rotiform needs to worry about.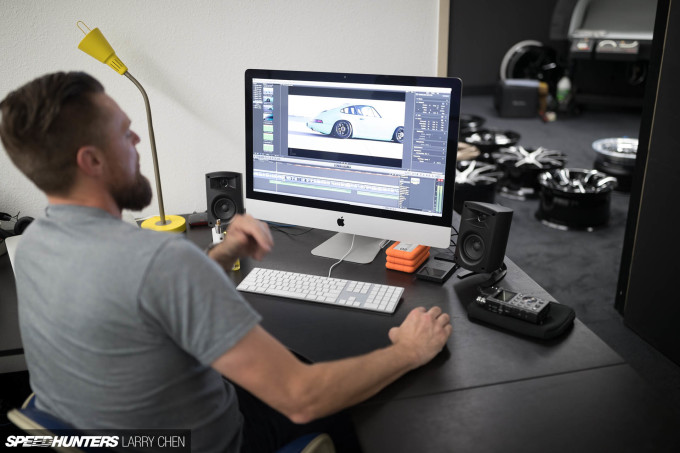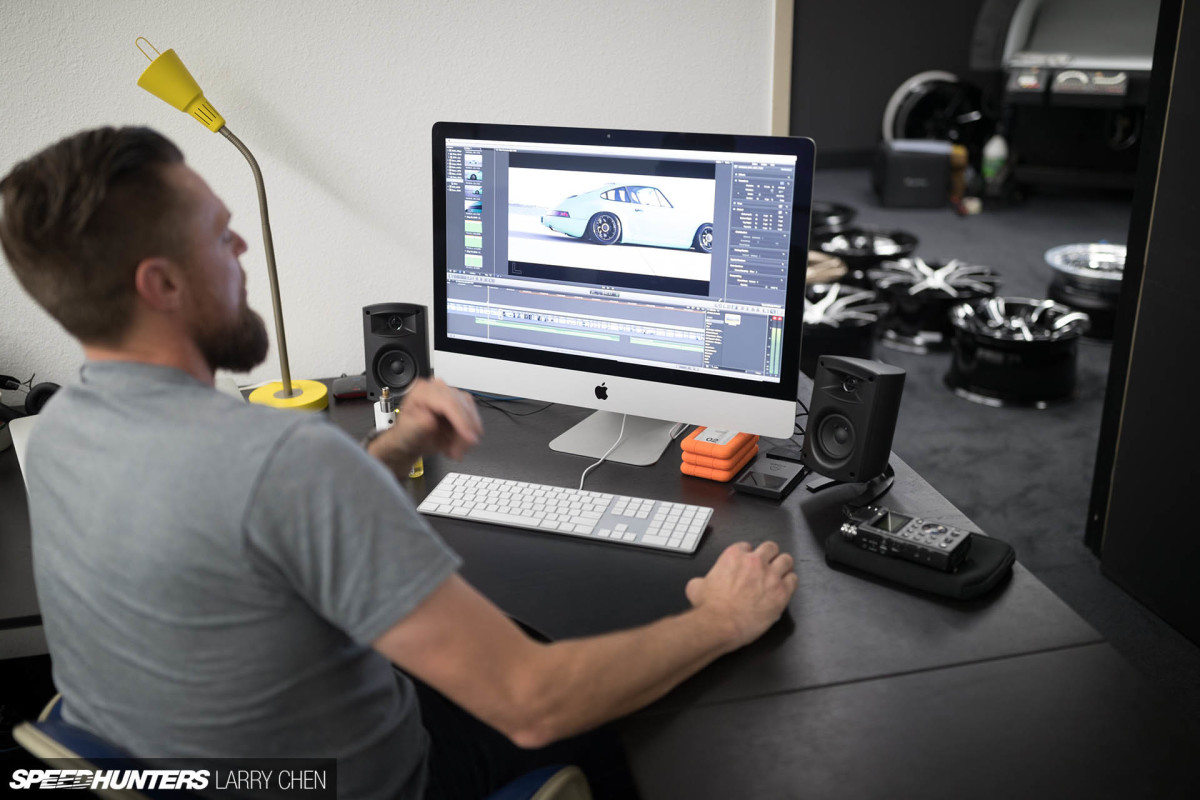 Rotiform's own advertisements, product photography and even all those videos you see online are created right here in its own offices. The people involved though are what make it, if you get me.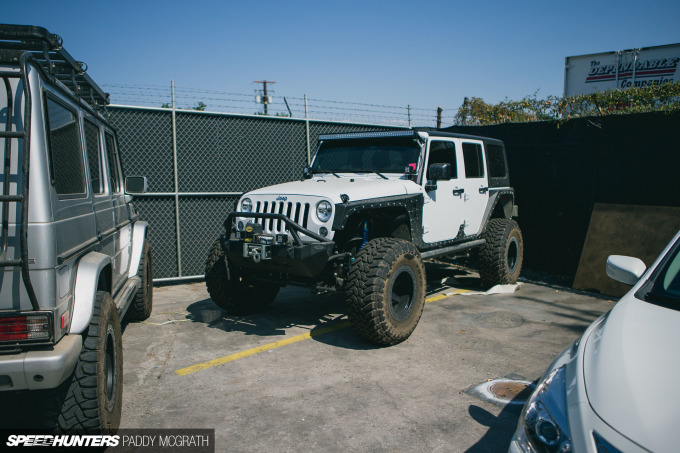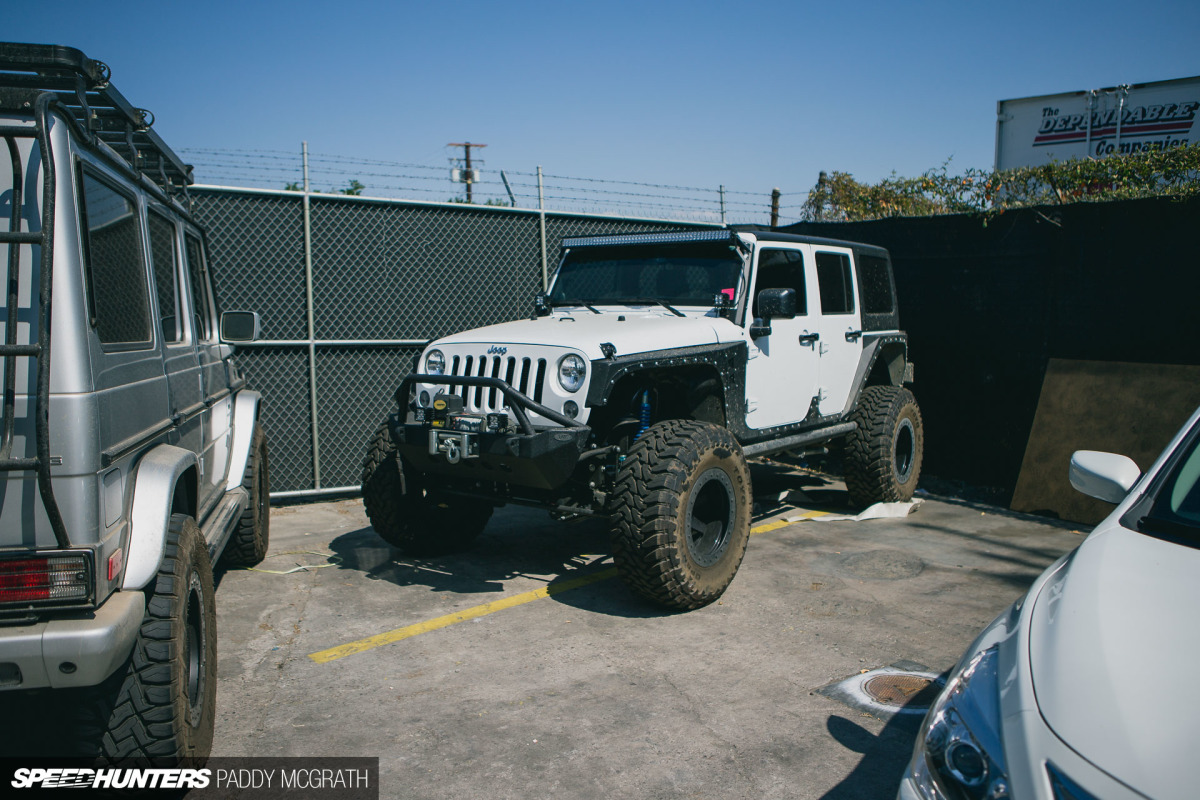 Each and every one is a proper car enthusiast, the sort that you'd have no issue sitting down for a drink with to discuss the merits of different approaches to the world of car modification.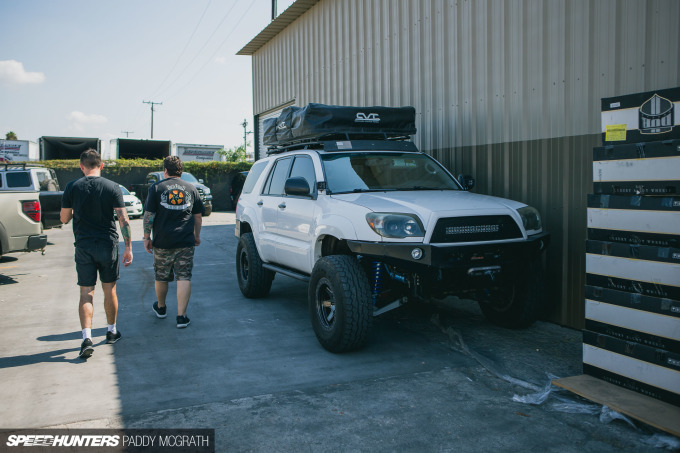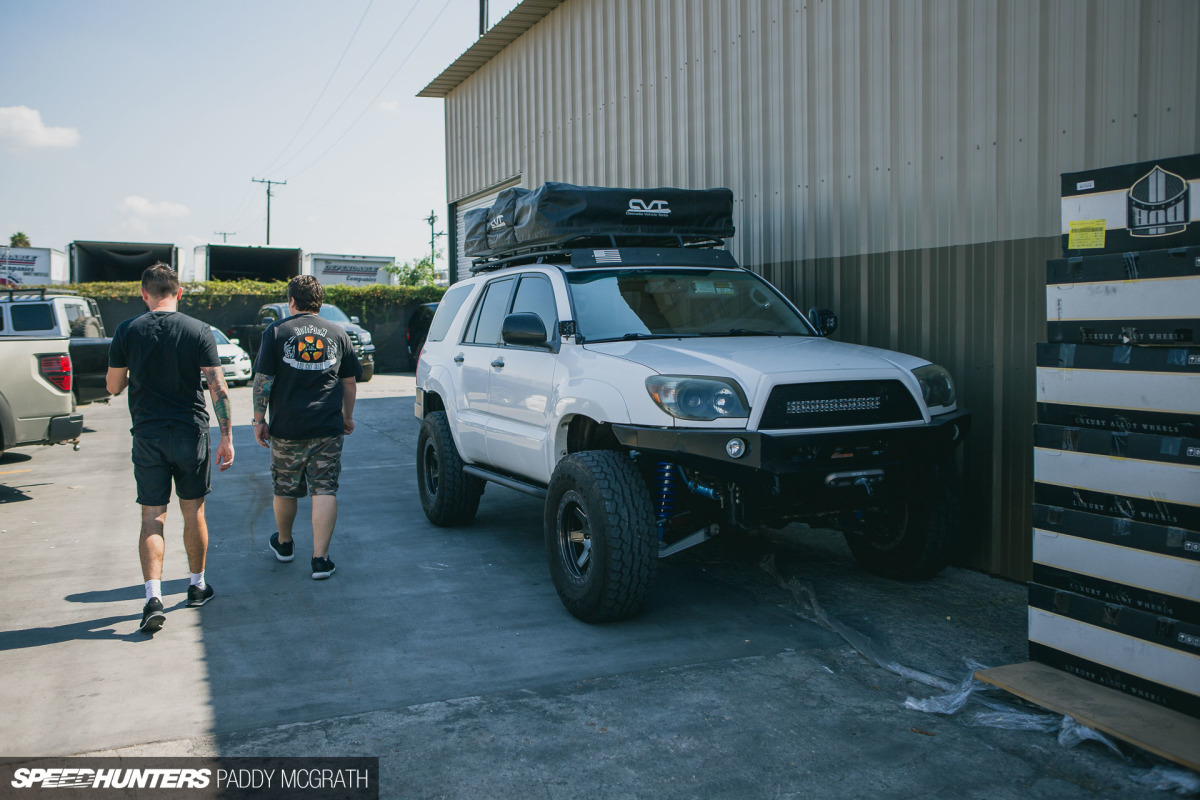 There's a pretty big off-road vibe around the staff car park, something that I saw quite a lot of around SoCal on my journey. I'm not sure how widespread it is around the rest of the USA, but it definitely felt like the predominant trend around LA. Is it something we should expect to see spreading worldwide? I digress.
There's a huge amount of pride for what Rotiform has achieved and in what it's producing right now. Seven years ago, it started as two guys who pooled whatever money they had together to try and make their dream come true. It was a huge risk but it worked. There's so much to be said for that, regardless if you're a fan of what they do or not.
How many of us have worked a job that we didn't really want to do and dreamt about doing something we love instead? We can only be held back by fear of the unknown for so long. It doesn't always work out, but it's better to have tried and failed than to never have tried at all, right?
If you don't take that chance, you'll never know what might have been.
Paddy McGrath
Instagram: pmcgphotos
Twitter: pmcgphotos
paddy@speedhunters.com
Cutting Room Floor