An Evolutional Recipe
With so much press and fanfare associated with the poster-boy Pro class at the Yokohama World Time Attack Challenge, the casual observer could almost be forgiven for thinking that the event is strictly reserved for the unhinged, extreme creations channelling the mad scientists of the circuit subculture.
While these elite cars are without doubt the ones that exceed the limits many deemed possible for cars based loosely on production platforms, the reality is that these kind of machines make up only a small proportion of the track-focused hardware filling the pit lane real estate over the course of the WTAC weekend. Of course, there is the restricted but hotly-contested Open class, but even more restricted and representing time attack's grassroots is the V-Sport Clubsprint class, comprising of mostly 'weekend warrior' type builds.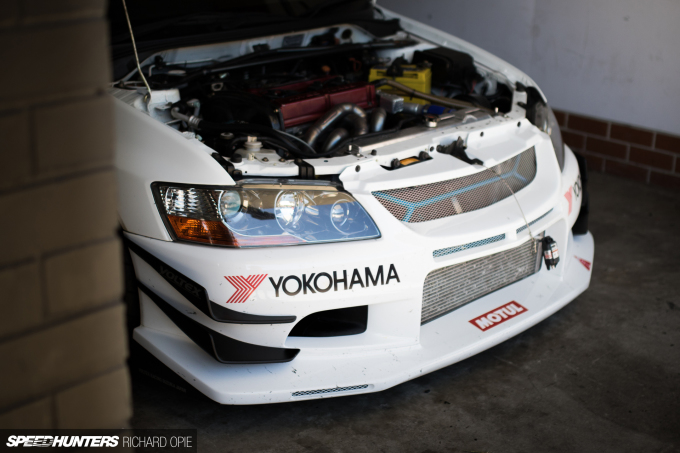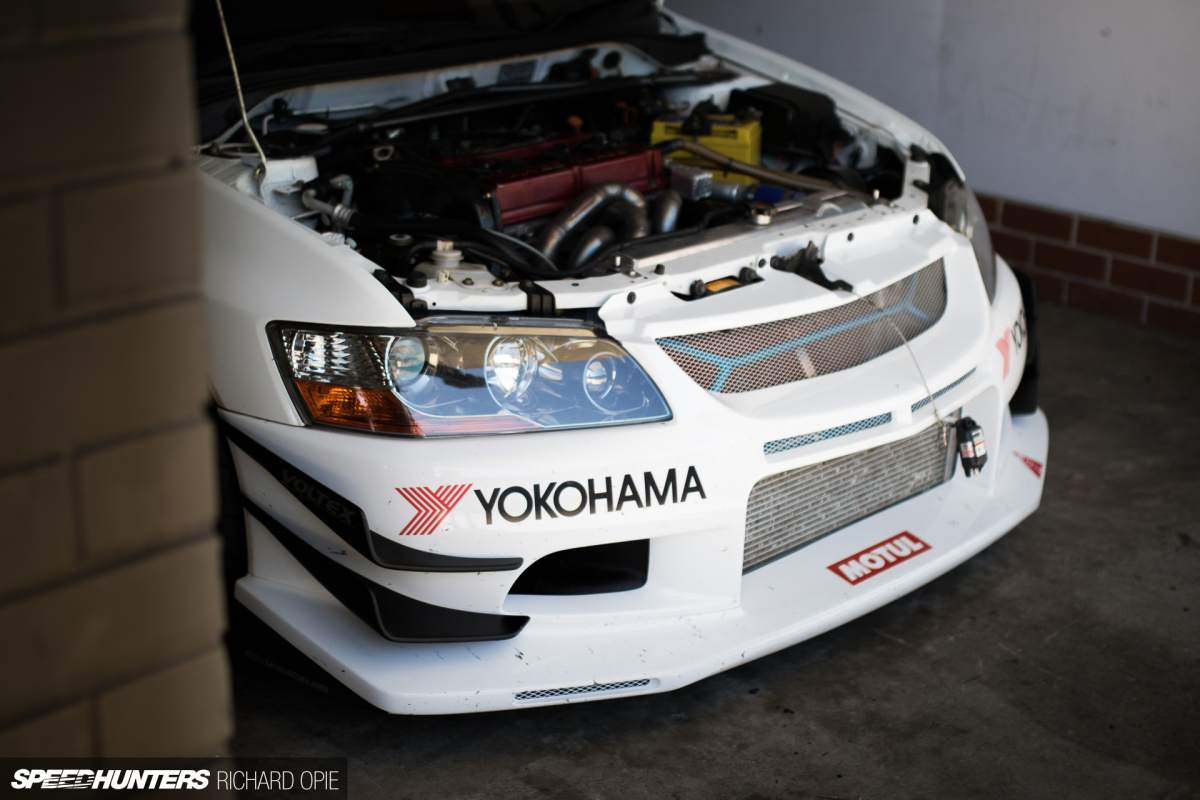 You can read much more about how the Clubsprint class rules apply to competitors on the WTAC website, but in a nutshell these cars are permitted comparatively mild aero additions compared to their more developed brethren, no professional drivers and all cars must run the control Yokohama Advan Neova AD08 tyre.
Importantly, however, is the role these cars play in the evolutionary process of WTAC. This is the gateway drug to more serious time attack competition.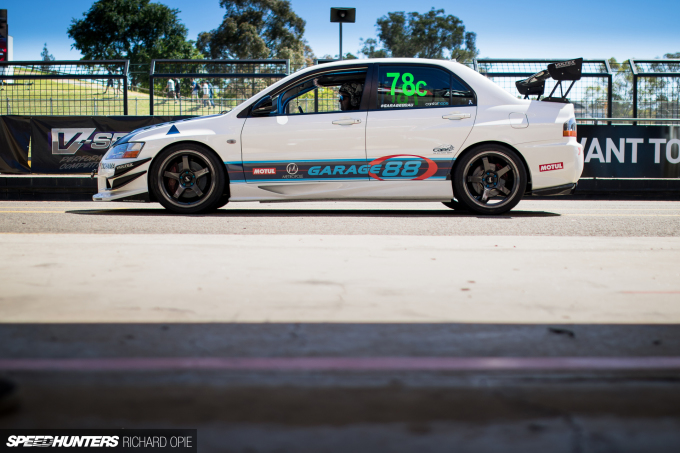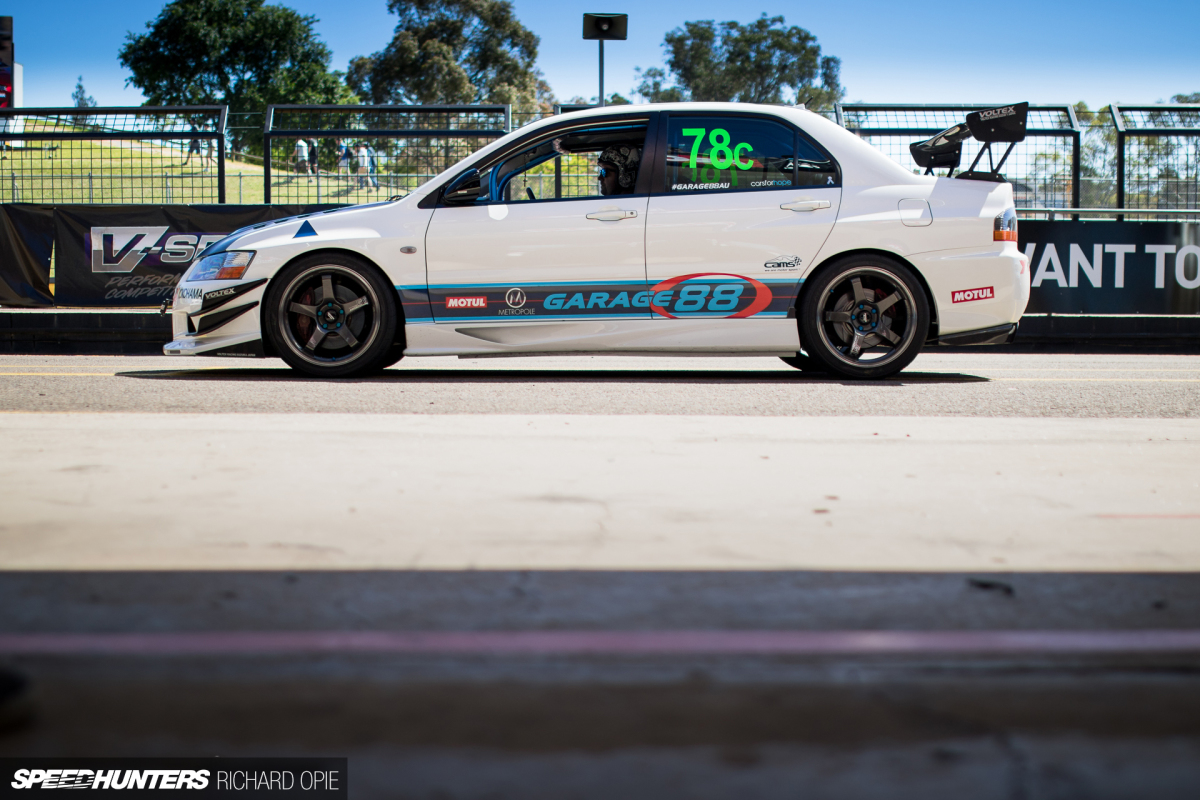 So I set about traipsing through the pit garages on the Friday, earmarking a few of the 47 Clubsprint cars present to be included in this post. Before I'd even managed to poke my head into its garage, by pure virtue of the Martini-inspired racing stripes streaking down the center of its carbon bonnet, I'd decided that Steven Planinic's immaculately turned out Mitsubishi Lancer Evo IX Lancer absolutely needed a closer look.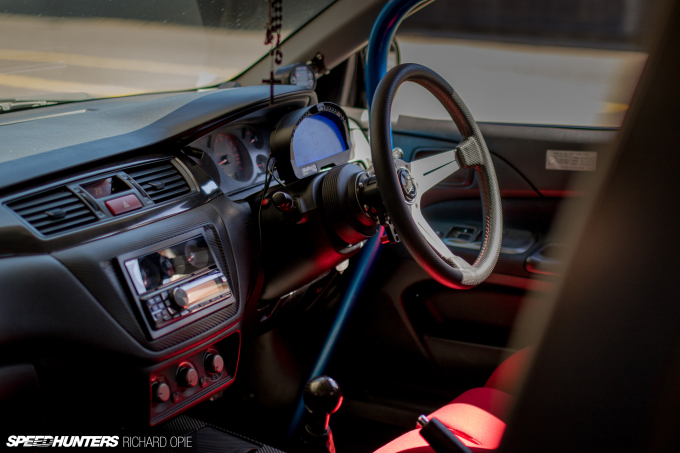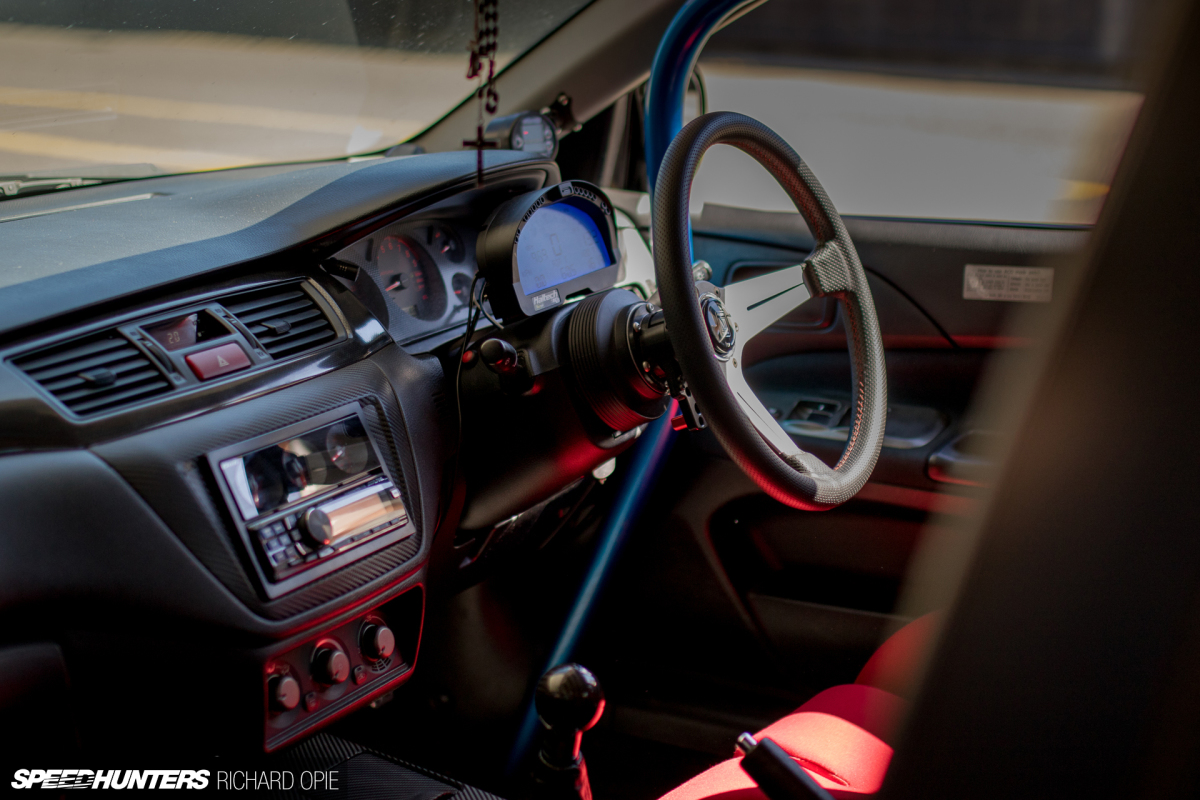 While the exterior is an undeniable drawcard, peering through the open windows of Steven's Lancer evokes what I consider to be the real essence of a Clubsprint car. The Evo is a true road and track warrior, with a bolt-in Cusco roll cage weaving it's way around a full interior – and by full, the Evo retains creature comforts like a stereo, air conditioning and even the rear seat! The stock Recaro recliners are substituted for a pair of scarlet Bride fixed-back seats, with a Takata harness holding Steven securely between the bolsters, be it for a lap of SMSP or a quick ice cream run. Further Japanese style is found in the form of the perennial Nardi wheel, while electronics-wise a Haltech dash display and Turbosmart e-Boost controller nestle comfortably in view of the driver.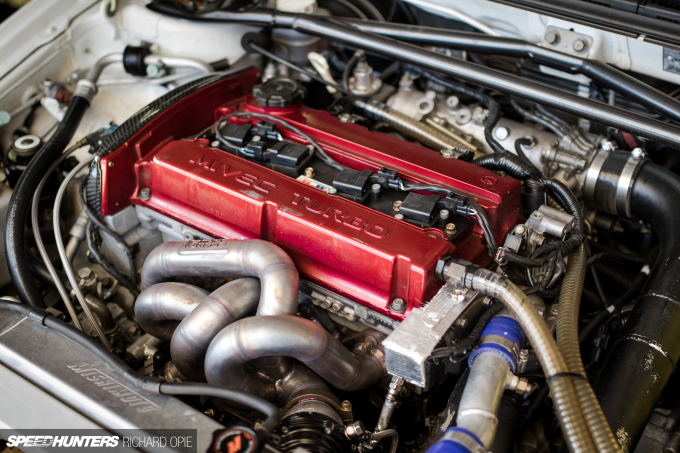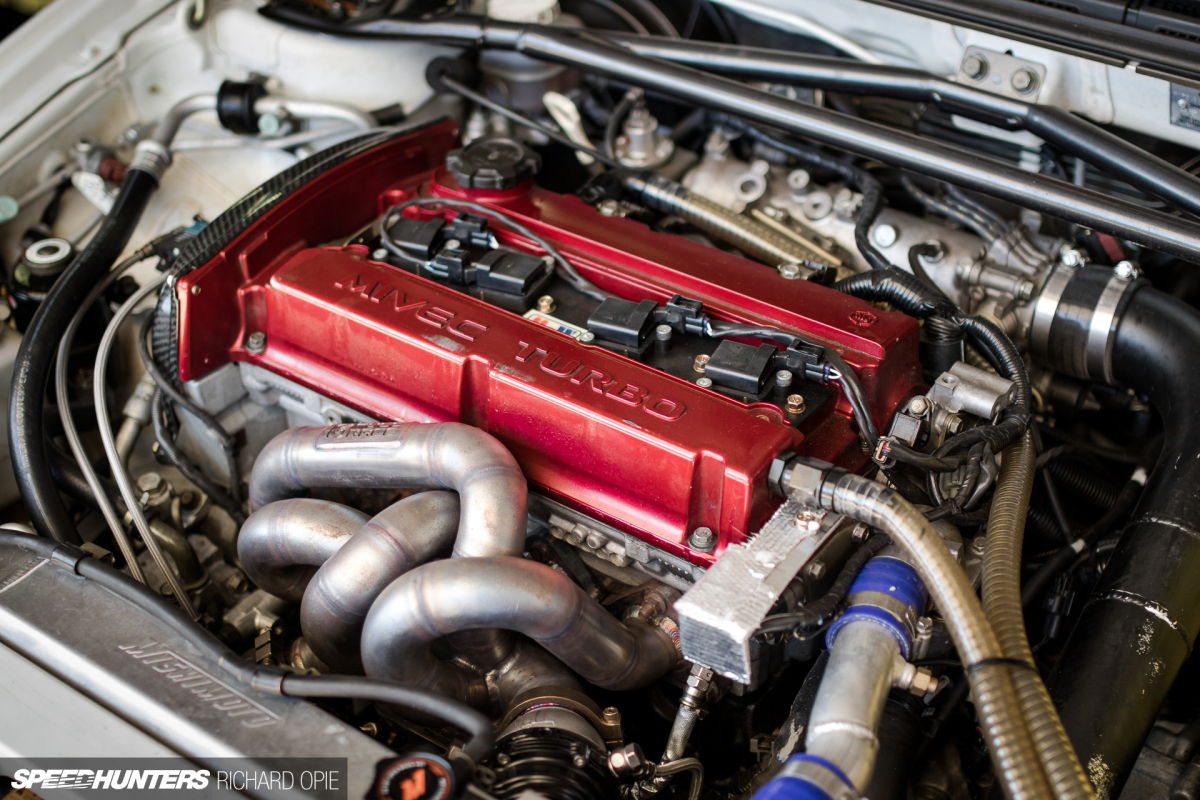 Retaining its factory 2.0-litre capacity, the built 4G63 pumps out a healthy 360kW (483hp) courtesy of a BorgWarner EFR7670 on a Full Race manifold. A forged bottom end assembly, minor headwork and a set of aggressive S3 cams finish up the E85-fuelled engine package. Steven's elected to use a rebuilt 5-speed box originally from an Evo VII to get the power to the ground reliably.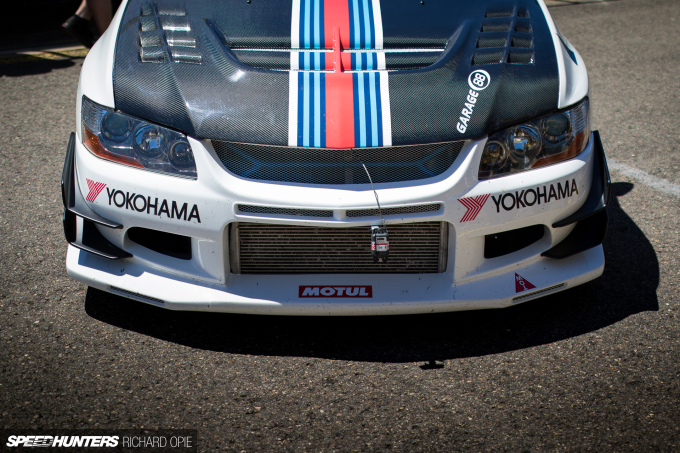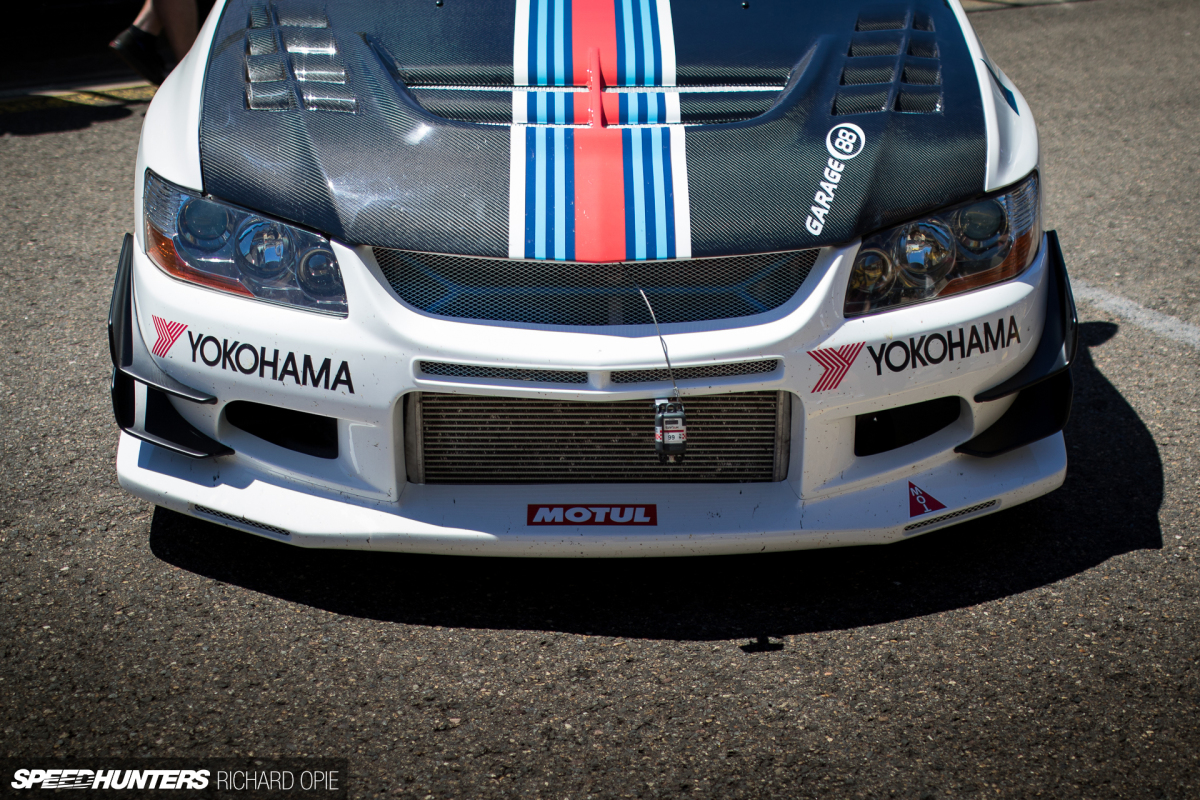 Outwardly, the Evo is clean – super clean. A Voltex front bar, carbon bonnet, side skirts, canards, giant carbon rear wing and a Varis rear bumper lend an authentic circuit look to the body, with 18×9.5-inch Advan GT wheels in filling the arches. Ohlins 2-way adjustable coilovers work in conjunction with a host of Cusco under-car components enabling Steven and the Evo to circulate SMSP in 1:44.64, good enough for 20th place this year. That's not bad for a car with a full interior and air con!
Open Wide & Say R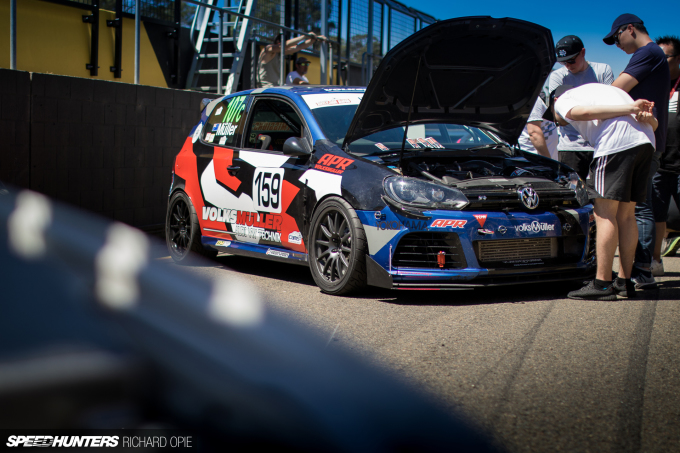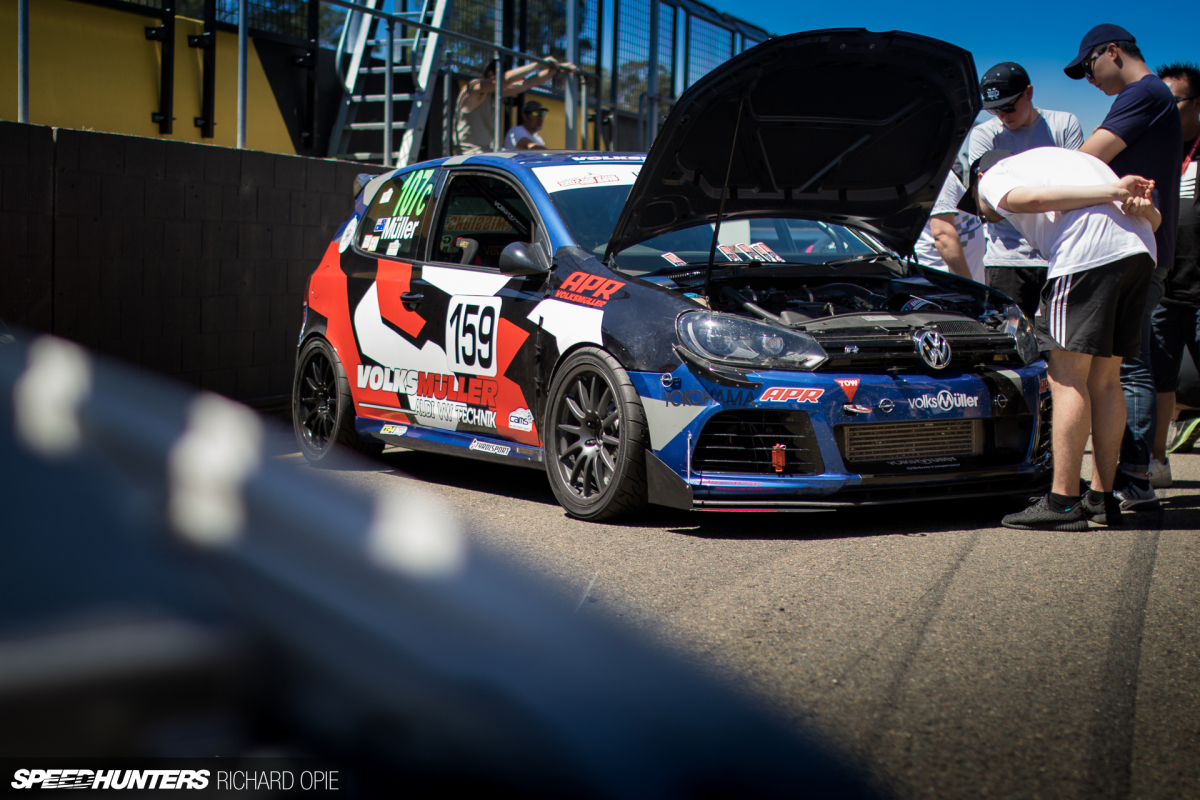 Among the Japanese domination of the WTAC entry list, Stephen Muller's Golf R stuck out like the proverbial sore thumb. Not only because there were just a couple of late model VW Golf's running in the Clubsprint class, but because his was one of only four European entrants for the weekend. The livery was eye catching too, and this in itself had a bit of a story.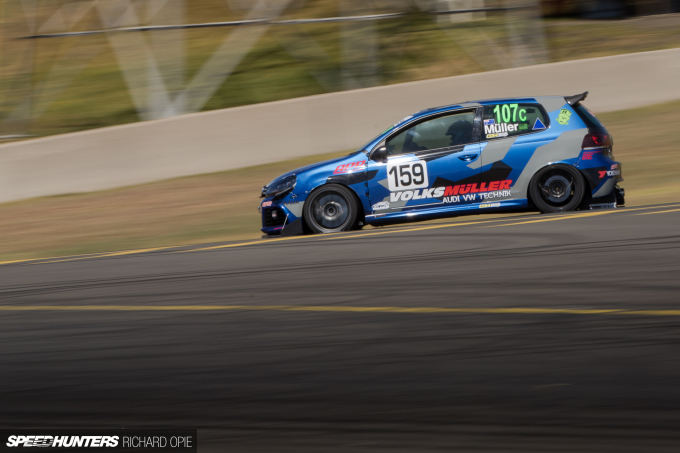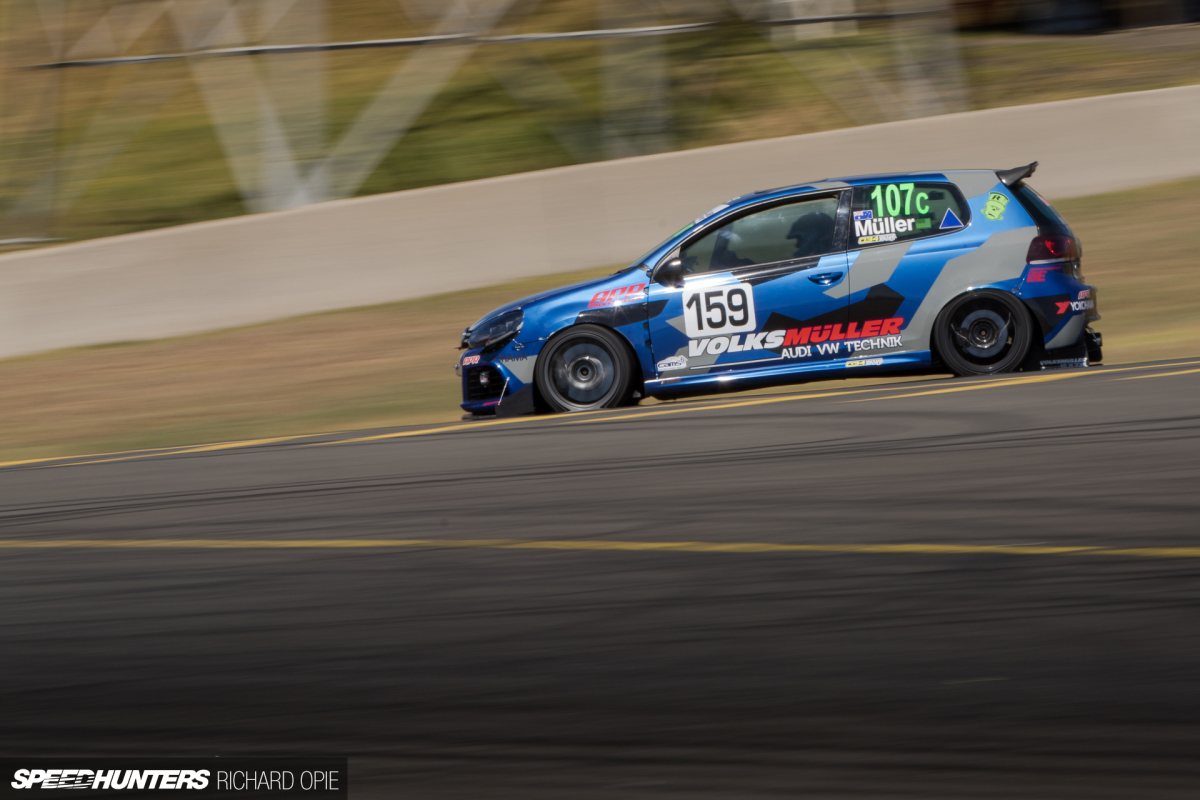 Stephen runs a handful of specialist workshops under the Volksmuller banner, and the Golf R build essentially acts as a proving ground for the upgrade products they supply and install. This particular car began its transformation to Clubsprint competitor as a statutory insurance write-off, having received a hefty swipe to the right-hand side. Originally blue, the right side is now black, with the side of a donor Golf cut out and welded into the damaged car, the result being a hot hatch nicknamed 'Frank-R-stein.'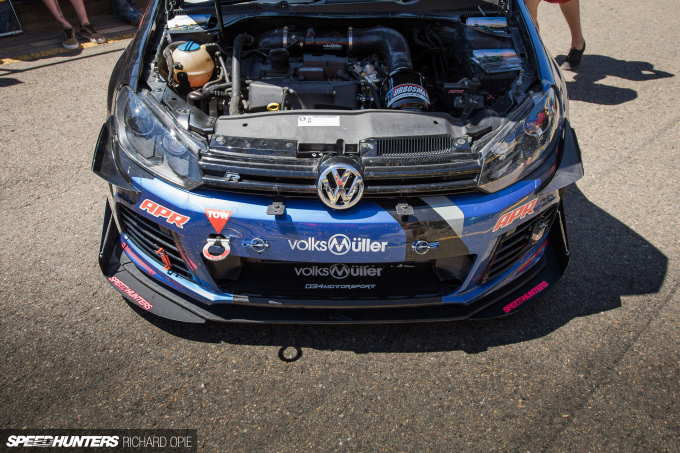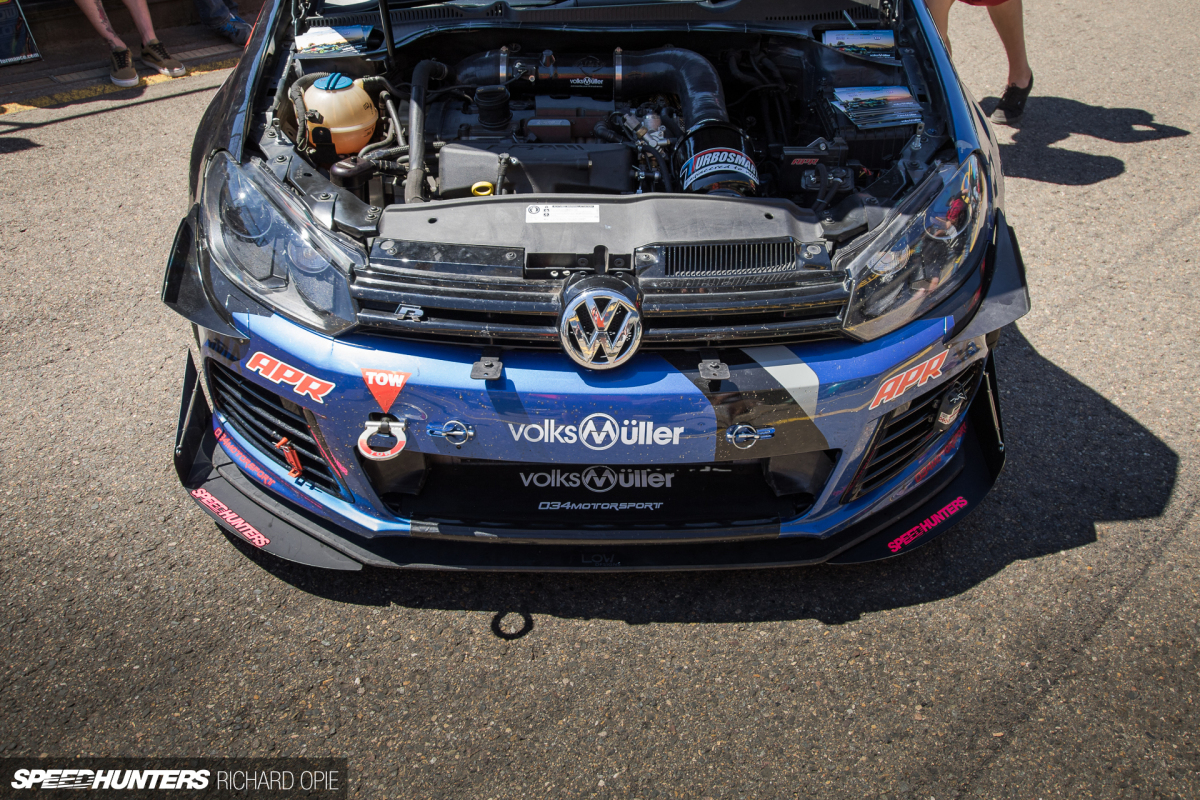 Underneath the standard sheetmetal bonnet, the R retains its stock 2.0-litre TFSI turbocharged engine, but it's been treated to a complete bolt-on performance upgrade courtesy of APR. Comprising a Garrett GTX2867 turbo, upgraded down pipe, ECU flash, larger intercooler and uprated fuel pump, the 'Stage 3′ tune pushes around 350kW (470hp) to the Golf's 4motion drivetrain via a proper manual gearbox.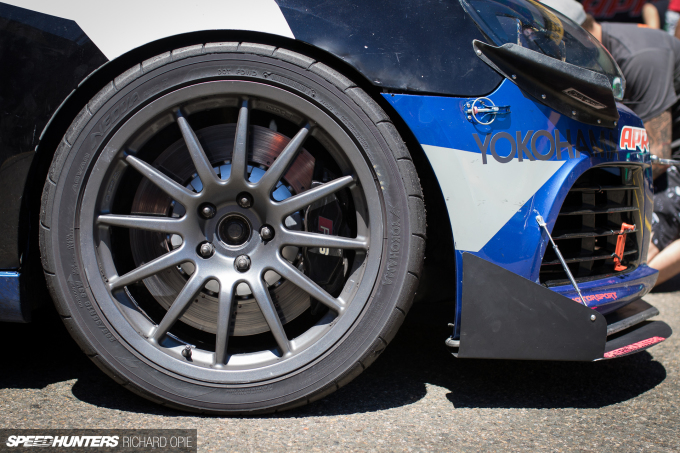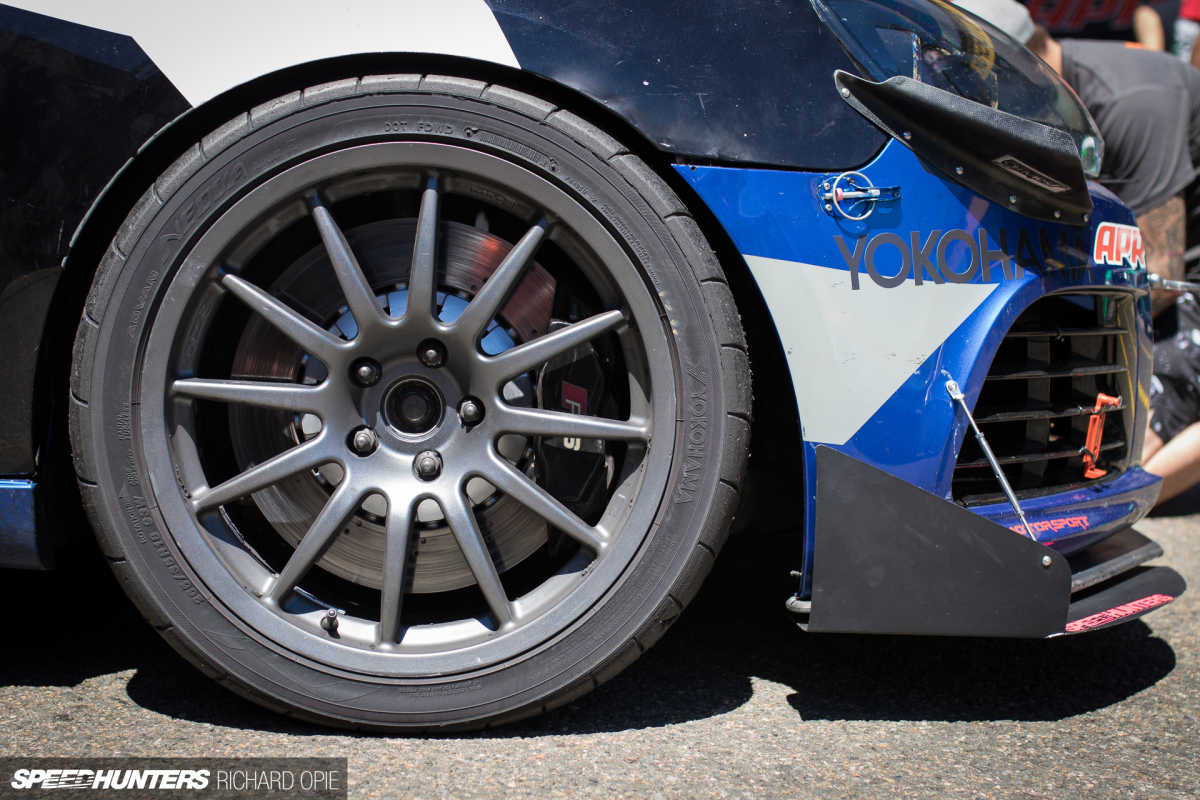 Aero is kept minimal on the Golf. A Flow Designs front splitter hangs off the stock issue Golf R bumper featuring home-brewed end plates and winglets to maximise front end grip, with an ECS spoiler and in-house manufactured rear diffuser taking care of the back end. The VAG OEM parts bin came to the party too, with an Audi TT-RS giving up its front 2-piece rotors and 4-pot calipers to the cause, while the 18-inch Cup alloys are lifted from the VW Racing Line parts catalogue.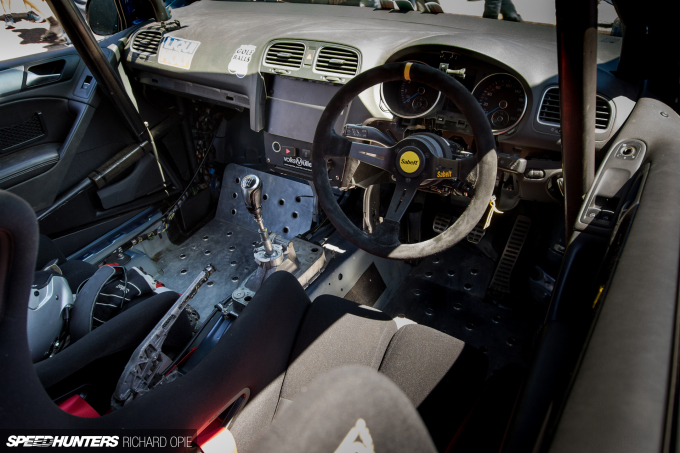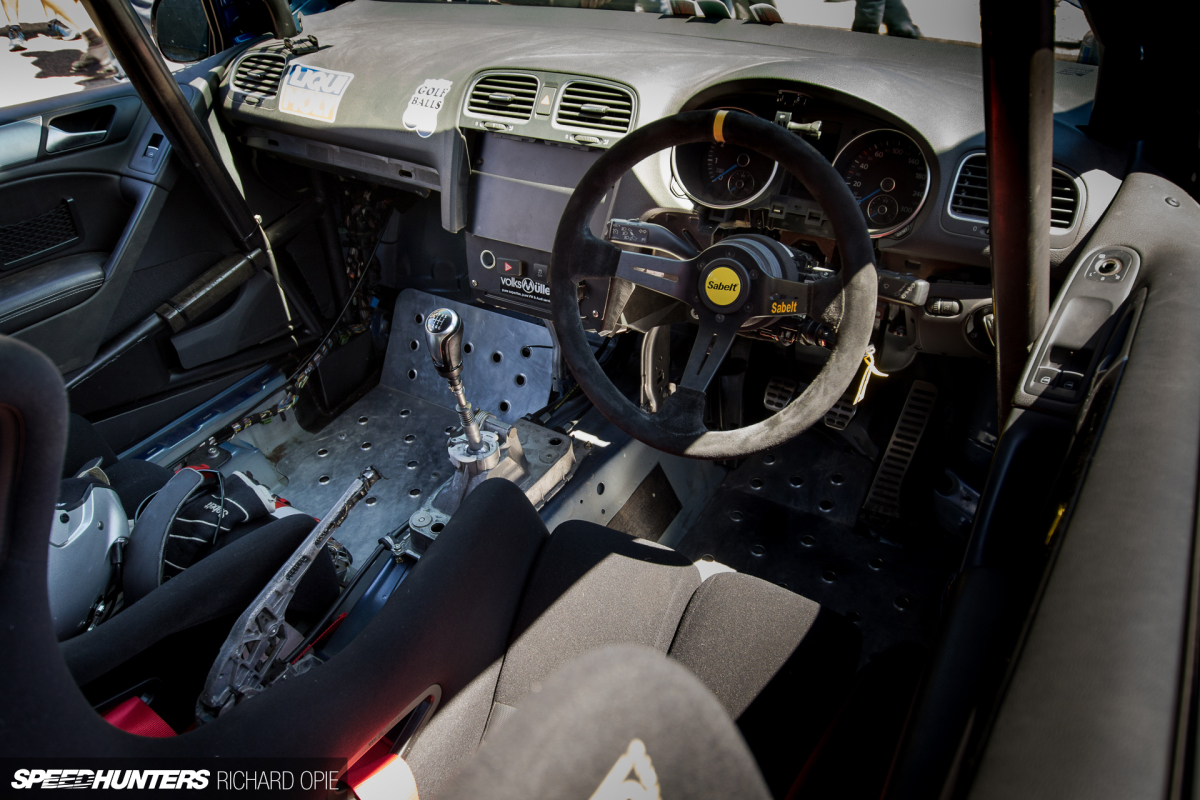 The VW is undoubtedly a focused build, but it's not solely aimed at cracking that a perfect lap. Stephen explains the car is used for local tarmac rally sprint-type competition which often requires a co-driver. With this in mind, the interior of the Golf is more reminiscent of a rally-type build, with twin Velo race seats equipped with Sabelt harnesses, a comprehensive roll cage, dimple-died floor plates and a dished, suede-wrapped steering wheel. Like drift cars with headlights, a race car with a stock dash and trim is something I appreciate equally, and this R ticks that box.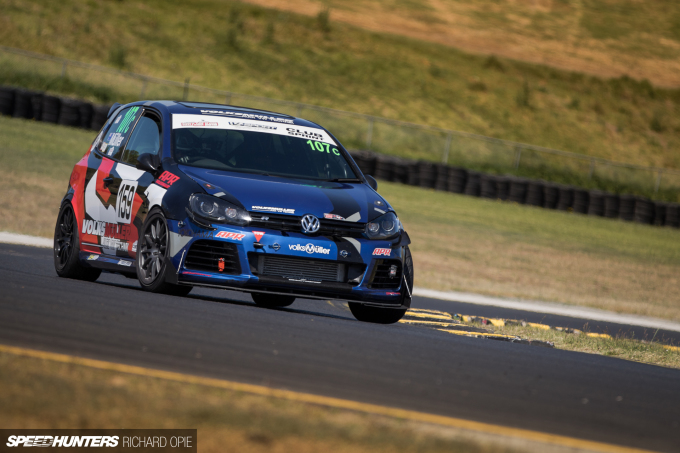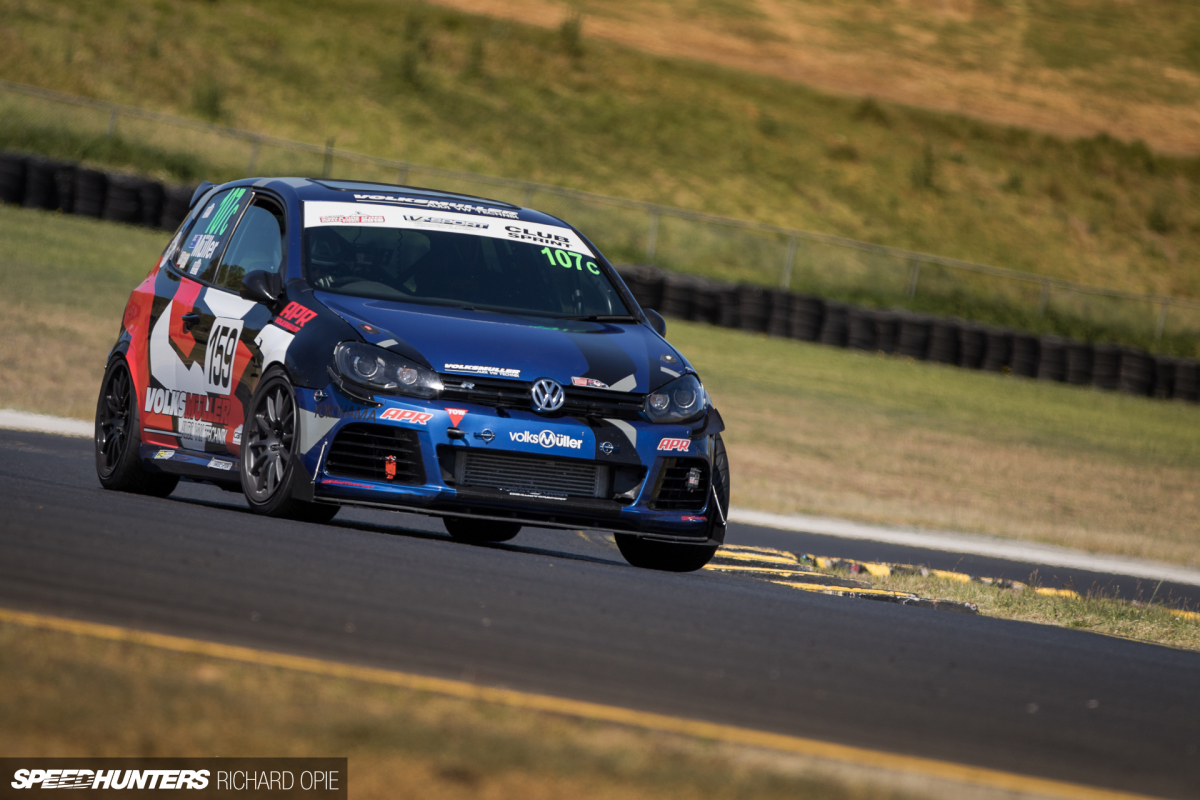 Flat cornering comes courtesy of a JIC coilover suspension arrangement and a full course of SuperPro urethane bushings beneath the car. Looking great all weekend, the Golf circulated reliably with Stephen pushing hard for the duration of the event and coming away with a 1:45.93. That's not the best lap time he's seen at SMSP, but solid enough for a 26th placing in the huge Clubsprint field.
Dedication To The Supra Cause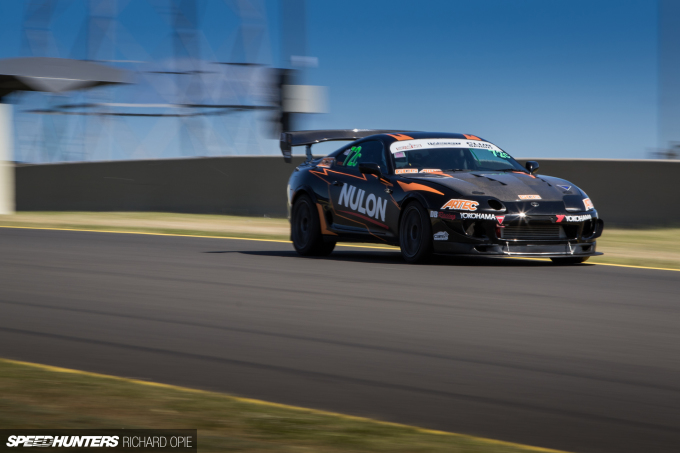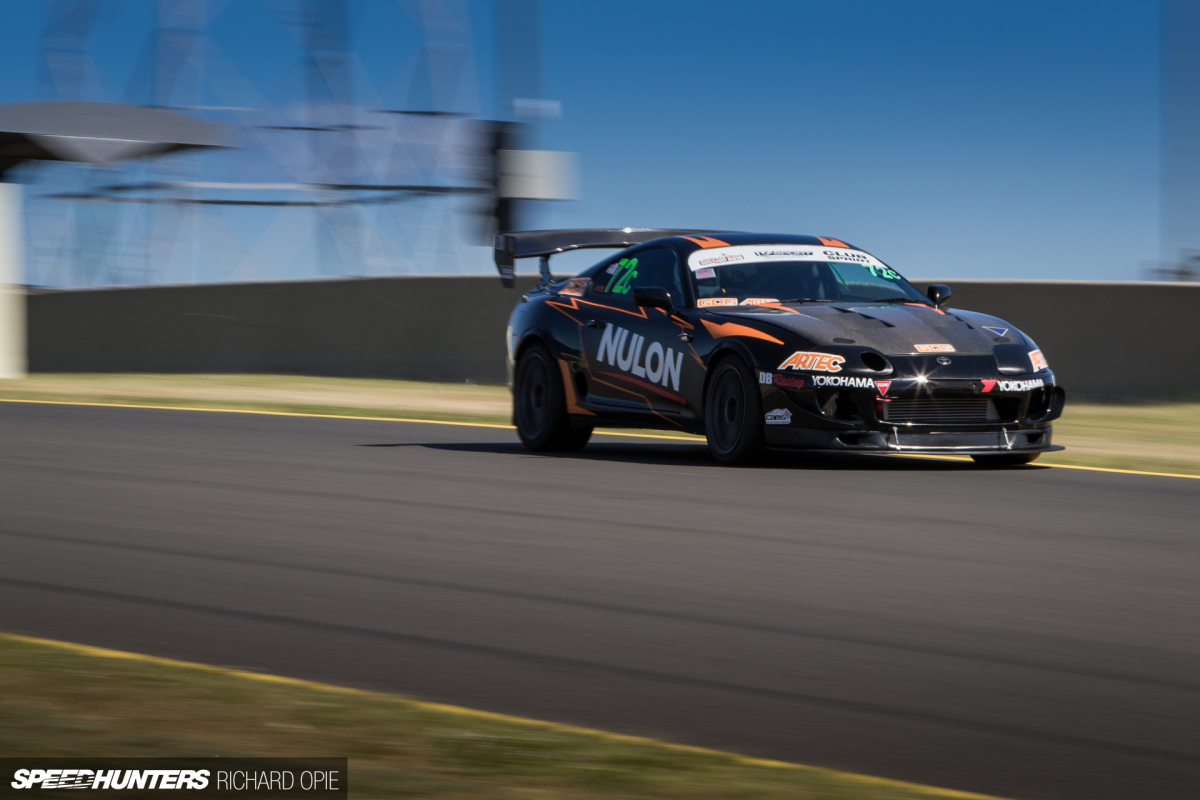 Of all the racers I spoke to over the WTAC weekend, I don't think any individual expressed quite as much enthusiasm and passion for the cause as Danny Buneta, the owner and pilot of this JZA80 Toyota Supra for over 15 years. I'm not sure if I'm a closet Supra fiend or just love the way a JZA80 Supra looks being given the beans on a racetrack, but the sound that emanated from the Supra's drainpipe exhaust as Danny accelerated towards Turn 4 at SMSP made my ears prick up and sealed the deal.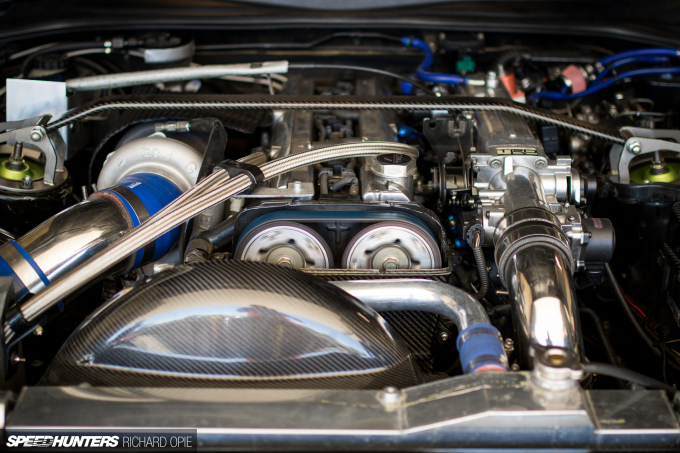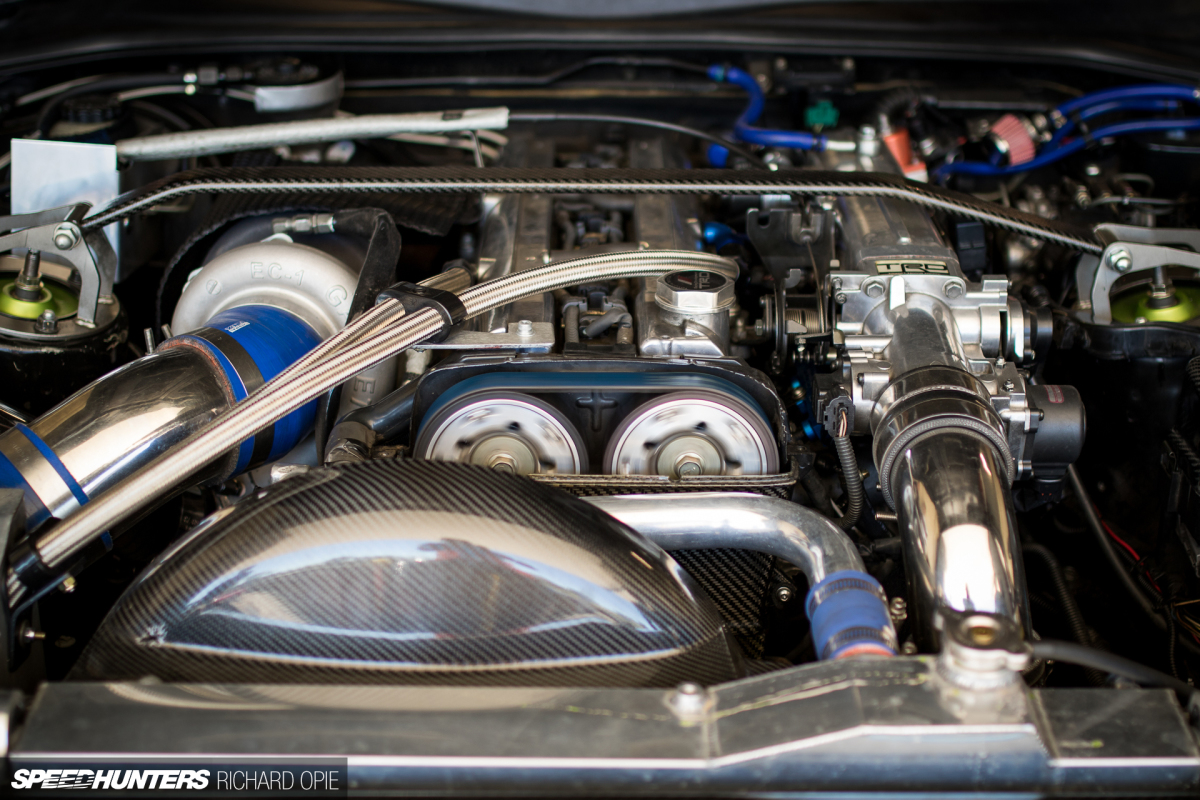 The source of that ear-bludgeoning? The venerable 2JZ-GTE of course, standard fitment between the struts of a Mk4 Supra. Danny's example still retains its original engine, and by original we're talking 190,000km (118,000mi) on an untouched bottom end, testament to 1990's Toyota engineering. Up top however, he's given the standard head a pair of Brian Crower 264-degree cams and BC valve springs and titanium retainers. The stock twin turbos are long gone, replaced by a single Garrett GTW3884R and external wastegate helping the grumpy six-cylinder pump out 495kW (664hp) on 28psi of boost. Management comes via a comparatively old Haltech E-11 ECU which has been in the car for the best part of a decade and a half.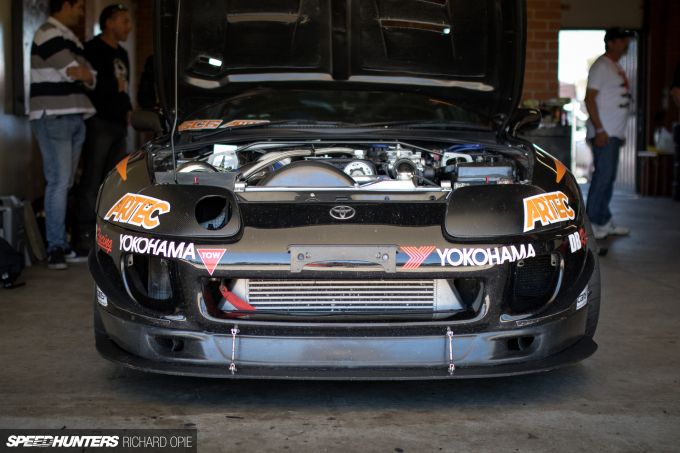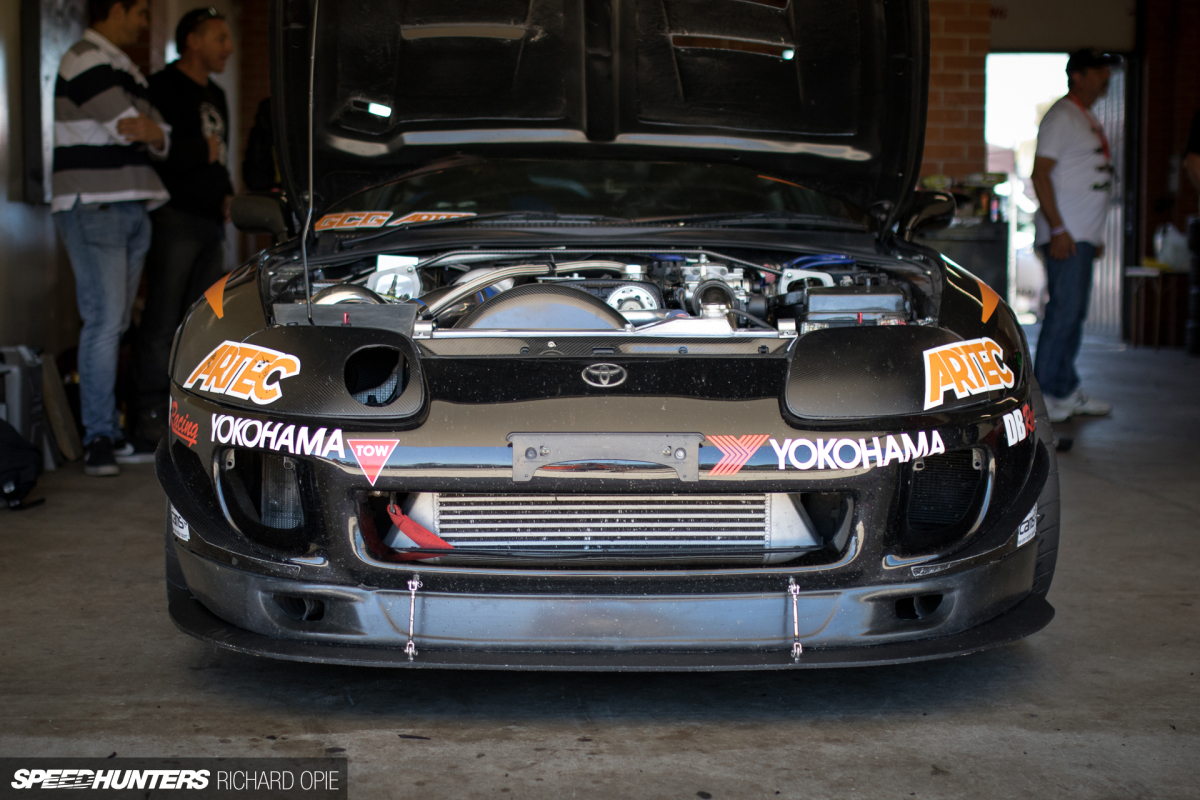 Like so many of the Clubsprint competitors, Danny's created his own aero solution. The Supra features a self-built splitter arrangement integrated into the stock front bumper, with a Big Country Labs GT wing dominating the rear profile of the car, backed up with another home-brewed diffuser solution. A JGTC-inspired headlamp blank feeds cold air directly to a K&N filter, ideal for the high ambient temperature of SMSP in October.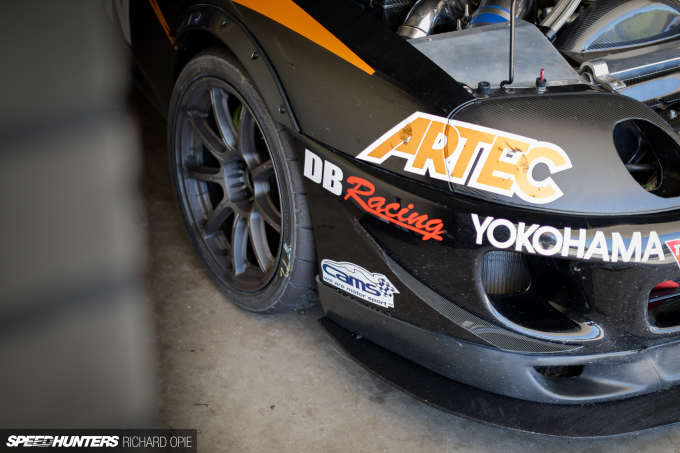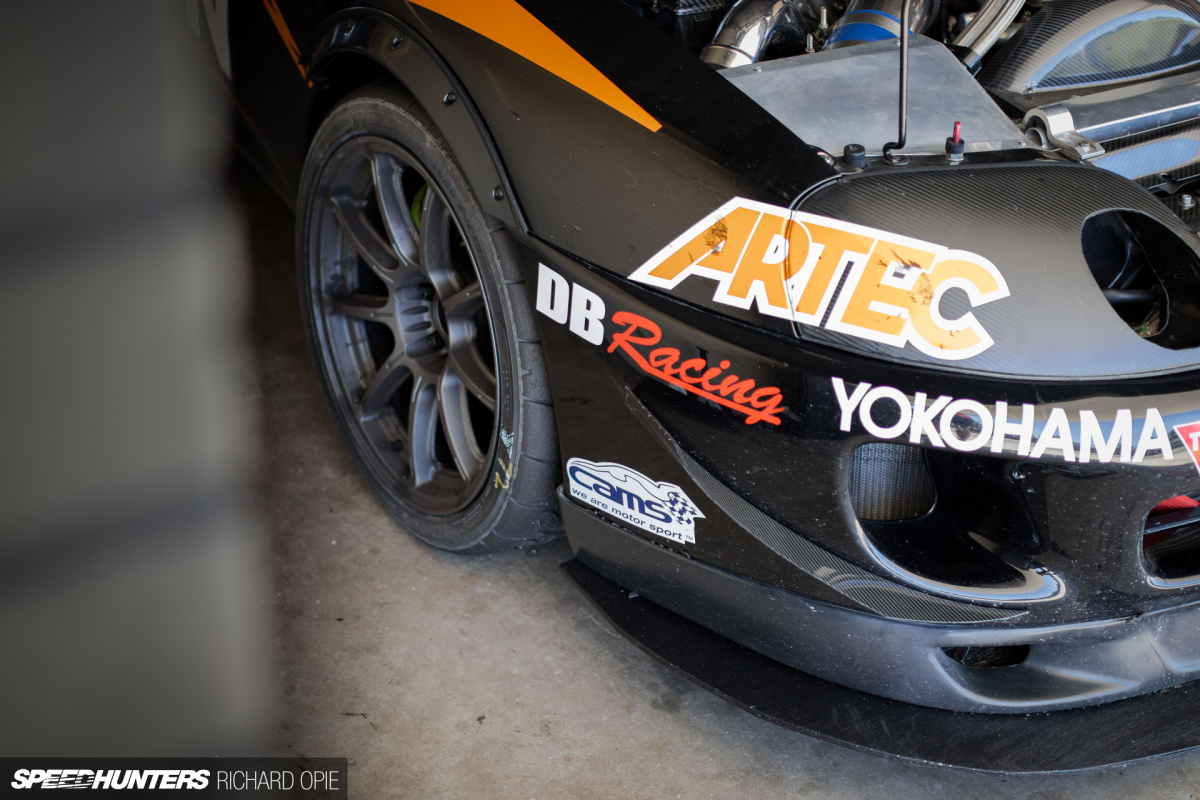 Danny's pick of rolling stock is 18×10.5-inch RAYS Gram Lights 57Gs at each corner. Behind these, the Supra's original 4-pot front and 2-pot rear calipers utilise a DBA 2-piece rotor at the front with Winmax W5 pads hauling the bulk of the JZA80 up for SMSP's twists and turns.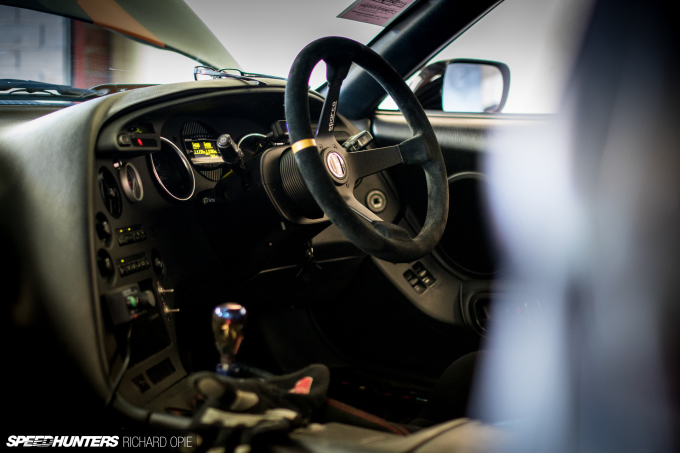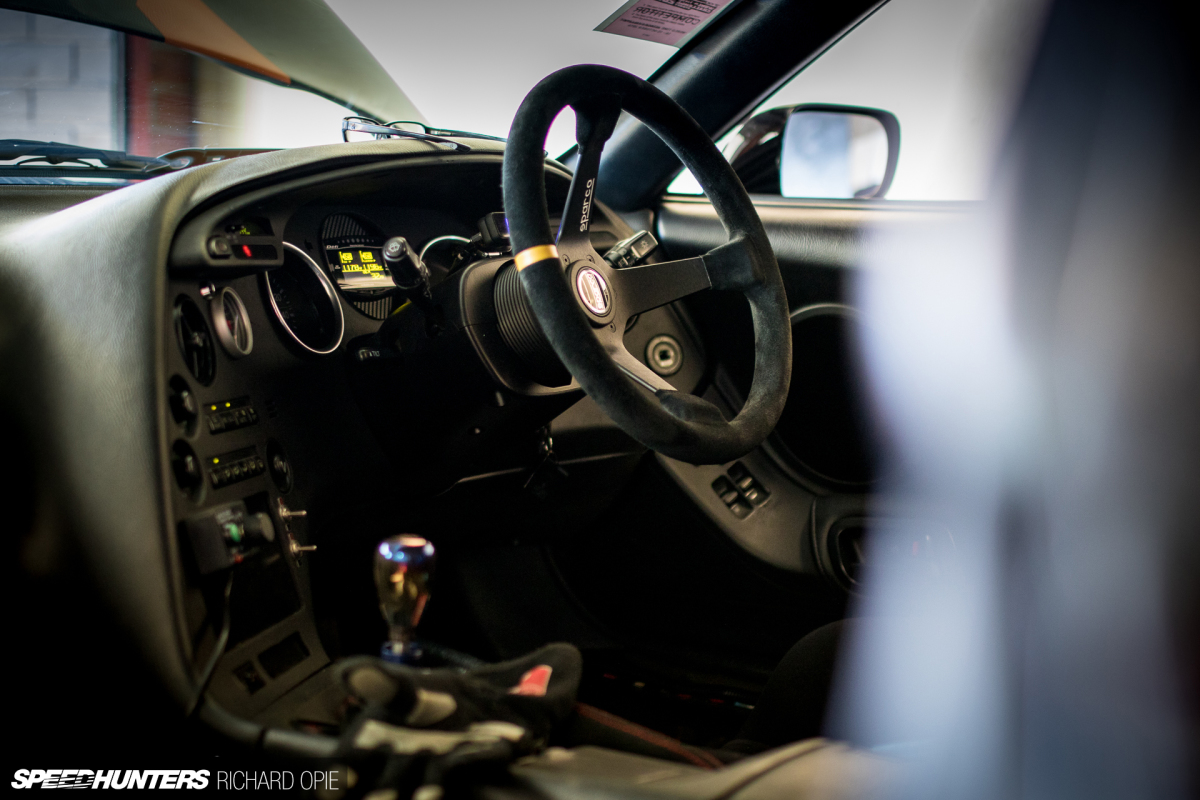 While not street driven, Danny's Supra is kept street registered and inside it's still very much a road-friendly place to be. While equipment like the stereo and carpet has been stripped out, the all-important dashboard and door trims – complete with functioning electric window switches – remain. A solid 6-point roll cage is fitted to provide peace of mind when dealing with almost 500kW, as well as a place to secure the harness Danny straps himself into the Momo seat with.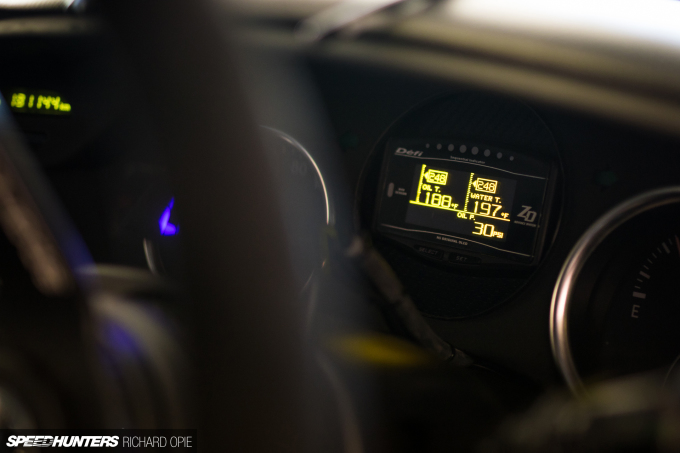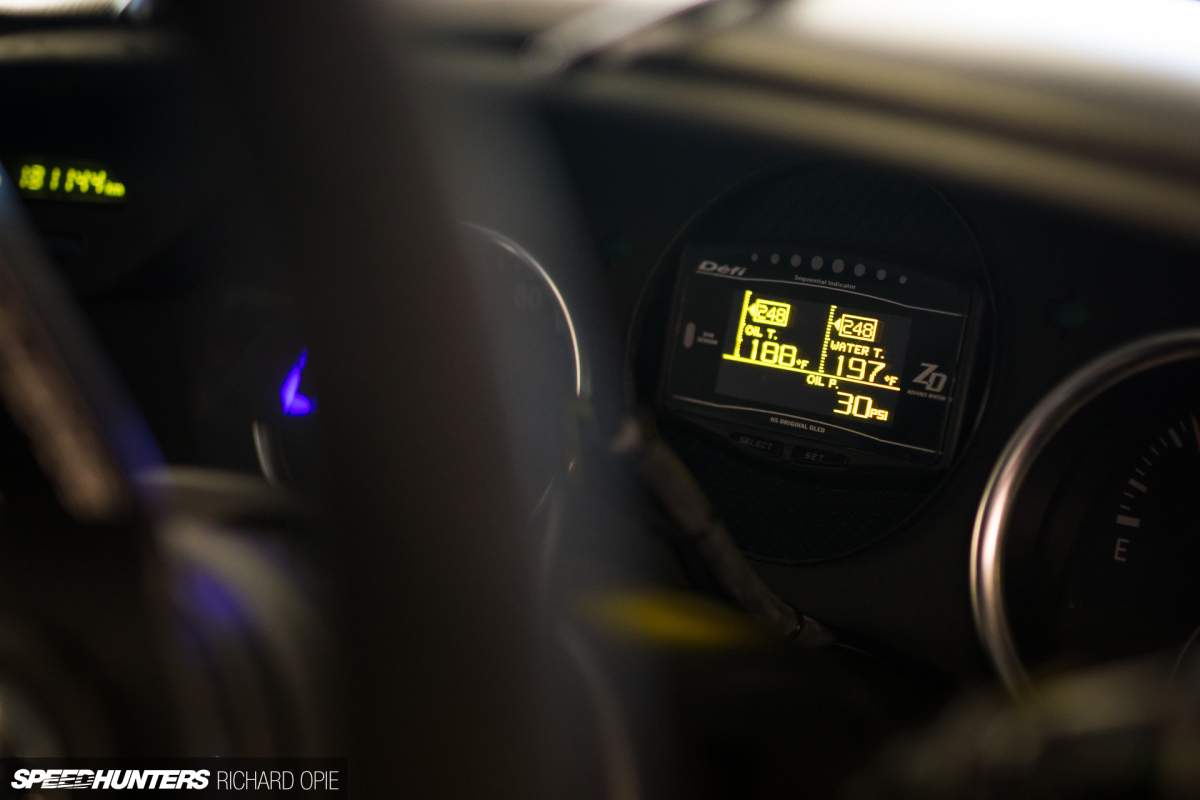 With a final burst of enthusiasm before setting out for his final session for the weekend, Danny exclaimed quite simply that he was having an absolute blast on track. This event was his first foray into the WTAC world and his assessment at the time of interview was: "I think I'm doing okay for my first attempt." The timesheets told the story – Danny managed a 1:42.08, agonisingly close to breaking into the 1:41s but still good enough for 7th spot, leaving 40 other competitors in the wake of the bellowing 2JZ.
One Civic To Rule Them All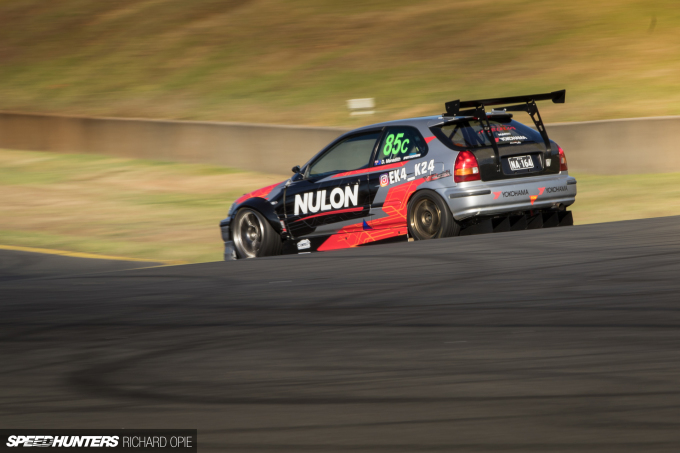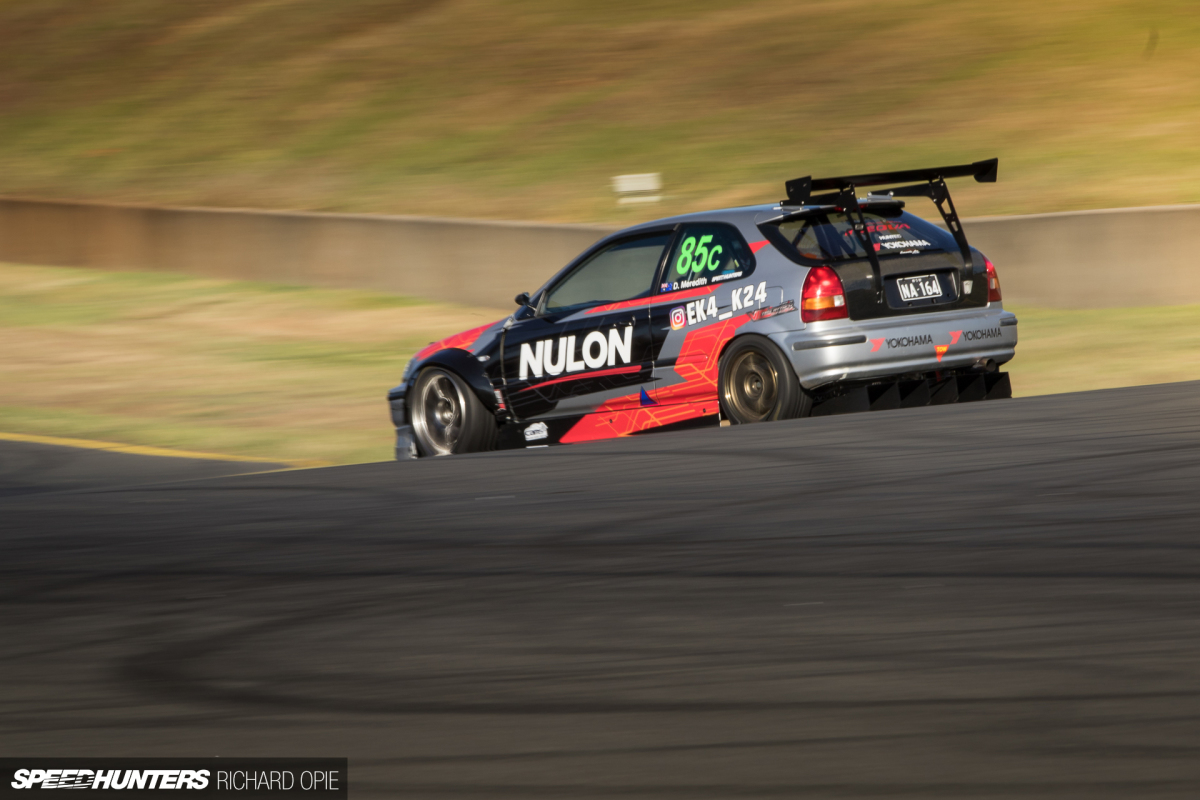 So far, I've covered off a variety of Clubsprint recipes, encompassing cars that finished anywhere from 7th to 26th position within the class ranks. But why not finish with the one that sorted them all out – the car that despite humble beginnings and driving only the front two wheels managed to find its way to the top of WTAC's Clubsprint podium for the second year running.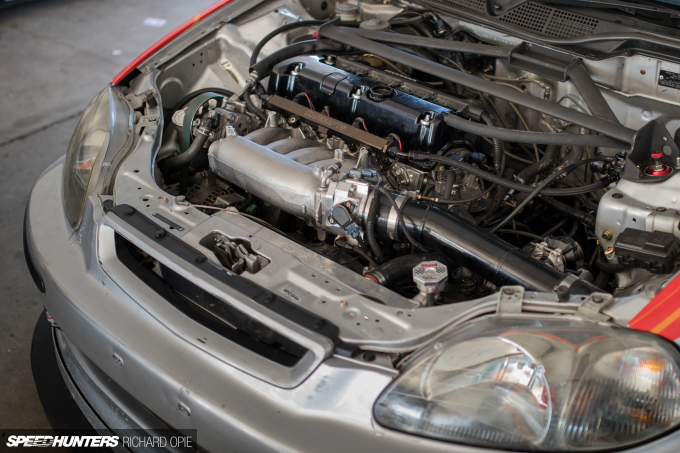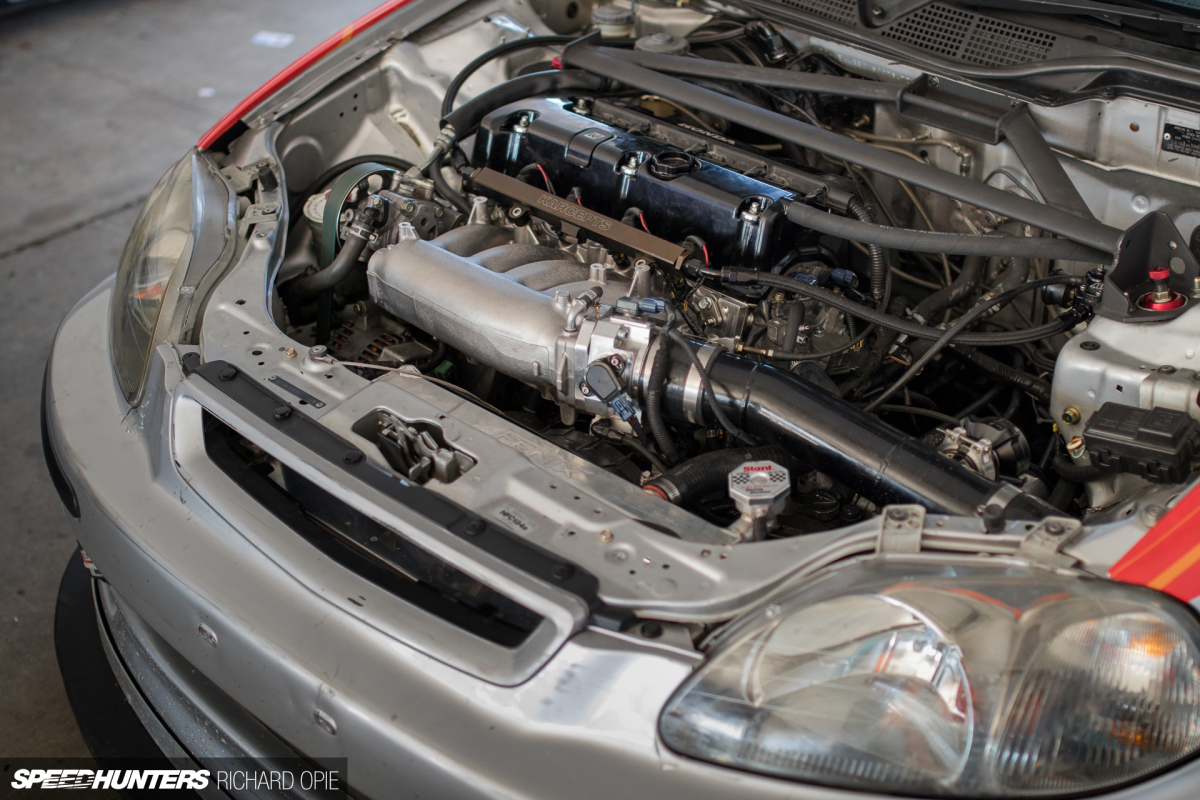 Owner/driver Daniel Meredith's Honda Civic started life as an EK4 model running the standard issue B16A2 1600cc VTEC powerplant. Acquired this way in 2014, Daniel describes the evolution of the Civic as "a street car that got out of hand," pointing to the supercharged K24 installed by BYP Racing. Last year it laid waste to the Clubsprint competition, prompting a fair bit of pit lane buzz about the front-wheel drive Honda that had just sent the all-wheel drive turbo brigade packing.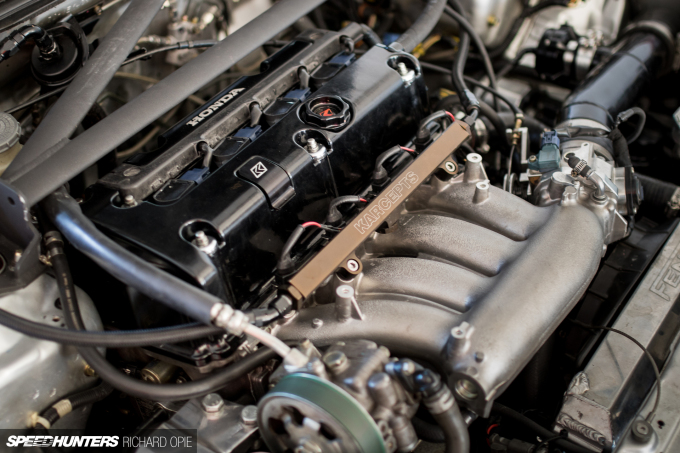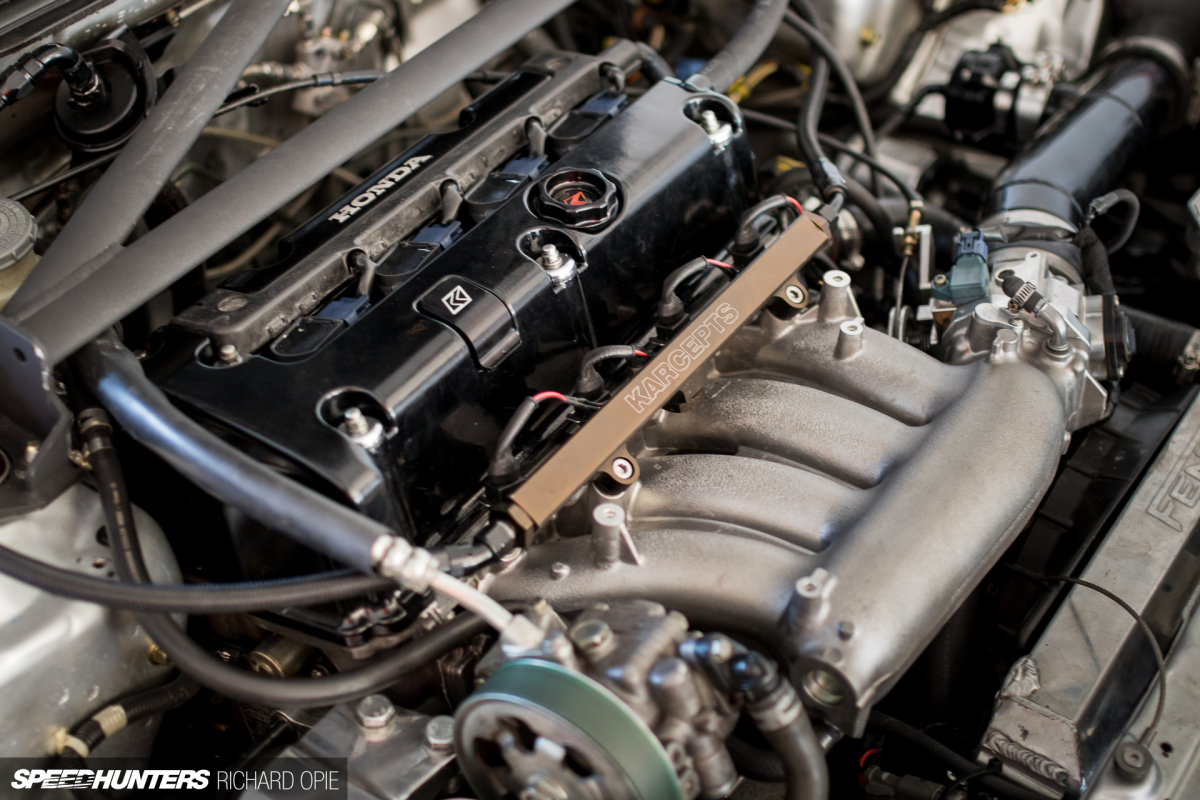 For the 2016 season, Daniel and the BYP team cranked things up a notch with a fully forged K24. Retained was the Rotrex supercharger stuffing 18psi of positive-pressure into the 'RBC' OEM inlet manifold with 76mm billet throttle body, it all adding up to a hearty 357kW (479hp). But disaster struck in the first session when the engine let go, prompting the overnight install of a bog-standard K24 long block. With the Rotrex still running at 18psi, the ad-hoc setup not only lasted, but Daniel actually managed to go quicker.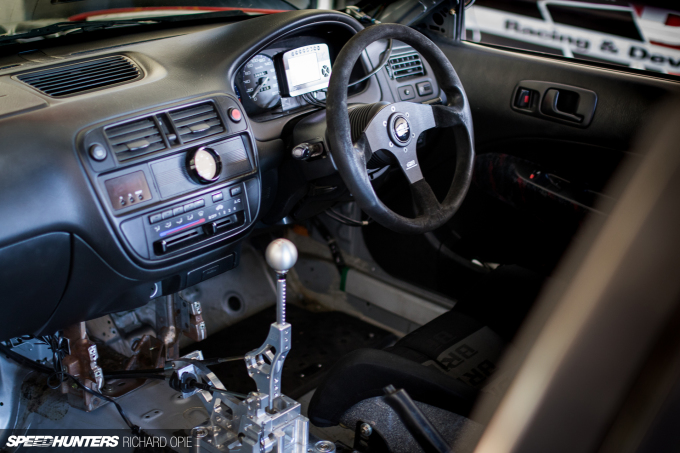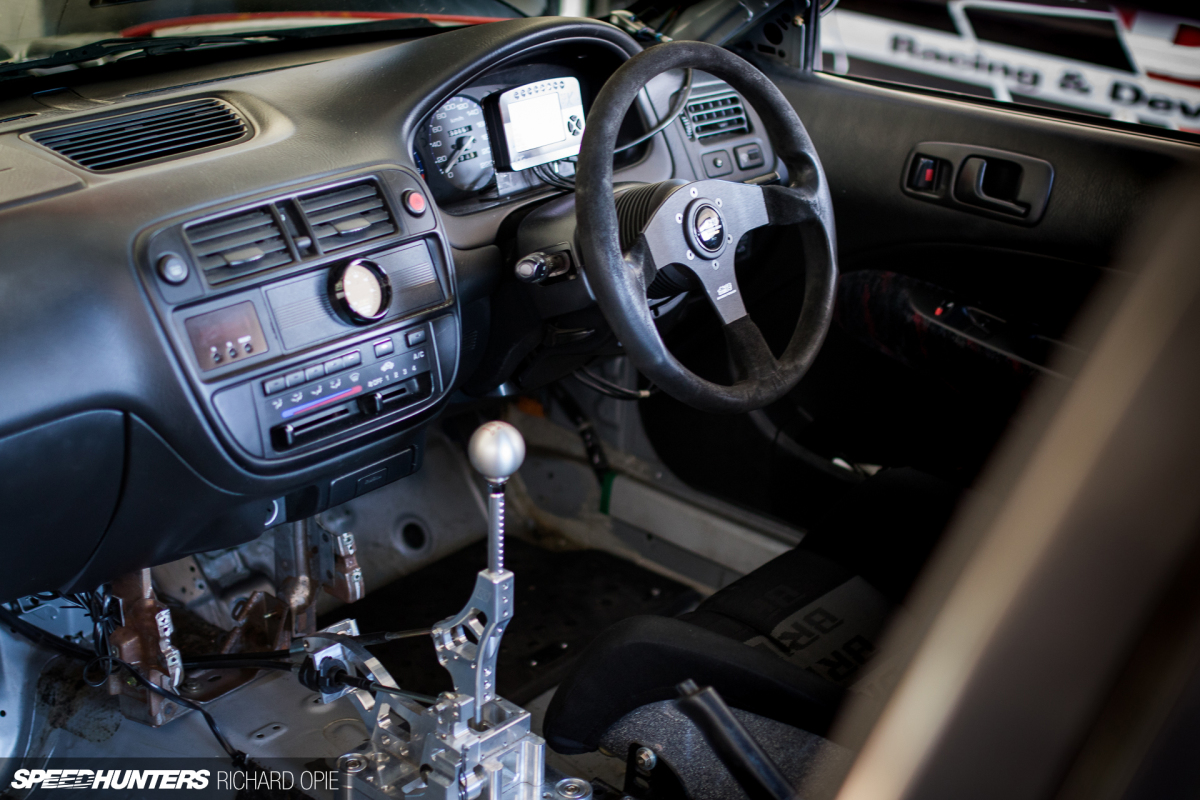 As an ex-Honda faithful, I've had the privilege of spending time around circuit-worshipping VTEC nuts, and the ethos behind Daniel's EK is only too familiar. Usually blessed with screaming NA engines, although they're lightweight off the showroom floor, kilograms have always been the number one enemy of the Honda track pilot. Daniel's way of thinking is no different. With the howling K24 up front, being strapped into the Bride seat in the bare-bones interior must be quite an experience, with only a gutted stock dashboard, a suede Mugen wheel and a bolt-in half cage to keep you company. Of course, the K-Tuned shifter provides accurate control of the Gear-X equipped 6-speed, and an XT Racing GP-X Pro II lap timer lets Daniel know if he's stringing together each sector perfectly.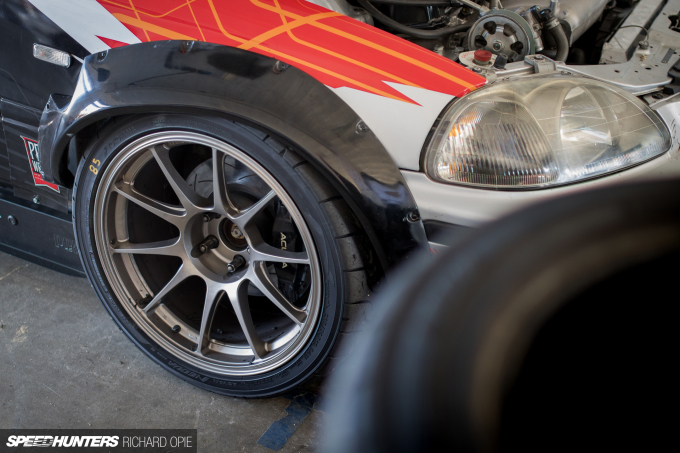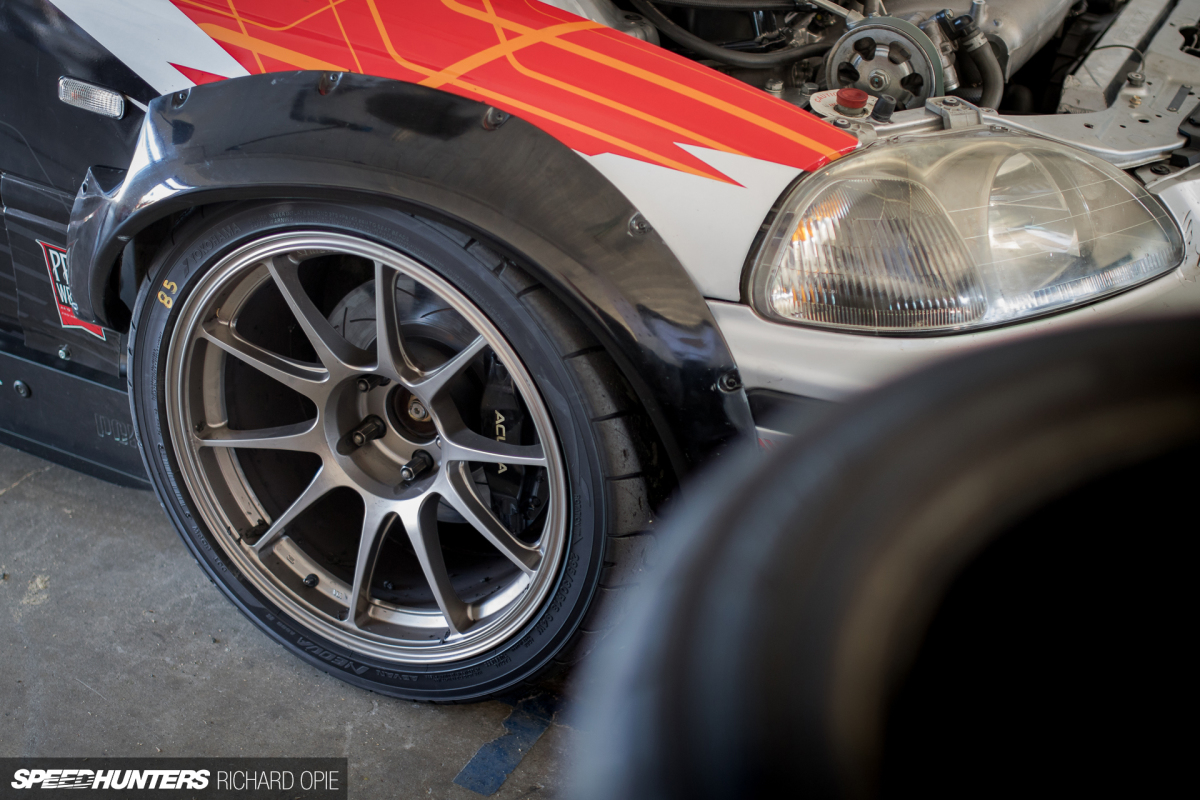 A basic set of GAB coilovers that have been present in the Civic for some time ensure the front end goes where Daniel points it, and no doubt the massive 295-section Advan Neova AD08s wrapped around 18-inch wheels at the front end help the cause too. In the brake department, 4-pot Acura calipers – a parts bin upgrade – grip larger vented rotors.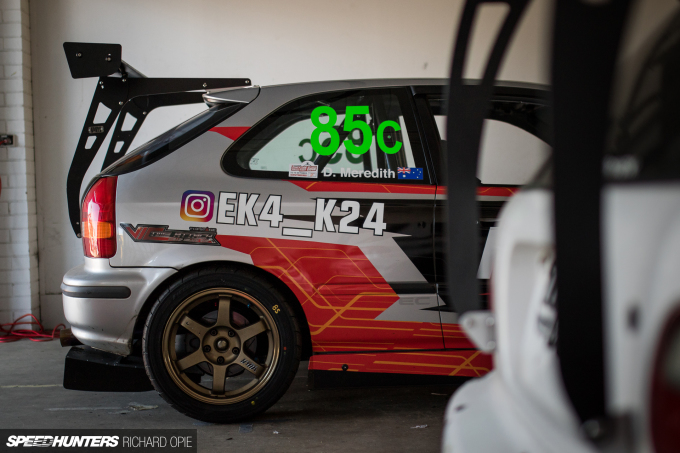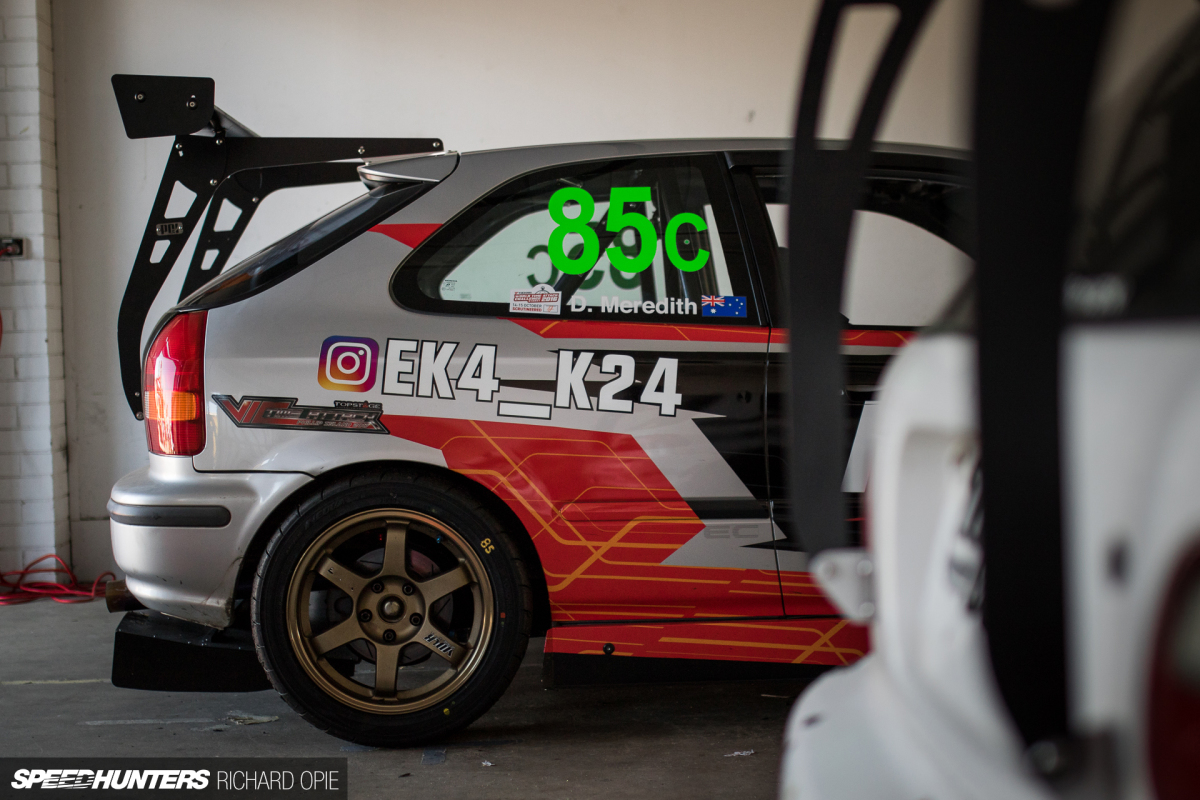 Like fellow front-wheel drive Honda campaigners JDMYard, whose EG Civic hatch I covered in the wake of last year's WTAC, Daniel's EK also runs a staggered wheel arrangement, although not in the wholly traditional sense. Given the rear axle is almost akin to a passenger in a FWD application – again pointing to that Honda mantra of weight is your enemy – Daniel runs a pair of 16-inch RAYS Volk Racing TE37s out the back in the interest of keeping unsprung mass low.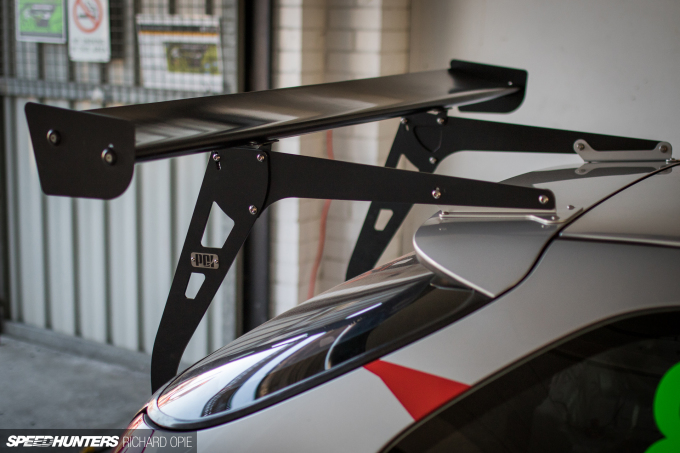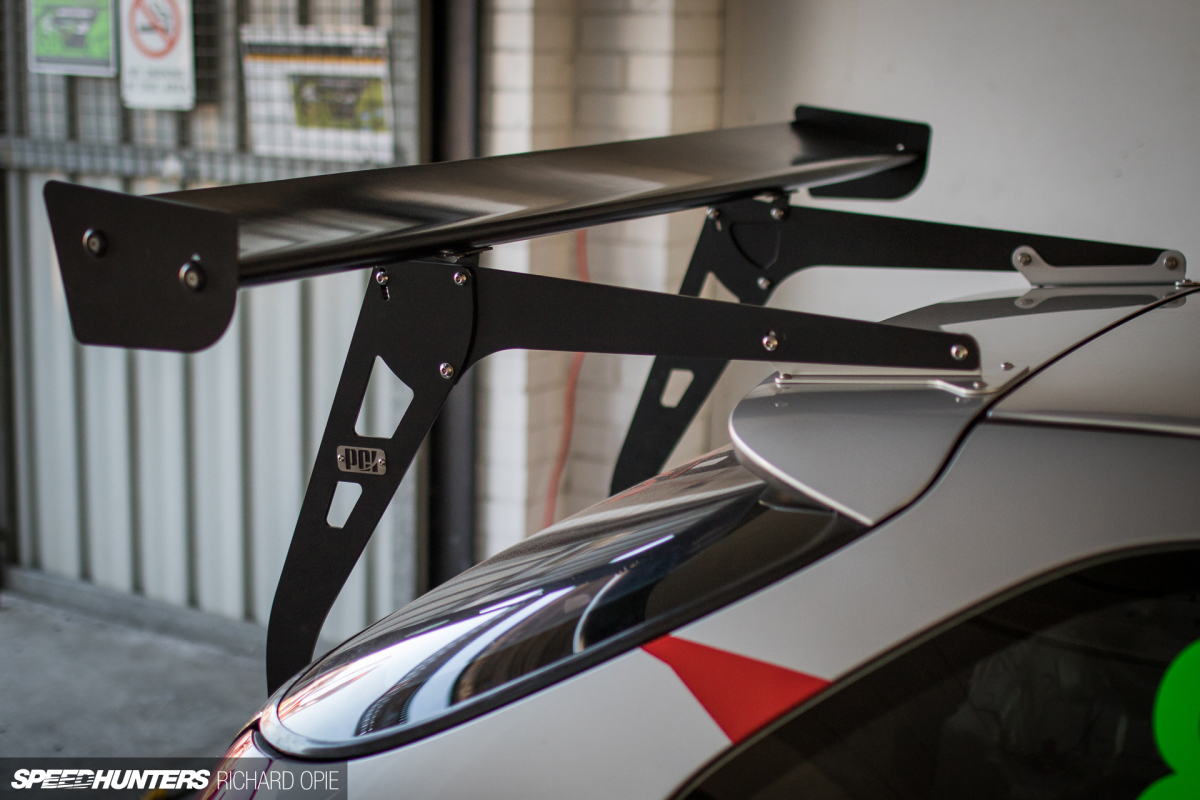 When it comes to aero, the hatchback required a slightly more creative approach compared to a coupe or sedan body shape. To this end, SoCal Honda specialists PCI provided an elegant hatch-mount adjustable wing solution in conjunction with a low-slung diffuser and front splitter to keep the Civic glued to the the SMSP surface, especially through the warp-speed Turn 1.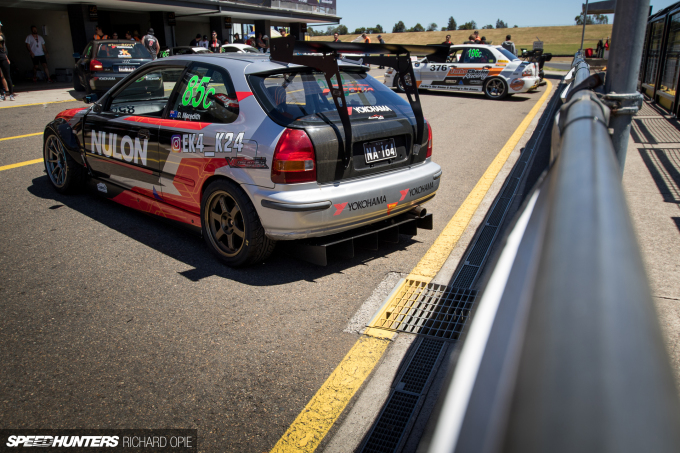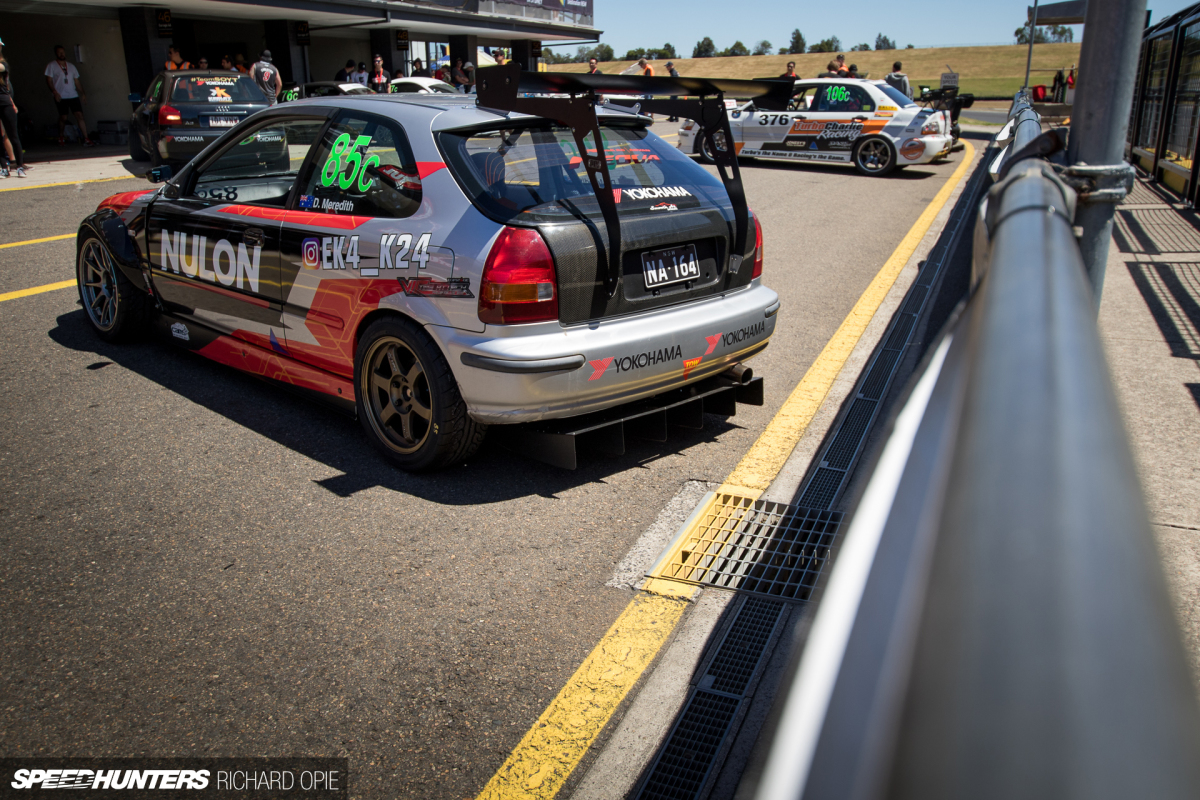 Regardless of the showroom-stock K24 substitute engine, Daniel and the EK came out on top of the pile for 2016, again defeating cars which on paper should have much, much more fancied chances at taking overall honours for WTAC's entry-level class. With a 1:39.27 under his belt for 2016, Daniel explained that more pace was definitely possible with an optimum lap somewhere in the 1:38s achievable based on lap time data.
What the Civic does drive home however, is the Clubsprint way of thinking: keep things simple, work within the restrictions given and the results can still be undoubtedly impressive. It's not just the Pro and Open classes seeing competition heating up, these Clubsprint competitors are playing for keeps, and for 2017's edition I'll be keeping a close eye on their progress.
Richard Opie
richy@speedhunters.com
Instagram: snoozinrichy
Several times at track days at Laguna Seca and Thunderhill, I've witnessed stripped out little civics and integras beating 911's, vettes and vipers. Lots of people just can't accept that they might be faster in a FWD, than they are in RWD. Very few people can drive like Ayrton Senna. I'm not one of them. I may not ultimately be as fast as the fastest guy out there, but I'm fast enough in a Honda, to humble everyone who uses the phrase 'wrong wheel drive'. For the haters- book yourself a track day. See you out there.
Great article @SnoozinRichy! It's been getting a lot of positive feedback within the Time Attack community down here in Aus :)

What brand of wheel is that on the golf front end?
Technically not VW. The brand is VWR (Volkswagen Racing), but not affiliated with VAG.
Great article and thanks for giving the Clubsprint class some article space. My only negative comment is that it is not all about boost, there were some naturally aspirated cars that have been very well built. It is not like a naturally aspirated car can just have the boost increased, it has to be methodically planned.
@Mark Collingwood Thanks Mark, I'm gonna assume you're one and the same running the MX5? Neat little car, sounds the business! 
@SnoozinRichy  How did you guess :)  Notwithstanding, it is a great article and well written.  Hopefully I'll be back in 2017 (still unboosted).
Happy to toss you the keys to the MX5 if you are in Queensland and there is a track day on.
These cars are pretty serious machines for running for a limited class. It is not your avarage track day machine found on the local race track.
@Bas v O Maybe not - but with the exception of Daniel's Civic with the K-swap, these cars are essentially running bolt on mechanical and handling packages - I think that's something the average trackday enthusiast should be able to relate to.
Thanks for covering Clubsprint. Easy for us regular car enthusiasts with full time jobs and (no race crew) to relate too :P

Hi Sonny. I own the Evo and know the bloke pretty well who owns the Civic. We both have regular jobs and had our cars for years. I spent 5 years building the Evo to what it is today.
Clubsprint at WTAC is a great way for regular people to be part of a extra ordinary event. 👍