Engine Porn
Engines, engines, engines. They're what we all want to see at shows and events, or at least it's what everyone should be wanting to see. Aero kits, wheels, fitment and other details all come into play, but come on, how could you possibly resist the lure of finding out what the car in front of you is hiding under its bonnet.
We strive to keep with the visual styling times here at Speedhunters, but performance has always been at the core of what we're about. Function should always come before form and in many ways dictate it too.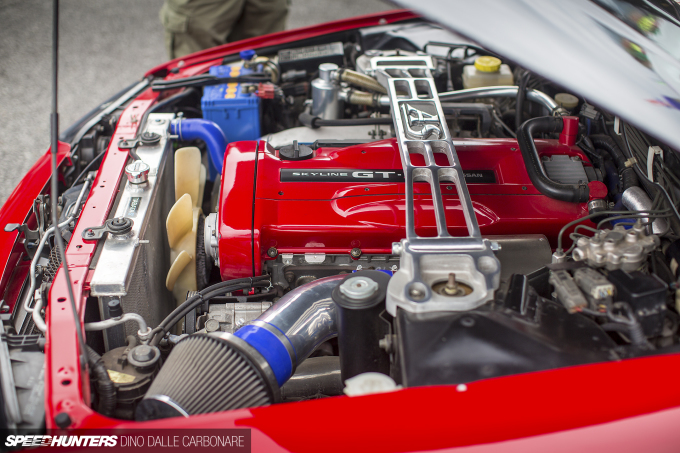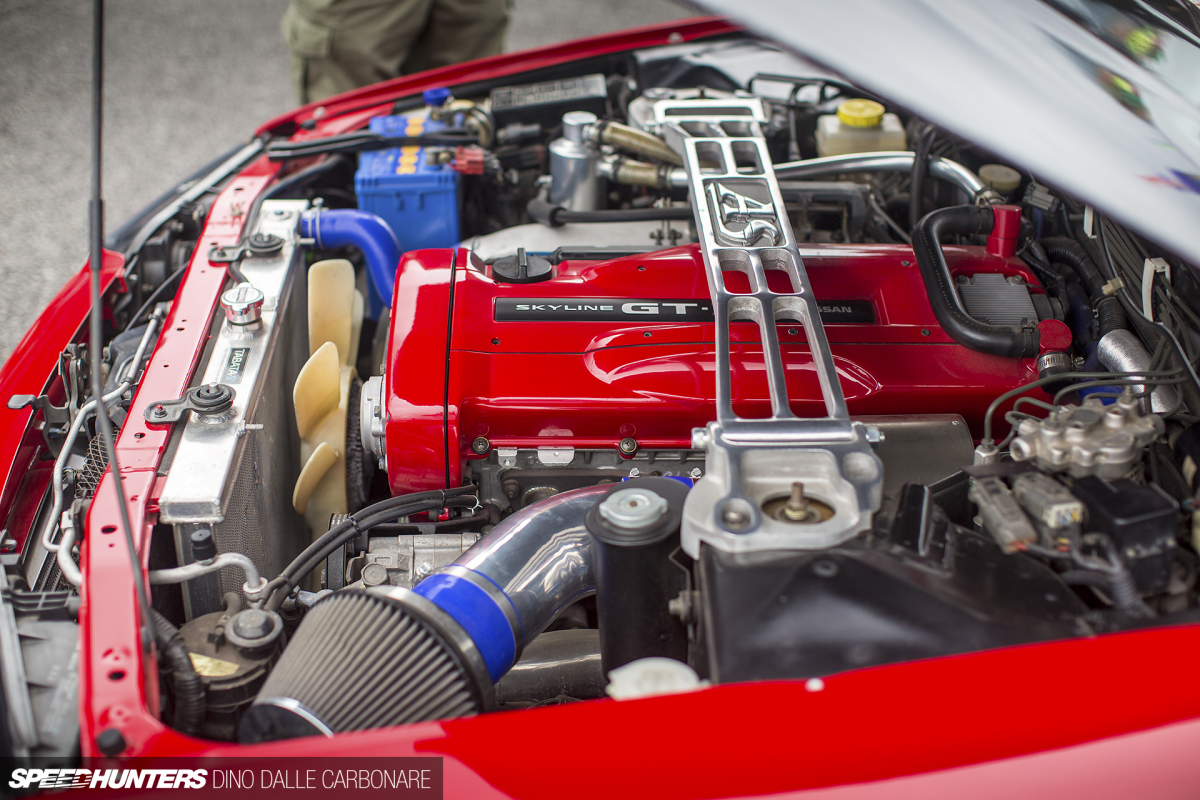 So, in a complete and utter nerd out, I thought that before presenting you with my main event post from R's Meeting 2016, we should all embark on an engine bay appreciation journey and give our inner geeks what they really want to see.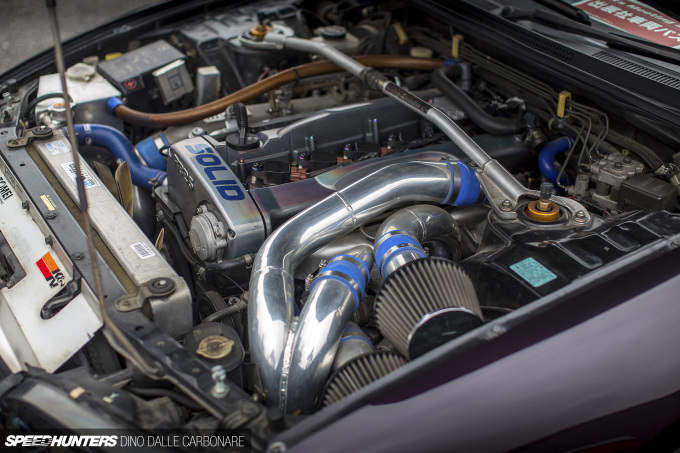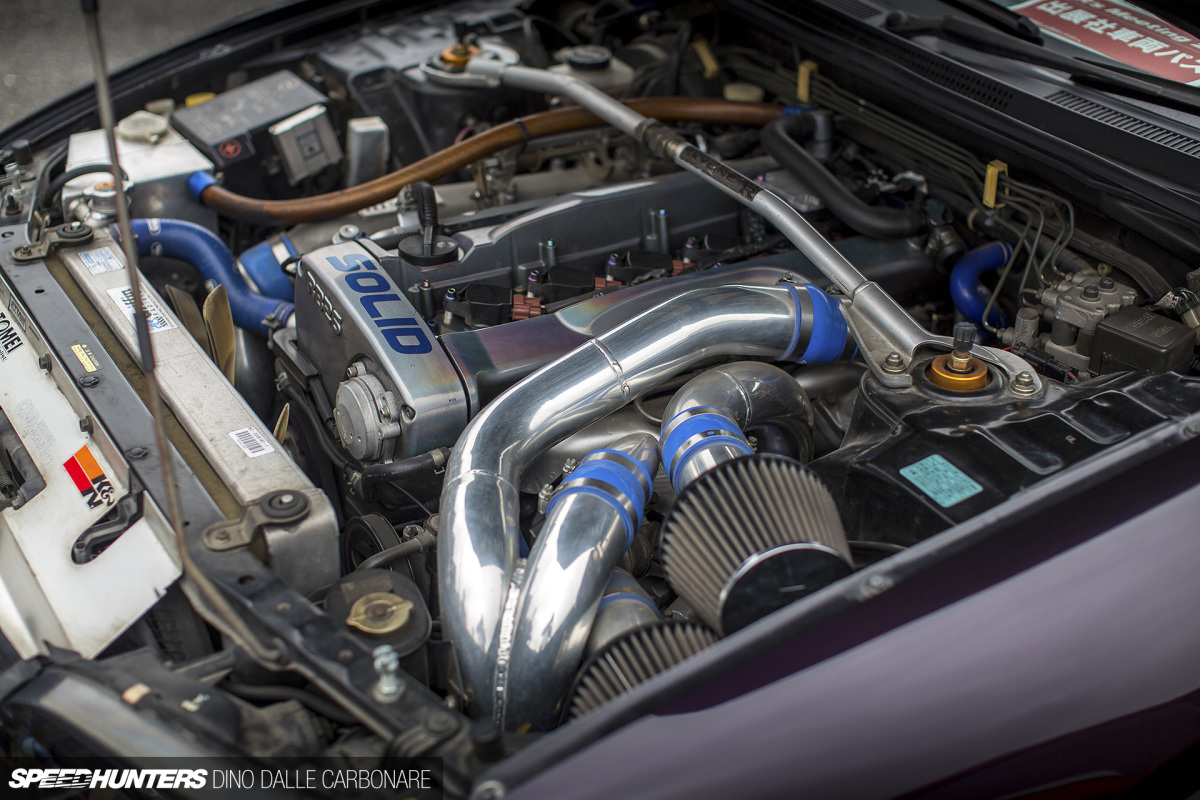 And when it comes to the RB26, as with a lot of other older engines from Japan, it's always interesting to see what people and tuners are doing with them. There are just so many options out there that they often end up looking very different. Colors, piping, filter choices, coil packs, oil catch tank options and positioning; strut tower bars, turbos, radiators, hoses and breather lines – there is so much you can do to create your own look even before going down the custom route.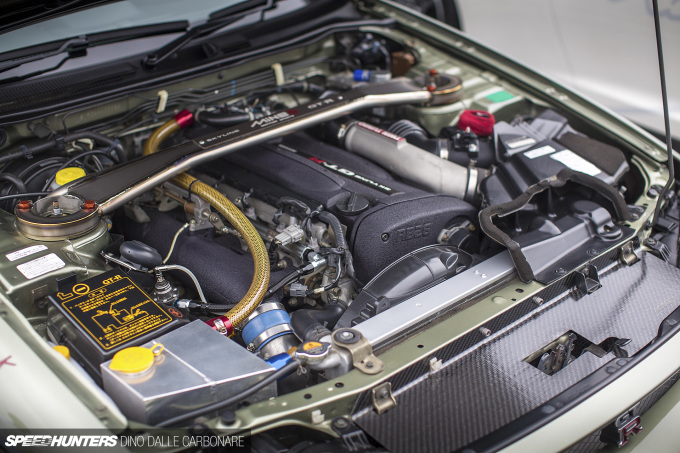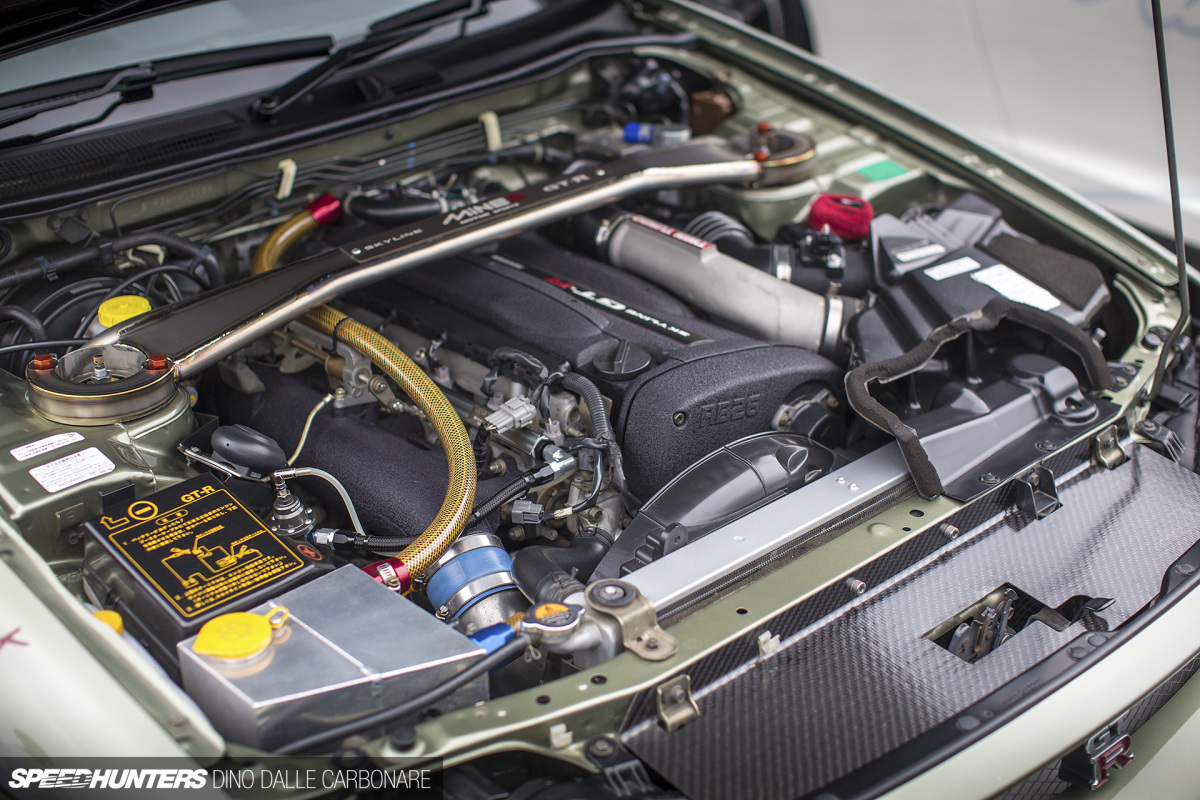 I've tried to create some order here, but generally I just want you guys to enjoy the variety. And let's start right here with the unmistakable blue crackle finish on a Mine's complete engine. Mine's has always taken the minimalist approach to car building, upgrading only what needs to be in the pursuit of performance. It might be too plain for some, but it gets the job done.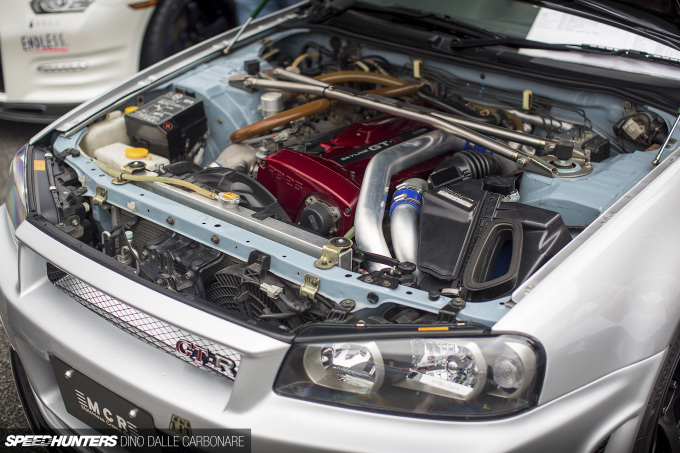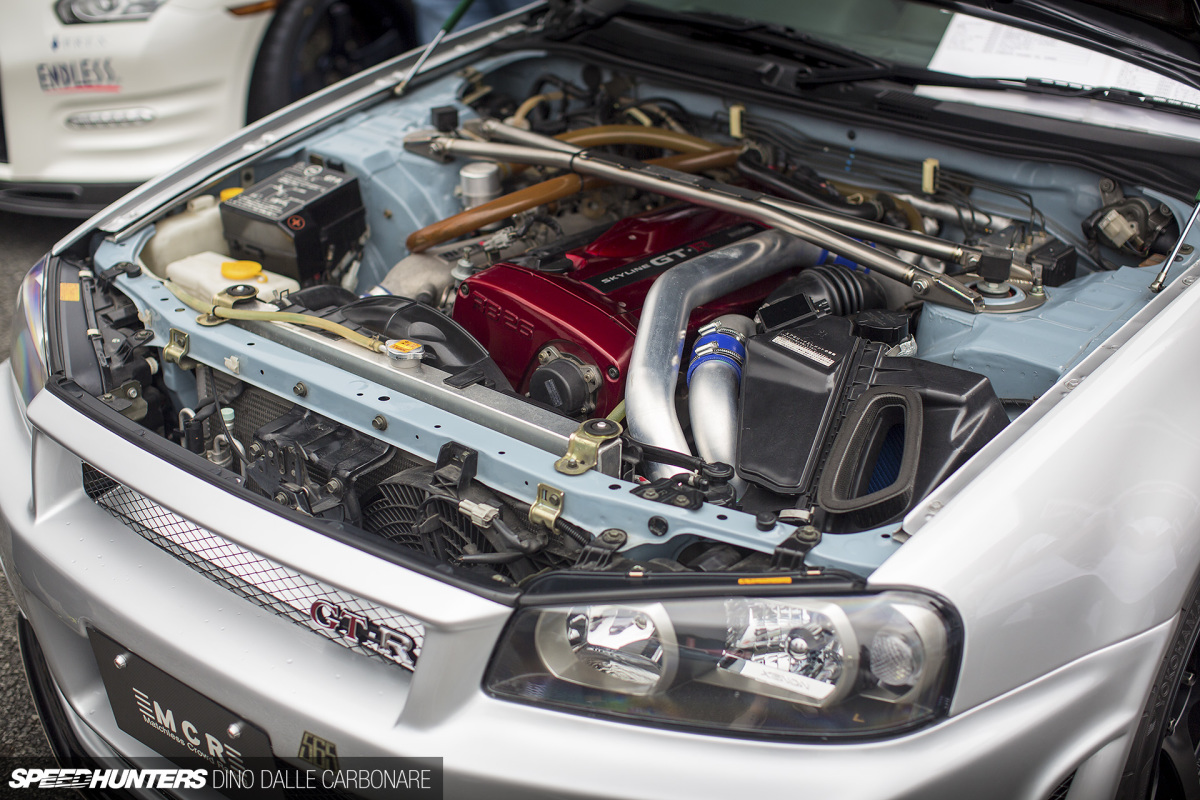 Kobayashi-san at MCR is one of Niikura-san of Mine's fiercest rivals. It's all friendly competition of course, and he has always preferred to push that envelop a little further, shooting for a more power and changing up a few more things in his engine bays. When Mine's was making a point of sticking to the RB26's stock 2.6-liter capacity, MCR was going 2.8-liter; when Mine's used a refined version of HKS's GT2530s turbines, MCR opted for the bigger HKS GT-RSs. I always found this rivalry inspiring, and I like all the cars Kobayashi-san created; they were some of the most capable circuit/road cars of the time. And by the look of the cars MCR brought out to R's Meeting, its tuning philosophy is still very much alive.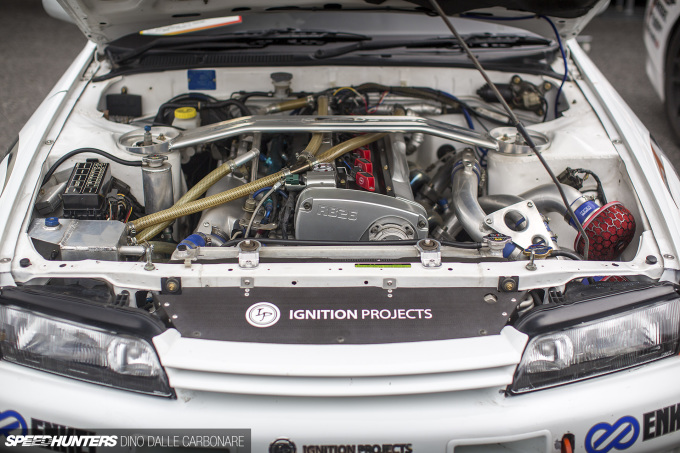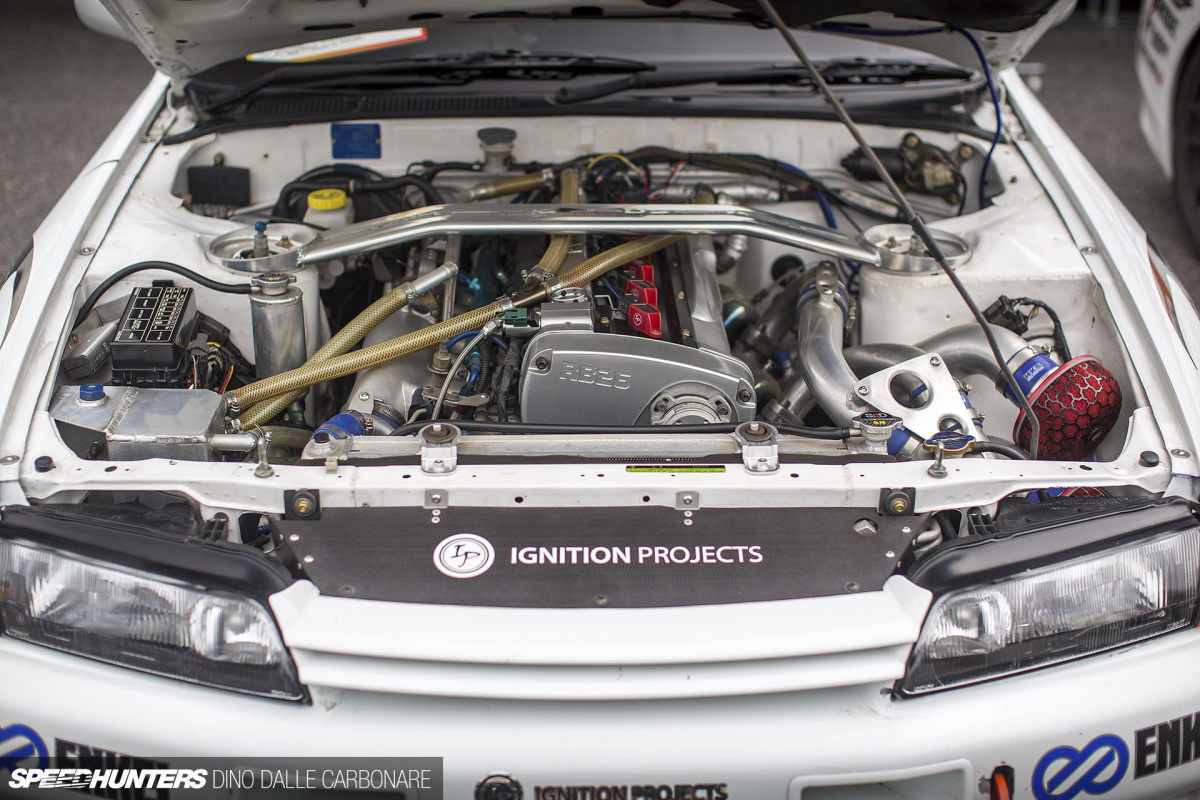 Reverse from Tochigi prefers to build its cars with more of a circuit specification, which is why it opted for an Ignition Projects upgrade. This ignition system uses a modified version of Porsche Cayenne Turbo coils.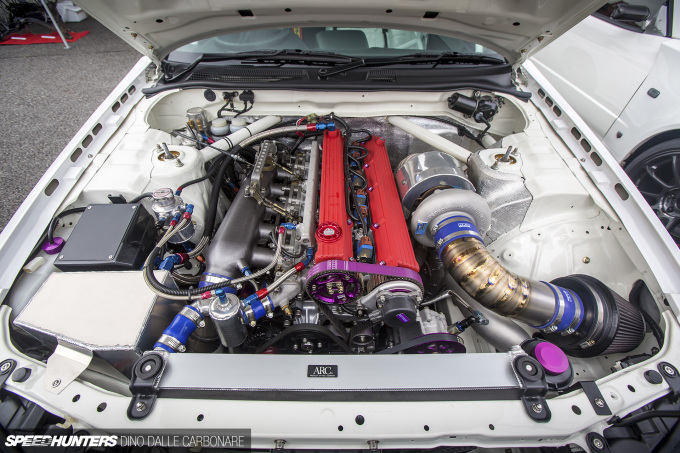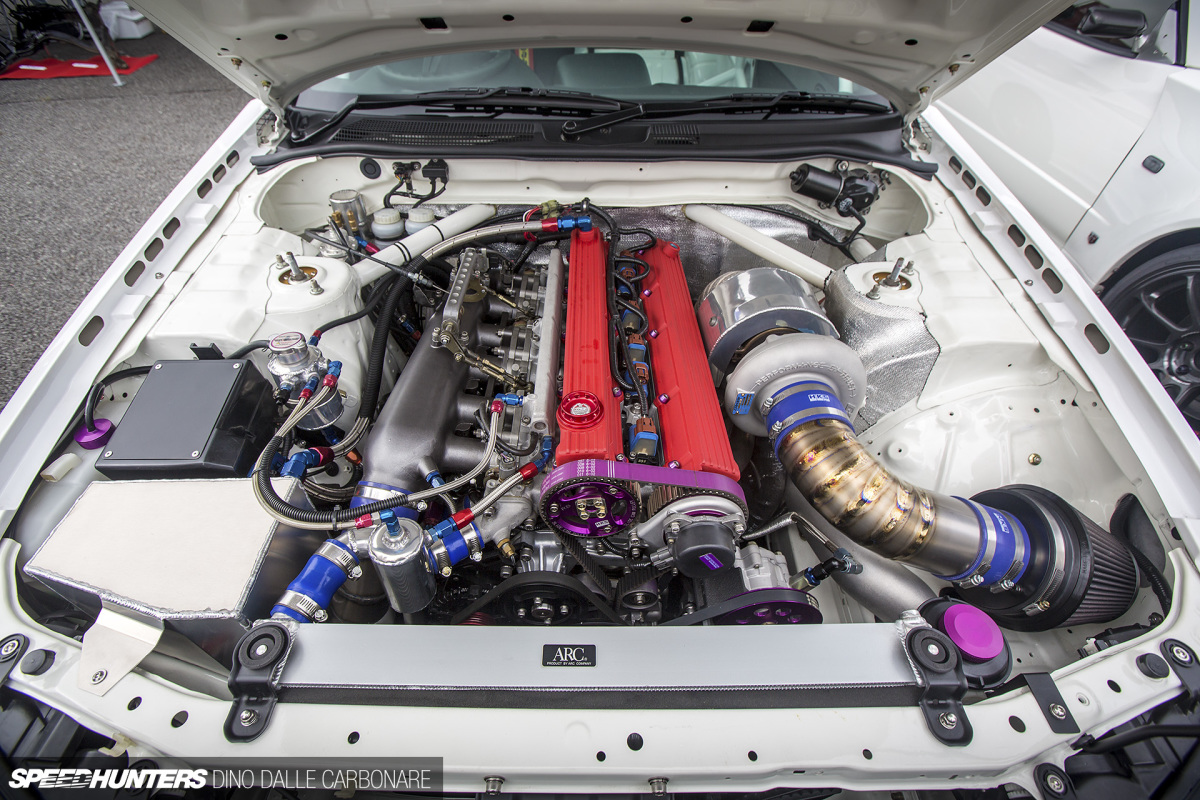 When it comes to the RB26 and turbocharging, the age-old question is always twins or single? Back in the day, I'd have always answered twins, but there have been so many advancements in turbo technology, engine management, fuelling and a host of other things, that, if you think it all out well, you can now create a very responsive single turbo RB26 package.
But then again, the Japanese do tend to be a little slow to adapt. Most of the improvements are actually coming from outside of Japan and slowly making their way onto Japanese cars by those who embrace change. Sure, there is nothing wrong with running something like a Trust/GReddy T88, because it will always make the power and always be reliable; it's a proven configuration that has helped shaped Japanese tuning. But if boost pick-up, low-range torque and throttle response are things that you – as a driver and owner of a tuned GT-R – worry about, then you might prefer to opt for something from the BorgWarner EFR line up. EFRs are quickly becoming the turbos to use on many engine applications due to their fast spooling capabilities and power-making abilities. The engine bay at the bottom right is from the R34 I featured last year, built by Top Secret for a foreign client who wanted a very specific setup based around a huge EFR single.
Lure Of The Single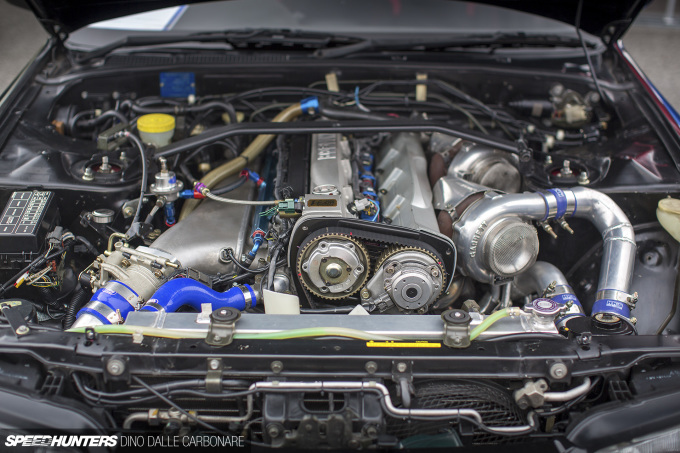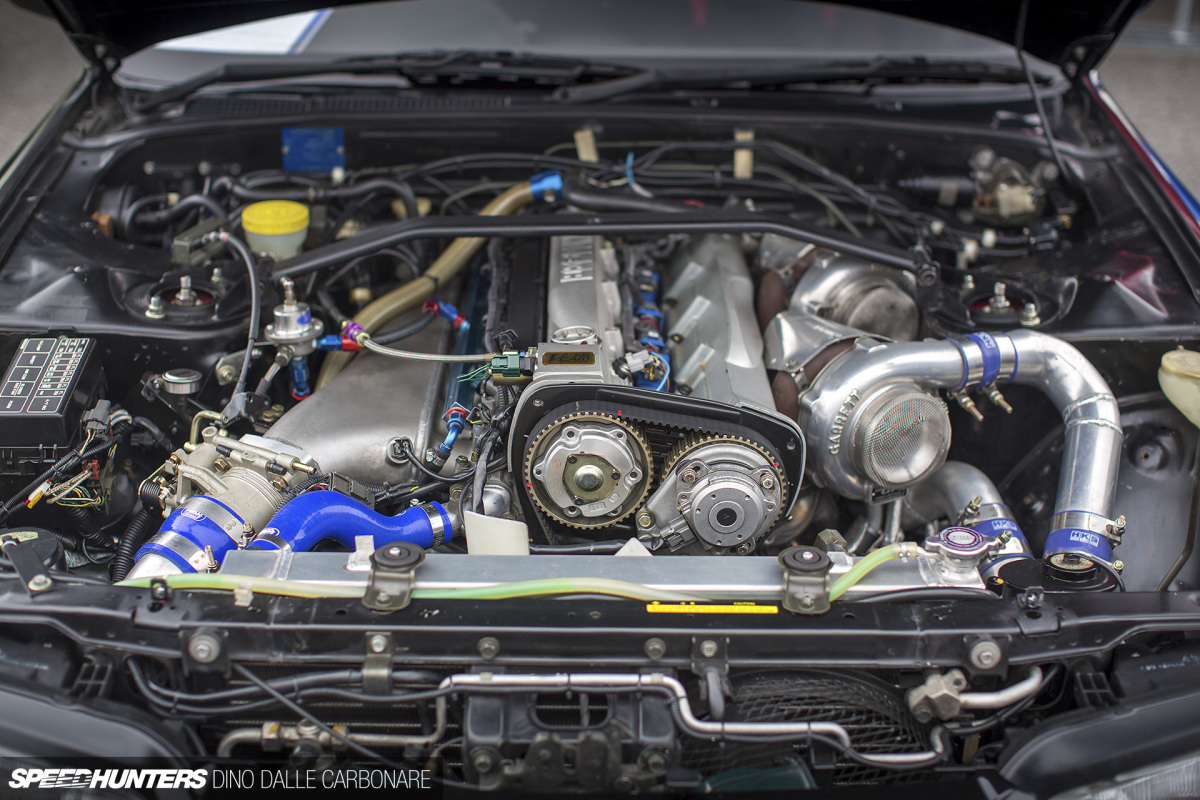 Along with seeing the latest in RB26 tuning technology, it's also cool to see the real old school stuff, like this pair of high-mount Garretts on what was a drag or high-speed highway racer build. It was also nice to see HKS's V Cam system employed to help fatten out what's likely to be an abyss of response and torque in the midrange.
Another choice that needs to be made when switching to a single turbo is whether to stick with the RB26's stock six-throttle setup or dump those and fit a big single butterfly valve in front of the plenum. There are various schools of thought here, but it mostly comes down to preference.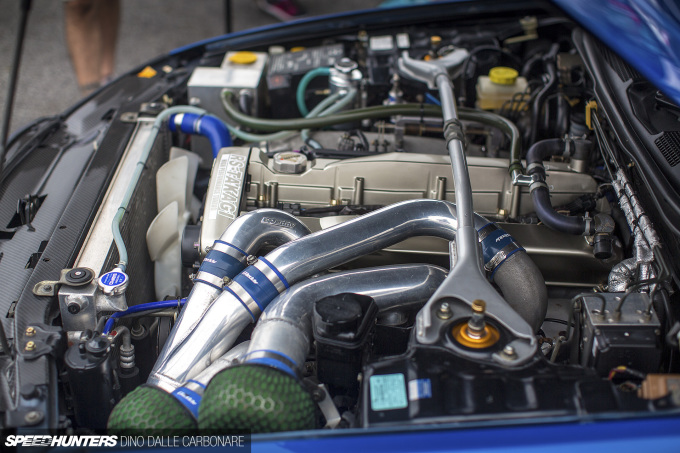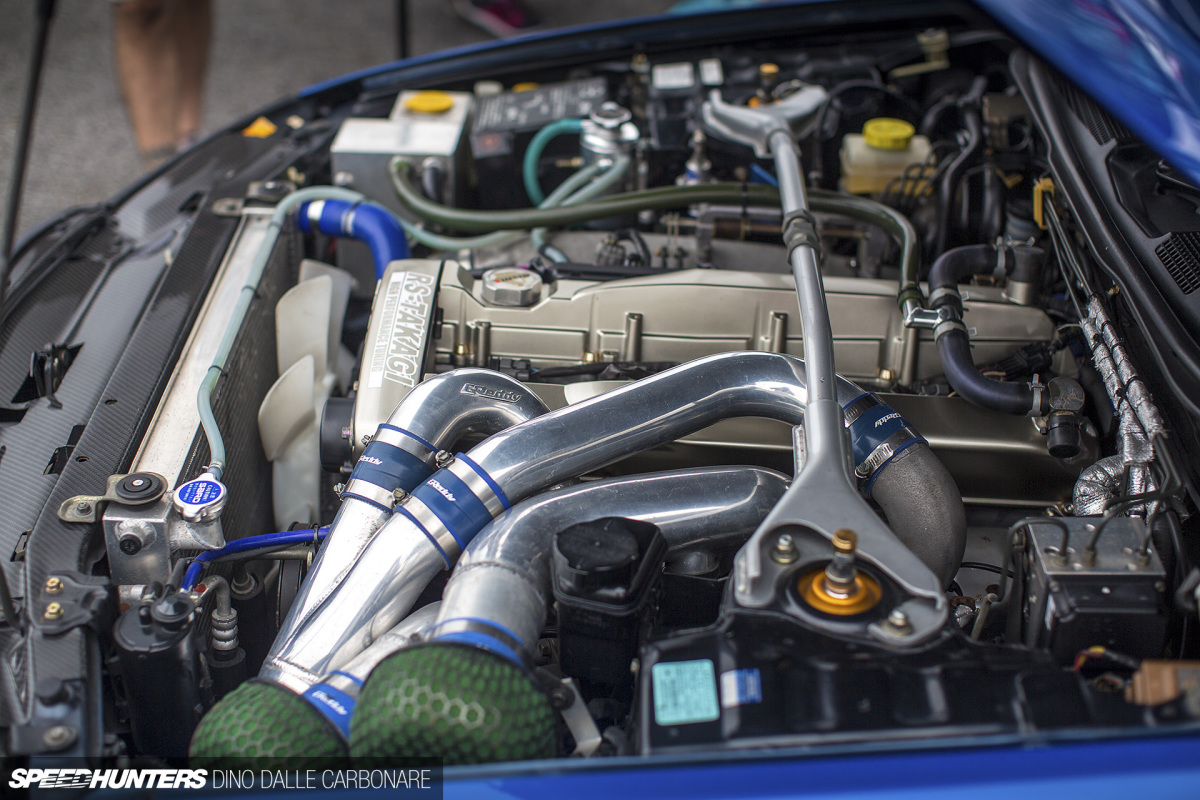 In going all-out with tuning, a new base engine is often required, and I spotted quite a few Nür-based N1-spec RB26s in various cars. These motors are usually identifiable by their gold cam covers, but a more reliable method of identification is the '24U' mark on the block casting.
If you are after a useable 500-600hp, this base engine is all you need. The N1 bottom end is strong enough to handle the extra power and the thicker cylinder walls provide extra piece of mind for added reliability. In the last image on the right you can also see the latest craze in second-gen GT-R tuning – strut tower bars. Back in the day, it was the Nismo titanium strut bar that everyone wanted, mainly due to one being used on the BCNR33 that raced in Le Mans, but after Nismo foolishly stopped making them, other tuners stepped in with their own interpretations. The above Mine's piece sells for more than double what the original Nismo item did.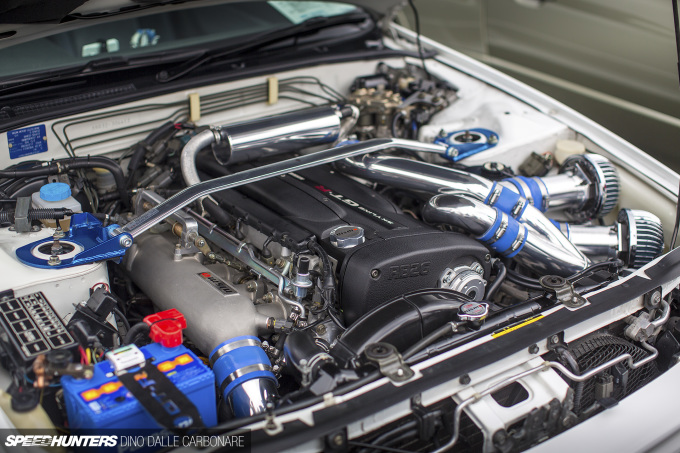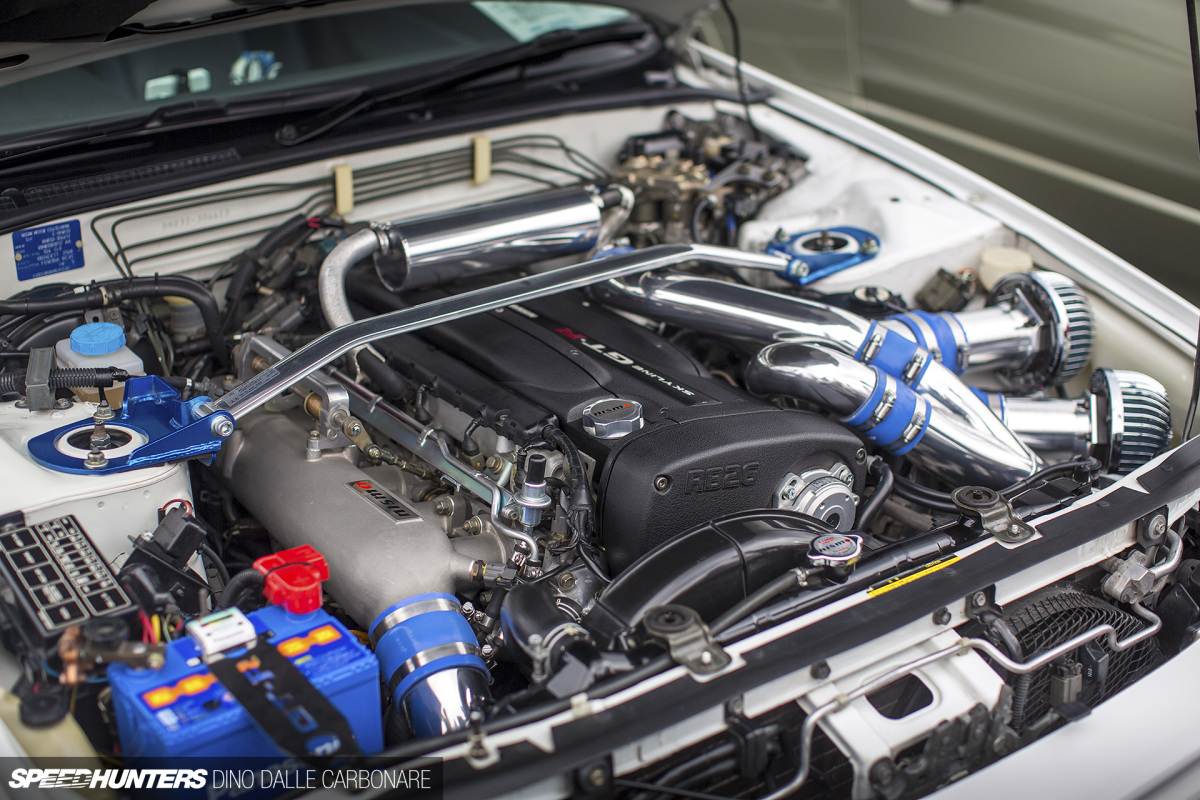 Then there are the variations in piping and filters. I'm personally of the opinion that the stock airbox (modified with open side intake) is more than enough up to 600hp, however many prefer to fit pod filters, be then mushroom or cone type, foam or paper. As you can see in the opening image of Project GT-R's engine bay, I've kept the stock airbox and added some Nismo pipes, which last week were joined by HKS dummy pipes as I (finally) got rid of the air flow meters after moving to a Haltech Elite 2500 ECU.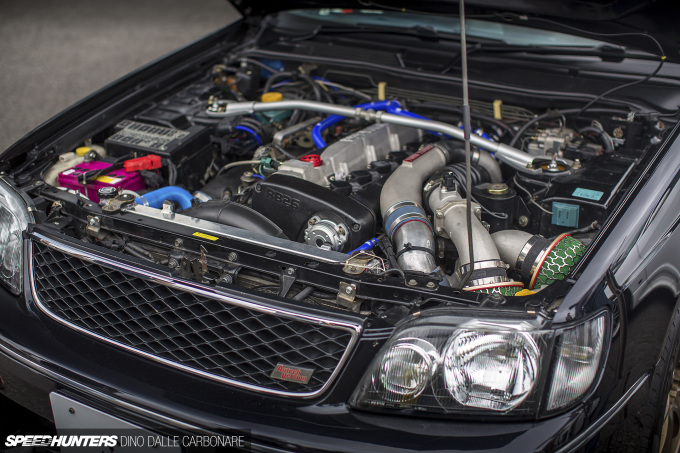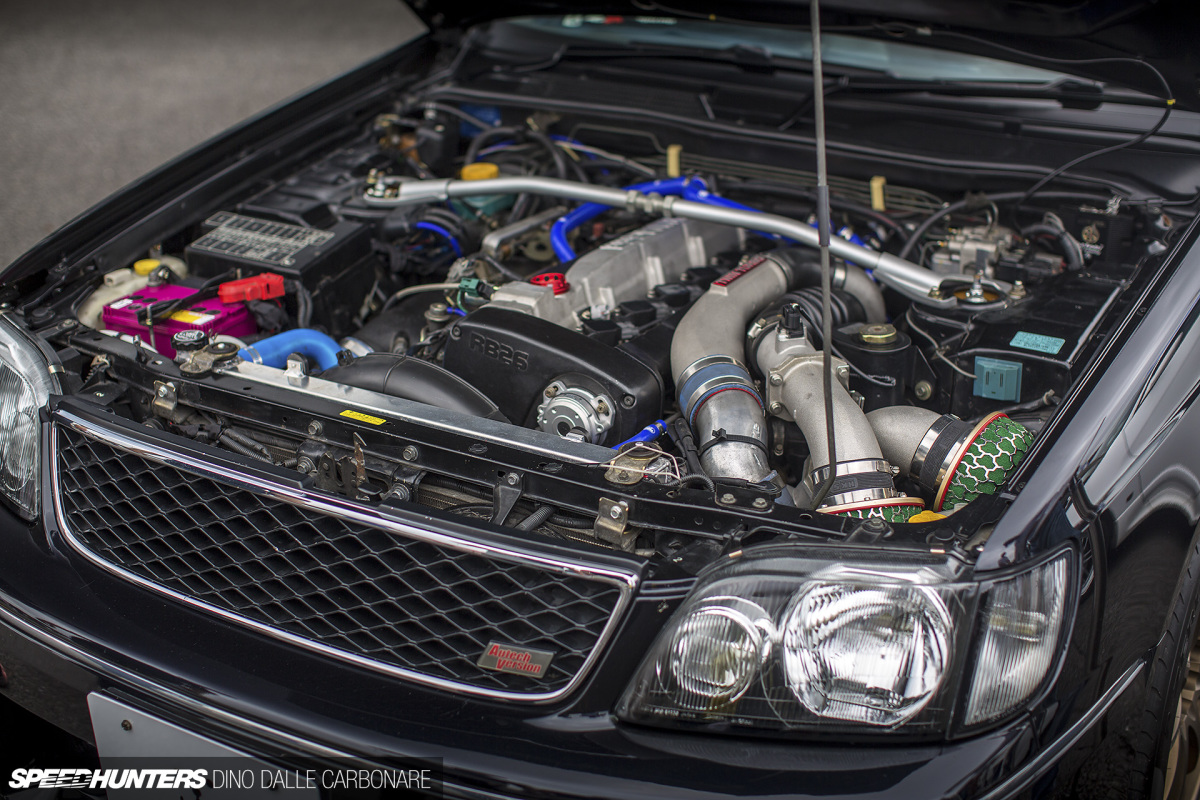 Check out this Stagea 260RS. If you look closely you can see that its RB26 has been upgraded with R35 air flow meters, runs a V Cam and bigger R35 low-impedance injectors.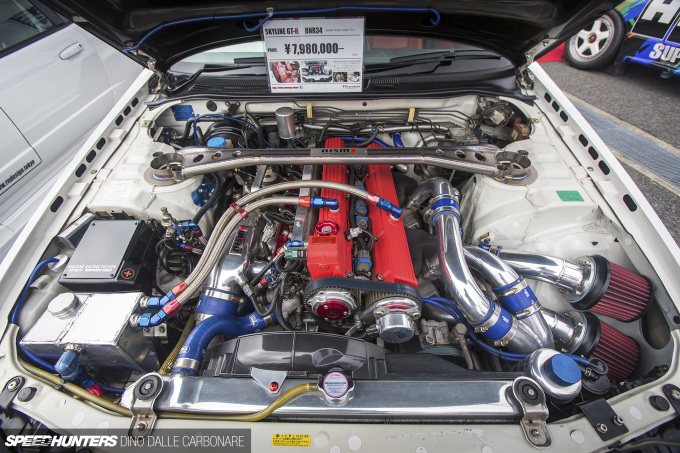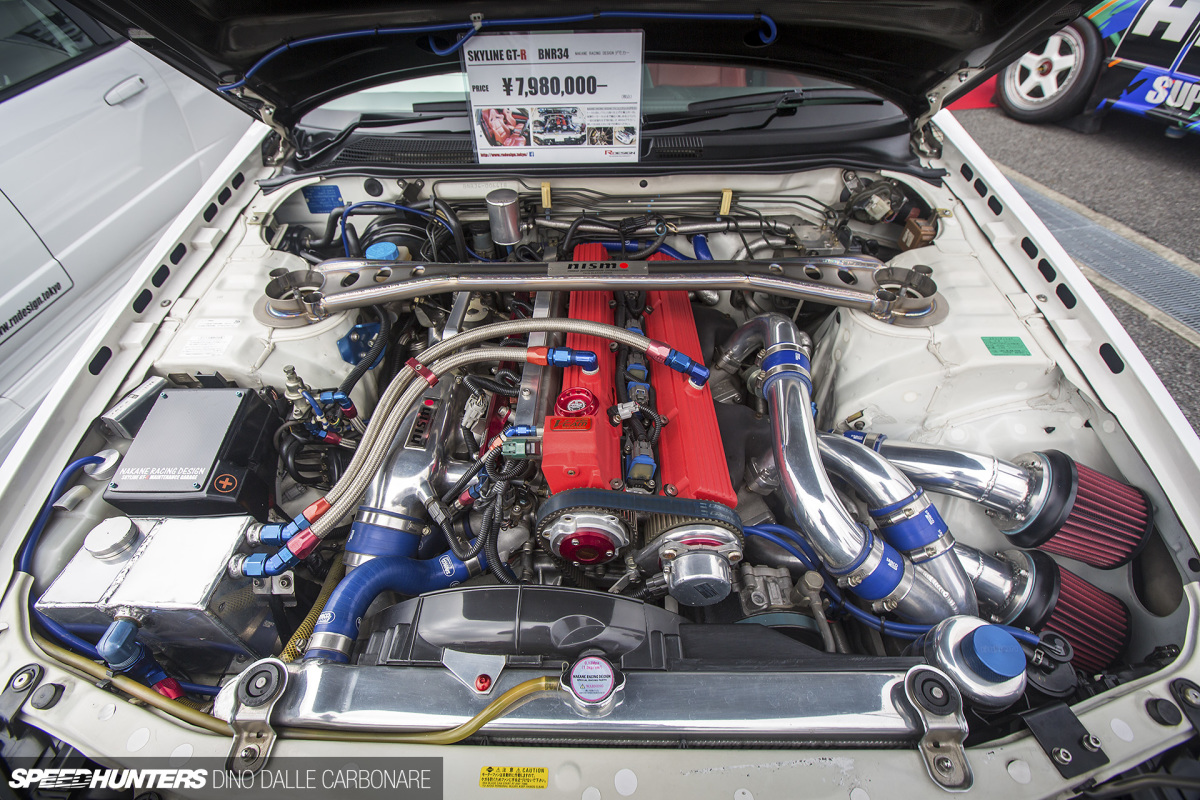 The HKS V Cam is one of those upgrades that you really can't do without. There is absolutely no negative aspect with it; regardless of the setup it improves low-RPM performance and helps lower turbo spool up time. This Nakane Racing BNR34 was sporting one of the best visual integrations of the kit, where the V Cam cover has been cut and welded onto the RB20 finned covers that Auto Gallery Yokohama makes. Stunning!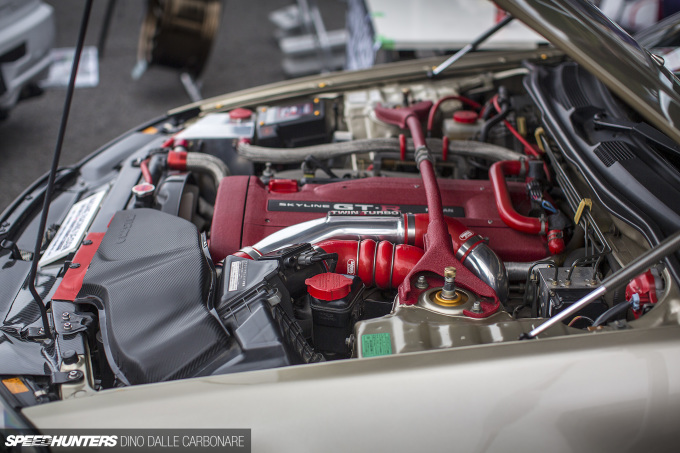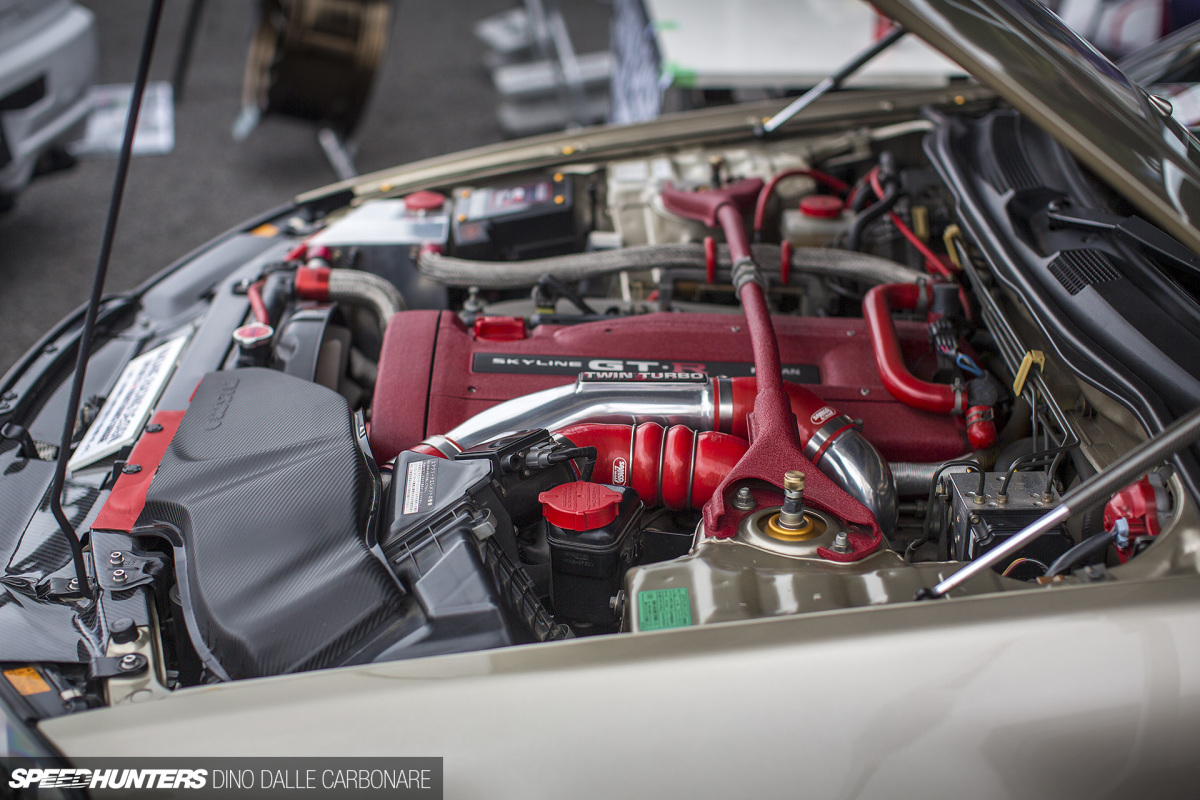 Color coordination is also important for some.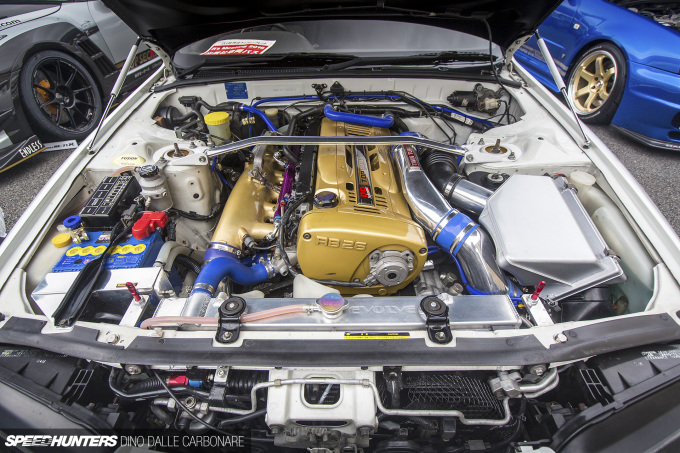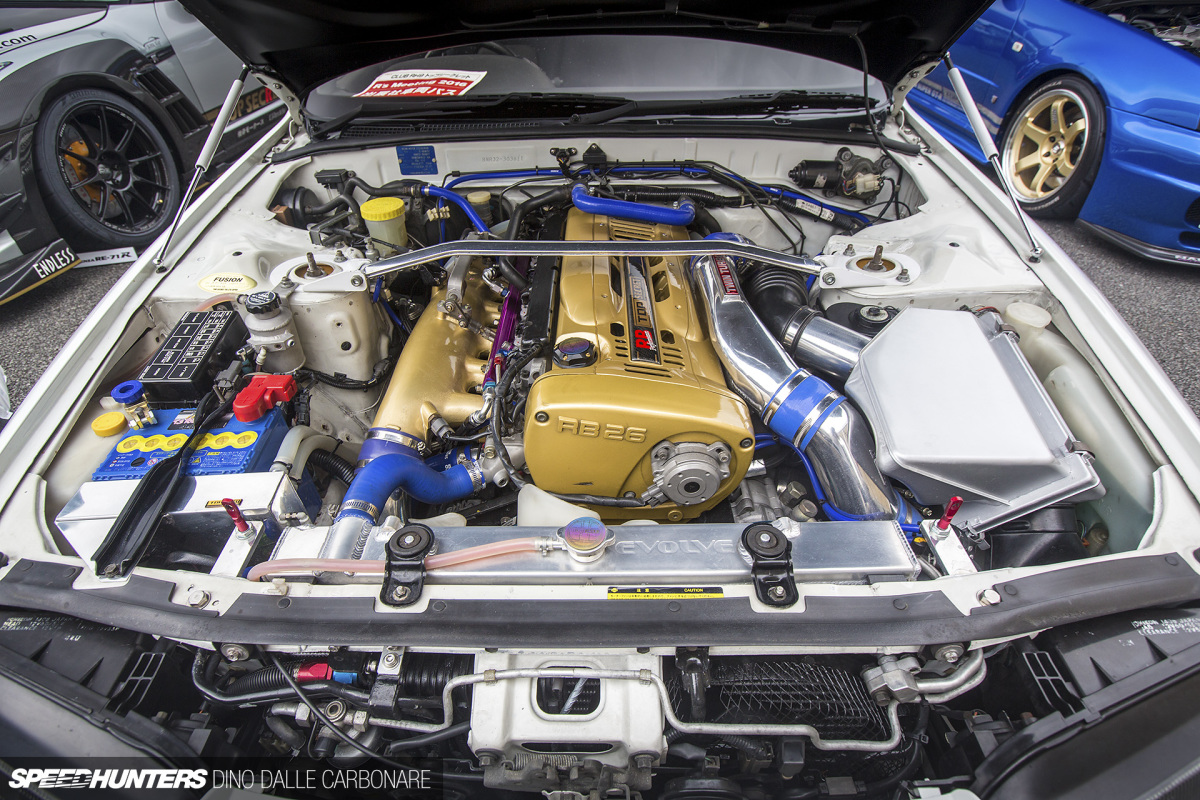 Top Secret brought out one of its latest builds which we saw earlier in the year at the Tokyo Auto Salon. This is a car I need to feature as it runs quite a special engine. Care to guess what it was originally built for?
Nismo Goodness
Of course, what GT-R-related event could possibly do without the participation of Nismo. Nissan's official tuning and motorsports arm might not make the most powerful cars, but what they lack performance or the latest technology they make up for with inimitable execution and attention to detail. As if prohibitively expensive carbon fiber aero parts weren't enough, now you can easily blow $5000 on carbon piping for your RB. Nismo has also finally completed its new BCNR33 Club Sport demo car, so that's another car we must take a look at in more detail.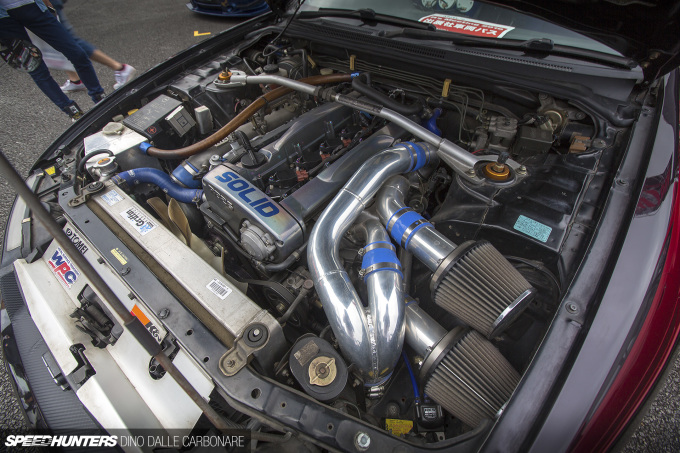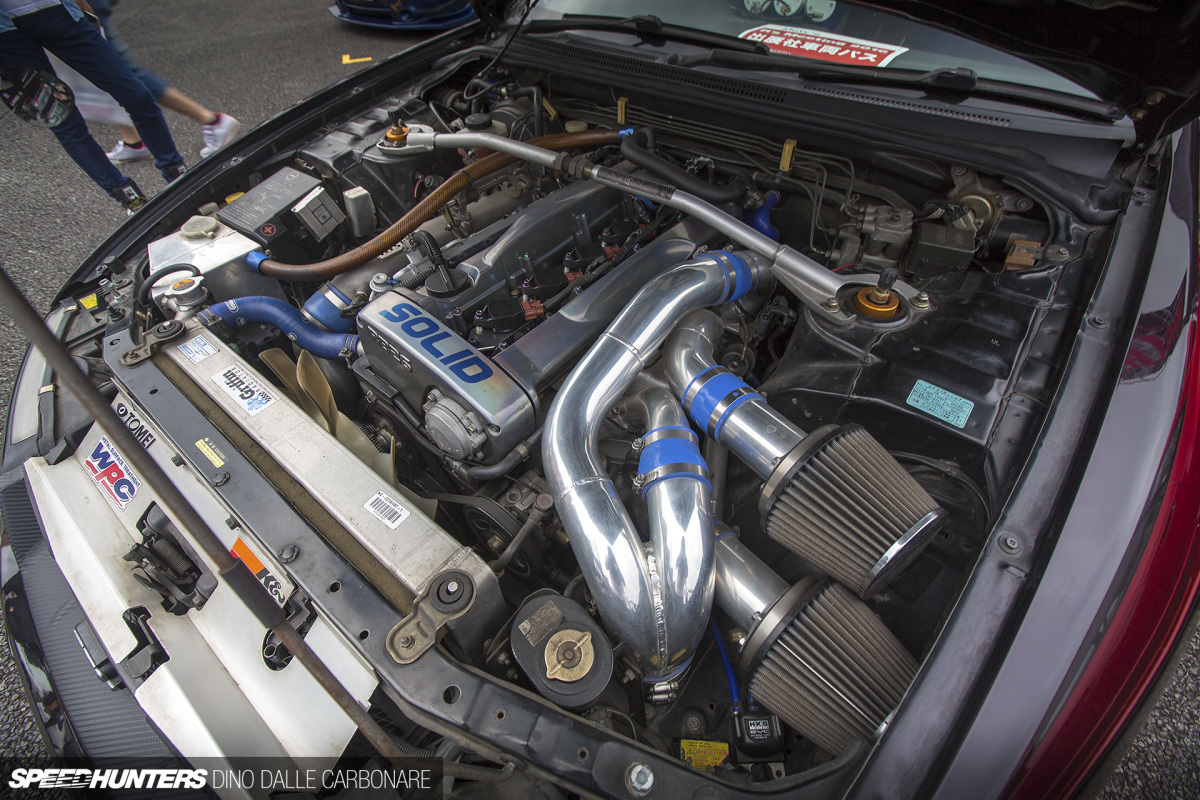 We saw the Autohaus Solid BNR32 yesterday, so I thought I'd share the engine bay shot of the R33 it also had at the event. This one runs a twin turbo setup rather than a single.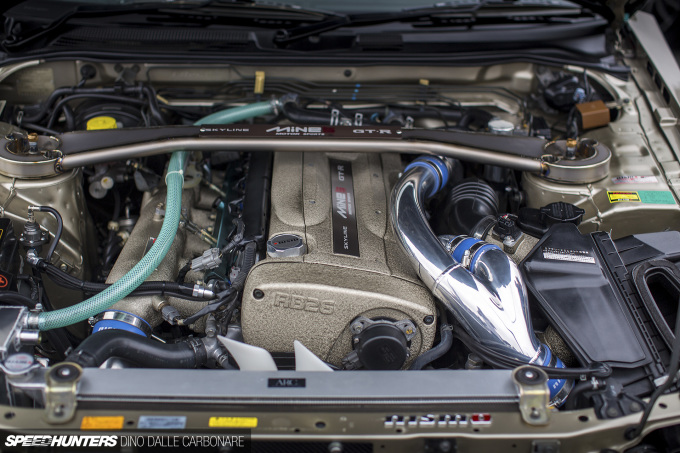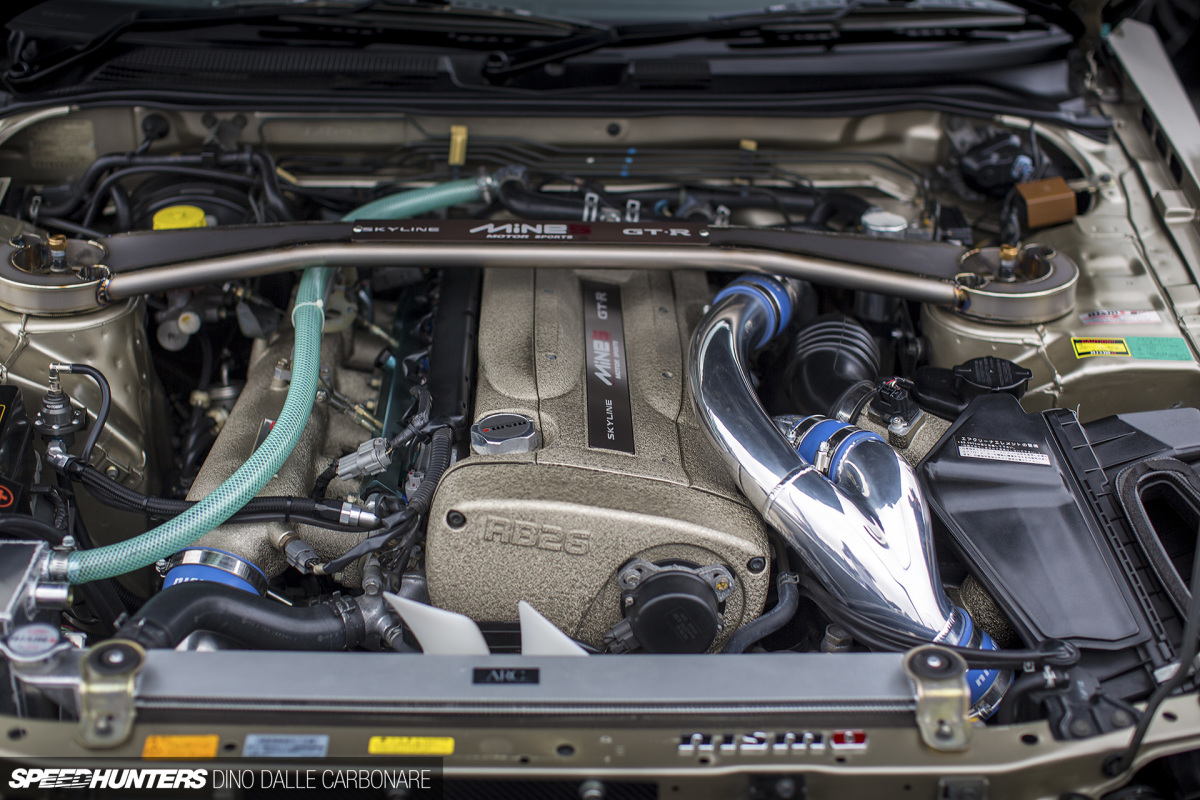 V-spec II Nür goodness with crackle-finish paint everywhere.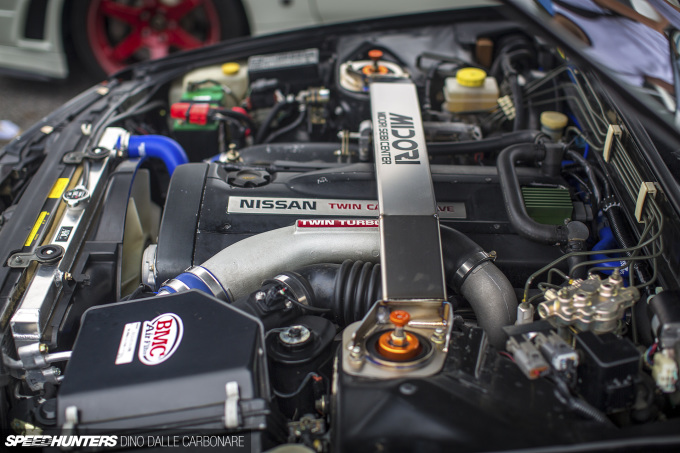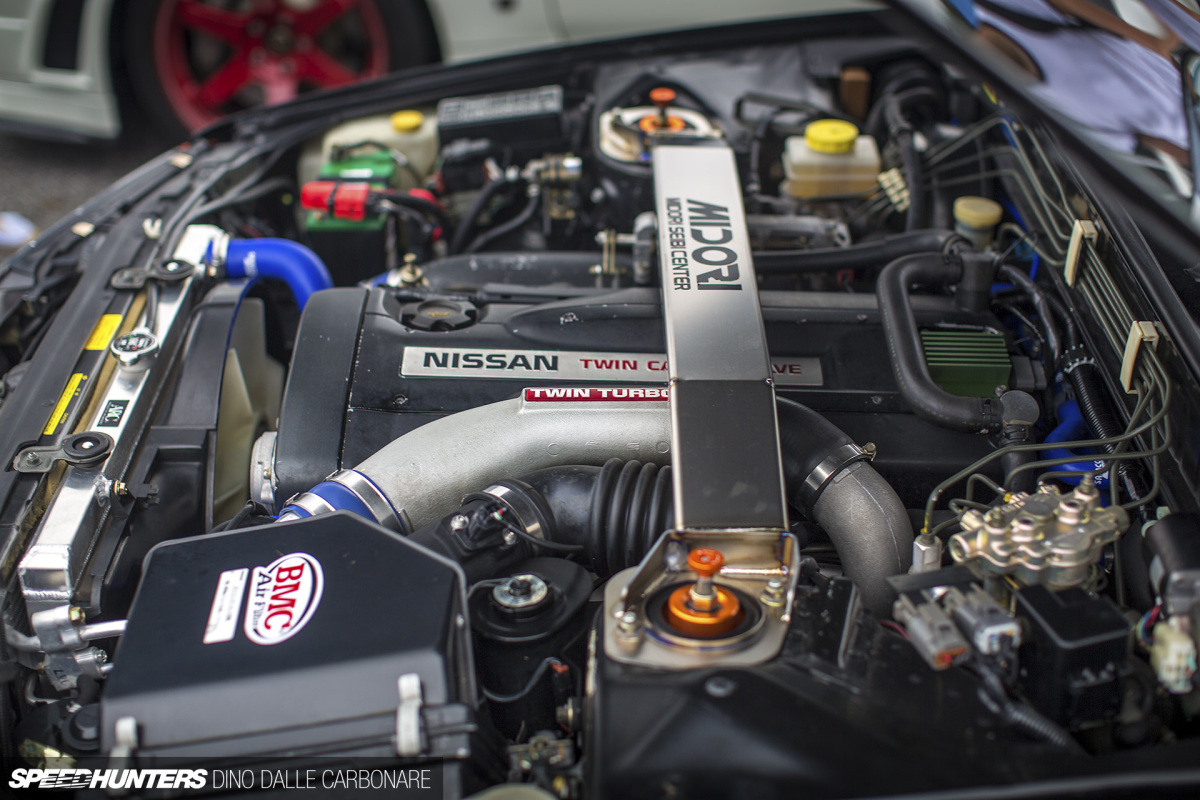 Midori Seibi Center has also jumped on the thick titanium strut brace bandwagon. I really need to show you guys the epic monoblock brake upgrade package it's also collaborating with Endless on, but that can wait for my next post from R's Meeting.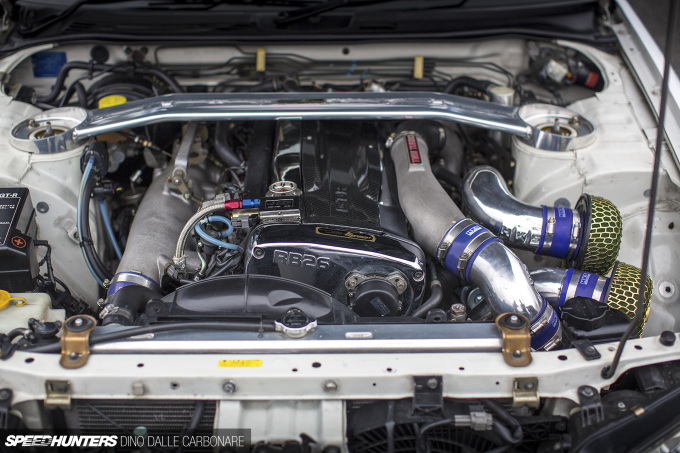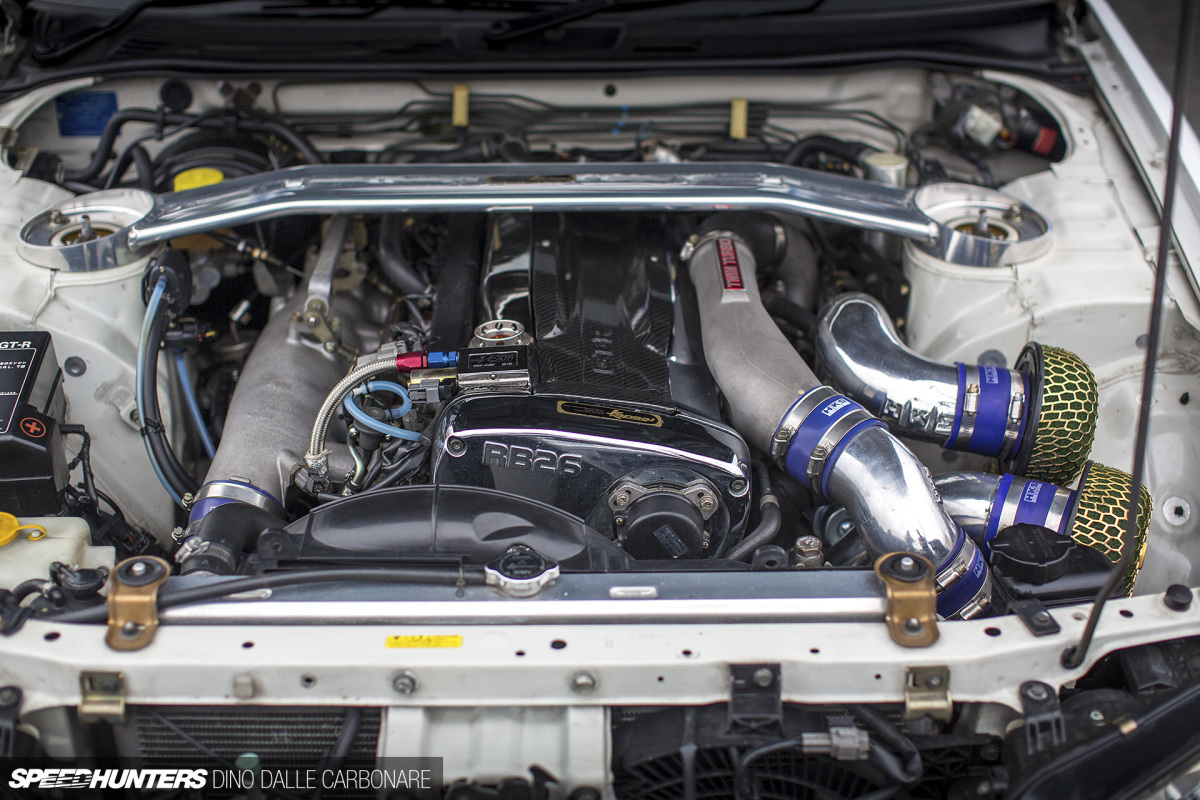 I hope you've enjoyed seeing the variety of RB26s that were present at this year's event. It leads me to this question: what sort of setup would you choose for your own RB, and why?
Dino Dalle Carbonare
Instagram: speedhunters_dino
dino@speedhunters.com