The Lure Of The RB26
I'm so excited. You know why? Because as time goes by I continue to realise that back in what seems like such a distant 1999 now, I picked up the right car. Over the last 16 years I've never had a doubt in my mind that the R34 is driving perfection for me, but as time passes, and as new cars come and go, it's still a car that people lust over. That's good, yes, but the most important thing of all is that the aftermarket is showing no sign of stopping, and continues to cater for this wonderful classic with a ton of exciting new products. This is precisely why I awoke with much anticipation last Saturday – I was finally going to get a closer look at a car I've been hearing a lot about lately.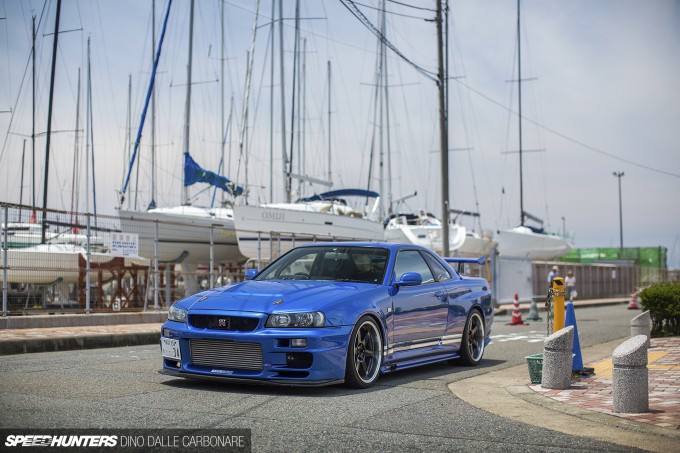 Its owner, Kenneth, is a loyal Top Secret customer, but when the time came to upgrade the already-powerful setup in his BNR34 V-spec II Nür, he decided to request an unusual solution from our good friend Nagata-san. After a little research, he discovered that many Skyline owners outside of Japan are using BorgWarner EFR turbochargers on their RB26s – setups available in different sizes and configurations able to deliver a ton of performance, yet thanks to innovative designs and solutions, also offering much better boost pick-up and overall response.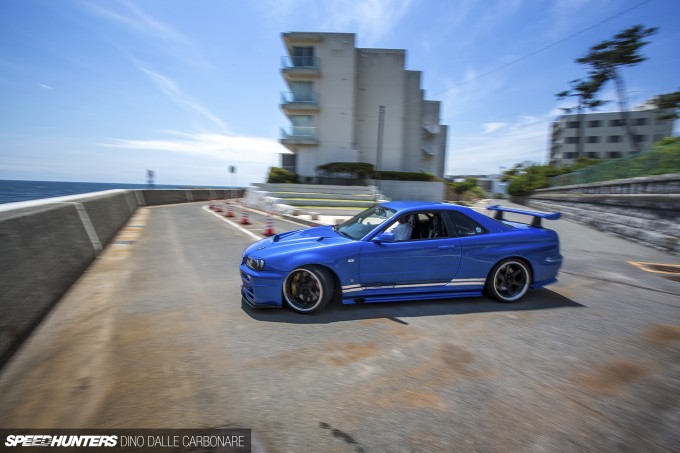 After having used an HKS T51R for some time, the promise of more usable power and torque sounded like a dream for Kenneth. And so the car was dropped off at Top Secret to go under the knife once again.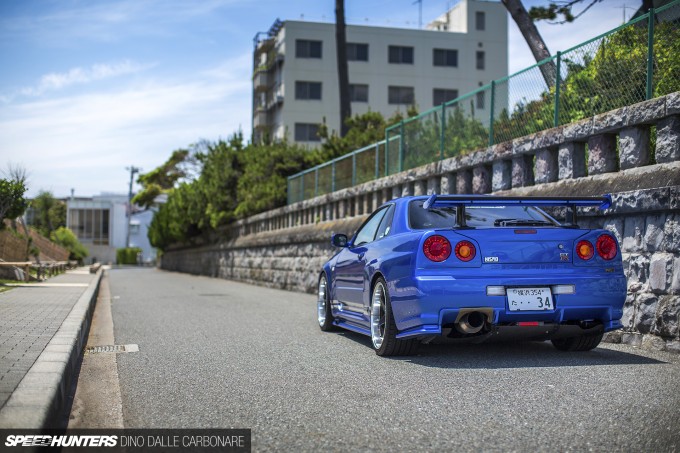 Kenneth wasn't particularly interested in hurrying the great Smoky along – it was was more about ensuring the GT-R was meticulously tuned in the way that Top Secret is well known for. This allowed the guys in the workshop time to get the engine out and at the same time wait for the parts to start rolling in. Kenneth hit up the guys over at Full Race in Arizona, and it was them that supplied the majority of the components that have been used in the conversion.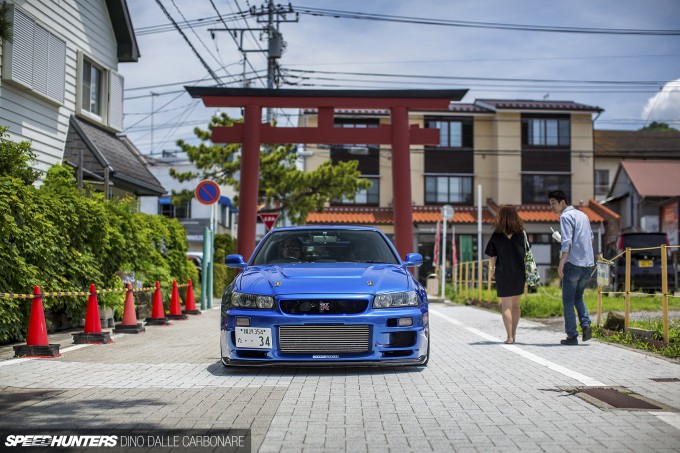 While the car was at Top Secret, Kenneth took the opportunity to finish up some exterior details that he had also been contemplating. Fast forward about a year and Smoky's phone call finally came: "your car is ready!"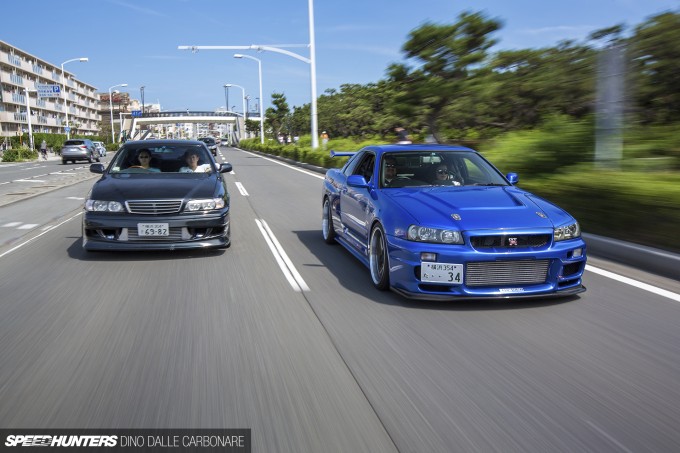 The V-spec II Nür has been back with Kenneth only for a little bit, and right now it's not even been mapped for its high boost setting. But the smile on his face is proof enough that Kenneth's ecstatic with the result.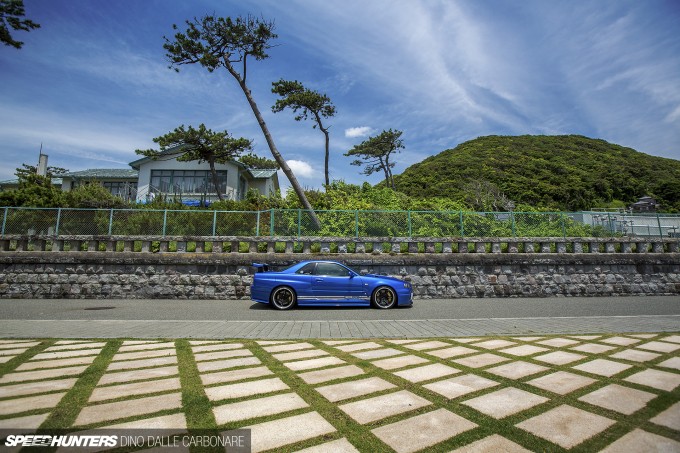 I apologise if I'm coming across a little biased here, but as I sat there on the curb of the road admiring how the custom sparkly paint that Top Secret laid down on the car played with the sun's rays, I couldn't help but be reminded of the aggressive shape that Nissan managed to create with this generation of the GT-R. It's an old car, but boy does it still manage to look so right!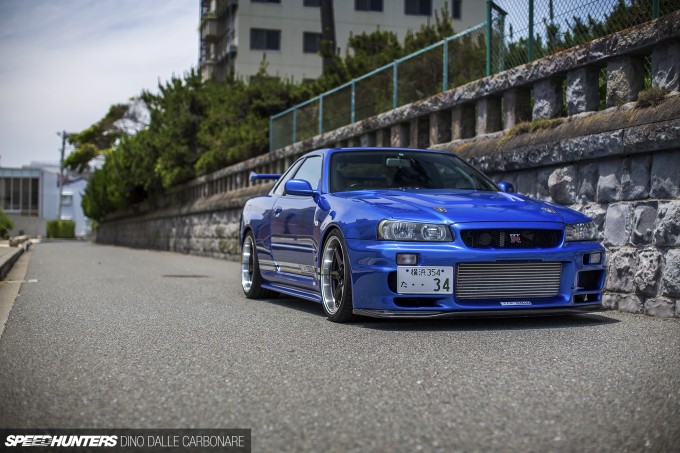 And it's a Top Secret car down to a tee, starting off with that easily-recognisable front bumper which has one of the largest intercooler openings you're likely to find. It comes in rather handy on big power setups like what Kenneth is running, as it easily accommodates a massive intercooler, exposing the entirety of the core for optimal cooling – especially when the license plate is relocated to one side.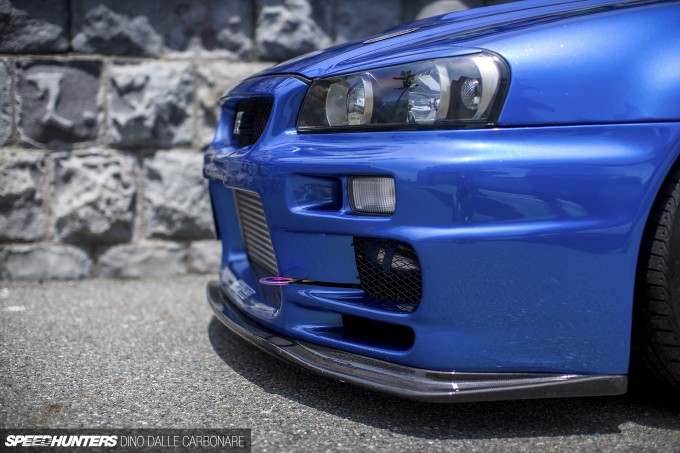 Underneath, a Top Secret carbon fiber diffuser completes the car's front end and extends well under the engine to clean up the airflow.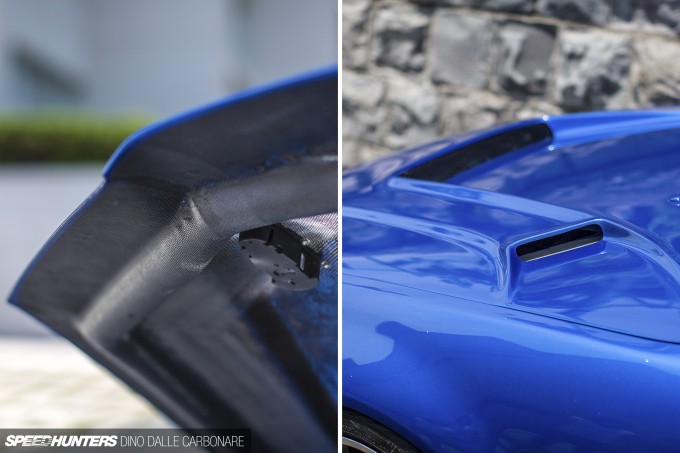 A special order twin-skin carbon fiber aero bonnet is yet another item part of what may well be the word's longest spec list. It takes care of dispersing as much heat as possible from the engine and for extra safety it locks into position with a pair of Aero Catch latches – good insurance seeing as this car is pretty much able to max out its sixth gear without too many issues. That my friends equates to a serious top speed!
Revolutionised Performance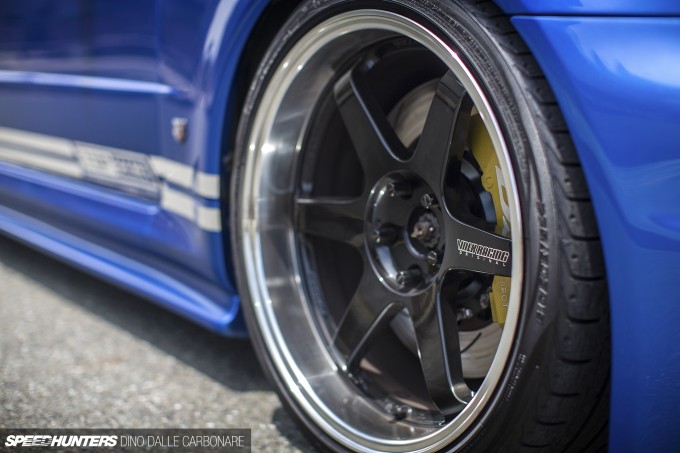 In its 'street spec' the Skyline runs on a set of RAYS Volk Racing TE37s – the Tokyo Time Attack version to be precise, which sports a diamond-cut lip section.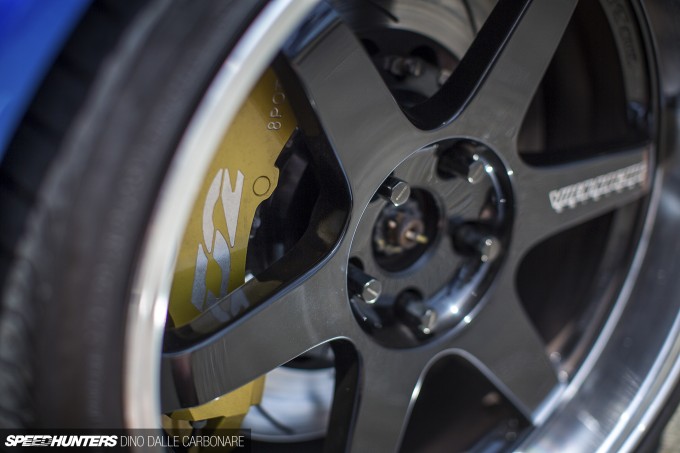 Behind the black spokes is a sizeable D2 braking system comprising of gargantuan 8-pot calipers biting down on 380mm 2-piece rotors in the front, and 4-pot calipers mated to 355mm discs at the rear. It's a well-matched setup that is able to haul the R34 down from the crazy speeds it's capable of.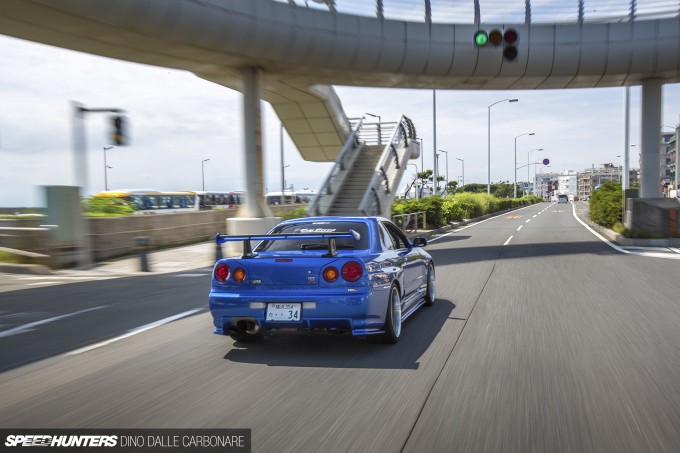 I really wish this image was accompanied by some sound, because this is one of the nastiest, most in-your-face sounding R34s I've ever come across. But driving around with Kenneth, the thing that surprised me the most was just how immediate the car seems to jump on boost as soon as he floors it.
Well, I guess this video will give you a little bit of an idea. I'll have to do a proper one once the car gets tuned for its 2-bar (29.4psi) max boost setup!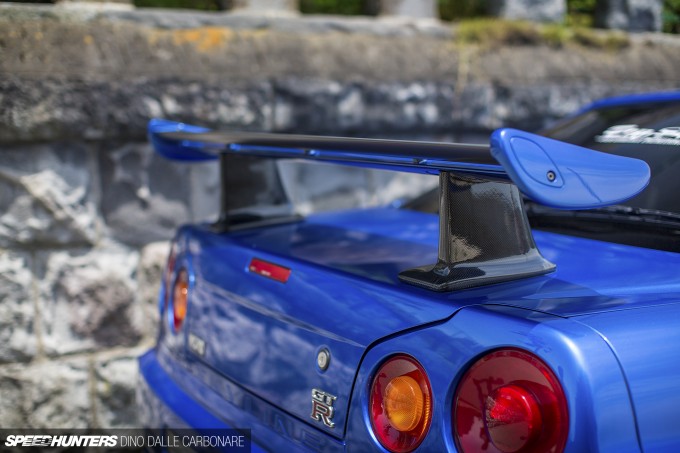 Despite many Top Secret customers rocking massive GT wings, Kenneth took the more subtle option and has retained the stock main wing, albeit mounting it a touch higher on a pair of extended carbon wing stays. It's a minor touch, but one that the true otaku will appreciate – much like the Nismo side skirts that run the length of the car.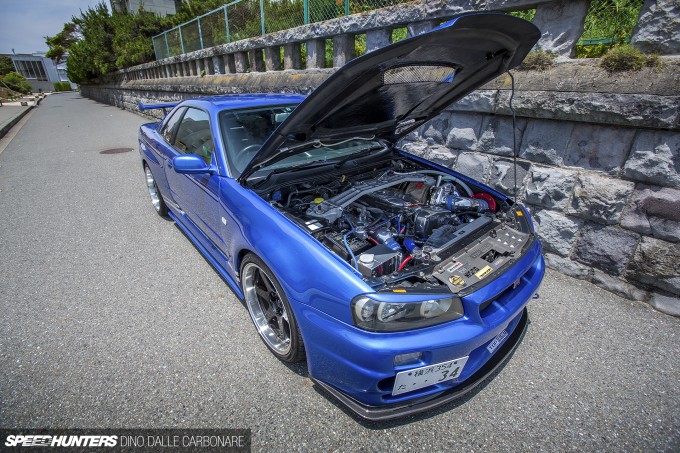 But enough with the aesthetics! If you're like me, this is the bit you most wanted to see when you clicked on this story's link. So here it is…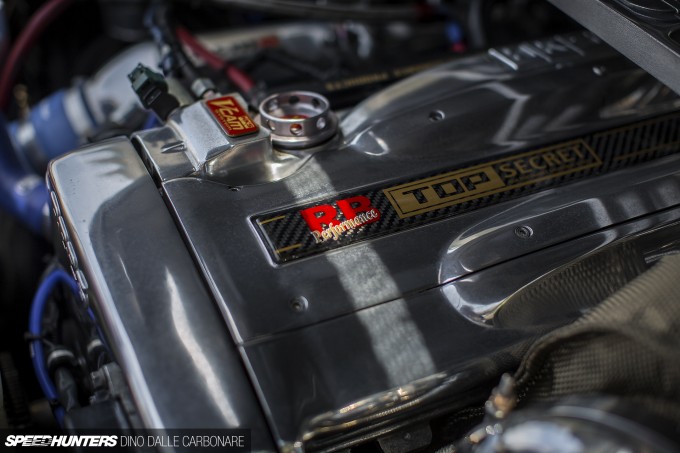 Smoky built this engine around an N1 block, dropping in an HKS Step2 2.8-litre stroker kit to give it a bottom end able to take a substantial hit of boost. Its DOHC 24-valve cylinder head has been amply reworked too, meticulously polished, ported and equipped with the best valve gear components that Smoky selected. It's then all topped off with a set of polished covers – a must-have if you want to obtain the complete Top Secret look.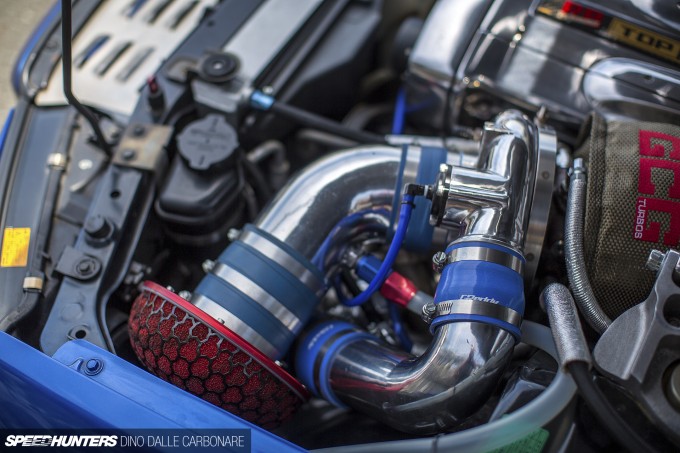 Sitting alongside it, its partner in crime – the BorgWarner EFR9180 perched on a beautifully fabricated Full Race stainless steel manifold and armed with a pair of TiAL 44mm external wastegates. Kenneth had the whole compressor side of the blower polished to match the engine, and Smoky also had to custom-bend some aluminium piping to plumb the whole lot together and position the HKS Super Power Flow filter accordingly. This is the very first EFR setup that Smoky has worked on, and he kept telling Kenneth how impressed he was with it, despite the headache it was to fit. That's because there are no real complete kits available yet for R32/33/34 installations, and probably the one thing that scares a lot of tuners in Japan off, as they are mostly use to working with ready-to-fit, all-inclusive kits from the big names in the Japanese aftermarket tuning industry.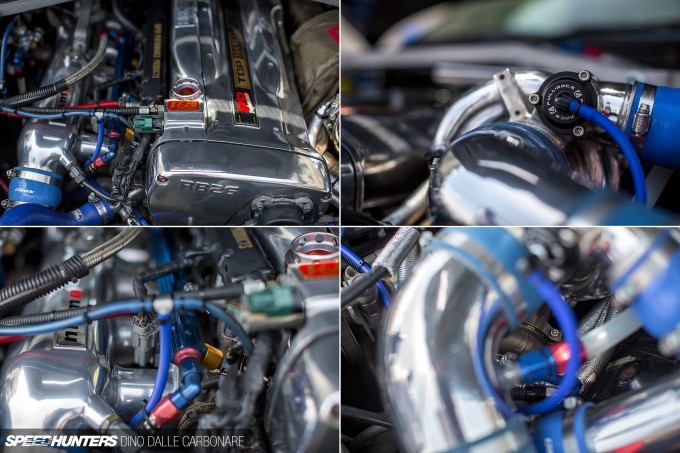 So Smoky really had to think outside of the box here, and tread carefully on uncharted waters. But in the end he came away with a big smile. It's something I see happening all over the place these days, as more Japanese tuners – tired with the same old kits offered by parts makers – are looking to see what their overseas counterparts are doing. Garage G-Force is one that instantly comes to mind, having built up numerous BorgWarner and GCG/Garrett setups for their customers with great success. But back to Kenneth's engine…
As you can see, the motor has also been fitted with an HKS V-CAM setup – the wilder Step2 version that's really able to stretch the response and torque curve of the engine, which let's remember is packing almost 200cc over stock capacity. In the interest of best flow into each of the six cylinders, Top Secret fitted a Nismo GT plenum, and if you look carefully you will see that the injectors are fitted with a small aluminium adapter because they are actually Sard 1100cc/min units developed for the R35 GT-R's VR38DETT. These multi-hole squirters are far more precise and efficient than the ones everyone used to run up until a few years back, and I've touched on the improvements they bring countless times before.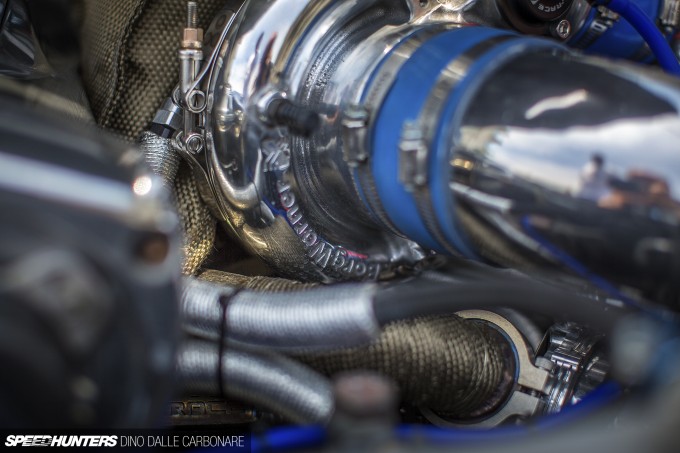 Smoky was also very impressed with how easy it was to set up and work with the TiAL wastegates, so you can expect to see similar setups being offered to Top Secret customers from now on. And as if this monster-spec RB26 wasn't as cool as can be, there's one more party trick that Kenneth requested: a pair of screamer pipes venting to atmosphere.
Scream Away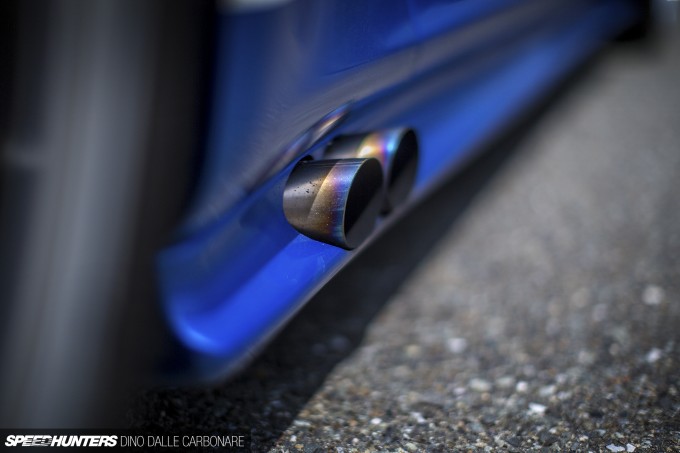 It's not the most legal way to manage your spent exhaust gasses, but the way in which Smoky did it – having them poke out through the passenger-side side skirt – is a real two finger salute to the authorities. How sneaky… You have to love it though!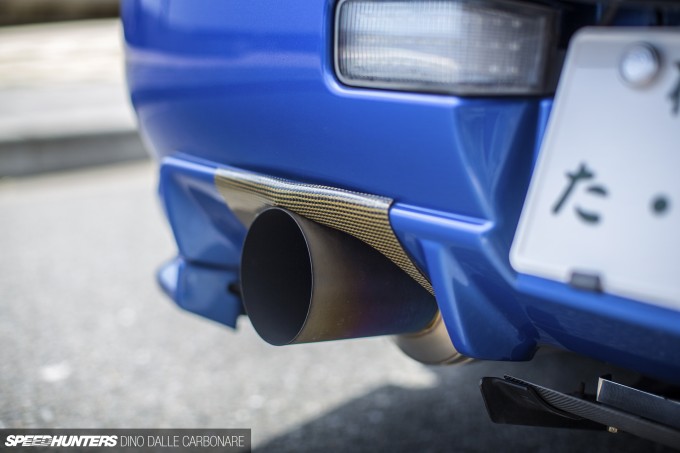 The rest of the exhaust fumes are passed down the drainpipe-sized Top Secret special order titanium exhaust, which adds another deep tone to the concerto of mechanical noises this R34 produces.
So what does this latest round up of modifications manage then? With a conservative boost setting of 1.8bar (26.4psi) for the time being – call it 'medium' – the GT-R has put down 940hp and a towering 961Nm of torque. But the mind-blowing thing is how low the torque curve develops and plateaus out for the entirety of the mid-range, reaching peak boost by just over 5,000rpm. It gives the RB the sort of flexibility it has never had when being tuned to develop power figures in the four figures. I say four figures because that's exactly what is planned once Smoky ups the boost to 2bar and let's her rip! That will also require a bit of a rethink on the driveline side of things. There's already an ATS triple-plate carbon clutch and carbon prop-shaft fitted, but once the boost is up the Getrag 'box will be swapped out for an OS Giken sequential.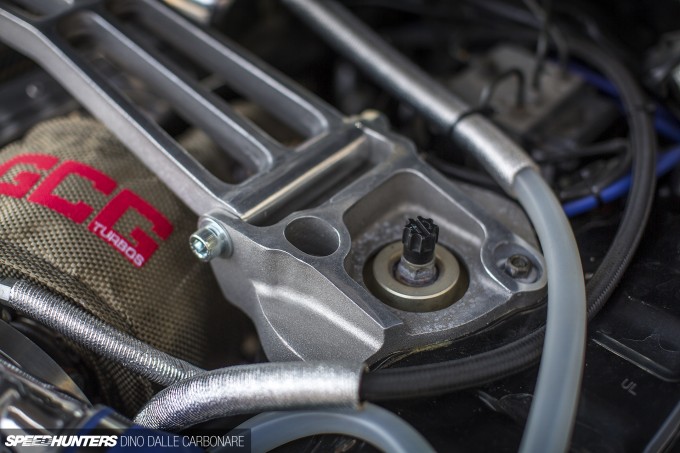 Seeing the car is built primarily for street use, Kenneth had Top Secret add Roberuta air cups to each of the adjustable Aragosta x Top Secret coilovers – a must-have when you're running a low ride height. Because even in Japan where roads are billiard-smooth, you will sooner or later face a massive on and off ramp at shop or gas station.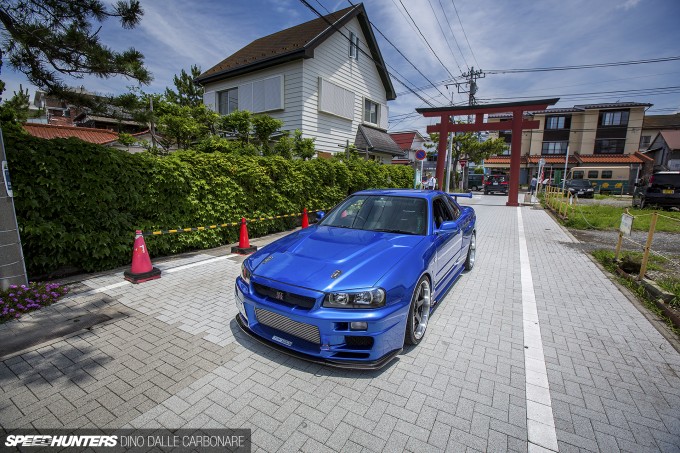 All of this results in what is probably the most special GT-R in Japan. There are no other BorgWarner EFR equipped cars in this country as far as I, Kenneth, or even Smoky know of, but as soon as people start seeing and reading about this car, or better still, seeing it go, things are going to change!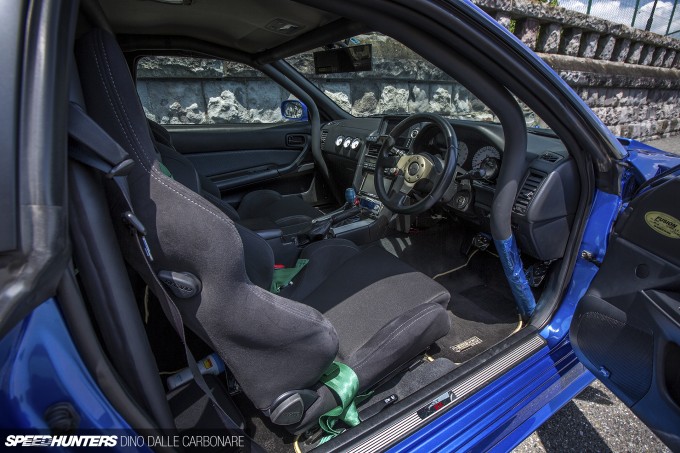 Swing open the driver's door and you quickly realise that as much time and dedication has gone into the interior as the rest of the car. Not wanting to take any chances, Kenneth had a Cusco rollcage installed, fully sleeved in soft foam to make it as unobtrusive as possible.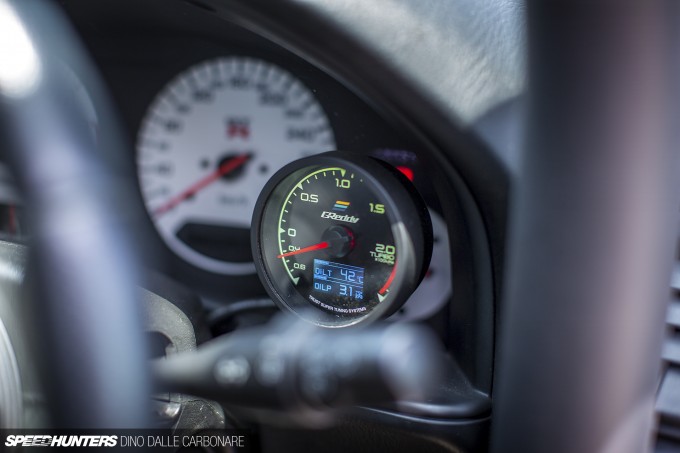 There's a massive list of additional and auxiliary gauges and modules dotted around the cabin – something that Kenneth is seriously thinking about cleaning up. The car was originally sourced in Kyoto through Phoenix's Power and a lot of these gadgets were already fitted. One of the coolest that I spotted however, is one that Kenneth added – a new GReddy boost gauge which also comes with an inbuilt LCD to display oil pressure and temperature.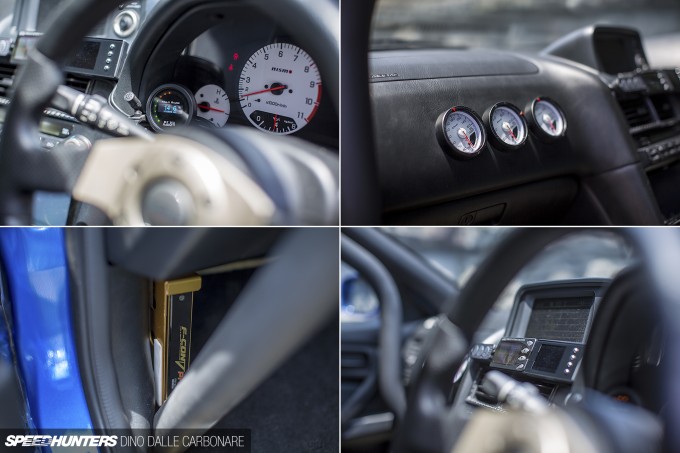 A PLX lambda sensor is fitted to one side of the white Nismo combination meter and is there to ensure that the A/F ratio is kept under control at all times. The entire set up is handled by every Japanese tuner's favourite piggy-back ECU: HKS's F-CON V Pro, which is fitted to the side of the passenger footwell.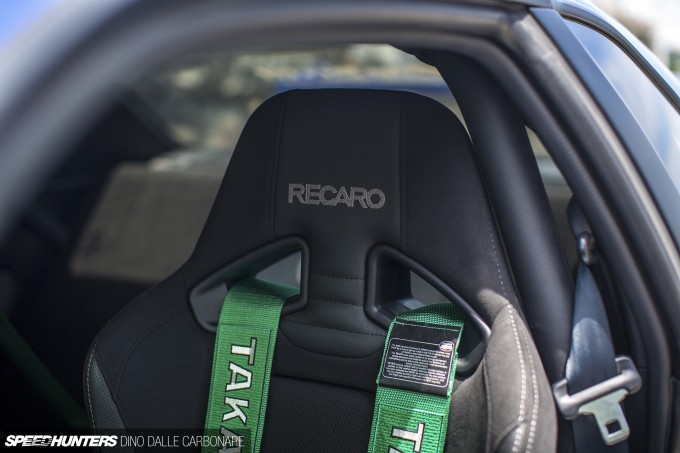 The seating arrangement has been spiced up with a pair of Recaro seats equipped with Takata harnesses should the need to hit the track arise.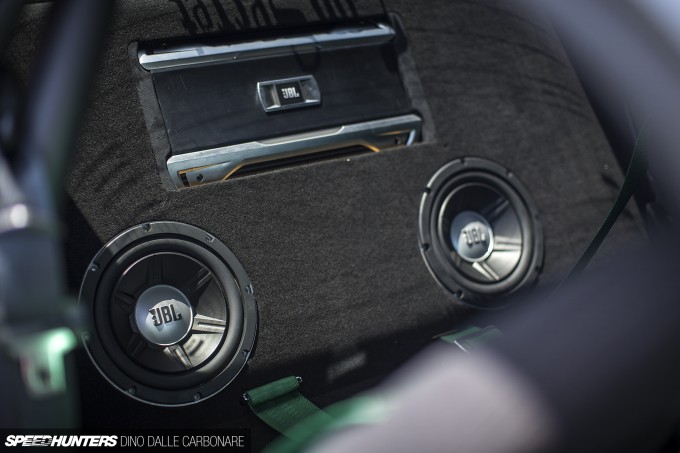 The rear seats have been deleted – in their place a custom panel constructed to hold the twin JBL subwoofers and the generously-sized amplifier. It all adds to the comfort of the cabin and is another hint that Kenneth wants to enjoy this car to the fullest.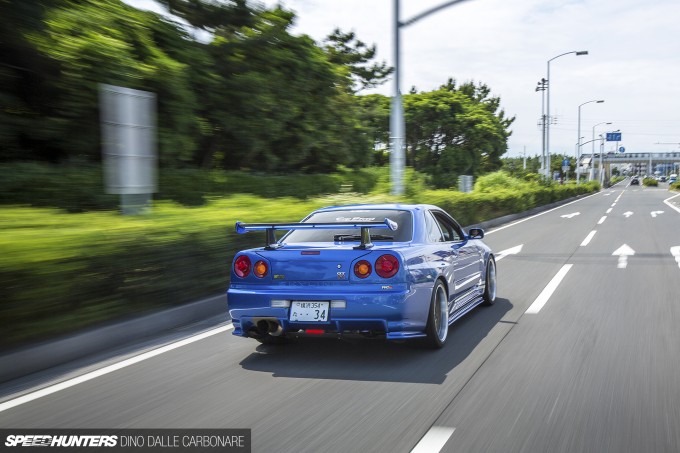 1000hp GT-Rs are nothing new, but what we are seeing now with this crop of new turbos is something of a tuning revolution. There has never been a better time to own an RB26-powered GT-R and Kenneth's car may well help propel things into a whole new gear from this moment forward.
Dino Dalle Carbonare
Instagram: speedhunters_dino
dino@speedhunters.com