Reimagine A Classic
I know, I know. Some of you are going to be upset.
But there's no need to overreact. Before you gush fury and vitriol all over the comments section, you should really know a bit more about where this car came from, and why it's really not as sacrilegious as you might think.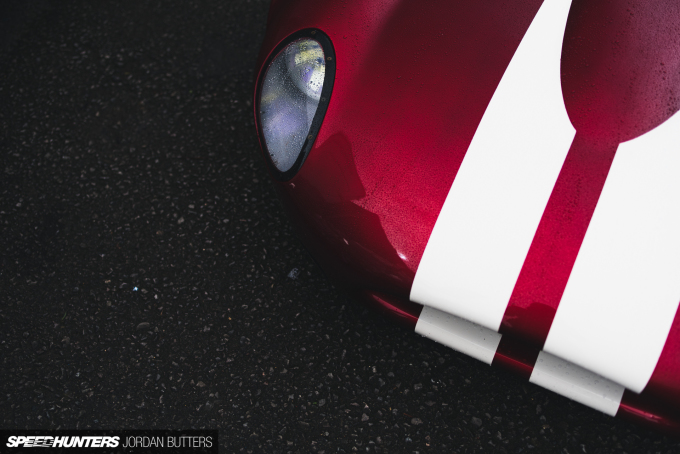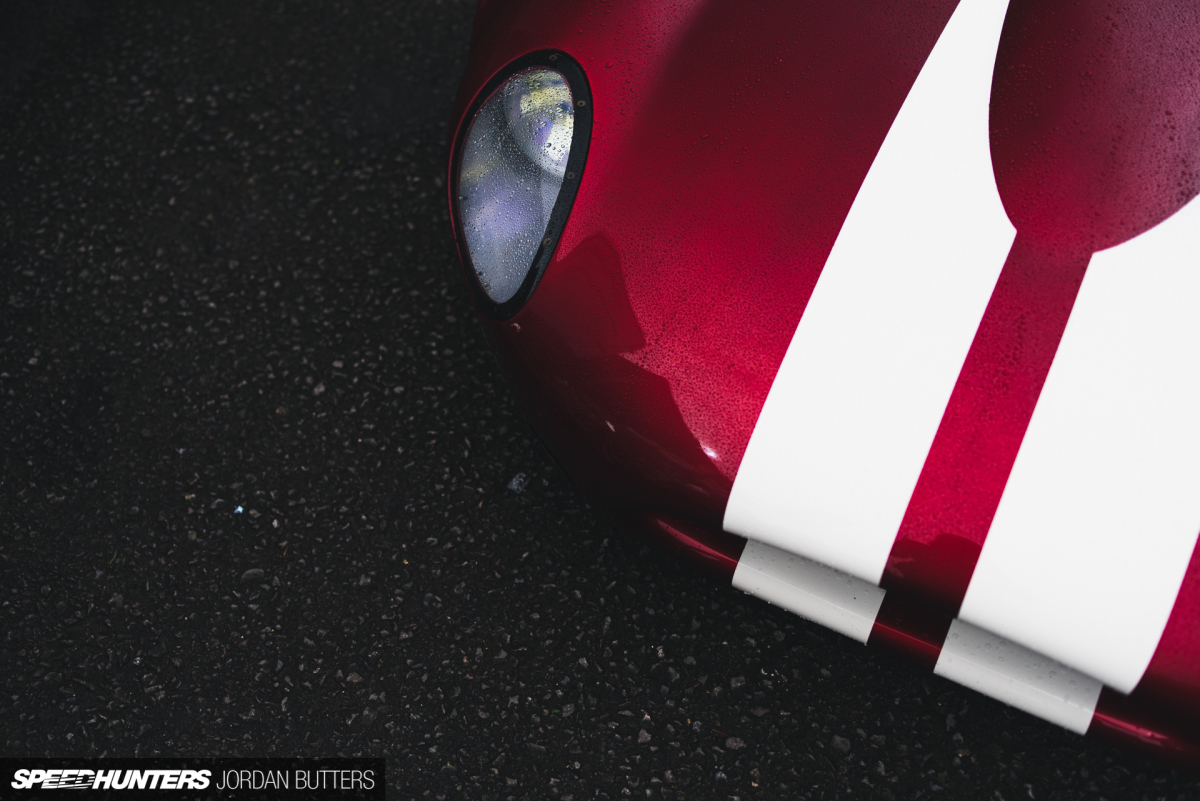 First, let's build the scene. The Jaguar E-Type is undoubtedly one of the most important machines in the history of sports cars. Revealed at the Geneva Motor Show in 1961, the world went crazy for Malcolm Sayer's creation, with its sleek curves and flowing body lines. Built in Britain, and offering a monocoque chassis, disc brakes, independent front and rear suspension, lively performance and a top speed of 150mph, the Jaguar was a world apart from anything else available at the time. It changed the future of sports cars, and had an important influence on how sports car design is approached, even today.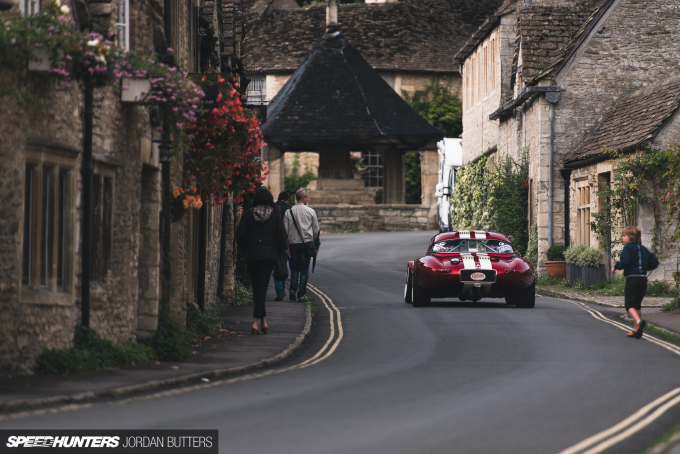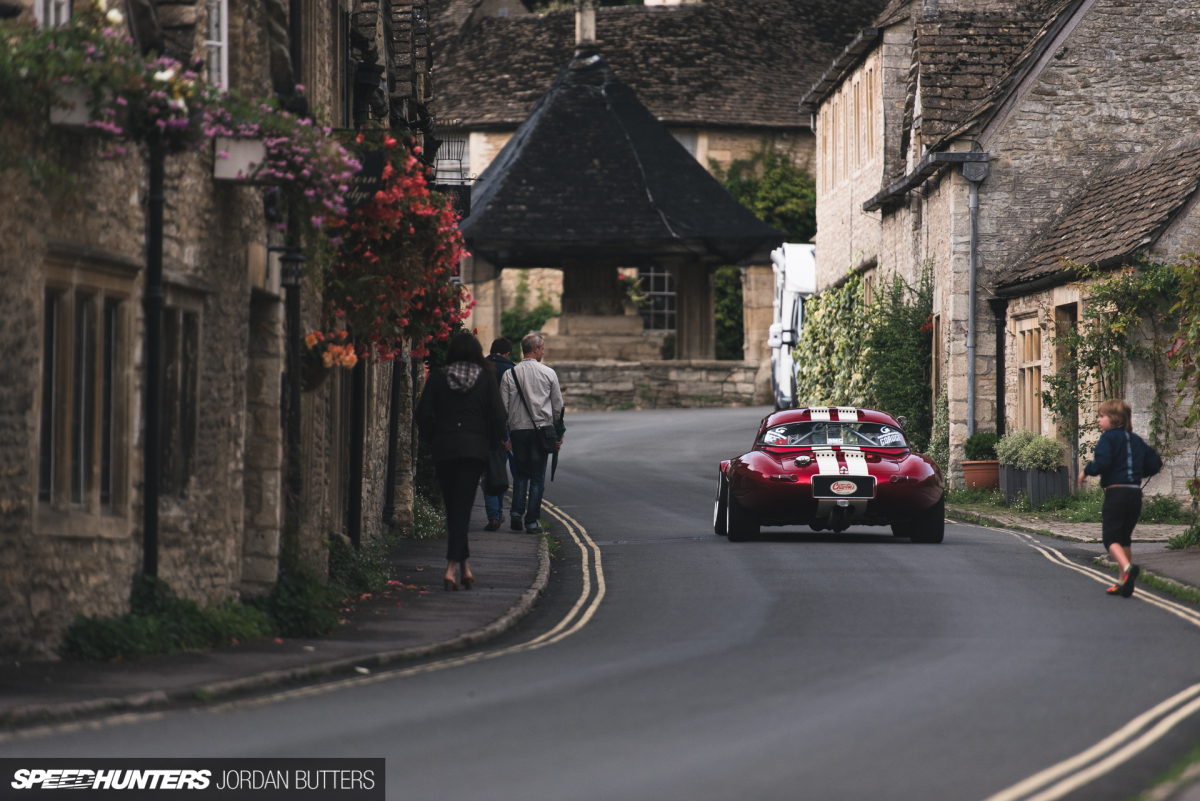 It cuts an instantly-recognisable silhouette that remains admired and coveted around the world. It's the quintessential British sports car. There aren't enough superlatives to do it justice – the long, swooping bonnet, its low, purposeful stance and carefully considered lines – the Jaguar E-Type is the embodiment of tasteful automotive design.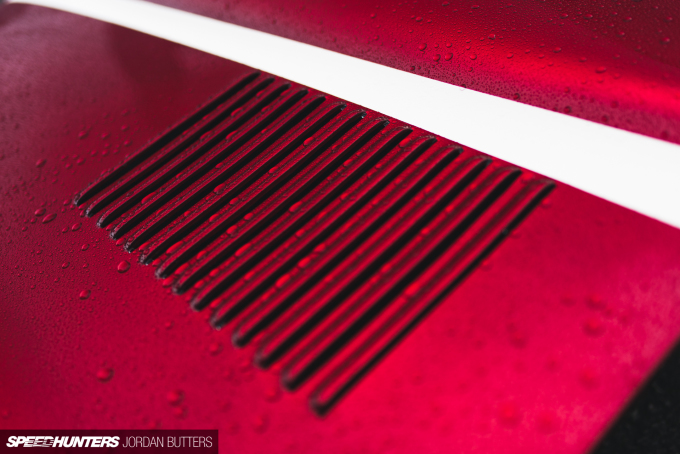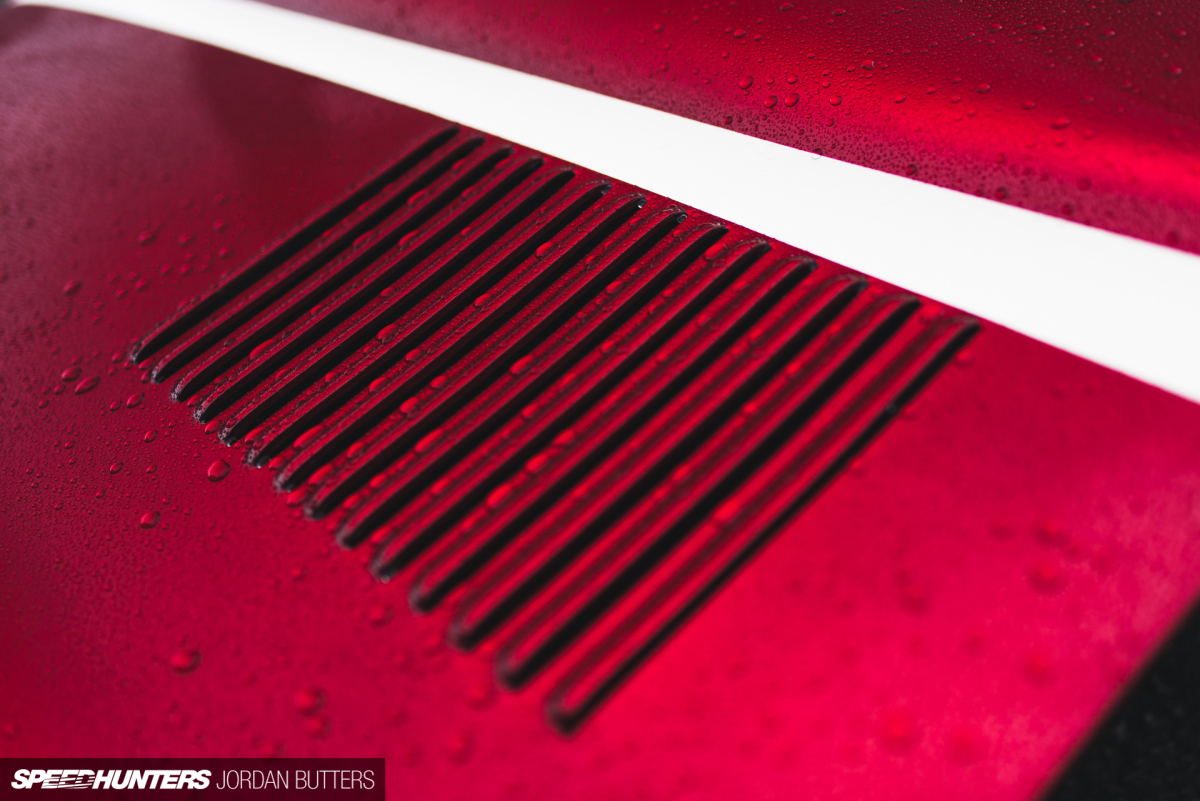 It's been called the best British car ever, and one Enzo Ferrari was quoted as saying that the Jaguar E-Type was, in his opinion, "the most beautiful car in the world". Kudos indeed.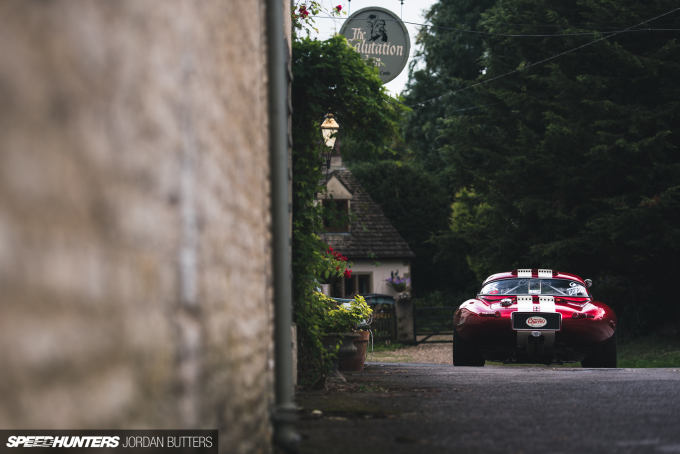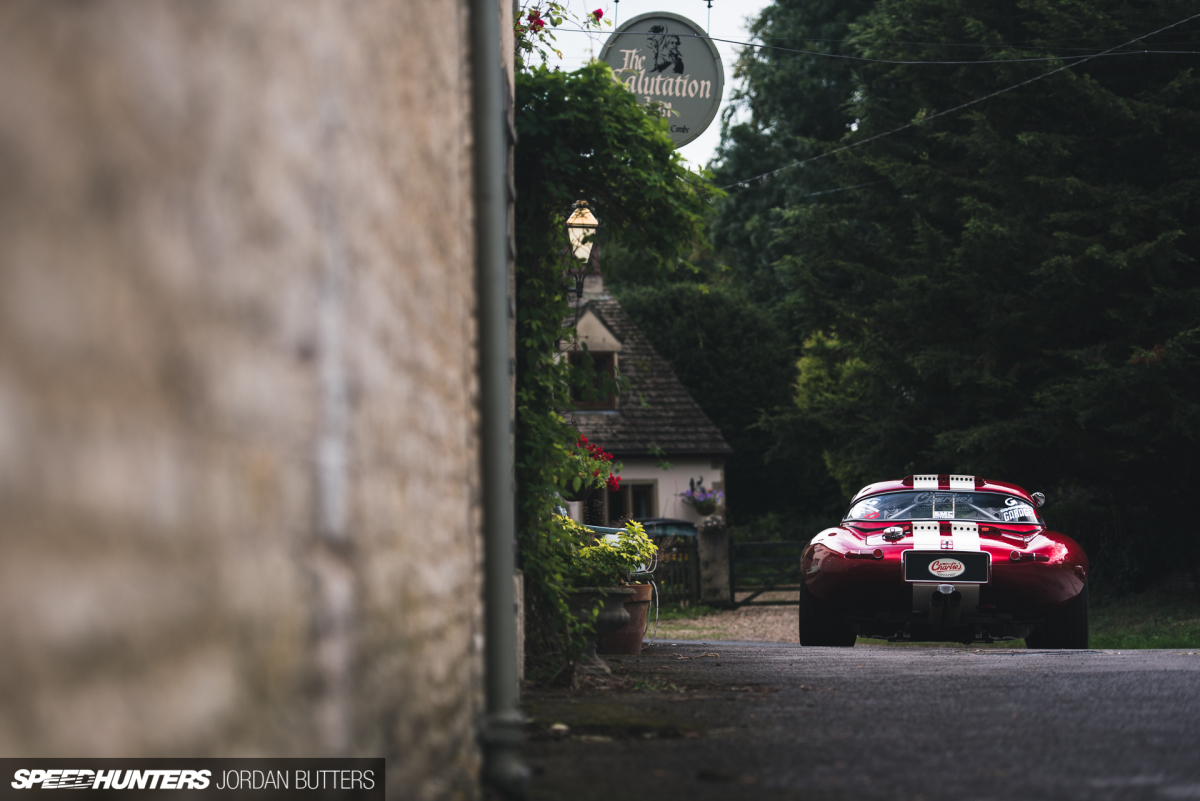 Between 1961 and 1975, the E-Type was produced in reasonably high numbers, and were surprisingly affordable too. Over 70,000 E-Types were made during the car's 14-year production life, and prices started at just over £2,200 – just shy of £40,000 in today's money.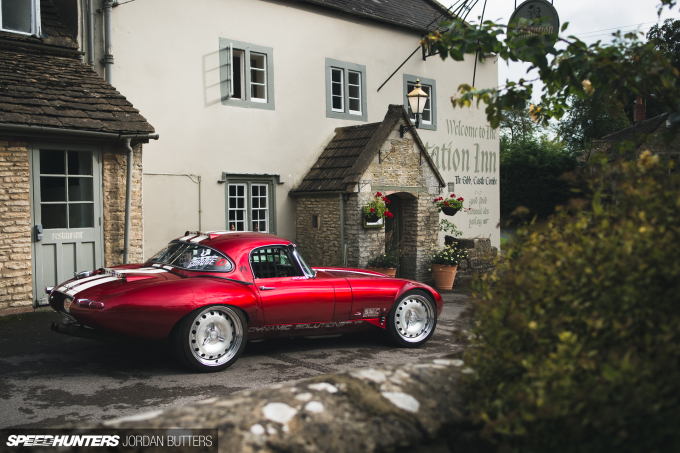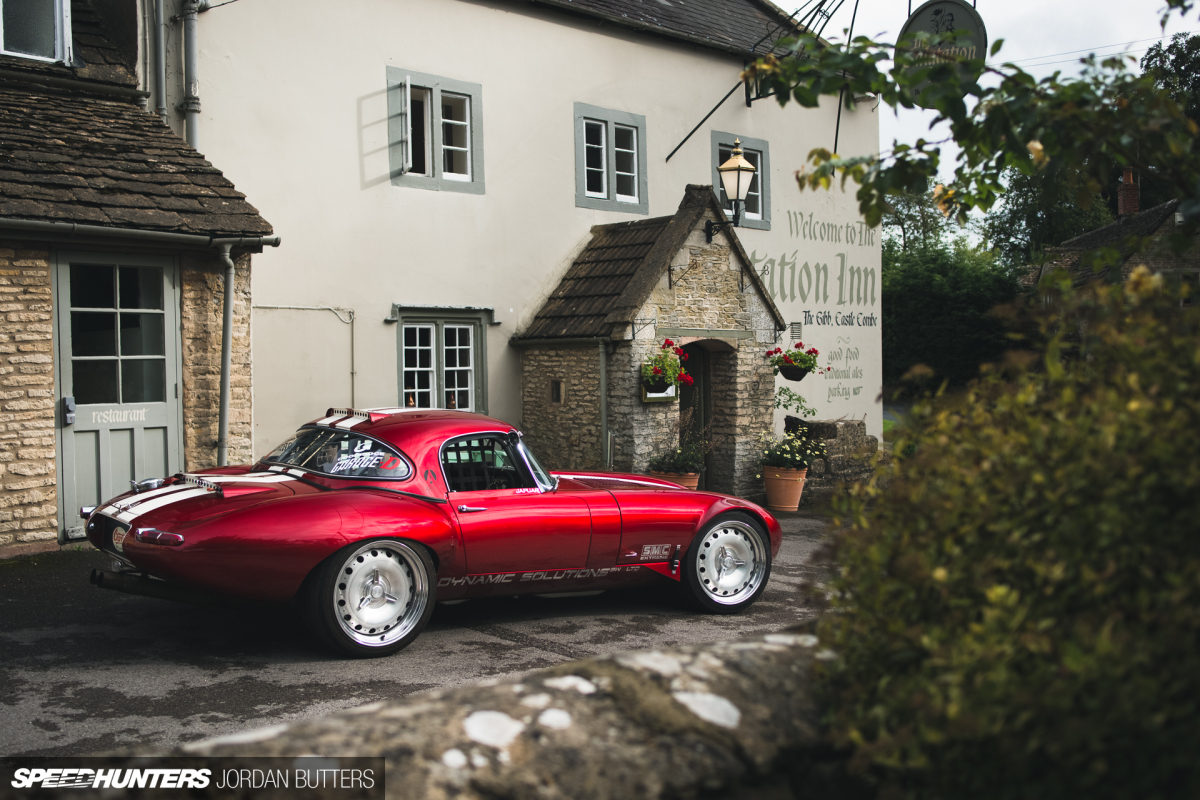 Fast forward to 2016 and the popularity and desirability of the E-Type has elevated the remaining models to a lofty status. Prices vary wildly depending on the exact specification and originality of the car in hand, but in this day and age you can expect to pay between £60,000 and £250,000 depending on condition and configuration. The market for classic cars is booming too; those fortunate enough to have savings are no longer wise to squirrel them away in a savings account. Investing in the right model of automobile not only offers you great returns on your investment, but you get to have some fun along the way too. You can't drive a bank account.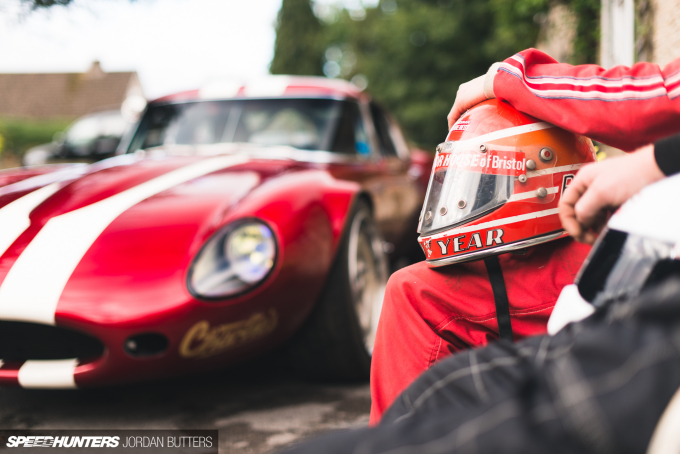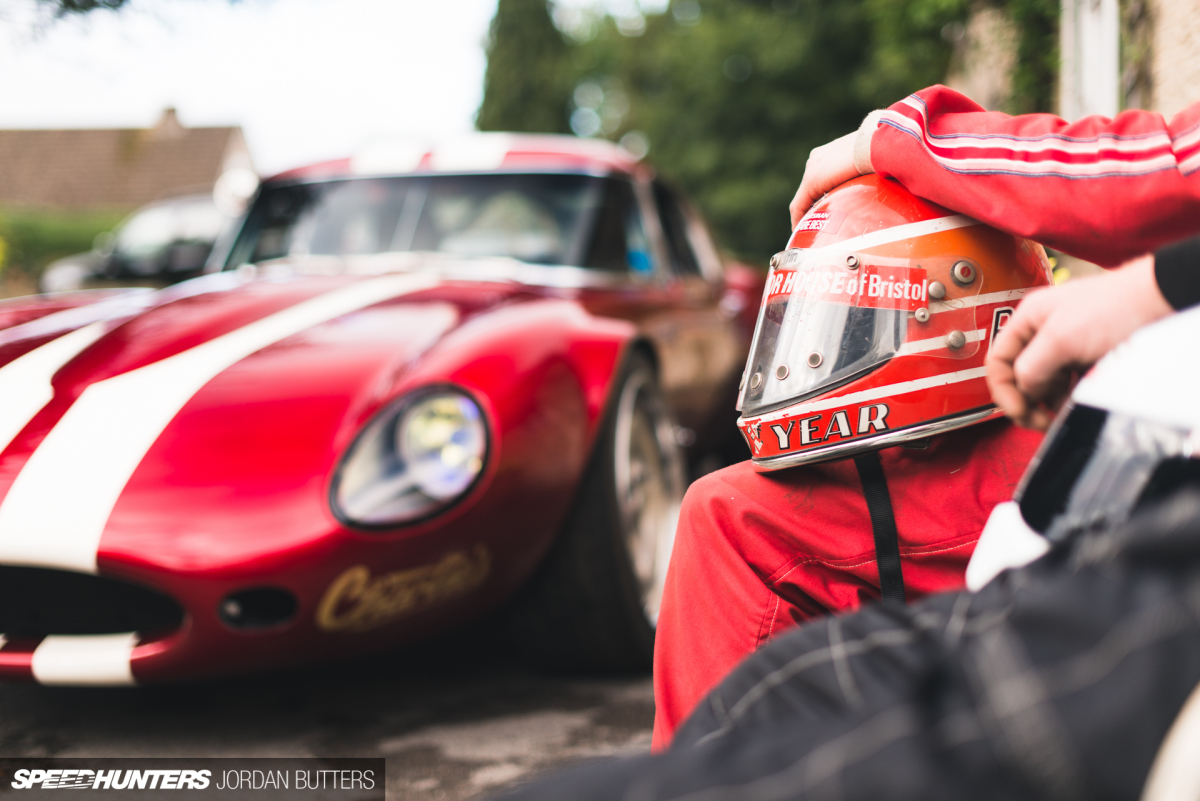 I digress, because the car you see in front of you wasn't bought by a collector, and neither was it built to sit locked up in a garage accumulating value.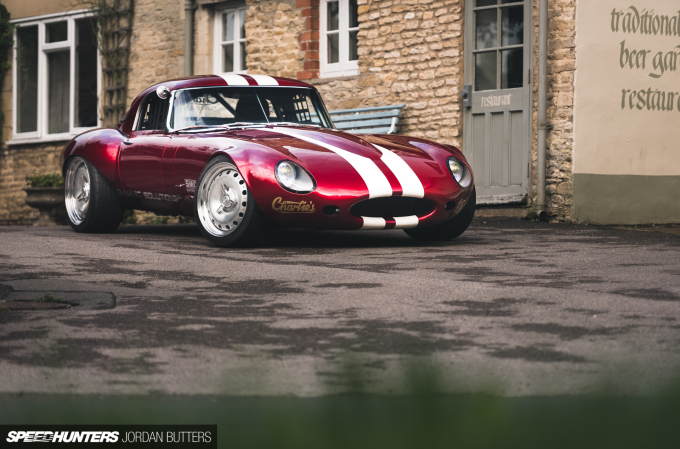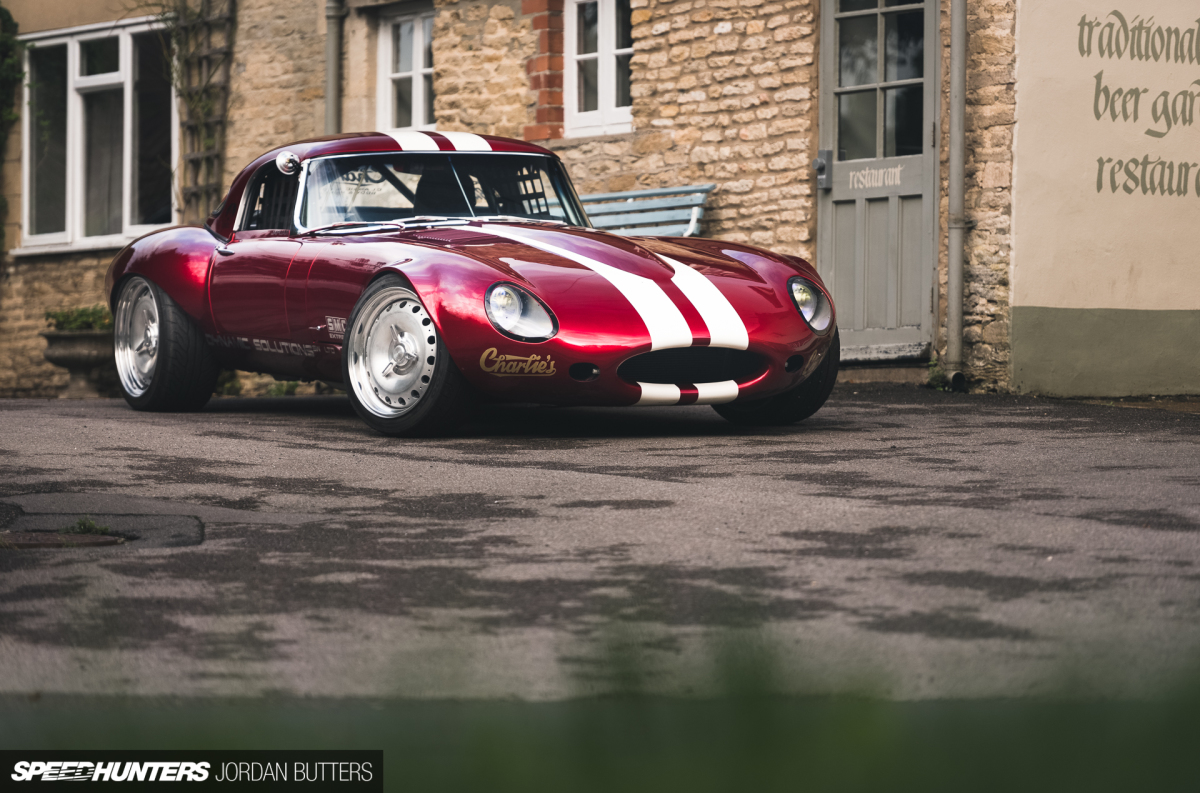 The brainchild of brothers Nick and Charlie Seward, this is the world's first and only purpose-built, Jaguar E-Type drift car.
From Less Than Metal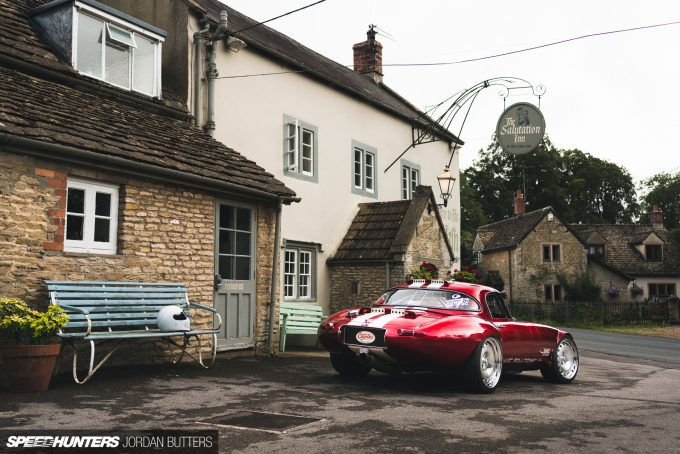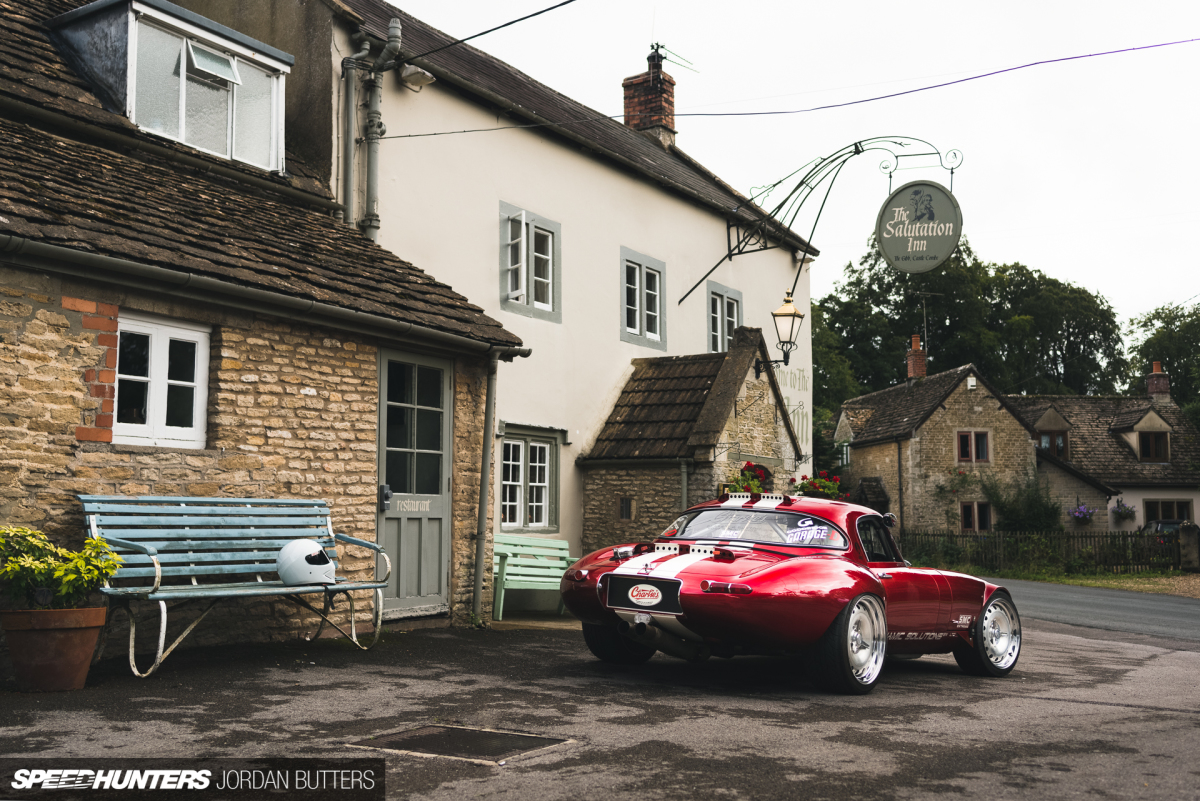 There's probably a strong polarisation amongst those of you reading this. One half will be thrilled at the concept of seeing this beautiful and classic machine sliding sideways, billowing smoke from the rear tyres and screaming at the rev limit, whilst the other half will be undoubtedly disgusted at the mere mention of an E-Type drift car.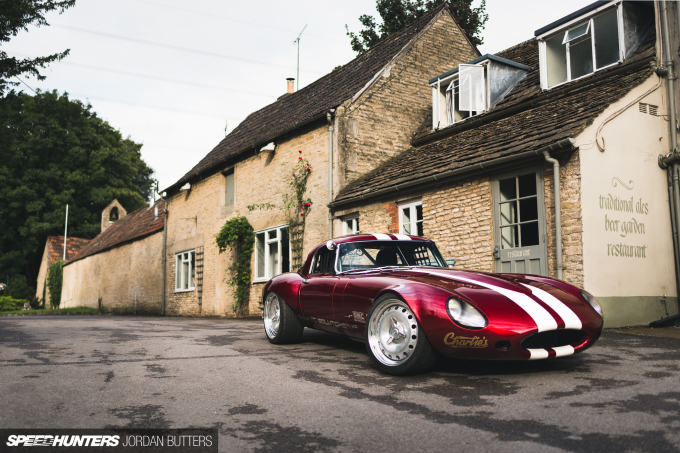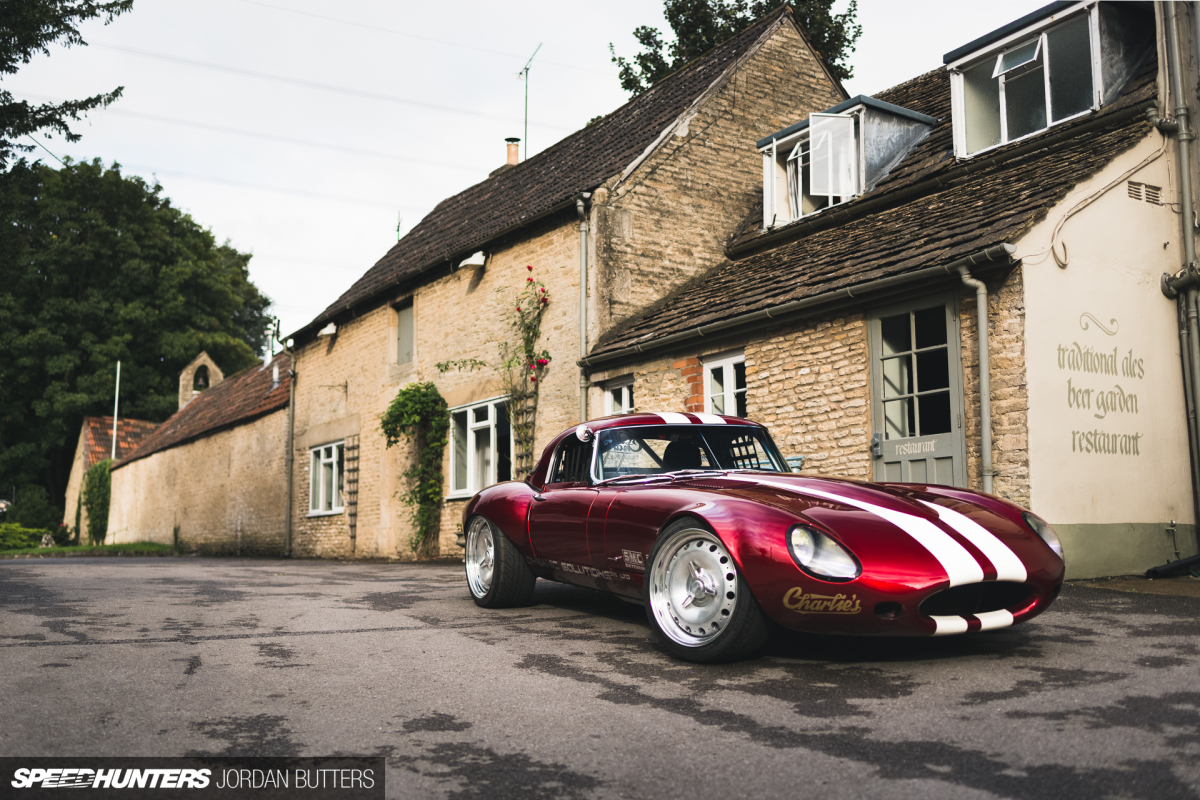 To the latter – get over it. When you see where this car has come from, to where it is now, and the reasoning behind it, there's no reason to be enraged.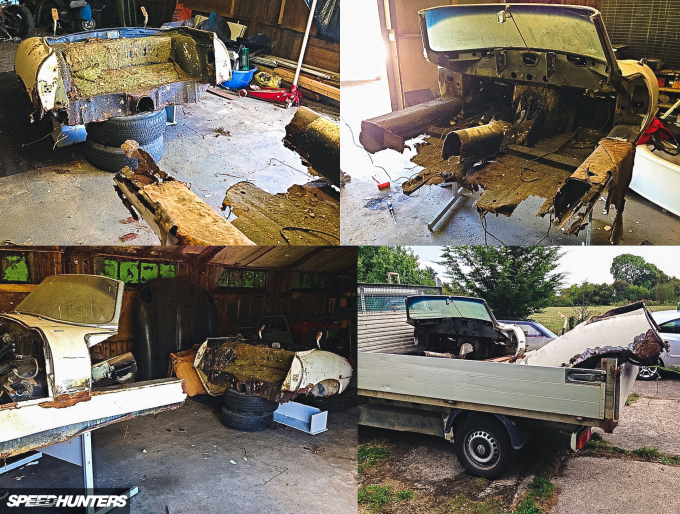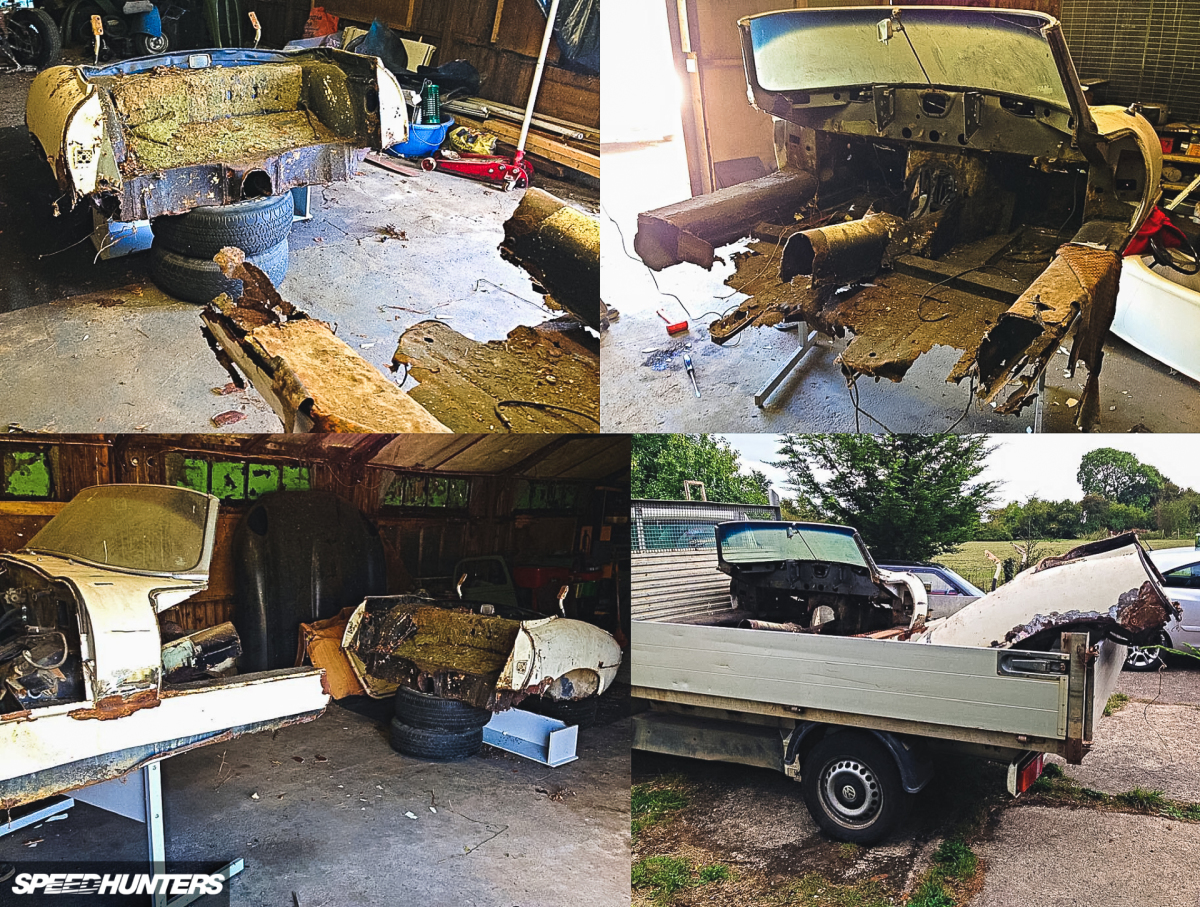 The sale of Nick's NASCAR-inspired S15 that Paddy spotlighted a few years back was the trigger that set a two-year build snowballing into motion. He took a Toyota 1JZ motor in part-exchange for the Nissan, and made the very grown-up decision to buy a house. However, after having no race car in his life, and a perfectly good 1JZ sat there, his eyes started wandering for a suitable chassis. His grandad's old Jaguar E-Type was sat rotting away in a barn, and it was free, but Nick and Charlie decided it was far too far gone to even consider.
After several more visits to the barn, and several cans of cider, the brothers decided to remove doubt from their minds by sand blasting what was left of the shell, "hoping nothing would come back," Charlie tells me. "Unfortunately, after we were done, the front and rear bulkheads were still intact, so then we had to go ahead with the build."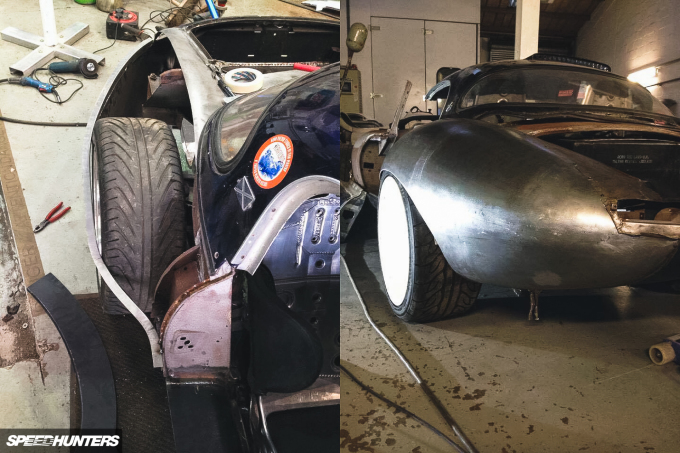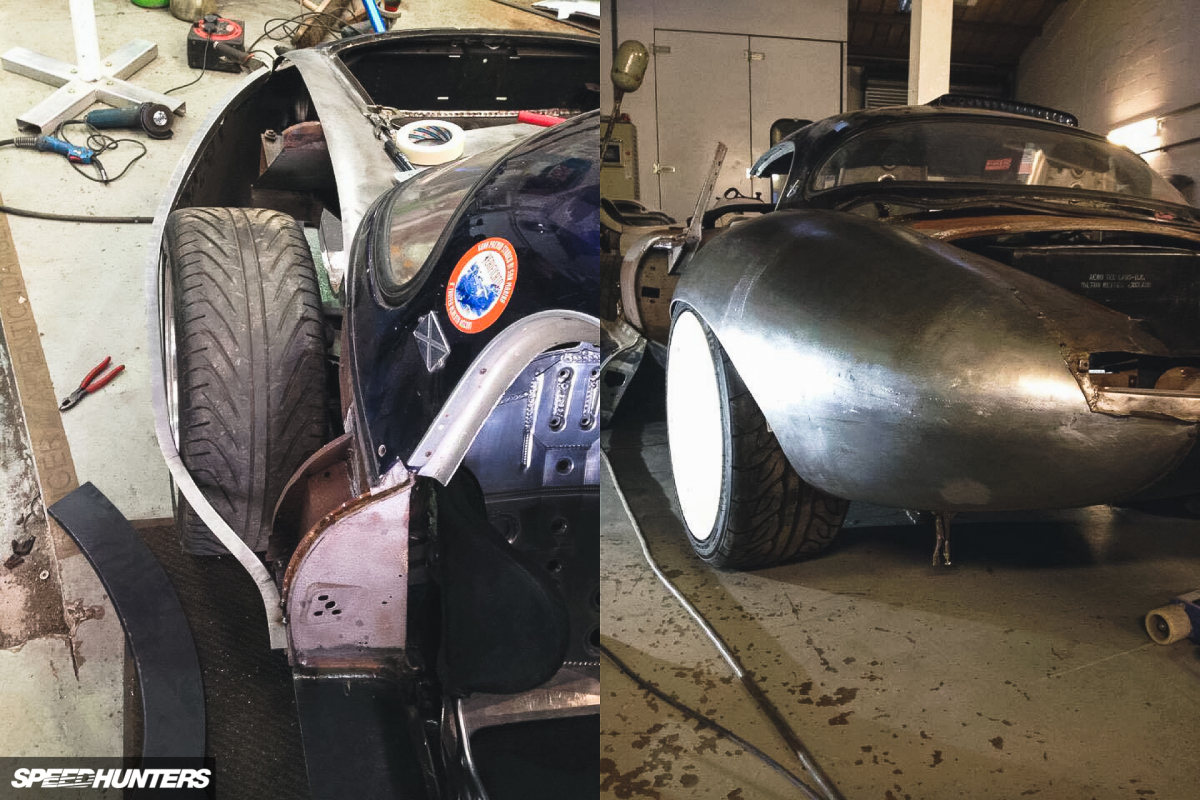 Word started getting out about what they were up to, and the Chinese whispers began to circulate online. If they were going to complete this project, it had to be done right. Fortunately, Charlie happens to be a talented fabricator, metalworker and painter, and owns Charlie's Classic & Custom Body & Paint Shop down near Yeovil, Somerset (hence the cider). He's used to dealing with concours-class restorations on a daily basis, and this same eye and ethos for quality has carried over lovingly into the Jag's finish too. All of the metalwork and fabrication you see here, bar the roll cage, is Charlie's doing.
A Jaguar heritage floorpan, inner and outer sills and boot floor were acquired, and Charlie and Nick set about restoring the Jag to its former glory – and then some. They wanted the mechanical components to be up to the demands of drifting, so a BMW E60 M5 rear end was chosen to handle the power and abuse. This ended up being far too wide for the original Jag rear wings, so Charlie fabbed up some new, wider wings from scratch and mated them to the original rear tub; they're around 4.5-inches wider on each side.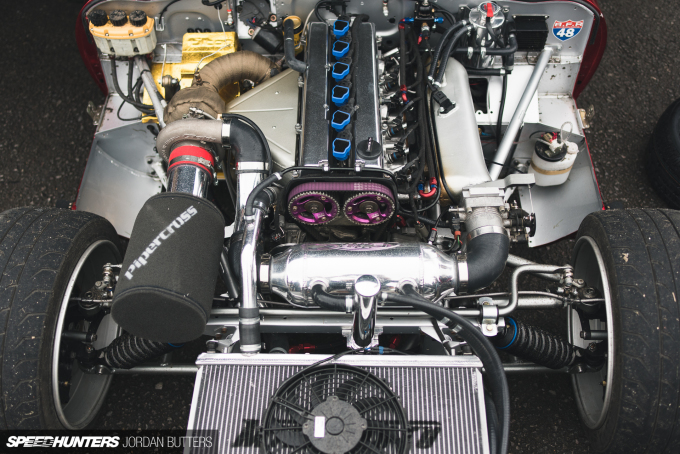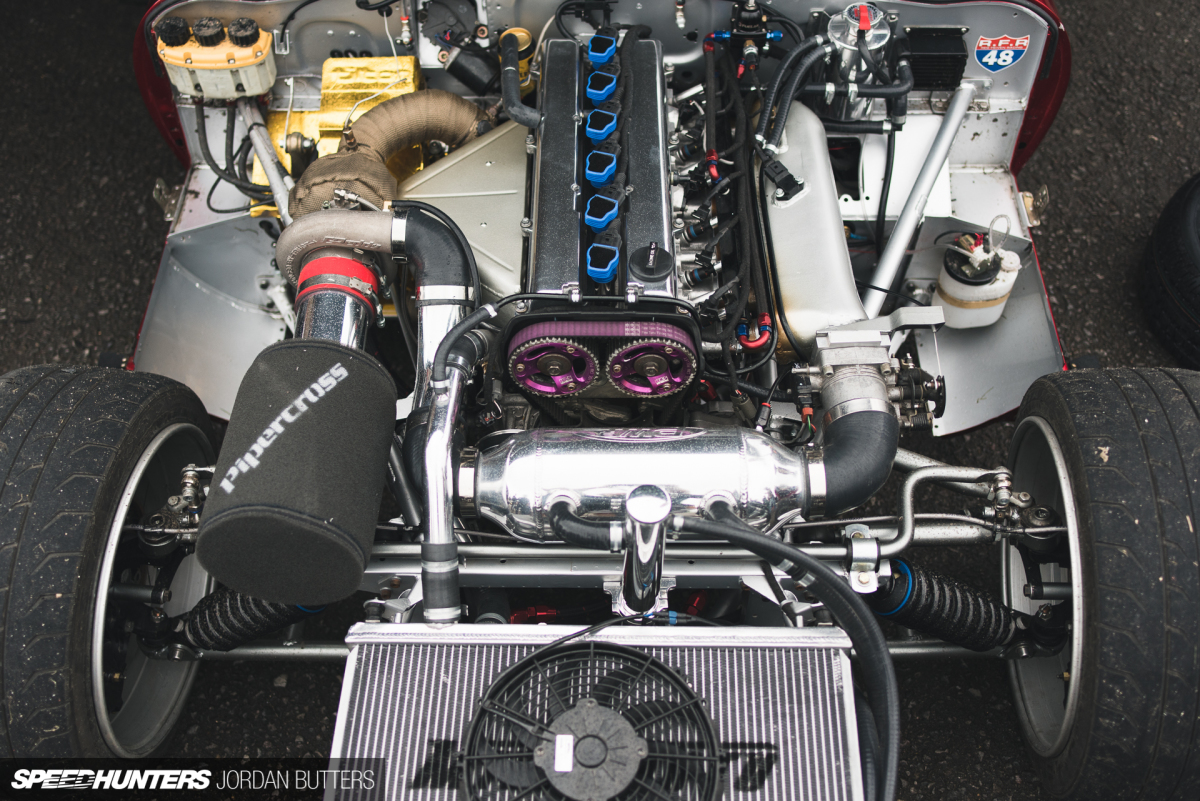 At the front, a new A-frame was fabricated from chromoly tube to match the exact measurements of the original E-Type front clip. The Jag's engine bay was plenty spacious enough for the Toyota motor, so the engine could be sat behind the front wheels without them touching the bulkhead.
Surely it's this level of absurd diversity in car culture that we should be applauding at every opportunity? It's certainly one thing that the British do very, very well.
The motor is a non-VVTi variety, running a GReddy T67 turbo mated to TiAL 60mm wastegate and custom exhaust manifold. Filtration is taken care of by a large Pipercross foam filter. On the other side of the block a custom intake manifold is fed by a Q45 throttle body.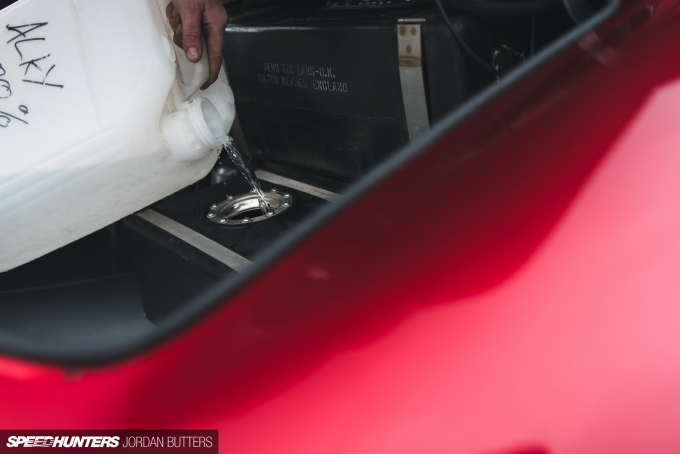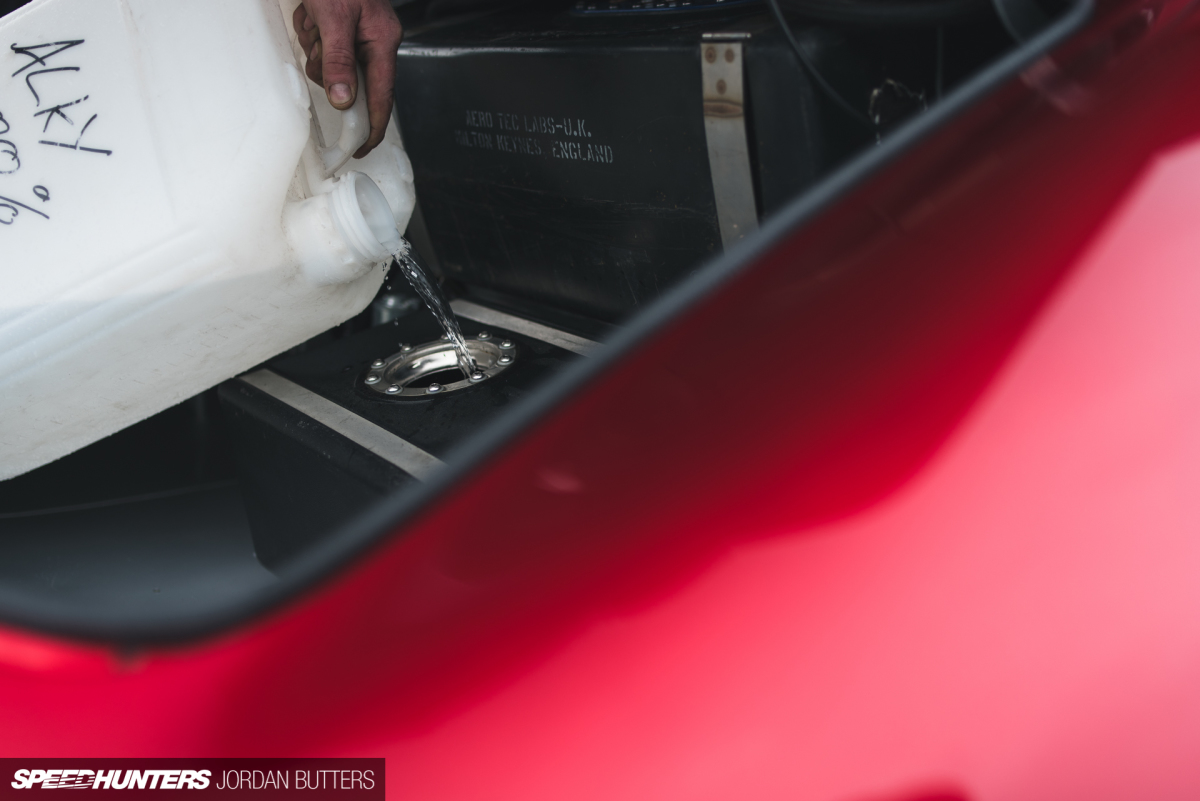 The Jaguar also benefits from an AIS single jet alcohol injection system running 100 per cent methanol. The boot space houses two tanks – a 40L foam-filled ATL race fuel cell alongside the smaller methanol tank.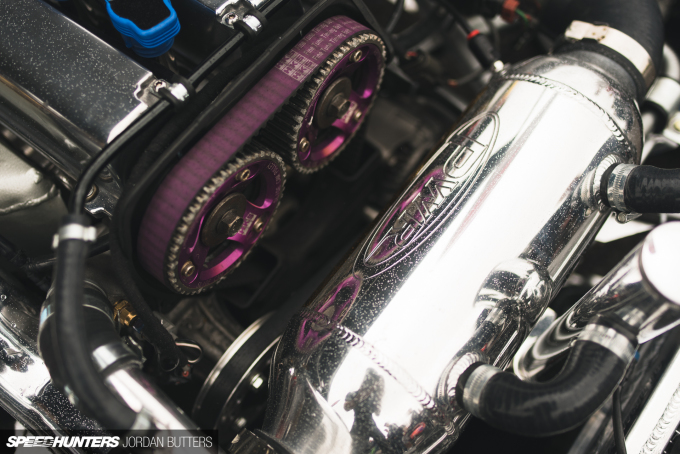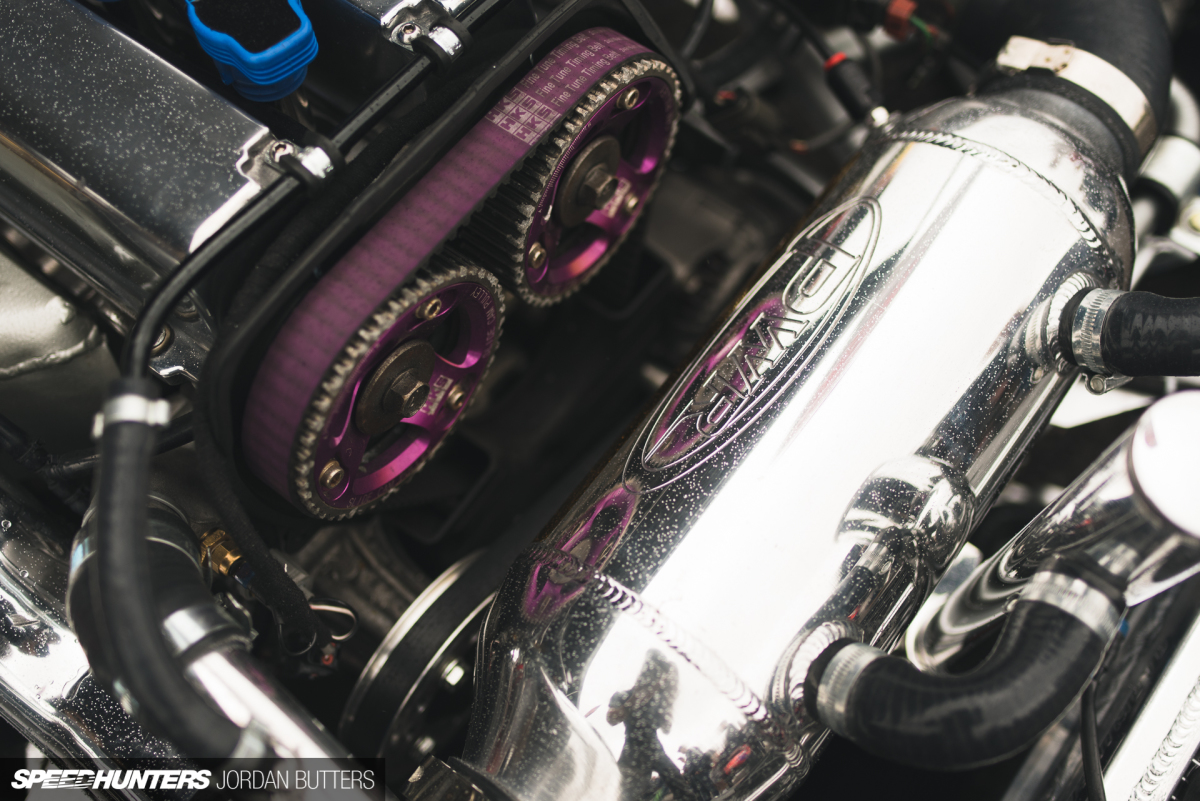 Rather than opt for an intercooler, the generous underbonnet space allowed them to utilise a PWR charge cooler setup to keep intake temperatures down.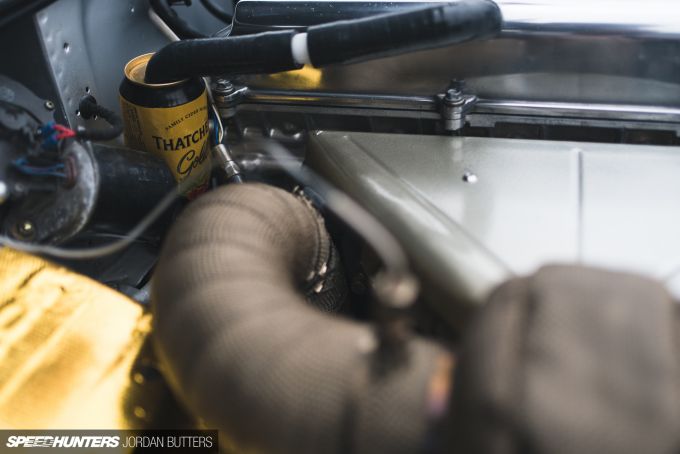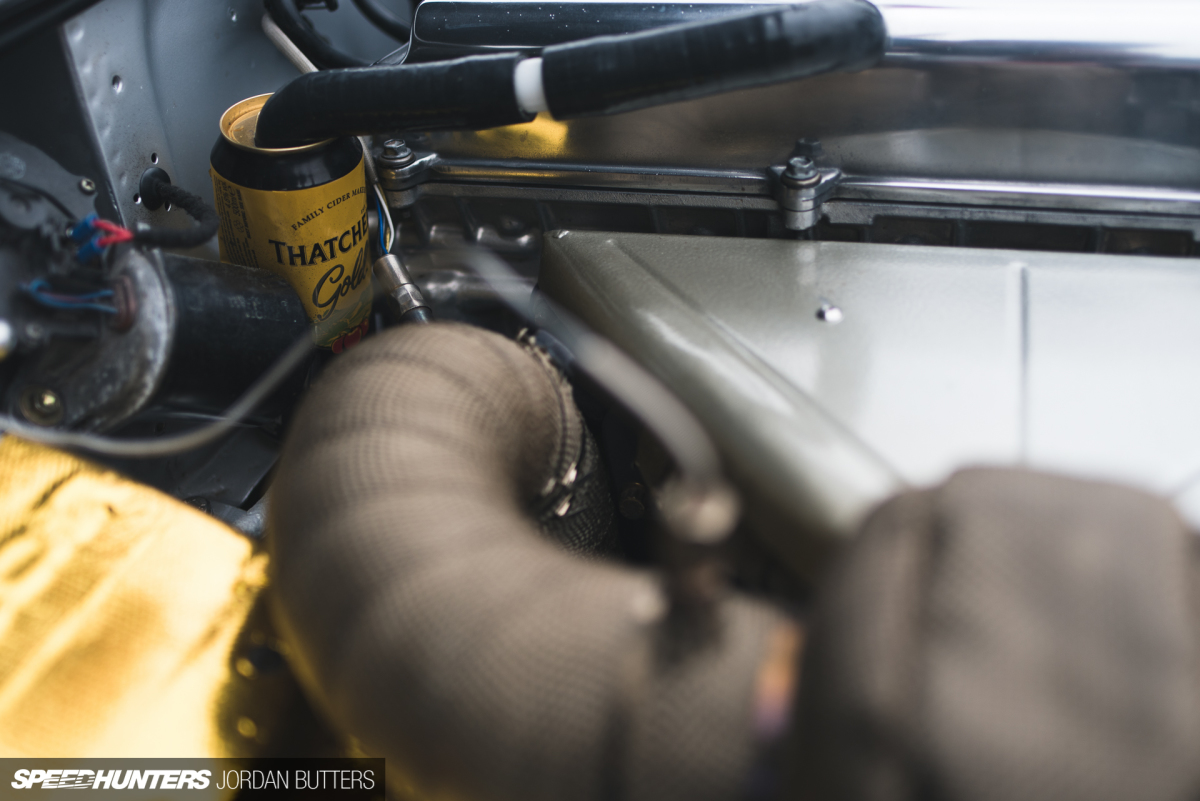 Amongst all the bling and glitz of the engine bay a lone Thatcher's Gold cider can stands out. It was originally a makeshift catch can for mapping, but stayed put as a homage to the brothers' West Country roots. "Thatcher's helped us a lot with the build," explained Charlie.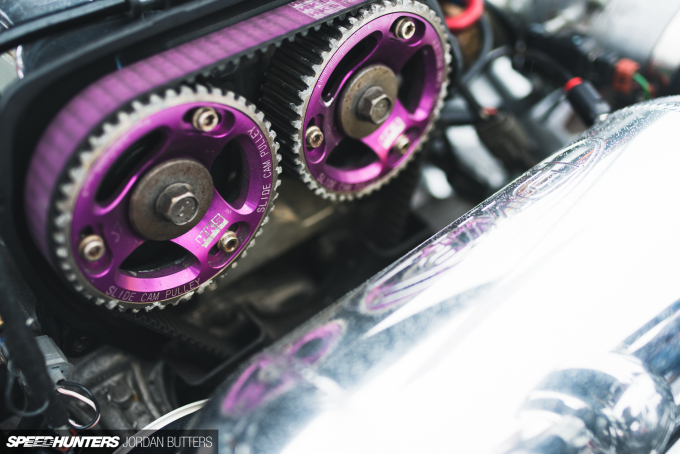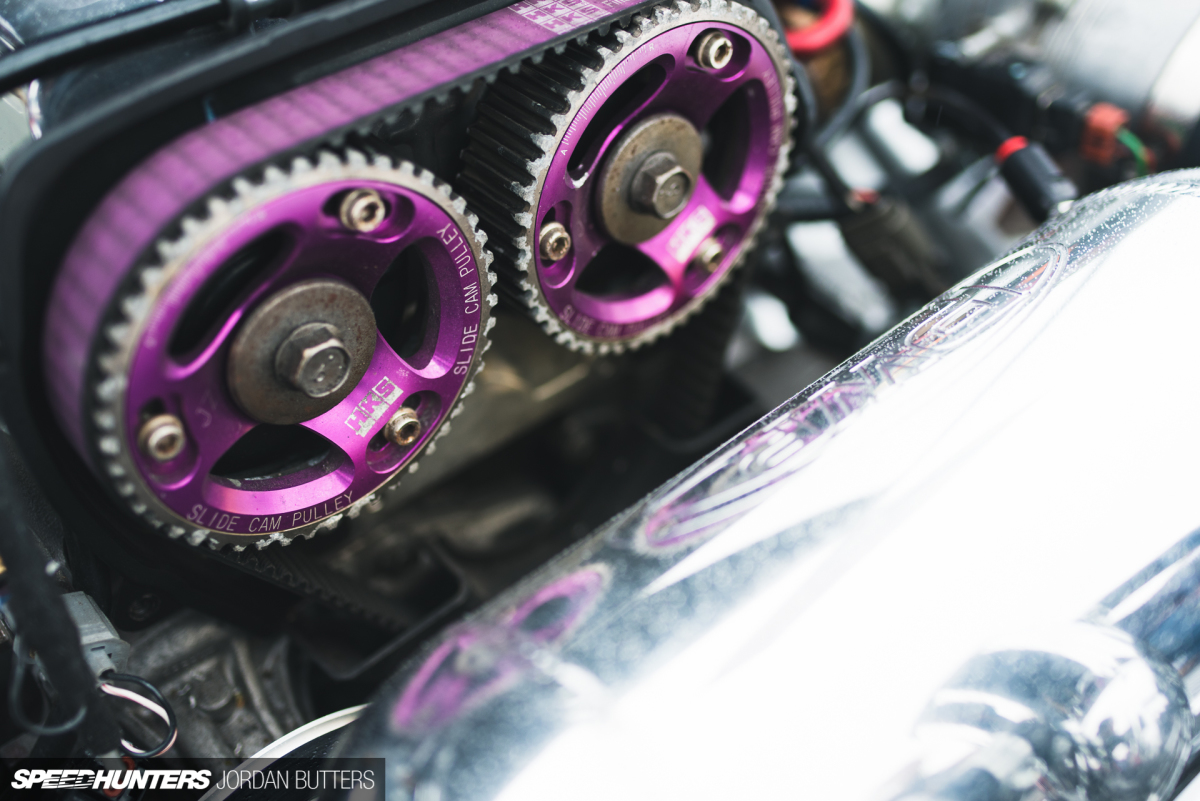 All of the Jag's wiring was done in house, with Syvecs GP6 engine management, bluetooth control and eight different maps to choose from courtesy of Protuner.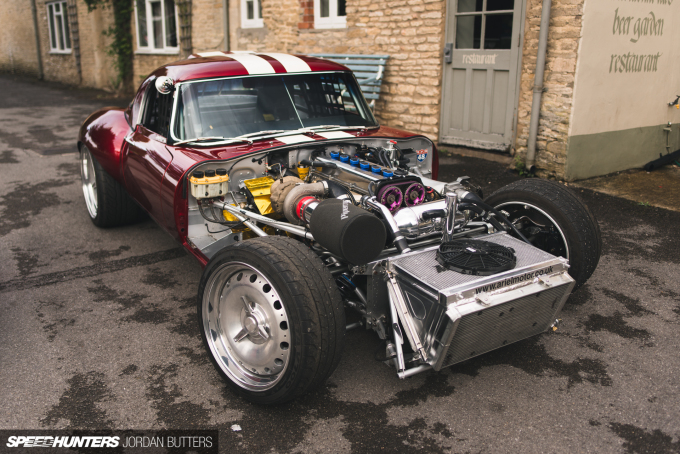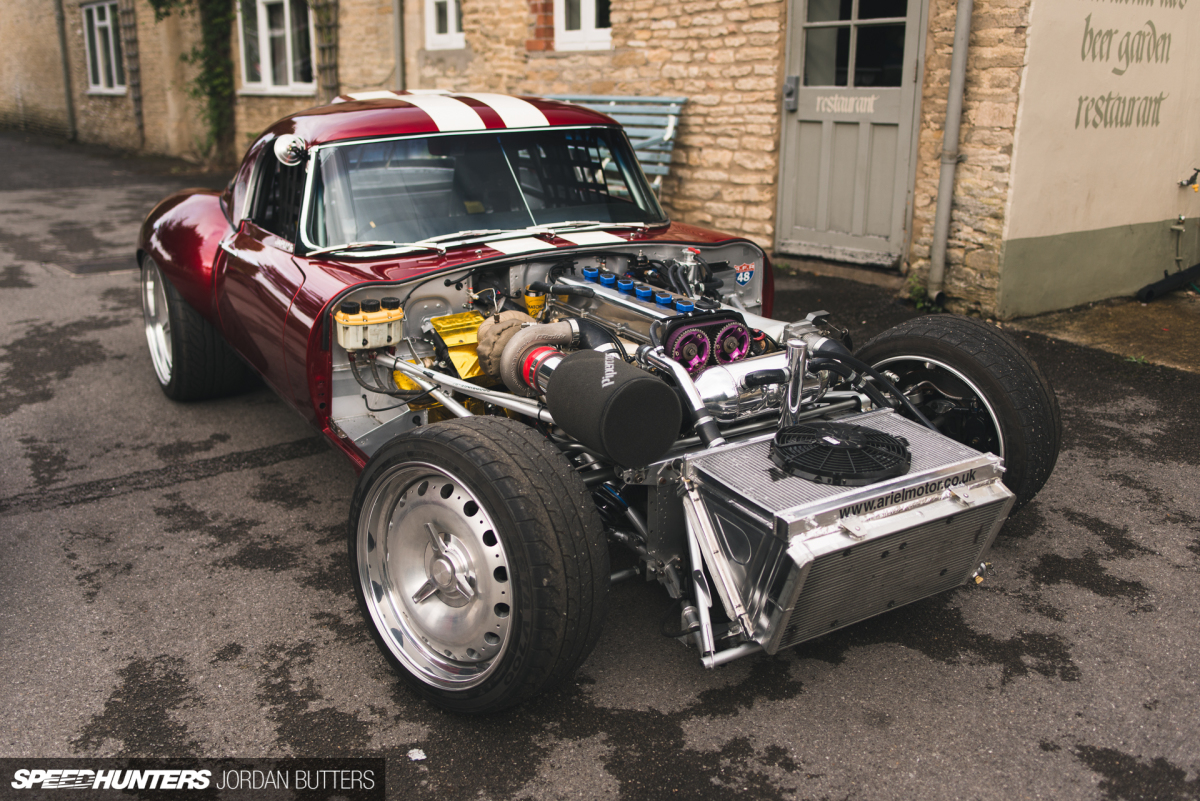 The resulting power output is a plentiful 480bhp. In a chassis that weighs just 1150kg that's not bad going at all, with plenty of scope for more if it's needed.
Vertical video is a sin and should be punished, but when the video is of a 1JZ-powered E-Type licking flames into the air then it's okay with us.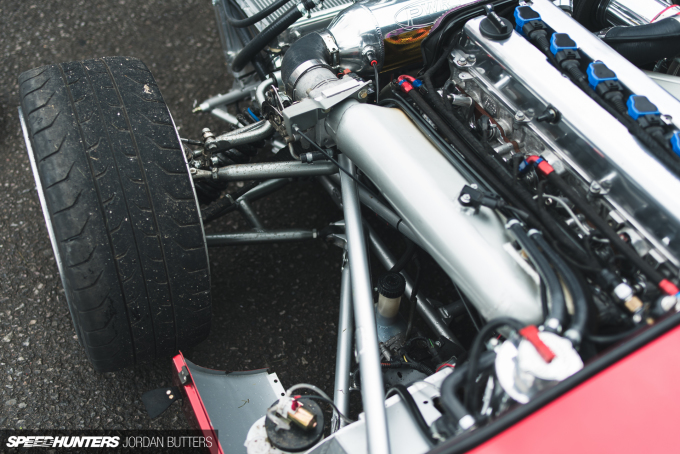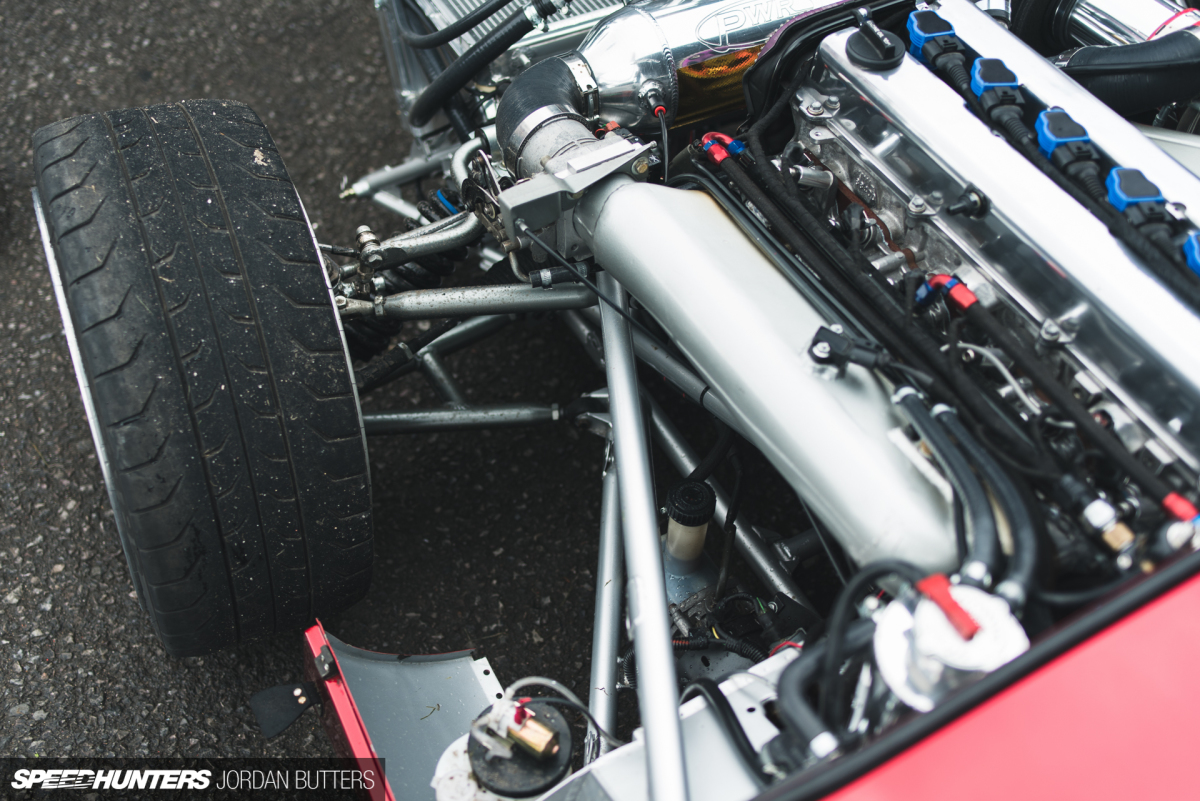 As you might expect, most of the Jag's footwork is completely custom, including a home-built double wishbone setup and custom Dampertech coilovers. The front hubs are Wilwood Mustang forged 2-inch drop spindles mated to 360mm discs with aluminium bells and Wilwood 6-pot callipers. At the rear the stock E60 M5 brakes are retained.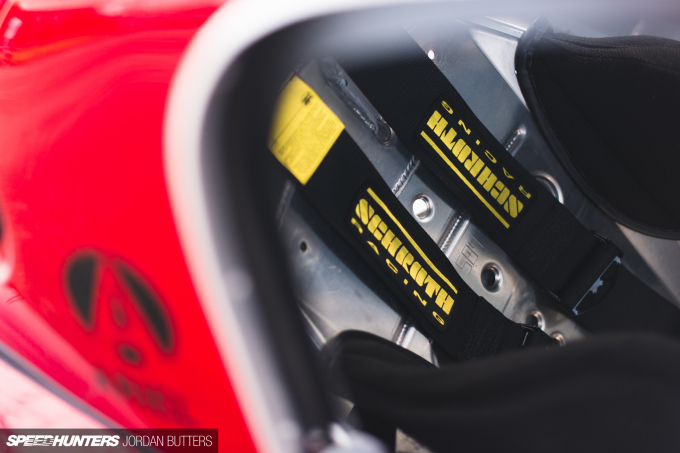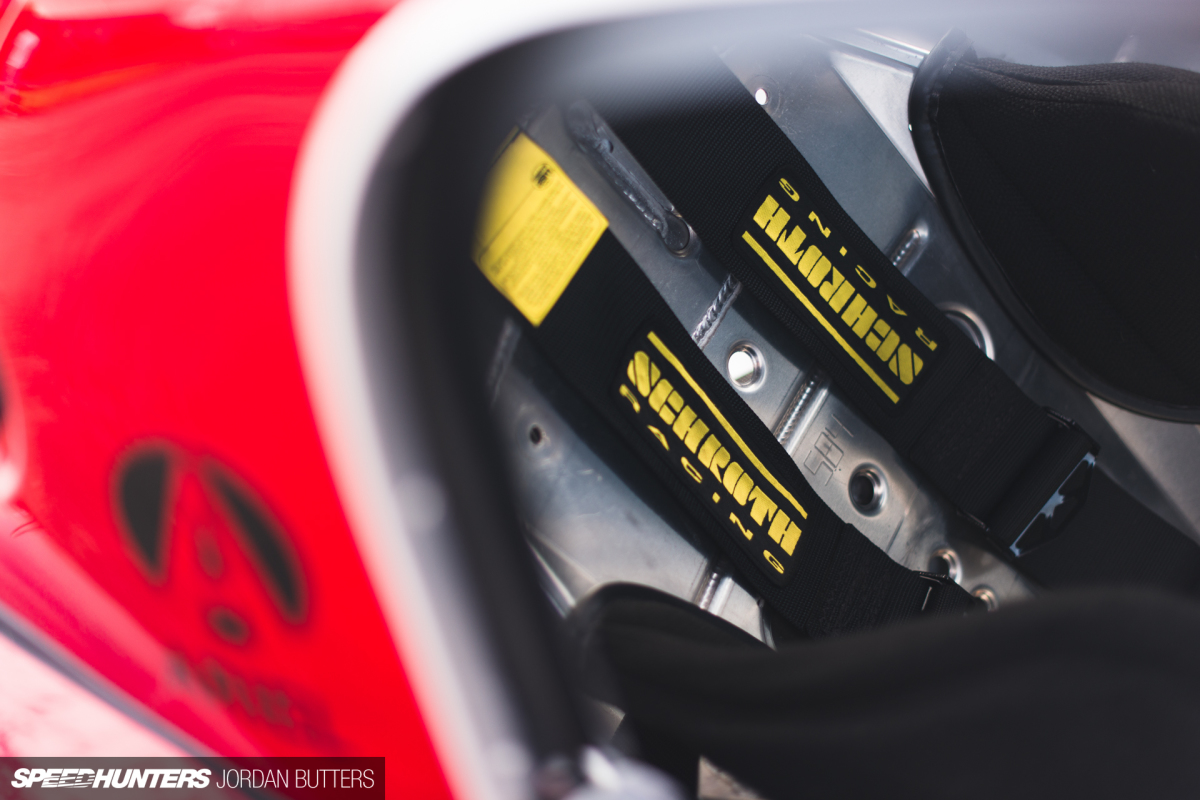 Swing open the positively tiny aluminium doors and peer inside and, much like the outside; the interior is a bonkers medley of classic Jag, drift influence and race car. A pair of Kirkey aluminum racing seats fit snugly inside the E-Type's diminutive cabin, paired with Schroth Racing 5-point harnesses. Clamber over the door bars and into the driver's seat and you appreciate just how tight on space it is. If you're anywhere near 6ft tall then getting in and out is an exercise in putting your dignity to one side and contorting your body into shape.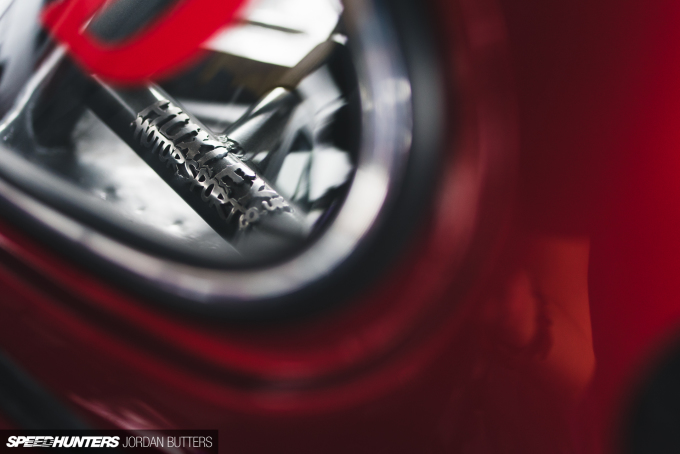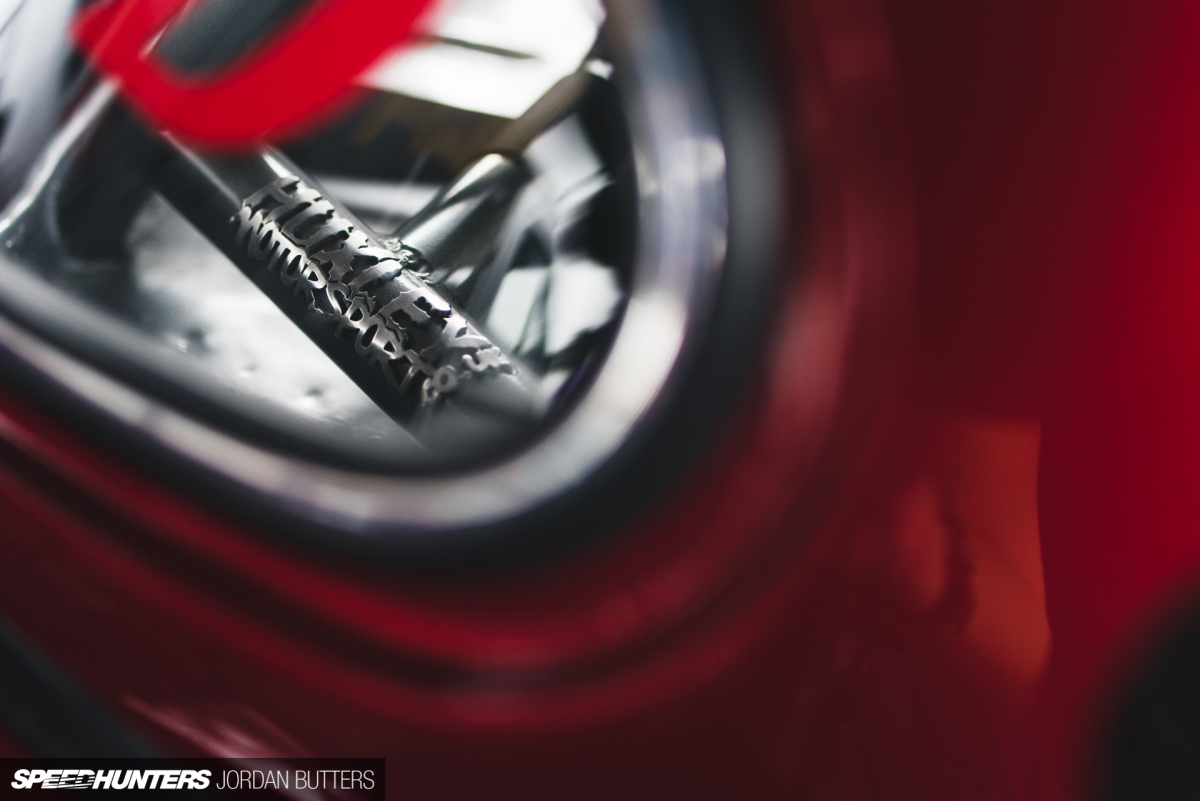 Huxley Motorsport was enlisted with the task of creating the Jag's T45 full roll cage, and an incredible job Marc has done too. The metalwork follows the shape of the fibreglass hardtop perfectly, making the most of the limited cabin space. Built to competition specification, the cage's door bars are tied into the chassis too, further strengthening the Jaguar's rigidity. The cage is finished in a titanium satin 2-pack paint.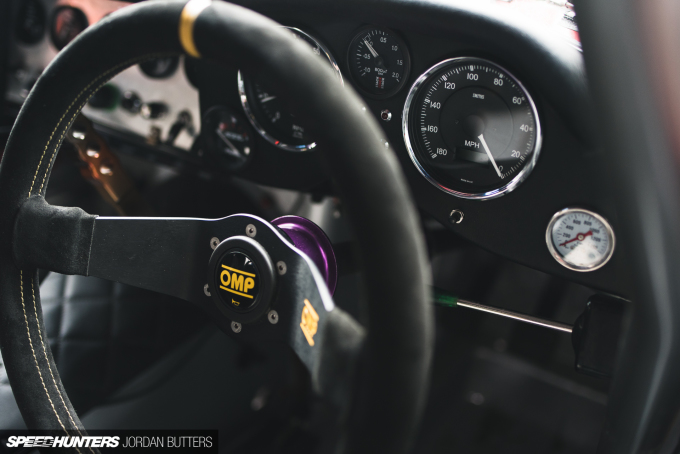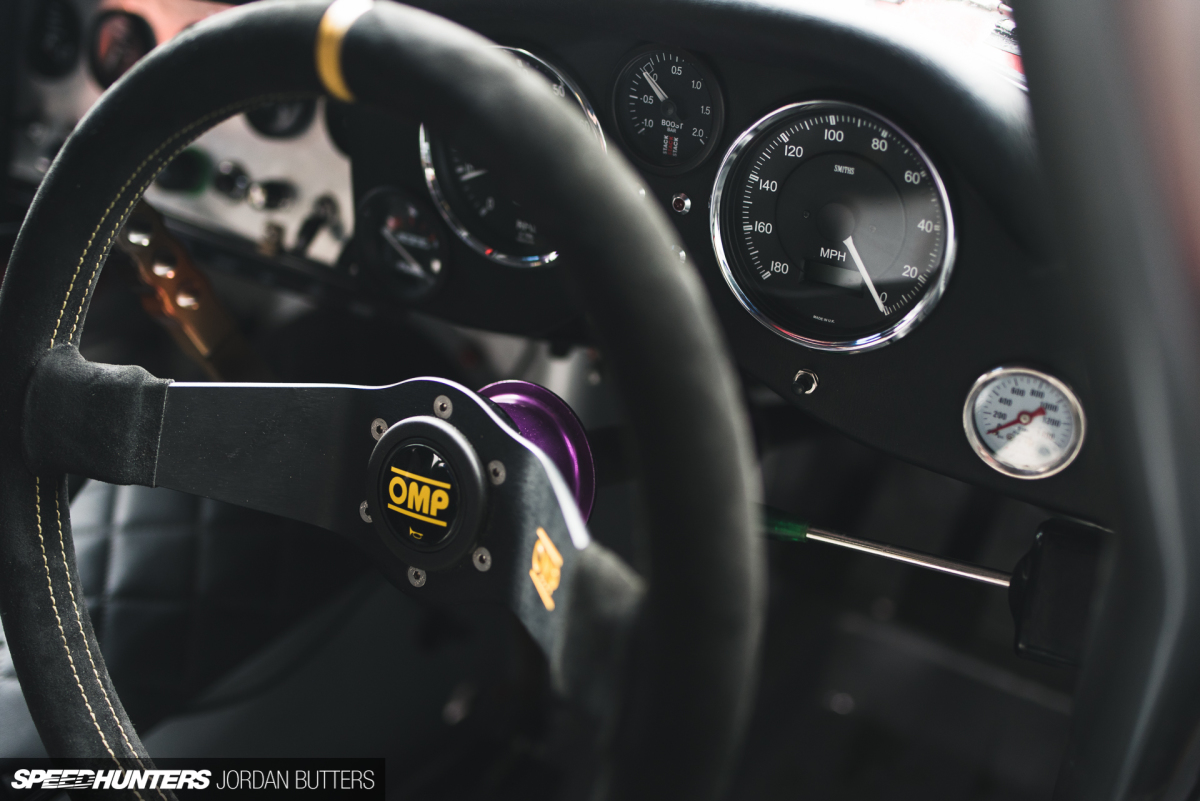 The E-Type retains a Series 1 dashboard with a few modern touches such as the all-important kill switches and telltale boost gauge.
A floor-mounted Compbrake hydraulic handbrake means breaking traction is only a swift pull away, whilst the Jag retains the stock cable handbrake too for less enthusiastic engagements. Control is provided by a suede two-spoke OMP wheel and Drift Parts 4 You remote short shifter, mated to a BMW 330d 5-speed gearbox thanks to an ABC Clutch adaptor kit and Tilton twin-plate clutch. Footwork is handled by Tilton 600 Series pedals and a Tilton adjuster allows for easy changes to brake bias. The quilted leather tunnel cover is a classy touch, and a reminder that this is a classic Jaguar – you have to retain some refinement, you know.
Curves In The Right Places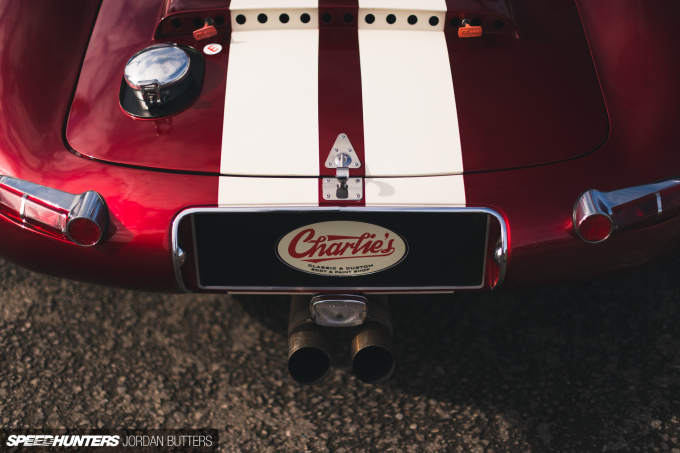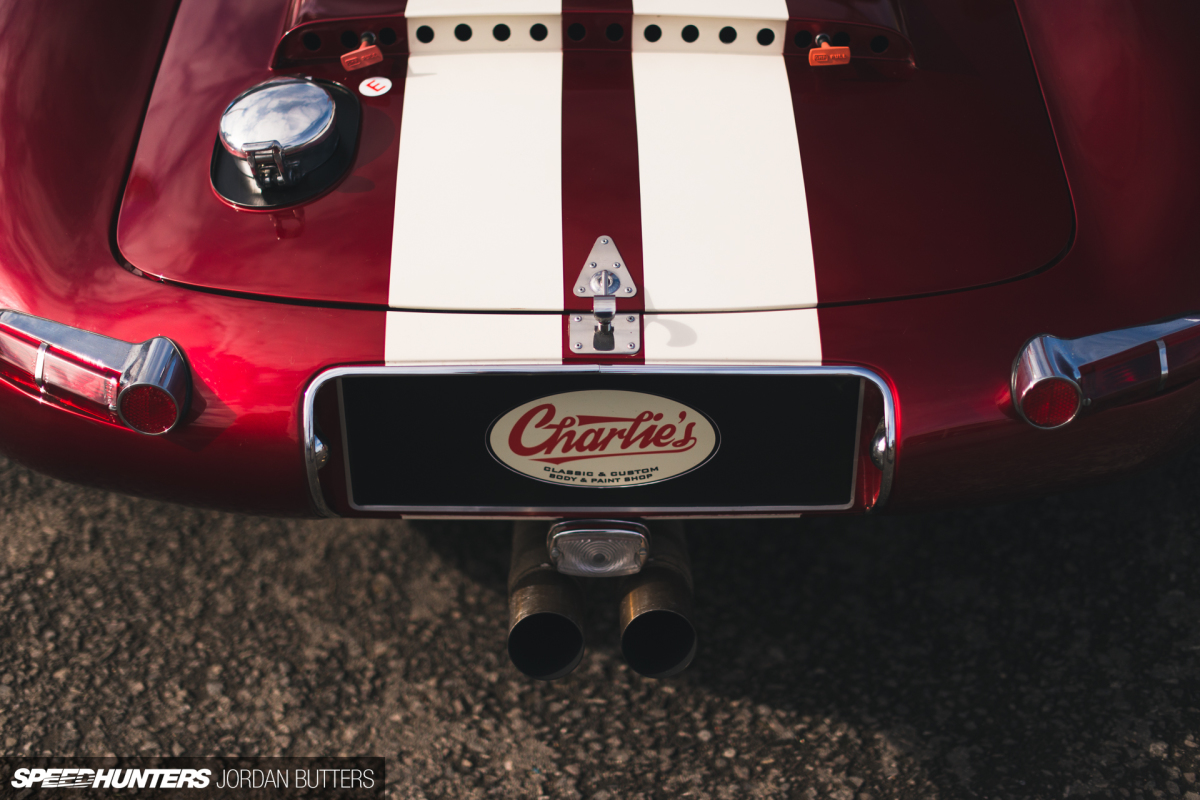 Some of the Jag's exterior has been restored to the original E-Type specification, and there are some nice touches; the original fuel filler is retained, although just for show, and the original latches and hinges are used. The hardtop and alloy race boot lid feature matching vents, à la Jaguar's super-rare 'Lightweight' E-Type model. There are some more modern updates and upgrades visible too.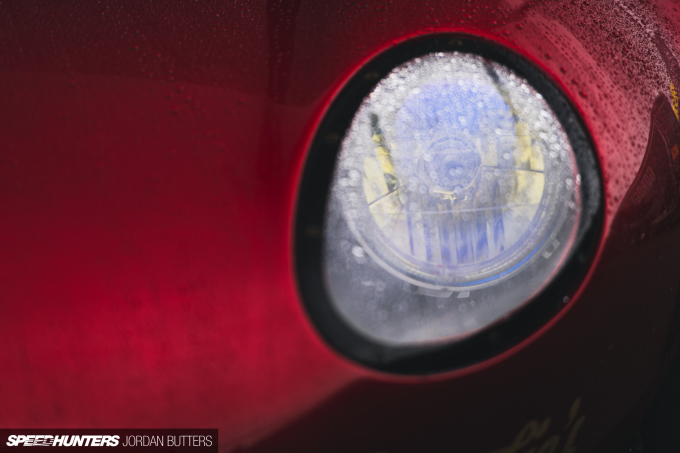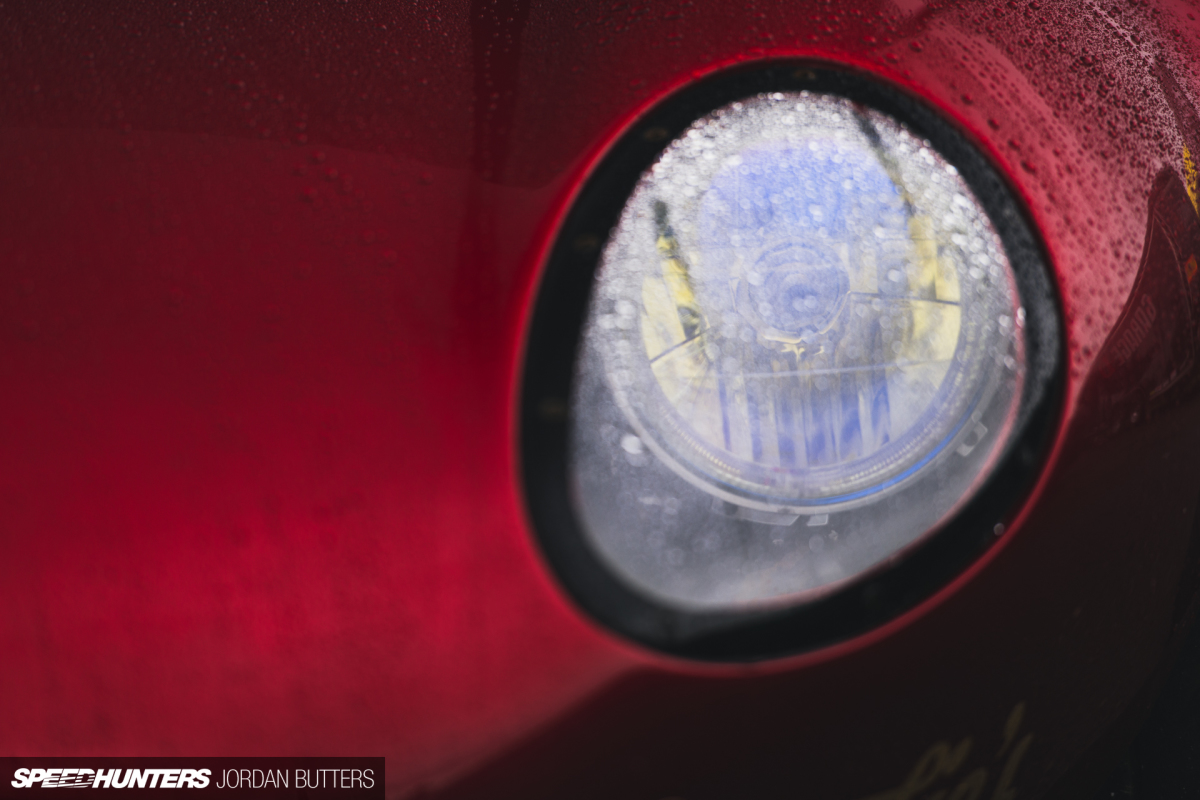 The original headlamps, metal surrounds and glass lenses have been replaced by modern units complete with angel-eye sidelights and lightweight Lexan covers, and two small LED indicators reside in the front air ducts. All of this is easily unplugged when the front end is removed.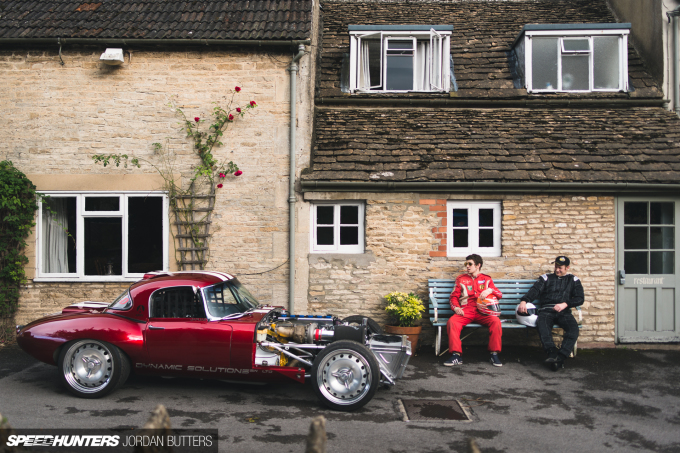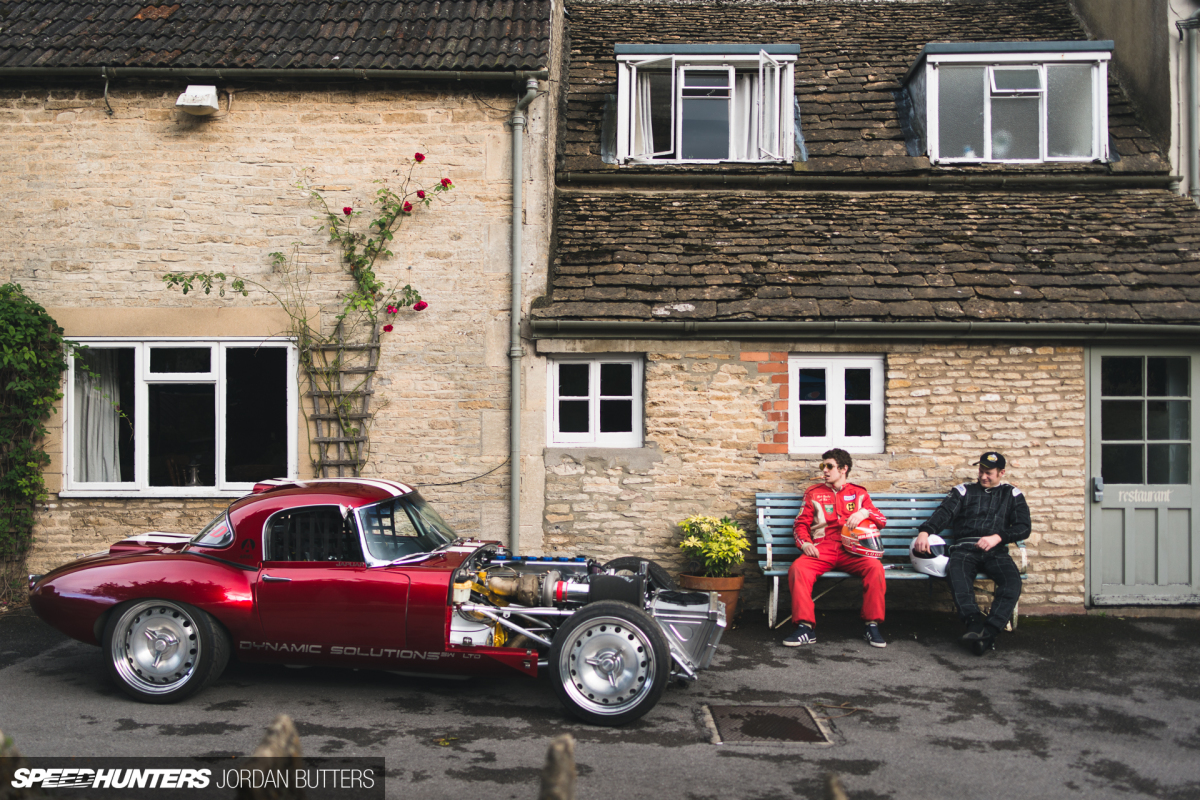 The one-piece front end originated from an E-Type that was raced in the 1970s, and is fastened to small winglets on the body by latches and straps, much like on the Lightweight version. Keep your zipties – leather belts and metal buckles are where it's at.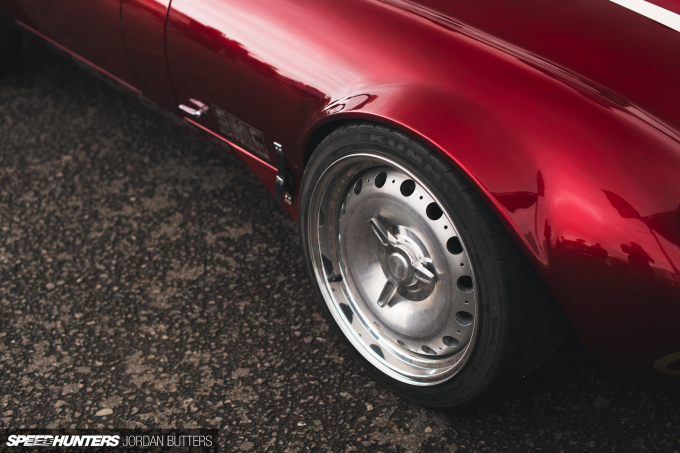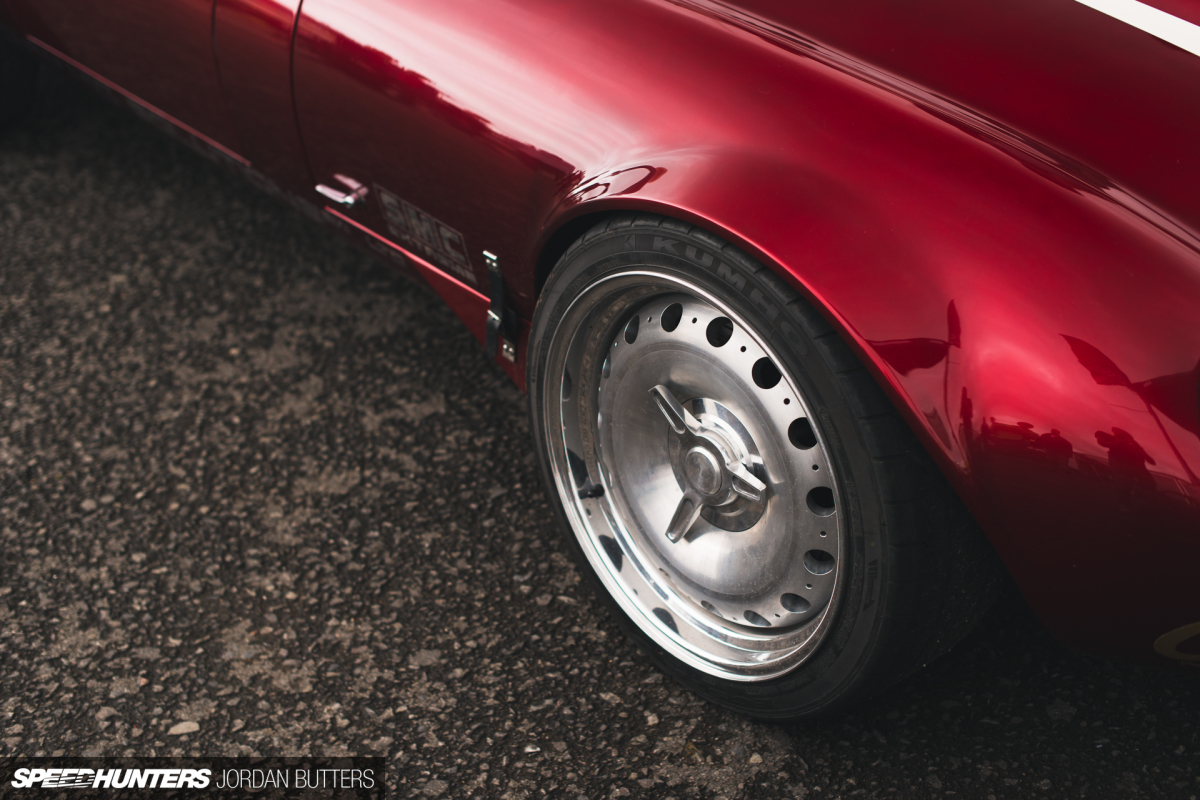 The front wings have been masterfully reshaped to house the large billet front wheels, flaring out from the original lines before returning to tradition behind the front wheels. This gives the Jag a much more aggressive form from the front.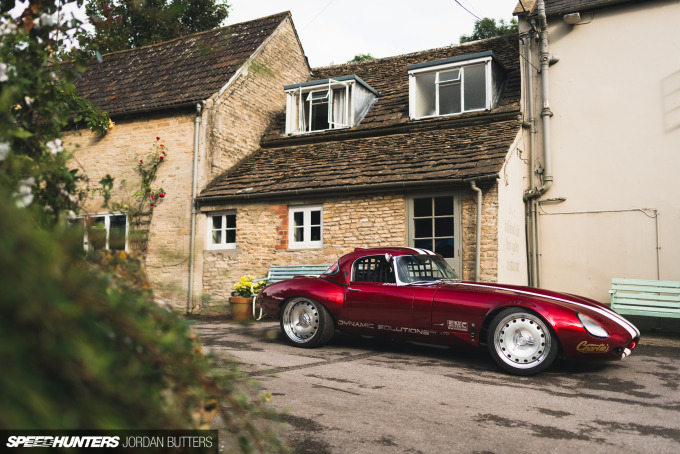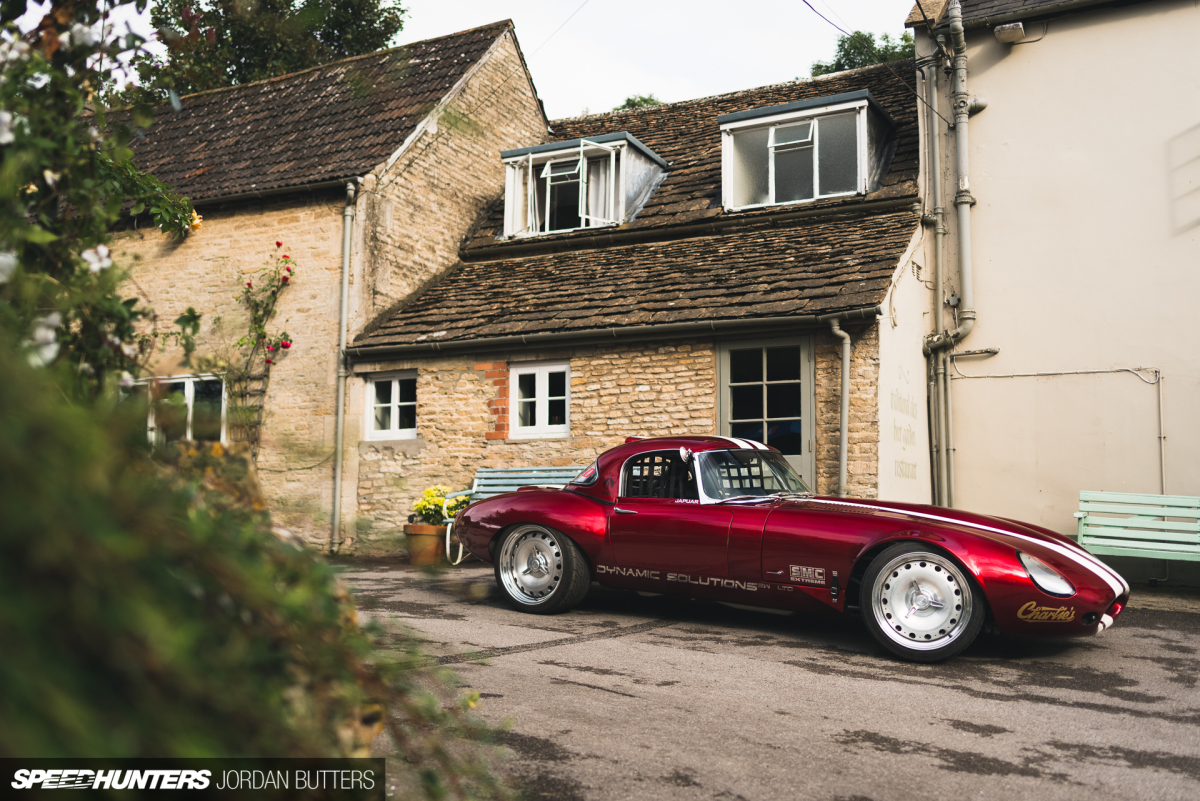 The E-Type sits on a set of custom billet Image wheels, measuring 18×9-inch at the front and 18×9.5-inch in the rear, shod in 225/40R18 and 265/34R18 rubber, respectively.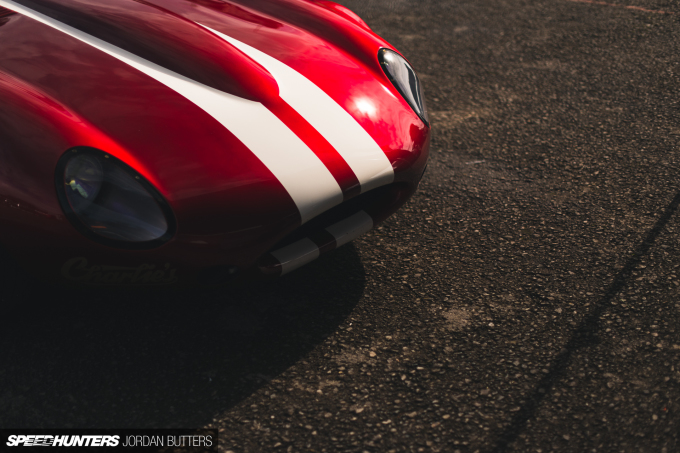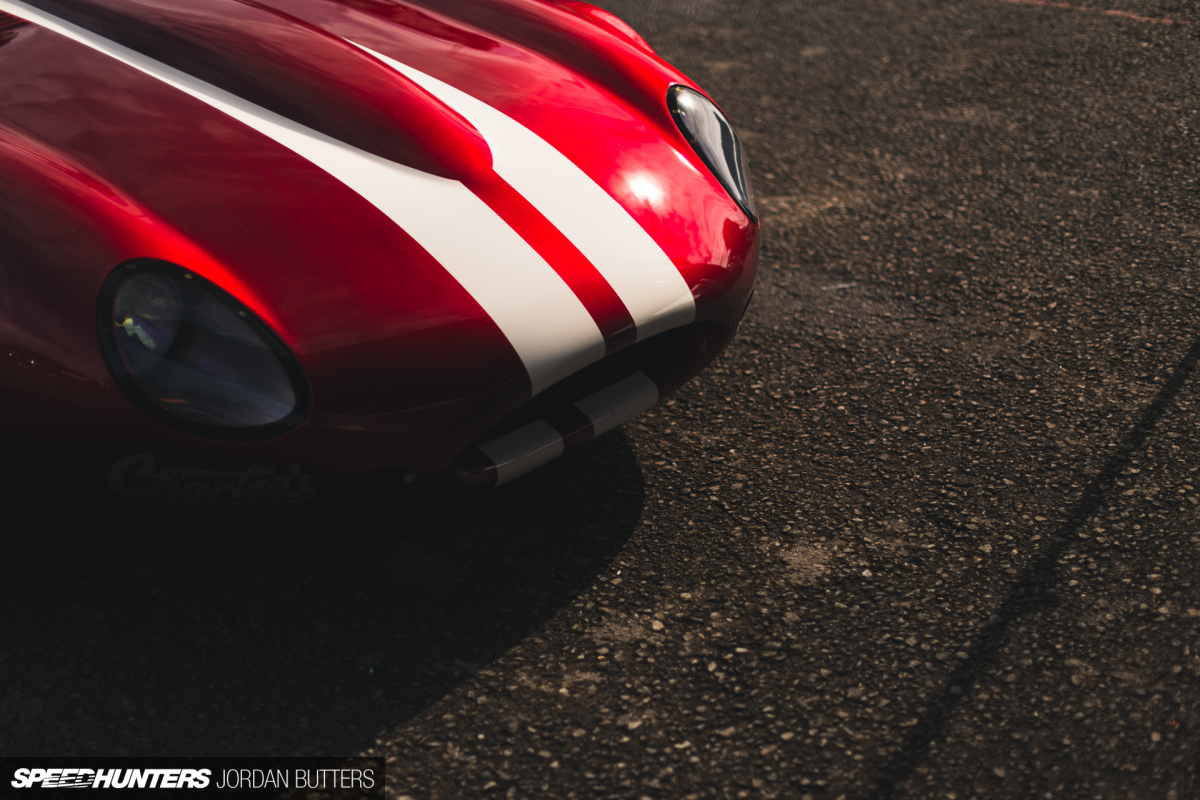 I'm not usually one to get excited about paintwork. It's probably because I spend a good deal of time around competition drift cars, machines for which gloss finishes are an expendable luxury, likely to be scuffed and scraped across walls, the ground and other cars. The E-Type's candy apple red on the other hand had me mesmerised.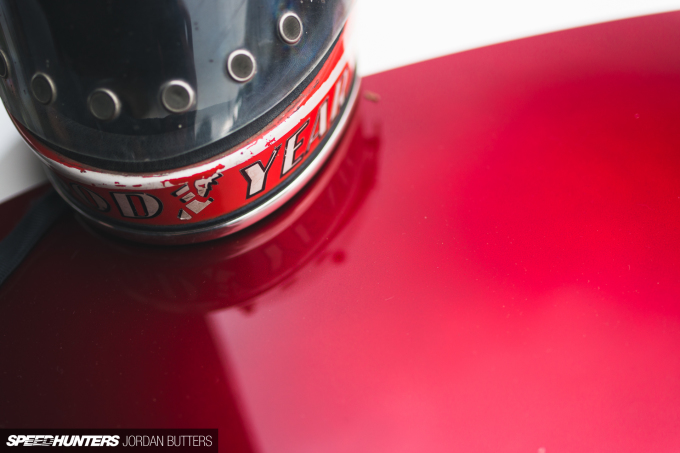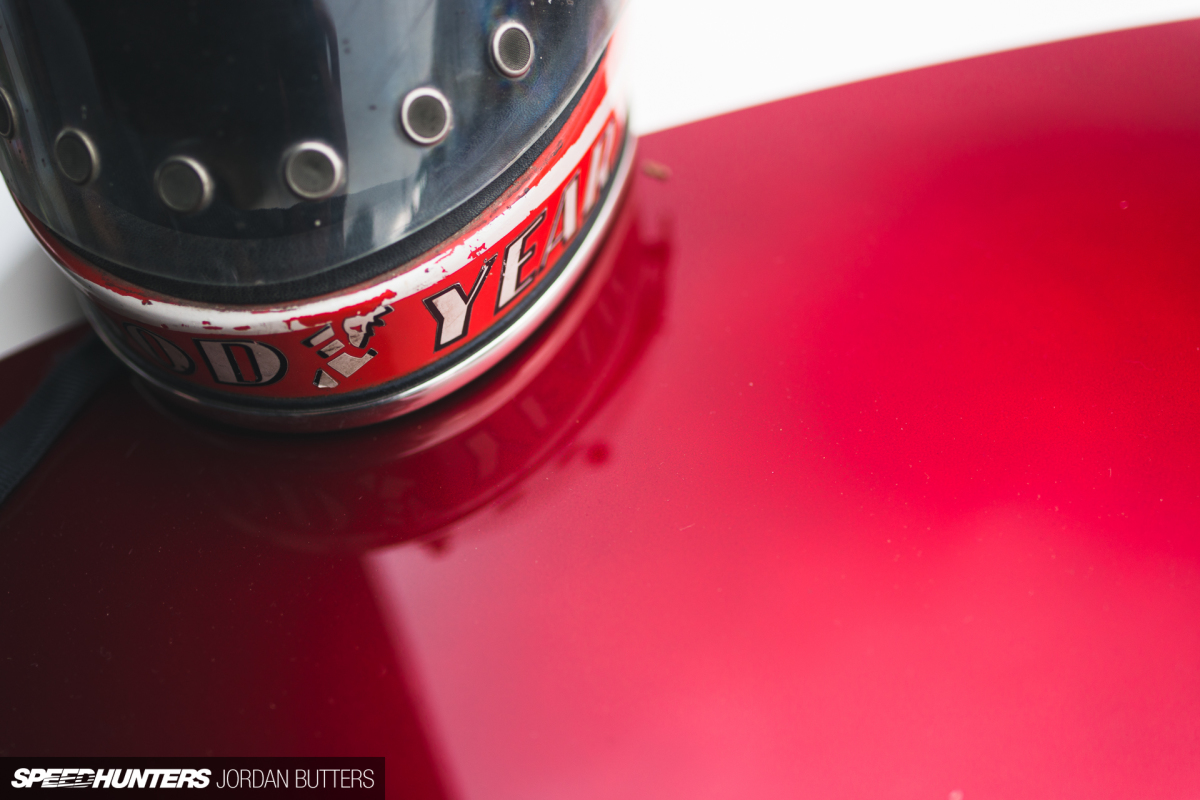 The deep crimson hue appears to ebb and flow as the light passes over it, changing in hue and tone. In shadow and under cloud it's a thick, blood red that seems to absorb the surrounding light, but when the sun hits it, it transforms into a gorgeous shade of bright red.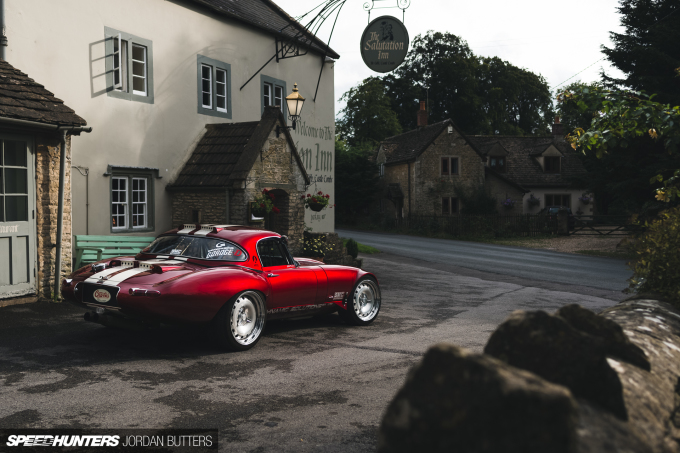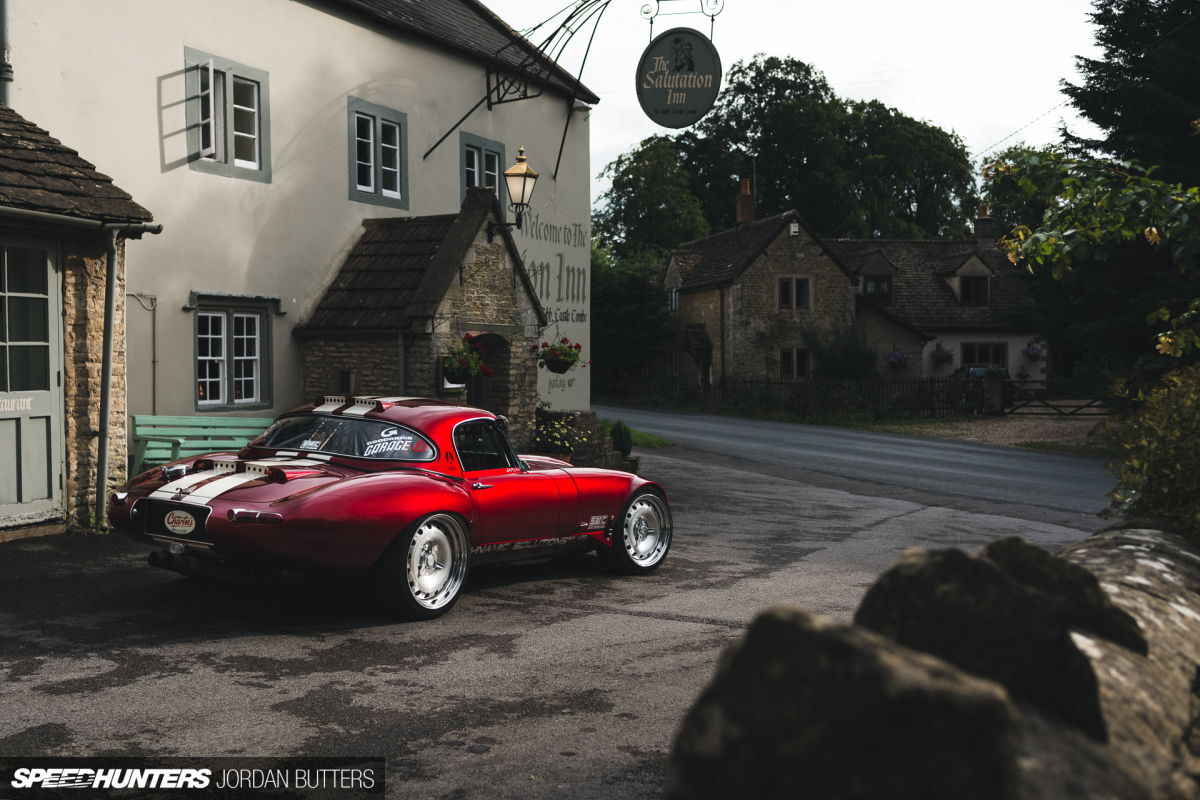 It's really the only finish that could do a car as beautiful as the E-Type justice. The transitions between light and dark emphasis the Jaguar's sleek curves and flowing body lines.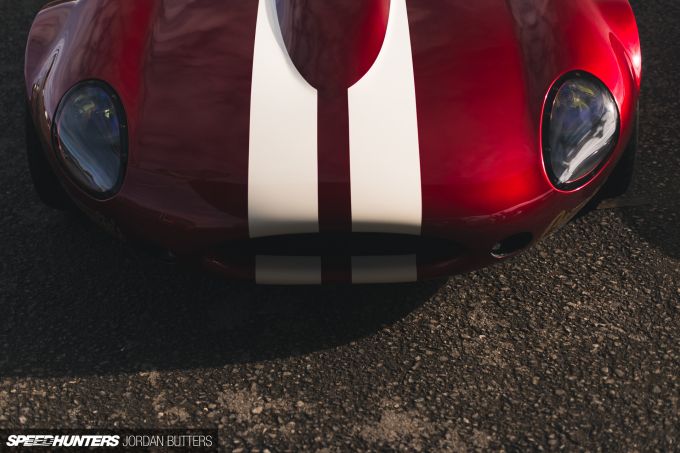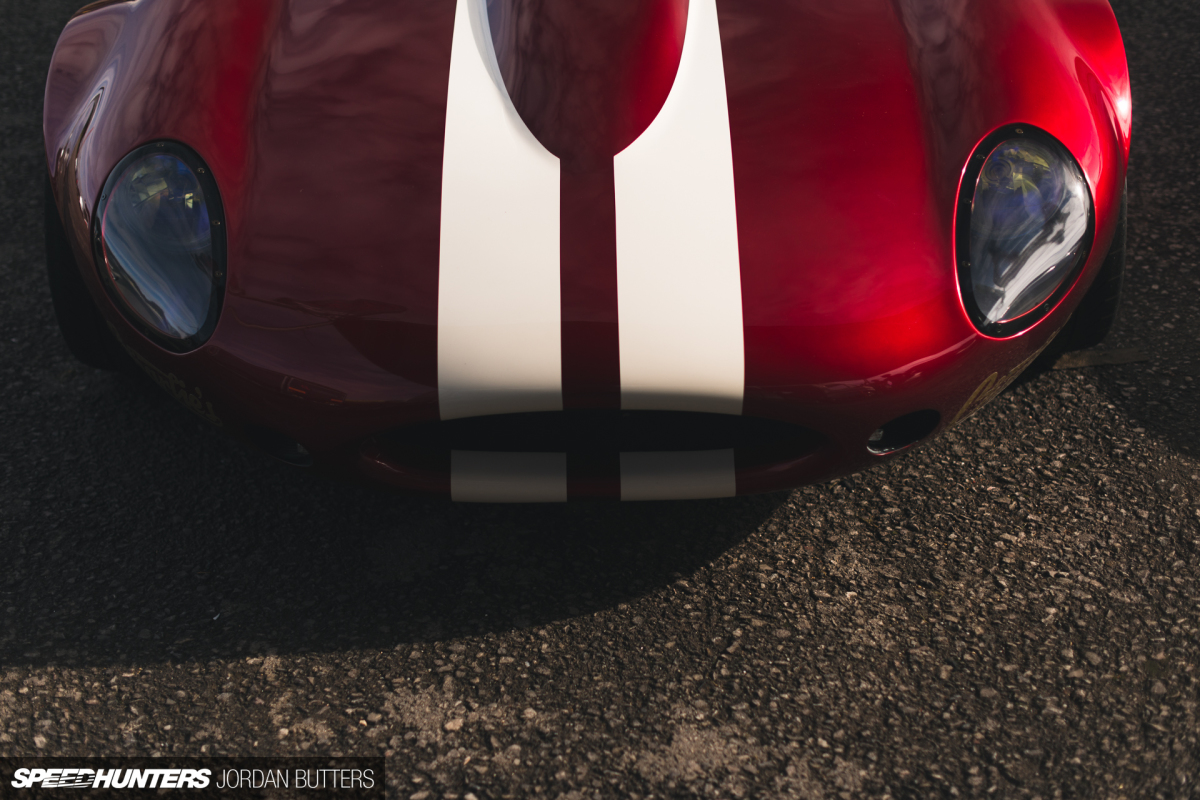 As with the rest of the bodywork, the paint was applied by Charlie. He tells me that it took over 300 hours of prep work alone to get the body ready for paint. The shell was coated in a three-stage metallic silver, before the distinctive Jaguar Old English White stripes were applied. The crimson hue is an ink-based Honda Candy Red. It's simply stunning.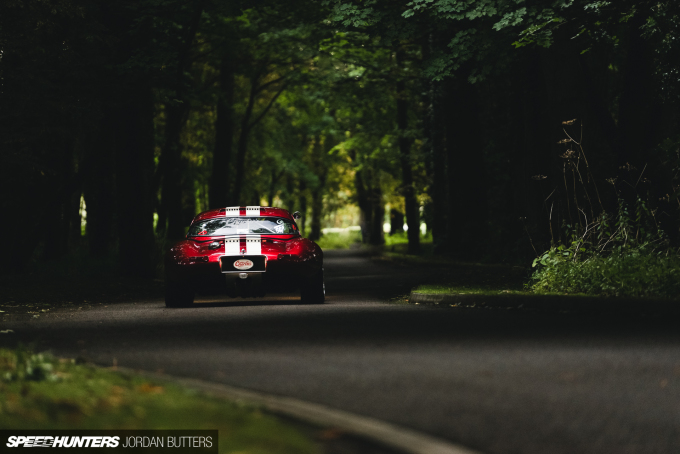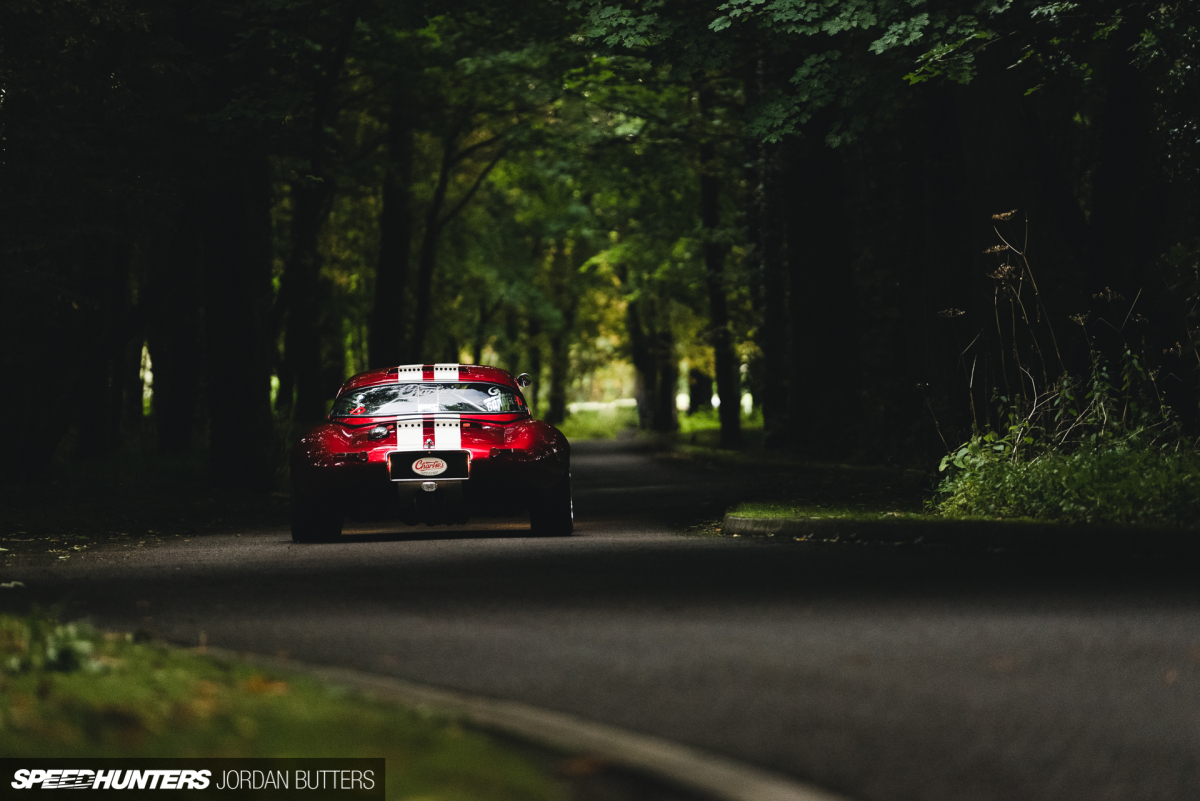 It's the type of paint that you usually see on custom motorcycle tanks, or similar smaller parts. It's very tricky to paint over a large surface, and even more difficult to match. Should Nick have an mishaps, running repairs could become a bit of an issue.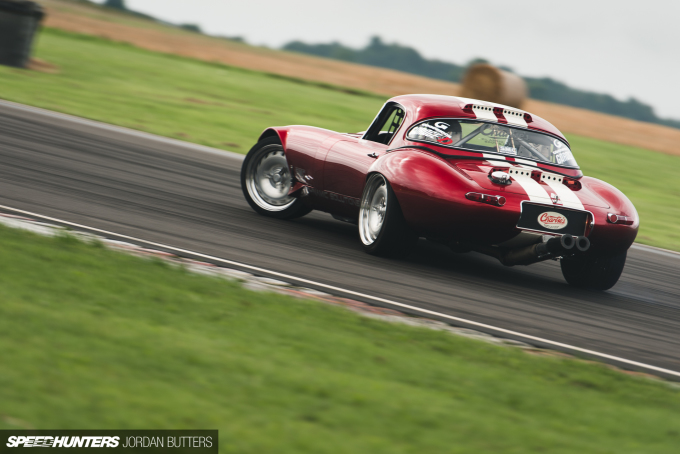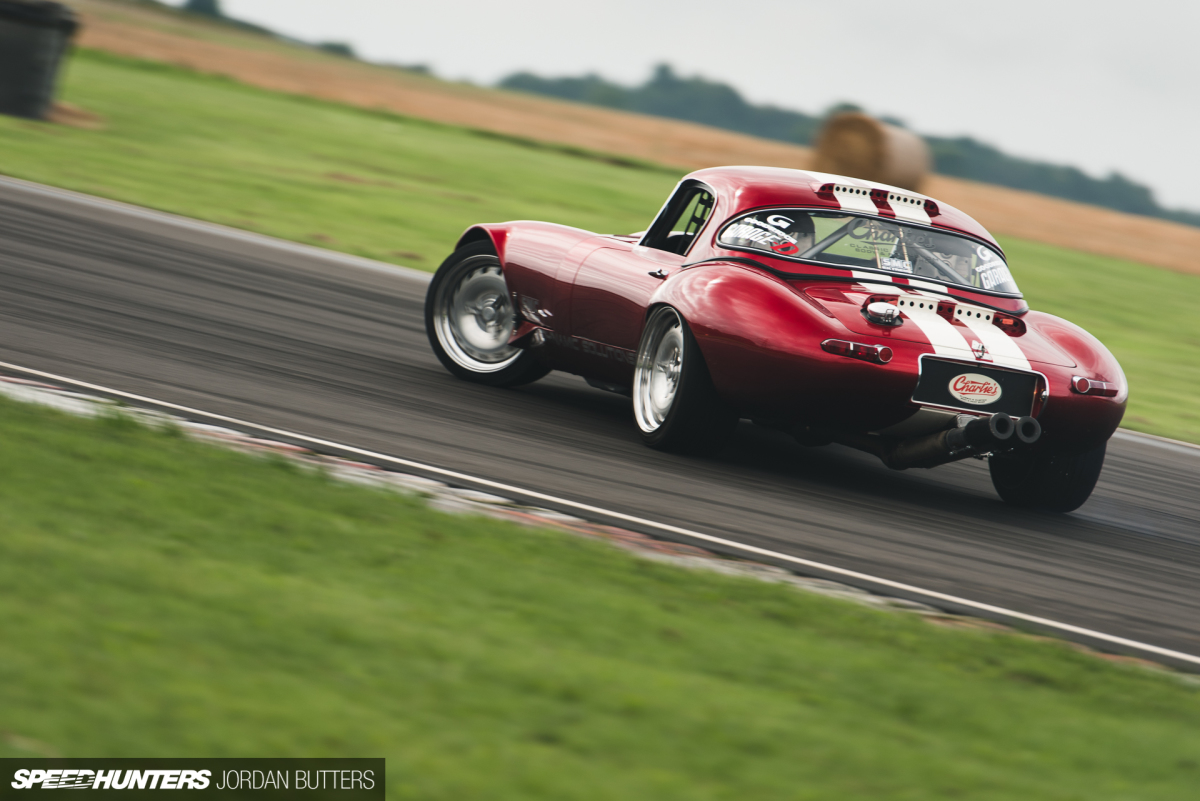 The car received its first real shakedown at the Forge Action Day at Castle Combe Circuit in Wiltshire last weekend. It's a very fast and unforgiving track, and sadly much of the day was hampered by deluge. Regardless, the Jag did make it out on track briefly, and, more importantly, made it back in one piece. It's got a heck of a lot of grip, which isn't surprising when you consider the car's configuration, track and layout, so I'm hoping Nick and Charlie can get it dialled in to be a bit more forgiving.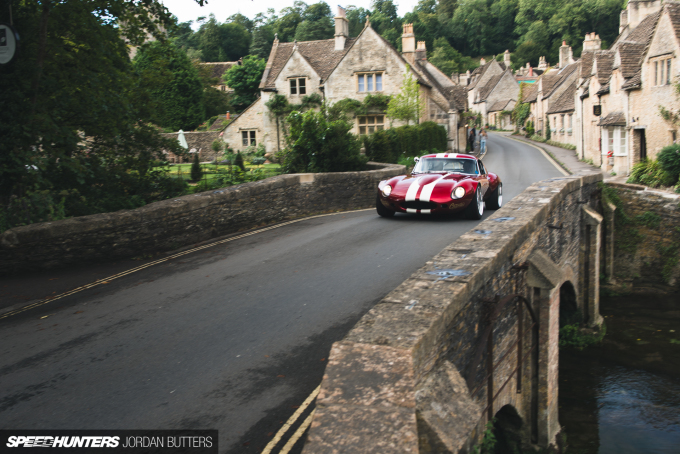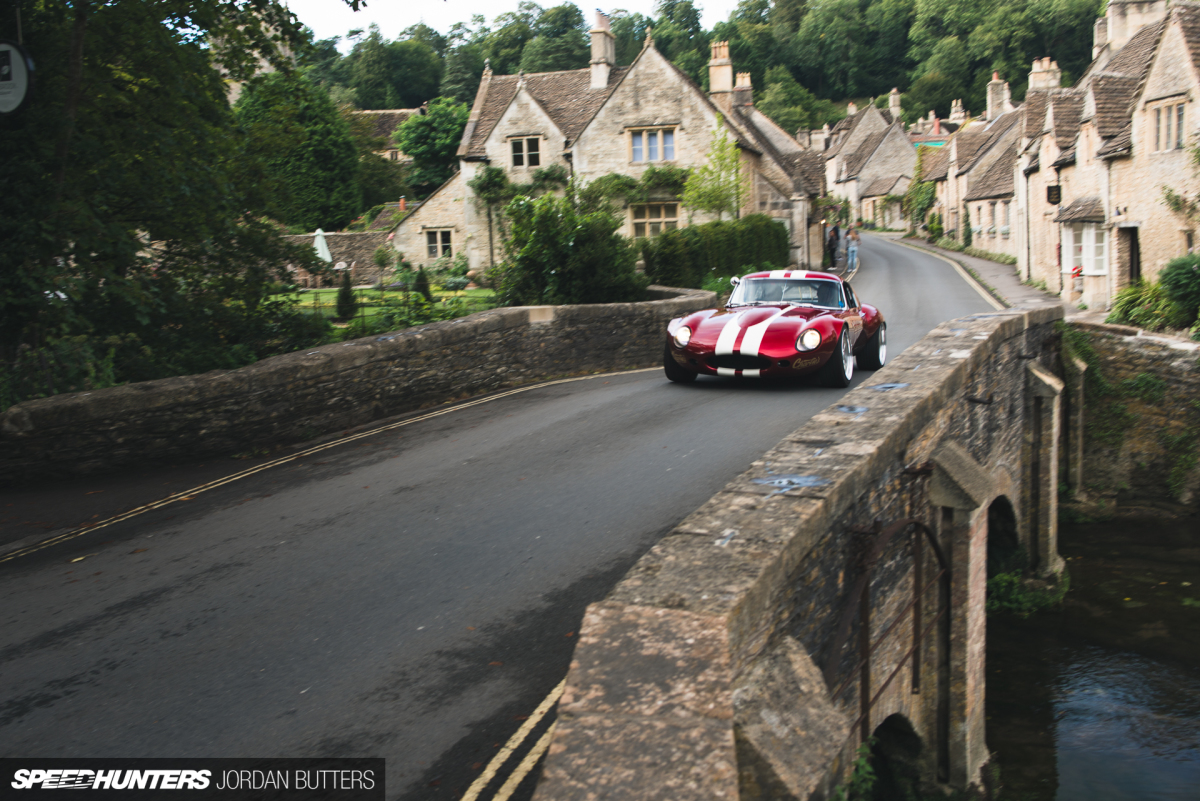 Whatever your opinion on the 'Japuar', as it's been dubbed, you've got to commend the brothers for having the vision and skill to see the project through from a crazy idea that they both say should've never gone any further, to conception and ultimately, realisation.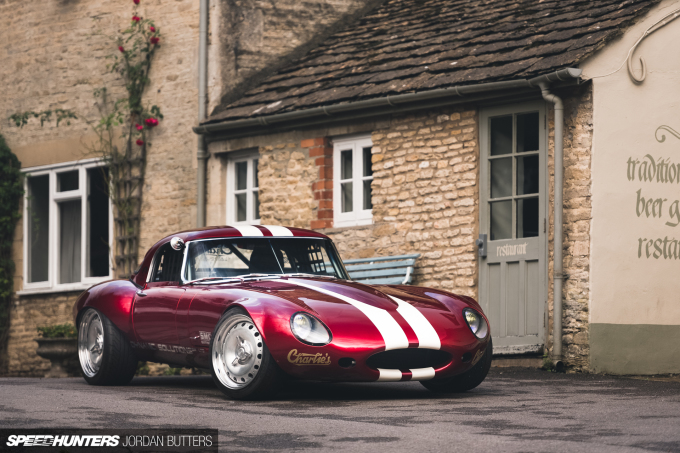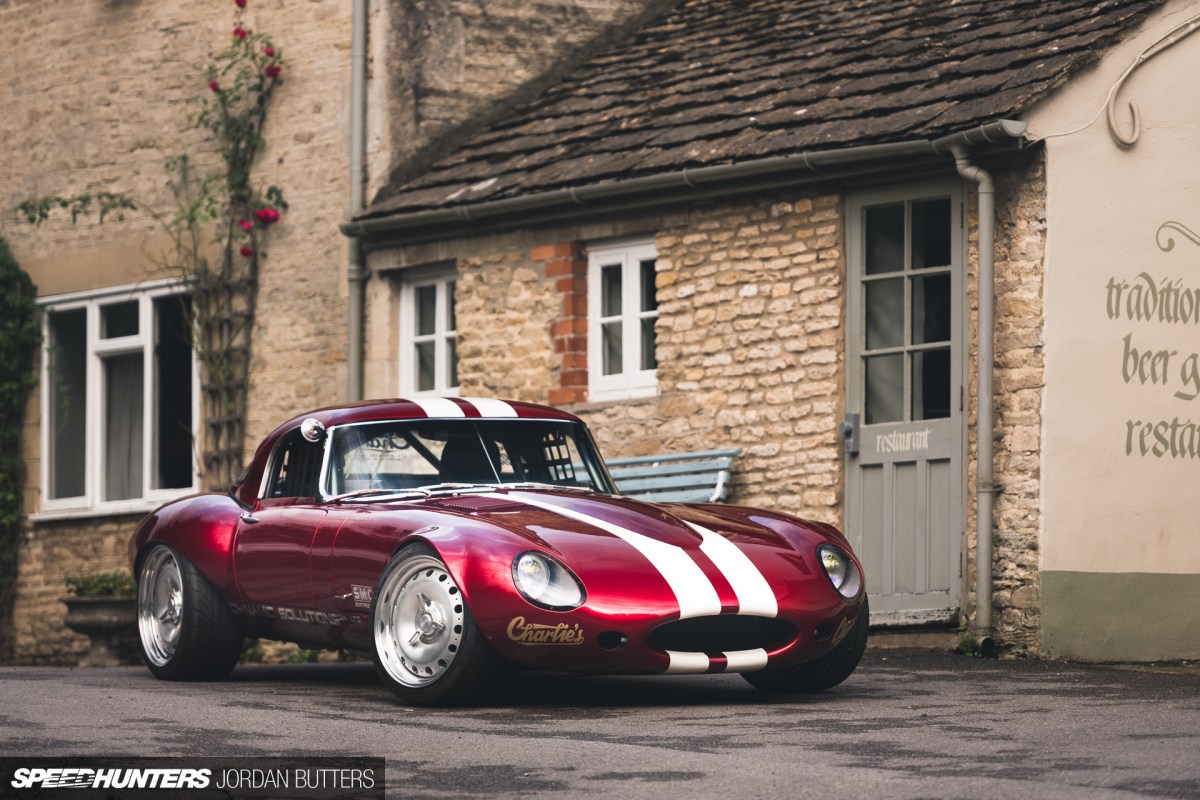 In a world of cookie-cutter fibreglass-clad Nissans and BMWs, I think its awesome that someone has had the balls to stick two fingers up to the status quo. The result is a build that you might love, or you might hate, but you can't fail to have an opinion about.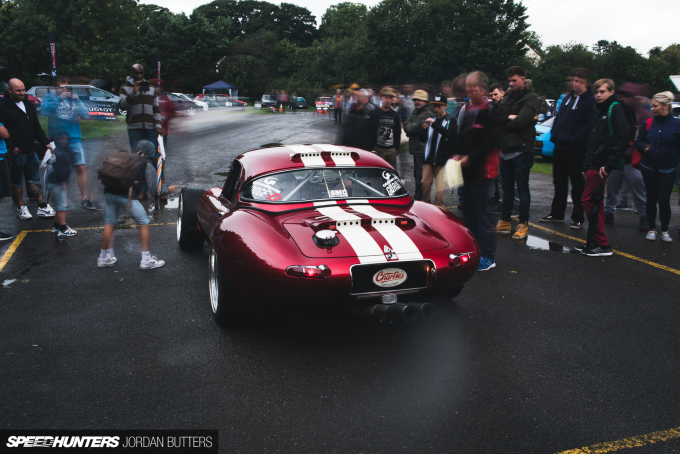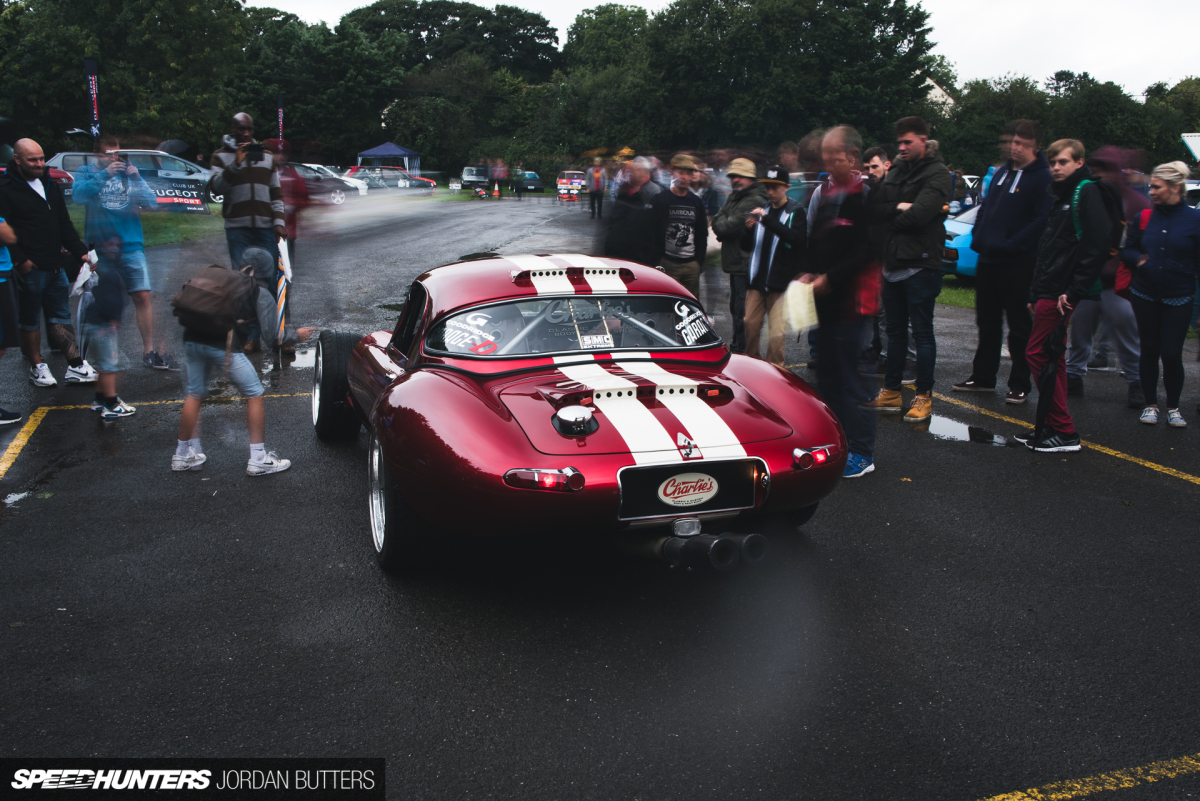 When I got chatting to Nick at Castle Combe, he told me that once people understand the story behind the car, most are actually really positive and interested. "Besides, they're not even really that rare," he explains. "If you went on eBay today you could buy 10 E-Types if your pockets were deep enough." He points to Marc Huxley's RA28 Celica drift car parked next to the Jaguar. "That thing's a lot rarer, but people seem to get more pissed off at this."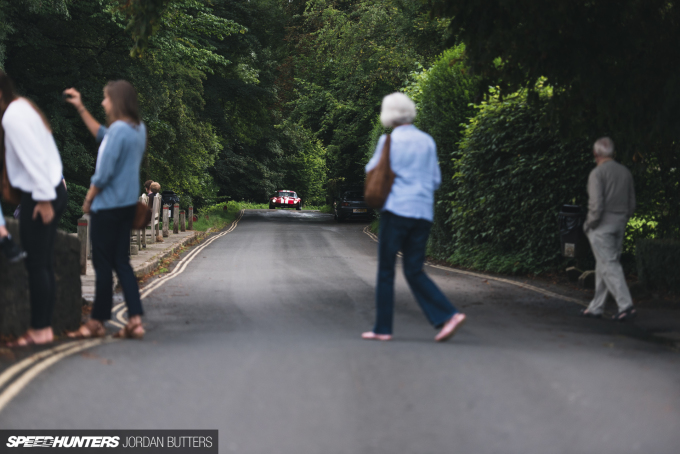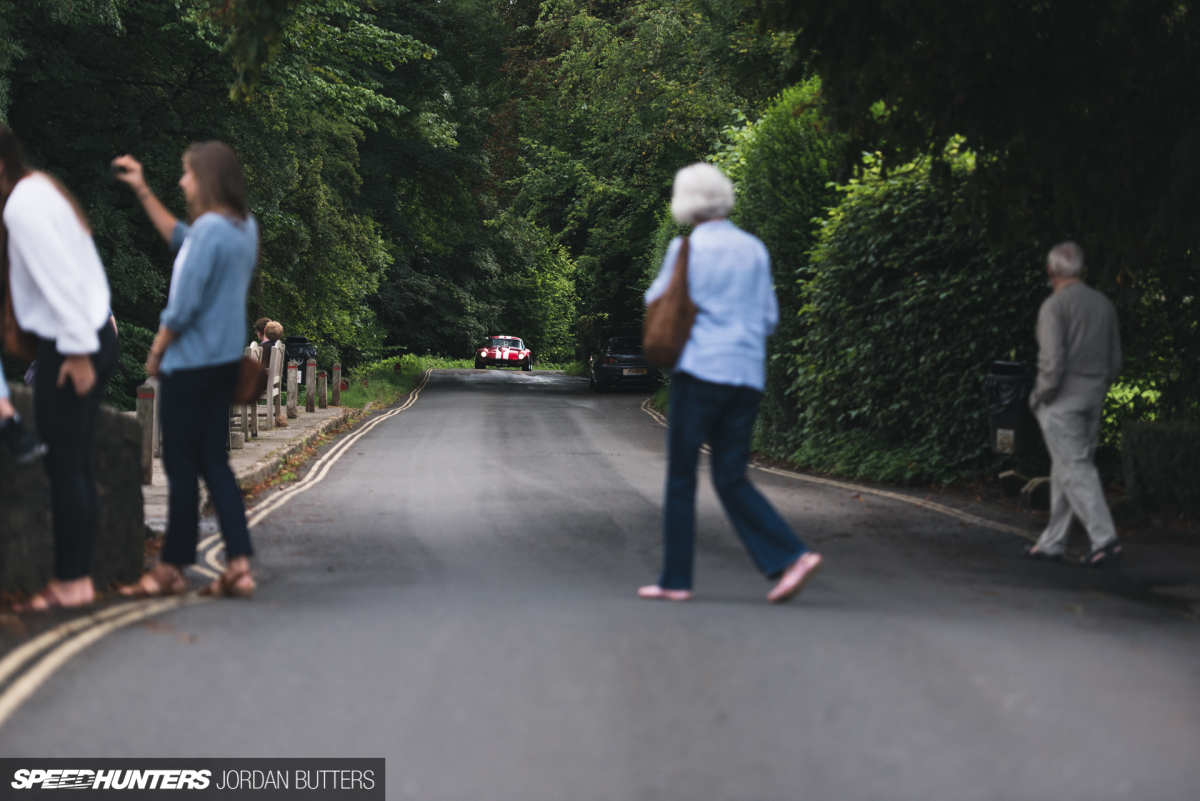 He's got a point. It's only through our perception of what an E-Type should be that we might find the idea of this car jarring. It's not like everyone's going to start cutting up classic E-Types for drifting left, right and centre. The E-Type world won't be flipped on its head by this build, and neither will it affect the model's precious heritage and value. Don't worry.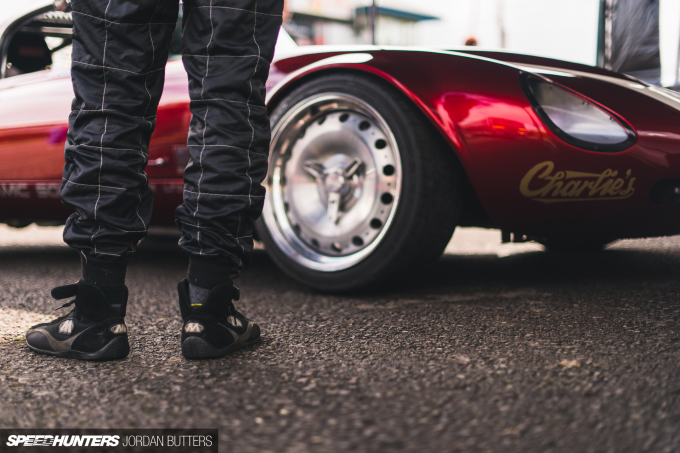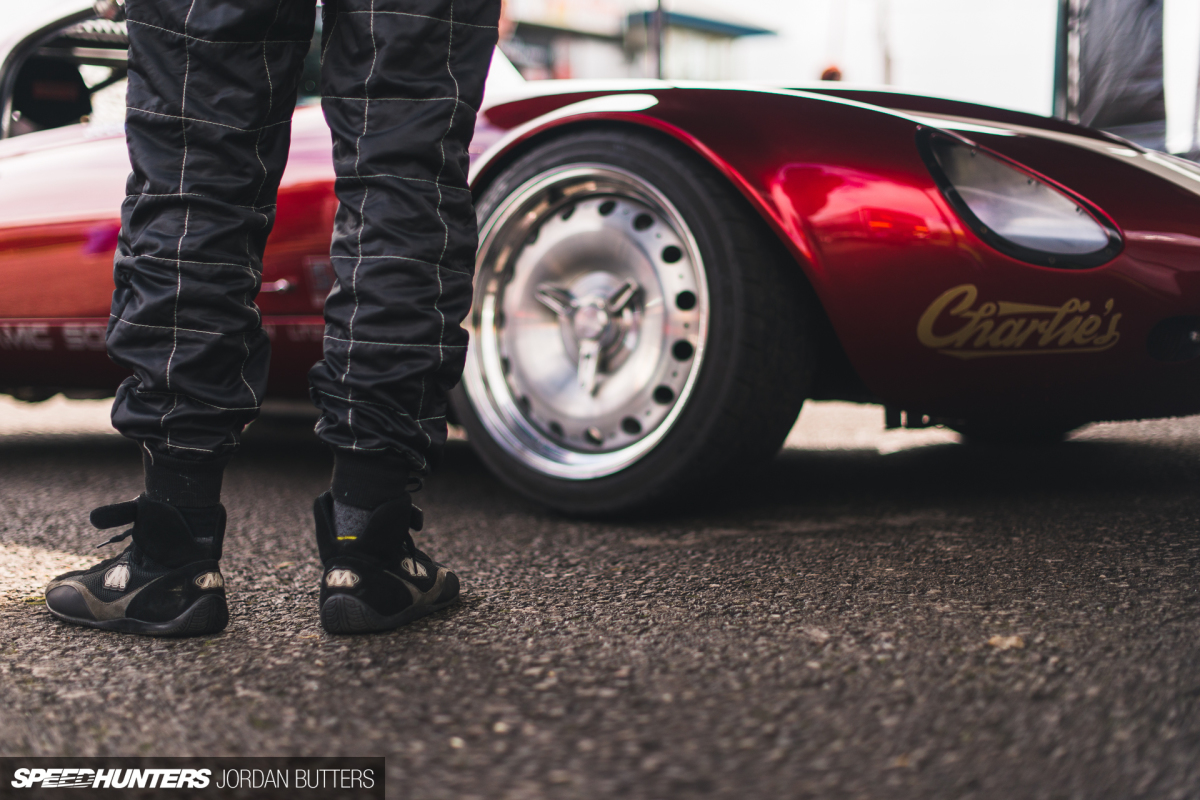 It's not been built for the attention or Instagram 'celebrity' status that some people find alluring either. You won't find Nick on any form of social media, and both him and Charlie don't take anything too seriously. They're just trying to keep drifting fun. People do keep asking who the guy with the aviators and cigar is though…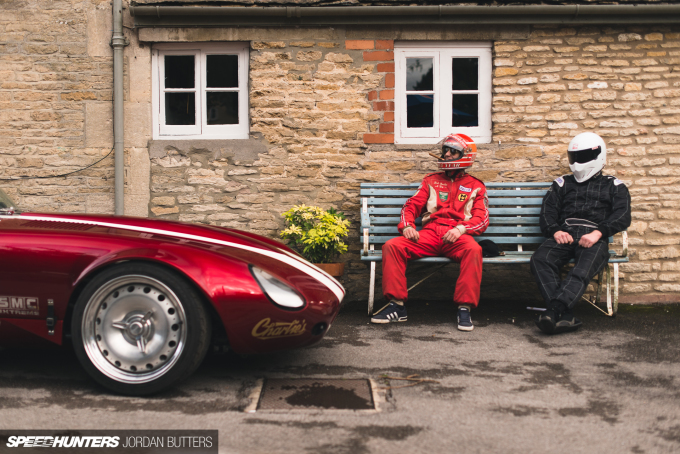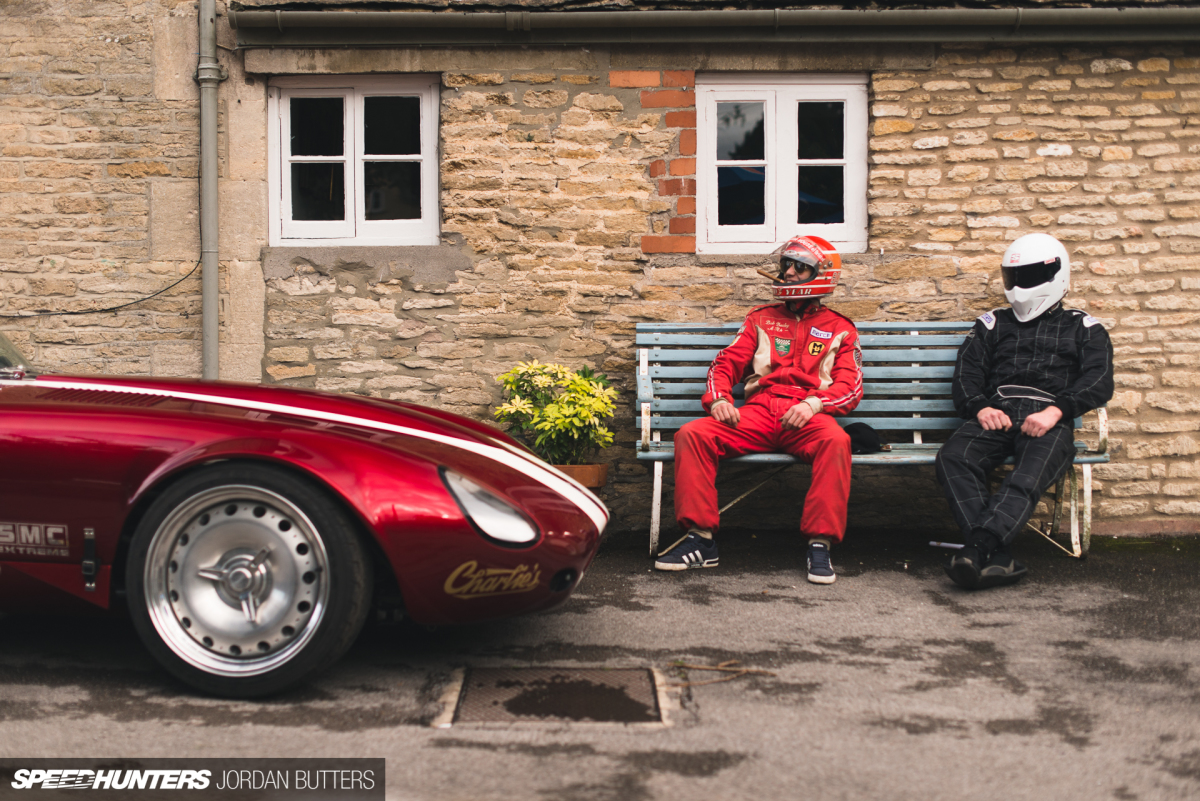 "That's American race driver Bob Bailey. Apparently the car was all over the internet while we were building it, but no-one knew who it belonged to," Nick tells me. "One day one of our neighbours gave us a vintage race suit and helmet, and Bob was born. He and his Jag have become quite popular online."
Interestingly, much like Clark Kent and Superman, you never see Charlie and Bob in the same place at the same time…
Jordan Butters
Instagram: driftagram / jordanbutters
Jordan Butters Photography
Cutting Room Floor