Getting There
Now that Paddy has wrapped up his coverage from Gatebil Rudskogen 2016, I want to rewind back to the precursor event held a couple of weeks prior at Mantorp Park in Sweden.
Although Gatebil Mantorp isn't as big or quite as crazy as the world-famous Norwegian event, it is as every bit an eye-opener, hence why I always make it a priority to attend.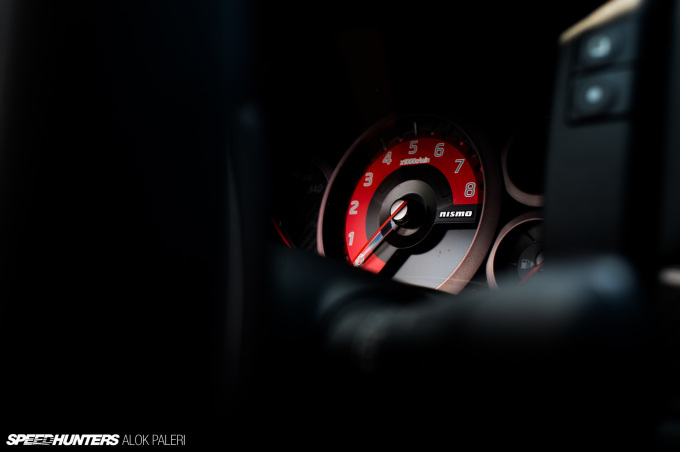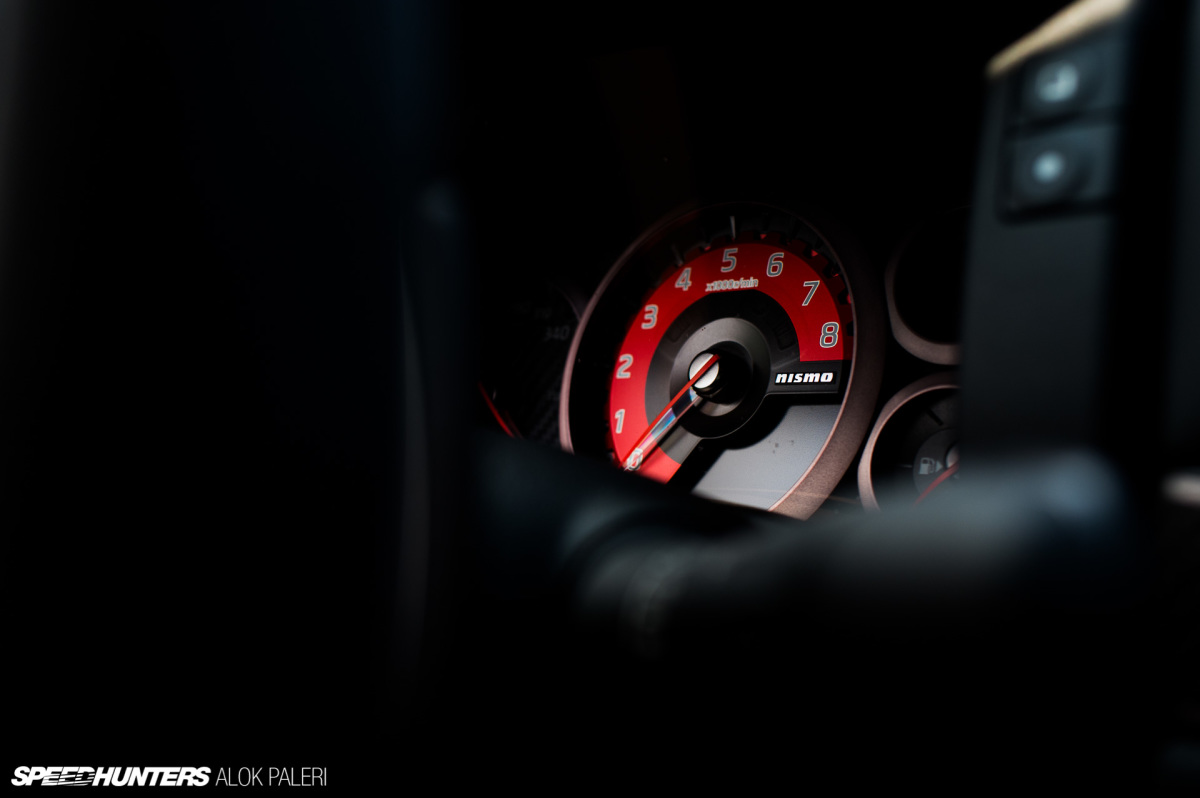 Previously, I've driven up to Sweden from Germany in my trusty old BMW E46 Touring and most recently a Mk7 Golf GTI, but this year I really wanted to step up the roadtrip game.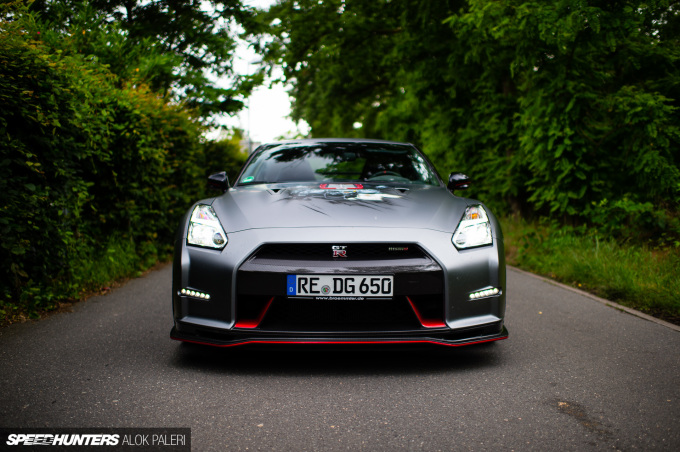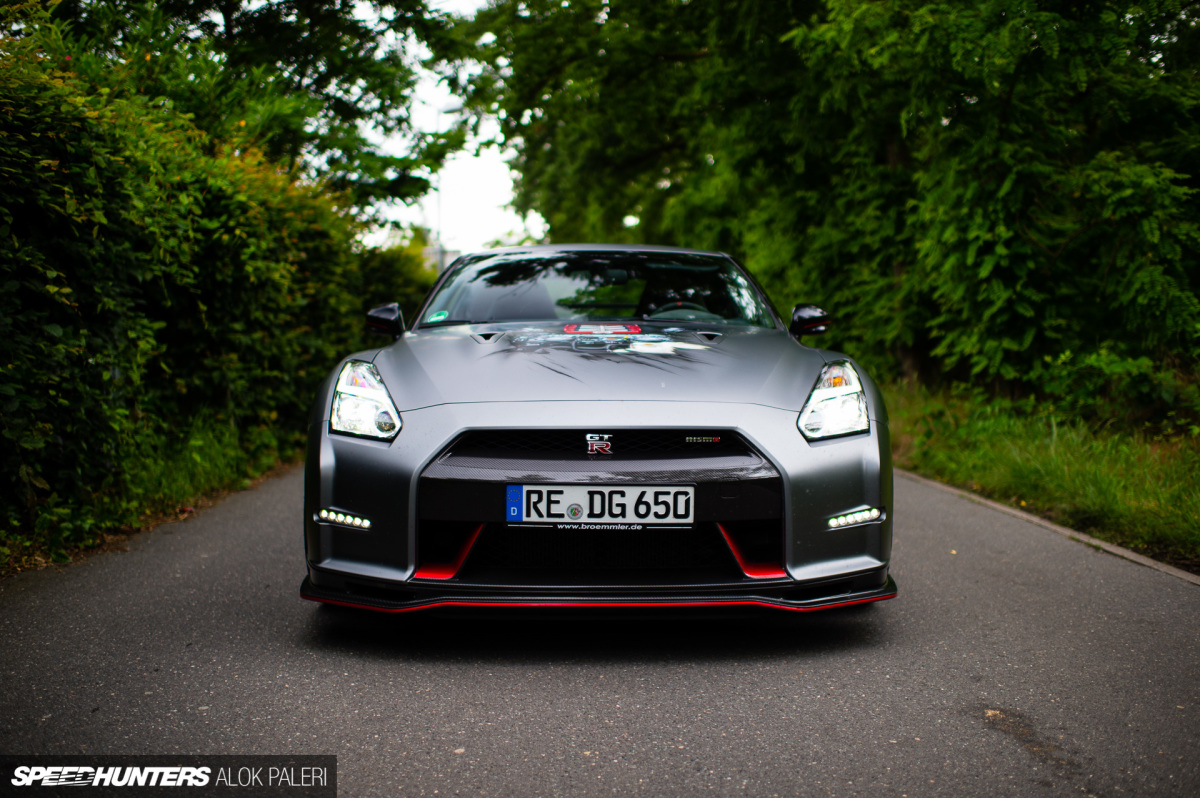 Markus from Brömmler Motorsport was one of the first people I called upon, and he most definitely came through, hooking me up with a Nismo GT-R via one of his customers.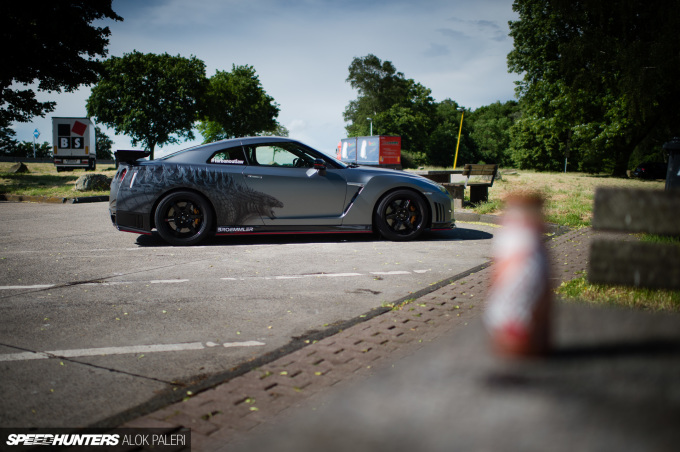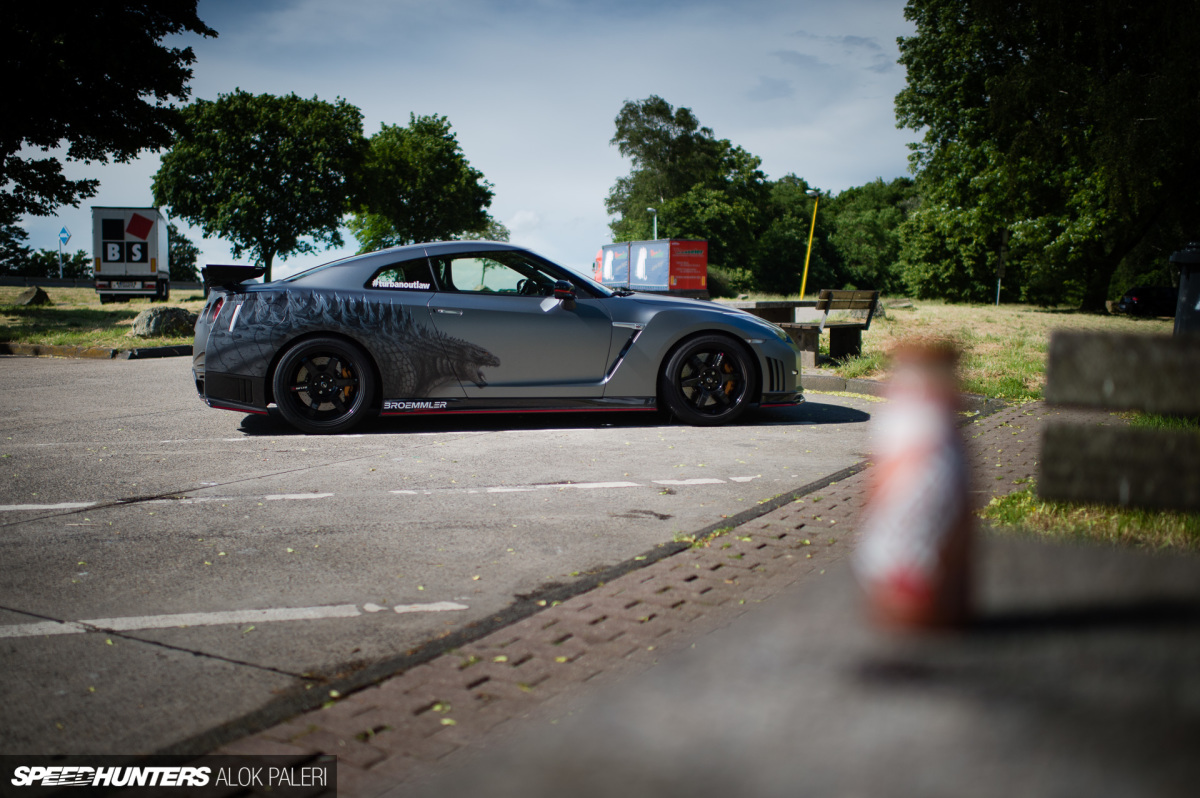 If the name Brömmler Motorsport rings a bell, it's for good reason. The guys caused waves in Germany at the 2013 Tuner Grand Prix, turning up at the Hockenheimring out of the blue with their street legal then-proto-R35 Clubsport.
Driver Peter Pyzera took the Nissan from right at the back of the grid to the top of the podium on its very first outing. Check it out in the on-board video above.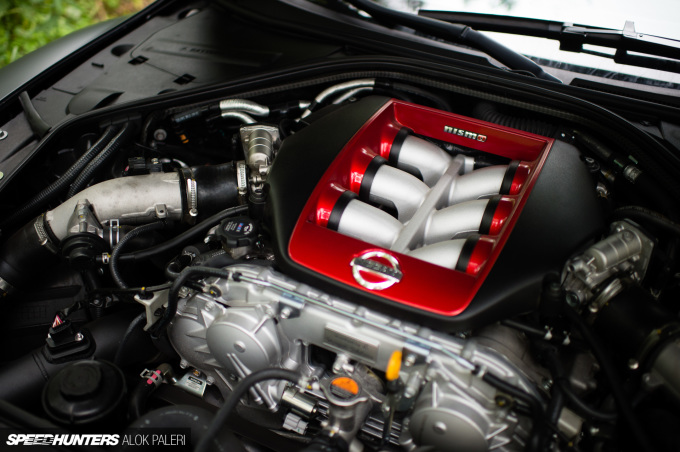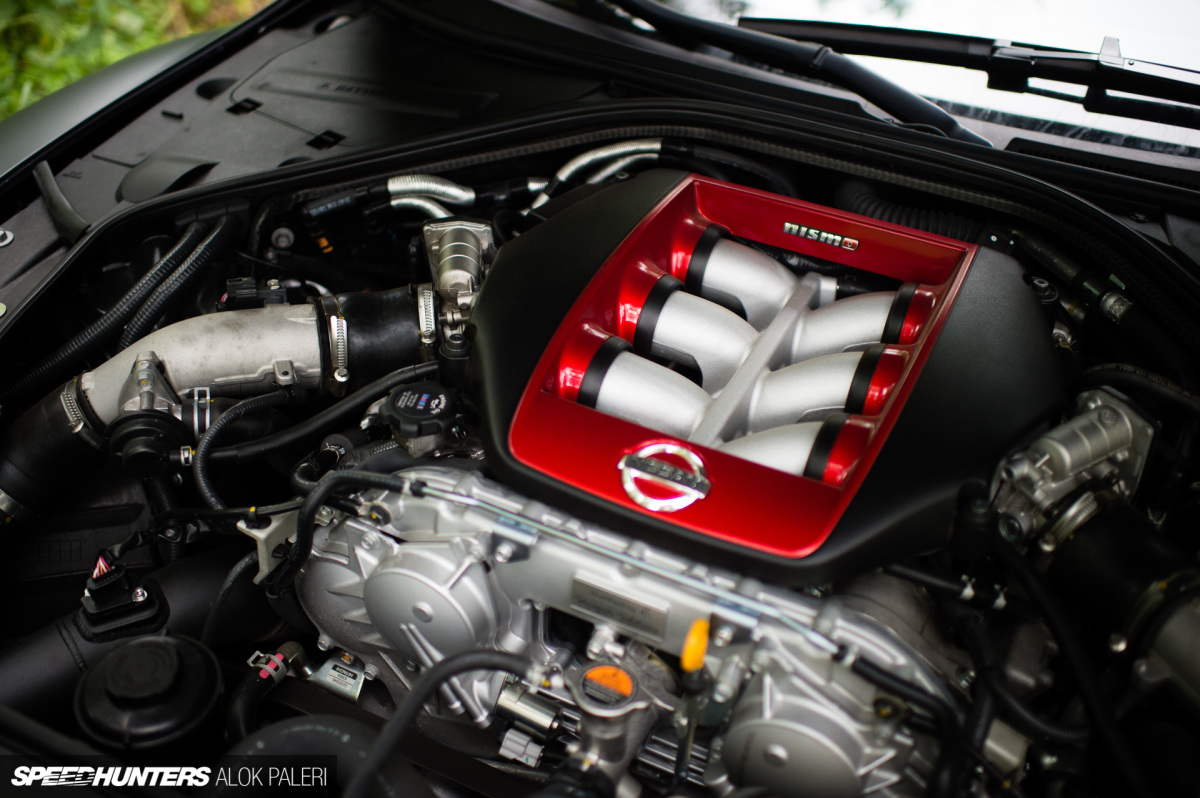 The Nismo GT-R I'd be driving has a similar upgrade under the bonnet. It still retains the stock turbos, but Brömmler Motorsports has performed an ECU remap and fitted a custom stainless steel exhaust system with switchable valves.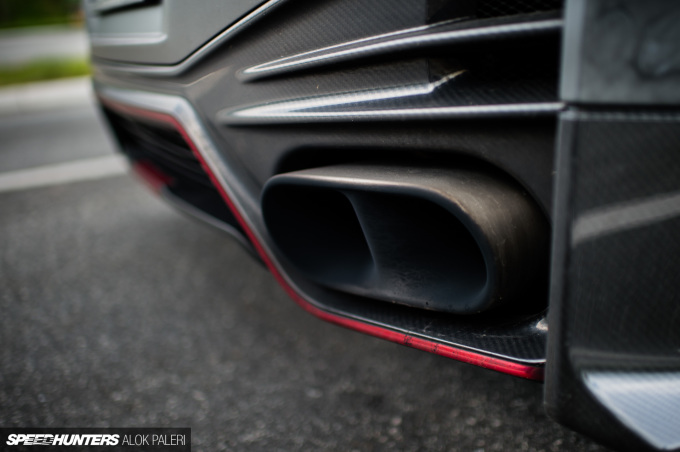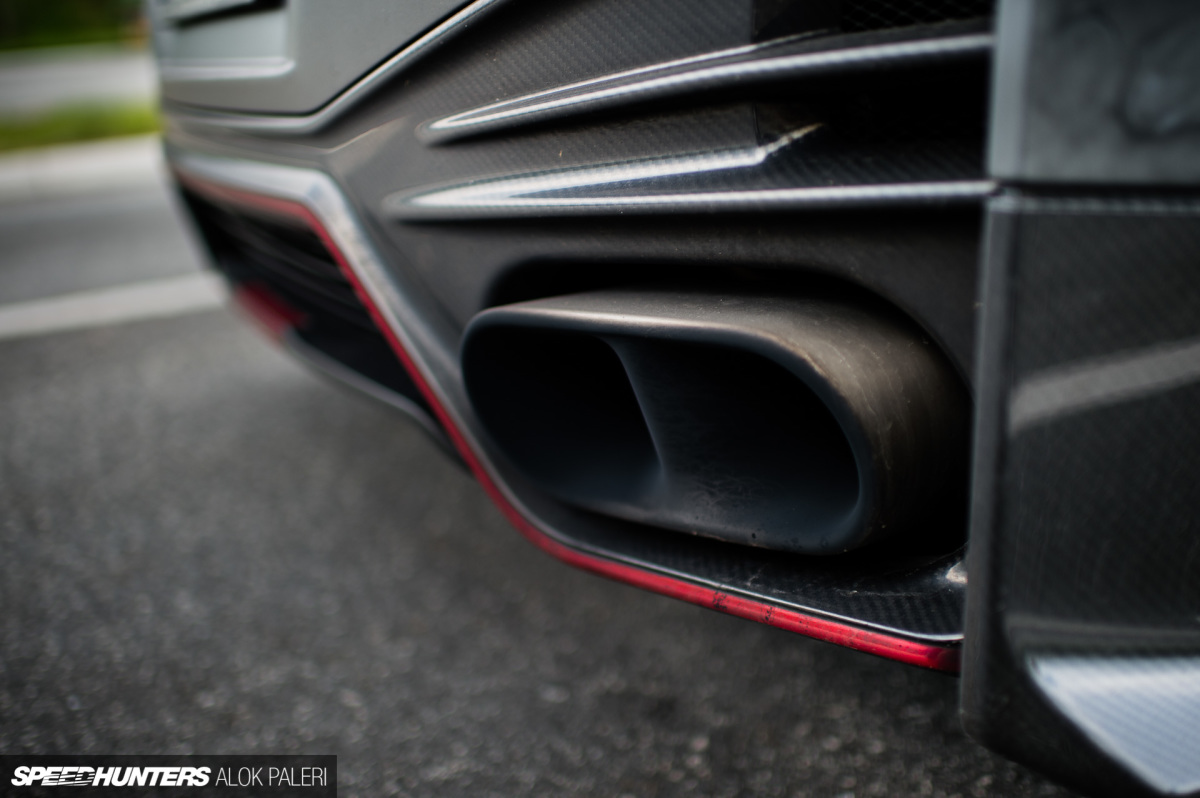 The sum total of all this is 699hp and around 800Nm of torque.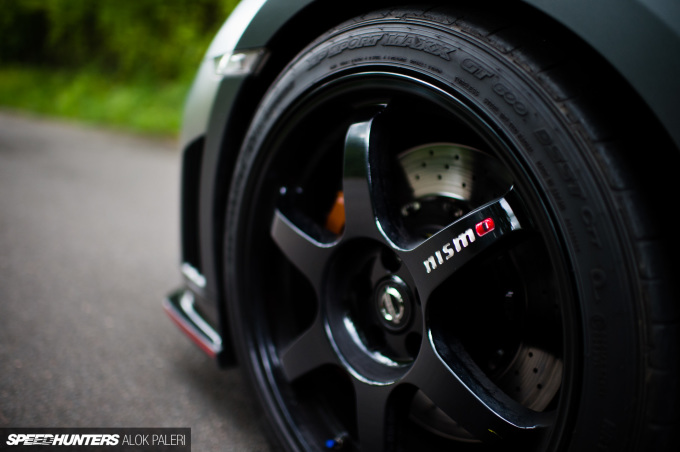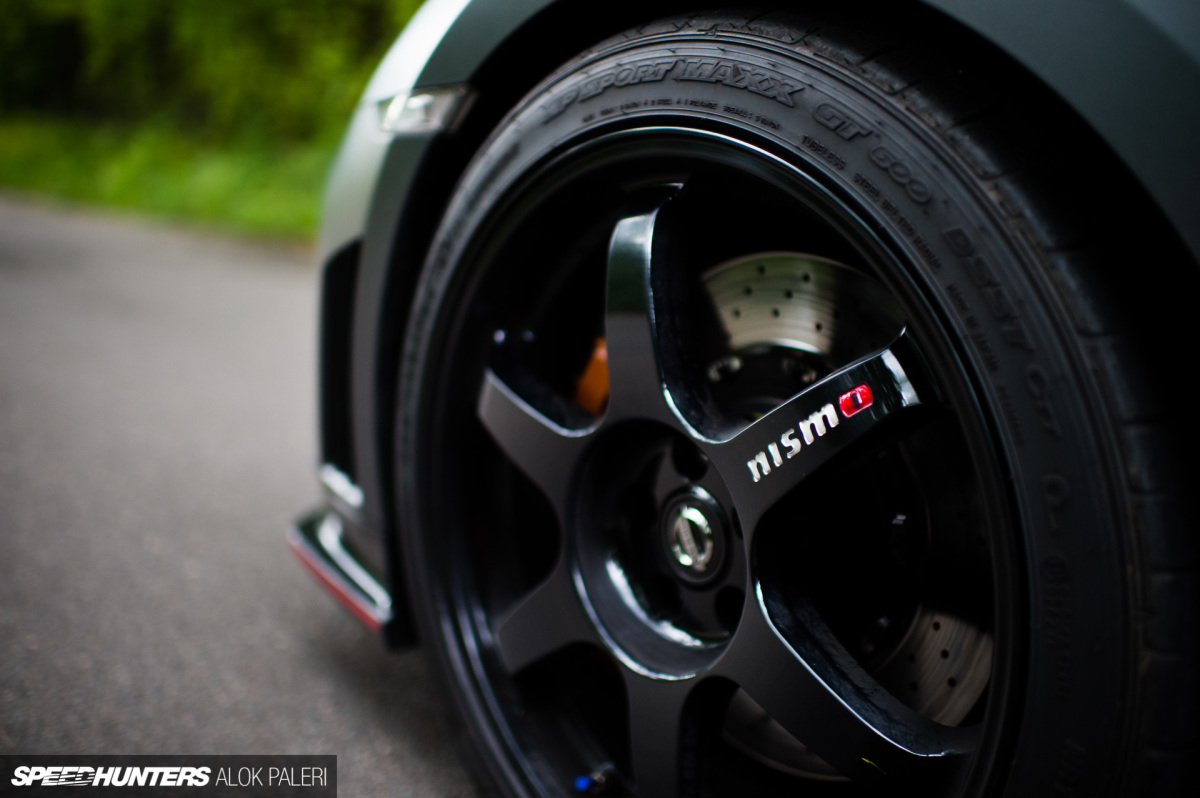 The original 20-inch R35 Nismo wheels have been retained, and given they're forged and made by RAYS, why would you want to change them? 20mm spacers front and rear are used to push them a little further though.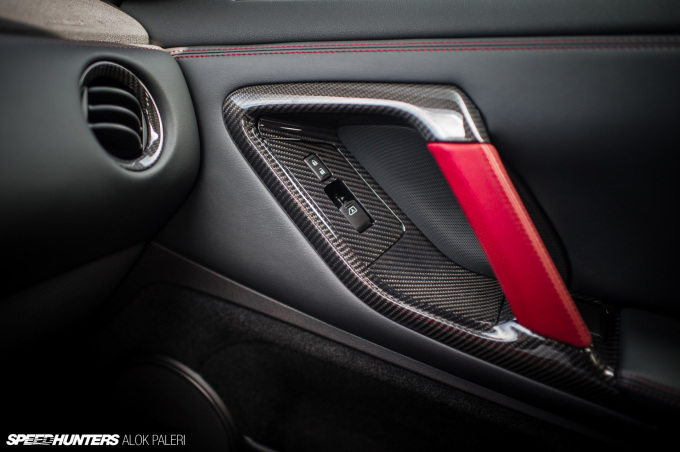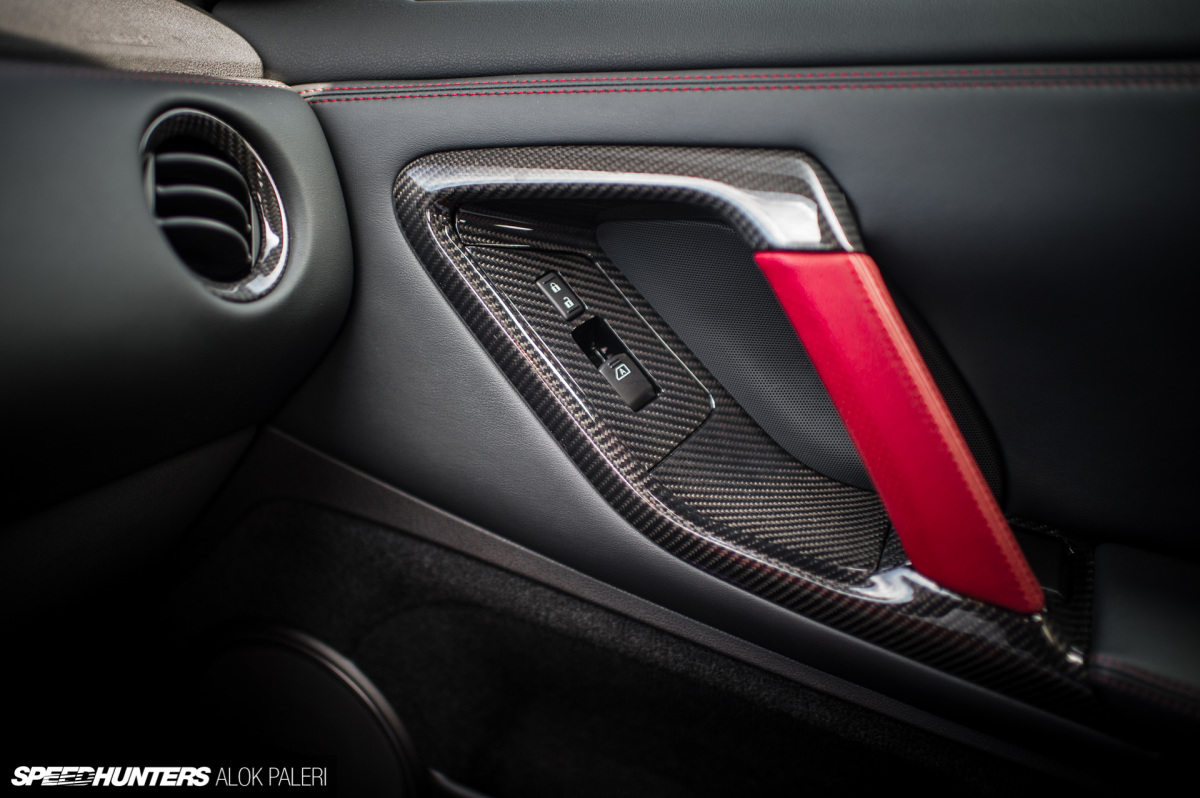 For that little bit of added sugar in the cockpit, the GT-R's interior accents have all been replaced with real carbon fibre inserts.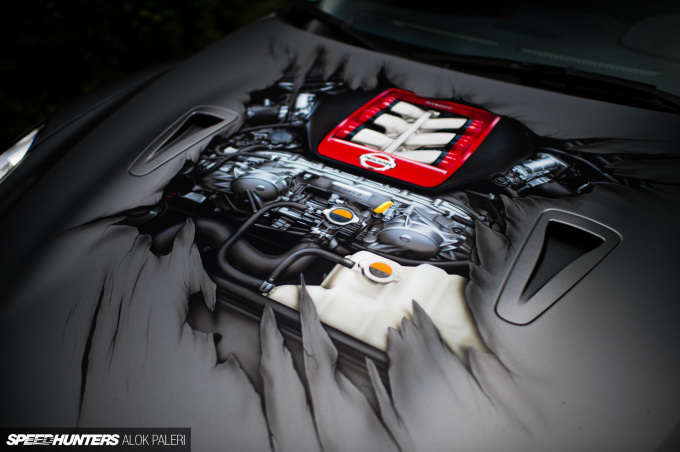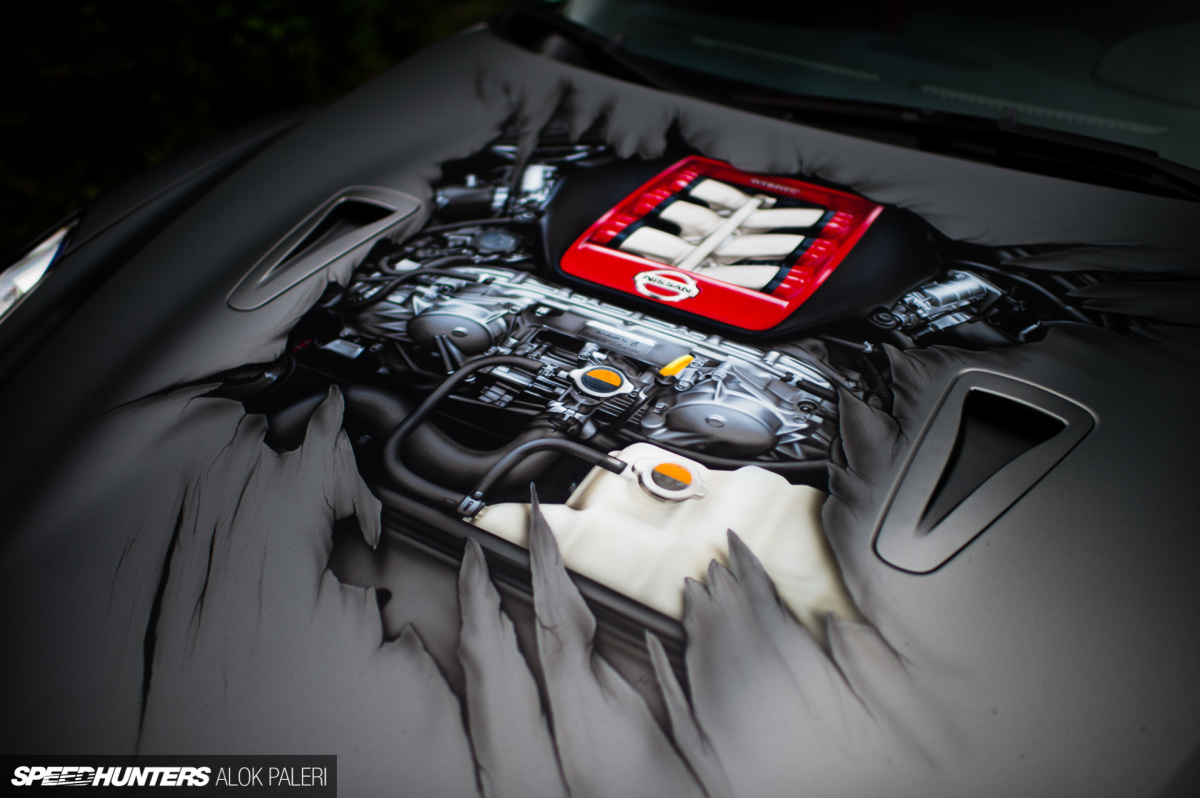 The real party piece of this car however, is the paint job. Nissan was unable to deliver the R35 with a matte finish as the owner desired, so after taking delivery he had it resprayed in the factory matte grey colour. Then to finish things off, he let the amazing airbrush artist Sandra Milovanovic from MachArt Customs loose.
The attention to detail is simply mind-boggling, and on the hood piece which depicts the engine beneath, Sandra even went as far as to paint in the lettering that features on the piping.
When I picked up the GT-R, I made it a point to visit Sandra at her studio. There, even the stuff lying around was a sight to behold. In an age of digitally-printed vinyl wraps, it's so refreshing to find a proper artist literally getting their fingers dirty working with paint and gold foil.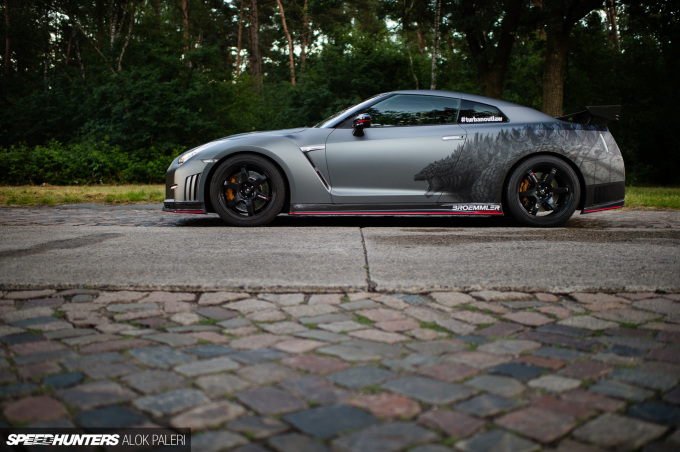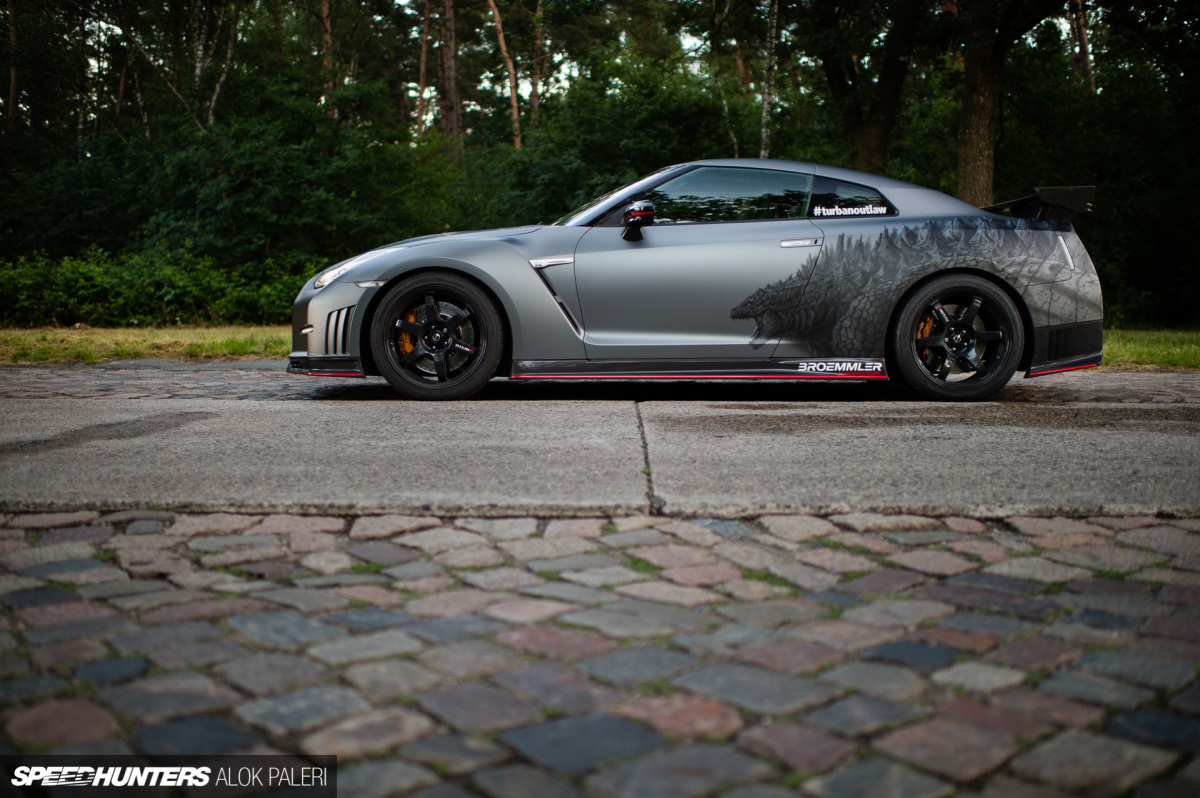 When it comes to this particular car, Sandra's highlight work is on the sides. It's a menacing artwork of our beloved JDM monster, Godzilla.
I think it's cool that the artwork on either side of the car isn't identical either.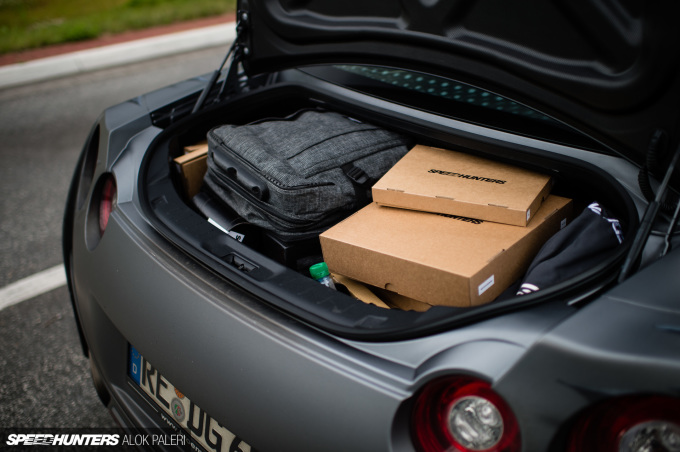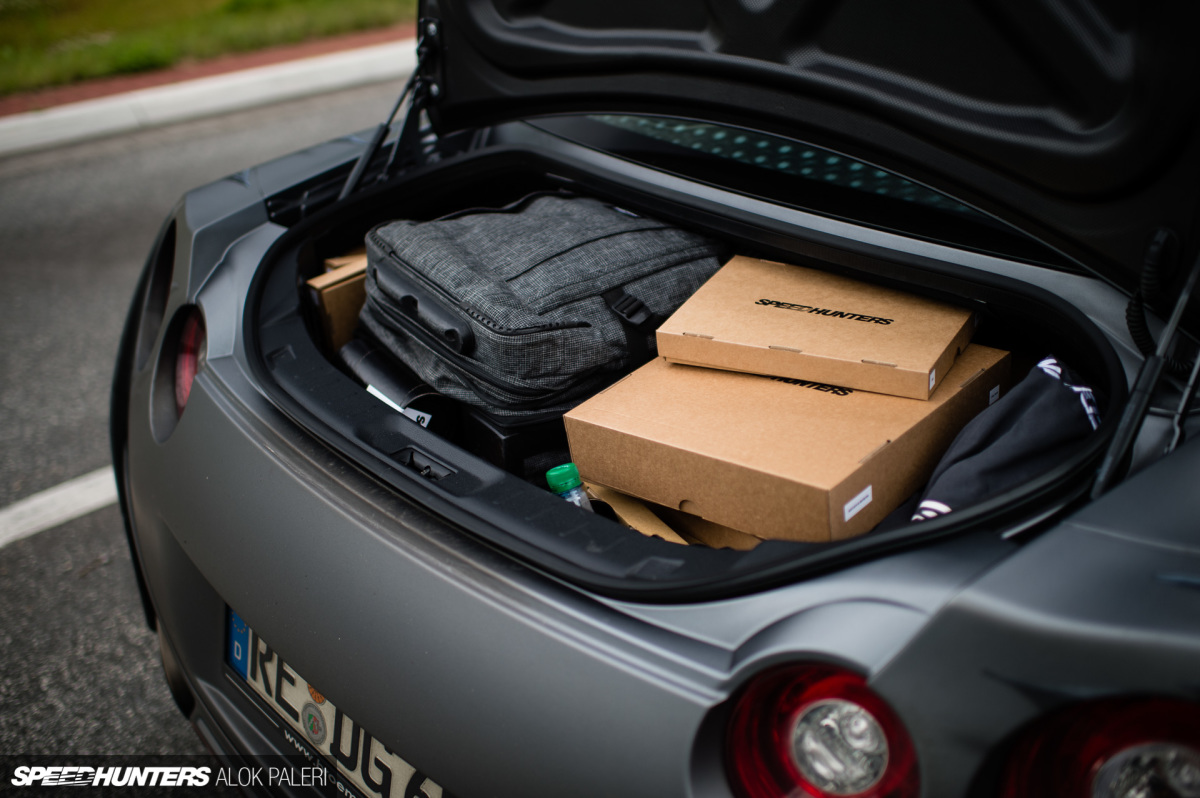 Here is some classic consumer advice: the GT-R managed to swallow my big Pelicase full of camera gear, the case with my 400mm lens, my regular luggage and a whole bunch of Speedhunters merchandise – and all without even breaking a sweat.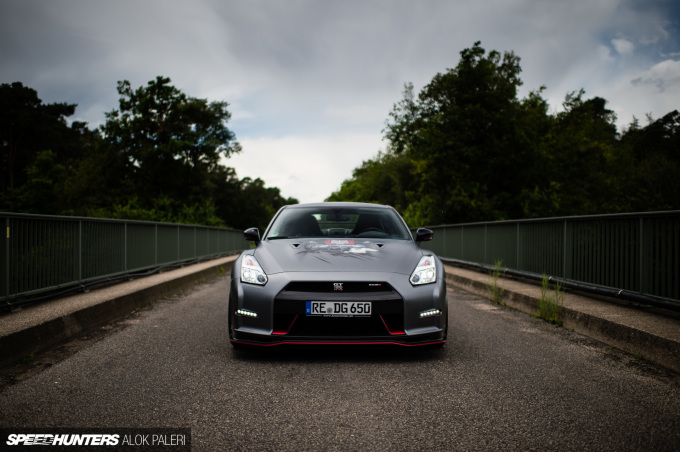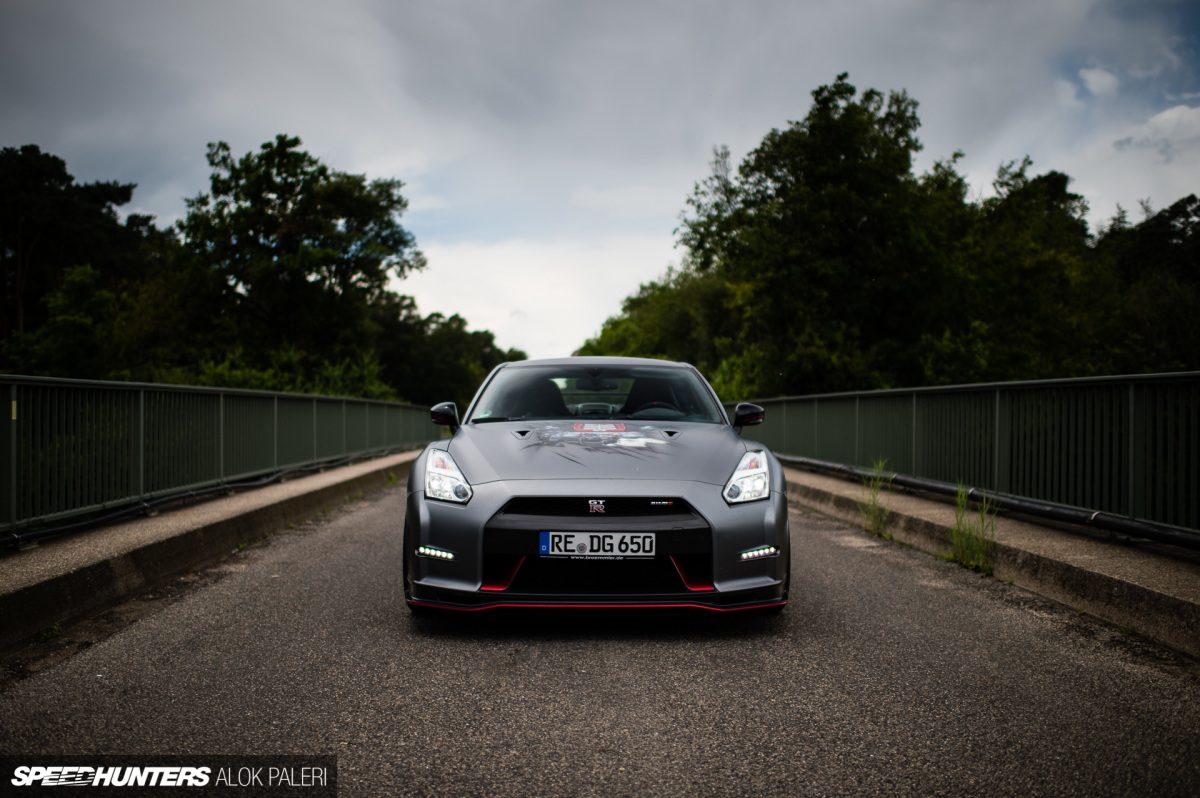 I wasted no time, once I was all packed up, had my phone connected and the music playlist loaded, it was time to hit the road.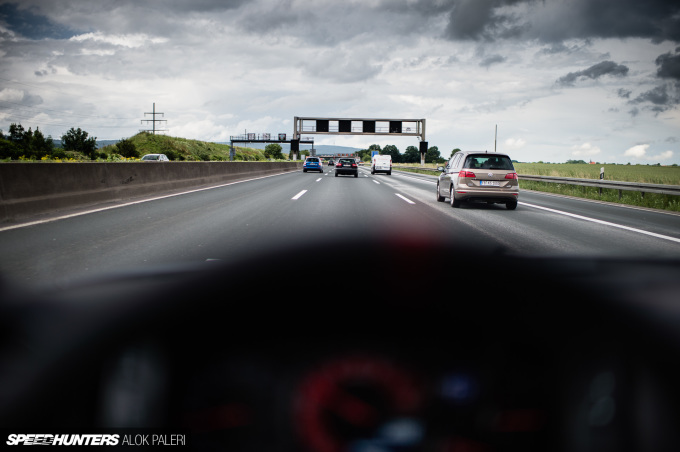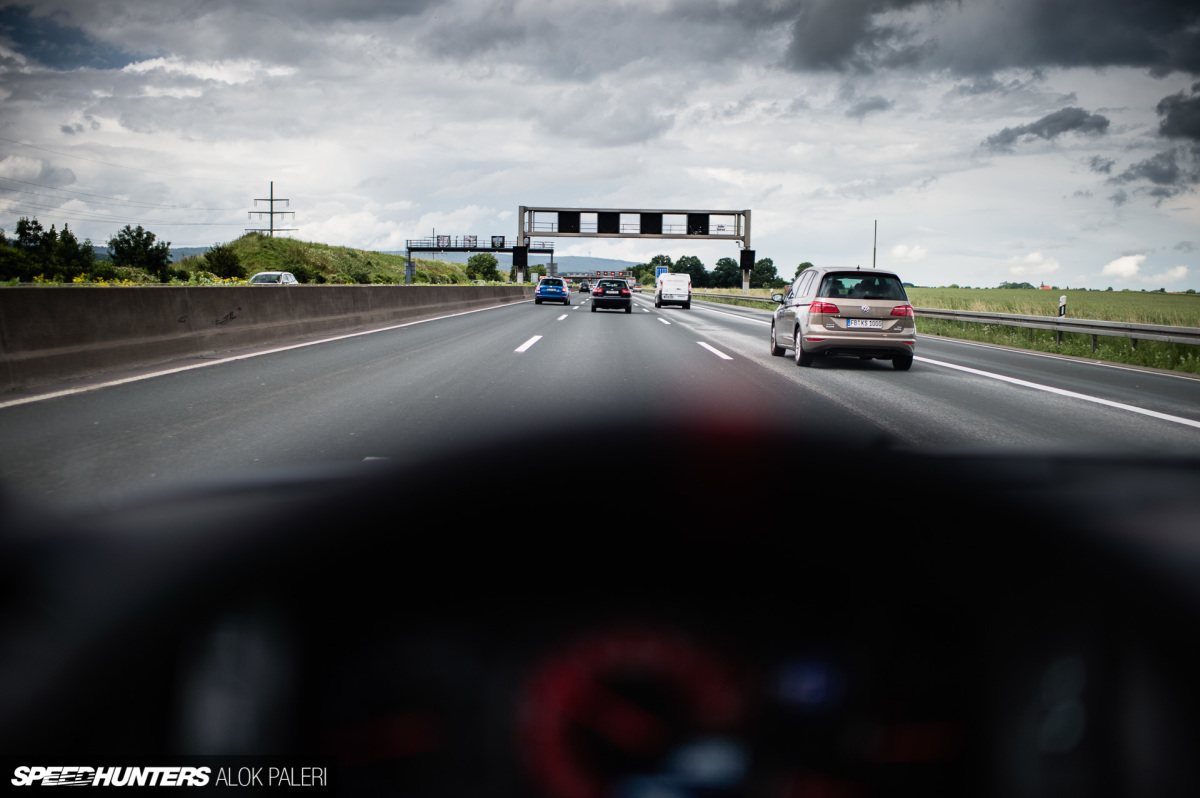 I was on my own for this trip, so in order to grab some snaps en route, I had my camera mated to a 35mm lens at standby on the passenger seat.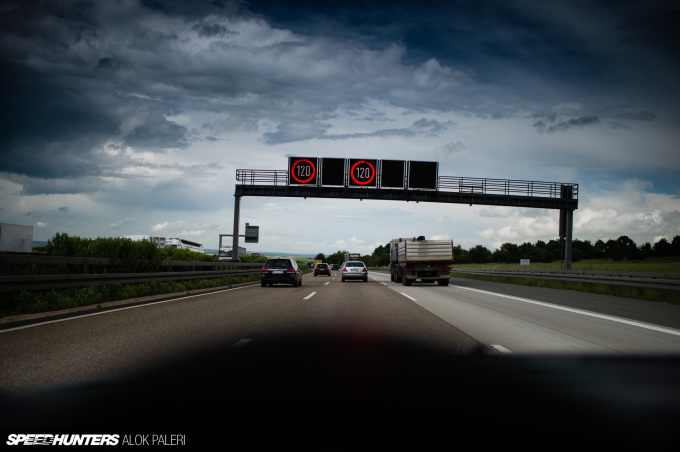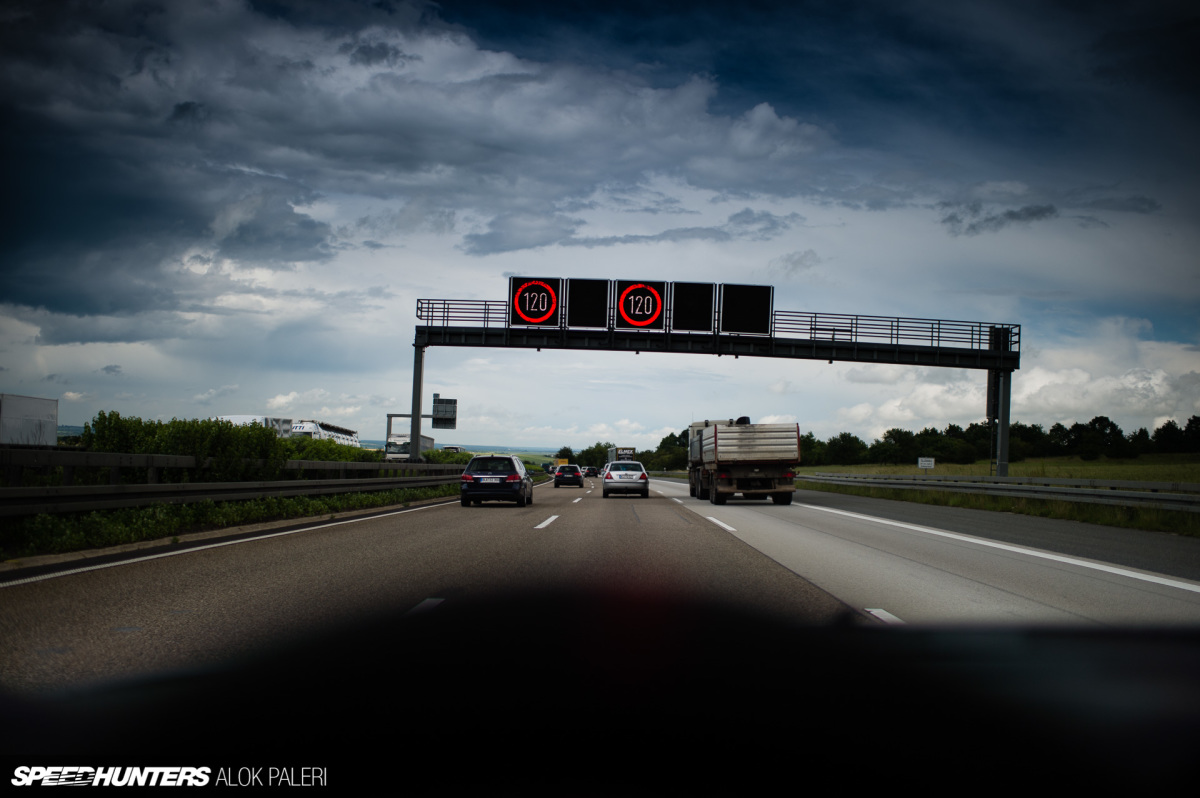 Of course, there was no way I could look through the viewfinder while I was driving, so I had to go with the traditional method of 'aim, spray and pray' for all these driving photos.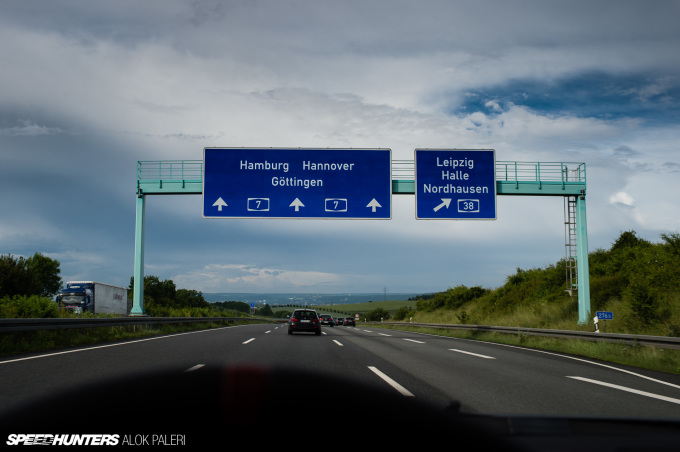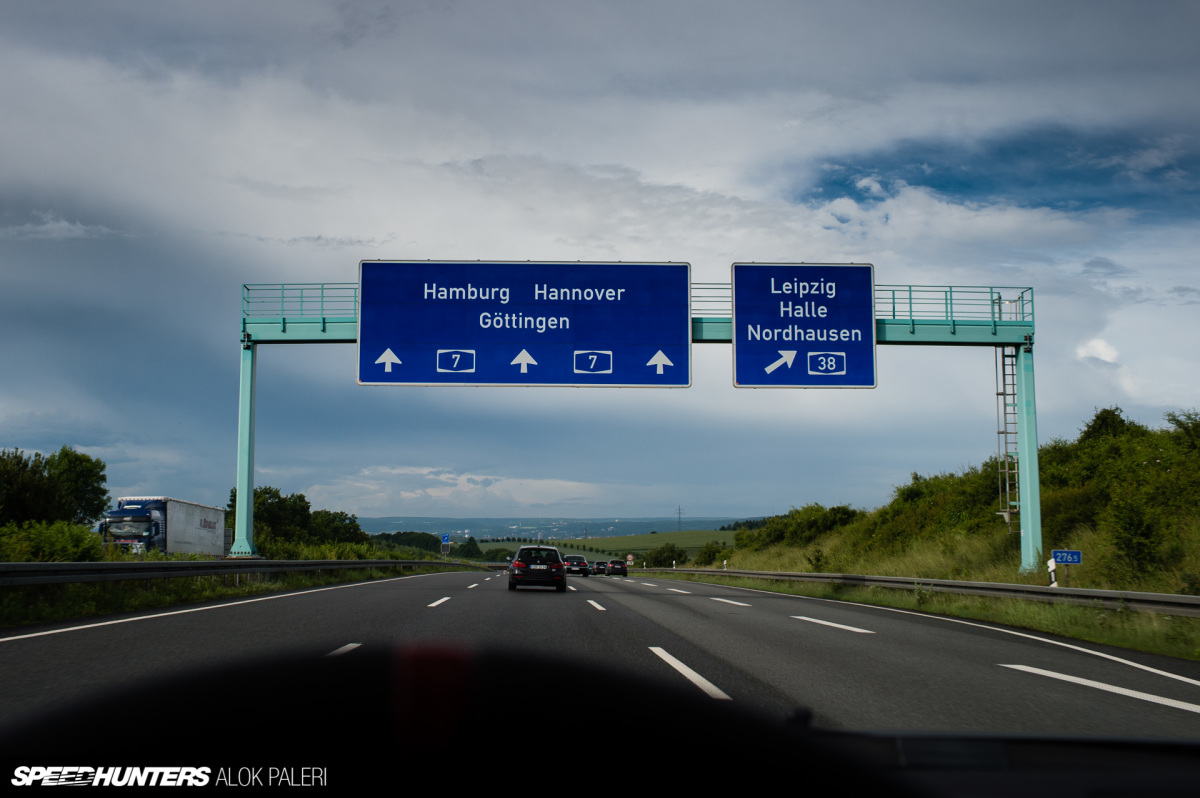 My first planned stop was in Hamburg. I'd be staying overnight here before trekking through Denmark and then into Sweden.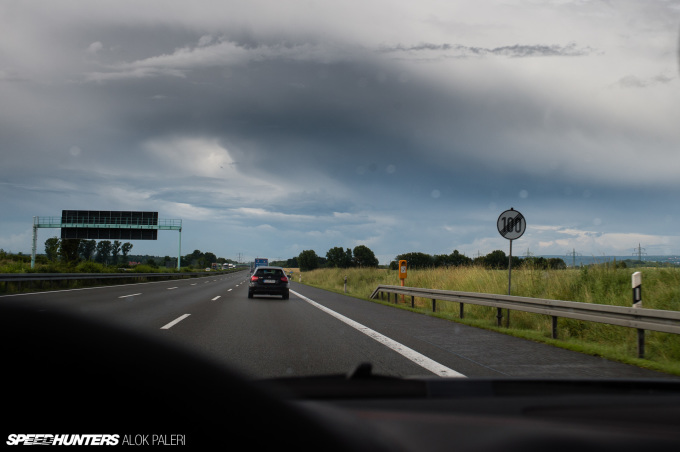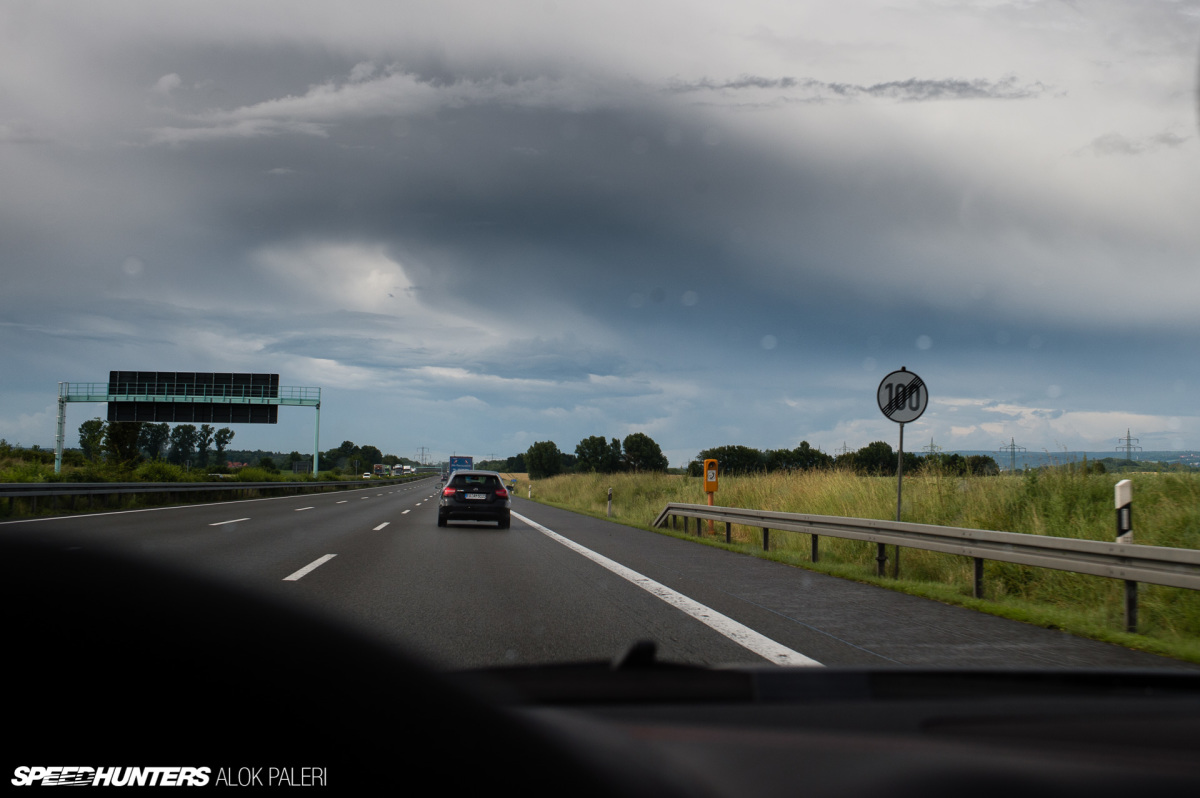 Even though I had mostly blue skies when I set off, I knew there was some heavy rain coming my way and that the tires on the car were close to the end of their lives. Add to this the fact that I really wanted to do a legal vmax run in the GT-R, it soon became apparent that I only had a very small window of time to achieve it. And then I passed my favorite autobahn sign ever…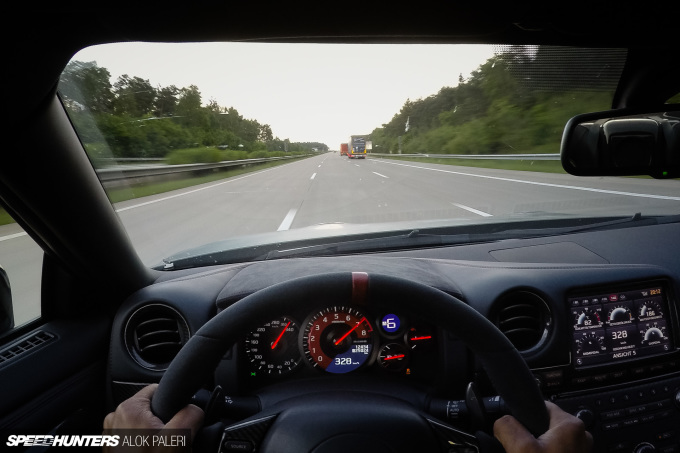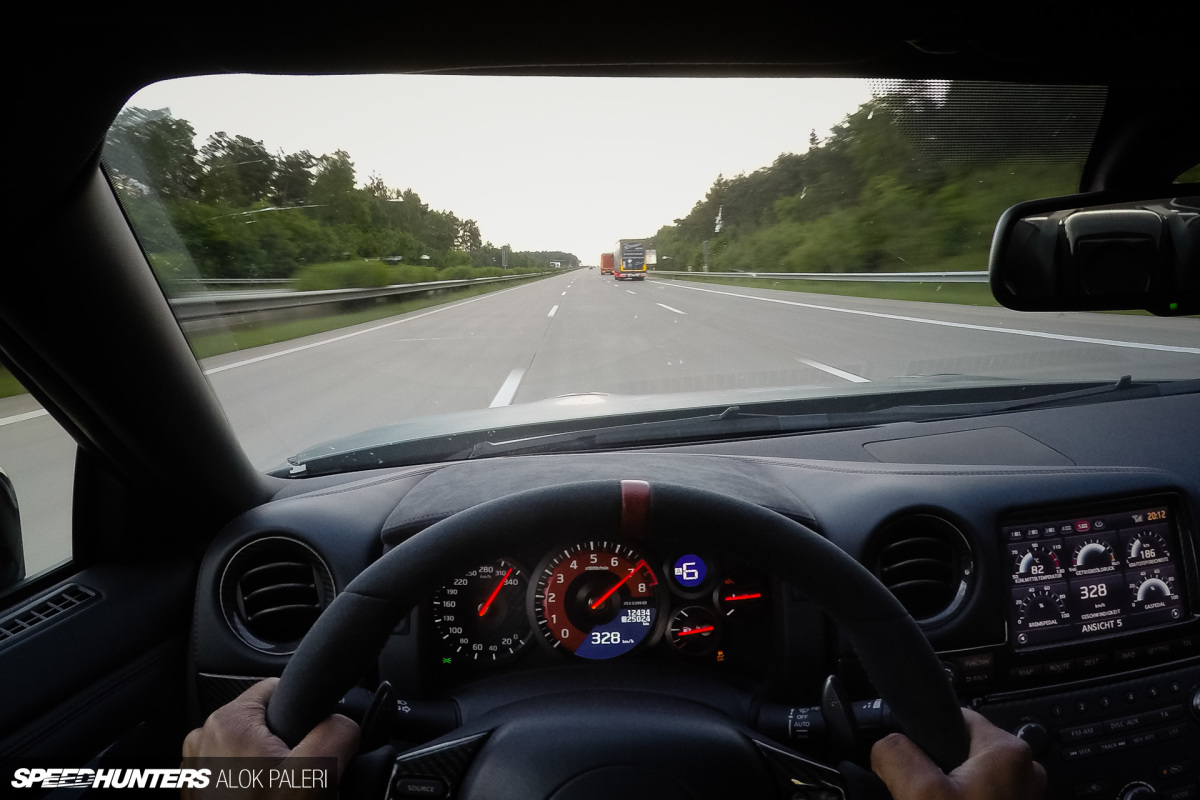 Everything happened a bit too quickly at this point. With the suspension settings in 'Normal' and gearbox in 'R', I just buried my right foot into the carpet. In an alarmingly short time I was riding the sixth gear limiter at an indicated 328km/h (203.8mph).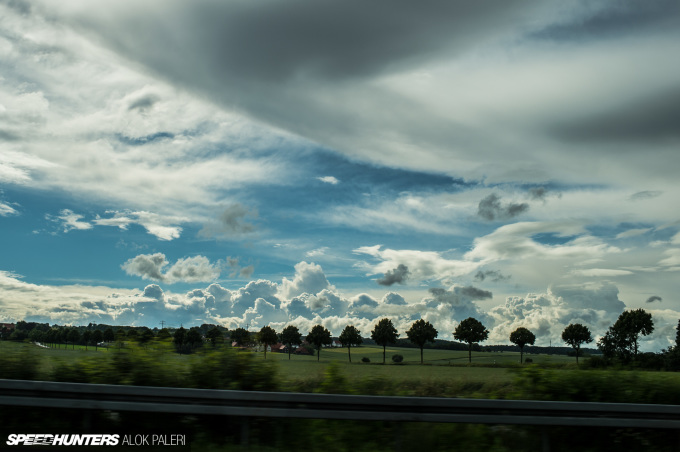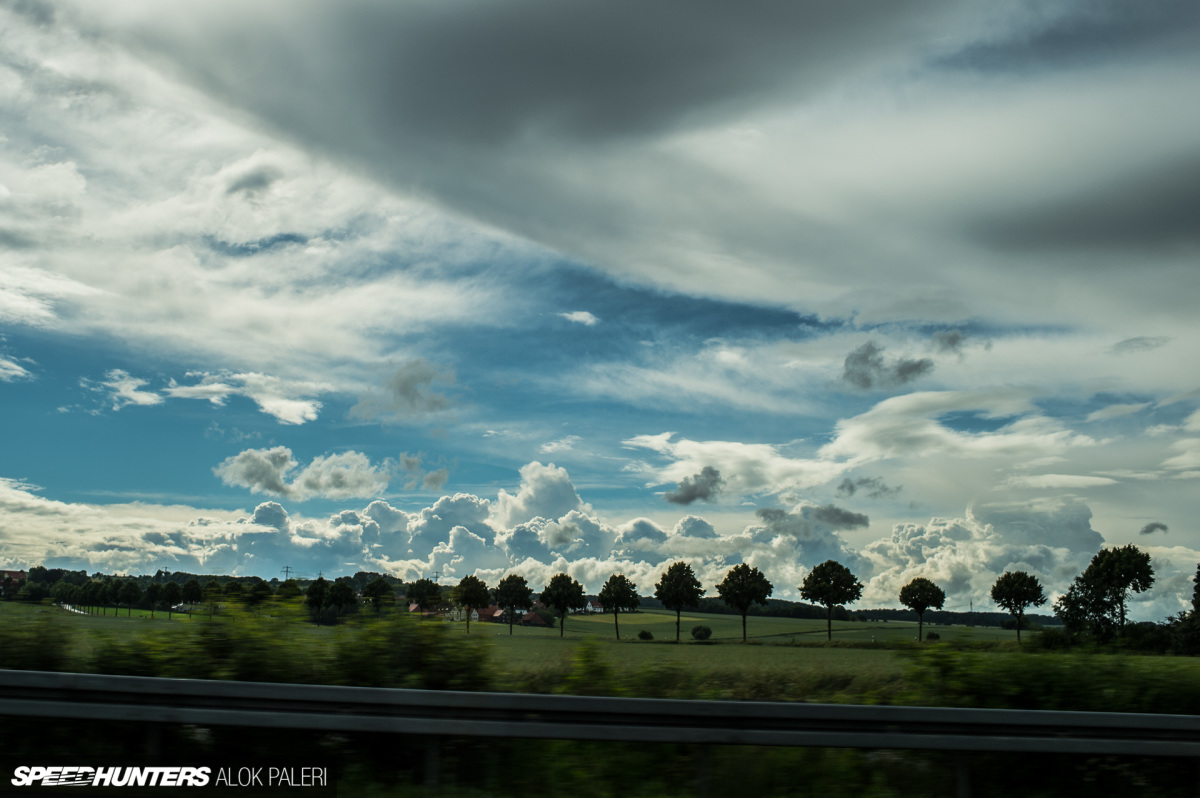 Keeping in mind that this car was laden down with nearly 150kg of luggage, the acceleration was impressive. Running optimum fuel and with only the driver on board, I'm told it can go 100-200km/h (62-124mph) in 5.2 seconds. The only thing it really needs is a longer final ratio or a seventh gear.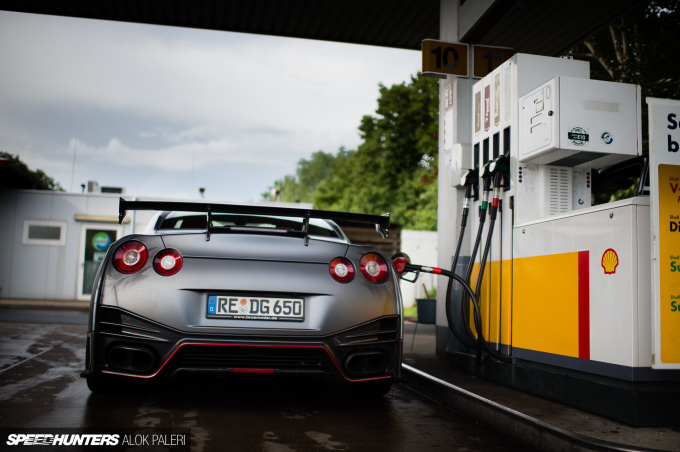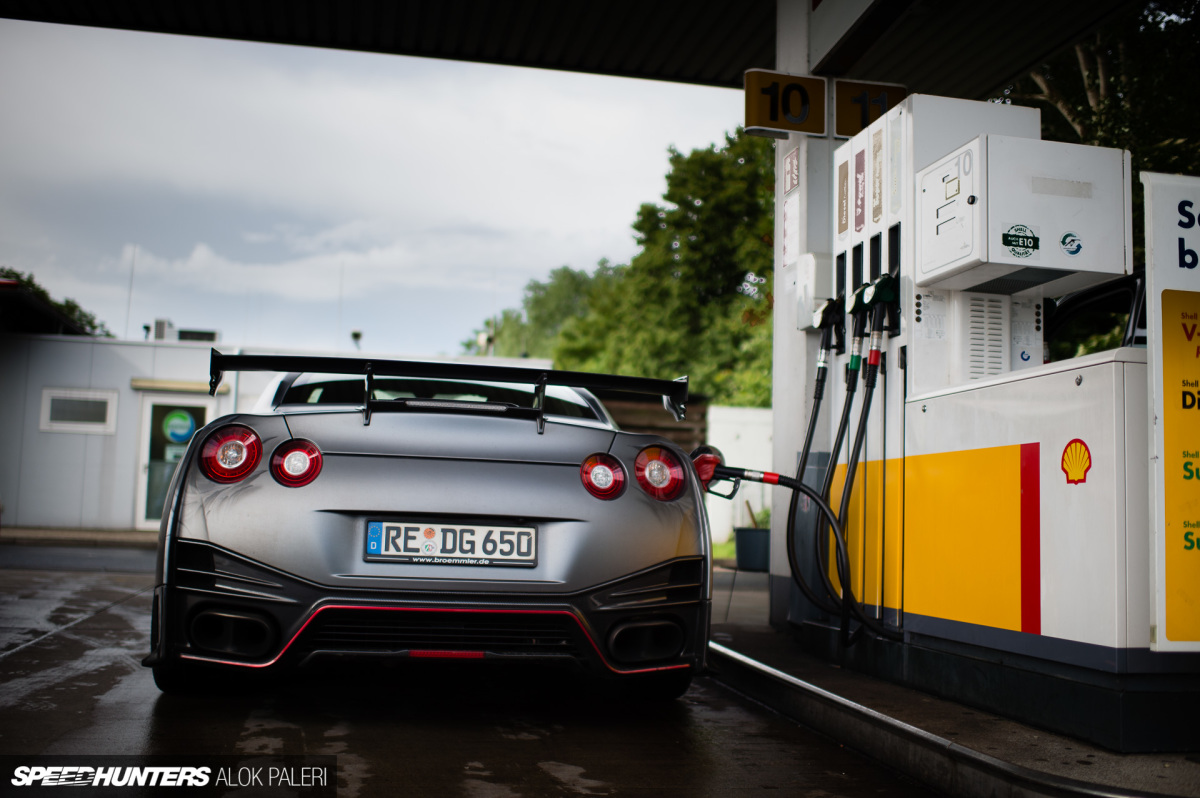 A couple of attempts later, I noticed I was running on fumes, so I eased up and pulled into the next gas station. This car was specifically mapped for optimum output with 102 octane fuel, which in Germany is only available at Aral gas stations. Shell is next best option offering its blend of V Power Racing 100 octane fuel, so it was good thing I'd done what I wanted to do already.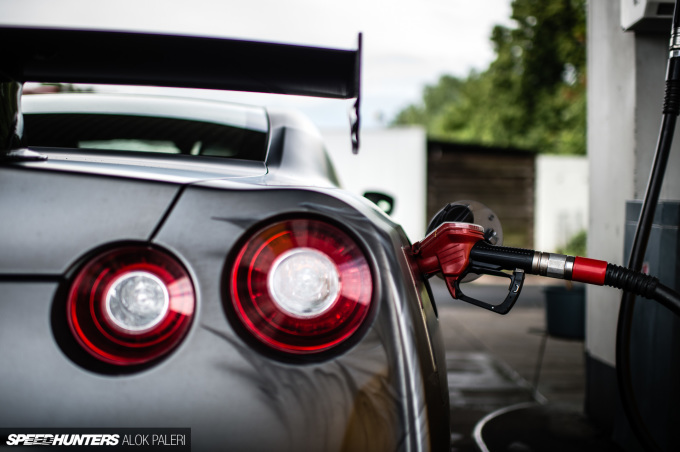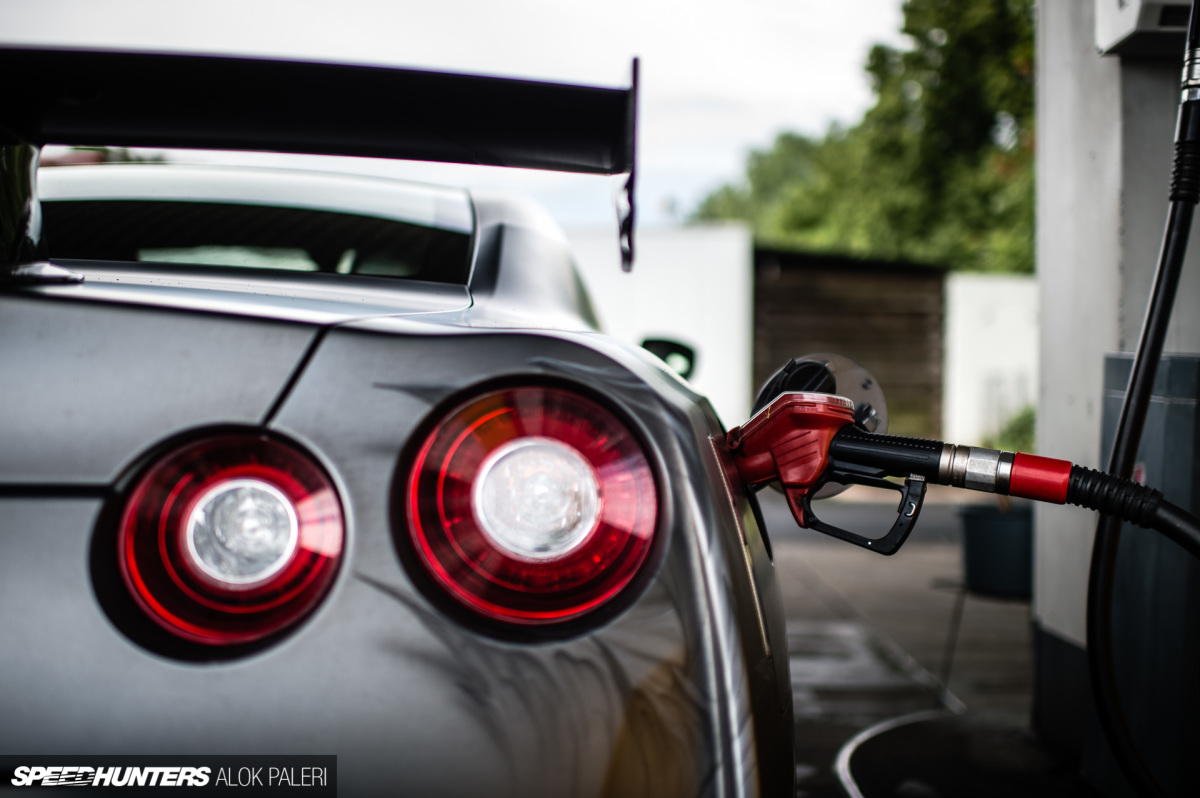 As I waited for the car to fill up, it struck me that I hadn't really covered much physical distance since my last fuel stop. A quick calculation on my phone revealed I'd used 55 litres of fuel in just over 81km. That's just under 3.5mpg! I immediately wondered if there was a hole in the tank, but alas no.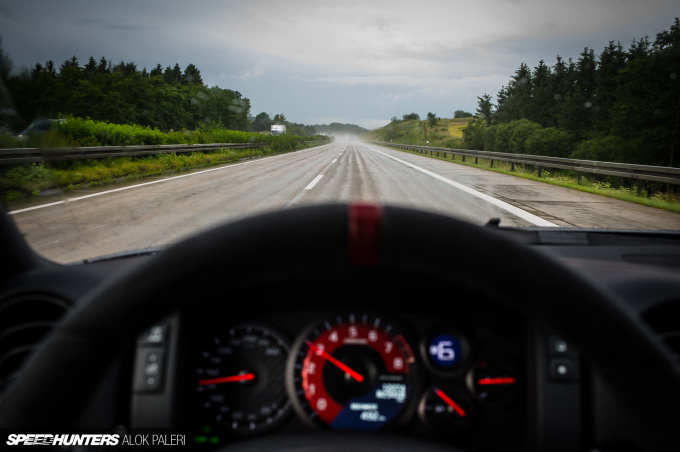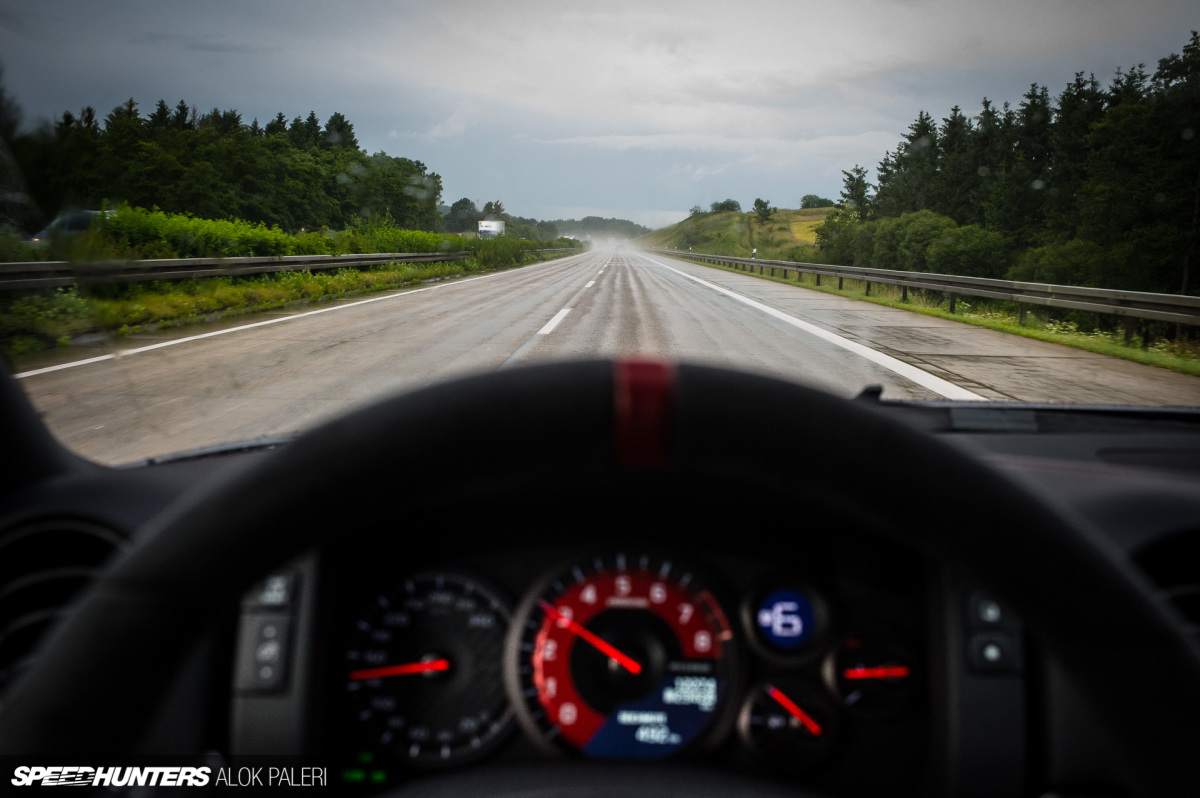 The rain started coming down as soon as I got back on the road, so I settled into cruise mode. The suspension was switched to the 'Comfort' setting, and I cranked up the brilliant Bose audio system that comes standard in the GT-R.
The R35 on almost-worn Dunlop Sport Maxx tyres really didn't like the rain, so my progress slowed down considerably. On the upside, I managed to squeeze out a bit over 500km from the tank of Shell fuel.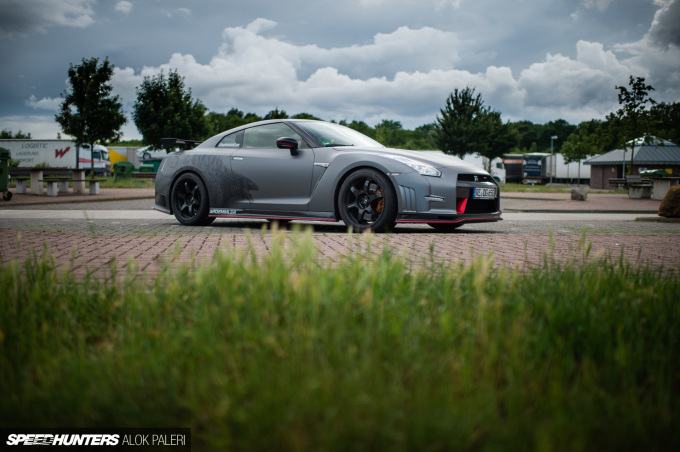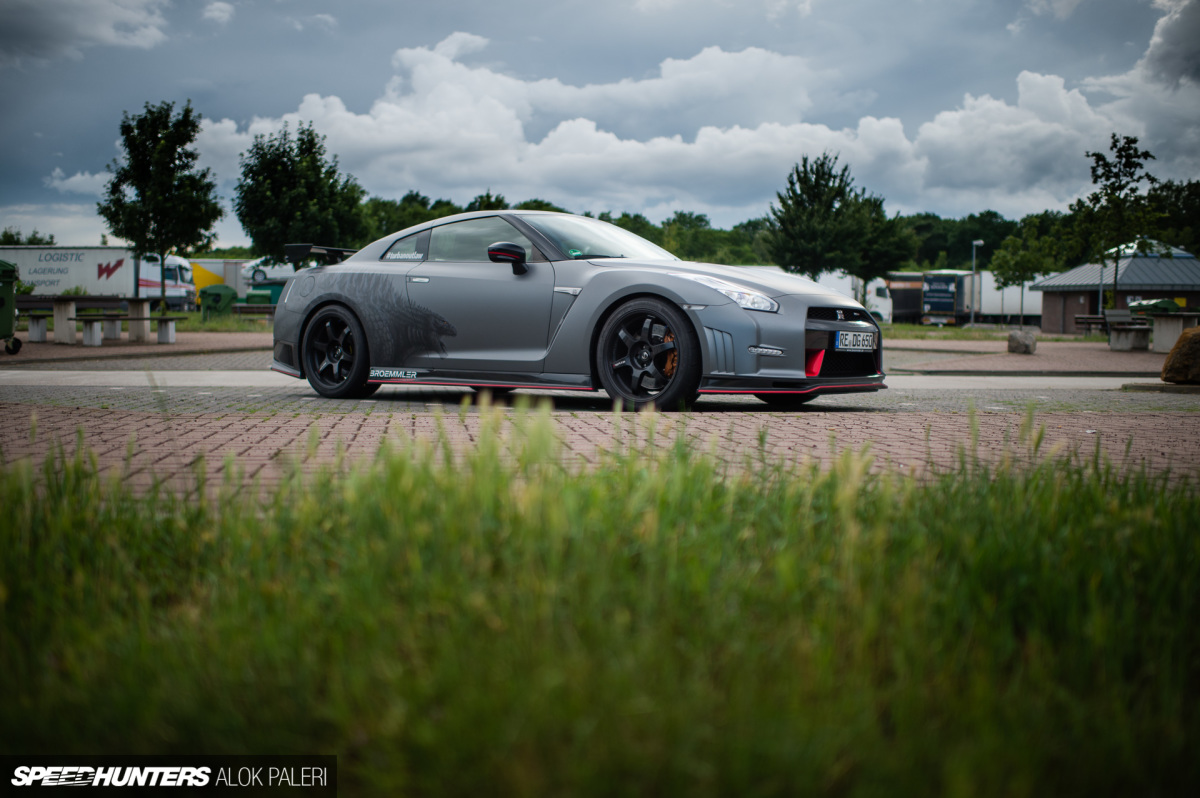 Usually on trips like these I get approached by adults who are interested in knowing a bit about the car, but for a change this time it was children who were dragging their parents over to check out the Godzilla artwork.
With the sun coming down, I slowly rolled into Hamburg. They say time flies when you're having fun, so it's little wonder I barely realized the day had already come to an end.
The Last Leg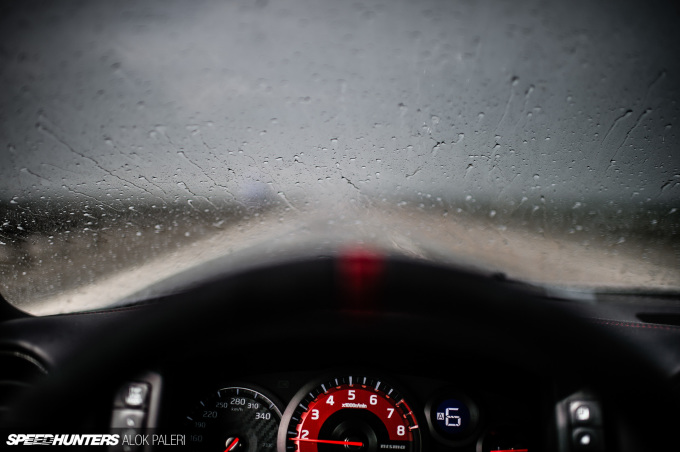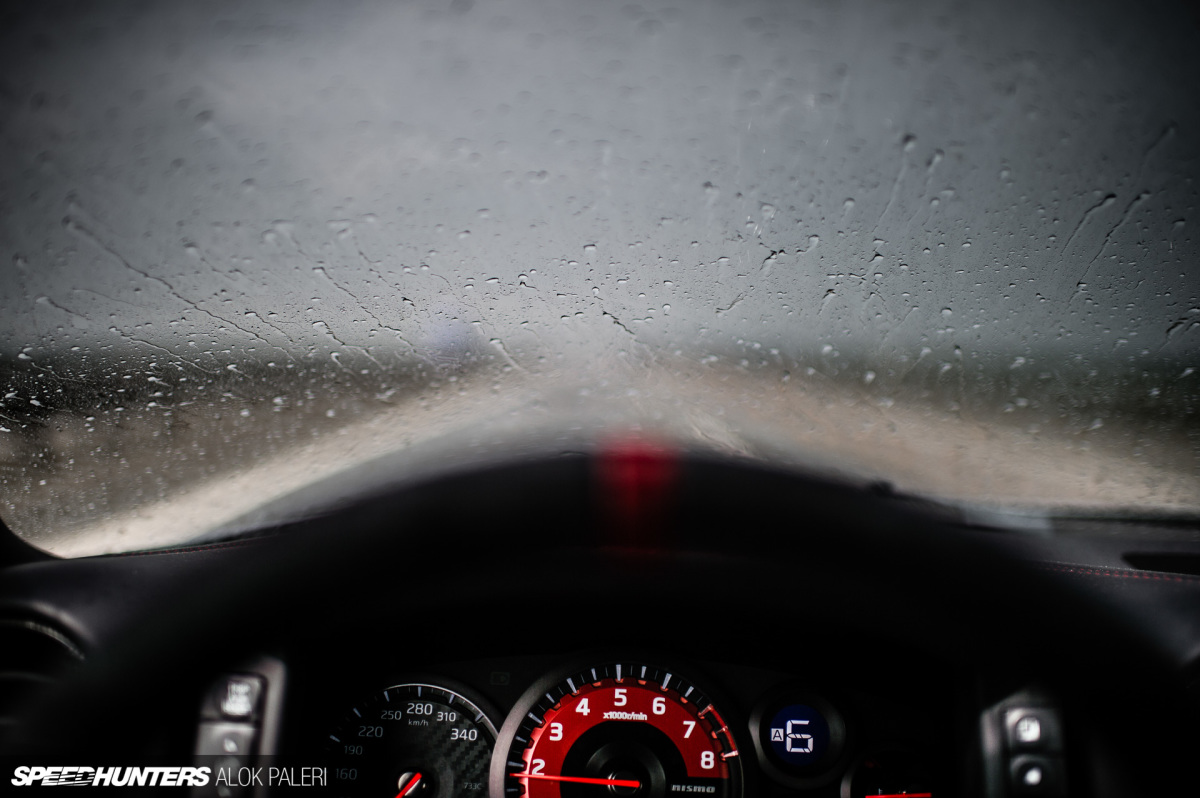 The weather wasn't much better in the morning as I left Hamburg headed towards Denmark, and the car was aquaplaning all over the place so I was super relaxed.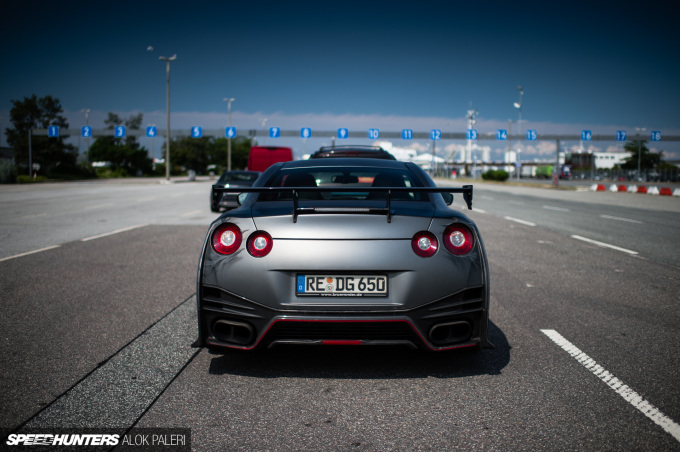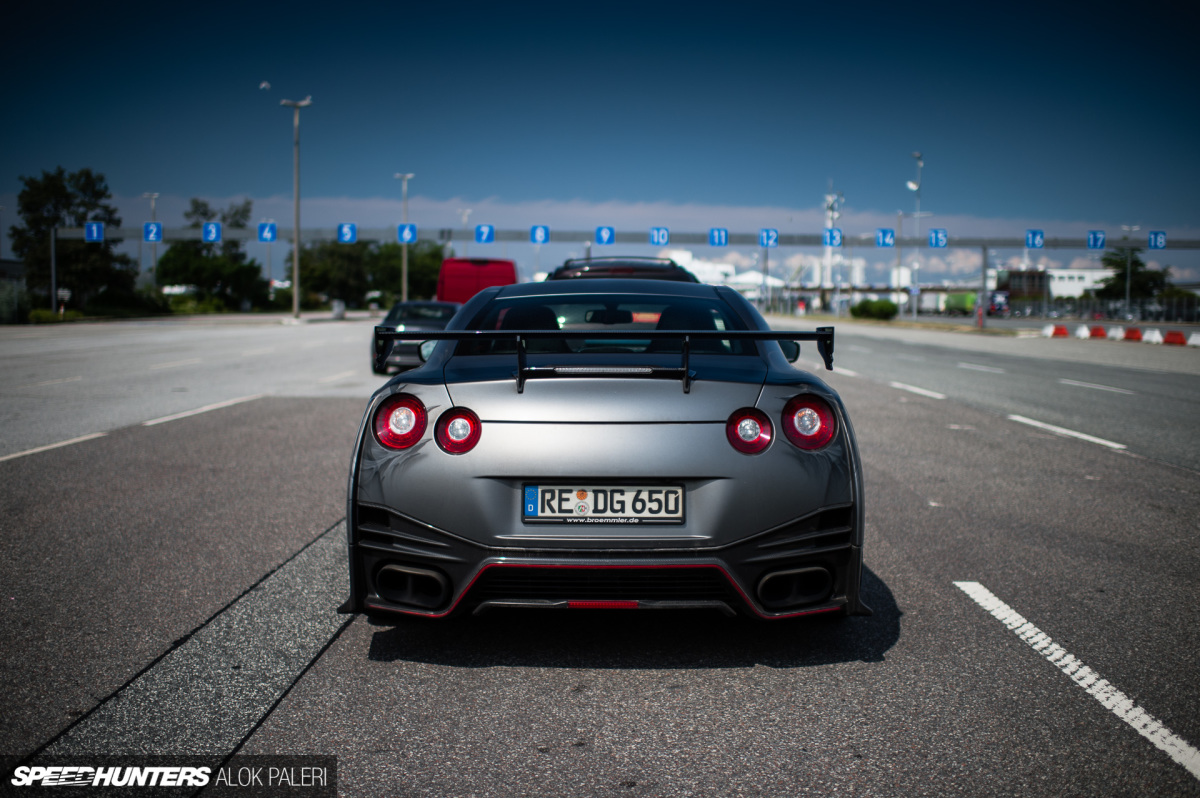 Eventually the sun did peek through as I arrived at Puttgarden to catch a ride across the 12-mile (19km) Vogelfluglinie.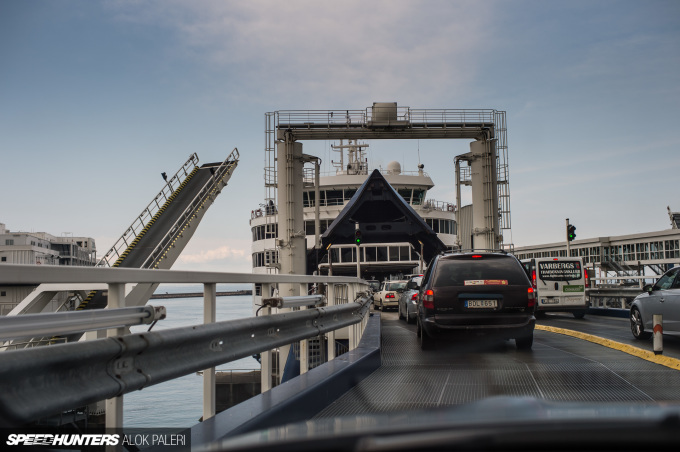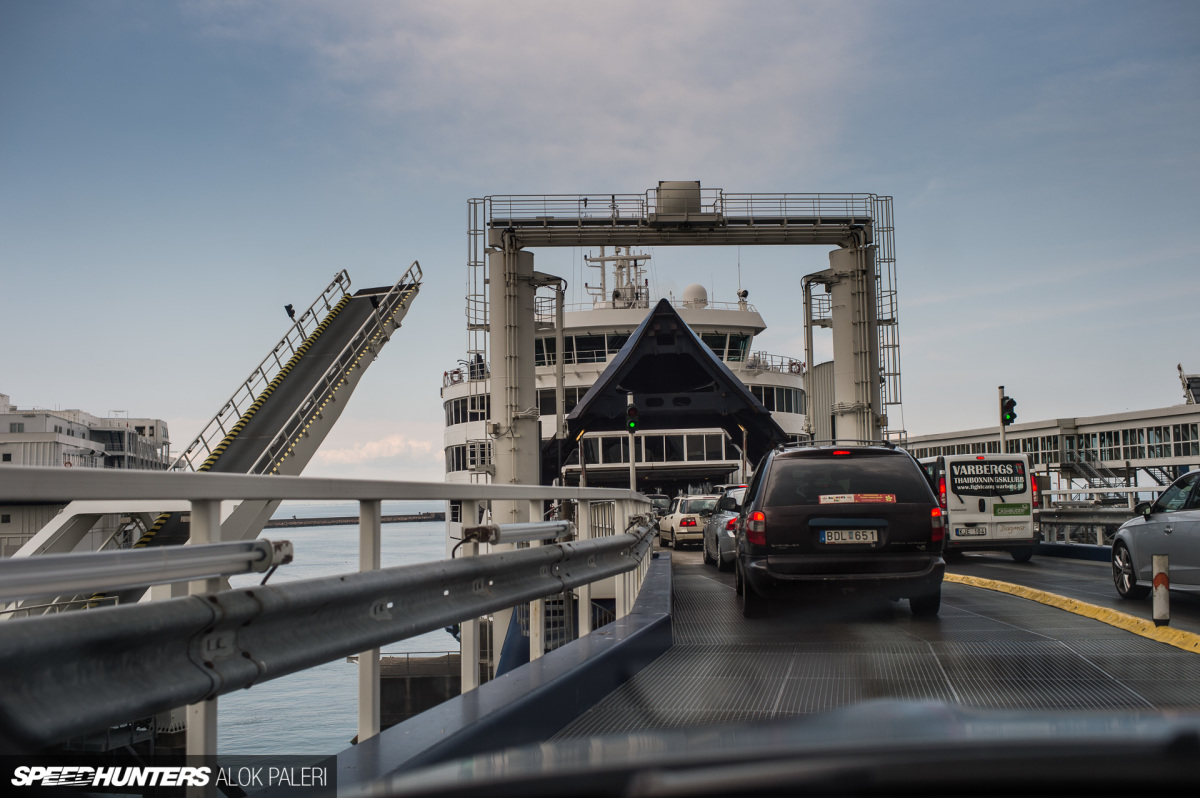 As I drove onto the ferry, I became conscious for the first time about just how wide the GT-R was.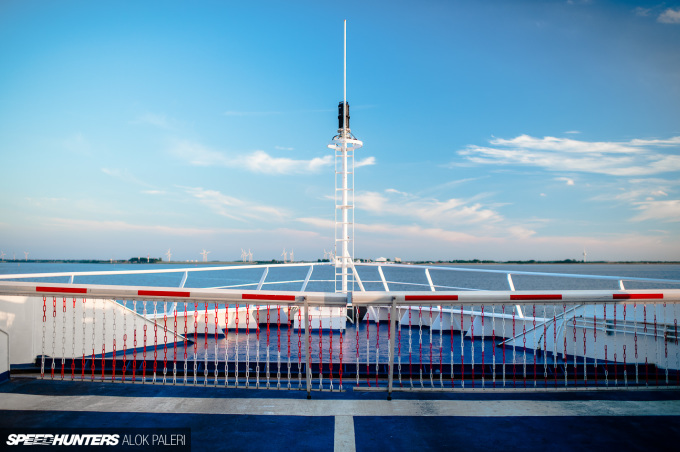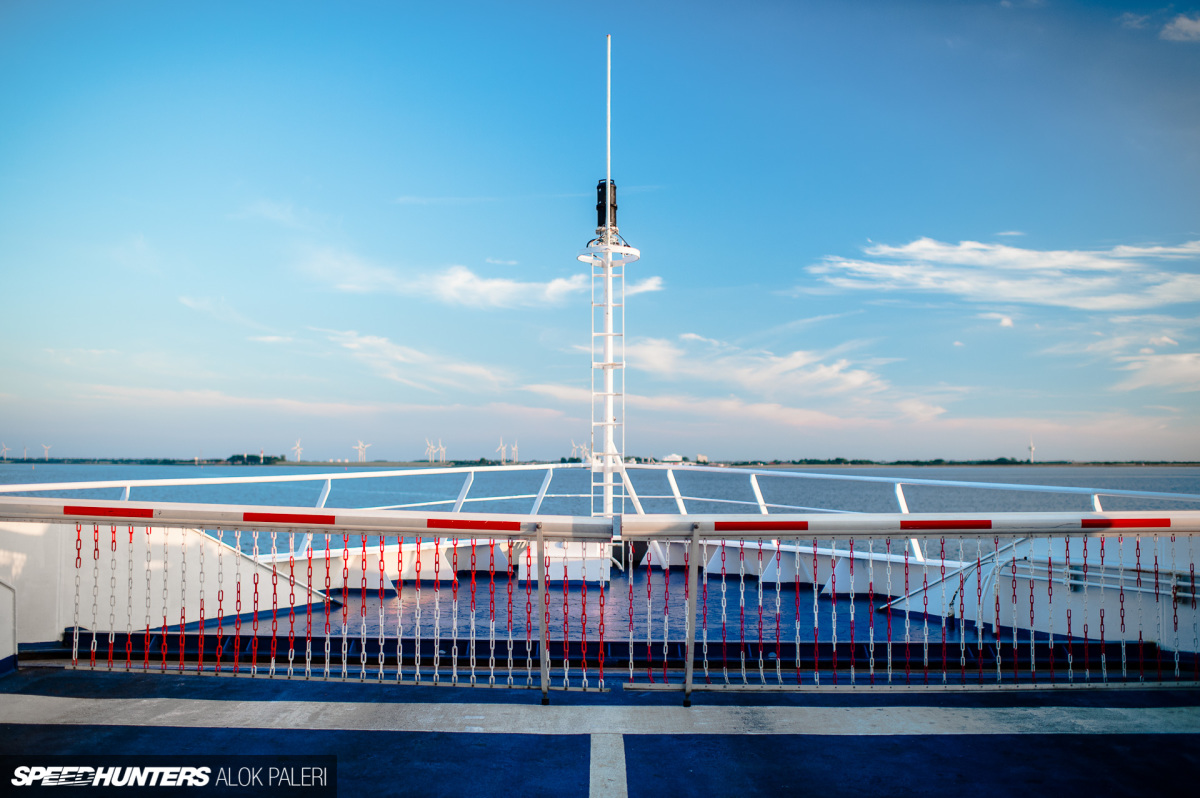 Next stop, Denmark.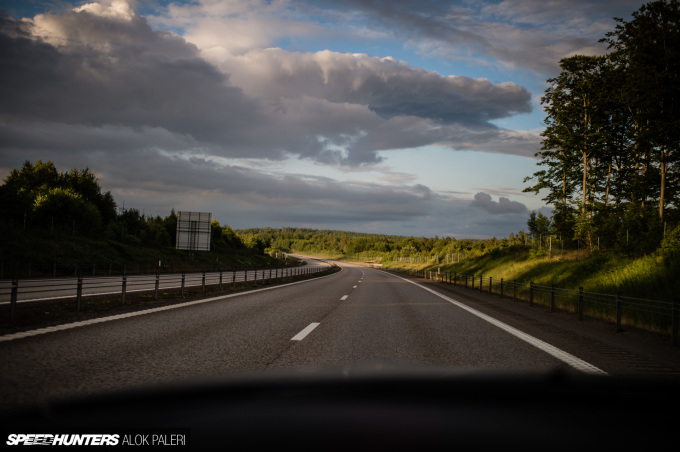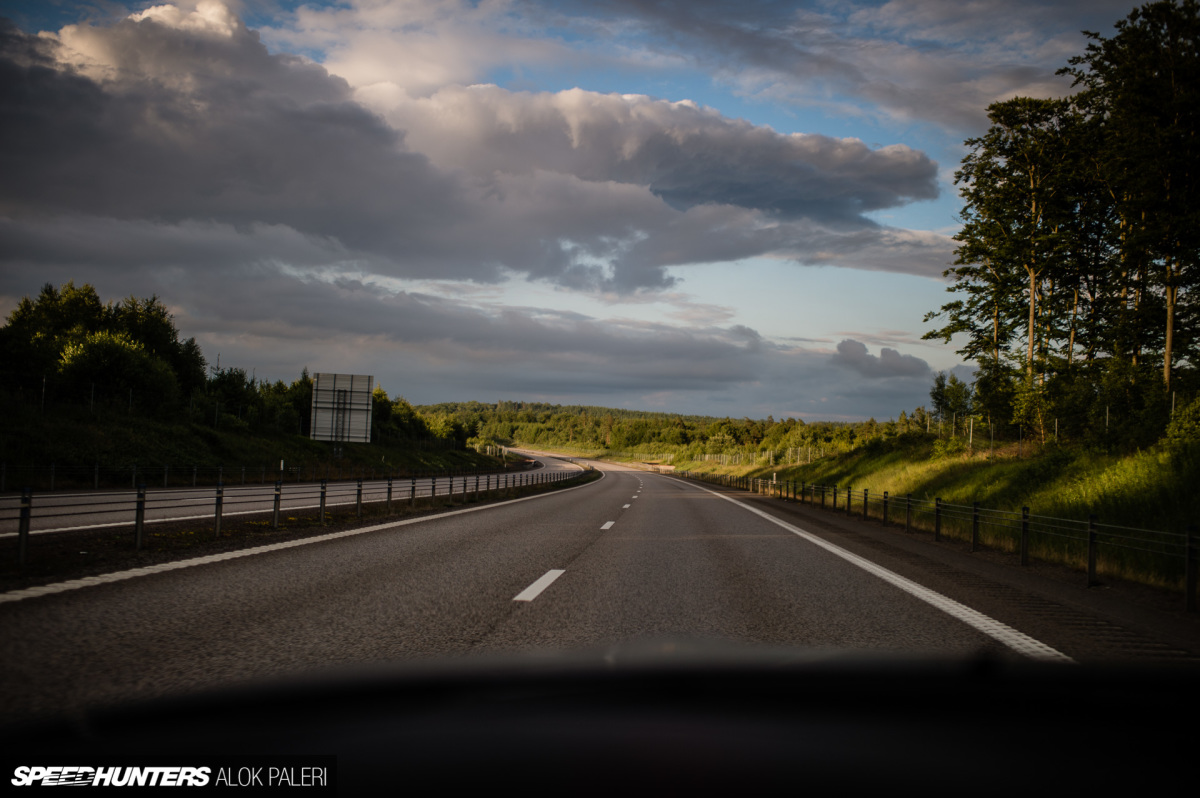 After all that bahnstorming in Germany, empty motorways and speed limits can get disorientating very quickly.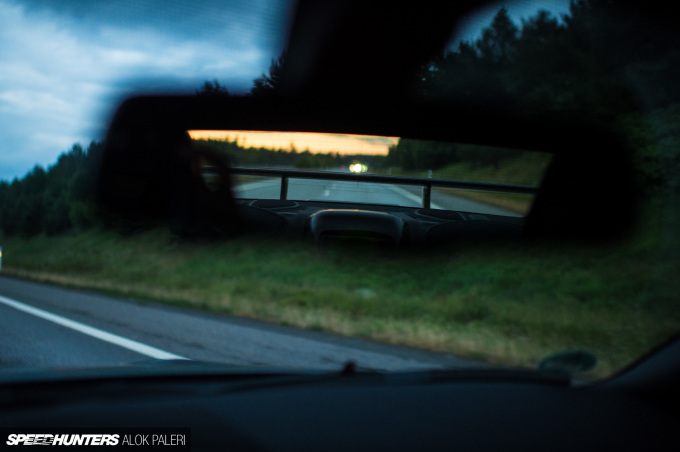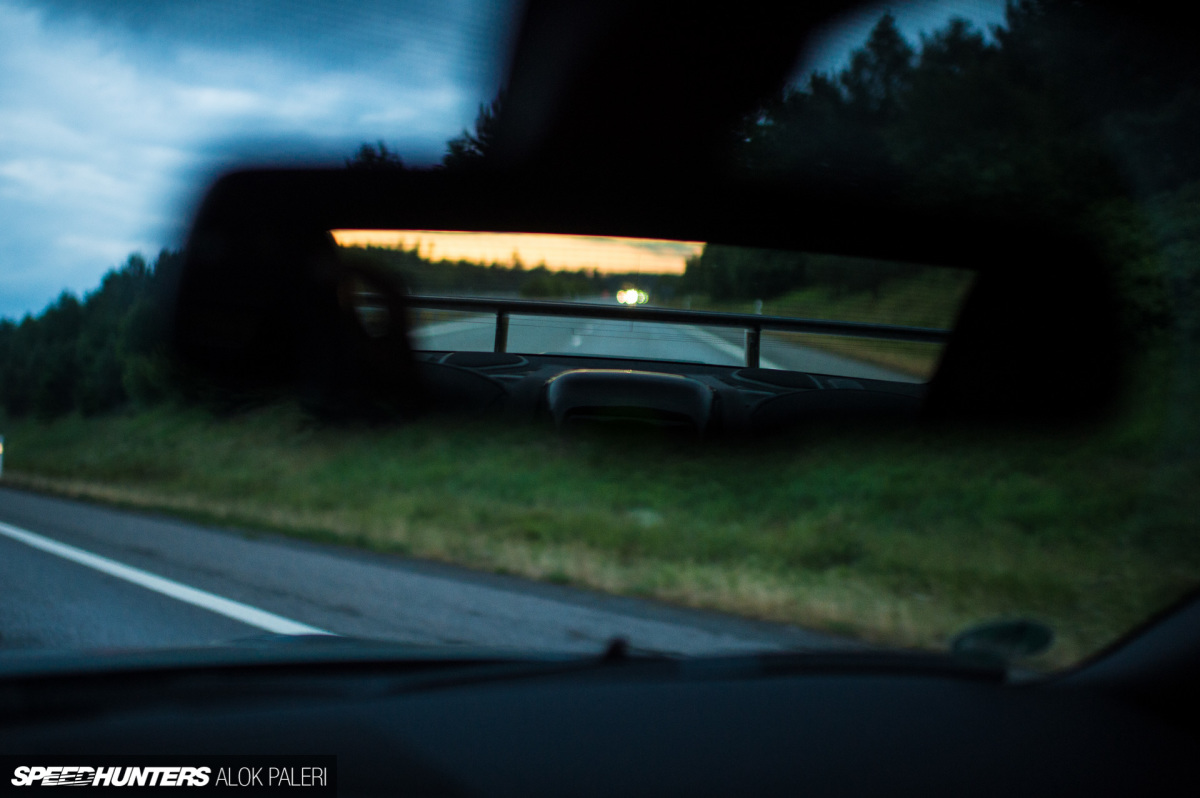 Suddenly 130km/h felt very pedestrian.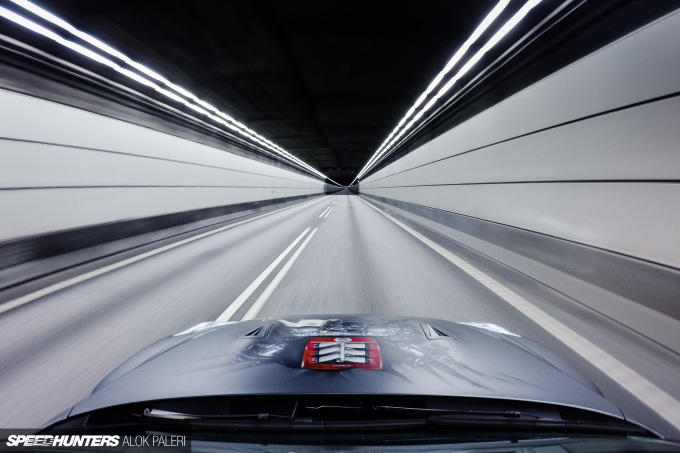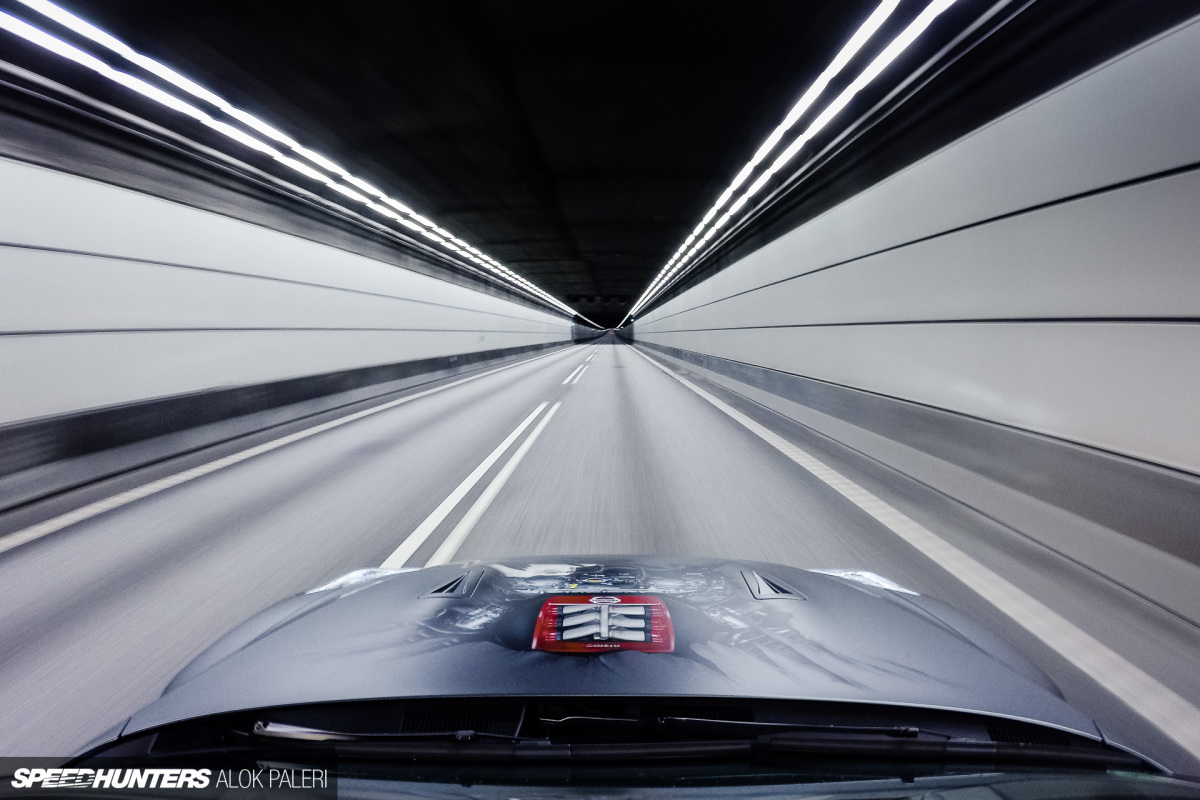 For some reason, the Øresund Bridge and following tunnel were pretty much completely devoid of traffic when I was on it, so you can imagine I had less of a guilty conscience of being a public nuisance when I opened the exhaust valves and worked my way up and down the gears a few times. Picking up revs the engine just screamed its heart out. No amount of caffeine can deliver a better wake-up effect, I'm convinced.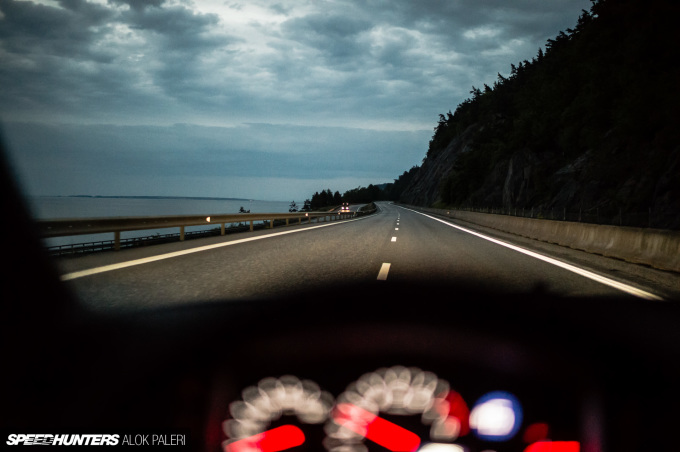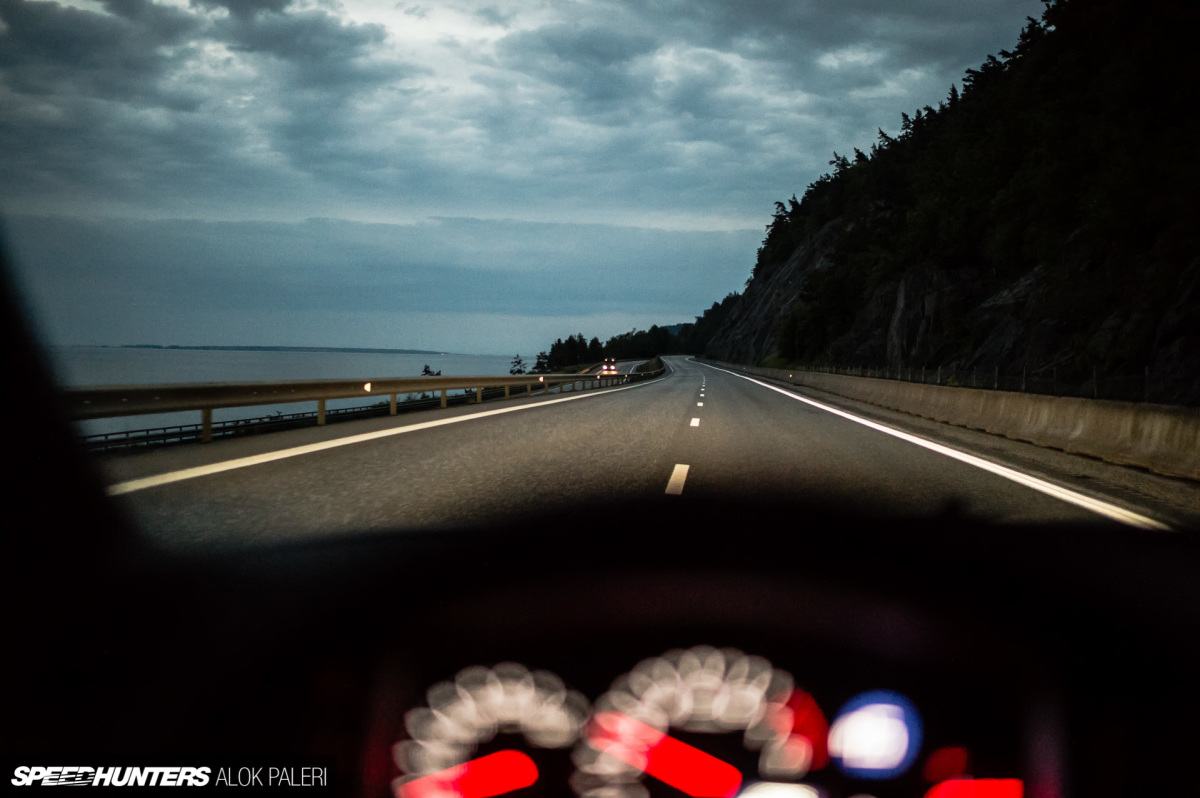 The motorway by the water provided a stunning backdrop to the midsummer night drive on the final leg towards my destination.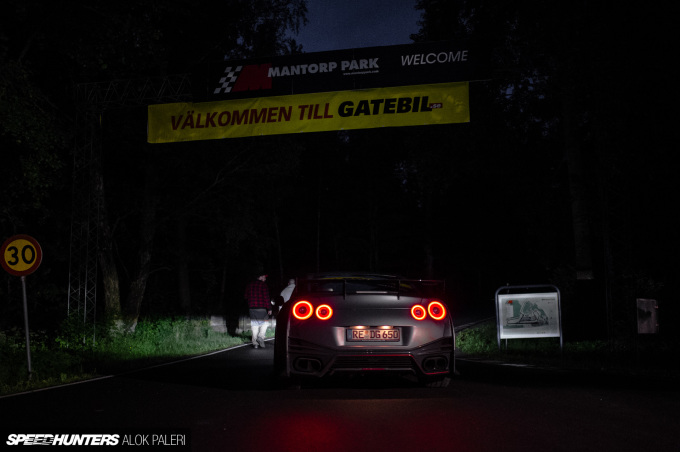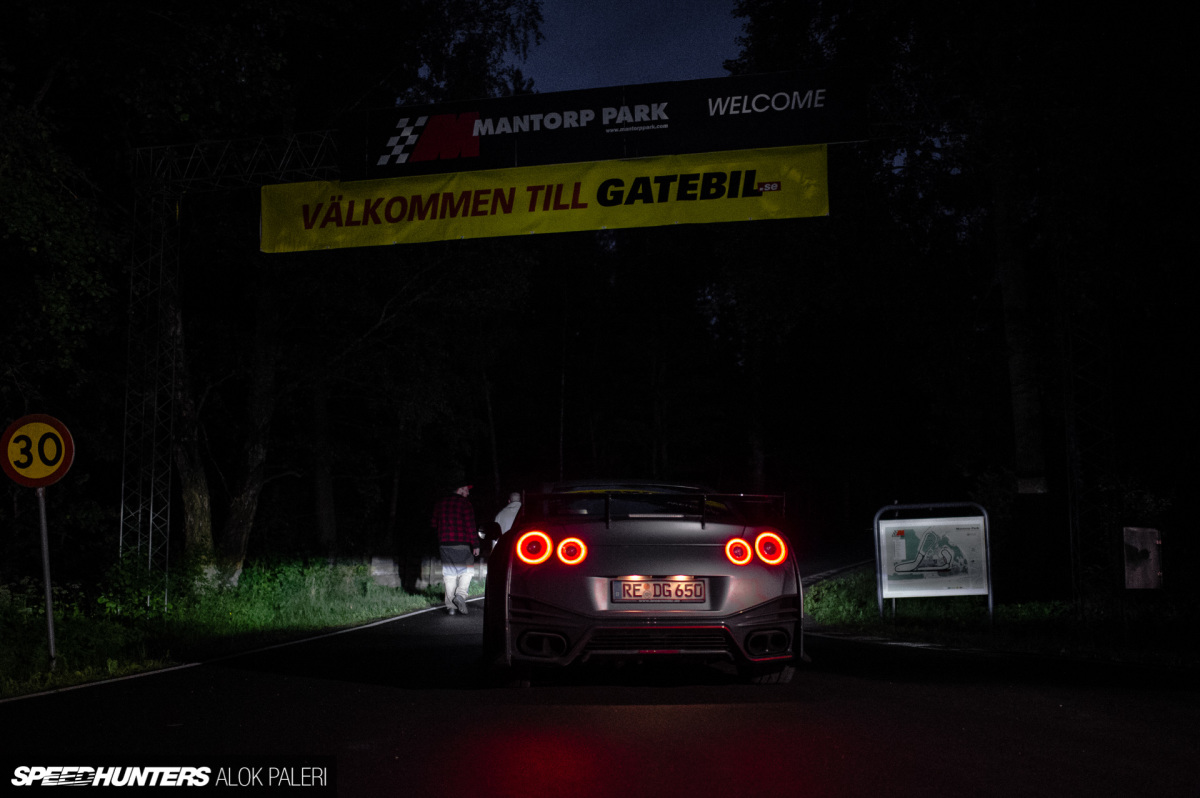 And by midnight, struggling to stay awake, I finally made it to Mantorp Park.
What did I find there? Stay tuned for the main event coverage…
Alok Paleri
Instagram: turbanoutlaw
alok@speedhunters.com