A Unique Project
Since childhood, I have always been fascinated with automobiles. In fact, my very first word as an infant was 'car'. Despite my engineering background being more geared towards chemistry and fluid dynamics, my love and passion for cars has guided me into the fascinating world of tuner vehicles, and I love them all.
So, one could only imagine the excitement when Mel Mayuga, service manager at McKenna Porsche in Norwalk, California, reached out to my team and I to build a Porsche 911 commissioned in the honor of Steve McQueen. A unique 1 of 1 project to be built and then auctioned off for charity, with the proceeds benefiting the Boys Republic in Chino Hills.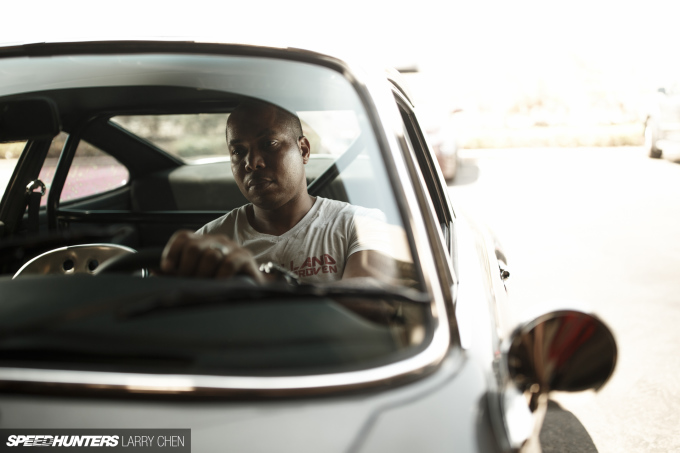 The Boys Republic is a non-profit treatment community for troubled youth, and it has a special connection with 'The King of Cool'. After a nasty altercation with his stepfather, McQueen was sent off to the Boys Republic as a youngster. In his older age, he credited the Californian facility to turning his life around, hence the idea behind this unique project: something Steve McQueen would drive if he were alive today.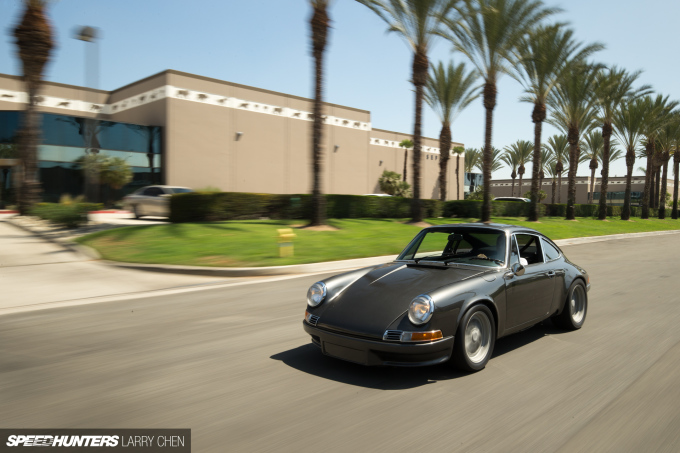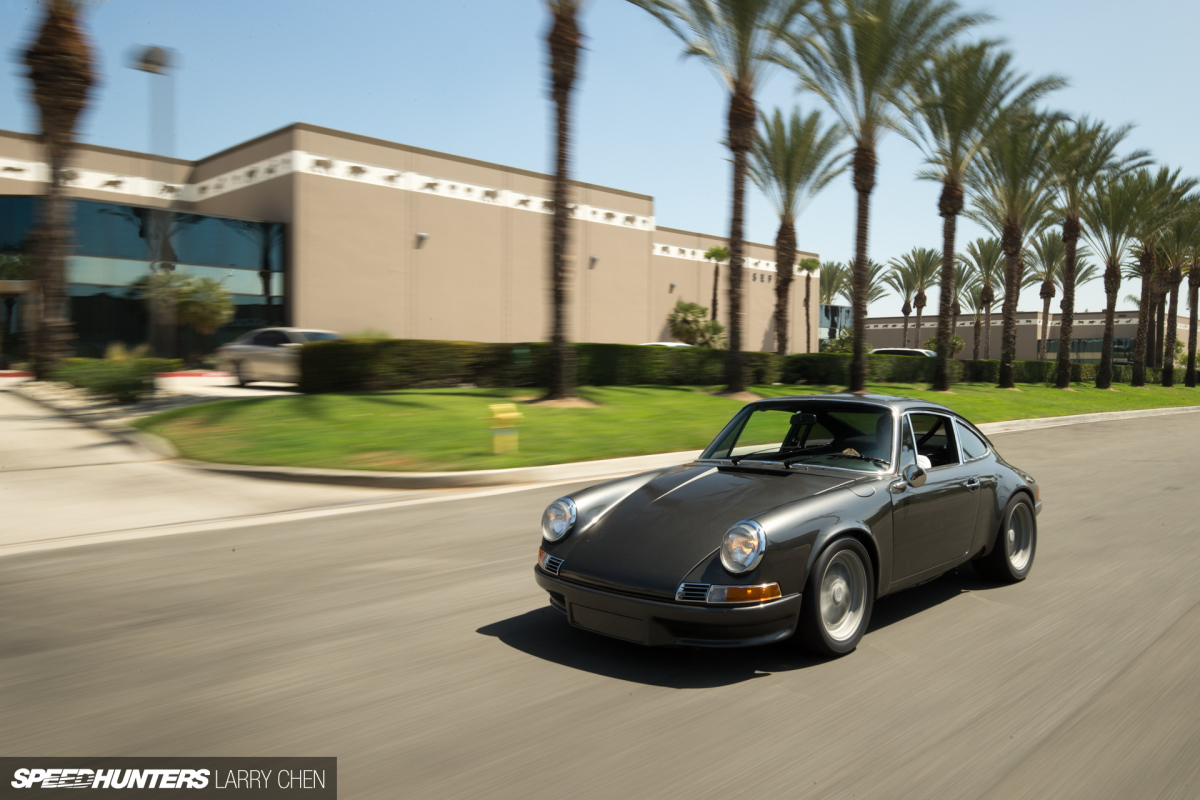 After a blessing from McKenna's GM, Bob Hogan, and with the financial support of Danny McKenna, Brad Doyle, and Dunkel Bros.' Peter Dunkel, the project was a go. As an admirer of the classic Porsche body lines, and an advocate of modern technology, it was my goal to create an old school driver's car chock full of today's tech. Think lightweight, reliable and quick – a car that appeals to all the senses.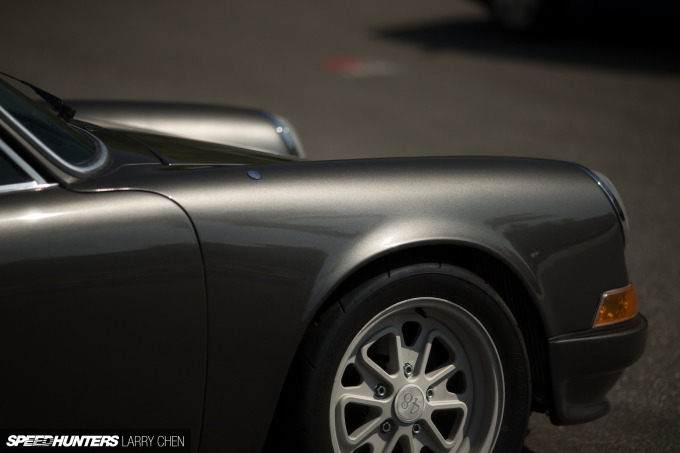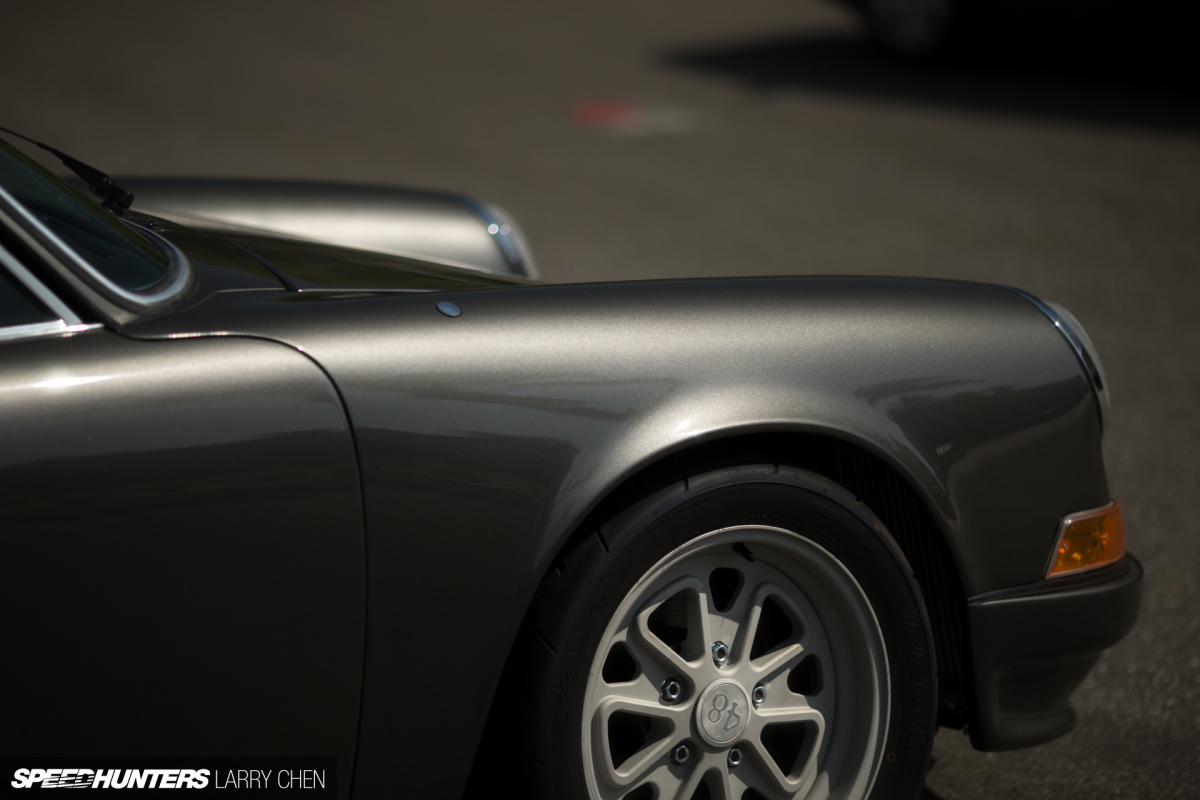 The base donor was a 1980 Porsche 911 SC, with a 3.0-liter air-cooled engine and an antiquated CIS injection system, but part of the plan was to backdate it to mimic the previous generation 911 produced from 1969 to 1973. In pure Porsche RS tradition, my team and I also wanted to eliminate any obnoxious creature comforts, and also integrate the latest in Porsche's air-cooled offerings: the majestic 3.6-liter flat-six powerplant from the Porsche 964/993 family.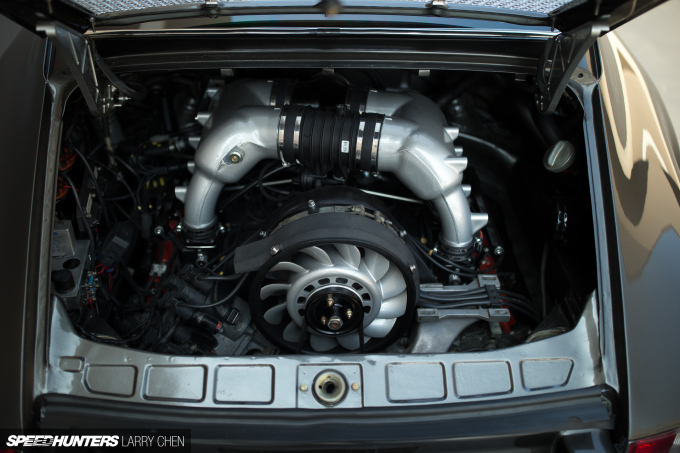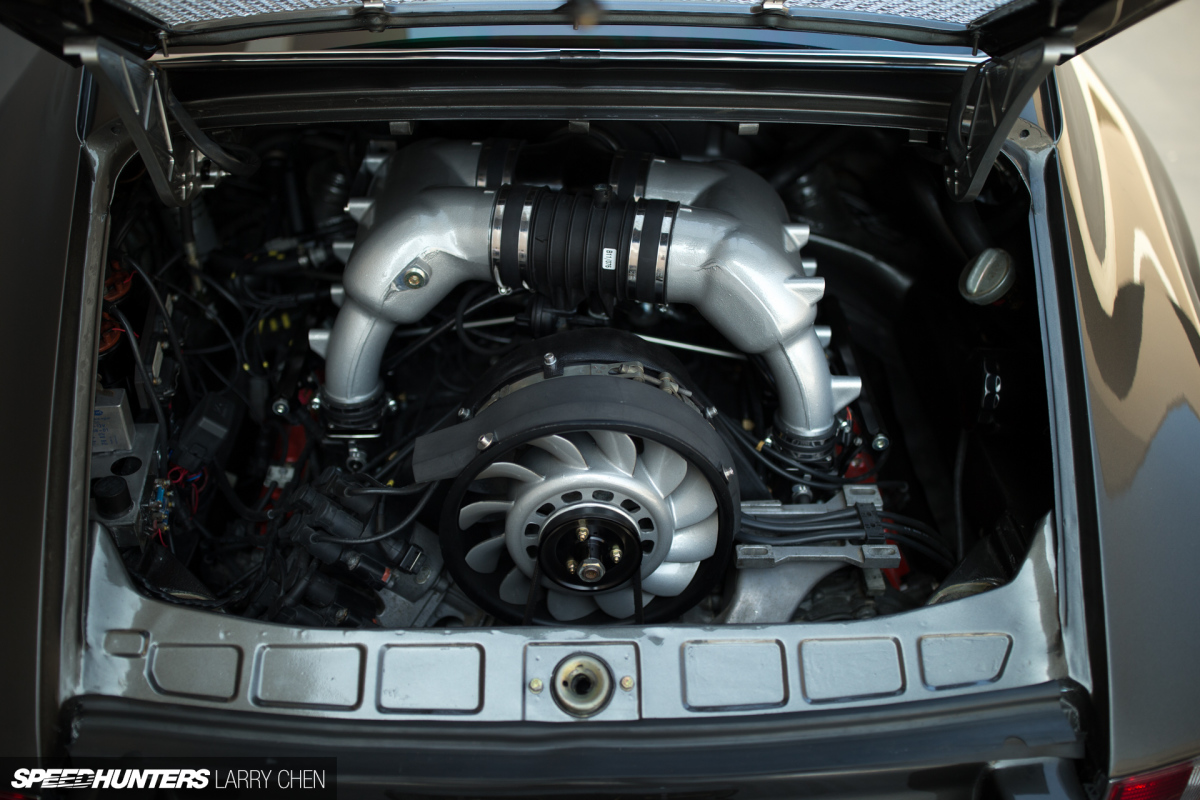 Electing to use an AEM Infinity 506 ECM with dual lambda sensors for each engine bank, the 'new' base engine was updated to pure sequential injection, and seamlessly integrated into the backdated SC's slate grey chassis with a Bisimoto PNP harness system, using GuldstrandPro amenities. Porsche does an excellent job in creating a pure driver's car that's excellent for daily driving and also track-ready upon demand. I wanted to push the envelope even further and make this build more Porsche. The intake plenum was harvested from the parts bin of the water-cooled 996 GT3, which shares the very same bore spacing as the legacy 964/993 engine.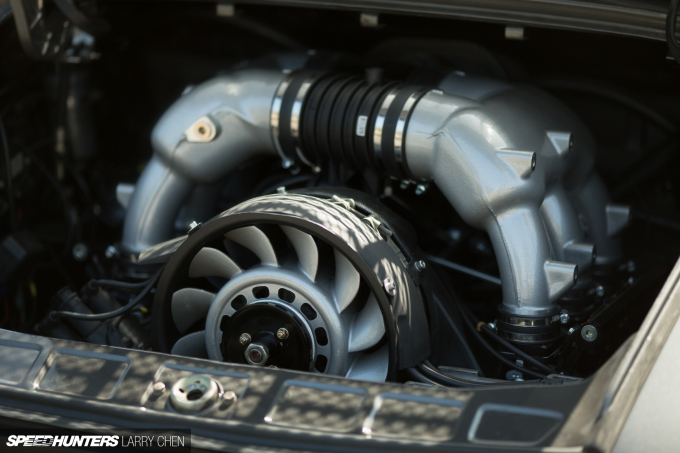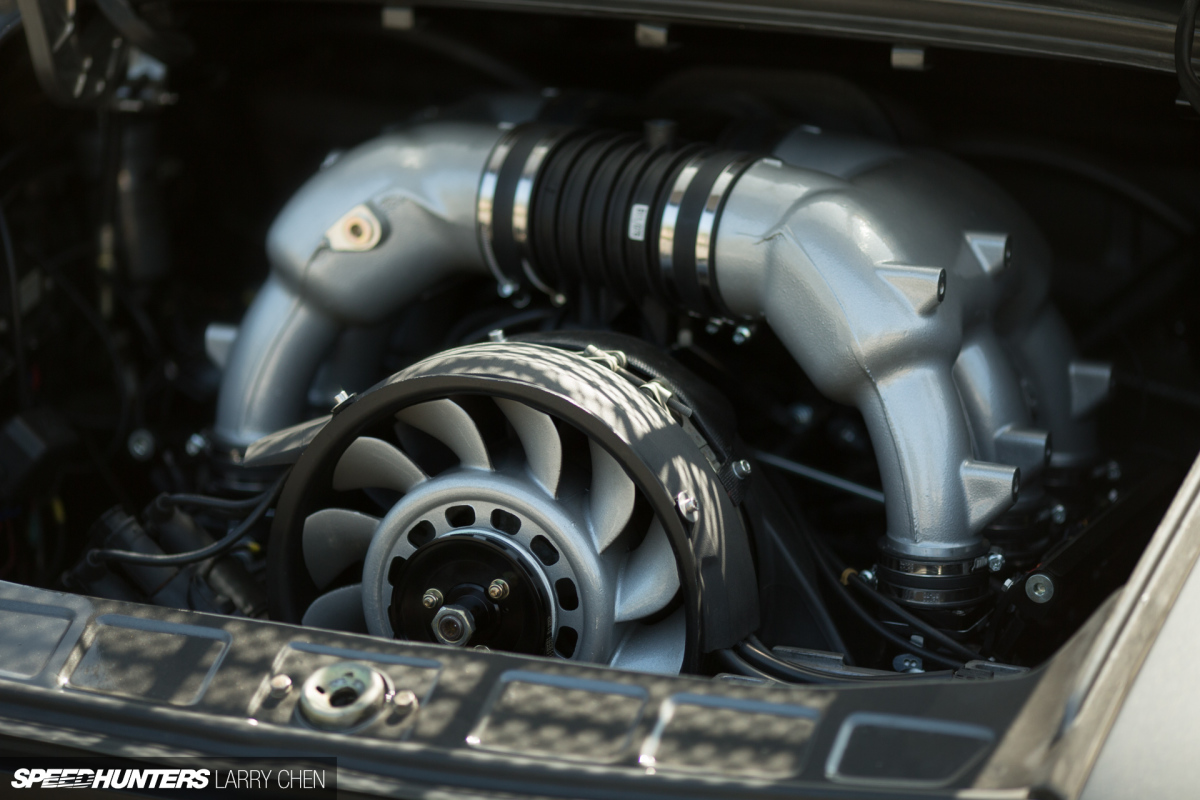 This was mated to individual 48mm throttle bodies, which receive fuel via Rothsport fuel rails and EV14 Bosch injectors. The setup uses the same Porsche chamber volume expansion technology, and with a crossover of 5600RPM, optimizes airflow at different engine speeds, rendering it superior to static individual throttle body packages.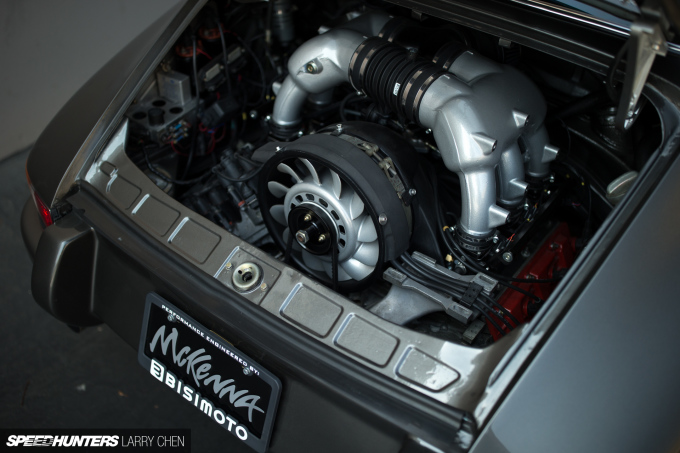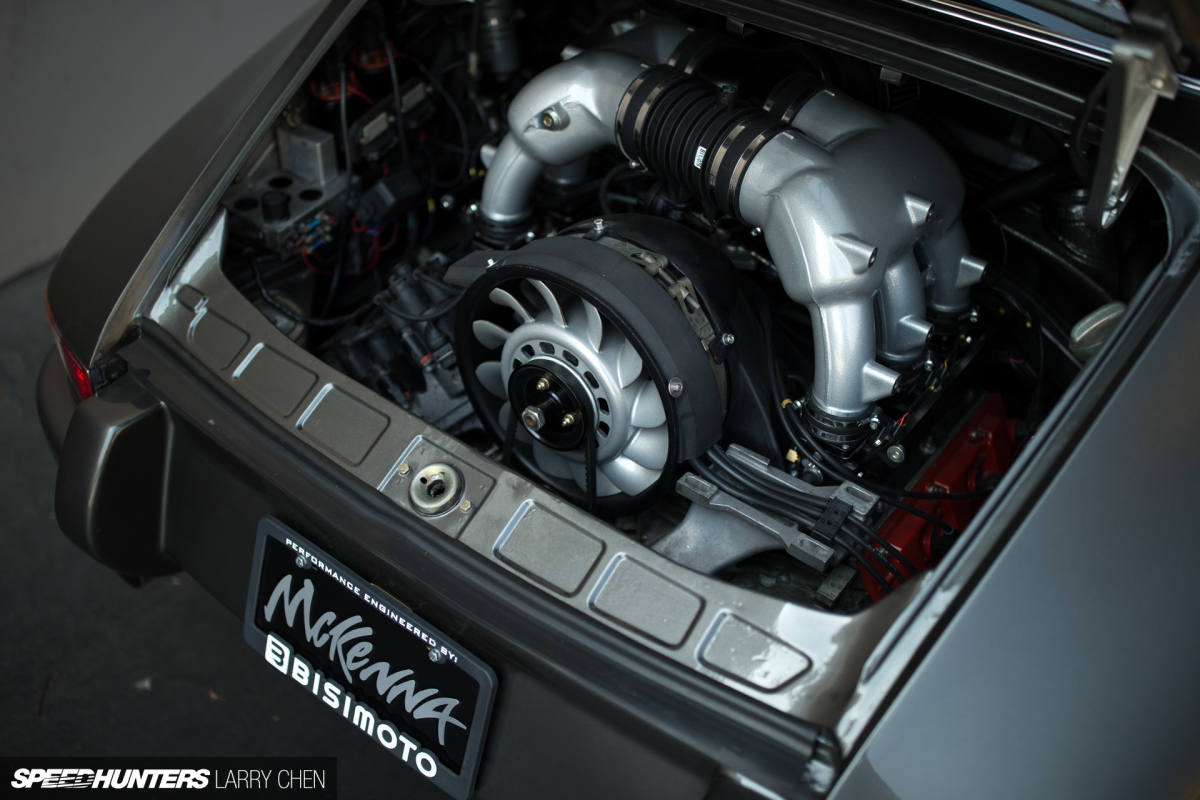 The actuator solenoid is controlled by the AEM Infinity and was optimized during the partial and full throttle tuning sessions at Bisimoto. The system also features closed loop wideband oxygen sensing for independent banks, and a sophisticated bank-specific knock protocol to ward away detonation during hot days, or if poor fuel quality is ever encountered.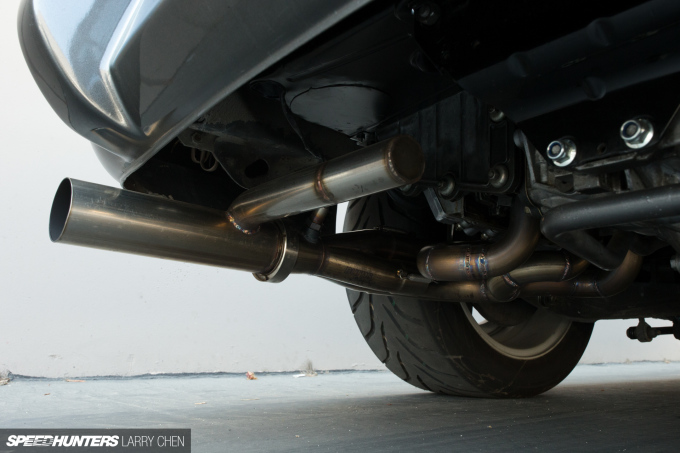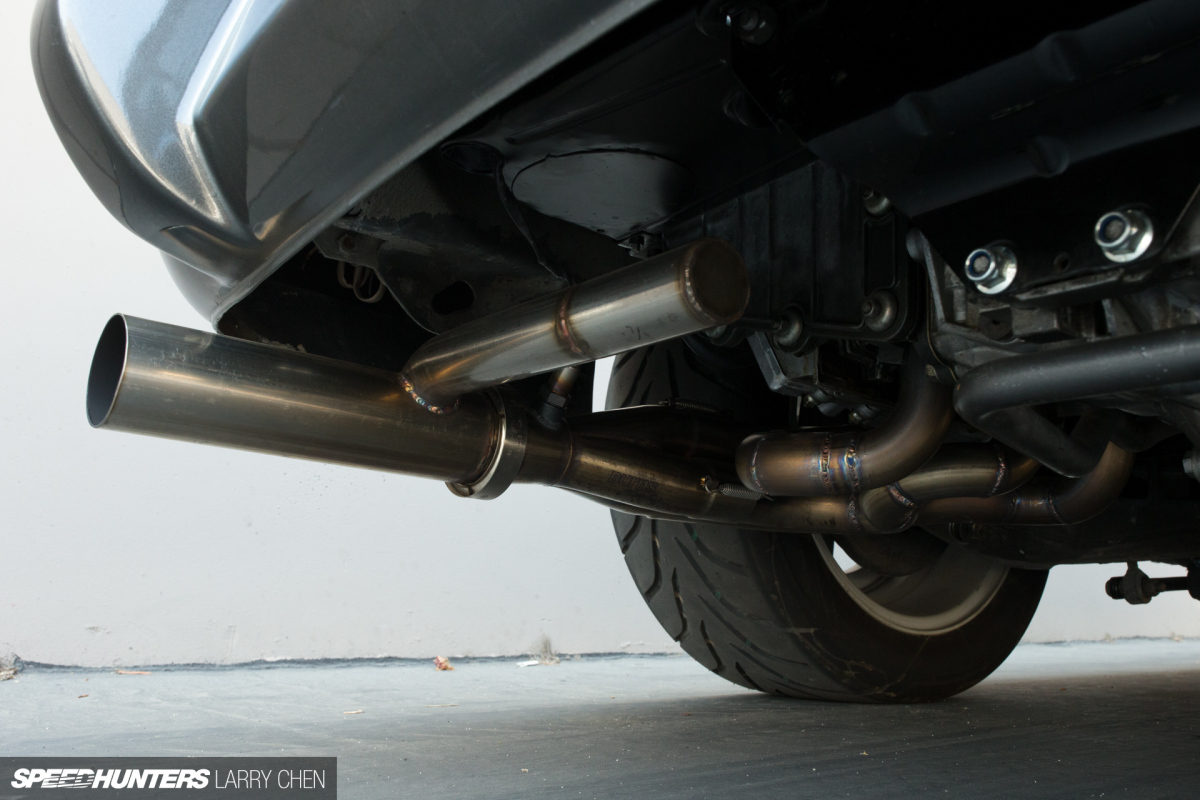 For this unique 911 project, I designed a stepped primary header system using algorithms perfected from my racing experience. The 304 stainless design optimizes exhaust flow, minimizes power-robbing reversion, and improves scavenging via a built-in venturi in each bank's 3-1 Burns collector, and PTB hardware.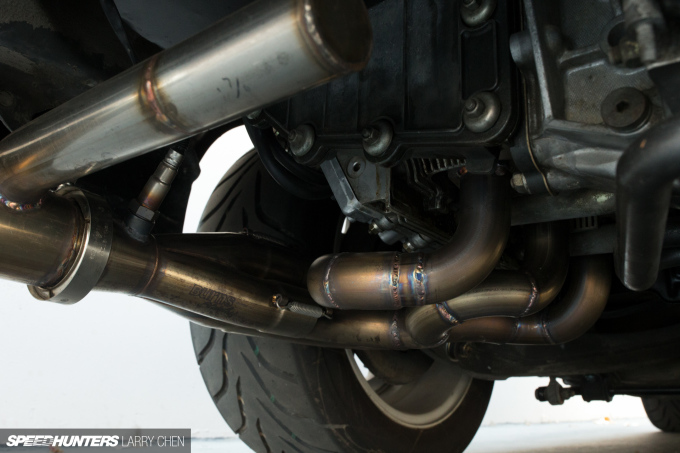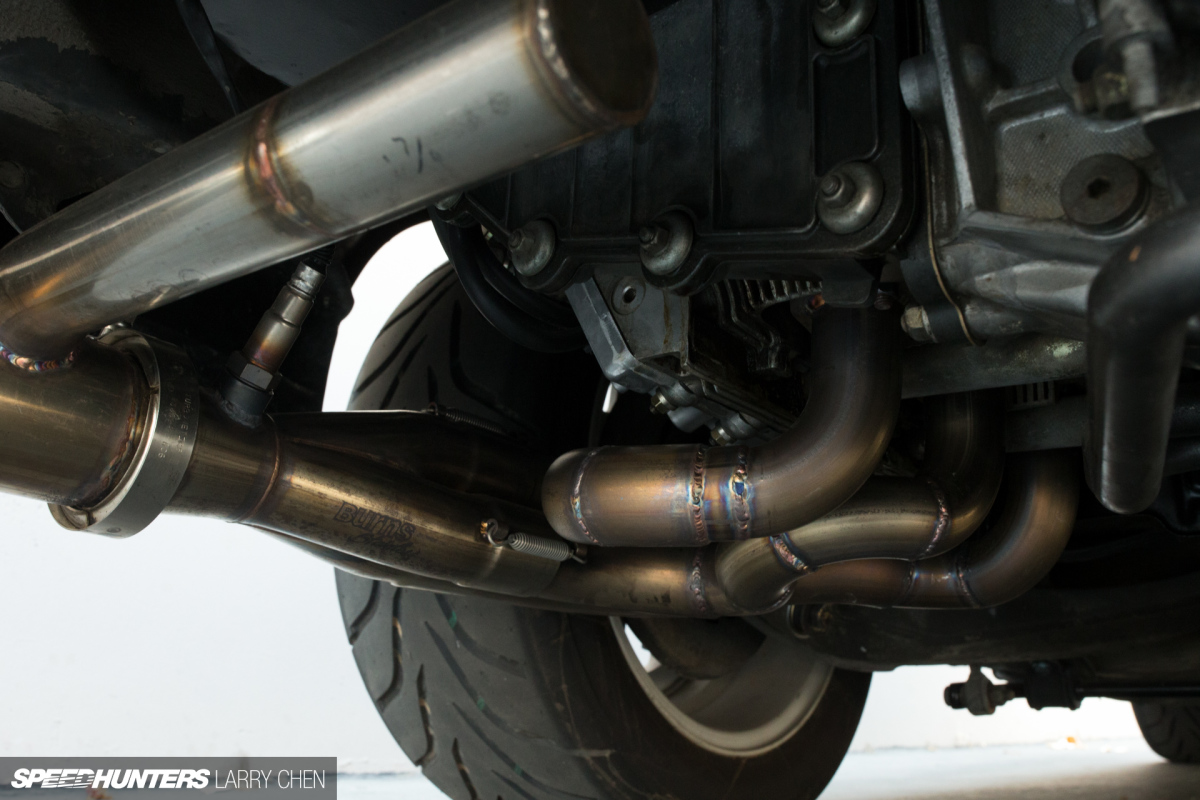 Connected via a 2.5-inch Vibrant v-band integrator, a custom pulse chamber system completed in house provides a myriad of power and sound advantages via Helmholtz influences.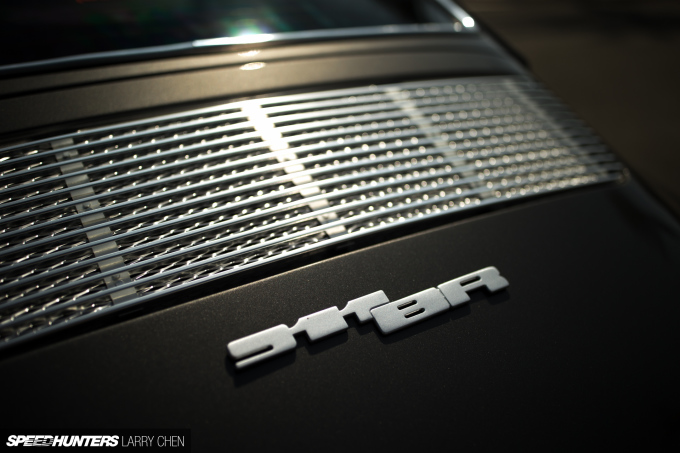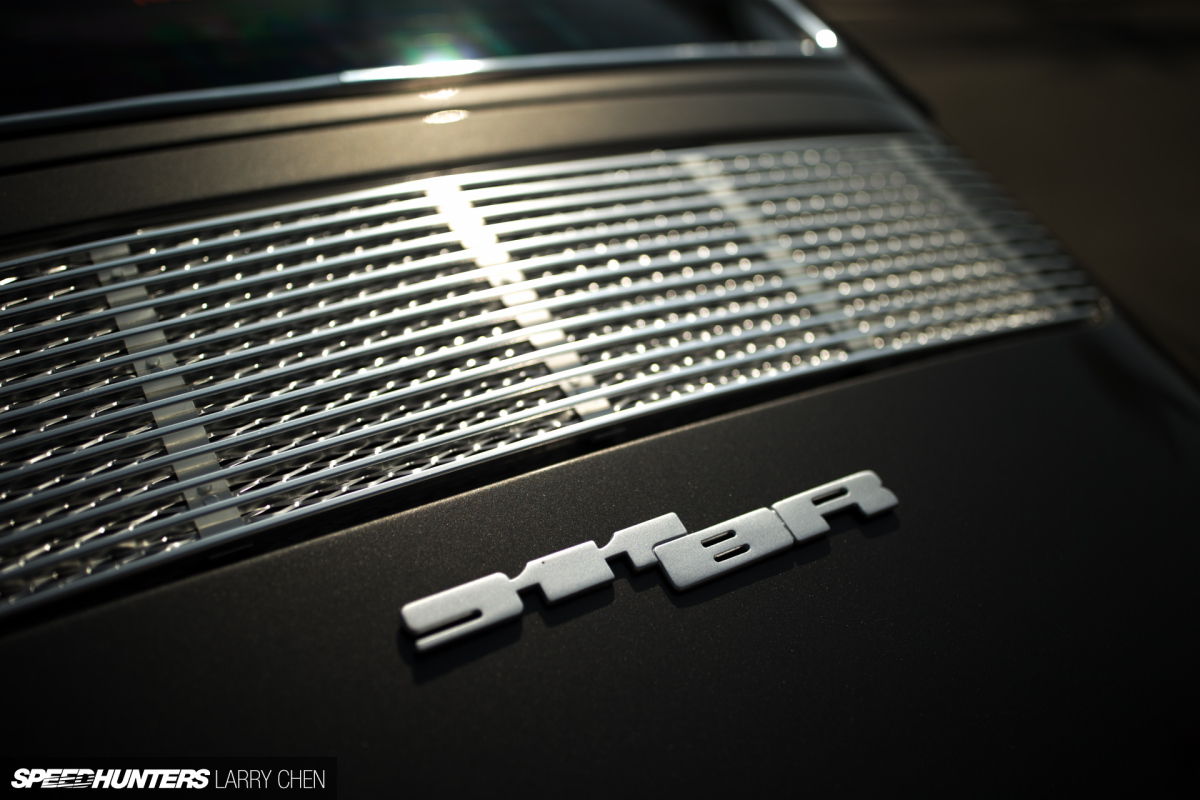 Ignited by 7 heat range NGK Iridium spark plugs, the result was 316hp with a wonderfully flat torque curve. Due to the meticulous tuning session on 91 octane, the throttle response and acceleration are exhilarating, as a proper driver's car should be. Nice, burbling idle, far from loud, but a race inspired tone when at wide-open throttle. The pulse chambers allow for a drone-less deep tone when cruising, allowing for cabin conversations when in 'flight'. The pulse wave technology also cancels unwanted sound frequencies, while enhancing scavenging at targeted RPMs.
Despite honing my skills in small displacement natural aspiration for decades, my recent projects typically involve big boost and power, with an emphasis on the latter and not much in the department of details. This build was a pleasant departure from that norm with some huge influence from Larry Chen.
Interior Details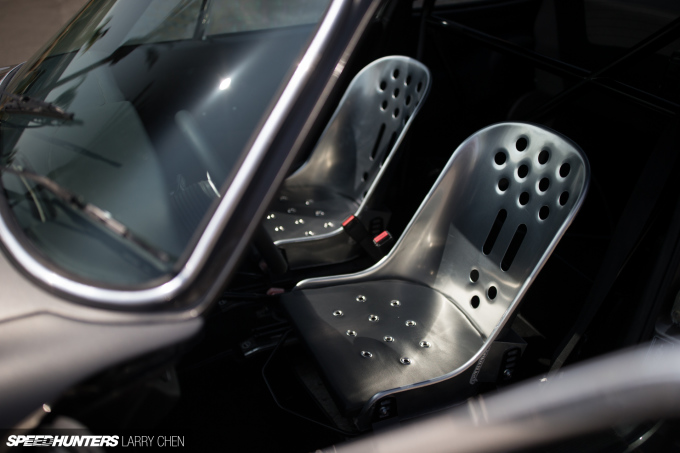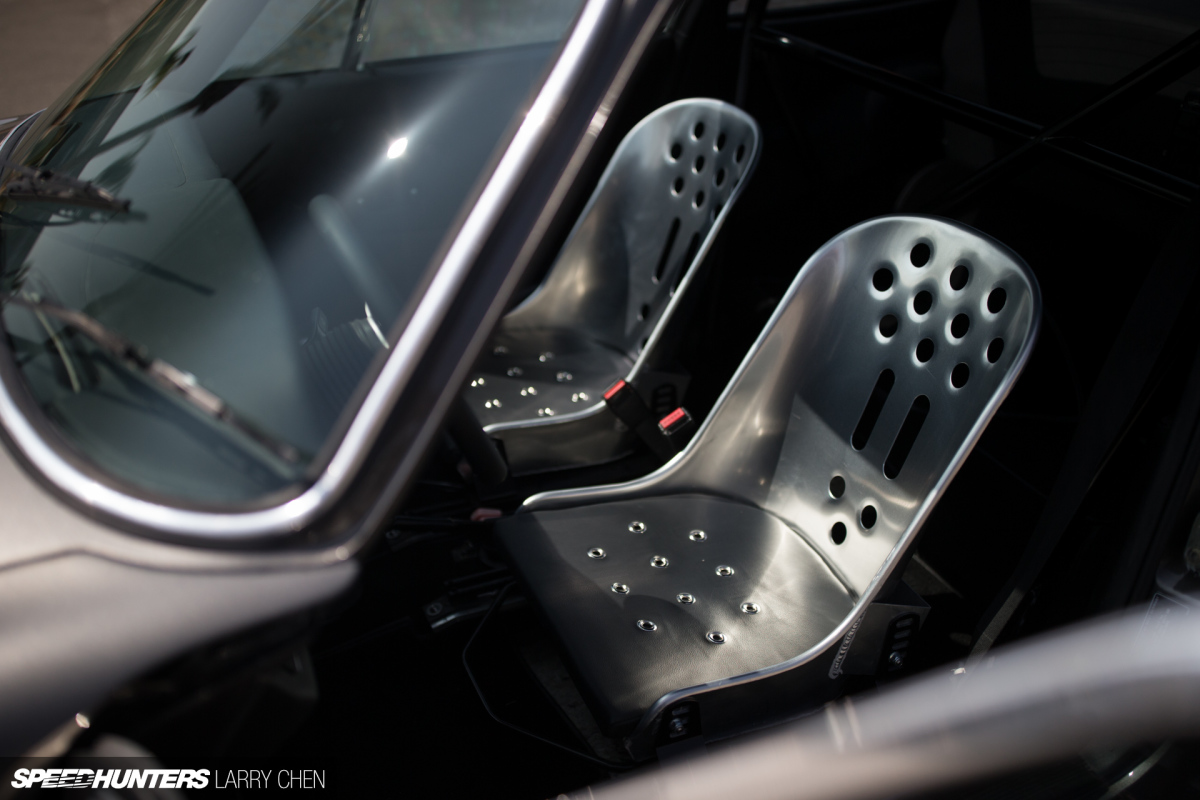 The interior was fitted out with custom bespoke Bisimoto Bomber lightweight aluminum seats featuring leather inserts by SOS Upholstery, and a Bisimoto/VDO 11,000RPM tachometer.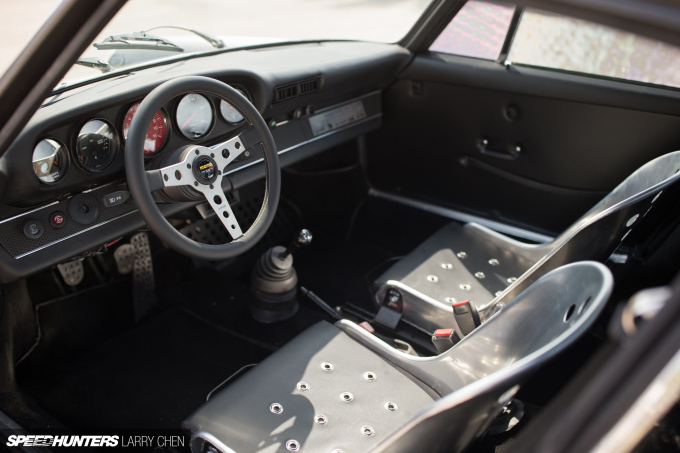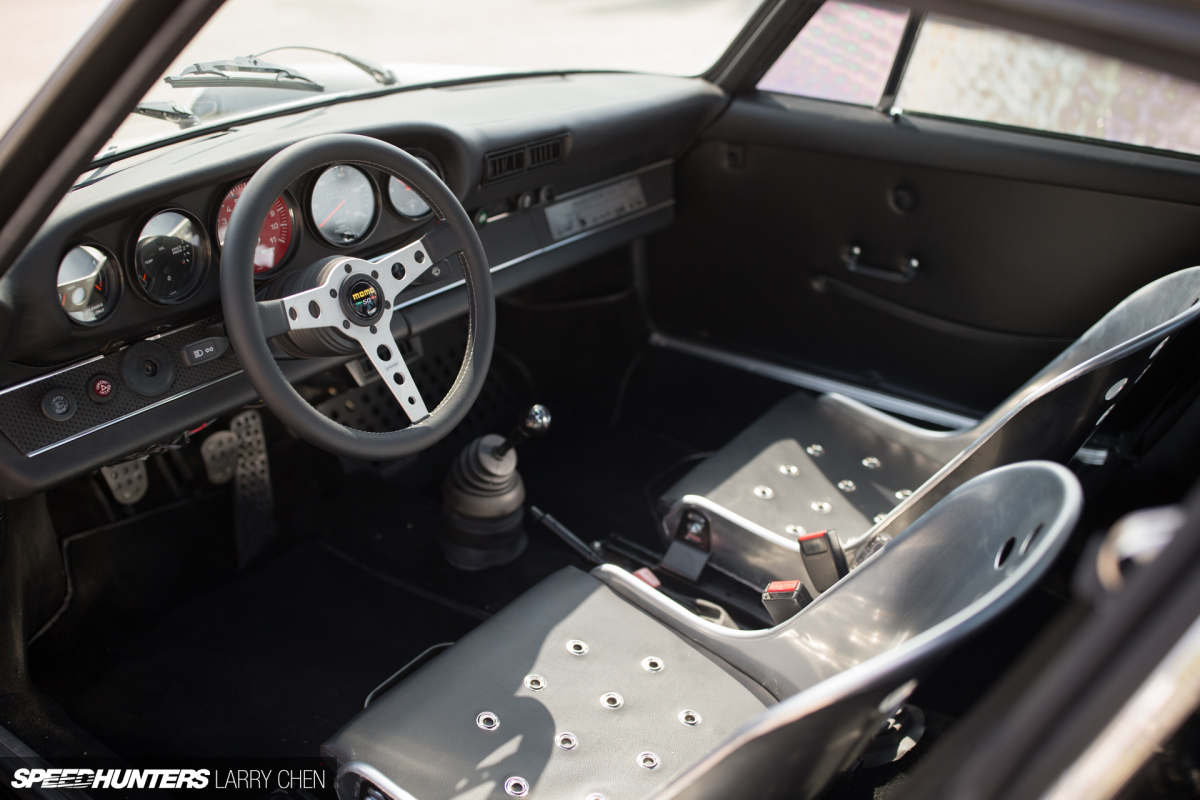 For occupant benefit, elegant Rennline foot plates were employed, complemented by a backdated console-less interior, a Bisimoto bolt-in 4-point chromoly roll-cage powder-coated by Reliable Coatings, and a Momo Prototipo steering wheel.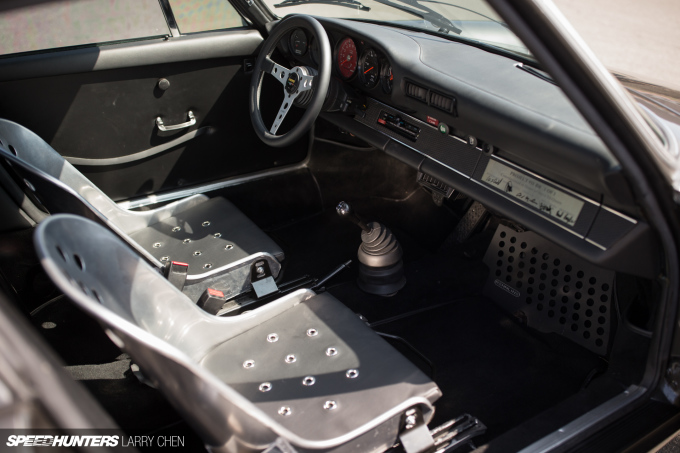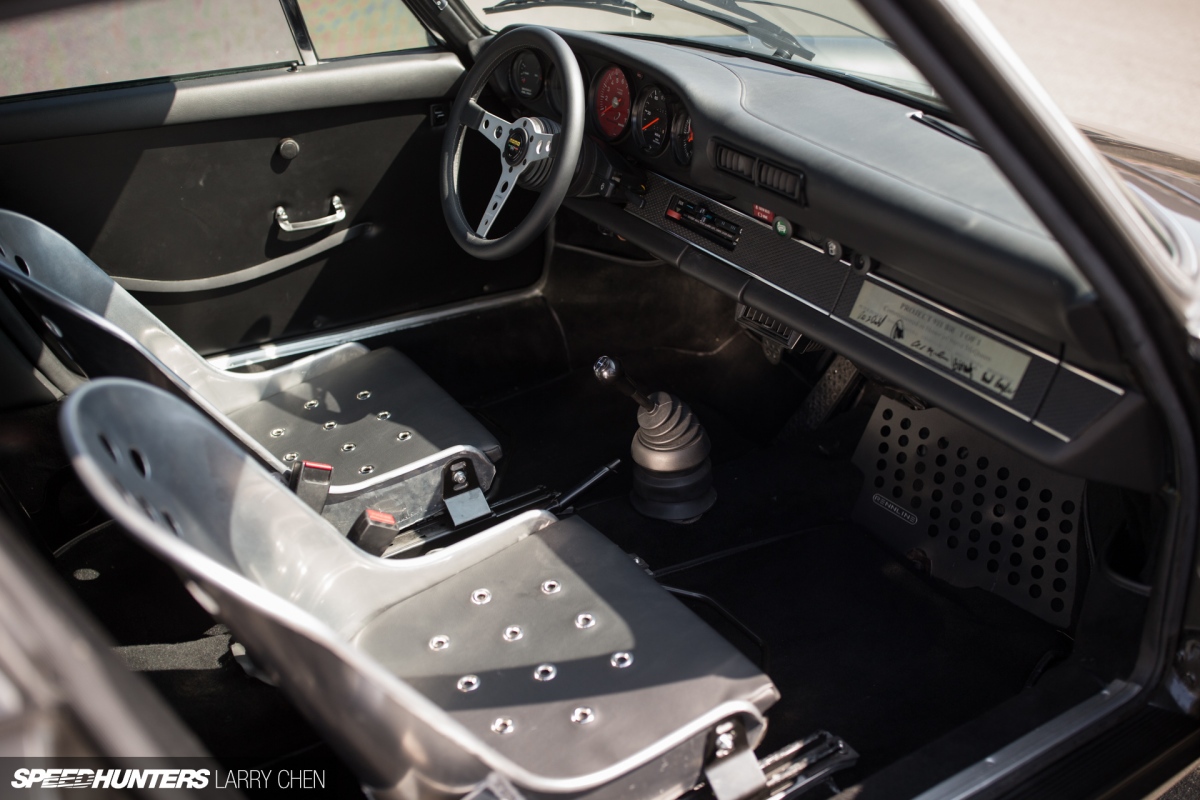 To further reduce weight, an aluminum radio and A/C delete was also wrapped in textured leather by Collins Auto Trim.
1 Of 1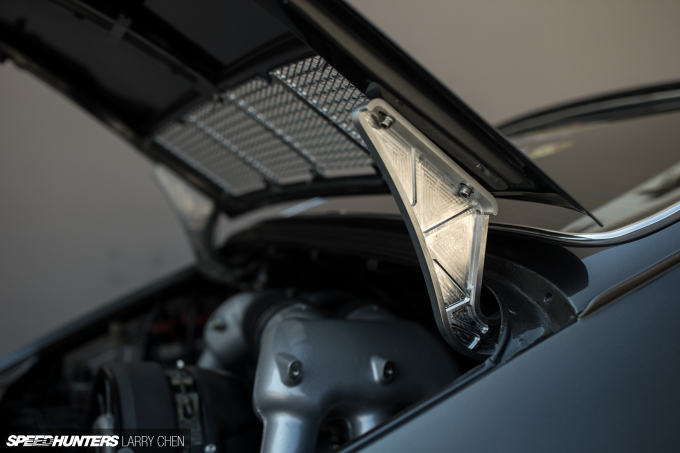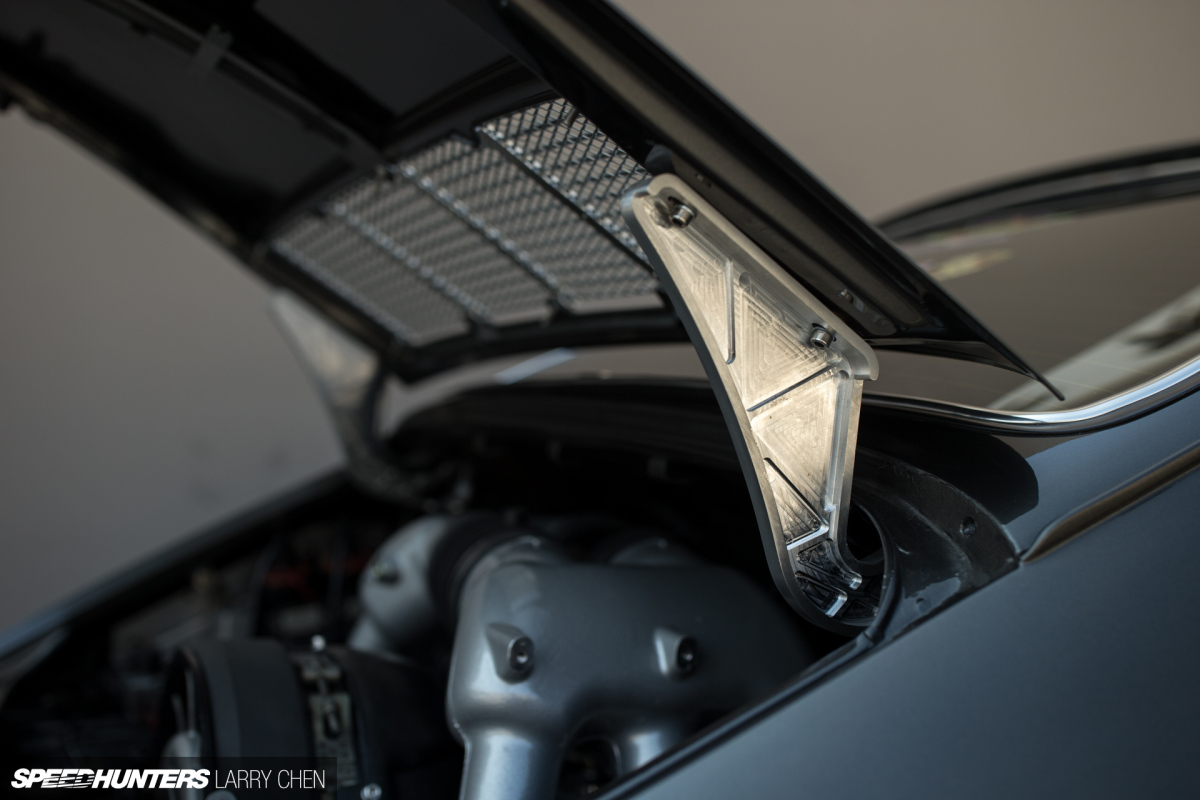 Machinehaus aluminum billet hinges keep the rear decklid beautifully secured, while lightweight vintage RS door panels maintain the theme.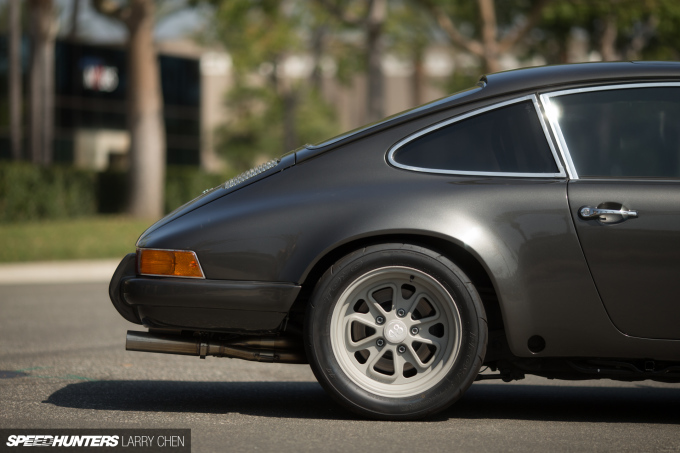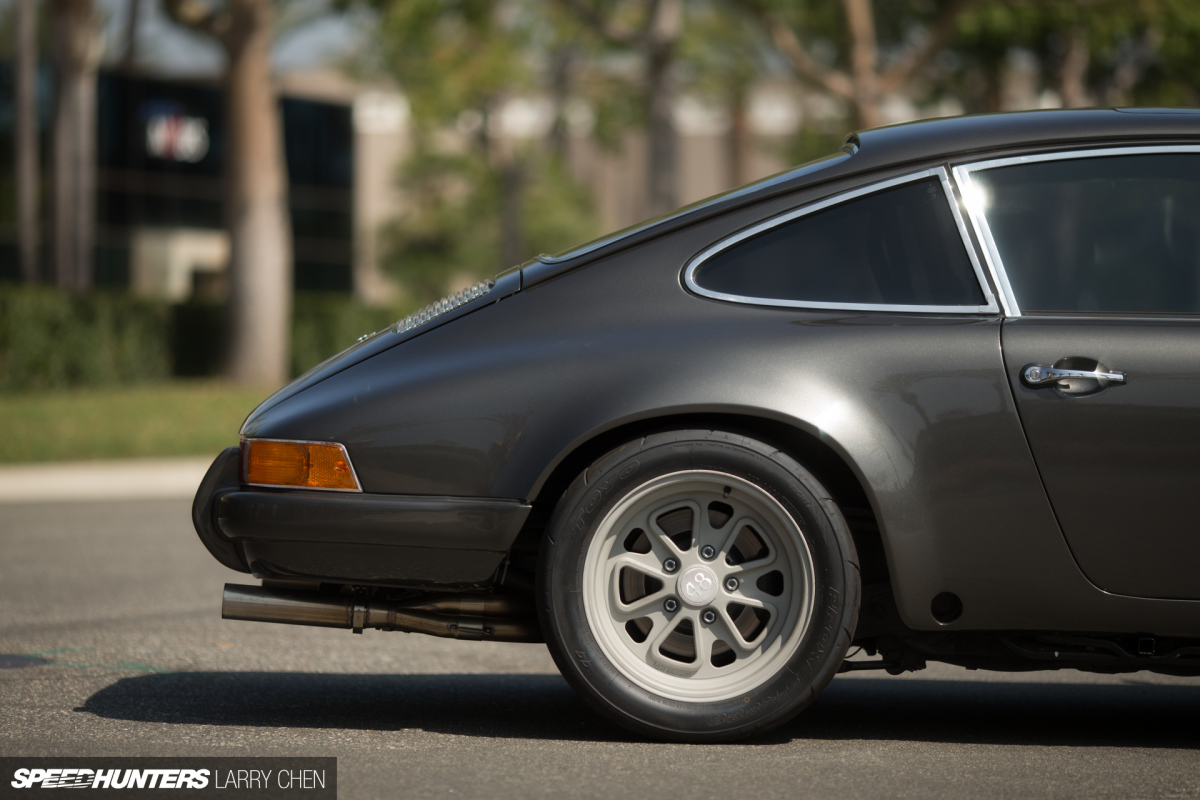 For that late '60s/early '70s look, the door and window frames were polished by Reliable Coatings.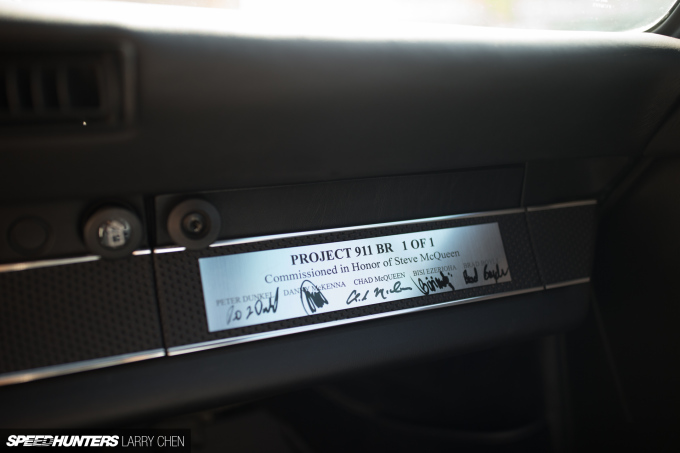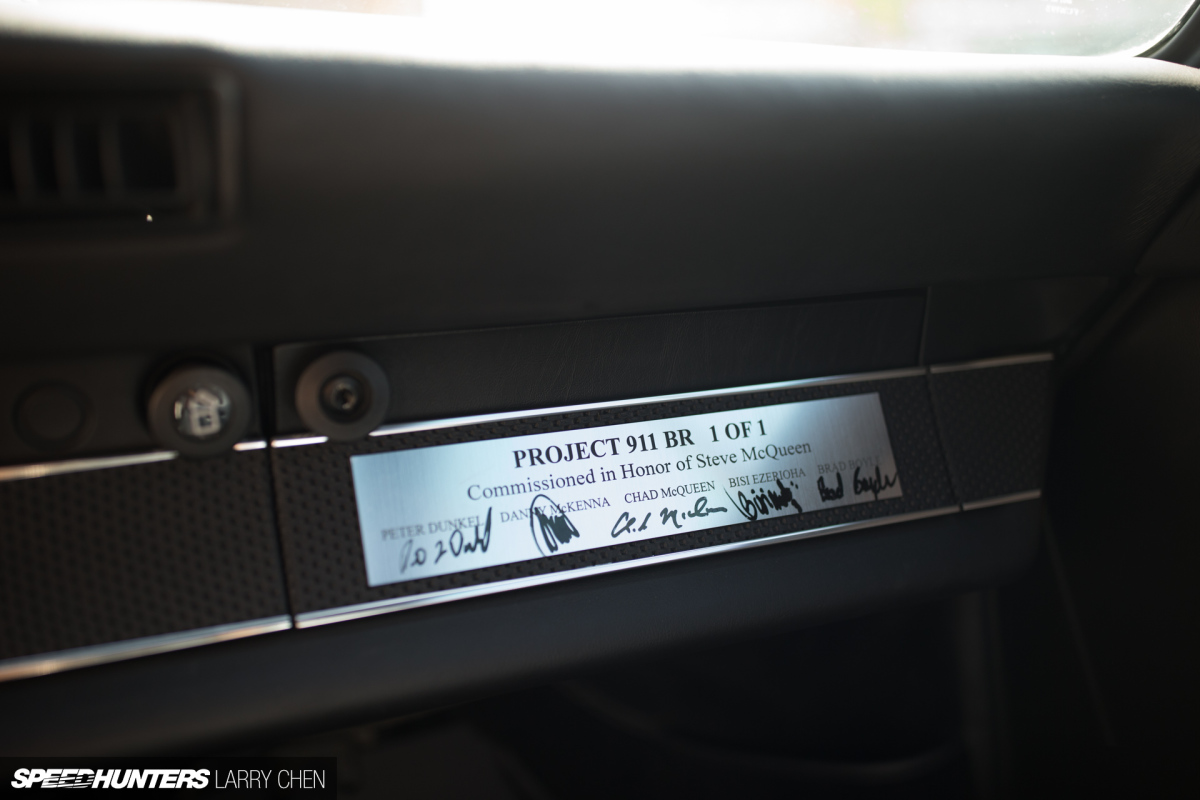 Due to the uniqueness of this charity build, a custom '1 of 1′ signed vehicle build plate takes pride in place above the knee panel, and a bespoke '911BR' Porsche-esque badge adorns the rear deck lid.
The result? A true merging of lightweight classic Porsche flair, modern technology and elegant beauty.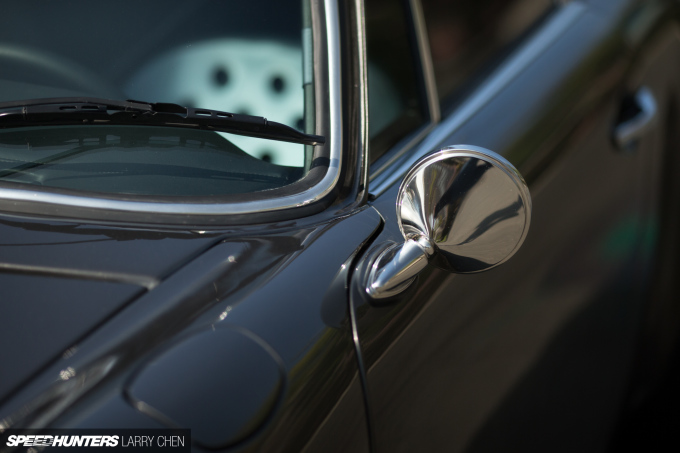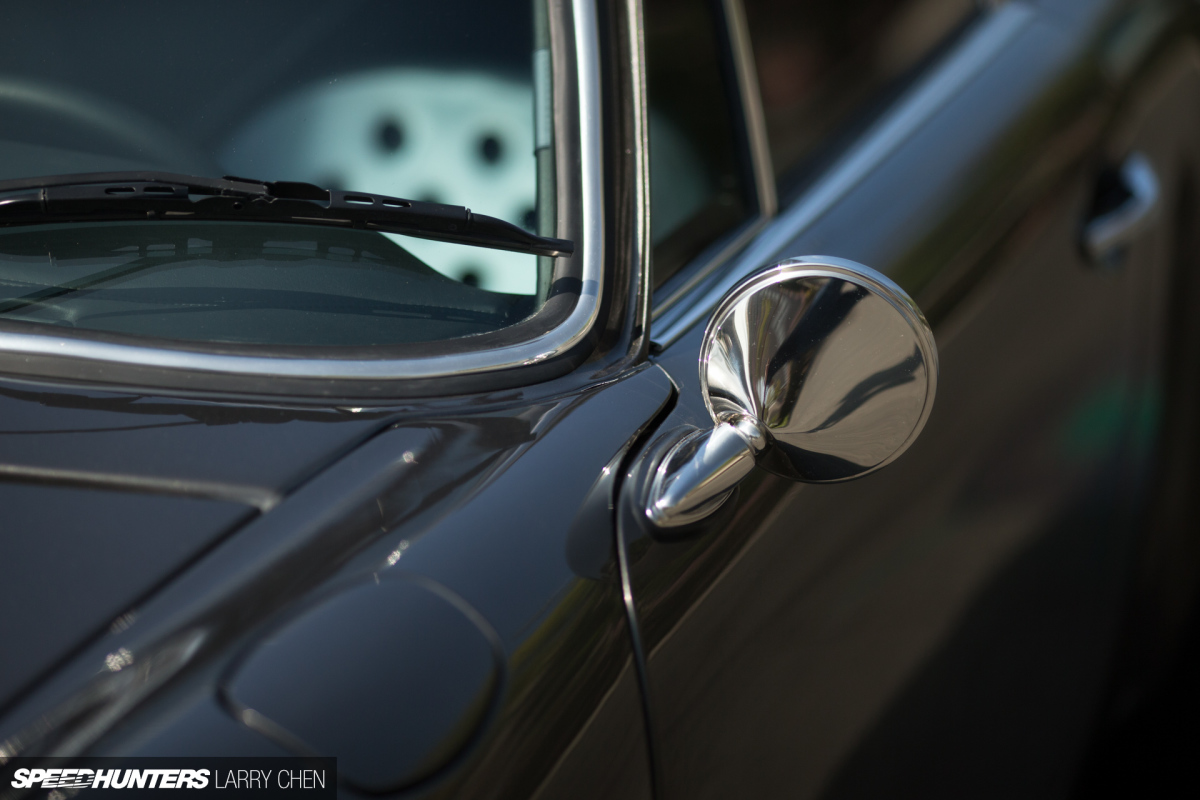 Weighing in at a feathery 2400lb (1089kg), with CAN BUS communication protocol, positive drivetrain engagement via an Action 2MS clutch and lightweight flywheel, engine cooling enhanced with PurOl zinc-fortified synthetic oils, and a close-ratio Porsche 915 5-speed gearbox, the 911BR is a blast to drive and sounds heavenly to boot.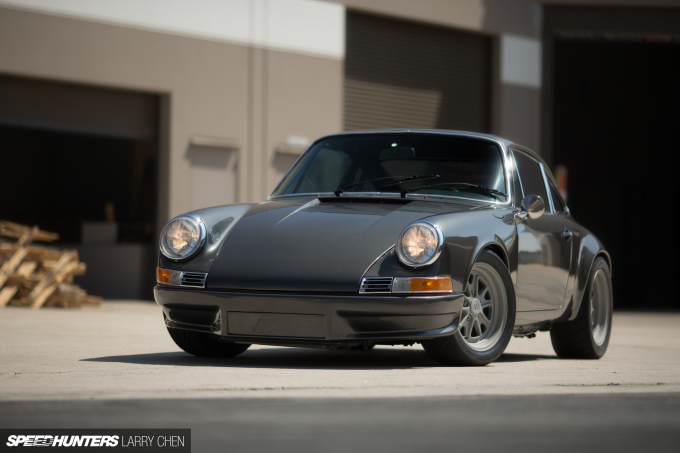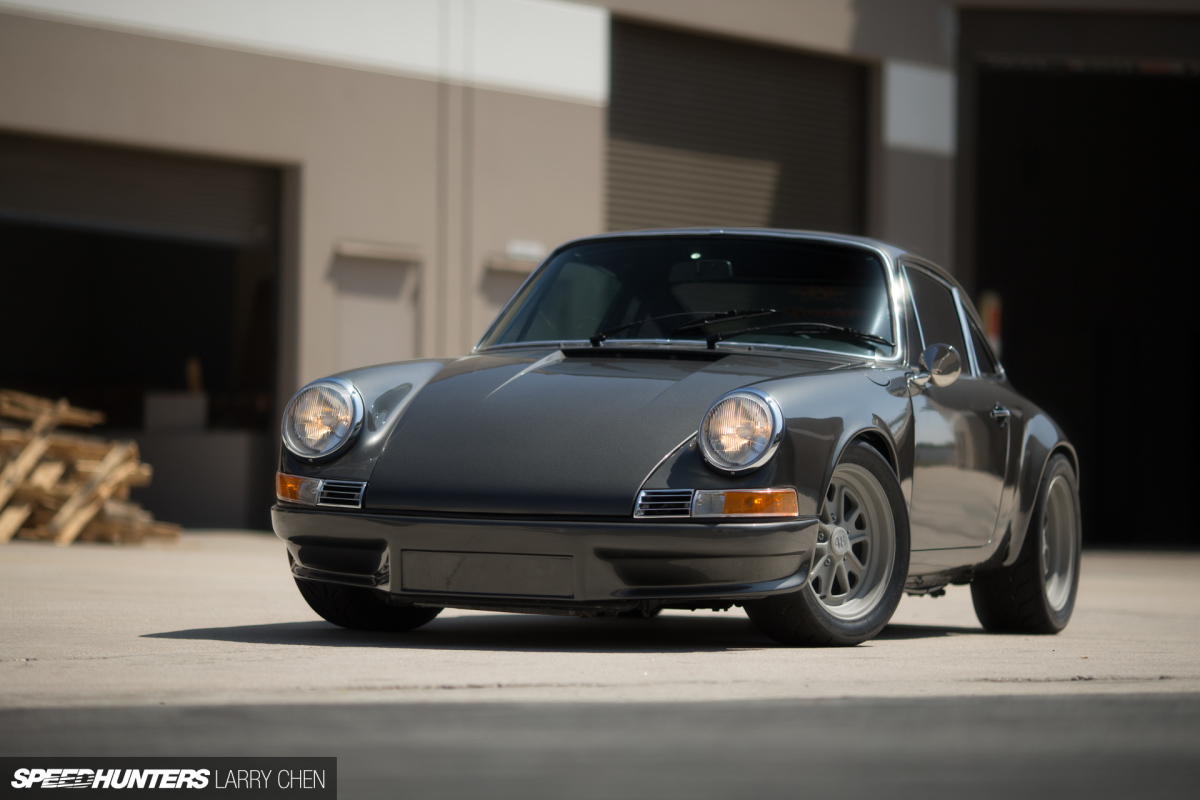 The factory torsen bars were even upgraded to a modern Bisimoto coilover suspension with inverted shock bodies for decreased unsprung weight. Custom 16-inch Outlaw wheels from Fifteen 52 (complete with McQueen Racing '48' caps) wrapped in Toyo R888 rubber finish off the look.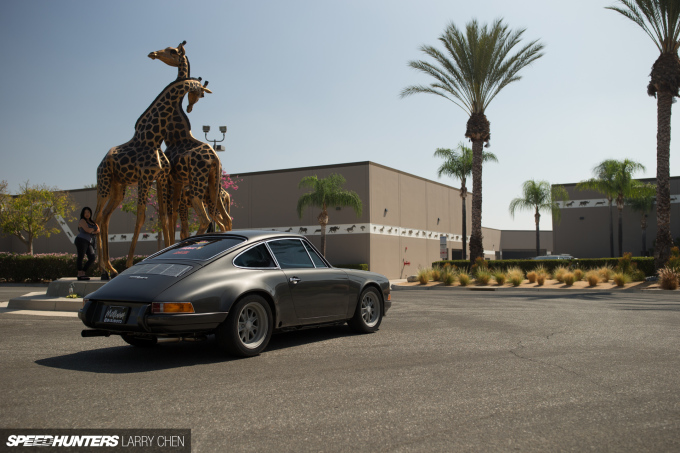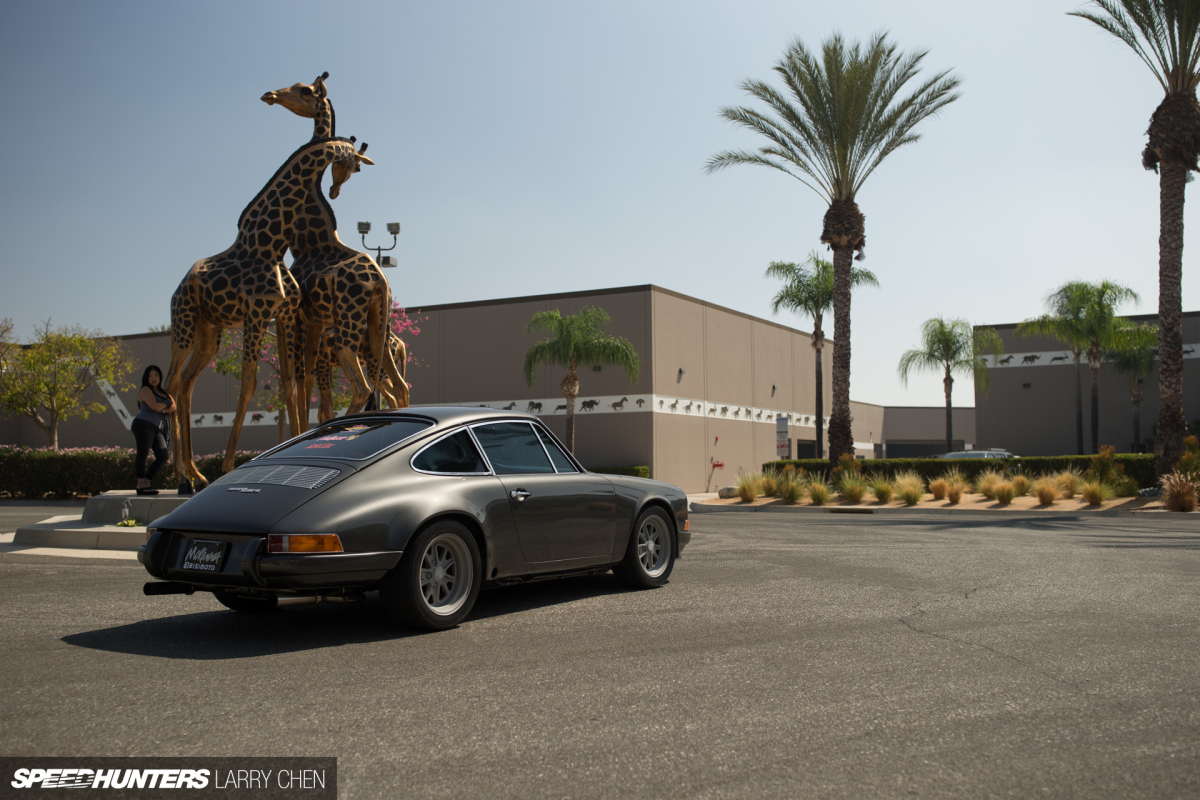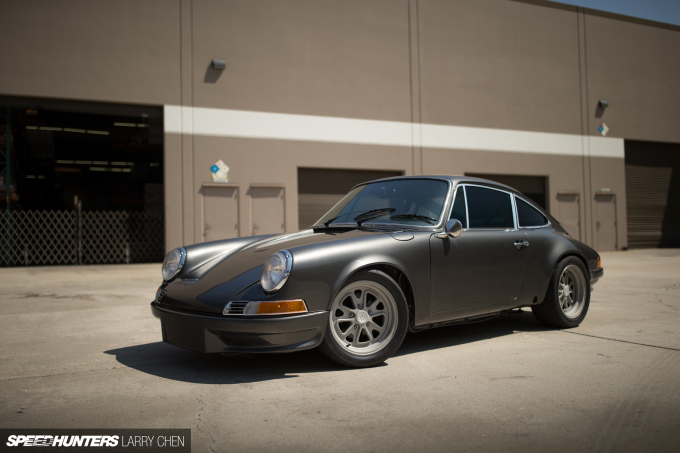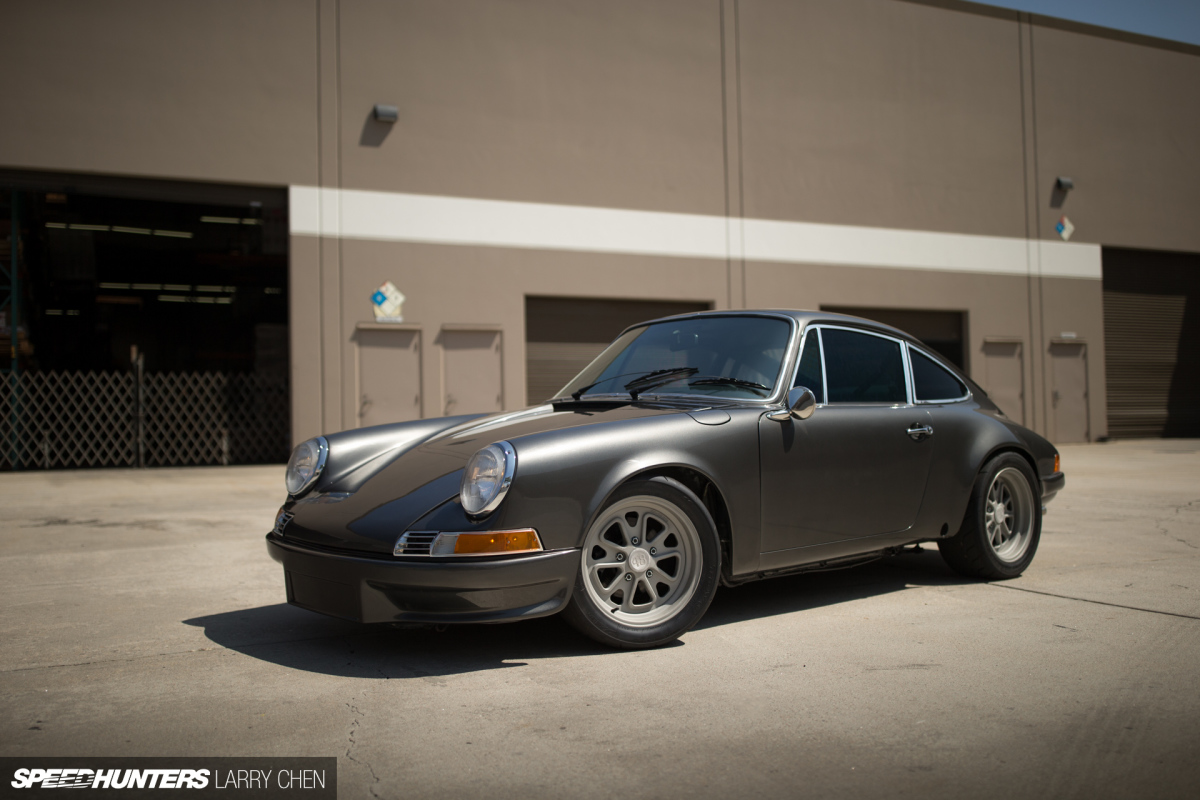 It was truly an honor to be part of this build, and this weekend the car is at Monterey for the Mecum Auctions event. All proceeds will go to the Boys Republic, and my team and I are just bursting with pride knowing that this is for the kids!
Bisi Ezerioha
Instagram: Bisimoto
sales@bisimoto.com
Photos by Larry Chen
Instagram: larry_chen_foto
larry@speedhunters.com