It's Hard To Keep Away
This isn't the first time Pagani's production line has featured on Speedhunters. I came here at the end of 2013 to take a first look at what would allow the Italian hypercar maker to boost production to meet demand. But not boost it by much, just enough to keep it the premium product it is.
It was such a special place the first time I was let loose in here, that I couldn't possibly pass up the opportunity to have another wander around.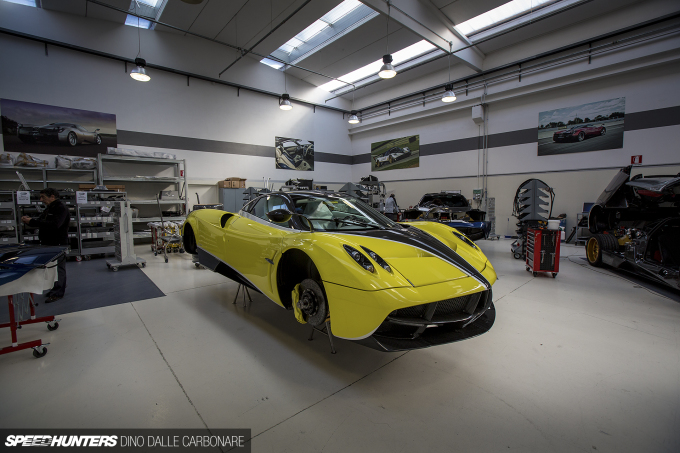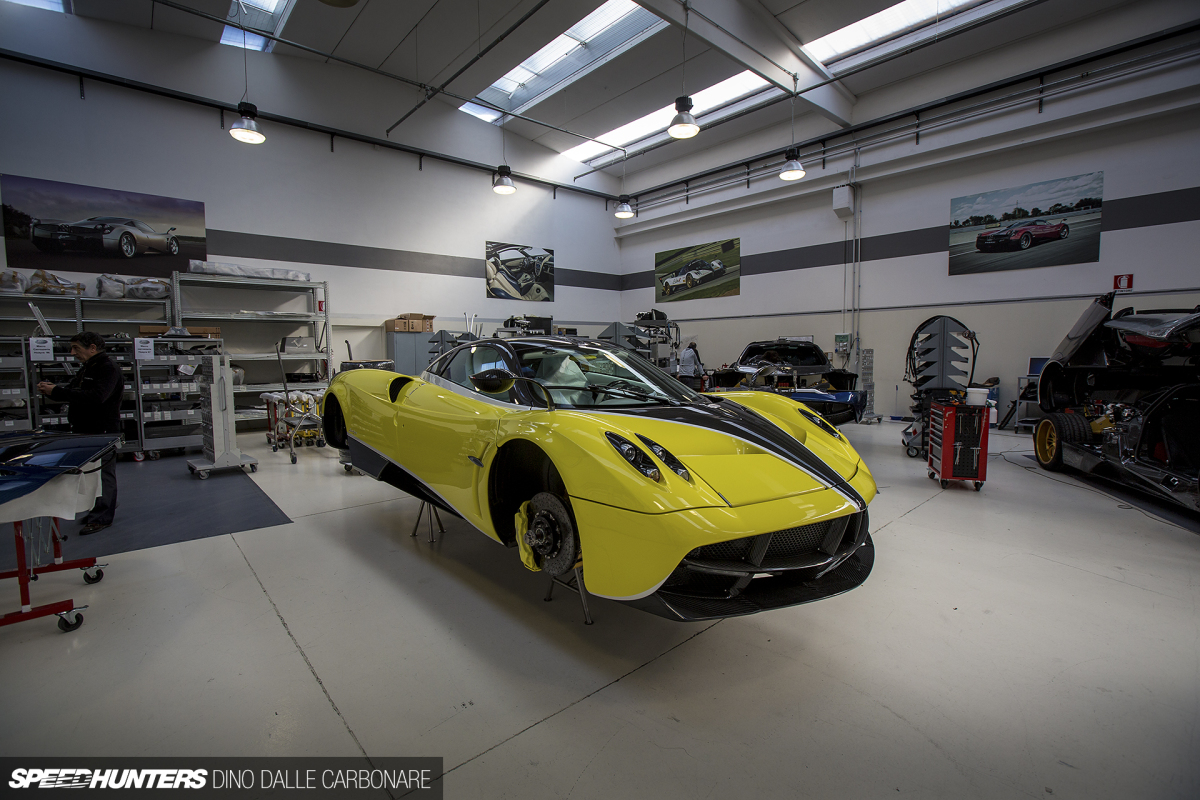 My last visit and the resulting pictures you see here were taken back in January, but I wasn't able to share them with you until after this year's Geneva Motor Show, where some of the cars – including this wild yellow Huayra – were scheduled to be shown.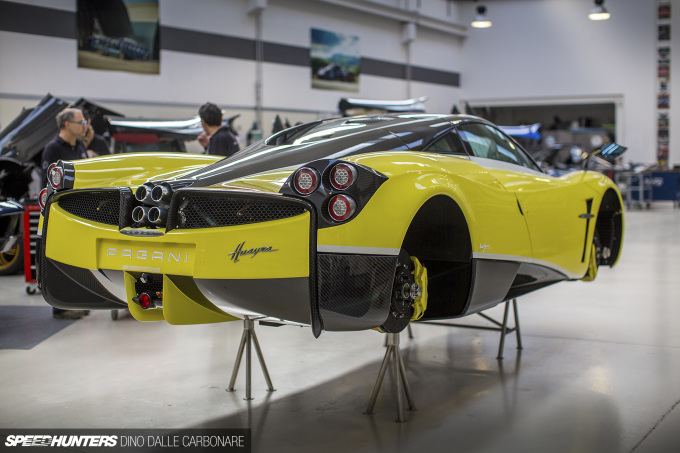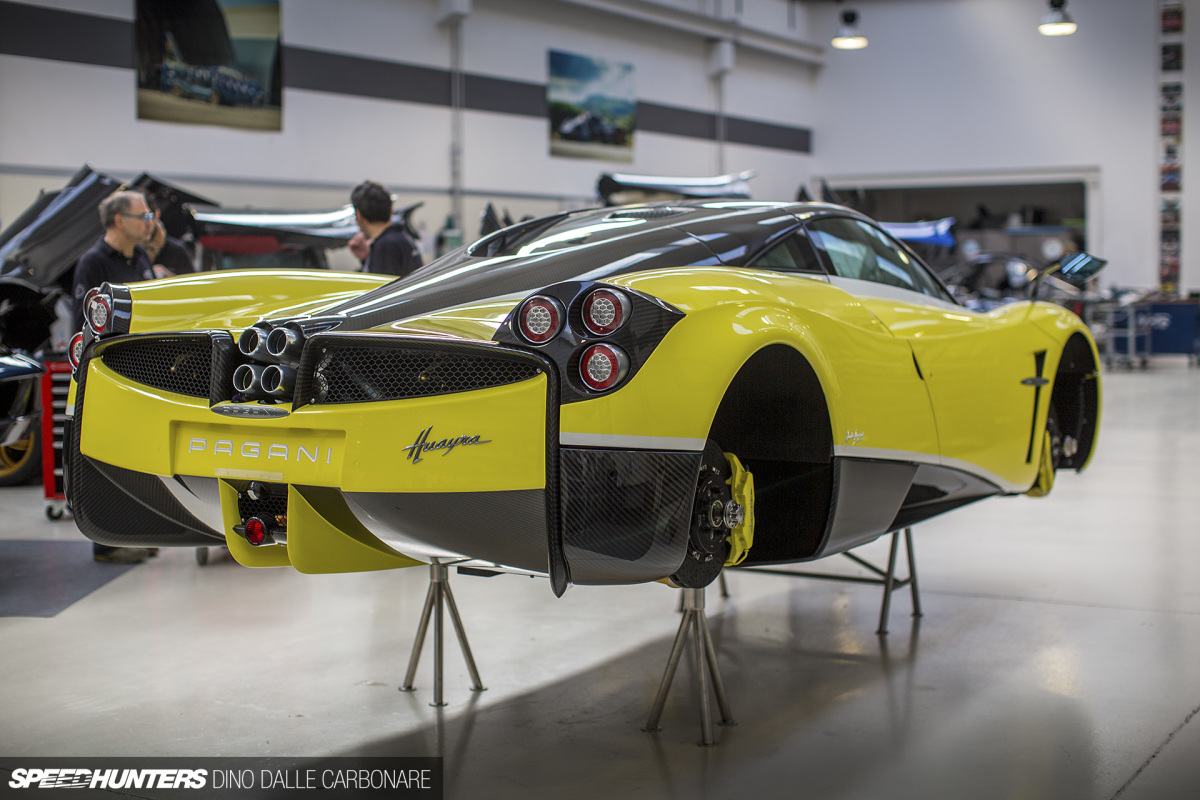 Aside from the unique colour choice, this car was being fitted with the Pacchetto Tempesta (or the Storm Package), which is a combination of aerodynamic additions as well as some mechanical updates and interior refreshes. When I grabbed these shots the car was only wearing the front lip spoiler and had yet to receive the rear treatment which introduces a pretty serious rear finned diffuser.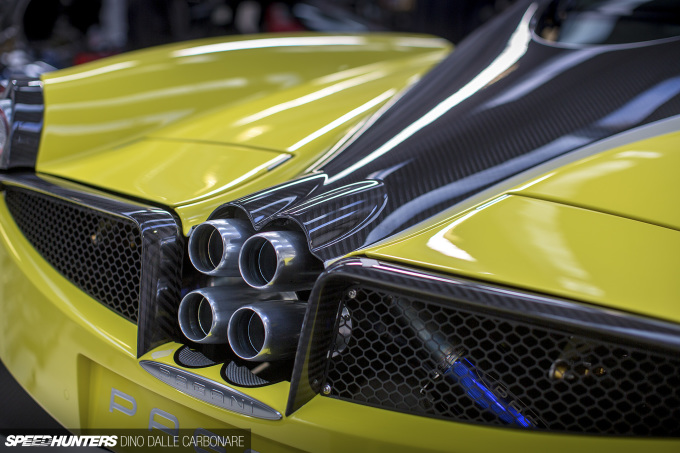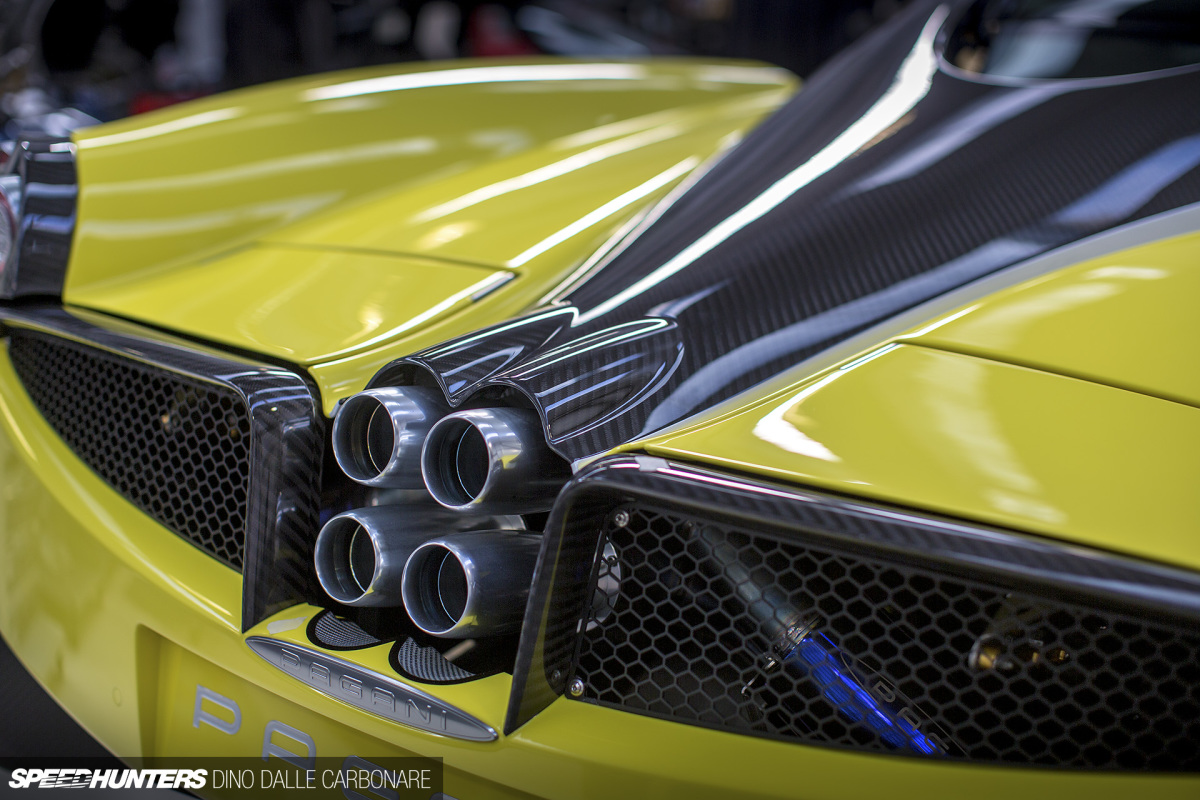 The stock exhaust also gets replaced with the same lightweight system as fitted to the Huayra BC (again something that needed to be done to this car).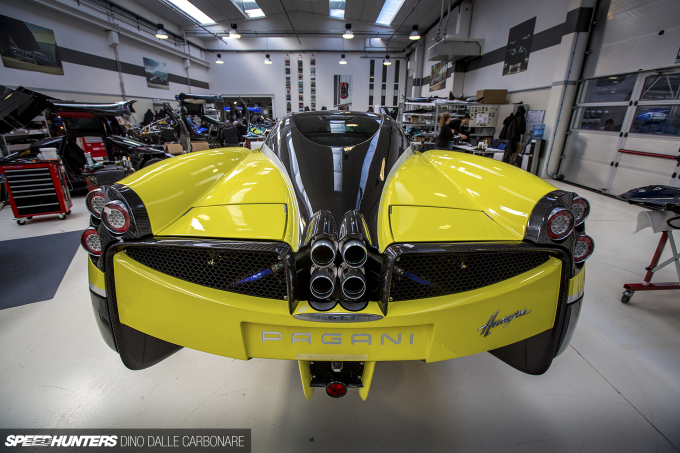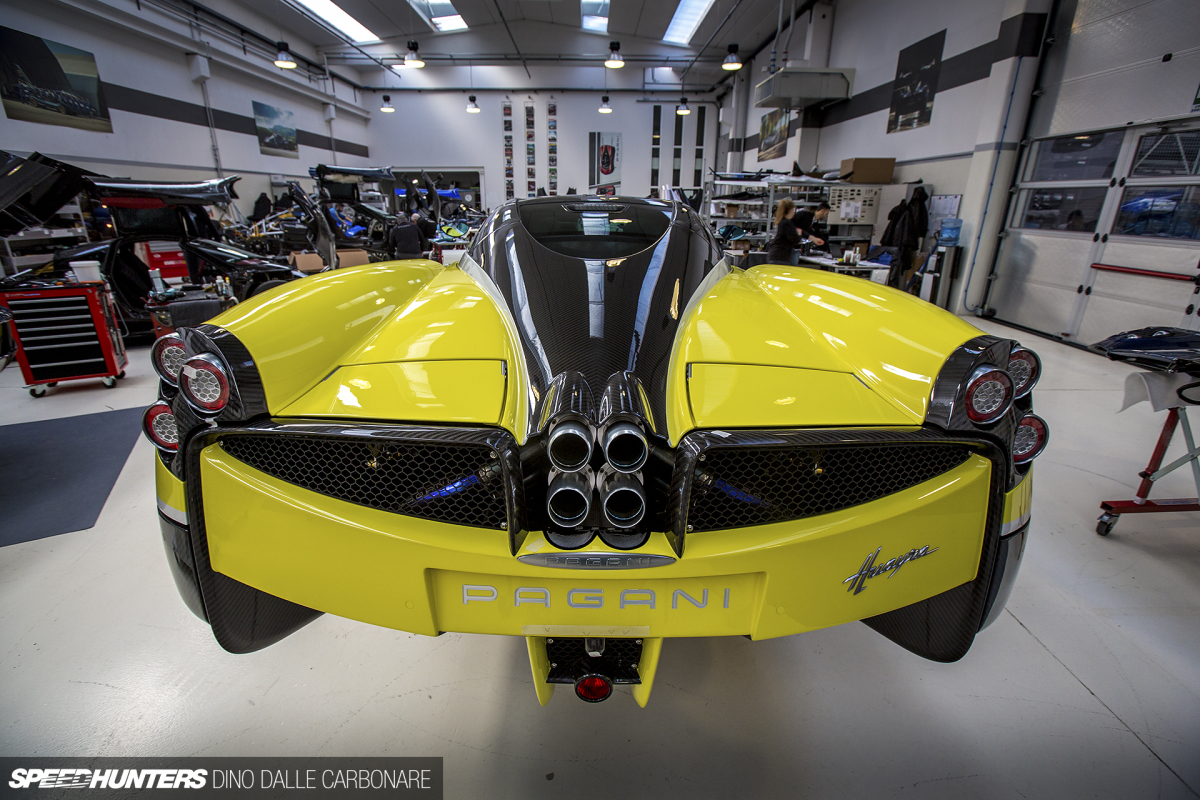 This new package, which Pagani says has been popular with the 100 Huayra owners out there, was being unveiled at Geneva alongside the BC.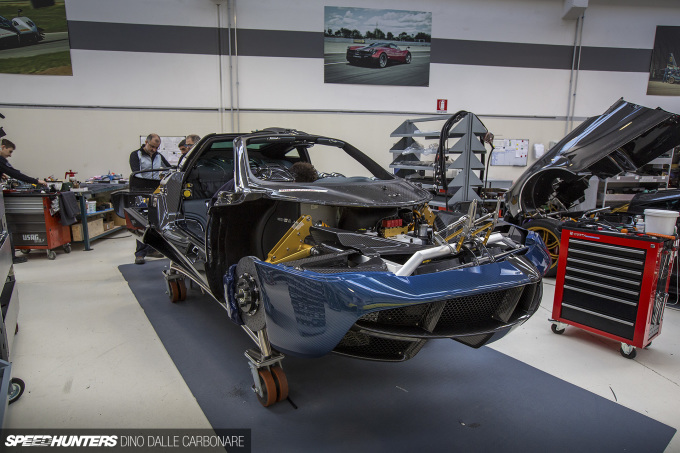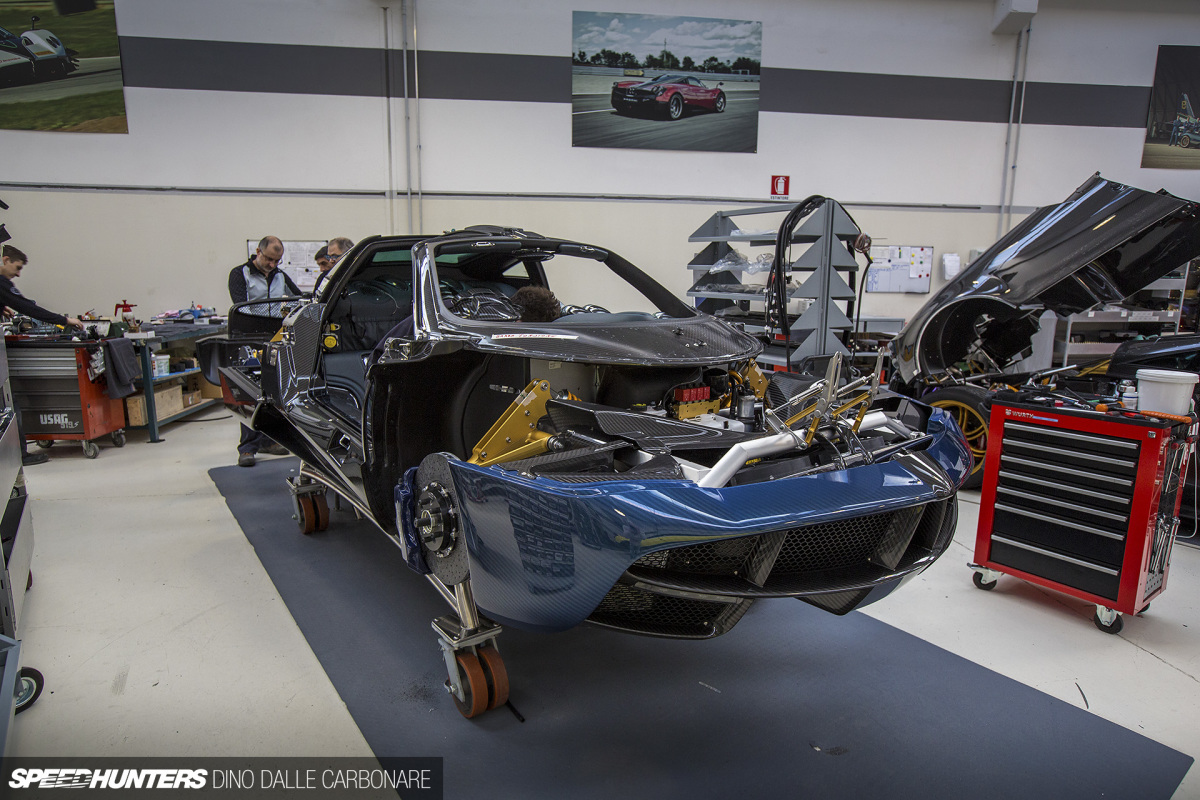 At the time of my visit there were three Huayras approaching the final stages of production…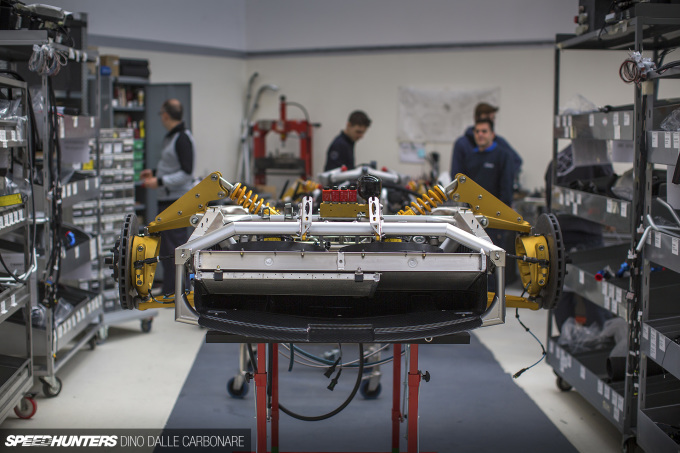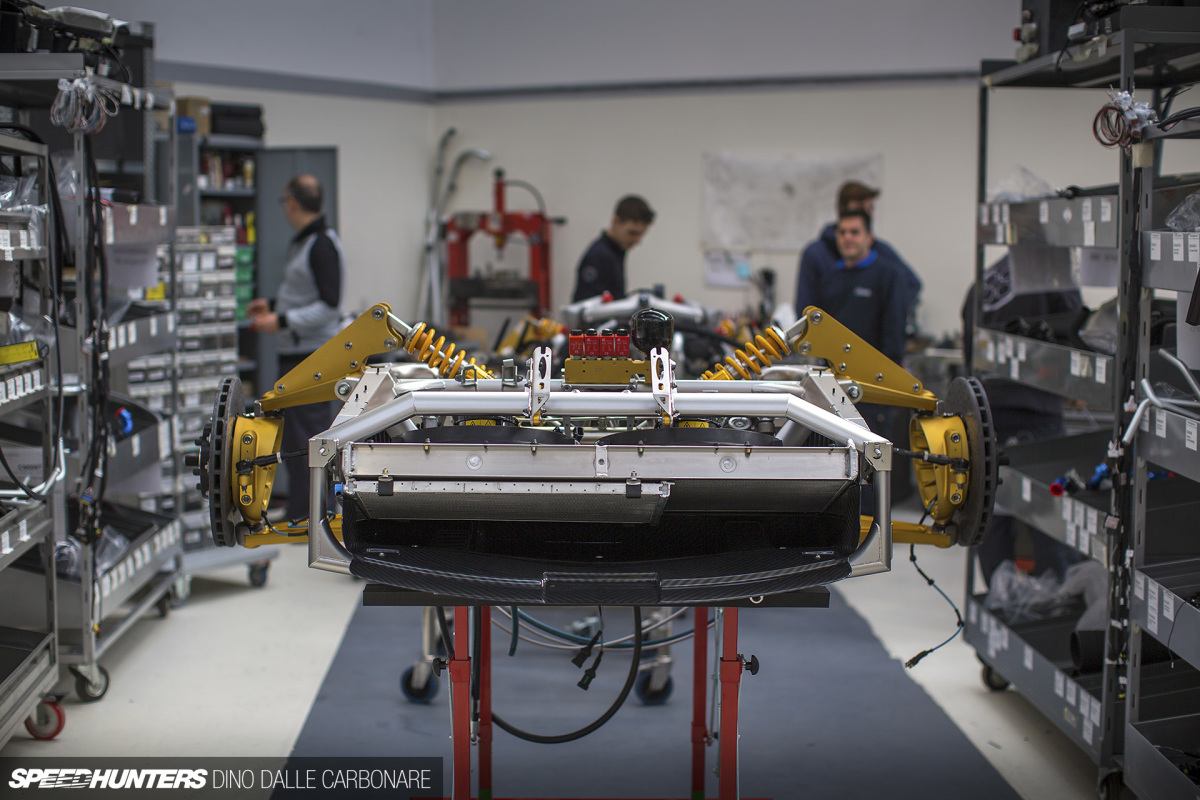 And a fourth very much at the initial stage. It's always amazing to see a Pagani at this point; the attention to detail is amazing. Regardless of whether you're talking about an exterior part or a little titanium bolt that nobody would ever see, it's always perfection.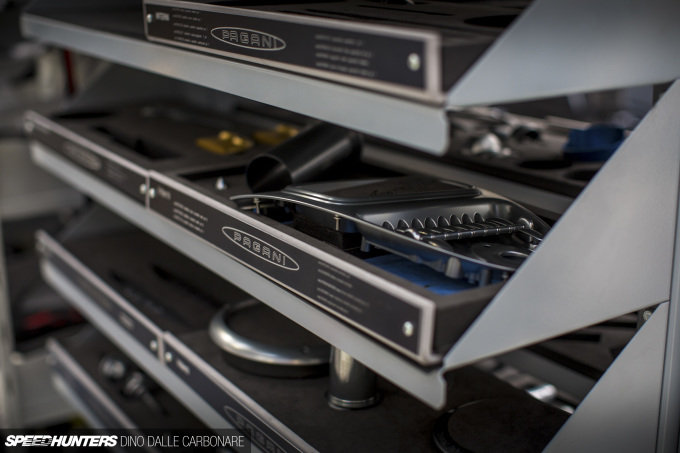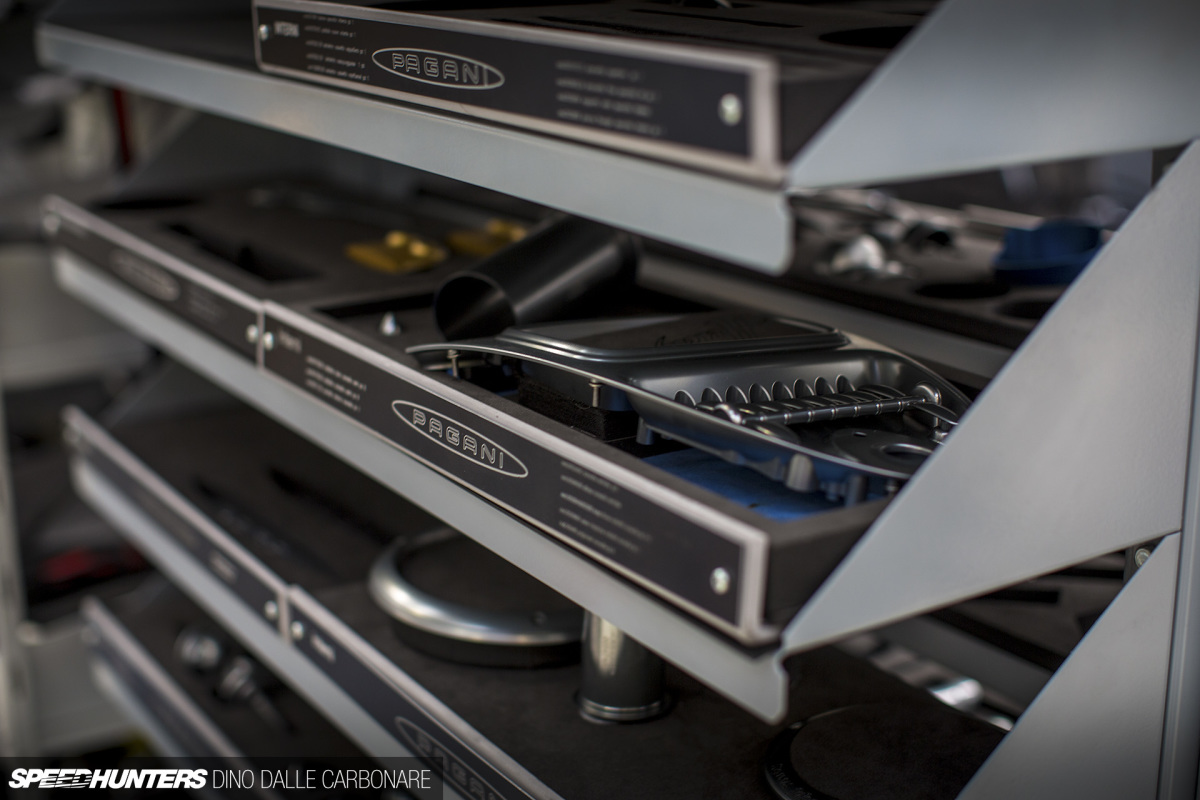 That's what makes a Pagani a Pagani, and very little else out there comes close.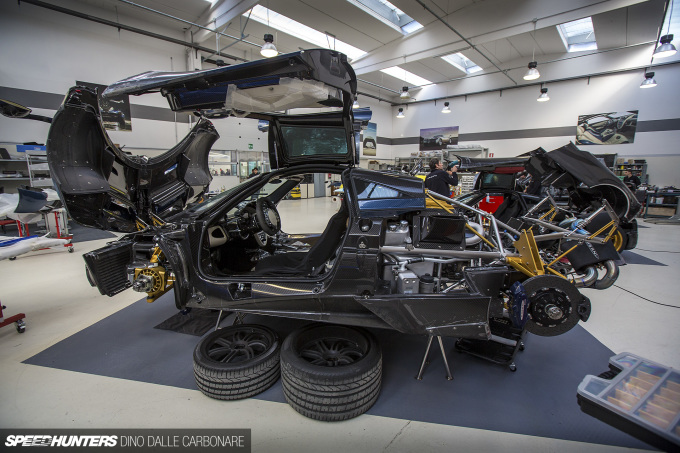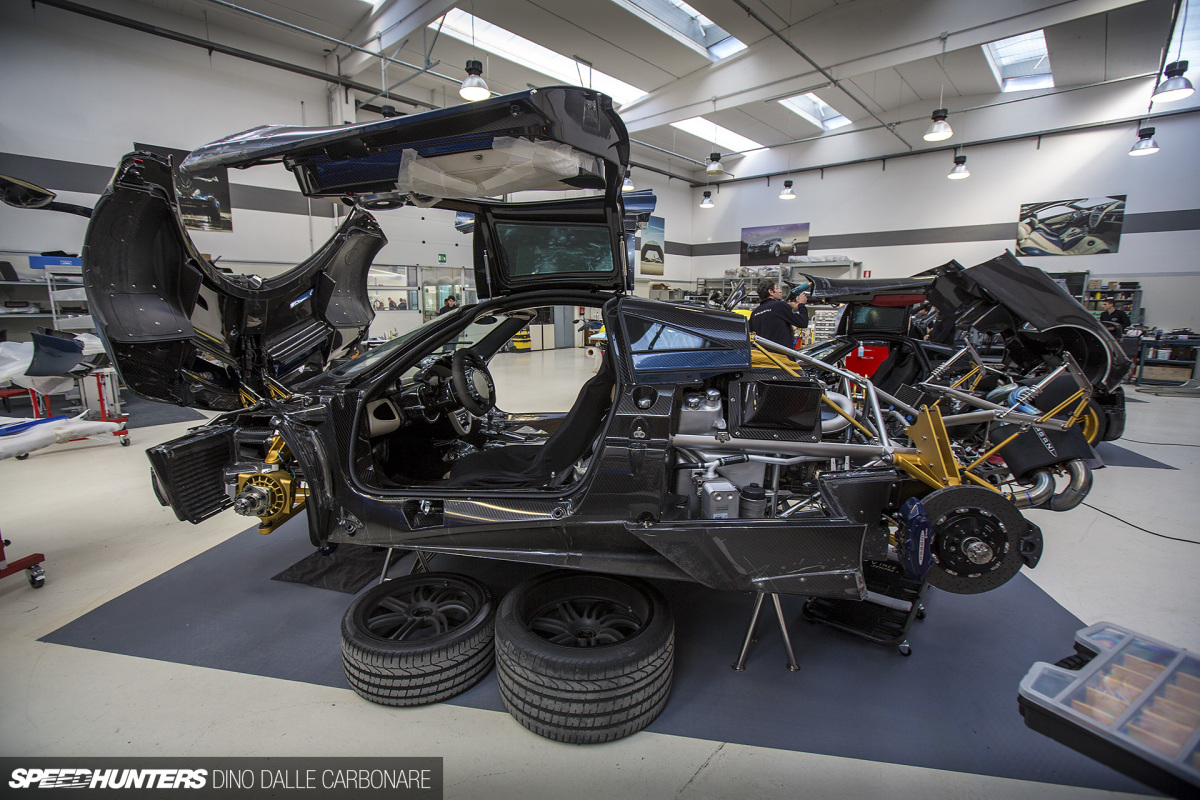 A typical Huayra build takes anywhere from four to six months depending on the amount of customization that the client requests. And as you can imagine, at this sort of price level, everyone who buys one wants to make sure their car is totally unique.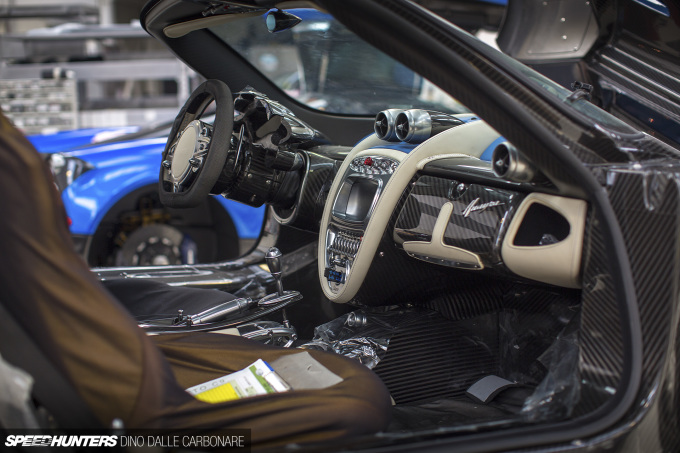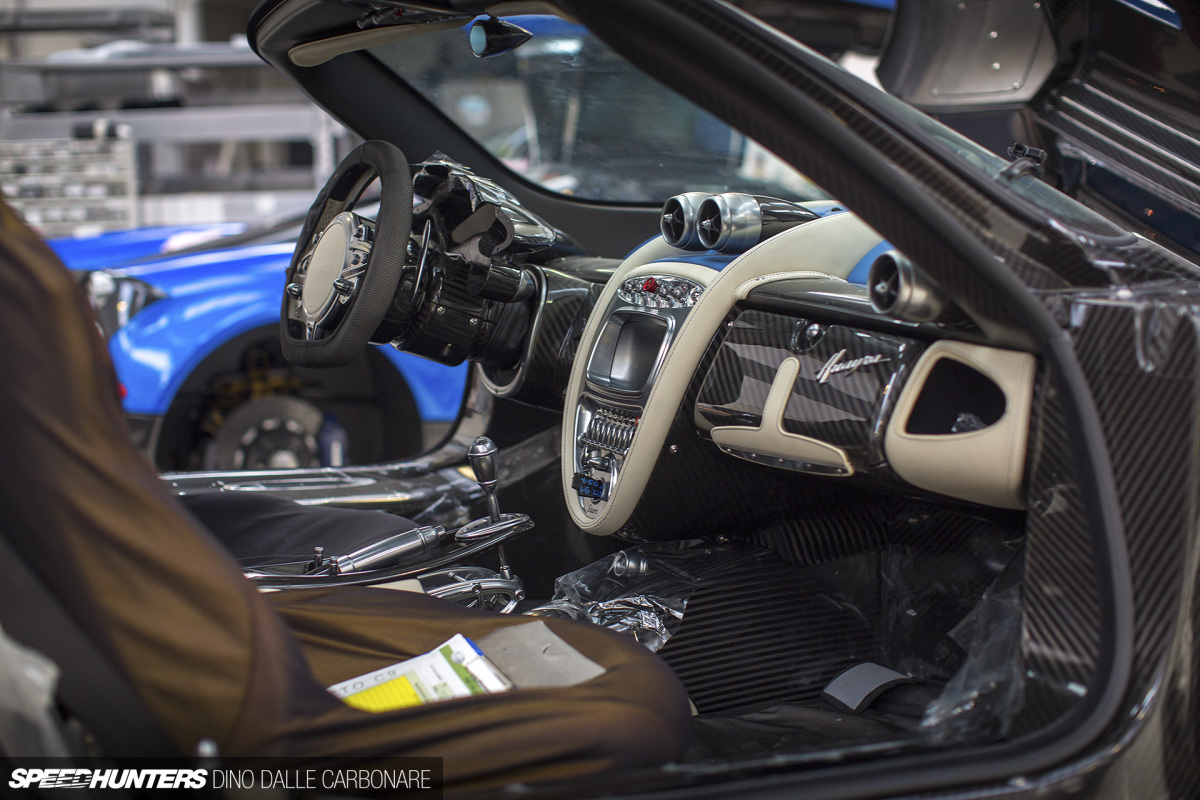 Production of the 100 coupes is almost finished now and very soon Pagani will be onto the 25 Huayra BCs. After that it's the next evolution of the Huayra – the Roadster – which begins production next year.
The Next Step Is Almost Here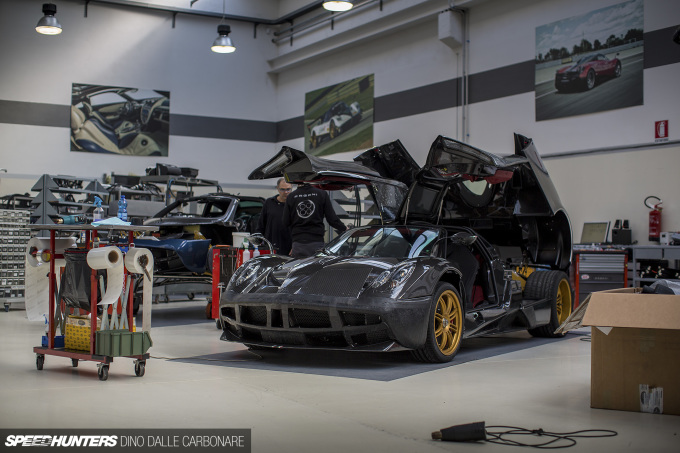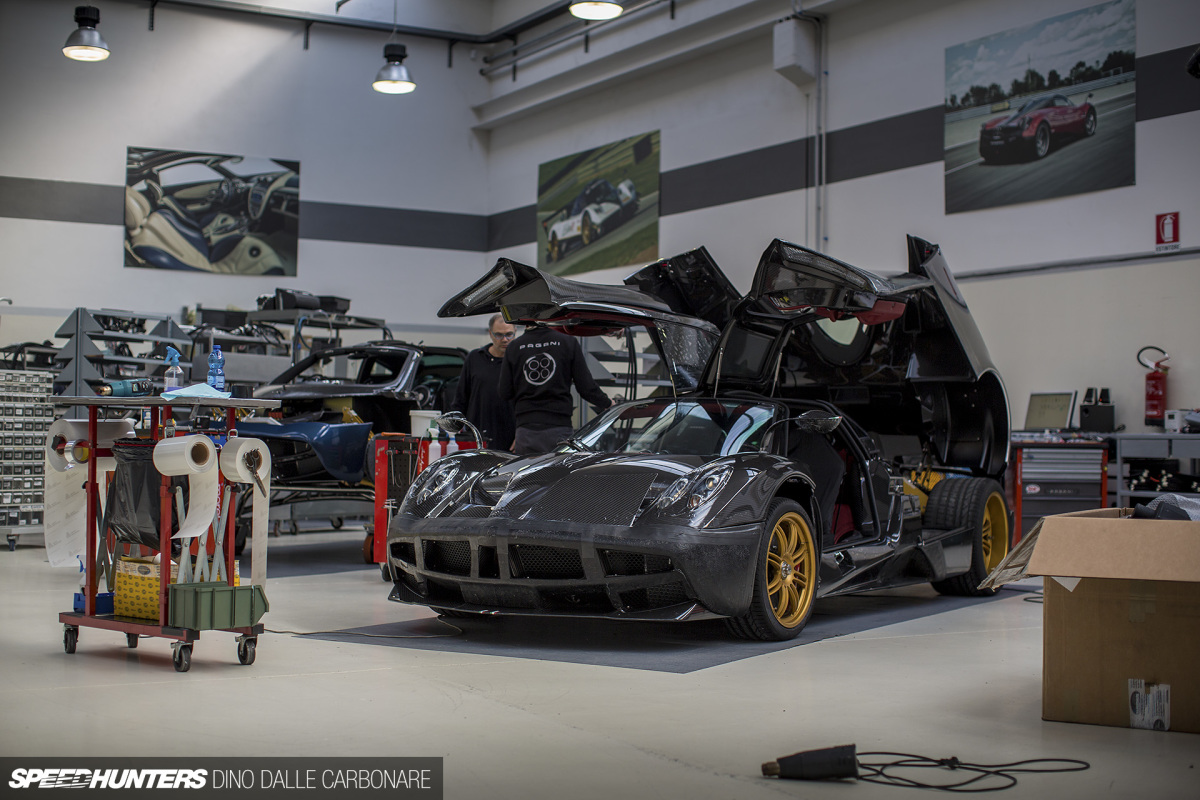 It will be strange seeing a Huayra without gull-wing doors, but the removable rooftop will no doubt bring a whole new look and character to the car.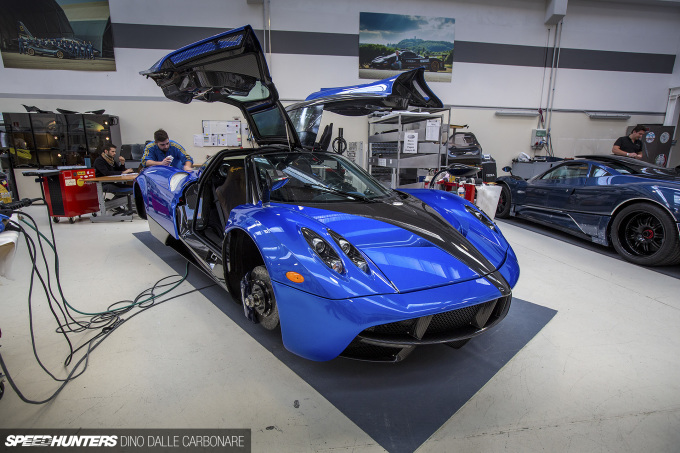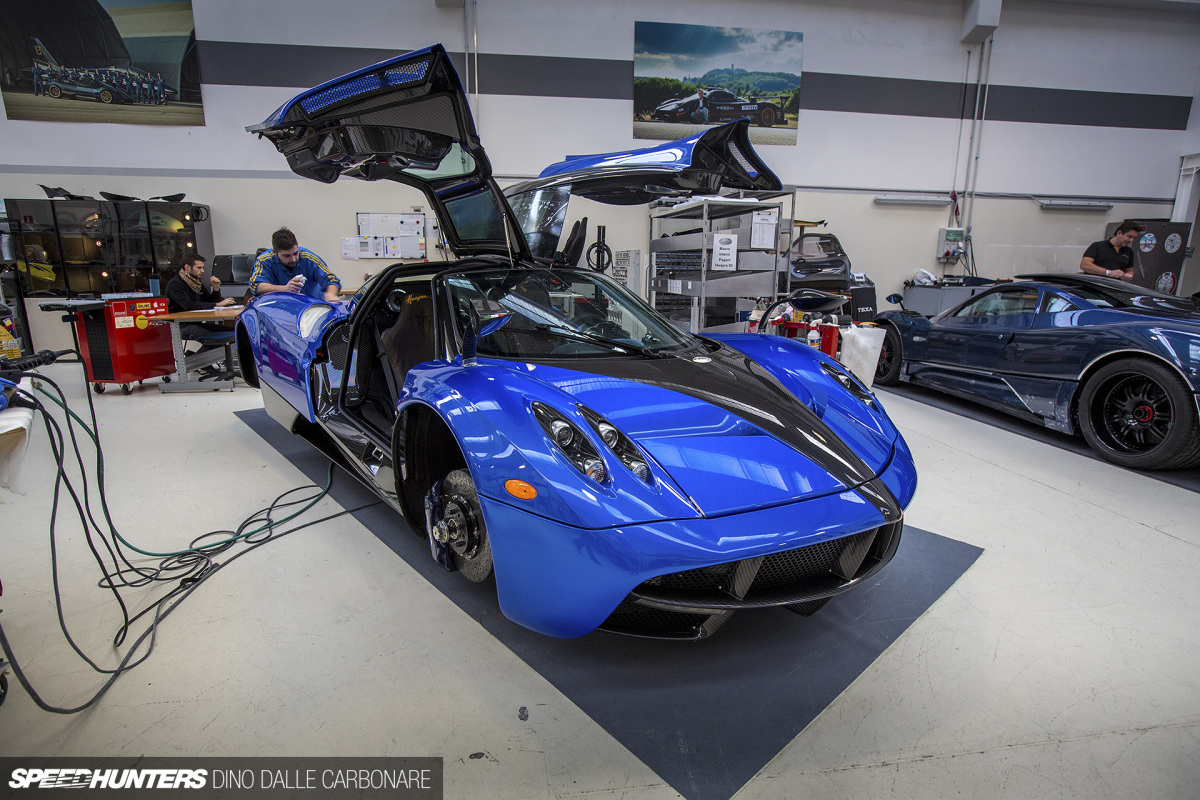 This particular Huayra was being built to US specifications, hence side reflectors being required front and back. But it was more the colour that I couldn't get enough of. How good would this look parked next to a Bayside Blue BNR34 GT-R?! Of course, Pagani paintwork is on another level compared to what Nissan was able to do 17 years ago with the san-yons, but the hue similarity did make me feel all nerdy inside.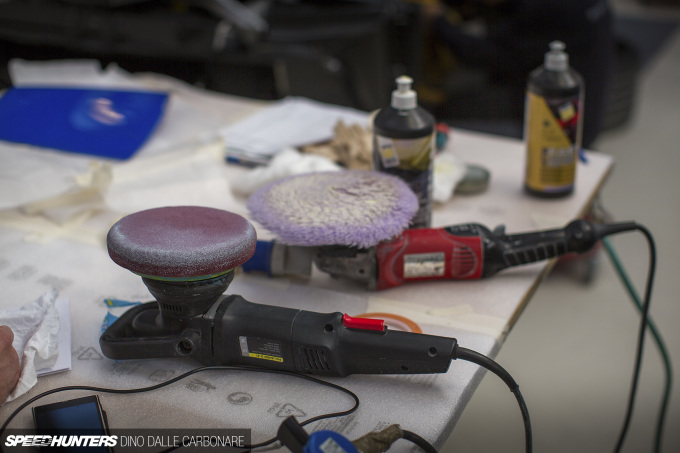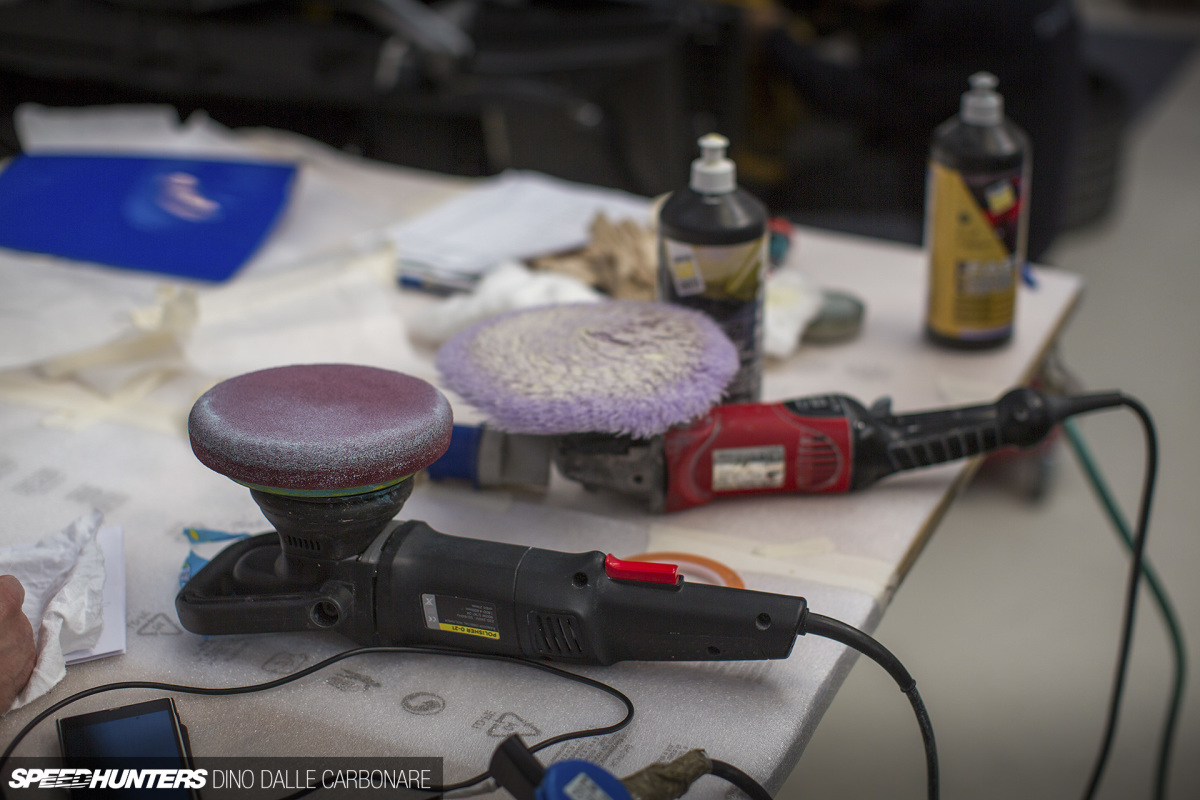 A lot of it comes down to the finishing; any imperfections, webbing or dull spots are compounded away before the paint is sealed.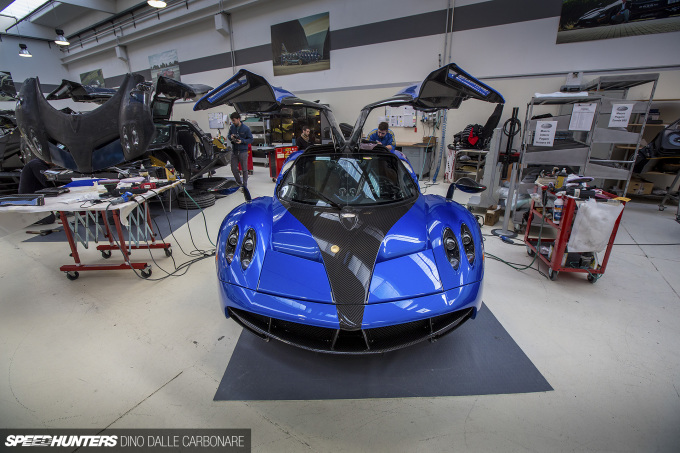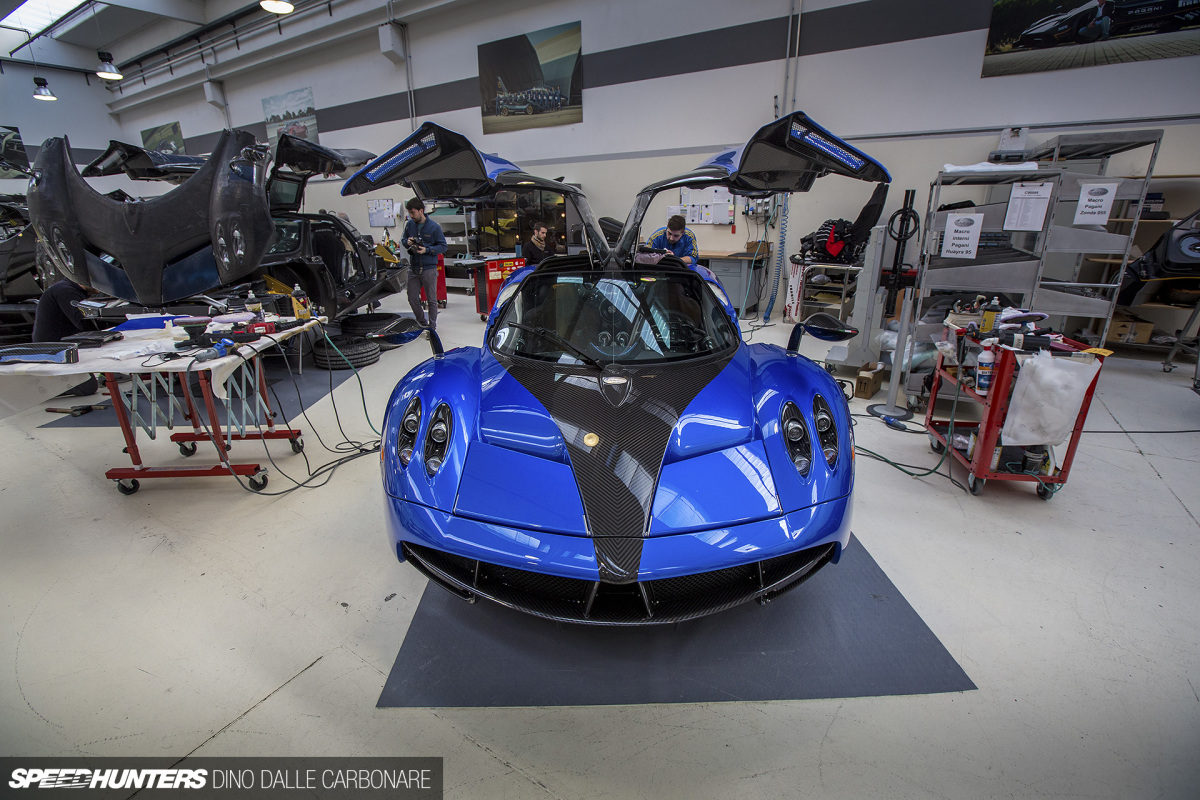 Something bothered me when looking at this particular car from the front though…
Yes, it's another requirement to pass stringent US homologation – not counting the ridiculous number of cars Pagani needed to crash test. I'm talking about the side mirrors. Those fitted to the yellow car are exactly what the teardrop form should look like, and just how Horacio envisioned and penned them. Now compare that shape to the massively stretched US version. Pagani even had to add the 'objects appear closer than they actually are' message.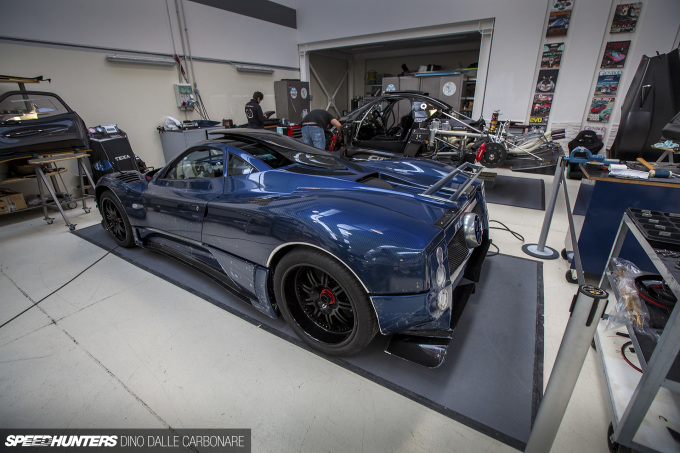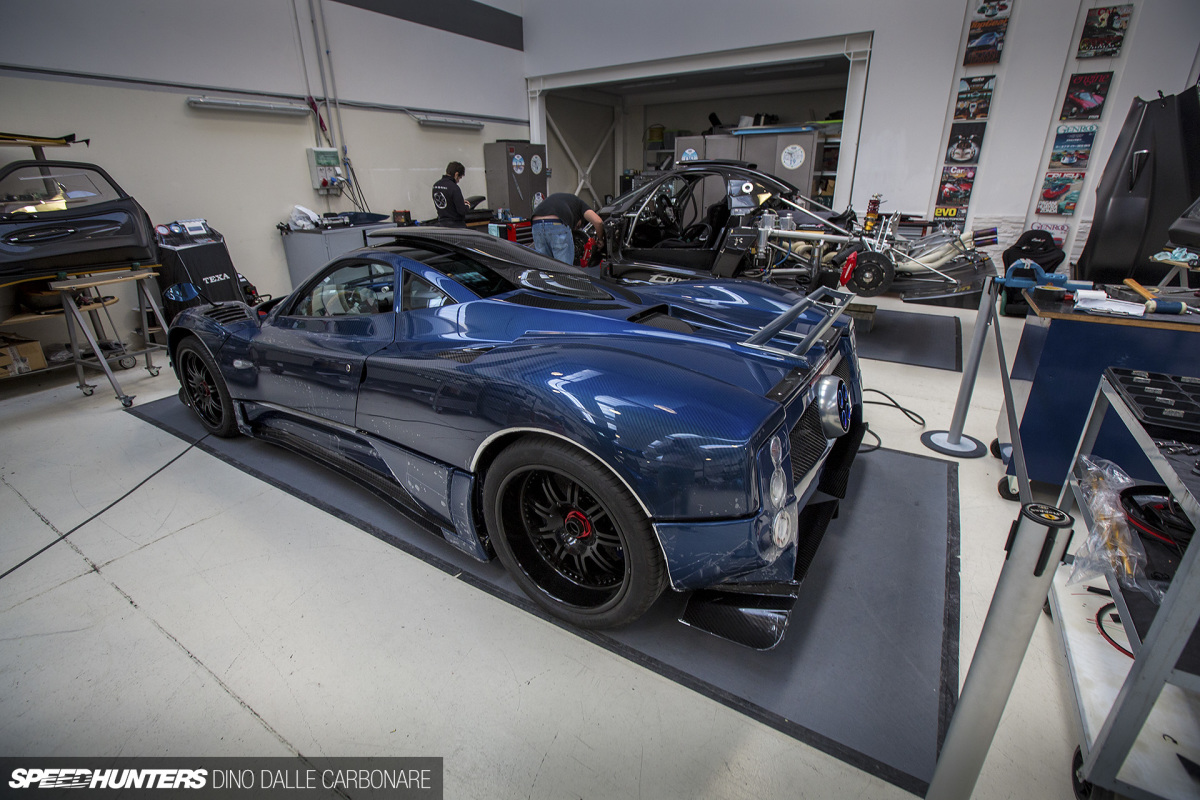 People are so confused about the Zonda, and to be completely honest – so am I. Technically speaking, the car is officially out of production, but given there were a few remaining AMG engines, some of Pagani's best customers have been able to order one-off examples of the much sought after, naturally aspirated model.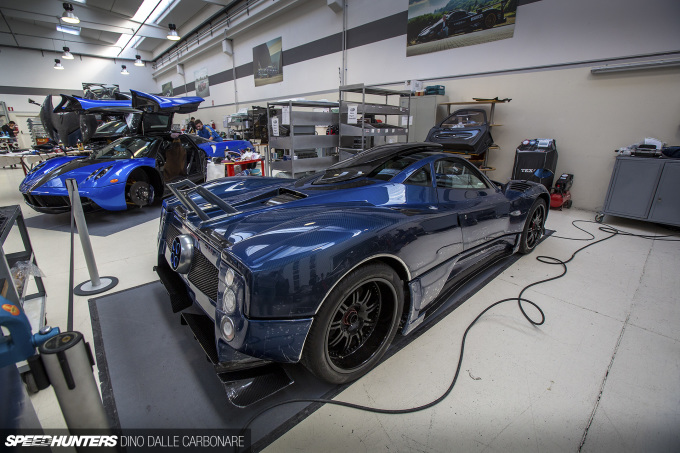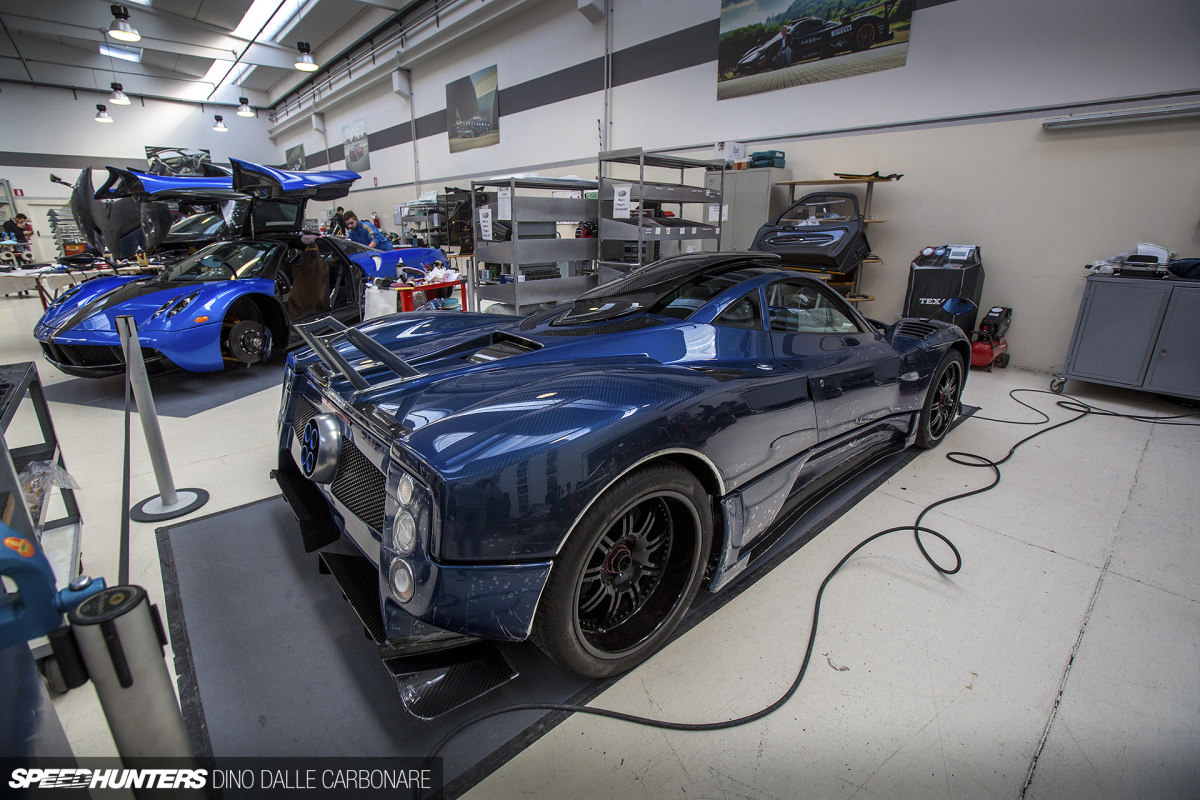 The Zonda may have been designed back in the early '90s, but it's a look that will never age. It has a presence that very few cars are able to generate.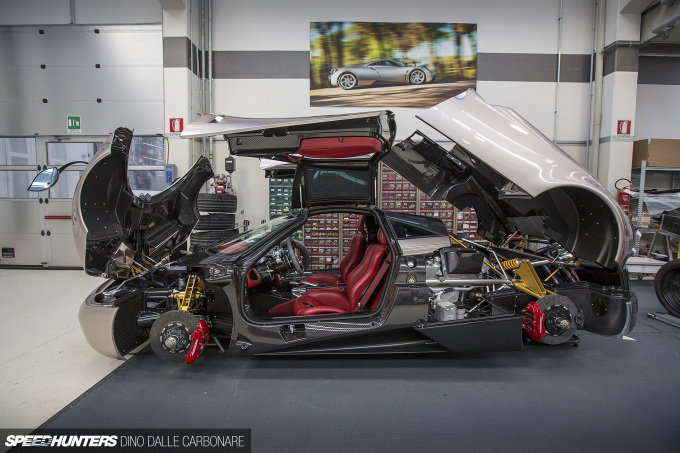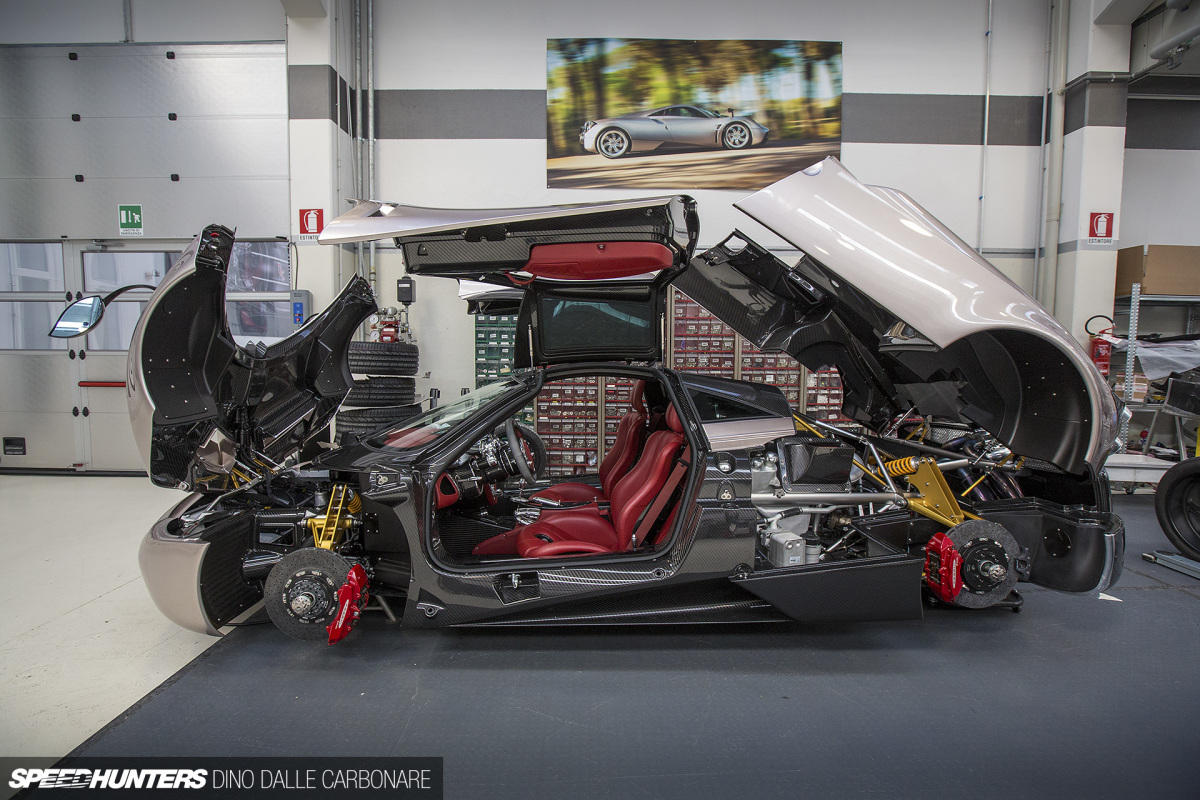 The factory area also doubles up as a maintenance center, and cars can be brought in for TLC or repairs.
A Surprise In The Maintenance Bay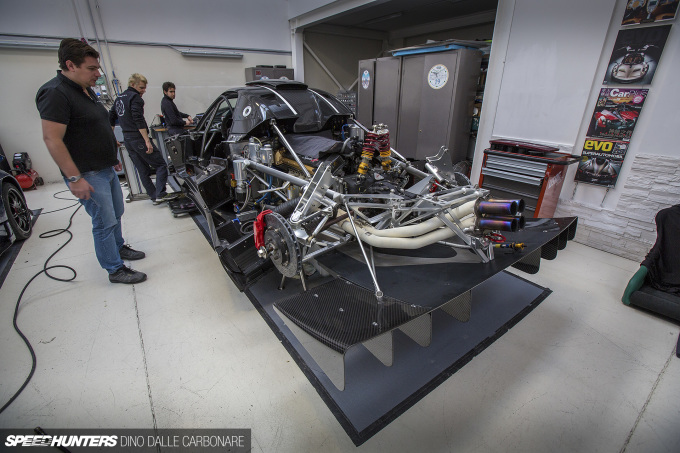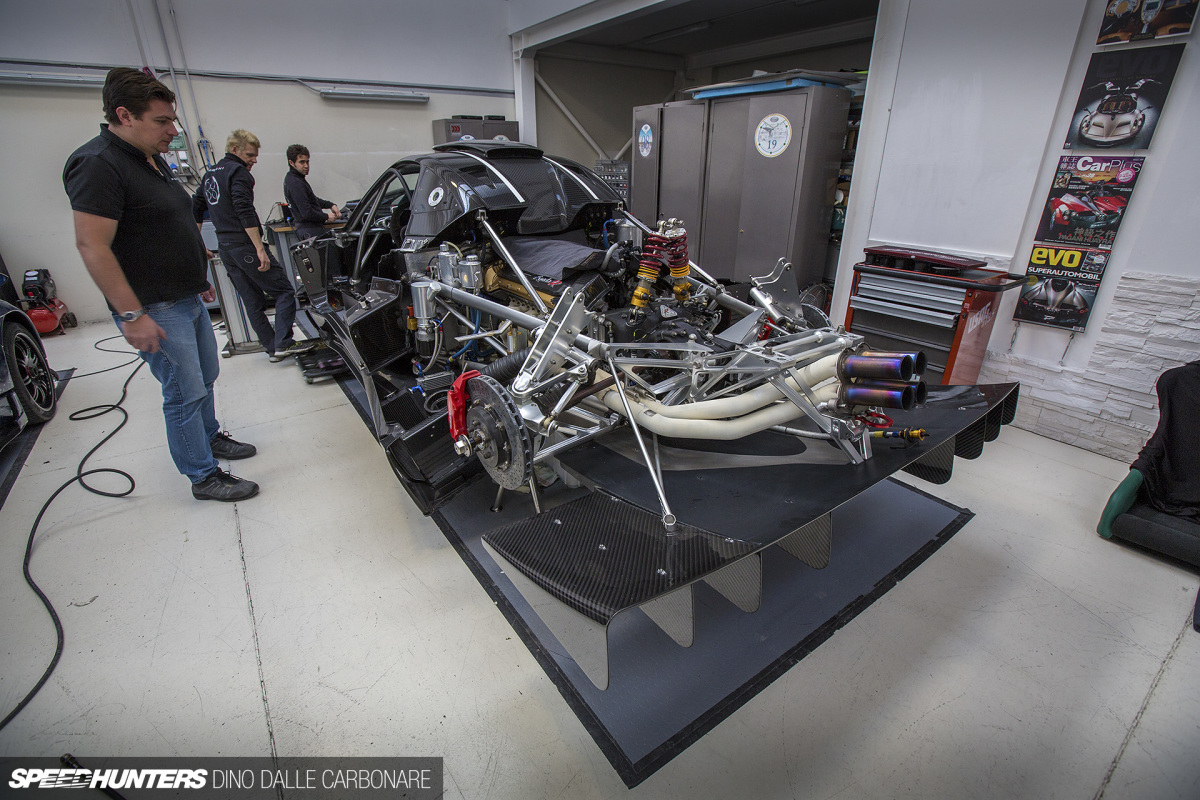 One of the five Zonda Revolucions was in for a scheduled visit and I managed to get a glimpse of it just as the lightweight carbon cowls were removed.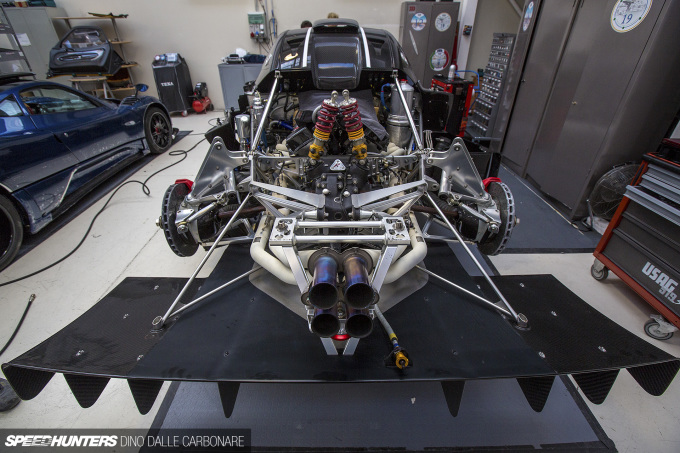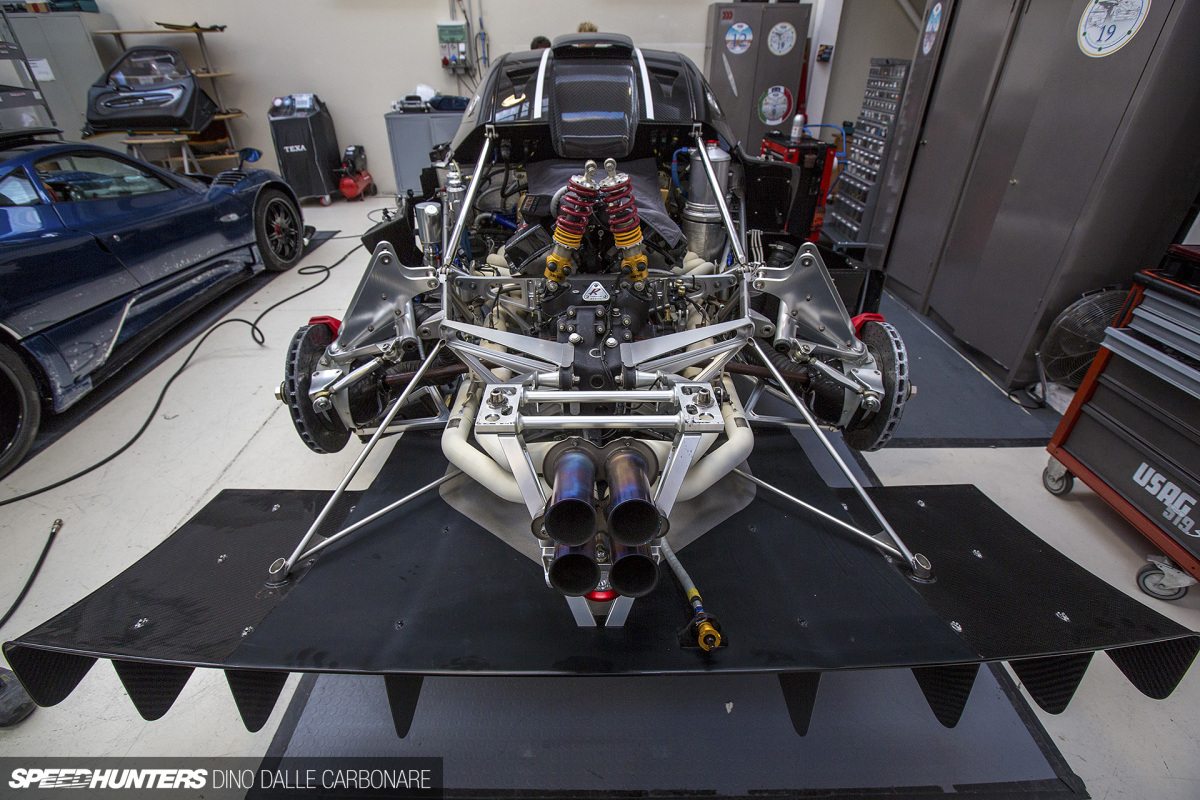 This is automotive perfection in its purest form. There isn't much anyone can add on top of this, or am I mistaken?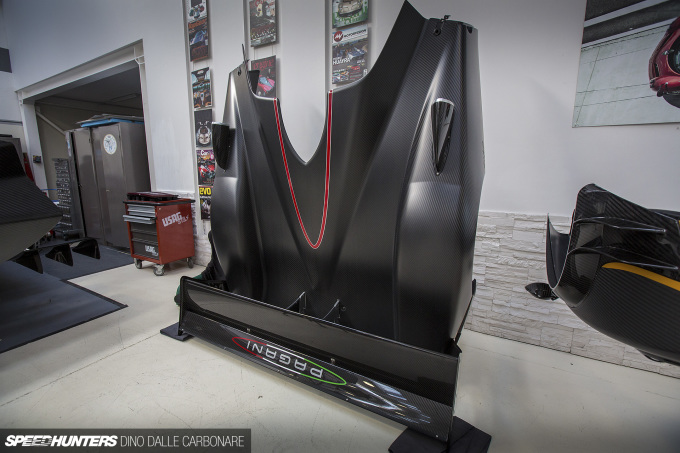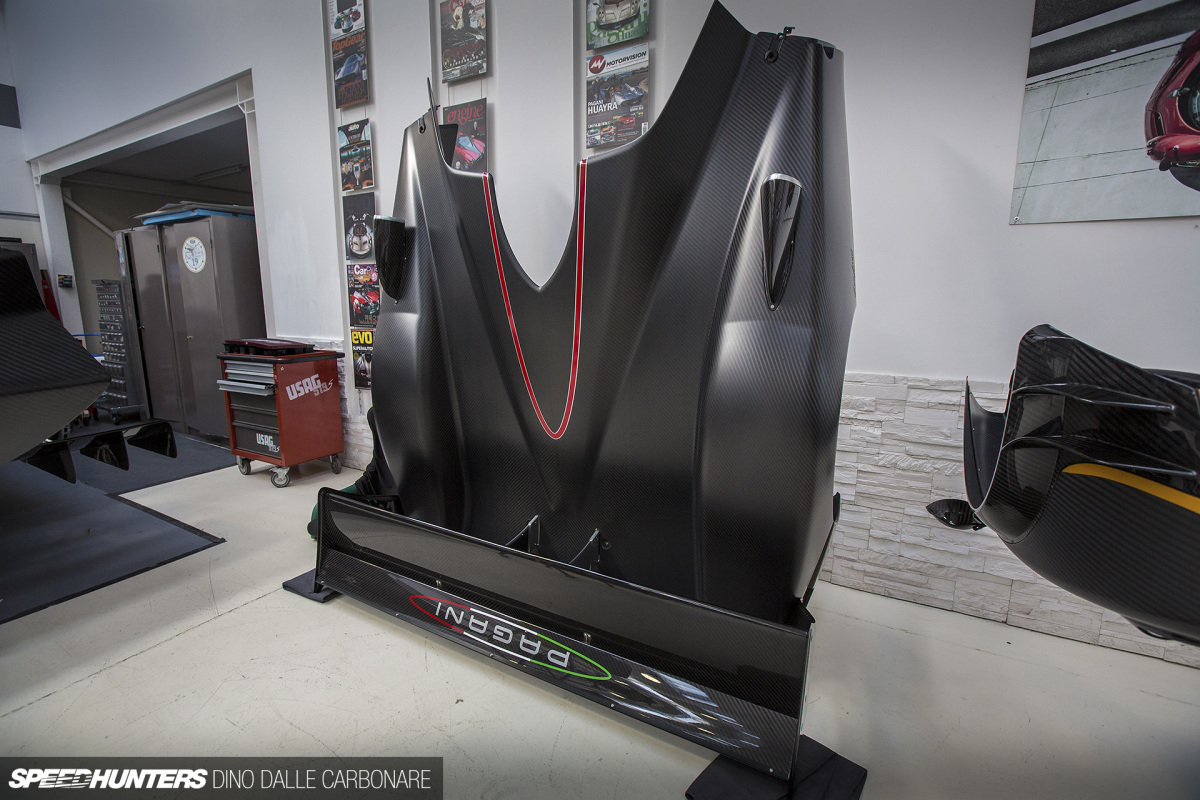 The rear cowl was carefully positioned on a purpose-designed rack to hold it safely in a vertical position.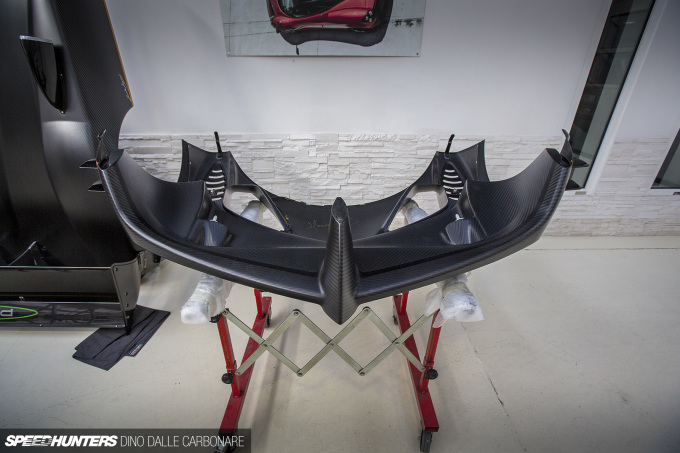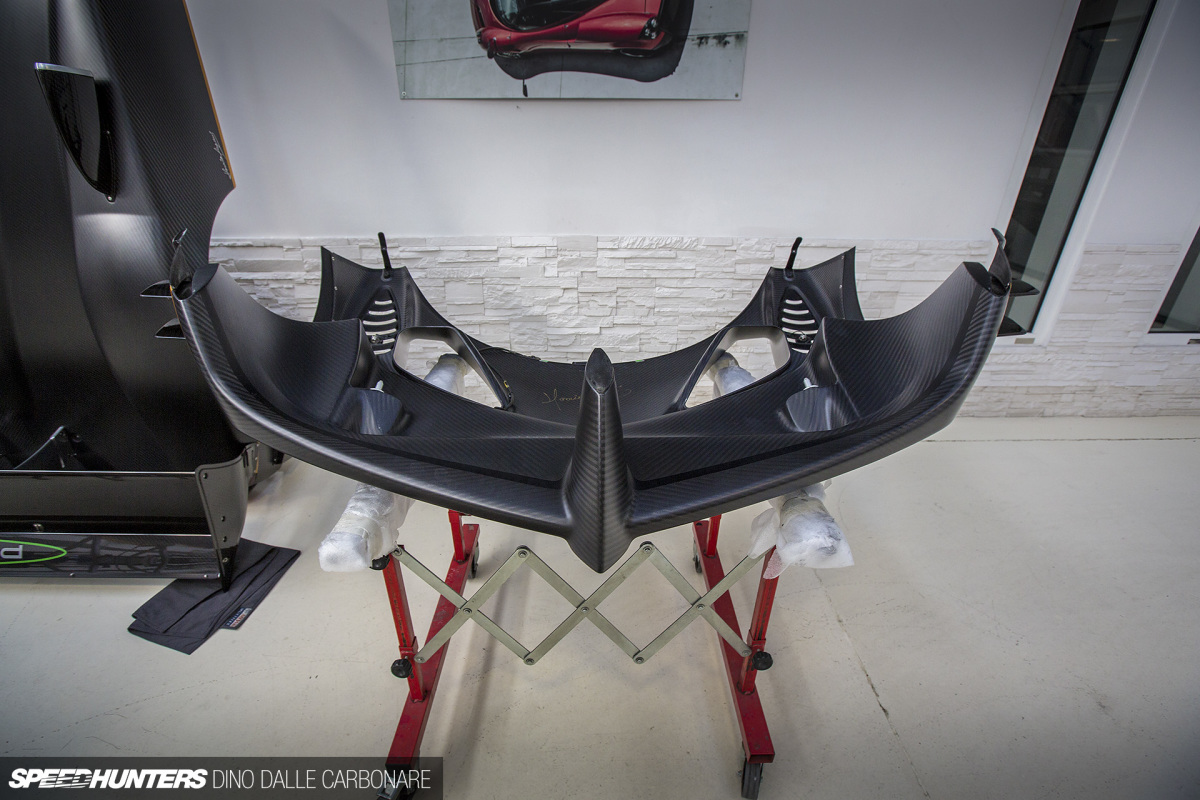 Likewise, the front end was also sat on a special stand. That's another masterpiece of carbon art right there.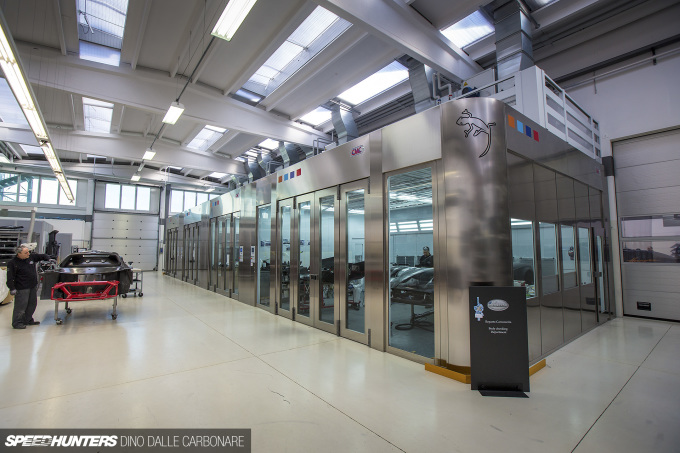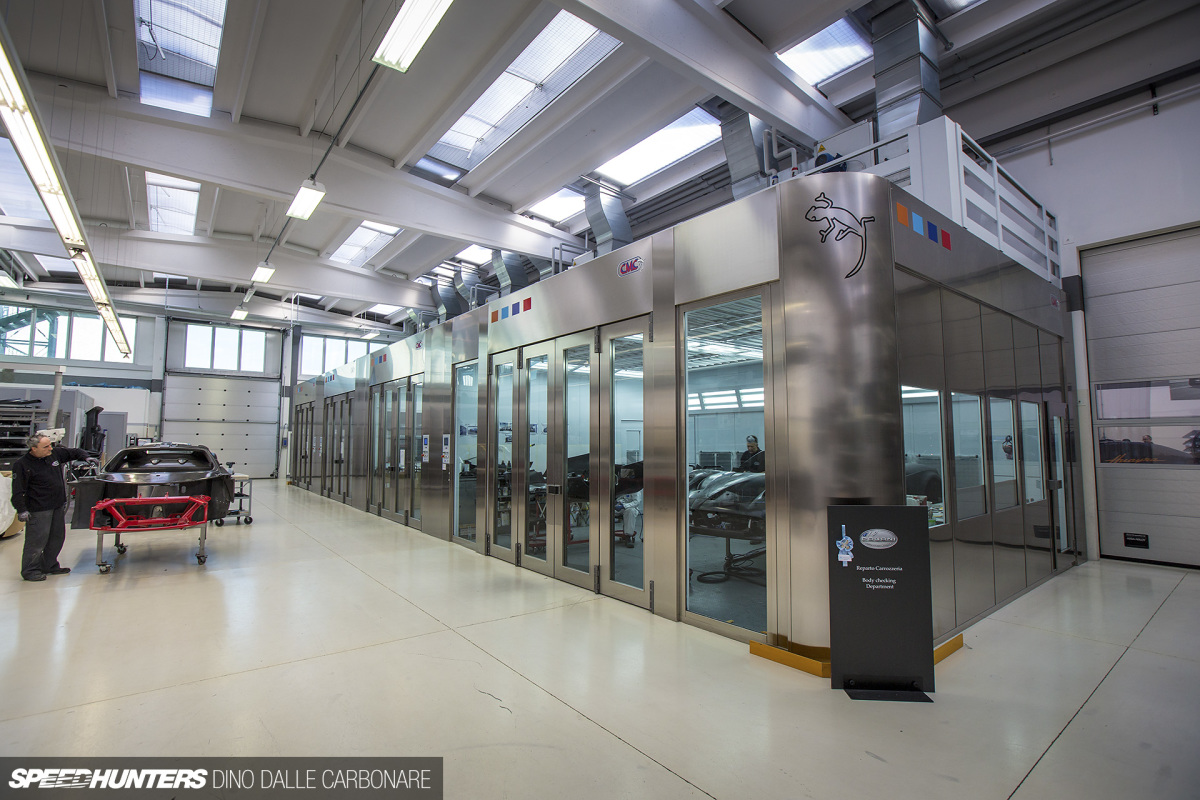 Before the Huayra and the last few Zondas can be put together there is of course the need to actually make the parts.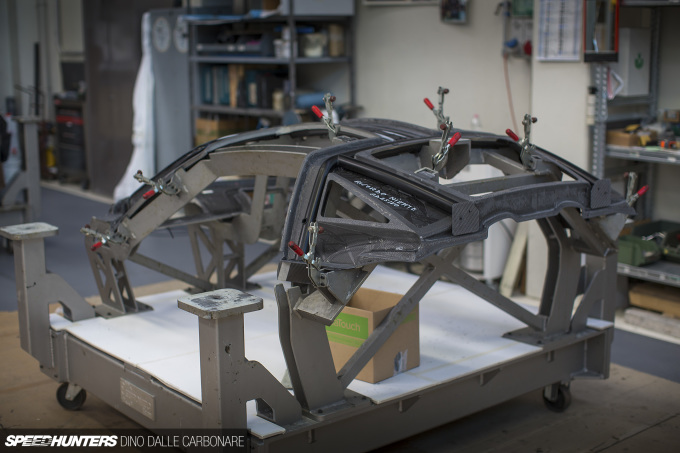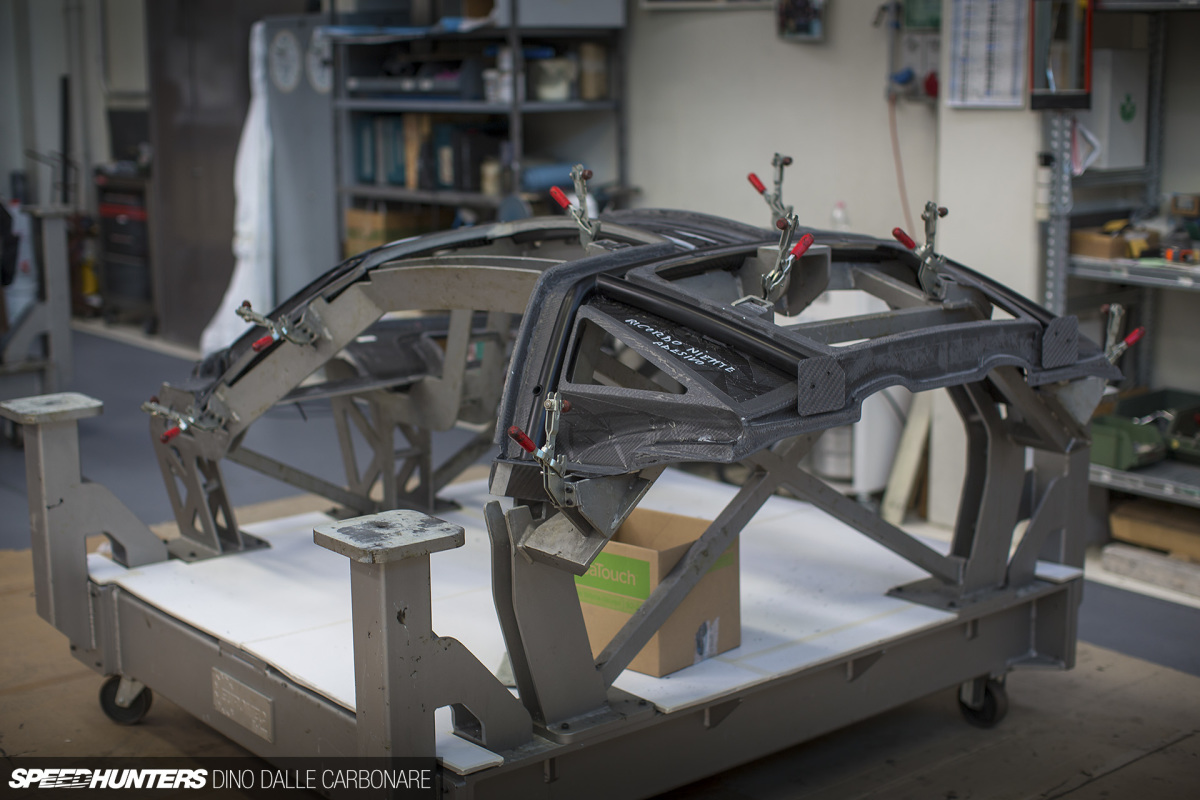 You will have seen in my tour of the new Pagani HQ that the composites department will be moved to the second floor of the new building, but for the time being the moulds are prepped and baked at the old factory down the road, before being brought here. This is a Huayra's roof section being bonded into position using a jig.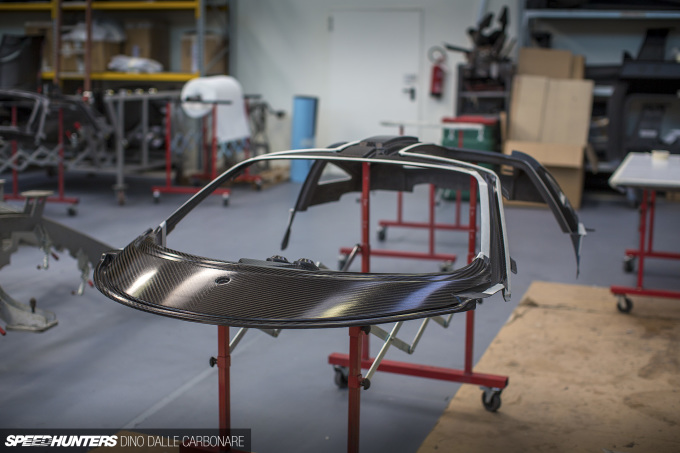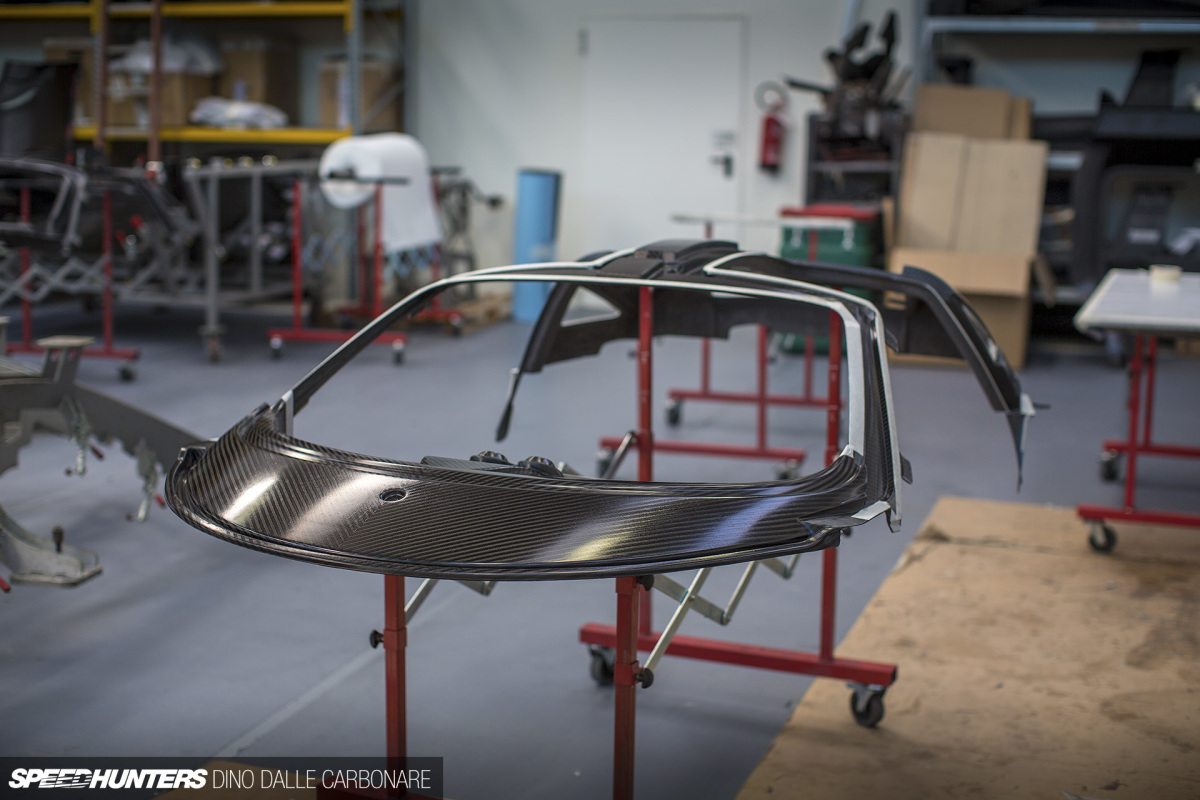 And this is the end result.
The tub then gets prepared, by hand of course, ready to accept the top which will then form the rigid center section.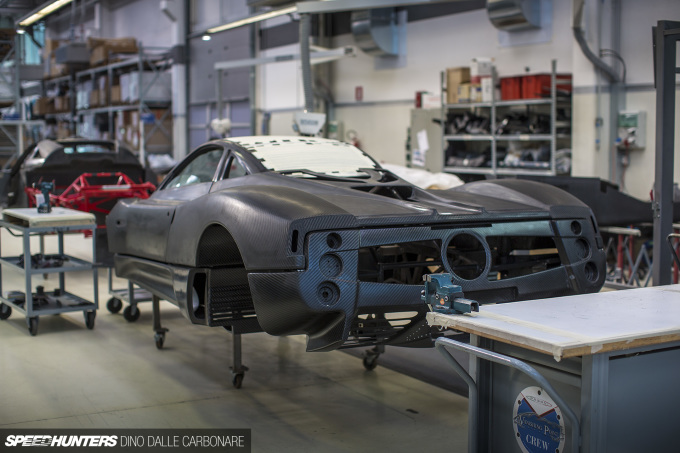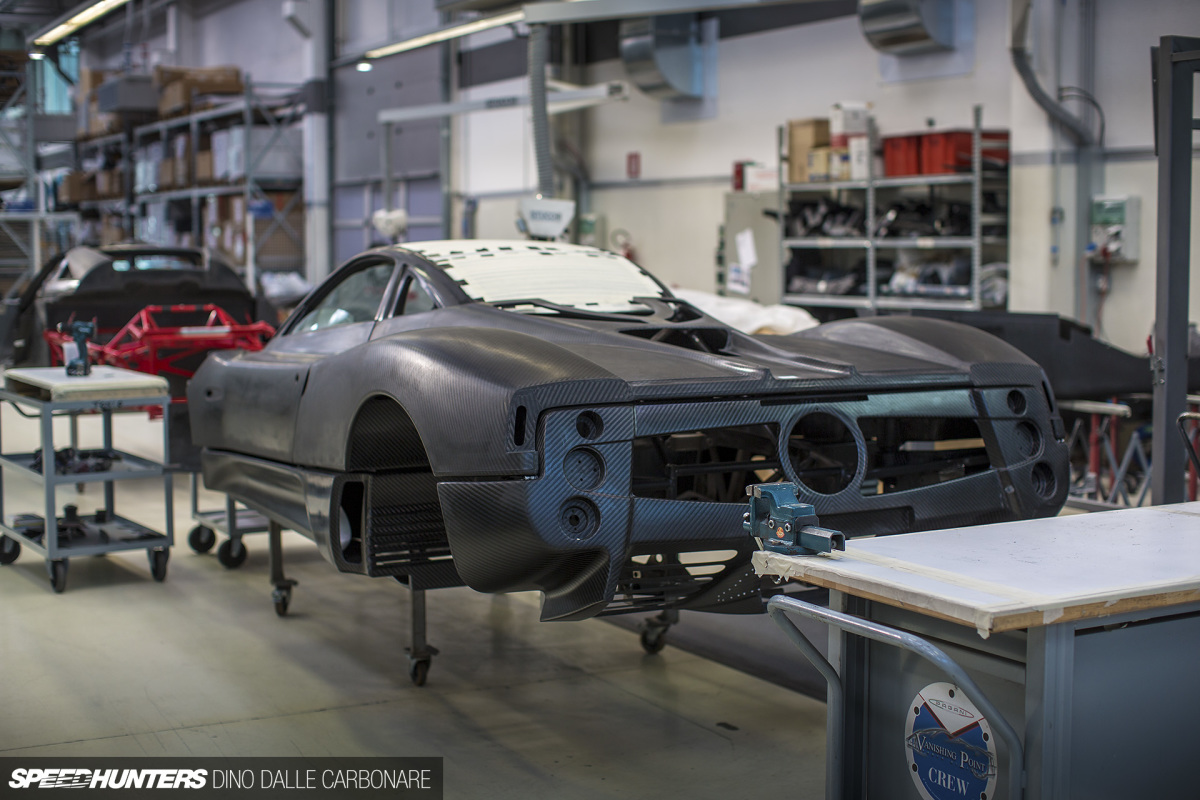 This is the same procedure that Pagani developed for the Zonda, but these final cars benefit from technology and knowhow that's come about since development of the Huayra. So things like carbotanium are now used for construction of the monocoque.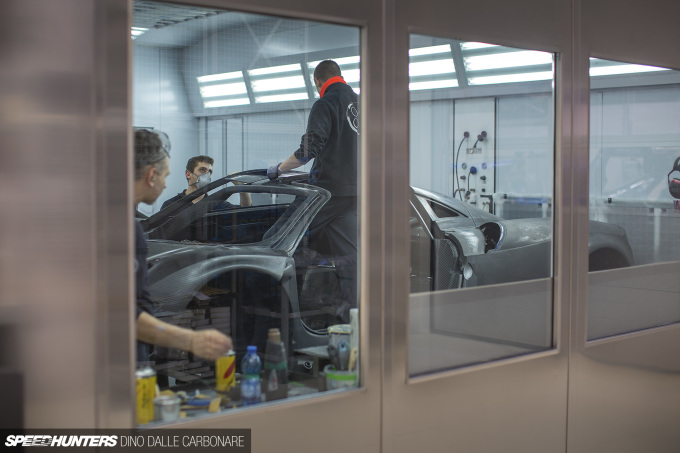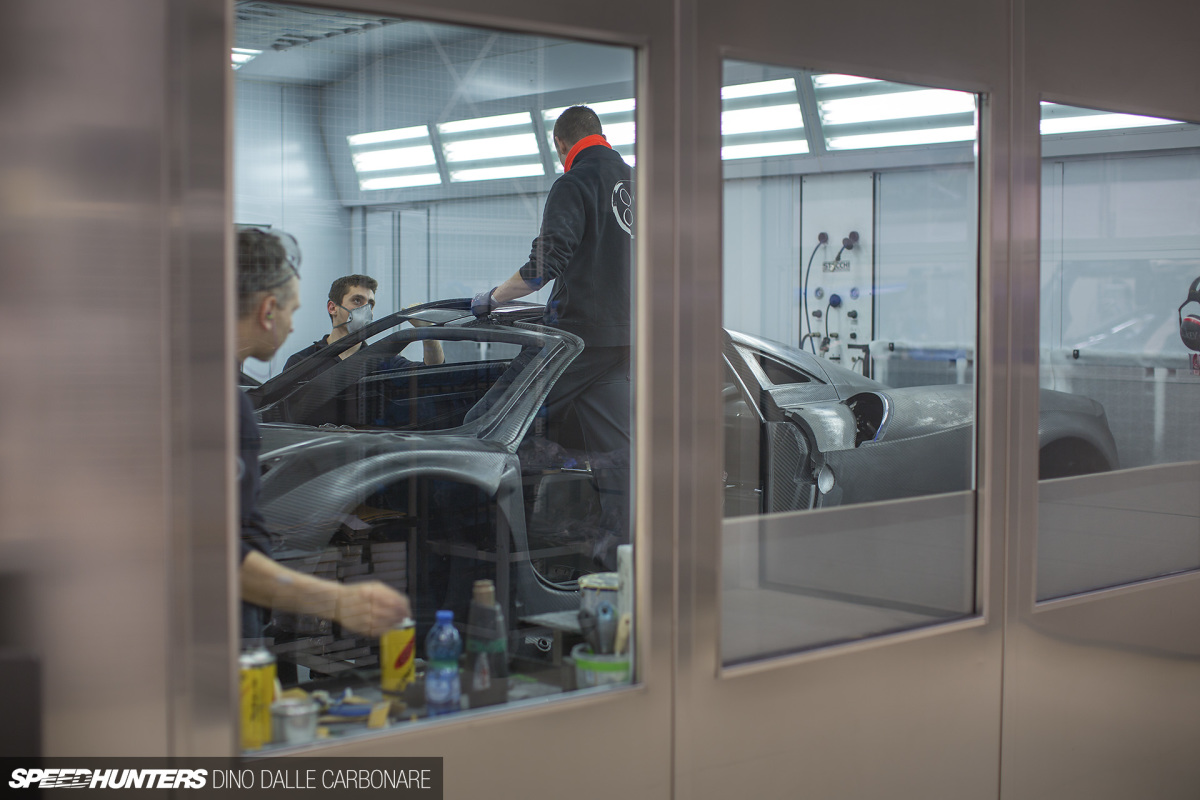 While painting is outsourced to a specialist in the Modena area, the cowls and other sections that make up the body are prepared and laid out beforehand to ensure that panel alignment is spot on.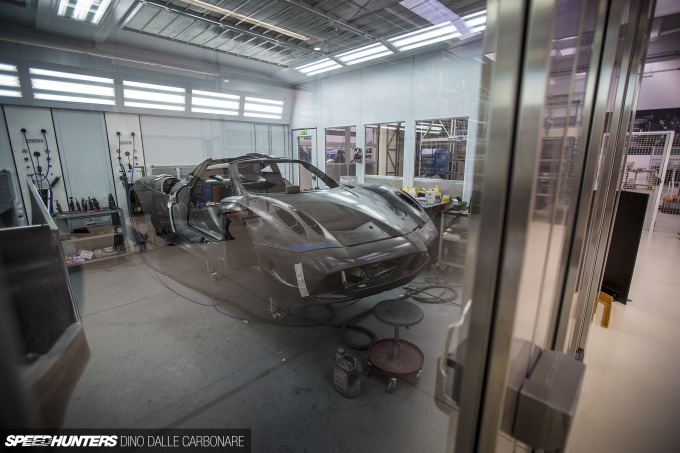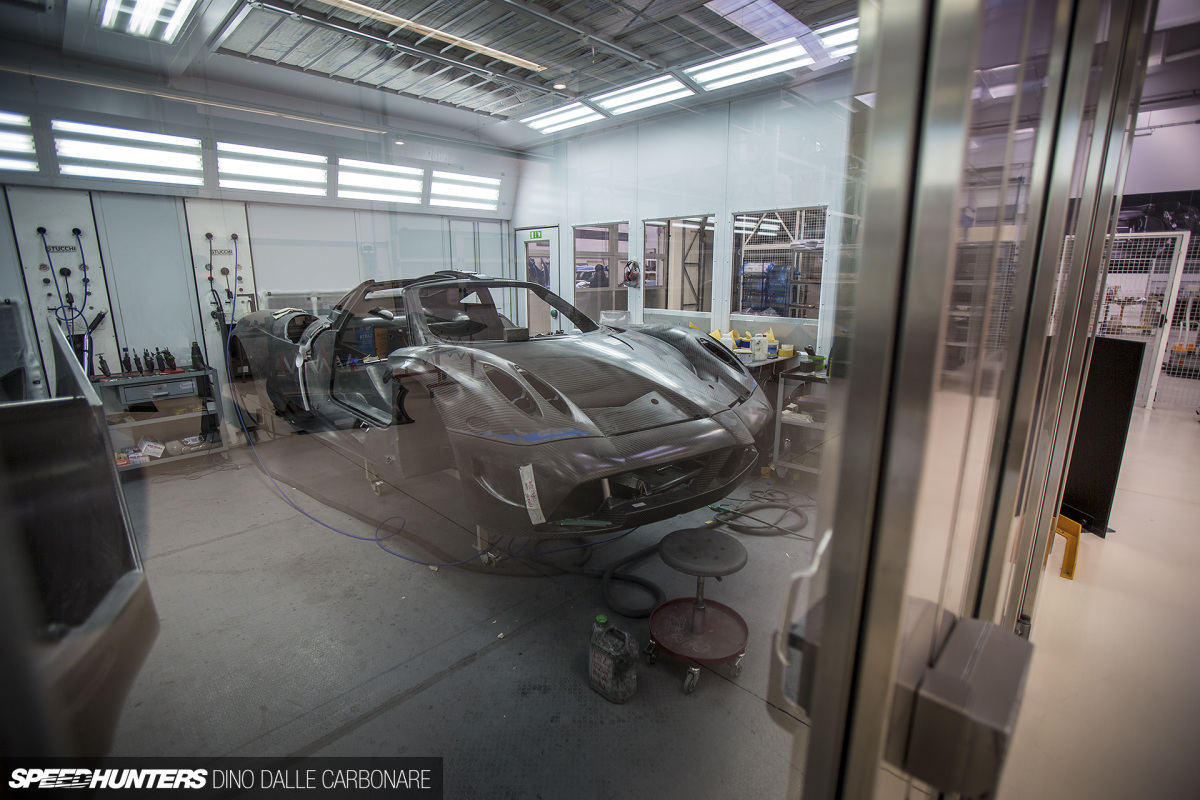 Then it's all taken apart and the body sent off for numerous coats of paint and clear.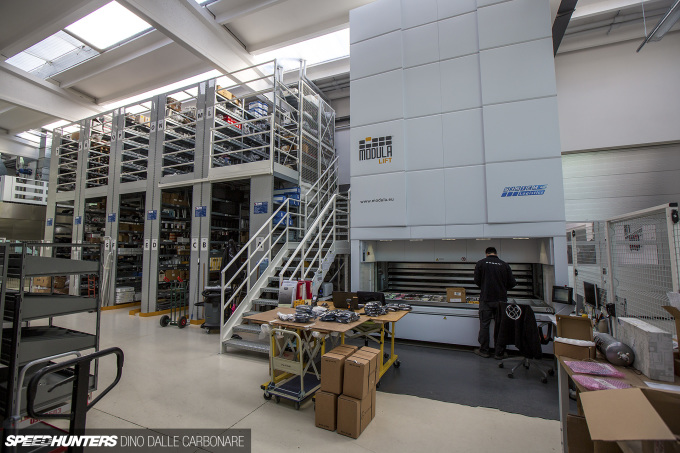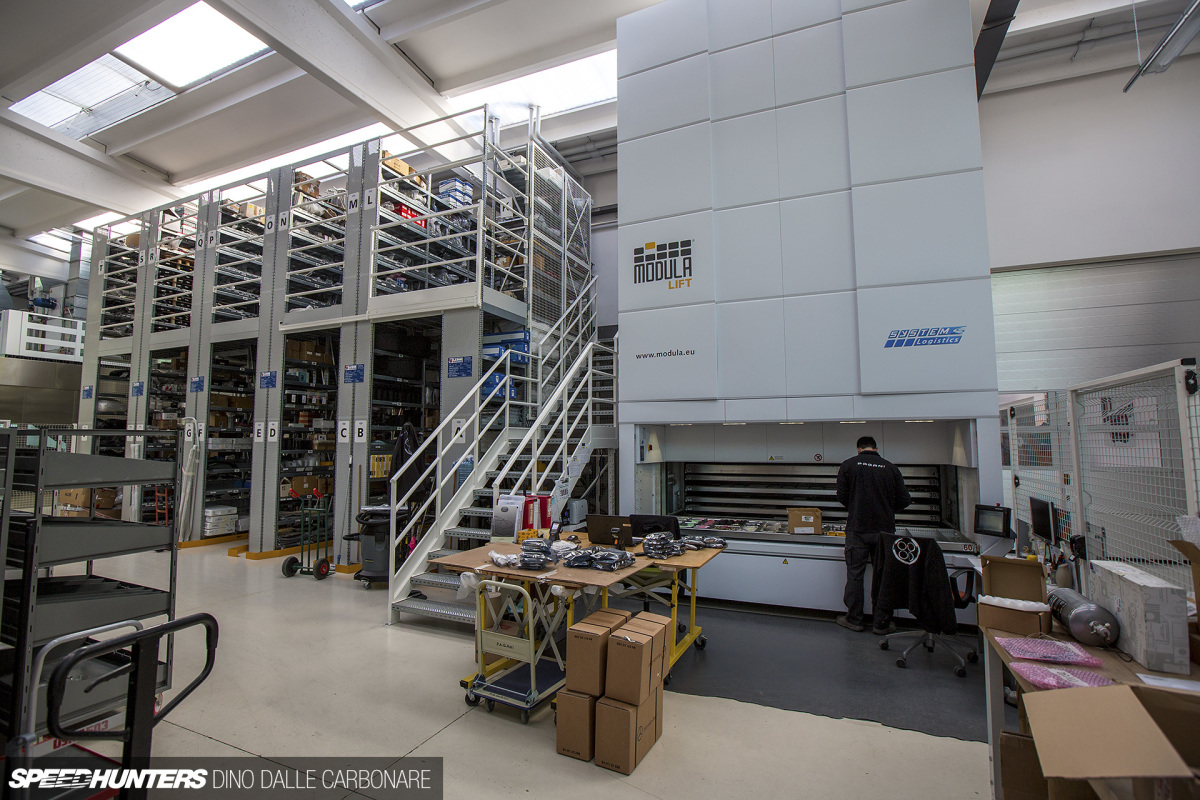 You might remember in my other story that I was blown away by the way parts are stored and then automatically picked by this massive robot when they're required. It cuts down on time immensely, keeps a track of all the inventory and only one person is needed to operate it.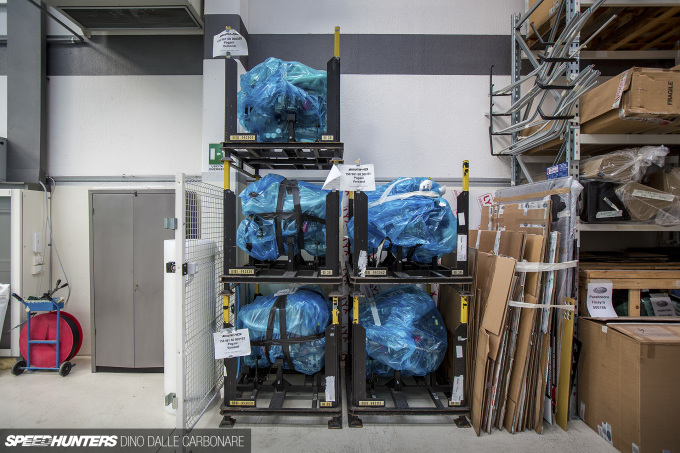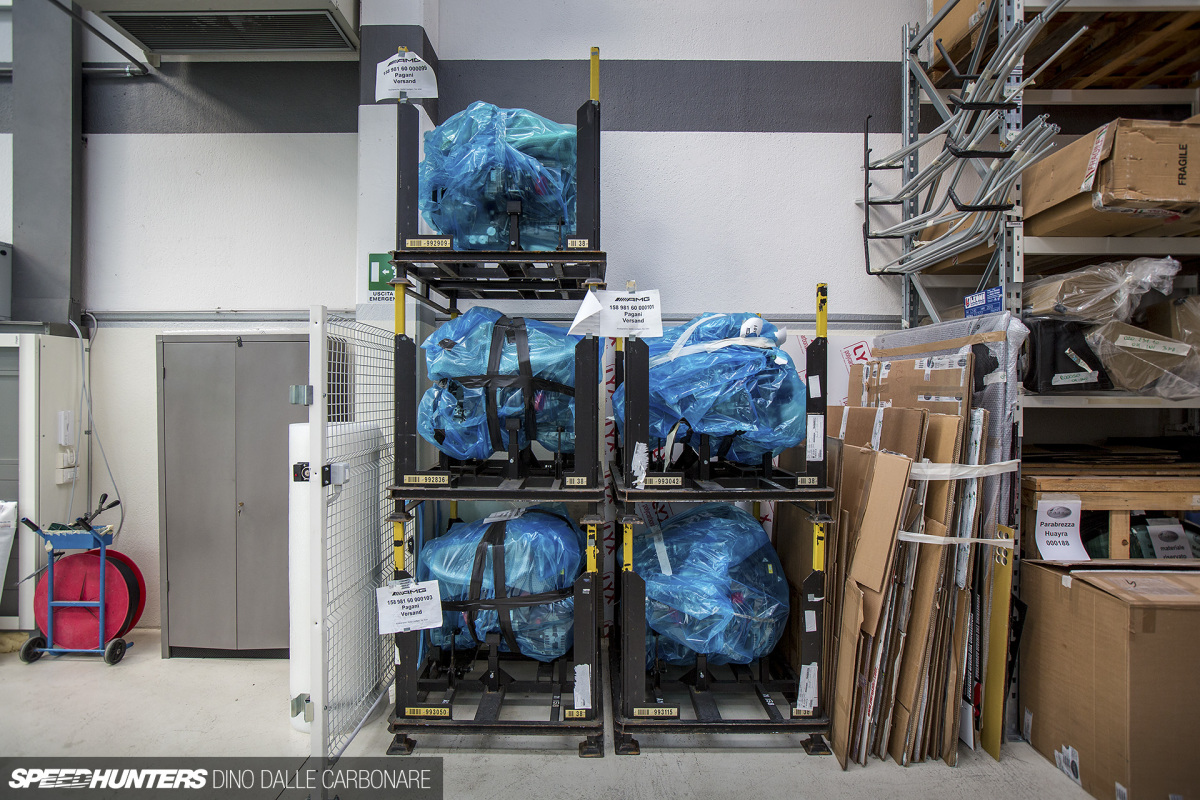 The specially built 6.0-litre twin-turbo V12 engines from AMG arrive in these crates, ready to be dropped into the center of the Huayra with a single-clutch, automated Xtrac transmission.
It's a tremendously complex process to build these cars to the level of quality and perfection that Horacio demands, but thanks to some amazing staff, a top-of-the-line facility and a hell of a lot of passion, the Paganis that come out of this small factory in Modena have made a real name for themselves in the hypercar world. It's defintely not hard to see why either.
Dino Dalle Carbonare
Instagram: speedhunters_dino
dino@speedhunters.com
Cutting Room Floor