The Big Plan
So where does one go from here? I'm sure this is a question that each of us ask ourselves after important times in our lives. Paths open up in both our private and professional lives, and you try to make the right decision, following your mind or maybe your heart. Results are dependant on what we make of it, but pushed by our passion and perseverance we hope for the best. But there are people out there that are so dedicated in their vision they seem to have it all figured out. Well, maybe not all of it, but one man I think of as a modern-day visionary is Horacio Pagani.
If you look back at his life, you can't help but think that this guy must possess an inhumane ability to see things with incredible clarity. After moving to Italy from his native Argentina, Horacio made a name for himself, first as a designer at Lamborghini and then as a pioneer of composite materials. But that was all just a prelude to realising his own dream car.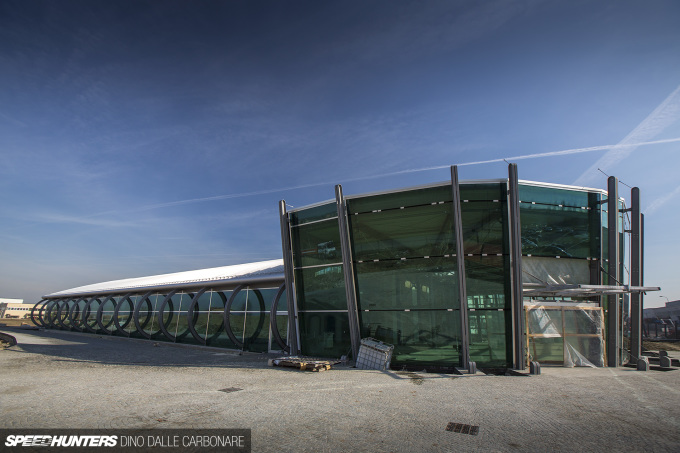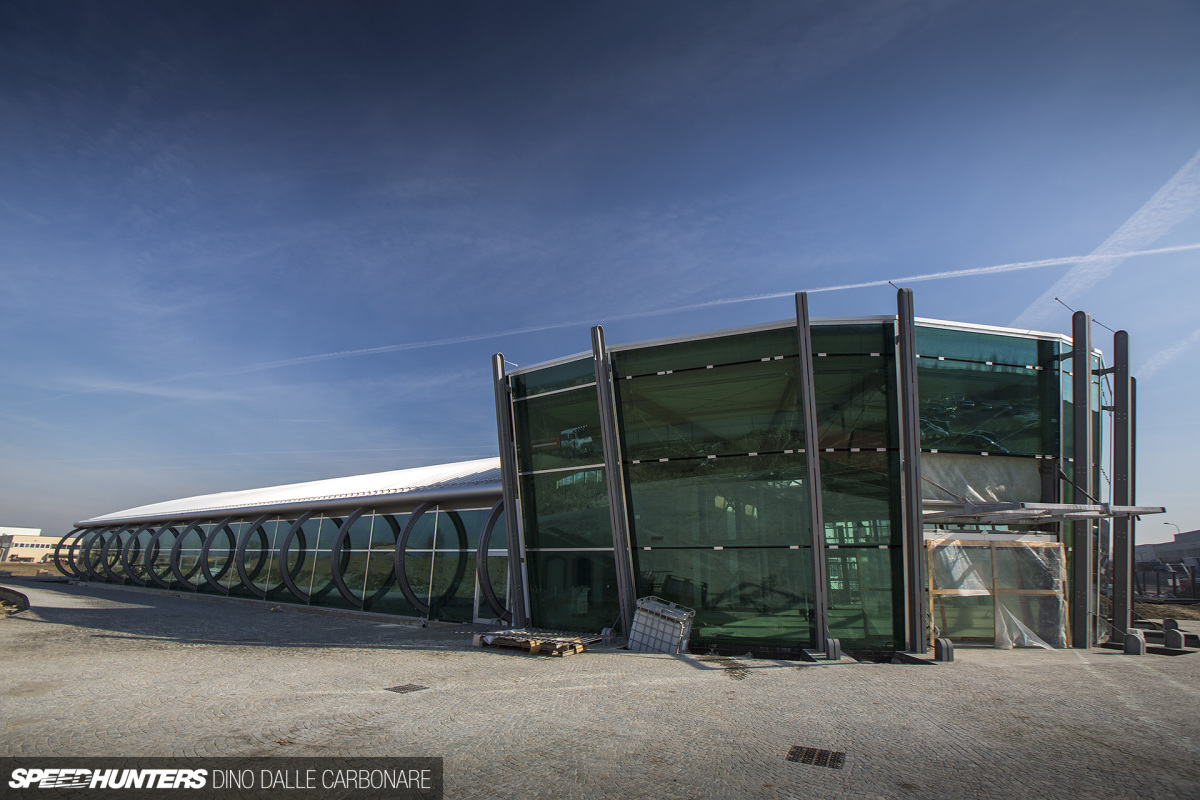 Not even 20 years after the Zonda was unveiled at the 1999 Geneva Motor Show, this is where Pagani Automobili is at right now. Back in January I was one of a very small number of lucky journalists that sampled the BC – the more track-focused version of the Huayra. After driving and shooting the car down in Sicily, and even being on the set of the promotional video that Pagani was making at Mt. Etna, I had a chance to spend a few extra days at the HQ.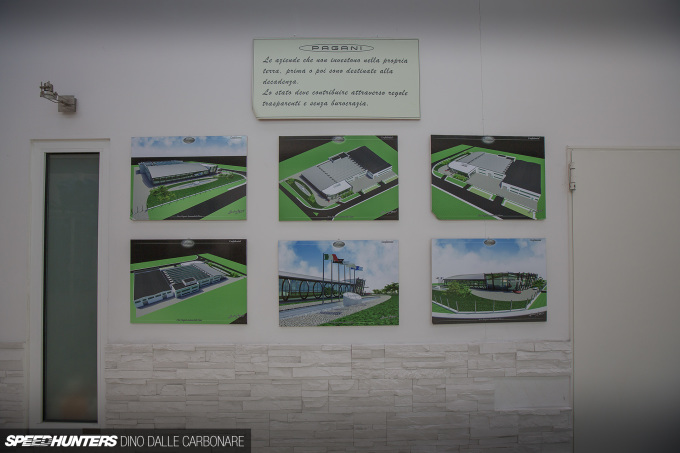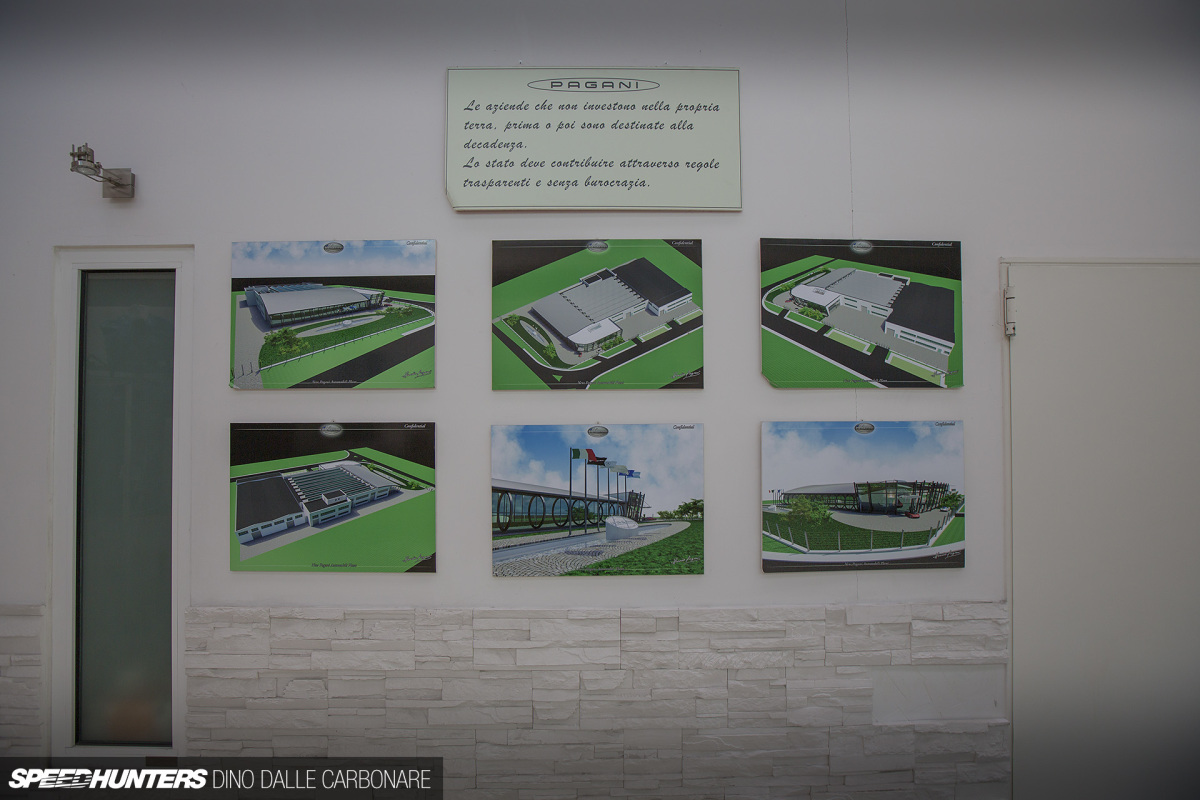 The last time I was here I drove the Huayra on track, and yes, that still ranks as one of the best days ever! That was only my second visit to the boutique car maker, but already Horacio had massive plans to expand the company, and it was at this time that I first set eyes on some digital illustrations of what the all-new HQ would look a few years down the line.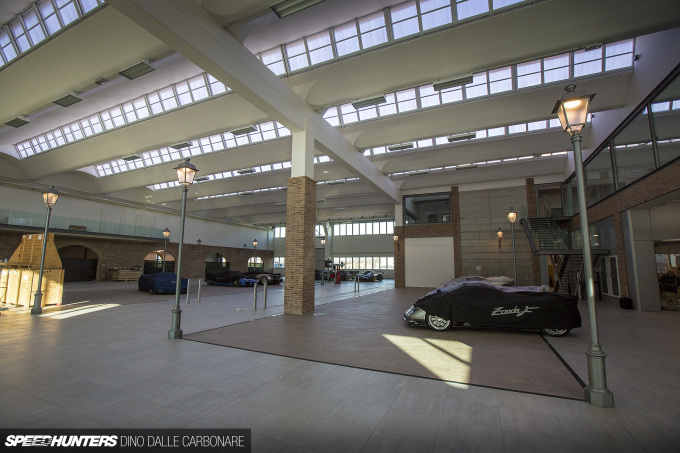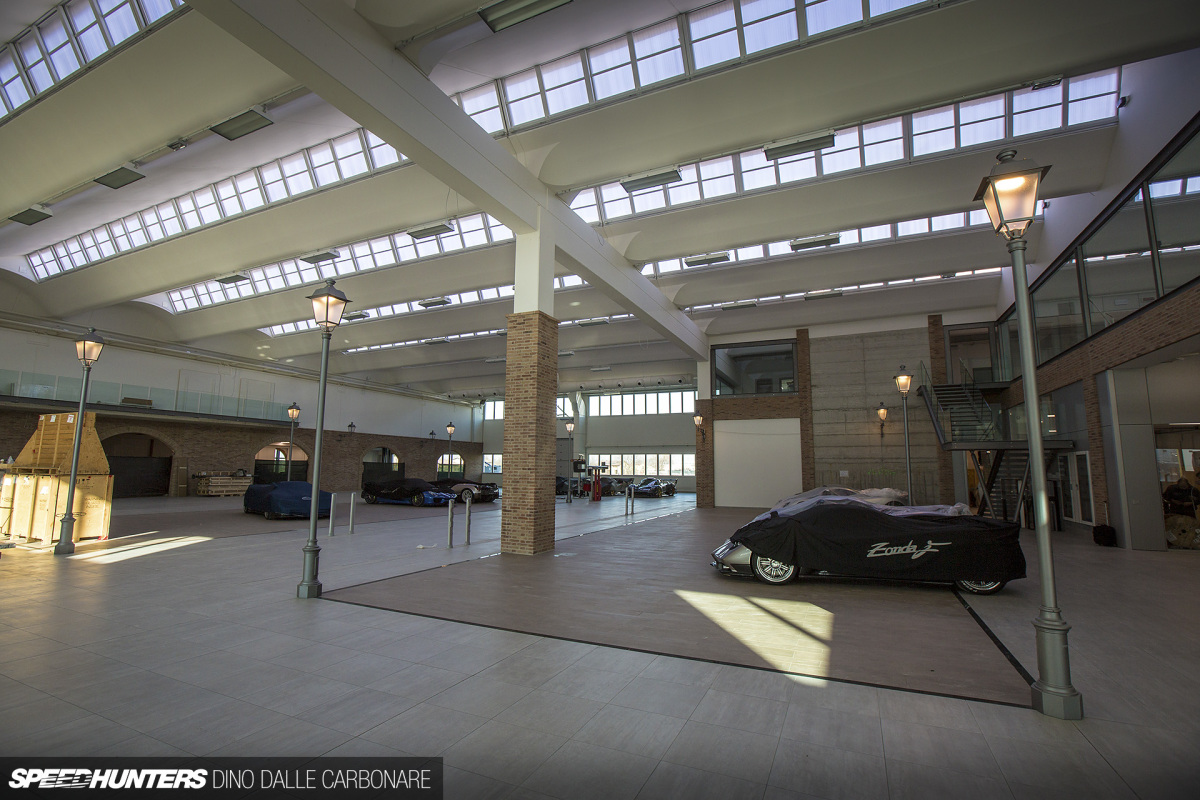 To say that people at Pagani are doers is an understatement. Horacio bought up the massive building next door to the existing factory, knocked it down and started again from scratch. His vision is getting very close to completion, and in a few months it will be officially opened. So now, after receiving the official 'okay' from Pagani, I'm able to share with you a sneak peak at the new facility.
It all starts in the Piazza, which is a big Italian-type square that's been created with paved areas. Here customer cars will be serviced and put on display.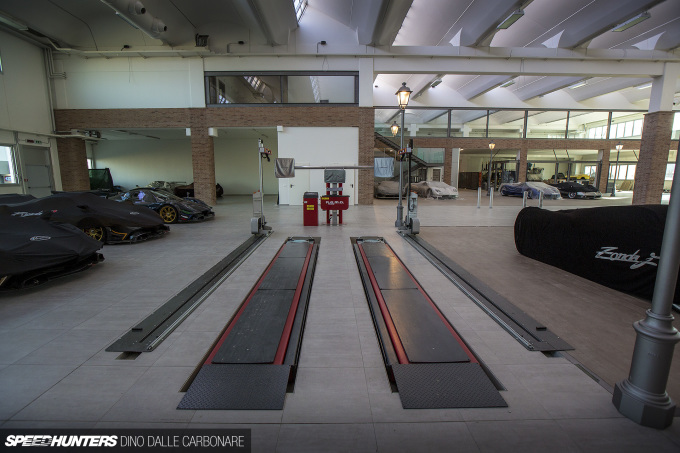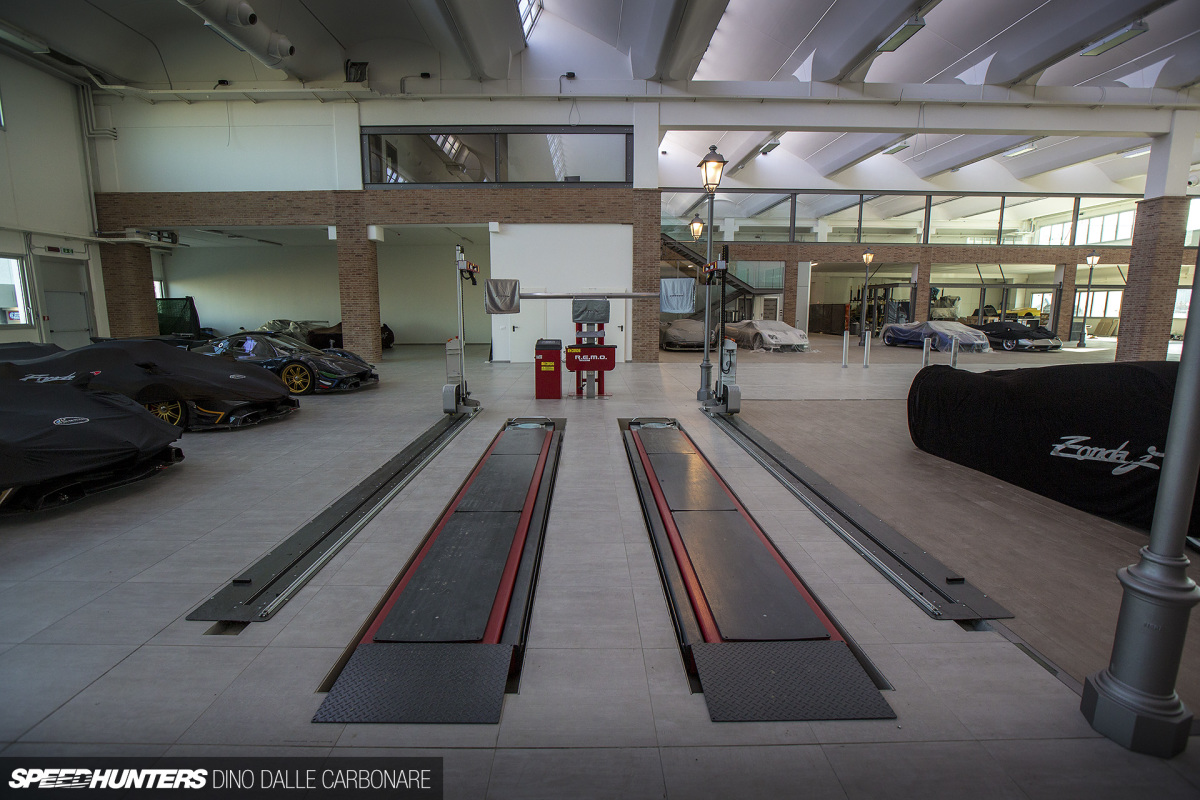 This is the main maintenance and alignment area, where the cars can also be lifted up and worked on underneath.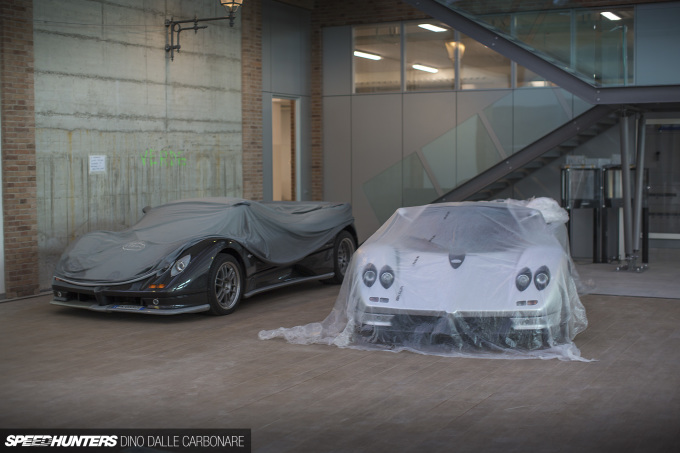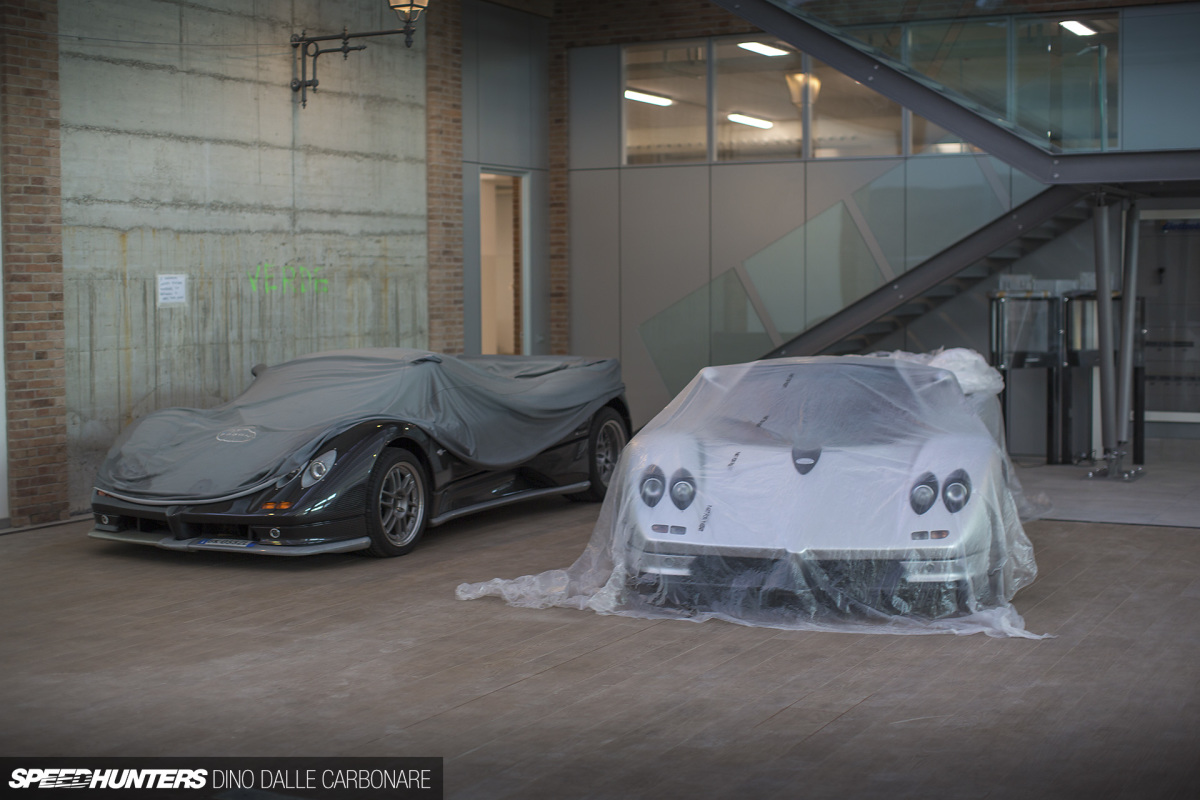 Many cars were already in for service, including this silver Zonda C12 from the UK.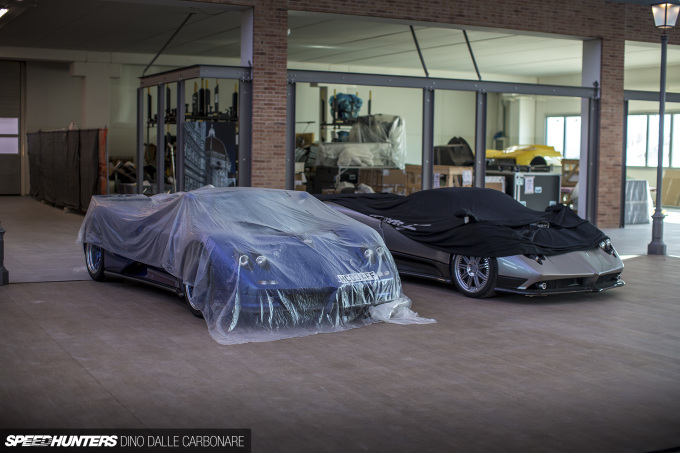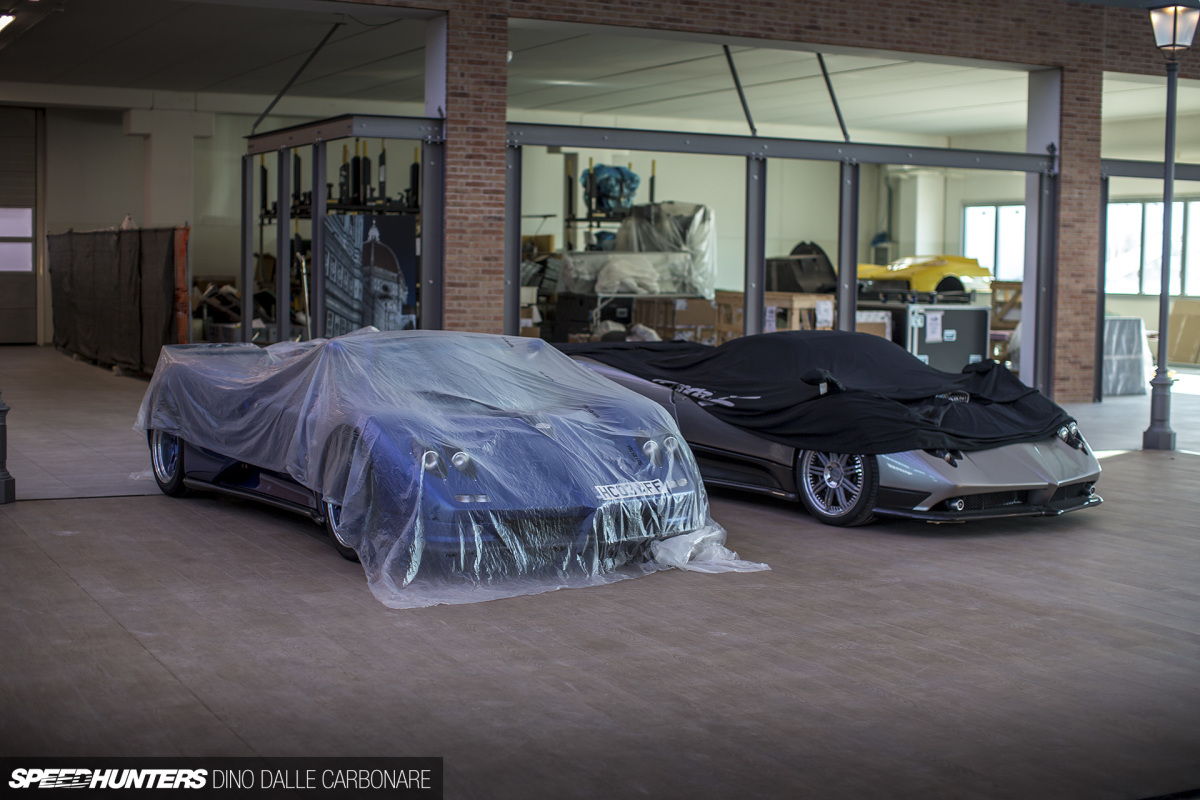 The corner area in the background of this shot will be sectioned off with glass and used to store parts that the technicians will need and use during maintenance.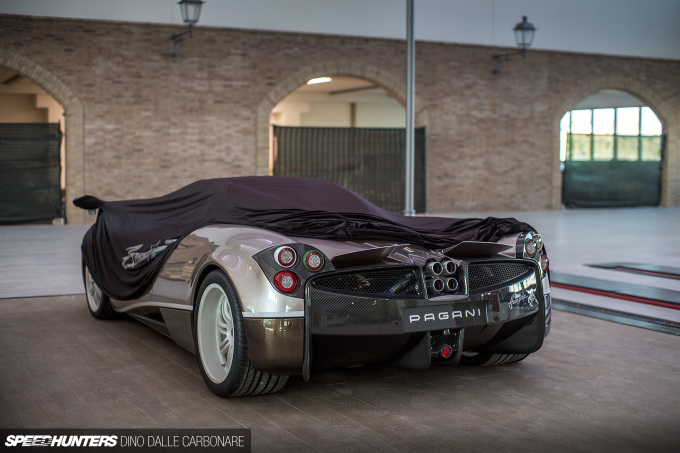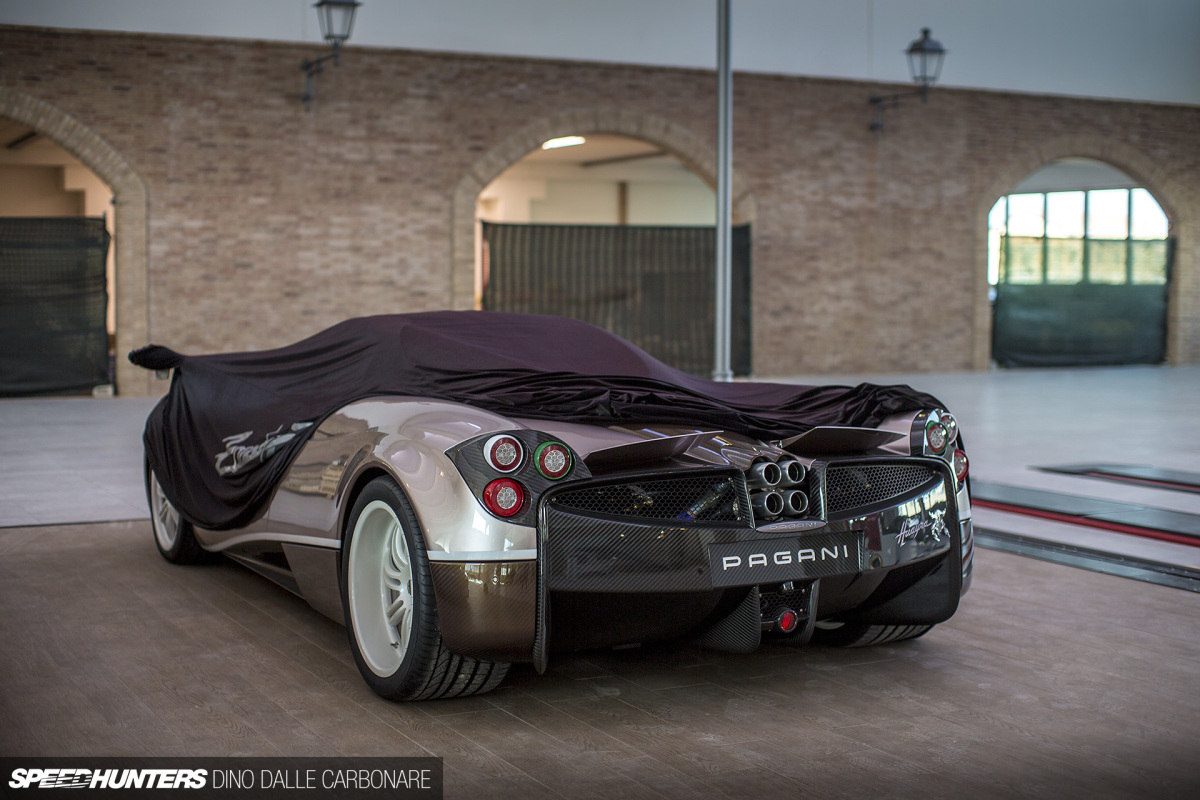 With so many customer cars from all around the world in one place, it's interesting to see how some owners personalise their cars with bespoke touches. This 1 of 1 Huayra from China has the colors of the Italian flag worked into the taillights, and was also sitting on pearl white wheels, which I thought was quite unique.
Revolucion Overdose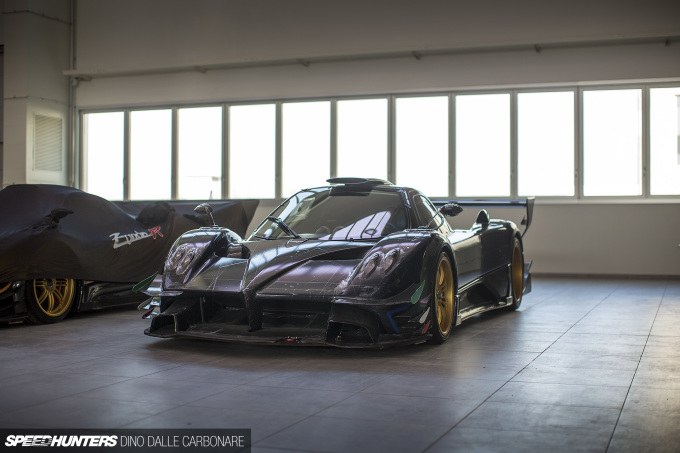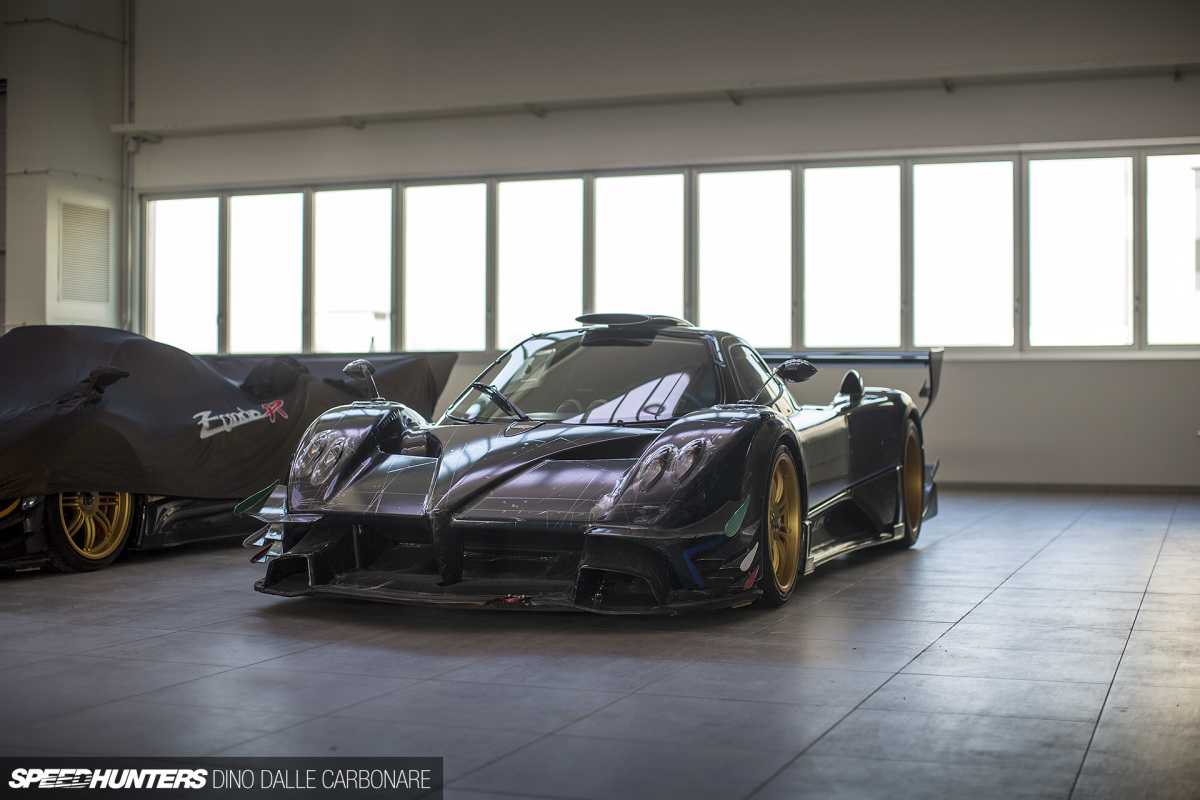 Okay, you must have already seen them by now! This trio of Zondas was literally too much for me to handle. I had to see the entire second floor of the factory before checking out the cars in the Piazza, but as soon as that opportunity arose you can bet I dropped my camera bag and went straight over.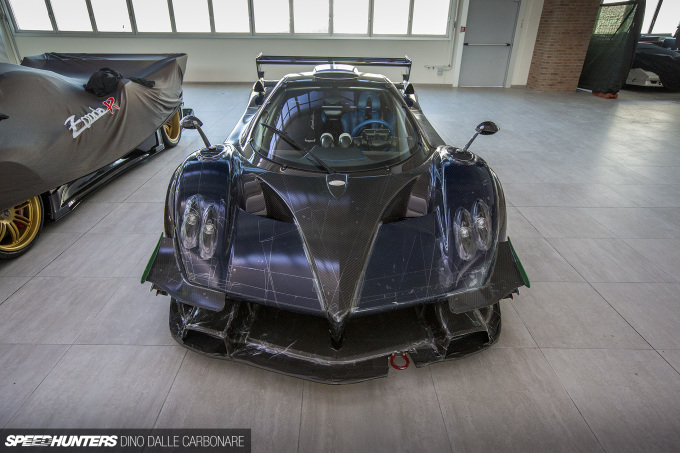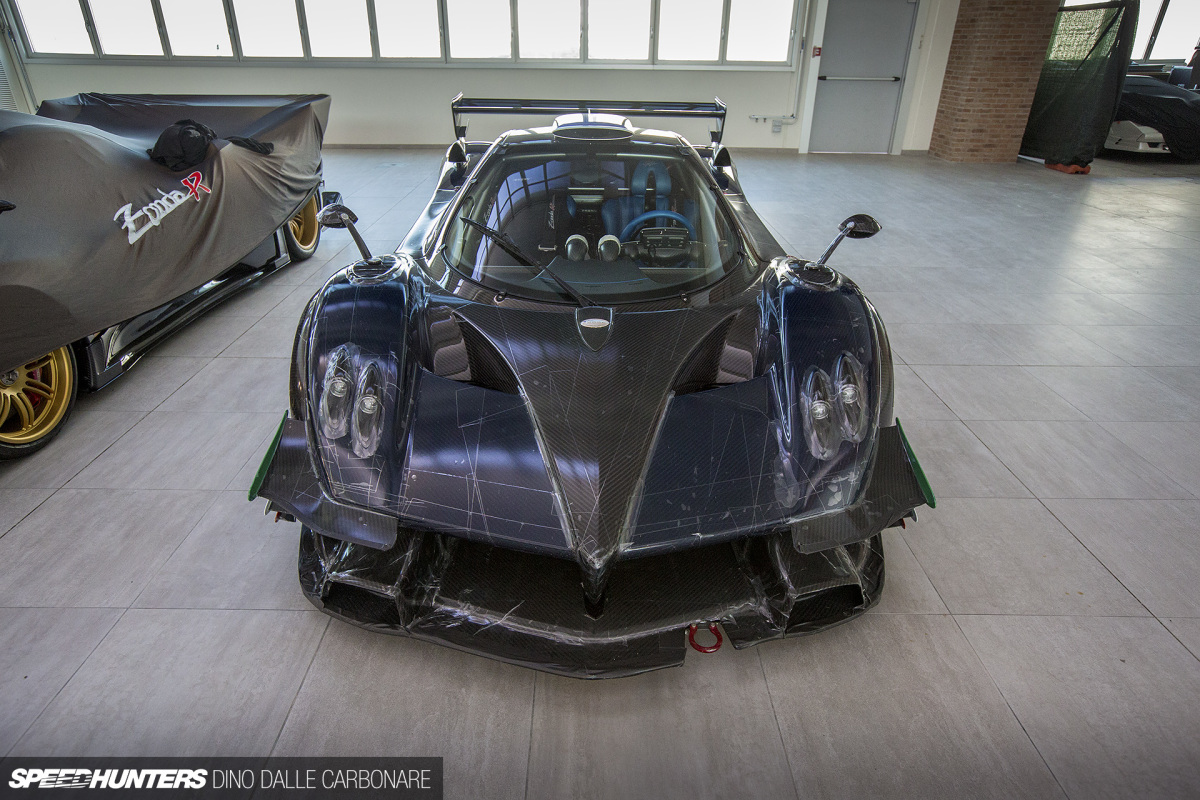 Seeing I was left in here by myself for a good hour, I took my time with this Zonda Revolucion. After all, it's not every day you are faced with one of only five masterpieces of this caliber.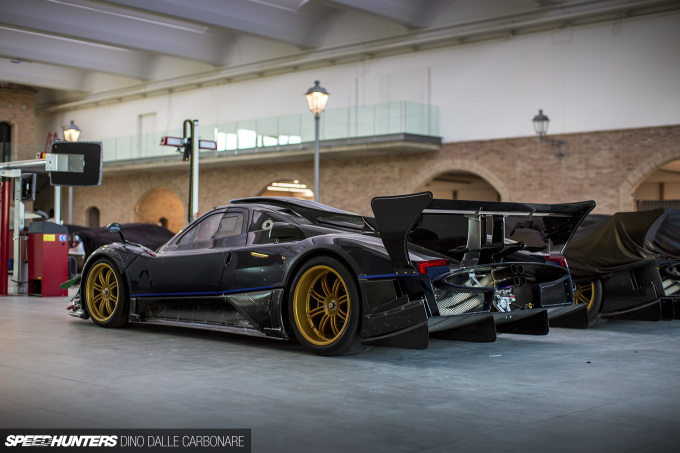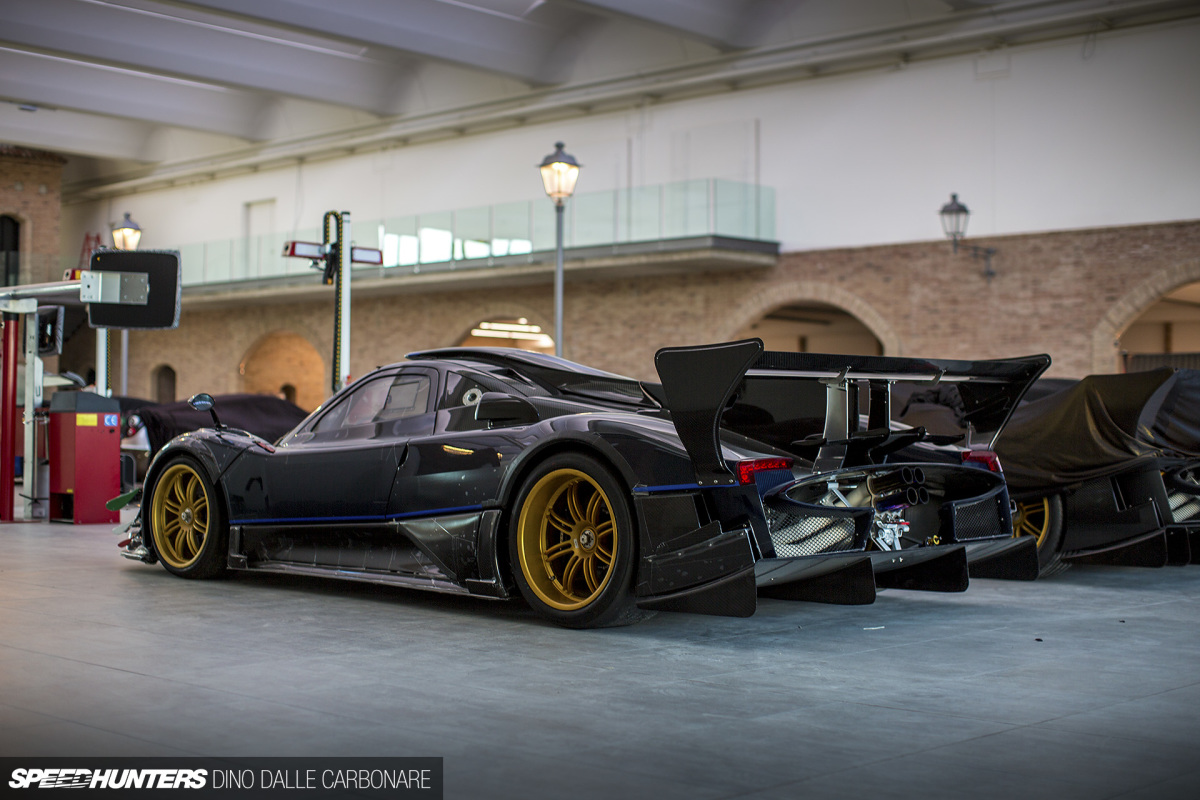 Just look at this thing! The Revolucion is the most in-your-face expression of the Zonda, executed to perfection. There isn't one single thing I'd change on this car.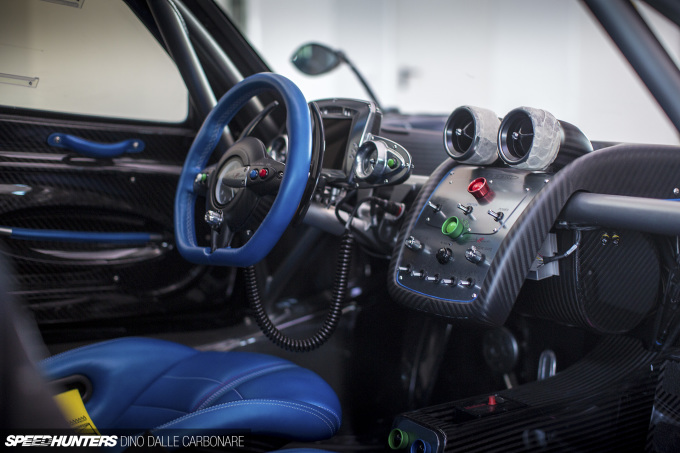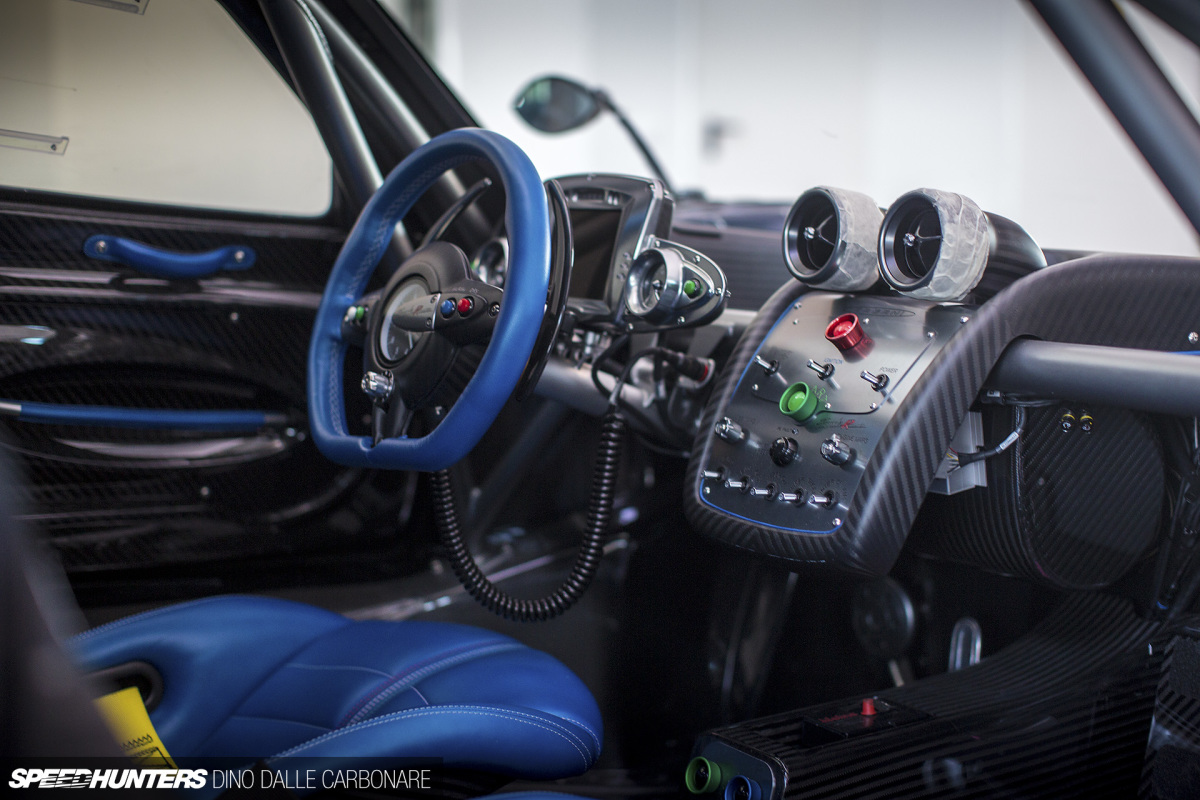 The Azzurro blue in the interior is again a nod to Italy. It's the color you see on Italy's national football uniform (or any other type of Italian team sport for that matter) and here it's been used on the seat, steering wheel and door handles.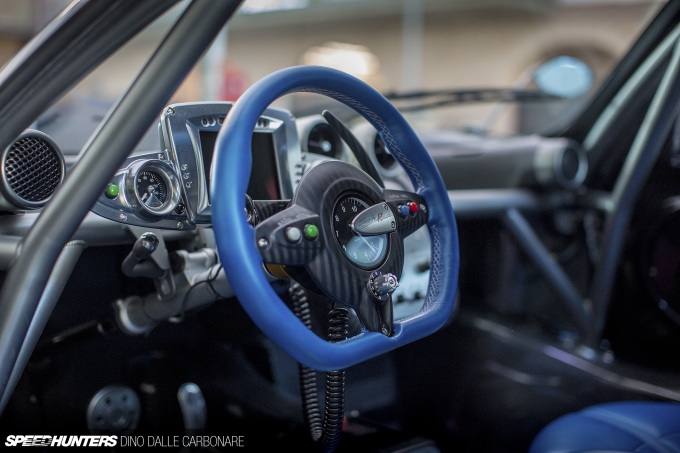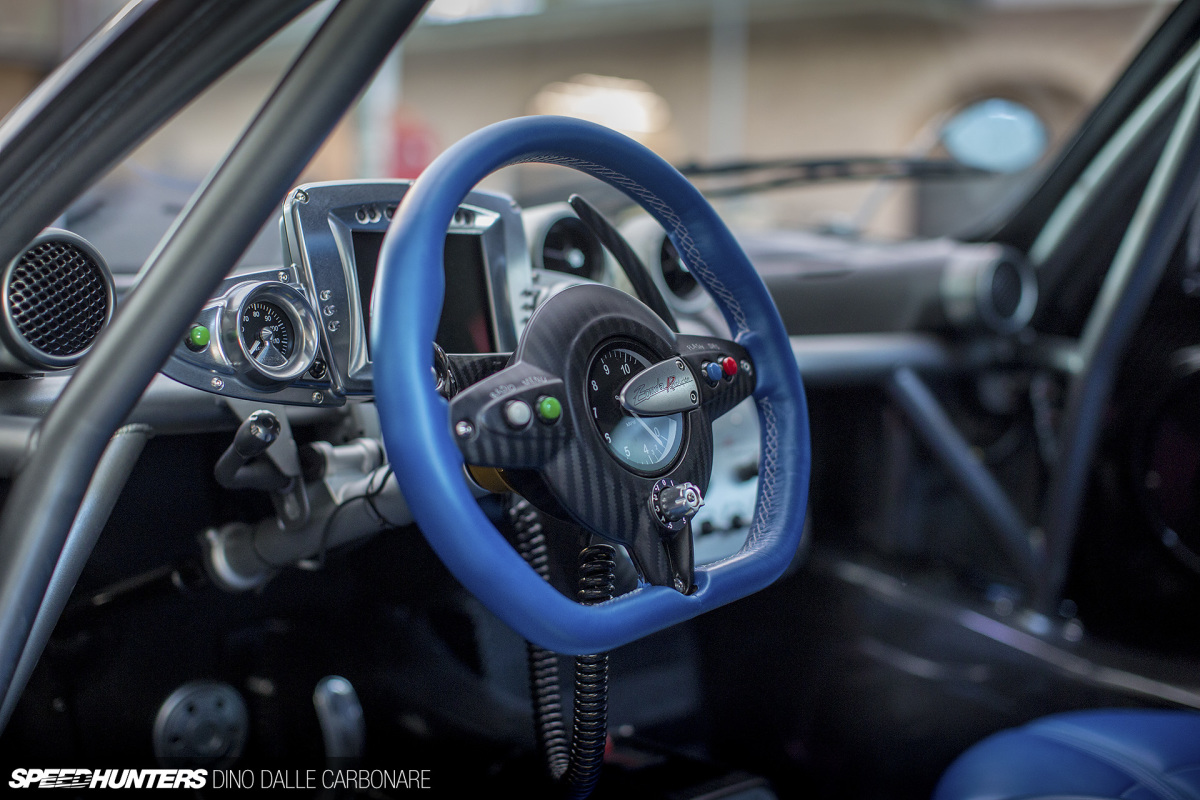 While all of the data you'd want to see in a car like this is displayed on the digital dash, for pure theatre Pagani has added an analog tachometer right smack bang in the center of the steering wheel. Would you actually look at it much? In a car with manic power delivery like the Revolucion probably not, but thankfully there are shift lights on the top of the LCD screen that scream at you when it's time to pull back on the carbon lever and change up a gear.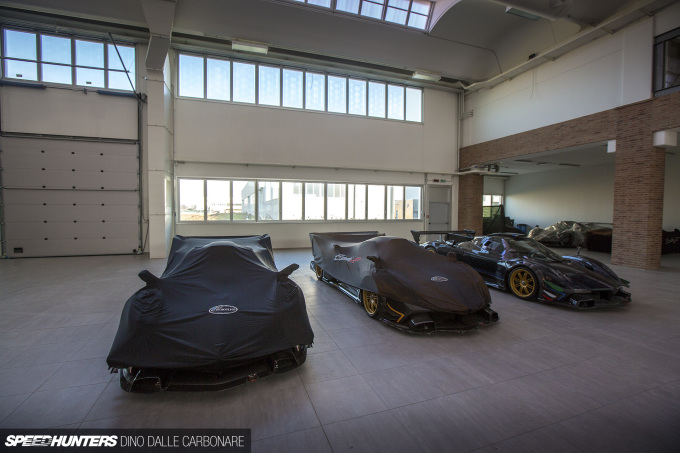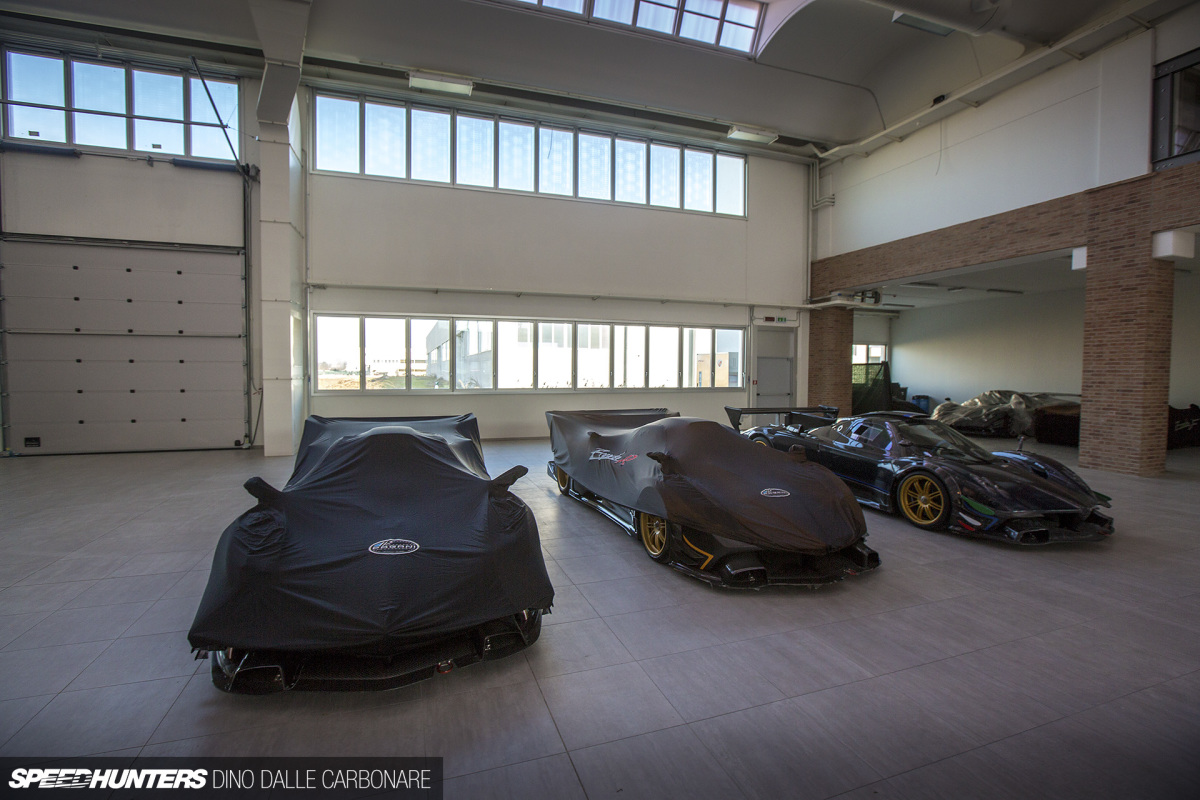 Three Revolucions in one place – can you believe it?! At the time, the fourth was in the factory for maintenance, while #5 is safely tucked away in the confines of the Bingo Sports dealership in central Tokyo. So yep, I've managed to see them all!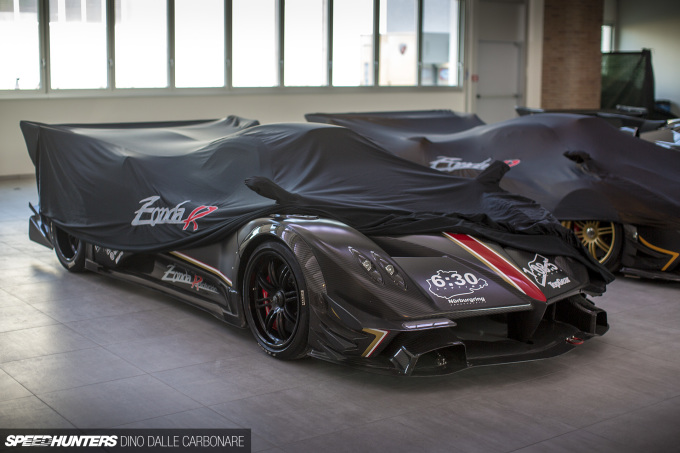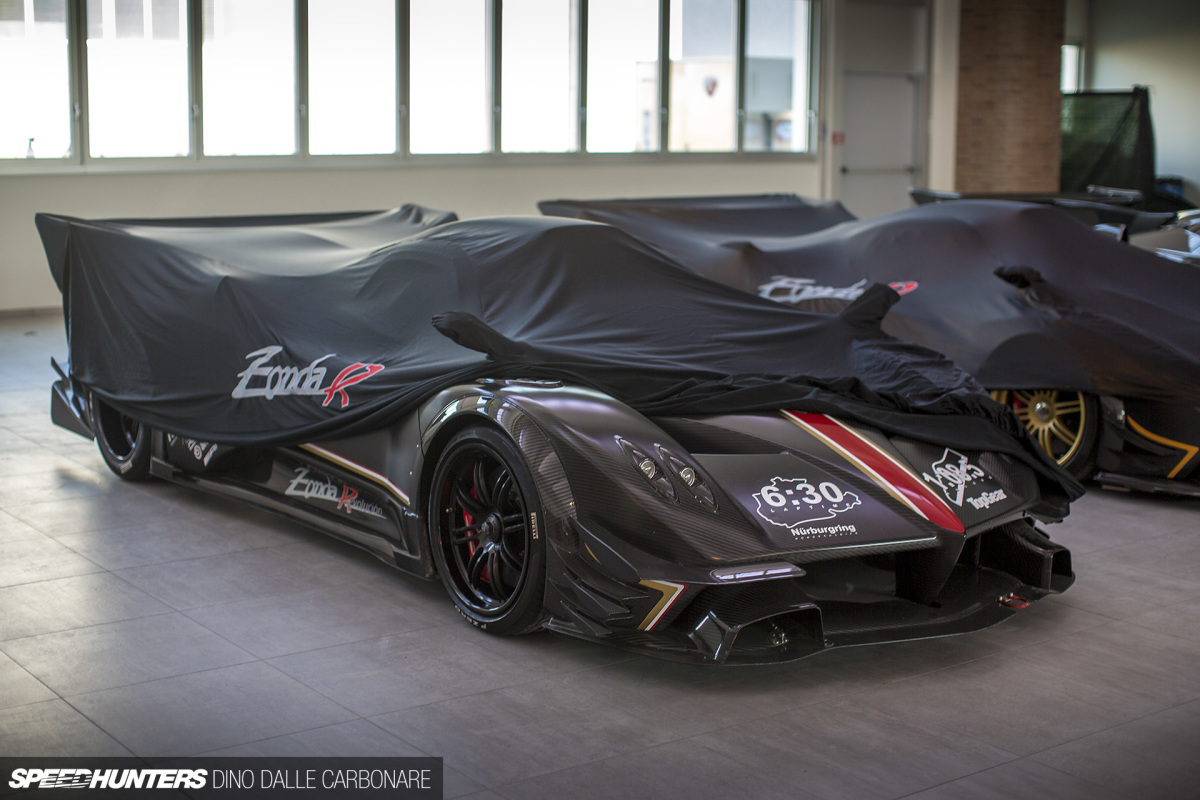 The Revolucion at the end of the row is Pagani's very own piece. It's also the car that 'The Stig' set a Top Gear track lap record in years ago, and the one that ran a 6min30sec lap of the Nürburgring Nordschleife.
The Important Parts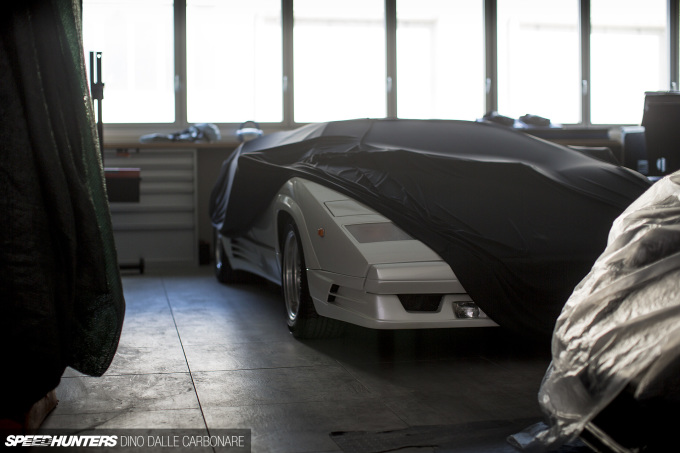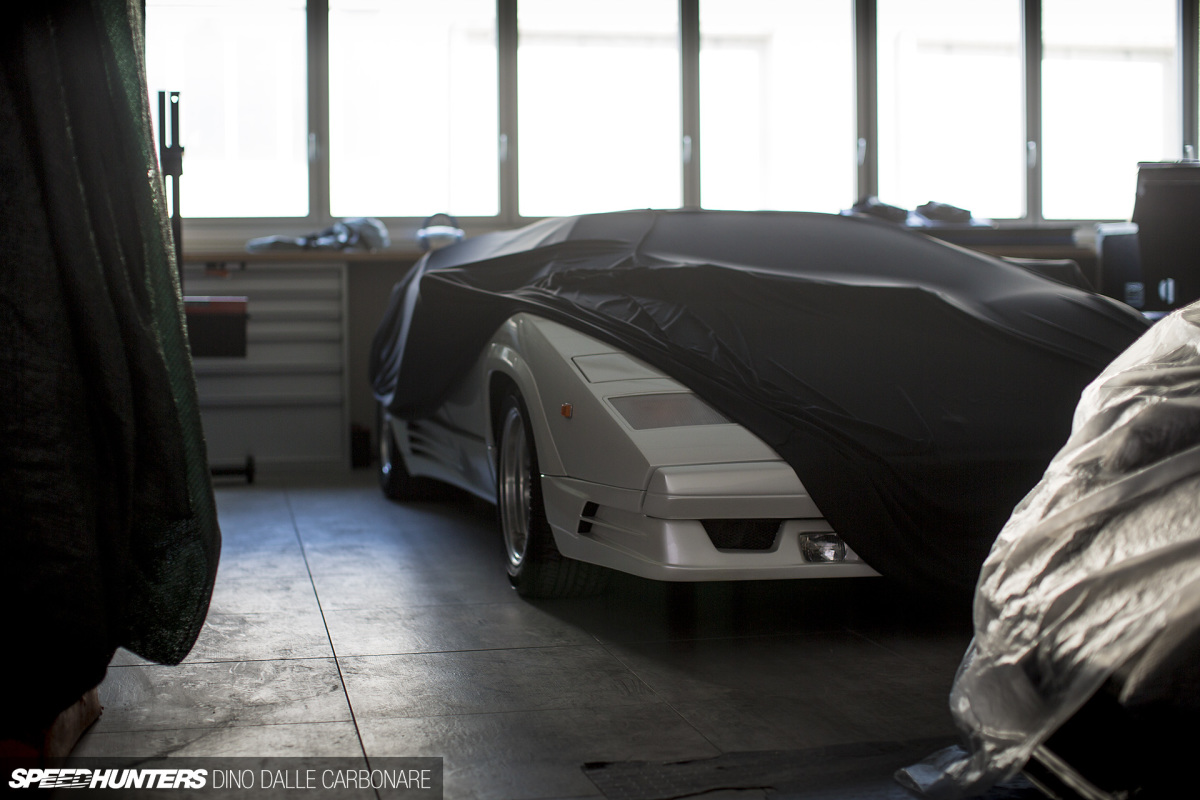 To the right of where the Revolucions were parked was a little nook where I found even more cars. The one I was most interested in wasn't even a Pagani though; it was Horacio's latest addition to his ever-expanding car collection. The 25th Anniversary edition Countach holds a very special place in his heart, as he was the designer that penned those aggressive lines during his time at Lamborghini. Horacio ended up leaving the company after it didn't share the same passion he had for composite materials, saying that if Ferrari wasn't doing carbon (at that time in the late '70s) Lamborghini didn't need to. It's a good thing it all unfolded this way.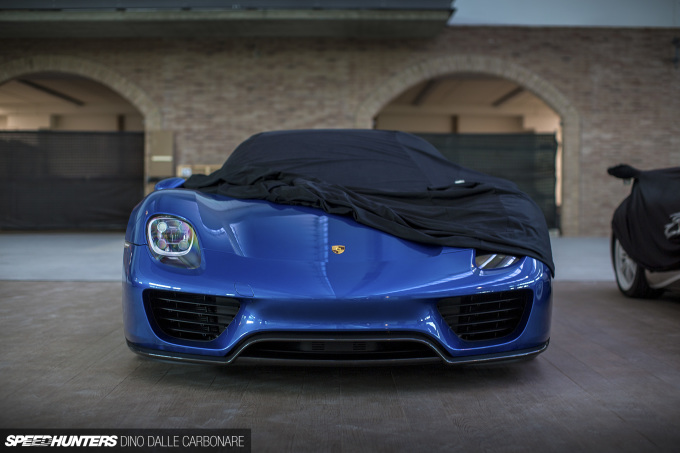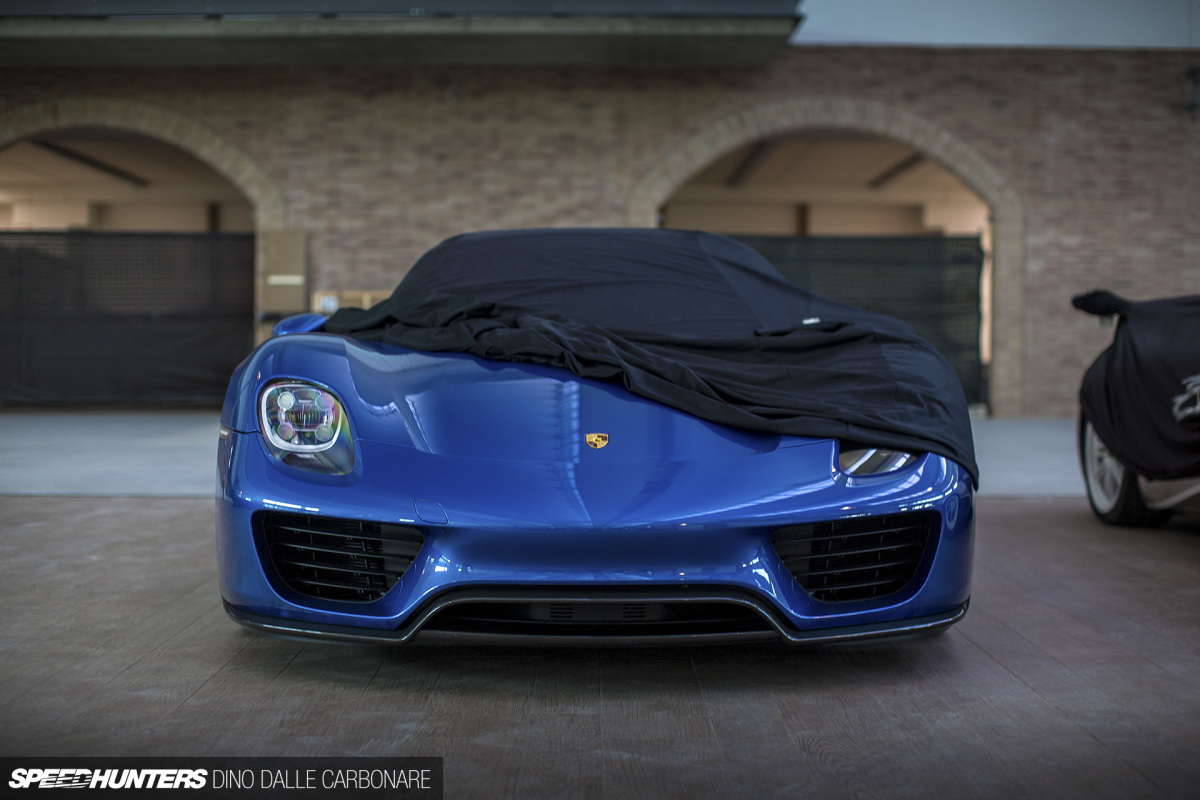 Another recent addition to Horacio's collection is this Porsche 918 Spyder, which he can now happily park next to his Carrera GT. The latter is one of his favourite Porsches, even though he's not shy to tell people that it was way too dangerous to drive on the limit before he sorted it out with a custom suspension upgrade.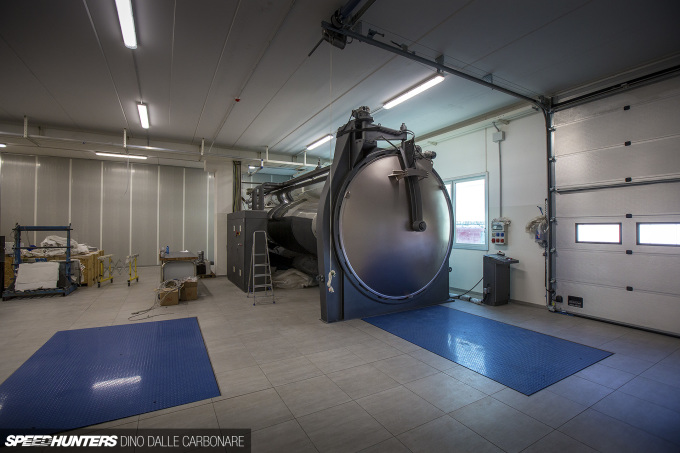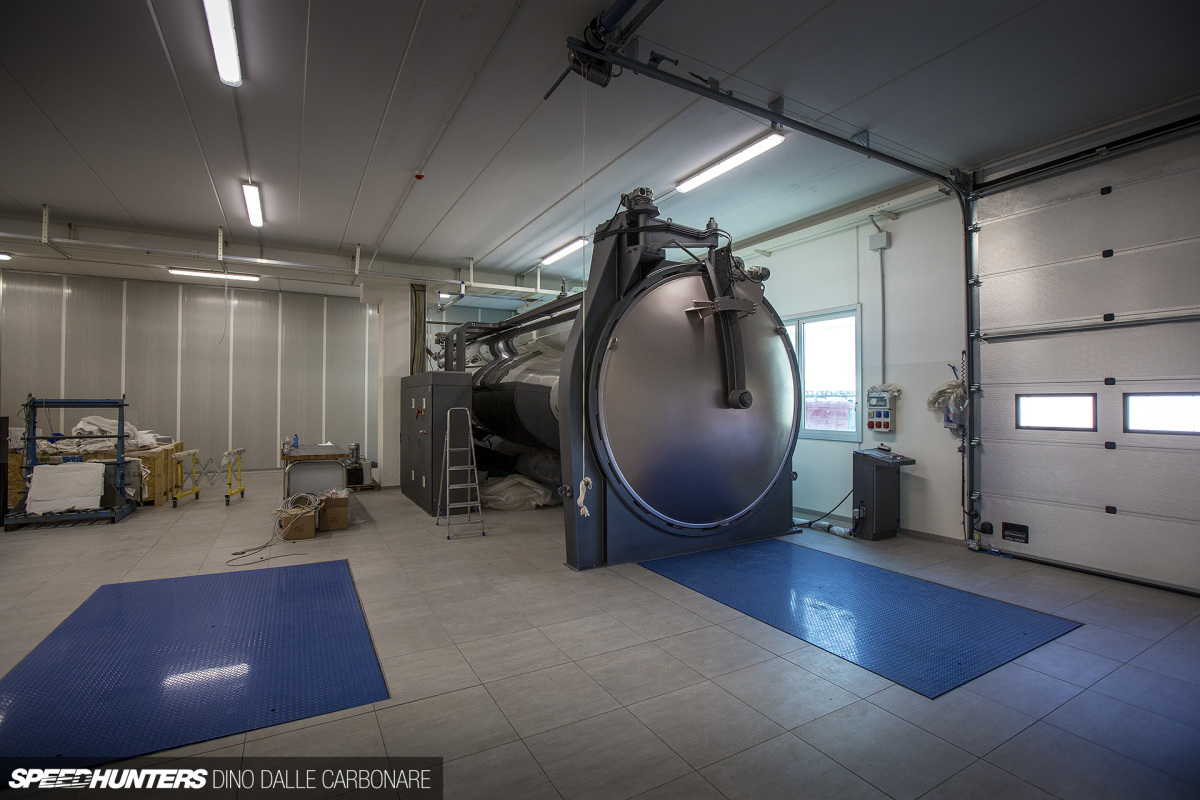 The ground level will house all of Pagani's autoclaves. The small, medium and large ones were still in the old factory down the road at the time, but this XL bad boy had just been delivered and set up.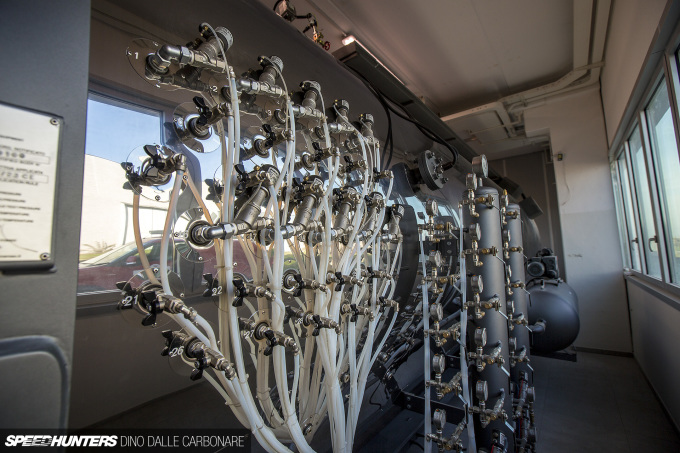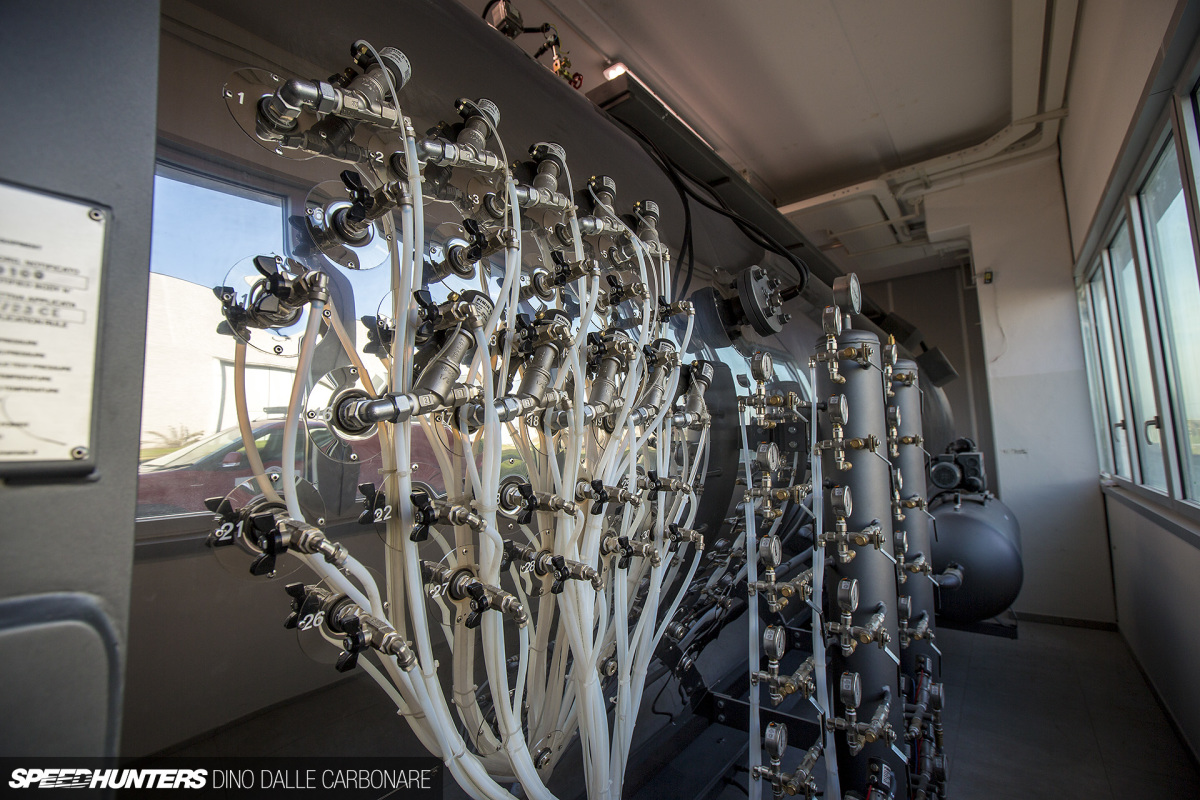 It's hard to show just how big this autoclave is, but it will be able to hold multiple carbon tubs, potentially helping boost future production.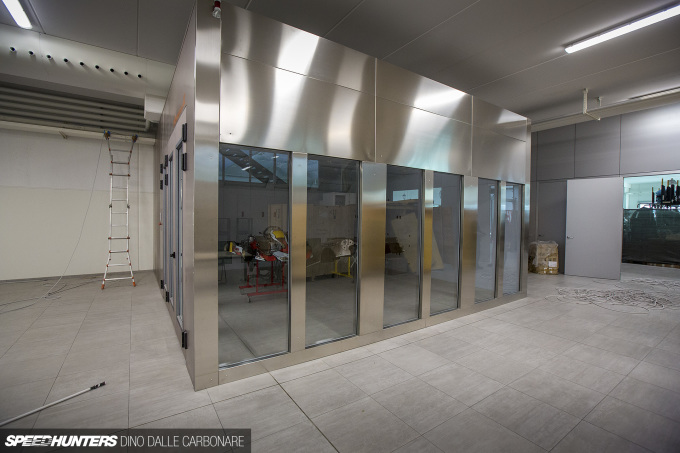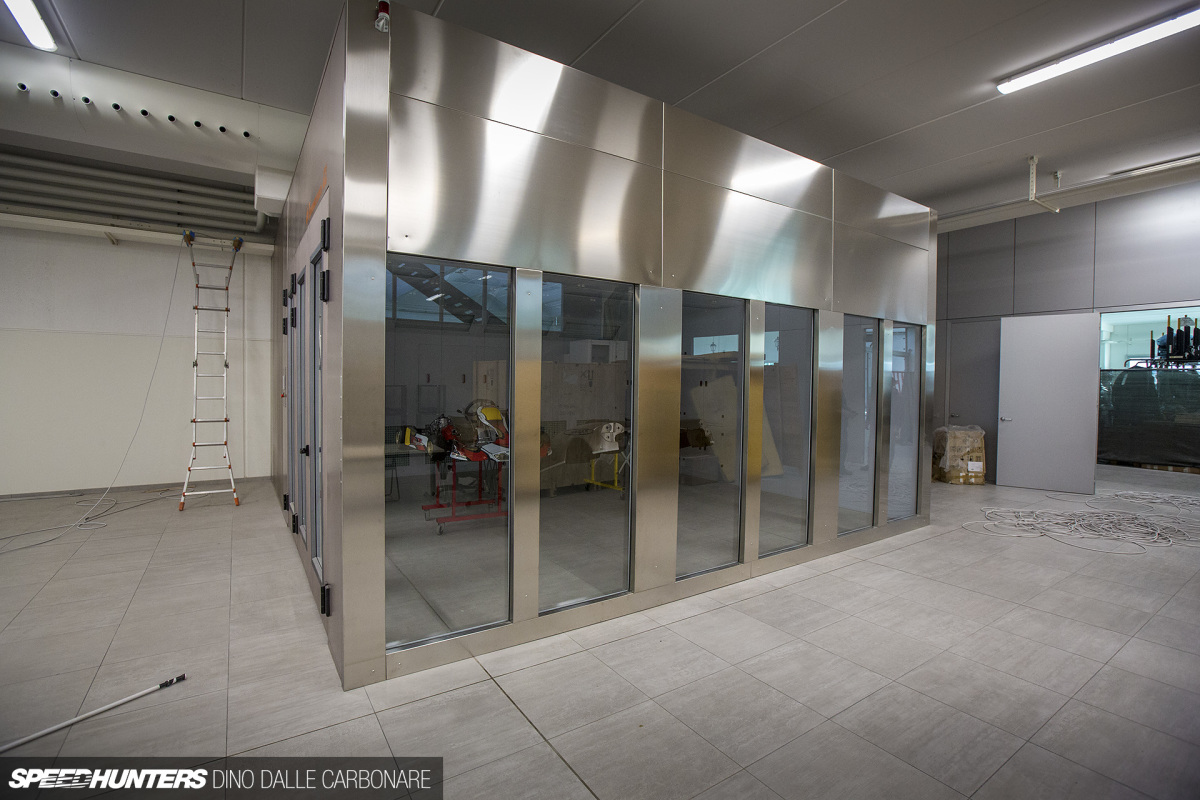 In the same space is an air-tight room where carbon fiber can be separated from the moulds and prepped, with all hazardous dust safely expelled. For the time being it's storing some go karts!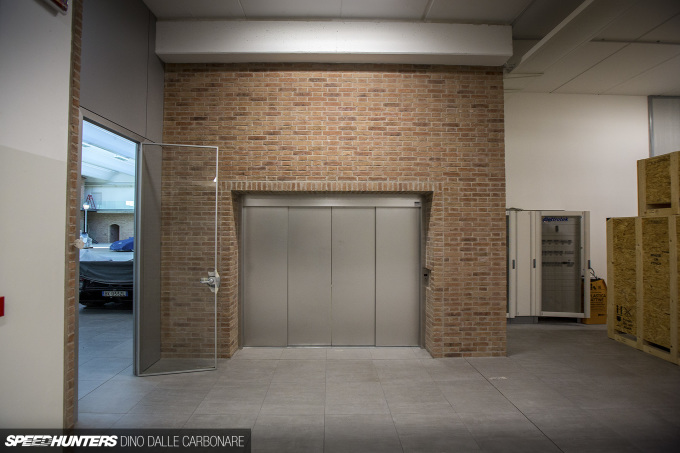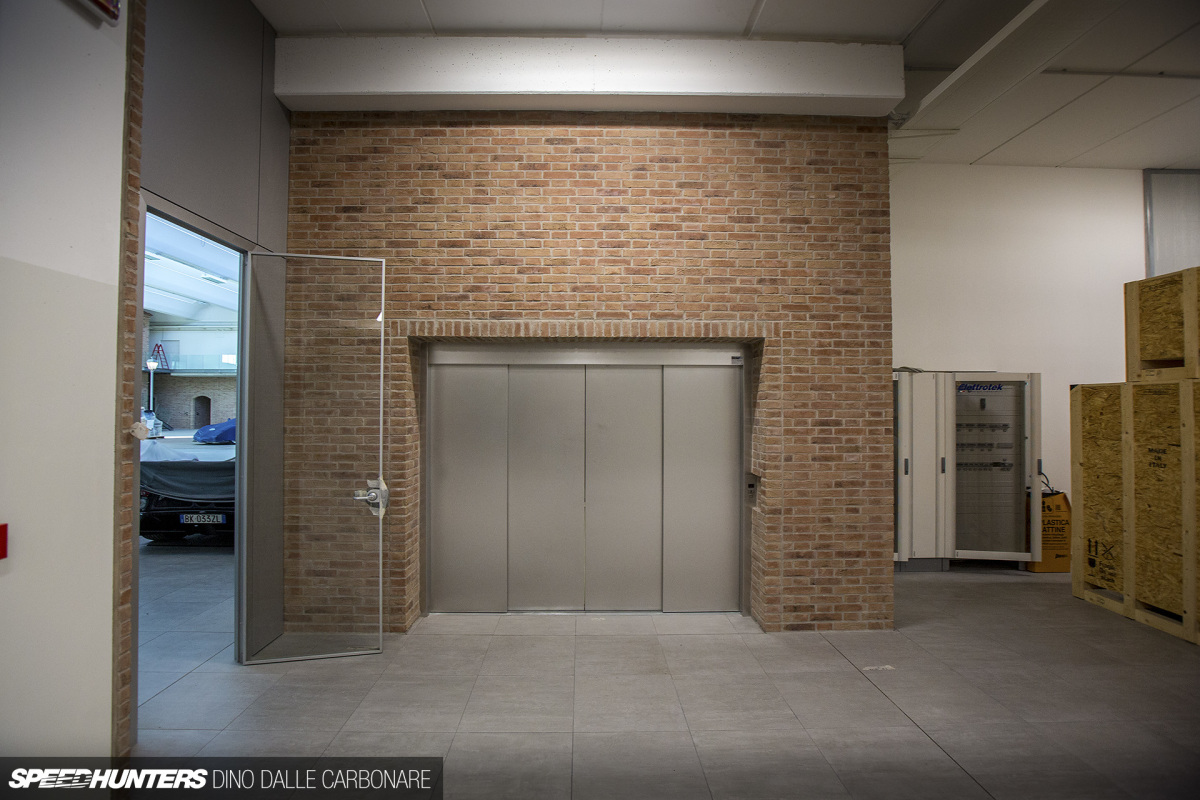 Of course, before carbon fiber is put in an autoclave for some pressure cooking it has to be laid out in mounds, something which is done upstairs.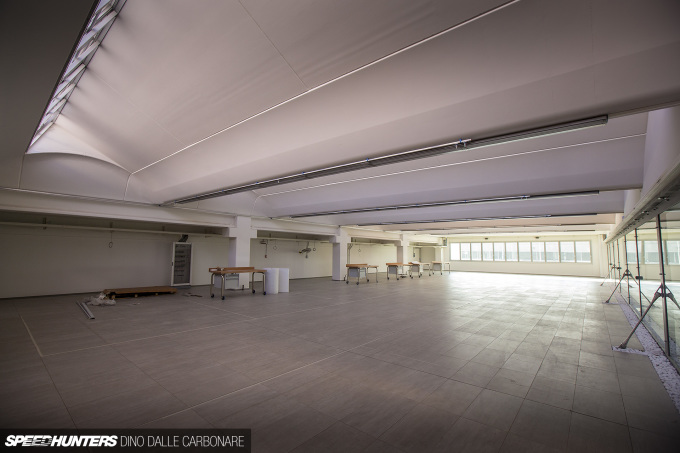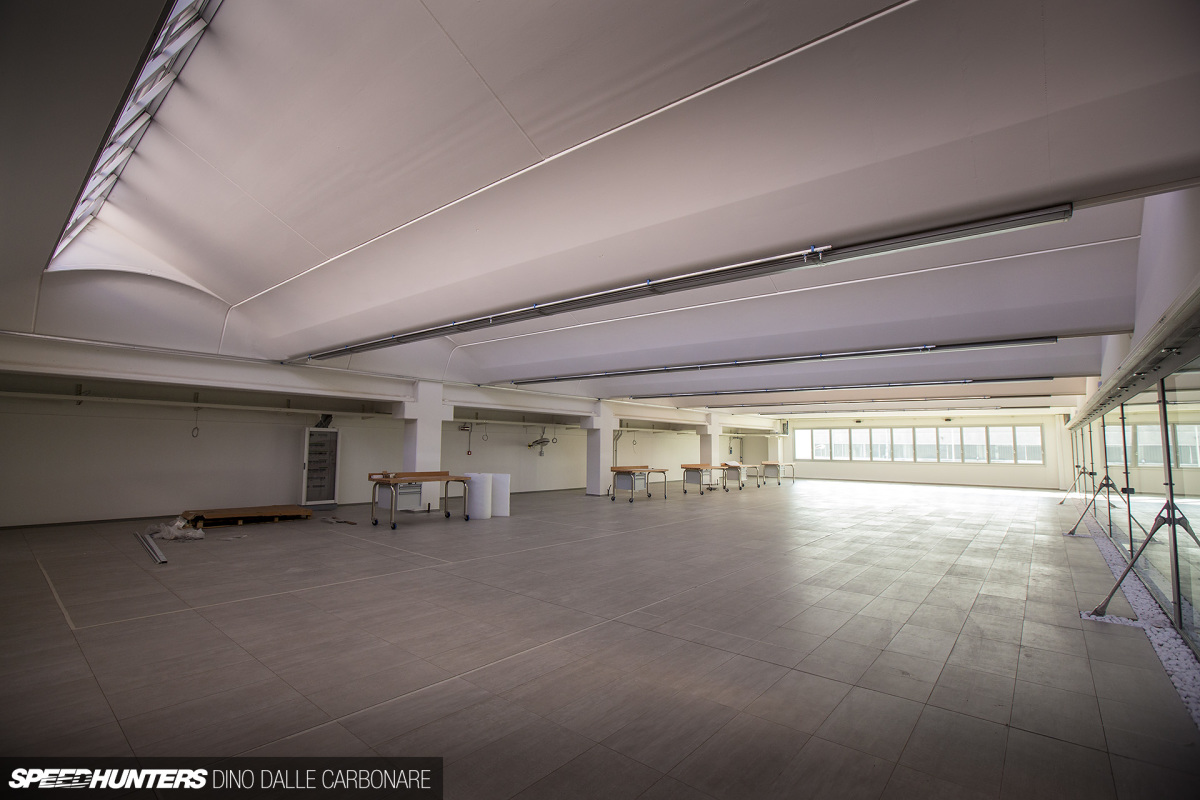 Or at least it will be once production is finally moved here. If you remember the little room where carbon parts were created in the old factory, this is around 20 times the size, giving Pagani's artisans plenty more space to work in.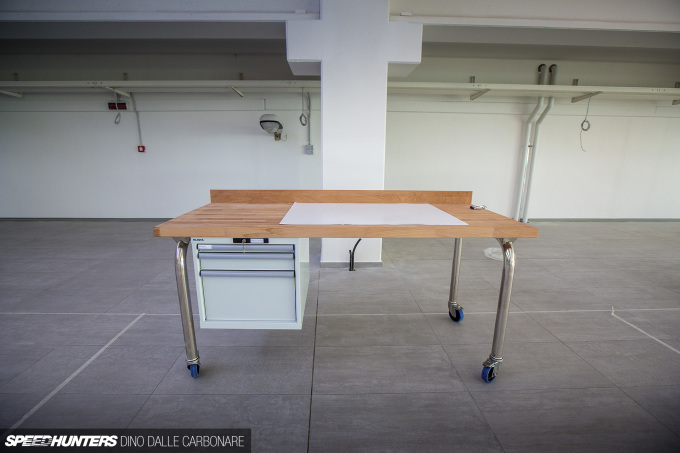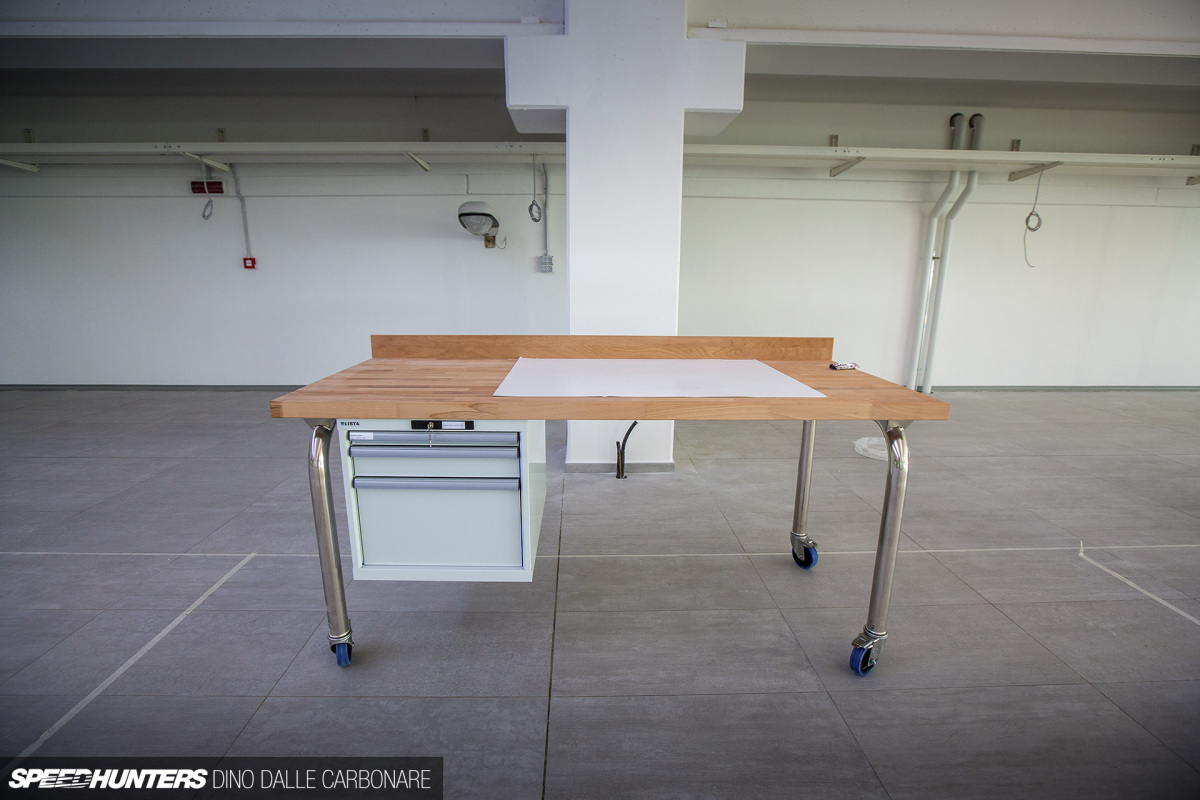 Custom tables were made for what will be each of the work stations.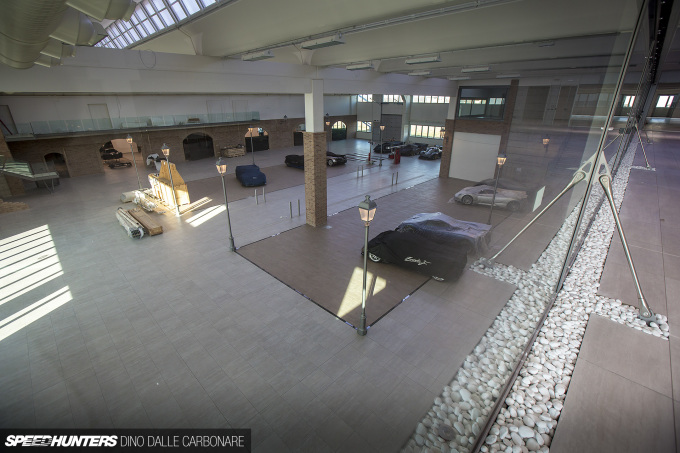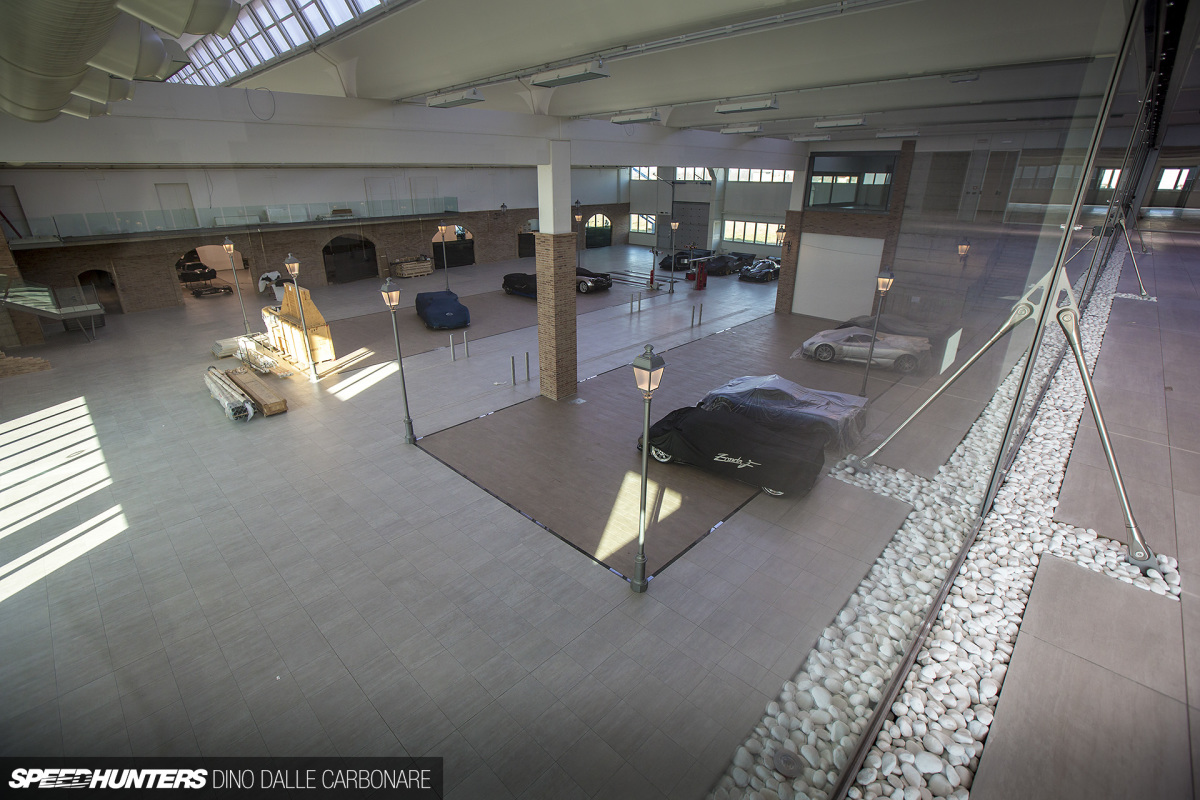 And this is the view from the main glass wall – not too shabby, right? The attention to detail on the architectural side of thing is something Horacio himself really emphasised. Every material and finish had to be top-notch, and the ultra high quality aesthetic comes across in every section of this new HQ.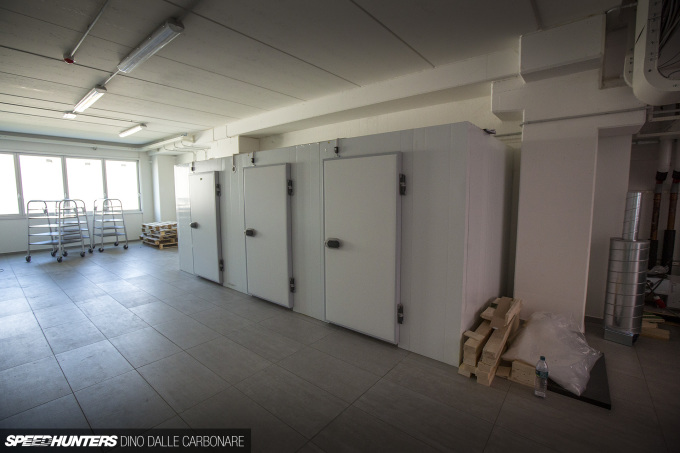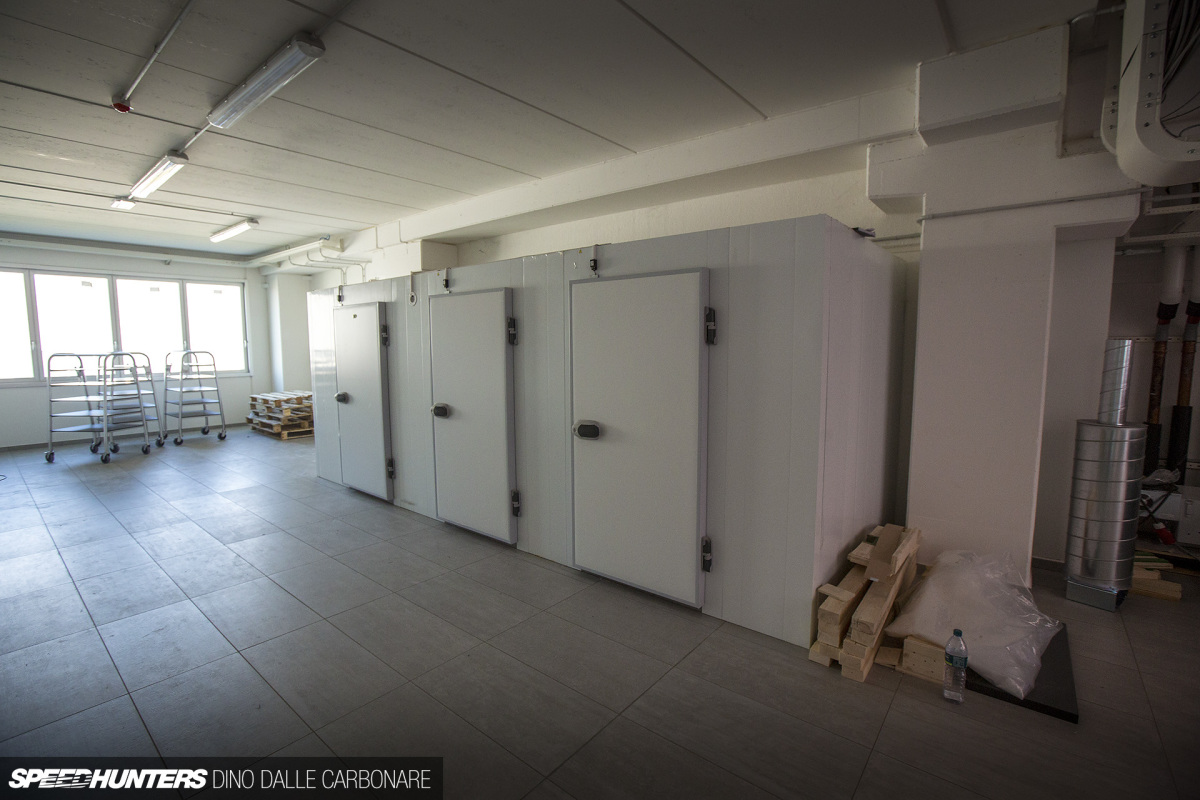 Carbon fiber rolls are kept in these freezer cells, a must to ensure the material passes stringent safety and quality standards before it's even used in production.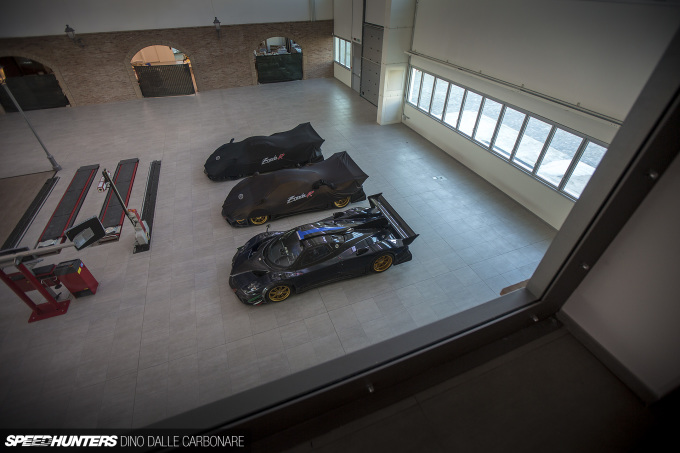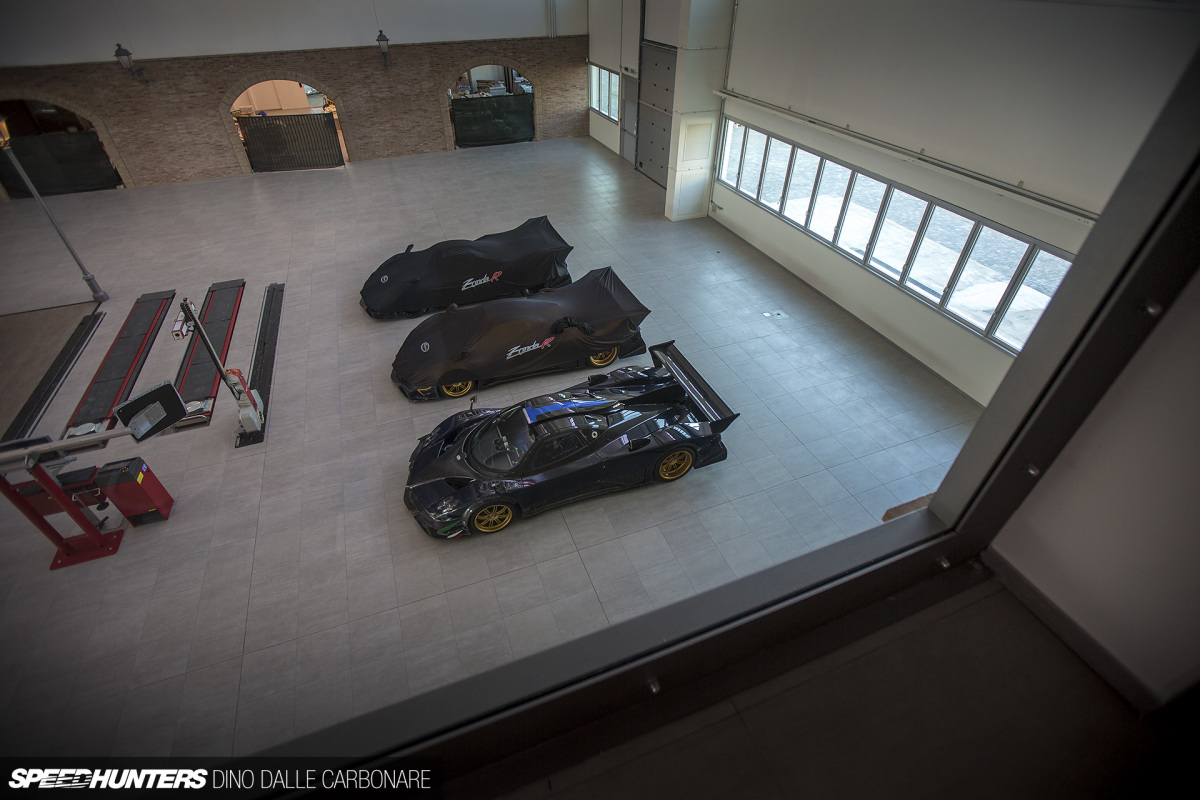 The other side of the top floor is where a gym for the employees will be created. Horacio wants his employees to look after their health and stay fit, so this can all be done conveniently under one roof.
And with a gym, you of course need changing rooms and a shower area.
A Museum, A Shop & A Clock Tower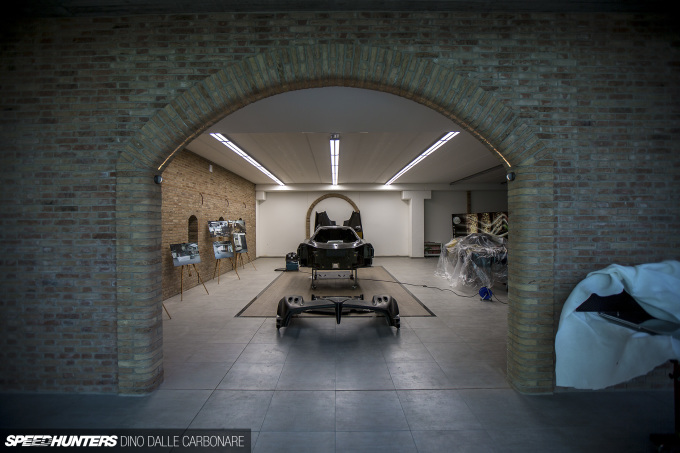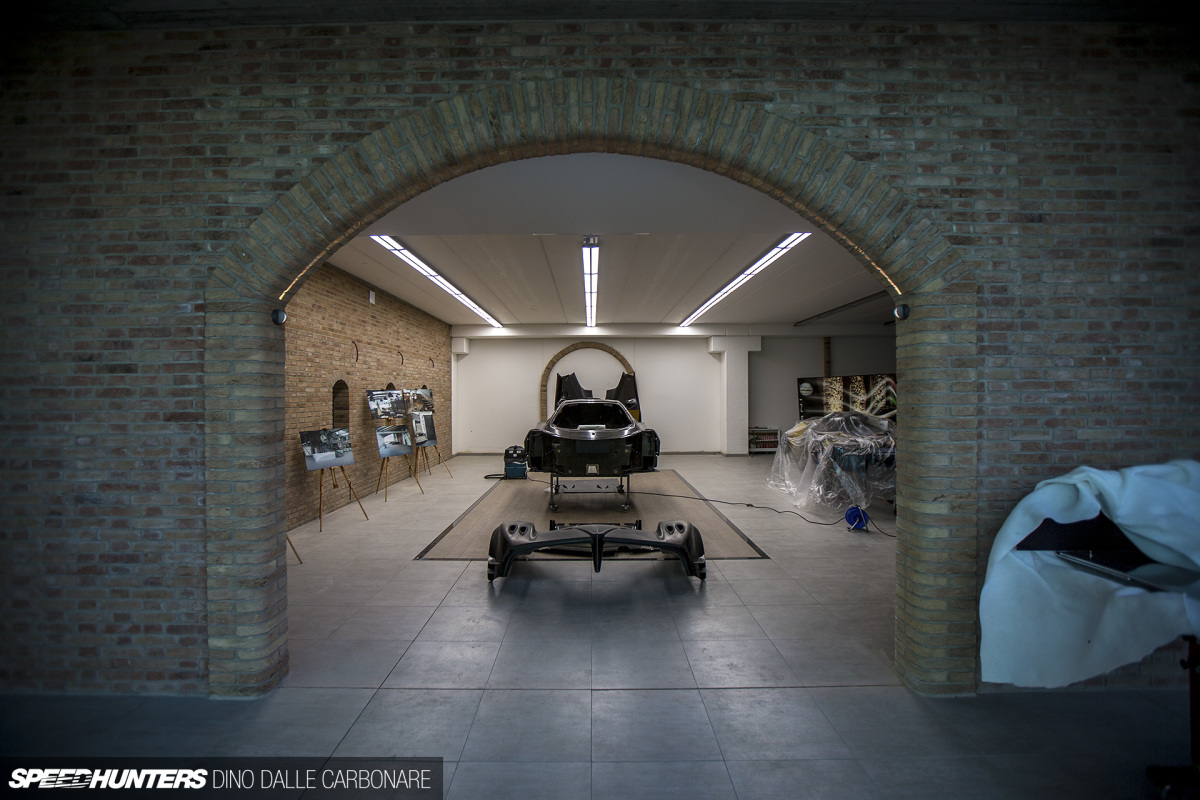 On the opposite side of the Piazza are a few display areas; this is where customers that decide to come and pick up their new Pagani in person will first lay eyes on their car.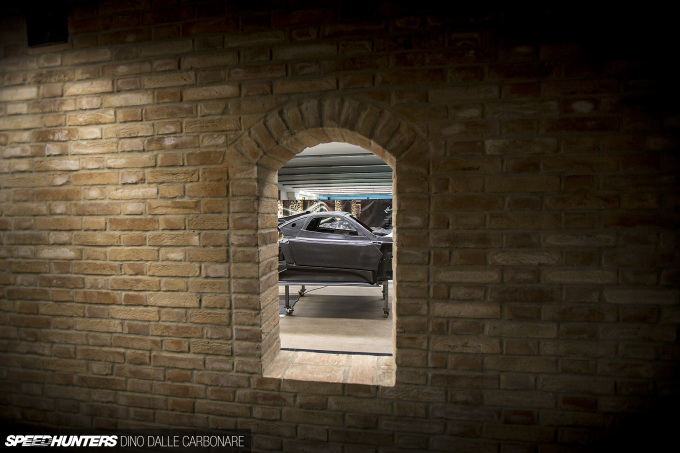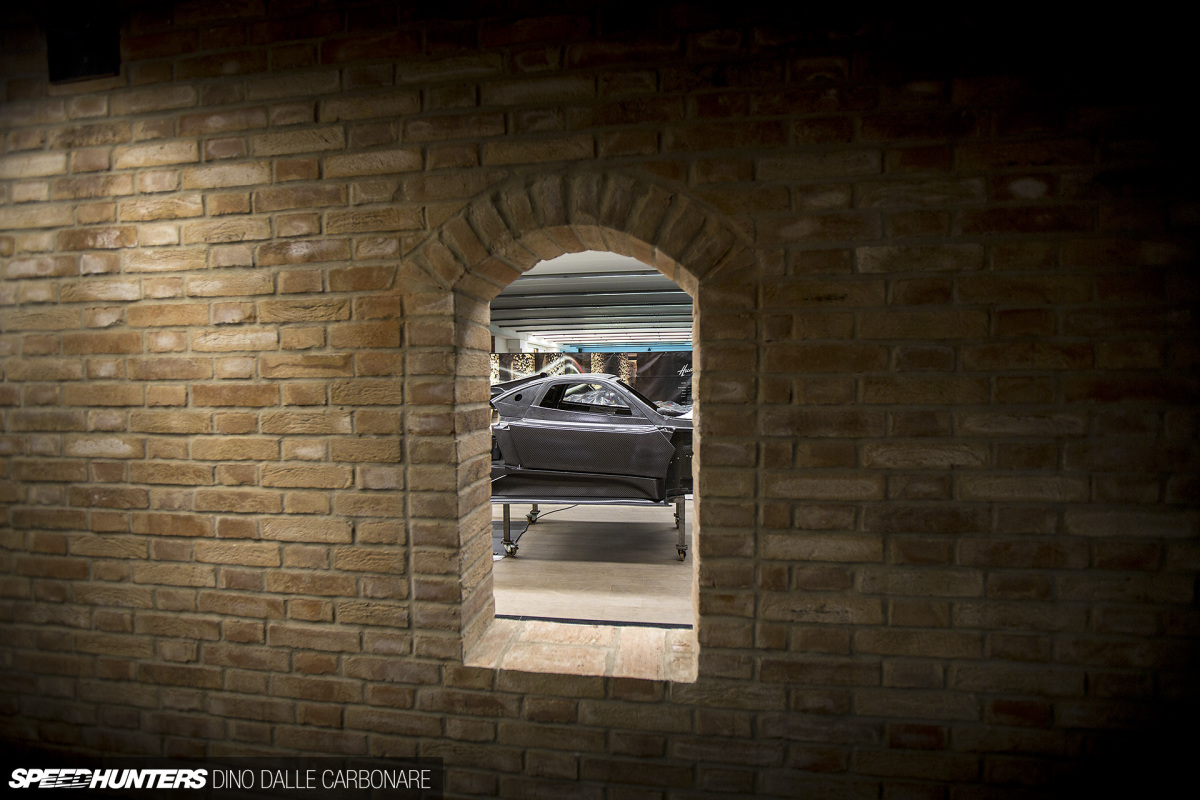 This particular Zonda body shell was ready to be shipped out as is, part of what will be a rather expensive wall piece for someone's apartment on the other side of the world. I guess posters just don't cut it for some!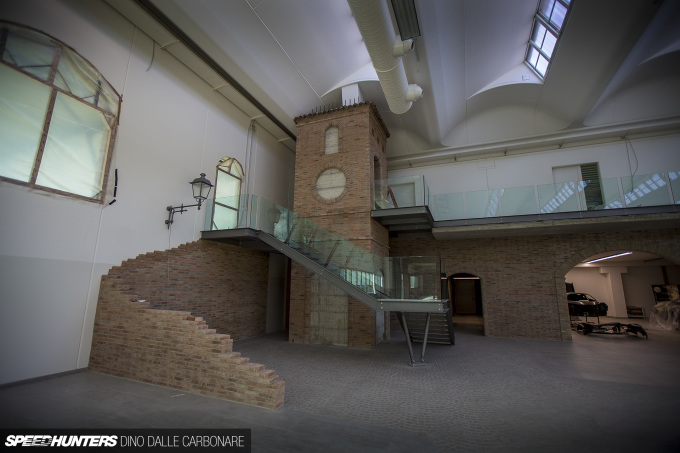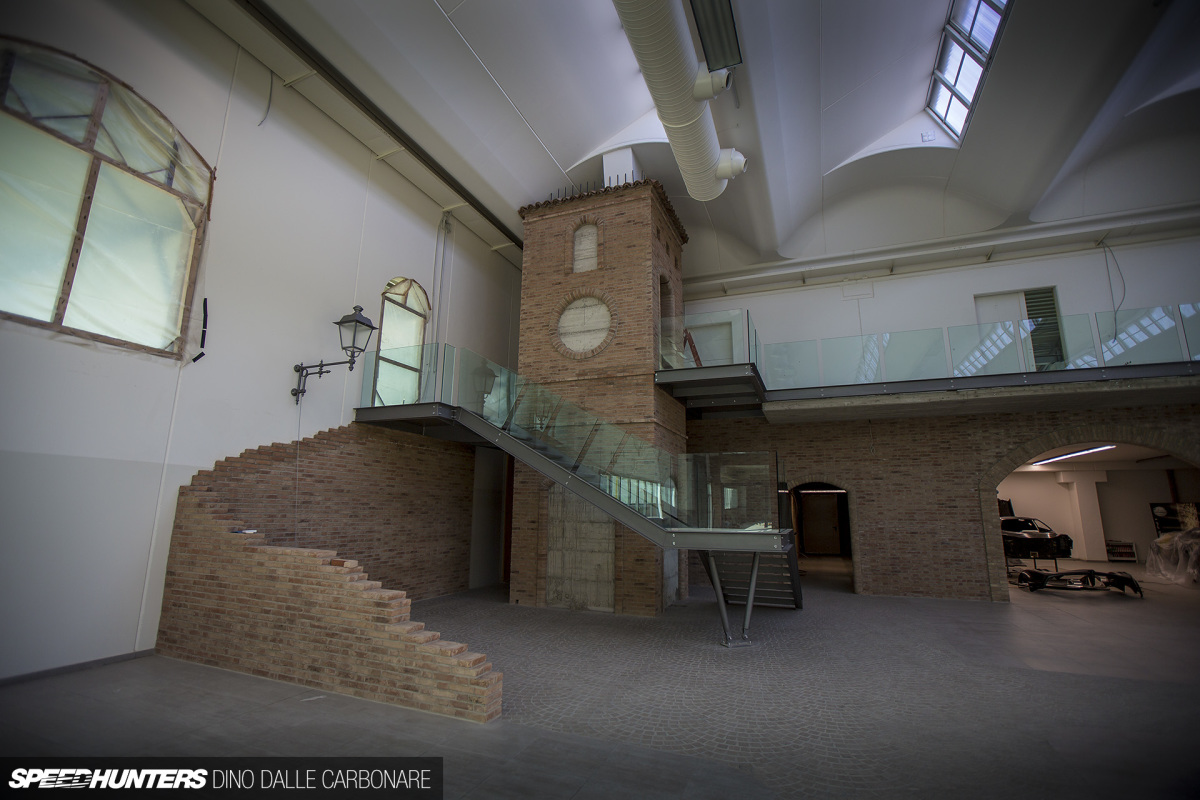 And what would a Piazza be without a clock tower? The tower itself doubles up as an elevator shaft, and the glass, wood and metal staircase that snakes up it leads to what will become a luxurious retreat for customers that arrive at the HQ from a long flight and need to relax, freshen up or perhaps take a nap. Yes, everything has been thought of!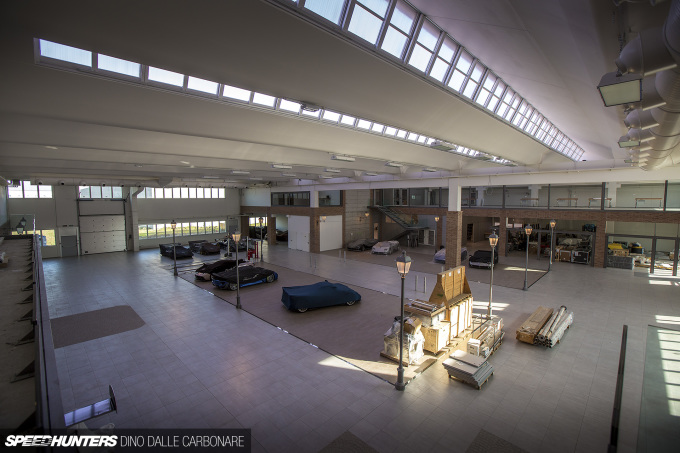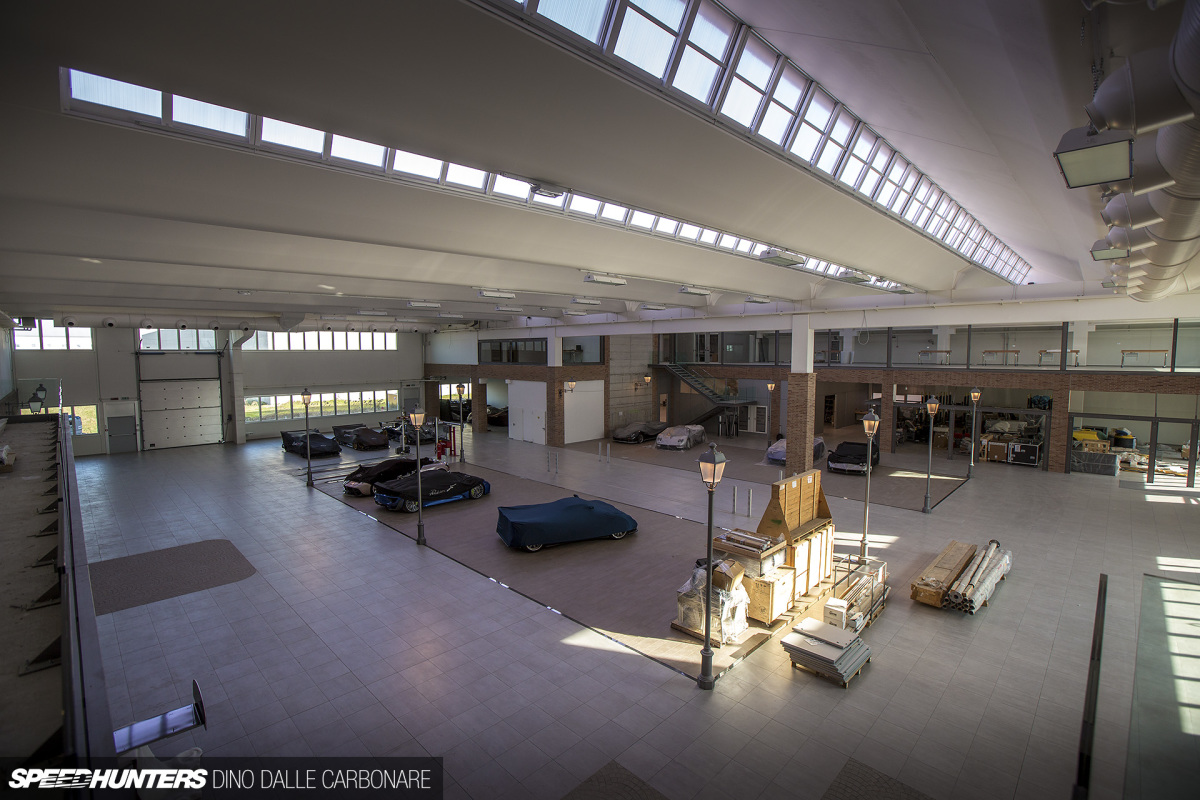 The view down onto the Piazza from the top of the tower will be very impressive once everything's completed.
This long glass section at the front of the building will become a Pagani museum, display and office area. Some of the company's most sought after models will be parked here for all to see.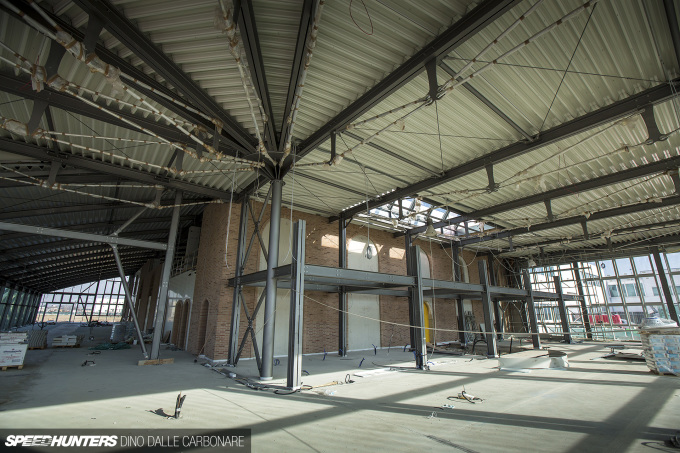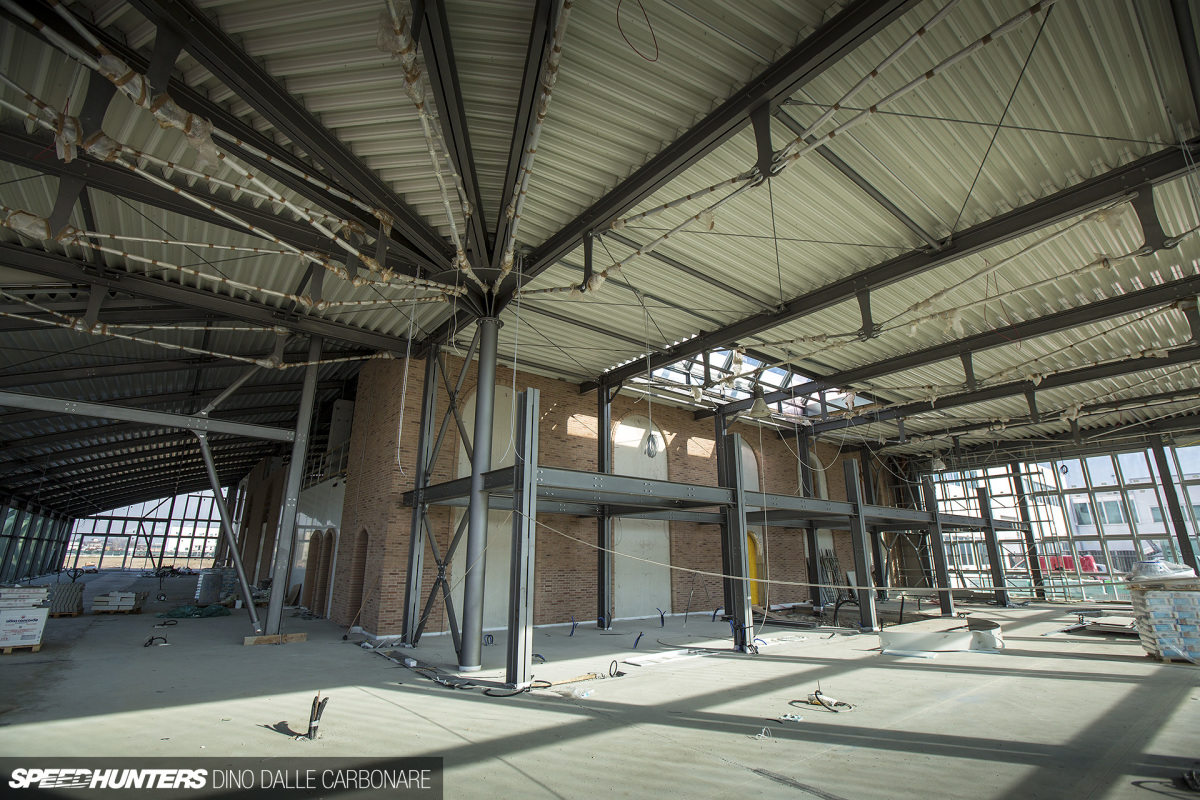 Horacio's office is on the second floor, and again will be fully surrounded by glass.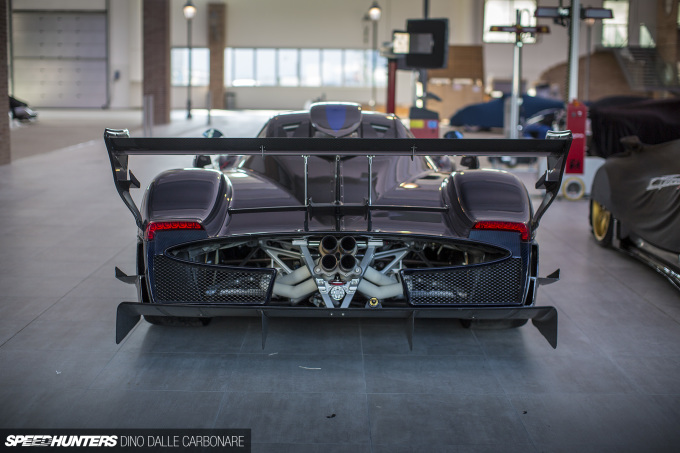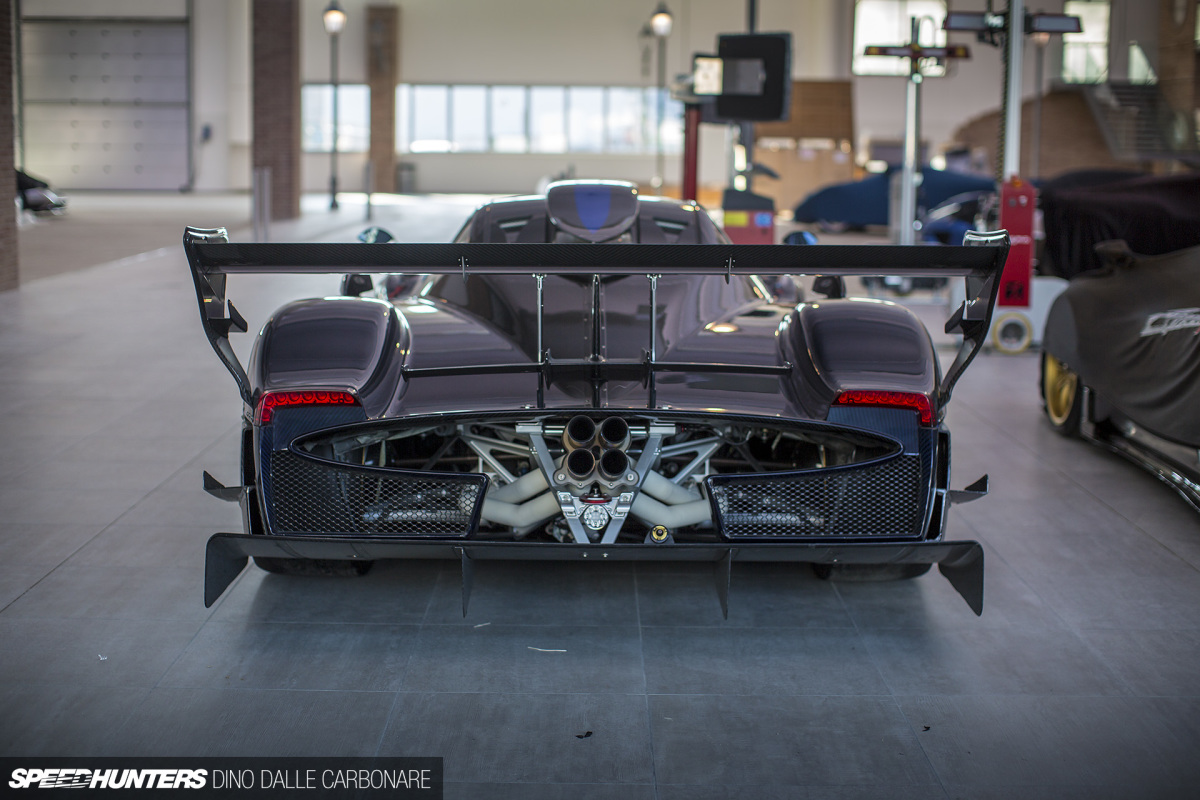 What began as an ambitious plan is now very close to completion, and Horacio and his team have done it all while keeping the factory active and the cars rolling out – not to mention developing what's coming from Pagani next year and in the years to come. The new San Cesario sul Panaro HQ will open its doors to the public in late October and will no doubt become another must-see spot if you are ever in this rather magical part of Italy.
That's it for the HQ, but I'm not finished with Pagani just yet. How would you like to see some cars being put together on the production line?
Dino Dalle Carbonare
Instagram: speedhunters_dino
dino@speedhunters.com