It's Not All Racing
Obviously the vast majority of NASCAR attendees are there for the race. They probably have their favorite drivers and even the team shirts to match. Me though? Well, when I attended the Daytona 500 a few months ago I was just there to hunt speed. And what better place than Daytona?
There are many aspects to the pursuit of speed, and the one that interests me most is the mechanical side of racing. The engineering, hardware, fabrication and tools are what make me tick, so it wasn't long before I realized that my Hot Pass granted me access to the garages where the cars were being prepped. In short order I found myself spending more time crawling around the pits and garages than in the stands spectating.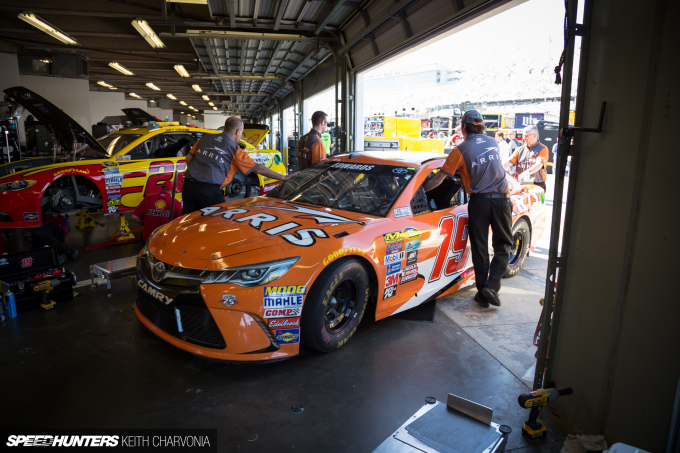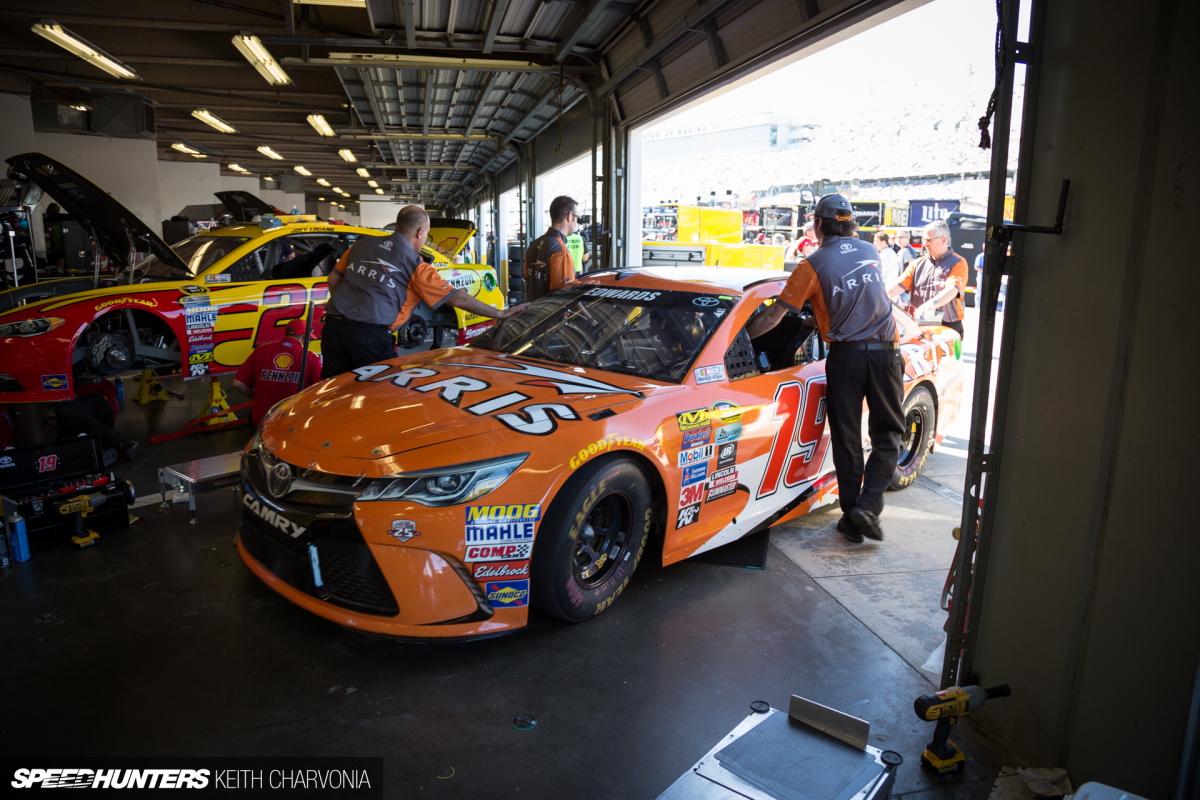 With my media pass and camera in hand, I had access to the underworld of wrenching that doesn't usually get a lot of attention. The mechanics do a lot more than simply keeping these stock cars running; they make sure they're ultra-competitive, because a tenth or even a hundredth of a second can mean everything.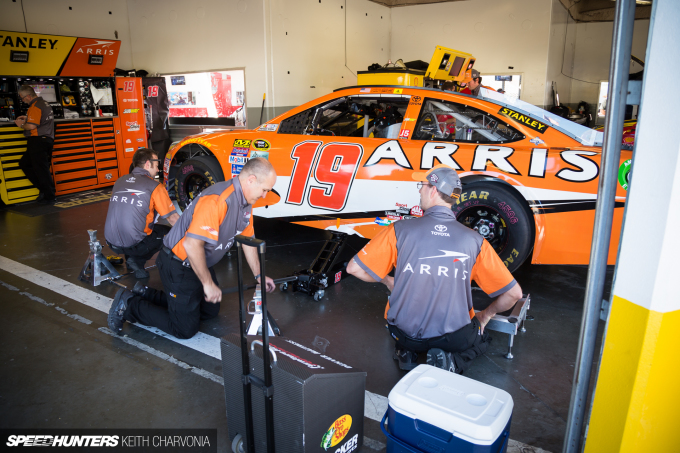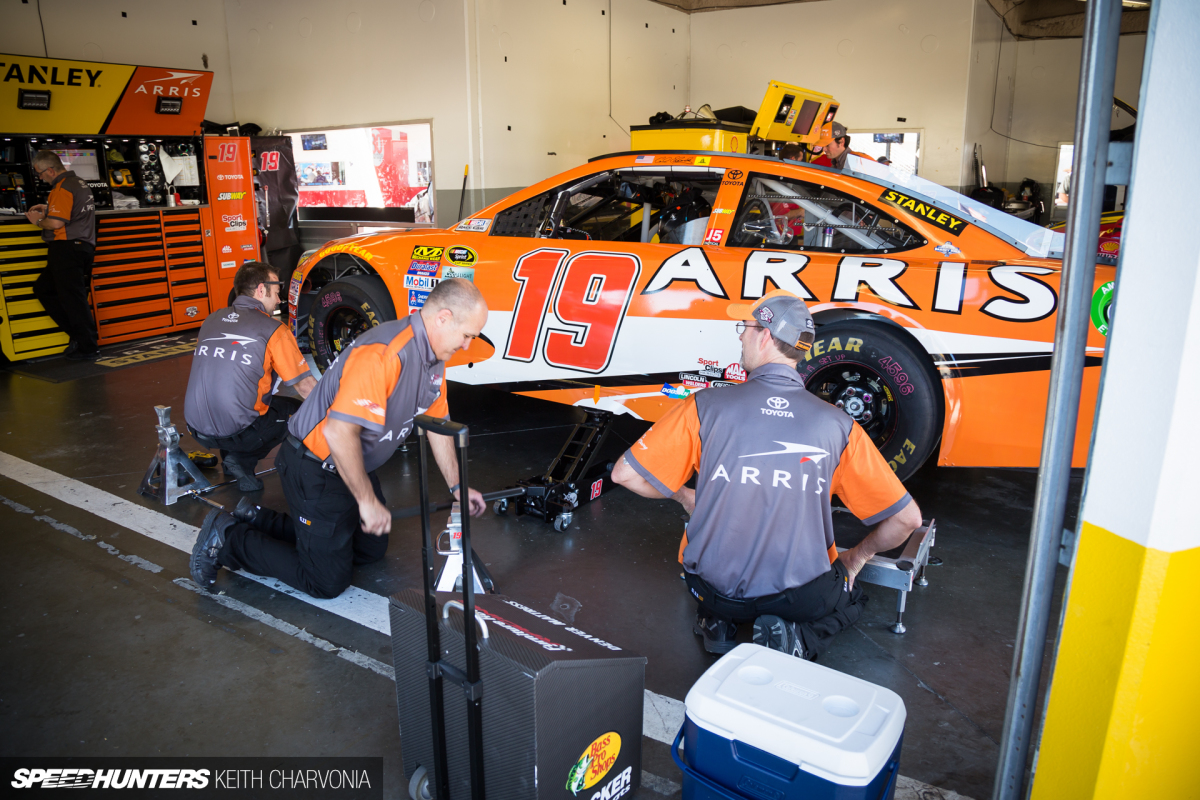 Before the race, I witnessed the mechanics setting up the cars specifically for the high speeds of Daytona, which is considered a 'Super Speedway' for its relatively long 2.5-mile distance.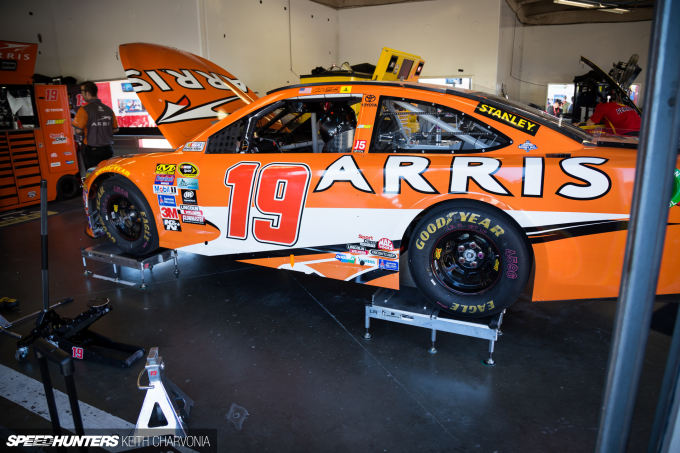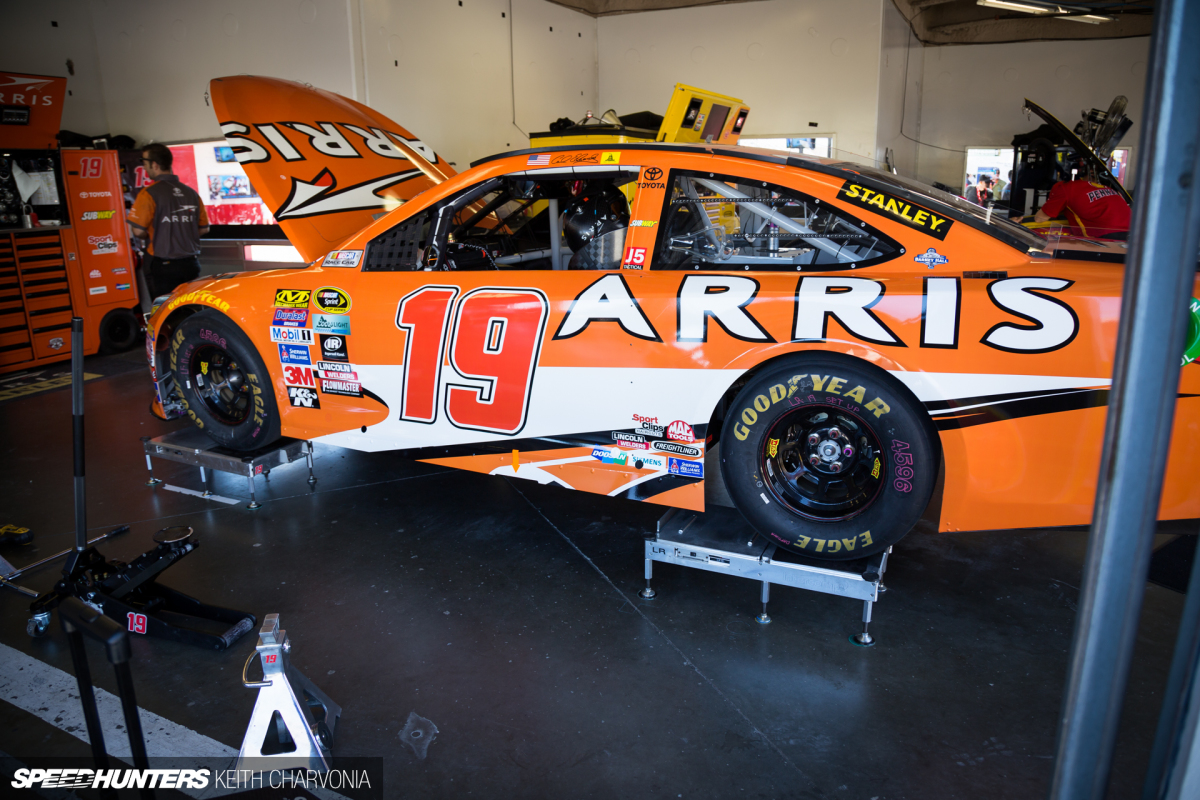 The teams used very specific alignment settings to get the cars to handle exactly the way the driver wanted while hitting speeds upward of 200 miles per hour.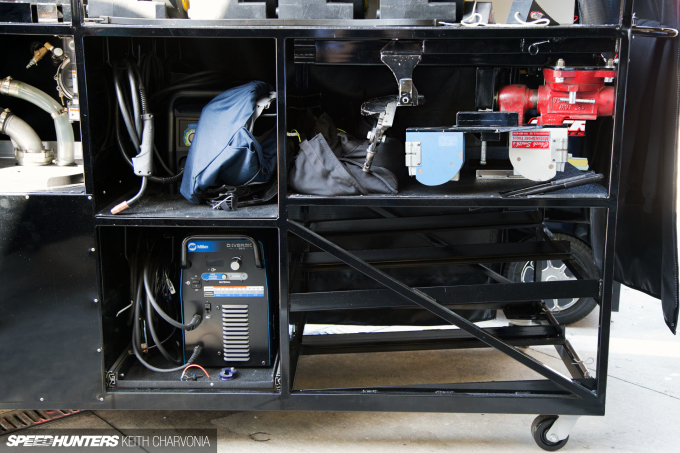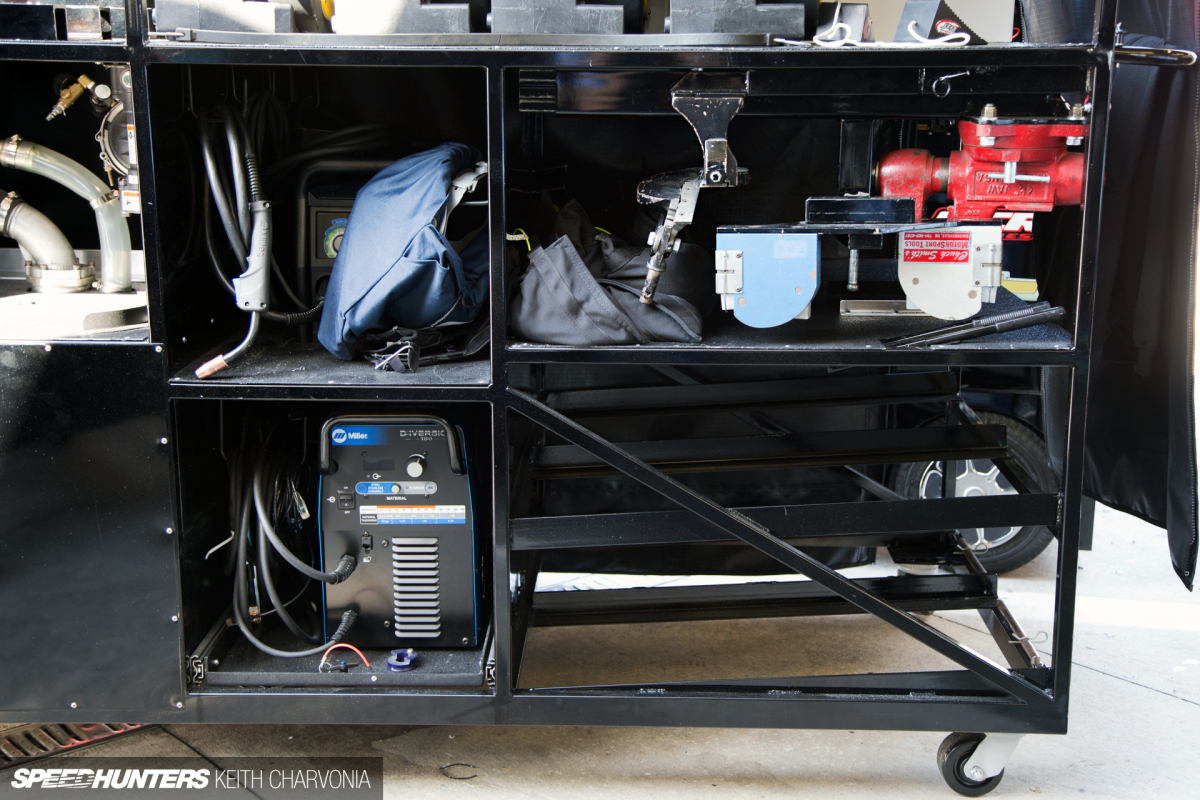 I began to notice that the teams also used very specific toolboxes depending on the task. This rolling fab station definitely caught my eye.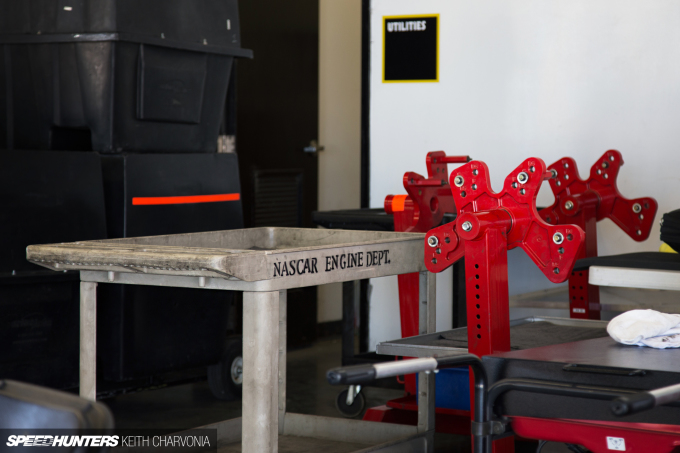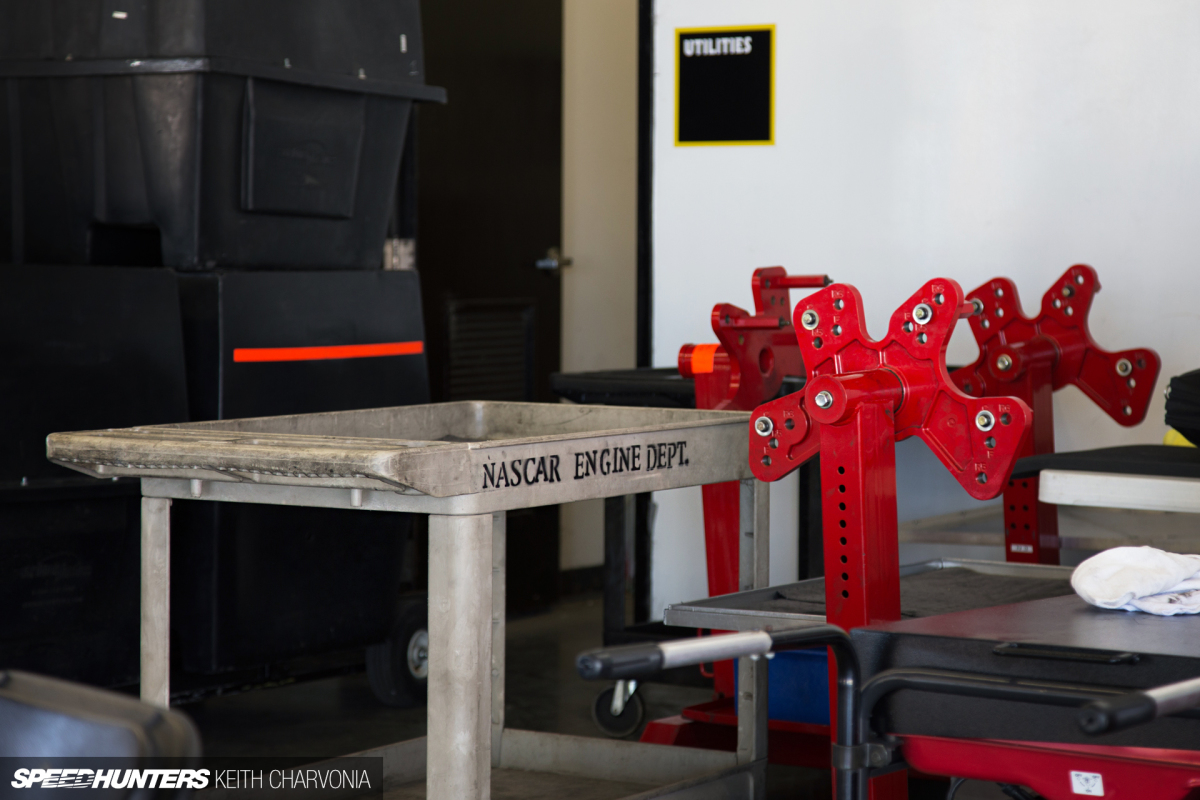 Nearby I found the engine department, with tons of engine crates and stands.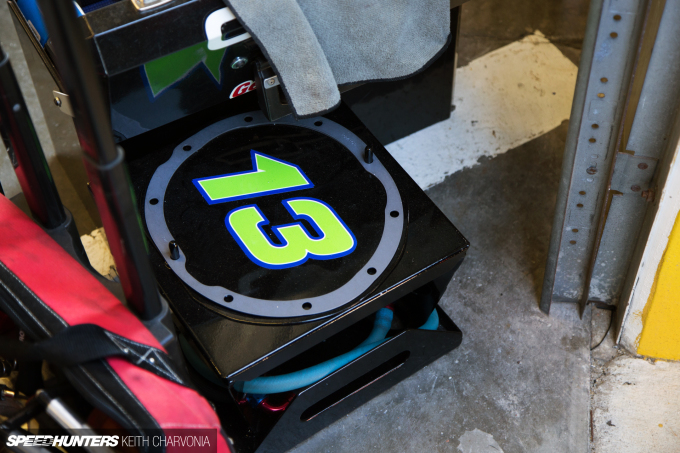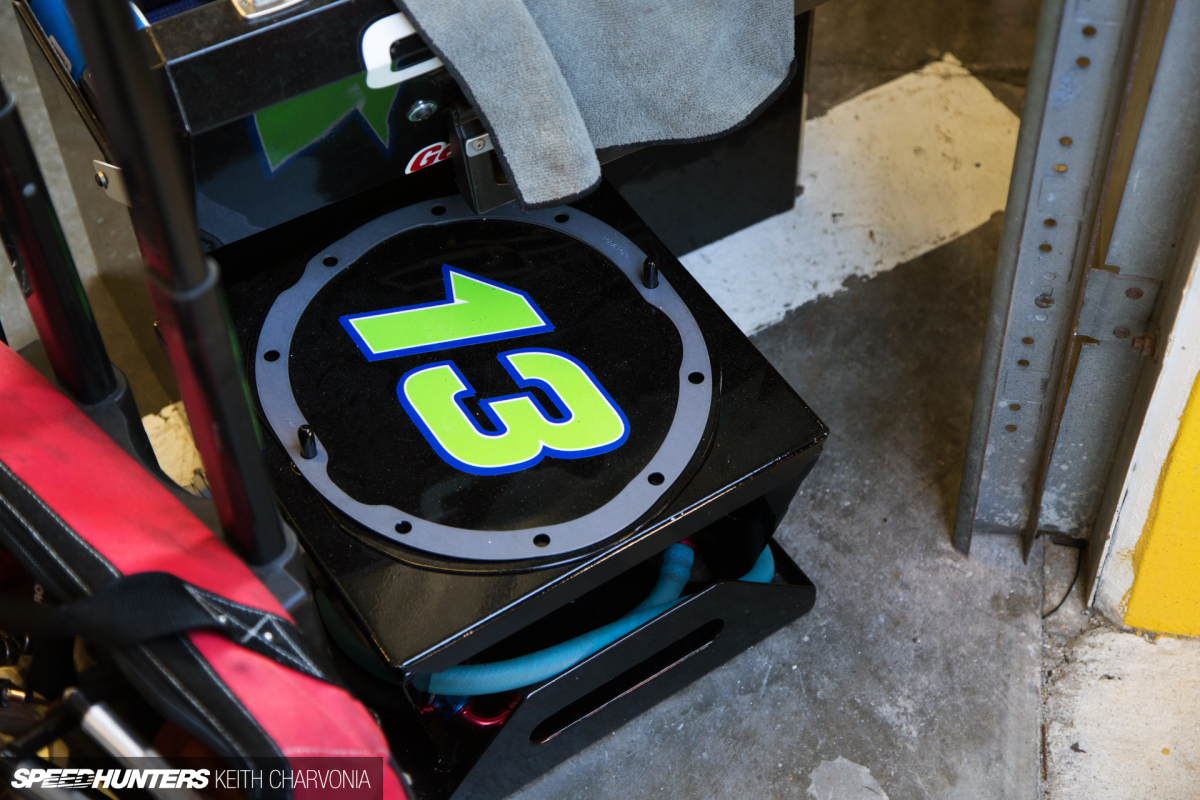 In my last story I mentioned that many of the teams were changing gear ratios during practice and qualifying. Here's a specially made stand to hold a third member.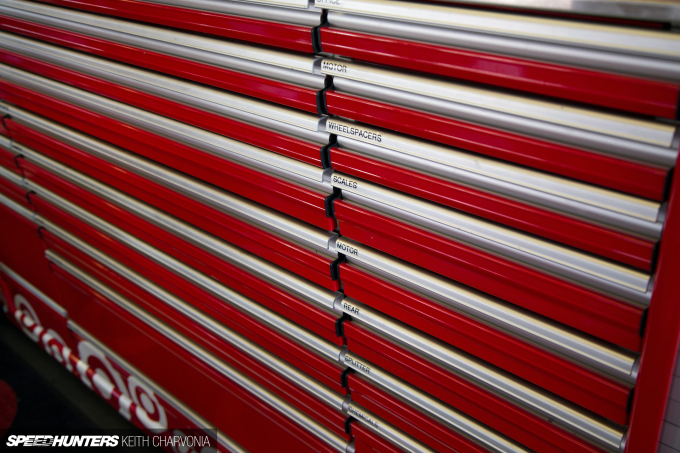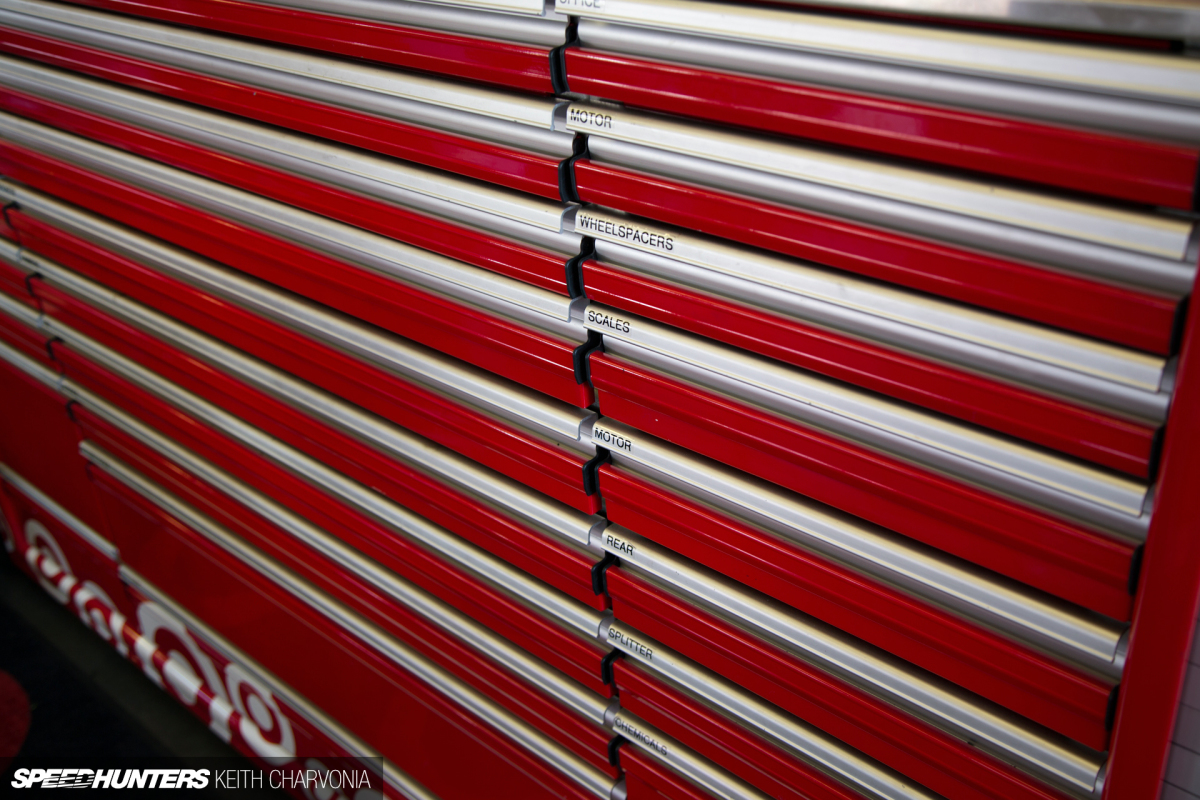 Each team had a custom built, massive toolbox at the front of their assigned garage. You have to remember that NASCAR is a travelling circus, so everything is portable and loads into a semi truck to travel on to the next race. I was dying to know what was inside these toolboxes, so I decided I'd just ask for a peek.
What's Inside?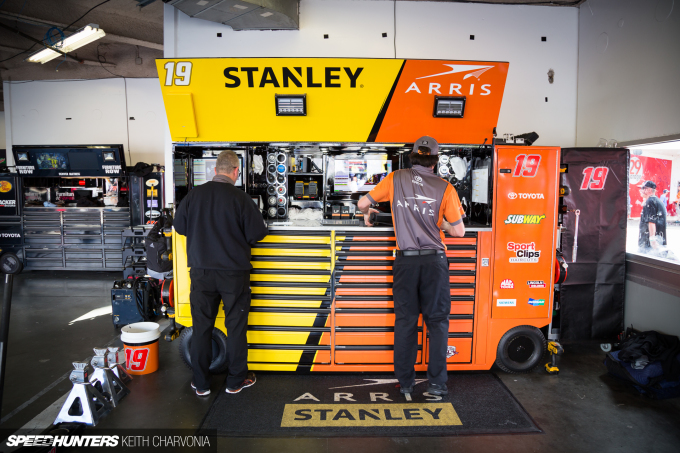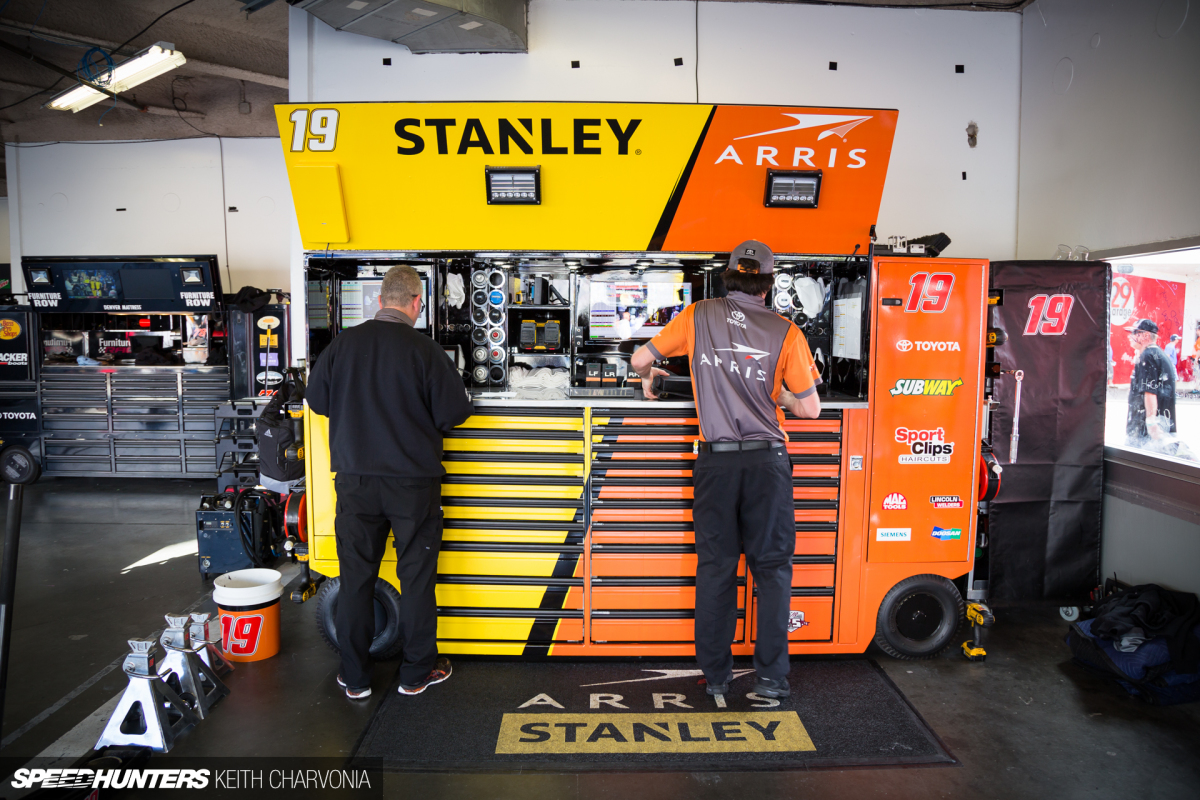 I wandered around the garages during a quiet moment, and then approached the #19 team of Carl Edwards. I had no idea how they would react to my inquiry to look inside one of NASCAR's top driver's tool boxes. Were the contents top secret? I was about to find out.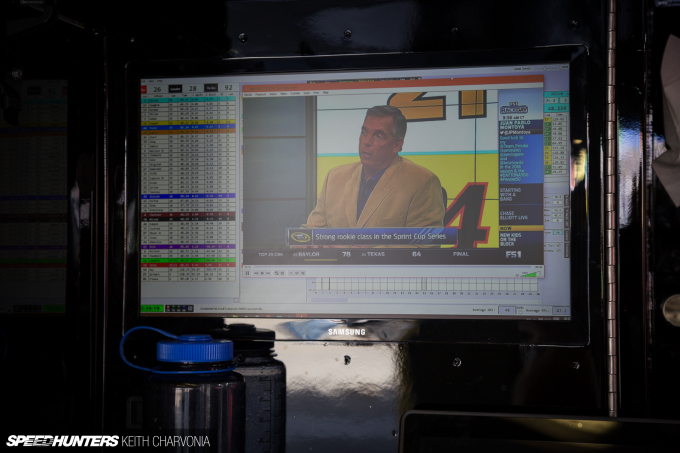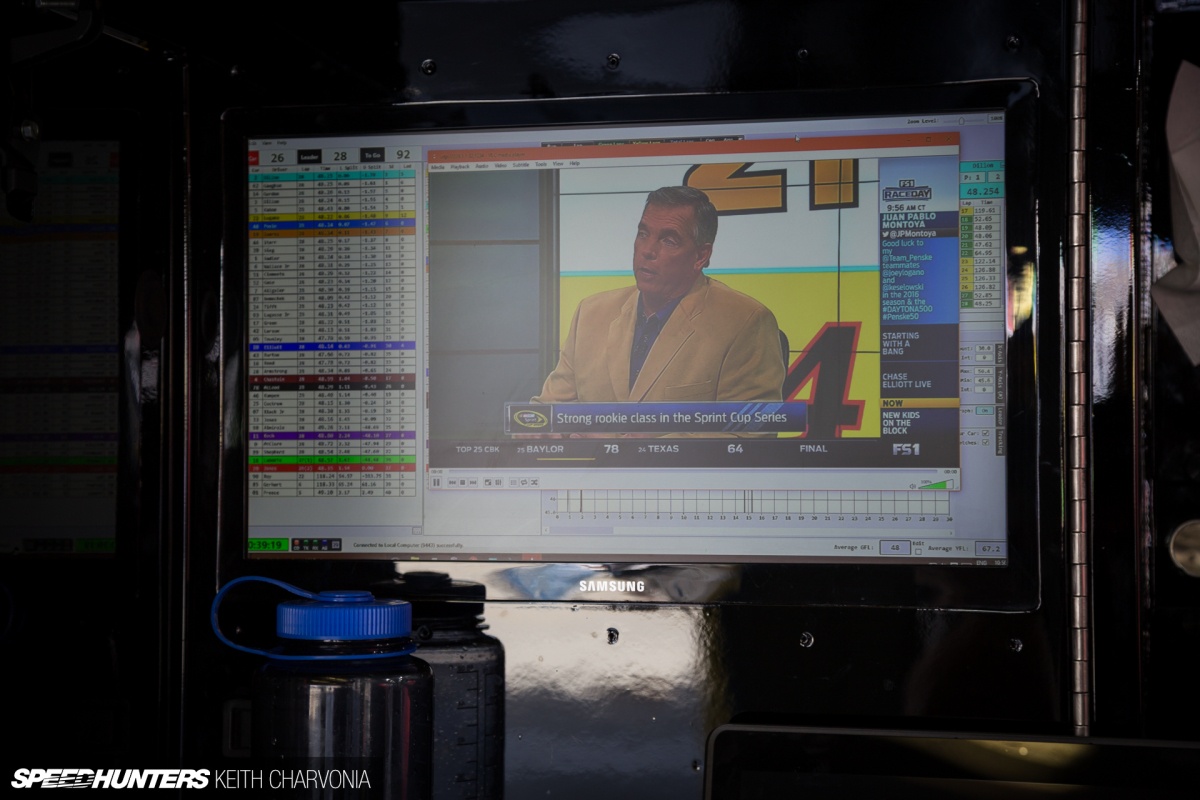 The top half of the box opened up to create a work space which was in plain sight. I still asked before I took any photos though and the team were more than hospitable, even if they were perplexed by my curiosity.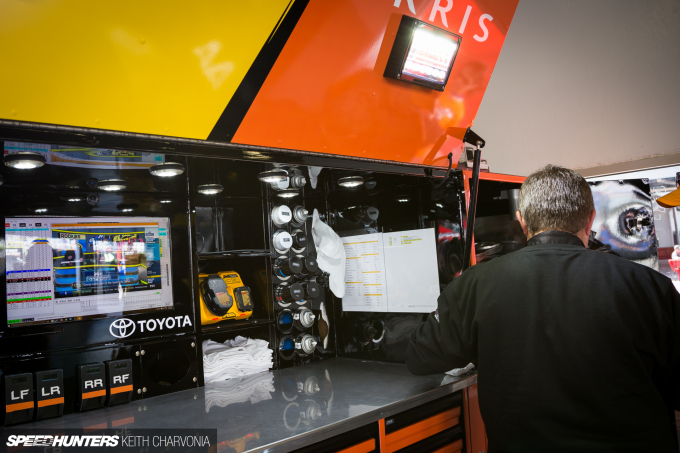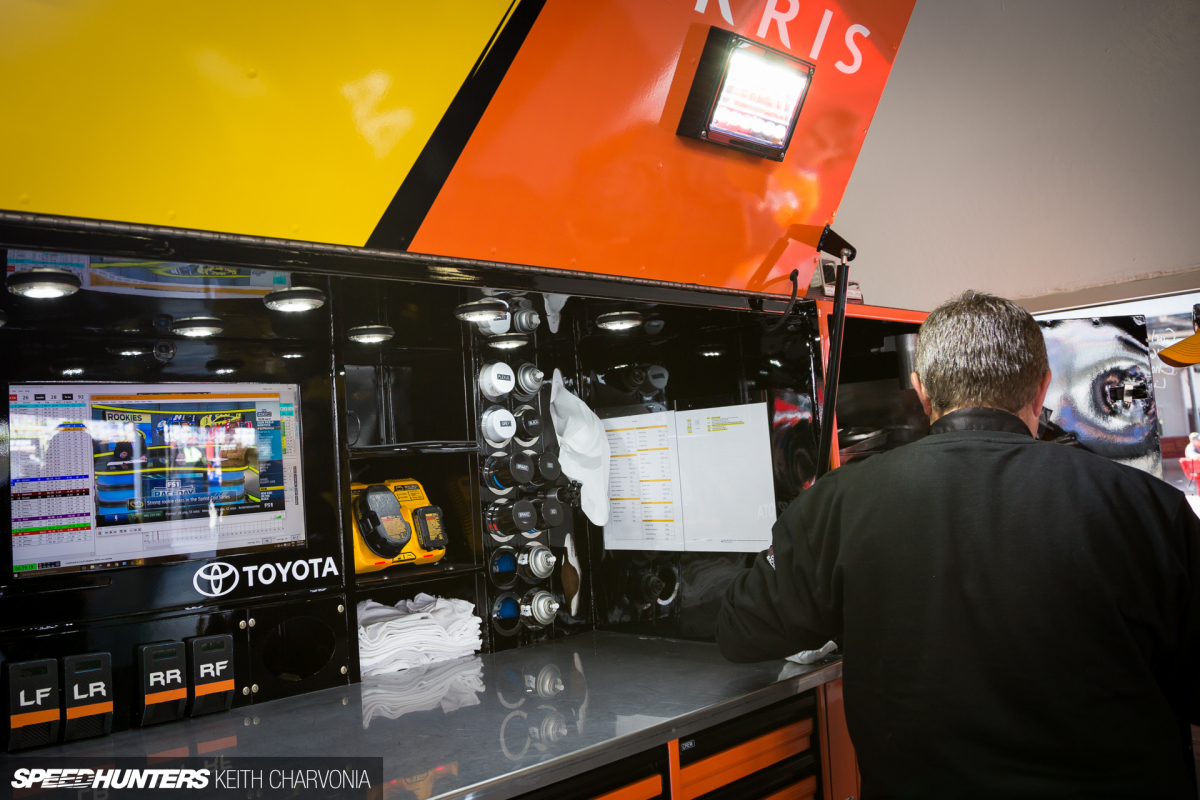 LED work lights were mounted to the inside of the flip-up lid, and serve to light up the area where the wrenching goes on. Genius!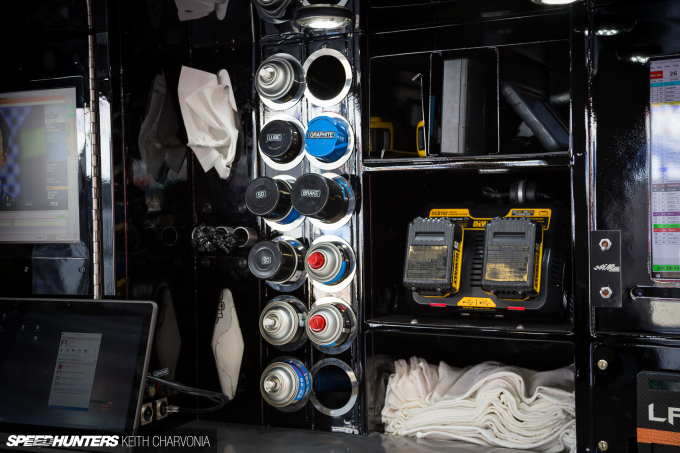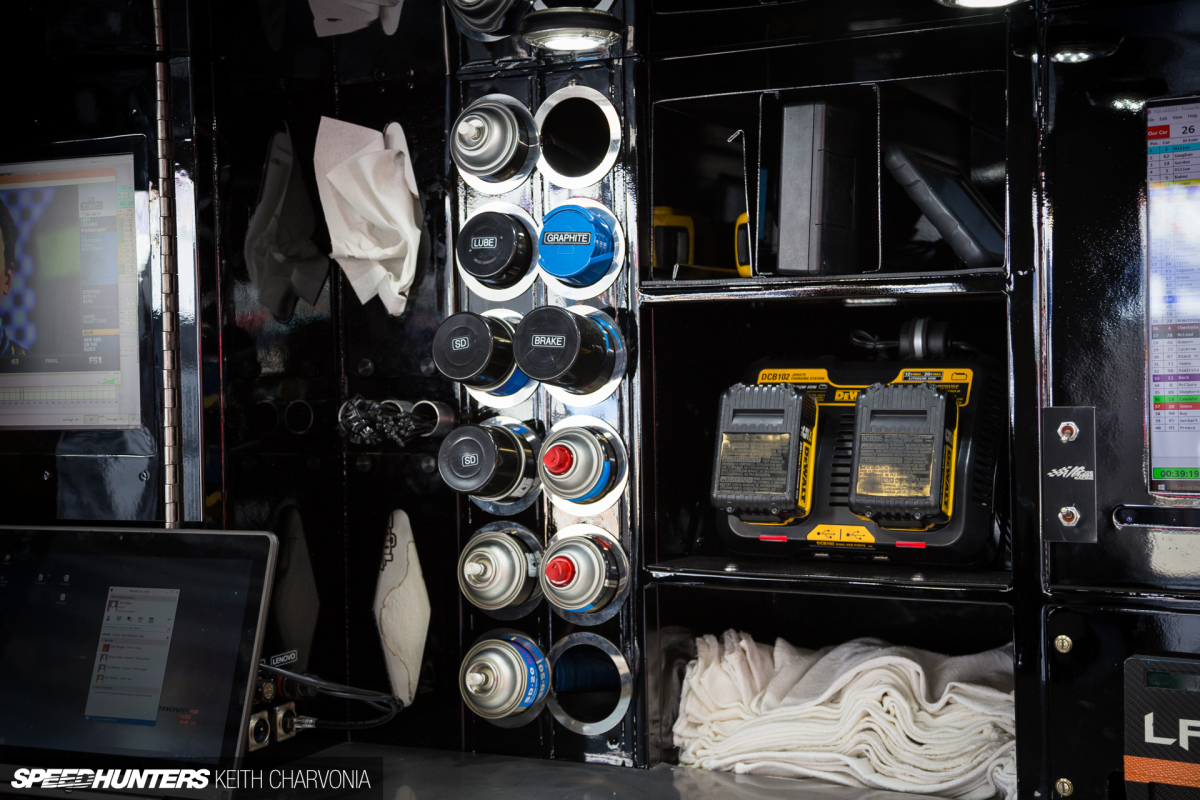 The teams are very organized, after all this is professional motorsport. Everything had its place, and custom-fabbed holders were the norm. This part of the toolbox holds spray cans of cleaners, lubricants and paint.
Before long our conversation ramped up and drawers were flung open. Here we see a variety of measuring tools, ranging from digital angle finders to simple rolls of string. Most of this is used to adjust alignment settings on the car.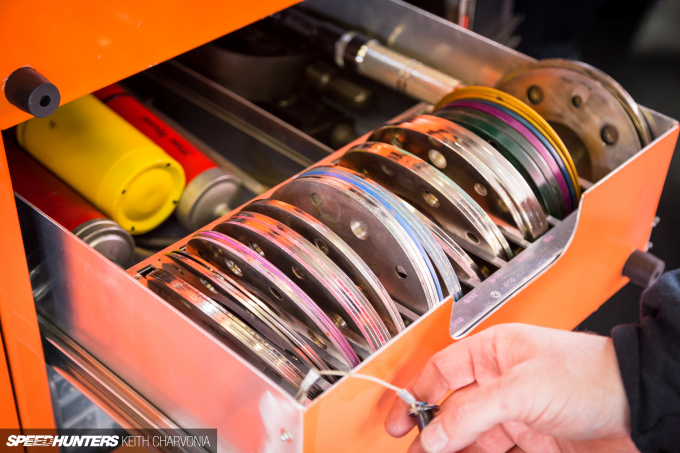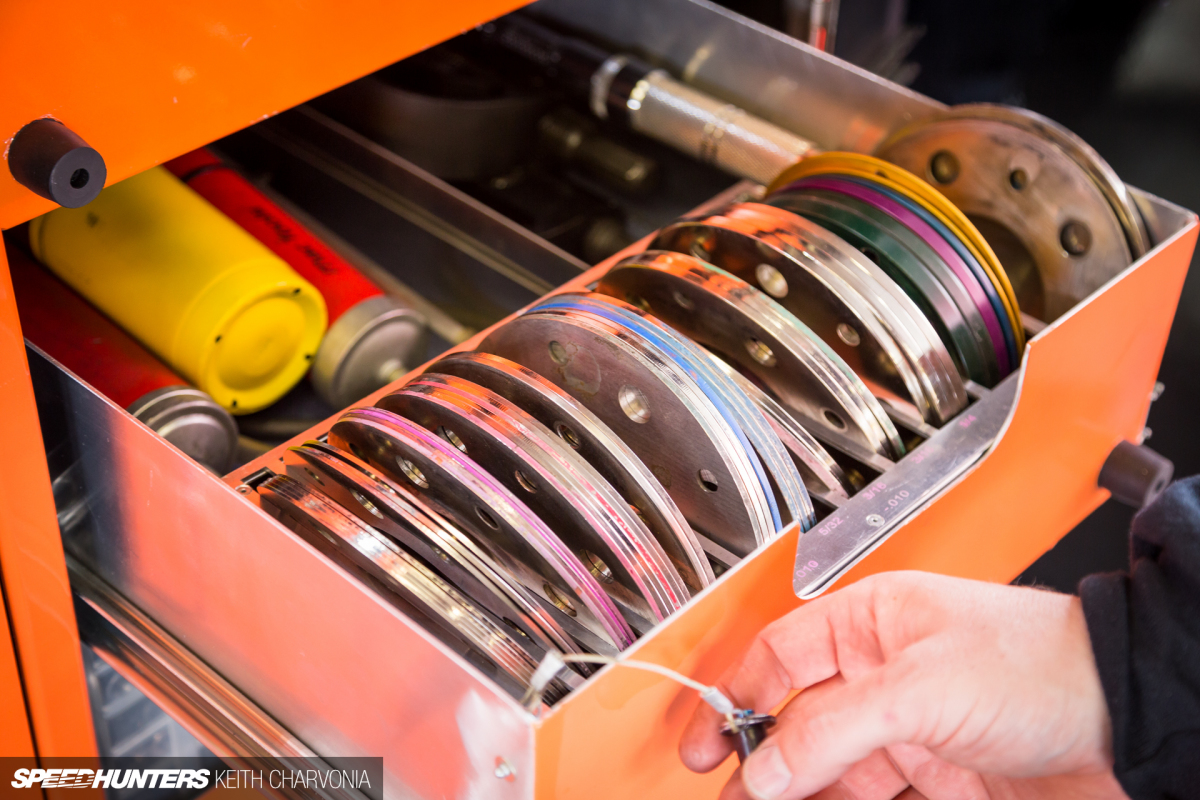 Track width is another aspect of the car setup that sometimes needs adjusting, so having a variety of wheel spacers on hand is very helpful.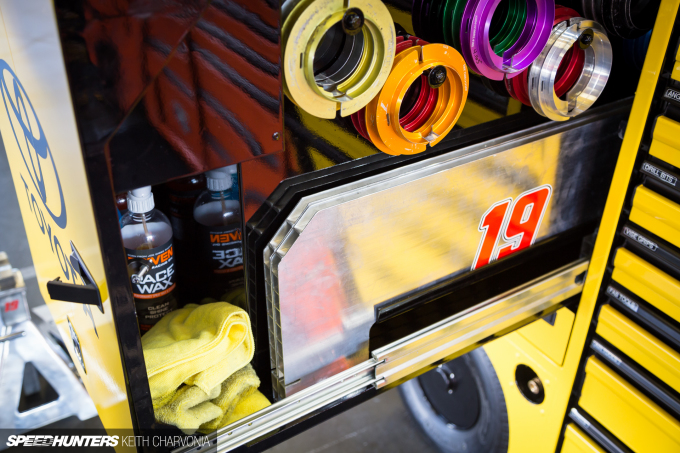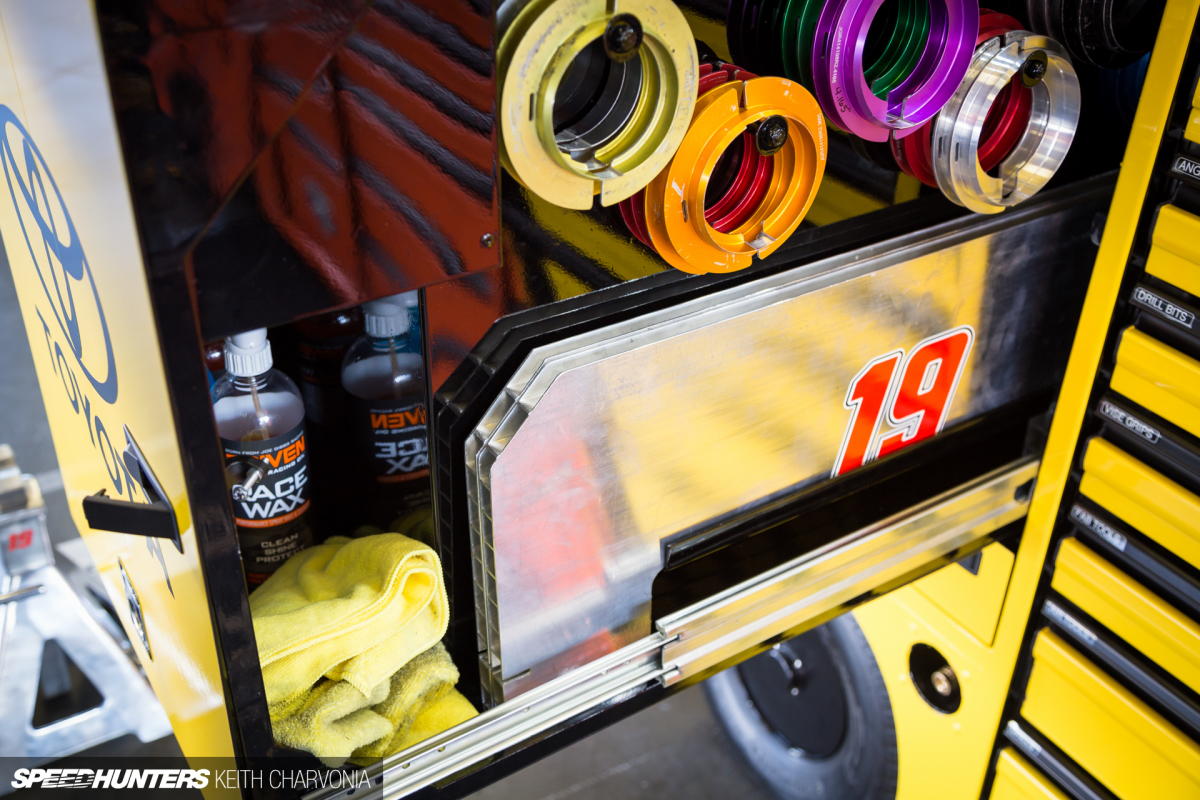 Likewise, coil springs are shimmed using spacers that are anodized unique colors to make them easy to identify and swap out.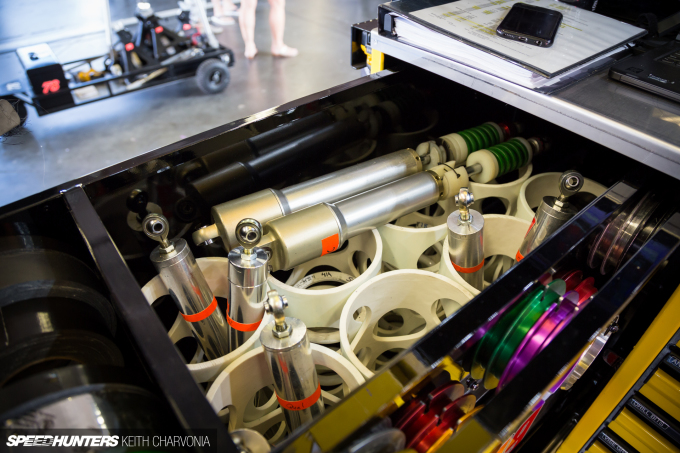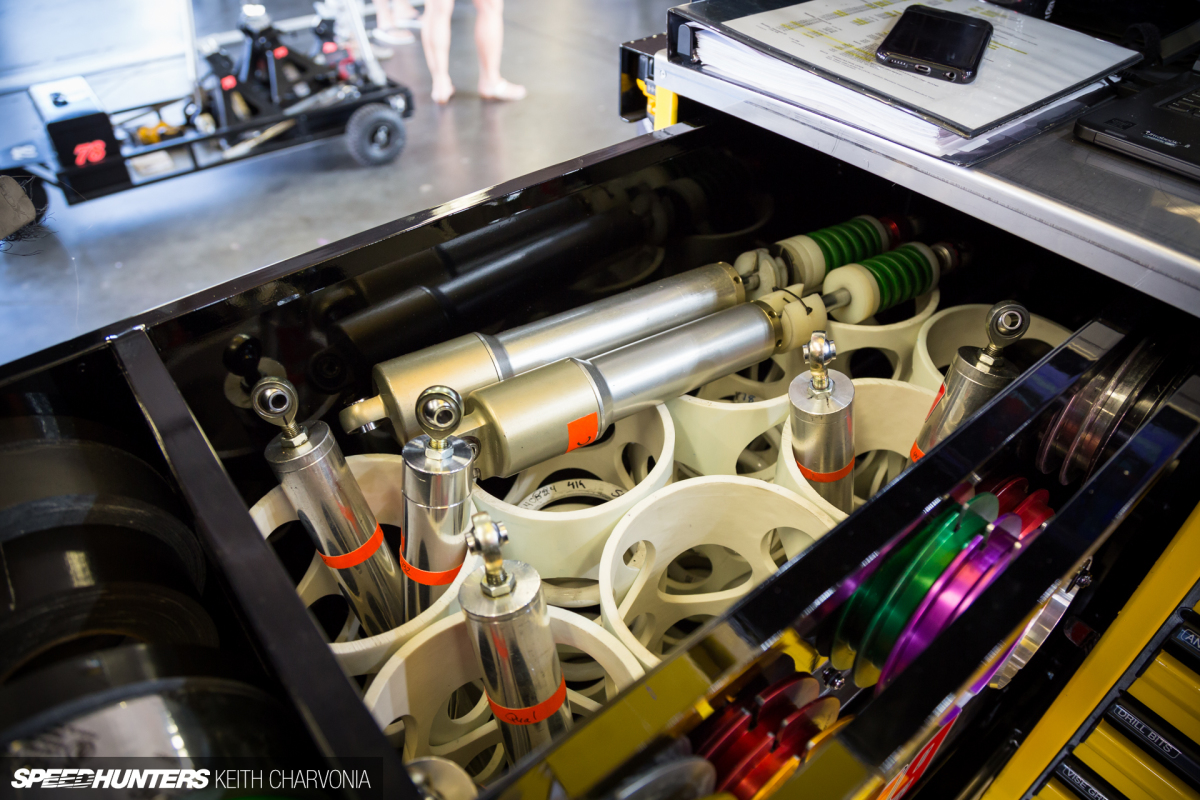 Behind the coil shims were a bunch of spare shocks and springs, all marked with details like spring rate or valving. Notice one even says 'Qual' on it, short for qualifying I would assume. I love the PVC pipe holders featuring extensive speed holes.
Of course there were tons of hand tools. I thought perhaps they would only have one of each and it would have a special home in the drawer so they could tell if it was lost.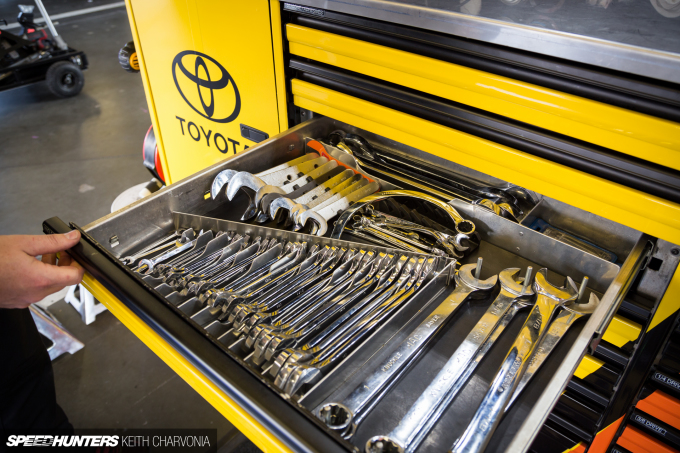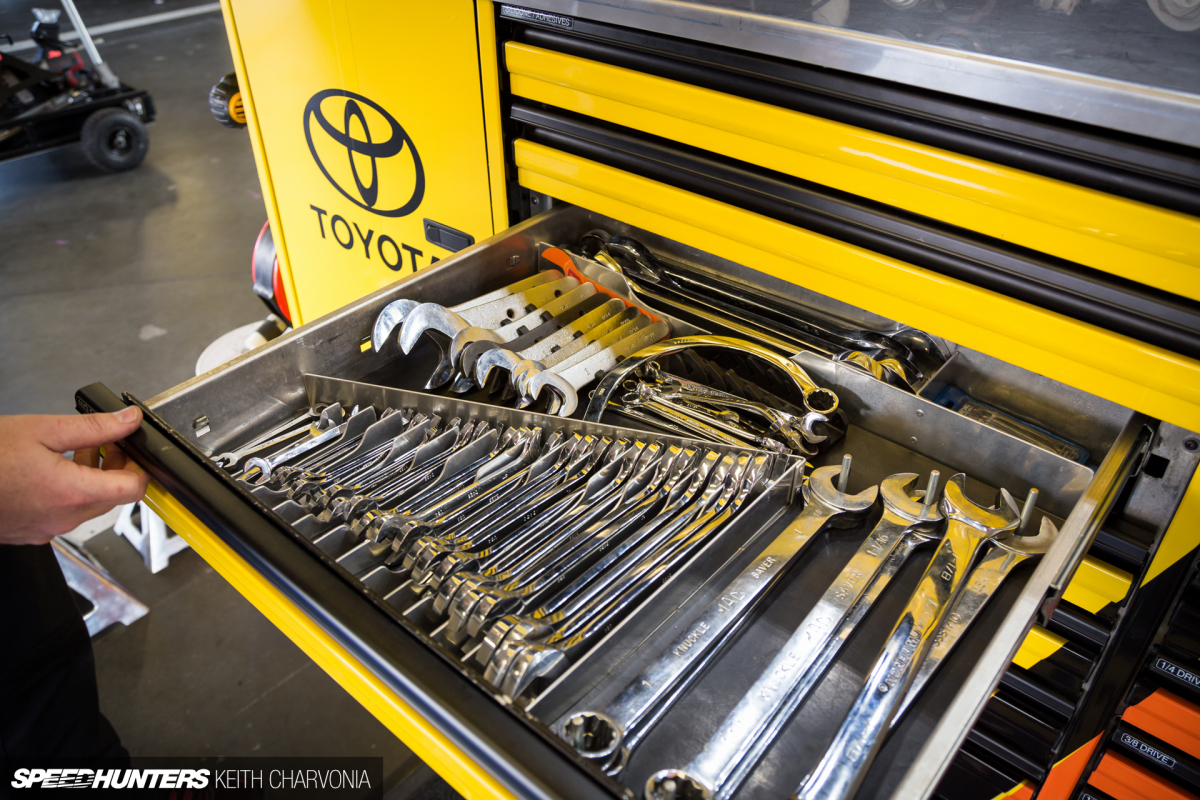 But no, this is racing, and when they need a wrench they don't have time to go looking for it.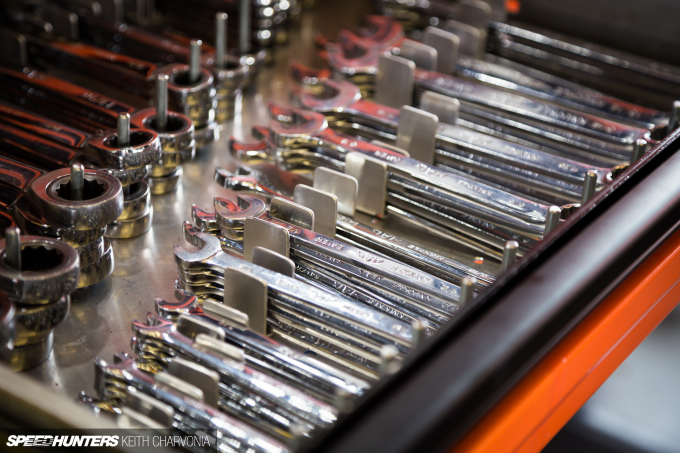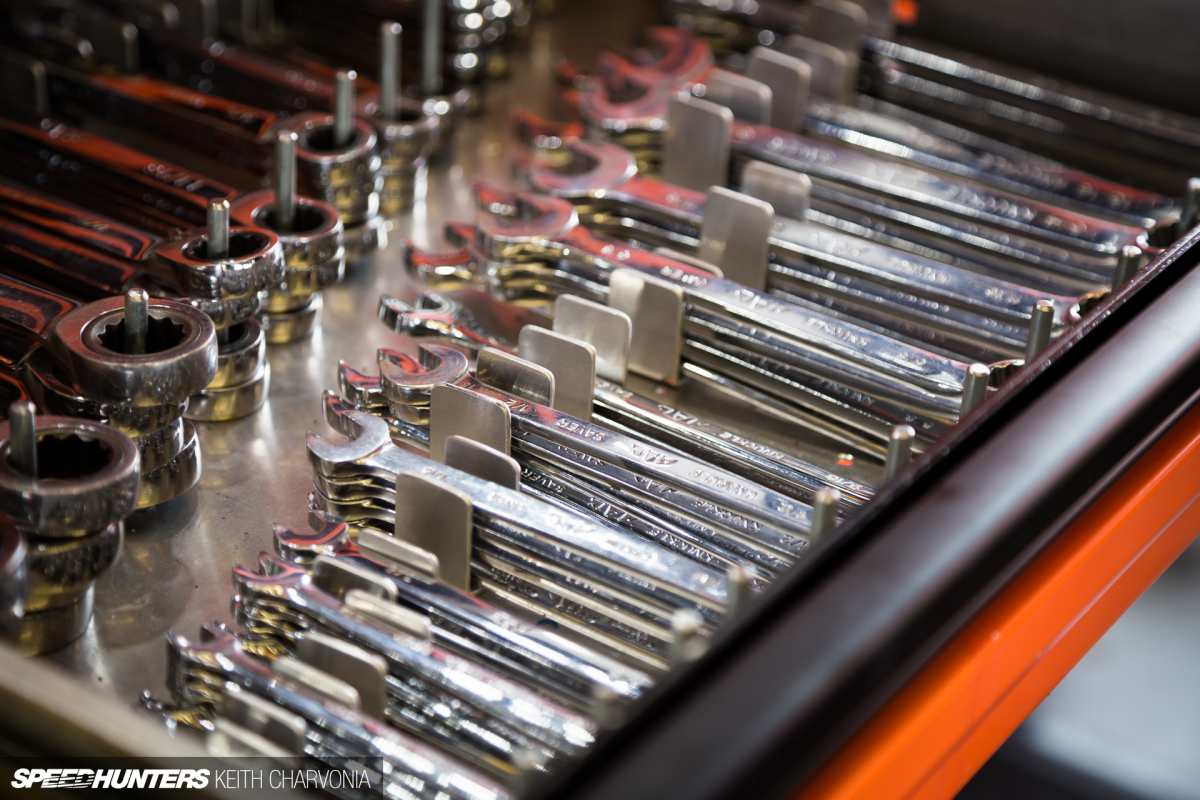 You'll notice each and every tool says MAC on it. That's because Stanley, which owns the MAC Tools brand, is a major sponsor of the Carl Edwards team.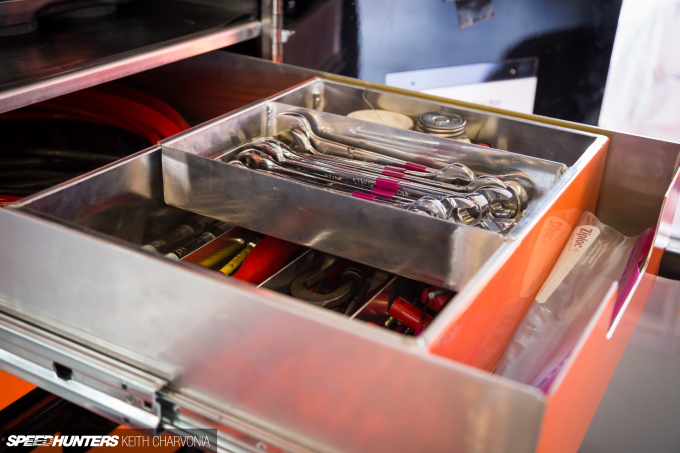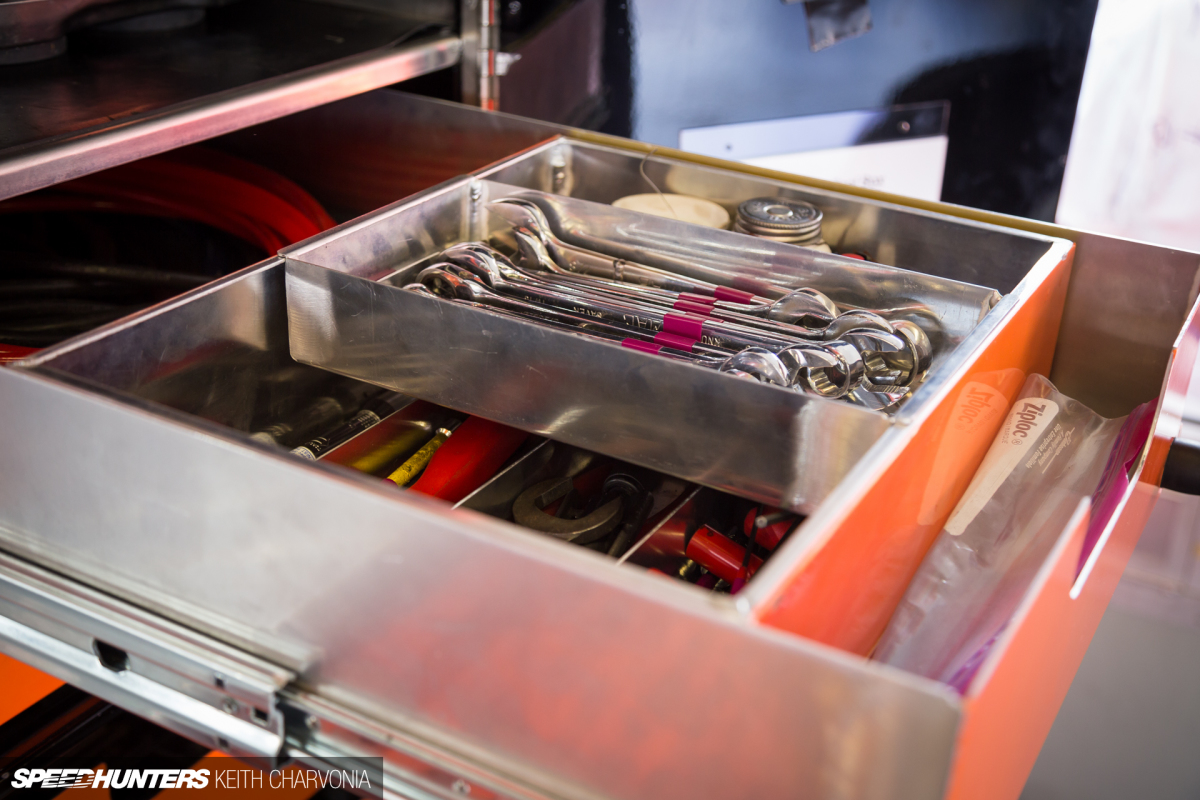 While there was plenty of redundancy in the main wrench drawer, I also found these smaller trays with color-coded tape carefully wrapped around each handle. These dedicated trays are for specific jobs so they can just grab what they need and get to work.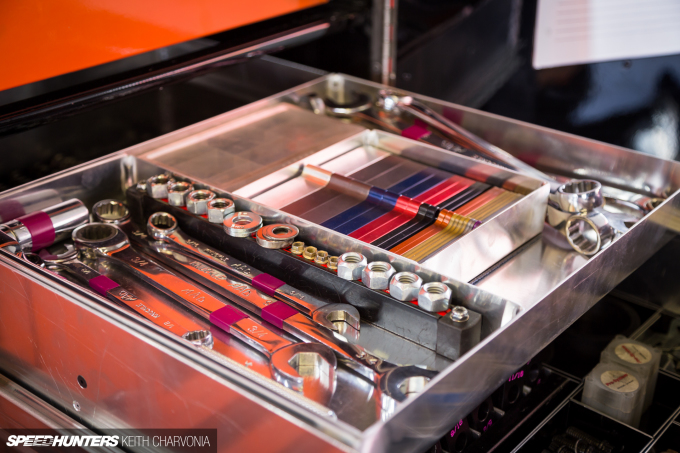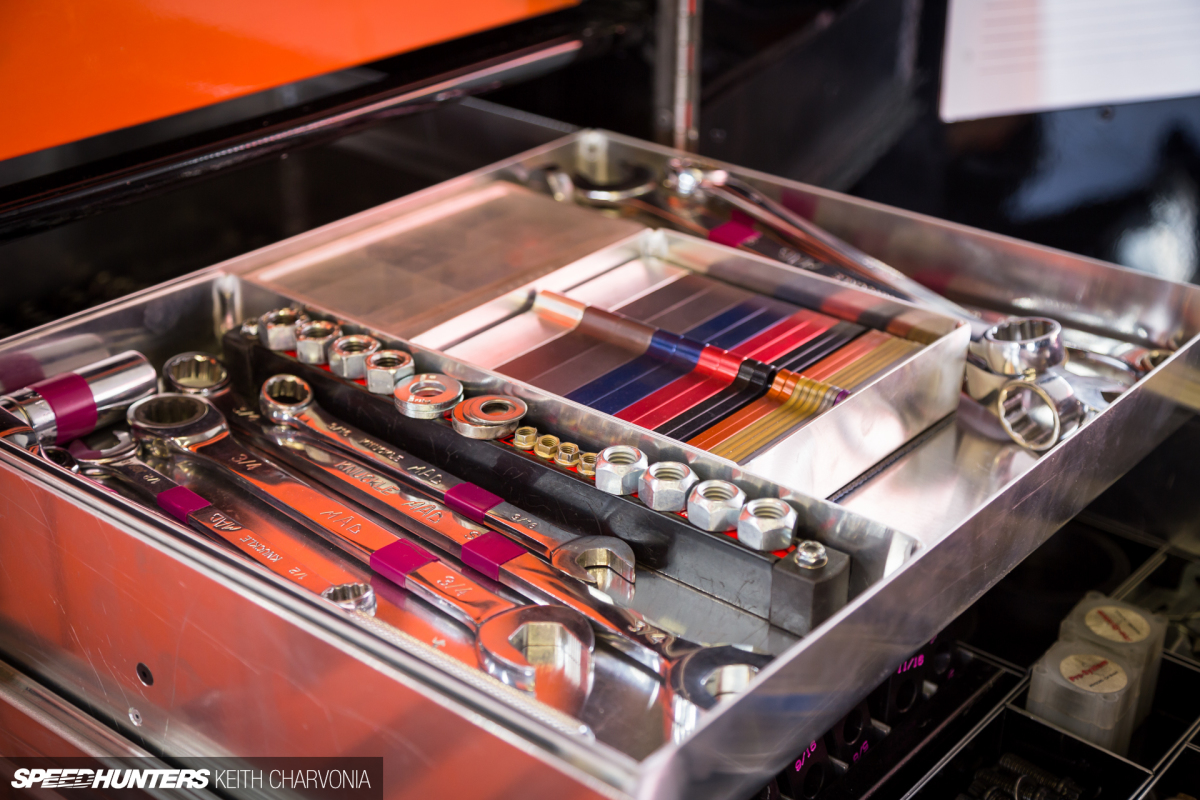 This tray even had specific hardware for the job, stuck to an easy-to-grab magnetic strip.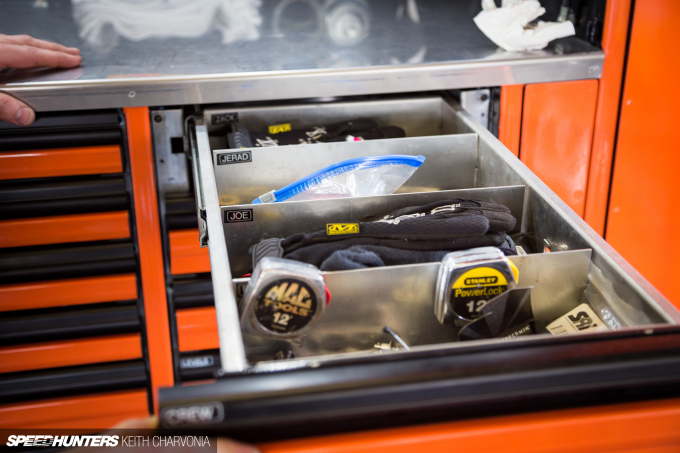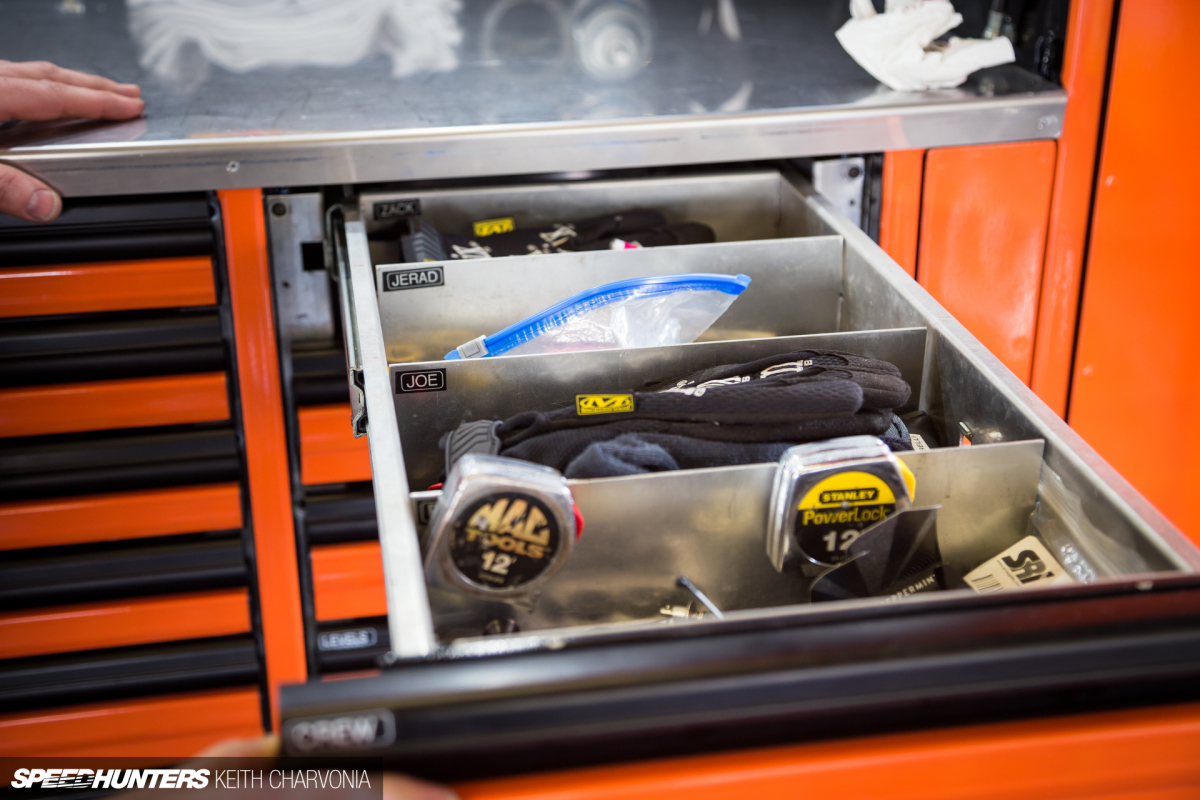 I found it interesting that each mechanic had his own little section of one drawer to store personal items such as gloves.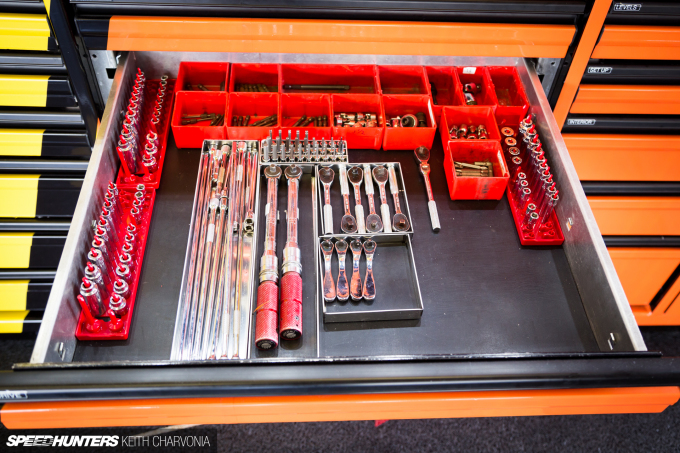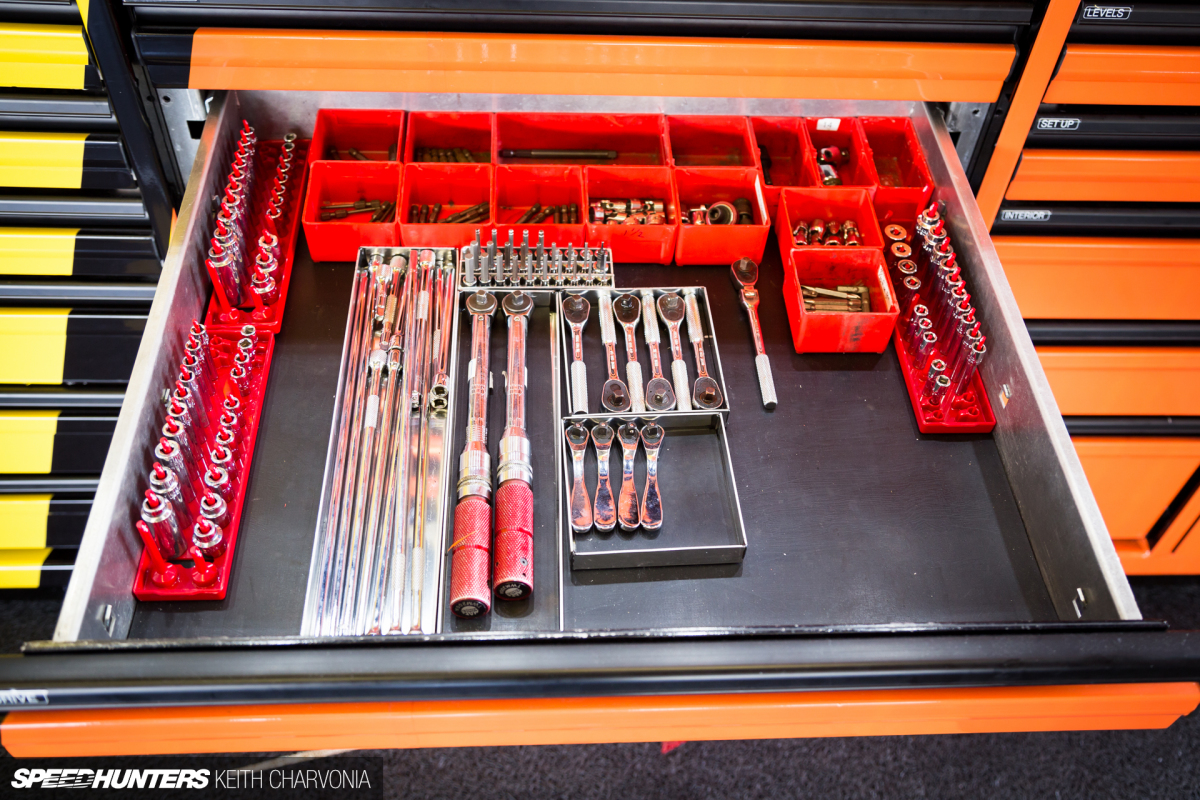 I love the individual trays for each size ratchet, and you can bet those are high quality torque wrenches. It's worth noting that all of the wrenches and sockets were SAE, with not a single metric tool in sight!
More Than Wrenches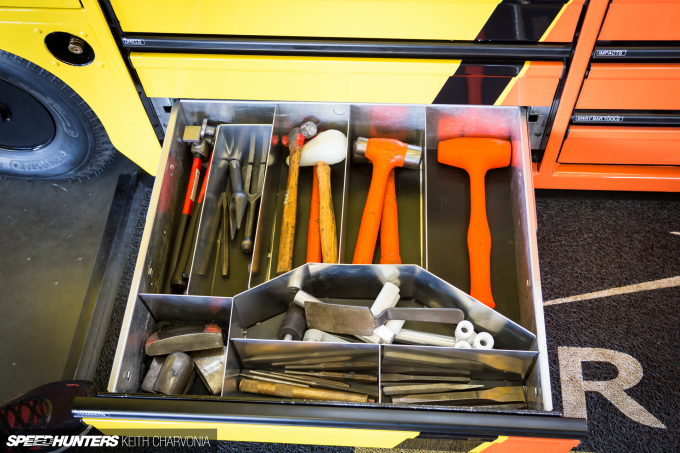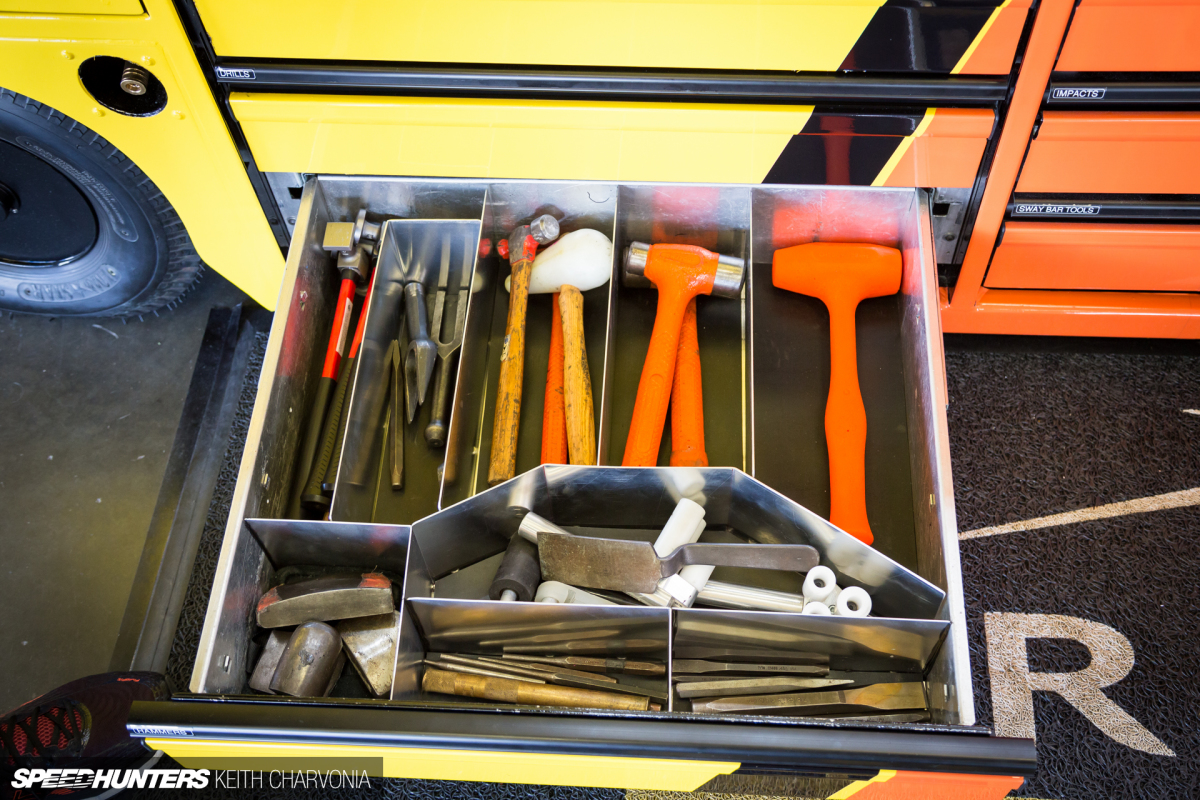 I would imagine it's mostly hand tools that are used to prep the cars and make adjustments, but once the race begins and the cars get a little banged up, these mechanics can turn into bodymen. Besides the dead blow and ball peen hammers, I also see a tear drop mallet, body hammers, dollies, and a slap hammer in there – all tools of old-school metal shaping.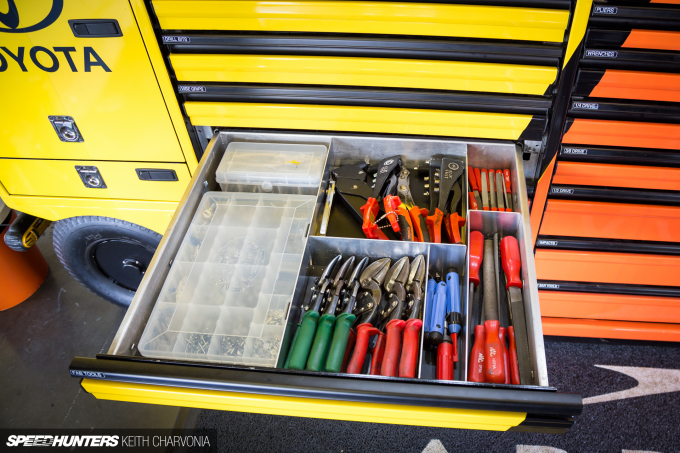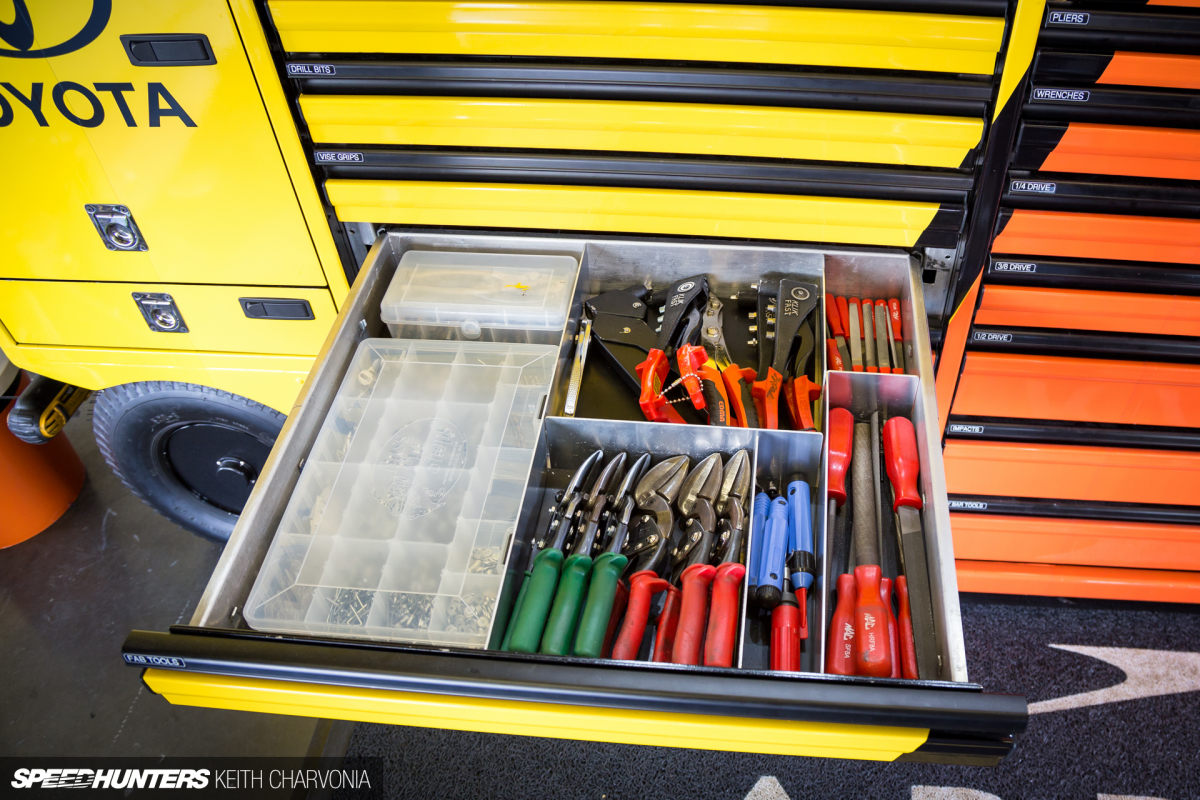 Once the metal is hammered into shape, you'll need tin snips to trim it and a rivet gun with which to attach the new part. I dig the MAC files in both large and small.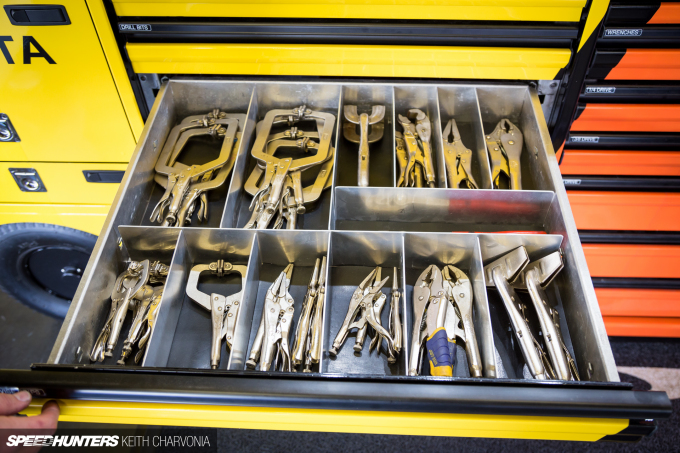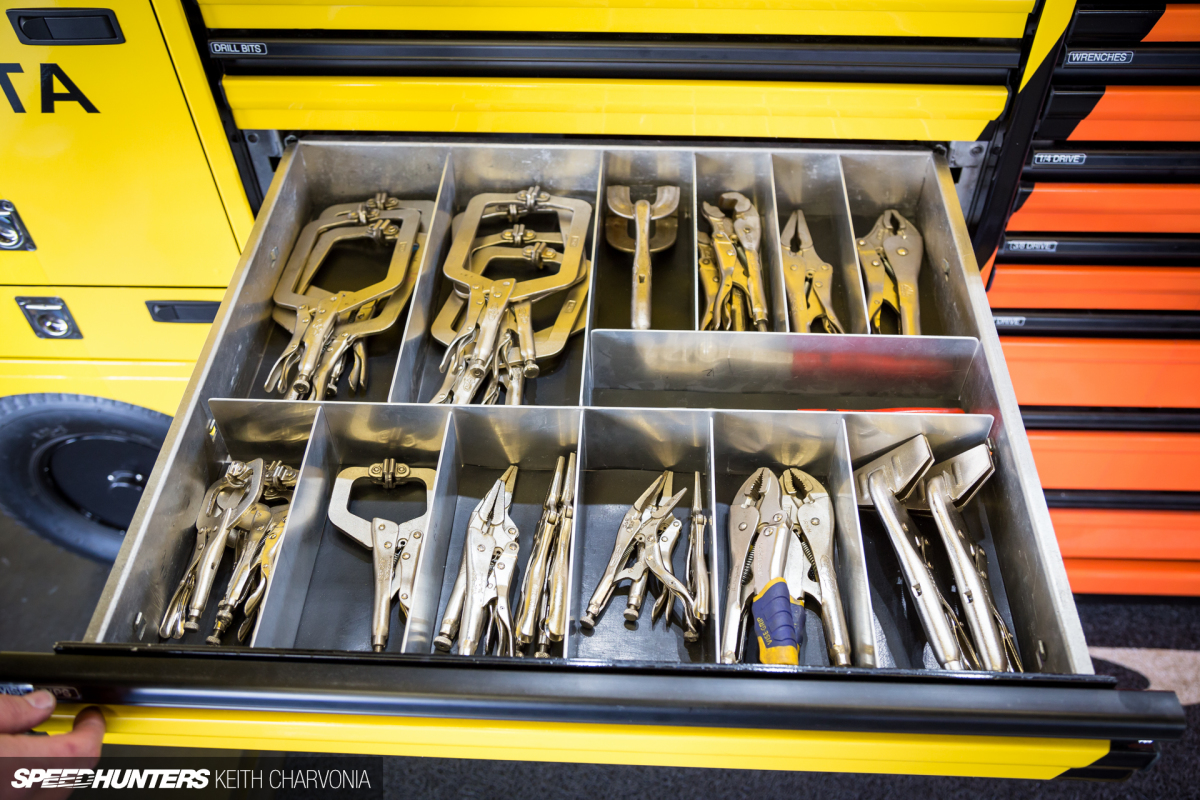 Having every variety of vice-grips must also come in handy when positioning a panel for riveting.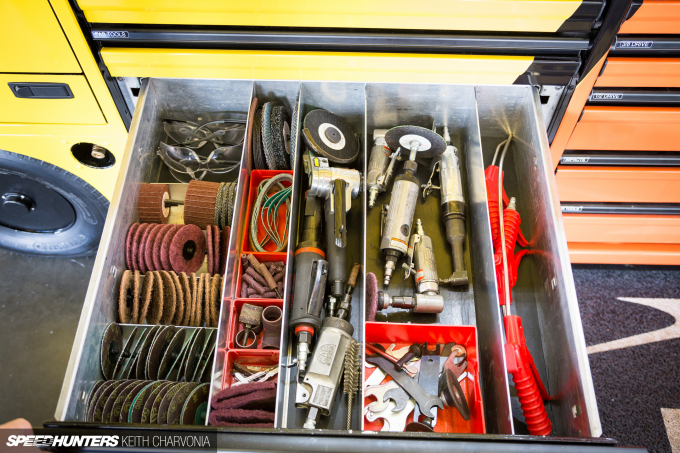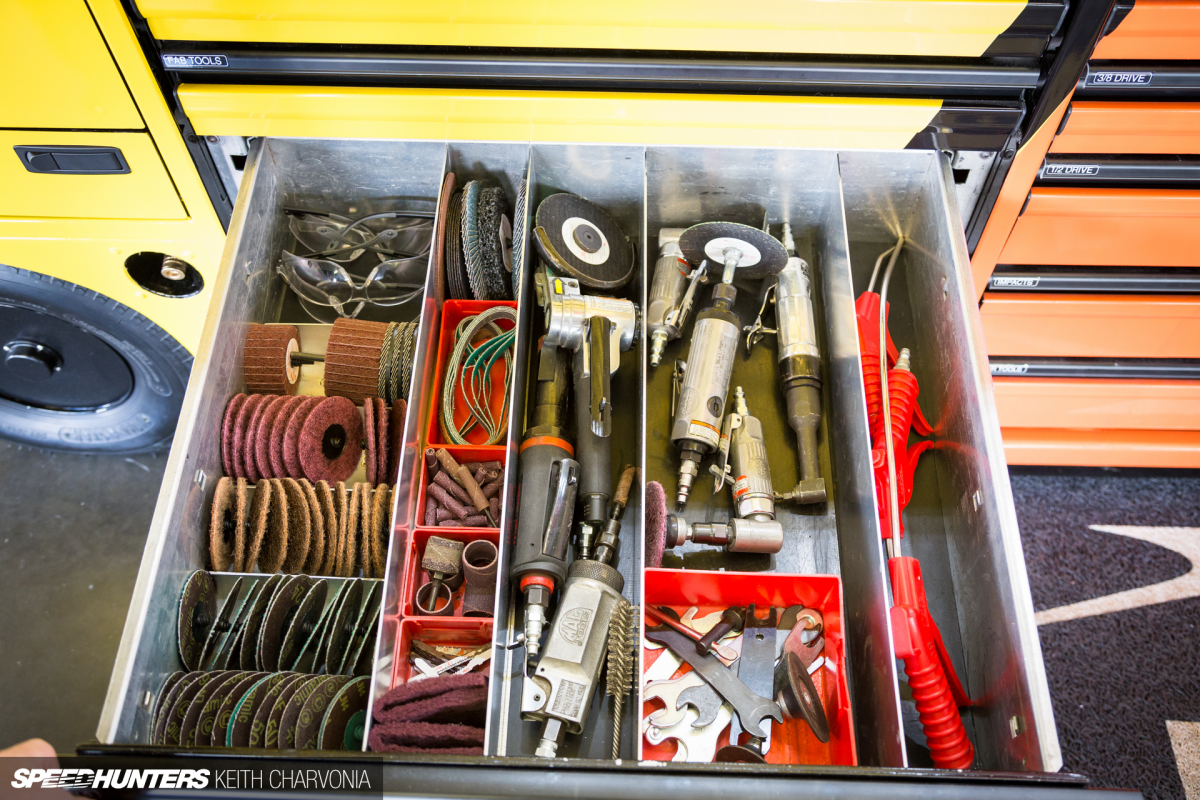 Plenty of pneumatic abrasive tools are at the mechanics' disposal, including right angle die grinders, cut off wheels, dynafiles and the requisite safety glasses.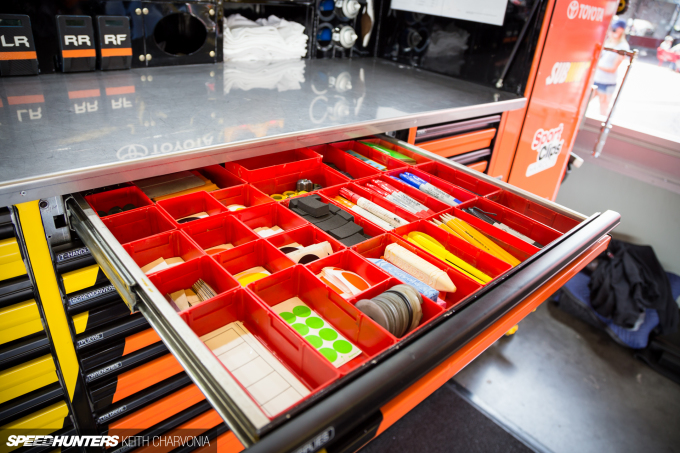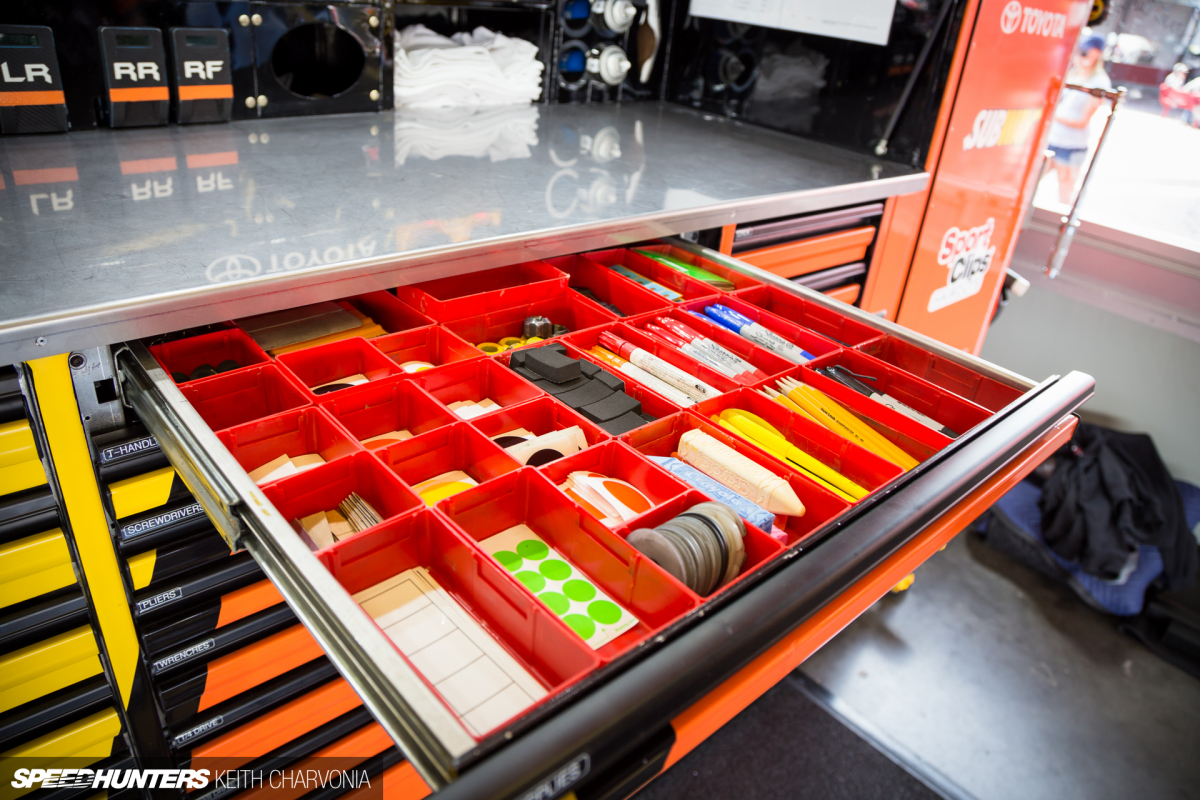 Sharpies, paint pens, pencils, ink pens, and even Crayons – they're all here.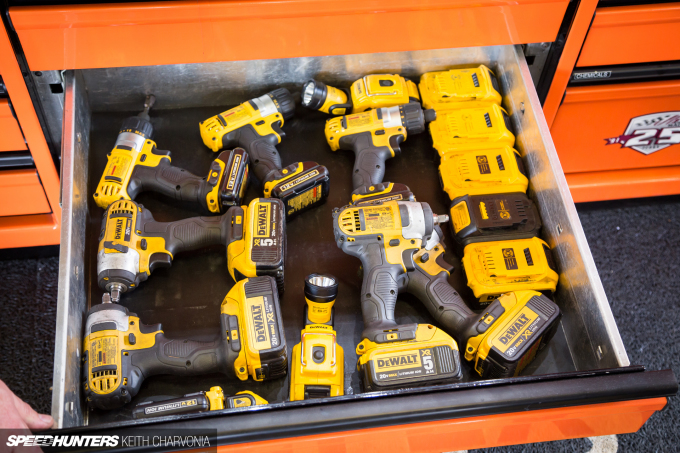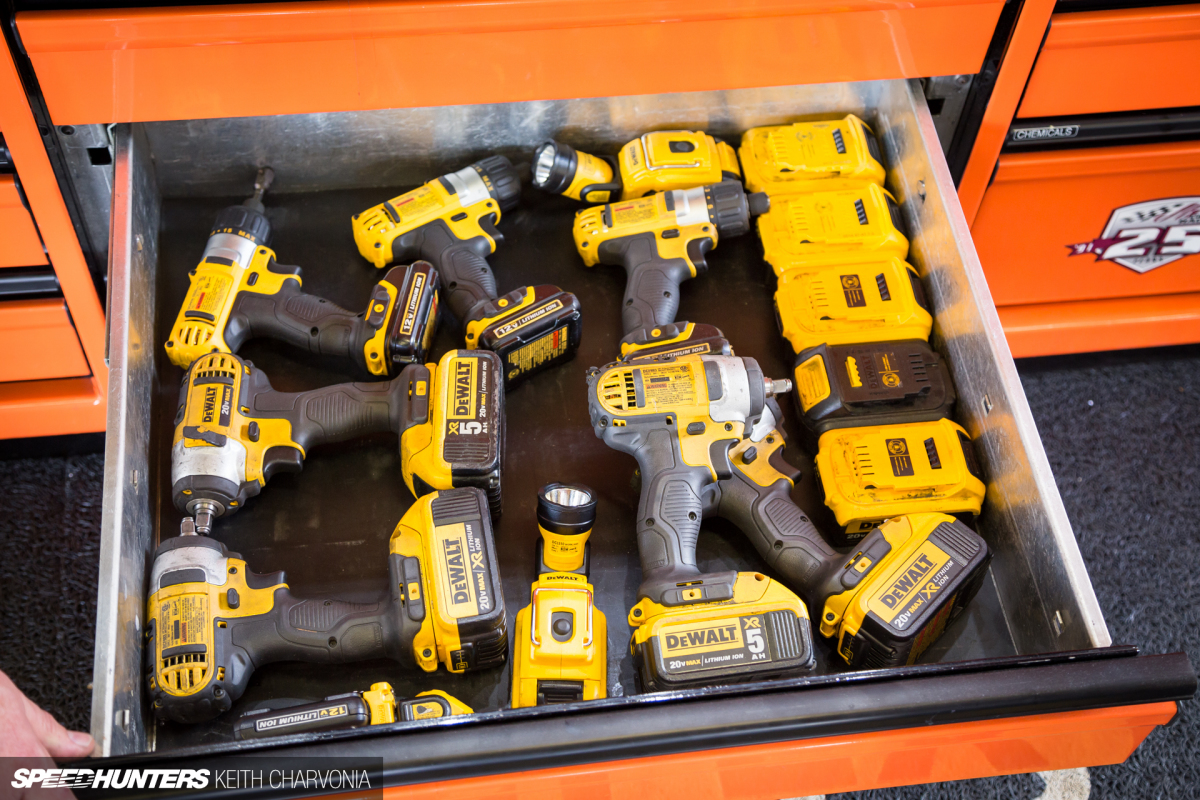 Stanley also owns DeWalt, hence the variety of yellow cordless tools in this drawer.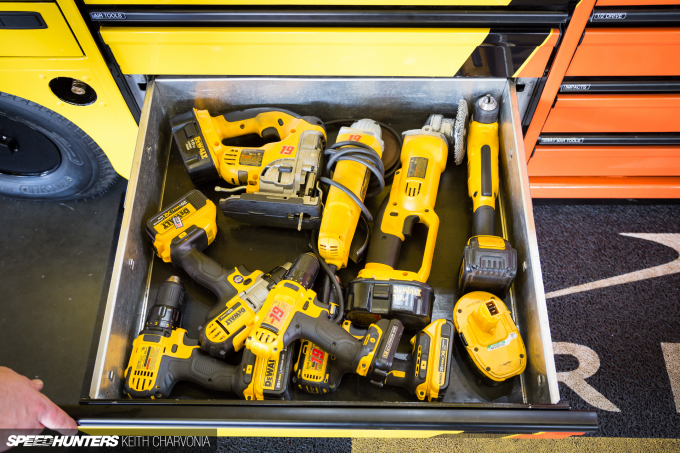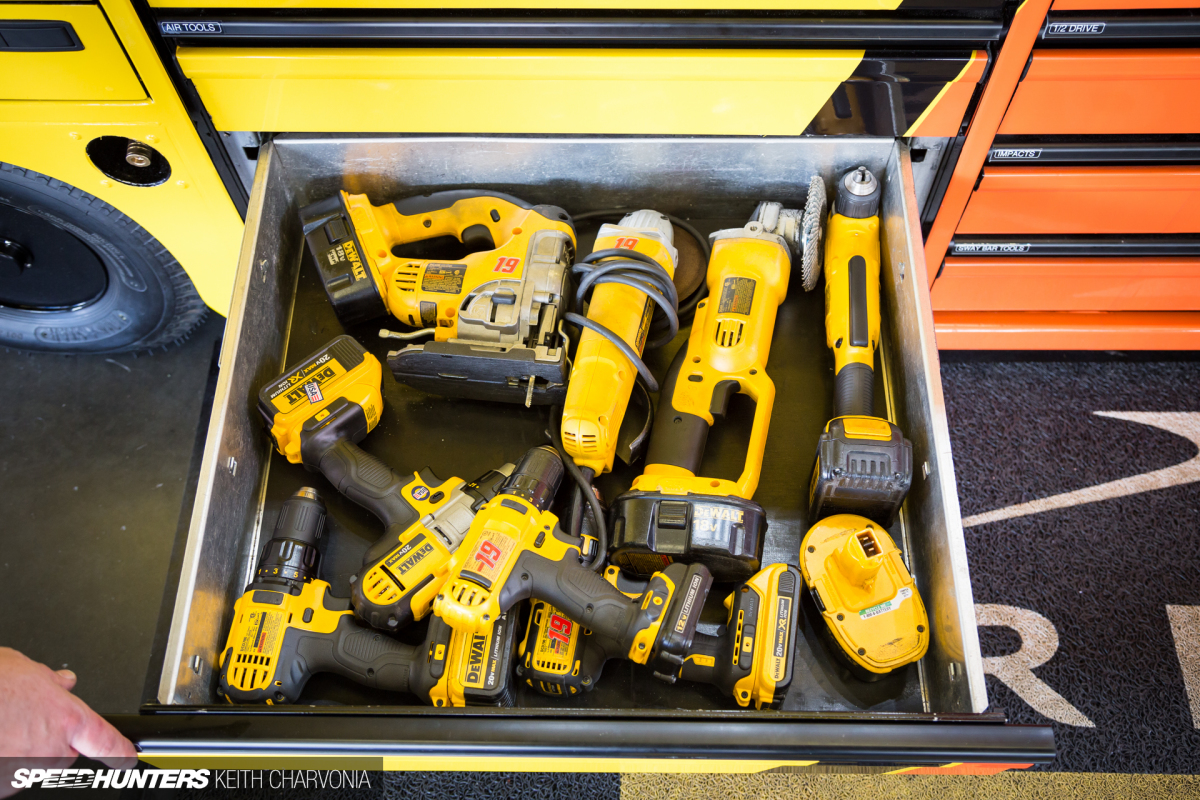 With the power and longevity of lithium-ion batteries these days, a drawer full of cordless tools sure beats dragging out an air hose!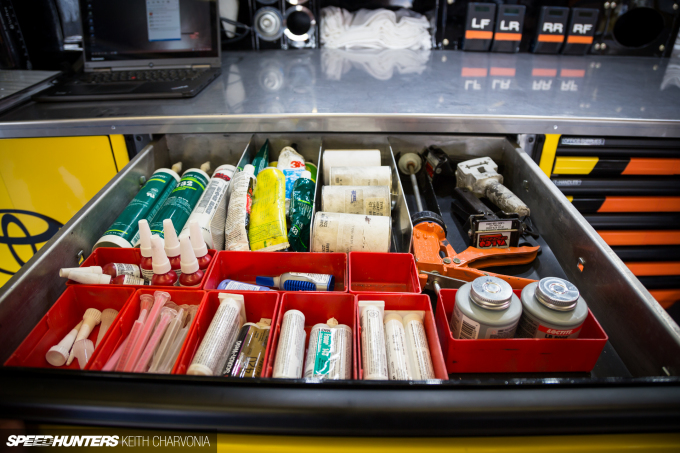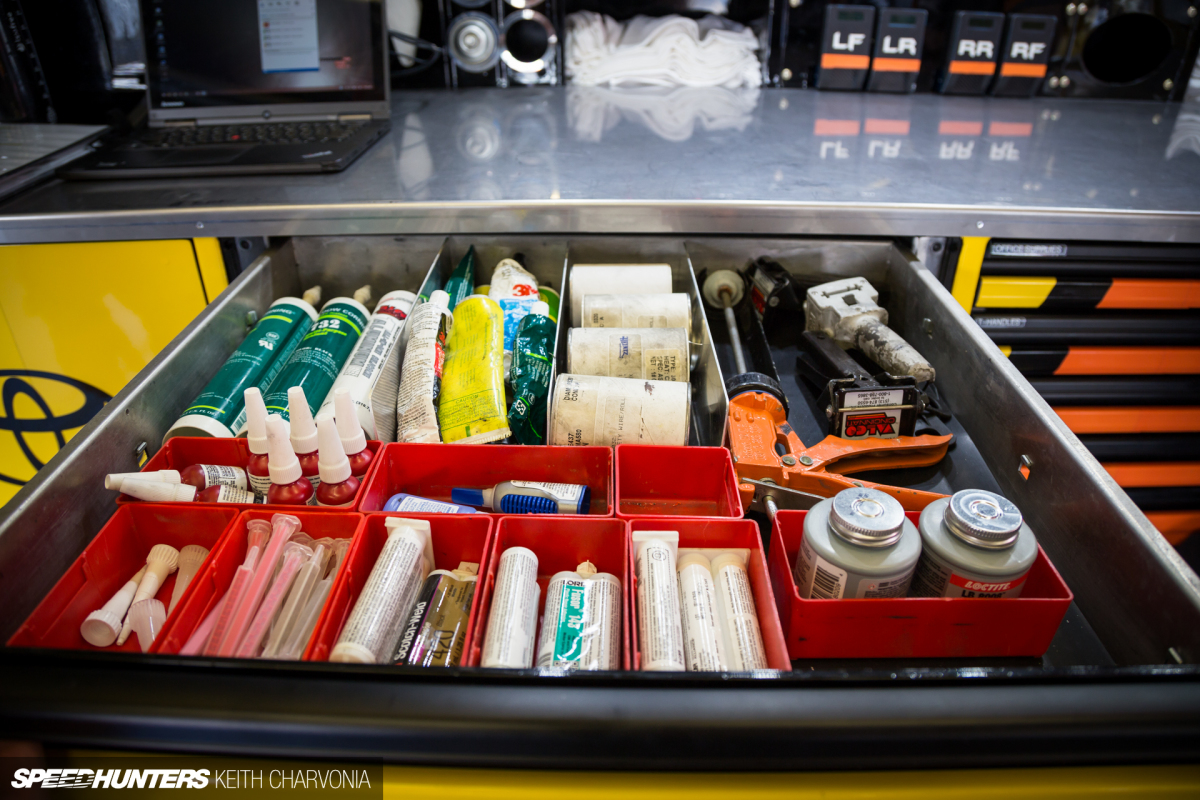 In my last story I mentioned the extensive use of silicone to seal all the gaps on the car. Besides silicone, the teams also use two-part epoxy, Super Glue and anti-seize, just to name a few of the chemicals shown here.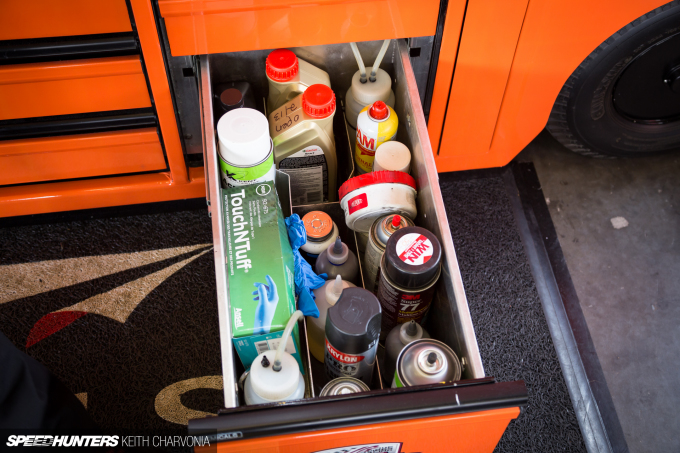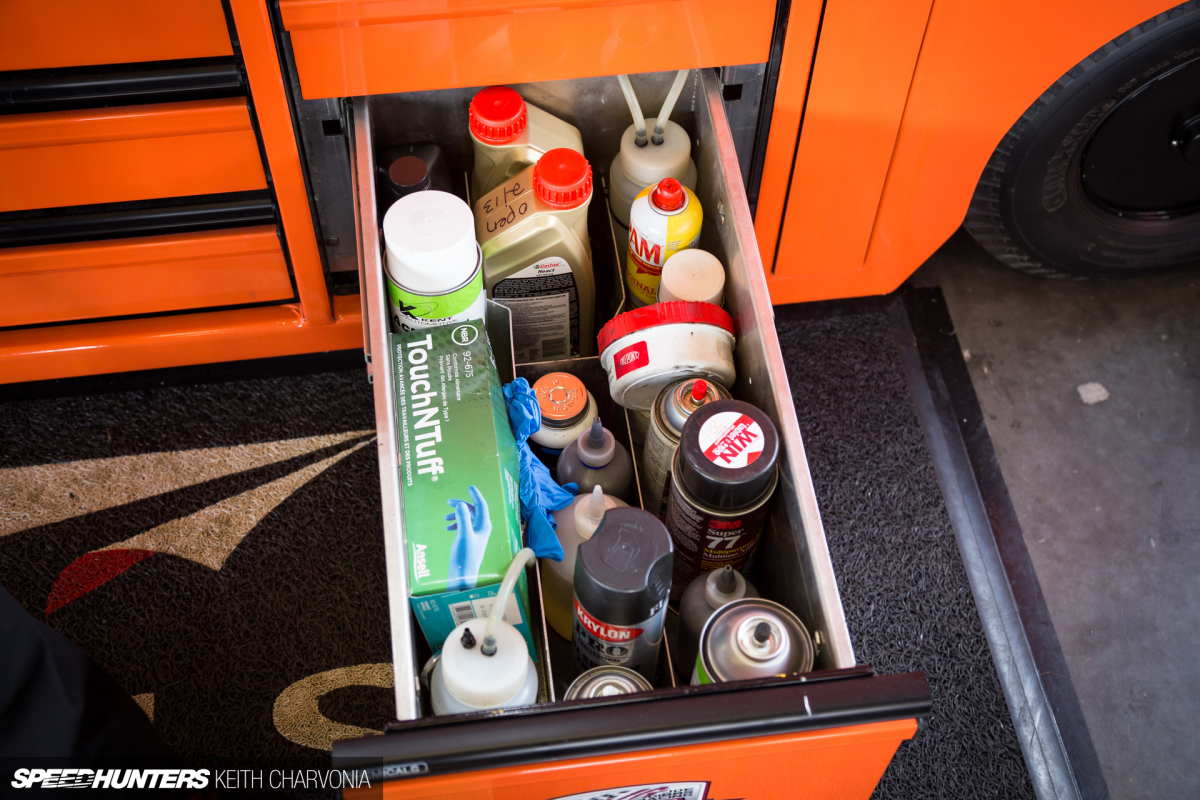 A few drawers down I found even more liquids and aerosols. Spray adhesive can be handy for holding a gasket in place, and I bet the PAM is to keep welding slag off of surrounding parts should they need to MIG weld something in a hurry.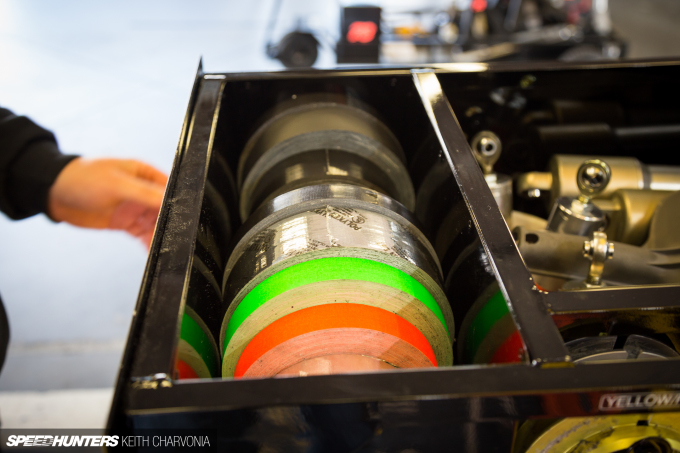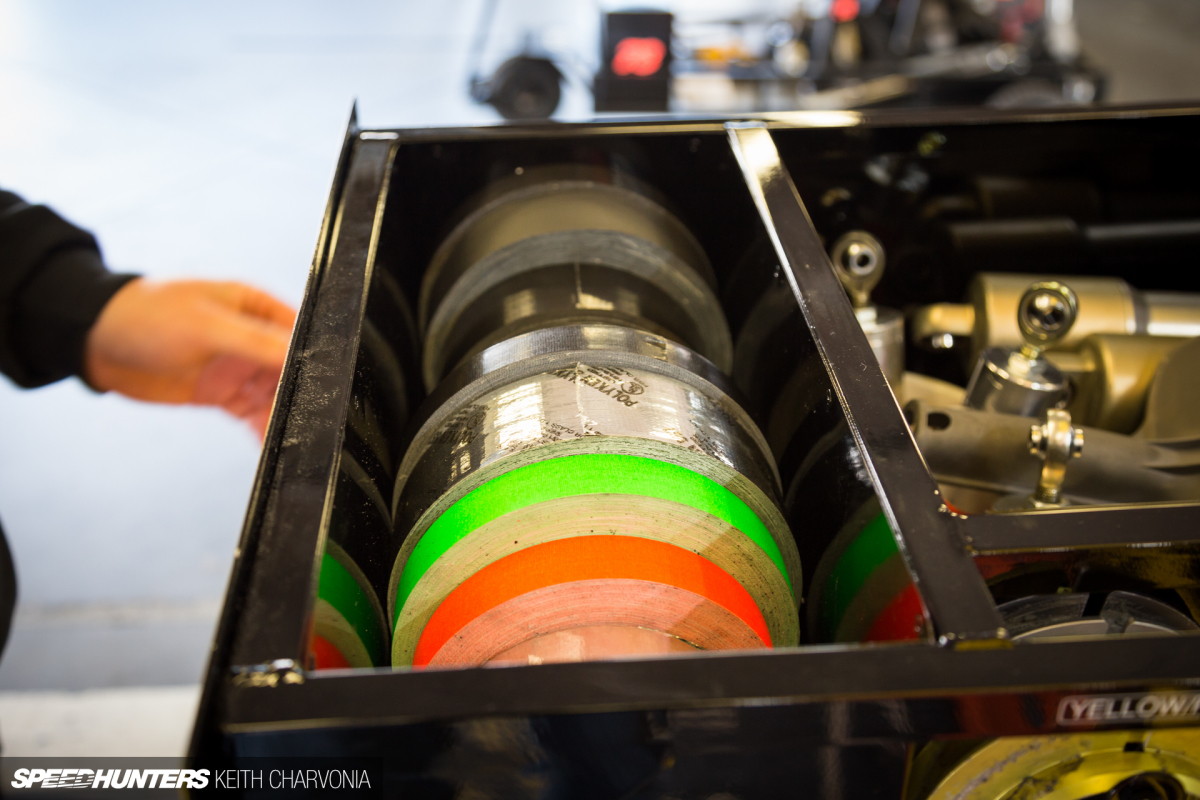 If all else fails, there's always tape!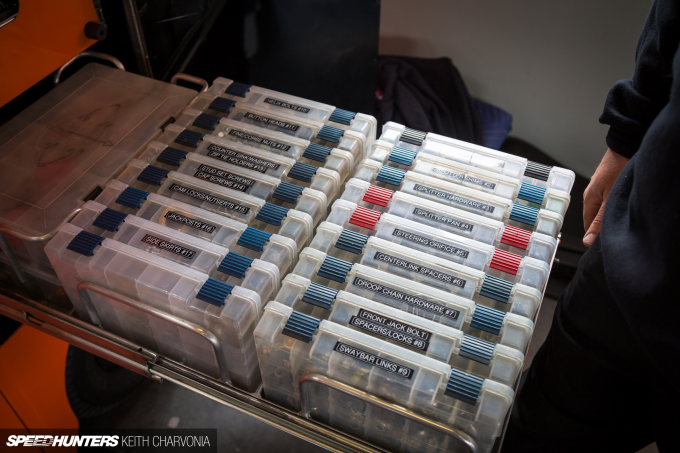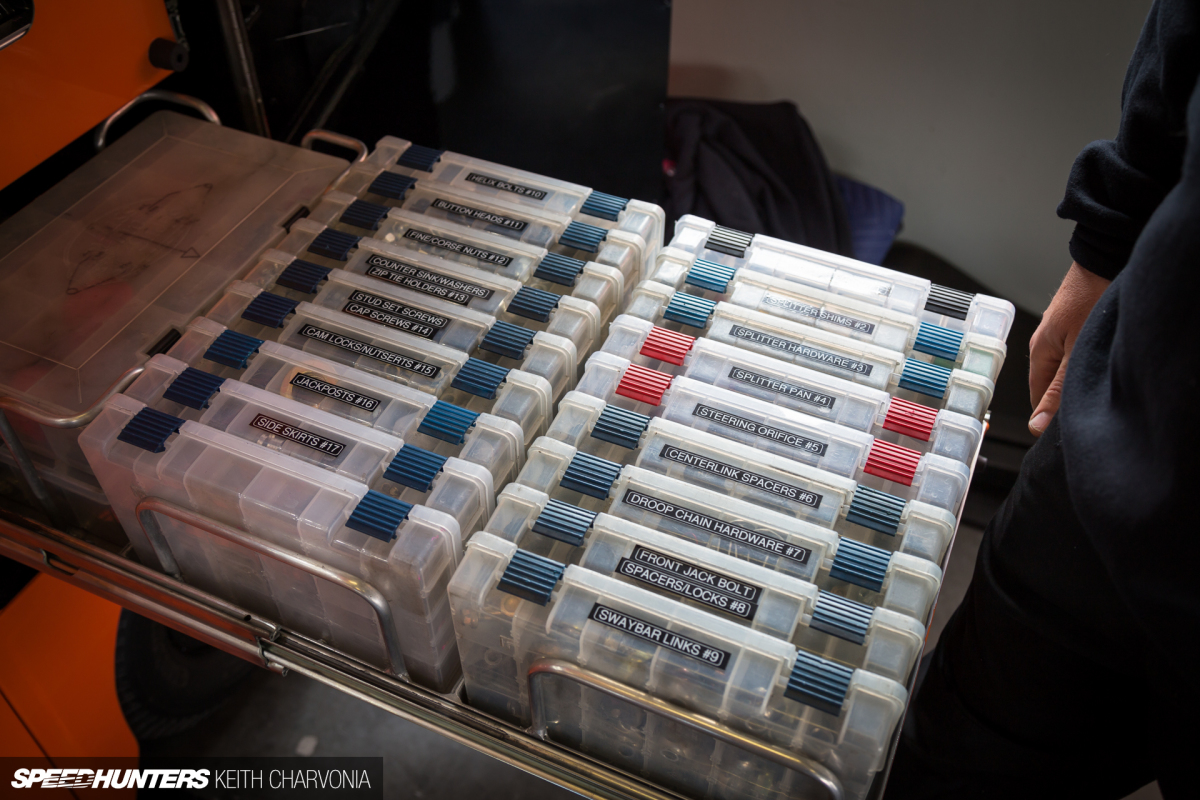 Really though, the mechanics have every bit of hardware for the race car neatly sorted into bins, ready to be put into action.
Mobile Tool Kits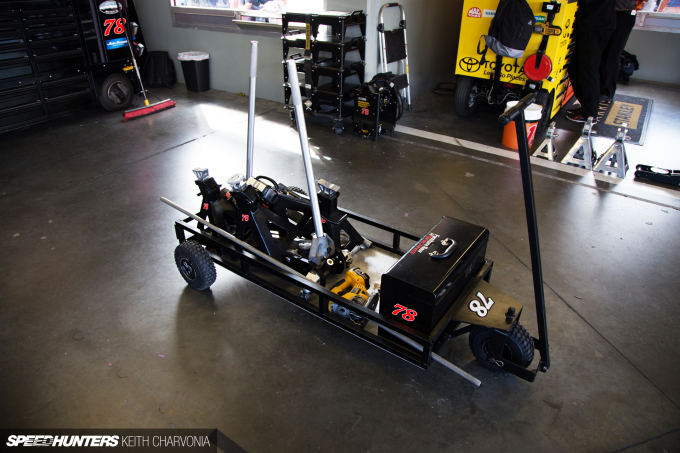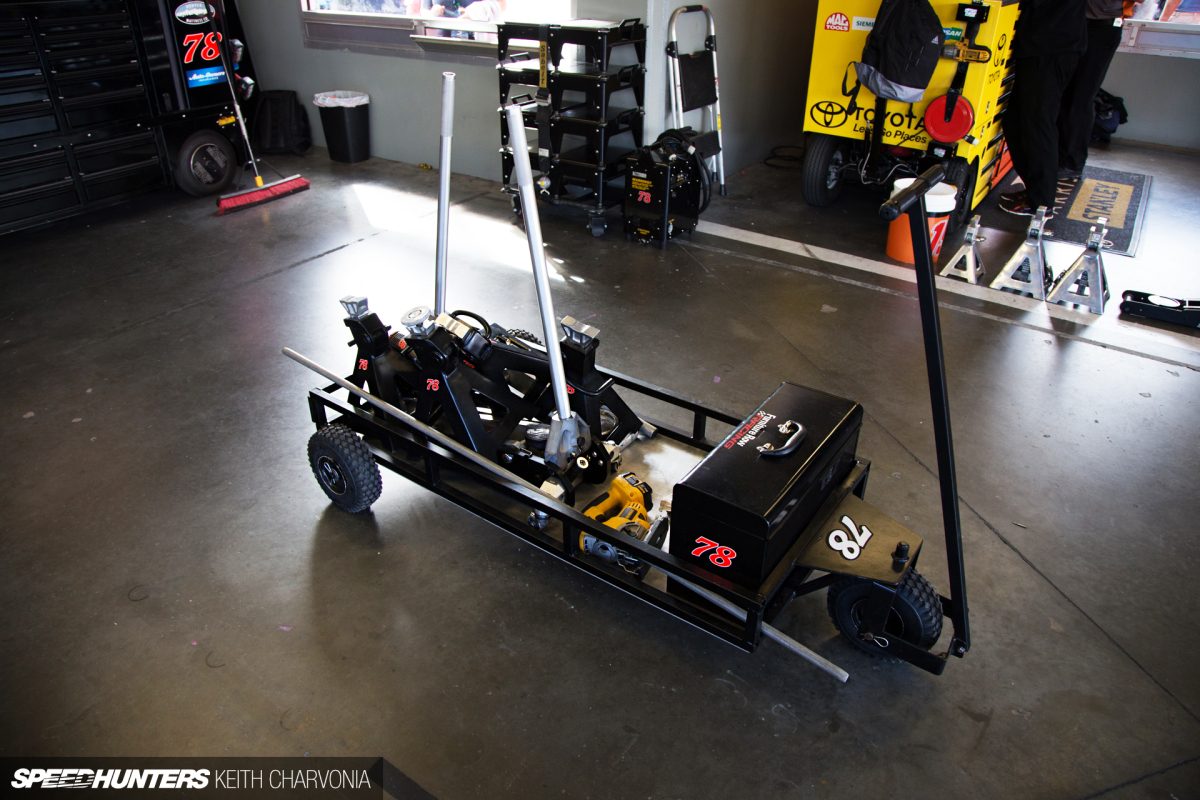 Once the cars leave the garages, the tools need a way to come along for the ride too.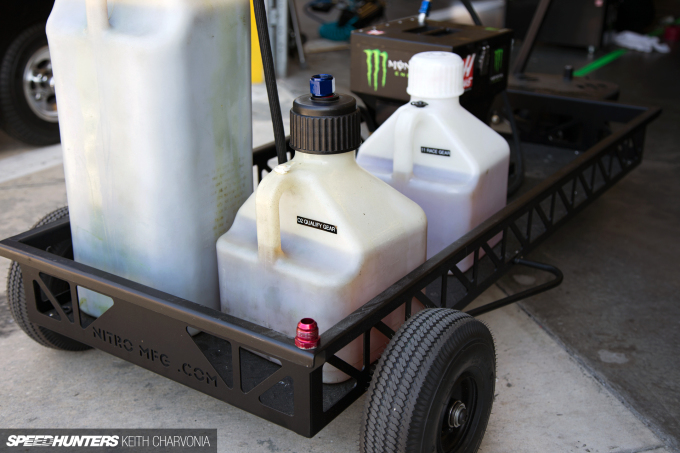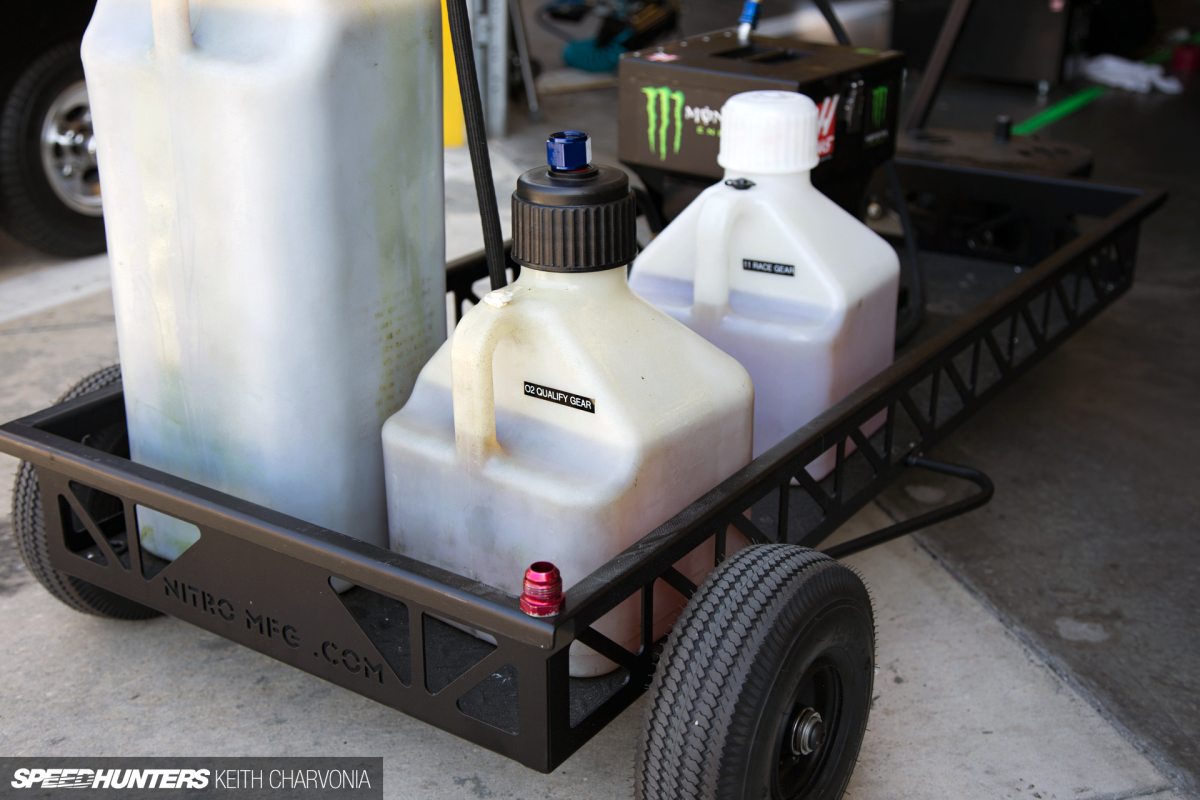 This cart was interesting. Why do you suppose there are two jugs, one marked 'Race Gear' and one 'Qualify Gear'? Are they simply keeping track of the oil, or perhaps a different weight is used for the shorter qualifying runs?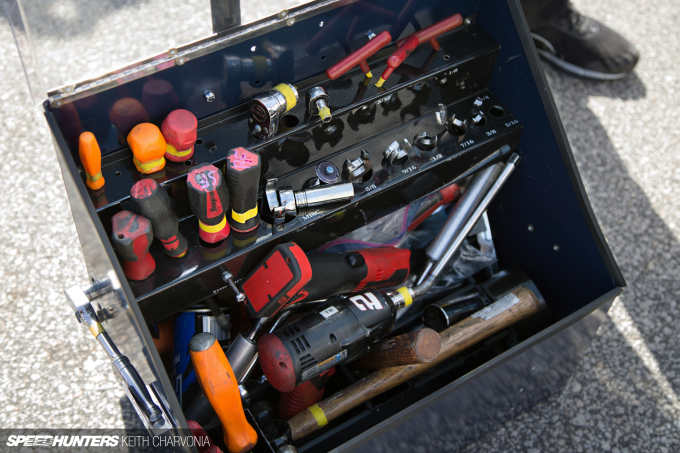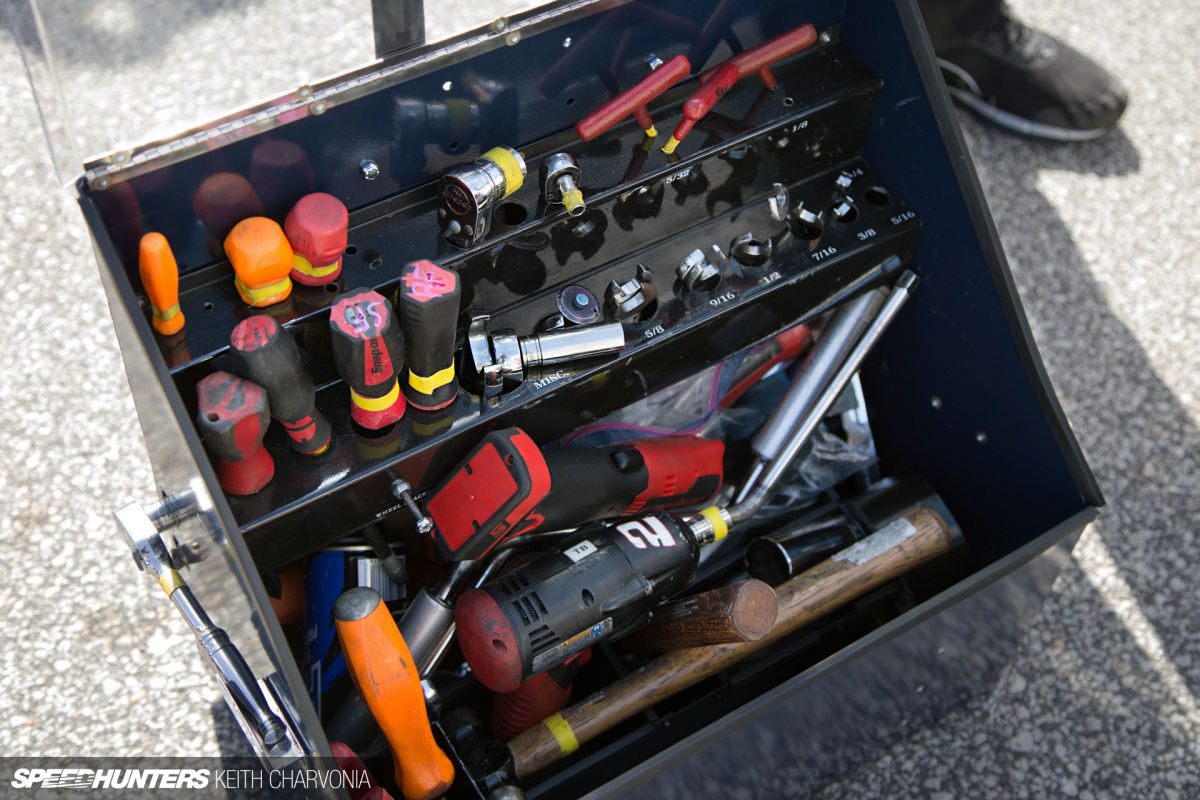 I found this little gem at scrutineering the morning of the 500. A no frills, rolling box with only the tools the mechanics might need to make a quick adjustment to satisfy the rulebook. Check out the chopped handles on the Snap-on screwdrivers, obviously so they would fit inside.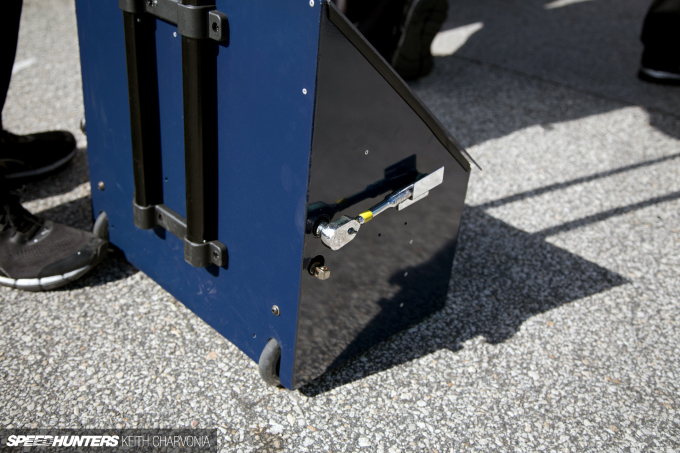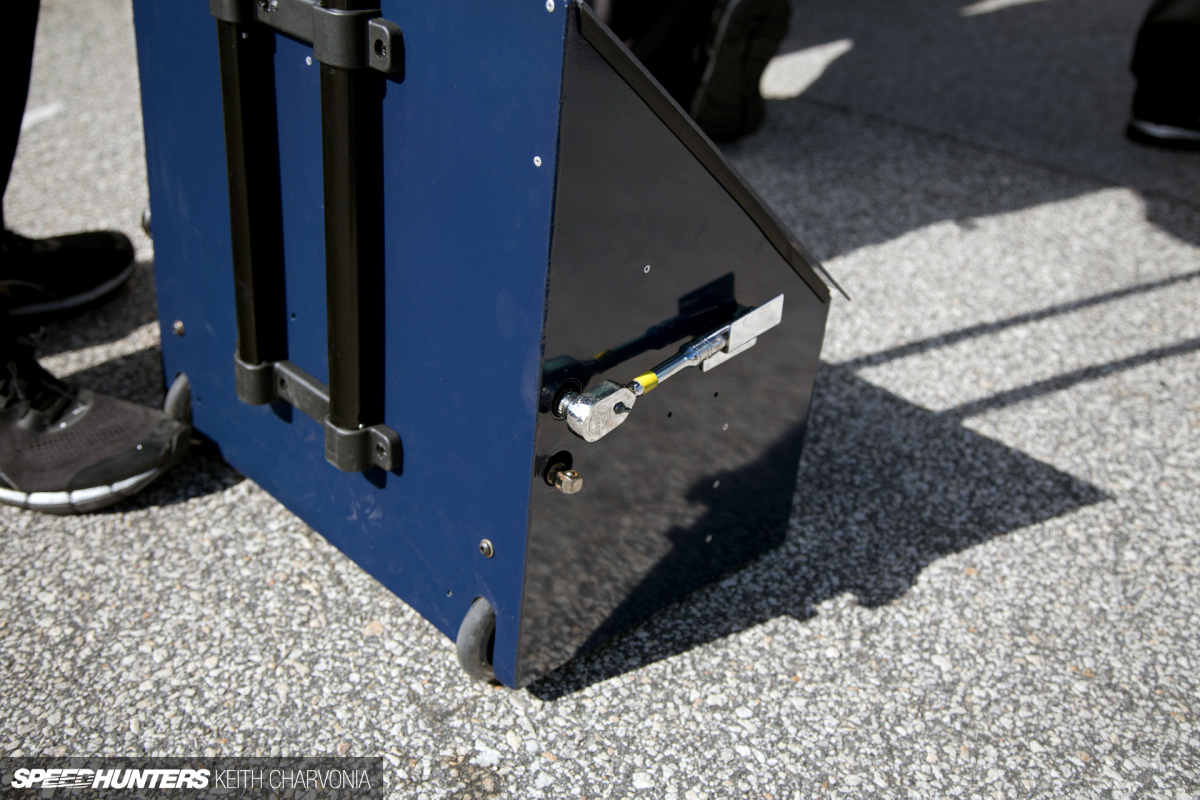 I didn't get to ask about the lone ratchet attached to the outside. Perplexing, isn't it?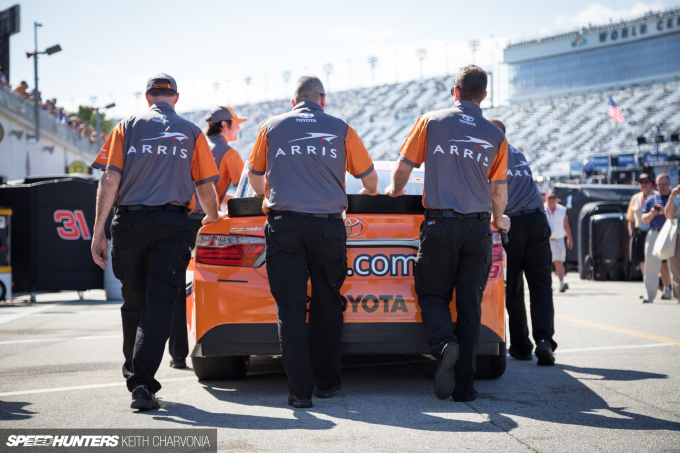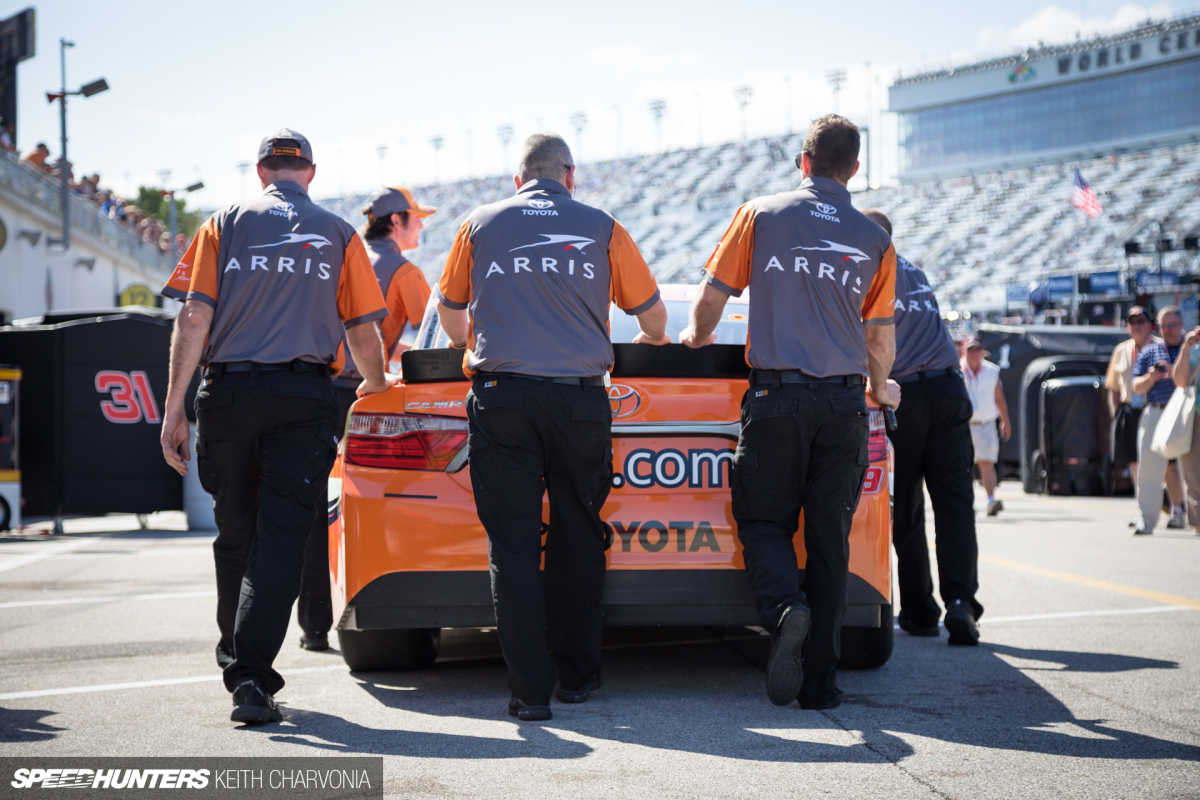 I'd like to thank the Carl Edwards #19 NASCAR team for showing me through each and every drawer of their massive toolbox.
I hope you've enjoyed looking under a stone that's usually left unturned, exploring the tools inside a NASCAR toolbox.
Keith Charvonia
Instagram: speedhunterskeith
keith@speedhunters.com