On To The Next One
It seems to be a busy time around the garages of the Speedhunters crew lately. You may have heard that Keith just picked up a bitchin' Lexus IS F with V8 thrust to haul the family around, and now I'm here to tell you that I also acquired a silver Japanese four-door sedan. Only mine is from 1993, has oxidized paint, bald tires and a factory tape deck that no longer works. Feeling jealous?
But before I get into the details lets backtrack a little bit…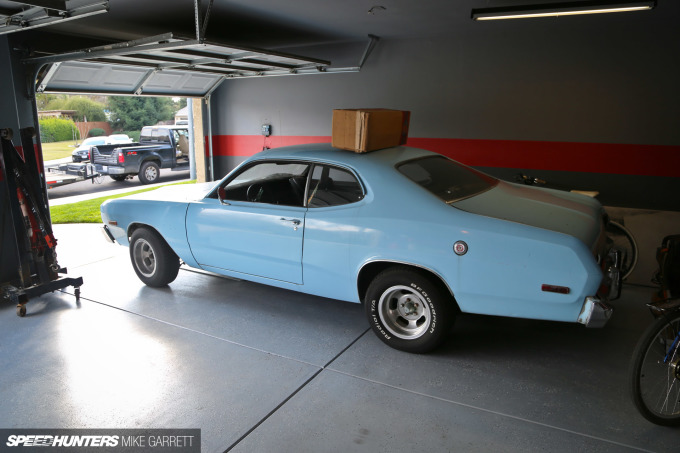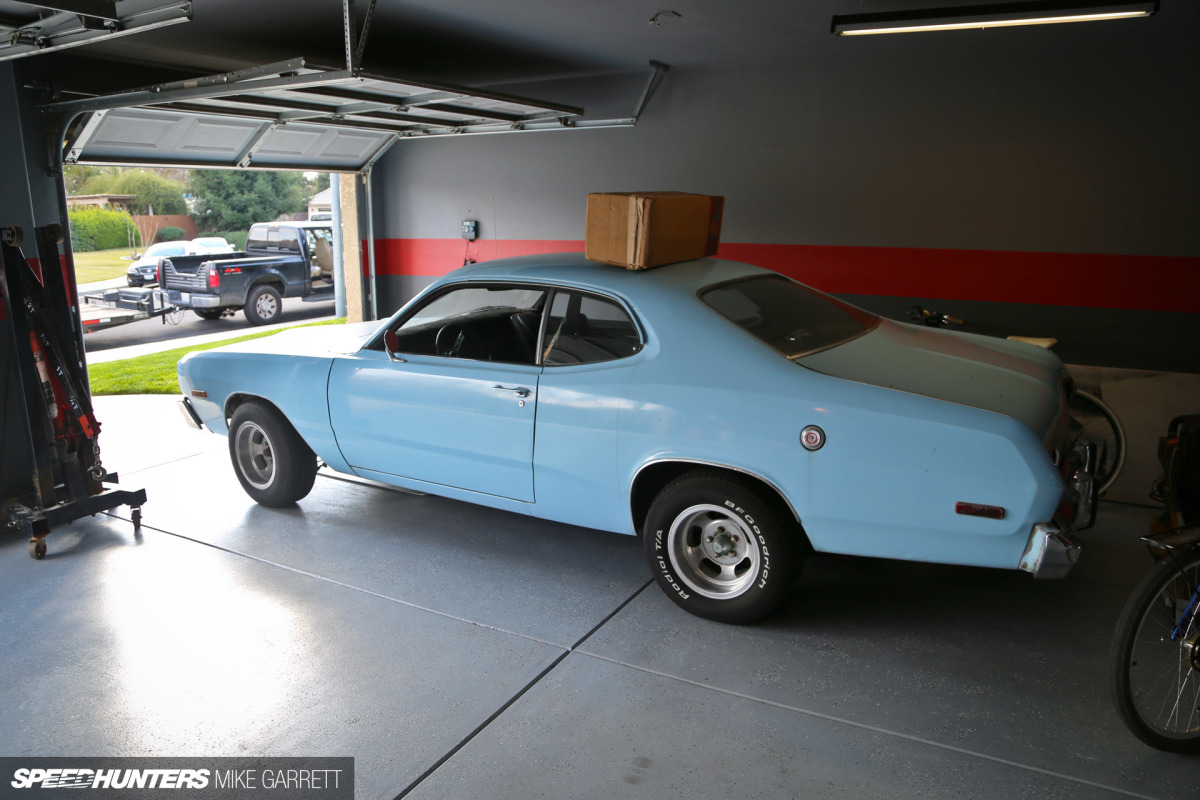 As you know I've had my Project Yankee Dodge Dart since last fall and my goal for 2016 is to make some serious progress on it. I don't want to give anything away at the moment, but I'll say there's some pretty cool stuff in the works. I'm really looking forward to sharing when the time is right.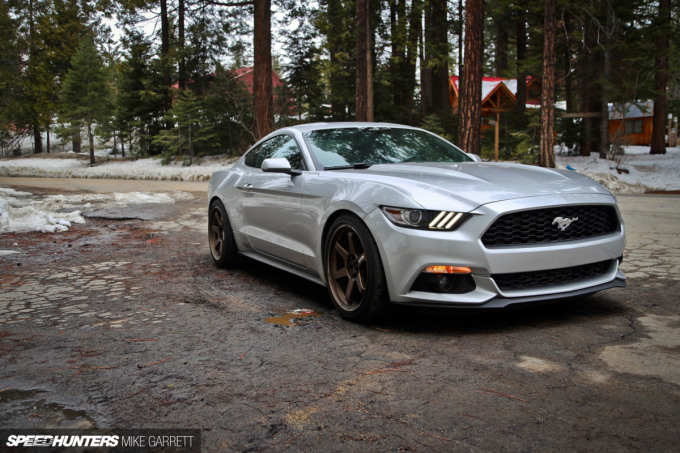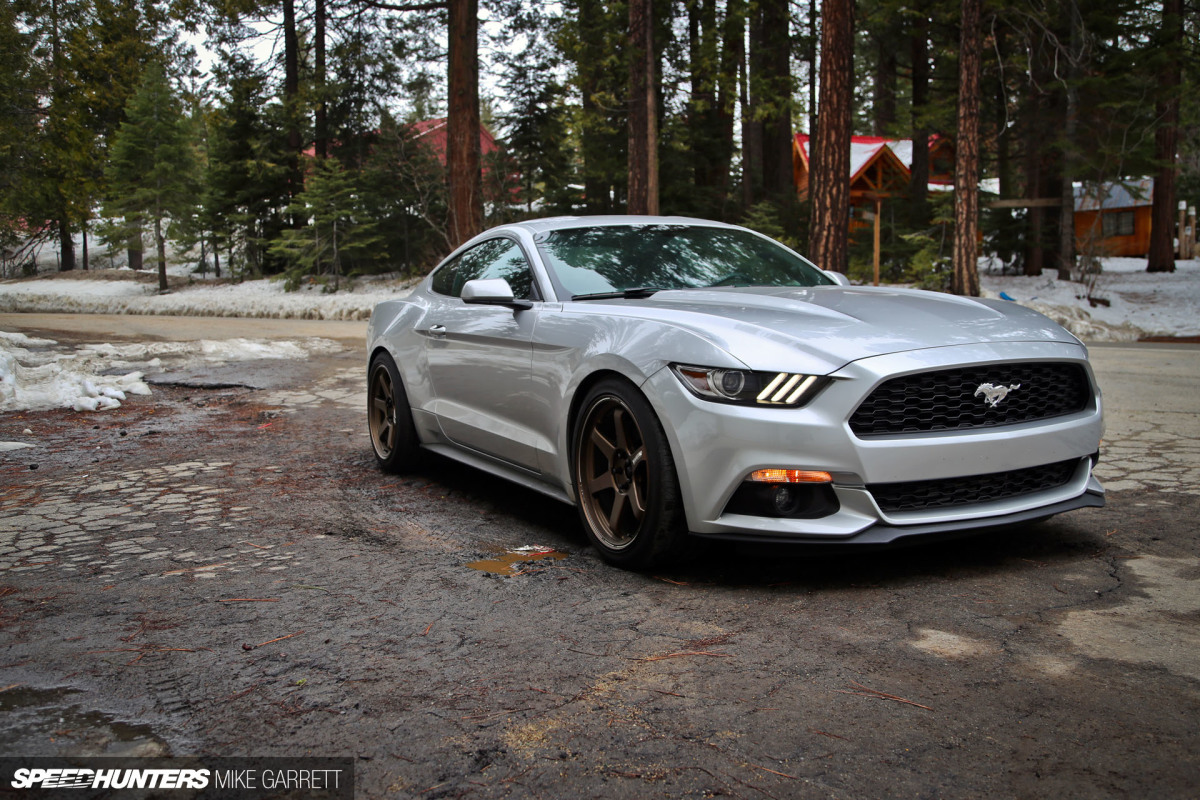 But in the meantime, as things began to get more serious on the Dodge, I realized it might be wise to say goodbye to my 2015 Ford Mustang, known around here as Project EcoBoost.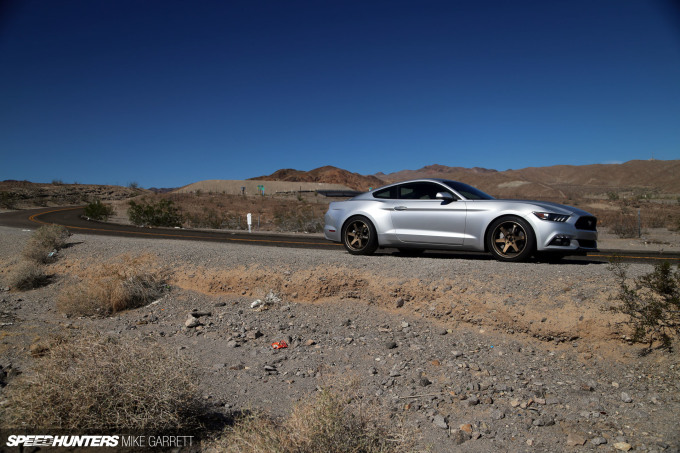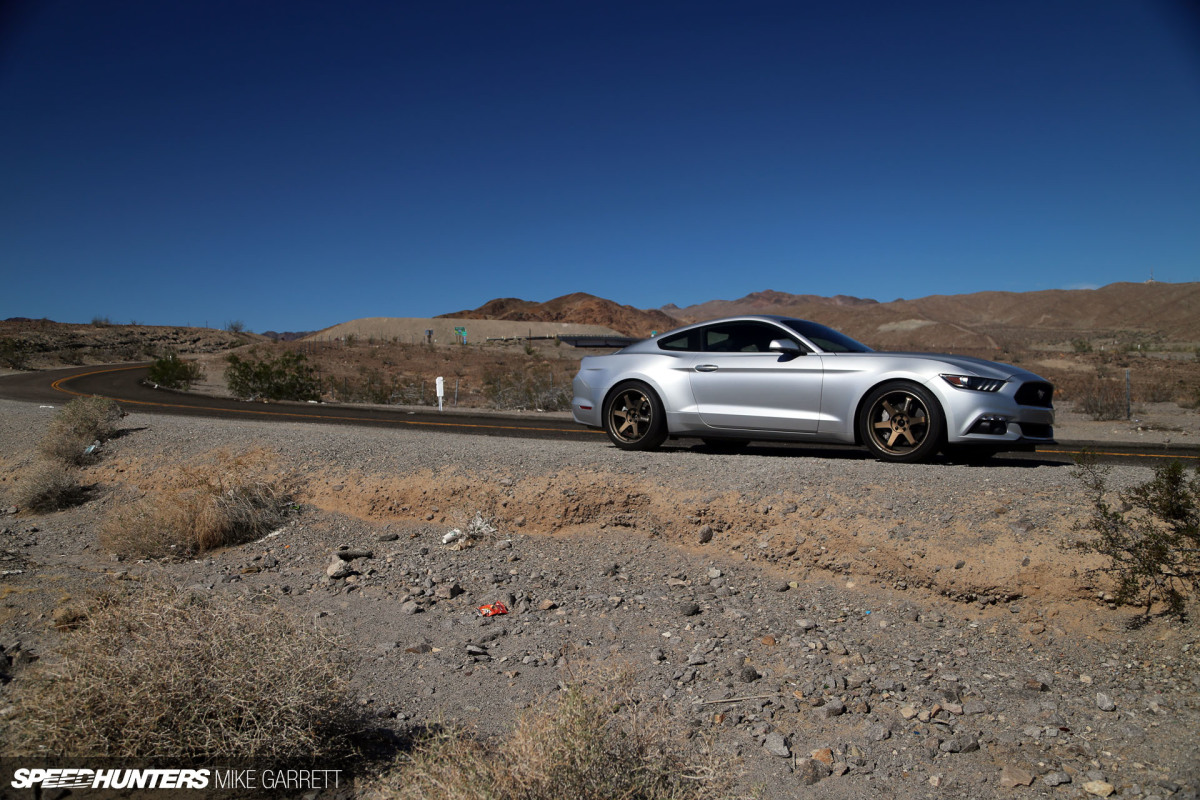 As much as I enjoyed the performance and amenities of the Mustang, my heart was committed to Project Yankee and I knew my pocketbook needed to be as well. Yes, I'd miss the turbocharged fun of the 'Stang, but saving on car payments and insurance would free up some money that could be invested into the old Mopar. So off the Mustang went.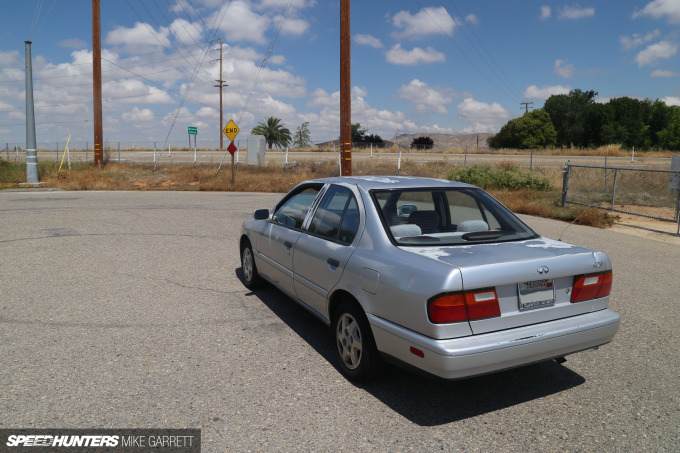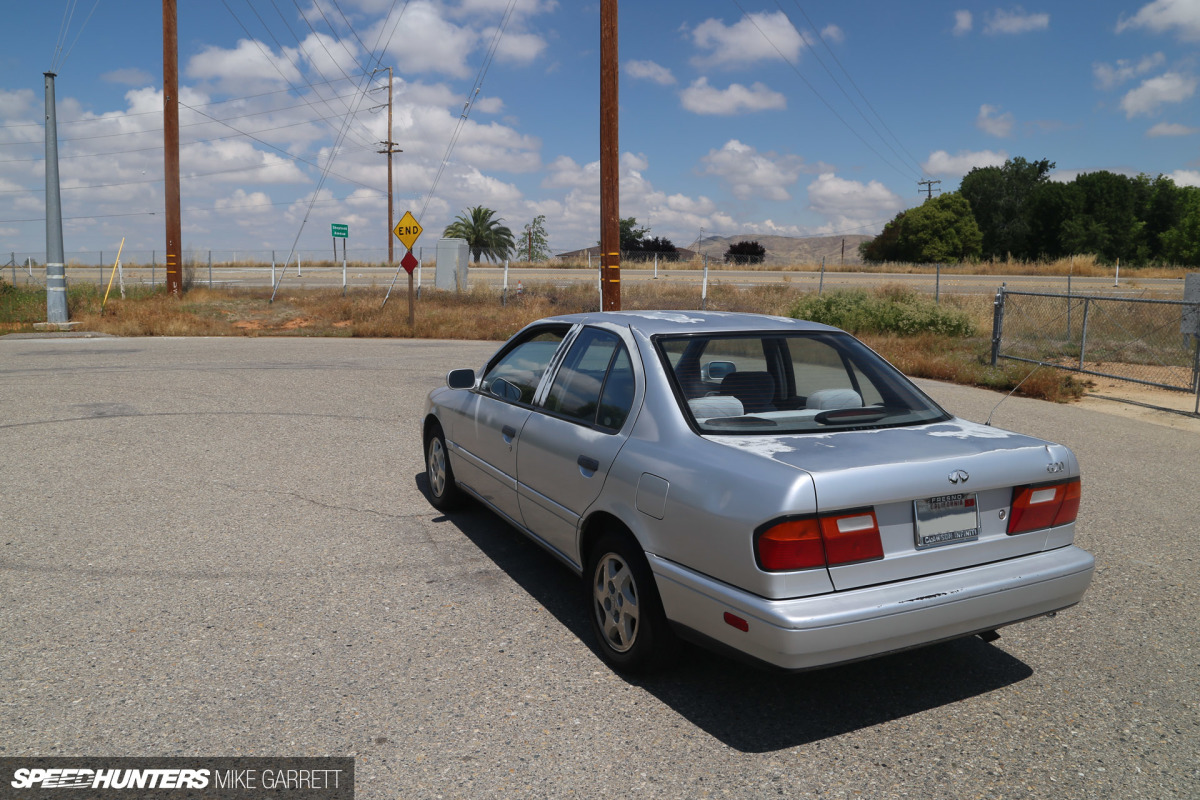 There was one little problem though: I was now without a daily driver. So to continue with my genius money-saving plan, I thought I'd find some cheap and reliable transportation to get me around town and maybe use on the occasional short distance Speedhunting trip. The most logical thing would have been to get the cheapest, most boring car with working air conditioning that I could find – but that wouldn't be right. There was no way I was going to get a car that was only a transportation appliance. Could I find something that was cheap, reliable, reasonably fun and had enough potential to replace the Mustang as the 'modern' project car in my garage?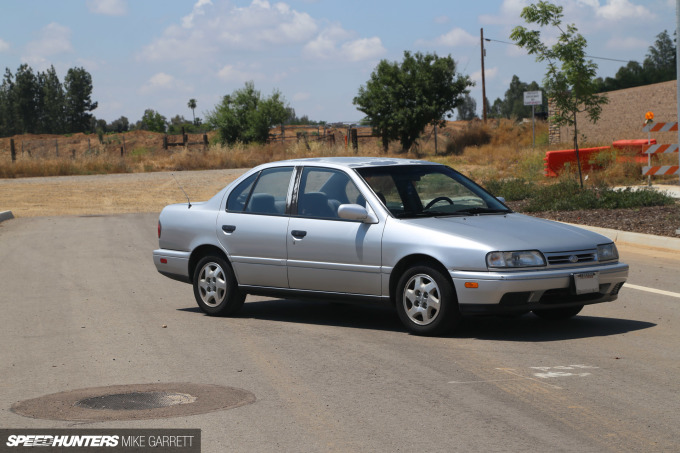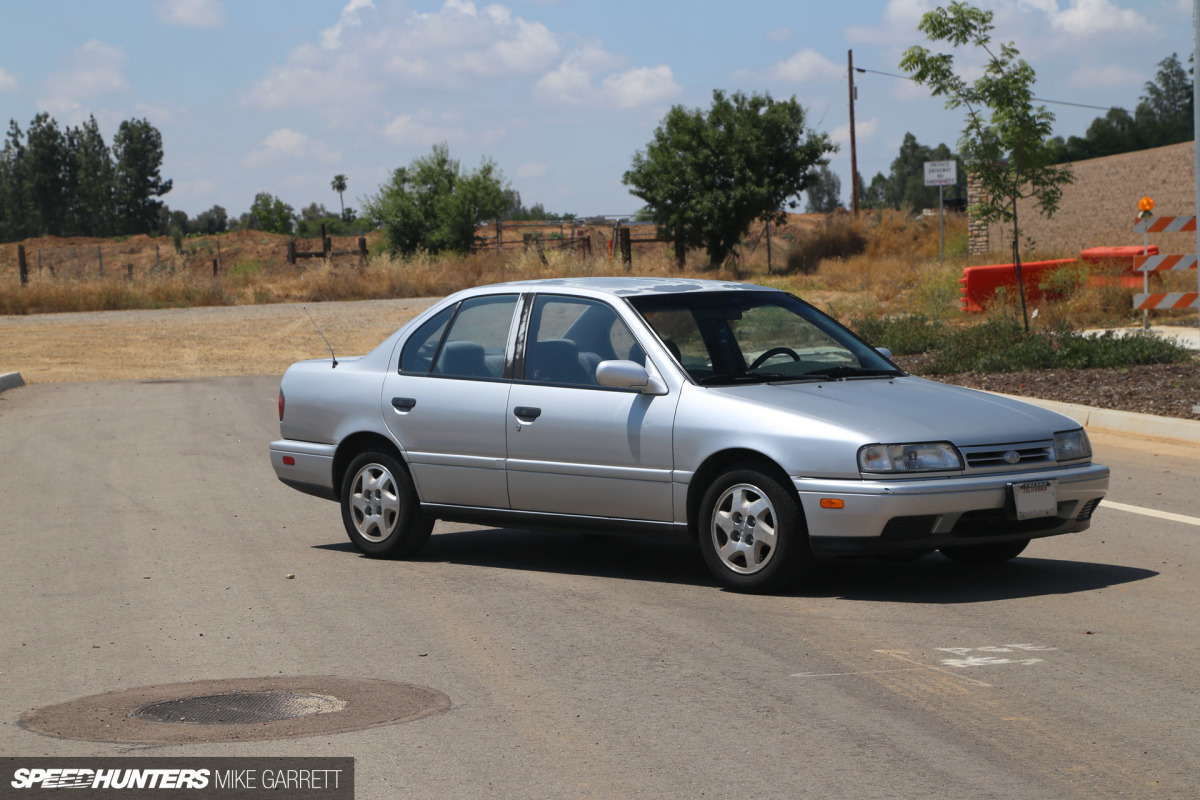 Not surprisingly, my search led me to something Japanese and manufactured in the 1990s. I briefly considered the usual suspects with big aftermarkets and huge followings – Miatas, 240SXs, Hondas and so forth – but my heart was set on something else. A car I'd yet to own for myself but had always been interested in.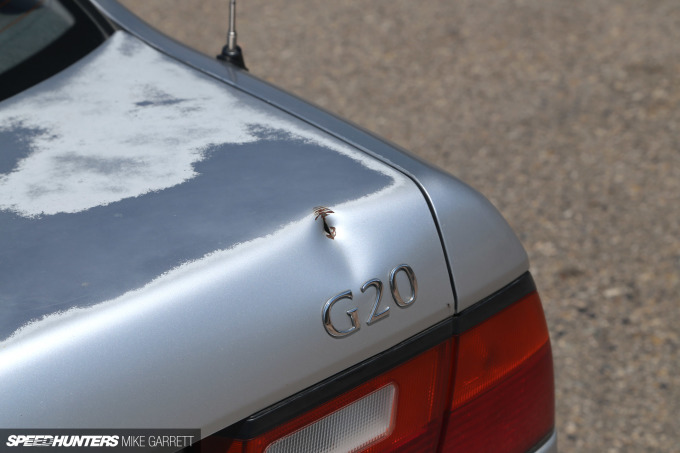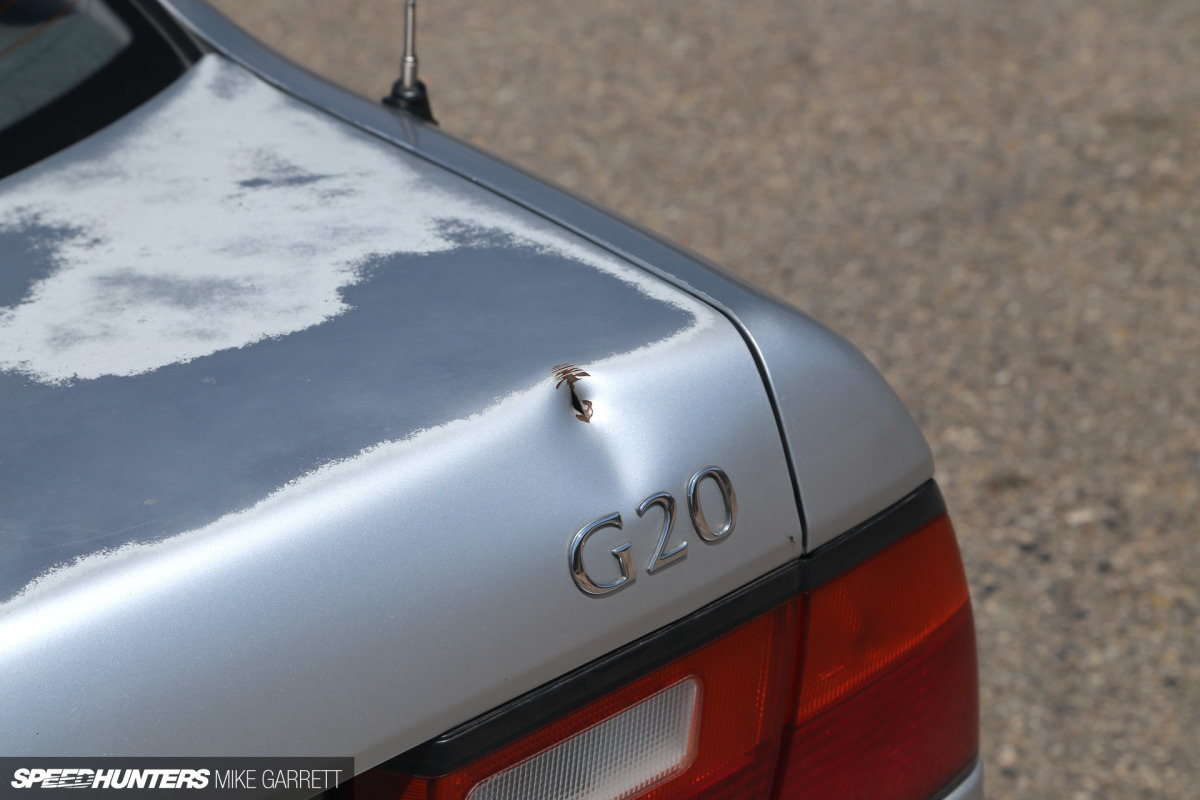 I'm talking about the Infiniti G20, or more specifically, the first generation P10 model sold in the US between 1990 and 1996. Basically a rebadged version of the Nissan Primera sold in Japan and Europe, I've always had a soft spot for the P10. Here in the United States the G20 was never one of the most popular platforms for modification, but its owners are passionate and the cars offer a surprising amount of potential when you dig into them.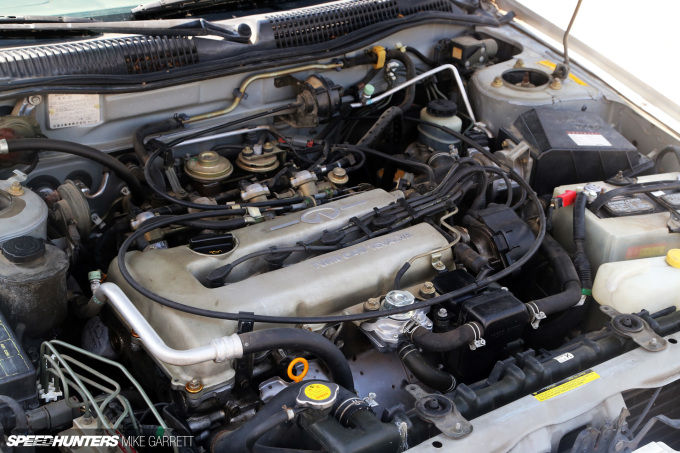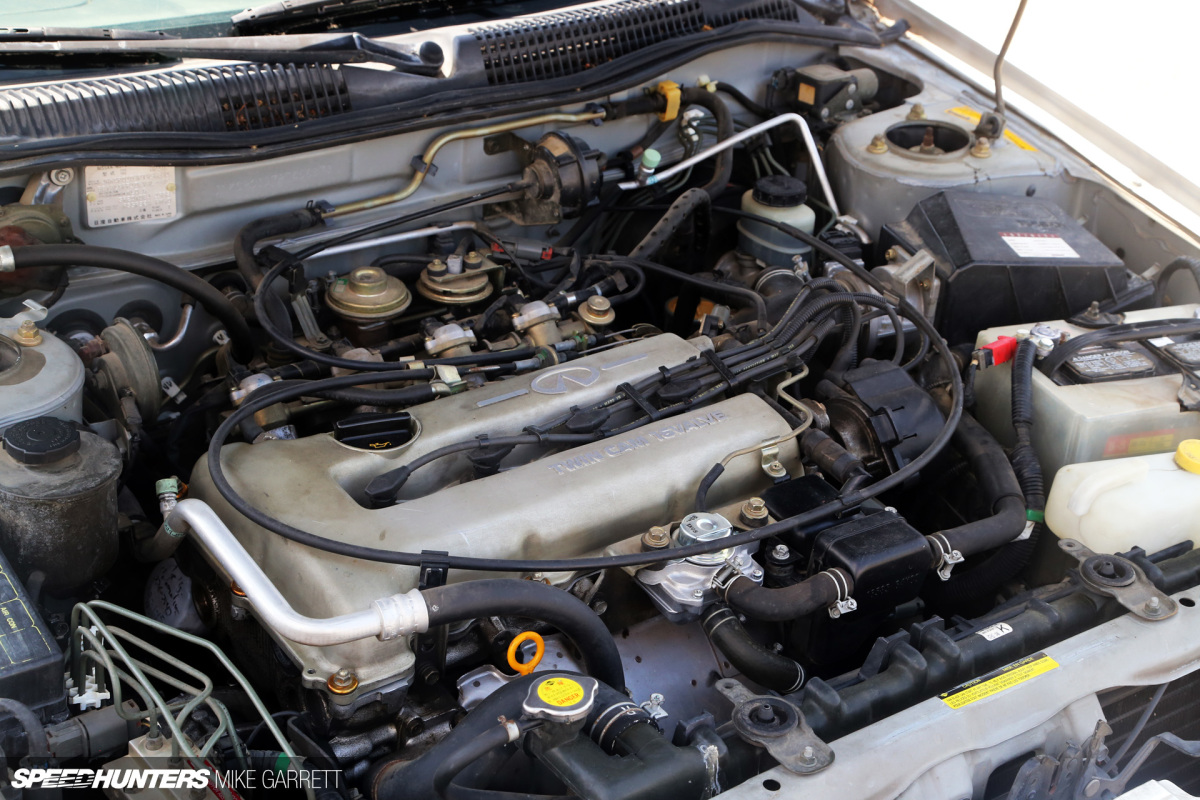 Sure, it may not be lusted over the way other Japanese cars from the '90s are, but the P10 is a pretty adept machine out of the box. It came equipped with the naturally aspirated version of Nissan's venerable SR20 engine, fully independent suspension, and European-esque styling that's simple but also handsome in that 1990s way. The problem is that older G20s aren't easy to find these days – especially if you want one with a manual transmission as I did. That's why I got so excited when I found a 1993 model 5-speed for sale locally on Craigslist. The moment I saw the ad I called the seller to arrange a meeting.
Finding The Right Candidate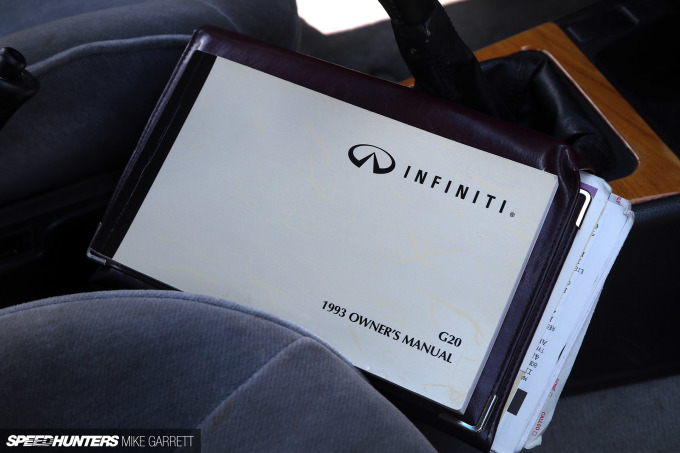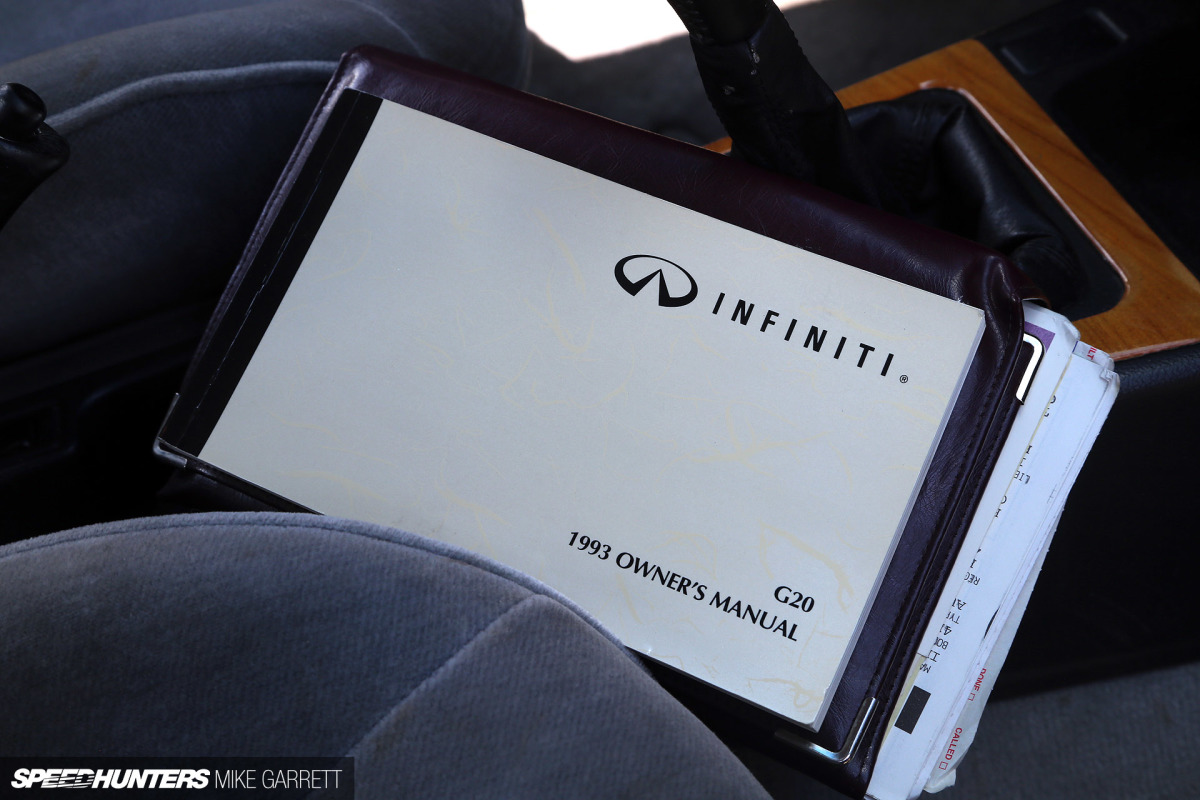 There's no such thing as finding the 'perfect' used car, but when I went to take a look at the G20 all signs pointed to the positive. It definitely wasn't one of those cream puffs that's been babied its whole life, but the guy had owned the car since 1995 and had a folder full of receipts spanning a couple decades of maintenance.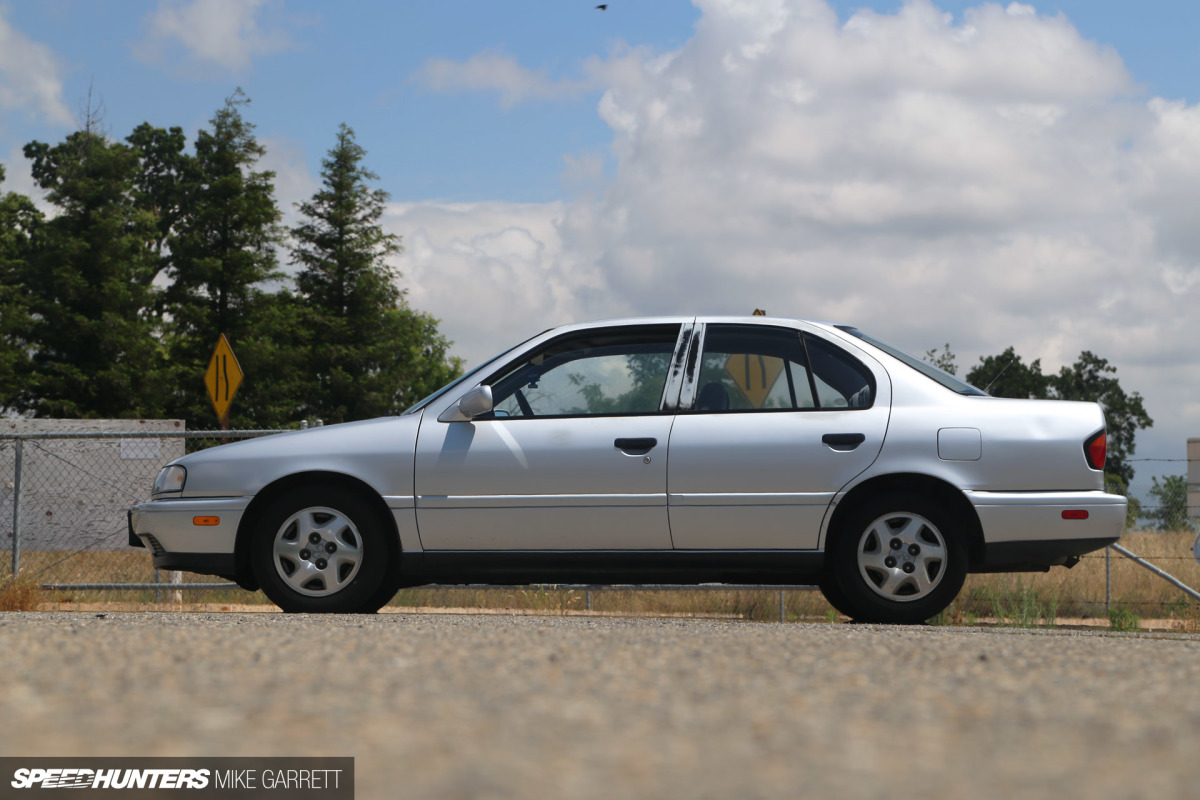 Mechanically, everything seemed pretty sound. There's some clicking from the front axles suggesting some work needs to be done there, but overall the little G20 drove great and felt damn tight for a 23-year-old car. The odometer read a relatively low 117,000 miles, and better yet it had cold air conditioning and had just passed California's dreaded smog test.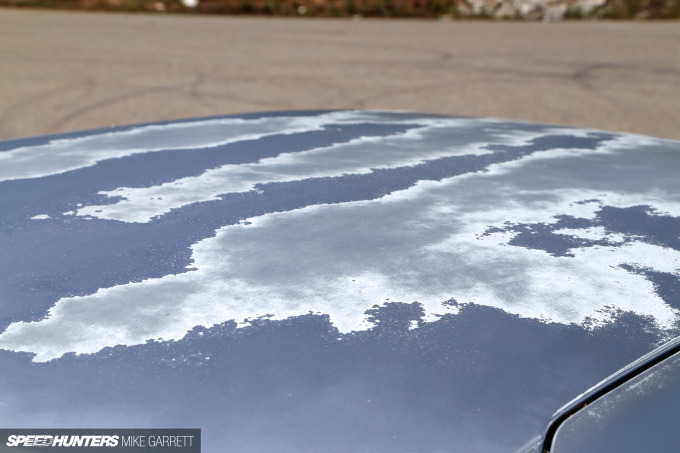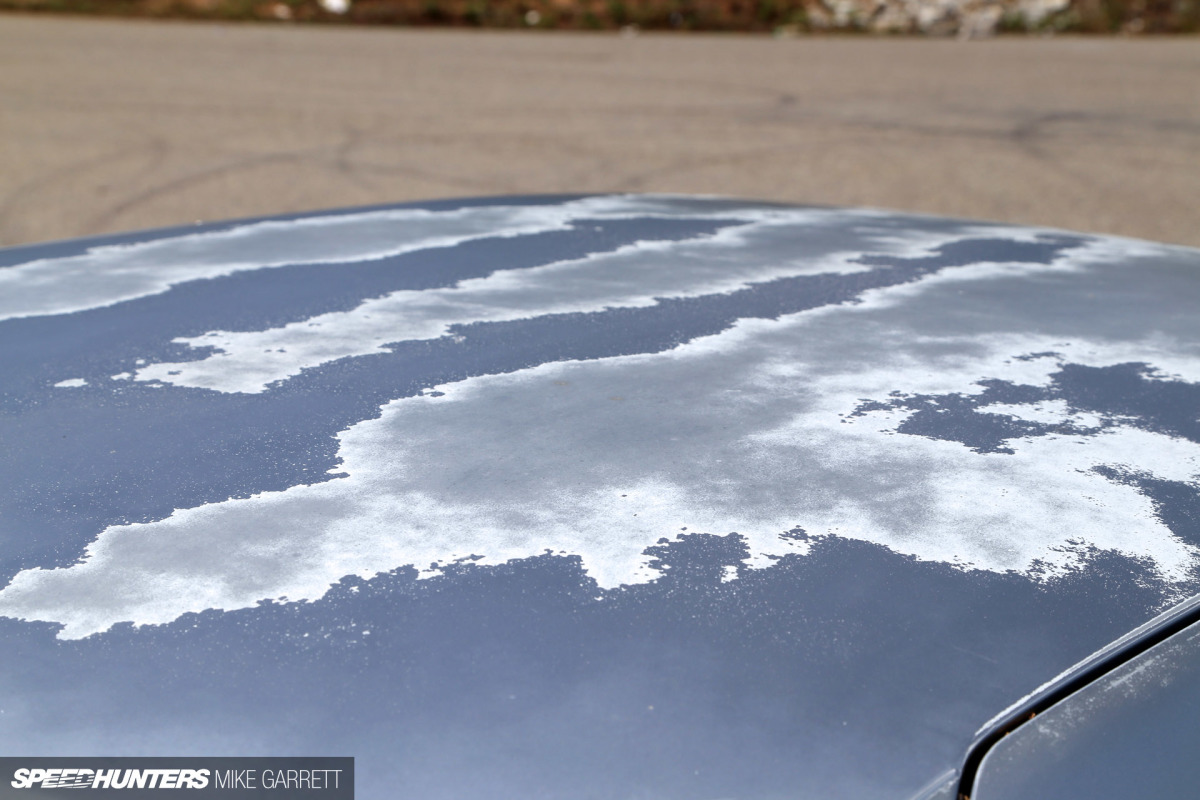 There were also some not-so-good things. The stock stereo no longer worked and some of the power window motors and power locks were acting up. But I guess that's all to be expected in a car of this age. The biggest negative about the car was the body. Being California there was no rust, but there were dings and dents and the most noticeable thing was the paint. The car was still sporting the original paint job and the sun had eaten away at the finish like you so often see on cars from this era. Nothing an inexpensive repaint wouldn't take care of though.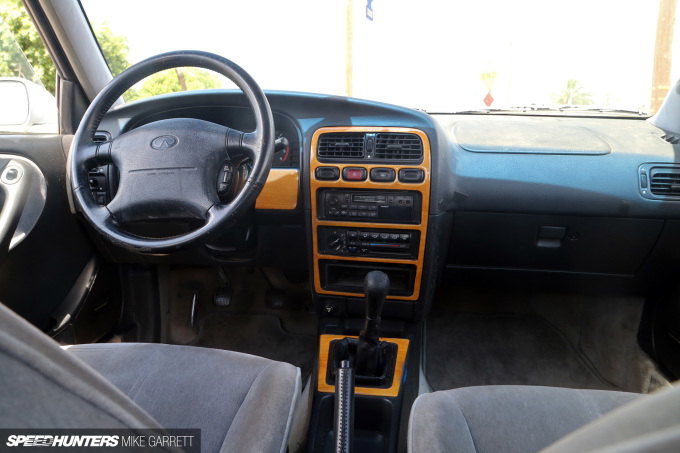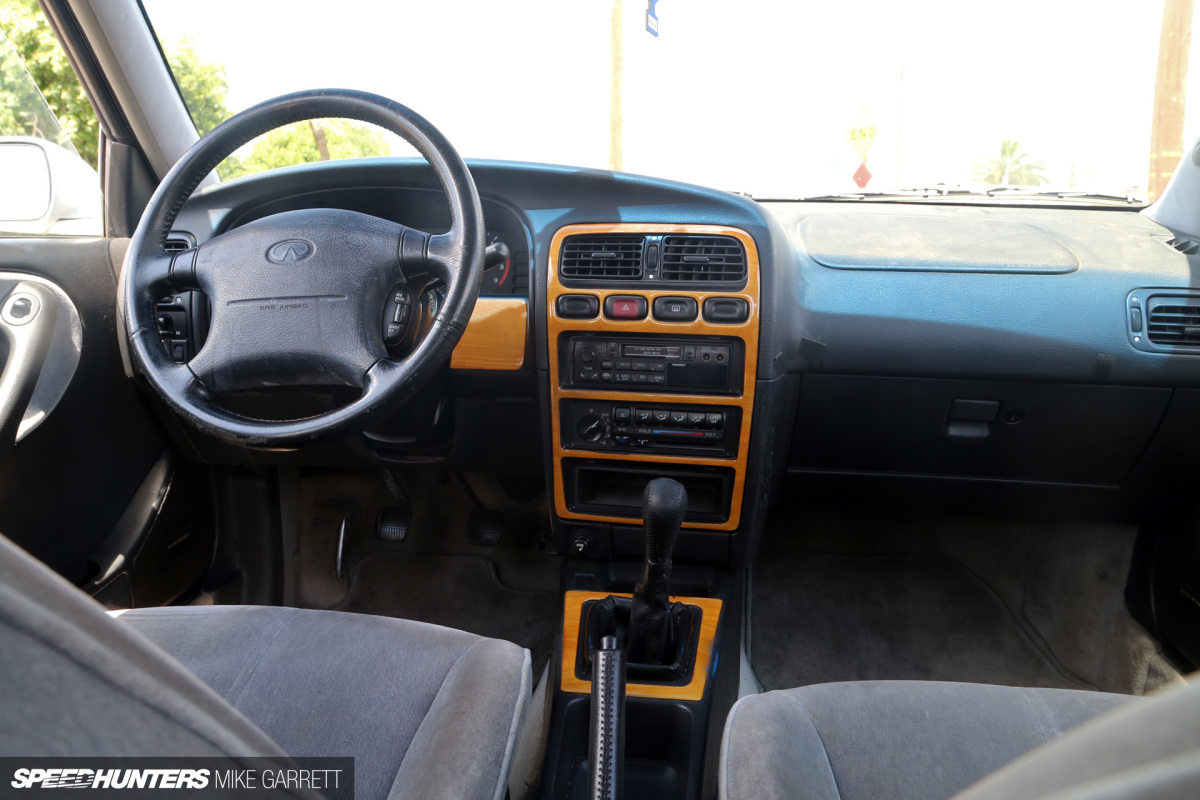 On the other hand the interior was in surprisingly good shape. What I really liked was this particular car was a base model with cloth seats and no sunroof that would leak, add weight and cause headaches when it inevitably stopped working. This car didn't have the limited slip differential of the G20T models, but that's something that can be addressed later.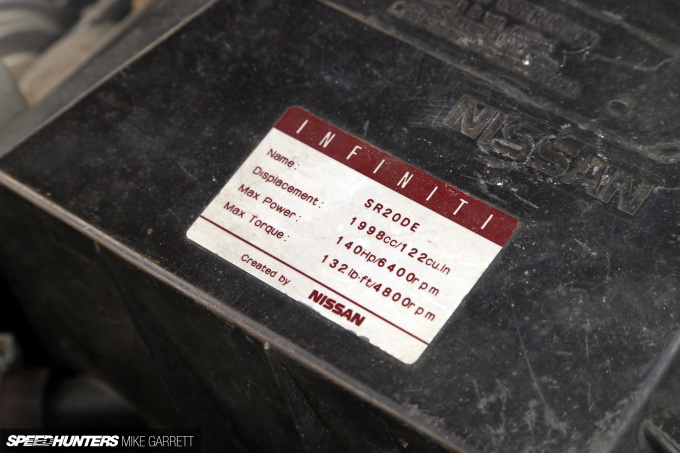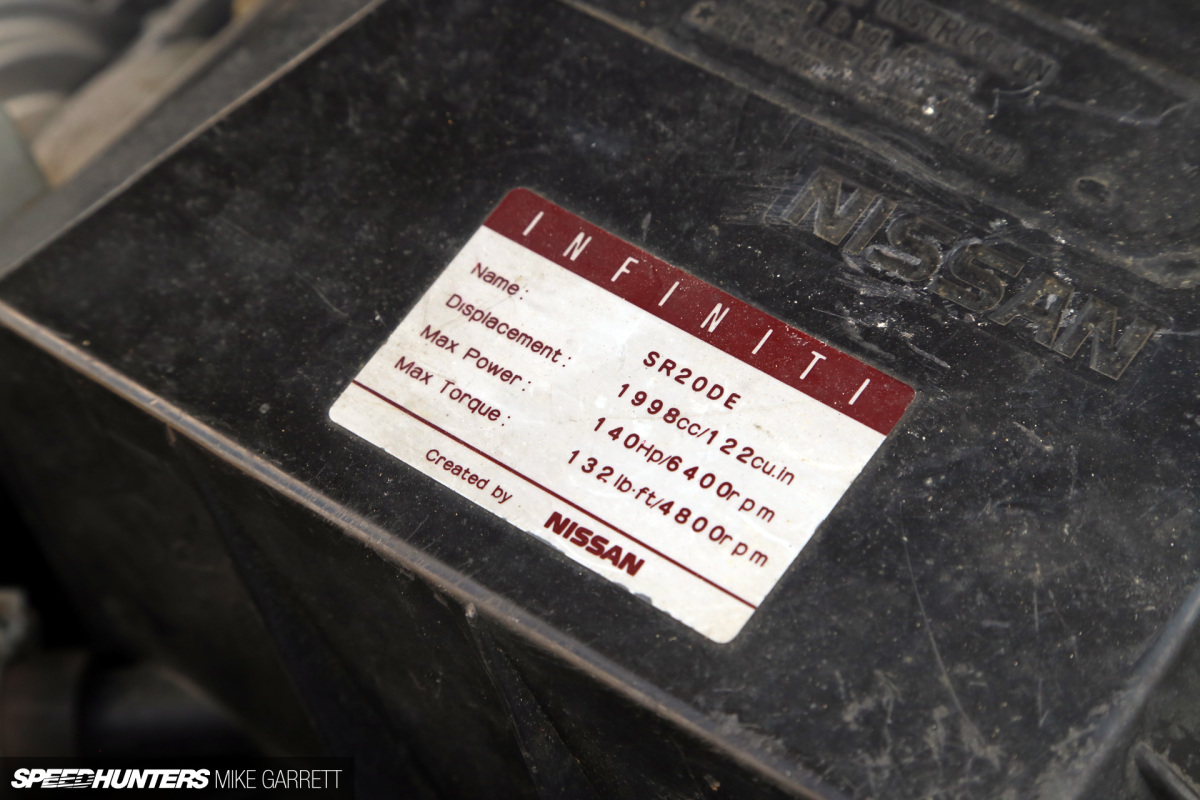 Like I said a moment ago, the car wasn't perfect, but I didn't hesitate to make an offer, and $1,400 later I was the proud owner of a 1993 Infiniti. More specifically, this is a '93.5' model that had some things from the '93 models like high-port SR20 and some things from the '94 models like the body-colored side trim. Apparently the 93.5 is considered one of the most of desirable USDM P10s, but I was just happy to find a decent 5-speed model of any kind.
Nissan's Golden Era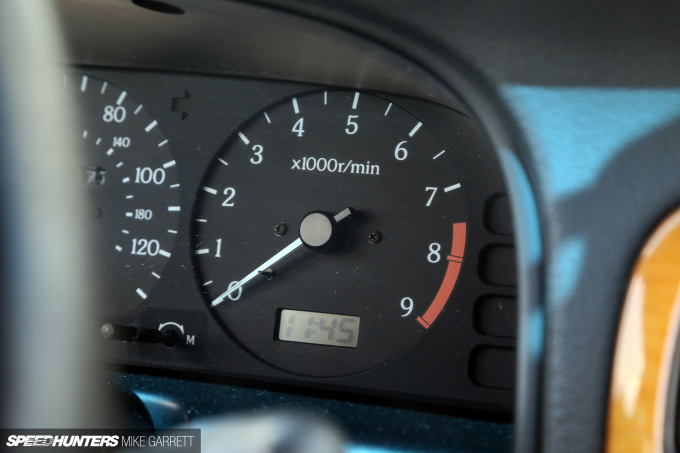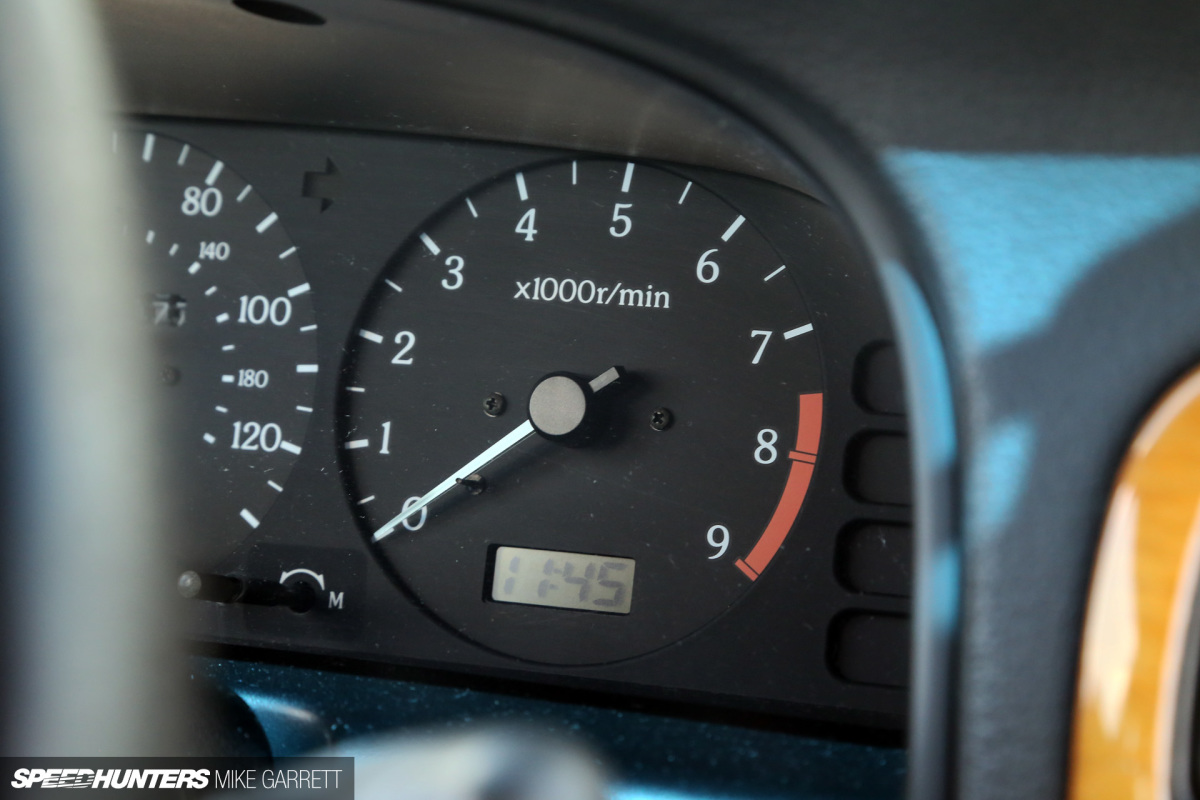 I've been driving it for a few days now and I'm liking the car even more than I thought I would. It's certainly not fast; in fact by modern standards most would consider it underpowered. But the SR20DE is a wilful partner that's happy to climb towards the tach's 7,500rpm mark and makes a nice growl while doing so.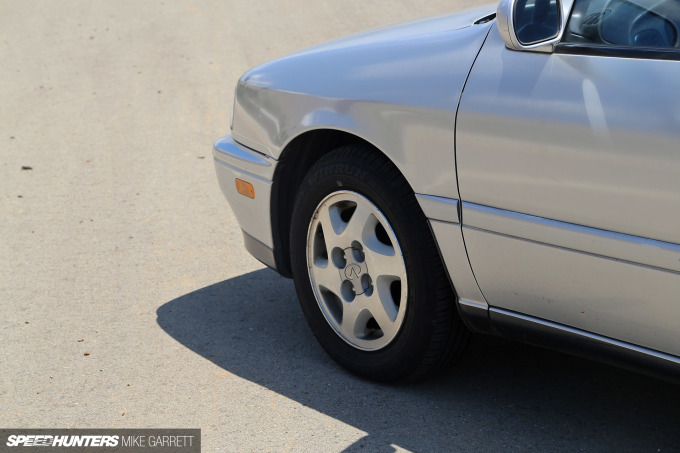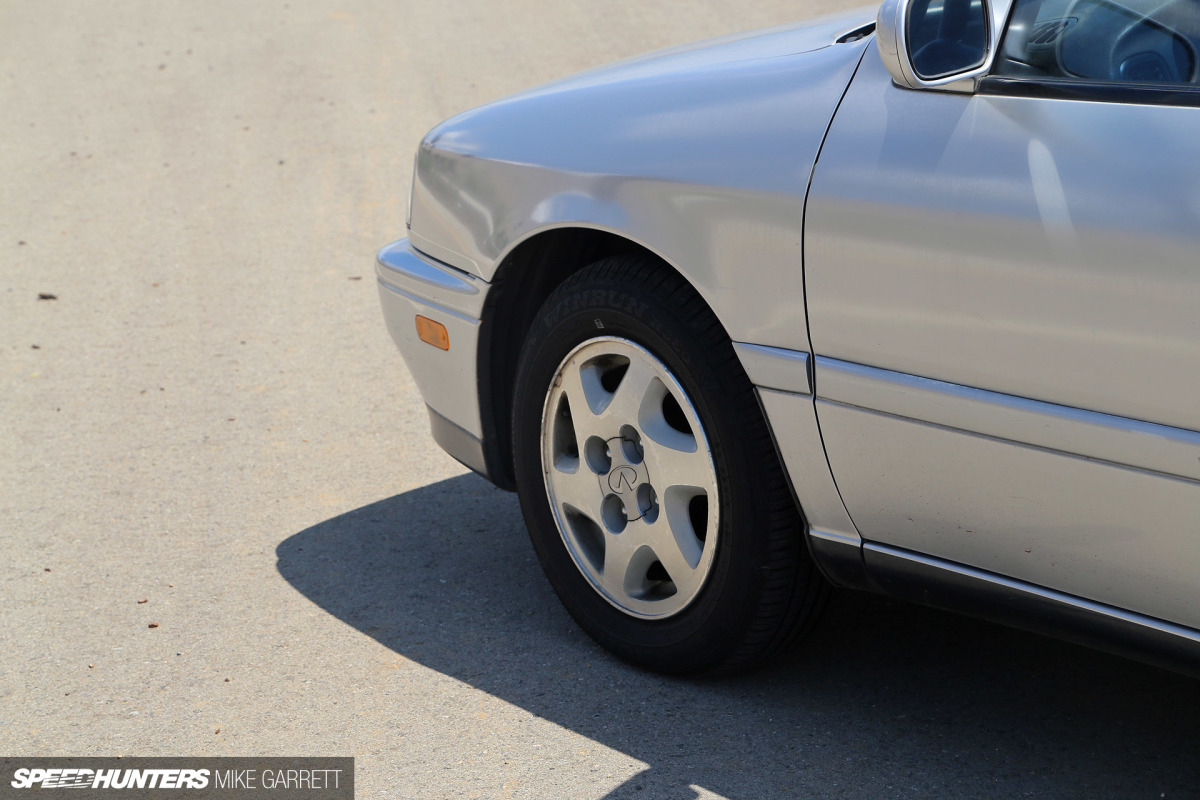 And while the car is currently riding on a set of worn out, undersized 14-inch tires and the stock suspension, you can still see there's some genuine handling capability there. Even when it was new, the G20/Primera was never praised for straight line performance, but its handling earned it a lot of respect around the world.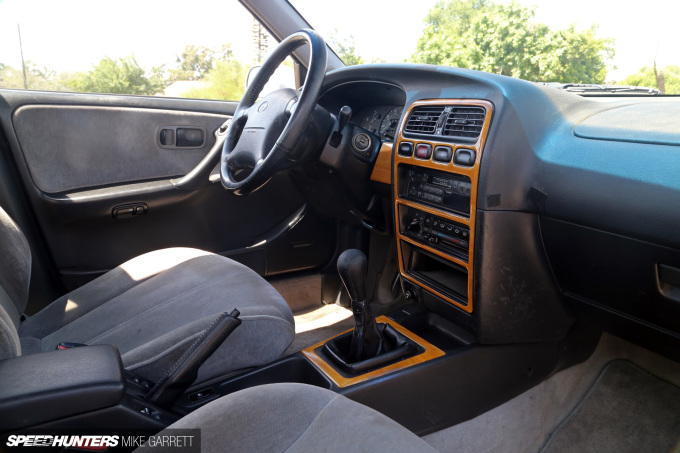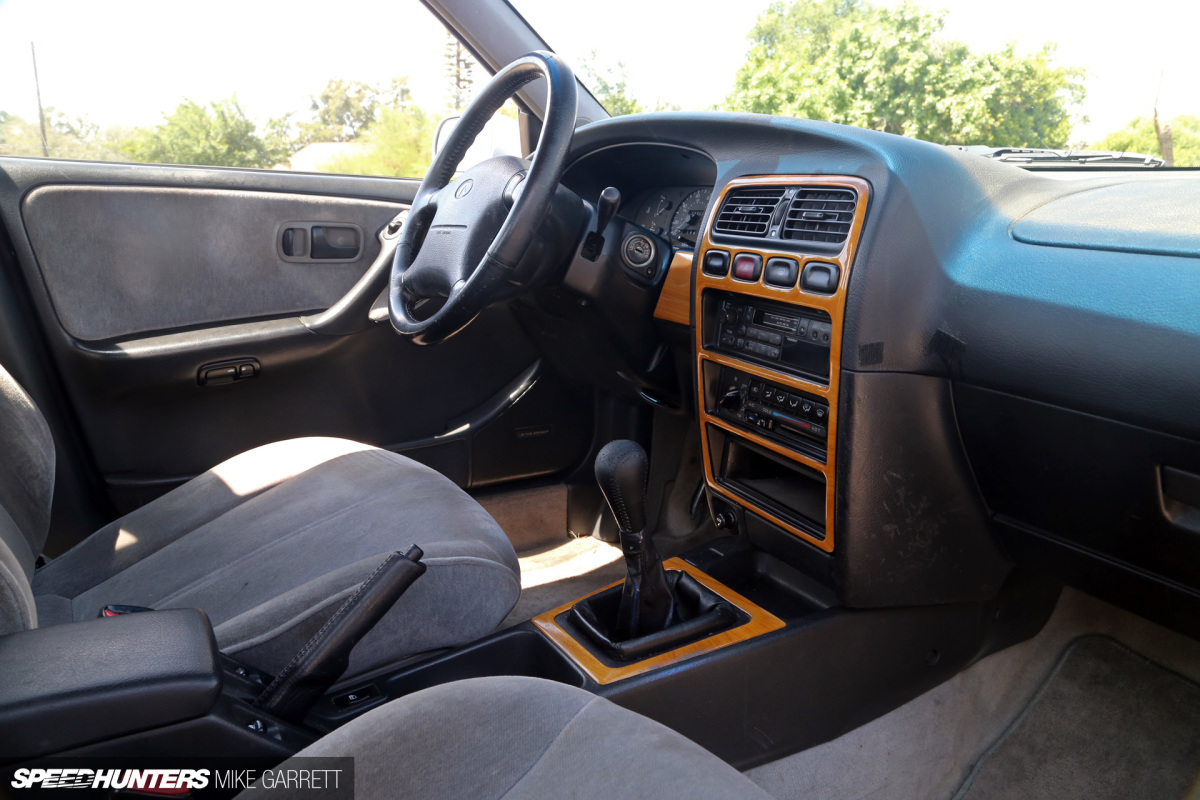 I've also been impressed with just how refined this car is for an almost quarter-century-old, front-drive, compact sedan. It's amazingly quiet and composed at speed, the trunk is huge and it's got that great outward visibility that cars used to have.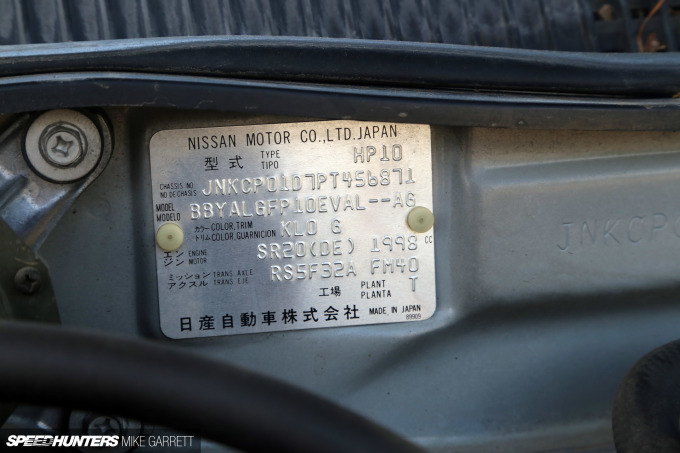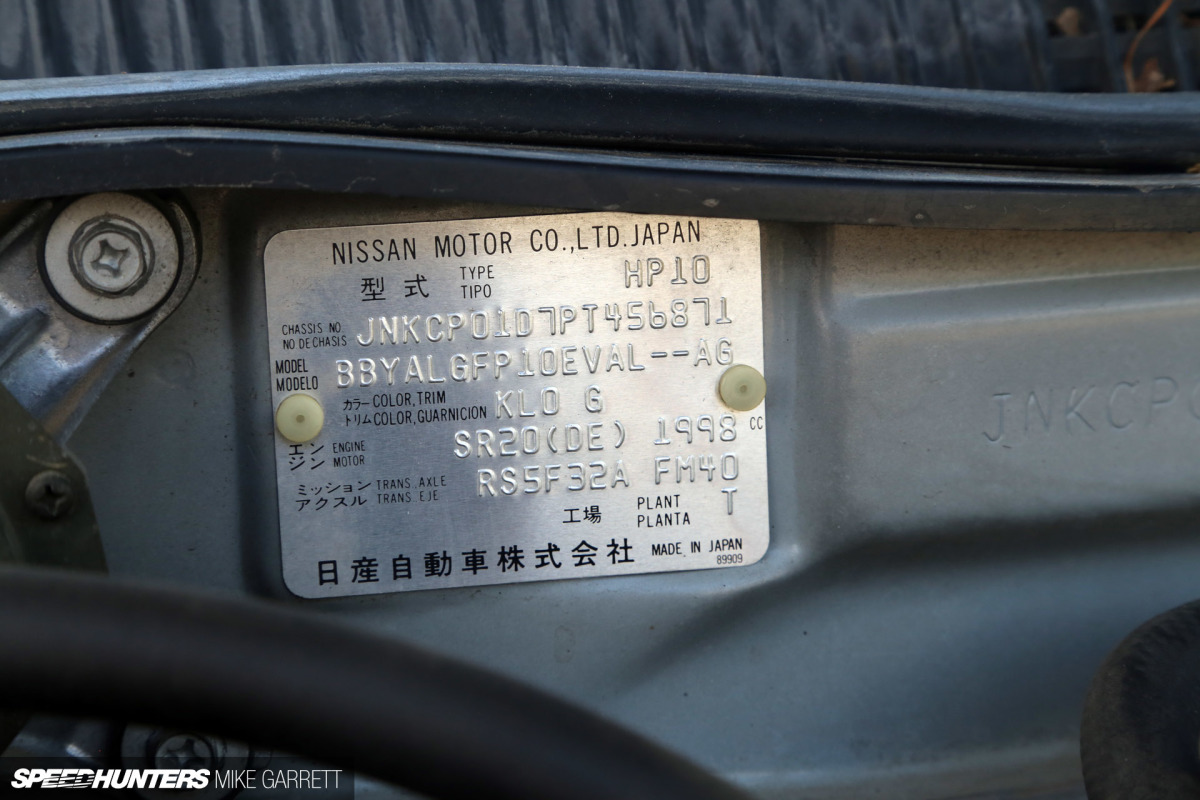 It's a car from a time when Nissan was truly at the top of its game – something I'm not so sure is true nowadays. So what's the plan for it? Well, as I said earlier, my Dodge build remains at the top of my priority list, but that doesn't mean there's not some fun to be had with this one.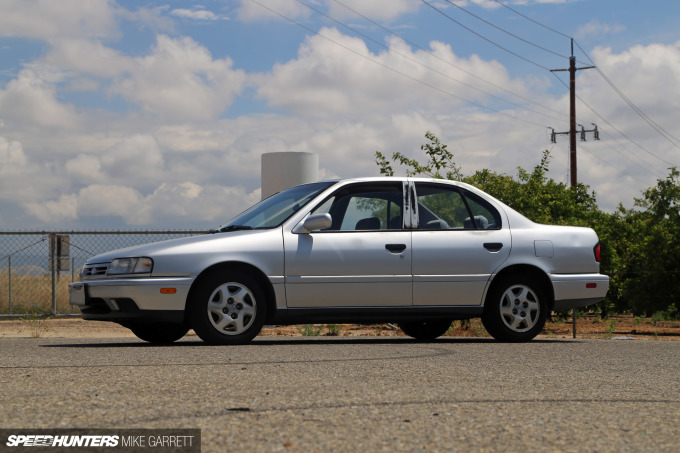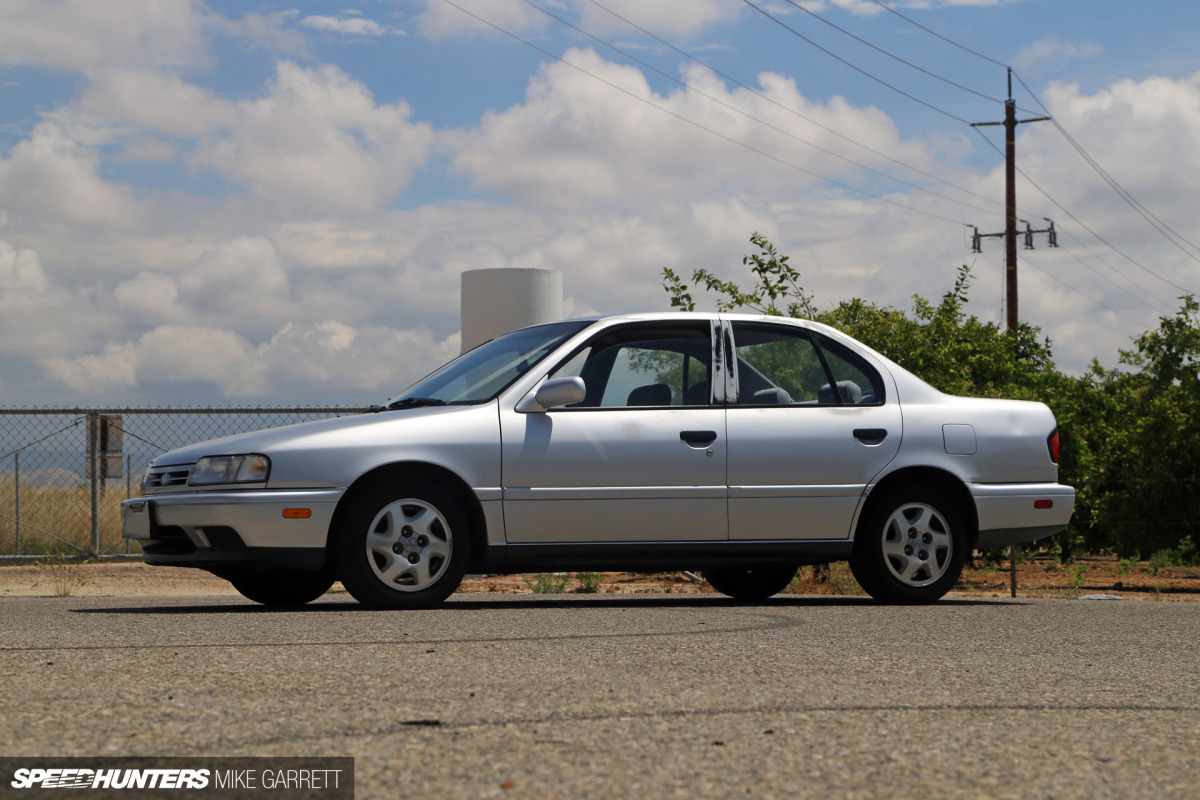 There are a few things that need be addressed pretty quickly, like the clicking axles, dead stereo and also the oxidized paint job. But longer term there are all sorts of possibilities. Ideally I'd like to have something that looks cool, handles well, and can still function as economical transportation. I figure the low purchase price means I can do plenty of cool stuff to this car without breaking the bank.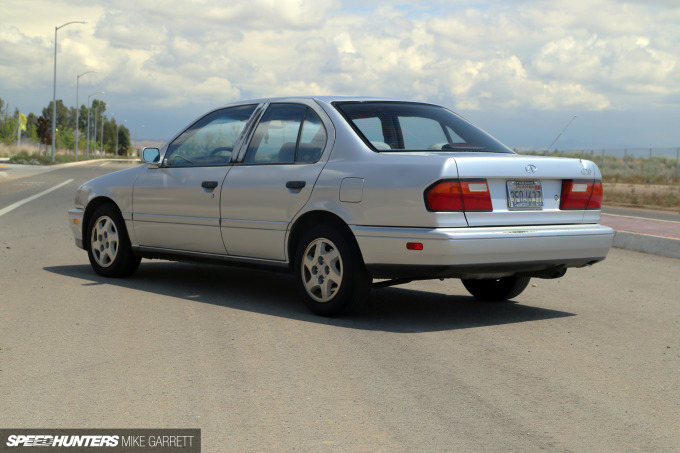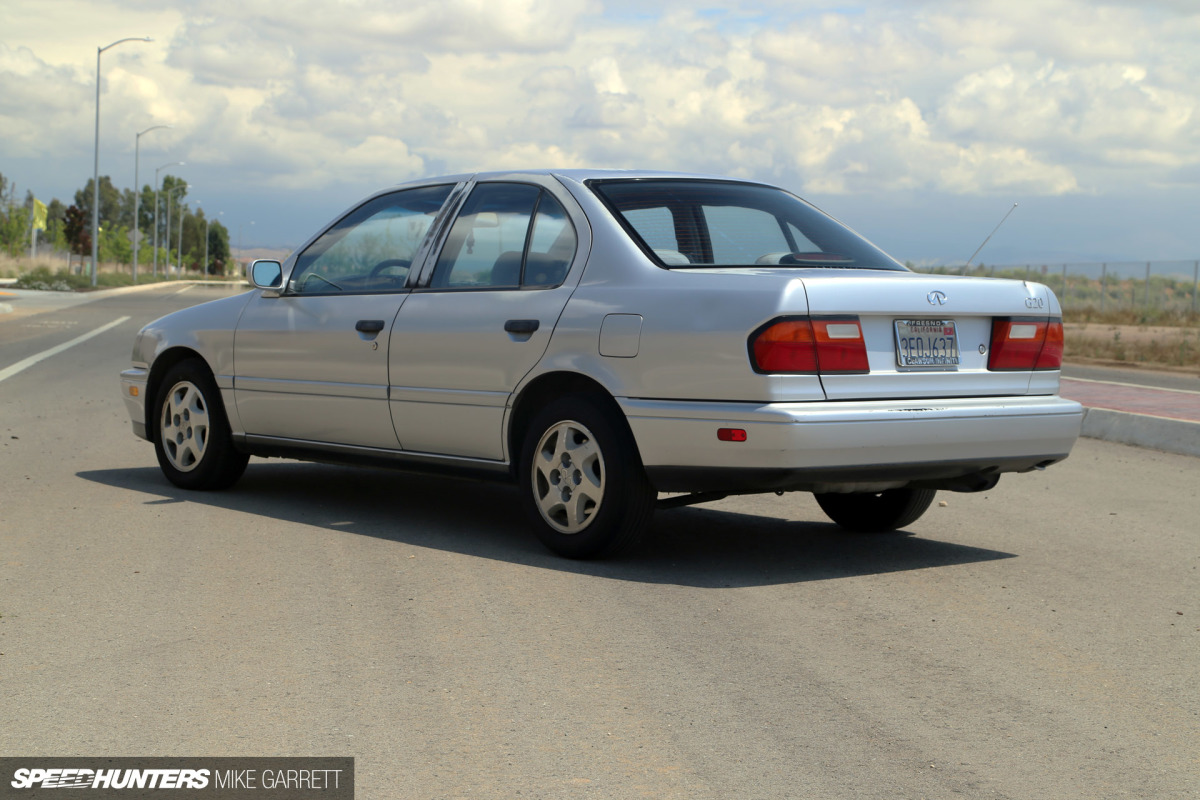 The suspension and wheel/tire situation will likely be the first things to upgrade, and while the G20/Primera aftermarket isn't huge there's stuff out there if you know where to find it. I'm thinking Yahoo! Japan auctions is going to become a close friend of mine in the coming months…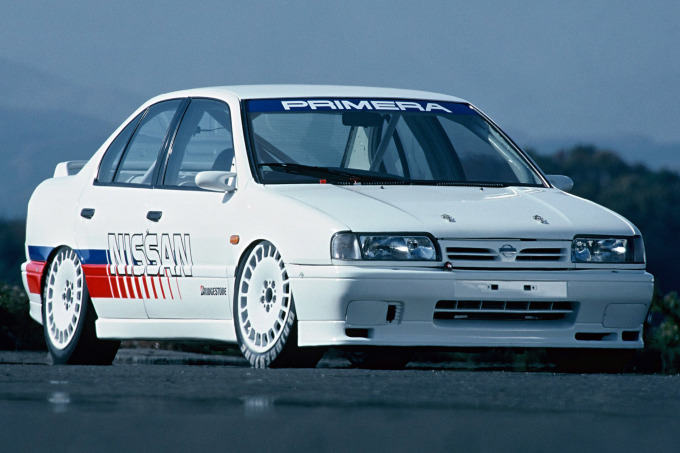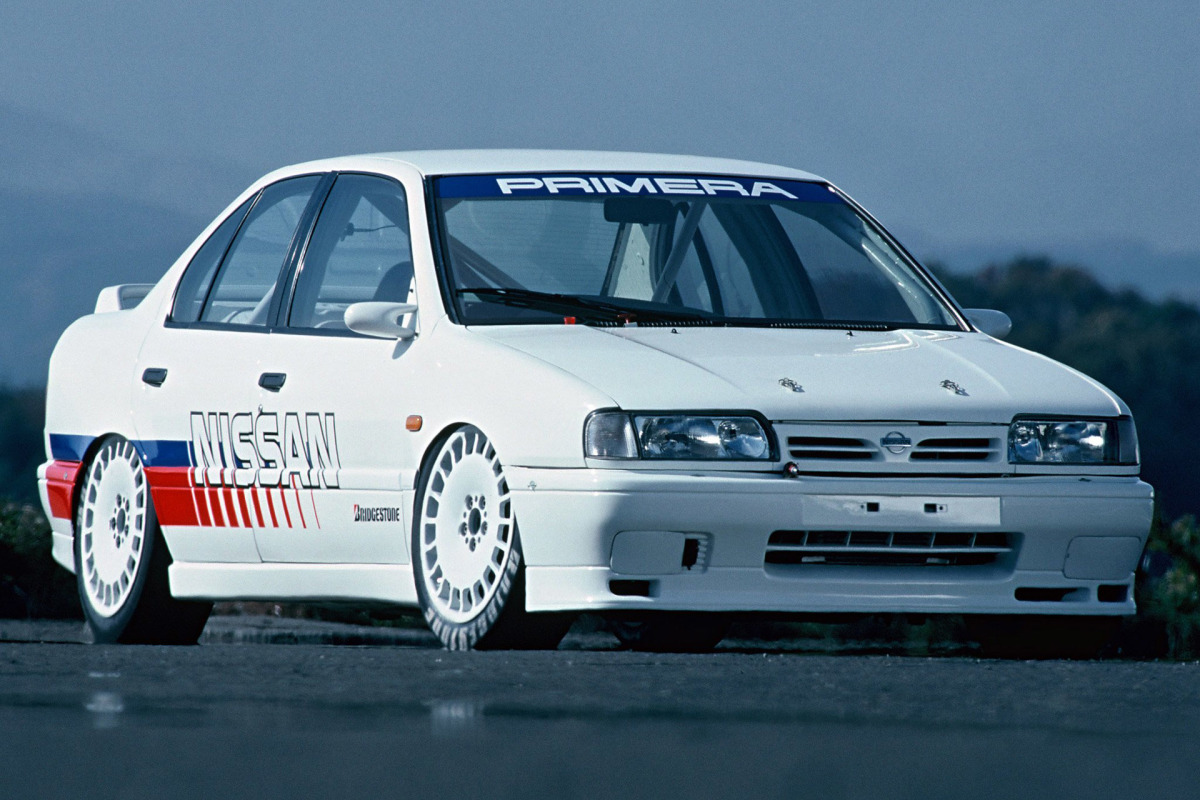 There's also plenty of room for substantial power upgrades down the road if so desired. The later model SR20VE is a popular swap for P10 owners, and given its relatively low cost and simplicity it's definitely something I'd like to pursue at some point. This chassis with around 200 naturally aspirated horsepower sounds perfect to me.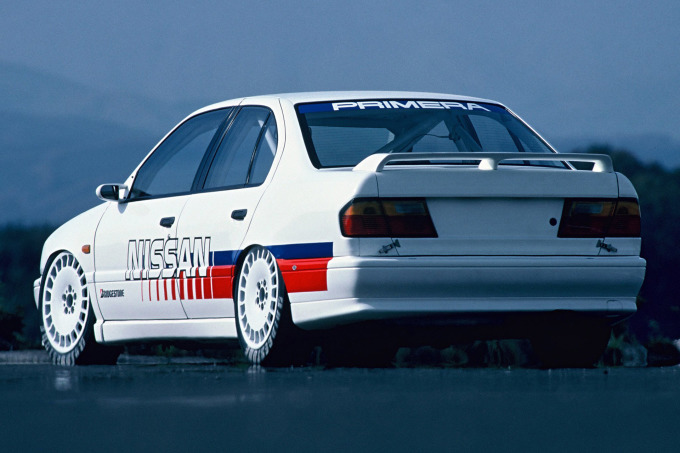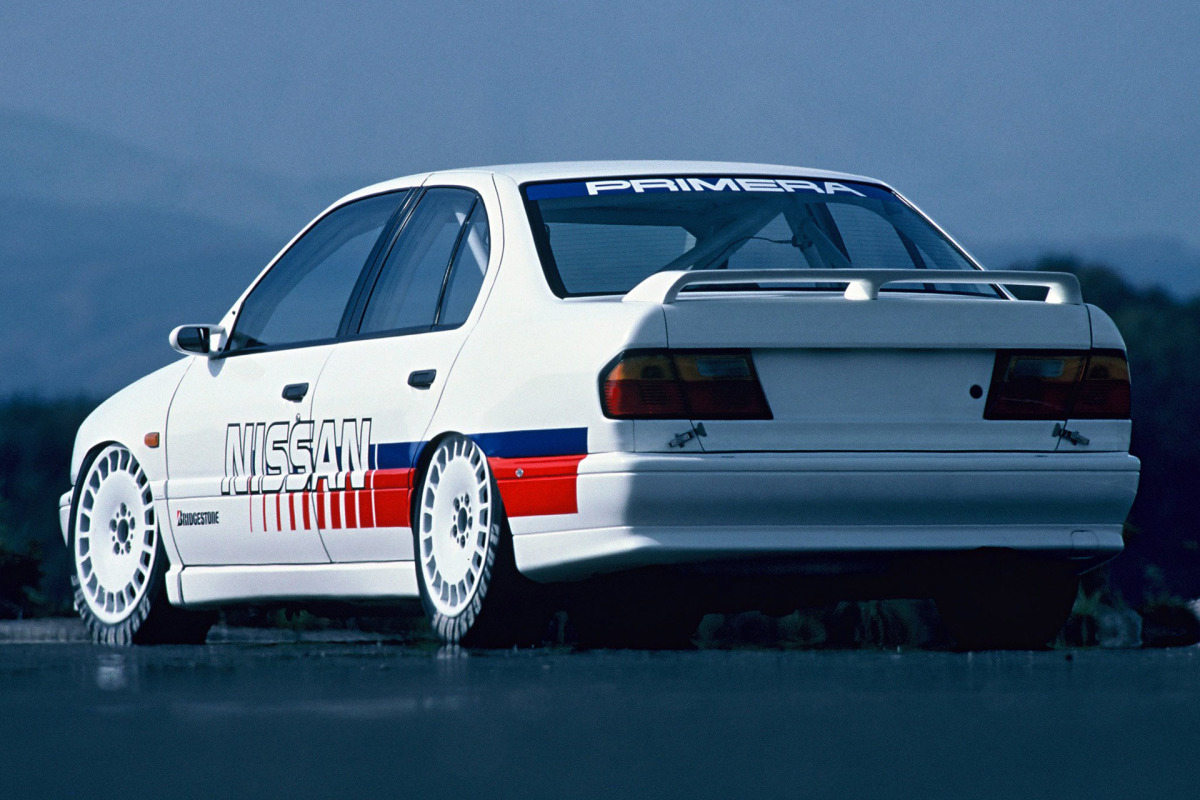 Inspiration isn't hard to find when it comes to the P10. The model was well known for its use in touring car competition both in the UK and Japan, and capturing some of that '90s BTCC/JTCC style in a street car would be a lot of fun. On the other hand, I also like the idea of keeping it clean and understated with some old school Japanese wheels on the 4×114.3 hubs and a few subtle retro themed touches. As always, I'm interested to hear your ideas.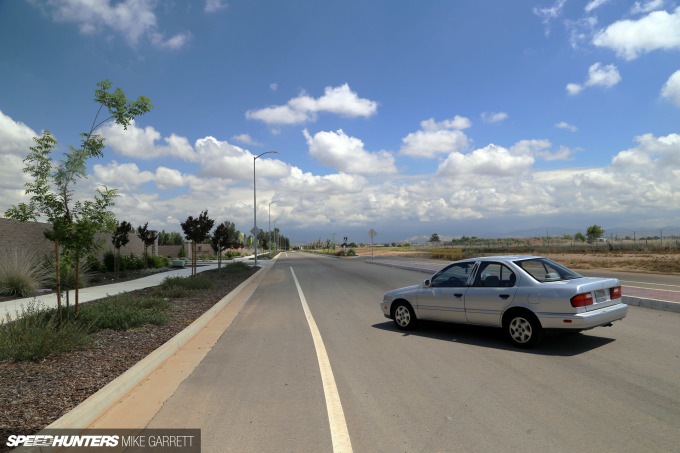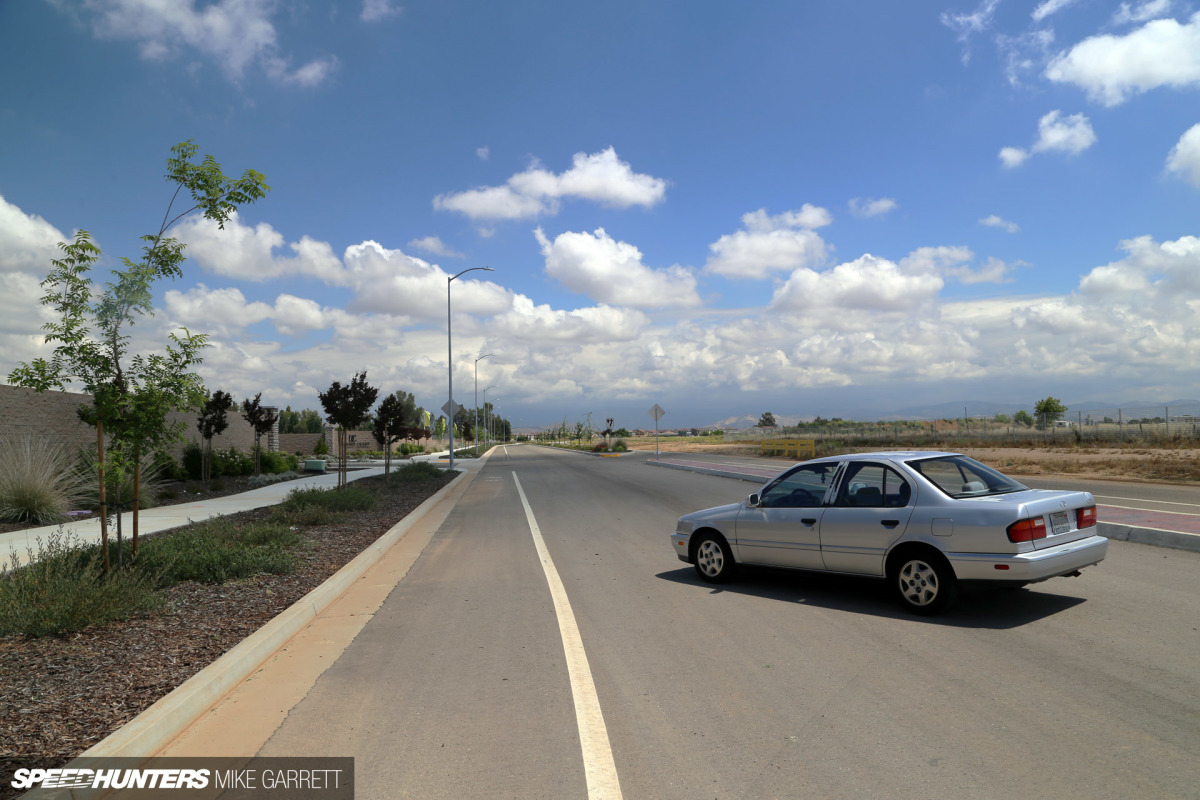 Additionally, I also asked for some help on social media to decide on a name for this project. A few of the suggestions I like so far are 'Project Prime Time' and 'Project Prime Era'. Anyone else have any good ones?
Either way, I'm feeling way more excited than I should be about a cheap daily driver. But isn't that how it should be? Stay tuned.
Mike Garrett
Instagram: japanifornia
mike@speedhunters.com