Kansai Car Culture
You could say there is a friendly rivalry going on between the cities of Tokyo and Osaka.
Tokyo is where everything has to be in order, and those that live there are expected to follow the city's guidelines and rules no matter how foolish they are. Tokyo is also a place where cleanliness is held to such high regards that they actually pay people to walk around and tell smokers to not smoke outside designated smoking areas.
Osaka is, well, the opposite of this. The streets aren't as clean, and you can sense the people of this city in the Kansai region of Japan really don't care to be bound by rules. However, it's also said that people from Osaka are friendlier than those from Tokyo, which I found incredibly hard to believe. Thus, when I recently ended up in Osaka for the first time for a photoshoot, I decided to test the theory…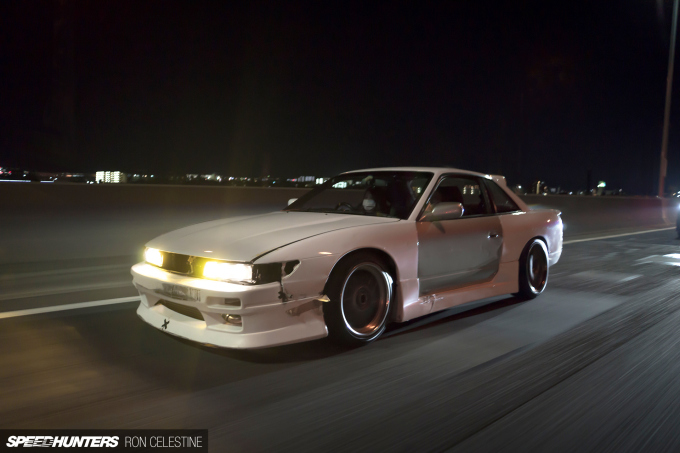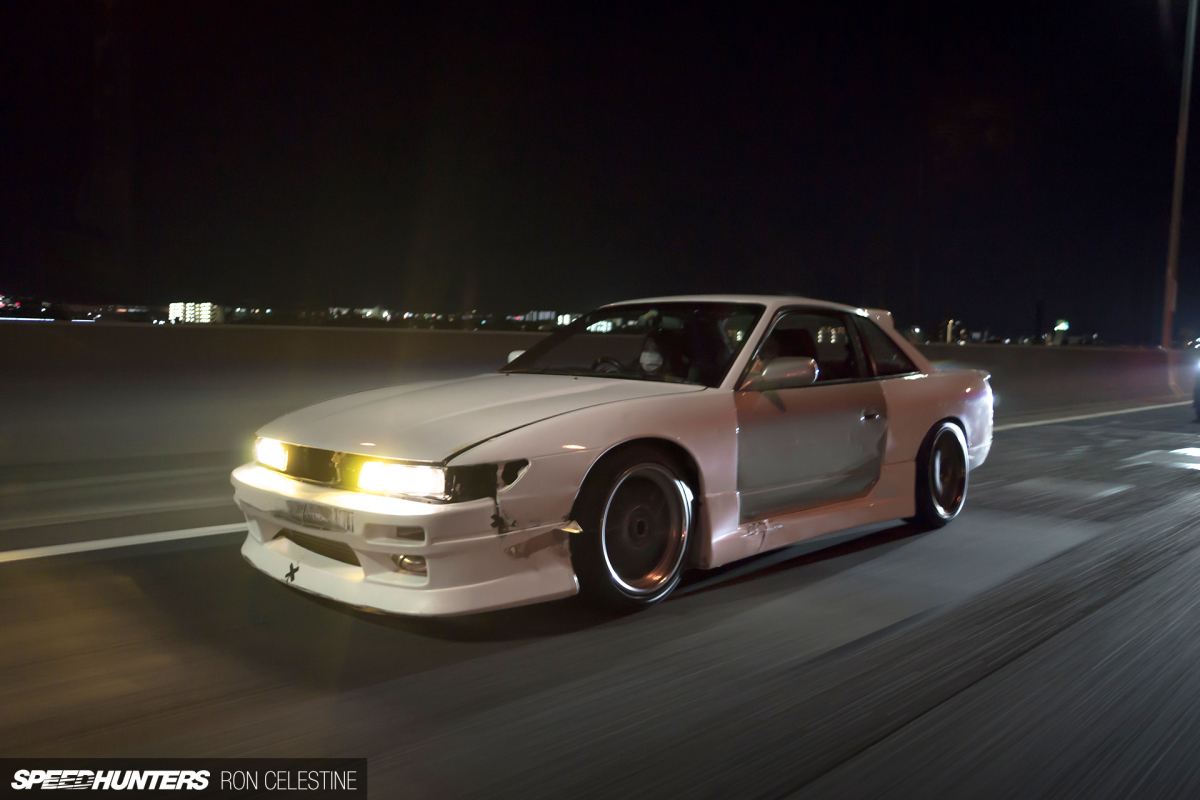 While walking back to my hotel room, I spotted a Nissan Silvia S13 waiting at a stoplight. It clearly had seen better days; the front bumper was barely hanging on and it had mismatched door colors, missing lights and other damage. However, there were two things that piqued my curiosity. The first was that the front license plate was missing and the rear one was bent in such a way that it was difficult to be read. The second was the driver, who was a female. In Tokyo, this is not something you see every day. Thus, I casually walked over, struck up a conversation and asked if they knew where I could find some kind of meet going on. To my surprise, the driver pulled out her phone and started reaching out to her friends asking where we could go.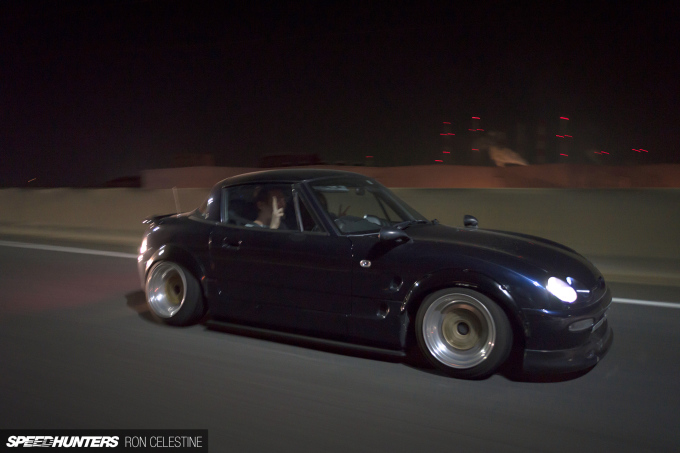 Next thing I knew, I was in a convoy of six cars heading to the Izumiotsu Parking Area. Leading the convoy was this Suzuki Cappuccino; its turbocharged three-cylinder 657cc engine just meets the Kei car displacement limit, which makes it much more affordable to own in Japan compared to a full-size vehicle.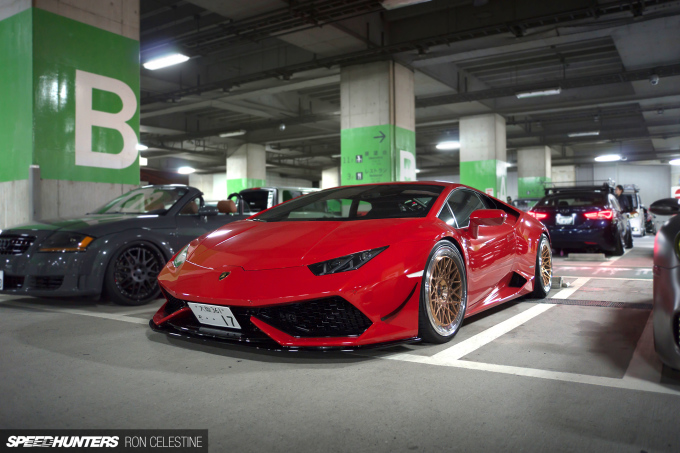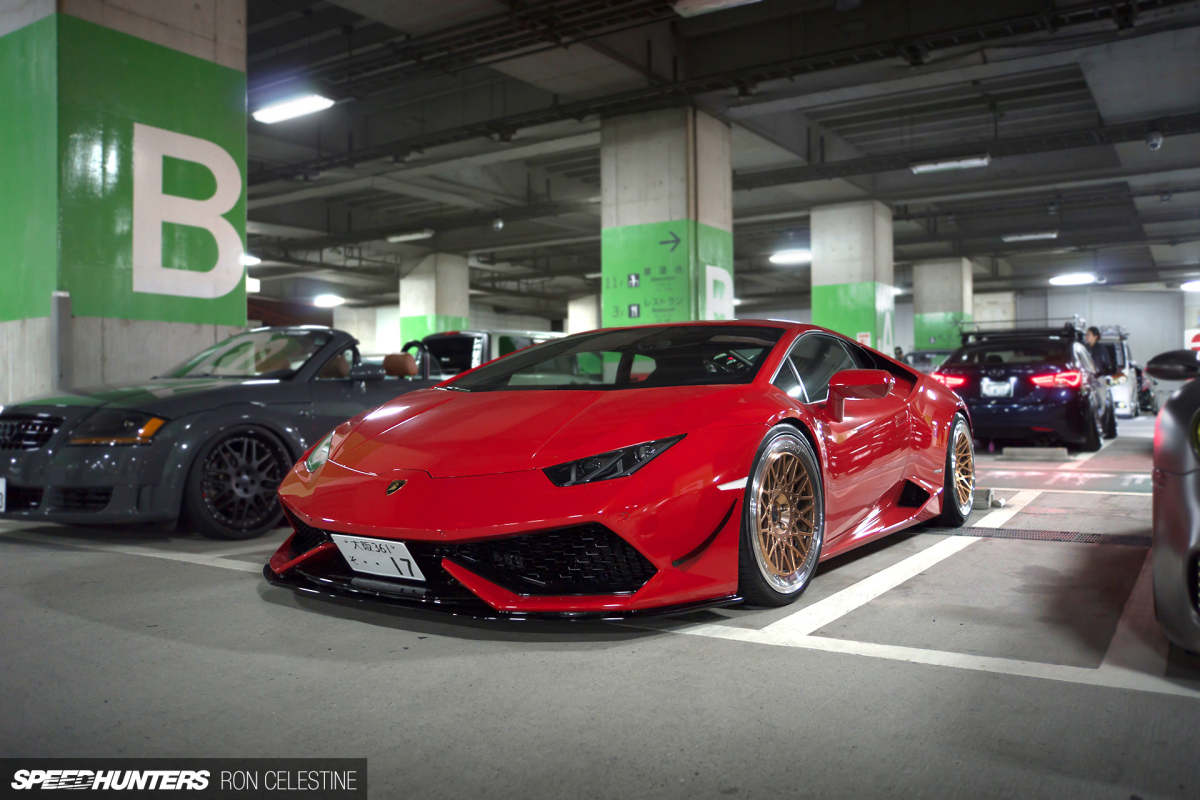 Izumiotsu PA is like the Osaka version of Daikokufuto PA, and just like Yokohama's world famous car hangout spot, there was a wide variety of cars present in the little parking deck. My childhood obsession for Lamborghinis had me rushing to this Huracan first.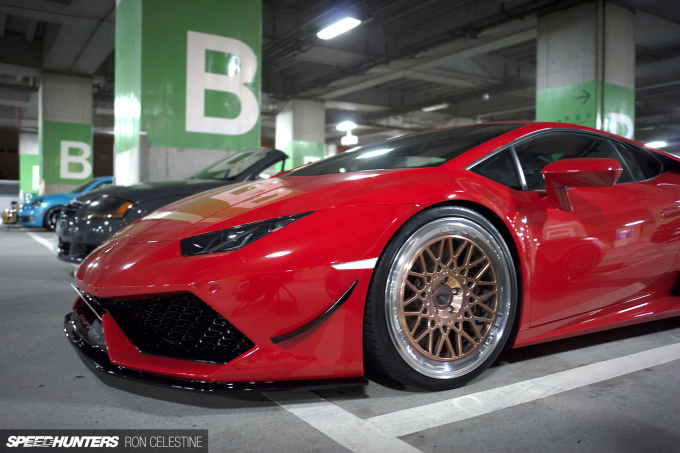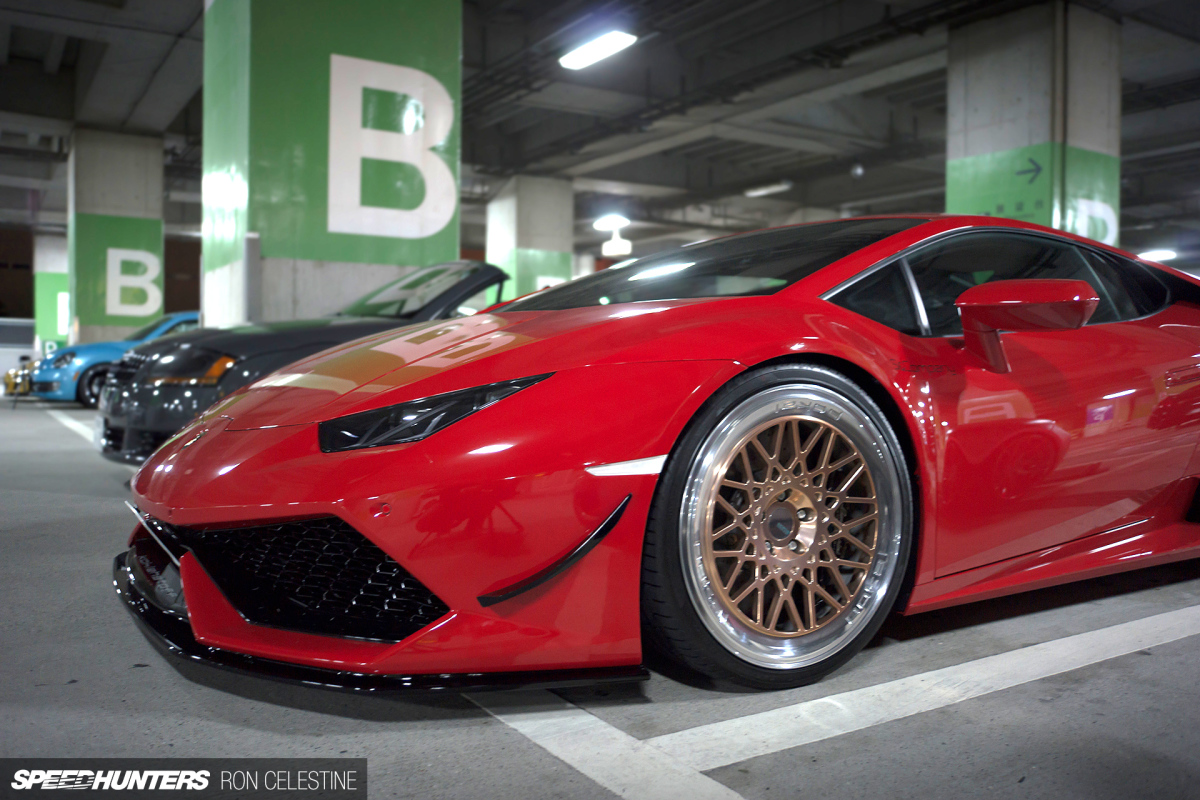 The Kohlenstoff kit, which includes the front spoiler and canards, matched with the Pokal GRB02 3-piece forged wheels make for an excellent combination.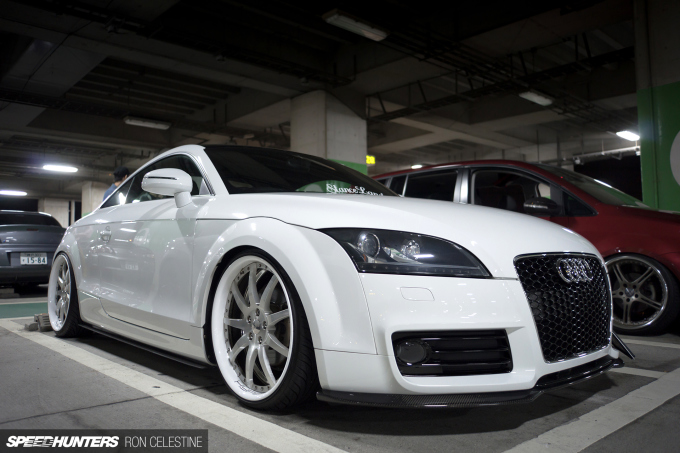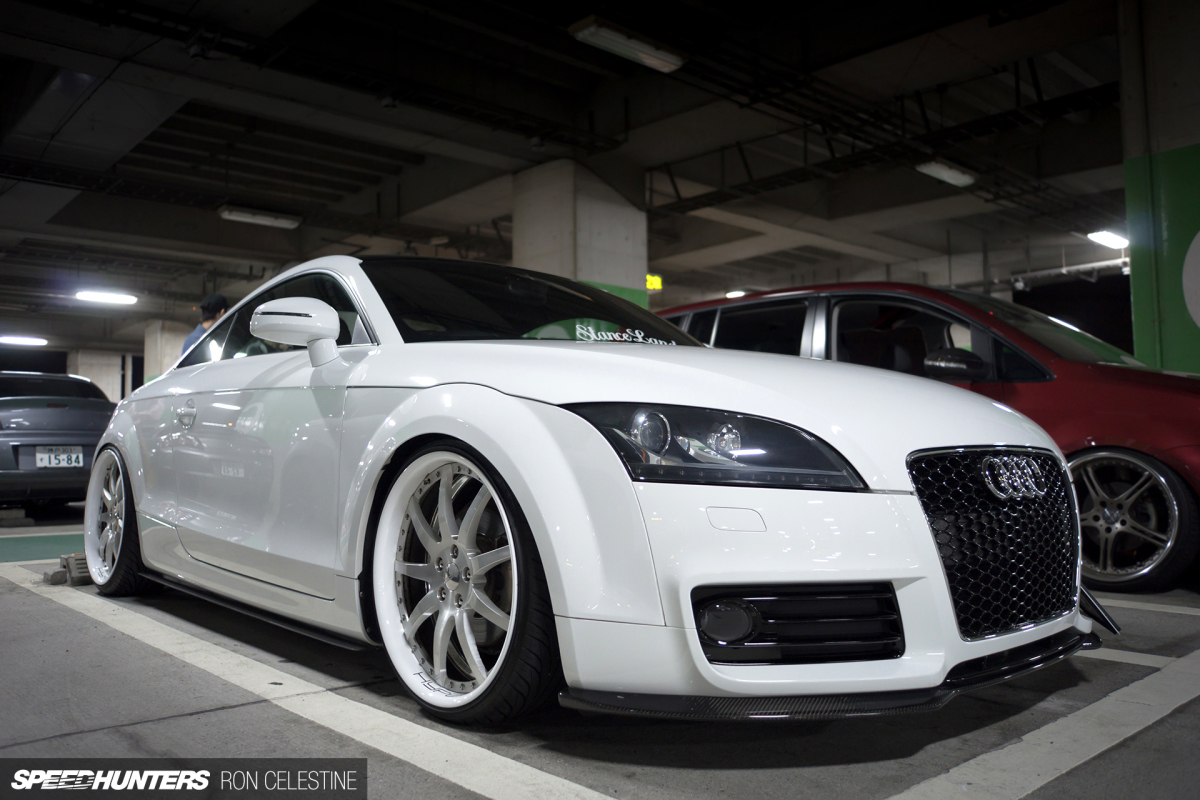 Looking around the little parking lot, you could sense a strong presence of European cars. Being imported to Japan, Euro cars enjoy a higher status compared to their Japanese counterparts.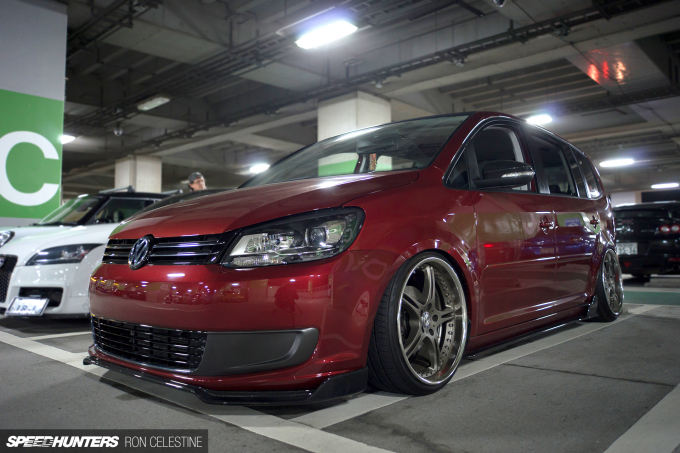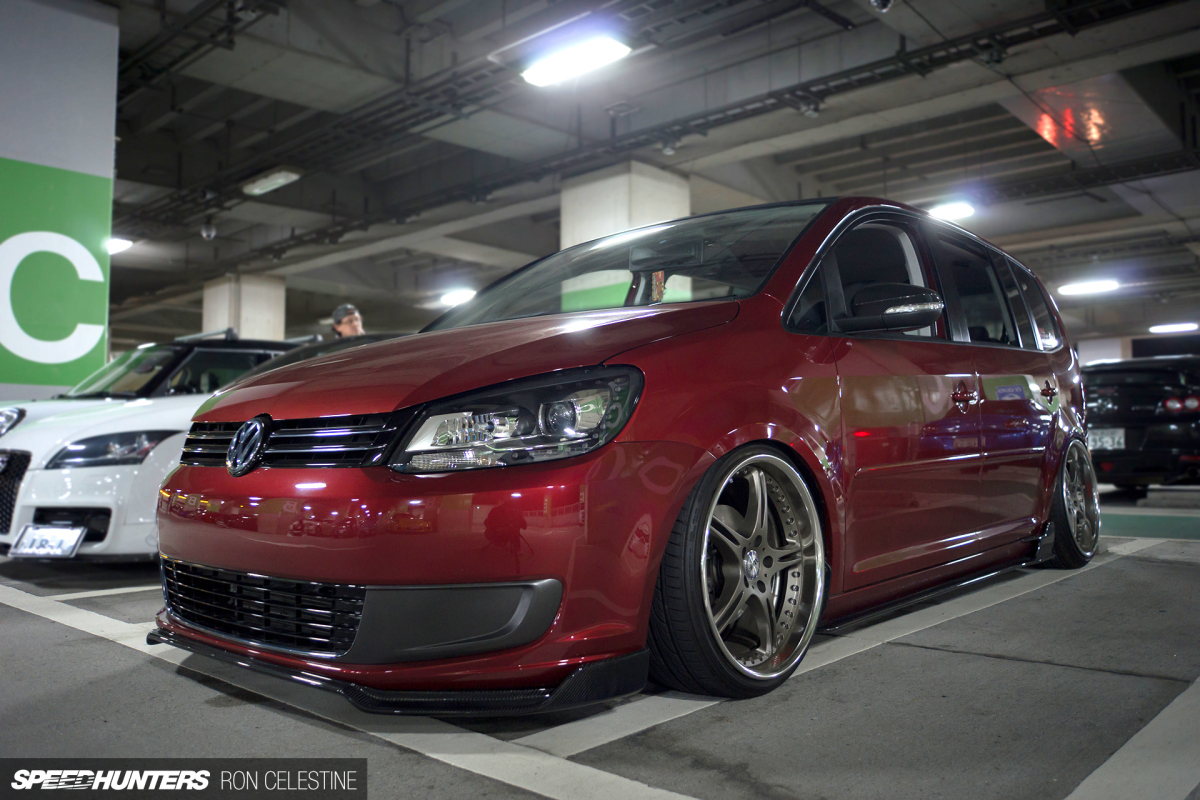 Combining that with an absolute love of vans, it would only make sense to have a slammed Volkswagen Touran in Japan.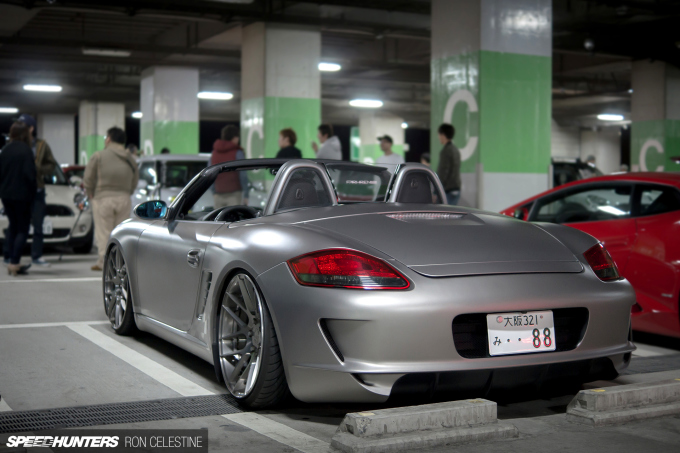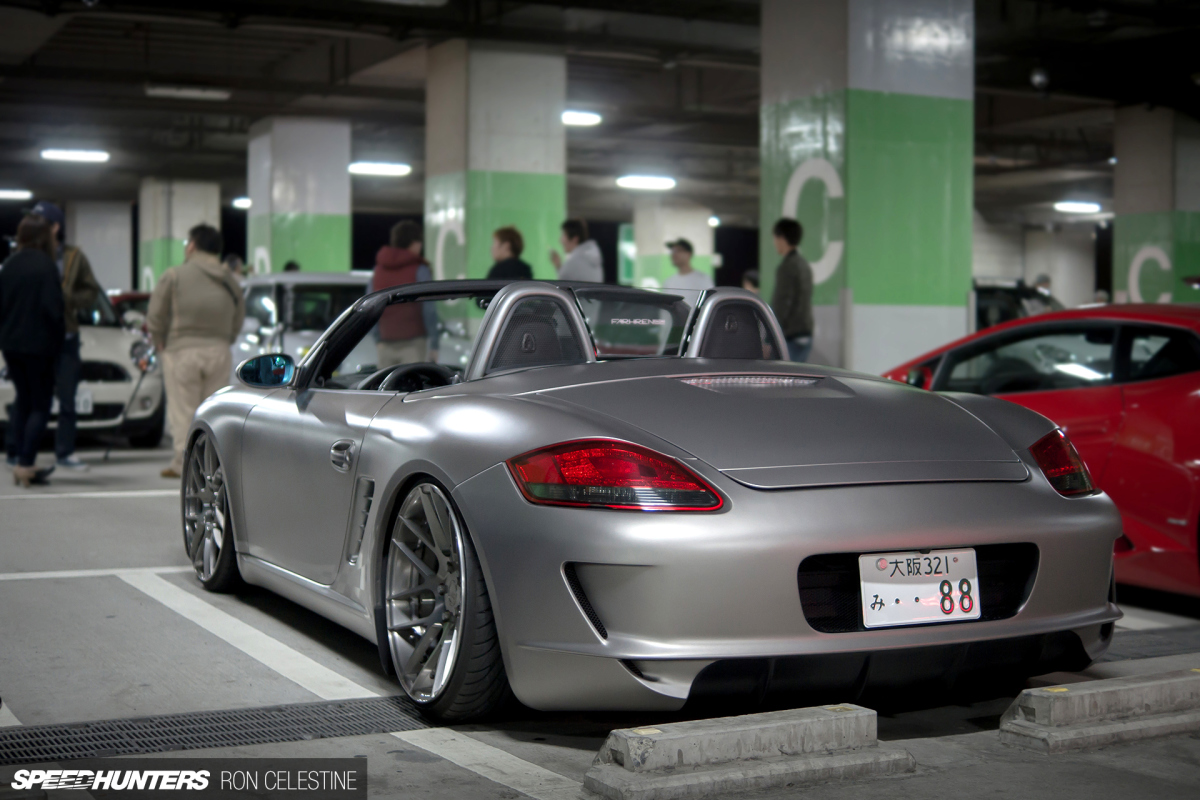 It's not every night you see a Porsche Boxster modified in this way either.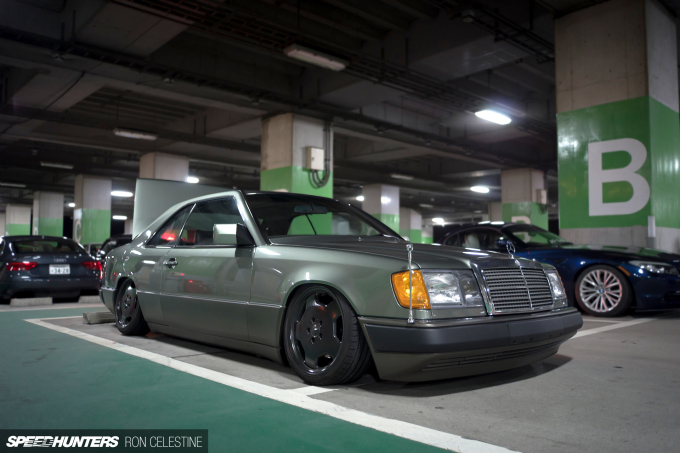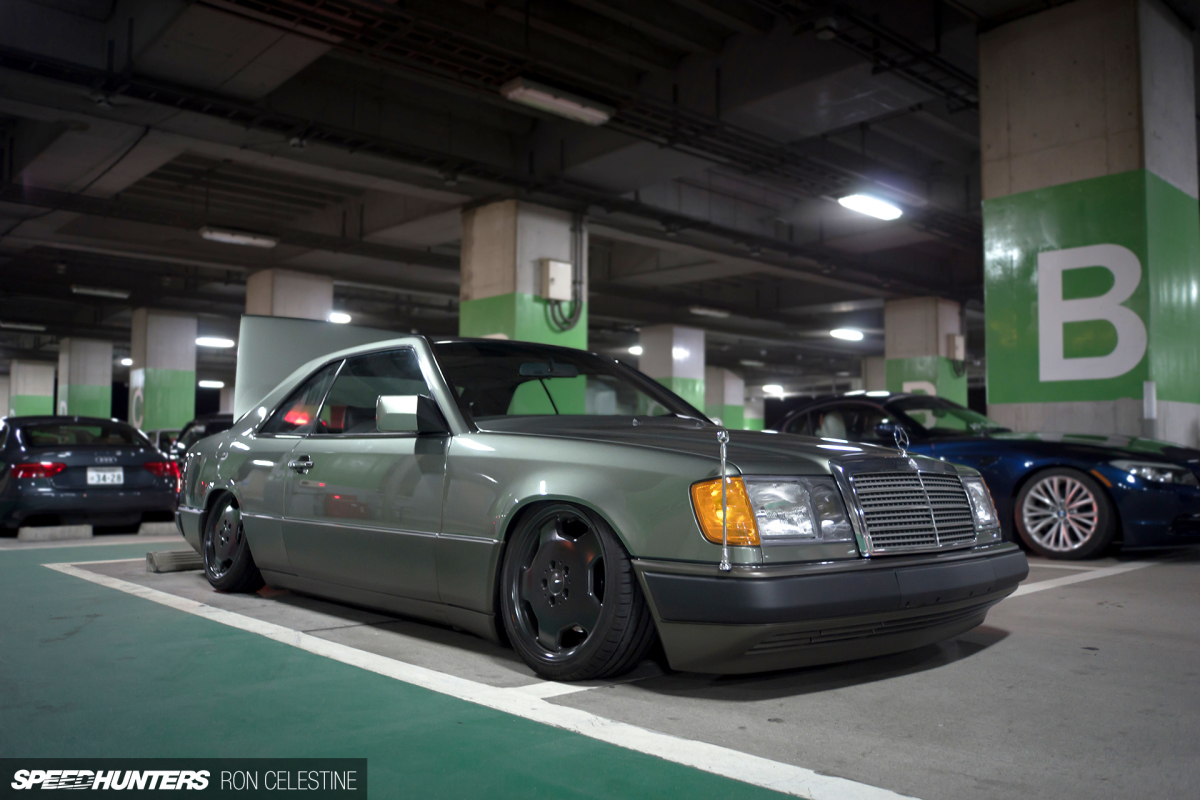 Not only was this W124 Mercedes-Benz sitting low, it came with a little surprise in the trunk.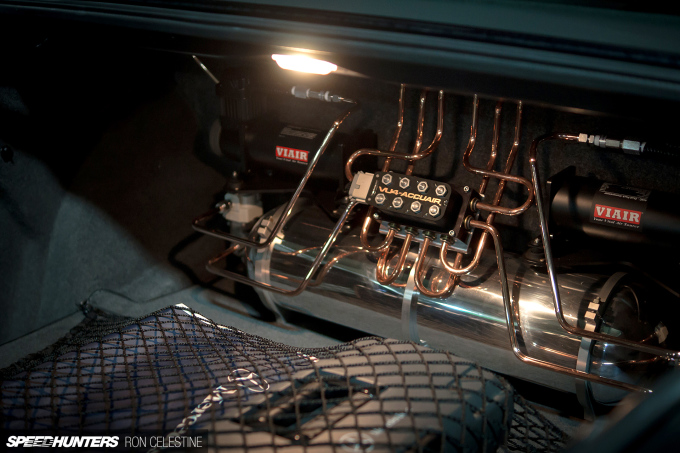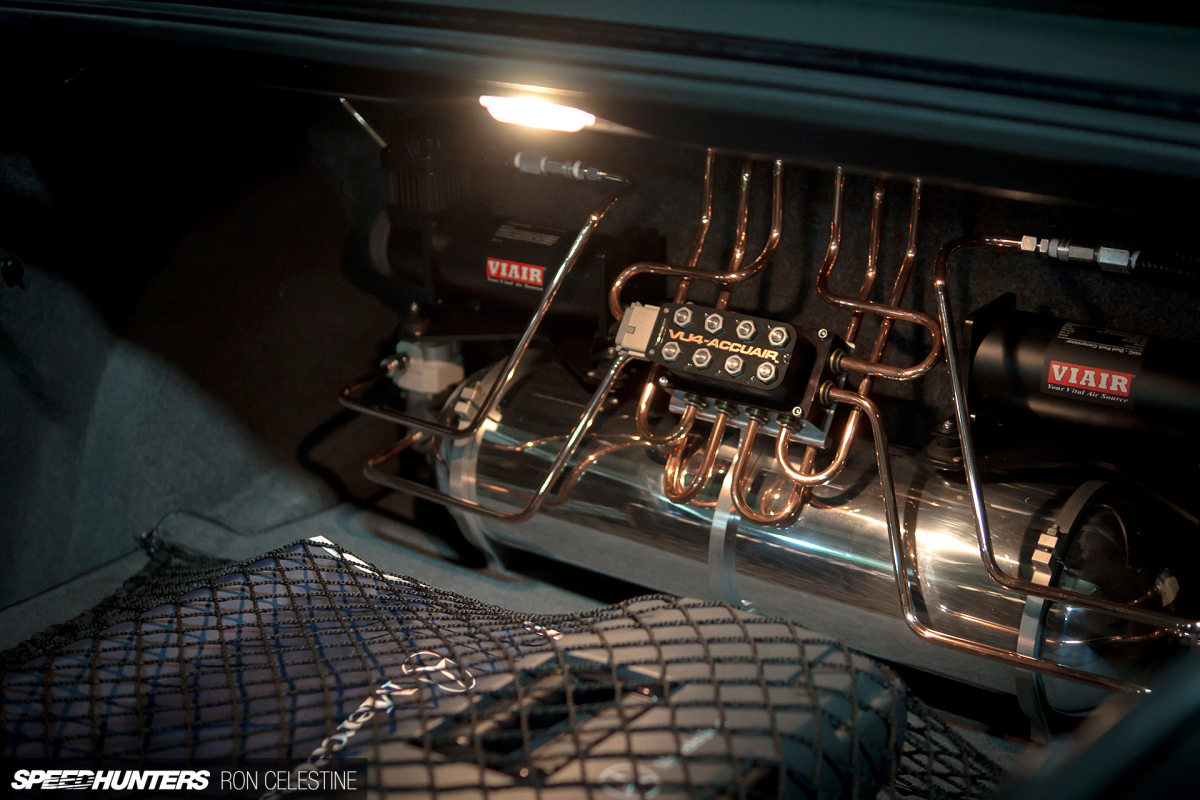 The AccuAir air ride system, complete with polished hard lines, barely takes up any space in the massive trunk.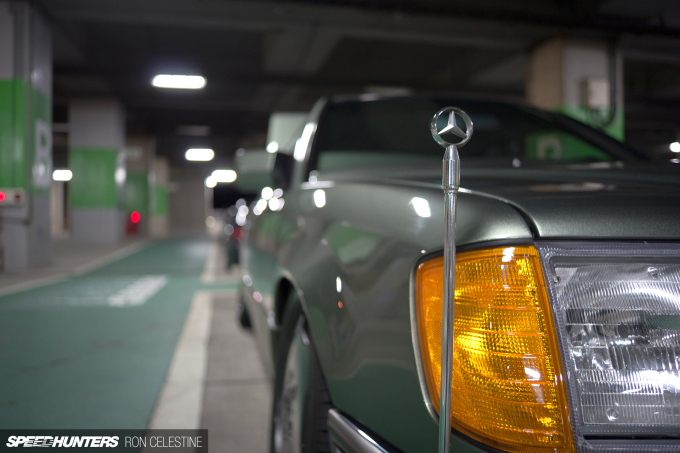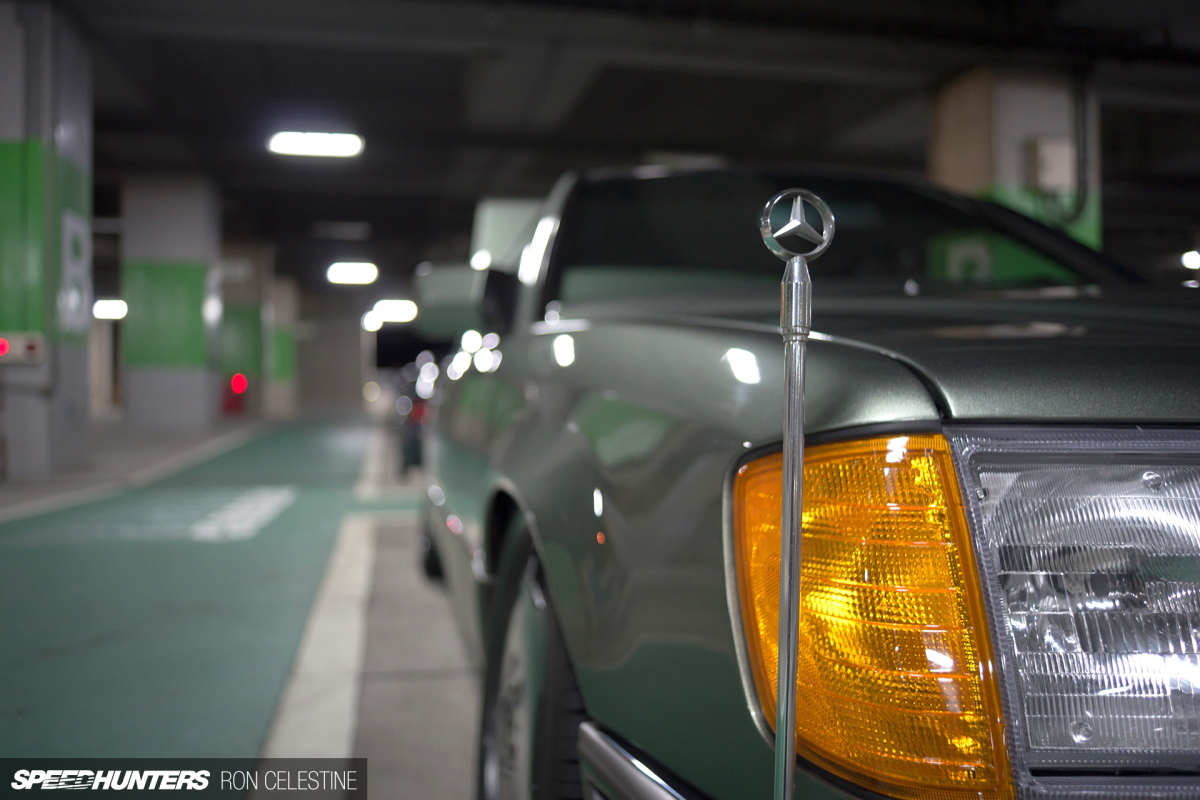 I thought I had covered all the interesting European cars that showed up to the meet and was ready to move on to some of the Japanese offerings, but then something really unexpected rolled in…
Different Strokes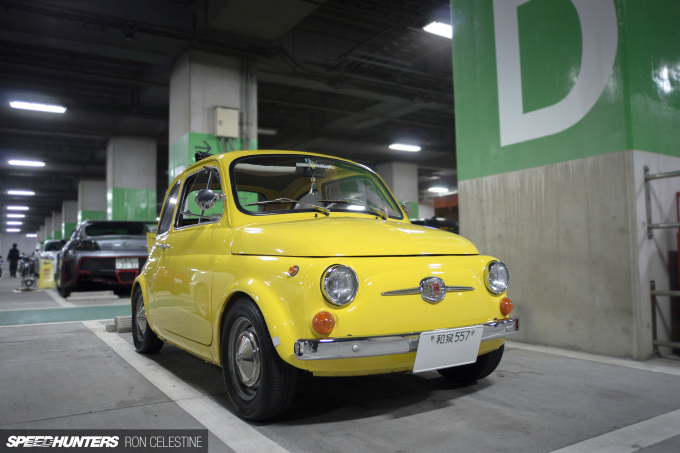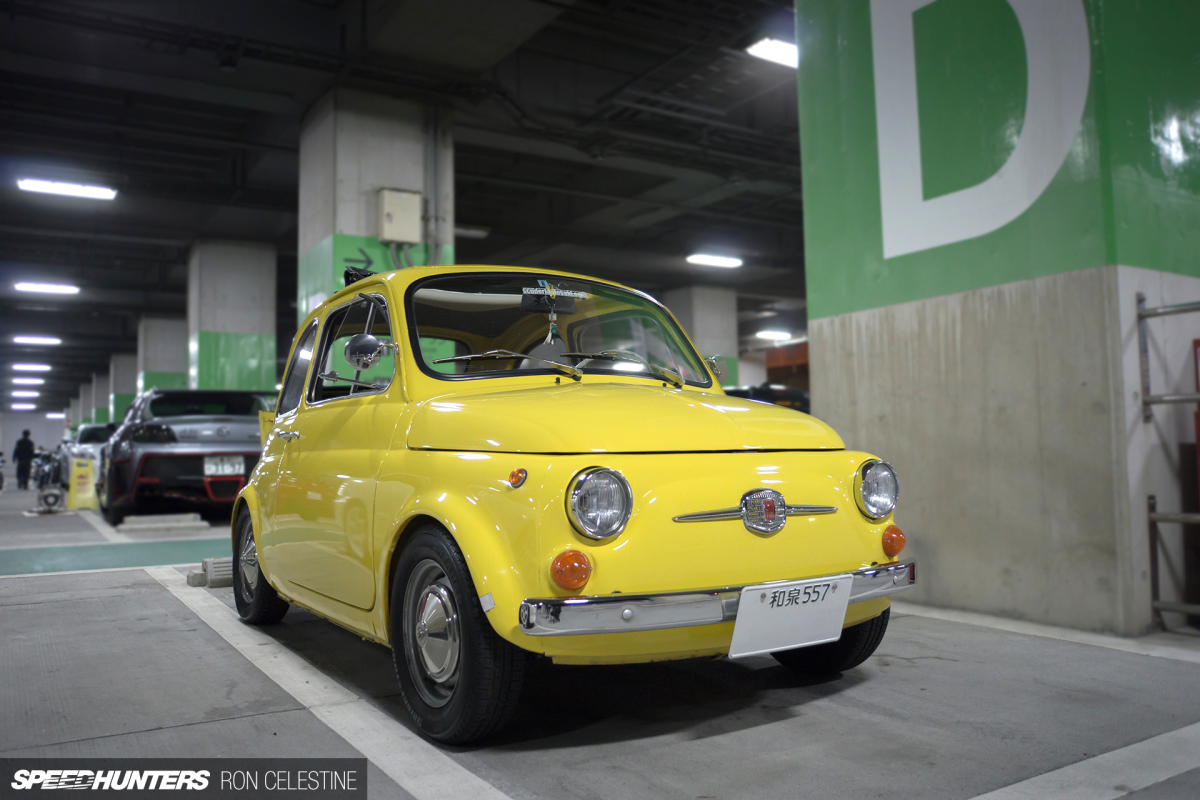 If you're familiar with the Japanese manga Lupin the Third, then you'll know that a little yellow Fiat plays a starring role as an escape vehicle. The owner of this particular 500 Nuova is a huge fan of the manga and wanted to have a little piece of the famous series in his life.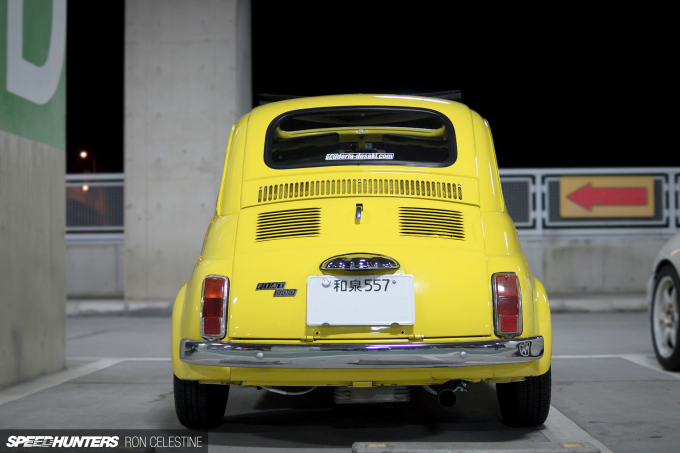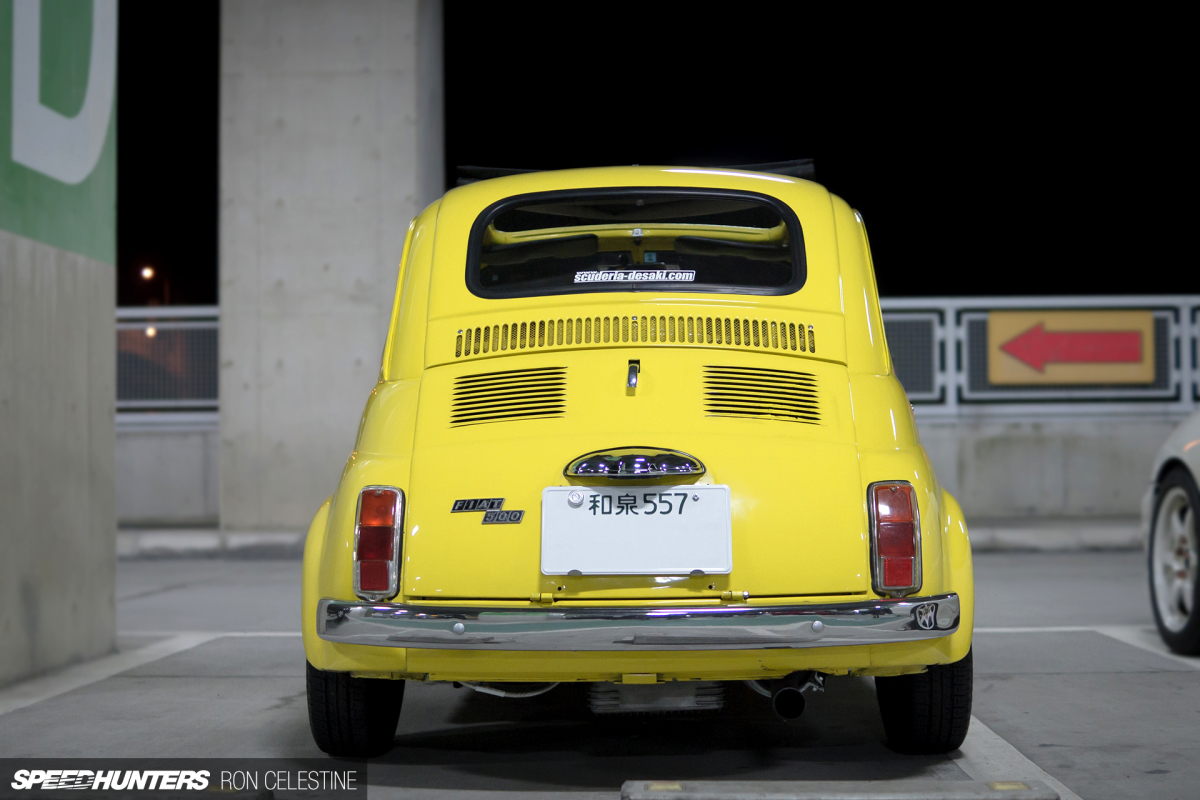 As I'm around 185cm tall, he insisted I sat in the car so he could take a picture. Let's just say that my head poked out of the sunroof! I'll never complain about being in a small Kei car again.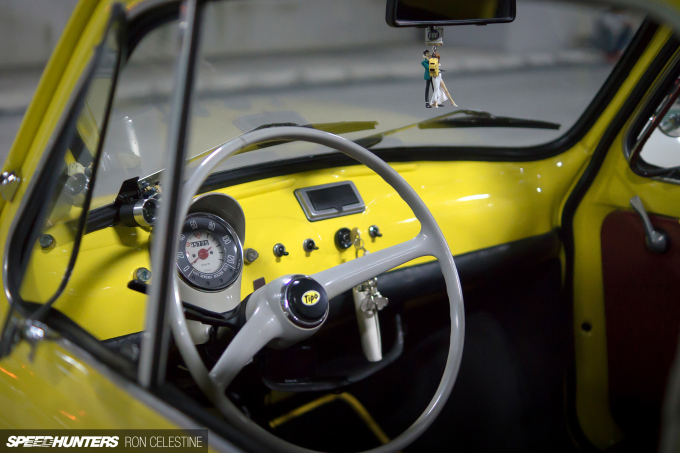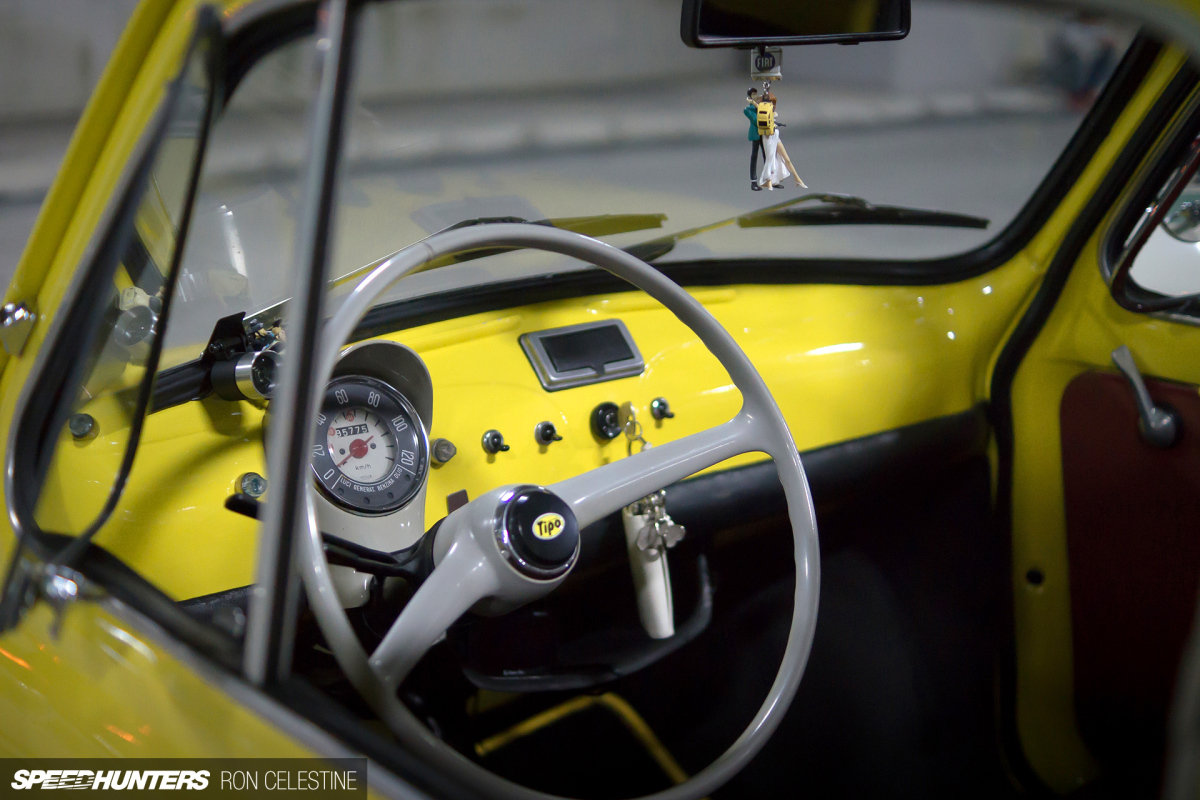 Besides that small problem, I absolutely love this car. The interior has been completely restored and is maintained to an immaculate level. And check out what's hanging from the rear-view mirror.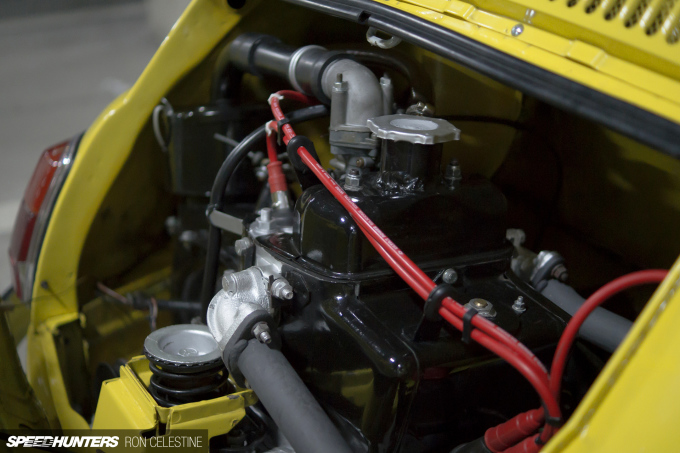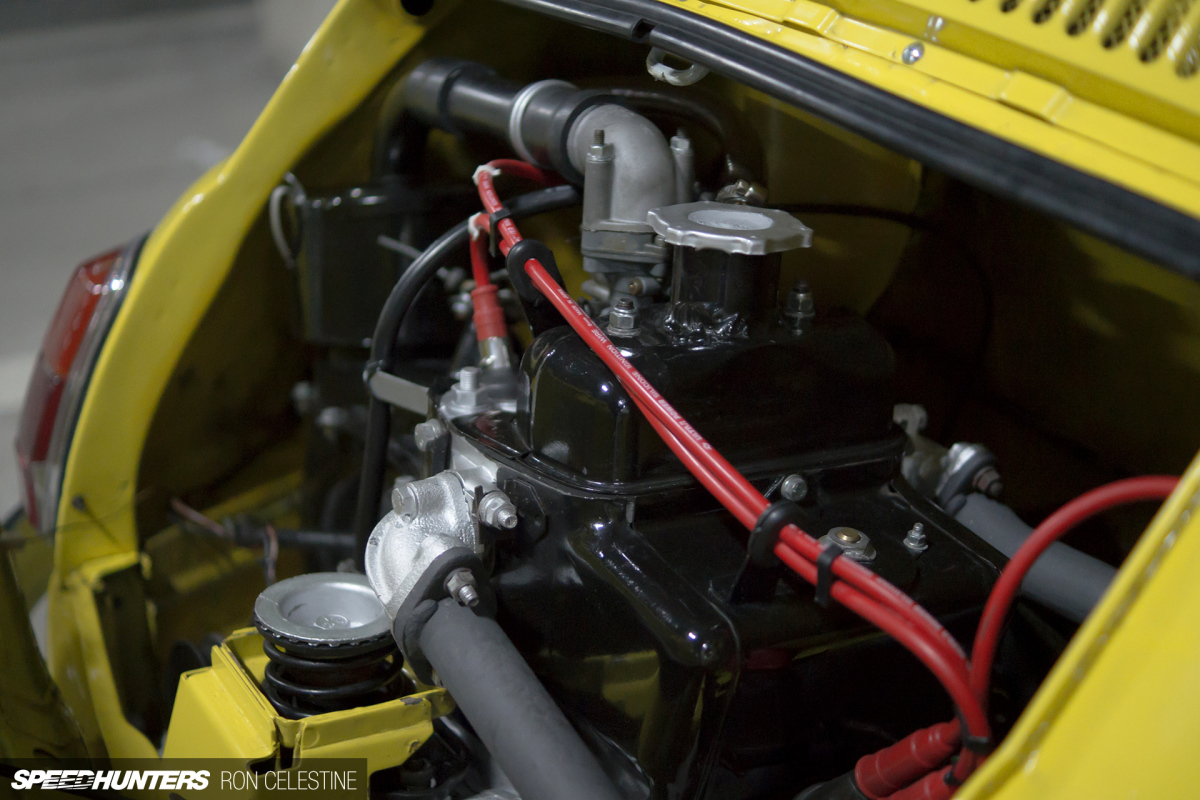 Under the engine cover at the back, the original 2-cylinder 479cc mated to a 4-speed manual transmission.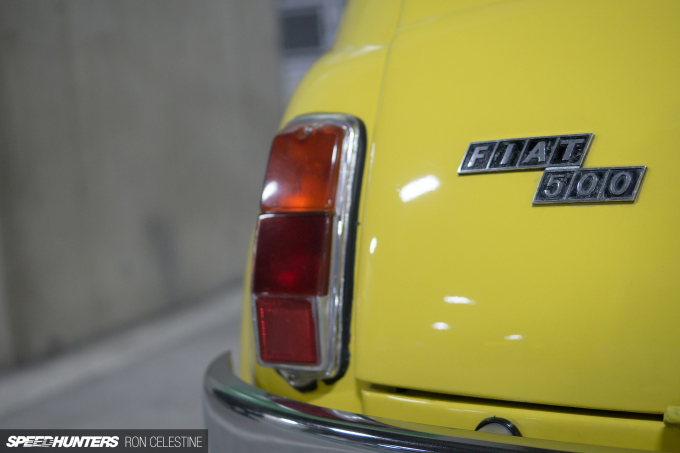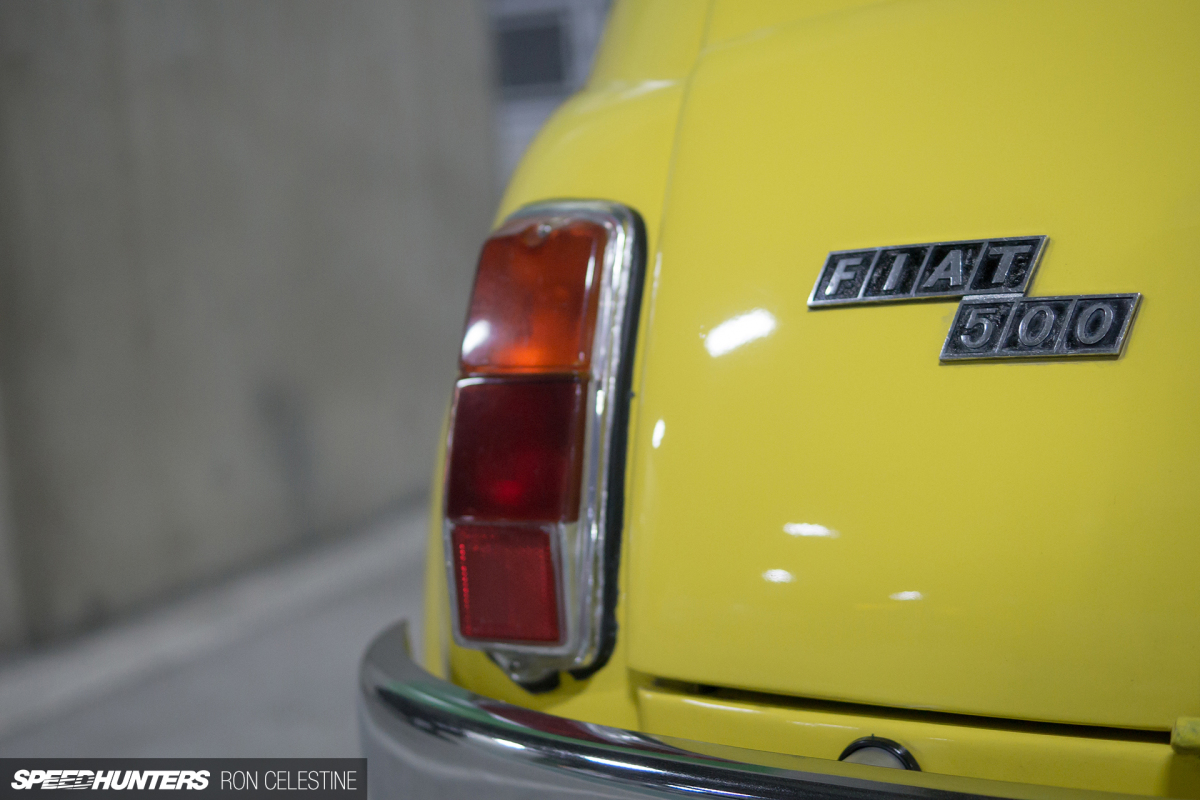 Driving around in the Nuova can only be described as an experience. It makes me wonder how Lupin and his gang all fit in their one!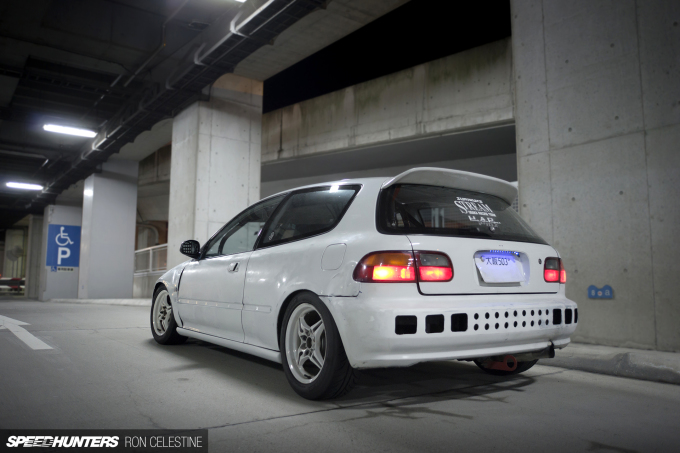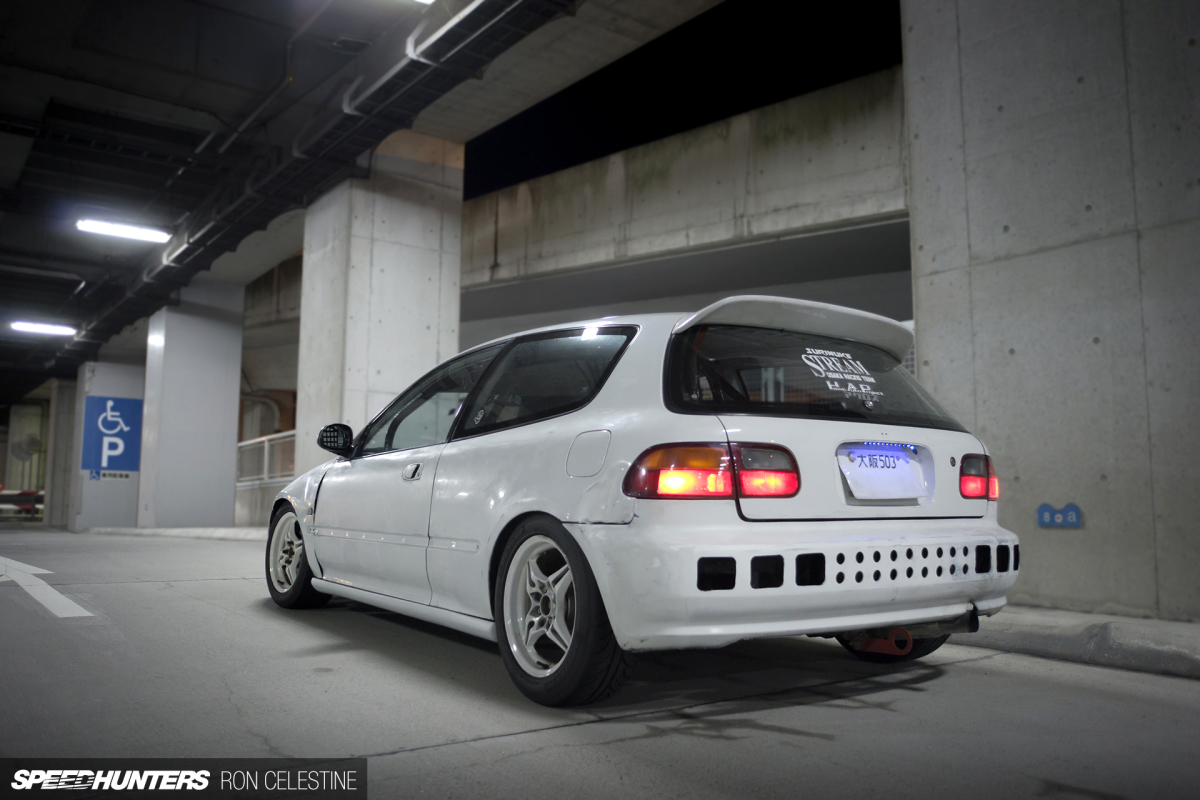 Crawling out of the Fiat, I spotted this EG Civic parked to the side with its owner near by. The Honda is fully stripped-out and caged, and is powered by a B18 engine for some extra performance on the circuit. The battle scars tell of more than just track experiences though.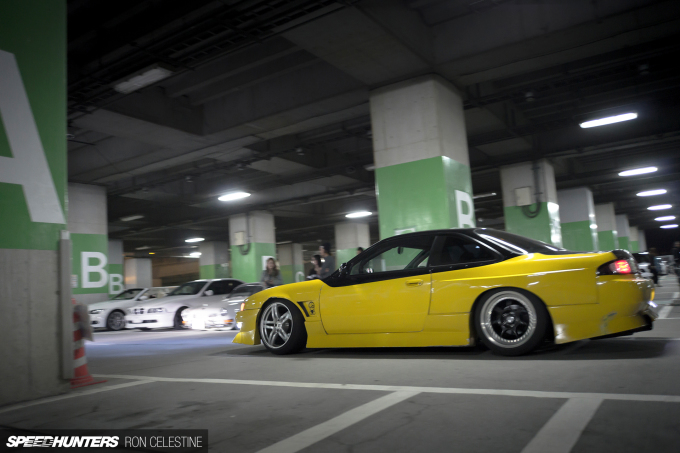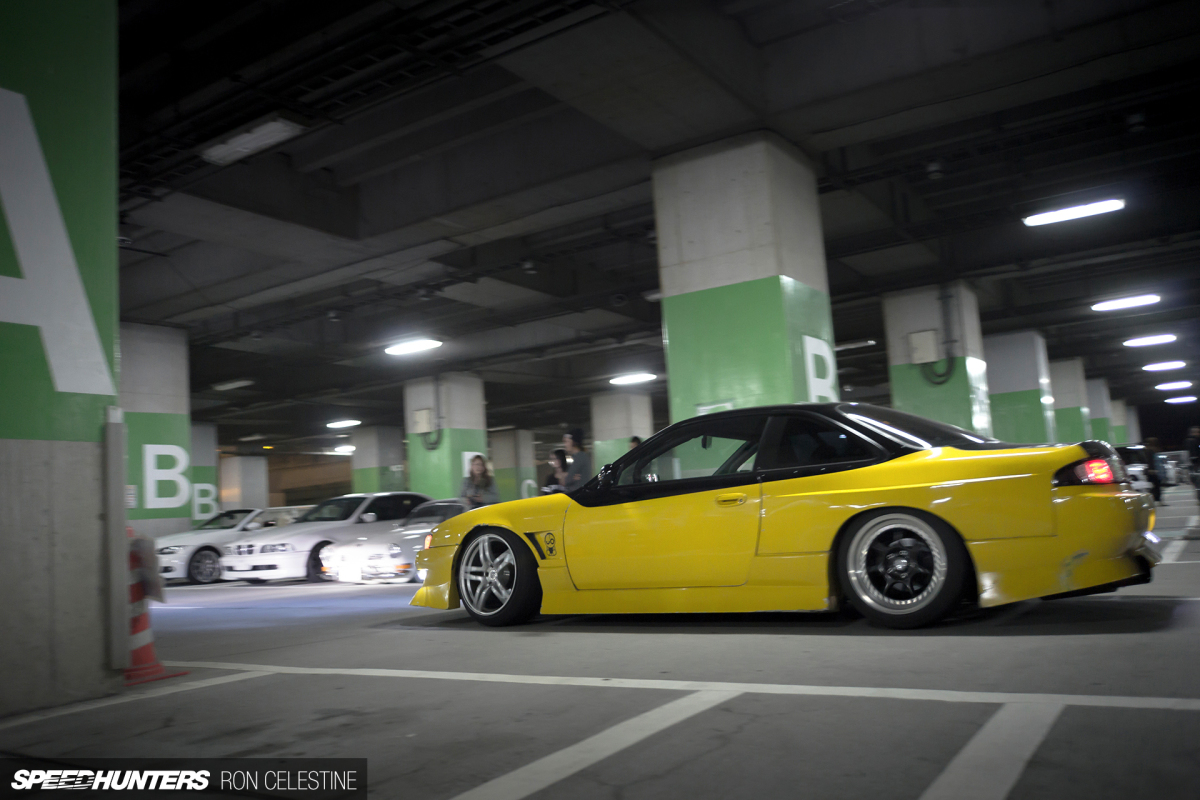 Following the noise of this S14, I began to realize there were also a lot of Nissans present too.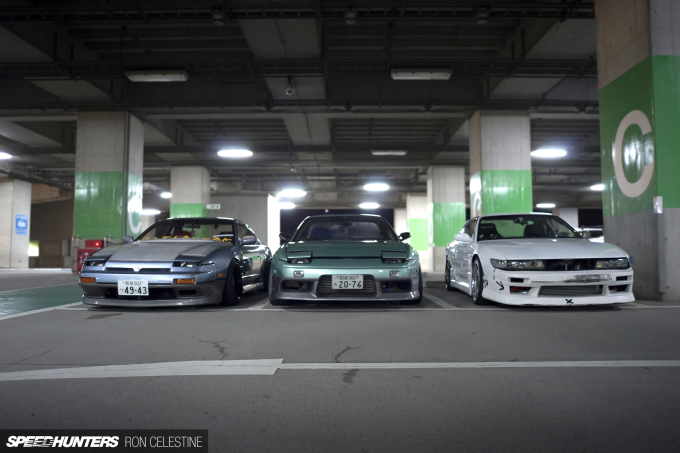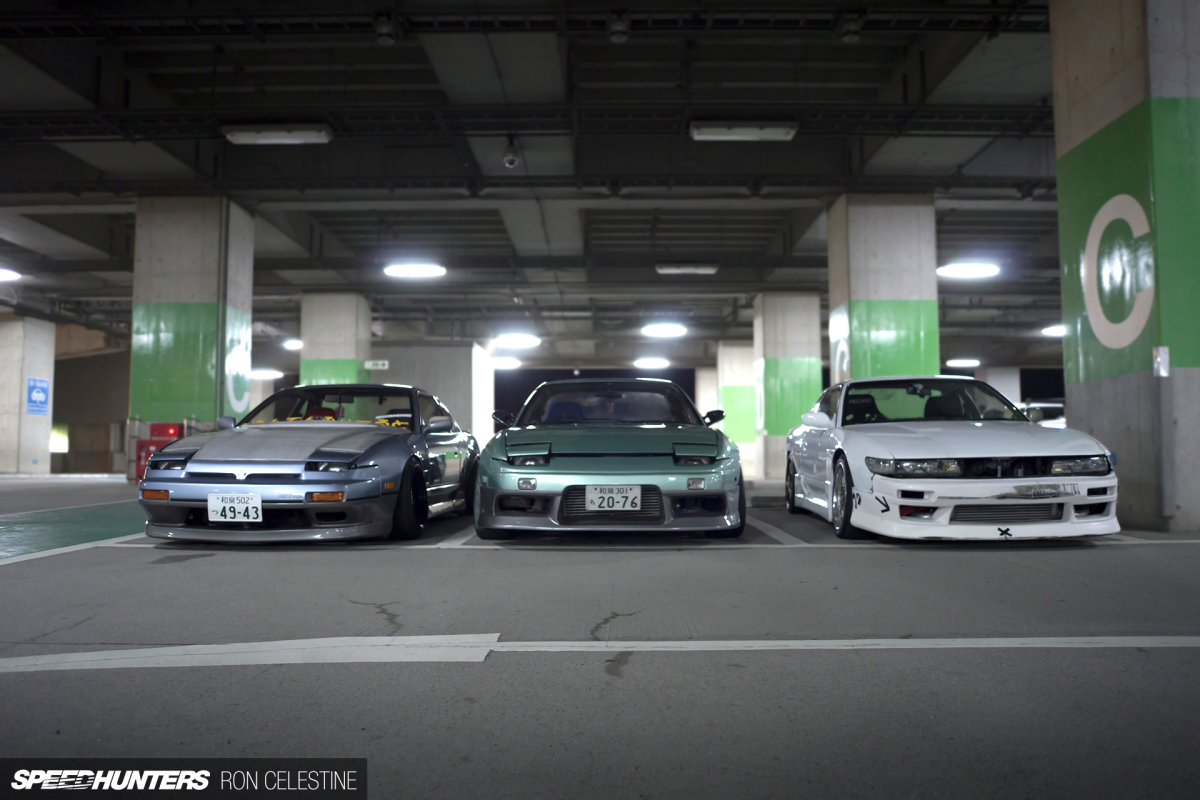 I thought this line-up of two 180SXs and a Silvia was pretty cool.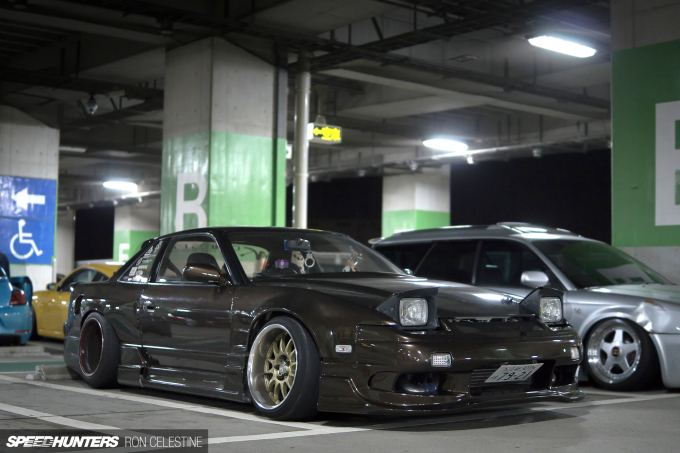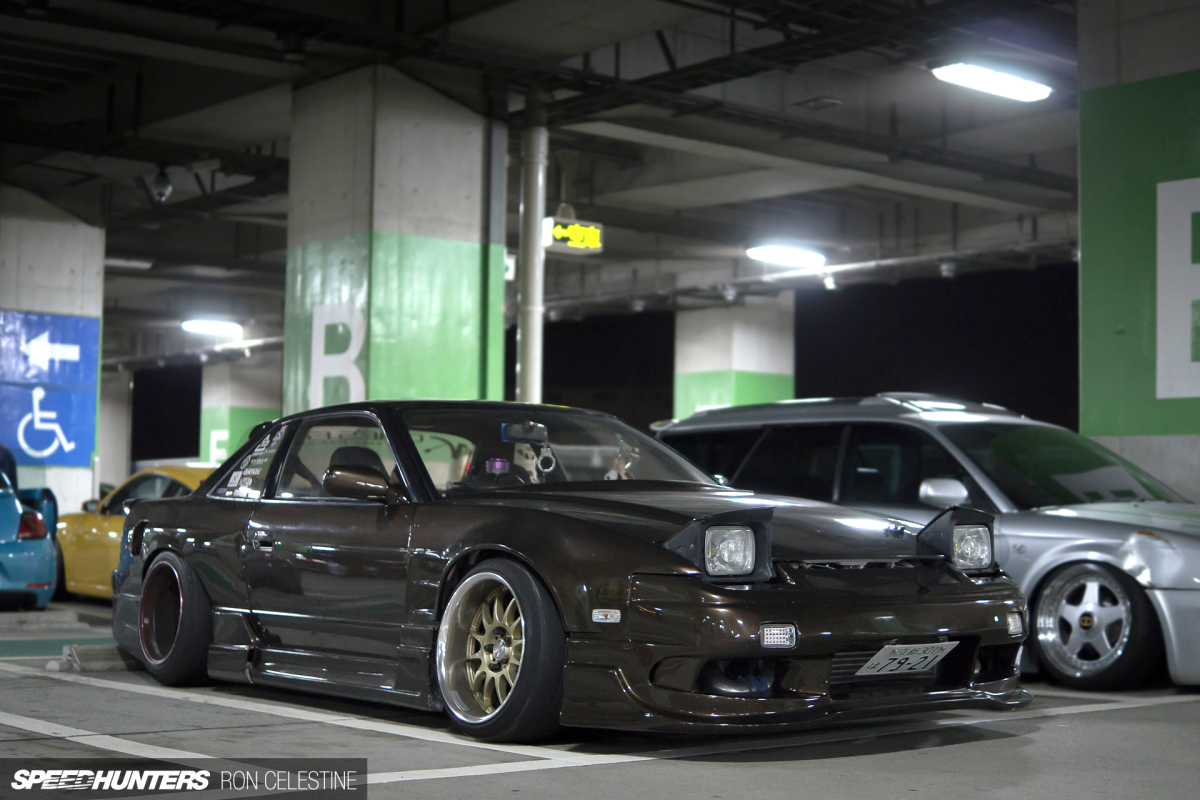 There's a lot going on with this car; the front end is from a 180SX…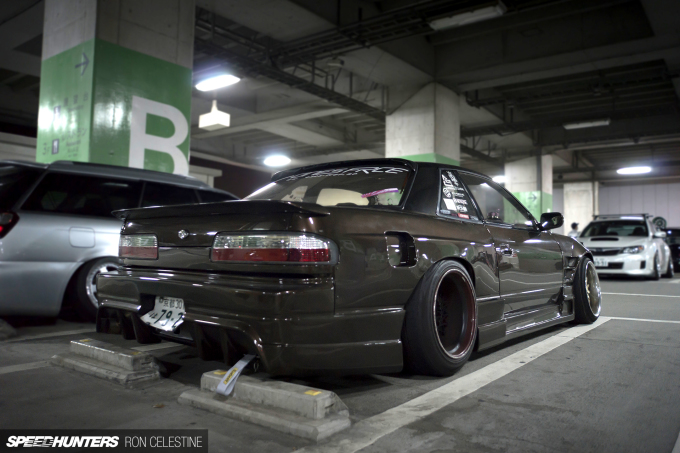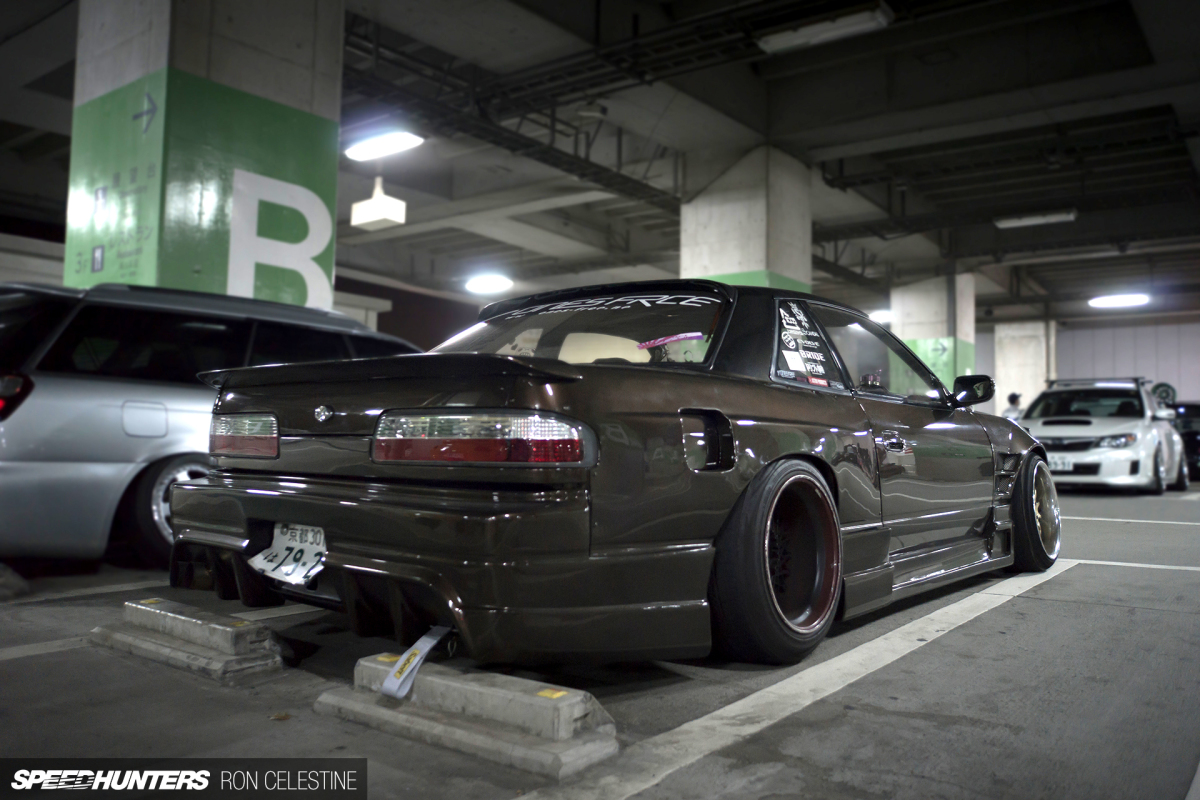 But the original body is all Silvia, resulting it what's called a Onevia.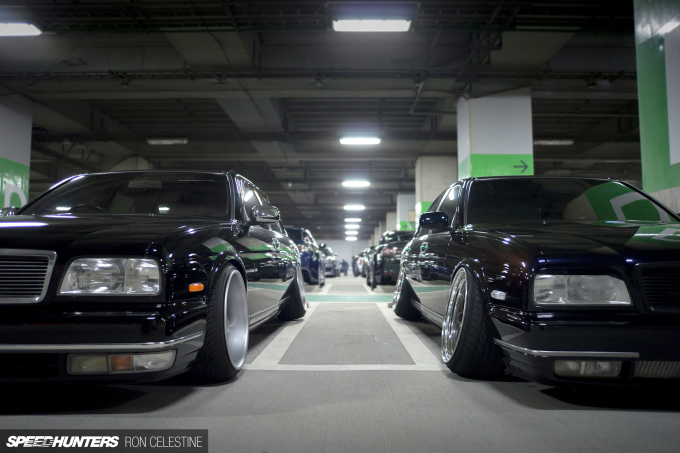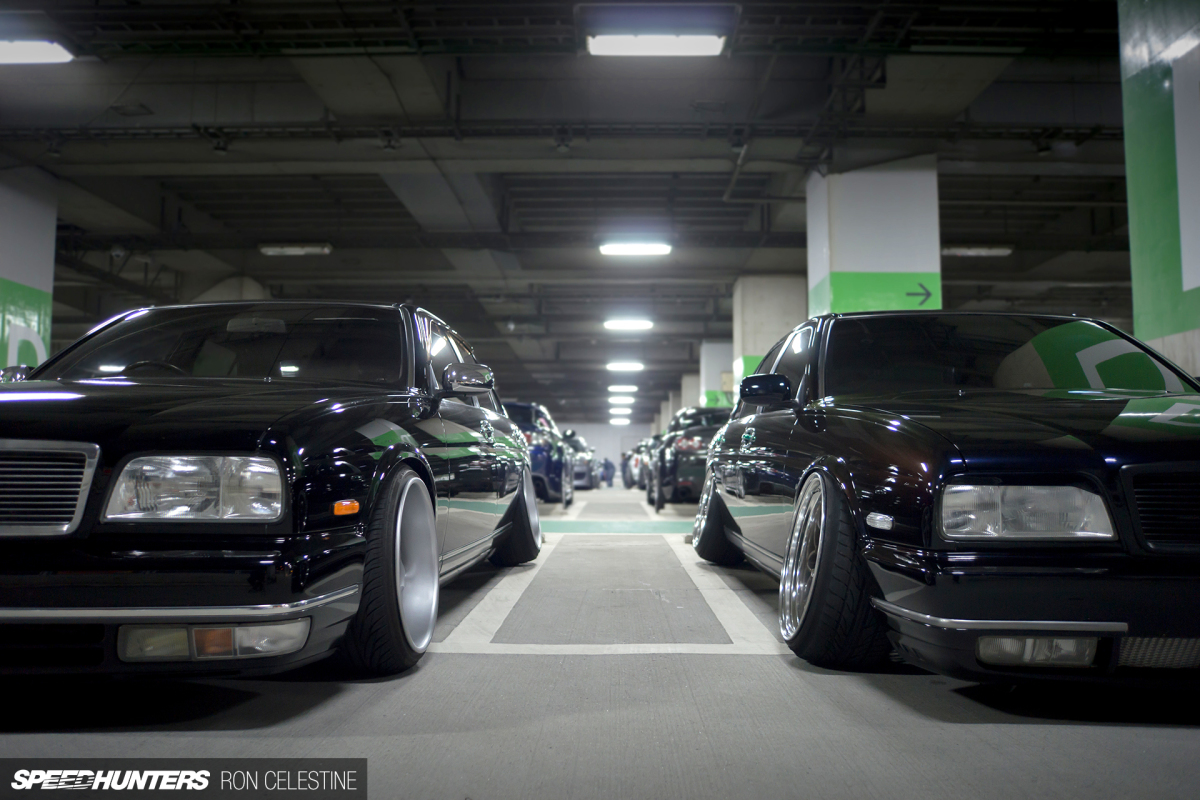 One of the original platforms for VIP bippu cars is the Nissan Y32, and this pair wear the style well.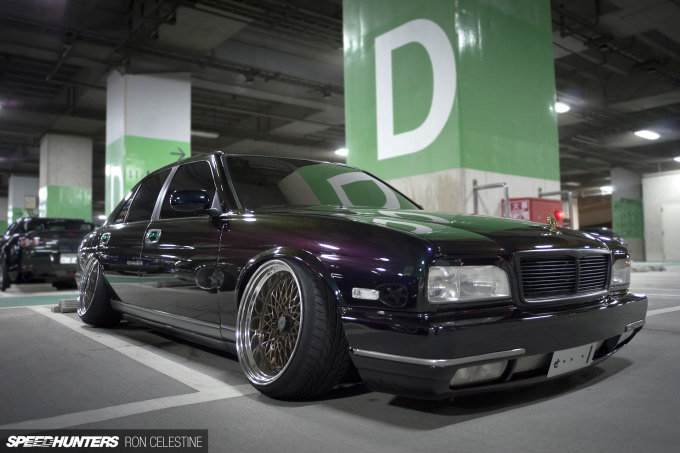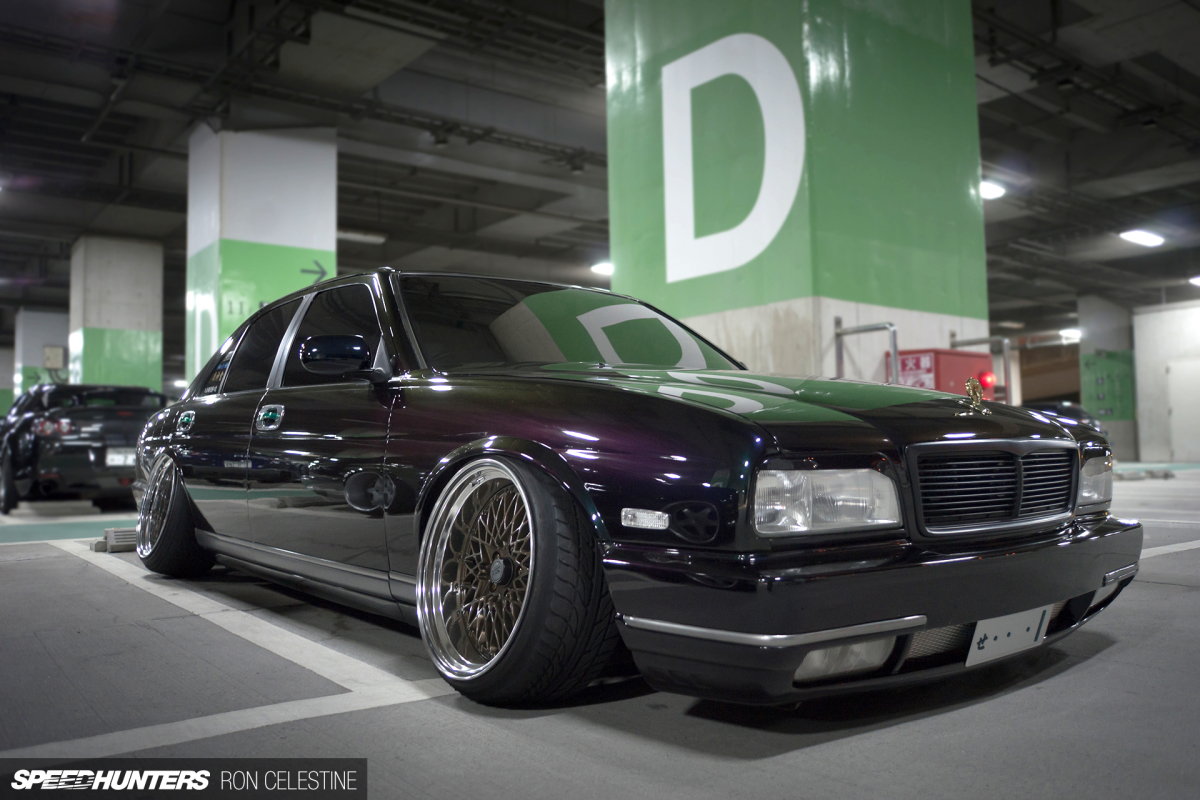 SSR Formula Mesh wheels and plenty of oni camber – perfect!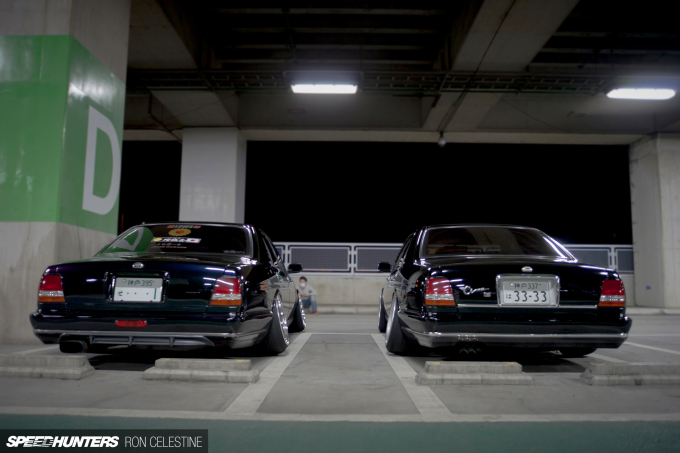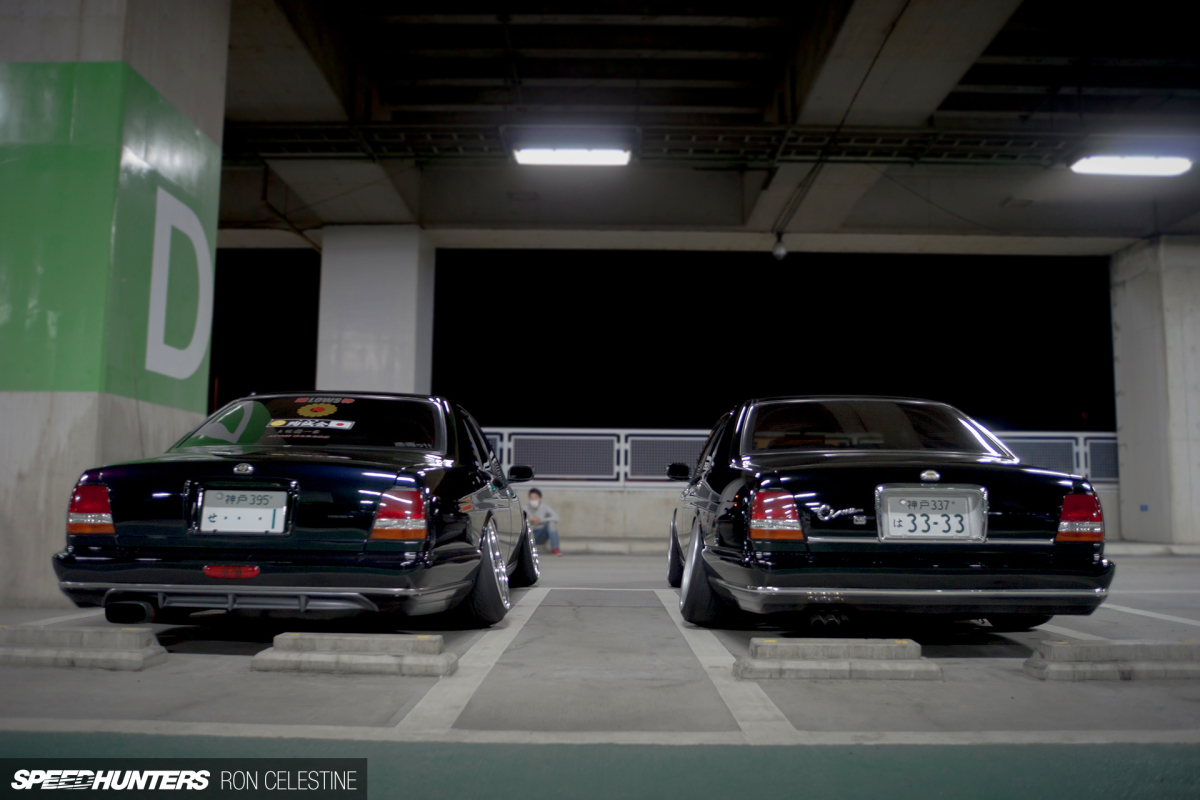 A view from behind shows just how aggressive the stance is with these Y32s. They're on static setups, of course.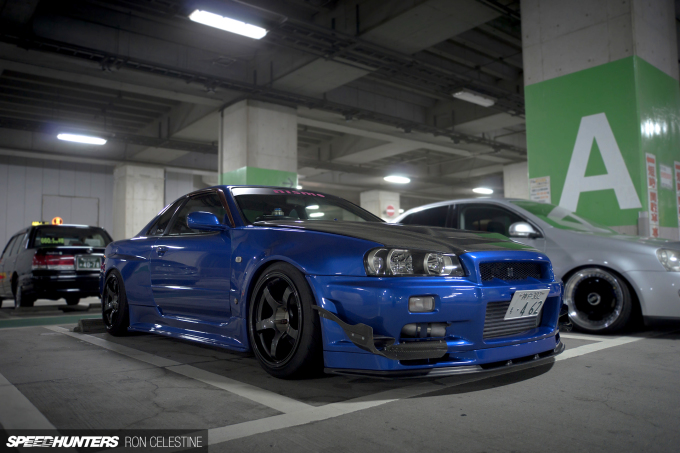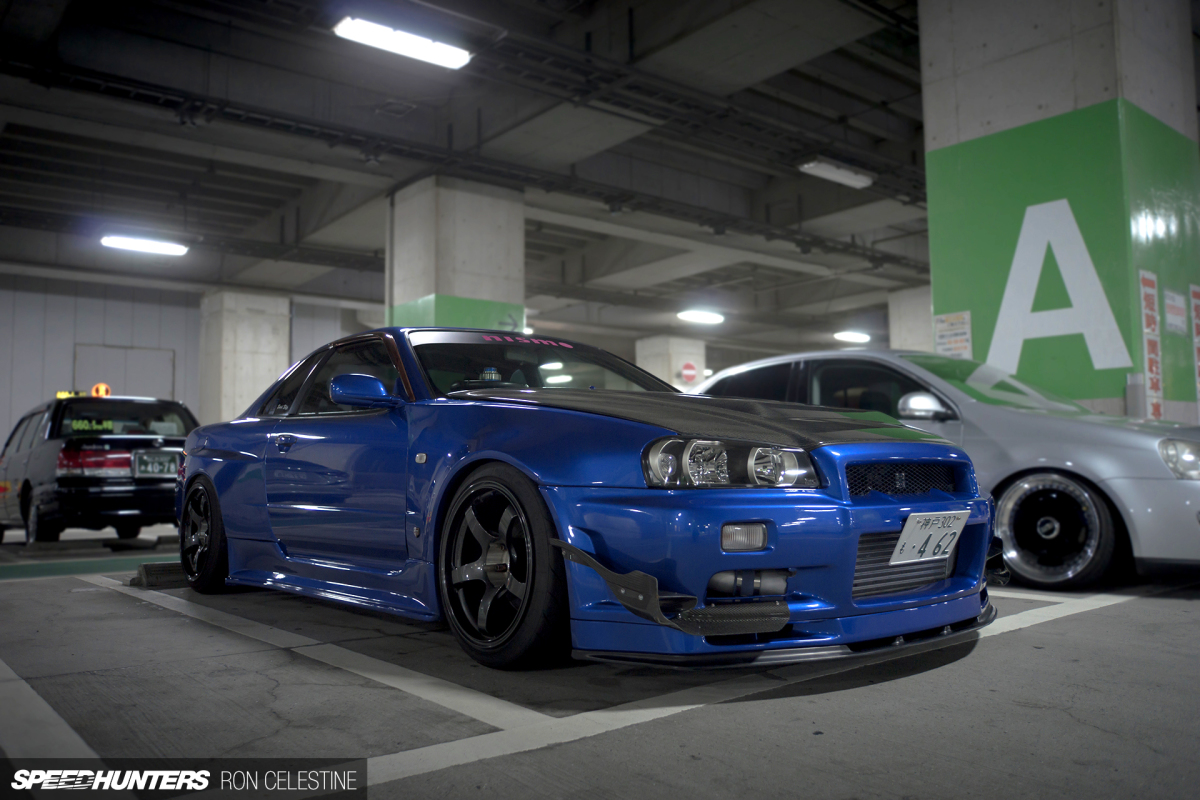 It wouldn't be Japan if Godzilla didn't make an appearance, and this R34 GT-R was extra tough.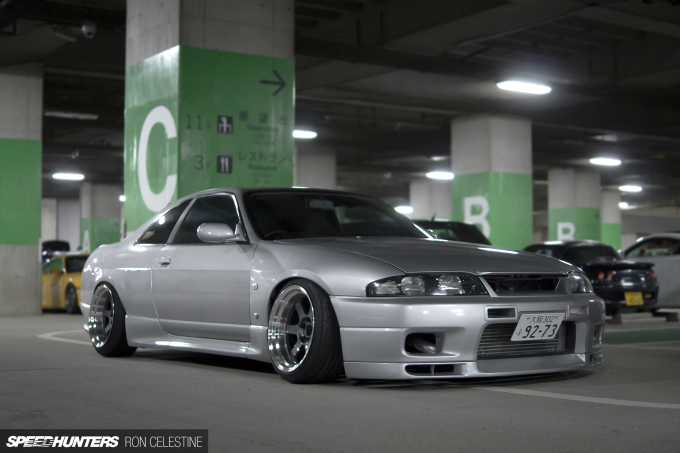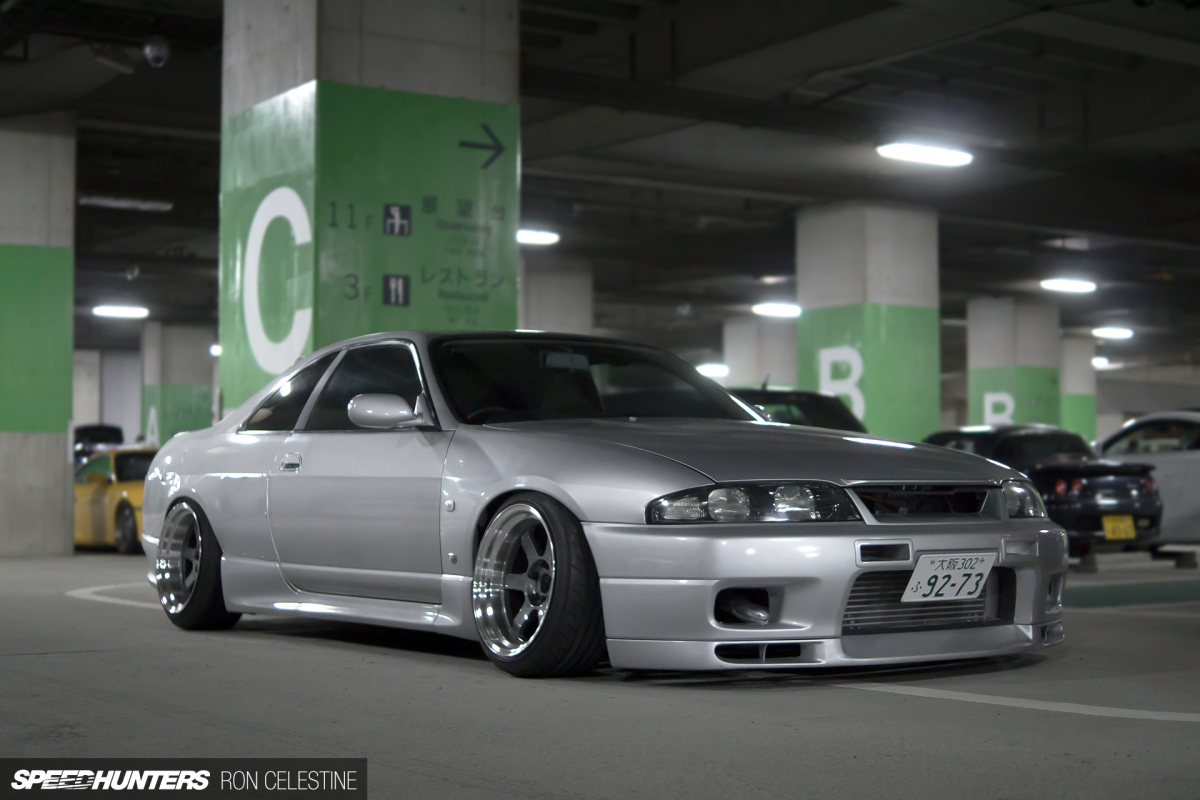 The R33 chassis doesn't get as much love as it deserves, but I don't think you can argue with this look.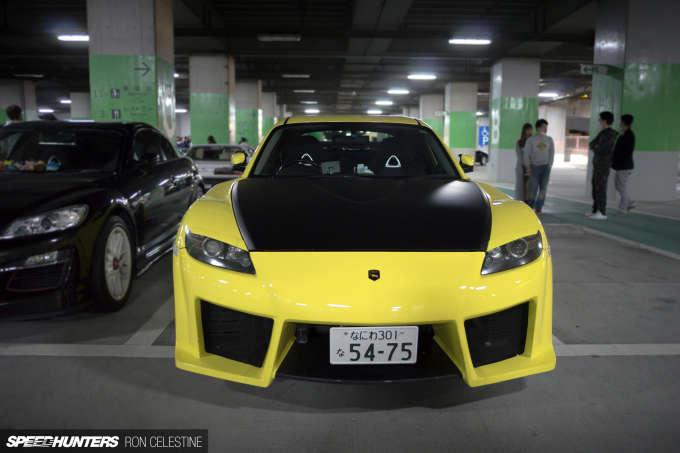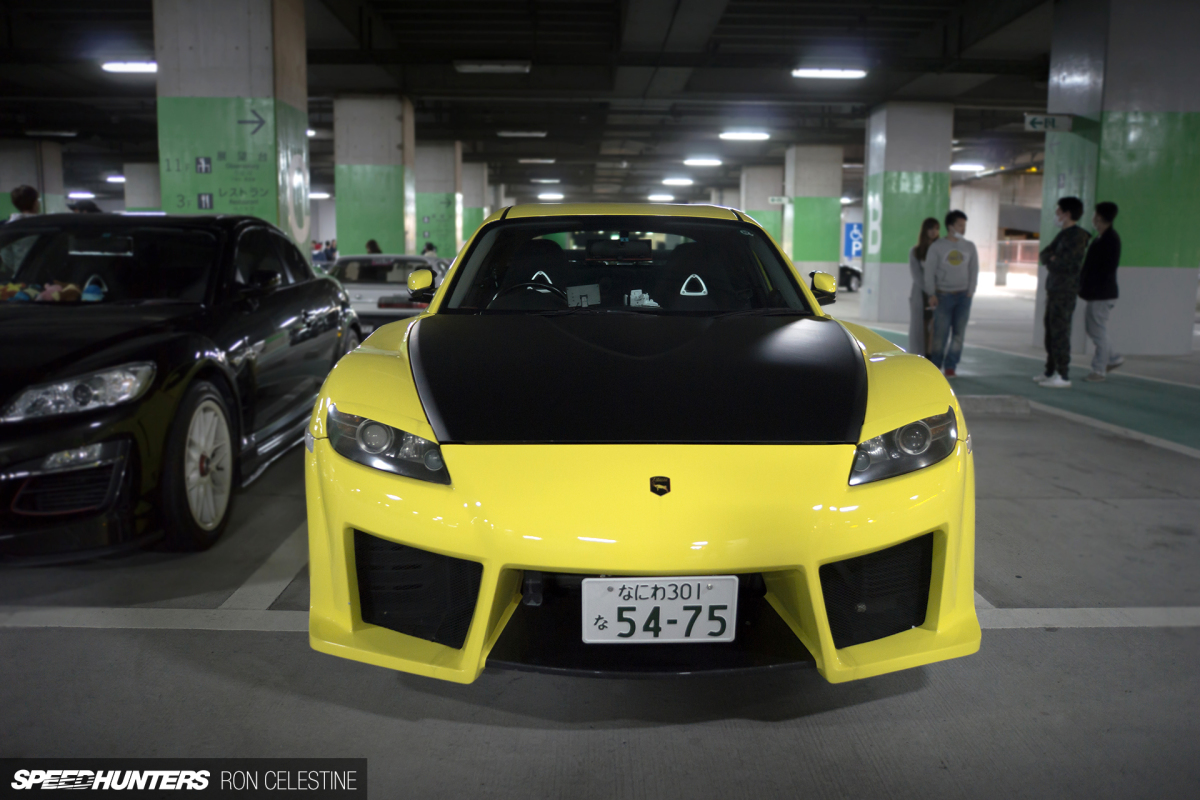 A group of RX-8s took up an entire row at the meet, this one with a Tifaria bodykit from NRF.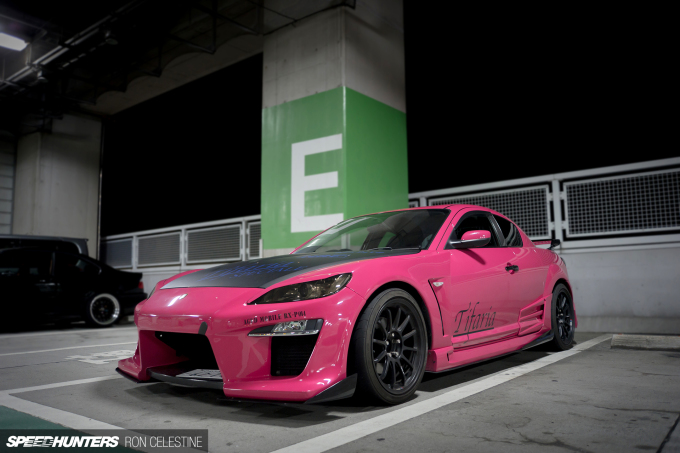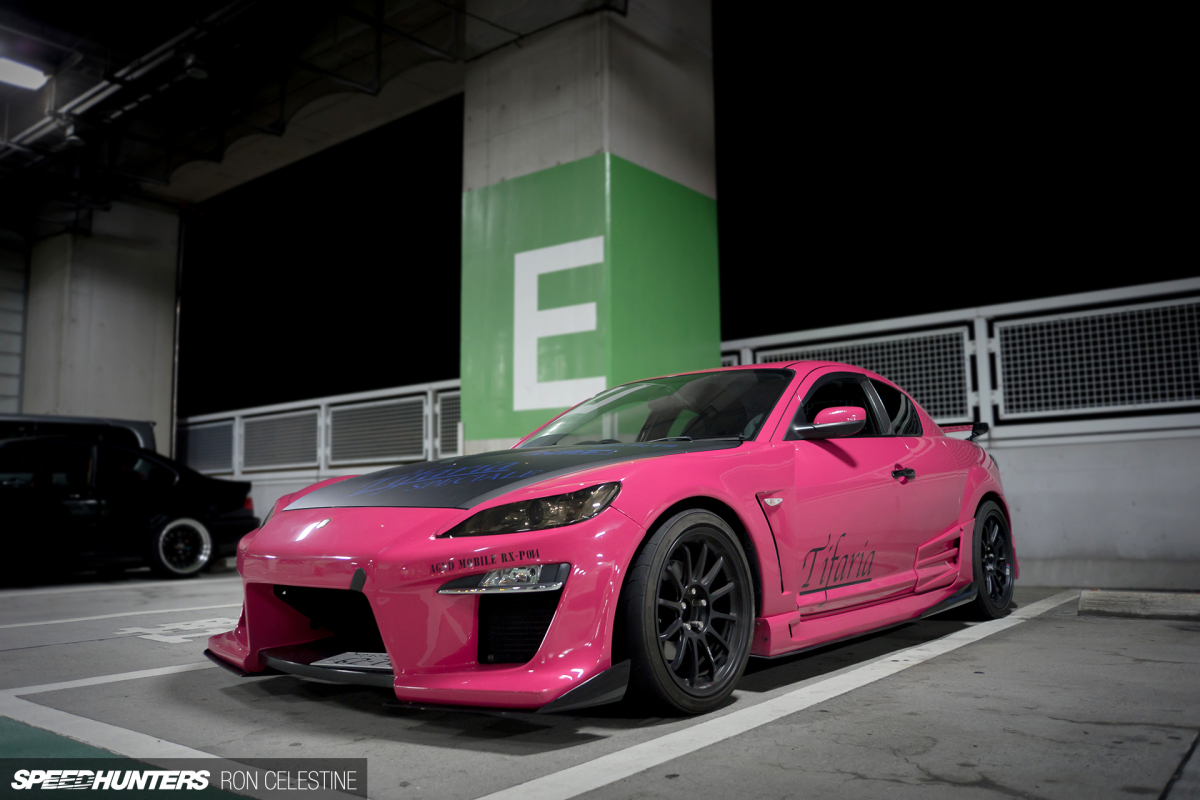 Parked opposite, it was hard to miss this bright pink example wearing the same aero upgrades.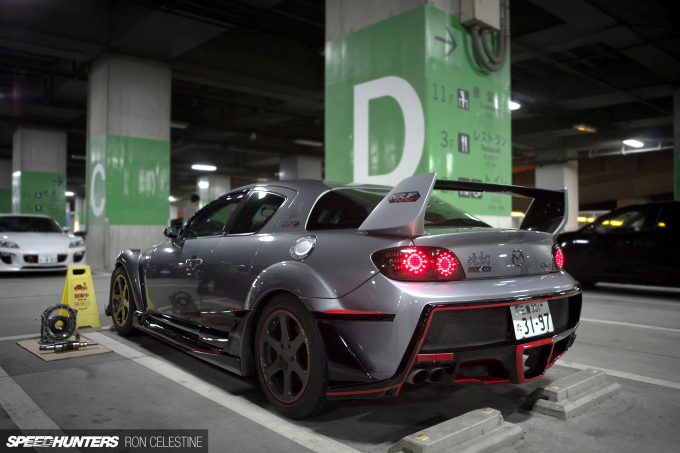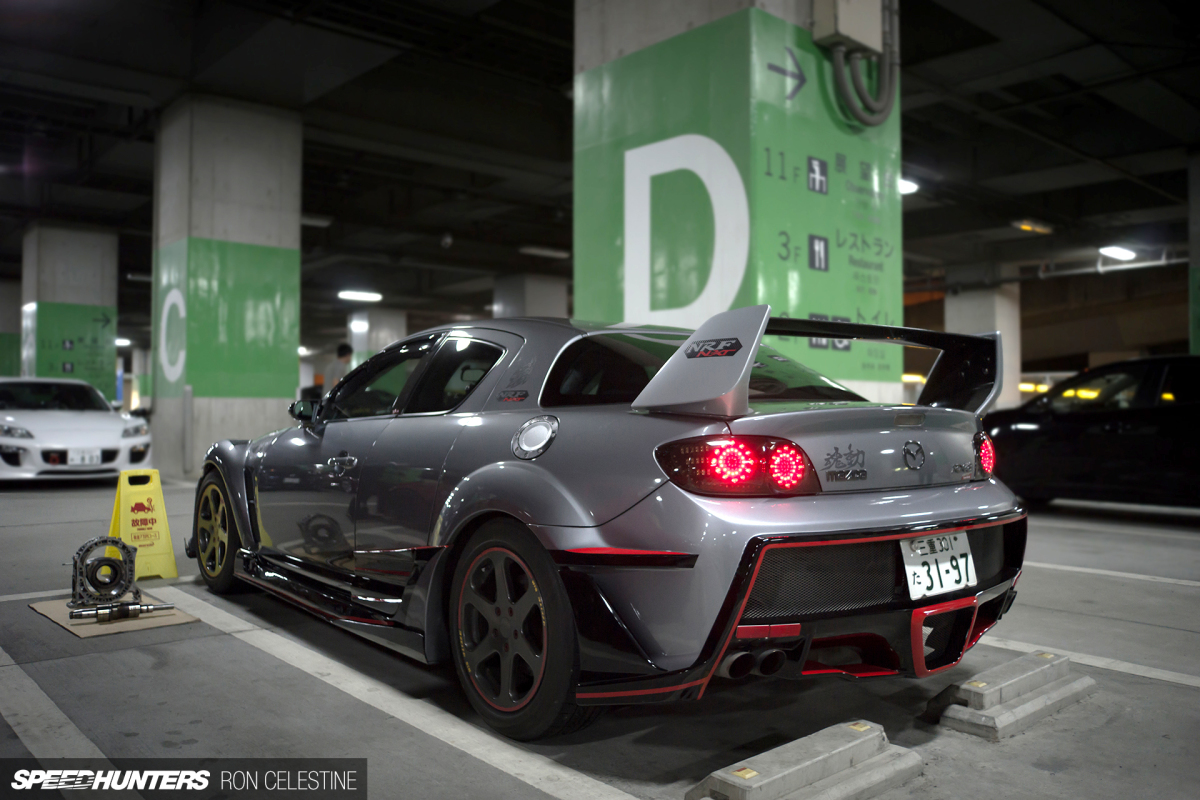 By my favorite from the group was the NRF demo machine.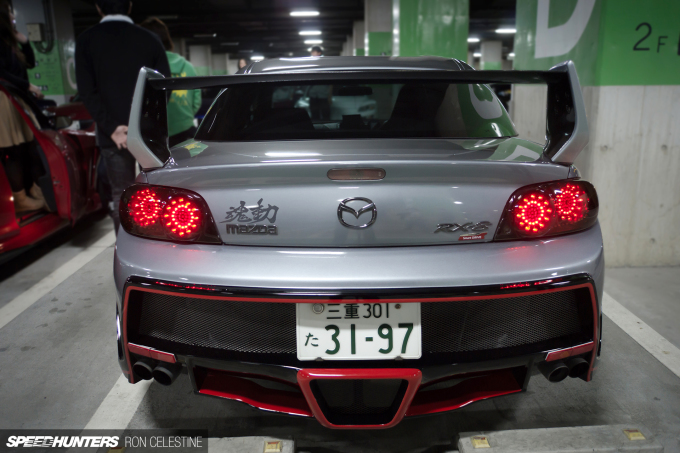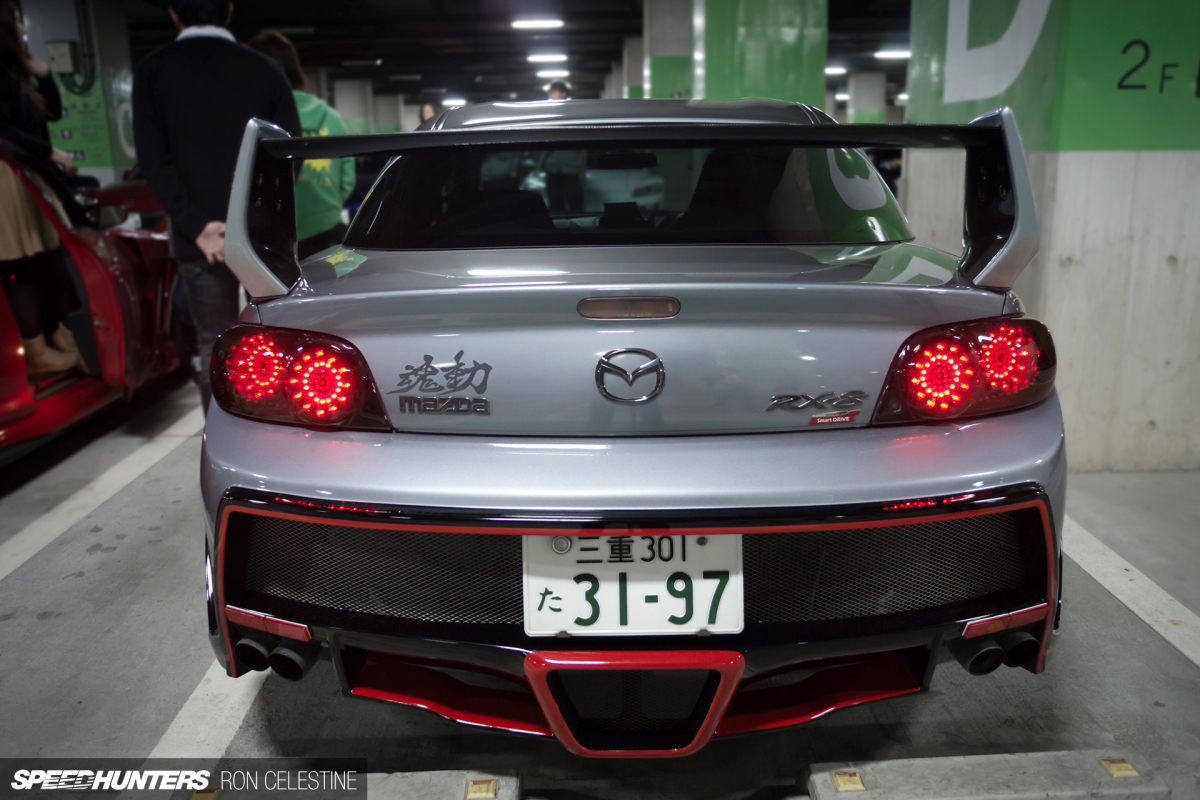 Besides the wild body kit, the thing that caught my eye was the tail lights. These custom LED lights were made in-house at NRF and are a welcome improvement over the stockers.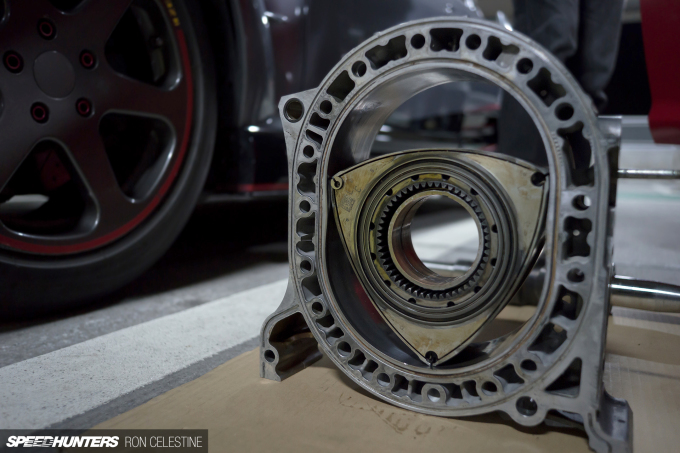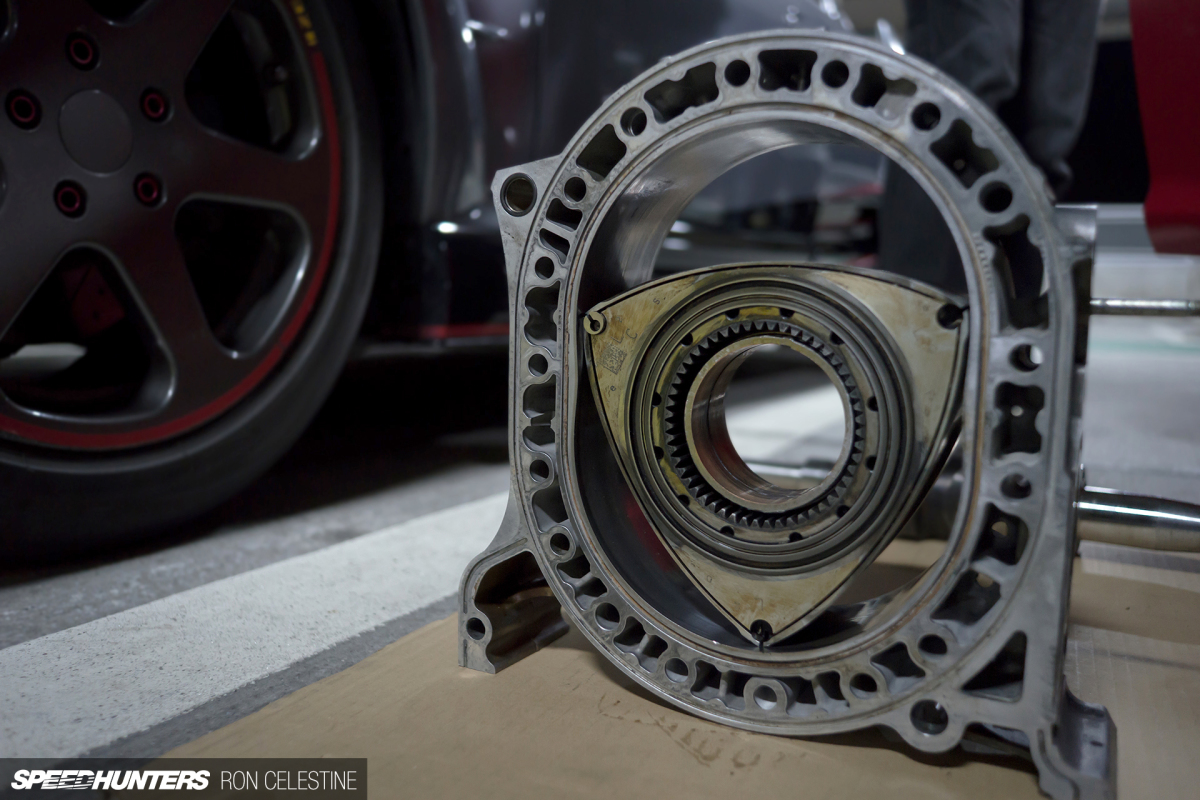 I ended up riding around Osaka's hotspots with my new friends until 4:00am, and as they dropped me off and drove away into the morning, I still couldn't believe the friendliness that had been extended to me.
Yes, I now understand why the people of Osaka have such a friendly reputation. Don't get me wrong – people in Tokyo are incredibly friendly and I love living in Japan's biggest city, but Osaka, you're amazing!
Ron Celestine
Instagram: celestinephotography