Behind Every Build
You get to meet some great characters and hear some incredible stories in the pursuit of hunting speed. That's where the lion's share of the interest lies in a lot of the amazing builds that we feature, in my opinion.
We all share the same common ground in the appreciation of cars, but for me at least, these stories are at their most compelling when they have the added depth of the people behind them. After all, it's the personalities and the characters that are conceptualising and/or building these machines that are ultimately responsible for their identity, the influences that go into the build and the paths that they head down.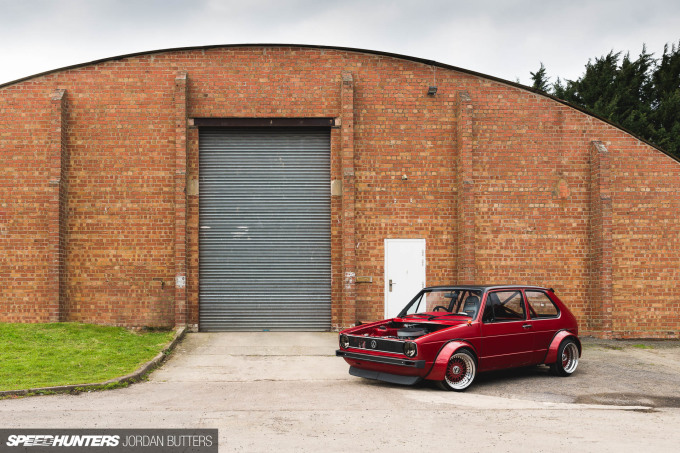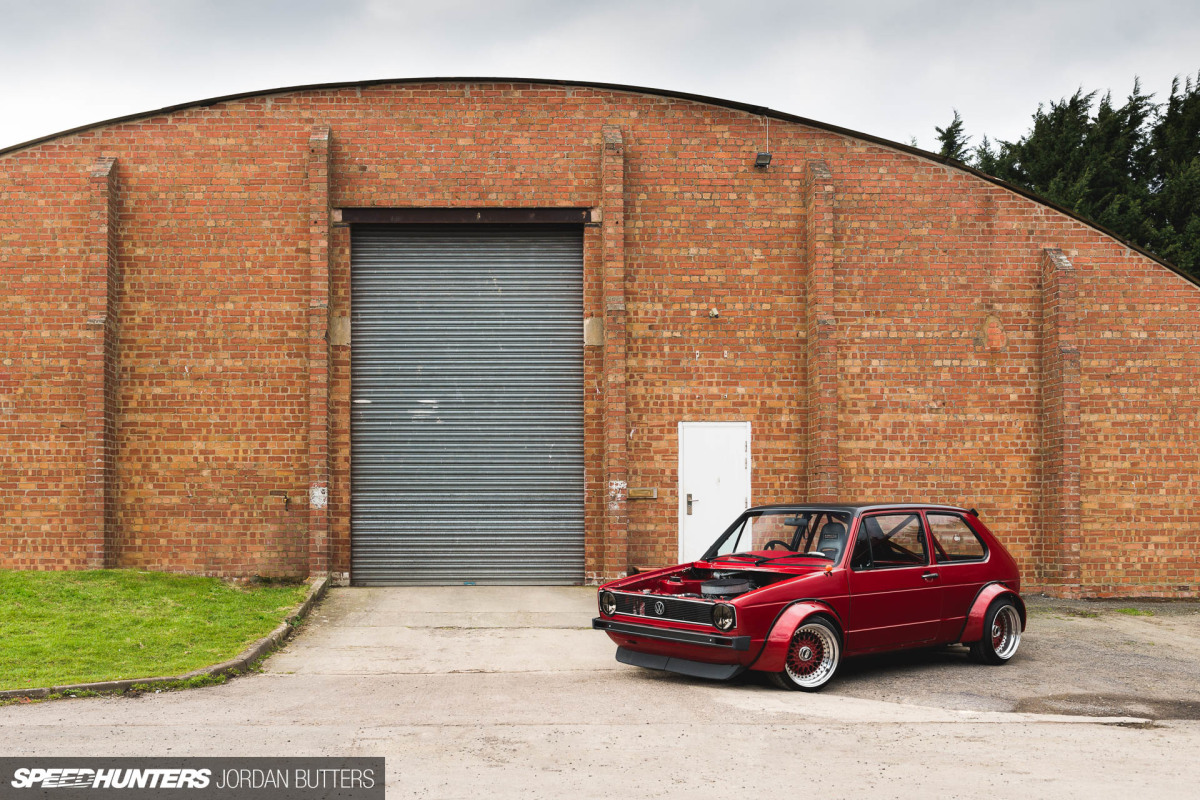 Take James Cockayne's 1983 Mk1 Volkswagen Golf, for example. I could walk around this car, making note the interesting parts and modifications that grab my attention and share that information with you. But that doesn't really tell you anything about the car, or the owner, or the reasons why the build ended up like it did.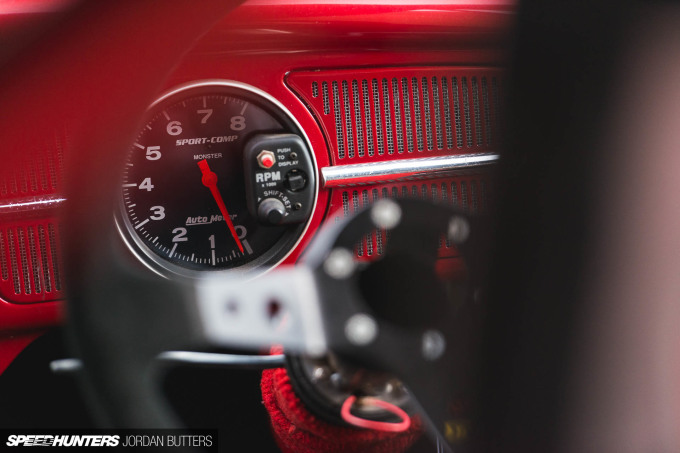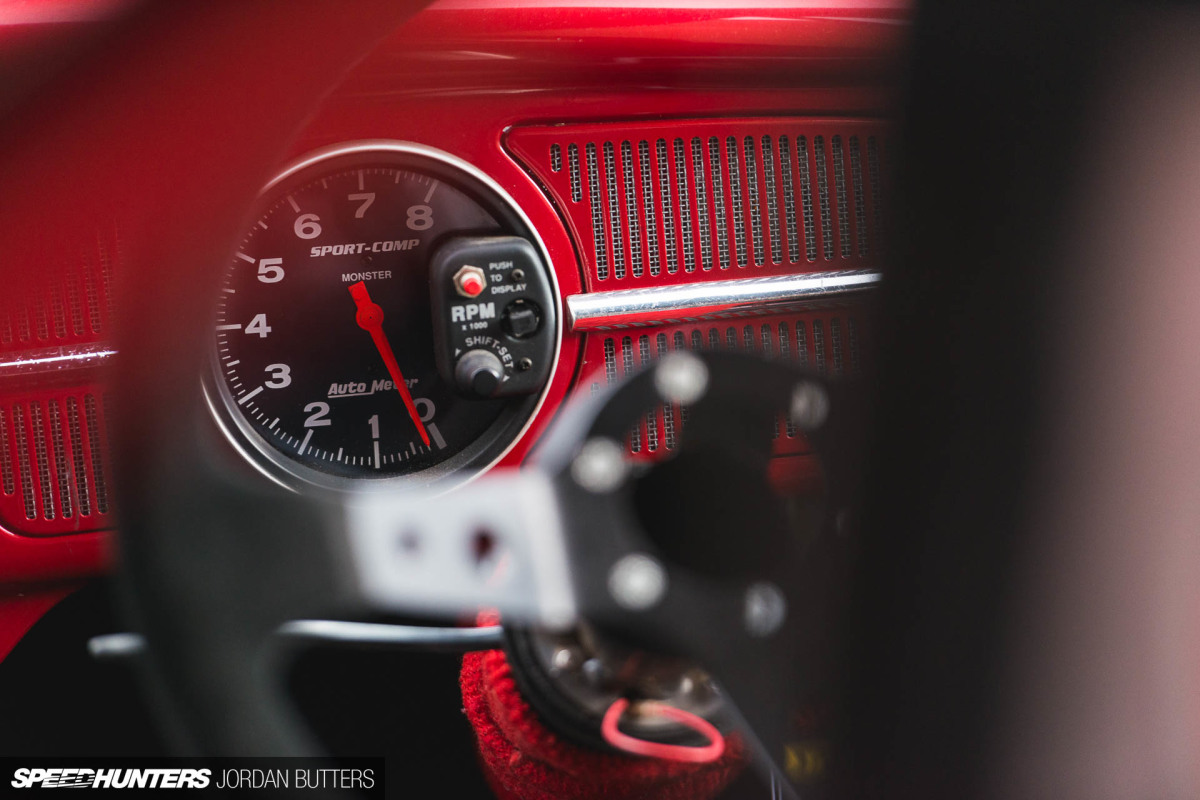 I don't know about you, but I enjoy cars that have a story behind them. Don't worry, this isn't going to descend into the age-old built versus bought debate – in my eyes there's nothing wrong at all with having a vision for a build and employing the help of experts to get the job done. You're no less of an enthusiast if you choose to pay someone to execute your vision than you are if you get your hands dirty and do it all yourself, but my interest piques when there's a bit of background to the choices that are made during a build.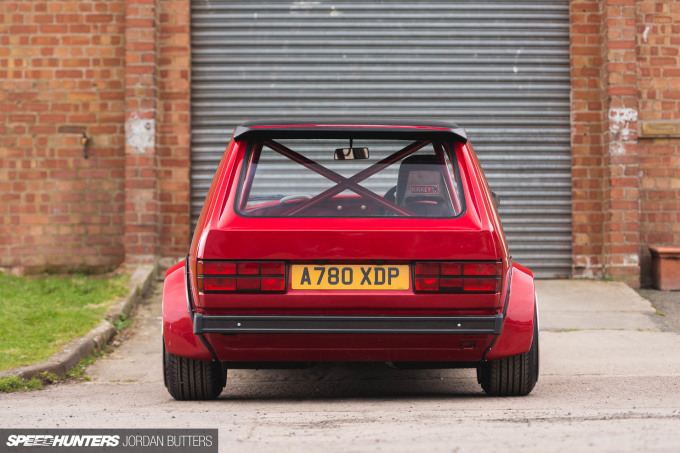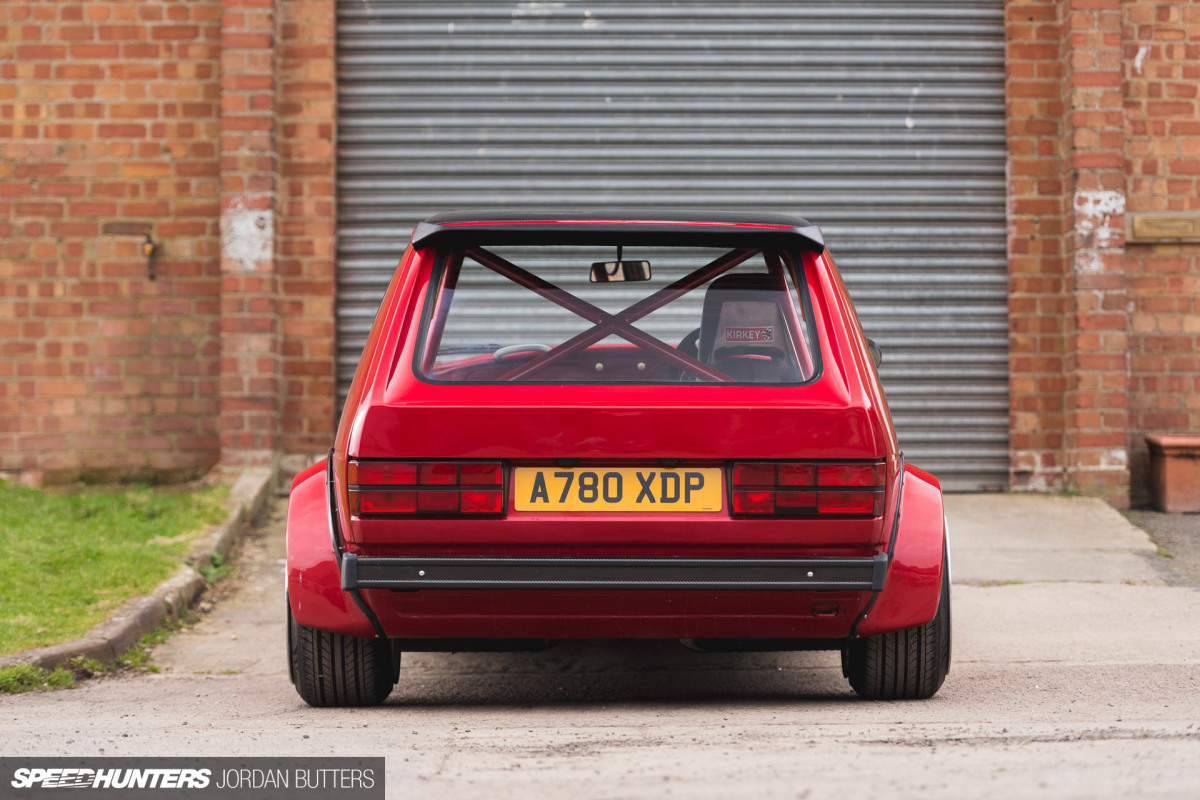 As Jim started telling me about the VW sitting in front of us he proudly stated that he's got some sort of story behind every single part of the car. That's what I like to hear. He's also tells me that him and his friends had a hand in pretty much every aspect of the build. It's been worked on in small garages, freezing cold workshops and out in the rain under floodlamps. Its purpose? Simply, it's a car to have fun in.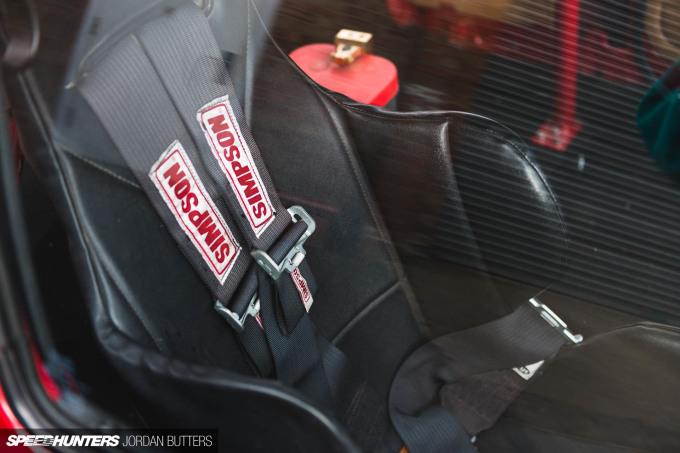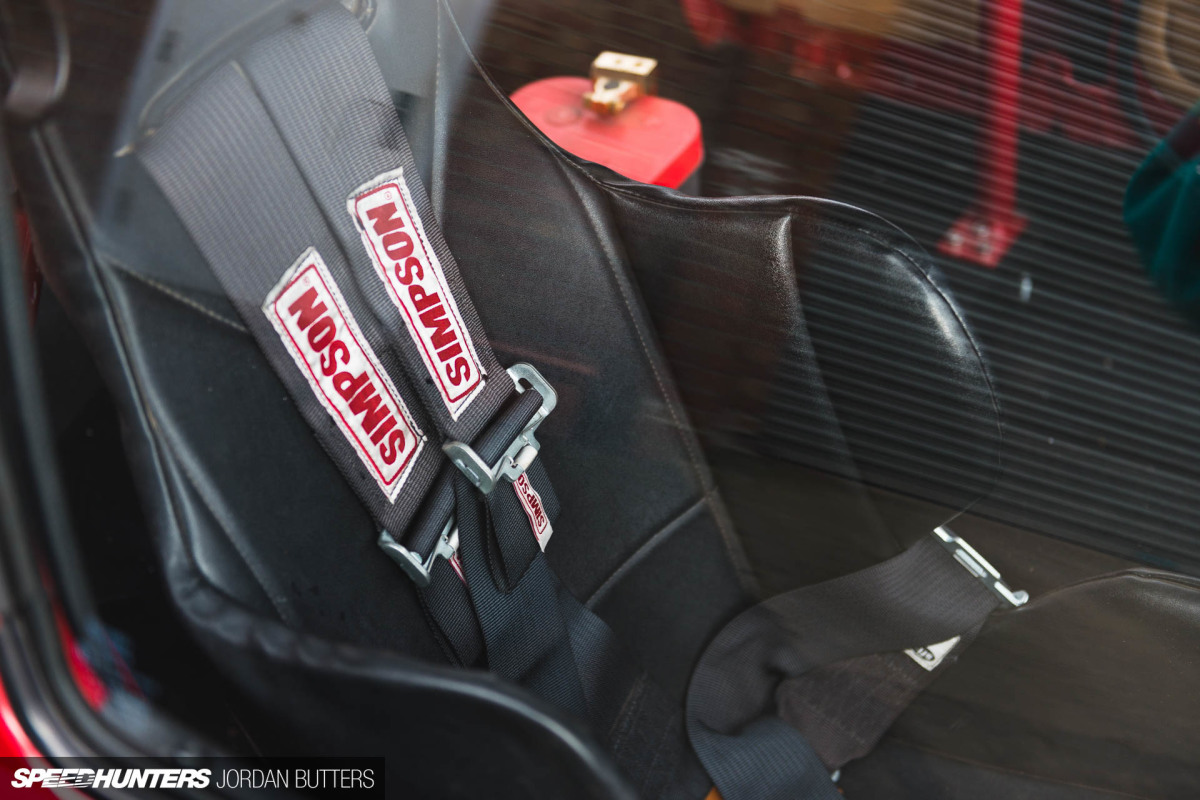 It's also worth pointing out at this stage that Jim's primary automotive loves are weird and wonderful motor/chassis combinations, influenced by hot rods and drag racing. His daily driver is a bagged and patina-covered 1954 Chevy panel running a BMW 525D turbo diesel motor, and sitting behind us was a 1959 Chevy Impala running the very same engine and 22psi of boost, which Jim helped build.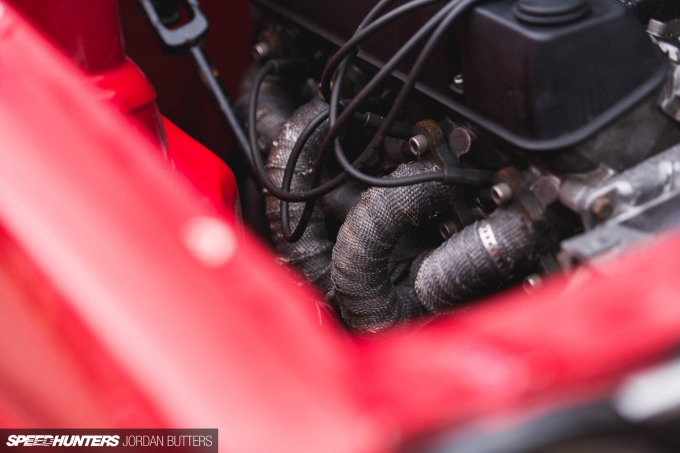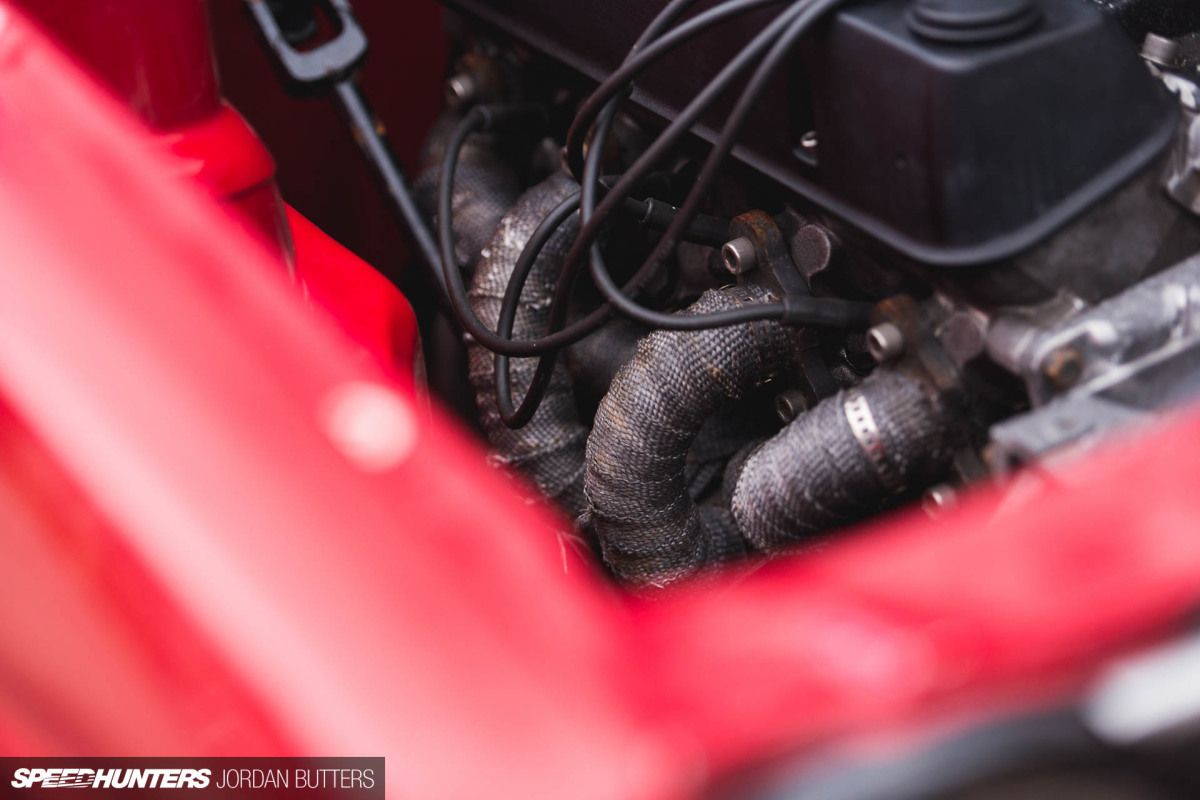 You can already tell that the Golf isn't going to be what you expected, right?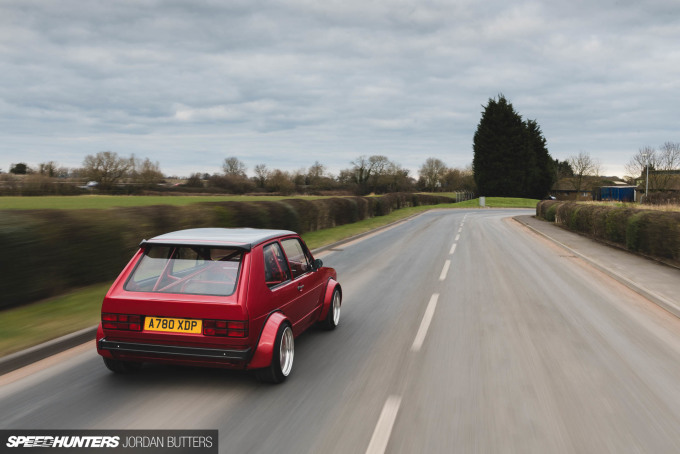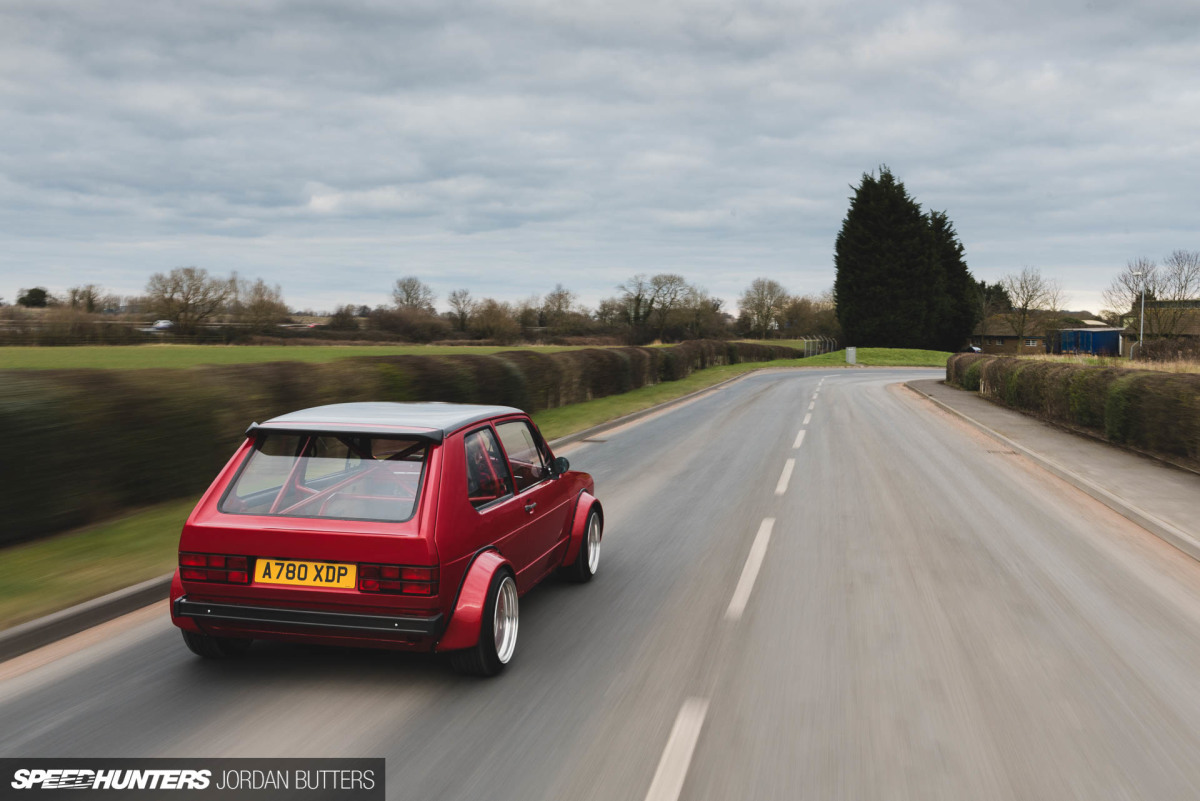 Jim's journey with the Golf started some 12 years ago when he parted company with the grand sum of £280 to gain possession of it. Like many great decisions, it was purchased purely on a whim. He fancied a project, the Golf looked like a good base, and the deal was done.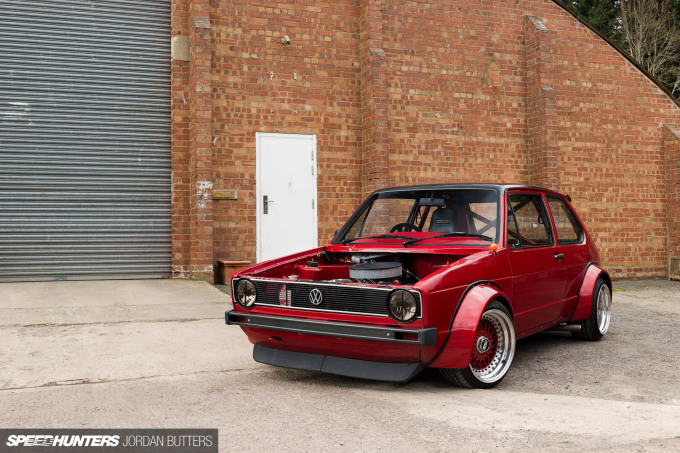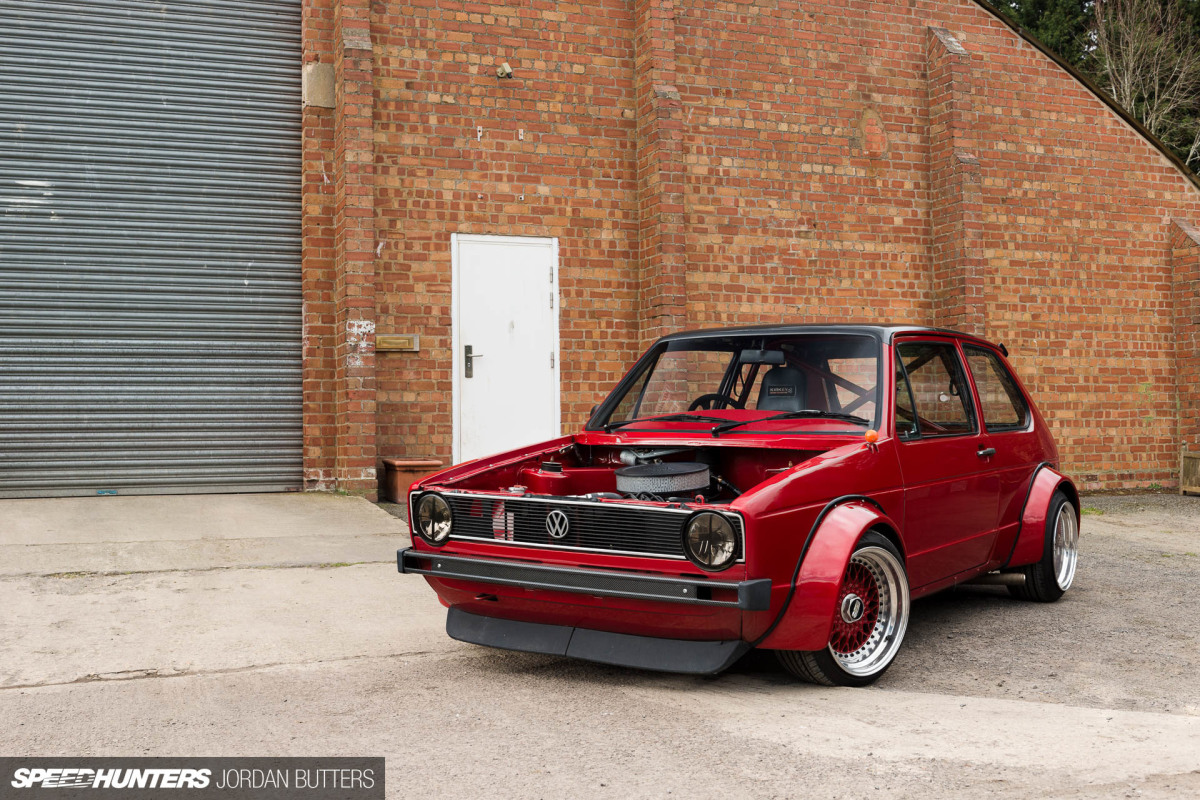 The original plan was to drop in a torquey diesel engine, as per his other projects, and lower it over a nice set of wheels. That was until the bloke he worked for at the time gave him a waterlogged and seized Rover V8. It'd be rude not to see if it'd fit, right?
Let's Get Custom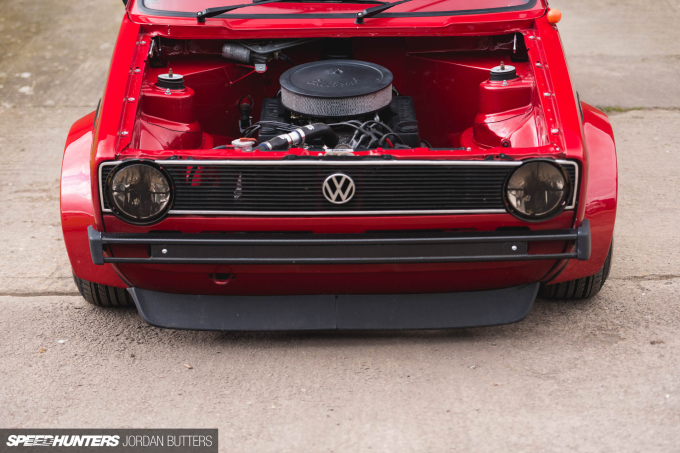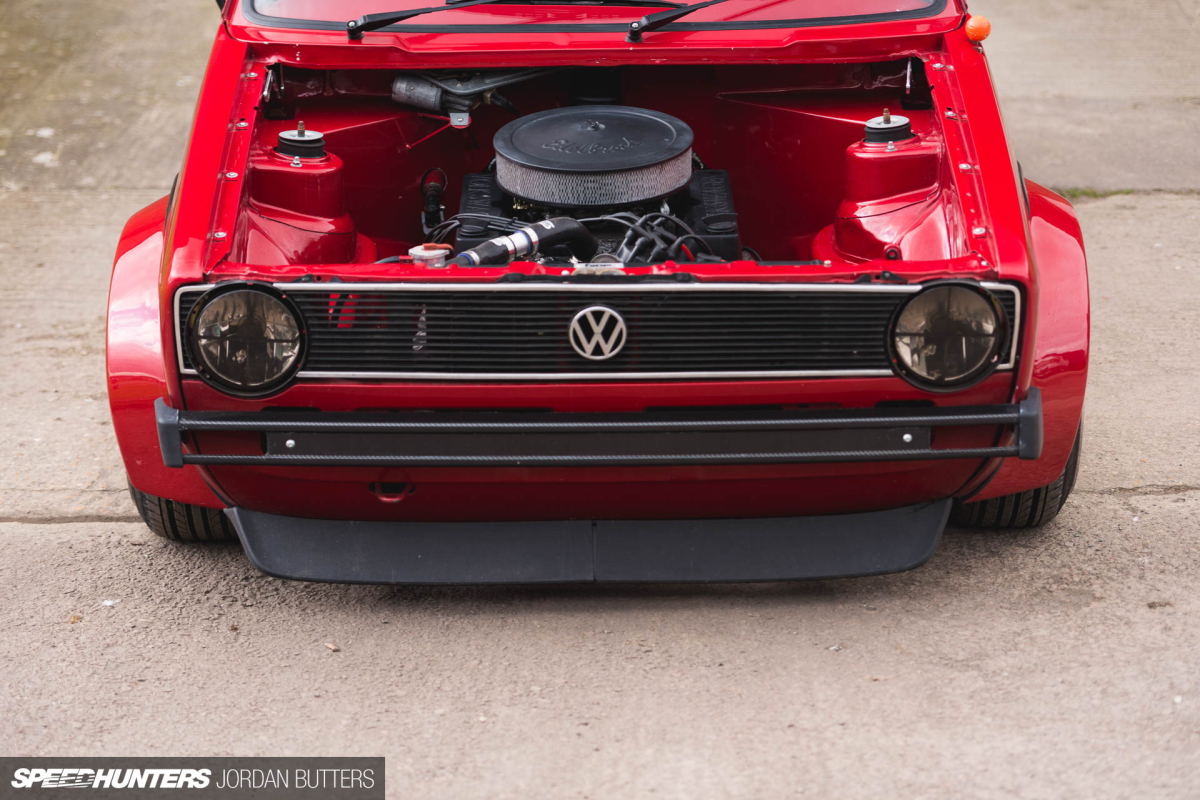 What started out as a bit of bulkhead cutting to make way for the bigger block soon turned into more and more metal being chopped back to get the engine sitting in the right place. Before long, it made sense to just chop out the bulkhead completely. Jim wanted the engine to sit low in the car and, of course, there isn't exactly provision for the drivetrain in the stock chassis, so he'd need to fabricate a brand new chassis rails from scratch too. The home-made platform now runs from the slam panel right back to the rear axle.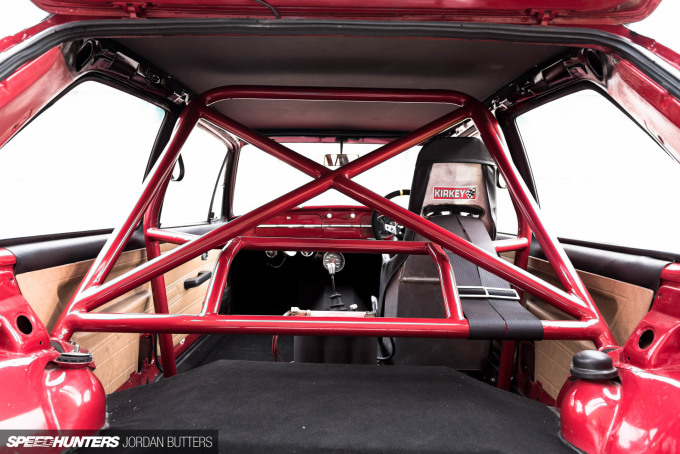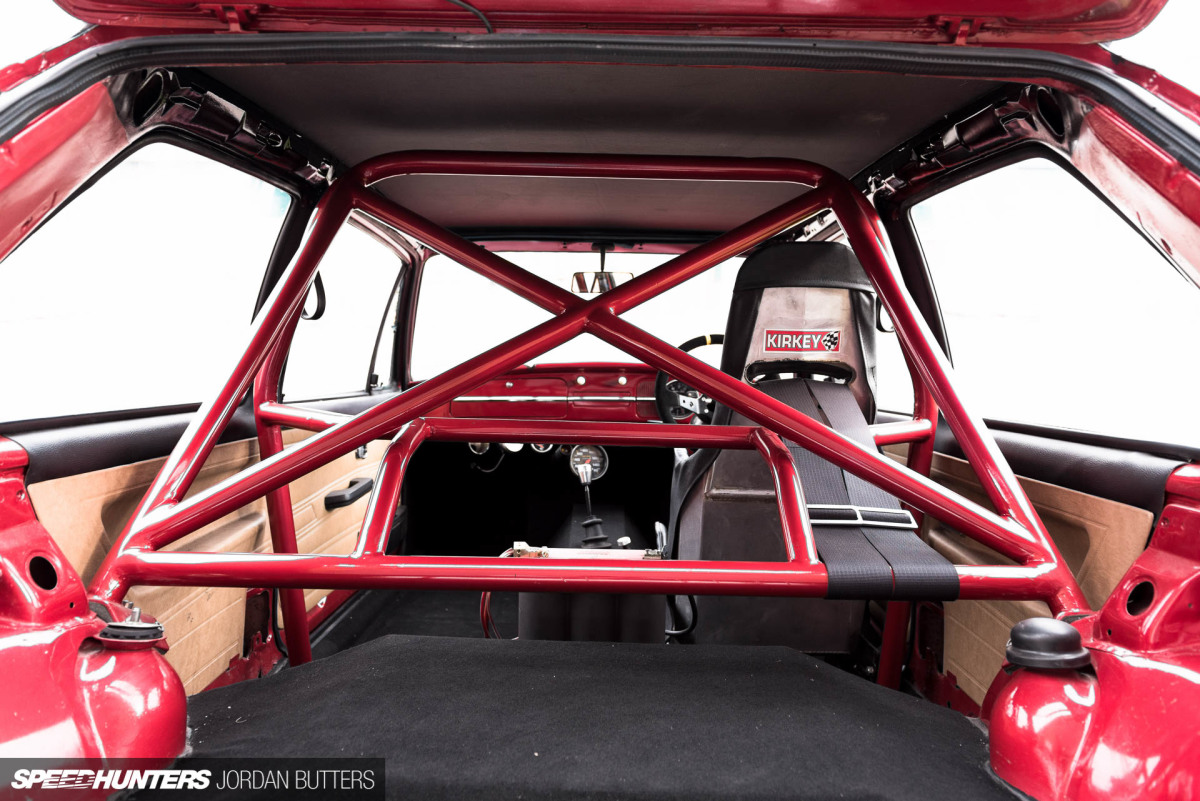 There's also no room for the large rear-wheel drive gearbox in the stock floorpan, or the rear axle for that matter, so Jim braced the body and kept on cutting. By the time he was done and had everything sitting roughly where it needed to be, he had to figure out a way of tying in the new chassis rails to the body, as well as rebuilding the floorpan and bulkhead around the new powerplant and drivetrain.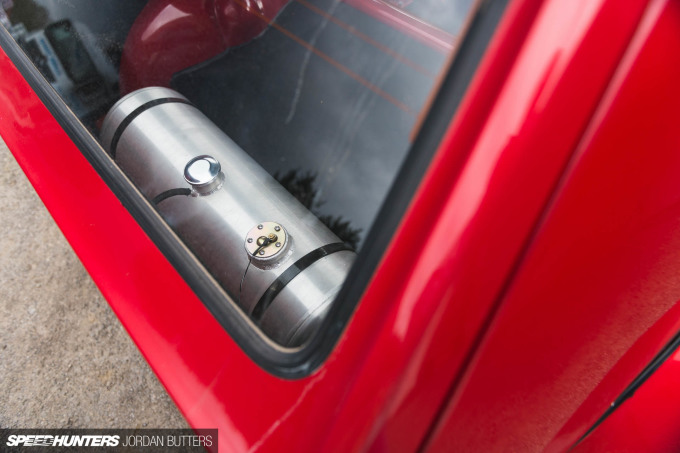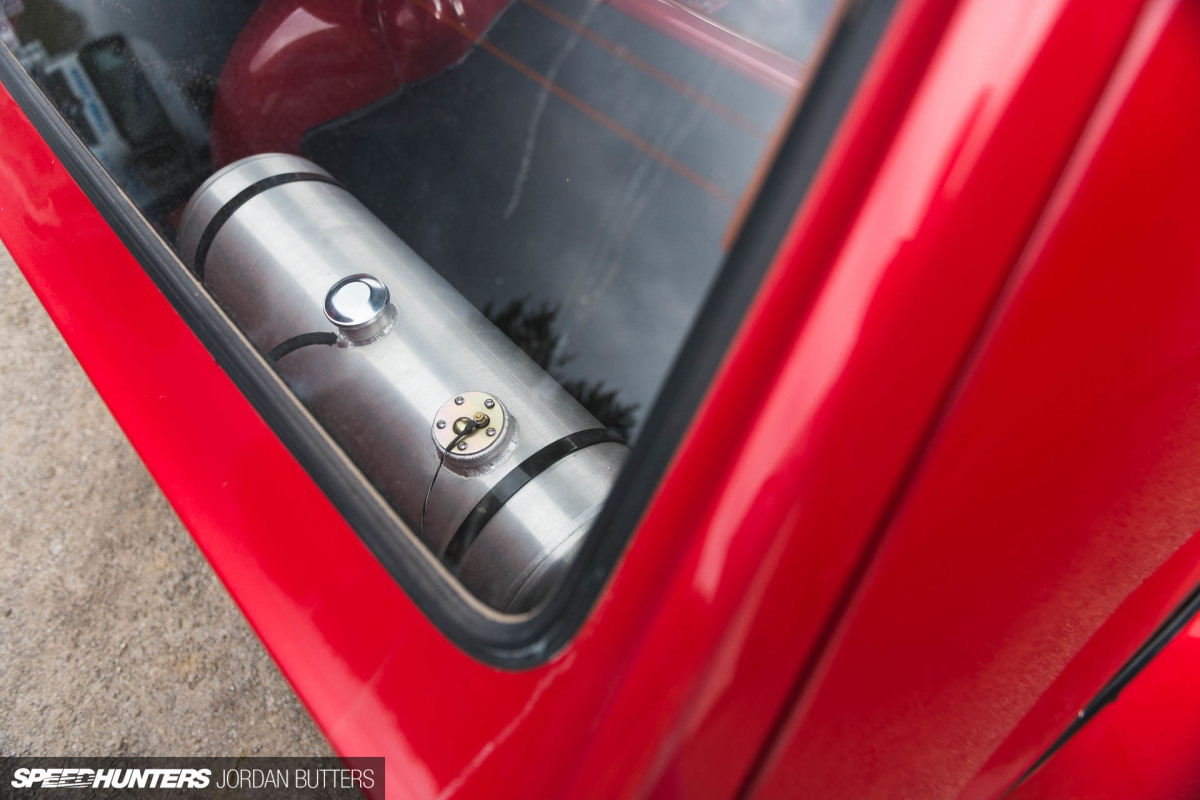 At this point it might be worth mentioning that Jim had not really done much welding before either. And, as he was tackling the vast majority of the project himself, he had his work cut out, literally. Through much practice, Jim hand-built the chassis rails and floorpan. He also tackled the job of retrimming the interior too. Talk about a baptism of fire…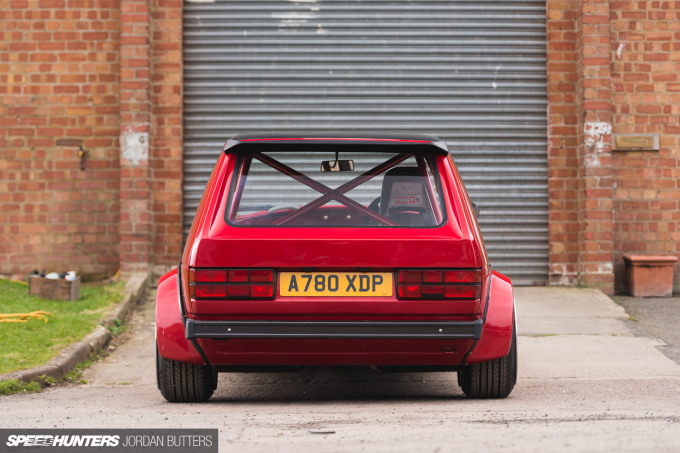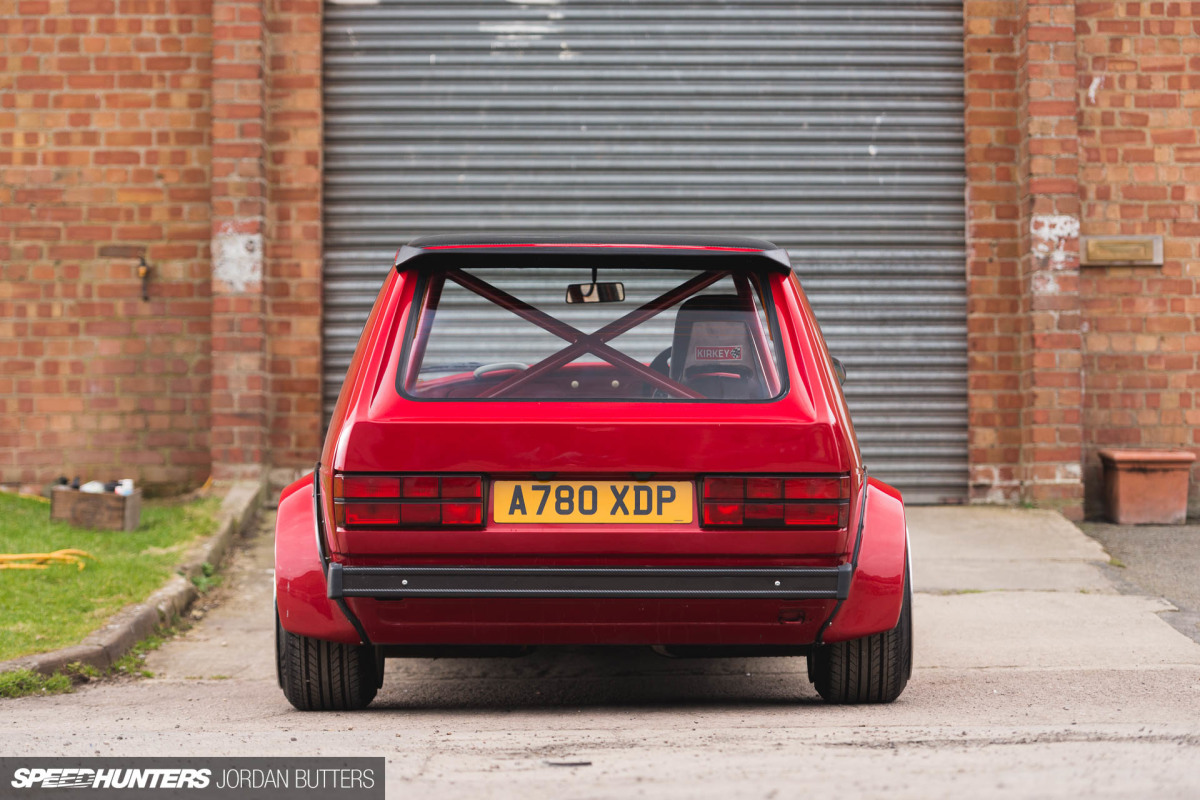 A Mk1 half cage was sourced and the rear legs were shortened and modified to fit the new floorpan. As a further nod to its hot rod inspiration, the car was originally destined to have a roof chop, but Jim chose not to go down that route in the end.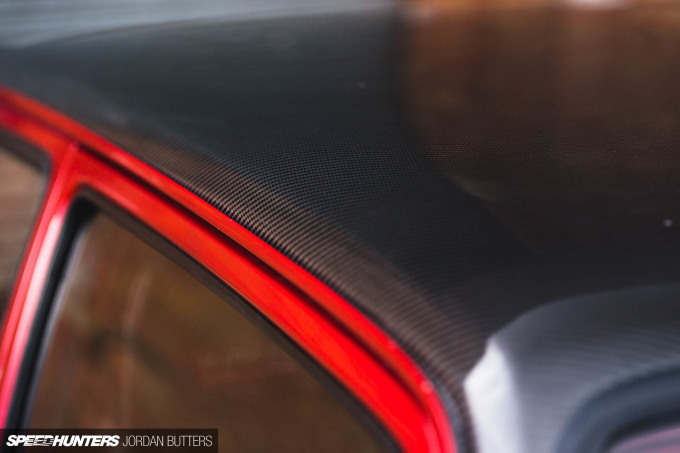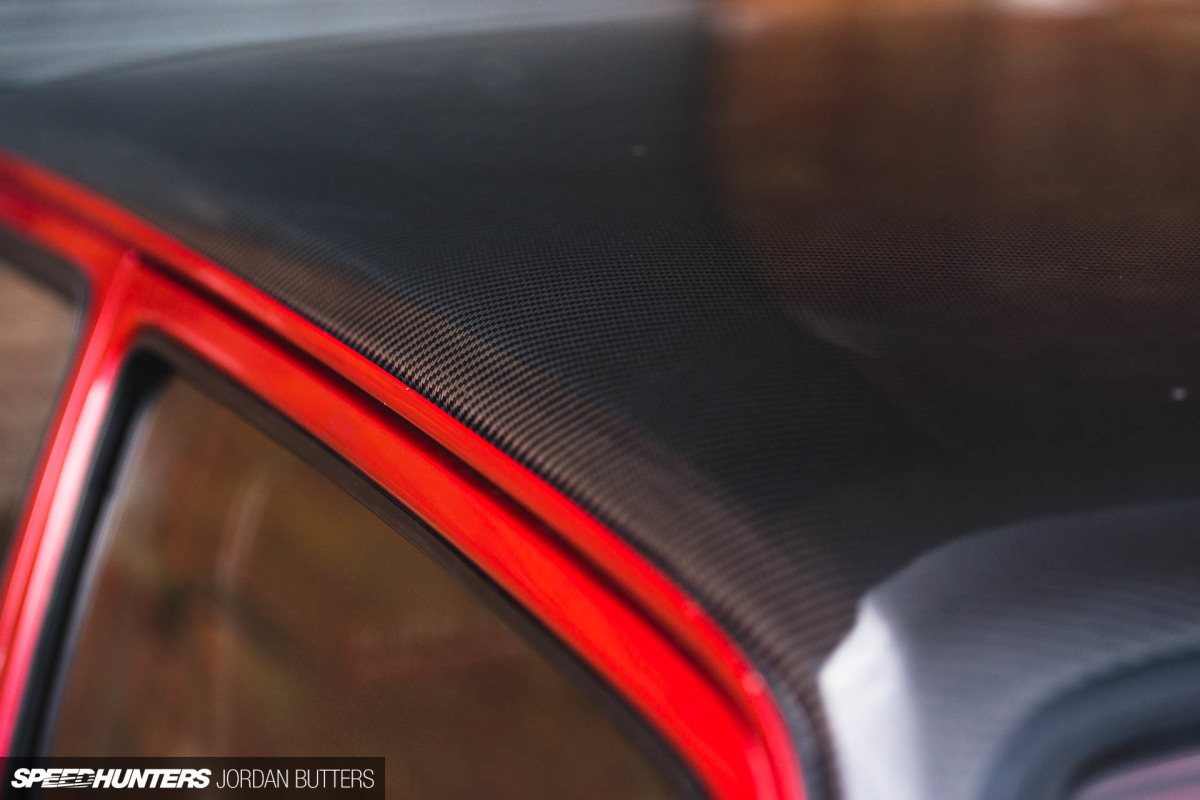 He did, however, cut out the old roof skin regardless. In its place now sits a full carbon fibre skin; the luxurious texture of the composite weave catches the light at certain angles, drawing your eye.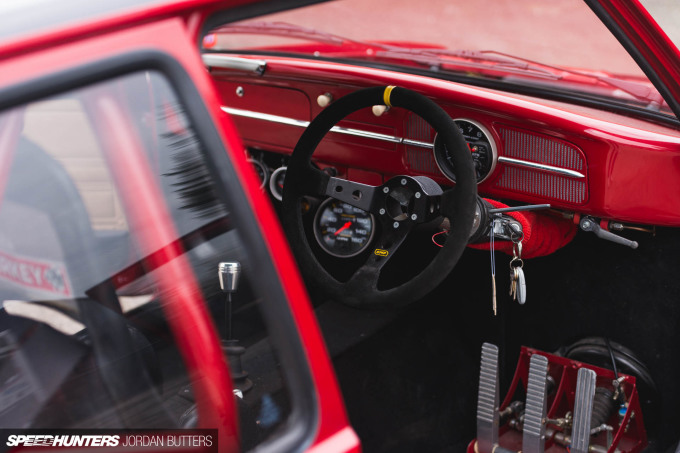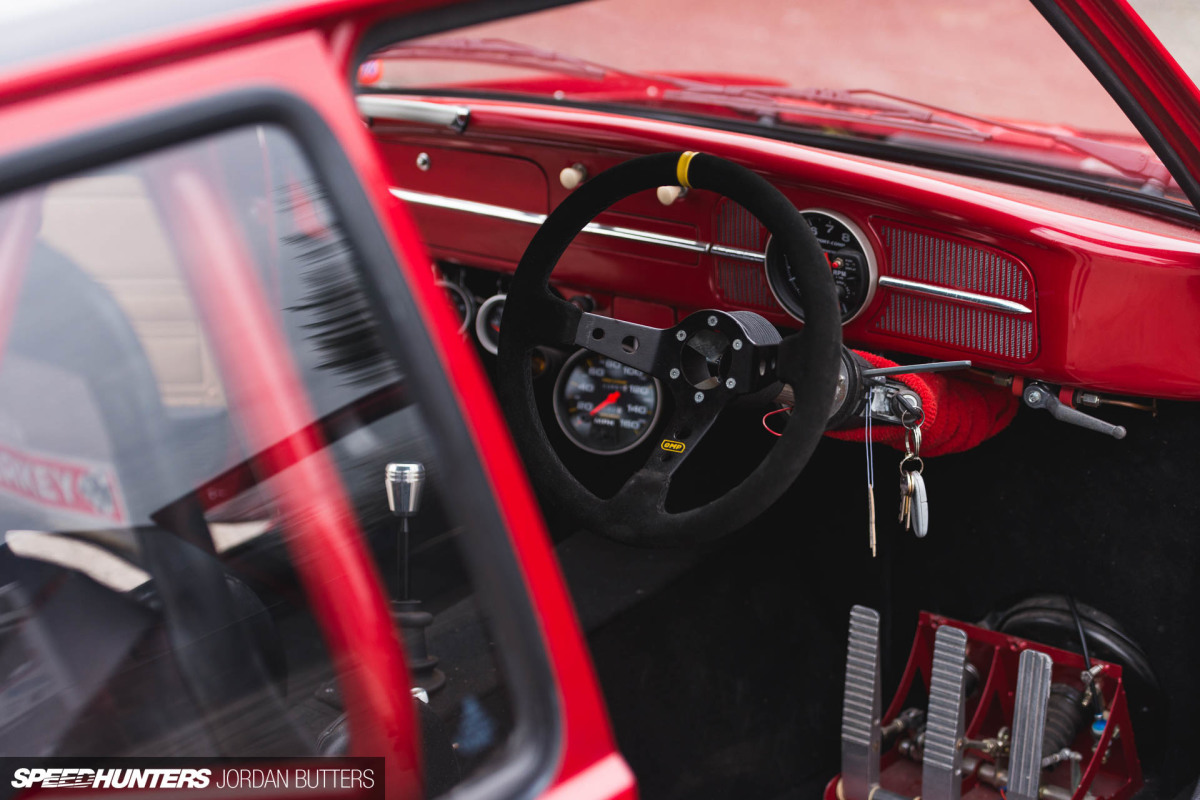 There was another issue to overcome – the bulkhead modifications meant that the dashboard needed some fettling. By this point, he had the fabrication bug and, as Jim bluntly proclaims: "Golf dashboards are a bit boring." A 1964 VW Beetle dashboard was sourced and, hours later, Jim found himself on the seller's driveway, cutting it out of the donor car. To fit the Golf's dimensions, the dash was extended out at either end and along the top to meet the windscreen. This was then refinished in the same pearl red paint as the exterior; it looks so good it should've been stock from the factory.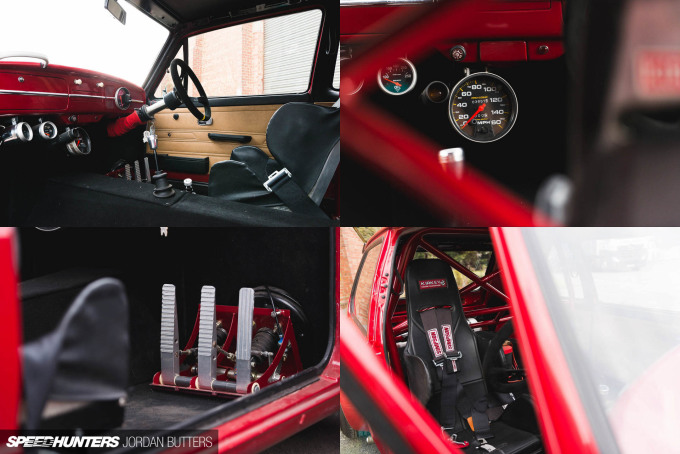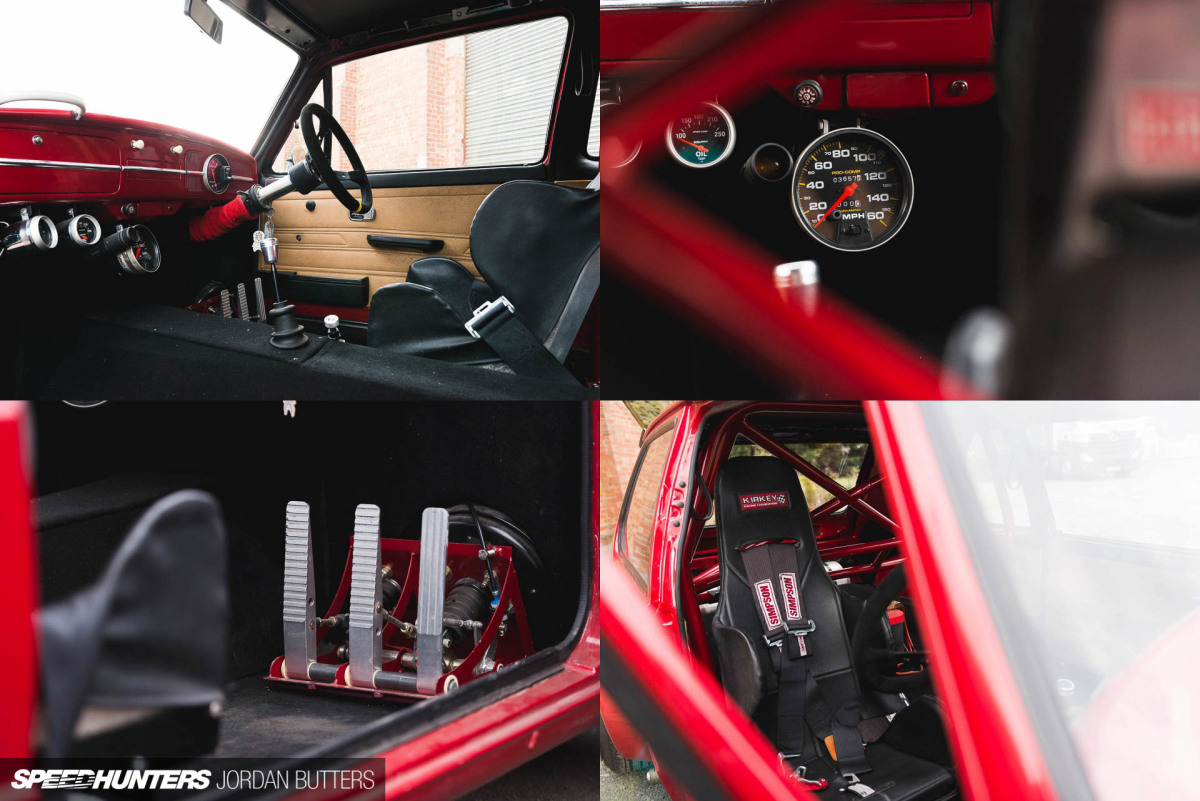 Further hot rod influences can be found inside. A solitary lightweight Kirkey Racing seat and Simpson harness hold the organic matter in place. On the floor, the Golf's pedal box is borrowed from a TVR Cerbera. A dished OMP suede wheel and a smattering of AutoMeter Pro-Comp gauges fight for your forward attention while an AutoMeter Sport-Comp 5-inch tachometer with shift light looks like it should've always belonged in the custom Beetle dash.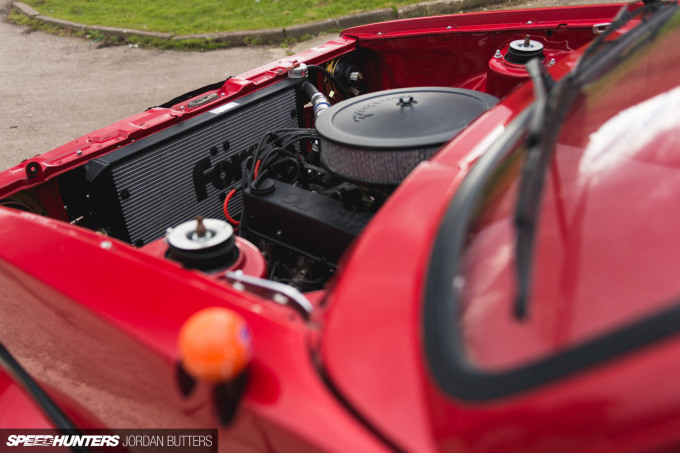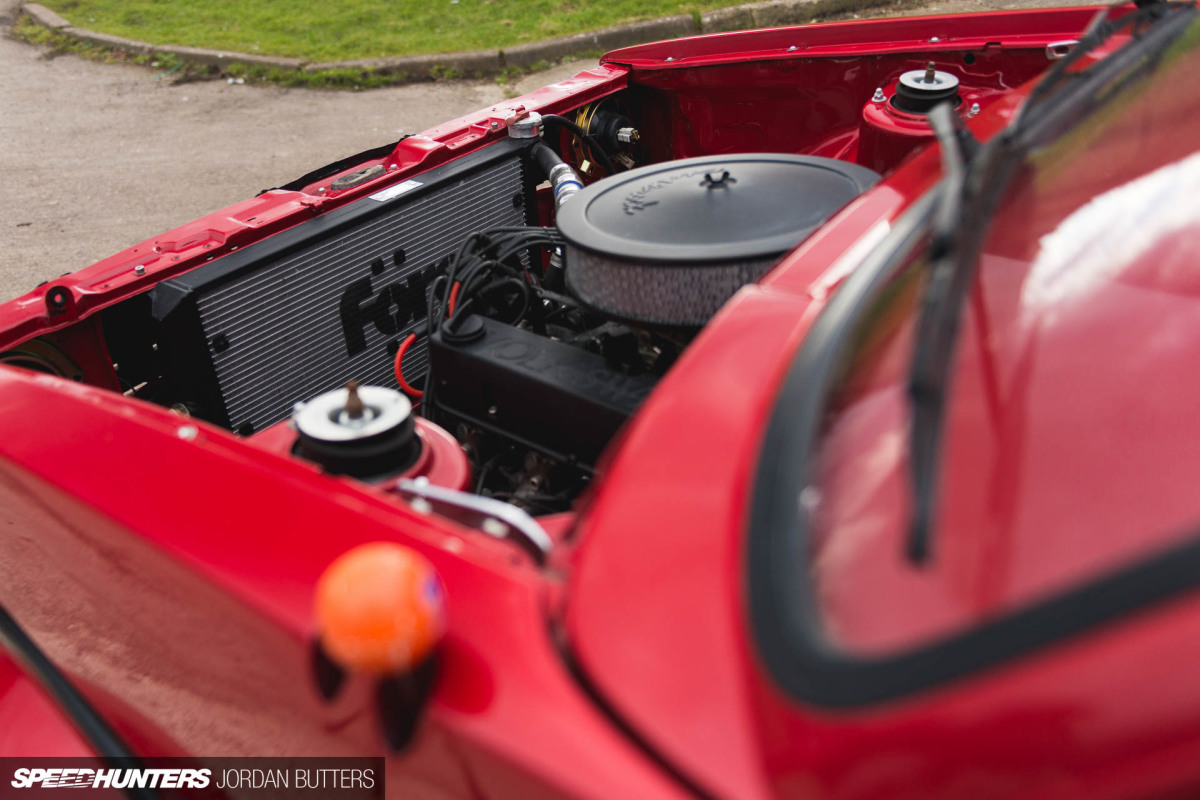 Local fabrication experts Forge Motorsport in Gloucester came up trumps when it come to the Golf's radiator and catch can setups. The alloy fuel tank that sits where the boot compartment would've once been was picked up at a hot rod show – a cheeky offer of £80 to a vender packing up his stall was more enticing than taking his stock home with him, it seems.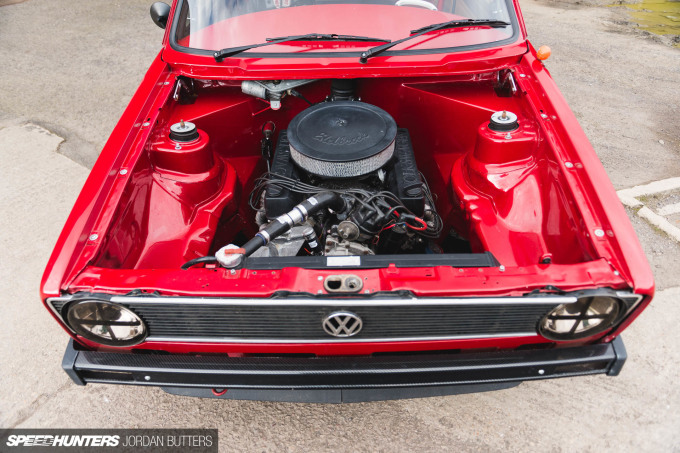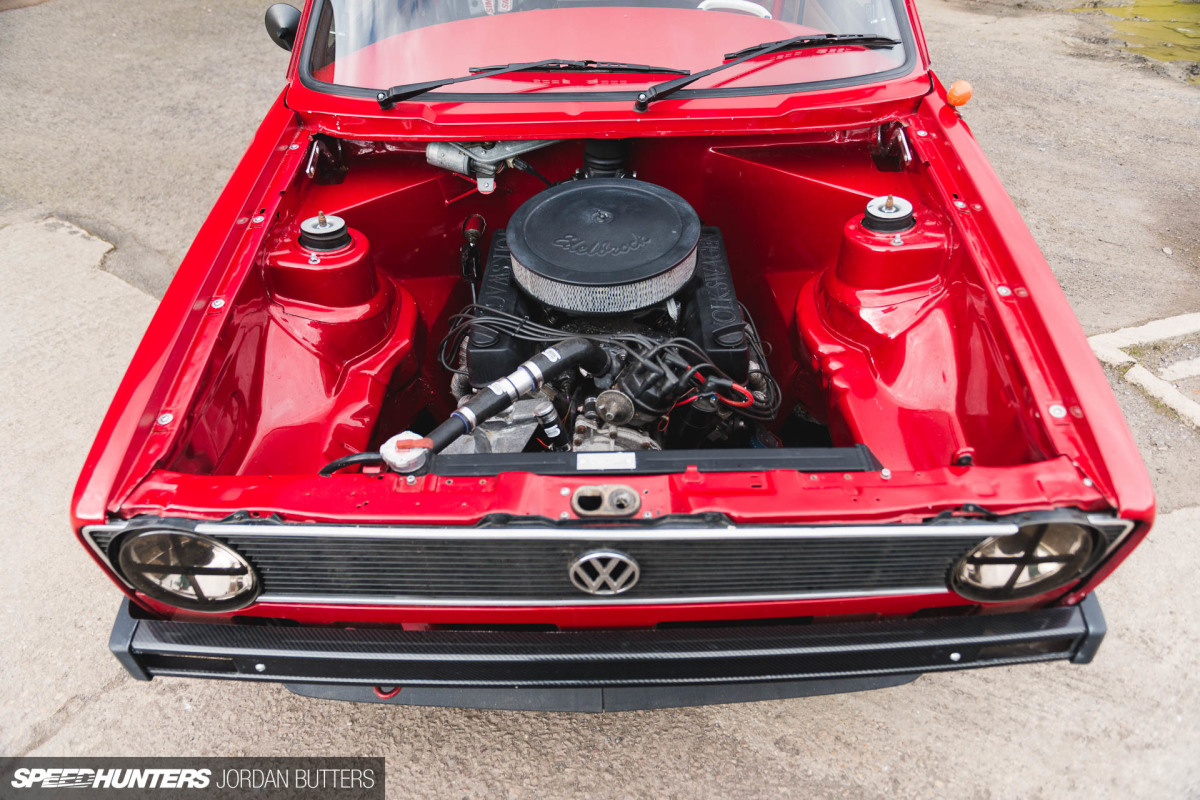 With everything lining up nicely, a working V8 from a Rover SD1 was dropped into place and connected up. An popular choice for V8 swaps here in the UK, the 3.5-litre Rover V8 is based on the Buick 215 block. The plan was originally to keep the engine reasonably stock, but a spirited run back from Edition 38 in 2010 where Paddy first ran a spotlight on the car forced Jim's hand into a full rebuild. Naturally, he tackled this himself with the help of his friend Dan.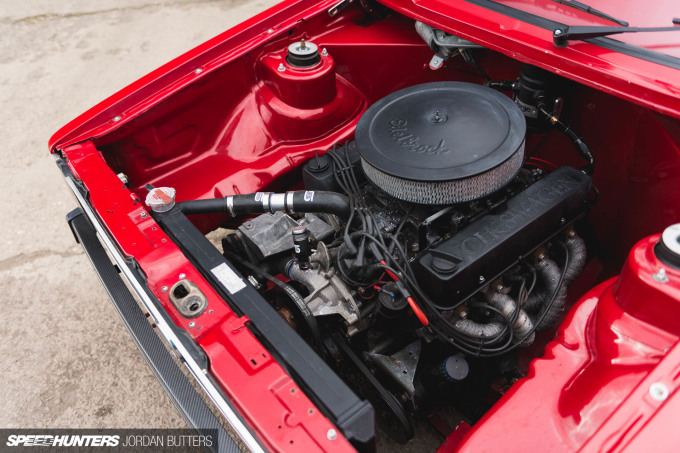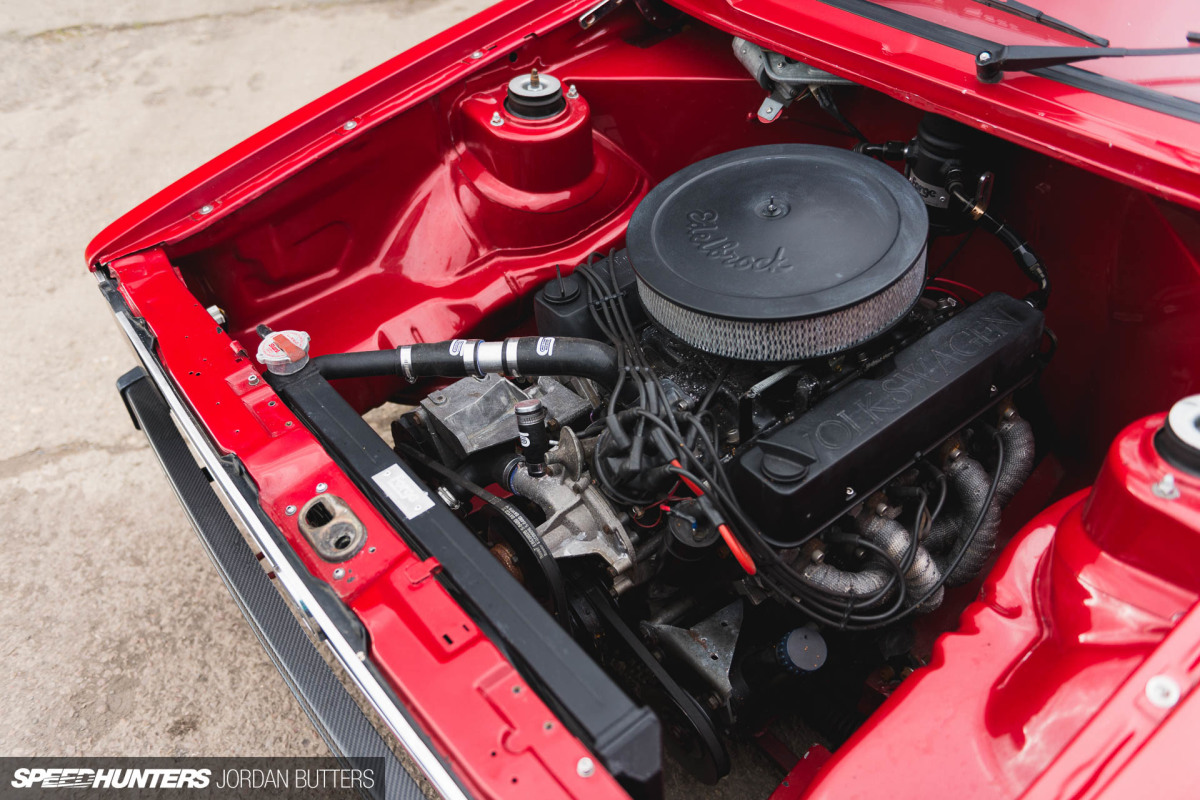 It now runs lowered deck heights for high compression, flowed Stage 3 heads, skirted and balanced pistons and rods, and a knife-edged and balanced crank as well as a Comp Cams drag cam. Jim originally opted for a Holley 390 carburettor before settling on the Edelbrock 500 item that currently sucks the surrounding atmosphere into the huge motor via an Offenhauser intake manifold. The custom engraved cam covers came about, as do many great British innovations, after a conversation with a bloke down the pub who offered to make them. Apparently Jim has been asked at shows if they were originally from a Golf VR6. How would that work then?
Sensory Assault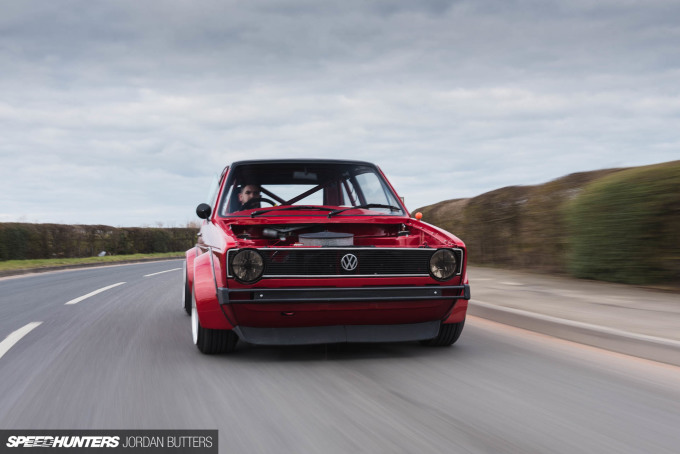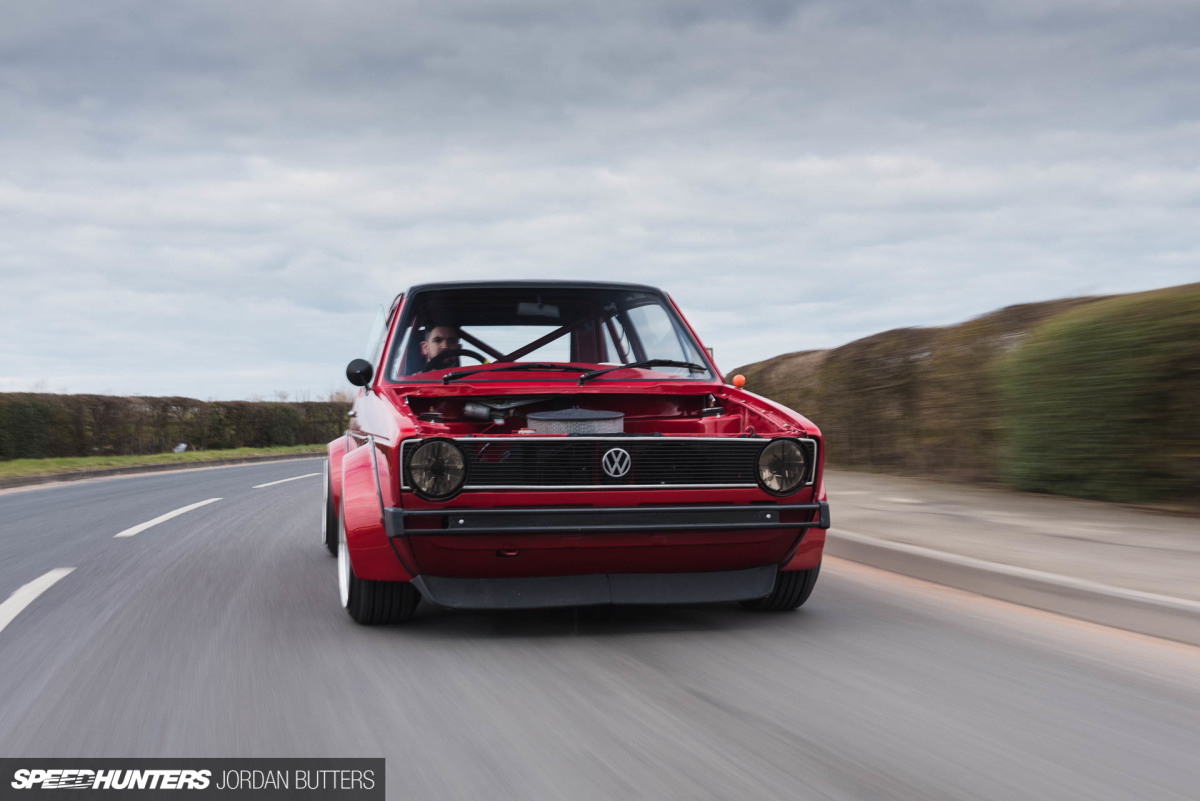 As Jim fired up the burbling V8, the acoustics and aesthetics instantly jarred the inside of my brain. You simply don't associate those noises with this sort of car.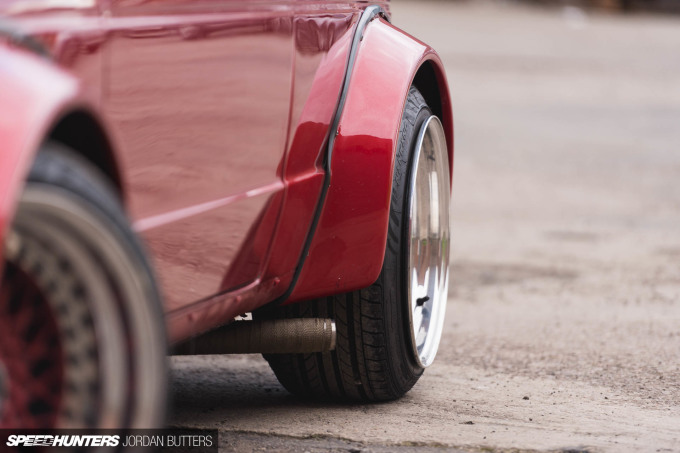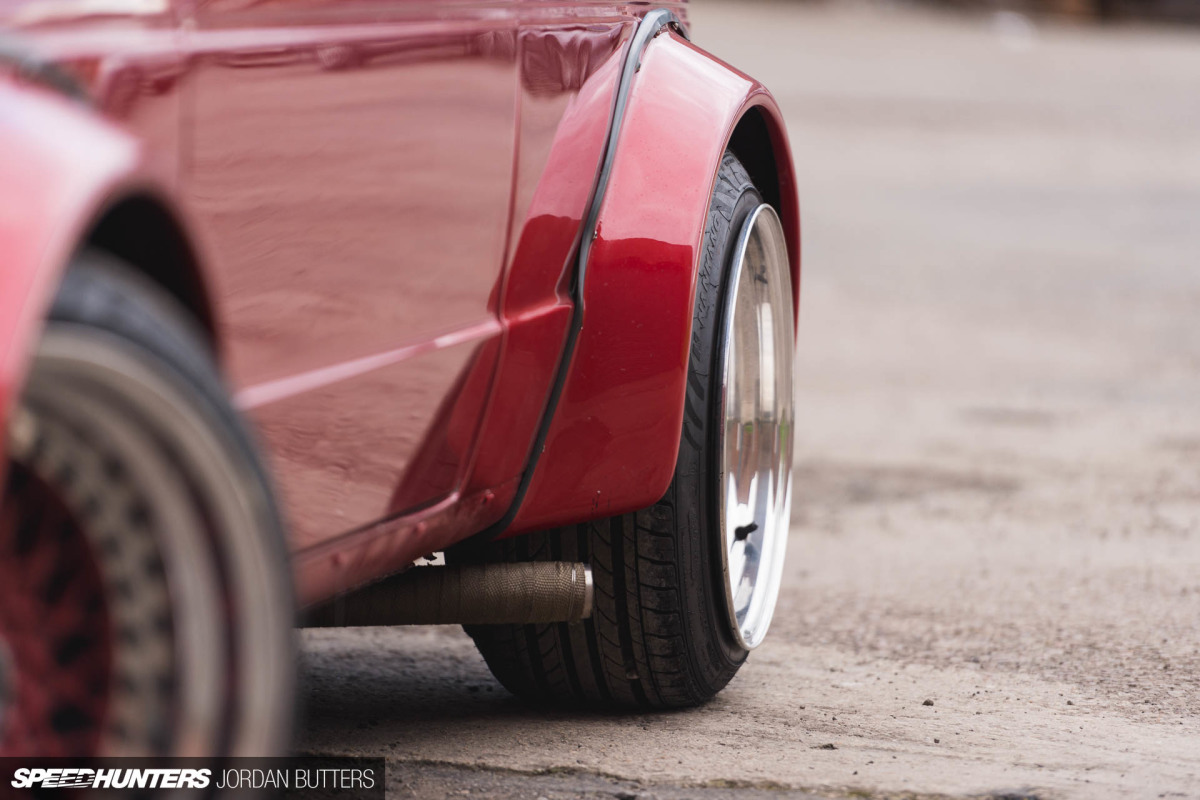 The exhaust was, as with the vast majority of the car, hand-made by Jim and Dan, too. It once ran a 2.5-inch side-exit system with no silencer boxes, however it was far too loud, so a pair of Playmini silencers were mated to a 2-inch system to keep things civil. The hot gases are expelled in front of the rear tyres, in typical hot rod fashion.
It's such a fun car, and flawlessly executed. Some Volkswagen enthusiasts have been known to take the scene a bit too seriously from time to time, but the same cannot be said of Jim and his Golf.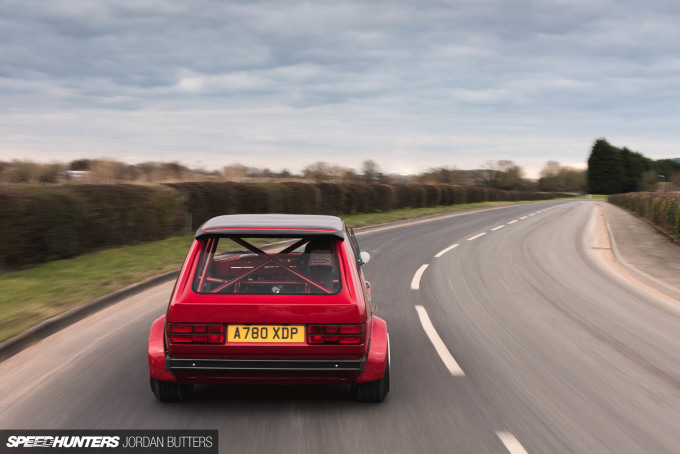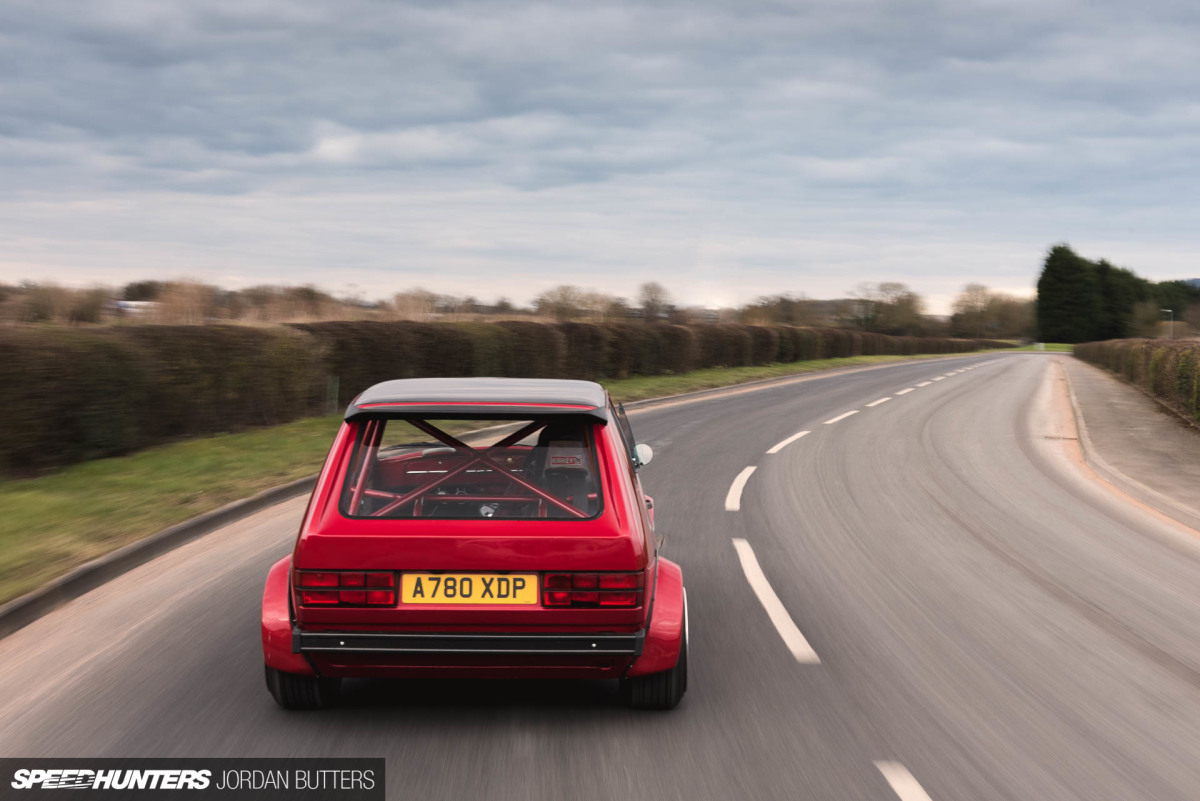 Engage gear and a bucket-load of torque is sent rearwards via a 5-speed LT77 Rover SD1 gearbox and custom propshaft. A modified Mk2 Escort RS1600 Sport rear axle houses a 3.9 final drive and delivers power to the wheels via custom half shafts.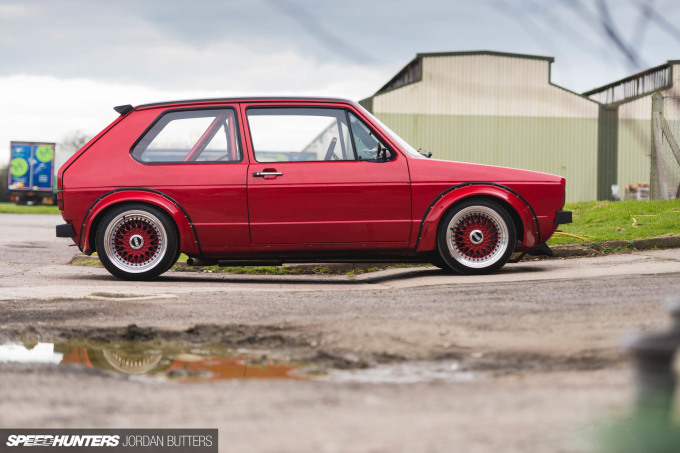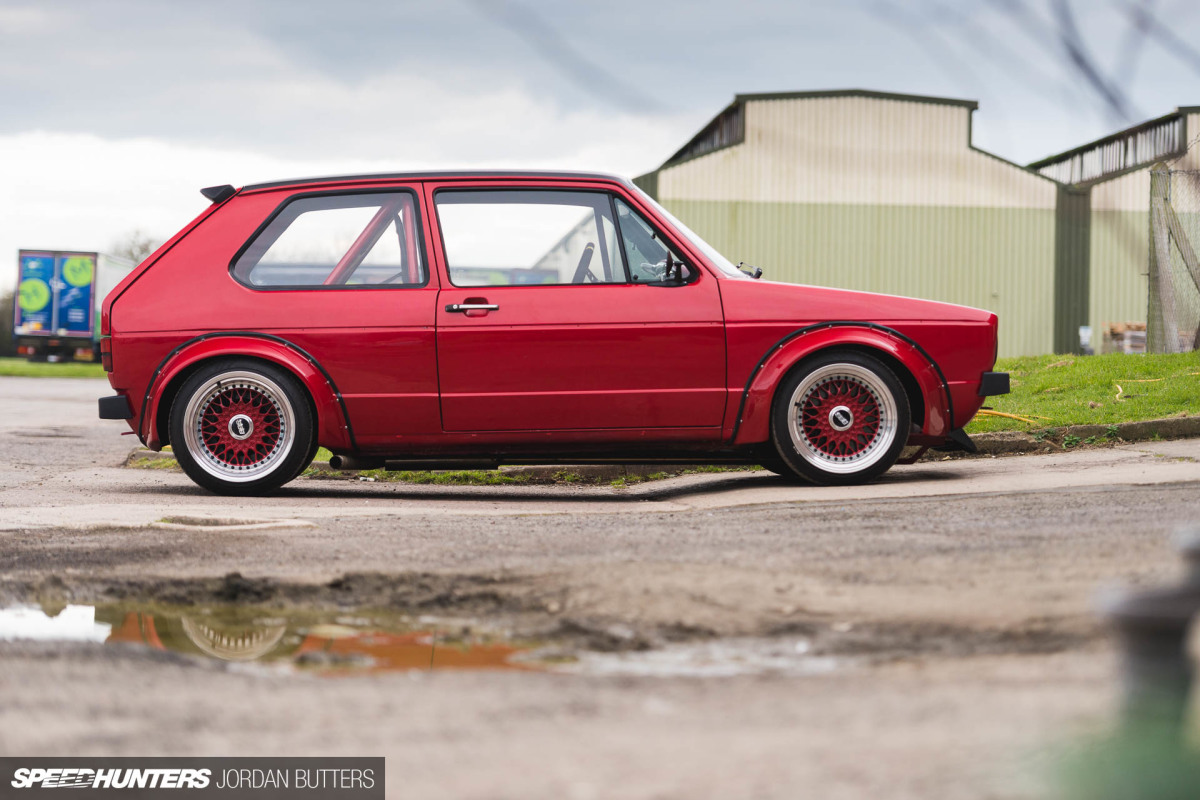 AVO adjustable coilovers bring the Golf closer to terra firma. Jim specified for Golf VR6 front spring rates to allow for the extra weight of the V8 up front, while the rear coilovers make contact with the chassis using the original mounting positions. The Golf utilises a custom 4-link rear setup and adjustable panhard rod.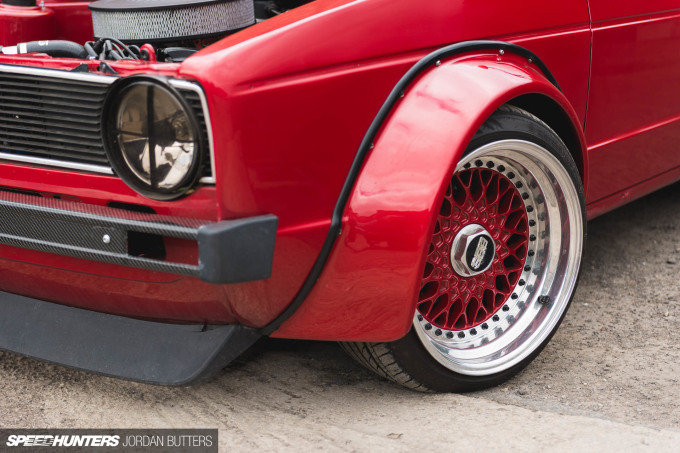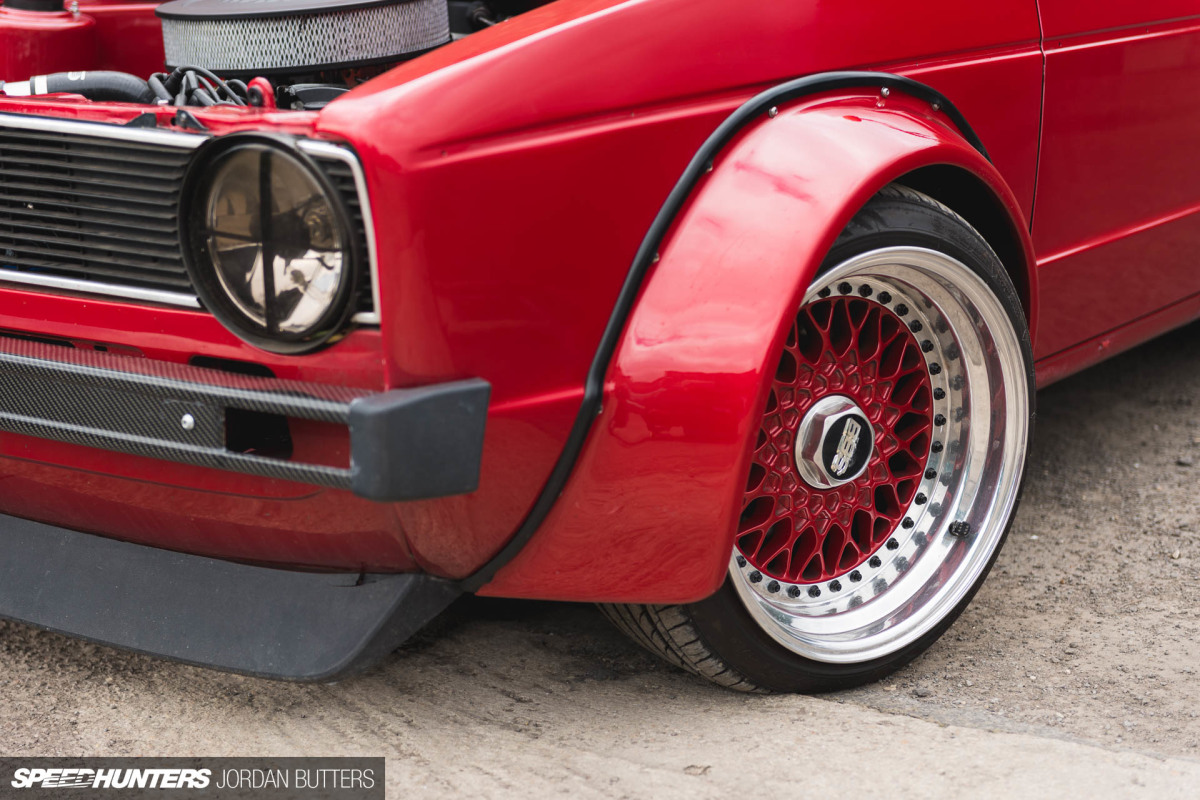 Mk1 Berg Cup arches were chosen to give the car its stance, and to cover the wide custom BBS RS wheels that sit in each corner. The 16-inch wheels came from Romania while the dishes were sourced to specification from the UK. Once again, Jim measured and checked that the sizing was right before assembling and sealing the wheels himself.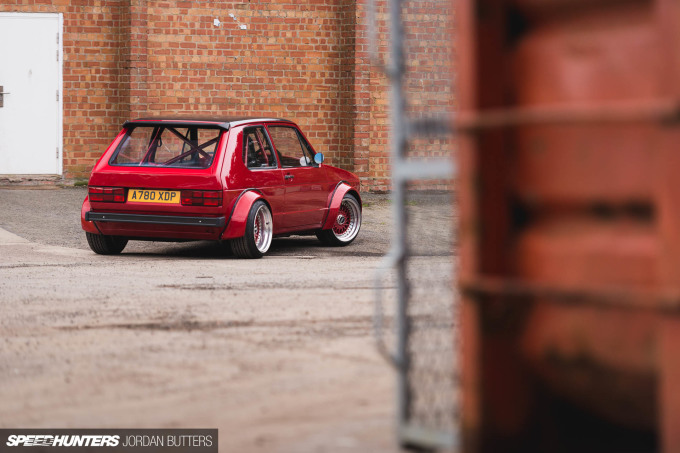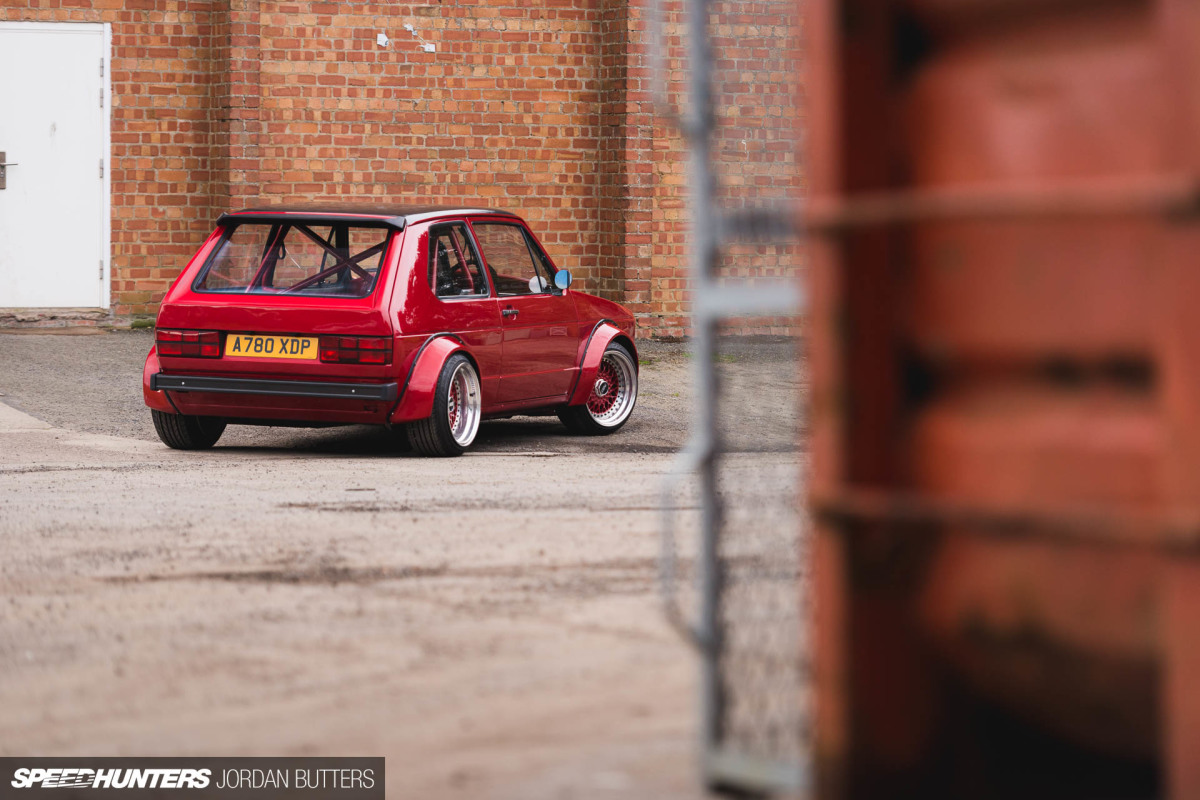 The result is 16×9-inch up front with 16x10s in the rear. It's an aggressive setup, but one that has a cohesiveness with the overall feel of the car and the strong hot rod influences at play. The wheels hide a set of 318mm discs and 4-pot calipers from an E36 M3 Evo up front, and E36 rear discs and calipers, which have been custom machined to match up to the Golf's hubs.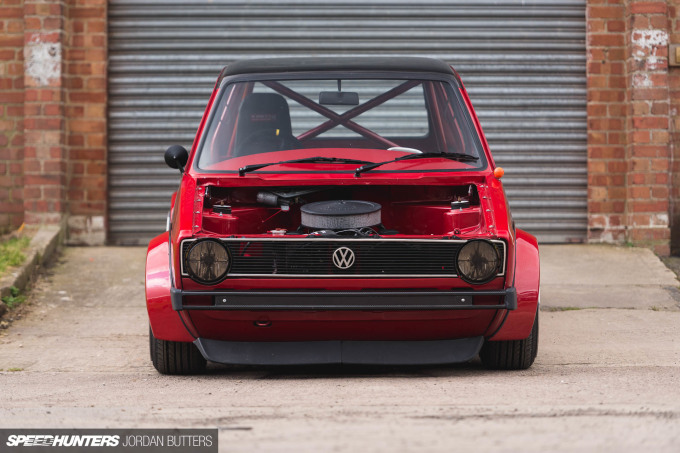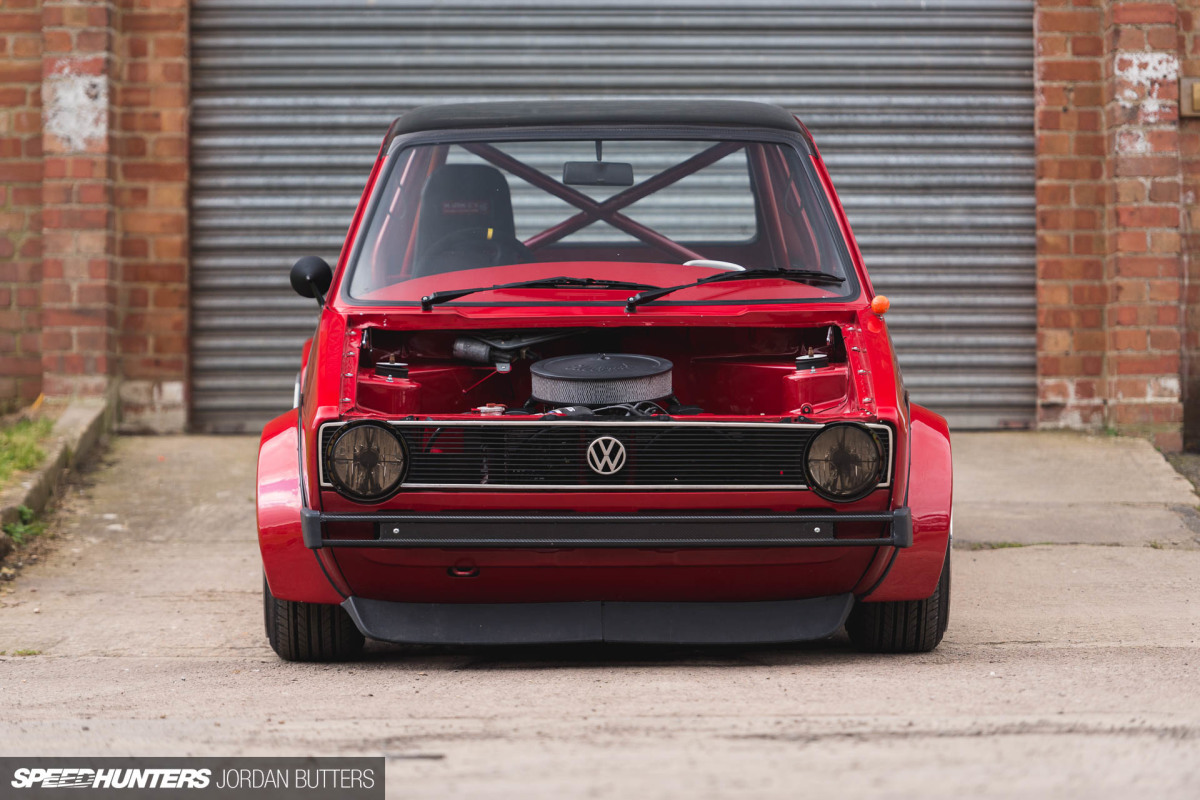 You'll notice that the car currently runs bonnet-less. That's not a styling choice or the result of problematic clearance of the V8 – Jim simply removed it at last year's Retro Rides Gathering and drove home afterwards without noticing that it was missing. He thinks it's in a bush somewhere at Shelsley Walsh Hillclimb; if anyone finds it, he wouldn't mind having it back.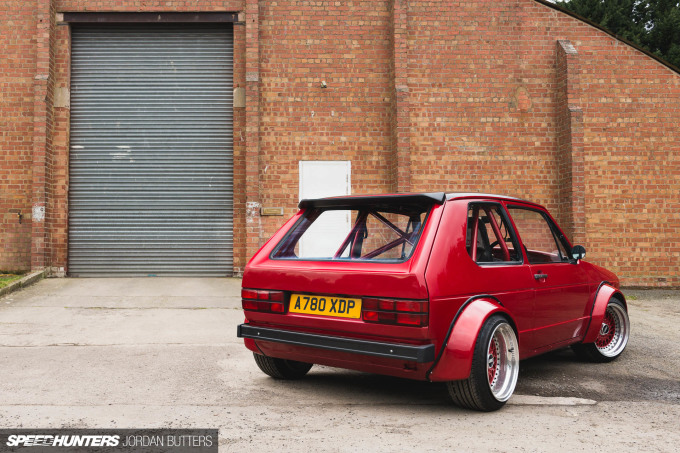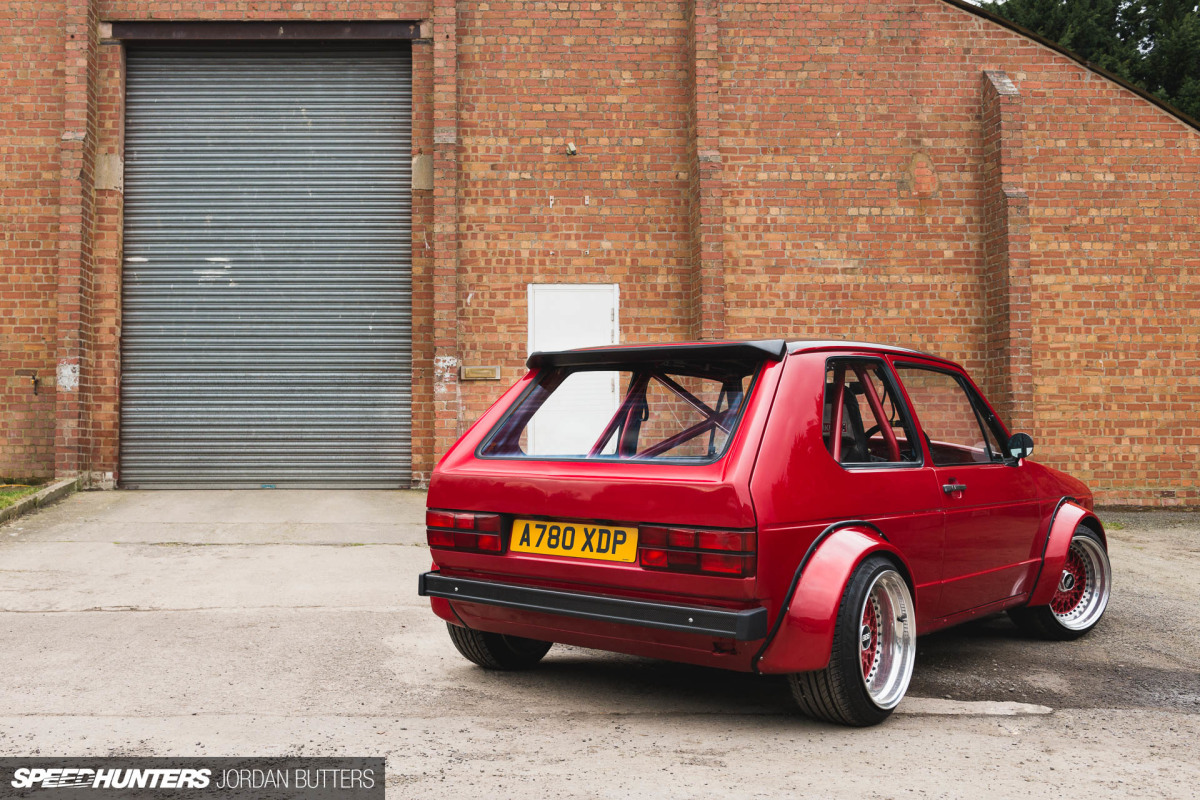 Elsewhere on the exterior, all-red rear lenses, carbon fibre front and rear bumpers, a deep front lip and a single wing mirror complete the look. The paint has gorgeous depth to it – it's a Mazda RX-8 colour with a subtle gold pearl.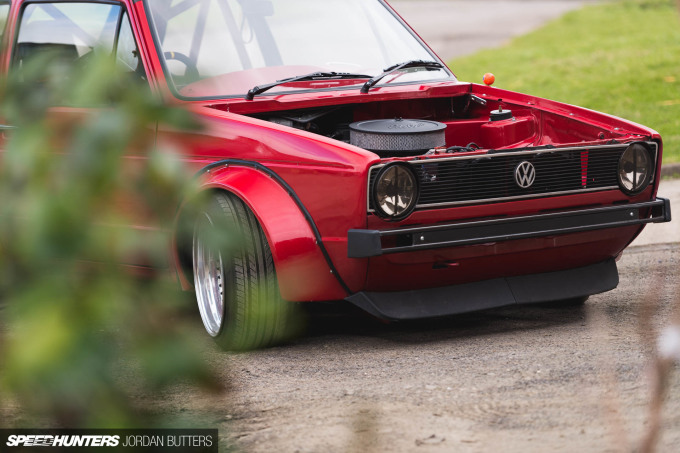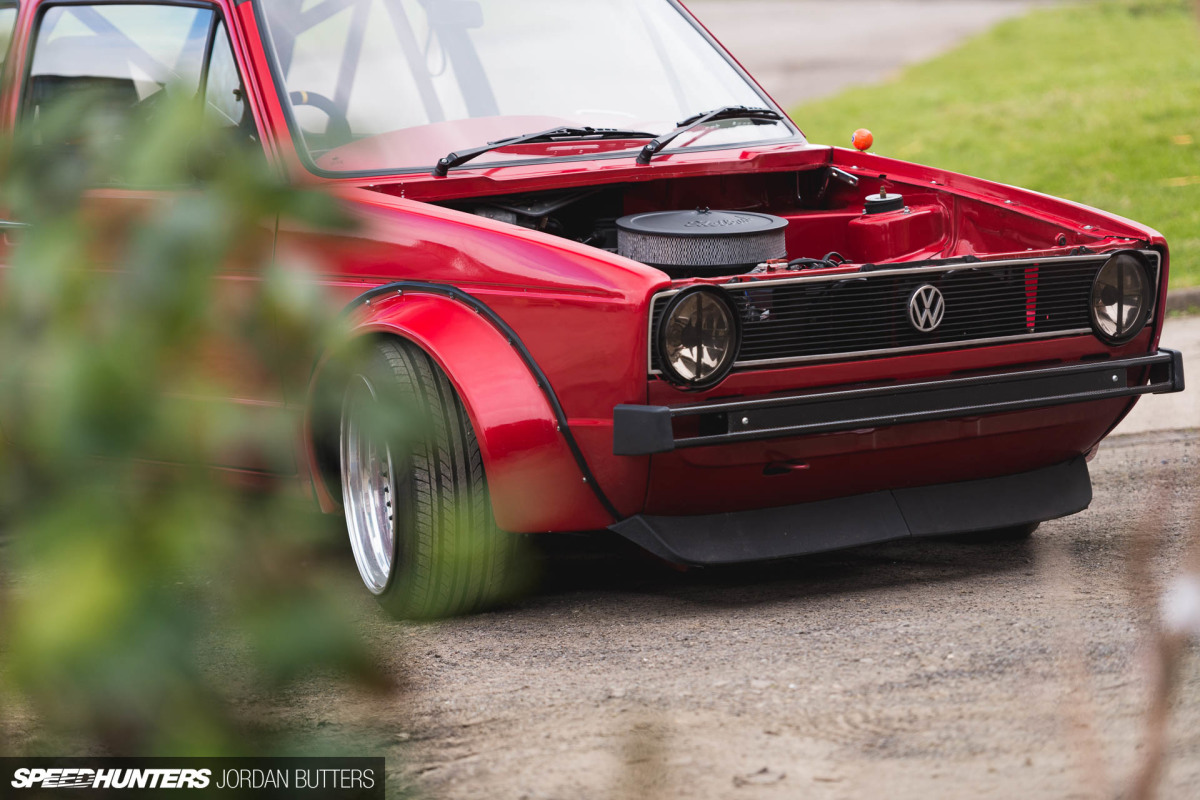 An unlikely recipe, but the Golf can't fail to attract admiration wherever it goes. Despite not being your usual candidate for hot rod influence, it draws plenty of eyes at shows. Younger enthusiasts are always keen to capture it on smartphones, whereas the older, more traditional hot rodders just want to know more about how it was built.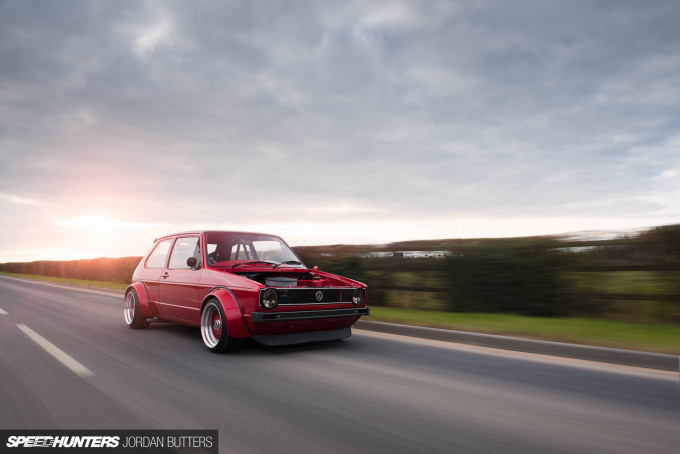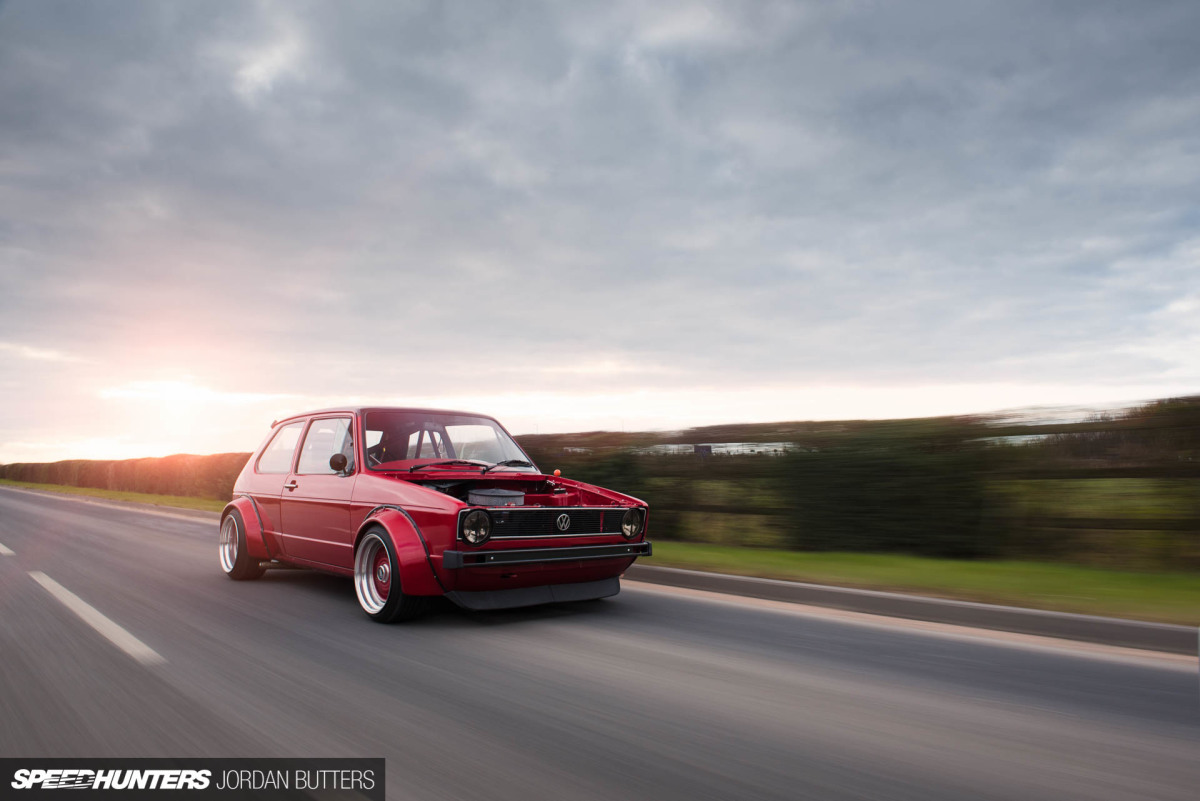 The quality of finish is impressive, especially considering that it was built on a budget, and the humble surroundings that it came together in. There's a strong 'make it work' attitude at play, and the Golf has been meticulously created over the years through sheer determination and a fair dose of ingenuity. Jim's already eyeing up the prospect of selling up and moving on to the next project – I, for one, can't wait to see what he comes up with next.
Refreshingly, what we have here is a build that doesn't take itself too seriously, and one that has evolved into something quite special. Isn't that a story worth telling?
Jordan Butters
Instagram: jordanbutters
jordan@speedhunters.com