The Struggle Is Real
Italy is a great holiday destination, but if you live in this country you have to fight on a daily basis with a government that just seems to be there to cheat and swindle its citizens out of as much money as possible. And that trickles all the way down to cars. Rather than supporting and letting the tuning industry grow and flourish, the government prefers to over-regulate every single aspect of it, from ownership to the blocking of any sort of modifications.
Let me give you an example. If you own a powerful car, and by powerful here I mean anything over 180hp (yes, go ahead and laugh), you have to pay an additional tax for every kilowatt over and above that number. So, if you're lucky enough to drive an Nissan R35 GT-R in Italy, you have to fork out 4,000 Euro (approximately US$4,500) a year just for road tax. Want to change the wheels on your car? Maybe an inch bigger all round just to give it a little point of difference? Well, no you can't, because any size that's not homologated for your car simply isn't allowed to be fitted. And forget slamming it out too; the police will slap you with a fine and order that your car be put through the annual compliance test. And everything's like this. Of course, the government could support it all and enjoy the benefits that an industry with big potential could bring them, but they'd rather control it all.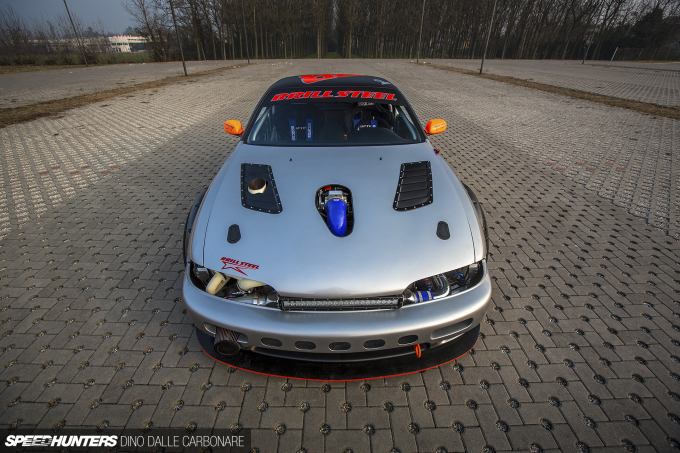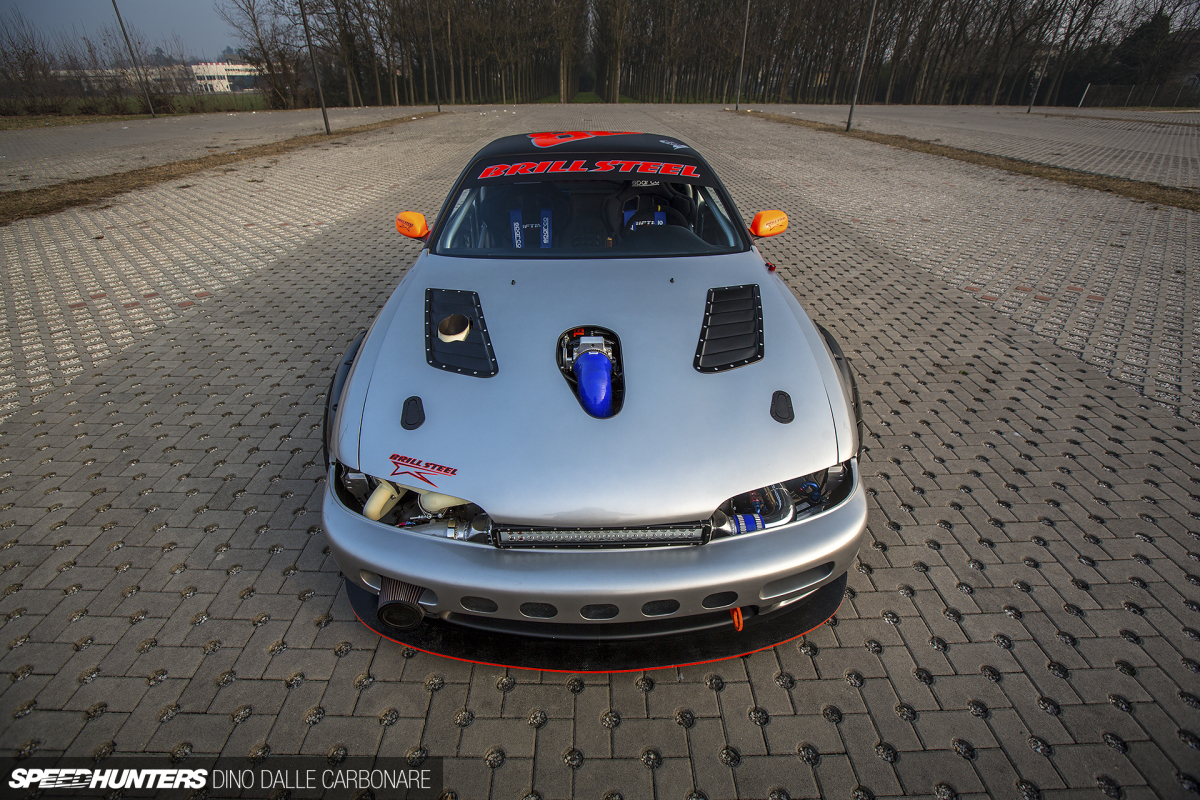 The answer, of course, is to build cars for purposes other than driving on the road, and when that's the only choice you've got you're probably going to go a little overboard. That's what Enrico Sartori's Nissan Silvia S14 is. It's stress relief; it's a car built for the sole purpose of shredding as much rubber as possible every time it hits the track. Except when it came to building up his little toy S14, Enrico approached things in a slightly different way than most people would.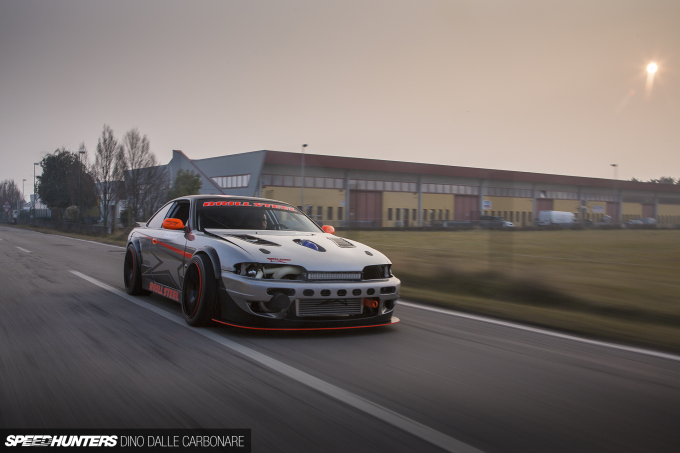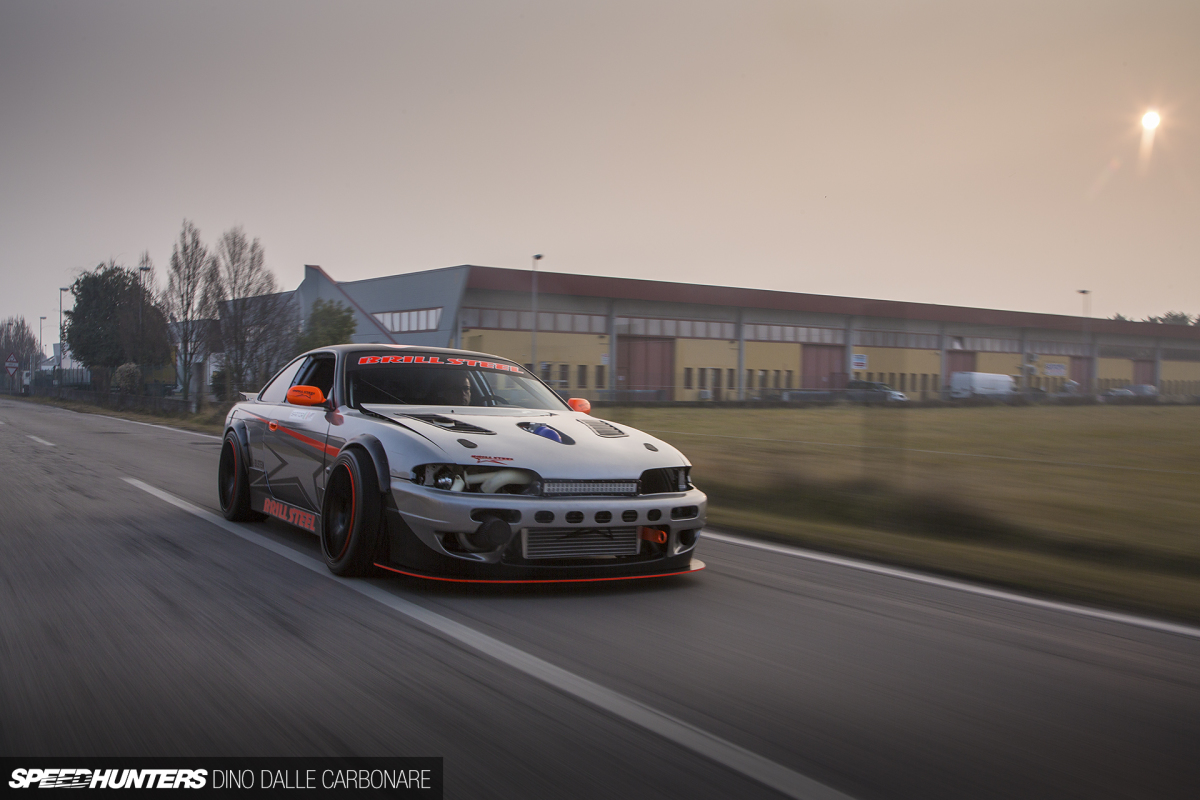 If you haven't already figured it out, Enrico is the man behind Brill Steel; a shop that for years has been building some of Italy's most extreme drift and time attack cars, with a very evident theme around big American V8 engines. You may even remember the all-carbon S14 it created a few years back.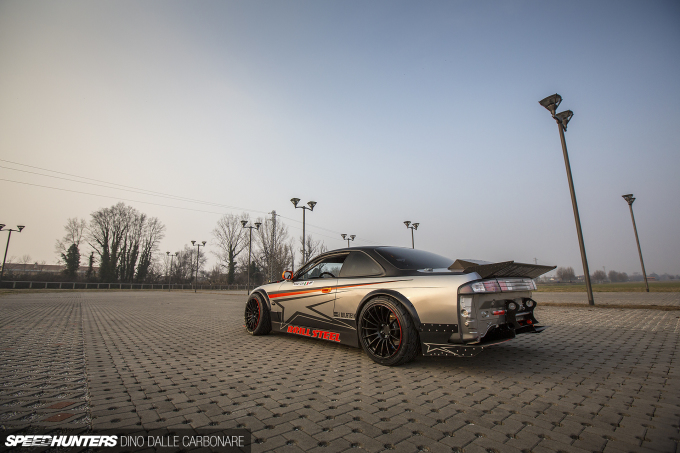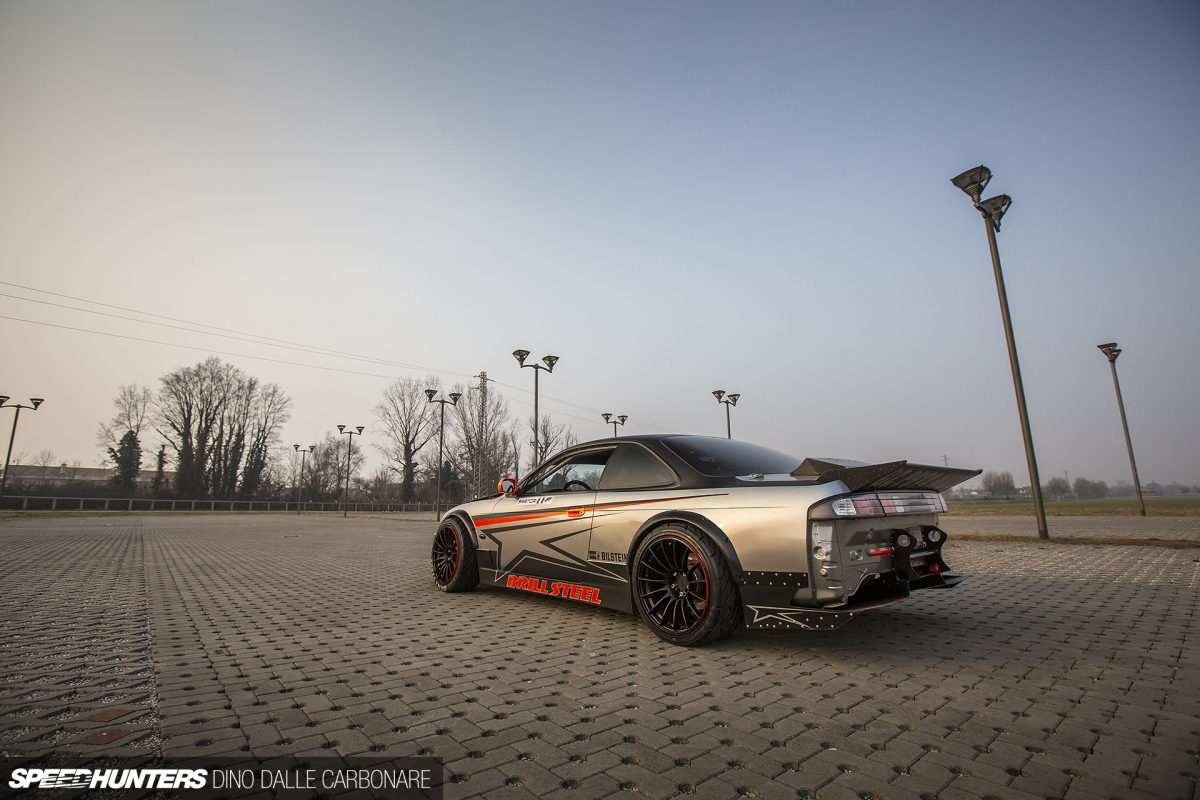 Enrico obviously hasn't stopped playing since then, and after putting the final touches on a number of high-end builds, he thought it was about time to create something just for fun; a car that he wouldn't be afraid to properly lean on at the track. That's how this project came to be.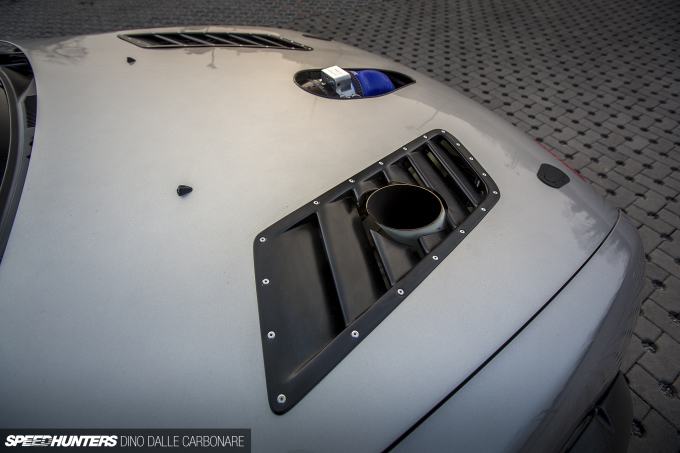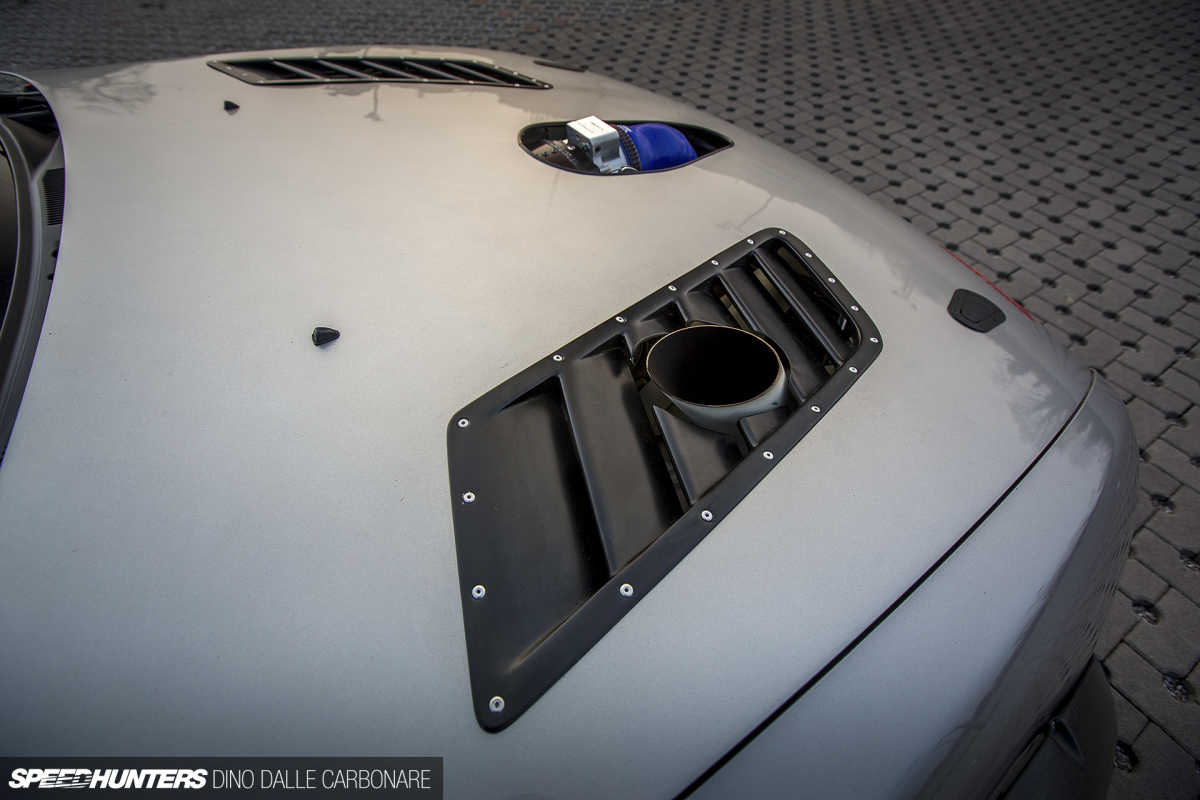 Looks-wise, aside from a few additions that include a custom front splitter and massive rear diffuser, the car is still very much recognisable as an S14. Then you notice the curious stance and the omission of the headlights… But wait – what's that sticking out of the bonnet?
Built To Impress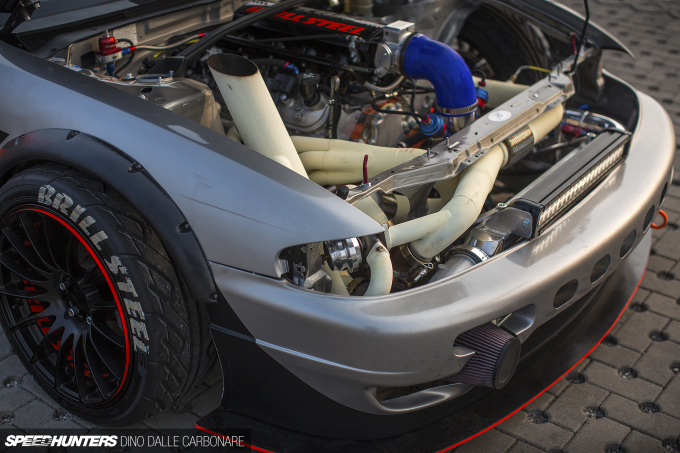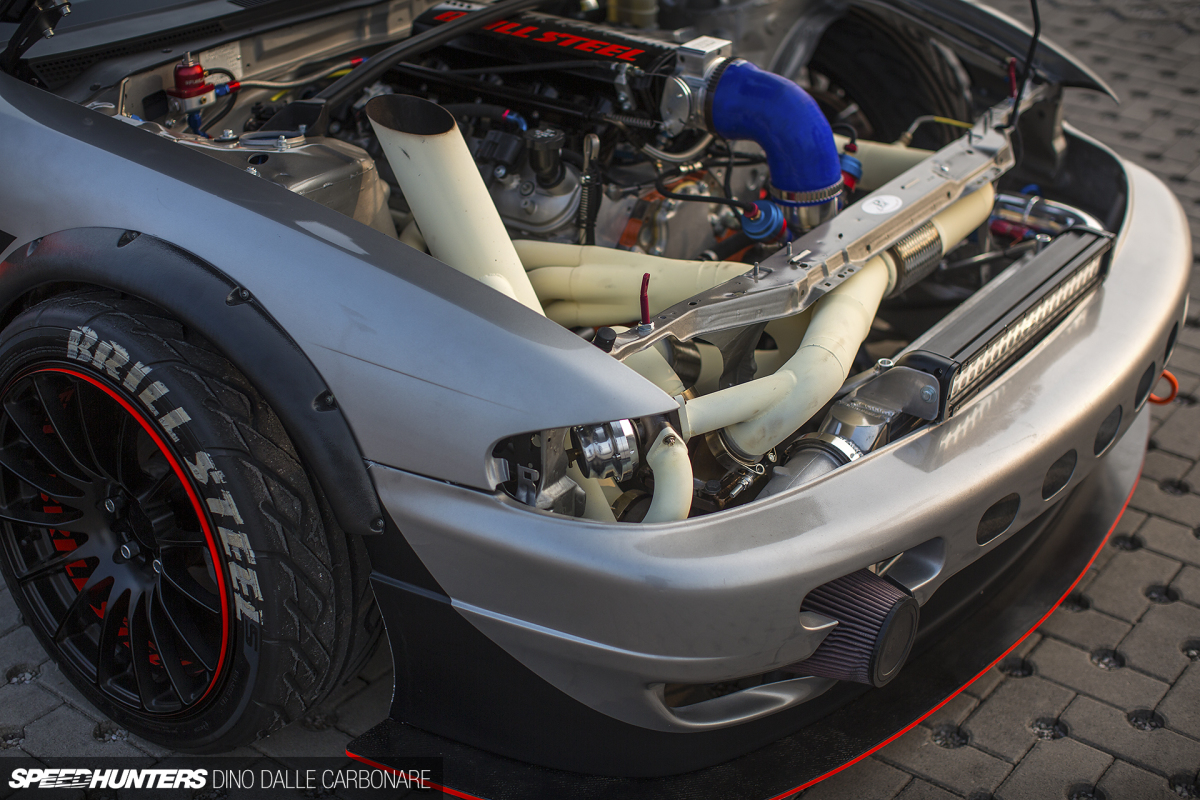 Yes, Enrico is a guy that likes to approach things in a slightly unconventional way. And that's a good thing, because this is the sort of outside-the-box approach Italy needs to get noticed. Quite simply, this S14 is one of the freshest builds I've seen in a while.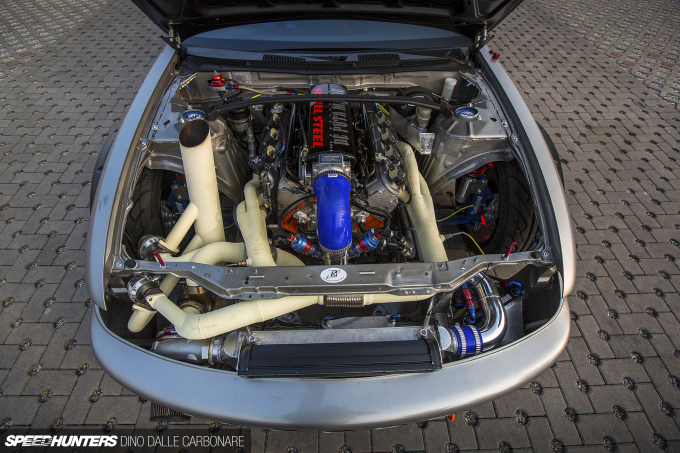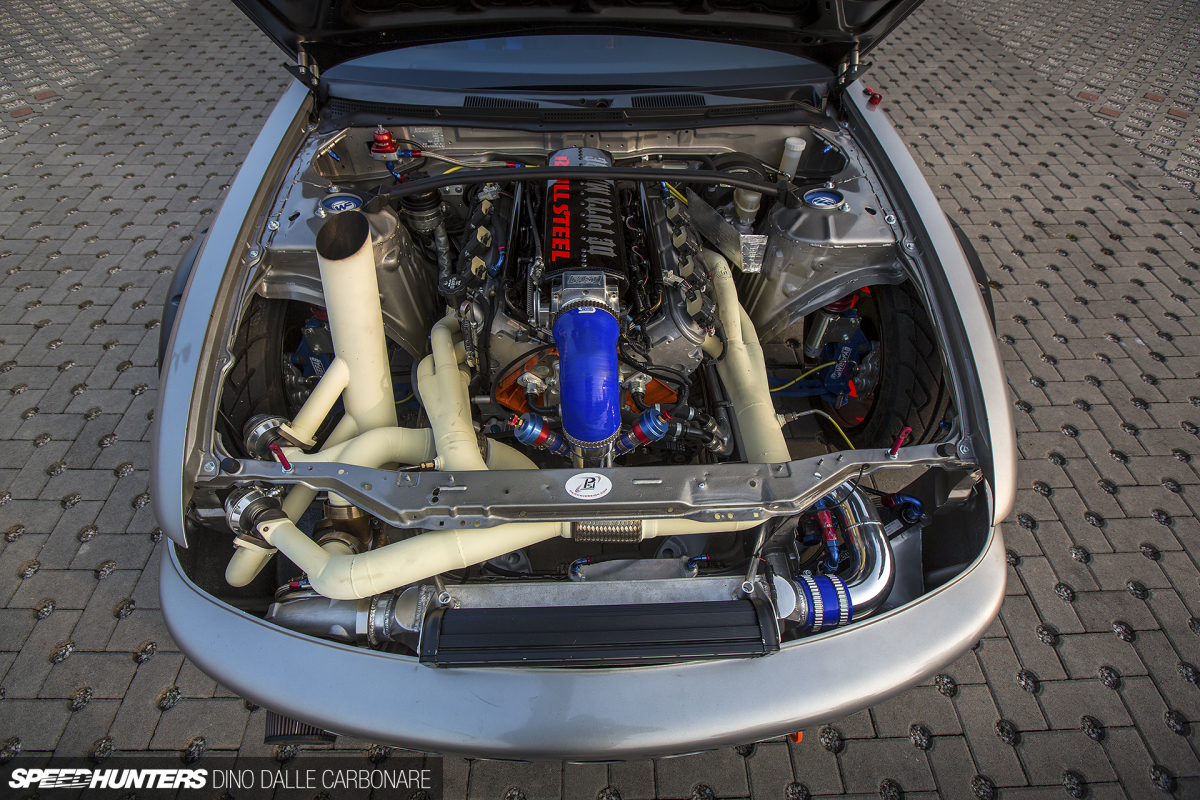 At the heart of it all is a 5.3-liter GM LM7 V8 set as far back as possible in the chassis on a set of custom engine mounts and a modified front subframe. To prepare the motor for a touch of forced induction, Enrico opened it up and rebuilt the bottom end with choice components like Mahle forged pistons, Manley H-section connecting rods and a Callies billet forged crankshaft. The heads were ported and polished and the valvetrain upgraded to ensure it was able to take the sort of abuse an engine built for drifting is subjected to.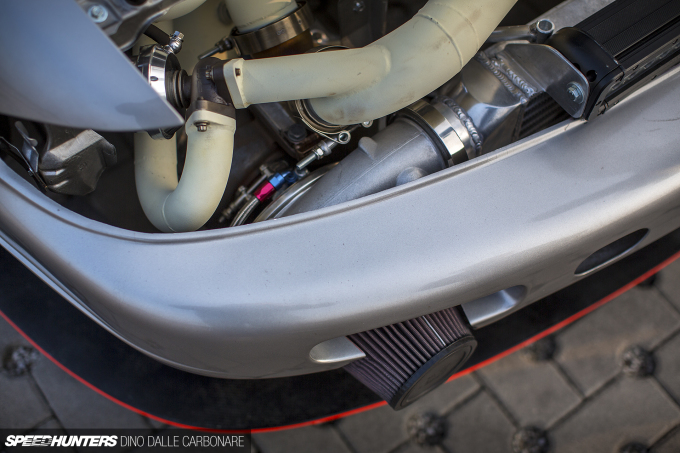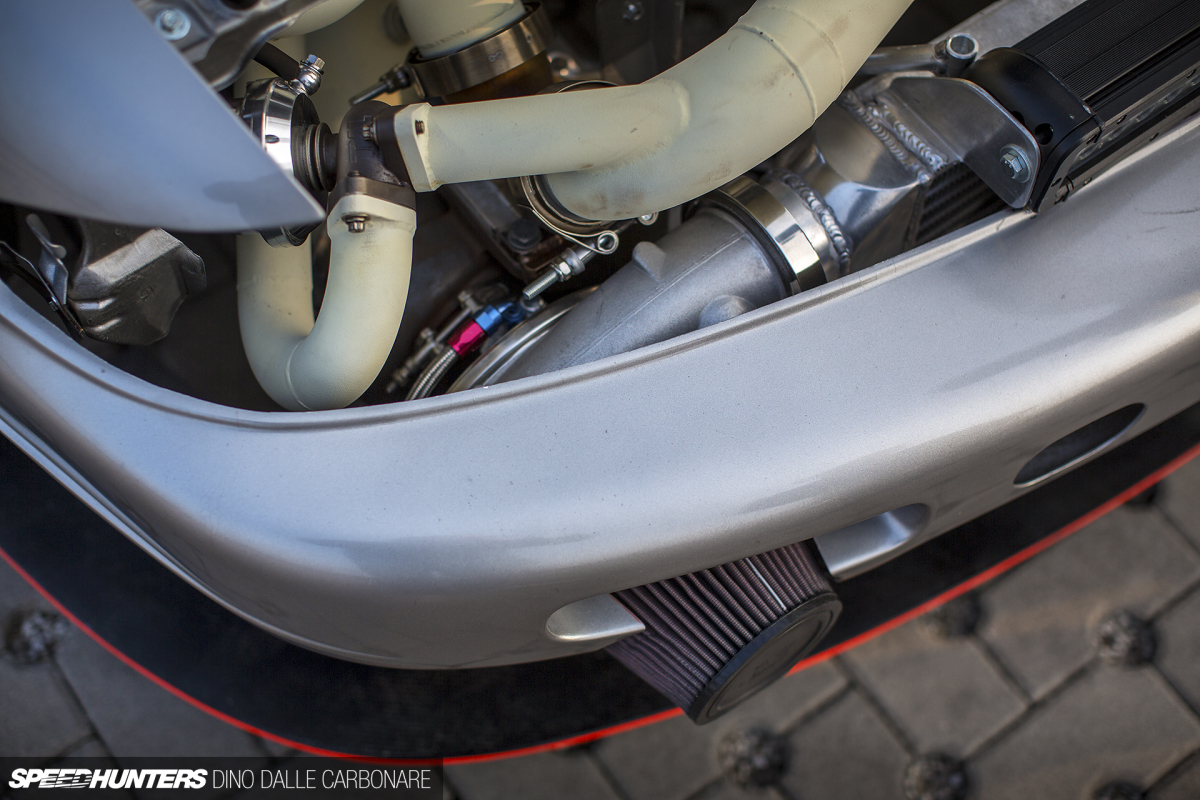 The next step was to position the single Garrett GT45 turbocharger; Enrico eventually deciding to mount it in the bumper where it could feed directly into the intercooler's intake end tank. This position would allow all the exhaust piping to fit in front of the engine and keep the intake section nice and short. Plus, there's nothing quite as dramatic as having a big snail sticking out of your bumper!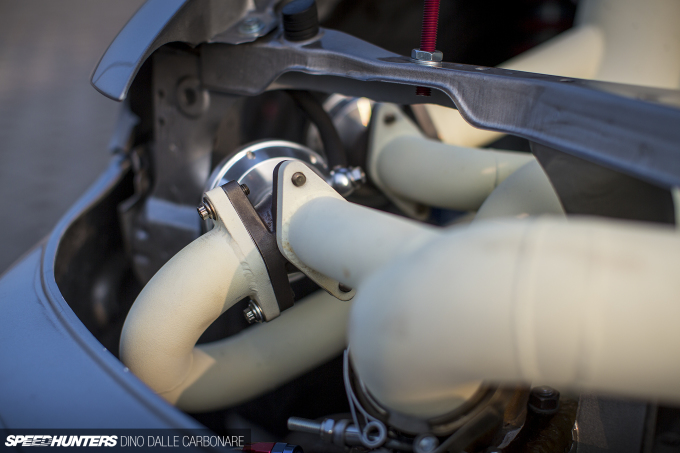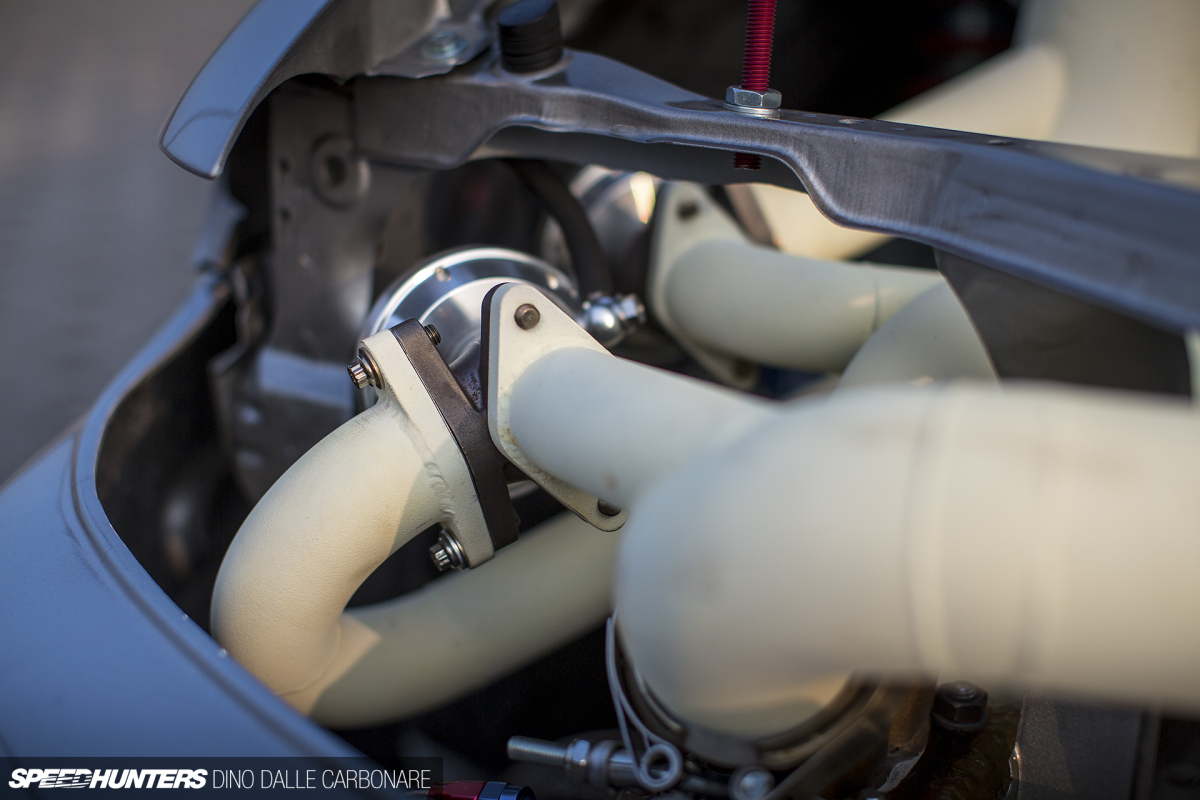 The exhaust manifolds, which have been ceramic-coated to keep under-bonnet temps as low as possible, snake through the engine bay and meet in the front right-hand corner where the turbo resides. Boost control is achieved through a pair of 38mm TiAL wastegates.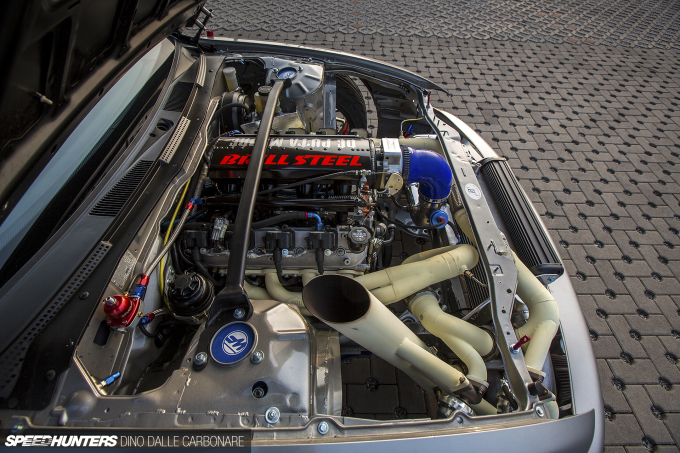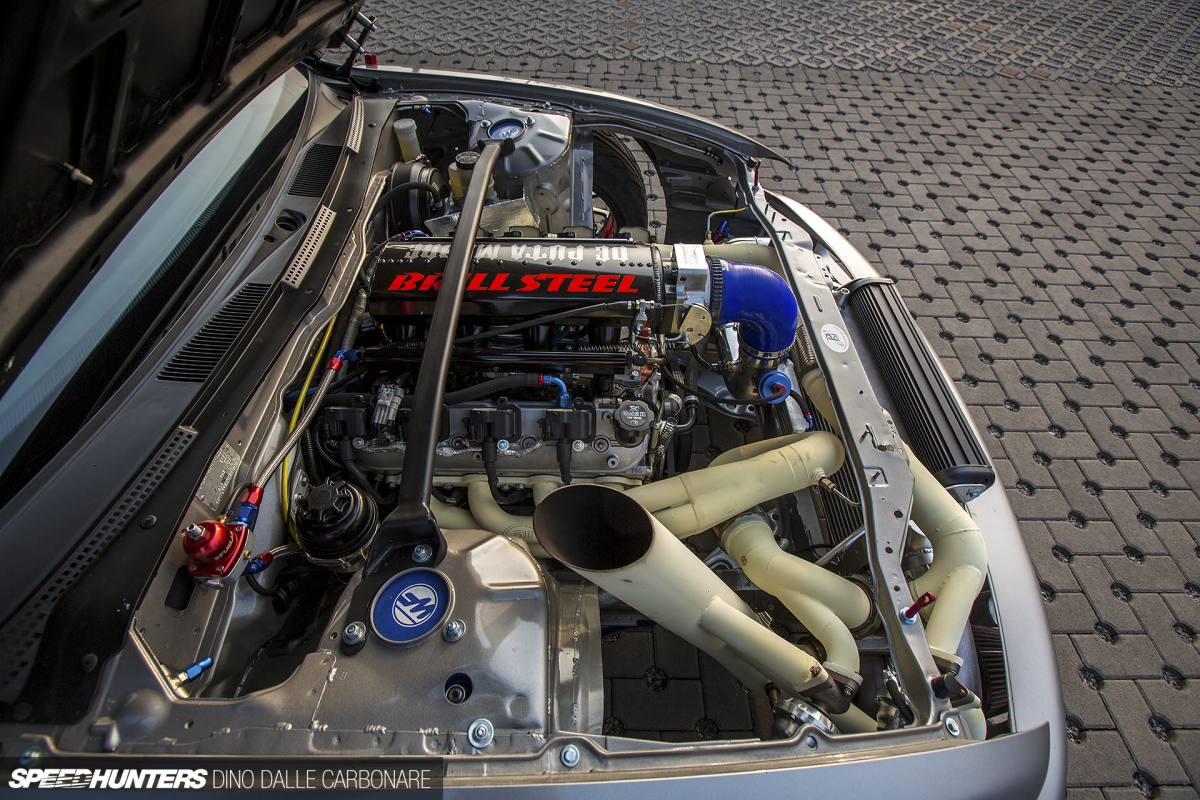 Spent gasses are dumped through what may well be the shortest exhaust ever to be used on an S14. That is, straight through the bonnet via a big slant-cut pipe. When the engine is nice and hot and you give it some proper revs, this pipe shoots out big flames that at speed are dumped up the windscreen and over the roof.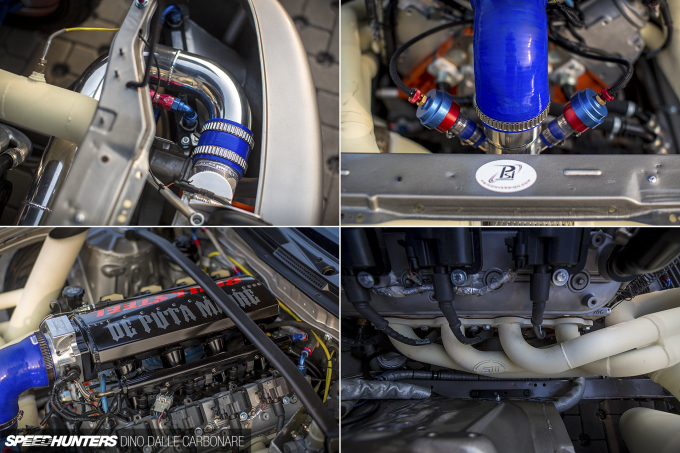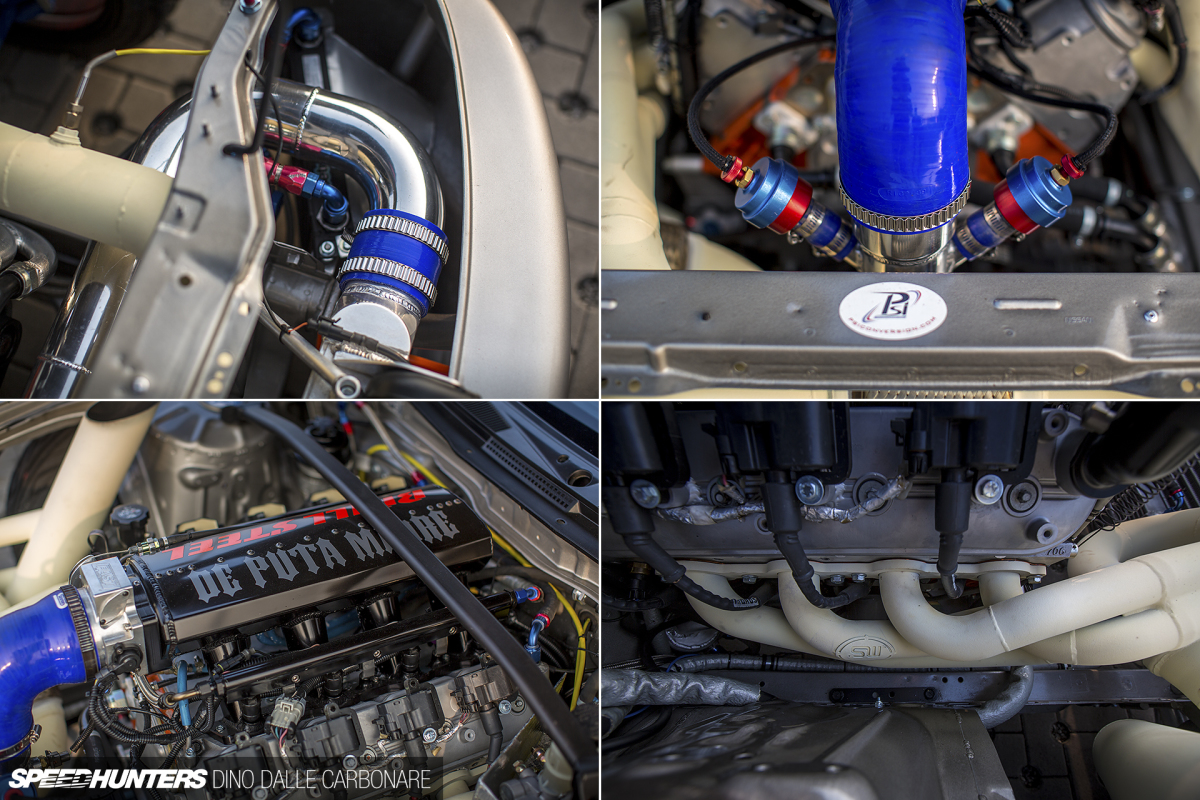 The GT45 runs 0.8bar (11.7psi) of boost pressure with the charge distributed to the eight cylinders through a custom, black-anodized aluminium intake. A 90mm Fast throttle body juggles all the power which tops out at 816hp to the rear wheels, with a gearbox-shattering 1120Nm of torque available whenever the turbo hits peak boost, which is most of the time. With the boost turned up to 1.2bar (17.6psi), the setup can easily produce more than 1000hp. Quenching the engine's thirst for fuel are 860cc/min injectors fed by a Bosch pump with a GM Performance ECU taking care of management.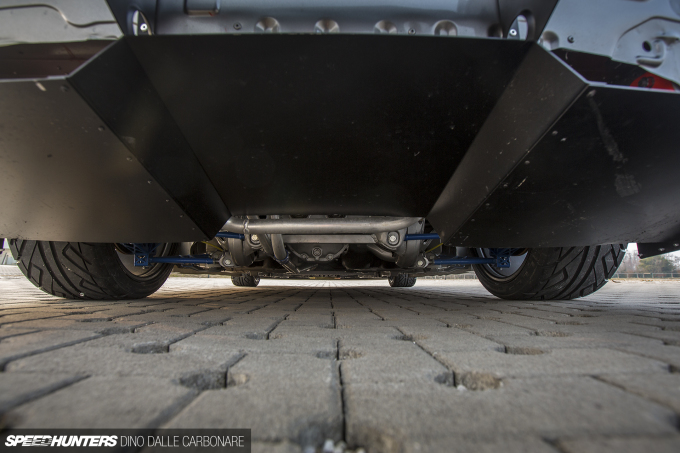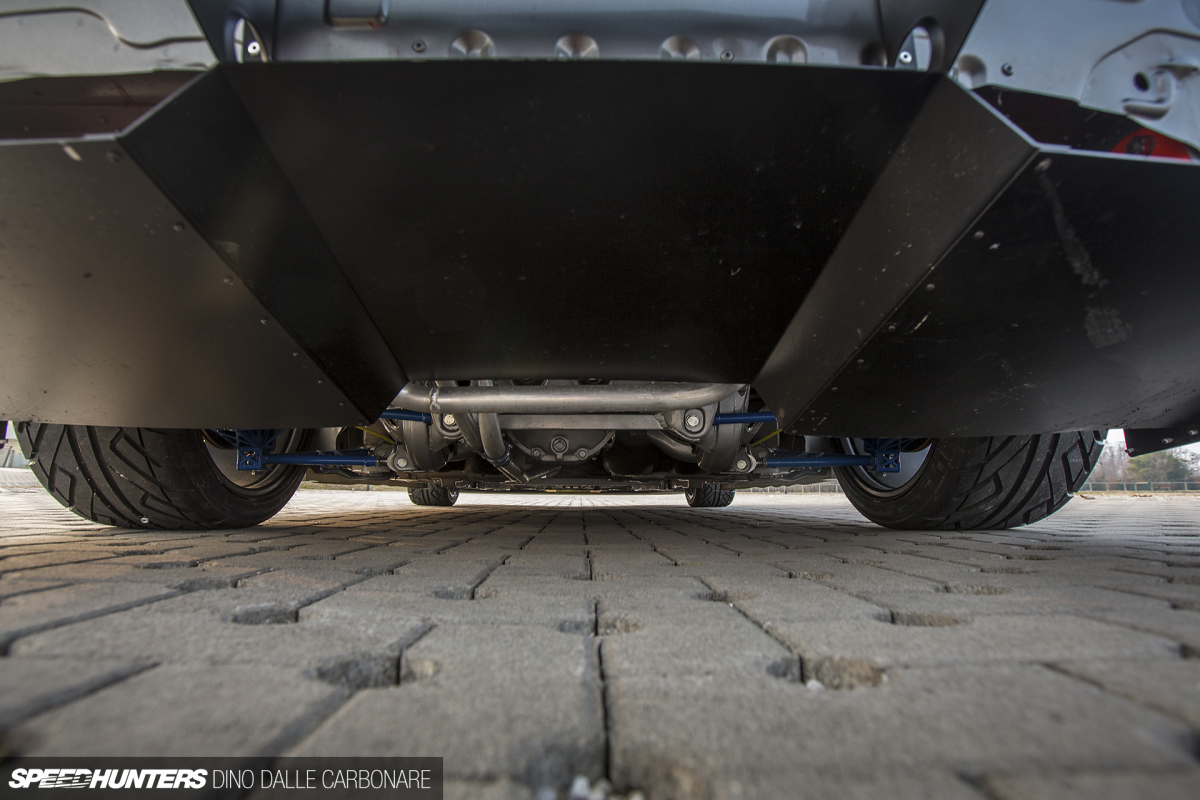 As you can imagine, the driveline needed some rethinking too, and here Enrico continued to think differently. At the center of it all is a 5-speed manual transmission from a BMW E39 530D – a very sturdy gearbox capable of taking serious torque and abuse. Fitted to the engine via a custom adaptor plate with a Tilton triple-plate clutch sandwiched in between, drive is sent to the rear wheels via an R33 GT-R Nismo 2-way limited slip diff. The rear subframe was modified by Brill Steel, and is therefore sturdier with more aggressive geometry for the suspension pick-up points.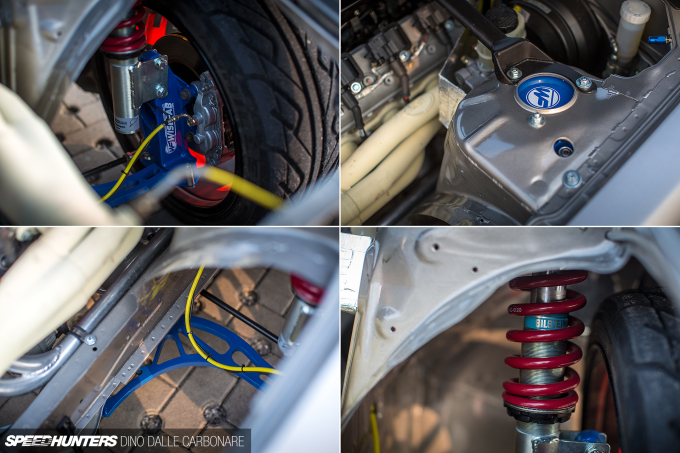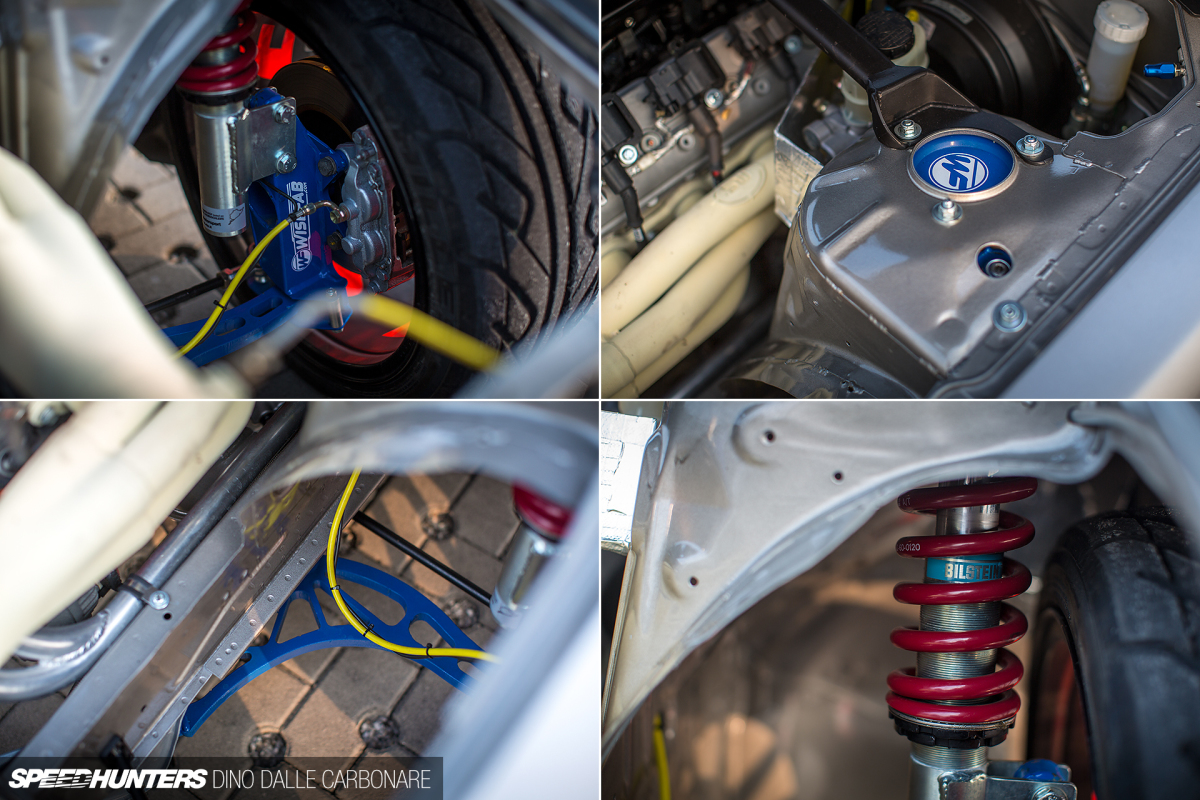 Each corner of the S14 features a Wisefab suspension conversion kit which replaces all mounting points, spindles and lower arms for a drift-oriented setup. Bilstein adjustable coilovers take care of the damping, while the stock Nissan calipers have been retained but are mated to high-friction pads and plumbed using stainless steel braided lines.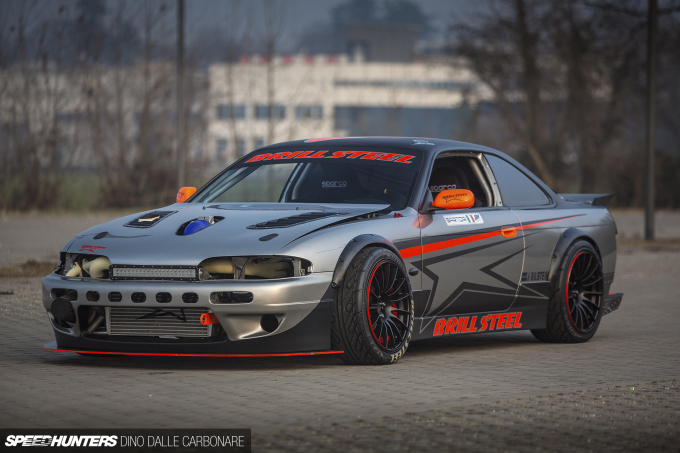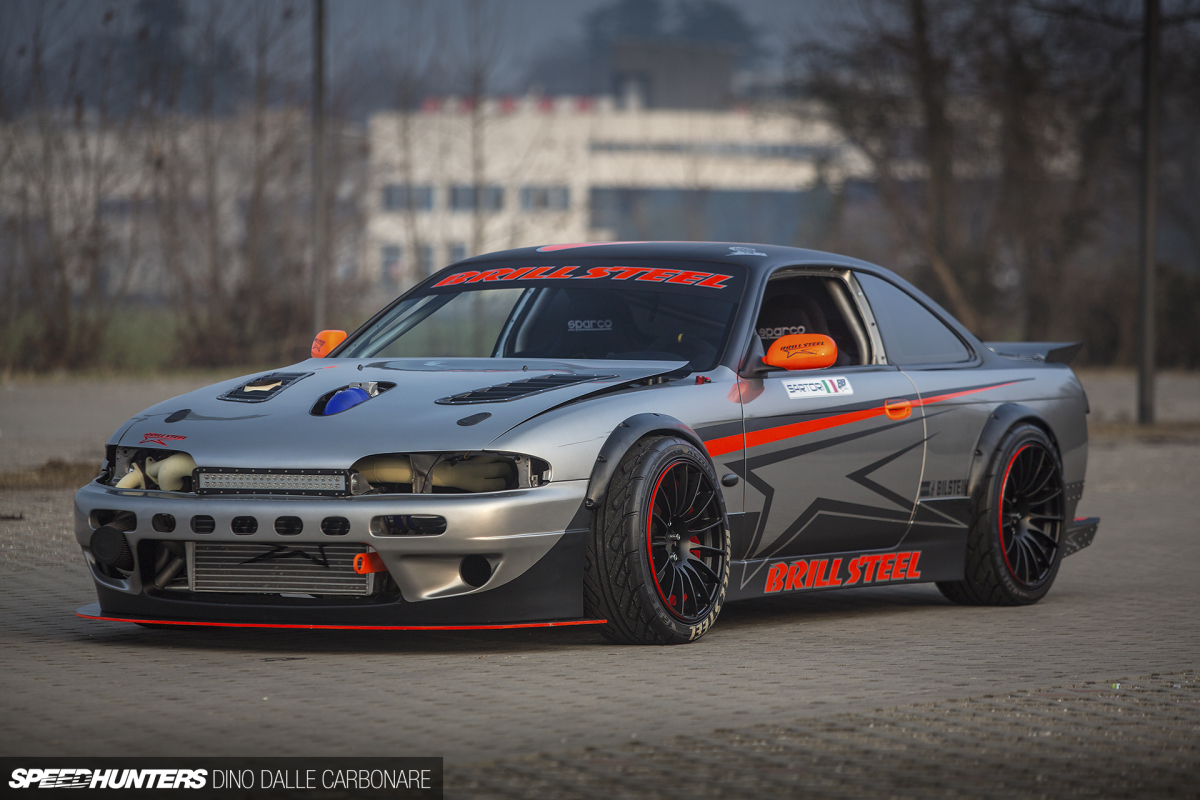 It all makes for a very well sorted machine.
Focused Interior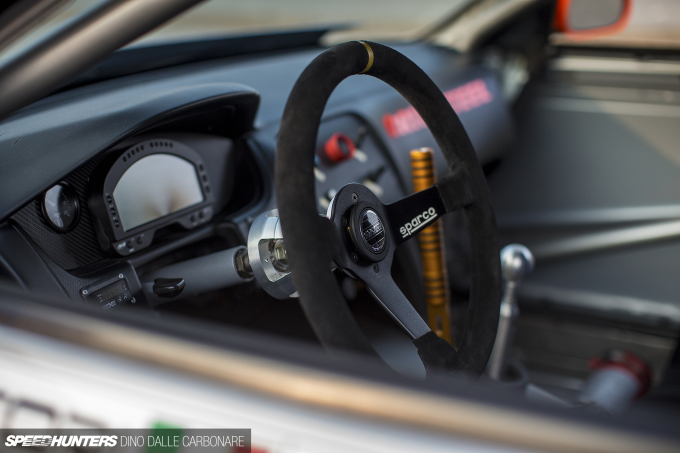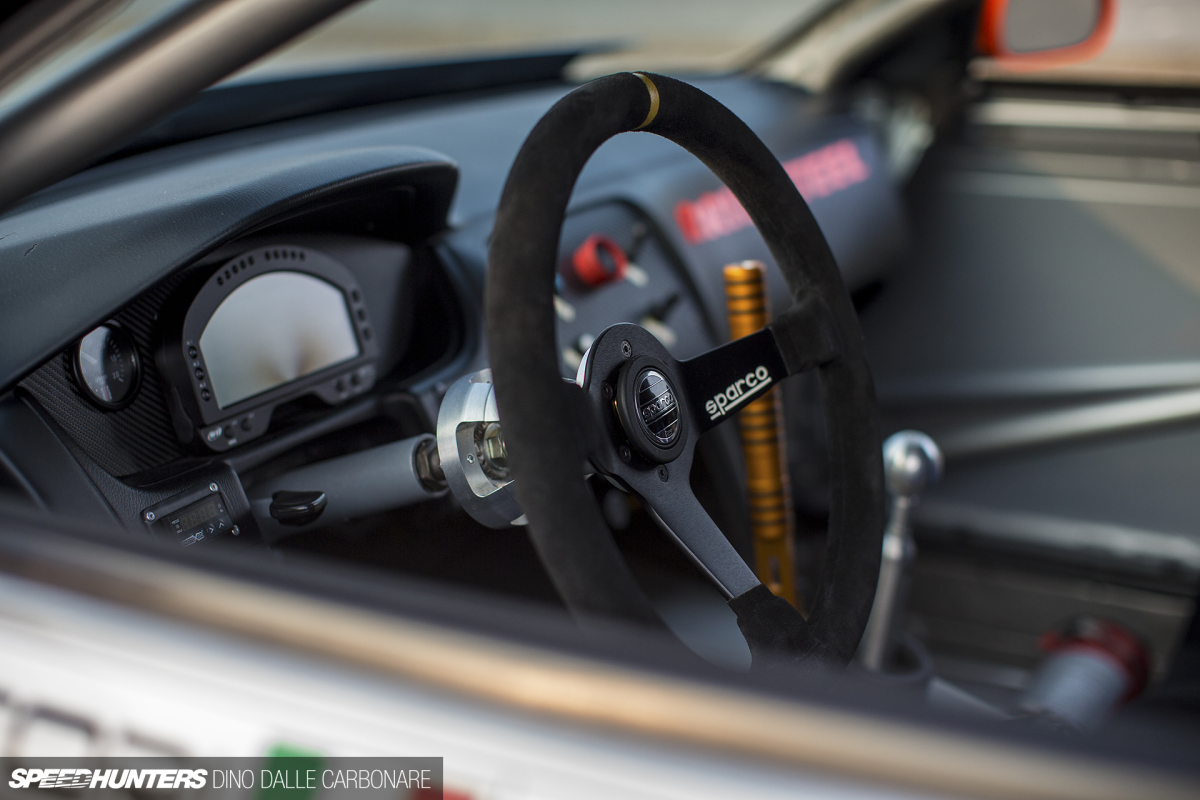 Any major project at Brill Steel always starts out with the car being fully stripped down to the bare chassis, which is then straightened out, seam-welded and reinforced with the addition of a rollcage. Enrico's S14 got the same treatment; a few coats of metallic silver paint applied inside and out before the rebuild commenced.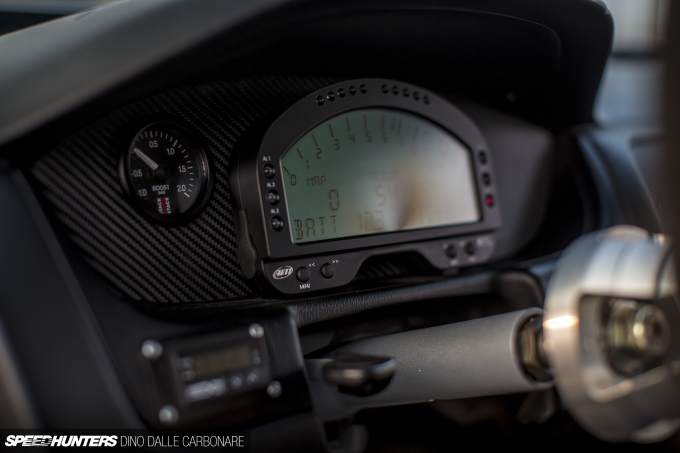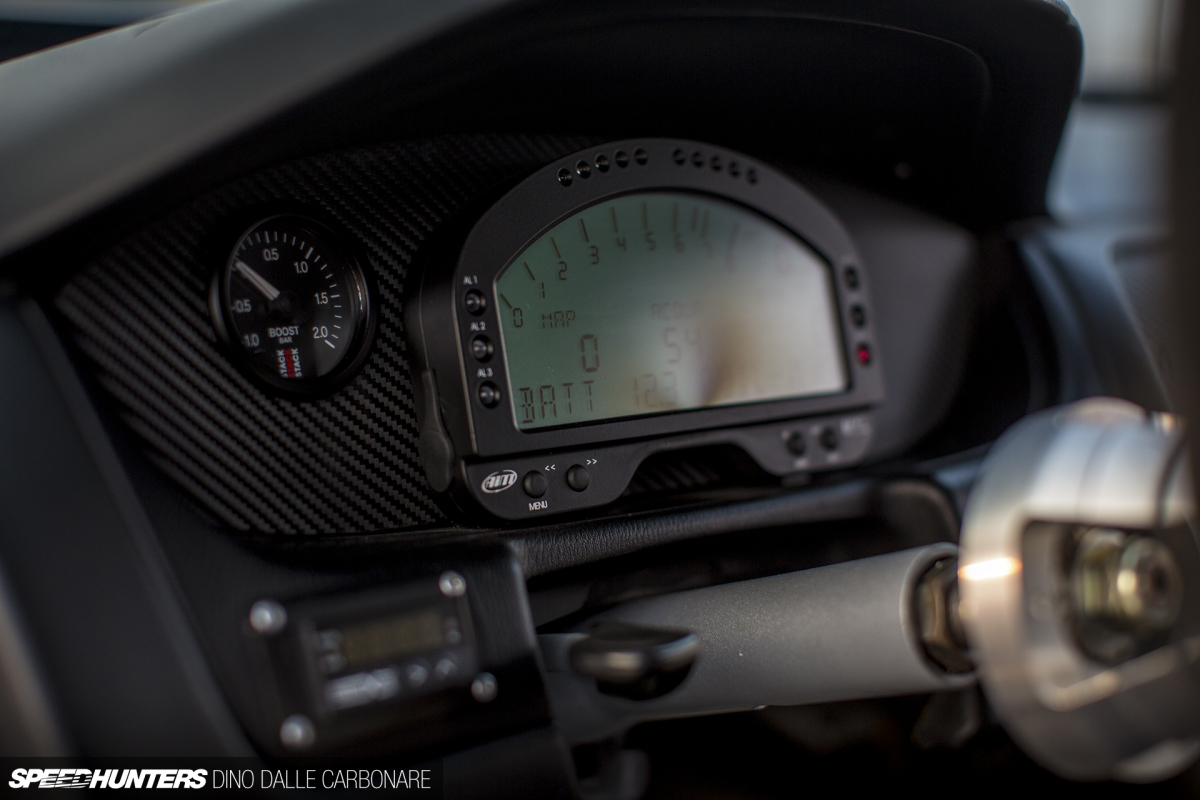 Just the top part of the stock dash remains, and it's equipped with only a few pieces of instrumentation, including an AIM digital dash/data-logger, Stack boost gauge, and a simple switch panel on the center console.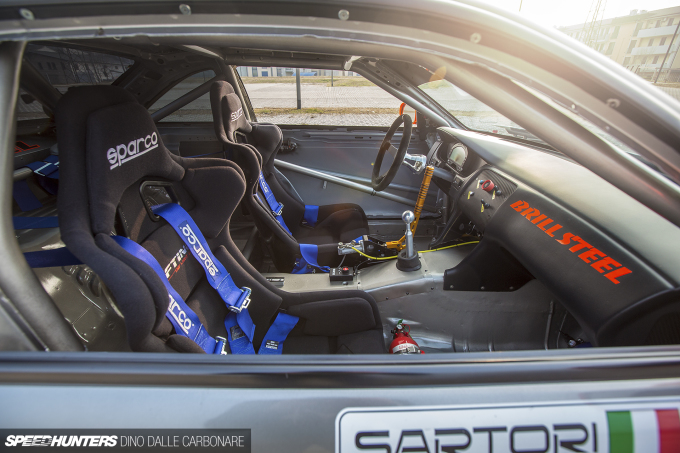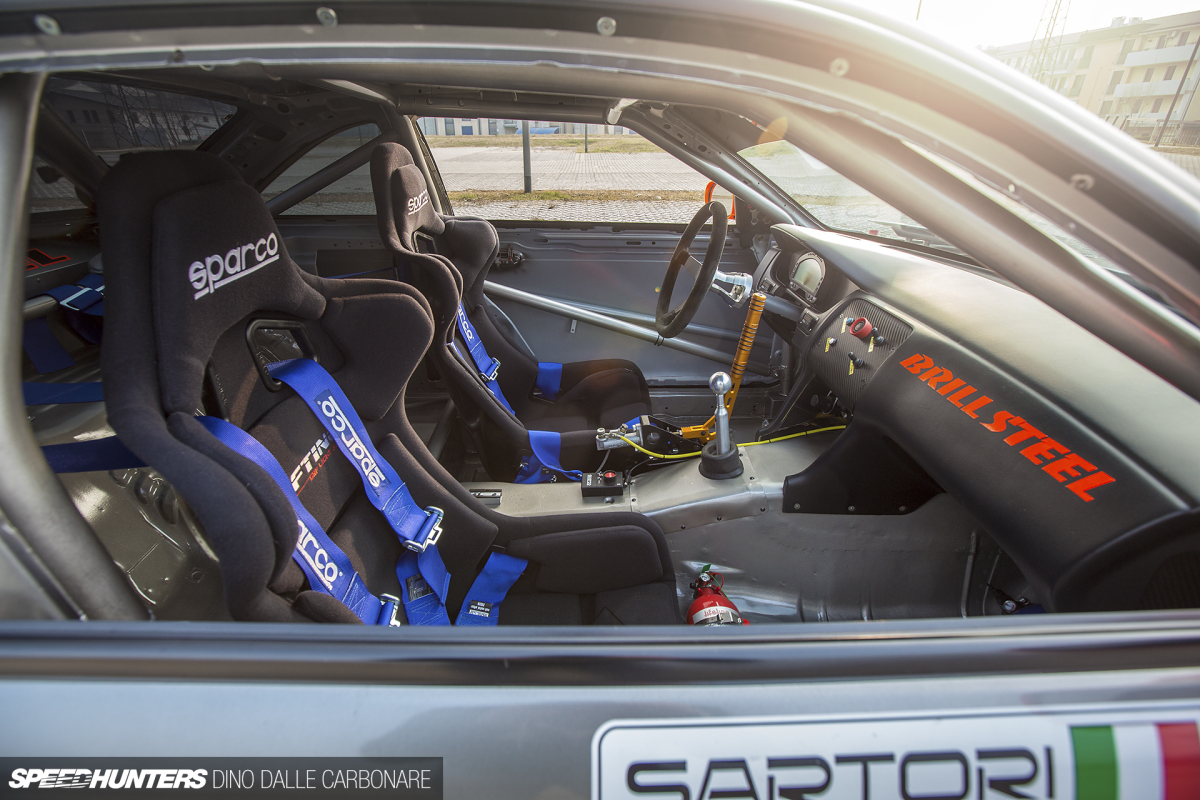 Much like the mechanical components, it's all nicely and simply laid out.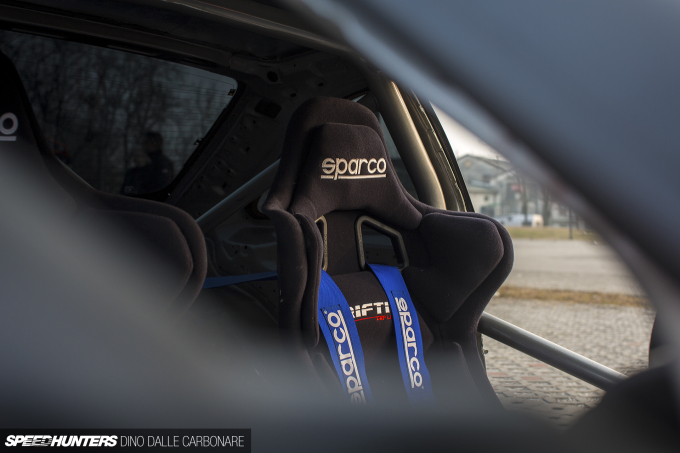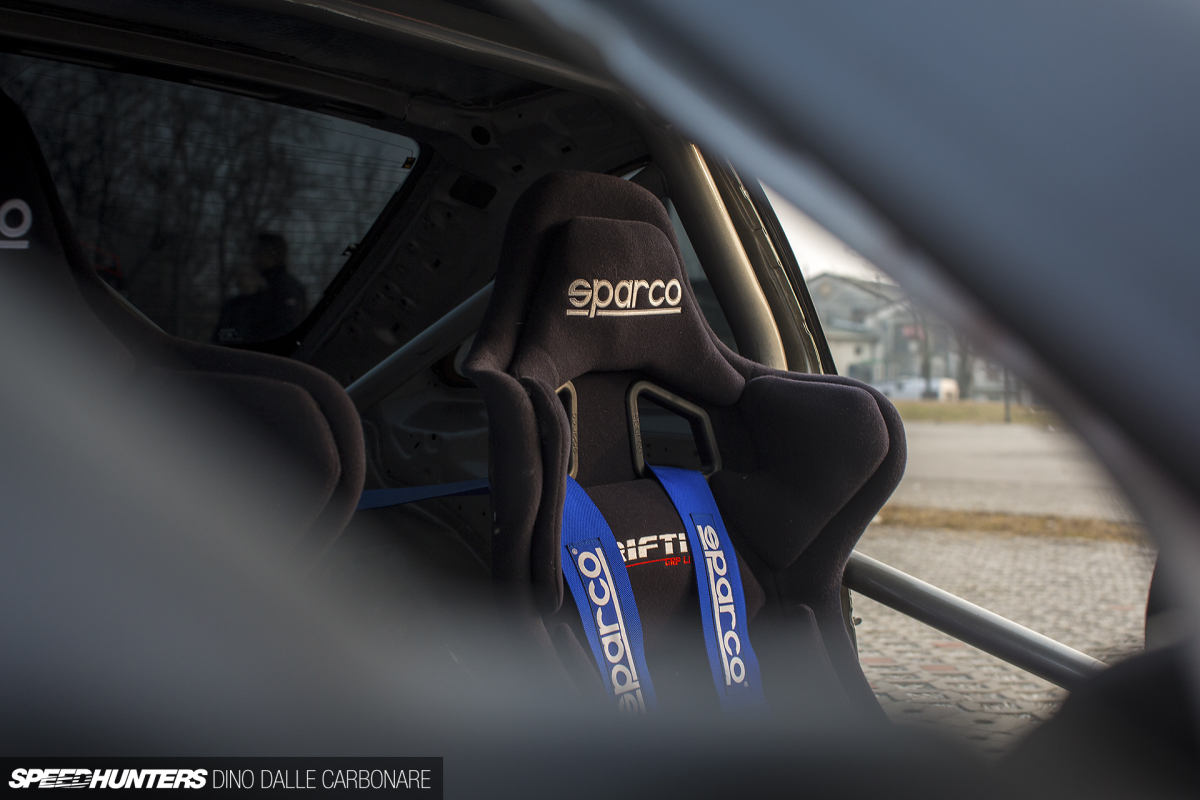 To add an Italian touch to the build, Enrico went with a pair of Sparco bucket seats and 4-point harnesses, plus a suede-wrapped Sparco steering wheel mounted on a slightly extended boss to push the driving position back a tad.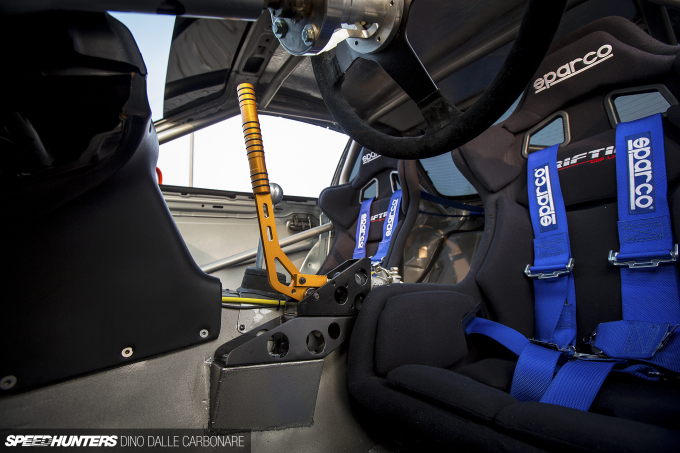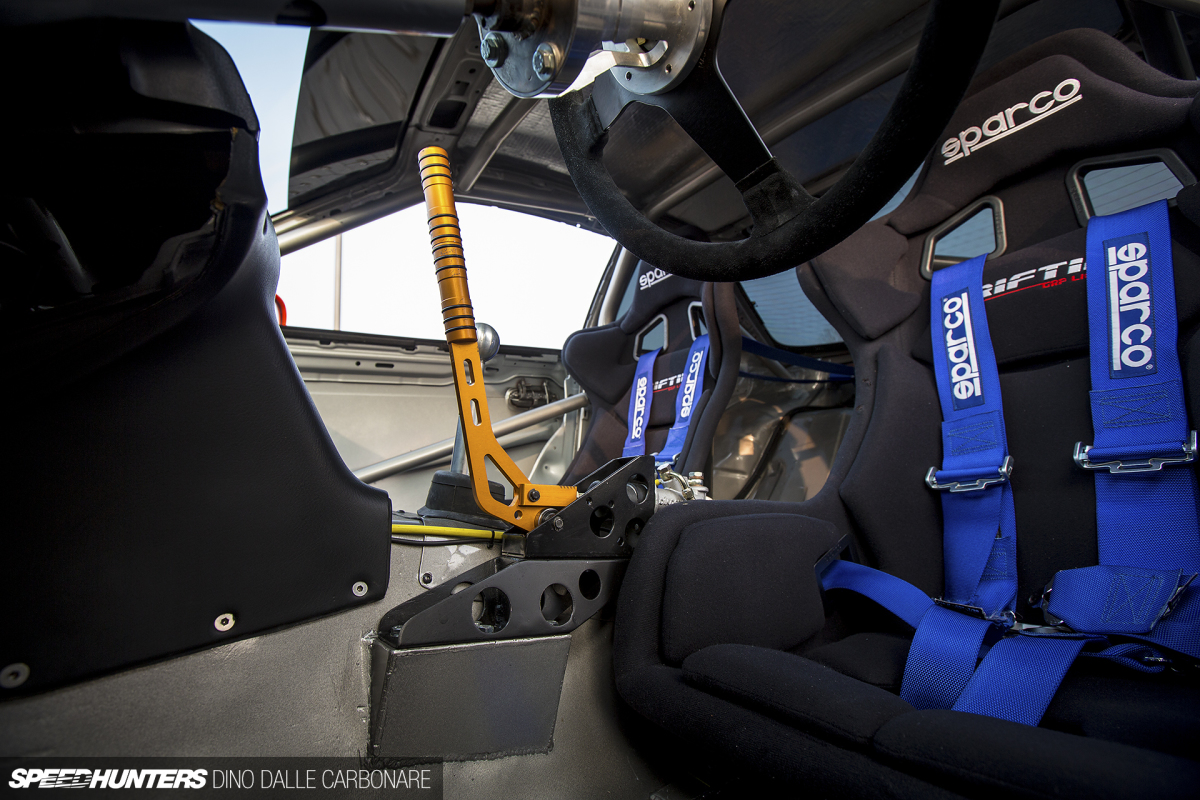 A Wilwood hydraulic e-brake ensures that the S14 is always ready to be flicked into a drift, no matter the speed it's travelling at.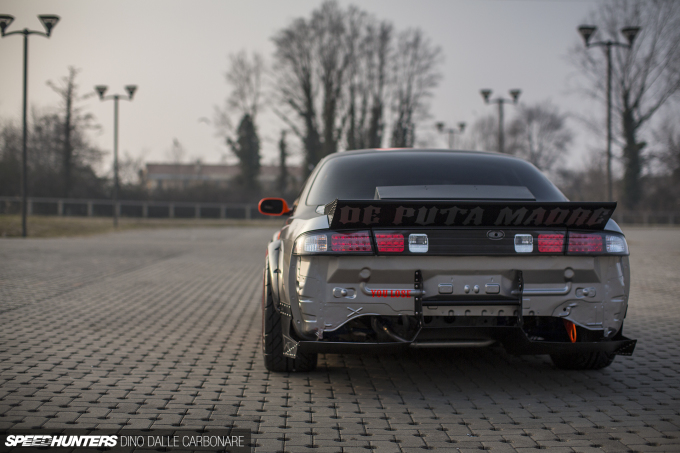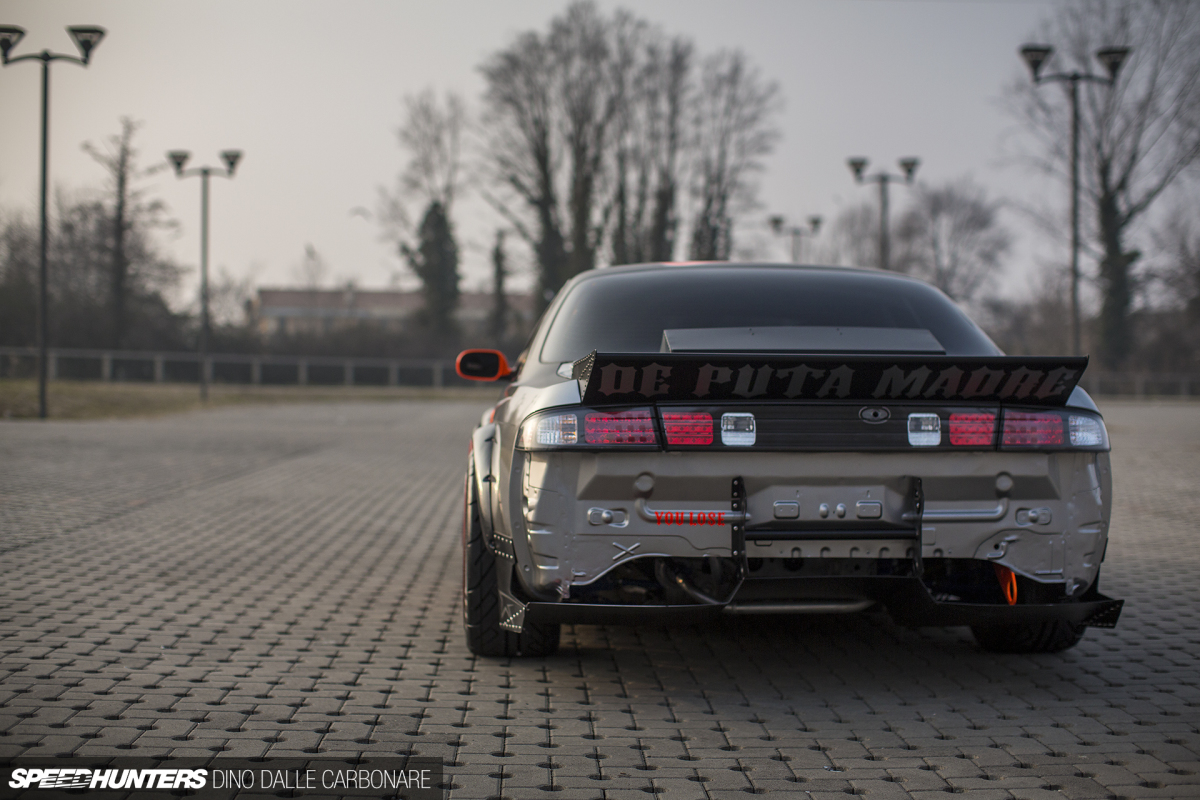 Visually, the rear of the car works rather well; the bumper having been removed in a Rocket Bunny sort of way to expose the back of the painted shell.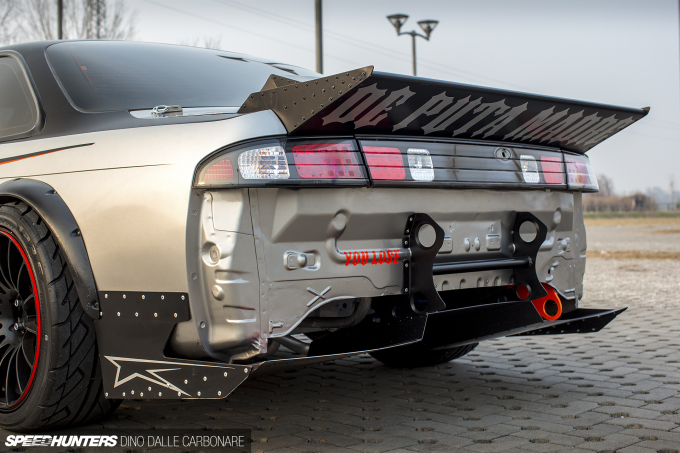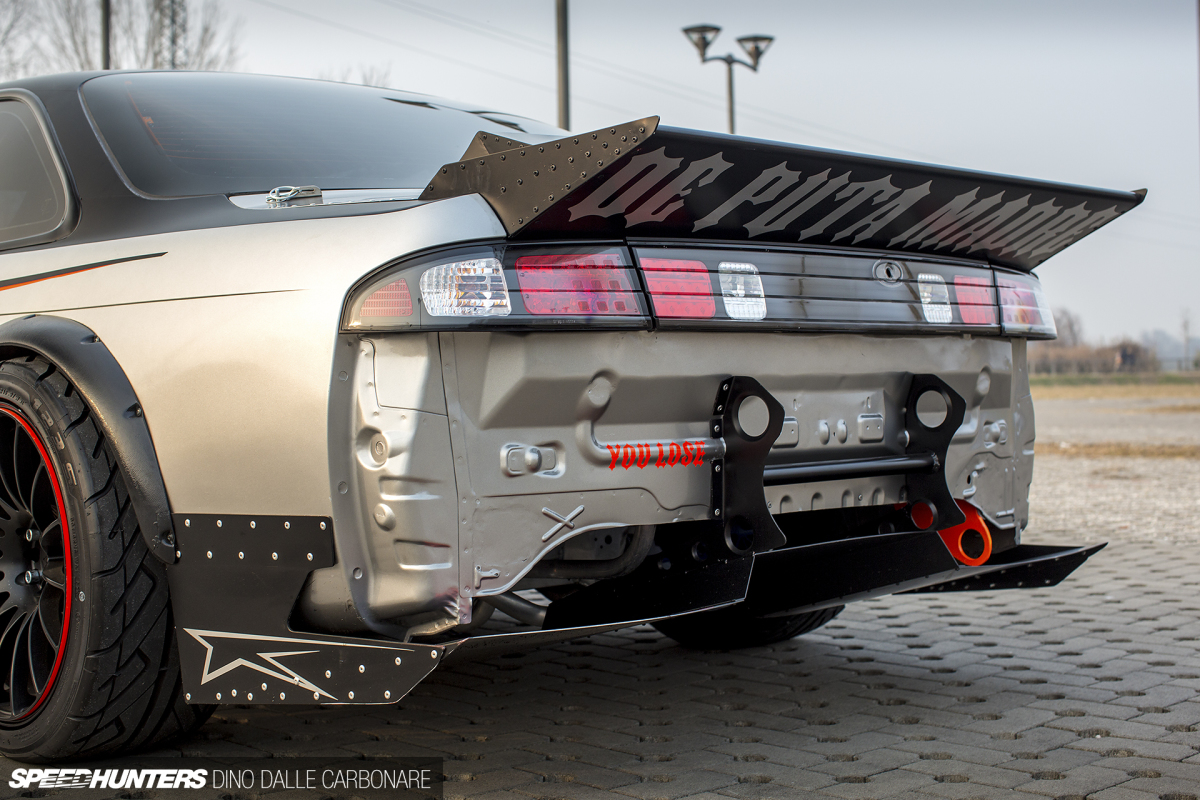 The fabricators at Brill Steel then went ahead and constructed a rear diffuser which extends well under the car. It's main purpose is not for aerodynamics, but to channel out the clouds of Achilles Radial tyre smoke that are produced when Enrico jumps on the loud pedal.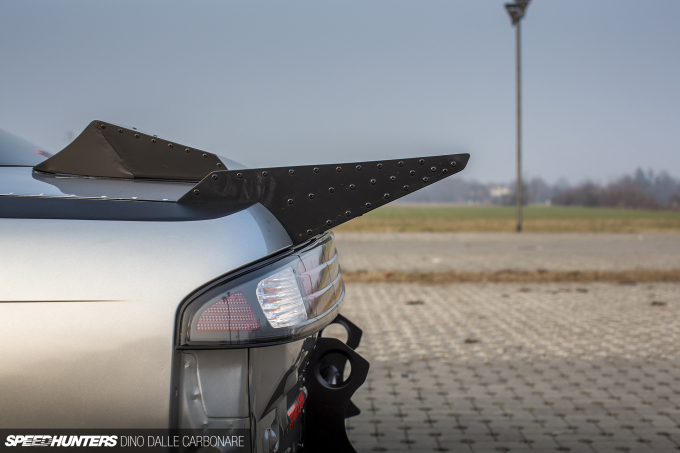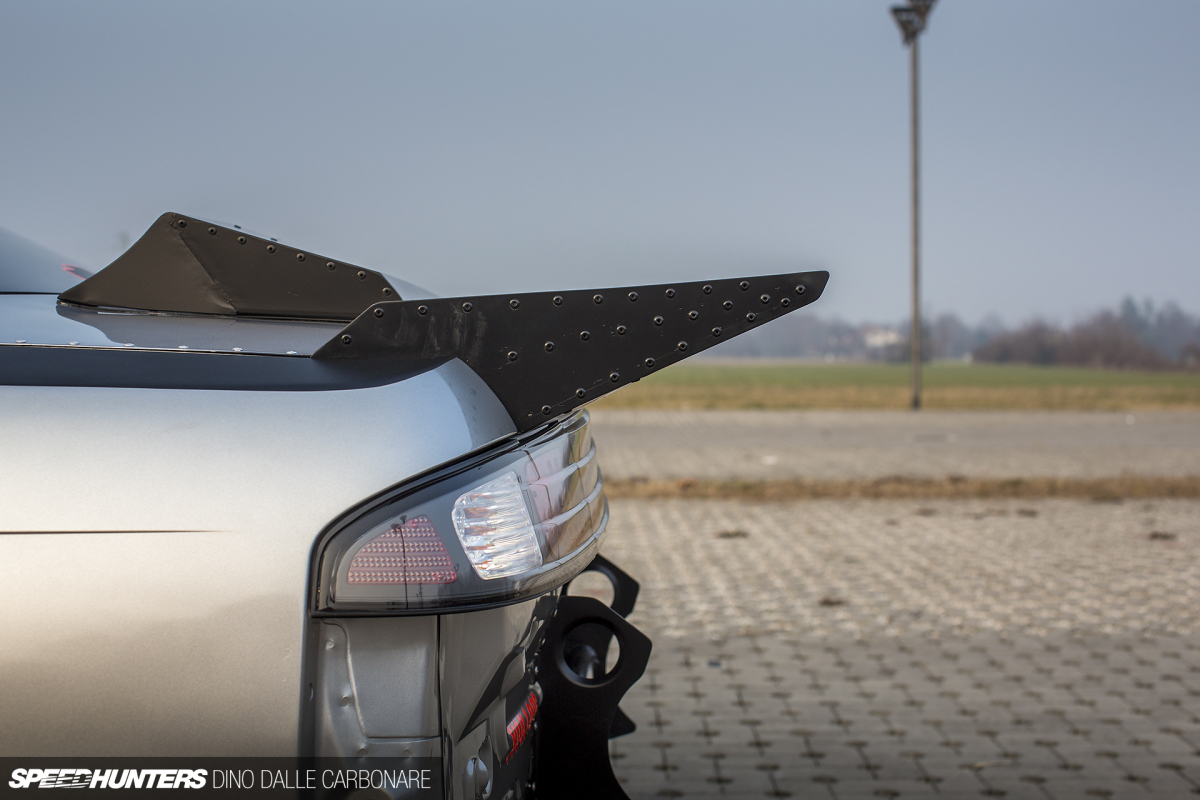 The same goes for the drag-like trunk spoiler; it does all sorts of cool things when the car is drifting at full power, keeping the tyre smoke down before releasing it vertically through the upward push of air being extracted by the diffuser.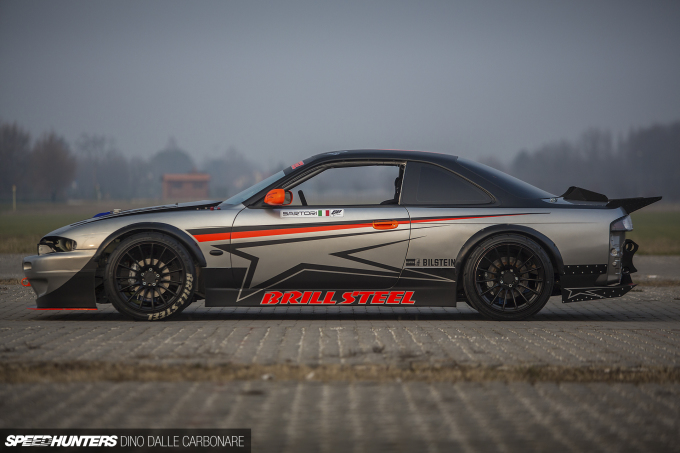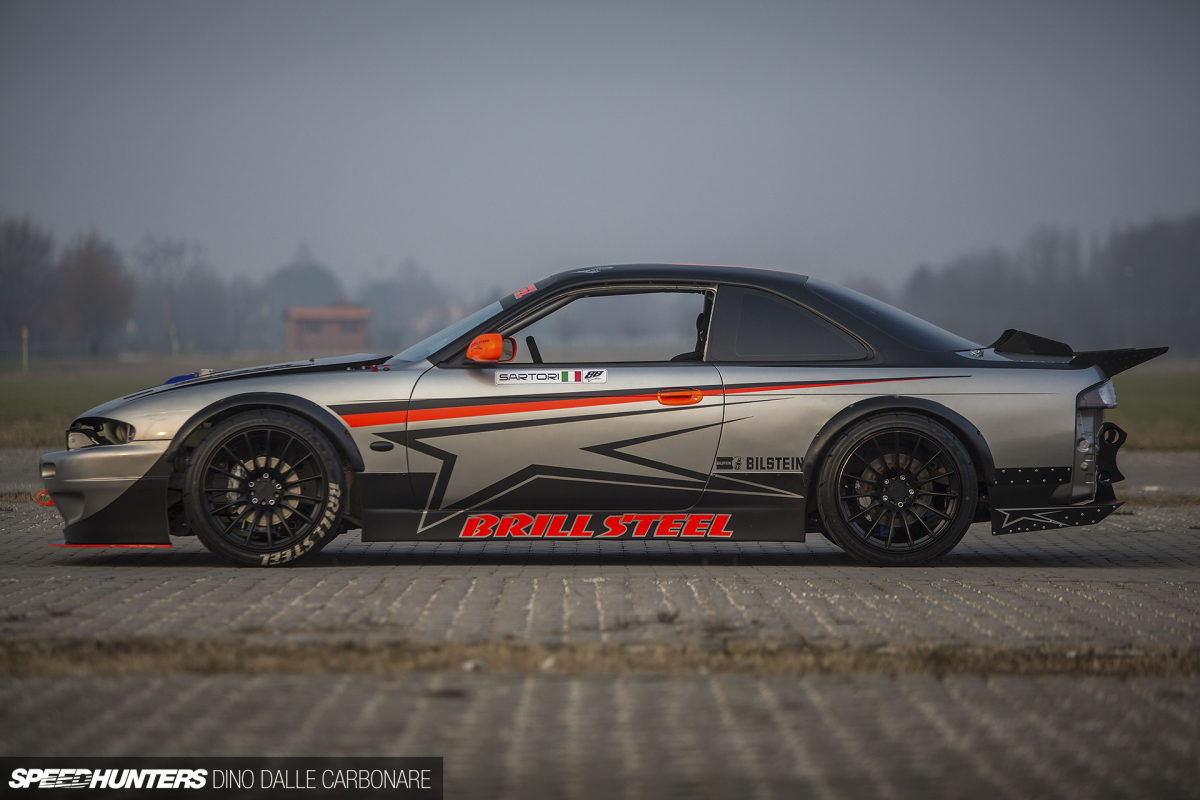 It also gives a cool JDM profile to the whole car.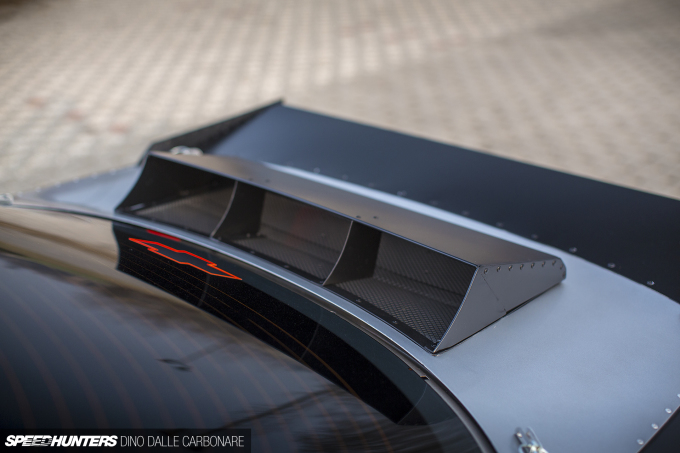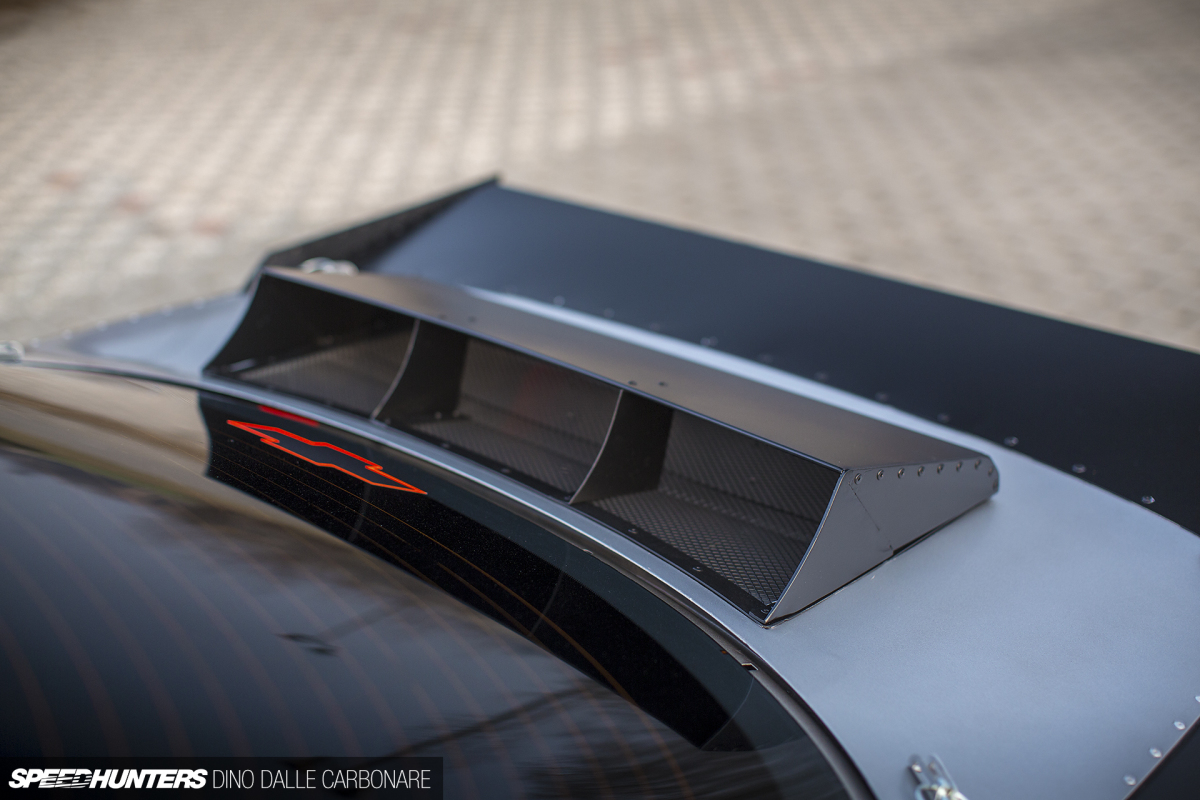 As you probably noticed, with all the piping in front of the engine there wasn't much space to position the radiator, hence its relocation to the back – a common placement in high-end drift car builds these days.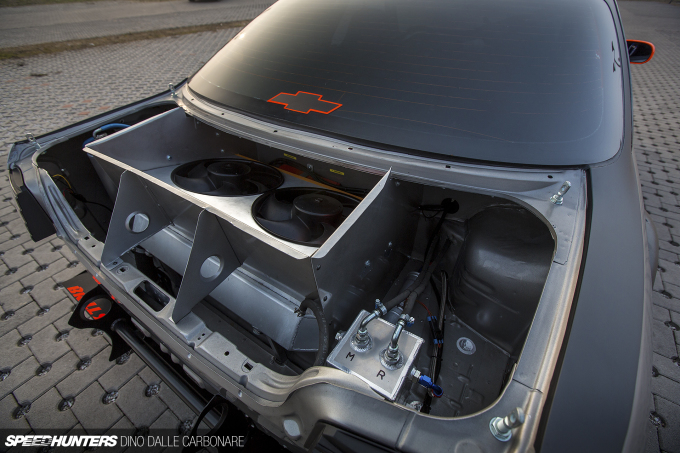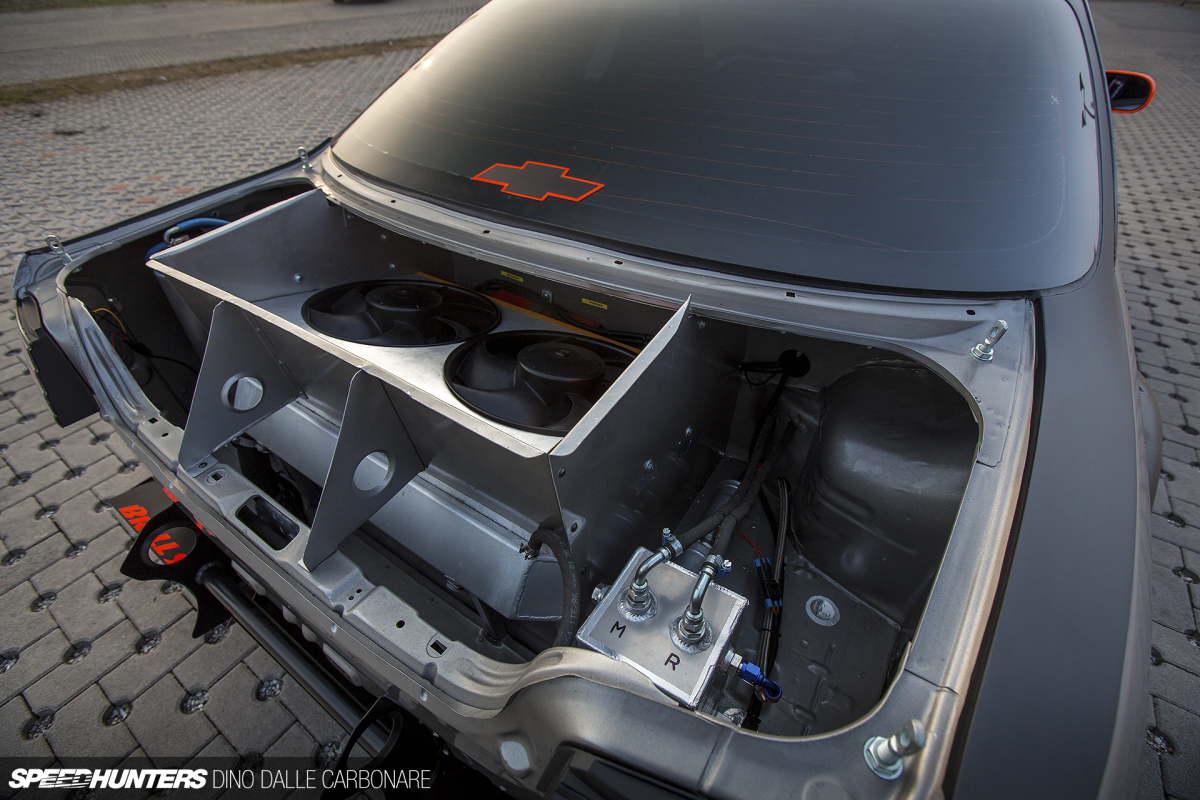 Pop off the trunk lid and you can see how it was all laid out; the radiator core mounted at an angle to take full advantage of the flow of air being channeled in. At low speeds, or when temperatures get high, a pair of extractor fans take over.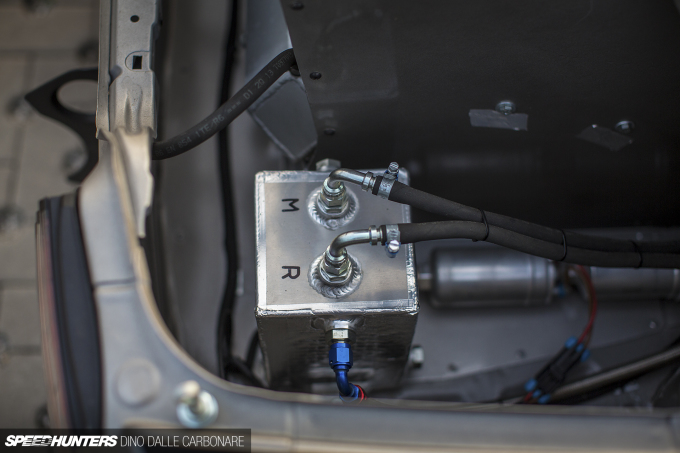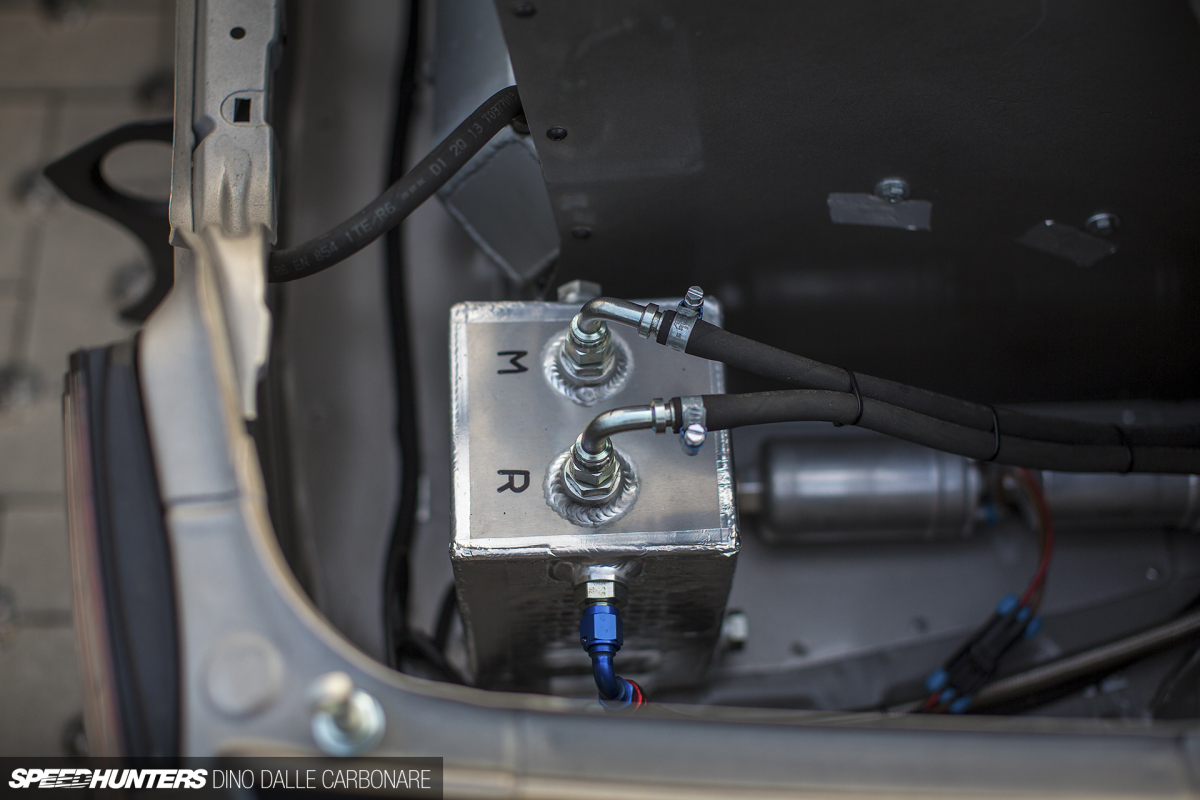 Next to the radiator are the fuel pumps and swirl pot, with the overflow tank being positioned on the opposite of the trunk.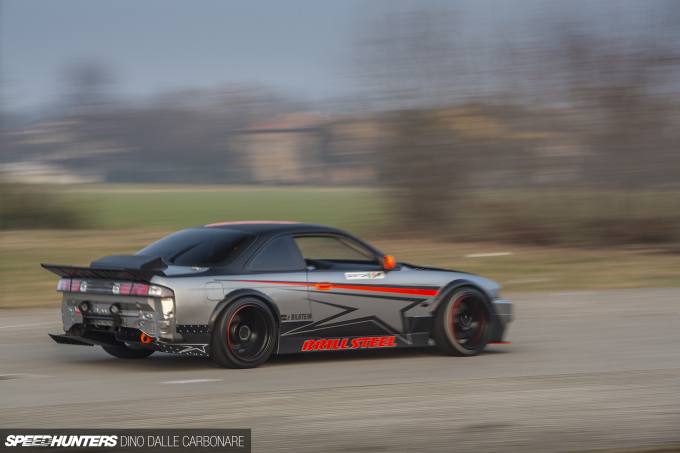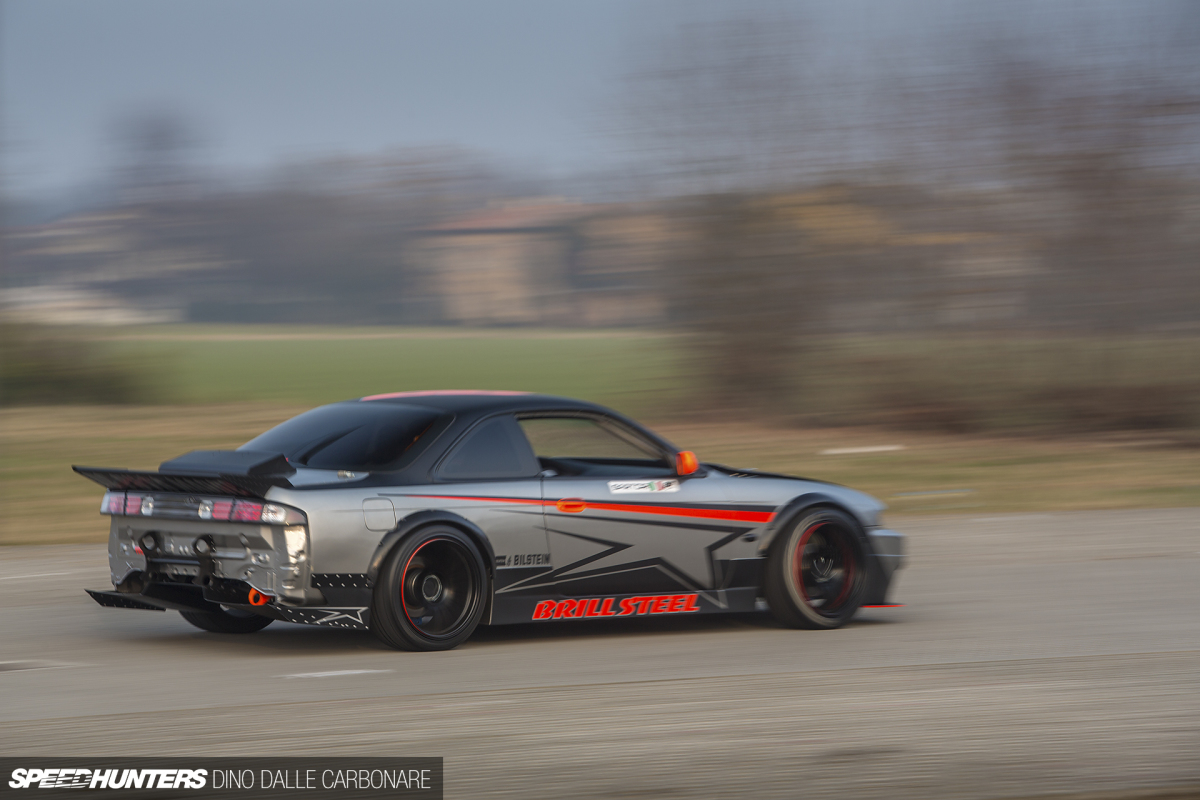 When I asked Enrico to drive the car around in the private carpark we were shooting at, he didn't hesitate to give me a quick demo of how easy and effortlessly his S14 is to throw sideways, and then hold it there.
As you can see from the video, it was a lot fun, especially when we threw some test plates on the car and took it out on the roads that snake around the big industrial estate where Brill Steel is based.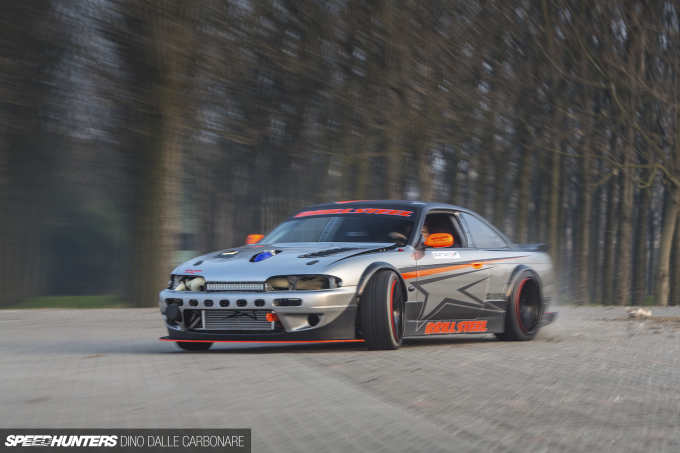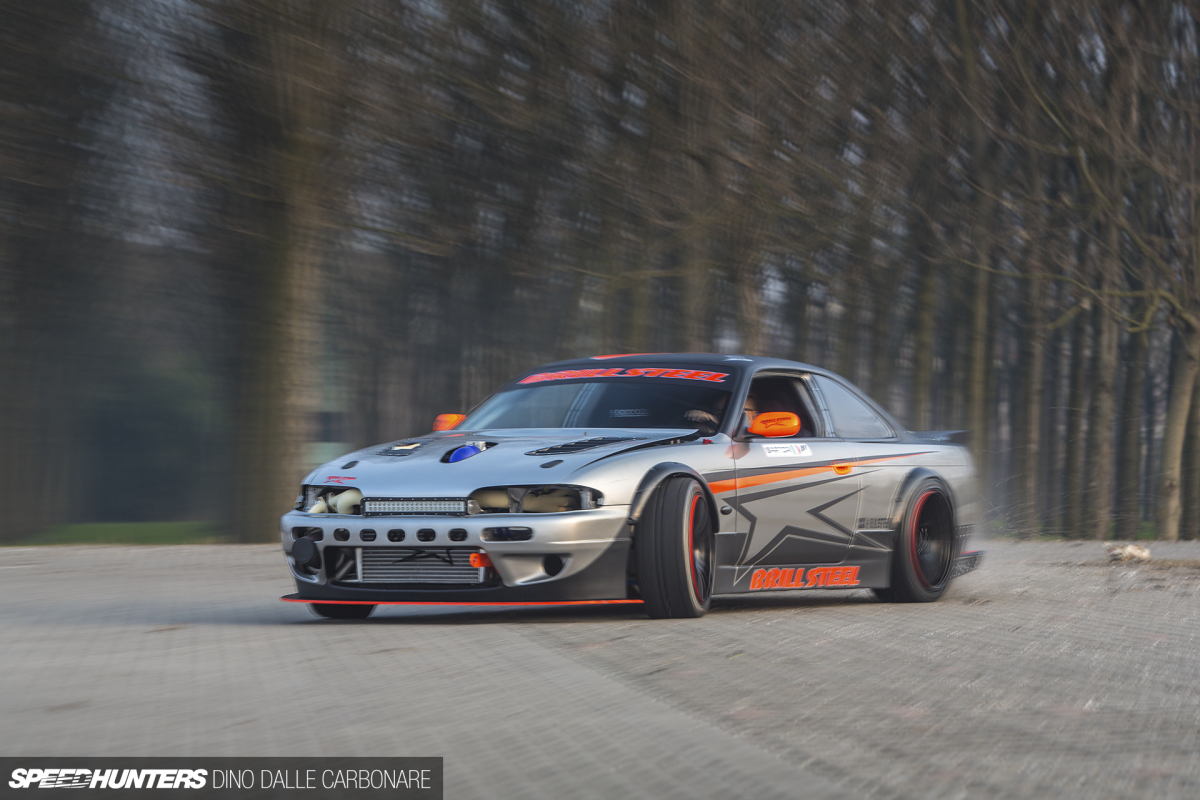 Despite what all Italian enthusiasts have to go through with the country's current situation, it fills me with joy to see that there are still people that manage to create these sort of cars. I really do hope it all changes soon, because where things are at right now, the Italian government is suffocating people trying to make a living out of tuning and modifying cars. Italia, é ora che ci svegliamo dai!
Dino Dalle Carbonare
Instagram: speedhunters_dino
dino@speedhunters.com